S

t Francis Class
Class Teacher:

Mr Sutherland
_______________________________________________________
Academic Year 2018-2019
______________________________________________________________________
Year 3 Trip to Frog Firle Farm
24.4.18.
Year 3 had a wonderful trip to Frog Firle Farm earlier this week. We trekked up a hill to get a stunning view of the River Cuckmere and saw it's journey all the way down to the sea.
We got up close and personal with the local wildlife when we went pond dipping and learnt about the many species of mini beasts living in the pond.
The video below shows the children 'meandering' down the hill as a river would, running fast at the top of the hill and weaving back and forth as the slope become more gentle. What a fantastic river the children make!
____________________________________________________________________
Year 3 Cake Sale
THANK YOU
so much to all who took part in our cake sale on Friday afternoon.
We raised a whopping £100 which is more than we could've ever wished for!
The money will go towards our school trip and any left over will go towards new resources for the classroom.
Thank you again for helping to make our cake sale a success, we hope you enjoyed the delicious cakes and biscuits that were on offer!
______________________________________________________________
___________________________________________________
Year 3
Please click on this link to view our Summer Term Booklet
Please click on this link to view our Spring Term Topic Booklet
Notices
Please continue to make sure your child's jumper/cardigan is clearly labelled as there are often unnamed items in the classroom and cloakroom areas. I will always try to match up items with their owners but this is incredibly hard if things are not named. Thank you :)
If possible please send your child to school with a water bottle to save children queuing to drink from the tap in the classroom (which eats into learning time!). A plastic see through bottle with the child's name on is perfect, it doesn't need to be anything fancy!
Snack
Please continue to provide a morning snack of fruit or vegetable for your child as they are often very hungry by lunchtime.
Homework
Homework will continue as it did last term.
Each week children will have maths and literacy homework along with a spelling list to learn. Both maths and literacy homework will support what we have been learning in class that week and therefore children should be able to complete their homework independently.
Maths homework will compromise of three 'challenges', A, B and C. Challenges get progressively harder and children should choose the one that best suits them, making sure they are challenging themselves!
Homework will be given out on Thursday and is due in the following Tuesday. Spelling challenges will be on a Friday.
As well as this children will bring a school reading book home which is appropriate to their reading ability. Please read as much as you can with your child. Three times a week is great, even more if possible! Please write down any reading you do in the yellow reading record books. There will be rewards for all reading that is done at home!
Please come and talk to me if you have any concerns, thank you for your support.
:
Spellings
17.5.18-24.5.18
(suffix ly added on to root words)
sadly
madly
kindly
wisely
weekly
monthly
completely
actually
usually
Can you find any more?
PE
Our PE days this half term are Wednesday and Friday.
On Wednesday we will be working with Miss Pippa to practise different ways of moving to music in order to perform dance routines to our favourite songs!
On Friday we will be practising our athletic skills in preparation for Sports Day. Miss Pippa will be helping us perfect our throwing, catching, jumping and running techniques out on the playground.
There are a large number of children who do not have a PE kit. This makes it very difficult to start PE lessons promptly as children are rushing around borrowing kits from other children.
Please make sure you send your child in with a full, NAMED PE kit each week. This includes green t-shirt, black shorts and trainers or plimsolls. If you need to purchase a new PE kit, t-shirts and shorts are available to buy at the office.
Personal Displays
Each week one of the year 3 children creates a display of their own special things in the classroom. They might bring in their favourite objects, photographs or perhaps a piece of art work that they have worked hard on.
Recently we have had Noah's display of special photographs and have also had some special visitors!
Fabian showed us his lovely guinea pig Marvin and told us how he looks after him.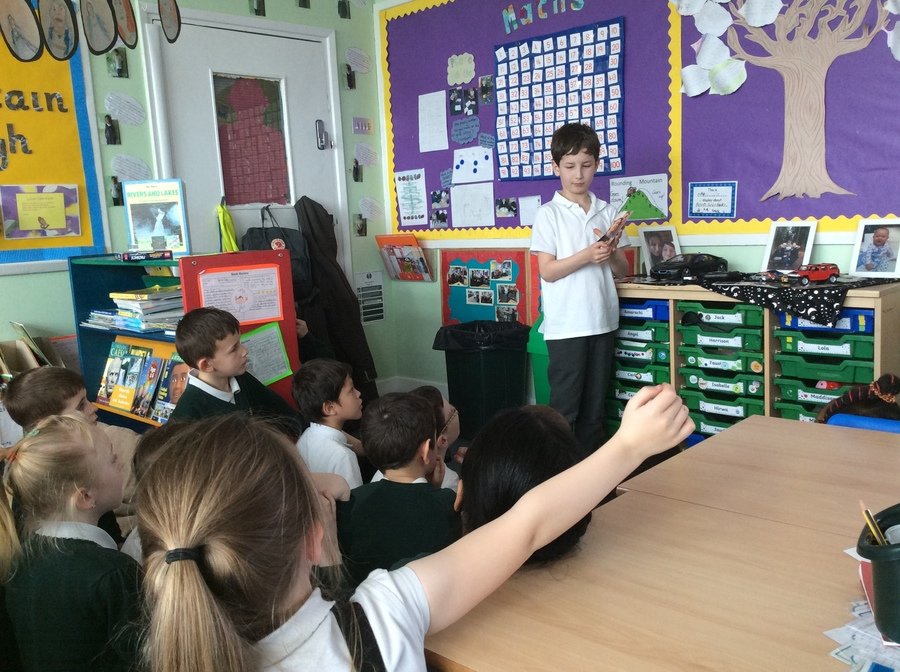 ___________________________________________________
St Joseph's Day
Year 3 celebrated St.Joseph's day by making paper lilies, creating pictures of St.Joseph and decorating biscuits. We had so much fun!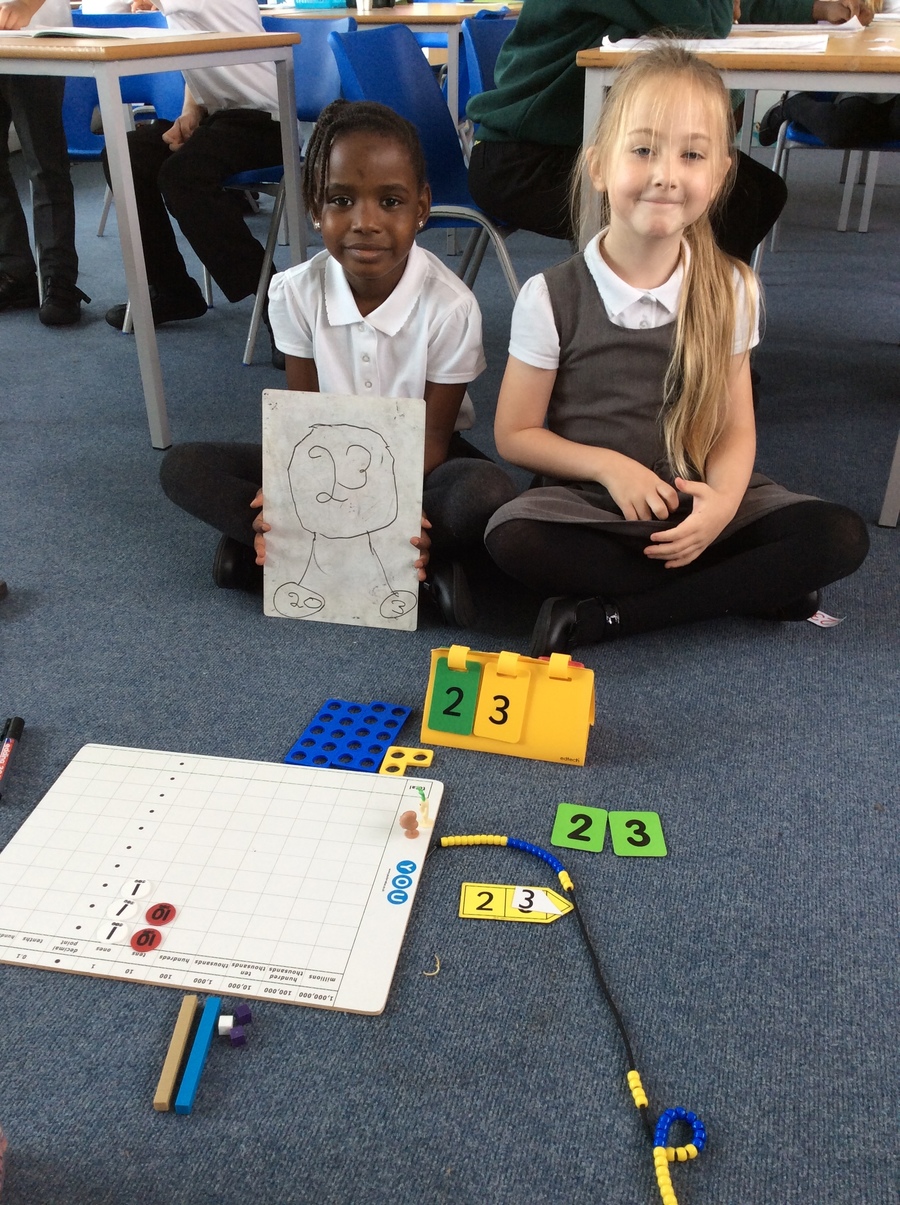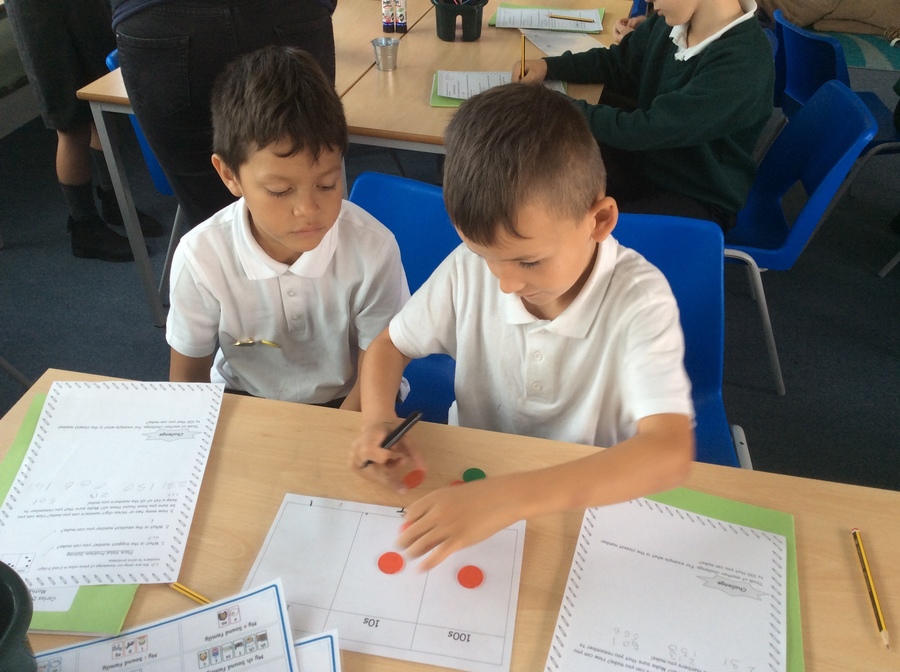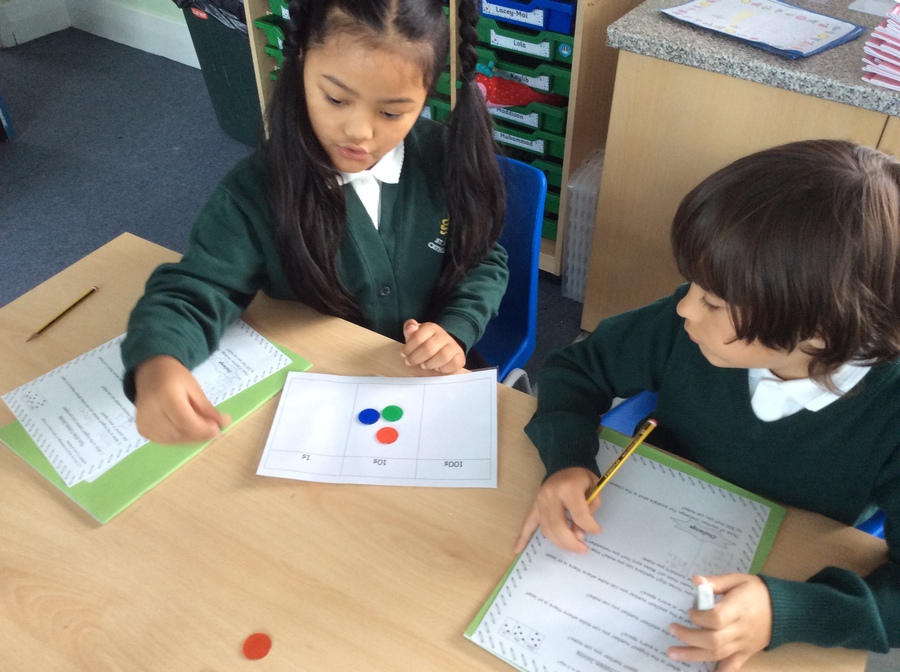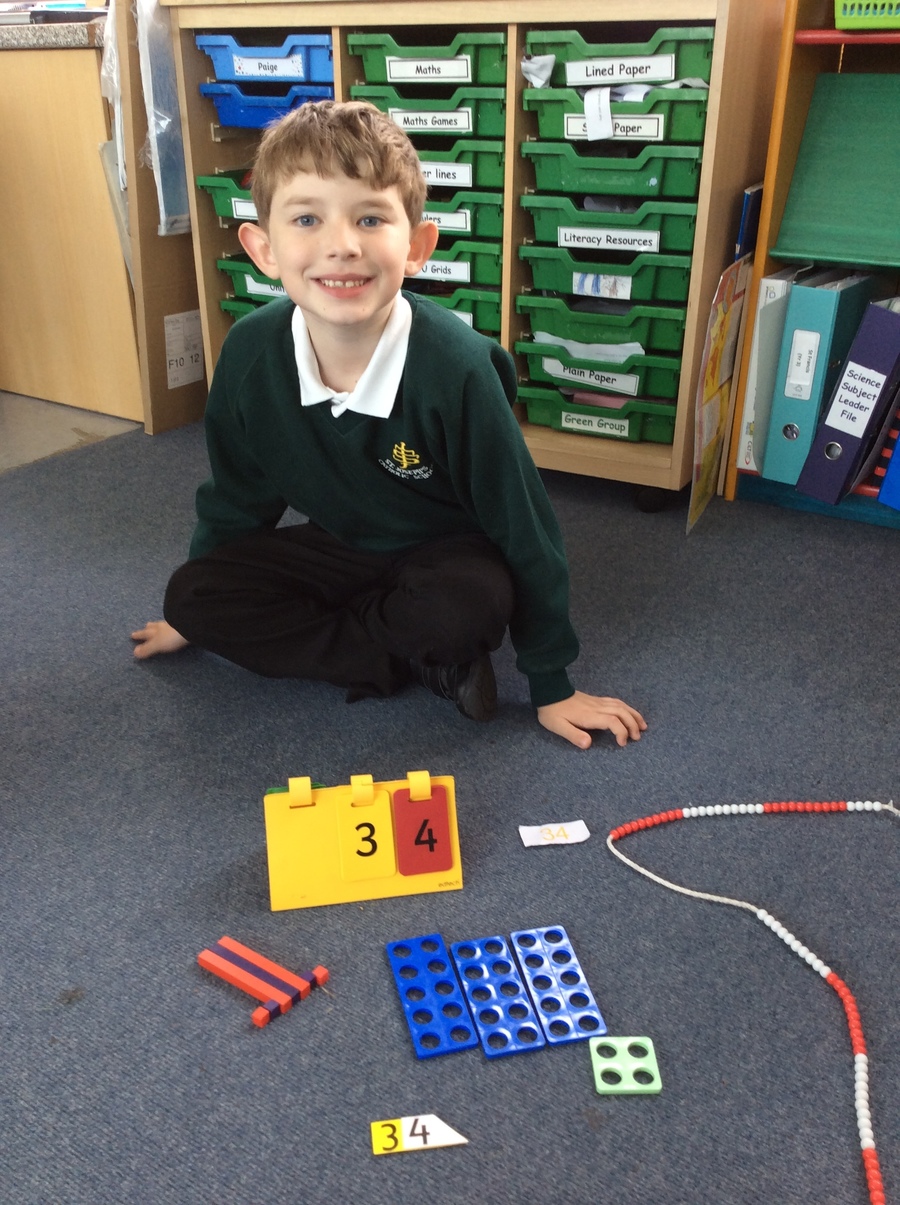 Maths
In maths we have been exploring numbers up to 1000. We have looked at different ways of representing them using our fantastic maths resources.
We have also explored the place value of 3 digit numbers , looking carefully at the digits to see how many hundreds, tens and units there are in different numbers up to 1000.
We have also been problem solving to see how many three digit numbers we can make using 6 counters in a hundreds, tens and units grid. We loved using our problem solving brains to think logically, in order to solve the problem!
P.E.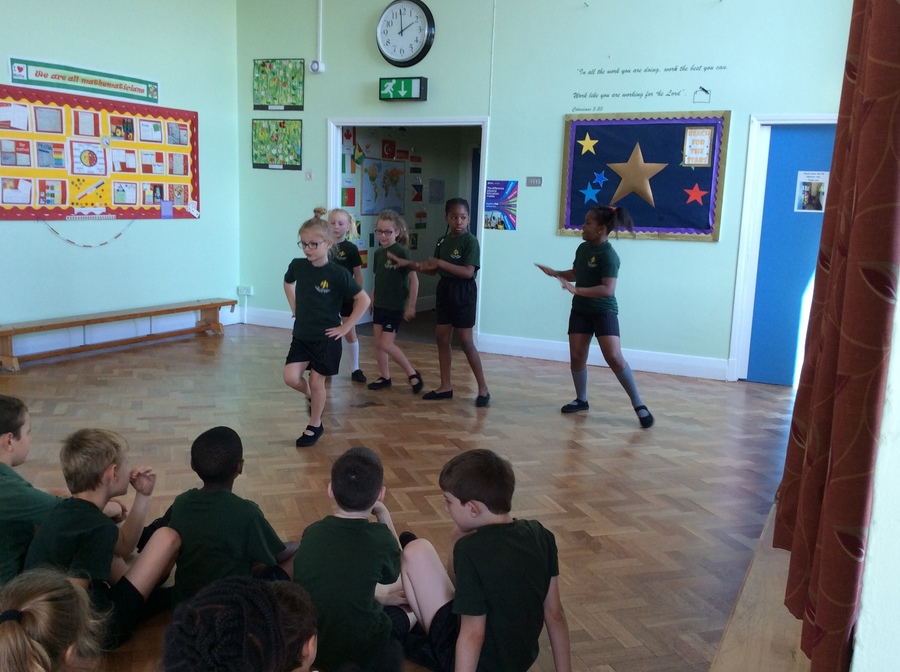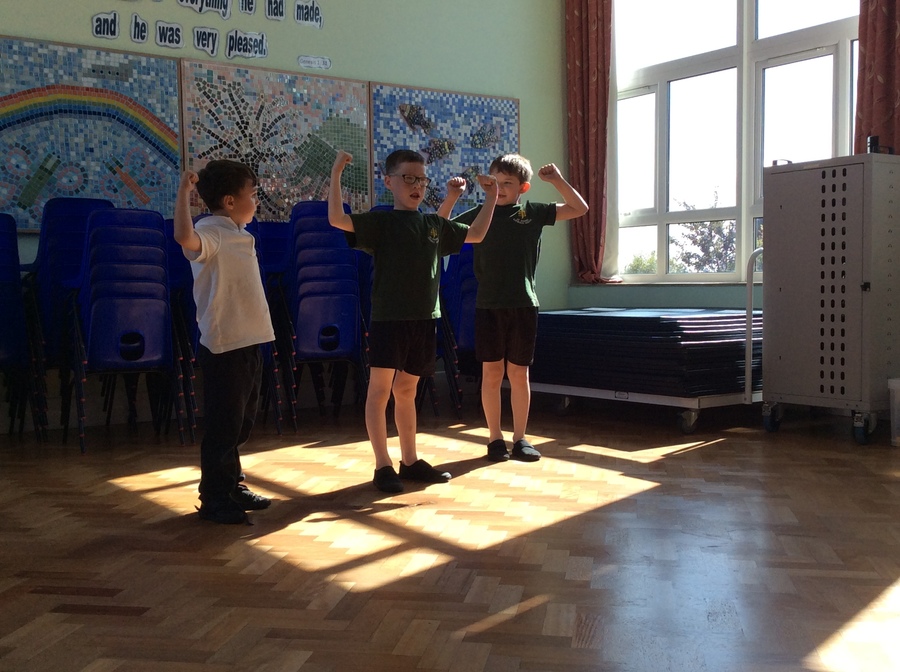 Dance
We have been working with Miss Pippa to create our own dances. We have had to work well as a team, listening to each other's ideas in order to put together a successful dance sequence!
Spellings
Click on the link below for a list of the spellings that your child is expected to know
Letters
Useful Links