St Margaret of Scotland

Class Teacher: Miss Matthews
______________________________________________________
_________________________________________________________________
Summer Term in Year 4!
Our topic booklet for the Summer Term can be found here!
PE: Our new PE days for the Summer Term are Tuesdays and Fridays. The children will need to have their school PE kit (green t-shirt, black shorts/sports trousers, trainers/plimsoll) in school on these days.
New Topic!
Our new topic for this term is the exciting Ancient Egyptians! We will be exploring ancient Egyptian life, looking everything from food and culture to religion and sport.
Spellings 26/4/2018-2/5/2018
Group 1- more homophones! Remember, house points if you can find 4 more examples of homophones!
weather

whether

plane

plain

pair

pear

whole

hole

grown

groan
Group 2 - ai, ay and a_e sounds
brave

made

chocolate

May

birthday

holiday

fail

wait

straight

complain
27.4.18 Our first Ukulele Lesson!
Today, we were introduced to the enigmatic Mr Walker! He is going to be our Ukulele teacher for the next few weeks, we've never played it before. We were nervous but excited. Luckily, Mrs Brownbill (our music teacher) had a box of Ukuleles for us to use.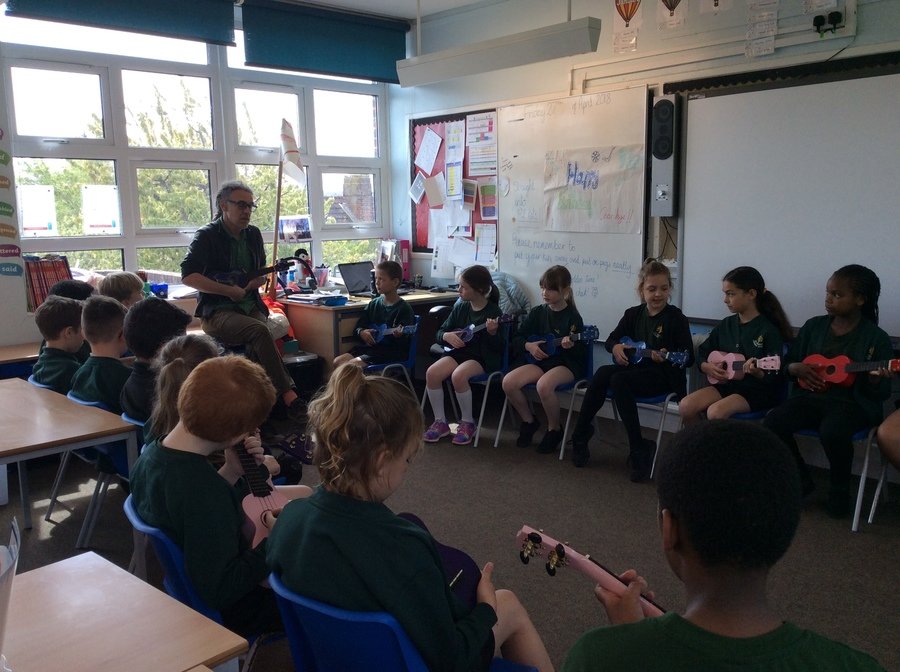 St Joseph's Day 2018
To celebrate St Joseph's Day we created portraits of St Joseph by drawing an outline, then scrunching tissue paper into balls and sticking them on. We aimed to include a white lily on each portrait as this was a very important symbol for St Joseph.
____________________________________________________
Welcome back after your Winter break! We've got lots to do this term. Our Spring topic booklet link is here.
_______________________________________________
September '17 Welcome back Year 4!
We have lots to do and learn this year so let's get started. Follow this link to our Autumn Term learning booklet.
Notices
Remember to put names and labels on your school uniform, lunch boxes, book bags, water bottles and PE kits. That way if it gets mixed up, the item can be returned to the rightful owner quickly.
______________________________________________________
Drinks and Snacks
Being part of a healthy school means that we need to eat and drink the right things as well as exercise. Although fruit is not provided for KS2 children, children can bring a fruit or vegetable snack (jelly pots and sugary items do not count) to be consumed at break time in the morning. We also ask that water is the only drink brought into school please.
_____________________________________________________
Homework
Homework will be handed out every Thursday and expected back the following Tuesday. Homework that is late or incomplete will result in a loss of play time and a loss of 15 minutes Golden Time. If there is a difficutly in completing the homework children are encouraged to notify their teacher on the Friday and Monday before it is due, a homework club is also available on a Friday during Golden Time in KS2.

Homework will be 2 pieces of literacy work (spelling practice and a writing task) and a numeracy piece. Both should be completed in the book unless directed otherwise and should be completed in pencil or black/blue pen. Felt tips, coloured pencils and crayons are NOT ACCEPTABLE.
______________________________________________________
Reading
At this stage every child should be reading for at least 5 minutes every evening with either an adult or trusted older sibling. This reading session should be recorded in their yellow reading diary and brought to school every day.
'Once you learn to read, you will be forever free.'

Frederick Douglass

_________________________________________________________
PE
In the Spring term Year 4's PE sessions will be on Mondays and Tuesdays.

Your child will need: a bag for their kit, green t-shirt, black shorts and either plimsolls or trainers. This can be adjusted for when the weather is colder with an additional jumper or black sports trousers being acceptable.
Swimming has finished for Year 4 now! Congratulations to all for making such great progress!
_________________________________________________________________
Grandparents came for a visit! 3/10/2017
On Tuesday the 3rd of October Year 4 performed their song 'Like A Roman' to the Grandparents, Parents and school. They were nervous but they didn't let that stop them. After this, the Grandparents and Parents who attended were invited back to the classroom to spend some time with the children. We solved numerous maths problems, worked in teams and partnerships and enjoyed some reading time too. Thank you to all who attended, it meant a great deal to our class.
In case you missed it, you can see a performance of our song, 'Like A Roman', in the video below. Enjoy!
Some of our gymnastics skills at work!
Topics
Please click on the images to find out more information about your child's topic.

Letters

Useful Links