Teachers: Mrs Foan and Mrs Skinner
Teaching Assistant: Mrs Greener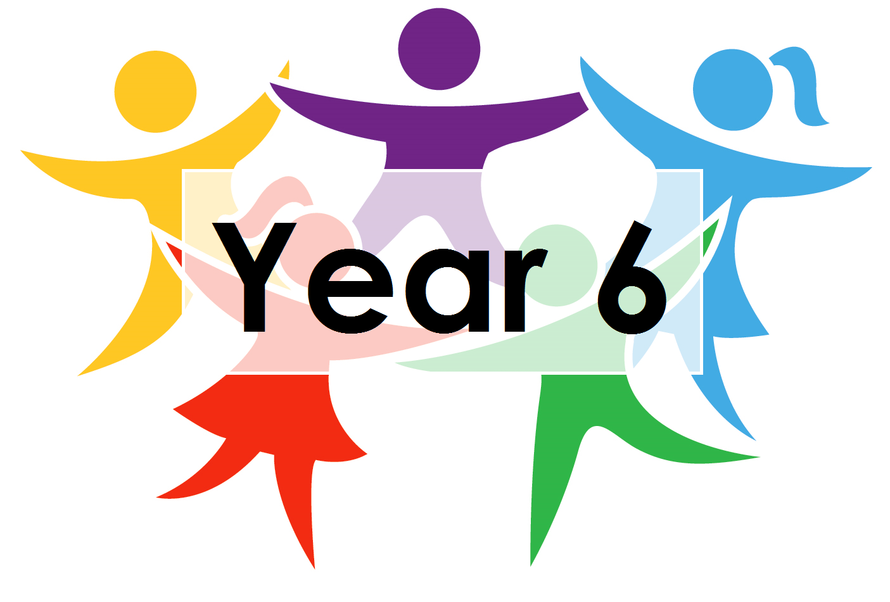 End of term treat: 16.7.19
It was lovely for Year 6 to spend a bit of time together before the end of term, and what better place to do it than Arundel. We spent the morning at Arundel Lido, had a picnic and then spent a bit of time having fun in the play area, before having an ice lolly and heading back to school.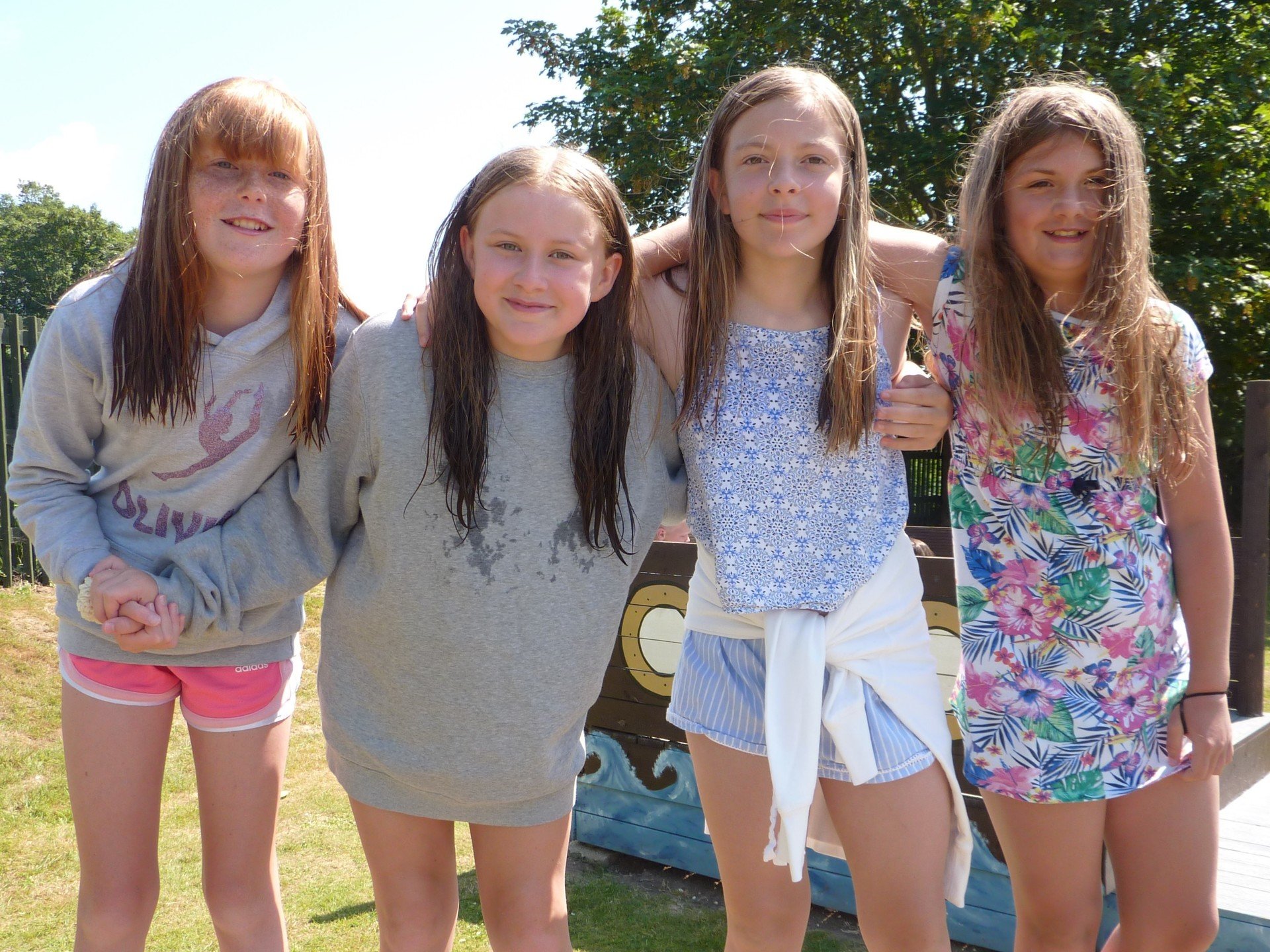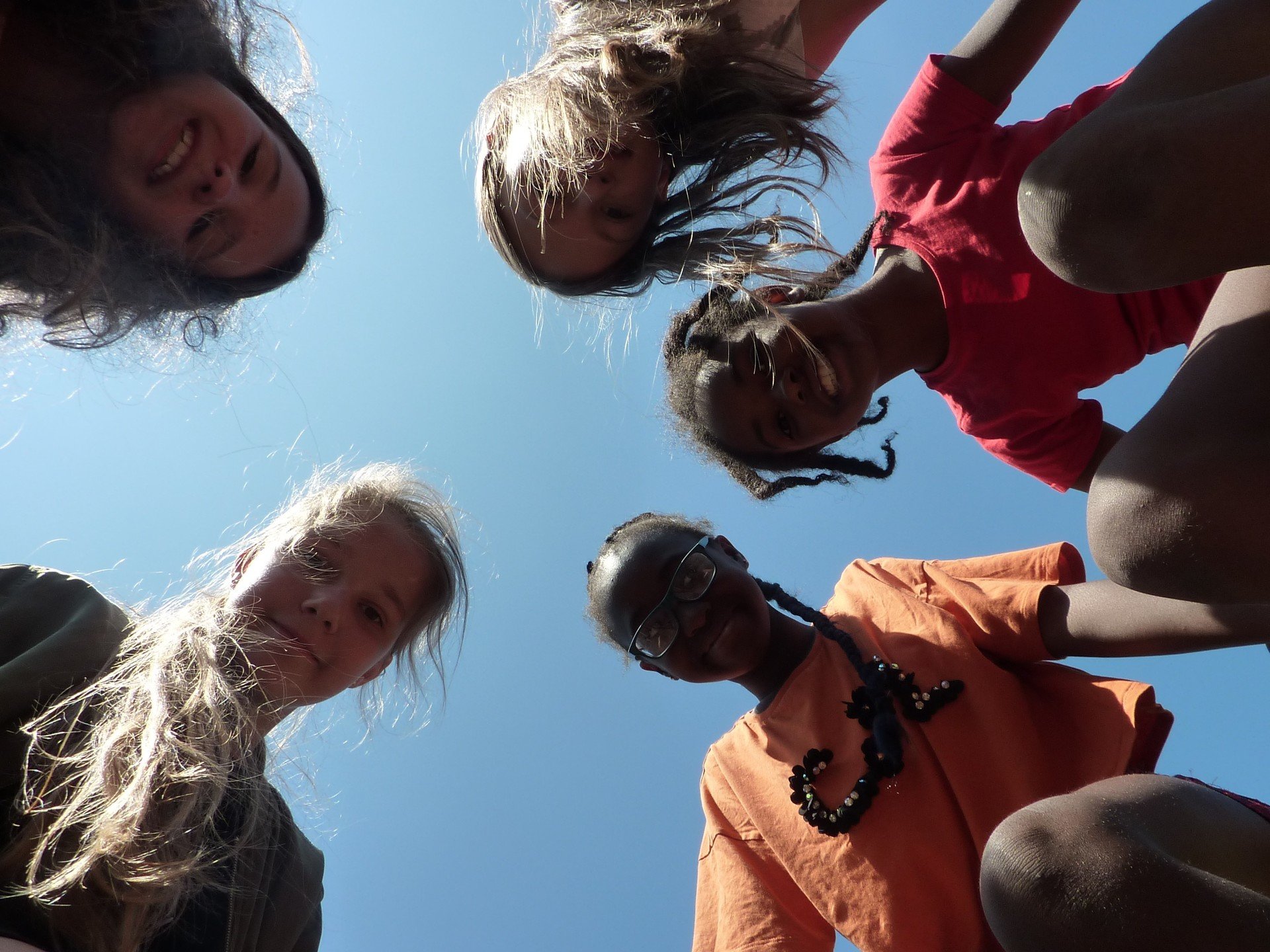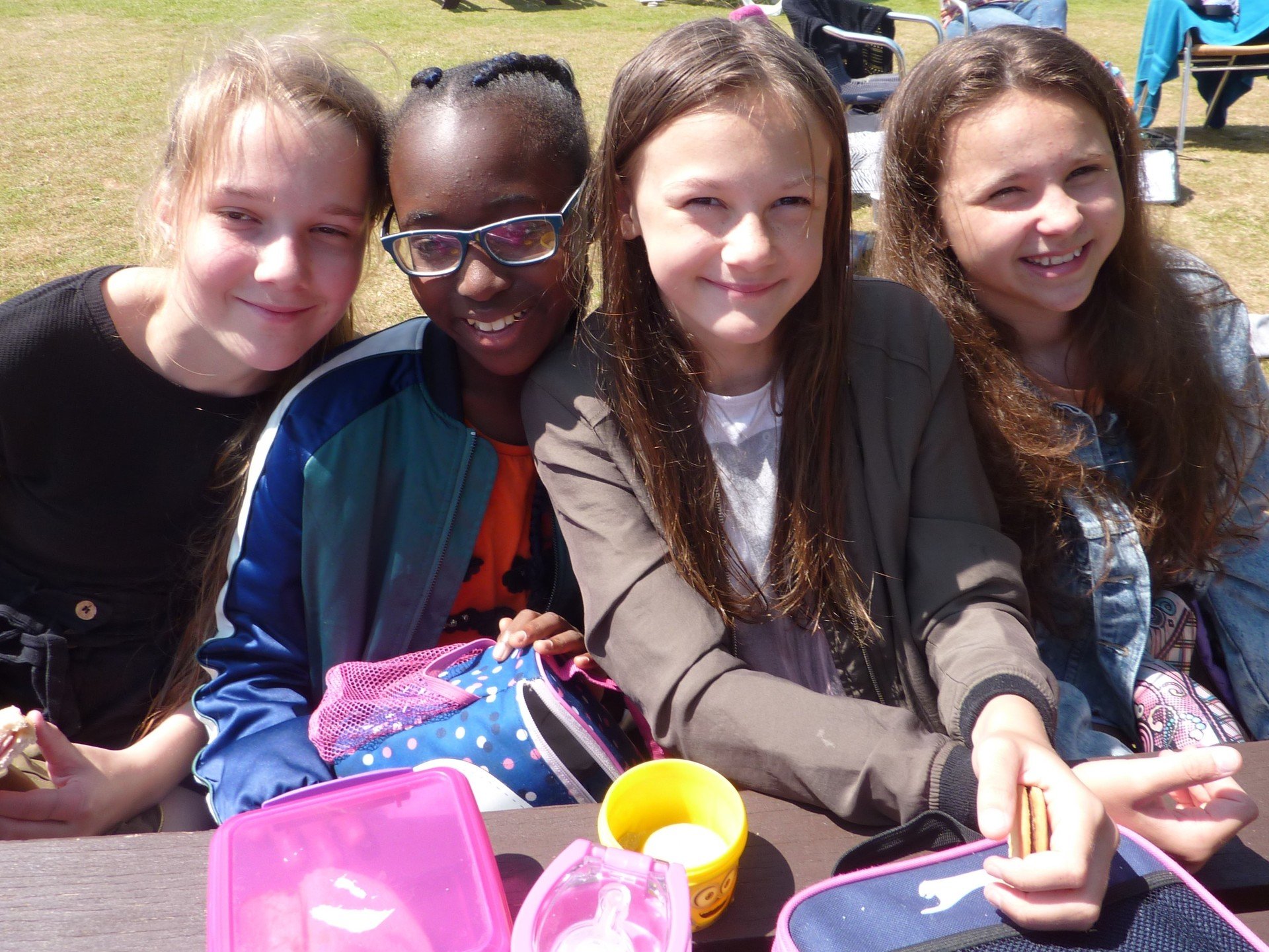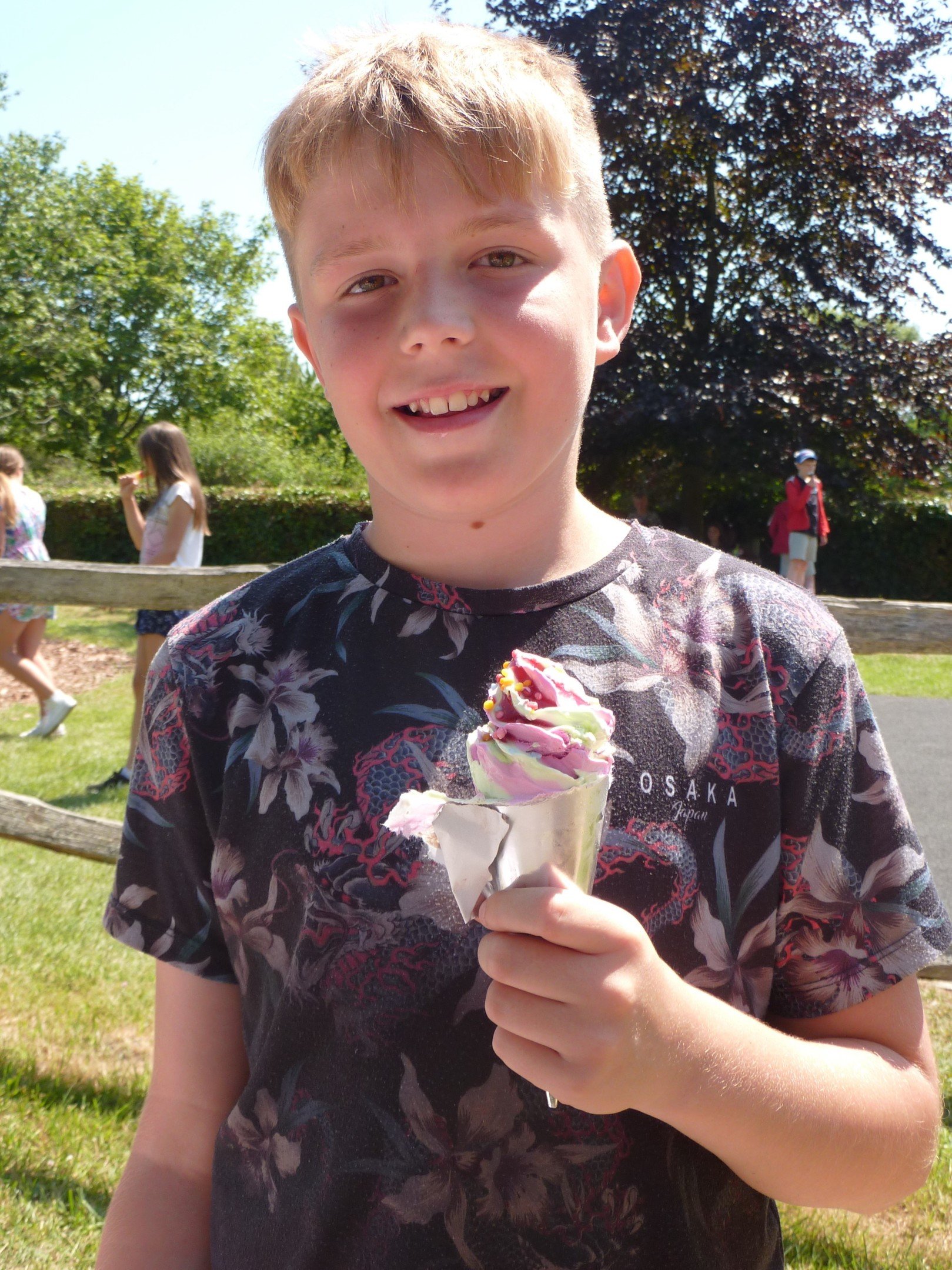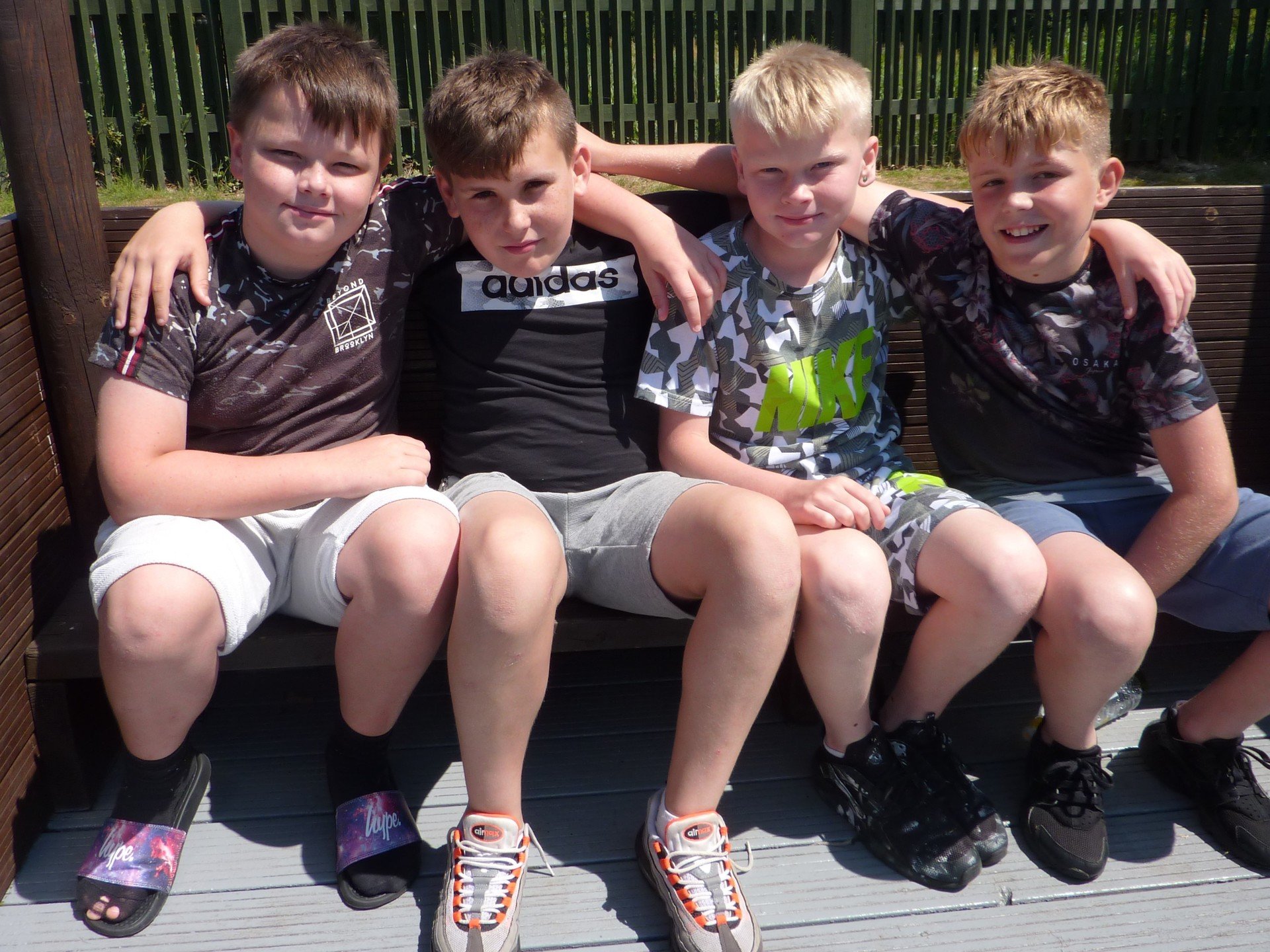 The perfect opportunity to relax, spend time together and have fun! Today was a perfect day spent with a wonderful class!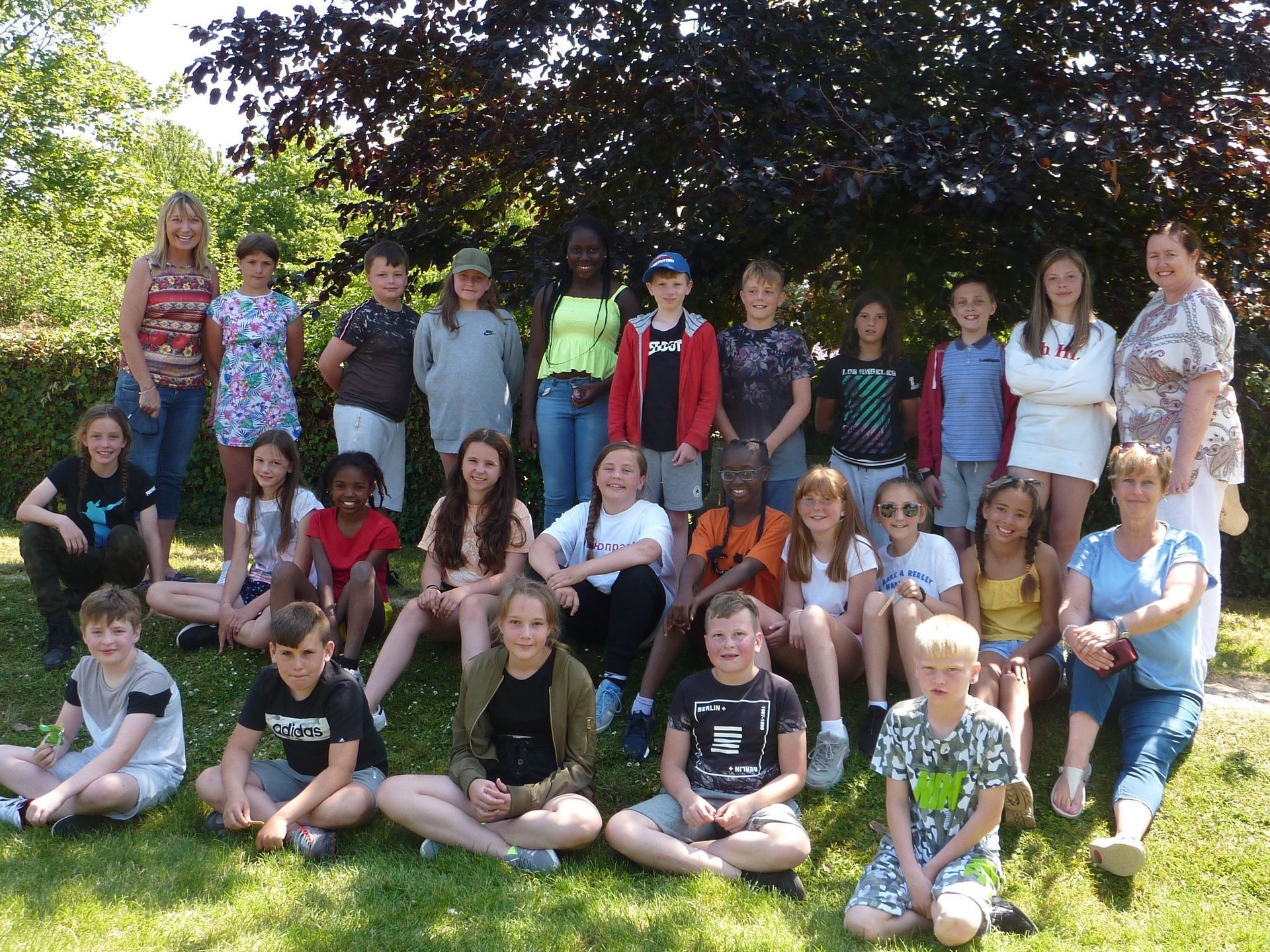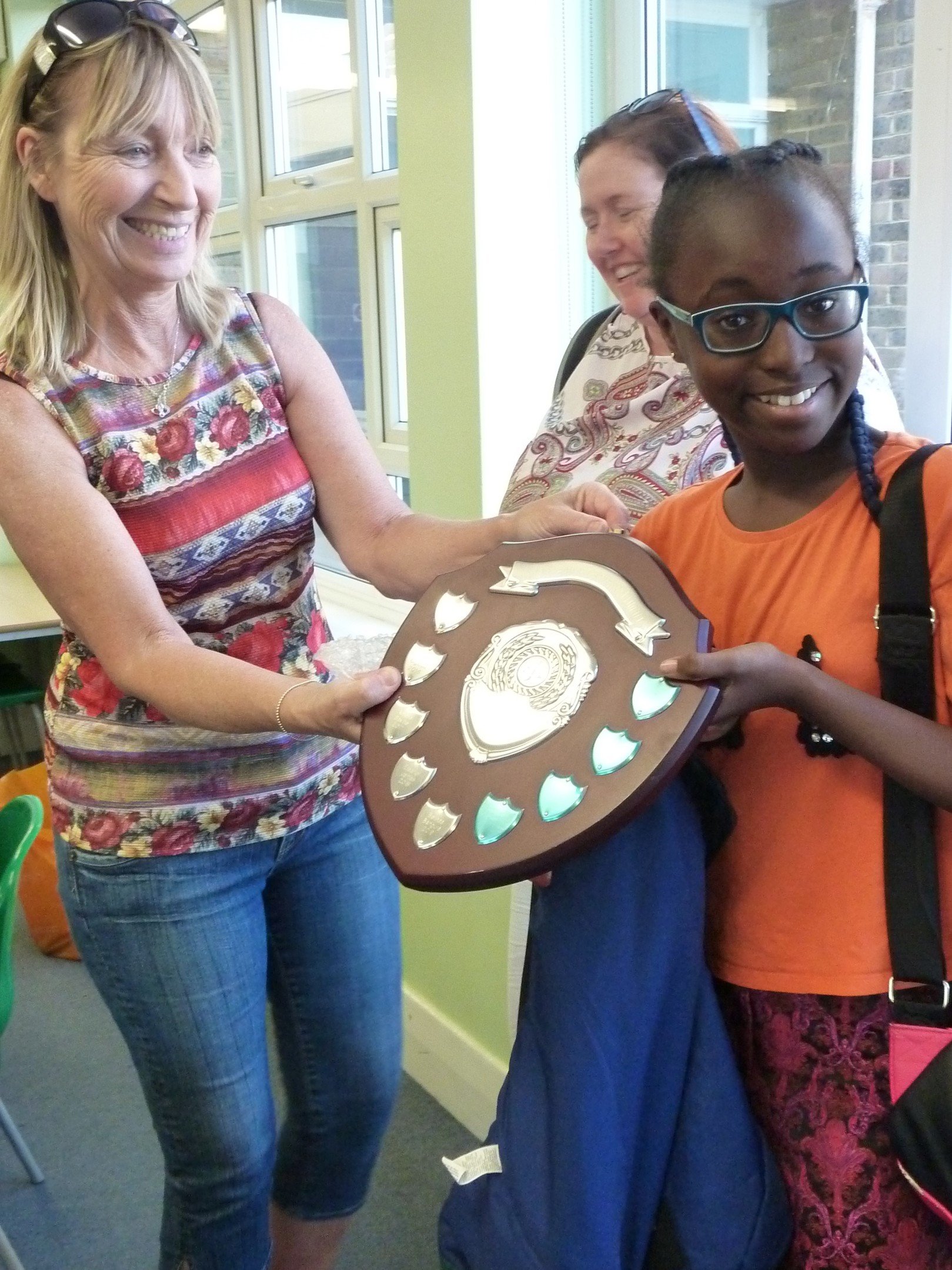 Today was also Belinda's last day at St Joseph's. As she won't be here for Friday's Leavers' Achievers' Assembly, before she went, Mrs Foan presented her with the award she had been chosen for - the R.E. award for her contribution to RE lessons, RE across the school and for living the St Joseph's ethos every day. Congratulations Belinda !
End of year production of Oliver: 4.7.19
Over the past few weeks, Year 6 have been rehearsing for their end of year production of Oliver. We knew we had a lot of talent in the class, but tonight just showcased the amazing amount of talent we do have.
Great dancing, acting and singing - Year 6, you were just amazing! As always, we were very proud of you all.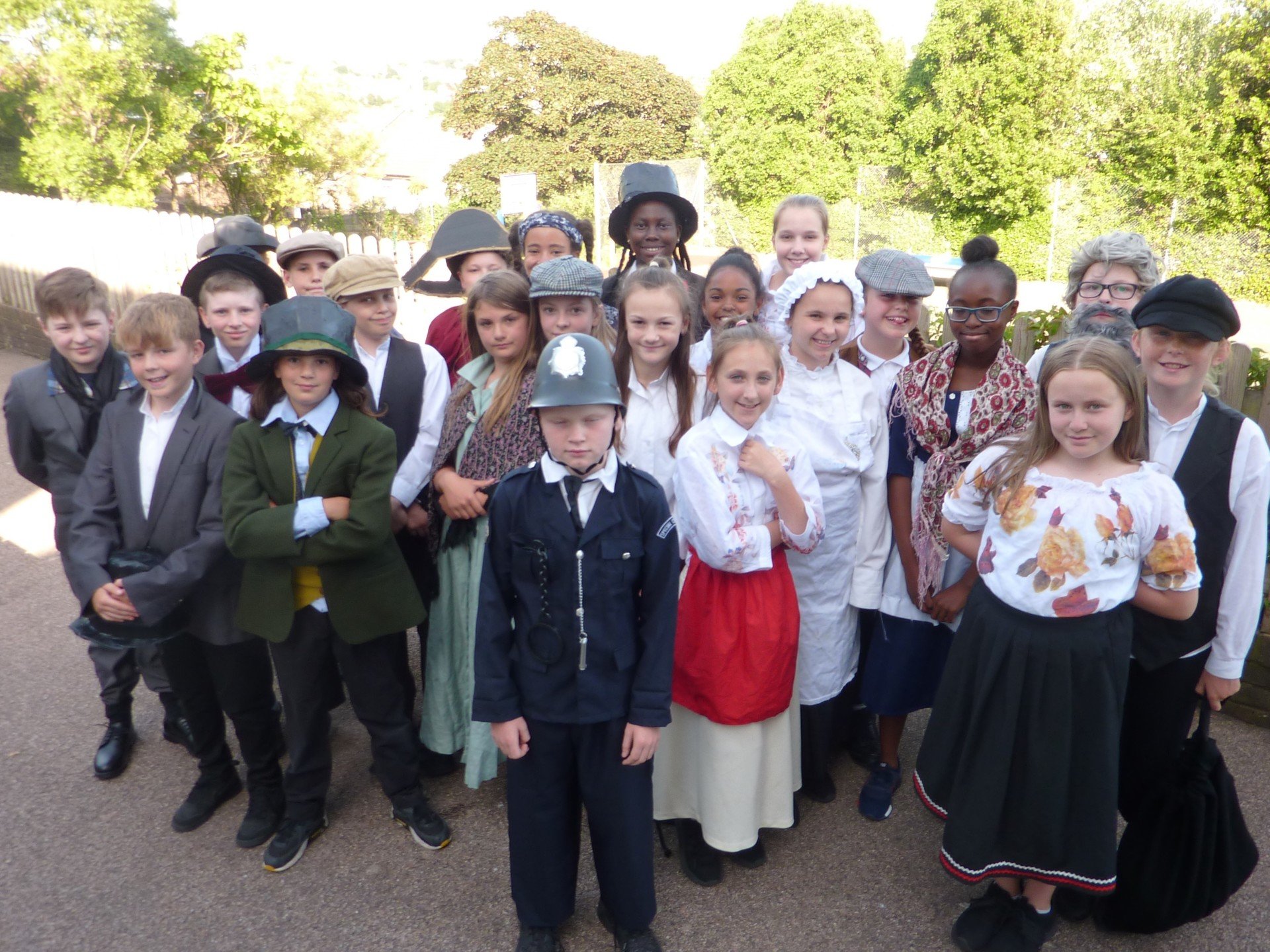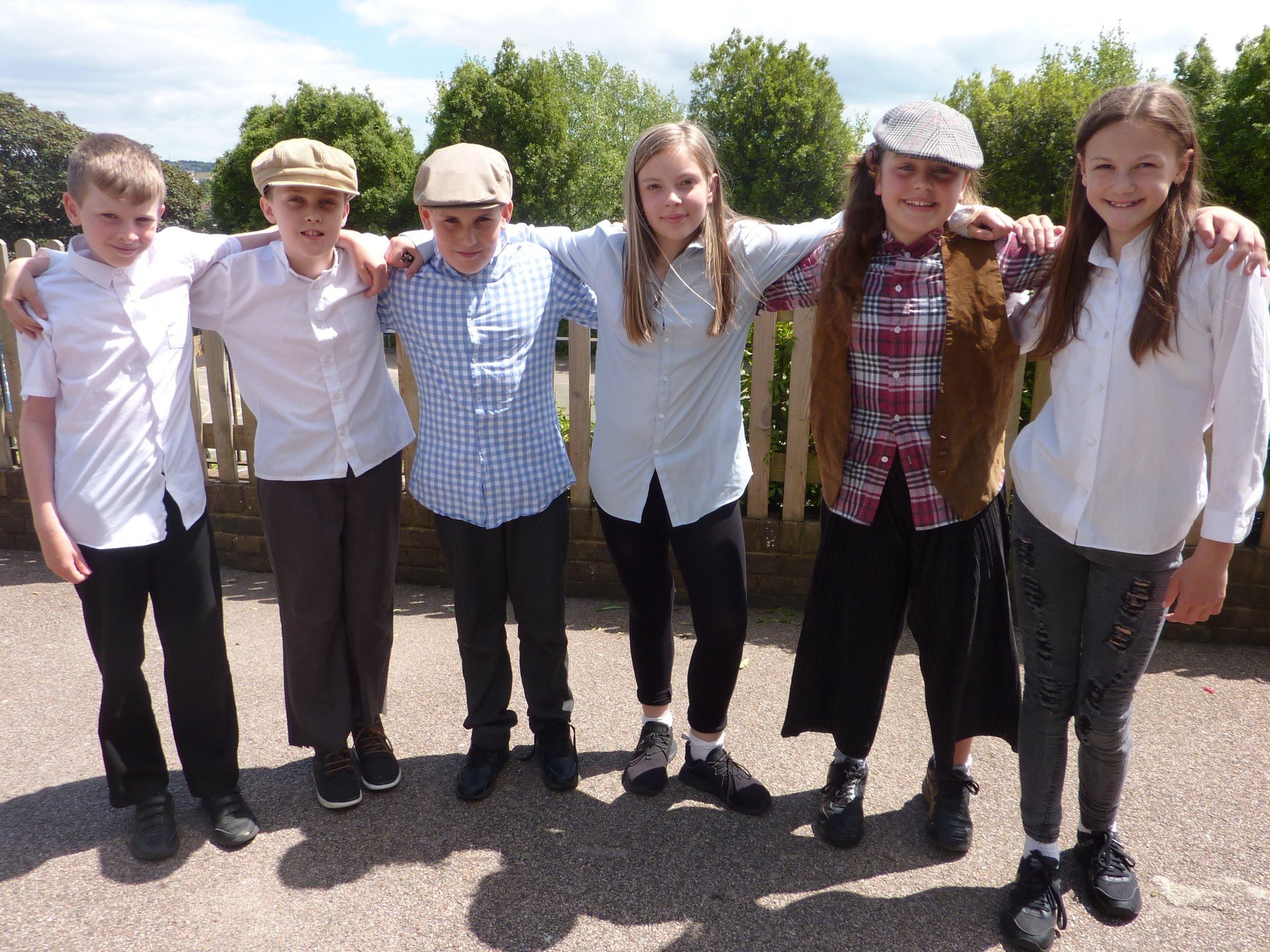 The cast ready to perform The workhouse boys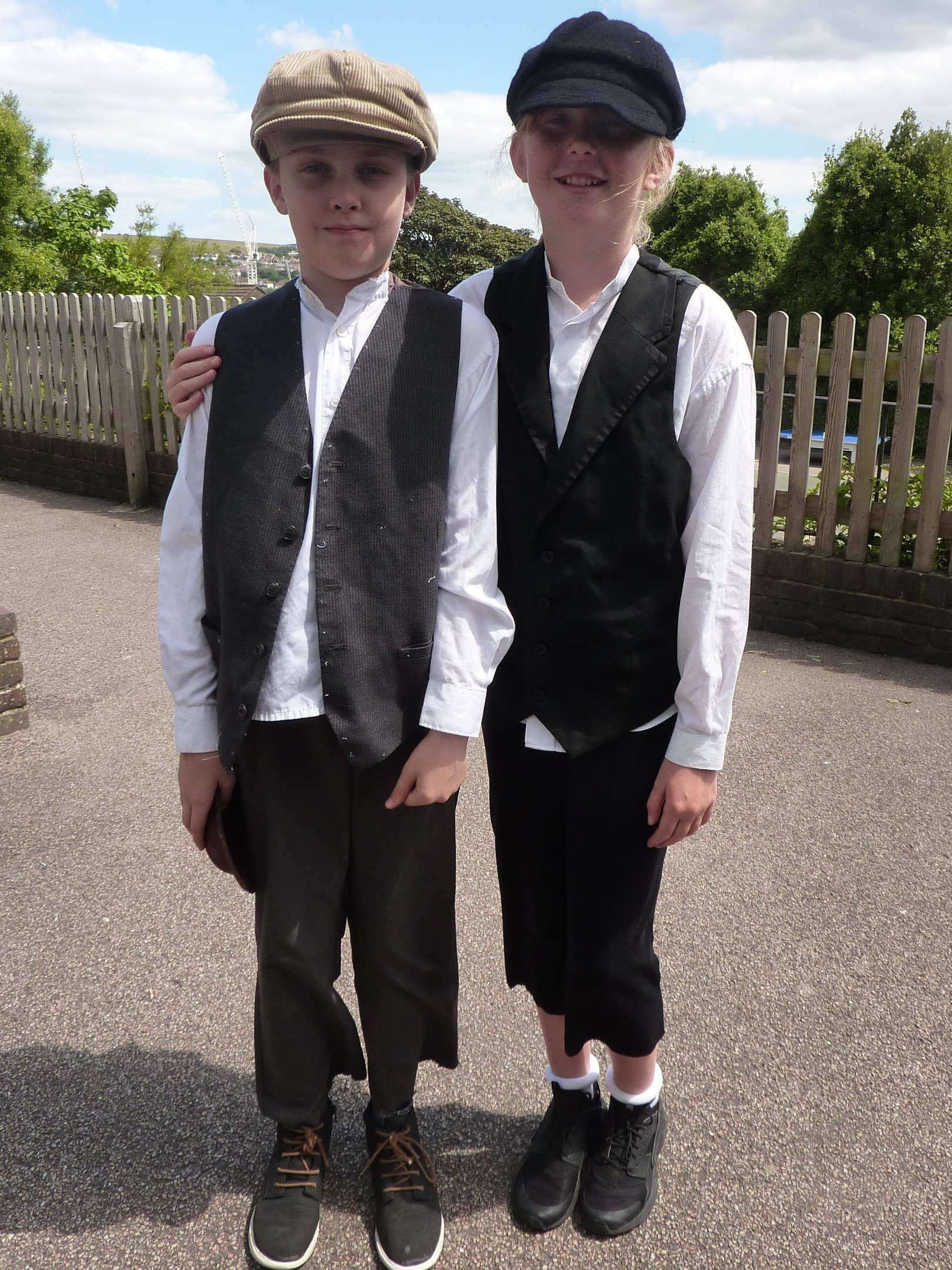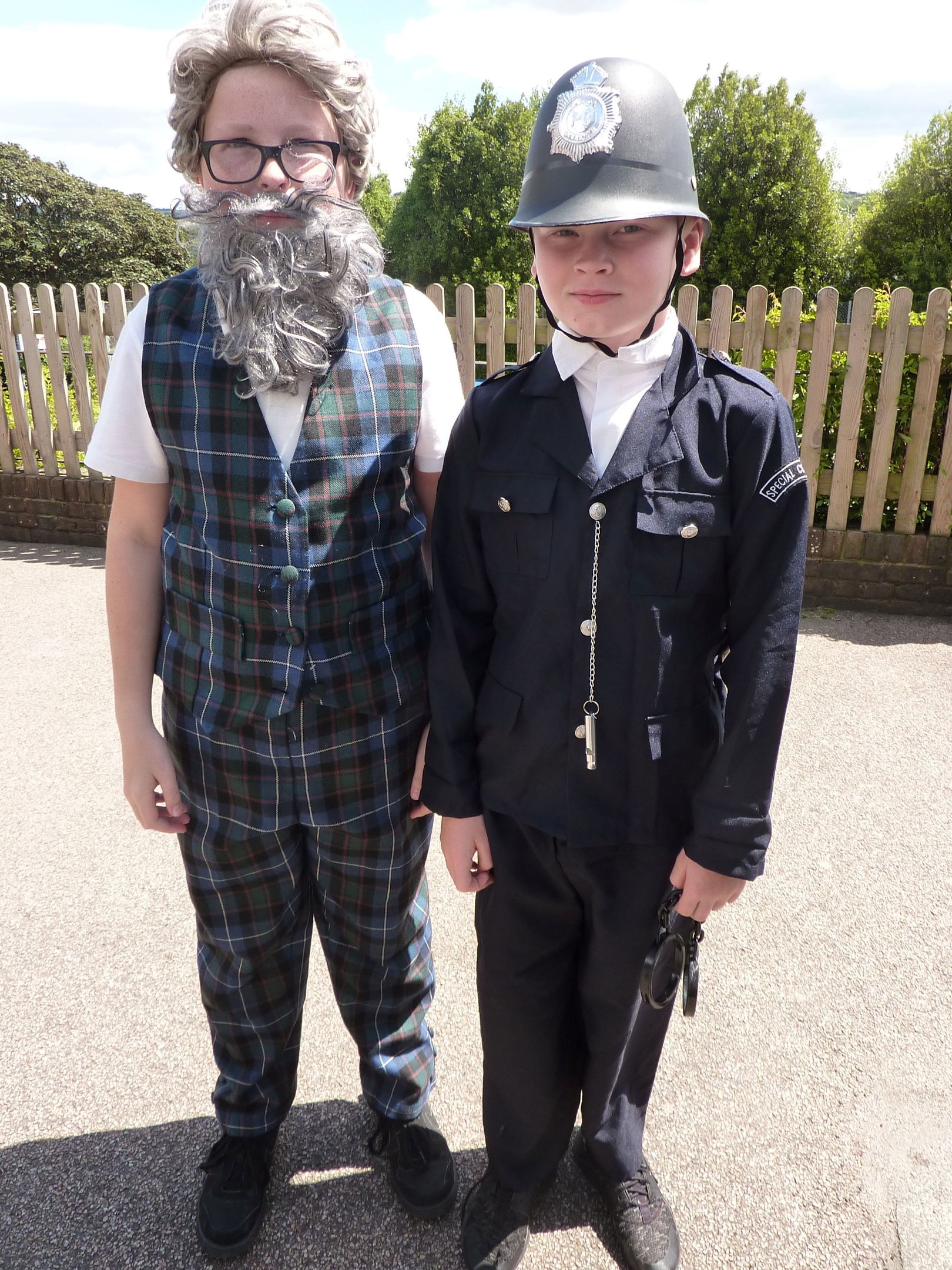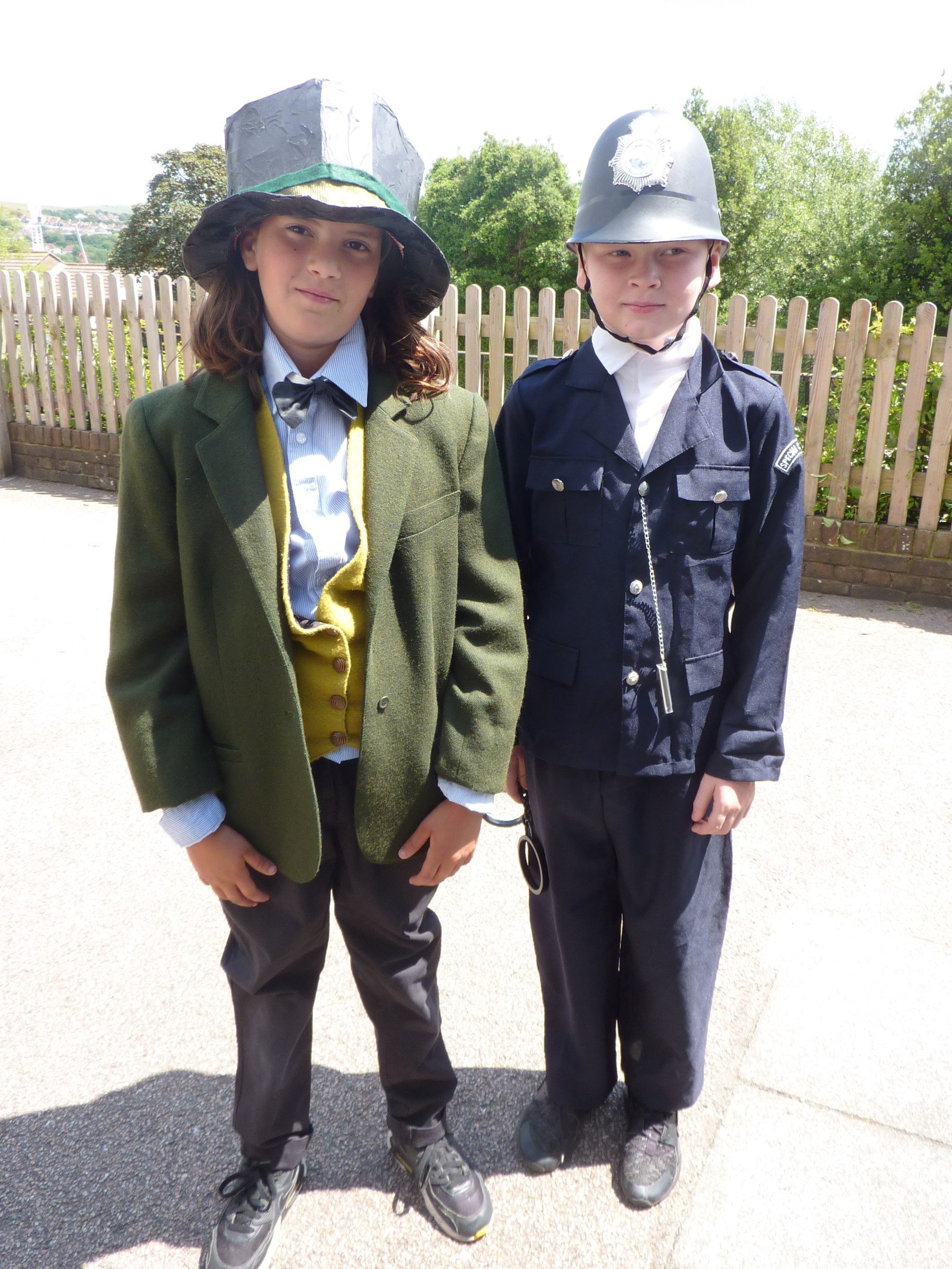 Our two Oliver Twists The two "Artful Dodgers" The Magistrate, Police Officer and Mr Brownlow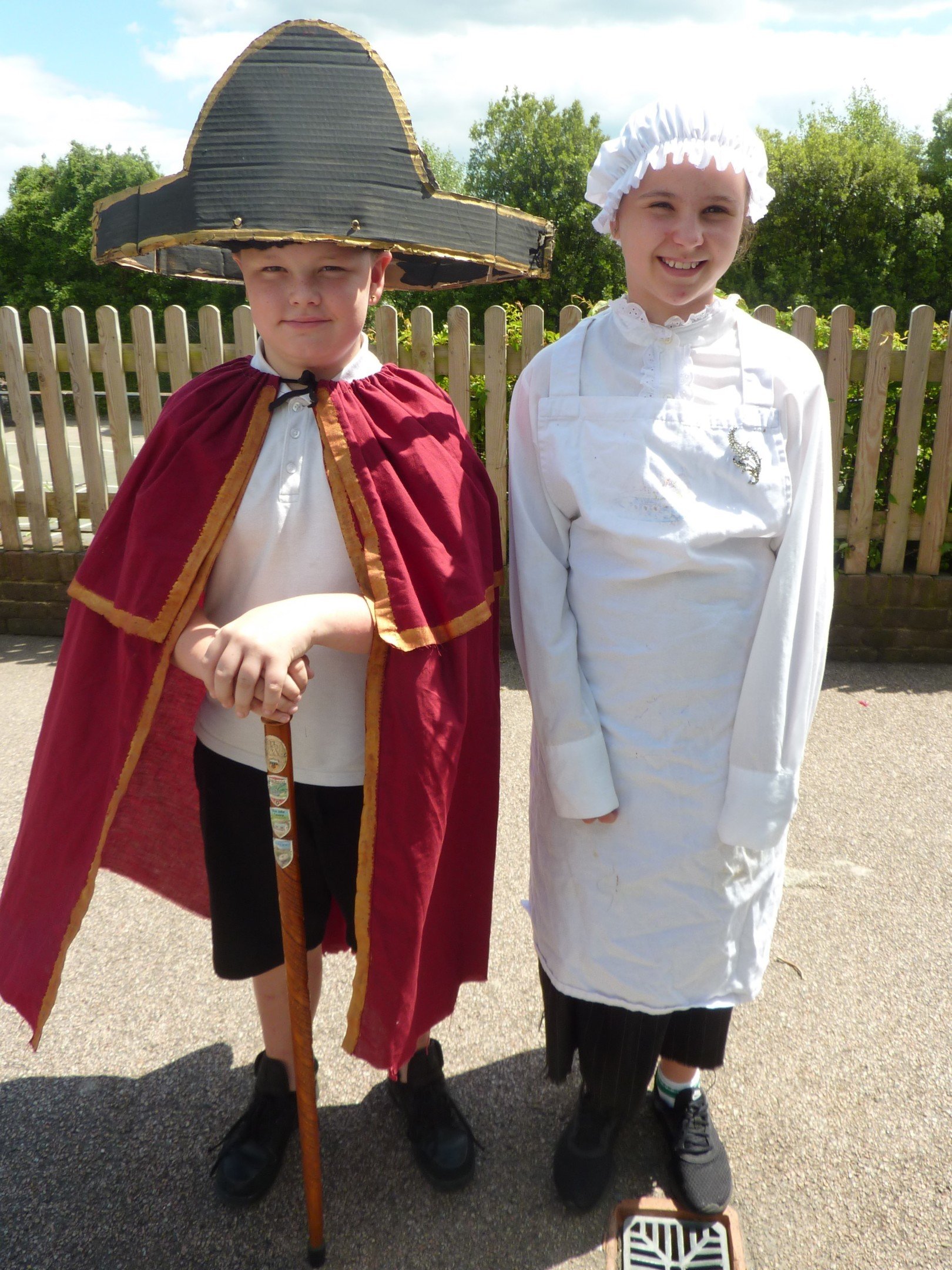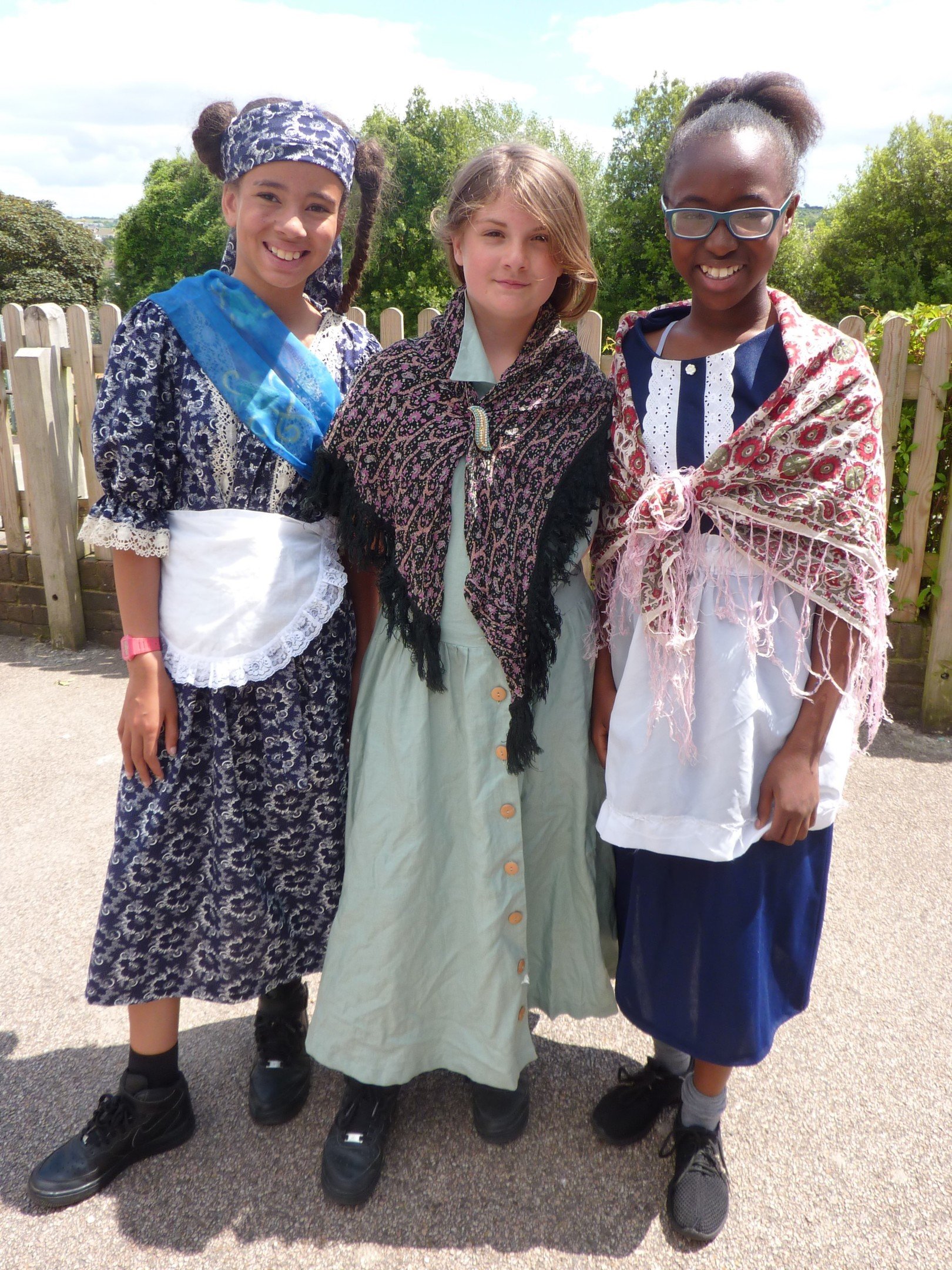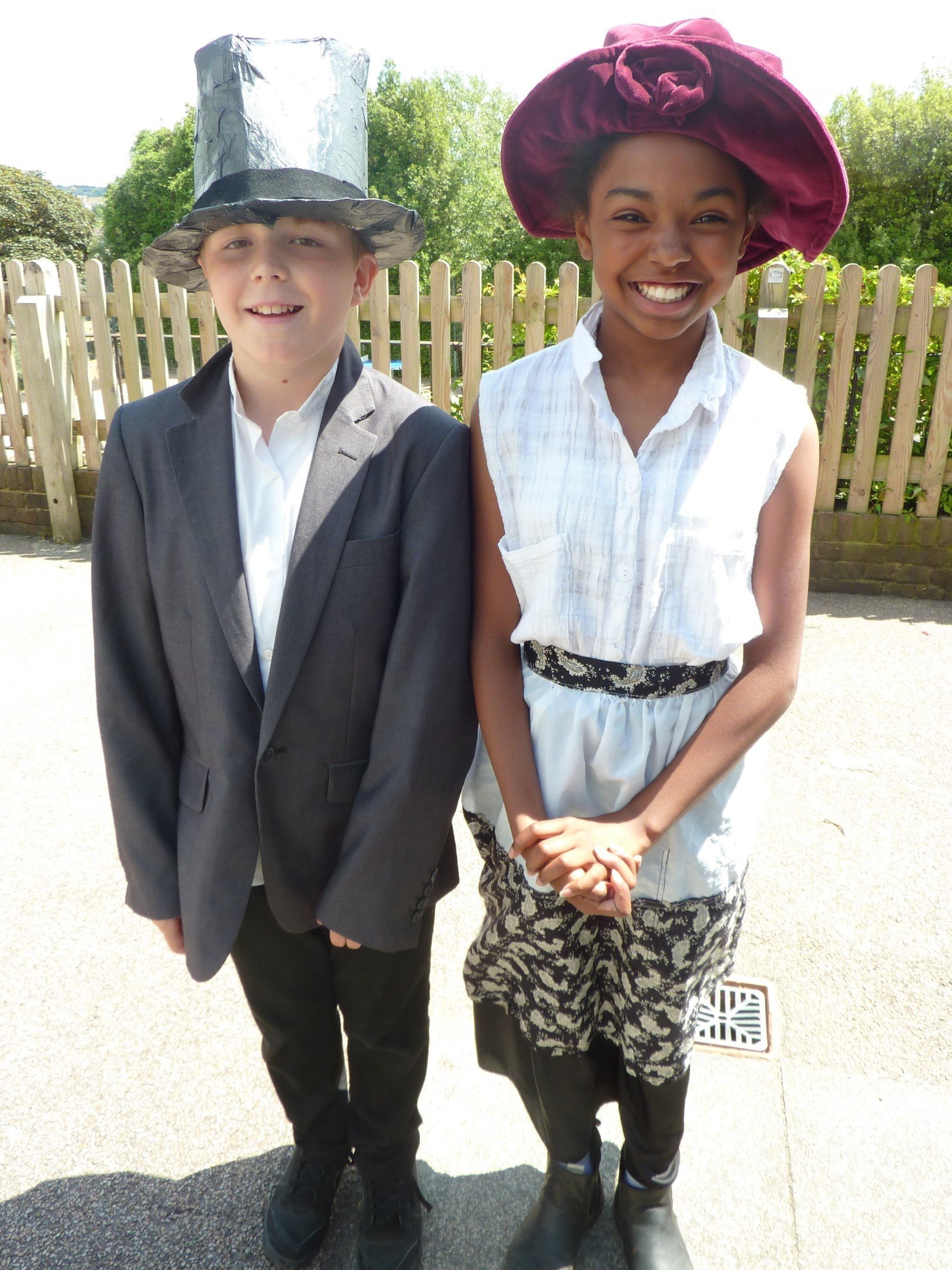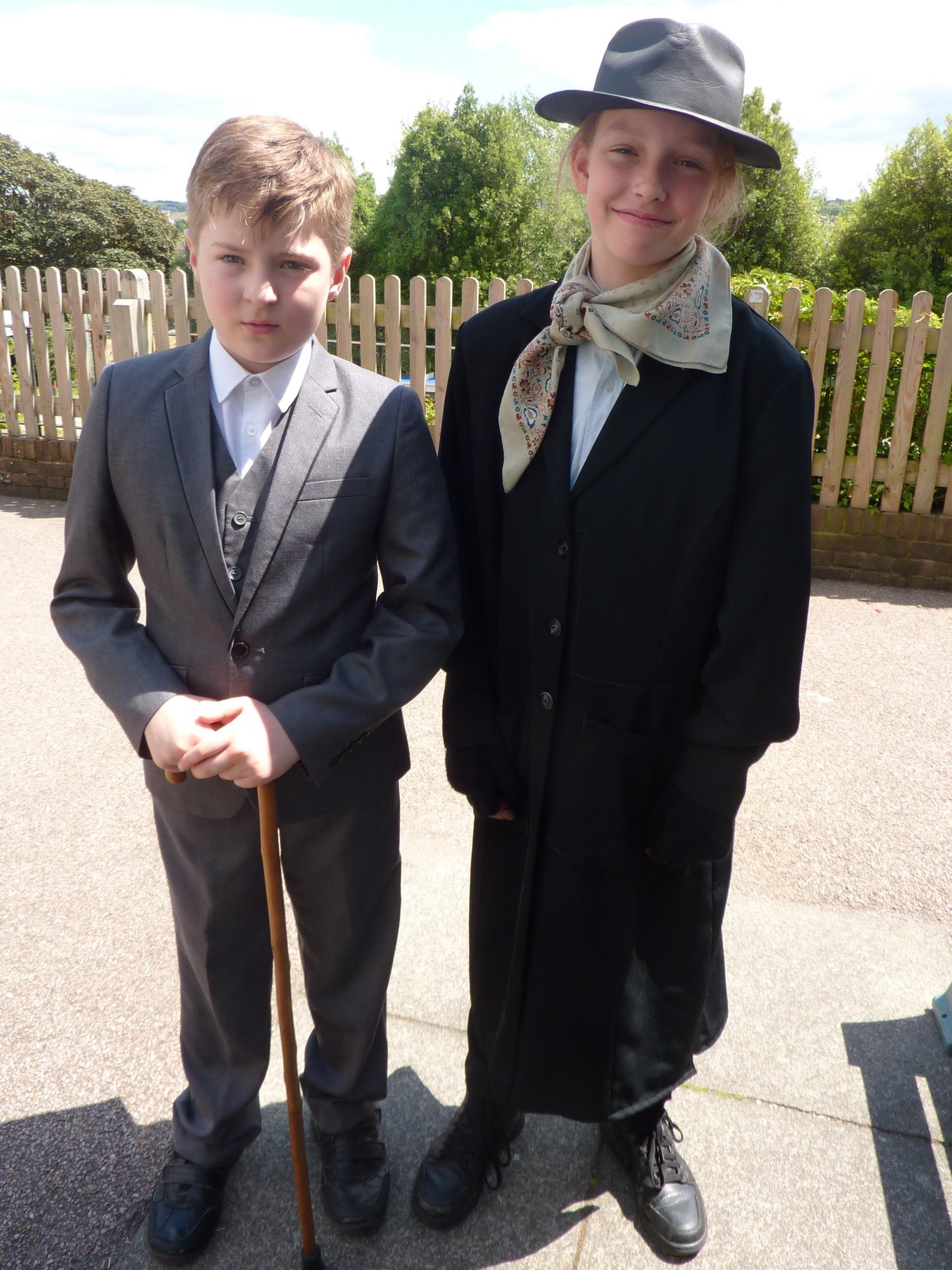 Mr Bumble and Cook Our two Nancies and Betsy Mr and Mrs Sowerberry Bill Sykes and Fagin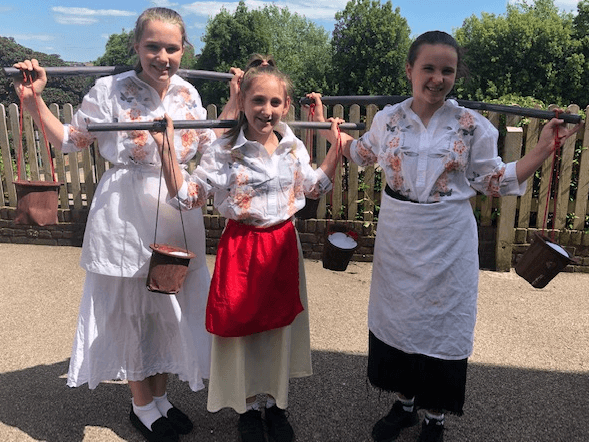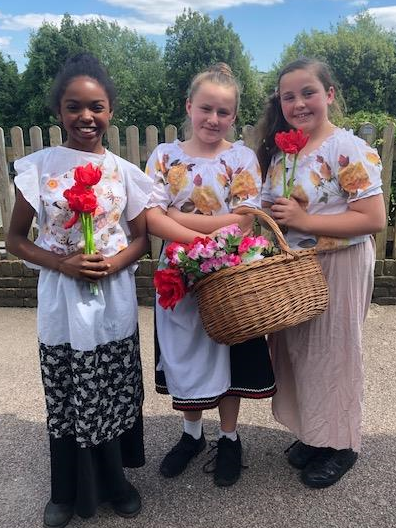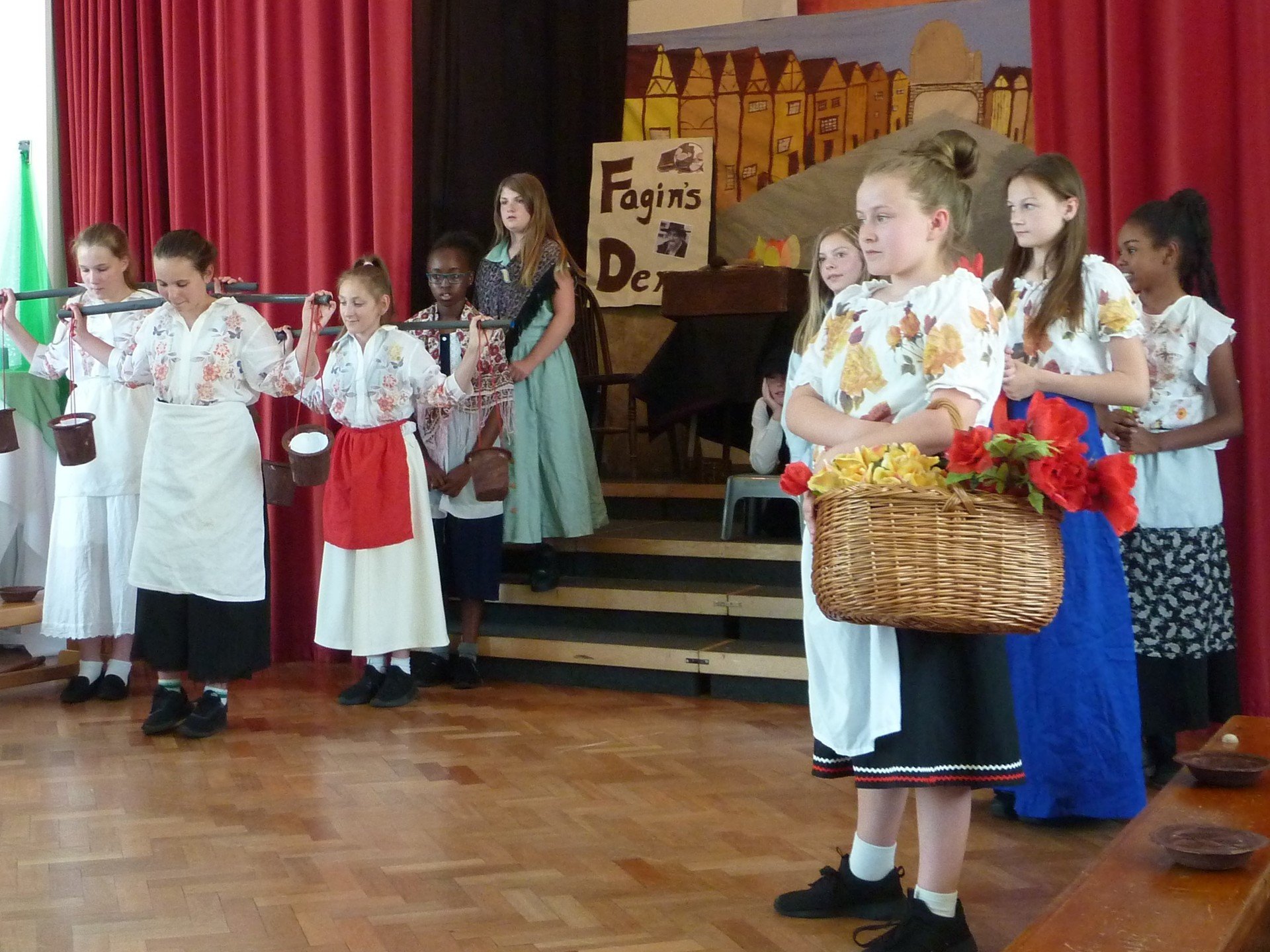 The Milk-Maids and Flower Sellers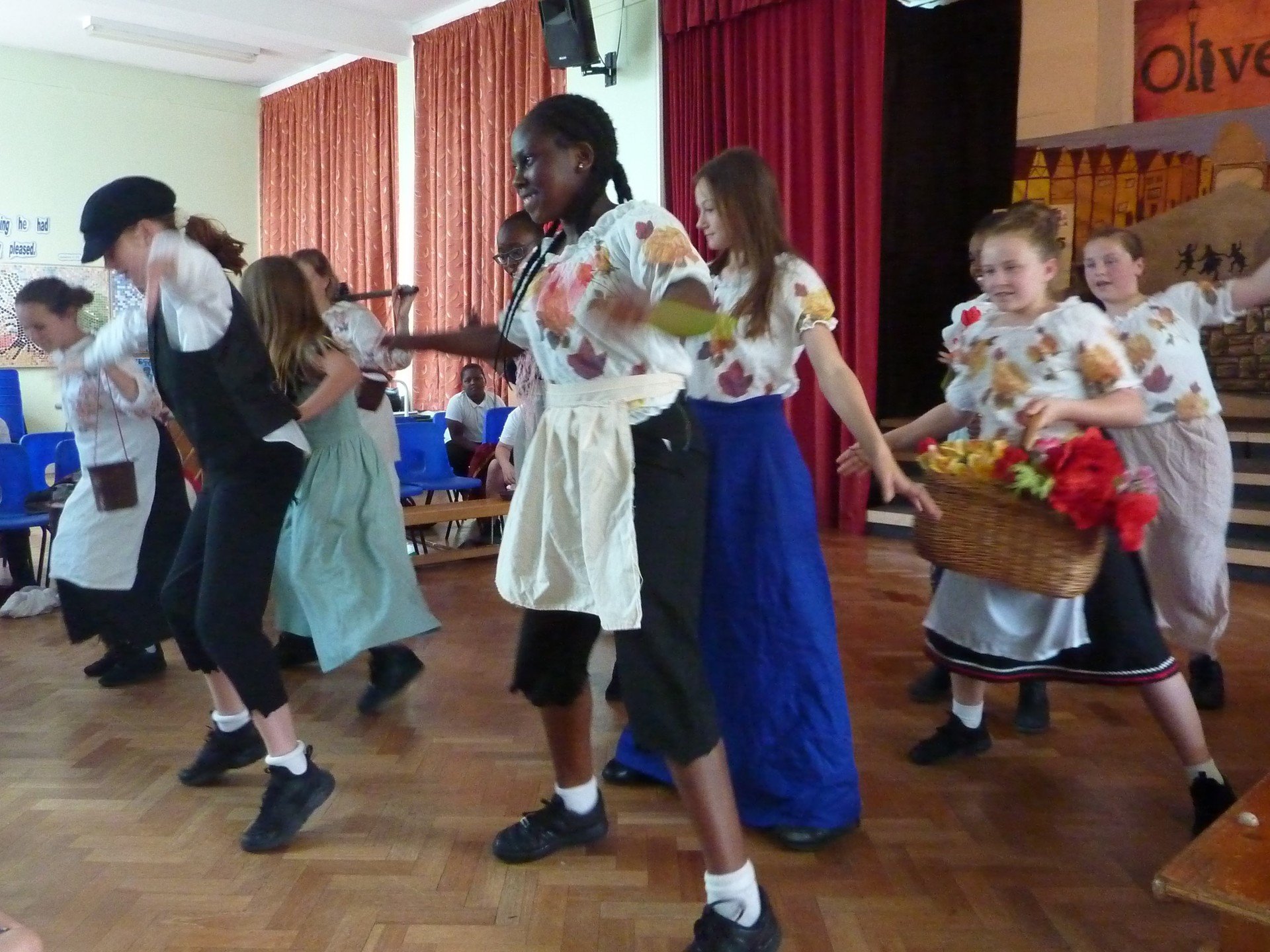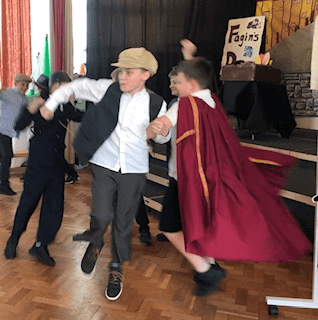 Our performers in action
Cardinal Newman Transition
For those Year 6 pupils moving on to Cardinal Newman in September, please use THIS LINK to access the new starters page on the school's Firefly portal.
Transition Workshops : 12.6.19 and 13.6.19
As part of the preparation for the children's move to secondary school in September, the pupils in Year 6 have will have a series of transition workshops and activities this half term. This week, Mrs Arnold has worked with the class on their transition. Through discussions, games and activities the children were able to share any worries or questions they might have before their taster days at their new schools over the coming weeks.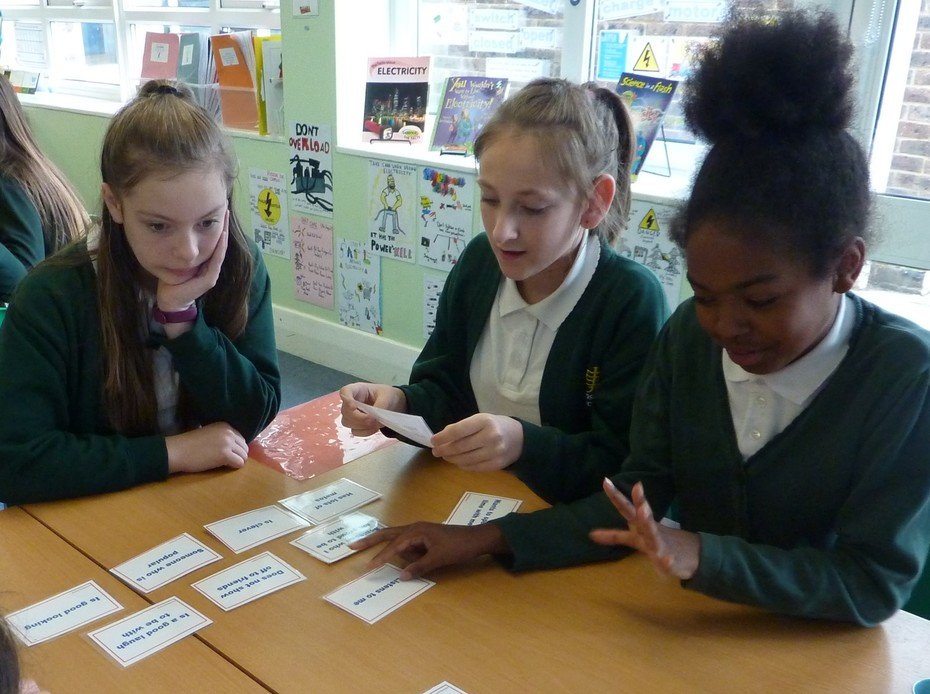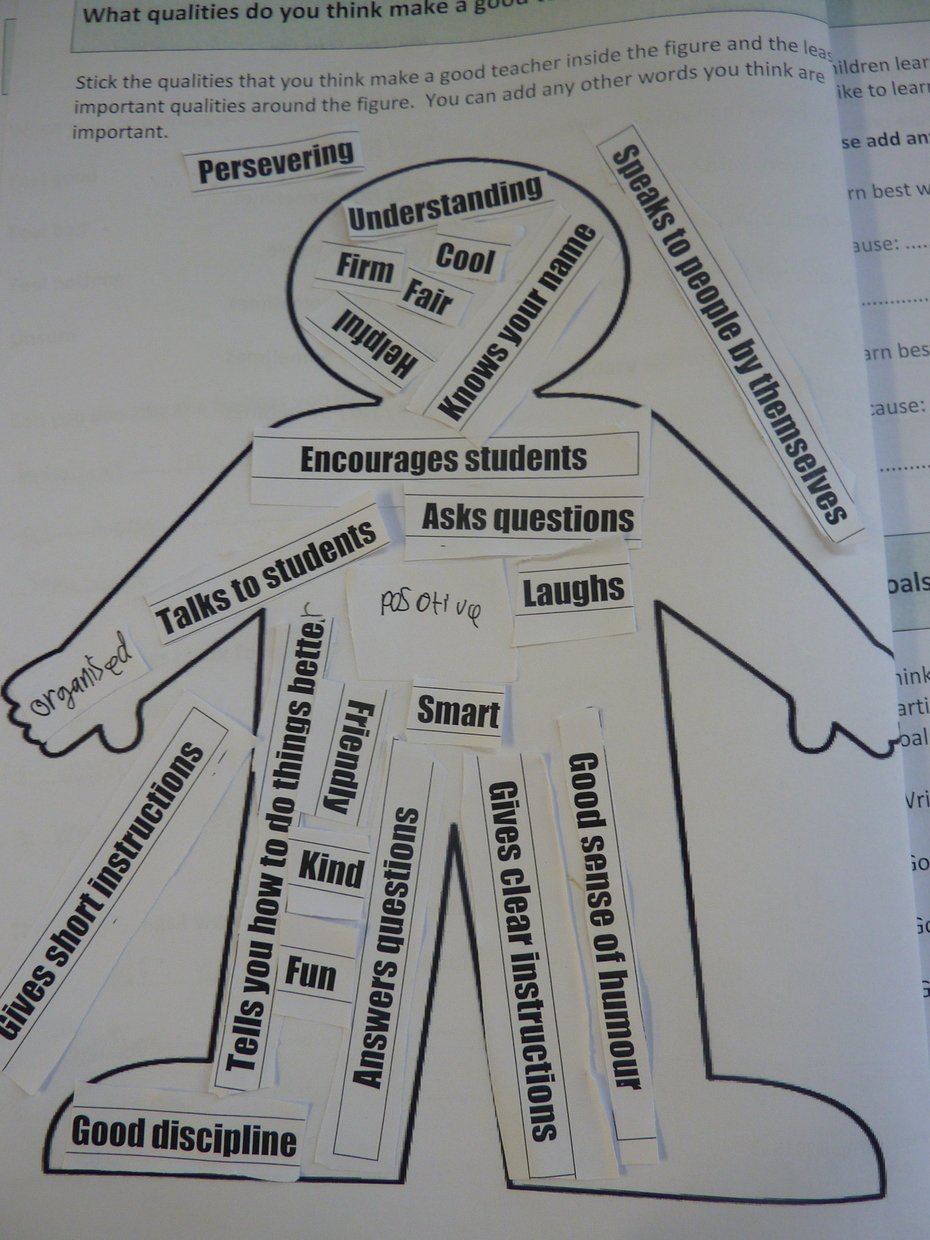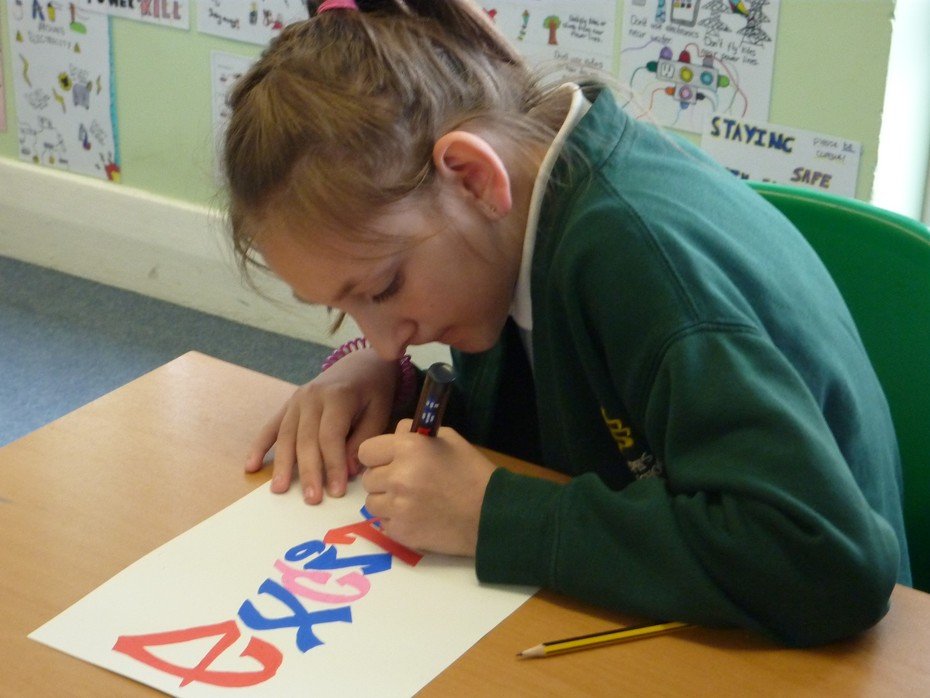 Year 6 took a well-earned break from their work this afternoon and sat outside in the sunshine to listen to a bit more of our class novel, "Goodnight Mr Tom." The children are really enjoying this class reader and we have had some incredible pieces of writing from the children based around the book and characters.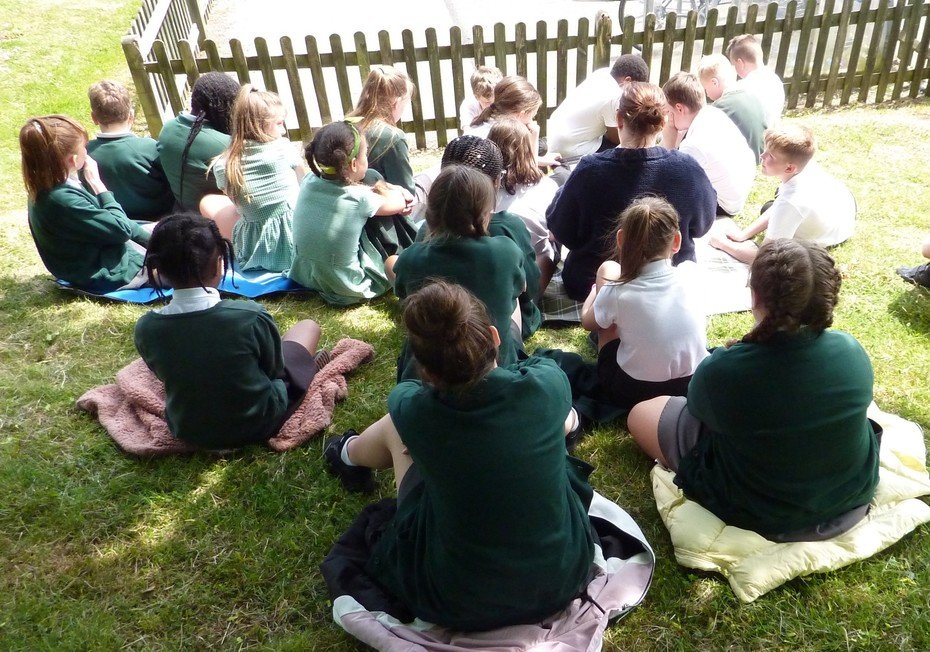 Cricket Coaching
We have thoroughly enjoyed this half term's cricket coaching with Alan from Sussex CCC. Alan has taught Year 6 all the necessary cricket skills including bowling, batting, throwing and catching over the last six weeks and today, they applied these skills in a class cricket match.
Year 6 - you were looking great today, it is amazing how much you have improved. We have two cricket tournaments in the first two weeks back after half term. Watch this space to see how we get on!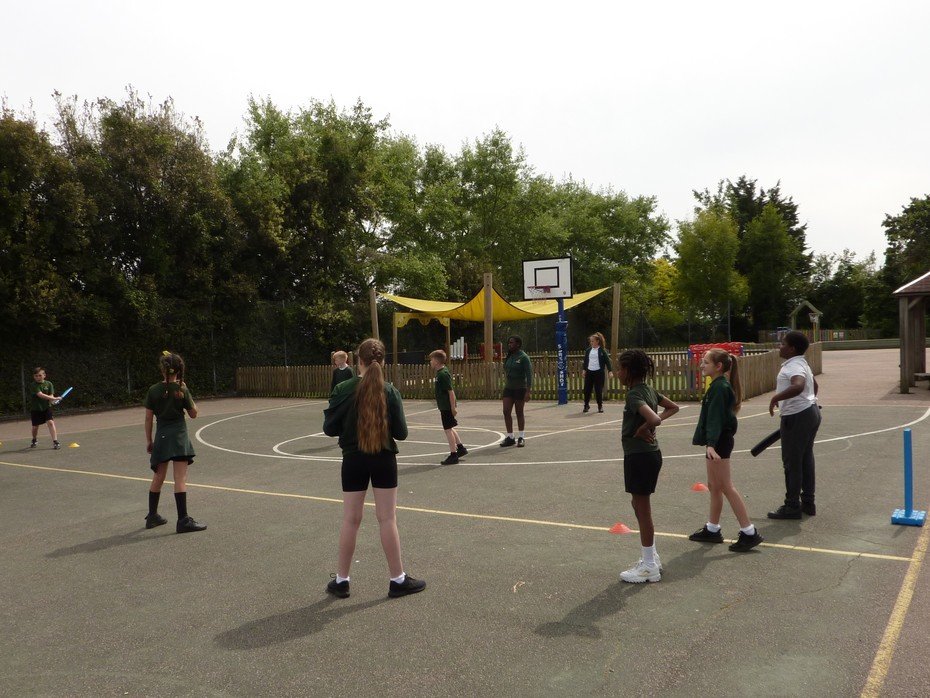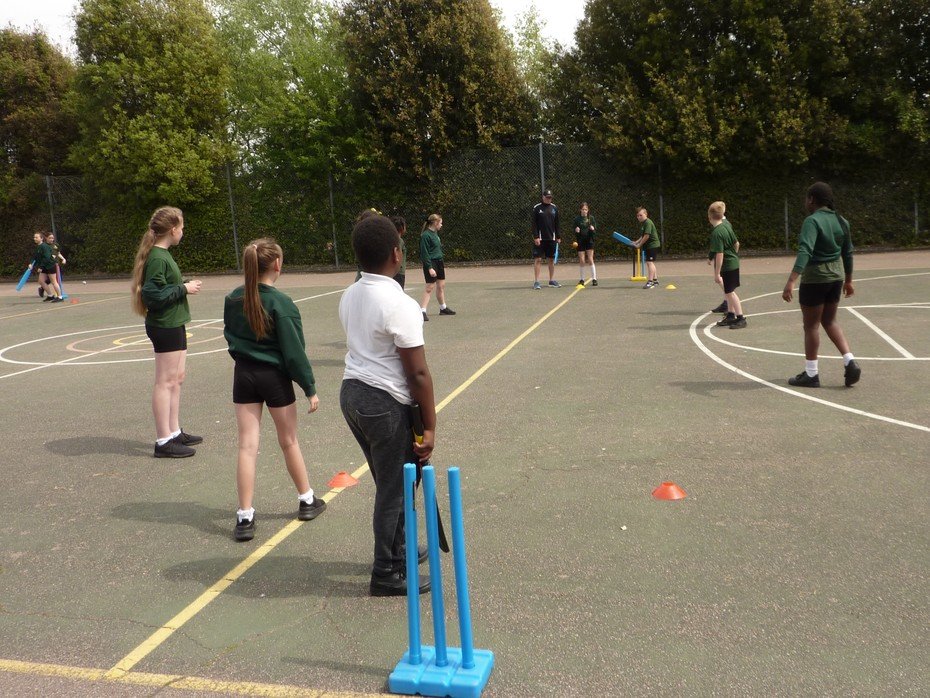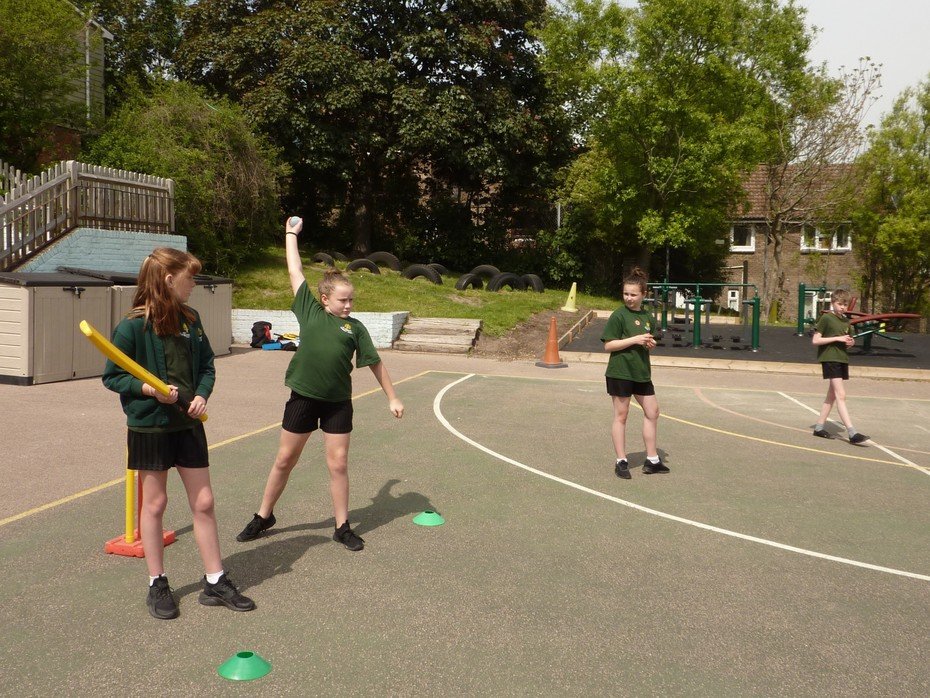 Our Science Learning : 22.5.19
This half term, we are consolidating our knowledge of electrical circuits and their components. Today, we explored the effect of adding more bulbs to a series circuit and also the effect more cells have on the brightness/function of the bulb. We then used the components to construct parallel circuits. We also used mini-solar panels to create electricity and light the bulbs.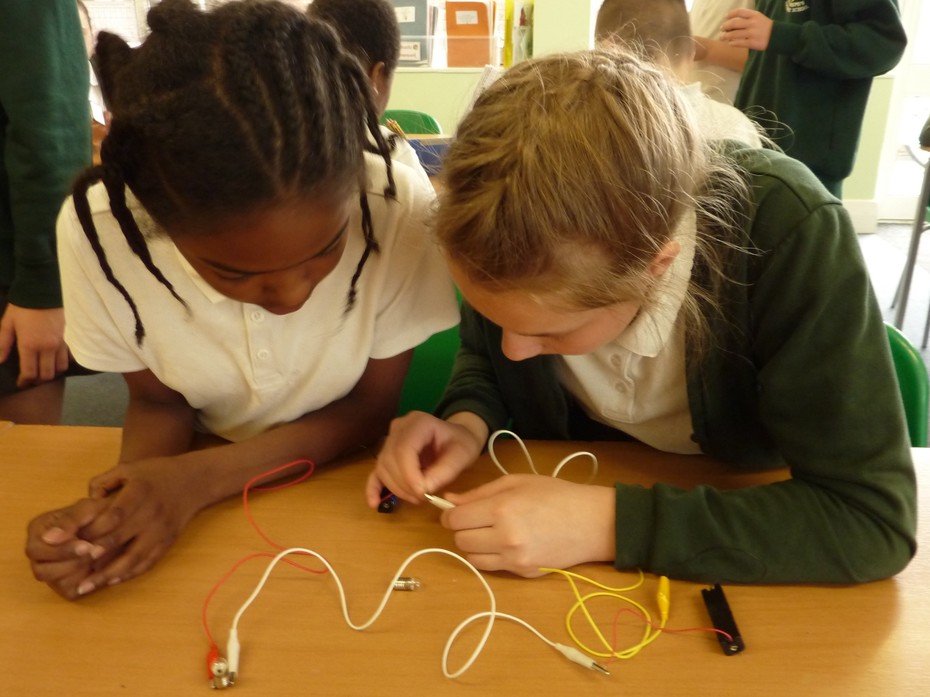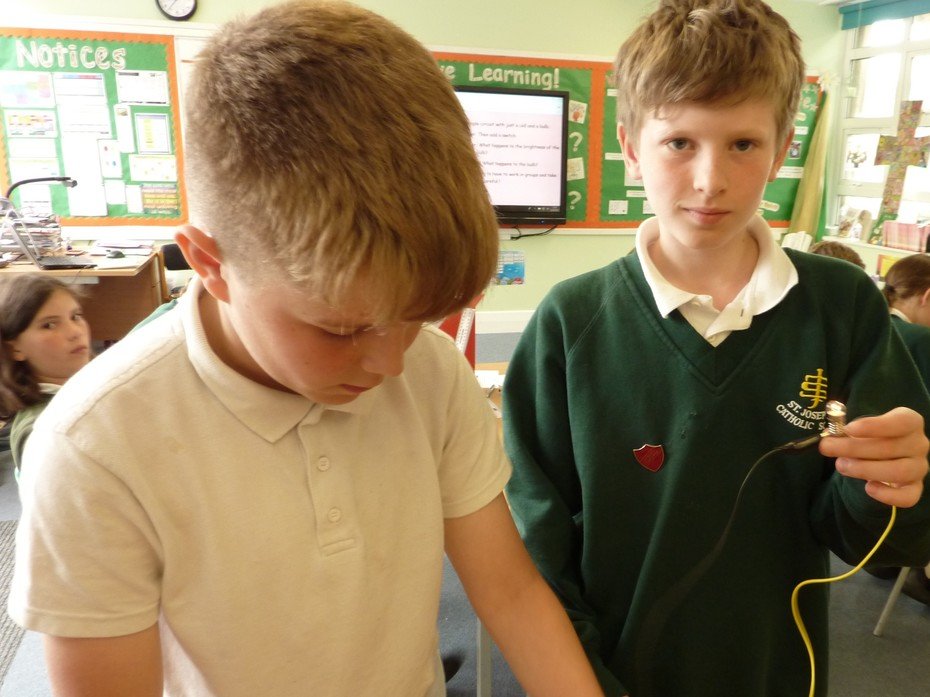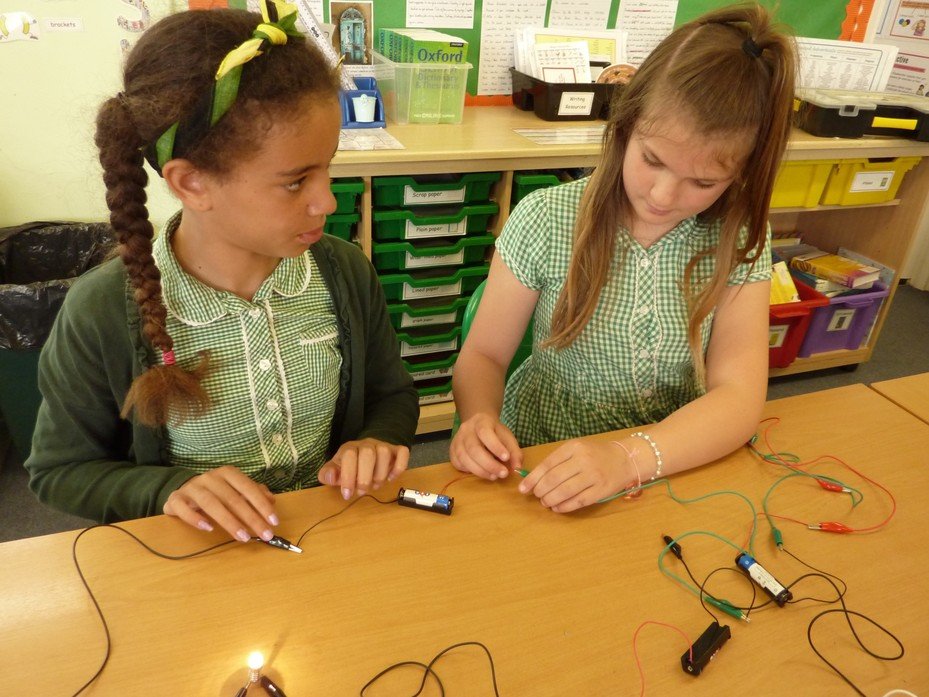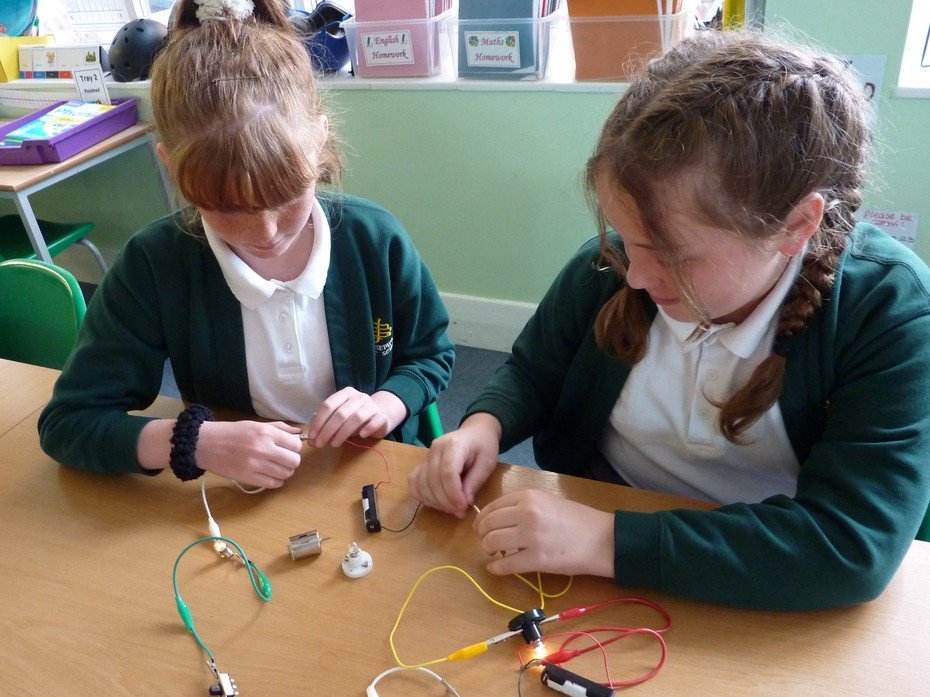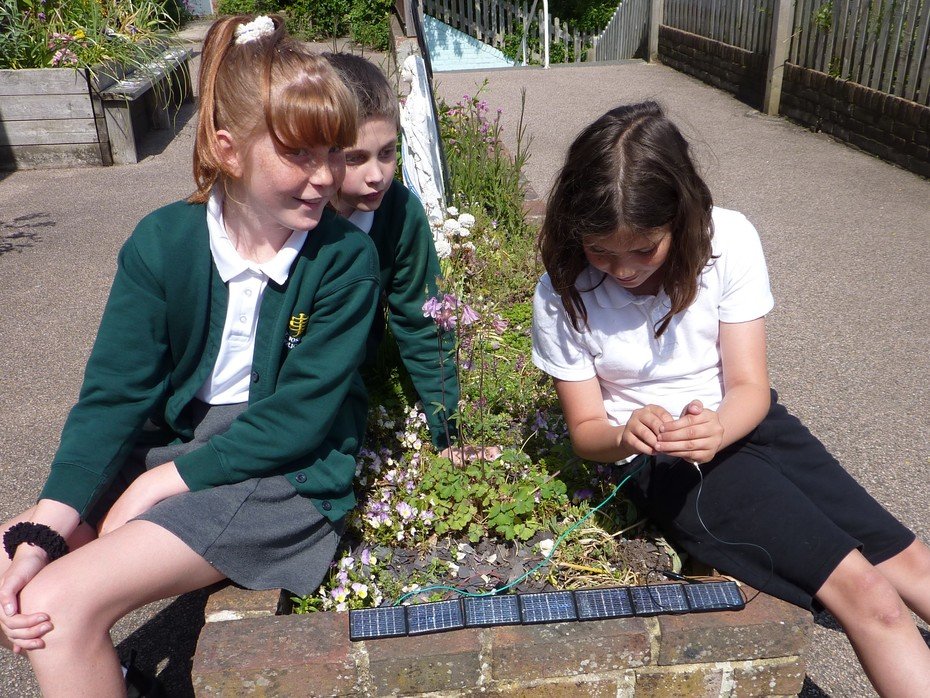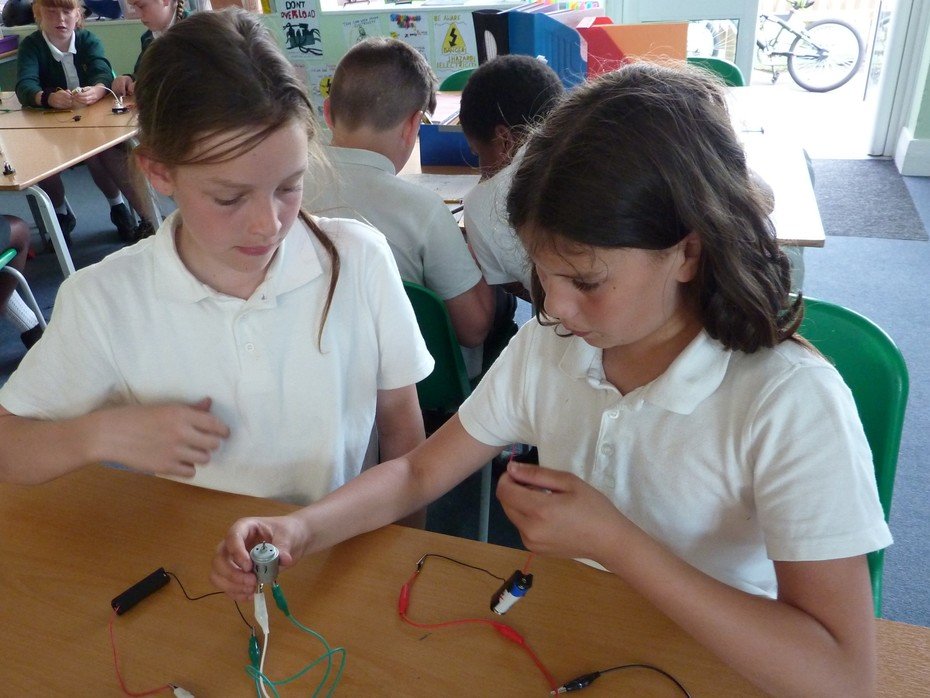 We have also been learning about electricity safety in the home and outdoors.
Transitions Project
Please click HERE to find out more information about a taster session (aimed at families with children in Year 6 ) and the BMEYPP generally.
The BMEYPP is a local youth led charity that works with Black, Asian, Arab and Mixed parentage young people aged 10-25. The main aim of BMEYPP is to provide information, advice, and support to young people through engaging youth activities. We provide safe spaces where young people can talk about issues, concerns, and celebrate their cultural identity with other young people.
End of SAT's treat:17.5.18
After a busy week of SAT's tests, Year 6 celebrated their hard work with a day out at the cinema, followed by a visit to Preston Park. It was lovely to spend time together and relax after all the hard work our Year 6 pupils have put in over the recent months.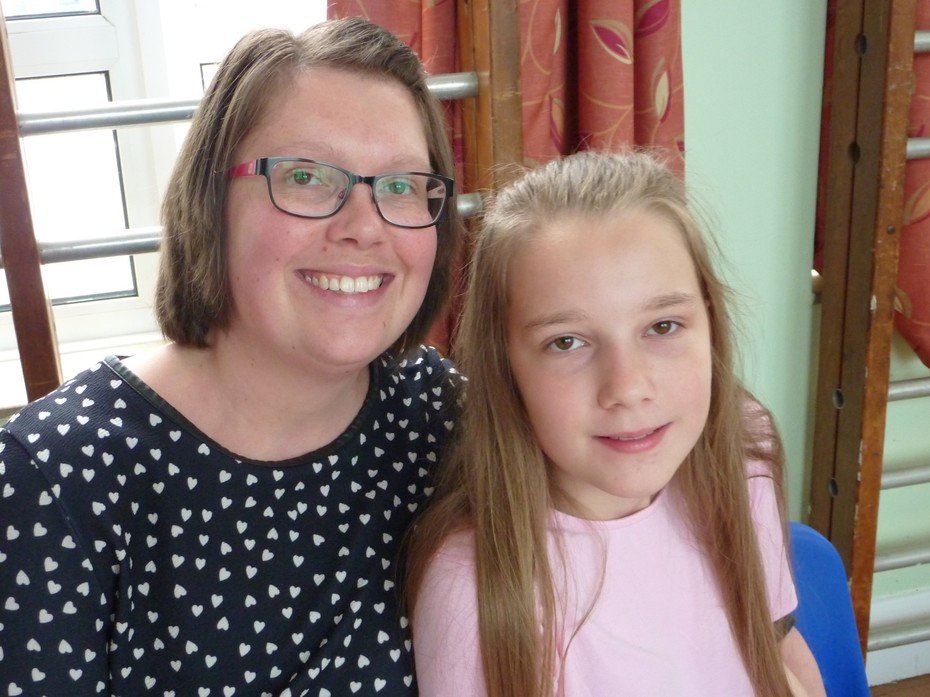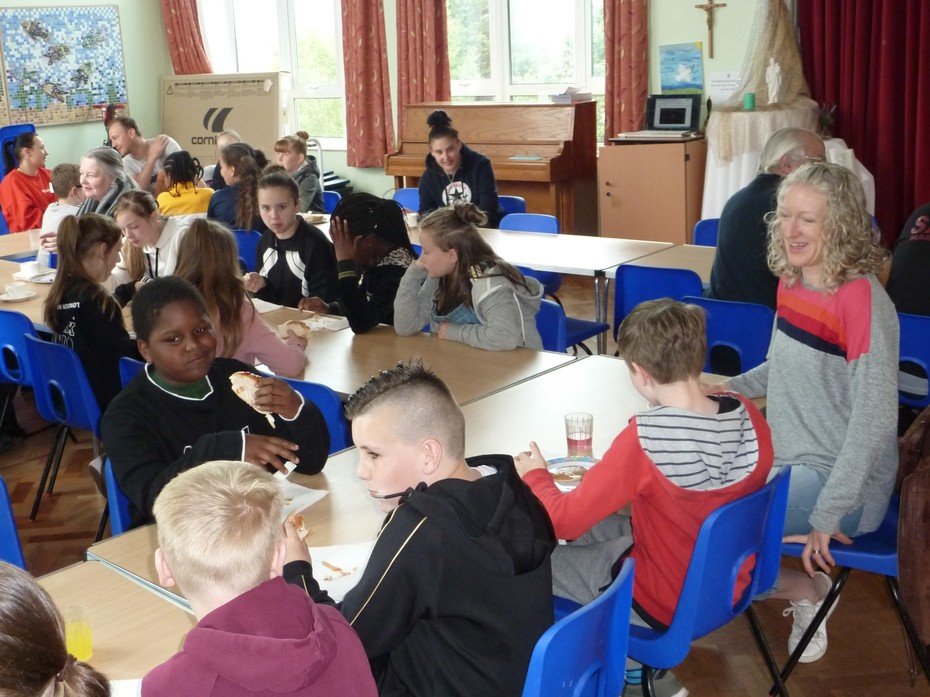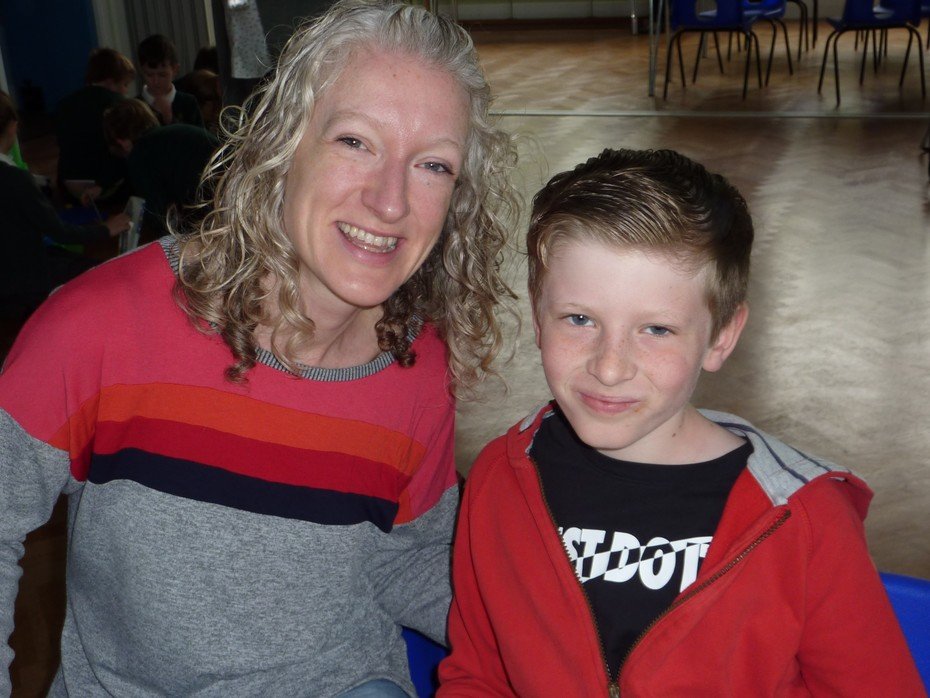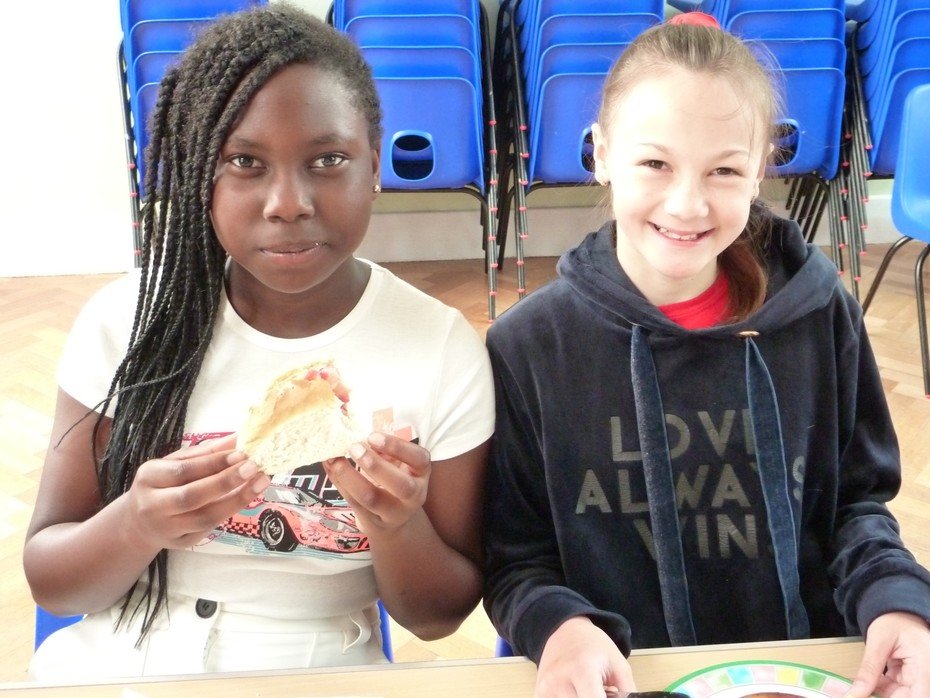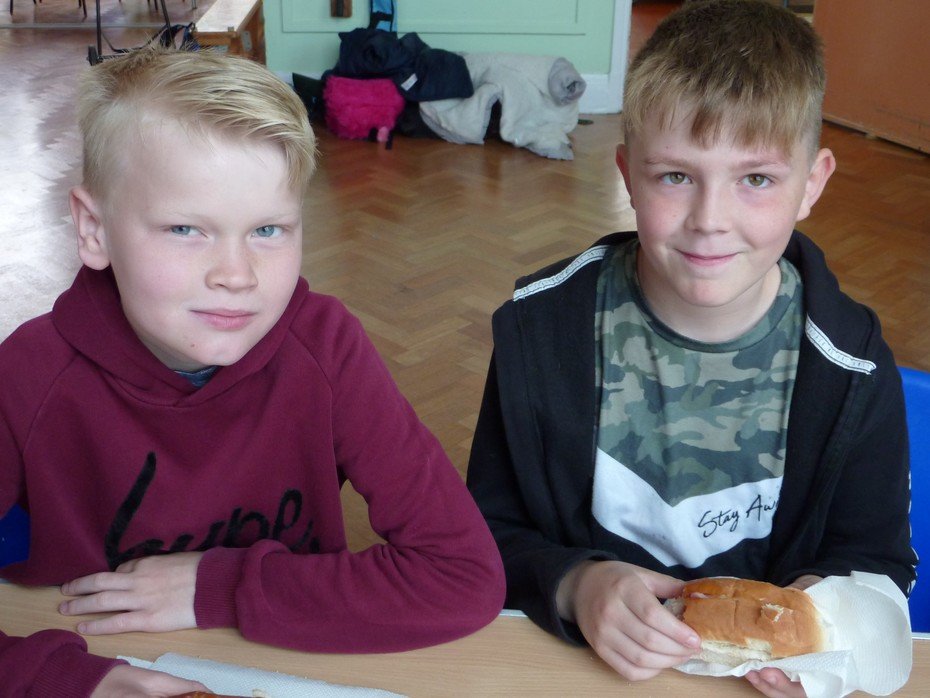 A hearty breakfast provided a good start to the day.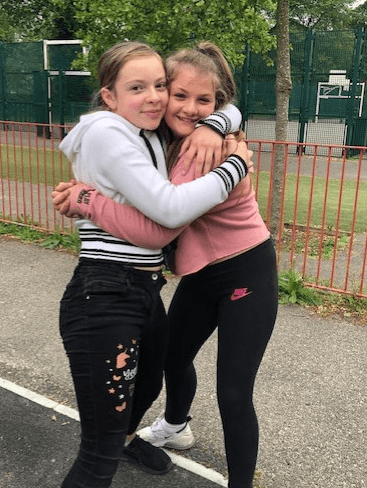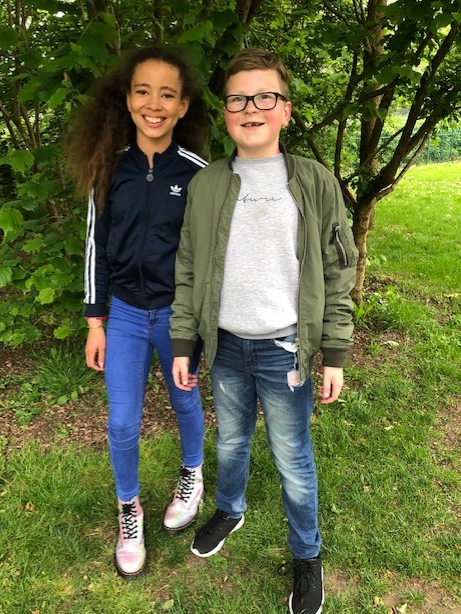 Playing in the park and bonding.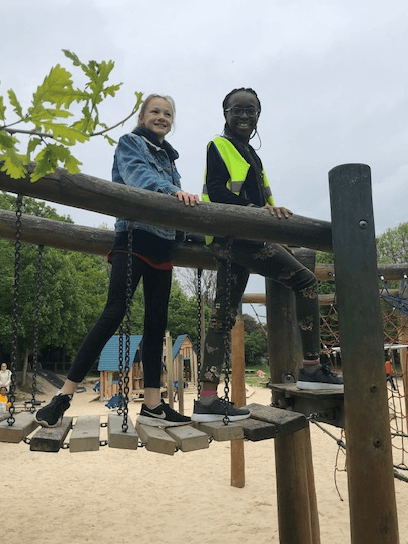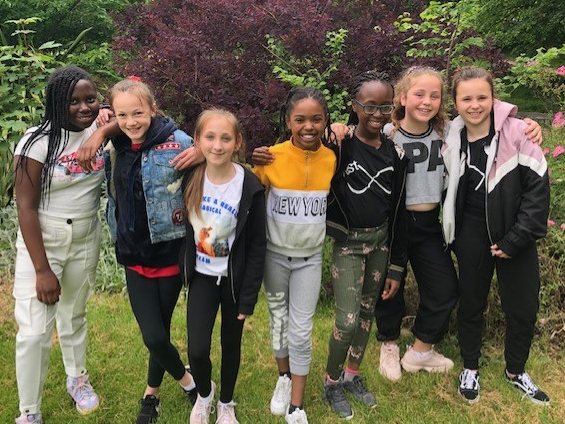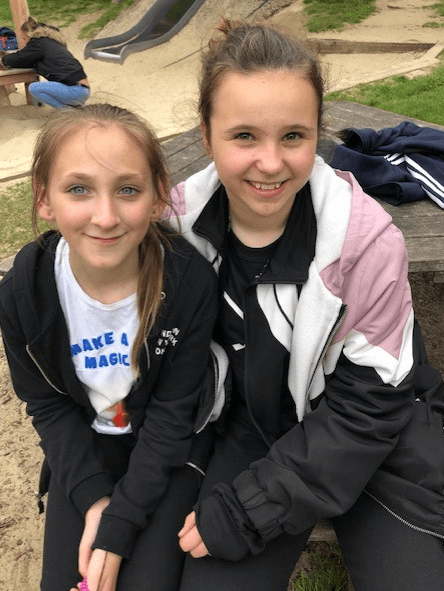 What a week!
Our Year 6 children have just finished their KS2 SAT's tests this week which included a punctuation and grammar paper, a spelling paper, a reading comprehension paper (which involved three different texts) an arithmetic paper and two reasoning and applying maths papers! Writing will continue in class and will be moderated over the next few weeks.
We are so proud of the way our Year 6 pupils have conducted themselves this week. Well done everyone!
We celebrated the end of the tests with a slice of chocolate cake (thank you Colette, our school cook) ice lollies during PE and a fun-filled afternoon organised by Miss Simson which involved making slime and decorating selfie biscuits.
Our relaxation continues tomorrow with a trip to the cinema and a picnic in Preston Park, after a celebratory breakfast with parents and carers.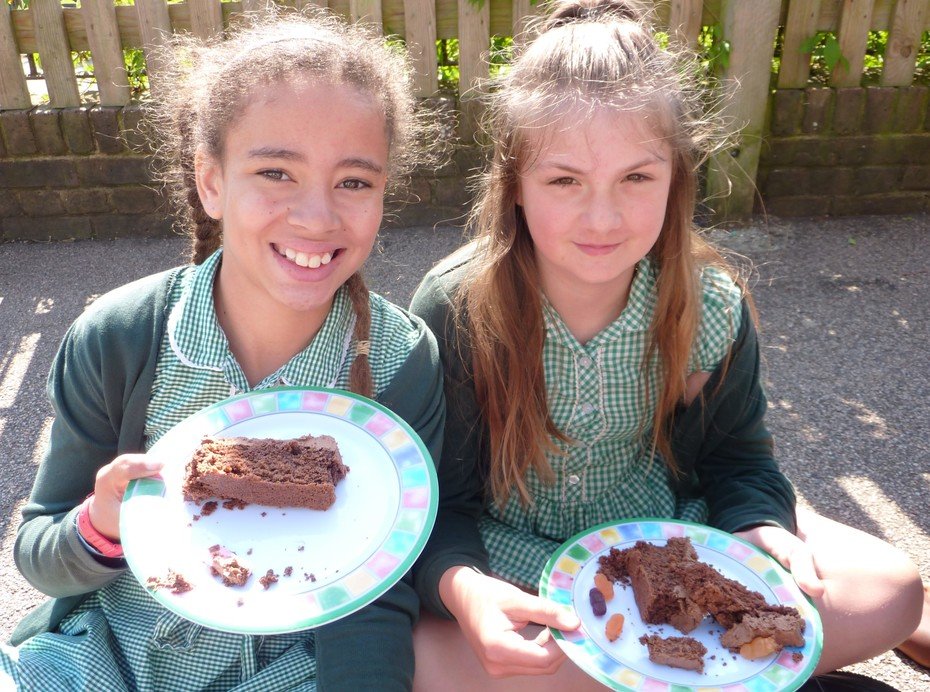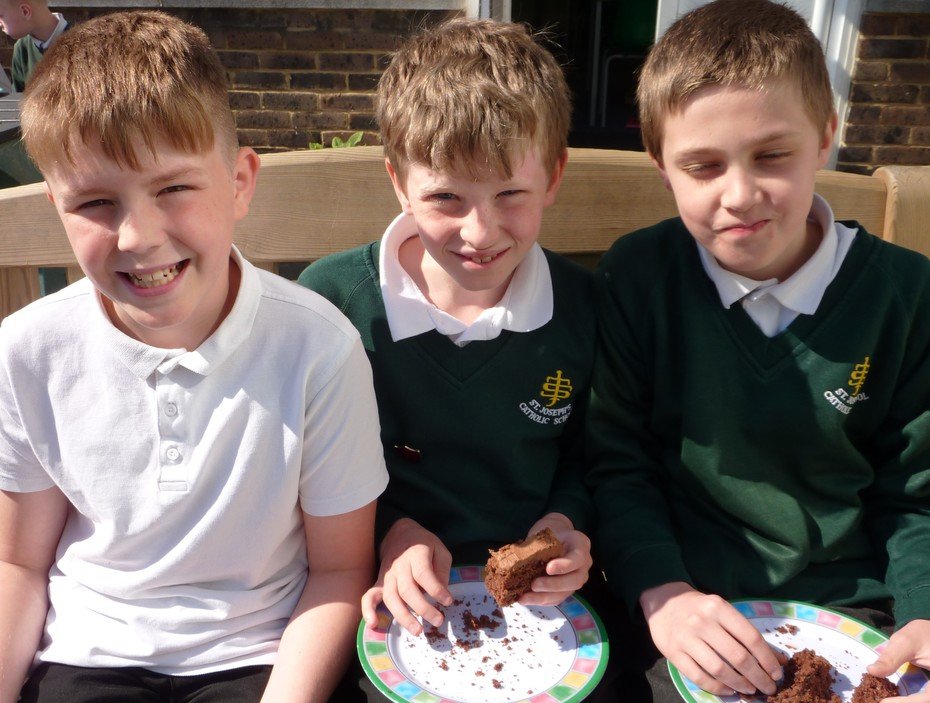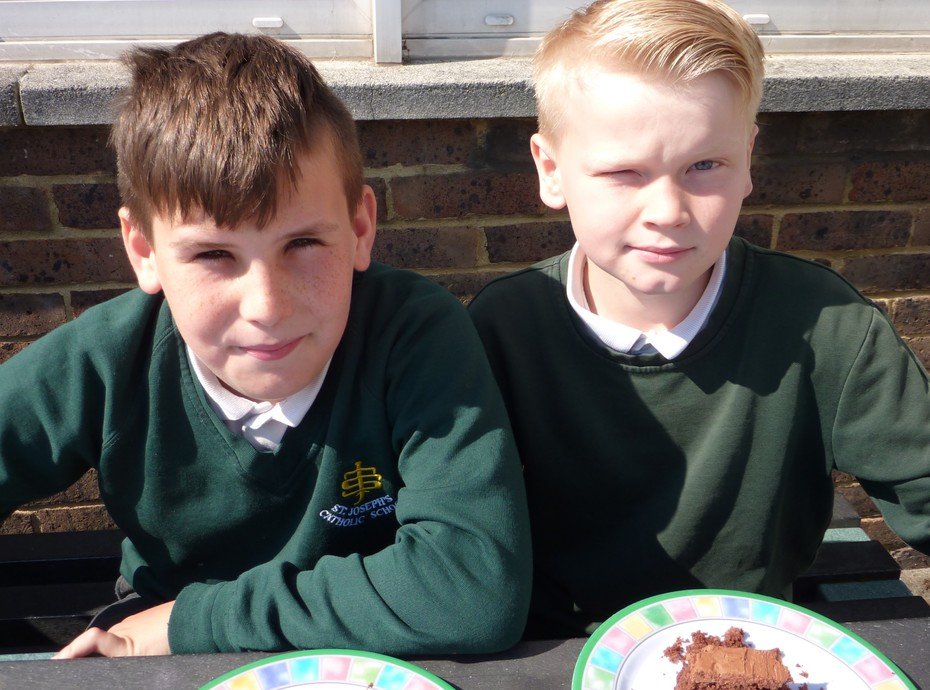 Much needed energy after the final paper!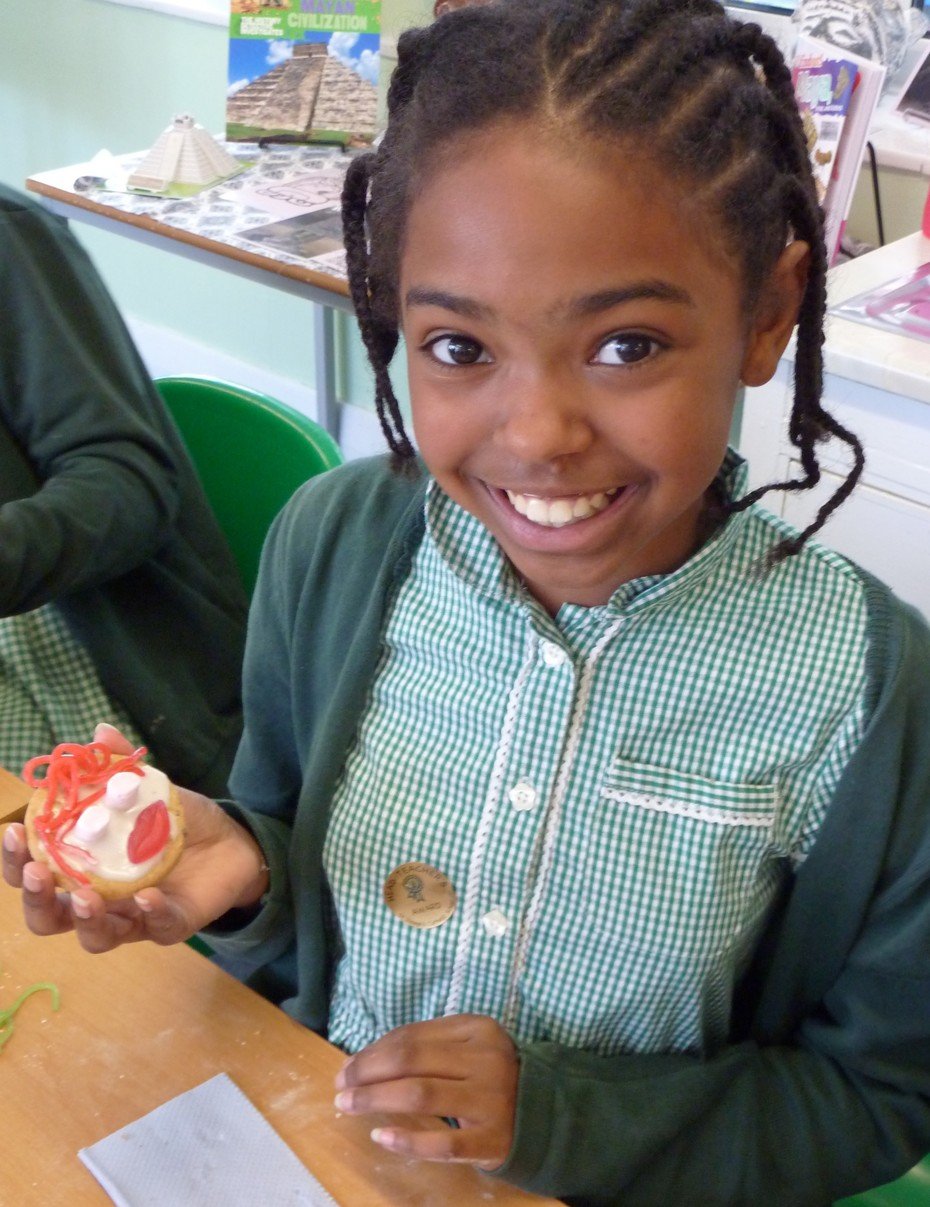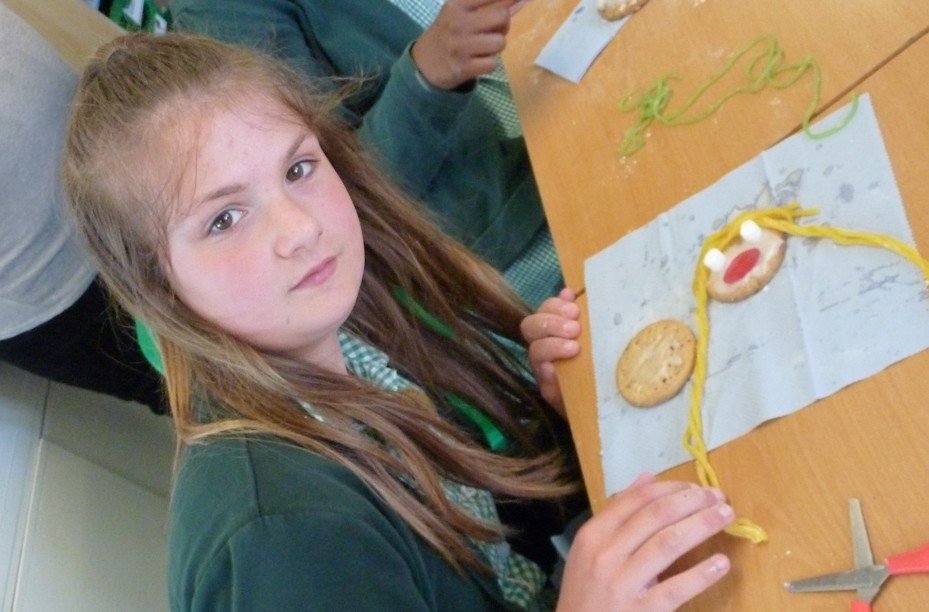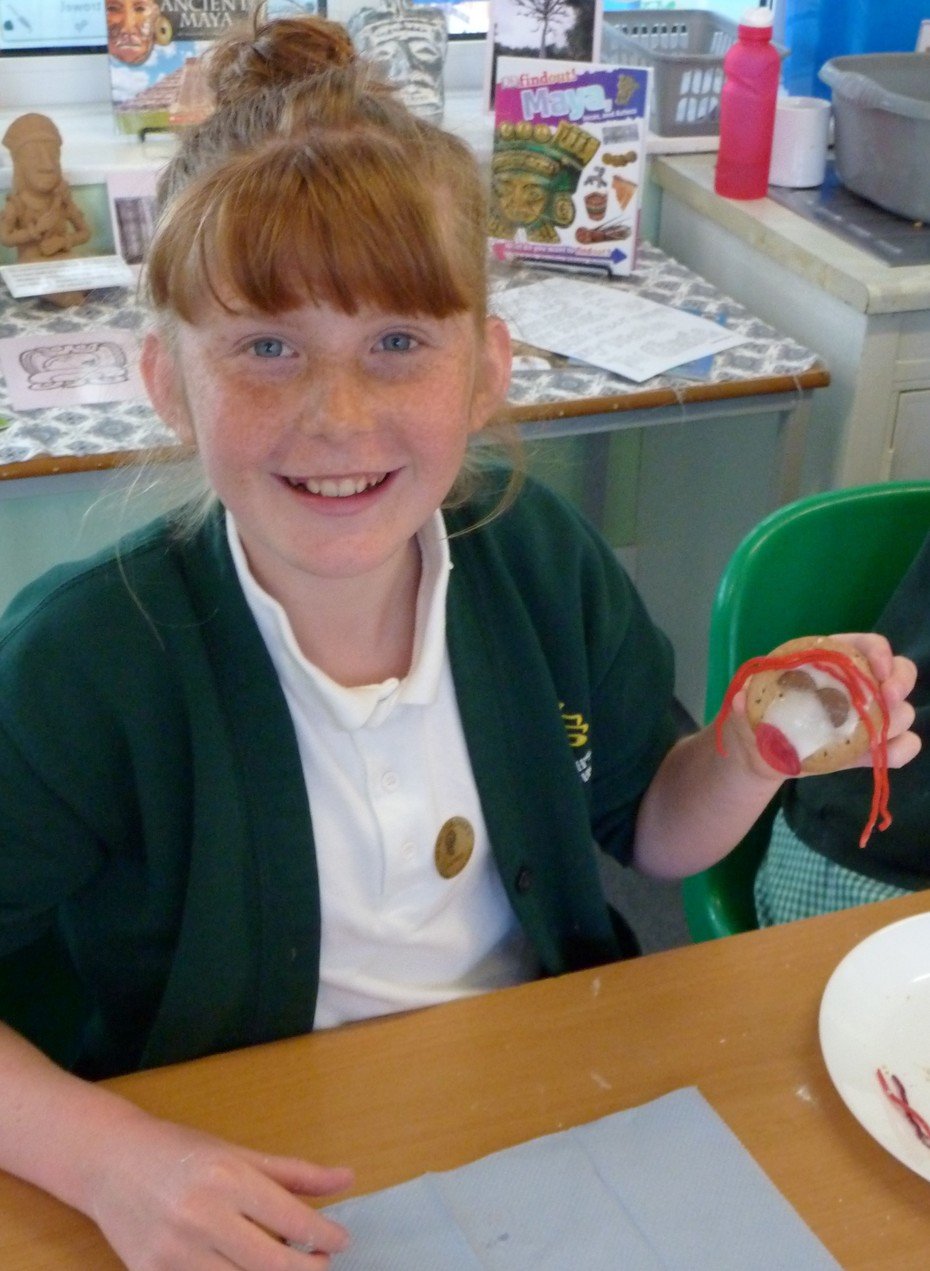 Selfie biscuits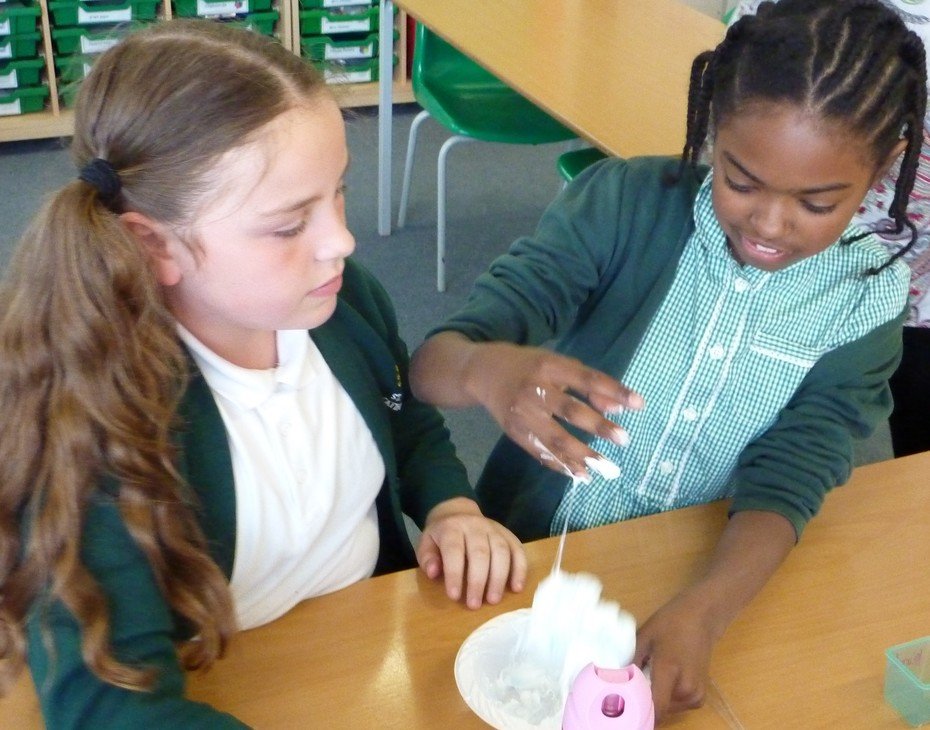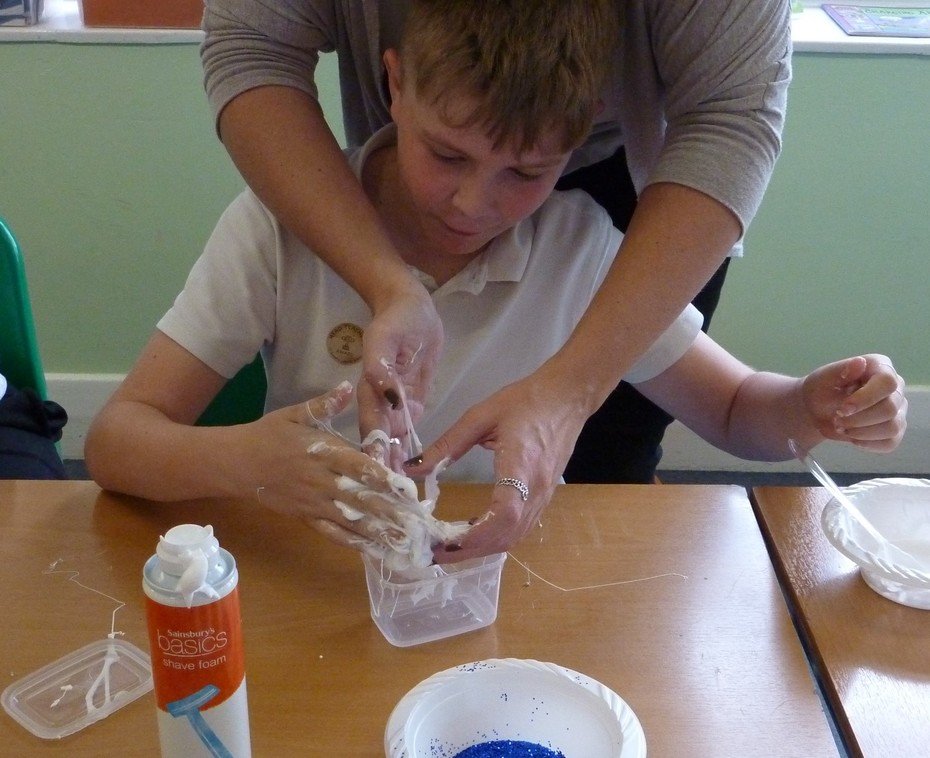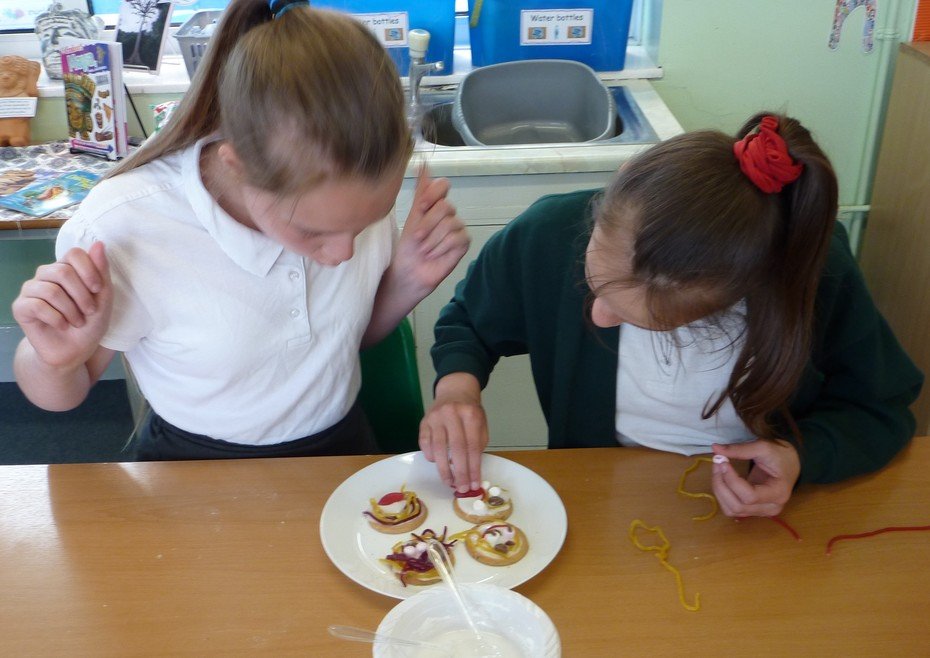 Making slime Finishing touches!
KS2 SAT's : 13.5.19
This week is KS 2 SAT's week. We were so proud of how our Year 6 pupils tackled the first day's SPAG tests today. It was lovely to gather together for a class breakfast this morning before the tests began.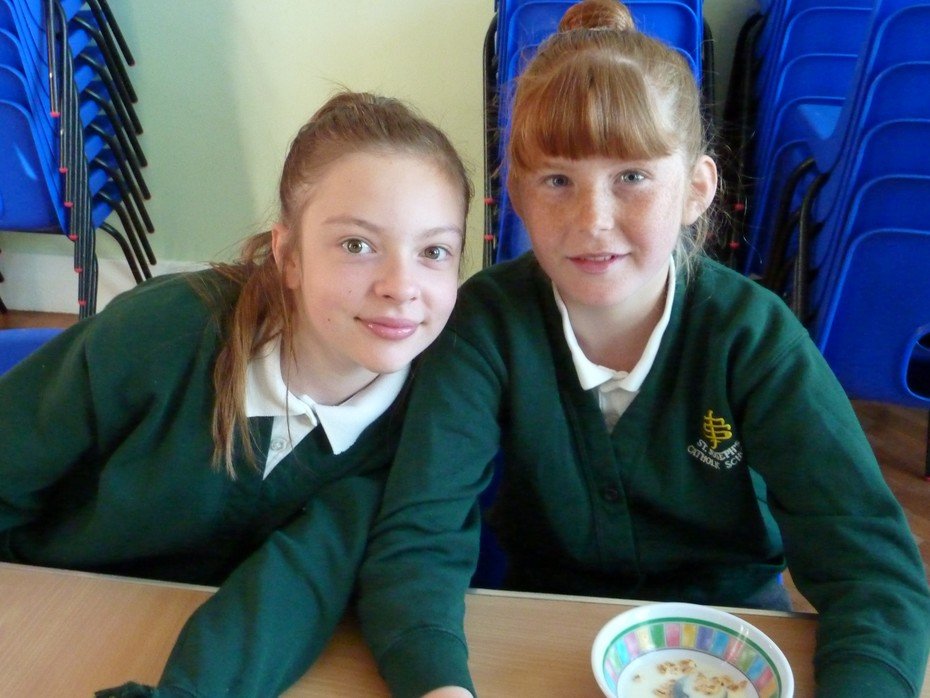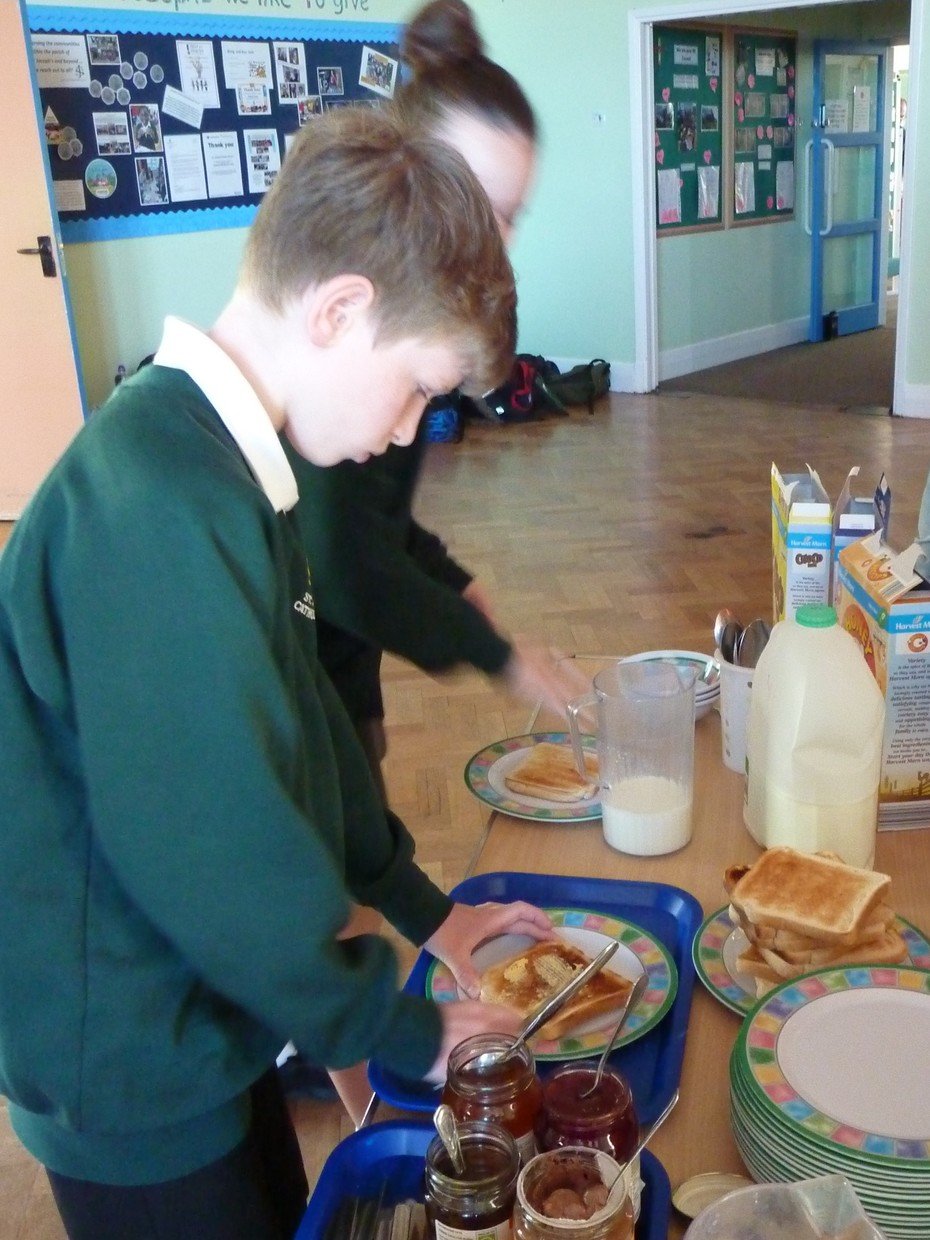 Final Fence: 2.5.19
Year 6 have been working SO hard in preparation for the upcoming SAT's tests and we are incredibly proud of each and everyone of them. The last few weeks have consisted of lots of revision through games, fun activities and challenges.
You are almost there Year 6 !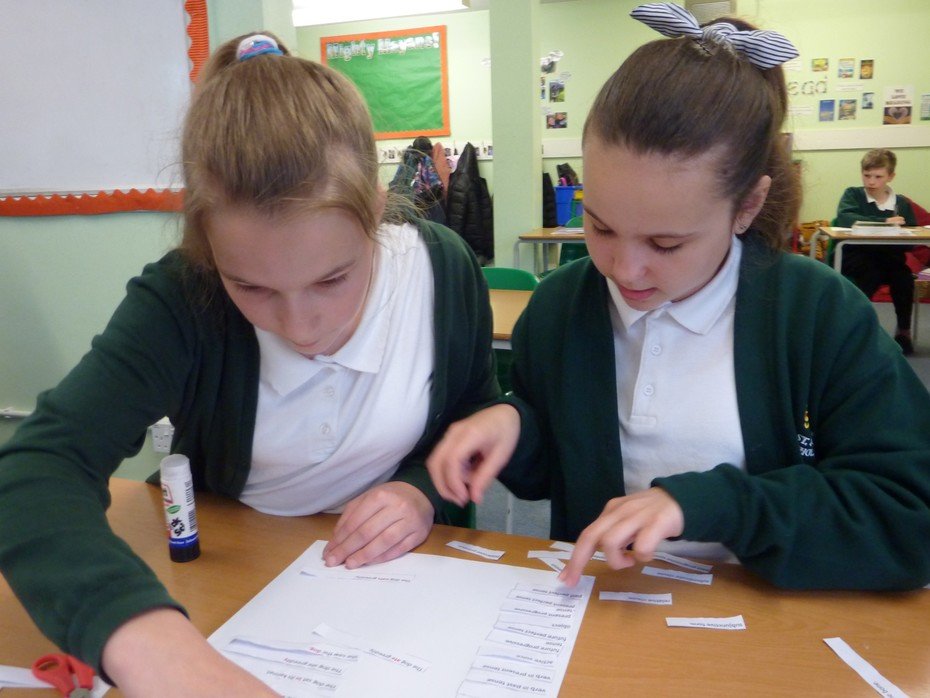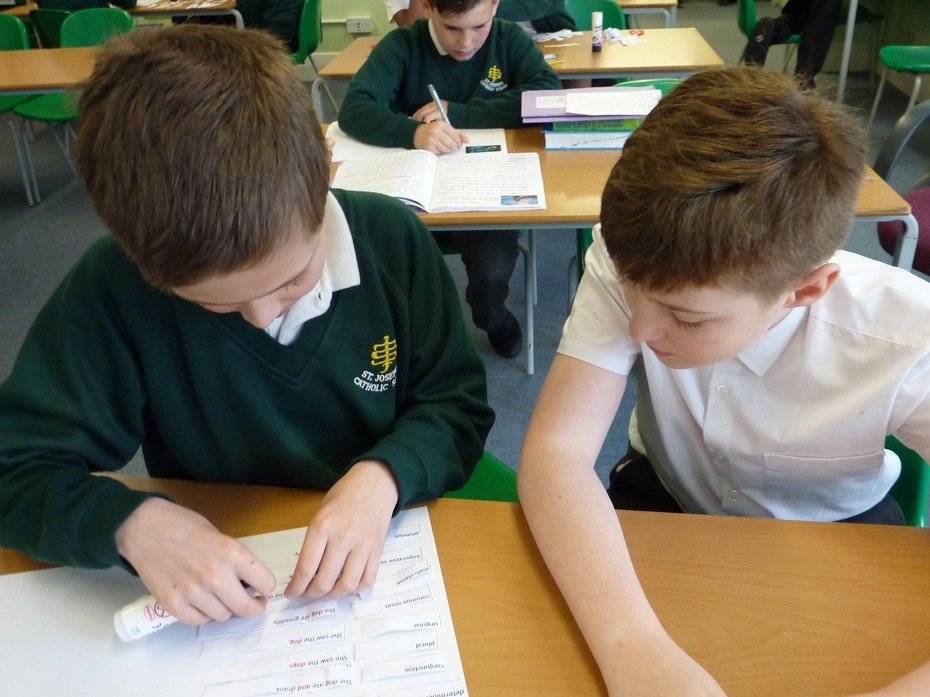 Word class/parts of speech matching activity.
Year 6 took a short break from their revision today to take part in a very energetic Samba Dance workshop. Samba is a lively, rhythmical dance of Brazilian origin. It was lovely to see our pupils relaxing and having fun. We certainly have some very good movers in Year 6 !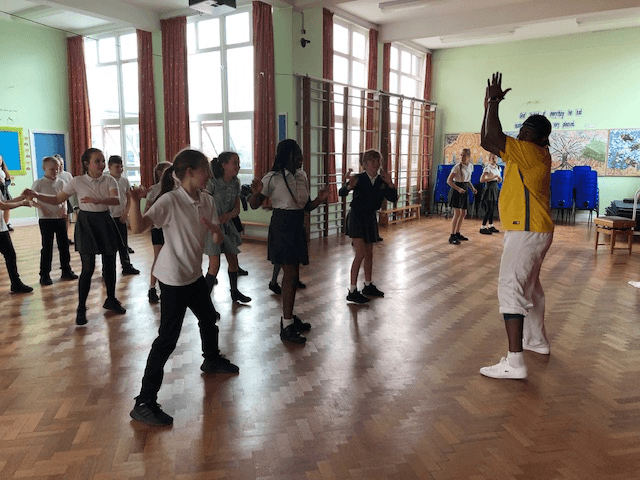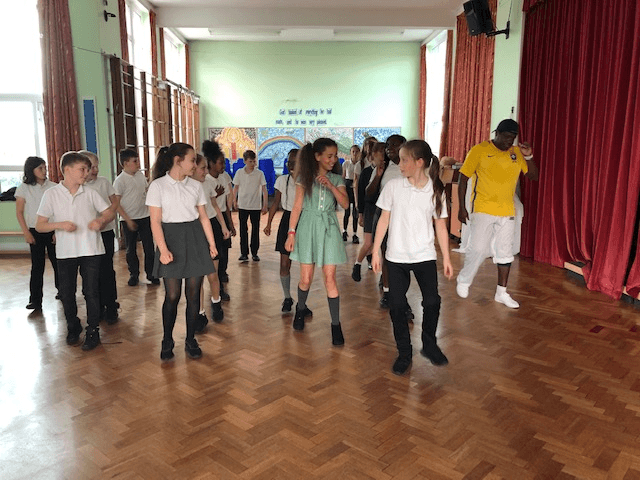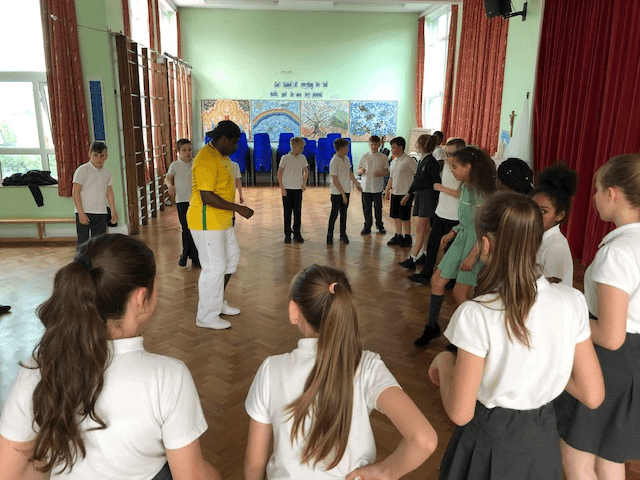 Welcome back to the Summer Term in Year 6. Click HERE to see our latest newsletter detailing this term's learning in Year 6. Thank you parents for your continued support with your children's learning.
Fantastic Finish : 5.4.19
Today, our Year 6 pupils came into school dressed up in 1940's style clothing. You all looked fantastic and had made so much effort with your costumes. We had several evacuees, some "land girls," some 1940's housewives and some members of the British army.
Here are just a few of them. Thank you parents for your support with the costumes and for your help and support throughout this term. Your children have been working so hard and we are very proud of them all!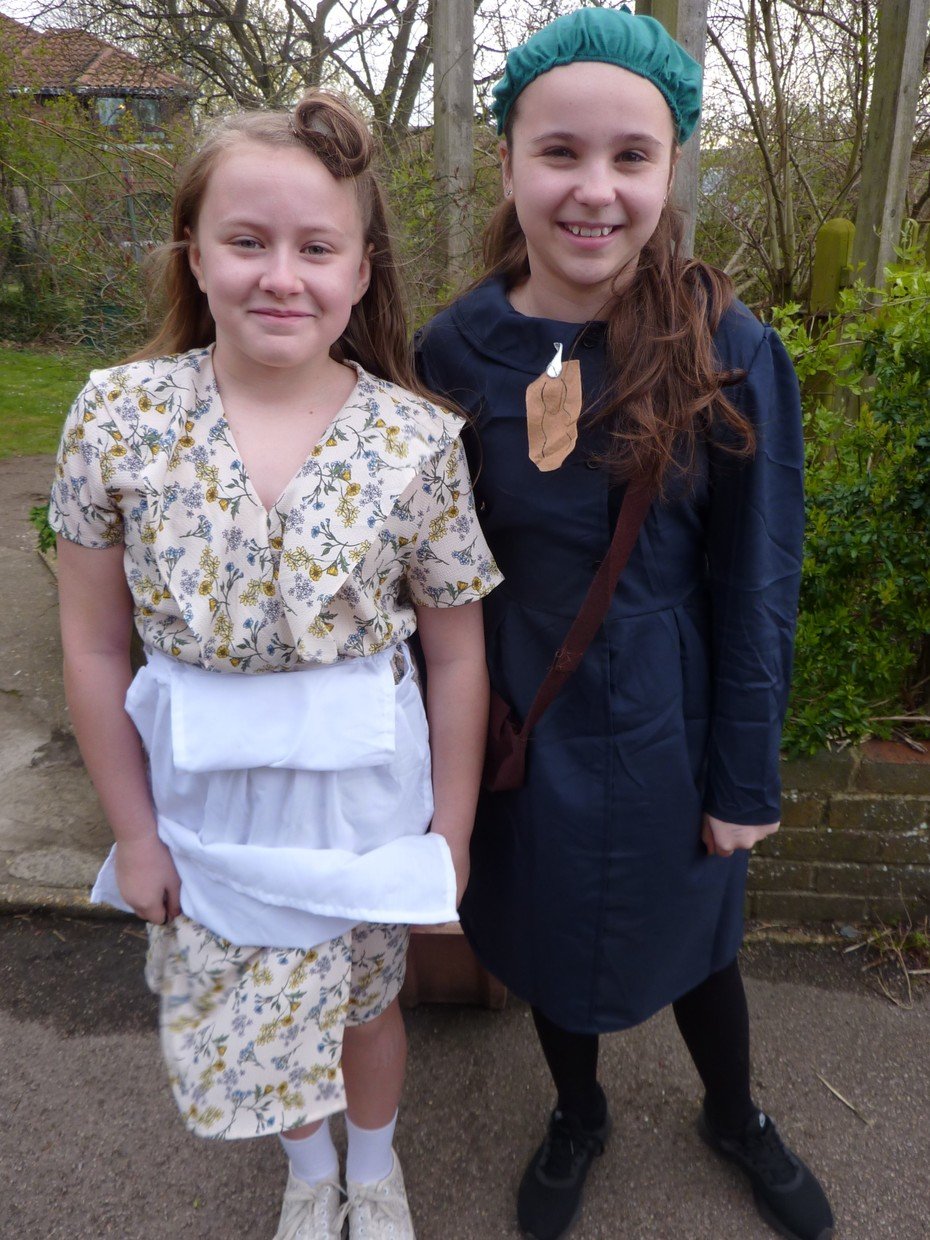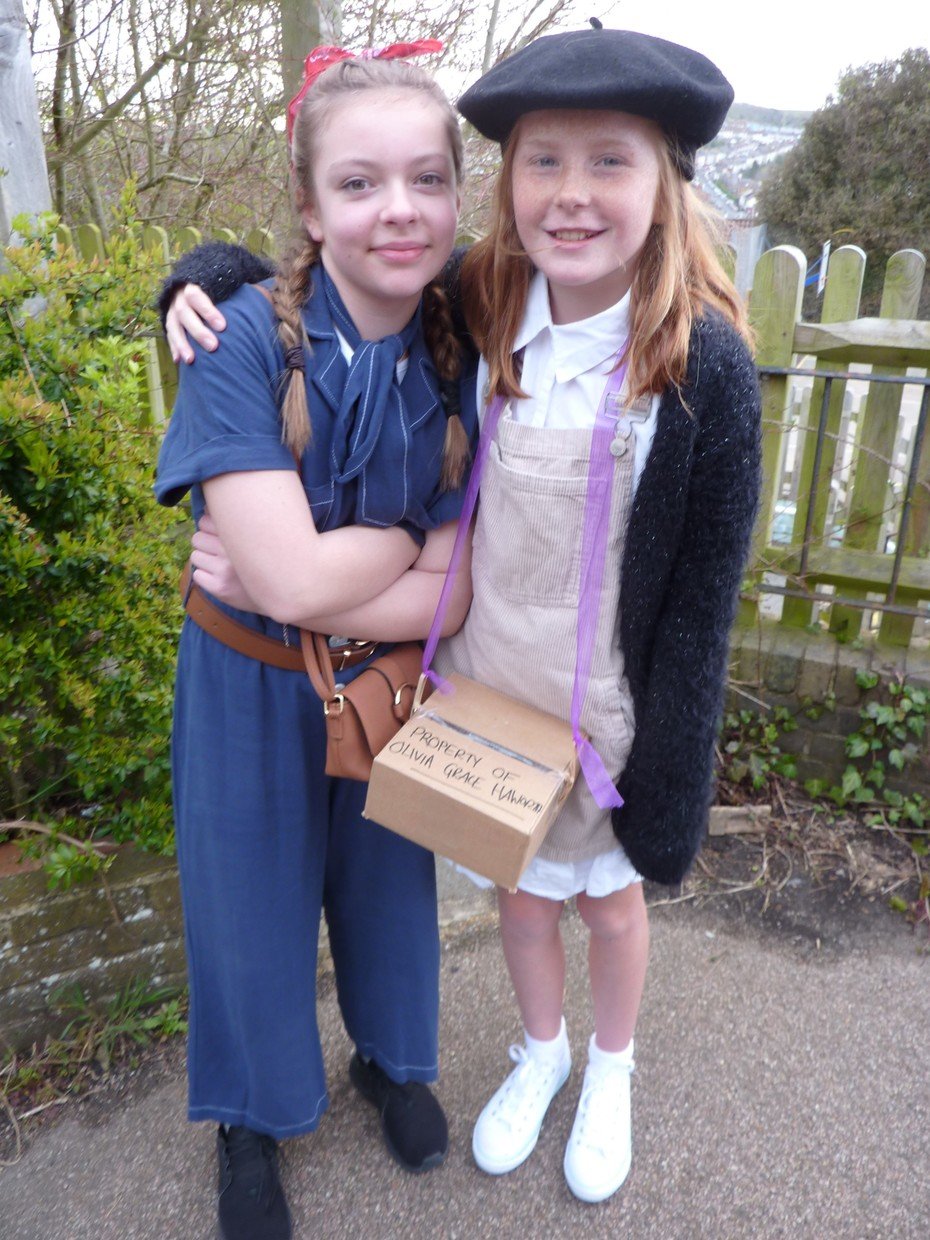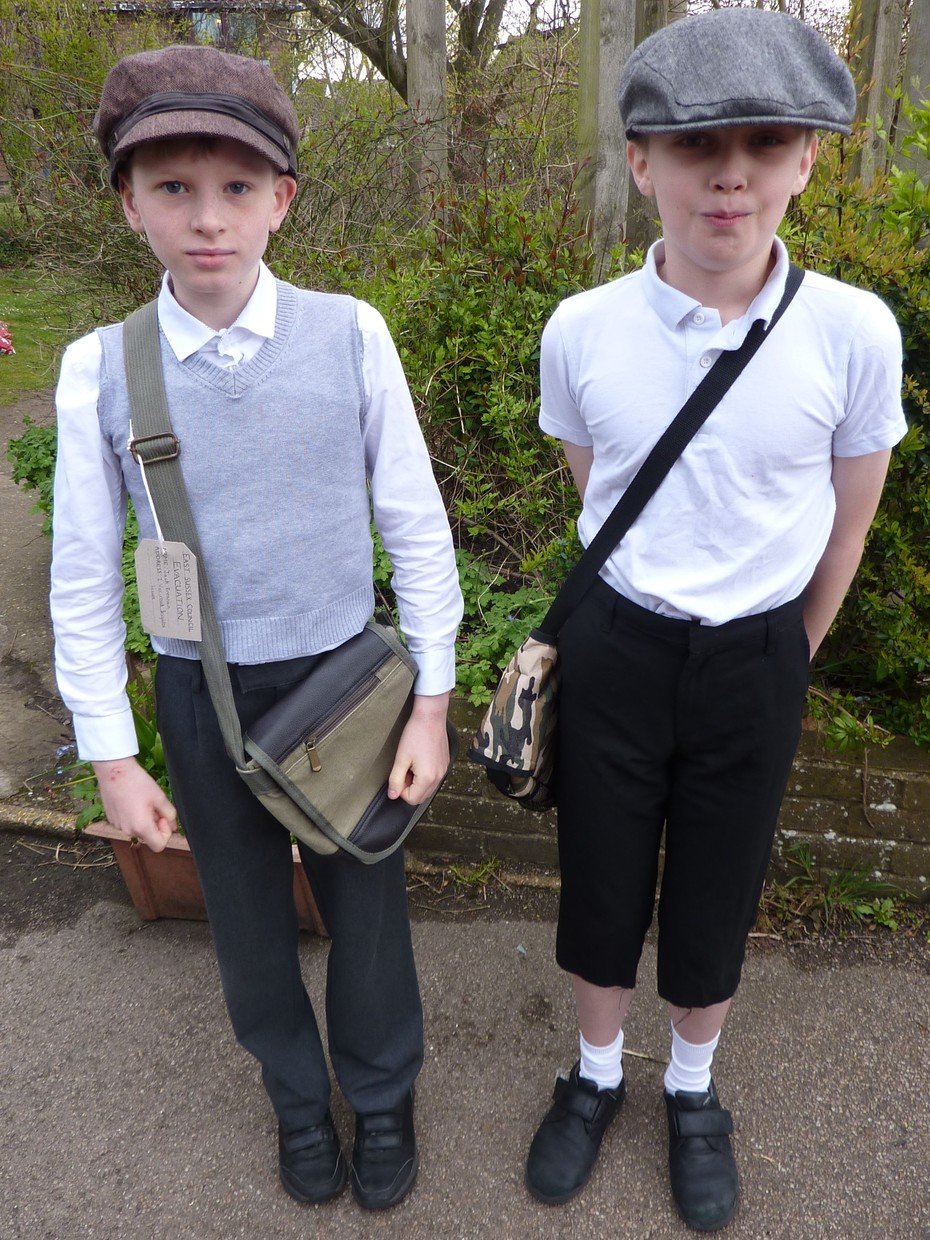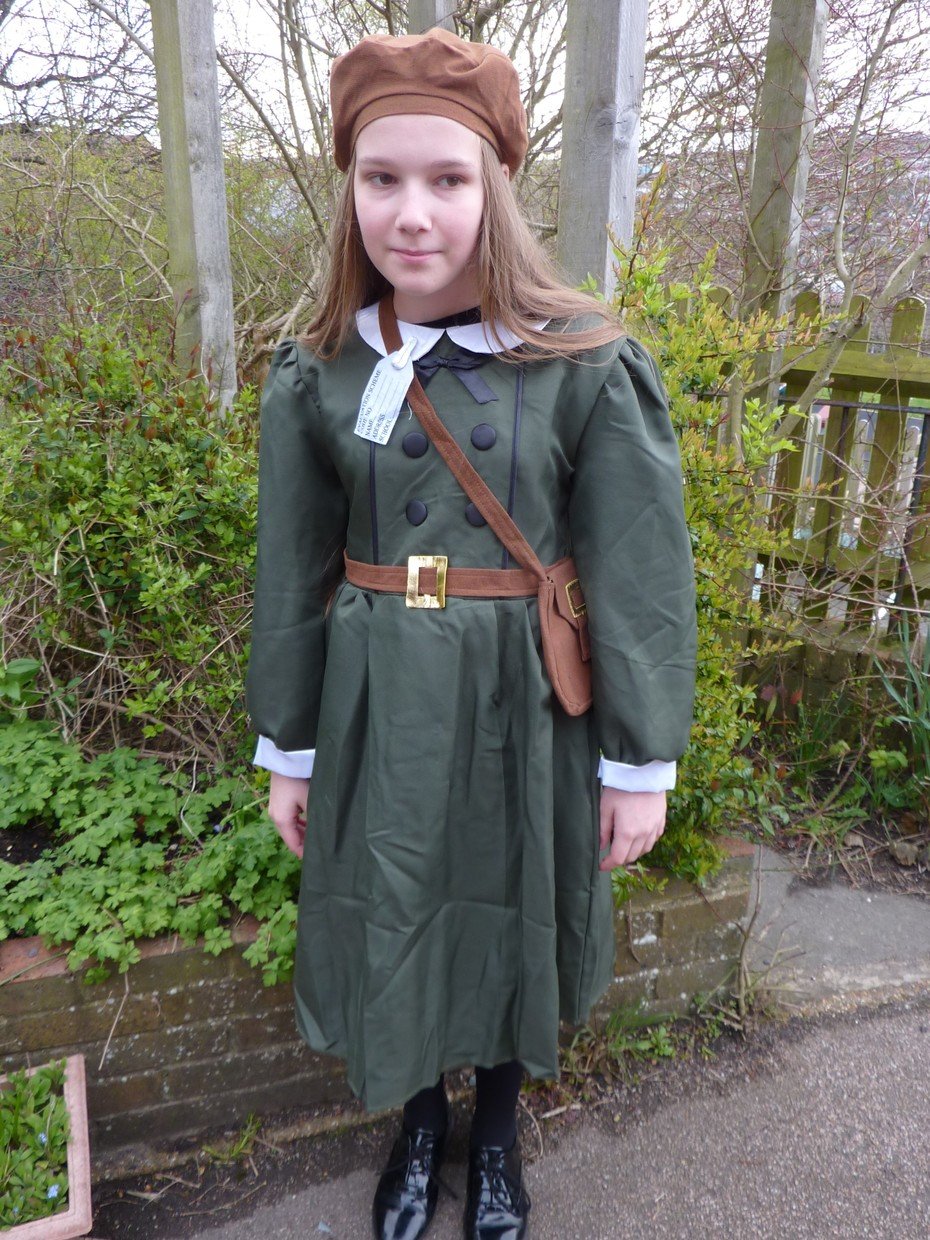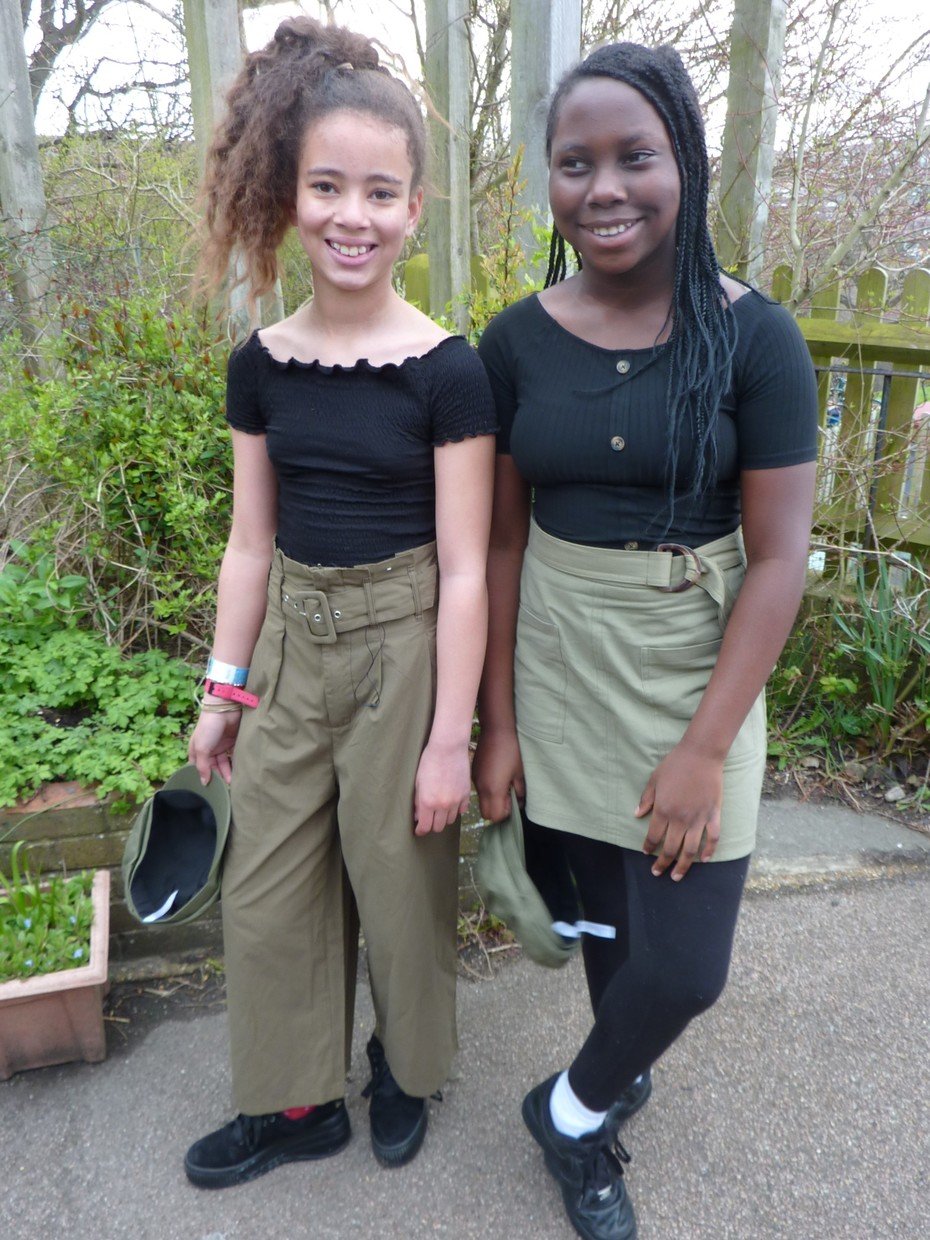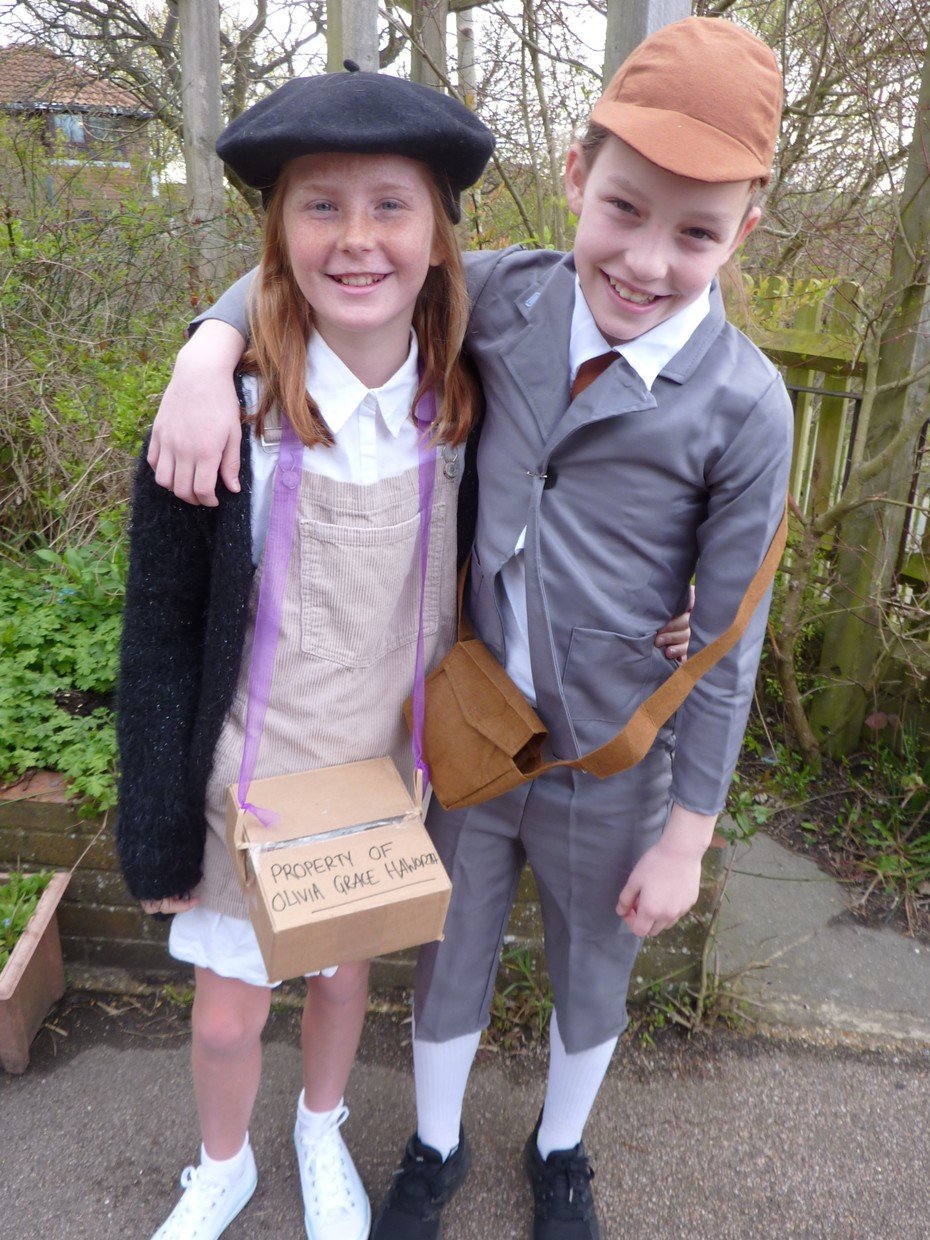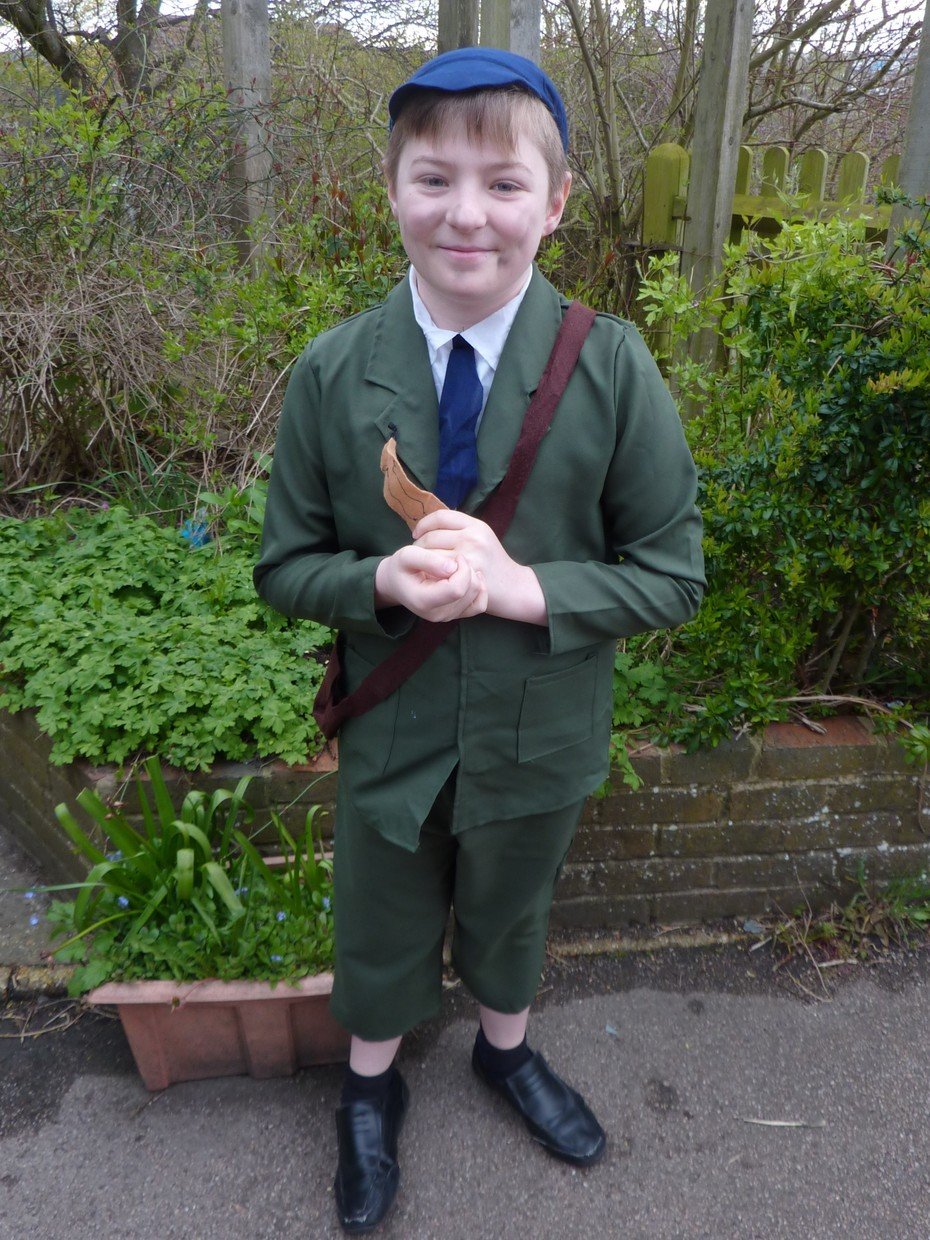 Thank you to those parents and carers who were able to join us this afternoon to listen to the children's medley of WWII songs, watch their marching and join us for a cup of tea and some WWII food!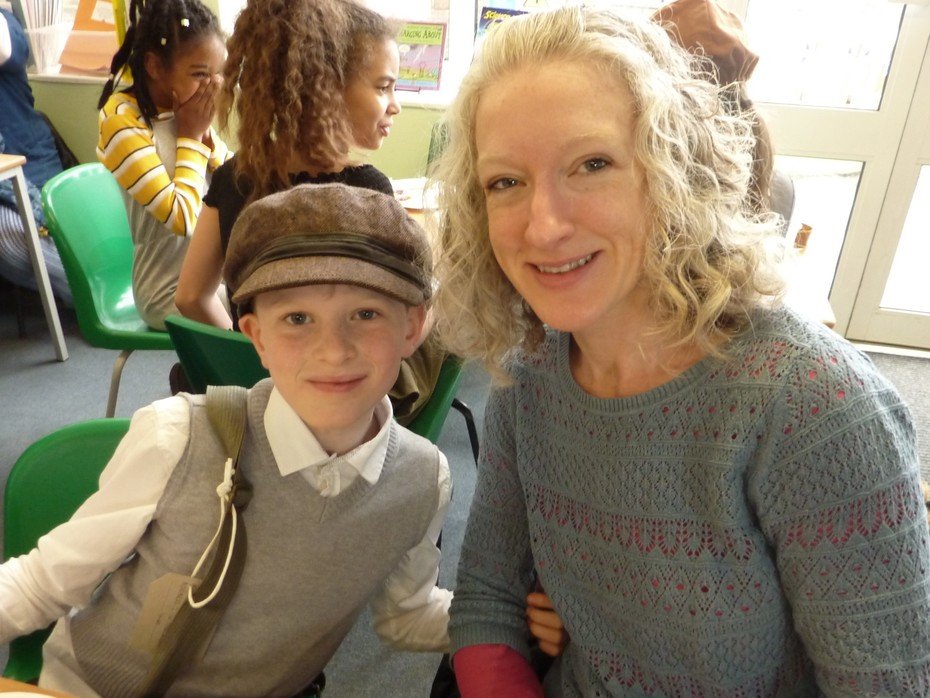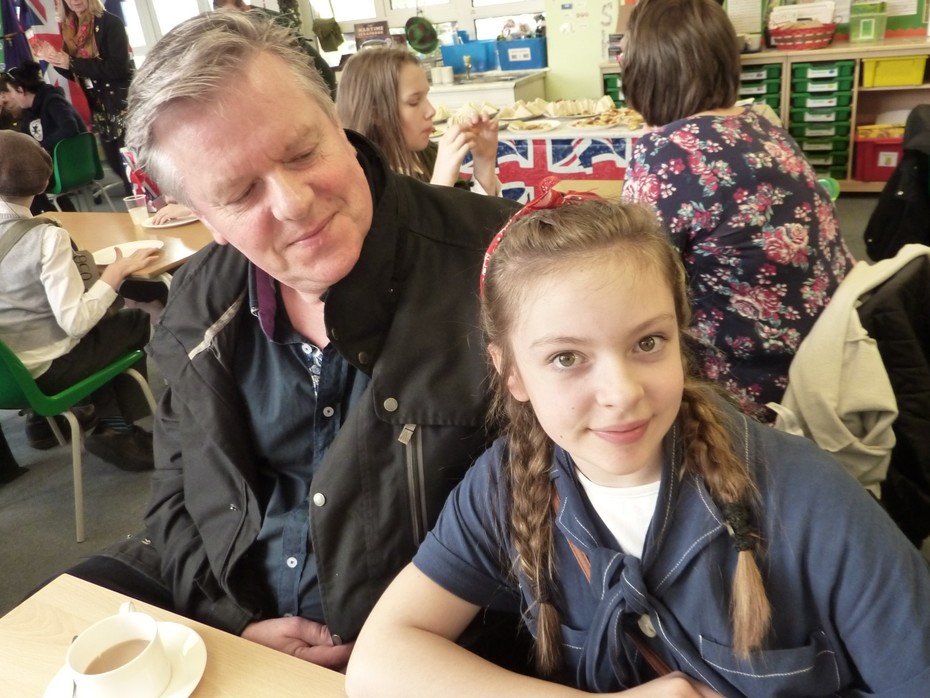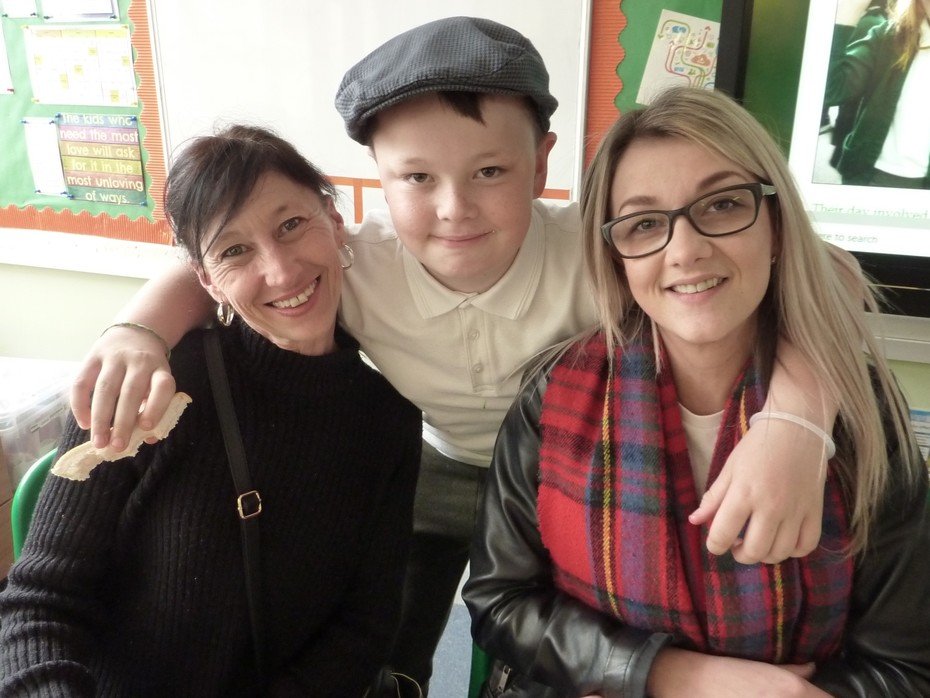 Newhaven Fort: 4.4.19
Today, Year 6 visited Newhaven Fort as the final part of their WW11 topic.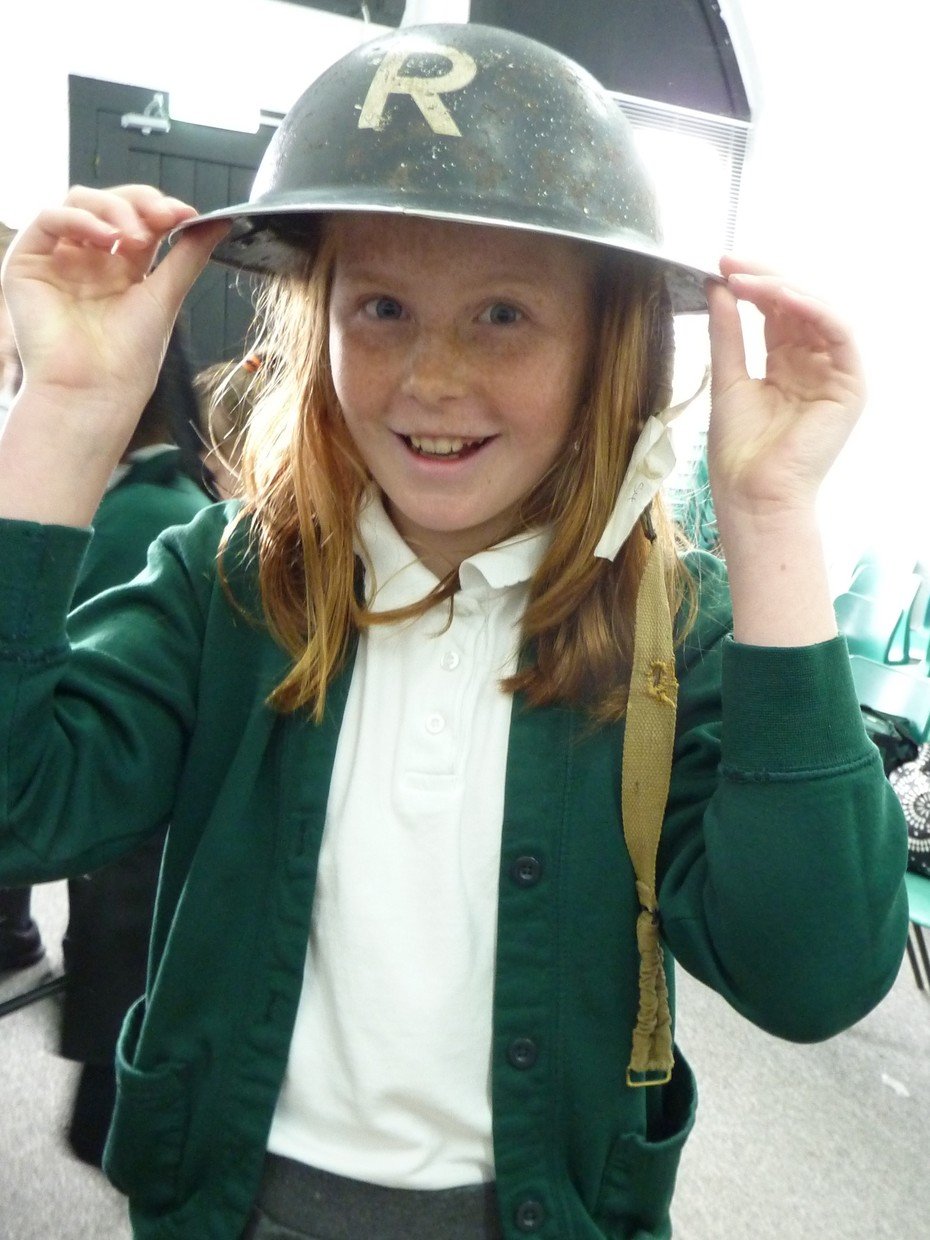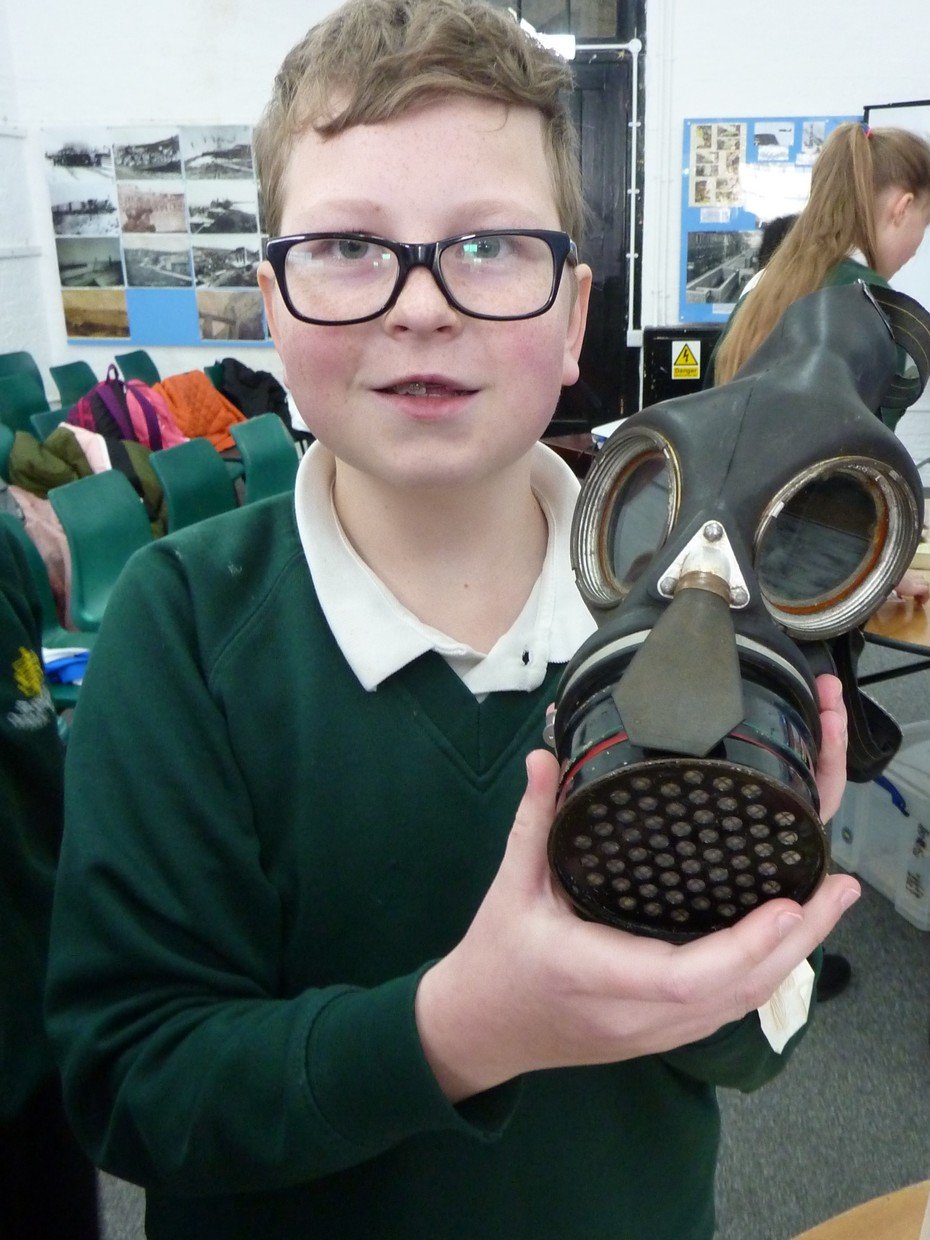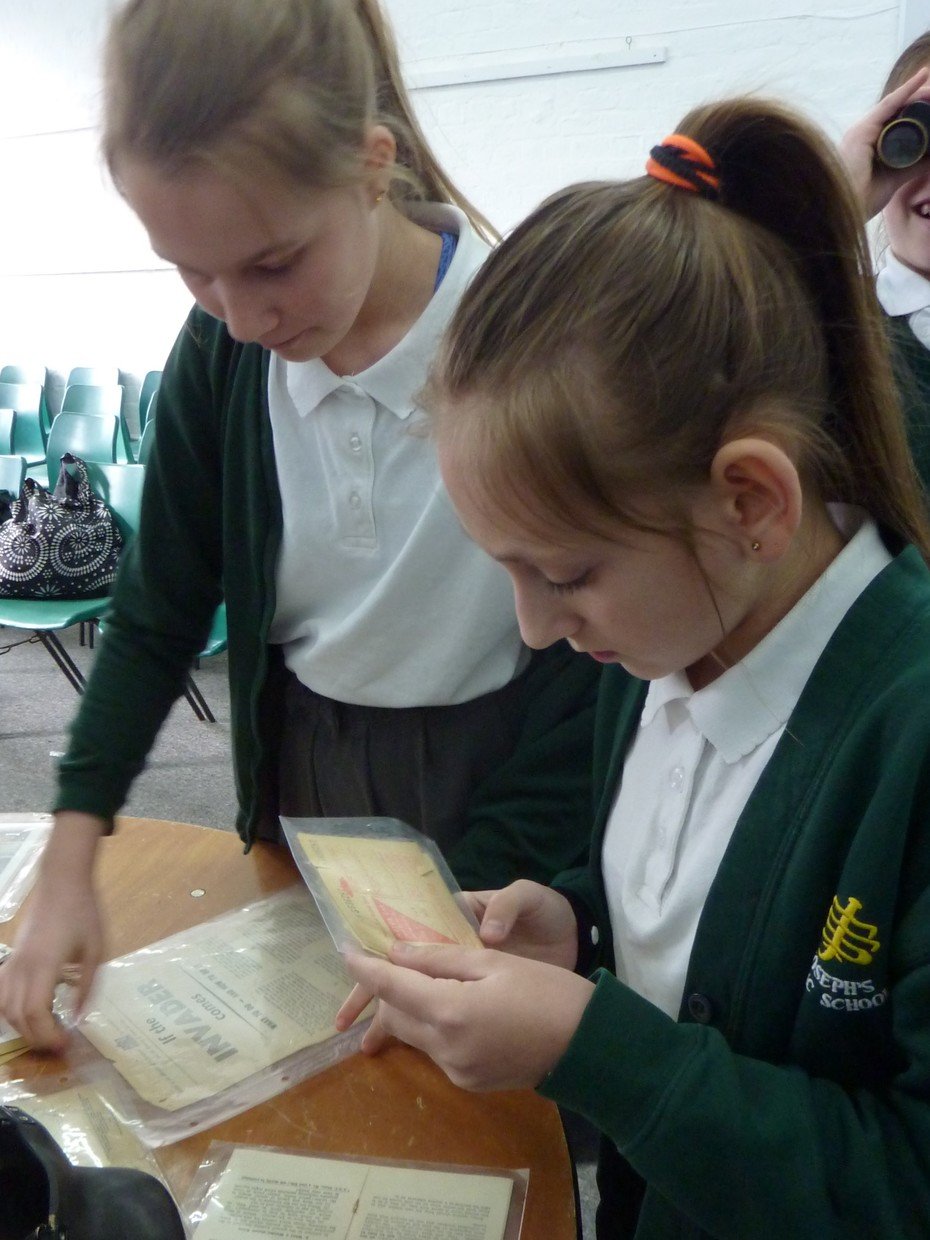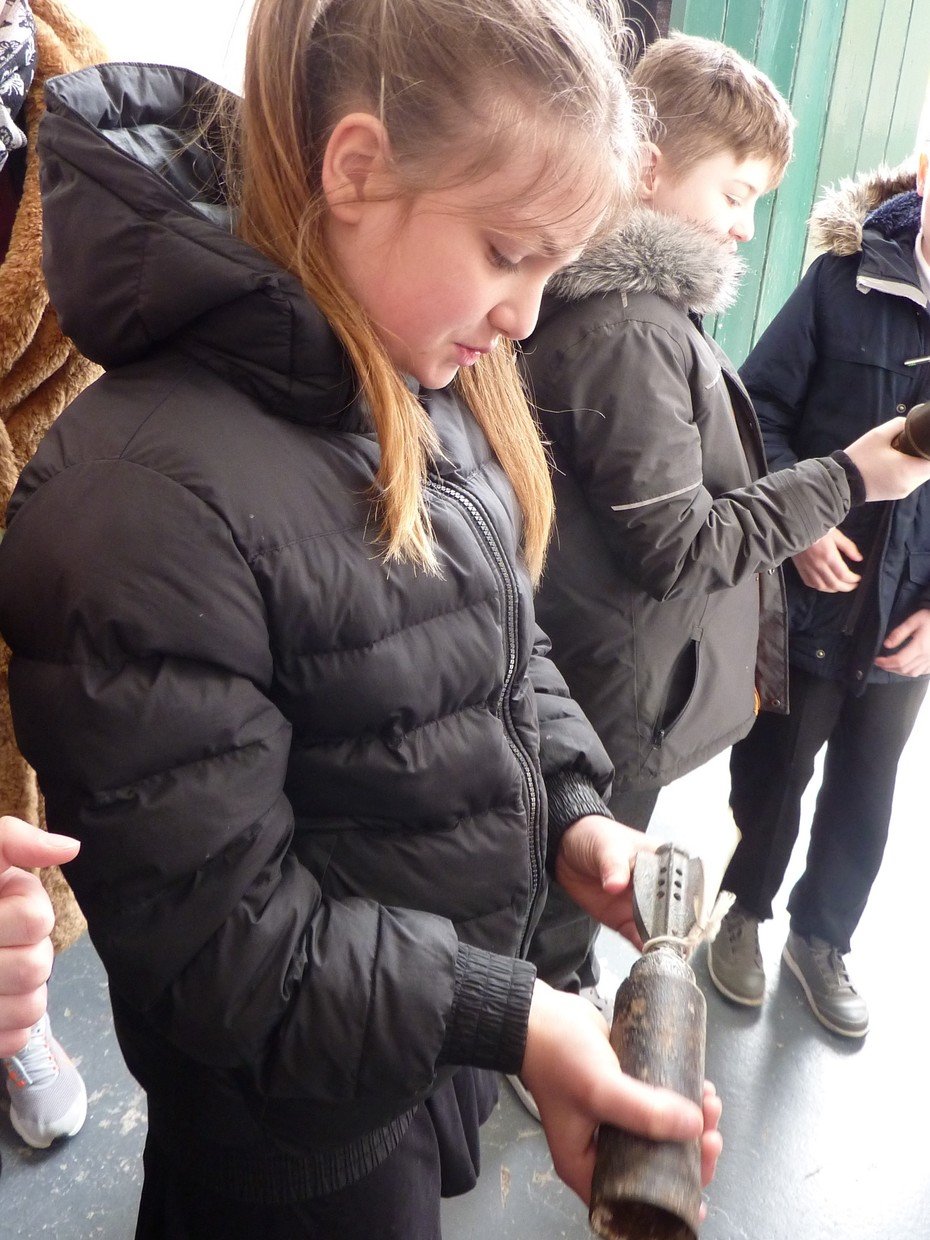 Their day involved a Q and A session from an expert and an opportunity to look at original WW11 artefacts and have a realistic air-raid experience as well as learning lots more about WW11 and the fort from the different exhibitions.
The weather was not kind to us and it was unfortunately too windy to go up onto the ramparts. Despite this, the children had a great time and learnt a lot more about WW11. The staff at the Fort commented on how impressed they were with our children's knowledge and passion for learning.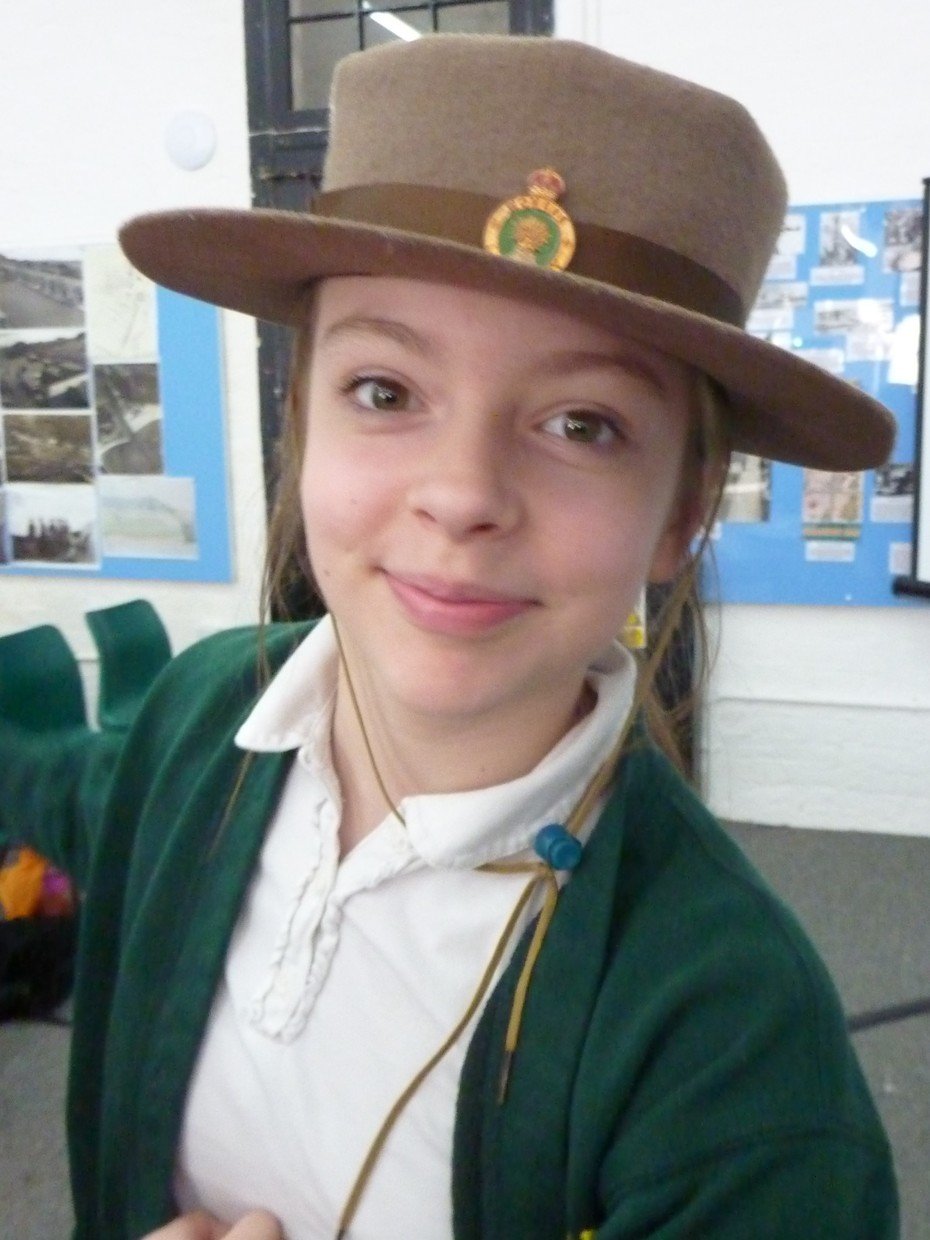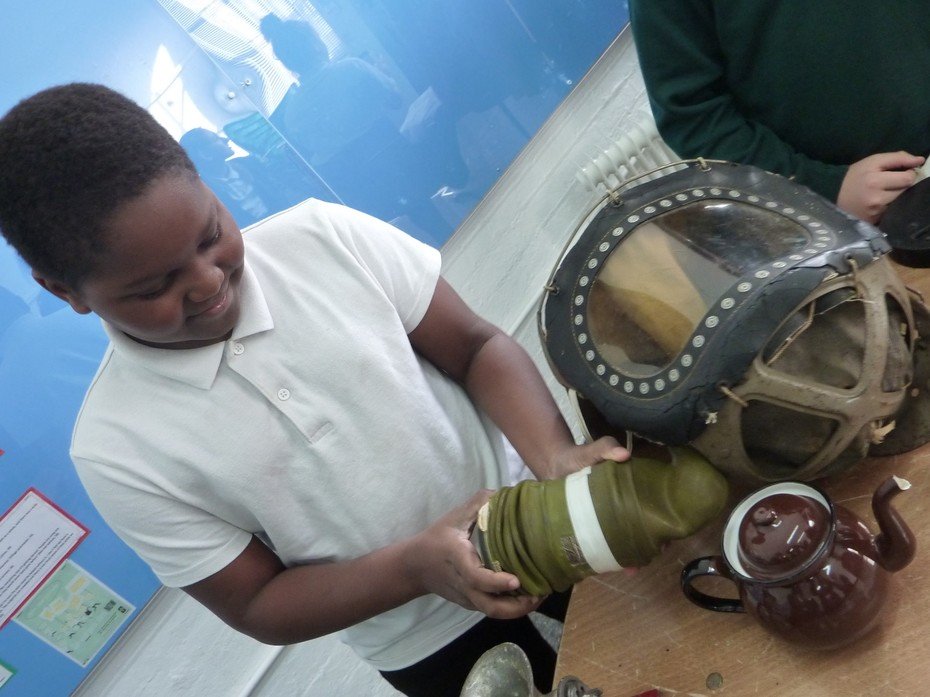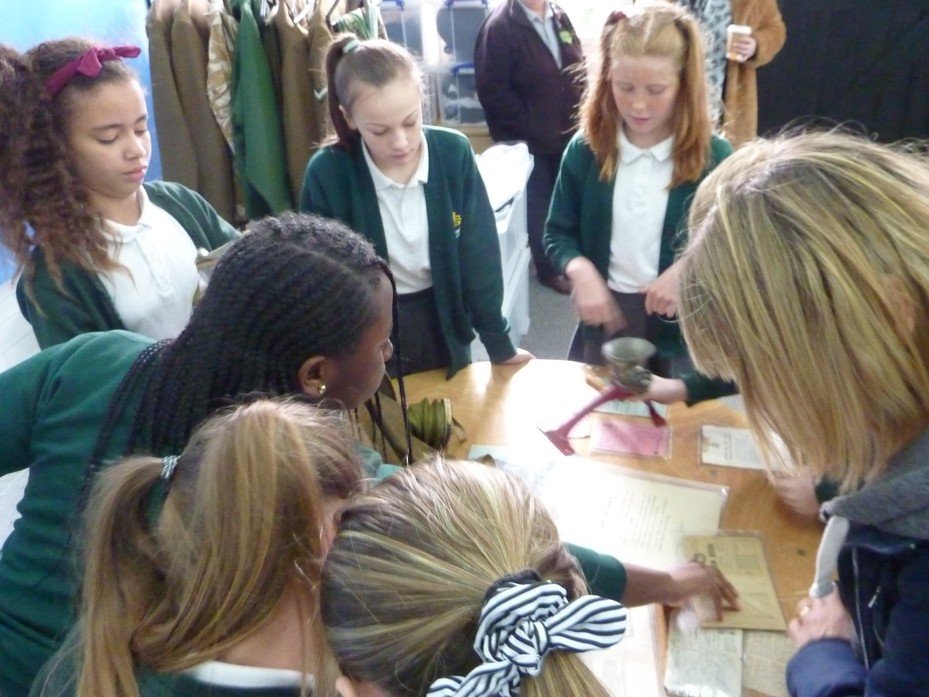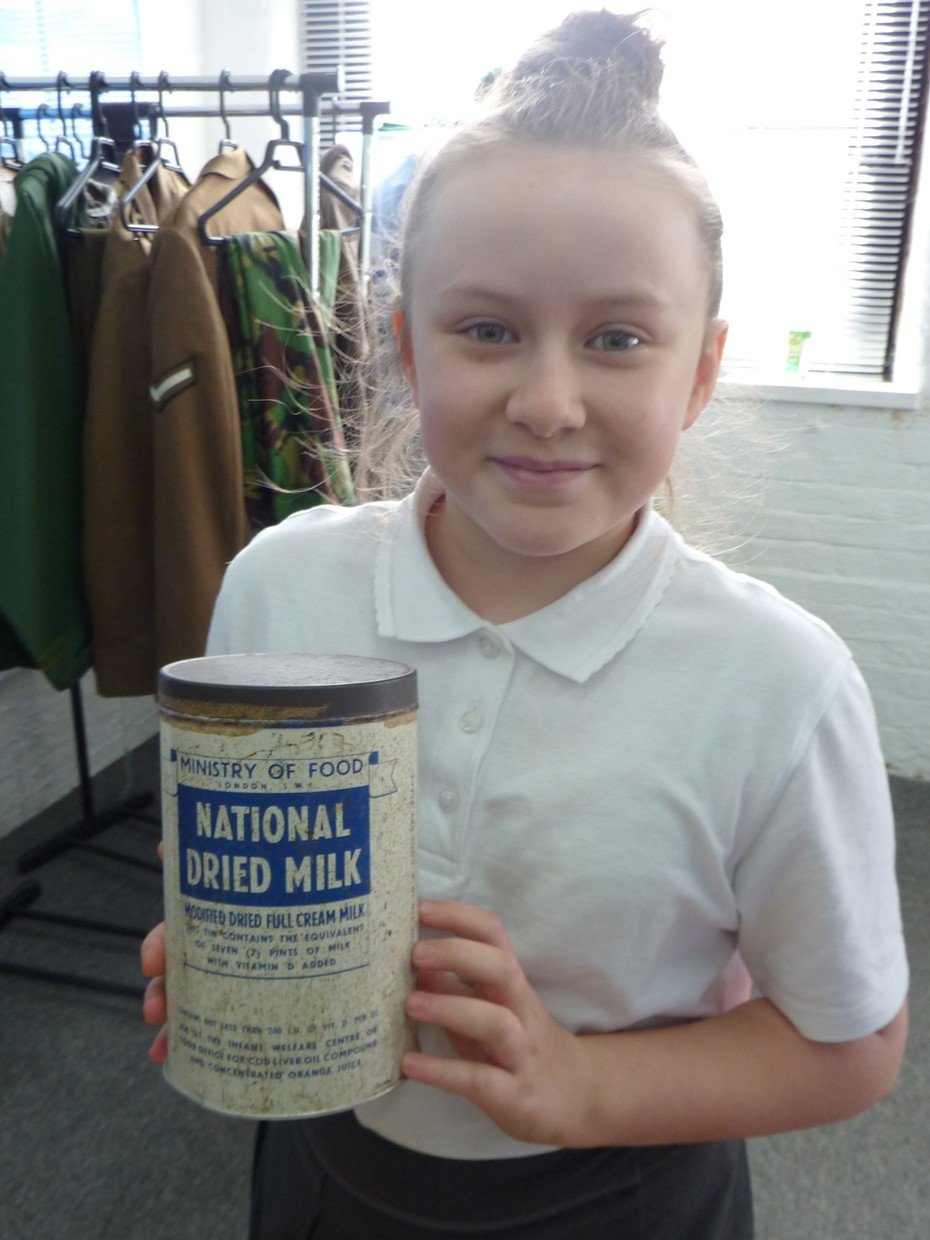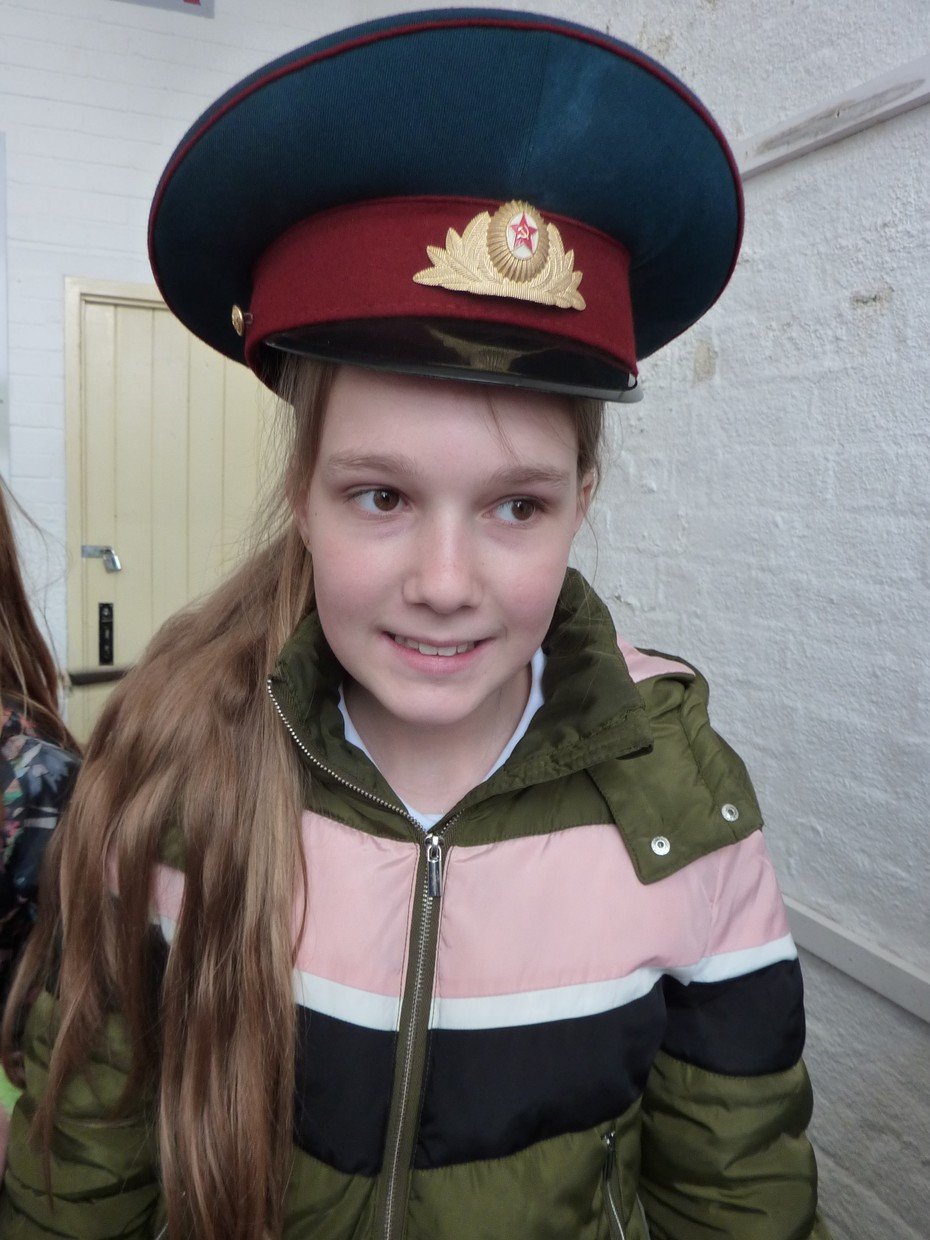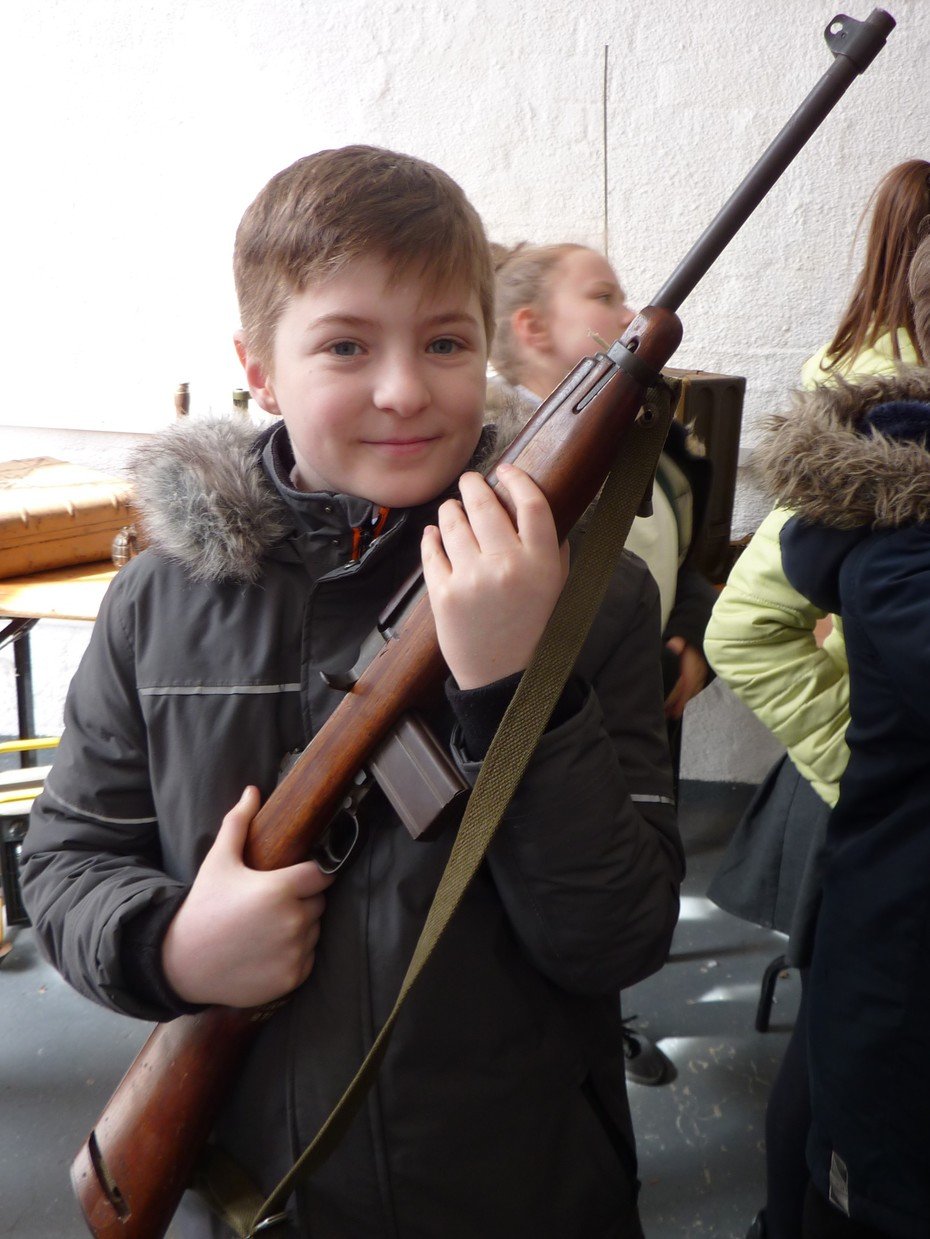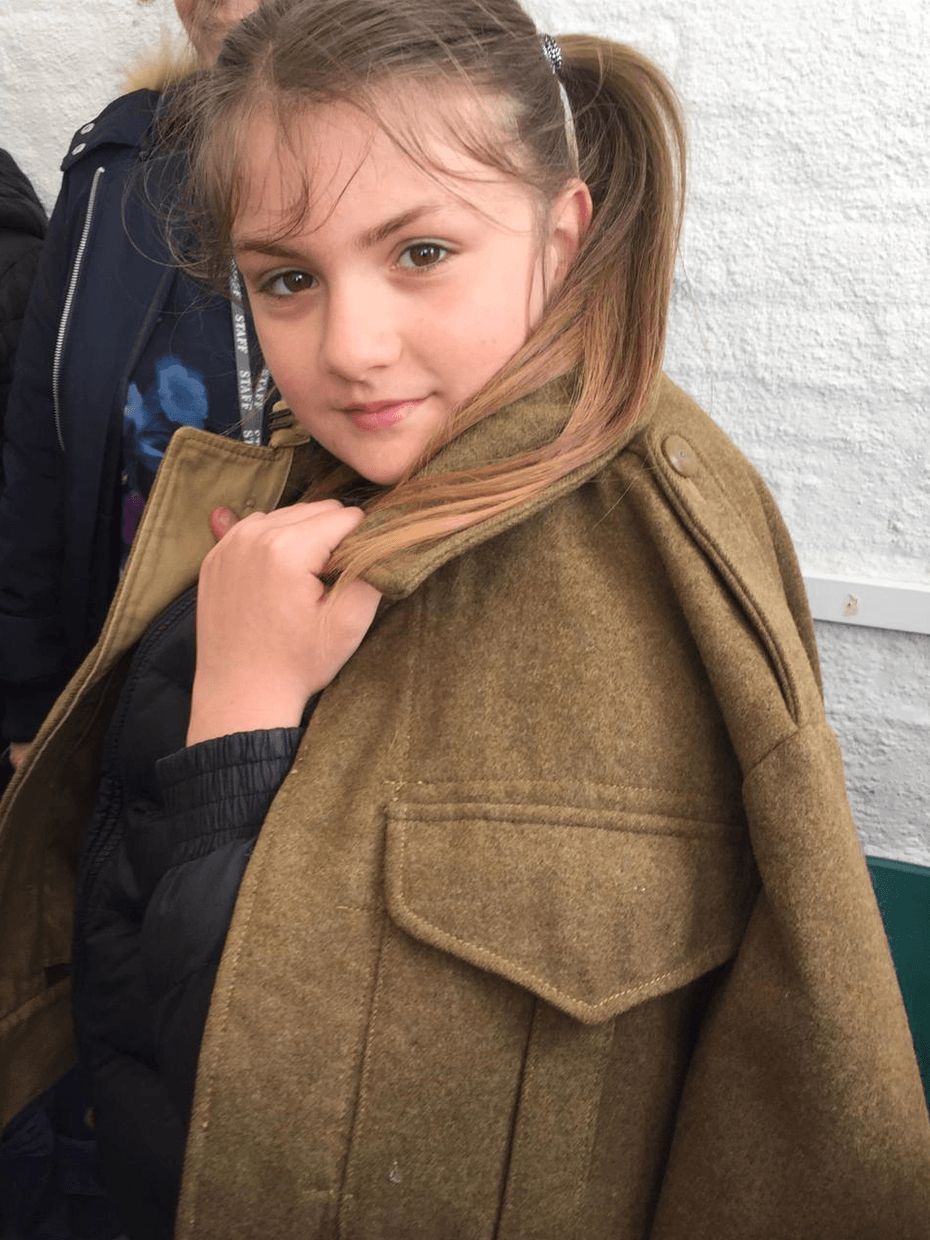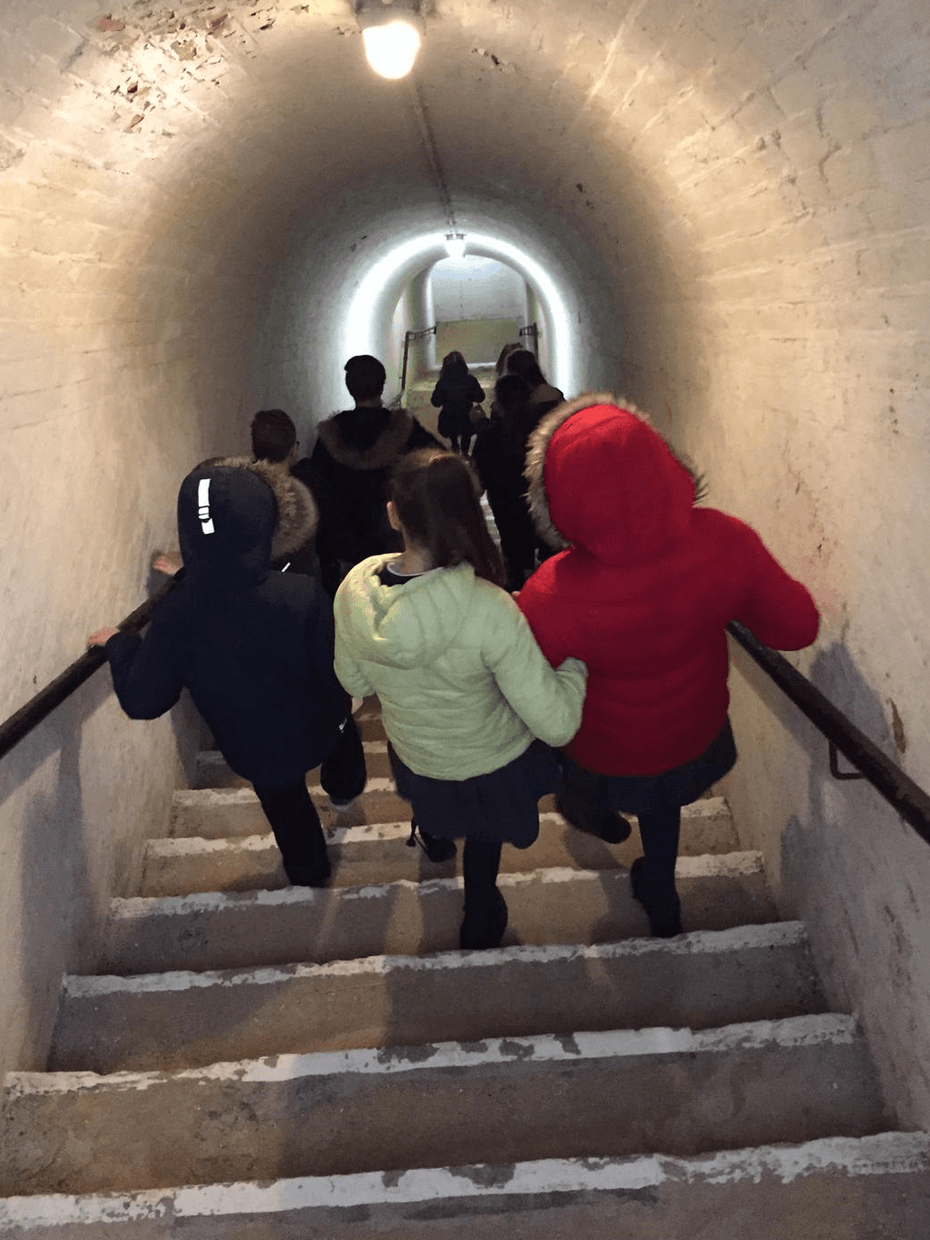 The day was completed with a chance to have fun in the play area and a quick visit to the gift shop before heading back to school.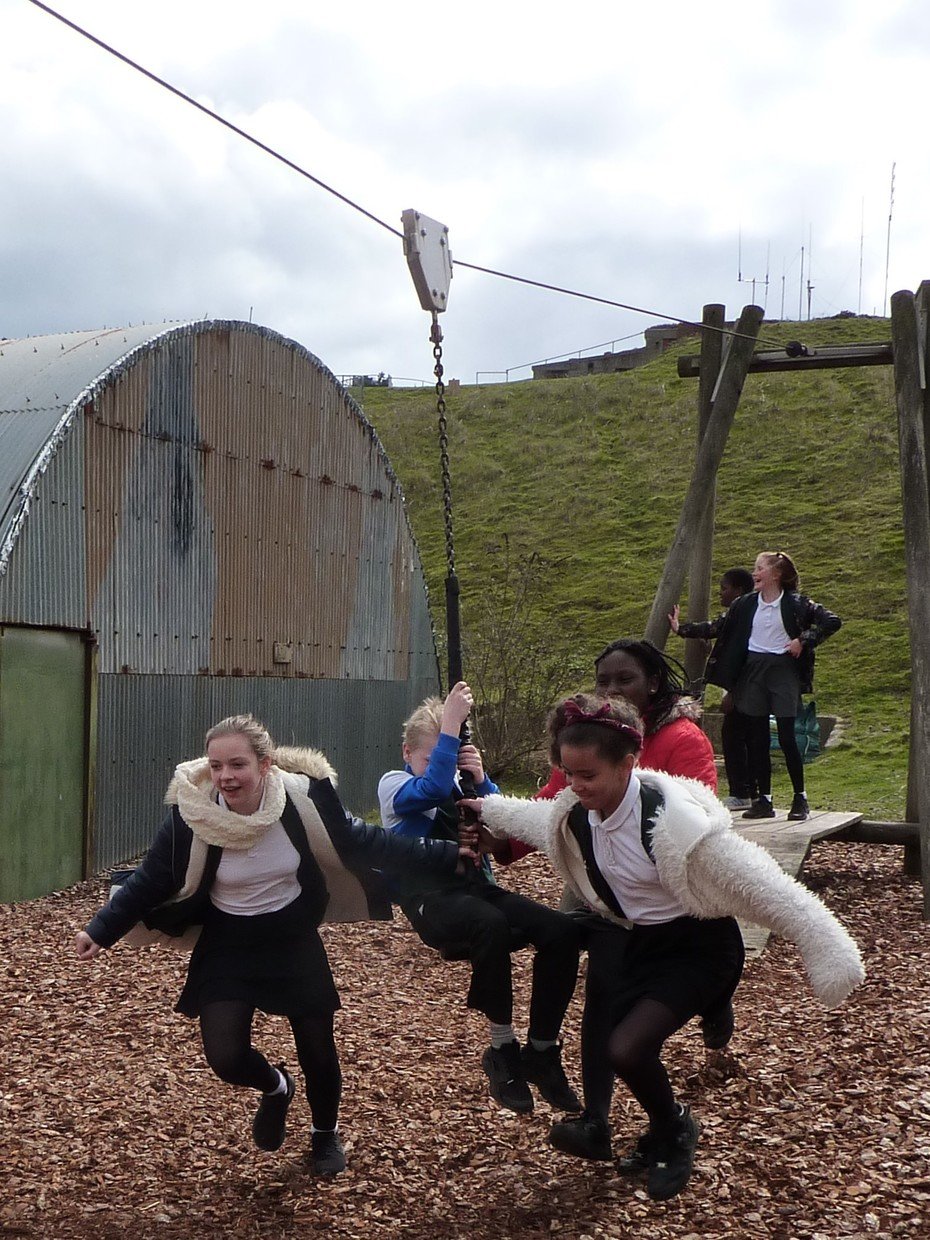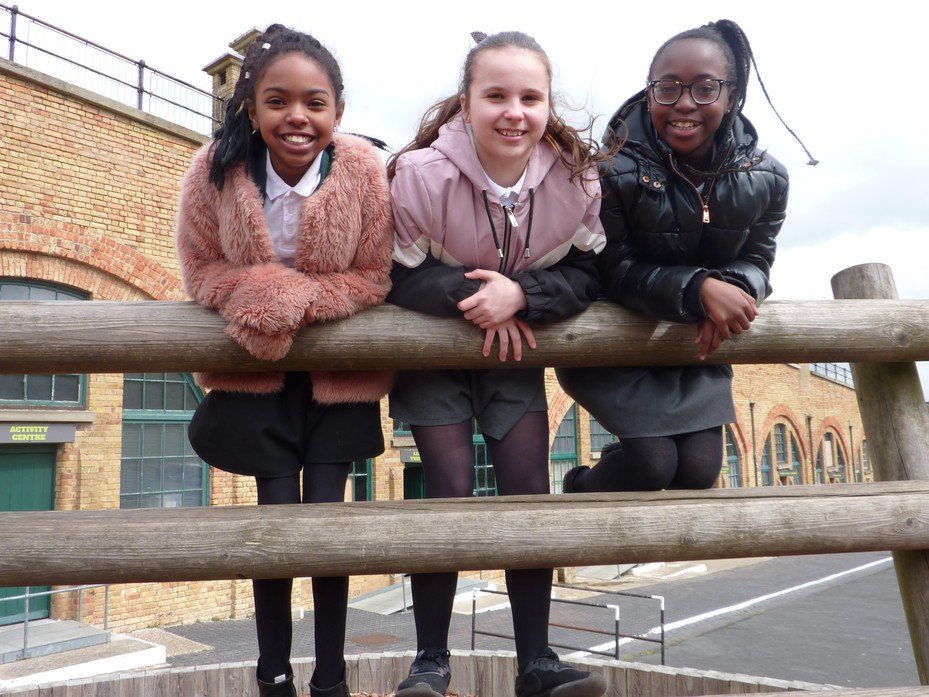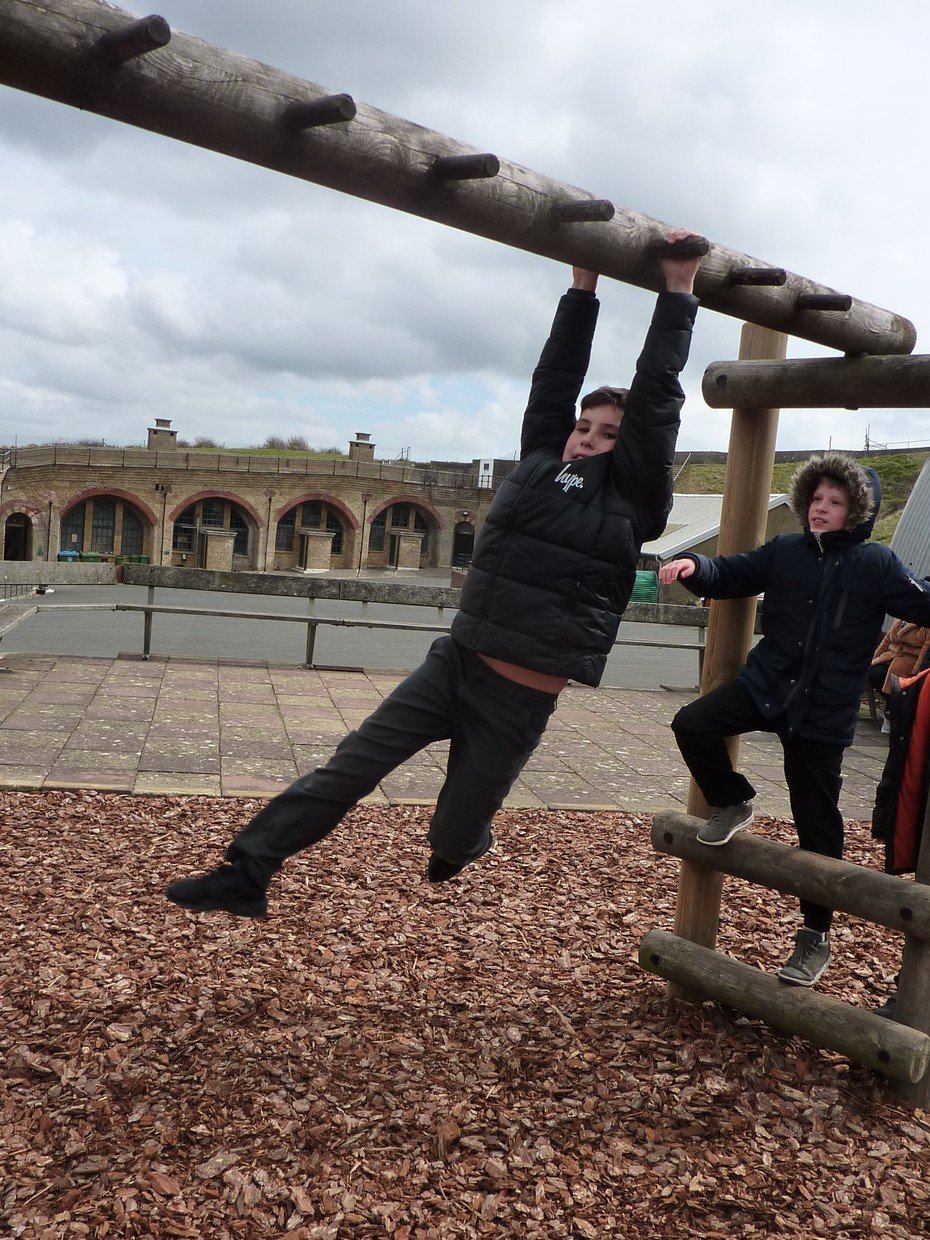 A chance to relax!
Year 6 have had another busy week this week, with several practice tests, as well as normal lessons and early morning booster classes three times! This afternoon in Golden Time, they had a Golden Time session as a class rather than mixing up with the other classes. It was nice to see the children relax and chill together after such a full-on week!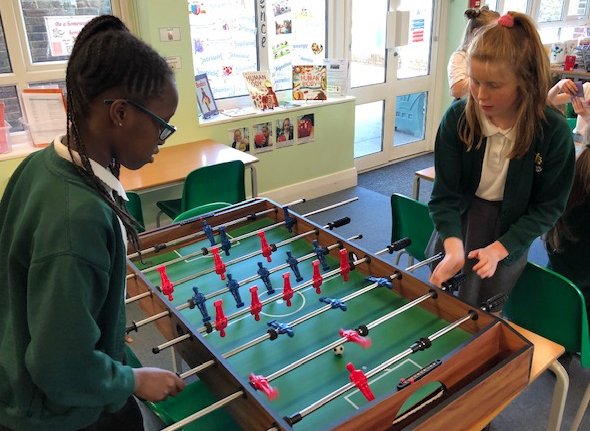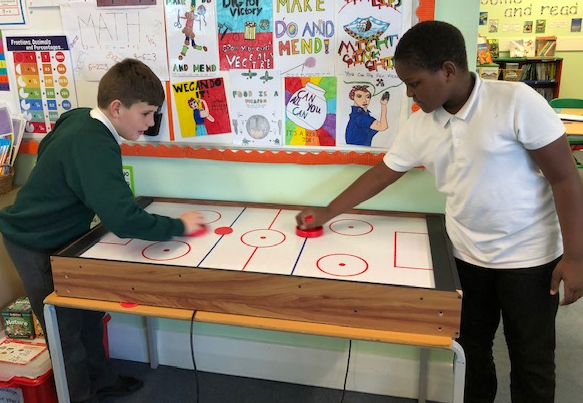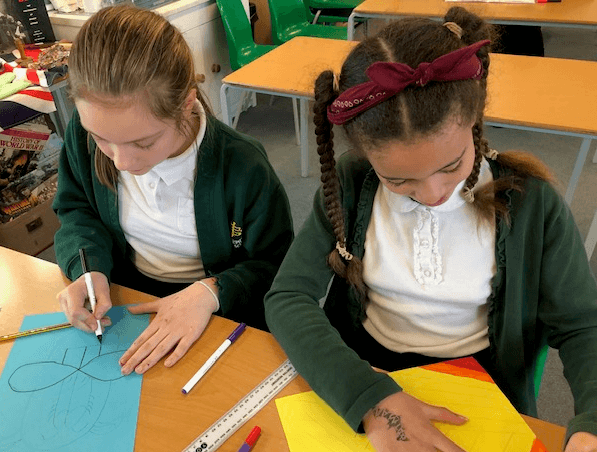 SAT's meeting : 26.3.19
Thank you to those parents and carers who were able to attend tonight's meeting about the upcoming Year 6 SAT's tests in May. If you were unable to attend, please click on THIS link for the relevant information.
Your child should also have bought home a letter today explaining what will happen during SAT's week. If you have any further questions, please pop in to see Mrs Foan or Mrs Skinner.
Parents and carers - we would like to take this opportunity to thank you again for your support in getting your children in to school early for Booster Classes - the children's hard work and determination to do well is really starting to pay off!
SPaG - Word Families : 20.3.19
Today in our SPaG learning, we looked at words that are linked by spelling, meaning or form. We focused on word families built around a root word. We worked in pairs to come up with as many words from the same word family as possible. We used a dictionary to help us. It became very competitive as to which pair could come up with the most and best word in each word family!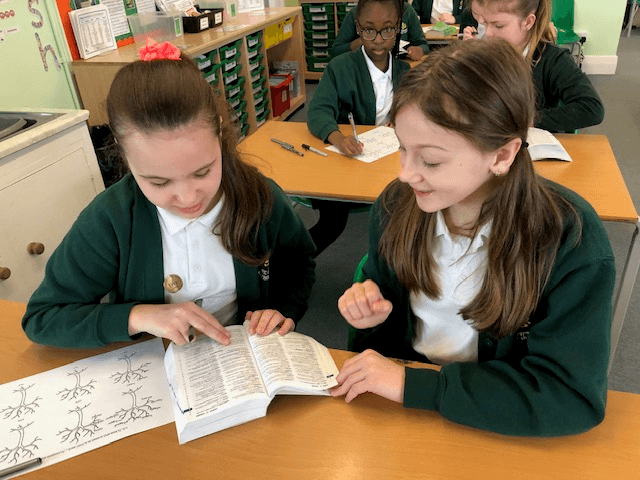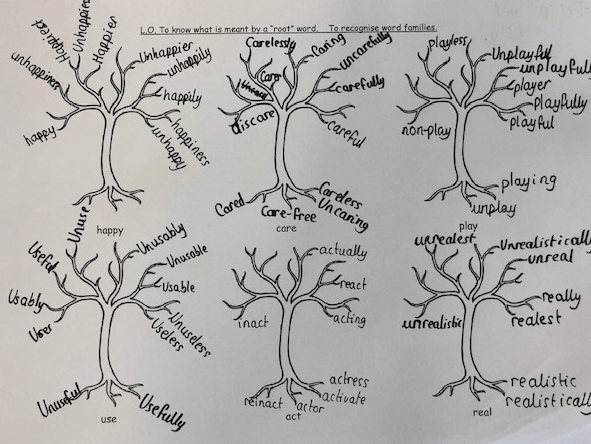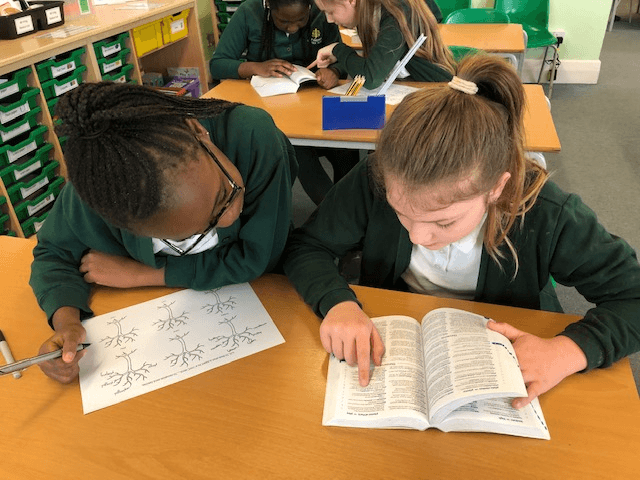 St Joseph's Day
Today, March 19th was St Joseph's Day. We began the day by celebrating Mass together. To commemorate St Joseph's Day, each child in the school planted a daffodil bulb. Year 6, when they flower next Spring, we will be reminded of you all!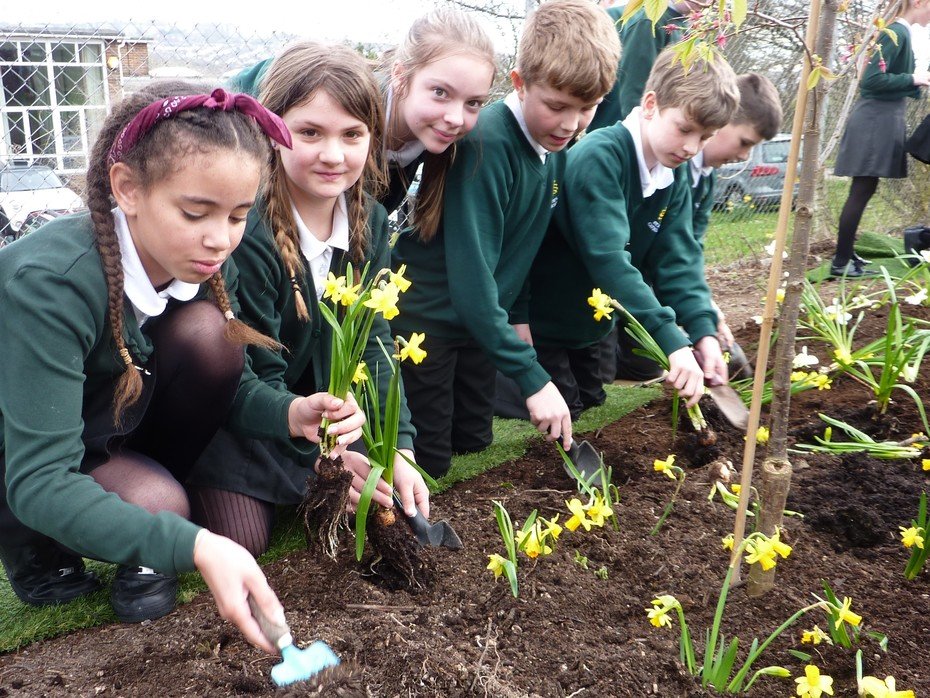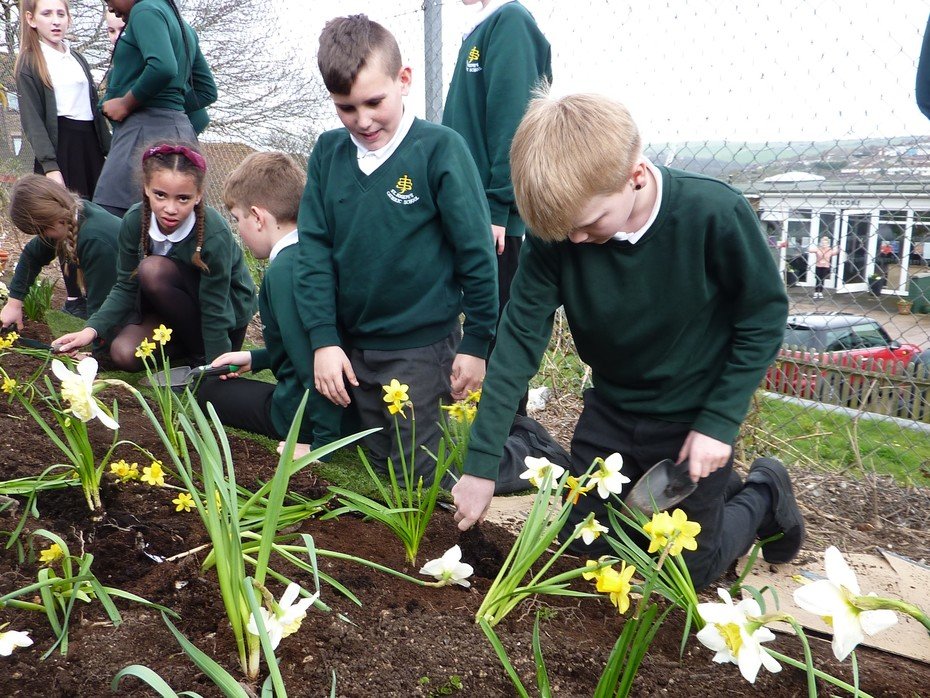 In class, the children took part in several activities celebrating St Joseph.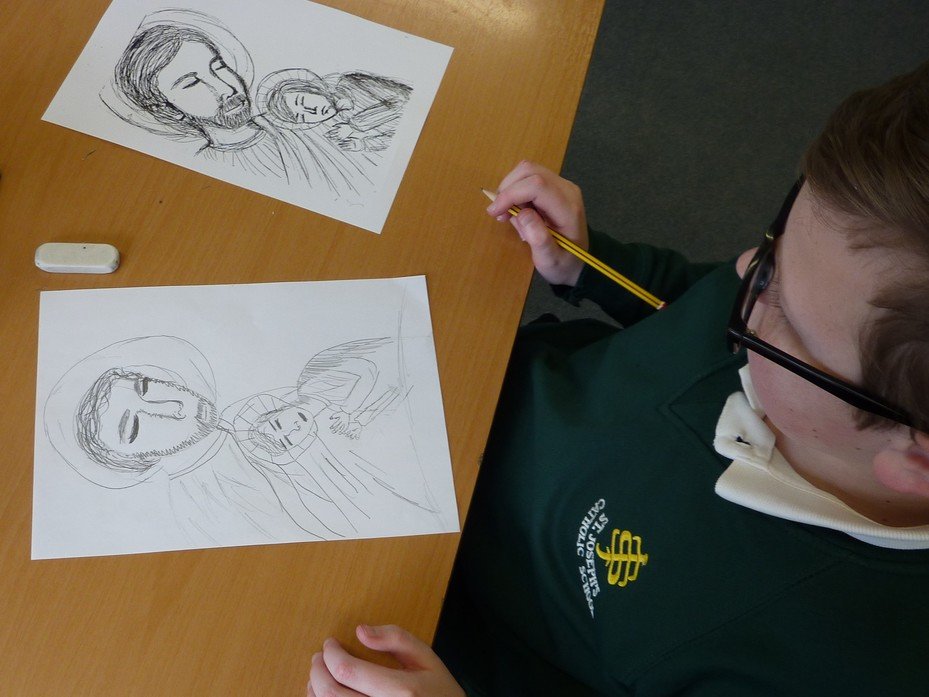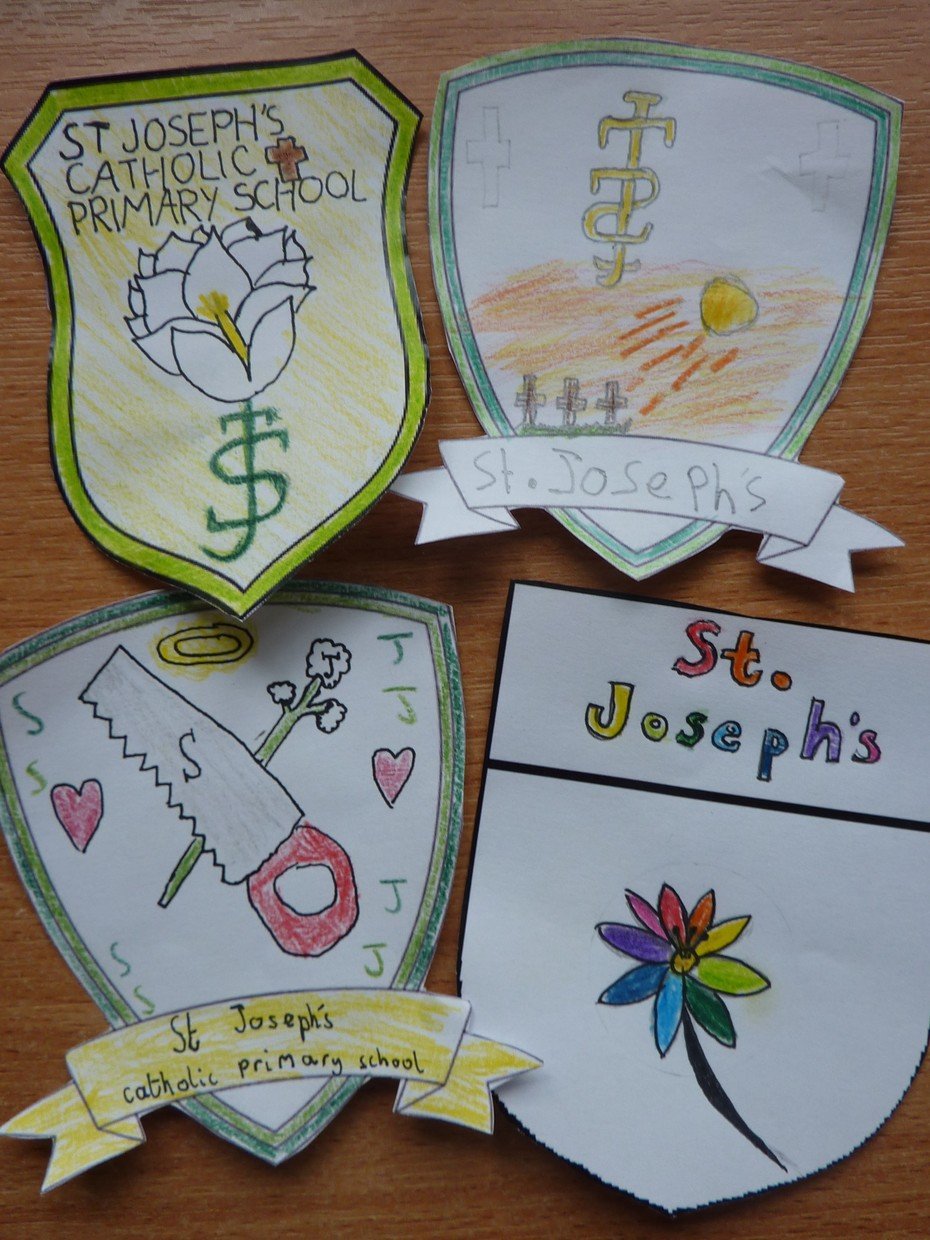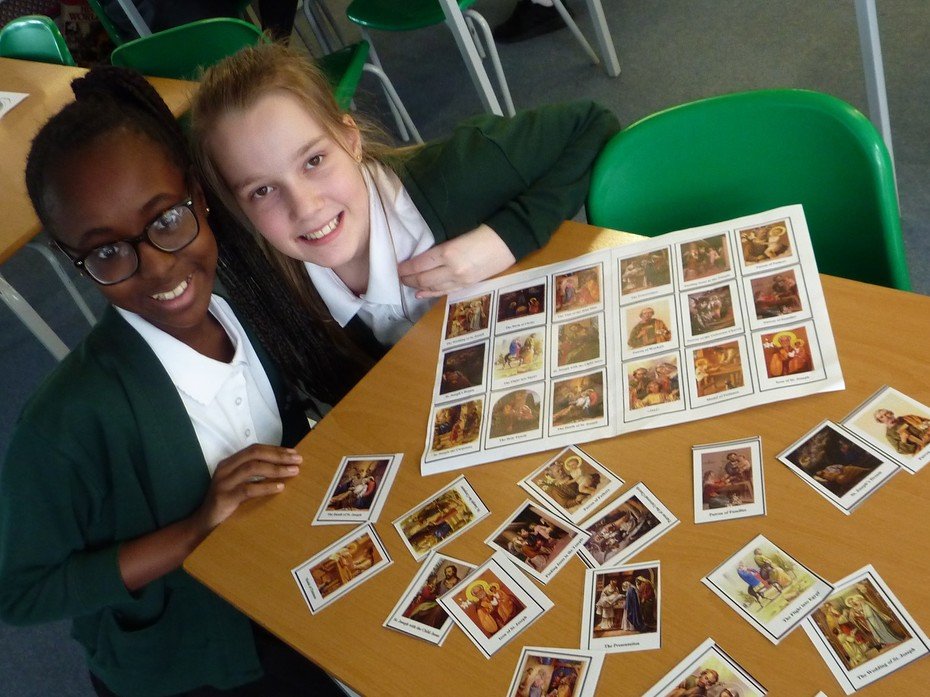 Line drawings of St Joseph, designing a new emblem for St Joseph's School and playing a matching game relating to St Joseph.
Getting SAT's ready!
Mrs Foan and Mrs Skinner will be holding a SAT's meeting on Tuesday 26th March after school, where the SAT's tests, which your children will be sitting in May, will be explained in detail and any questions you have, will be answered. The children are working really hard at school, preparing for the tests.
Thank you parents and carers for your support in getting your children into school early for Booster Classes.

Children, THIS is a fantastic site with a self-study resource that will help you consolidate your maths knowledge. Give it a go!
Our class reader
Year 6 are enjoying this term's class reader, "Goodnight Mr Tom." Sometimes, an adult reads aloud to the class, and sometimes we read it together as a class, following the text and taking turns to read aloud. The children are loving the story and also widening their vocabularies, as the book contains lots of new and exciting words.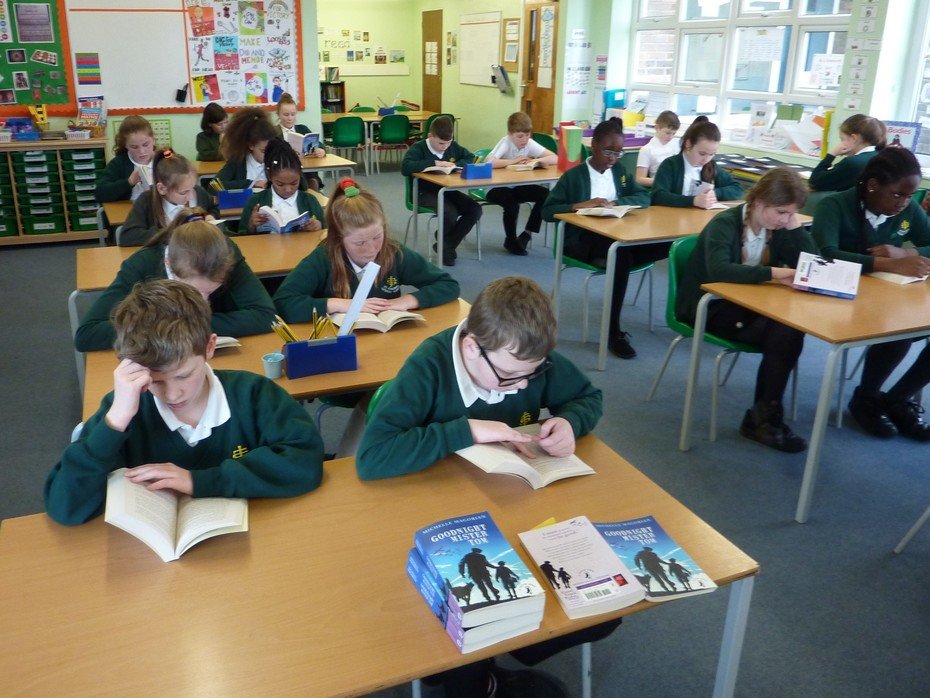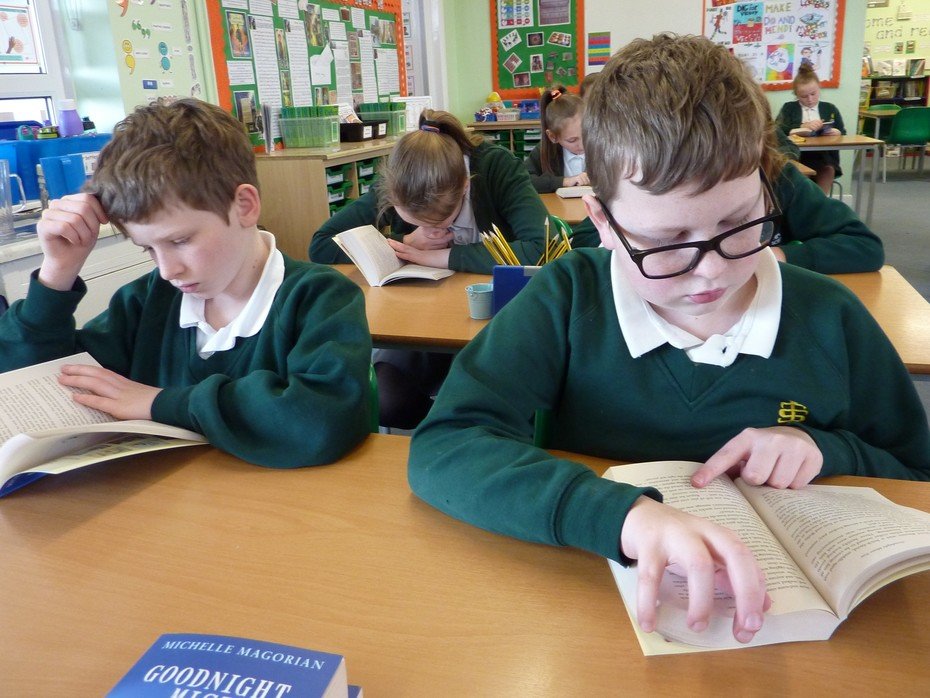 More WWII learning
Miss Clark came into Year 6 today to talk about her grandmother's experiences of World War II. She bought with her some photographs showing life during the 1940's as well as lots of personal stories about her nan. She also bought in some of her GCSE artwork, which was based around WWII. Having recently drawn propaganda posters in class and painted pictures of Winston Churchill in their art lessons, it was lovely for the children to see some other different ways that life during the war has been depicted, using different mediums.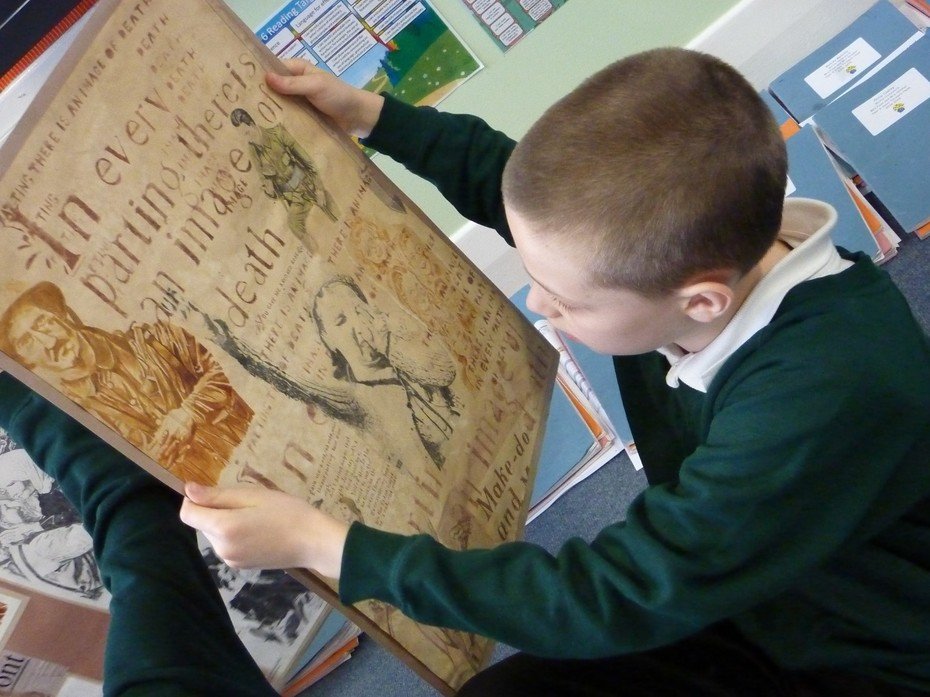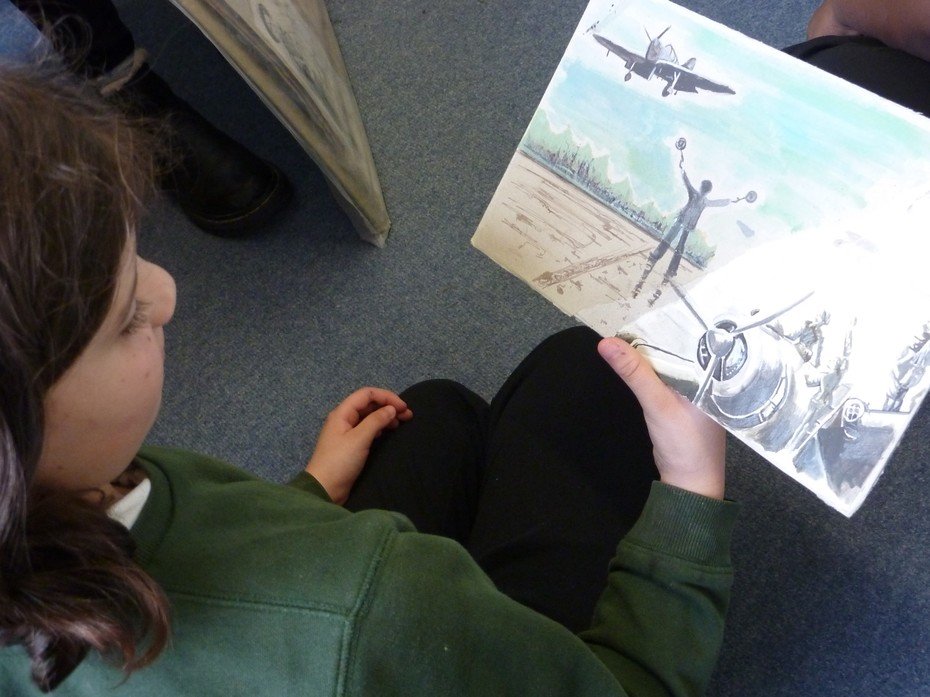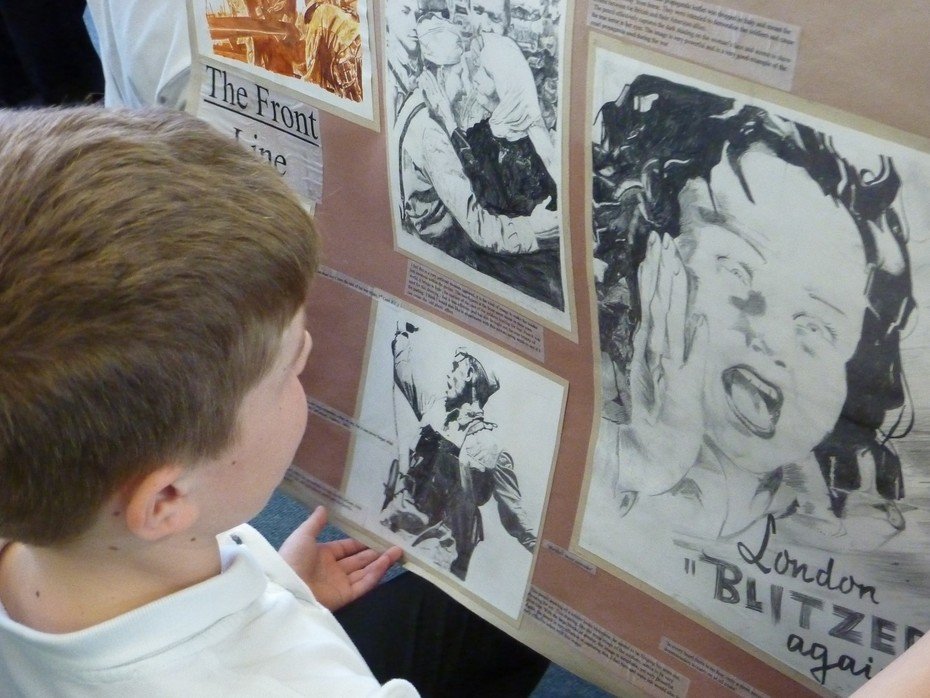 Year 6 trip to Down's Juniors: 7.3.19
Today, Year 6 visited Downs Junior School, who have recently restored their original underground WW2 Air Raid Shelter into a wonderful museum. The children were given a guided tour of the large air raid shelter under the playground, where all 300 pupils of the school would have spent many hours during the air raids of WWII.
The children also took part in three workshops looking at the different types of shelters that were used during the war, how Brighton was affected during the Blitz and how rationing and evacuation affected local children. Several history experts were on hand to lead the sessions and answer any questions the children had. Barry, a WWII veteran, who was evacuated during WWII and whose wife attended Down's Juniors, gave the children a first hand insight into how the war affected young children living in Brighton during the 1940's. The children were also given the opportunity to handle original artefacts.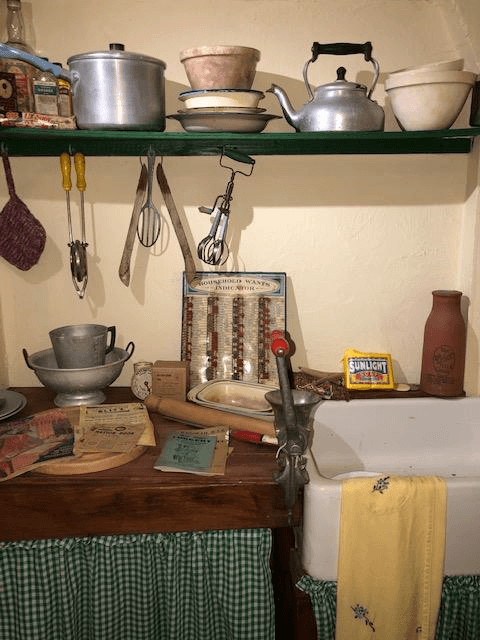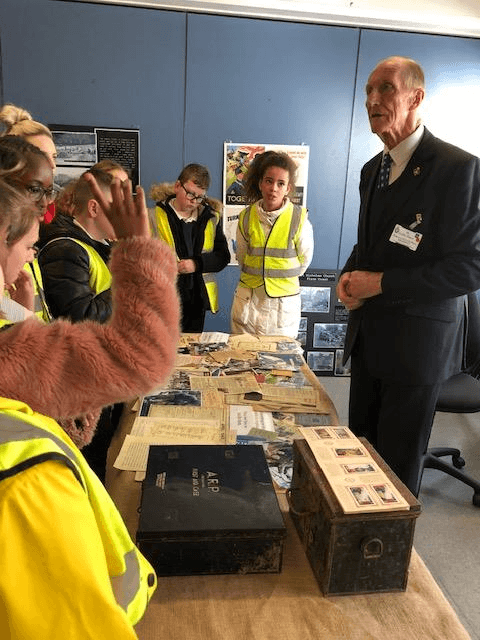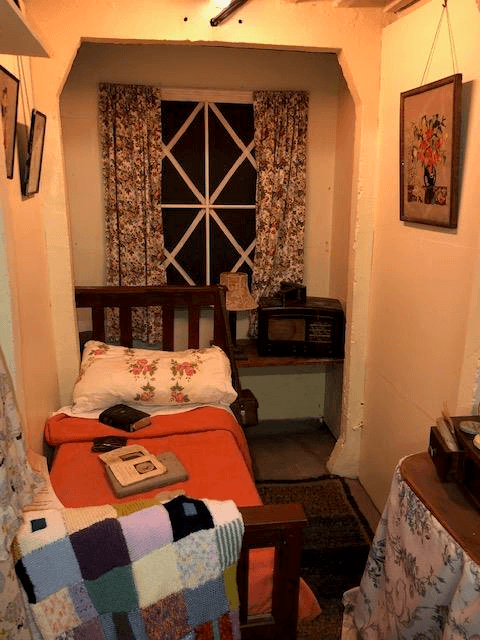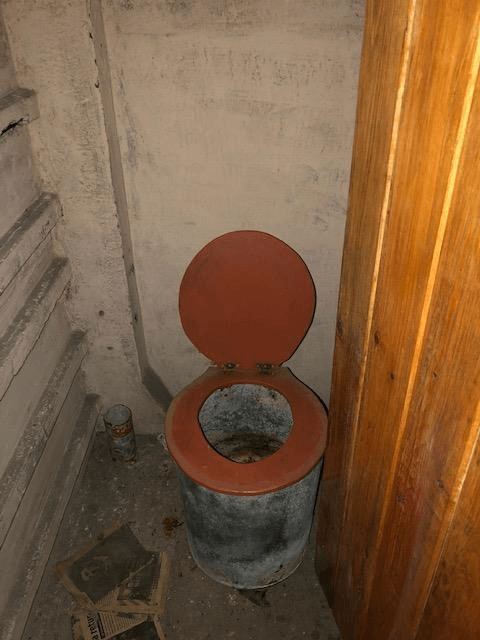 Today was a great learning experience - the children were fantastically behaved, were completely enthralled and interested in the activities, asked some superb questions and deepened their World War II learning in a fun and fascinating way.
We are very lucky to have such a wonderful resource on our doorstep.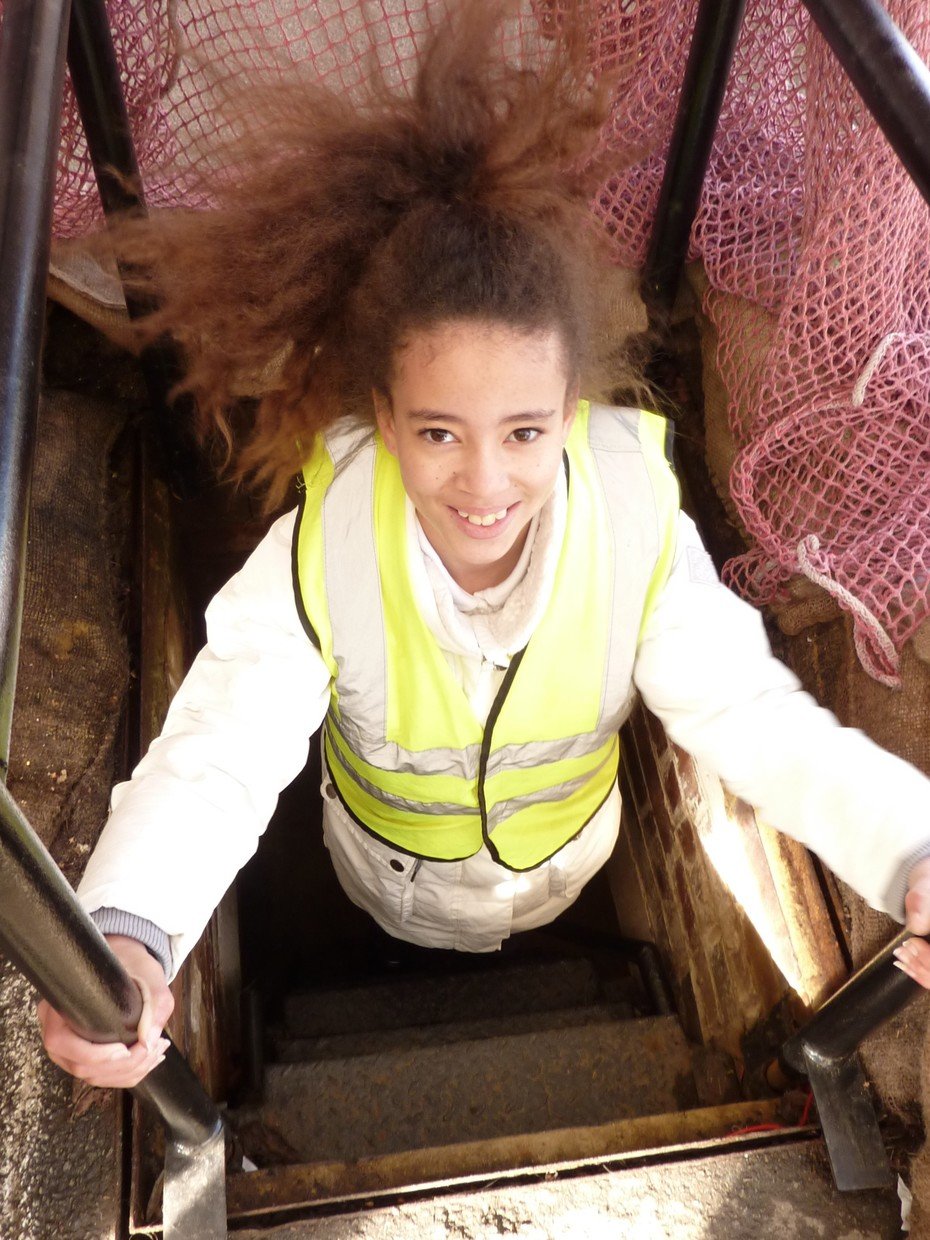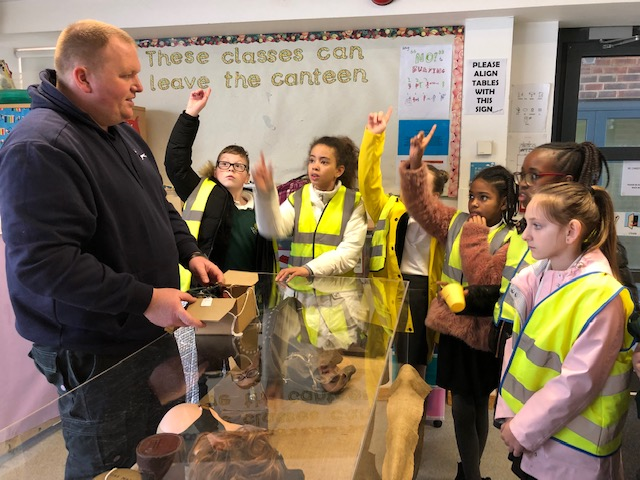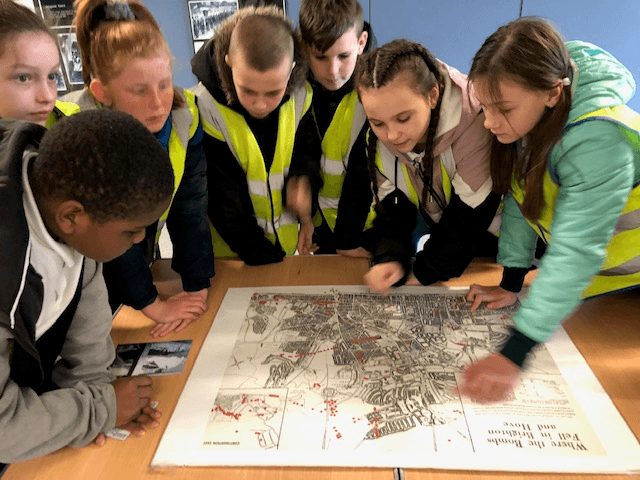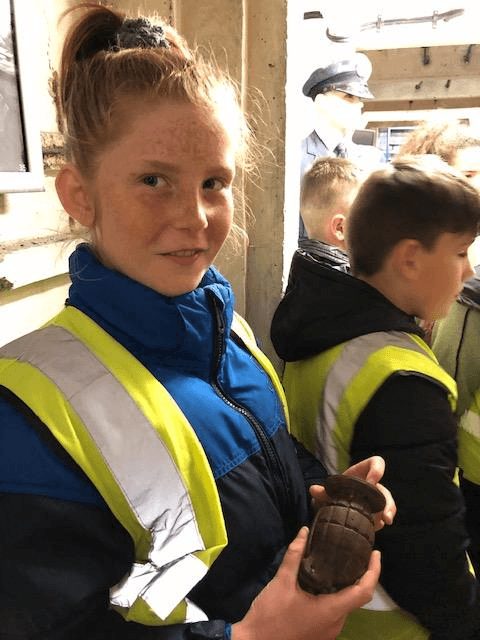 Half term homework
Mrs Foan was delighted with the maths homework she set over the half term, making a game involving maths. There were lots of interesting ideas and well thought out games, so well done everyone. The children have enjoyed playing each others games.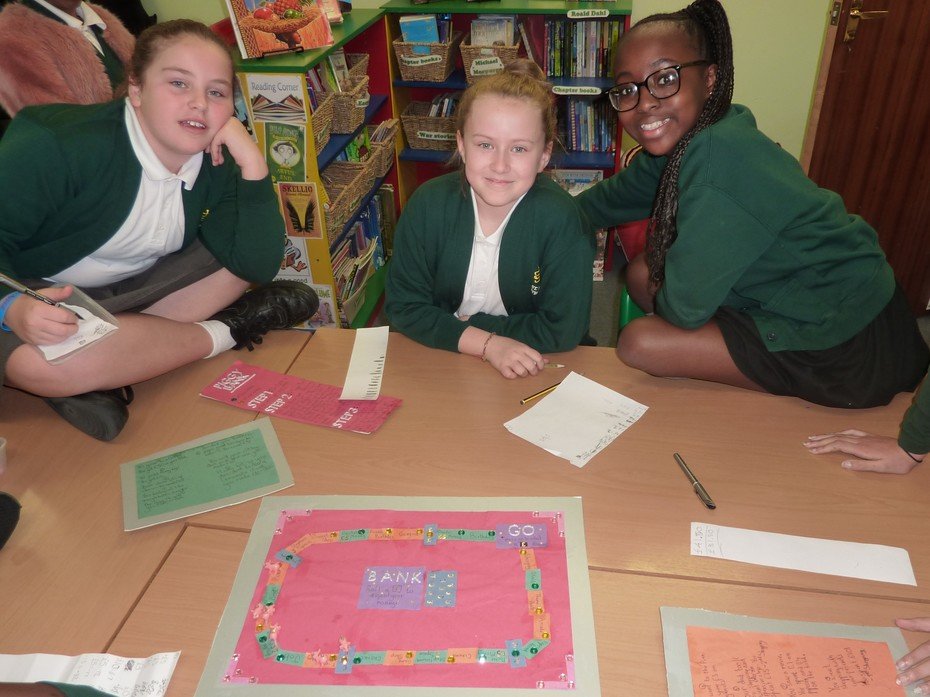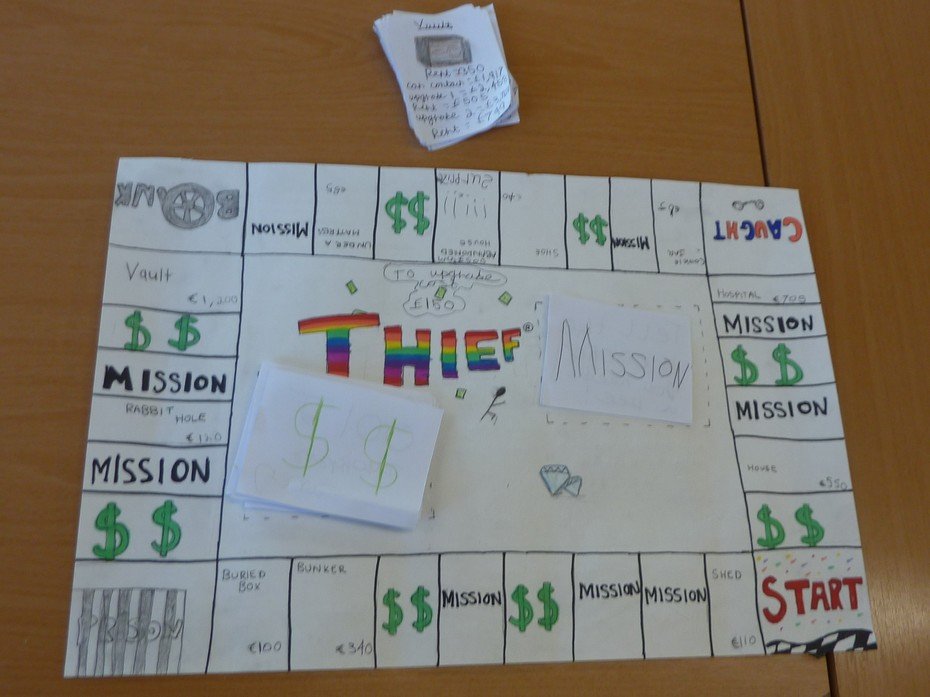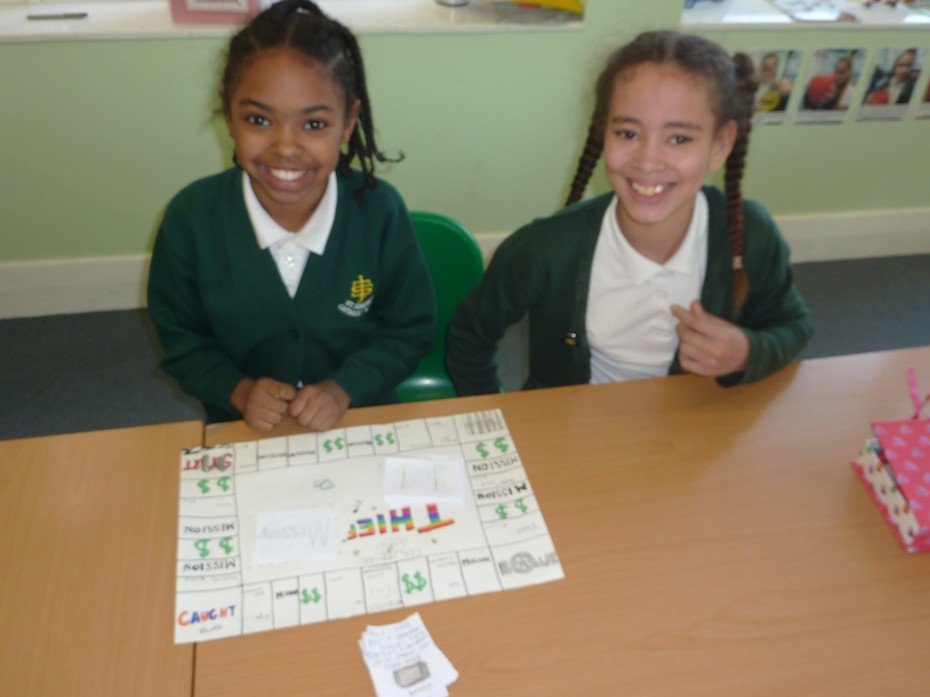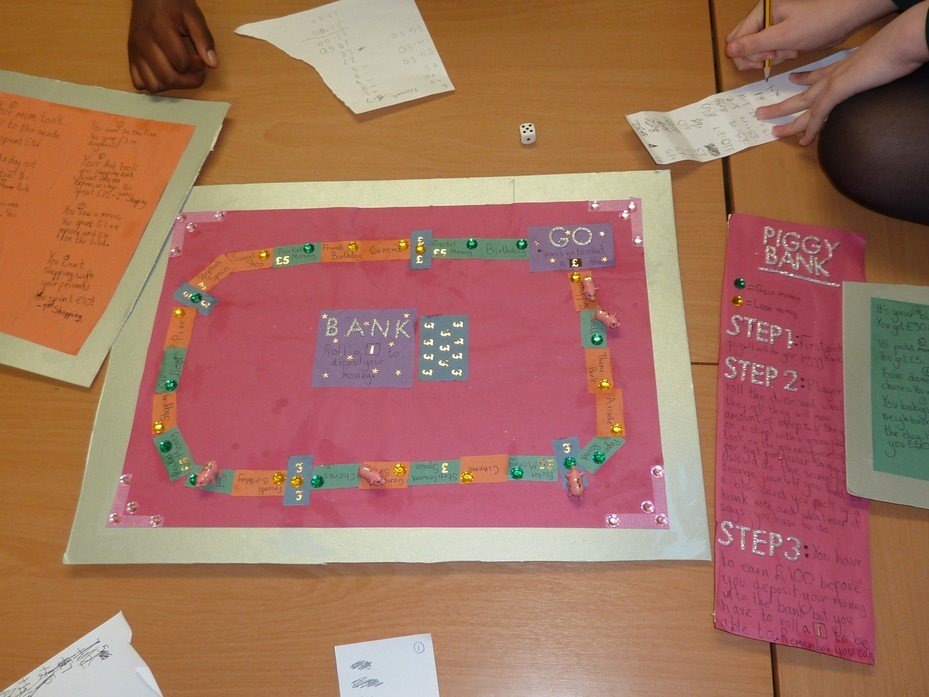 This week's learning
This week in SPaG, we have been learning about the progressive tense. We played a game where we had to write sentences, using given verbs, in either the present or past progressive tense.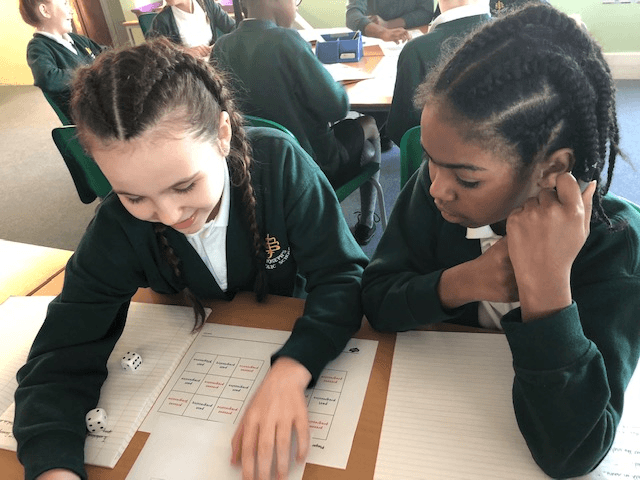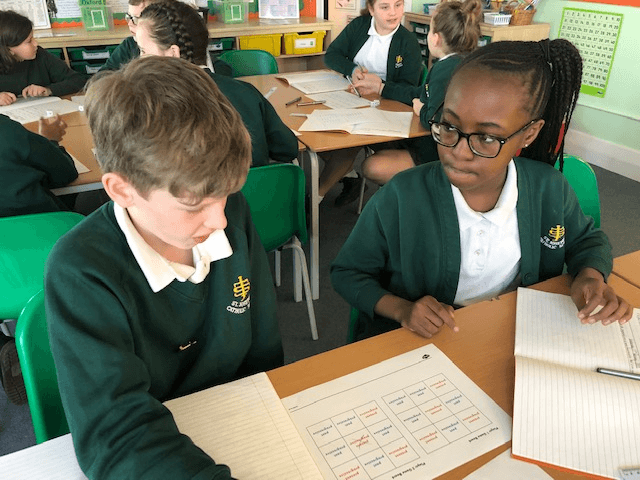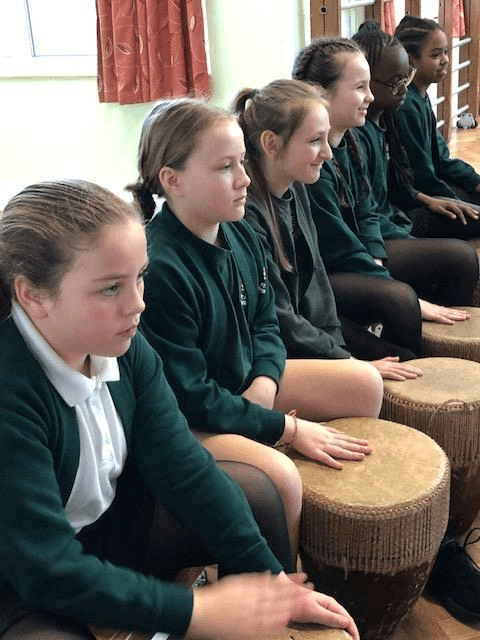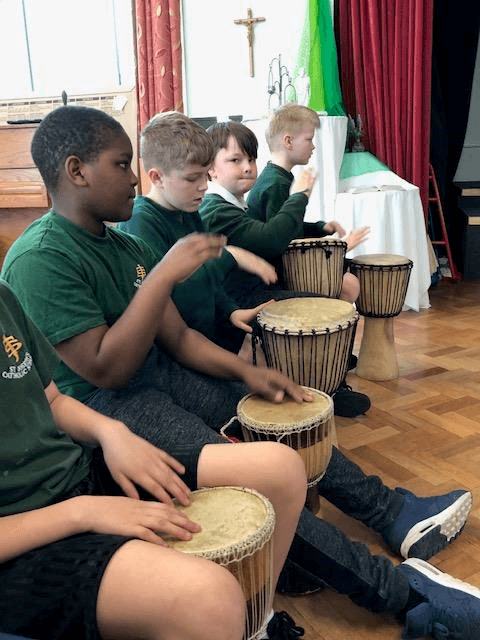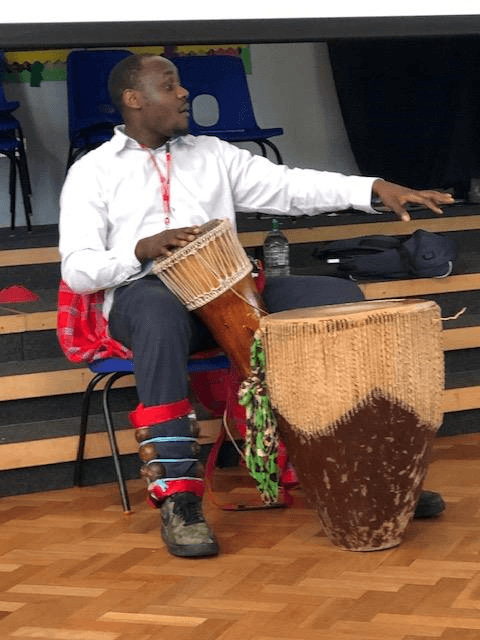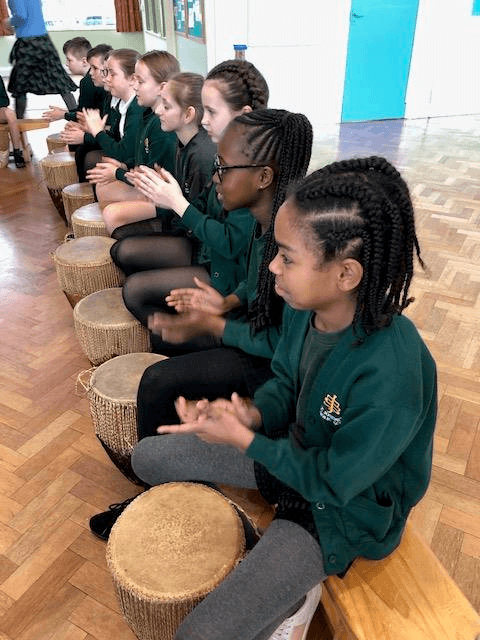 This morning, in our music lesson, we were joined by Bryon, from Uganda. Bryon taught Year 6 several different rhythms using African drums and djembes and displayed some traditional Ugandan dancing. He also taught the class some traditional Ugandan songs.
Activity Passport
We are so impressed with how our Year 6 pupils have taken the challenges in the activity passport on board.
It is good to see how many different things the children have attempted over the last few weeks involving learning new skills, trying new experiences and getting outside to do things with family and friends.
Well done to all of you for emailing us the evidence - another thing to tick off the list!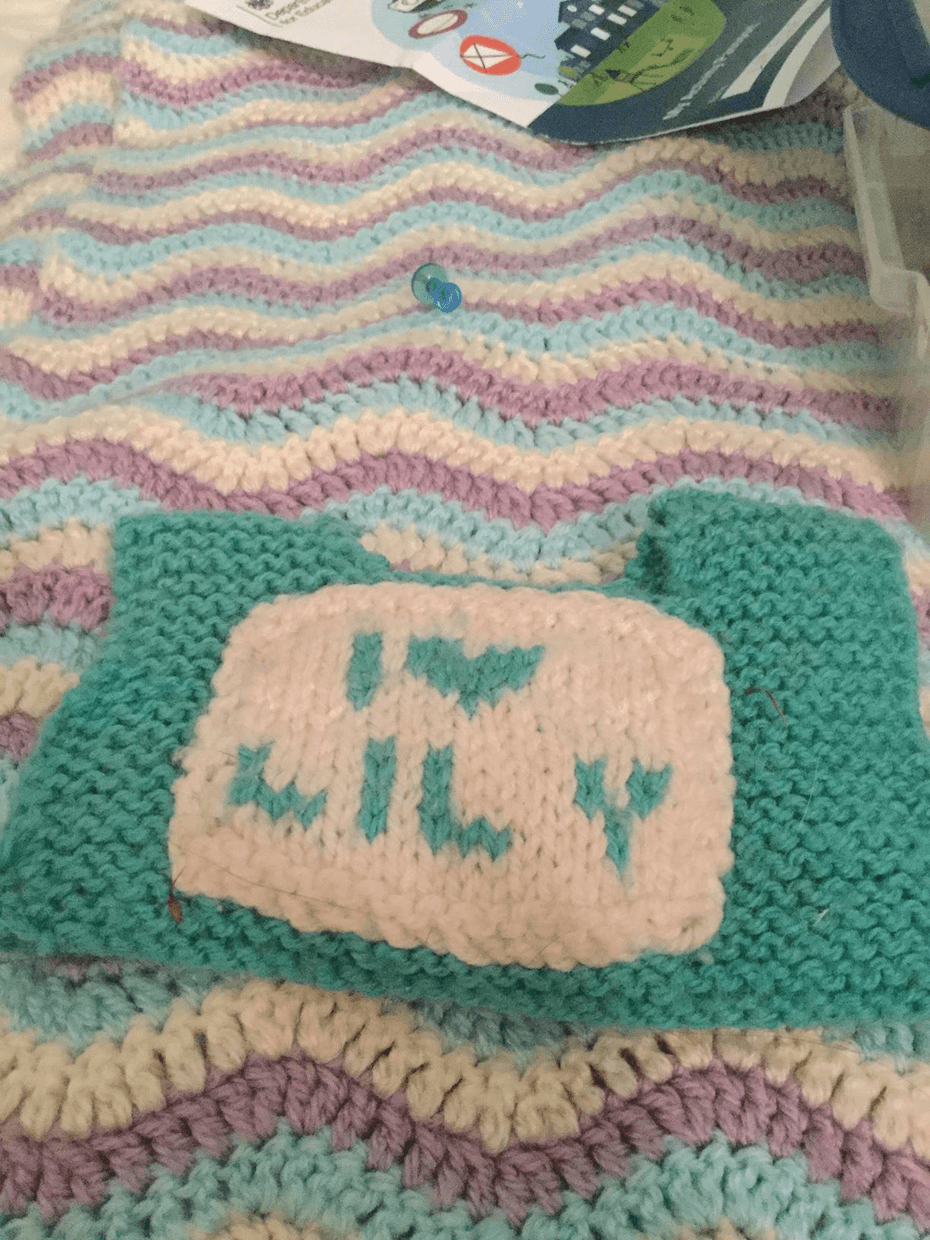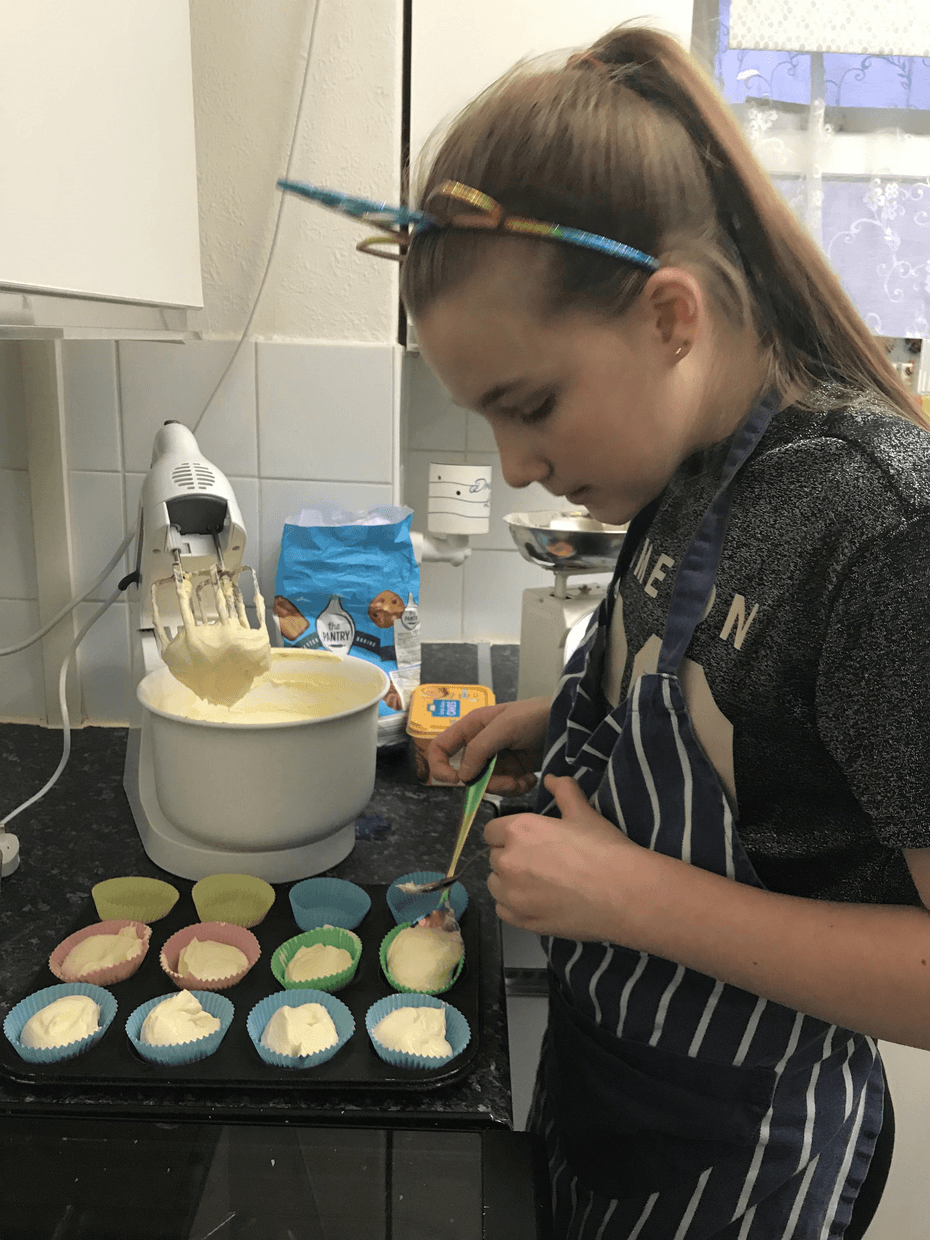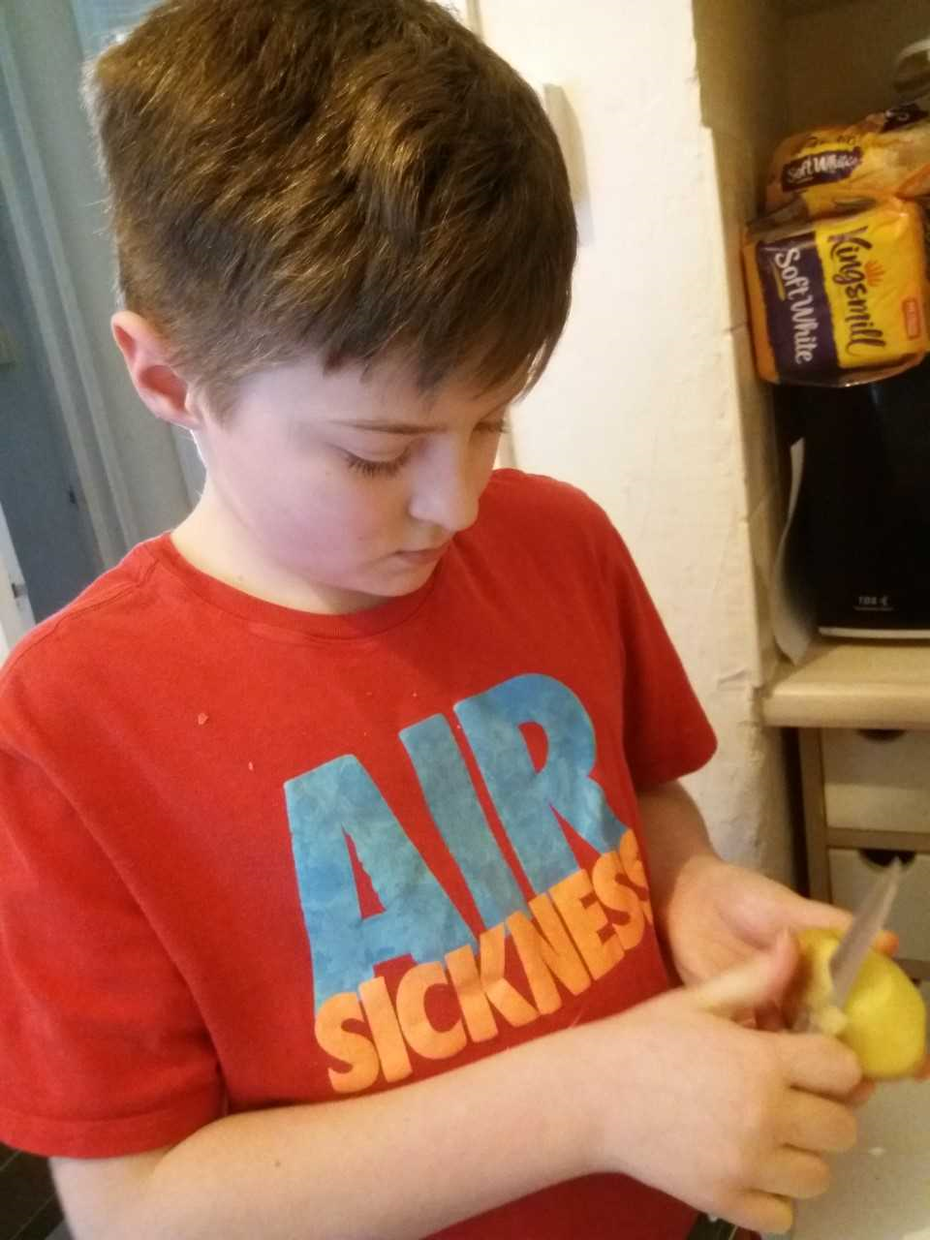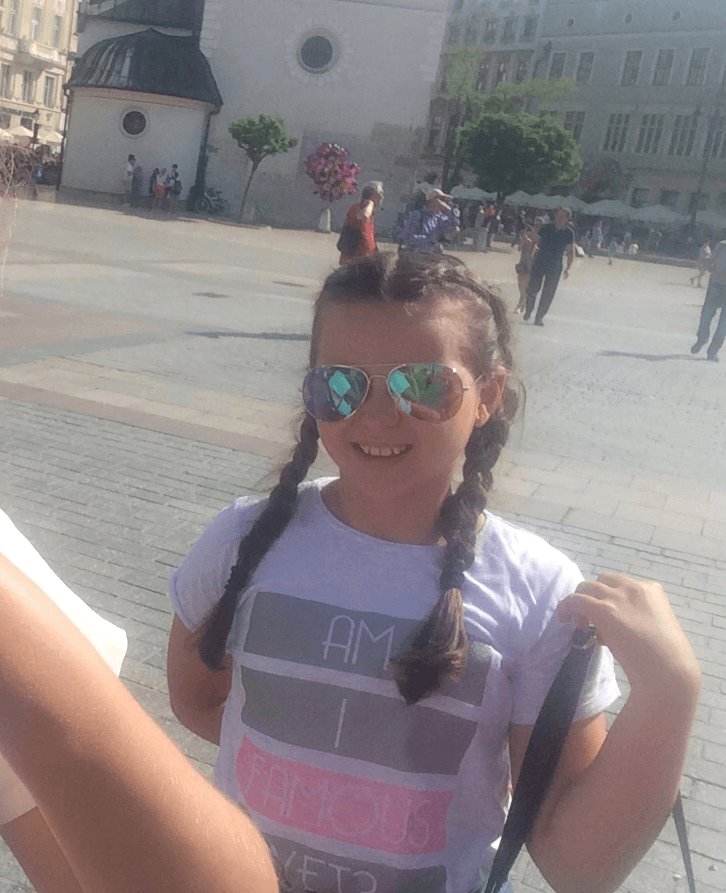 Learn to knit (Number 4) Make your own dessert (Number 15) Peel some vegetables (Number 12) Visit a new city (Number 20)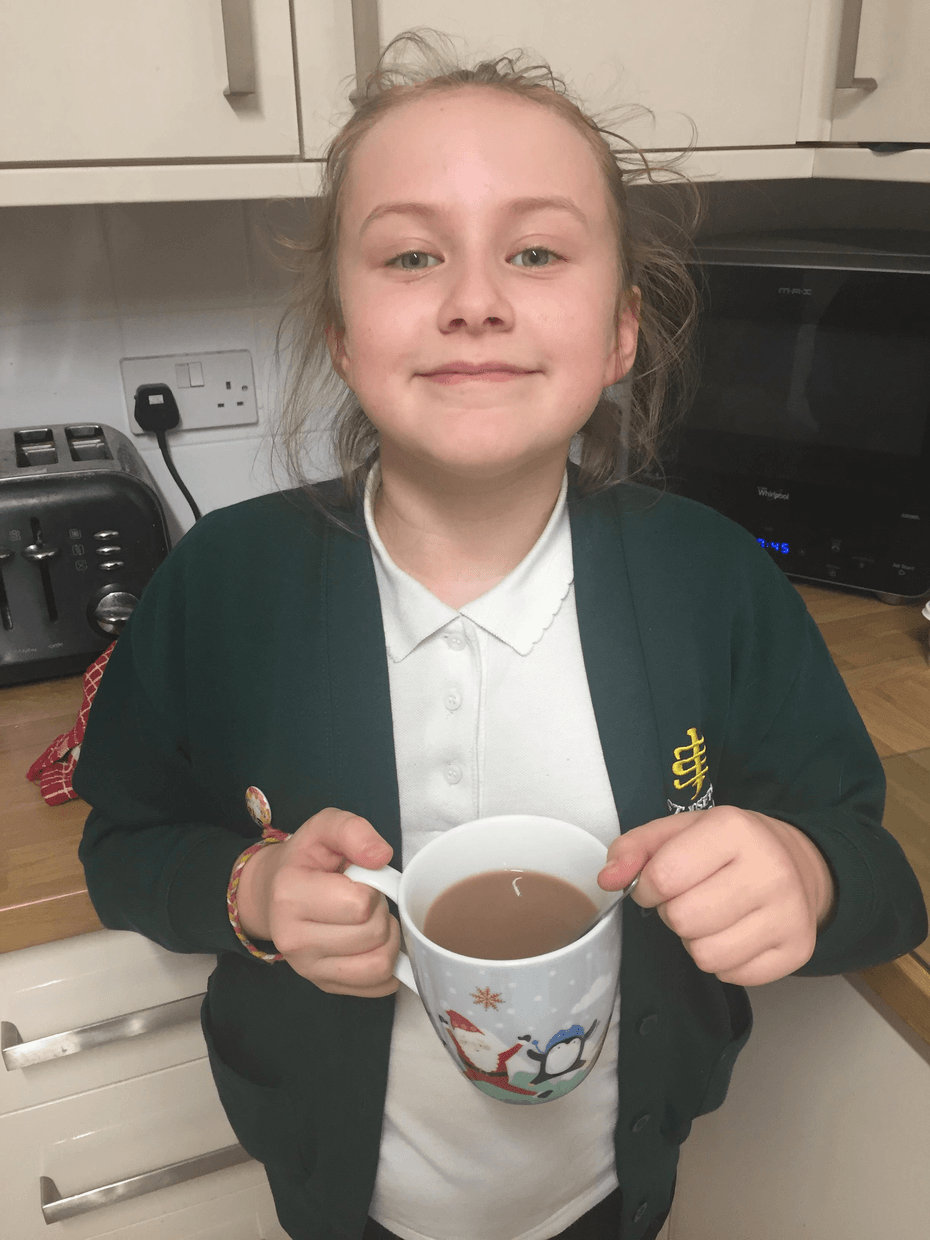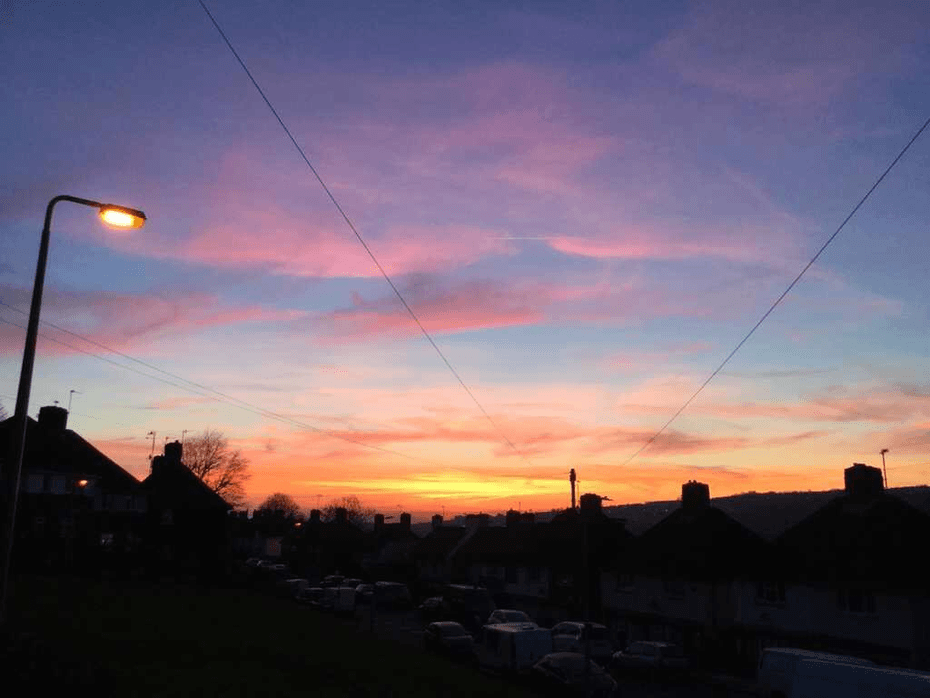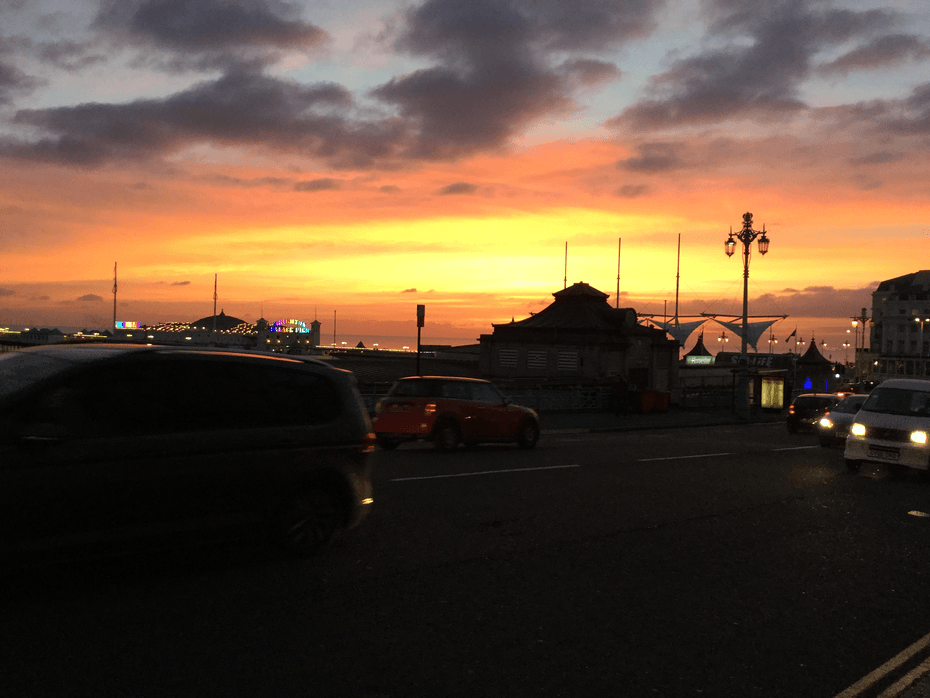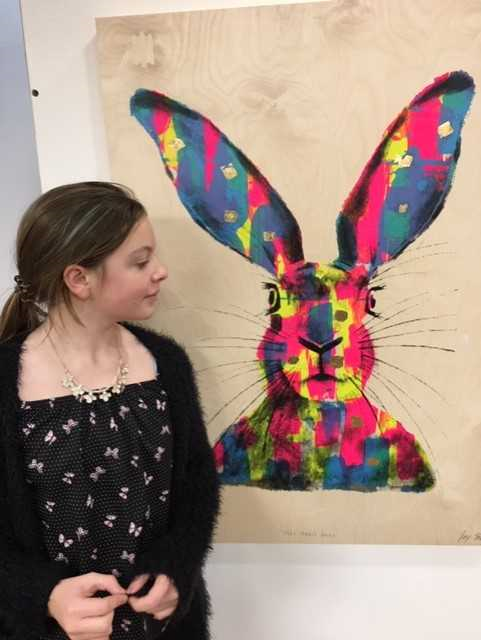 Make a cup of tea for a parent (Number 16) See the sun set (Number 17) Visit a museum (Number 13)
This week's learning
Despite the bad weather and quite a few absences due to sickness, Year 6 have been busy again this week. In their art lessons, the children have been drawing and painting pictures of Sir Winston Churchill, Prime Minister during the majority of World War II.
They have built on the skills they learnt last term, like how to draw faces with an emphasis on getting the shape, position and proportions correct. The children were also able to apply their skills of using sketching pencils to create depth and detail using a variety of techniques, including shading, cross and contour hatching and stippling. The children also tried to show tone in their drawings.
Some of them are displayed in the classroom. Pop in to have a look if you get a chance - they are all very different but capture the facial expression, hunched shoulders and body shape perfectly. The children are very proud of their art work in their sketch books. Again, feel free to ask your child to show you their book.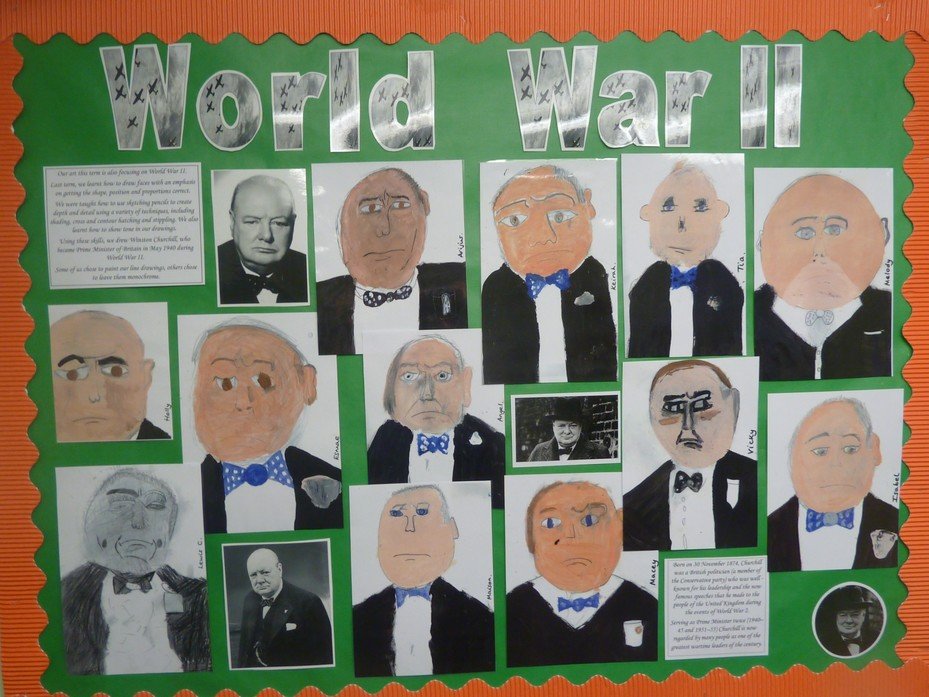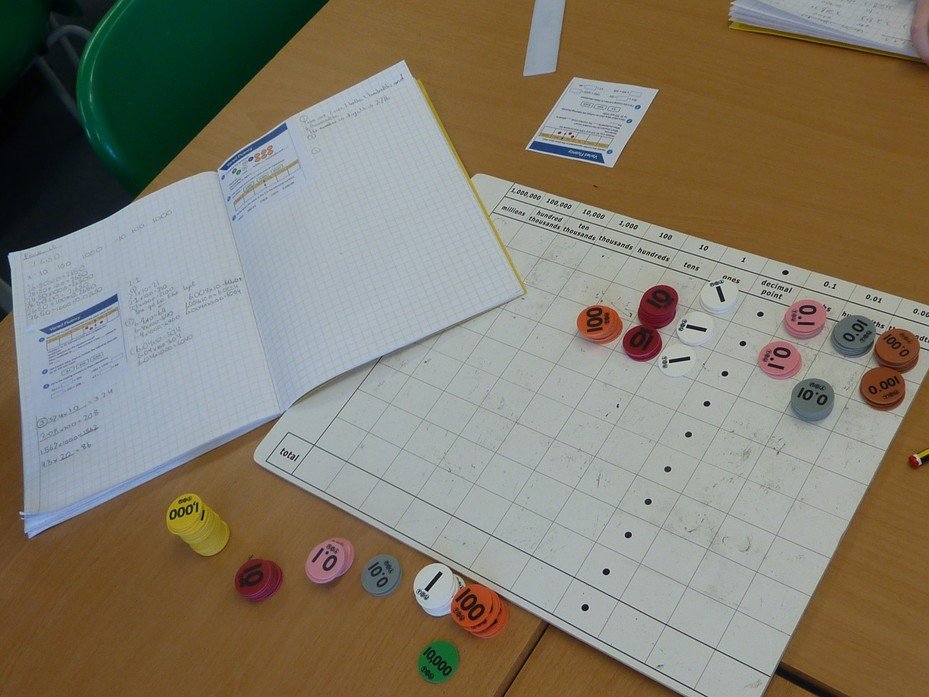 In maths, we have been using place value counters and grids to consolidate our understanding of dividing by 10,100 or 1000. We learnt about the importance of the zero and the relationship between tenths, hundredths and thousandths.
Science : 25.1.19
As part of our science topic this term, we are learning about the circulatory system. We learnt about the four components of blood and what each one's function is. We made our own "blood," using water with food colouring in to represent the plasma, gel beads to represent the red blood cells, small pieces of card to represent the platelets and marshmallows to represent the white blood cells.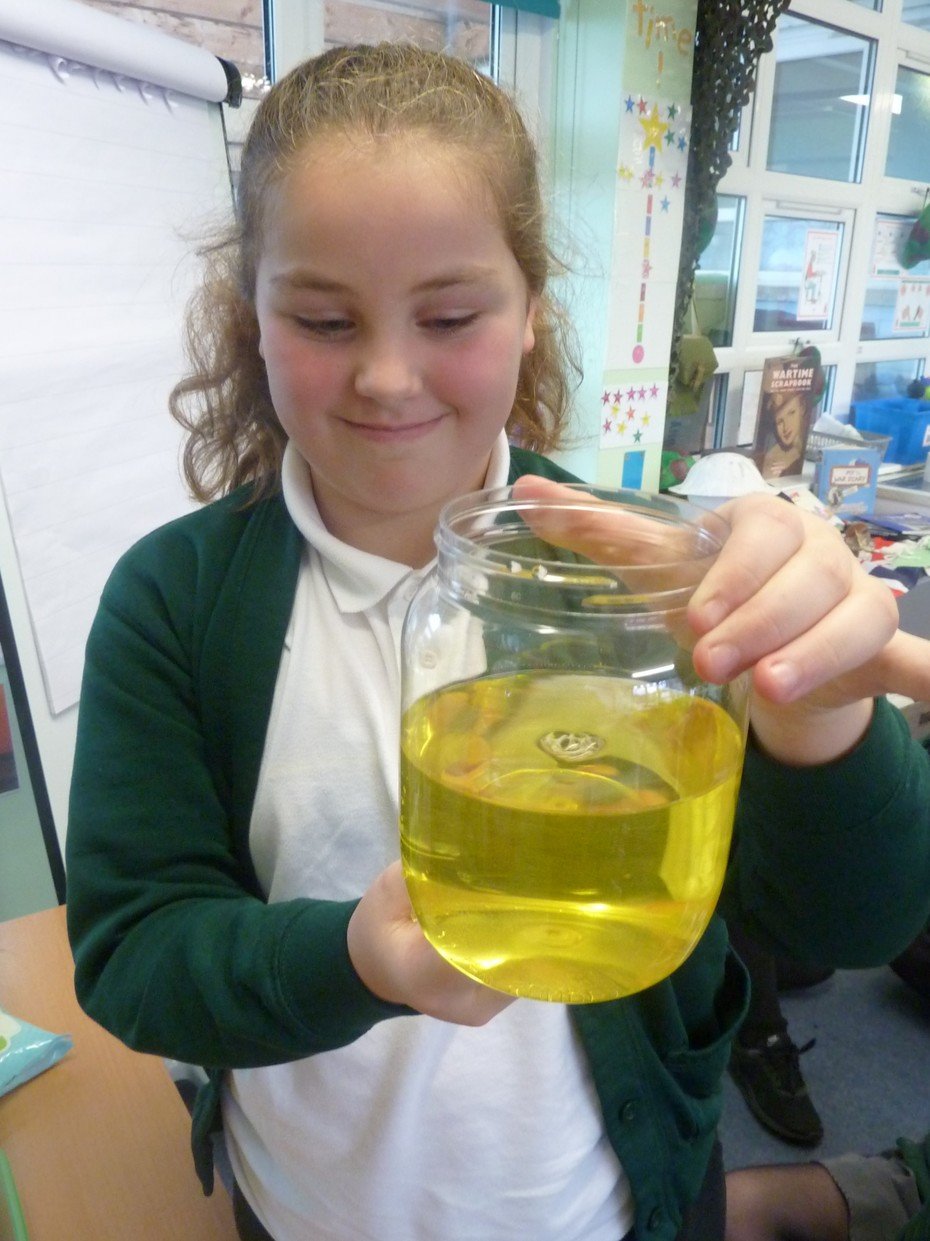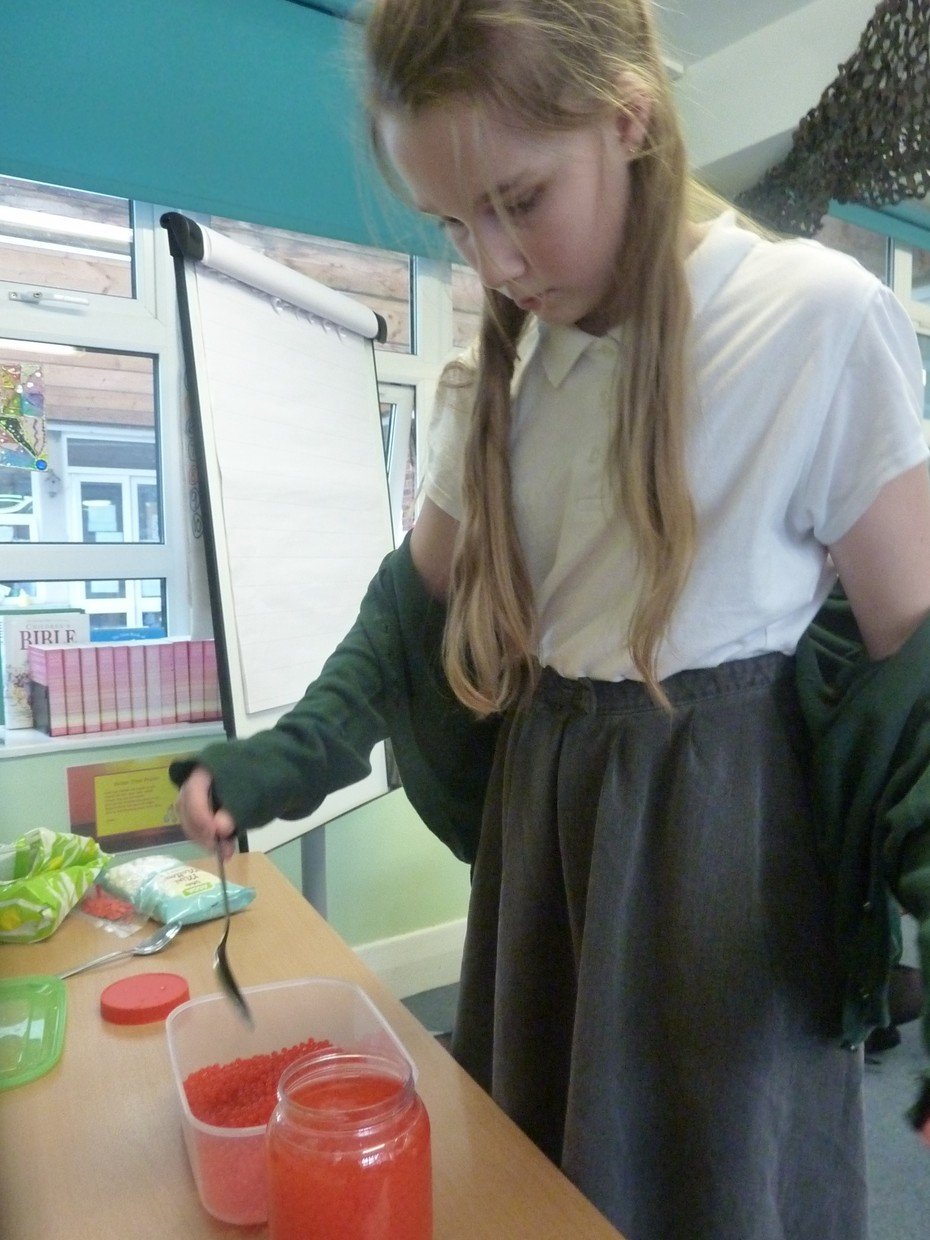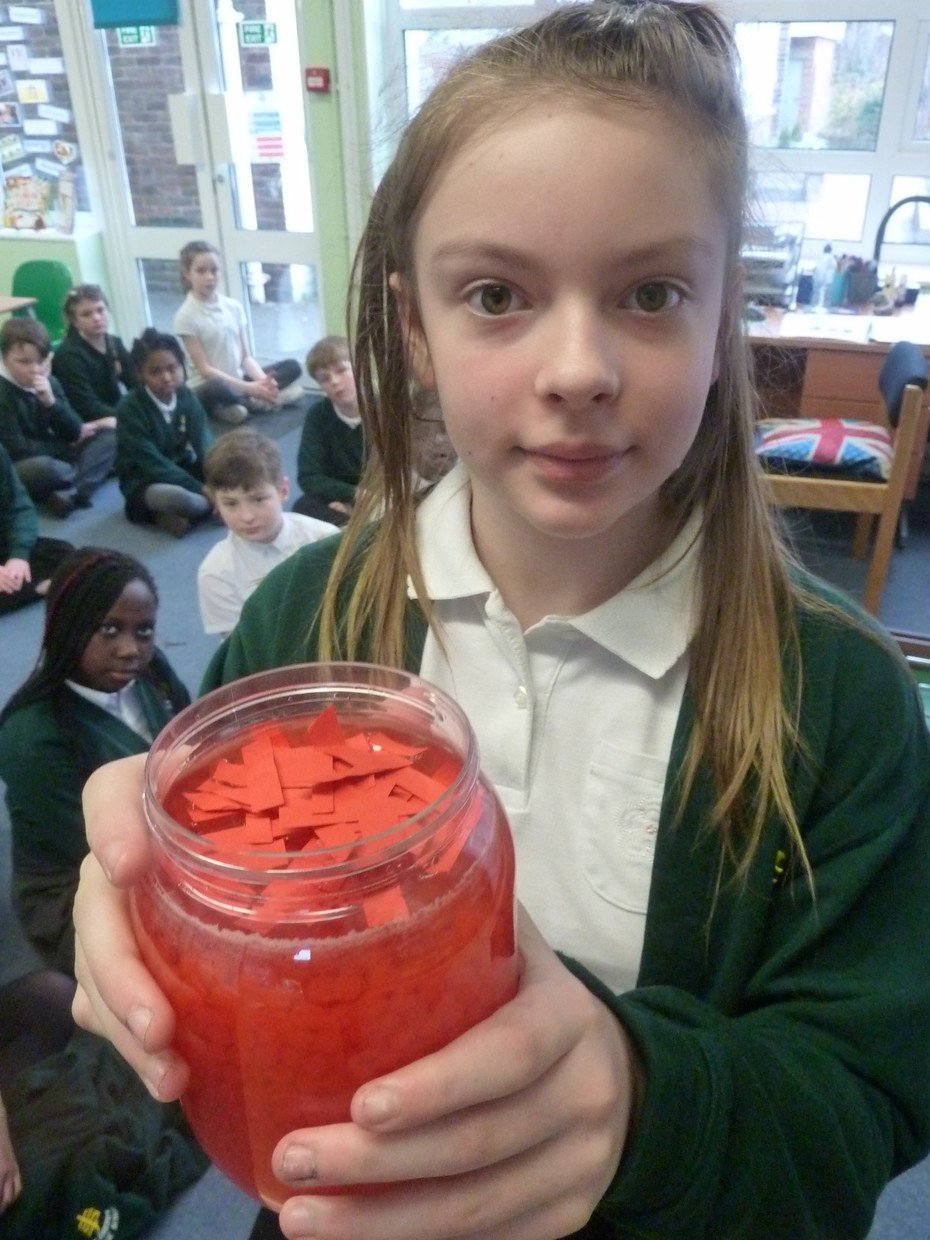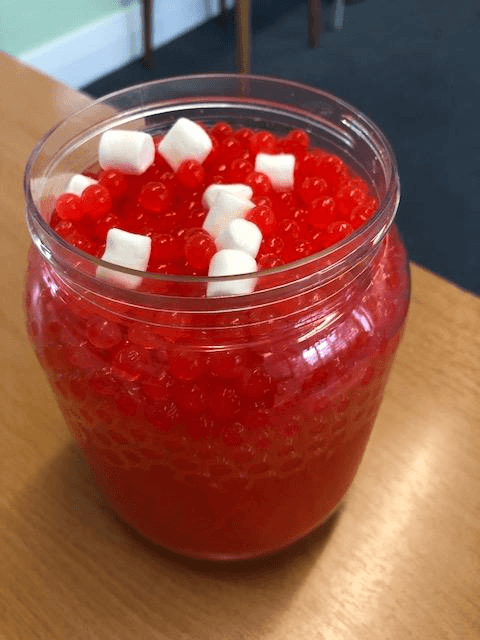 We learnt that plasma makes up 55% of our blood, red blood cells make up 40%, platelets make up 4% and white blood cells 1%.
SPAG this week : 23.1.19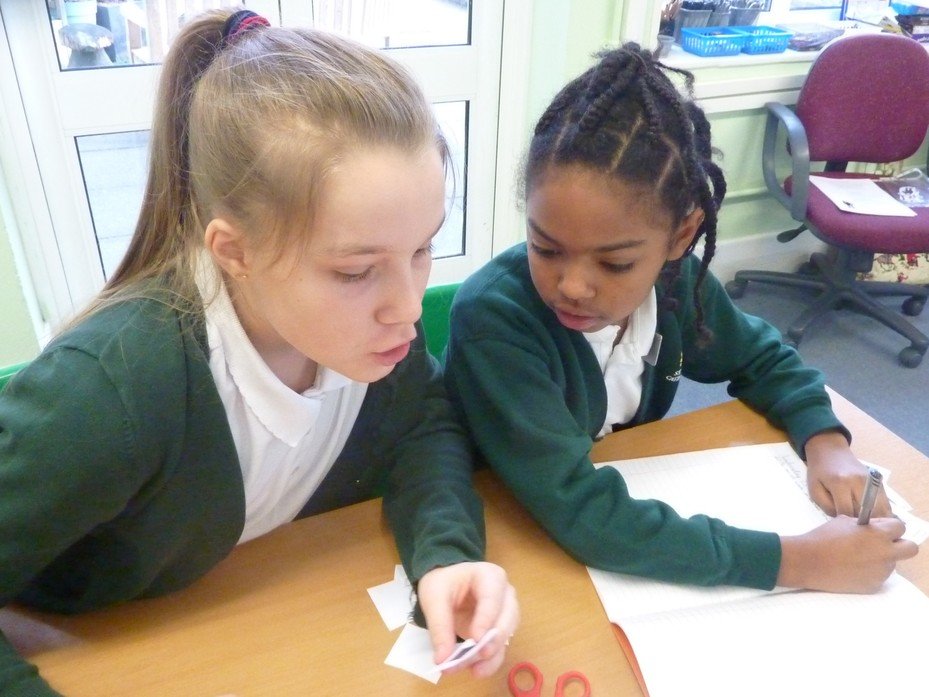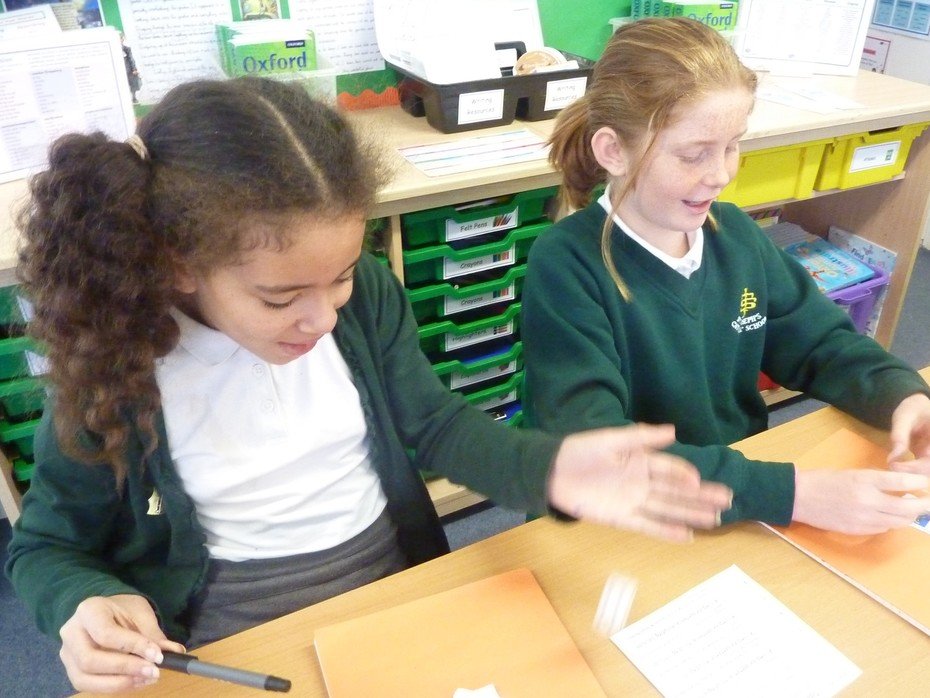 In SPAG, we are learning about different sentence structures. In today's game, we had to construct simple, compound and complex sentences.
This week's learning:10.1.19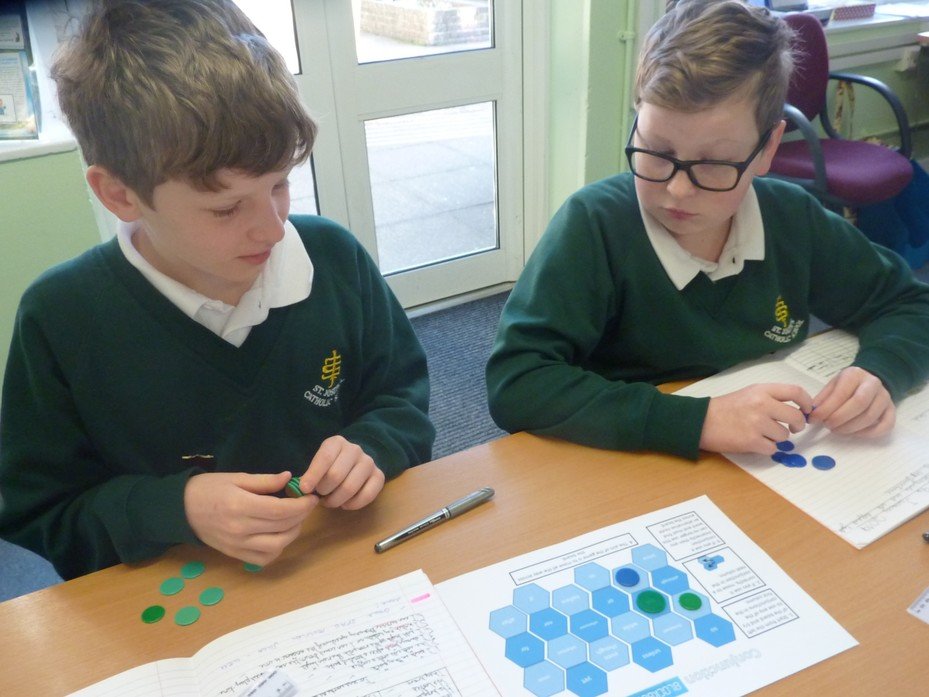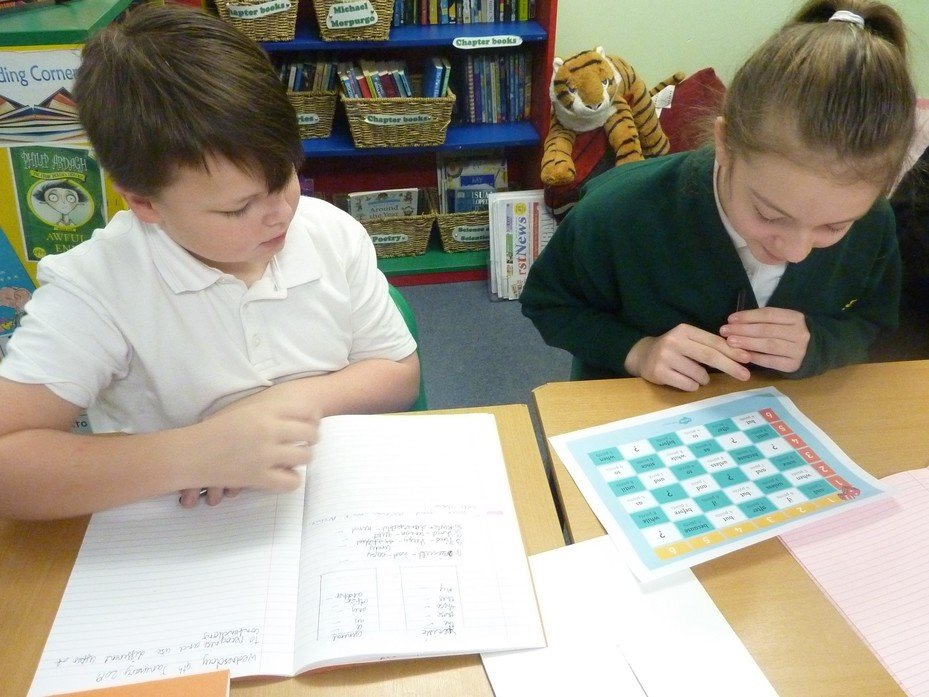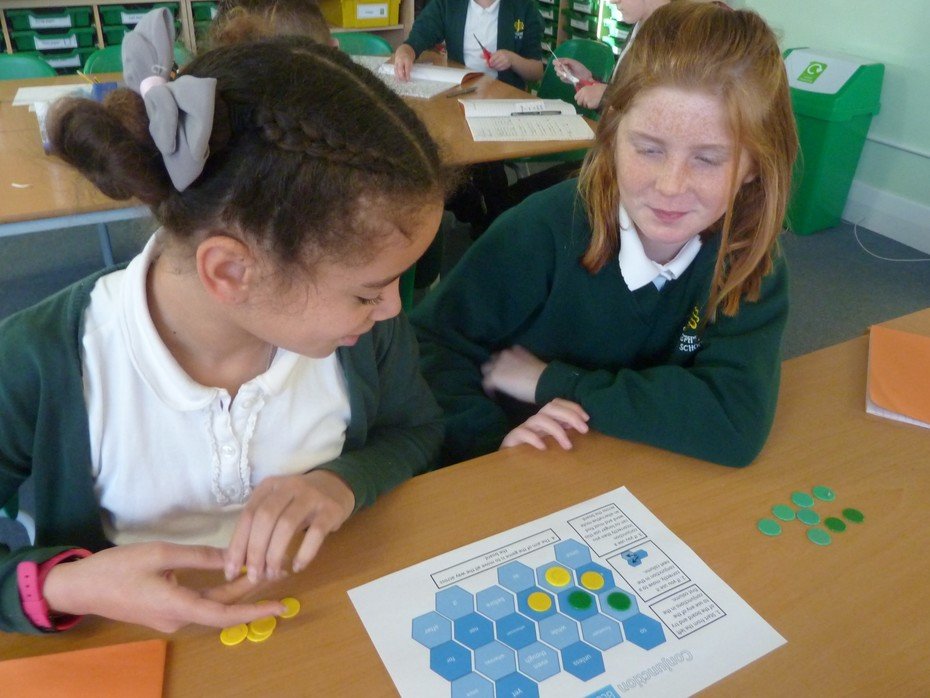 In SPAG this week, we have been learning about conjunctions - coordinating conjunctions and subordinating conjunctions. We played different games showing that we could recognise and use both types of conjunction correctly.
Science : 10.1.19
As an introduction to our new science topic, "Animals including humans," we had to discuss and record what we knew about our internal organs and the role they play in the functioning of our bodies.
In small groups, we drew around one person and then drew any internal organs we knew, where we thought they were located in the body and what job we thought they performed.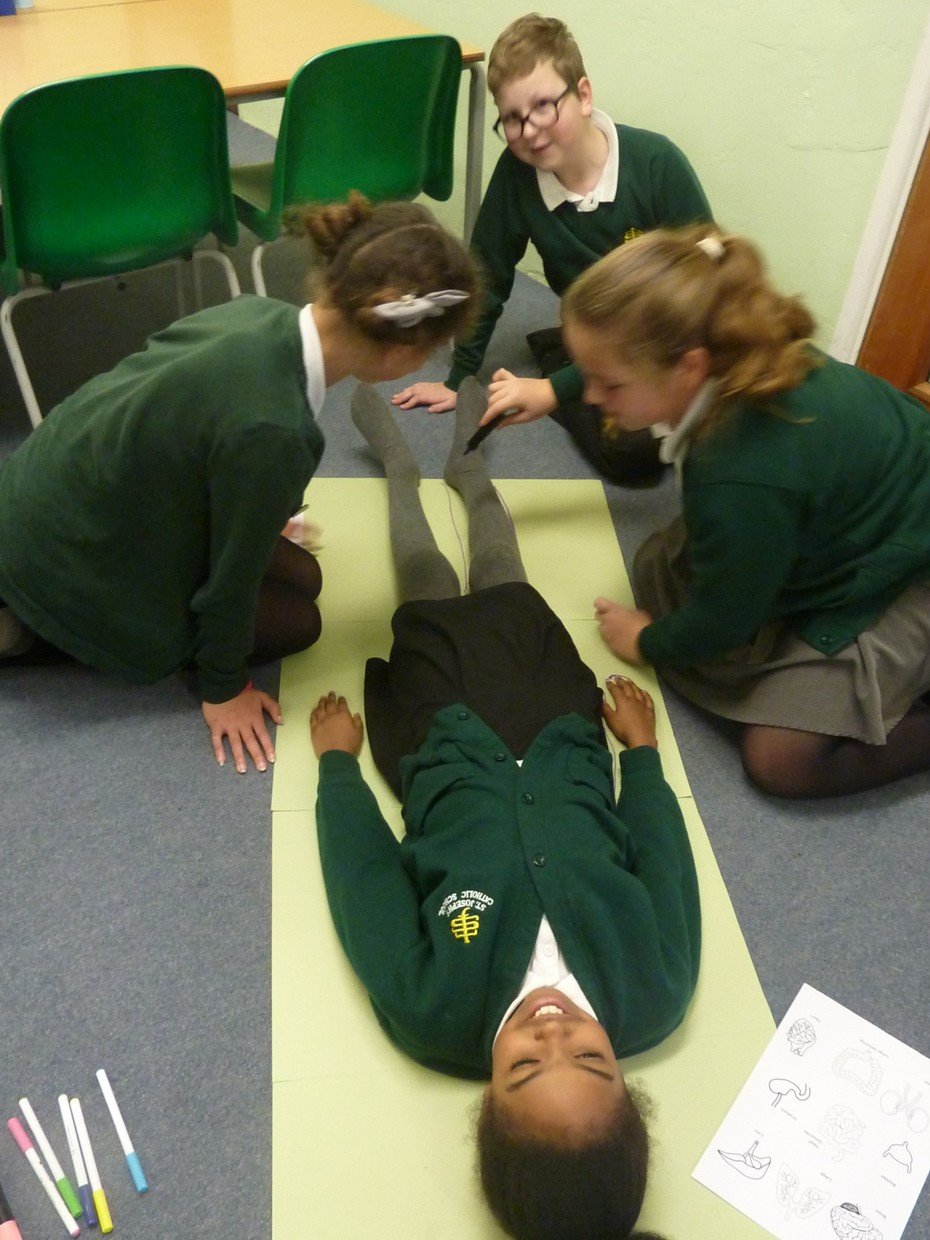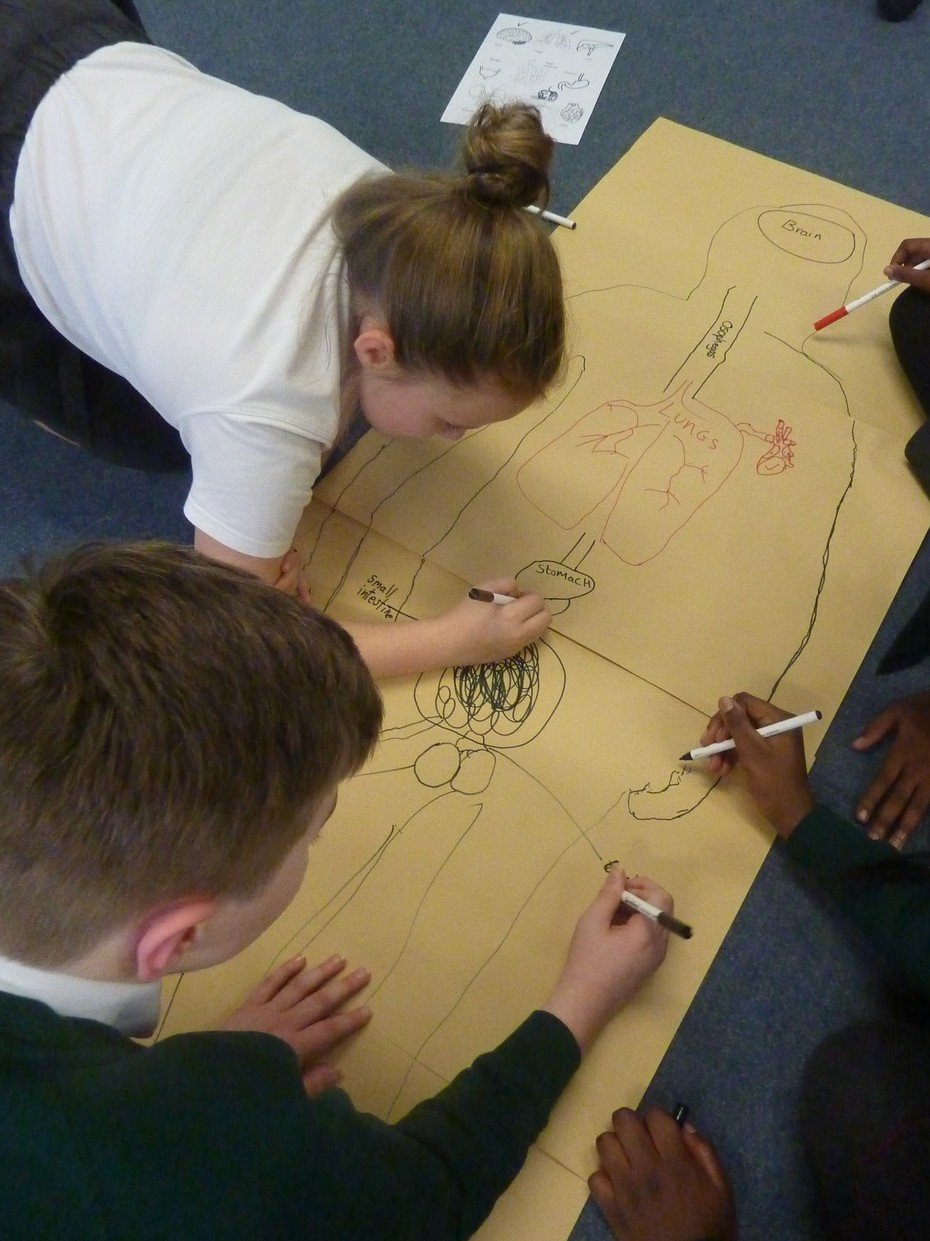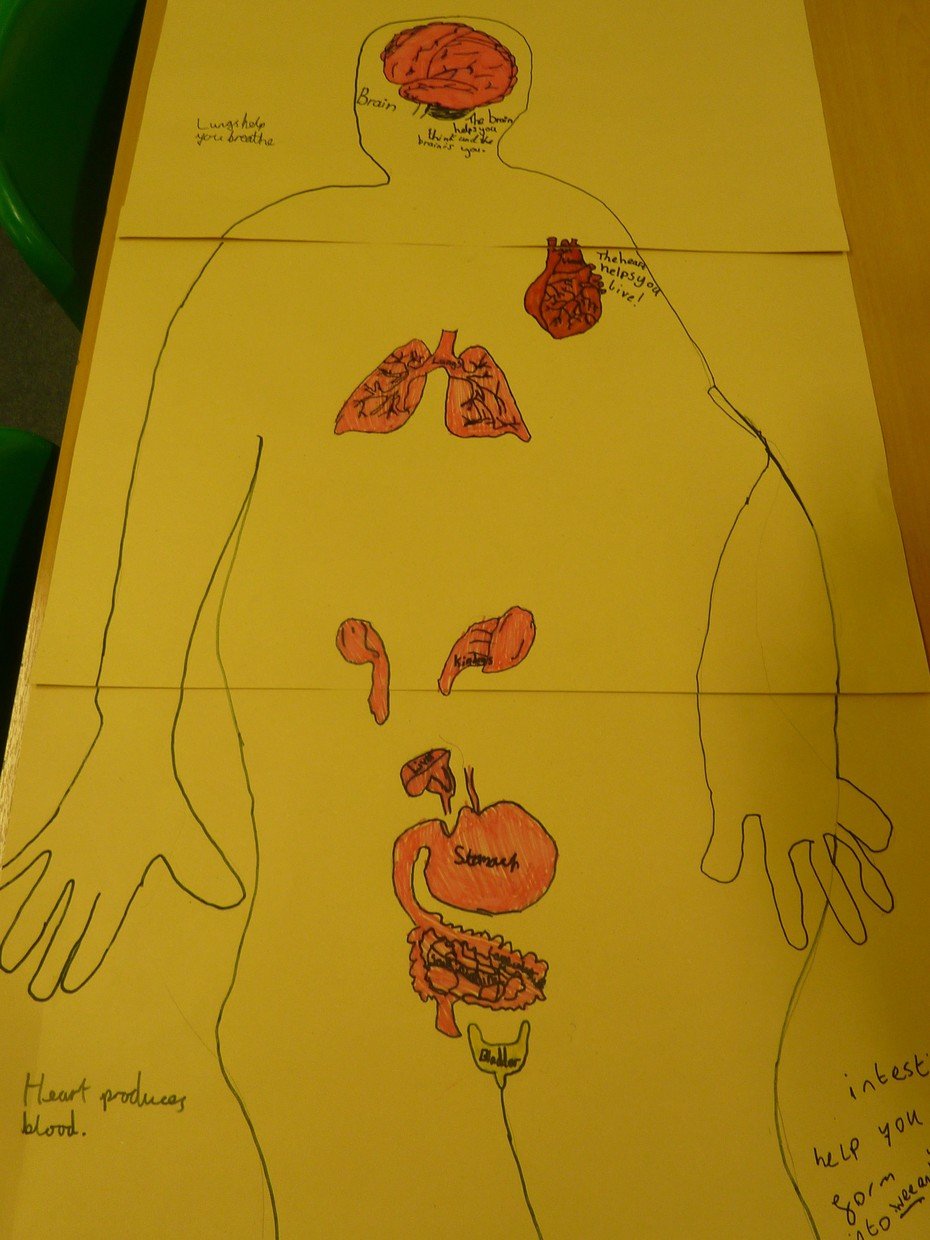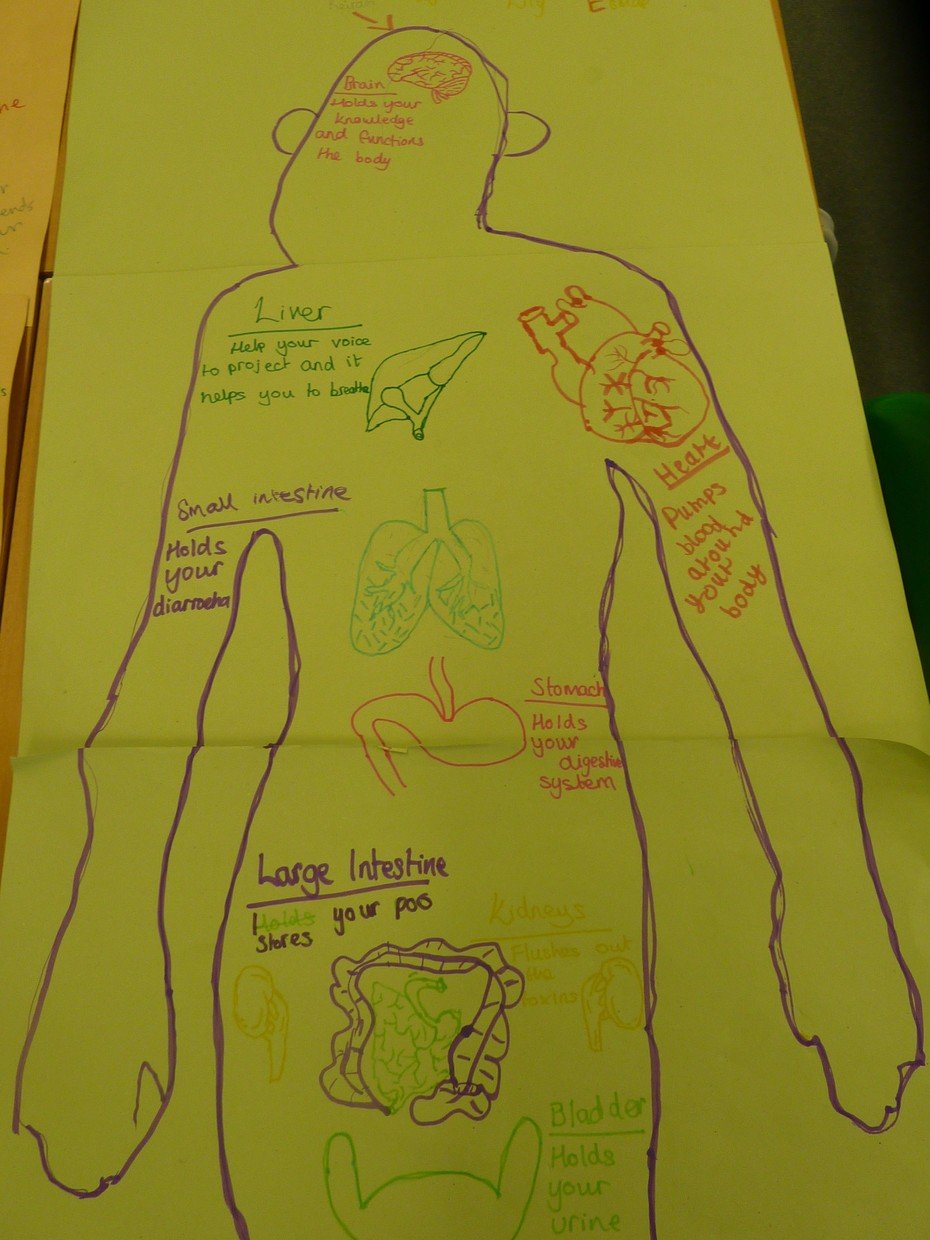 It will be interesting to compare our drawings to a scientific diagram of our internal organs in our next lesson!
Our History Learning
Our history learning this term is based around Britain since the 1930's with a particular focus on World War II. The children have been enthused by our first two lessons and have brought in photographs and memorabilia from their own families.
Olivia's grandad was in the Royal Artillery Second World War and Lily's grandad attended our very own St Joseph's School in the 1960's! He is the boy at the back being taught in the school hall which was often used as an extra classroom!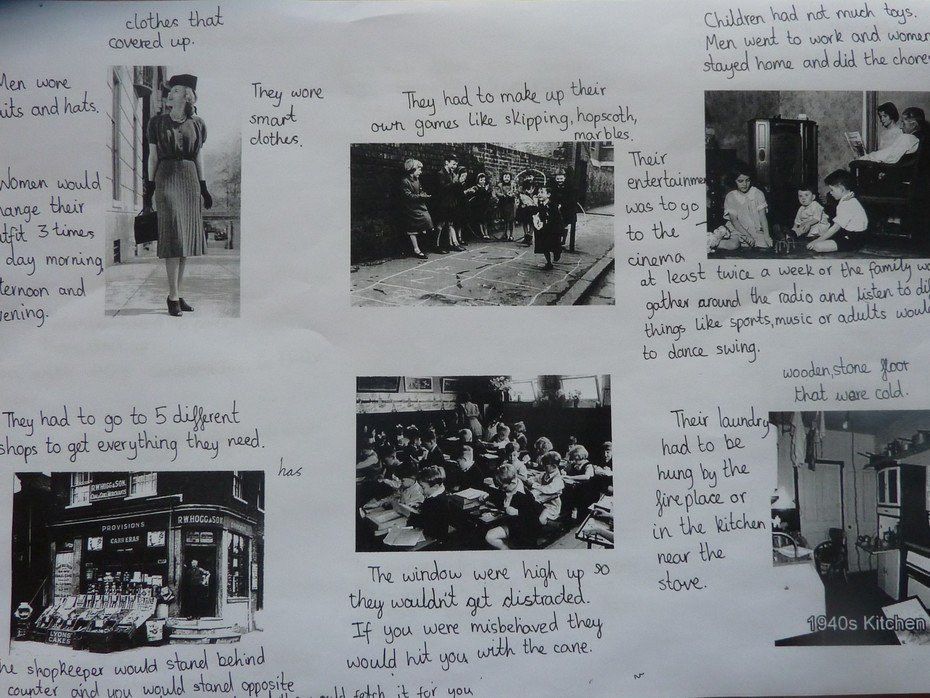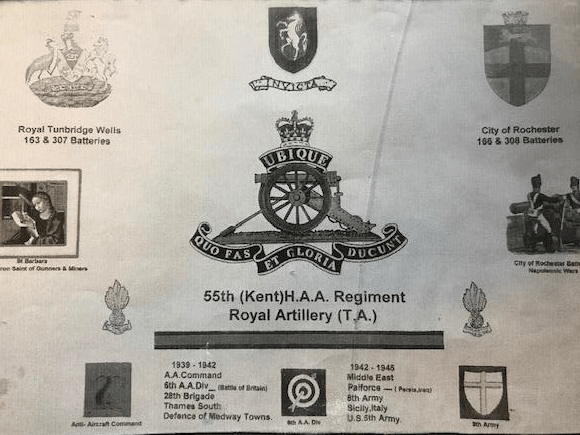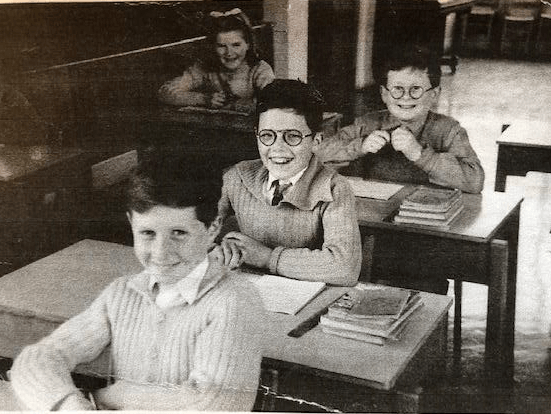 In class we have been finding out the similarities and differences between life in Britain in the 1930's and today.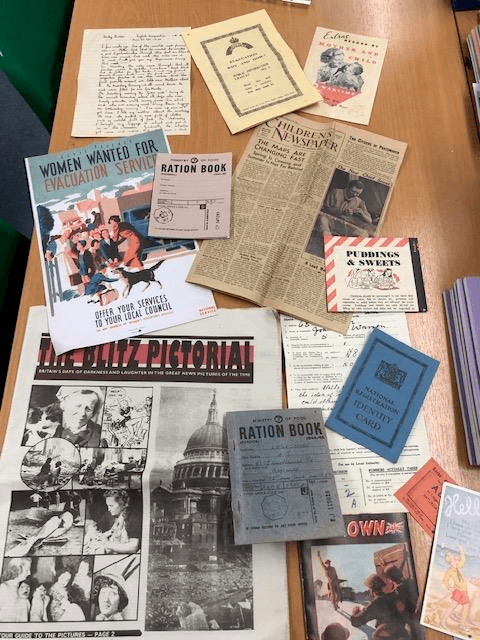 Thank you to Lily who bought in lots of photos showing her family over the years, including these two above of her great, great grandparents.
Thank you also to Angel and Izzy who bought in lots of replica artefacts and information about WWII to help us with our understanding of the Blitz, rationing, evacuation and life generally during the war.
Spring Term 2019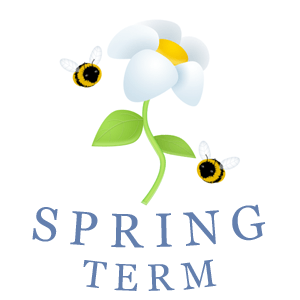 Welcome back. We hope you all enjoyed a happy and relaxing Christmas and have come back refreshed and ready for work in 2019!
Click here to read the newsletter detailing the Year 6 SPRING TERM CURRICULUM COVERAGE
These are this term's SPELLINGS. All the children will take a laminated copy home this week. Children, PLEASE learn them at home!
Secret Santa: 19.12.18
Some of the children in the class asked if they could organise a "Secret Santa" this year. Today, they opened their "Secret Santa" presents. Lots of thought had obviously gone into choosing something for the particular classmate whose name they had pulled out of a hat. It was great to watch! Thank you Olivia and Neriah for organising this.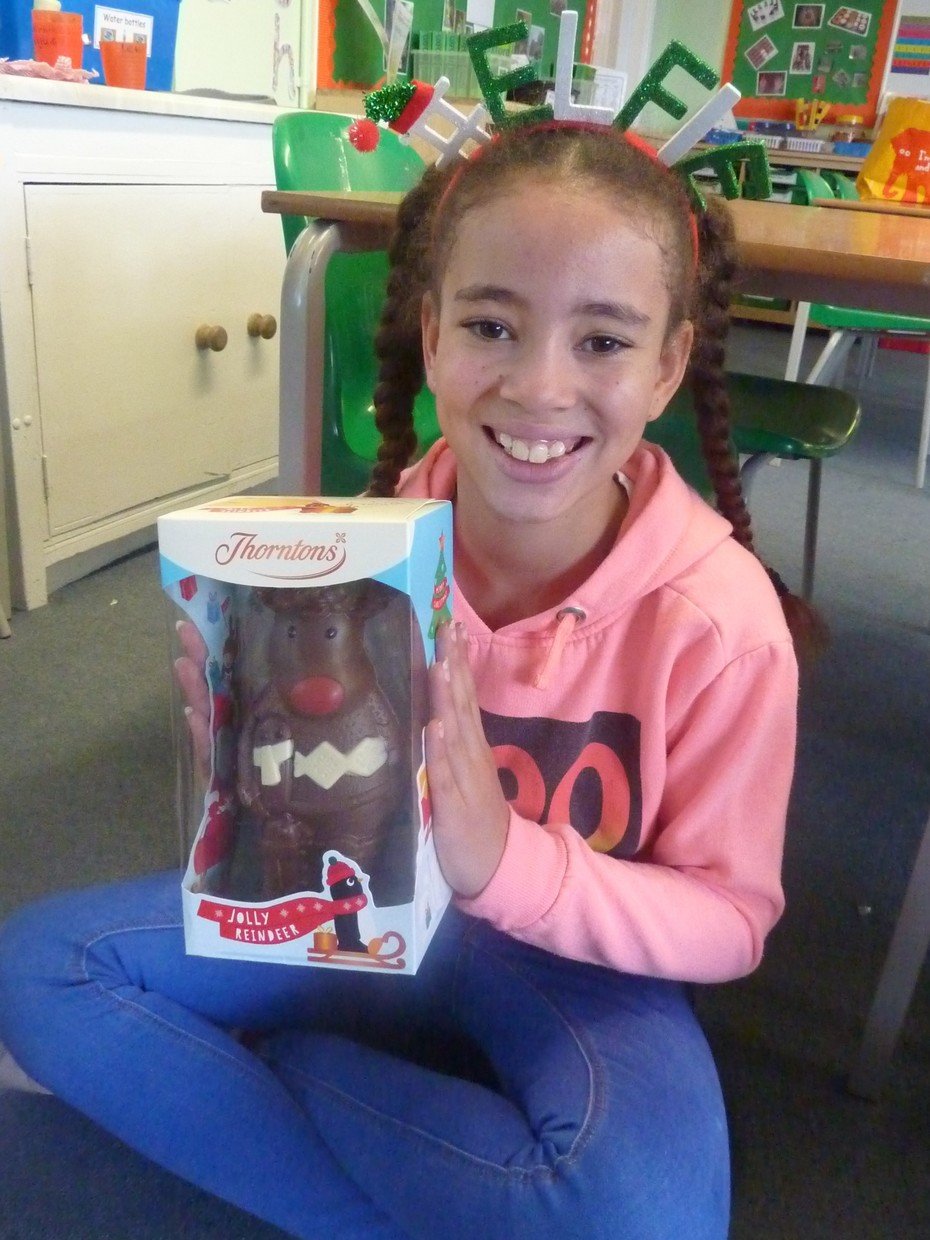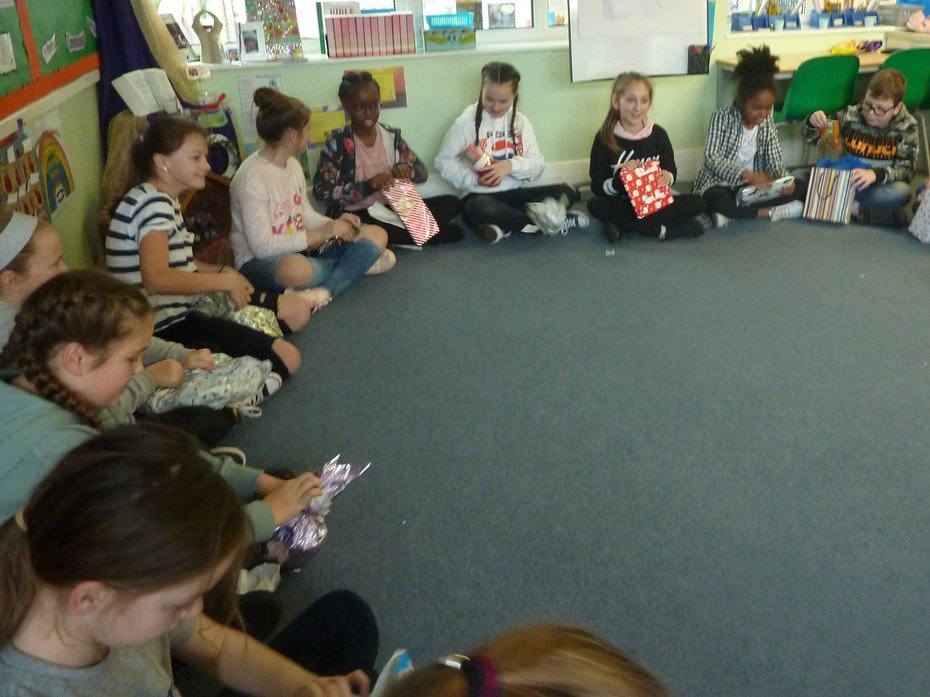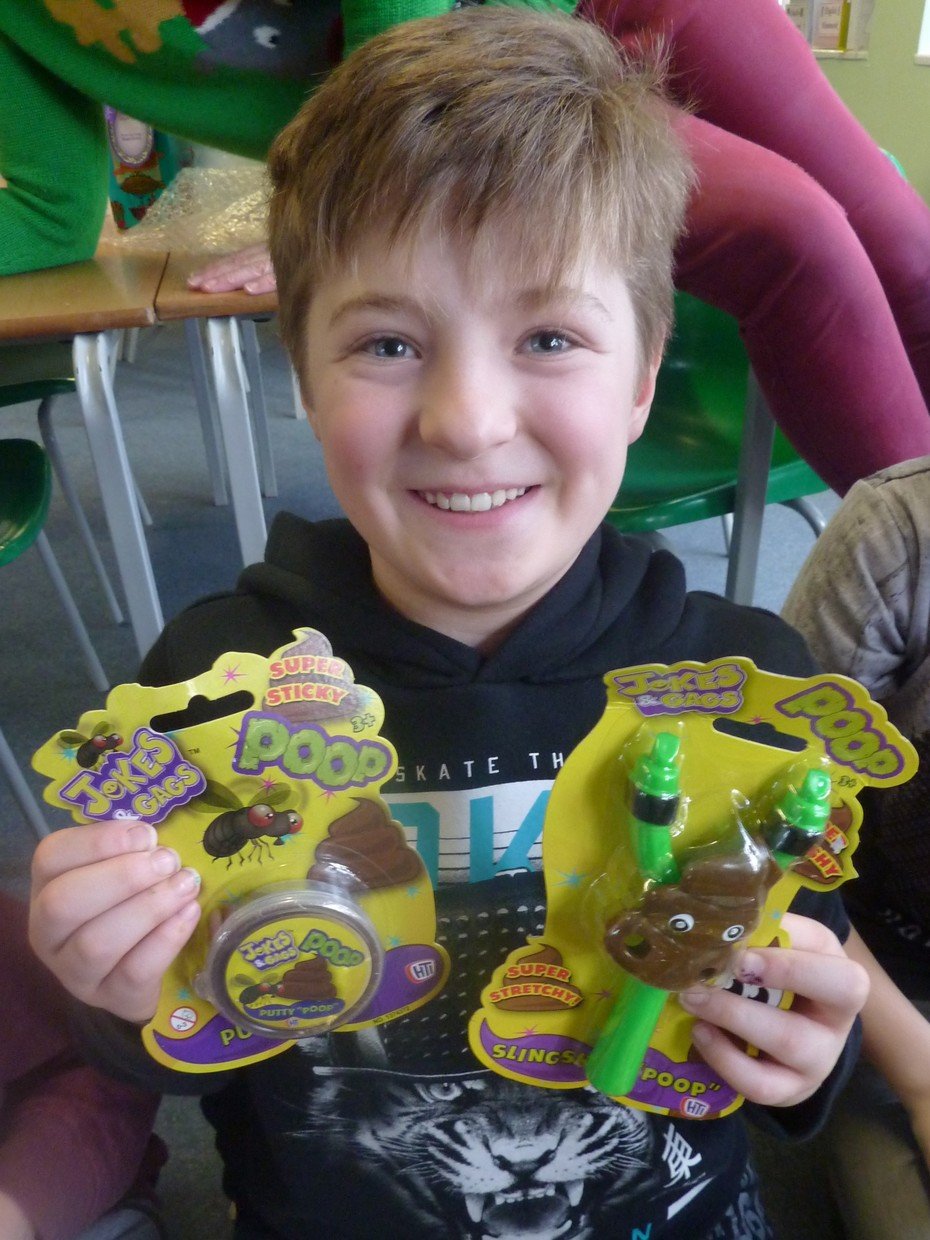 May we take this opportunity to wish all of our Year 6 pupils and their families a very merry Christmas and a happy New Year.
Gingerbread Houses: 17.12.18
Year 6 had a gingerbread house competition today. Working in groups, they designed and built their own gingerbread houses using a variety of tasty resources! The winning group got to choose what our class will spend their profits from the School Fayre on.
Here are a few of the sticky creations!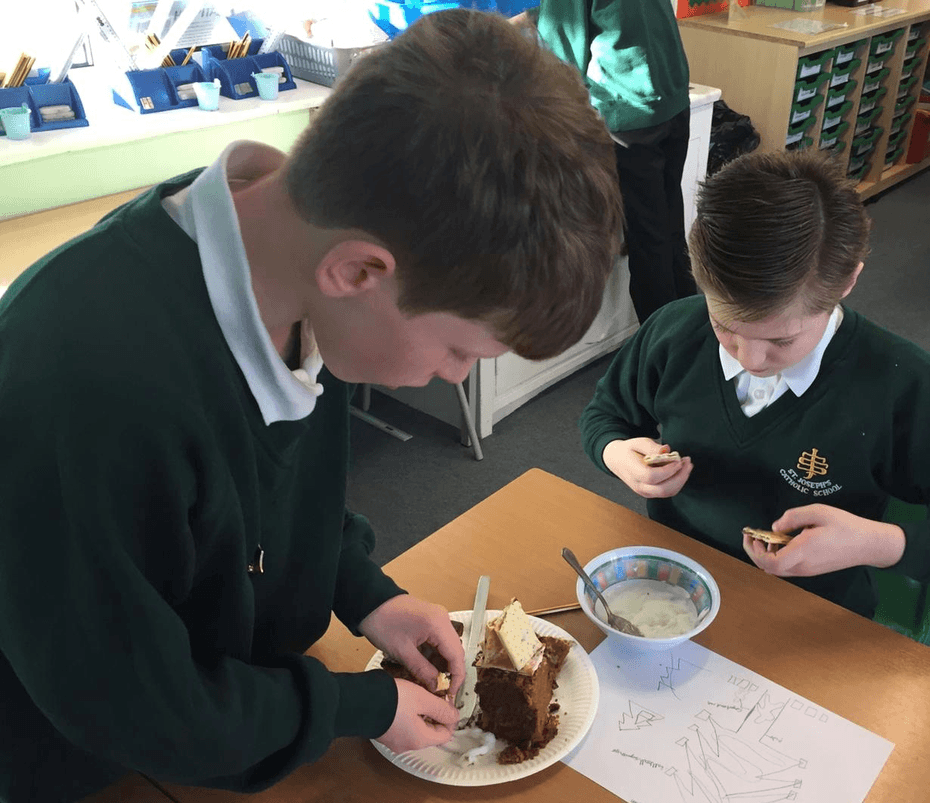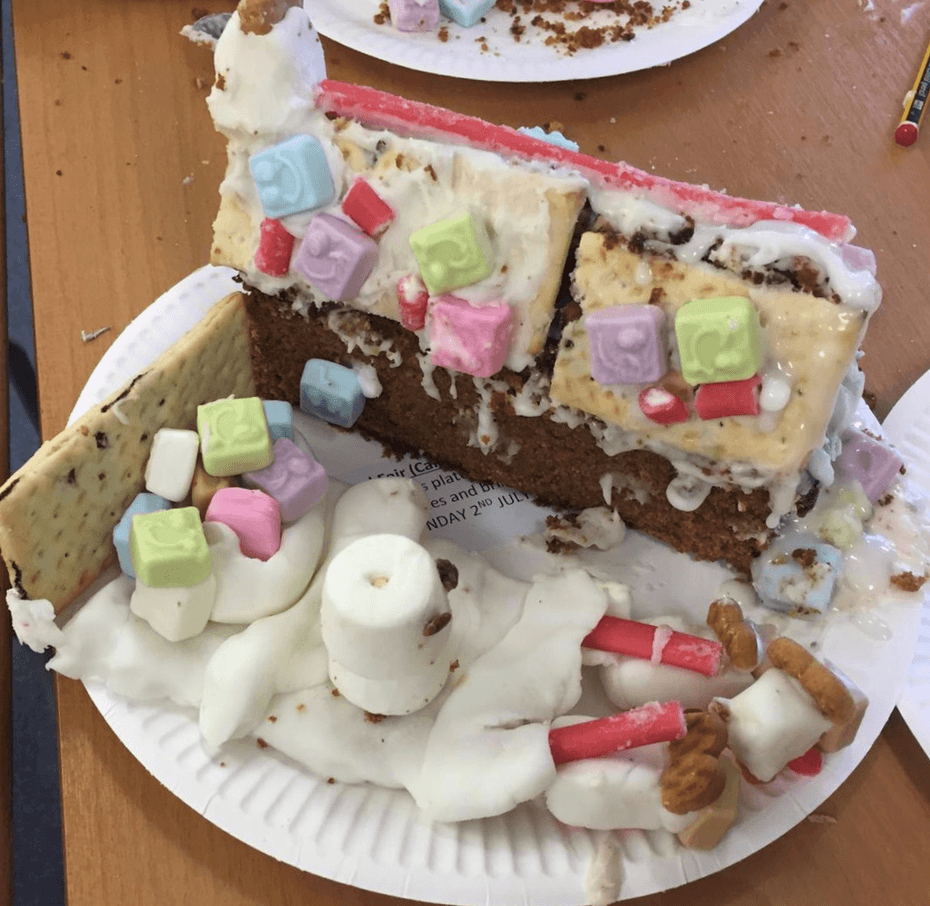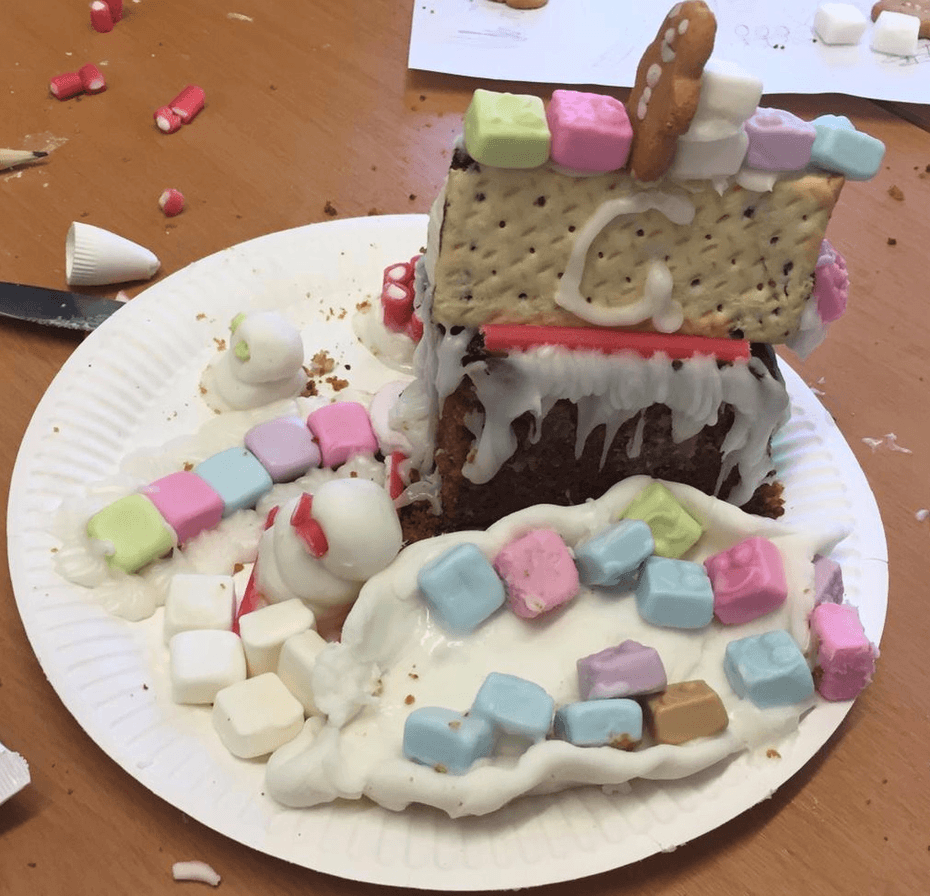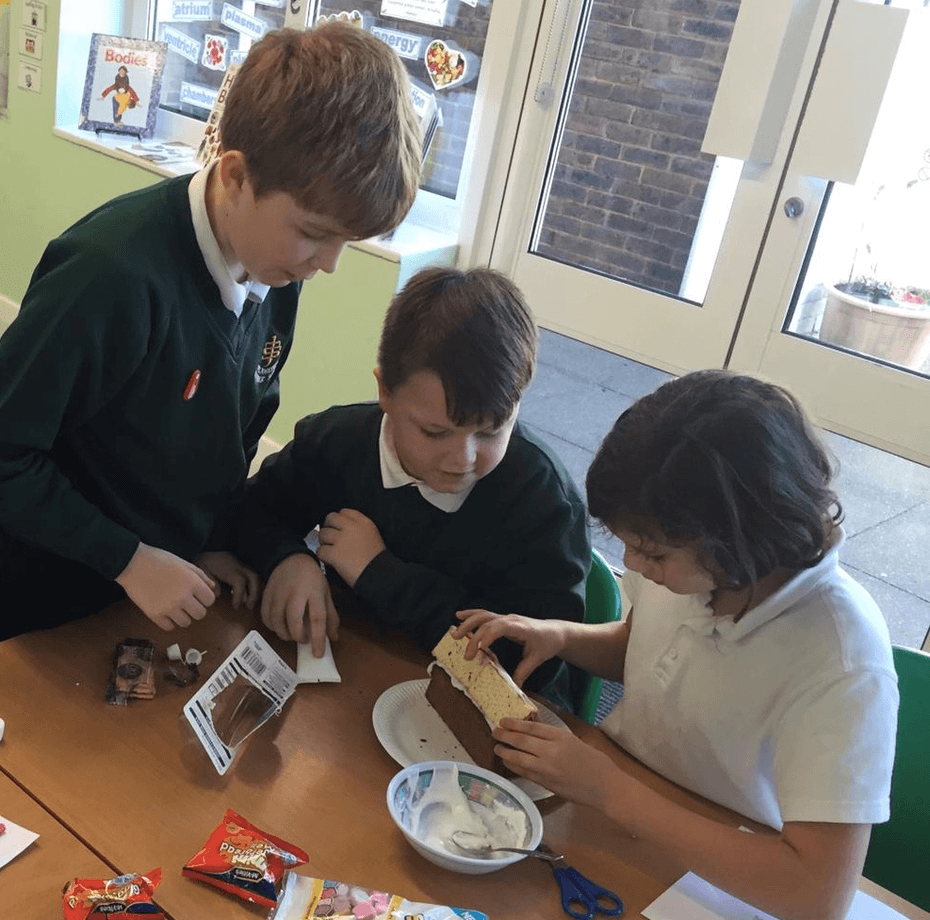 Great group work and interesting ideas!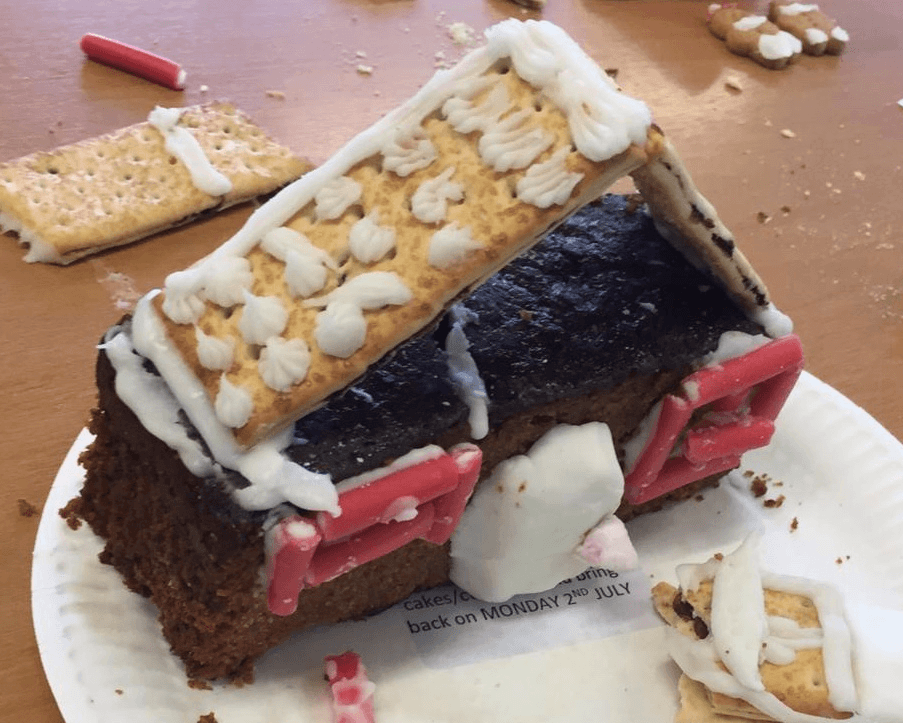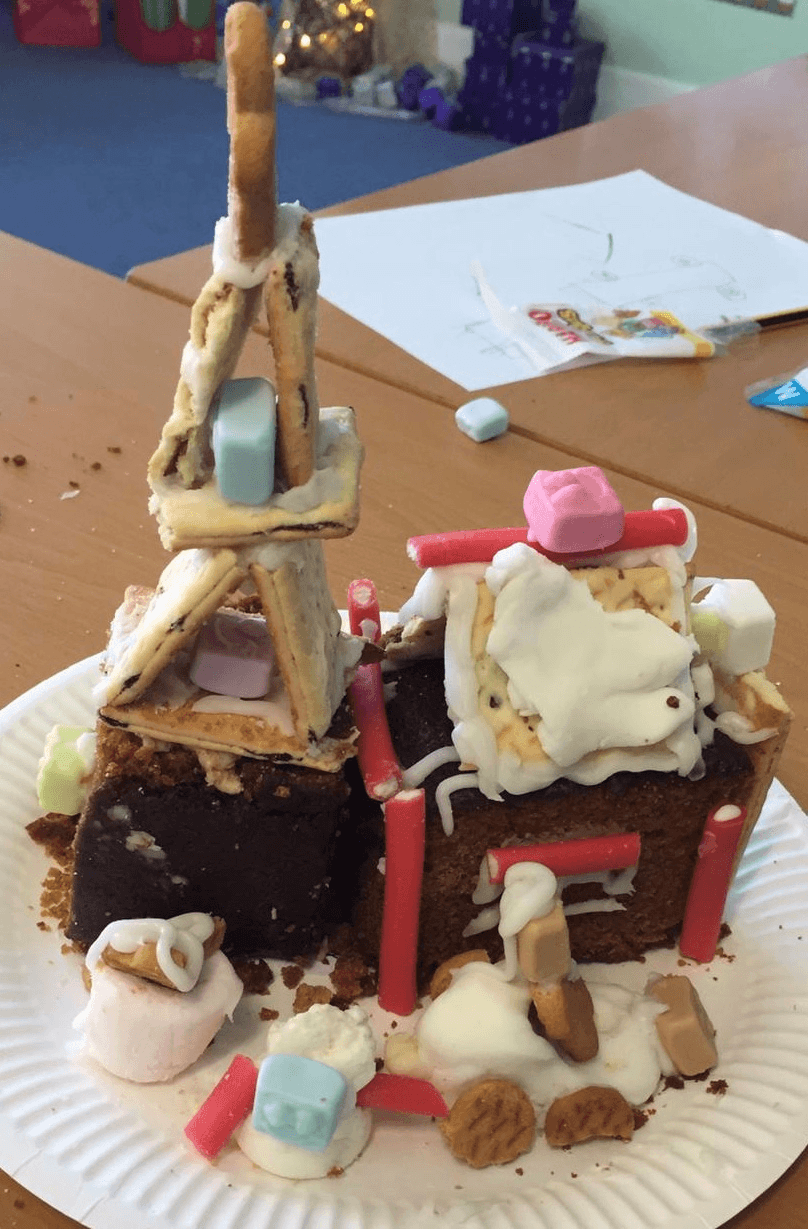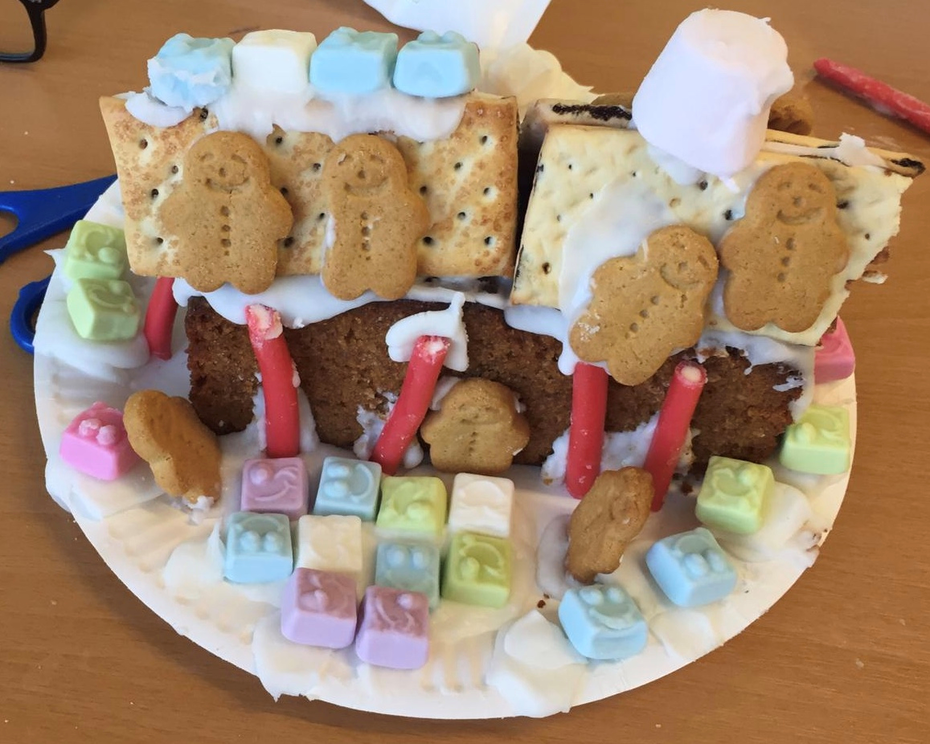 Our Christmas Cards
In our art lesson this week, we made Christmas cards for our loved ones. They are absolutely beautiful. We certainly have some talented artists in our class.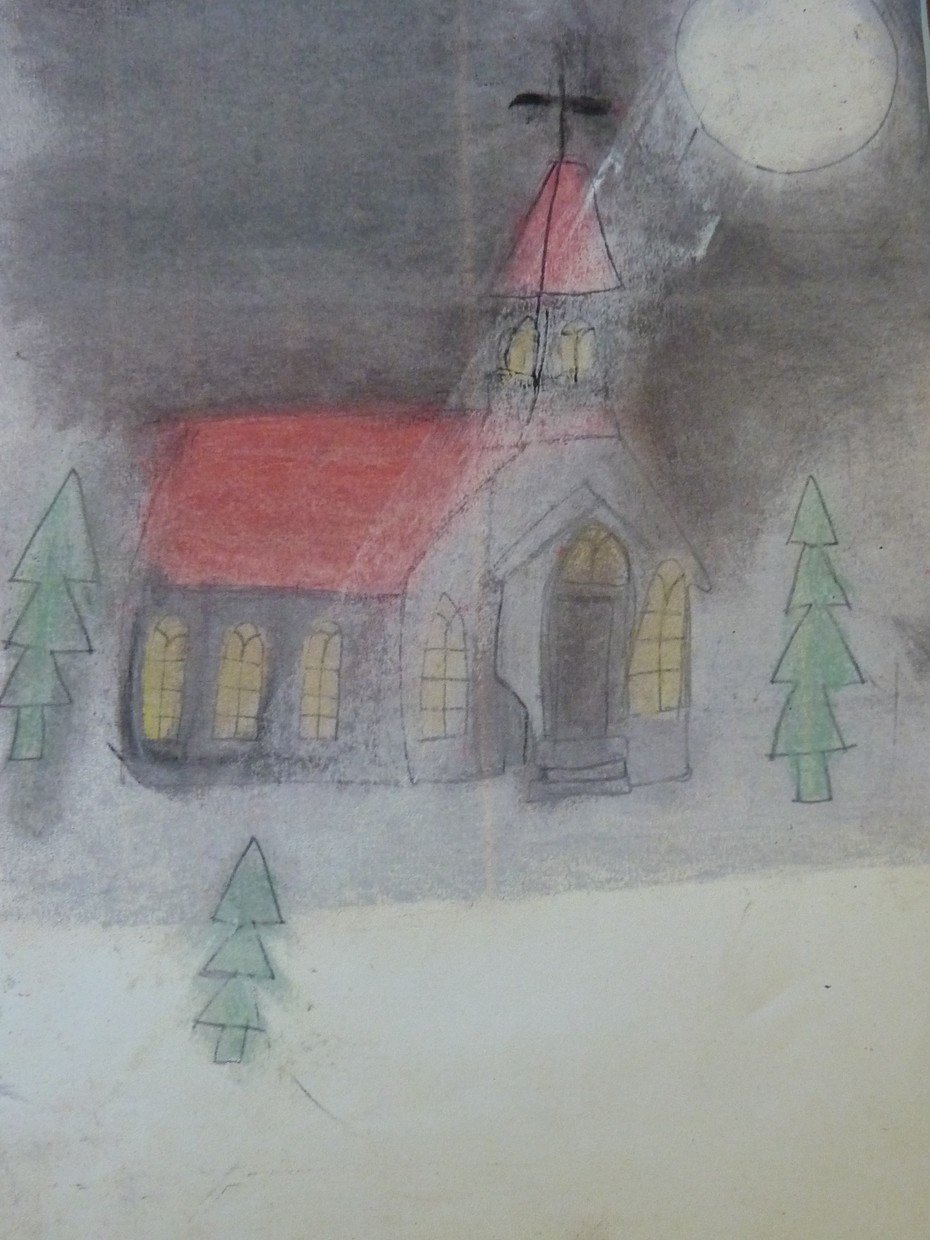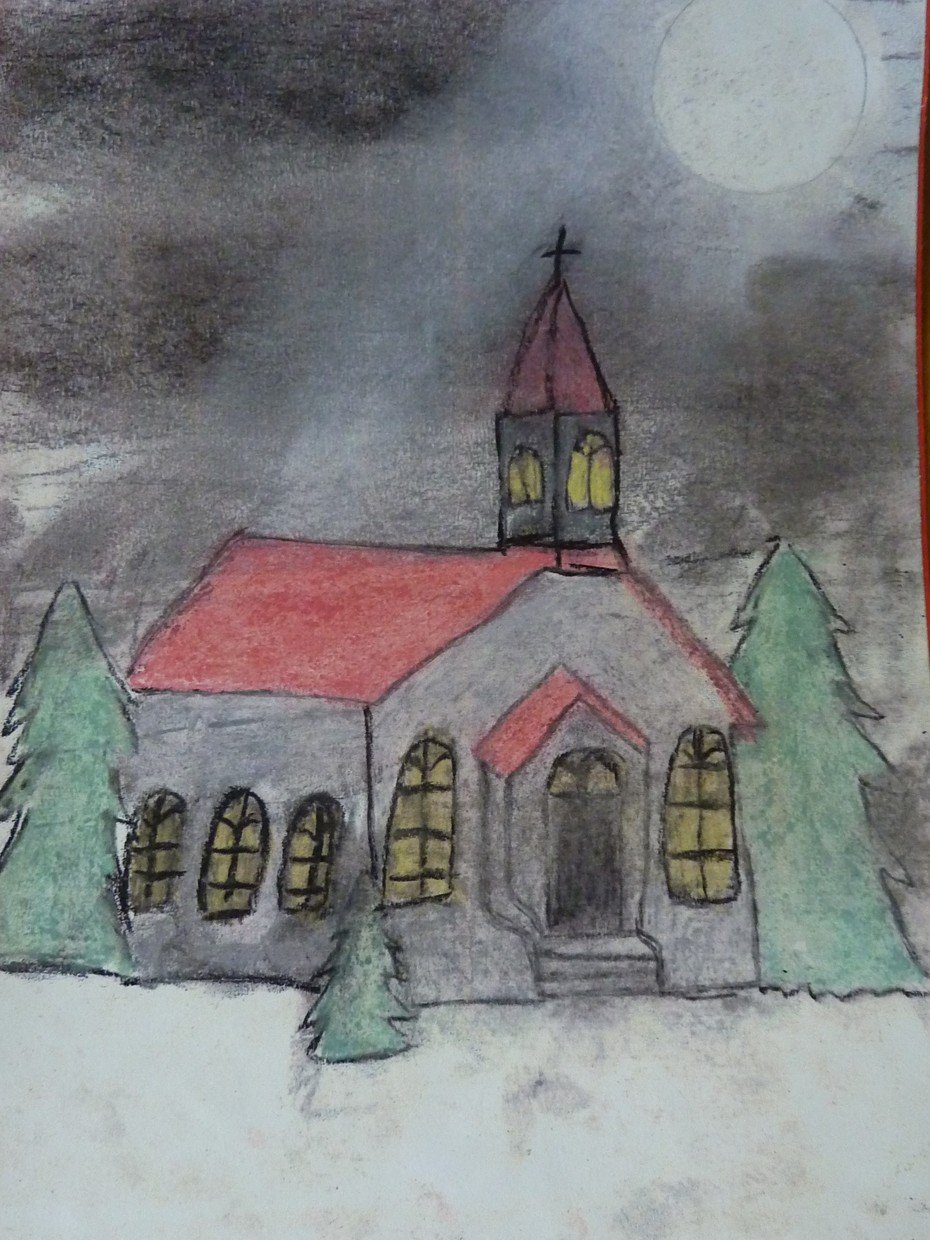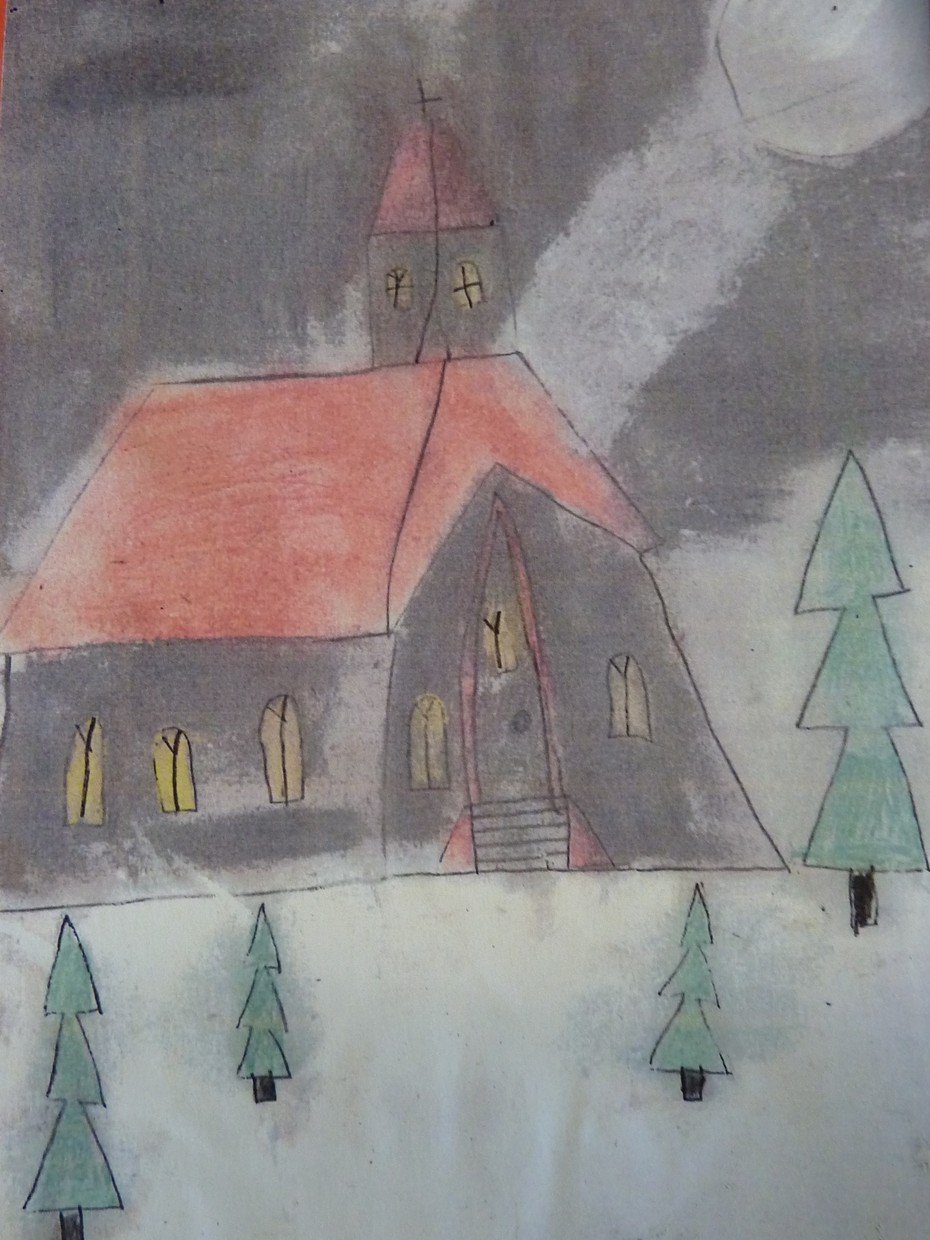 Language of the month: 12.12.18
Our language this month in Year 6 is Portuguese. Keirah has kindly taught her classmates some simple greetings in Portuguese. Already, the children can say good morning and answer the register in Portuguese as well as saying "number 1,2 or 3" in Portuguese for their chosen lunch option. We are so impressed at how quickly the pupils pick up another language! Thank you Keirah for your input this month.
After Christmas, we will be learning Yoruba - a language spoken in West Africa, mainly in Nigeria under the guidance of Esmae. We are lucky to have so many different experts in the room!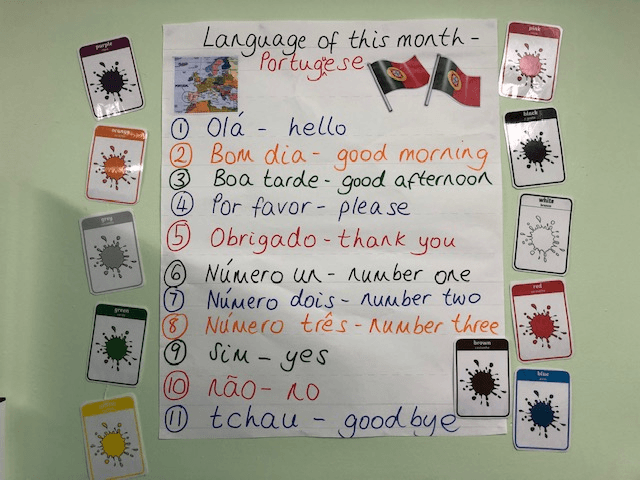 Preparations for the Christmas Fair: 6.12.18
Year 6 took a short break from their full curriculum today to prepare for the school Christmas Fair. Mrs Foan organised a production line involving making snowman heads, bodies, putting the two together and also wrapping prizes!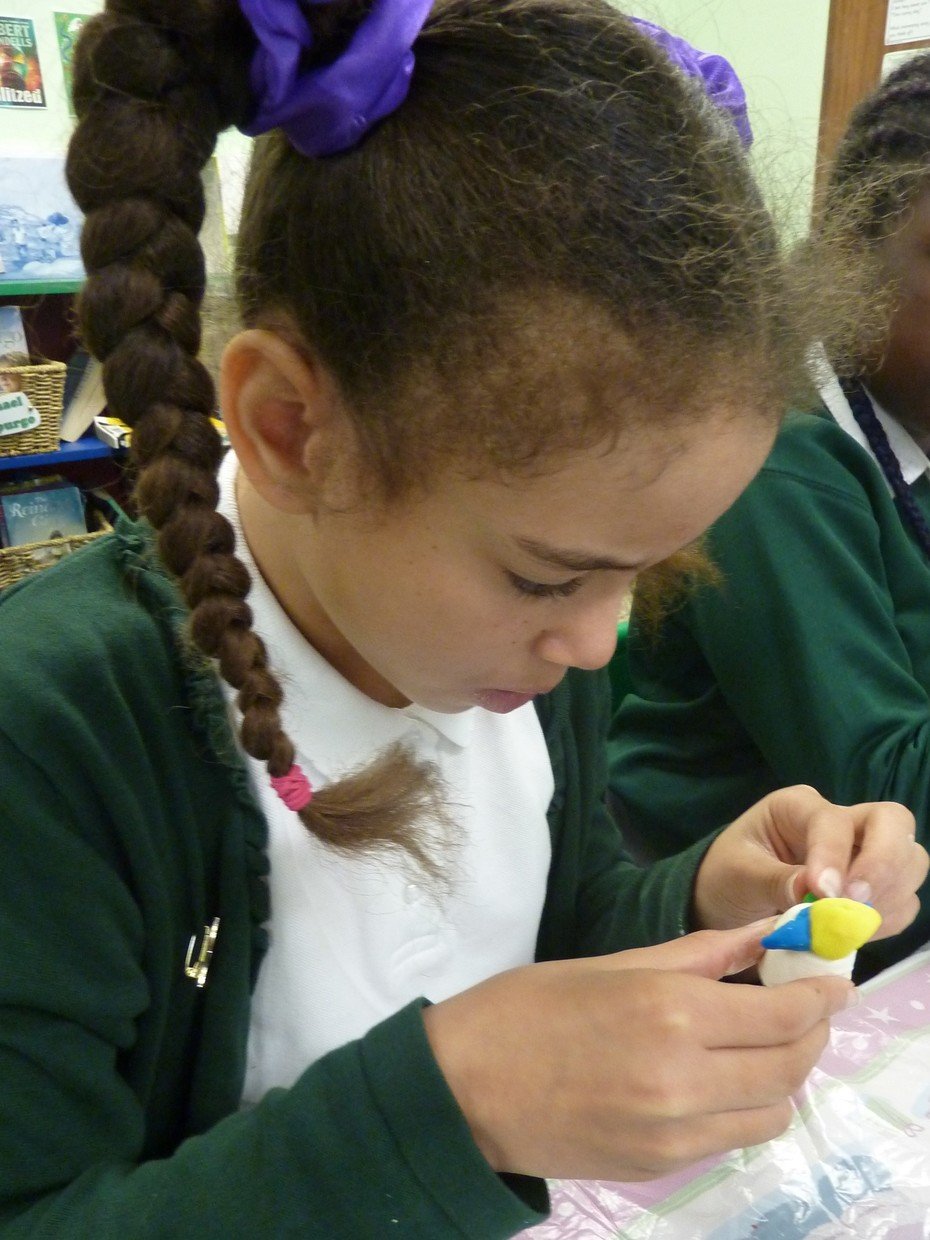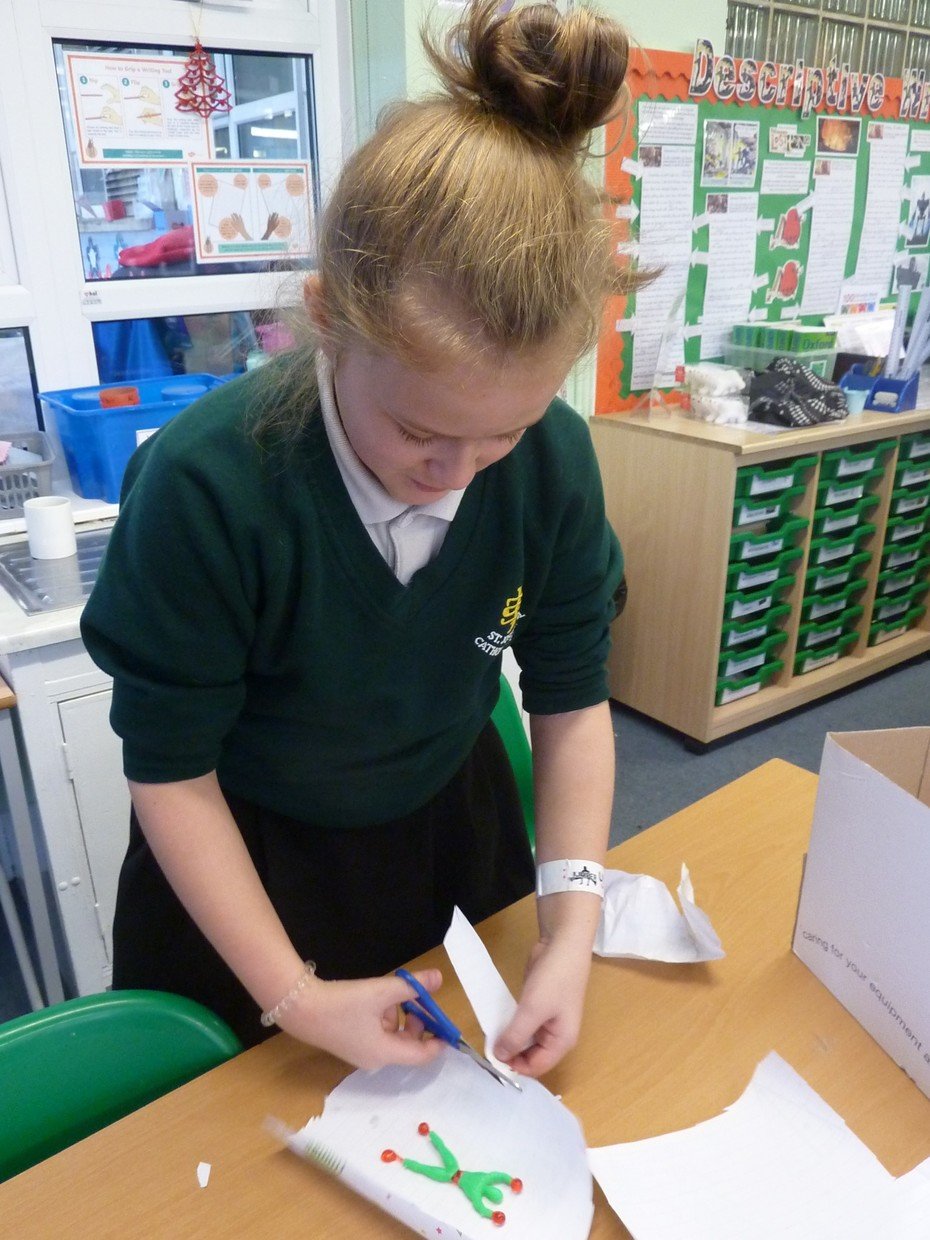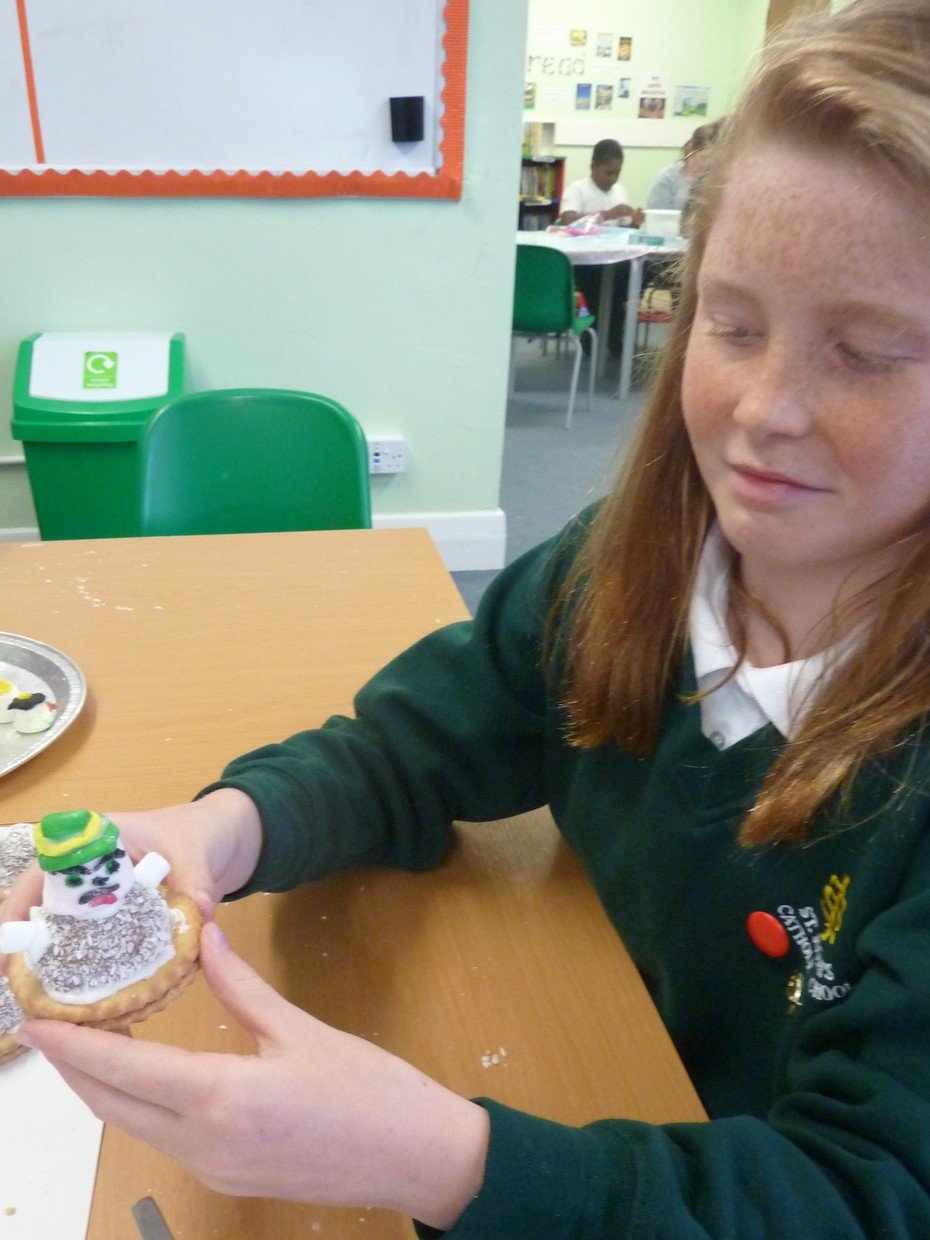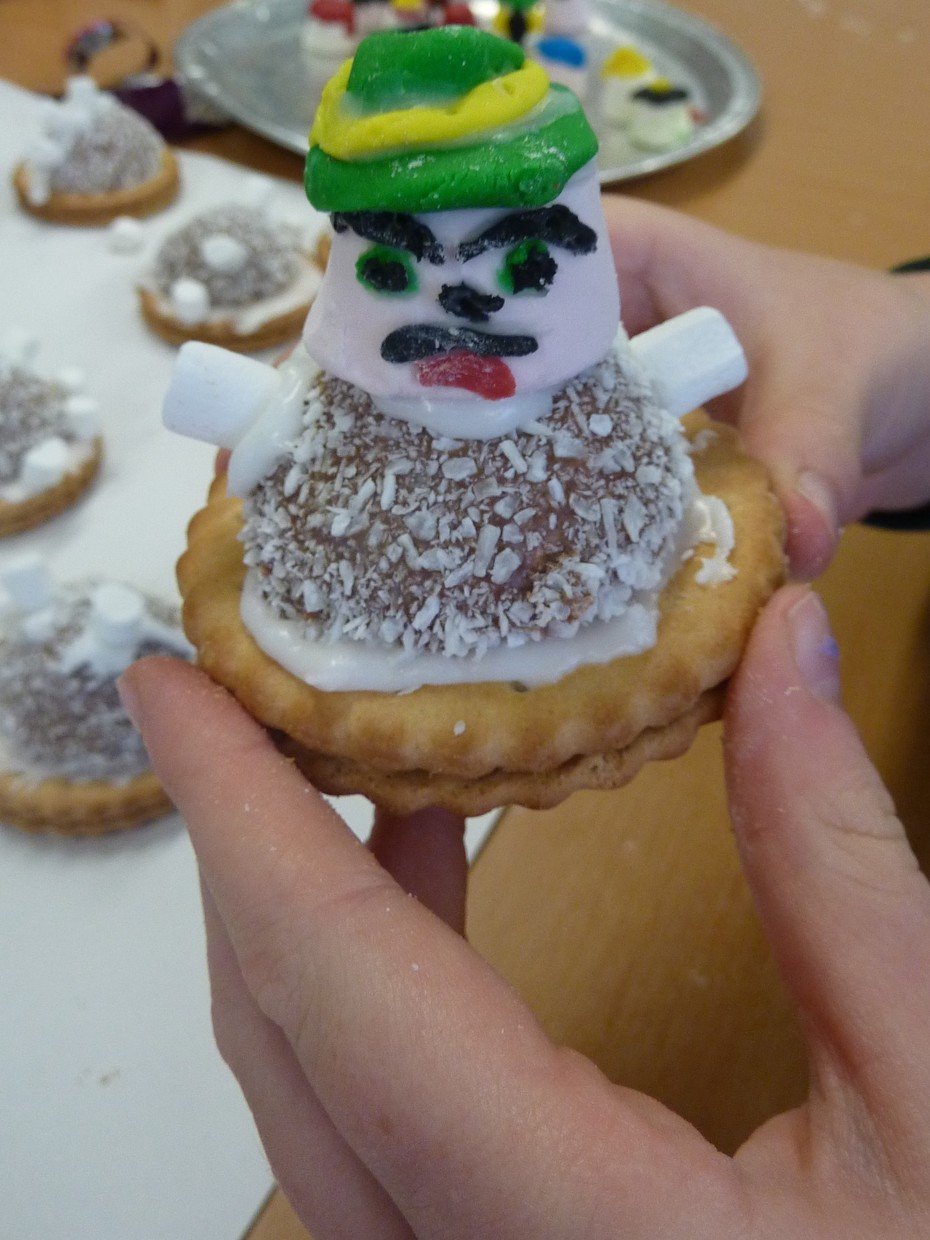 Our SPAG learning this week
In our SPAG lessons this week, we have been learning about homophones and homonyms. First of all, we played a game of, "Homophone Hop," which focused on the correct use of the homophones "to," "too," and "two," as well as, "there," "their," and "they're."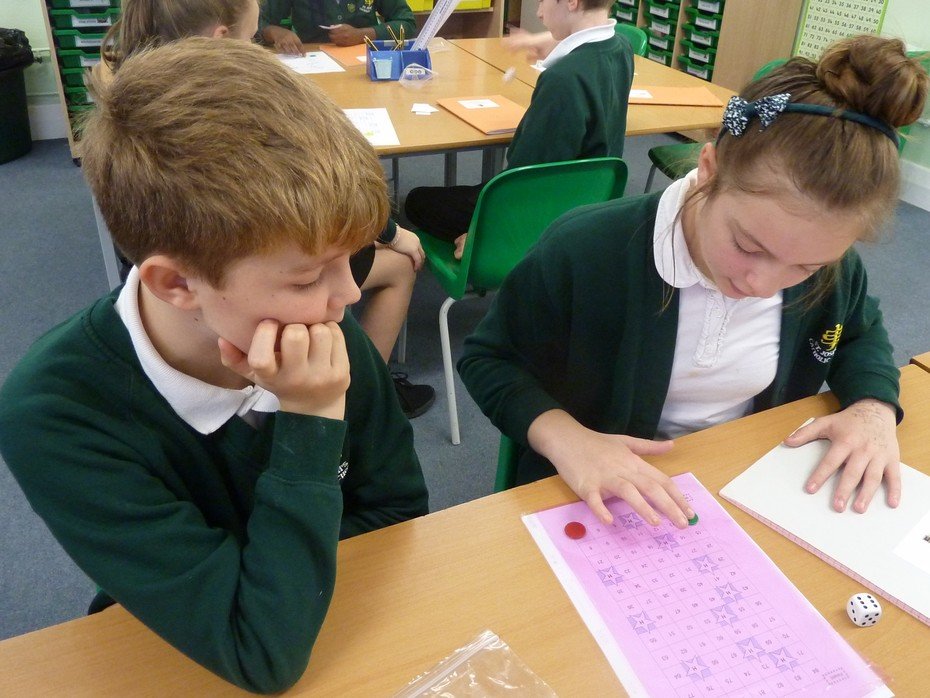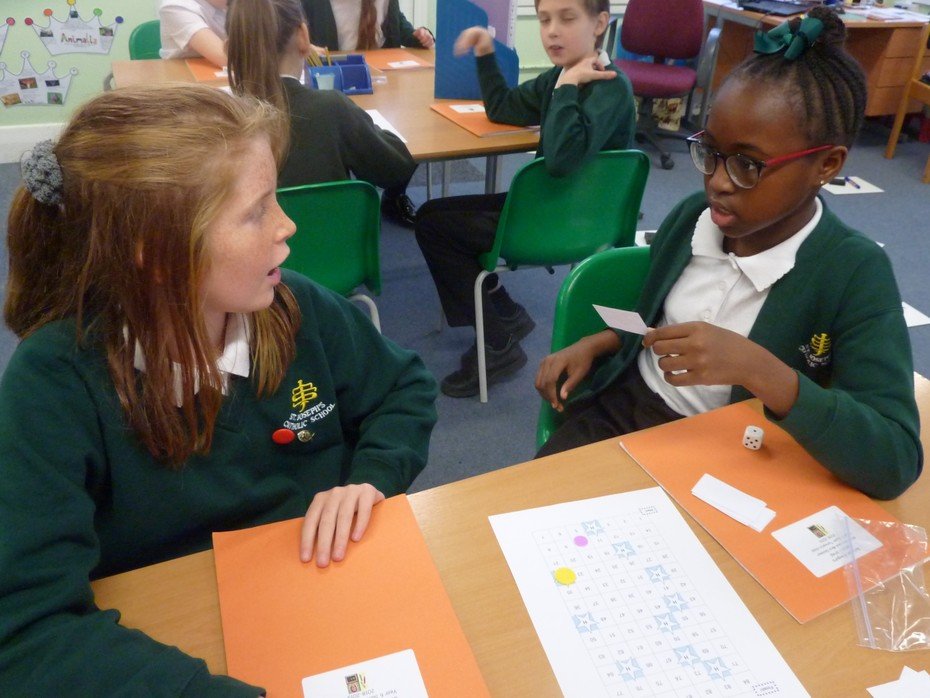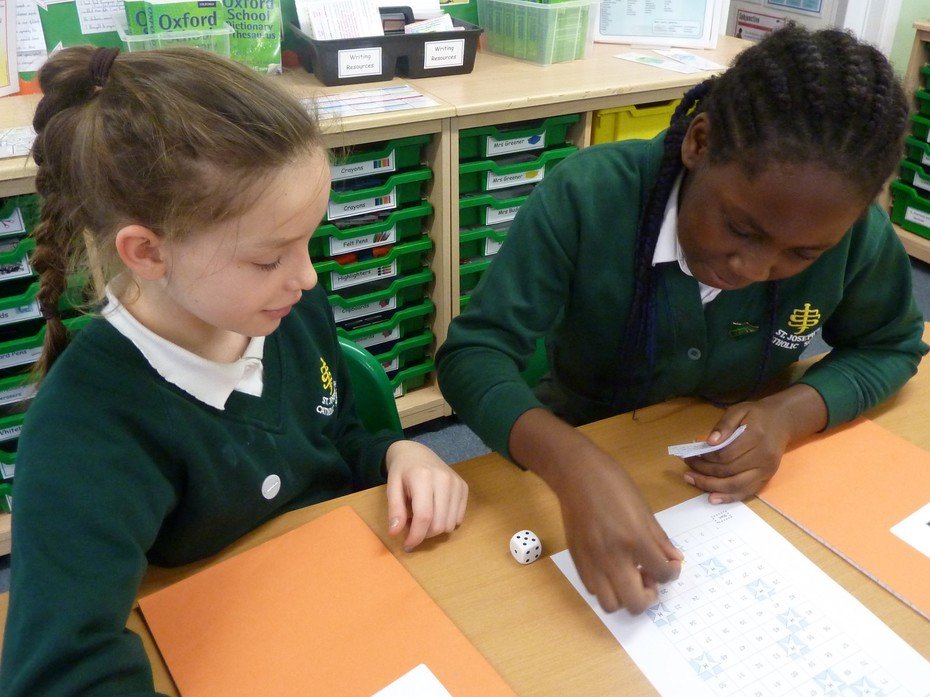 Here are some of our homophone/homonym riddles. Can you work them out?
It is a girl's name and a Christmas plant- Zuzanna
You can fly in this and it is another word for ordinary- Lily
God bought this to the world and it is part of a jigsaw puzzle - Olivia
Some children also made a game of "homophone pairs" for the children in Years 3 and 4 to play.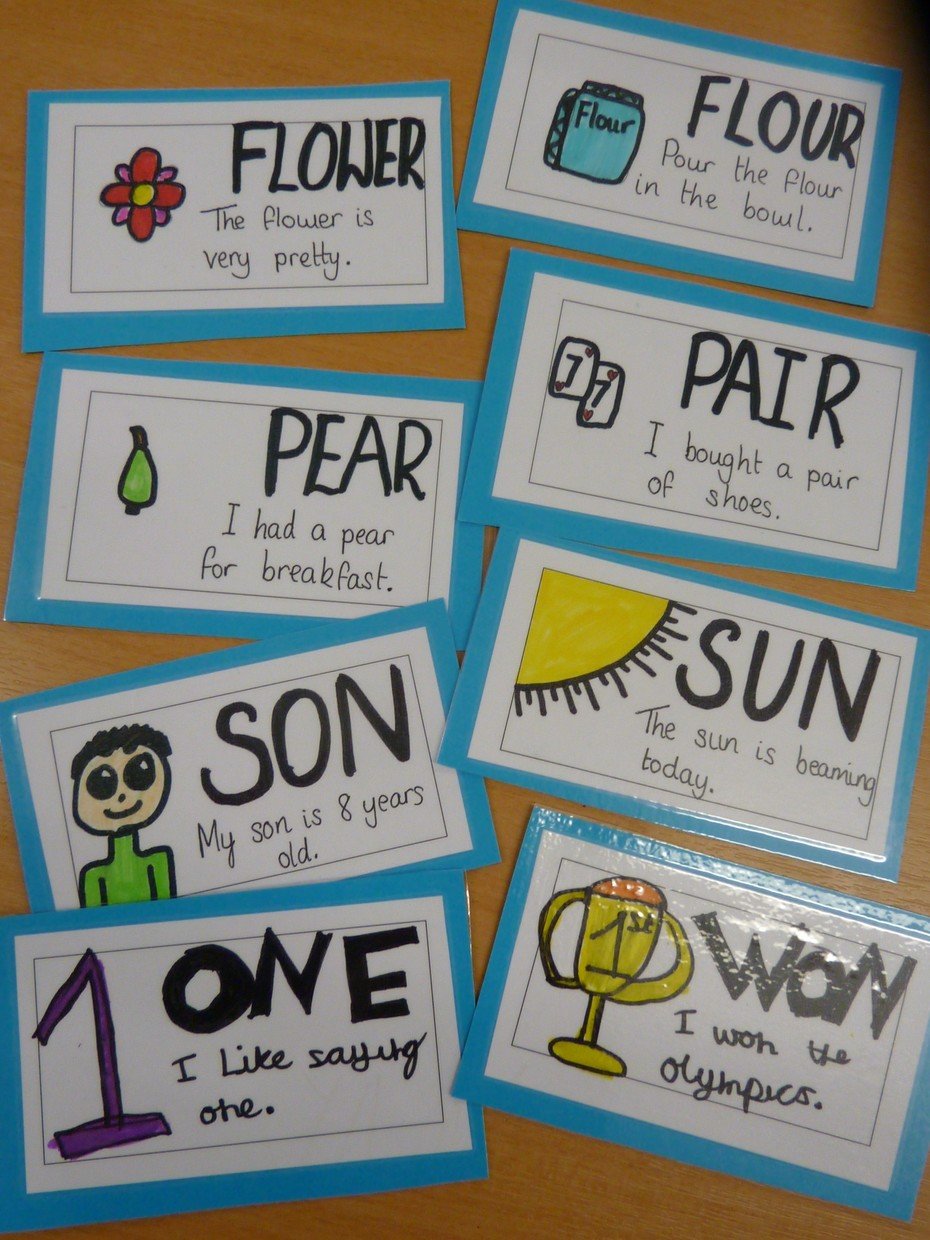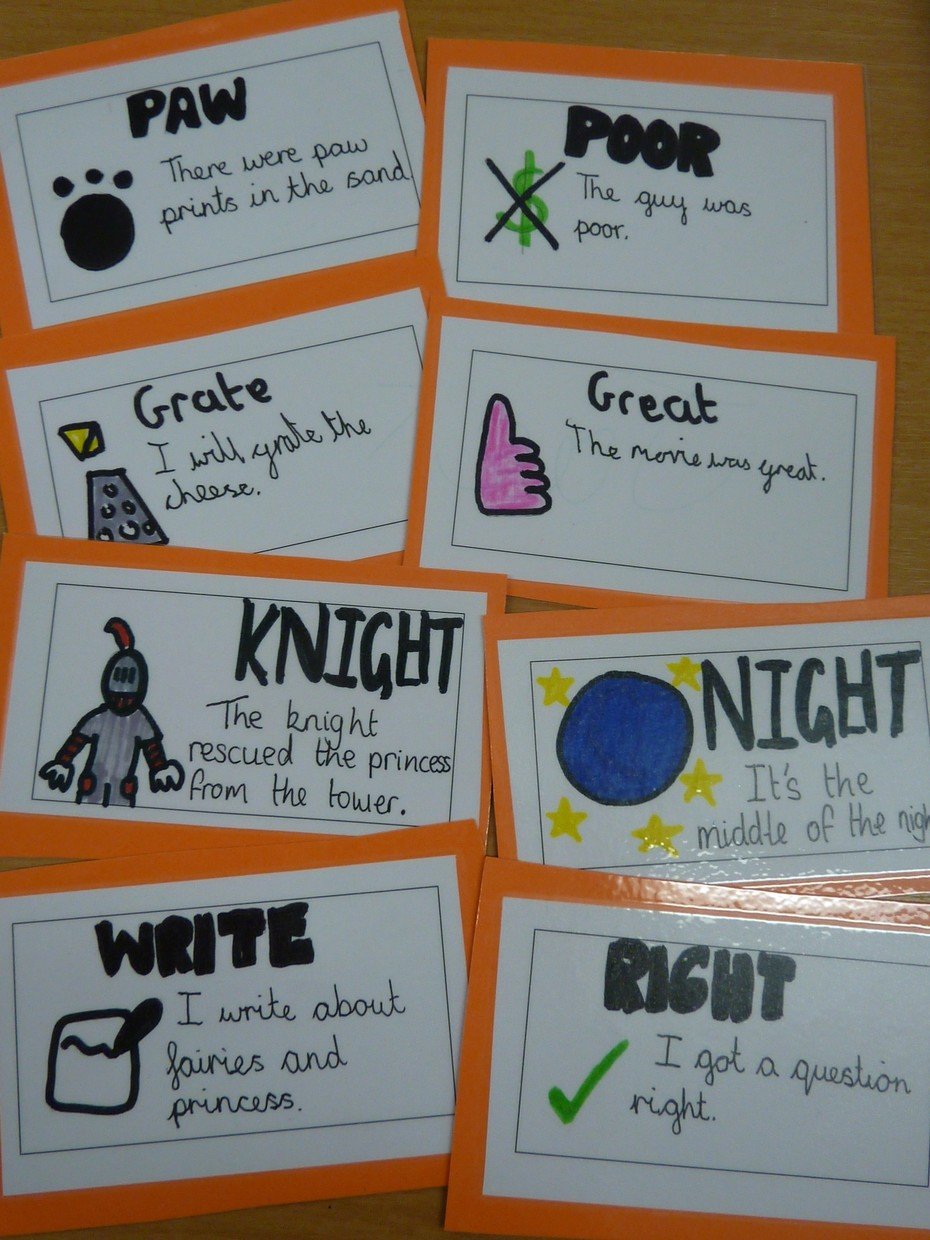 Our current writing unit
We have just completed a writing unit based on non-chronological reports. At the end of the unit, we worked in pairs to self and peer assess our pieces of writing. It was useful to hear what our partners liked about our reports and how they thought we could improve our next pieces of writing.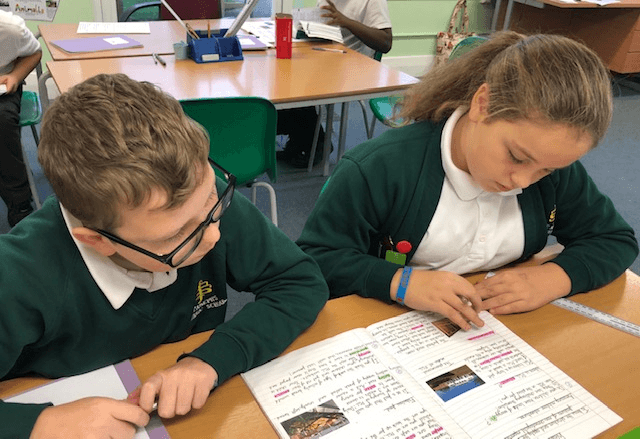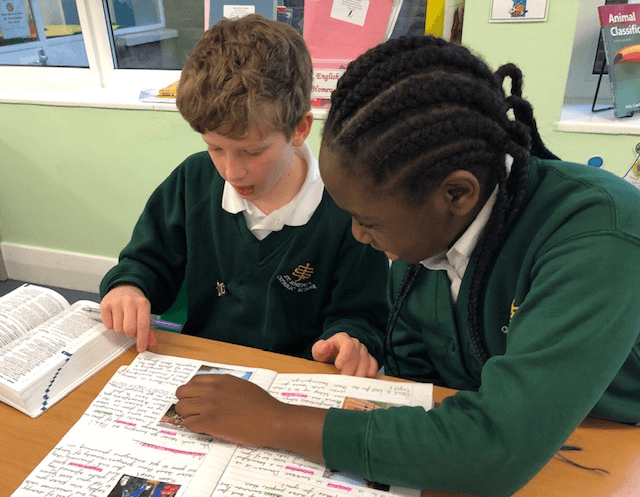 Science learning
As part of our science learning this week, Year 6 pupils worked in groups to research facts about the five different "kingdoms" that classify organisms based on their characteristics. Each group researched a particular kingdom and then displayed the information creatively. The information on each "kingdom" is now displayed in our science area.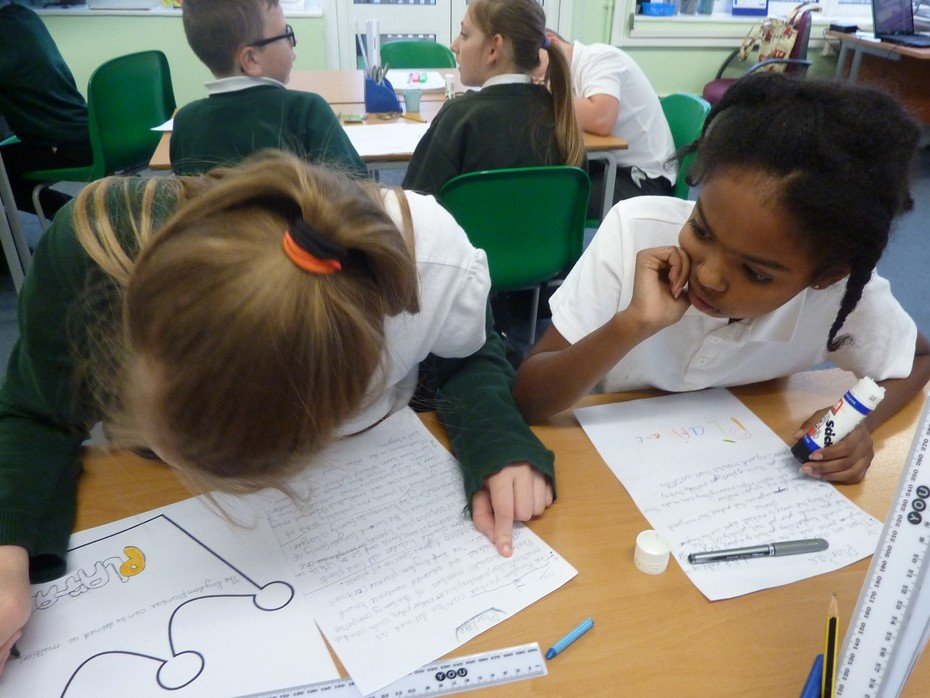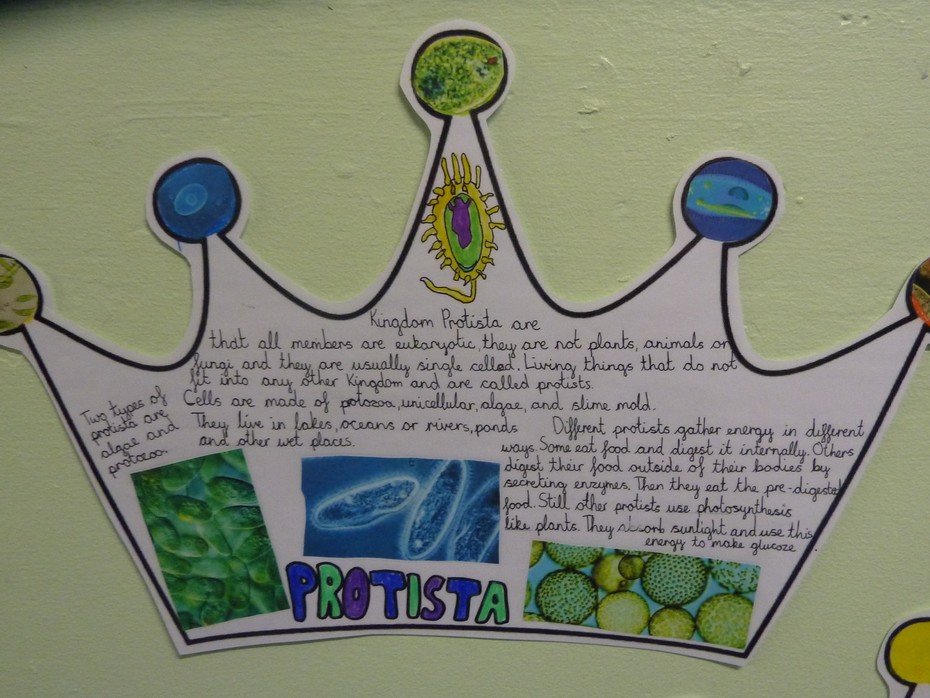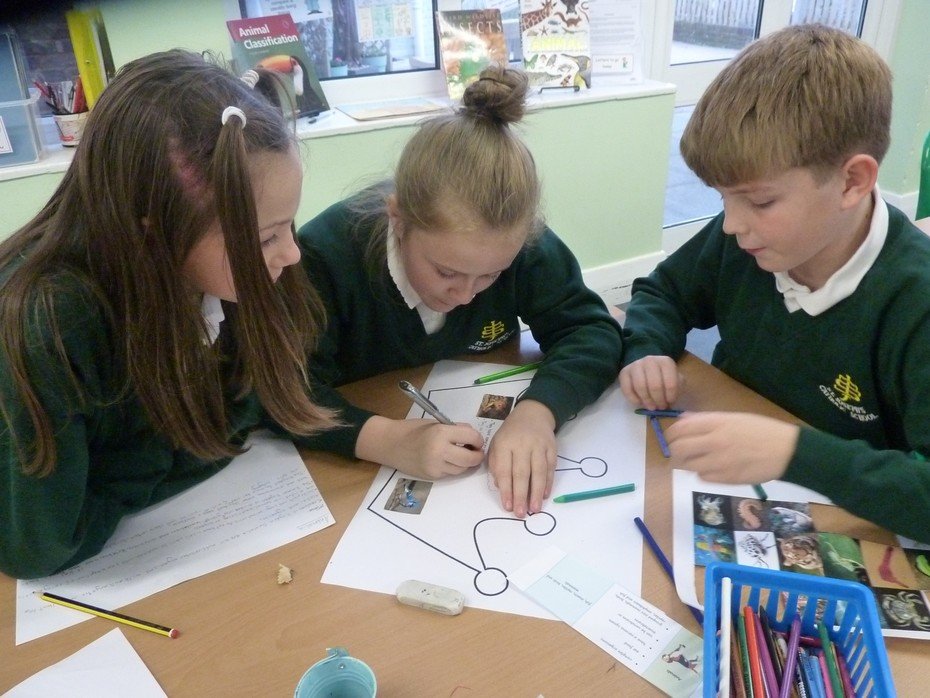 Another busy week!
Year 6 have had another busy week this week in school. In SPAG, they have been learning about synonyms and antonyms and learning new words that they will hopefully use in their writing. Part of each SPAG lesson involves playing a game to consolidate and apply the word class/part of speech being focused on.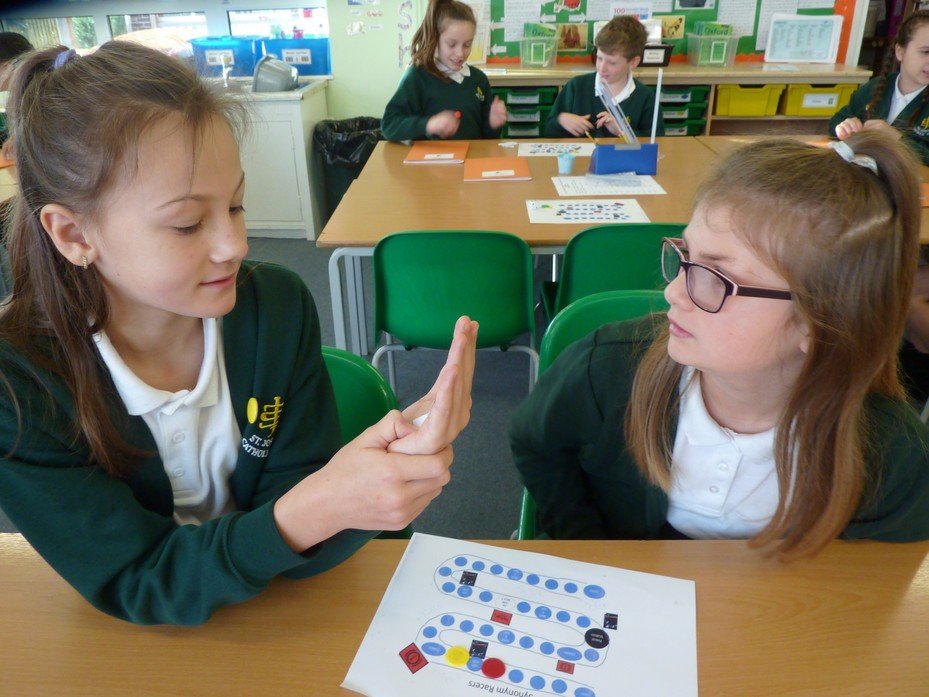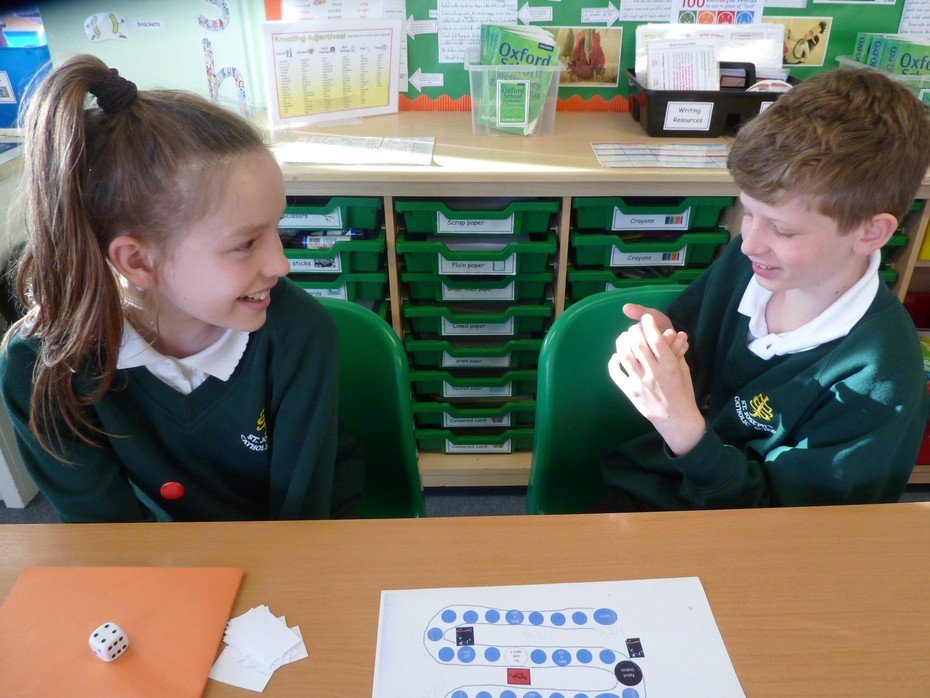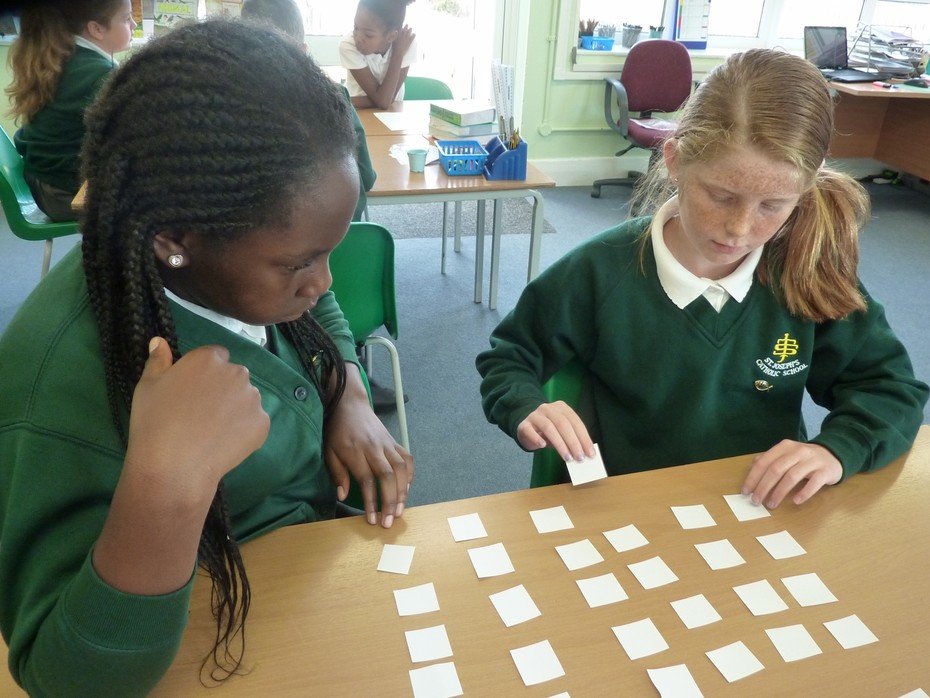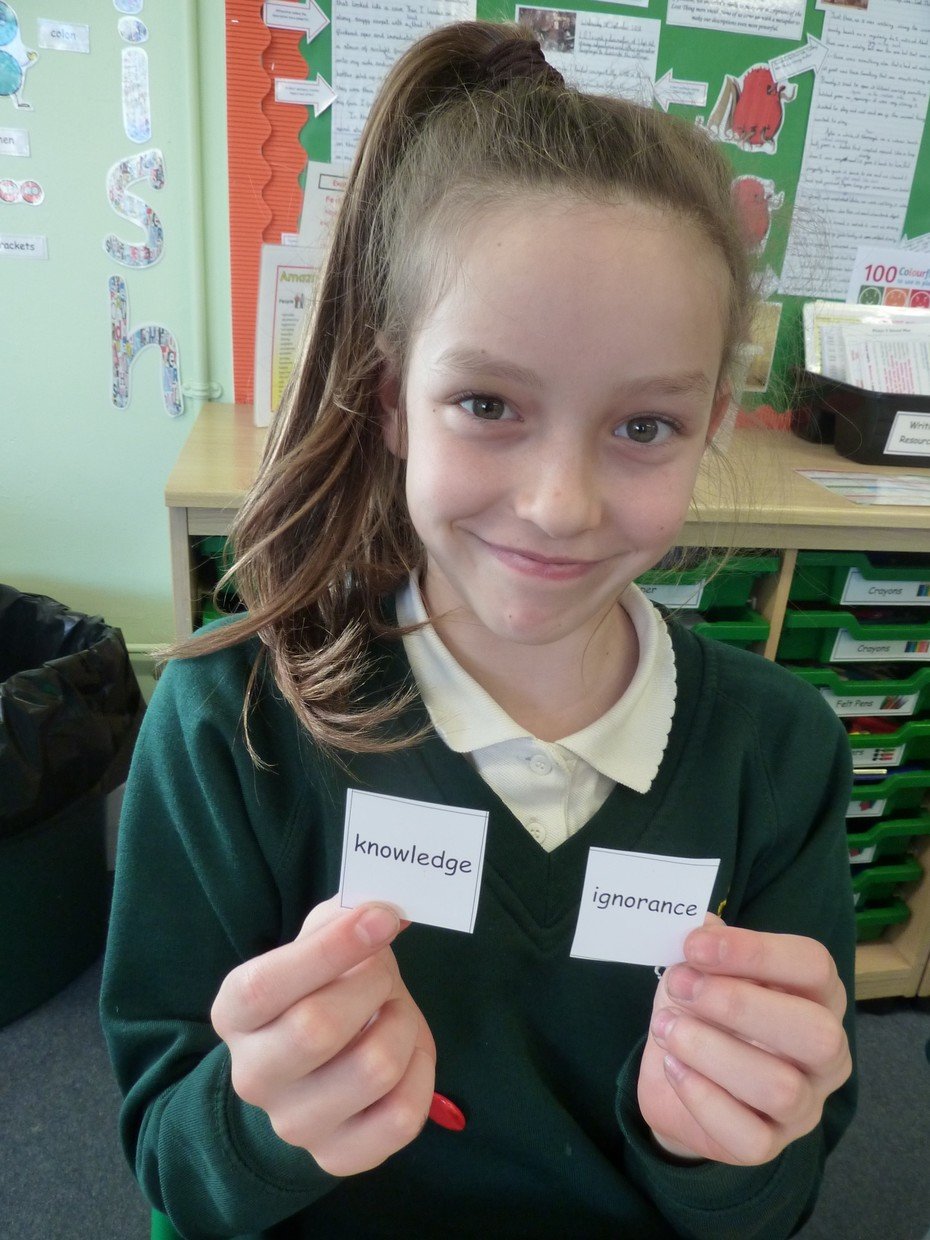 "Synonym Racers" and "Antonym Pairs."
On Thursday afternoon, Year 6 enjoyed a "Bollywood" Dancing workshop before joining the rest of the school to perform dances to "Jai Ho" and "Twist." Wow! What a lot of talent and energy we have in our Year 6 class!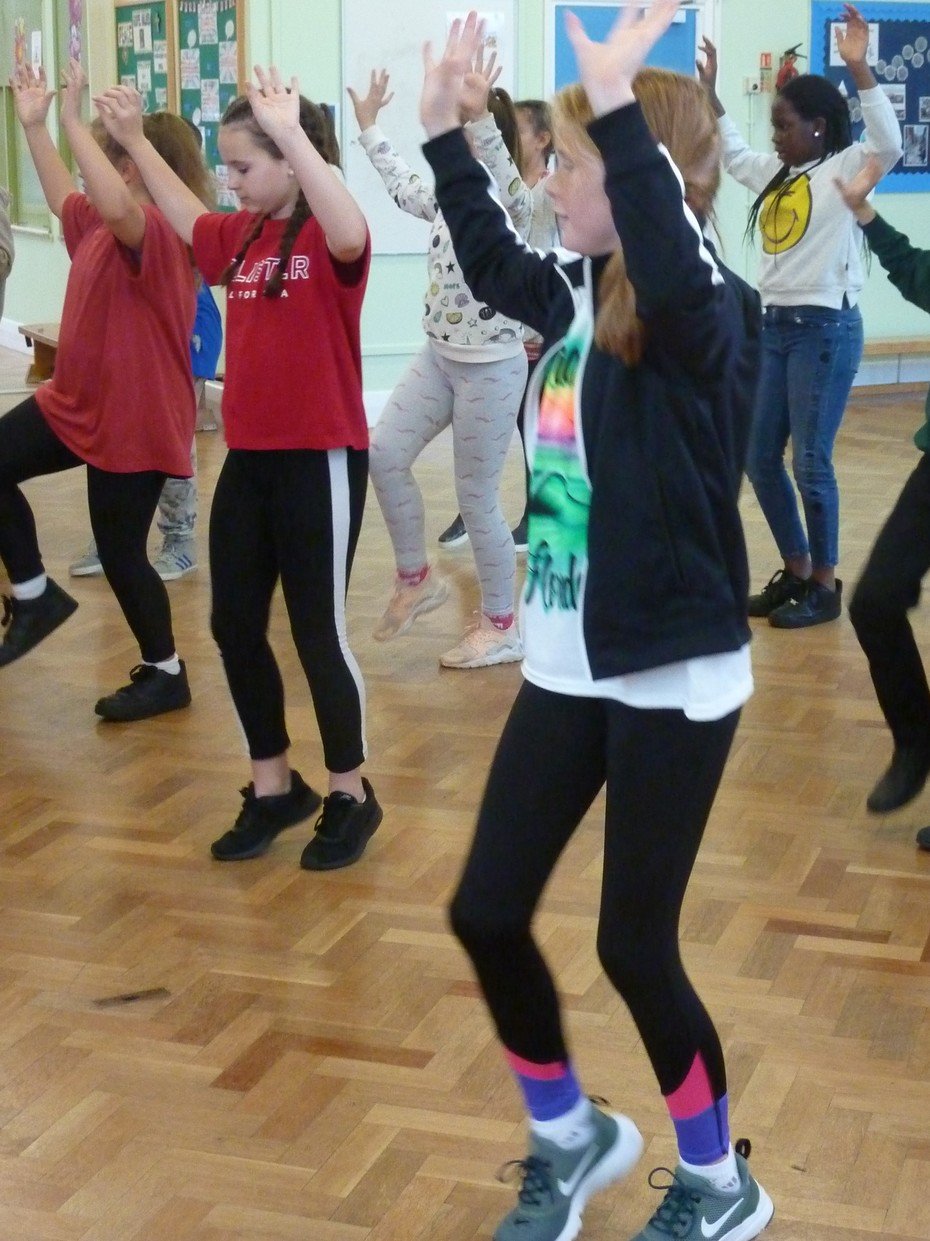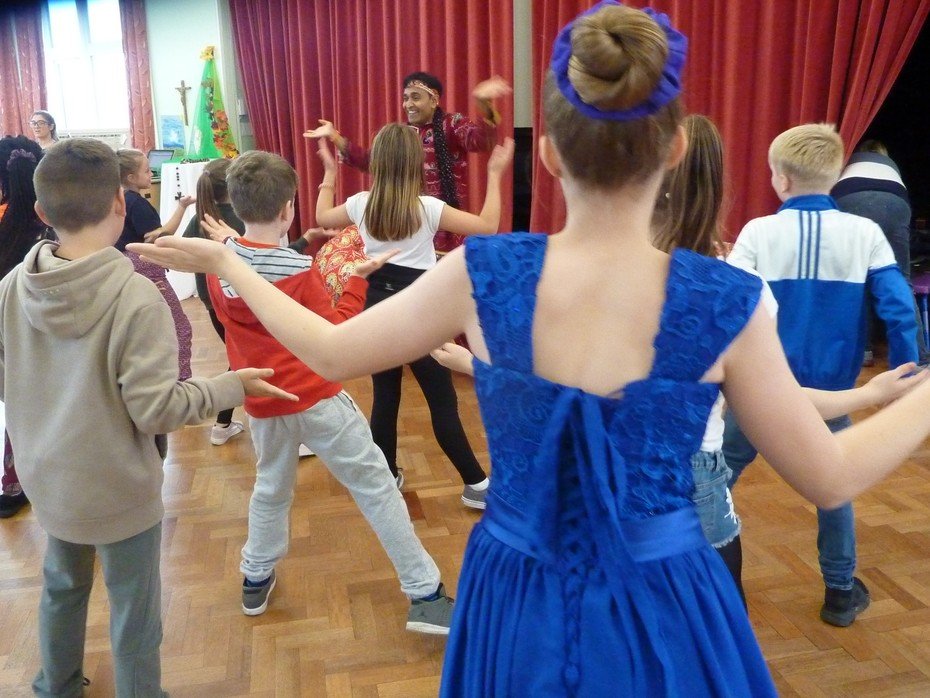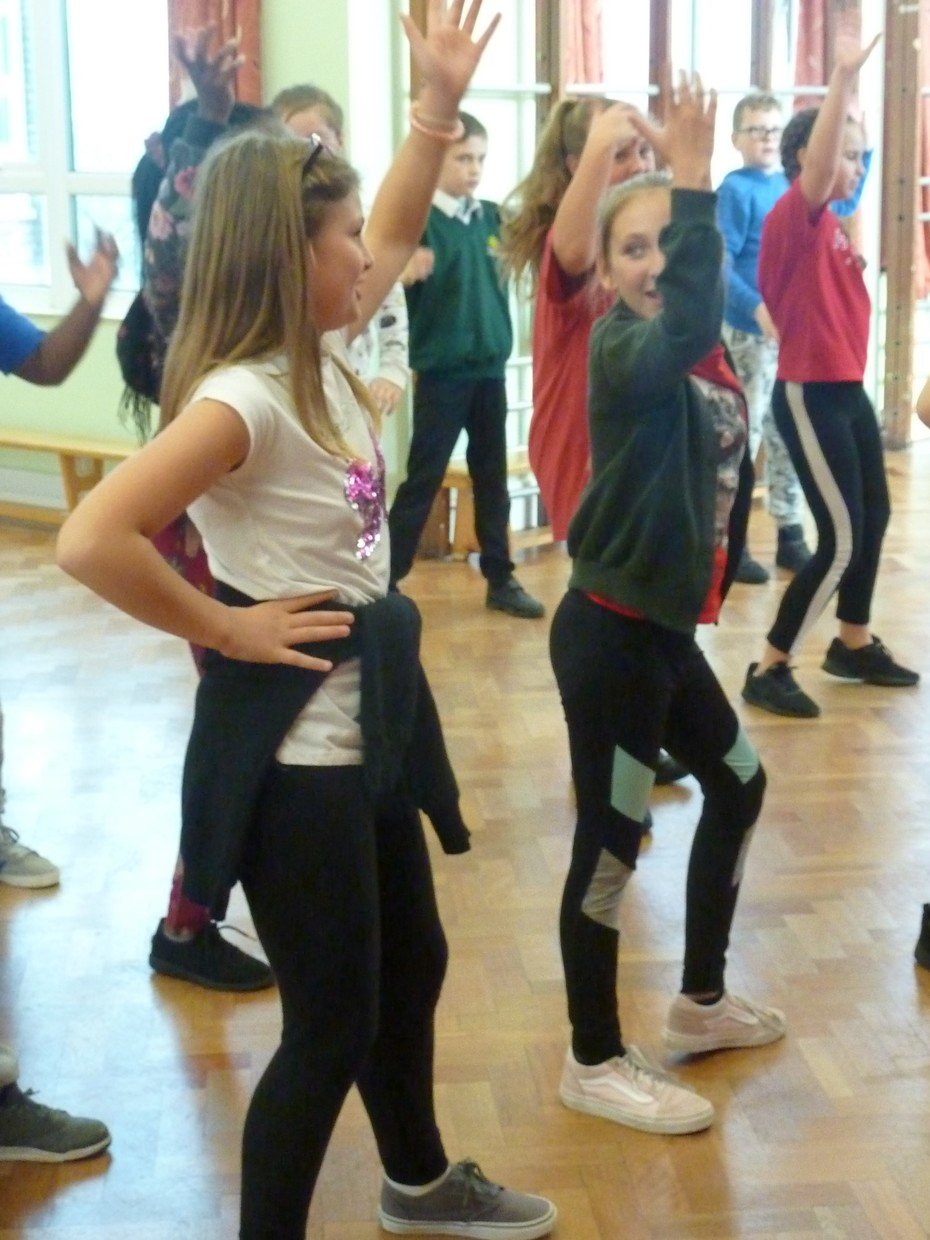 This week was also Anti-Bullying Week in school, which started off with a whole school assembly. The theme for this year's anti-bullying week was, "Choose Respect." Year 6 discussed ways they could choose respect and make sure everyone feels included.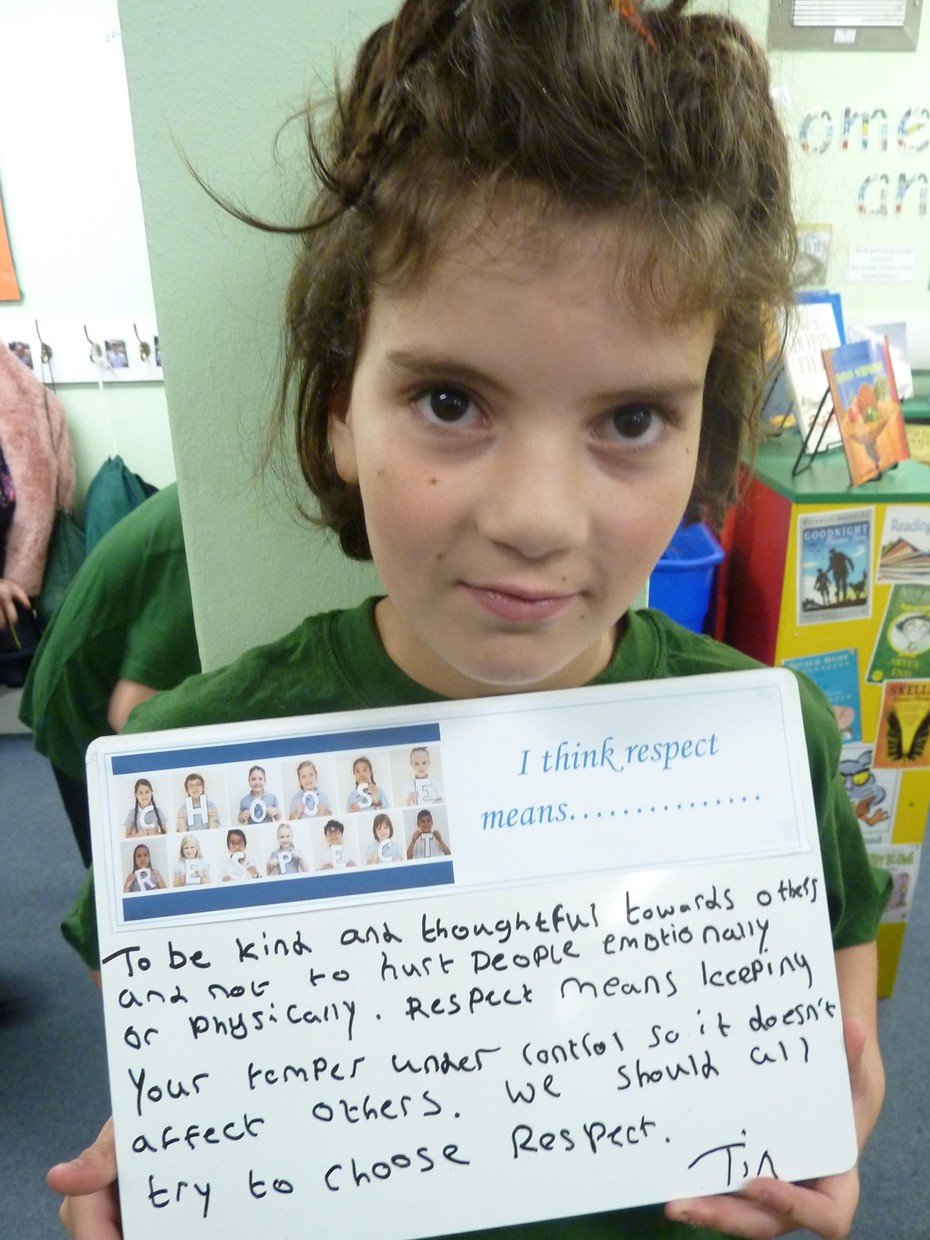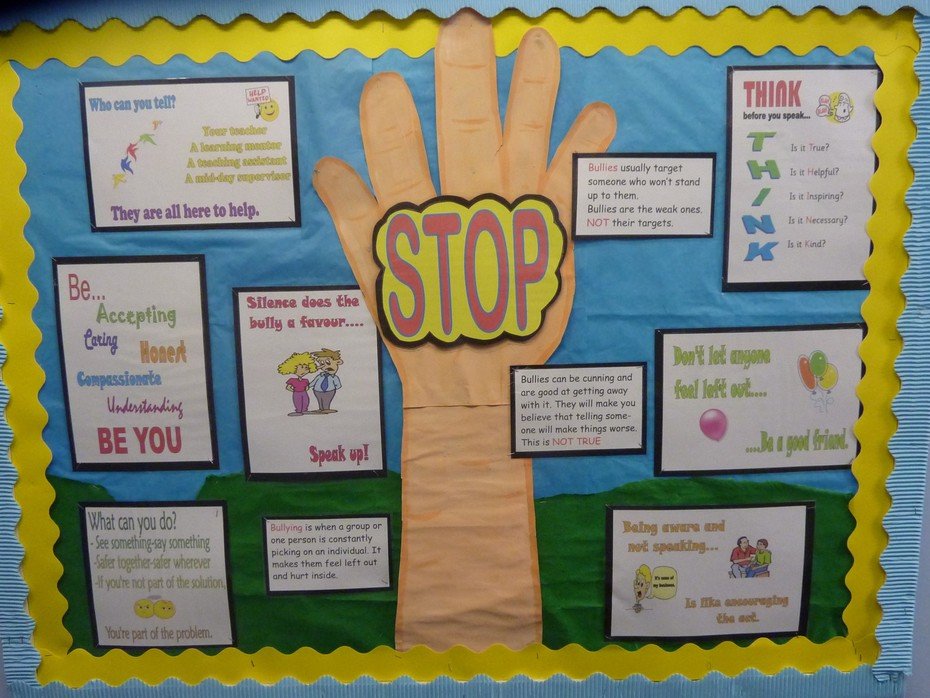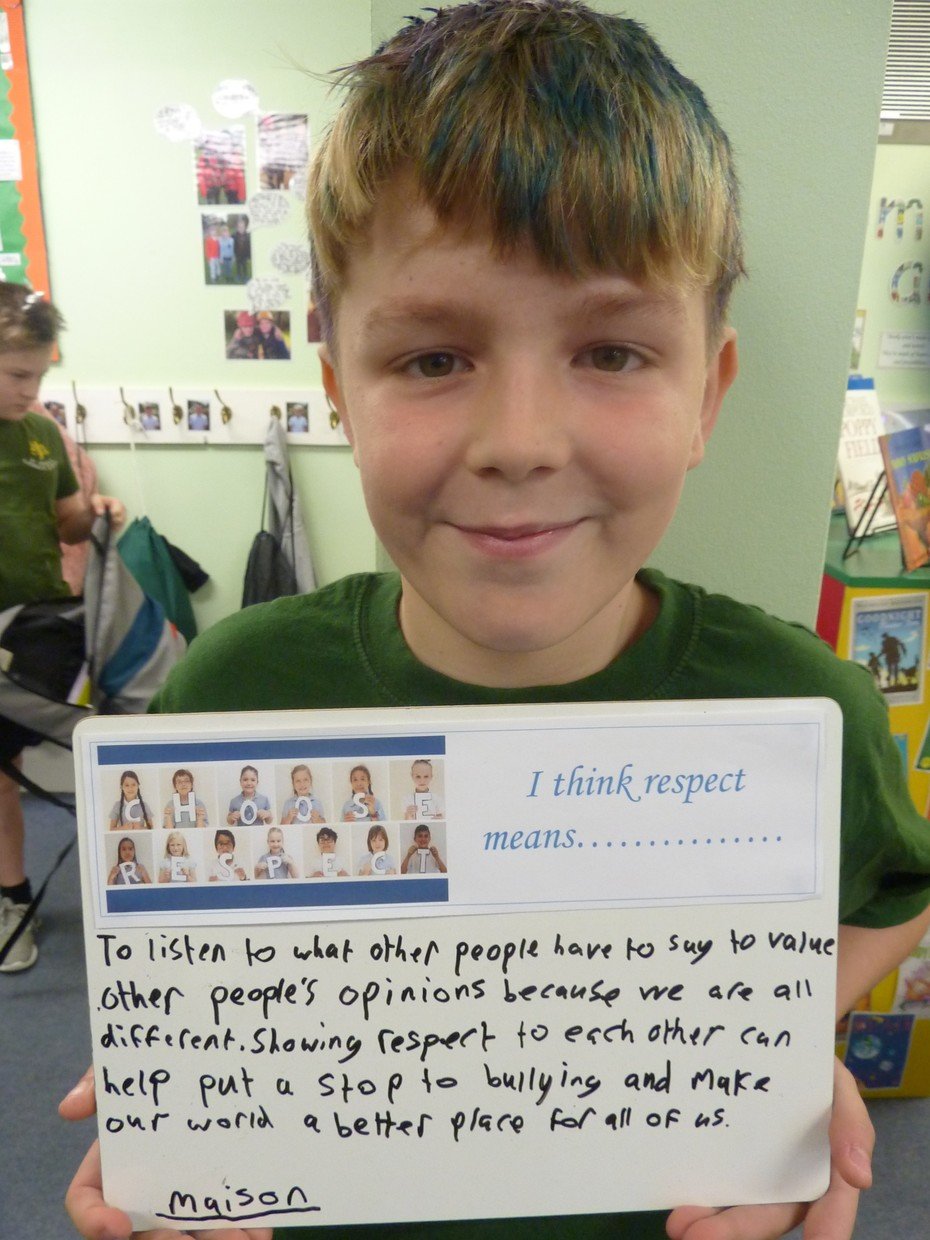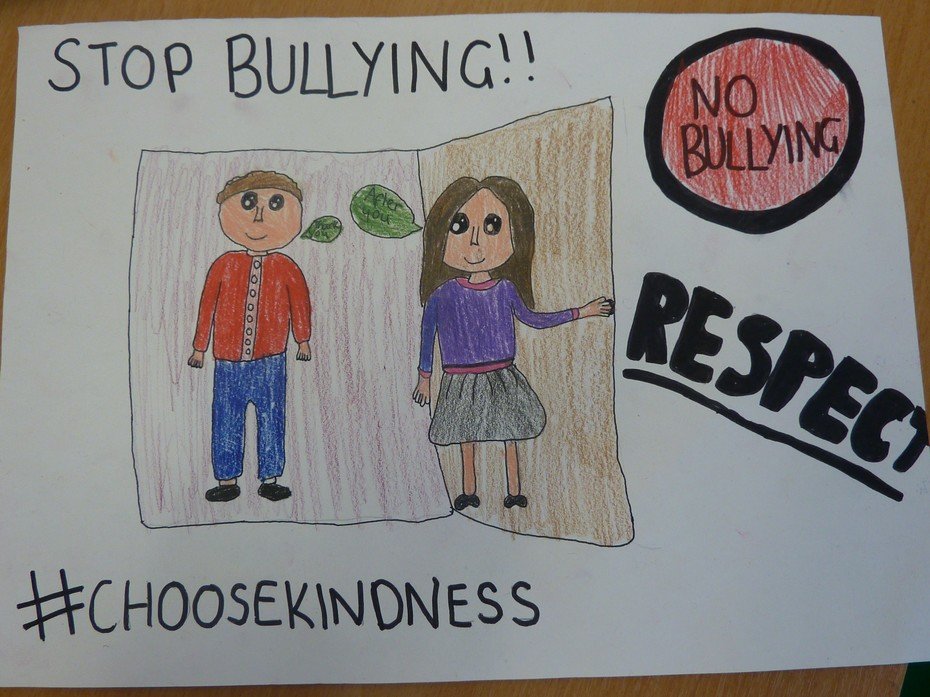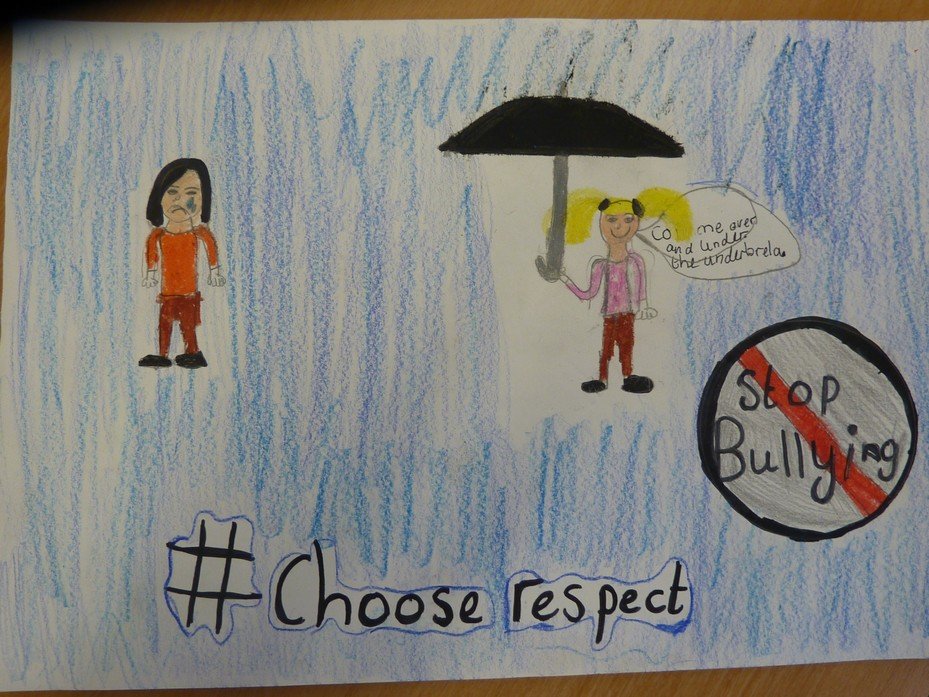 Our anti-bullying posters
Language of the Month
Our language of the month in November is Lithuanian. Arijus has taught us several useful words and phrases and the children now greet the teachers and answer the register in Lithuanian! Arijus read us the book "Alien's wearing underpants," in Lithuanian and Olivia read the English version.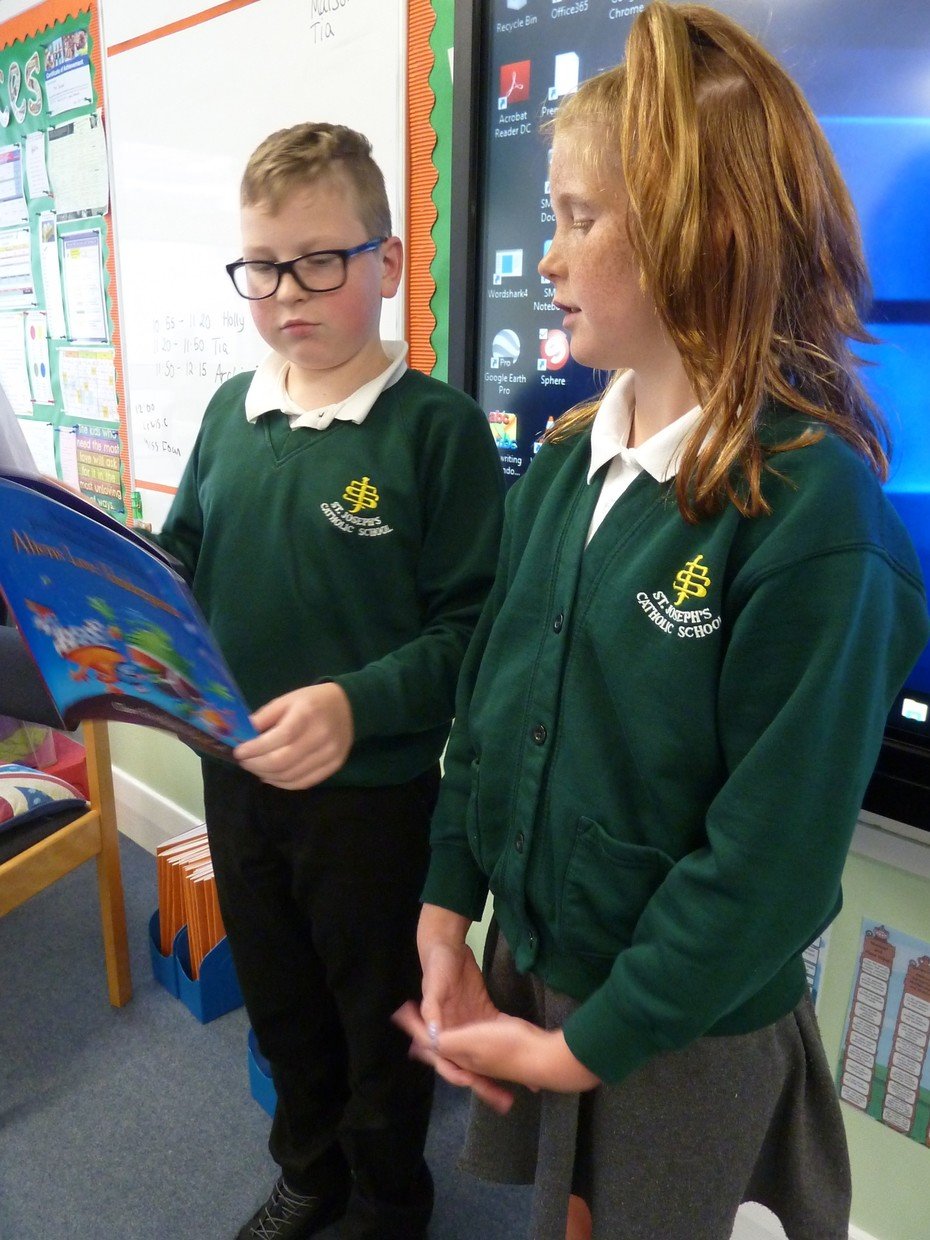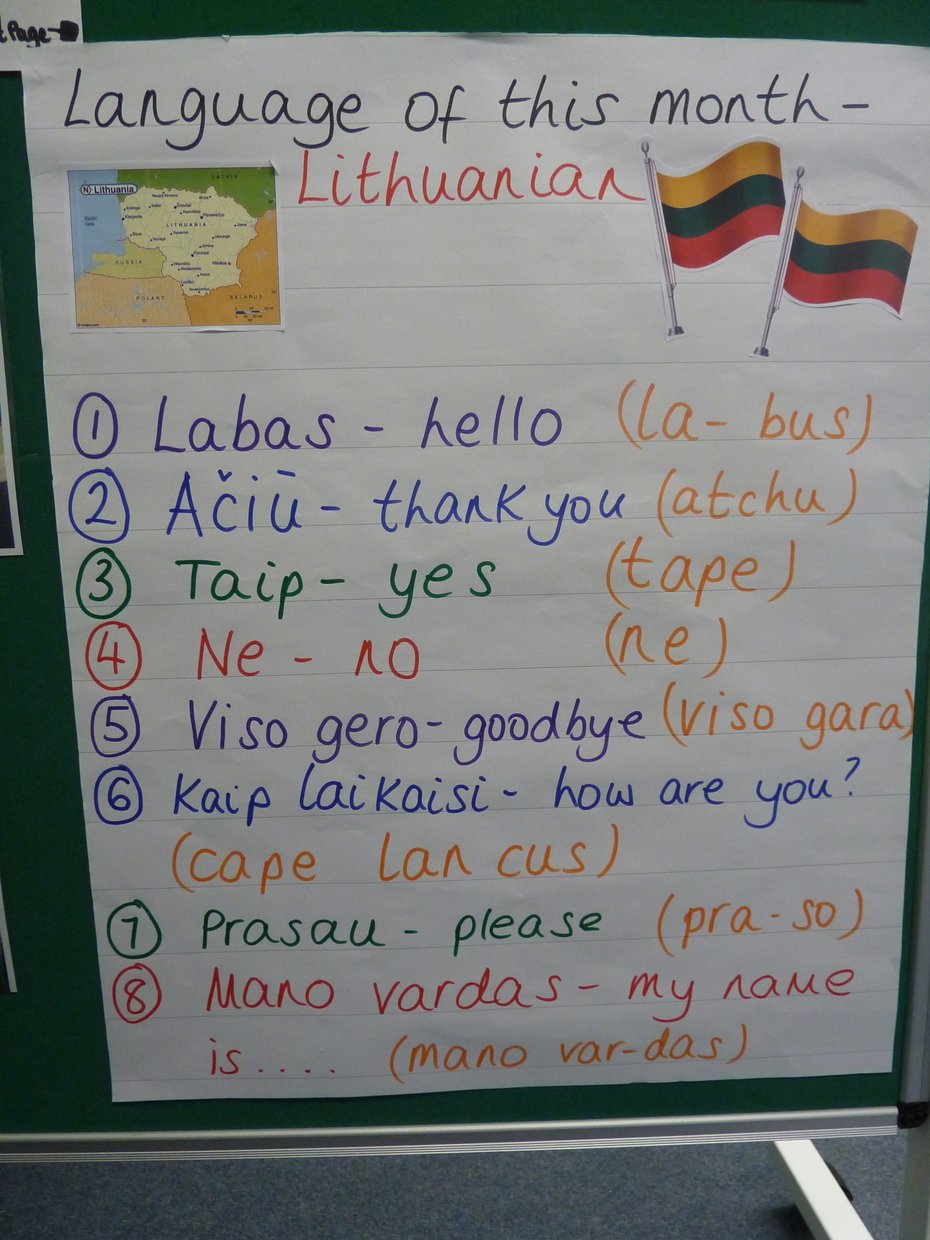 This week's learning in Year 6
This week in our maths lessons, we have been learning about 12 and 24 hour times written in different formats. In our SPAG lessons we have been learning about different types of adverbs - adverbs of manner, time, place, frequency, degree and likelihood.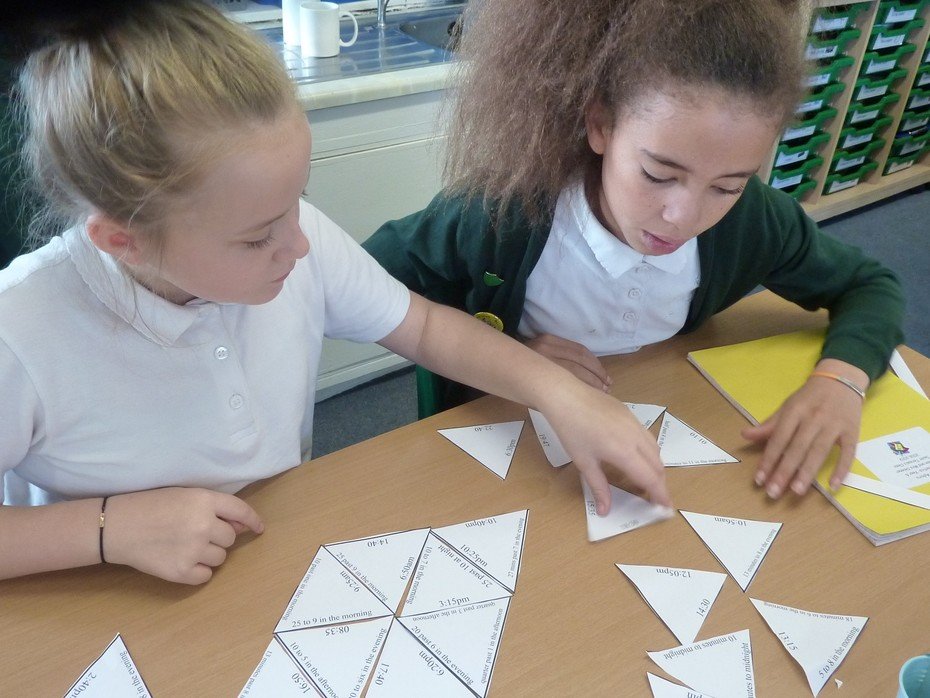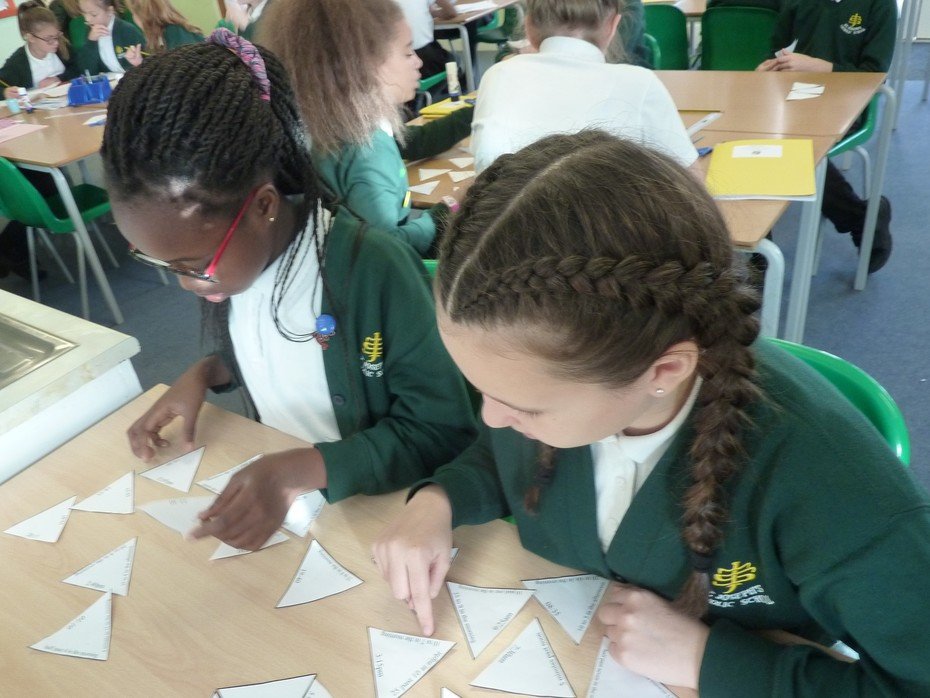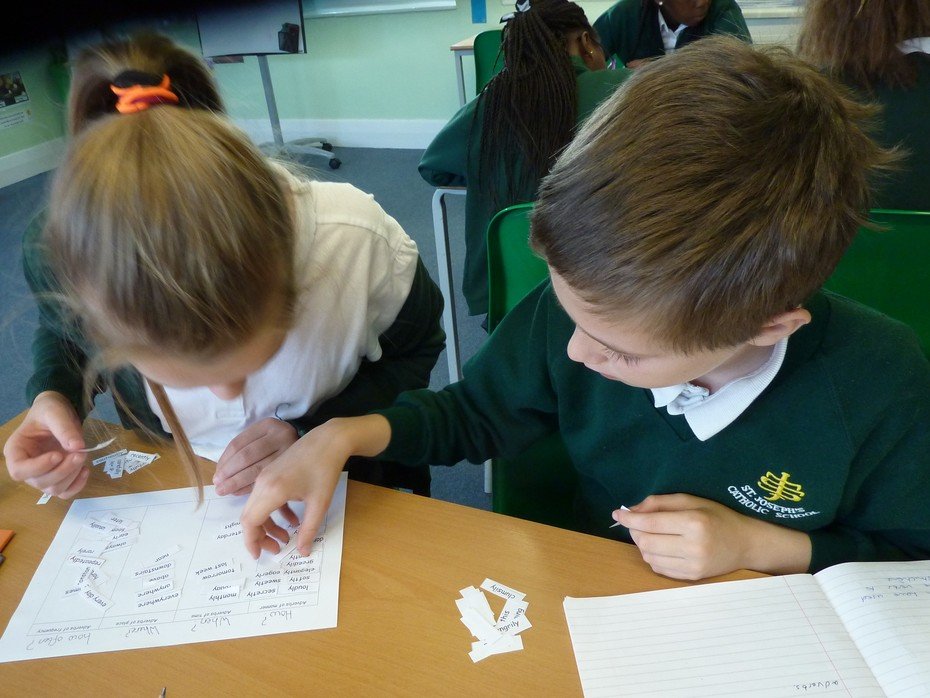 Time puzzles and adverb sorting
Collective worship
During our class collective worship sessions on a Wednesday morning, pairs of children have been leading the collective worship, basing it on the "Wednesday Word." This week Lily and Belinda led a lovely collective worship for Years 5 and 6.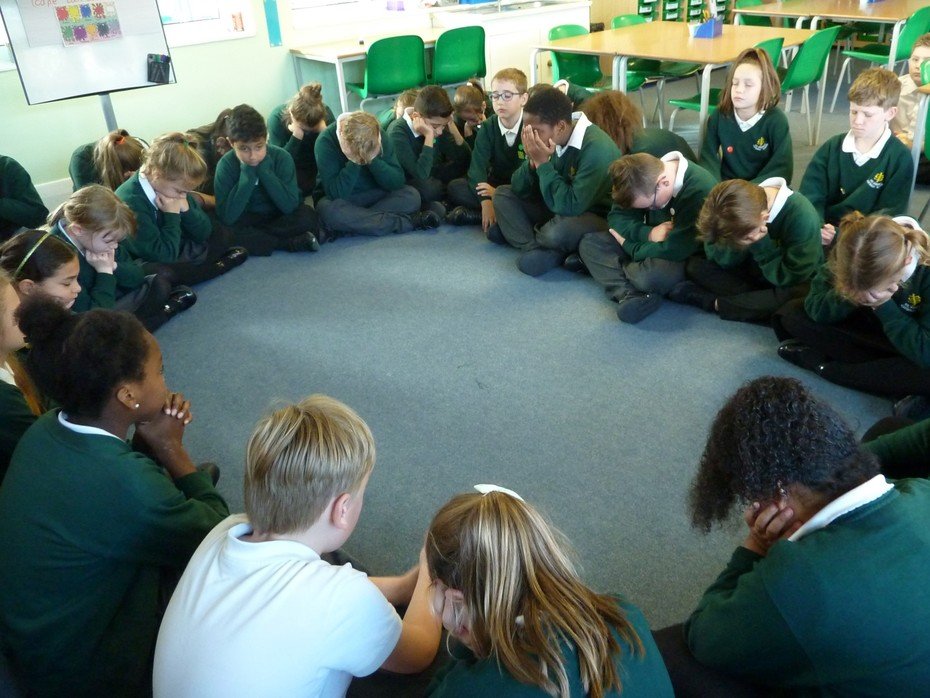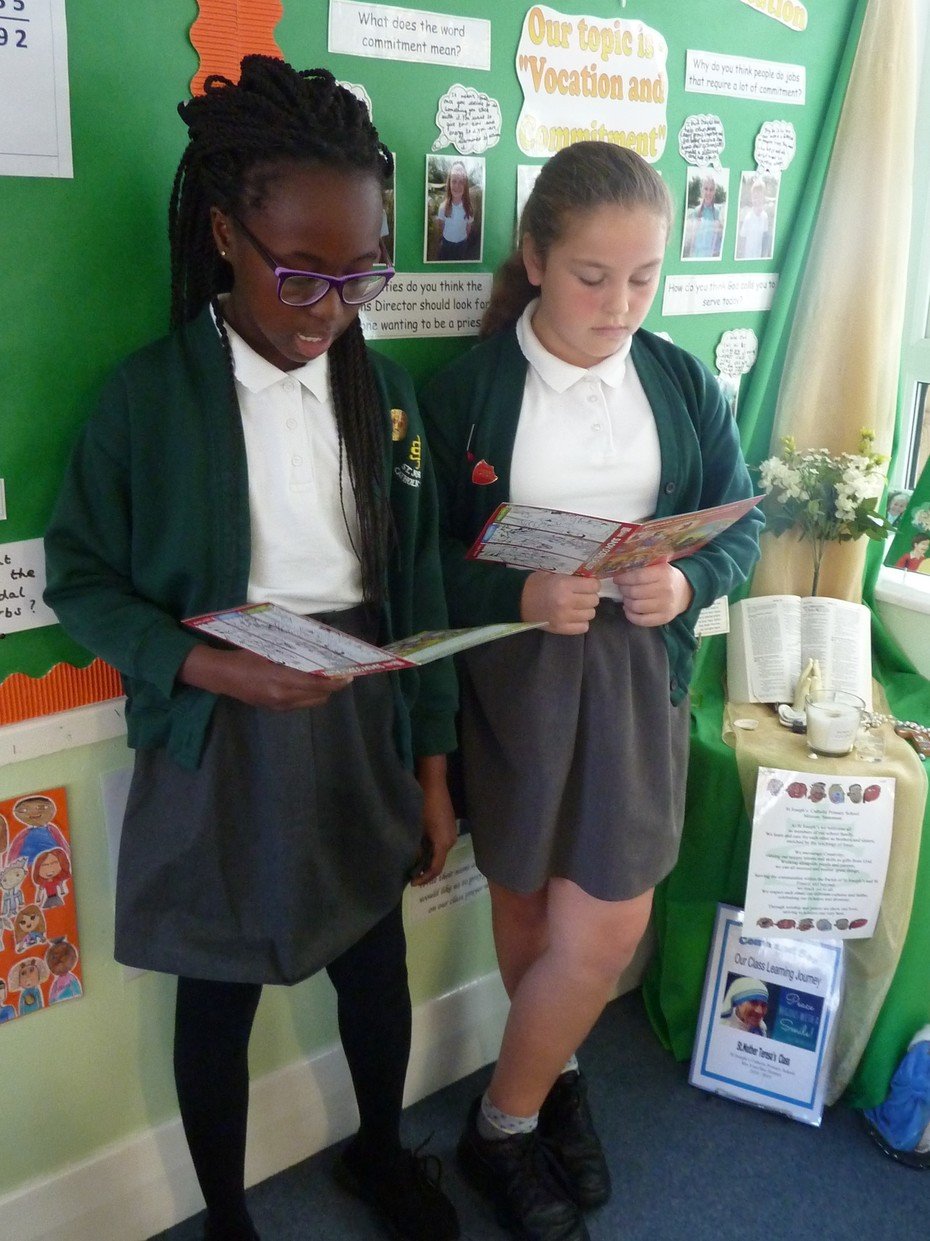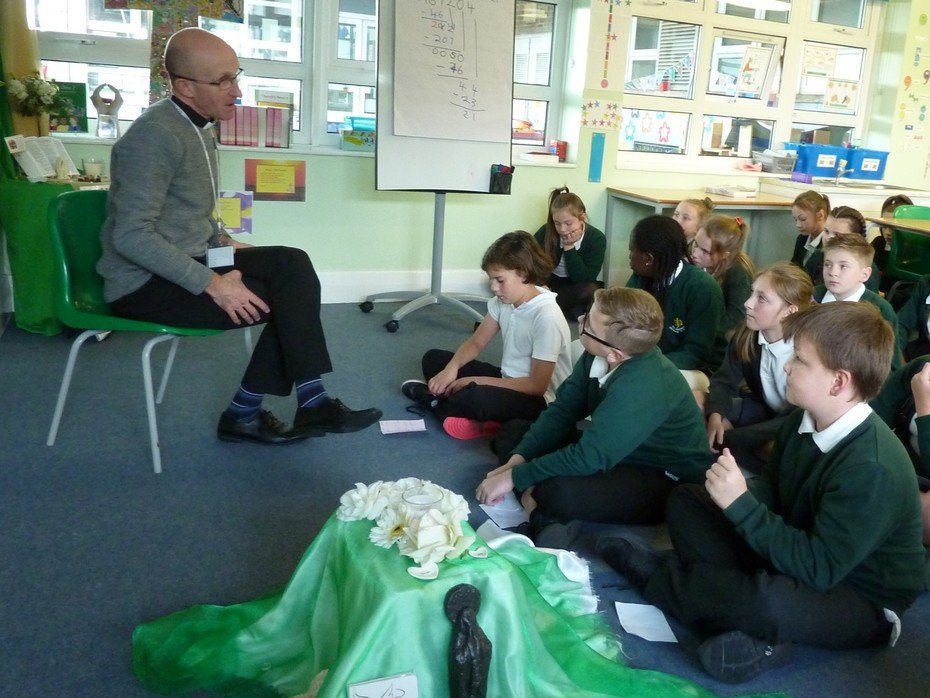 Year 6 were joined by Father Kieron this week too who came in to talk to them about priesthood as a vocation and the commitments involved in being a priest as part of their RE learning.
Our science learning
This half term we have been learning about inheritance and evolution in our science lessons. Our final few lessons of the topic are based around fossils and fossilisation. Today, we used magnifying glasses to study a range of fossils before drawing them.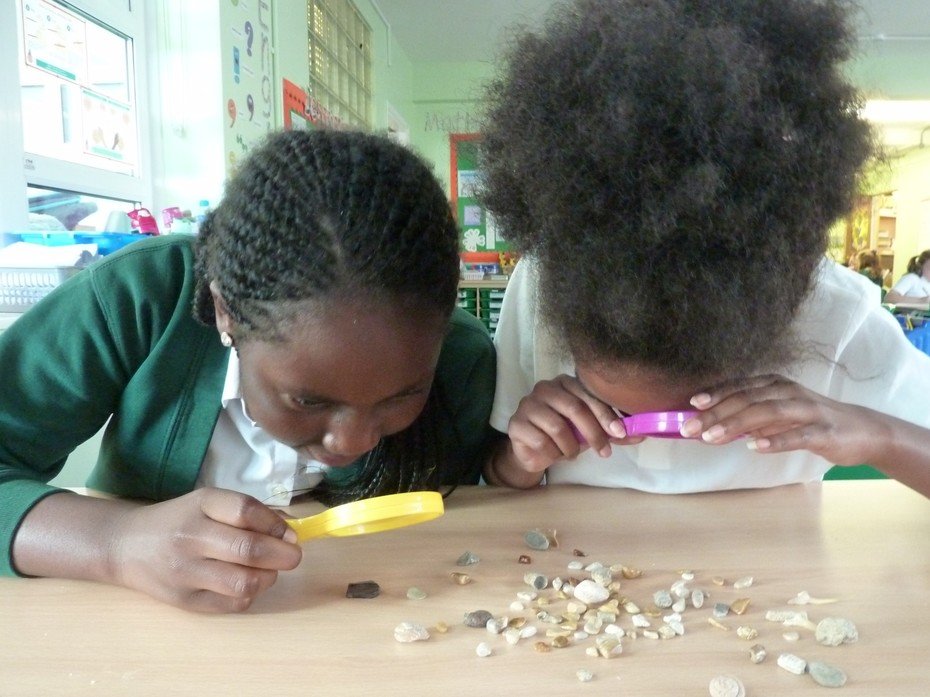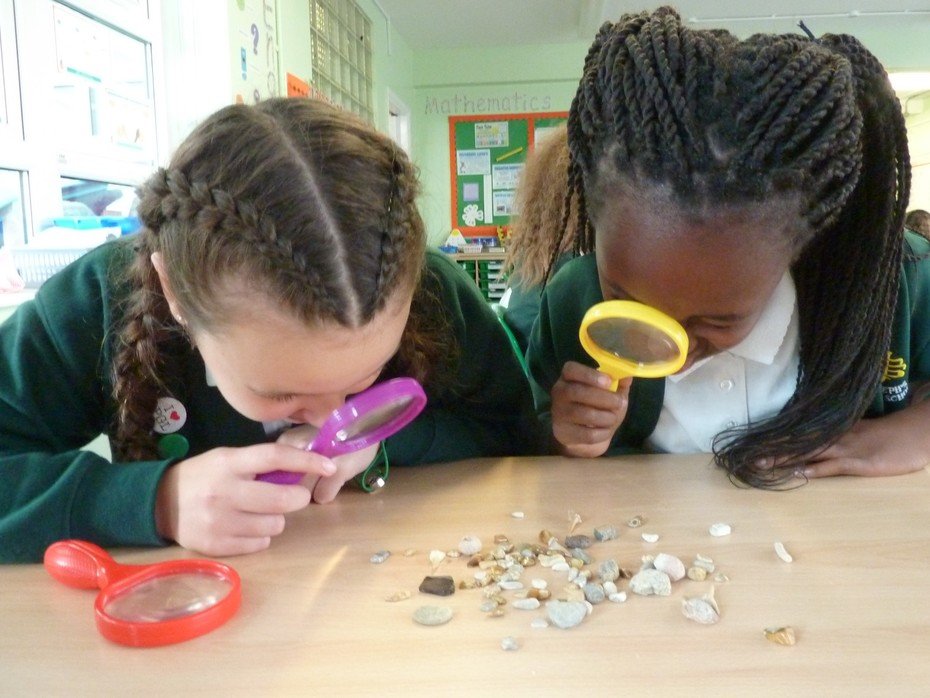 ___________________________________________________________________________________________________________________
Language of the month
Across the school, each class is focusing on a "language of the month." Starting this month, every month we will celebrate the languages besides English which are spoken at home by some of our pupils. In Year 6 we have been learning simple words and phrases in Polish. Zuzanna and Wiktoria have been teaching us.
Today, they read us a story, "Handa's Surprise," in Polish. Tia read us the same story in English.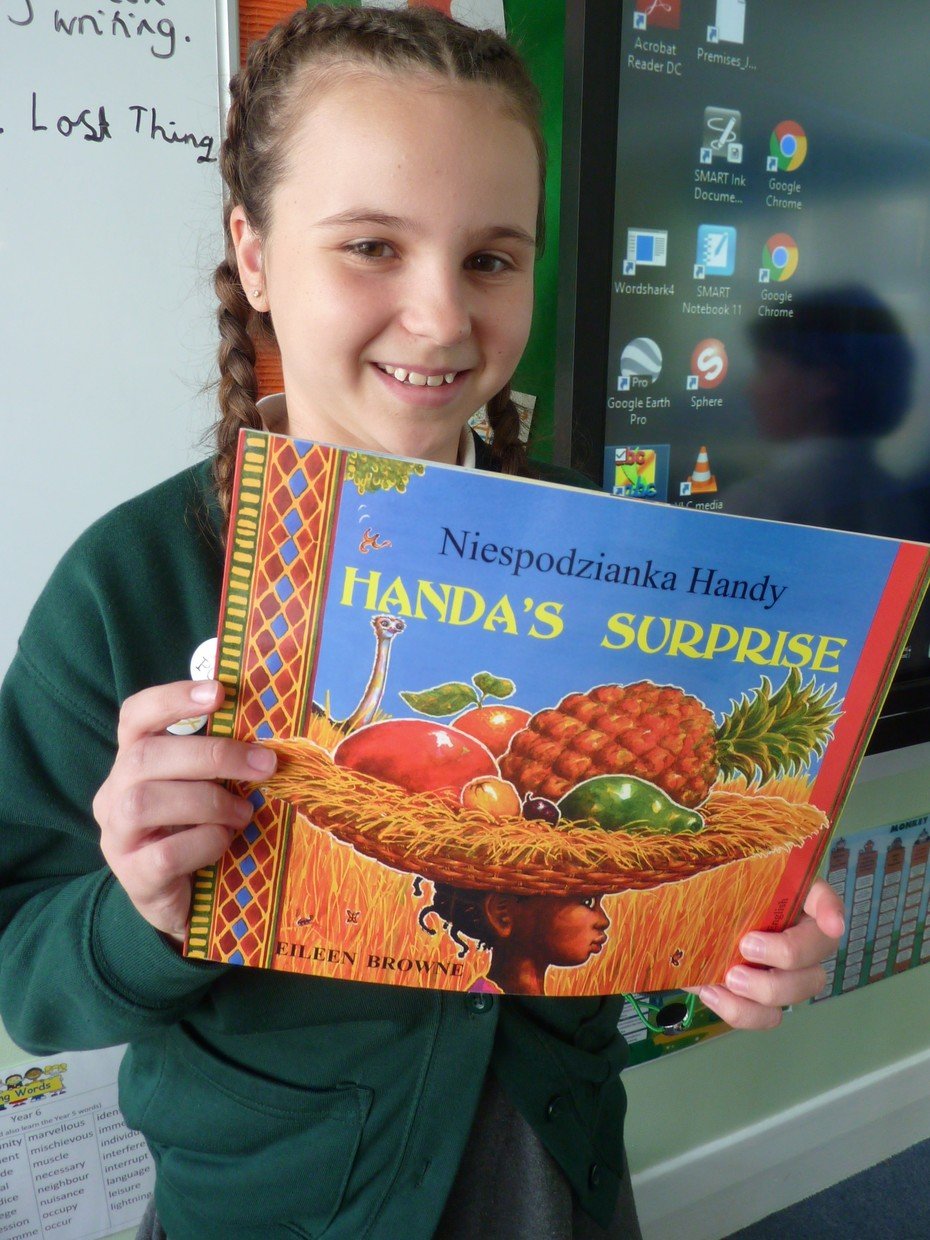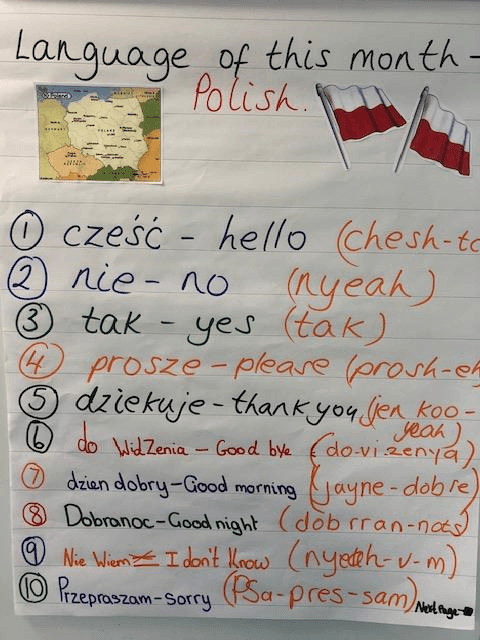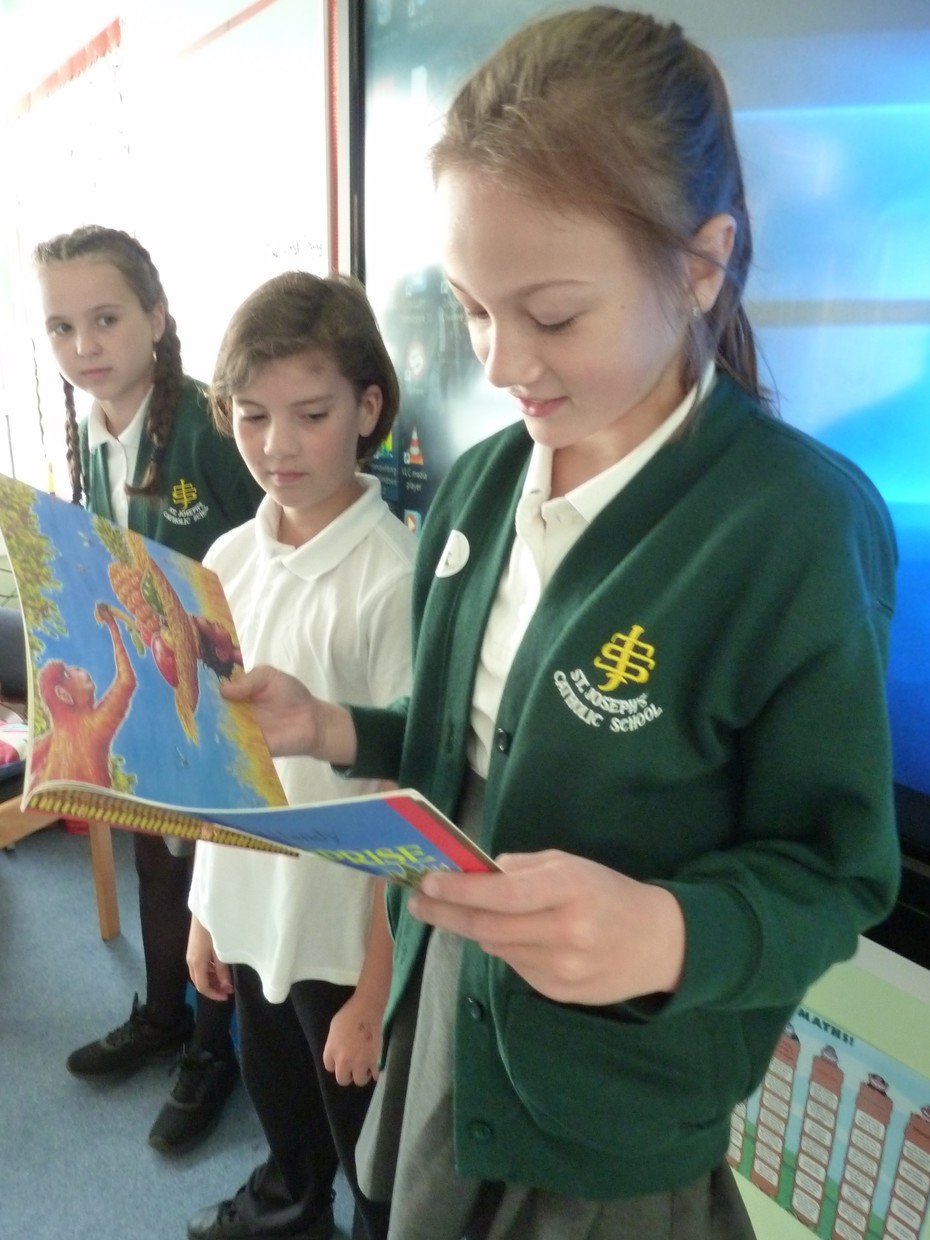 _______________________________________________________________________________________________________________
Class Readers
Each class in KS2 has been sharing and enjoying a class reader. Each child in the class has a copy of the chosen novel and they take it in turns to read a section while the others follow. This term Year 6 are reading, "There's a boy in the girl's bathroom," by Louis Sachar.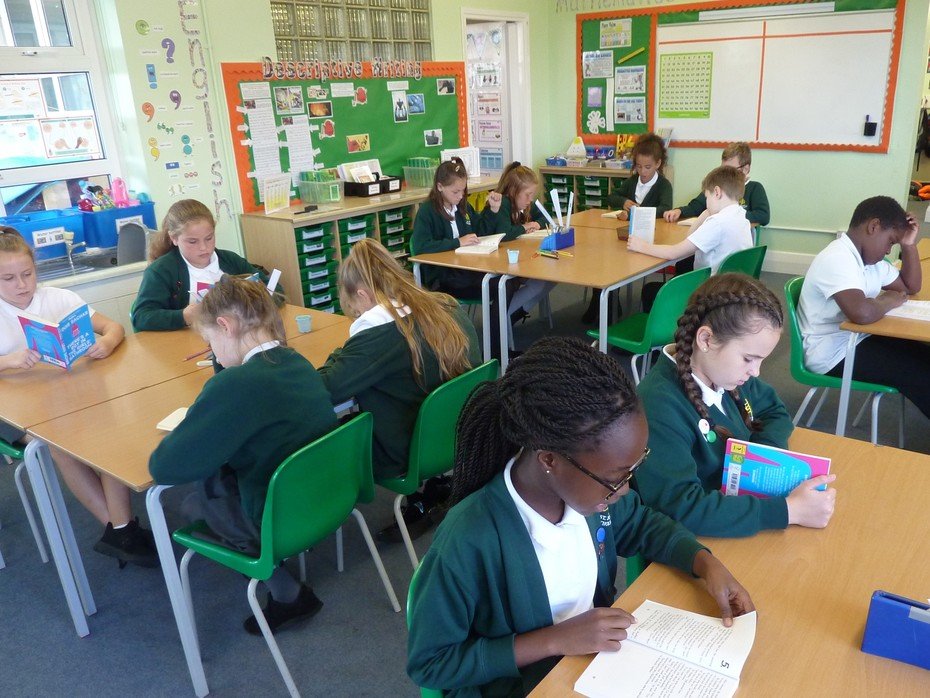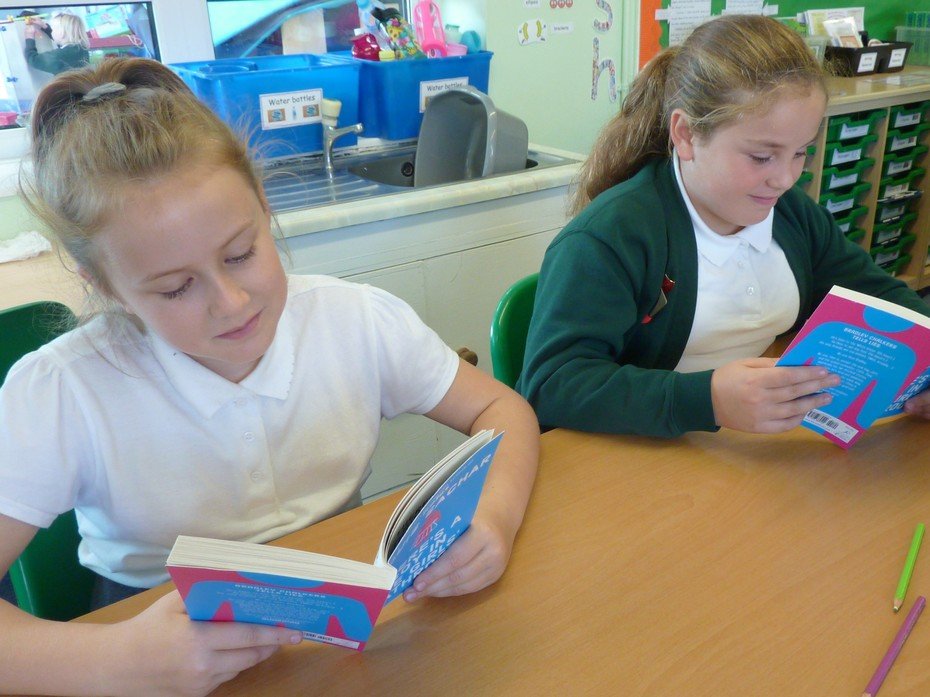 _______________________________________________________________________
Our writing in Year 6
Over the last few weeks, Year 6's writing unit has on descriptive writing. Each lesson has been based on a book or a clip and the children have been focusing on using ambitious adjectives, adventurous adverbs and powerful verbs to bring their descriptions to life. The children start with a quick plan where they jot down their ideas, they then write their first draft and finally, using a purple polishing pen, they edit and improve their work.
Throughout the process, the children have a bank of classroom resources they can use to help them. These pictures show some of the resources available to them.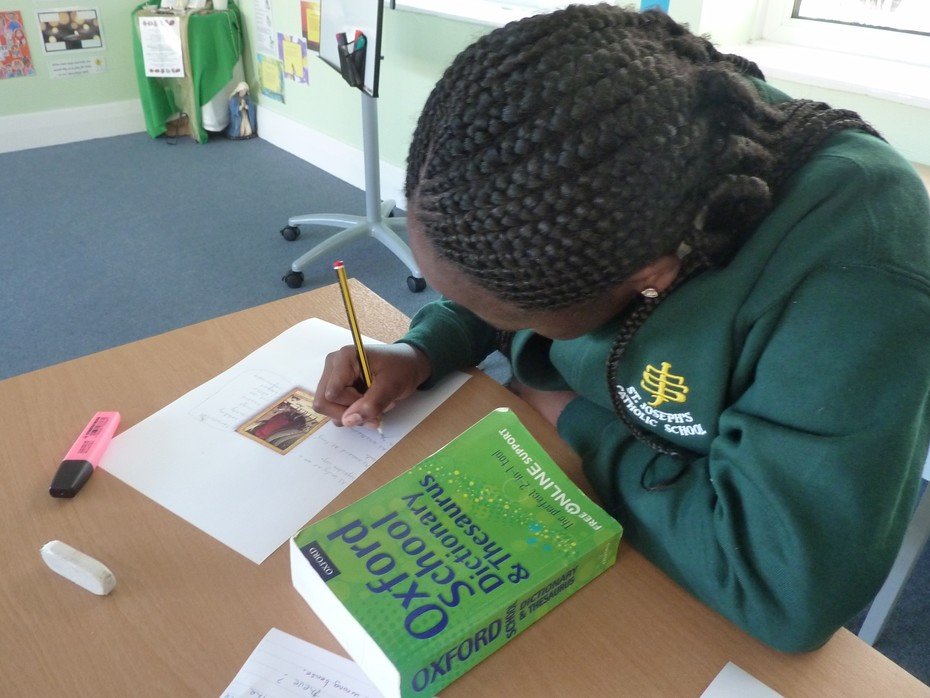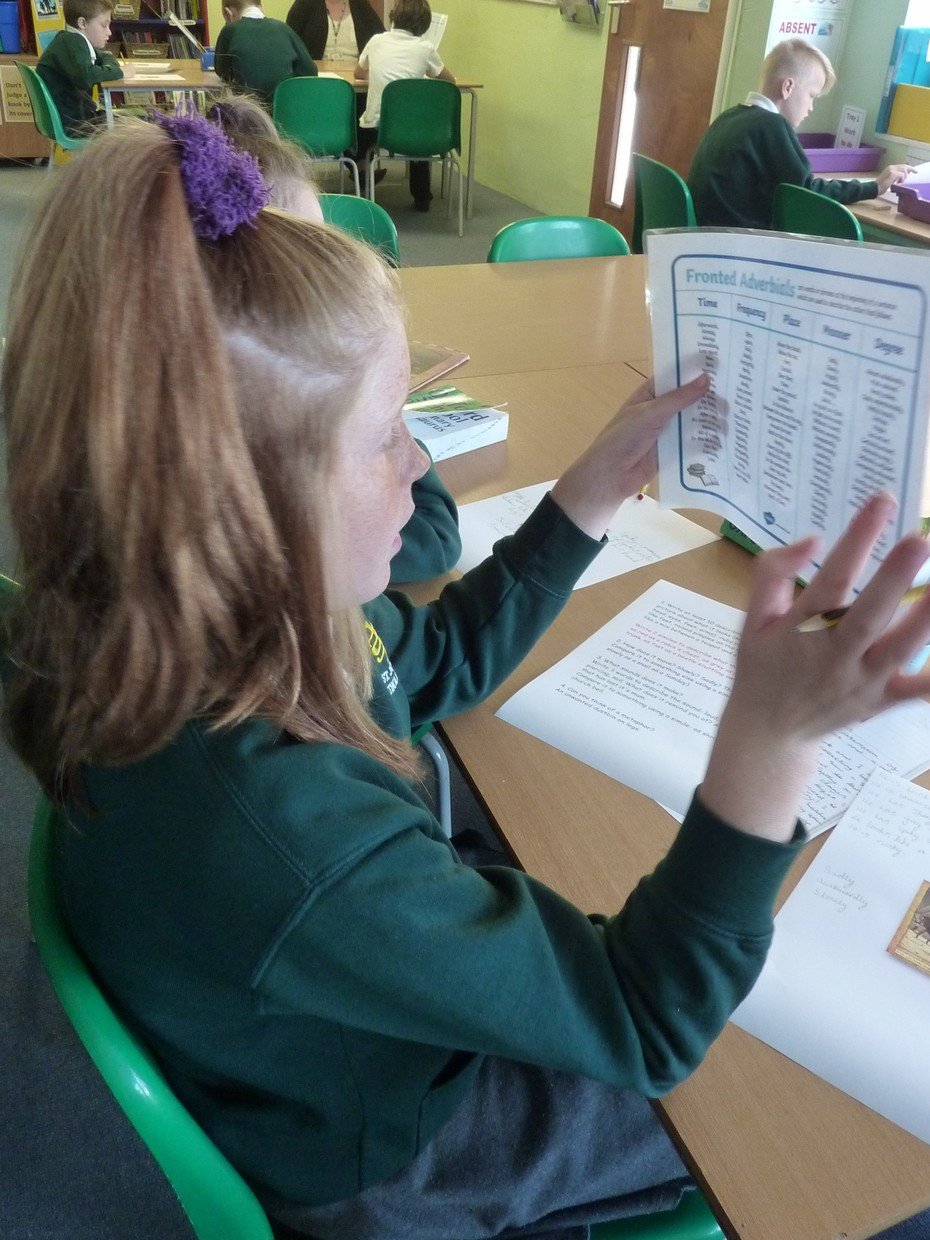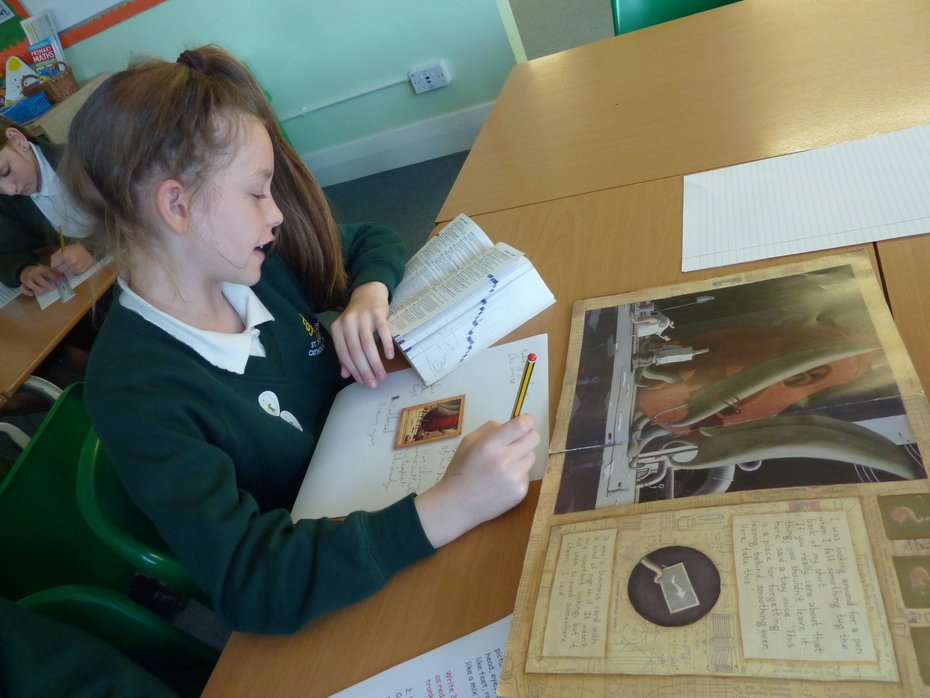 A dictionary Grammar resources The text/book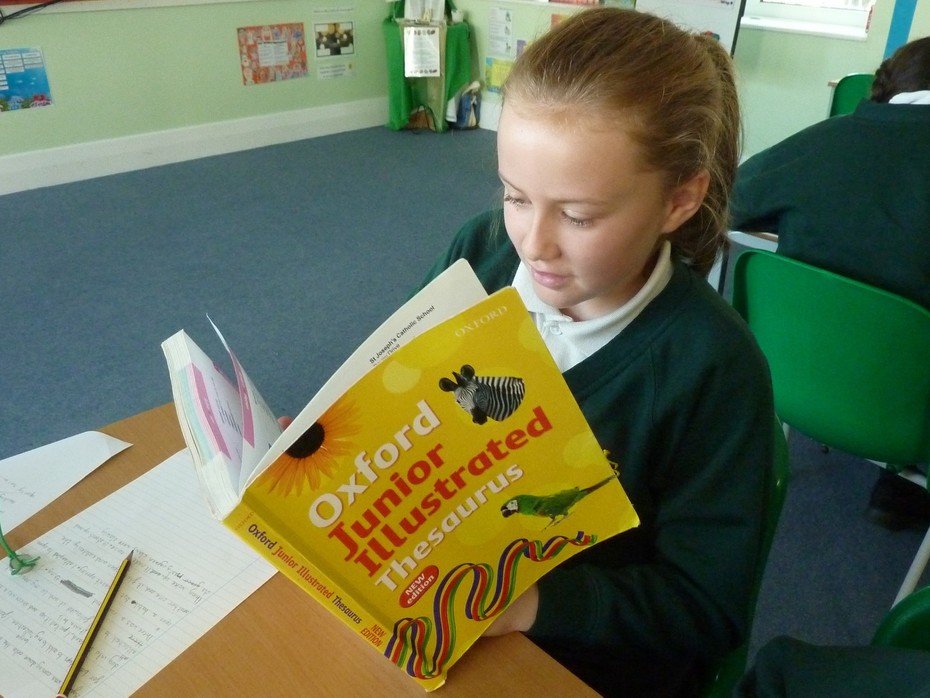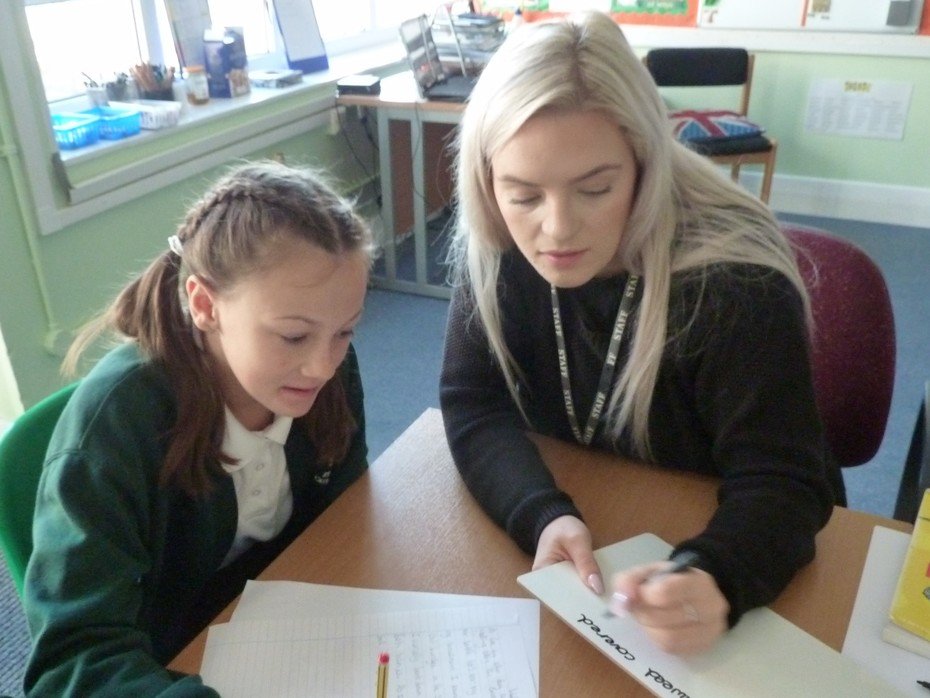 A Thesaurus Additional adults
______________________________________________________________________________________________________
Secondary School Applications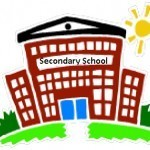 Applications for secondary school places for September 2019 are now open. Your child should have bought home an information leaflet last week. Open days/evenings are taking place currently and the deadline for your secondary school application is October 31st.
This LINK will give you more information about the process. If you do not have computer/internet access or would like help filling in the online form, please pop in to see Mrs Foan or Mrs Skinner and arrange a convenient time to come in and use our computers. It is really important for your child that the form is completed on time.
If you would like to use our computers or would like any help completing the online application form, Mrs Foan will be available to help you on Thursday 18th October from 3.15 pm in the Year 6 classroom.
__________________________________________________________________________________________
Cricket Coaching: 3.10.18
Our weekly cricket coaching sessions with Alan from "A chance to Shine," affiliated with Sussex CC continue. It is great to see how the Year 6 pupils are progressing with their cricket skills in batting, bowling and fielding. Mrs Skinner has just entered several different teams for this year's indoor and outdoor cricket competitions and we definitely now have lots of talented players to choose from!
Well done Year 6 - you are shining in so many ways already this year!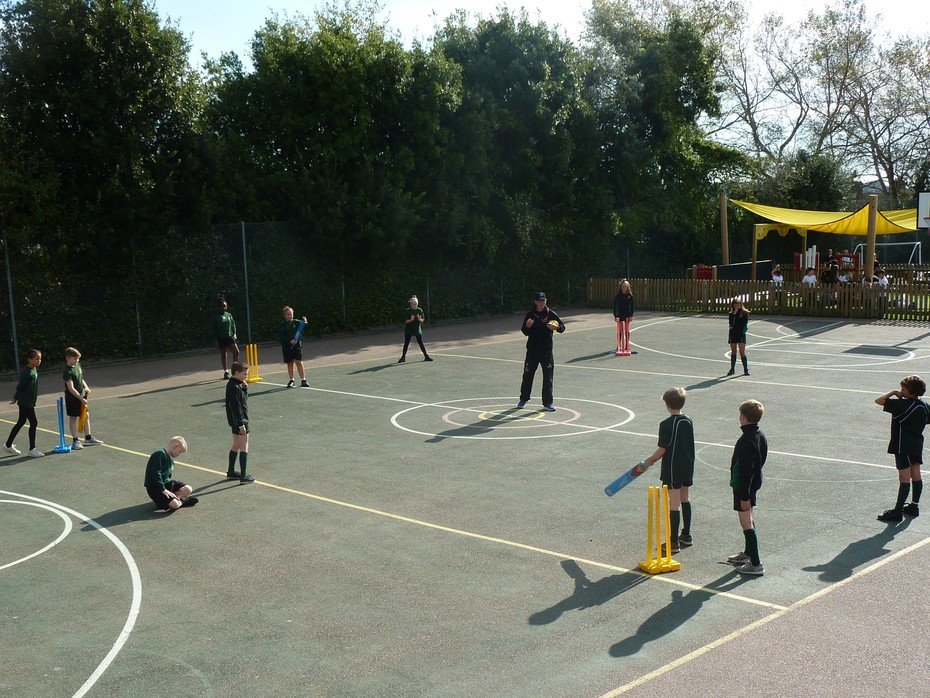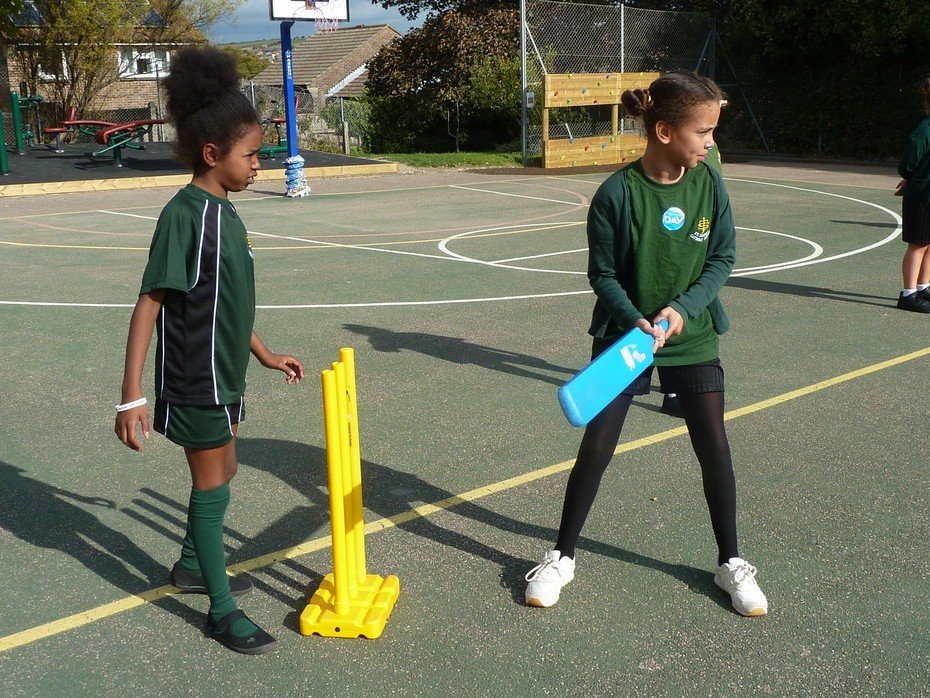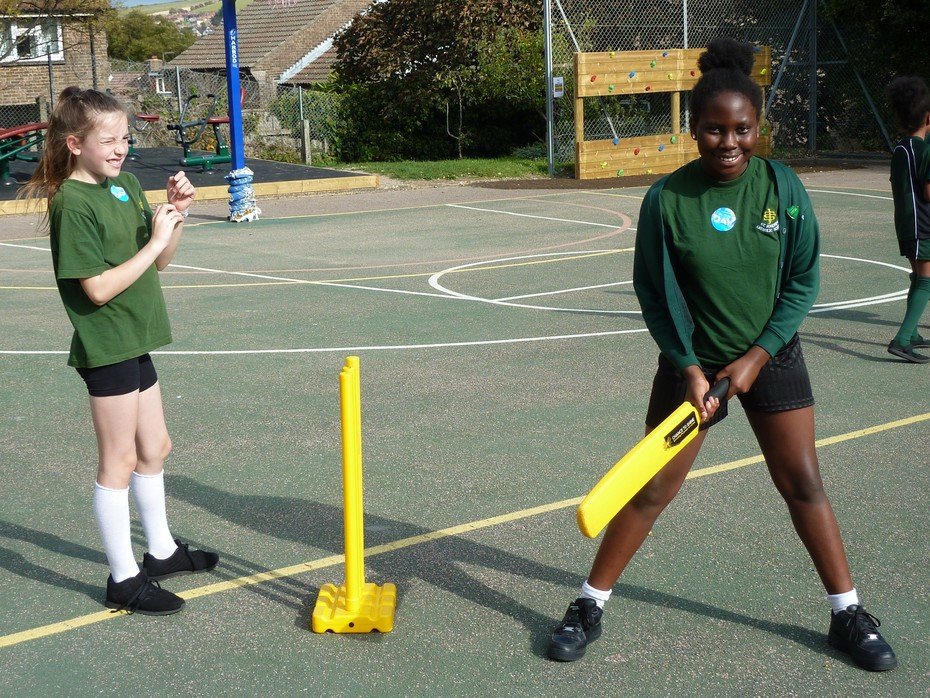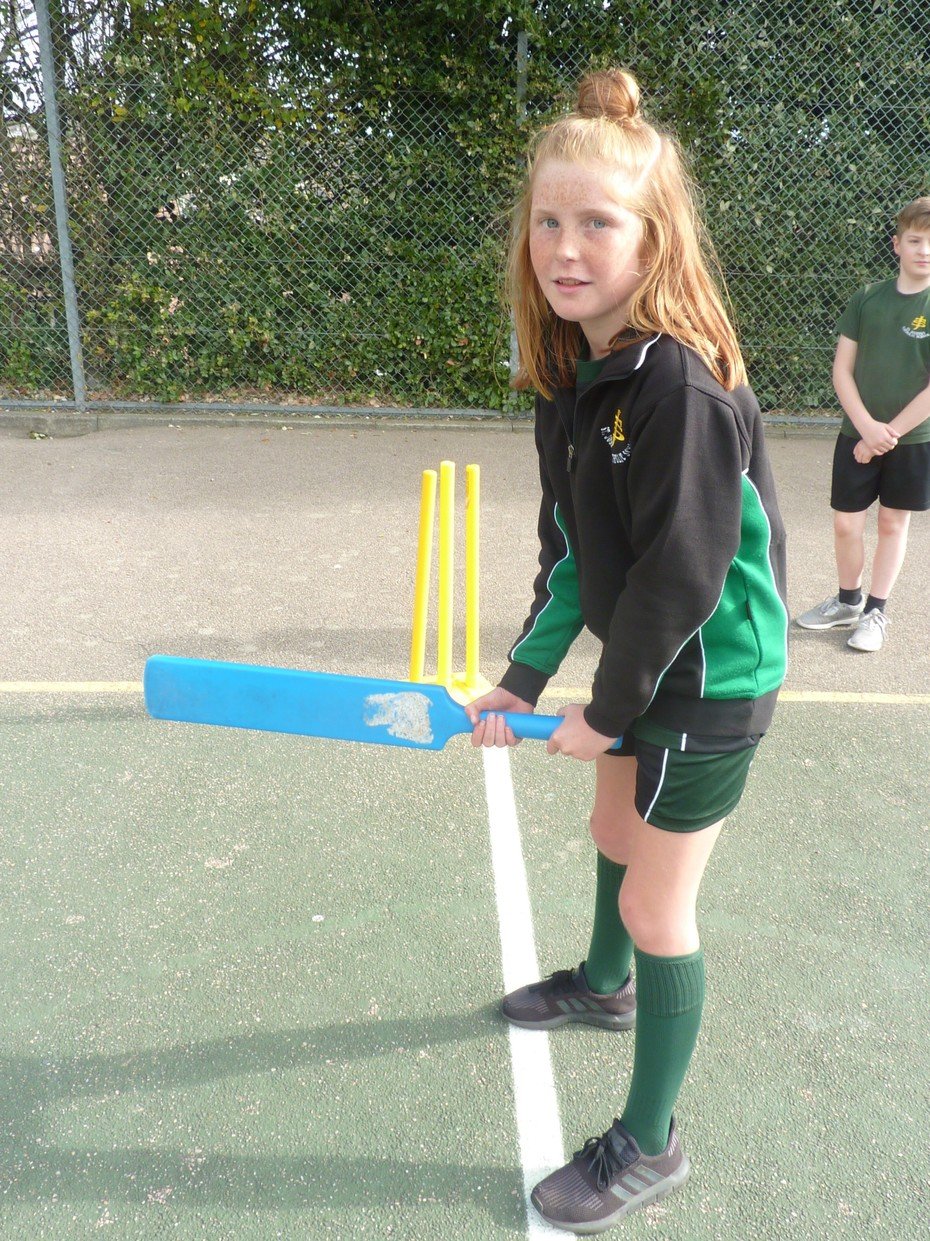 __________________________________________________________________________________
Bike-Ability Level 1: 27.9.18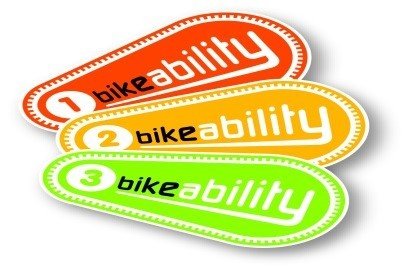 Some of our Year 6 pupils took part in Bike Ability training (Level 1) today.
At Level 1, new riders learn to control and master their bikes in a space away from traffic - in the school playground. A second day for this Level 1 training will take place in October. These children can then progress to Level 2 Bike Ability in the Summer Term.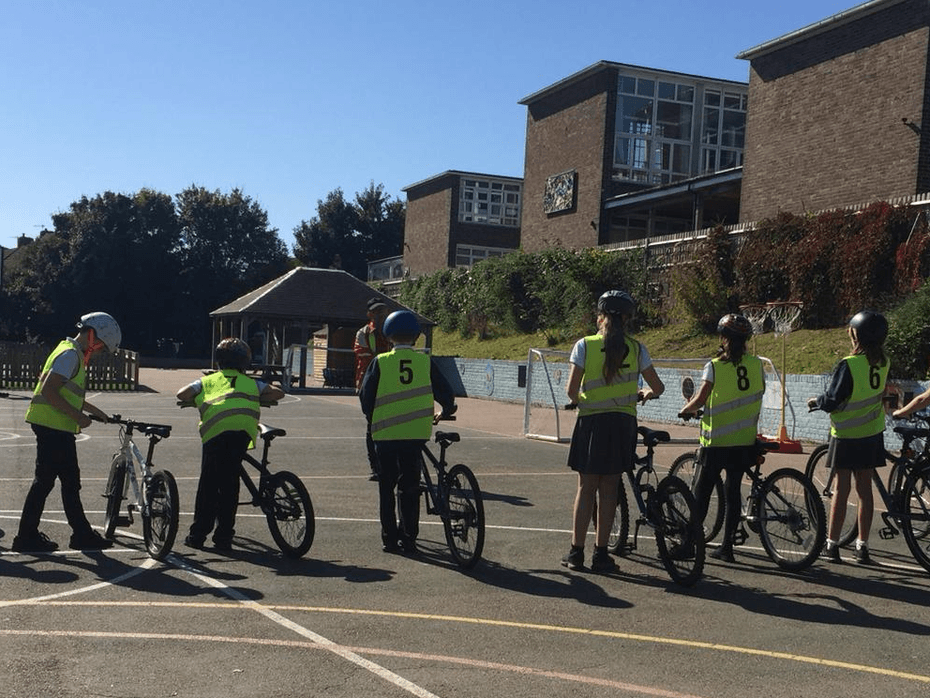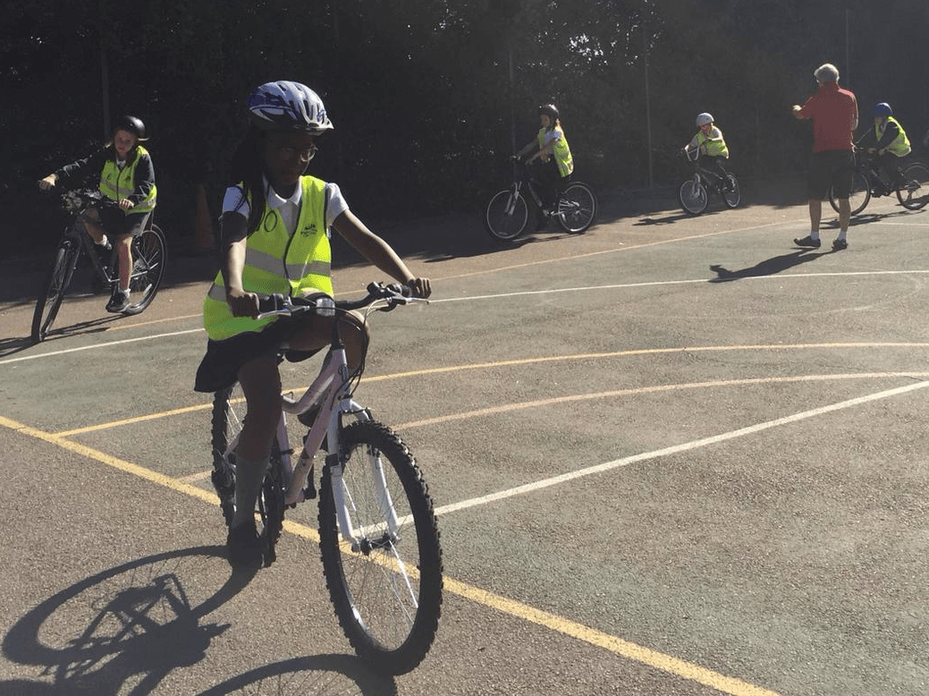 ________________________________________________________________________
Residential trip to PGL at Windmill Hill 21.9.18 - 24.9.18

Year 6 have just returned from their residential trip to PGL.
What a fantastic time they had! They were well behaved, challenged themselves with different activities, were encouraging and supportive to each other and had great fun! The weather was NOT kind to us and all of the activities went ahead, even in the pouring rain ( and with very little complaining!)
Miss Morrison, Mrs Foan, Mrs Skinner and Mr Muschamp were so impressed with each and every one of you for your determination, resilience, teamwork and your sense of fun (and for going to sleep when asked!)
There will be a presentation in a few weeks time where the children will share photos and talk about the different things they did.
Until then, here are a few photos..........
Friday evening - settling in, unpacking and evening activity, "Passport to the World."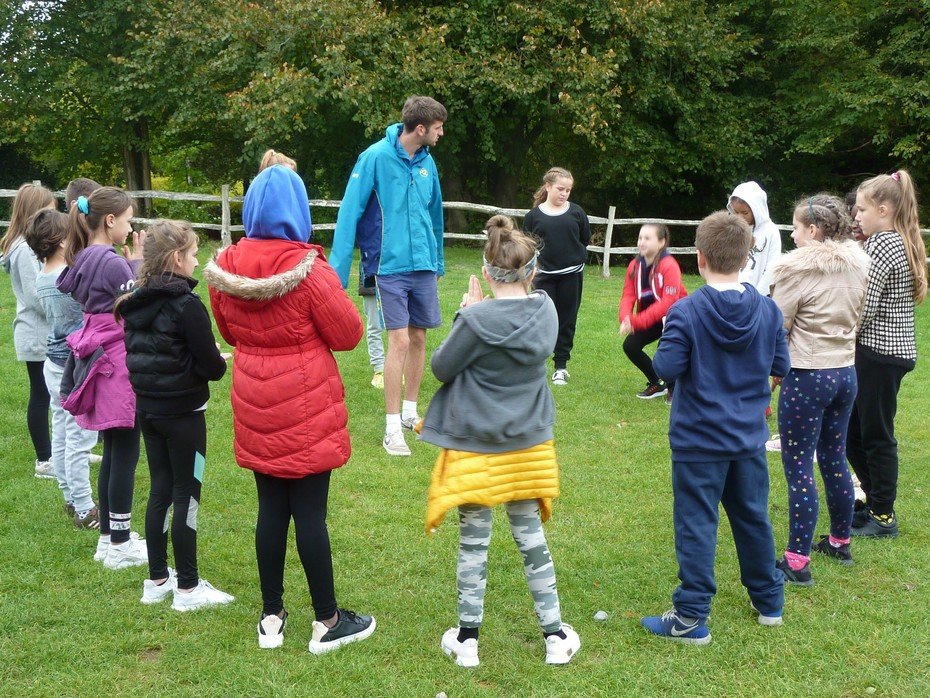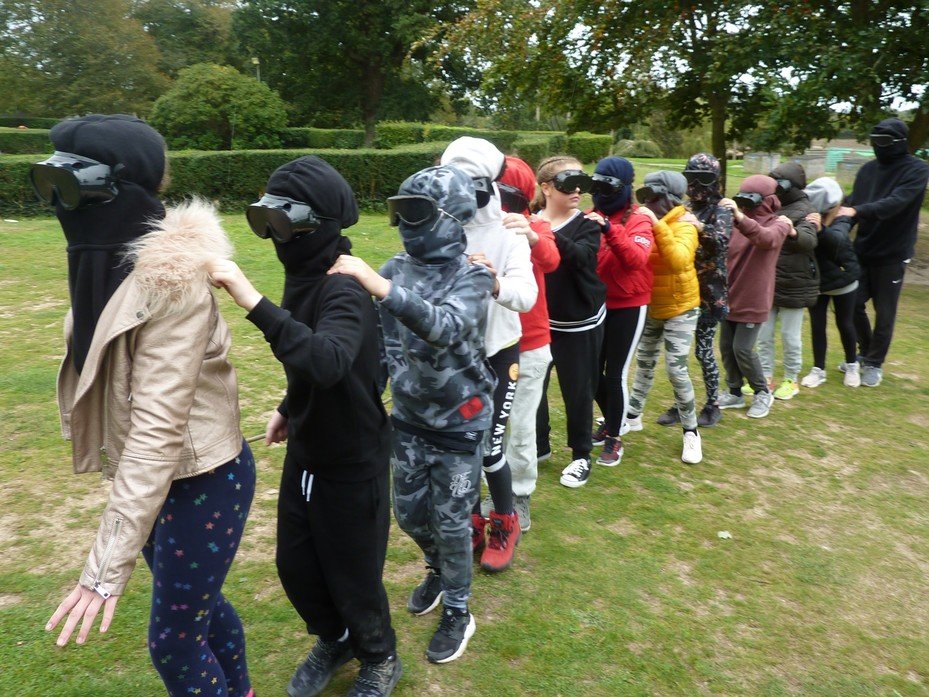 Games with our group leader Ollie and "Sensory Trail."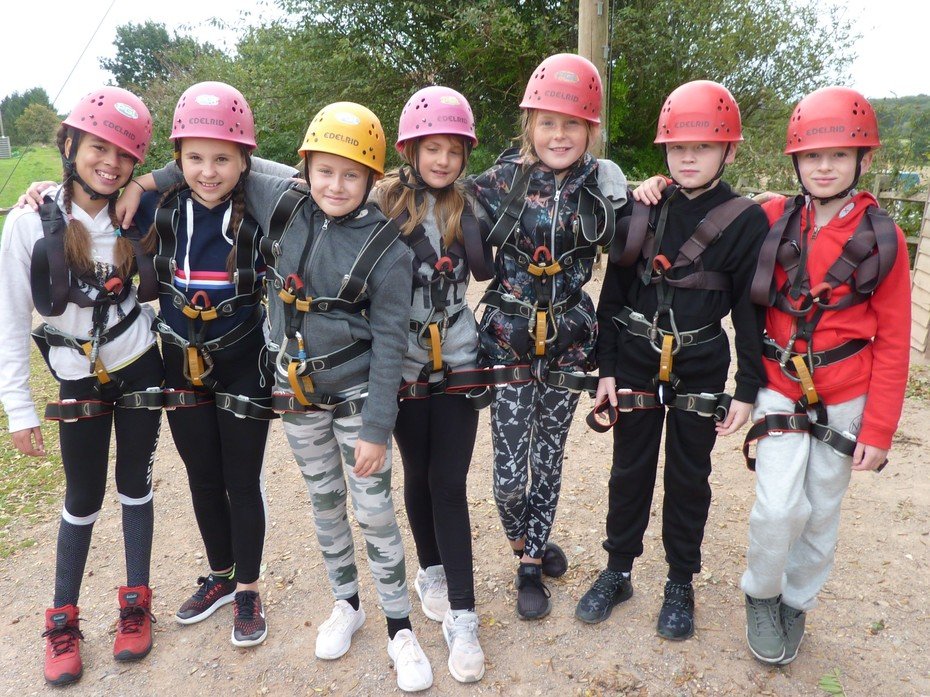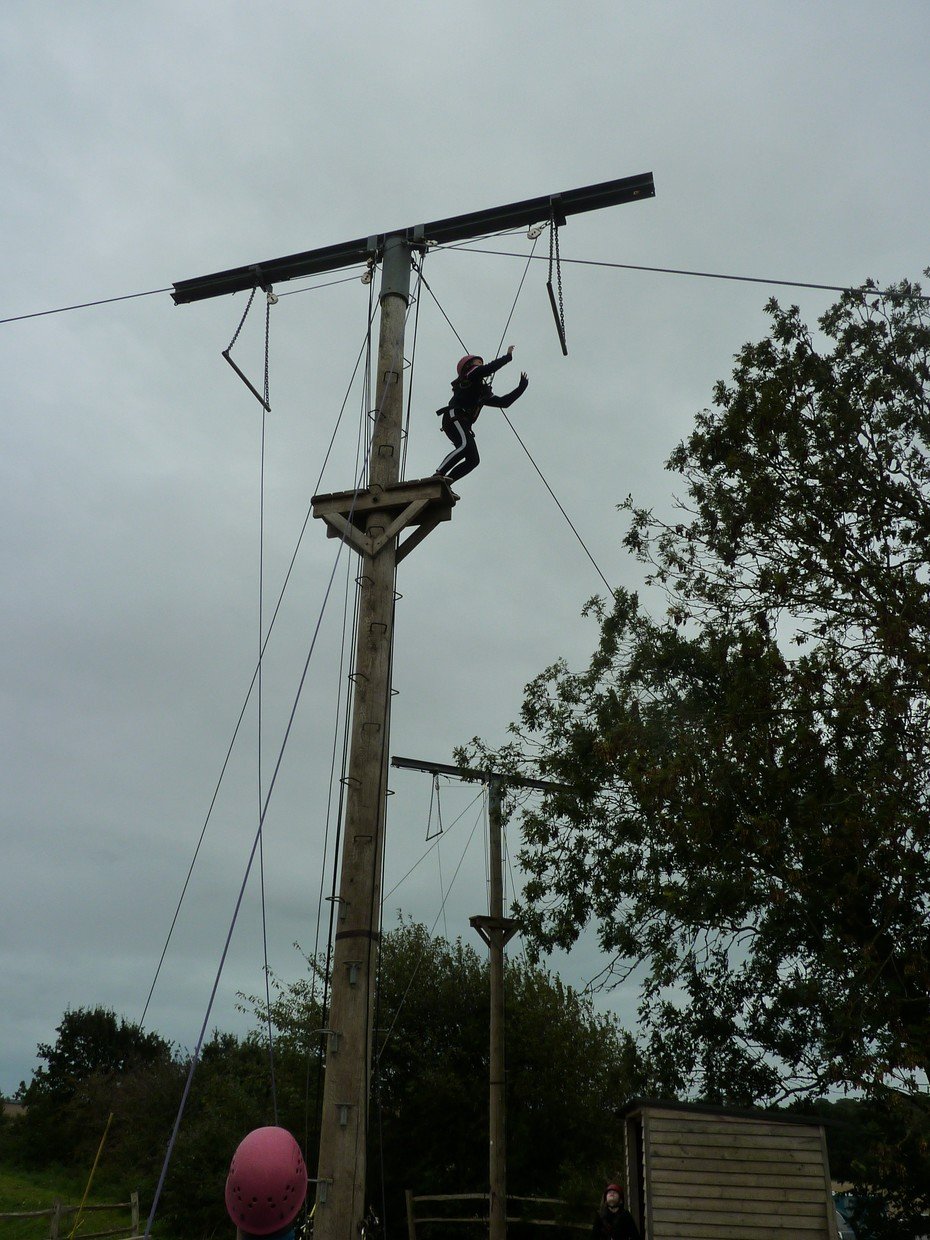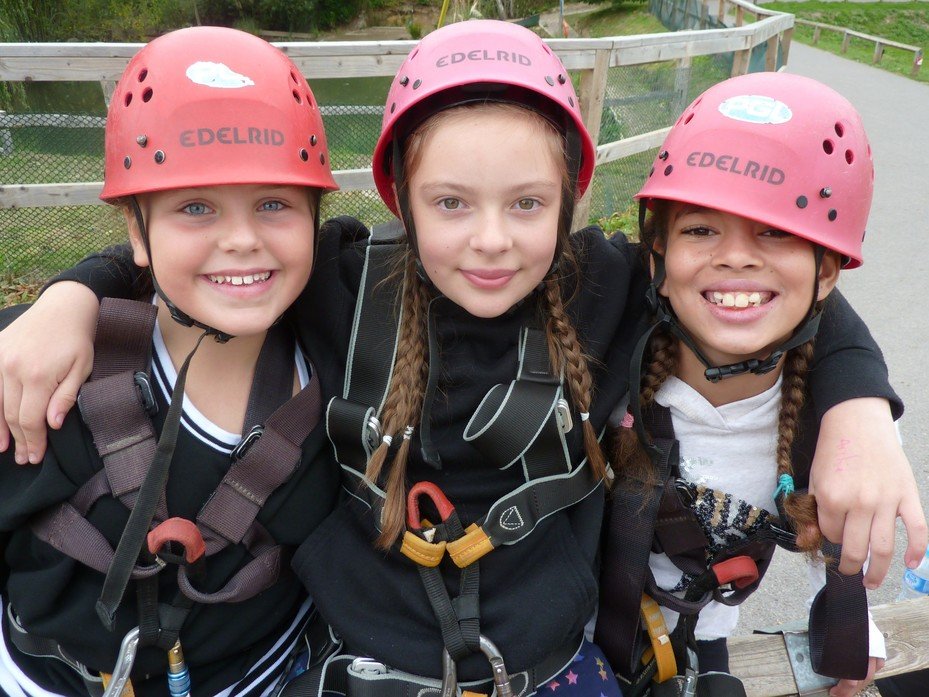 Saturday morning - Trapeze (Leap of Faith)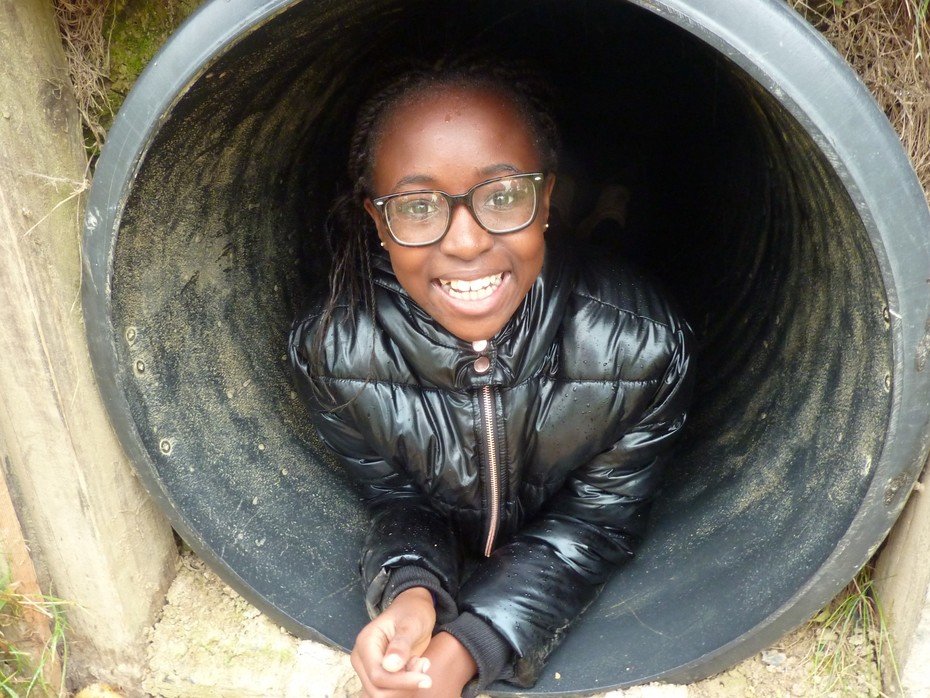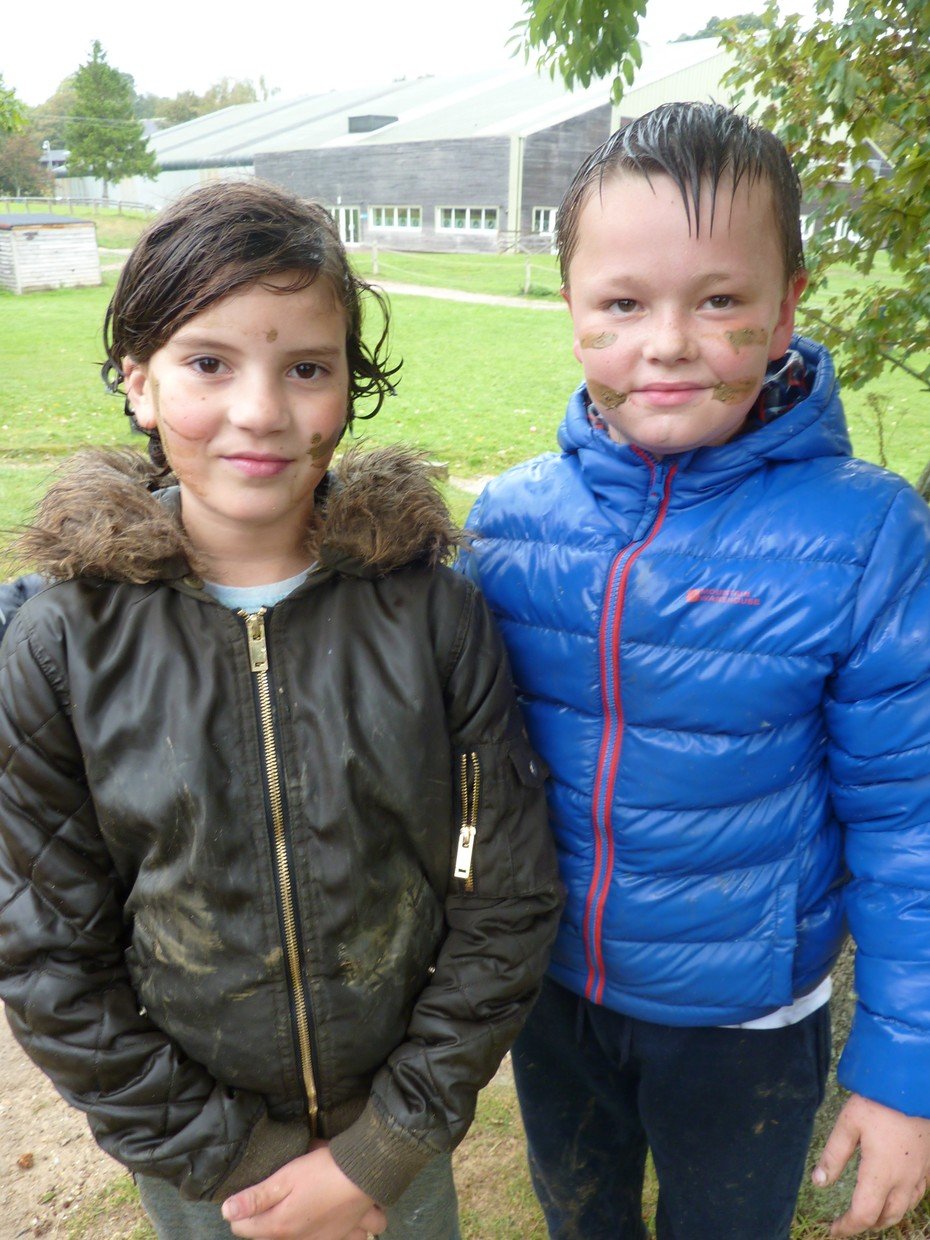 Saturday afternoon - Tunnel Trail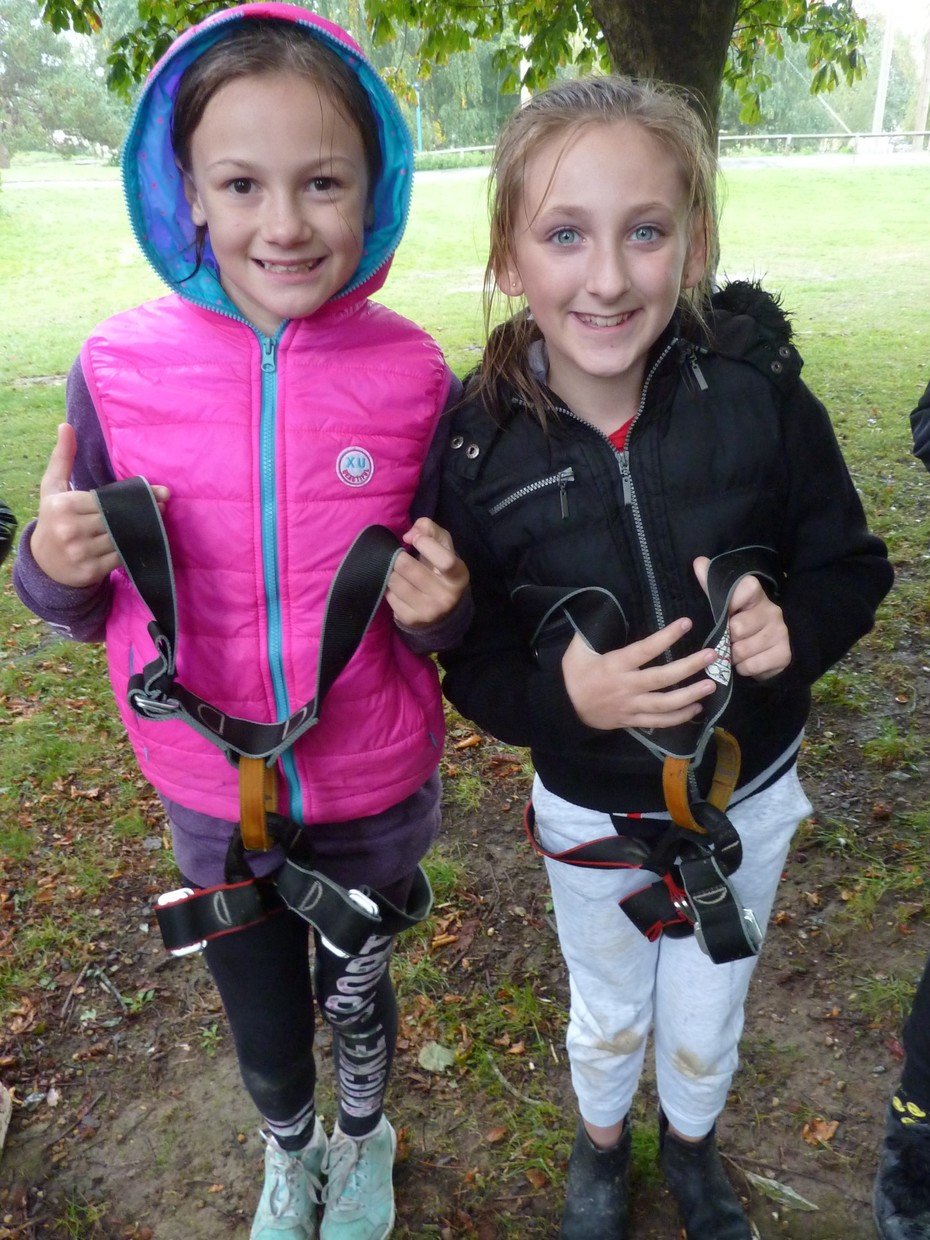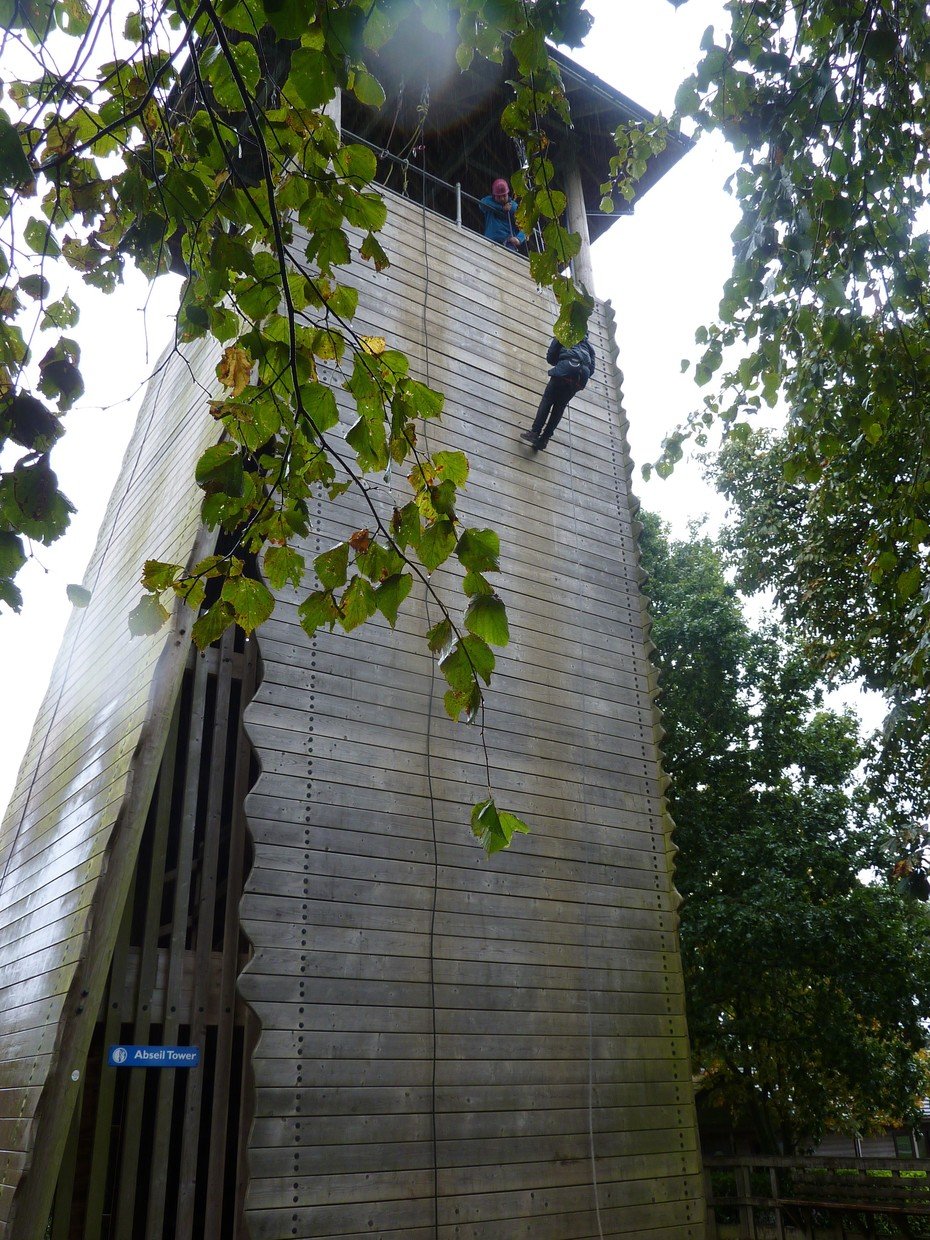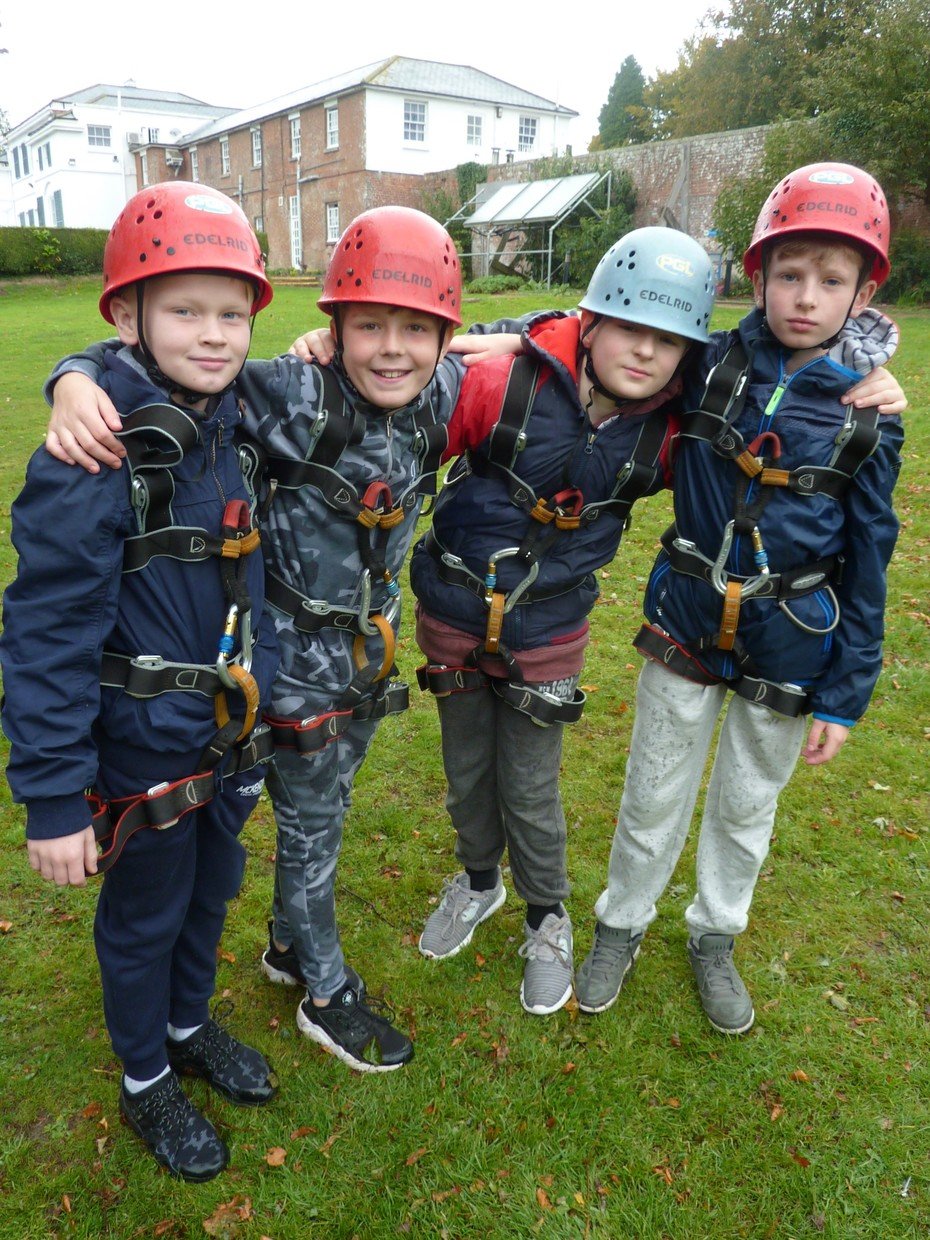 Saturday afternoon- Abseiling Tower Saturday's evening activity - "Splash."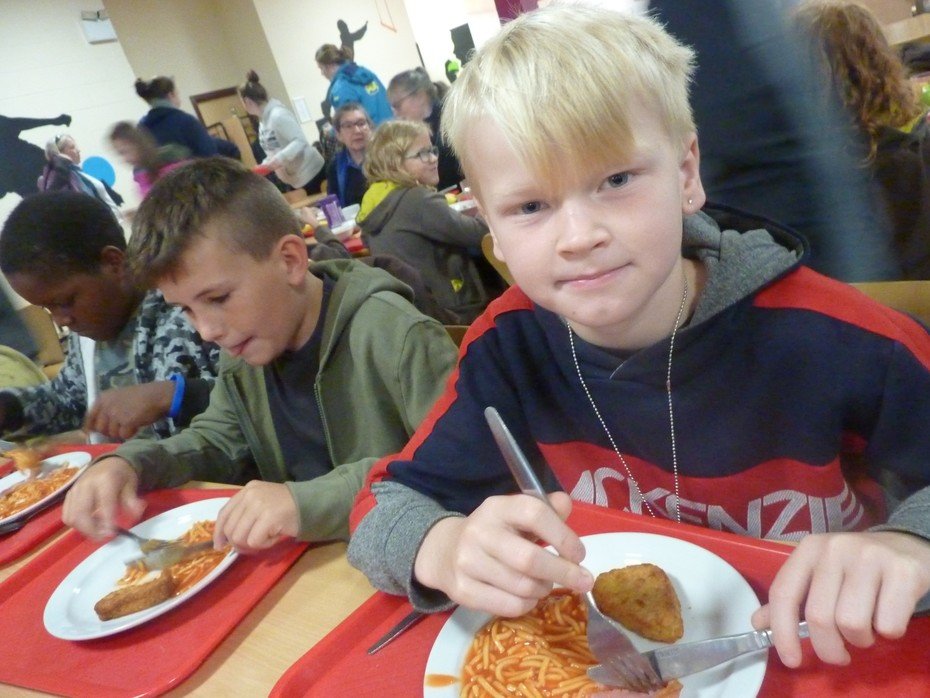 Sunday breakfast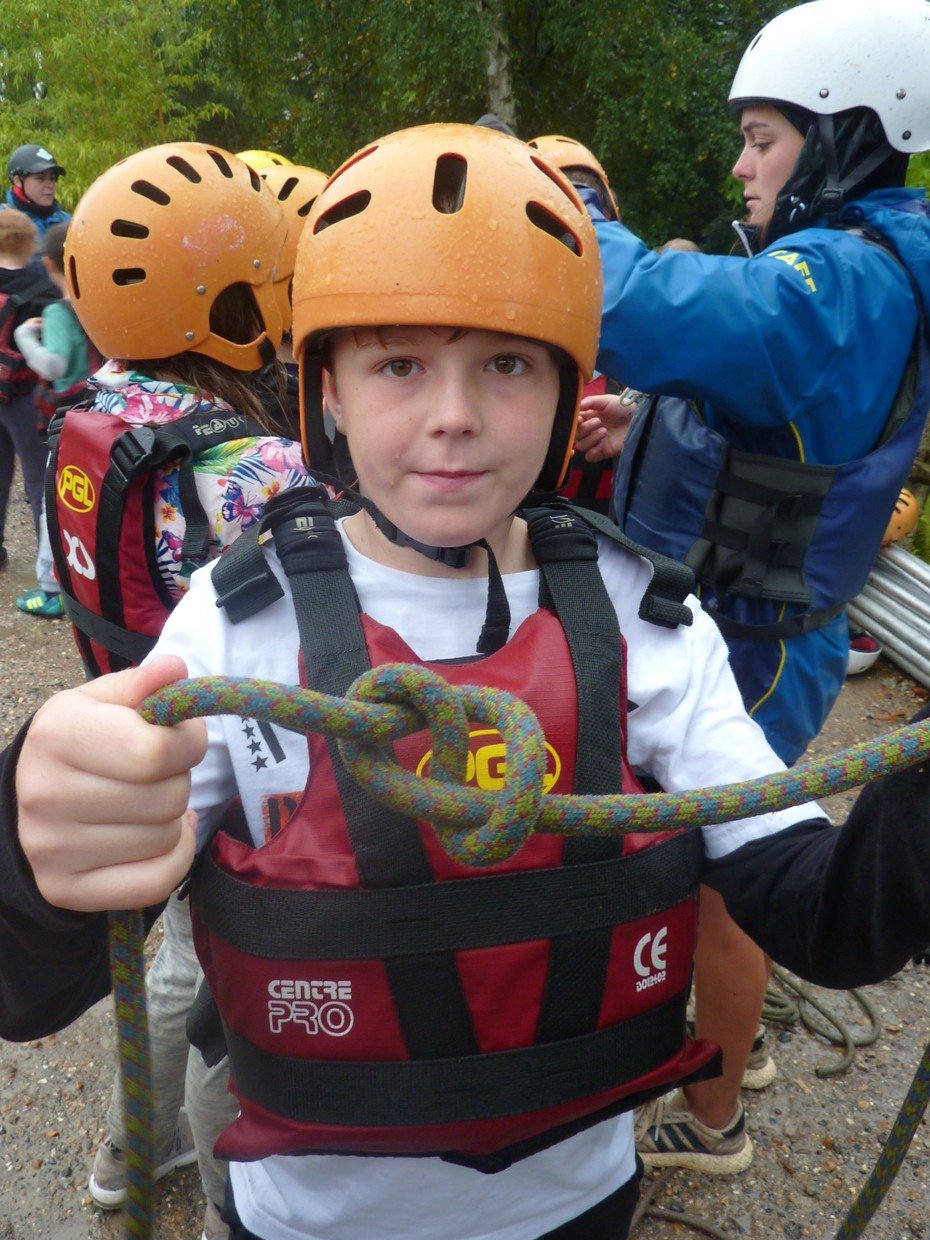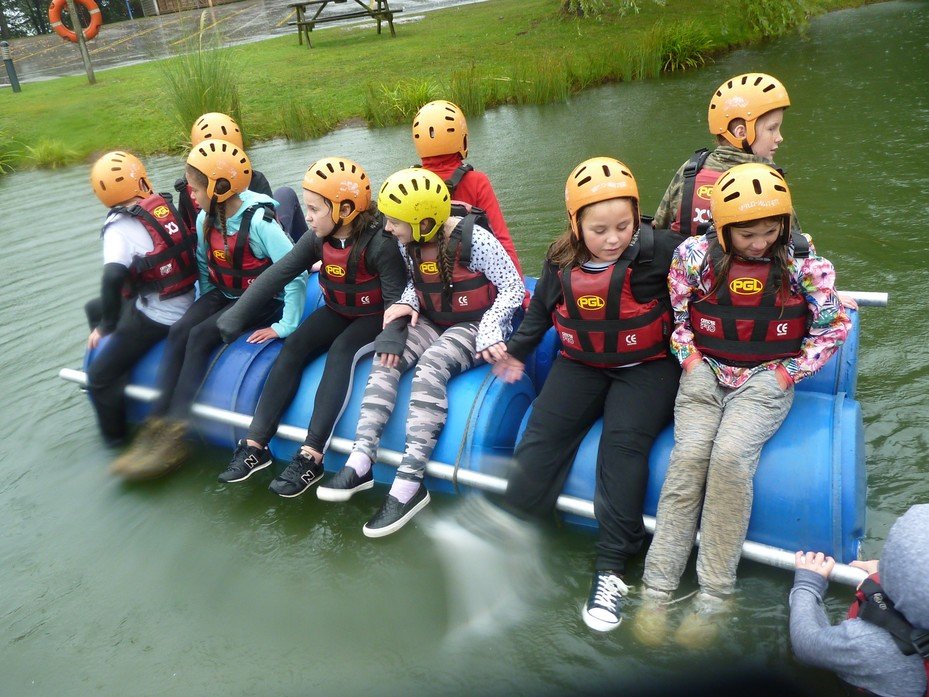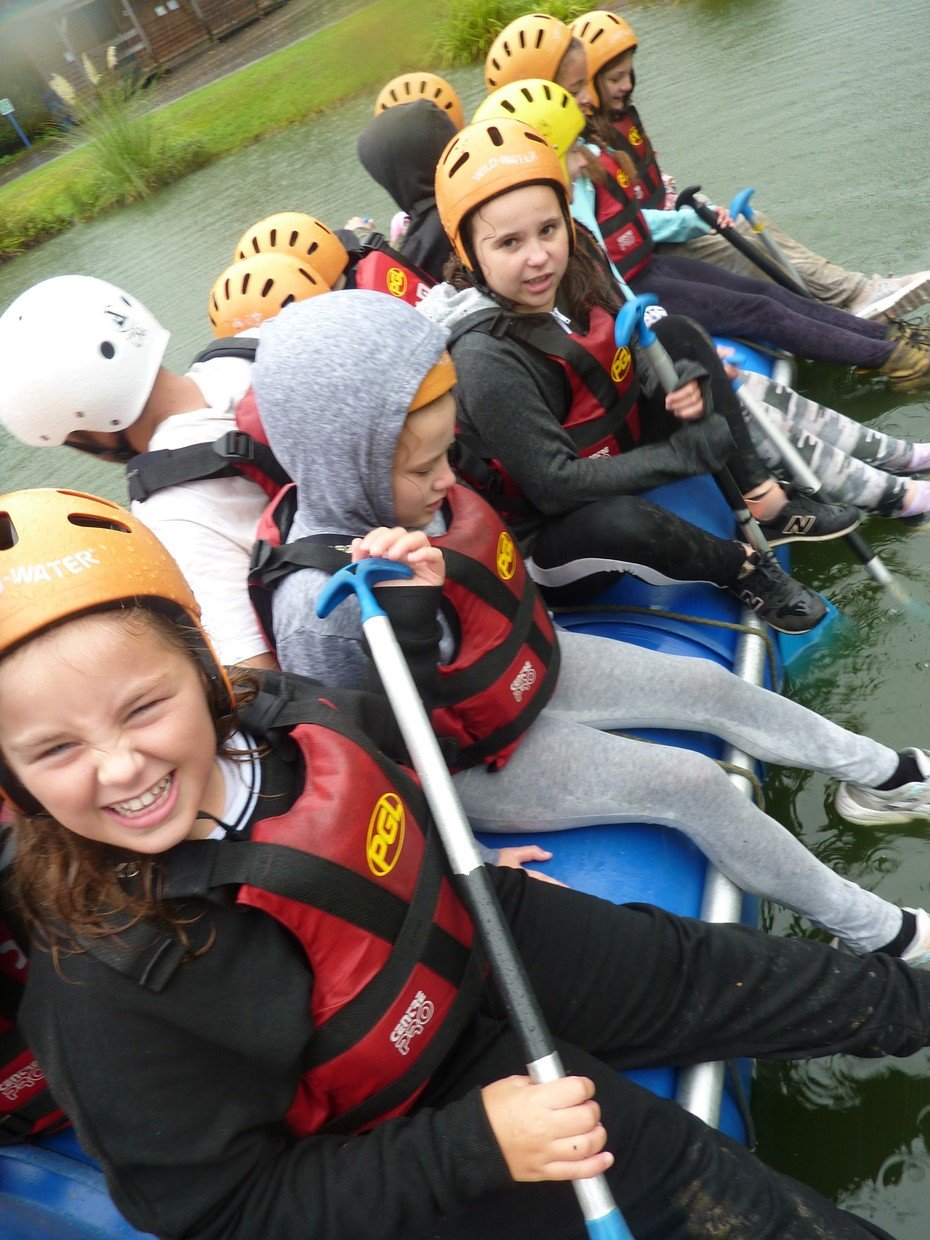 Sunday morning - raft building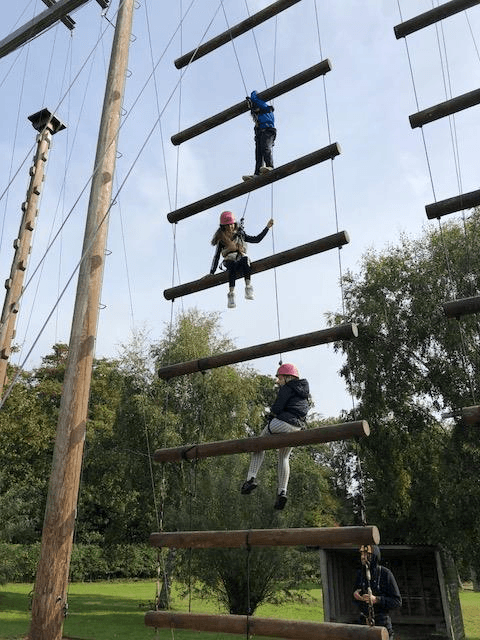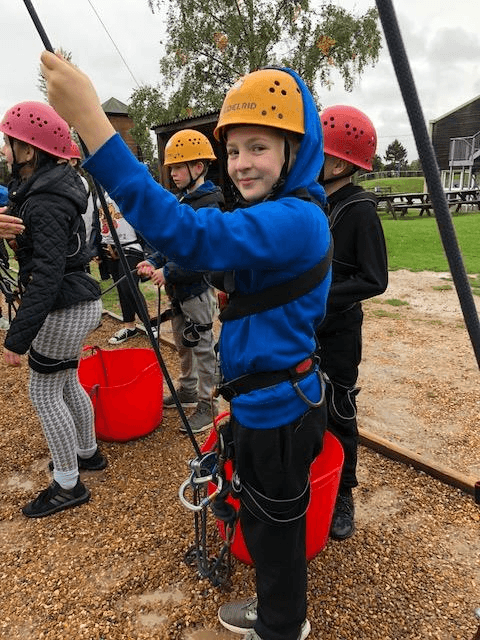 Sunday morning - Jacob's Ladder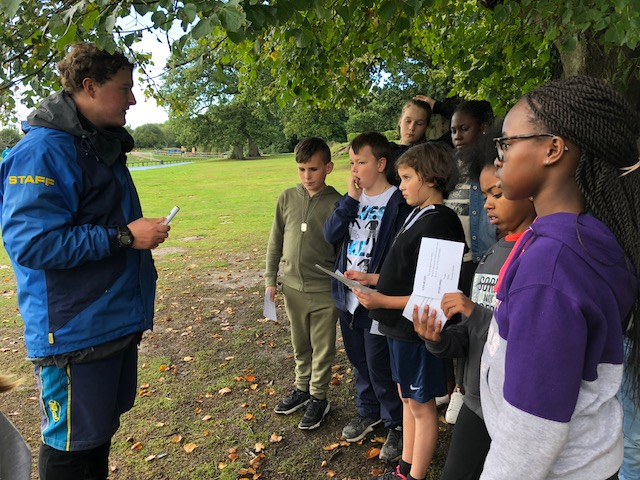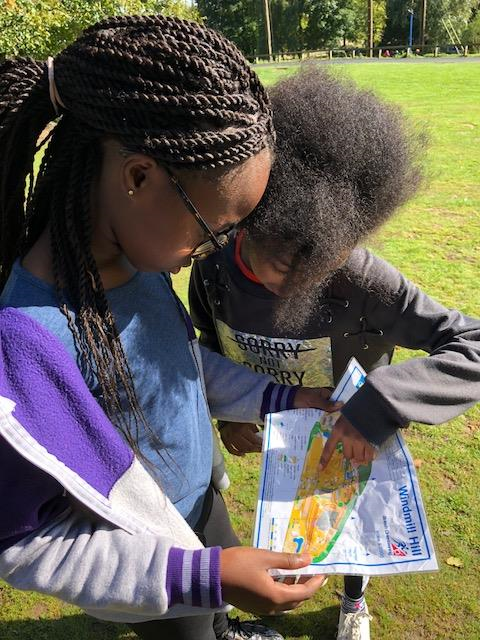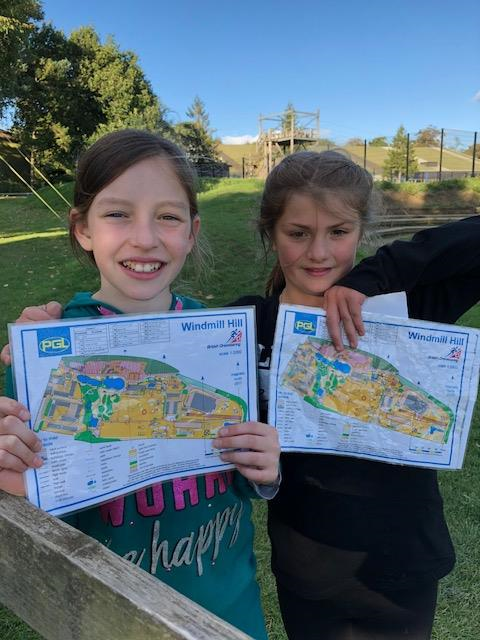 Sunday afternoon - Orienteering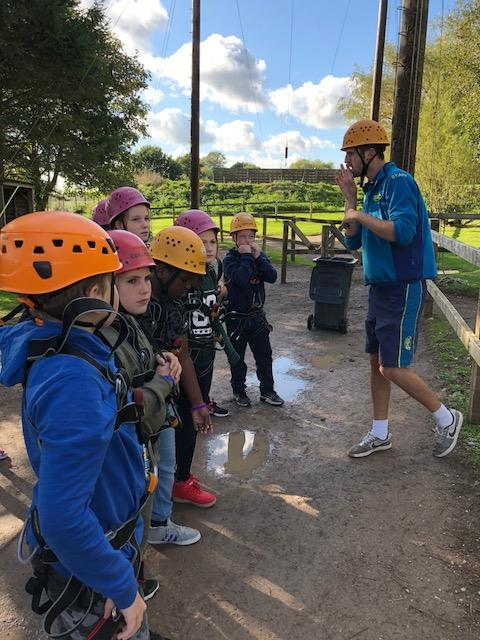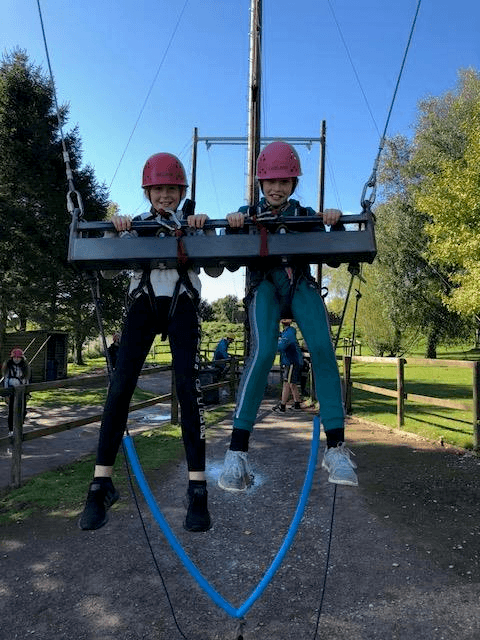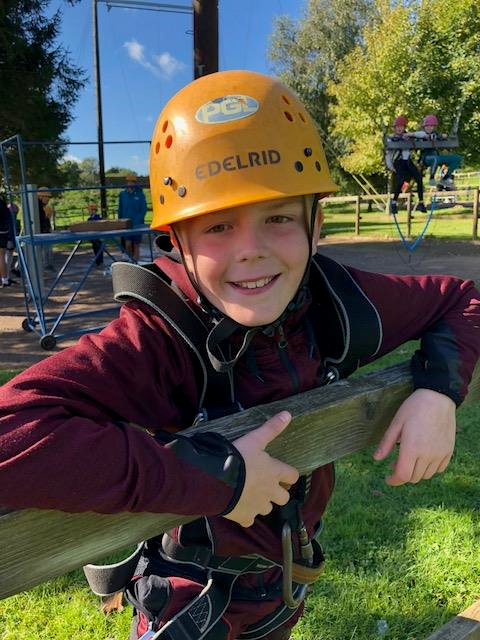 Sunday afternoon - Giant Swing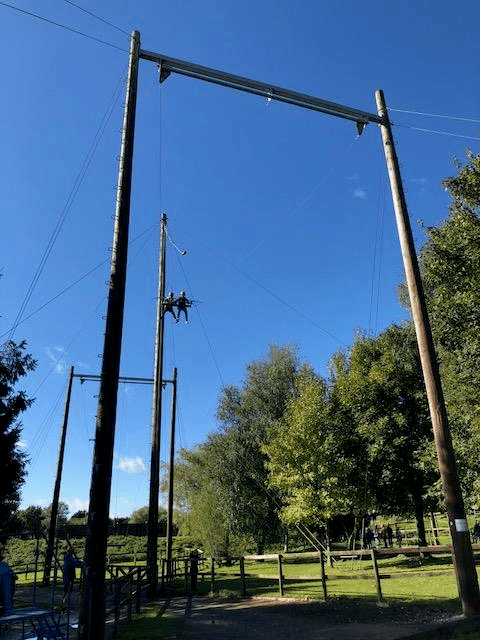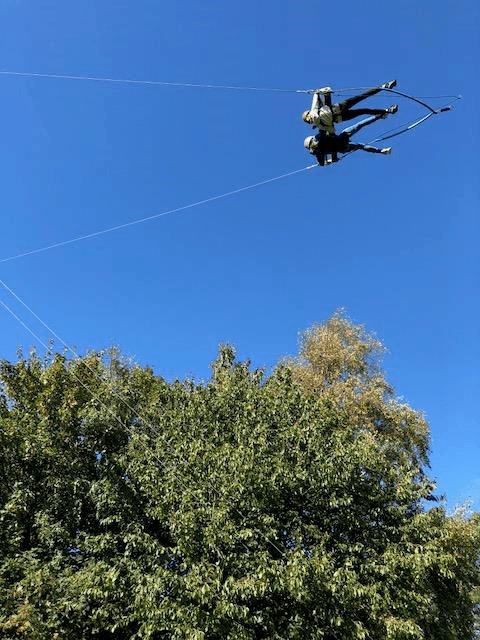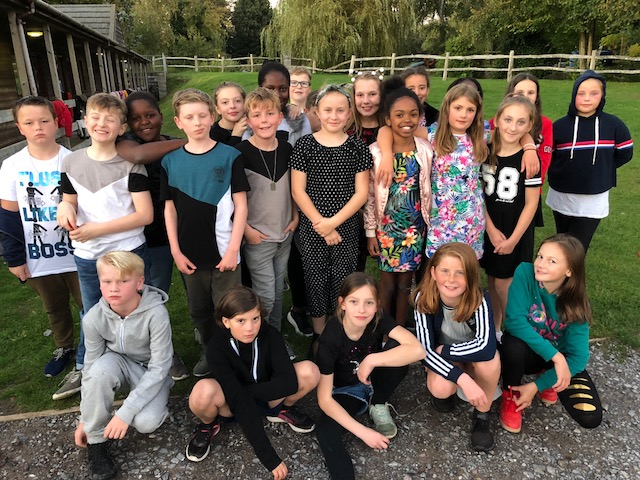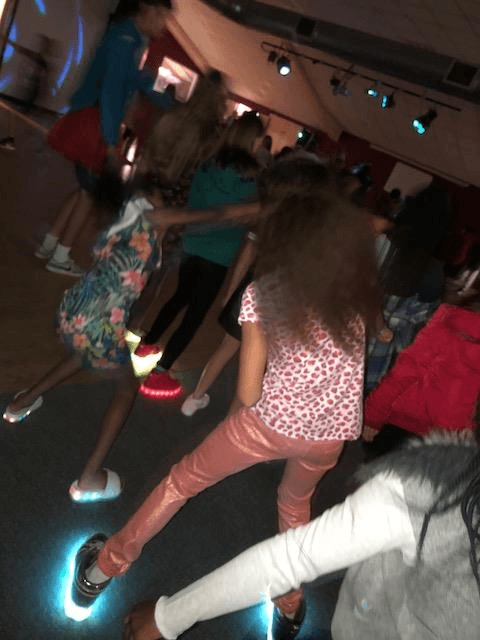 Sunday's evening activity - a disco!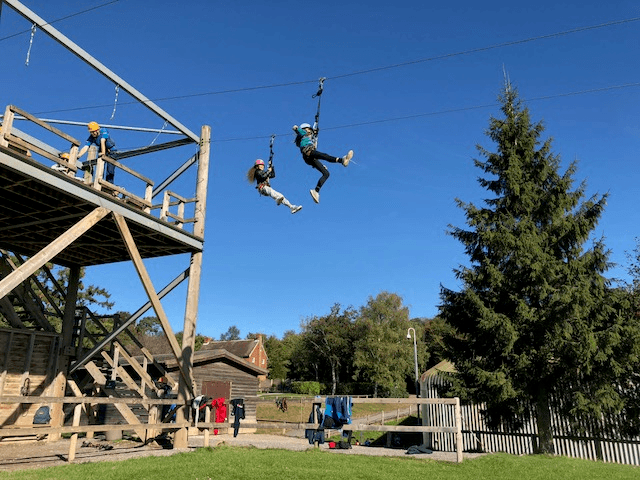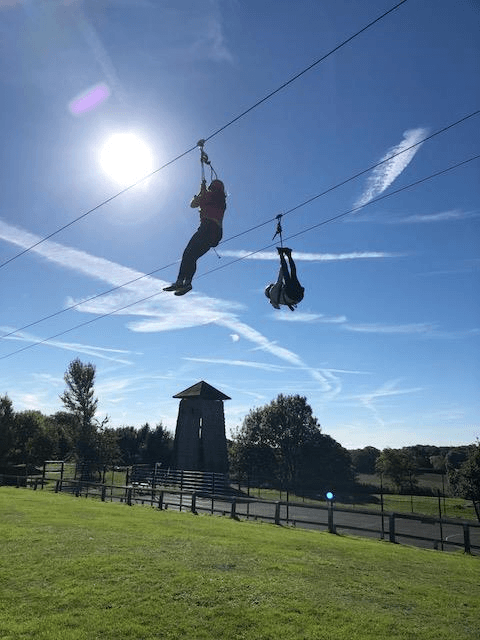 Monday morning - Zipwire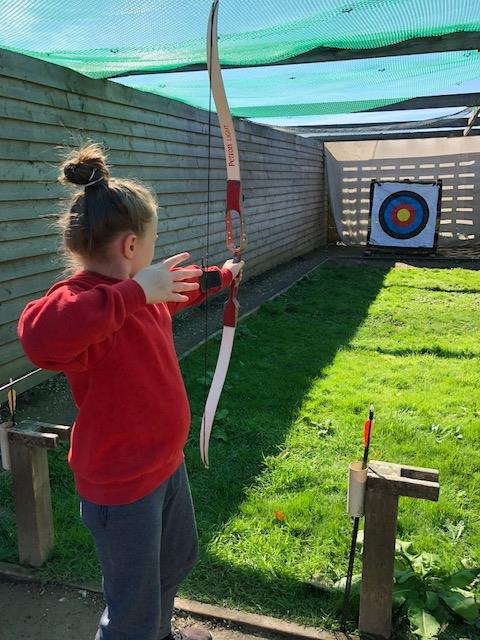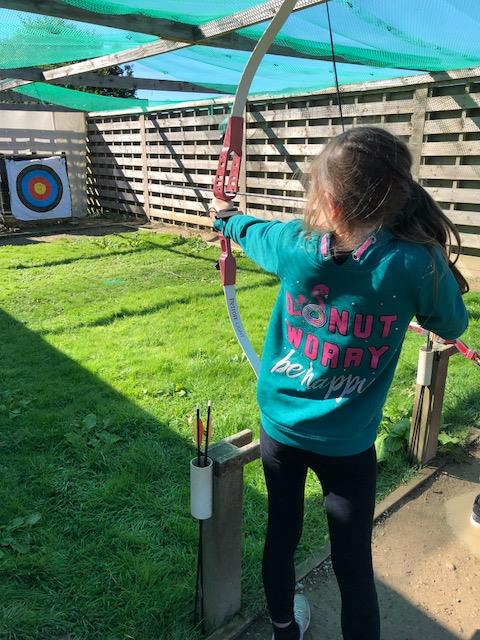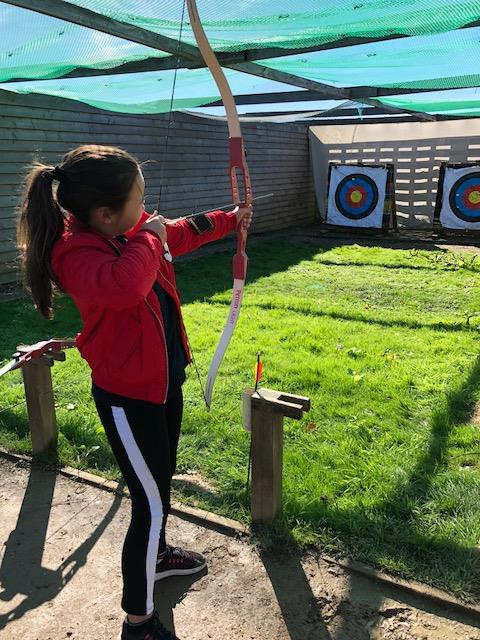 Monday morning - Archery
Thank you Year 6 - you were great fun and fantastic sports as well as showing great determination, resilience and teamwork. We were so proud of you all.
___________________________________________________________________________________________________________________________
This term's learning in Year 6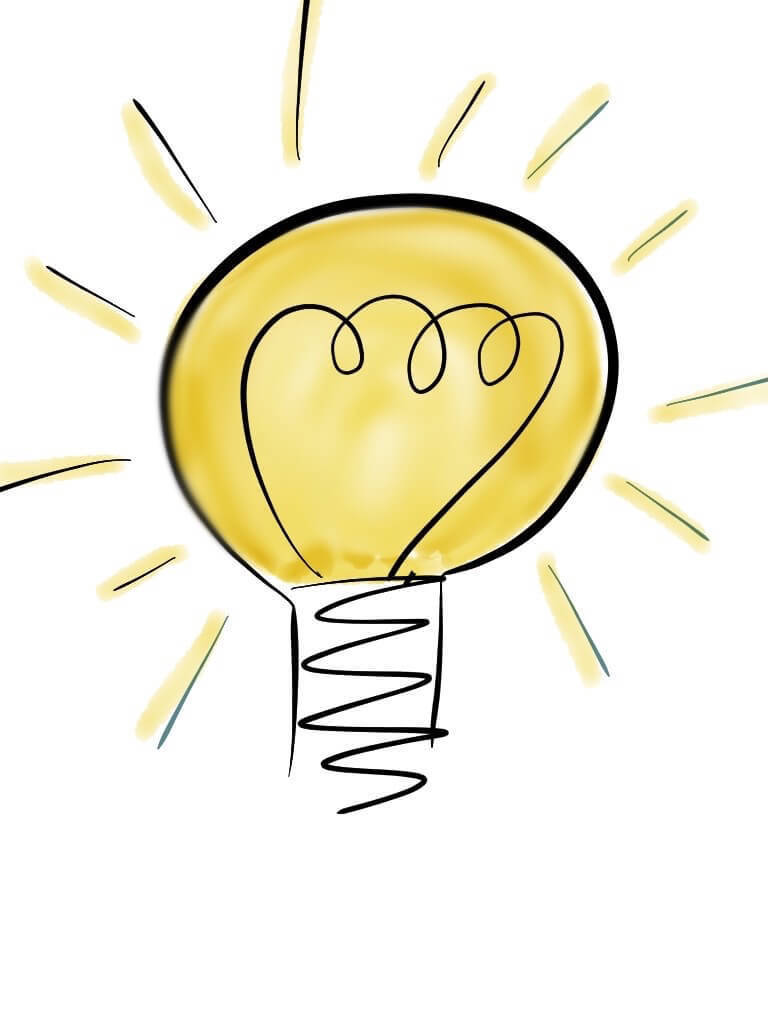 Thank you to those parents and carers who were able to attend tonight's "Meet the Teacher," session. If you were unable to attend on this occassion, a copy of our topic booklet containing information about our curriculum coverage will come home with your child on Monday 24th. Alternatively, you can find it HERE.
We look forward to working with you all this year.
______________________________________________________________________________________
Academic Year 2018-2019
Year 6 have made a good start to the year and have settled back quickly into the school routine. The focus over the first few weeks is on getting to know each other again, respecting and supporting each other and working together.
These photos show a few of our recent activities: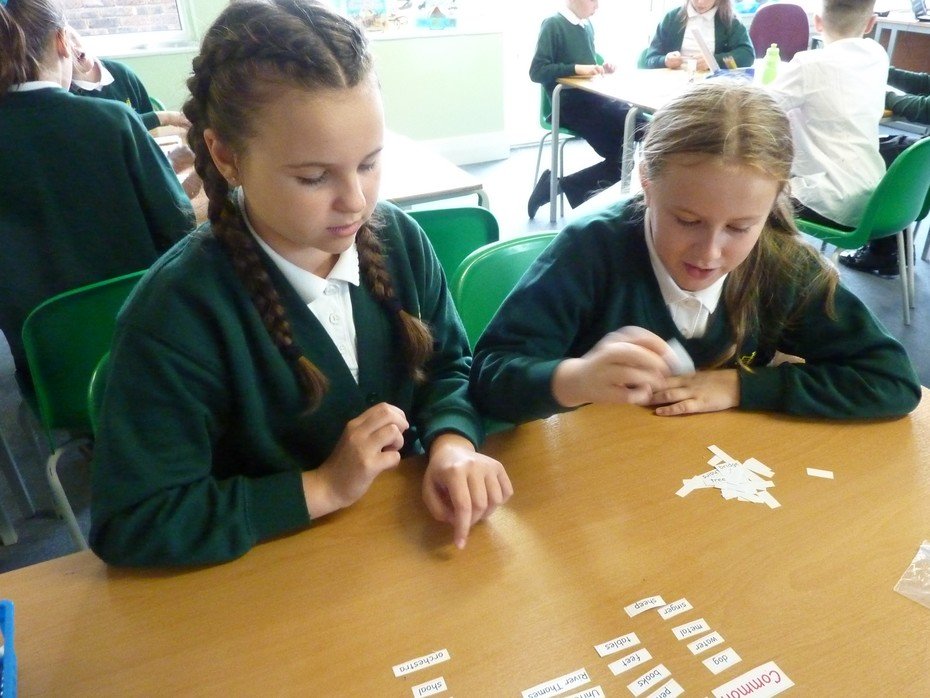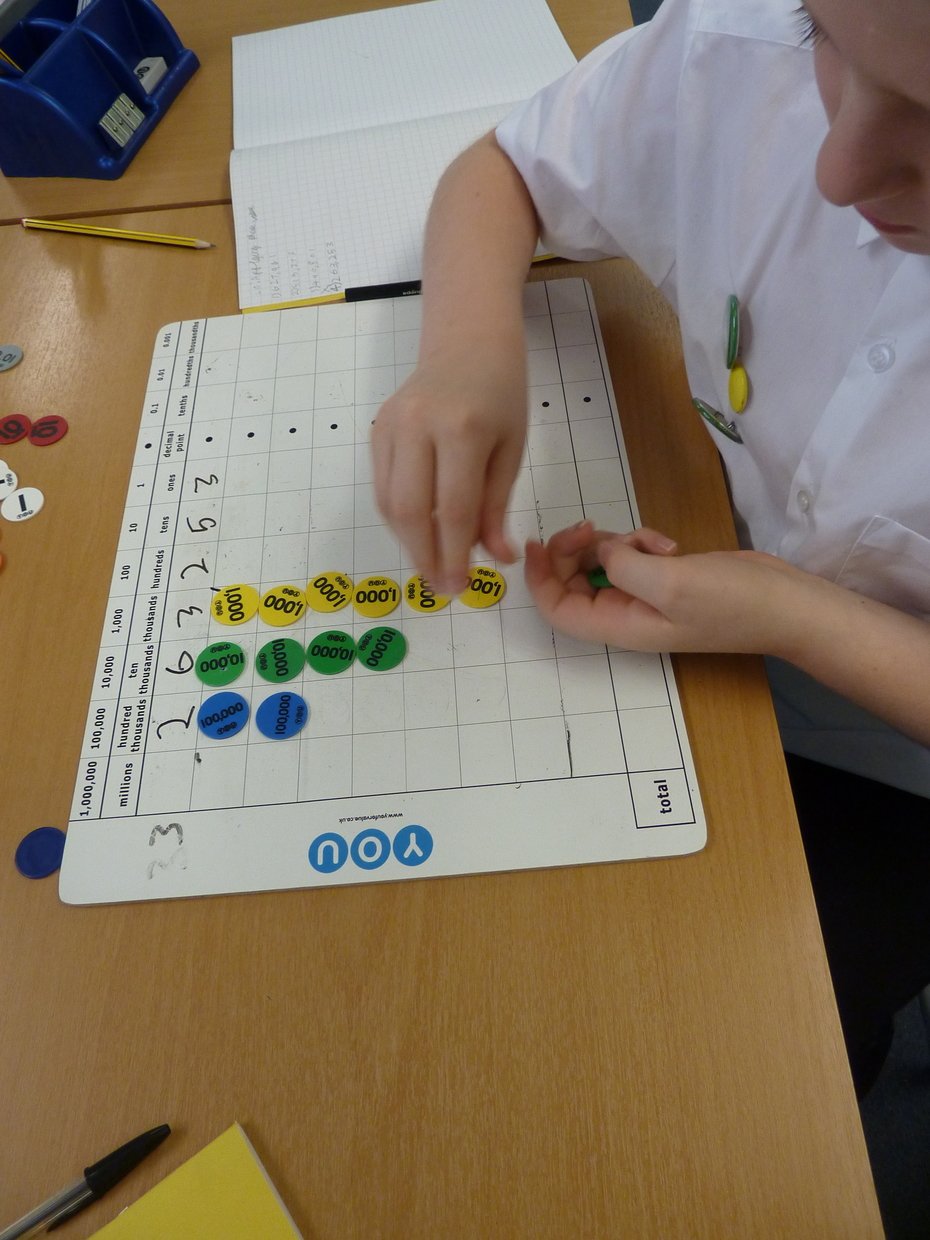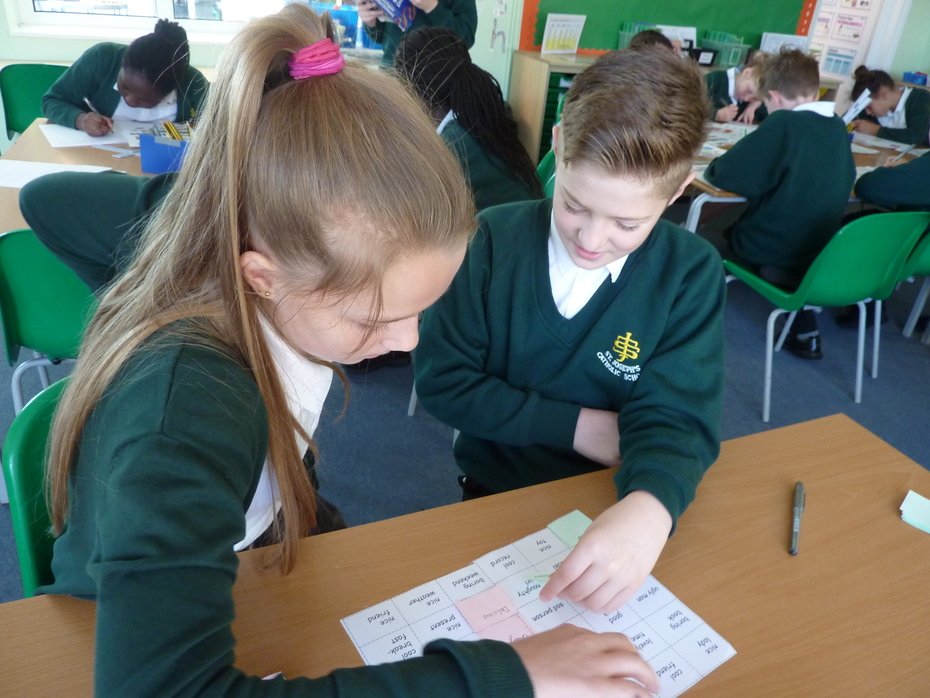 Noun sorting Place Value "Connect 4" Adjective game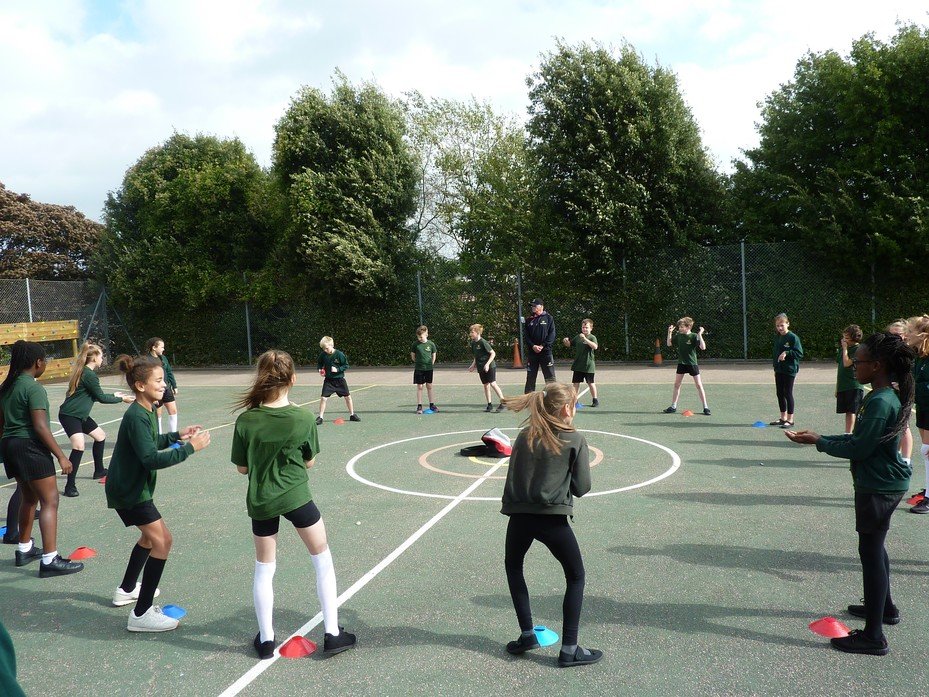 Using a compass for direction Throwing and catching practice with Alan the cricket coach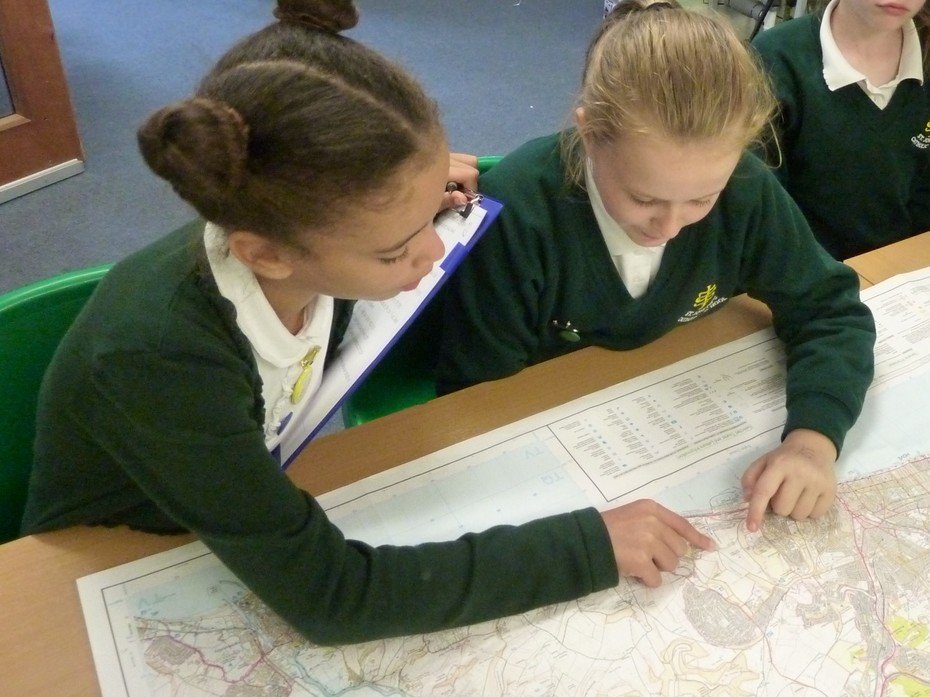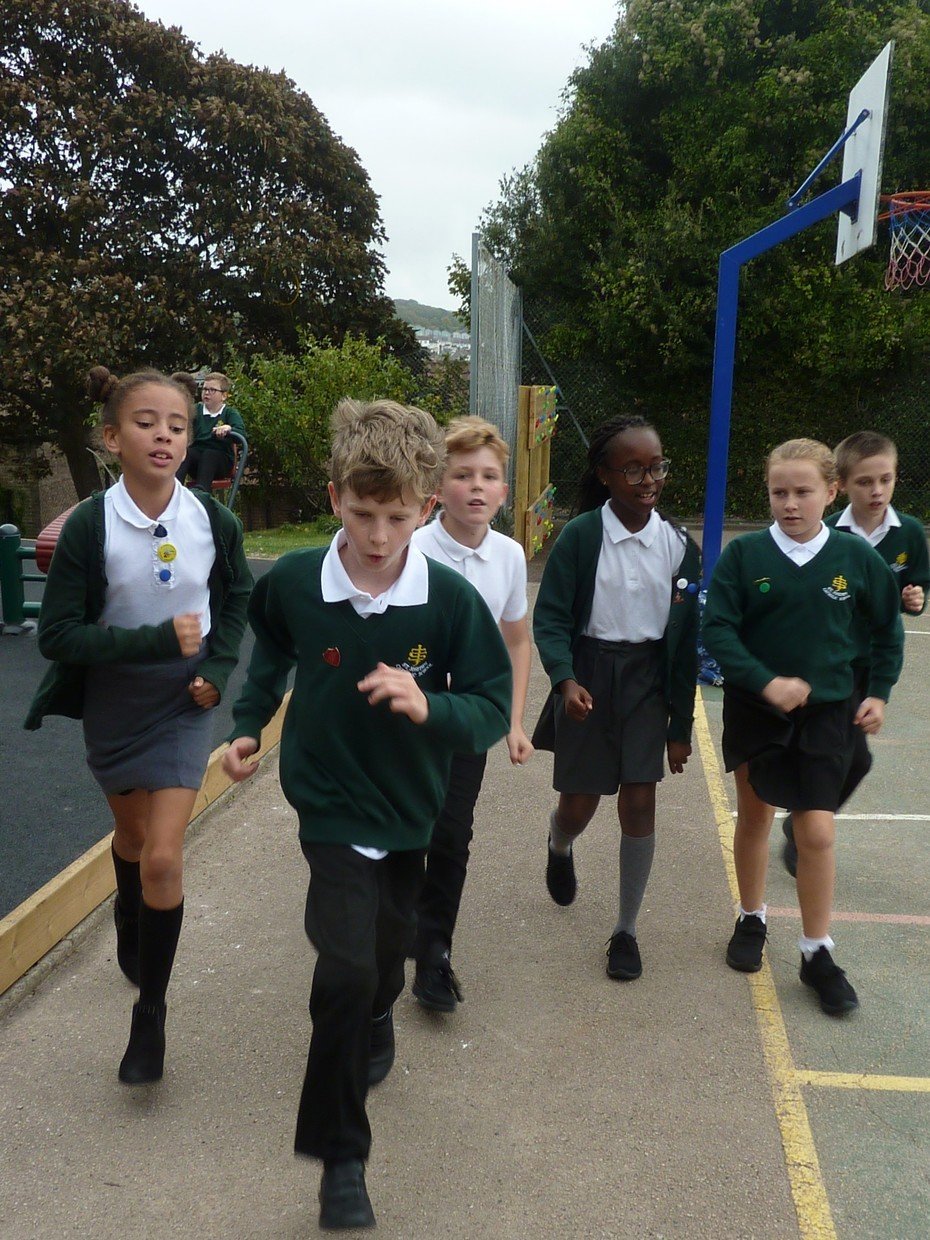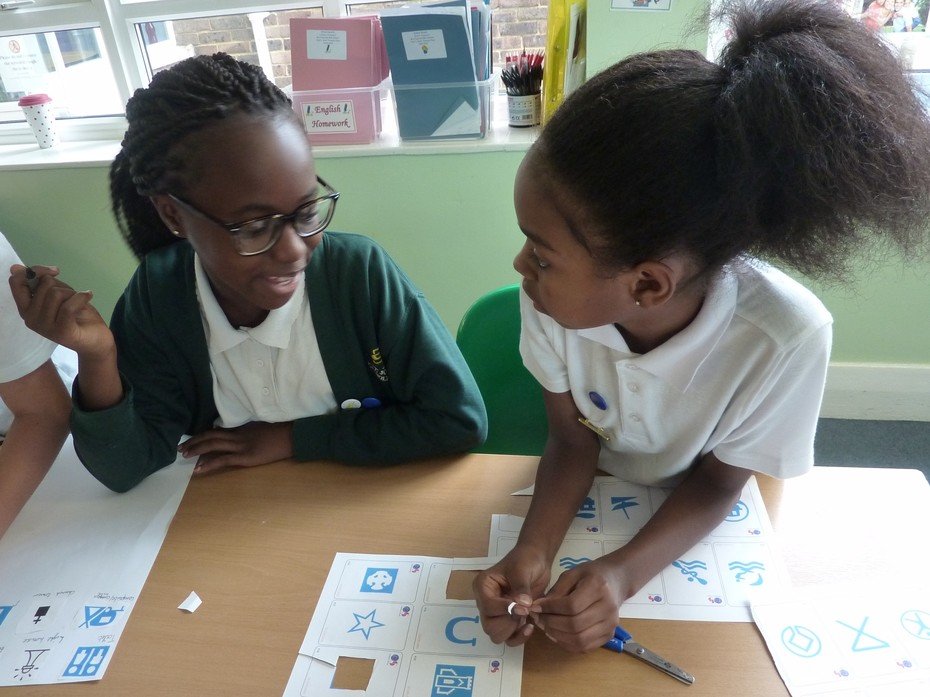 Grid references on an OS map The Daily Mile Identifying OS symbols
__________________________________________________________________________
Welcome back to a new school year to all of our pupils and their families. We are looking forward to working with you all over the coming school year.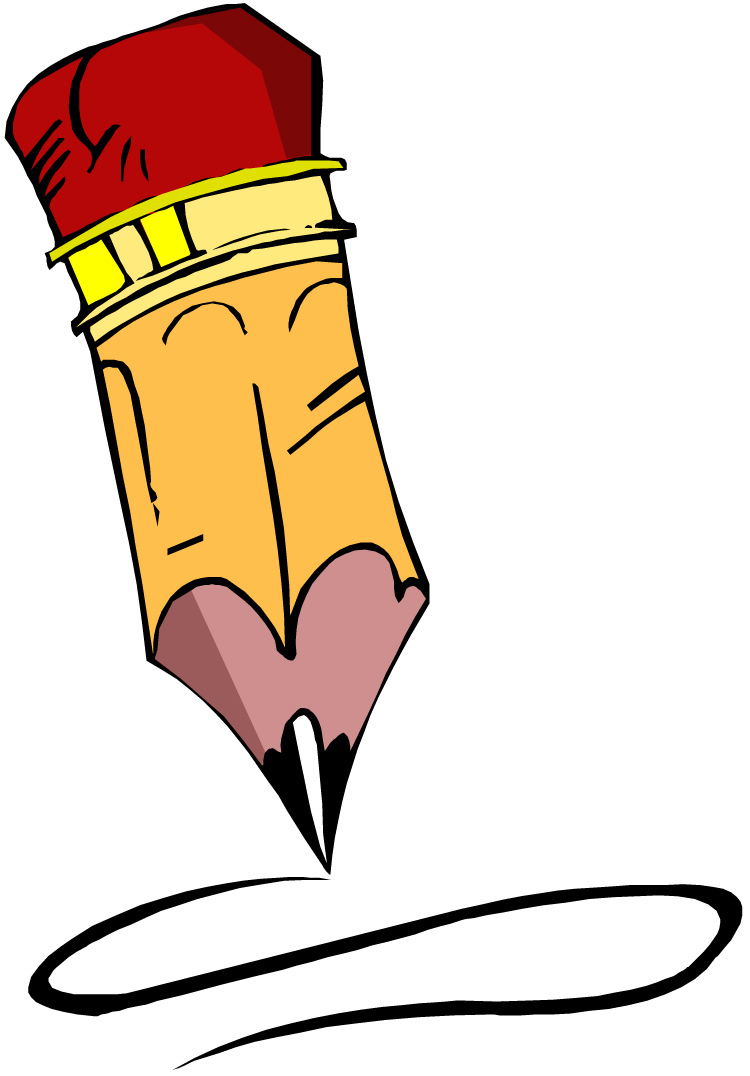 Homework
Homework will be given out on a Thursday, to be returned the following Tuesday. Those children who do not return the homework by Tuesday will have to complete it during their lunchtime and will lose some of their golden time.
Please encourage your child to look through their homework on a Thursday when it comes home. If your child has any questions/worries or is unsure about something, Mrs Foan or Mrs Skinner will then be able to spend 5/10 minutes with them on a Friday so that they are then able to complete their homework over the weekend.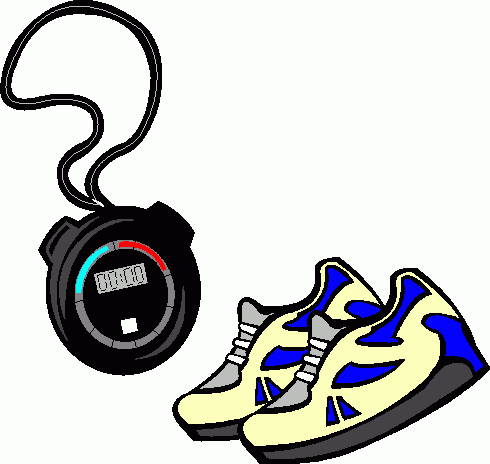 P.E.
This half term, Year 6's PE days will be on Wednesdays and Fridays. Wednesday will be Cricket and Friday will be Tag-Rugby.
Please make sure your child has a full PE kit in school at all times - black shorts, a green St Joseph's t-shirt and trainers or plimsolls.
Year 6 children will also be doing the "daily mile" on the other three days.


Reading
Please encourage your child to read every night. This can be to themselves, to a family member or to a sibling and children please remember to record it in your reading record books.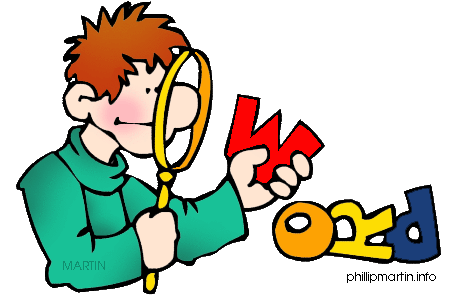 Spellings
Click on THIS LINK to see this half term's spelling lists. Children will be tested every Monday.

Thank you parents and carers! We really do appreciate your support.