Welcome St Anne's Class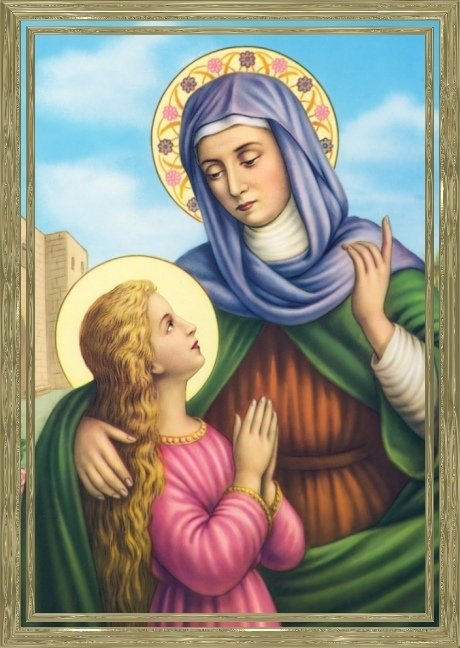 Class Teachers
Mrs Thompson - Monday - Thursday
Miss Morrison - Friday
Classroom Assistant - Mrs Mullholland
Our PE days are Tuesday and Friday. Please make sure your child has their PE kit on their peg everyday and that each item is clearly labelled.
Reading books will be changed on Mondays and Thursdays and we will continue to take home library books. Please make sure bookbags are in school everyday.
Please make sure you hear your child read every day. If you have difficulties ask Mrs Thompson for support.
13.01.20 Someone with very big feet came to our classroom this week! We think it might be a giant! We have been collecting evidence by labelling the things we have found and measuring those feet! We traced them so they could be measured and they were 37 cubes long from toe to heel! Enormous!
Click here for the topic leaflet
6.01.20 We introduced the topic this week by finding out about castles. We have been working in our castle role play areas and having small world adventures. Look at the castles we have created.
We have been growing vegetables in our raised beds. The carrots were ready for picking. When we pulled them out they were very funny shapes. We washed the and ate them. Yum!
02.12.19 Christmas is coming and it's our Christmas Fair on Wednesday. The children have been very happy making mince pies to sell to raise money for our class. We will also be running a Teddy Tombola! Do come along!
25.11.19 This week we paid a visit to St.Joseph's Church. We found out that it has the same name as our school! We went on the minibus which was exciting. When we got to the church we went on a scavenger hunt and found lots of different things inside the church. Then we met Father Kieron who baptised our baby Anne Aria Thompson!
18.11.19 This week the Bikeability trainers have been working with St.Anne's Class riding balance bikes. We were amazing at it!
18.10.19
October was Black History Month so we worked on a story set in Africa called Anna Hibiscus'Song. She had a mango tree outside her house. We liked the taste of mangoes so we made mango milkshakes. Some of us liked them , some didn't!
Today the fire engine came to school! We all fired the hose and had a look inside the fire engine. It was amazing!
08.10.19 This week we have been thinking about our emotions. Everyone likes feeling happy and no one enjoys feeling sad. We found out that some of us like feeling scared! We made playdough faces to show different emotions. We looked in mirrors to change our own faces too.
We know music makes up happy!
30.09.19 This week we have been thinking about our bodies and labelling our body parts. We have been thinking about our skeletons and wondering how they hold us up? We have been looking at a real skull which we thought belonged to a dinosaur because of the sharp teeth! The Booth Museum is a free museum on Dyke Road. There are lots more skulls and bones to see there. It would be great if you could visit it with your child. The perfect entertainment for a rainy afternoon!
Our doctor's surgery opened this week and we have been curing lots of illnesses. The children are practising writing patient details.
30.09.19 It's Grandparents' Week
Today some of our grandparents came to school to celebrate Grandparents' Week. The children looked carefully at their grandparents and painted their portraits. The likenesses were uncanny! We are open again tomorrow for our phonics lesson at 10.30am and don't forget our special assembly and coffee afternoon on Wednesday at 2pm.
Today we celebrated a Welcome Mass with Father Kieron and then had a Welcome Feast in our classroom. Now we all feel welcome at St.Joseph's School. Look at the fun we had.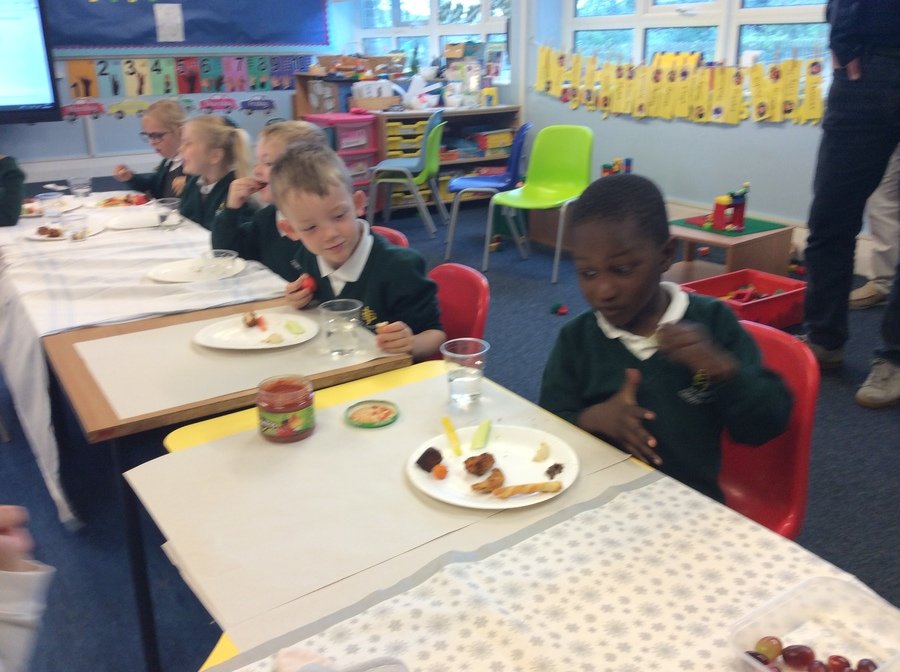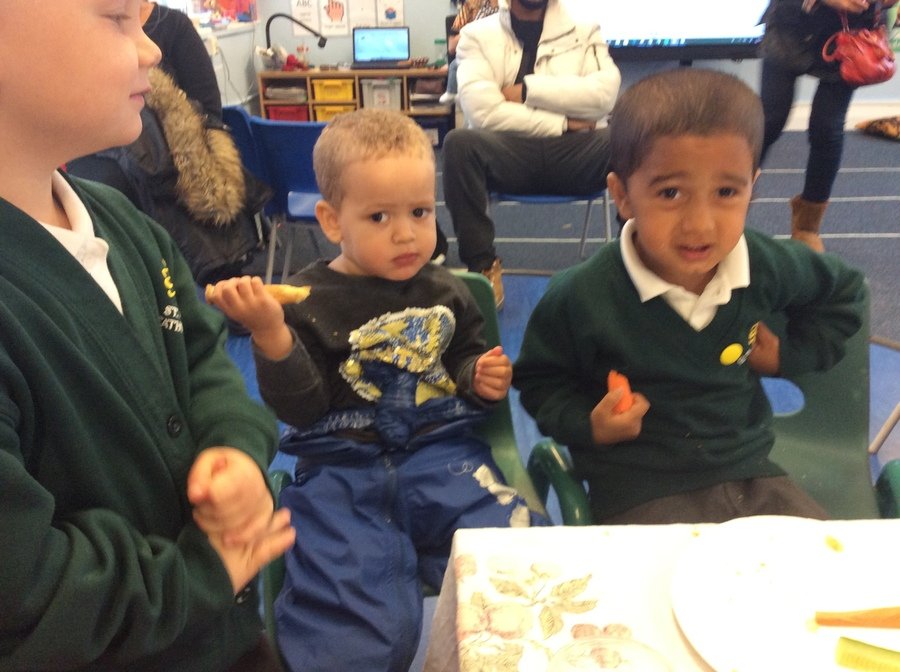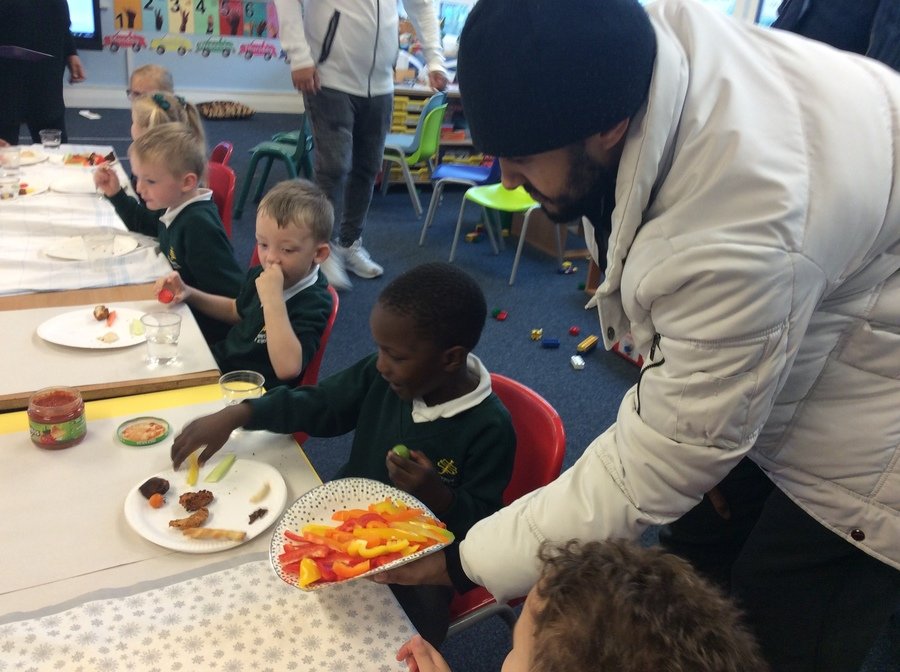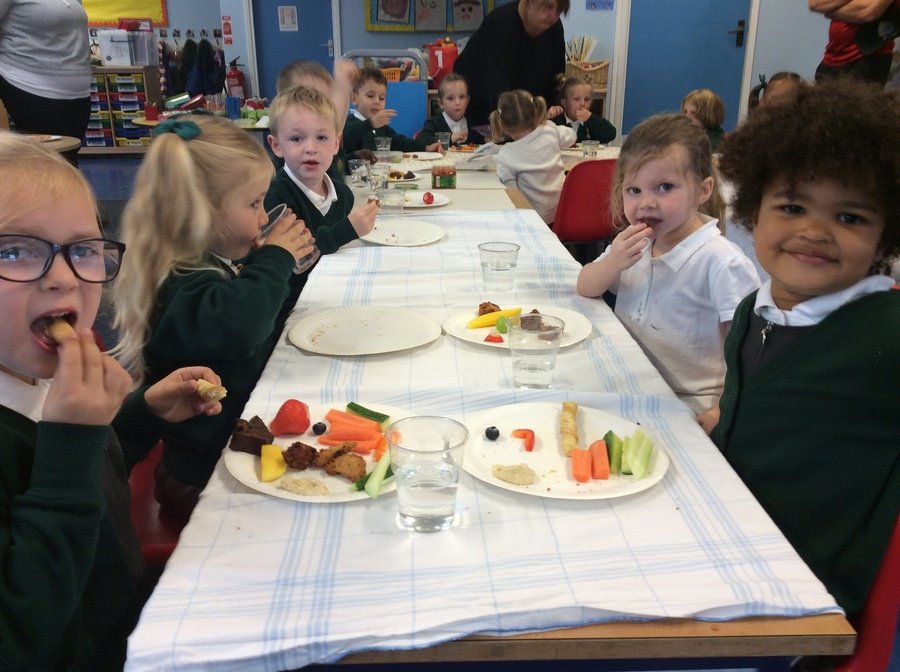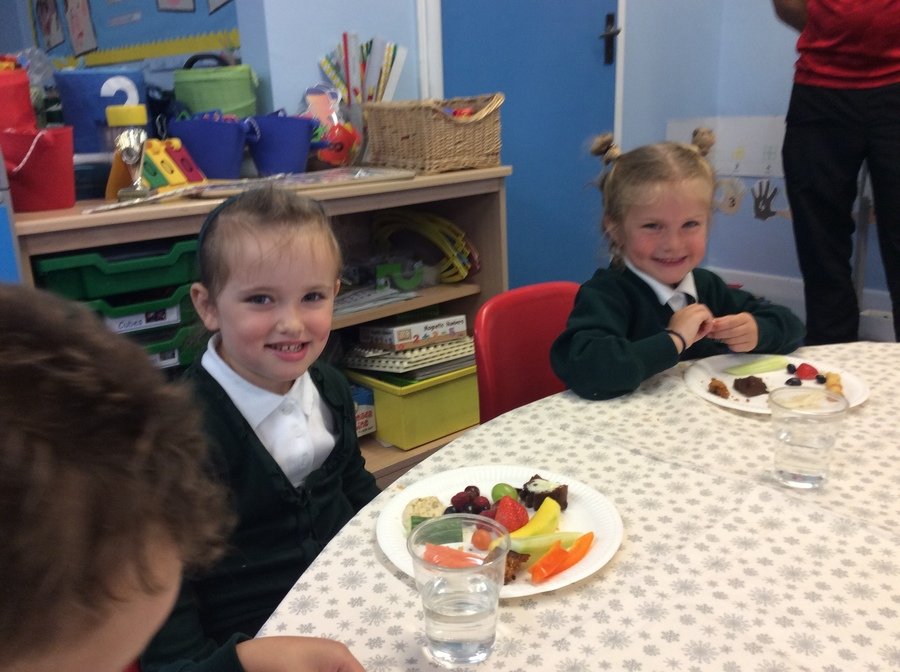 Here we are enjoying our first days at school:
Our first days at school have been fantastic fun. All the children are settling in quickly and are getting used to our routines. We are very impressed with their good manners, kind behaviour and hardworking attitudes. We can't wait to start our first topic:
"Marvellous Me"
We are taking part in pilot scheme for a new baseline assessment. Each child will be tested and assessed. Click here for further information.