Welcome St Anne's Class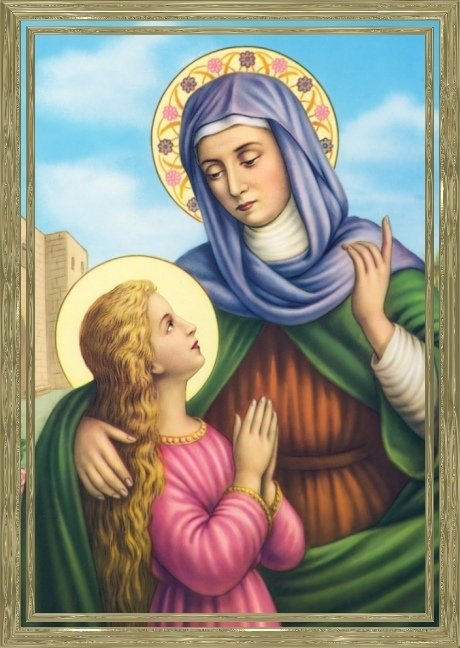 To find more ideas, resources and links for home learning and to see what your school friends have been up to, please follow this link to the
HOME LEARNING page.
06.07.20 Jessie has been working hard at home. Sylvia is at school every day and still working hard at home too! She is even learning how to play the piano. Watch her in the video above. Wow! If you can play a musical instrument send us a video of you playing it. We would love to hear you.
30.06.20 At school this week we have been working hard. When it is hot we play with a lot of water! The children have been building their own climbing courses. We stay outside as much as possible and we even do our reading outside!
30.06.20 Audrey has been very busy working at home this week. Keep up the good work.
18.06.20 There is so much excellent writing going on at home. See what these children have been doing....Sylvia has been baking and learning the piano! Isabella has a cosy work station, no wonder she is so busy!
Audrey has been doing her own science experiments. She has made a seismometer, an instrument to record earthquake tremors. Amazing!
Who is under that table?
08.06.20 Jeremiah has been working hard on his writing and his maths! Isabella has been learning all of her prepositions. Well done you two!
If you are considering returning your child to school, when it is declared safe, you may want to discuss this transition with your child. This social story may help you to prepare them. It is designed for you and your child to talk about, together.
21.05.20 Children have been working very hard this week. Have a look at the gallery below. We have experiments and writing from Isabella, writing from Audrey and Darcy has been busy doing maths and growing strawberries!
18.05.20 This week we are working on subtraction to 10. Try the pirate colouring puzzle.
15.05.20 Look at Frankie's work about snails! He had help from a grown up to write down everything he found out about them. There is so much information.
Good work Frankie.
15.05.20 We heard from Isabella this week who has just turned 5! Happy Birthday to you.
She has been working on numbers, making flower ice cubes, reading and taking her own photos. I wonder if you can guess which ones are hers?
13.05.20 Darcy has already been getting busy with her subtraction work. Look at those monkeys! I love her working wall. It is a fantastic display of hard work. Well done.
12.05.20 Jeremiah has been very busy with his brother, making rainbows. I think those rainbows are beautiful. I am very impressed with all the bugs he found and he recorded them on his own chart. I hope he can make us some smoothies when he gets back to school!
Jeremiah's mummy tells me he has been praying for healing, thank you Jeremiah.
07.05.20 Jessie has been working really hard. I love her minibeast information poster. If anyone else has made one please send me a picture. Jessie is definitely having a headteacher's award for that poster!
04.05.20 Sylvia had lots of fun looking for minibeasts, she found them all and more! Audrey has been working on her days of the week and took part in the Children's Parade from home. Is that a beautiful butterfly and a bee?
27.04.20 This week's learning continues the theme of minibeasts. I can't believe it has started raining. I hope they won't be hiding!. Dont forget you can look under logs and leaves for minibeasts too.
Download the learning pack below!
Lily has been very busy, cooking, exercising, gardening and making rainbows and volcanoes! She made her rainbow out of old CDs! What a good idea.
20.04.20
This week's home learning pack is all about the Hungry Caterpillar. Packs are available in the foyer of the School. If you cannot get to school you can download the ideas here. 1 2 3 4 5 6
Some children have already started!
Another fantastic rainbow!
Thank you Sylvia.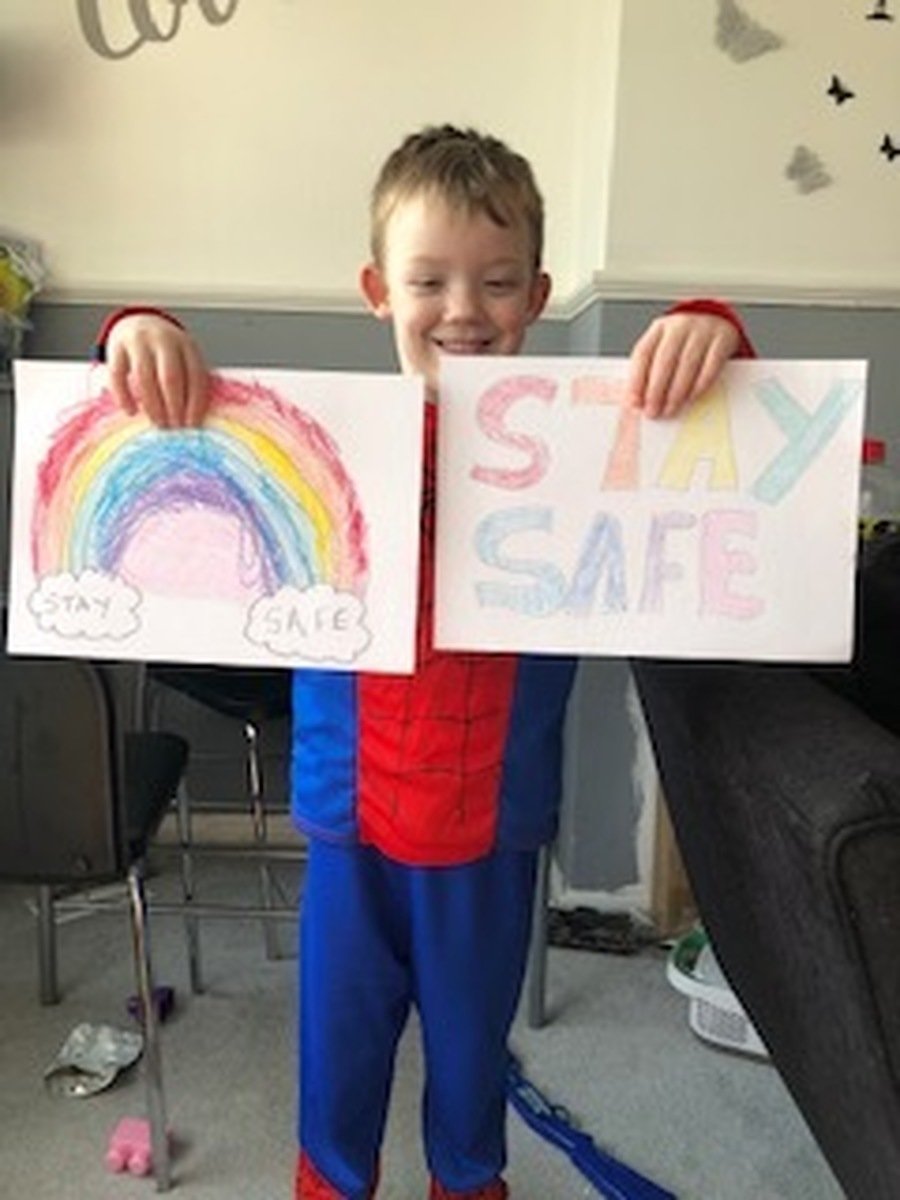 Floyd has been busy making a fantastic rainbow. Now we have 2! I'm sure we can do more than that!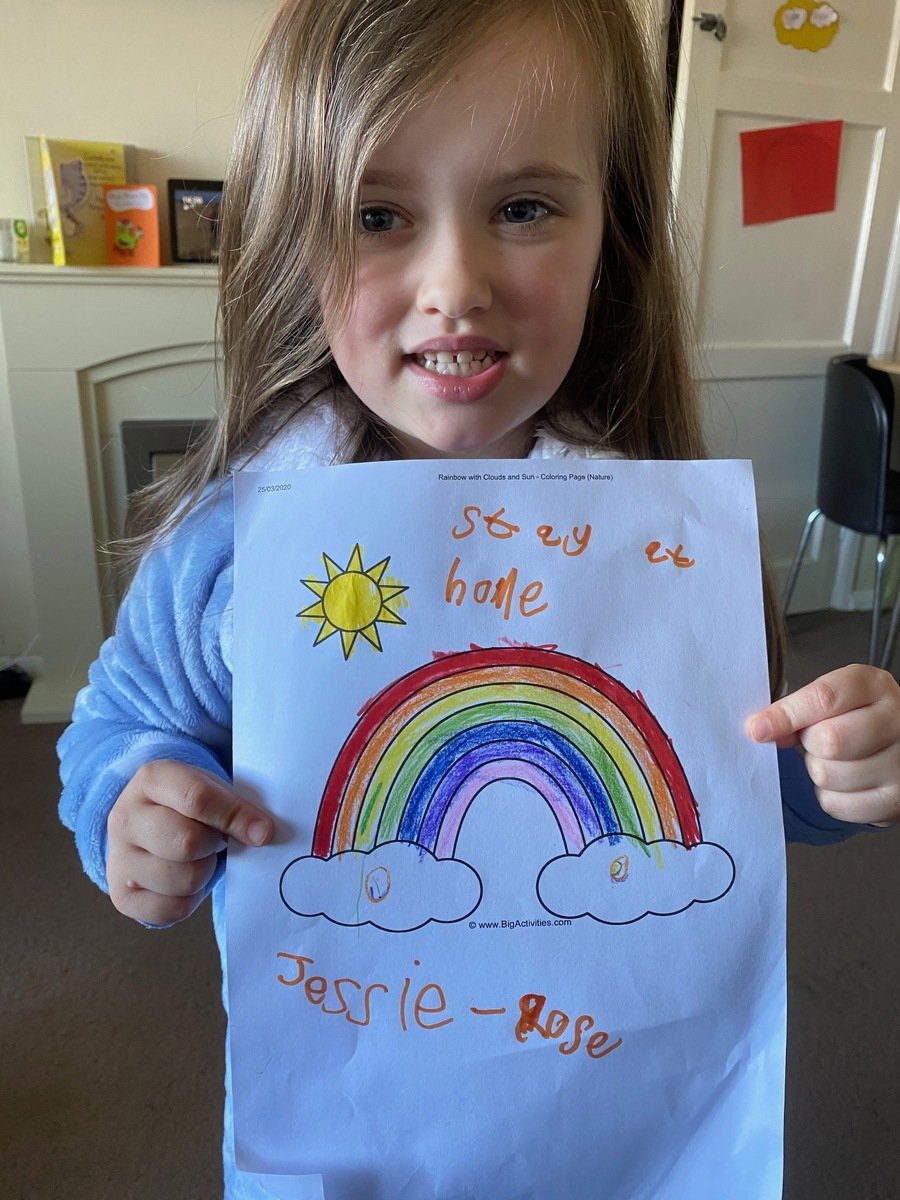 Jessie-Rose has been busy making her rainbow at home.
How many more can our class make?
Everyone needs to get busy and send your photos in!
Email photos to myhomework@st-josephs.brighton-hove.sch.uk
Don't forget to work out with Joe Wicks everyday like Audrey! You will find him on youtube. This is Audrey on Fancy Dress Friday. I did that workout too. My favourite exercise was the Spiderman Squats. Try a workout today!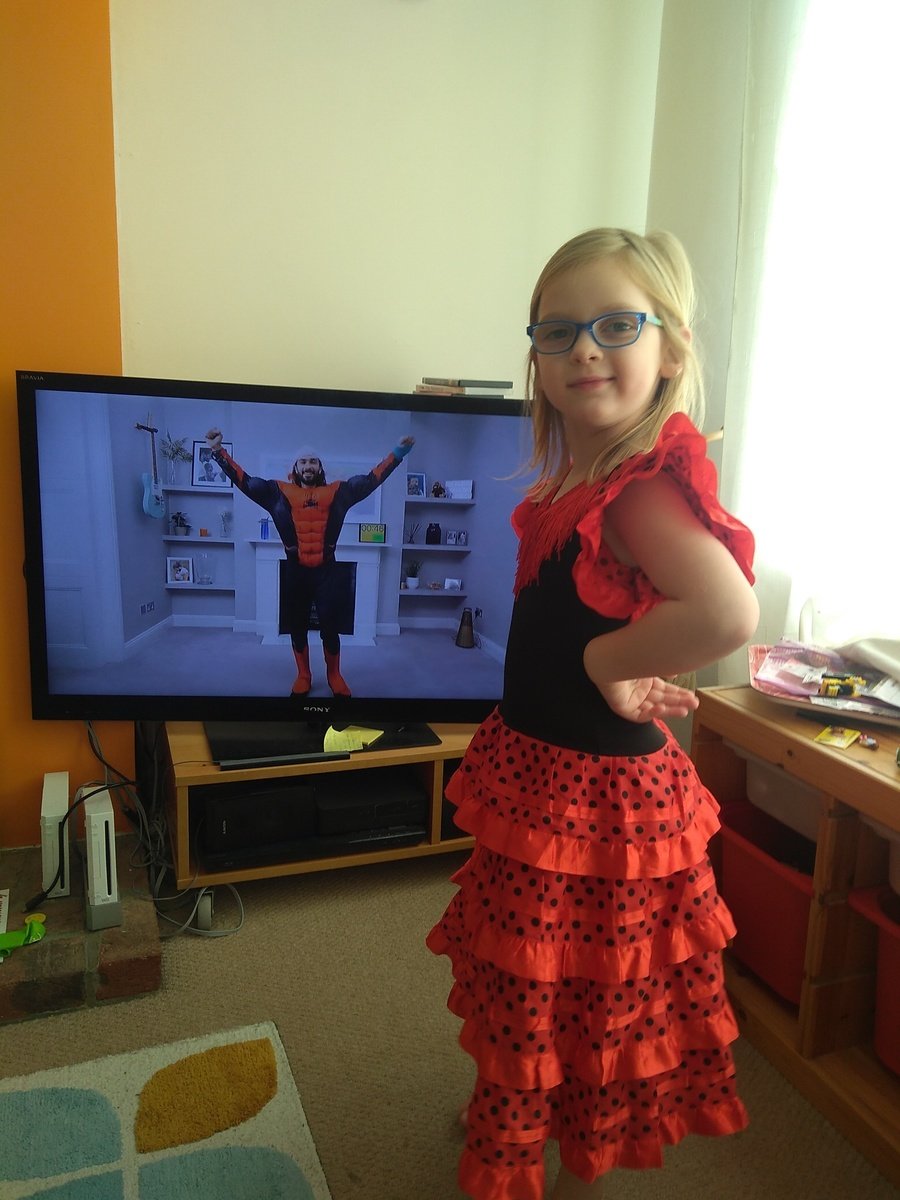 Jessie has been doing lots of maths this week and has completed much of her second home learning pack. Remember learning packs are available every week and can be collected at any time from the foyer. Sylvia has been busy finishing all of the activities on her Activity Passport! Well done Sylvia! I love those butterflies!
Audrey is learning to sew. Look at her beautiful work.
What are you doing at home?
Class Teachers
Mrs Thompson - Monday - Thursday
Miss Morrison - Friday
Classroom Assistant - Mrs Mullholland
Home Learning in the Event of School Closure
If the situation arises where we have to close the school there are lots of activities for children to be getting along with. Each child will be given extra reading books to read at their own level. There are a range of useful websites and apps that the children will enjoy to support their learning.
https://www.phonicsplay.co.uk/
https://www.topmarks.co.uk/maths-games
All children have a log in card for sumdog which they will be bringing home with them tomorrow. This website is set up to give the children challenges at their level.
Children can also practise reading and writing the common exception words for reception, watch this.
Please see attached letter.
16.03.20
We have been reading a story called Stanley's Stick written by John Hegley.
We have been finding out what we can do with sticks. We tried writing with them, fishing, rescuing insects; we made bows and arrows,dens and everything to do with sticks!
09.03.20 This week we have been looking very closely at our sticks and making observational drawings of them. We used charcoal which is made out of burnt wood! Some of us have wrapped and decorated our sticks and given them names! "They were once part of something grand never to return....."
We wrote a class poem about sticks.
My life as a Stick
I am long, lumpy and bumpy
I feel like metal,
Hard and rough
A walking stick for Harrison,
A dragon for Mohammed,
And a bow and arrow for Mykie.
by St.Anne's Class
02.03.20
This week we went on our own adventure to Stanmer Park.
We made tree spirits. We followed a map to find the treasure. We built our own dens to eat our lunch in. It was very muddy!
Our new topic for this half term is
Going On An Adventure!
We have been working on the Bear Hunt story which we all know and love.
20.01.20 It definitely was a giant! He sent us an enormous letter demanding his treasure. We buried his treasure in the wild area because we did not want him to come to our classroom again. Harrison had the idea of marking the spot with an "x".We sent him a letter and made him a map so he could find it. Thankfully he collected it....phew.
We have also been growing our own beanstalks.
13.01.20 Someone with very big feet came to our classroom this week! We think it might be a giant! We have been collecting evidence by labelling the things we have found and measuring those feet! We traced them so they could be measured and they were 37 cubes long from toe to heel! Enormous!
Click here for the topic leaflet
6.01.20 We introduced the topic this week by finding out about castles. We have been working in our castle role play areas and having small world adventures. Look at the castles we have created.
We have been growing vegetables in our raised beds. The carrots were ready for picking. When we pulled them out they were very funny shapes. We washed the and ate them. Yum!
02.12.19 Christmas is coming and it's our Christmas Fair on Wednesday. The children have been very happy making mince pies to sell to raise money for our class. We will also be running a Teddy Tombola! Do come along!
25.11.19 This week we paid a visit to St.Joseph's Church. We found out that it has the same name as our school! We went on the minibus which was exciting. When we got to the church we went on a scavenger hunt and found lots of different things inside the church. Then we met Father Kieron who baptised our baby Anne Aria Thompson!
18.11.19 This week the Bikeability trainers have been working with St.Anne's Class riding balance bikes. We were amazing at it!
18.10.19
October was Black History Month so we worked on a story set in Africa called Anna Hibiscus'Song. She had a mango tree outside her house. We liked the taste of mangoes so we made mango milkshakes. Some of us liked them , some didn't!
Today the fire engine came to school! We all fired the hose and had a look inside the fire engine. It was amazing!
08.10.19 This week we have been thinking about our emotions. Everyone likes feeling happy and no one enjoys feeling sad. We found out that some of us like feeling scared! We made playdough faces to show different emotions. We looked in mirrors to change our own faces too.
We know music makes up happy!
30.09.19 This week we have been thinking about our bodies and labelling our body parts. We have been thinking about our skeletons and wondering how they hold us up? We have been looking at a real skull which we thought belonged to a dinosaur because of the sharp teeth! The Booth Museum is a free museum on Dyke Road. There are lots more skulls and bones to see there. It would be great if you could visit it with your child. The perfect entertainment for a rainy afternoon!
Our doctor's surgery opened this week and we have been curing lots of illnesses. The children are practising writing patient details.
30.09.19 It's Grandparents' Week
Today some of our grandparents came to school to celebrate Grandparents' Week. The children looked carefully at their grandparents and painted their portraits. The likenesses were uncanny! We are open again tomorrow for our phonics lesson at 10.30am and don't forget our special assembly and coffee afternoon on Wednesday at 2pm.
Today we celebrated a Welcome Mass with Father Kieron and then had a Welcome Feast in our classroom. Now we all feel welcome at St.Joseph's School. Look at the fun we had.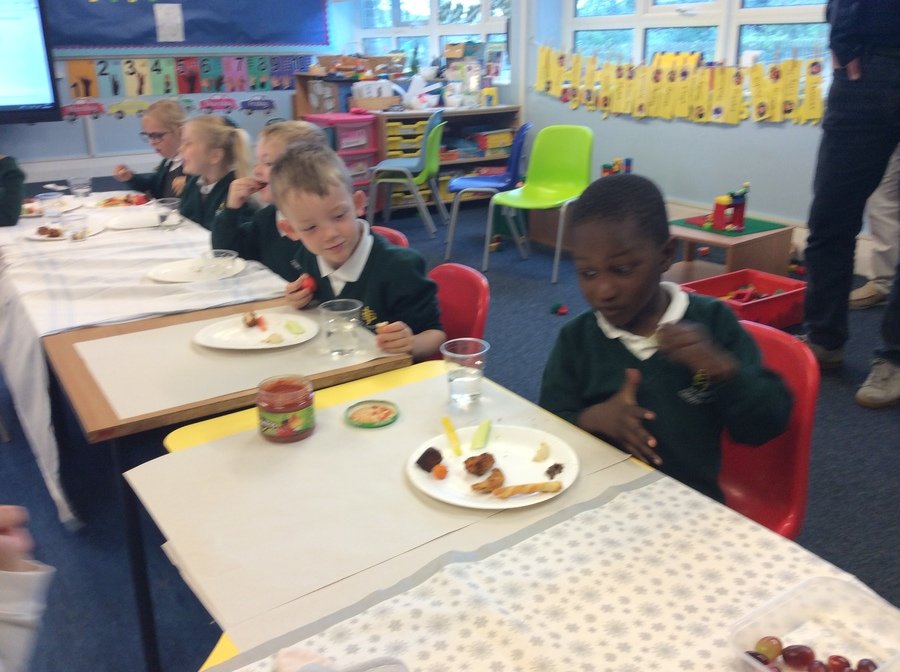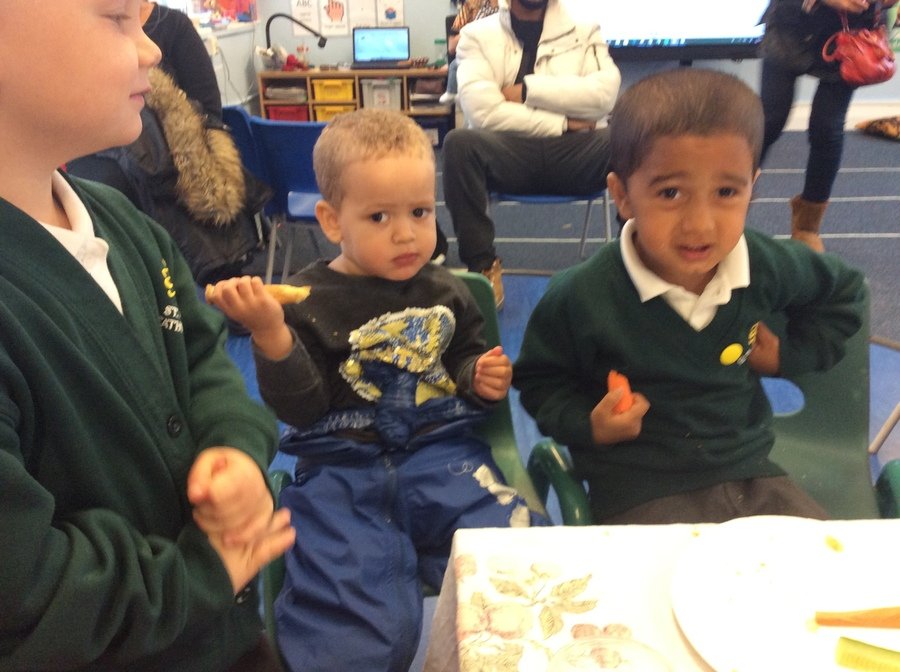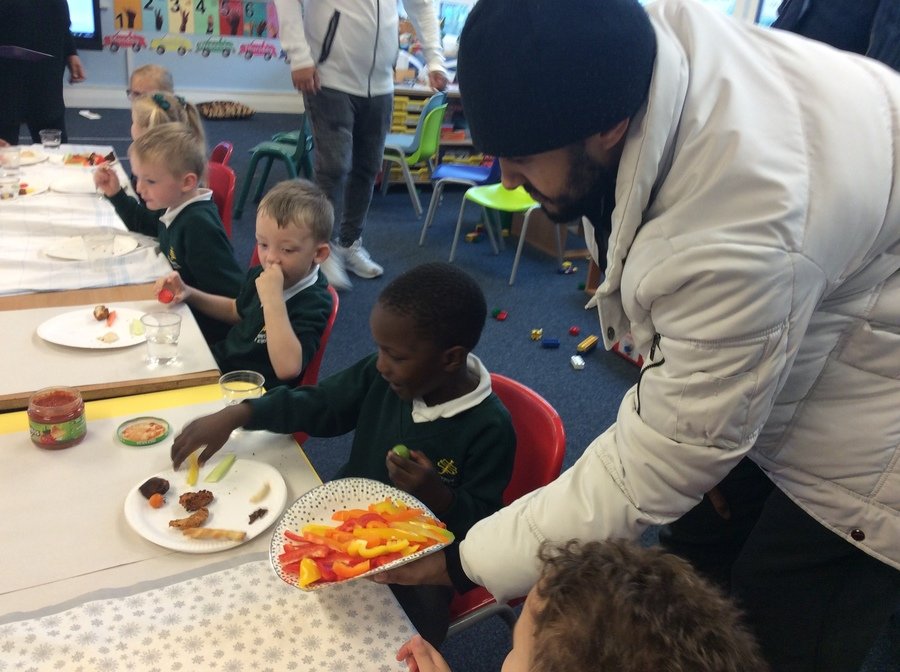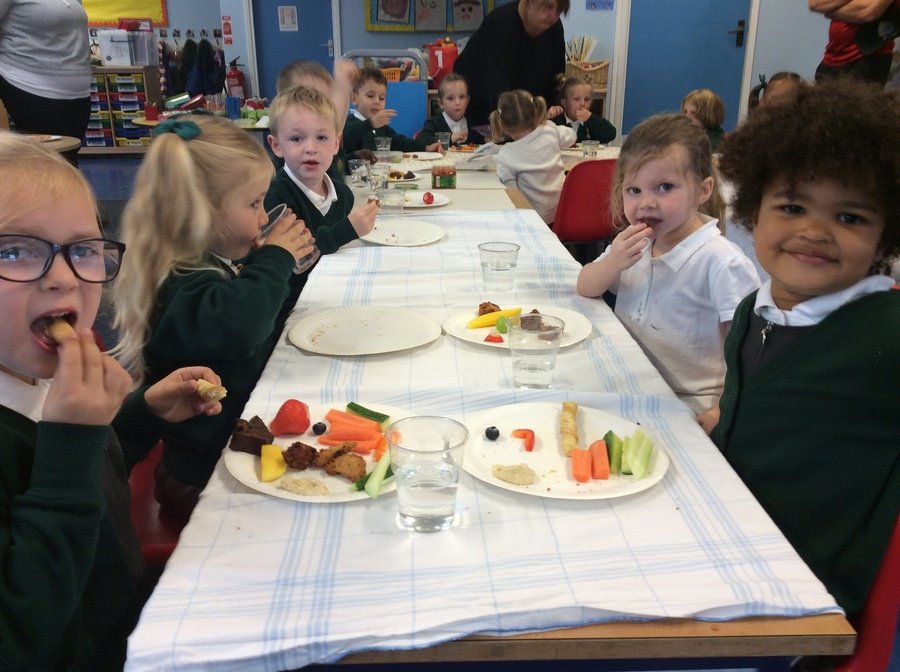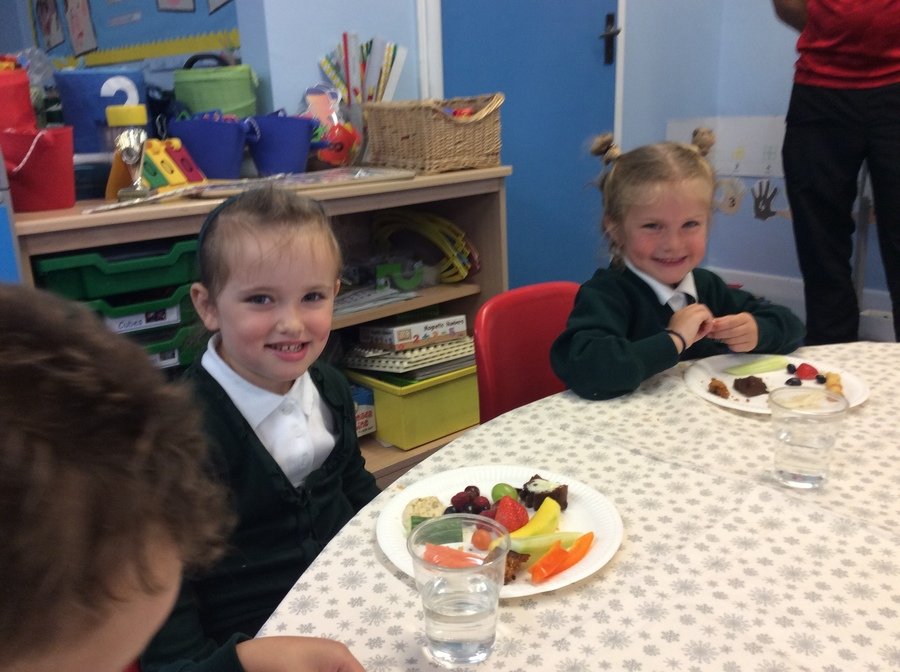 Here we are enjoying our first days at school:
Our first days at school have been fantastic fun. All the children are settling in quickly and are getting used to our routines. We are very impressed with their good manners, kind behaviour and hardworking attitudes. We can't wait to start our first topic:
"Marvellous Me"
We are taking part in pilot scheme for a new baseline assessment. Each child will be tested and assessed. Click here for further information.