Welcome to St John the Baptist's Class

Class Teacher: Mr Fishman
Teaching Assistant: Miss Hill
Dear Parents/Carers,
I am thrilled to join the team here at St Joseph's and look forward to a prosperous year ahead, working with and getting to know you all. It gives me great pleasure to teach your children and for all of us to learn and grow together.
I will try my best to post here on a regular basis of any news in class, photos of the children's learning and links to any websites or resources that are appropriate.
Please do not hesitate to speak to me about anything at all that relates to your child's learning. There is no question too silly and no problem too small.
With thanks,
Mr Fishman.
UPDATED: 25.3.2020

Dear all,
Firstly, a massive thank you to everyone who has picked up their home learning book - I hope you are enjoying the activities.
For those of you that haven't been able to pick them up they are still available in the lobby, please tick next to your child's name to let me know you have taken it home. If there are any questions please do not hesitate to contact me through the office or email and I will answer them as soon as I can.
Secondly, I have put the link here to a very good website that has many English and maths games which are suitable for all ages and all ability levels.
Here are two games that I think are particularly good: for maths - 100 Hunt and English - LCWC.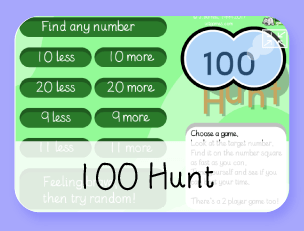 100 Hunt - choose which interval you want to count in (I would suggest 10 or 20 more/less for Year 3 and 9/11 more less for Year 4). The look at the target number and click on the correct answer.
https://www.ictgames.com/mobilePage/hundredHunt/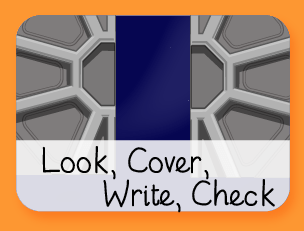 LCWC - Look Cover Write Check - Choose the words you want to practice spelling. Try your best to memorise the spellling of your word as it appears at the top. When the screen appears and covers up the word, try and type it to the best of your memory. If you're right you will move on to the next word, if wrong the screen reveals the word for you to look again for another try.
https://www.ictgames.com/mobilePage/lcwc/index.html
There are many other games on this website for you (and your child) to explore together.
With my best wishes to you all,

Mr Fishman.
UPDATED: 19.3.2020
HOME LEARNING PACKS
Dear parents and carers,

I hope that this message finds you and your families well.
As the school closes for the unforeseeable future, the children who were in school today (Friday) took home books that include a list of suggested activities that they can complete at home. These books have been prepared for all members of the class and will be available to pick up on Monday morning in the school lobby. If you are unable to collect this in person the activity sheets that were prepared can be downloaded here:
Year 3 and 4 suggested activities
The school's expectation is that children continue to: read every day for 10 mins and write comments in the reading diary, practice learning their times tables and master the spellings for their year group.
FREE ONLINE LEARNING....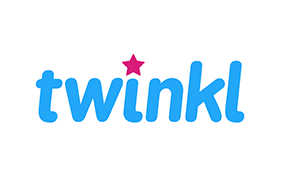 Fortunately, several websites that the school has subscriptions to have allowed all our children to have unlimited access to their website whilst we are not in school. Children have been provided with passwords to access these sites but if you would like a reminder of your child's passwords please contact the school office on 01273 556607.
Here are the links to the websites the children have access to.
https://www.sumdog.com/user/sign_in
I will upload more information and other websites links in the very near future.
With kind regards,
Mr Fishman
Week Beginning: Monday 16th March 2020
1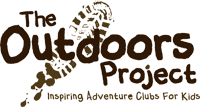 'Surviving' a Survival Workshop
Today the children in St John's class were very lucky to participate in a workshop led by The Outdoors Project. To support our learning of how to survive in different extreme climates, the children took their hands to kindling fires, building shelters, gathering wood and a mad dash race to grab survival items. The children had an absolutely wonderful time outside of the classroom with their hands-on learning.
Here are some pictures of the wonderful times had by all!
Week Beginning: Monday 24th February 2020
Pizza Fractions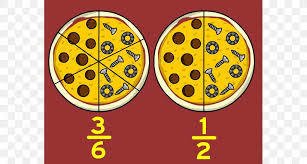 As part of our learning about fractions St John Class designed their own pizzas with different toppings.They then had to write the different fractions of the different slices. Lots of fun was had by all!
Week Beginning: Monday 10th February 2020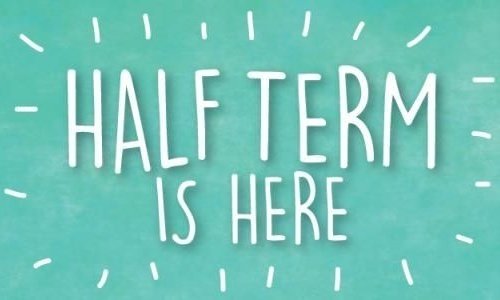 Survival Workshop and Half term Homework
On Tuesday 17th March 2020 the children will be taking part in a workshop based on our topic Extreme Survival run by The Outdoors Project. To help cover the cost of this we are asking each family to contribute £3 payable via ParentPay. A letter with more detailed information was sent home today with the children but you can download another copy of the letter HERE
The next Power Project for half term was handed out as homework today for the children to complete over the half term.
To download another copy of the suggested activities please click HERE
Wishing you all a peaceful and happy half term break :)
Week Beginning: Monday 27th January 2020
Evaporation Drama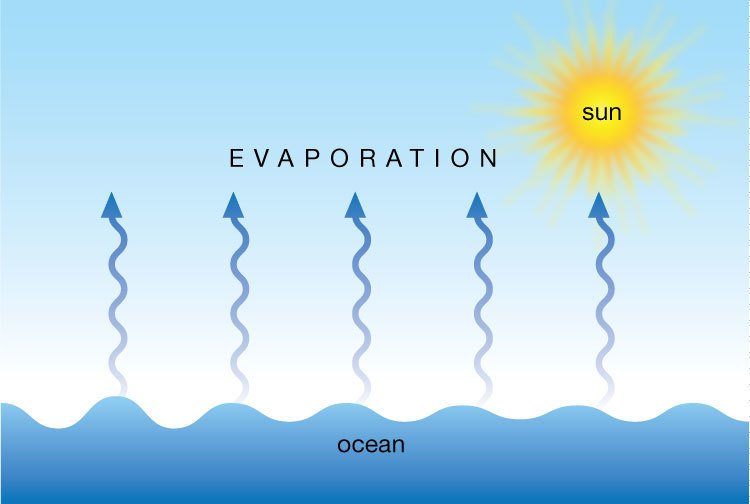 This week we have been learning about the process of evaporation. The children were split into small groups to reenact what happens to the particles in liquids when heated. Here are a couple of our favourites...
Week Beginning Monday 20th January 2020
Shemagh Shenanigans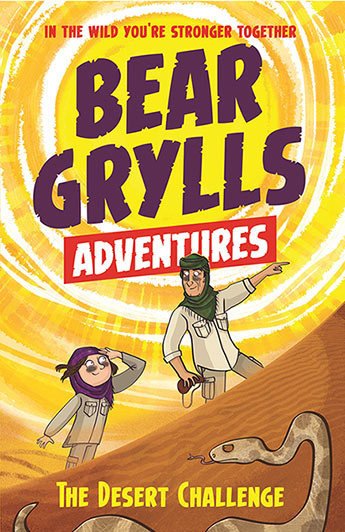 This week we reached an exciting section of our class novel 'Bear Grylls' Desert Adventure' as our protagonist Sophie magically finds herself lost in a desert with only Bear Grylls to help her(!). As her guide, Grylls teaches Sophie some vital survival skills in the desert including how to best protect your head with a shemagh - a head and face covering to protect it from harsh sun and sandstorms.
Today we had lots of fun learning how to tie one ourselves before we write instructions for someone else to follow...
Welcome back to the Spring Term 2020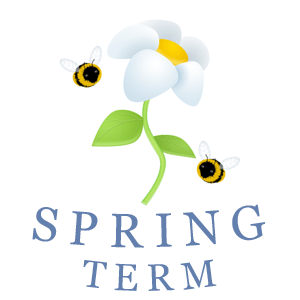 Welcome back to the Spring Term 2020.
We wish all of our pupils and their friends and families a very happy and healthy new year.
Learning
Please click HERE to see our learning booklet for this term. A paper copy will be coming home with your child shortly.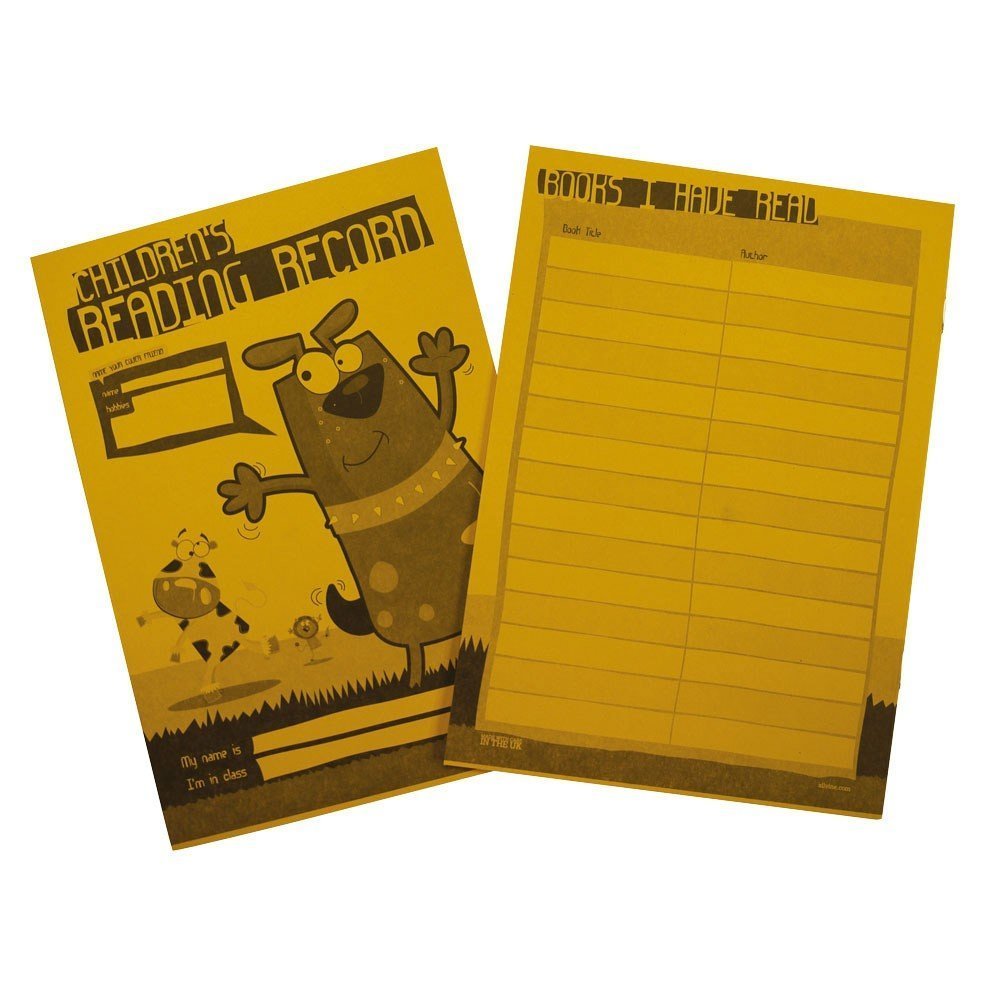 Reading Records and Homework
Please encourage your child to read as often as possible (ideally at least four times a week.) This can be to themselves, to a family member or to a sibling. PLEASE remember to record it in the reading record books. These will be collected once a week every Monday.
Homework (spelling and times tables) will be given out every Friday. Children are expected to complete the homework given in preparation for a test the following Friday.
PLEASE ensure your child brings their pink homework book every Friday to both take their test and stick in the new homework.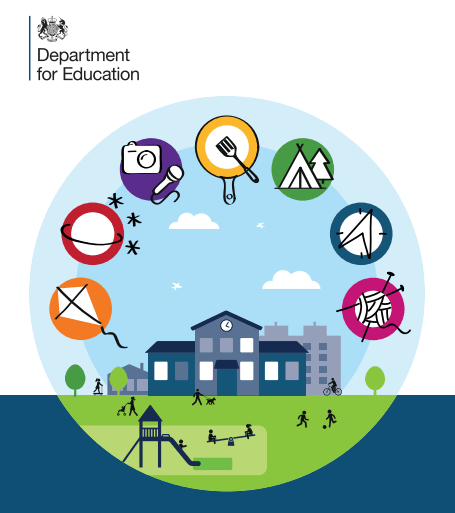 Activity Passport
We are encouraging all pupils to complete as much as possible in their 'Activity Passports' again this year. The passports have now been handed out to children to complete as much as they can by 24th February. If you can't find your passport you can download another version here.
Week Beginning Monday 6th January 2020
A 'stunning start' to our new topic: Extreme Survival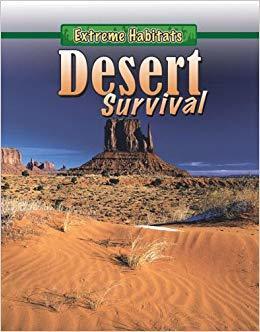 This week St John the Baptist class began our new topic of Extreme Survival. We will spend the Spring term learning about how to survive in extreme environments. We will spend the first part of the term focusing on hot climates and then after the half term we will focus on cold environments.
For our stunning start we focused on the most important survival skill: how to create an effective shelter. The children were asked to bring in recyclable materials such as cardboard, plastic, string and carpet. Each group then had to create the most effective and resilient shelter. The groups had lots of fun working together.
Week Beginning Monday 16th December 2019
Merry Christmas!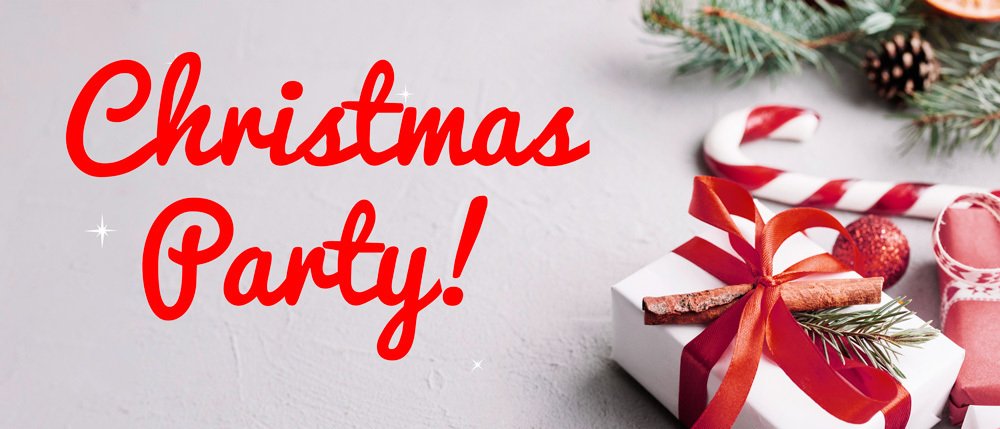 The Children in St John the Baptist enjoyed some fun party games and lots of delicious food for our end of term Christmas party. We would like to thank you all so much for your support this term and wish all family and friends a very Merry Christmas and a happy new year.
From,
Mr Fishman and Miss Hill
Week Beginning Monday 16th December 2019
A 'Fantastic Finish' to our China Topic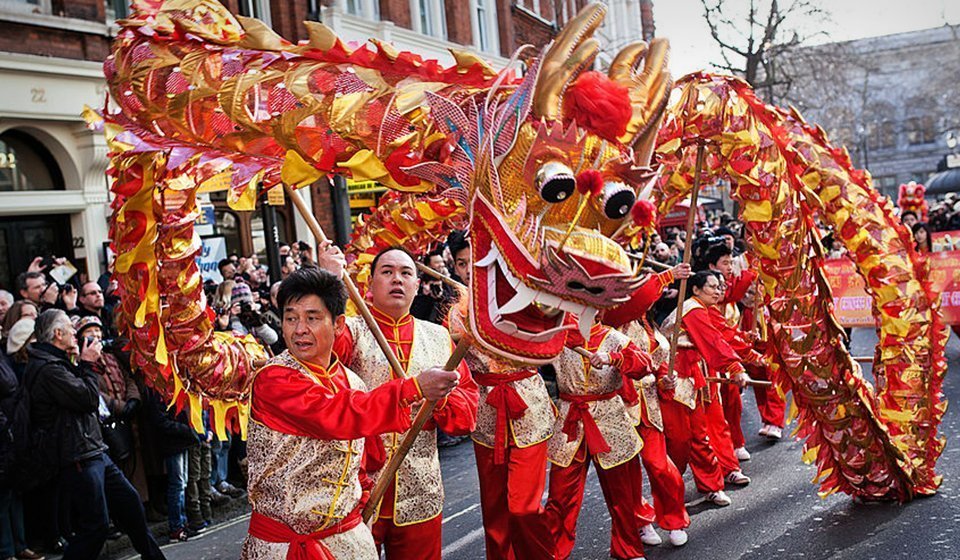 To end our learning about China, St John the Baptist class worked together to perform a traditional Chinese dragon dance. They used dragons made out of egg boxes that were painted and then decorated with crepe paper 'whiskers'. We hope you enjoy watching this dance as much as we enjoyed doing it!
Week Beginning Monday 2nd December 2019
Un, deux, trois...
This week St John the Baptist class were very lucky to have Madame Miché (a French speaking parent volunteer) join us in our French lesson to help us learn numbers 1-10. We loved playing games with dice that were not only fun but encouraged us to both speak French numbers and helped with our addition skills too!
Week Beginning 25th November 2019
Expanded Noun Phrases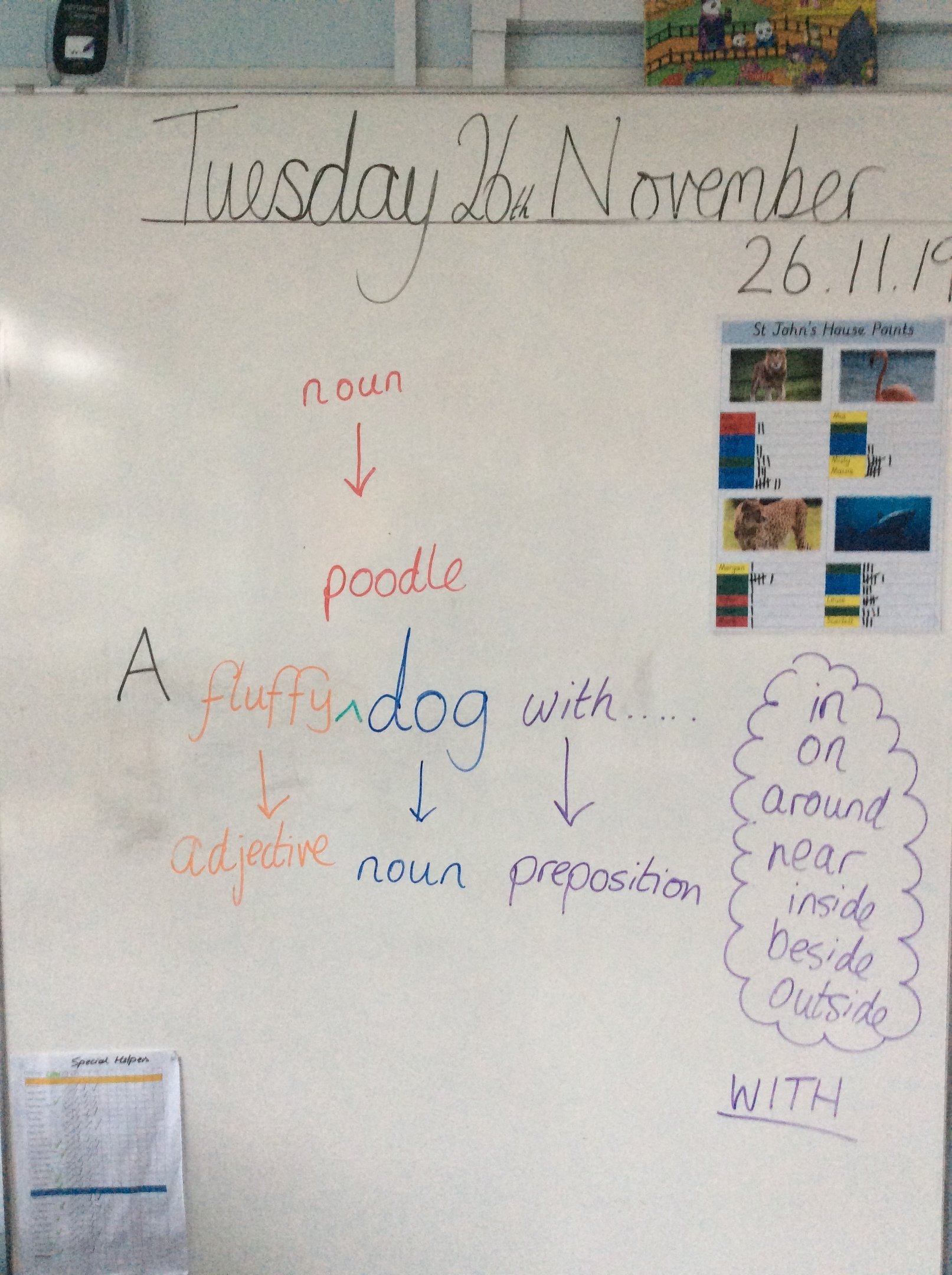 This week we have been learning how to make our writing more interesting by including expanded noun phrases. We learnt that we can modify nouns by adding in adjectives, prepositions and even nouns to make it more descriptive for the reader. Here are some pictures of us hard at work practicing writing some. Maybe you could think of some yourself to describe these nouns: cat, table, pen, the United Kingdom, a cross.
Week Beginning Monday 18th November 2019
Anti-Bullying Week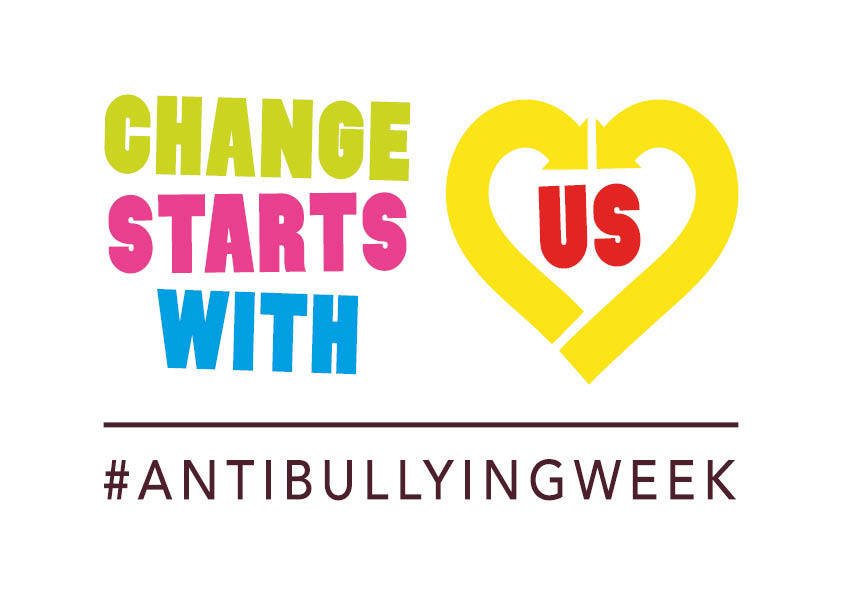 This week we created role play scenarios of different problems that the children face at school. We discussed many different solutions and children offered ideas on how to best 'inter-friend'.
Week Beginning Monday 18th November 2019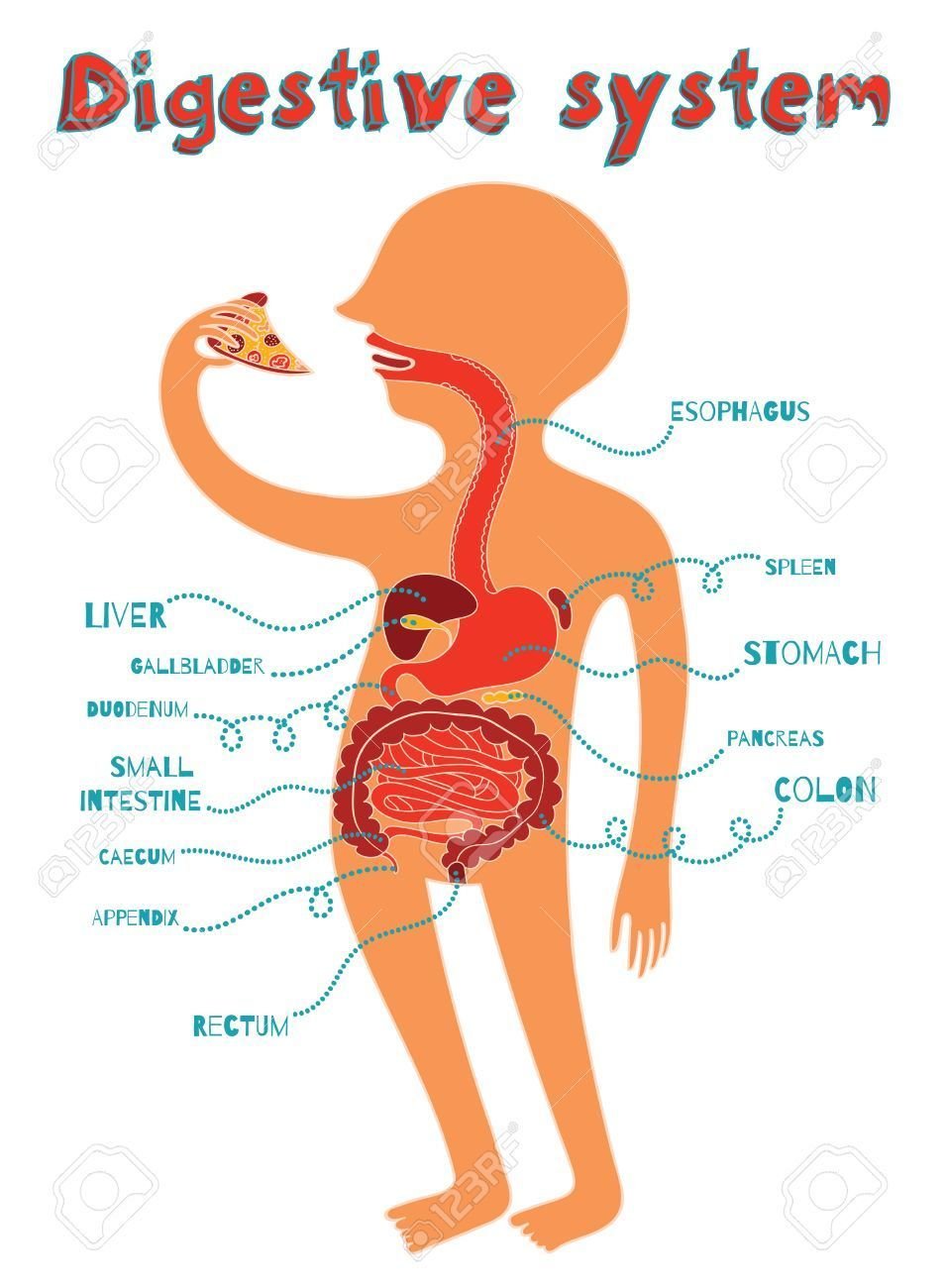 We are learning about the Human Digestive System in science. This week, to help us learn about the many different functions we explored the digestive system through drama and physical theatre . We worked in groups to describe a different part of the system and then joined them all together to create one long cycle.
We hope you enjoy our theatrics and watching our hard work..!
IMPORTANT INFORMATION
MONDAYS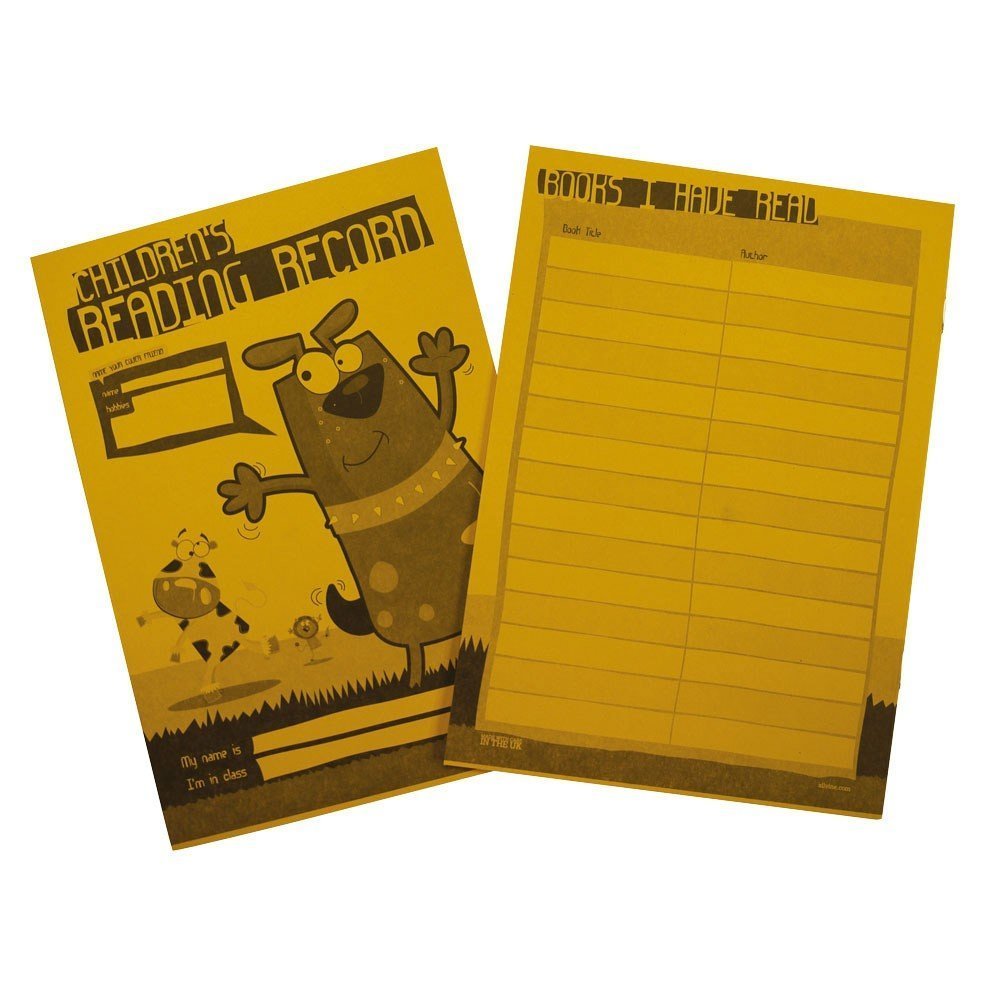 Reading records will be collected every Monday and returned the next day. The expectation is for students to read with an adult at least 4 times a week and to record relevant comments in their reading record.
FRIDAYS
Spellings and times tables will be given out on Fridays. Children should be encouraged to learn these to memory in preparation for a test the following Friday.
PE
PE is on Wednesdays and Thursdays. Please make sure your child has the correct PE kit and that everything has their name in it, clearly labelled.
AUTUMN TERM CURRICULUM OVERVIEW
It was wonderful meeting some of you on Tuesday after school. For those of you who could not make it please find the handout given HERE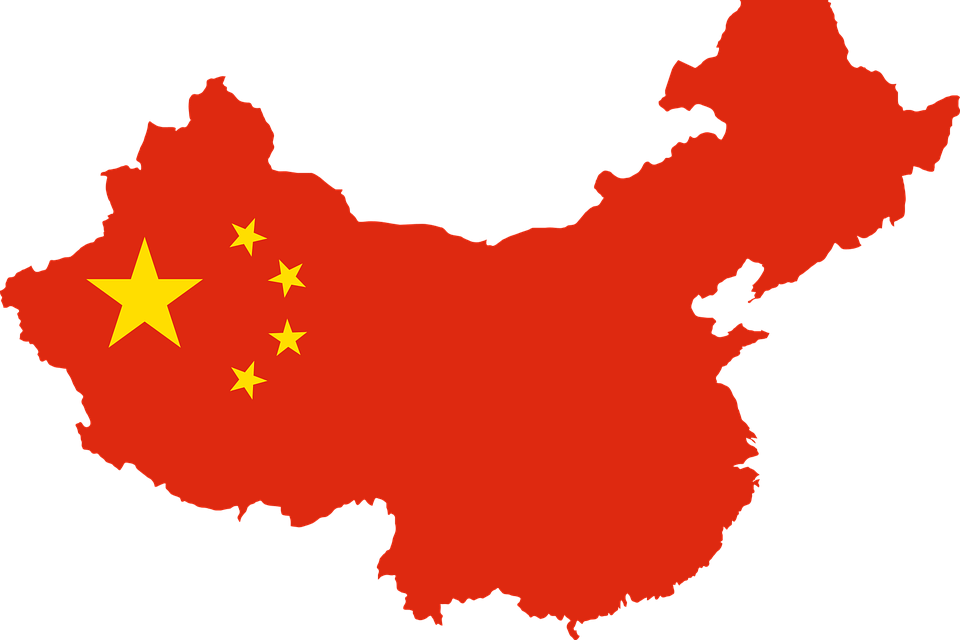 CHINA DAY - FRIDAY 13TH SEPTEMBER 2019
We had a 'stunning start' to our new topic China by tasting some traditional Chinese foods, writing our names using traditional Chinese calligraphy and learning some basic Tai Chi moves.
Thank you to all of your for making this day so special - you all looked so fabulous wearing red. (We just now need to practise our chopsticks skills!)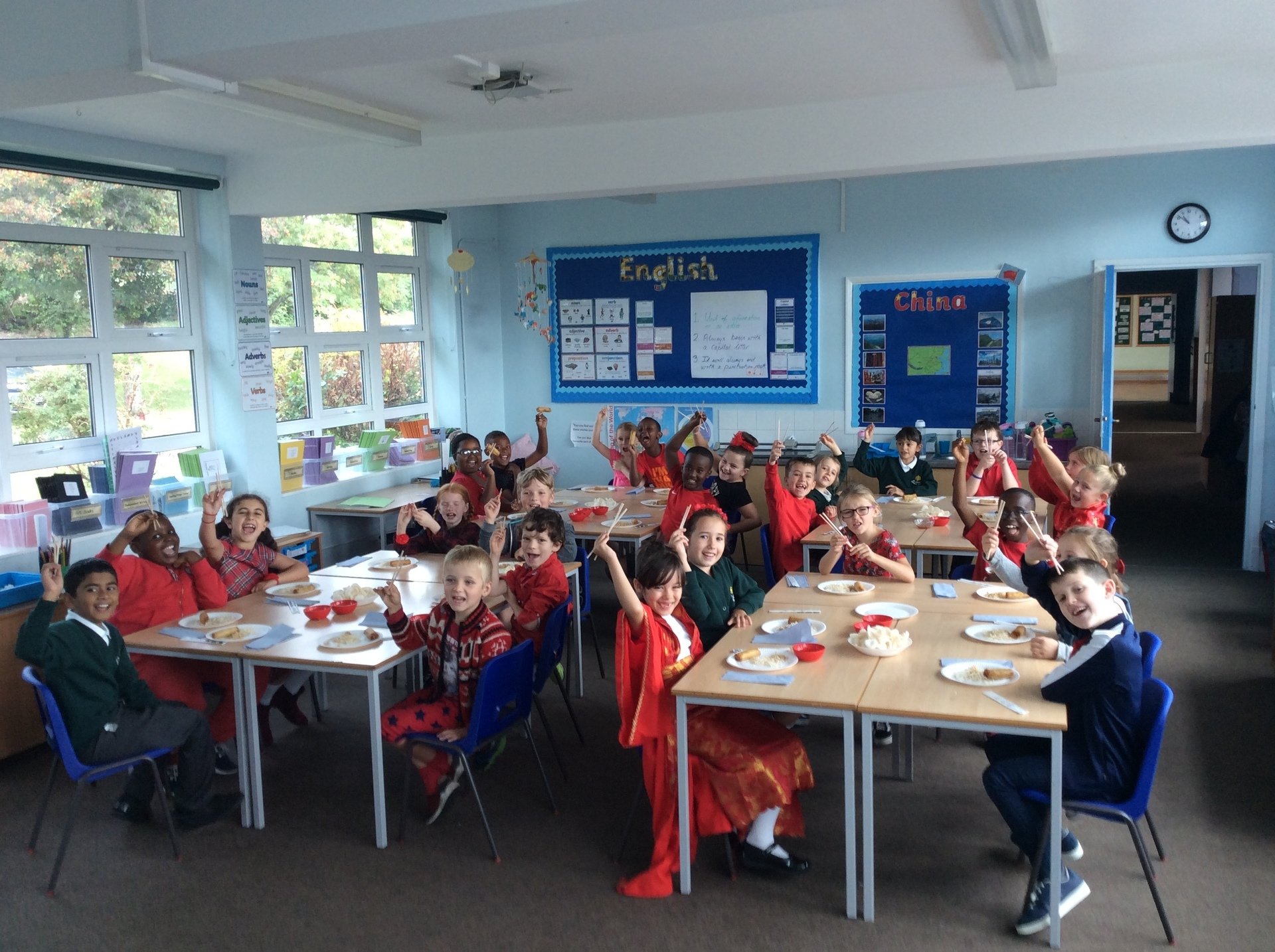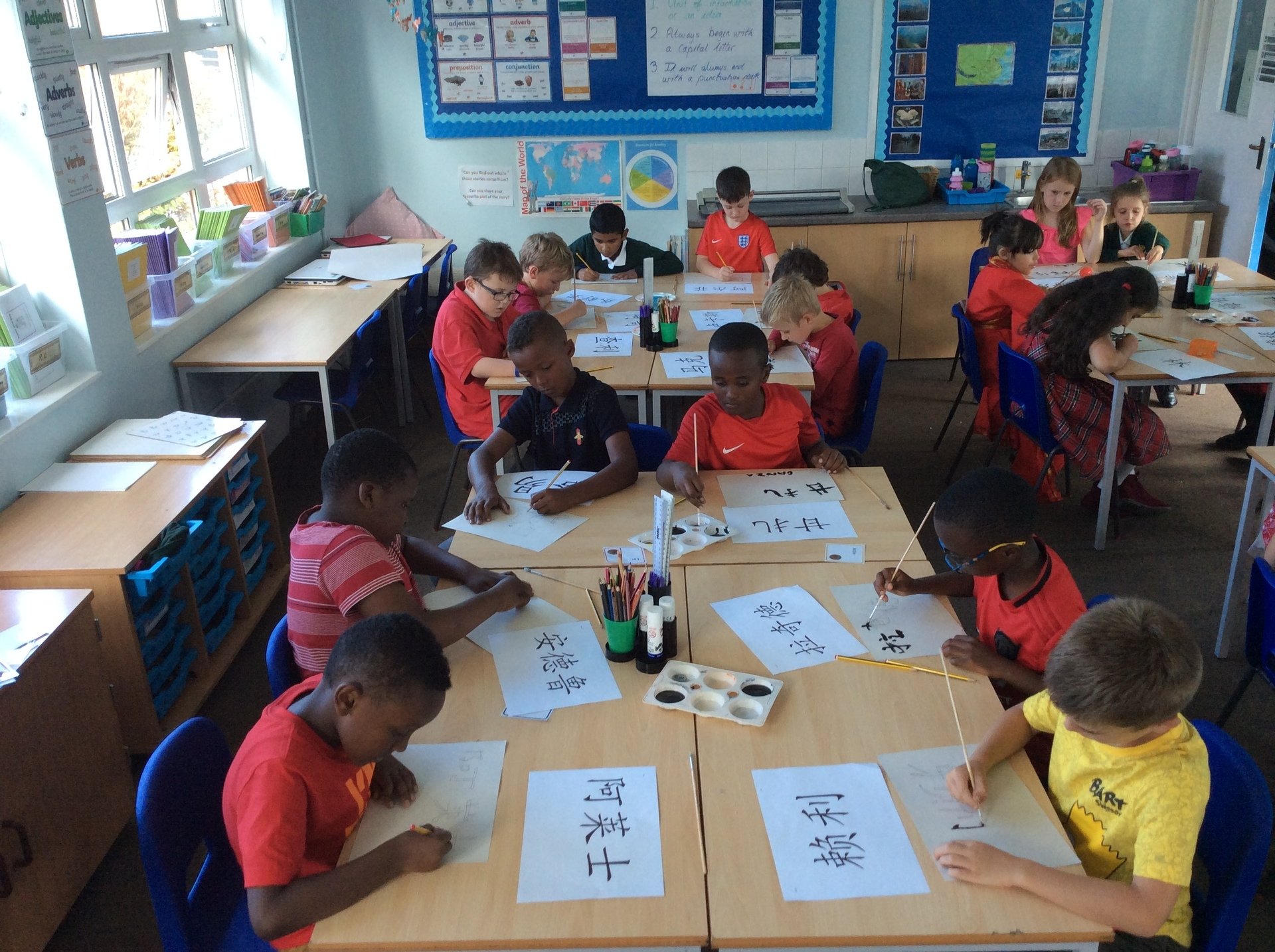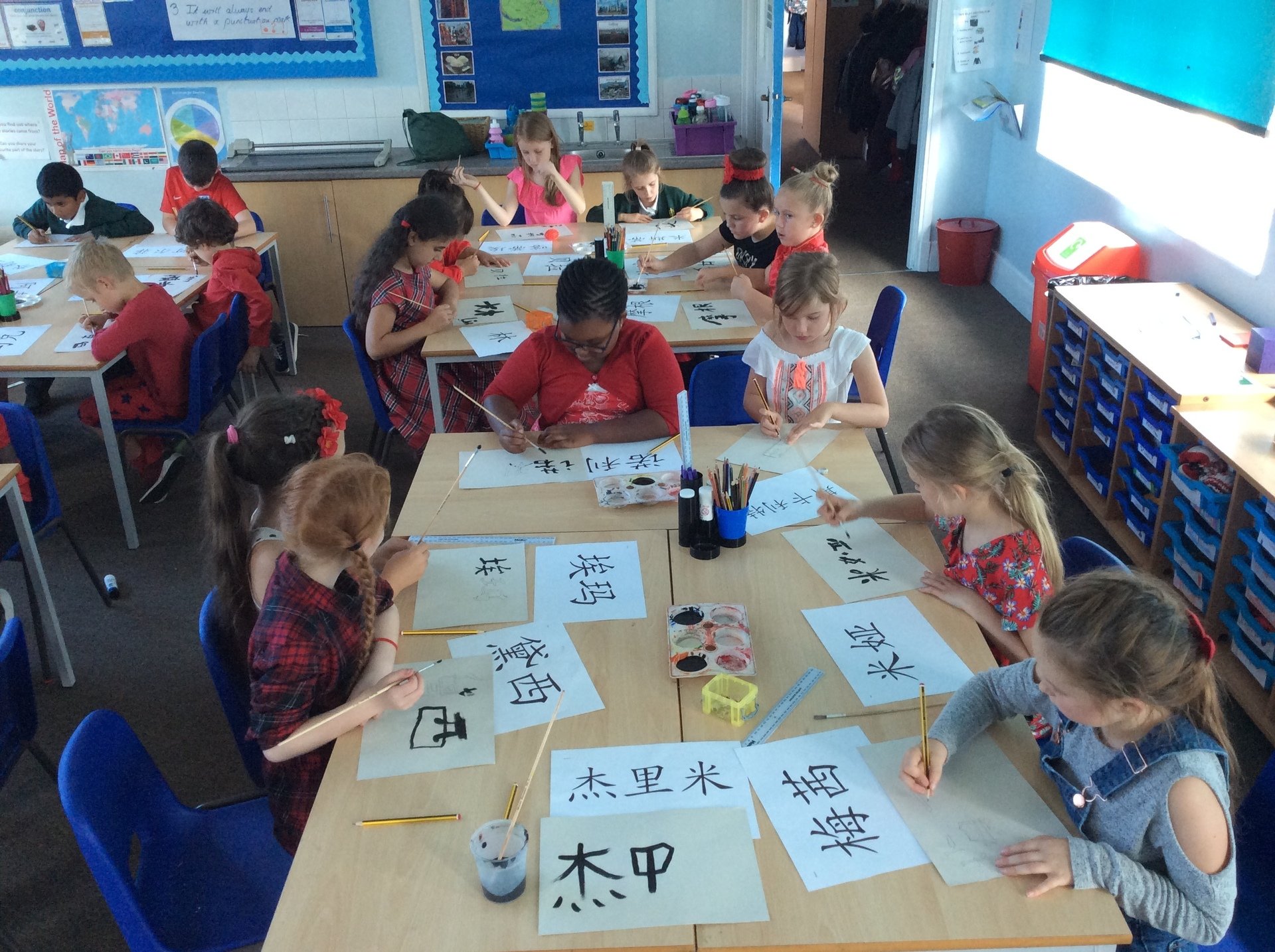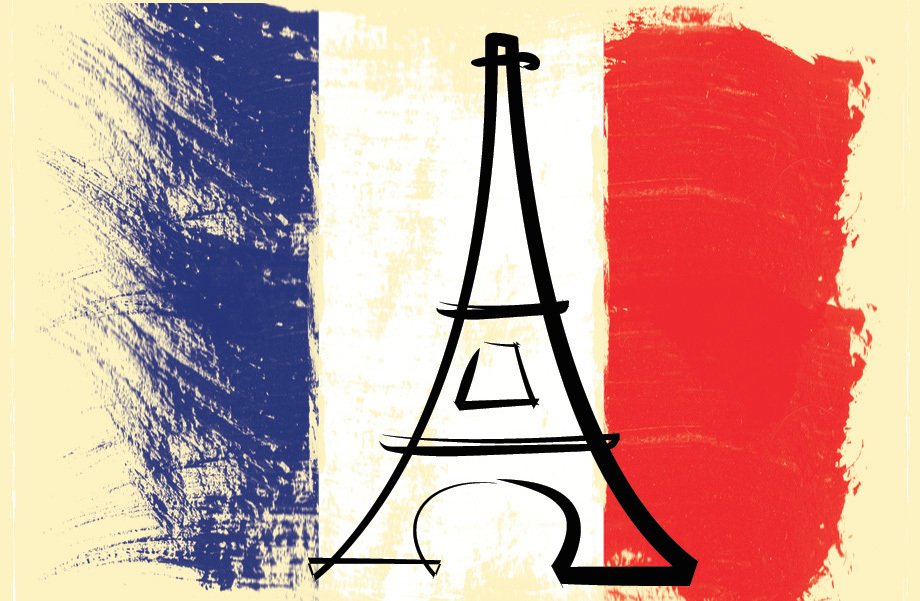 St John the Baptist class started their French lessons this week. We learnt how to say some basic greetings such as: "bonjour", "comment t'appelles tu?" and "je m'appelle..."
We then learnt some colours in French and created our own rainbows.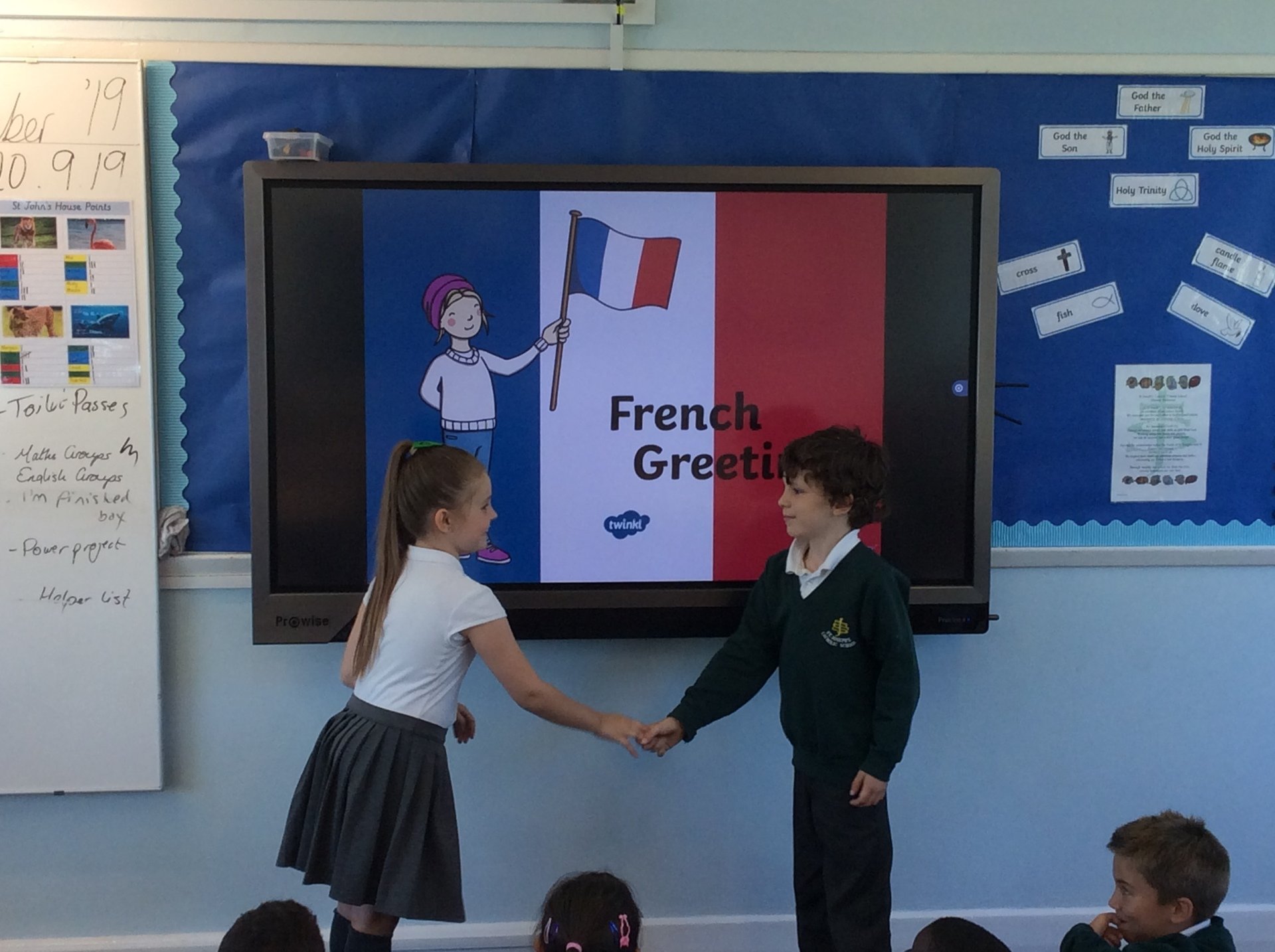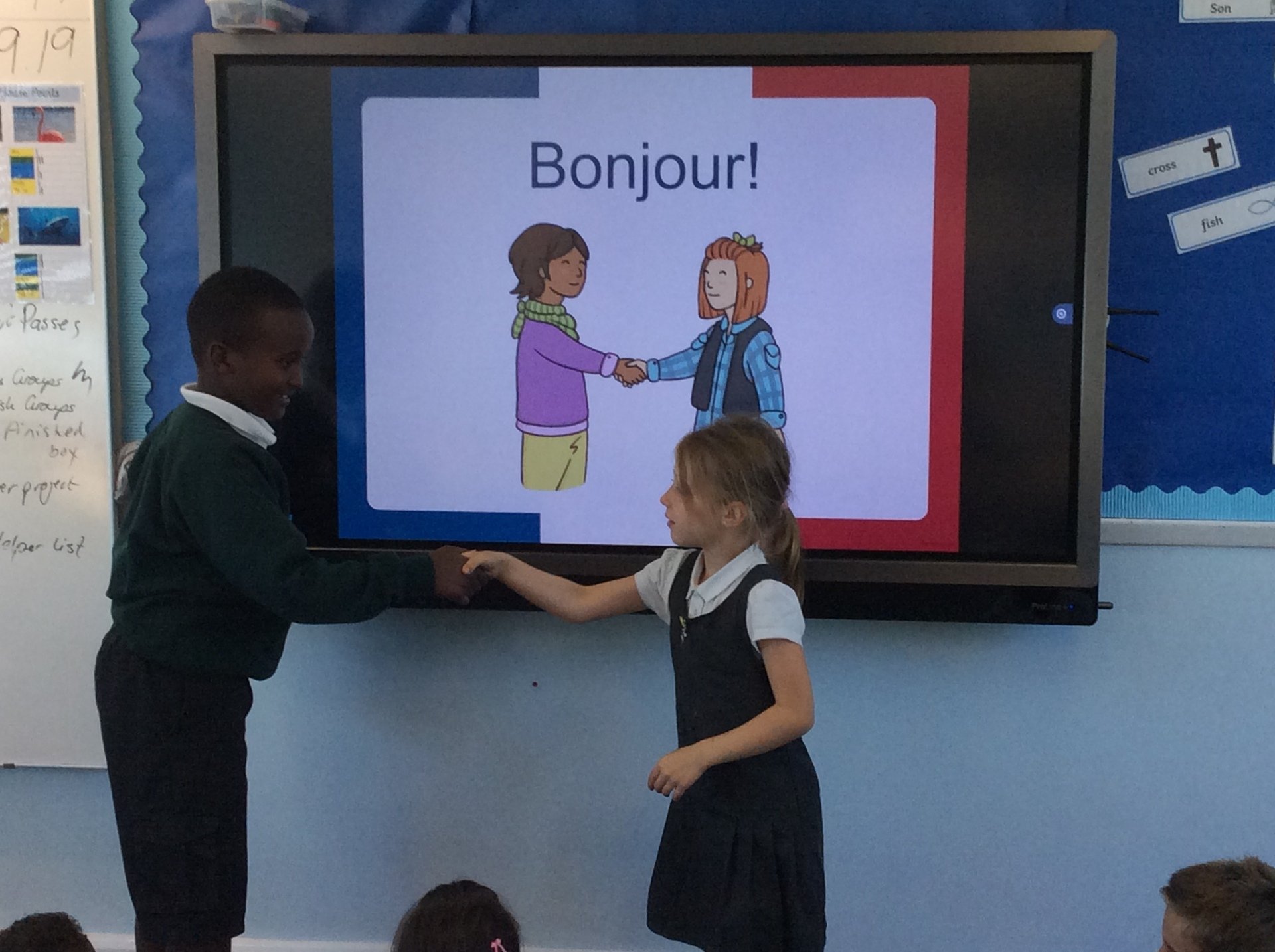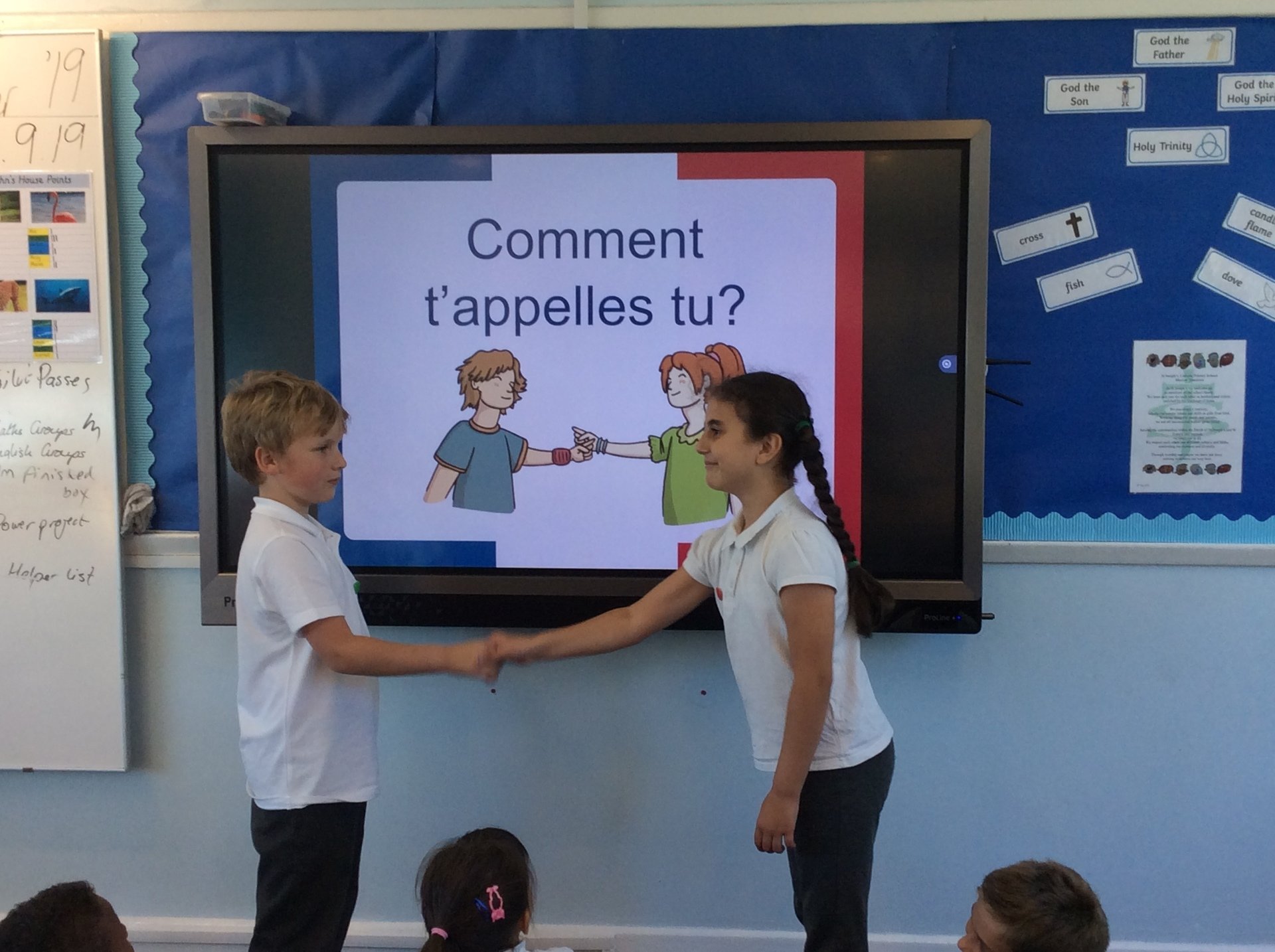 Week Beginning Monday 16th September 2019
Invertebrate Hunt!!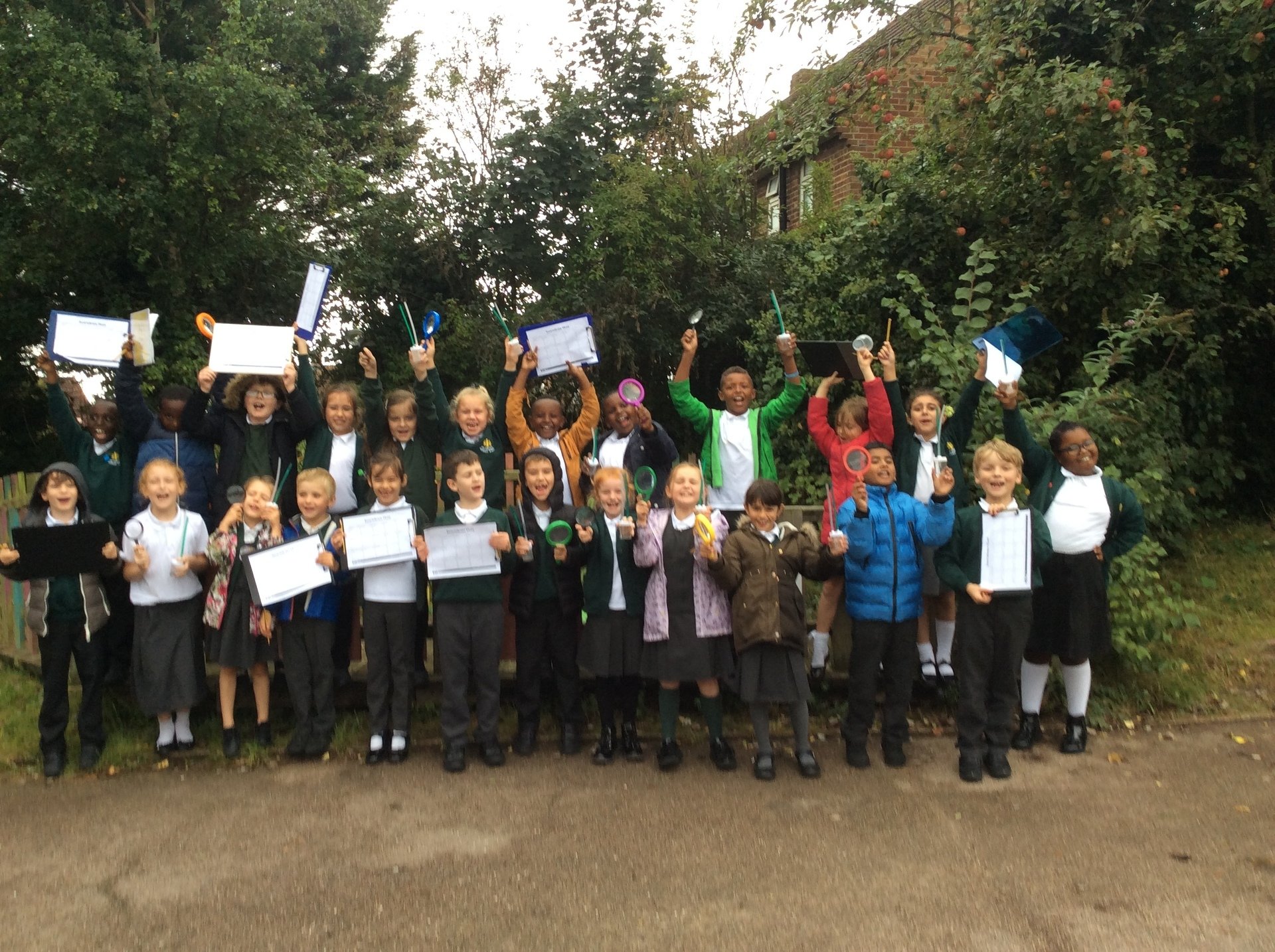 Yesterday, the children in St John the Baptist went on an invertebrate hunt (that's a living thing without a backbone to you and me!). The children loved exploring outside in the wooded area of the playground and especially enjoyed using the special equipment to try and capture the invertebrates. We then brought our findings back to class and discussed what we had found, where they were and how we could classify them.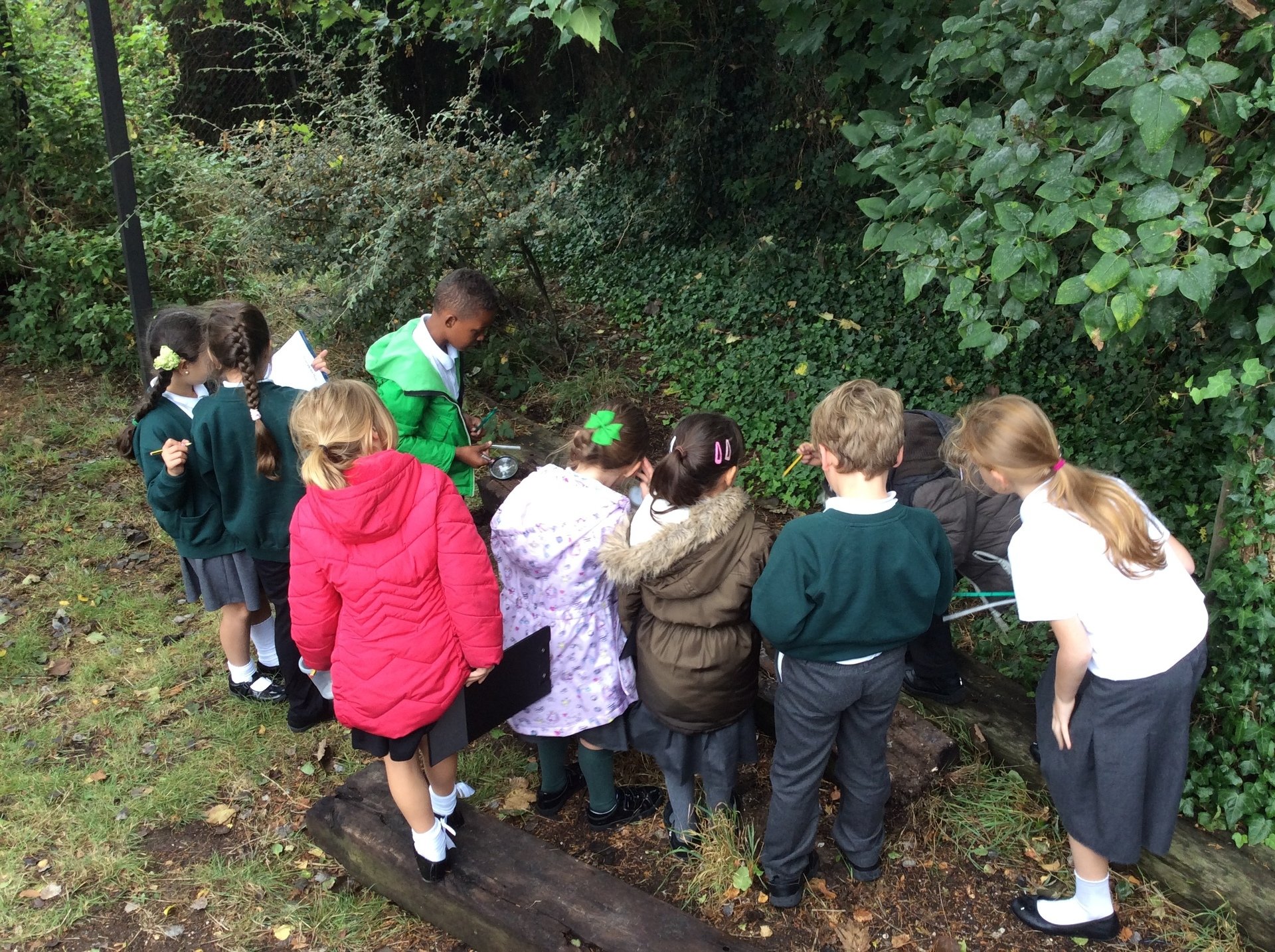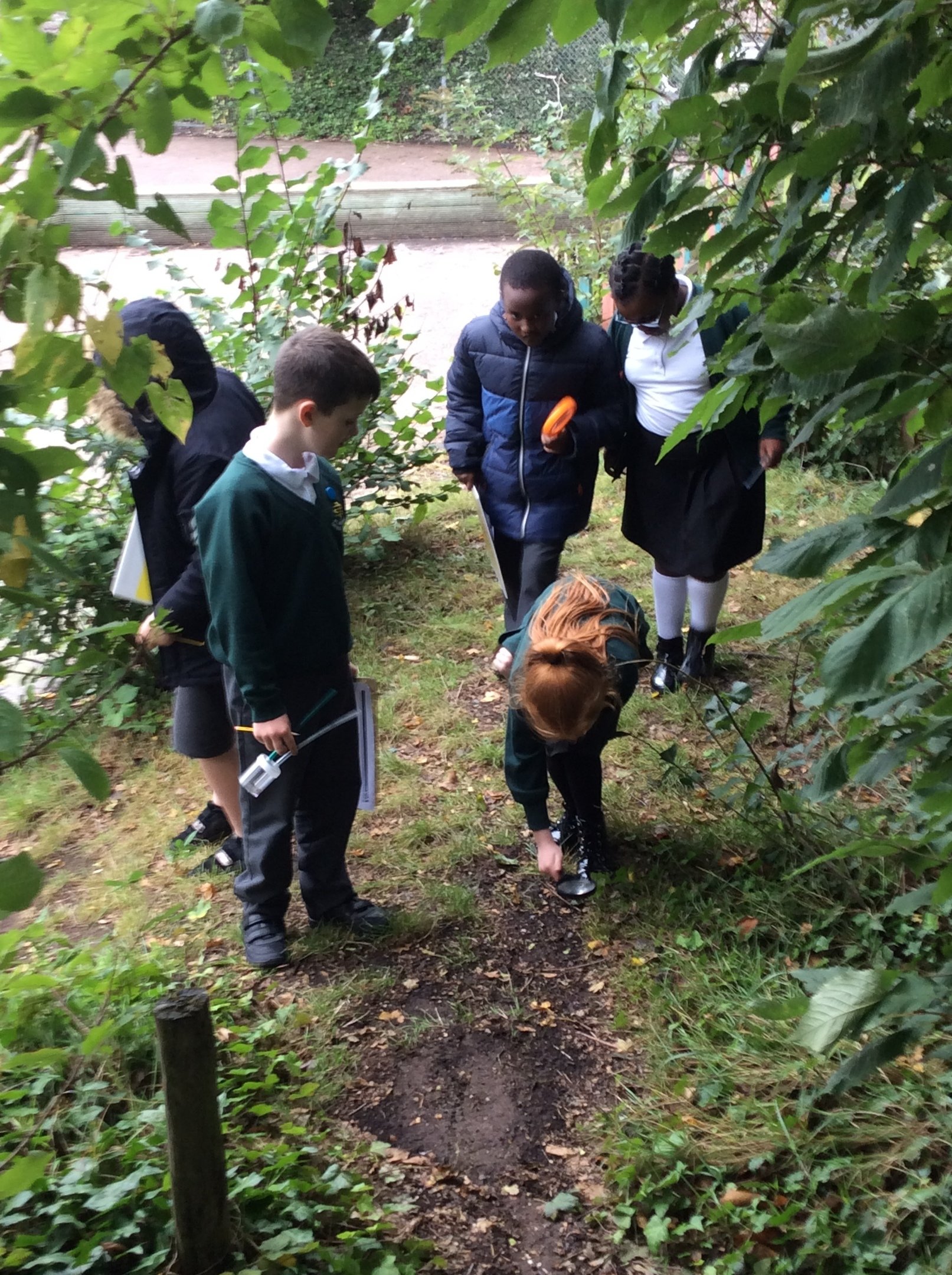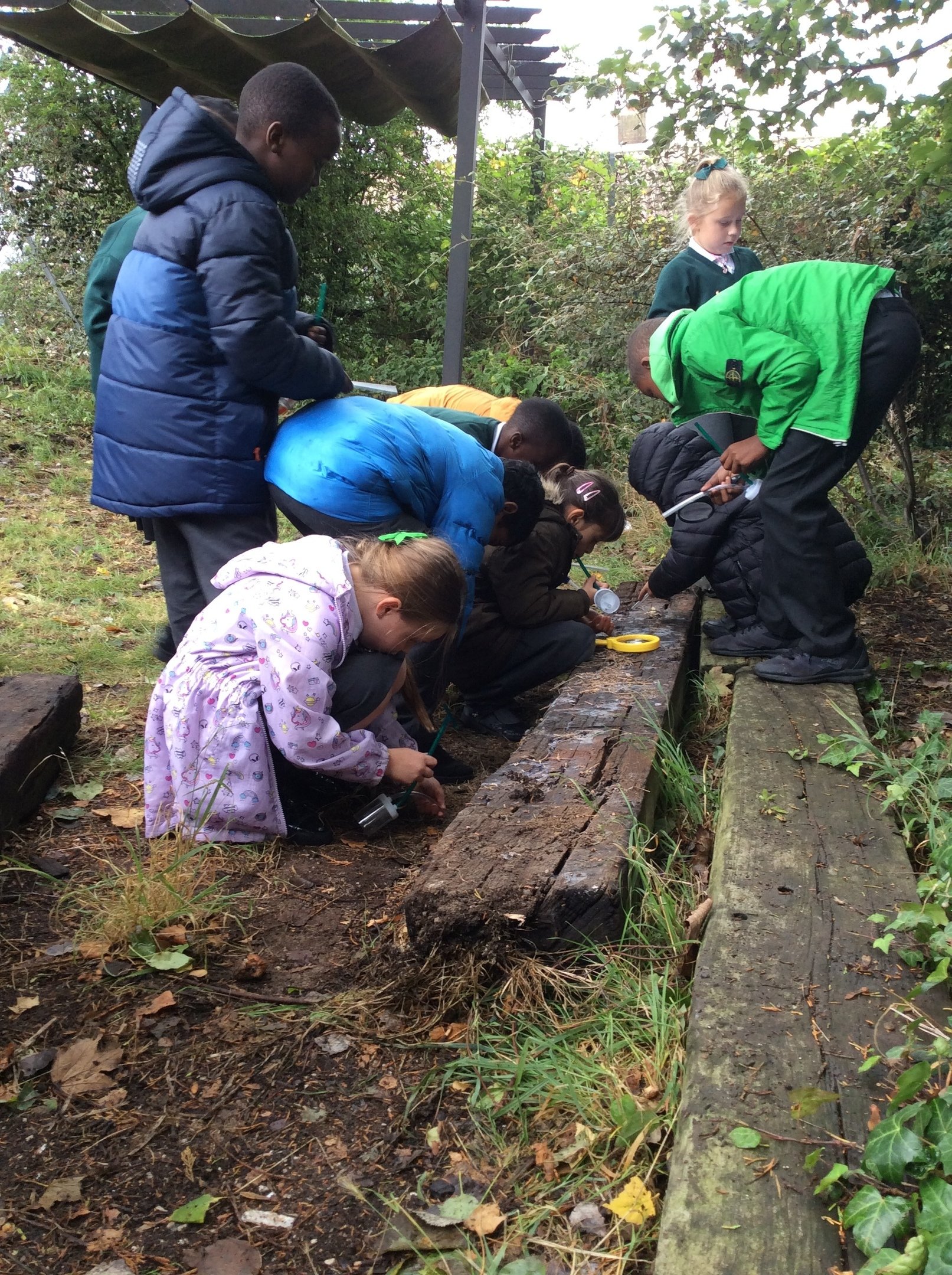 Week Beginning Monday 23rd September 2019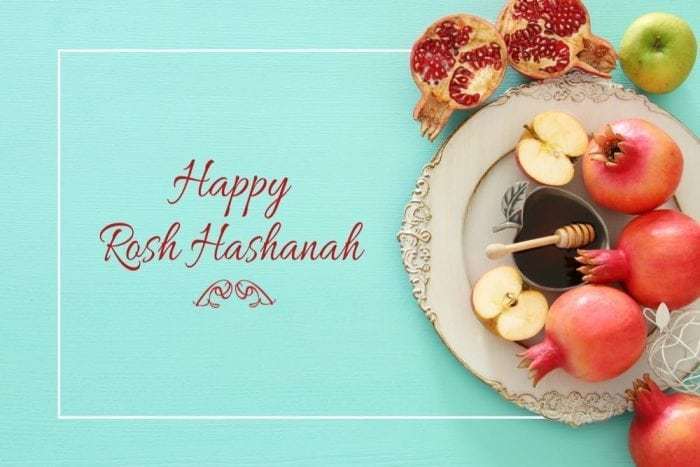 Happy New Year!
To celebrate the Jewish New Year (Rosh Hashanna) the children ate some apples dipped in honey.
The apples symbolise new life and honey for sweetness.
When eaten together they help us to have a 'sweet new year'.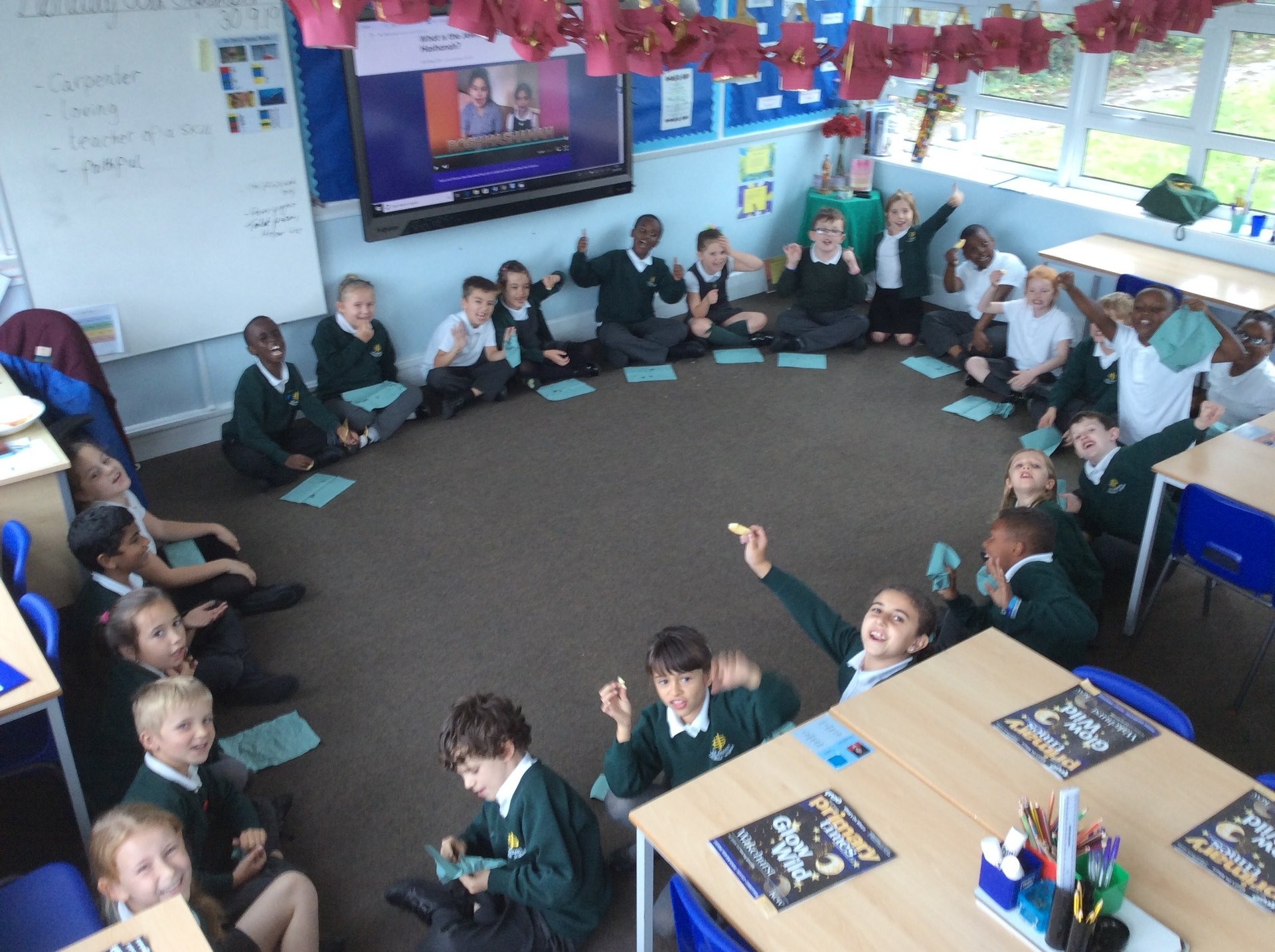 Week Beginning Monday 30th September 2019
Happy Grandparents' Week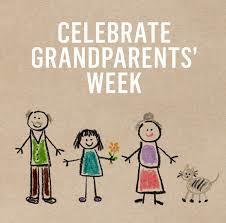 The children in St John the Baptist worked really hard to learn a song all about nouns which they then performed for nearly 100 adults as part of the whole school's celebrations for Grandparents' Week. It was a wonderful performance that was enjoyed very much by both the audience, teachers and the children themselves. In case you weren't able to make it, (or want to watch it again!) here it is below:

Week Beginning Monday 7th October 2019
This week at St Joseph's was other faiths week and this time round it was Judaism. In our first lesson we learnt that the holy Jewish scripture is called the Torah and it's actually a text we already knew, The Old Testament. Then in our second lesson we saw that the Torah is written in a language called Hebrew and we then tried our hand at painting the famous Hebrew word for peace which is Shalom.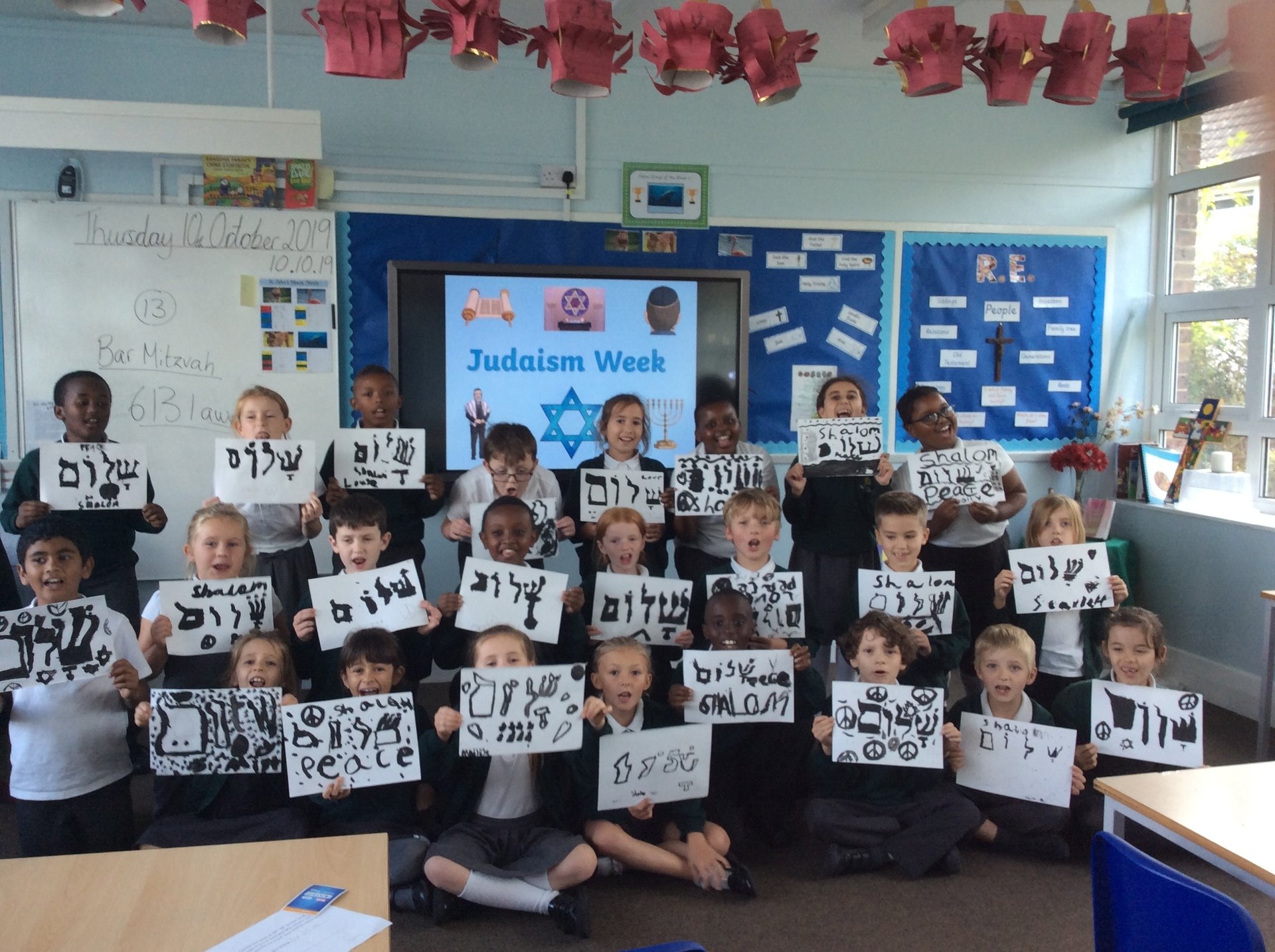 Week Beginning Monday 14th October 2019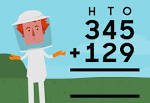 We are column addition clever clogs!
This week in maths, the children of St John's have been working hard consolidating their adding skills by learning how to use column addition. We worked together in small groups to practise how to add large numbers and most importantly how to accurately carry numbers that cross the hundreds or thousands.
Week Beginning Monday 21st October 2019
Commemorating the life of Mary Seacole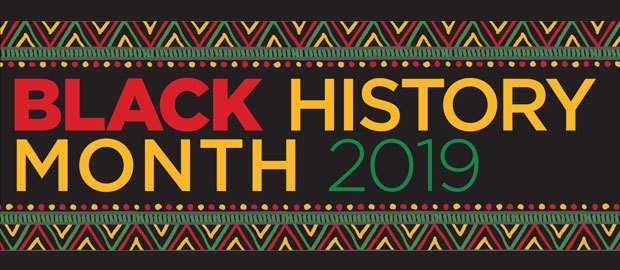 This week at St Joseph's the whole school participated in an assembly to celebrate the lives of influential black heroes of the past. St John's class were given the privilege to present the life of Mary Seacole, a Jamaican/British Nurse who became a heroine of the Crimean War. St John's class were split into different groups with each one depicting a different part of Mary's life through a frozen picture, or a narrative tableaux as Mr Fishman likes to call them! Here are some highlights below:
Week Beginning Monday 4th November 2019
The Sacrament of Confirmation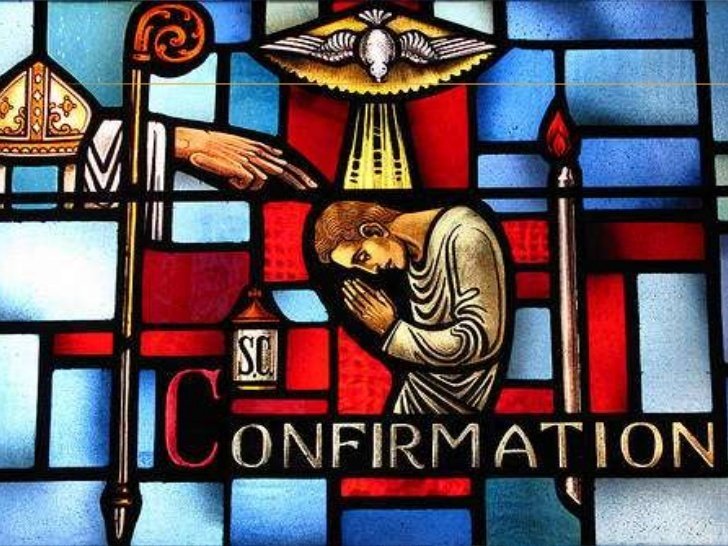 This week the children in St John's learnt about the Sacrament of Confirmation. We learnt that after being Confirmed by a Bishop, the Holy Spirit allows all Christians to practice their faith in every aspect of their lives and to be with Christ in every situation. We then designed some beautiful artwork inspired by the prayer: "come Holy Spirit fill the hearts of the faithful and en kindle in them the fire of thy love."
Here is a picture of the artwork we created which is proudly on display in our classroom.