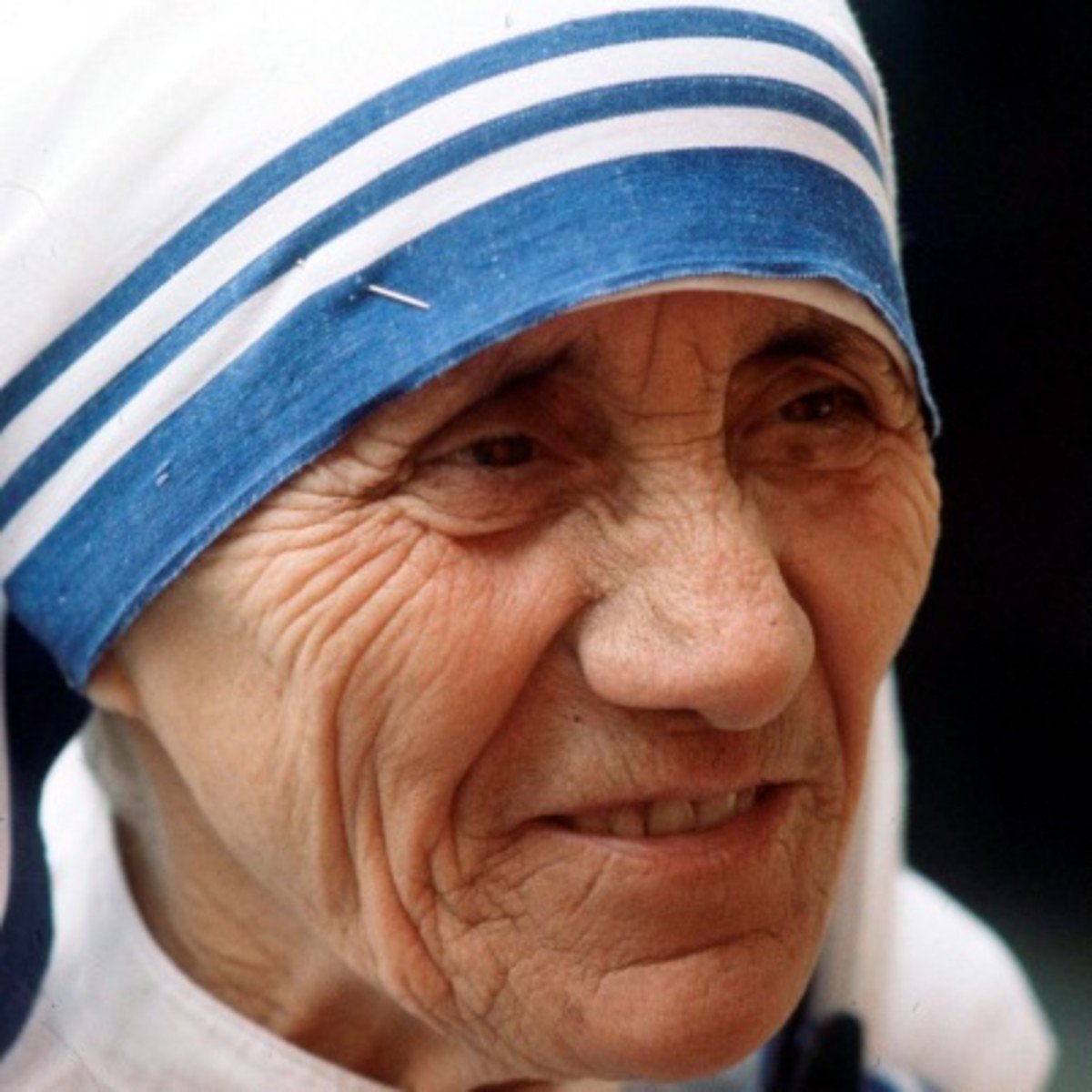 Teachers: Mrs Foan (Mon and Tues) and Mrs Skinner (Weds- Friday)
Teaching Assistant: Mrs Greener 1-1/small group support: Mrs Budd
Fantastic Finish!
Year 6 have had a full term of history and geography learning through their topic," Mexico and the Mayans." Today, they celebrated their learning by looking through their books and sharing what they had learned.
We then spent the morning celebrating Mayan crafts. One of the activities involved making a "ojo de dios" (God's eye) which is a type of weaving, commonly found in Mexican communities. We were very proud of our colourful Mexican inspired crafts.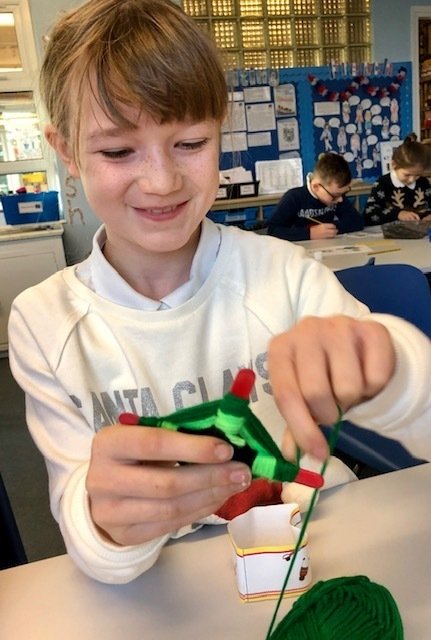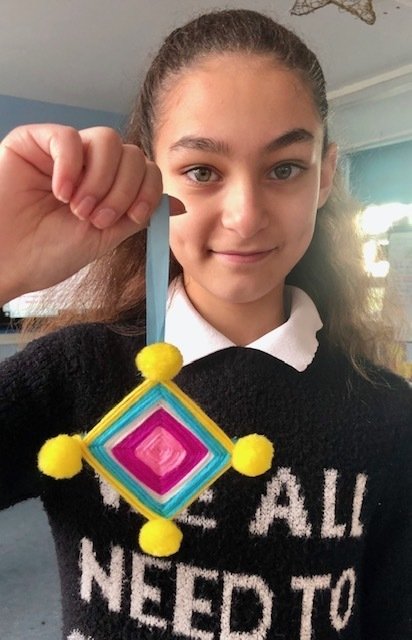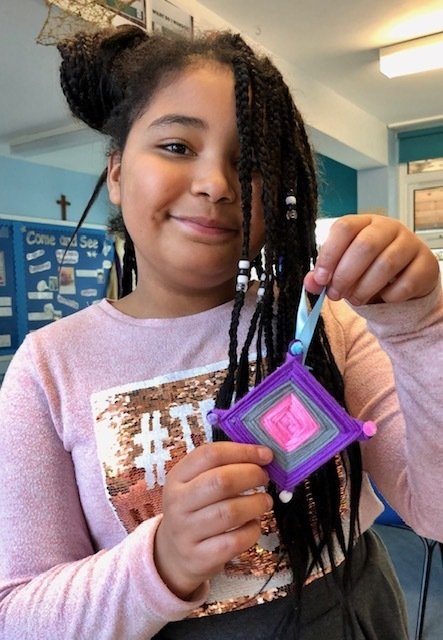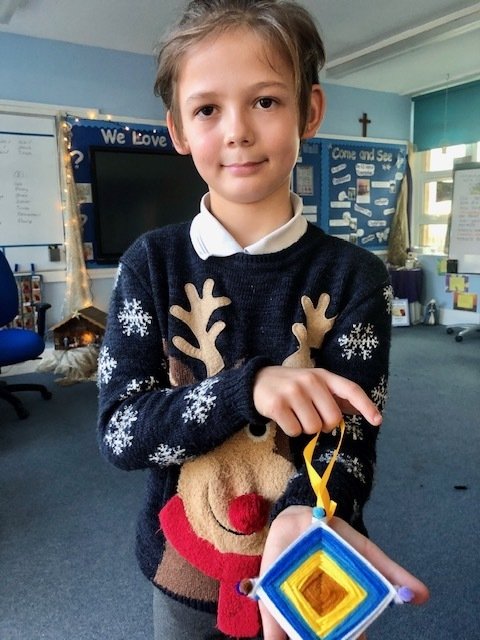 Carol Singing: 10.12.19
This morning, Year 6 popped next door to catch up with our neighbours and to sing some Christmas carols to the residents of Lindfield Court. It was lovely to be able to spread some festive joy by singing some carols and Christmas songs together. Our Year 6 children thoroughly enjoyed the visit, as did the tenants of Lindfield Court.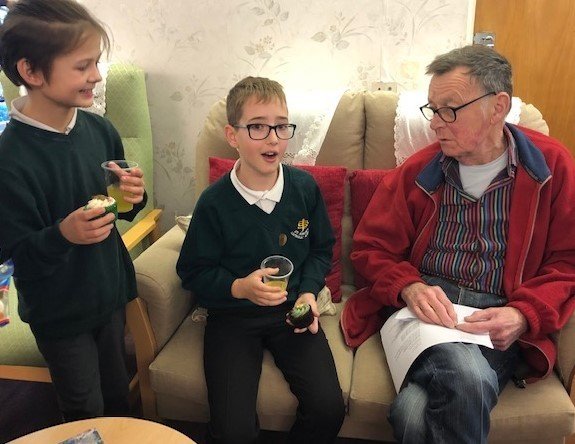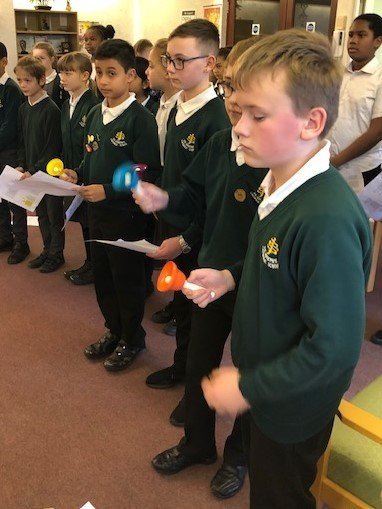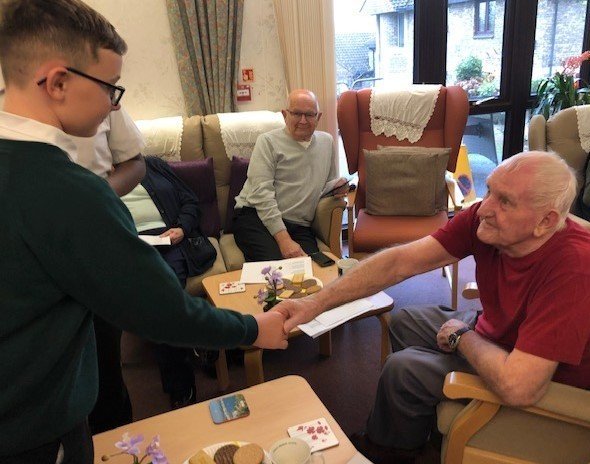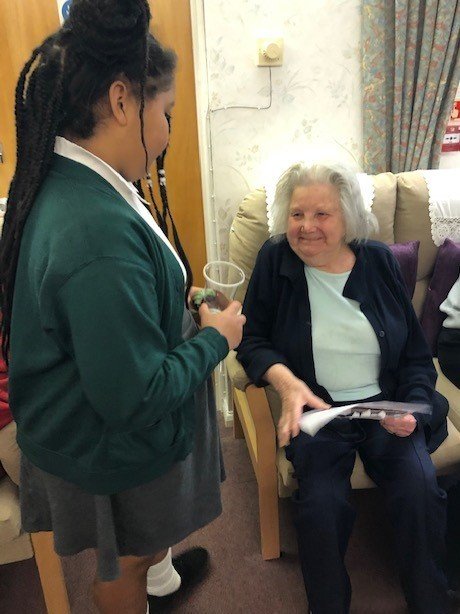 Climbing Superstars!
The PE National Curriculum states that pupils should take part in outdoor and adventurous activities. It has been a while since our activity break to PGL, so we decided to take Year 6 to Withdean Climbing Centre for an afternoon of climbing and bouldering. The children took part in a variety of activities including a range of different climbs as well as some traversing/bouldering challenges.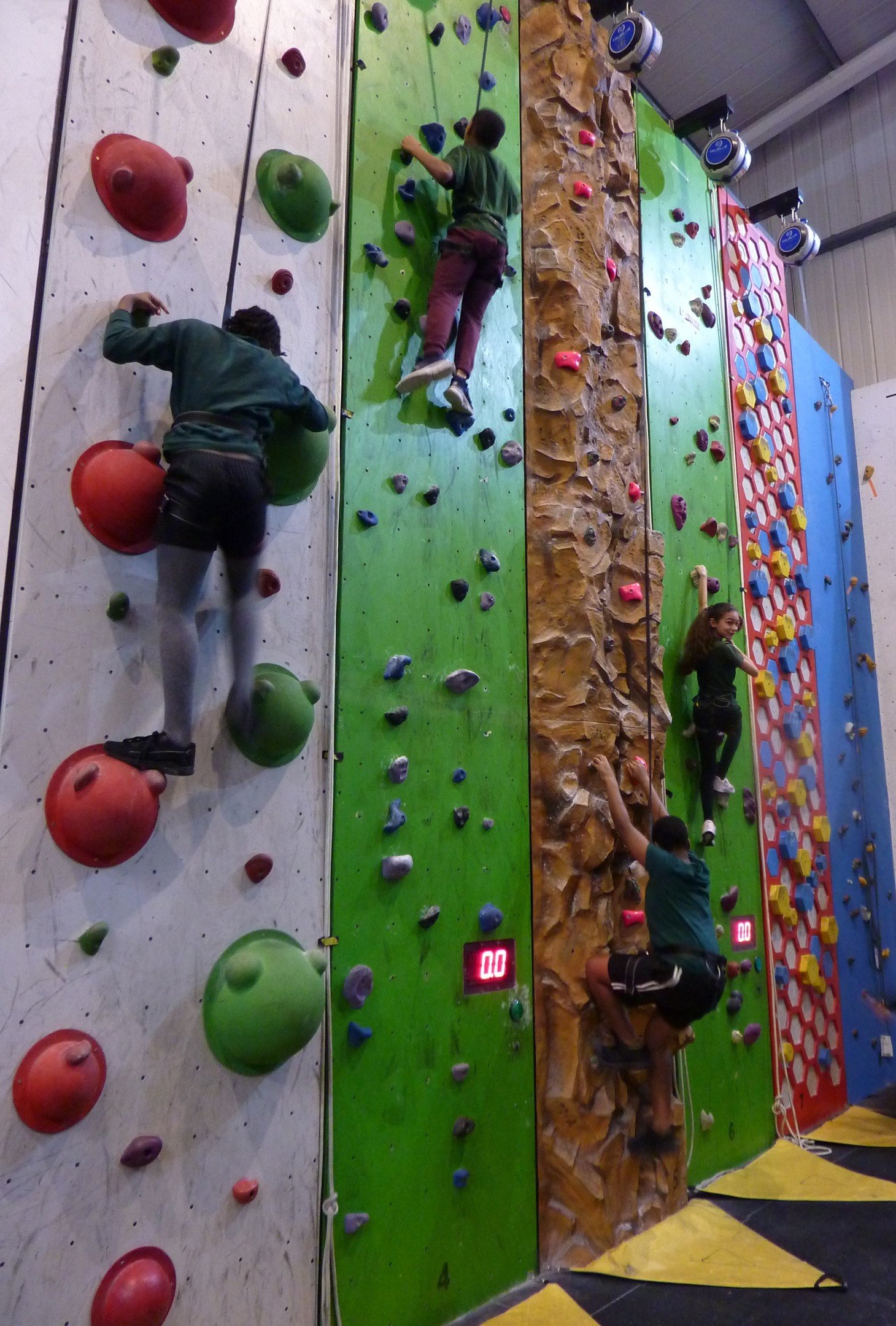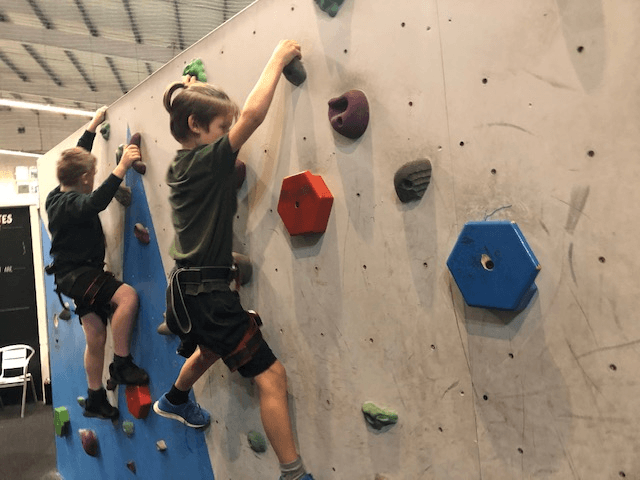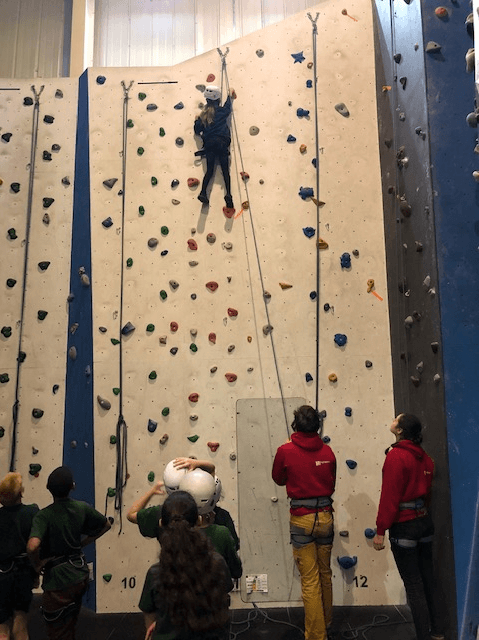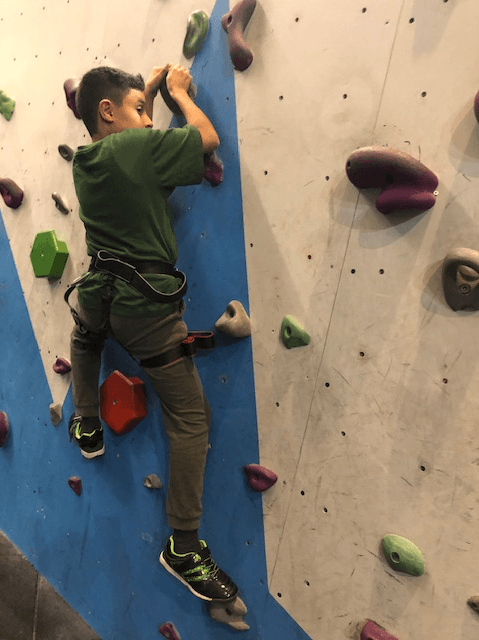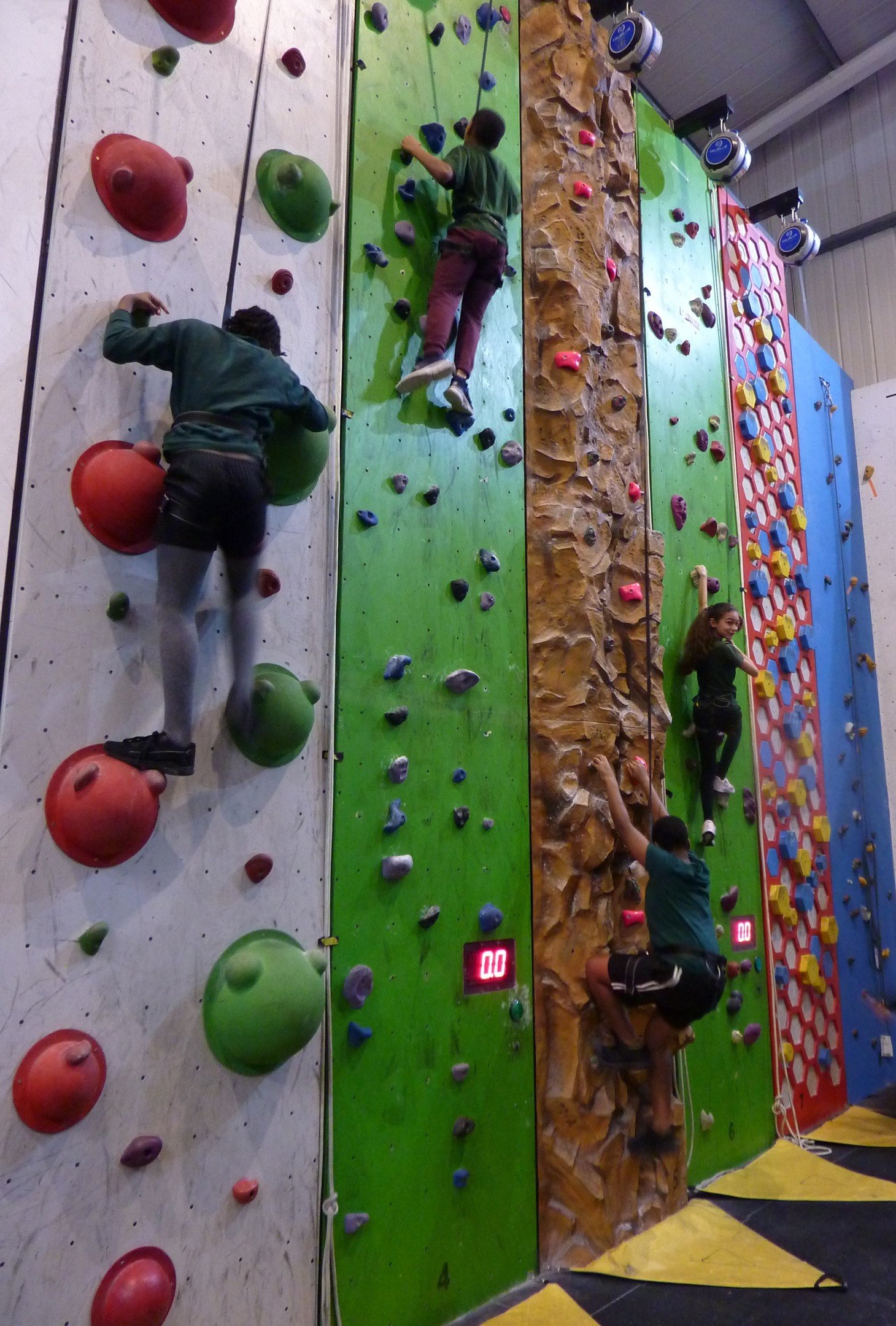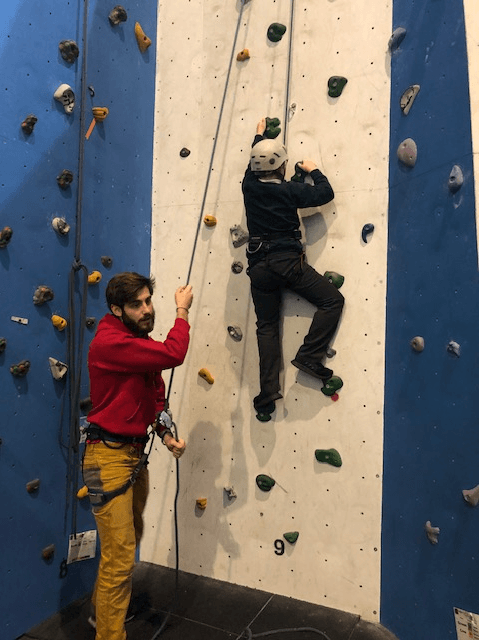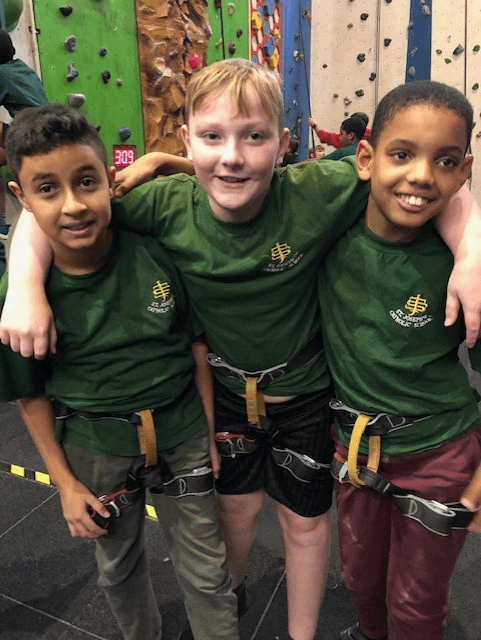 Year 6 did not fail to disappoint - there were some very skilled and agile climbers! All of the children pushed themselves showing resilience, determination and strength. There is a climbing competition in the New Year - we certainly have lots of willing and skilled competitors to choose from!
Anti-Bullying Week
Year 6 have been focusing on anti-bullying in class this week. They completed a comprehension based on anti-bullying and also worked in small groups discussing different scenarios and their possible outcomes and solutions.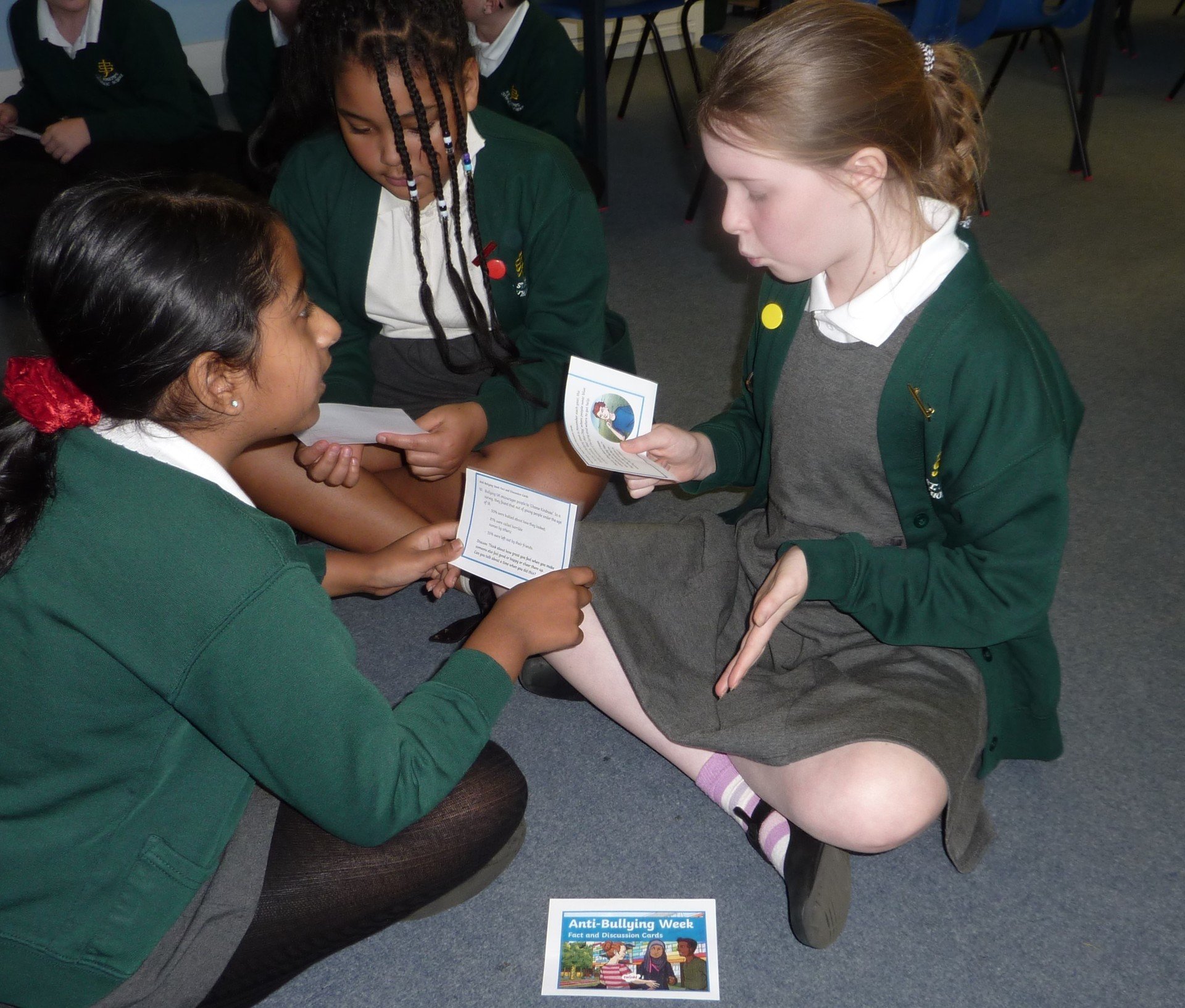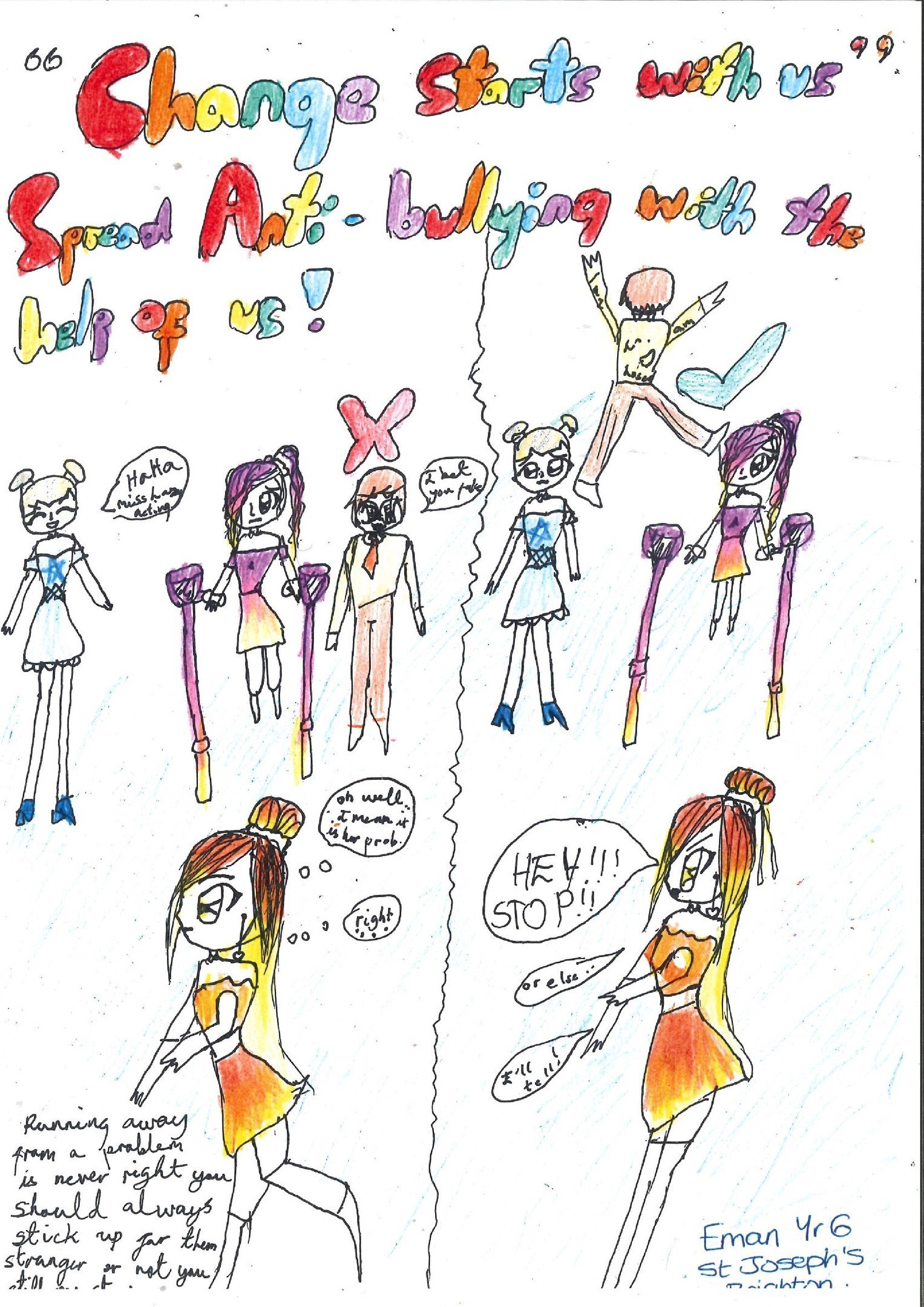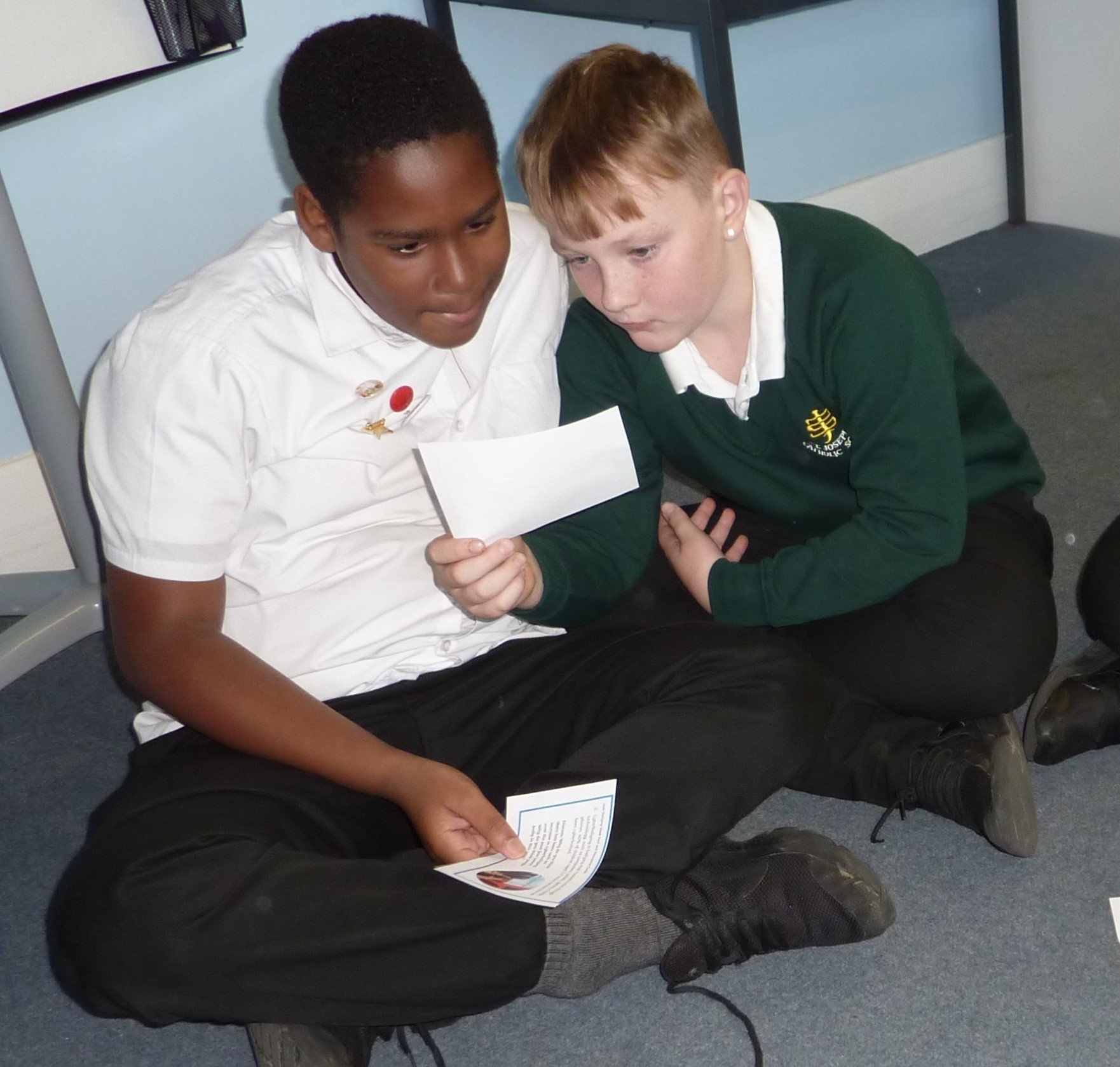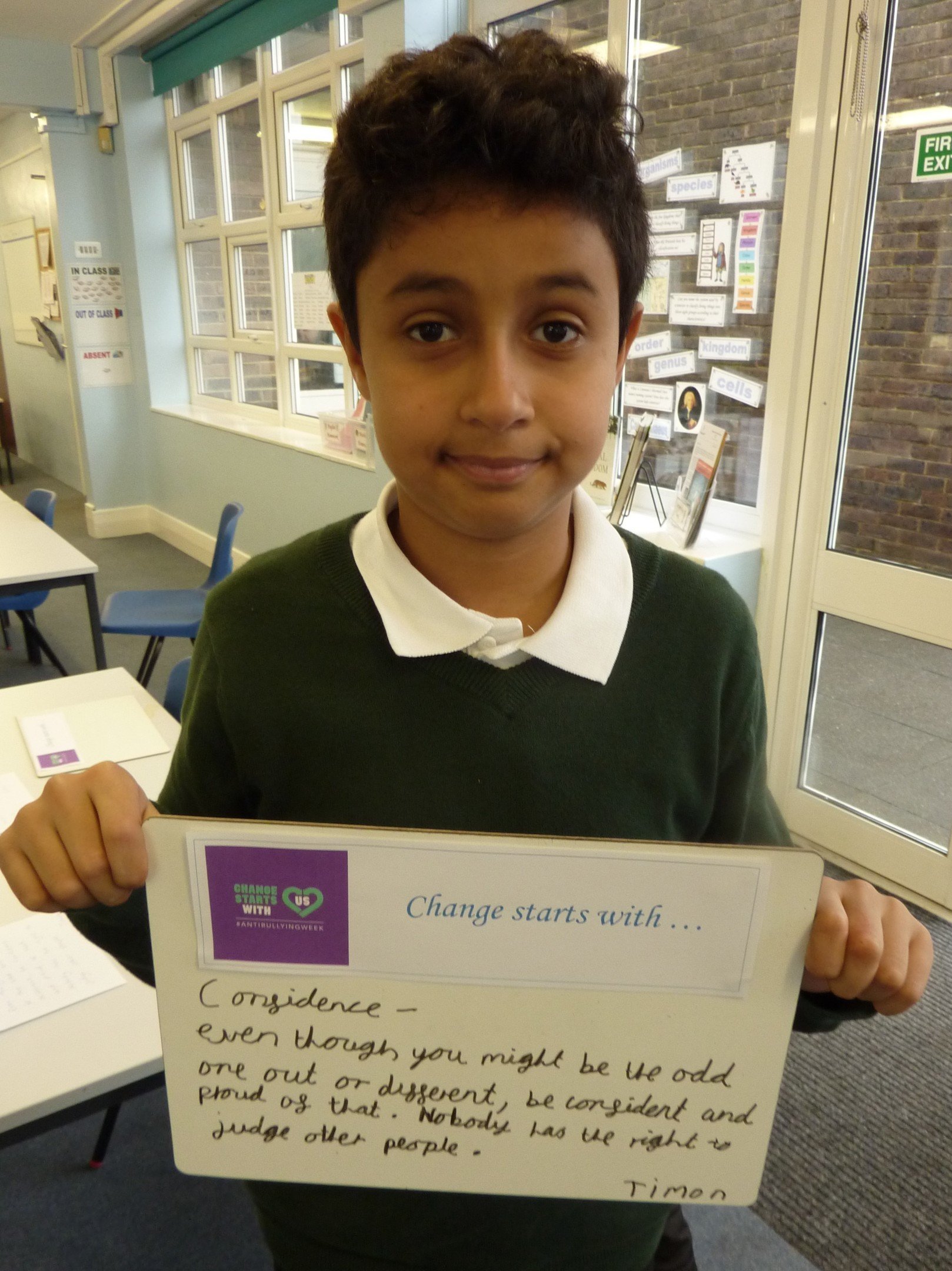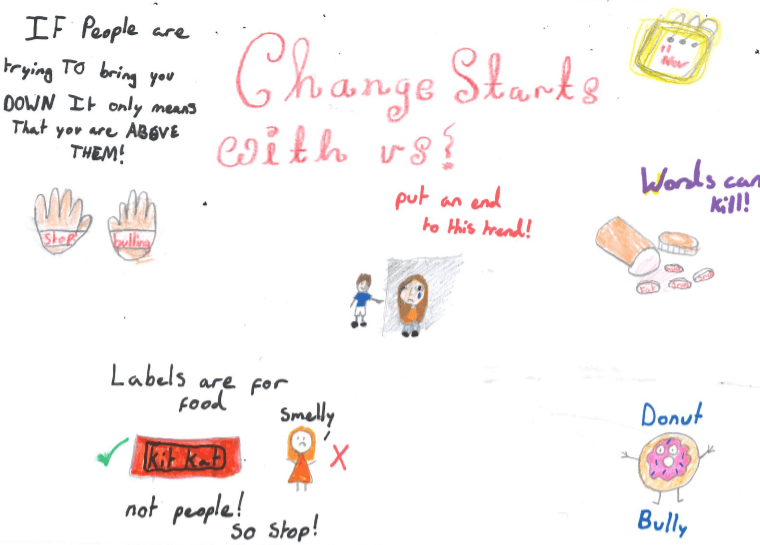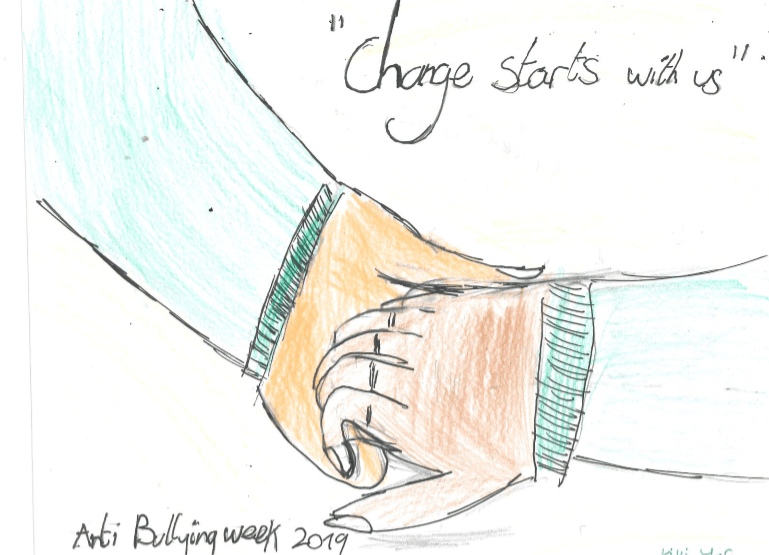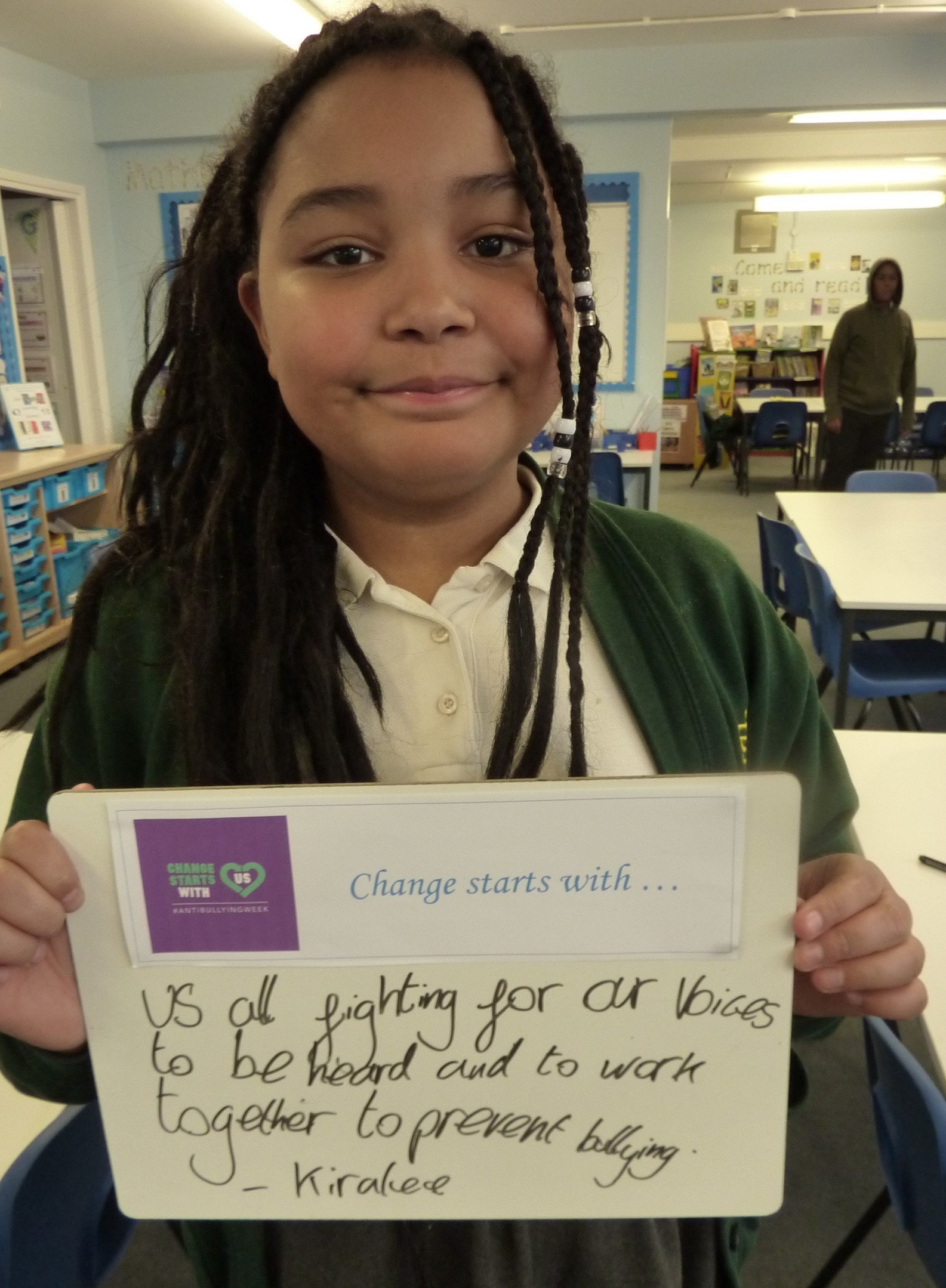 They also thought about how they, as Year 6 pupils, could adopt the strapline, "Change starts with us," and make a difference through their own actions.
Finally, they had the opportunity to complete some of the challenges set by Miss Hill. Their posters certainly help to convey the anti-bullying message.
Christian Meditation
We have been using Christian Meditation for a few years now - a few minutes after lunch each day where all children gather together in silence to meditate and be still in God's presence ensure that they are prepared for the afternoon.
Our Year 6 pupils take turns to set up the meditation focus from a selection of cloths and items from a class box. The children are very imaginative and creative. Here are a few examples from this week.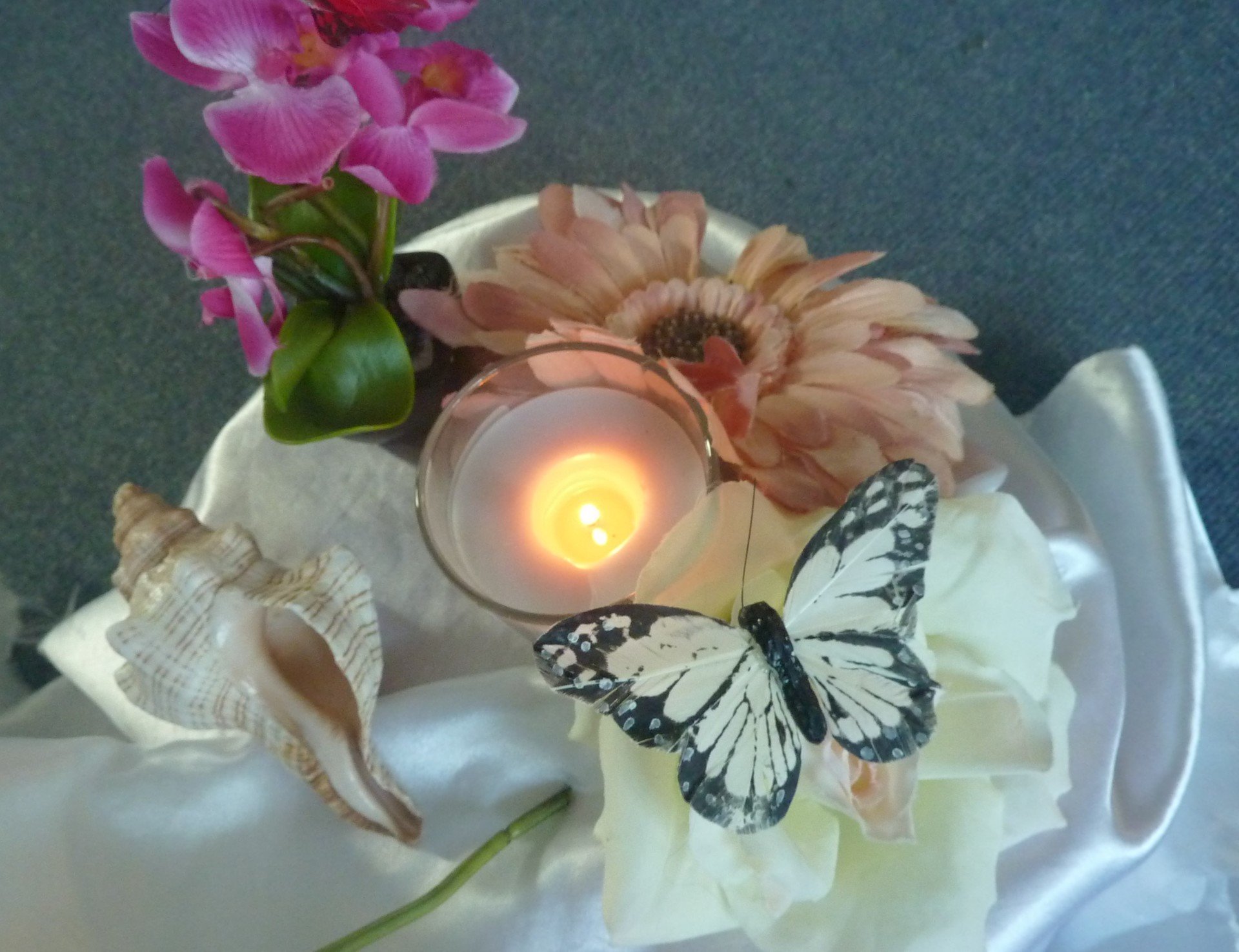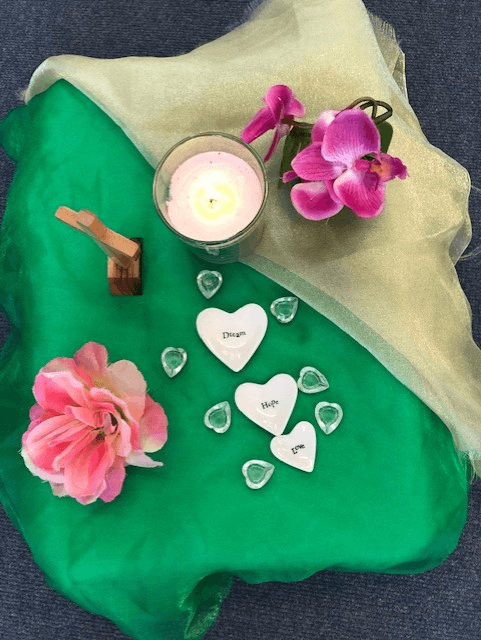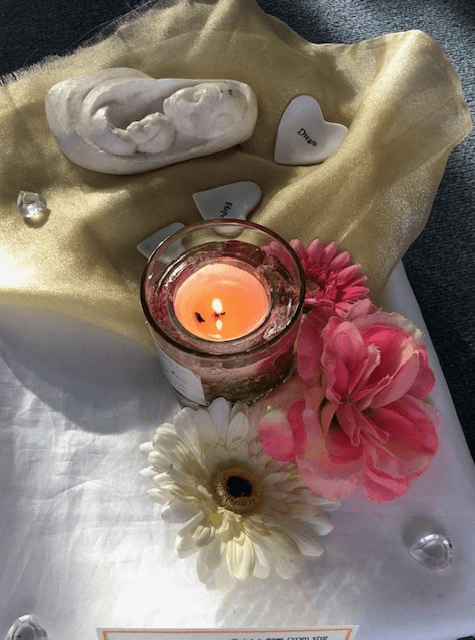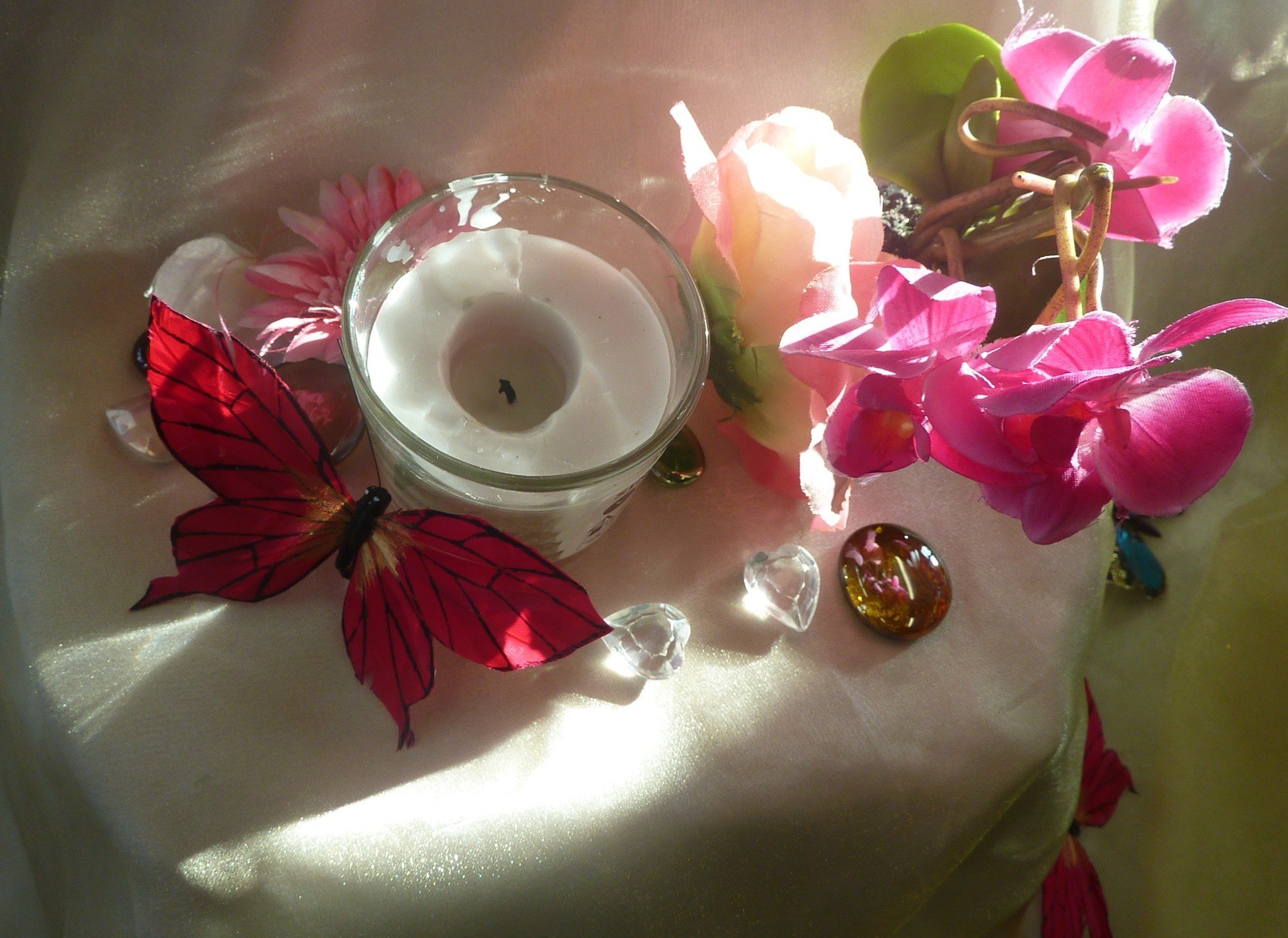 Our French learning this week : 16.11.19
We are lucky to have been be joined by Madame Miché in some of our French lessons recently. Madame Miché is a parent at our school and a fluent French speaker. This week, she read us a story in French and taught us a familiar action song in French.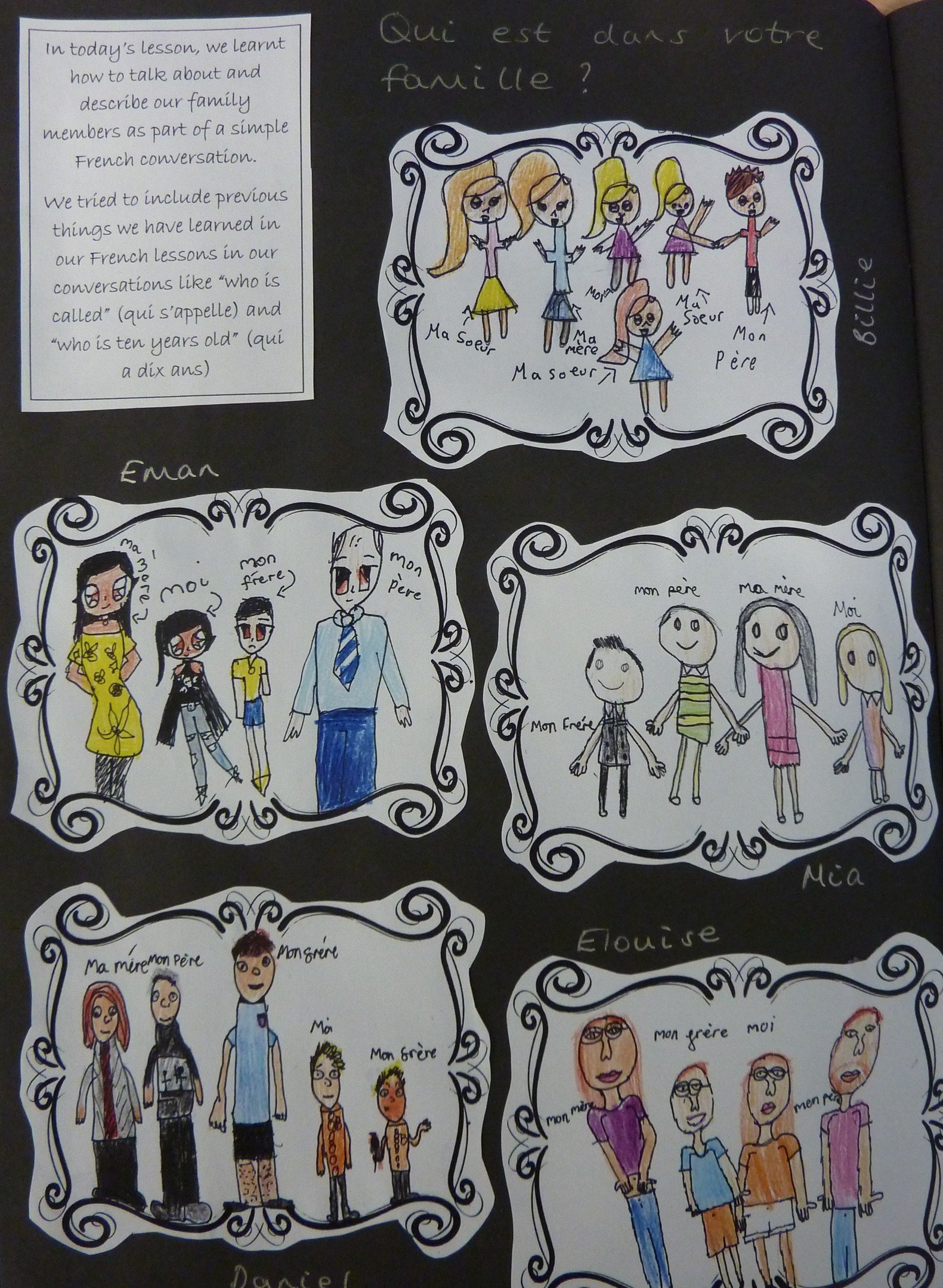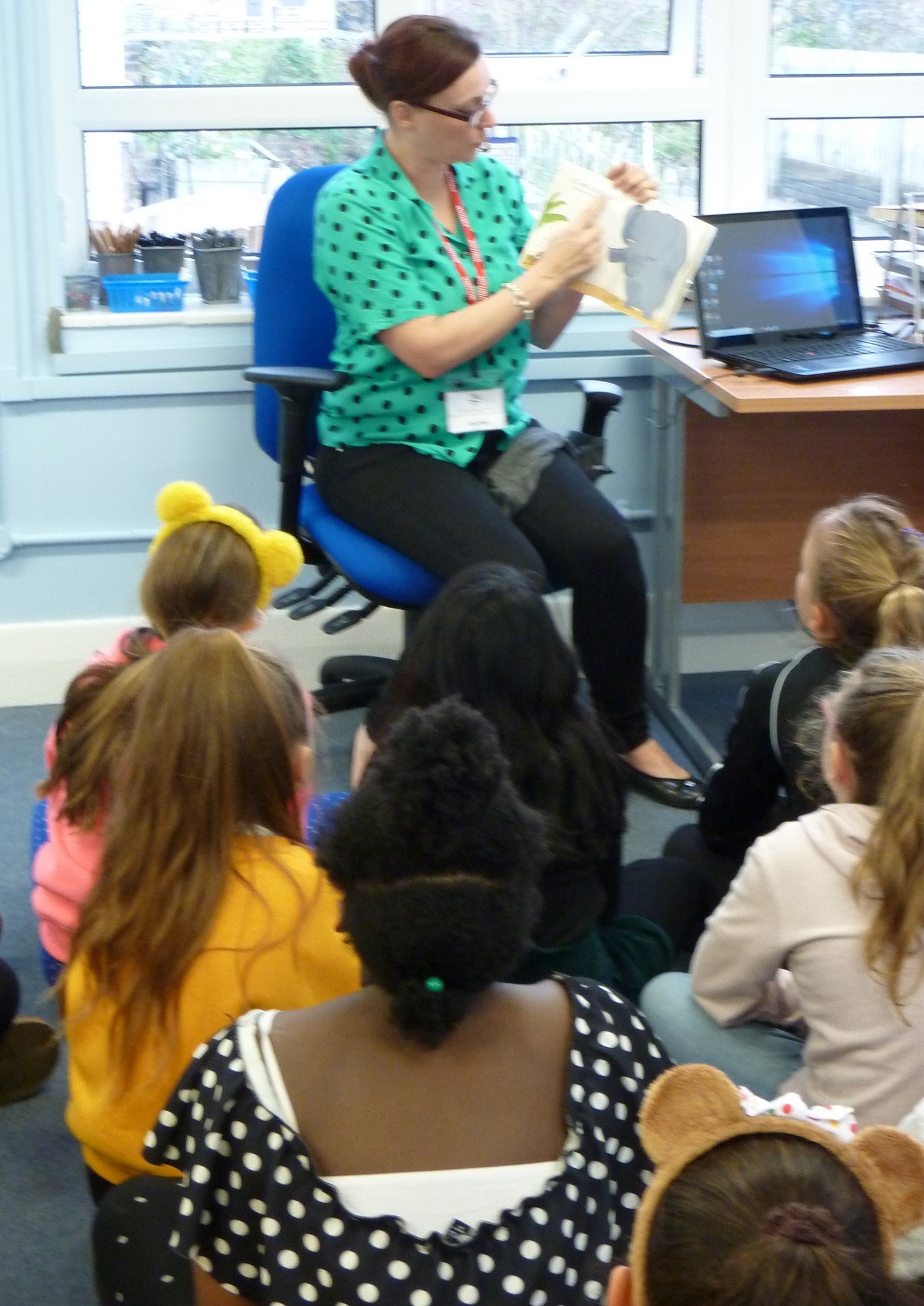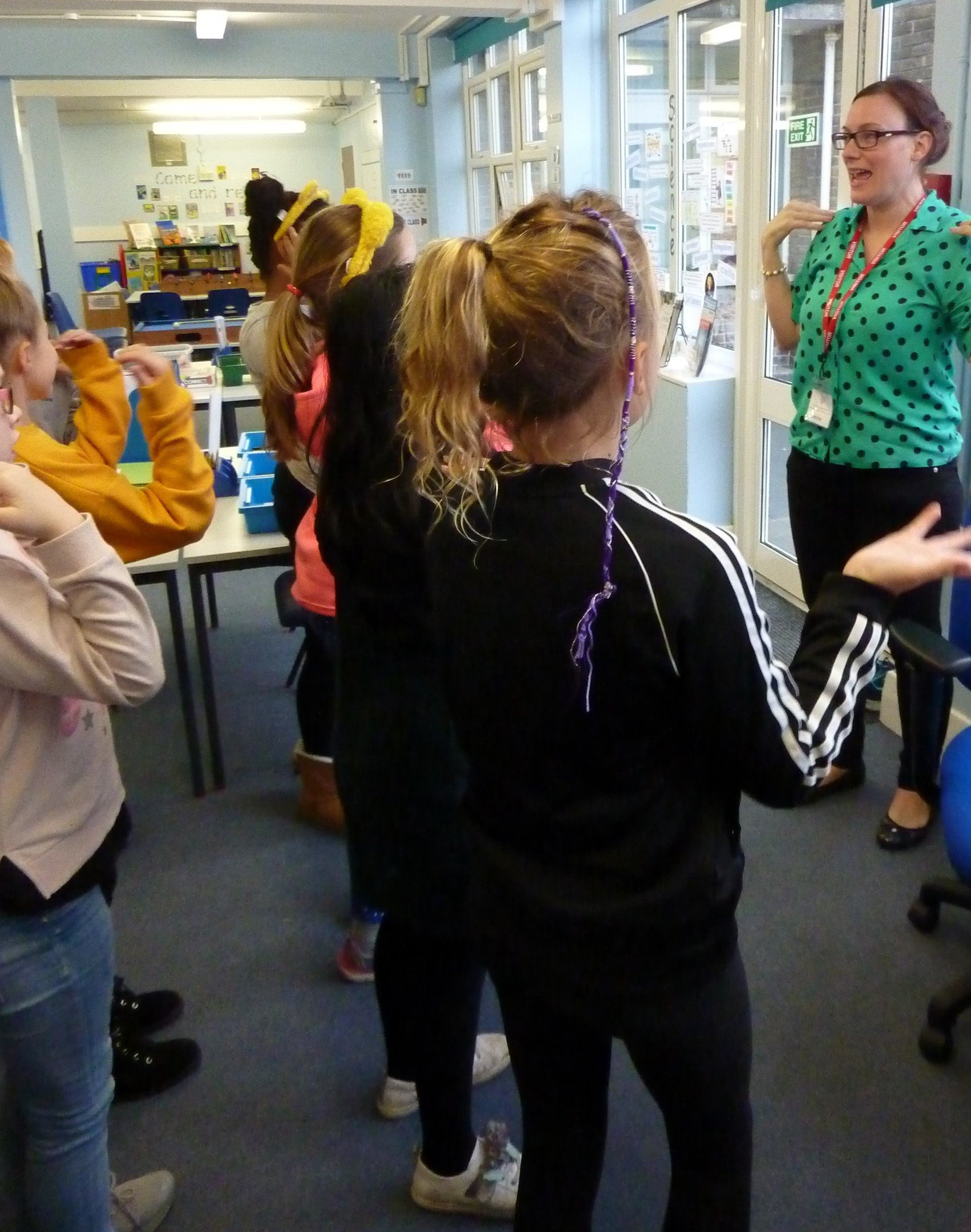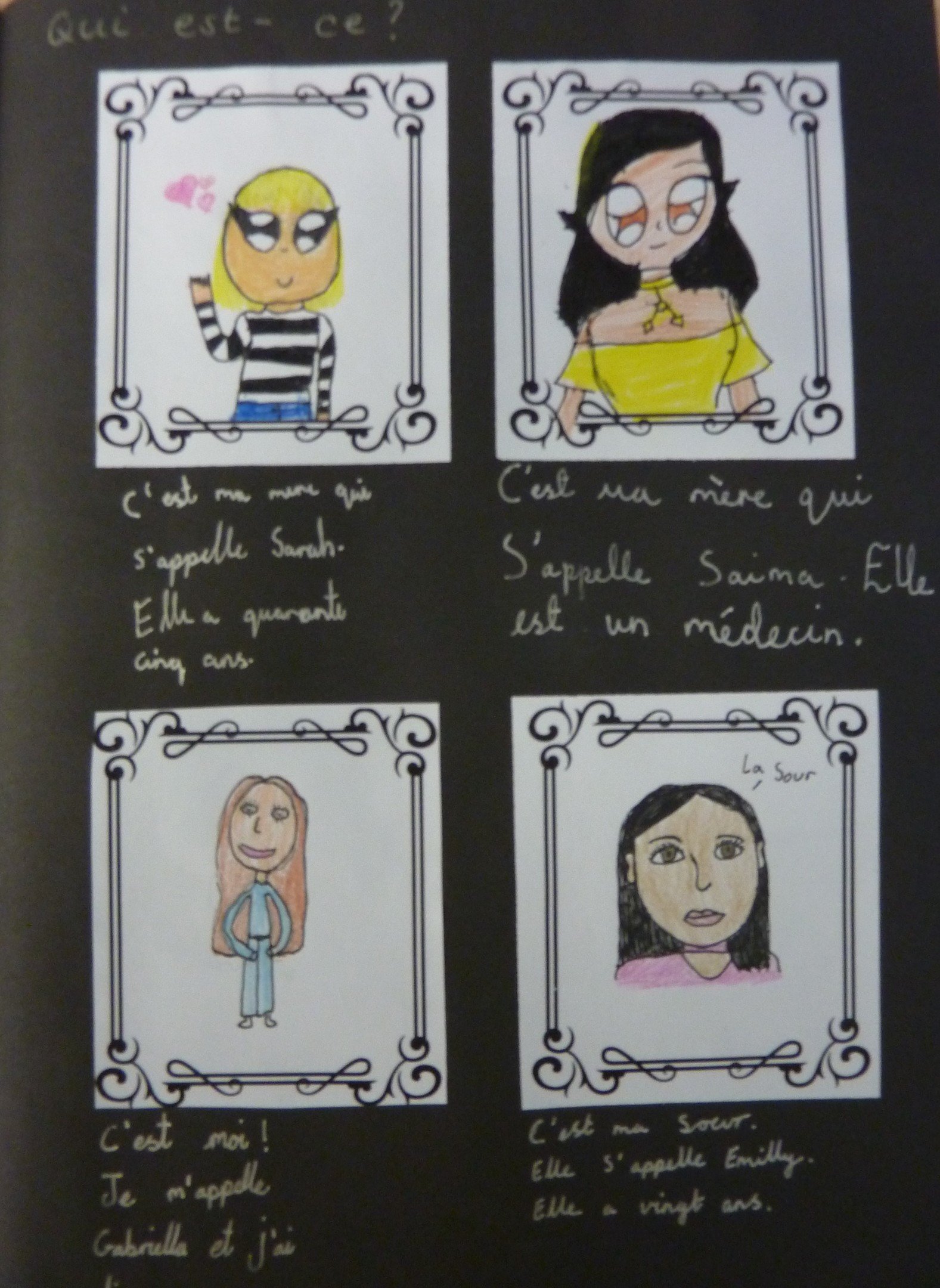 Having Madame Miché supporting in our French lessons is really helping us widen our French vocabulary and improve our pronunciation.
All of our French learning is recorded in our class French learning journal. Please, come and take a look.
Today we were mighty Mayans!
As part of our history and geography learning about Mexico, this half term Year 6 will be learning about the ancient Mayan civilisation. As an introduction to the topic, the children enjoyed a workshop run by Joel from the "Outdoors Project," an organisation who aim to bring learning to life through a range of curriculum based, hands-on activities.
The workshop was based around the Mayan tribe and included activities such as staff making, learning about ancient fire lighting techniques and participating in a stalking and foraging game. The children learnt about the Mayan tribes and were taught how to "whittle" using hazel wood and how to shape their staff for hunting or ceremonial purposes. They learnt how the ancient Mayans would have used flint to create sparks to light a fire and had a go themselves at many of the ancient survival techniques.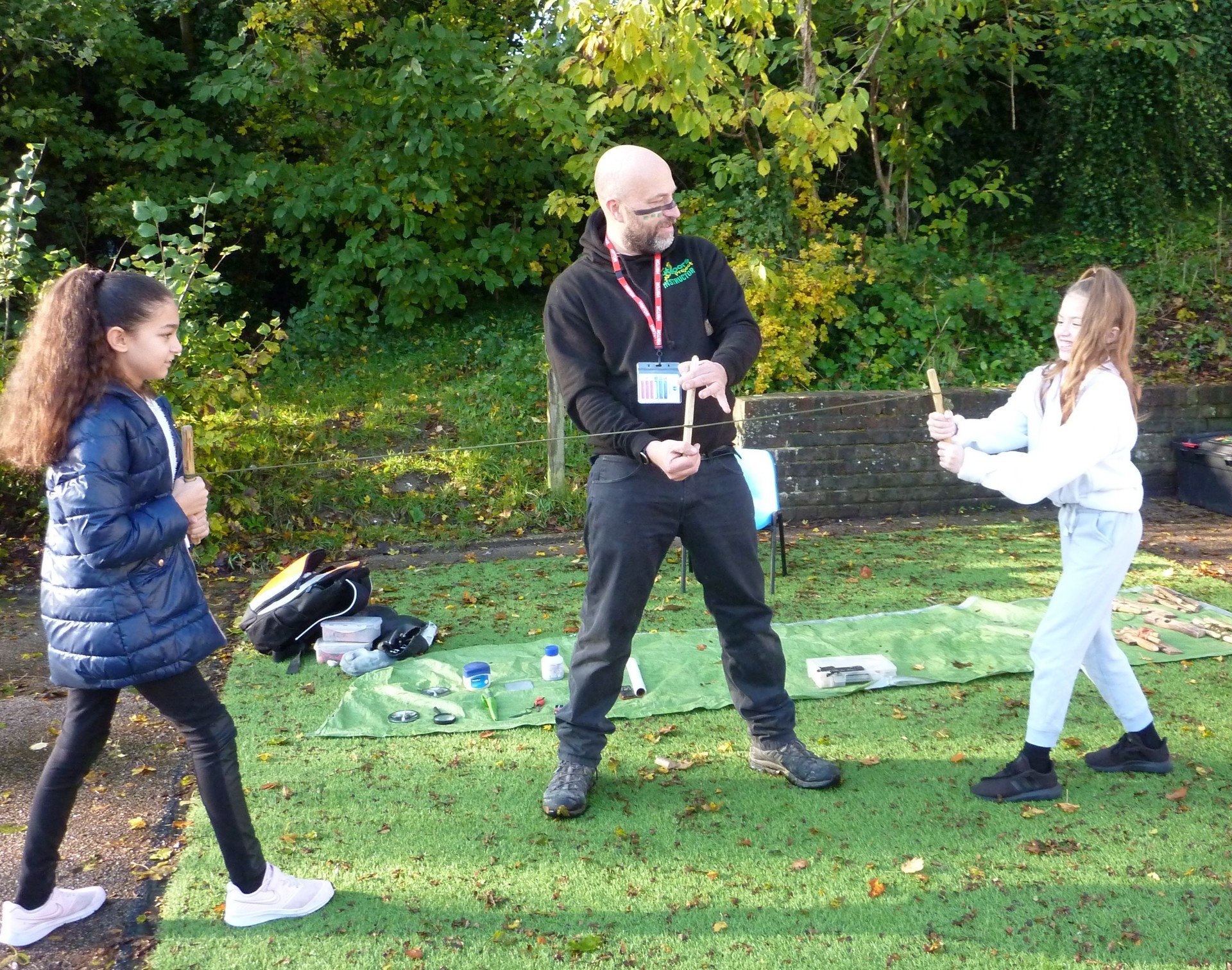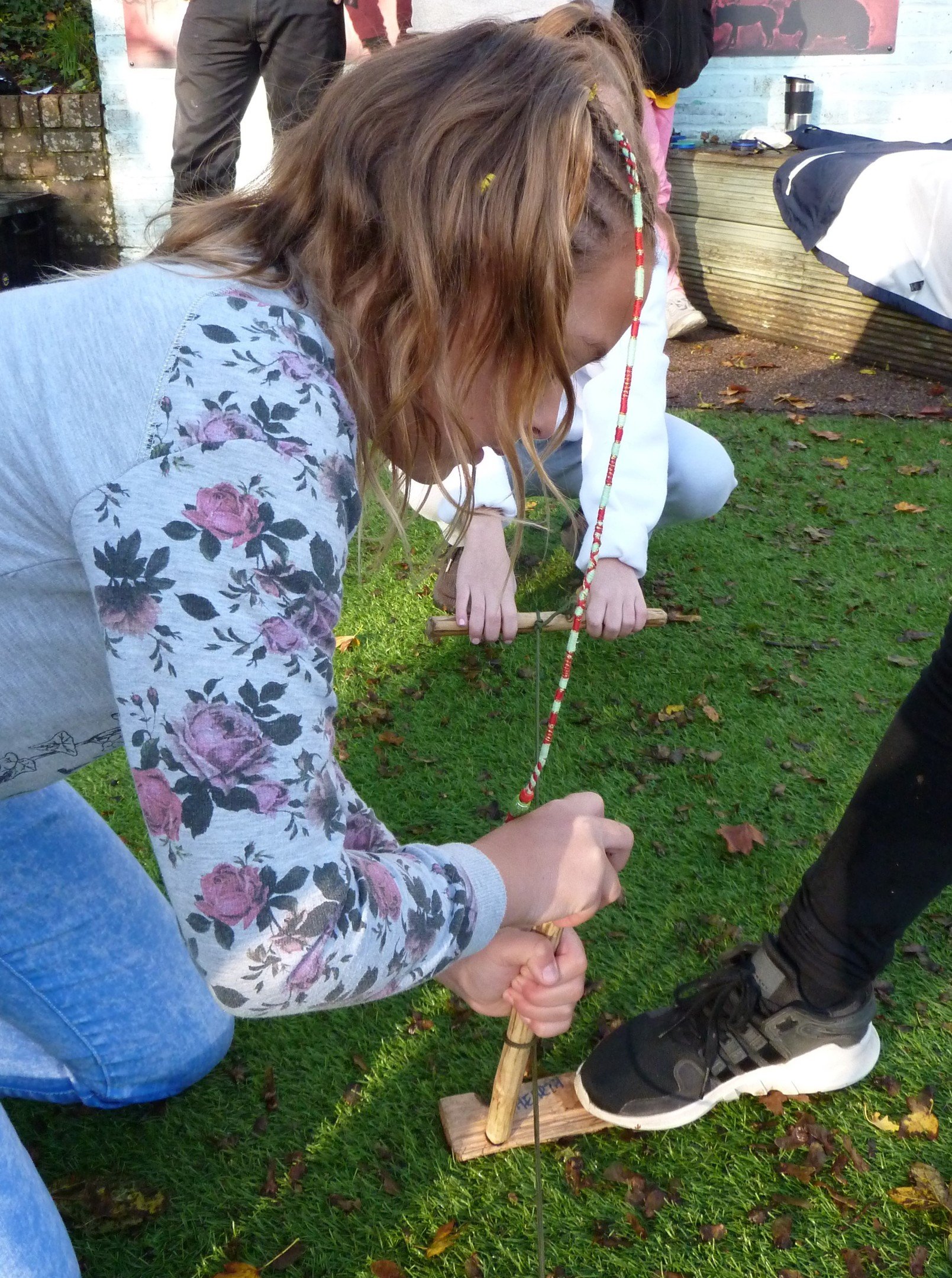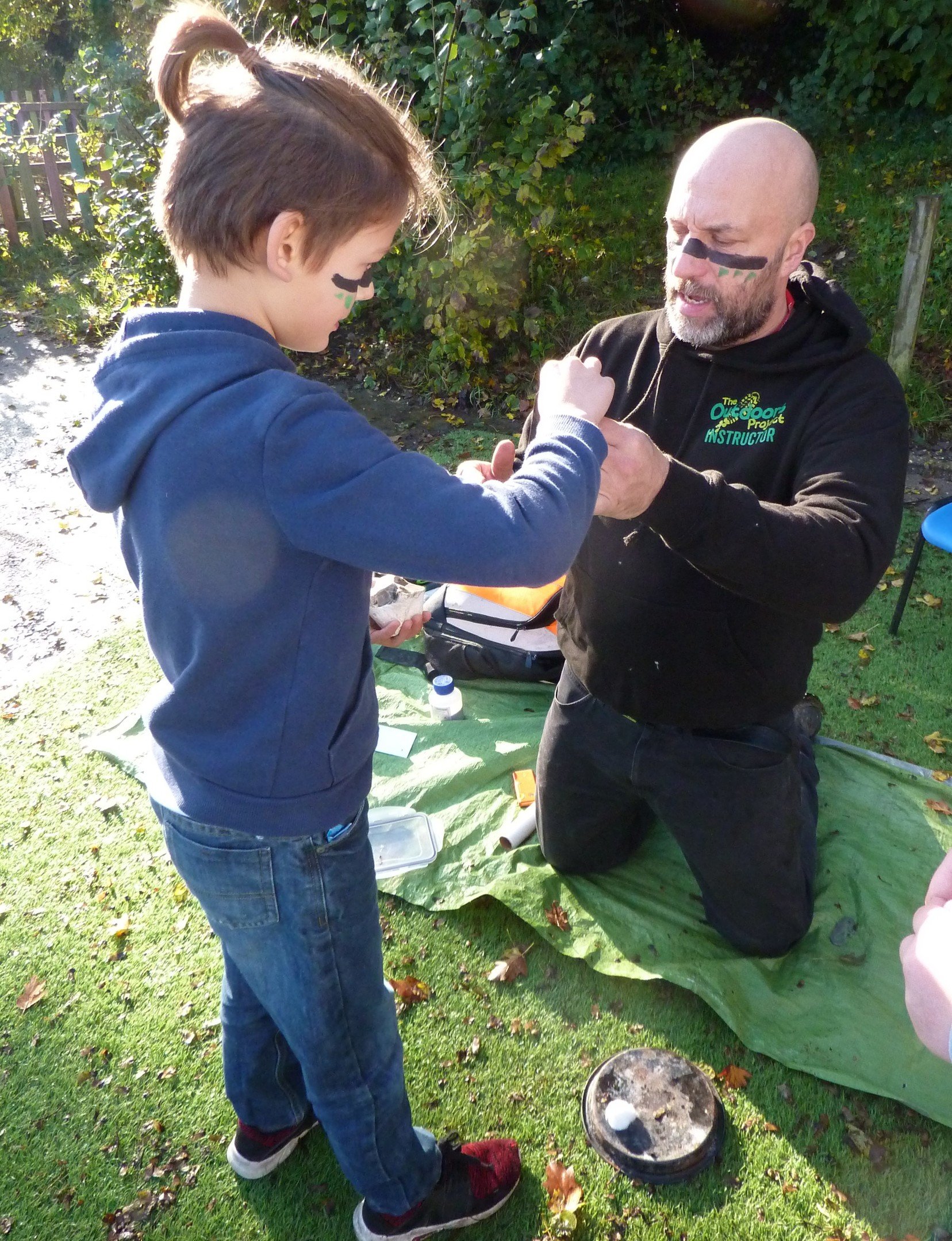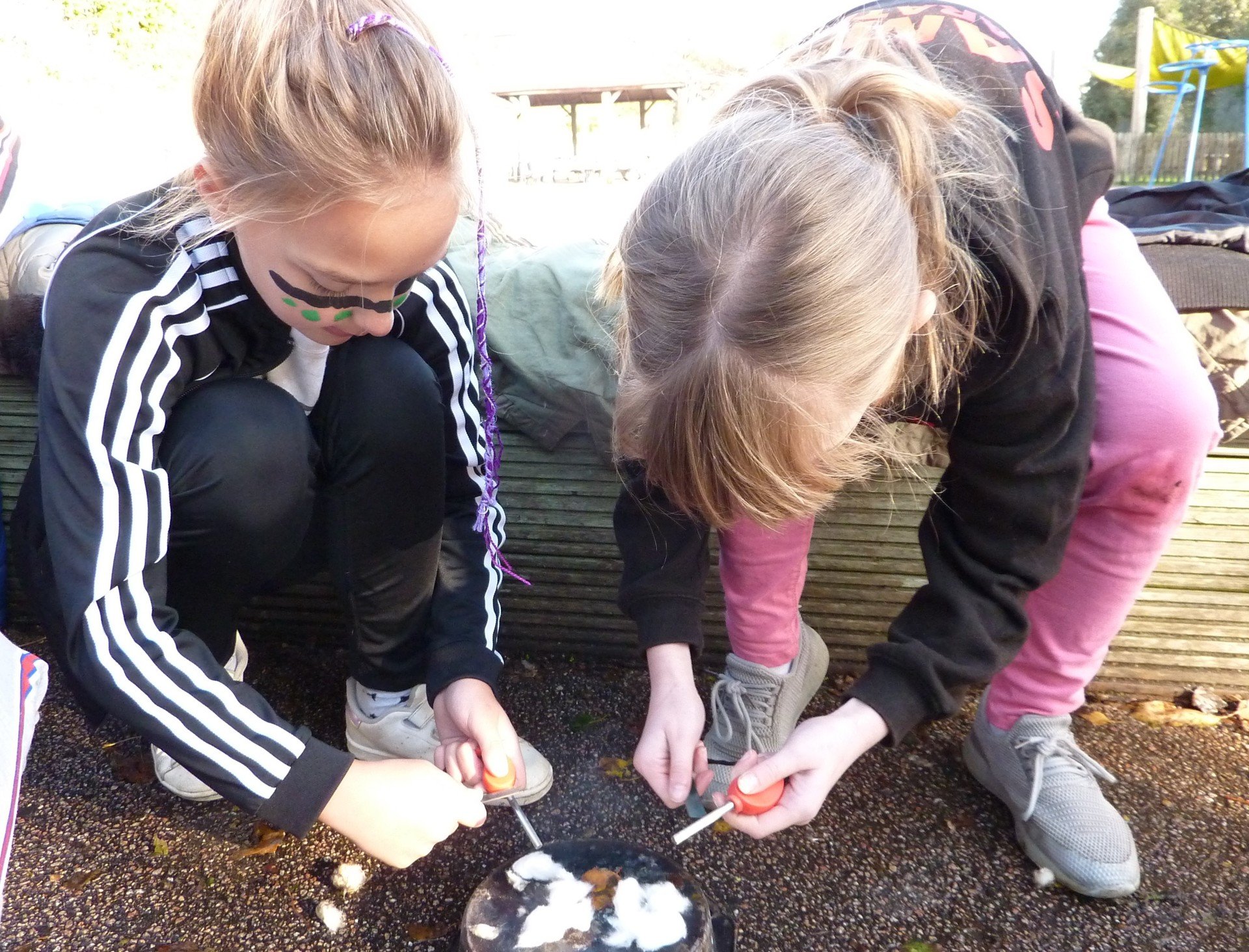 The children had a great morning and are now even more enthusiastic and inspired and keen to learn more about the magnificent Mayans!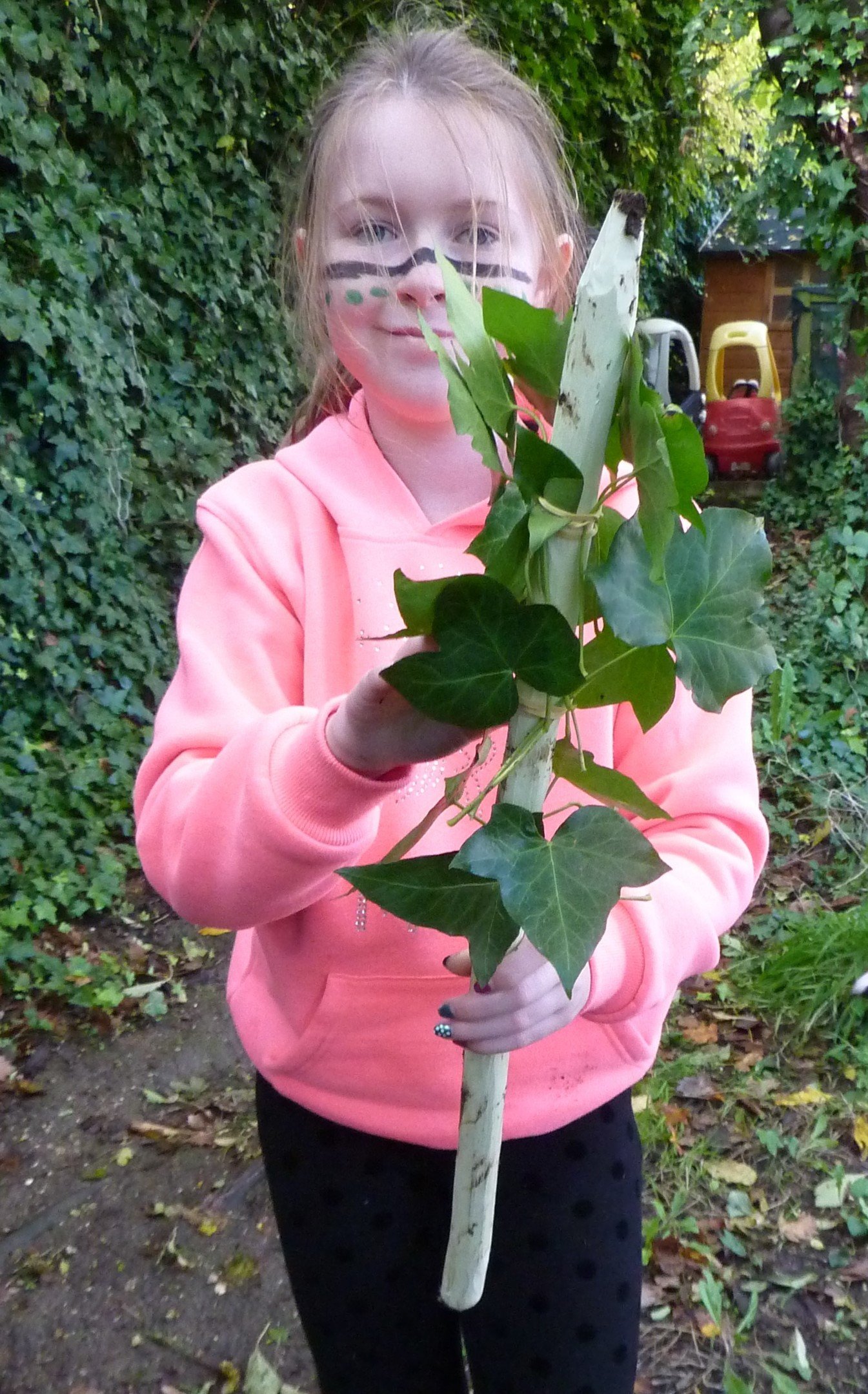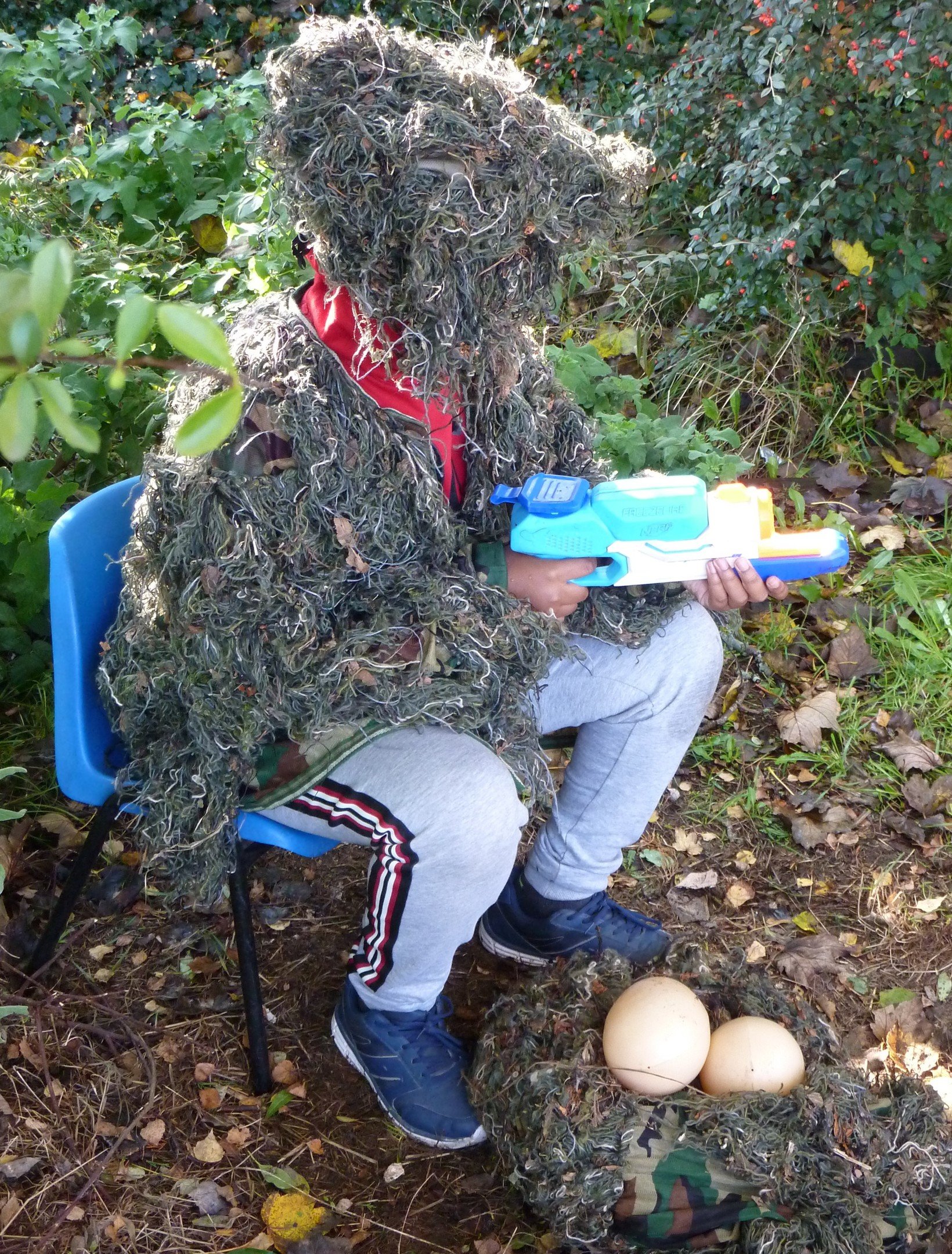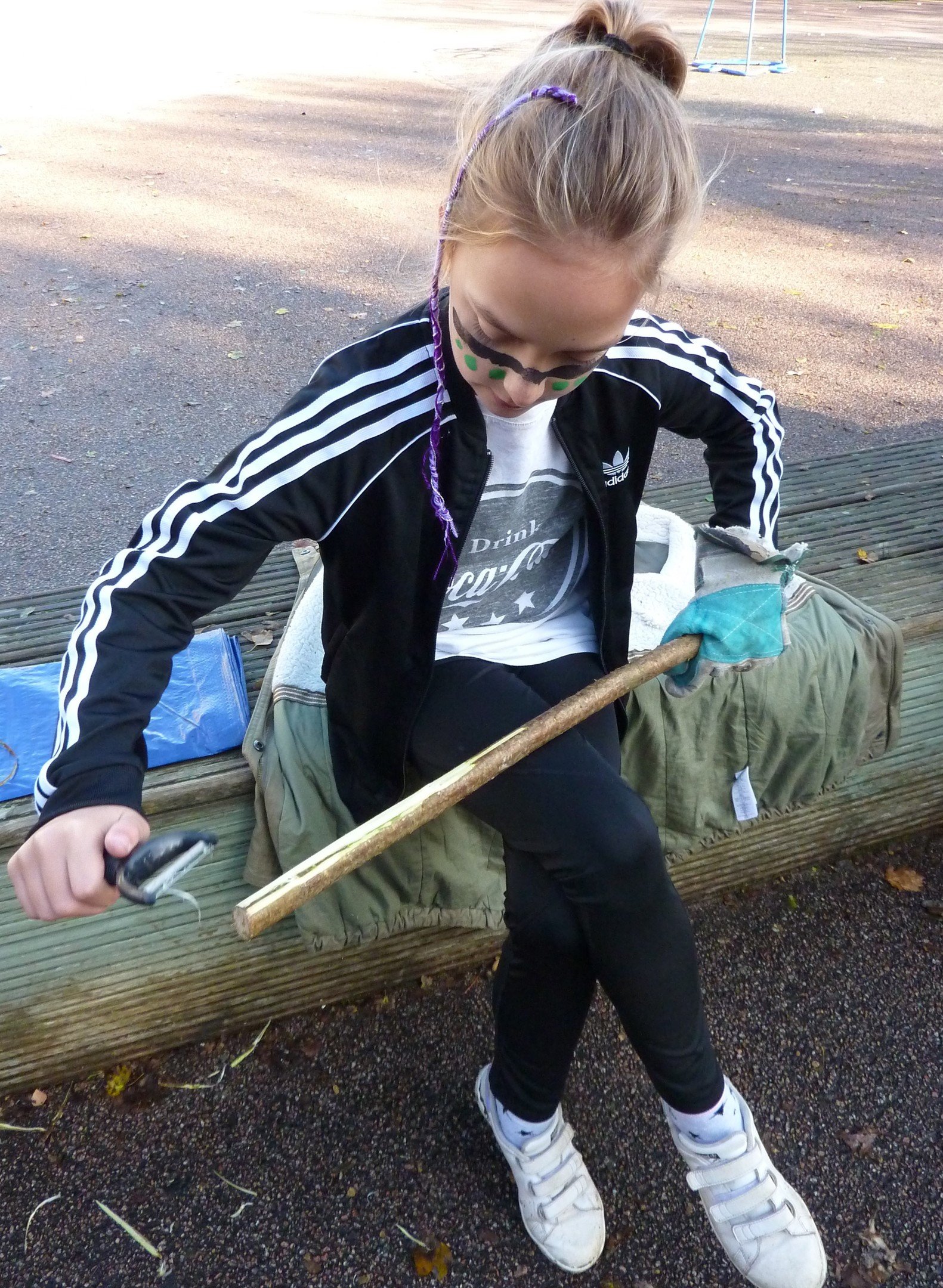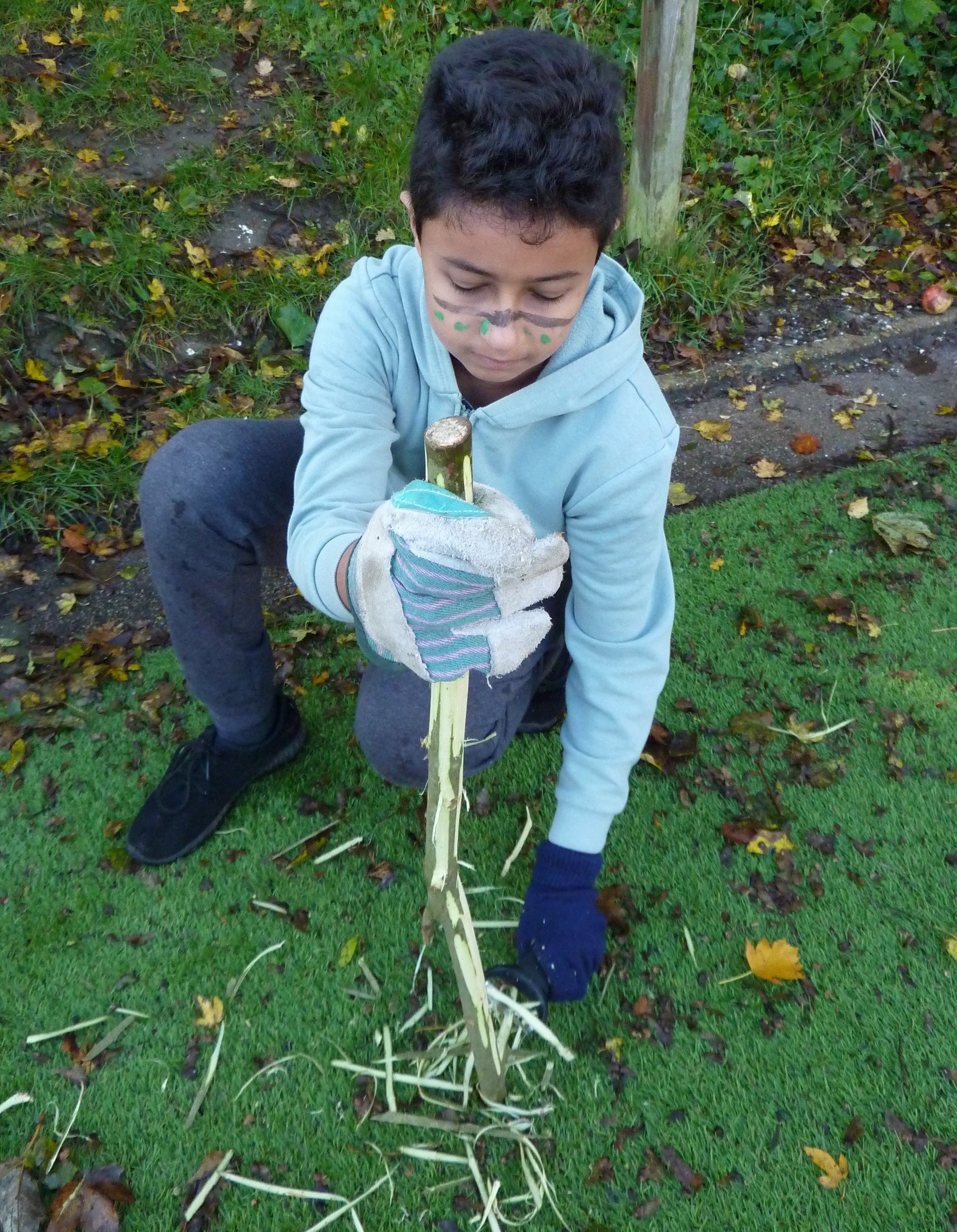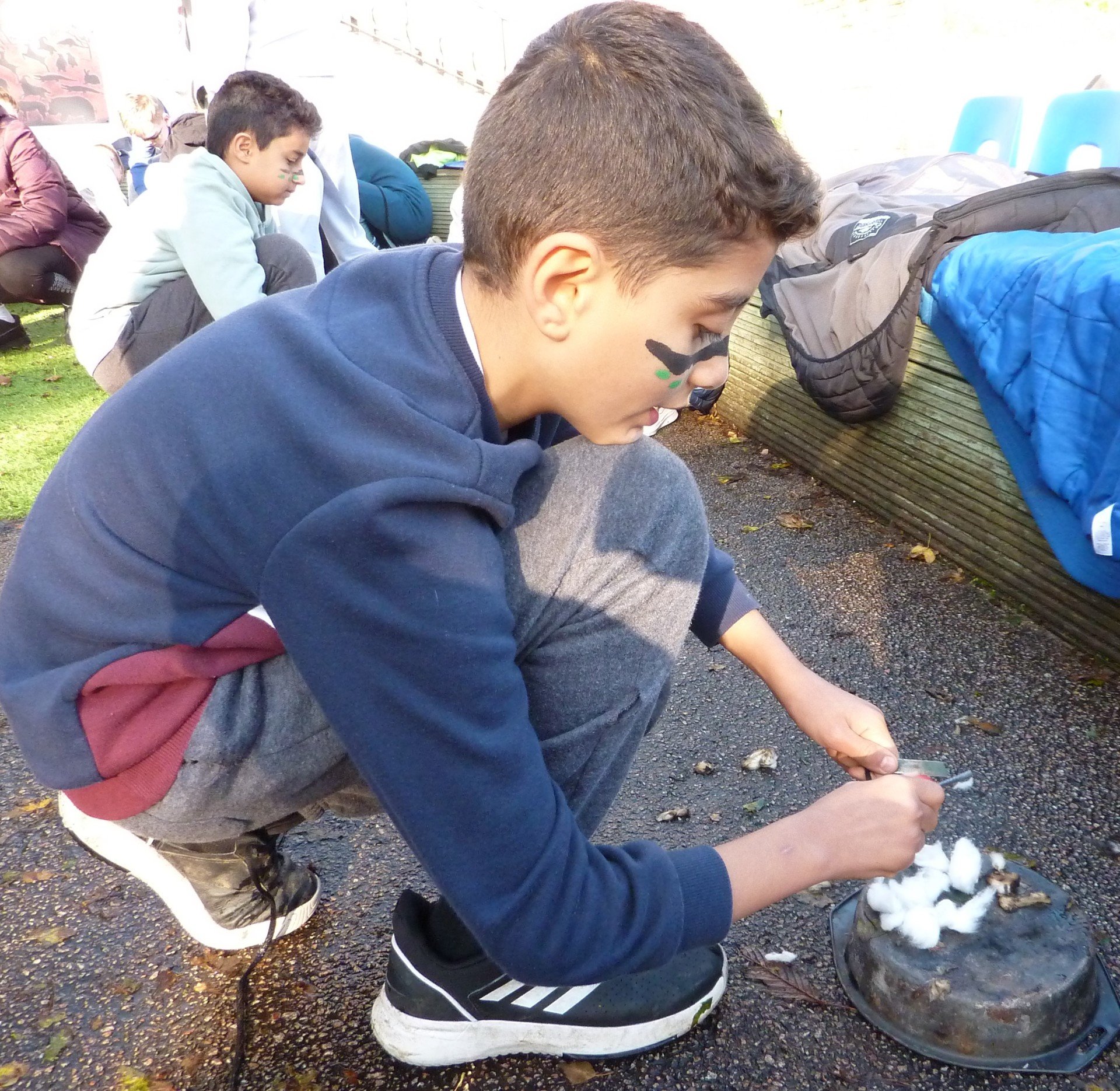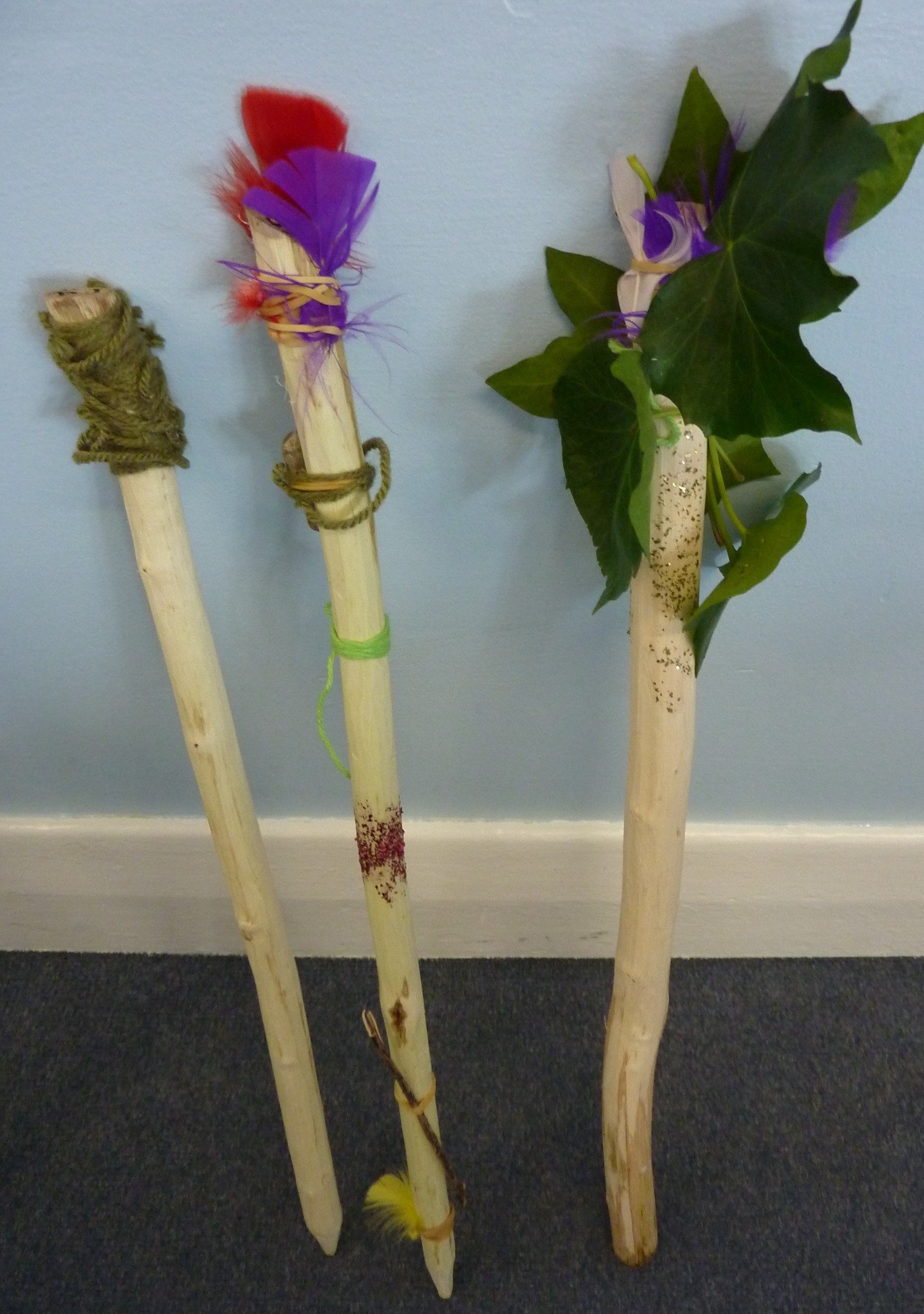 Back in action in Year 6!
The children have come back from their half term break refreshed and ready to learn! In preparation for Armistice Day, Year 6 have been looking at different artistic representations of the poppy. They used them as inspiration for their own pieces of artwork.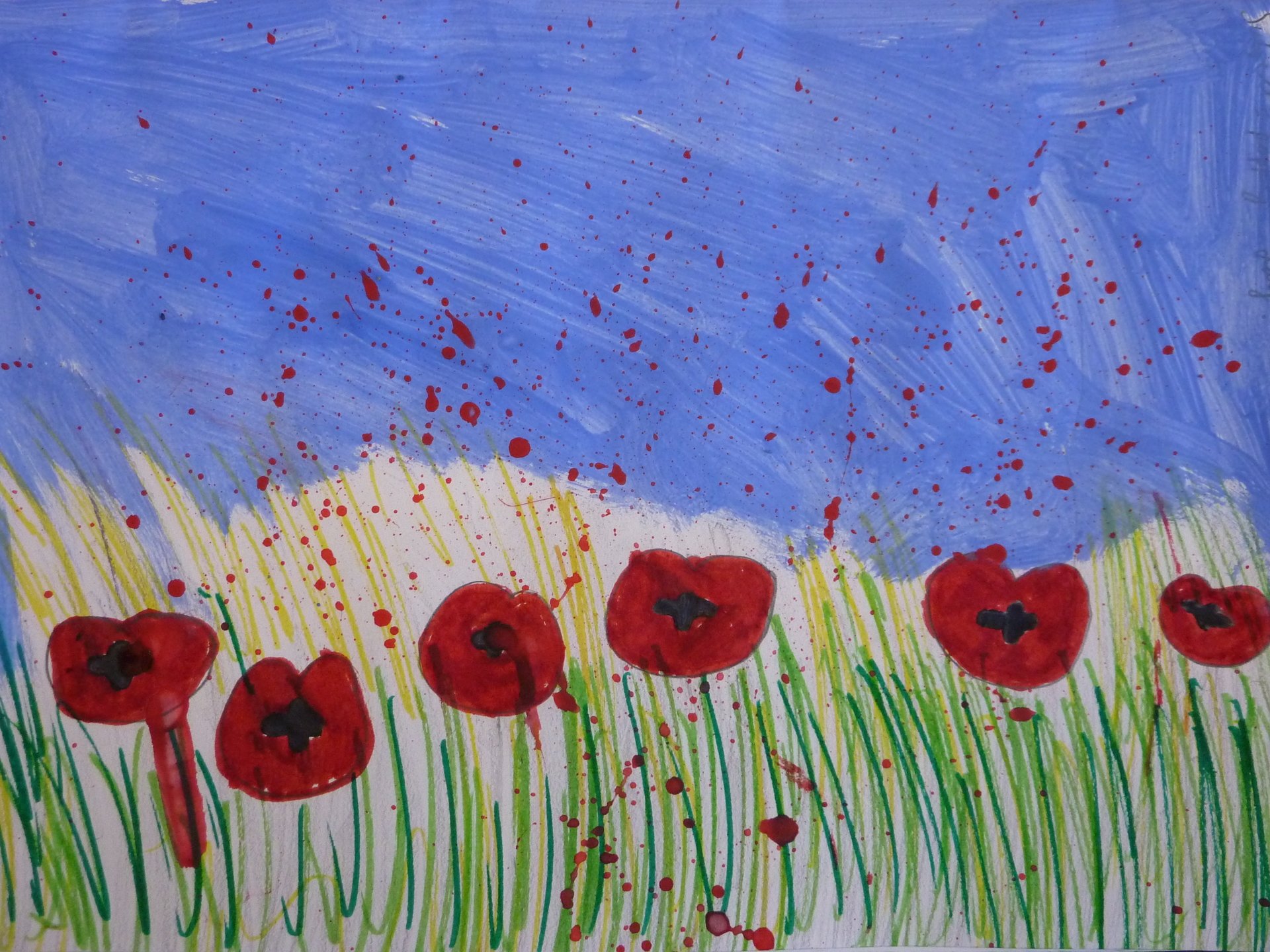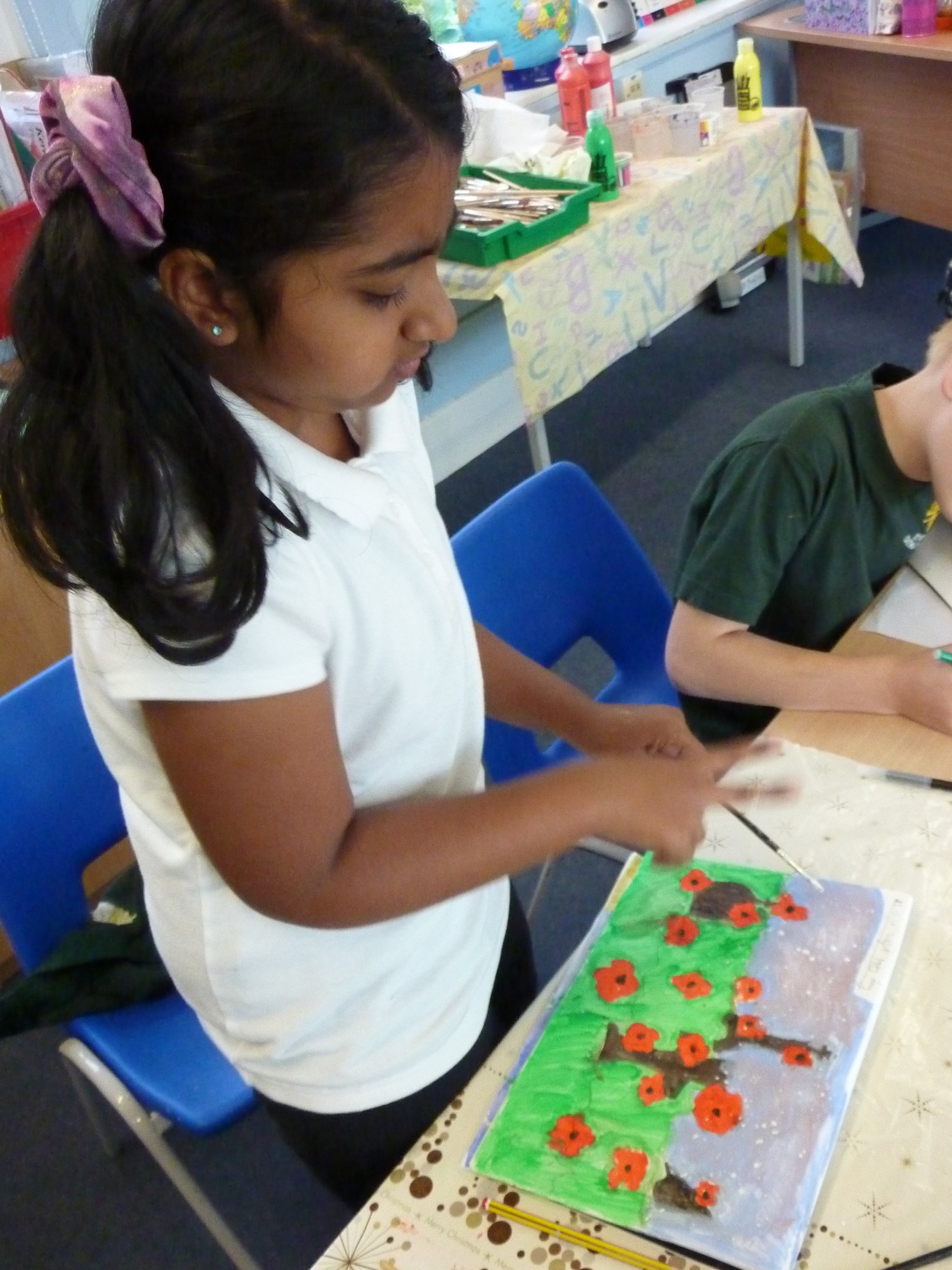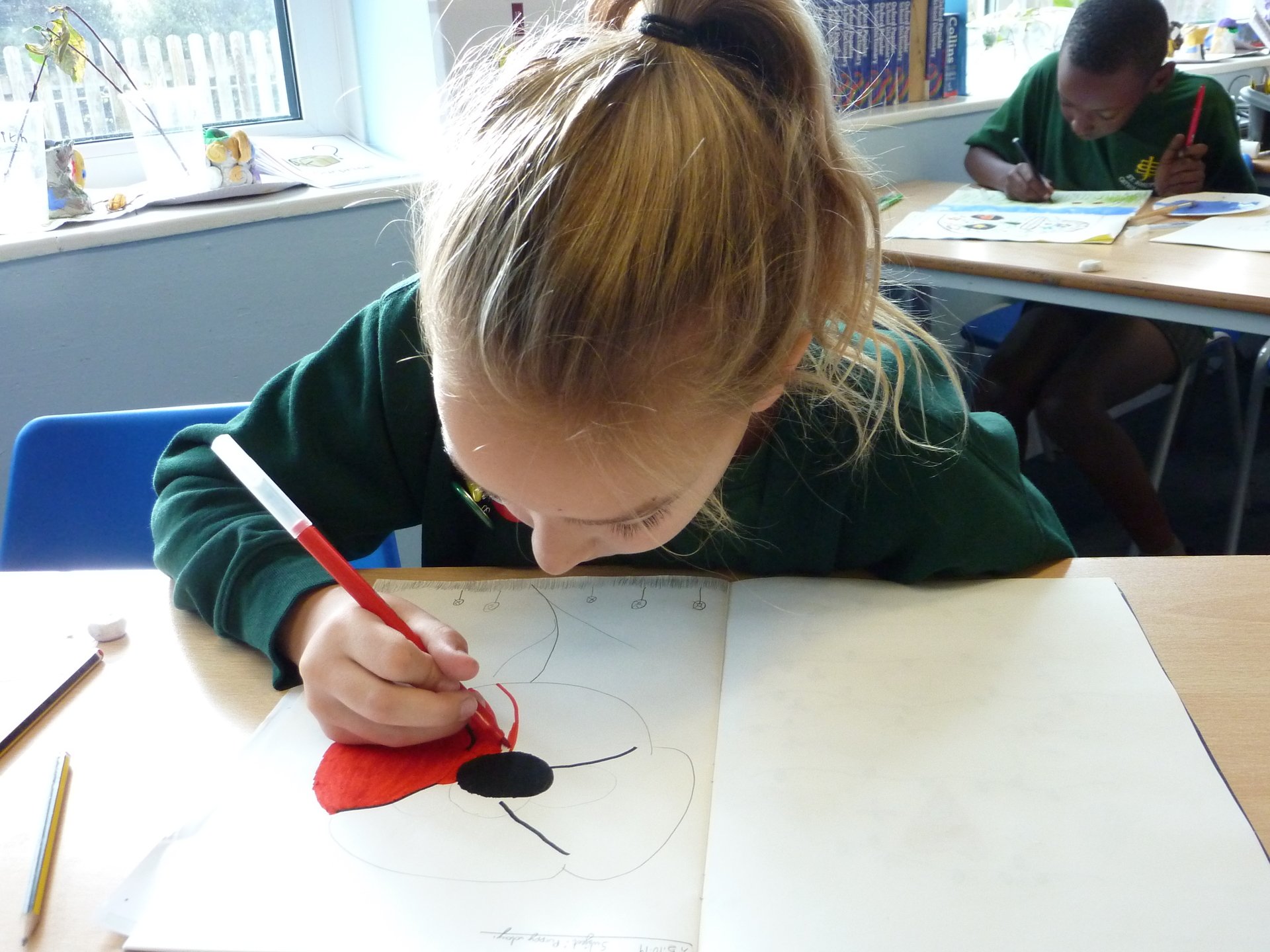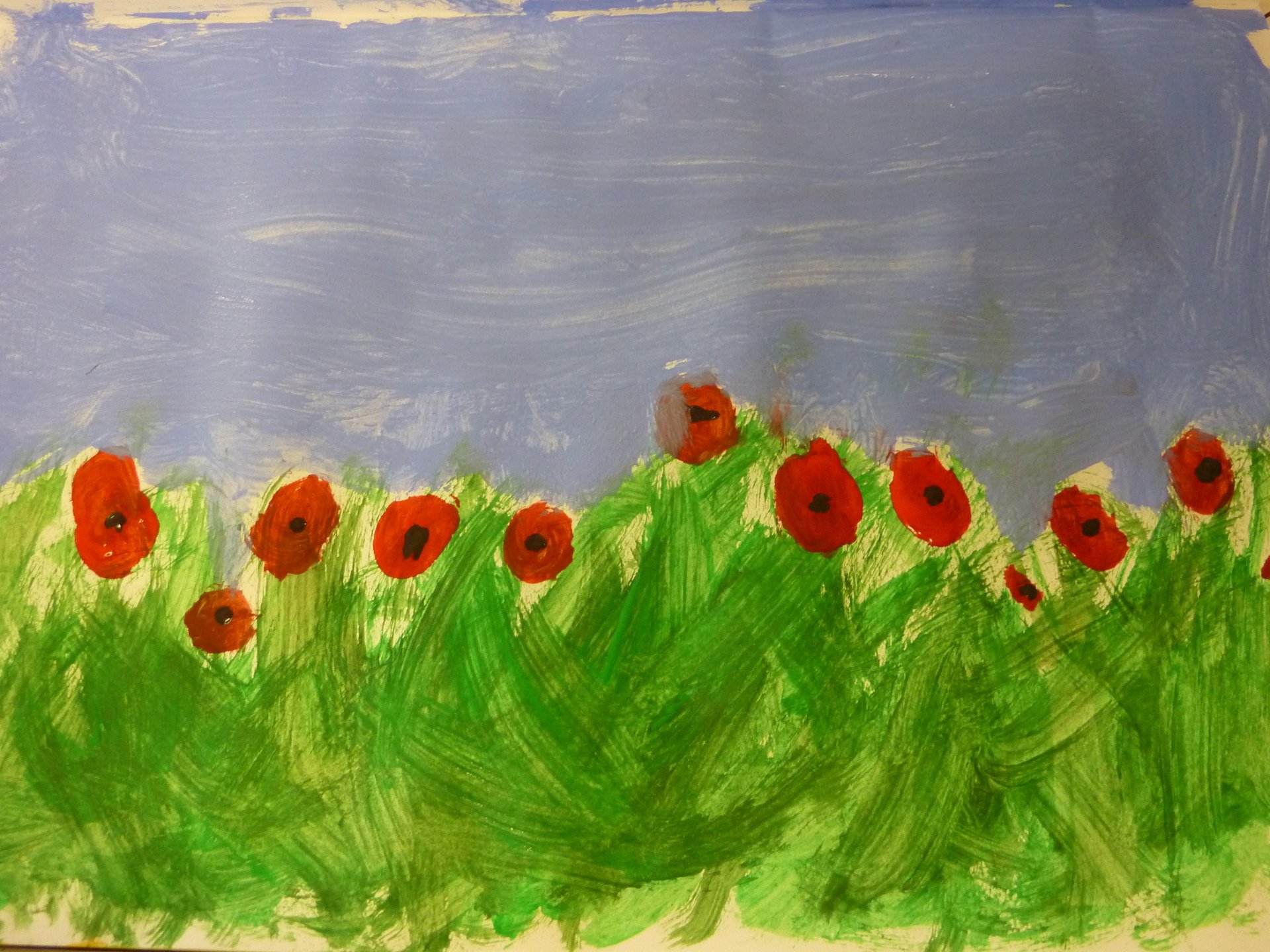 As we finish our first science topic, "Evolution and Inheritance," the children in Year 6 have been learning about fossils. They used magnifying glasses to look closely at some actual fossils and, using books and the internet, tried to identify them.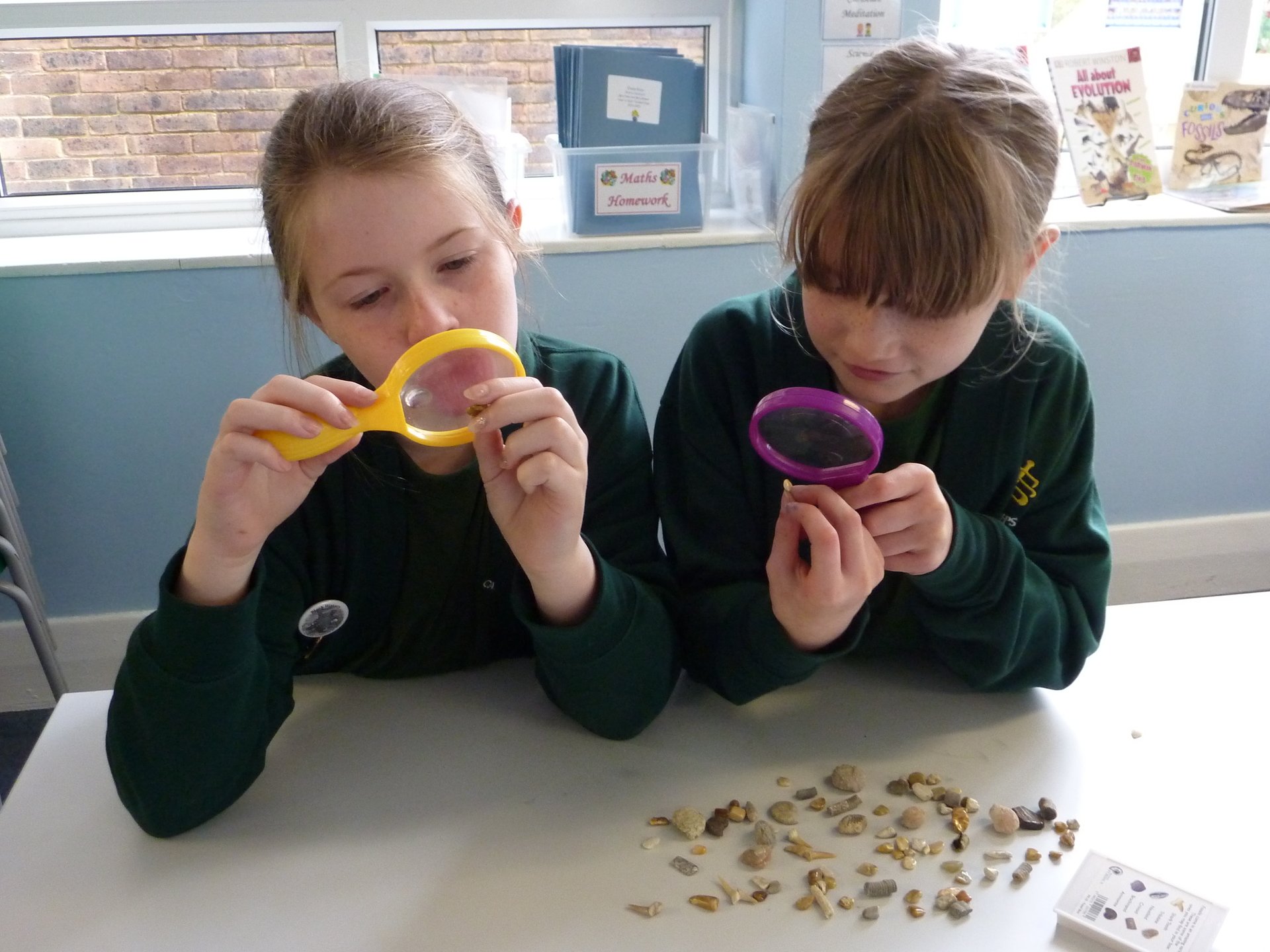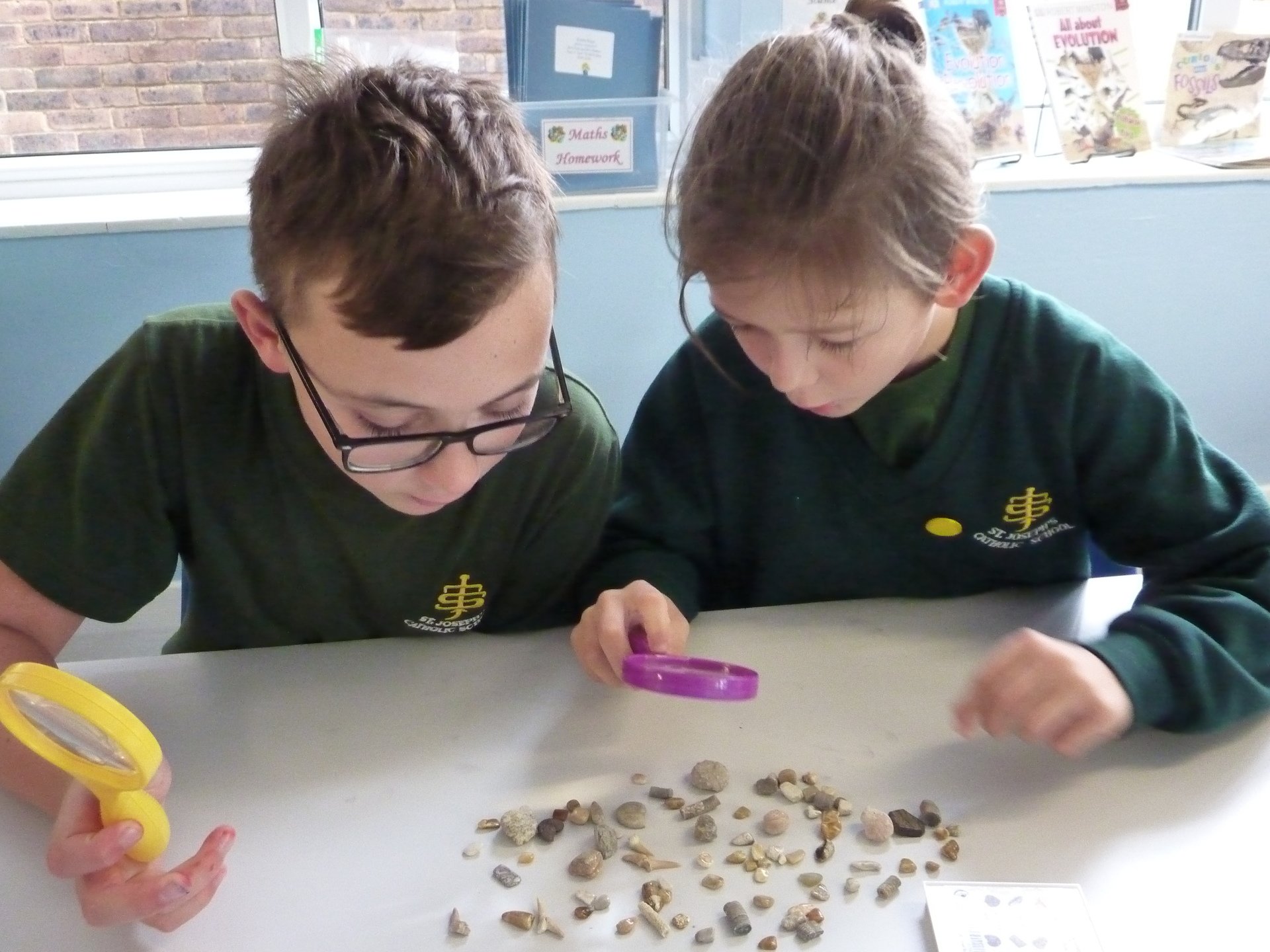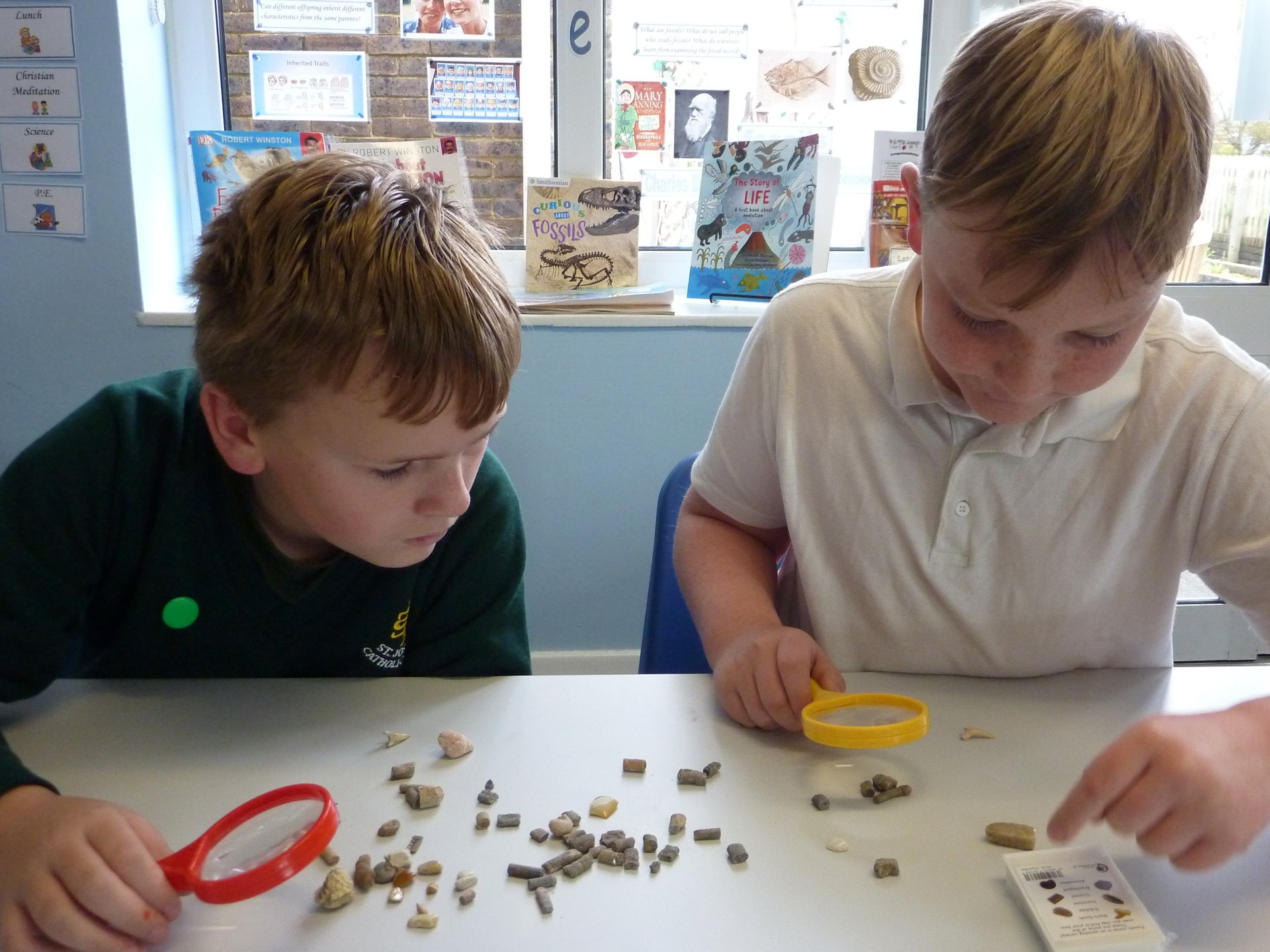 As part of our R.E. topic on "Vocation and Commitment," Father Kieron came into Year 6 to talk about the vocation of priesthood and to answer some questions we had prepared about his reasons for becoming a priest, his commitment of service and his day to day life in his parish.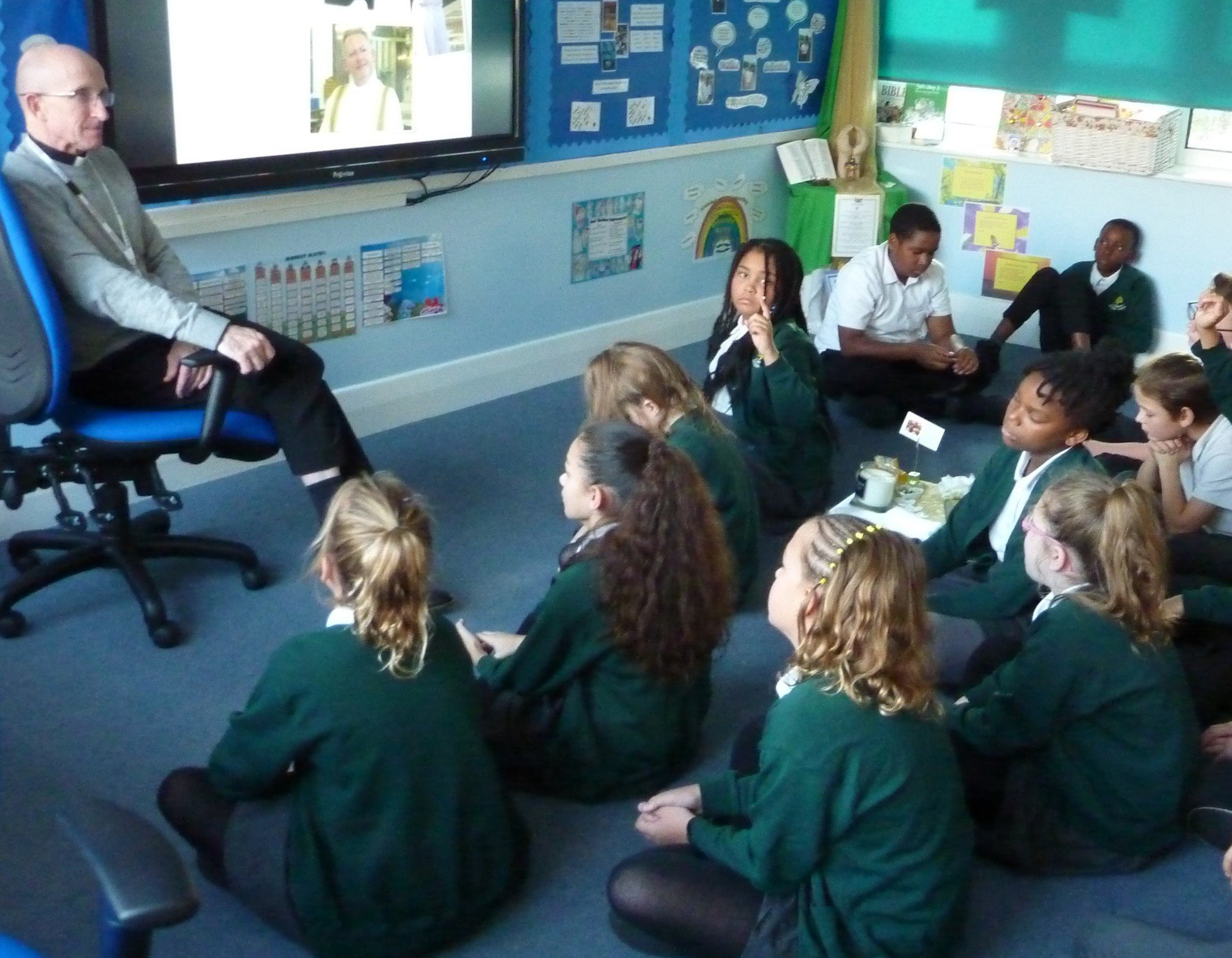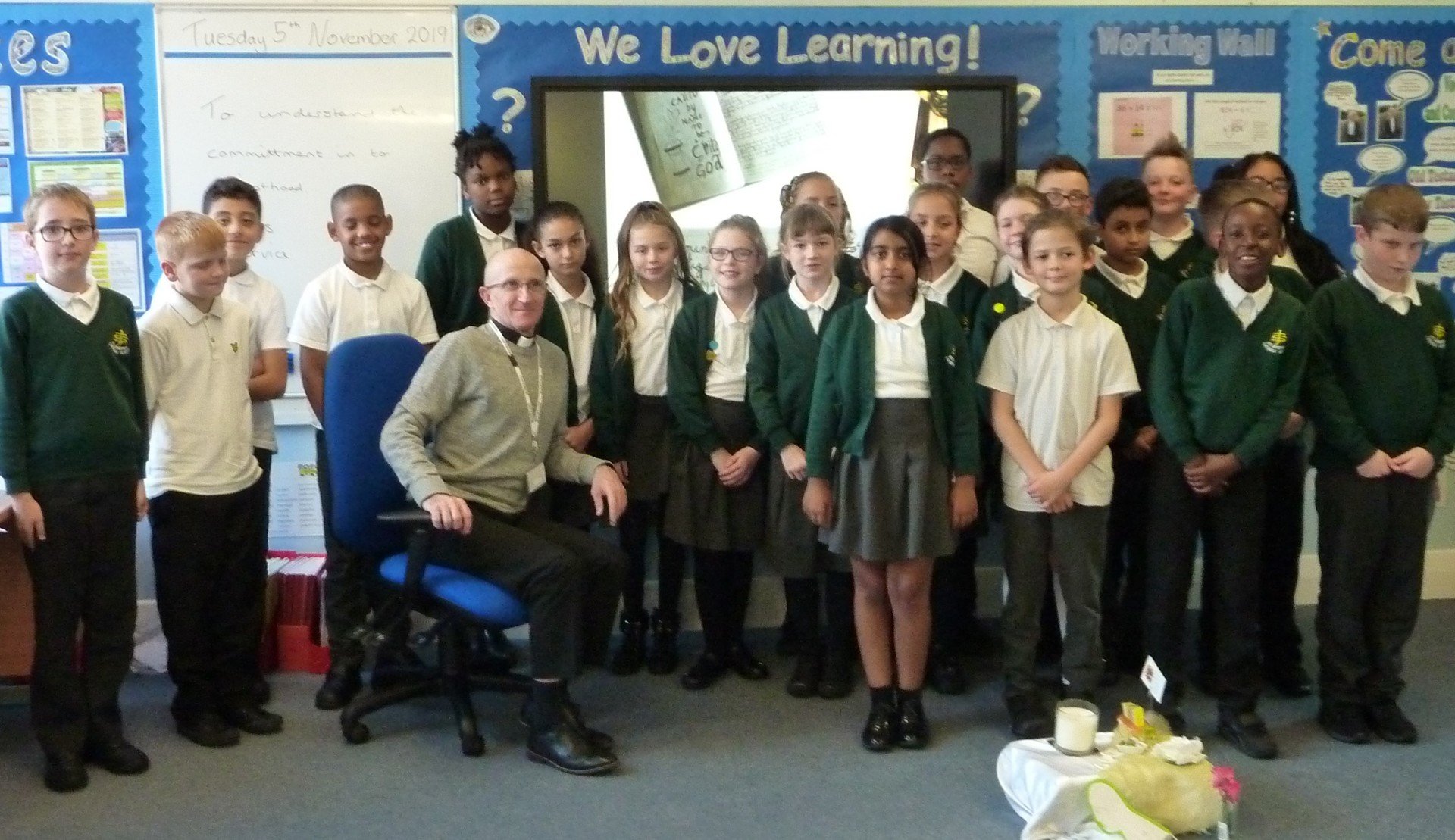 Thank you parents and carers with your continued support with your childrens' homework. The children have embraced the new style homework, which seems to be working well and hopefully the more independent tasks will prepare them well for secondary school.
Some of the children have taken their learning that little bit further by extending / interpreting the task in their own way.
Here are a couple of examples.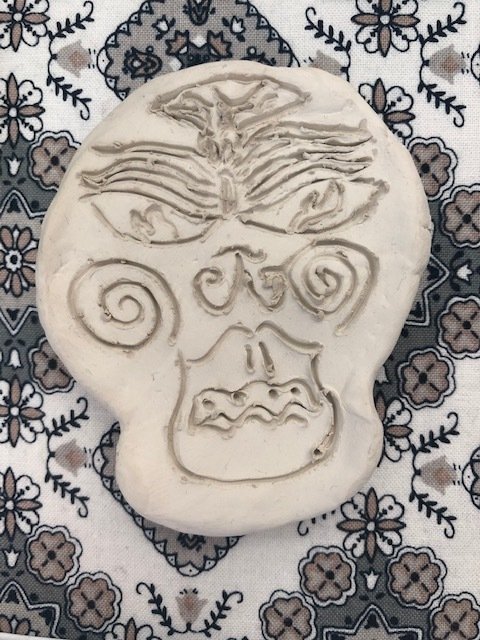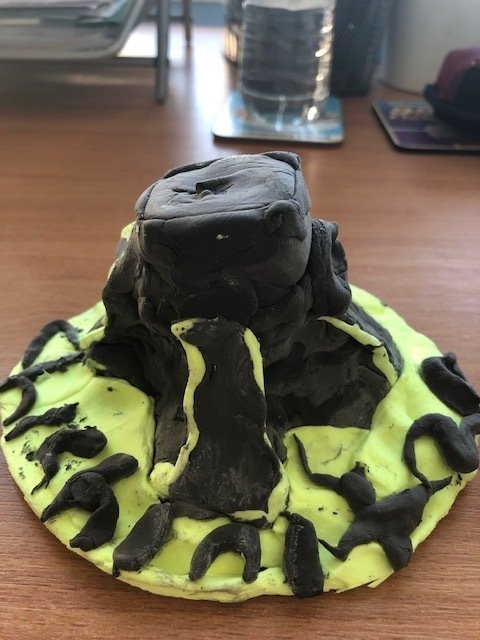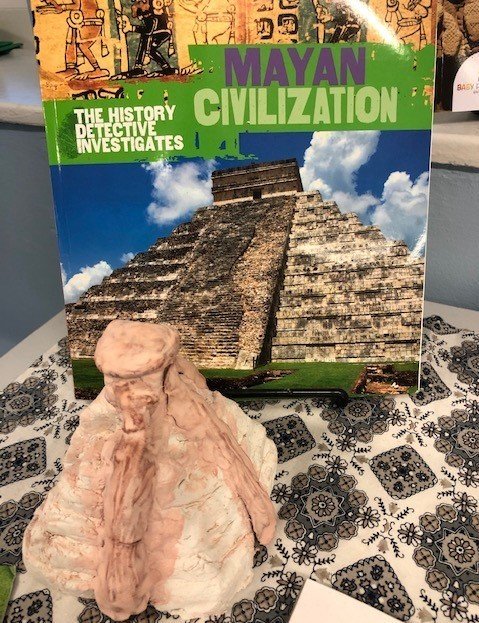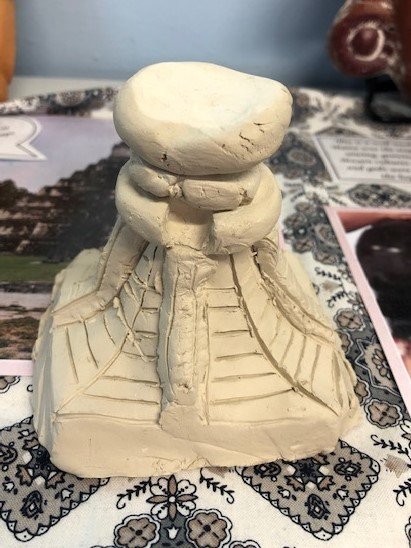 Louie created a Mayan god mask out of clay and Kiralee and Eloany and Louie made a replica of Chichen Itza from modelling material and clay. What creative children we have in our class!
This week's learning: 23.10.19
It is hard to believe that we are almost at the end of our first half term. We are very proud of how our Year 6 pupils have embraced this half term's learning.
This week, we finished our learning about Mexico and its traditions and celebrations. We made cardboard skulls and made and decorated "sugar skulls," just like Mexicans do during the Day of the Dead celebrations.
Our topic takes a new direction after half term, where we learn about the ancient Mexican Mayan civilisation.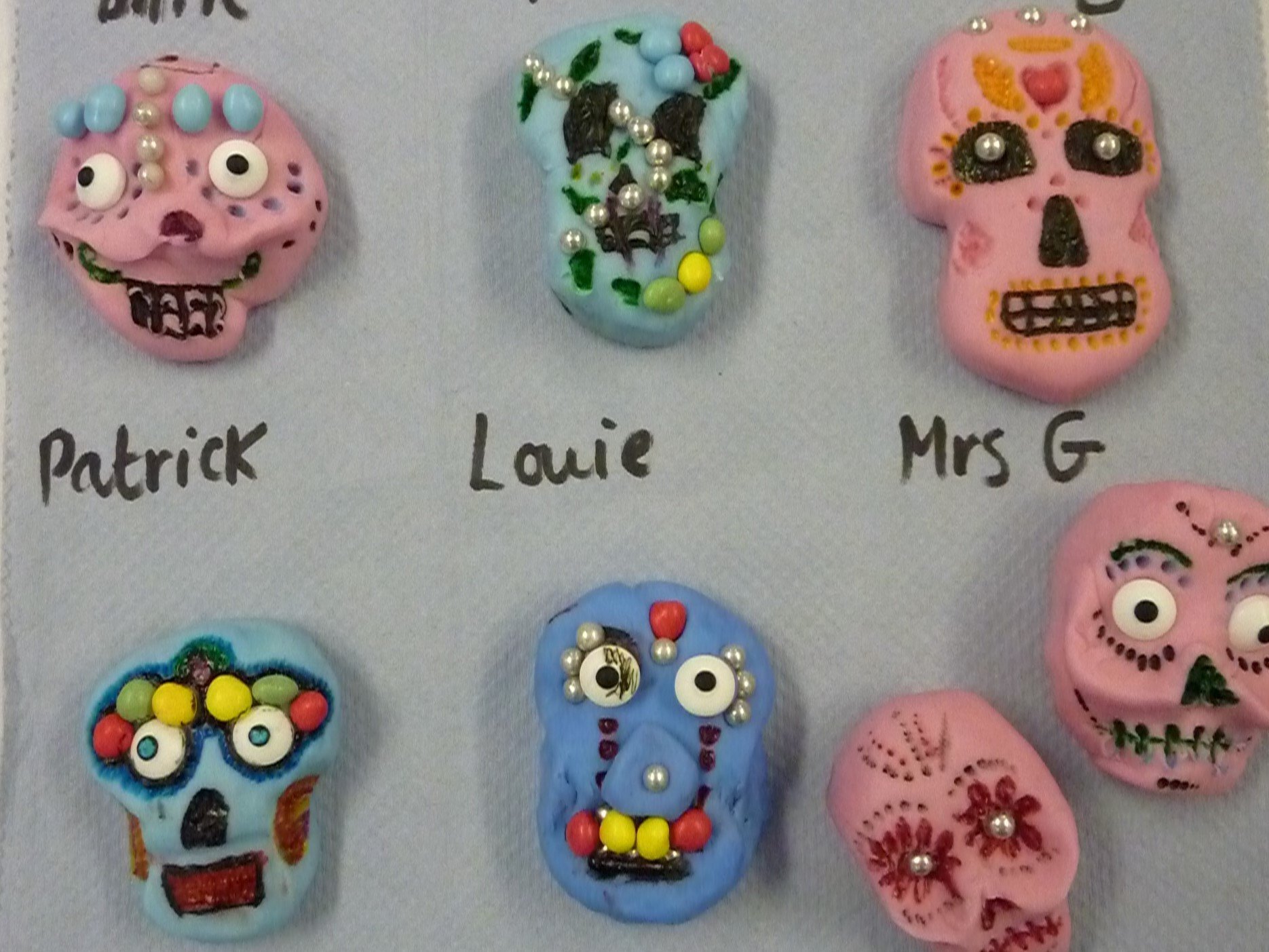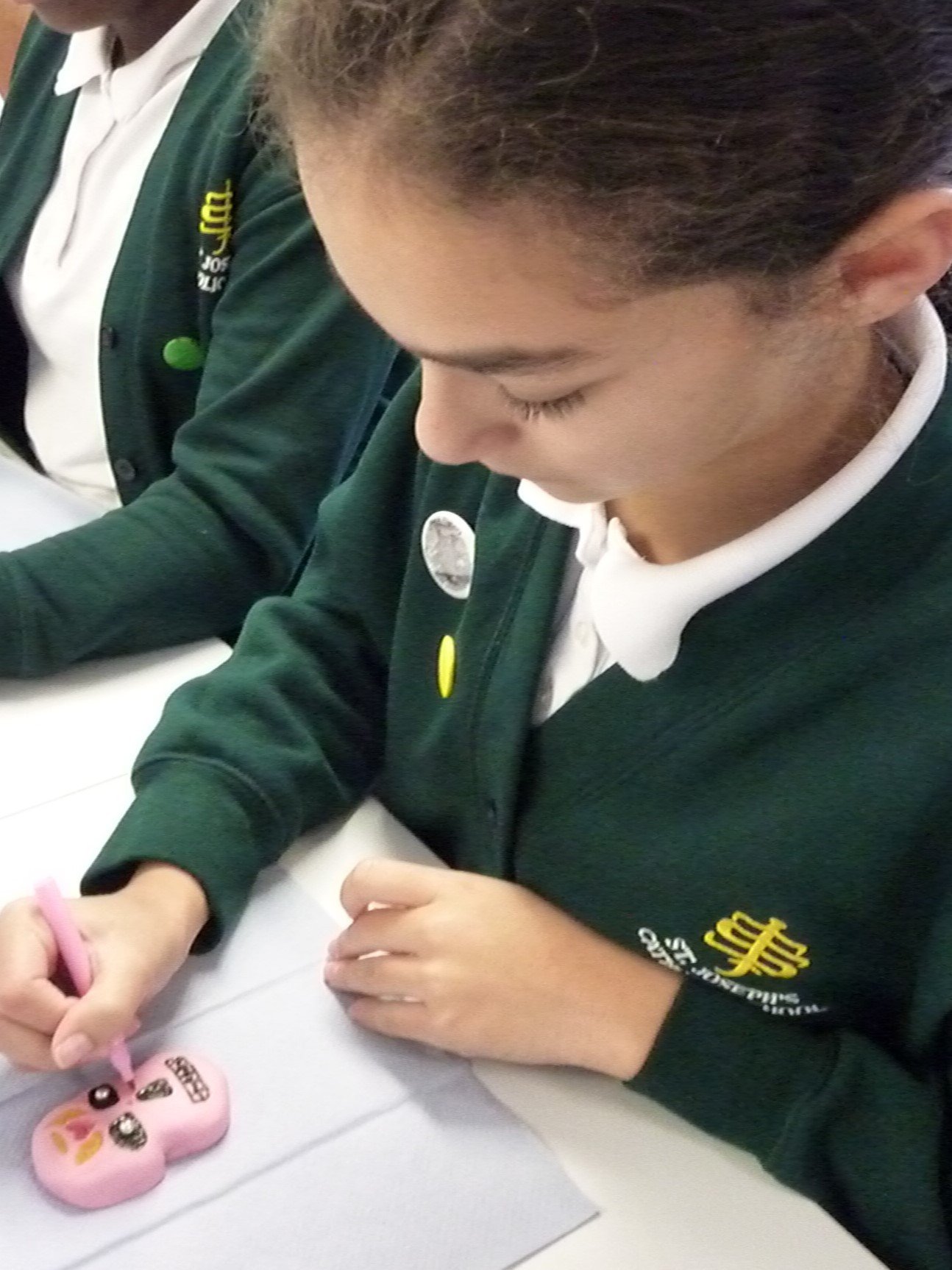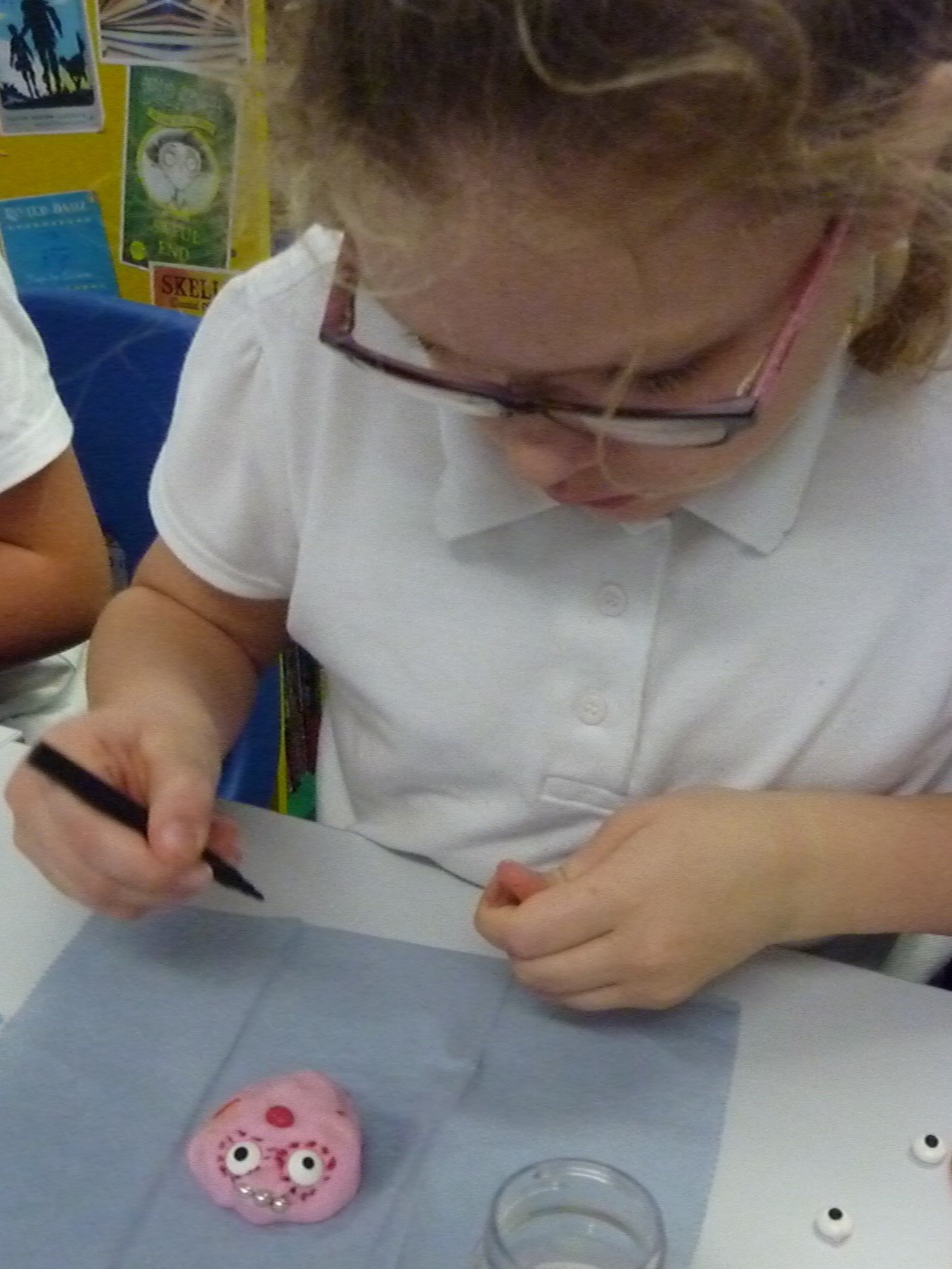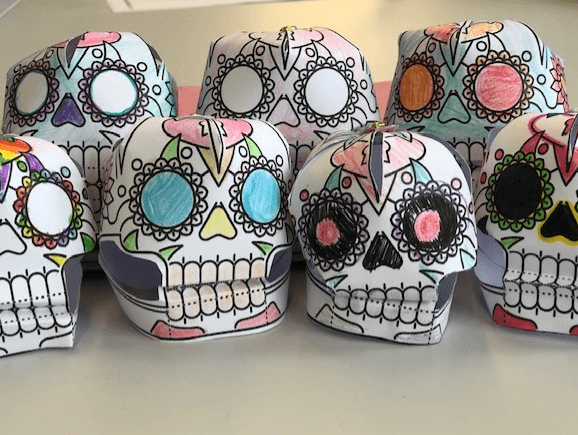 As part of our Science learning about adaptations, we carried out an investigation called, the "Battle of the Beaks!" We explored the different beak shapes that birds have and used implements of similar shapes to explore how easy they are to manipulate different food items. It made us realise how birds' beaks have had to be adapted over time, depending on their diet.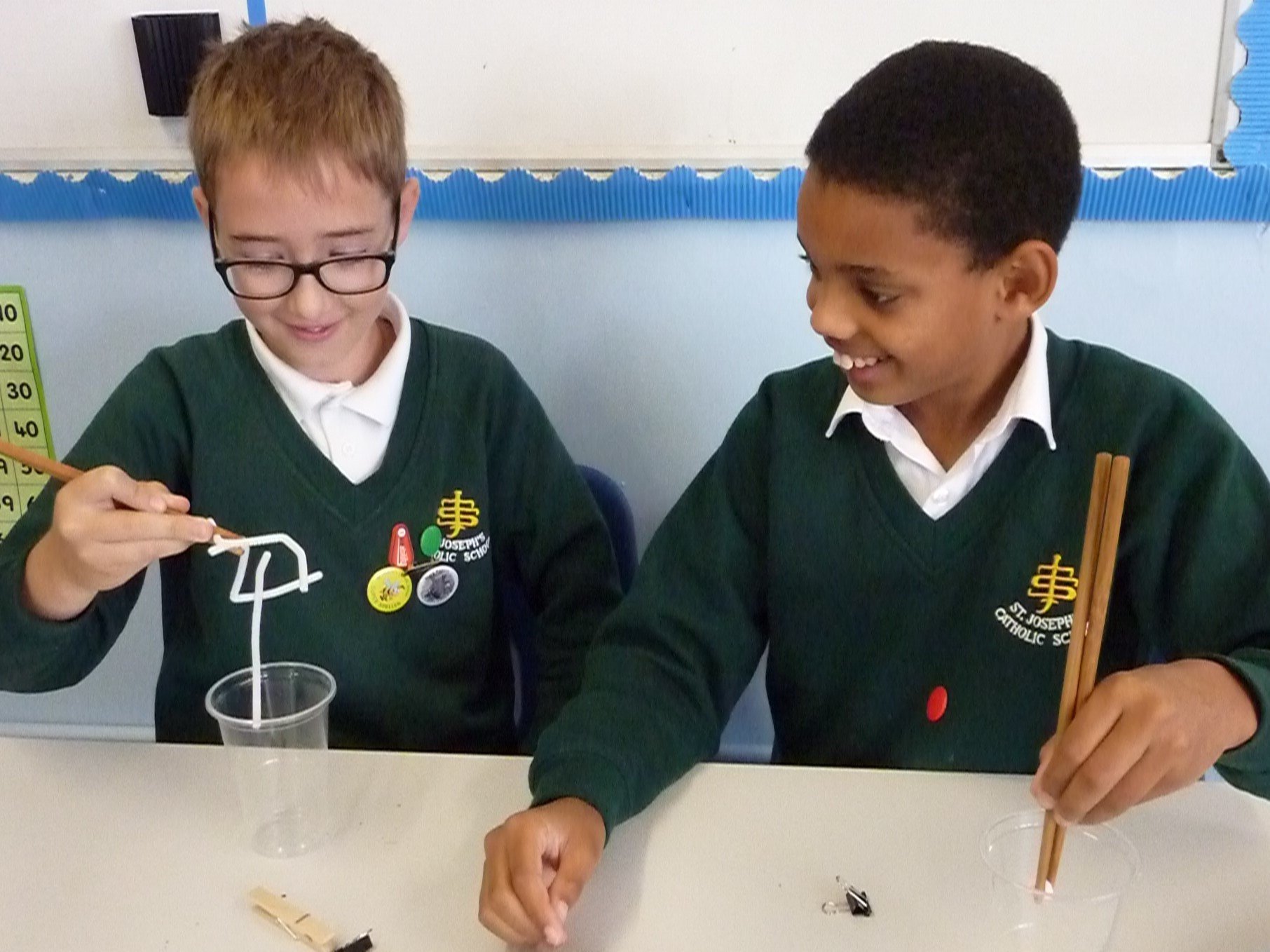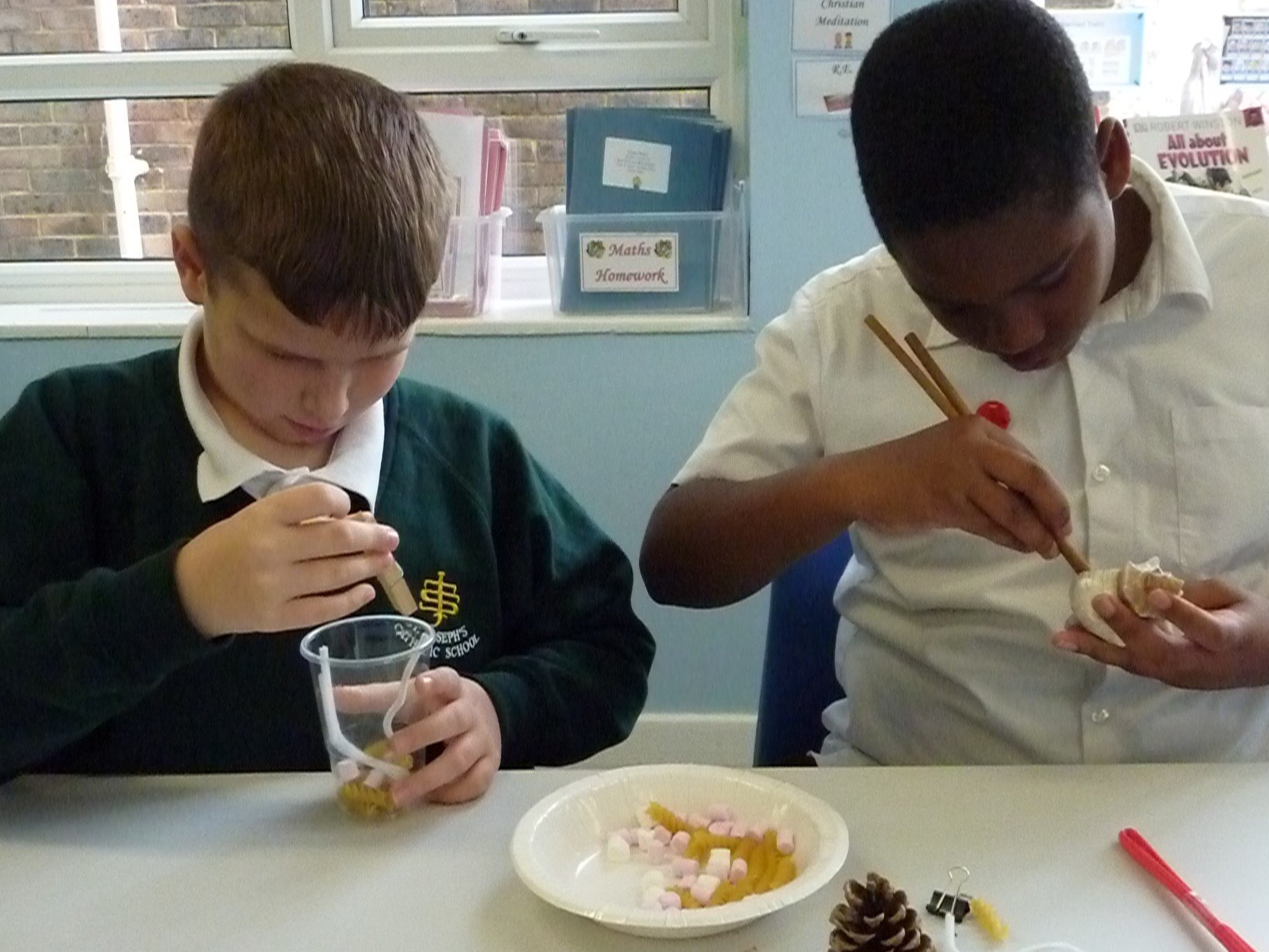 Manipulating spoon bills, using probing beaks trying to pick up "worms" and experiencing short, blunt beaks cracking seeds, as well as trying out a probing beak and exploring the depths of a shell.
This week in Year 6...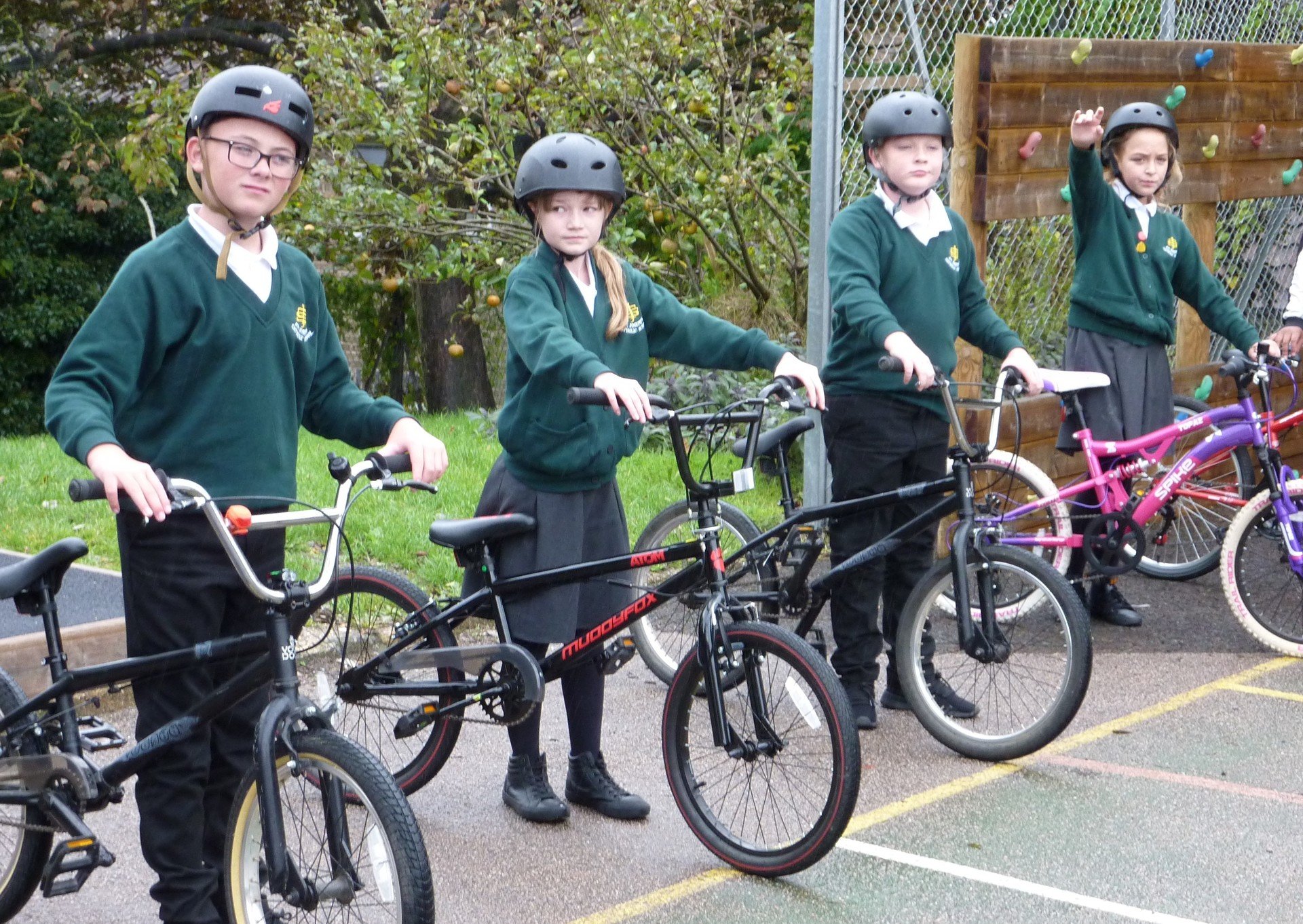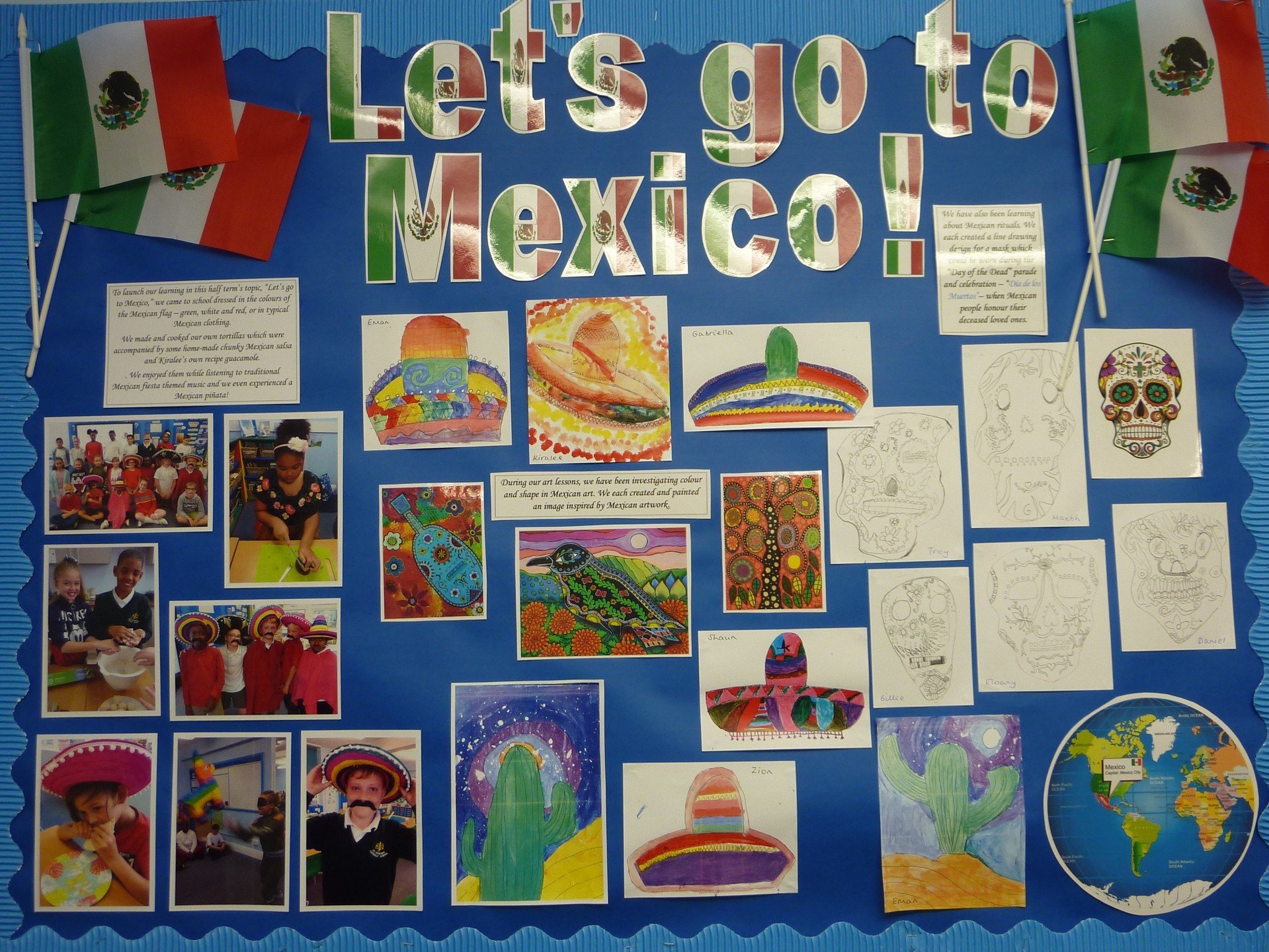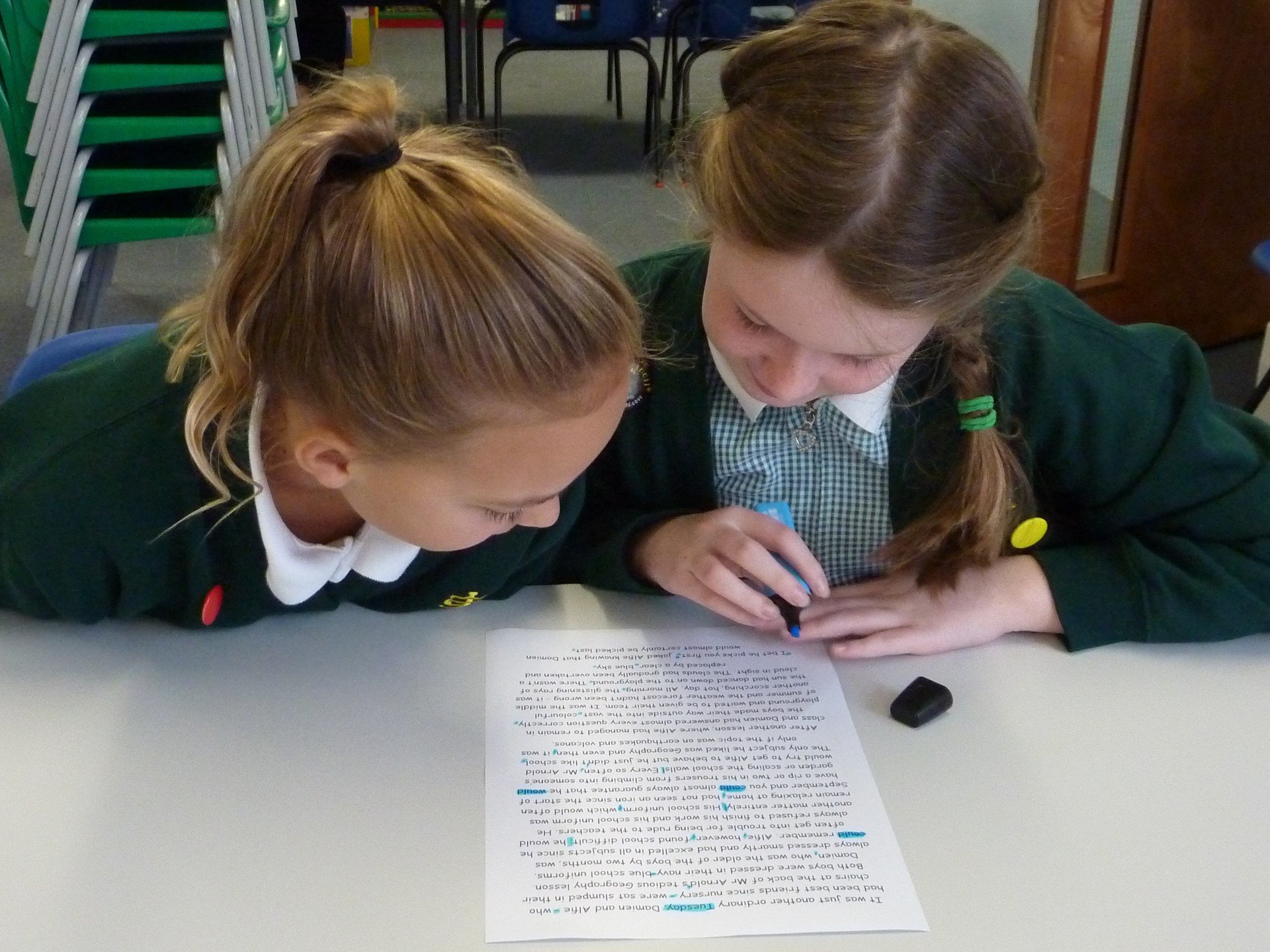 This week, some of us took part in the Level 1 Bike-Ability training, our "Let's Go To Mexico!" topic has culminated in a fantastic display of our work (please come and have a look in the classroom) and, in writing, we have been studying different texts and highlighting some of the features and expectations needed in our own Year 6 writing.
Another fun week in Year 6!
We are so impressed with our Year 6 class this year. They are working so hard and proving to be great role models for the rest of the school. Here are a few photos of some of their learning this week.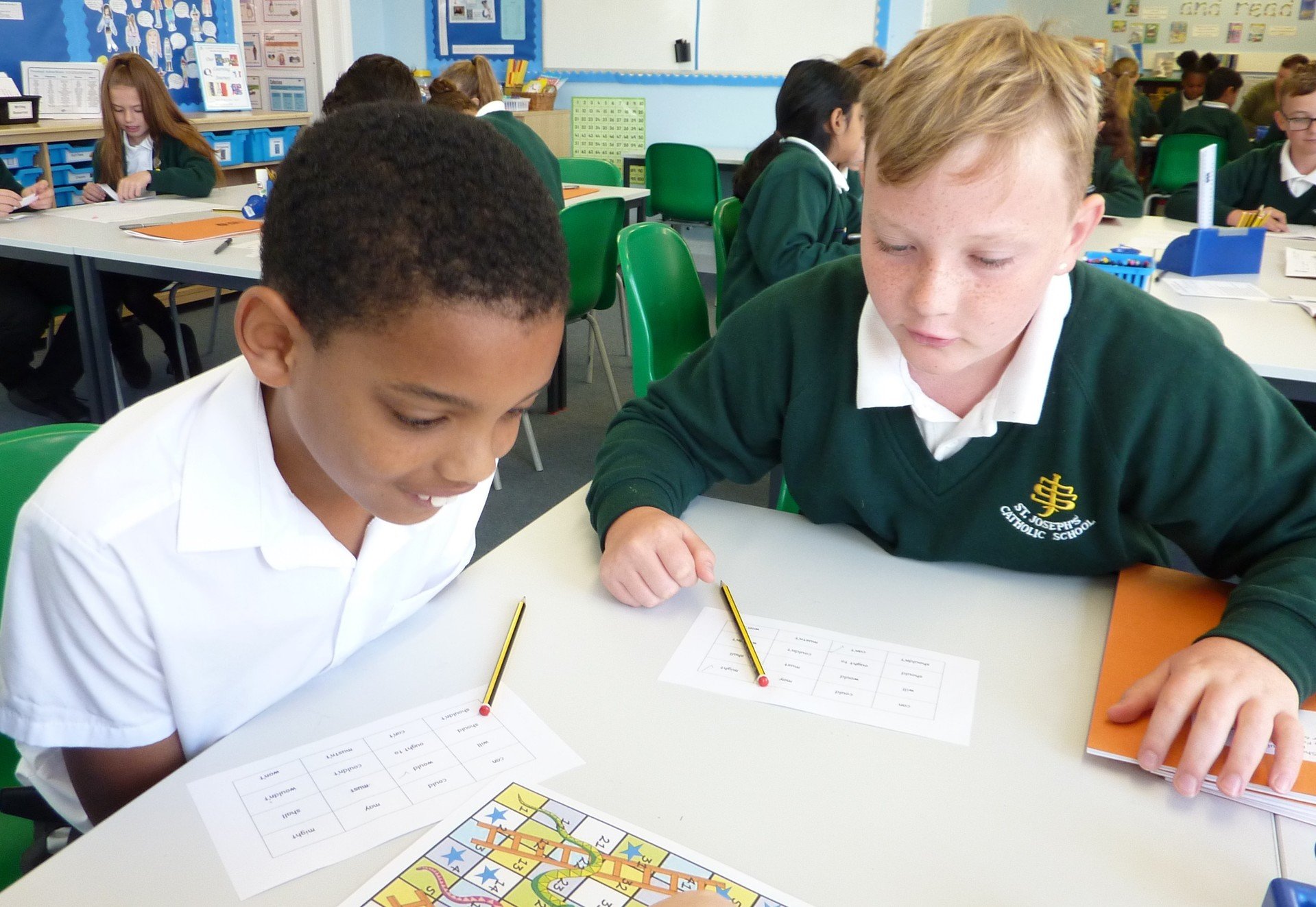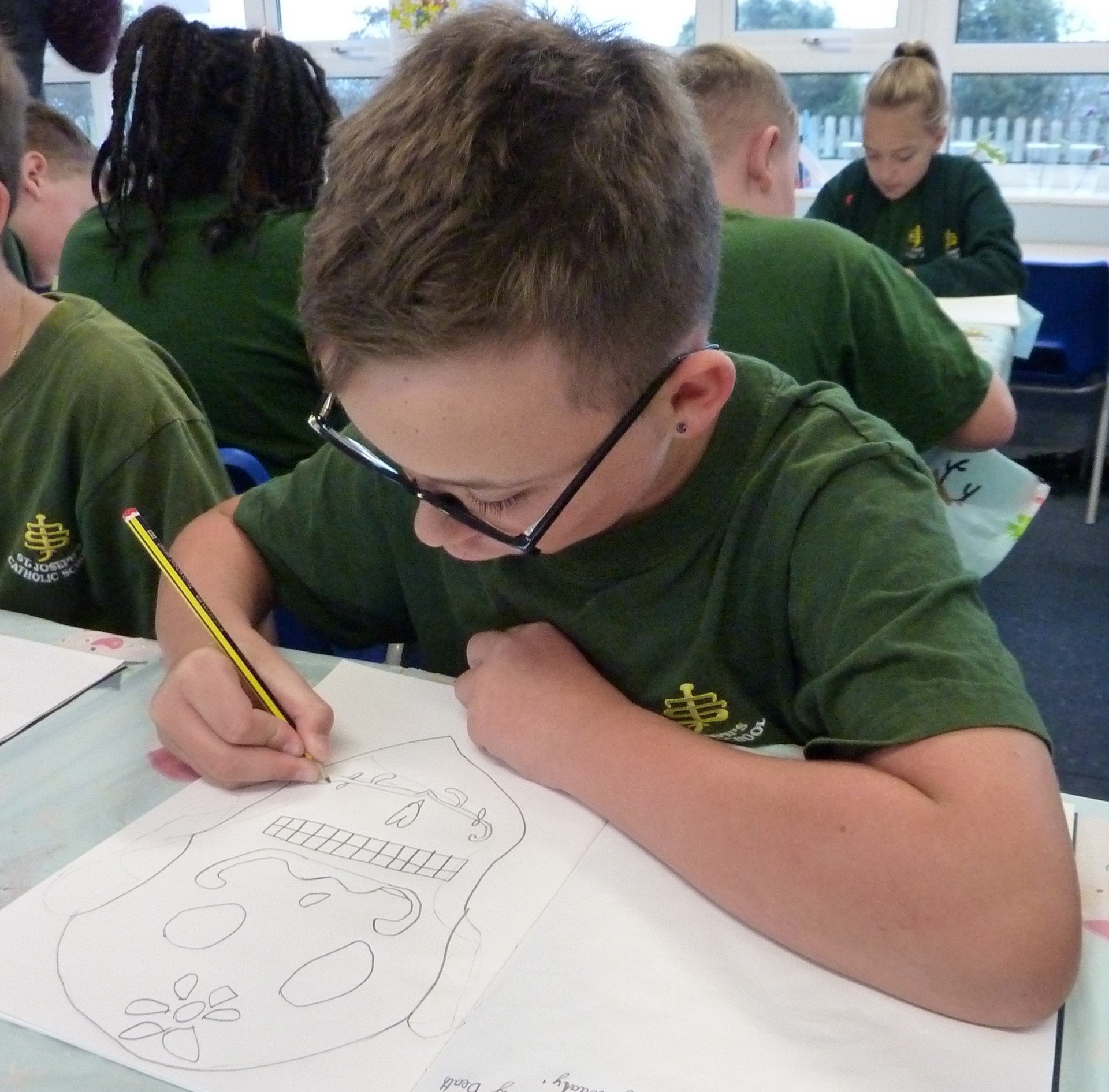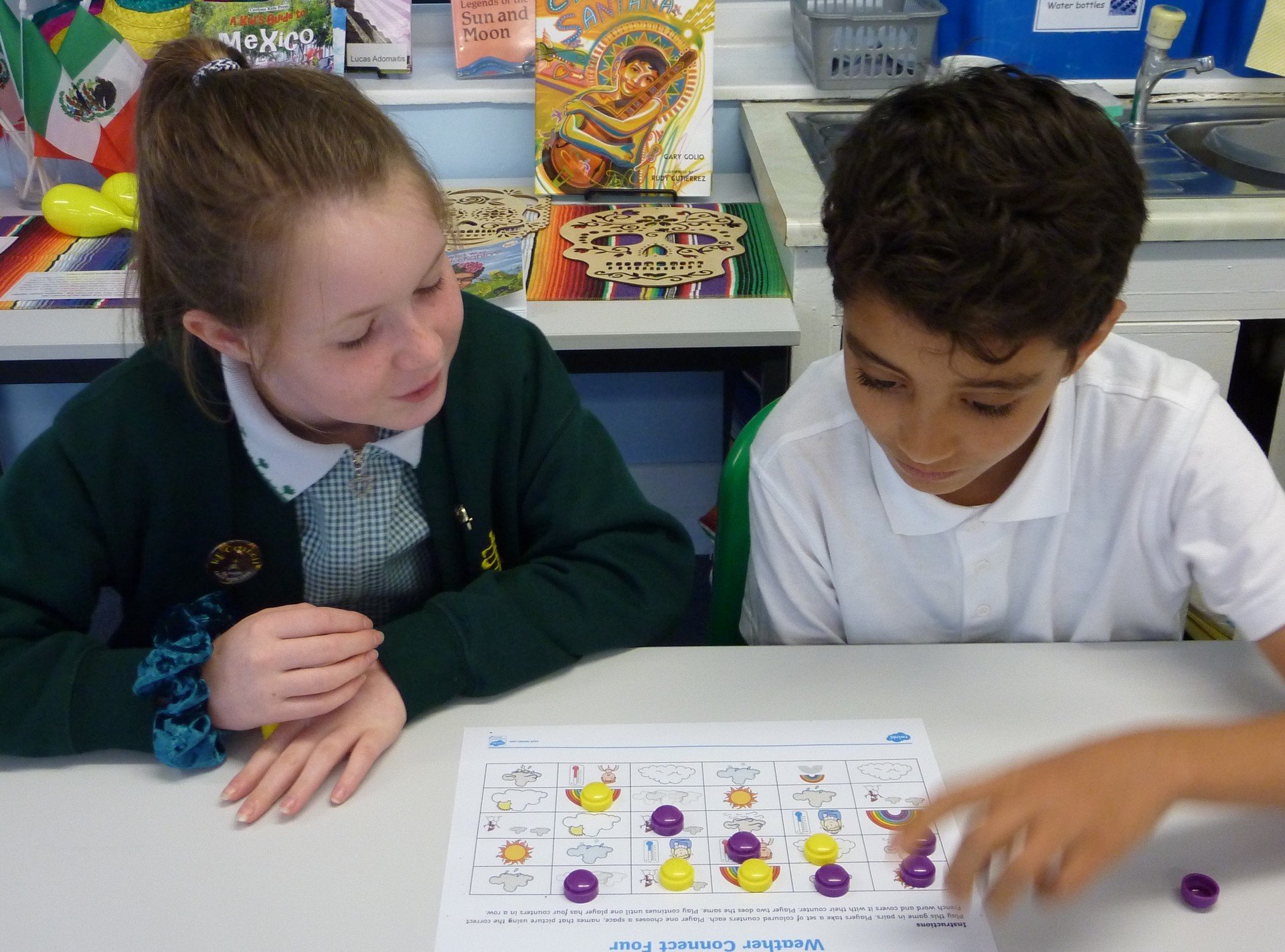 Playing modal verb snakes and ladders, line drawings of "Day of the Dead" masks in art and applying our french knowledge in "French Weather Connect 4."
Judaism Week
This week has been Judaism Week across the school, which began with an assembly on Monday led by Mr Fishman.
As part of their learning, Year 6 learned about Rosh Hashanah - the Jewish New Year. A Jewish custom is to eat apples dipped in honey, symbolising a "sweet new year." It is a time of reflection when Jewish people look back over the previous year and focus on ways forward for the forthcoming year.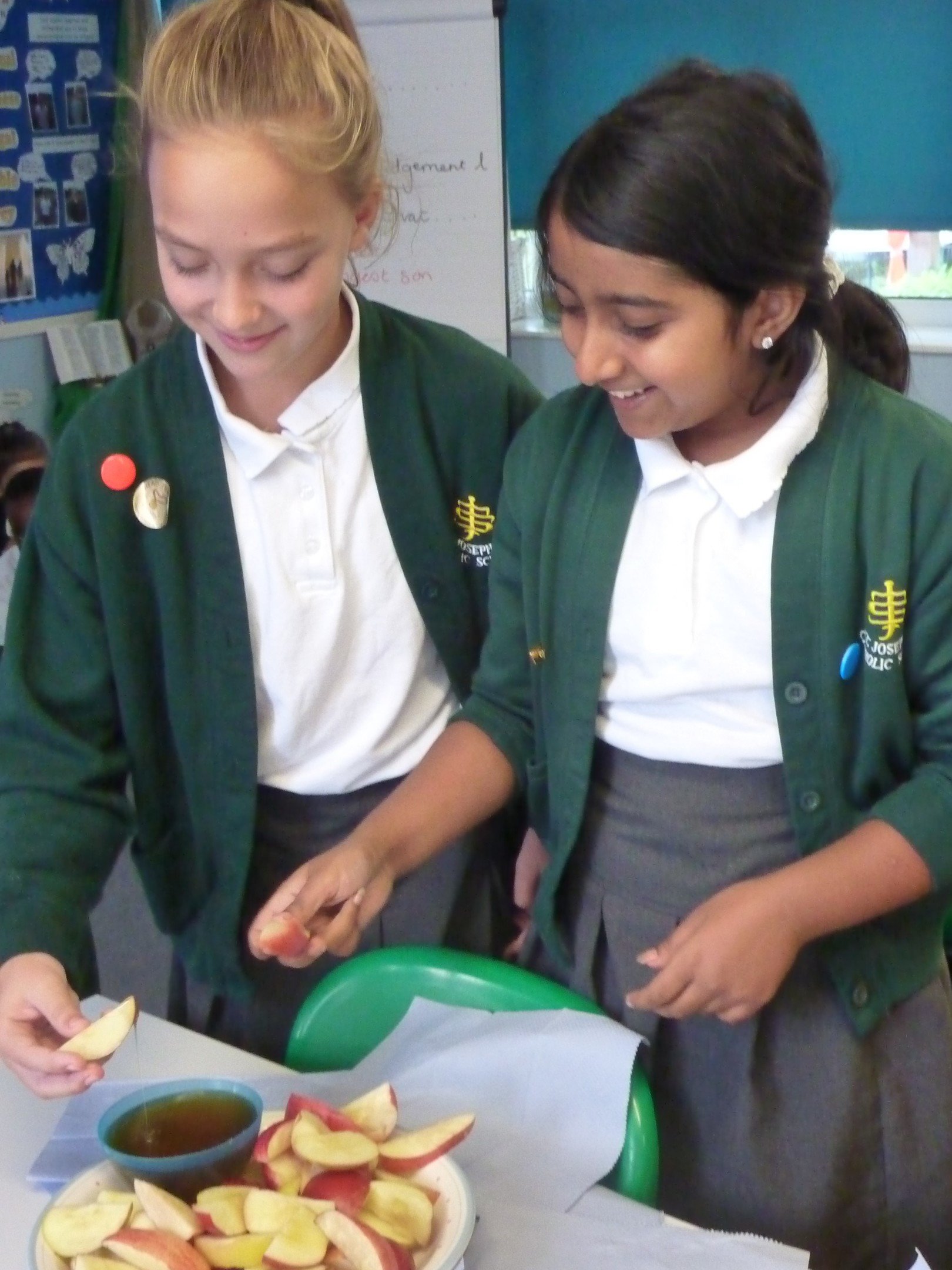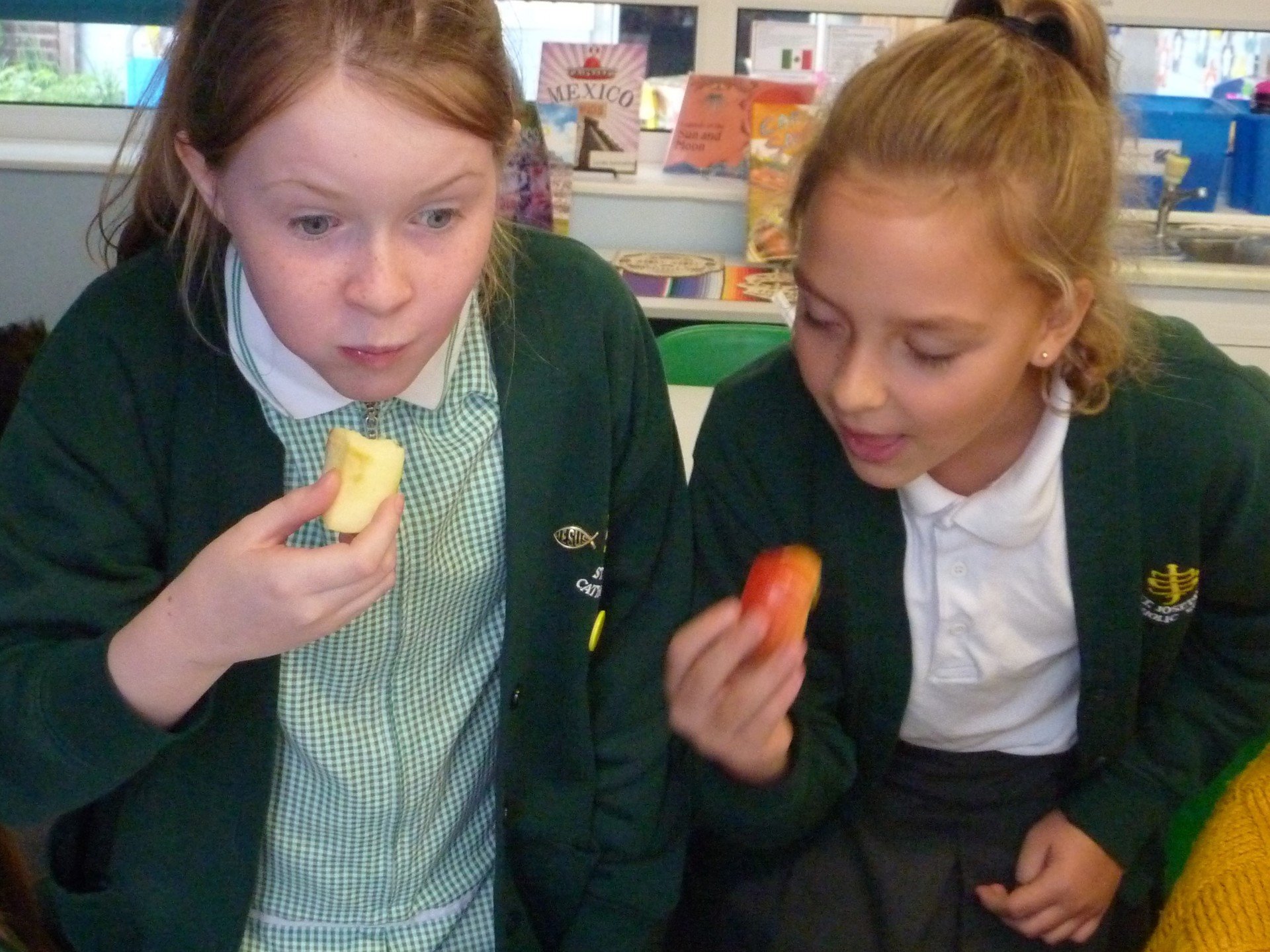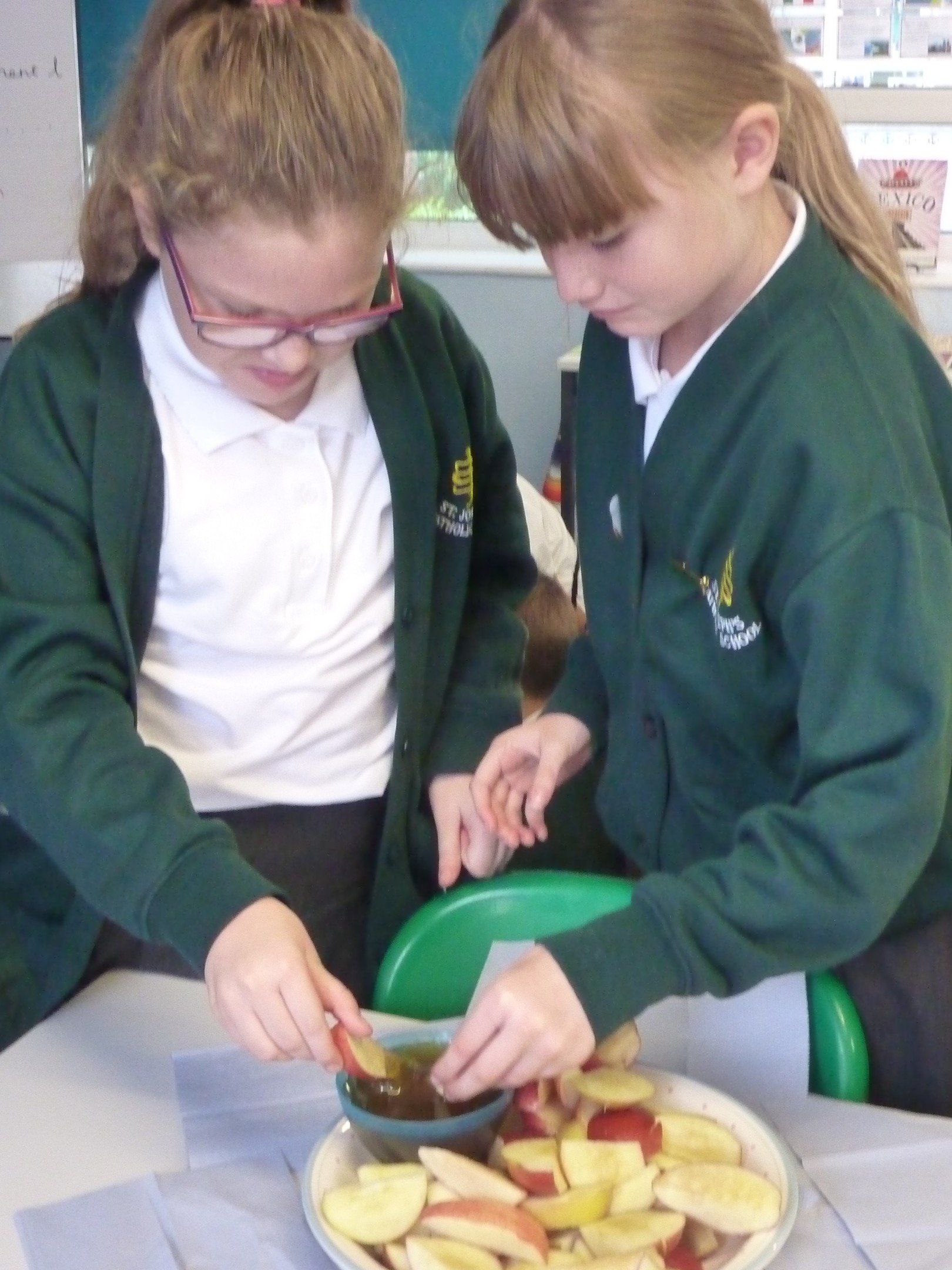 Basketball Coaching
Year 6 are enjoying working with Cain, a coach from South Coast Basketball on a Thursday afternoon. It is lovely to see how the basketball coaching that we have bought in to over the last few years, is paying off - we have some very skilful players in our midst!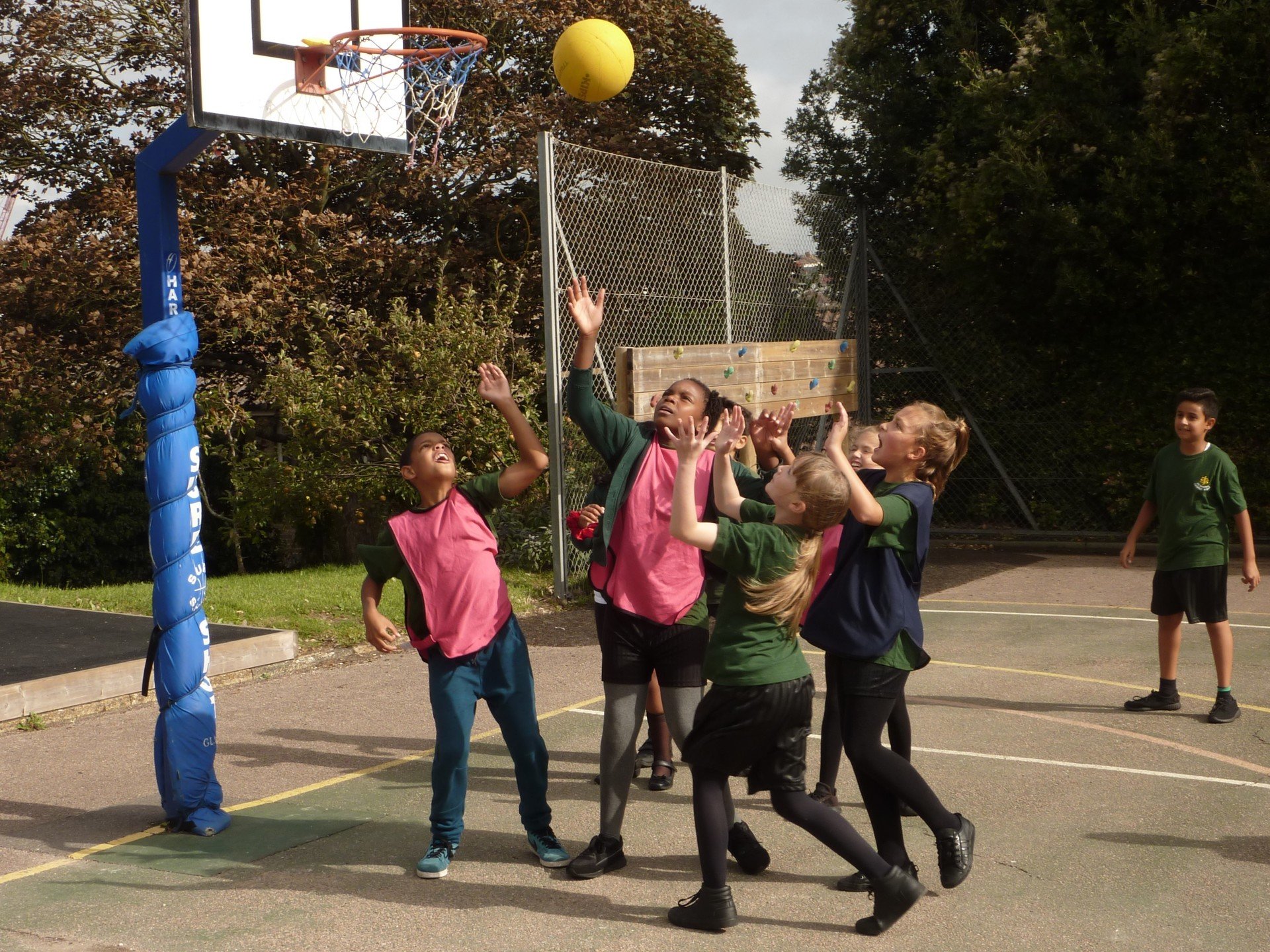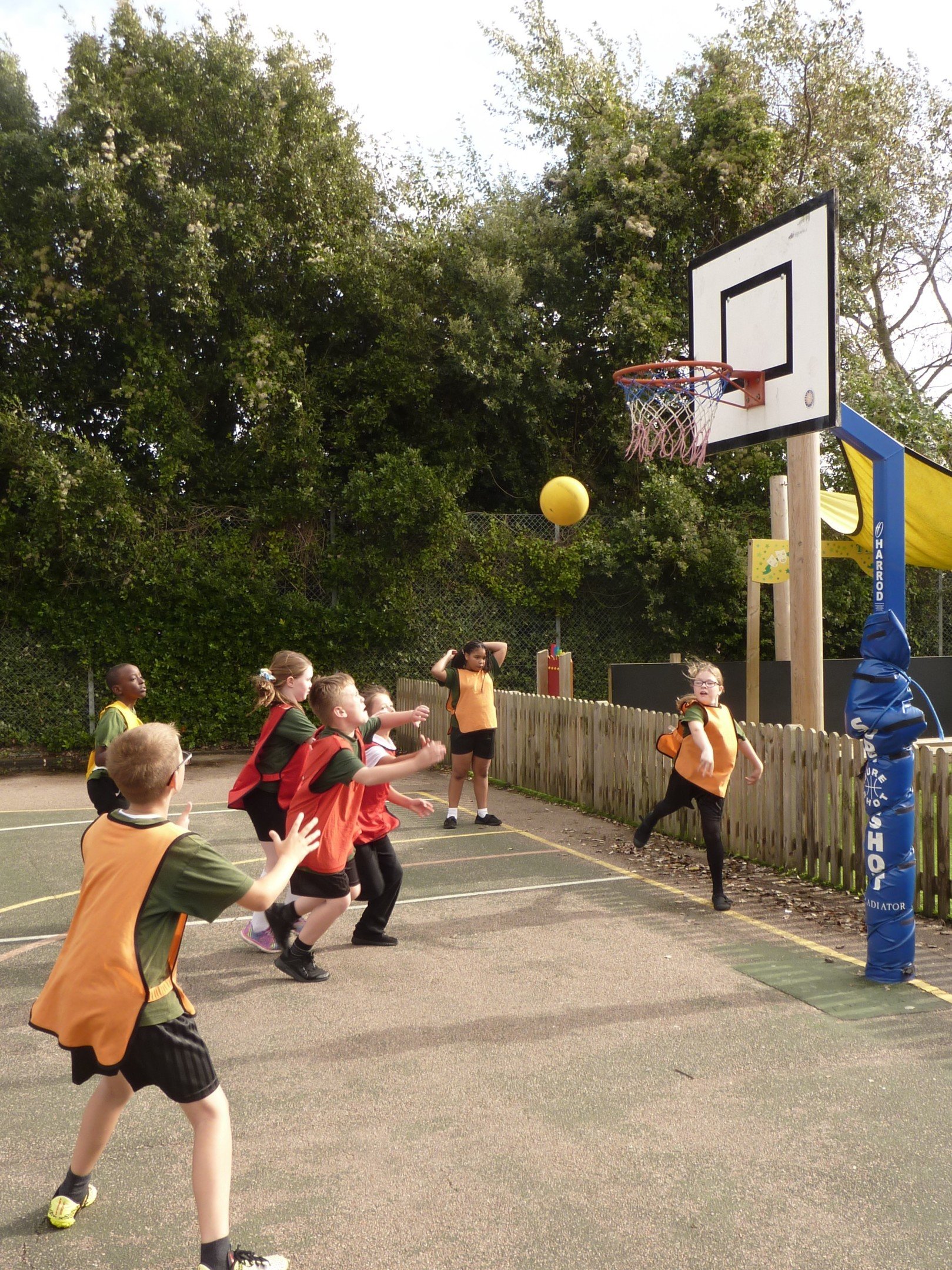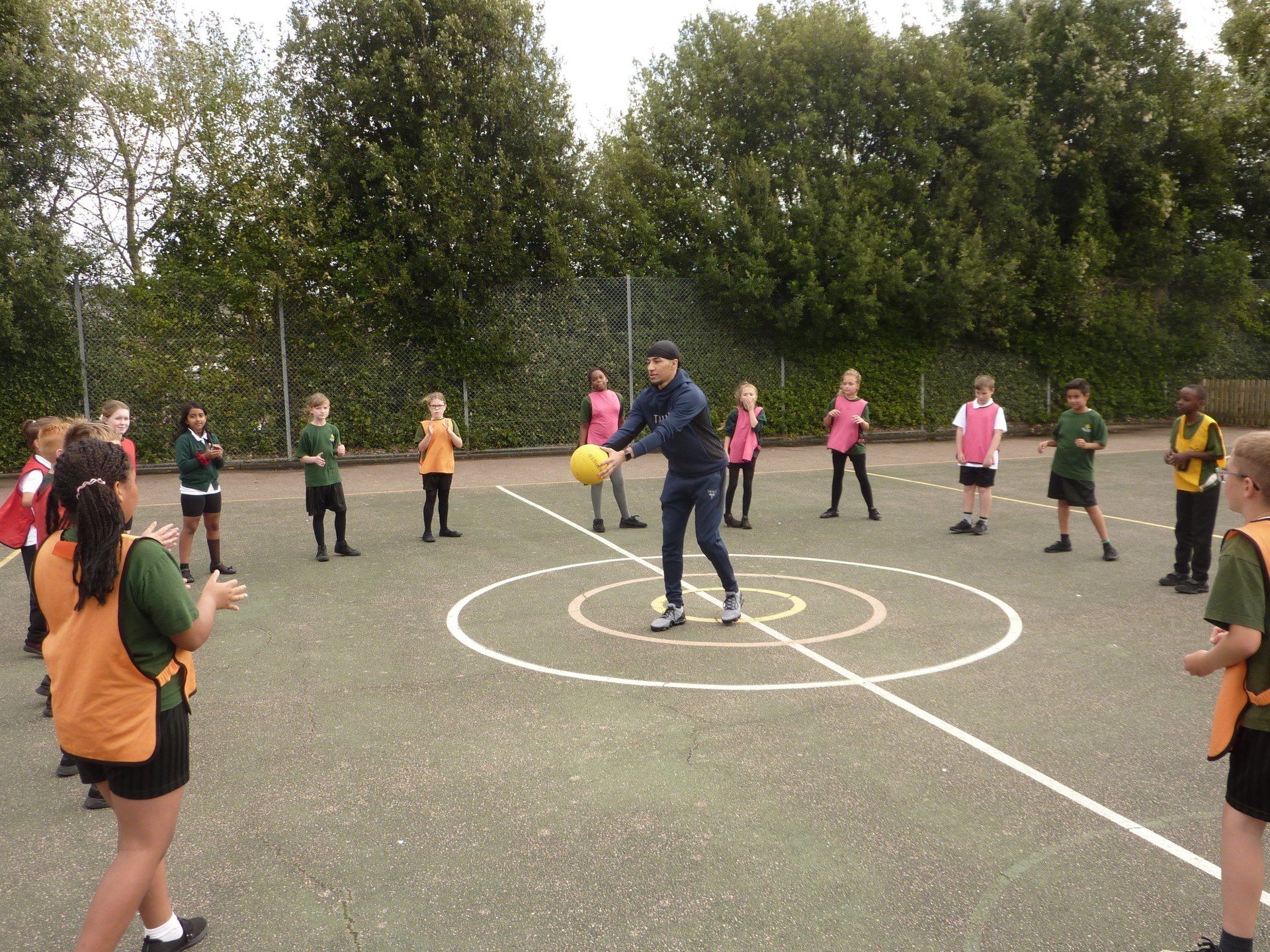 Our geography learning: 26.9.19
Year 6 are enjoying their geography this term, learning about Mexico. Today, they sorted pictures and information cards into those they thought related to the UK and those they thought related to Mexico.
The activity encouraged lots of interesting discussions. The children also had time to research similarities and differences between the UK and Mexico on the computer and to make comparisons between the two countries.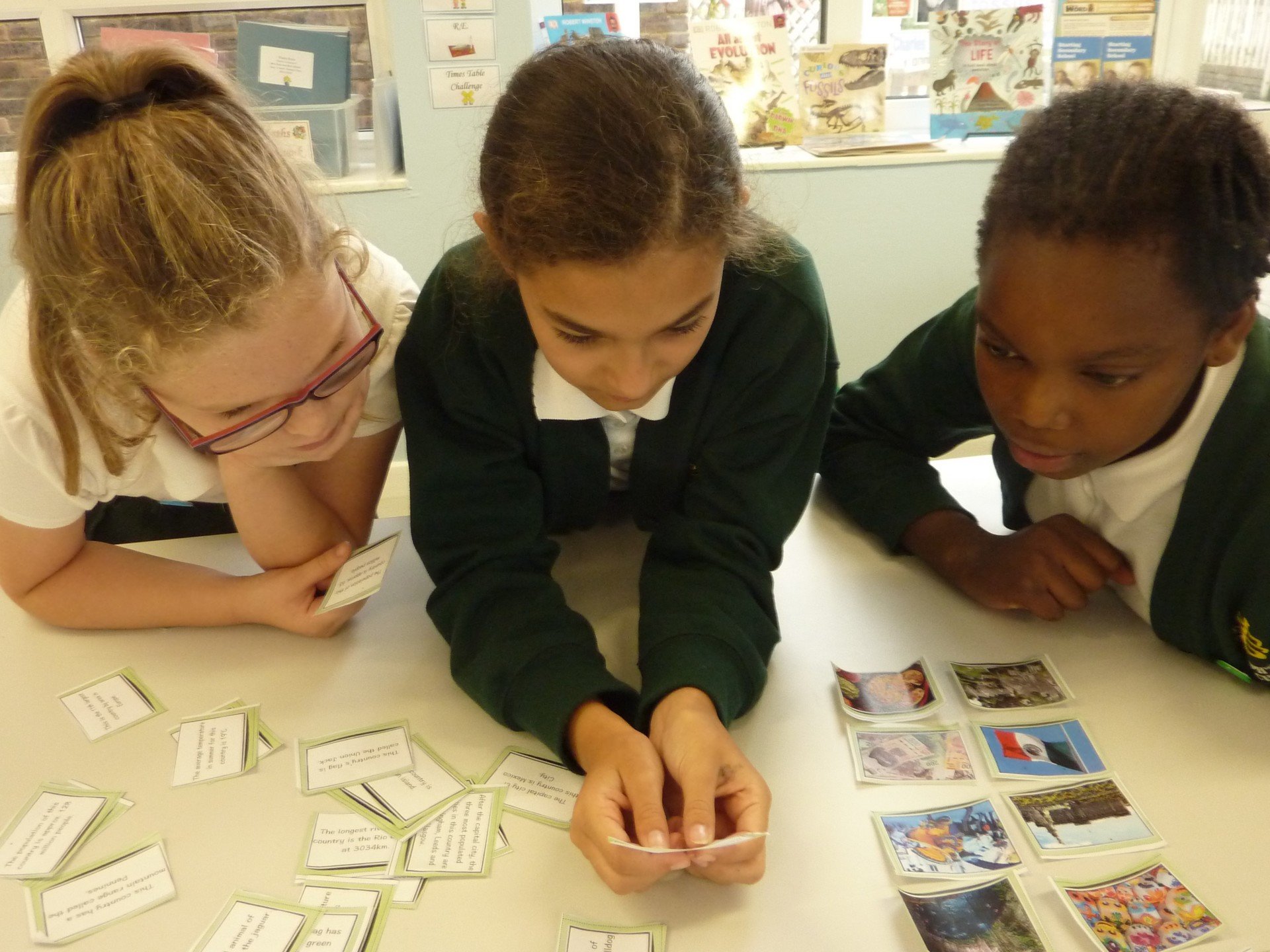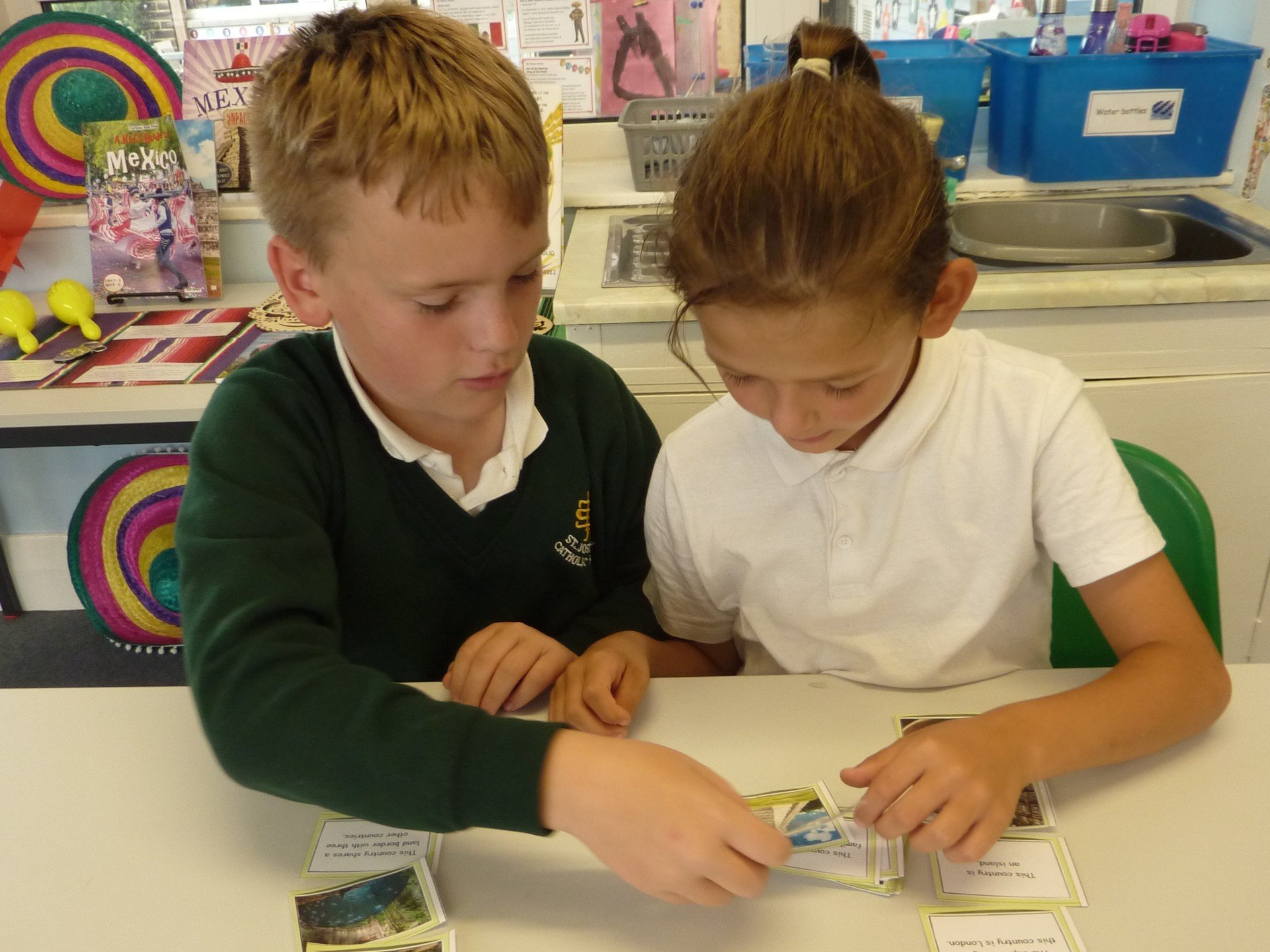 Art
Over the last two weeks in their art lessons, Year 6 have been looking at the work of Frida Kahlo, a Mexican artist. Frida Kahlo painted several self portraits and she was also painted by other people. Building on their skills and knowledge of drawing portraits from last year, Year 6 had a go at drawing, and then painting, Frida Kahlo themselves.
Their finished portraits will be on display in the classroom next week.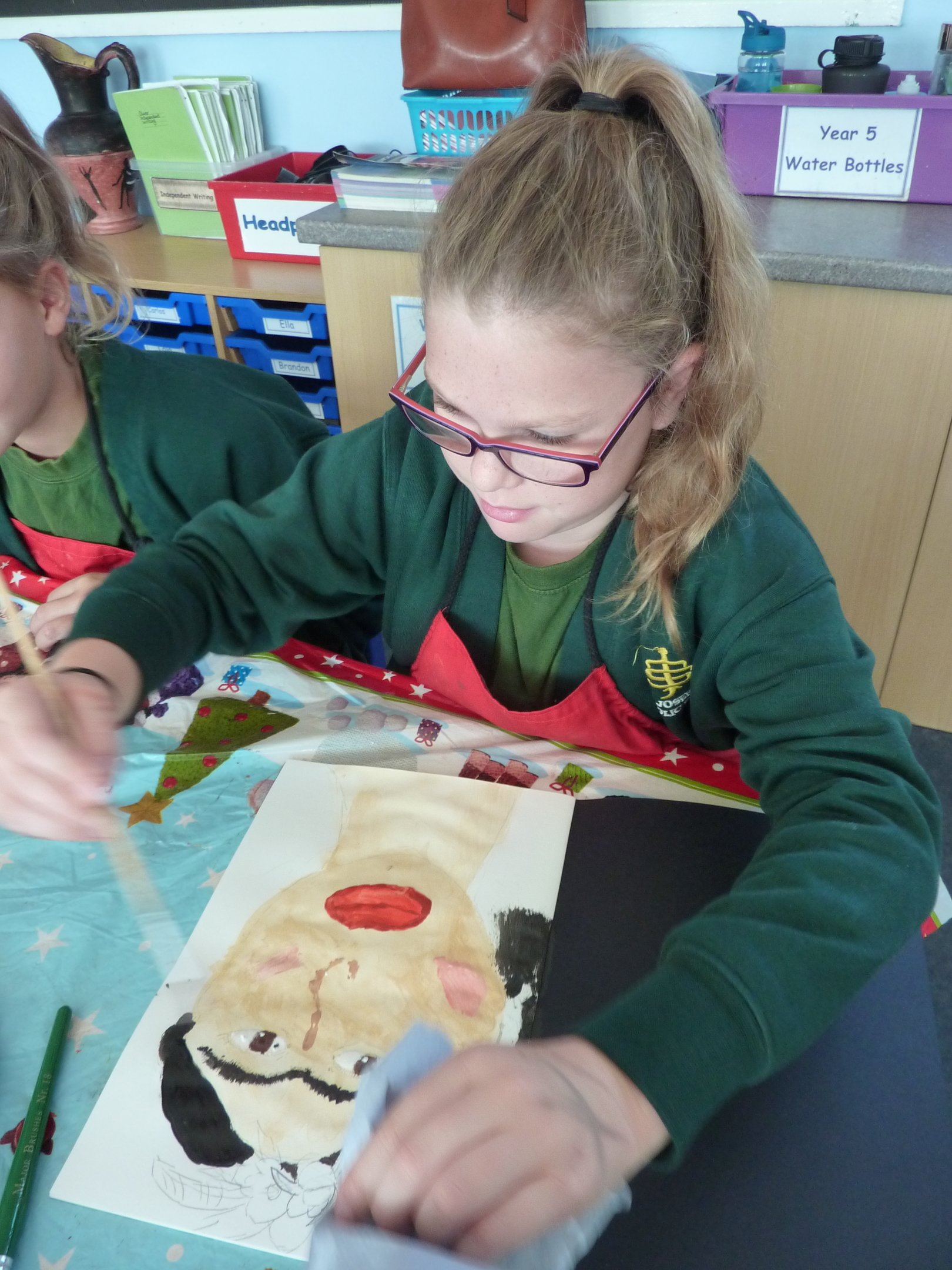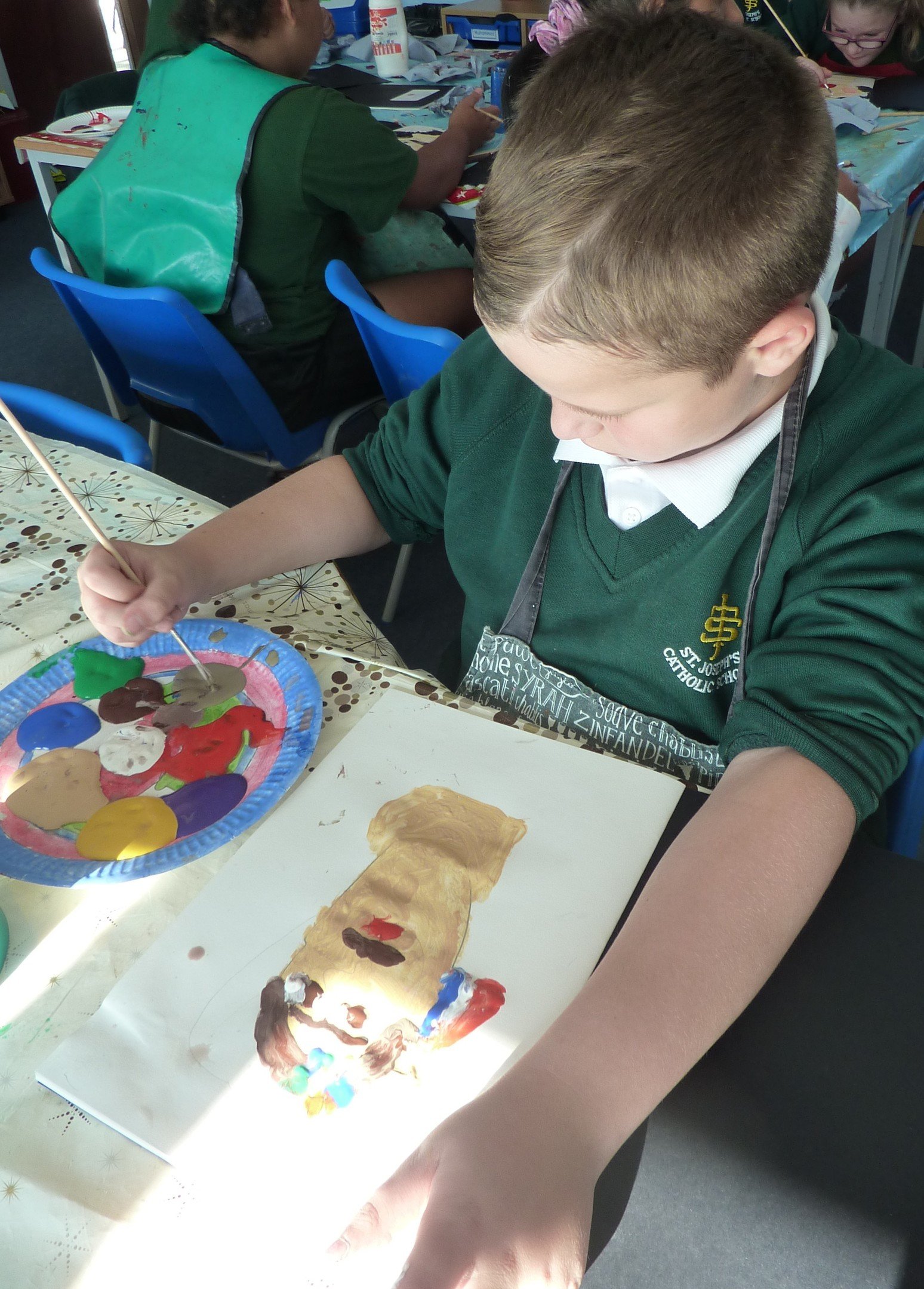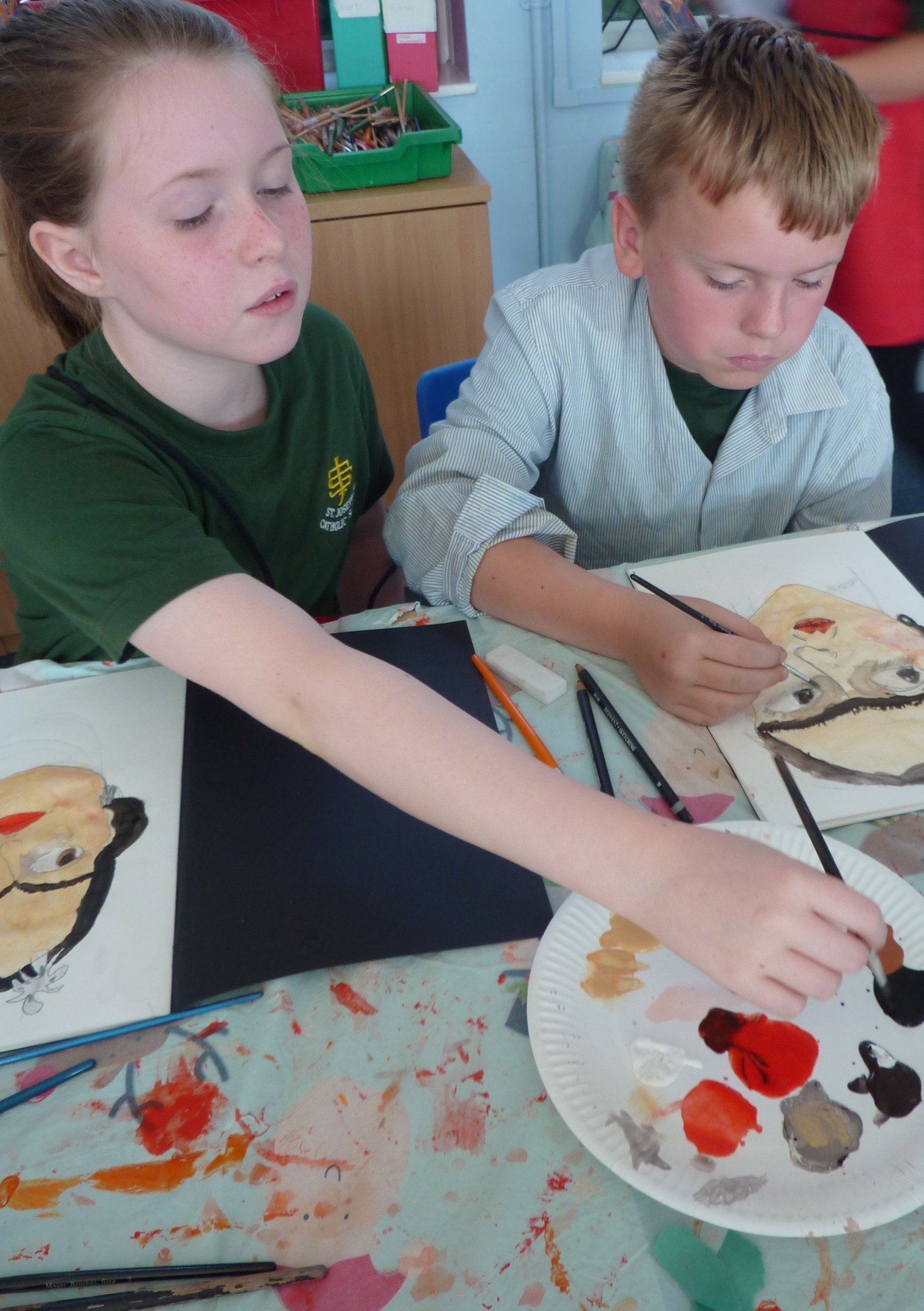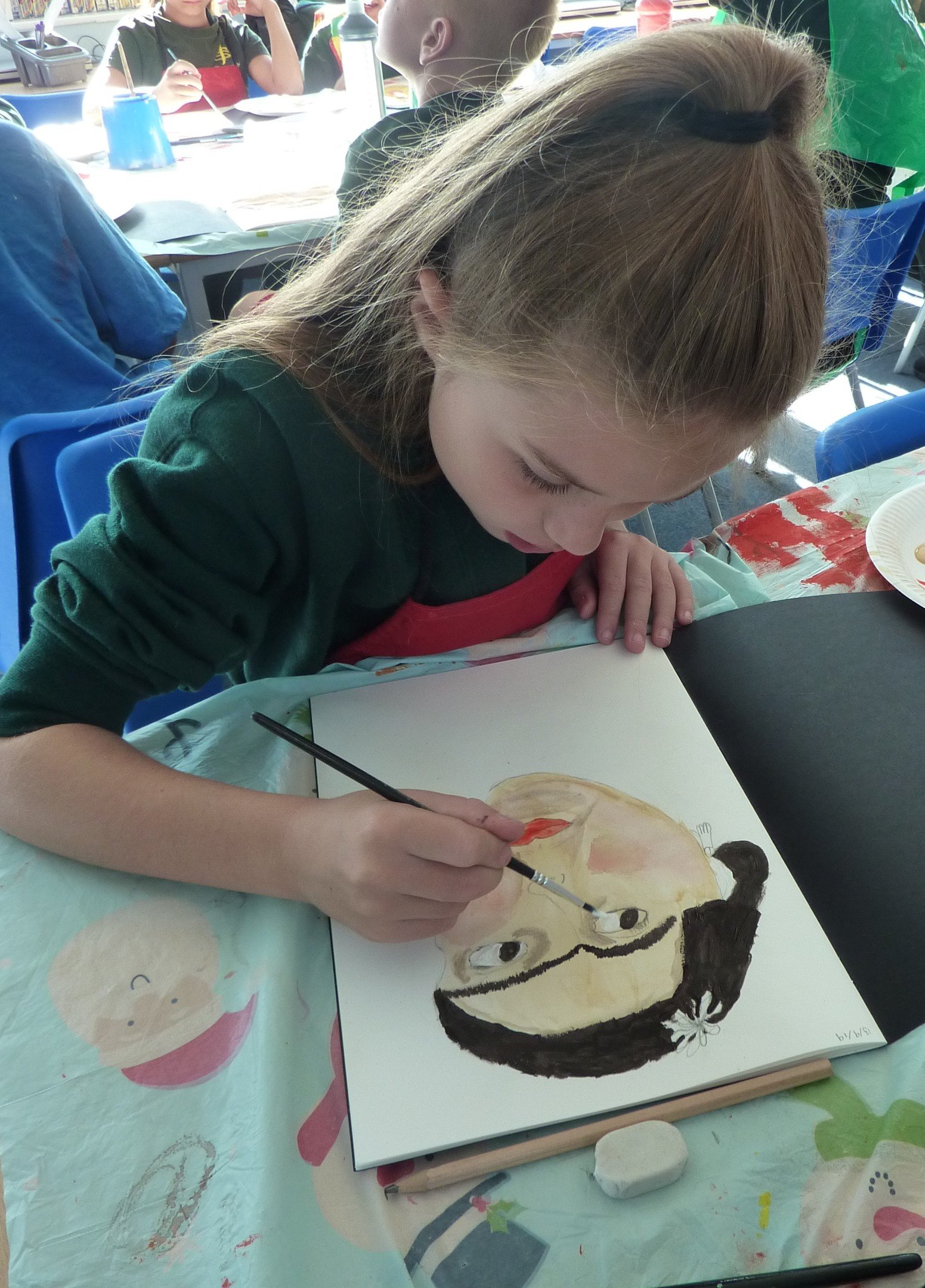 Maths
In one of their maths lessons this week, Year 6 pupils explored and investigated the maths resources available in the classroom and also took a look in our Year 6 challenge box.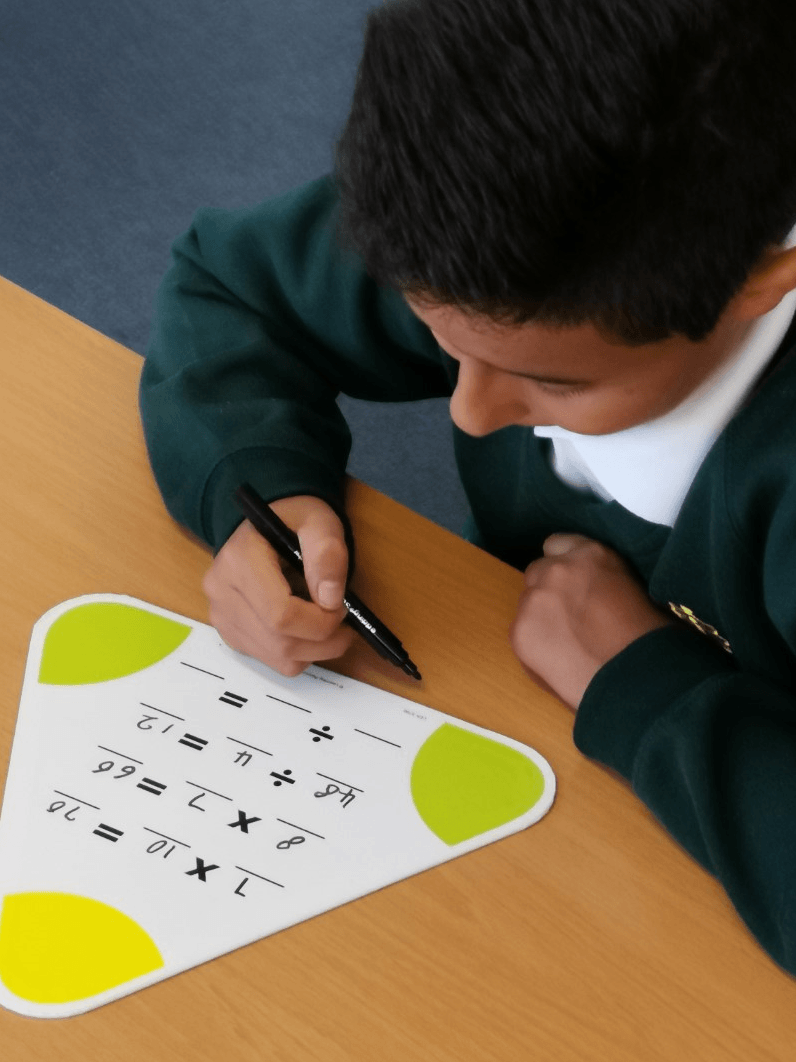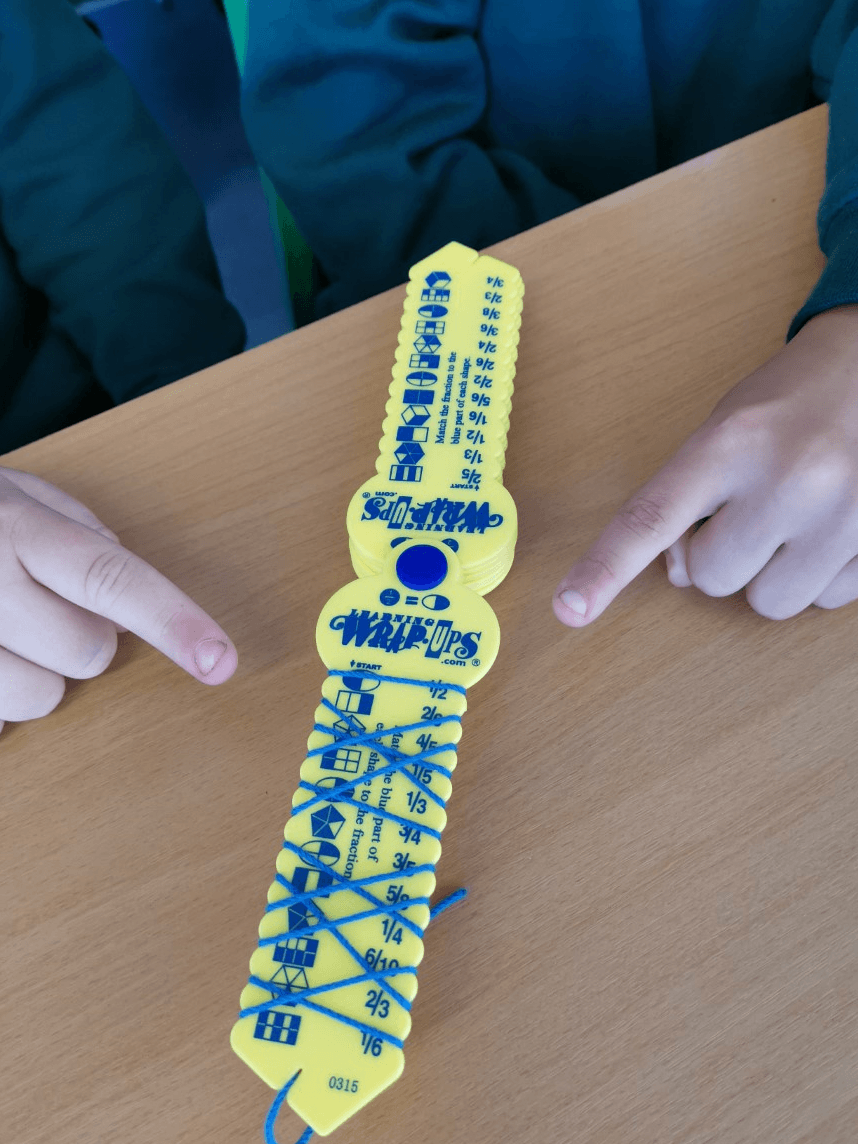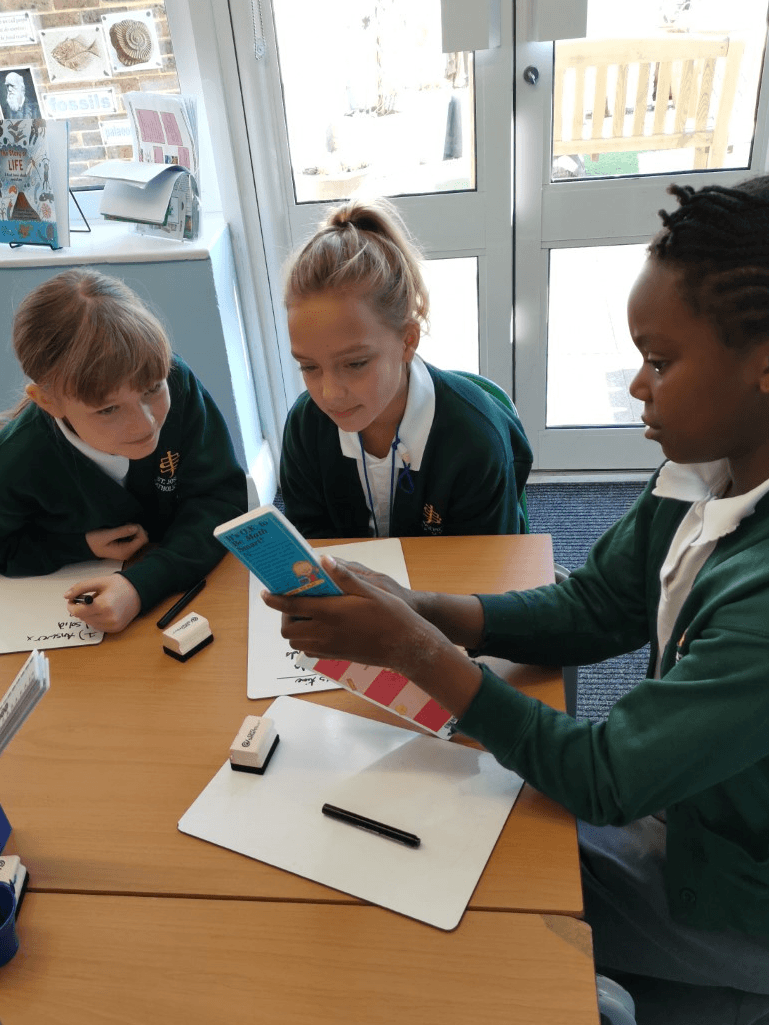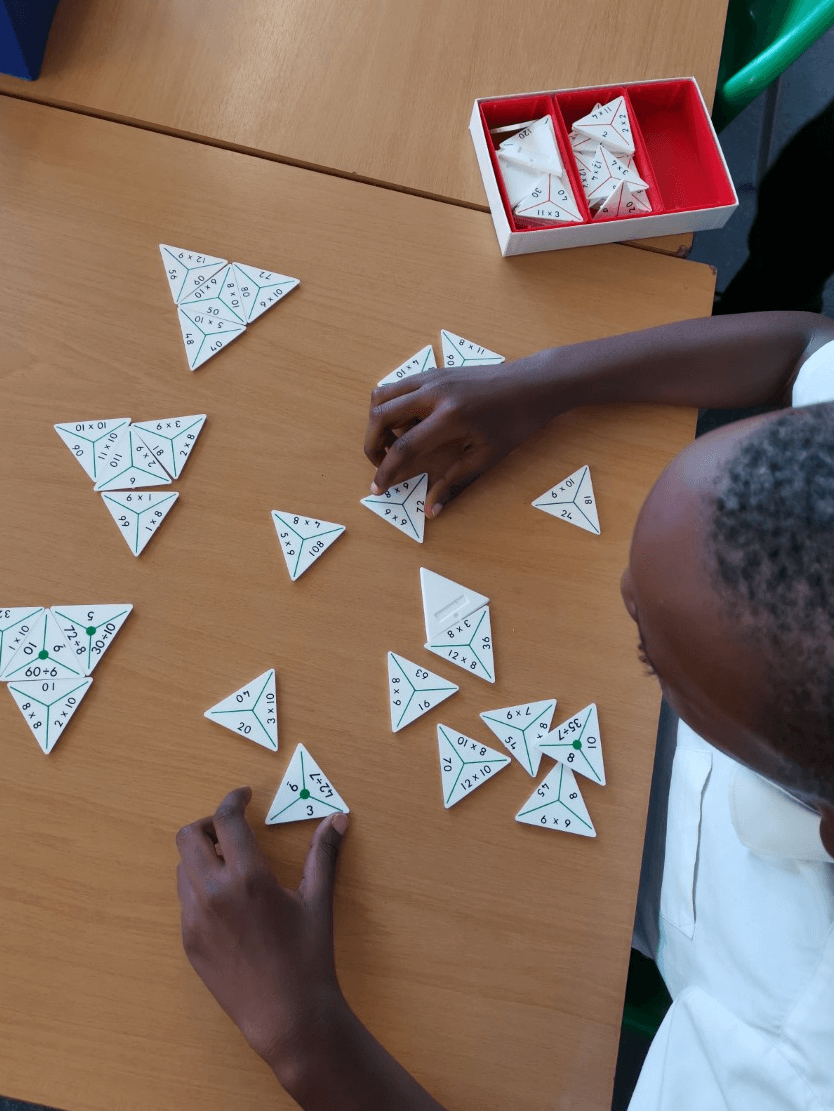 Residential trip to PGL at Windmill Hill 13.9.19-16.9.19
Year 6 have just returned from their residential trip to PGL.
What a fantastic time they had! They were well behaved, challenged themselves with different activities, were encouraging and supportive to each other and had great fun! The weather was fantastic, as was the behaviour and attitude of every Year 6 member.
Miss Morrison, Mrs Foan, Mrs Skinner and Mr Muschamp were so impressed with each and every one of you for your determination, resilience, teamwork and your sense of fun (and for going to sleep when asked!)
There will be a presentation in a few weeks time where the children will share photos and talk about the different things they did.
Until then, here are a few photos.....

Friday evening - settling in, unpacking and evening activity, "Passport to the World."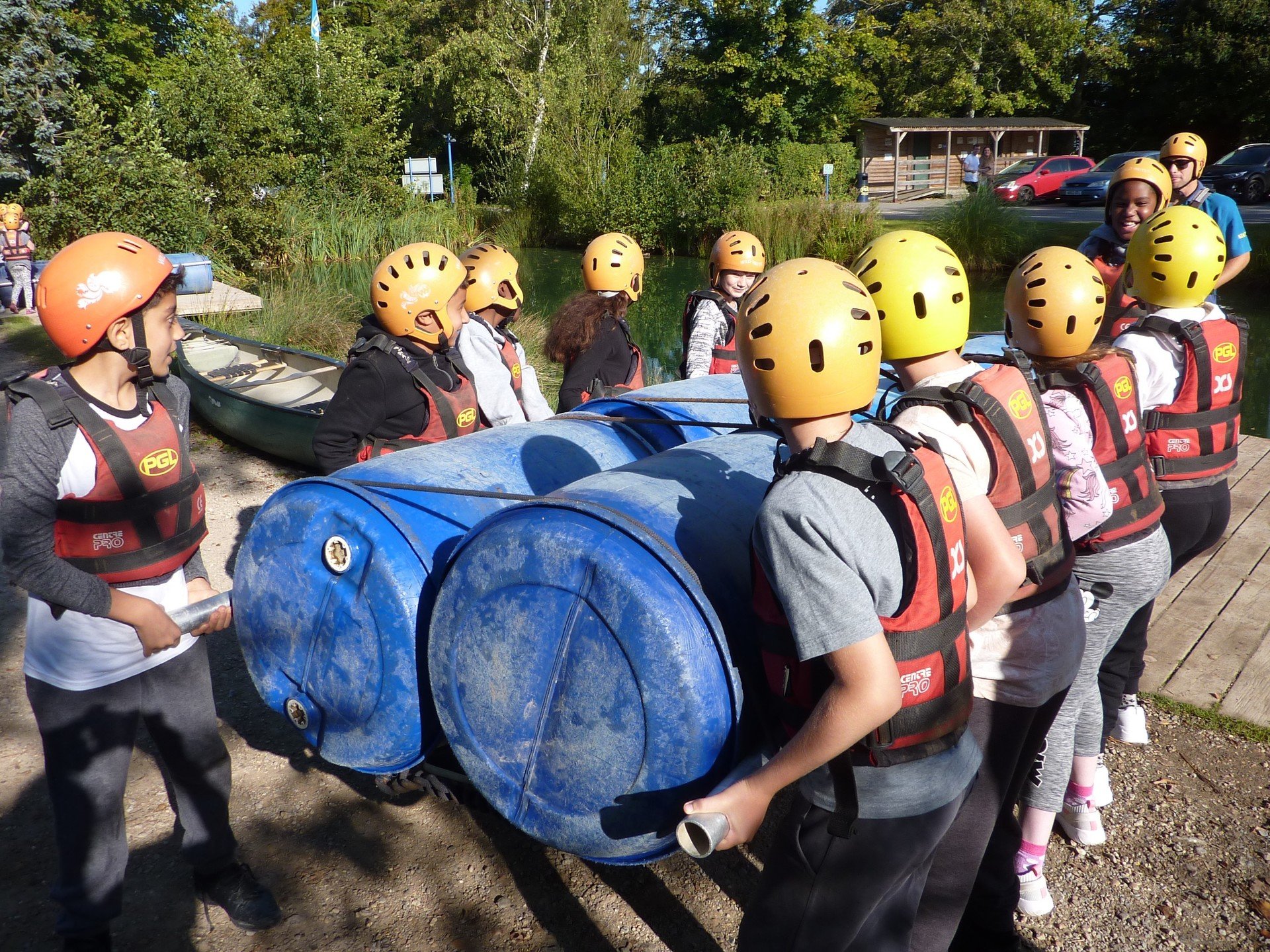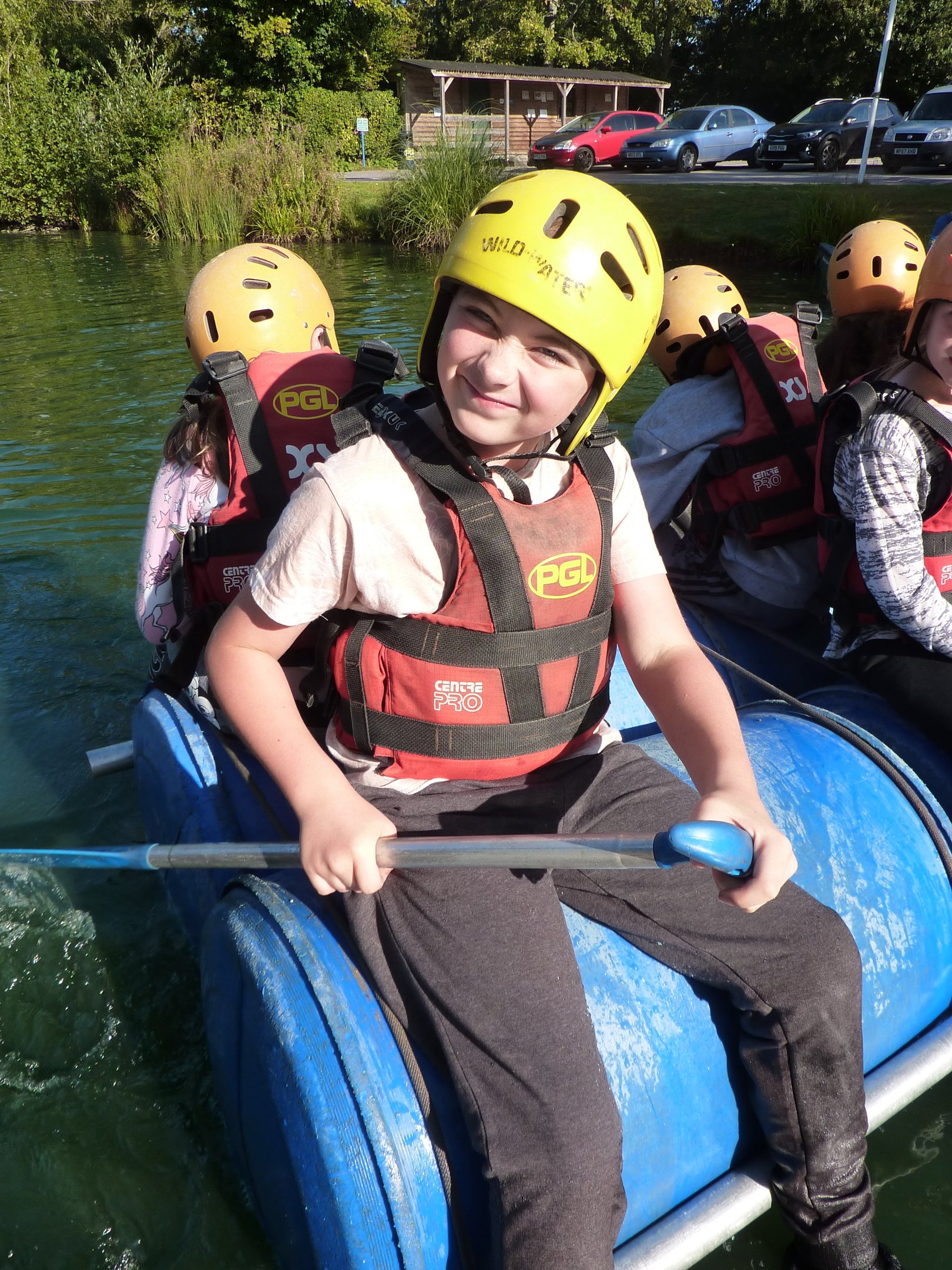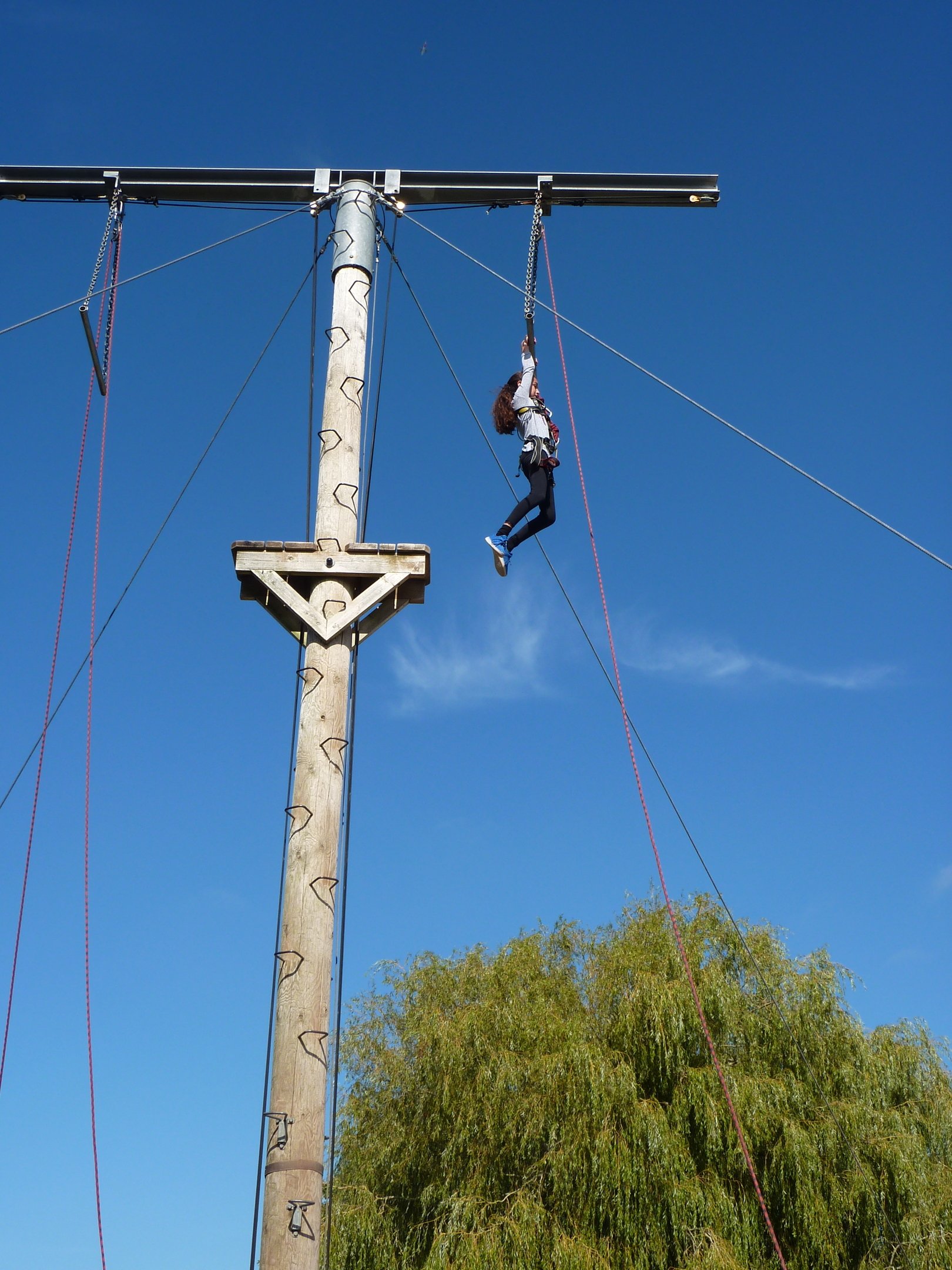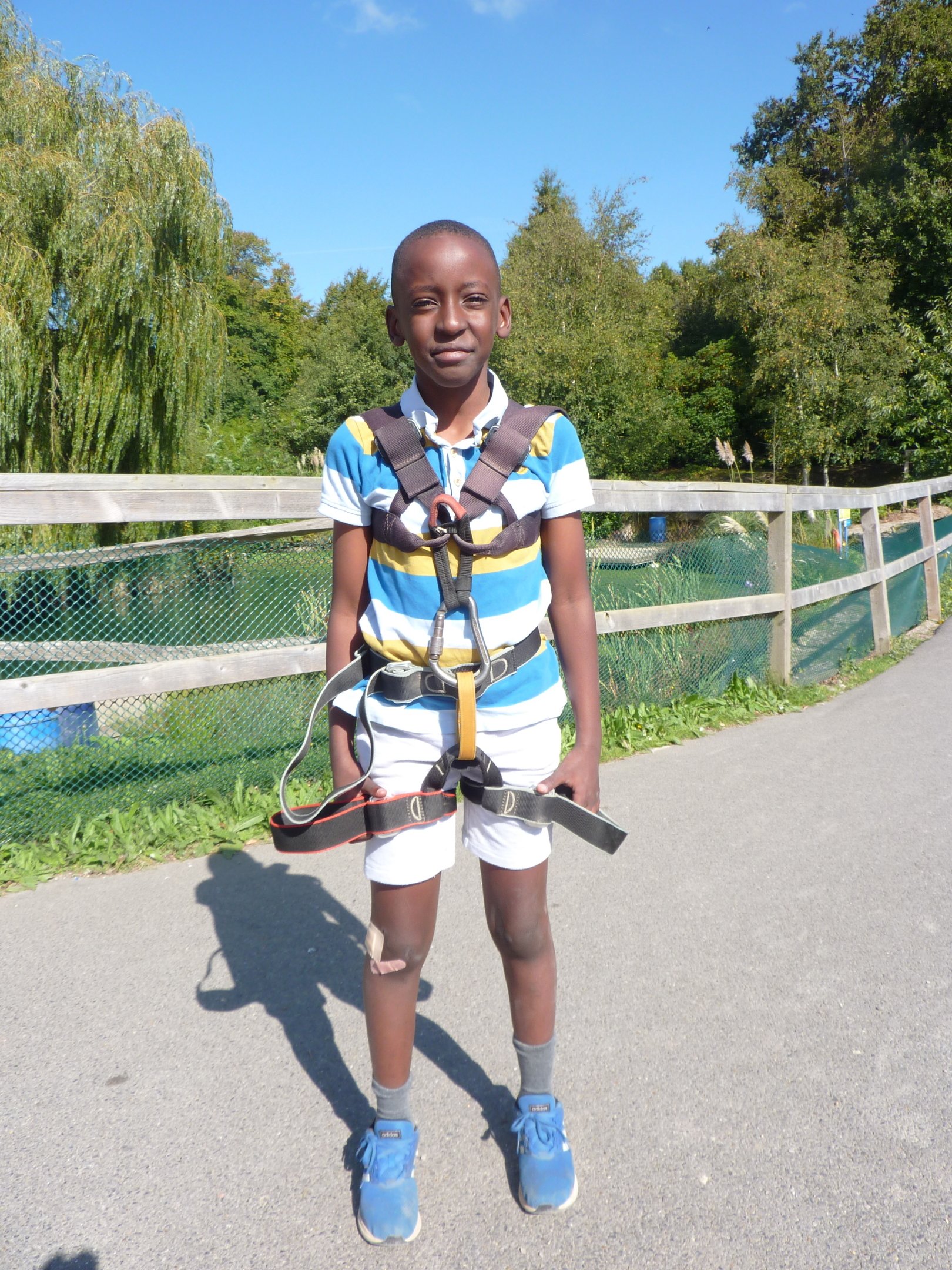 Saturday morning - Raft building and Trapeze (Leap of Faith)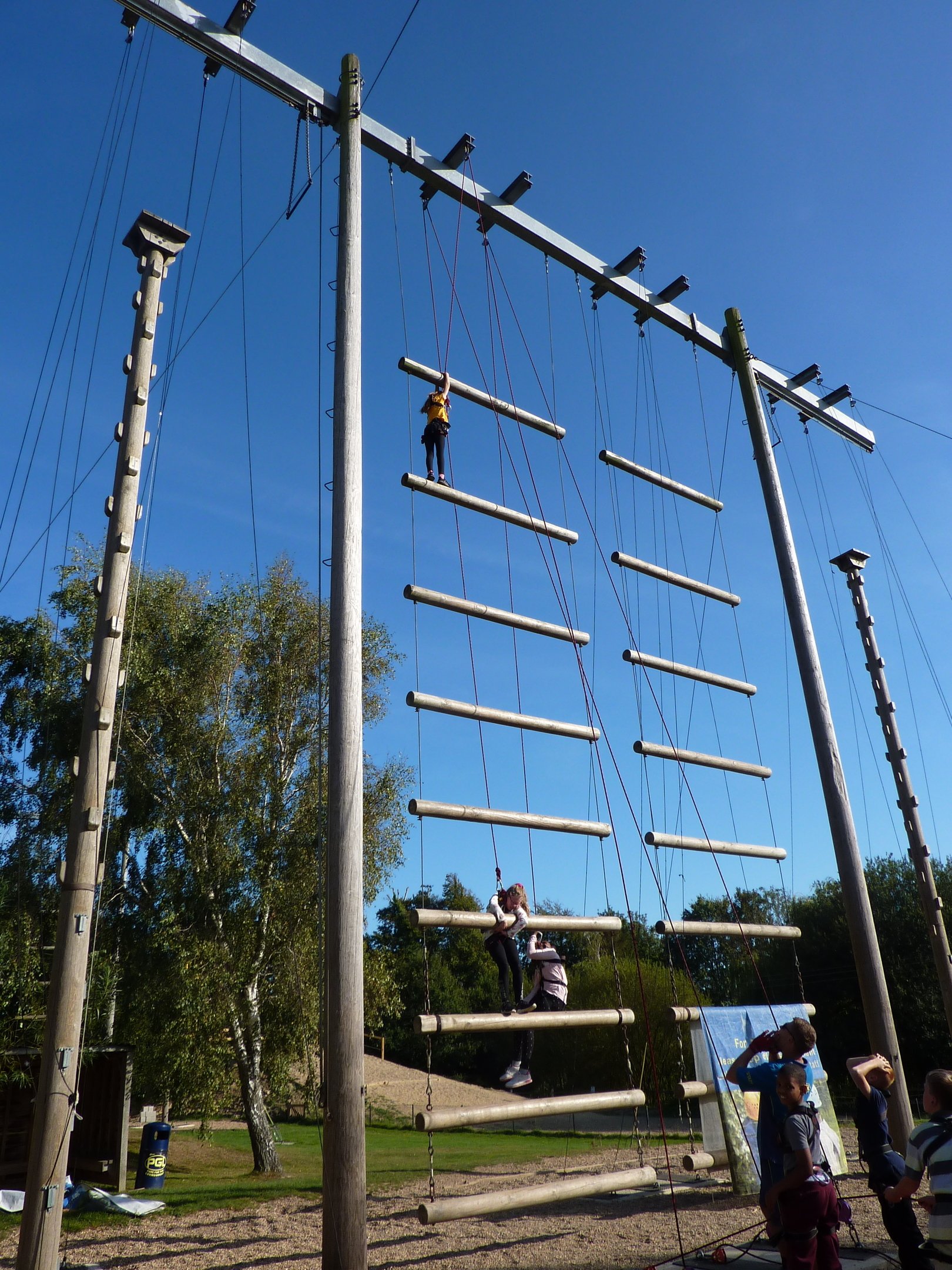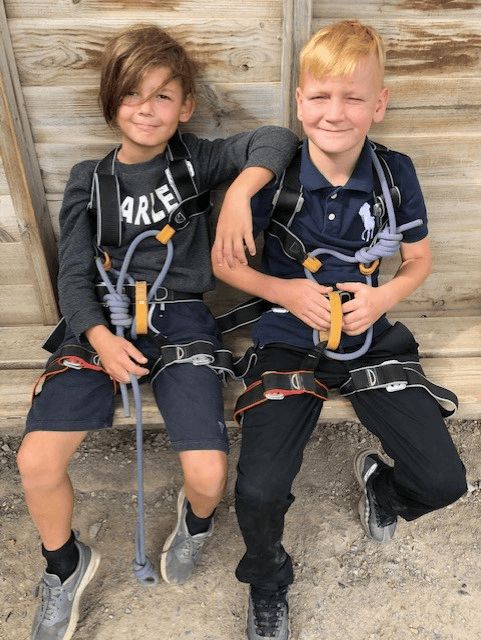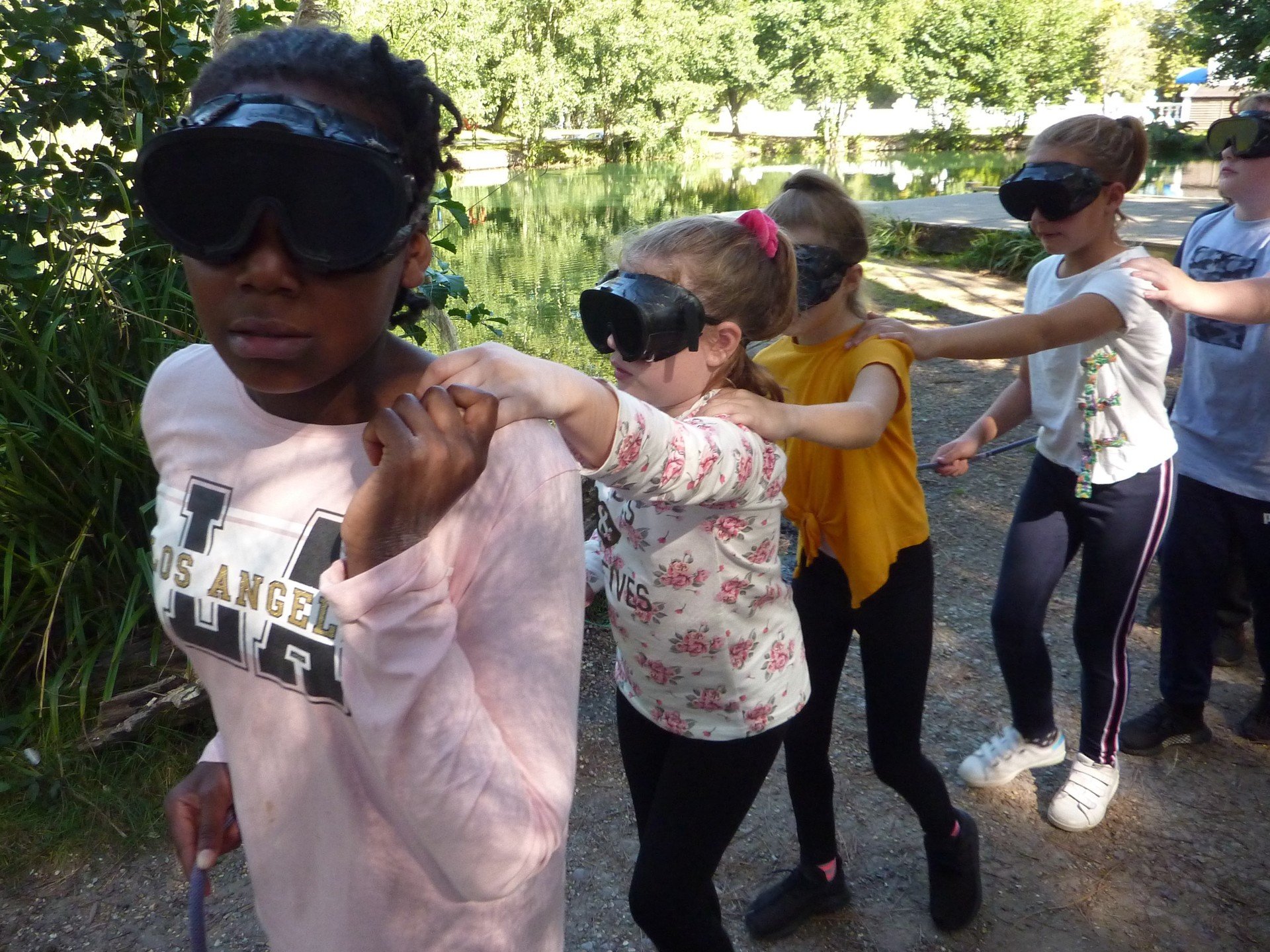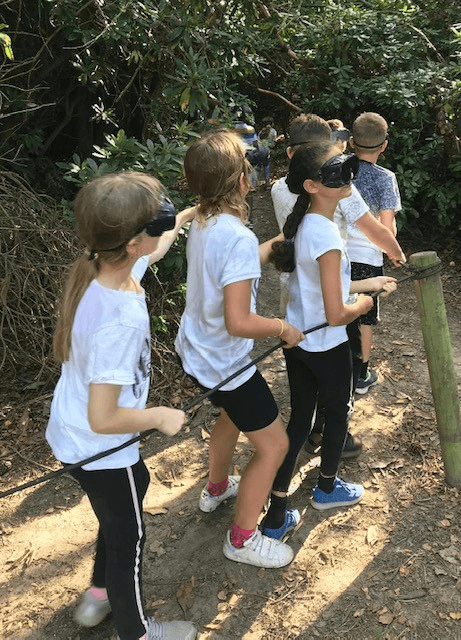 Saturday afternoon - Jacob's Ladder and Sensory Trail. Evening activity - "Splash"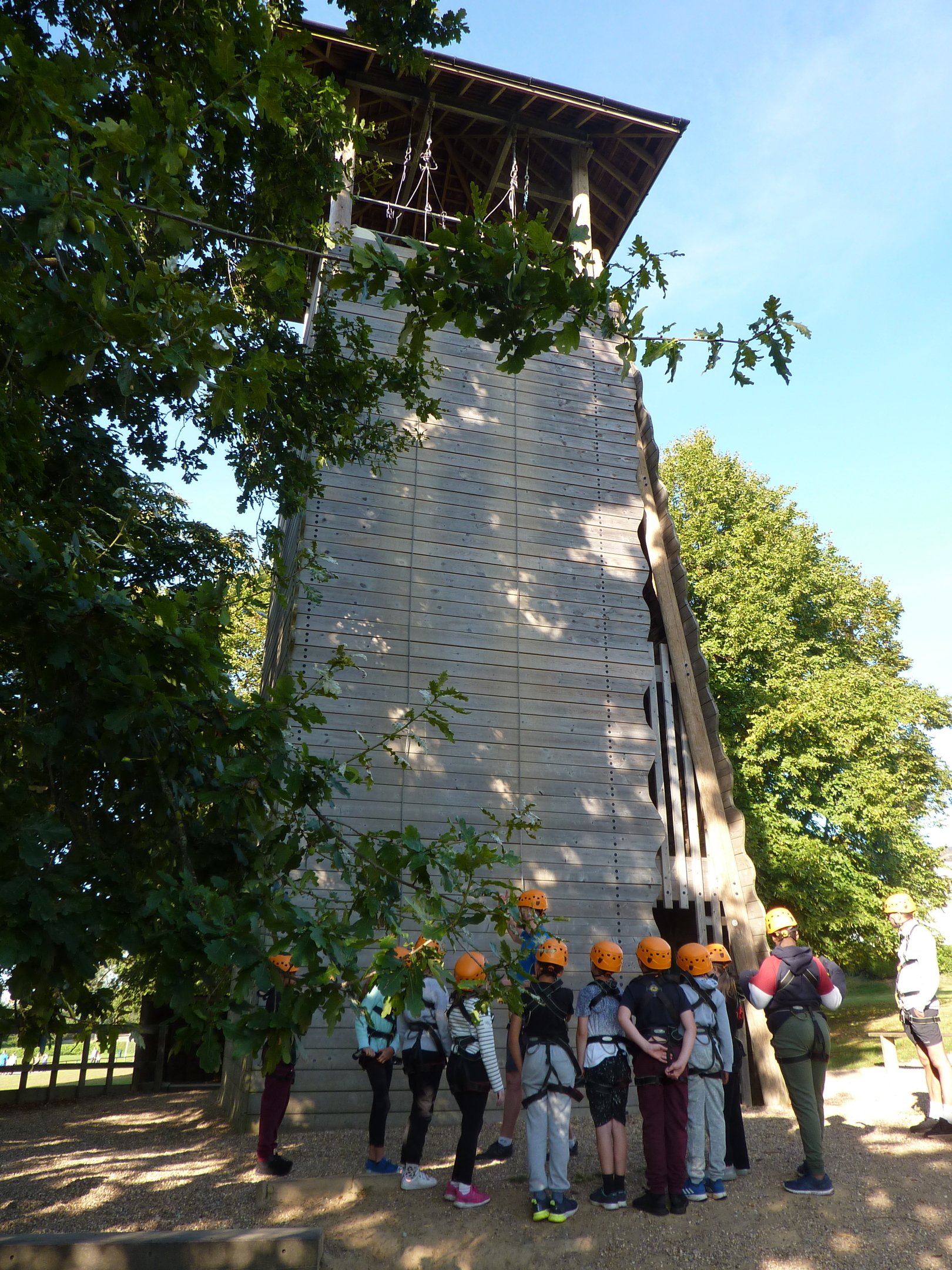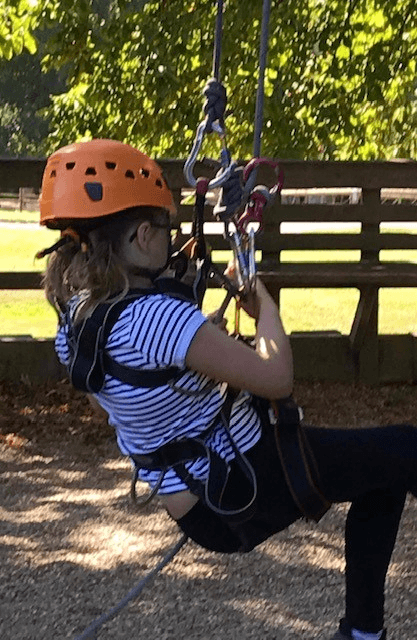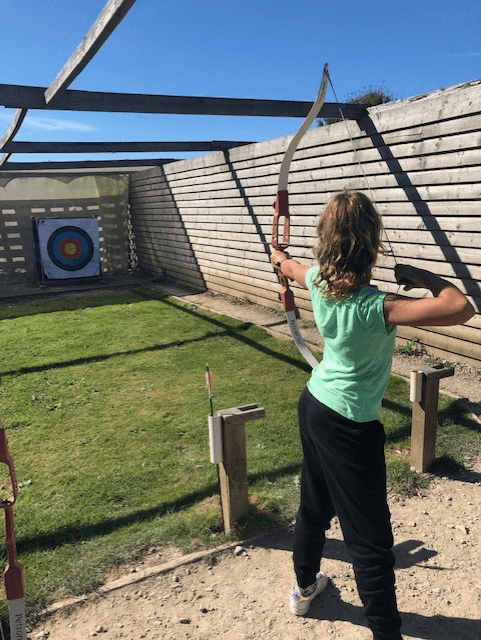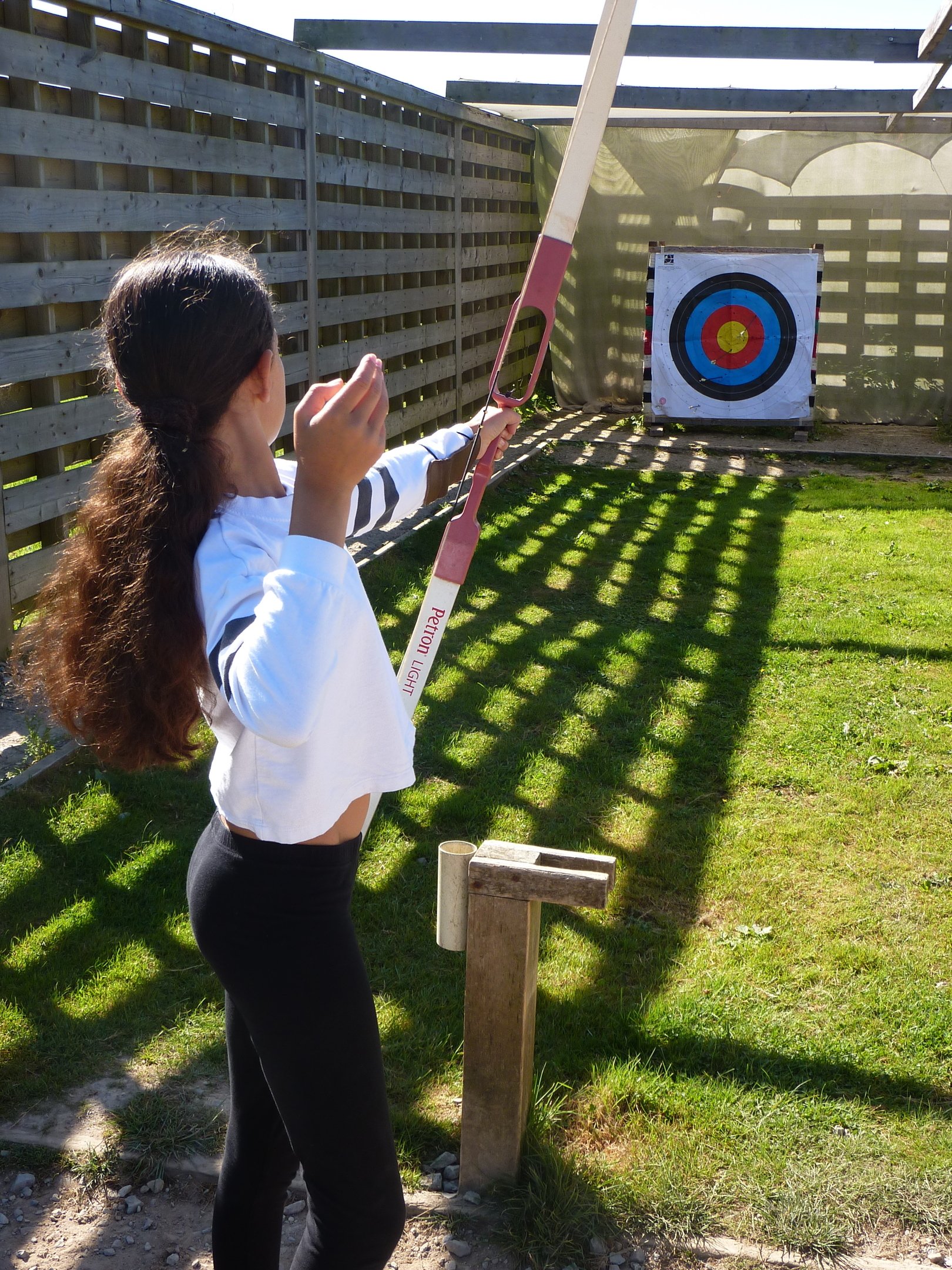 Sunday morning - Abseiling and Archery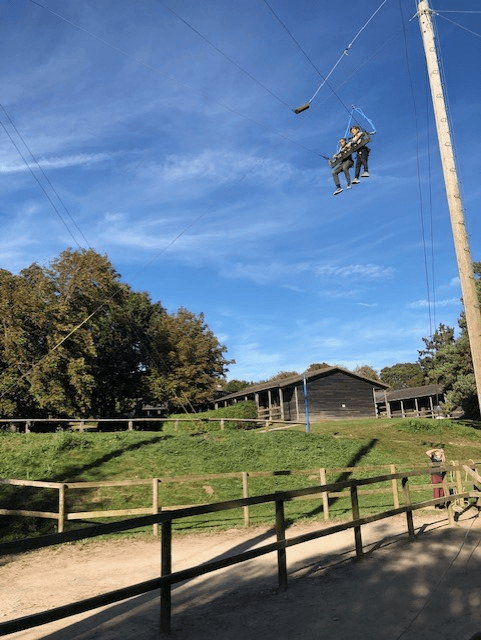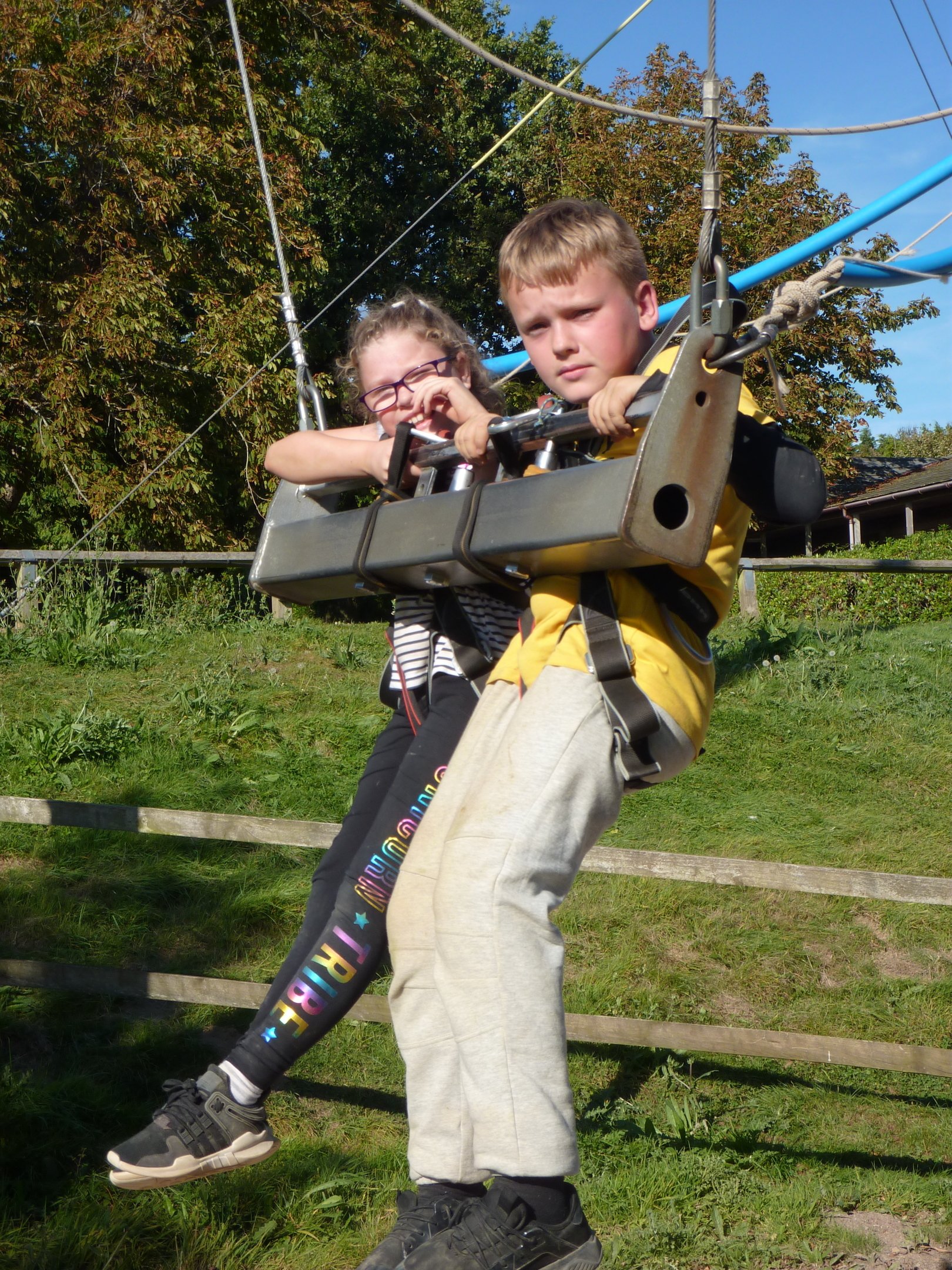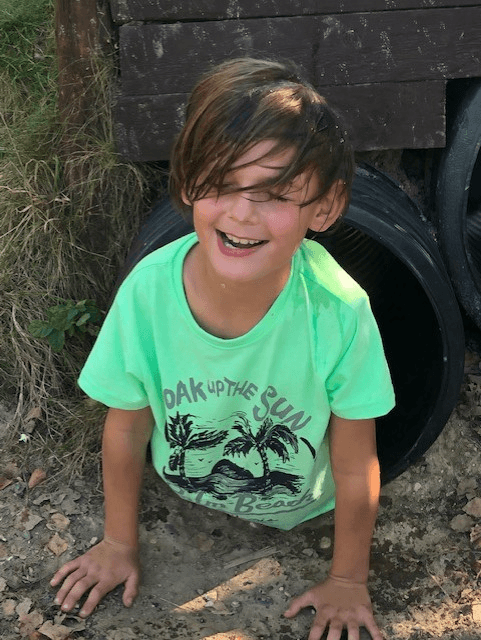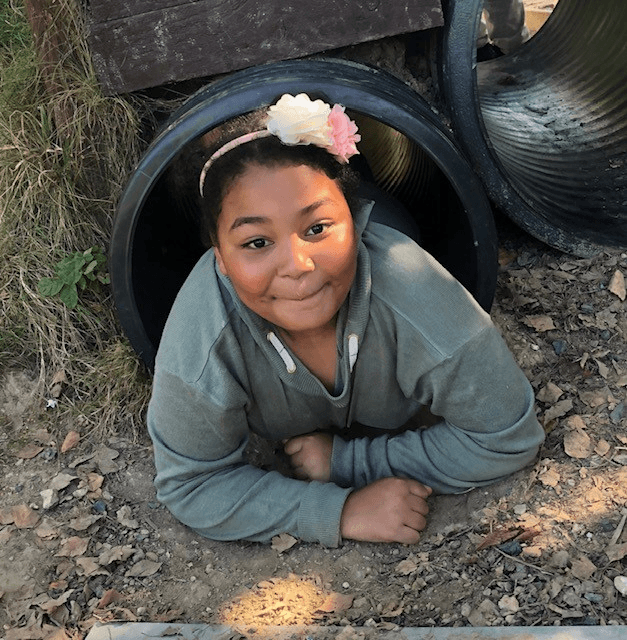 Sunday afternoon - Giant Swing and Tunnel Trail. Evening activity - Disco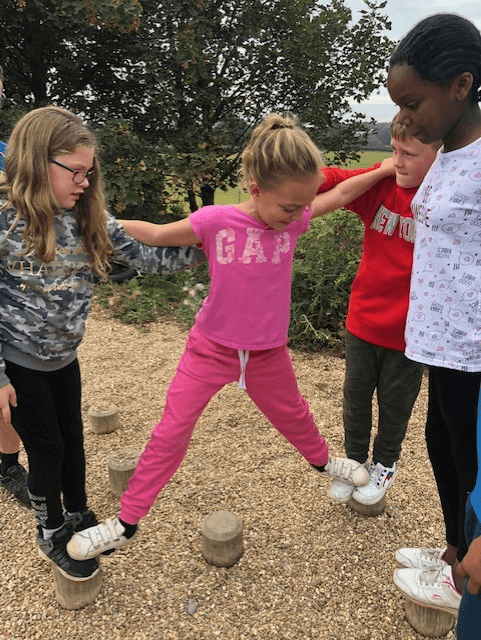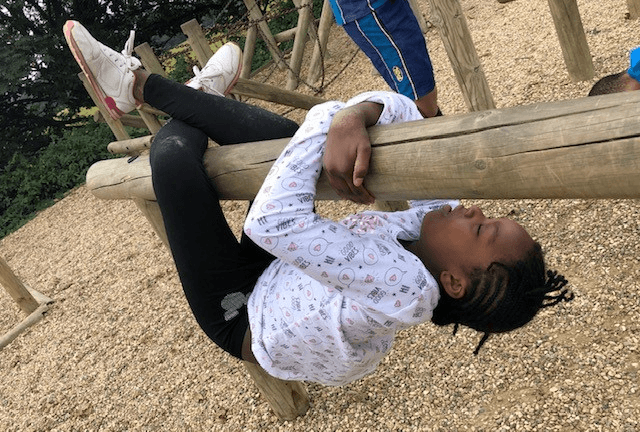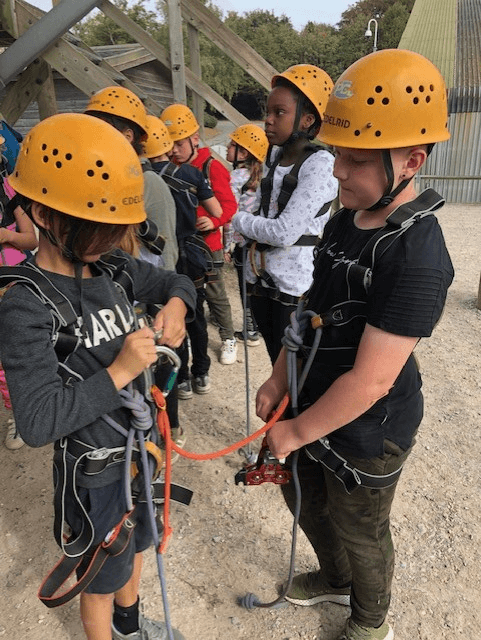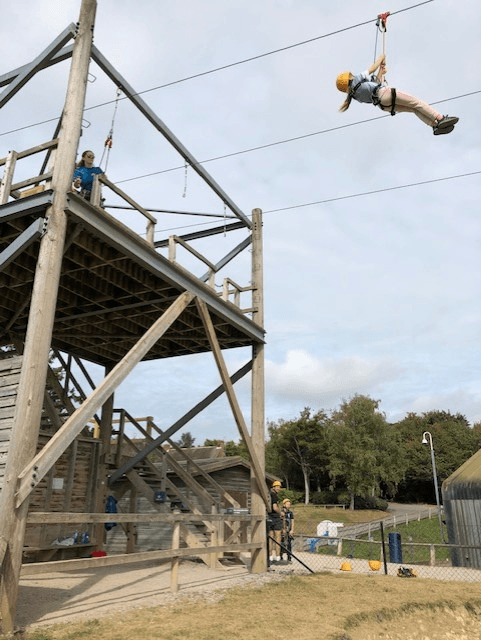 Monday morning - Challenge Course and Zip Wire
Thank you Year 6 - you were great fun and fantastic sports as well as showing great determination, resilience and teamwork. We were so proud of you all. A final few photos!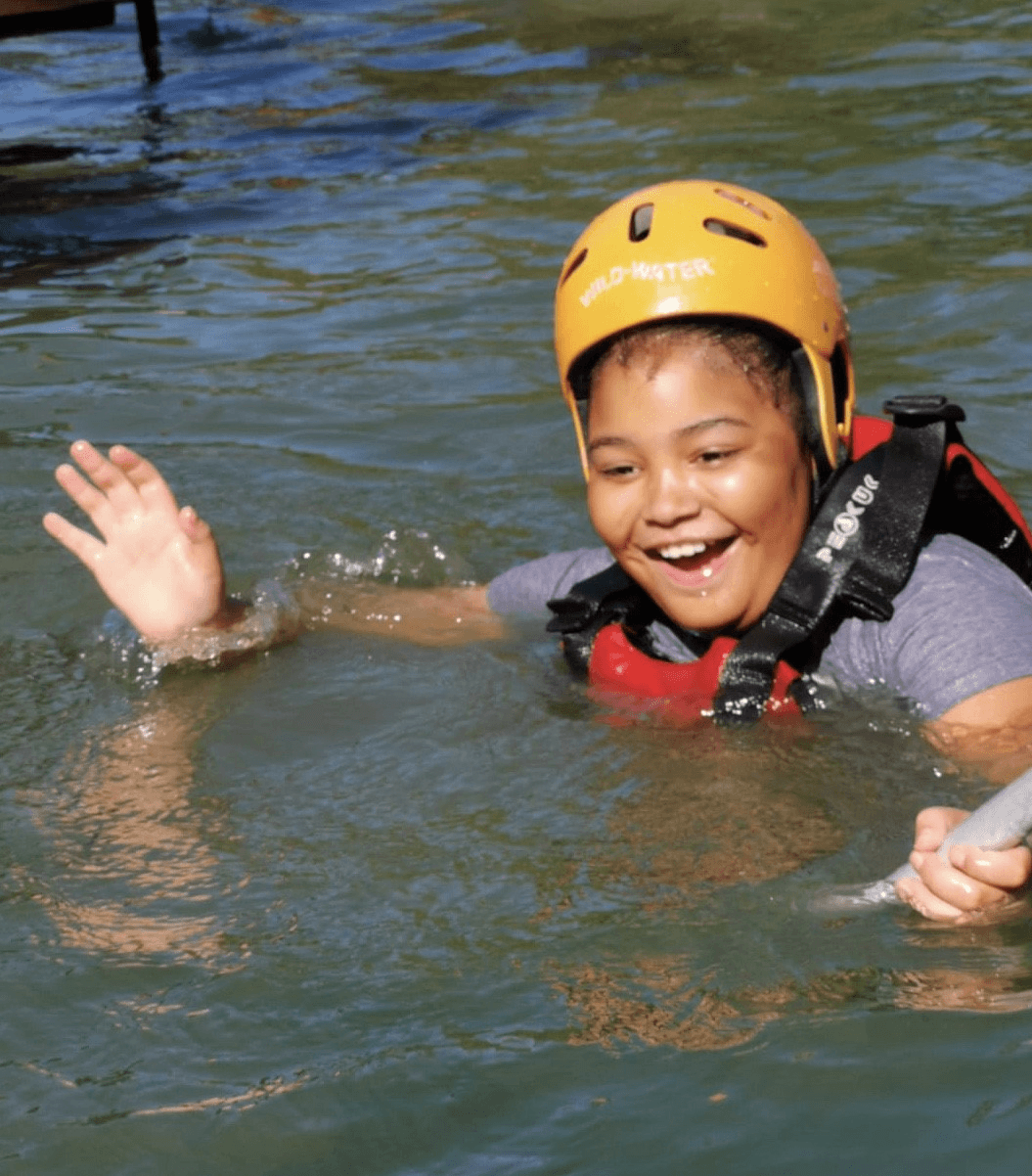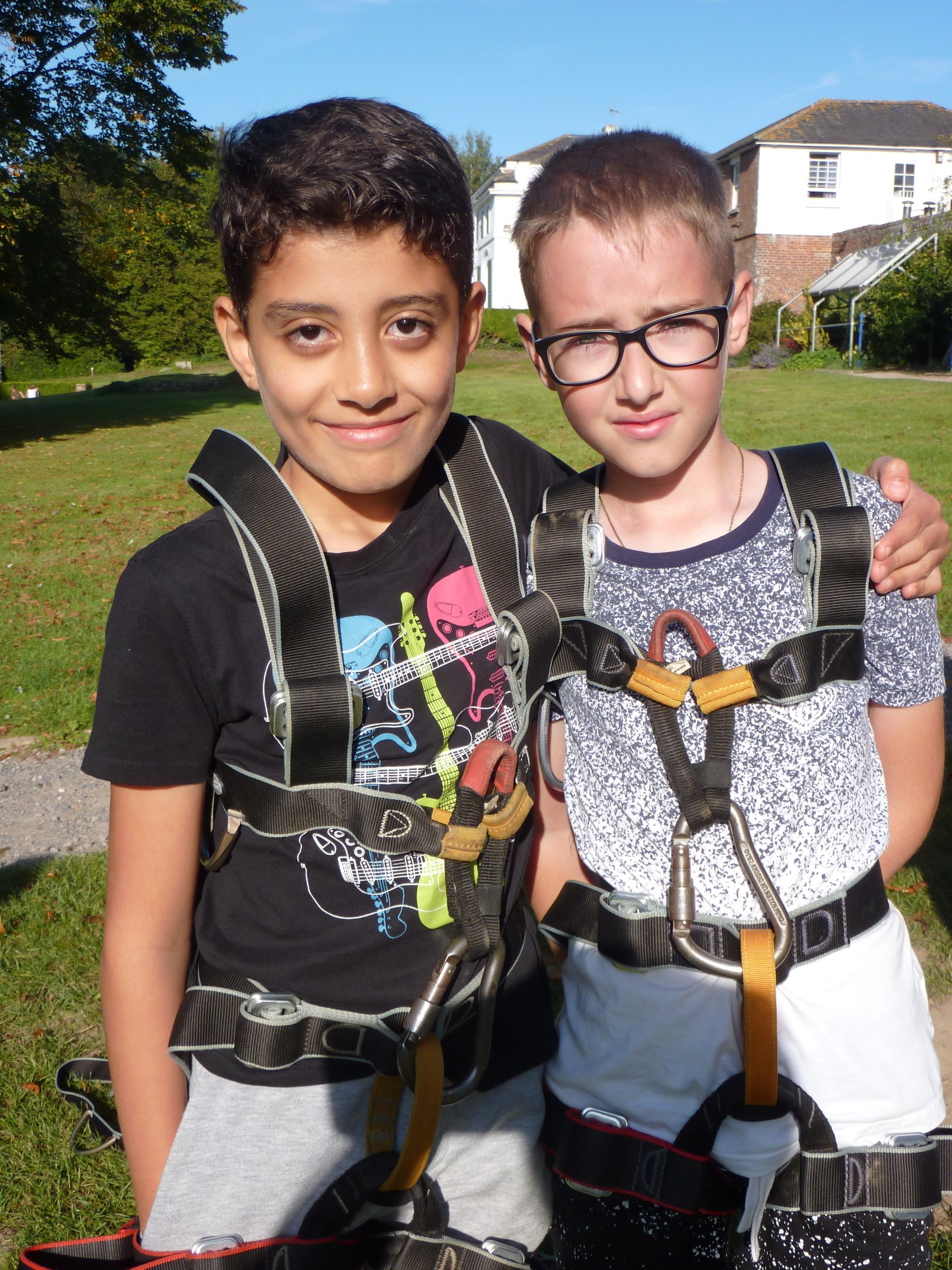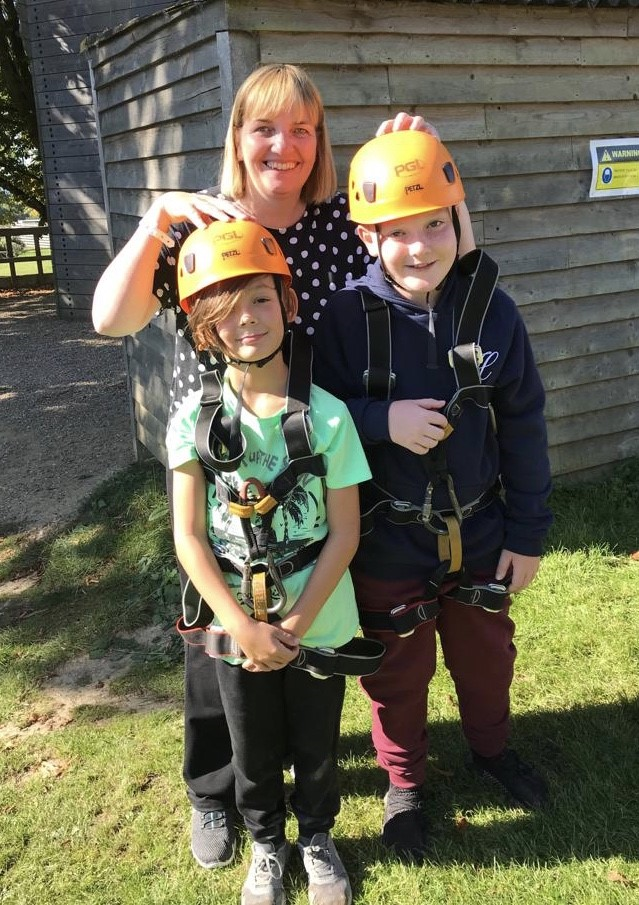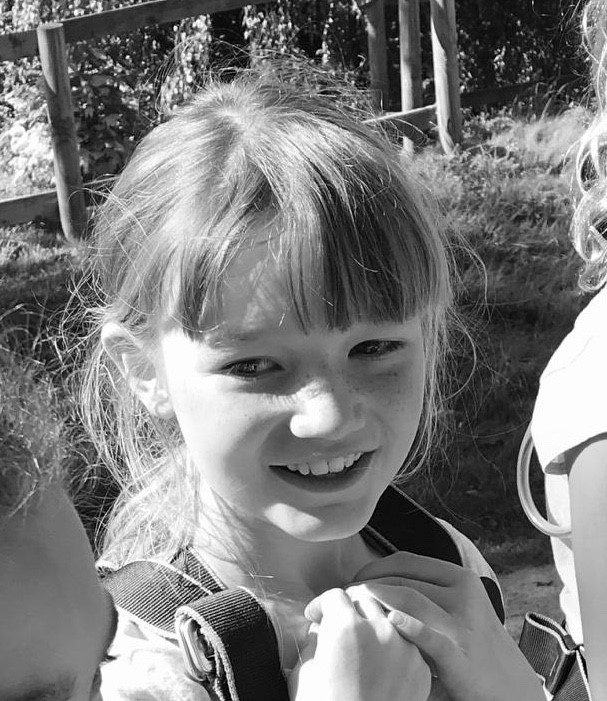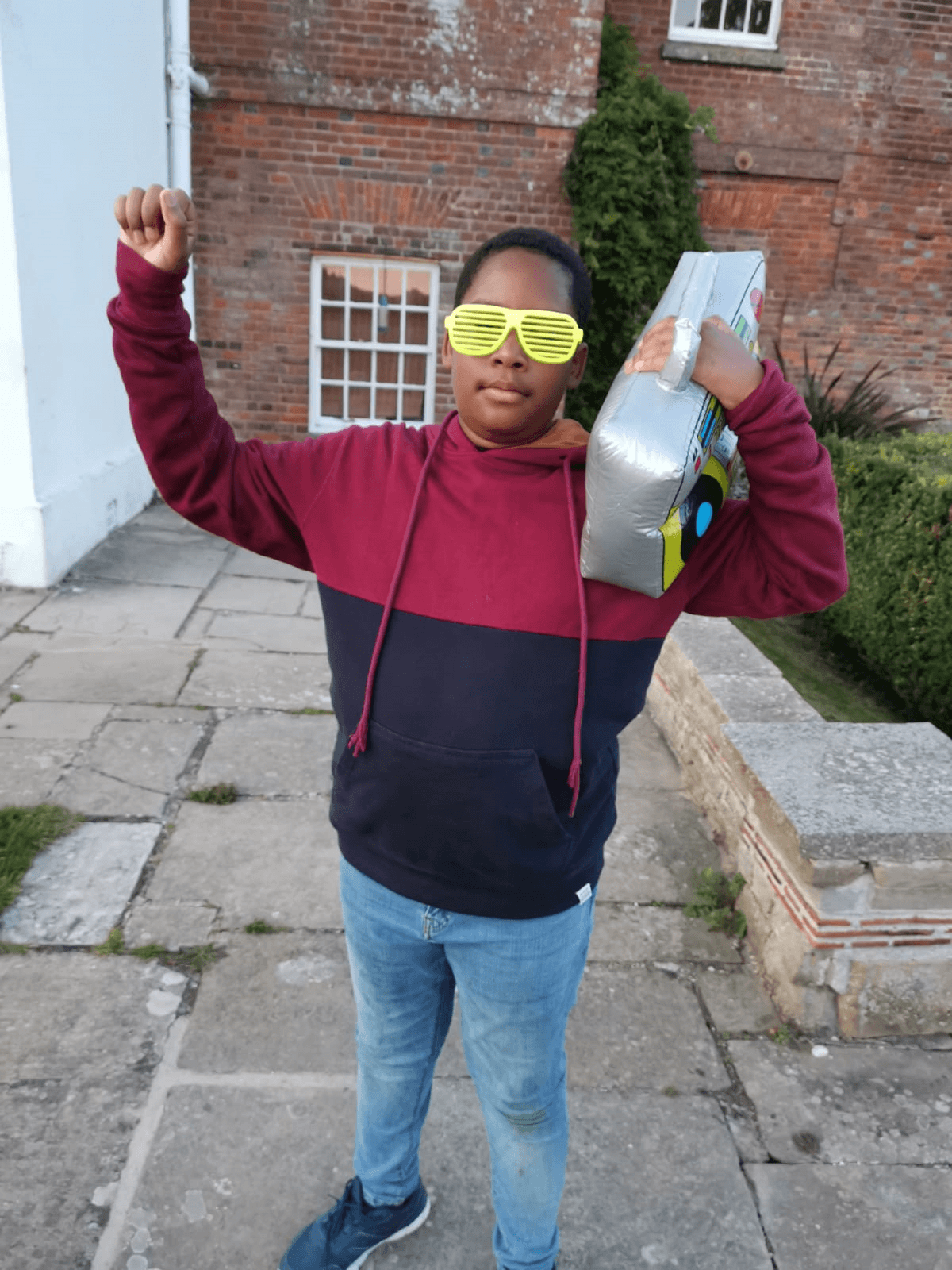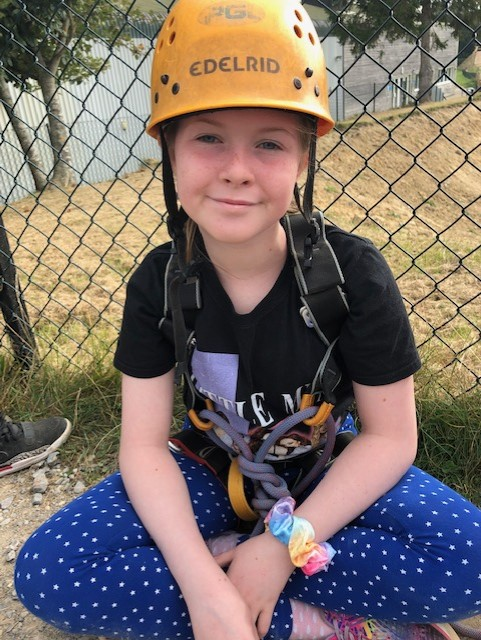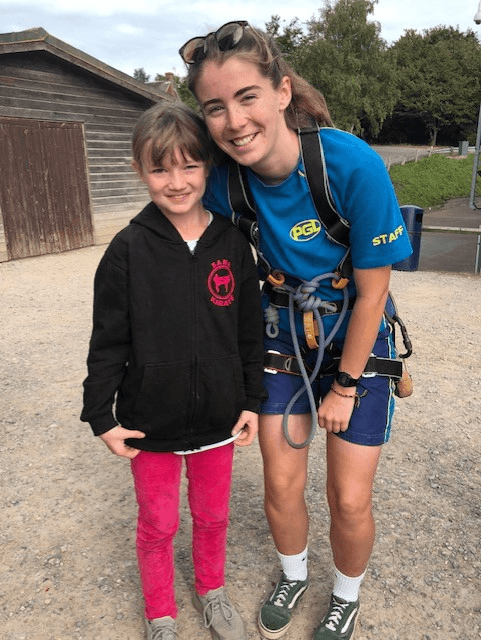 Year 6 have made a good start to the year and have settled back quickly into the school routine. The focus over the first few weeks is on getting to know each other again, respecting and supporting each other and working together.
These photos show a few of our recent activities: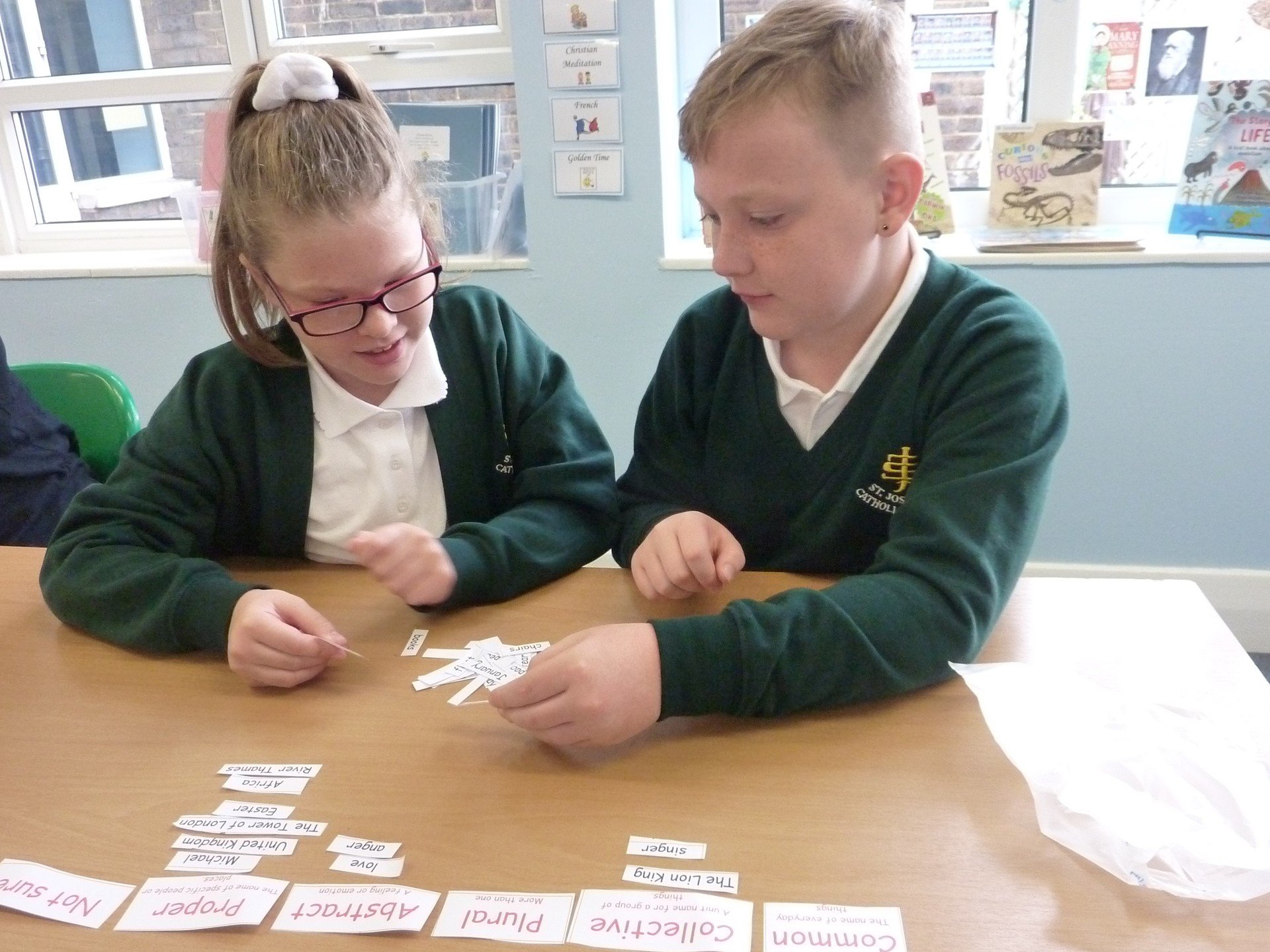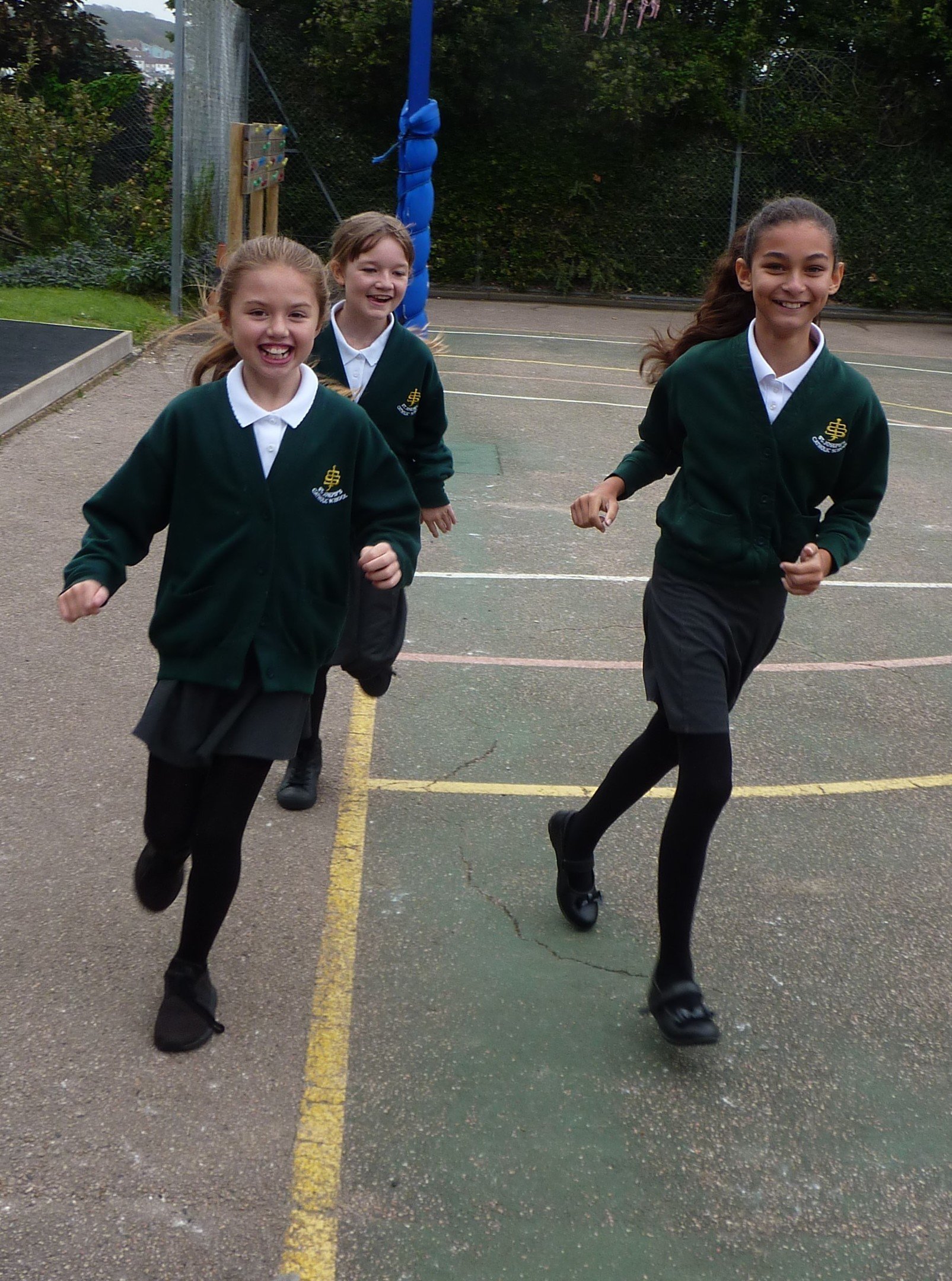 Noun sorting The Daily Mile Greetings in conversational French
"Let's go to Mexico!"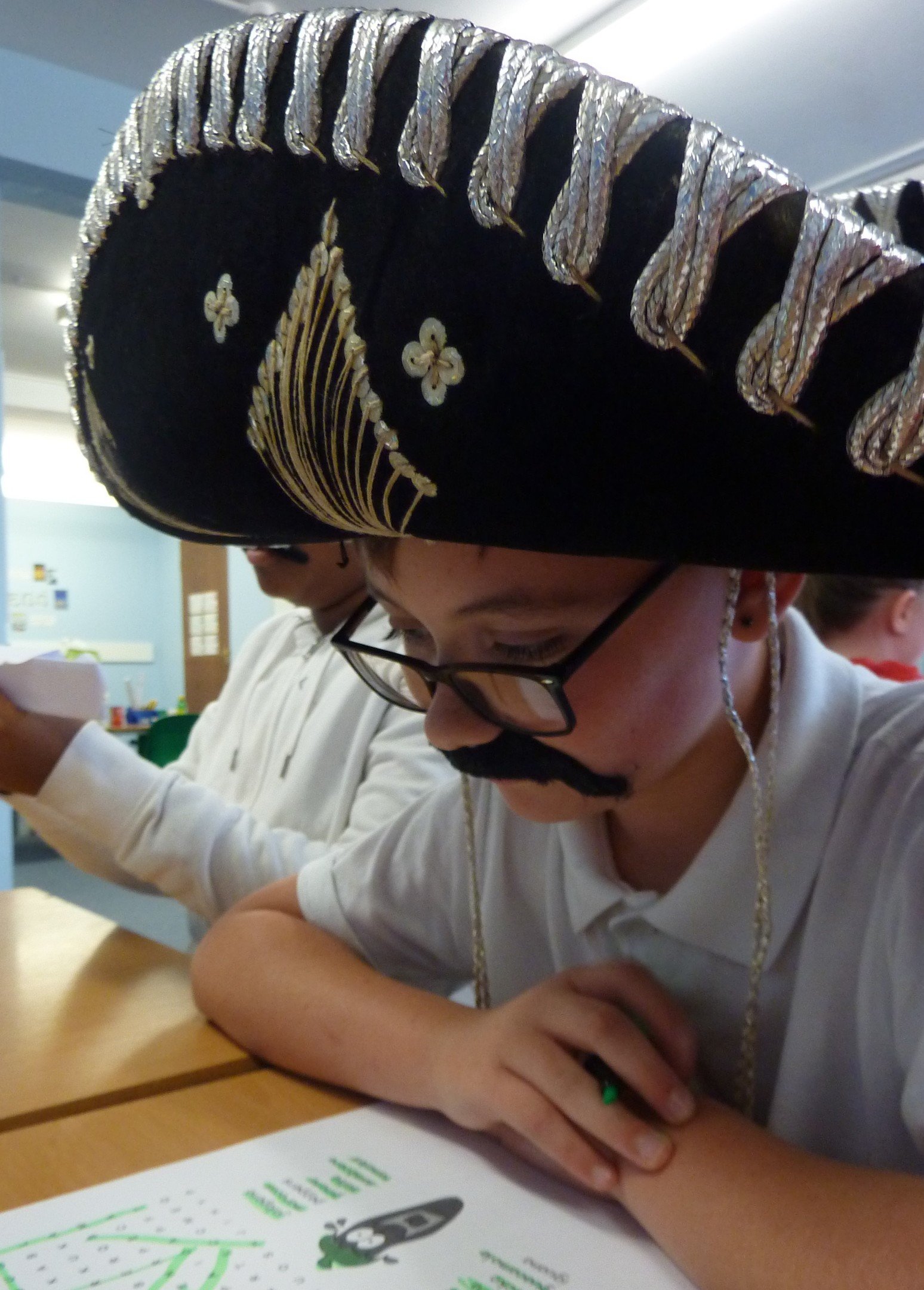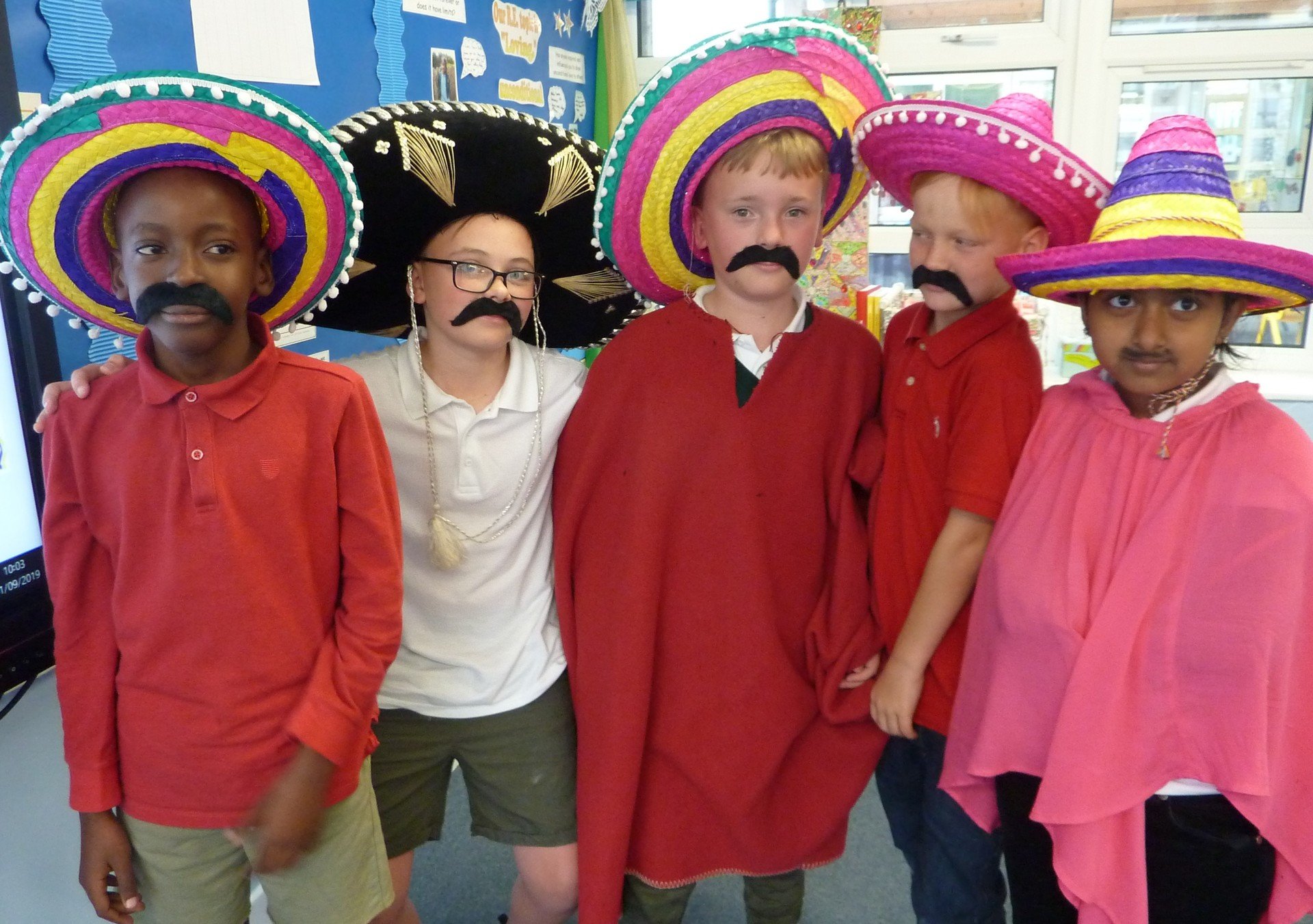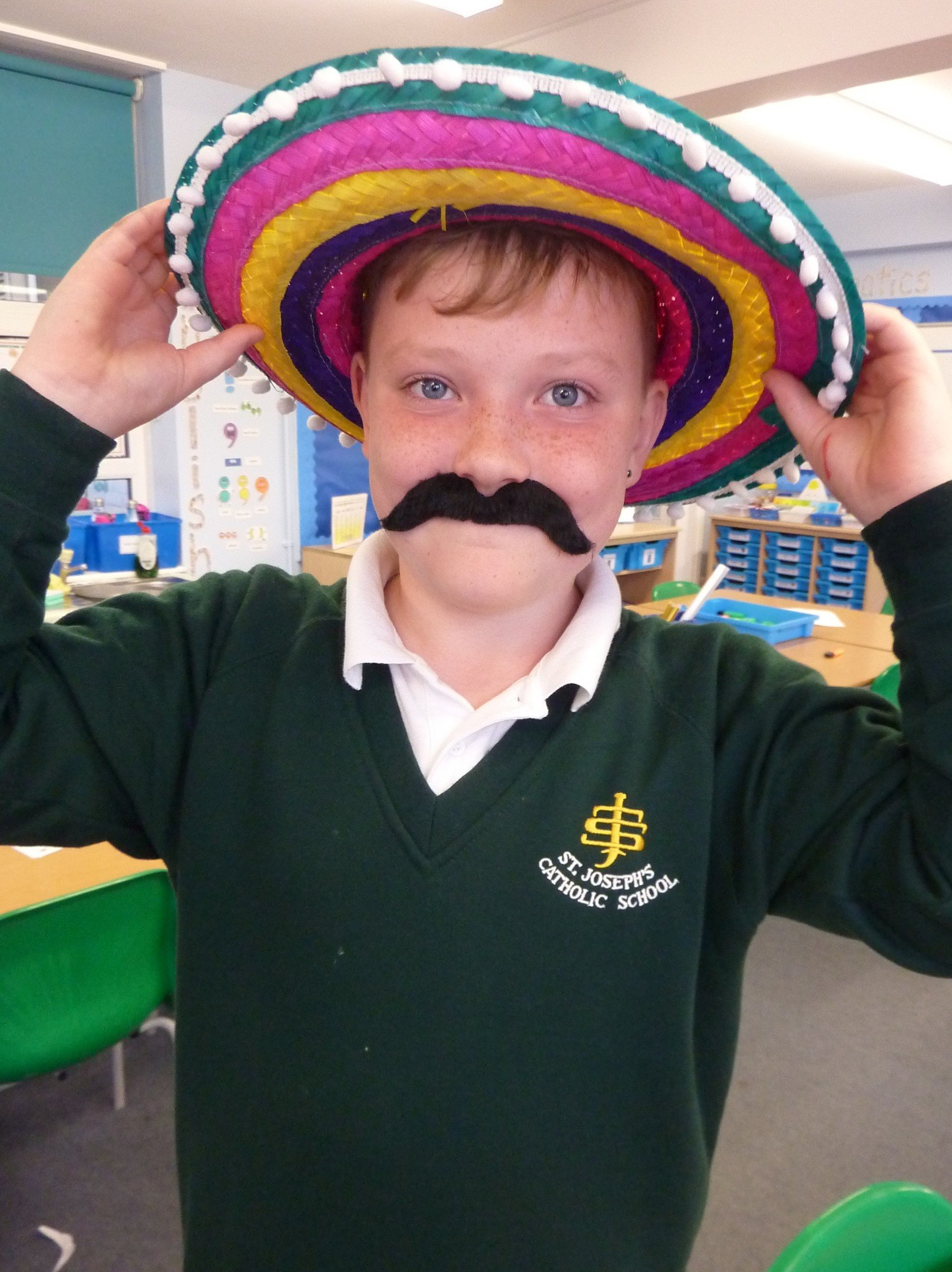 Today, was Year 6's "stunning start" and introduction to their Humanities learning this term. For the topic launch, the children came into school dressed in typical Mexican dress or in clothes in the colours of the Mexican flag. Thank you all for making such an effort - you looked fantastic!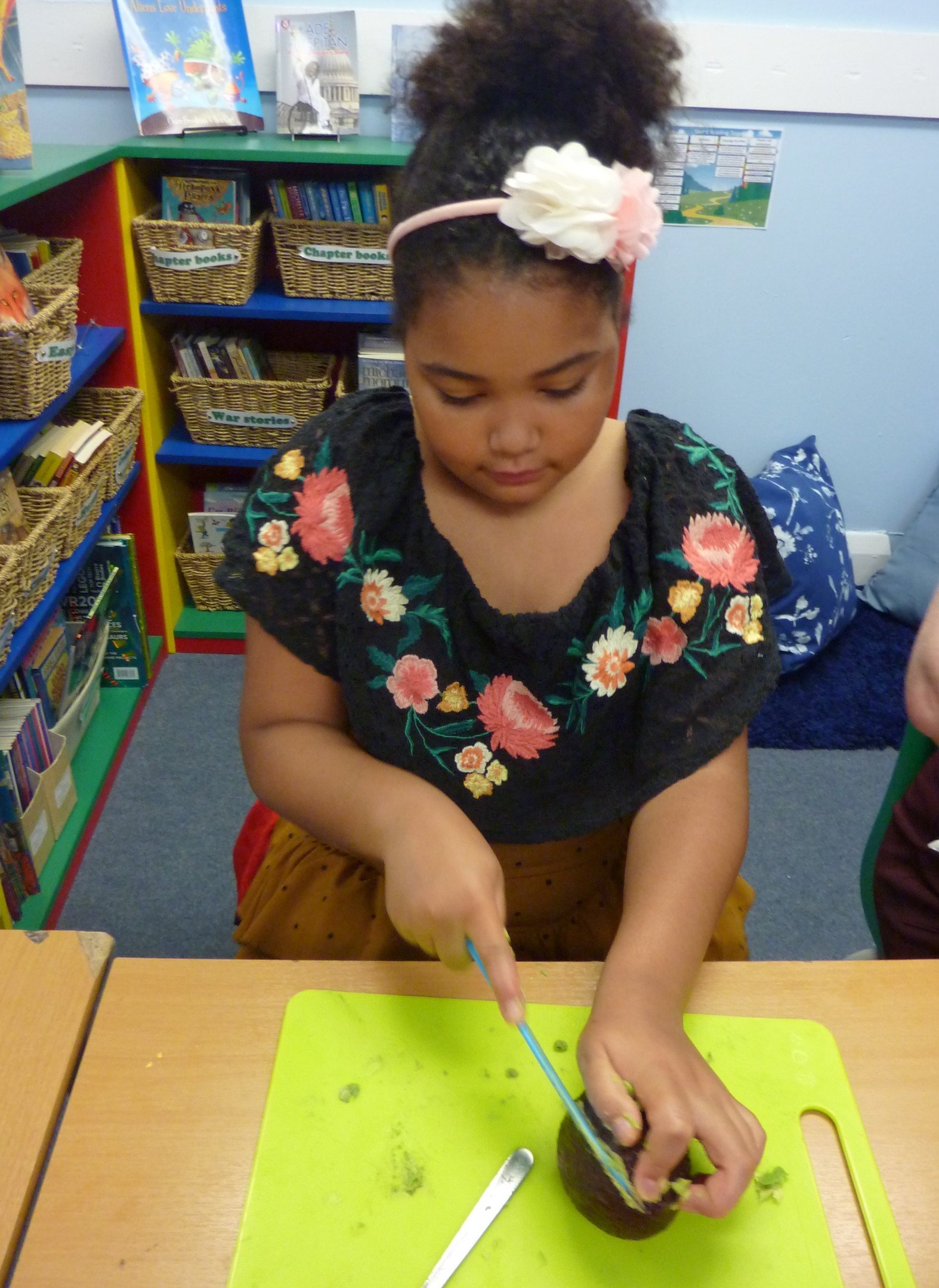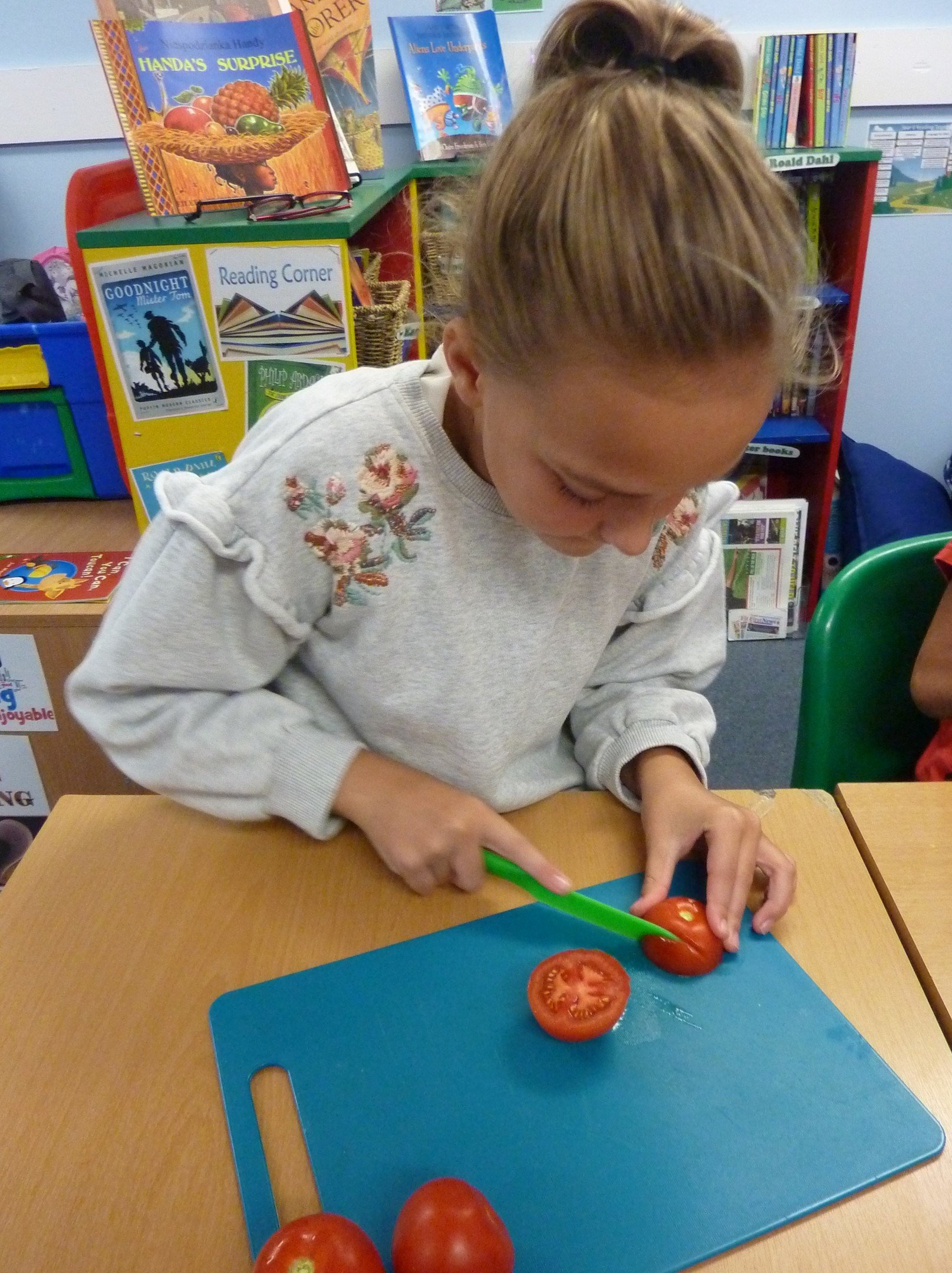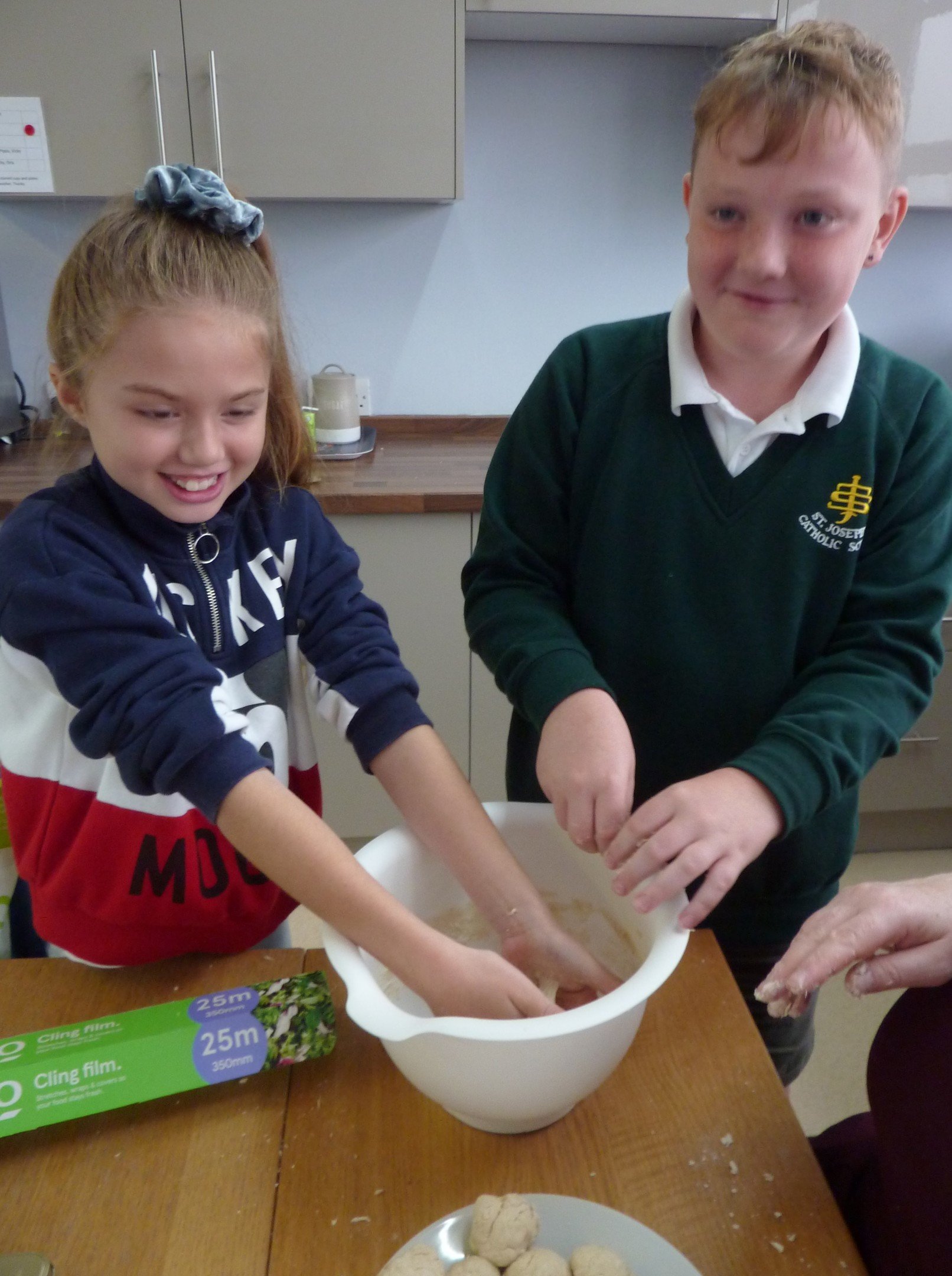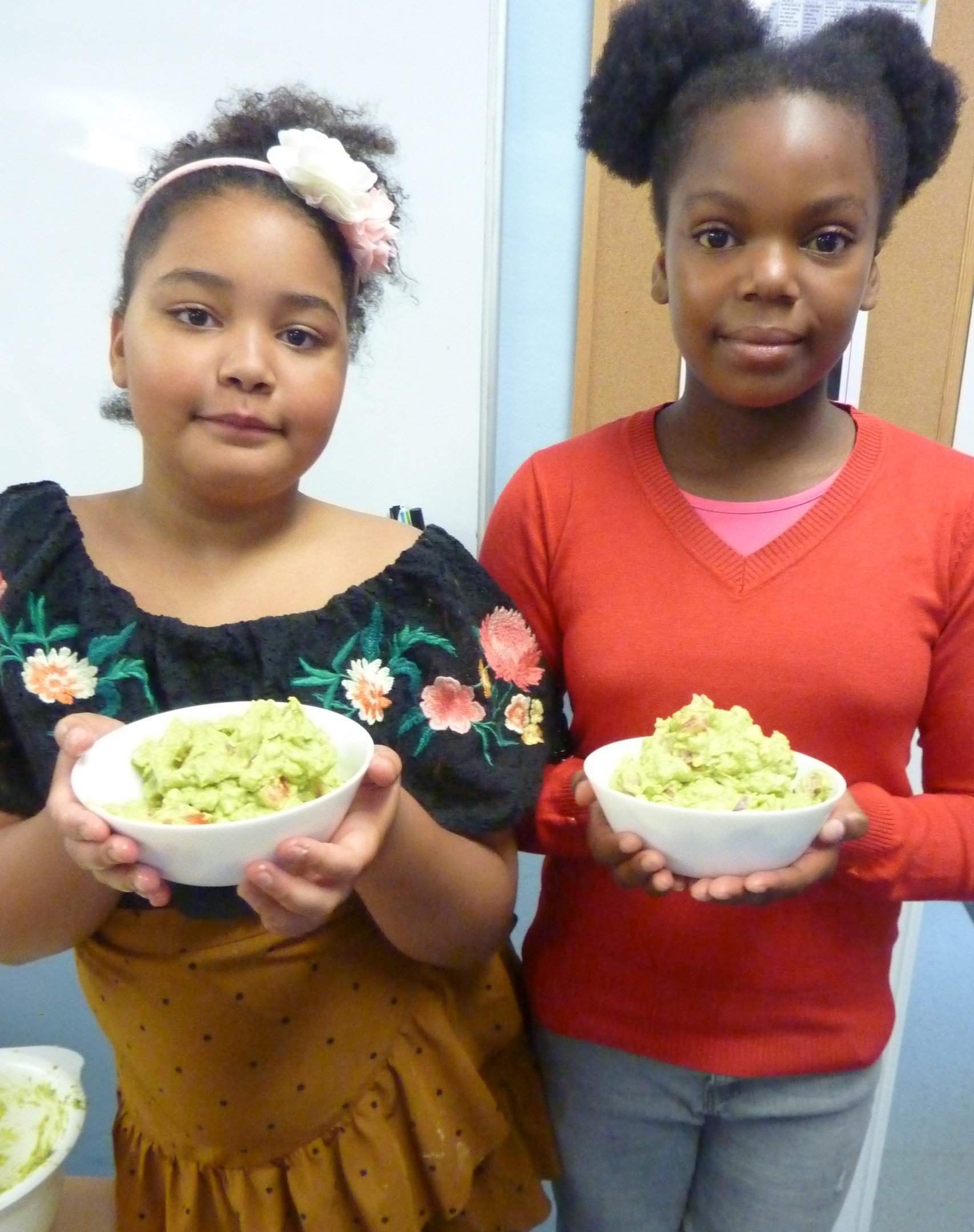 Preparing the guacamole, salsa and tortillas
During the day the children helped to make and taste Mexican food which included Kiralee's own guacamole recipe as well as salsa and tortillas. The children researched Mexico using books and computers and either created a PowerPoint introducing Mexico or made a poster using WORD. In the afternoon, the children had a go at releasing the treats from a traditional Mexican piñata!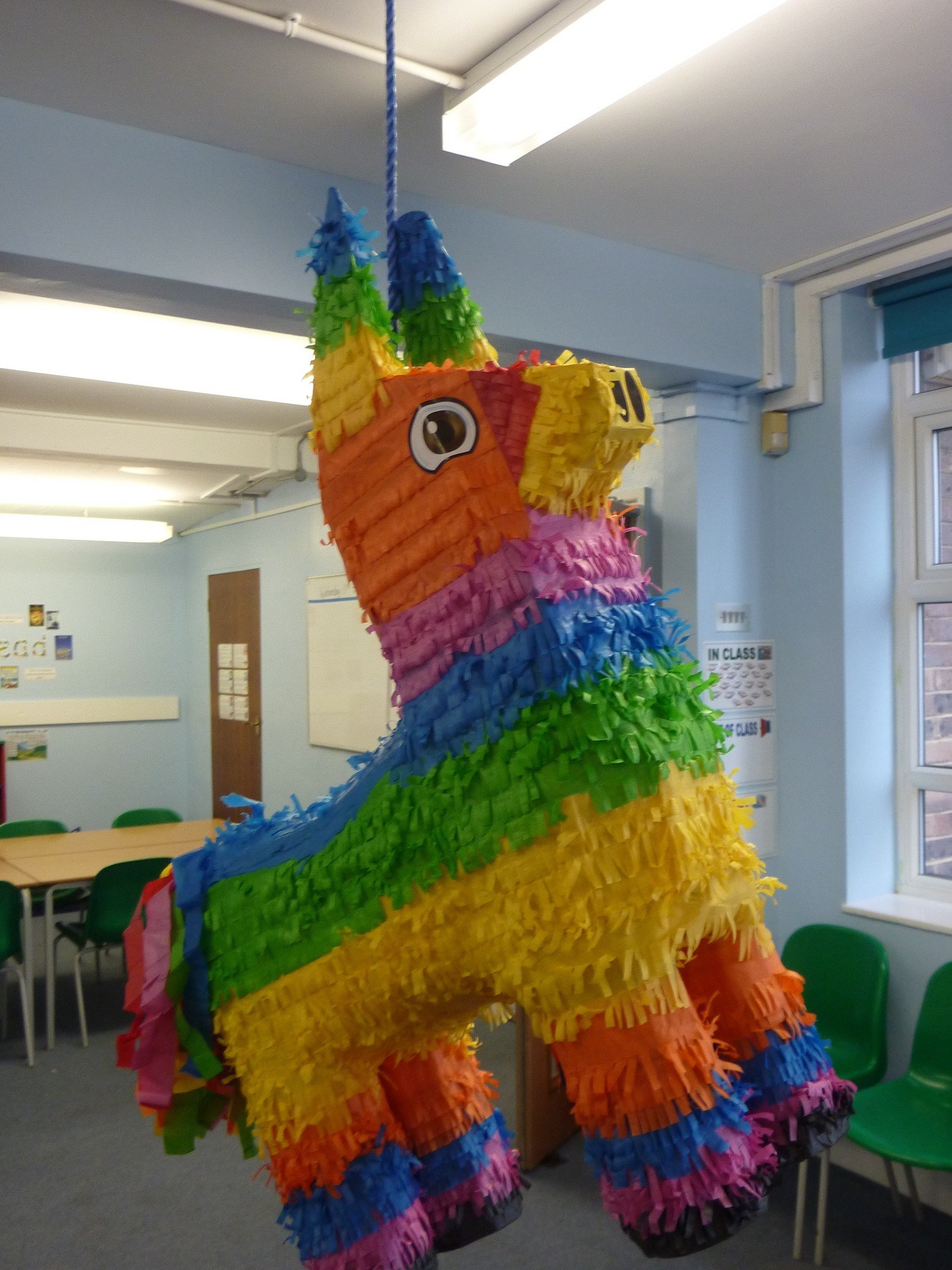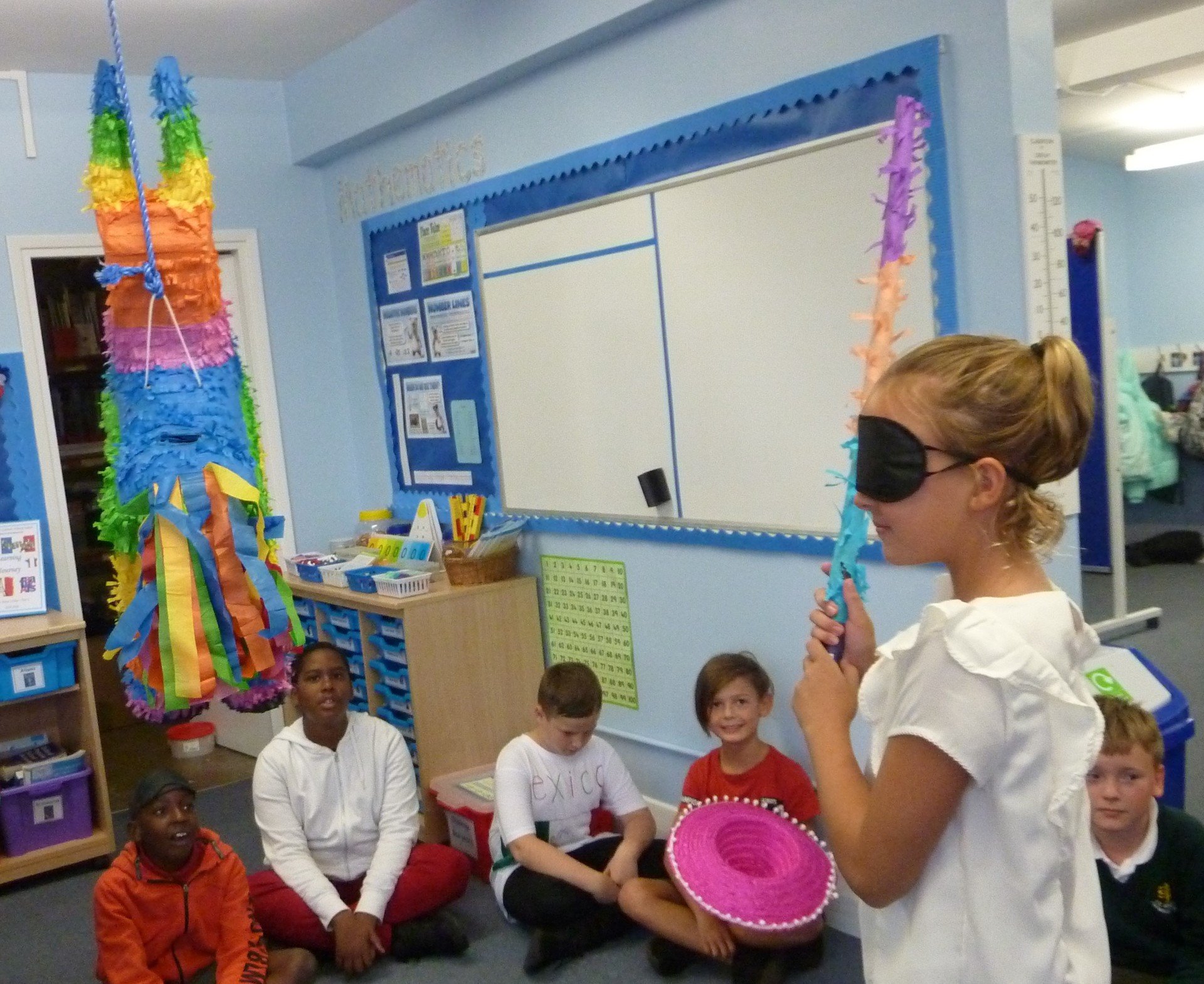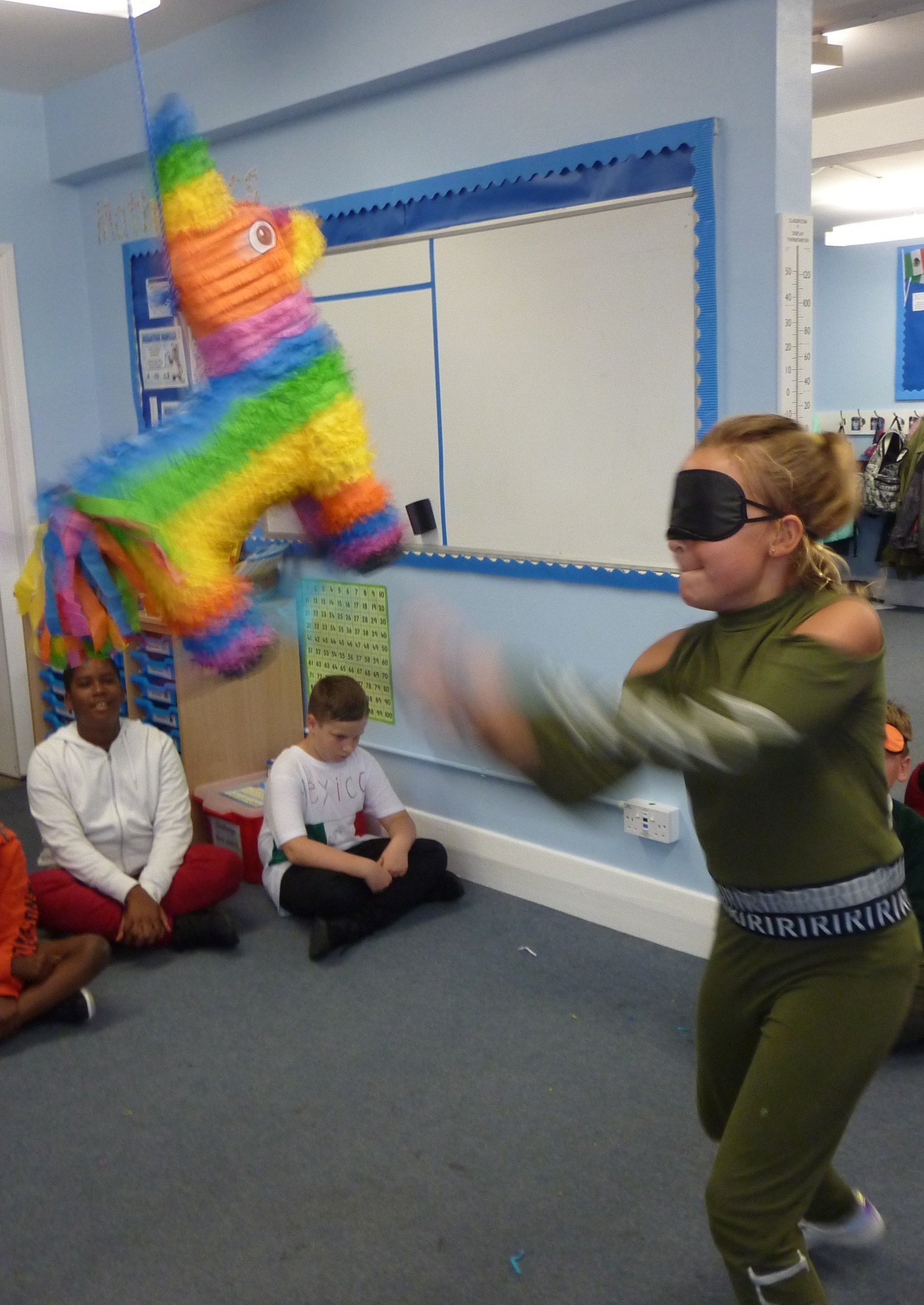 Experiencing the Mexican piñata tradition.
A warm welcome back to the new school year to all of our pupils and their families. We are looking forward to working with you all over the coming school year.
"Meet the Teacher" is on Monday 9th September 2019 after school in the Year 6 classroom. We hope to see many of you then. If you are unable to come, relevant information will be sent home with your child.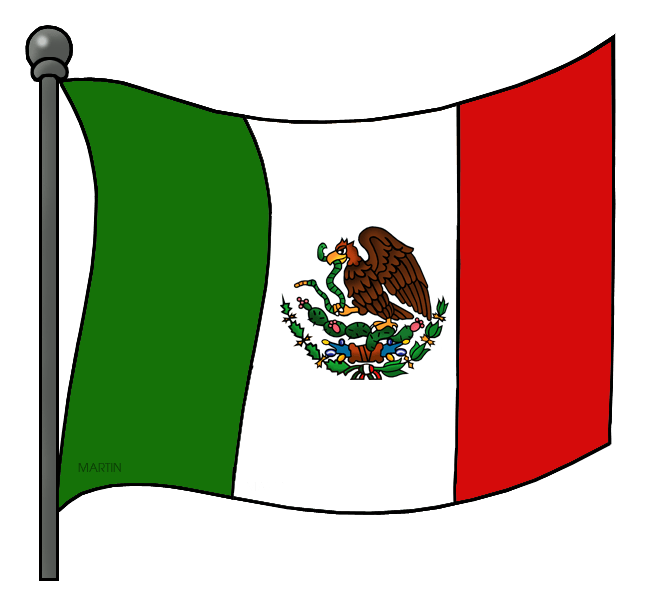 Learning Overview
Click HERE to see this term's topic booklet explaining what your child will be learning about this term.
Our topic launch will be on Wednesday 11th September - a letter should have come home with your child last Thursday. We are hoping children will come to school dressed in typical Mexican dress or dressed in the colours of the Mexican flag.
During the day, children will be introduced to our topic, "Let's go to Mexico," by making and tasting Mexican food such as tortillas, salsa and guacamole, learning a simple Mexican dance and experiencing the fun of a piñata!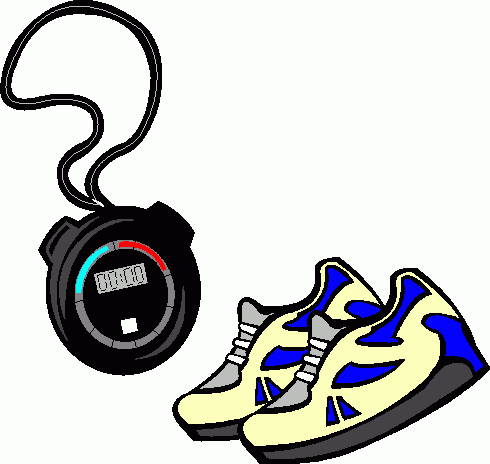 P.E.
This half term, Year 6's PE days will be on Thursdays and Fridays. Thursday will be Basketball with a basketball coach and Friday will be Tag-Rugby with Miss Pippa.
Please make sure your child has a full PE kit in school at all times - black shorts, a green St Joseph's t-shirt and trainers or plimsolls.
Year 6 children will also be doing the "daily mile" on the other three days.

Reading
Please encourage your child to read as often as possible (ideally at least four times a week.) This can be to themselves, to a family member or to a sibling - and children, please remember to record it in the reading record books. These will be collected in once a week and checked, and will also be filled in by adults in school who hear your child read.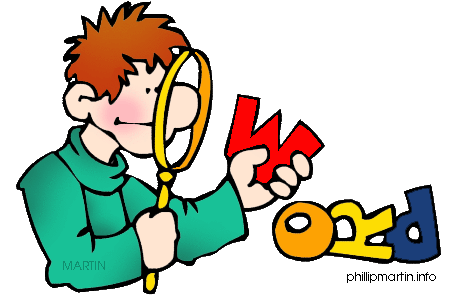 Spellings
A paper copy of the spelling list for the first term will be sent home with your child shortly. A copy of the words for the weekly tests can be accessed HERE. Children will be tested on a Monday each week. Spelling frame is an excellent website to support your child with spelling. Click HERE for a link to it.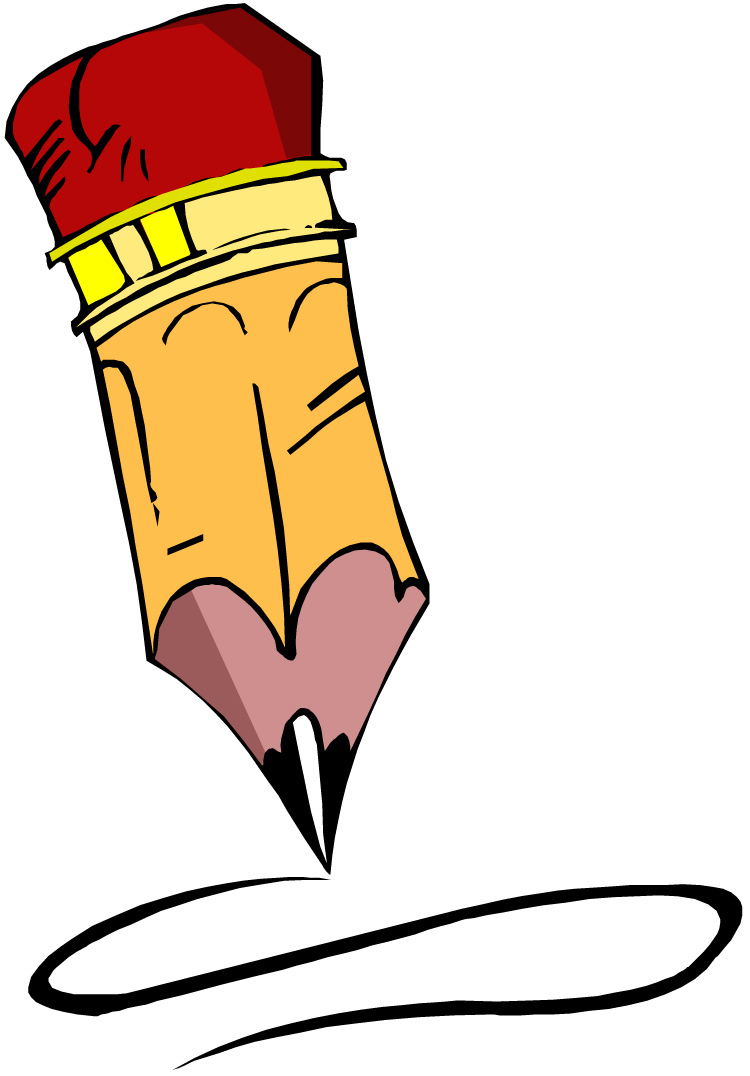 Homework
Homework this year is changing across the school. Please click HERE to find out what our homework expectations are.
Click here to see the optional home learning POWER PROJECT from our new curriculum ProspectUs for Year 6 pupils. They have until the week before half term to complete the tasks and record their findings in their homework books. Mrs Skinner will be explaining this homework to the class this week.
Please make sure your child attends school in the correct school uniform. This includes plain black shoes or trainers.
Thank you parents and carers! We really do appreciate your support.