St Teresa's Class - Year 6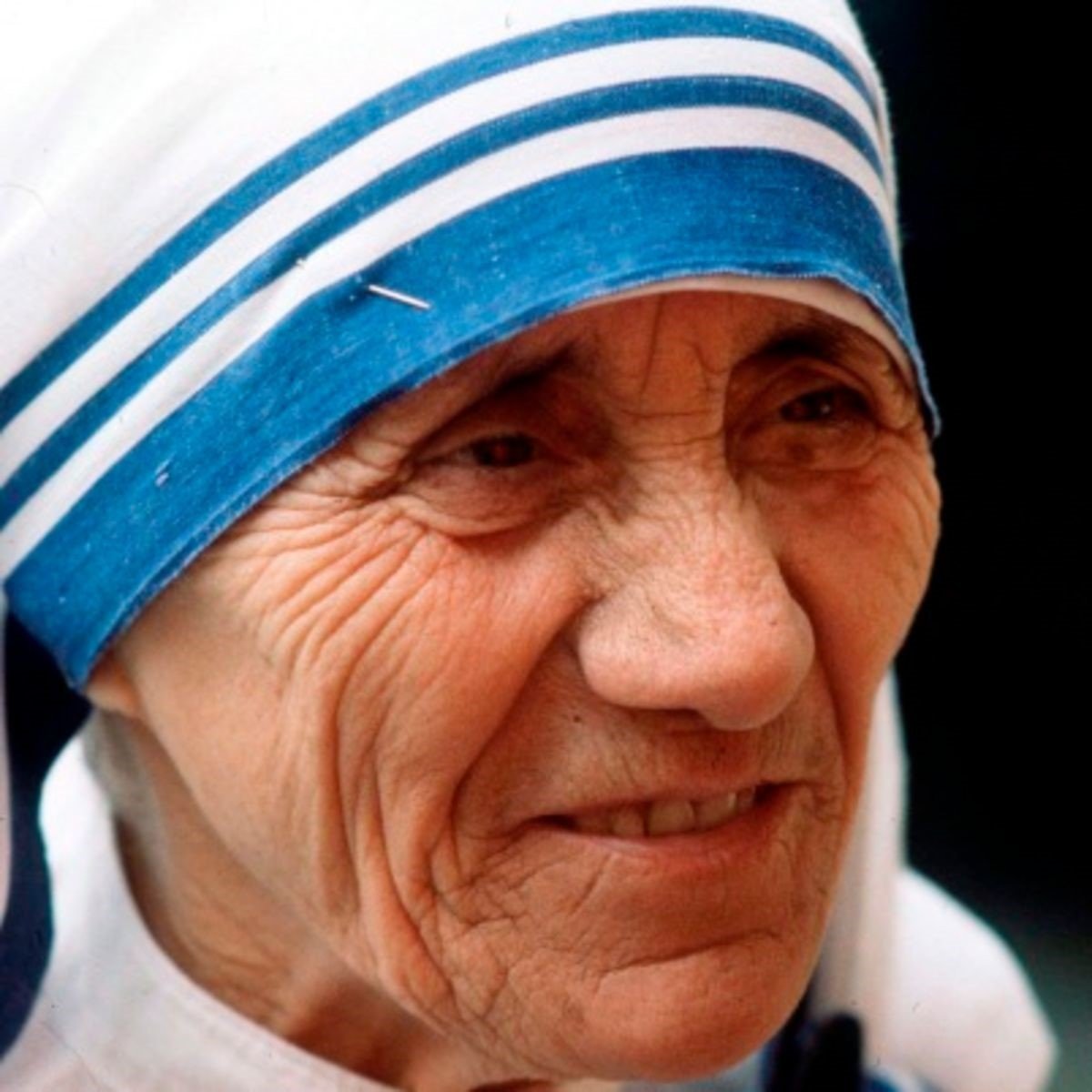 Class Teacher - Mrs Gilbert
Teaching Assistant - Mrs Greener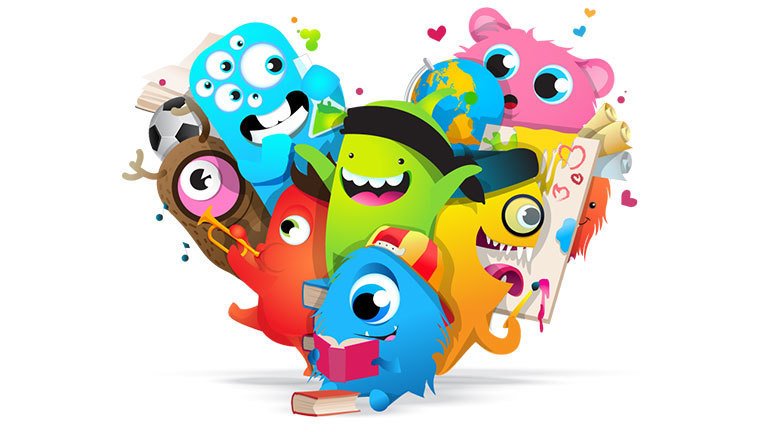 Our topic this term will be Rule Britannia! Please click here to see an overview of what we will be learning about in all subjects this term.
If children would like to do extra work at home or research about this event and bring it in to share with the class that would be fantastic! Please click 'here' for some optional ideas for extra work where pupils can earn Dojos.
~~~~~~~~~~~~~~~~~~~~~~~~~~~~~~~~~~~~~~~~~~~~~~~~~~~~~~~~~~~~~~~~~~~~~~~~~~~~~~~~~~~~~~~~~~~~~~~~~~~~~~~~~~~~~~~~~~~
~Events in Year Six~
Y6 Outdoor Learning Day
08.07.22
Year Six Production
18.07.22 (info. to follow)
Spot the Difference
20.06.22
This week in Science, we used our previous knowledge of fossil formation to learn about the five different types of fossils and how they are formed. As palaeontologists, we identified different fossils and reasoned our choices. Finally, we used raw materials to create body, mould and petrification fossils!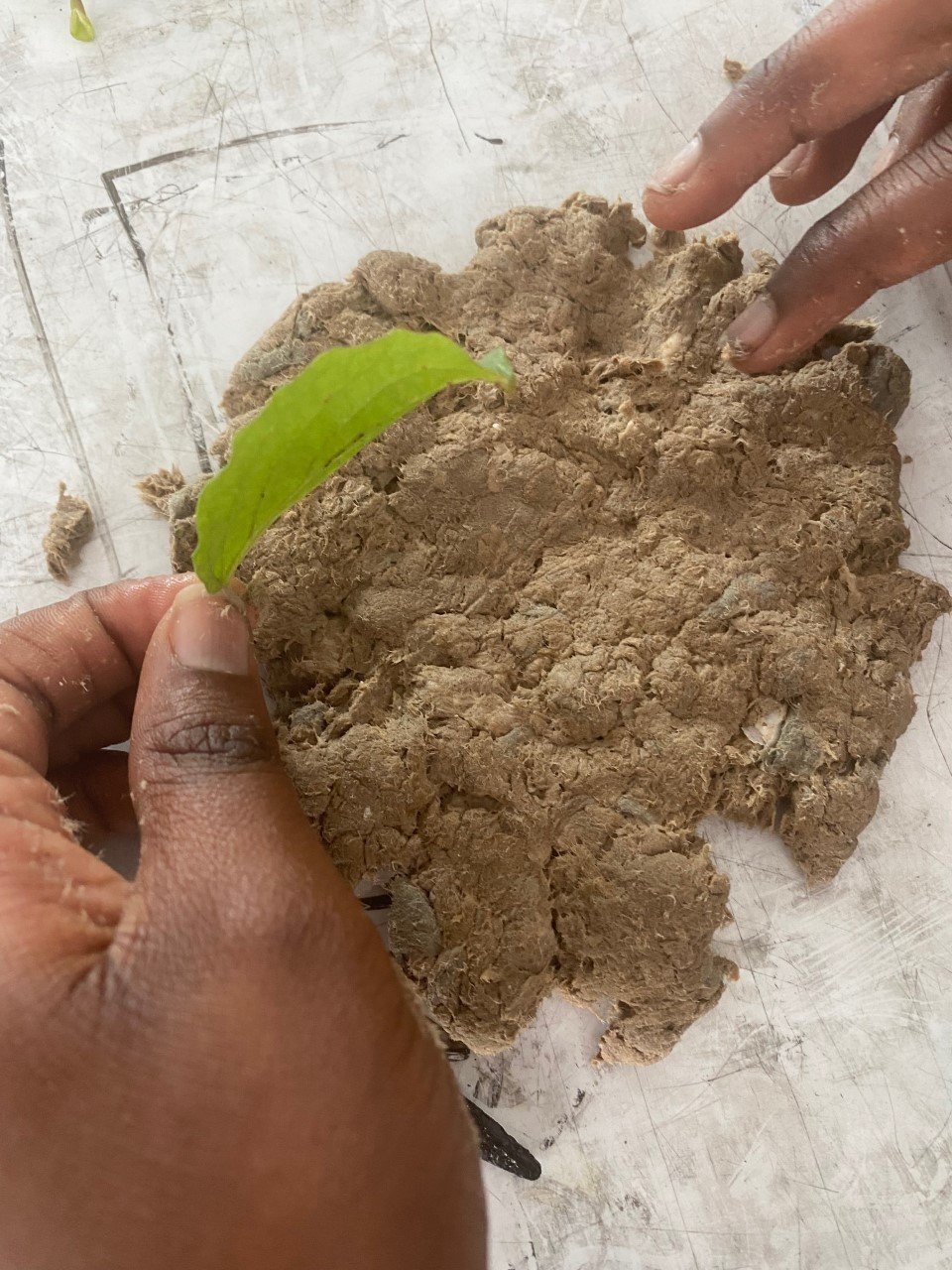 In PE, we have been focusing on our front and back swing in tennis. We were set the challenge to complete the identical passes by our partner, mirroring their movement in order to create a rally. We all felt more confident when front passing and now will be working on movement and back passes.
In ICT, we have been creating games for different ages to use and assessing their impact and effectiveness. We designed a specific quiz/game that were specified to an age and were user friendly. Following this, we had our first opportunity to receive feedback from a school peer in order to improve and edit any aspects based on the feedback provided.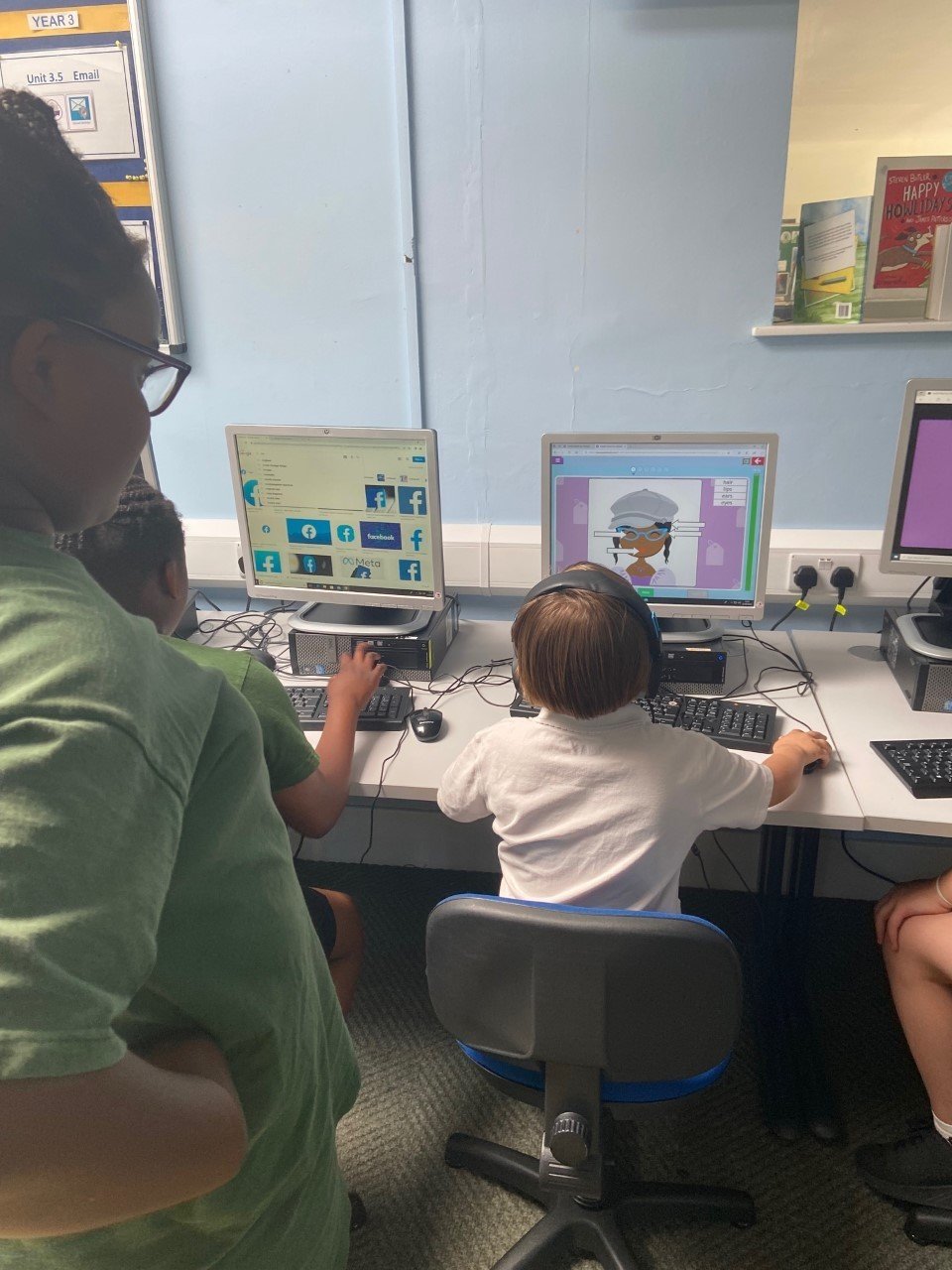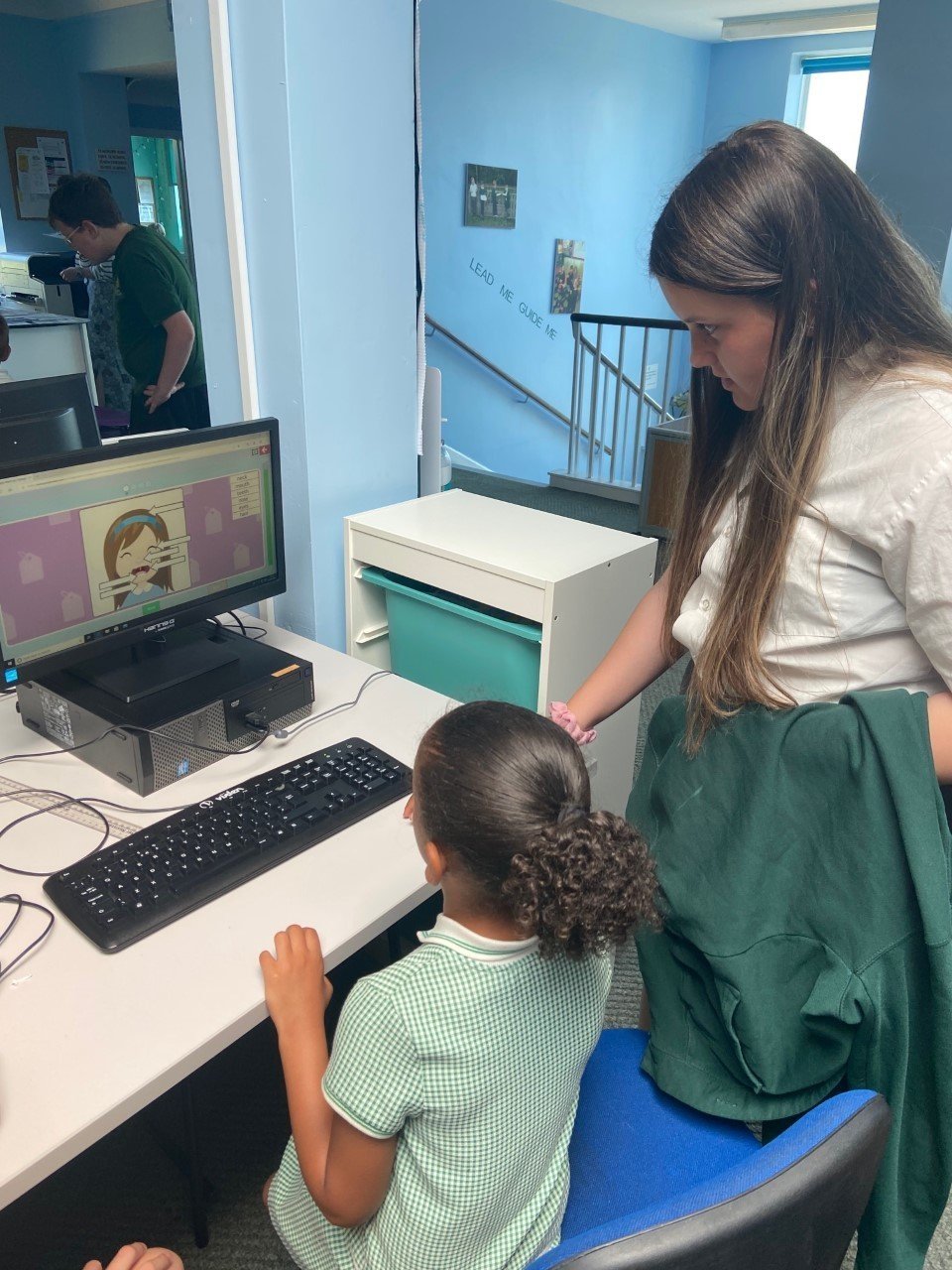 PGL Adventure!
17.06.22
We embarked on our PGL adventure on Friday and spent the weekend in Windmill Hill. With confidence and determination, we challenged ourselves to complete all the amazing activities such as climbing/abseiling, swinging on the 'Giant Swing', archery, ascending 'Jacob's Ladder' and raft building. We also had fun participating and working as a team in other activities such as Capture the Flag, aeroball, manoeuvring through a sensory trail, battling in robot wars and exploring the globe through 'passport to the world'!
We had the most amazing time and created so many wonderful memories that we will treasure forever. Enjoy some of our photos below of our amazing experience on this residential trip...
Drawing on Nature
06.06.22
We took a trip out to Stanmer park and, using our learnt skills and techniques, we took inspiration from the nature and structures around us. As you can see, we drew and created beautiful pieces of art, which reflected our surroundings perfectly! We had the best time and thoroughly enjoyed our trip, thanks to Mrs Hill.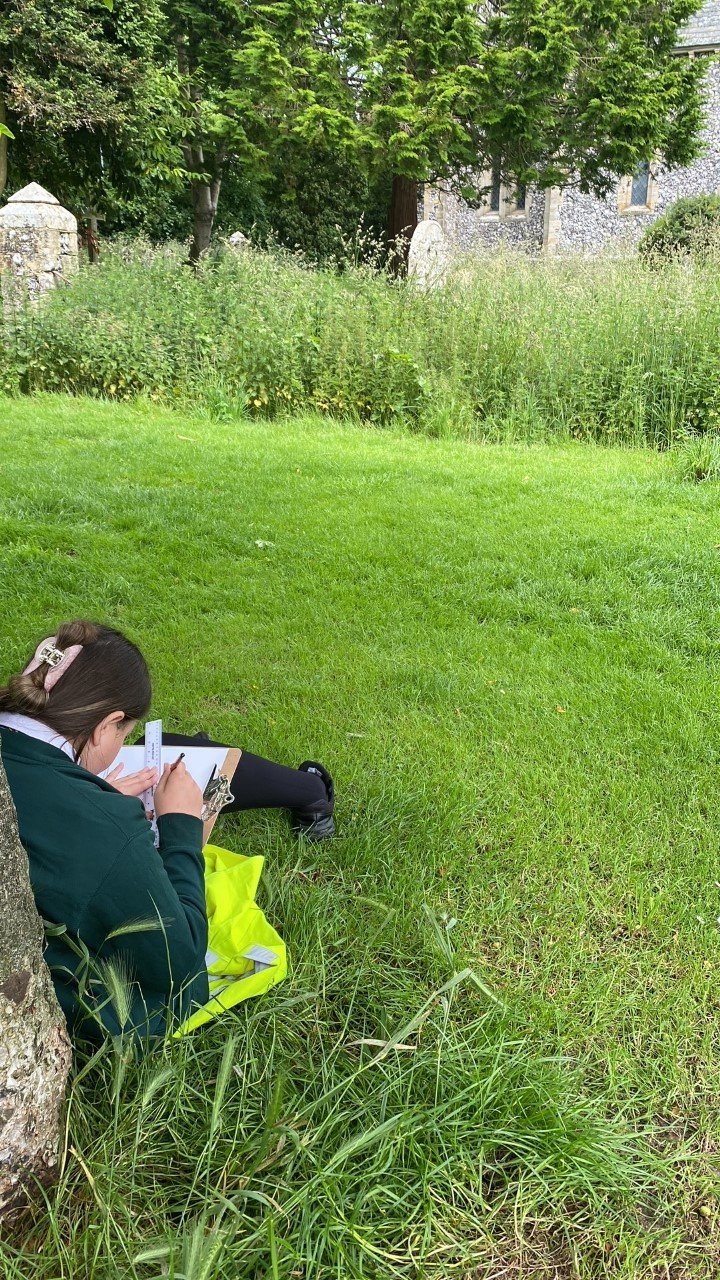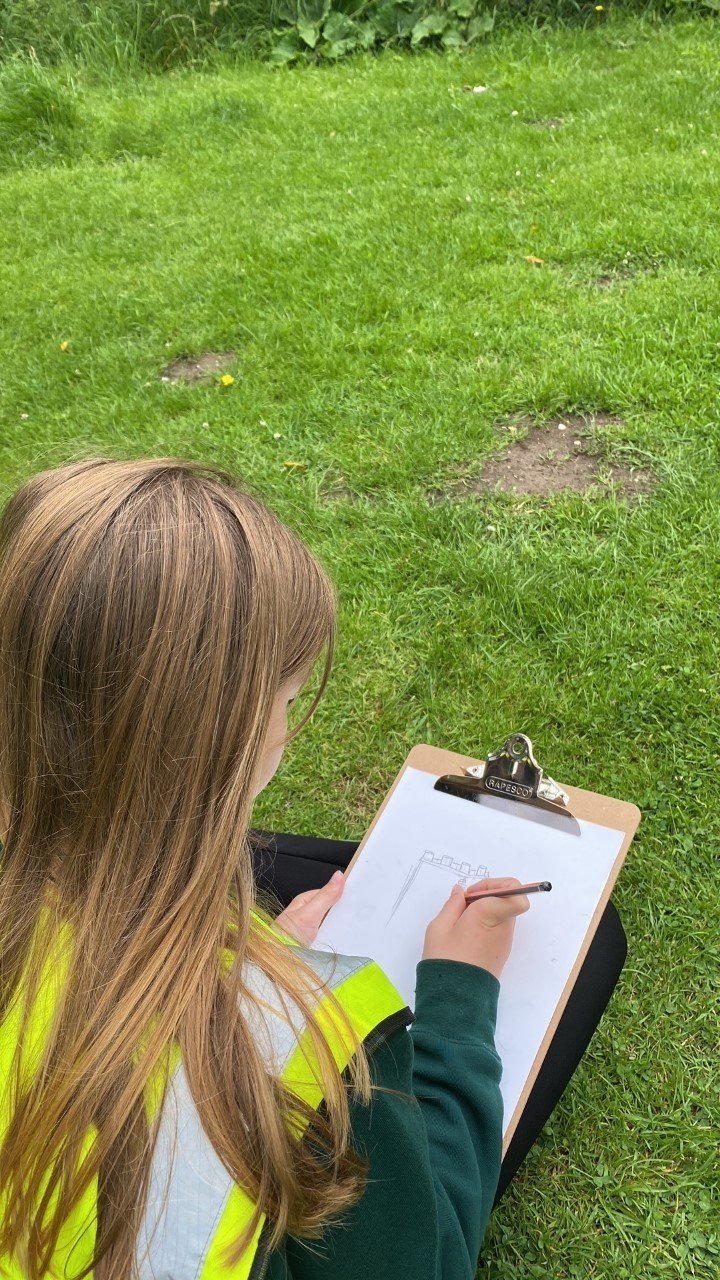 Activity Passport
Thank you all those who submitted your challenges completed- it seems that many of you had a delightful half term trying to complete the activities in the amazing weather! Take a look at the photos submitted below: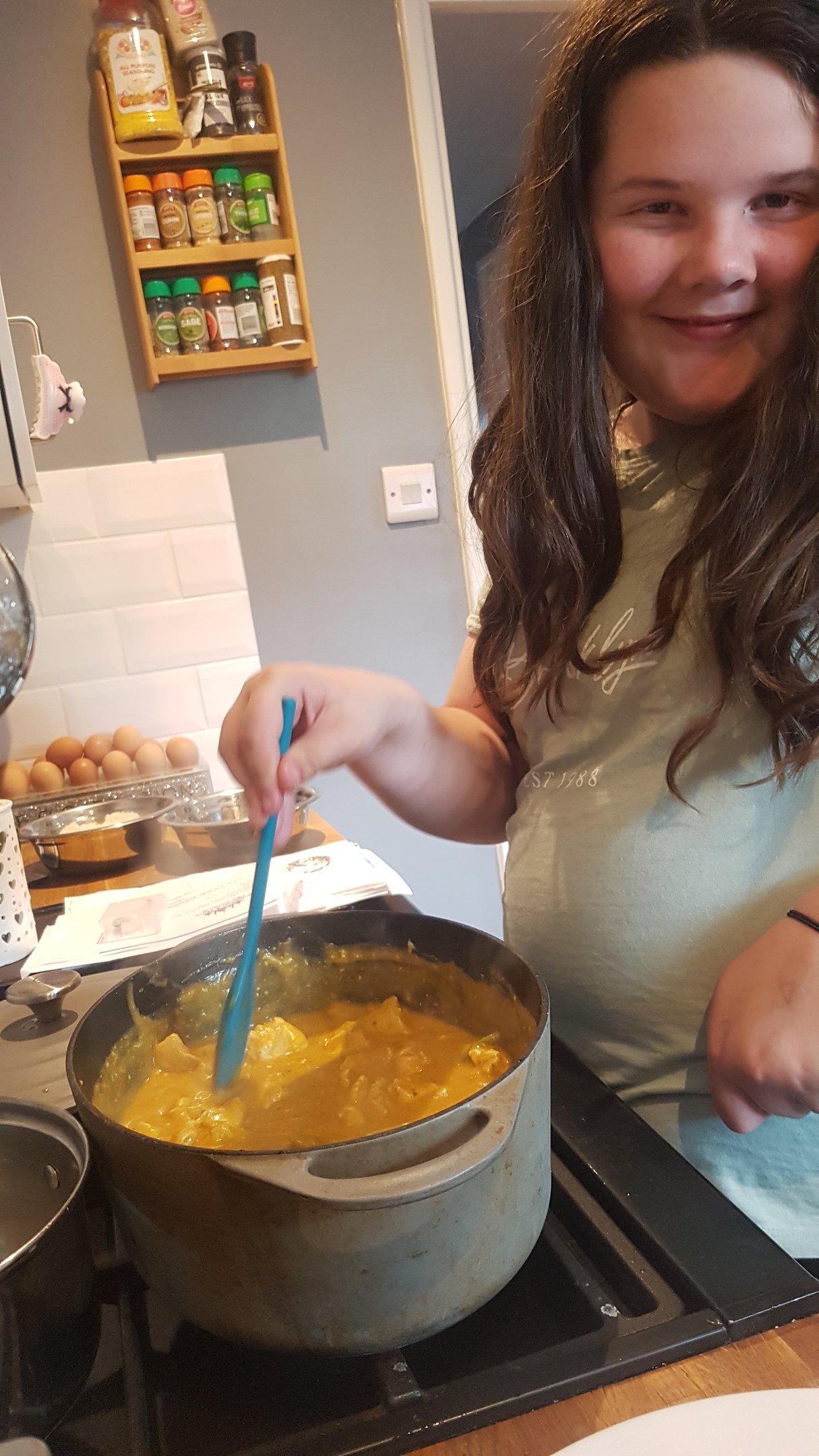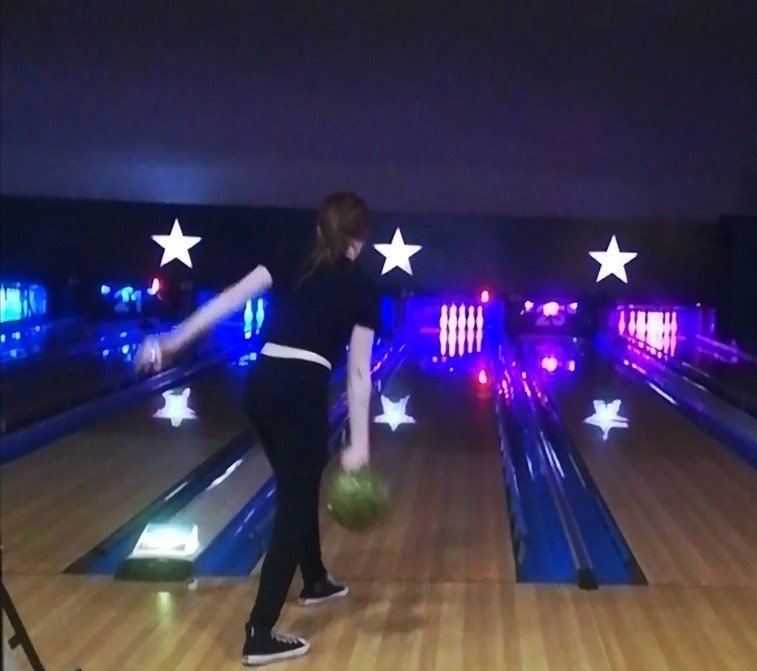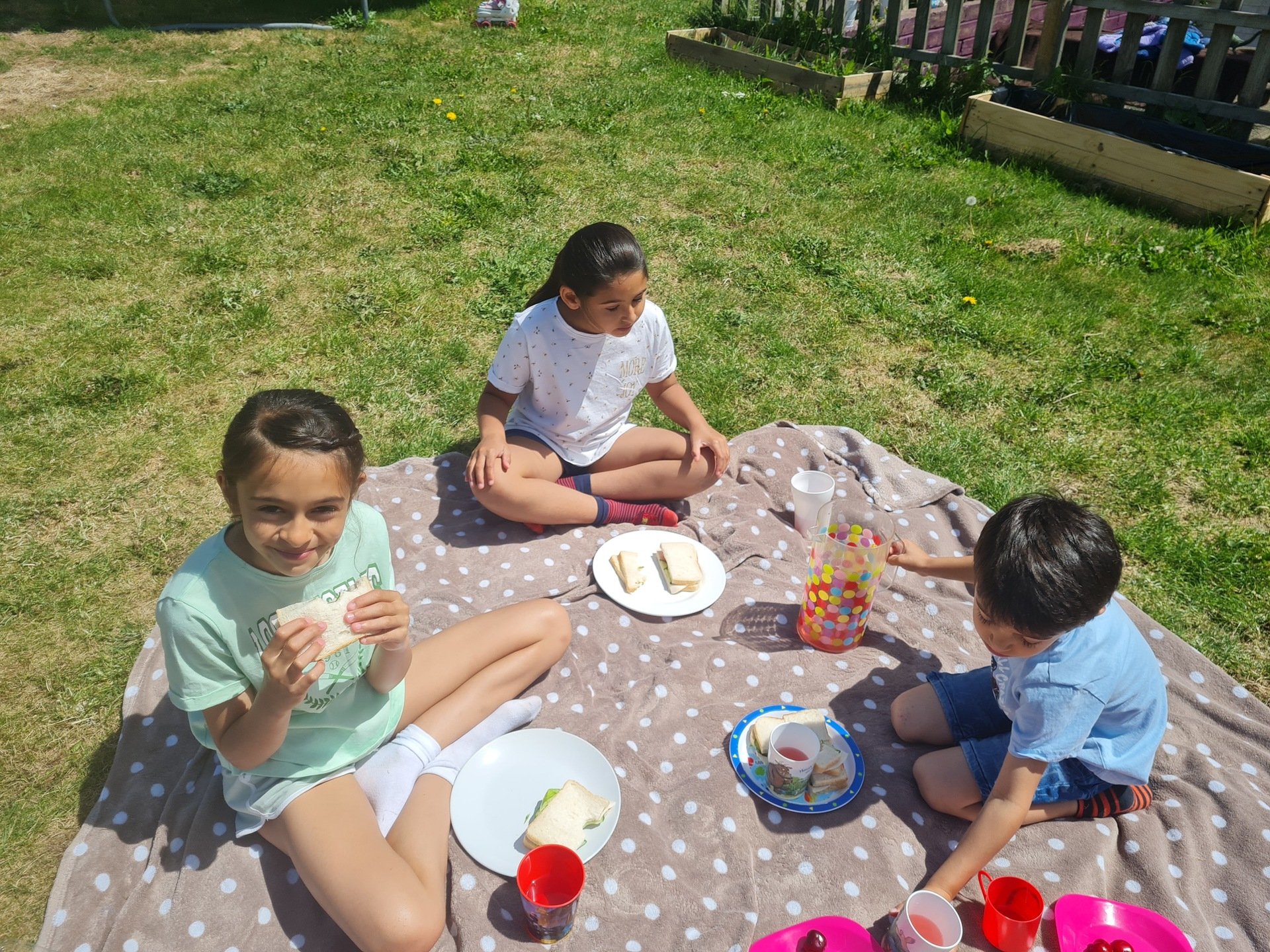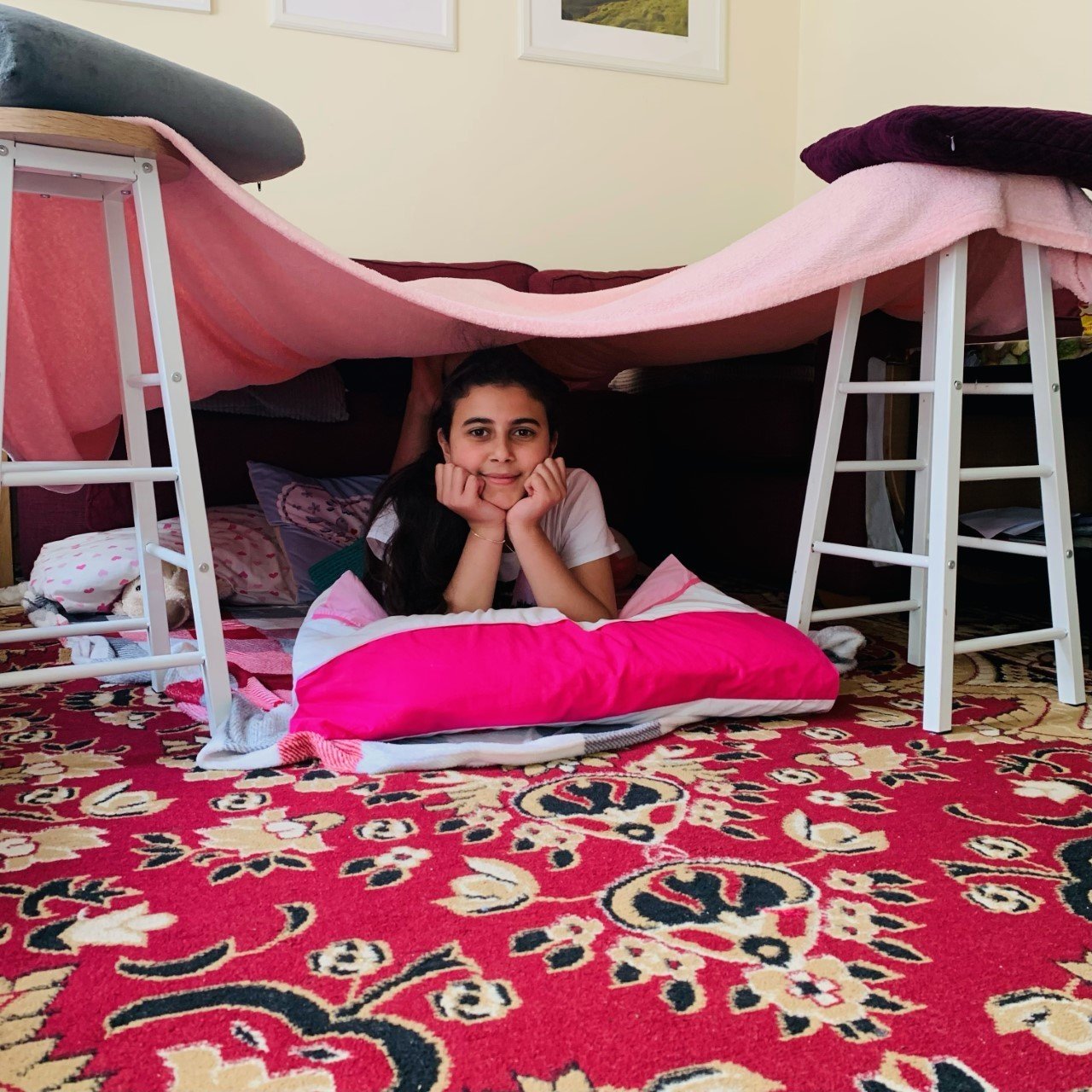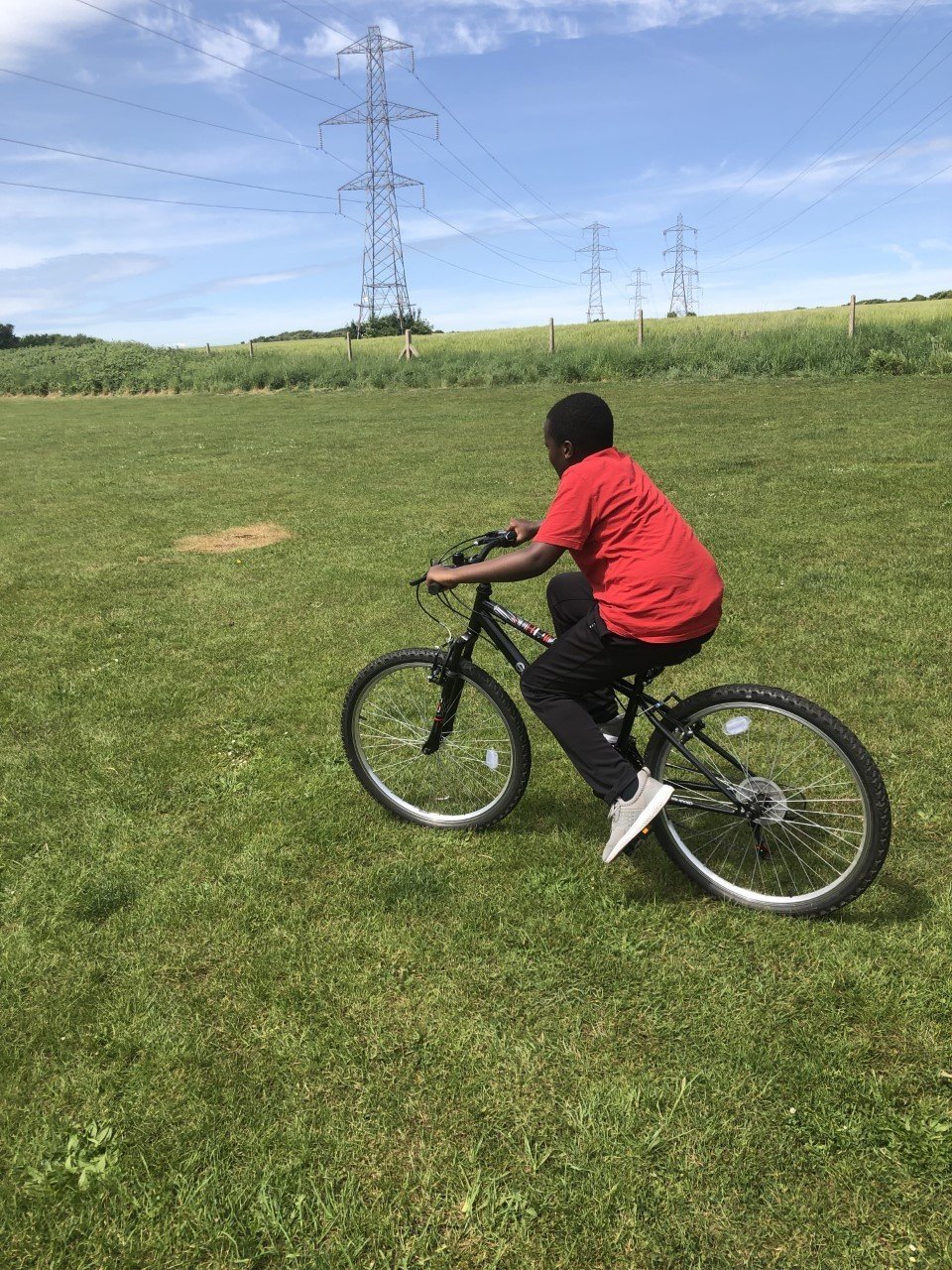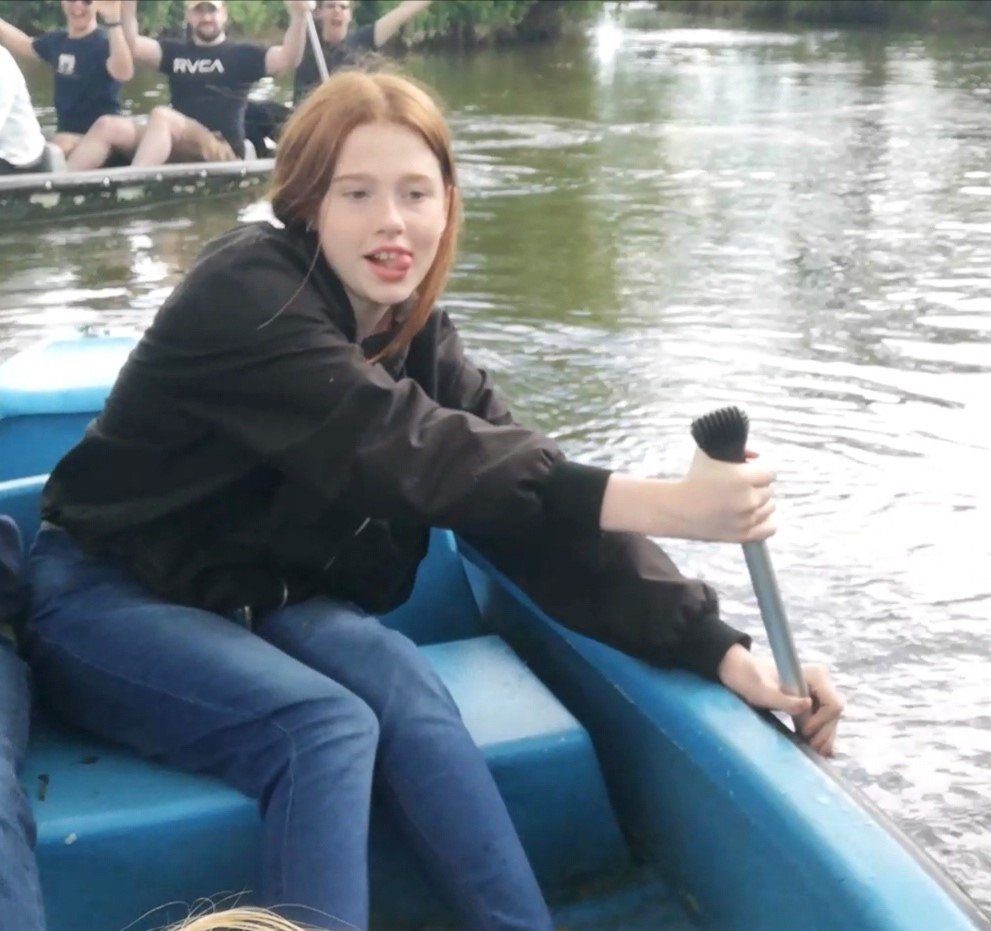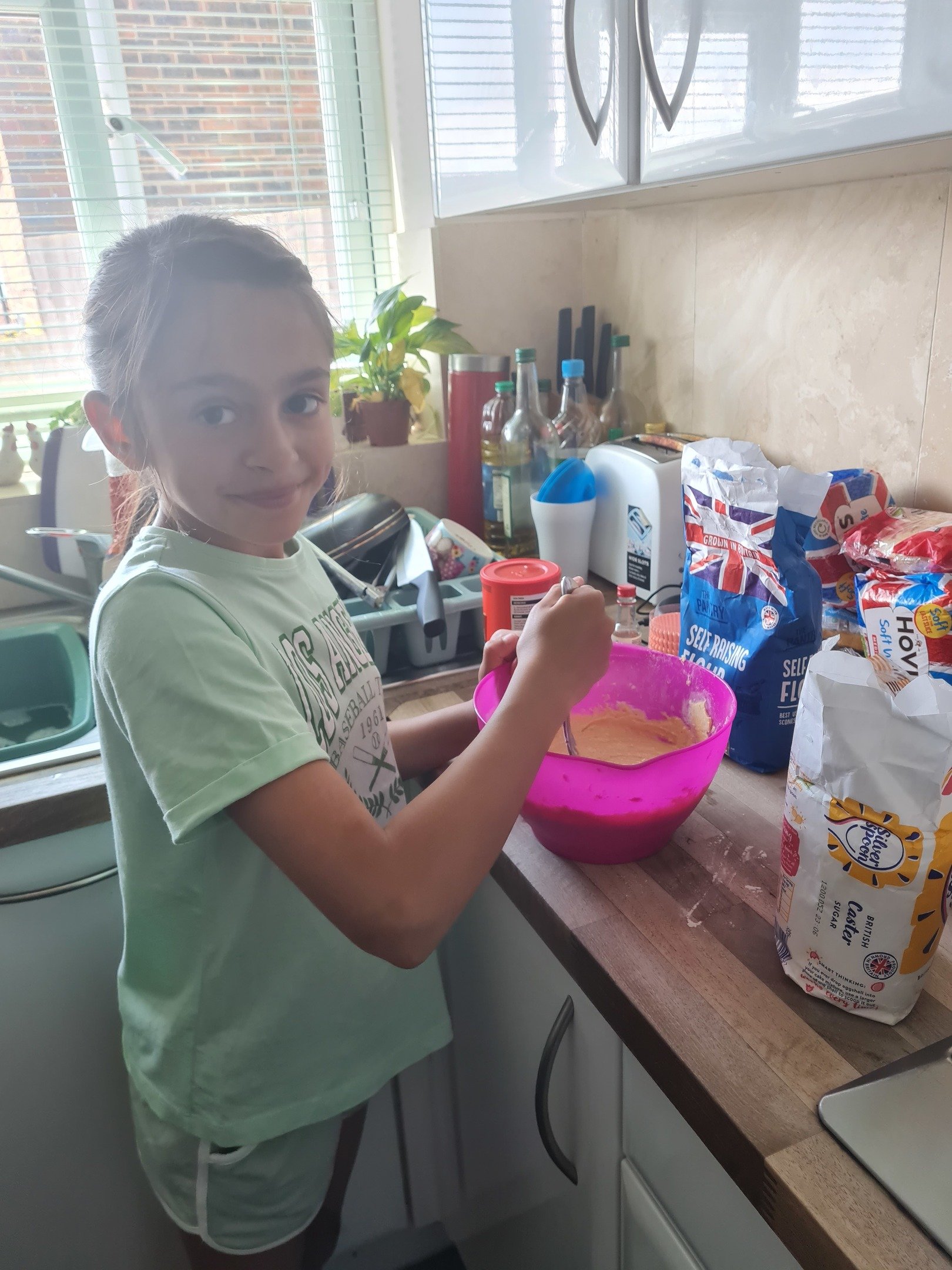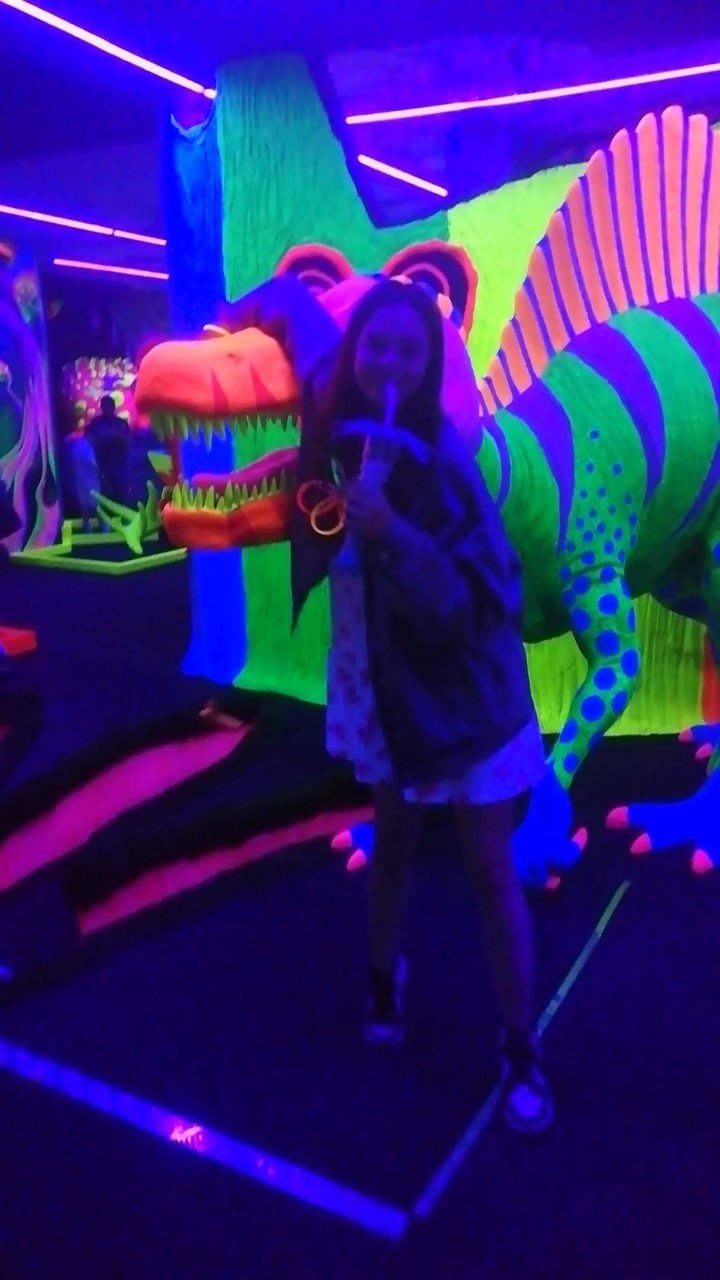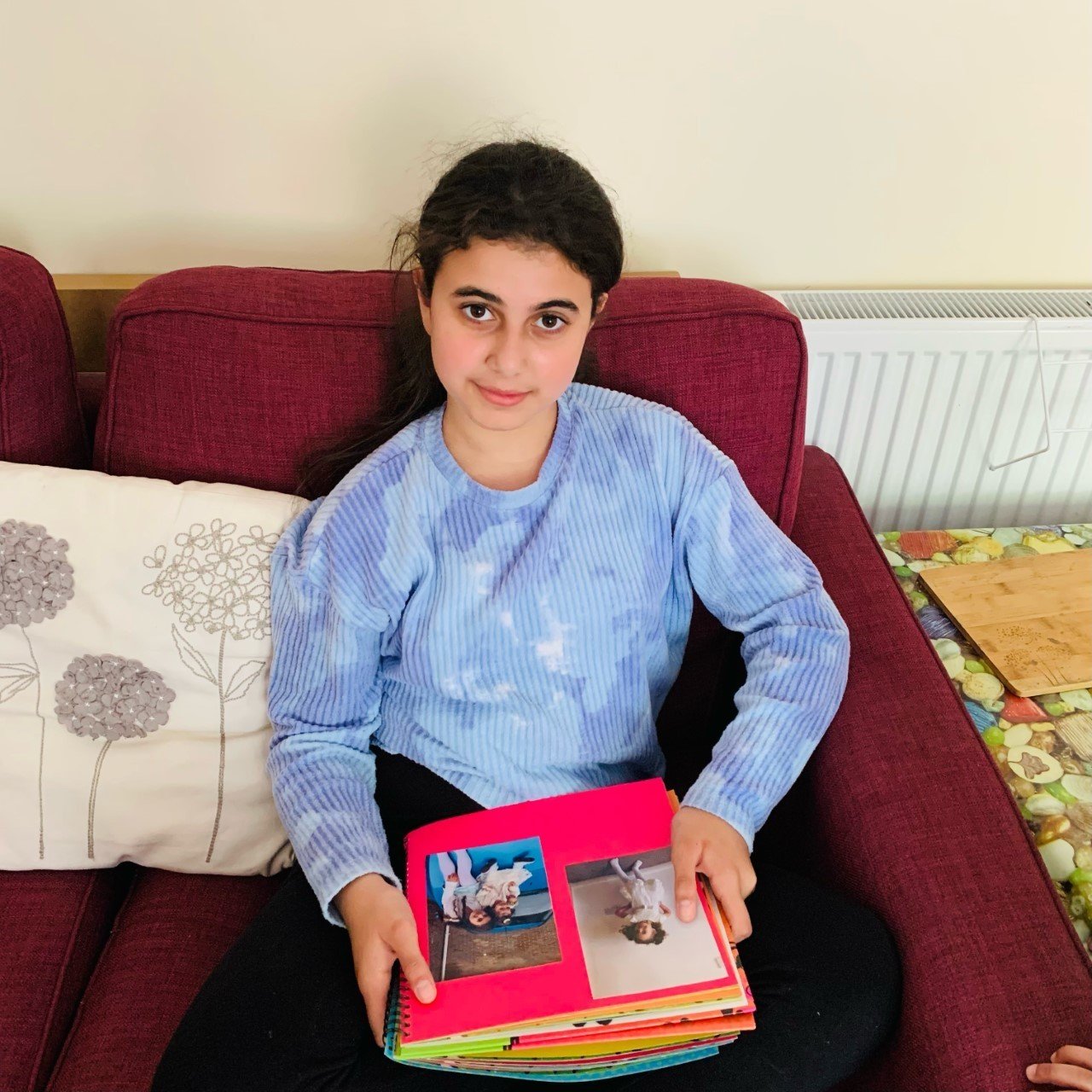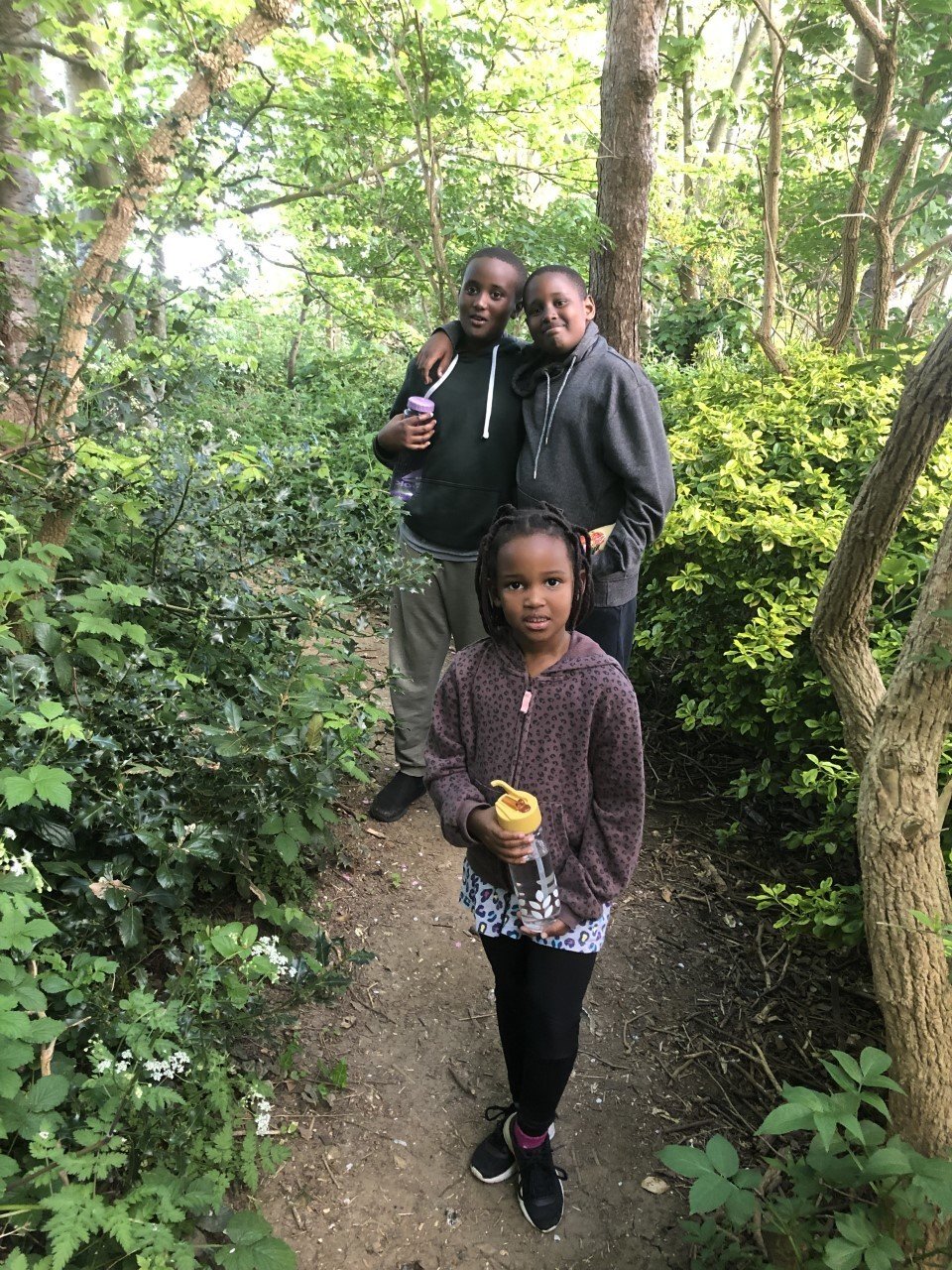 Well done to all challengers- you have been rewarded with dojos!
If you have any more photos to submit, please send them to the myhomework email to be shared with the class.
Queen's Jubilee!
23.05.22
To celebrate the Queen's jubilee, and in the theme of our topic 'Rule Britannia', we learnt all about the Queen's life and created posters providing this information. We then created our own layered word art by drawing the Queen at a specific stage of her coronated life and then used different colours to form a layered word art flag behind. The children had included some key vocabulary relating to this special lady!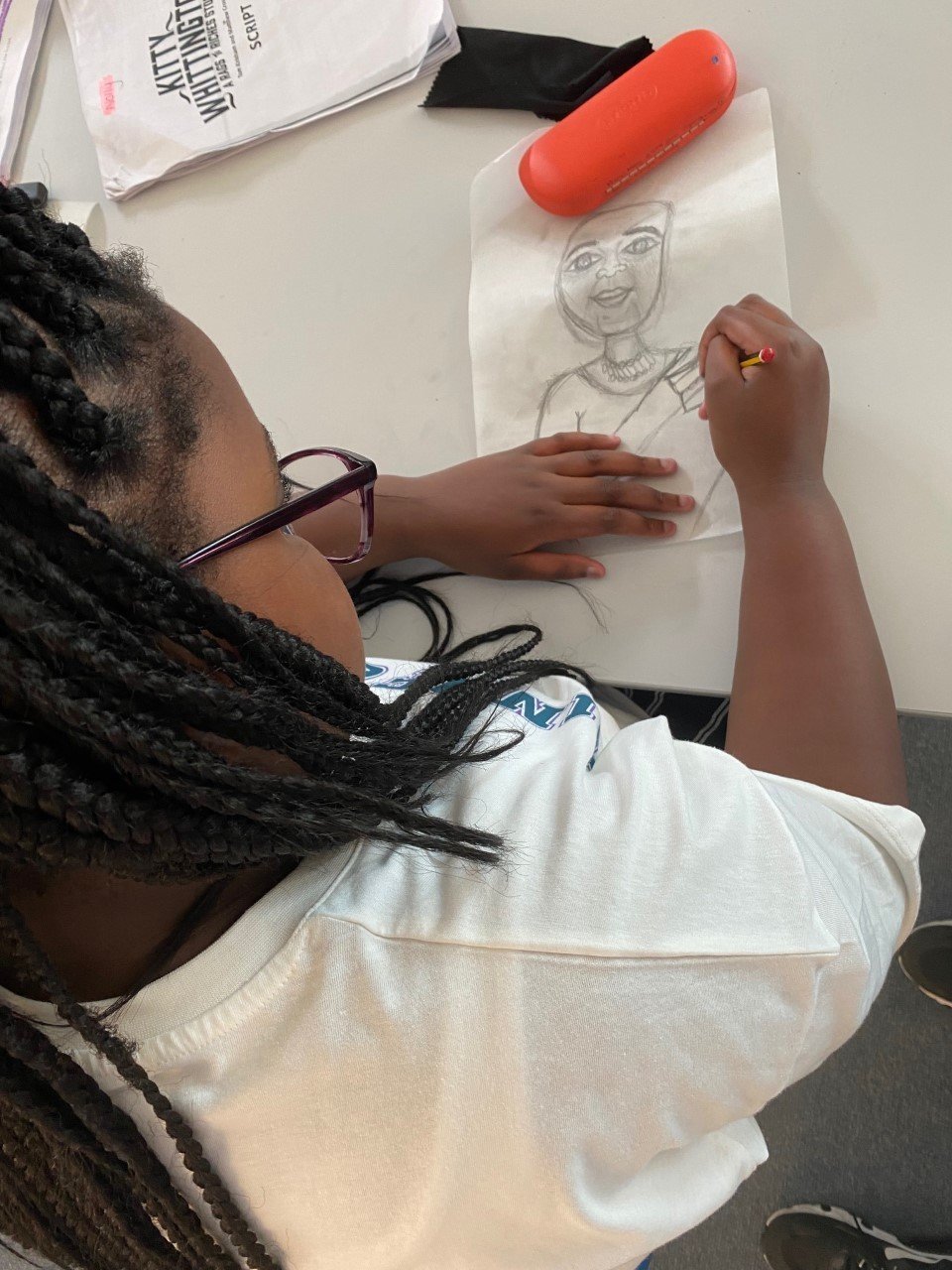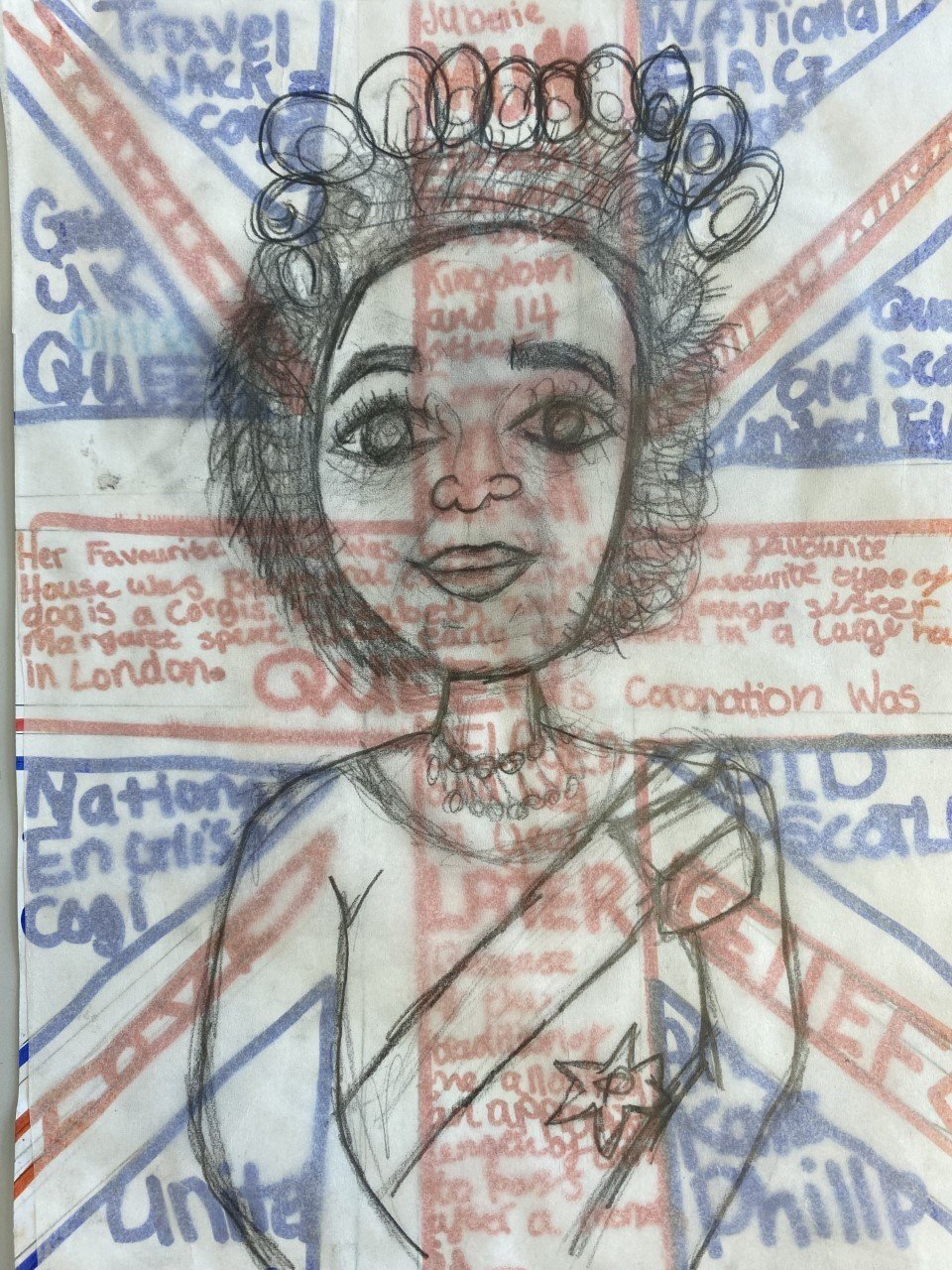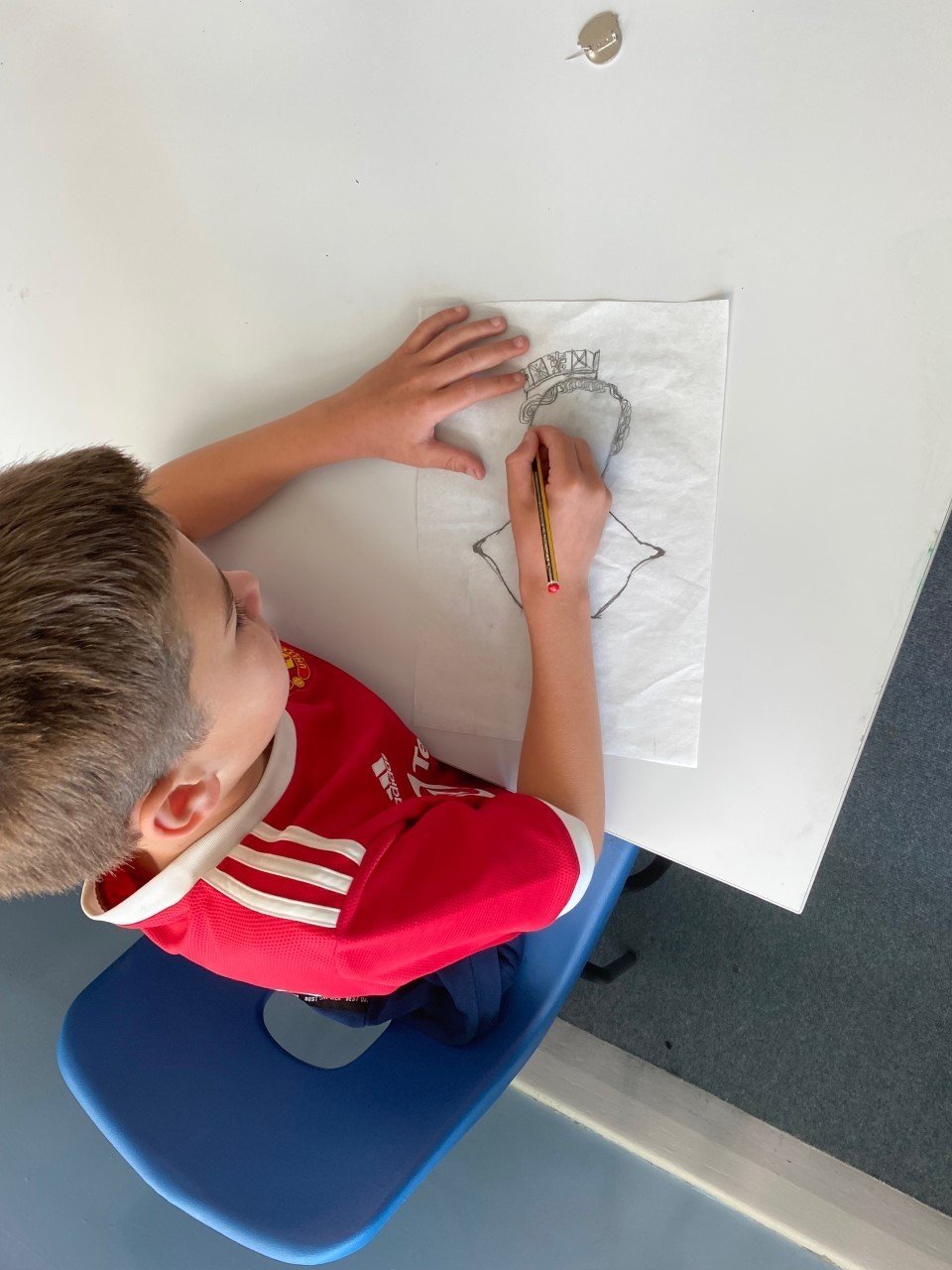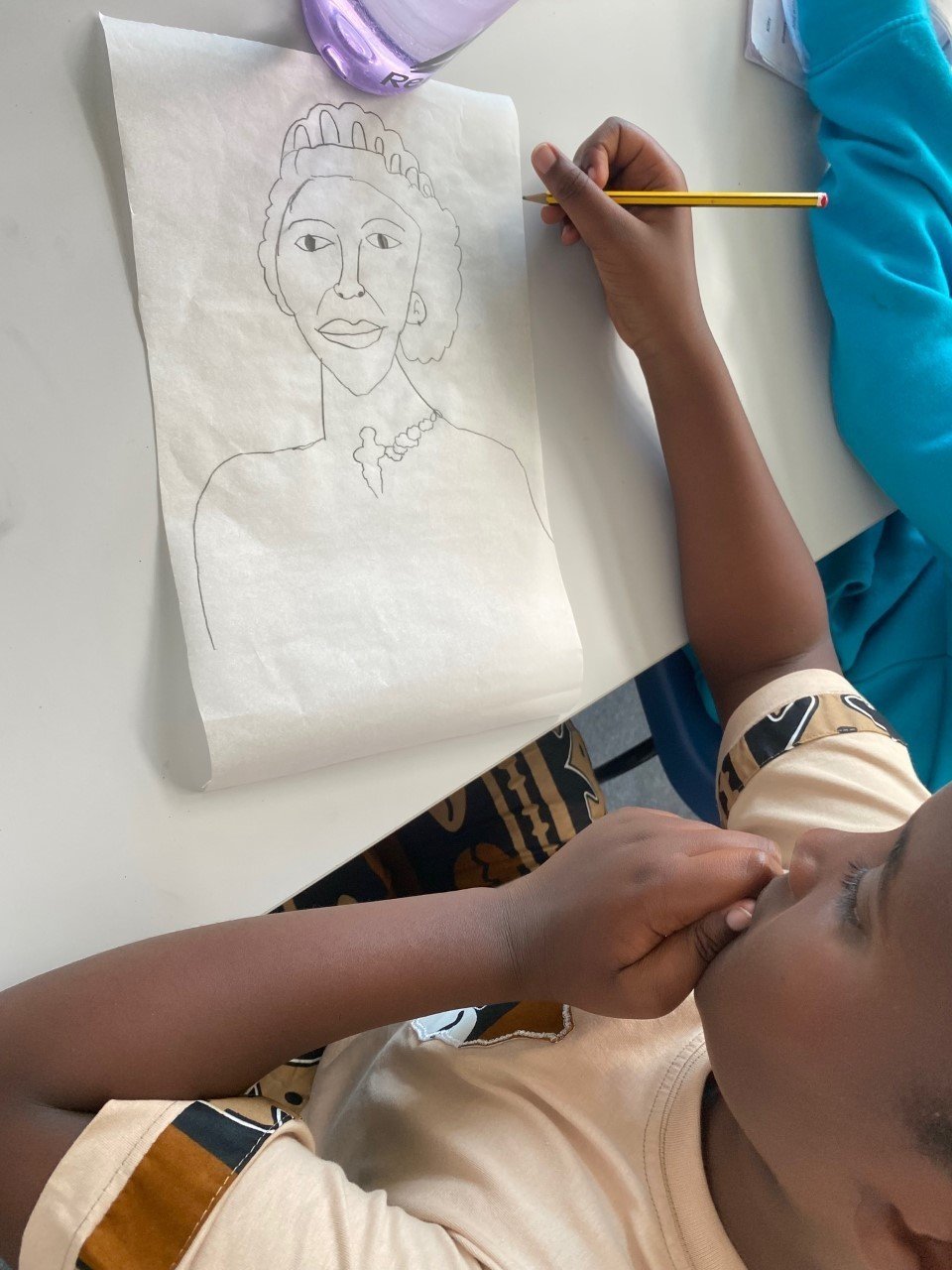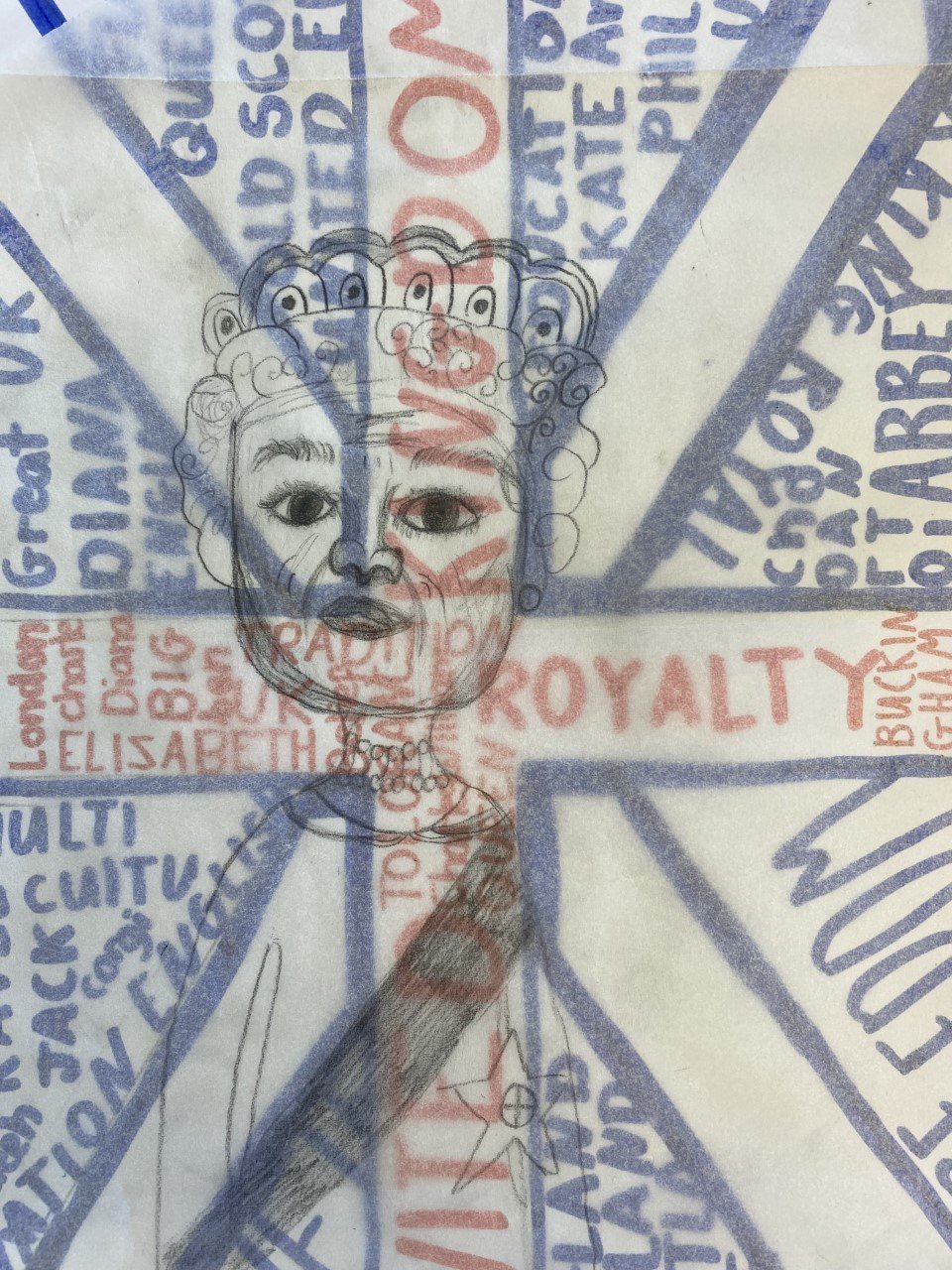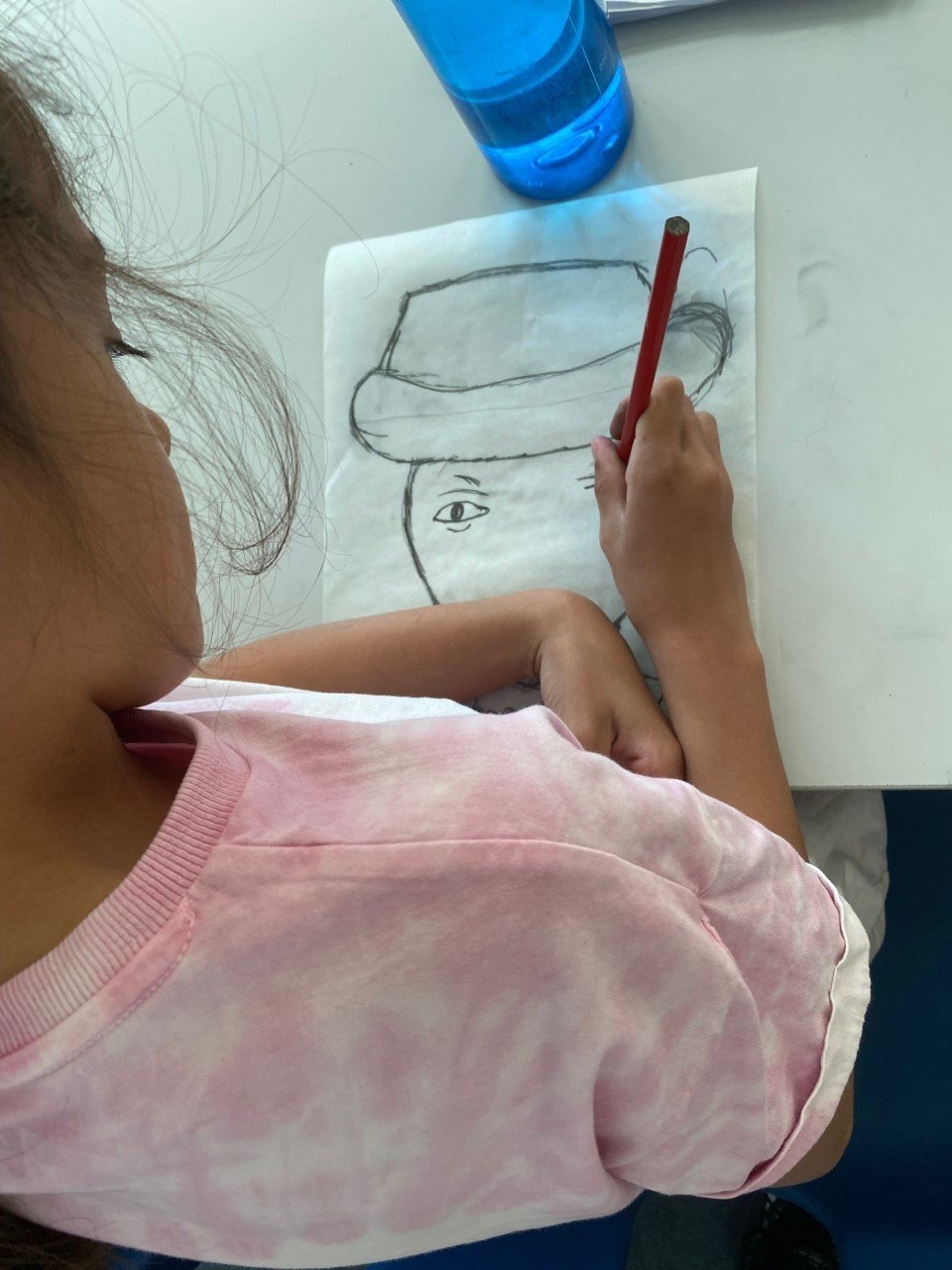 As a class, we planted a tree to commerorate this special occasion, which can be enjoyed for many years to come. This tree is planted in the front of the school so please do take a look at the work of our green fingers in respect to our ruler!
Finally, we joined the school to celebrate with a jubilee party! We enjoyed singing the anthem and festivities!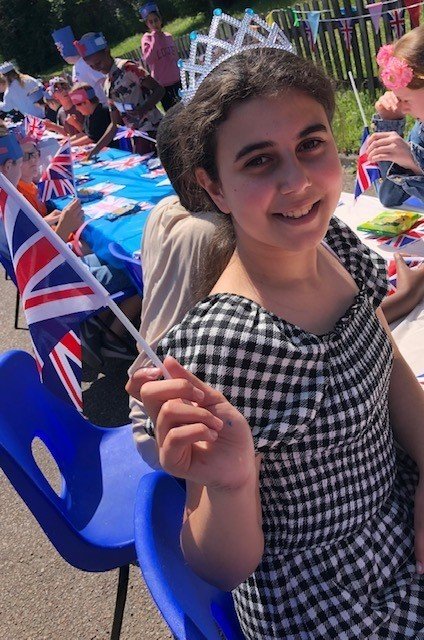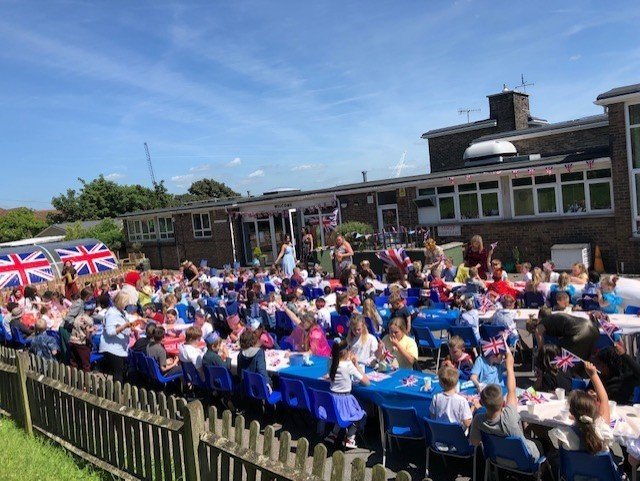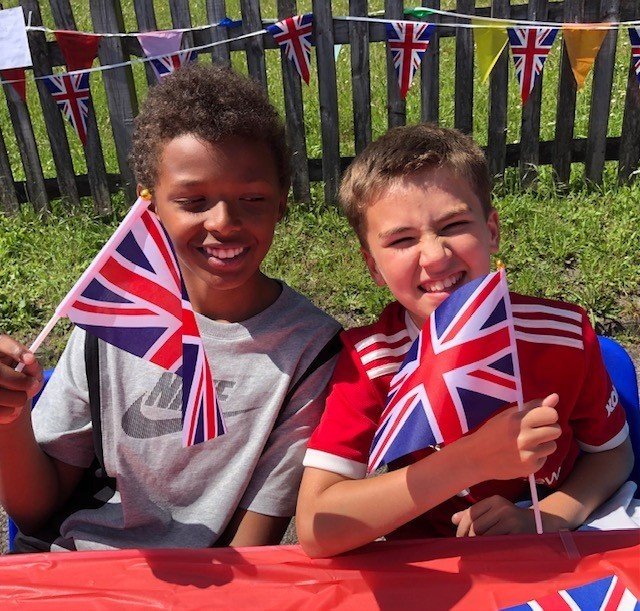 Art Attack!
16.05.22
Art this week took us on a journey into the African culture and its beautiful art. We identified that most pieces used bright colours and were filled with wonderful patterns. Inspired, we began our own patterning, using bright colours and the provided materials.
Watch this space for the final product!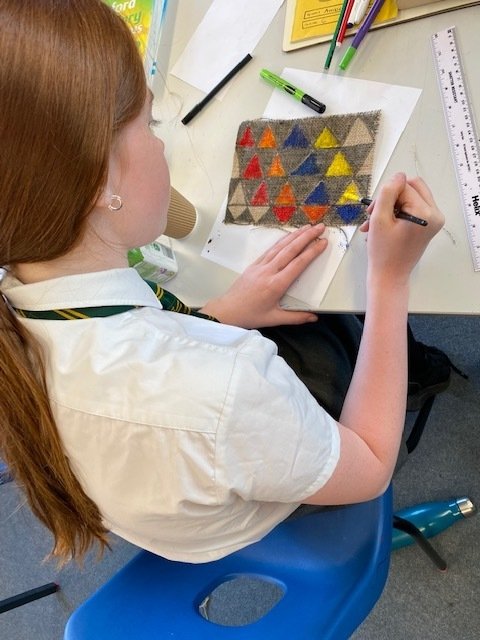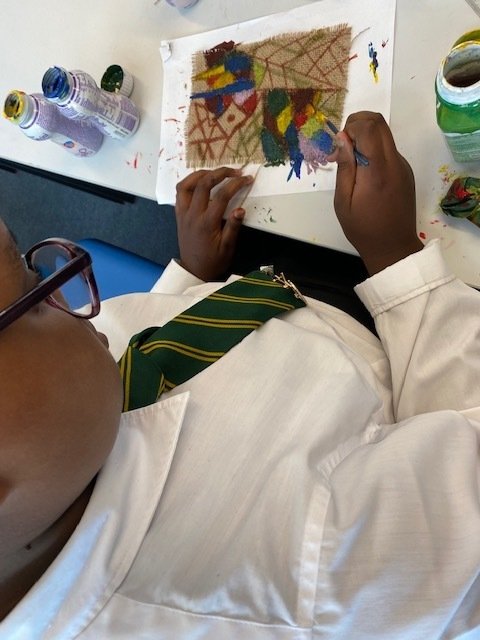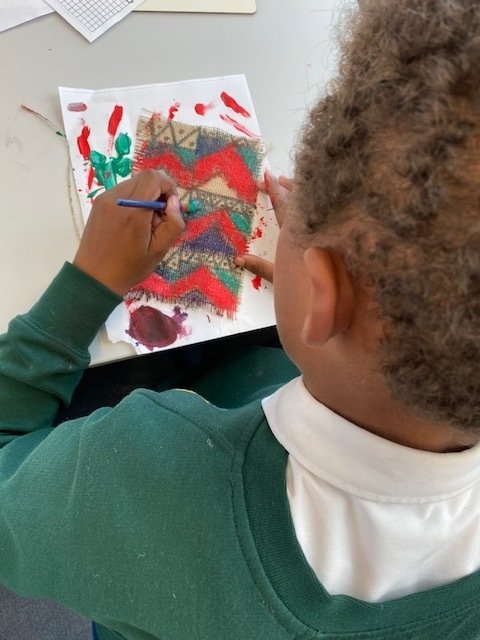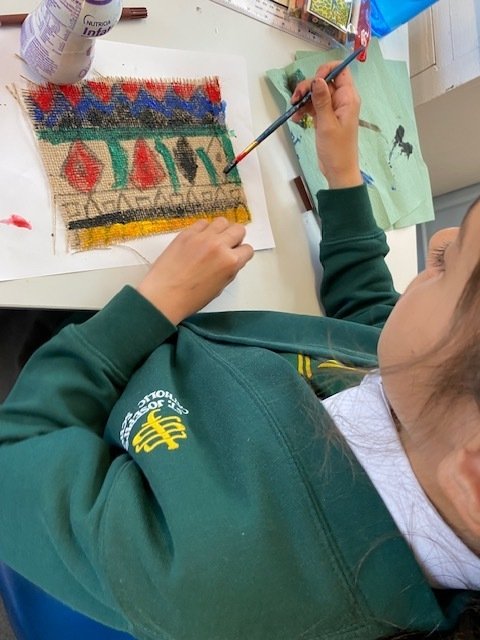 To finish this week, we took to the outdoors! Despite the weather, we braved the outdoors to launch our topic 'Rule Britannia.' We created our own Viking and Saxon shields, designed viking ship art pieces (inspired by our previous learning in art of Van Goph's- 'Starry Night') and, finally, we learnt about the battles carried out by the Vikings and Saxons with a game of 'Viking vs Saxons: Invasions'. In this game, we learnt about the pillaging, attacks and battles made by both the Viking and Saxon warriors in order to raid and collonise.
Take a look at the photos below to see our fun-filled day...
S.A.Ts Week!
9.05.22
The children finally completed their S.A.Ts assessments and were able to celebrate by sharing a glorious breakfast with parents and carers before embarking on a trip to the park. We played a variety of games and spent the morning playing on the fun equipment. When returning to school, we held a cinema afternoon and watched 'Zootropolis'.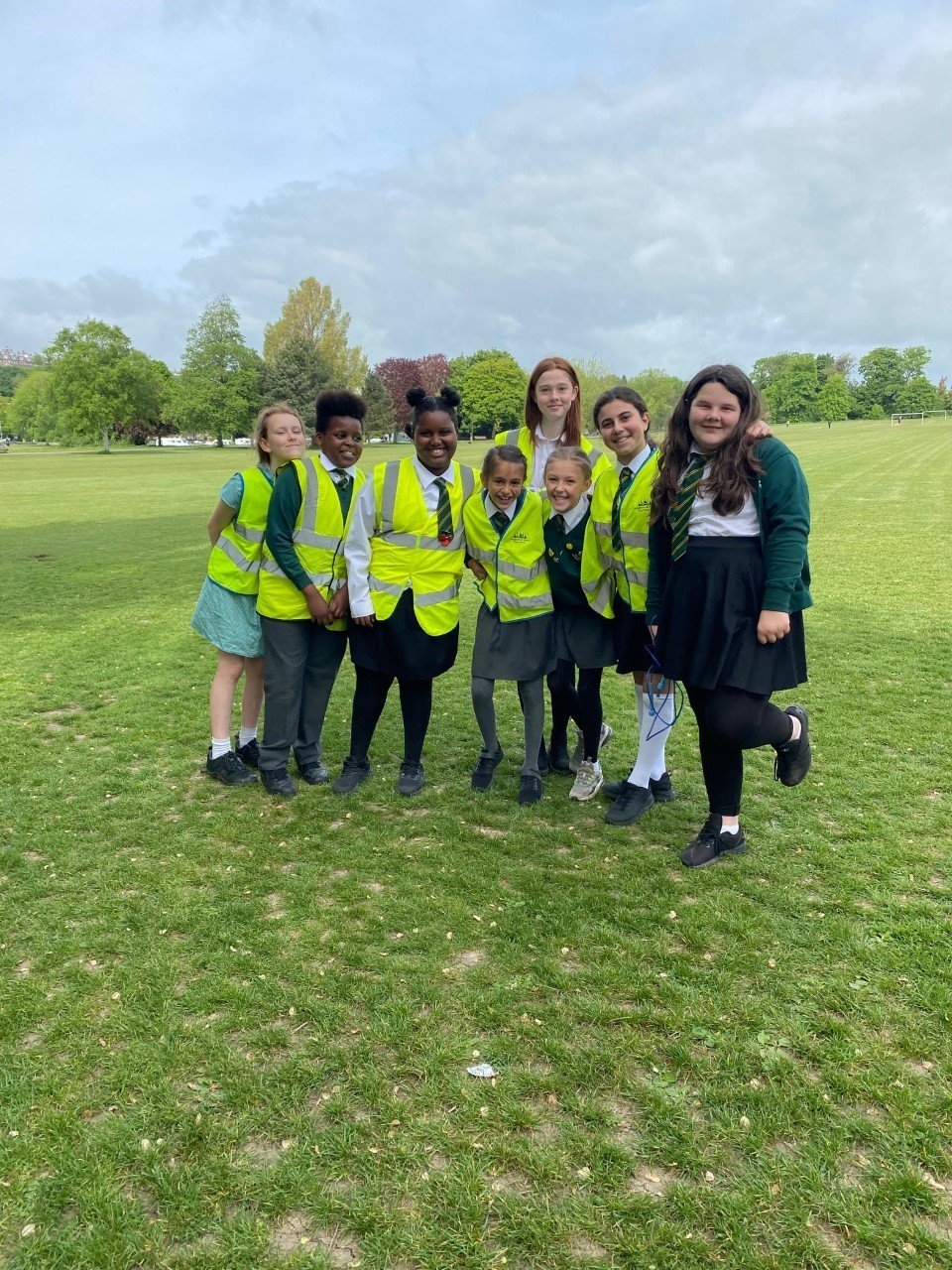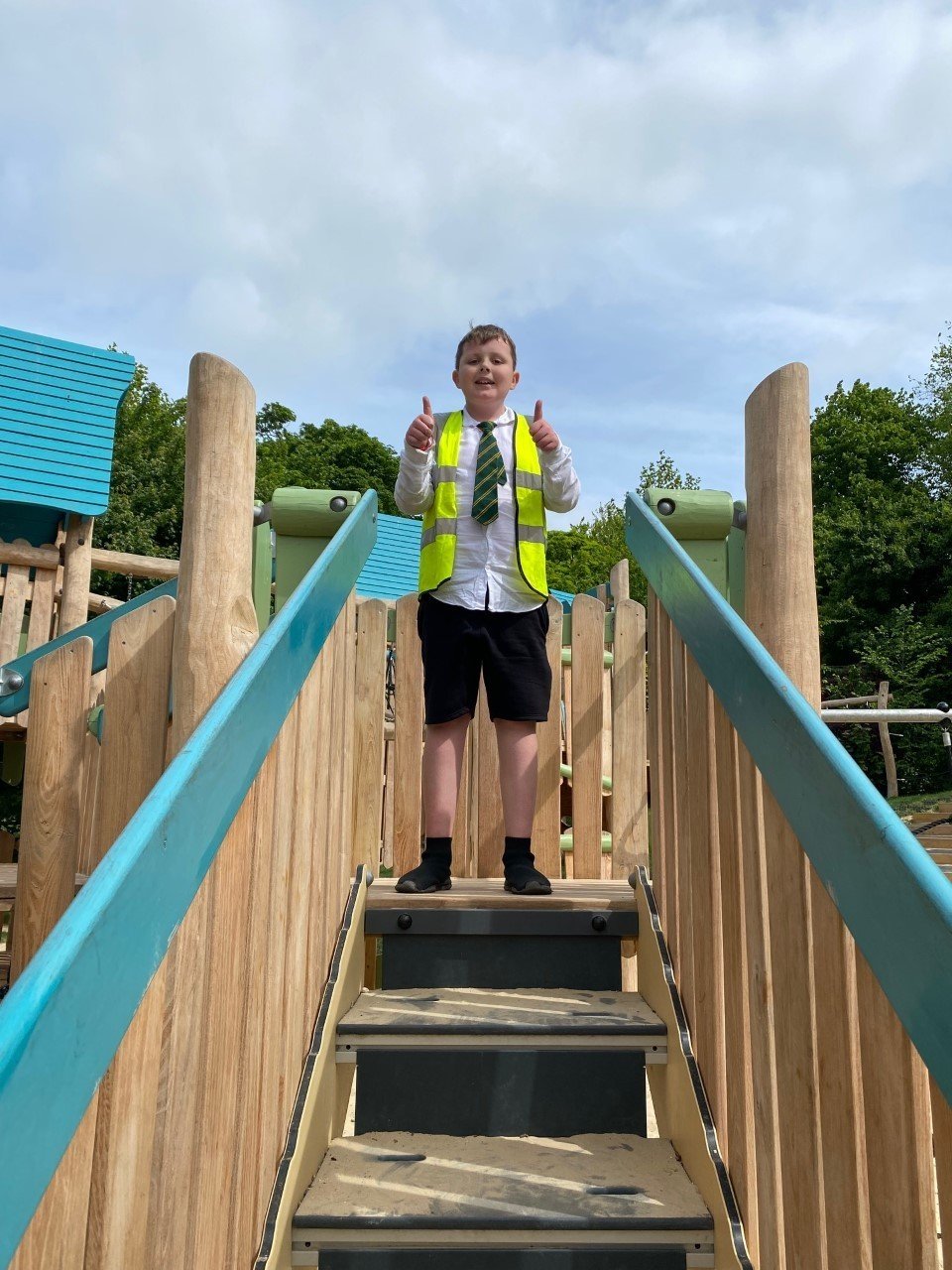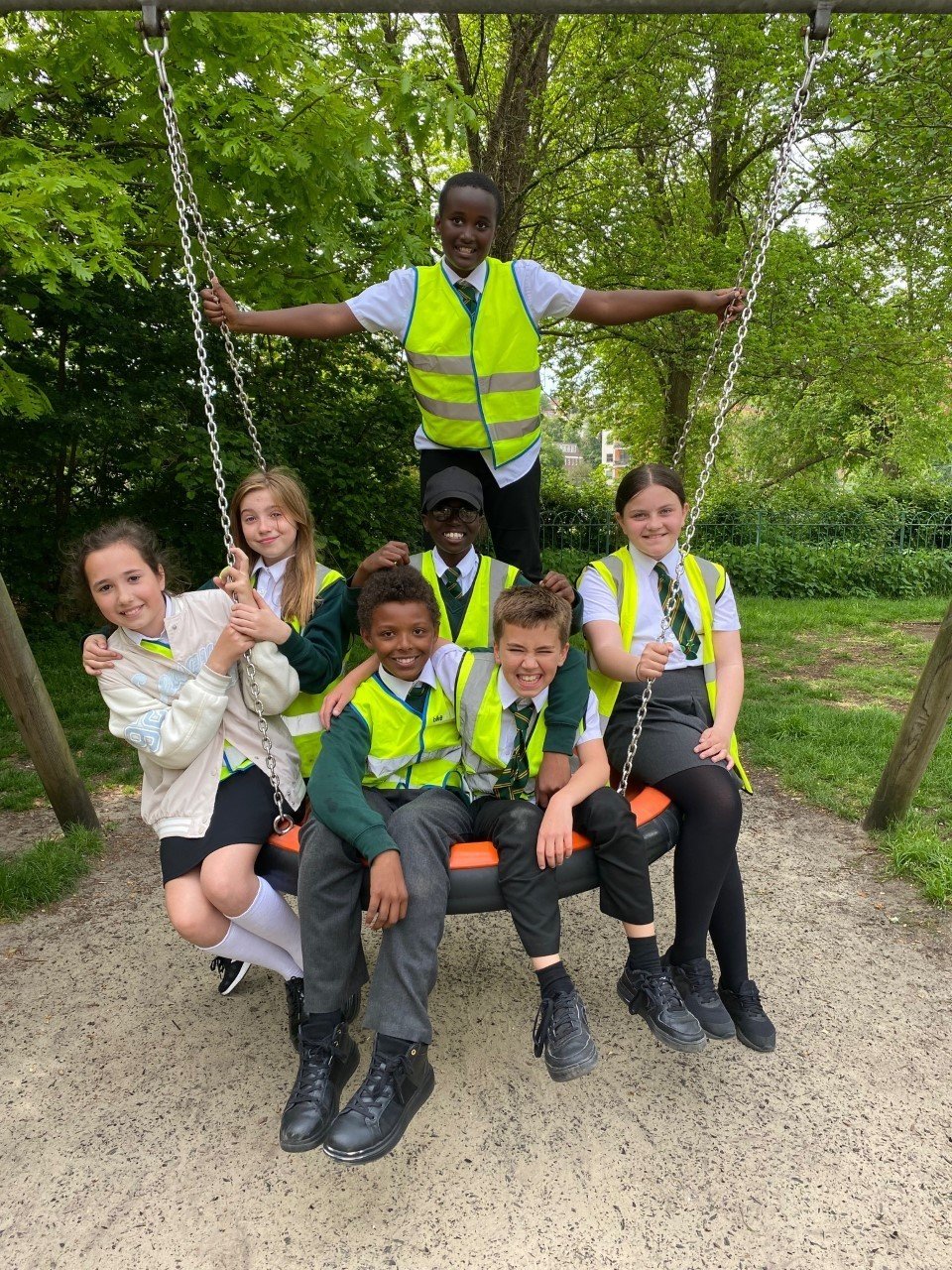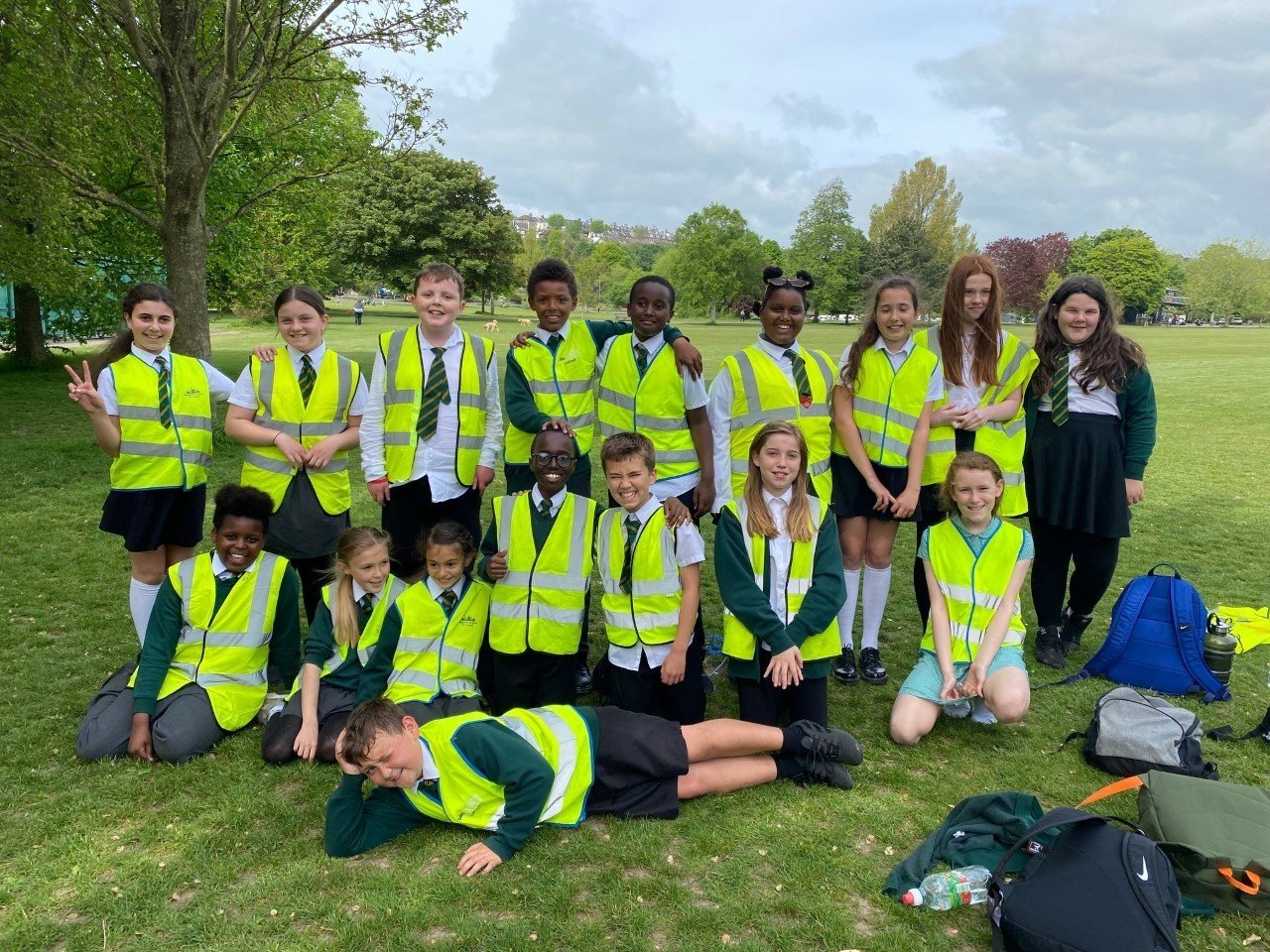 Mrs Gilbert: A huge congratulations and well done to Year Six. I couldn't be more proud of your resilience and determination in the lead up to this week and I am bursting with pride for each and everyone of you!
SAT's Week : 9-12th May 2022
The children in Year 6 are working so hard at the moment in preparation for their up and coming SAT's tests.
Here are a few information sheets that may help you support your child at home.
Click HERE for a SPAG glossary explaining some of the terminology/vocabulary relating to the SPAG paper.
Click HERE for a MATHS glossary explaining some of the terminology/vocabulary relating to the Maths reasoning and arithmetic papers.
Click HERE for general information about the SAT's Week and to see some sample questions.
Click HERE for more information about ways you can support your child at home.
Activity Passport
Click here to gain access to an electronic copy of the year six activity passport. Please ensure your child completes as many of the activities as possible in order to receive dojos! All photos and descriptions of completed activities should be sent to the school email.
Easter Week!
04.04.2022
In PE, we completed a netball game and earnt house points within our teams. We used our skills learnt this half term to move, pass and score with the ball.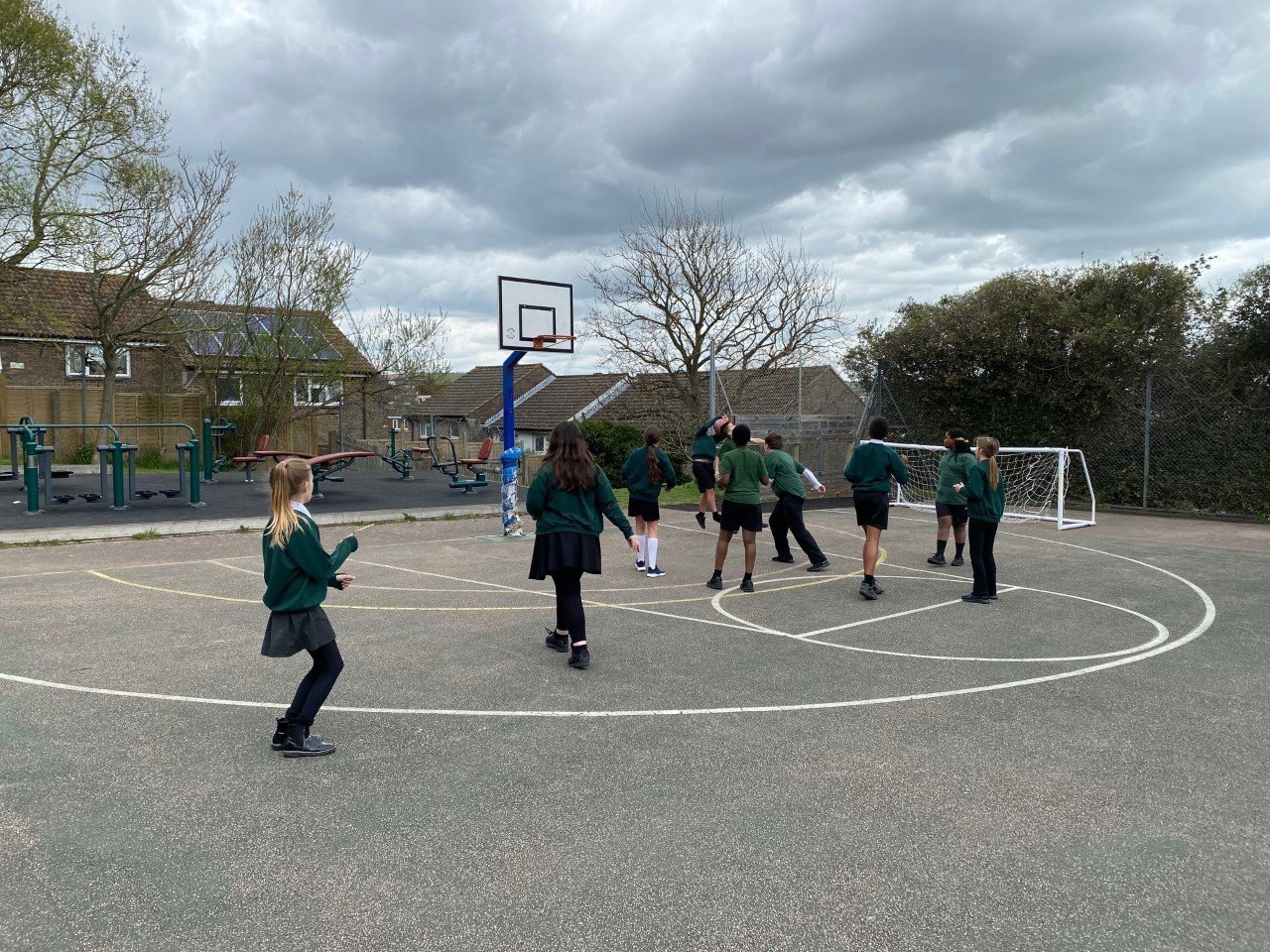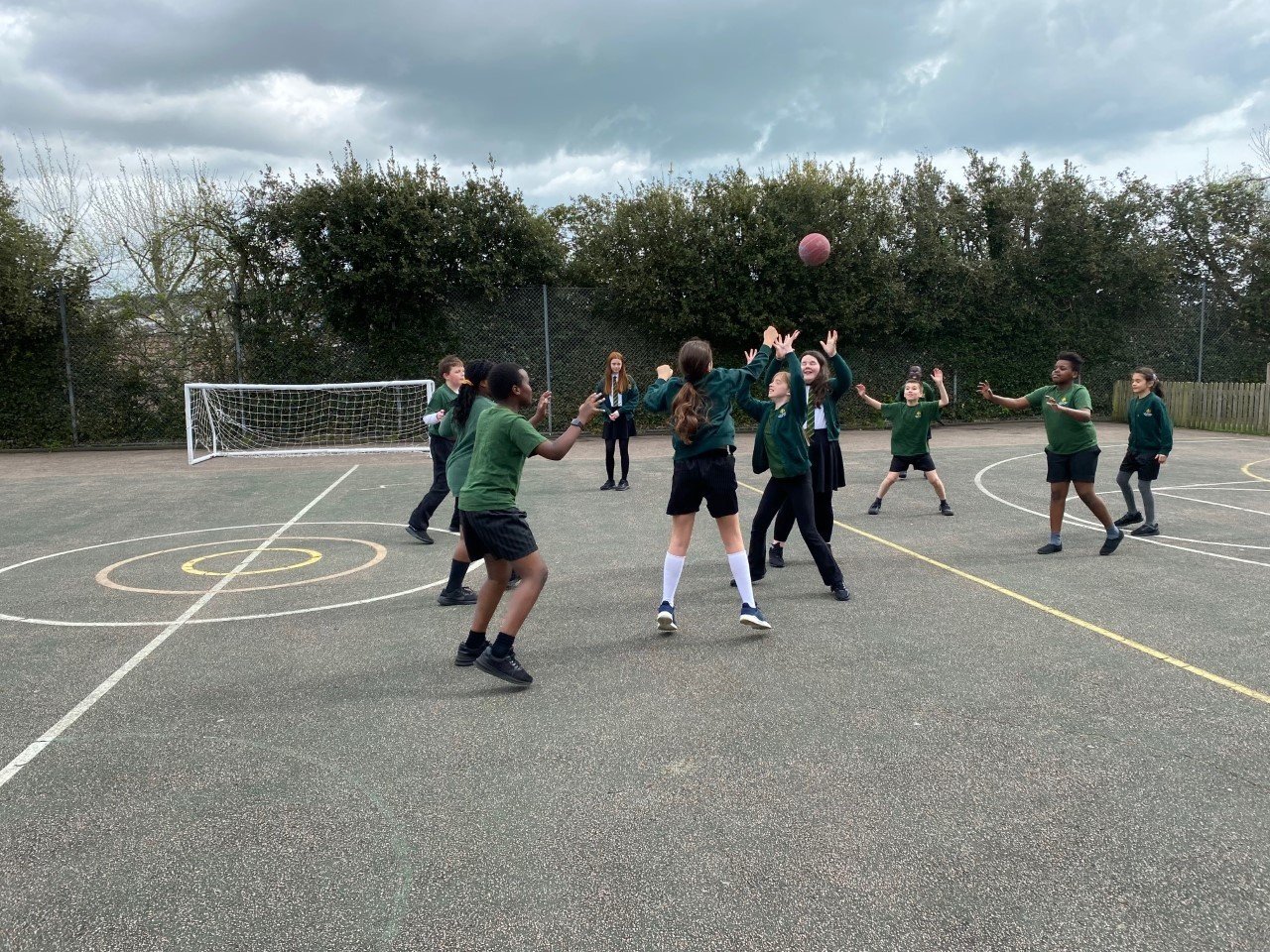 As a class, we earnt money for CAFOD- Walk against Hunger. We walked around our classroom and moved and celebrated and supported this great cause.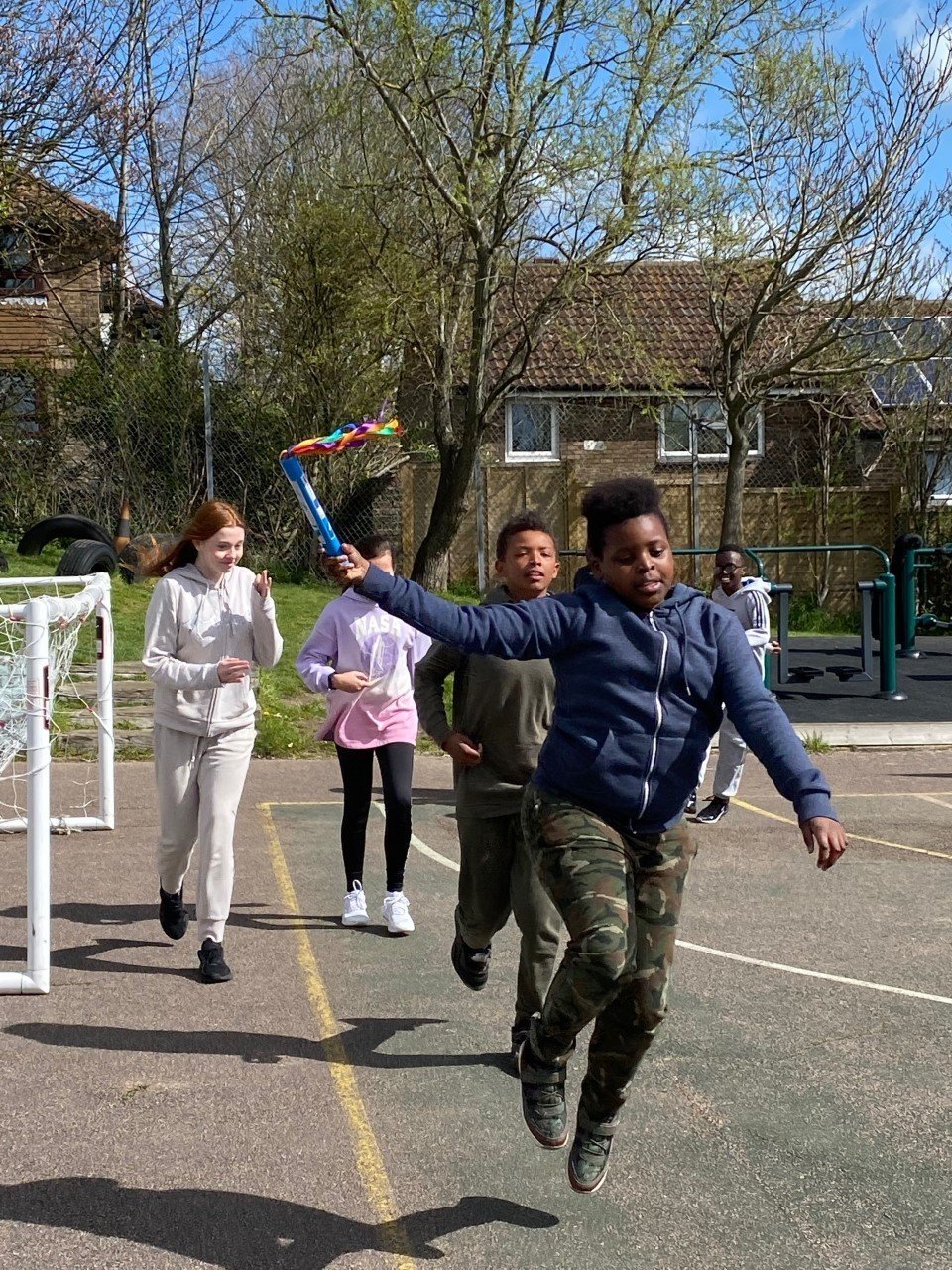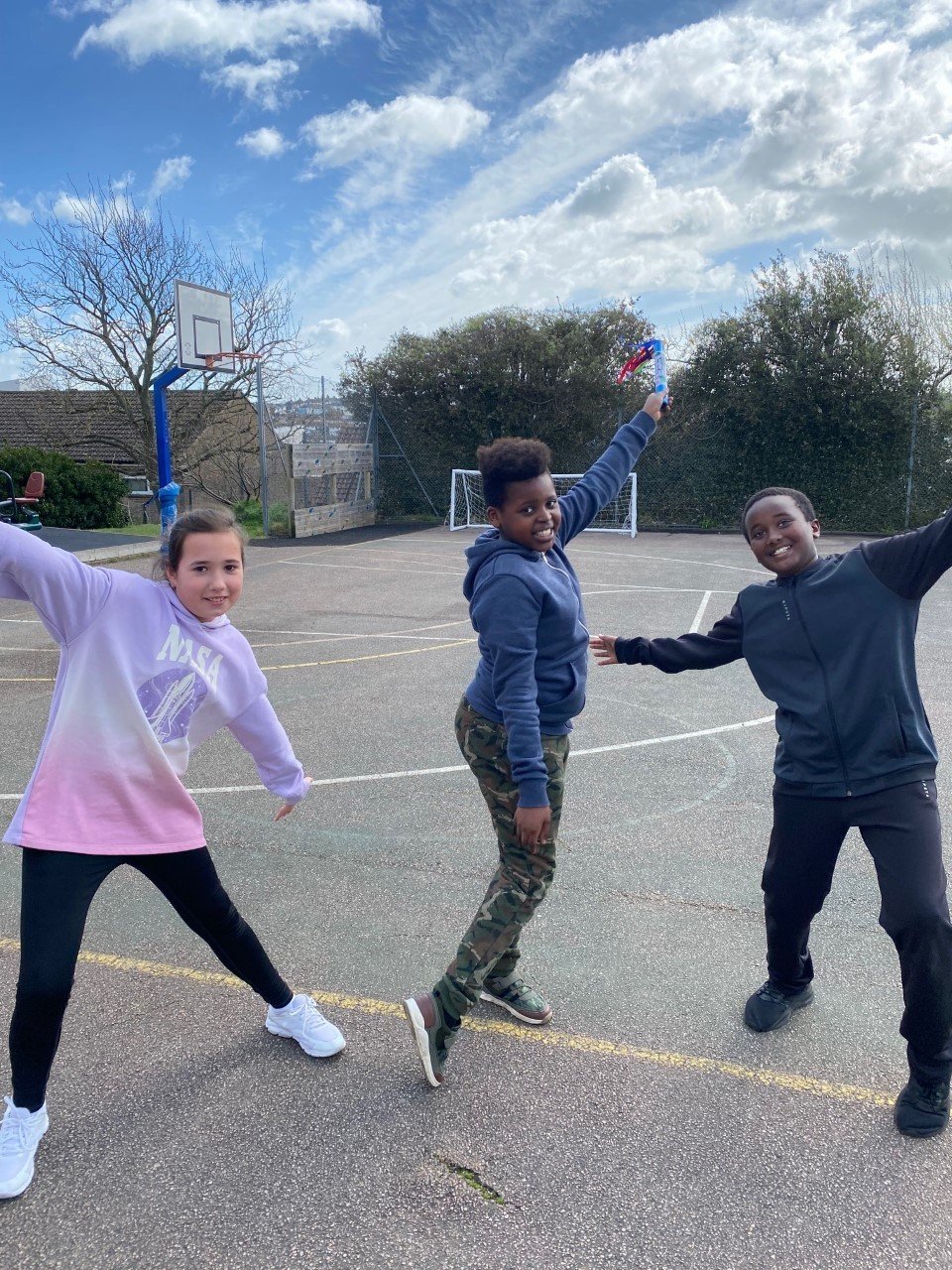 We had fun finishing our Easter treats we earned together and celebrated our reunion by designing cards reflecting Easter and Lent and completing an Easter egg hunt, which we all thoroughly enjoyed!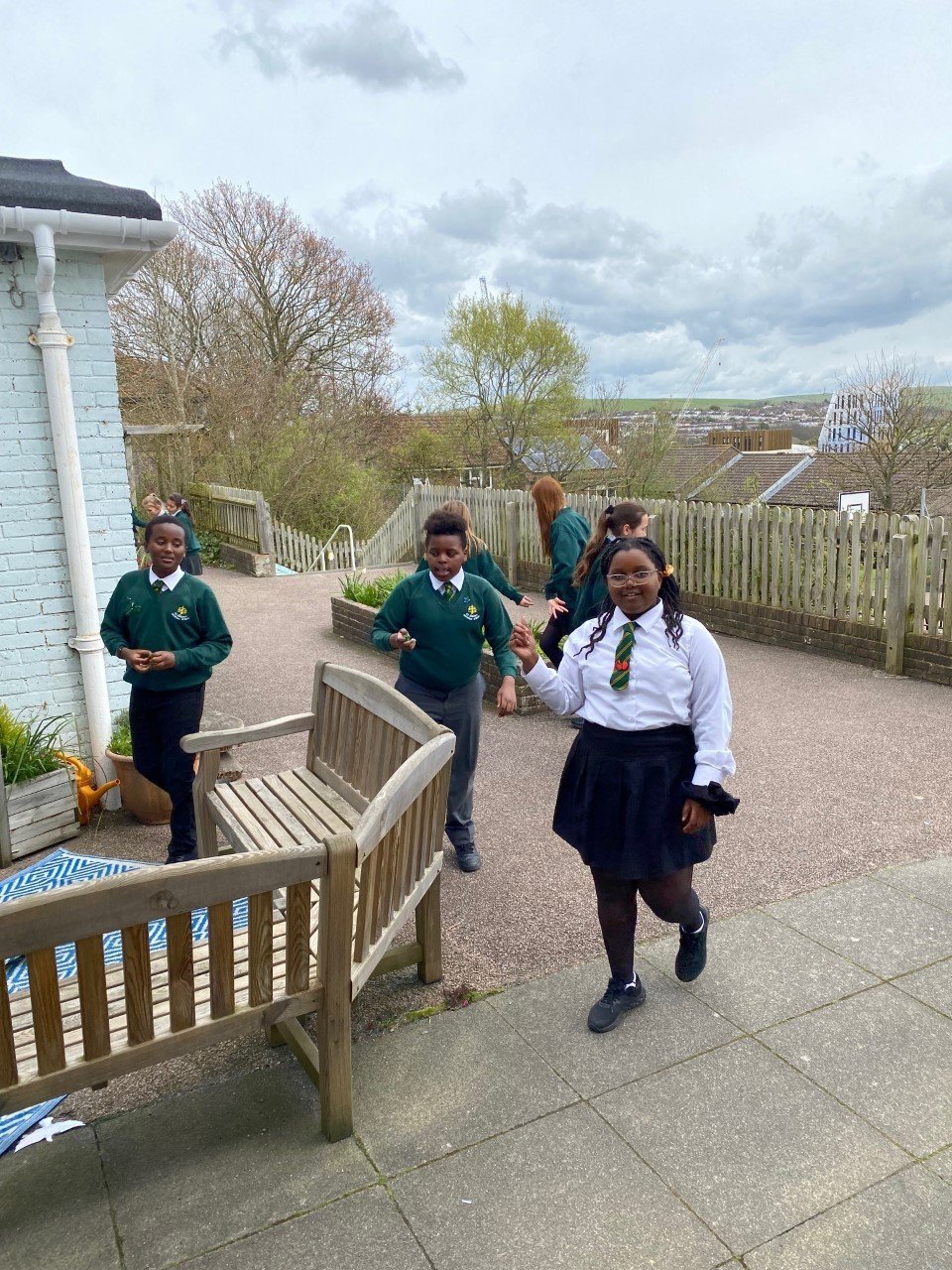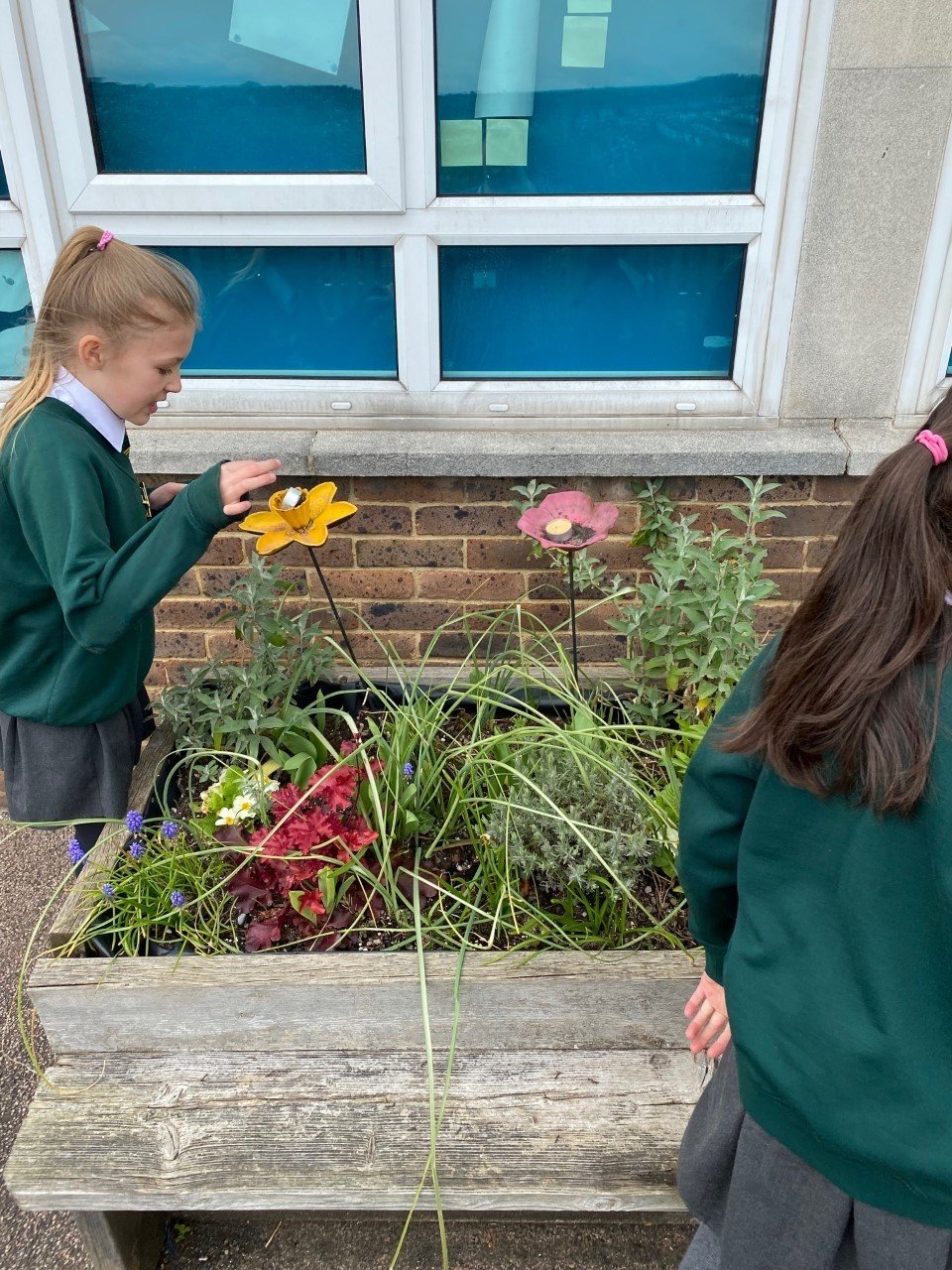 'Reading the Room'
28.03.2022
In PSHE, we looked at bullying and how it can be spotted and prevented. We identified different ways of overcoming and reporting a bullying incident and used drama to represent these different opportunities.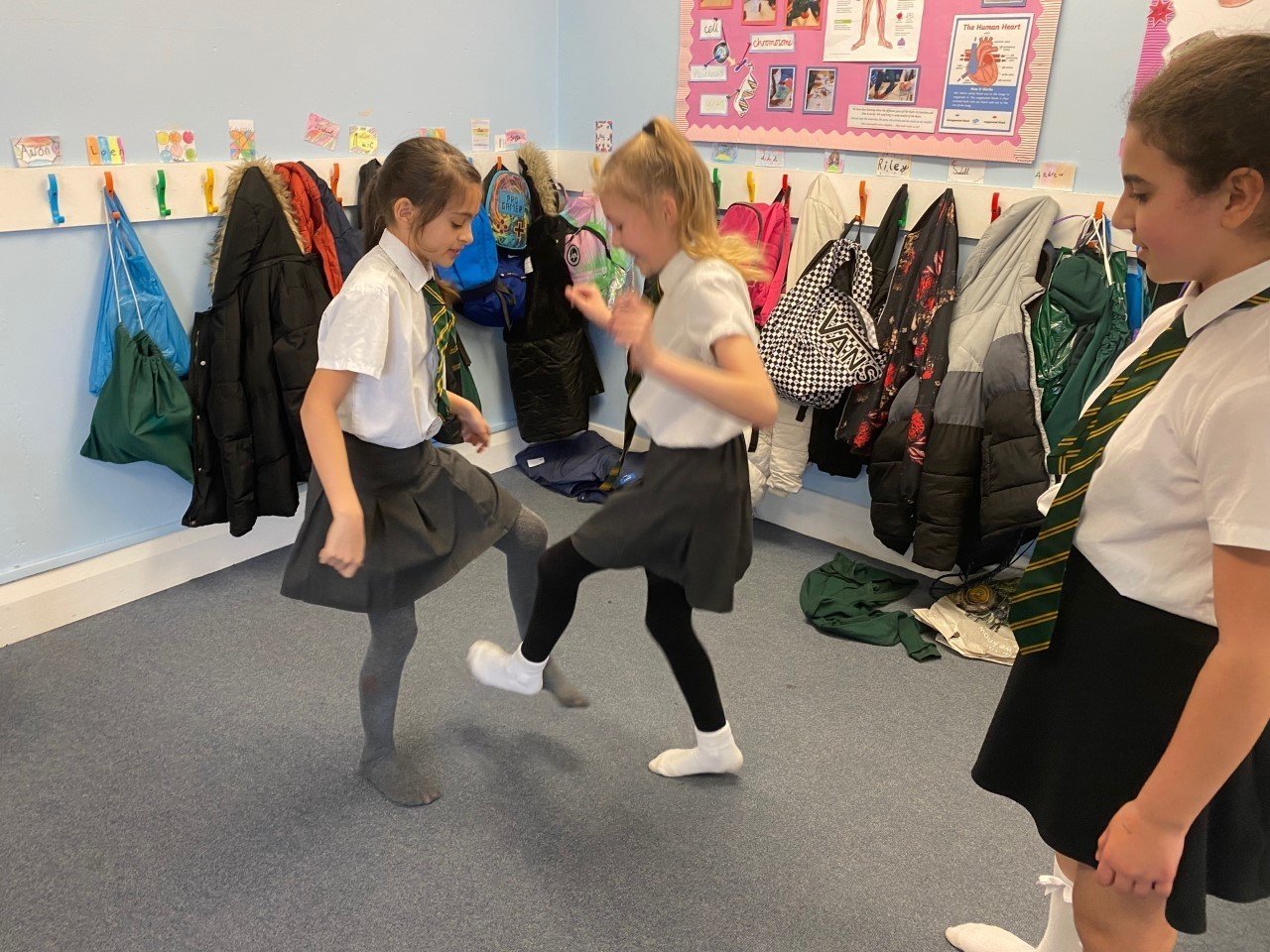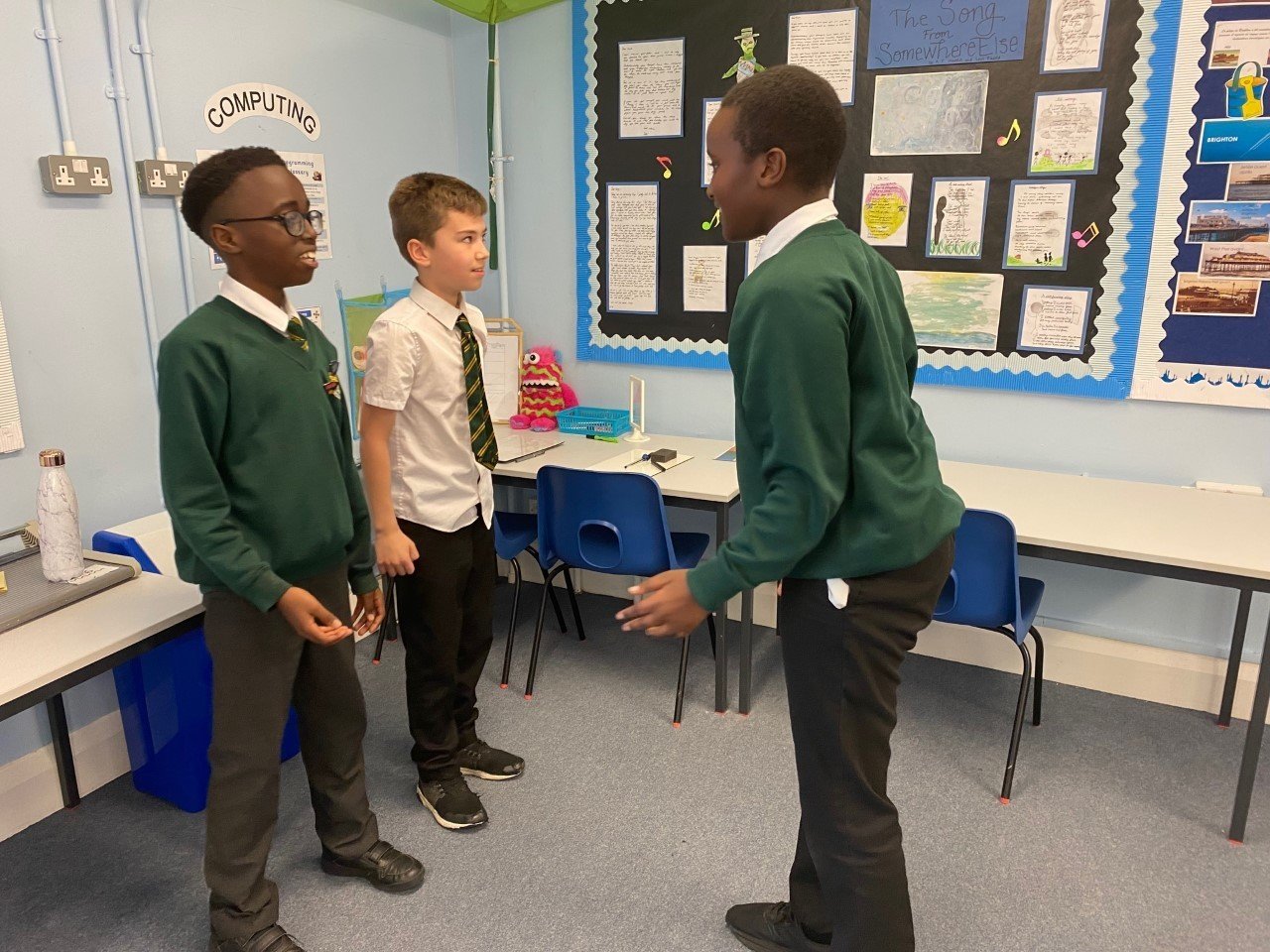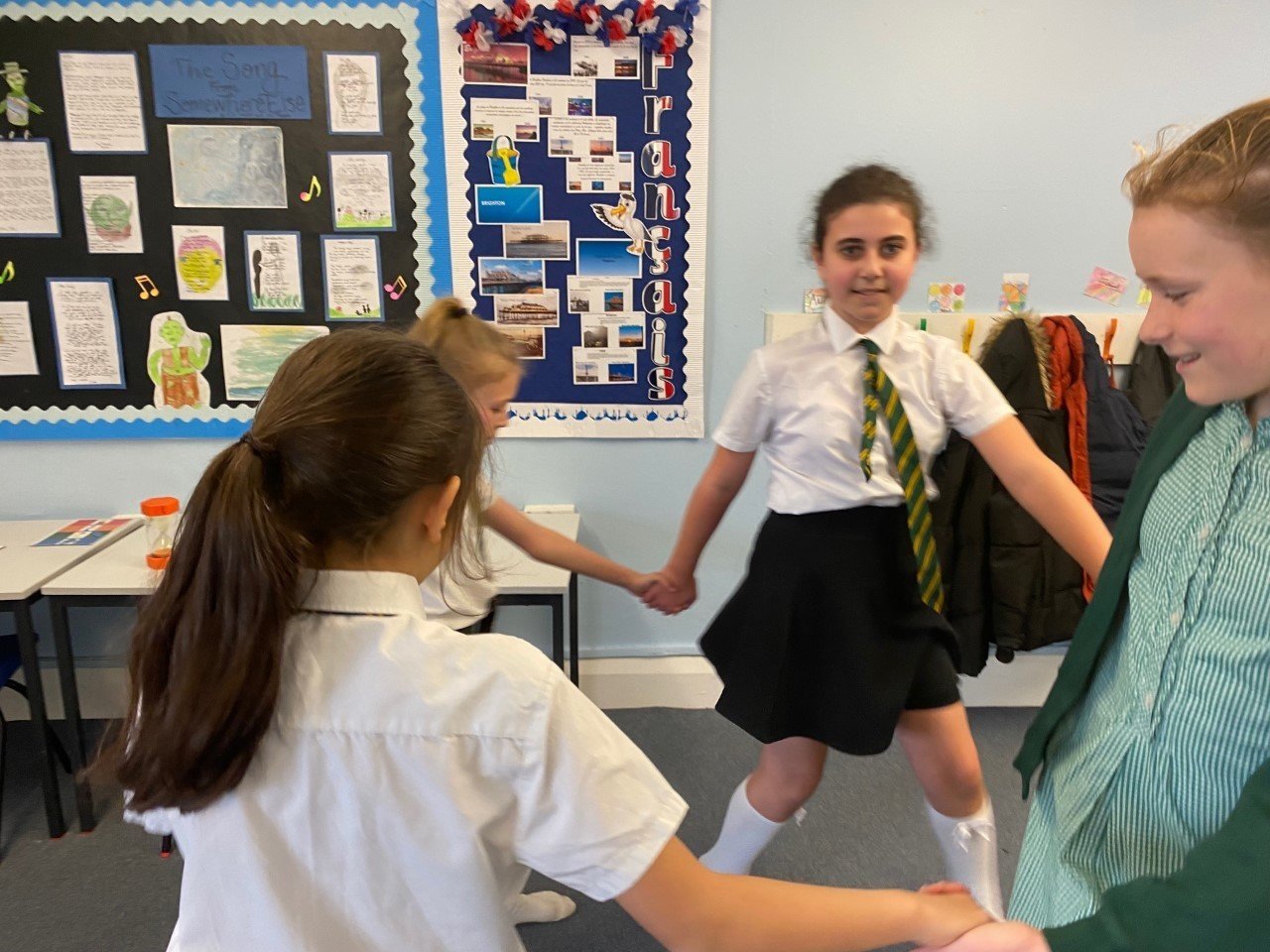 We studied a story in French and unpicked what happened using our knowledge of French words.. Following this, we designed our own books with French words, phrases and sentences we know. Our books are proudly displayed in our book corner for all to enjoy!
In science, we used different equipment to measure the impact of distance on volume of a sound. We took readings and recorded and plotted these into a graph. We concluded that the further away the sound or receiver is, the quieter it appears.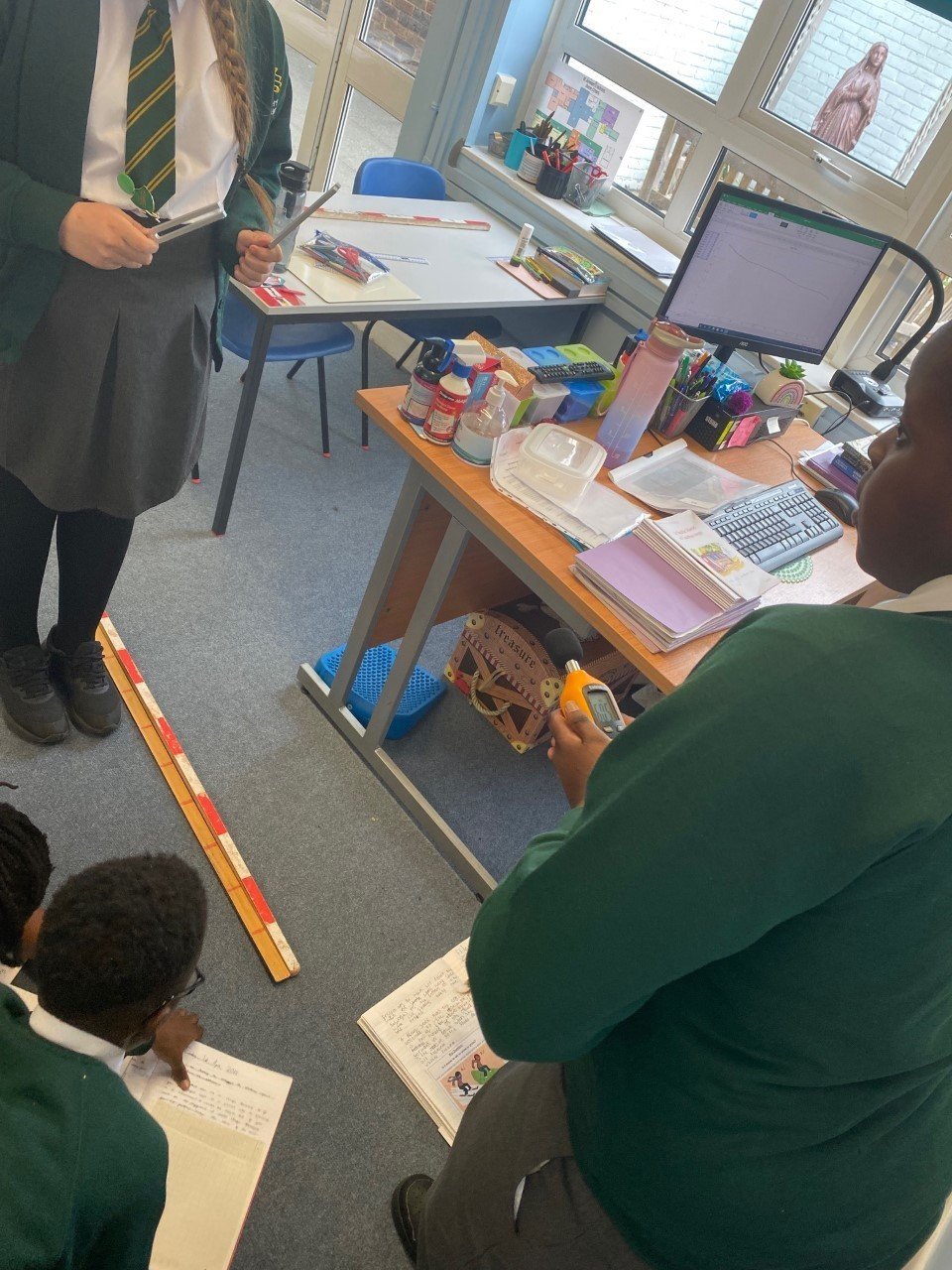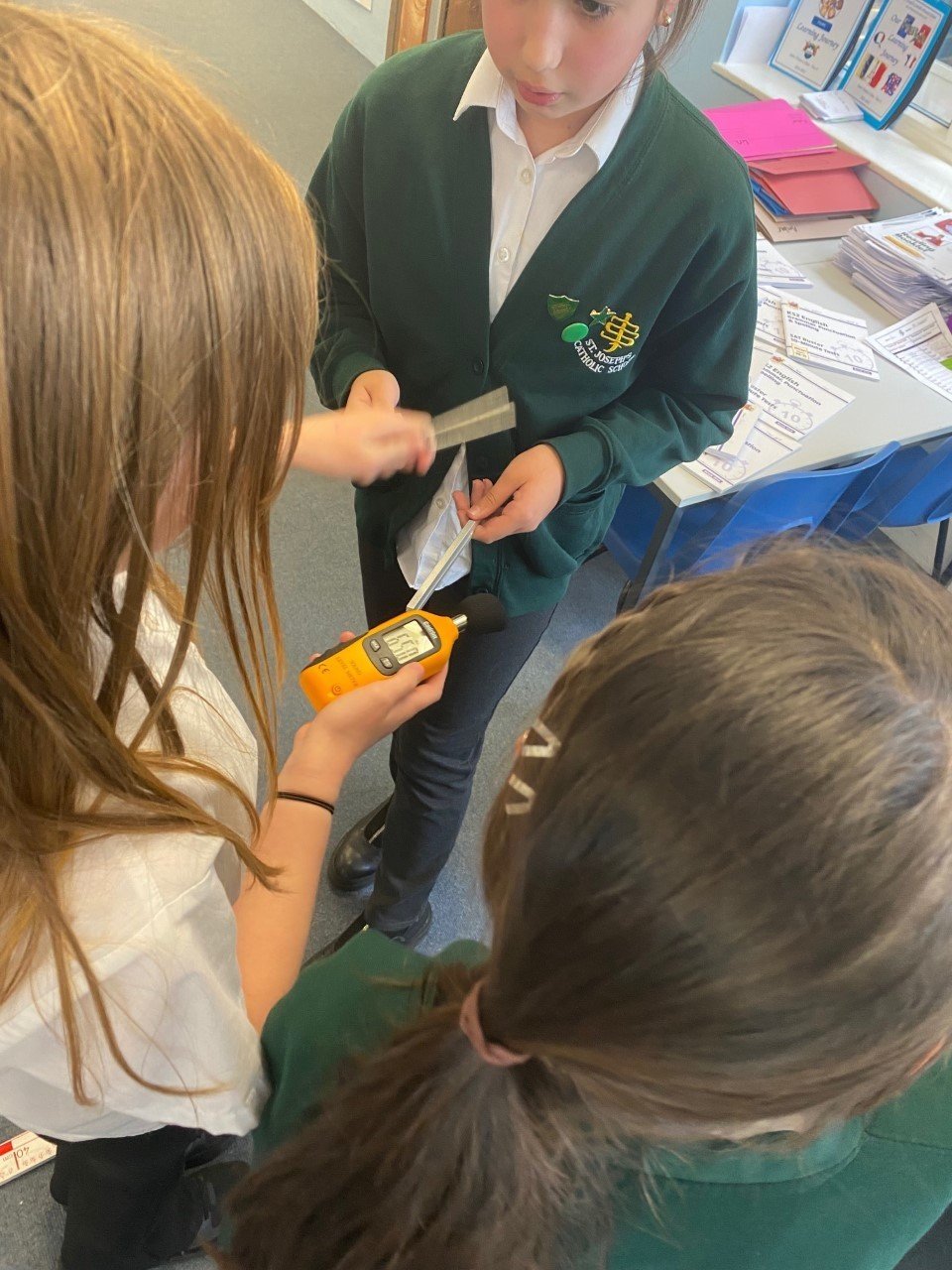 Pieces of the puzzle
21.03.2022
To start the week, we discovered an incident that occurred in our class text. We interrogated each character to get to the bottom of what happened and left no stone unturned. With torches shining on them, many cracked under pressure and revealed their truths!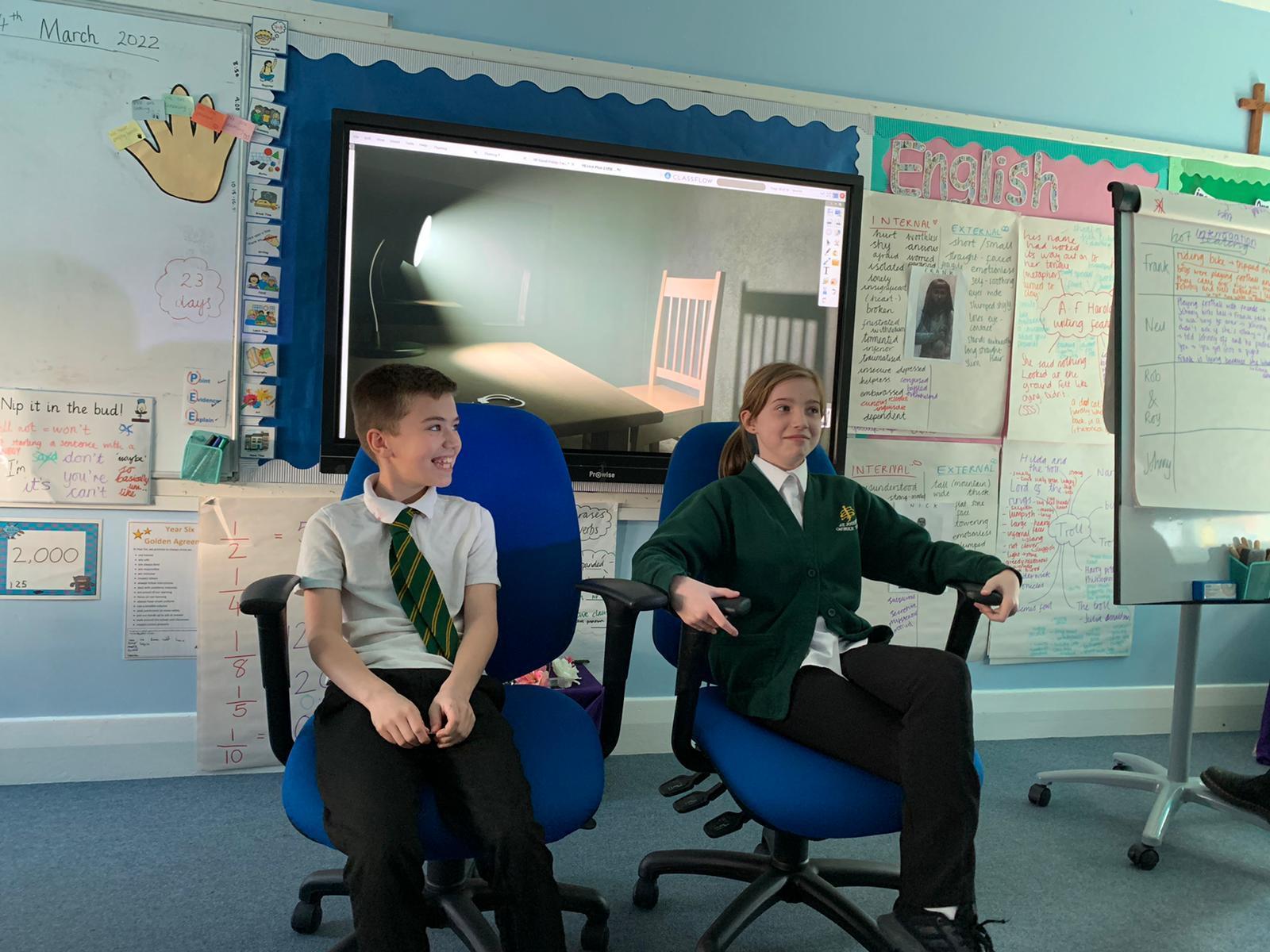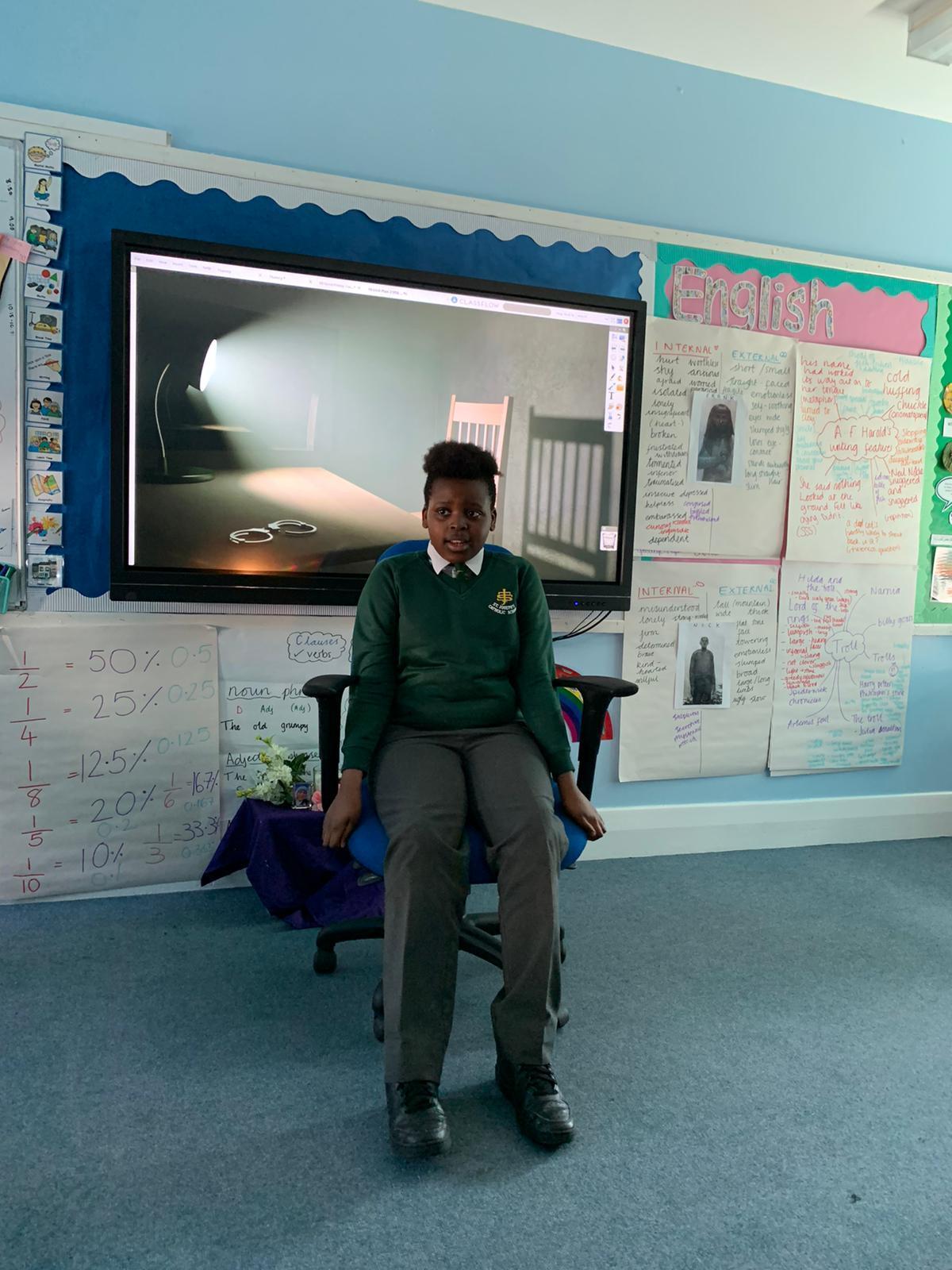 Similarly, in RE, we learnt about the resurrection of Lazarus and the miracle that Jesus performed. We interviewed different witnesses and learnt about how they felt before and after Lazarus' resurrection.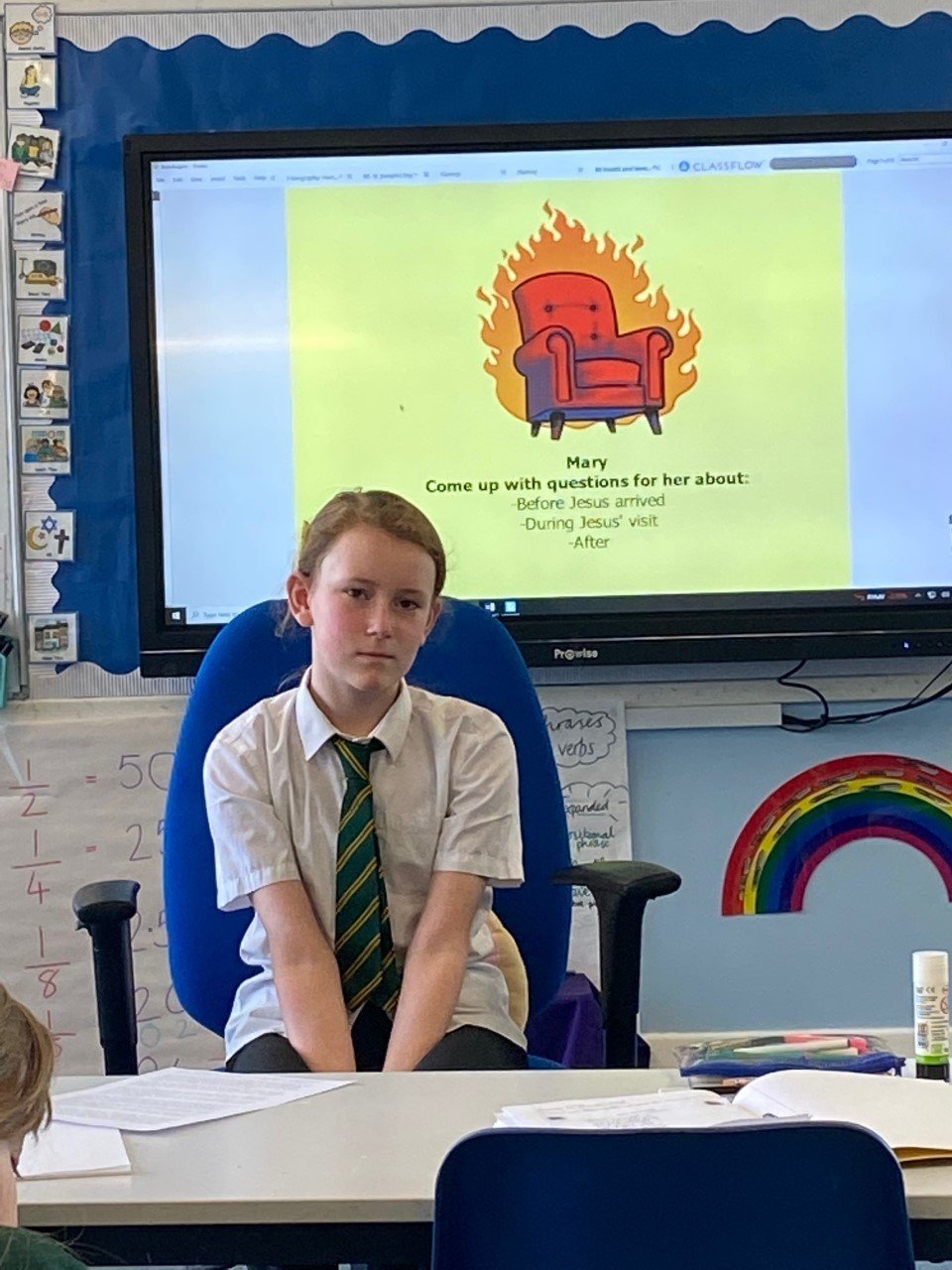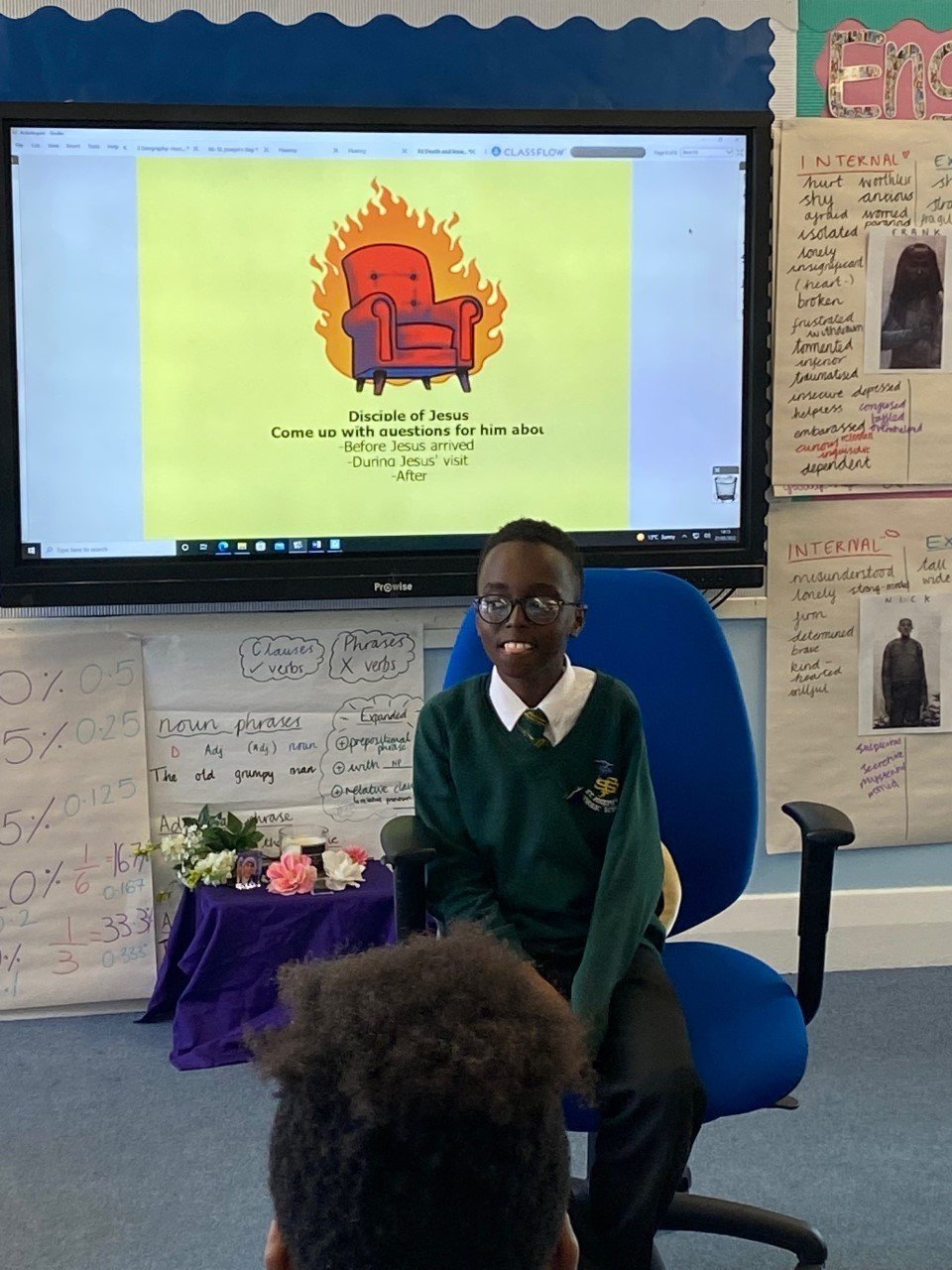 Using multi-link, we learnt about volume and explored how volume is measured and calculated. Below are some examples of us working with the resources to find out and explore different volumes of shapes.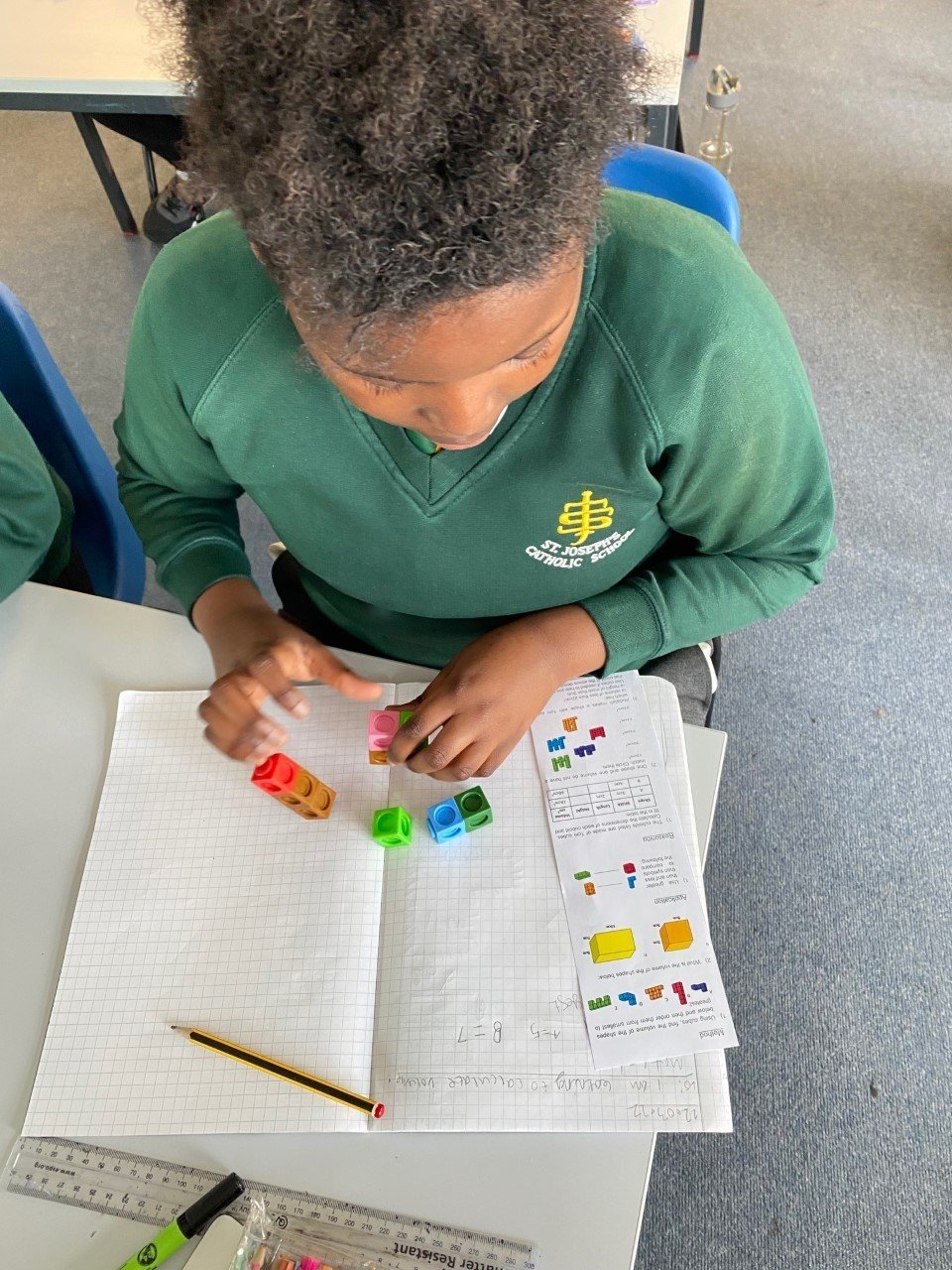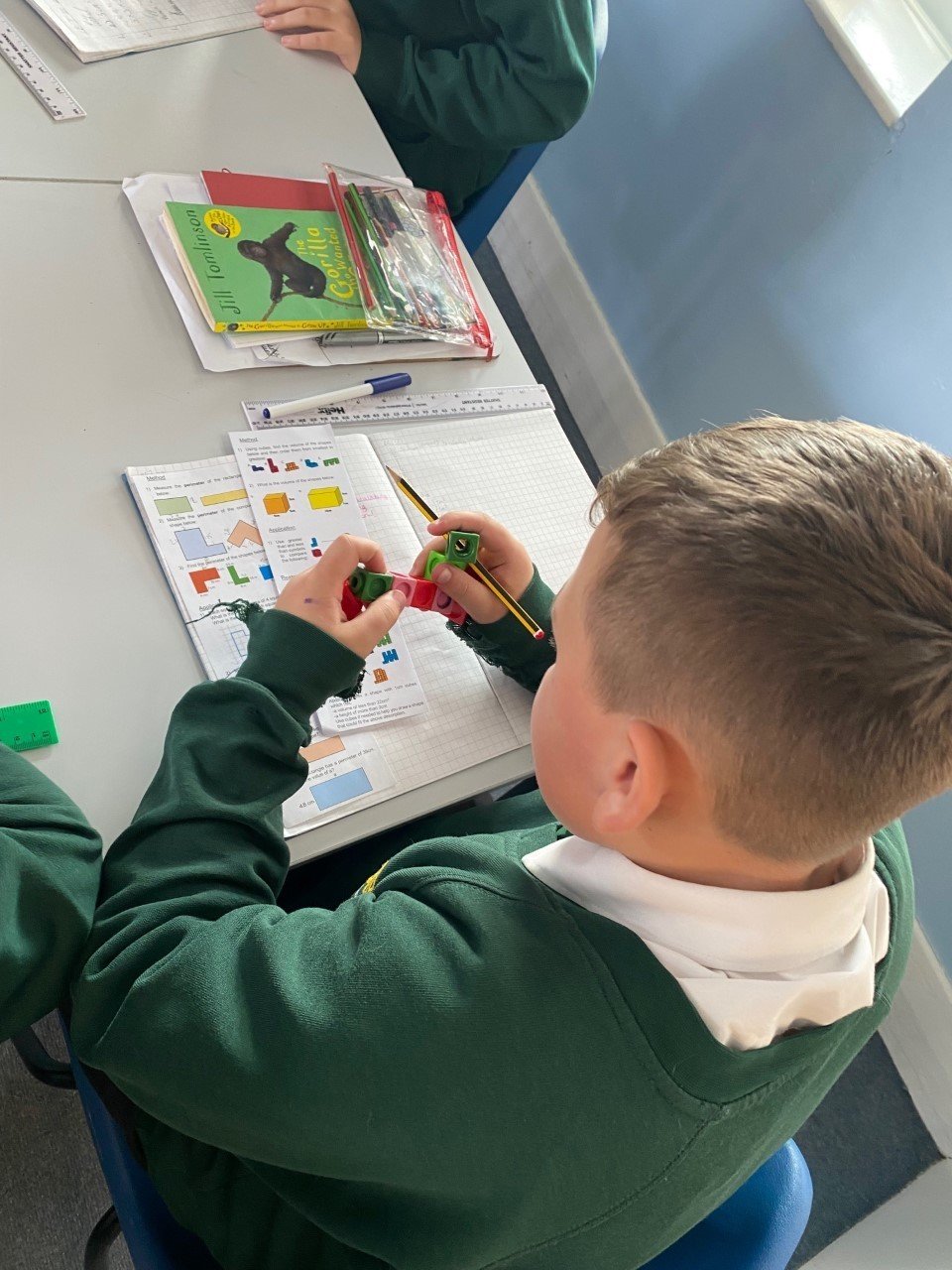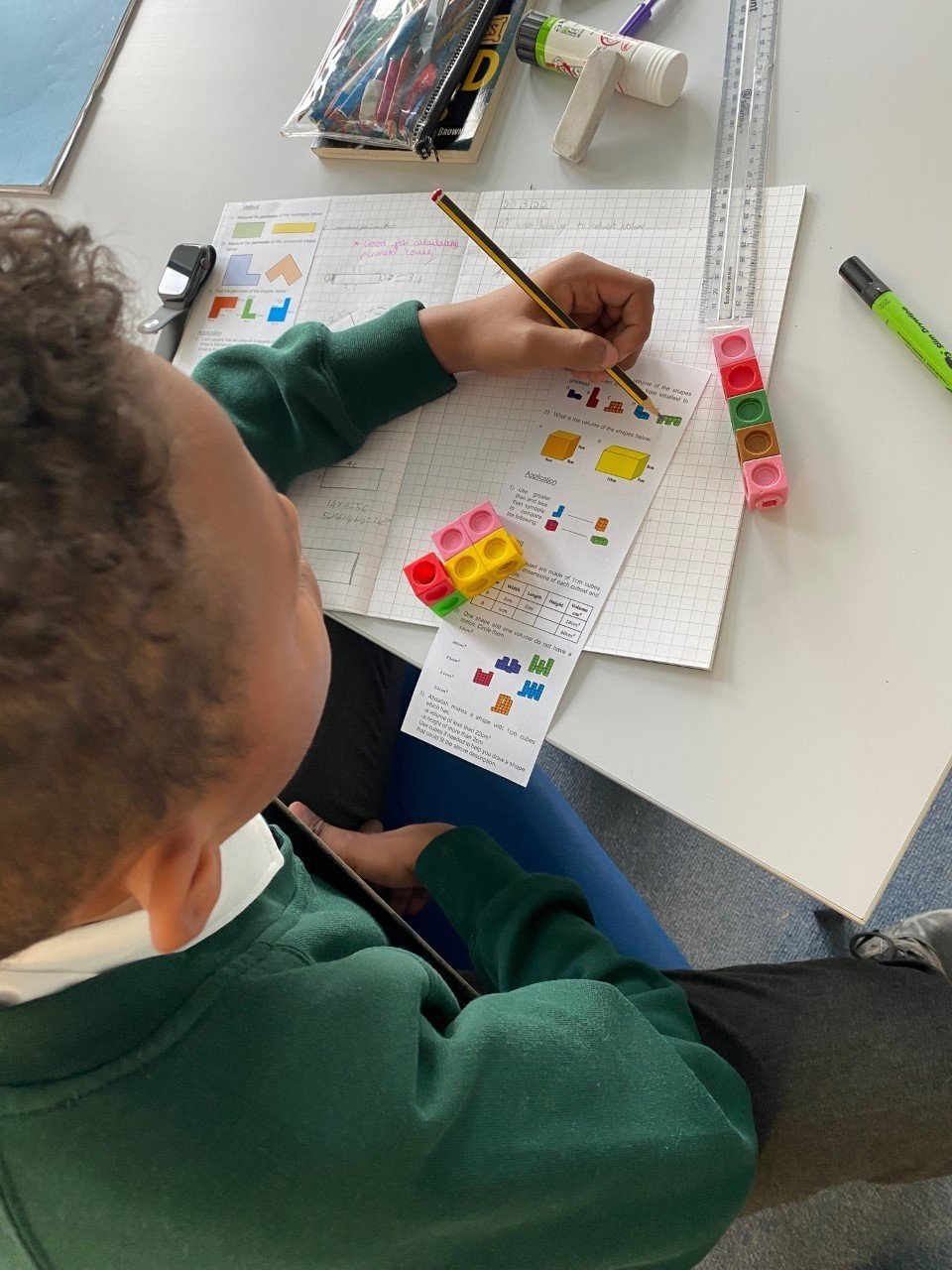 Finally, in English, we discovered the scene of the town in our classroom and explored the stories that these different items might tell. Through figurative language, we brainstormed the dreams and nightmares that these inanimate objects may have and used the descriptions to write wonderful poems!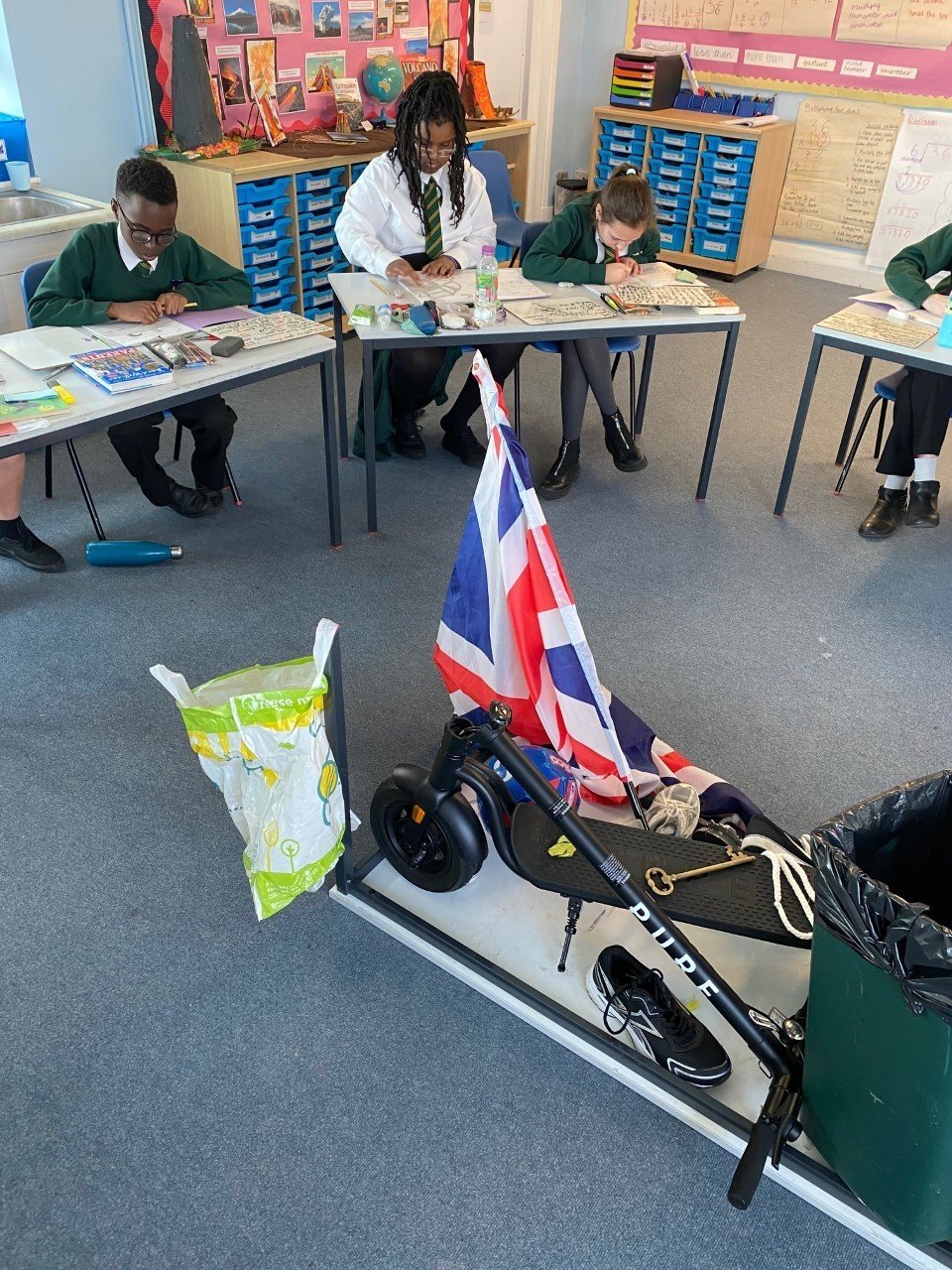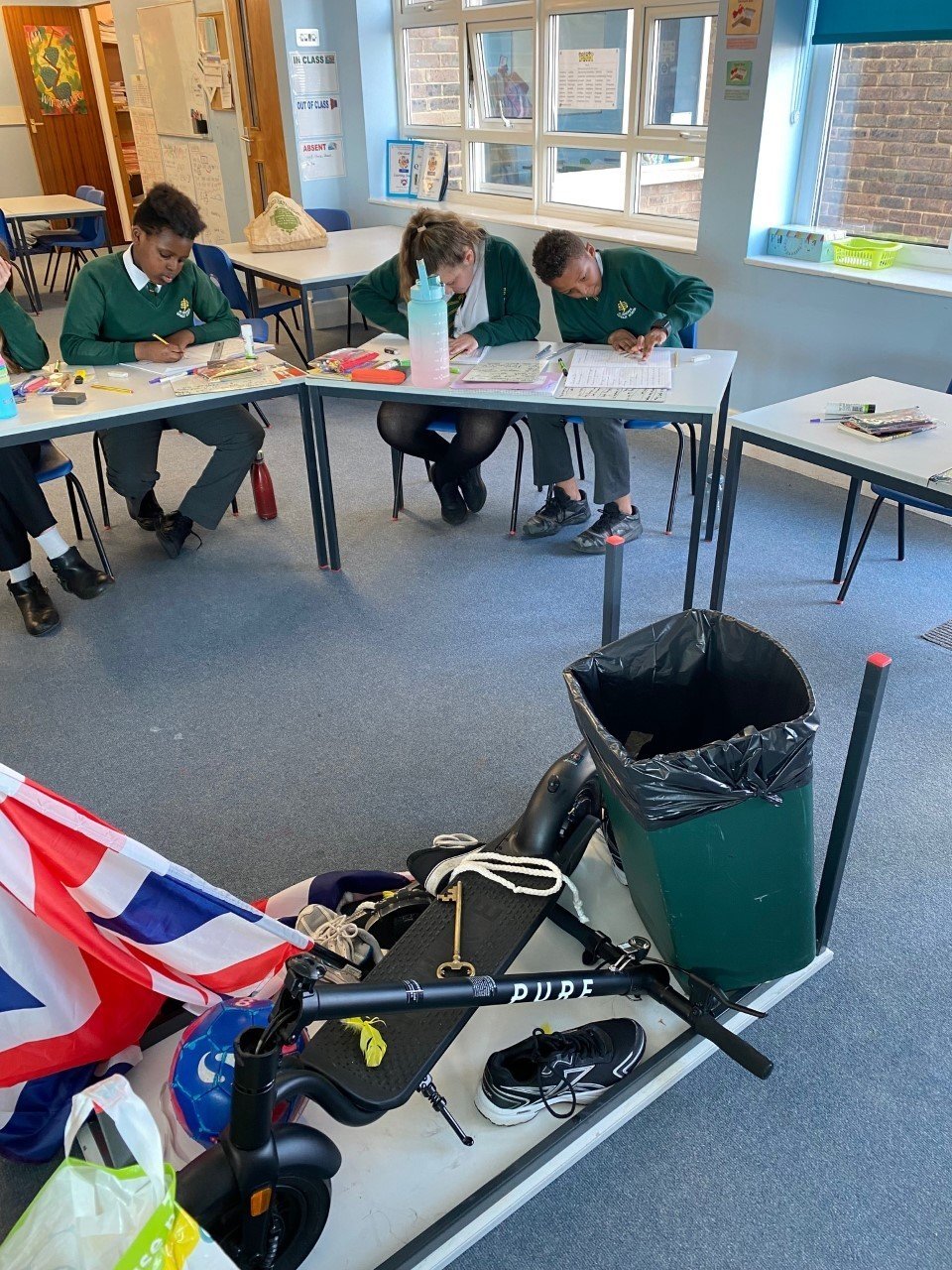 St Joseph's Day
14.03.2022
It was St Joseph's day this week (on Saturday) and Year 6 dove deep into the life of the Saint. We identified the inspirational qualities of St Joseph and recorded these in a 'St Joseph carpenter tool box'. Also, inspired by St. Joseph, we used carpenter tools to create a Lent inspired piece of art using nails, wood and wool.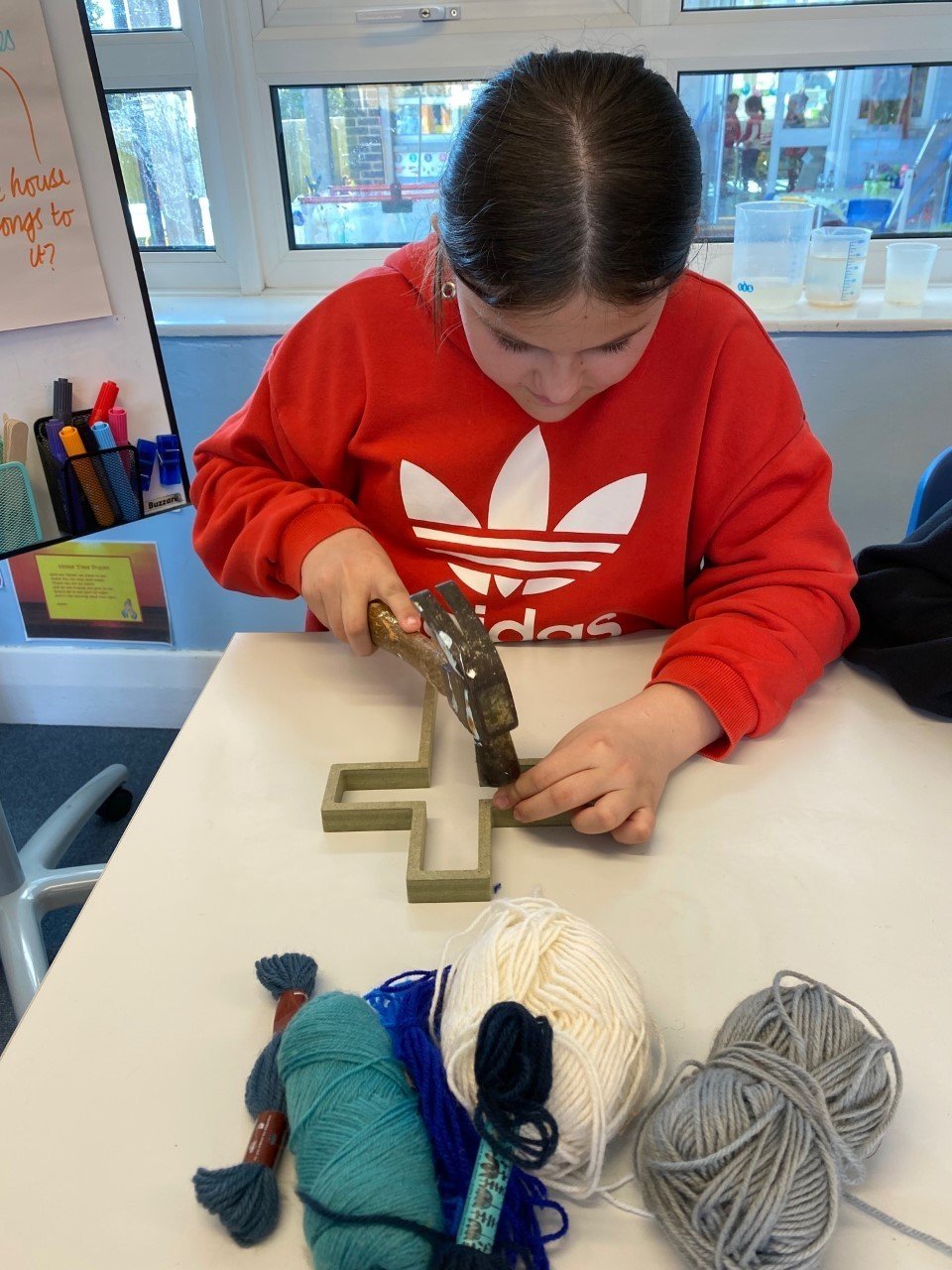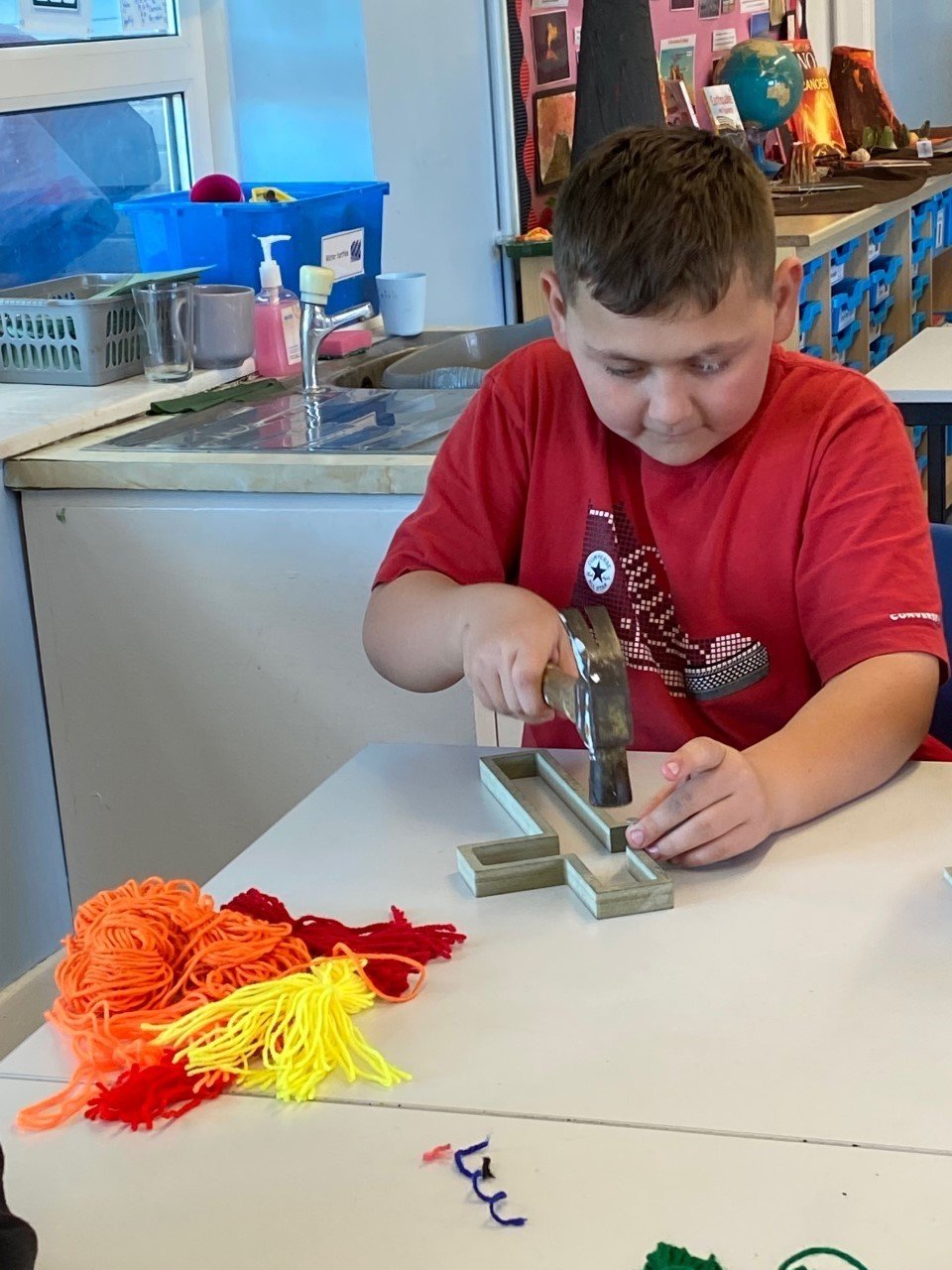 In RE, we identified what 'the bread of life' is and how it is a key belief for the Catholic faith. On reflection of this, we made our own bread and designed it with an image which symbolised this belief.
Finally, in English, we learnt about the idea of a moral conscience and acted out as our main character and her moral conscience to understand what the character may be feeling and thinking. We then used these scenes to create our own playscripts!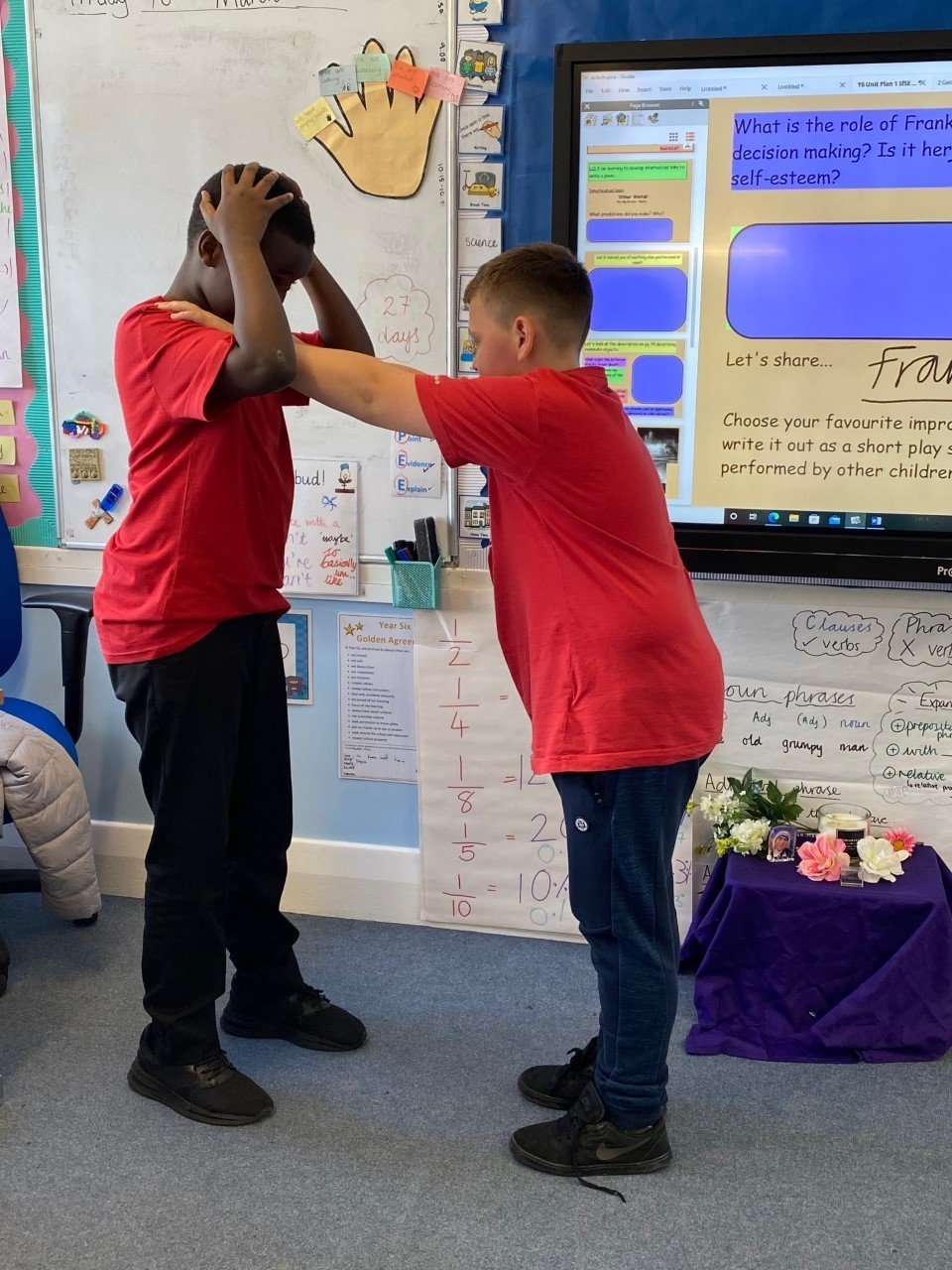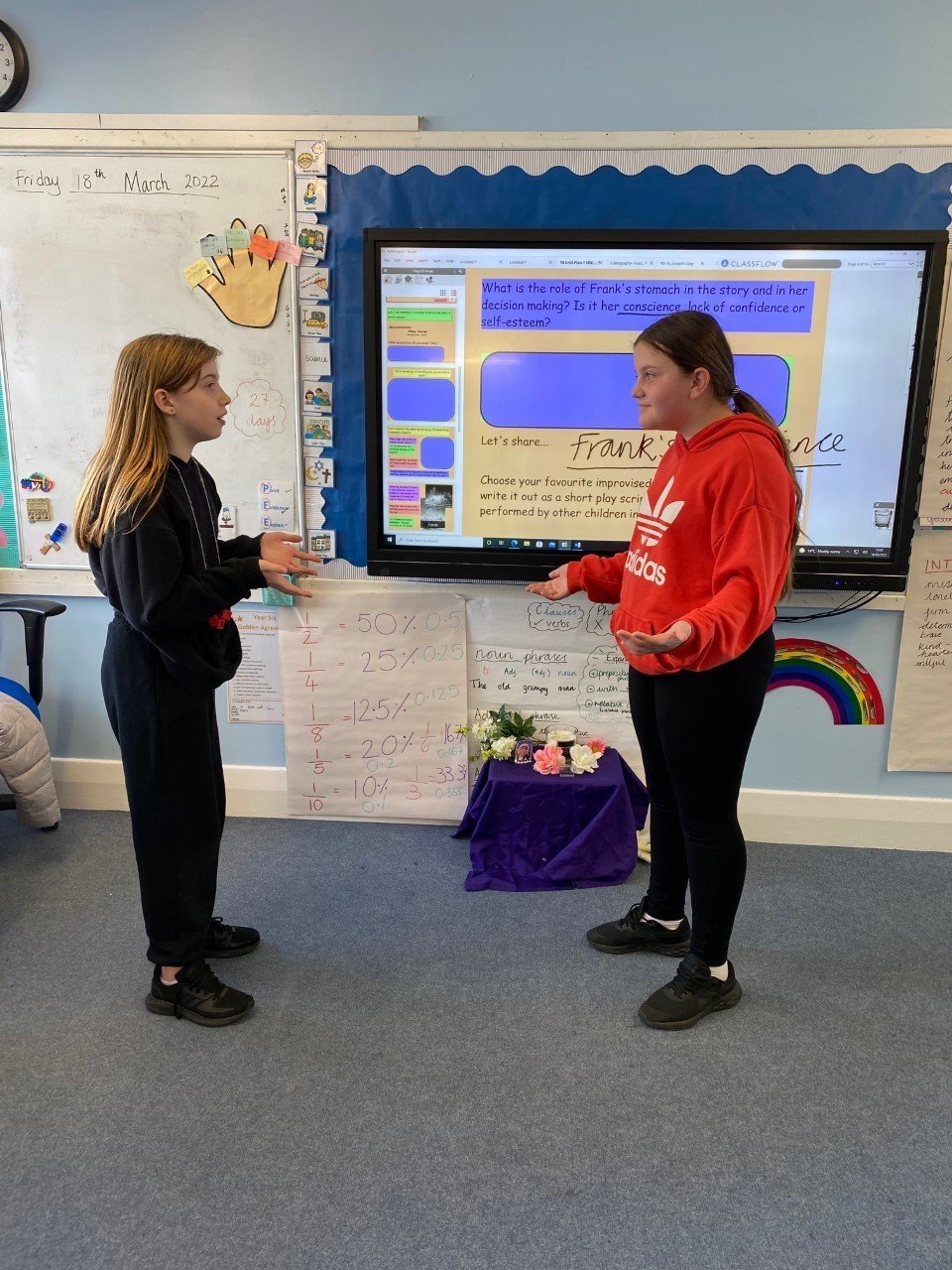 Lent in Outdoor Learning
07.03.2022
During our outdoor learning experience this week, we carried out multiply science investigations. We received a letter from Mrs Foan, who asked year six to help her with an accident that took place: materials had been accidently mixed. The children then had the challenge to retrieve the paperclips for Mr Muschamp, the sugar and water for Mrs Foan, stones for the woodland and the sand for Reception. Thankfully, they were able to separate all of the materials in the mixture and return them to their rightful owners.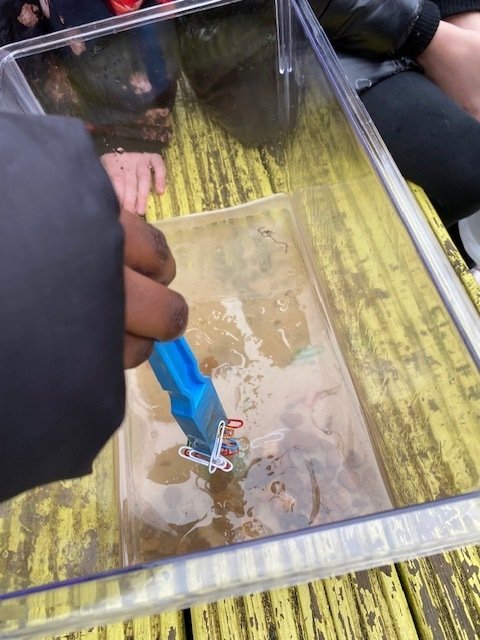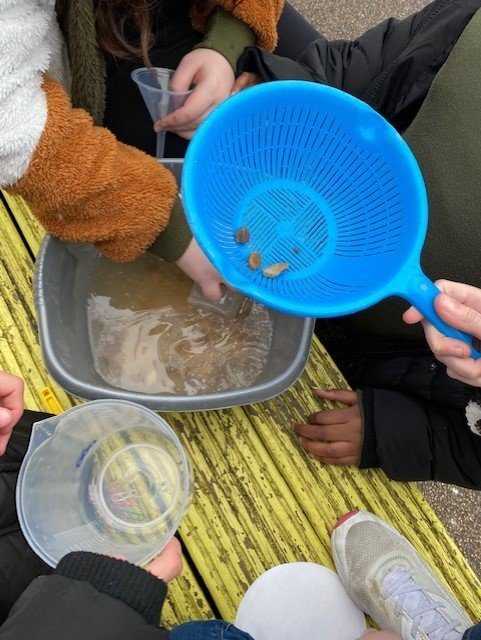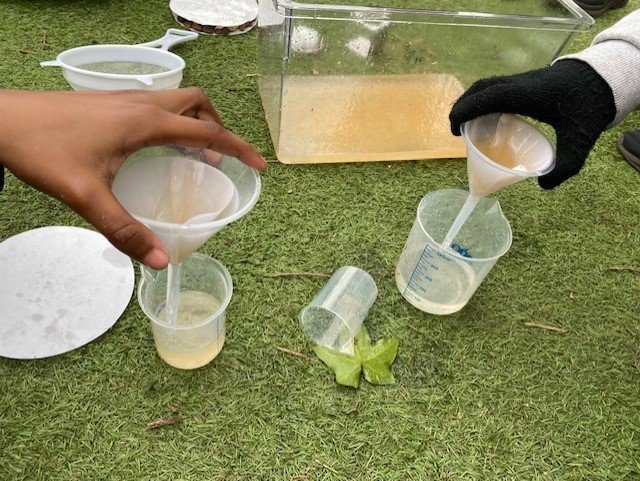 We also investigated irreversible and reversible changes. We identified different examples whereby there is an irreversible or reversible outcome and discussed how oxidisation, burning and addition of acid can result in mostly irreversible changes. Finally, we tested out the theory of water being reversible through different states of matter by creating our own frozen outdoor decorations. We especially loved when they melted once more!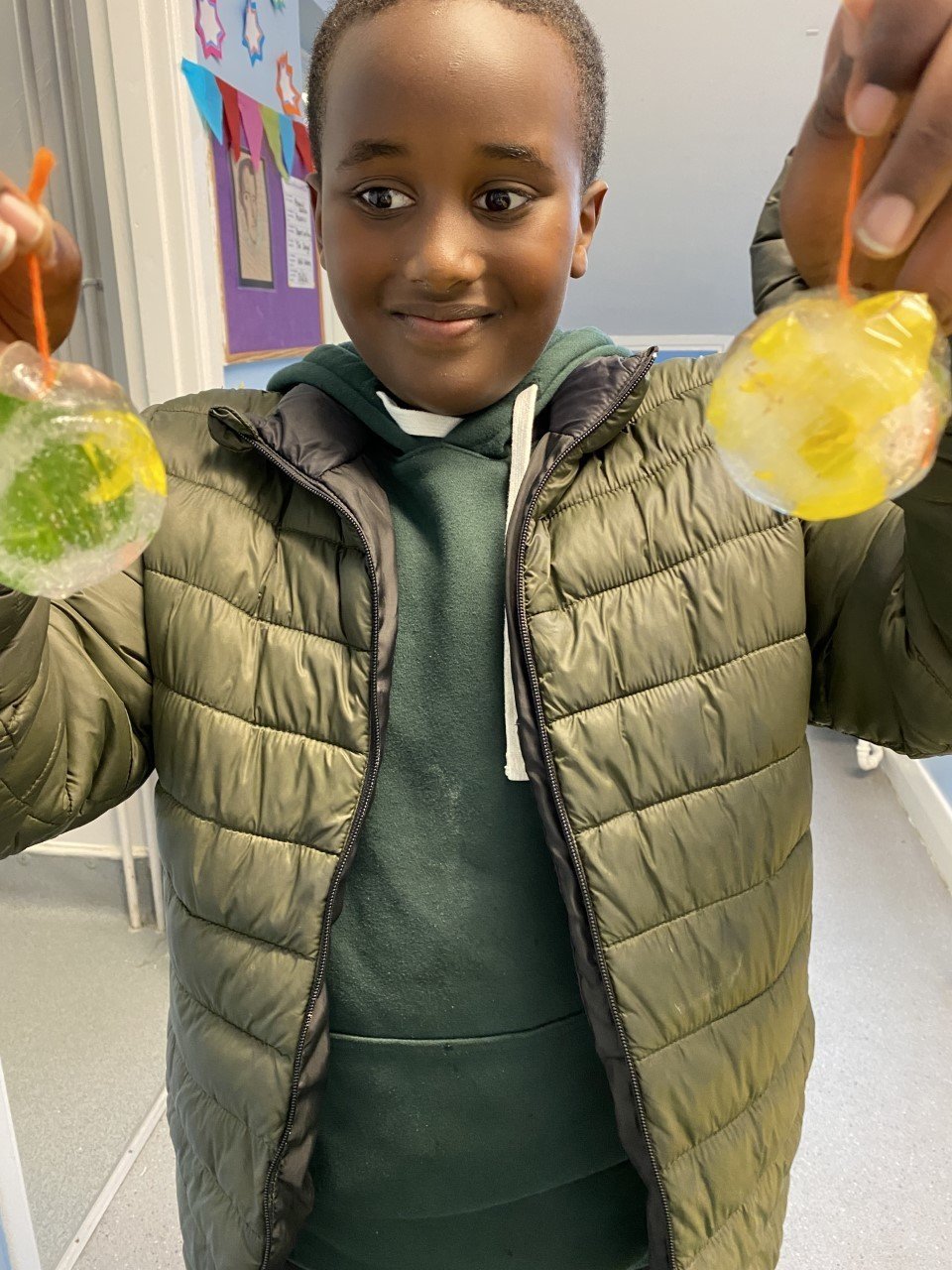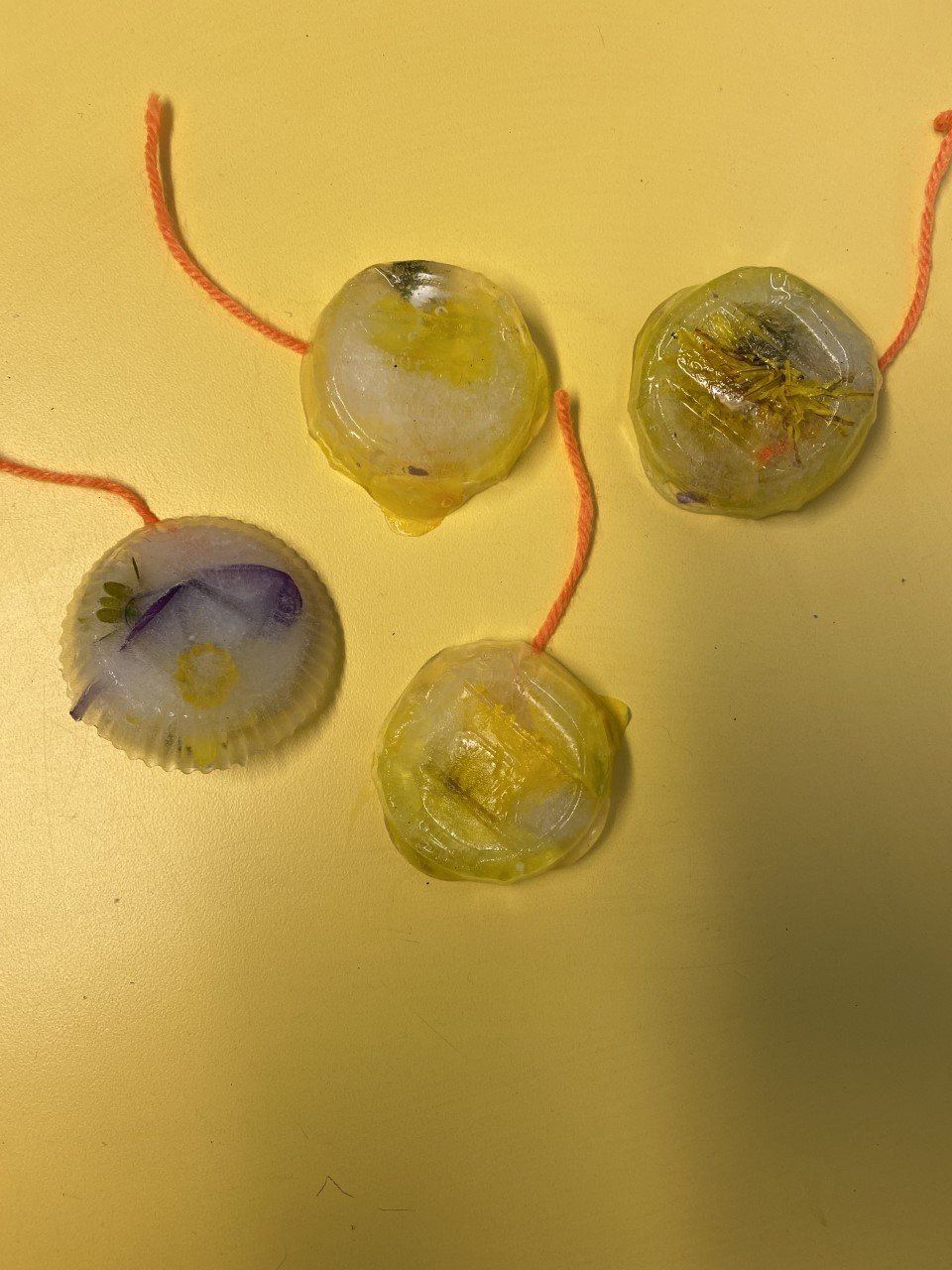 Below are some images of our Lent artwork that linked to our RE topic: Death and New Life. We used the materials found outdoors to create art pieces related to Lent.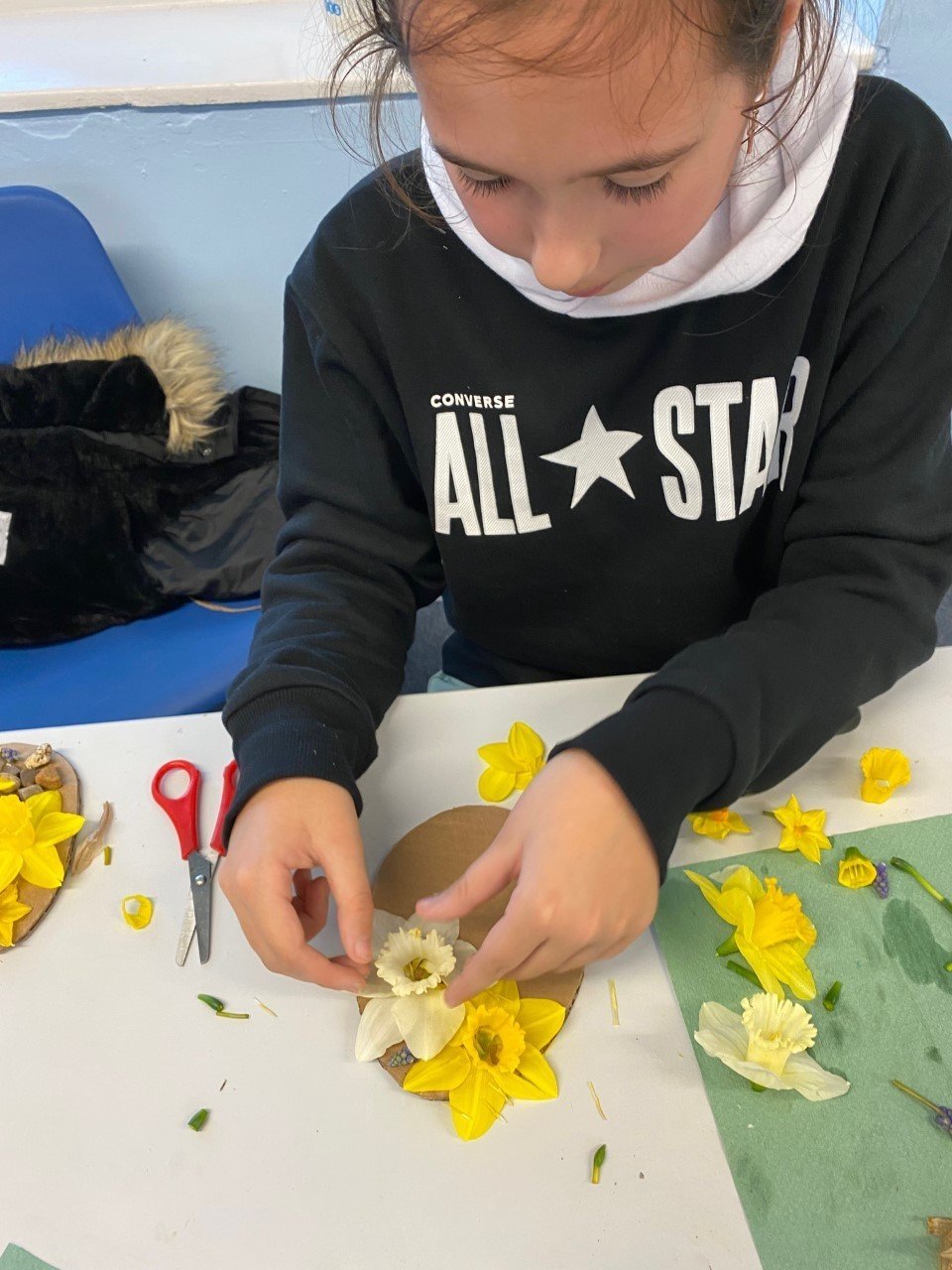 Finally, in the slideshow below, you can see our clay figurines linked to our book (Troll) and the outdoor environment (snail):
World Book Day
28.02.2022
In celebration of World Book Day, we explored our class text a little more and used our creativity to express different emotions and aspects of the writing. We identified what could be behind the mysterious door presented to our main character and design layering key locks which held hidden mysterious destinations.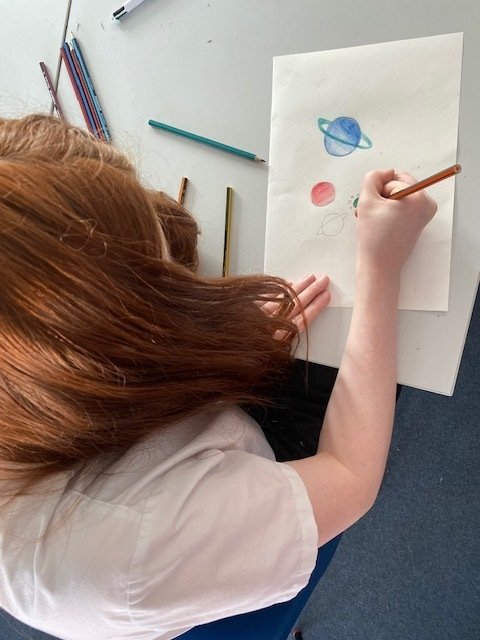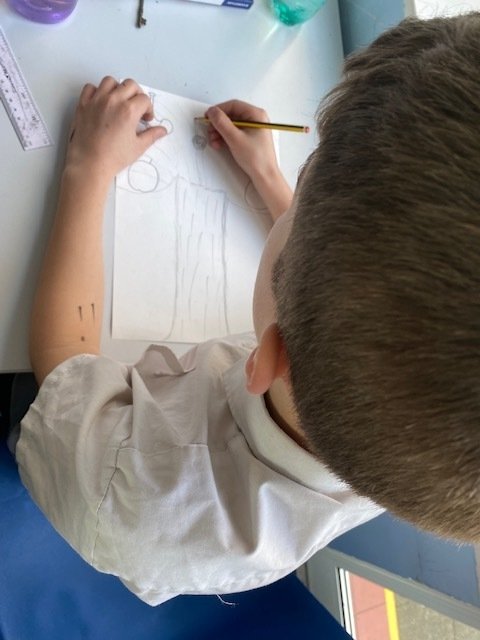 Then, we studied the work of Kandinsky and looked at the concept of synesthesia art (multi-sensory art experiences). By listening to the music coming from the door, we created pieces of wonderful art that expressed this music. Lots of dancing paint brushes were seen on the pages whilst we were blind-folded! This allowed us to create wonderful pieces of art just using our senses of hearing and touch.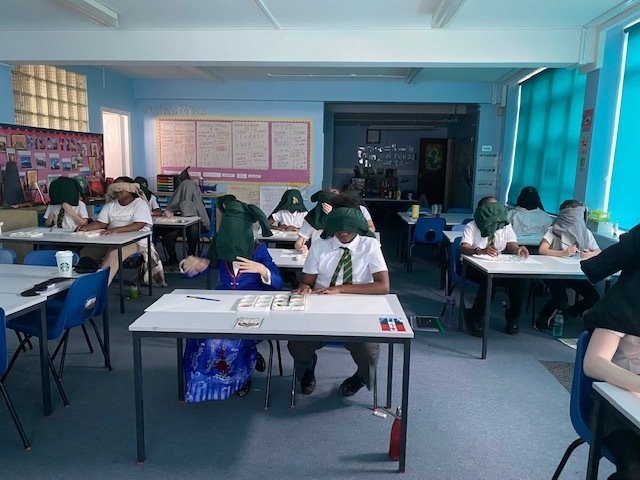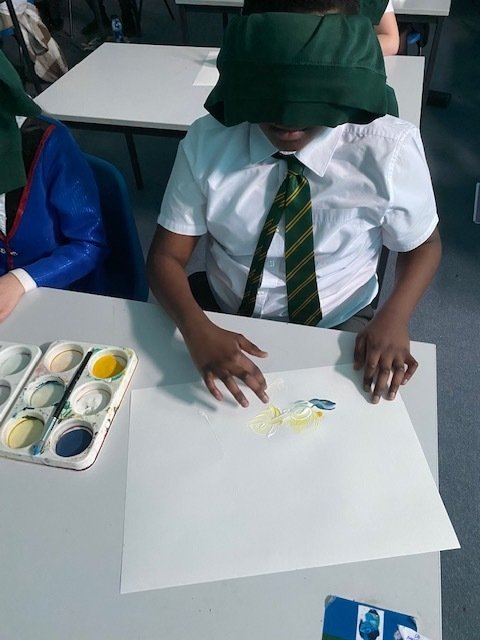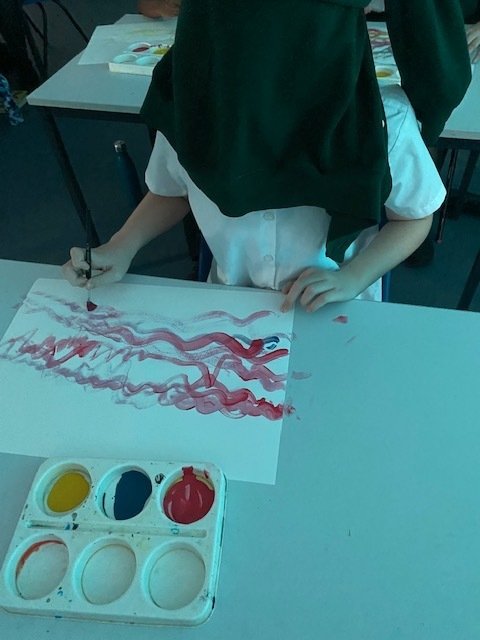 The Creature
21.02.2022
As we have been reading our class text, we have discovered there is a mythical creature that appears. We then researched and analysed the typical features of this creature and looked at different famous examples of them being described in previous pieces of writing. We created and performed poetry linked to the feels of this creature and the unexpected truth behind it.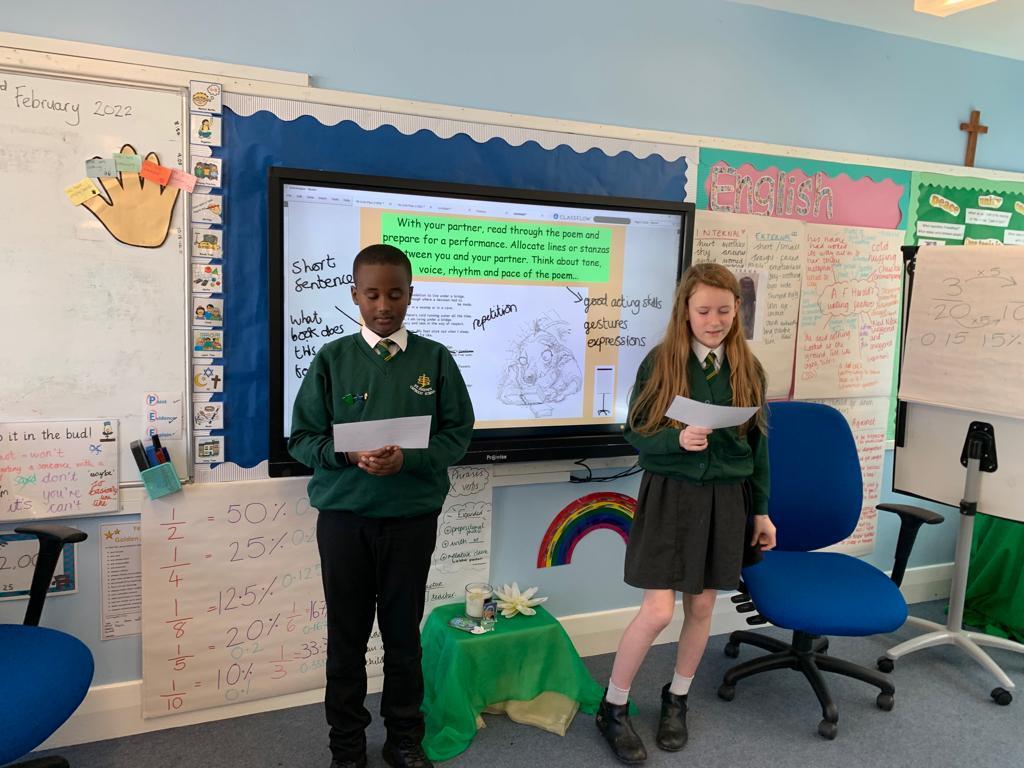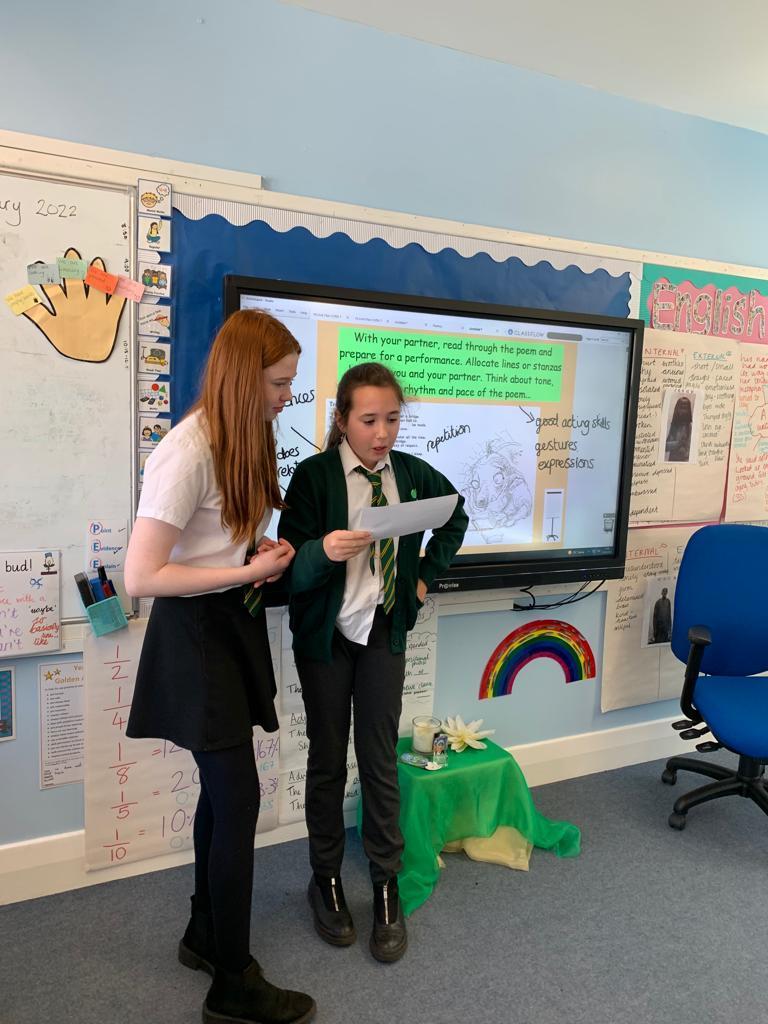 At the Speed of Light!
07.02.2022
Follow on from our learning of shadows, we investigated the impact on a shadow when the light source 'moves'. We discussed how the sun is not really moving but the Earth's rotation impacts the sun's position in the sky and therefore the length, width and position of the shadow.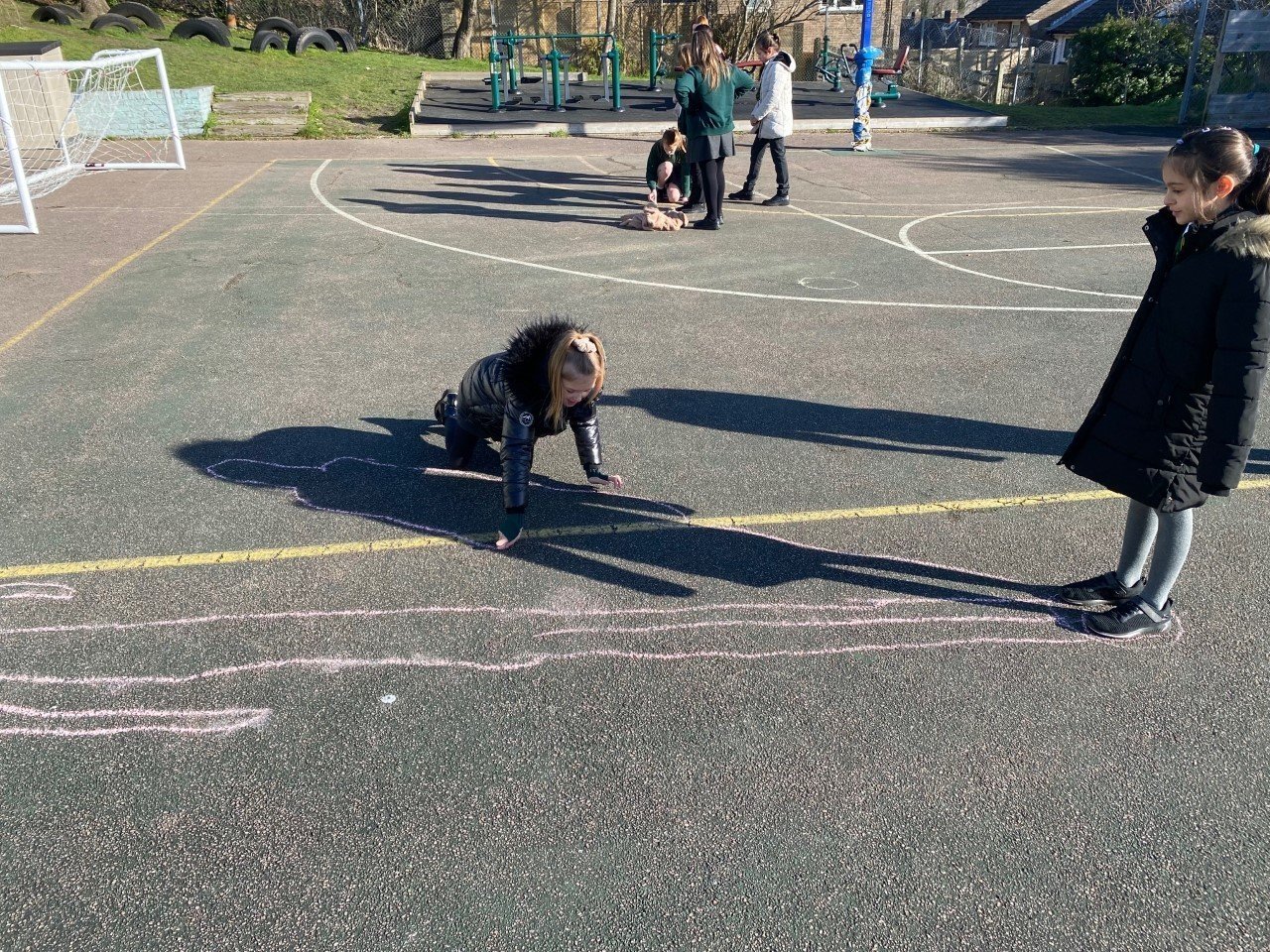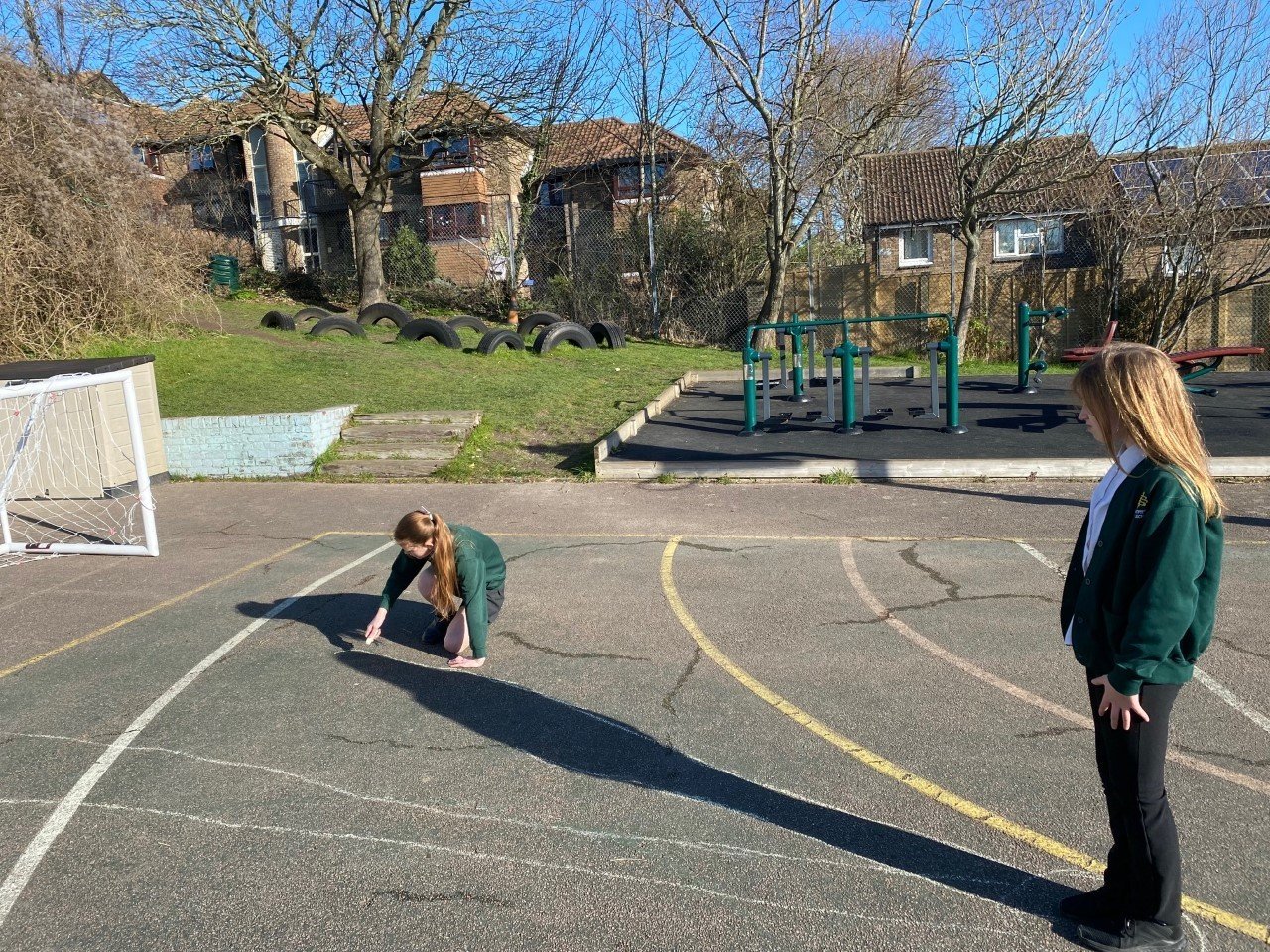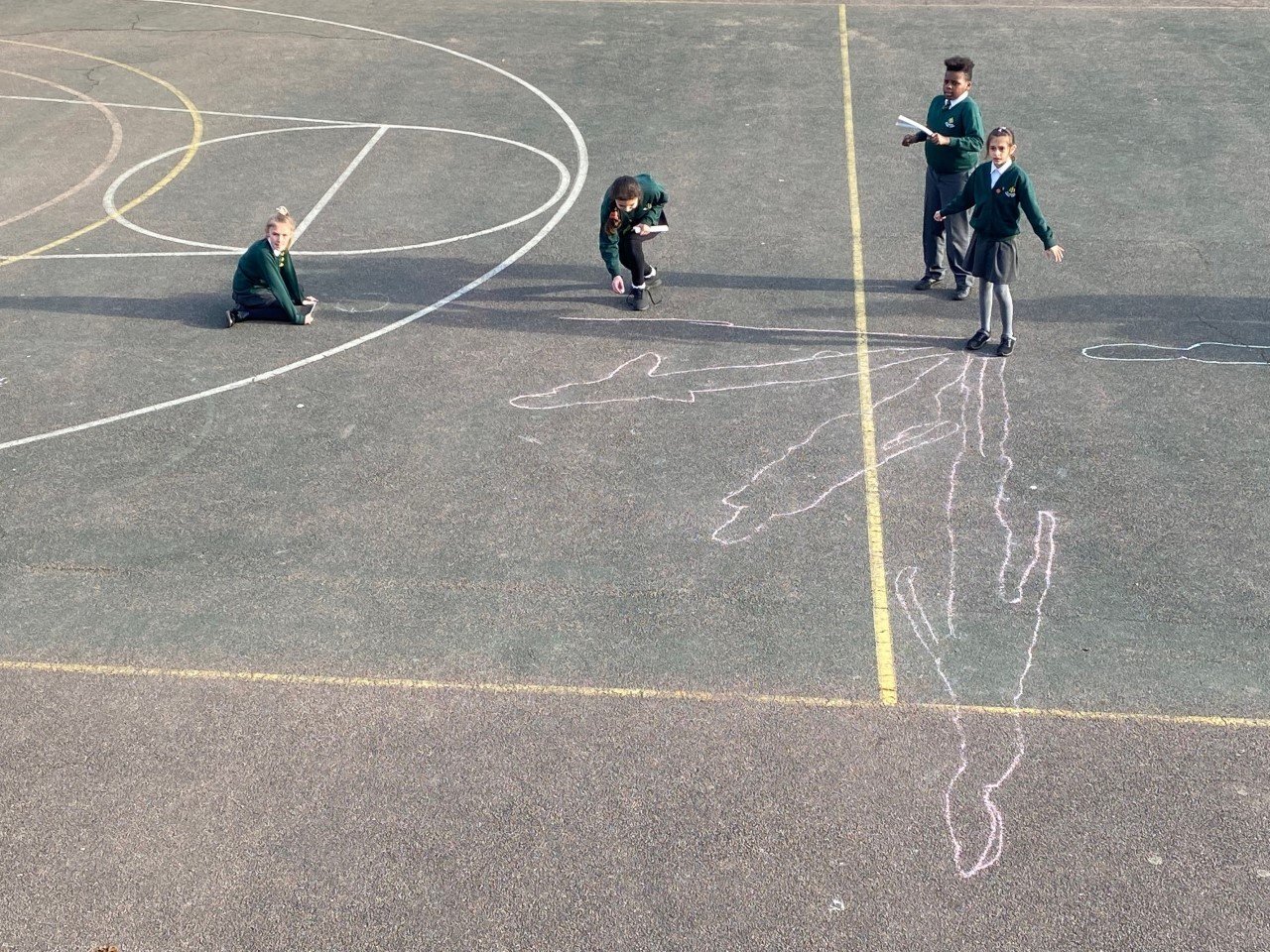 In PE, we learnt about agility and communication in teamwork by learning 'volcanoes and valleys'. Opposing teams had to turn their cones to create the desired physical geography in order to win the game! We also used these skills to relay in our teams.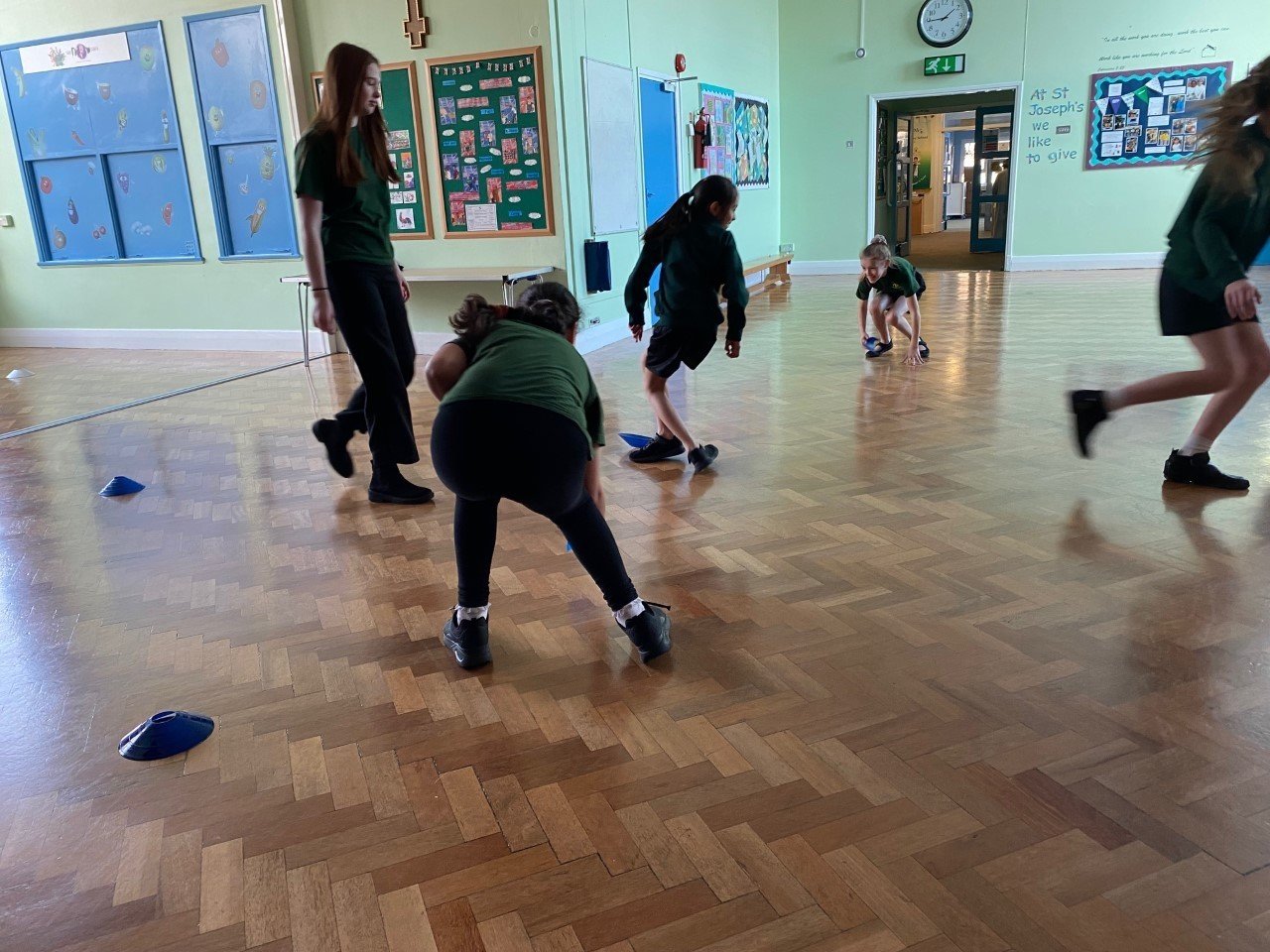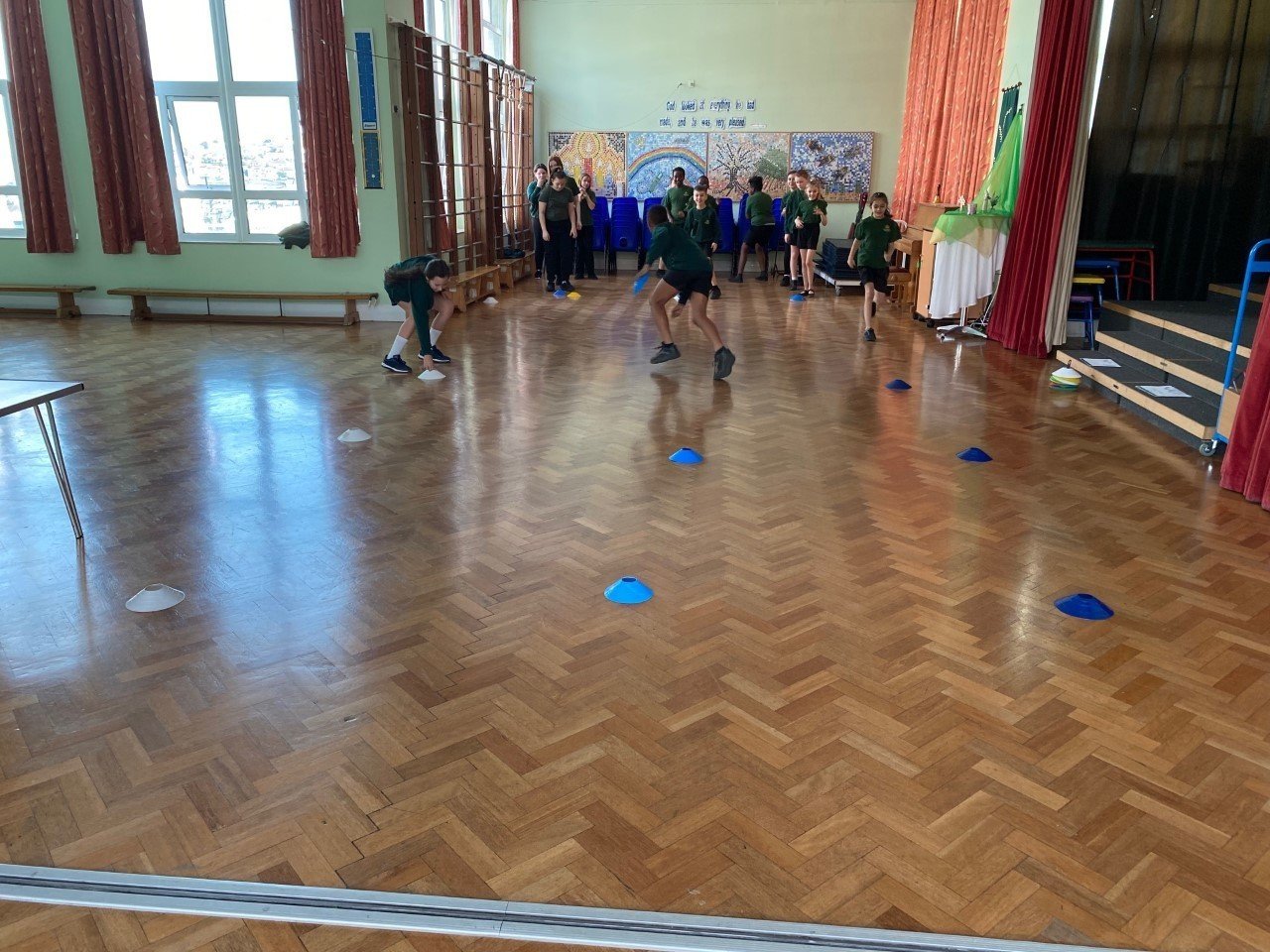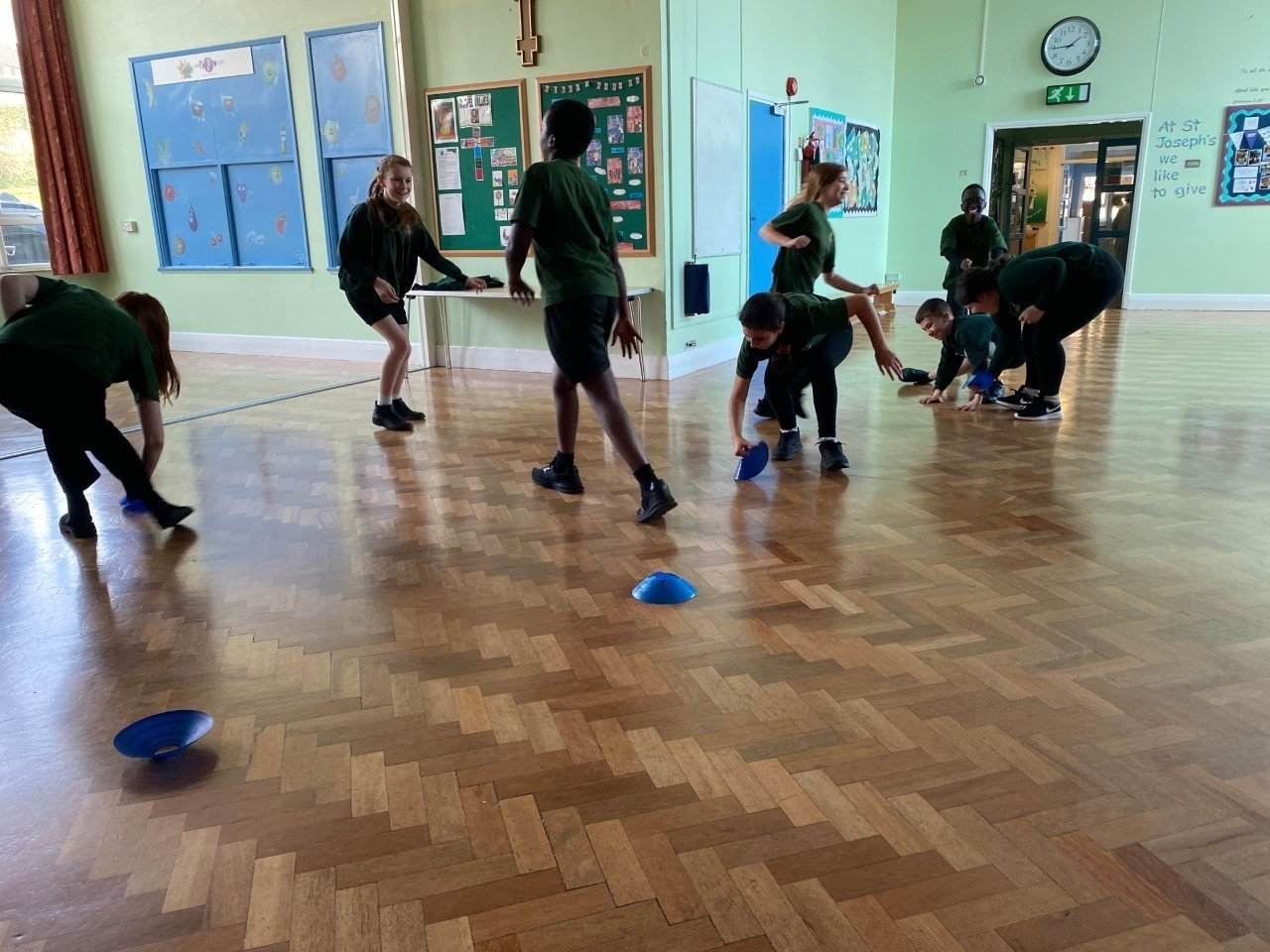 Making movement
31.01.2022
We learnt about the impact of light on cast shadows and how these shadows may be altered based on a variety of factors. We predicted and concluded shadow placement and decided we would like to investigate the exact movement of a shadow throughout the day and identify factors that impact this. Watch this space!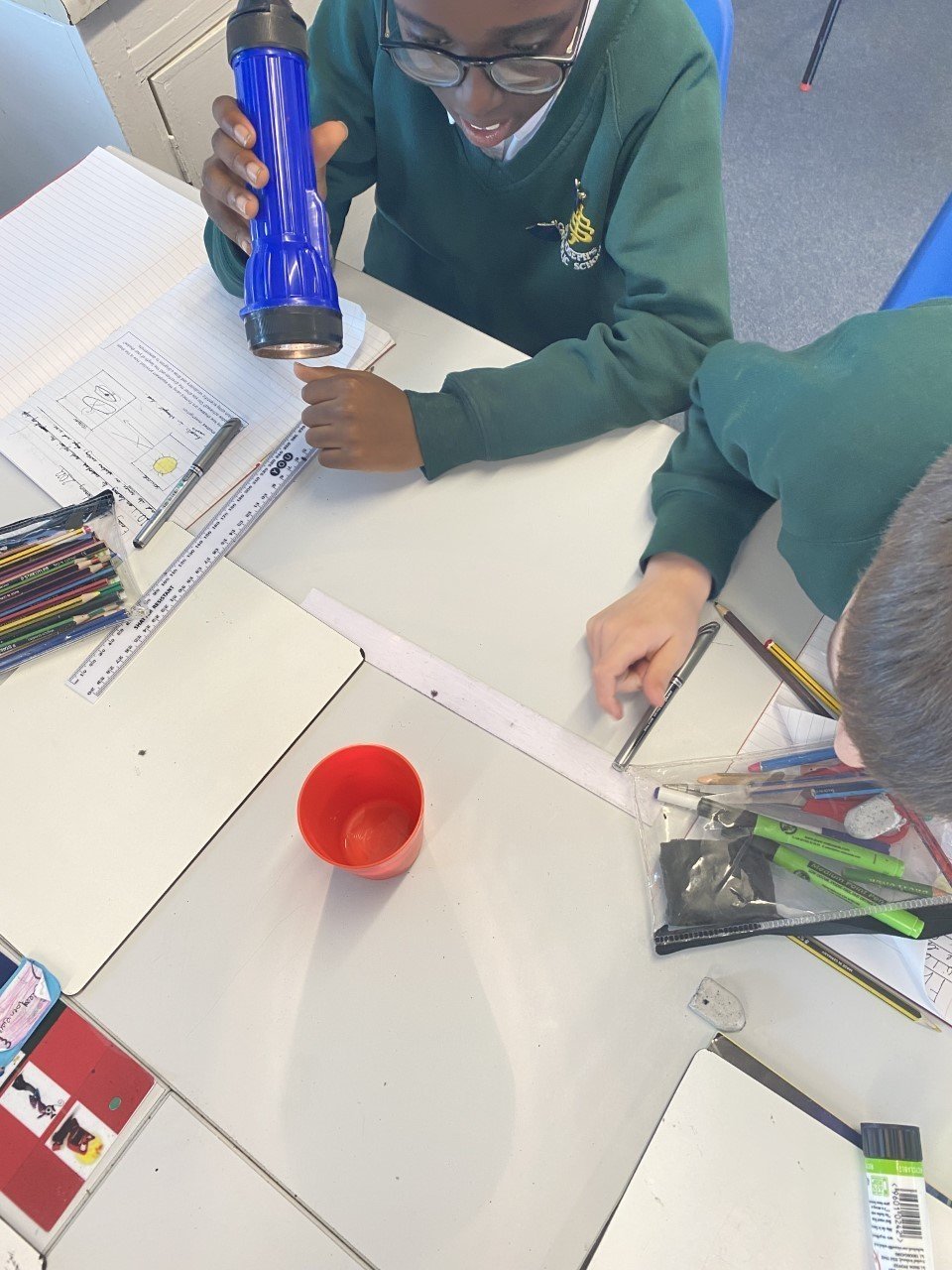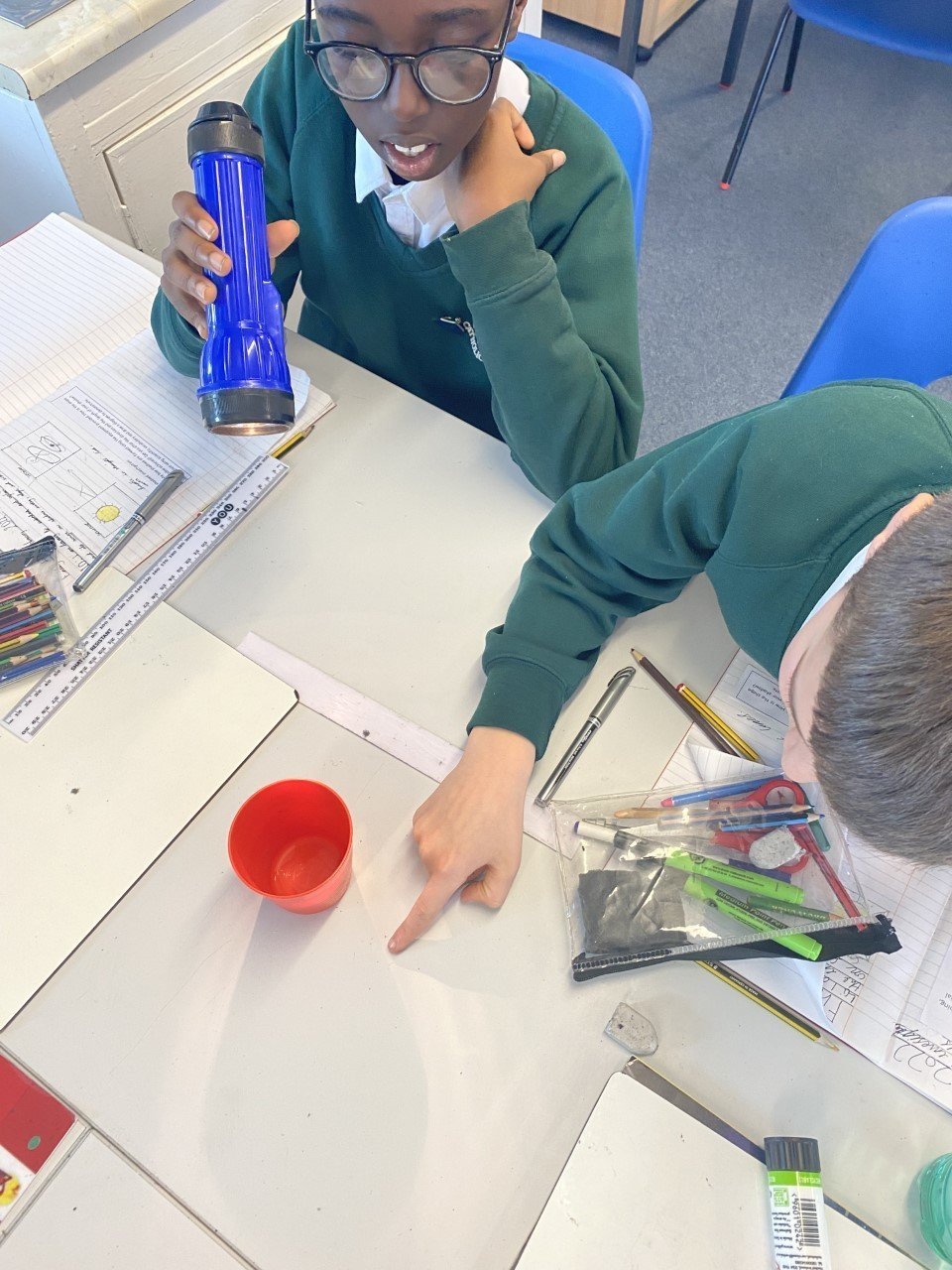 As we near the end of our PE focus: circuit training, we have focused on endurance and stamina outside. We completed a variety of activities inside and outside that enabled us to improve and complete activities on endurance. Last week is the final week of circuits before we move on to learning about netball as a class.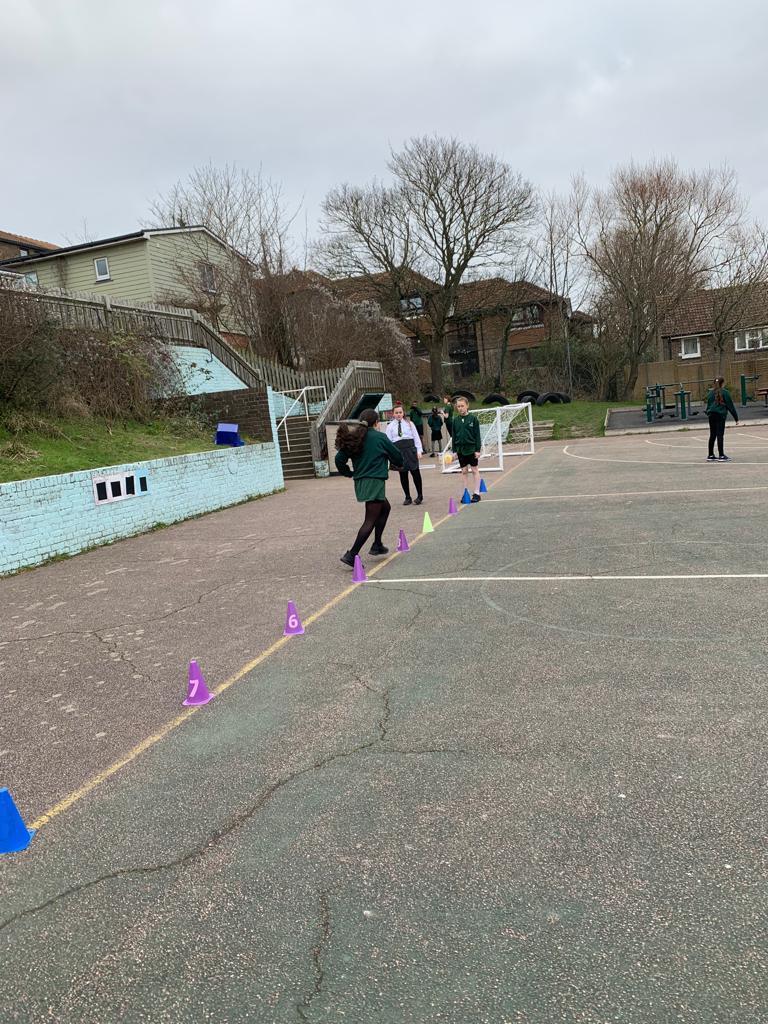 Outdoor Learning
24.01.2022
In Art and DT, we finished our design projects by painting and finalising the last details of our buildings. From our designs, we added the fine details included. We then presented our buildings, explaining the process and choices made from design to creation. Finally, we participated in a competition based on final product and presentation which was great fun!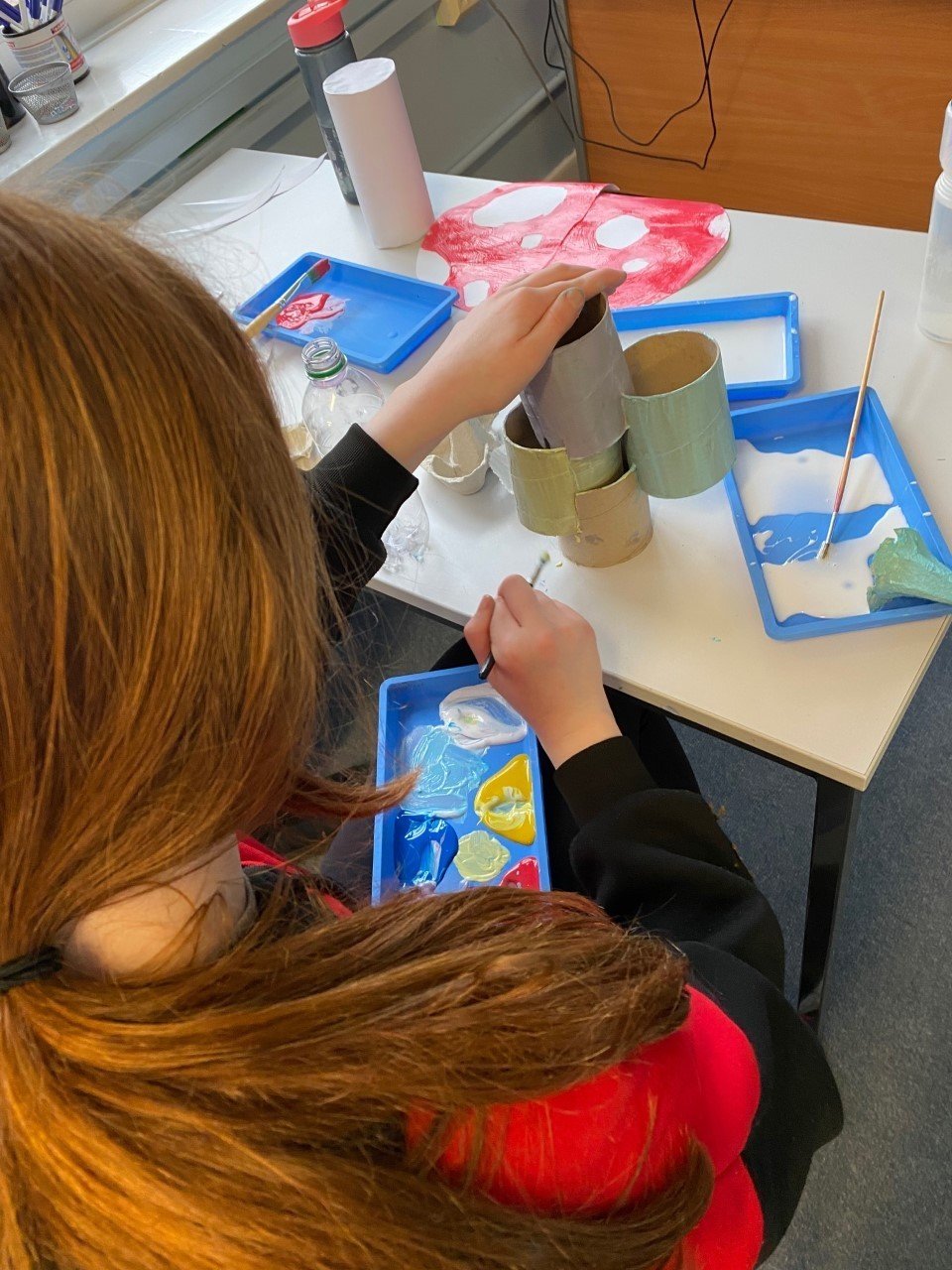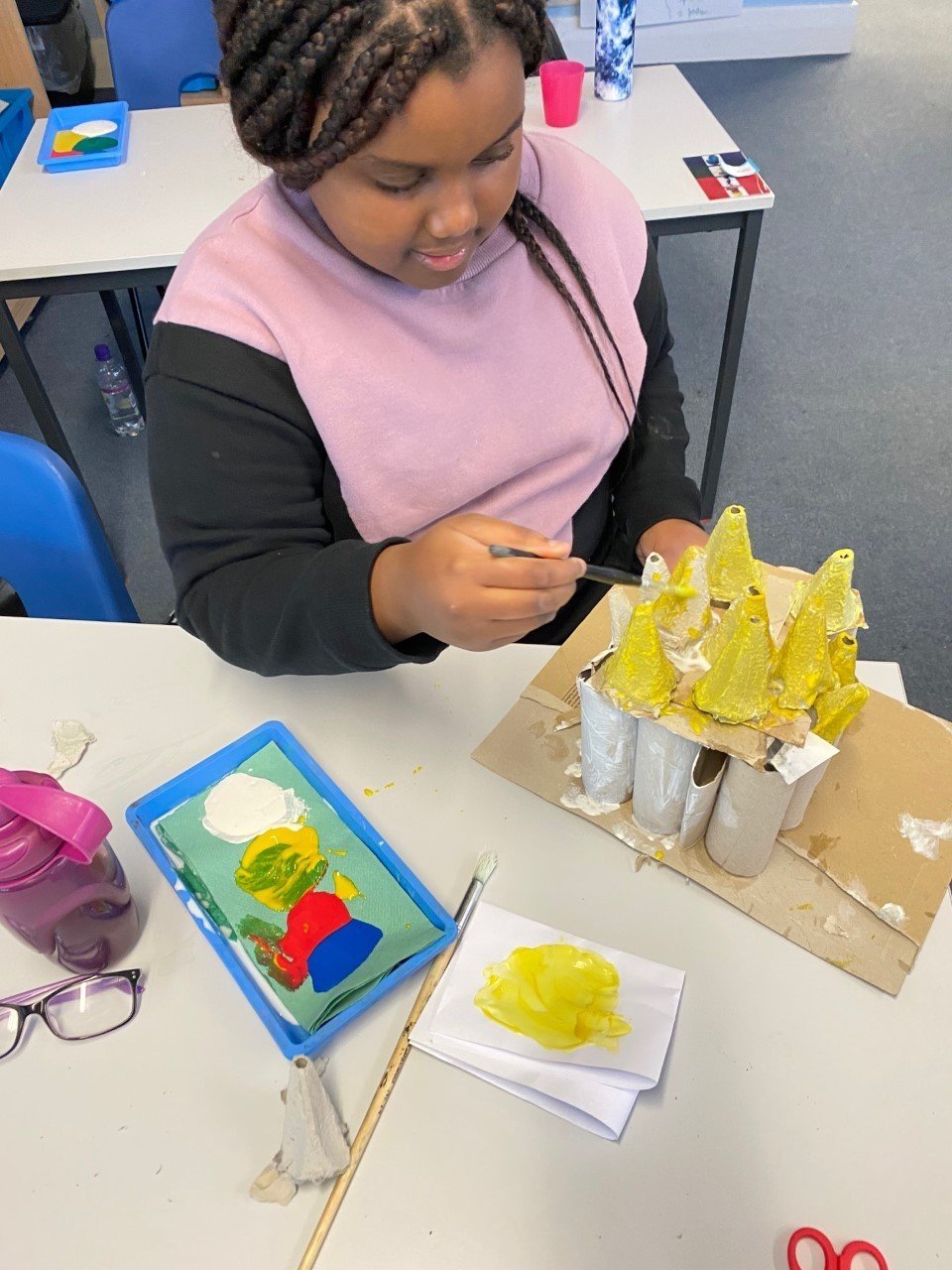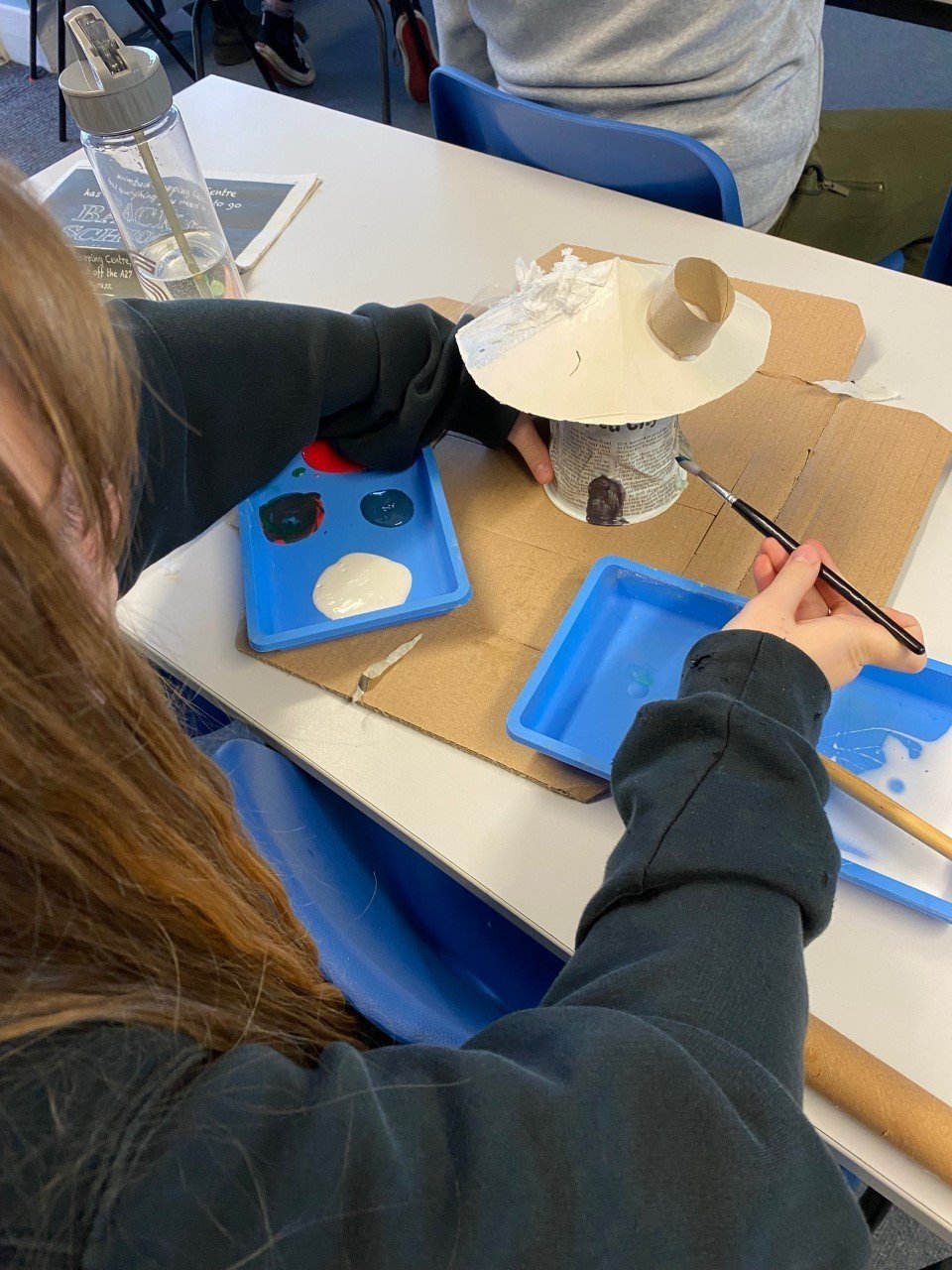 We participated in outdoor learning and the theme for our day was 'disasters', reflecting on our topic. First, we learnt about health and safety in the environment and how, during a natural disaster, a lot of buildings and materialistic items are destroyed. From this, we rose to the challenge of creating our own safe and warm shelter, using the natural resources found around us. Following this, we used the natural resources around us to create art pieces of volcanoes, which we have been studying on geography in class. We presented these to the class and discussed the types of volcanoes created and how these were achieved. Finally, we practised our understanding of shapes and co-ordinates by practising identifying and creating 'natural shapes' and reading and plotting co-ordinates on a grid and on a battleship game ground.
Enjoy the pictures in our slideshow from the outdoor learning day below:
Reaction Time!
17.01.2022
This week, in science, we learnt about different properties of materials and completed a carousel of activities testing these properties. We investigated the conductivity (electrical), solubility, magnetism and hardness. We discovered that there were exceptions to some rules but were able to make a conclusion about the materials tested and their properties.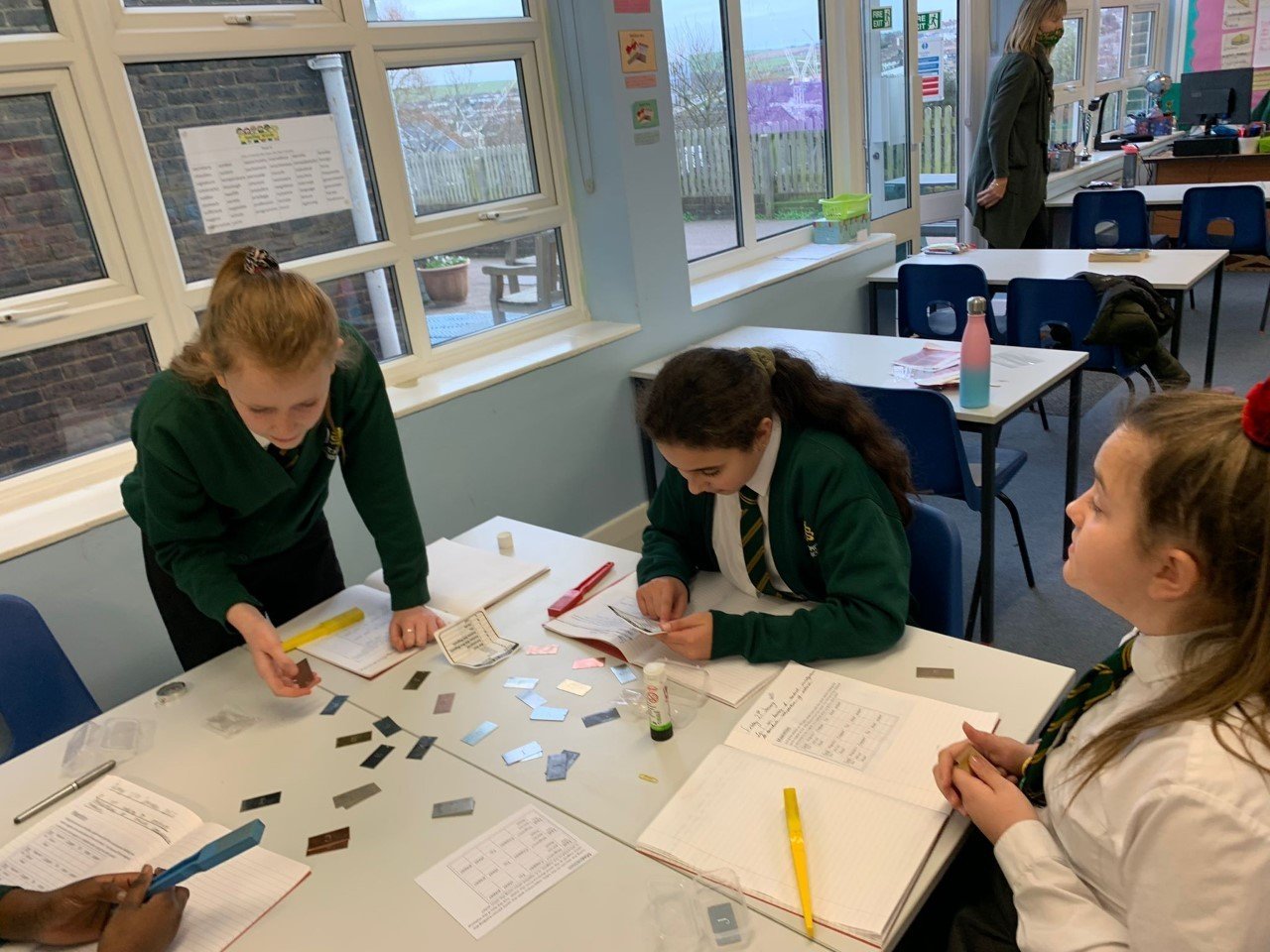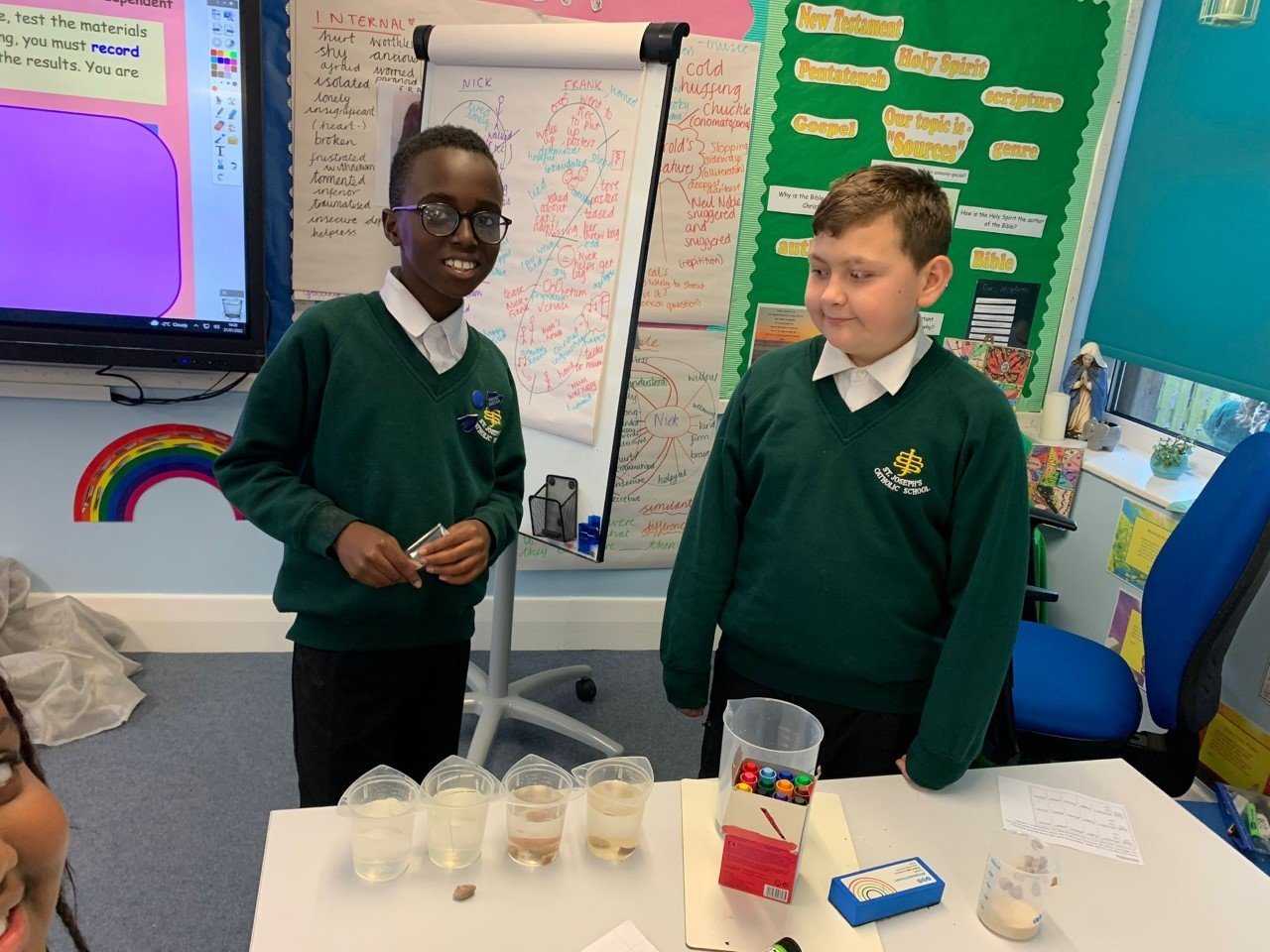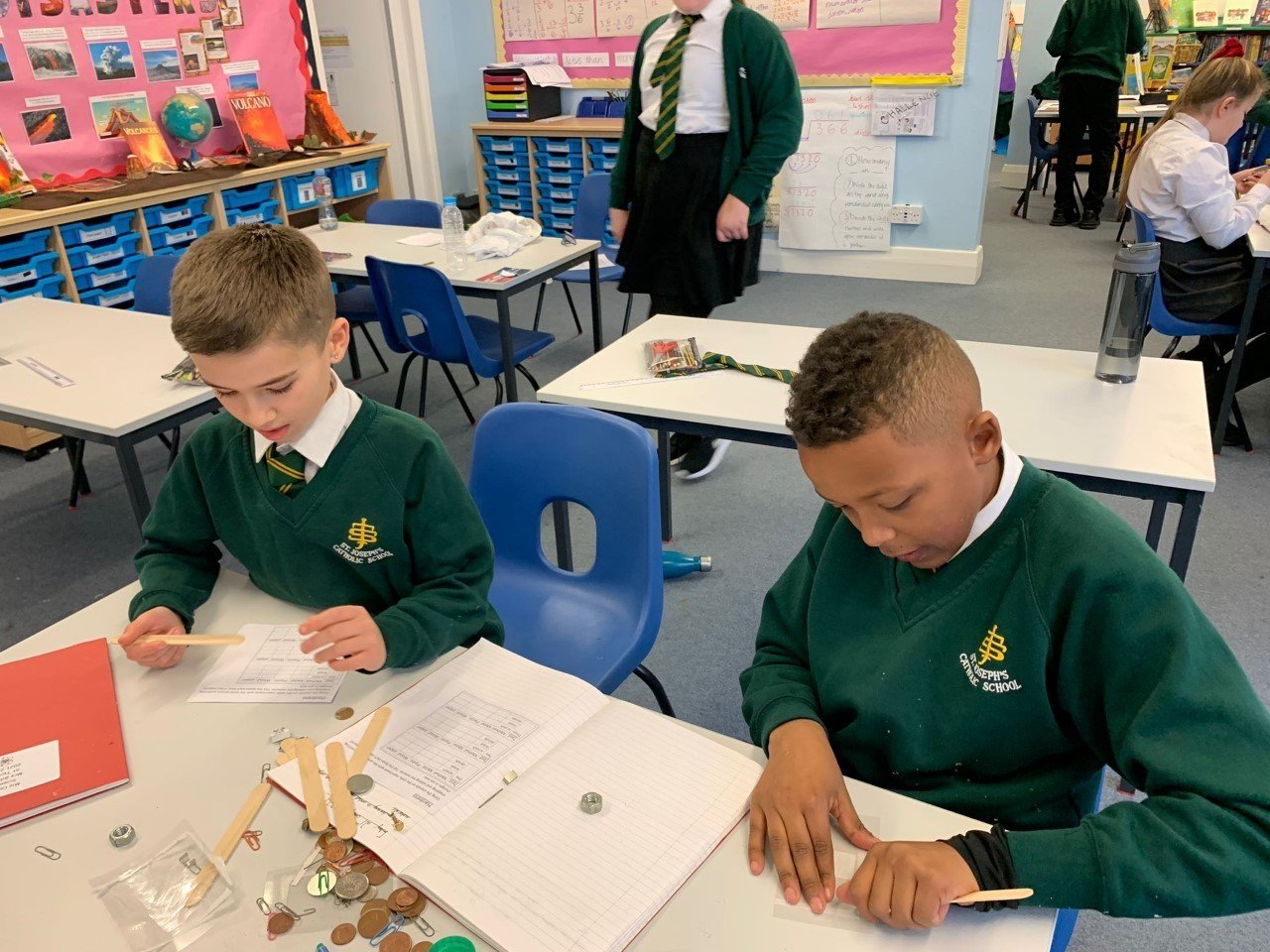 We were able to be the first to test run the new active board on the playground. We practised trying to beat our score and noticed how our hand-eye co-ordination became better with increased practise. We look forward to using these during our play time and circuits in PE!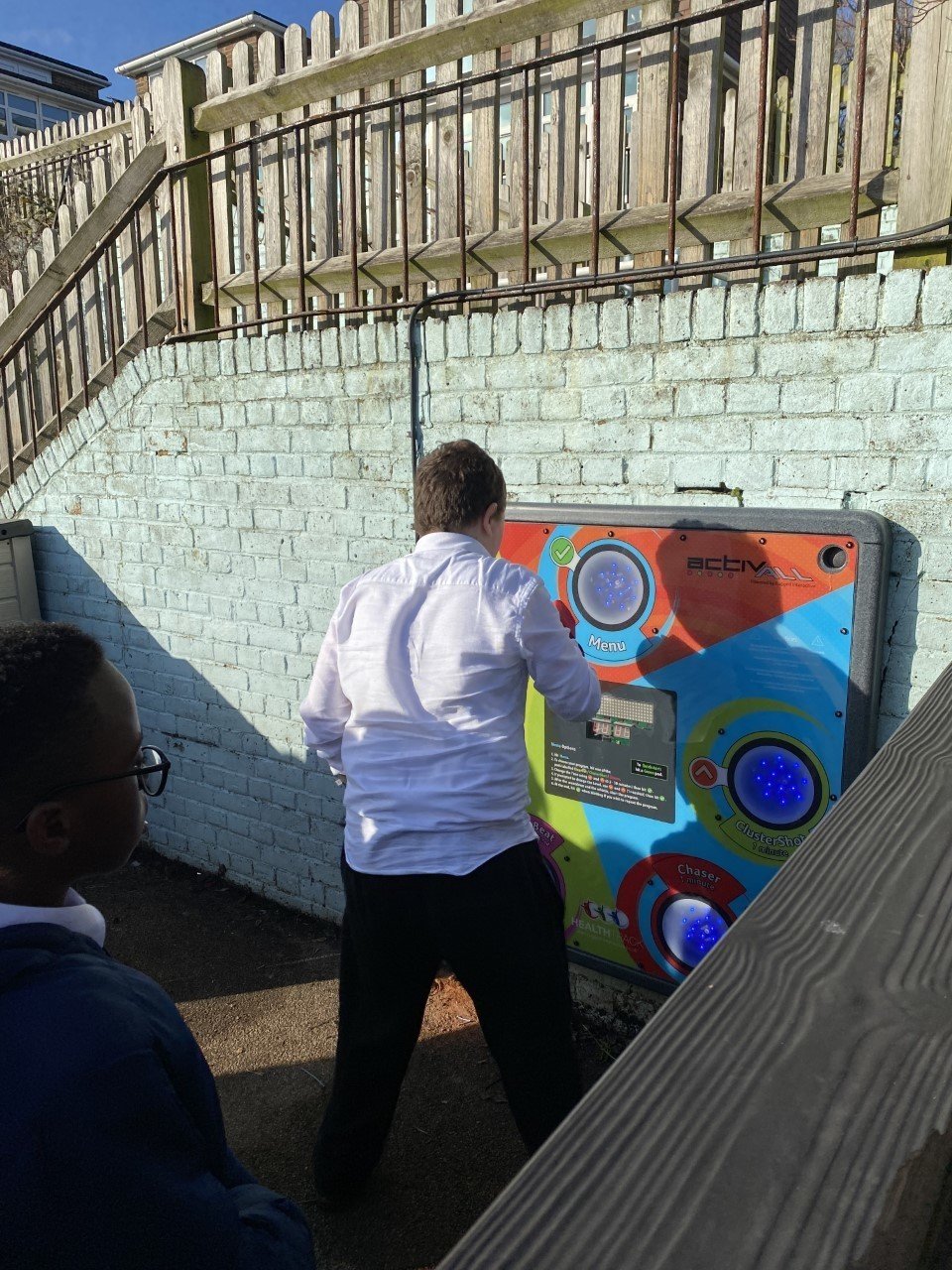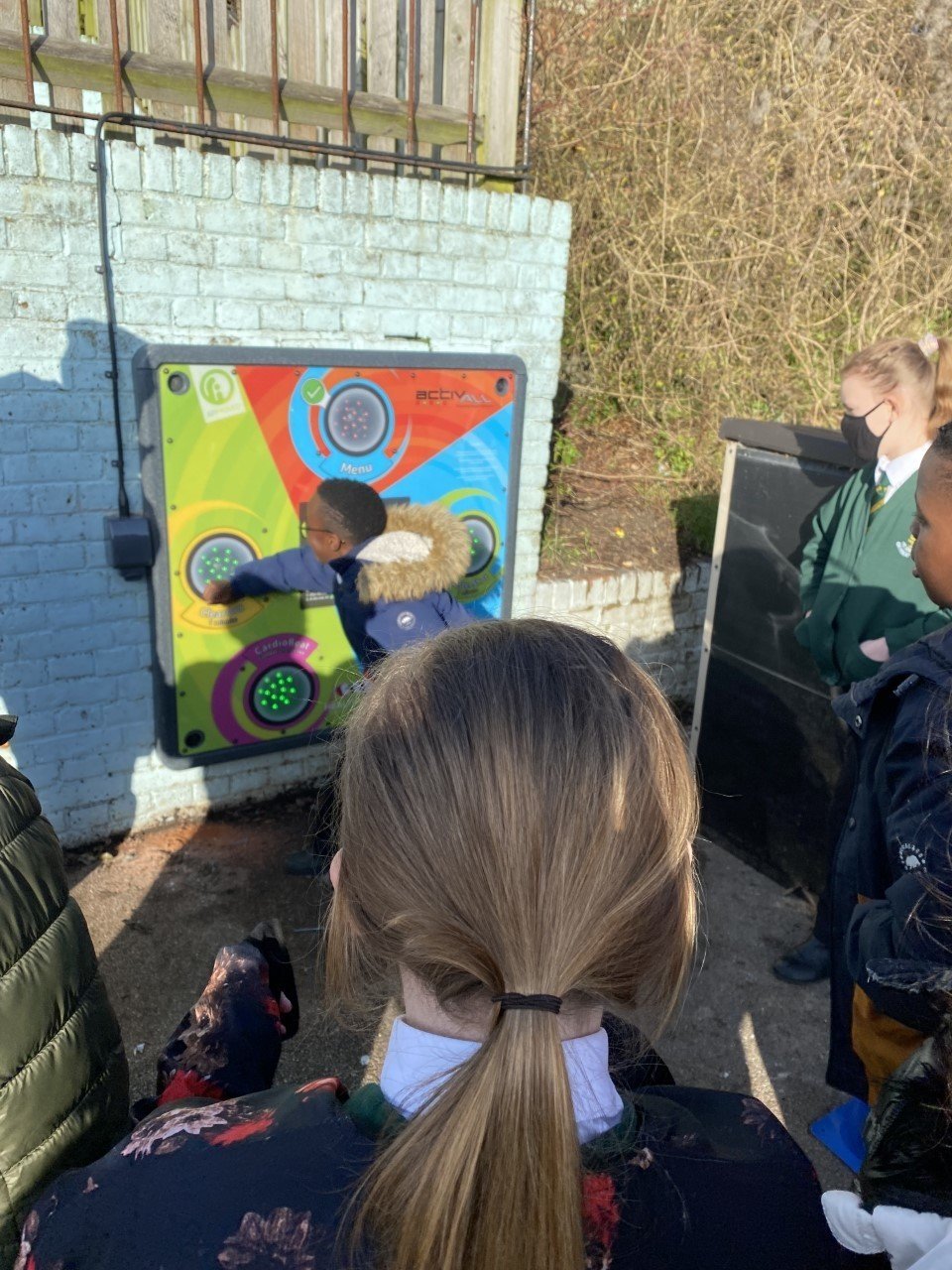 Finally, there were some great examples of our power project volcanoes coming in! We discussed how these linked to our knowledge of the parts of a volcano and the different types of volcanoes we have learnt about.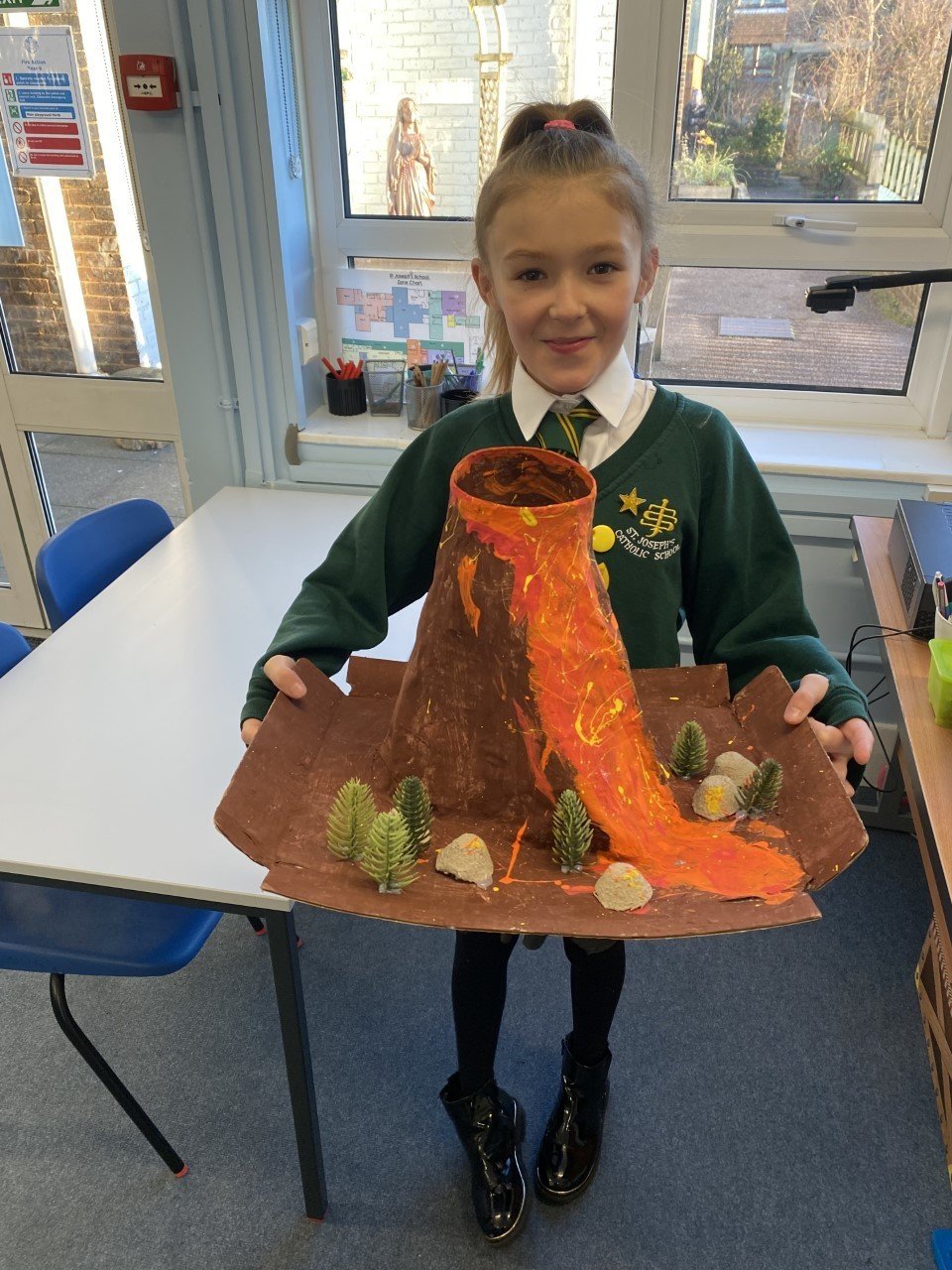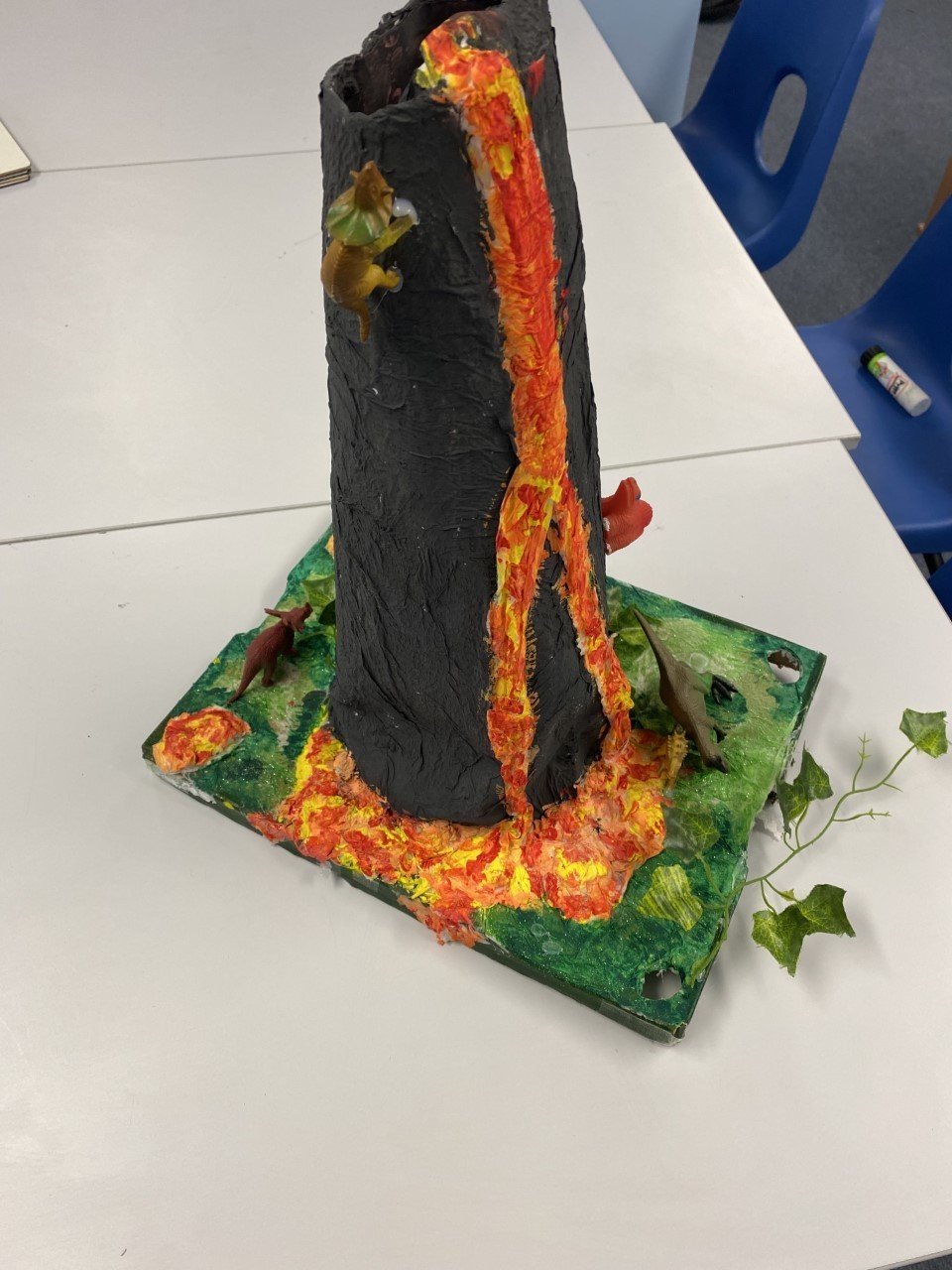 by Loen
Changes to the Heart
10.01.2022
In science, we extended our learning from last week and looked at the heart. We identified the different parts of the heart, its role in the circulatory system and identified the importance of diet and exercise. Later, we created our own hearts made of fondant icing which clearly demonstrated the different intricate parts of the heart- they also tasted yummy!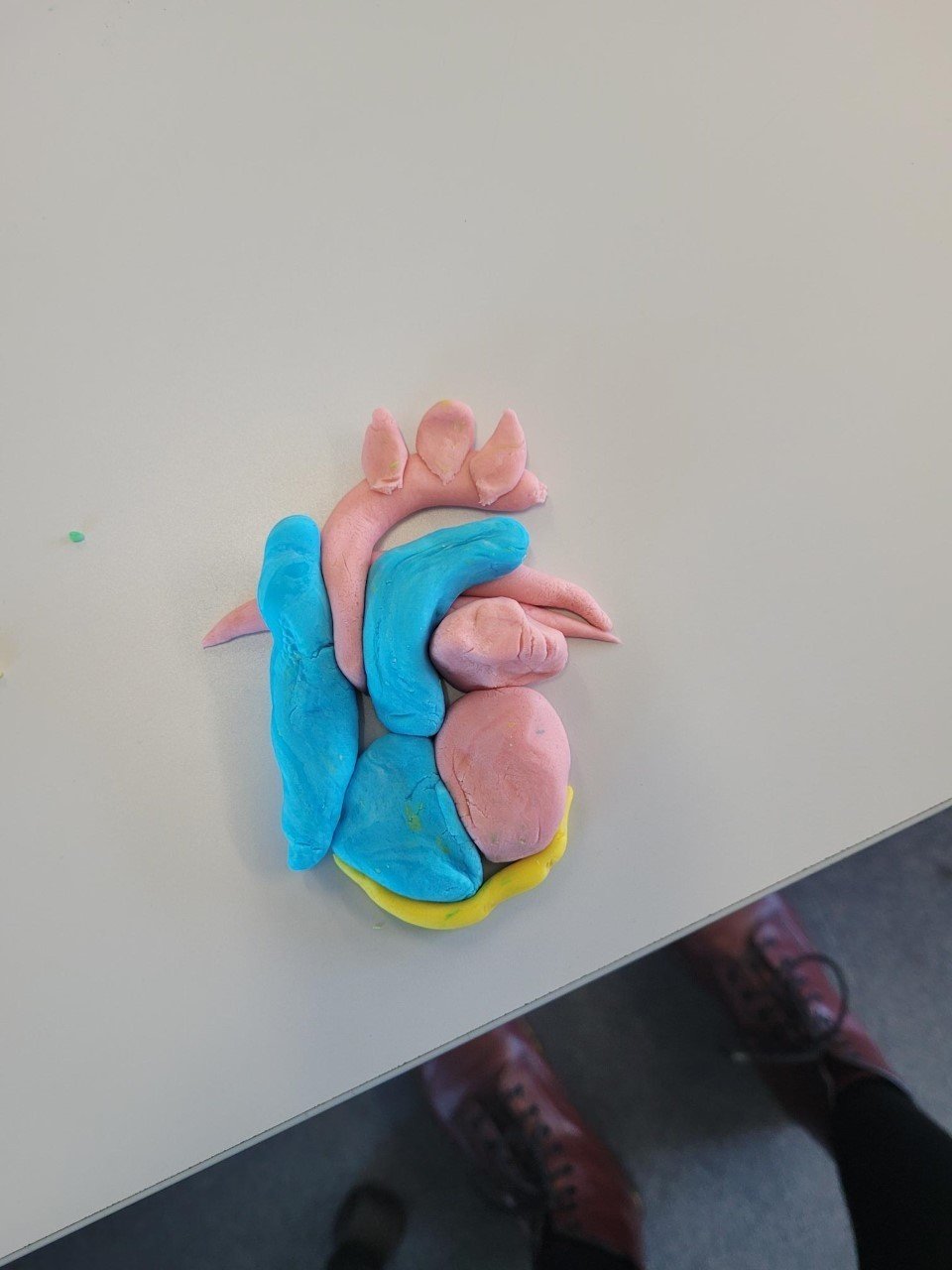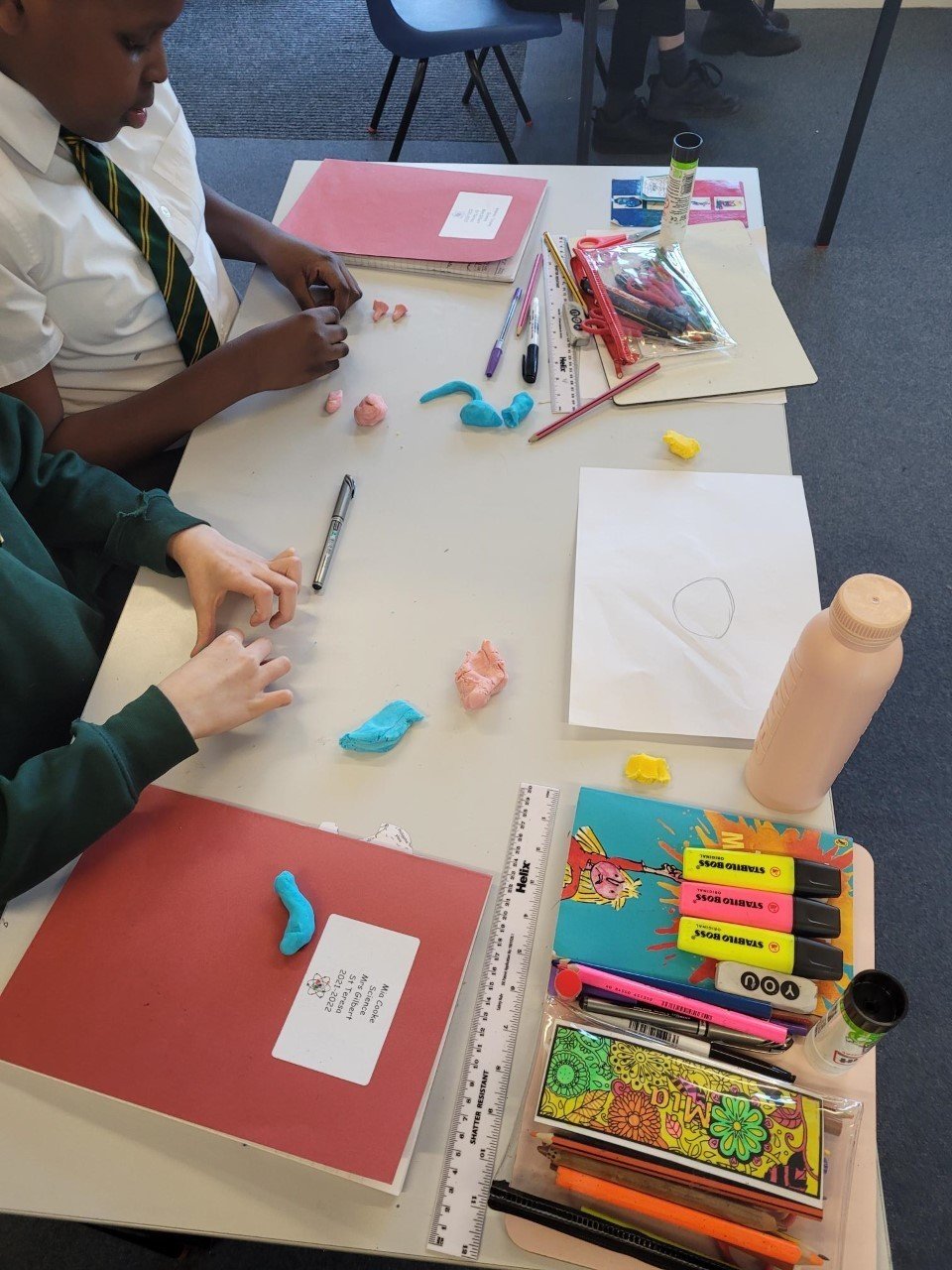 In English, we created our own poems based on bullying and how they make us and the character's of the book feel. We first unpicked different examples of bullying and explored how these would make all parties feel. Then, we shared these with our class peers and critiqued one another on oracy, performance and meaning.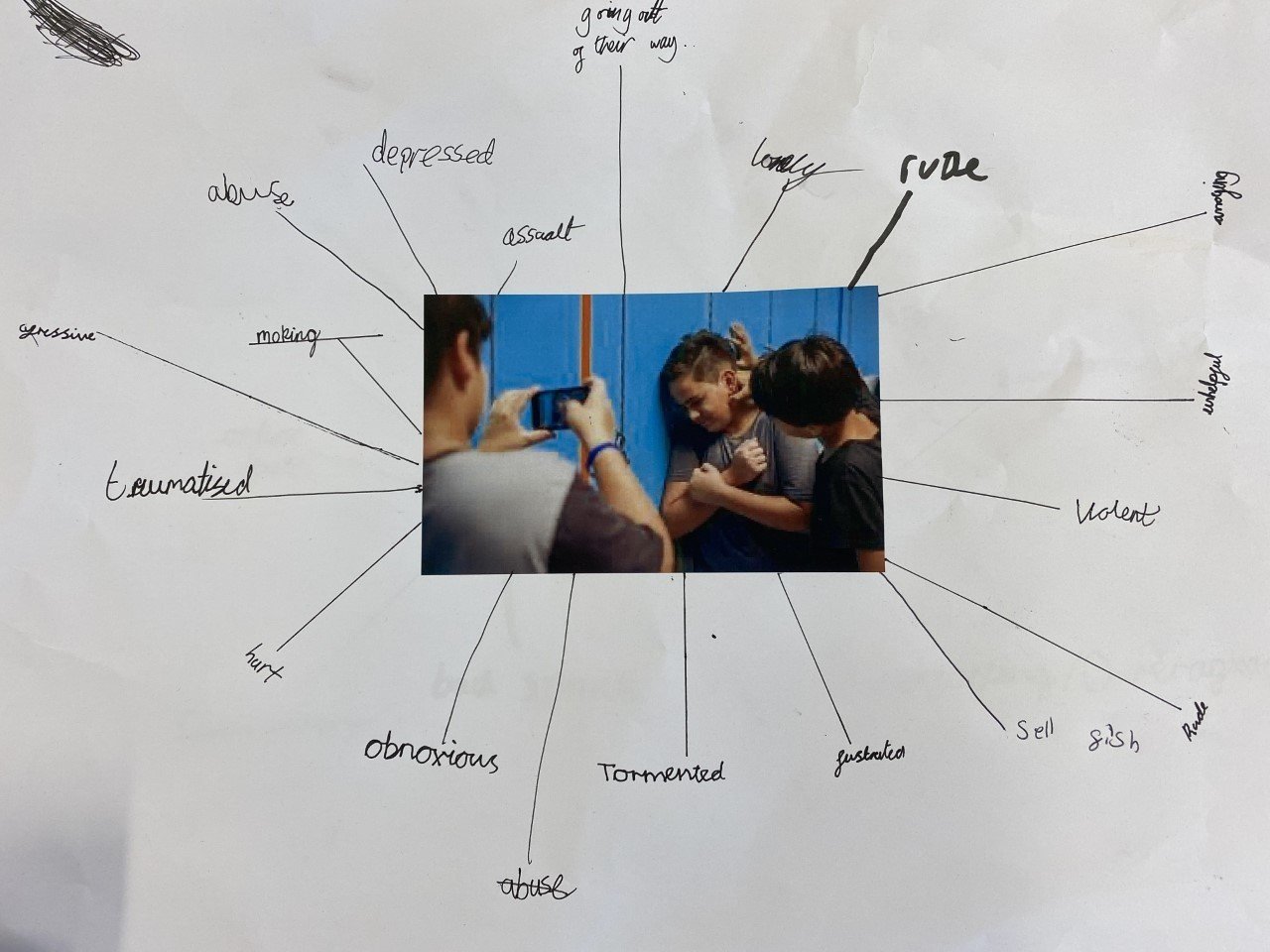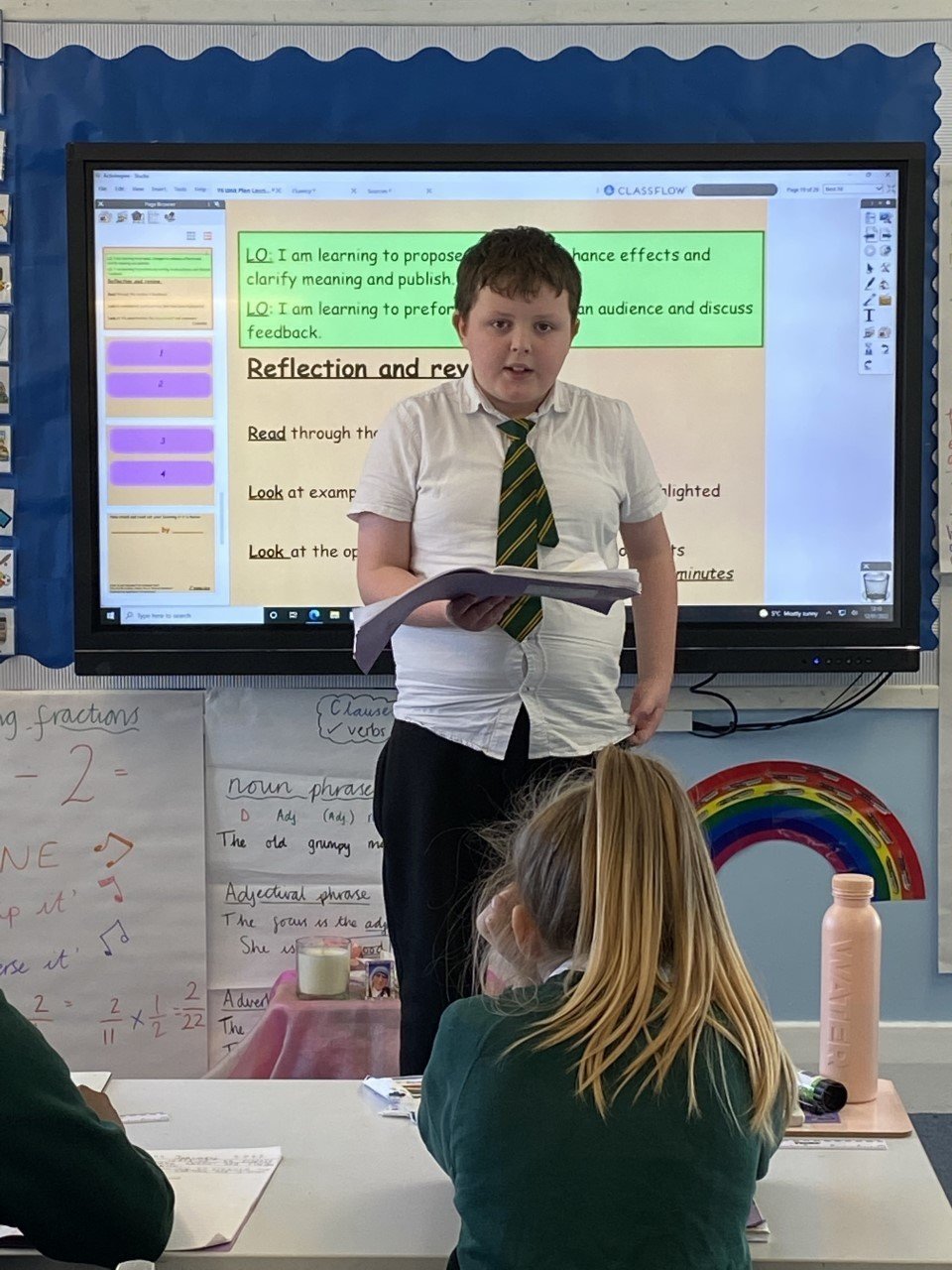 In geography, we looked at the creation of volcanoes by analysing tectonic plates and the ring of fire. We identified these regions using maps and looked at examples famous volcanoes.
Finally, we learnt about our main character hearing a strange sound and discovered the author's interpretation of what the music would sound like. We listened to examples of music that was similar to the description and used a medium to interpret the music.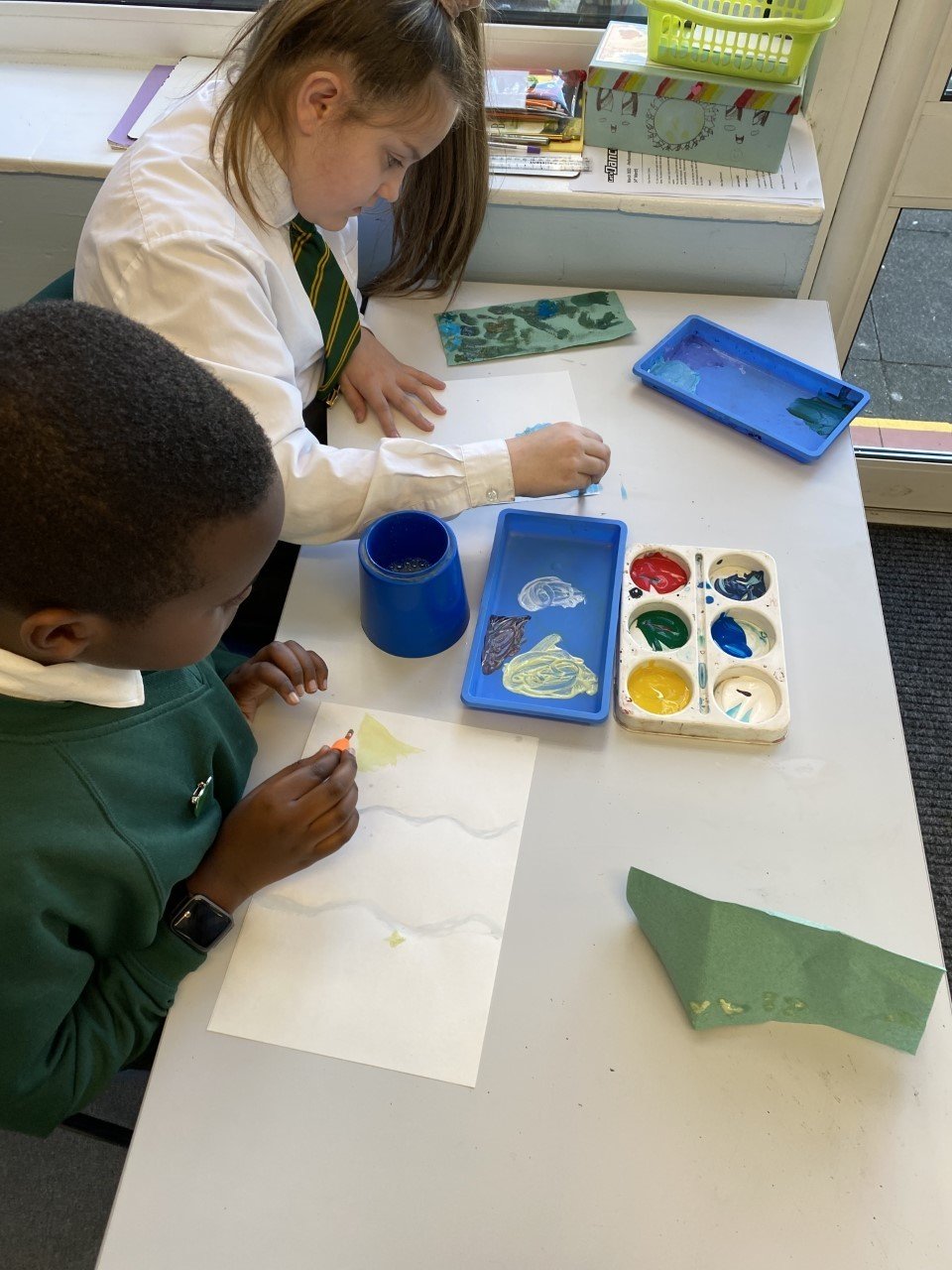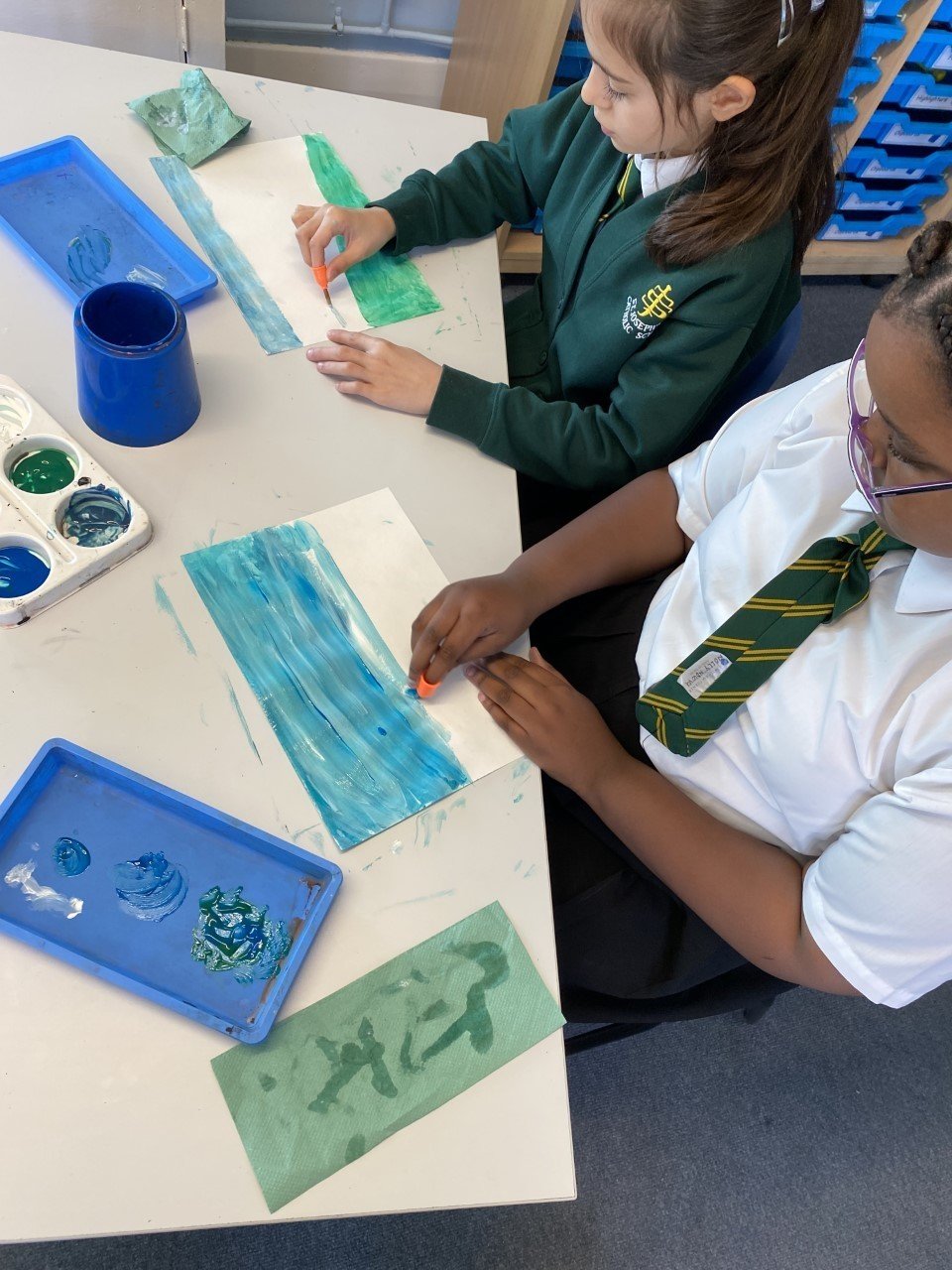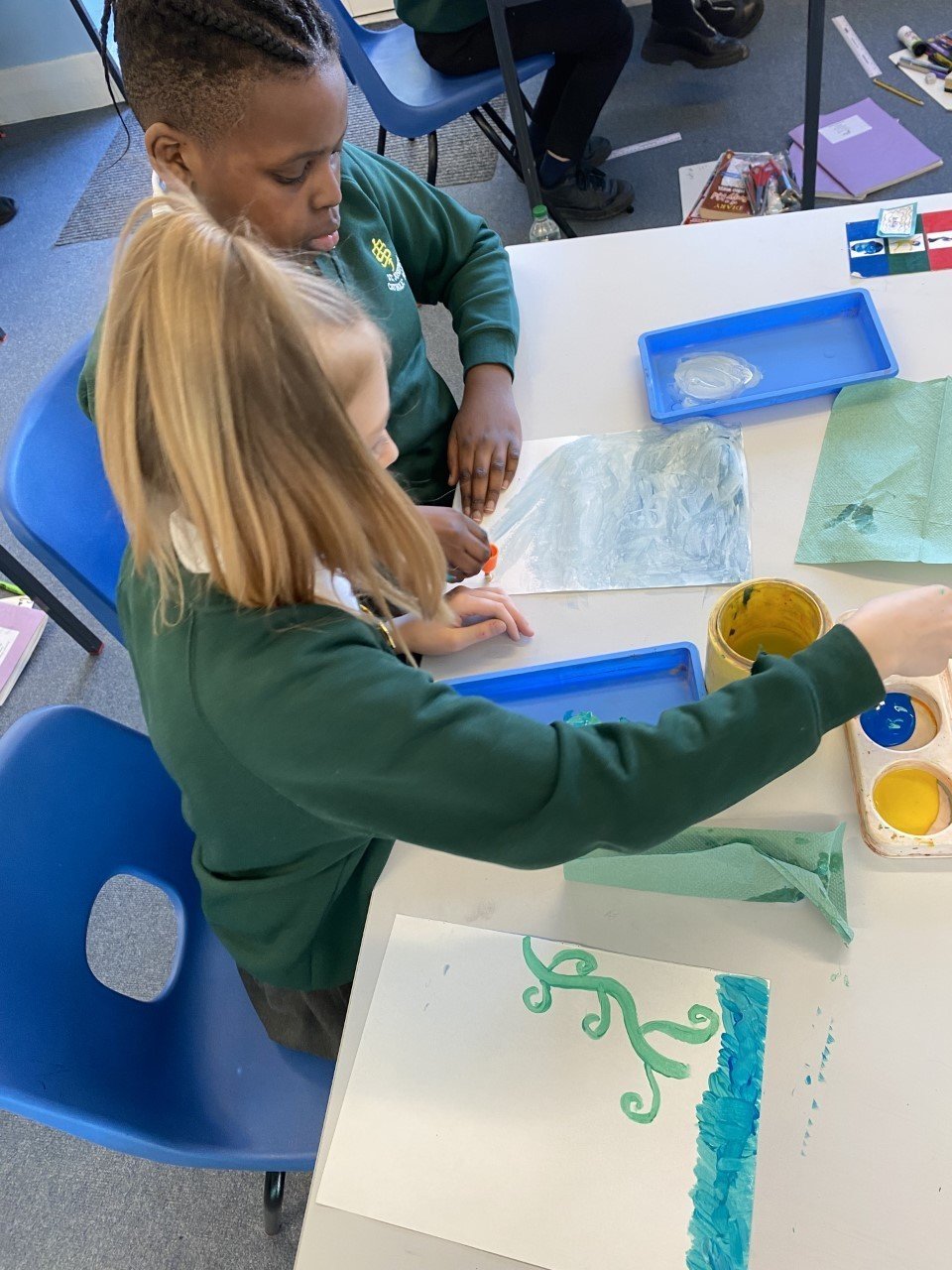 Understanding what's inside...
04.01.2022
Welcome back to all and we hope you had a restful break and a happy new year!
To launch the first lessons of the new year, we looked a what is inside us all. We studied our new book 'The Song from Somewhere Else' and looked at how the character's are feeling and what they may be thinking in the first interaction. We completed freeze frames of the different characters and discussed how they may be feeling in these freeze frames.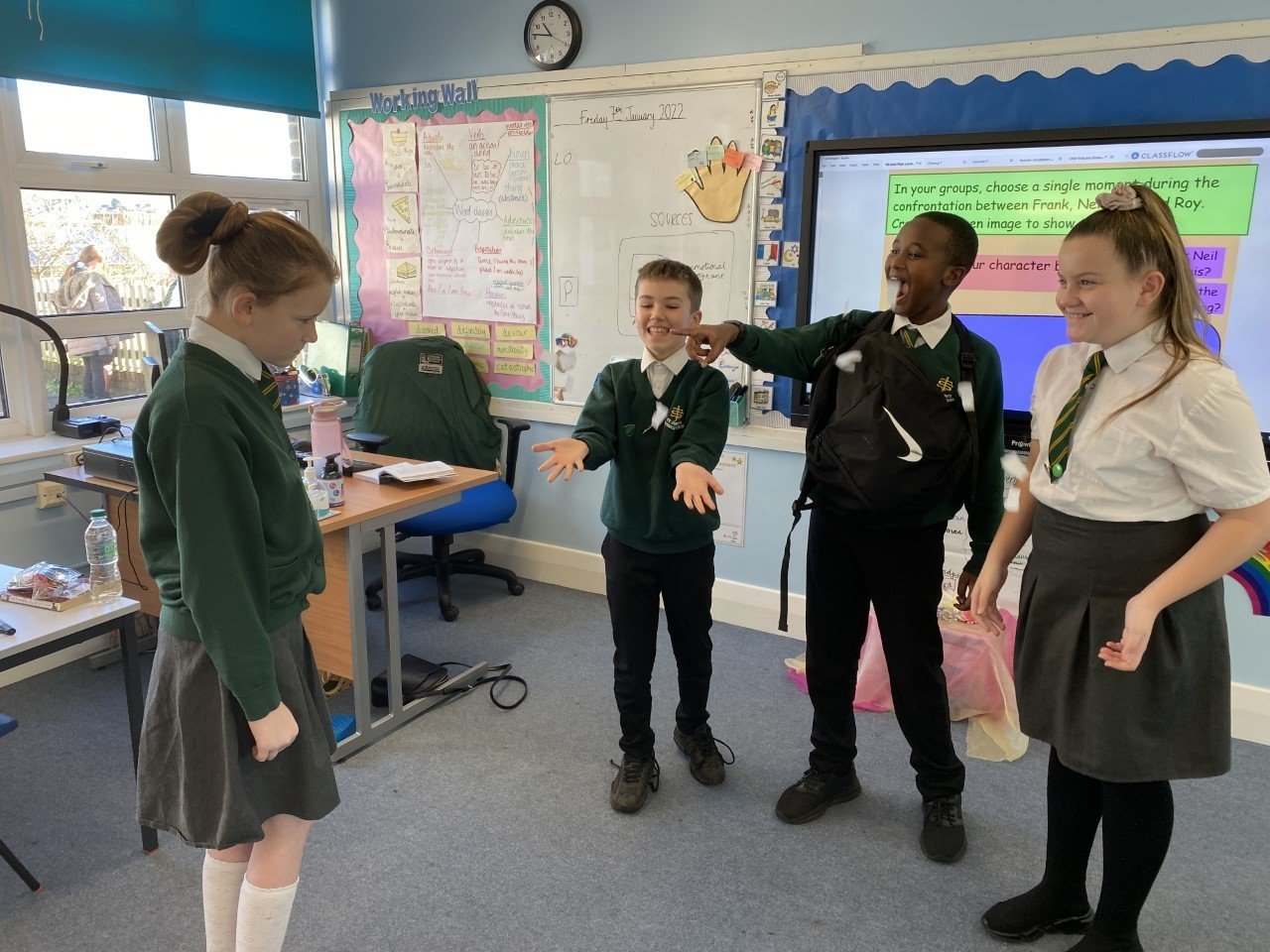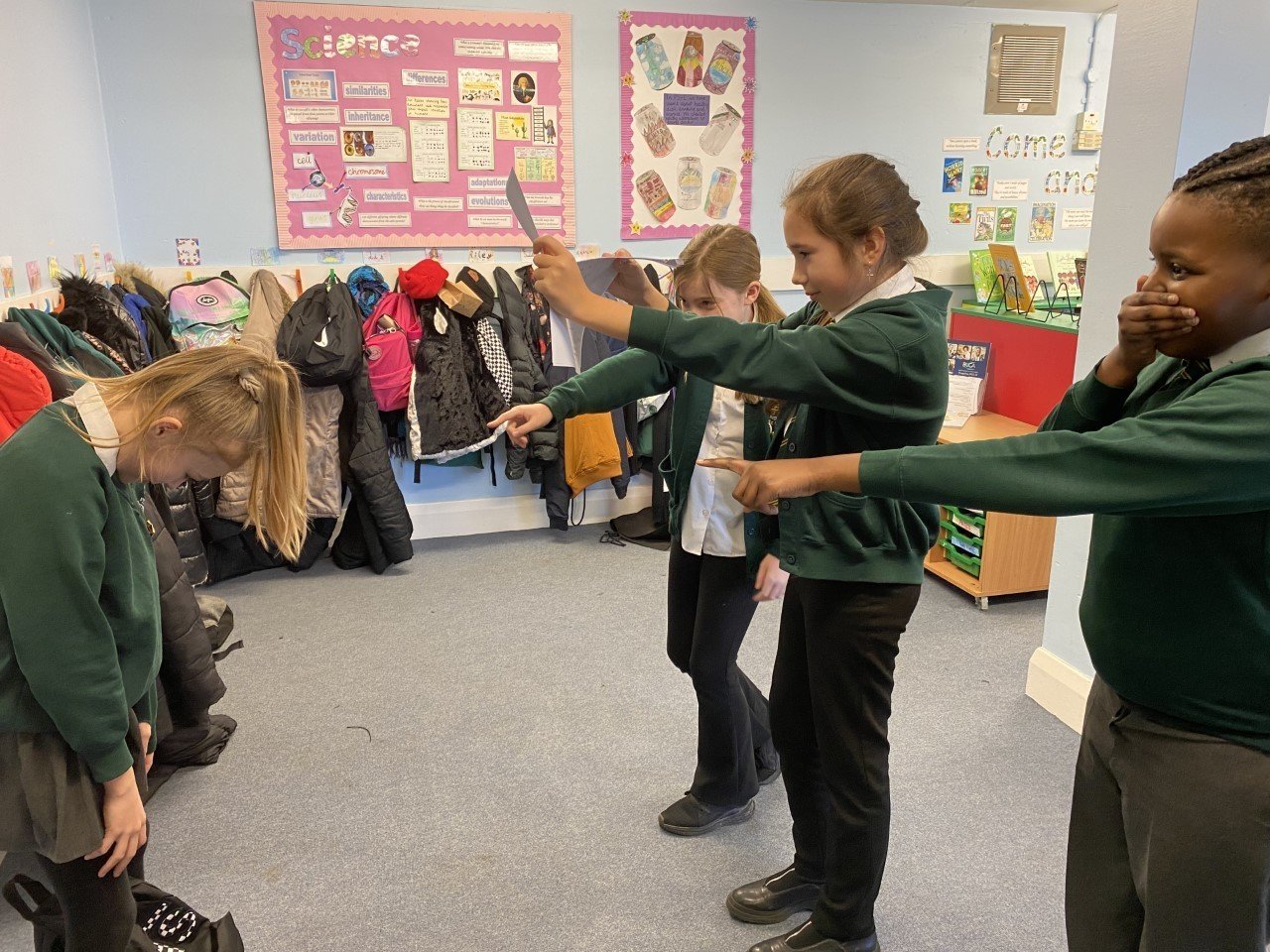 In science, we learnt about how circulatory system. We looked at the different types of blood vessels and what were the components of blood (deoxygenated and oxygenated). Using this knowledge, we created our own 'oxygenated' blood, using different materials to represent the important components. What can you see?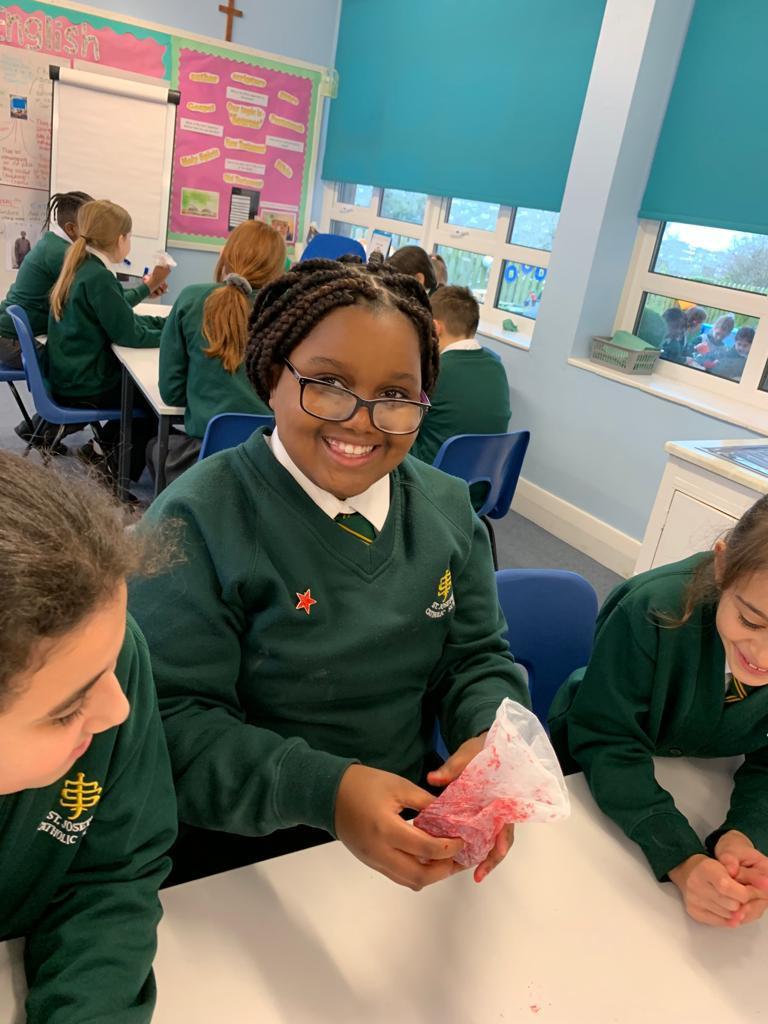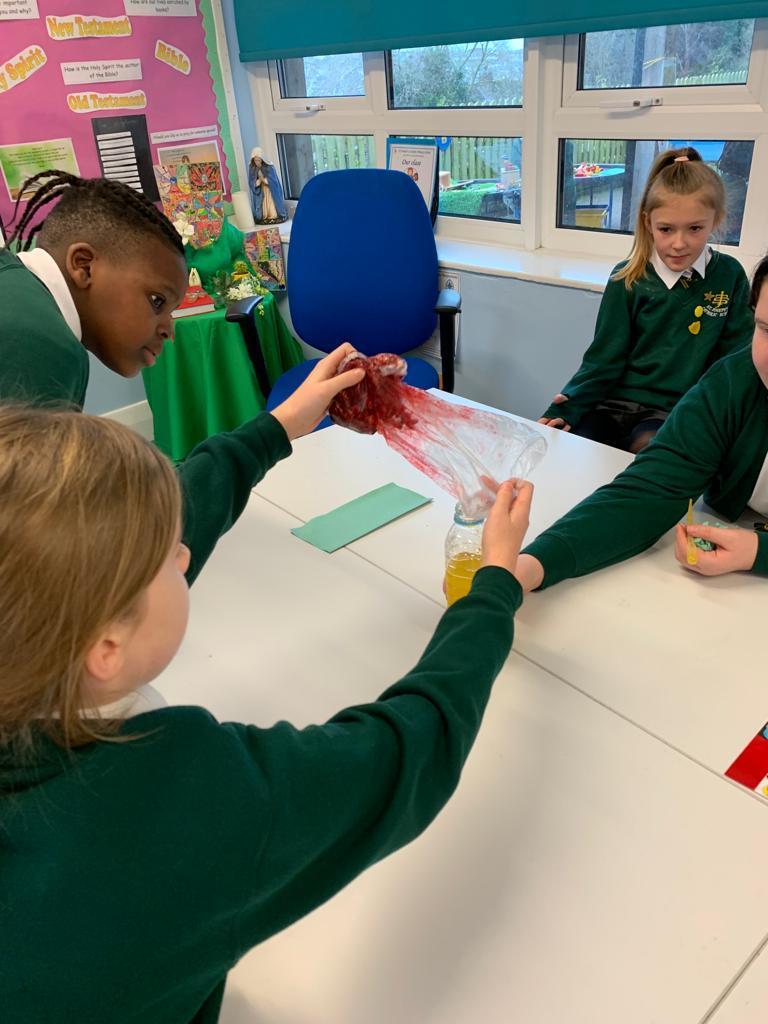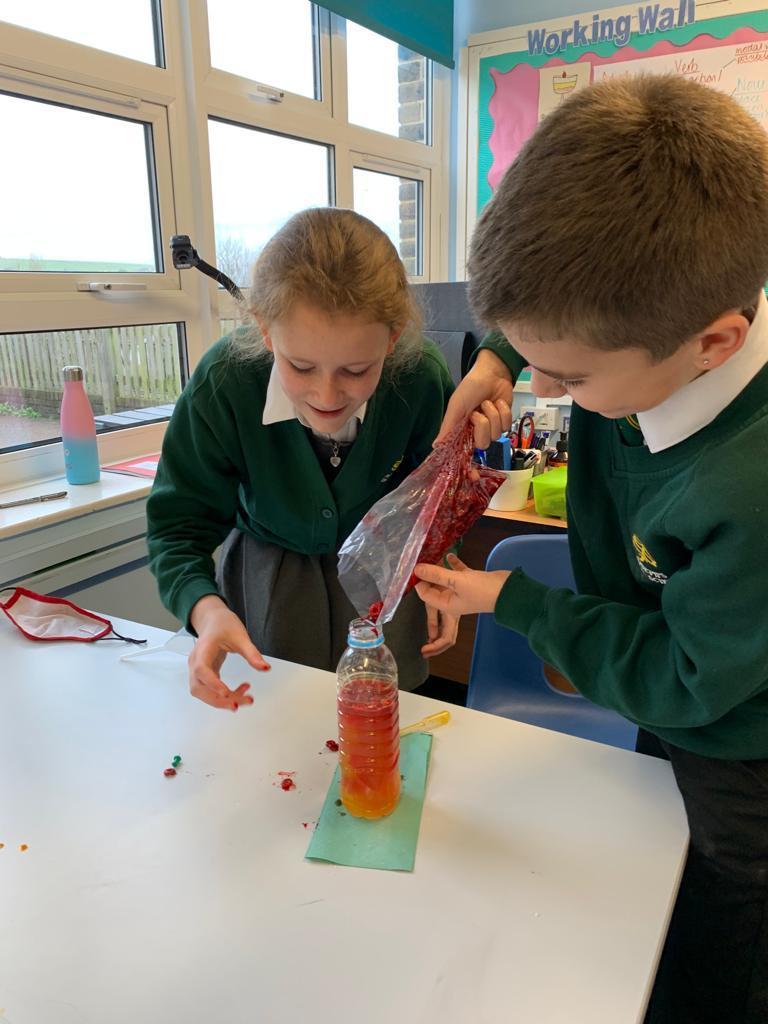 Merry Christmas and a Happy New Year!
13.12.2021
It's Christmas! In Year 6, we had a very exciting week whereby we completed lots of fun and exciting activities:
To start the week, we investigated our last science topic before the new year and looked at the reasoning for seasons based on the rotation and revolution of the Earth around the Sun. We created our own revolving planet model and used protractors, compasses and models to work out the positioning and its impact on the Earth's seasons.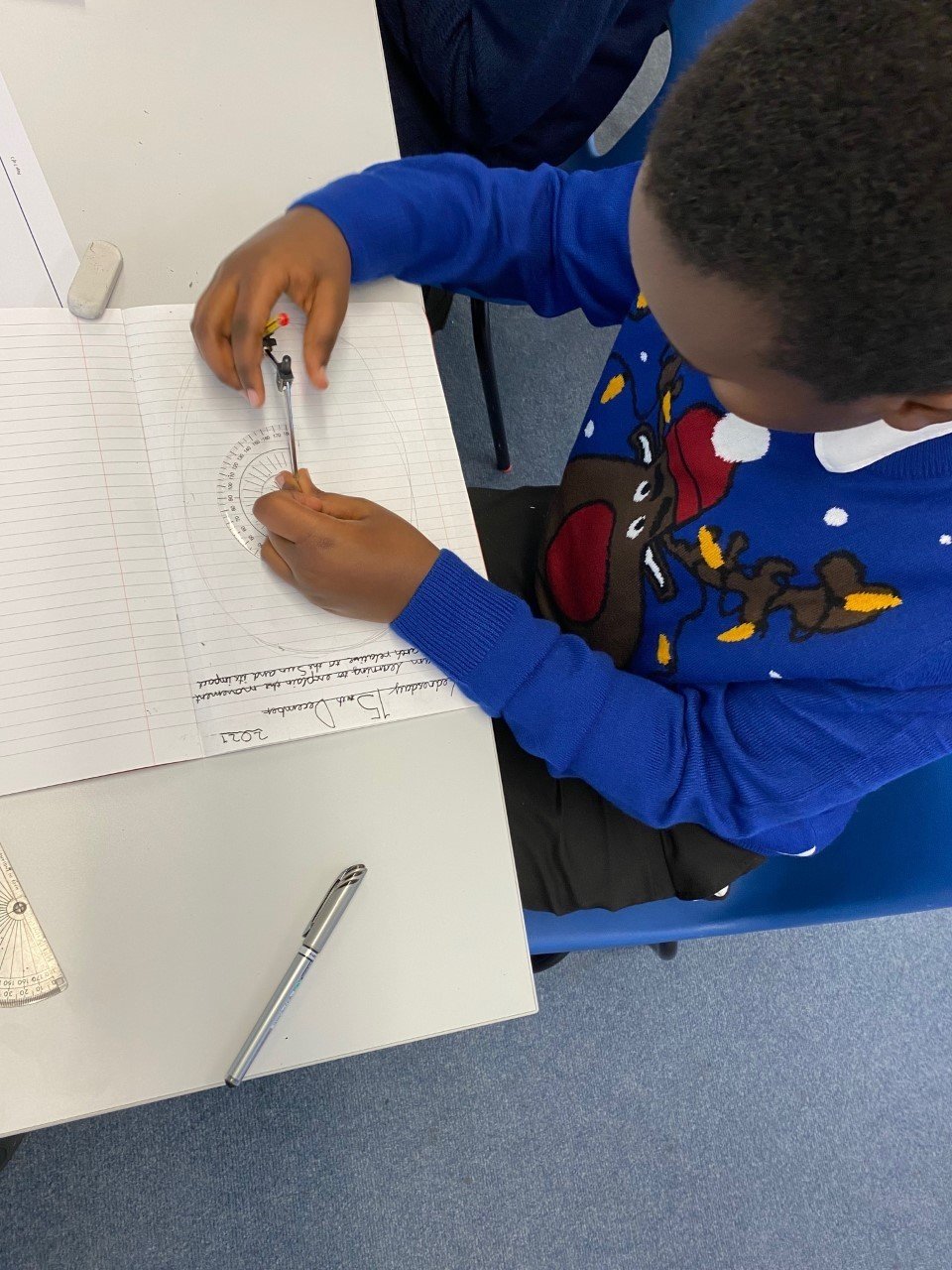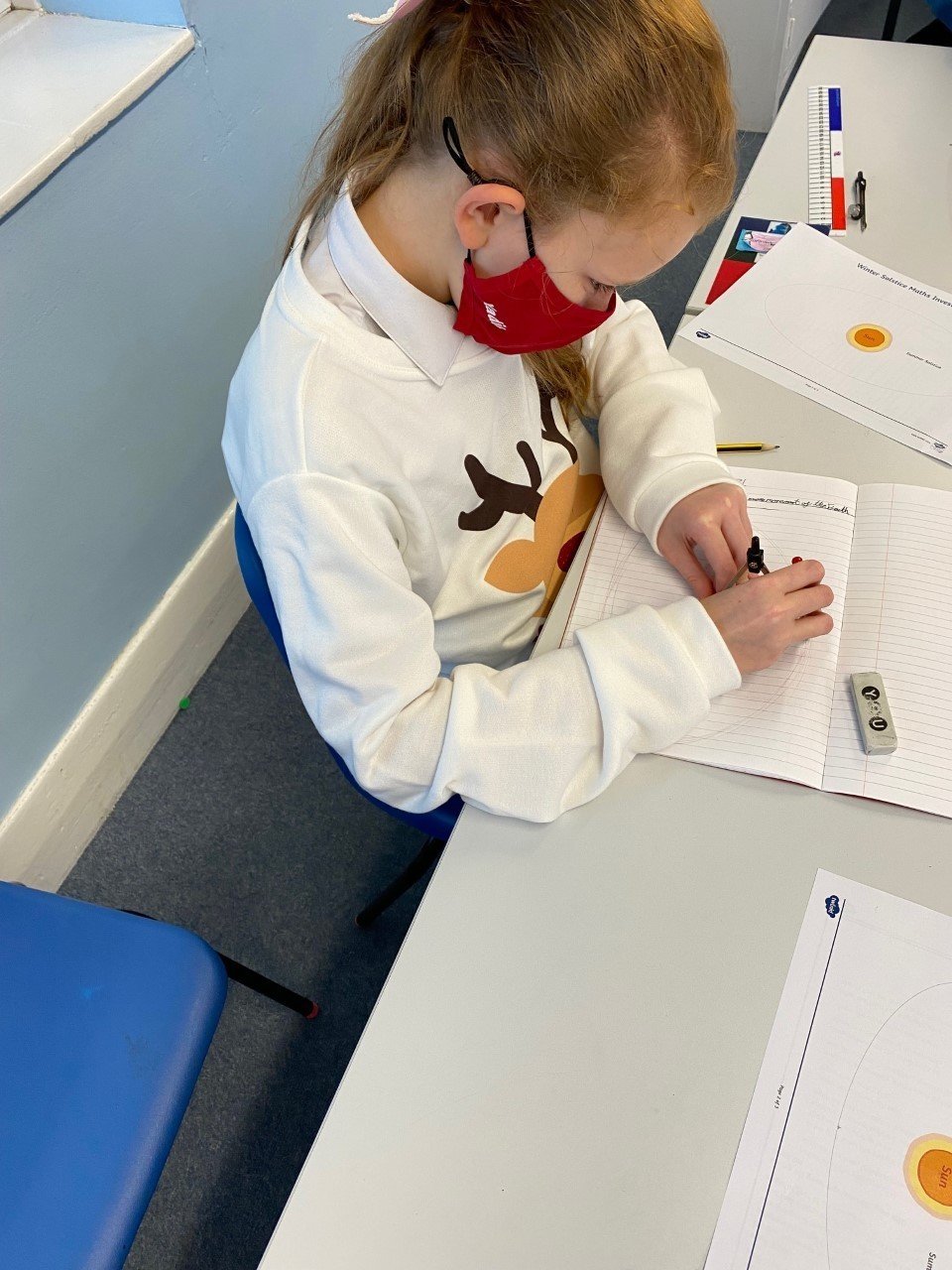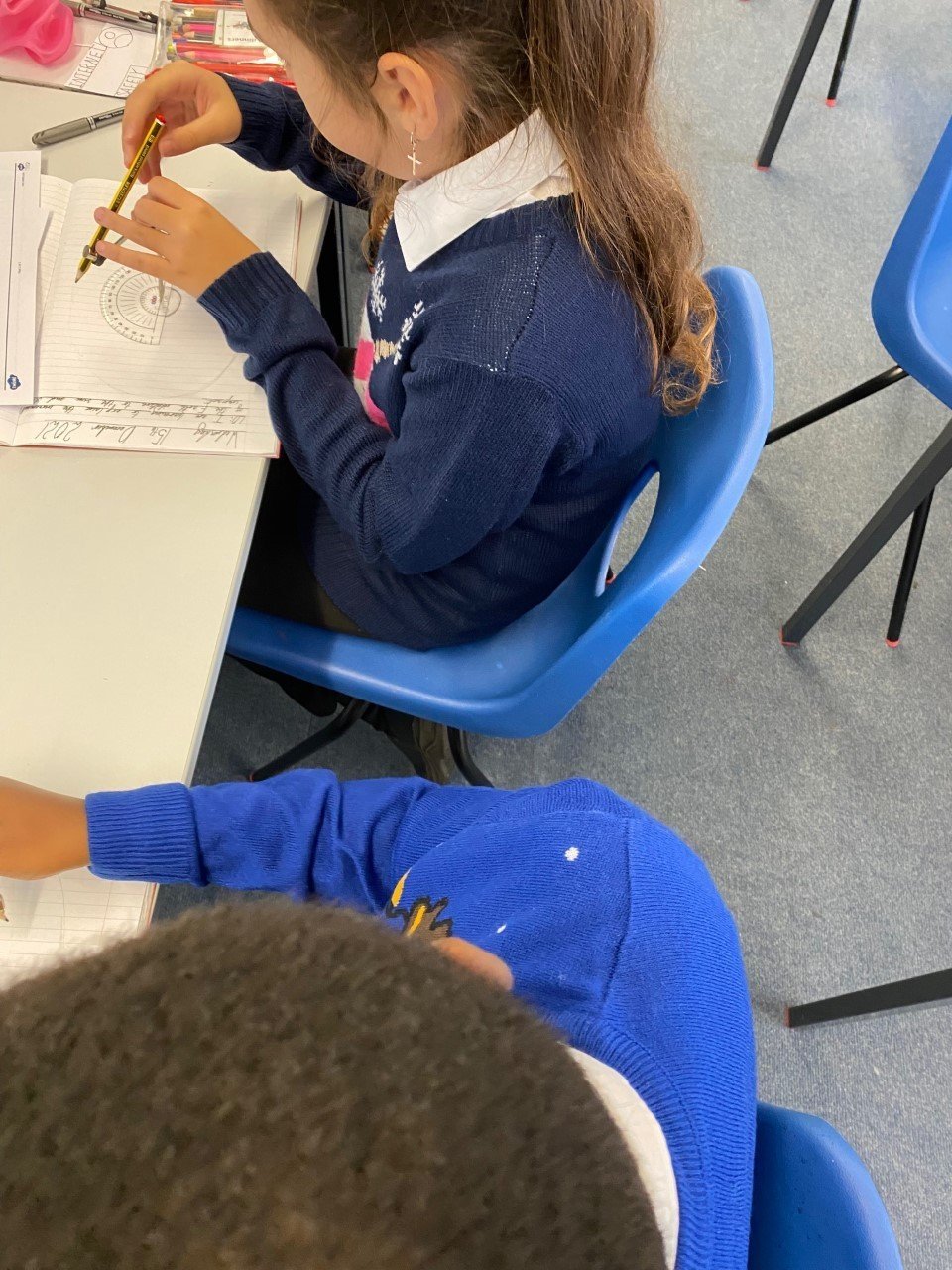 We created beautiful festive overlaid silent night song sheets, which had a Christmas or festive theme. These were then set and critiqued by one another in order to understand art improvement and appreciation.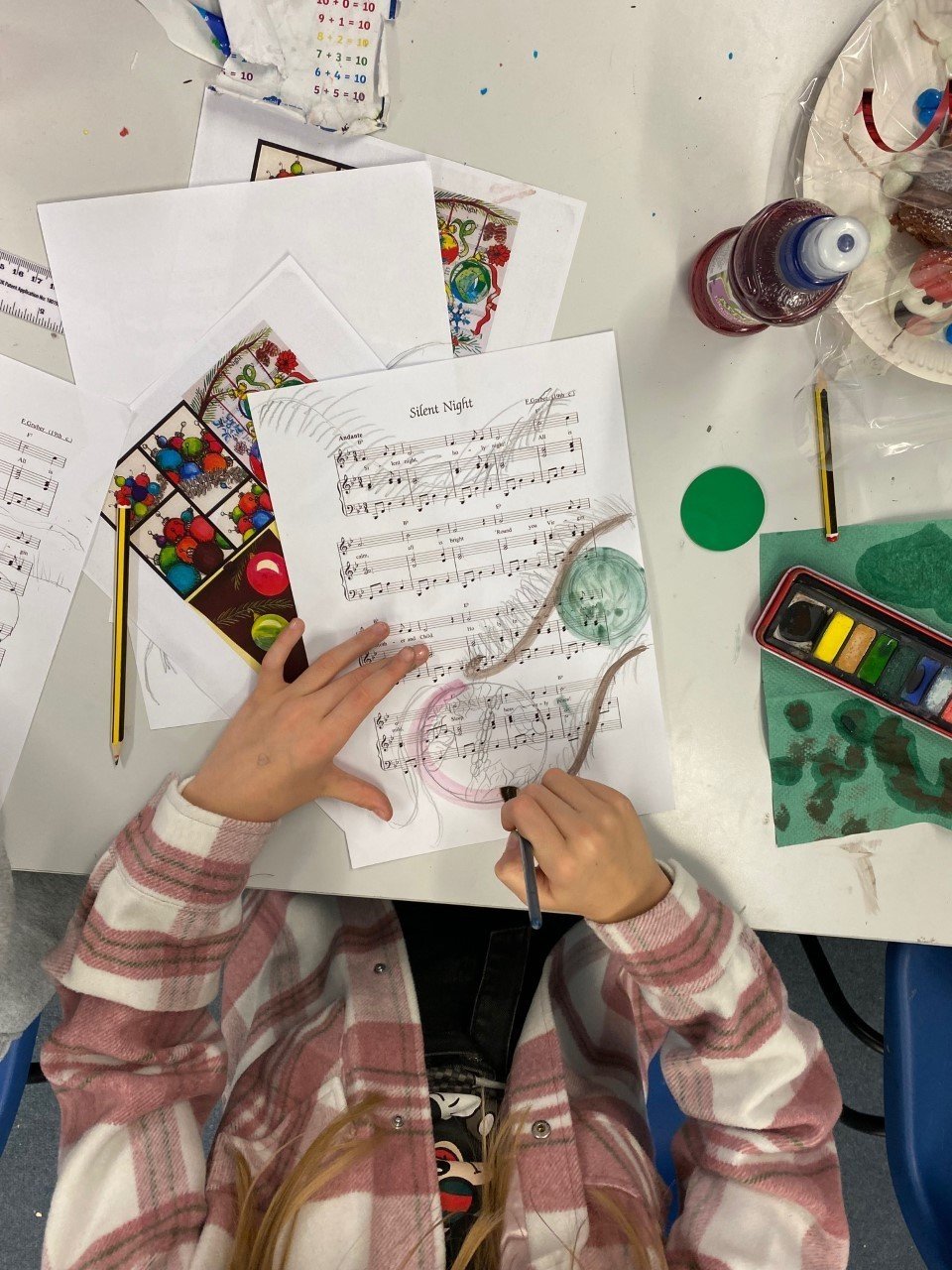 Following this, took part in a Christmas party and ate lots of yummy food, took part in a prize-winning Christmas Bingo and played a game of musical statues all together.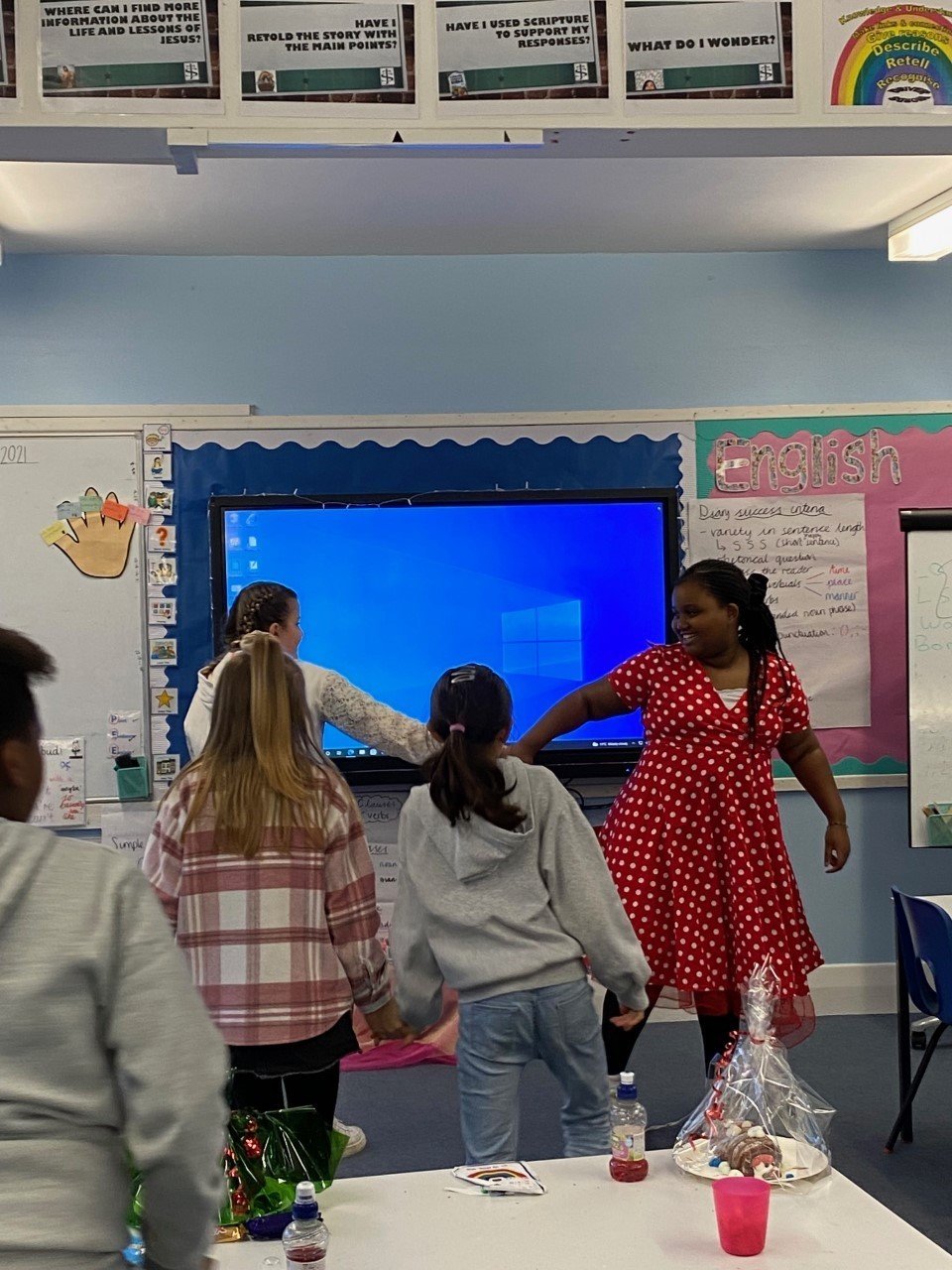 Finally, we decorated our own individual chocolate yule logs by creating and decorating tags and plates. We moulded our own fondant to create a festive scene of choice and then iced the chocolate logs. Independently, we wrapped and sealed our yule logs, ready for our loved ones! We hope you enjoy!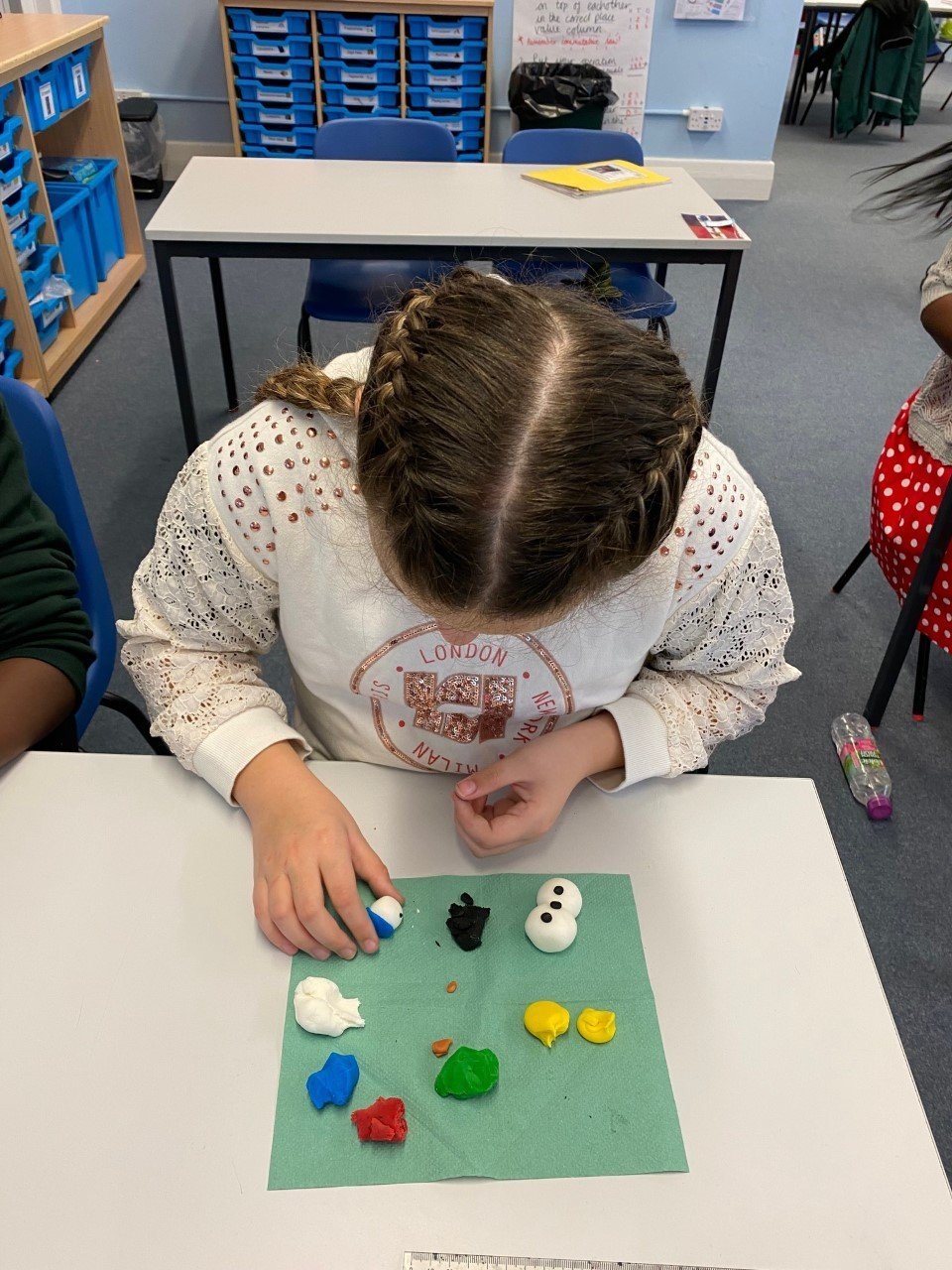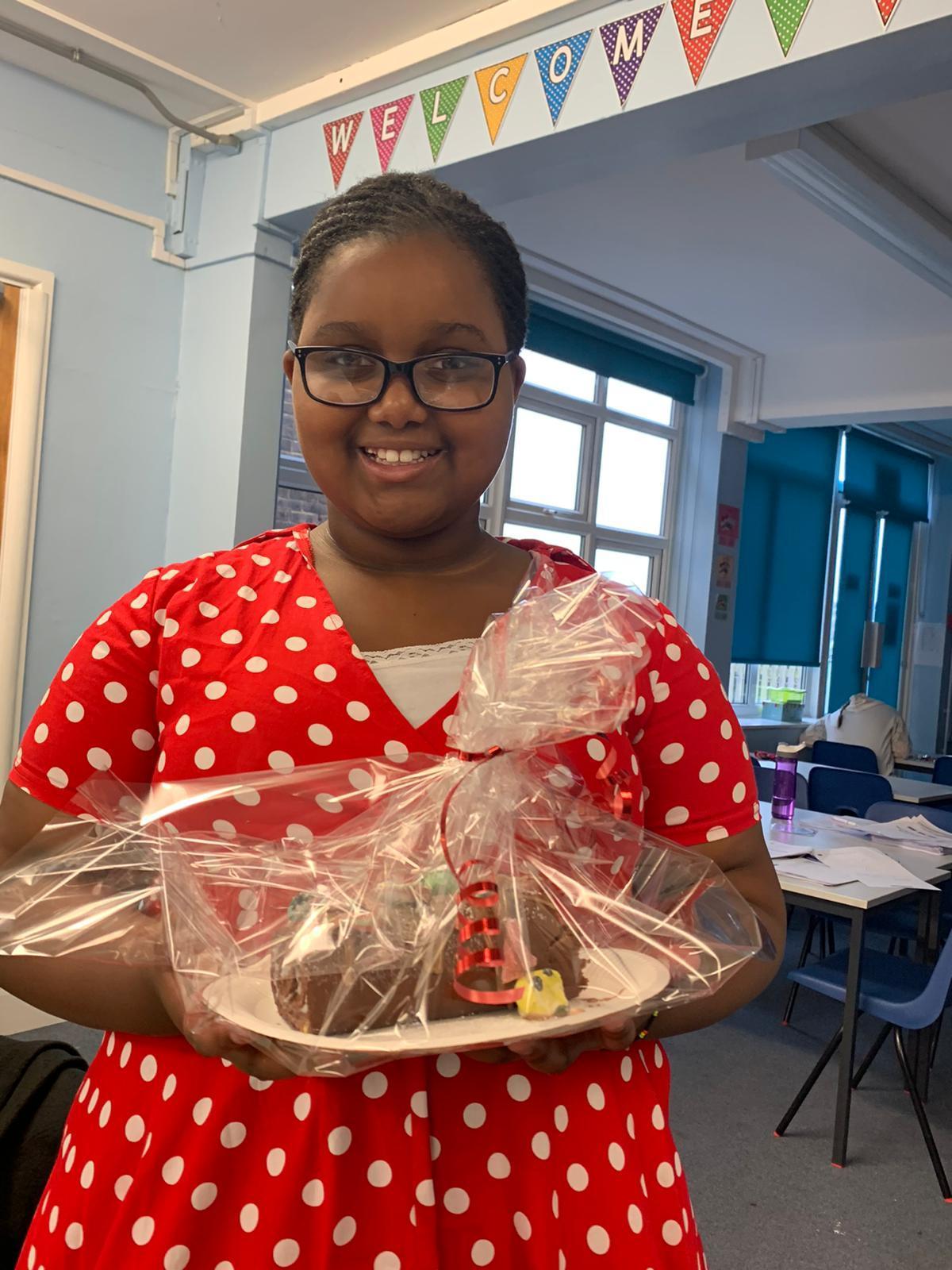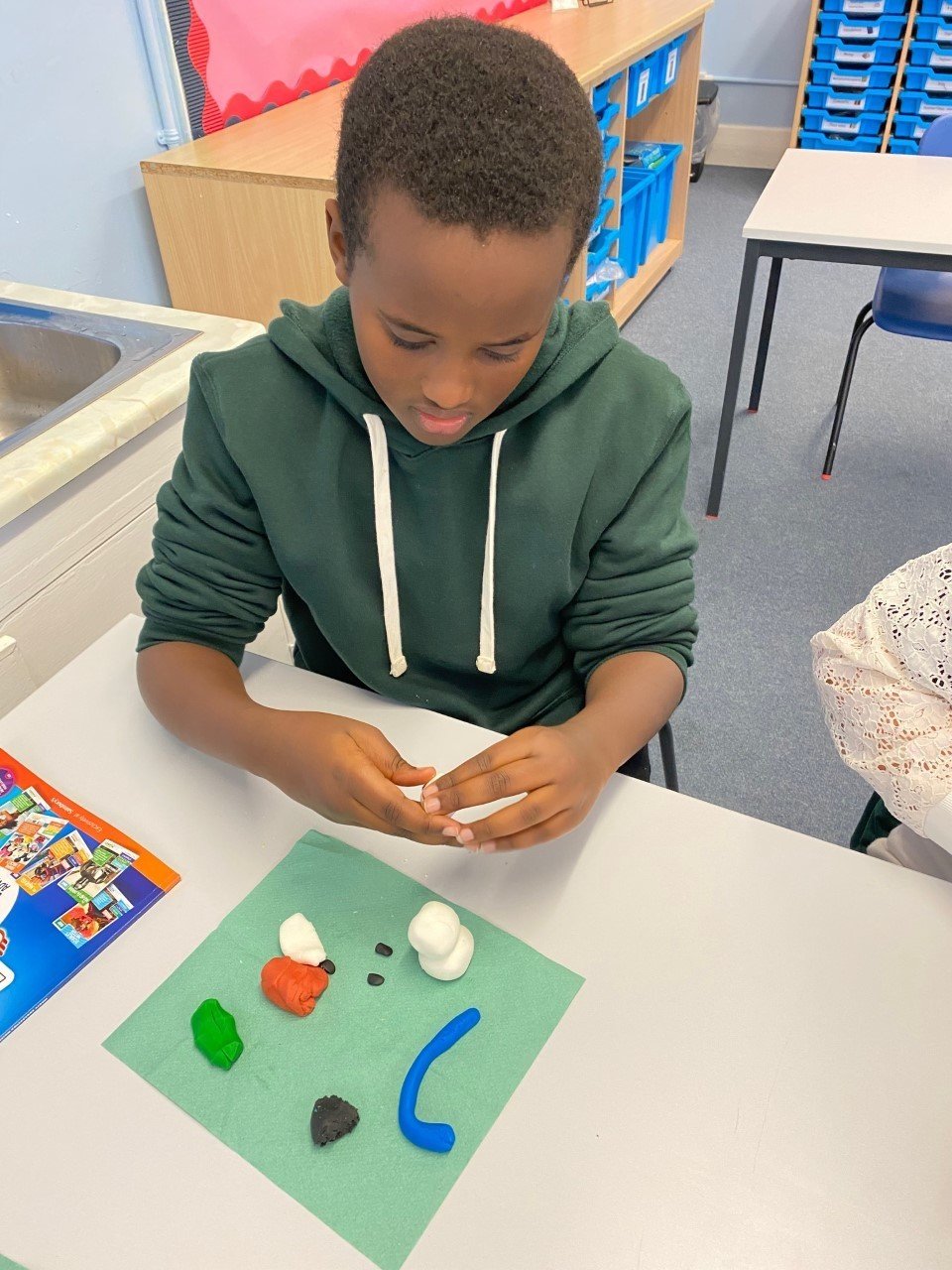 Reindeer Run up to Christmas
06.12.2021
In year six, we took part in the 'Santa Dash' whereby we dressed up in our fun festive attire to complete an obstacle course. We hopped like reindeer and ran laps around the course and had a great time!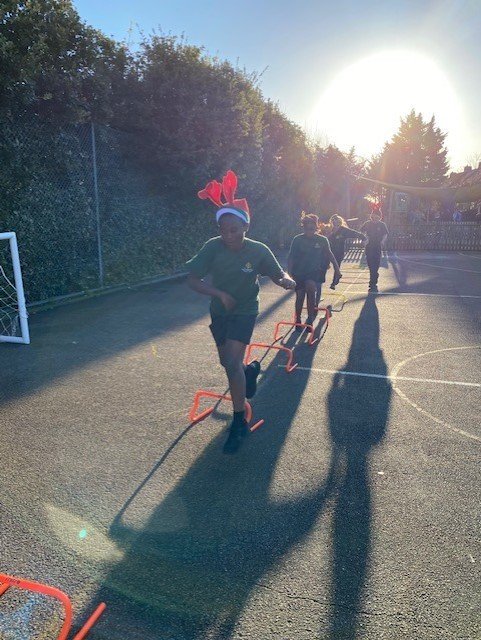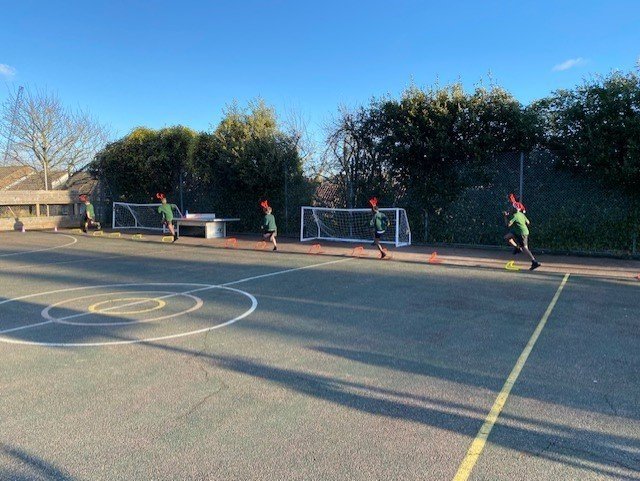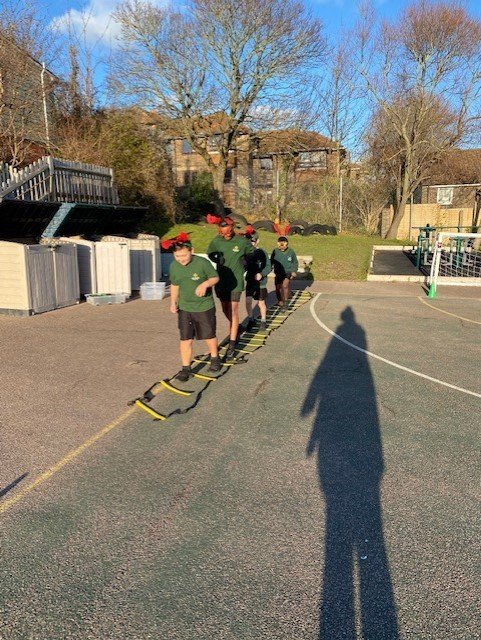 In RE, we prepared and preformed a two minute 'slot' for a radio programme entitled: 'The Word becoming Human Flesh'. This outlined what this term meant and explained the expectations upon Christians to live out this belief, particularly at this time of year. We preformed these slots to our class and ensured they were fun, interesting, informative and engaging for the audience- we even included some jingles in the adverts!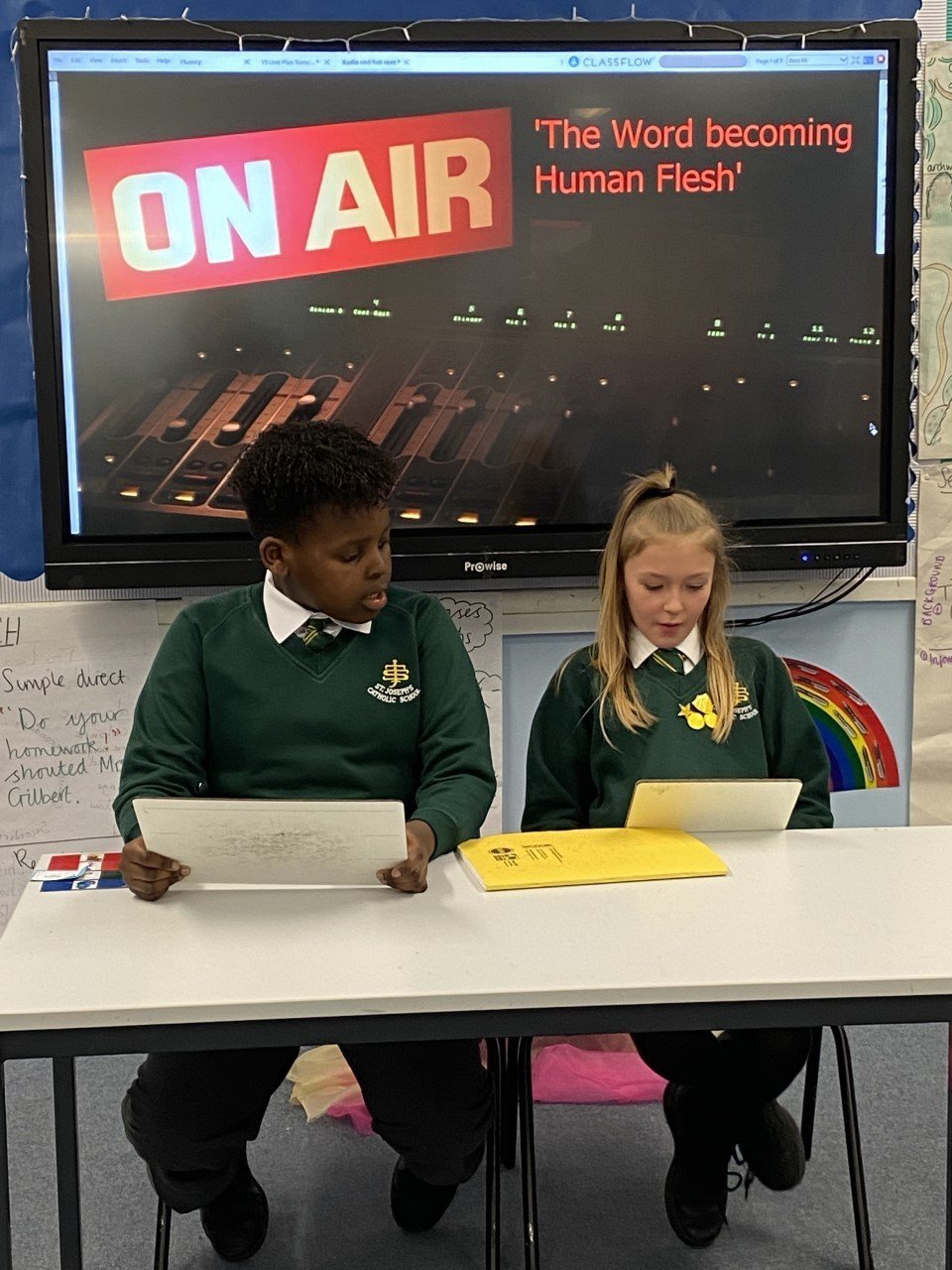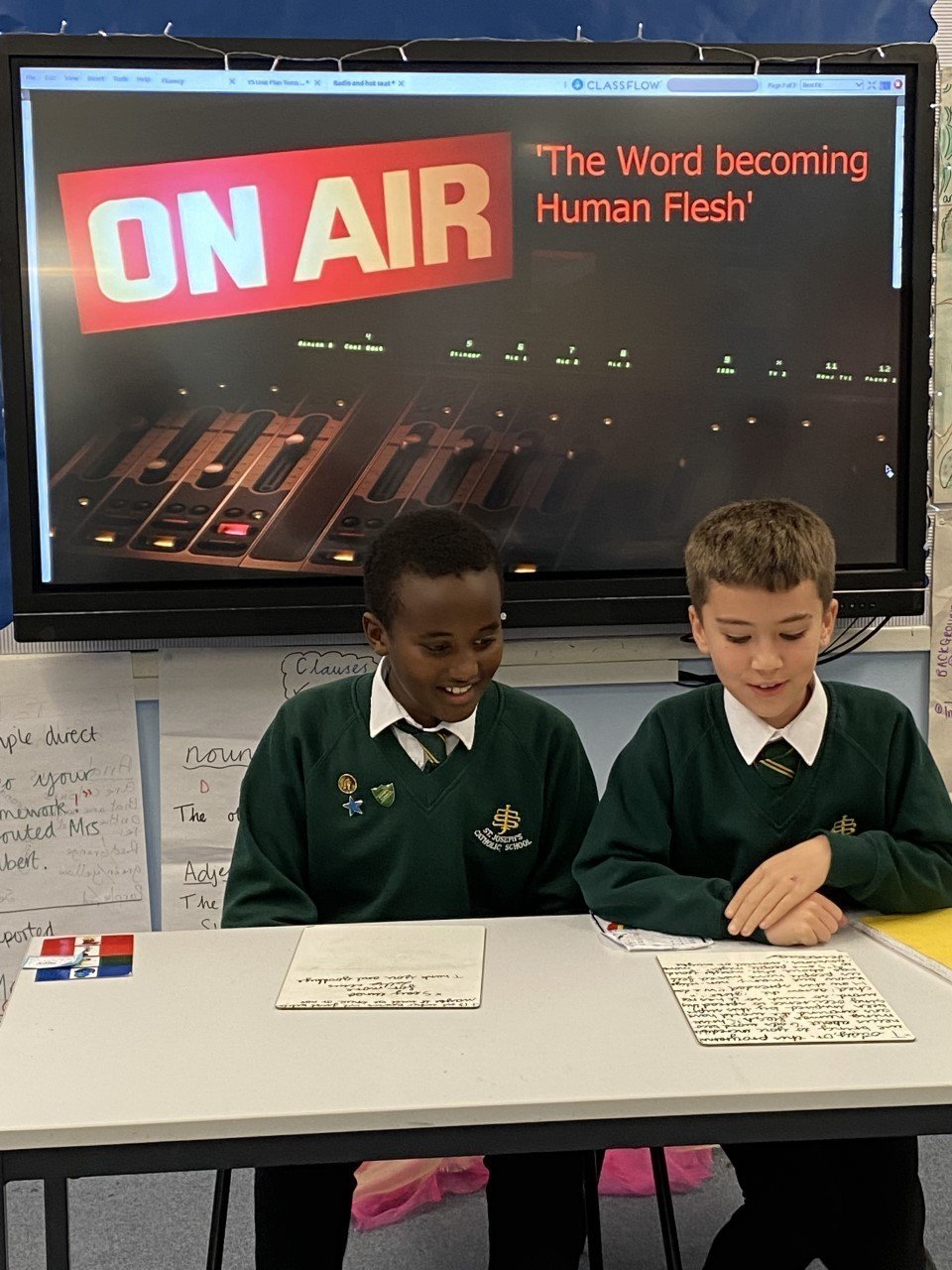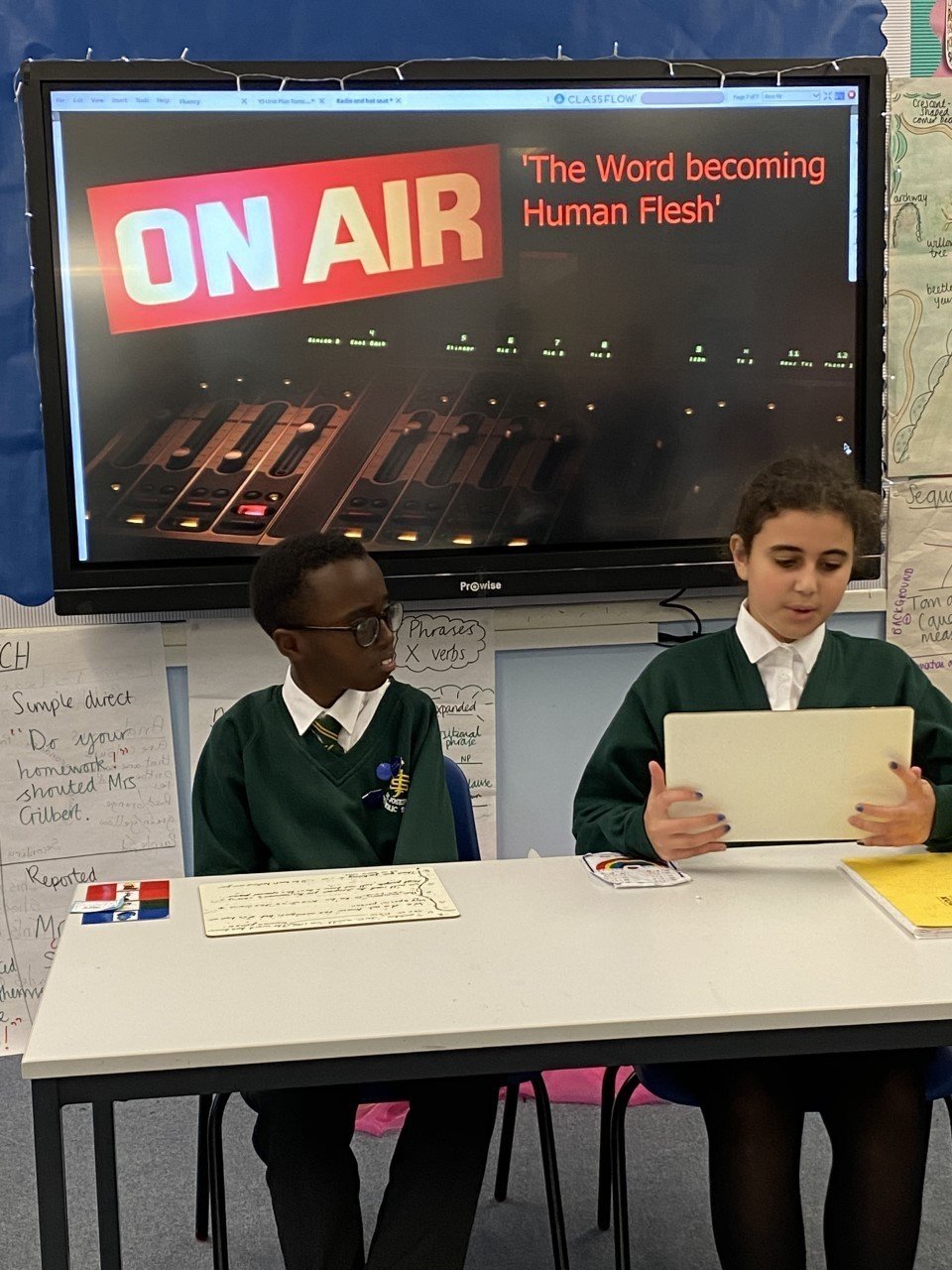 Finally, in French, we learnt how to count from 0 to 70 and completed a game of hide and seek whereby we counted in different intervals in French. Below are some photos of our French counting in the game and the fun we had learning these numbers!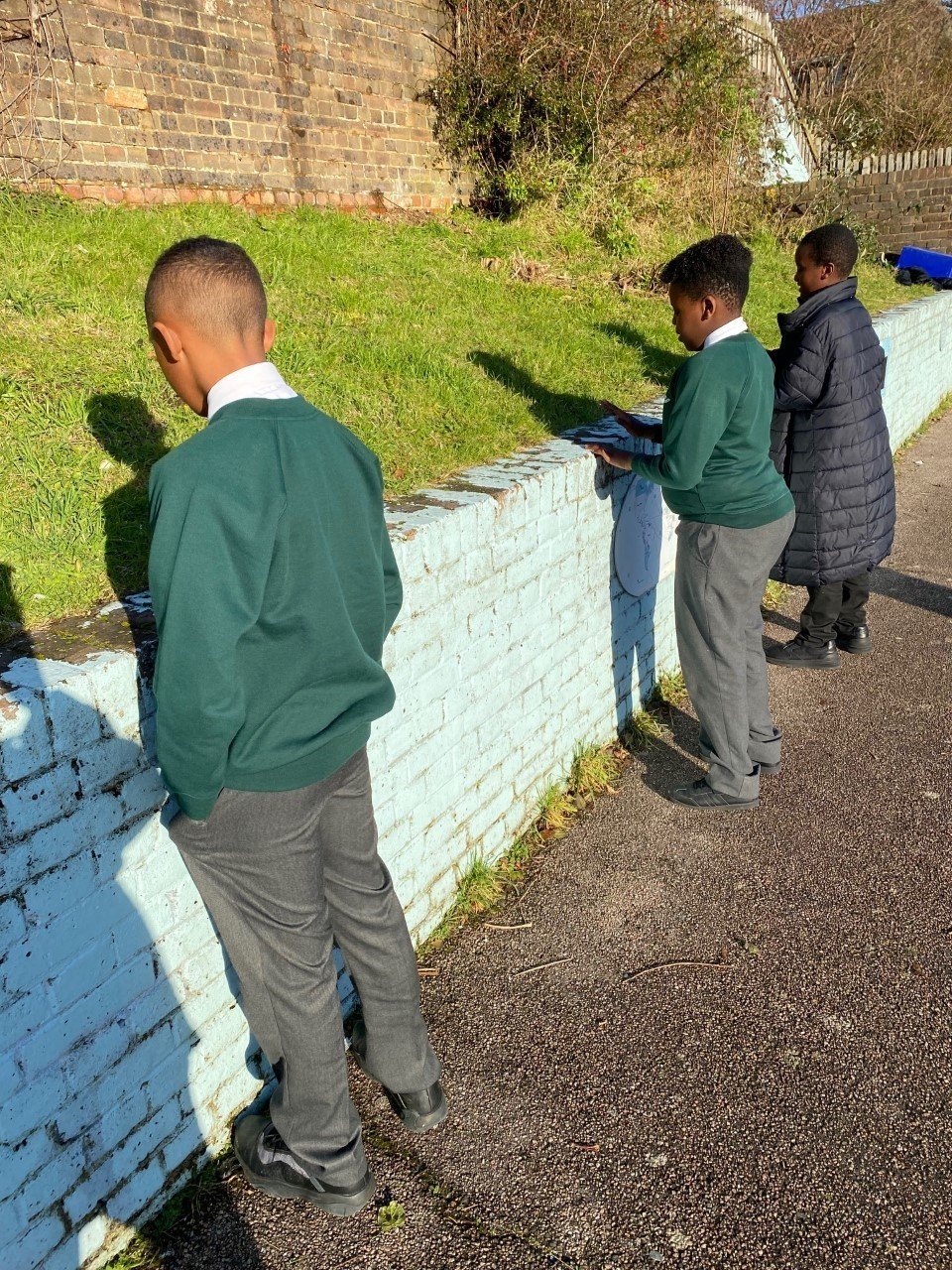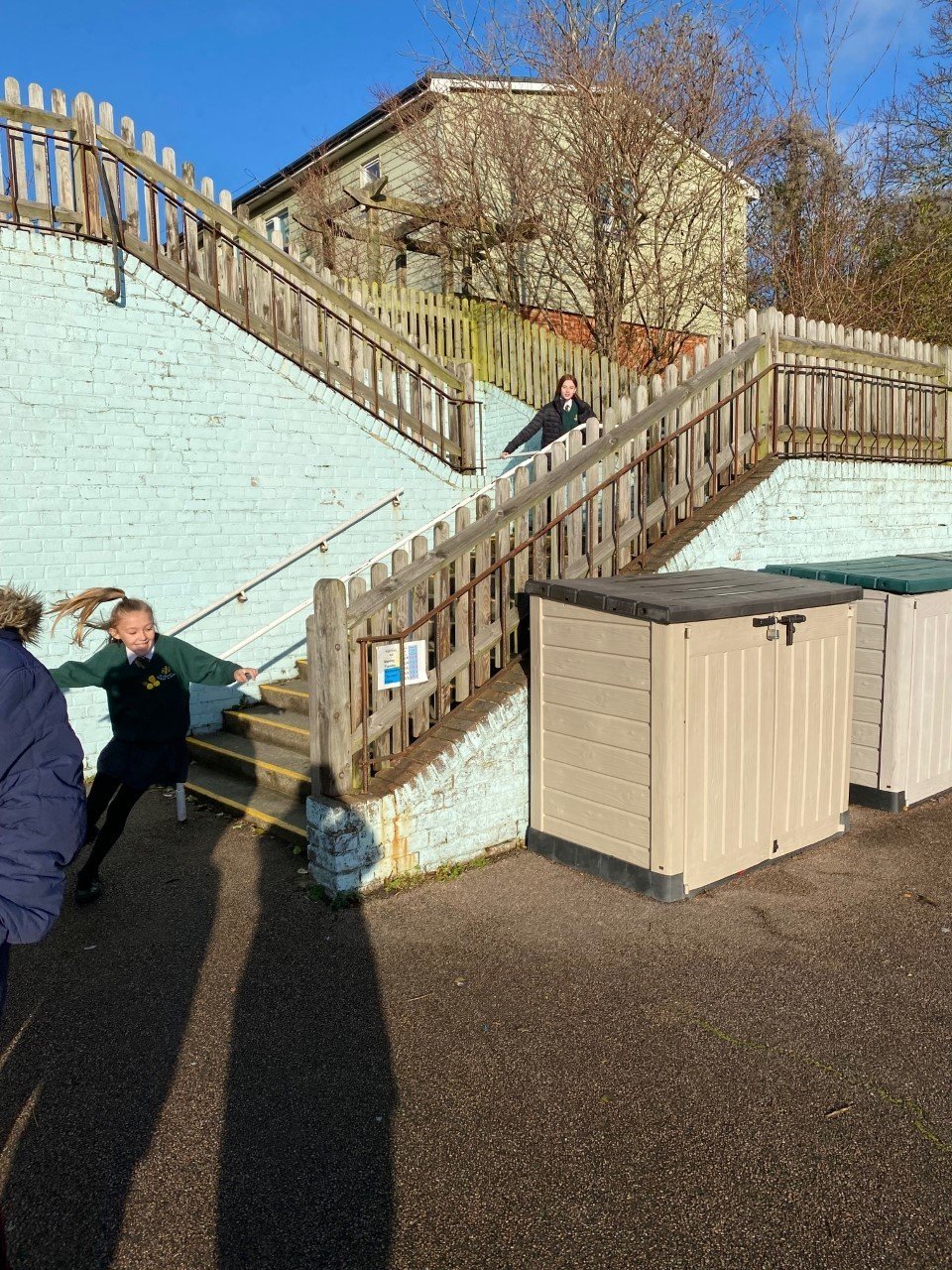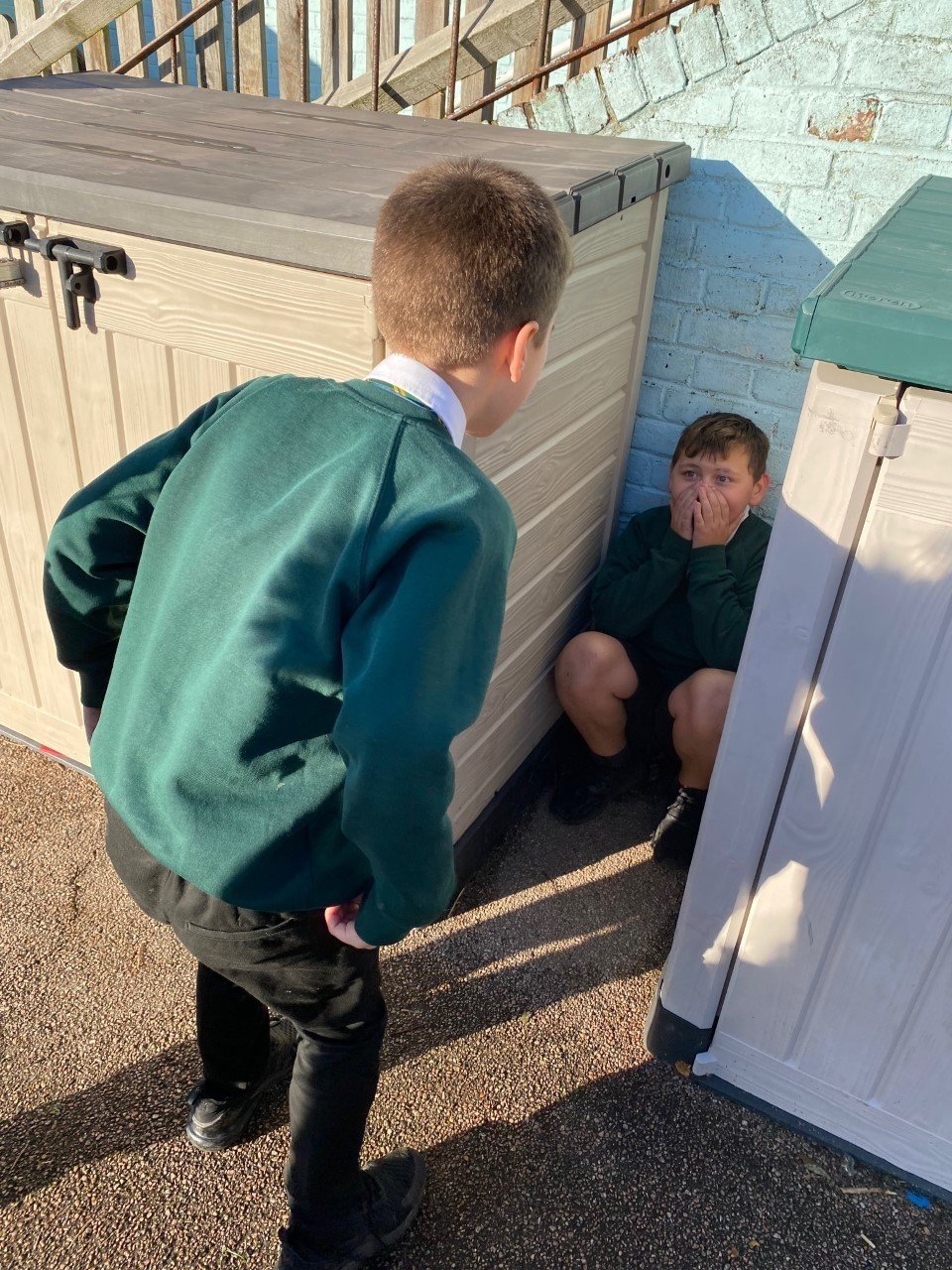 Outdoor Learning Celebration
29.11.2021
This week, Tom has gone missing! Our main character from our book (Tom's Midnight Garden) has been reported missing by his aunt and uncle. His family are dearly worried about him and Year Six have become detectives and journalists for the week in order to help find Tom. Year Six created informative missing posters and participated in freeze frames to understand how different character's are feeling before and after Tom's last appearance.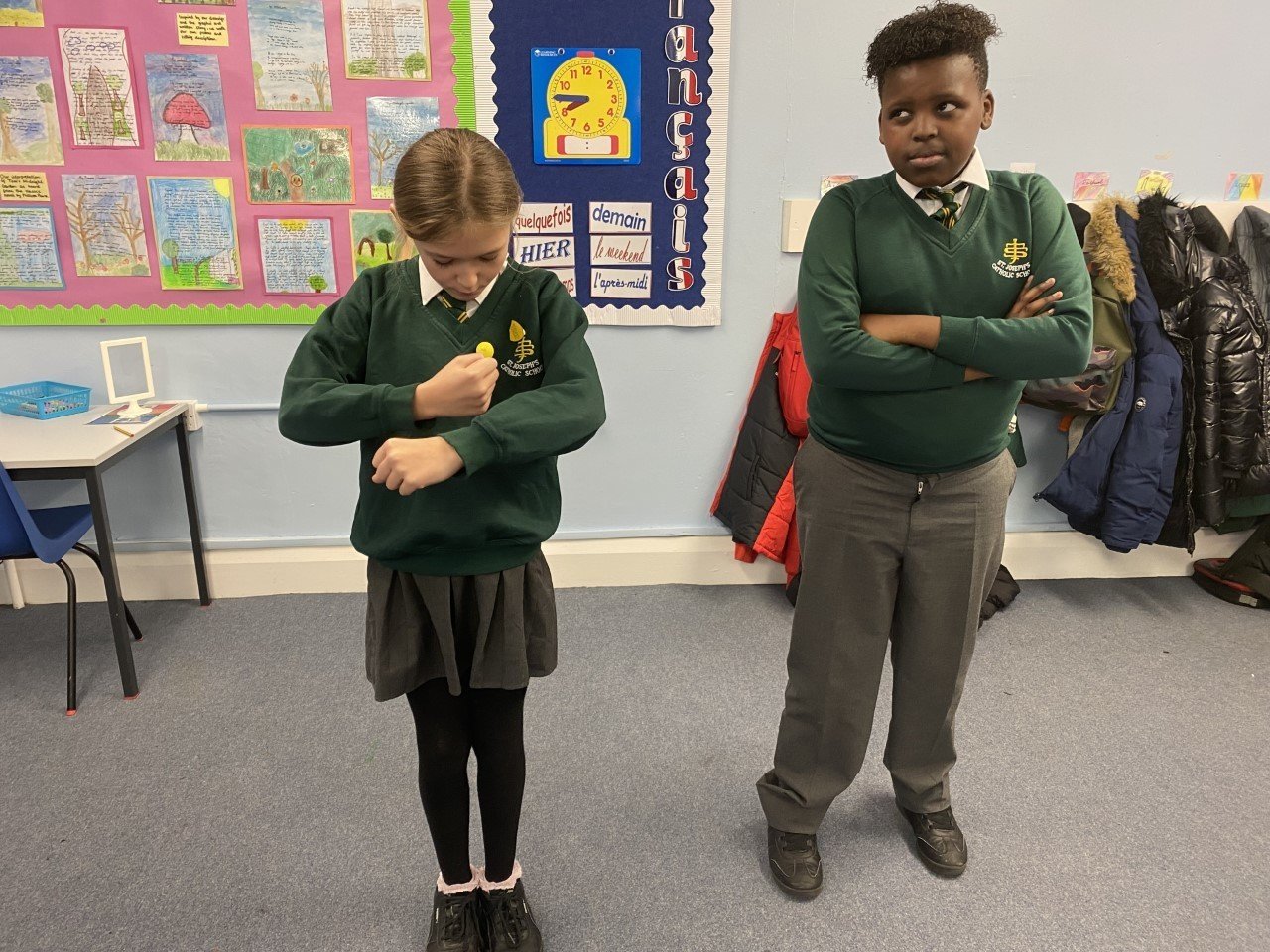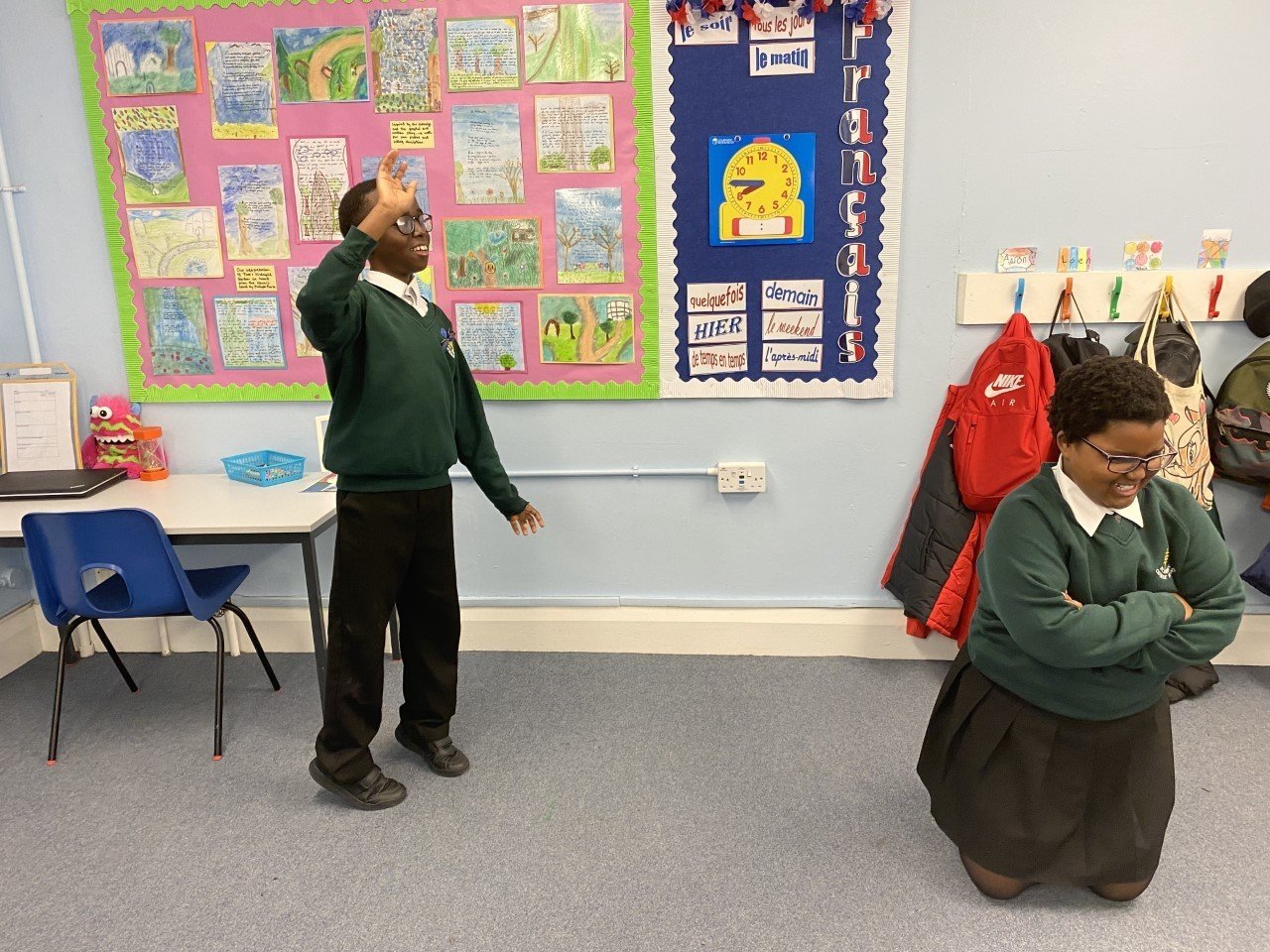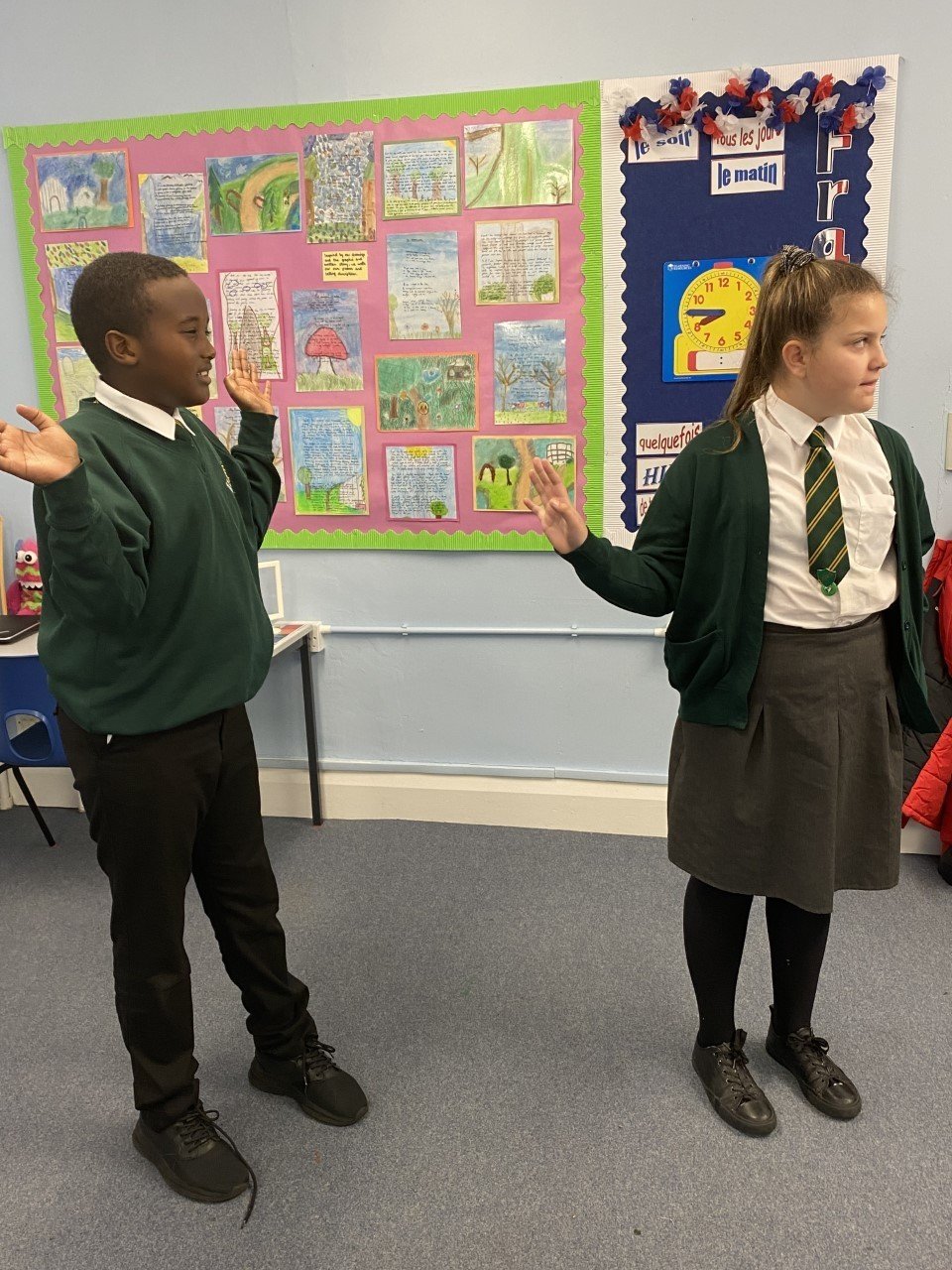 Additionally, we interviewed the characters to try to discover more hidden details about where and when they last saw Tom. Watch this space for our newspaper reports coming out soon, filled with all the information we discovered, in hope of finding poor Tom.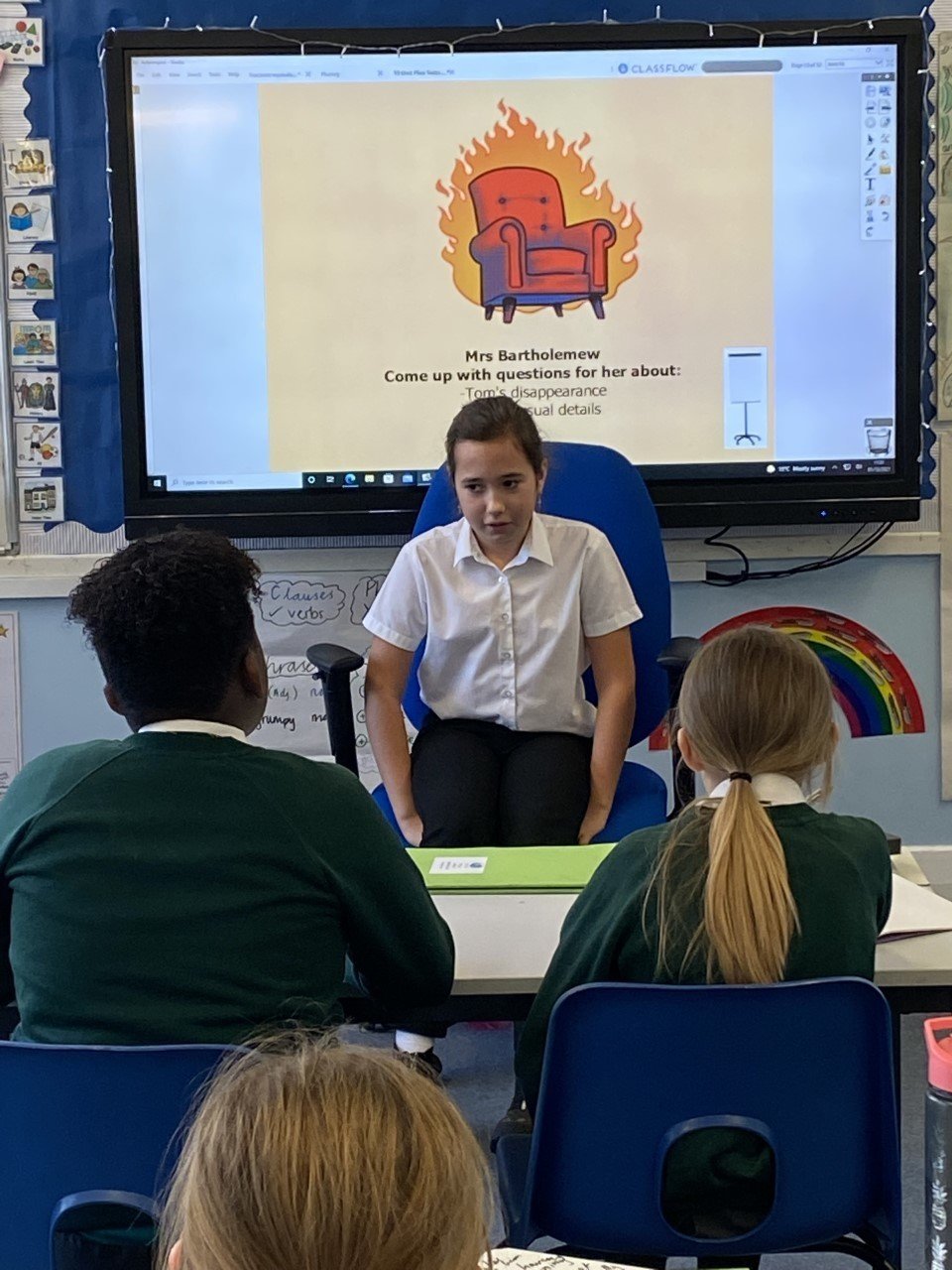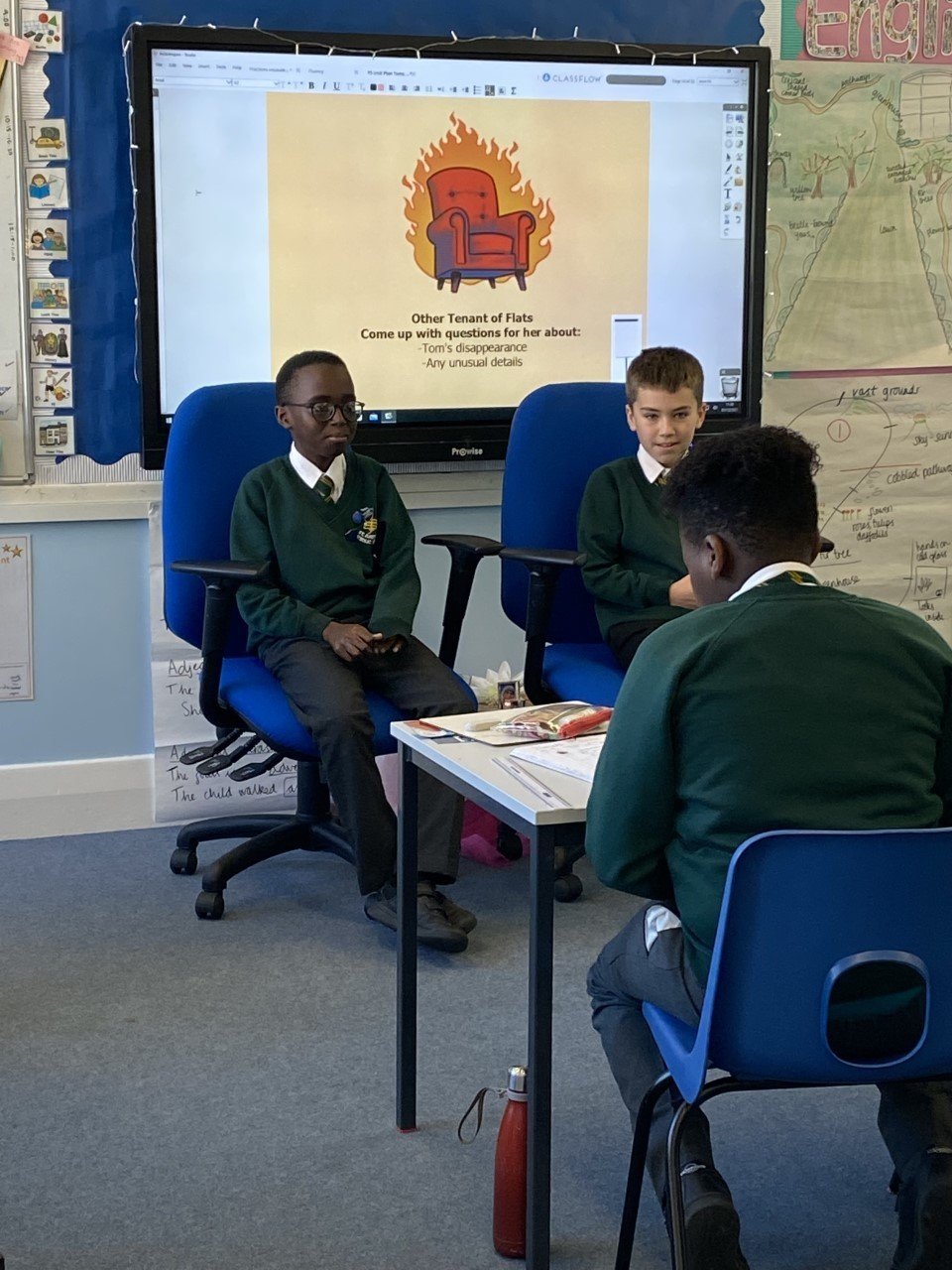 Finally, we had a brilliant time outdoors on Friday! We sawed and cut wood and painted with nature's paint (wet mud!) to create our own Mayan codices and art. In the afternoon, we learnt about the impact of materials and their properties to perform different tasks and created our own autumn/winter leaf rubbing and watercolour images.
See below for the photo gallery of our fun experience:
Sharing with Others
22.11.2021
This week, we published and performed our poems for the class. The children used beautiful oracy to share their lines and stanzas. All of our beautiful poetry, descriptions and art work will be celebrated on display in our classroom very soon!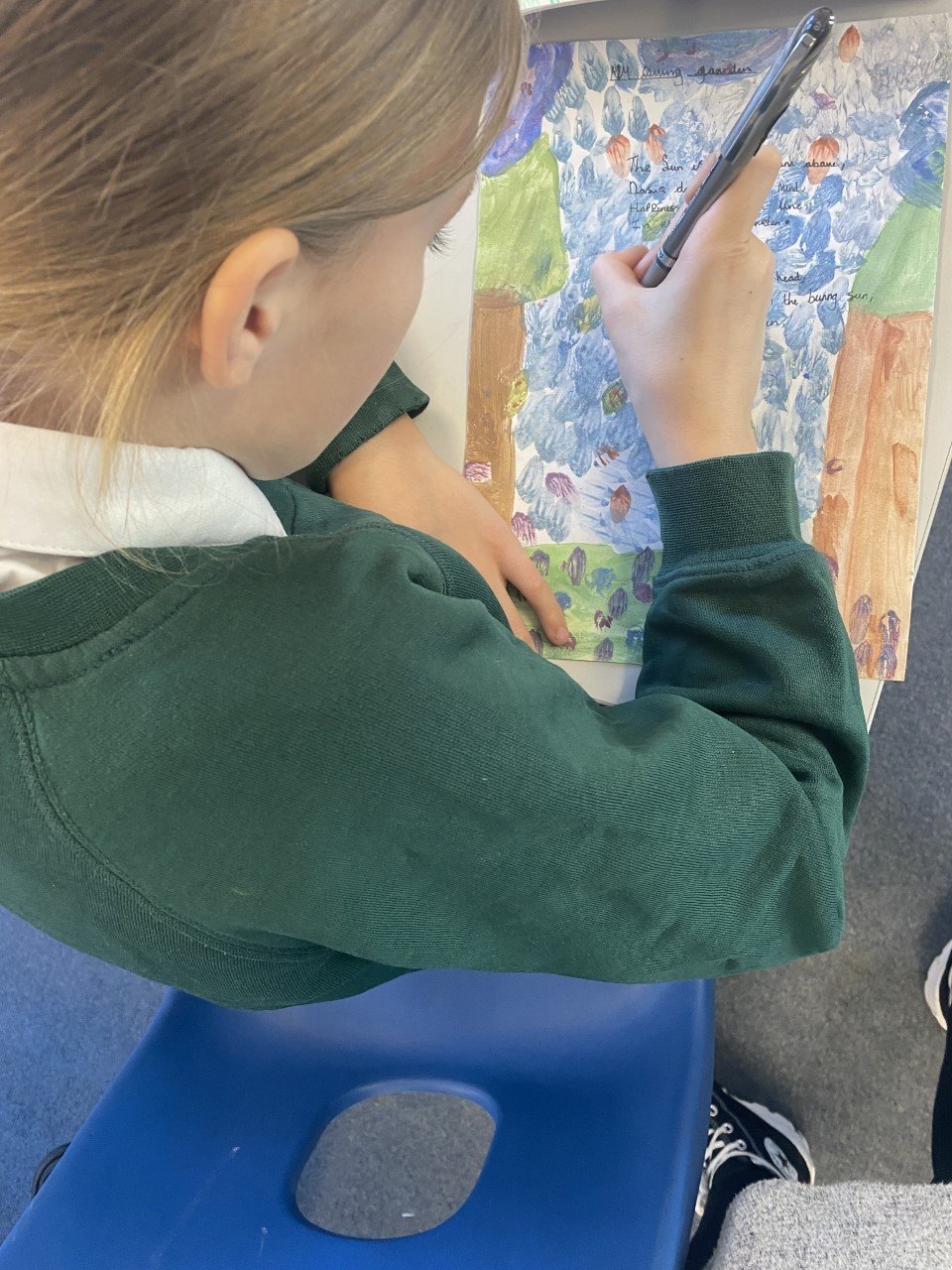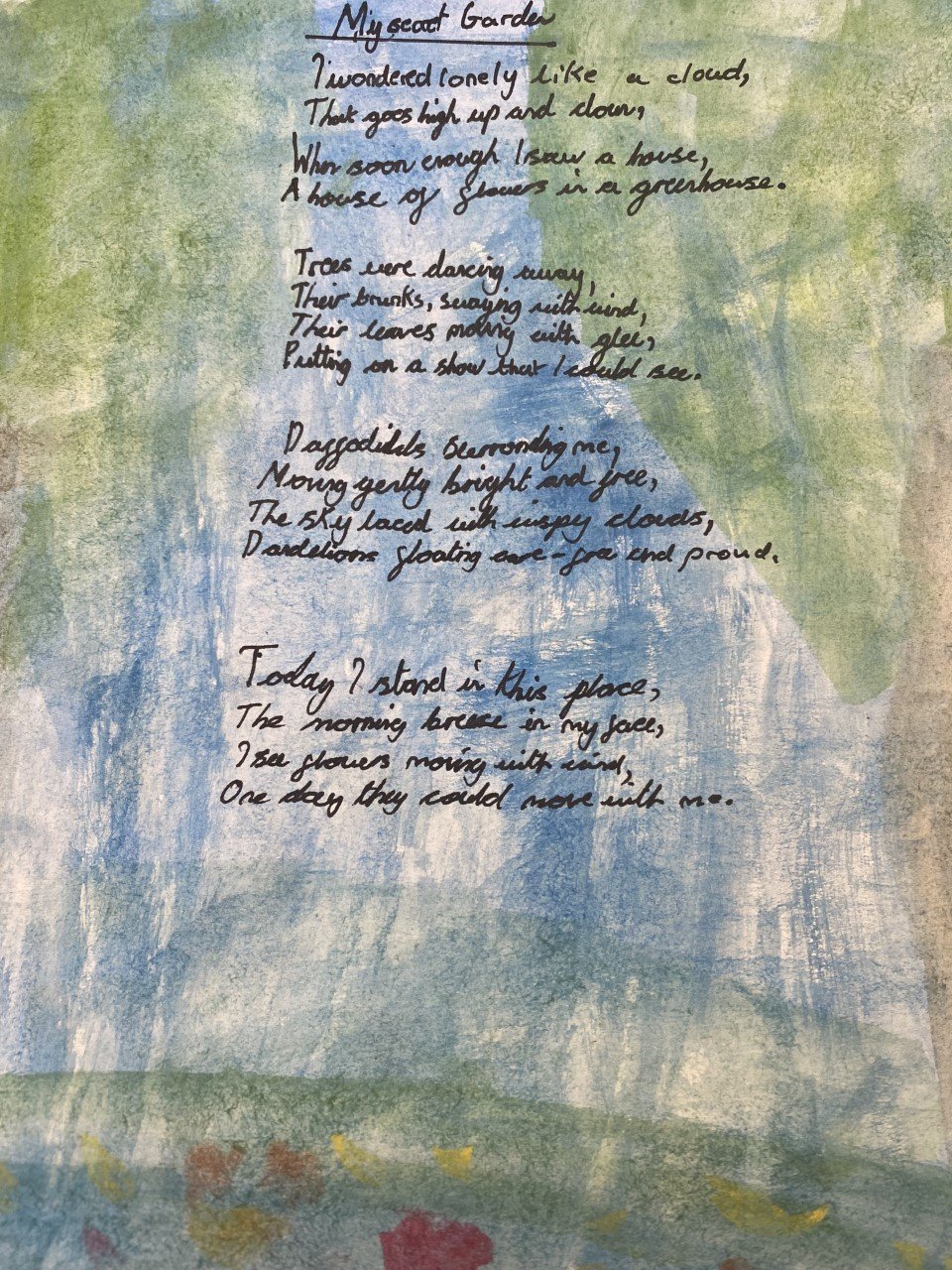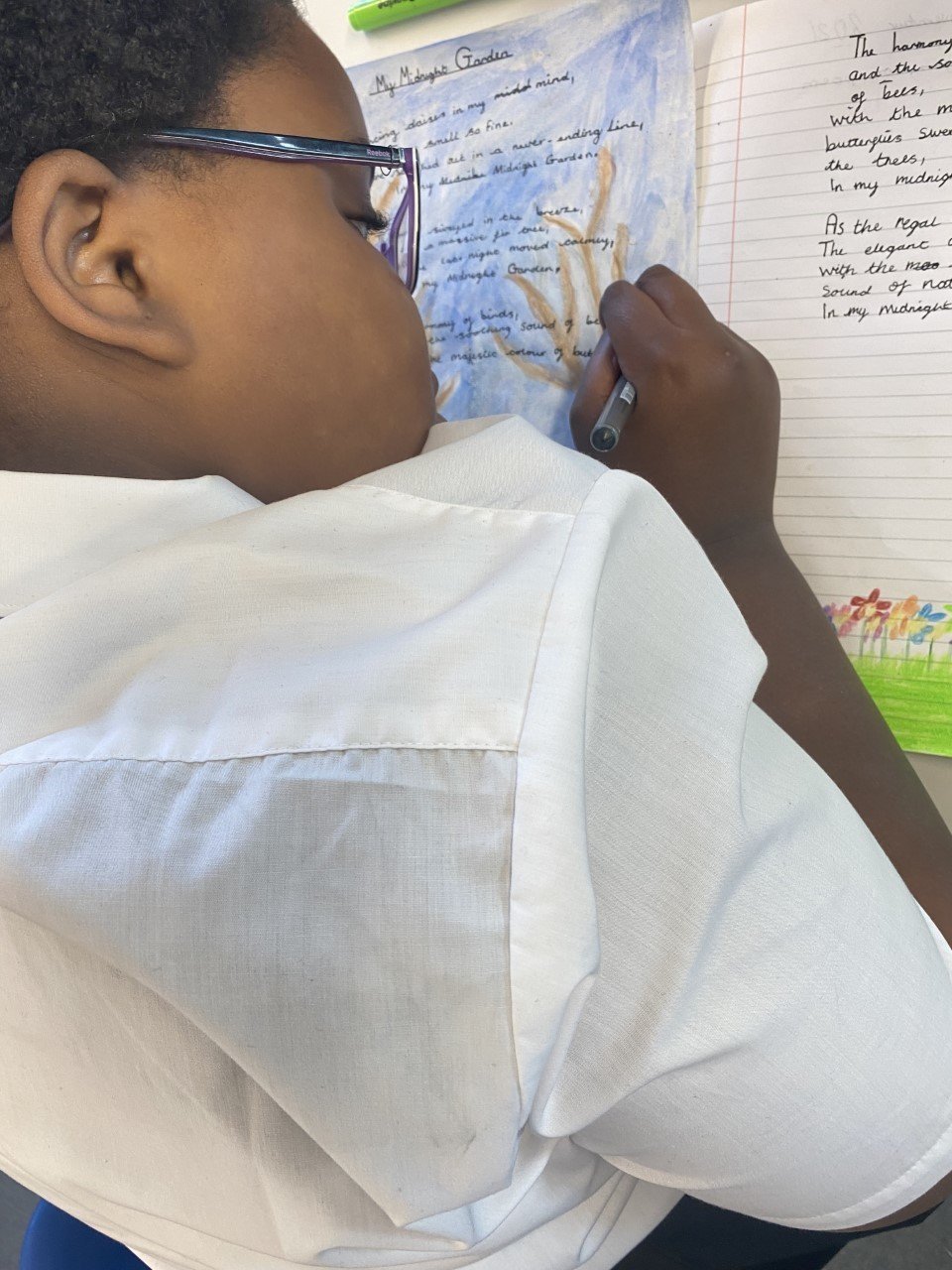 In RE, we started to look at expectations and the impending expectations. We created our own prediction game filled with expectations of ours and played a game to share these with our partner.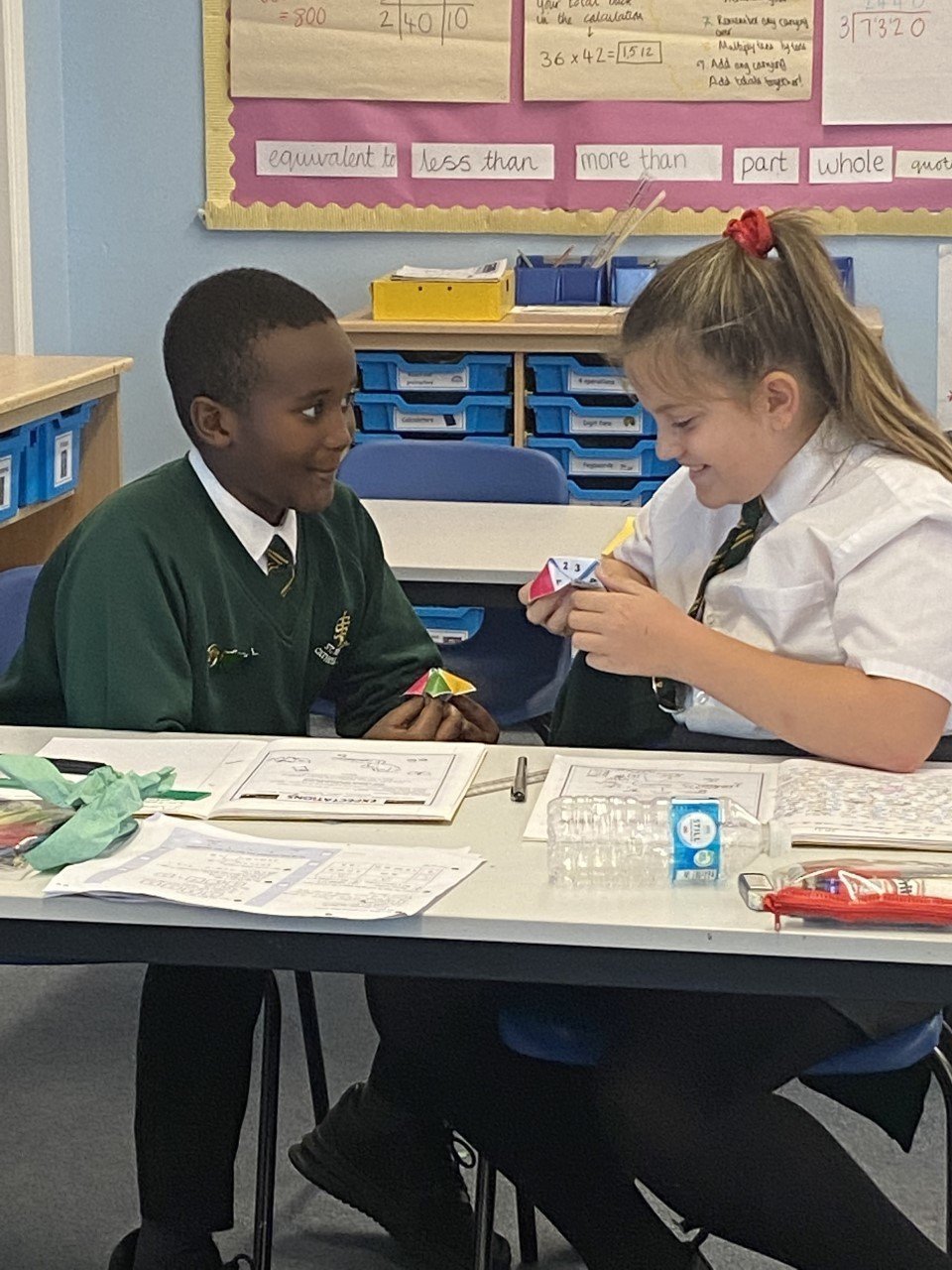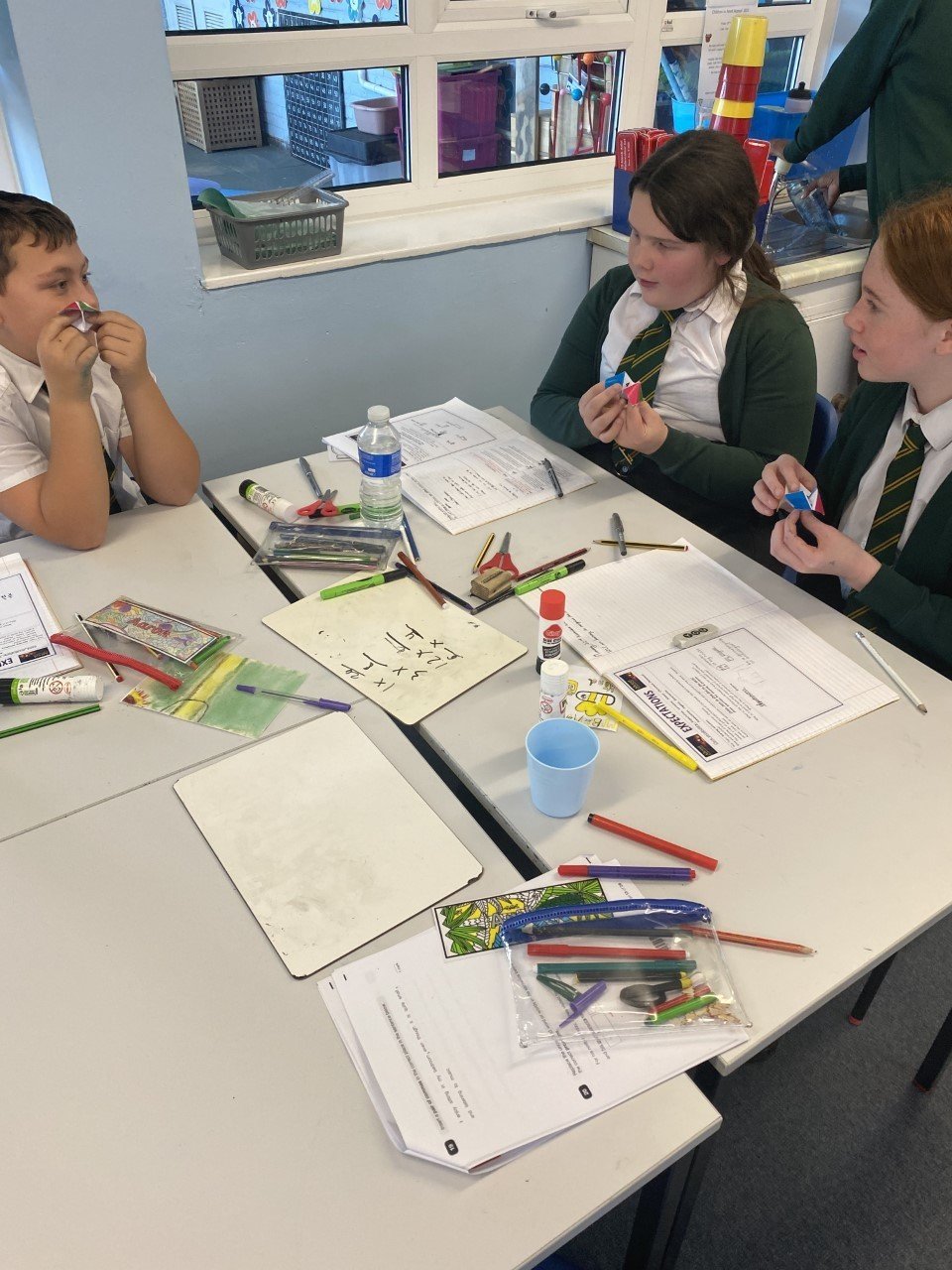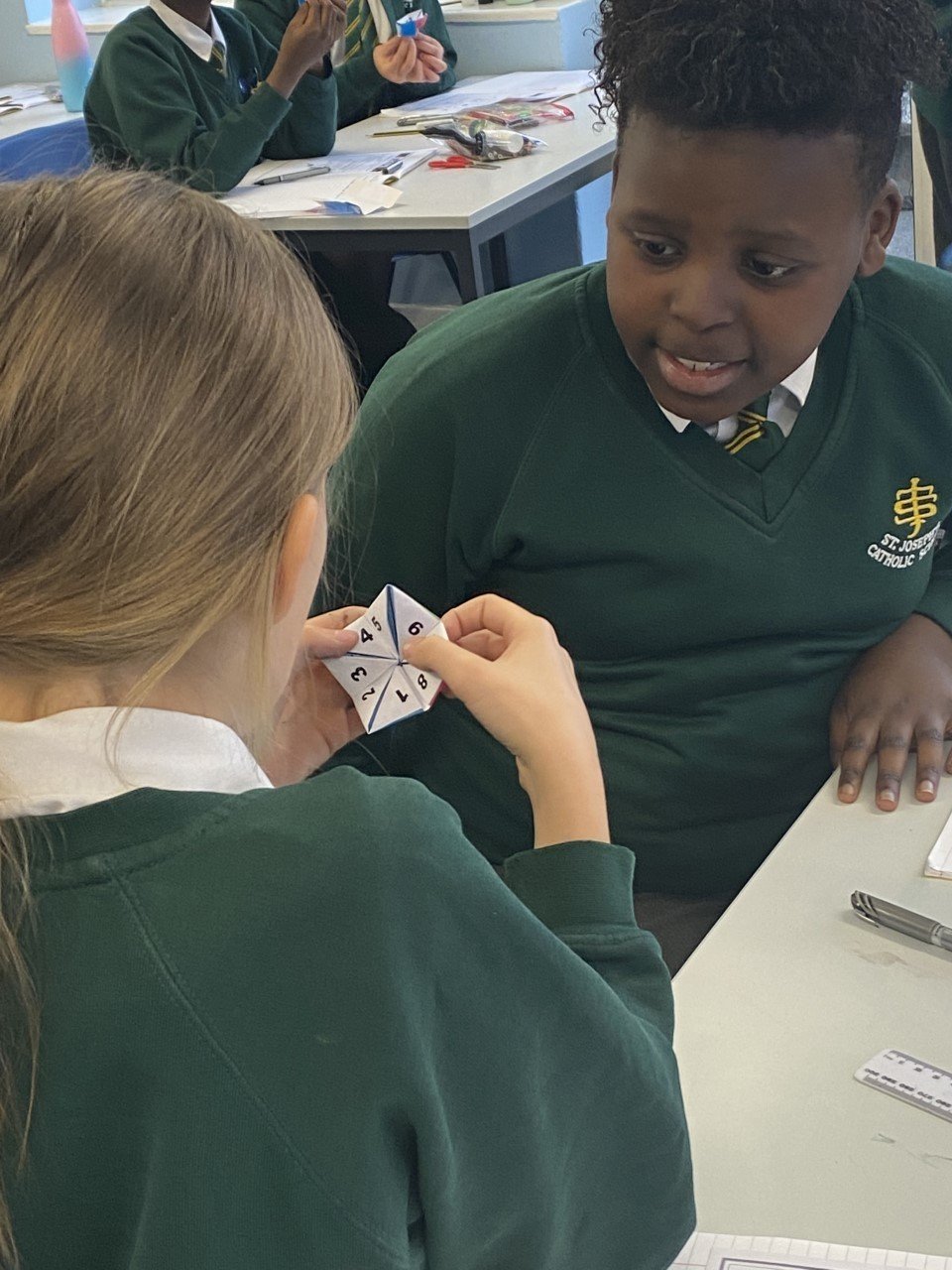 Finally, continuing to learn about adaption and natural selection, we investigated whether a physical adaptation makes a different to a species chances of survival. We all had different utensils/'beaks' and had to source as much food into our 'stomachs' in order to survive. We learnt about what happens when a whole species dies and the reasons for extinction. We will be using our findings and translating them into a graph!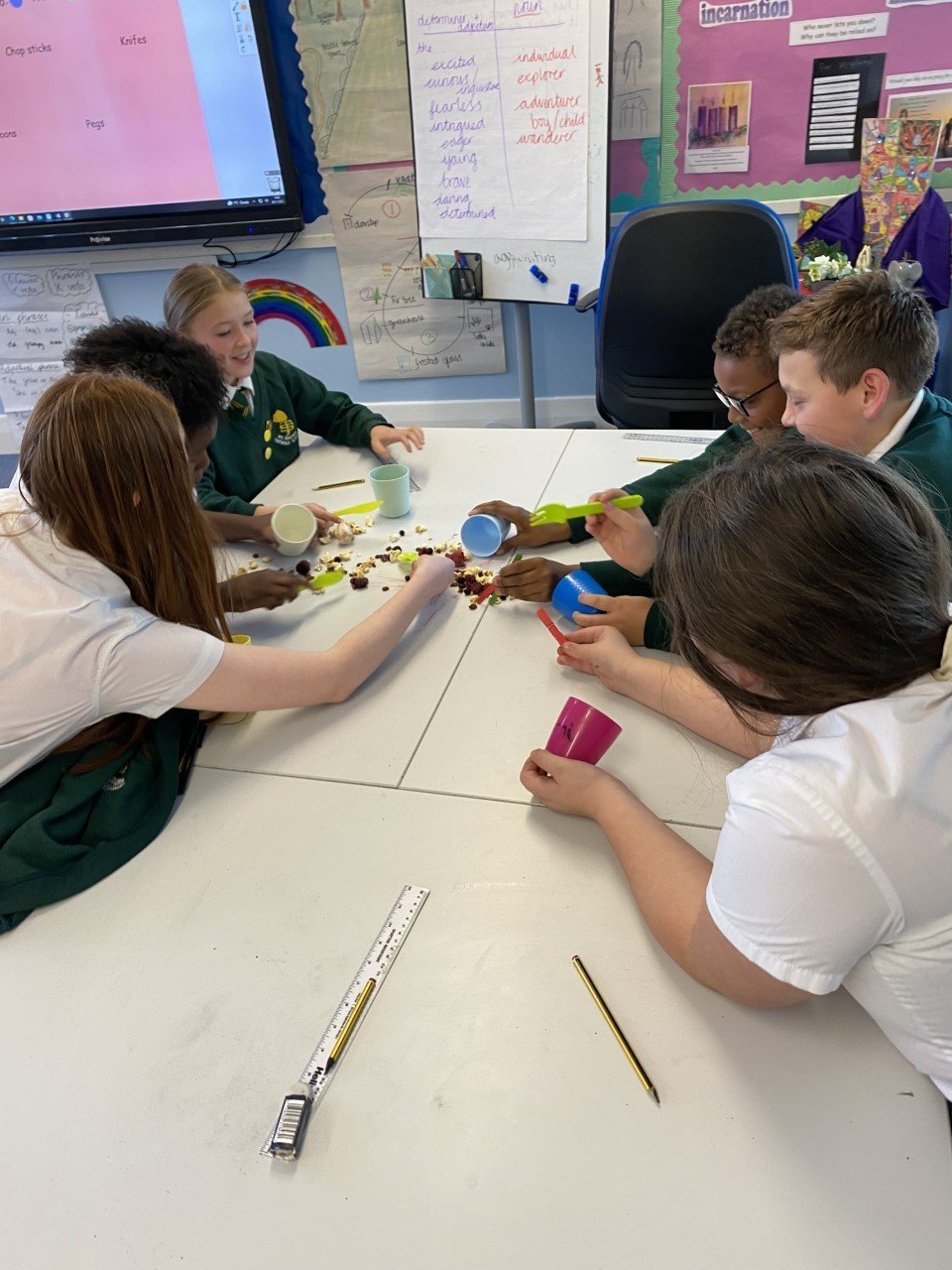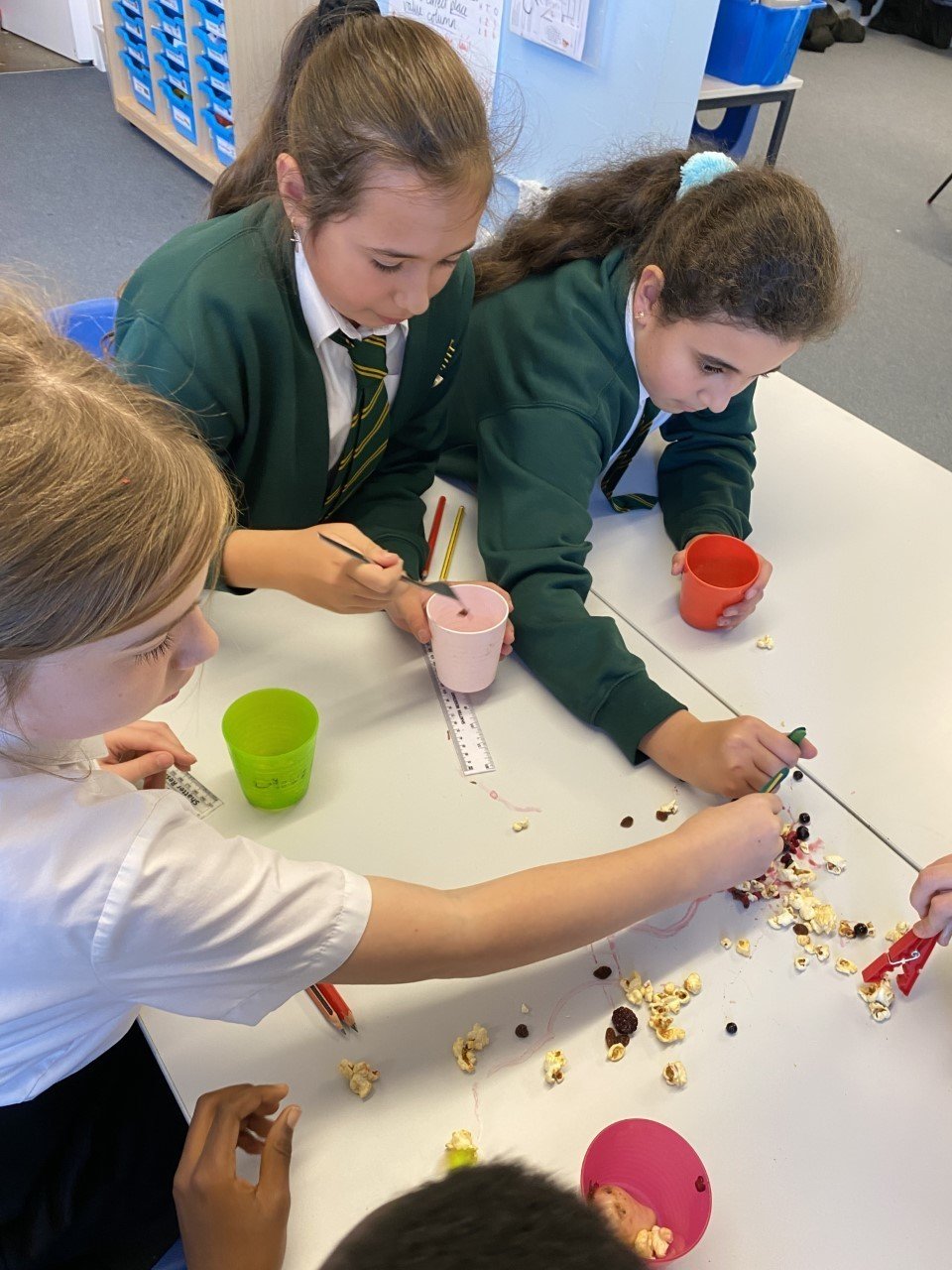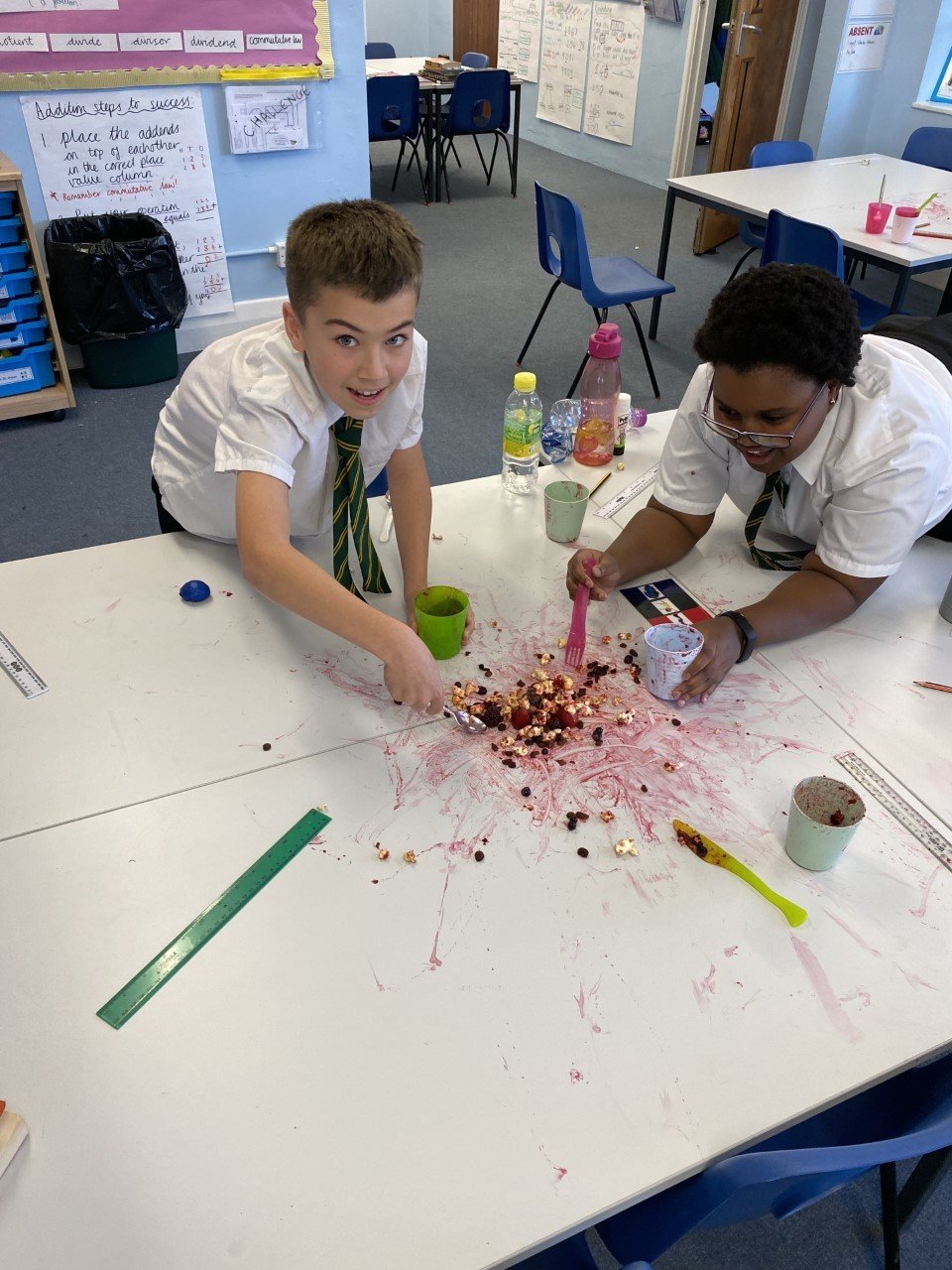 Listening to the World Around Us
15.11.2021
Our class celebrated the end of their computing topic by pitching to a panel of judges in 'Dragon's Den'. We used our oracy and presenting skills to attempt to achieve the desired prize with our chosen app. The Dragon's were thoroughly impressed with our professionalism and preparation and all teams received an offer!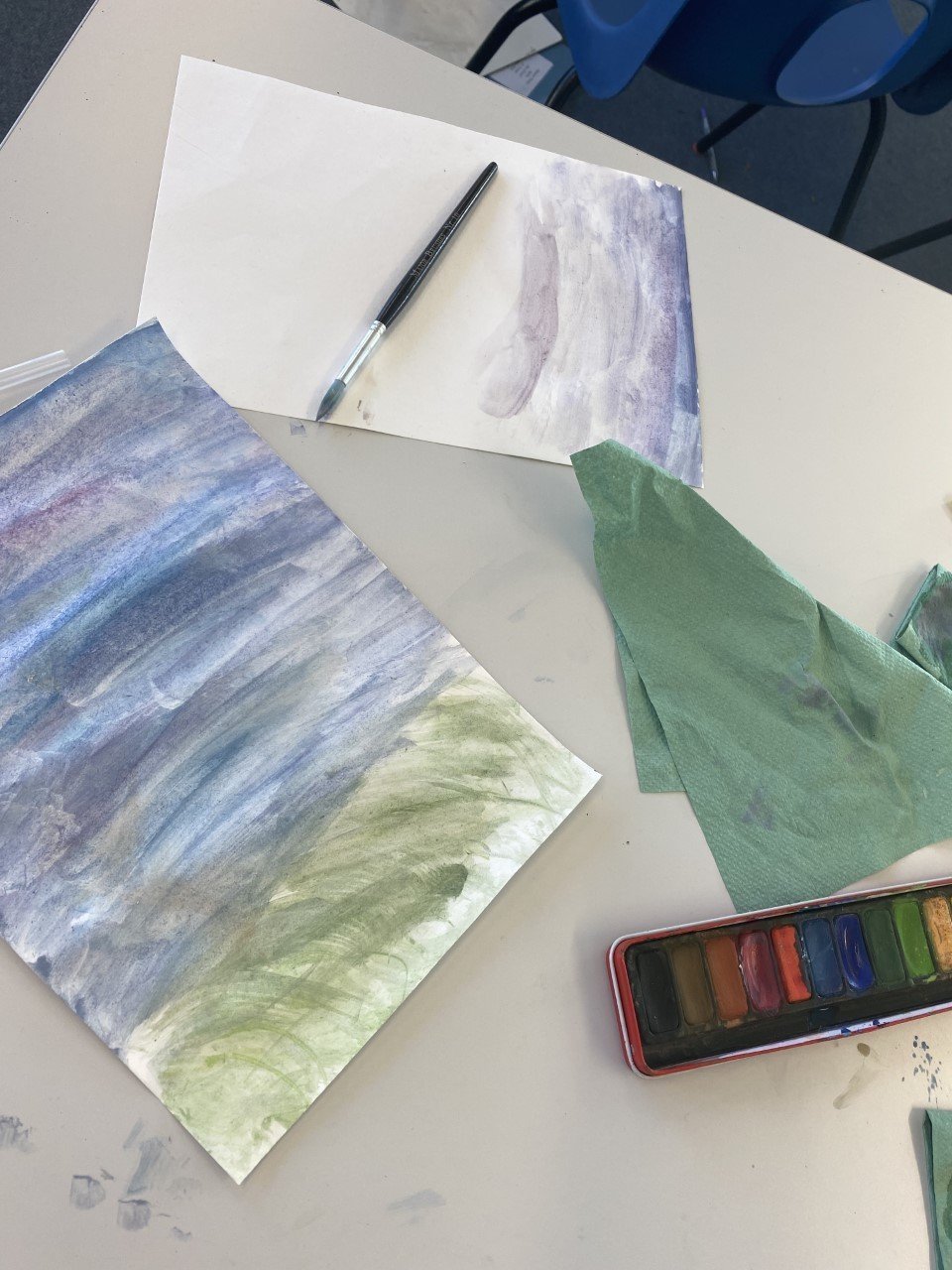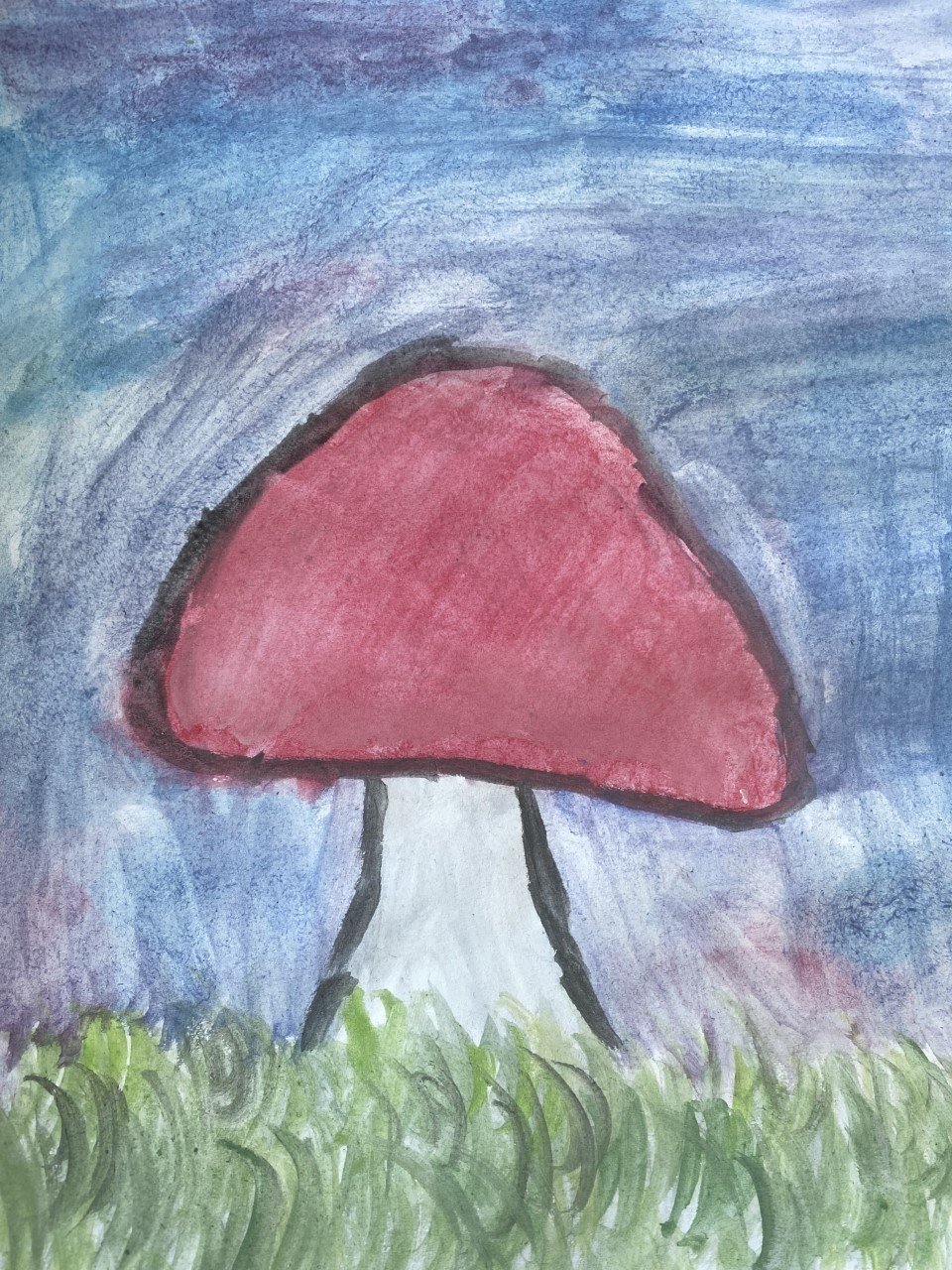 In science, we learnt about adaptation and survival of the fittest. In a fun experiment, we looked at the physical adaptation an animal has like 'camouflage'. We used different coloured moths and our partner, the 'hawk', had ten seconds to find as many moths for their diet as possible. We concluded the more camouflaged into the environment they were, the more successful at surviving.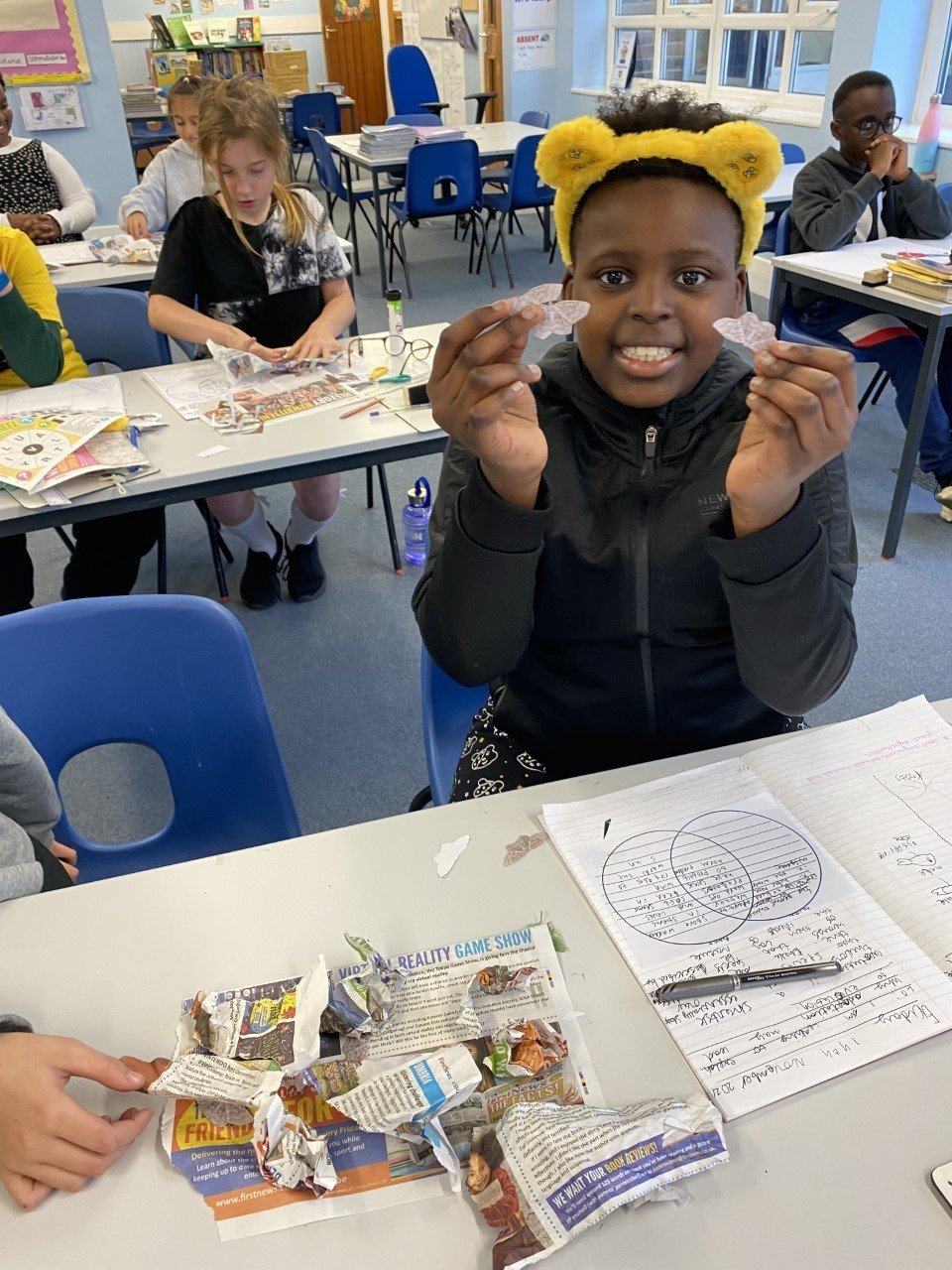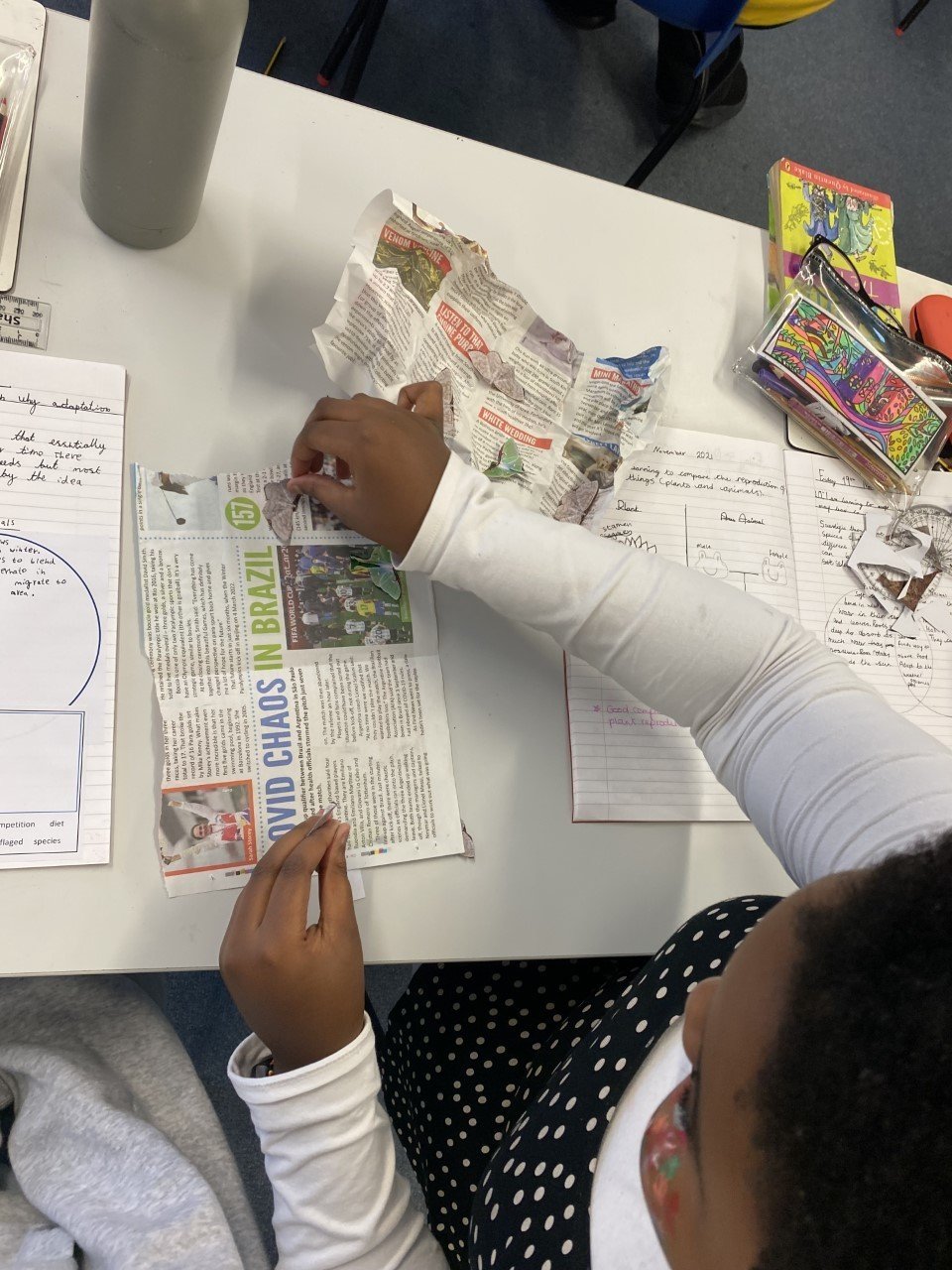 In PSHE, we have been looking at emotions changing as we grow older. We looked at the different situations whereby a child in secondary school might be experiencing different emotions. We then discussed times in the past that have made us feel a variety of different emotions.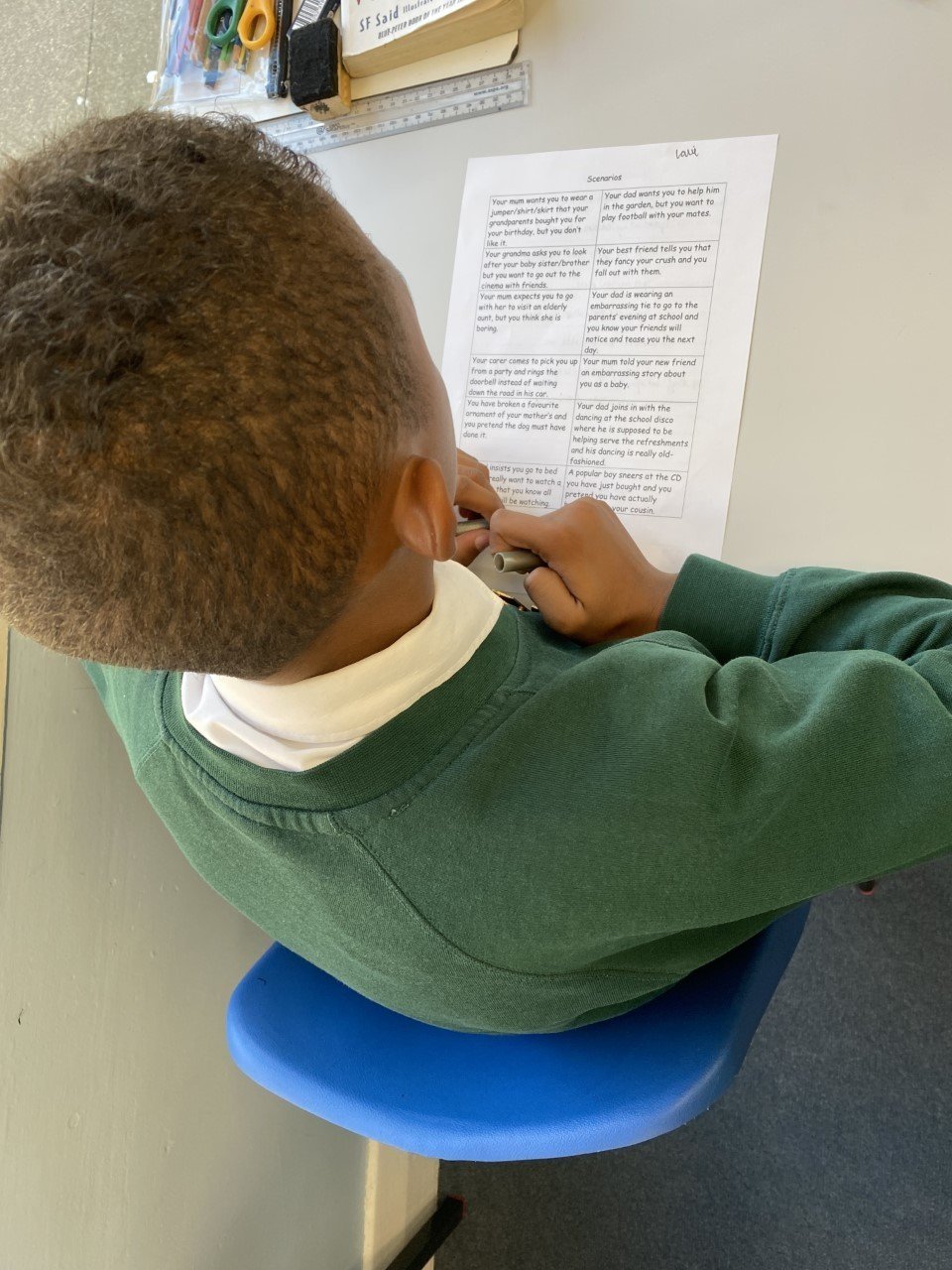 Dragon's Den
08.11.2021
Our class celebrated the end of their computing topic by pitching to a panel of judges in 'Dragon's Den'. We used our oracy and presenting skills to attempt to achieve the desired prize with our chosen app. The Dragon's were thoroughly impressed with our professionalism and preparation and all teams received an offer!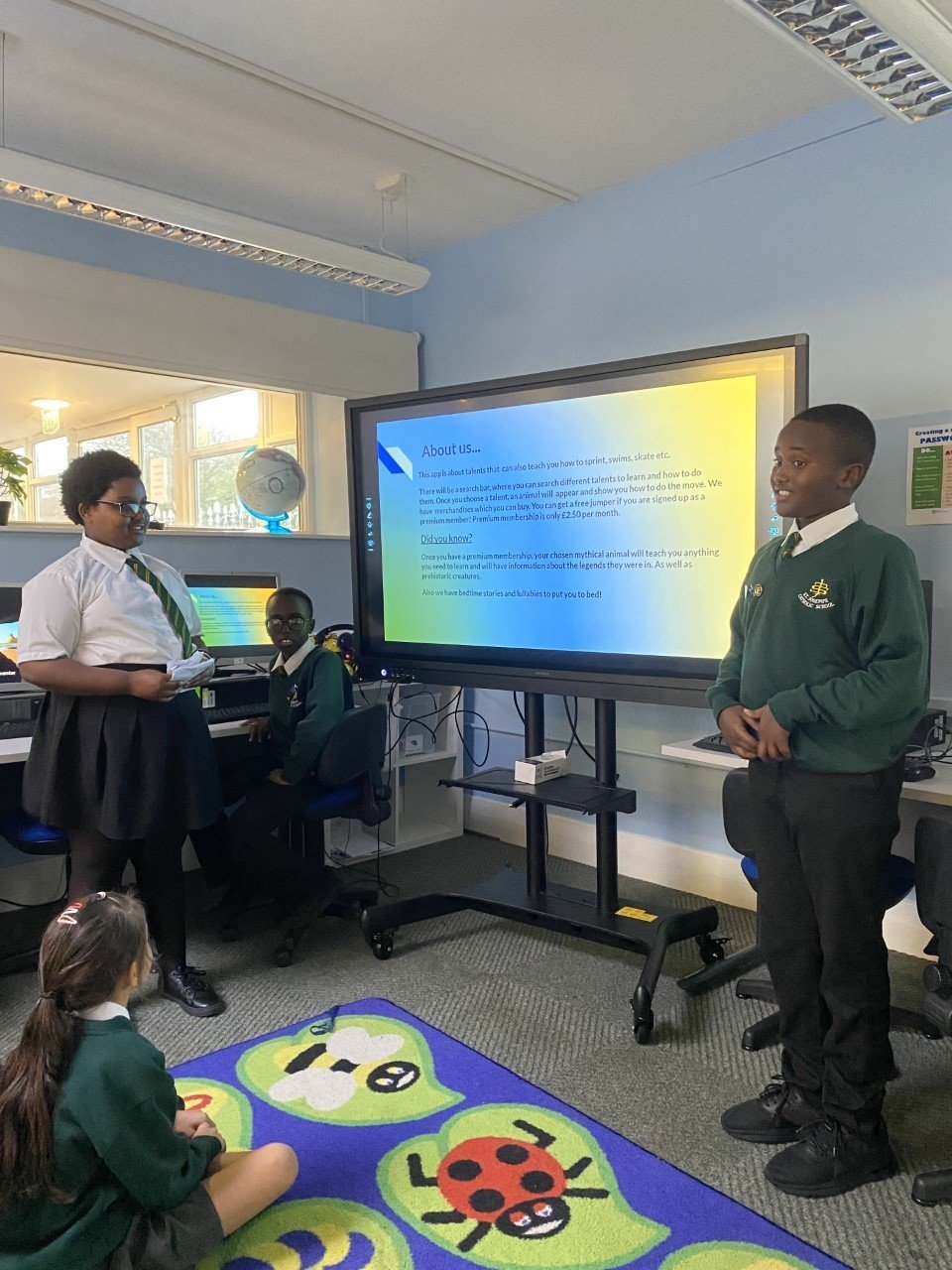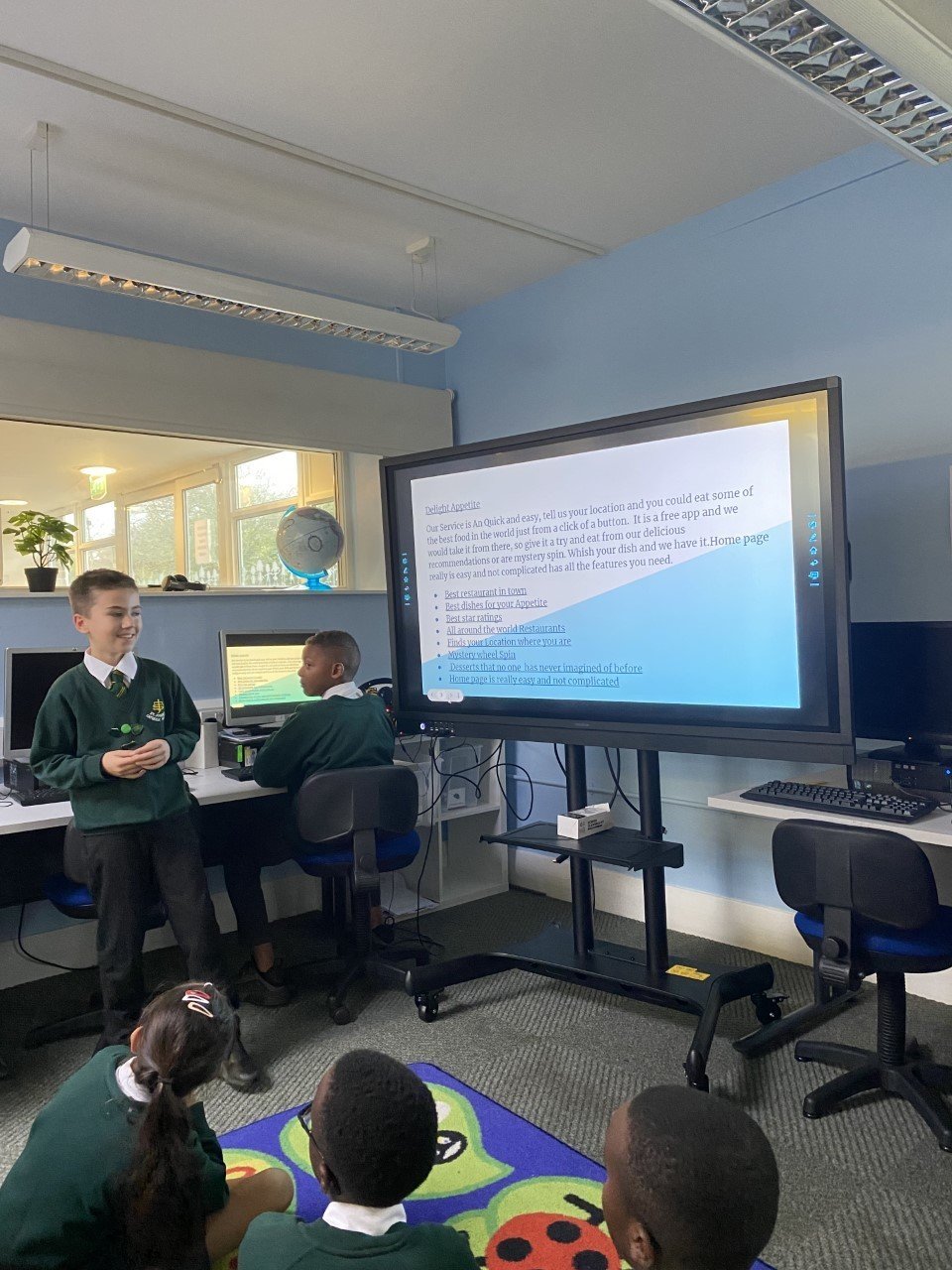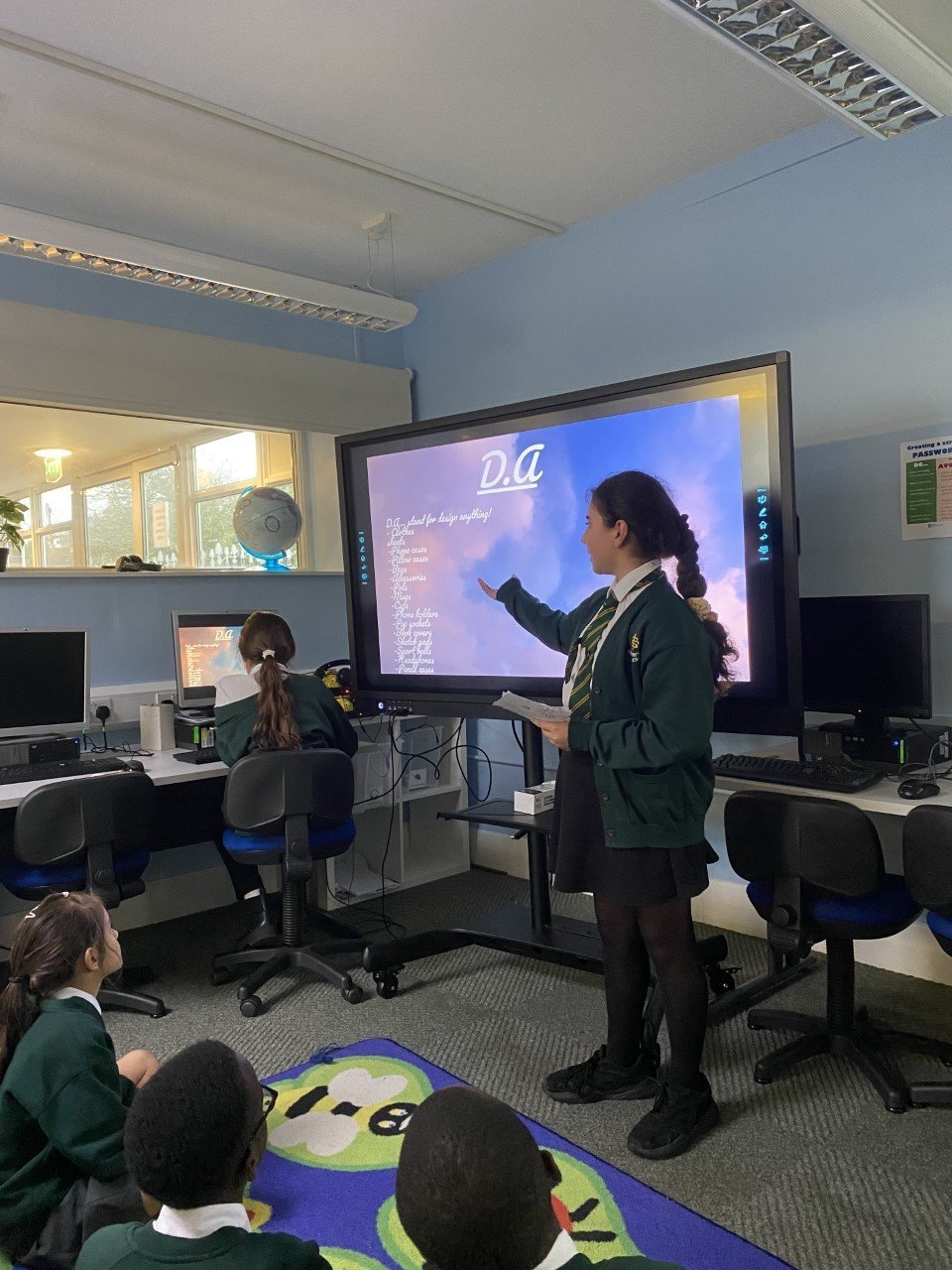 We created our own Long Division resources and learnt about the Long Division family and their house in order to solve different division calculations and problems!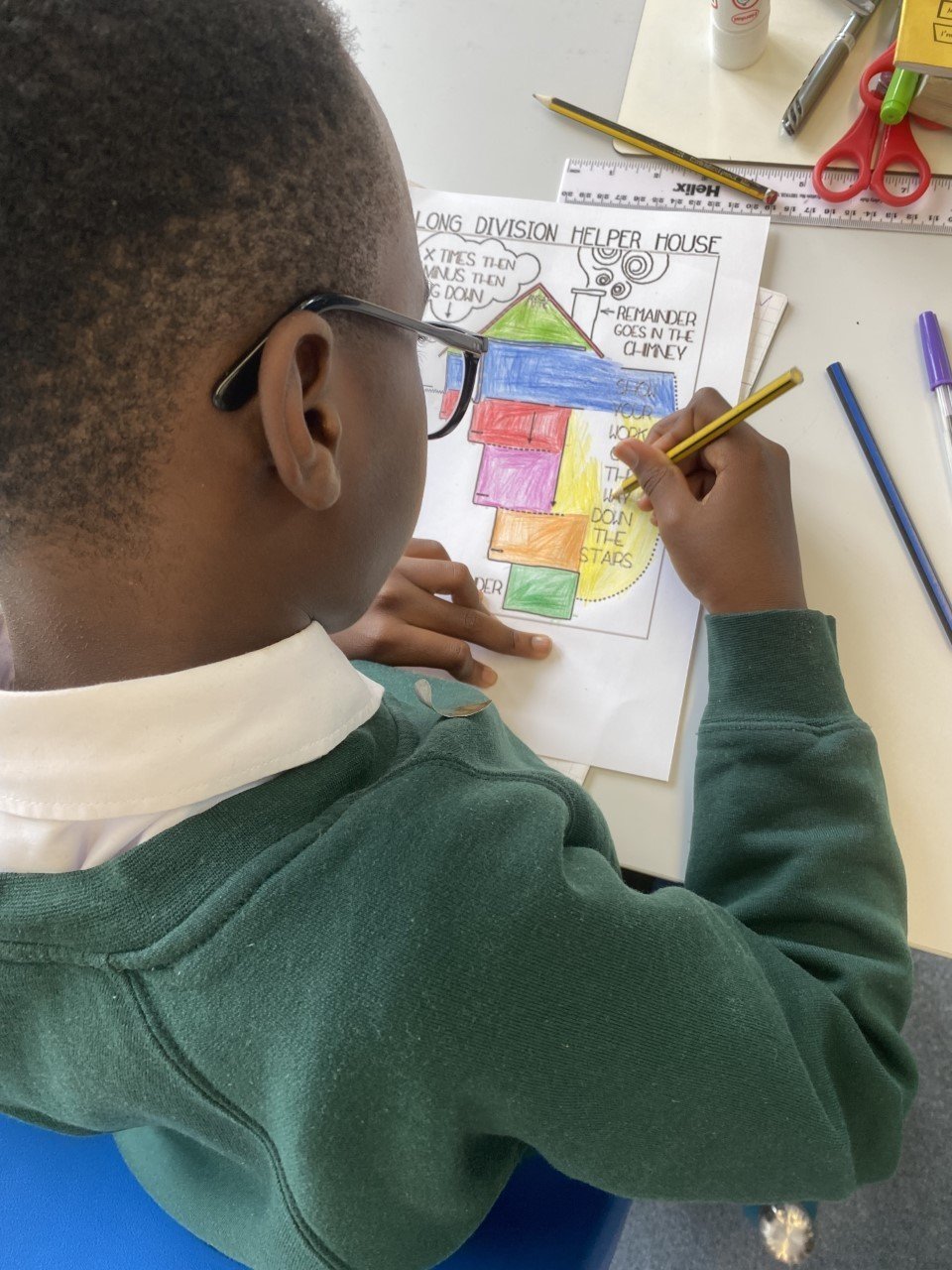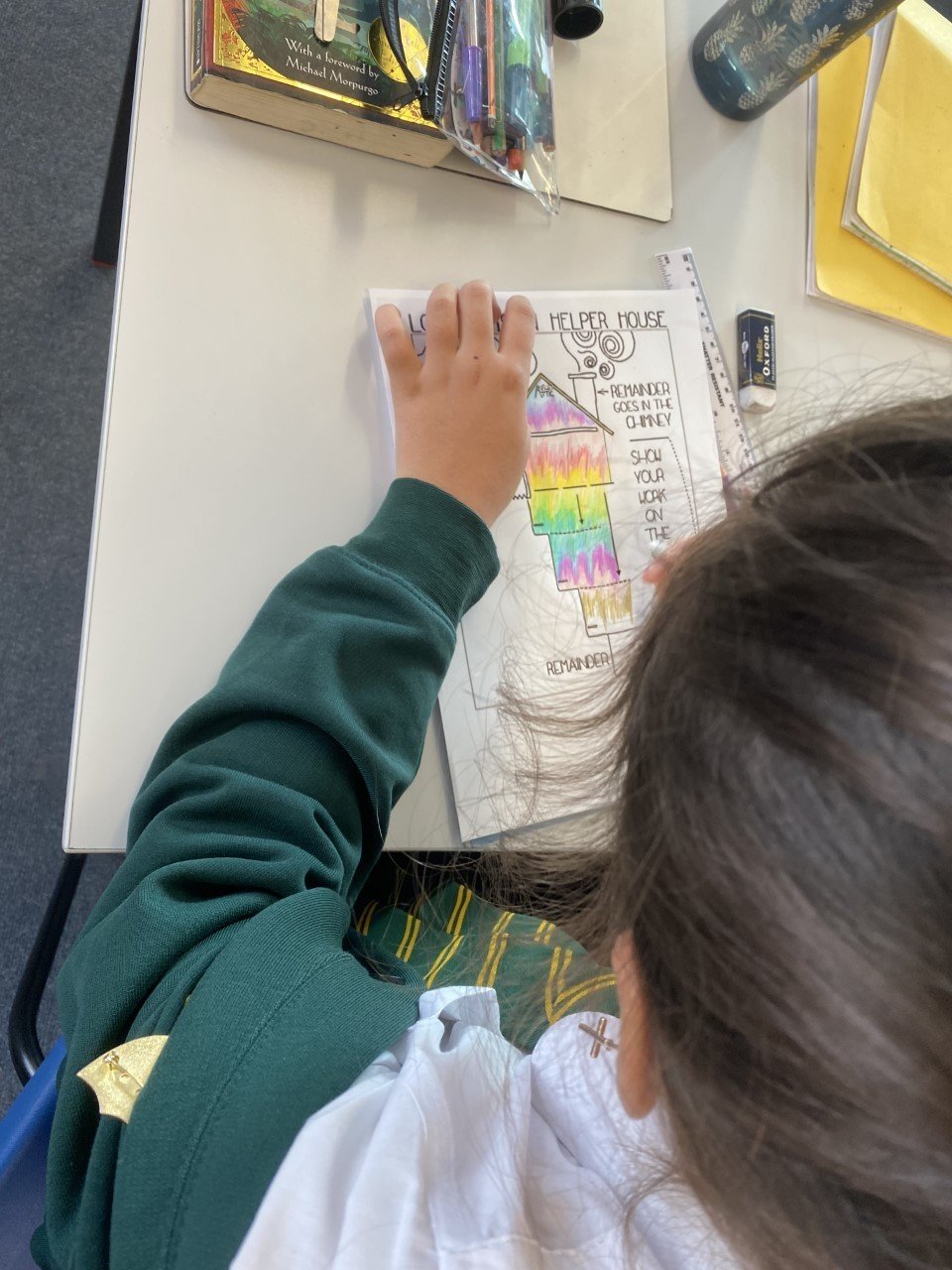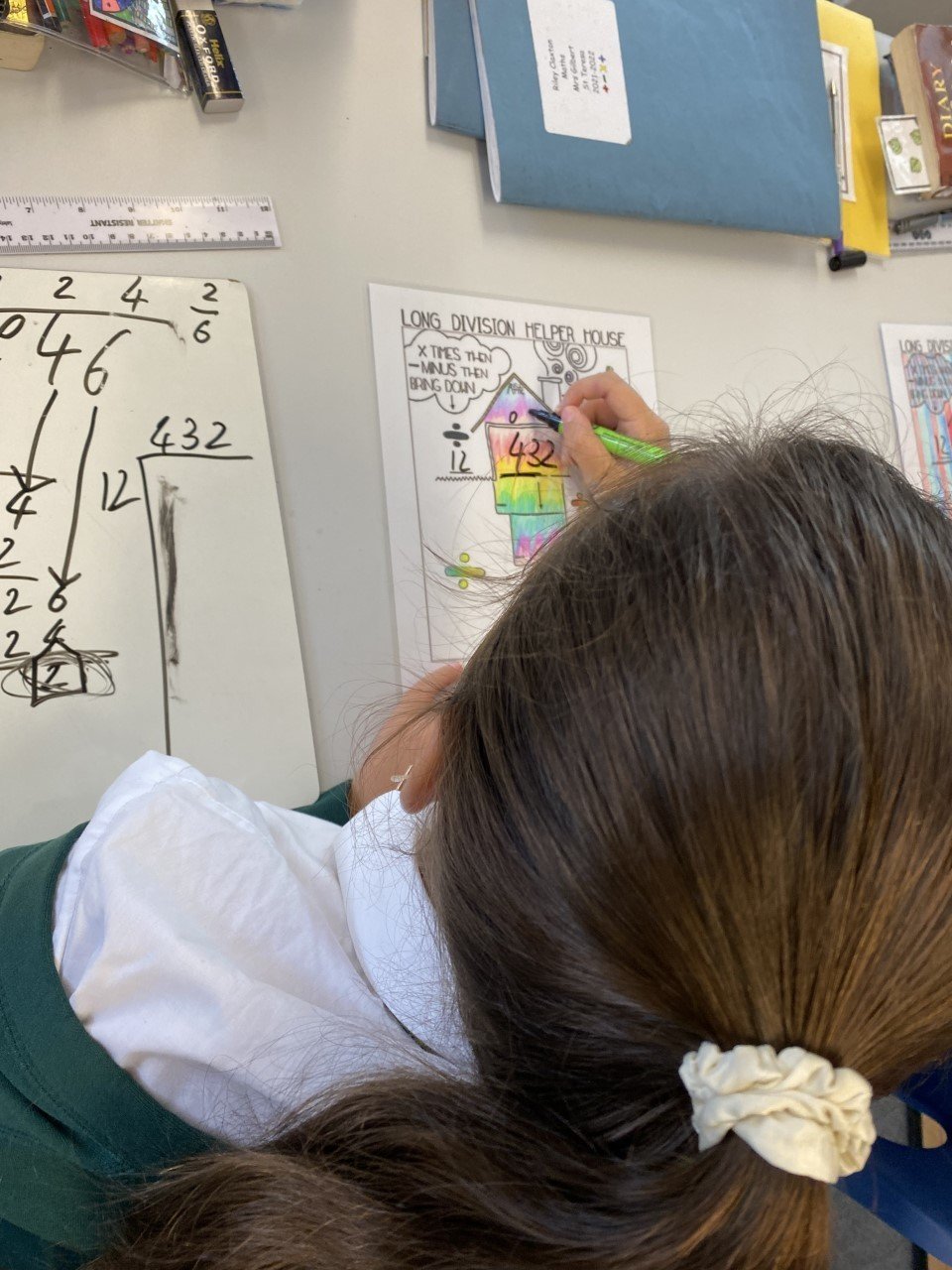 Finally, we neared the end of our RE topic this week by learning about the Sacrament of Ordination. We created information posters and role played the order of the Sacrament from the start to the final steps of someone becoming a priest.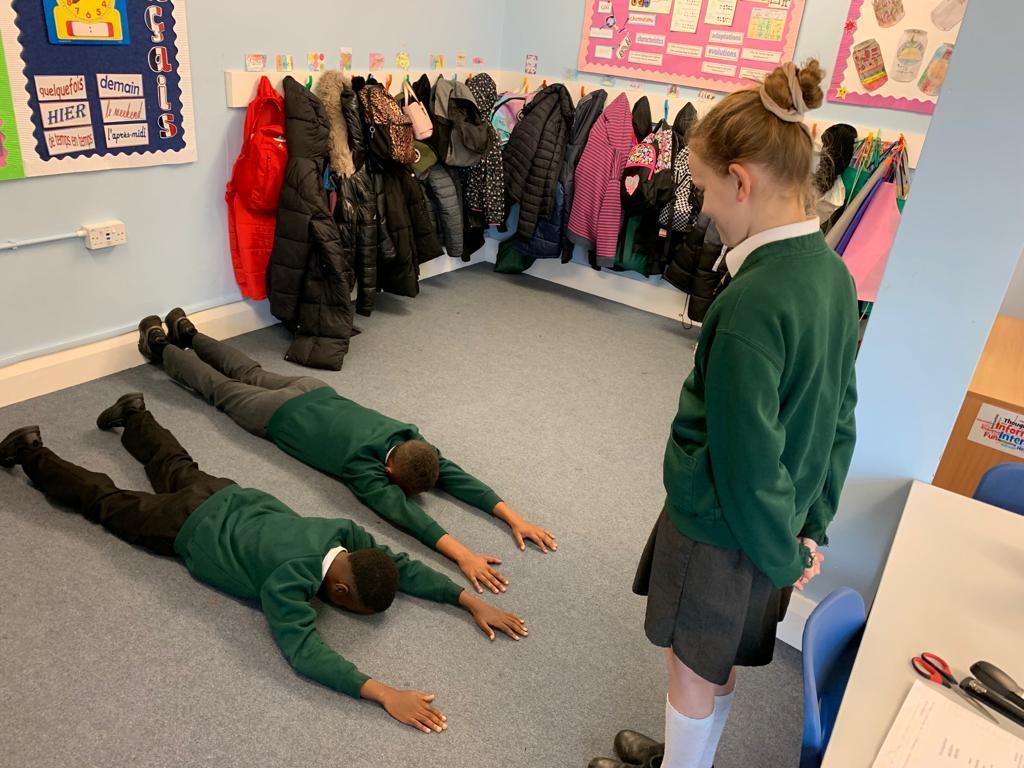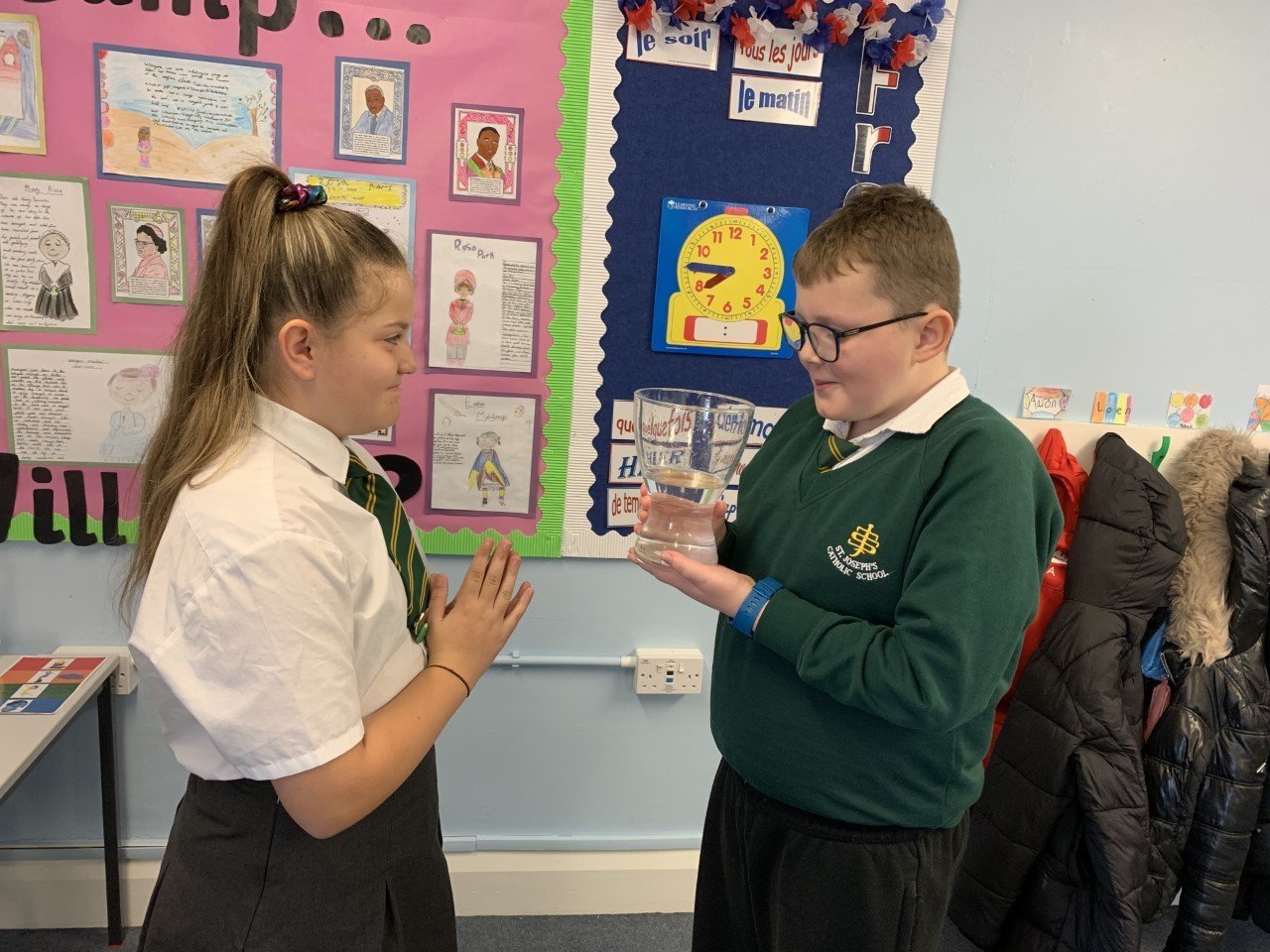 Looking at History!
01.11.2021
This week, we launched our next part of 'Let's go to Mexico' and looked at how archaeologists are able to learn information from the past. Within Mexico, many primary sources (artefacts) have been found and we looked at these and tried to accurately guess what they may have been and what they were used for.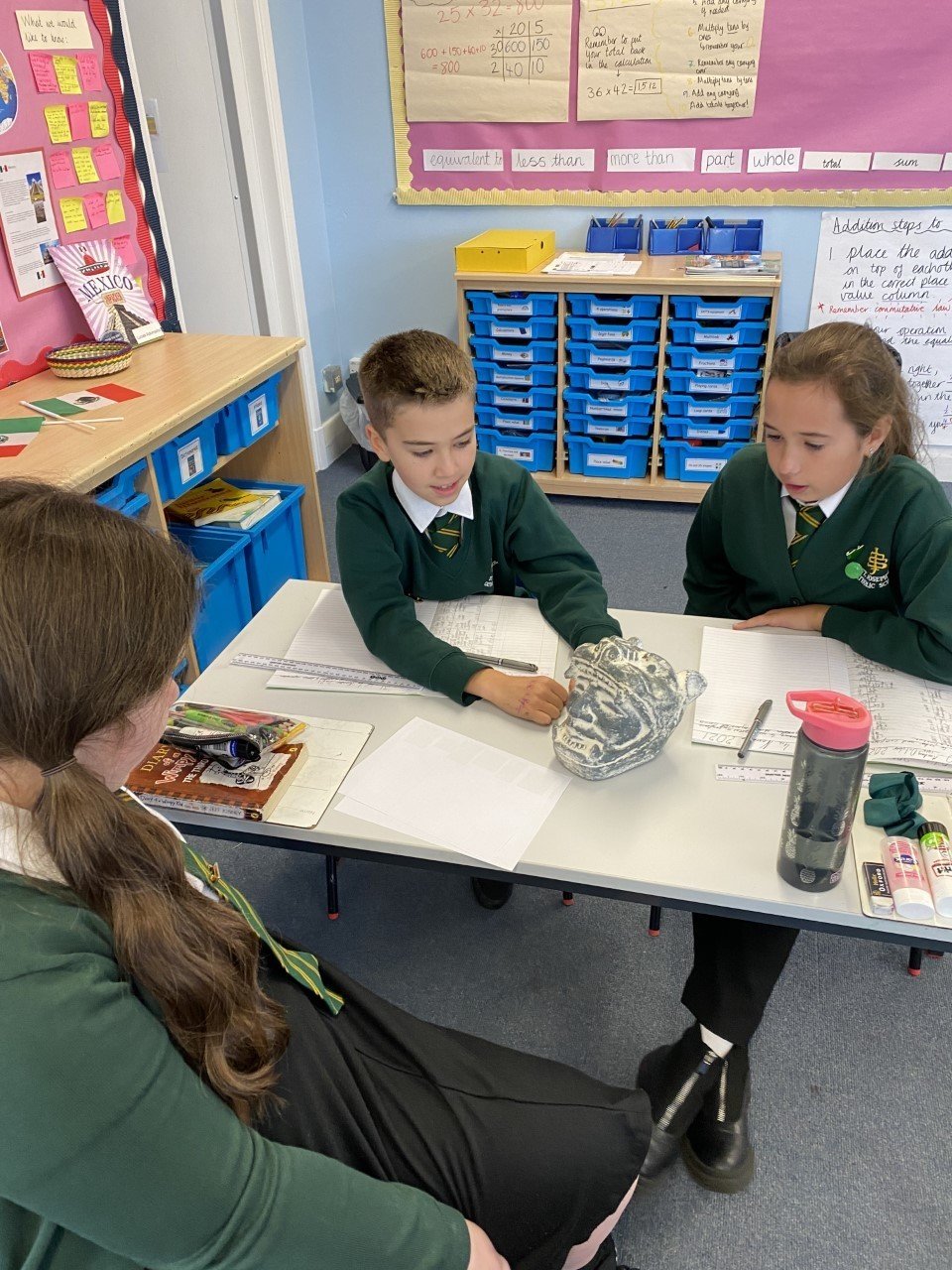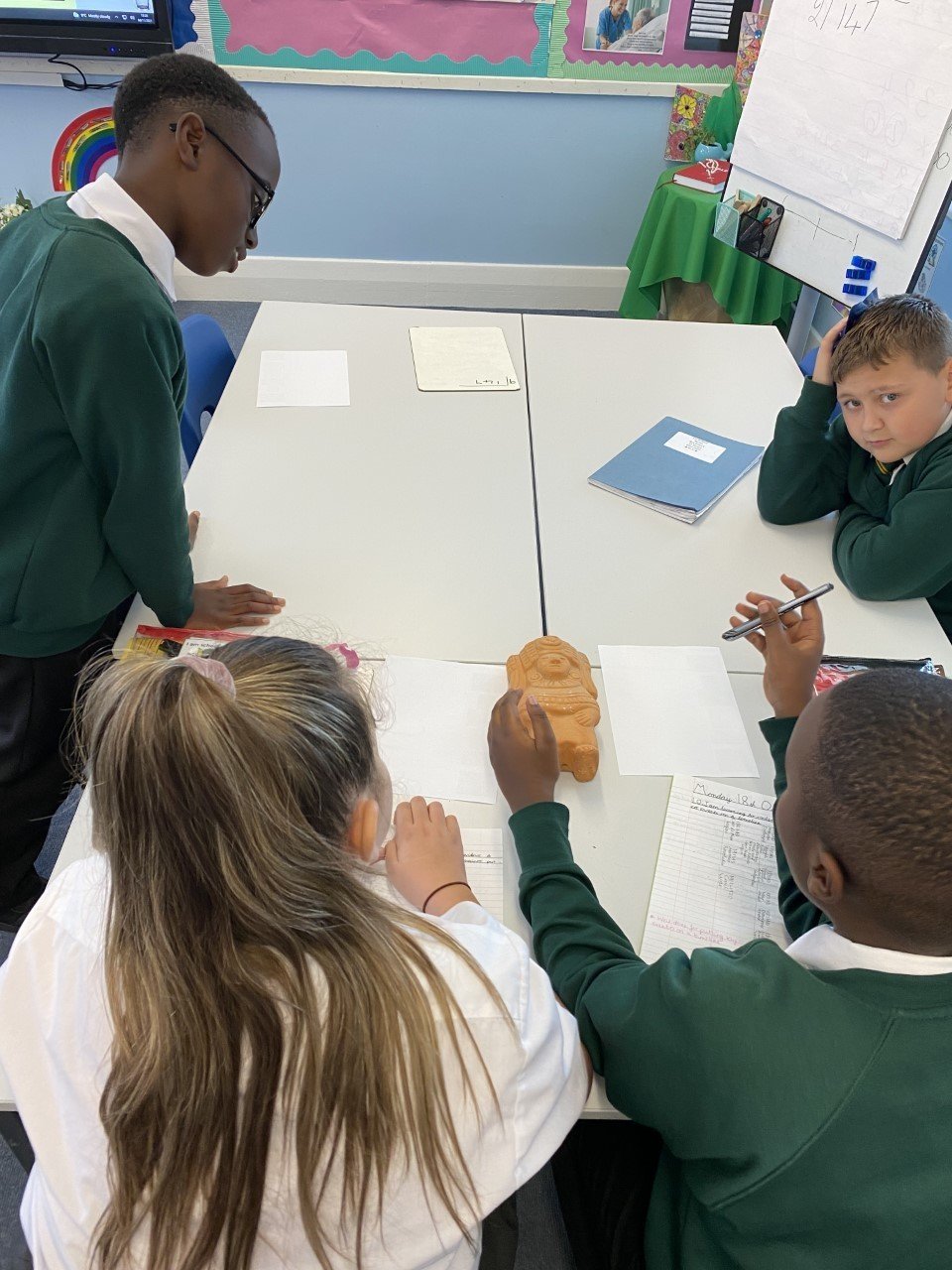 Following this, we used secondary sources to identify and confirm the use and role of the primary source shown.
Finally, we looked at the main character of our new book we are focusing on for this half term. We identified the different feelings the character has based on illustrations and we used this information to identify our opinion of the character's personality. We sequenced the events for the character and decided that he is from the 1950s based on different pieces of evidence from the text. We will be writing an informative letter as the character based in the decade decided- so watch this space for our fabulous writing!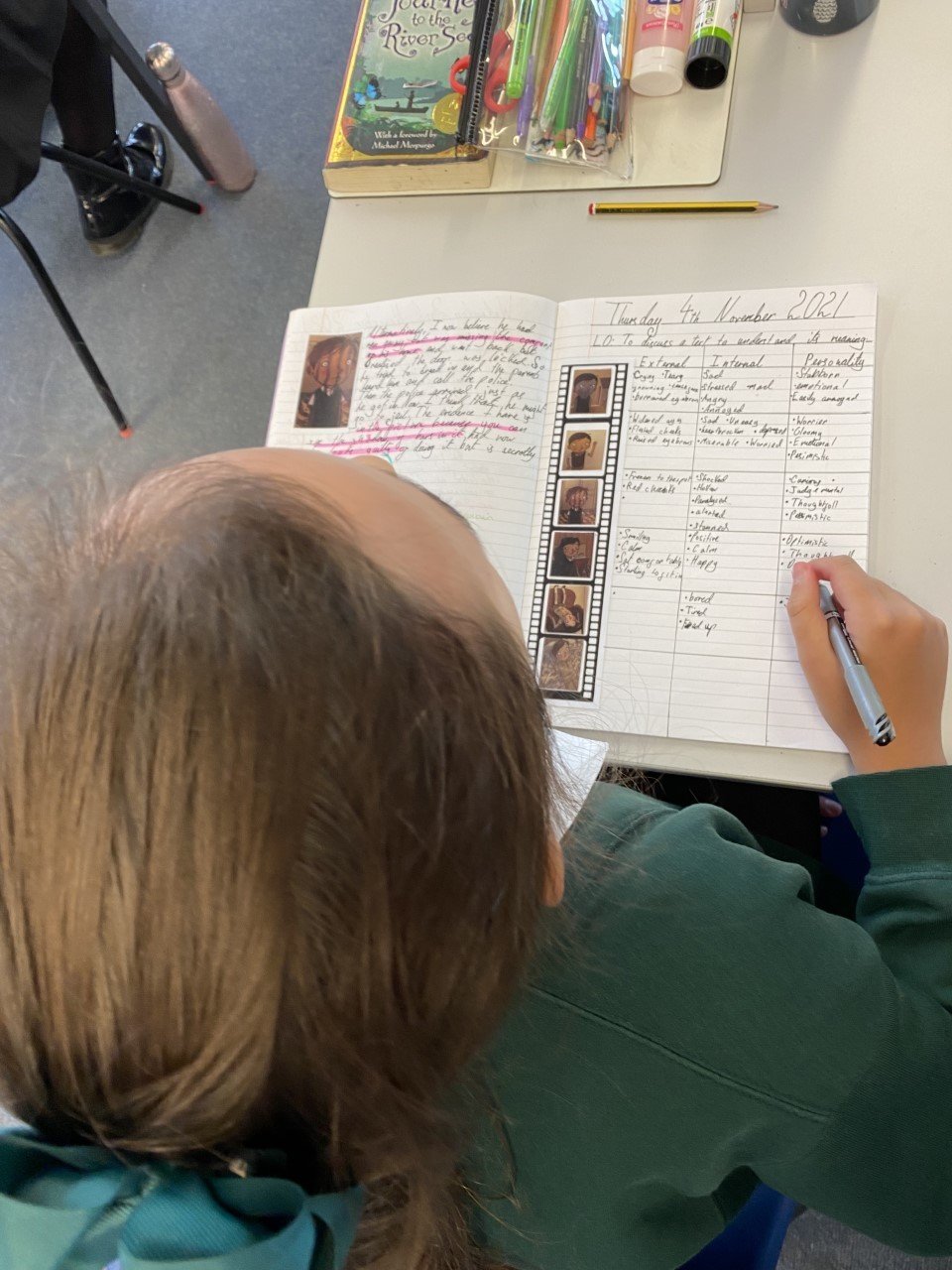 Understanding ourselves and others
18.10.2021
For PSHE this week, we discussed how we are able to look after our wellbeing. We discussed the impact of emotional, physical, spiritual and mentally. Below are representations of different ways we can ensure we have a healthy wellbeing within some of the four categories.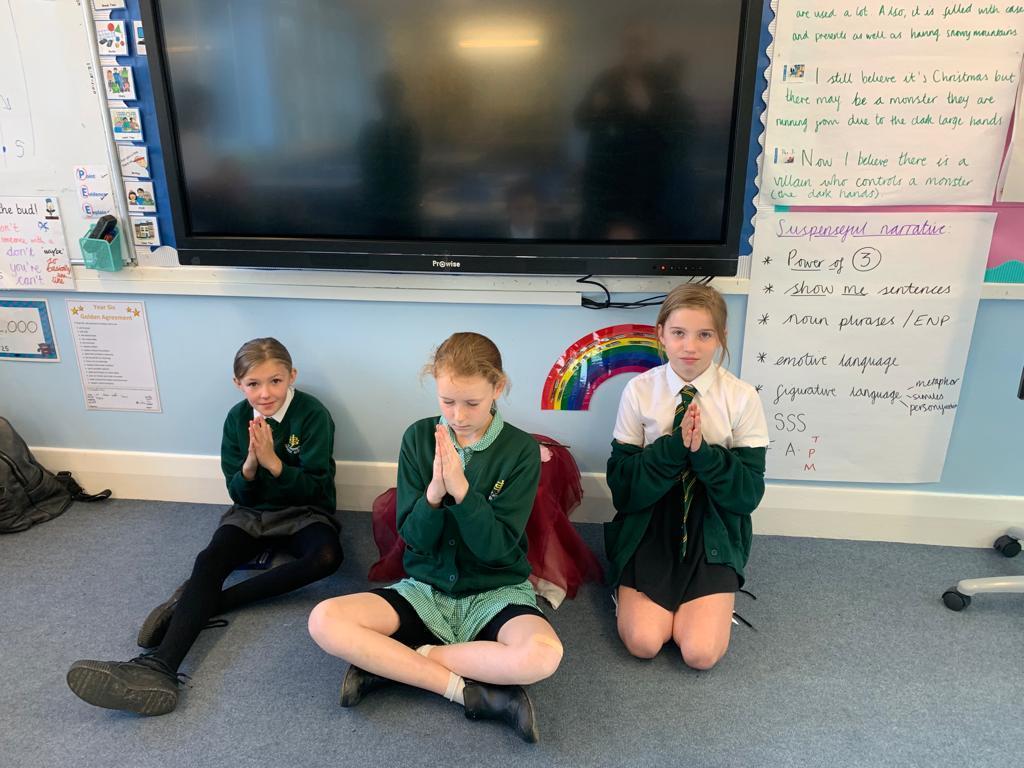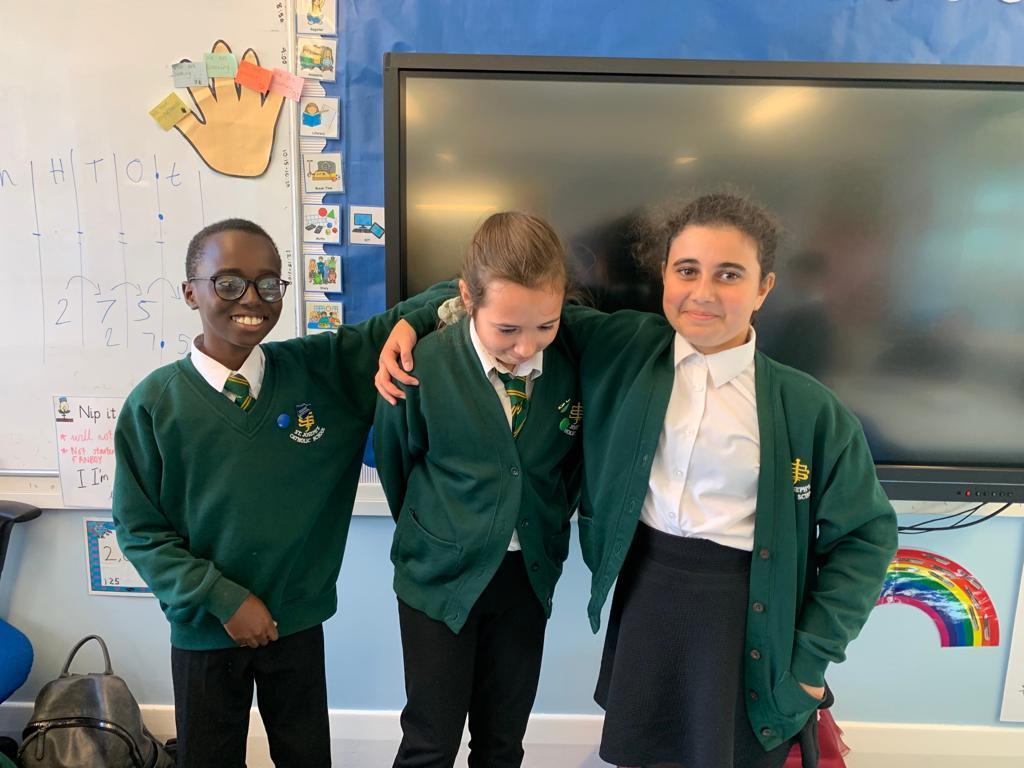 In celebration of Black History week and Month, we looked at many inspirational figures and learnt more about their lives and their impact. We created fact sheets and posters to celebrate and inform others of their influential lives. We created our own stamps linked to the many key figures we learnt about and decorated these. Below are some of the fantastic posters we created: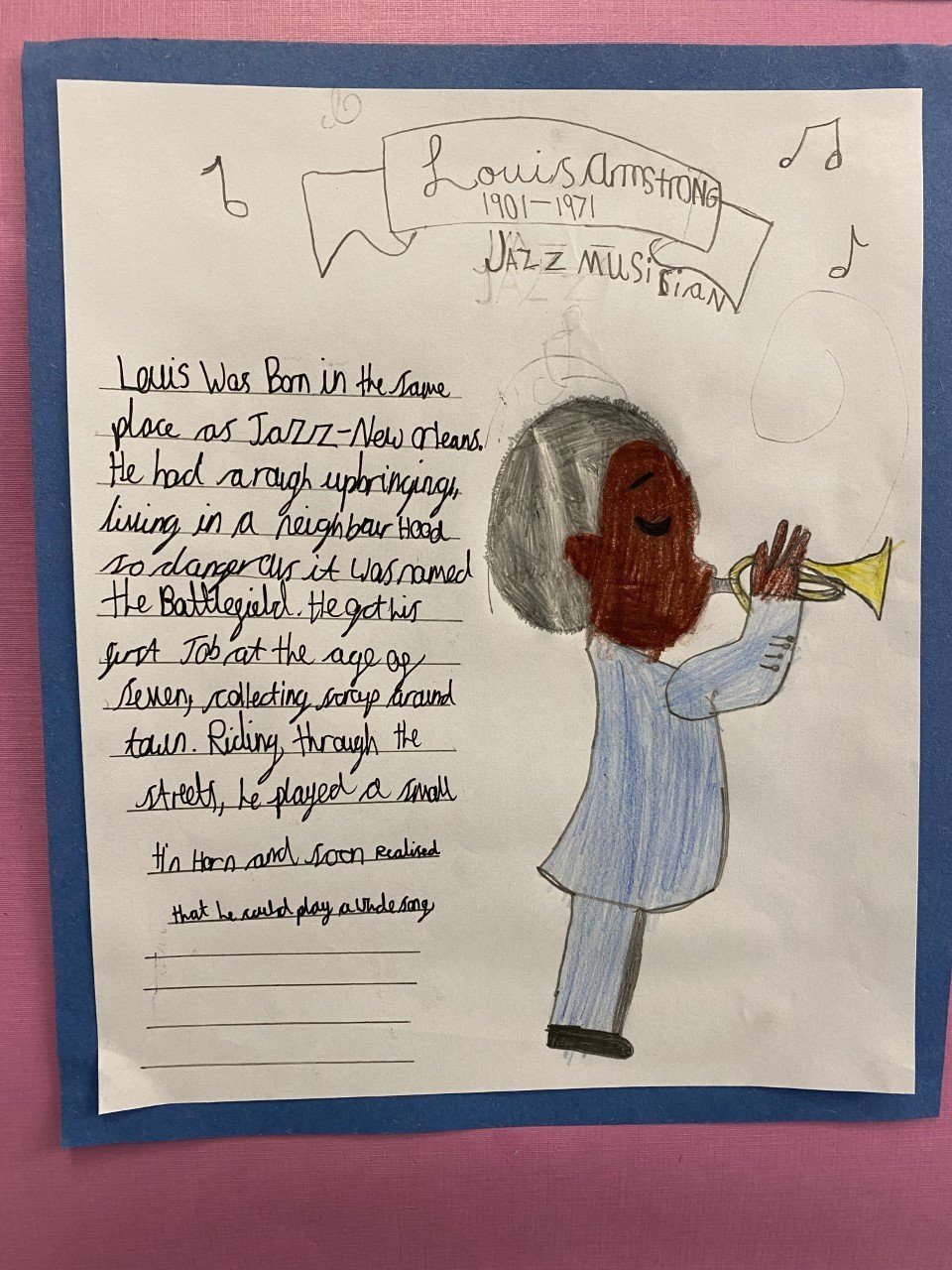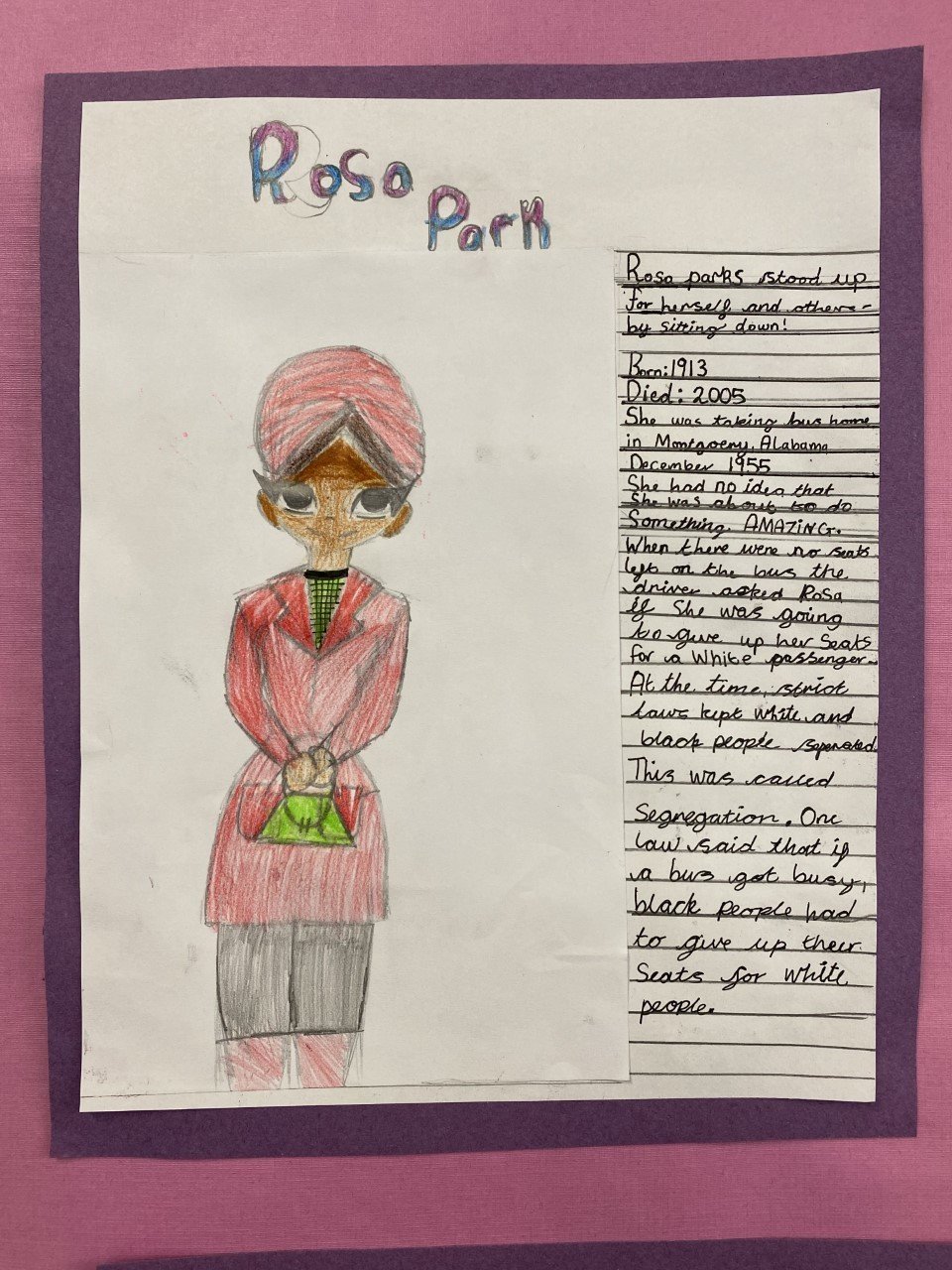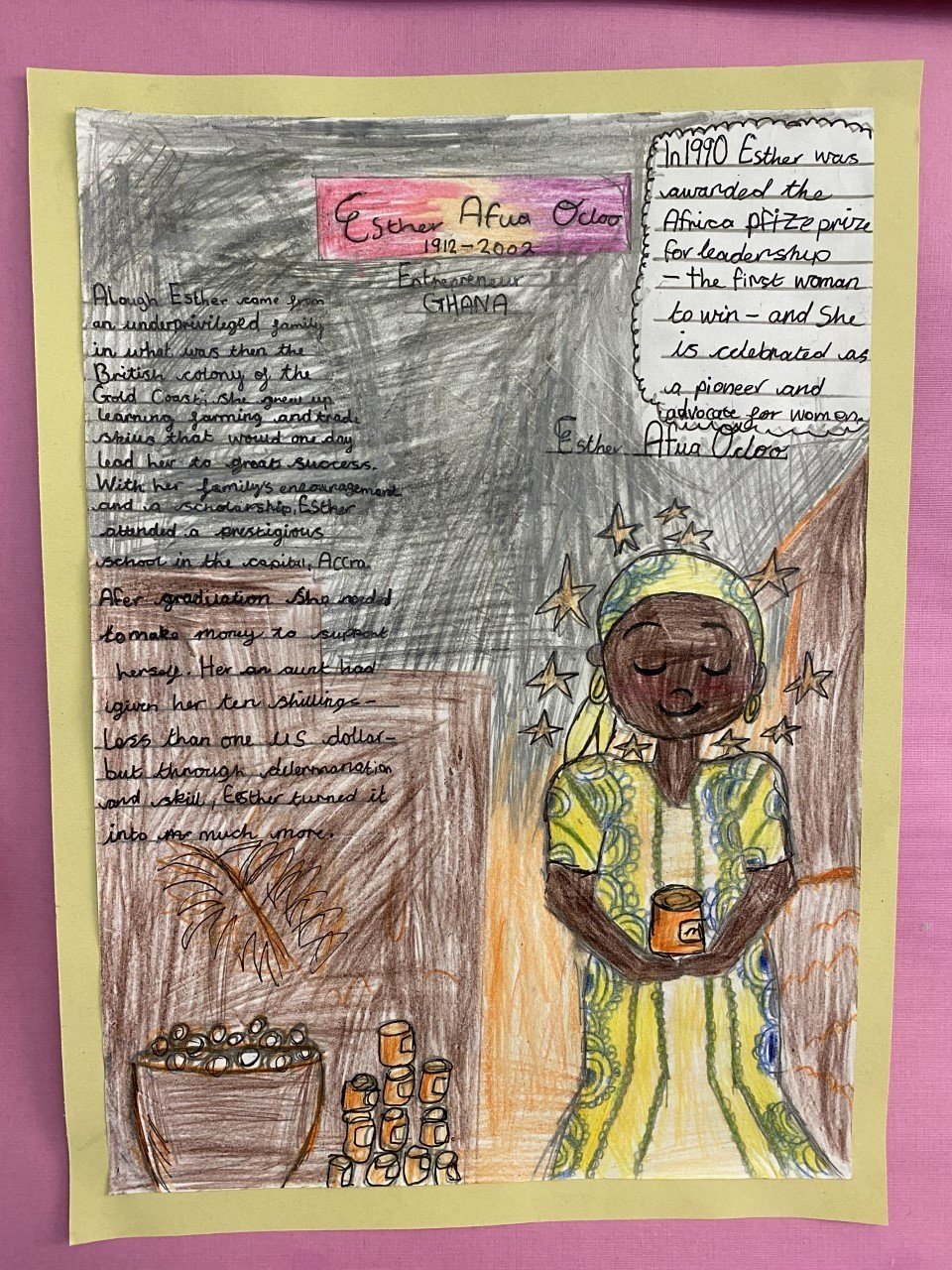 All of the remaining fabulous information posters are displayed at the back of our classroom with the title: 'They made their stamp, will you?'
Finally, we finished our last lesson on Basketball with a game in teams and then as as a whole class. We had so much fun applying the skills and techniques we had previously learnt.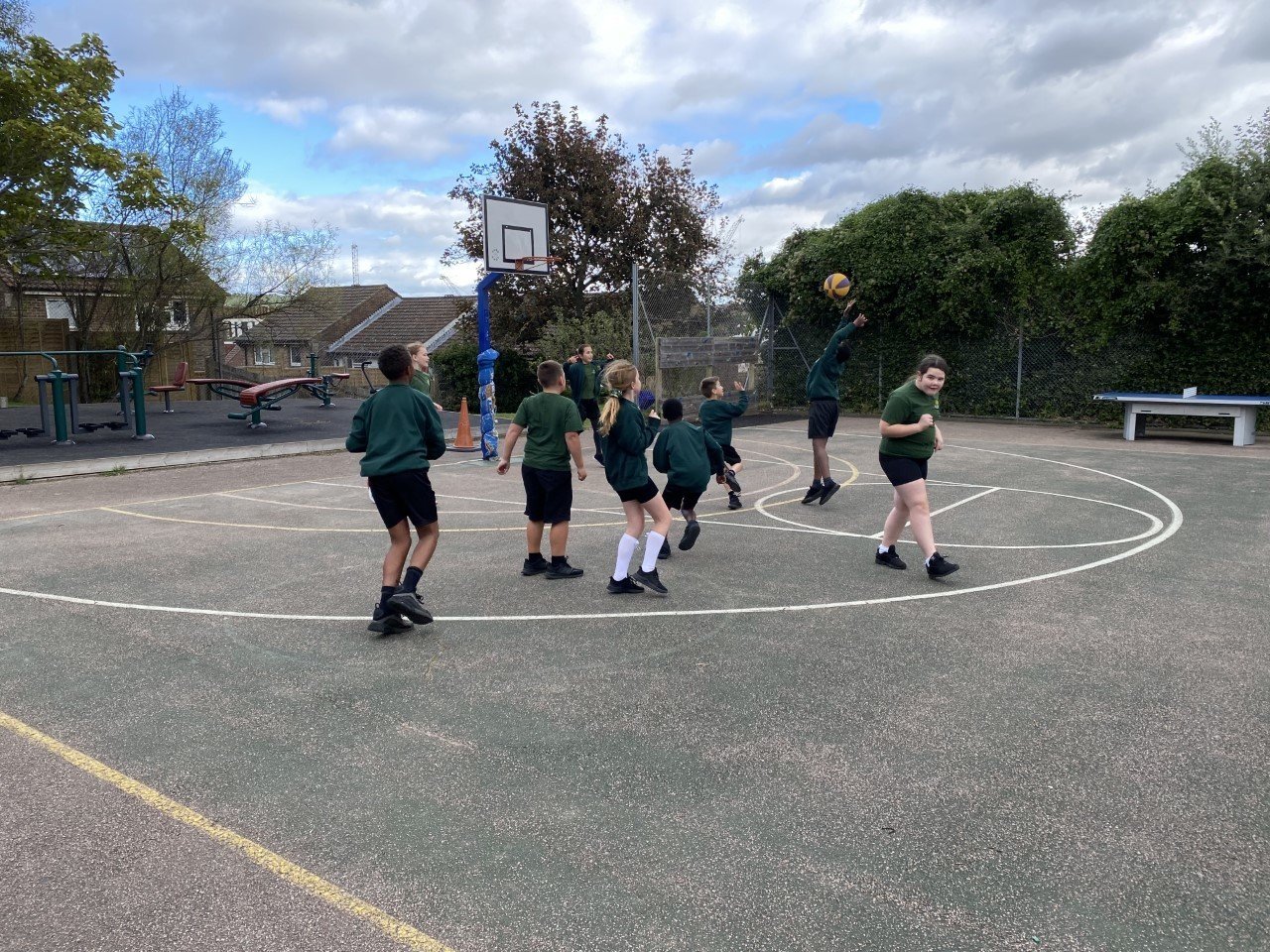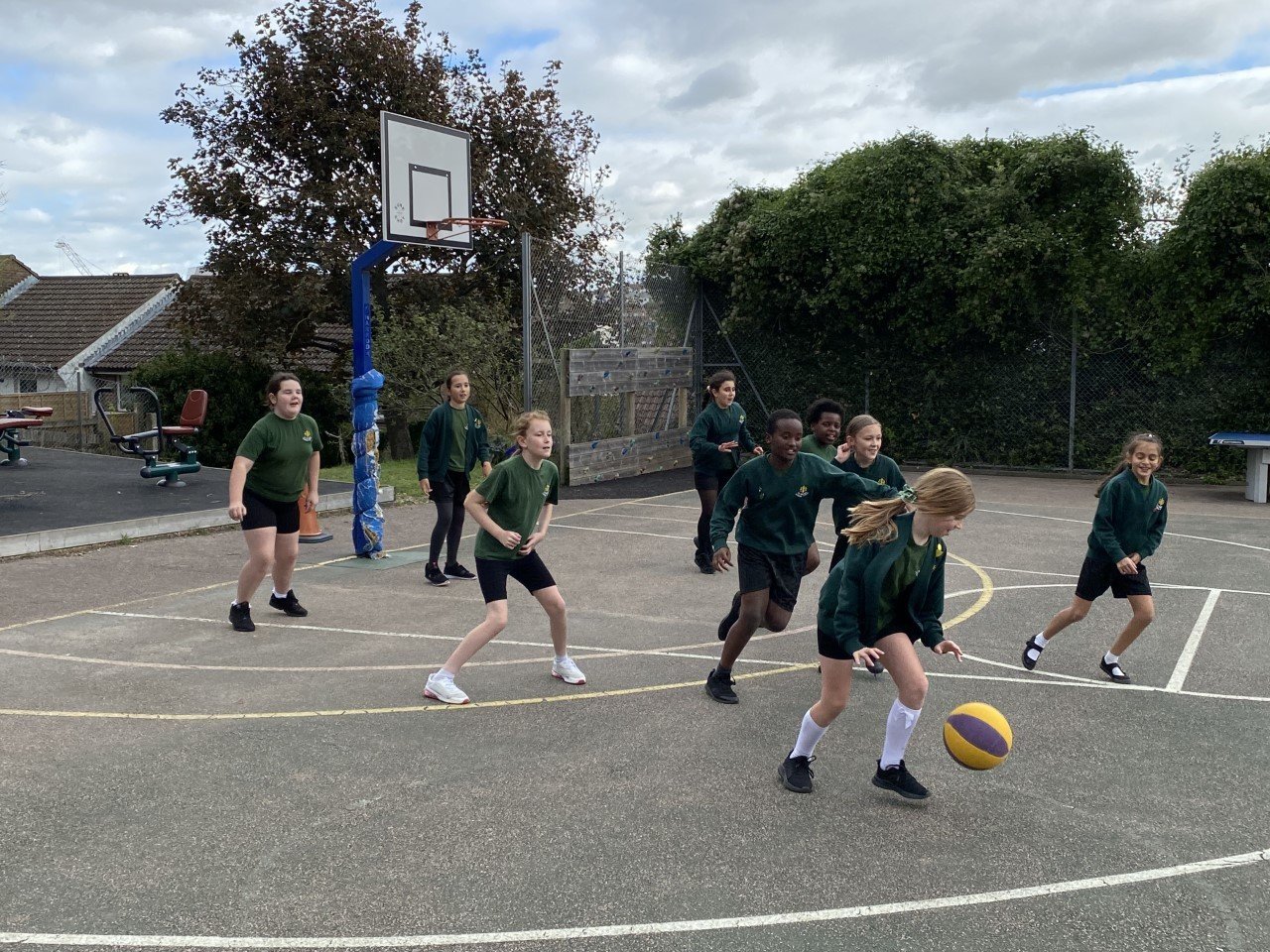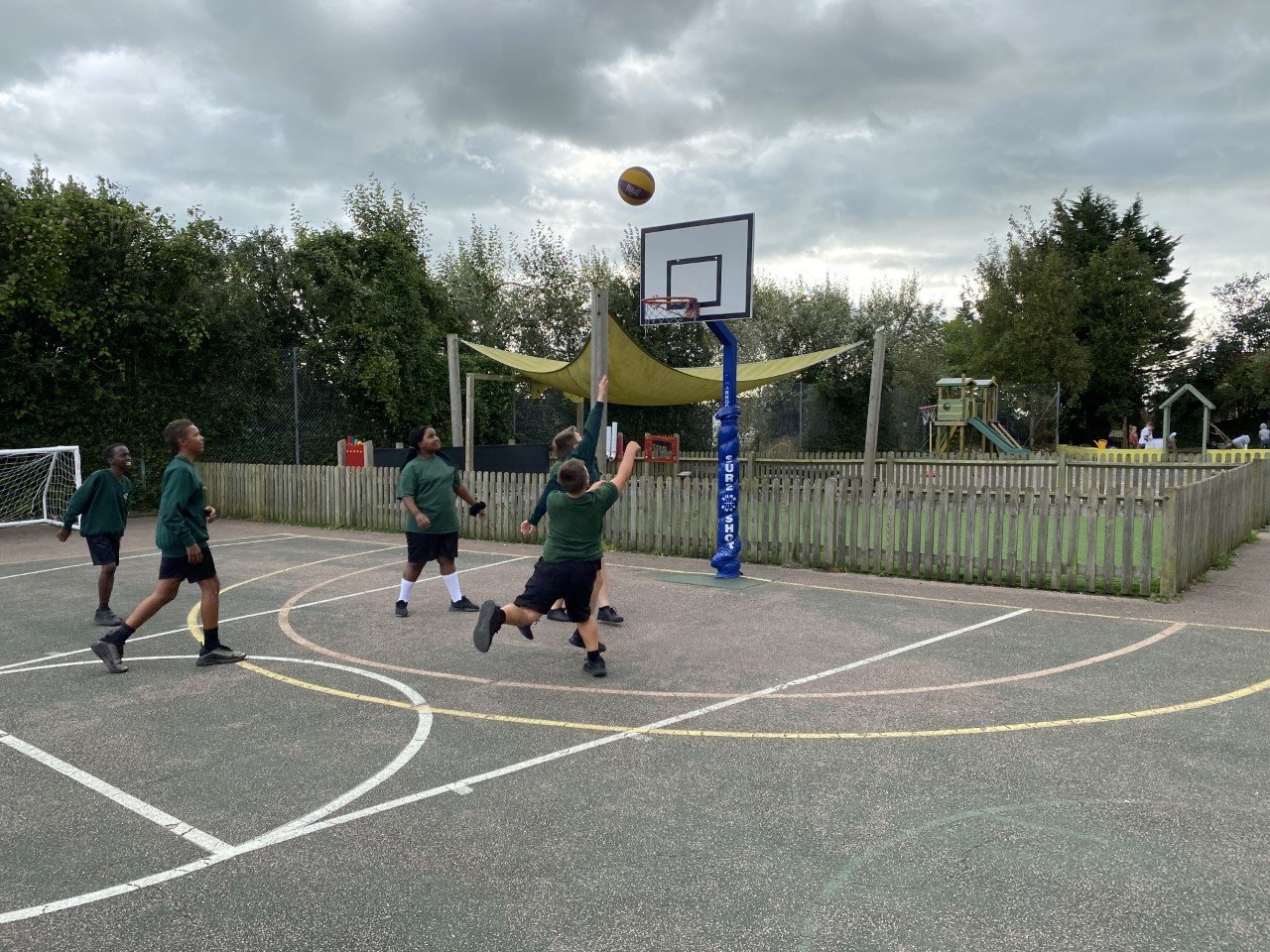 Outdoor Learning Day
11.10.2021
This week, we have started a new topic in RE and have decided, as a class, to be responsible for our class worship together. Below, we started learning about different festivals in Judaism and designed cards to wish a person of the Jewish faith a happy Yom Kippur or Rosh Hashannah! Finally, we held our own class worship and Charlie and Ganza lead the worship beautifully!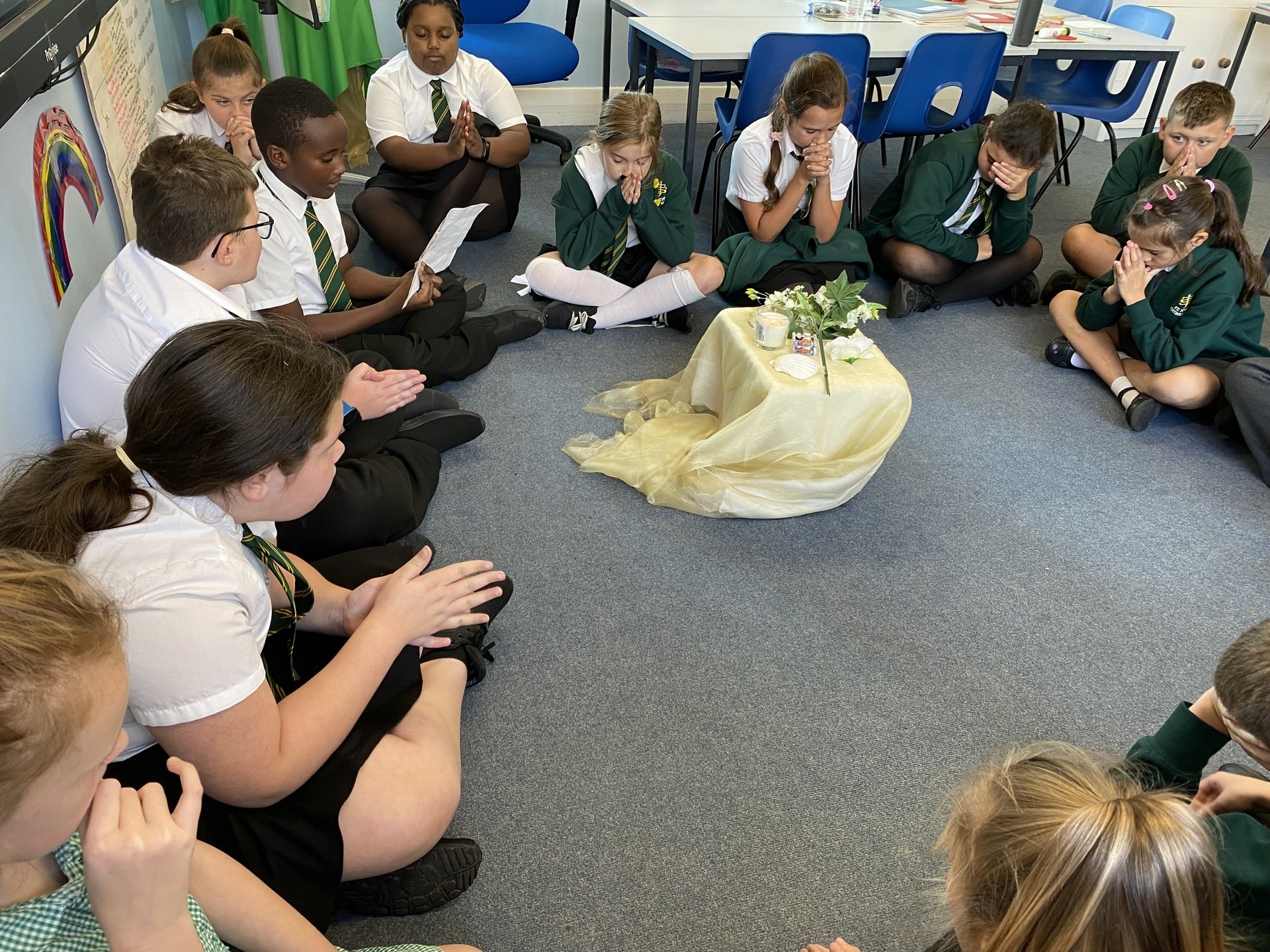 In Science, we learnt about adaptation and the scientist's belief of evolution. We studied the different types of adaptation and learnt about survival of the fittest. Below, we designed our own living thing which is able to survive well within its chosen habitat. We also looked at gravitational pull and investigated the impact of mass during our outdoor learning day.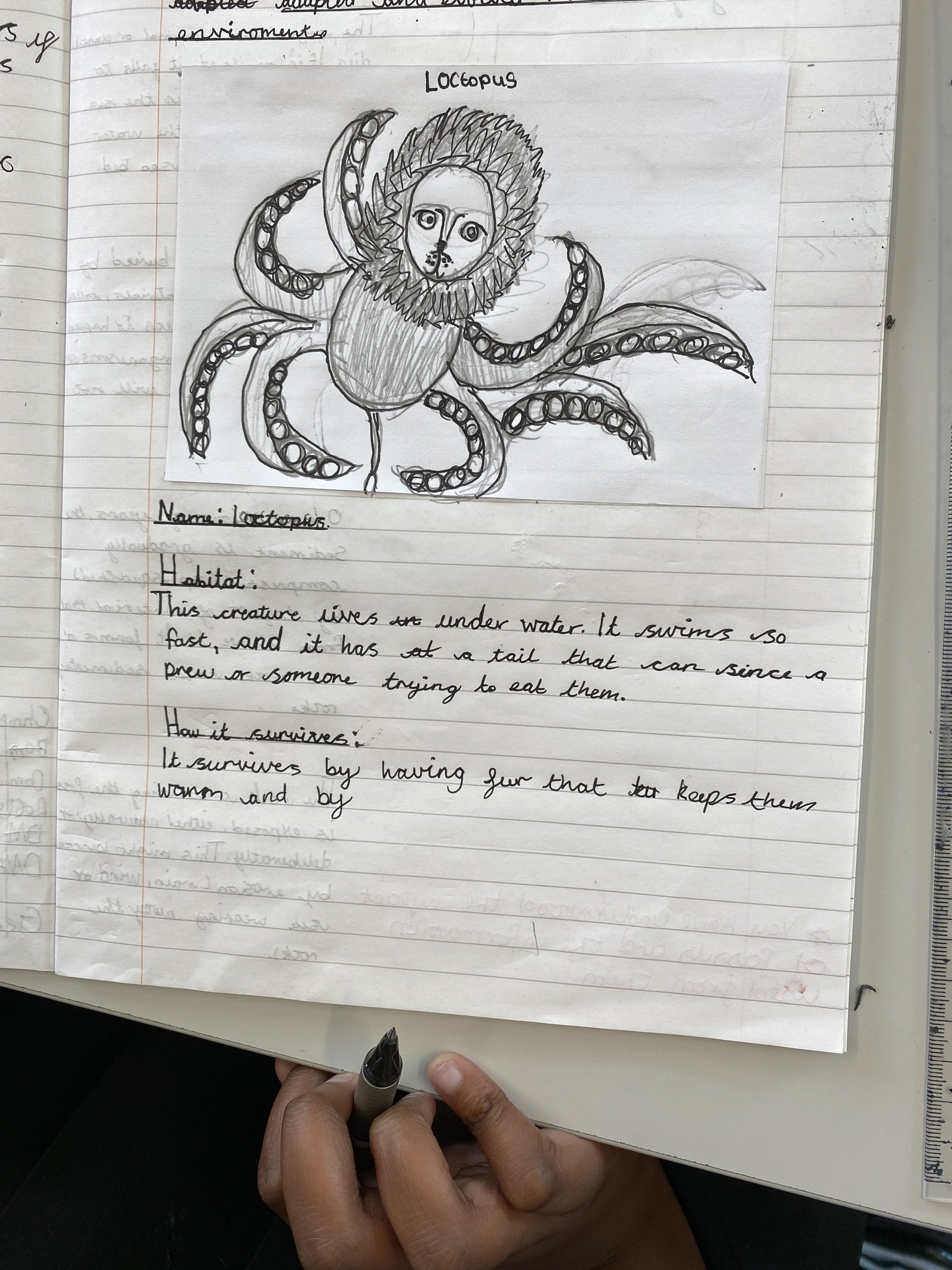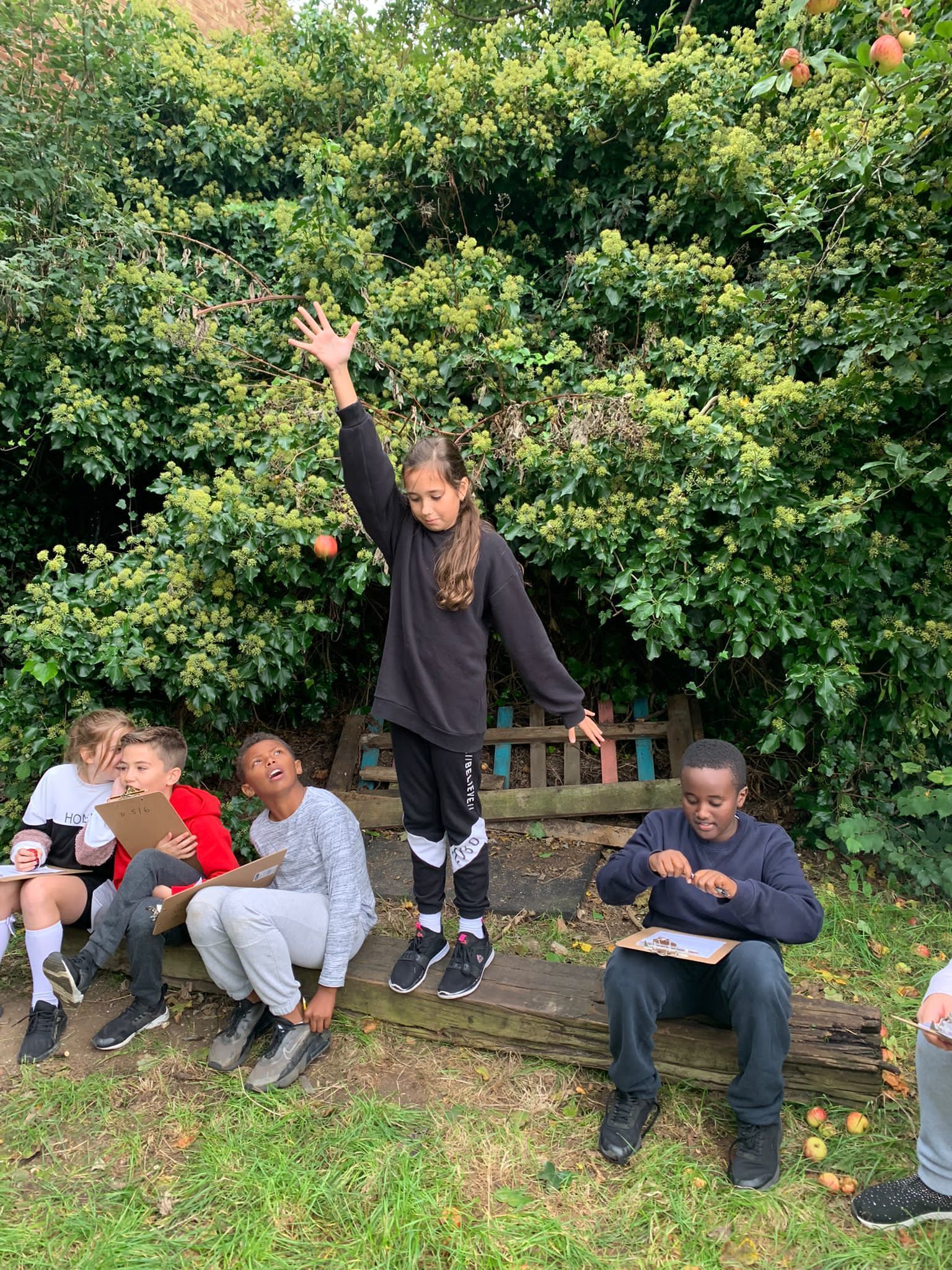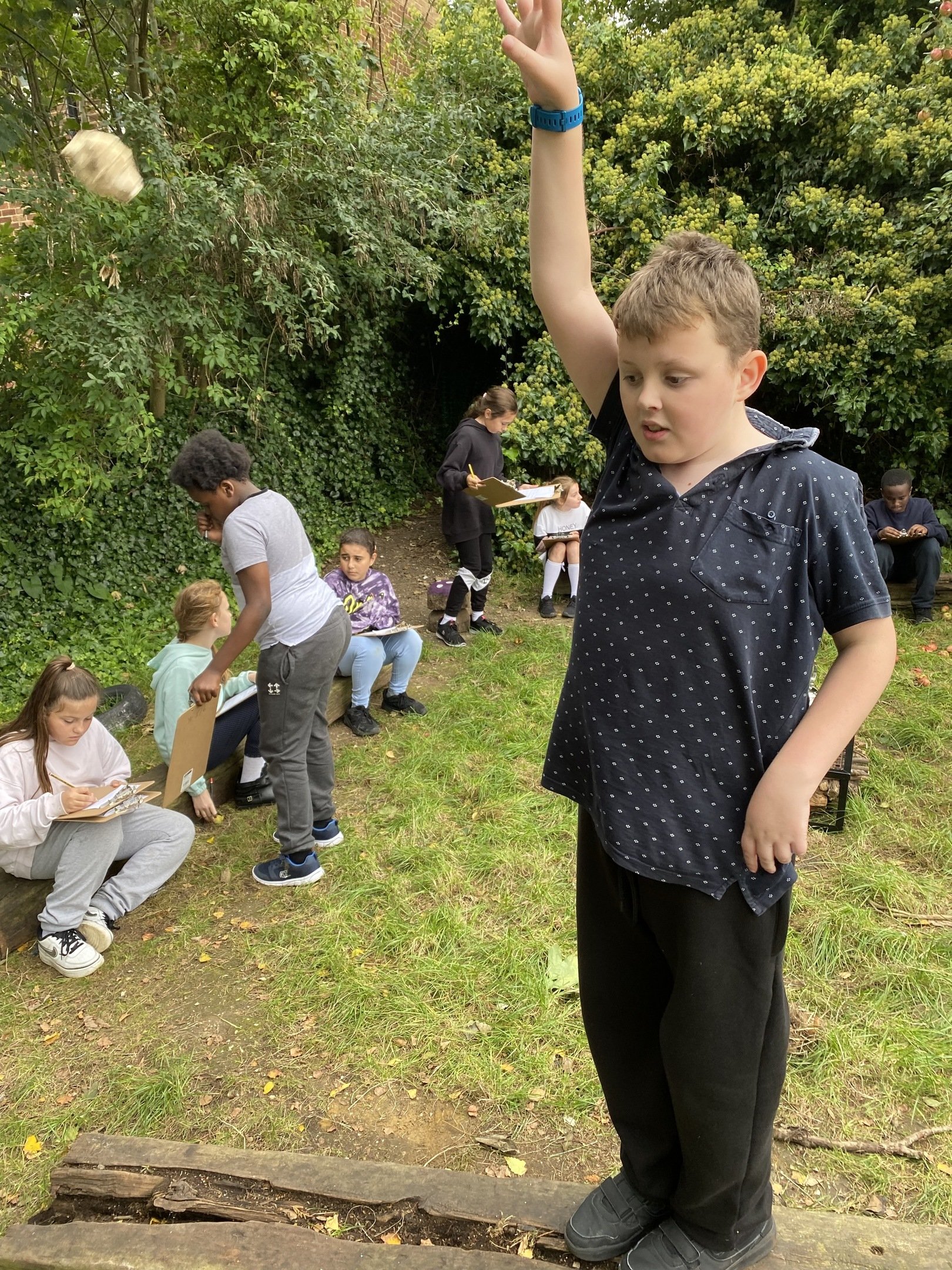 In music, we learnt about rhythm and beat. We had fun learning a new song and learning the rhythm to be able to perform it and dance as a class.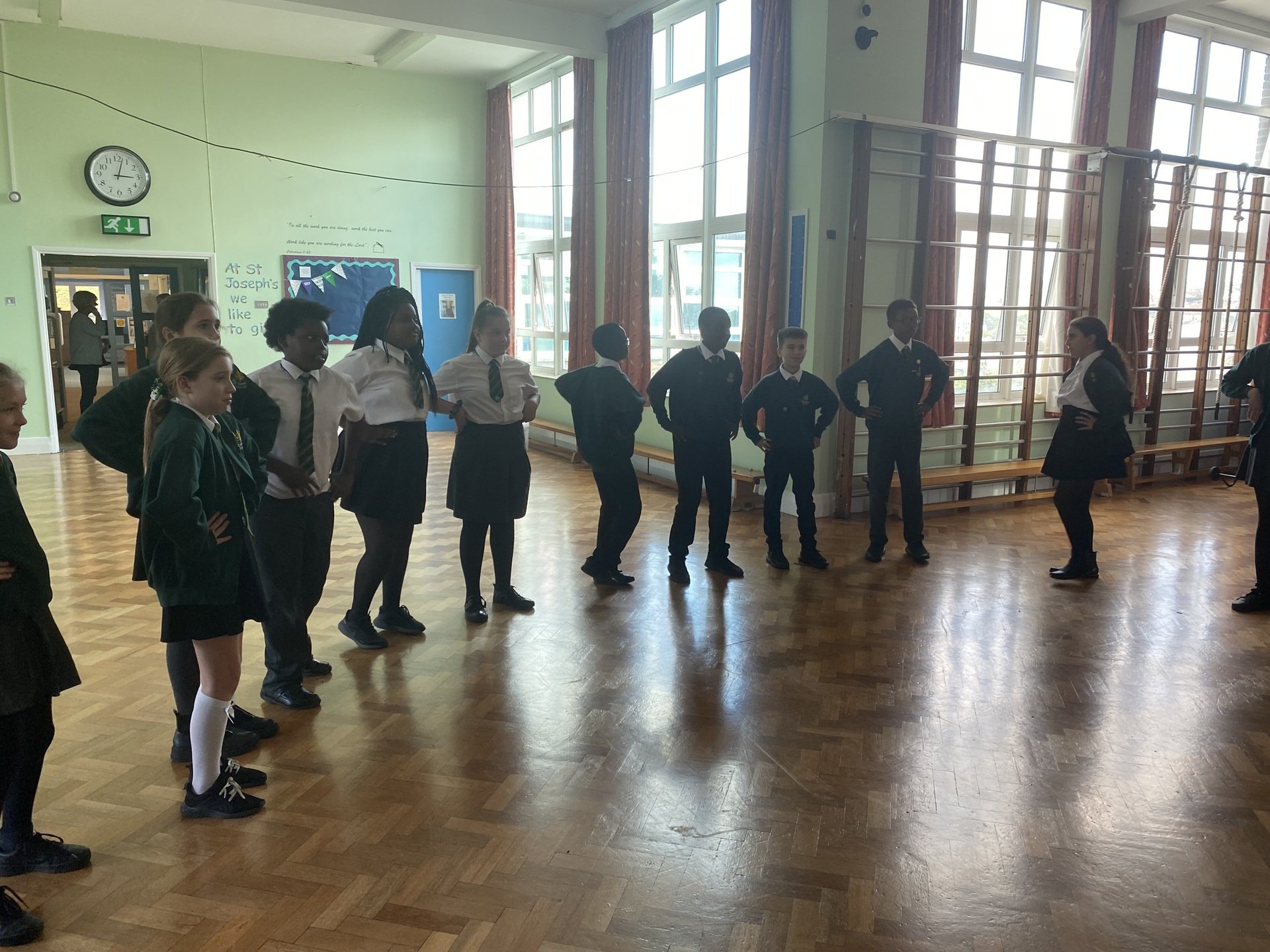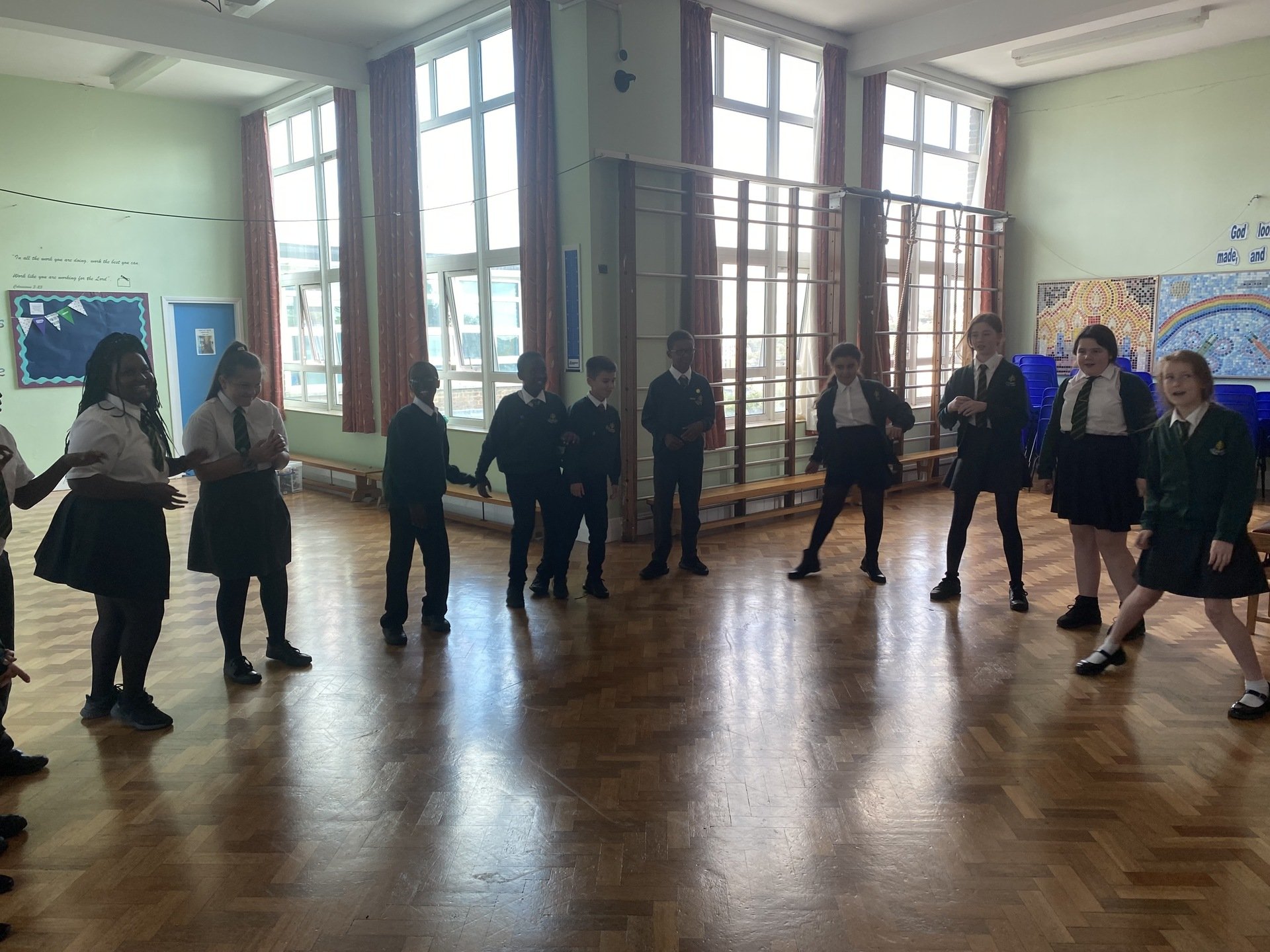 Finally, we celebrated our outdoor learning day as a class with some amazing activities! We continued to learn about rhythm in our introduction and sourced our own instruments. Next, we learnt how to safely use a saw to create our own Mexican Medallions, which we later decorated and laced! We also learnt how to use a mallet and, using our skills of identifying different leaves and flowers, we pressed them into material to create our own designs. Following this, we learnt how to light a fire and safely practised independently with the resources given and were also able to source, categorise and create our own fire using different size pieces of wood. To finish beautifully, we created our own smores by warming marshmallows and had some hot chocolate! We thoroughly enjoyed our day and can't wait for the next!
See below for the photos of this great experience.
Getting Creative
04.10.2021
In maths this week, we have started to recap and consolidate our understanding of repeated addition as multiplication. We explored different models and methods for calculating and solving multiplication problems, starting with simple doubling as multiplying by two. We noticed simple patterns with doubling and were able to move on to some trickier multiplication using these facts. We loved using the resources available and, creatively, demonstrating our understanding of multiplication and repeated addition.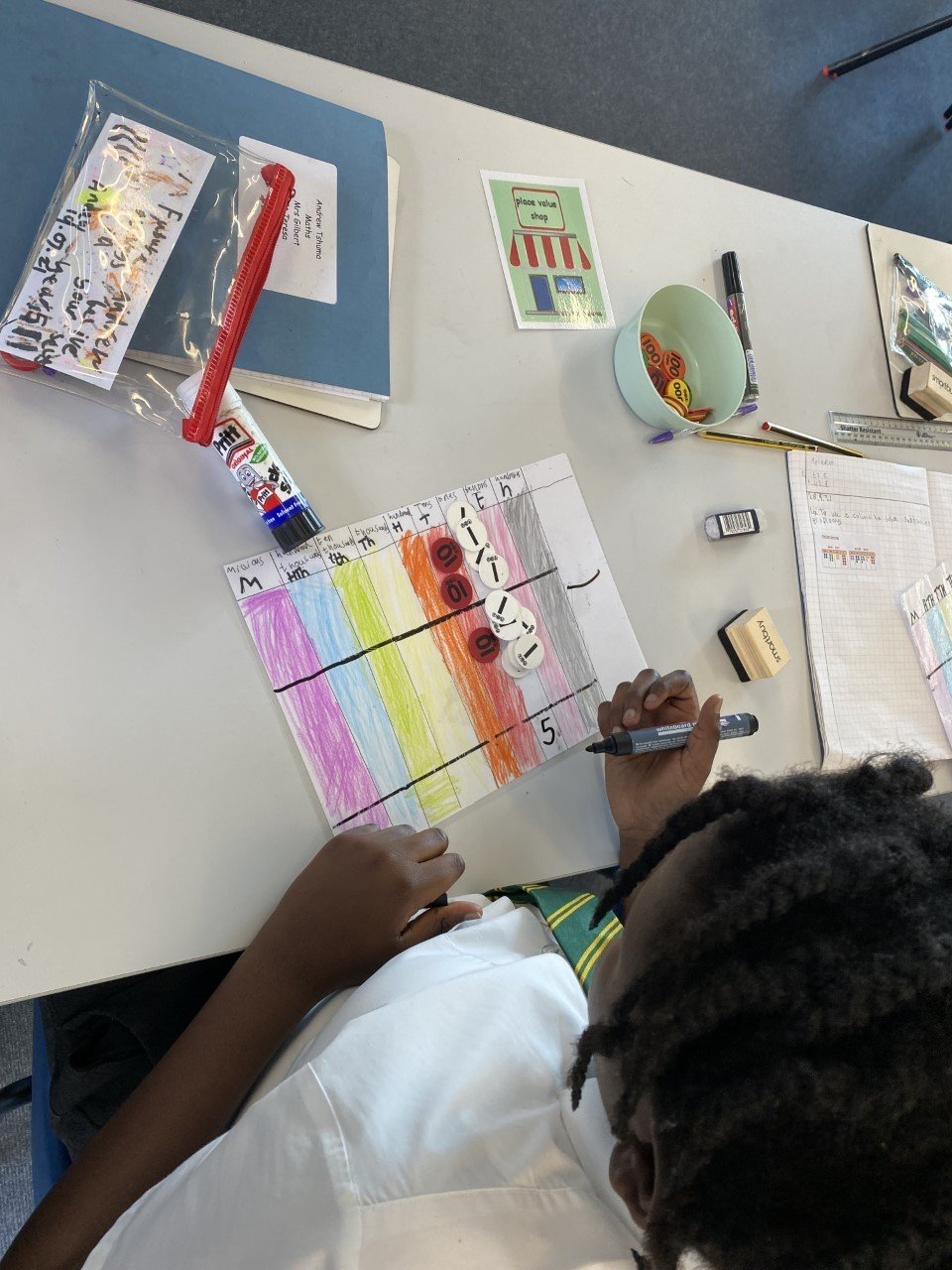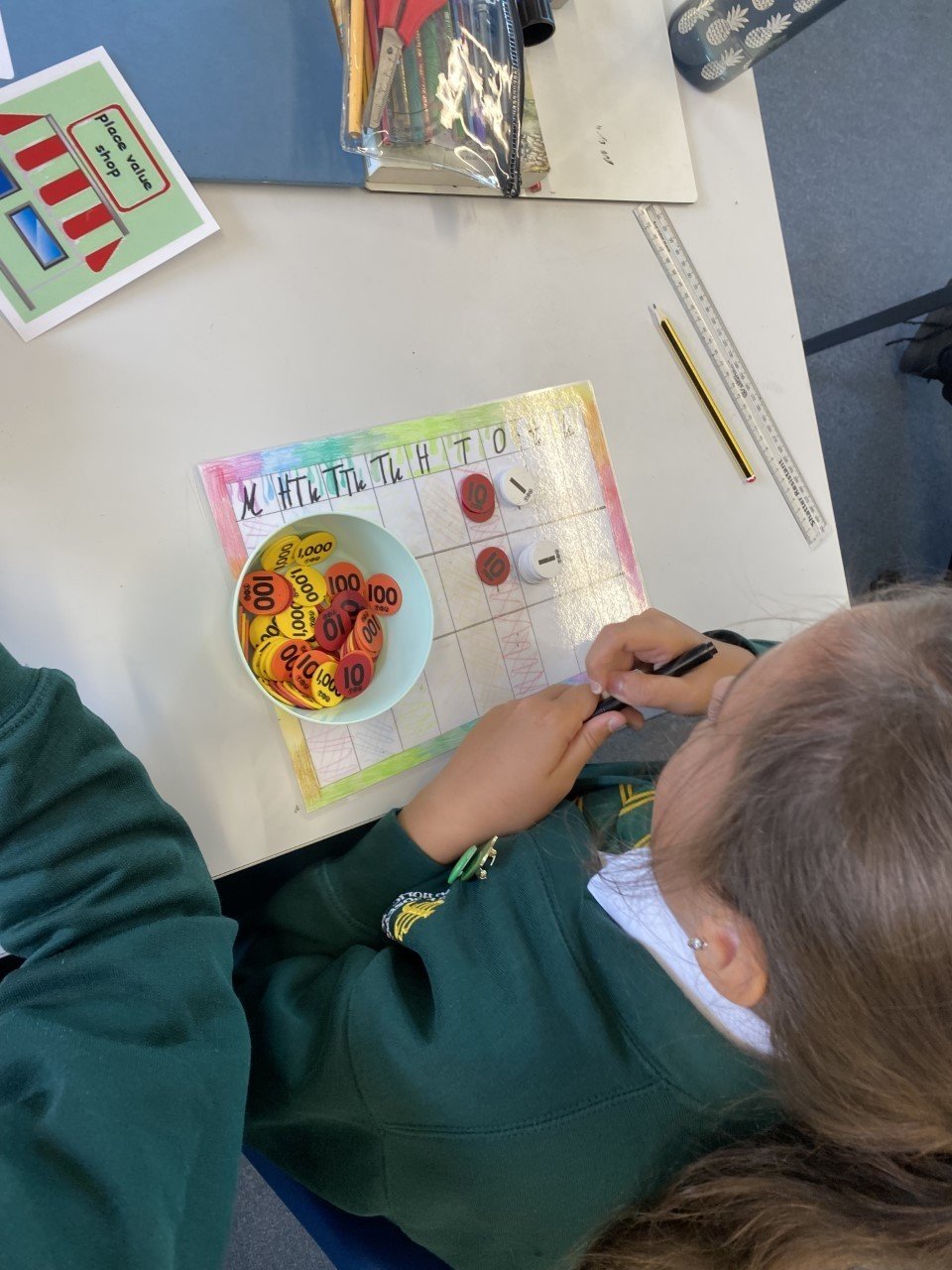 In English, we looked at the current predicament for the character's and explored the different creatures we believe might be surrounding the family now and those that might be seen at the new place. Below are some examples:
We continued to explore how our character in 'The Journey' currently feels, surrounded by the 'deep dark forest'. We listened to 'The Dark' by Lemony Snicket and discussed how authors use darkness to cleverly generate a sense of uneasiness and fear for the reader. In order to create a suspense narrative next week, we applied our artistic skills and flare, whilst listening to the book description, and demonstrated our imagery of 'darkness'.
Grandparent's week
27.09.2021
In English, we interviewed the characters of our book and asked and answered questions about how they are feeling in several stages of their journey to the new place.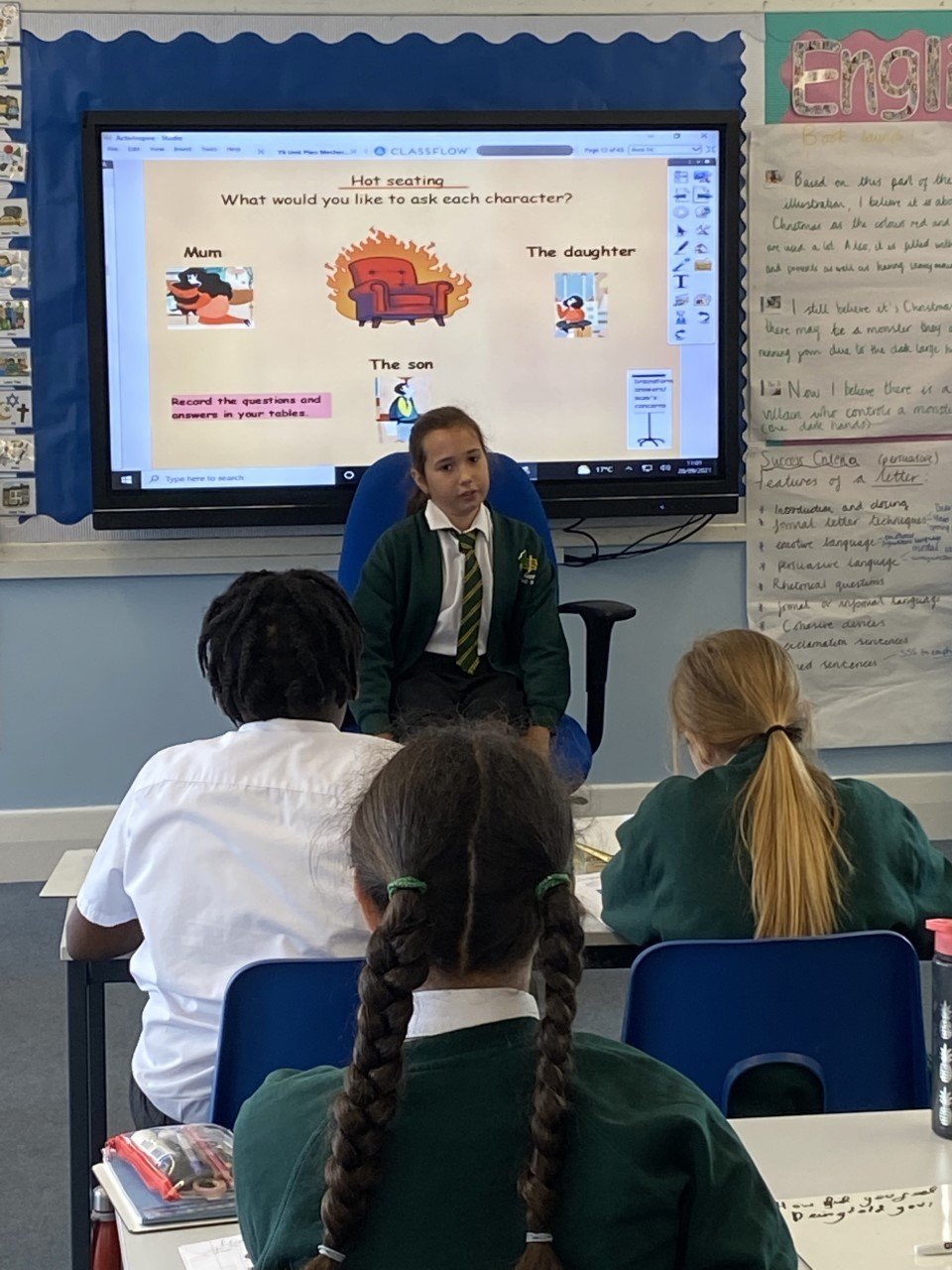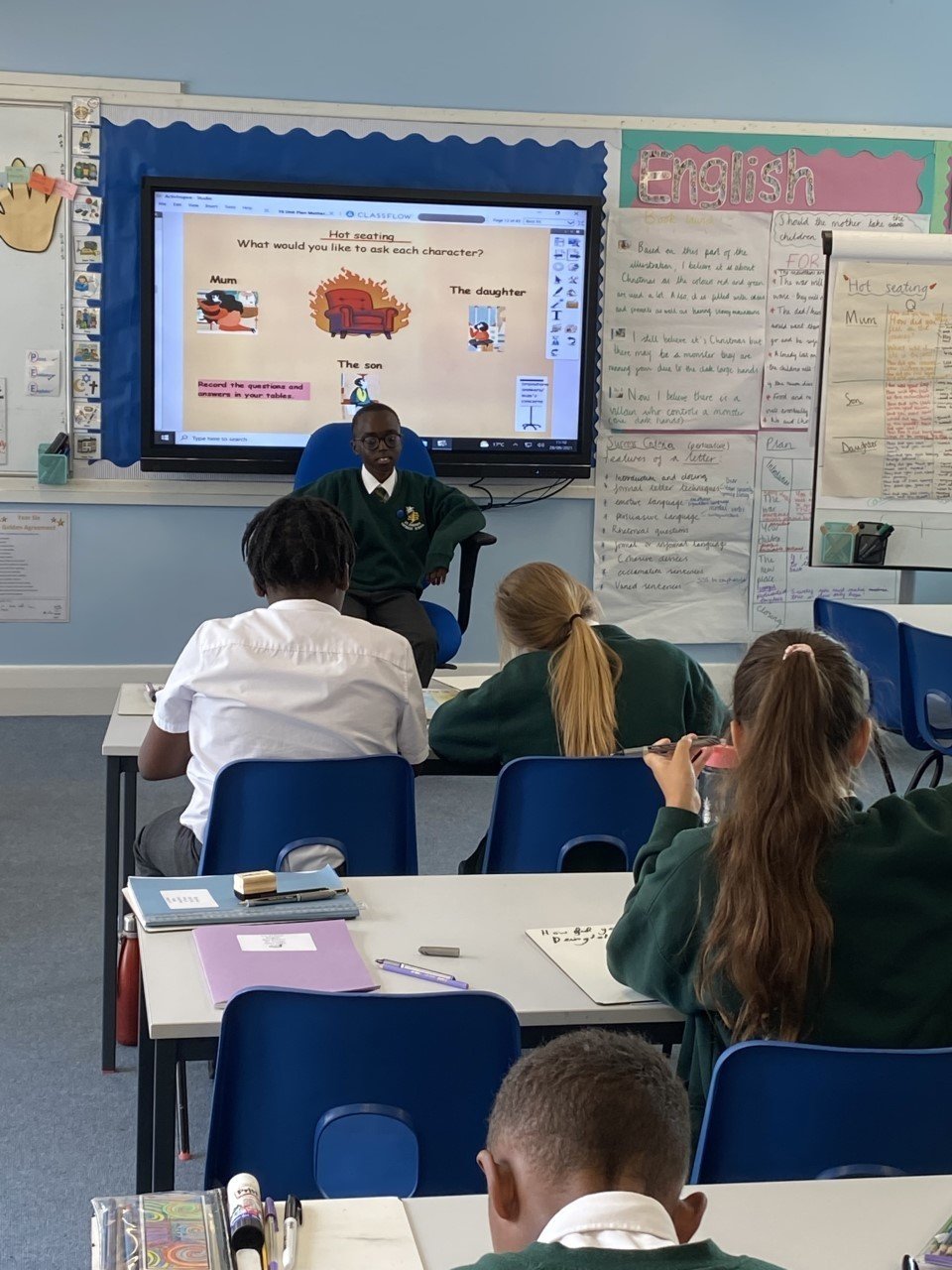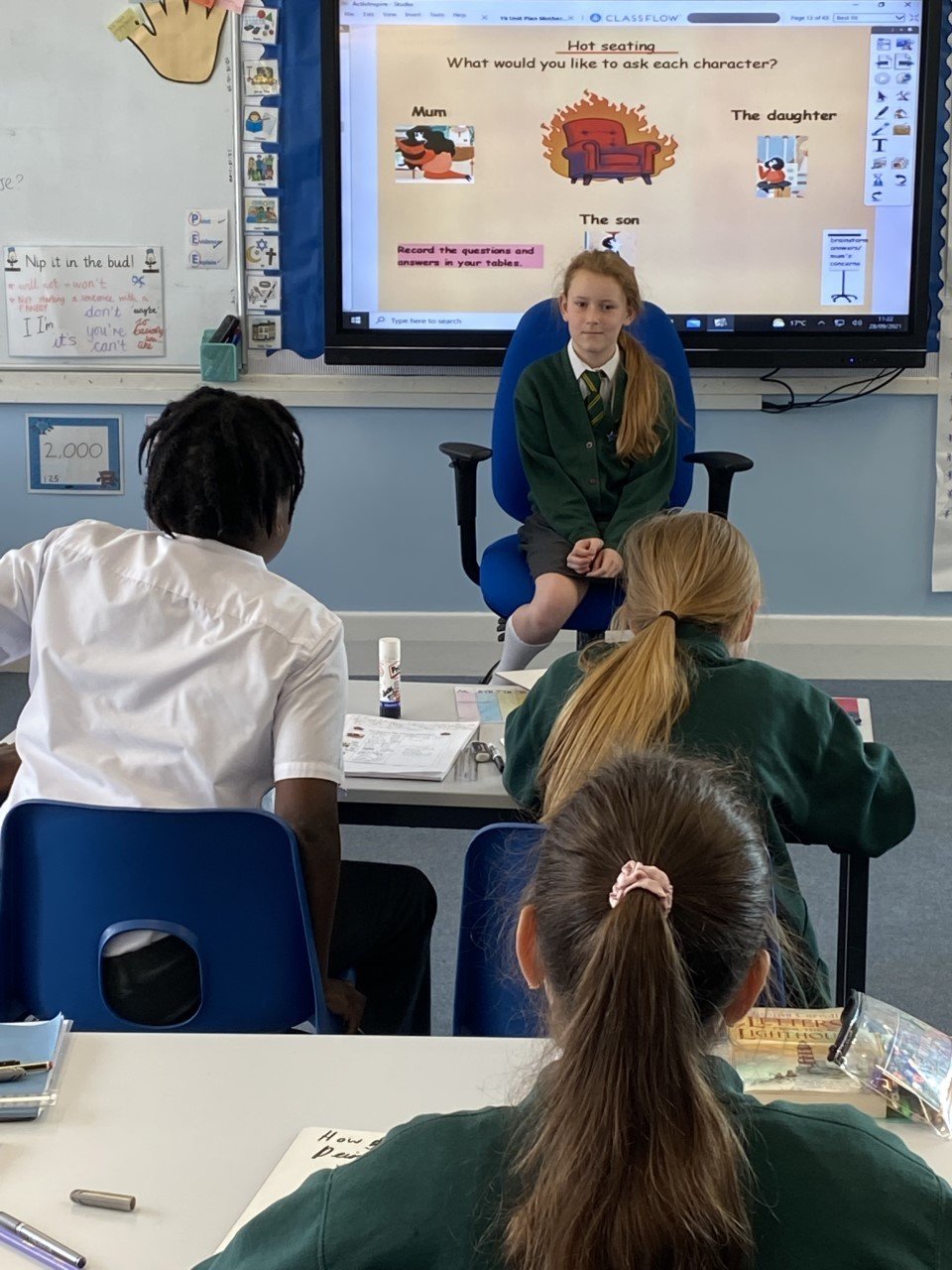 We have also been learning how to control and dribble the ball in basketball. Having learnt how to pass last week, we are now focusing on moving with the ball and passing to a friend. We played a game of cat and mouse where we dribbled the ball to escape the cats and also a game of chaser in the middle.
In PSHE, we learnt about healthy diets and how exercise and healthy eating or drinking water are the only methods for creating healthy energy for our bodies. We also looked into the ingredients of commercial energy drinks and why they are not good for children especially. With this in mind, we then created our own alternatives to energy drinks with the focus on healthy ingredients that also provide good energy.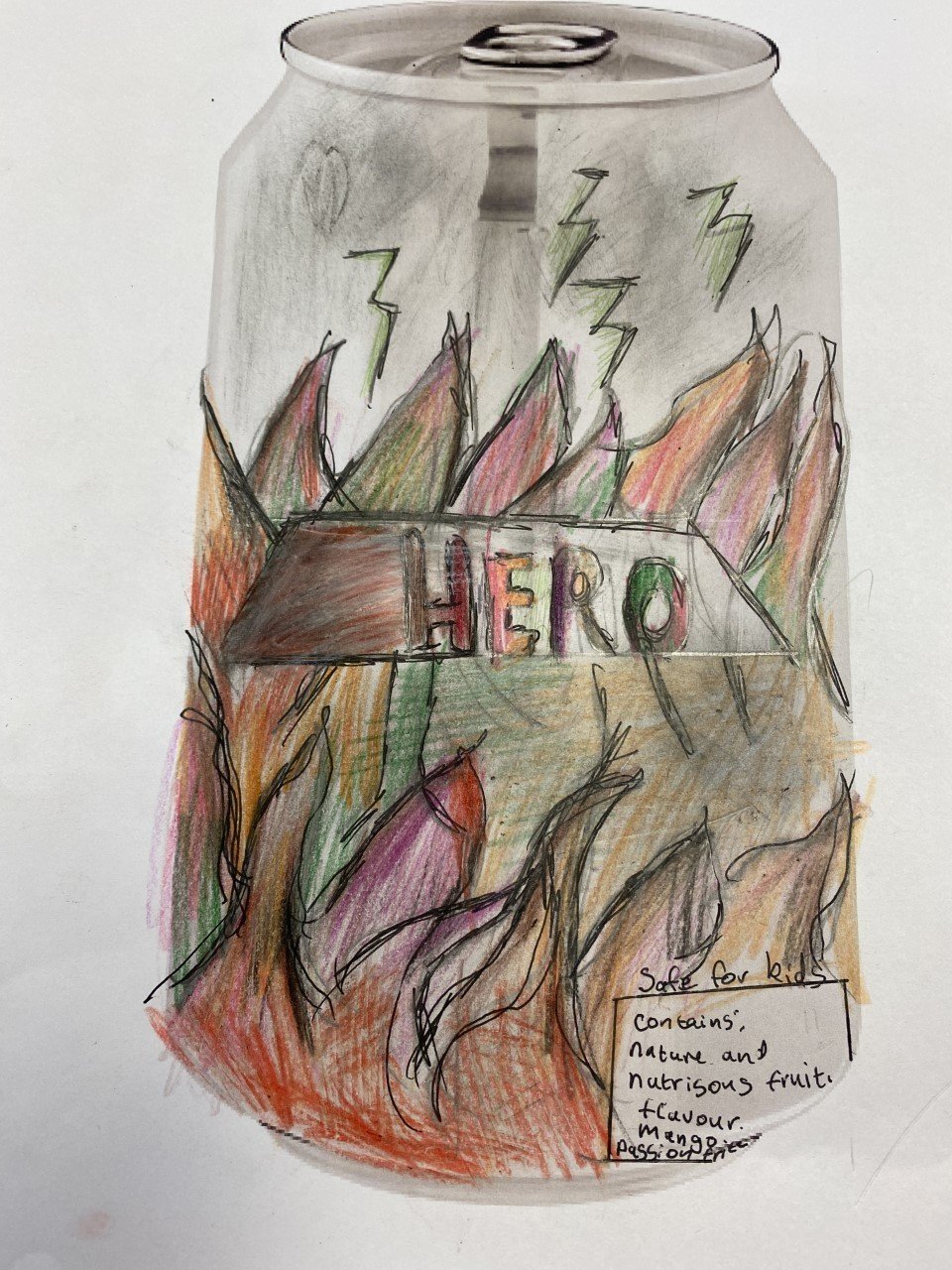 This week we have been looking at differences and similarities between us. In science, we have begun to explore variation and what that looks like in humans, specifically eye colour. We played a game of 'Whose eye is that anyway?' Year 6 have learned about why this difference occurs due to dominant and recessive genes.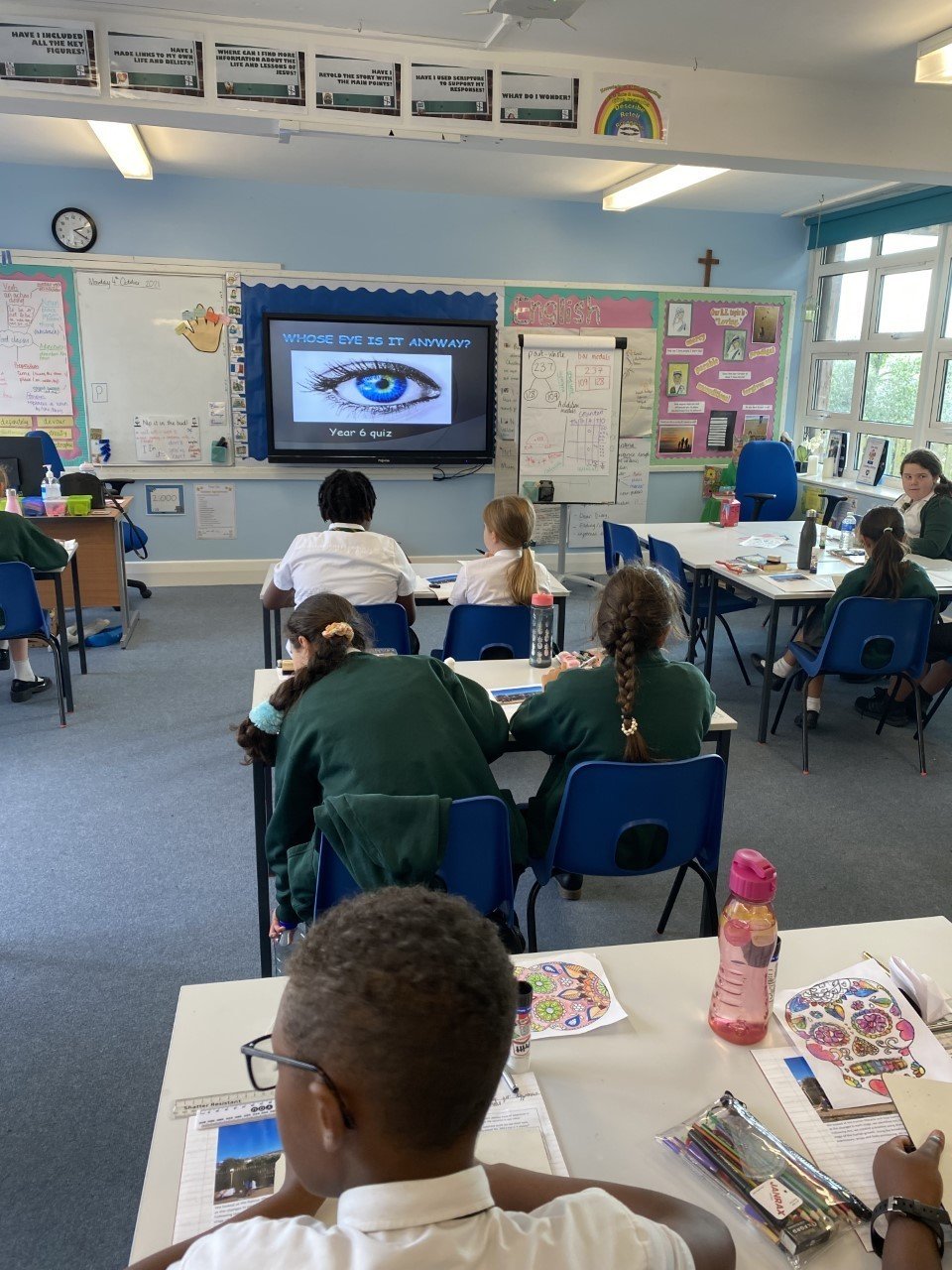 Finally, we celebrated Grandparent's week this week by creating invites for Grandparent's and elderly family friends. They attended our Mexico Madness Art workshop, where we learnt how to draw Frida Kahlo and create stone cactus' in pots. We had great fun and it seems the Grandparent's thoroughly enjoyed themselves too! Please see our wonderful photos below from this event.
'The Journey'
20.09.2021
Last week, having launched our first book for this half term called 'The Journey' by Francesca Sanna, we focused this week on understanding the character's feelings and thoughts when journeying on a treacherous mission to escape the war-torn country. Year 6 looked at different stages of the journey and re-enacted them in a freeze frame by portraying the character's feelings of worry, concern and heartbreak through their body position, facial expressions and use of props.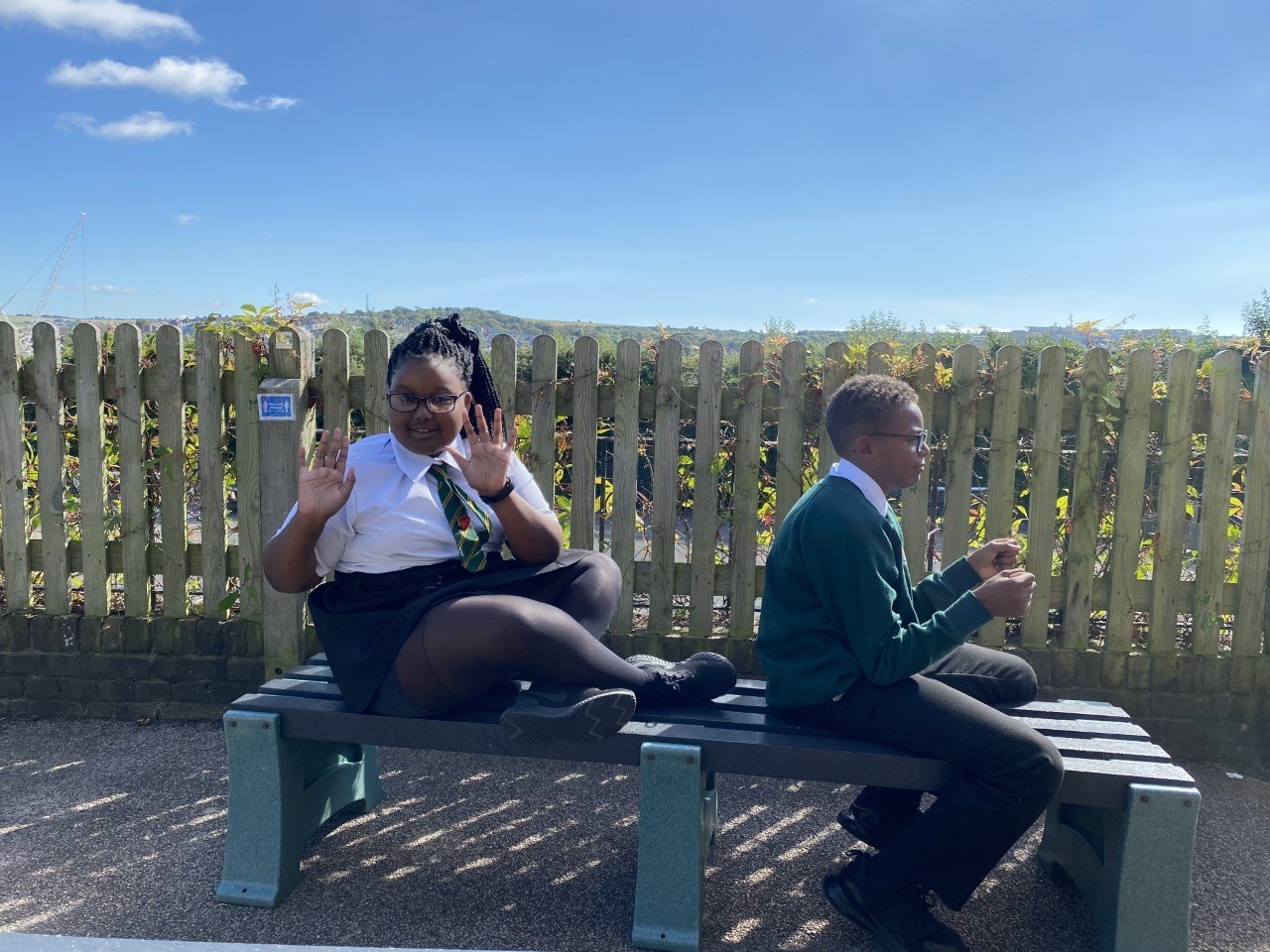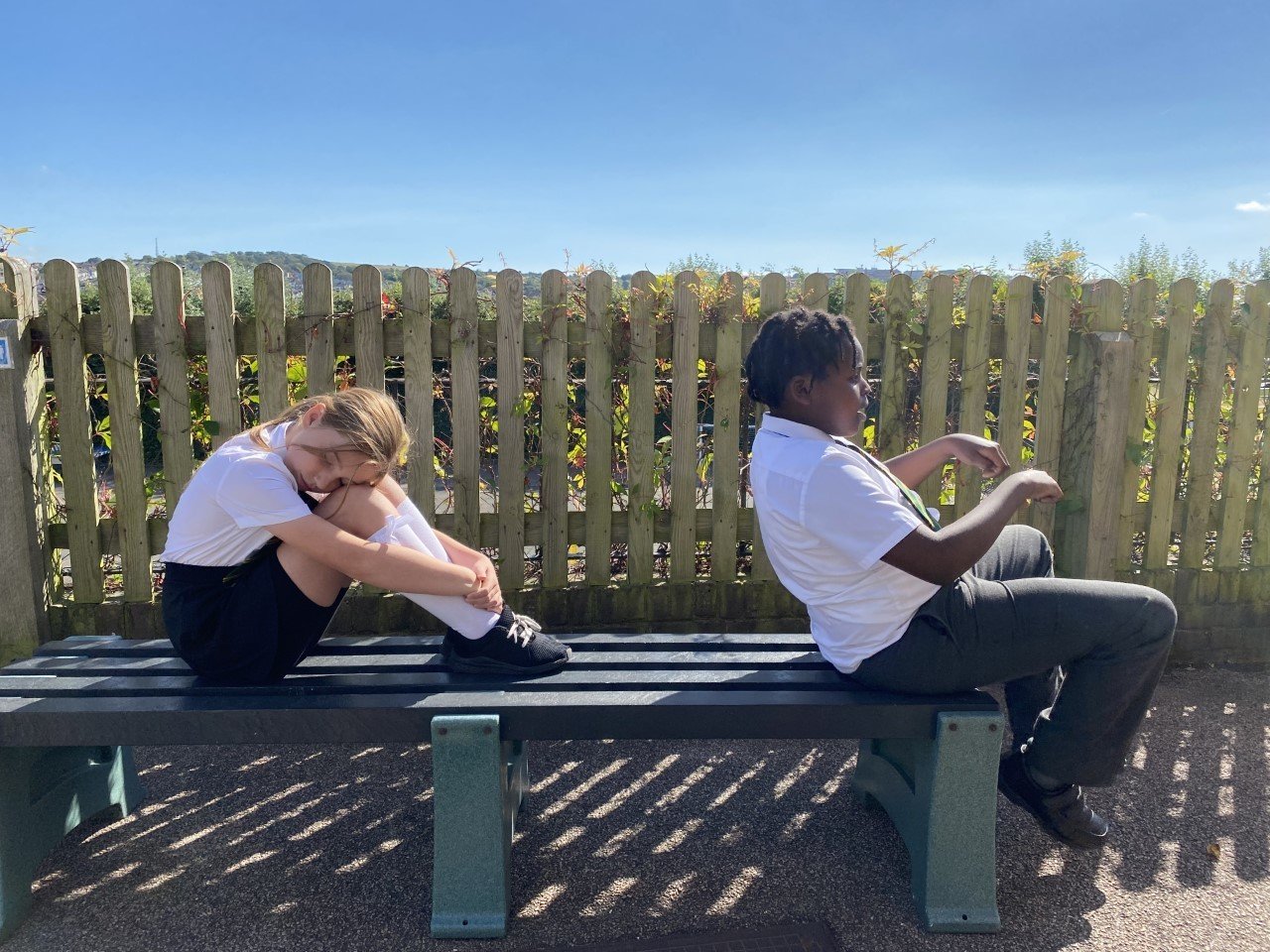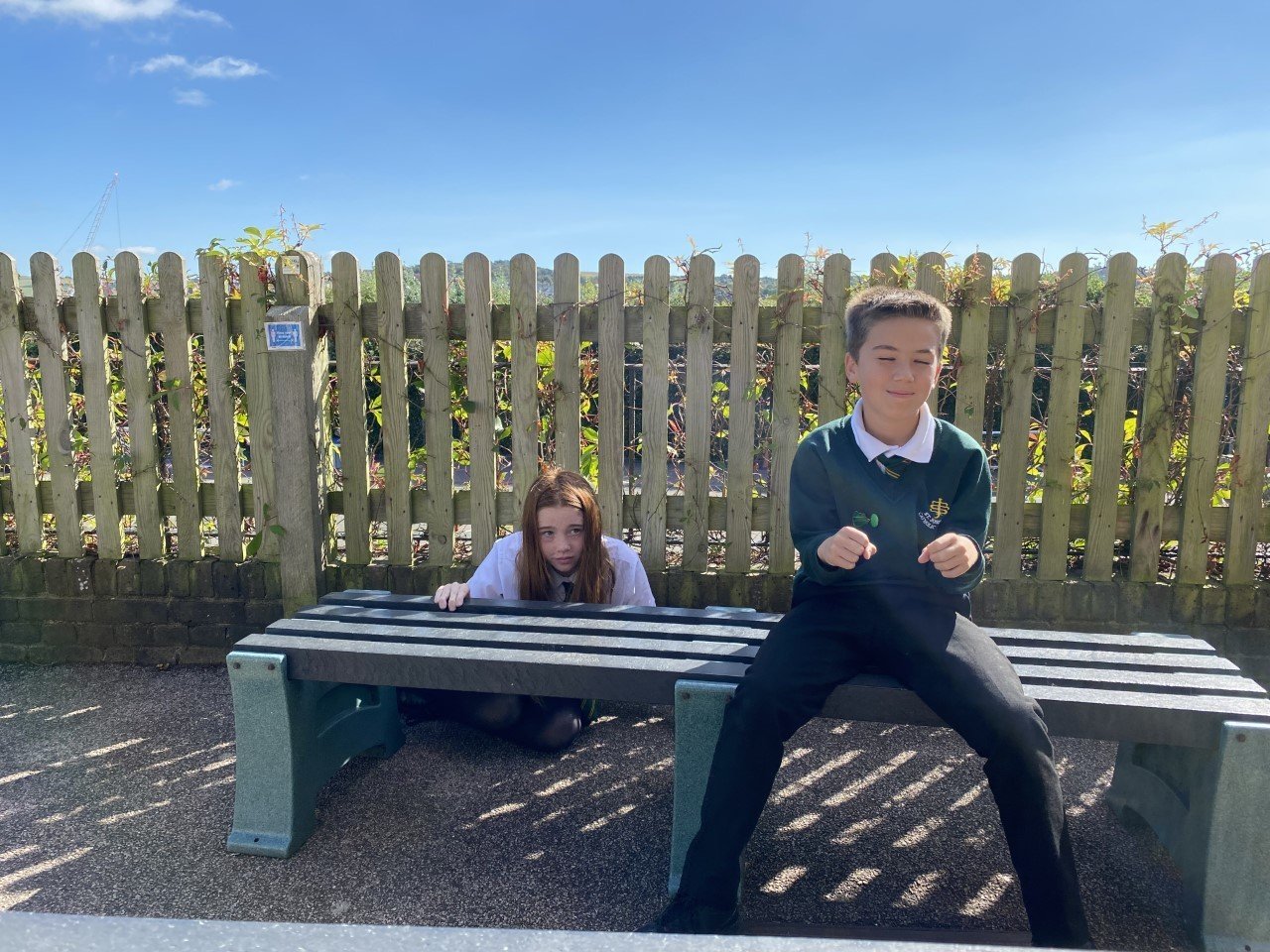 We also looked at the concept of God's 'unconditional love' in RE and discussed examples of how God continues to love and forgive despite any bad choices we may make. We looked at Saul's transformation to Paul and how his qualities changed when becoming a Christian. We also looked at the concept of unconditional love in the parable of the prodigal son and held a trial to debate whether the character's did demonstrate unconditional love or not.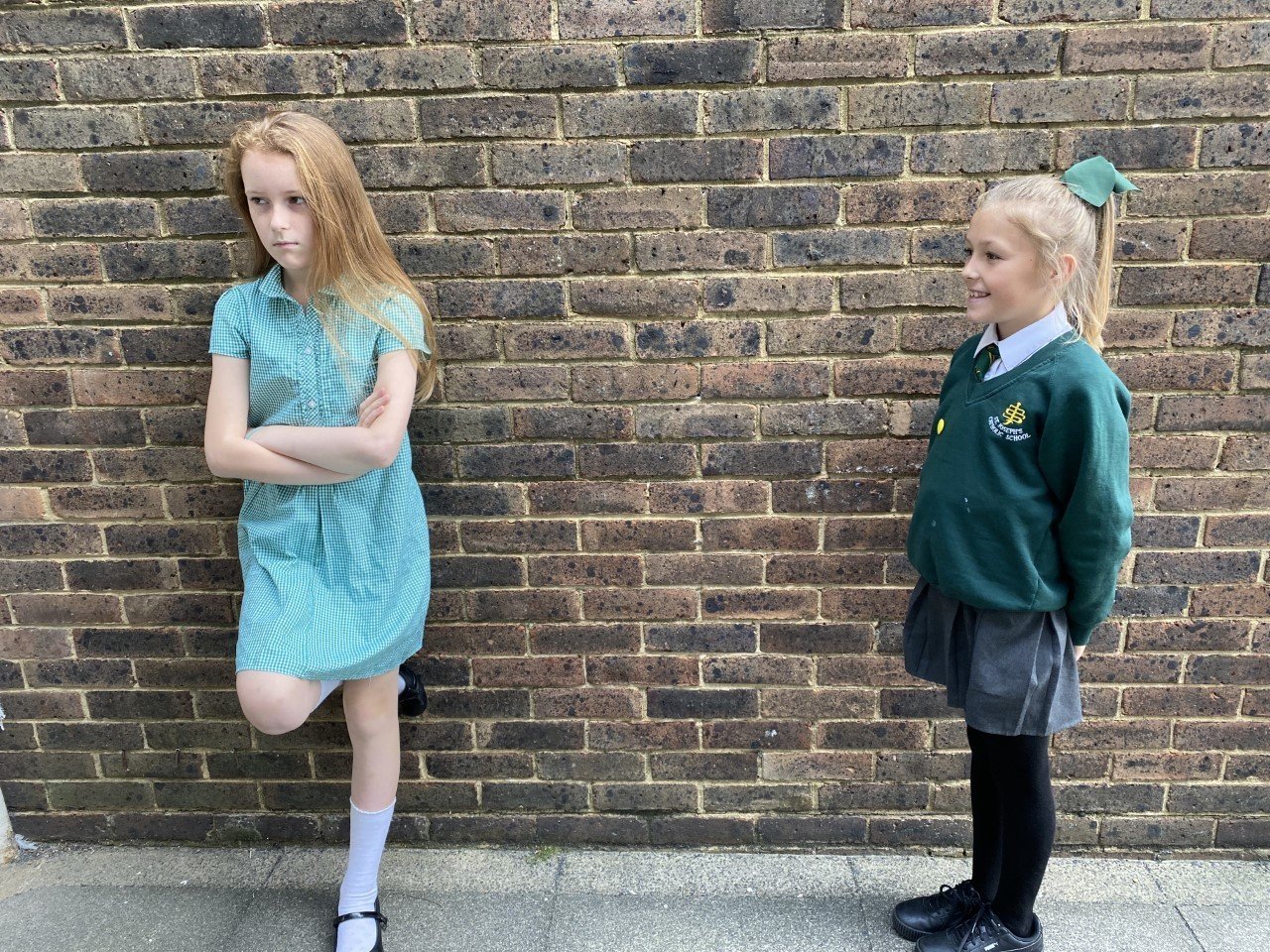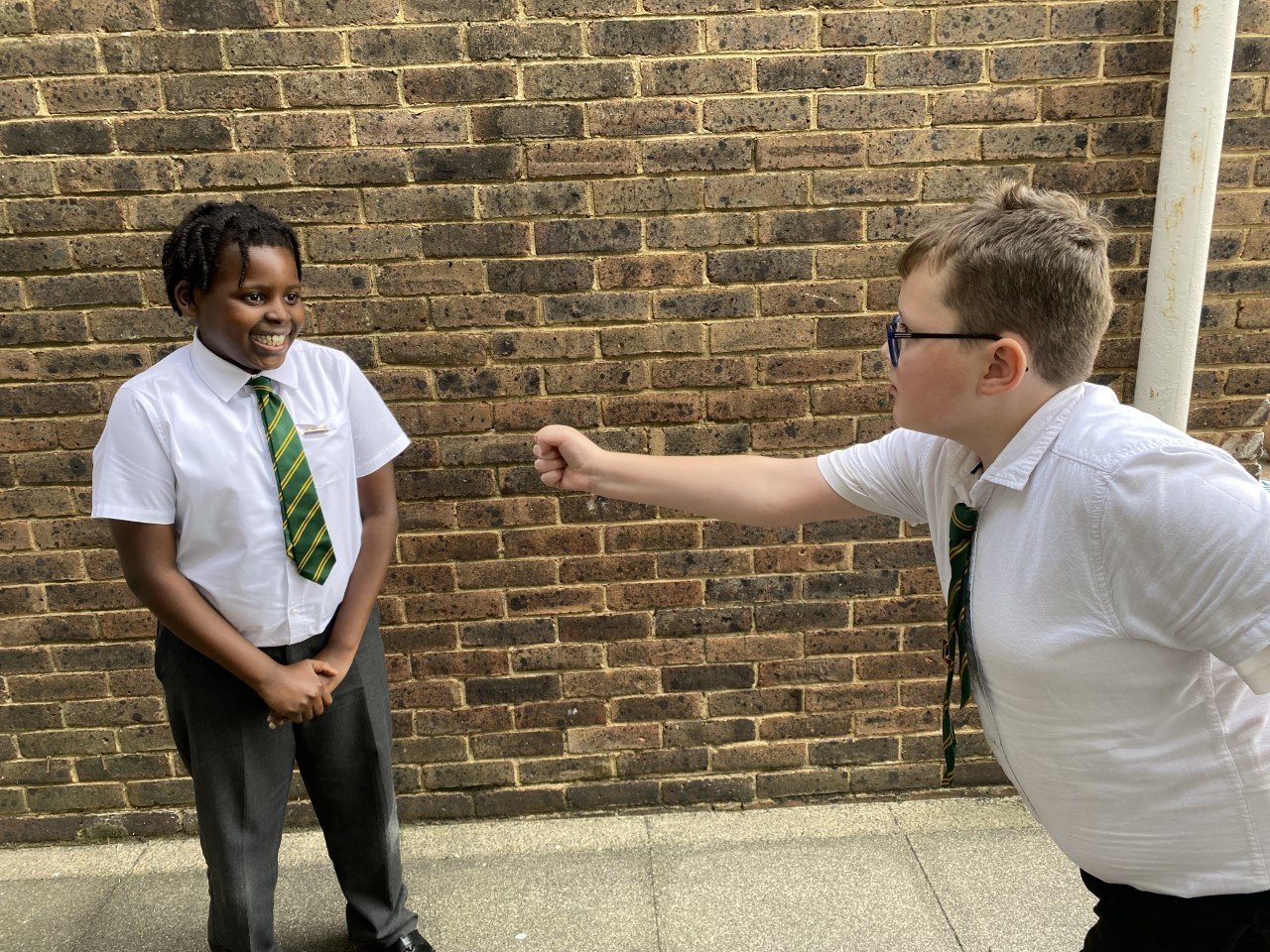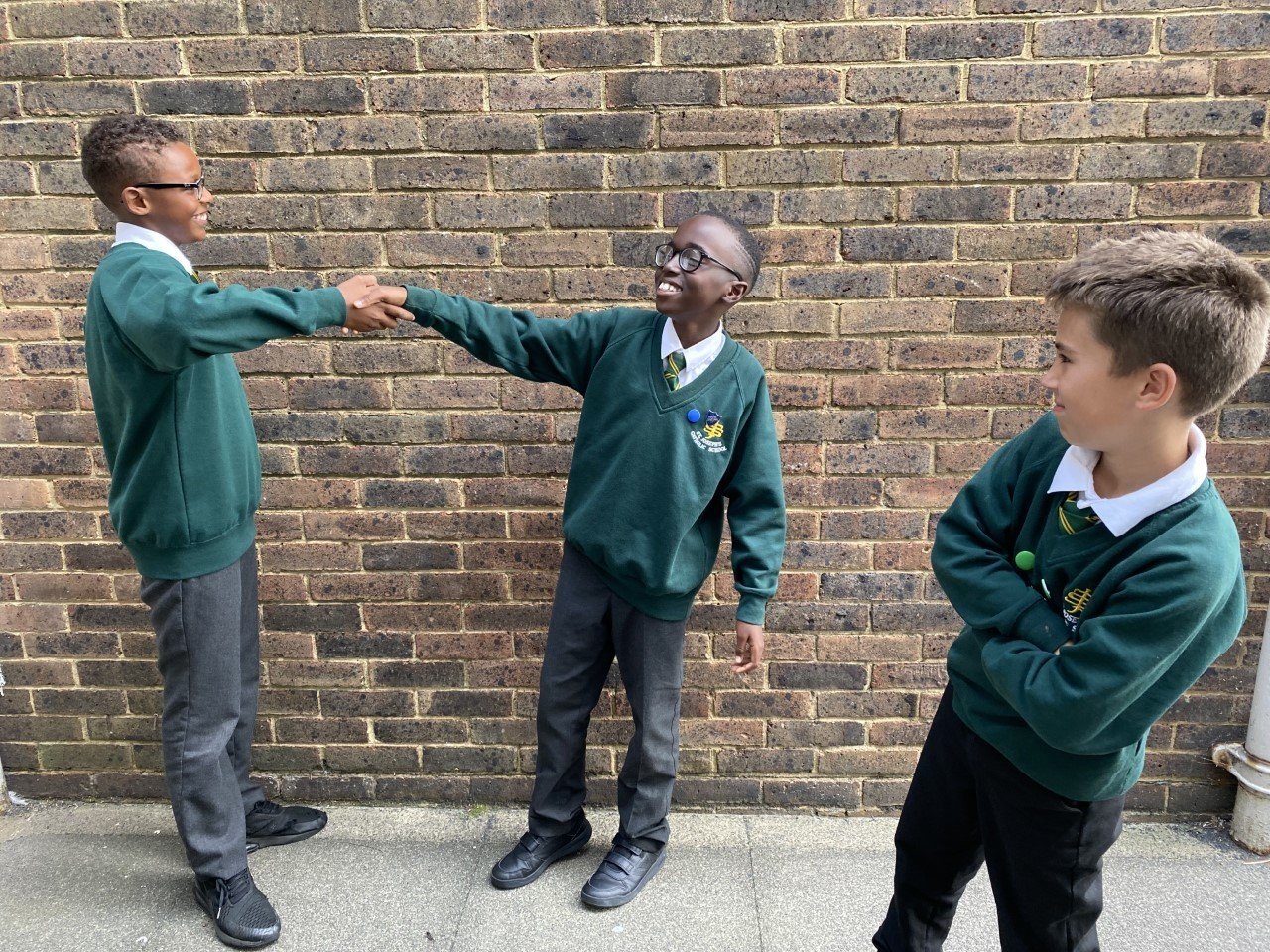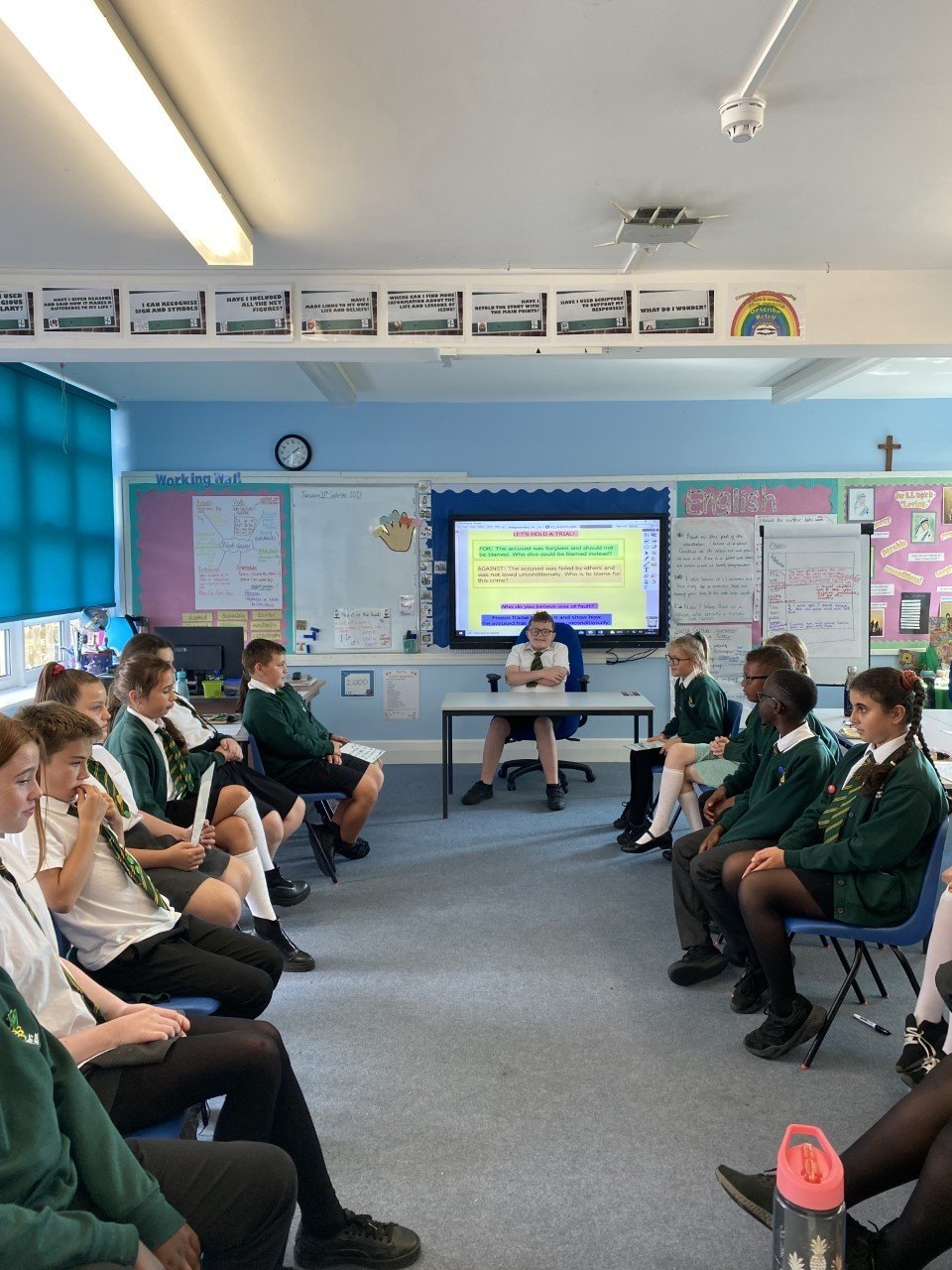 Finally, in science we learnt about human growth and the different changes that occur at each human life stage. We identified the impact aging has on the external and internal of a body and compared the different stages. As you can see, we had great fun recreating those stages in the form of a freeze frame timeline.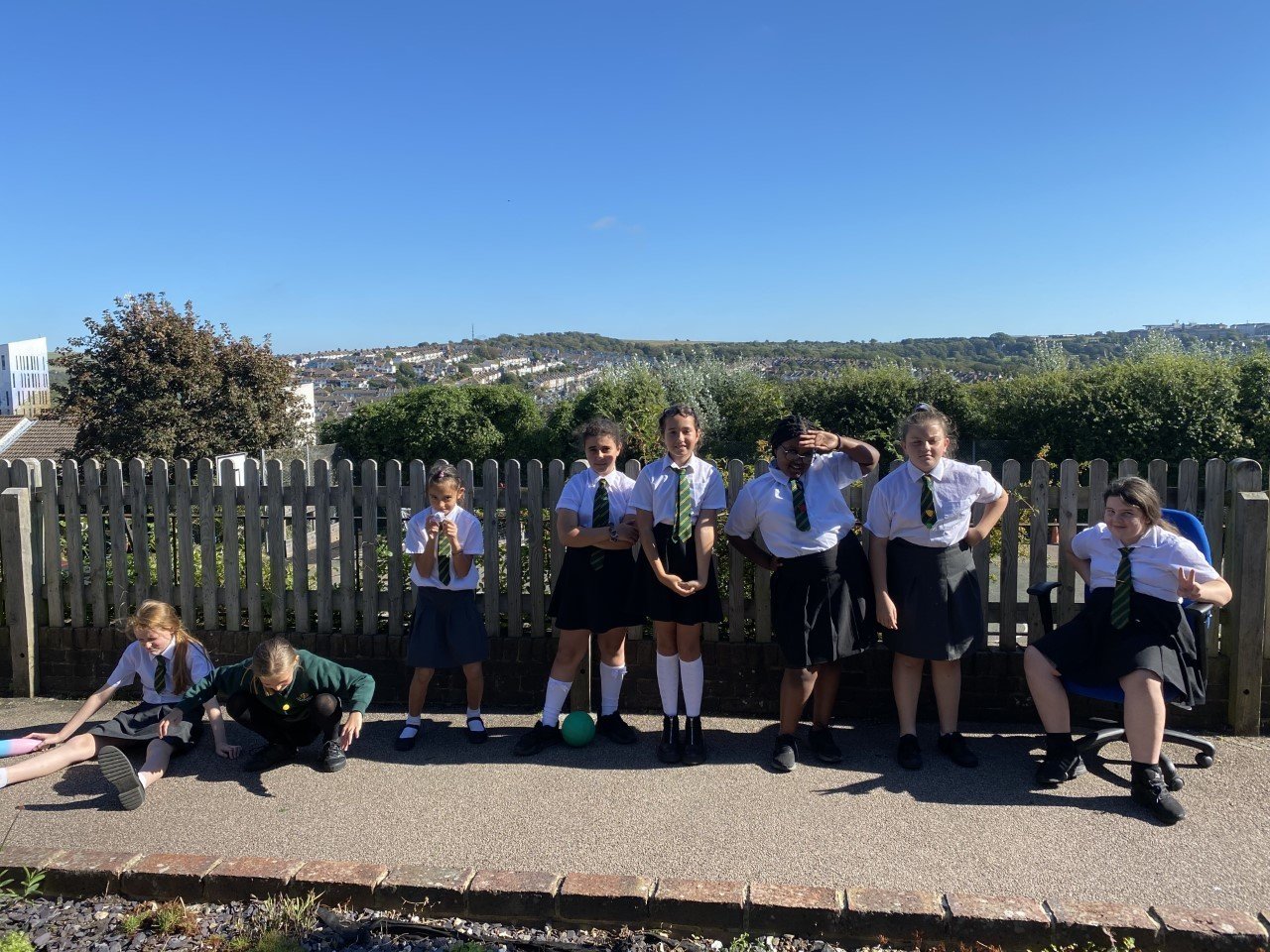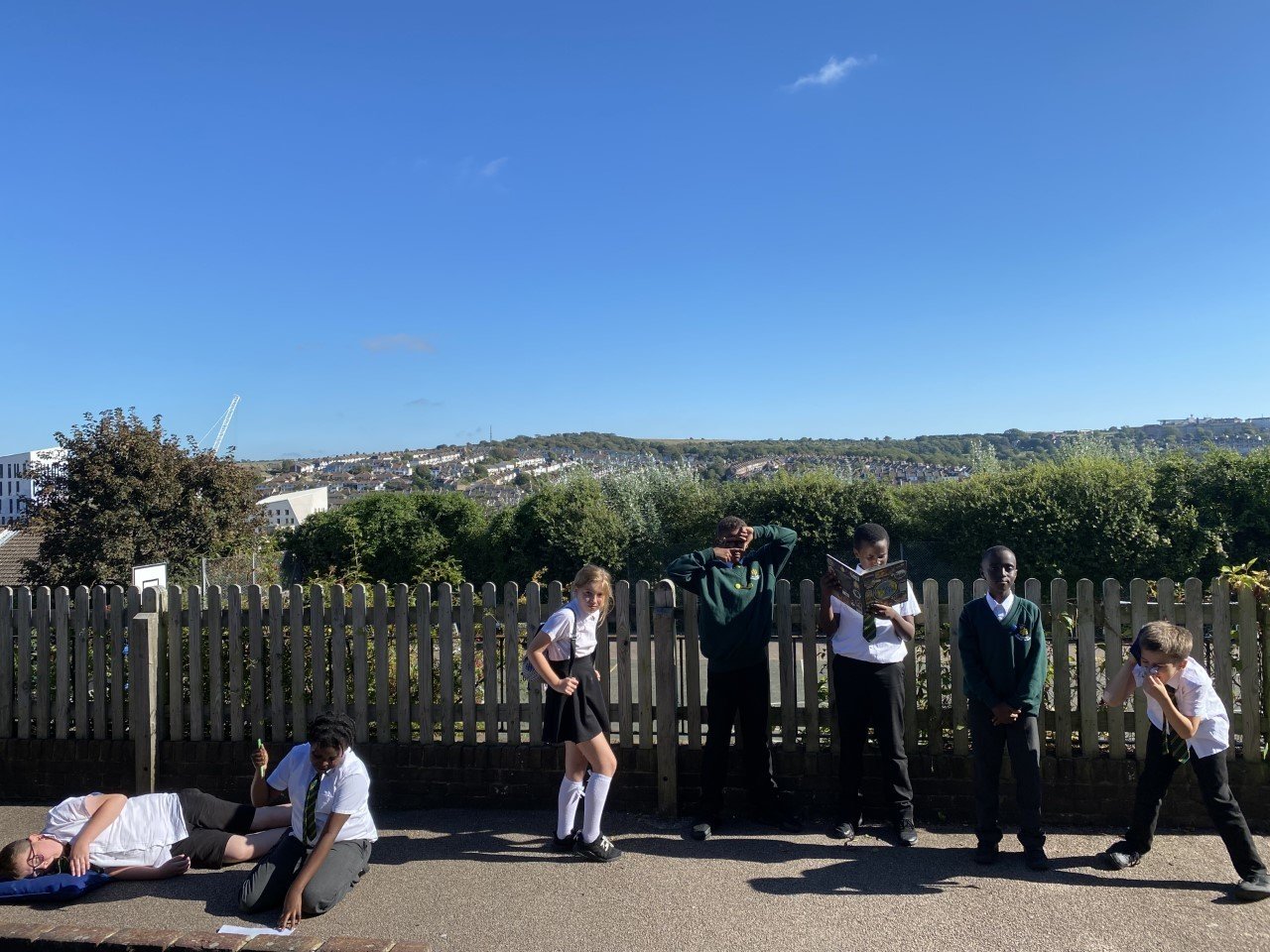 'Let's go to Mexico!'
13.09.2021
Today, was Year 6's 'stunning start' and introduction to their Humanities learning this term. For the topic launch, the children came into school dressed in Mexican colours or outfits. Thank you all for making such an effort - you looked fantastic!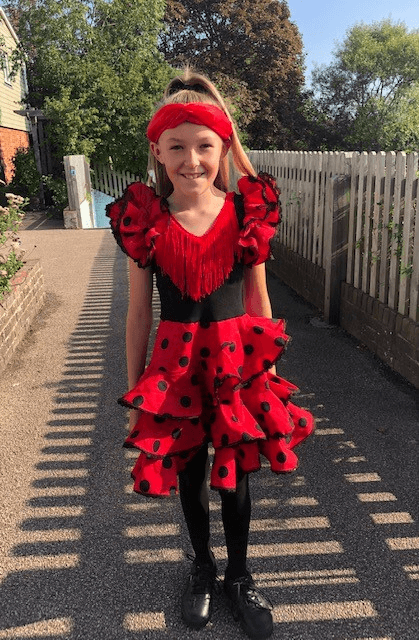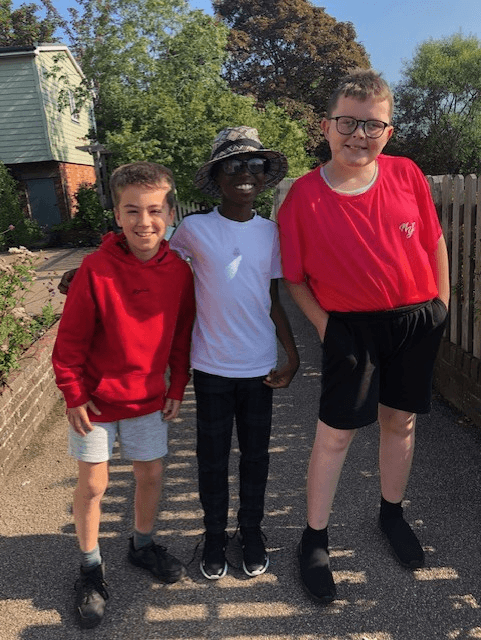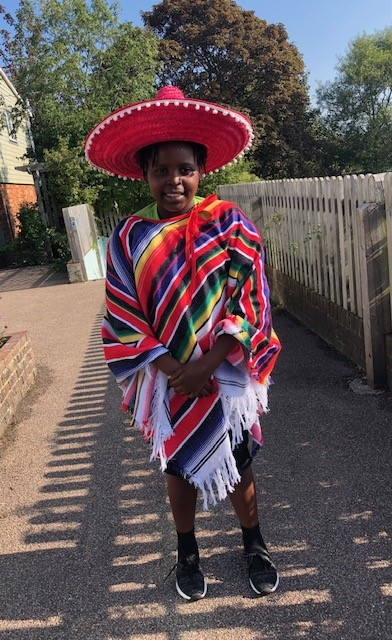 During the day, the children listened to Mexican music, watched Mexican dancing and explored the Mexican culture through their clothing, food and celebrations. They designed some of their own Mexican clothing which can be seen below.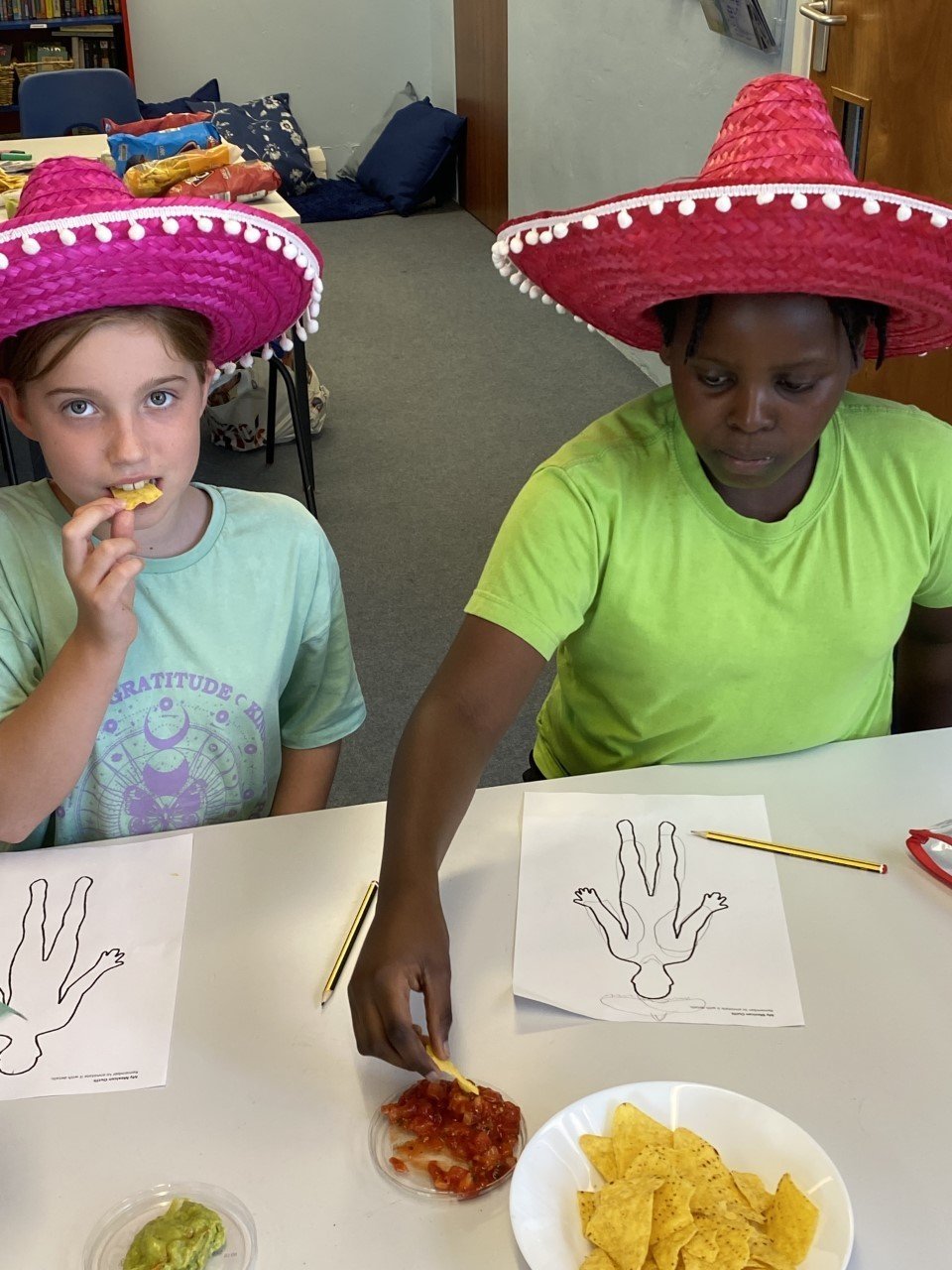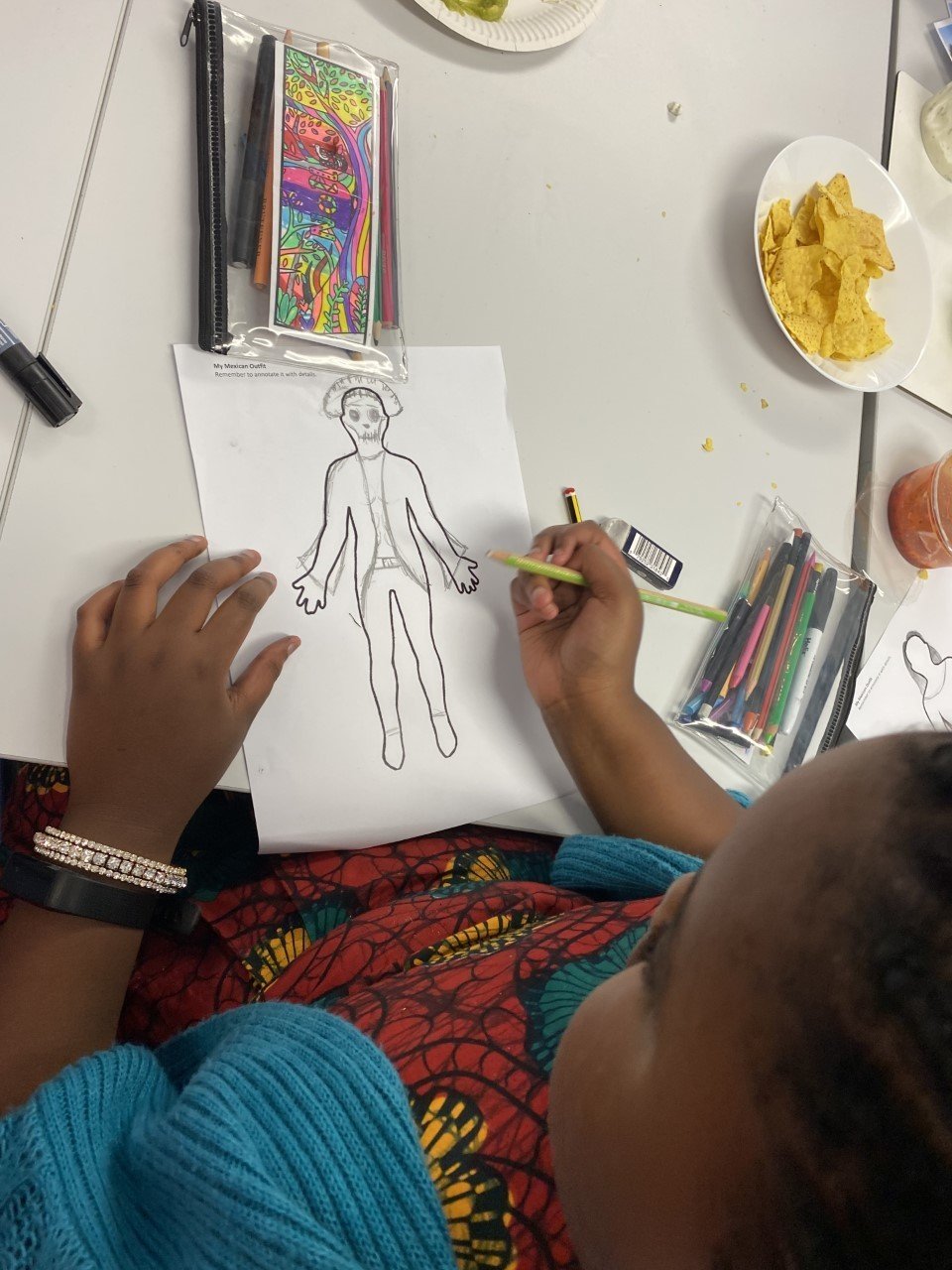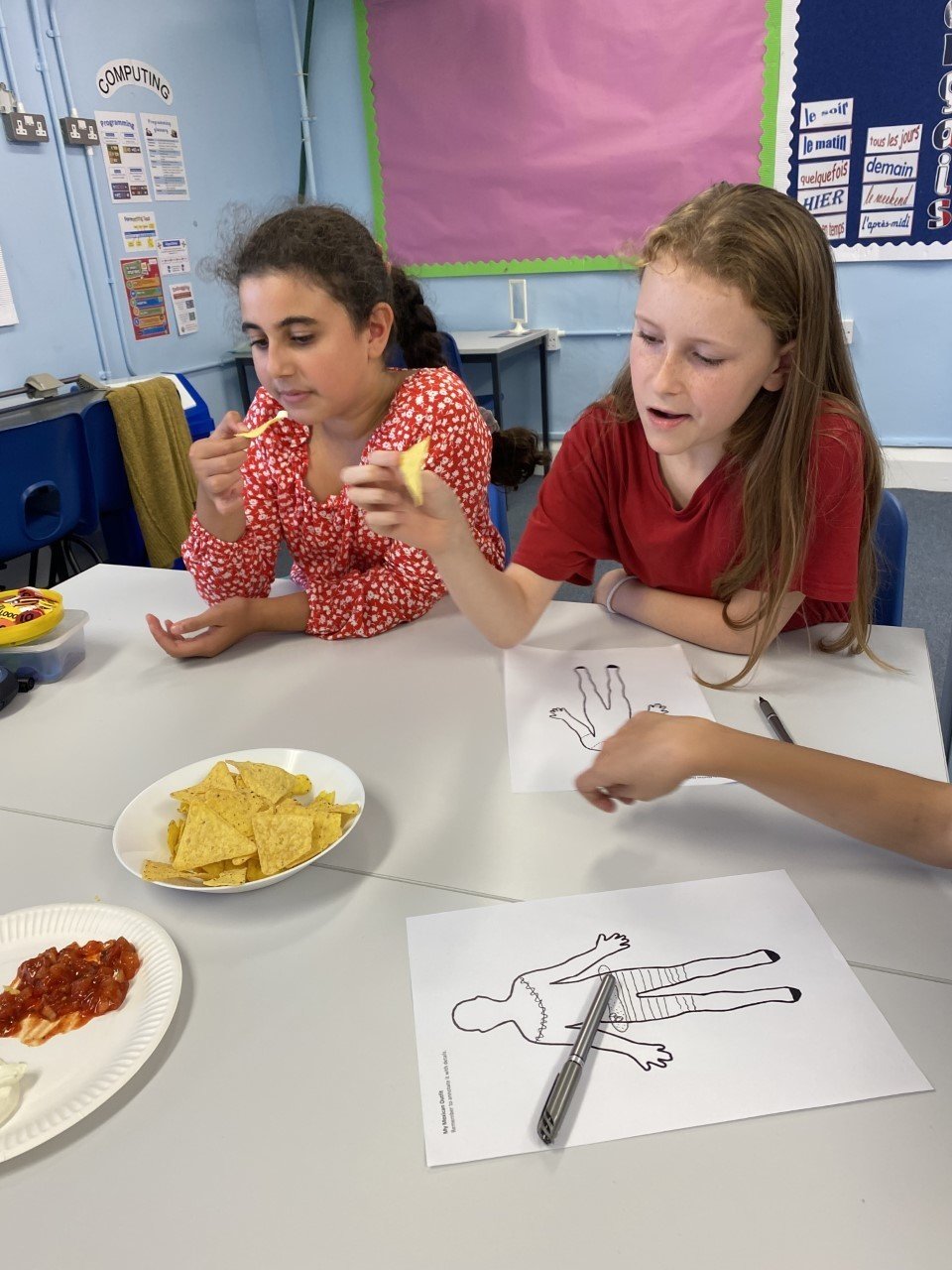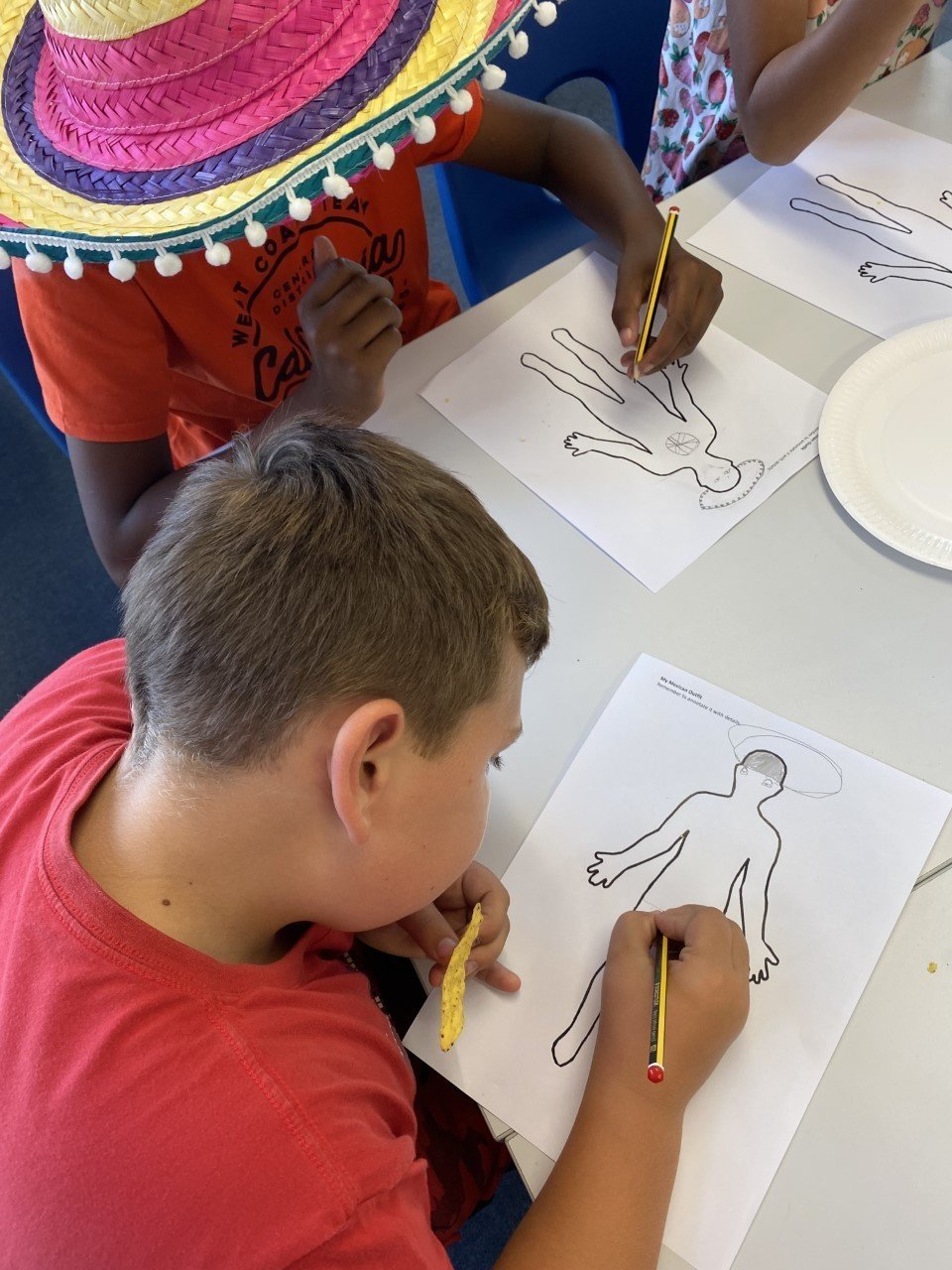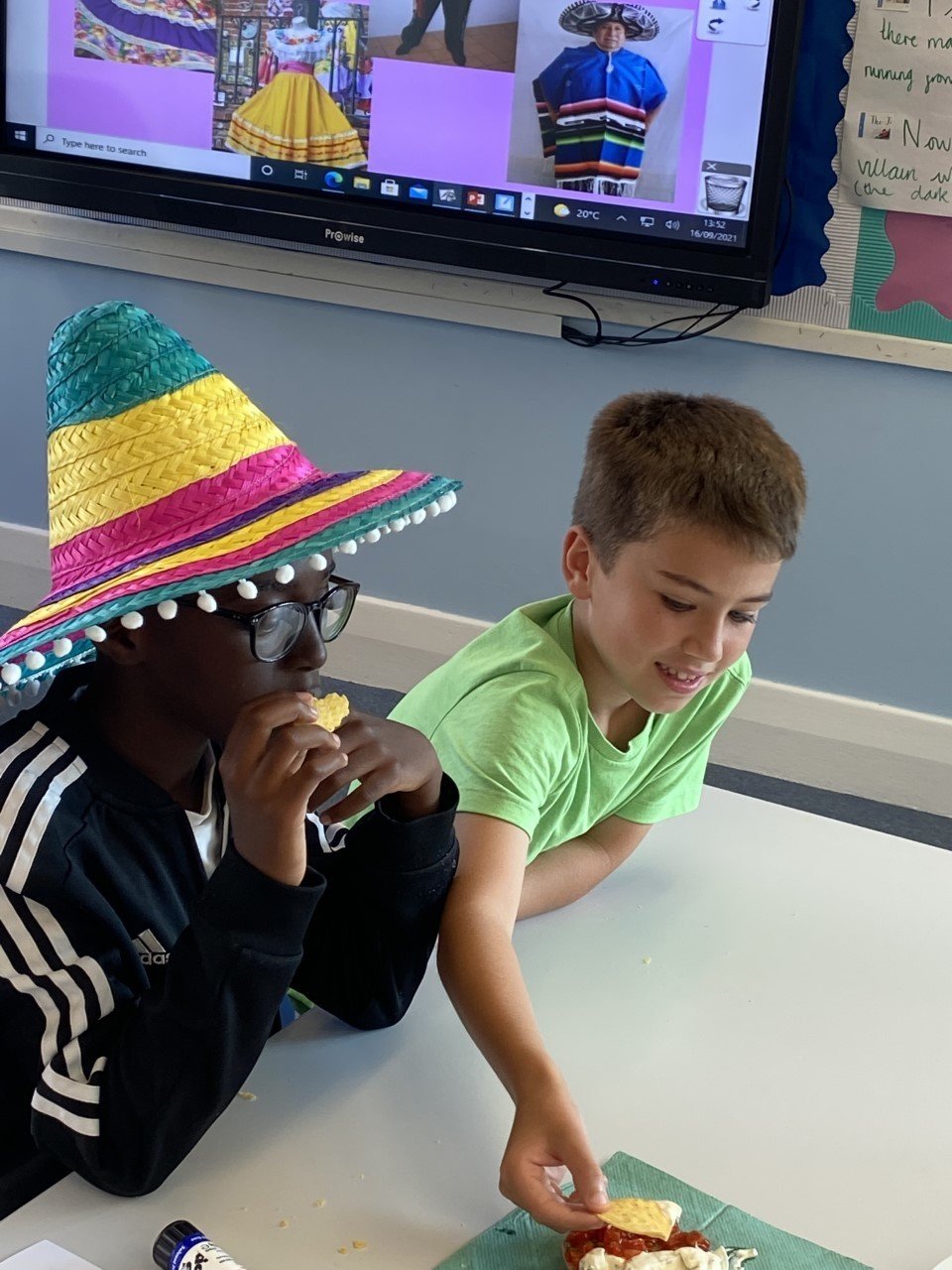 In maths, we are currently exploring and learning about place value to a one and ten million. We used a variety of resources this week and created many models to read and represent different numbers.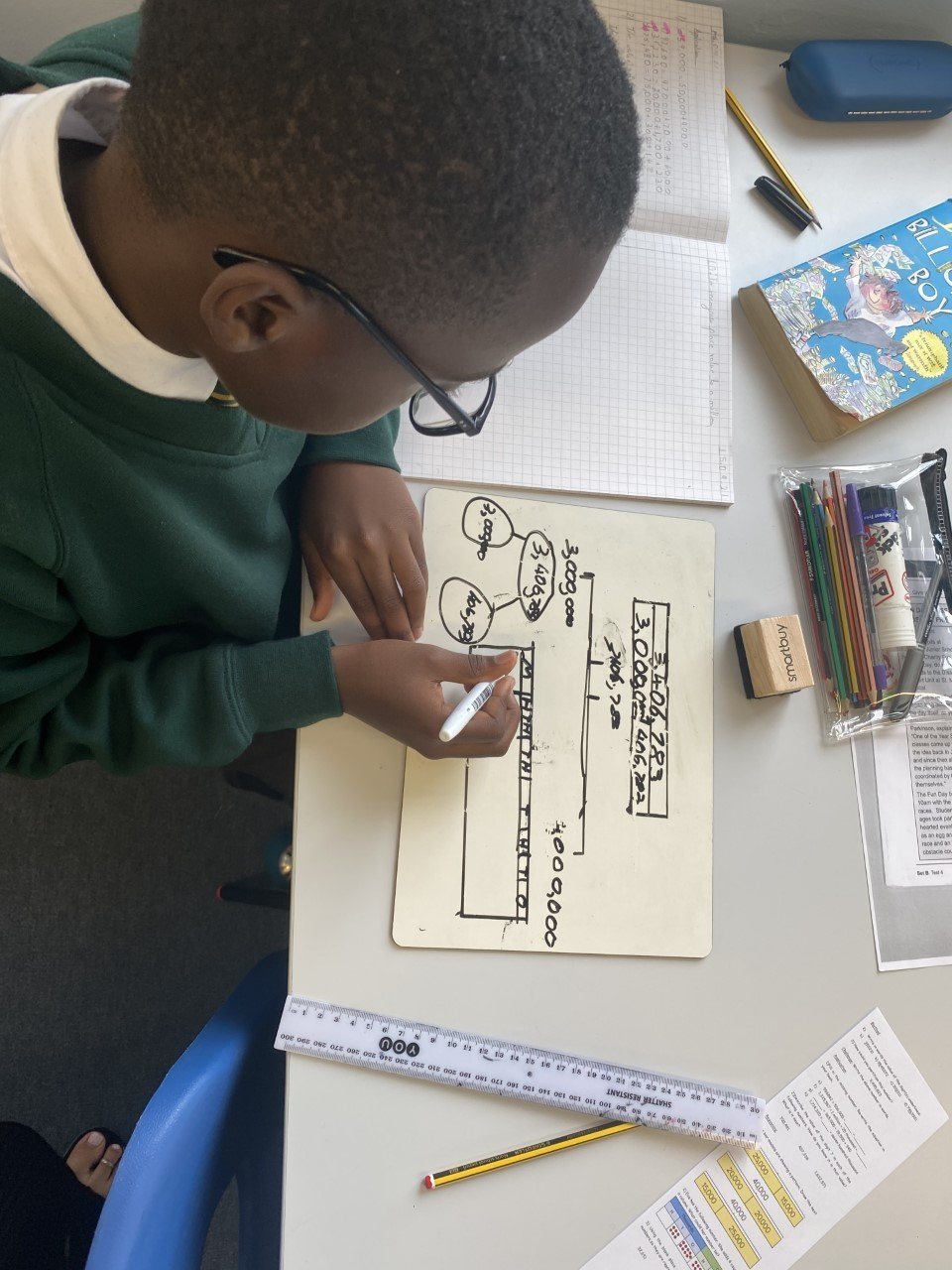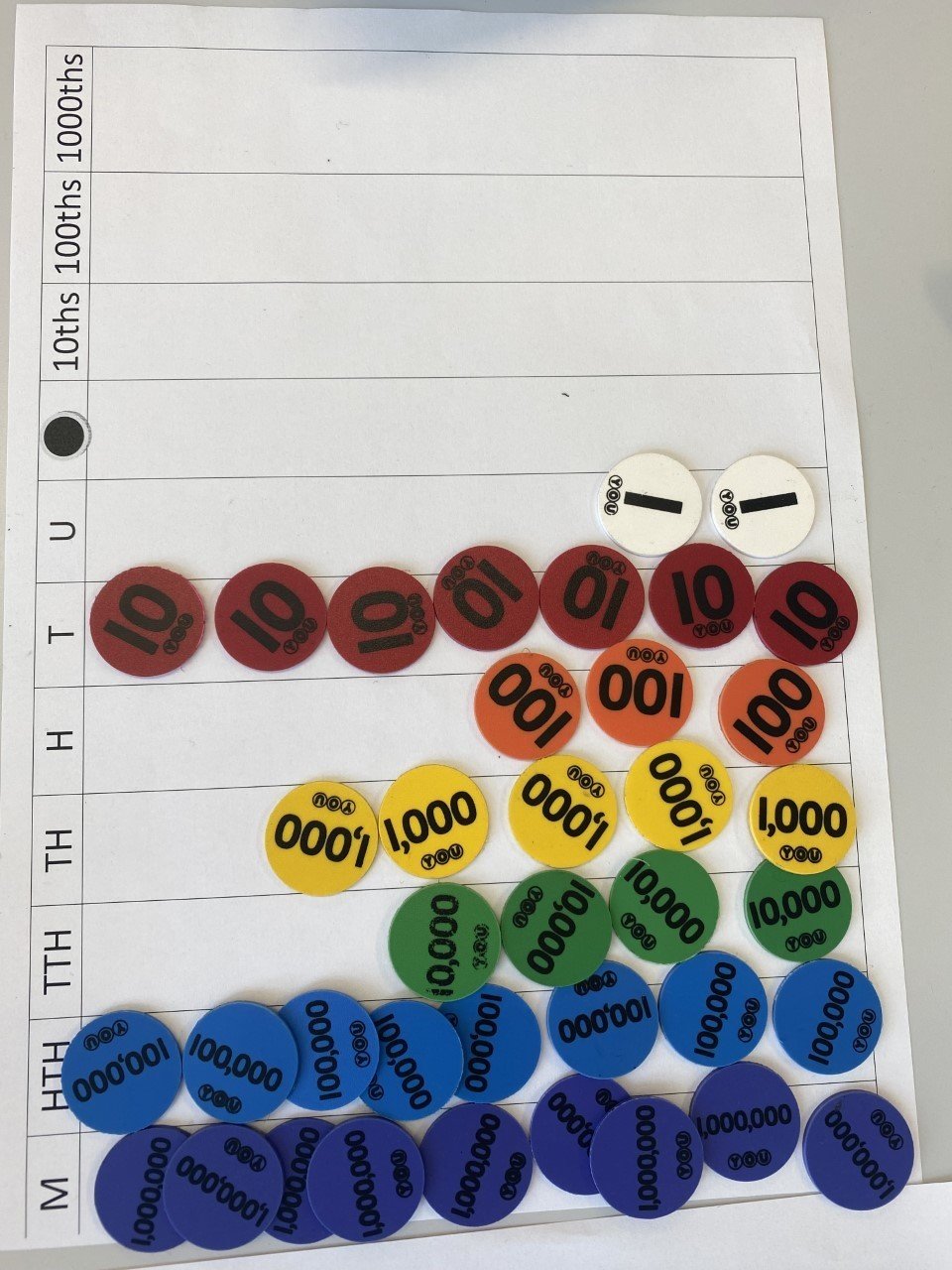 We have just begun to dive into our book for this half term called 'The Journey' by Francesca Sanna. This week, we explored the dilemma that one of the characters must face and debated the various points using a conscience alley.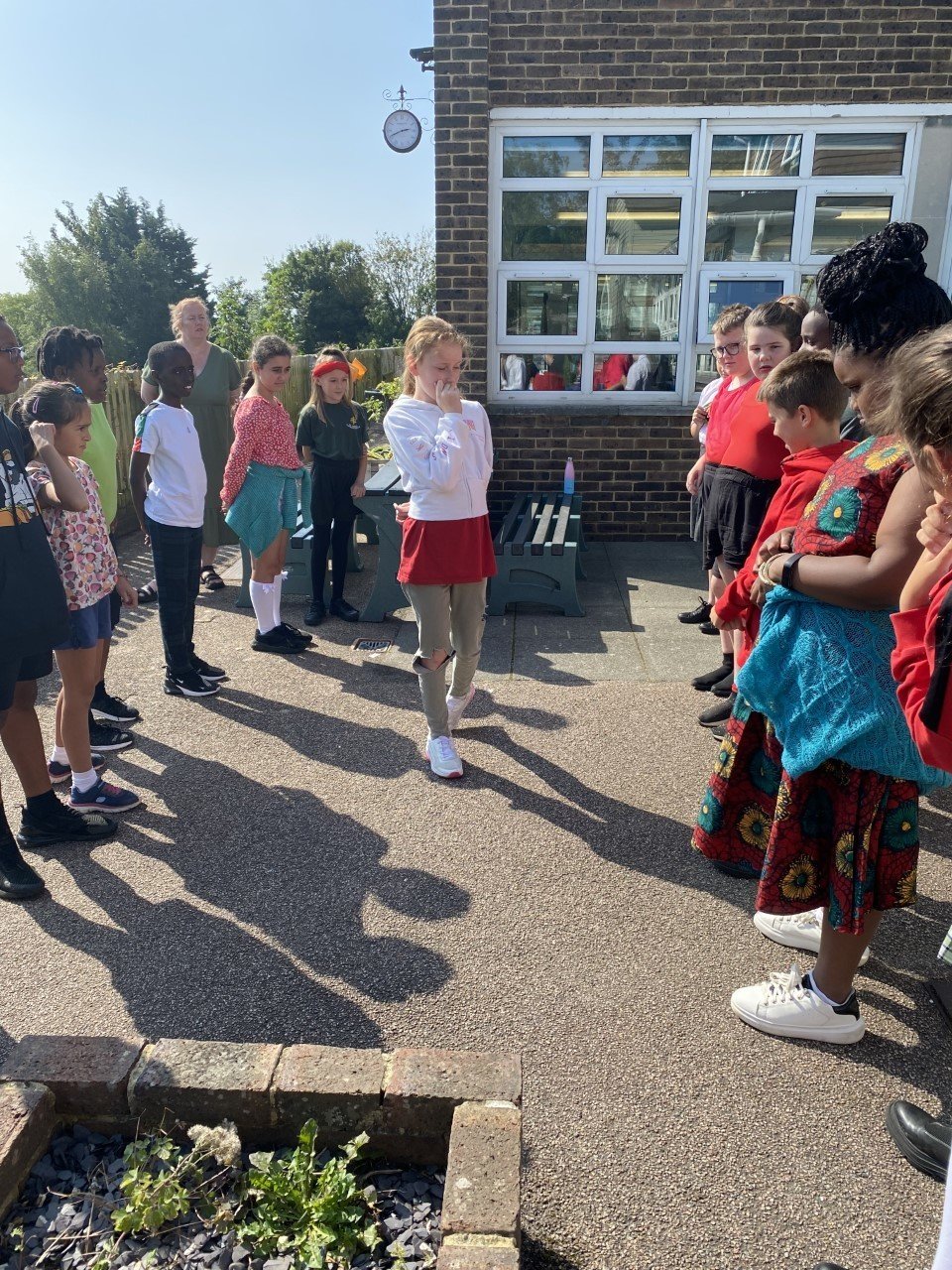 Finally, in French, we learnt how to ask for and tell the time to the nearest half an hour. We played a variety of matching games with times and also finished with a game of 'Quelle heure est-il, Mr/Mrs Wolf?'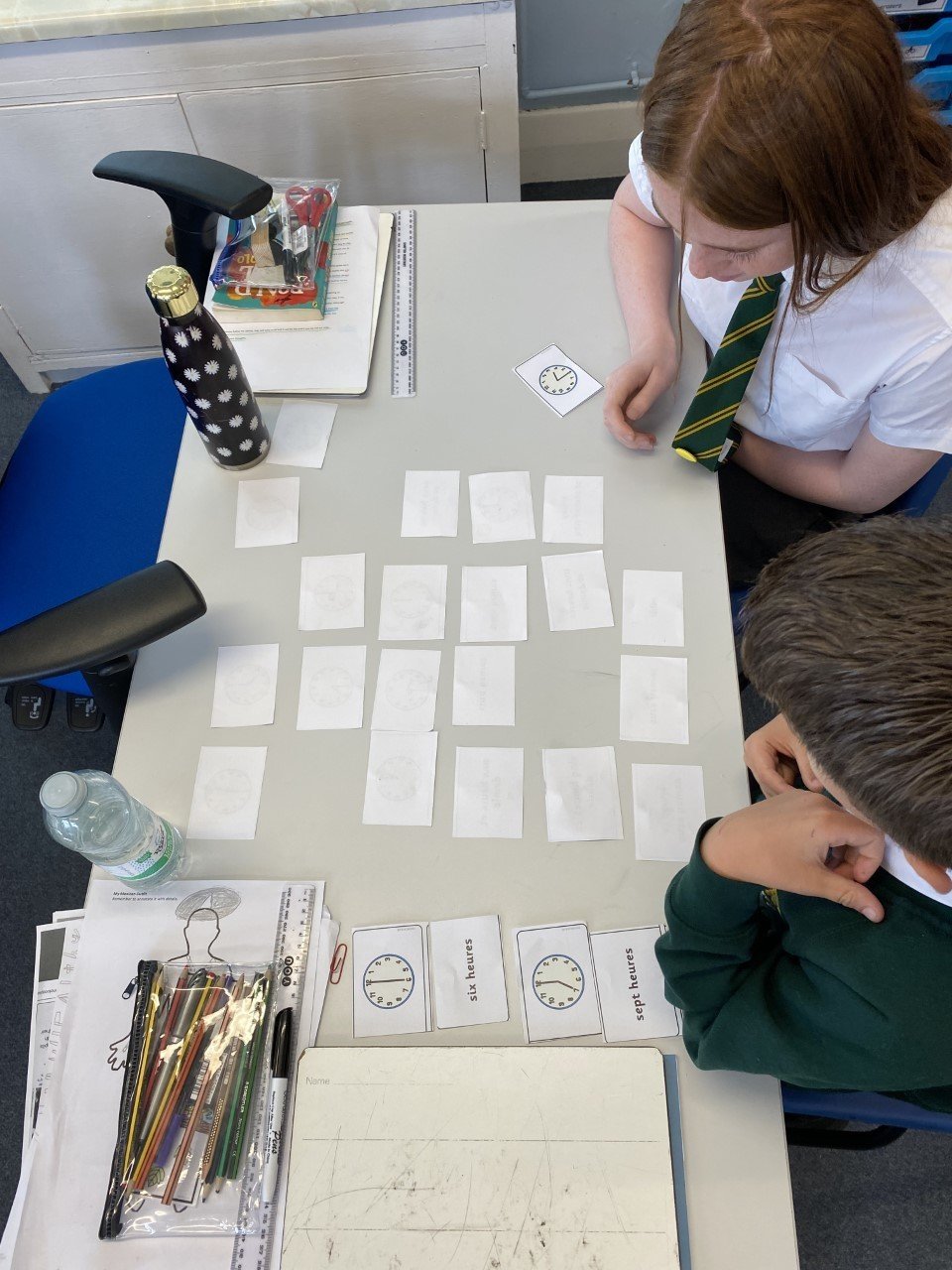 Kicking off our new school year!
06.09.2021
In Year 6, our focus has been on re-adjusting to school expectations and year six life. It has been fun to complete different activities which focus on how we feel, think and act by ourselves and with friends. We have shared our dreams and aspirations for the future as well as discussing what makes us such wonderful people.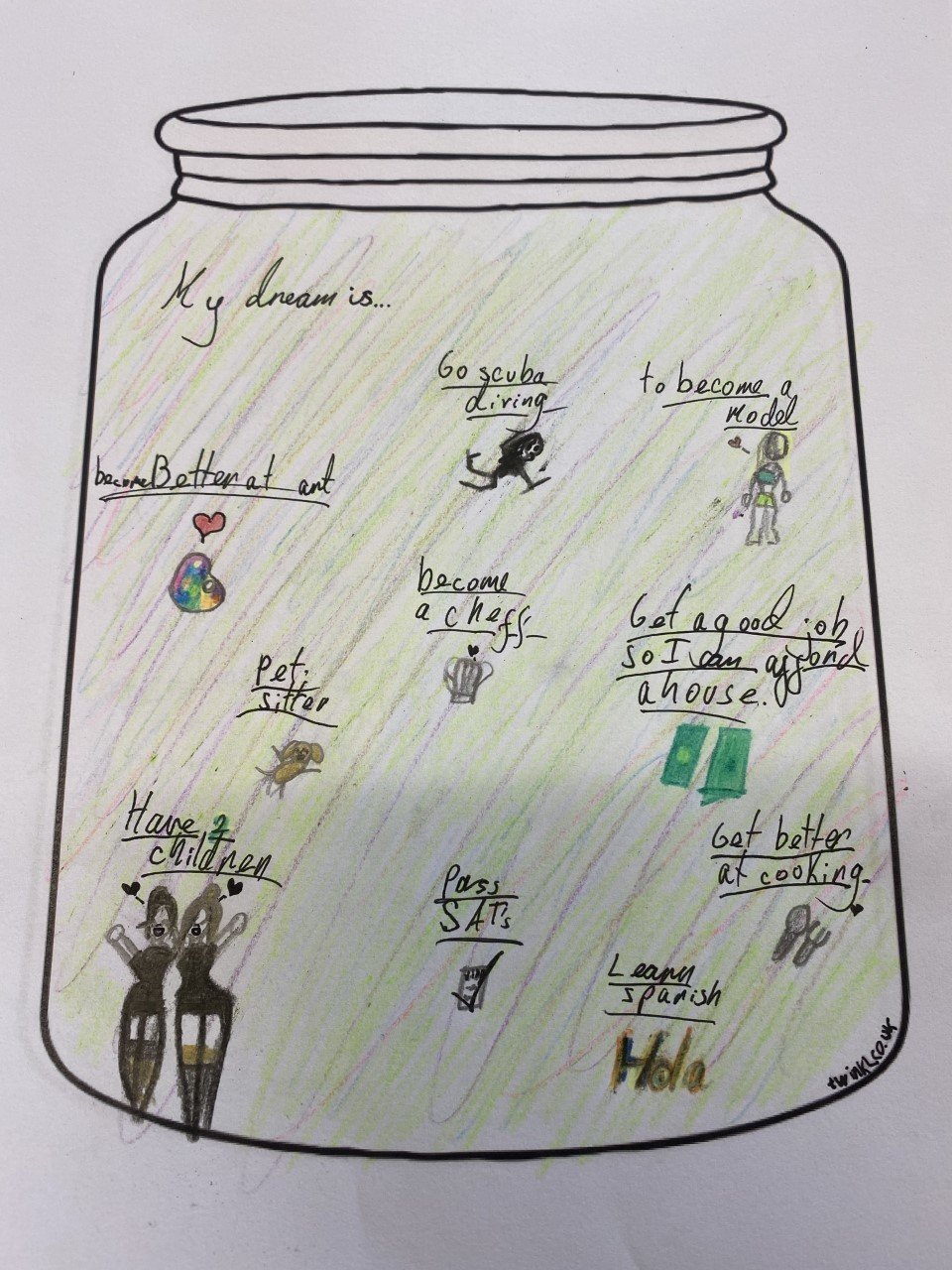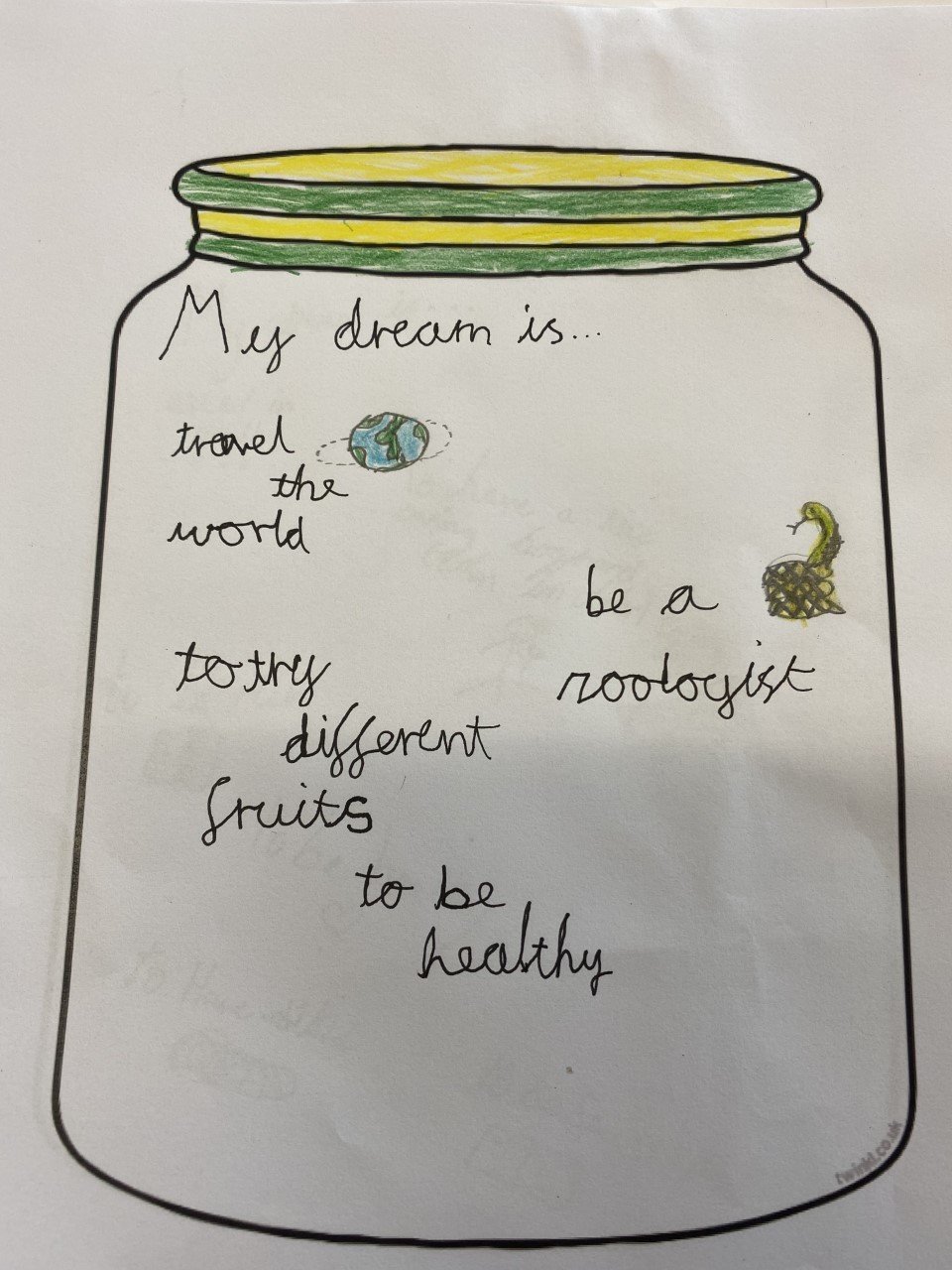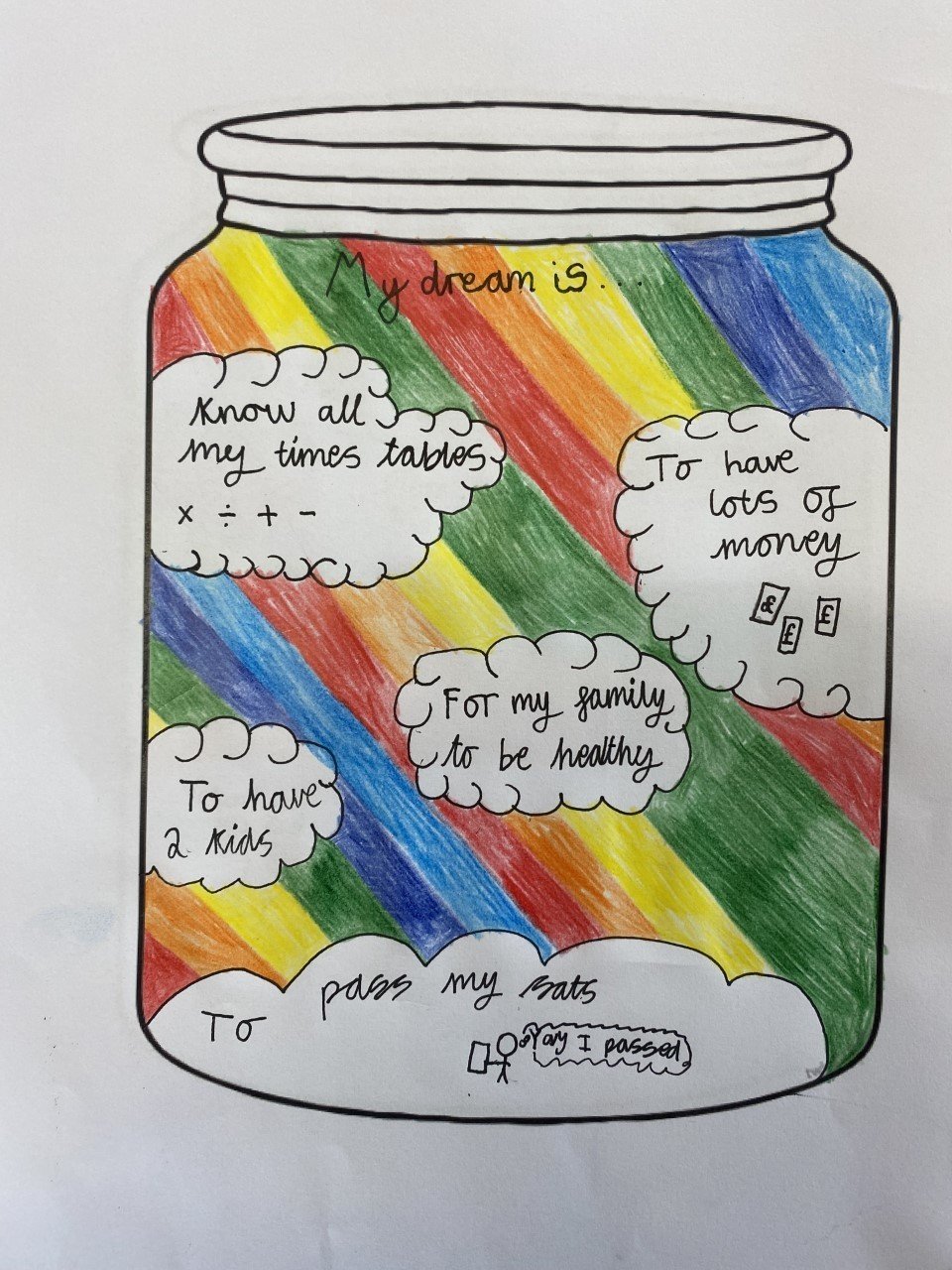 Additionally, we have been recapping on how to have a conversation and introduce ourselves in French. We then moved to up-levelling our conversation by reminding ourselves of how to ask and explain ages as well as ensuring we can count different objects around us.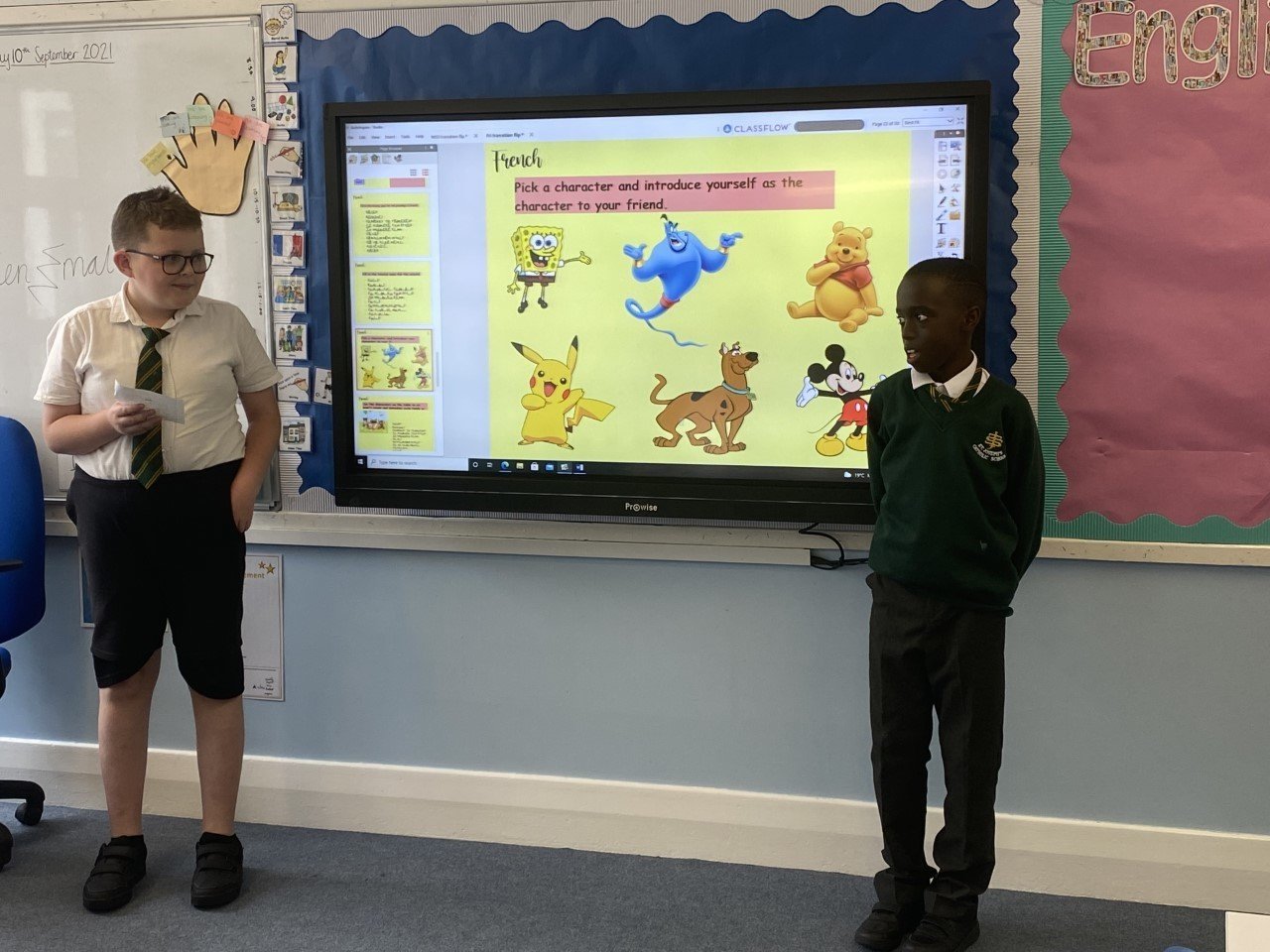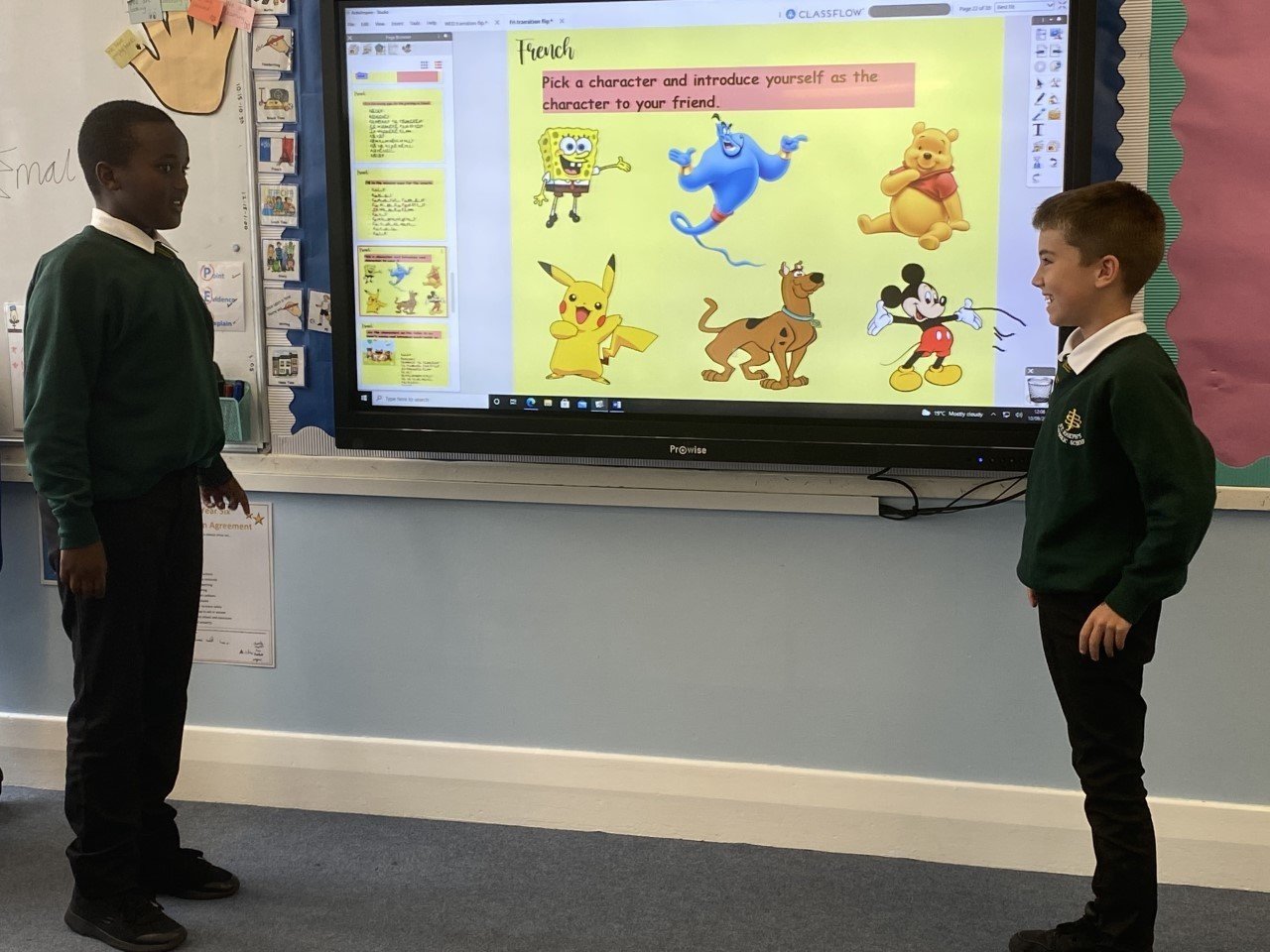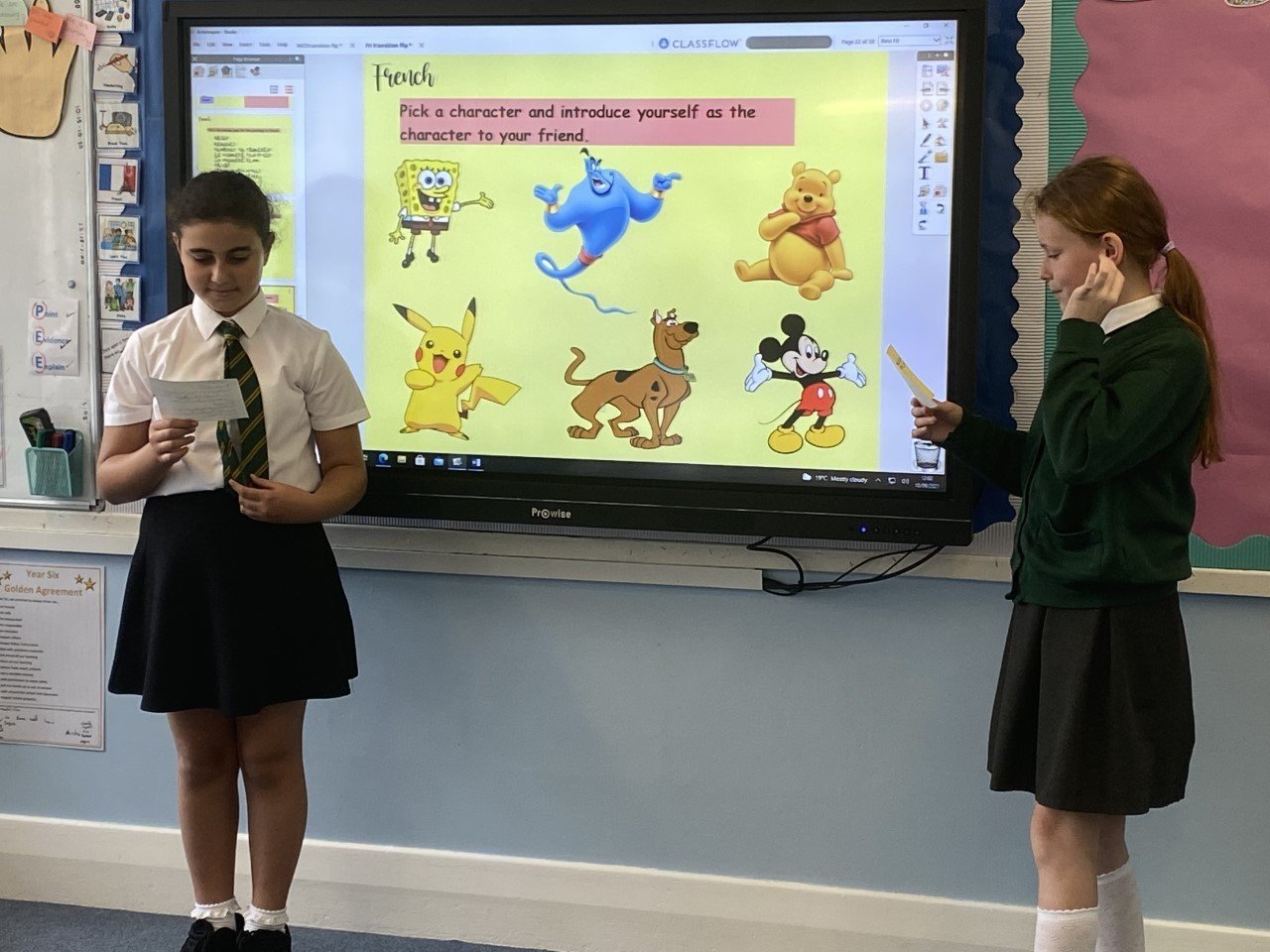 We looked at our class saint in more detail and generated a fact file on Mother Teresa using the computers. We also discussed what it means to be loved unconditionally and debated and discussed different meanings of love found in the bible.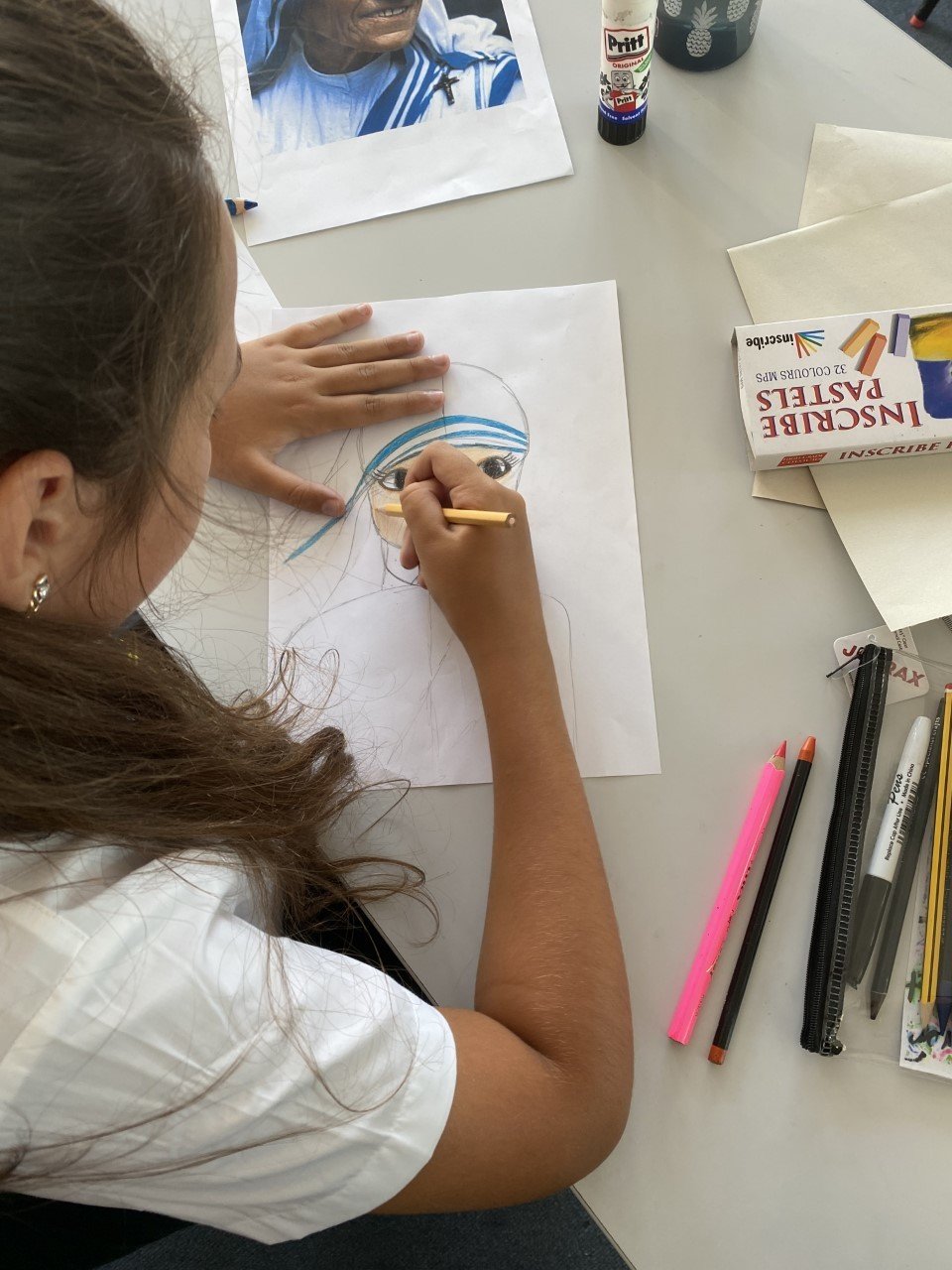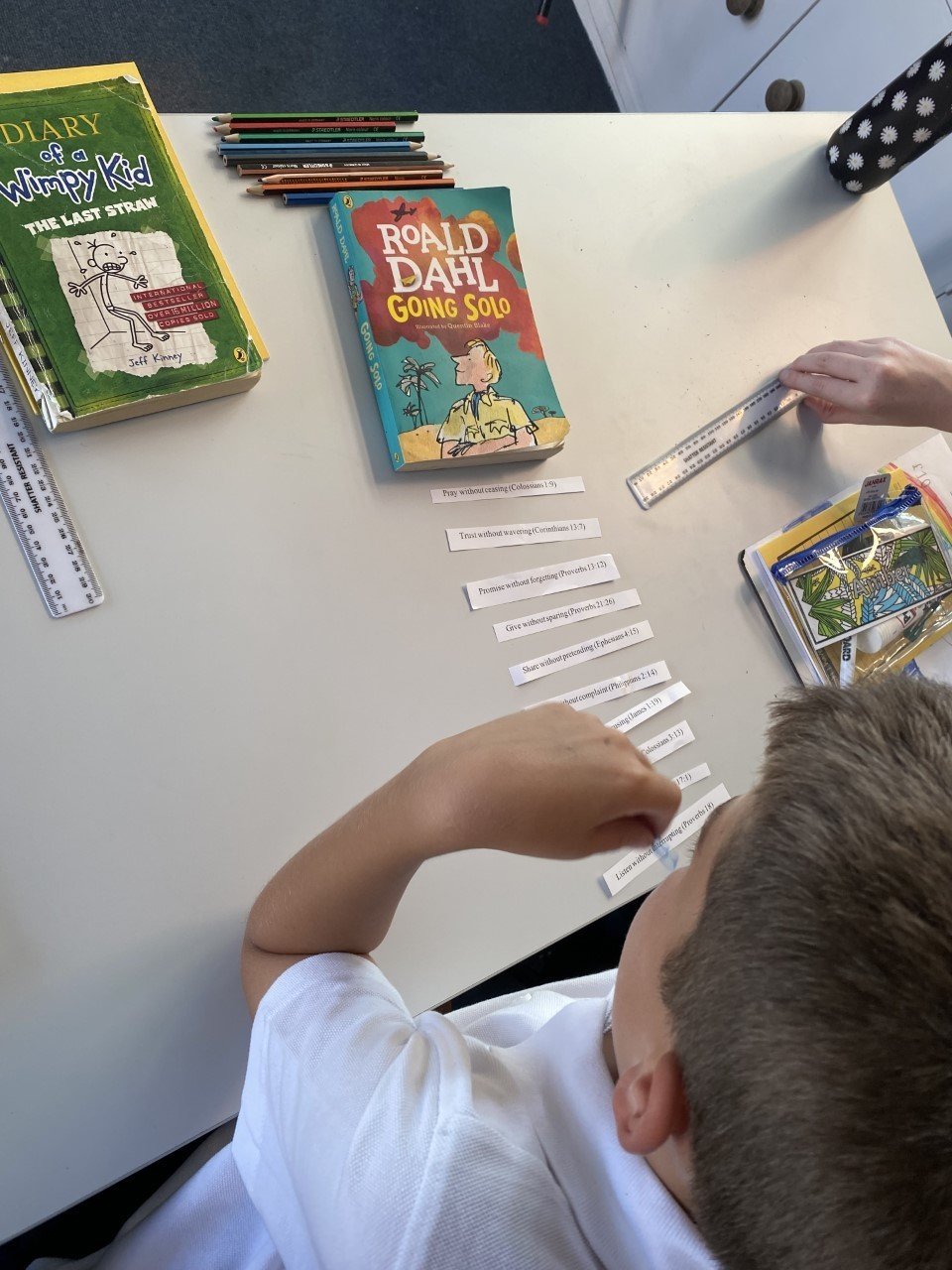 Learning Overview
Our theme for this term is 'Let's go to Mexico'. If you wish to find out a little more click HERE to see this term's topic booklet, explaining what your child will be learning about this term.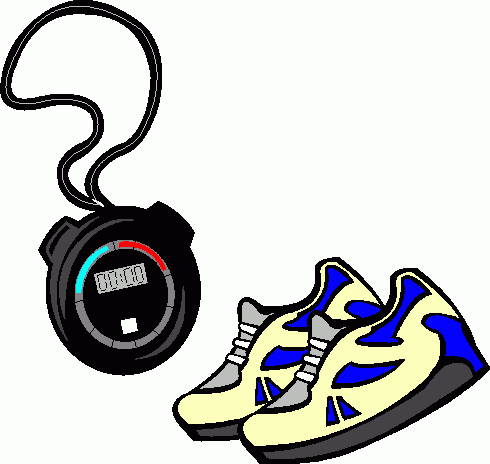 PE
This half term, Year 6's PE days will be on Wednesdays and Fridays. Wednesday will be Dance with Miss Pippa and Friday will be Basketball with Mrs Gilbert.
Please make sure your child has a full PE kit in school at all times - black shorts, a green St Joseph's t-shirt and trainers or plimsolls.
Year 6 children will also be doing the 'daily mile' on the other three days.

Reading
Please encourage your child to read as often as possible (ideally at least three times a week.) This can be by themselves, to a family member or to a sibling - and children, please remember to record it in the reading record books. These will be checked on a Monday.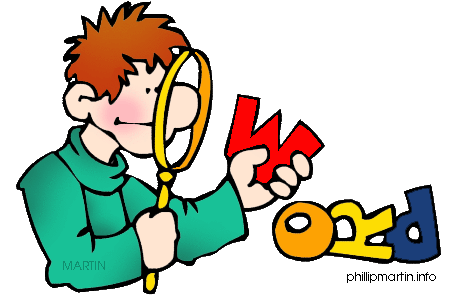 Spellings
A paper copy of the spelling list for the first term will be sent home with your child. Children will be tested on a Friday each week. Spelling frame is an excellent website to support your child with spelling. Click HERE for a link to it.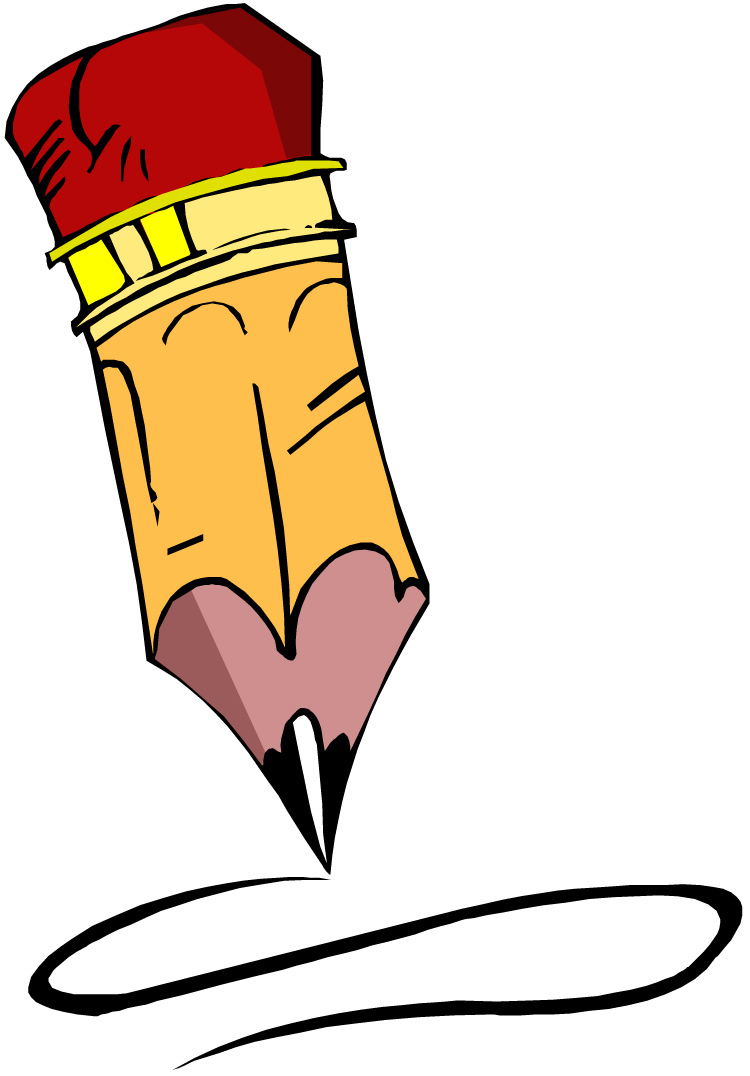 Homework
Please click HERE to find out what our homework expectations are. Your child will receive homework via Google classroom on a Thursday and will be expected to be submitted online by Monday to the teacher. These will be marked on the same day and then returned back to the child online.
Please make sure your child attends school in the correct school uniform. This includes plain black shoes or trainers. They also must be wearing a tie.
Thank you parents and carers! We really do appreciate your support.
A warm welcome to a new school year
Dear children, parents and carers,
I am thrilled to be able to welcome you all back and am very excited to begin a new academic year together as the year six St Teresa's class. I feel honoured to be your child's teacher this year and please be assured that I will do my very best to ensure they are safe and happy at all times. I look forward to seeing them flourish and getting to know them all. If you have any questions about your child's learning, please do not hesitate to catch me before or after school. Please check this web page regularly for updates from inside the classroom!
I look forward to meeting you all and to a great year ahead!
Mrs Gilbert