St Teresa's Class - Year 6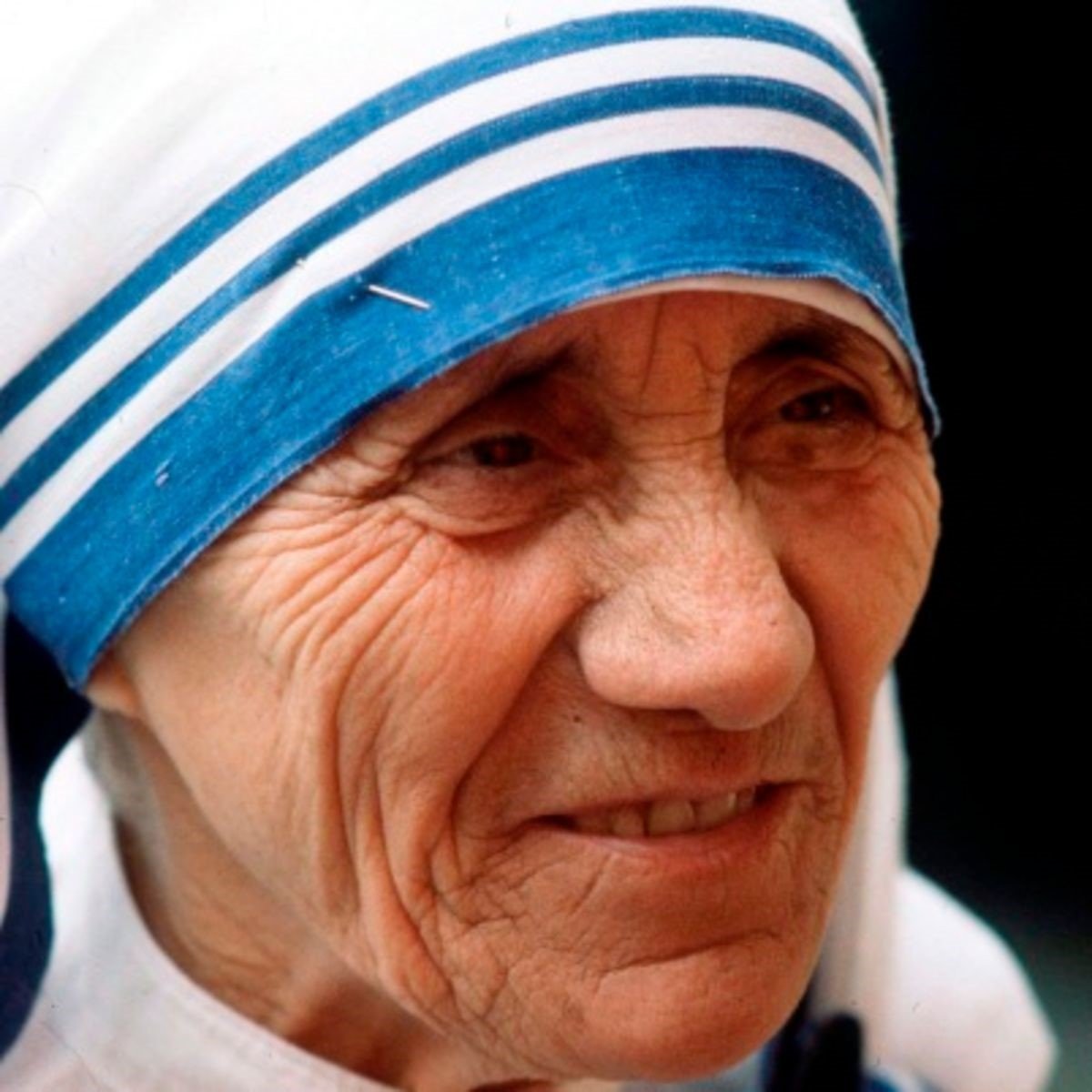 Class Teacher - Mrs Gilbert
Teaching Assistant - Mrs Greener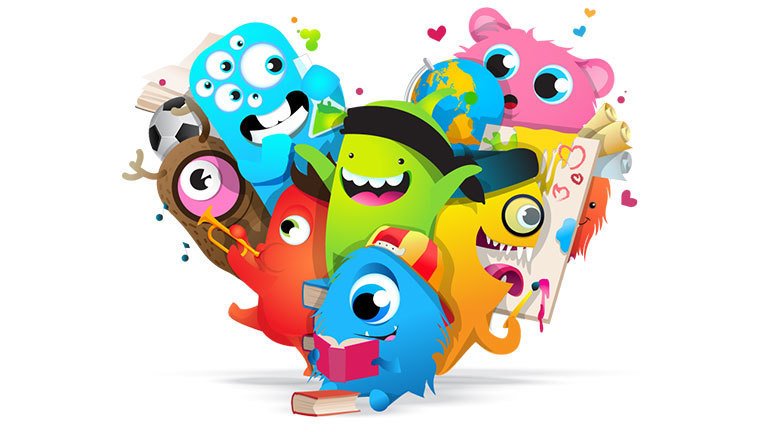 Our topic this term will be Mexico and the Mayans. Please click here to see an overview of what we will be learning about in all subjects this term.
If children would like to do extra work at home or research about this event and bring it in to share with the class that would be fantastic! Please click 'here' for some optional ideas for extra work where pupils can earn Dojos.
~~~~~~~~~~~~~~~~~~~~~~~~~~~~~~~~~~~~~~~~~~~~~~~~~~~~~~~~~~~~~~~~~~~~~~~~~~~~~~~~~~~~~~~~~~~~~~~~~~~~~~~~~~~~~~~~~~~
~Events in Year Six~
It's Harvest!
4.10.21 - 23.10.21
We are collecting as many tinned foods (including dog food and nappies) for the food bank in celebration of Harvest. During collective worship, we decided this would be a good way to challenge ourselves to be our kindest and happiest selves for this month, by giving to others.
Y6 Outdoor Learning Day
03.12.21
We will be completing our learning outside on this day, where will take part in lots of exciting and wonderous activities. On this day, please ensure your child is in their own clothes (which are not new and can get a bit muddy) and some sturdy old trainers!
Outdoor Learning Day
11.10.2021
This week, we have started a new topic in RE and have decided, as a class, to be responsible for our class worship together. Below, we started learning about different festivals in Judaism and designed cards to wish a person of the Jewish faith a happy Yom Kippur or Rosh Hashannah! Finally, we held our own class worship and Charlie and Ganza lead the worship beautifully!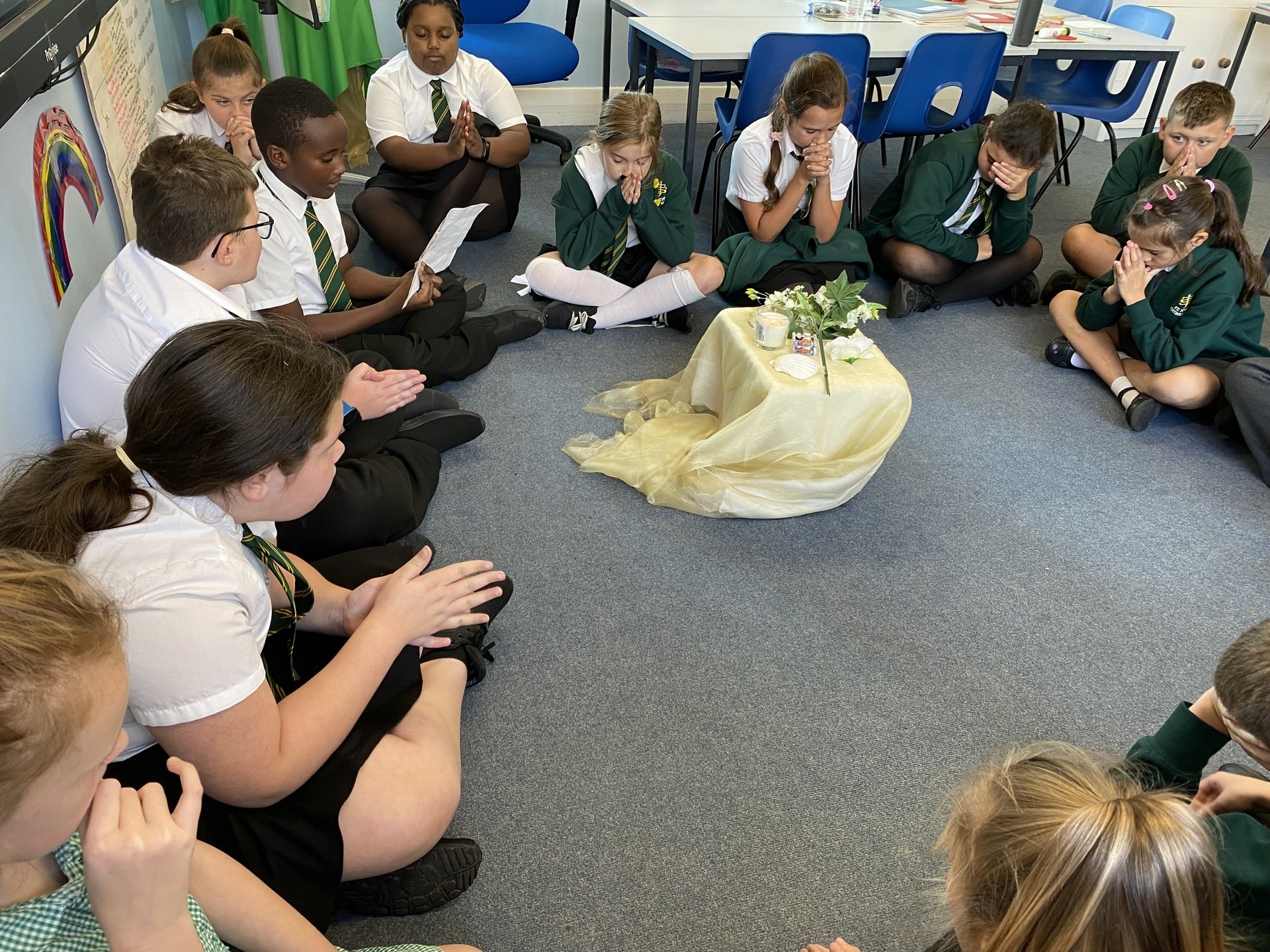 In Science, we learnt about adaptation and the scientist's belief of evolution. We studied the different types of adaptation and learnt about survival of the fittest. Below, we designed our own living thing which is able to survive well within its chosen habitat. We also looked at gravitational pull and investigated the impact of mass during our outdoor learning day.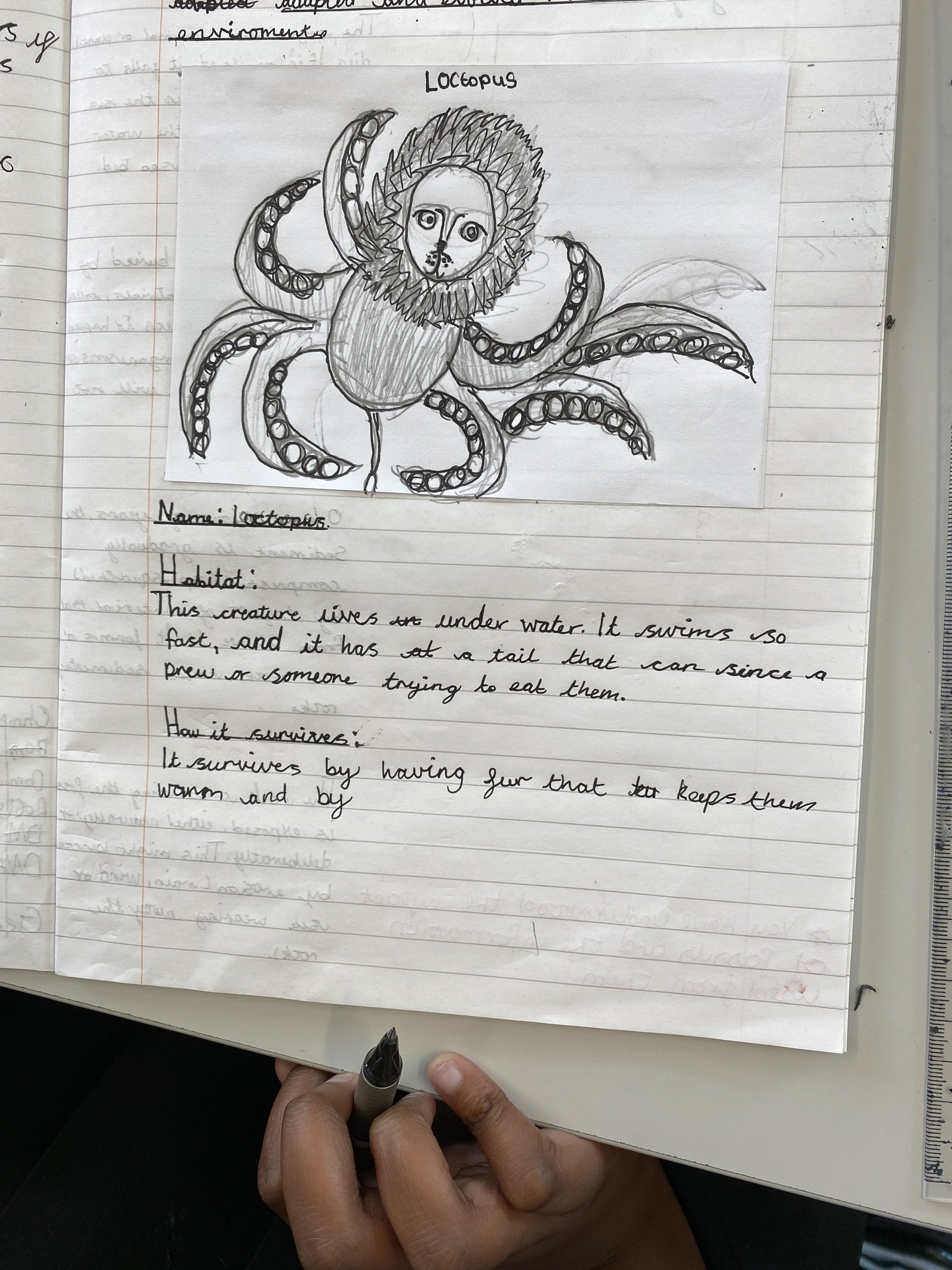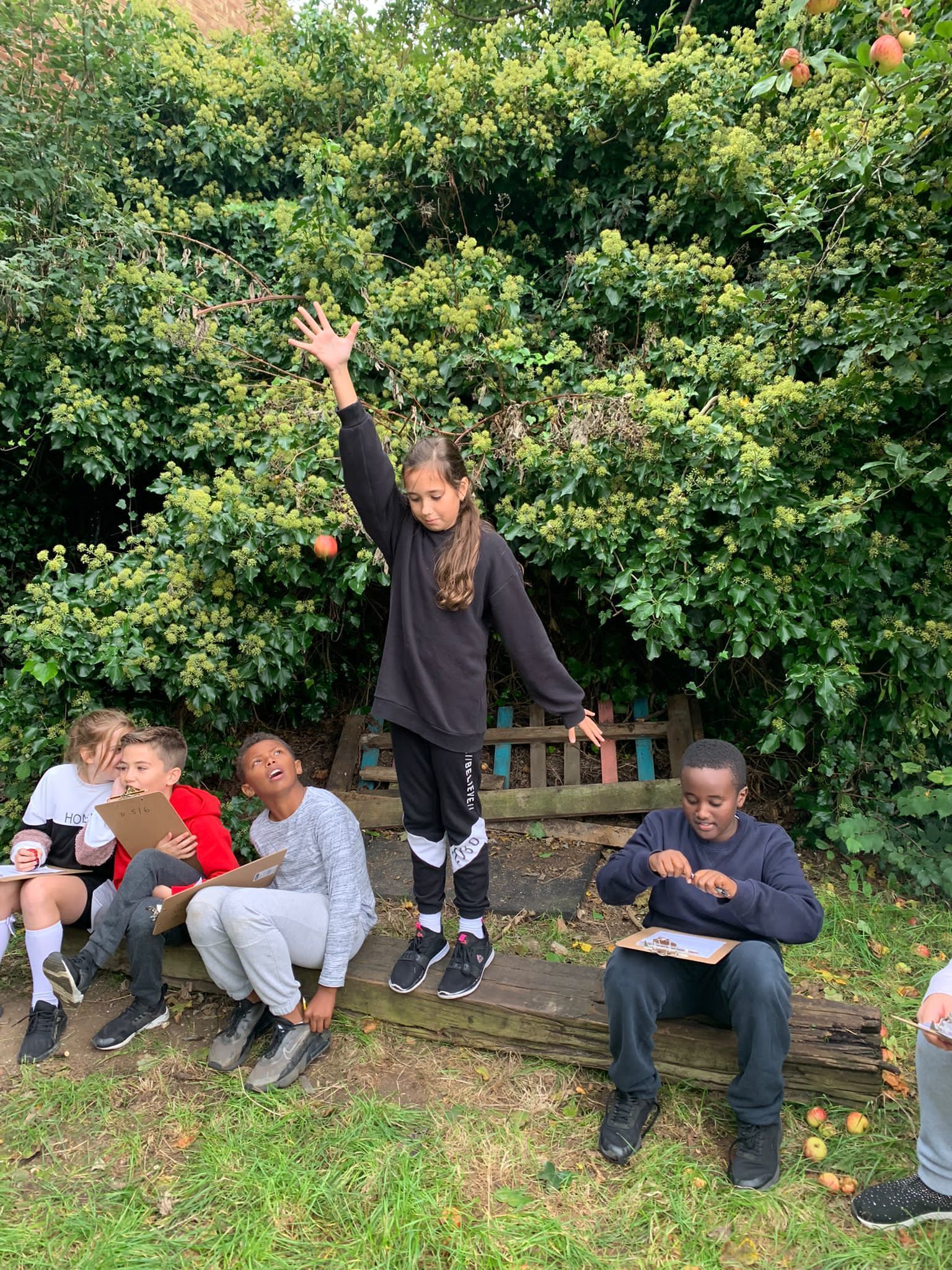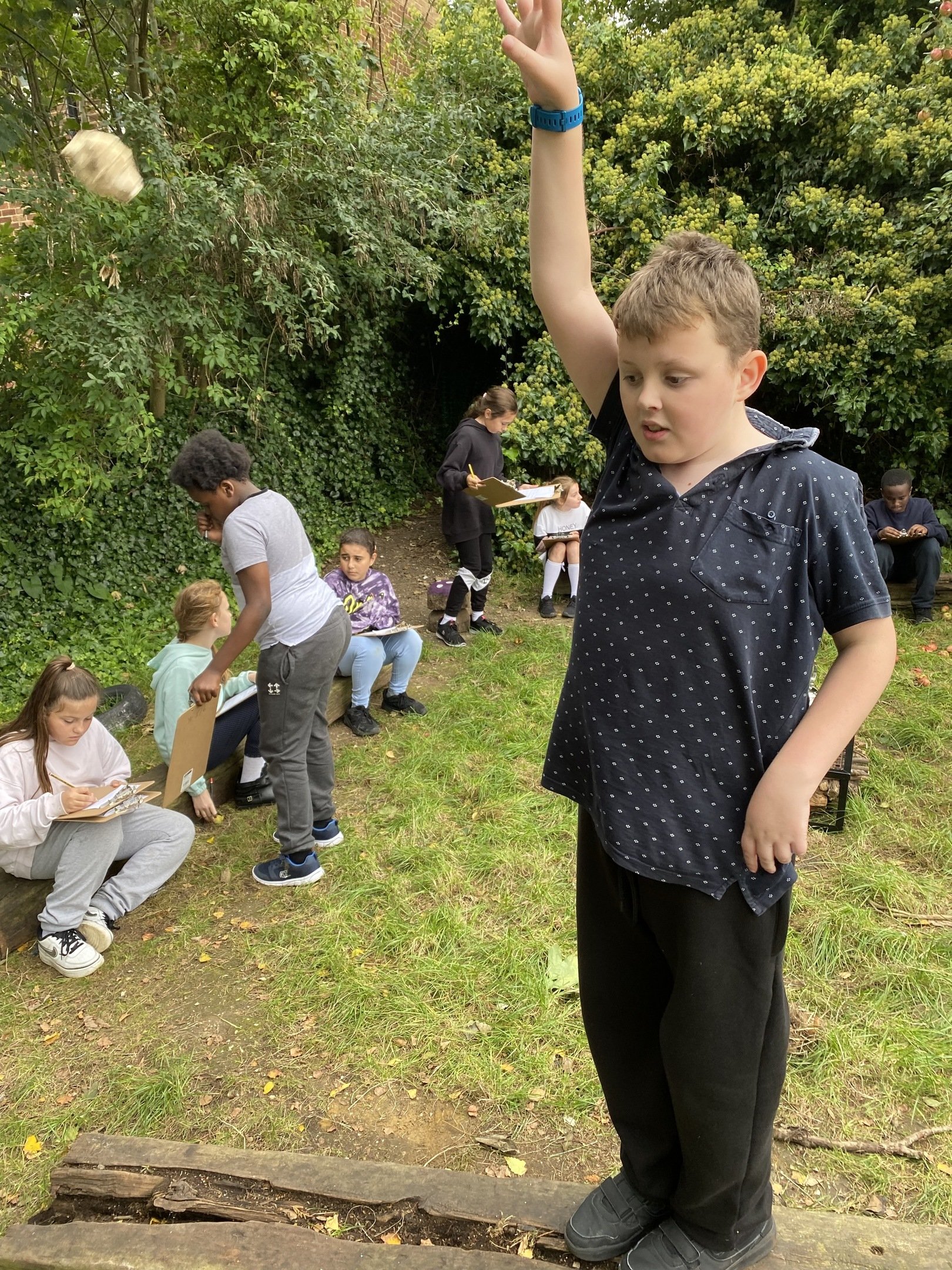 In music, we learnt about rhythm and beat. We had fun learning a new song and learning the rhythm to be able to perform it and dance as a class.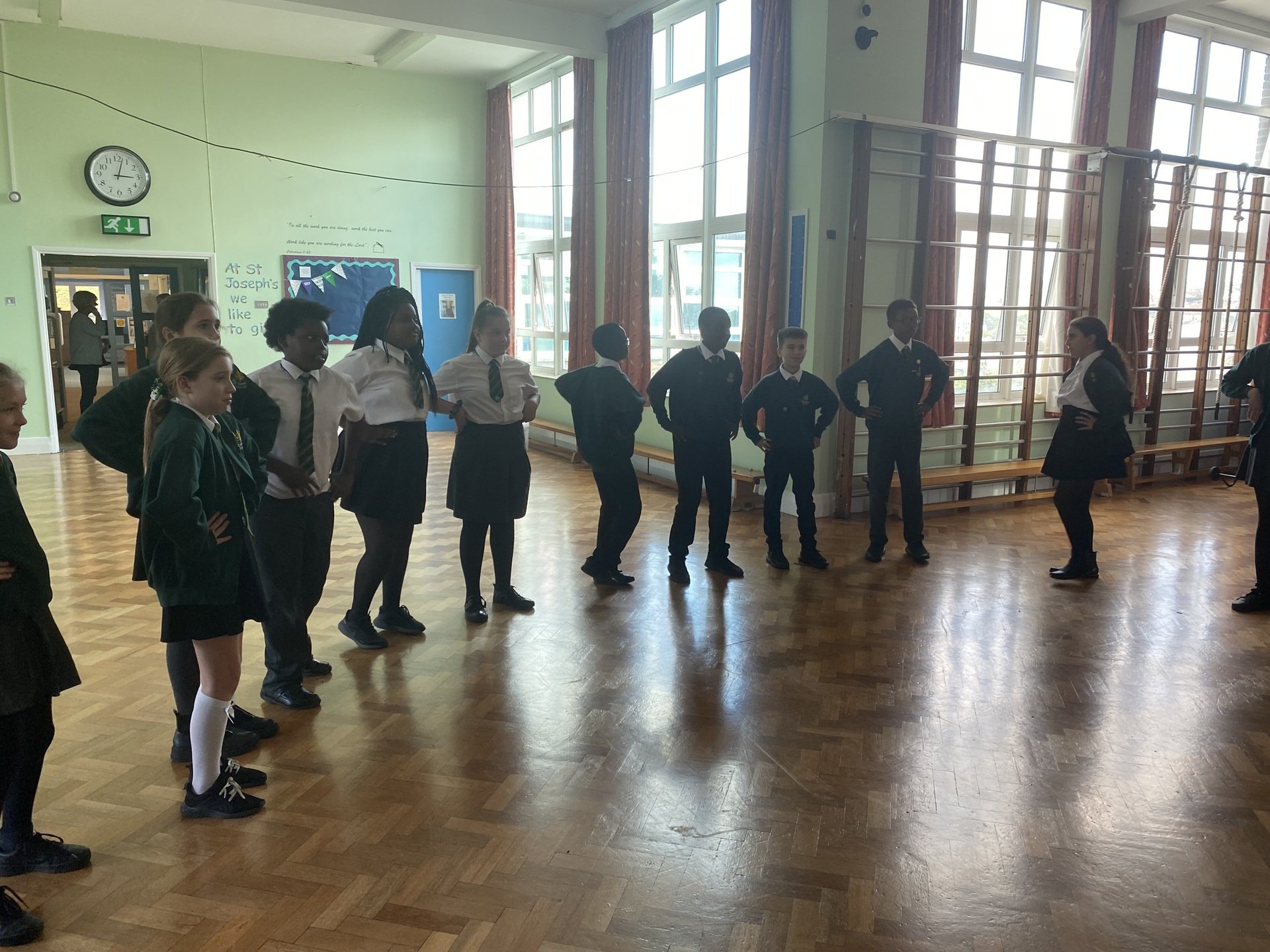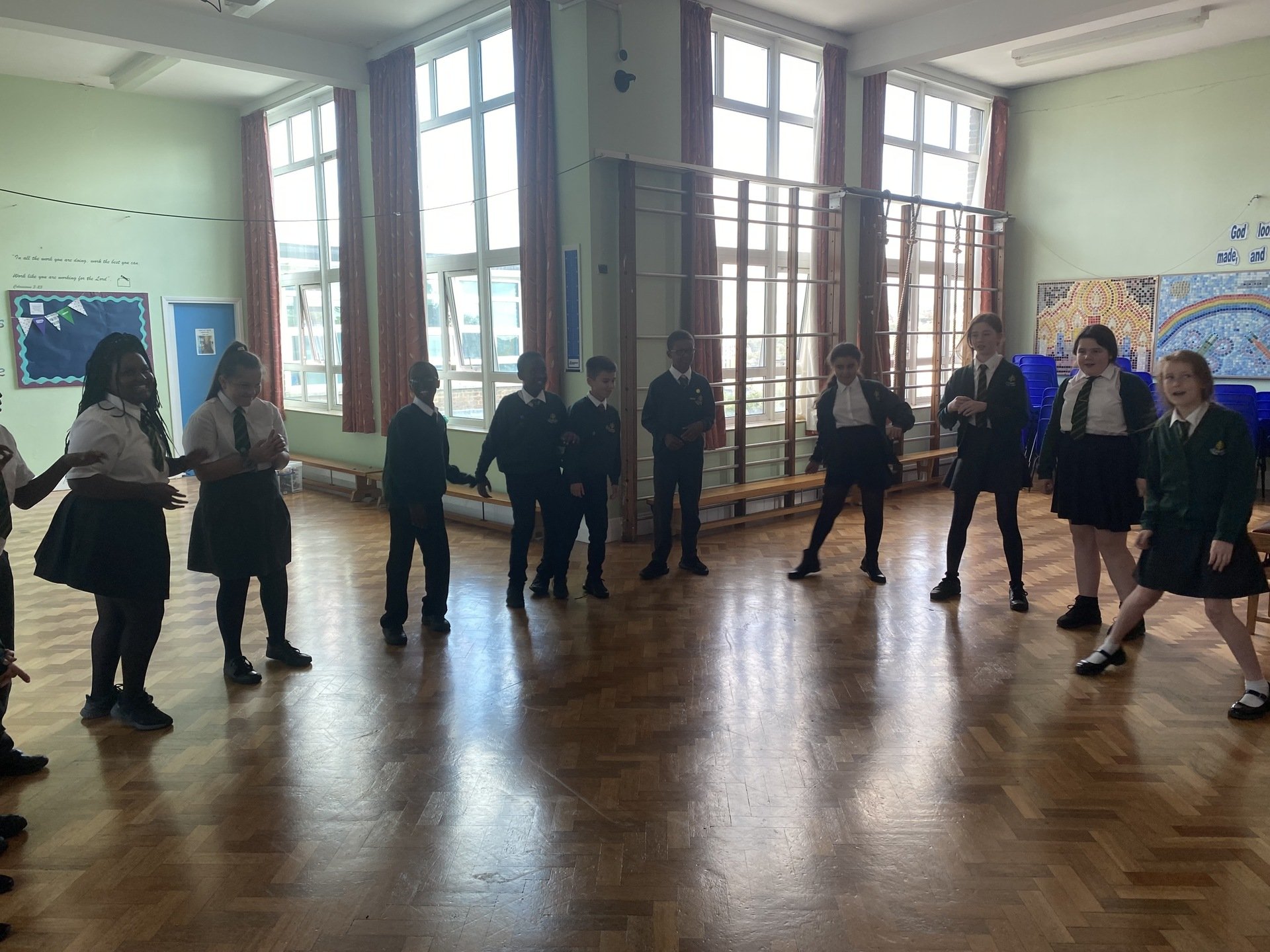 Finally, we celebrated our outdoor learning day as a class with some amazing activities! We continued to learn about rhythm in our introduction and sourced our own instruments. Next, we learnt how to safely use a saw to create our own Mexican Medallions, which we later decorated and laced! We also learnt how to use a mallet and, using our skills of identifying different leaves and flowers, we pressed them into material to create our own designs. Following this, we learnt how to light a fire and safely practised independently with the resources given and were also able to source, categorise and create our own fire using different size pieces of wood. To finish beautifully, we created our own smores by warming marshmallows and had some hot chocolate! We thoroughly enjoyed our day and can't wait for the next!
See below for the photos of this great experience.
Getting Creative
04.10.2021
In maths this week, we have started to recap and consolidate our understanding of repeated addition as multiplication. We explored different models and methods for calculating and solving multiplication problems, starting with simple doubling as multiplying by two. We noticed simple patterns with doubling and were able to move on to some trickier multiplication using these facts. We loved using the resources available and, creatively, demonstrating our understanding of multiplication and repeated addition.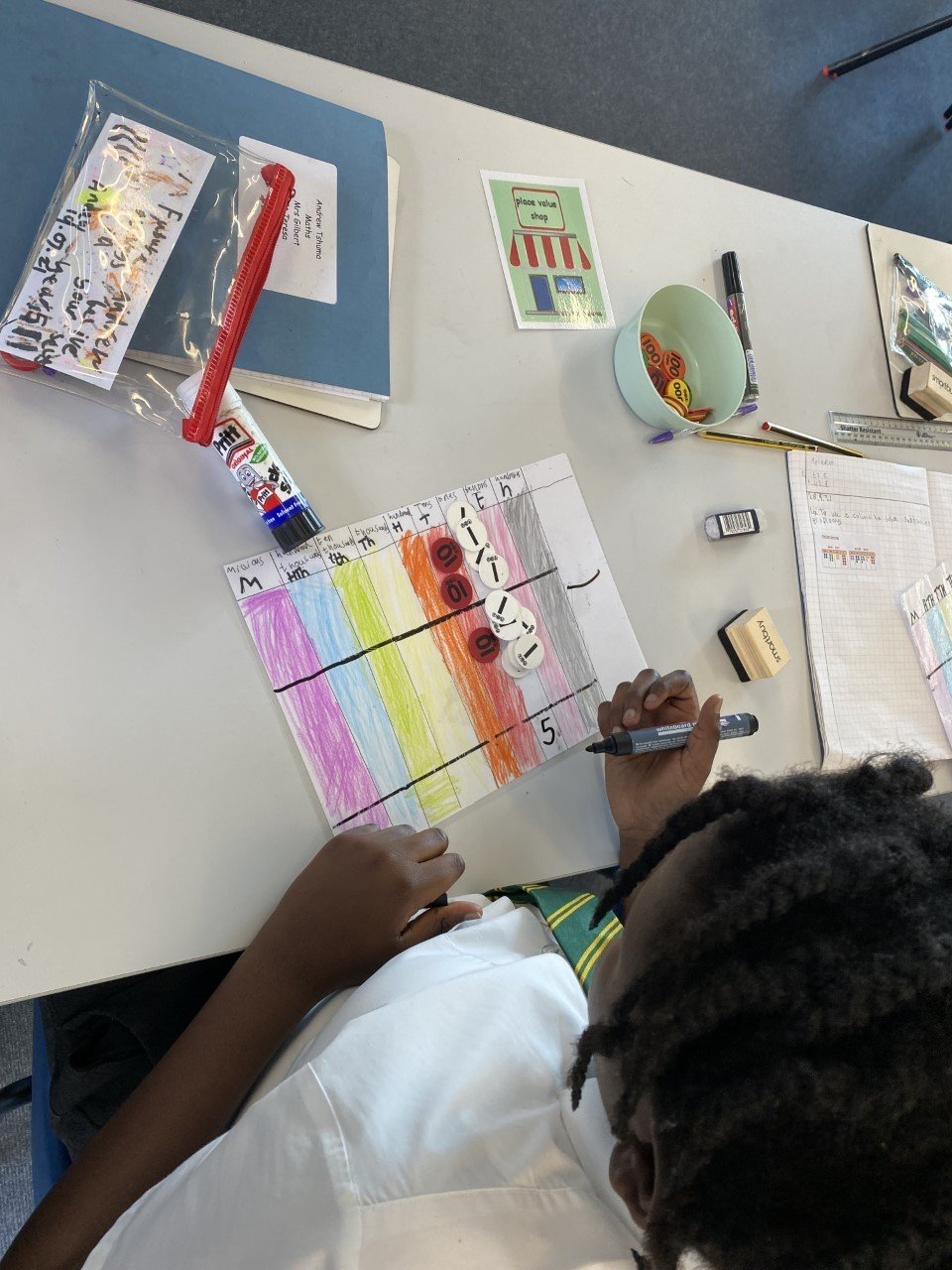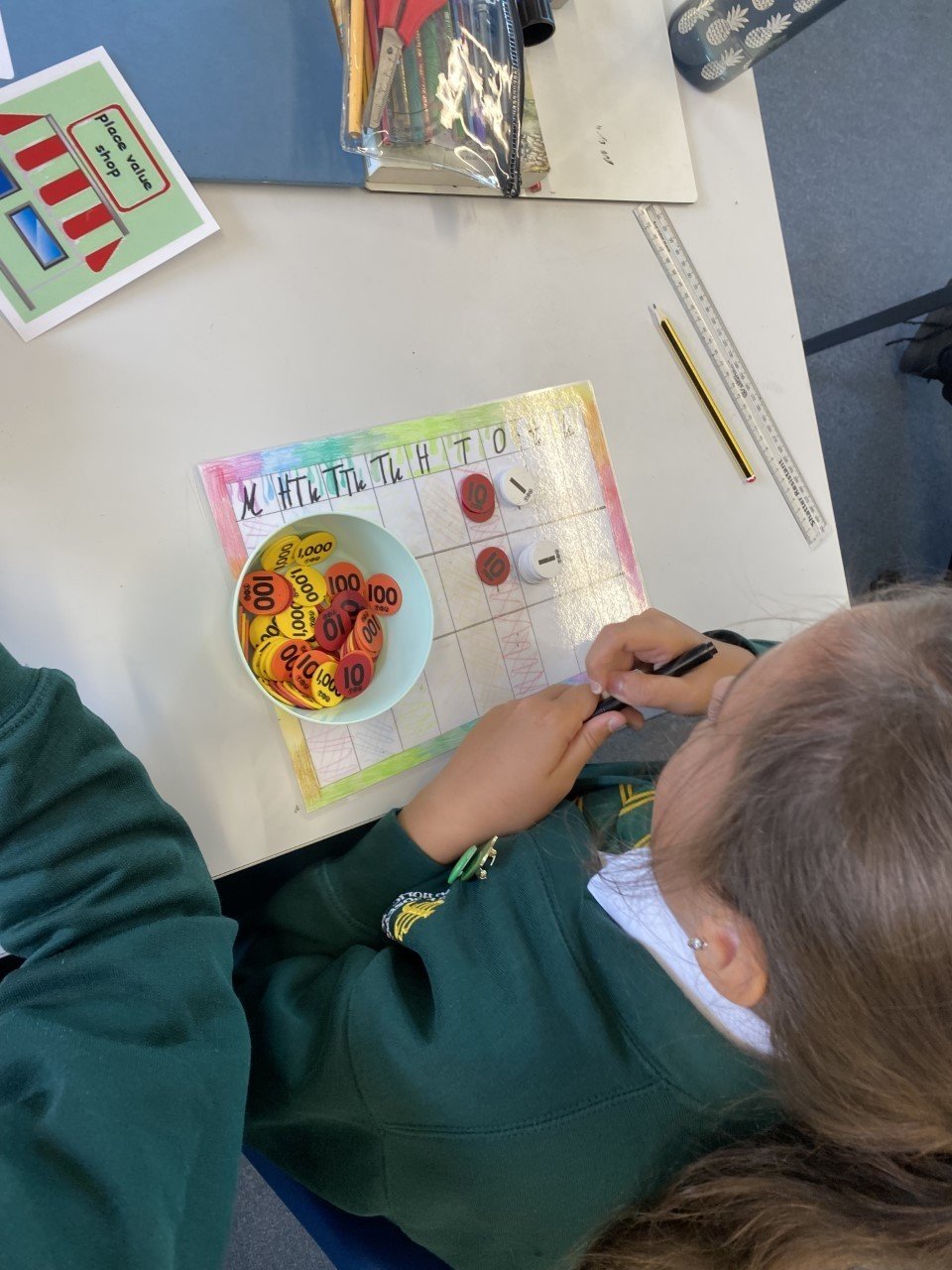 In English, we looked at the current predicament for the character's and explored the different creatures we believe might be surrounding the family now and those that might be seen at the new place. Below are some examples:
We continued to explore how our character in 'The Journey' currently feels, surrounded by the 'deep dark forest'. We listened to 'The Dark' by Lemony Snicket and discussed how authors use darkness to cleverly generate a sense of uneasiness and fear for the reader. In order to create a suspense narrative next week, we applied our artistic skills and flare, whilst listening to the book description, and demonstrated our imagery of 'darkness'.
Grandparent's week
27.09.2021
In English, we interviewed the characters of our book and asked and answered questions about how they are feeling in several stages of their journey to the new place.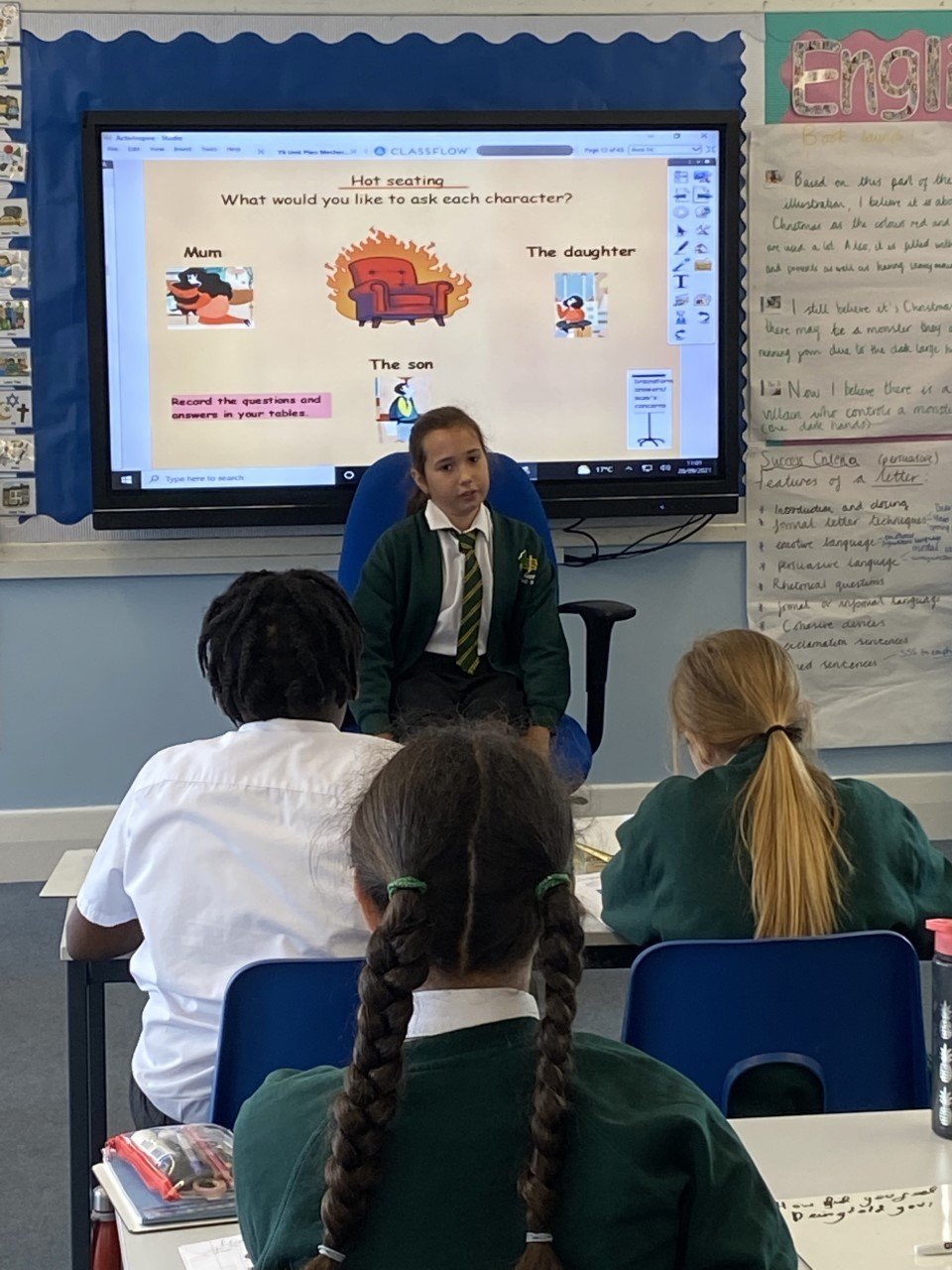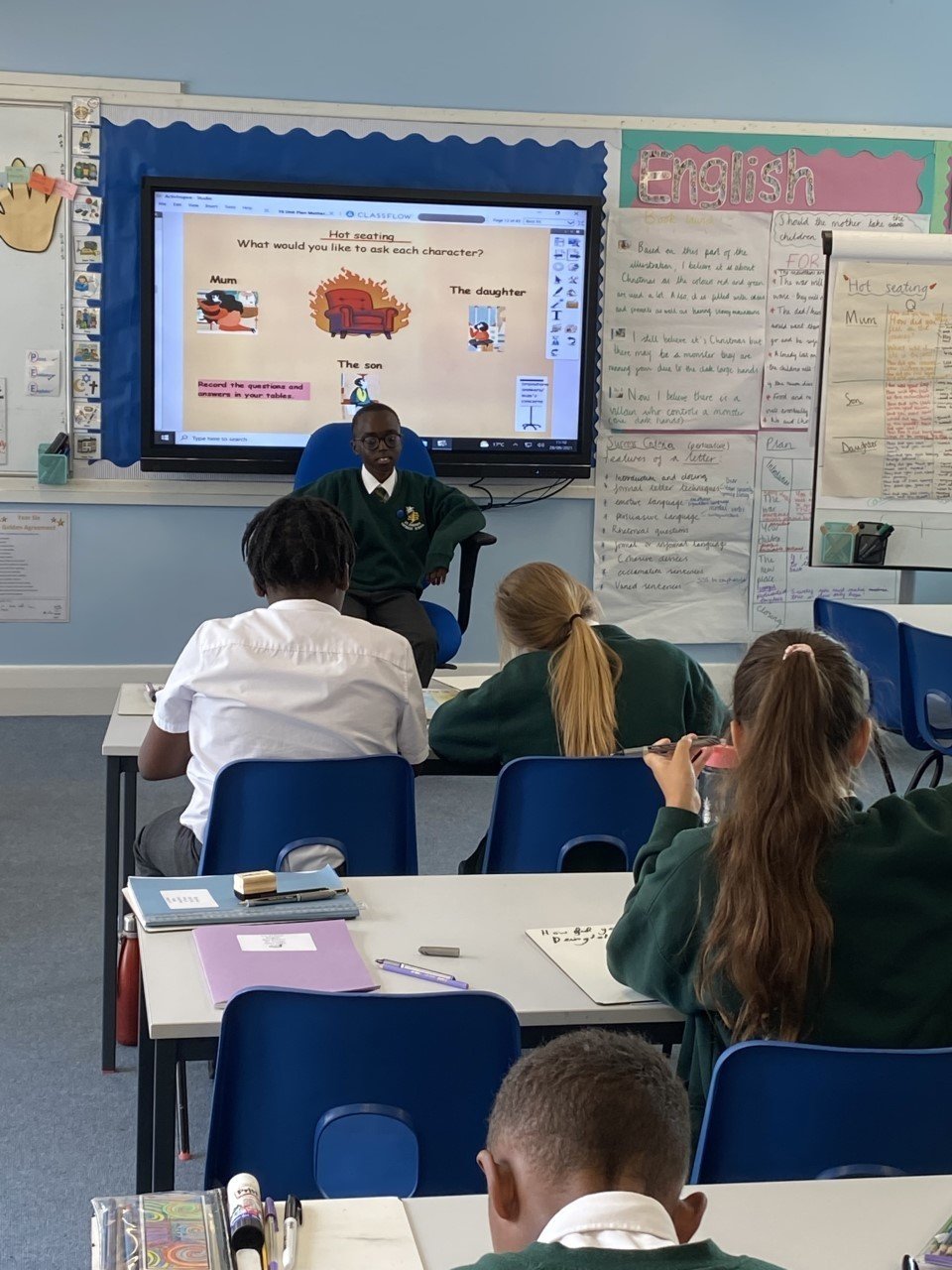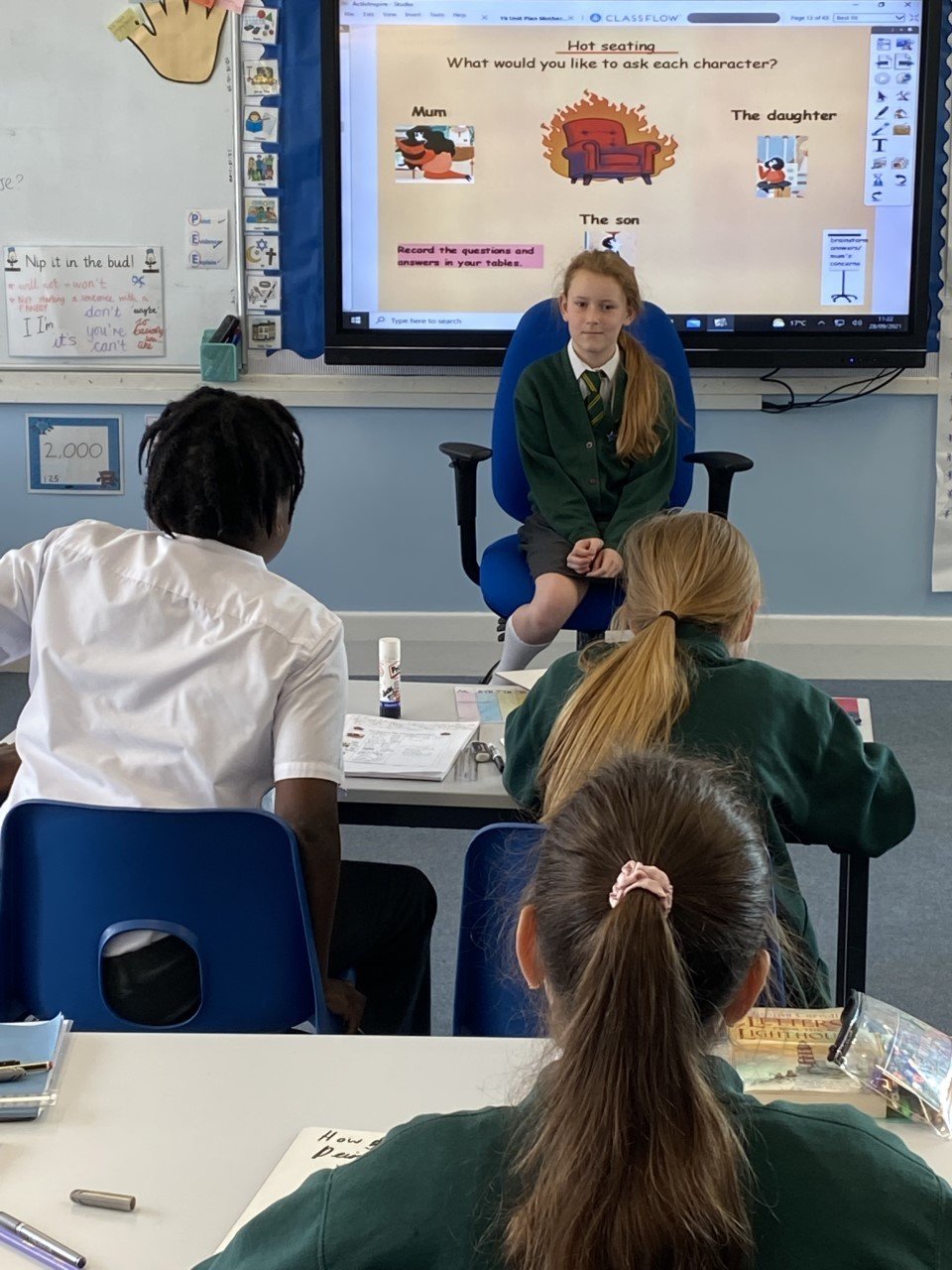 We have also been learning how to control and dribble the ball in basketball. Having learnt how to pass last week, we are now focusing on moving with the ball and passing to a friend. We played a game of cat and mouse where we dribbled the ball to escape the cats and also a game of chaser in the middle.
In PSHE, we learnt about healthy diets and how exercise and healthy eating or drinking water are the only methods for creating healthy energy for our bodies. We also looked into the ingredients of commercial energy drinks and why they are not good for children especially. With this in mind, we then created our own alternatives to energy drinks with the focus on healthy ingredients that also provide good energy.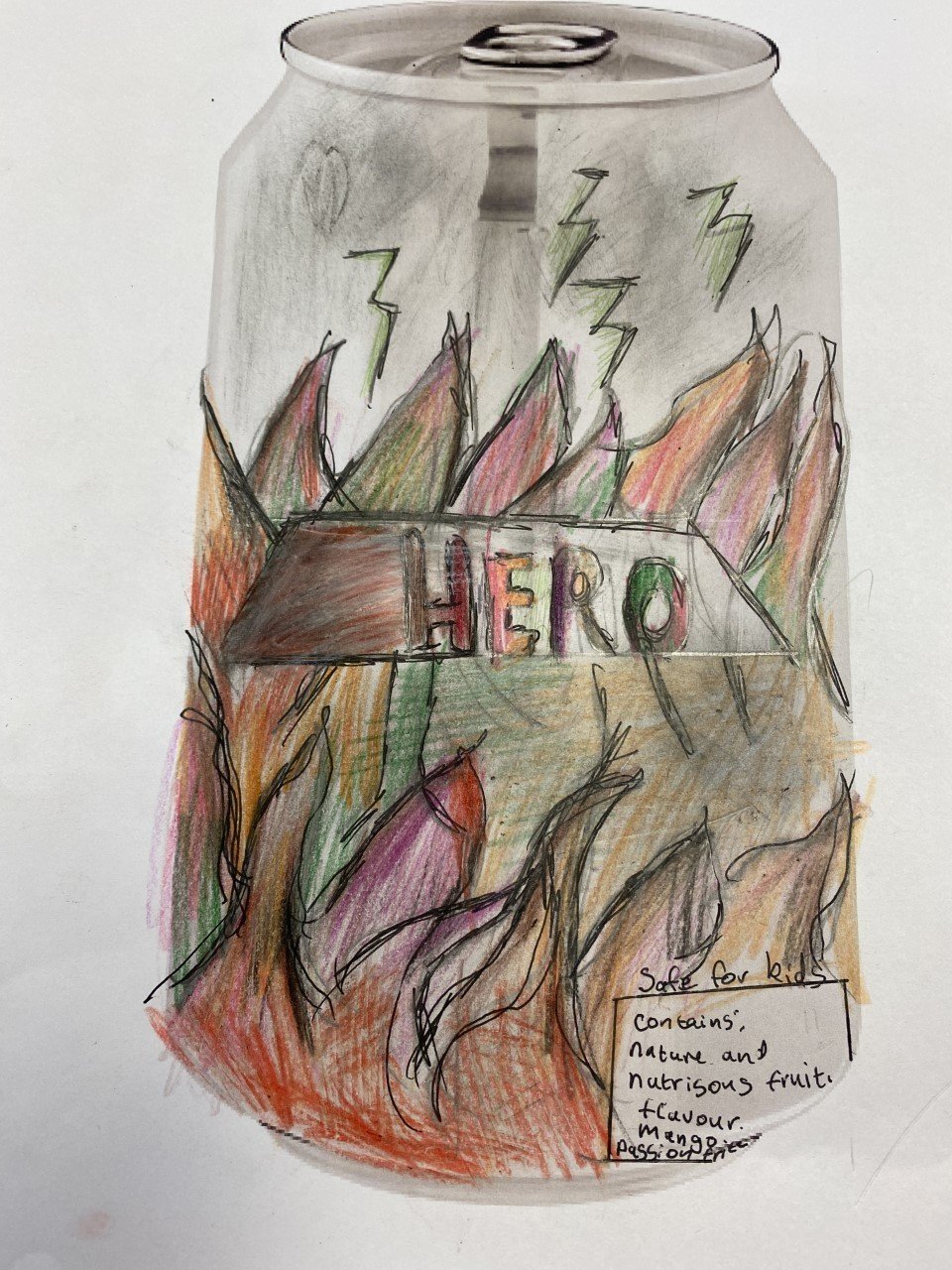 This week we have been looking at differences and similarities between us. In science, we have begun to explore variation and what that looks like in humans, specifically eye colour. We played a game of 'Whose eye is that anyway?' Year 6 have learned about why this difference occurs due to dominant and recessive genes.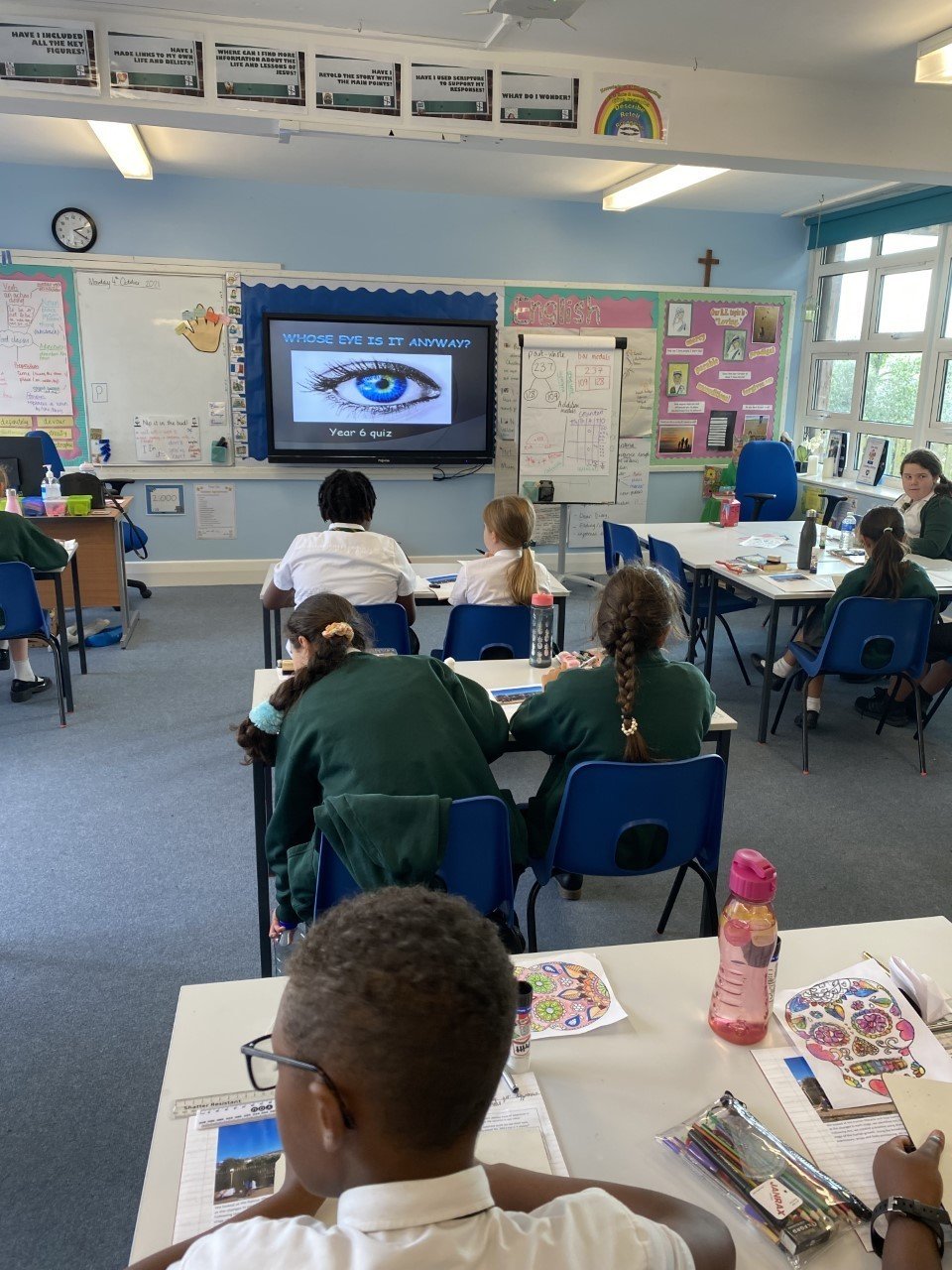 Finally, we celebrated Grandparent's week this week by creating invites for Grandparent's and elderly family friends. They attended our Mexico Madness Art workshop, where we learnt how to draw Frida Kahlo and create stone cactus' in pots. We had great fun and it seems the Grandparent's thoroughly enjoyed themselves too! Please see our wonderful photos below from this event.
'The Journey'
20.09.2021
Last week, having launched our first book for this half term called 'The Journey' by Francesca Sanna, we focused this week on understanding the character's feelings and thoughts when journeying on a treacherous mission to escape the war-torn country. Year 6 looked at different stages of the journey and re-enacted them in a freeze frame by portraying the character's feelings of worry, concern and heartbreak through their body position, facial expressions and use of props.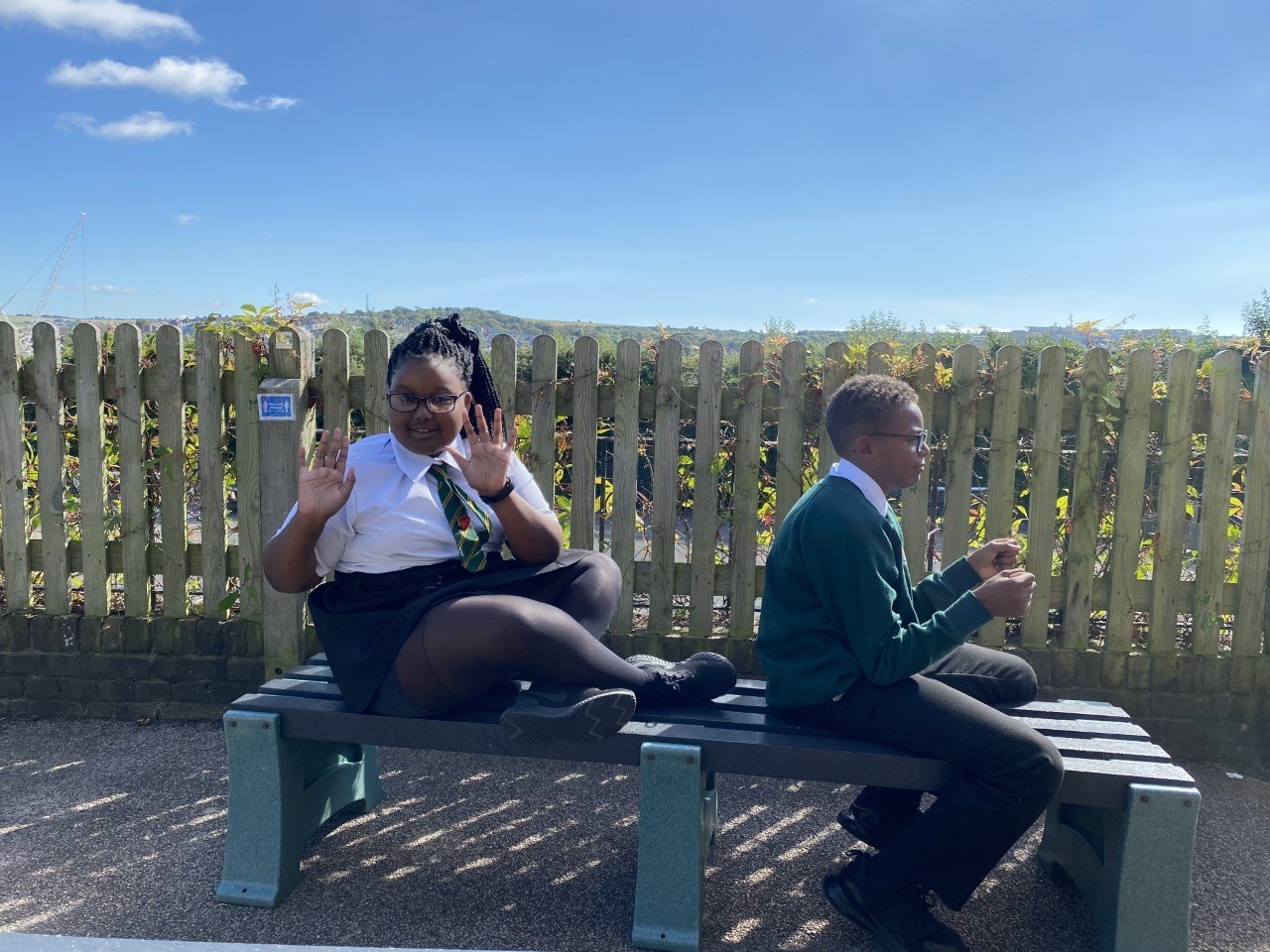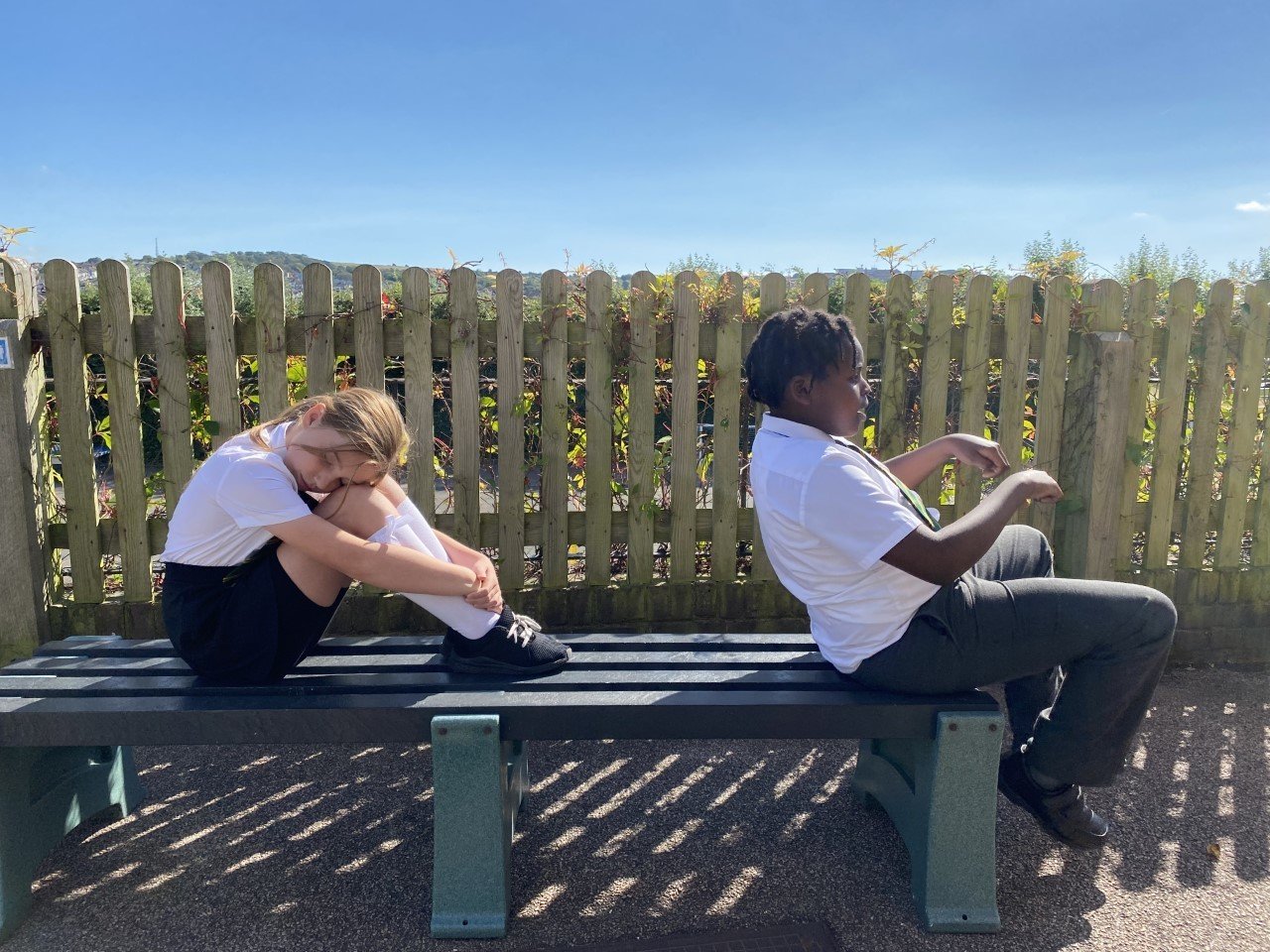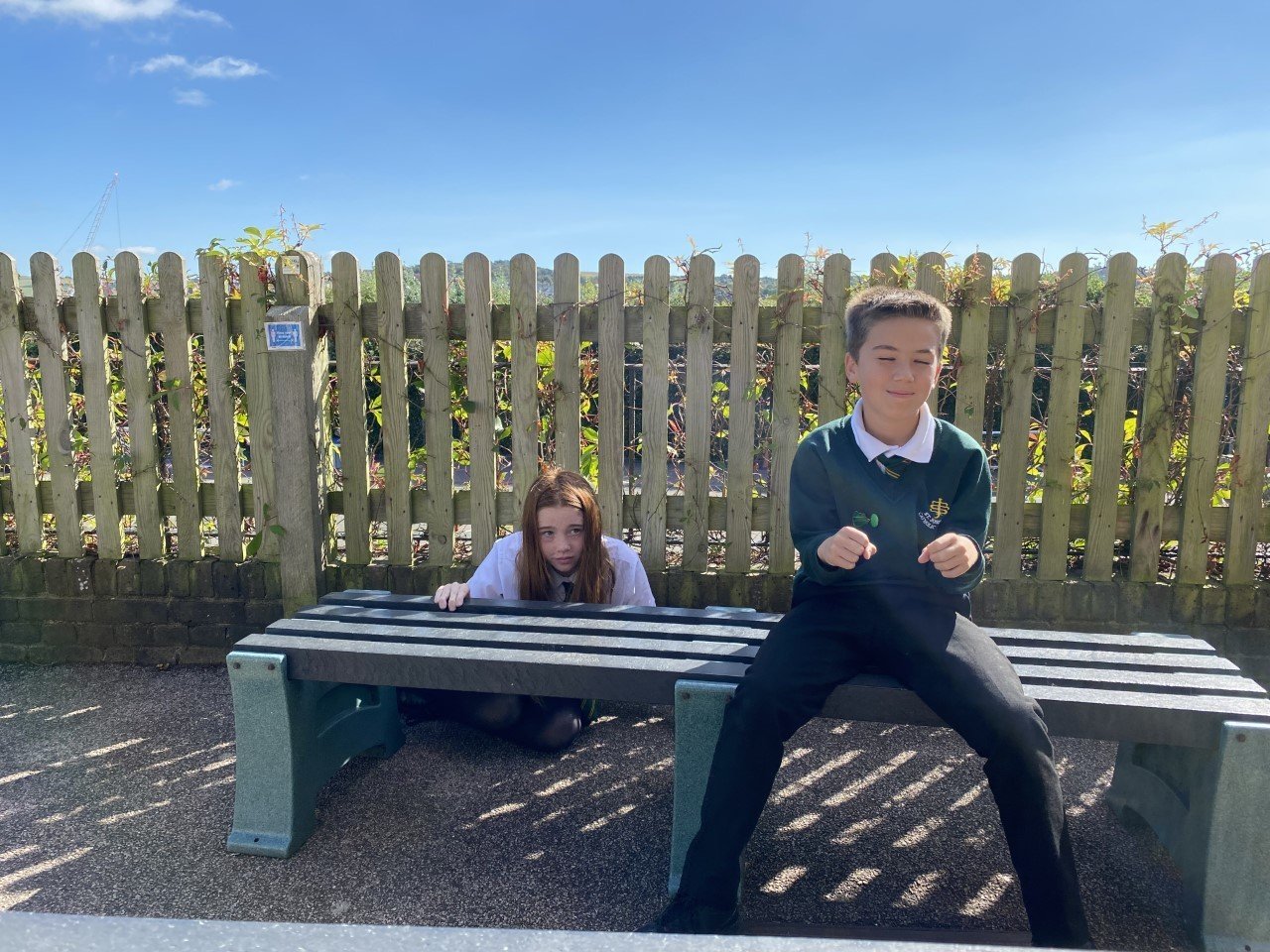 We also looked at the concept of God's 'unconditional love' in RE and discussed examples of how God continues to love and forgive despite any bad choices we may make. We looked at Saul's transformation to Paul and how his qualities changed when becoming a Christian. We also looked at the concept of unconditional love in the parable of the prodigal son and held a trial to debate whether the character's did demonstrate unconditional love or not.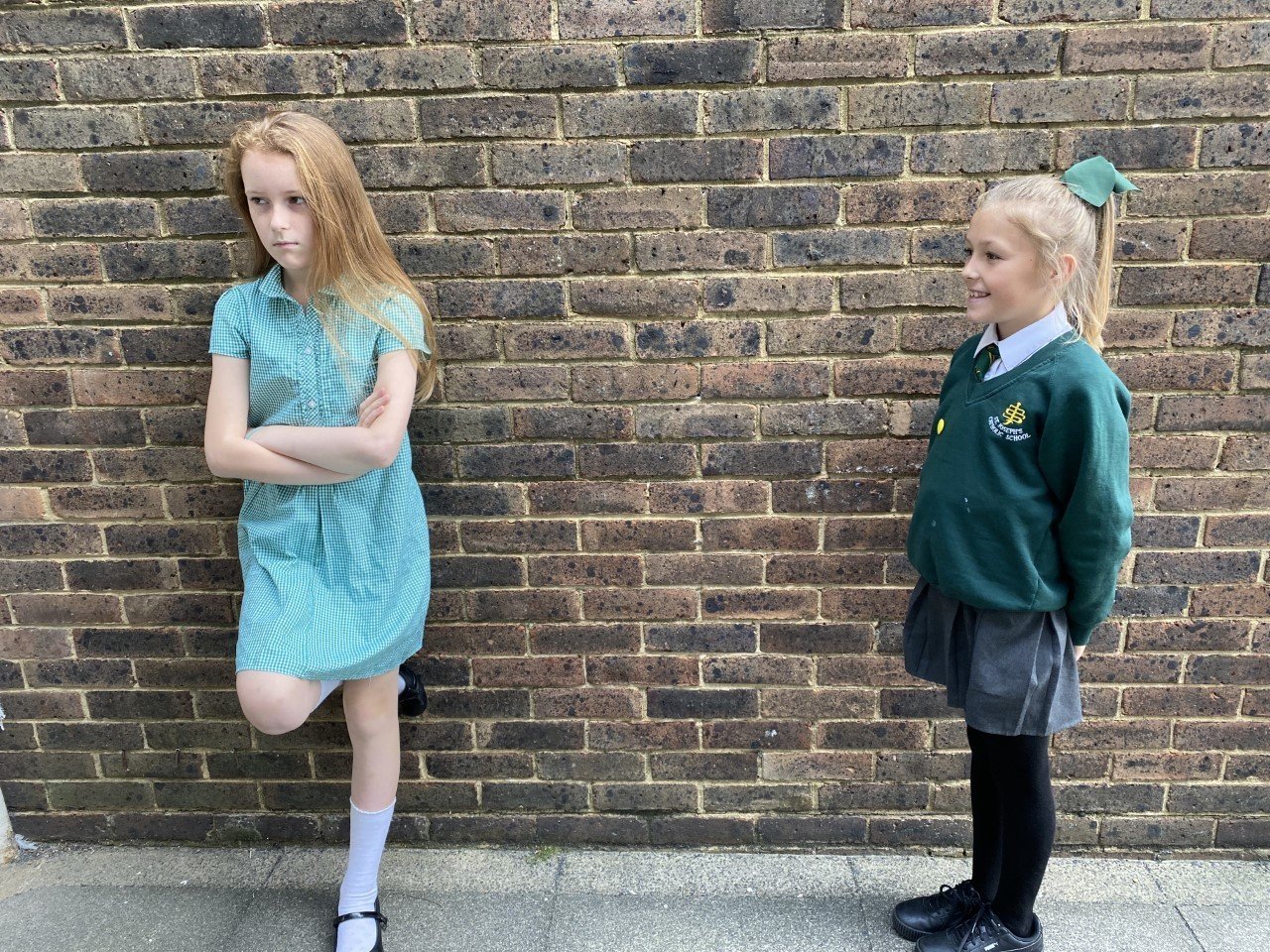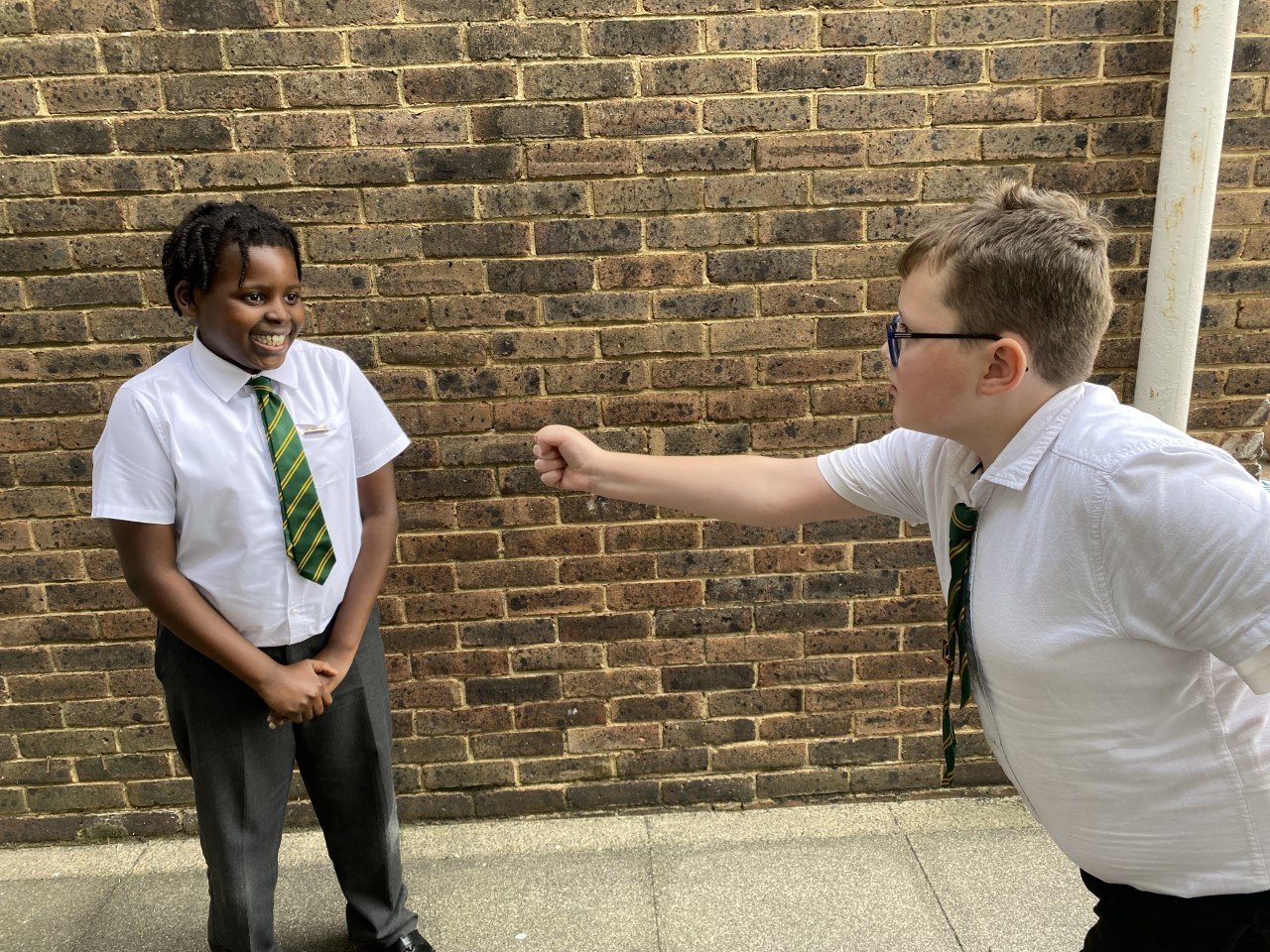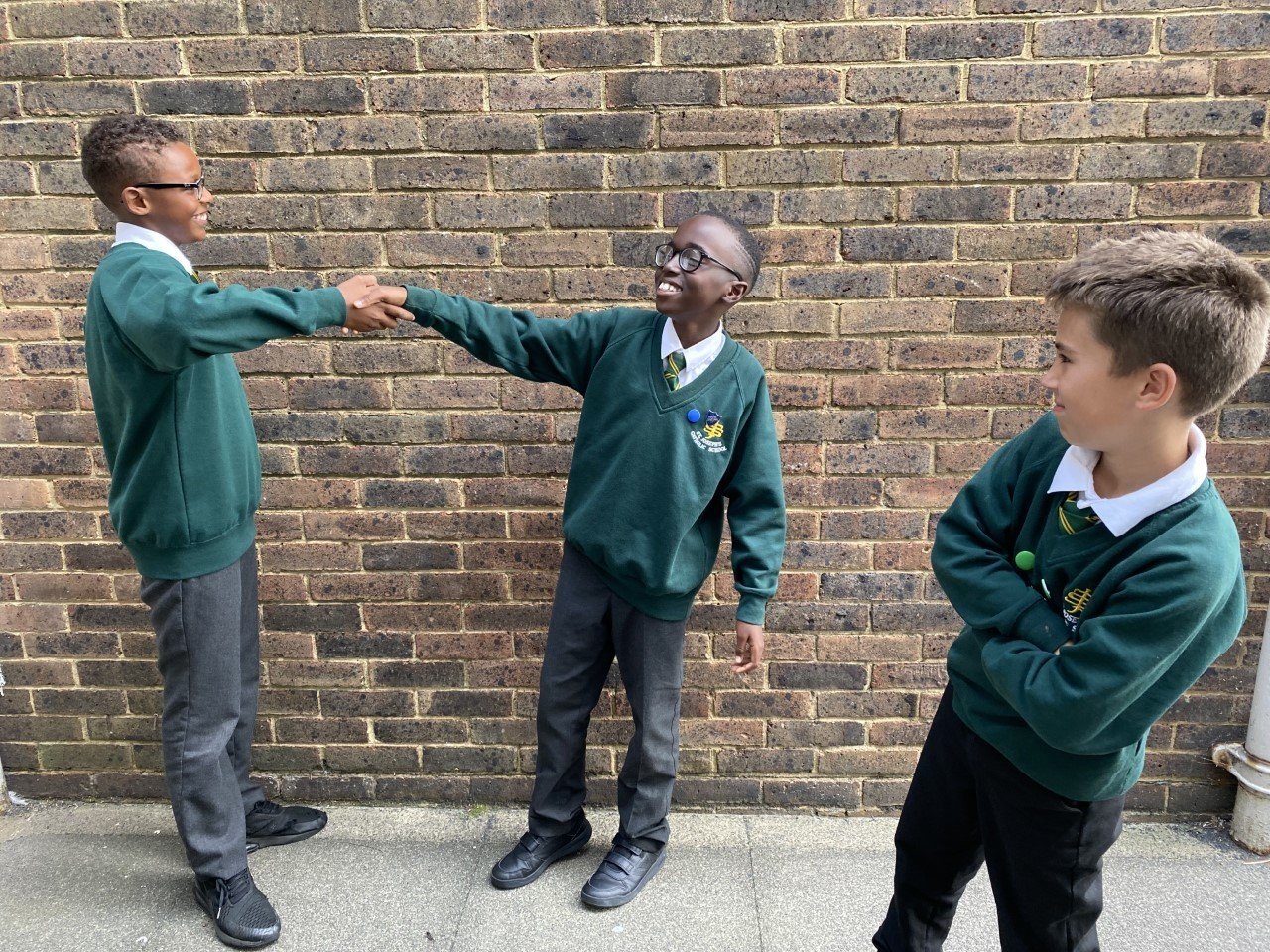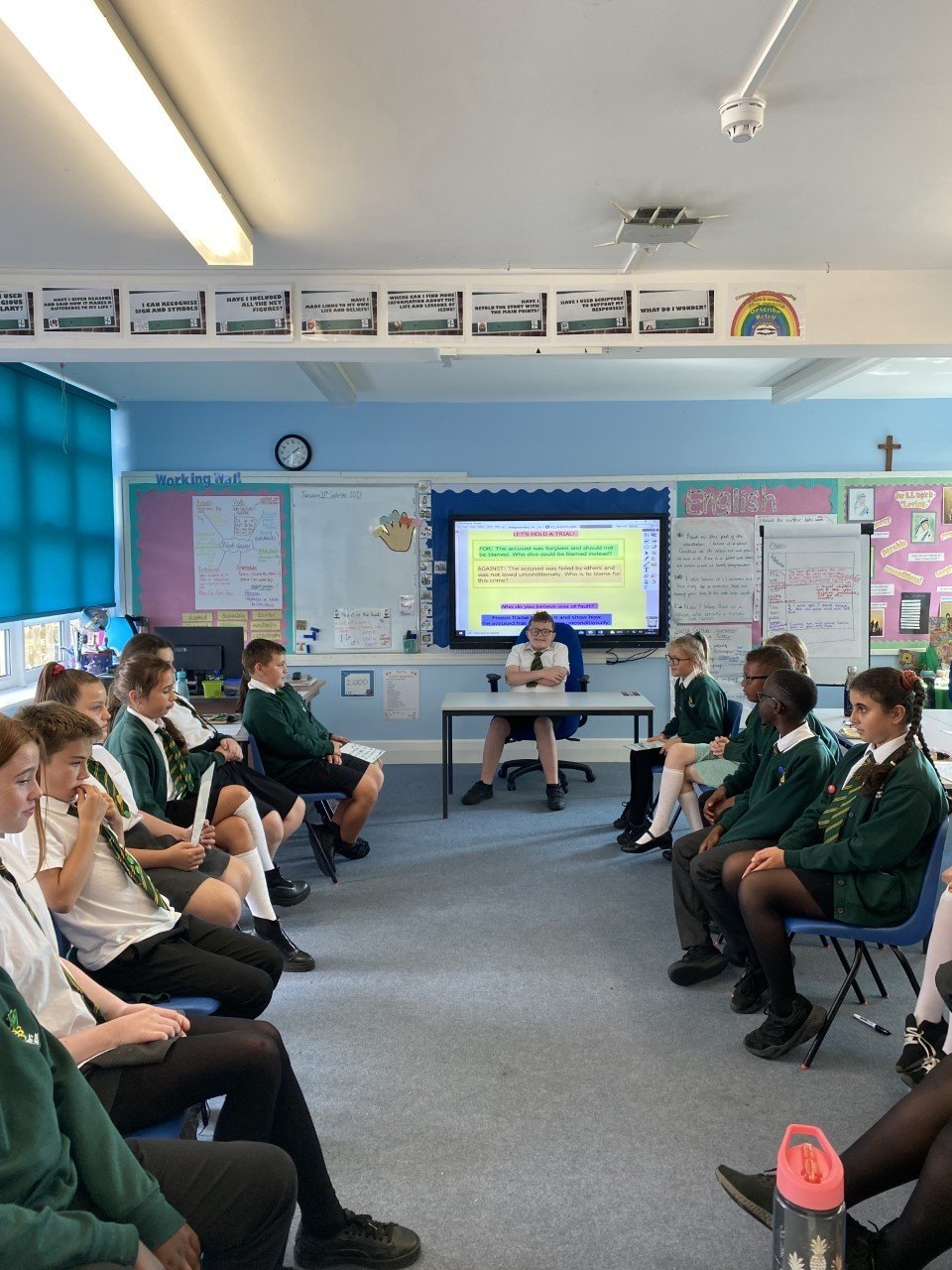 Finally, in science we learnt about human growth and the different changes that occur at each human life stage. We identified the impact aging has on the external and internal of a body and compared the different stages. As you can see, we had great fun recreating those stages in the form of a freeze frame timeline.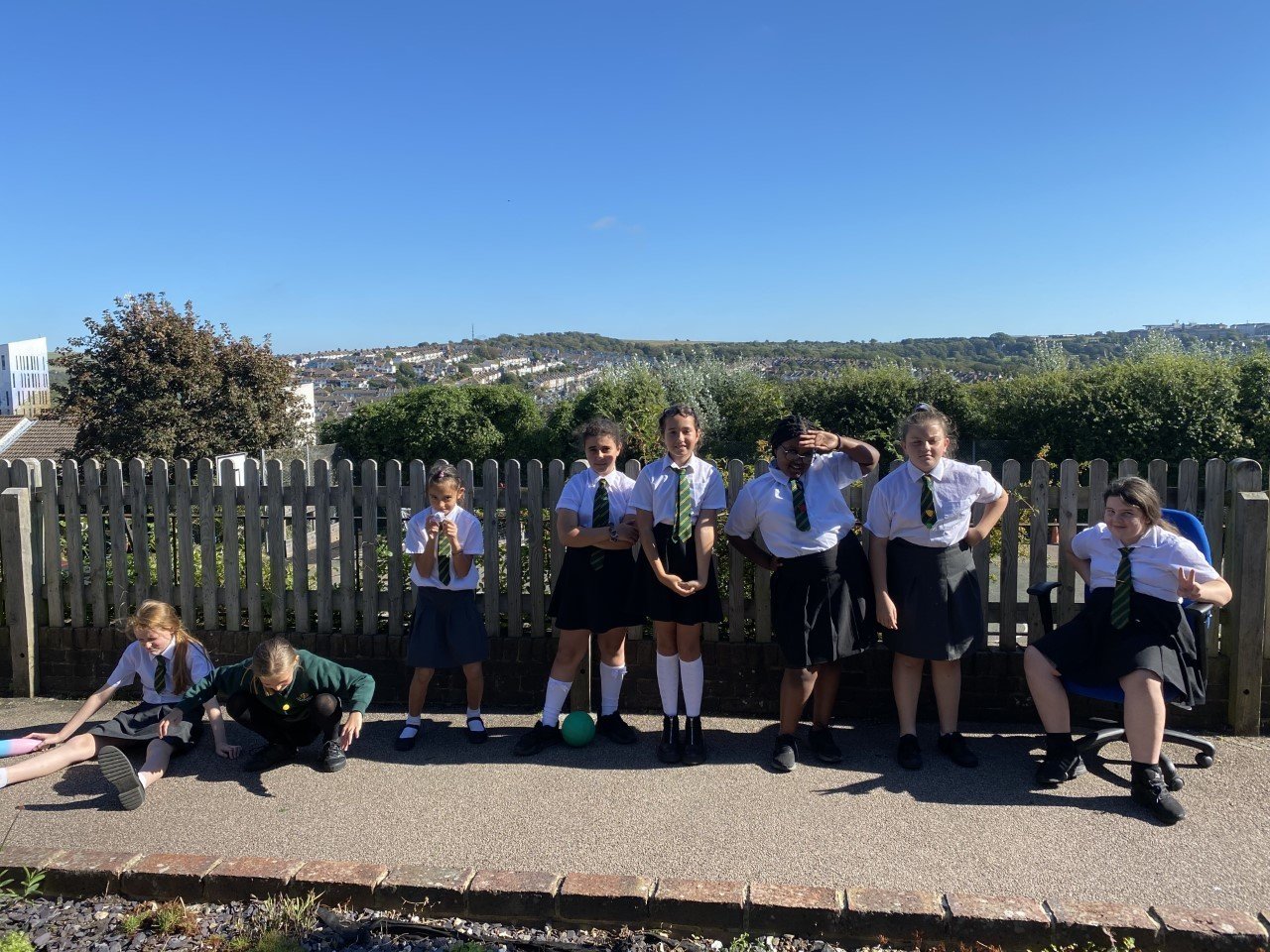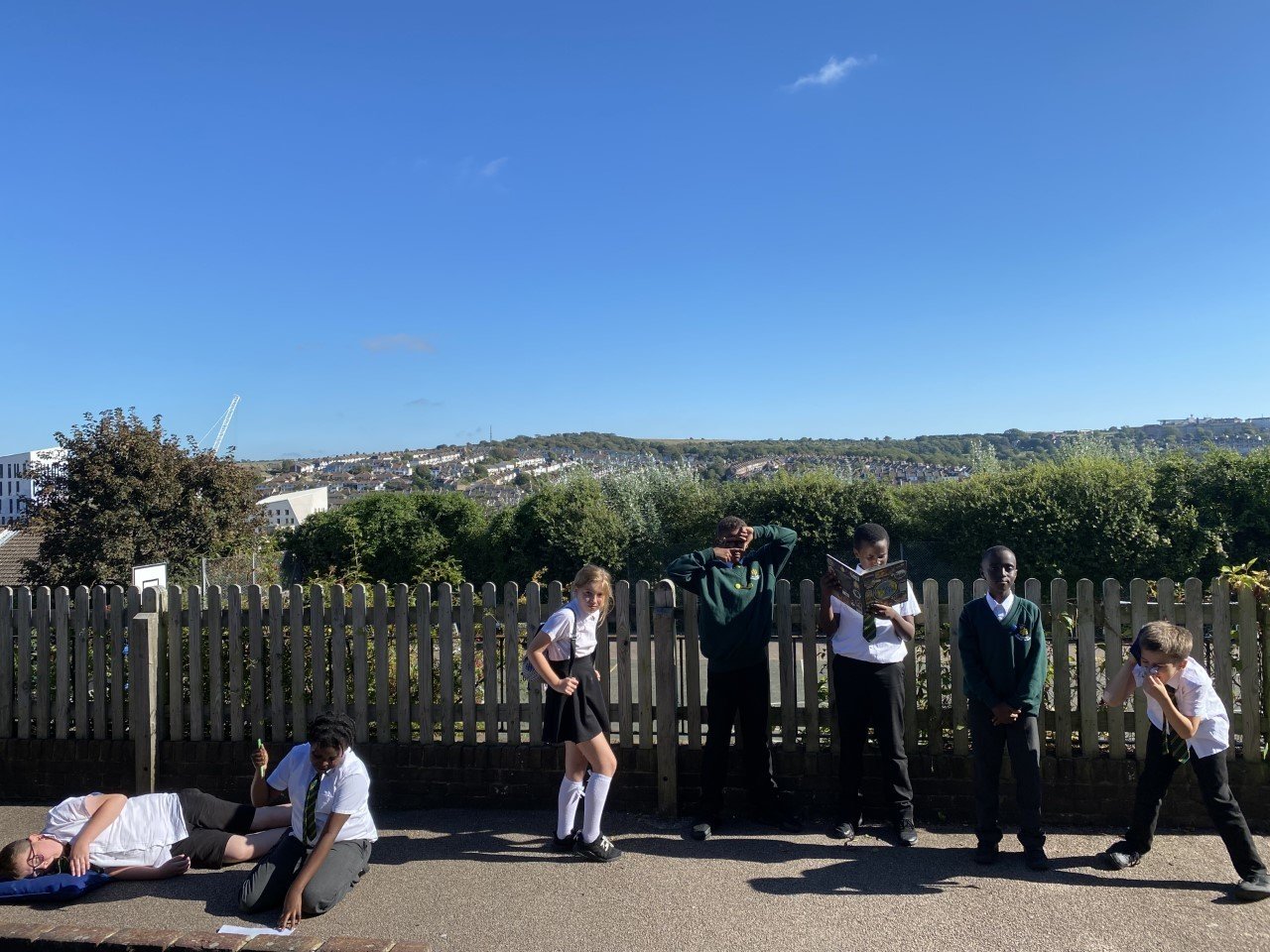 'Let's go to Mexico!'
13.09.2021
Today, was Year 6's 'stunning start' and introduction to their Humanities learning this term. For the topic launch, the children came into school dressed in Mexican colours or outfits. Thank you all for making such an effort - you looked fantastic!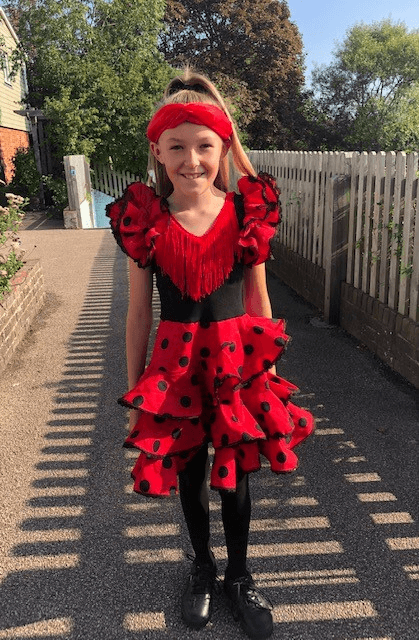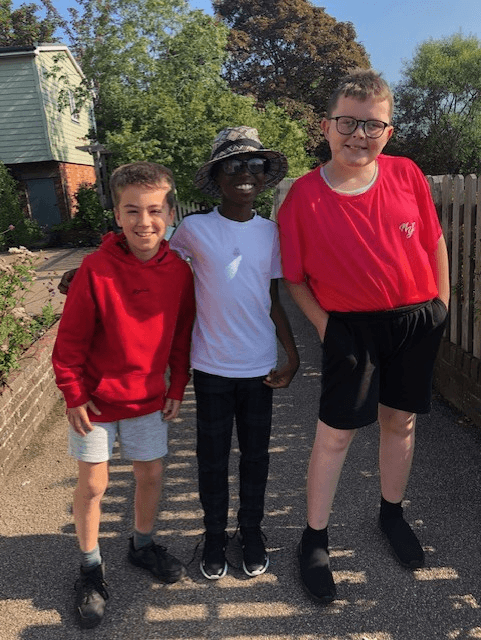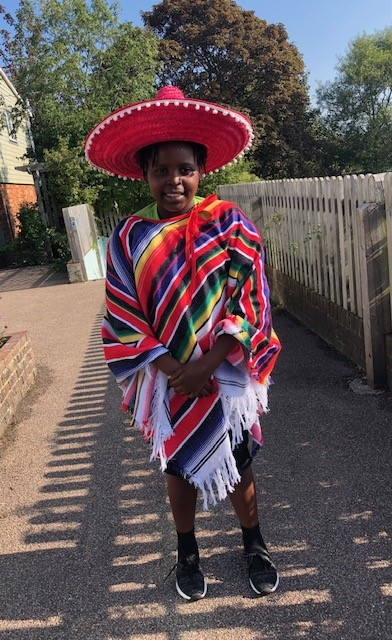 During the day, the children listened to Mexican music, watched Mexican dancing and explored the Mexican culture through their clothing, food and celebrations. They designed some of their own Mexican clothing which can be seen below.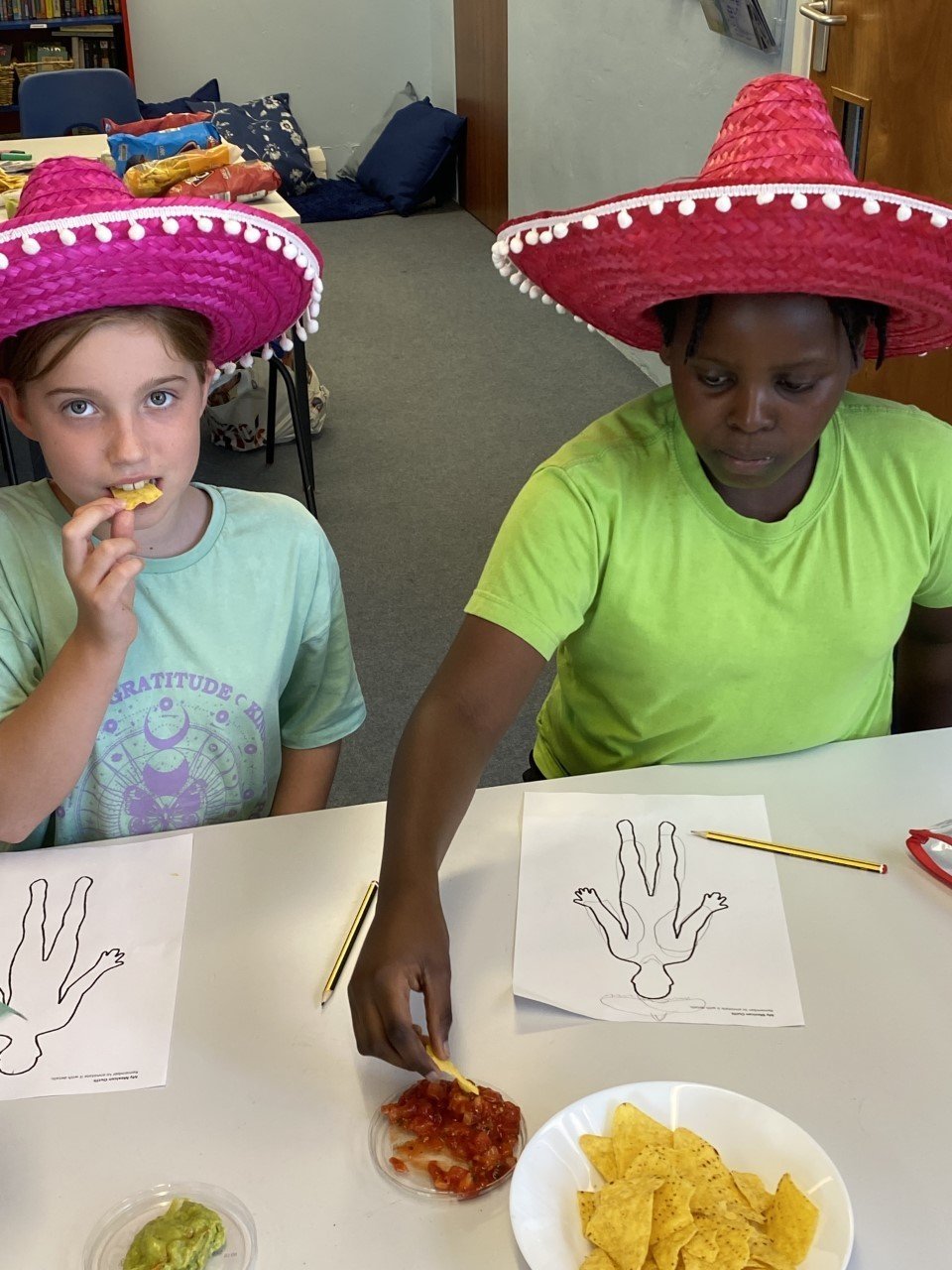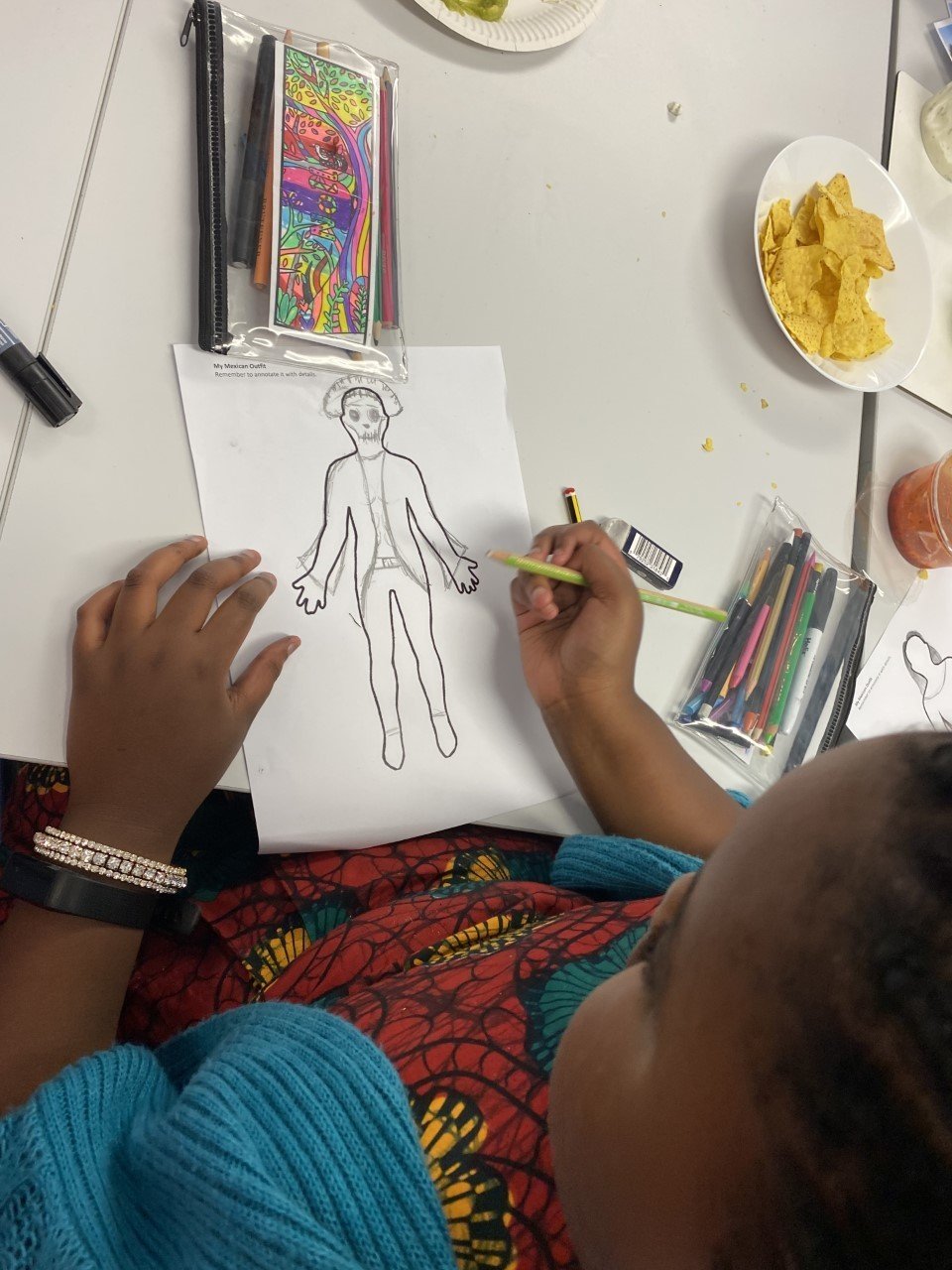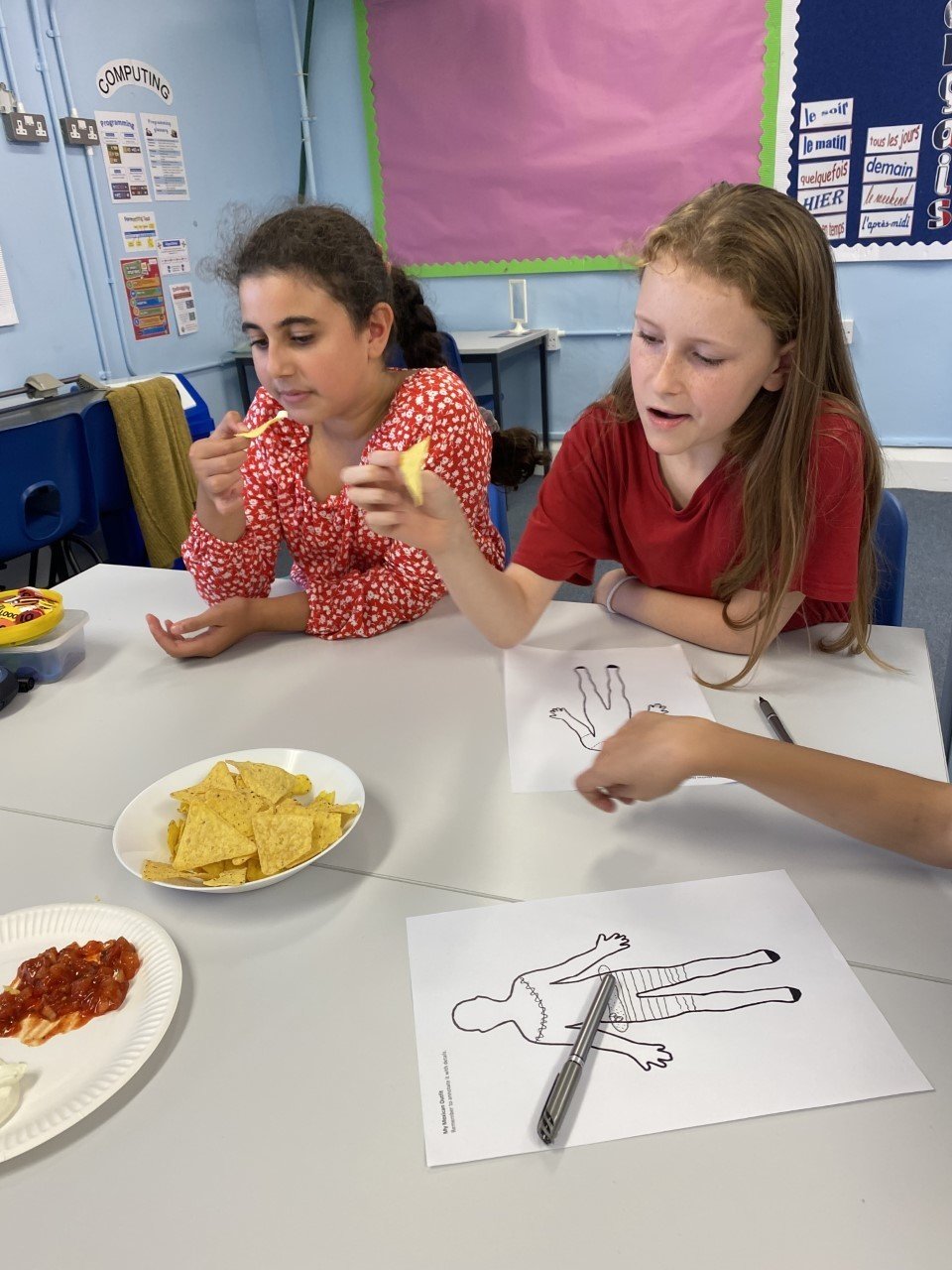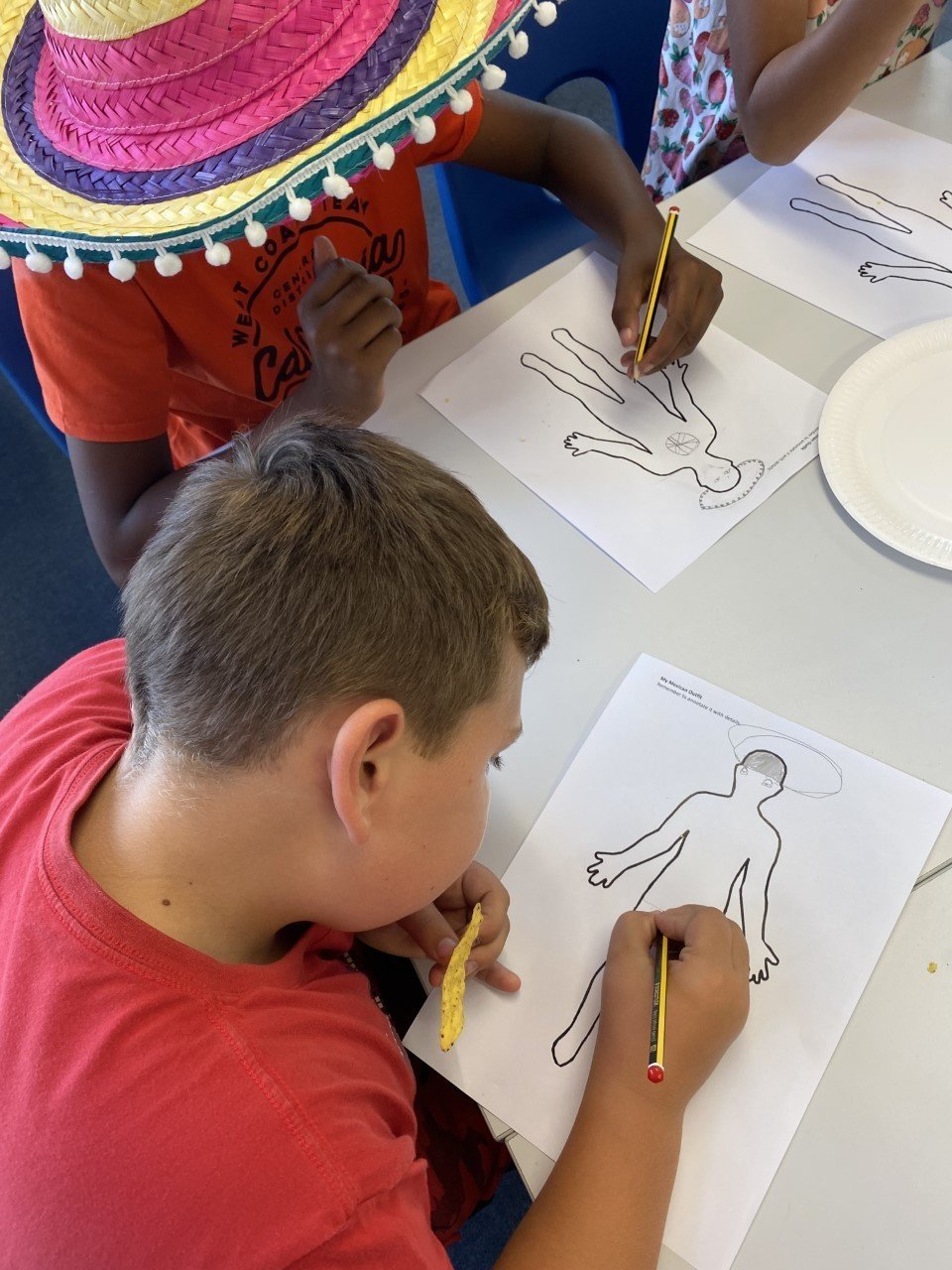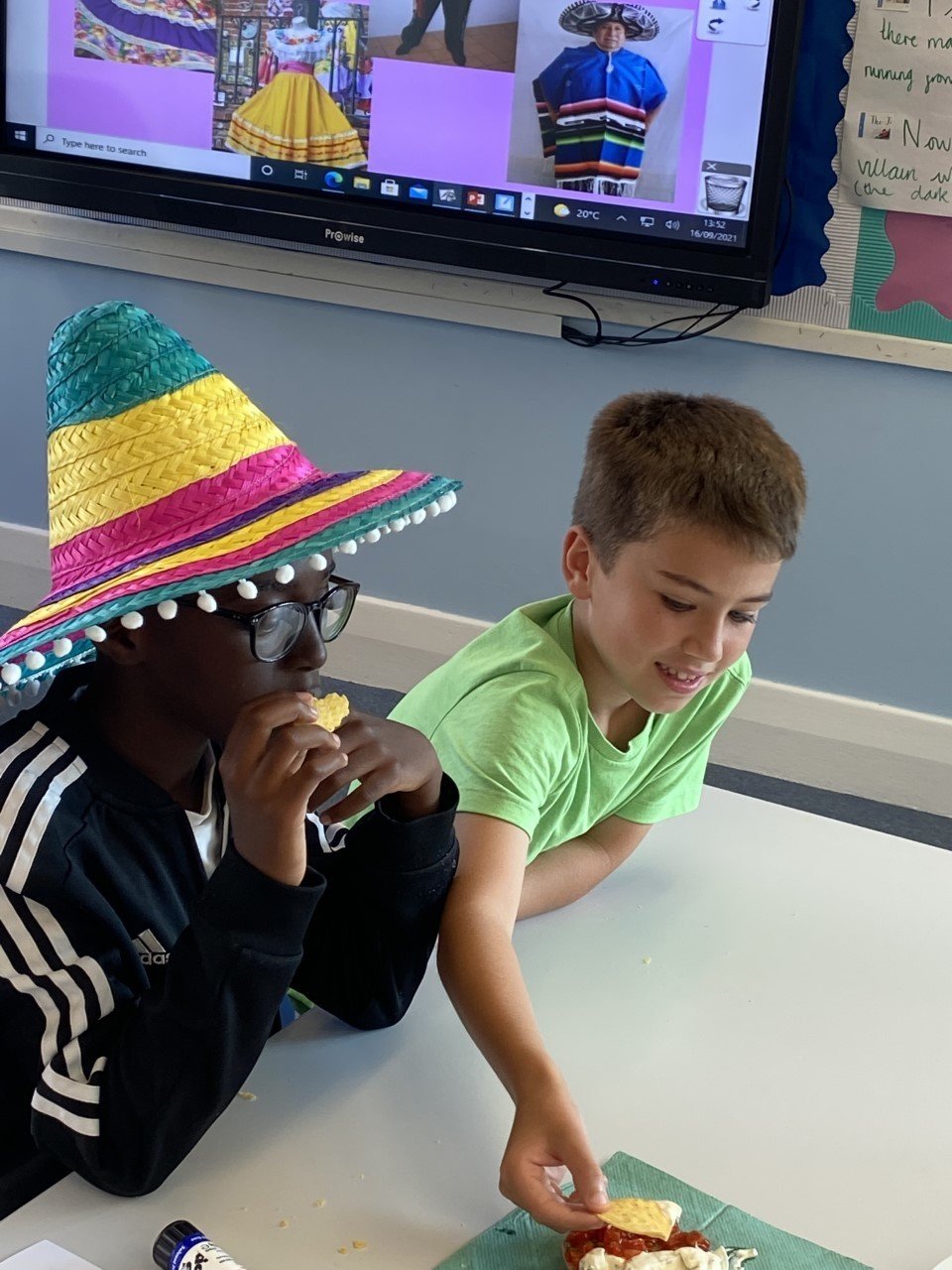 In maths, we are currently exploring and learning about place value to a one and ten million. We used a variety of resources this week and created many models to read and represent different numbers.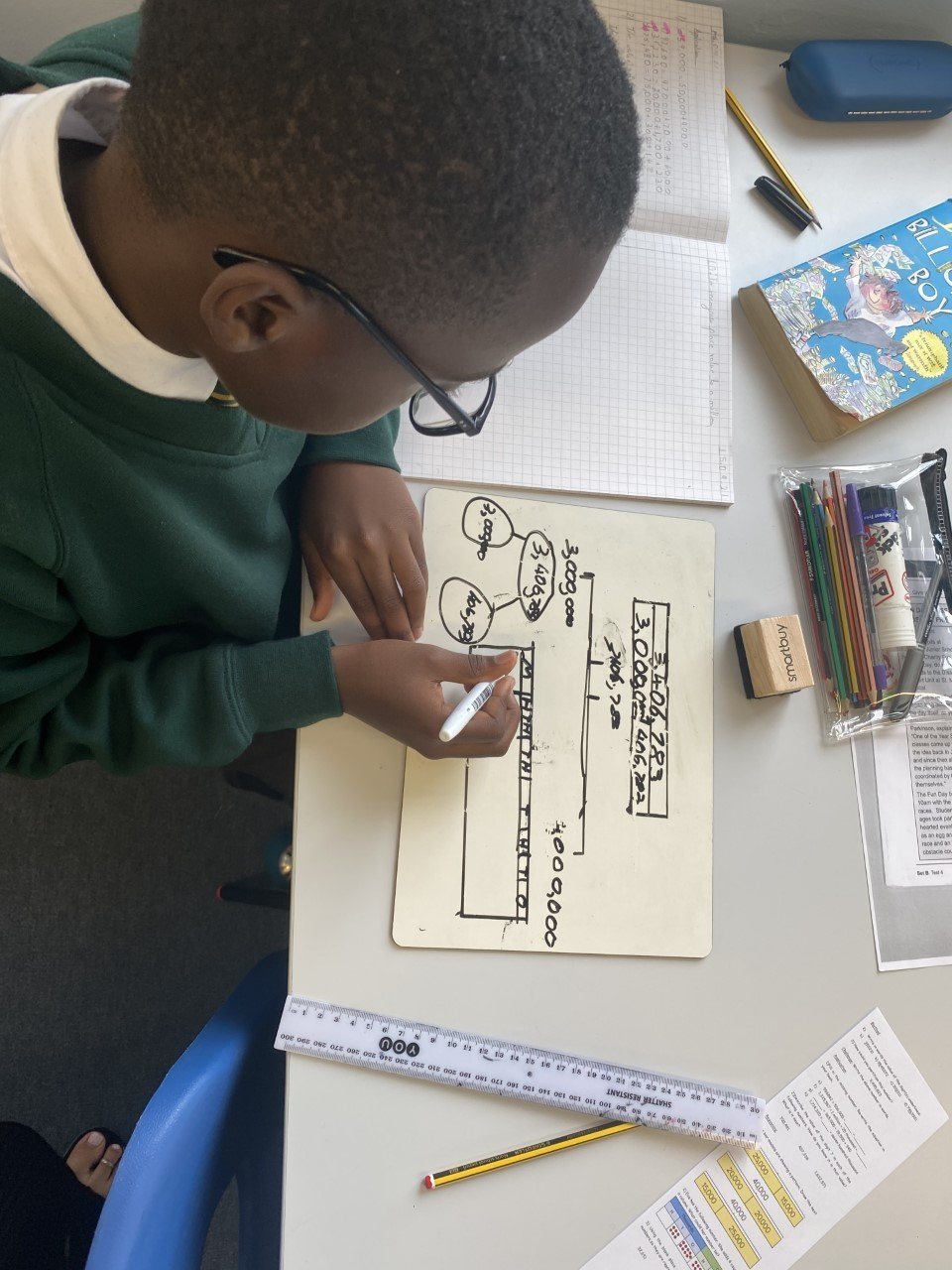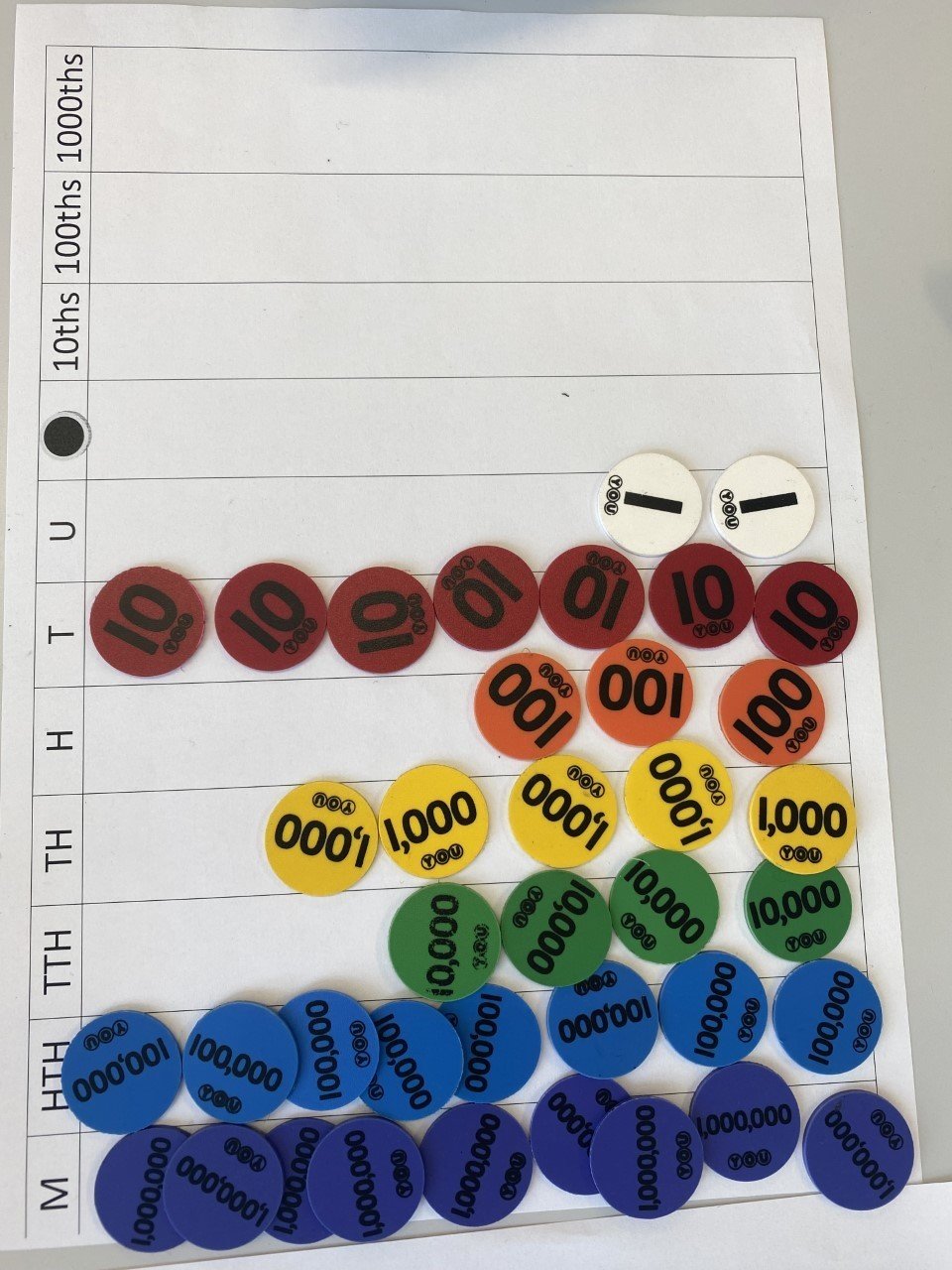 We have just begun to dive into our book for this half term called 'The Journey' by Francesca Sanna. This week, we explored the dilemma that one of the characters must face and debated the various points using a conscience alley.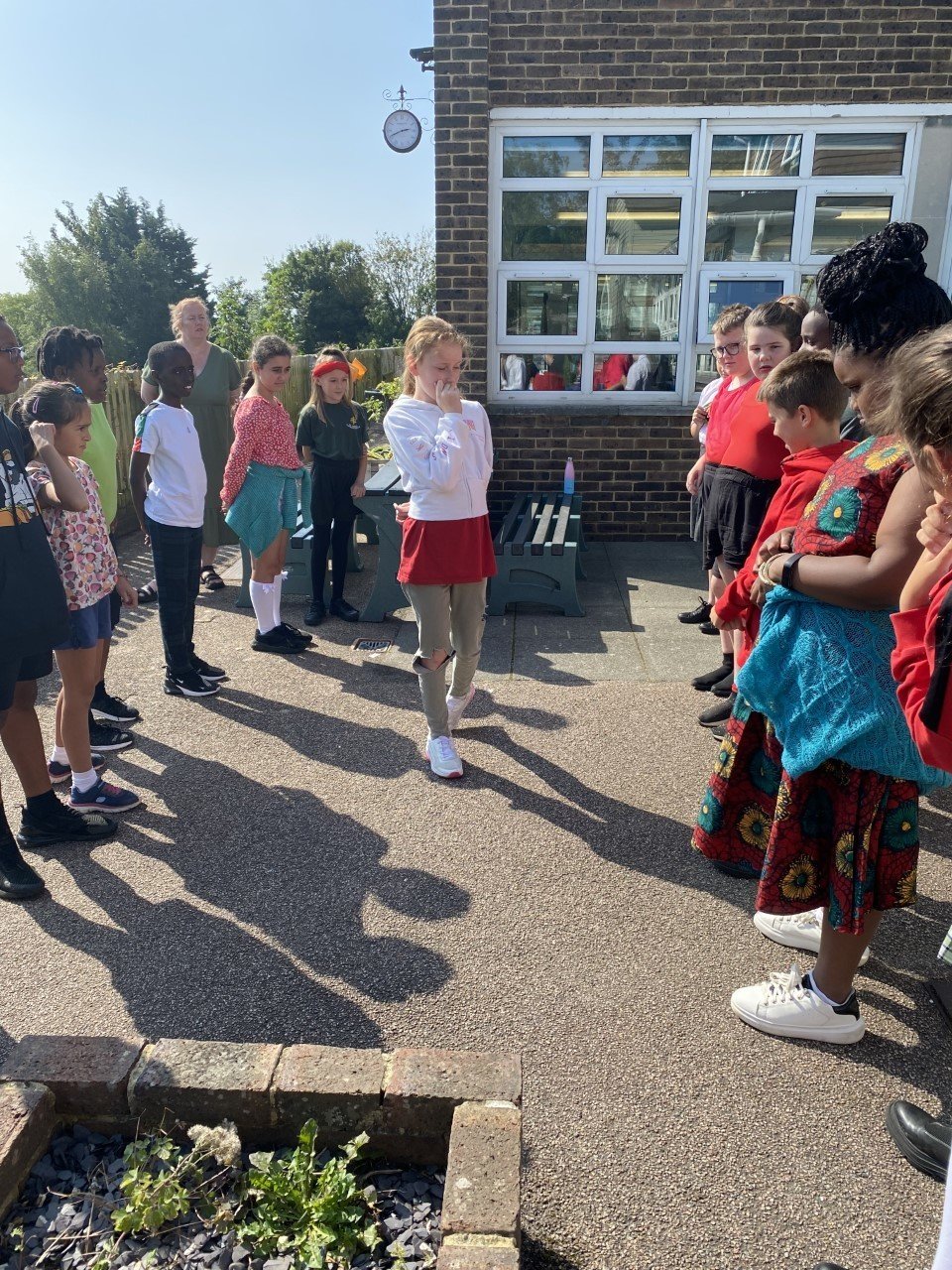 Finally, in French, we learnt how to ask for and tell the time to the nearest half an hour. We played a variety of matching games with times and also finished with a game of 'Quelle heure est-il, Mr/Mrs Wolf?'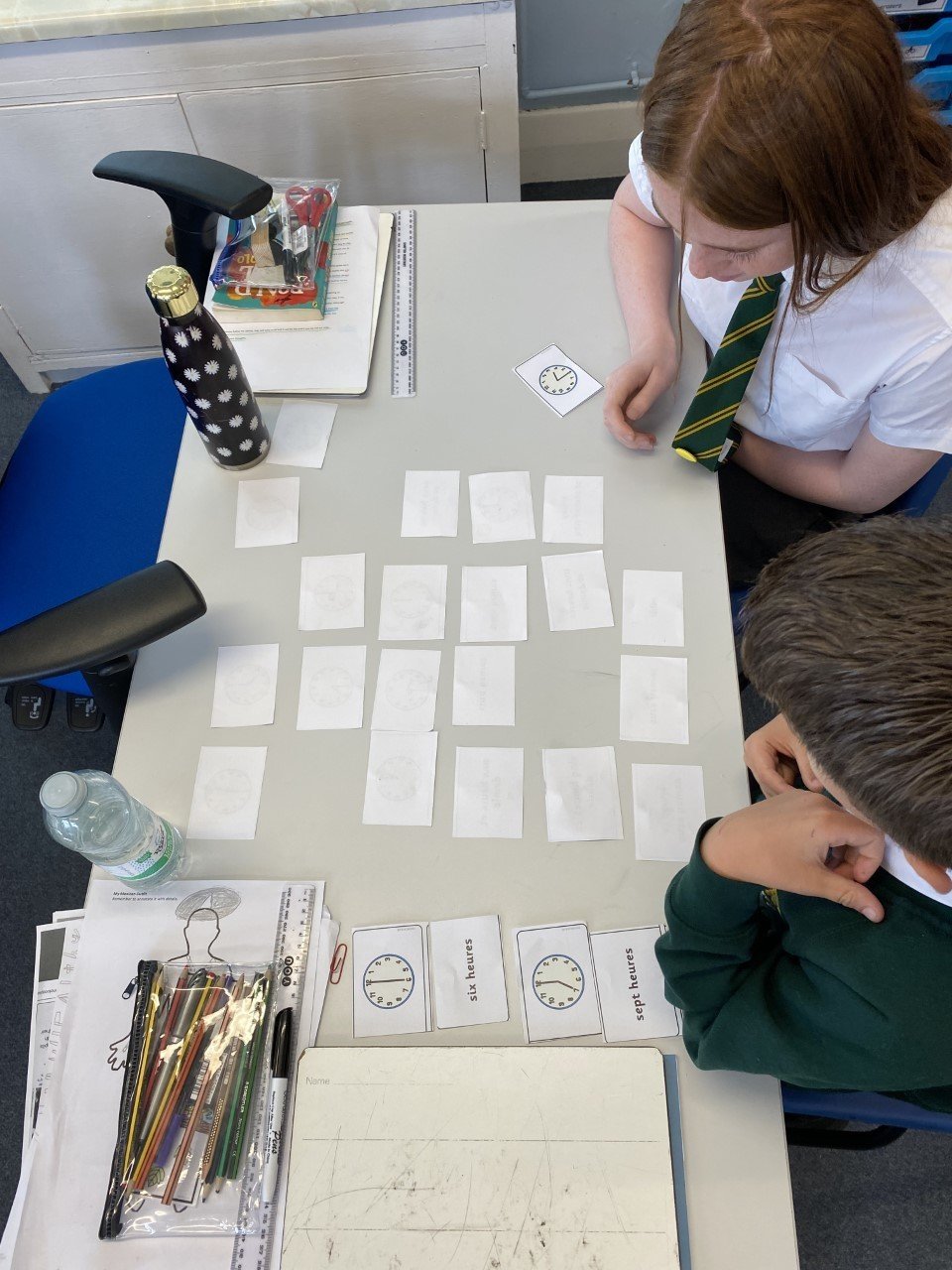 Kicking off our new school year!
06.09.2021
In Year 6, our focus has been on re-adjusting to school expectations and year six life. It has been fun to complete different activities which focus on how we feel, think and act by ourselves and with friends. We have shared our dreams and aspirations for the future as well as discussing what makes us such wonderful people.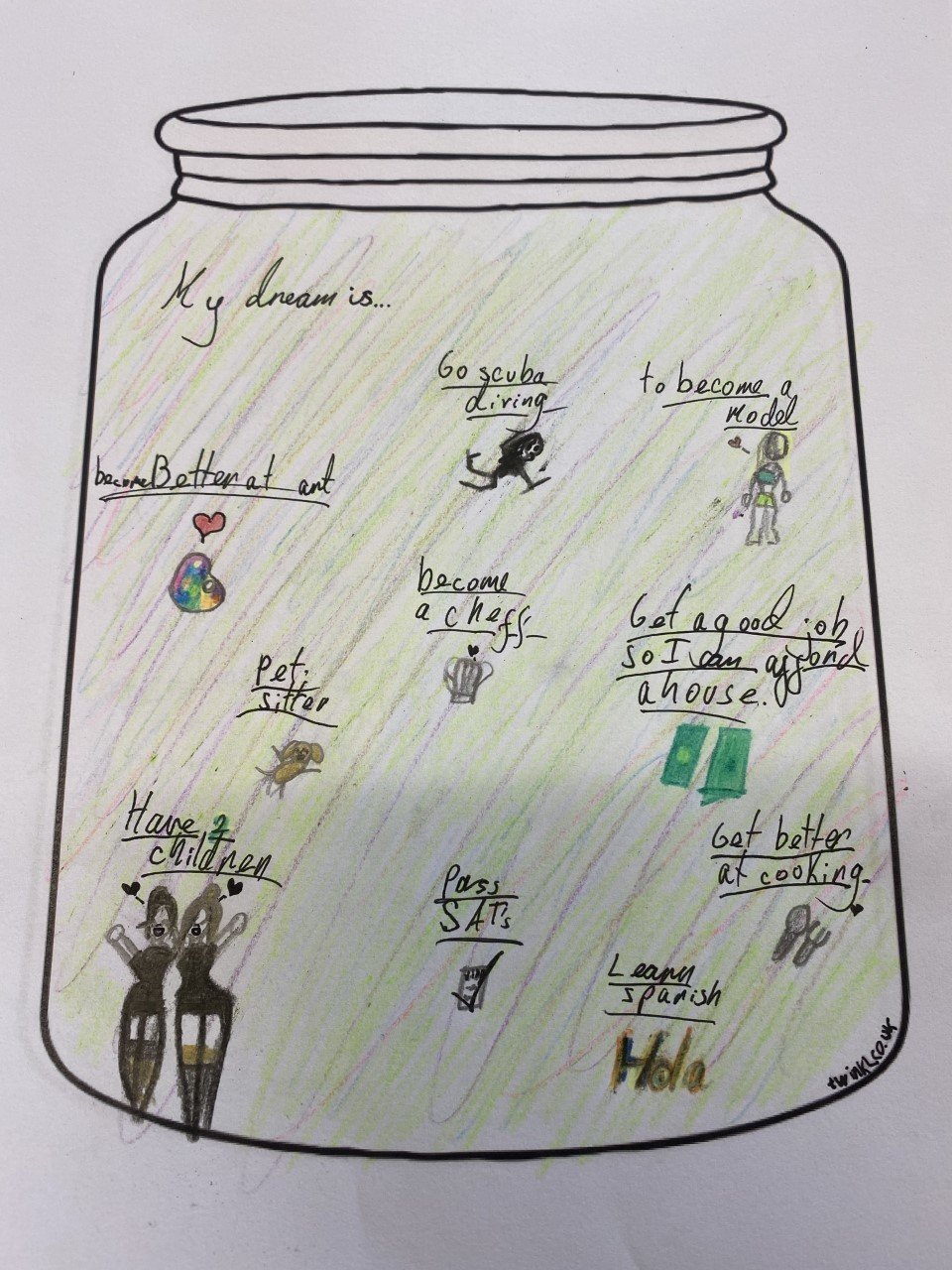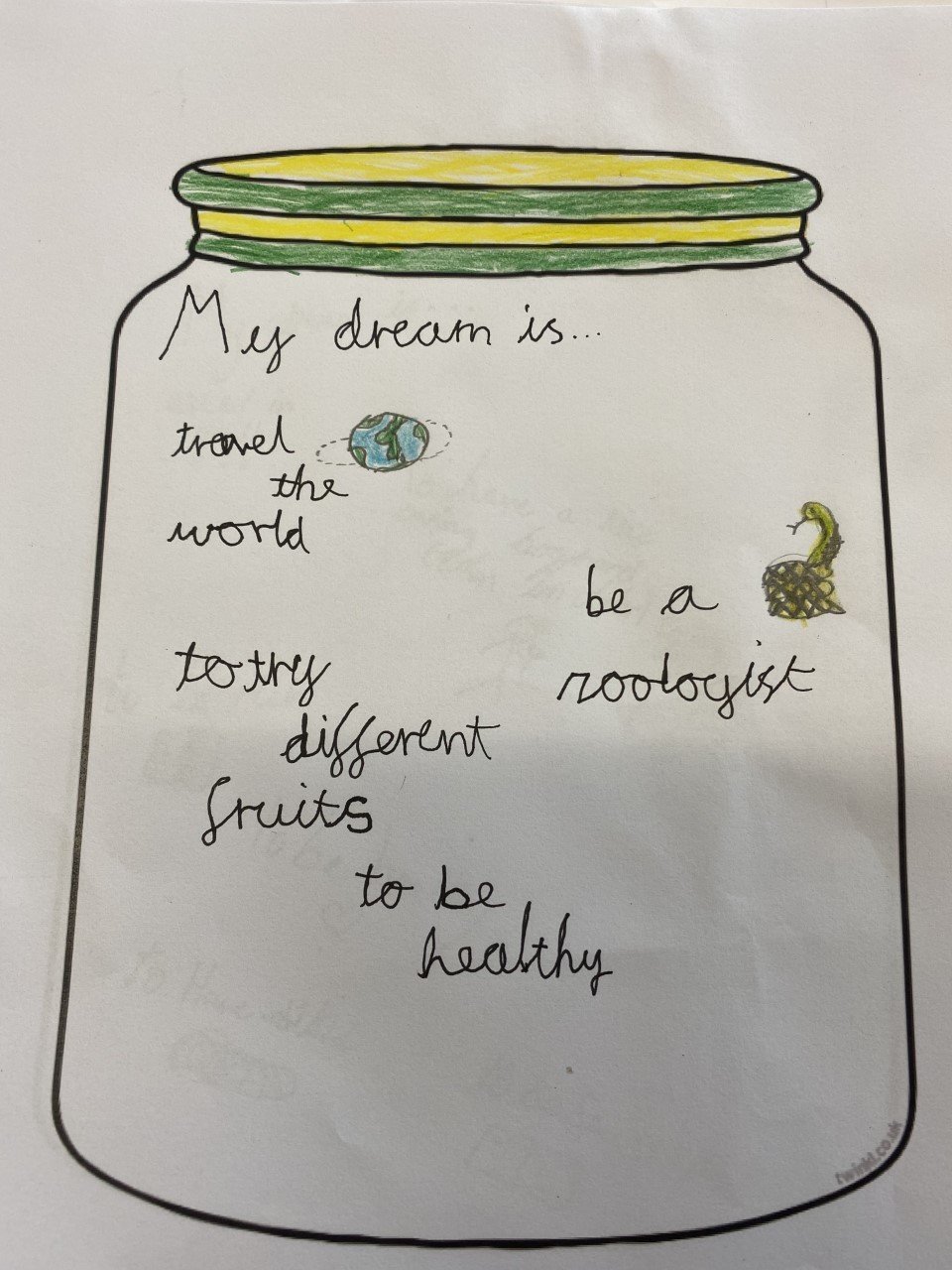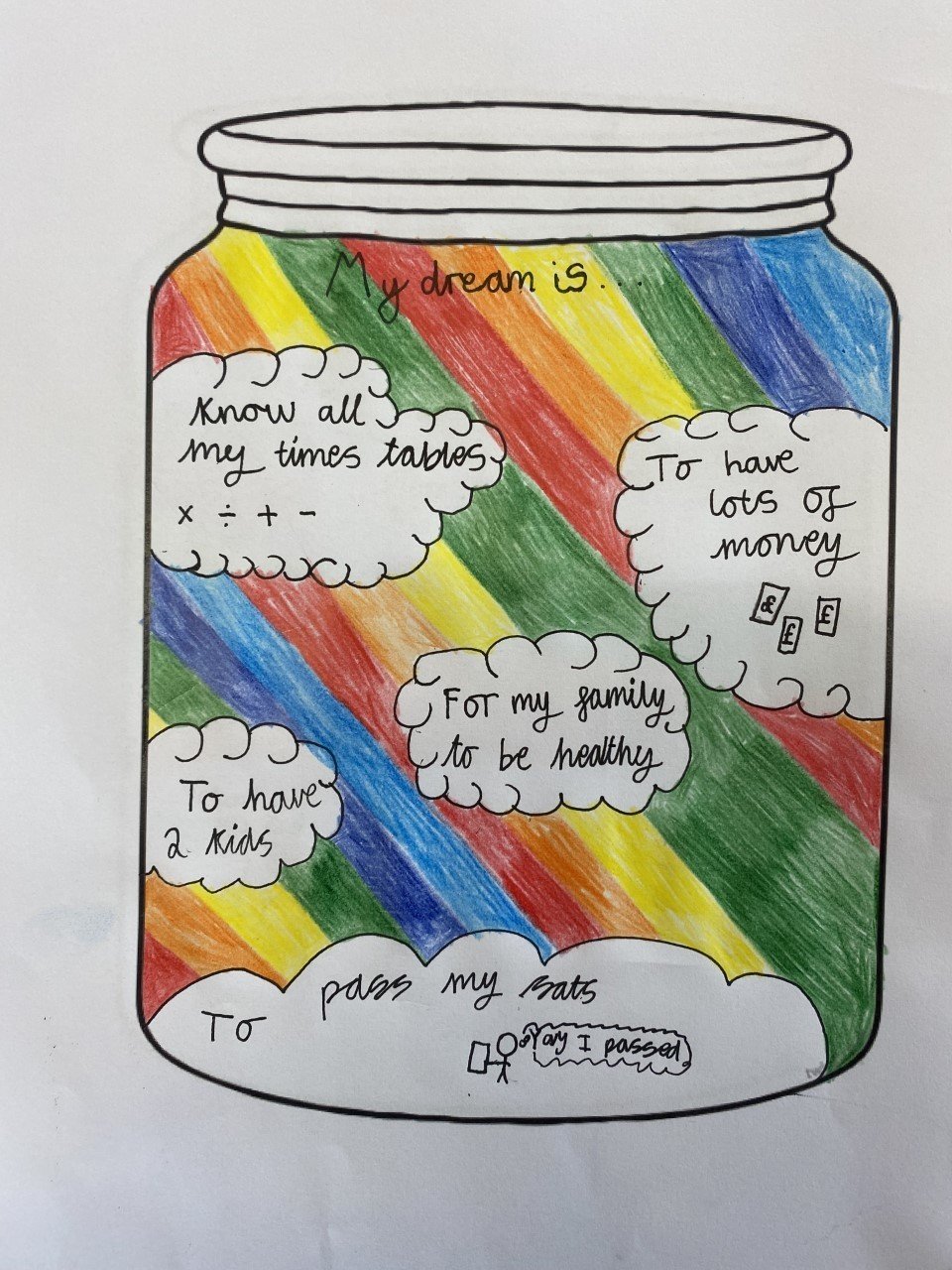 Additionally, we have been recapping on how to have a conversation and introduce ourselves in French. We then moved to up-levelling our conversation by reminding ourselves of how to ask and explain ages as well as ensuring we can count different objects around us.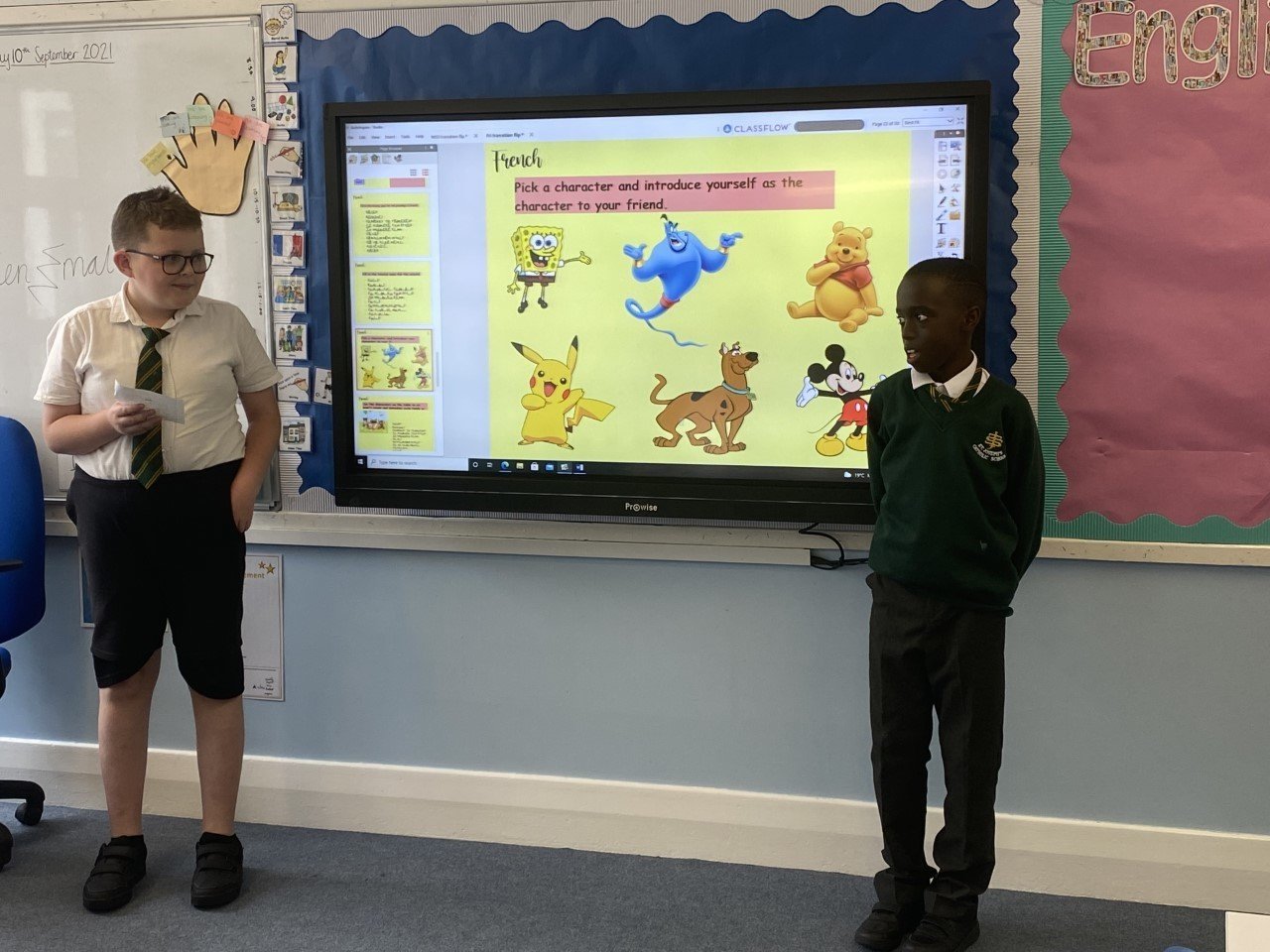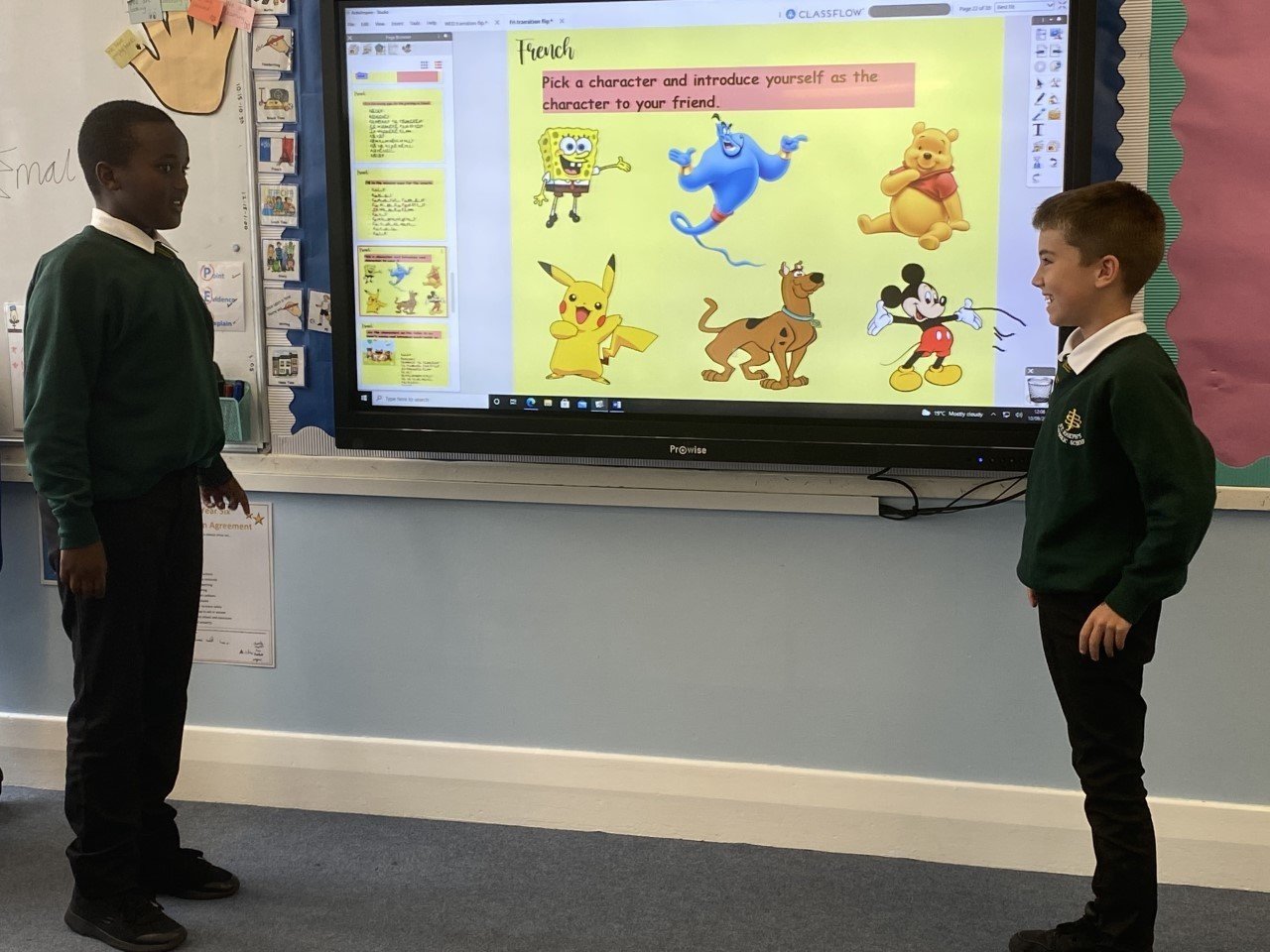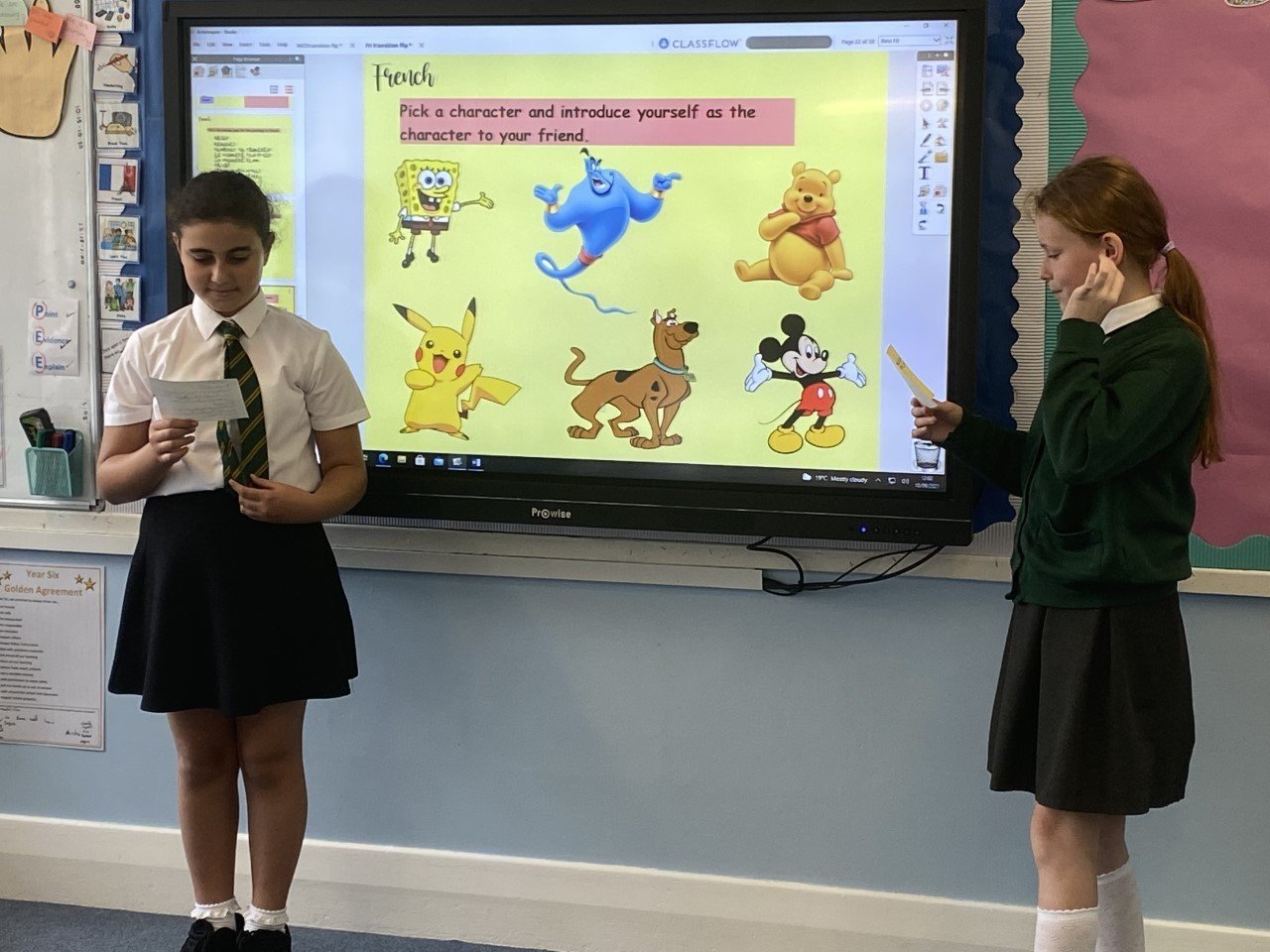 We looked at our class saint in more detail and generated a fact file on Mother Teresa using the computers. We also discussed what it means to be loved unconditionally and debated and discussed different meanings of love found in the bible.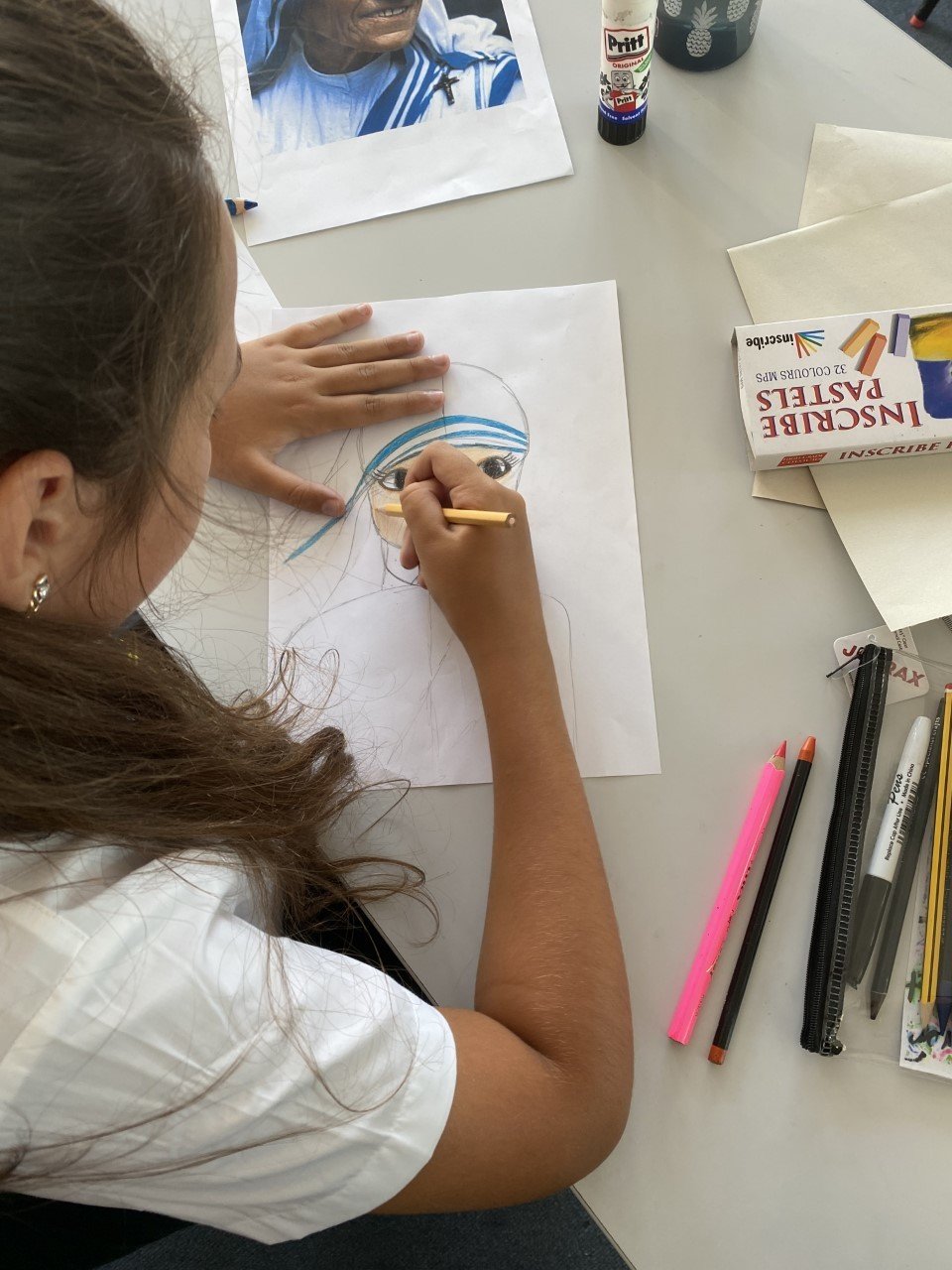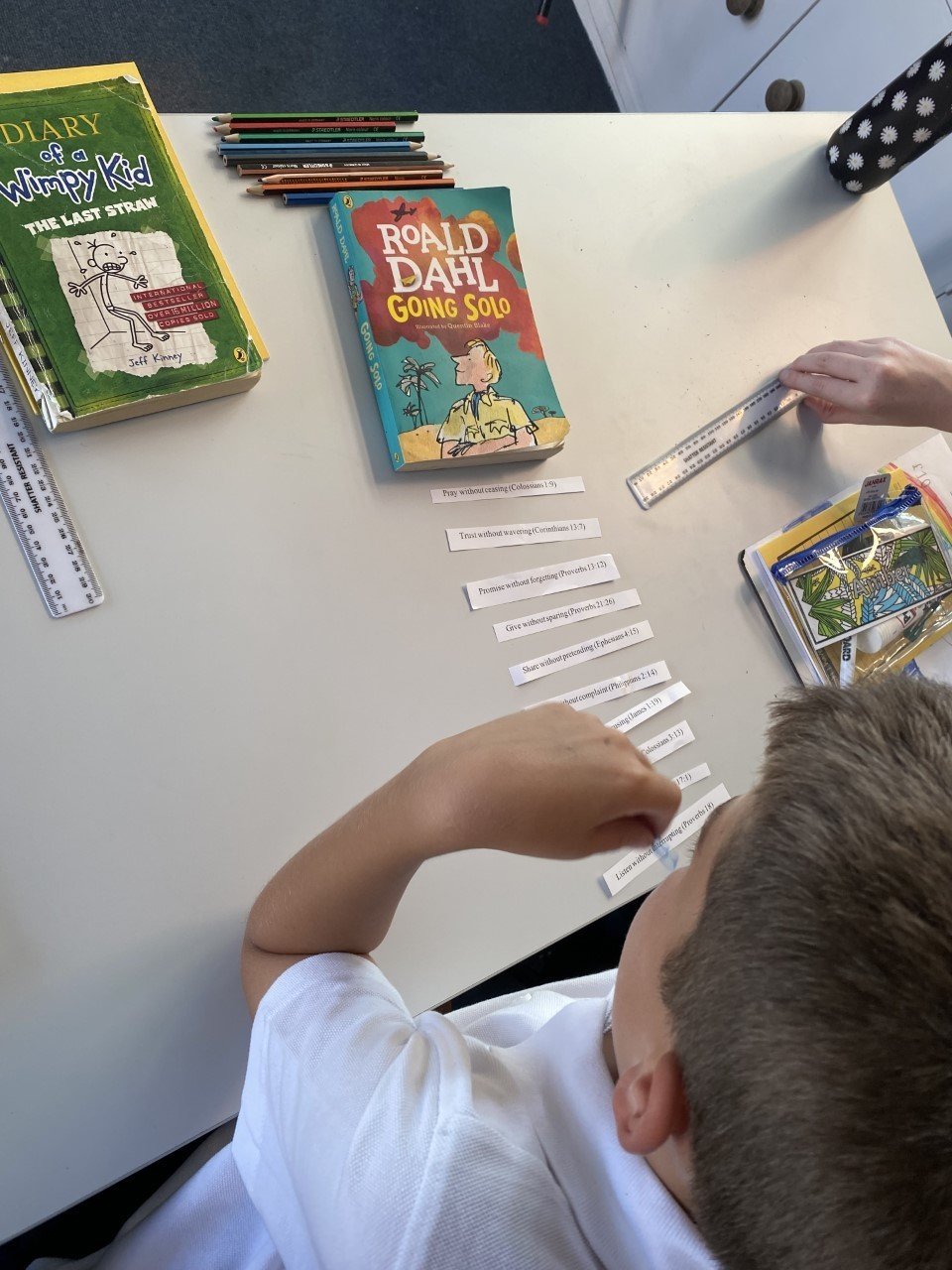 Learning Overview
Our theme for this term is 'Let's go to Mexico'. If you wish to find out a little more click HERE to see this term's topic booklet, explaining what your child will be learning about this term.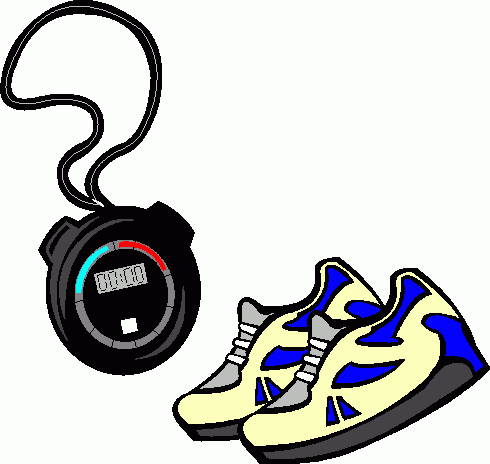 PE
This half term, Year 6's PE days will be on Wednesdays and Fridays. Wednesday will be Dance with Miss Pippa and Friday will be Basketball with Mrs Gilbert.
Please make sure your child has a full PE kit in school at all times - black shorts, a green St Joseph's t-shirt and trainers or plimsolls.
Year 6 children will also be doing the 'daily mile' on the other three days.

Reading
Please encourage your child to read as often as possible (ideally at least three times a week.) This can be by themselves, to a family member or to a sibling - and children, please remember to record it in the reading record books. These will be checked on a Monday.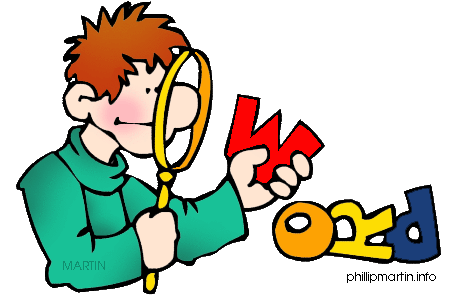 Spellings
A paper copy of the spelling list for the first term will be sent home with your child. Children will be tested on a Friday each week. Spelling frame is an excellent website to support your child with spelling. Click HERE for a link to it.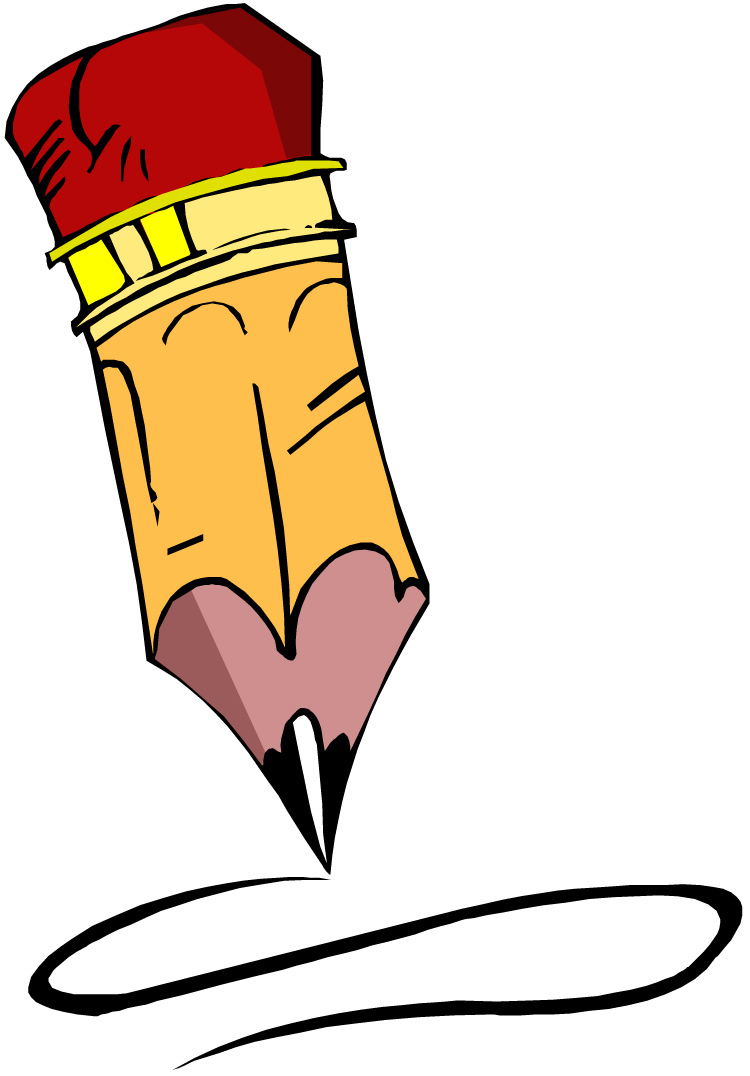 Homework
Please click HERE to find out what our homework expectations are. Your child will receive homework via Google classroom on a Thursday and will be expected to be submitted online by Monday to the teacher. These will be marked on the same day and then returned back to the child online.
Please make sure your child attends school in the correct school uniform. This includes plain black shoes or trainers. They also must be wearing a tie.
Thank you parents and carers! We really do appreciate your support.
A warm welcome to a new school year
Dear children, parents and carers,
I am thrilled to be able to welcome you all back and am very excited to begin a new academic year together as the year six St Teresa's class. I feel honoured to be your child's teacher this year and please be assured that I will do my very best to ensure they are safe and happy at all times. I look forward to seeing them flourish and getting to know them all. If you have any questions about your child's learning, please do not hesitate to catch me before or after school. Please check this web page regularly for updates from inside the classroom!
I look forward to meeting you all and to a great year ahead!
Mrs Gilbert