Welcome St Anne's Class
Class Teacher - Mrs Thompson
Teaching Assistant - Mrs Mulholland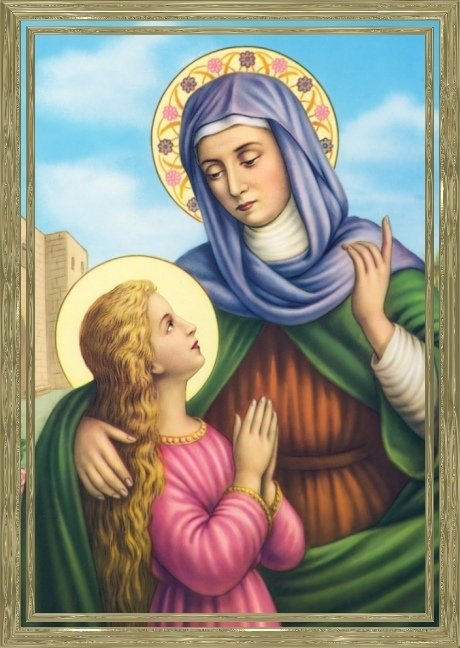 Our class is named after St Anne. She was Mary's mother and Jesus' grandma!
Welcome to St Anne's Class page. Here you can see what learning is going on in our class and at home.
Important Information
Parents' Information Board
There will now be a board outside the classroom at hometime. If your child's name appears on it please stay behind to talk to me when the other children have gone. Thank you
Bookbags
Please make sure your child brings their bookbag to school everyday. We will collect library books and reading diaries on Mondays and return them to you on Tuesdays. Children often have letters, homework and their own creations to bring home and will need their bookbags to transport them safely.
PE
We will have PE on Tuesdays (weather permitting) outside and inside on Fridays. Please make sure your child has their PE kit on their peg and that it contains suitable footwear for outside PE.
18.10.21
This week we have been using 10 frames and trying to represent numbers up to 10.
Our tricky words have been
into as
Outdoor learning was an amazing day ! It was wonderful to see the children outside developing their skills. As the day went on they became more confident and adventurous, setting challenges for themselves. We can't wait for the next one!
11.10.21
We have been so busy this week.It was Judaism week and we learnt about a Jewish Festival called Hanukah. We learnt how Jewish people light a Menorah at Hanukah and that it is a sacred object. We made potato latkes too.
We enjoyed our Welcome Mass and loved seeing many of our parents there, thank you so much for coming.
We have been learning about our bodies this week; trying to assembly a skeleton, drawing around each other and even labelling body parts! The children are very keen to write so we praise their mark making efforts everyday.
In phonics we have been practising our "tricky to read words". The children will receive a set of flash cards for homework. Please cut them up and practise reading these words with your child. Some children may be able to begin writing them.
I no go to the
4.11.21
This week we have been sorting objects by type and by colour and counting them. We are learning to tidy up before we start counting by putting objects in a straight line and pointing to each one. We have been looking at models of different numbers.
This week we learnt our first digraph ck, 2 letters stuck together that make 1 sound!
We also learnt e u r.
Most children should now have a decodable book in their bookbags please help your child to blend and read to you.
We have been thinking about our Families in RE and enjoyed having some of our Grandparents in school. We painted their portraits. The likenesses were amazing!
20.09.21
This week the children have been working hard learning their first single letter sounds. We constantly revise them in a range of ways in order to get them into their long term memories. You can help at home by making sure you practise them too! The children should know s a t p i n m d.
They also started Funky Fingers this week. They will have 3 sessions each week where they are all, squeezing, twisting, pinching and developing fine motor skills in order to have a strong pencil grip.
13/09/91
Well done! All the children have successfully completed their first week of full time school and they all did an amazing job. They have spent the week settling in and getting used to the environment. They have learnt the classroom rules and are getting to know each other. Our first RE topic is "Myself" and the children have been painting their own portraits.