Saint Elizabeth's Class - Year 2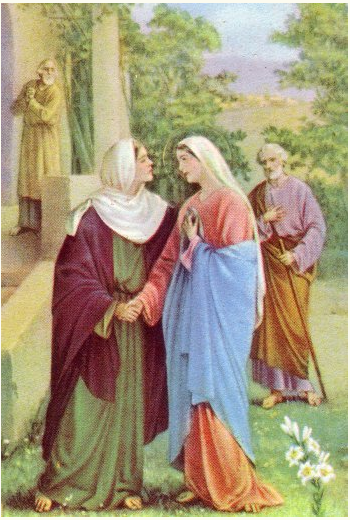 Class Teacher - Mrs Lilley
Teaching Assistant - Mrs Cox
Support Staff - Mrs Jones, Miss Ginny, Mrs Parker
Year 2 have PE days on Wednesday and Thursday, both of which will be outdoors this term so please make sure children have appropriate clothing and footwear.
Pupils have also been given their reading diaries which will be checked and commented in weekly so please make sure your child brings this to school everyday.
Year 2 homework is to read daily but it would be good for pupils to also learn to spell and read the Year 2 common exception words, please click 'here' for a list of these.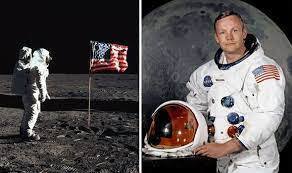 Our Summer topic is 'Inventors and Innovations'. Please click 'here' for our Curriculum Overview for the Summer term.
If children would like to do extra work at home or research about this event and bring it in to share with the class that would be fantastic! Please click 'here'. I have also put a copy of this in pupils' Easter work packs.
WB 11.7.22
Year 2 have had a busy week! We loved having you all in to see for our end of year performance Wednesday! We had lots of fun in outdoor learning where we made a 'Bug Hotel', mud pies, a water fight and searched for bugs to live in our hotel.
Here are some photos:
WB 4.7.22
Year 2 have had another exciting week at Drusillas. They learnt about different animals, their habitats and how they have adapted to their surroundings. Some of the favourites were: the red panda, sloths, the desert fox and the ant eaters!
They also made the most of the water park, play park and rides! It was so lovely to see them having fun!
WB 27.6.22
Year 2 had a fabulous time at Preston Manor - they got to experience what life was like as children in Victorian times and will hopefully come home ready to help with all the house work! We even had some children that were keen to go up chimneys!
It was finished off with a fun afternoon rolling down hills and playing in Preston park.
WB 20.6.22
Year 2 had a great Monday this week making butterfly feeders so hopefully we can see some butterflies first hand!
We have had some new additions to our class this week with 10 baby caterpillars! The children have loved coming in every day to see how they are doing and we have been keeping a record of how much they are growing!
WB 13.6.22 - Measuring in Maths
Year 2 have been exploring measurements this week using meters and centimeters. They were very lucky with the weather and managed to enjoy a math's lesson outside in the sunshine.
Year 2's Outdoor Learning Day 10.6.22
Year 2 have had great fun building and making a campfire that they toasted marshmallows on and made s'mores.
They had to source and sort their own sticks for the fire and helped build it. They had a chance to use metal to try to make a spark and ignite fire using cotton wool and Vaseline.
Year 2 also made their own owls to take home using cardboard and sticks.
We were very lucky with the weather and can't wait for our next day of Outdoor Learning!
WB 6.6.22 - Activity Passport Photos
Thank you so much for sending in so many exciting photos of all your activities! Your half terms looked great fun!
The children have loved sharing their learning experiences with their peers and answering lots of their questions.
Queen's Jubilee - WB 23.5.22
Year 2 have been considering what they would do if they were King/Queen for the day. Here are some of their suggestions:
If I was Queen for the day, I would have a pet day where we can bring our pets to school.
If I was King for the day, I would stop all wars.
If I was Queen for the day, I would plant lots of plants so everyone has food.
If I was King for the day, I would make houses out of jelly.
If I was Queen for the day, I would make a day of 'giving' where everyone buys a present to give to someone.
If I was King for the day, I would make people with lots of money give some to poorer people so that everyone can be equal.
They have also made their own crowns, watched the queen's coronation and made their own Union Jack flags using finger paint.
Stunning Start : 10.5.22
As a launch to their History learning based around "Pioneers" Year 2 were shocked to discover what looked like the remains of a crashed spaceship in their outside area!
They wanted to know how it got there and looked around for any clues that might help them. They had some very interesting suggestions!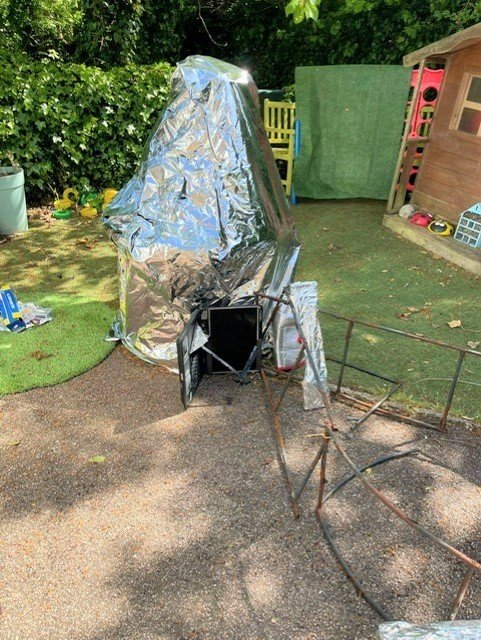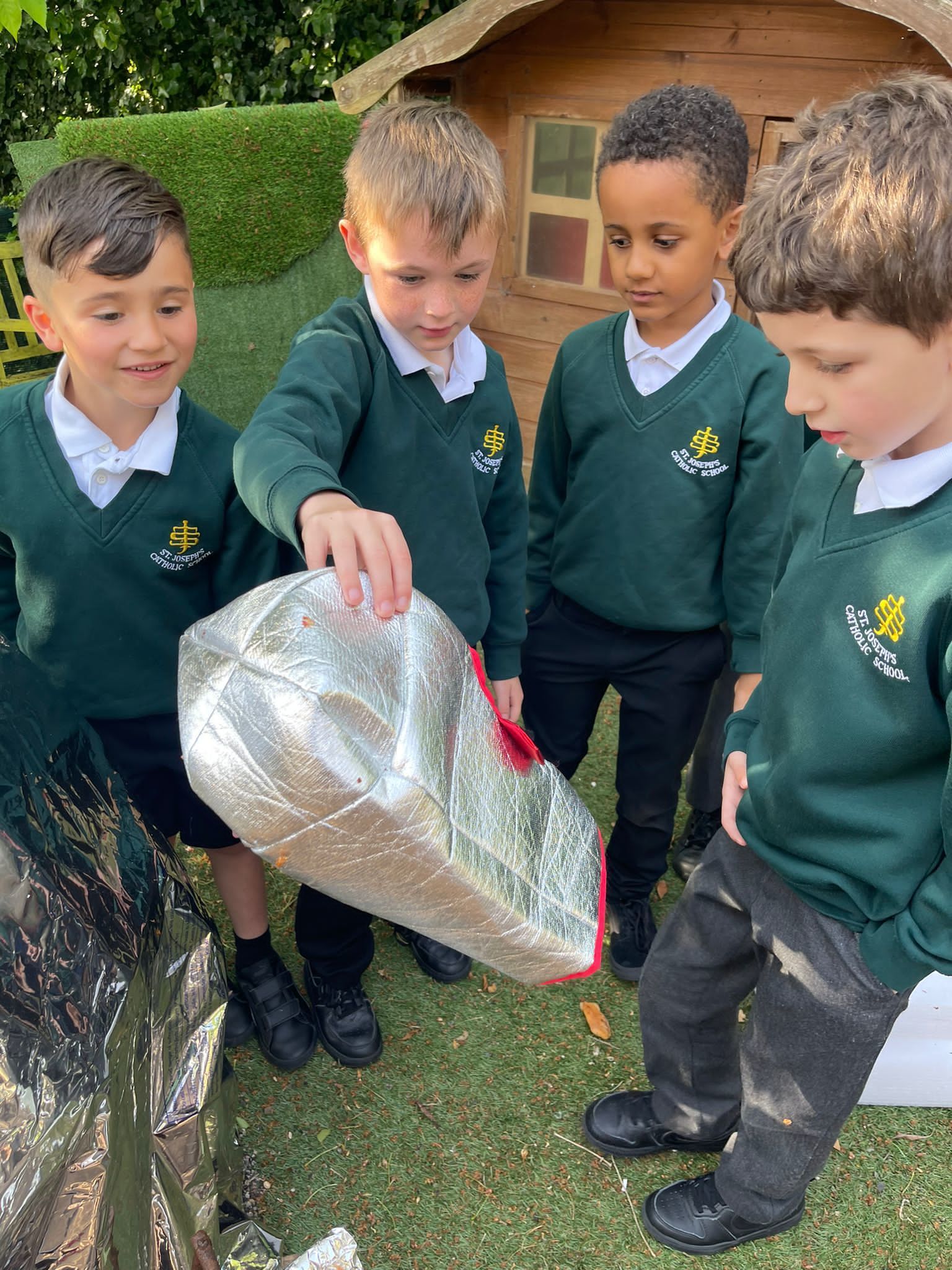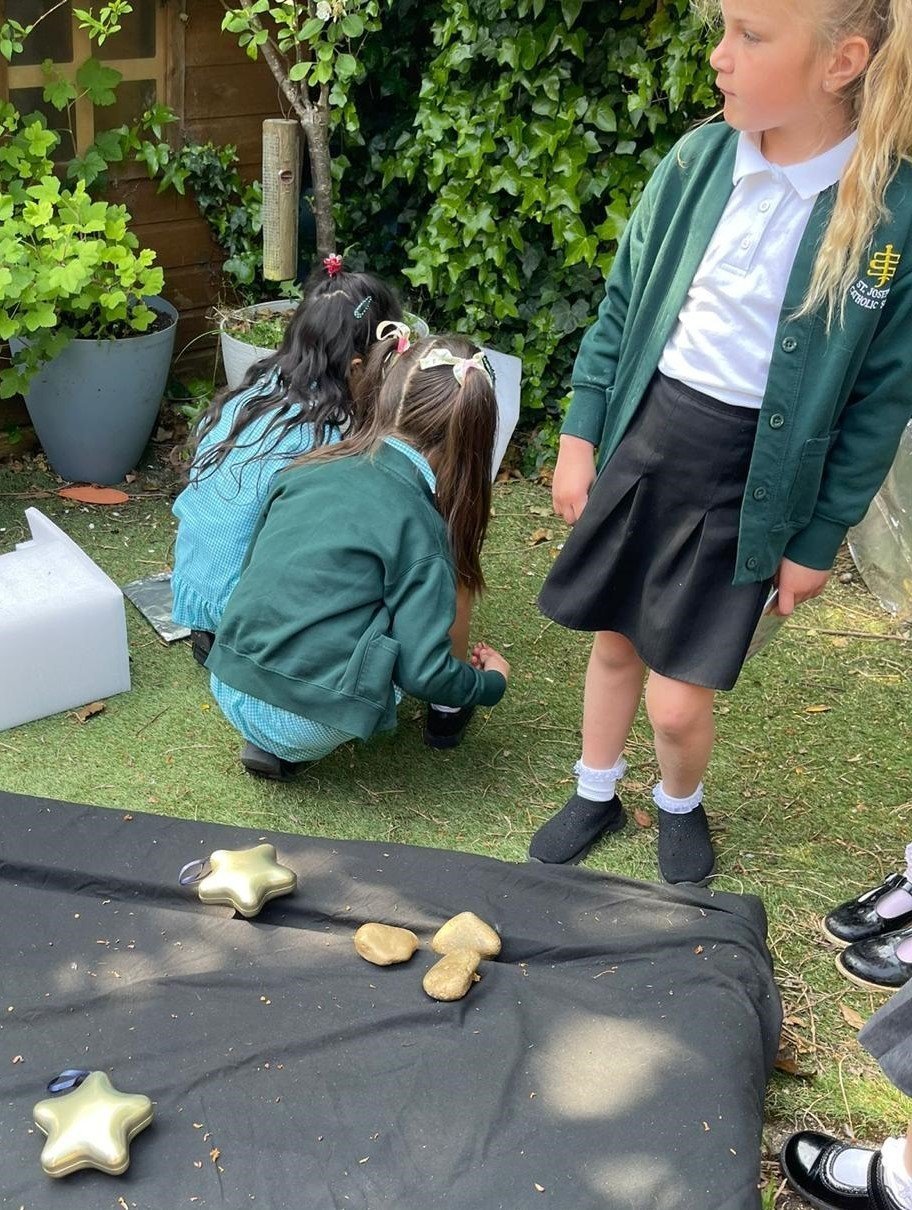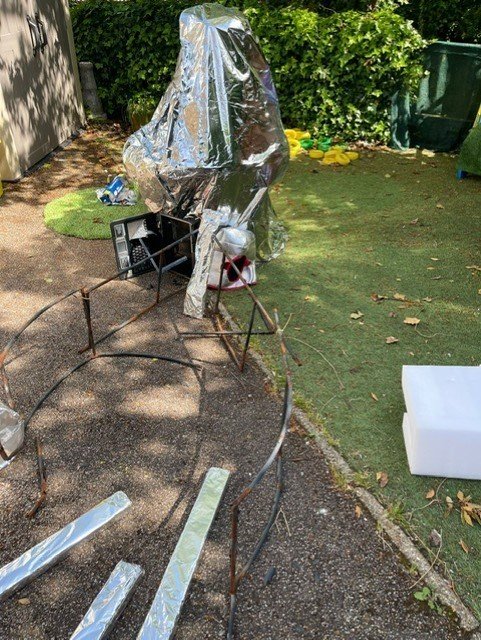 Maypole Dancing : 9.5.22
Year 2 enjoyed a Maypole Dancing workshop today, learning different moves and weaves, led by Katie, a professional dancer. They also learnt about some of the traditions associated with May Day and maypole dancing.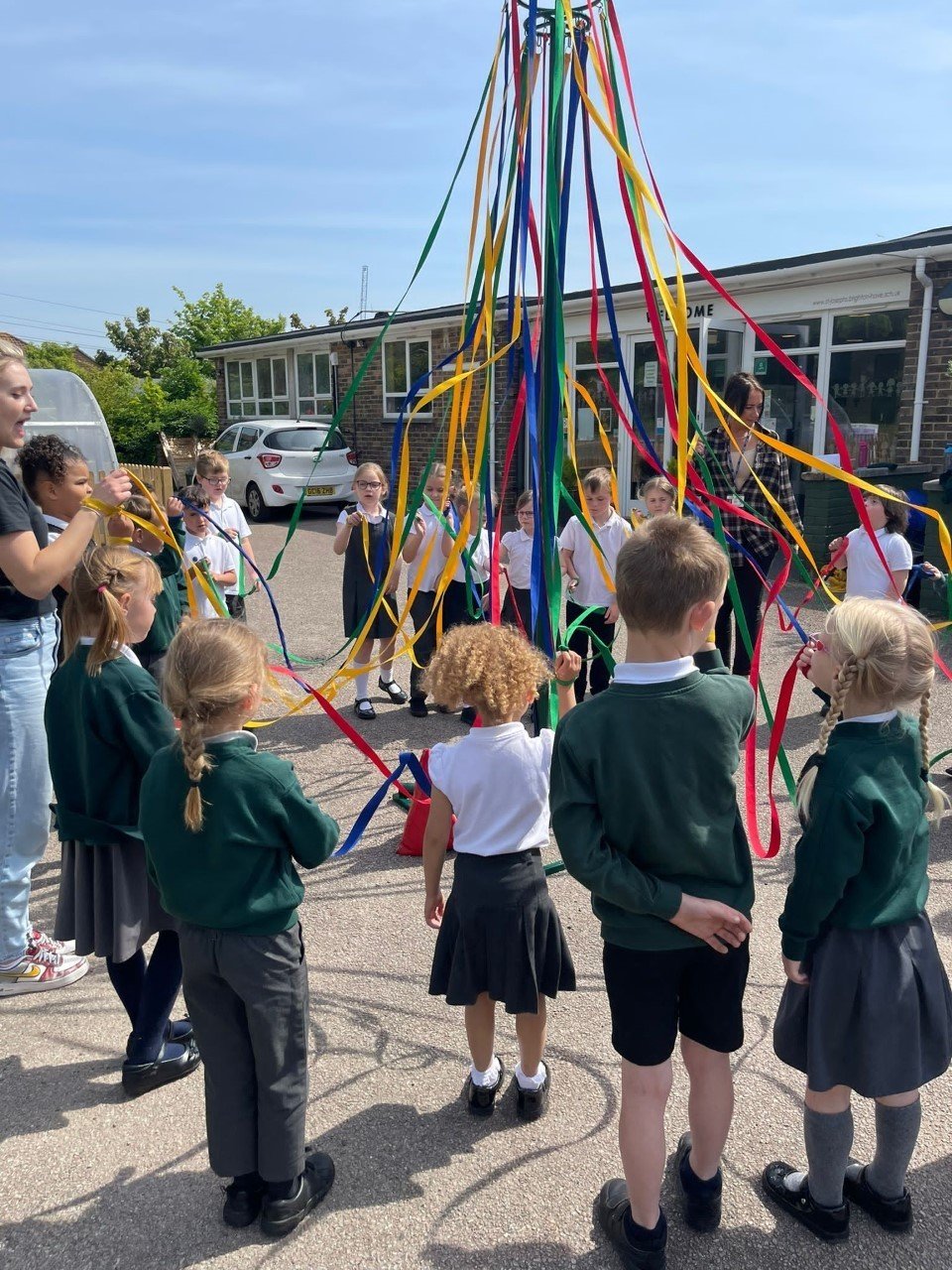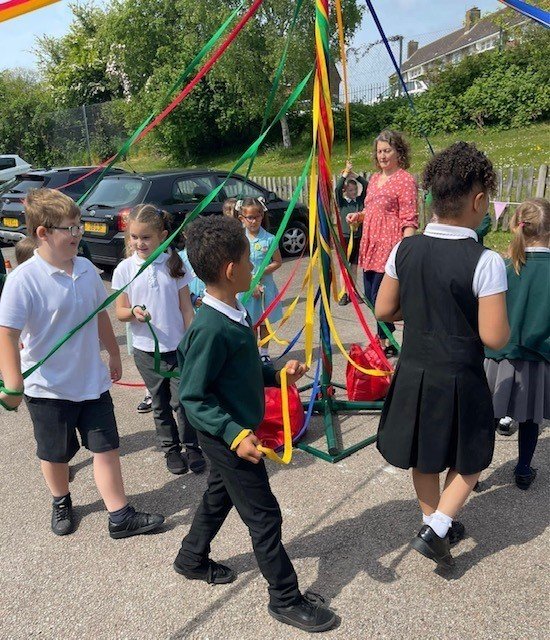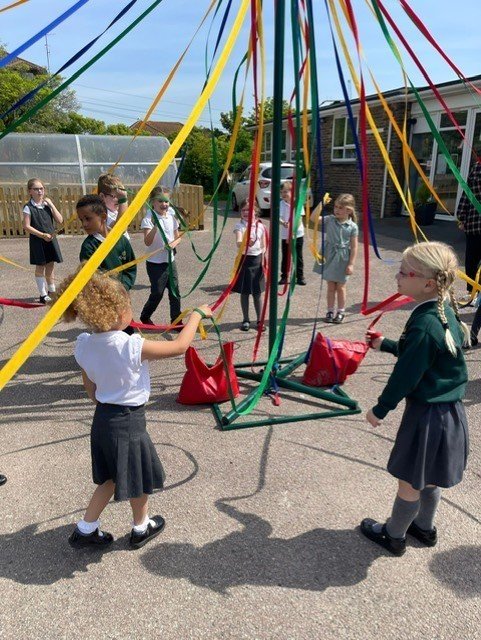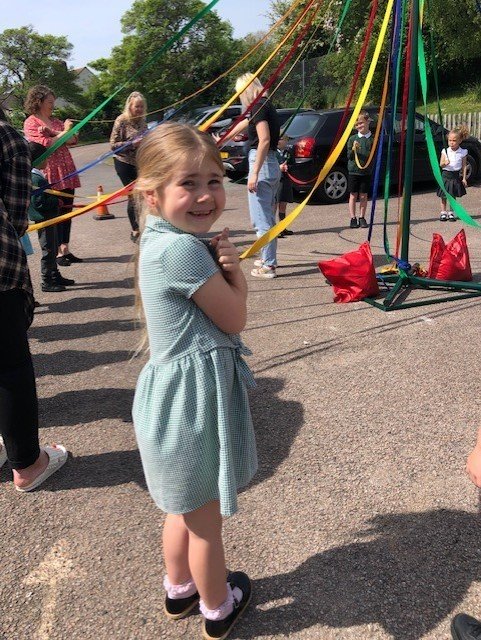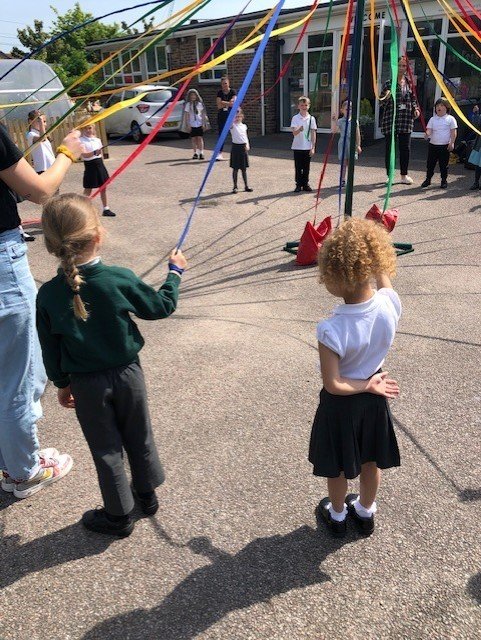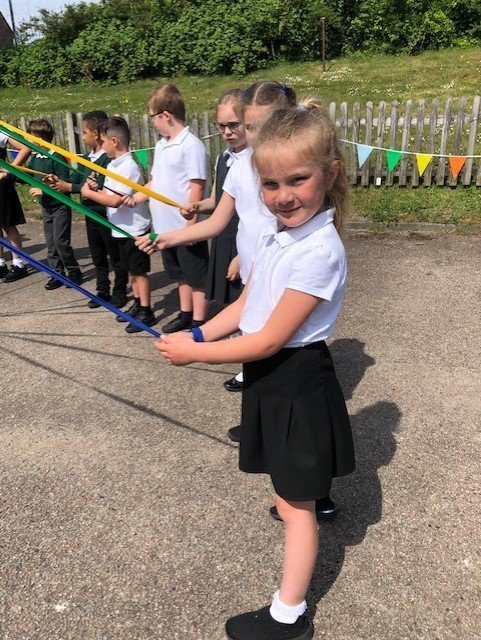 Reptylers 3.5.22
As part of their Science learning, Year 2 were visited by Jem from Reptylers and some of her friends! Year 2 are learning about the different diets carnivores, herbivores and omnivores eat and how food chains work.
Jem talked about the different diets the animals she brought in ate and where they came in different food chains.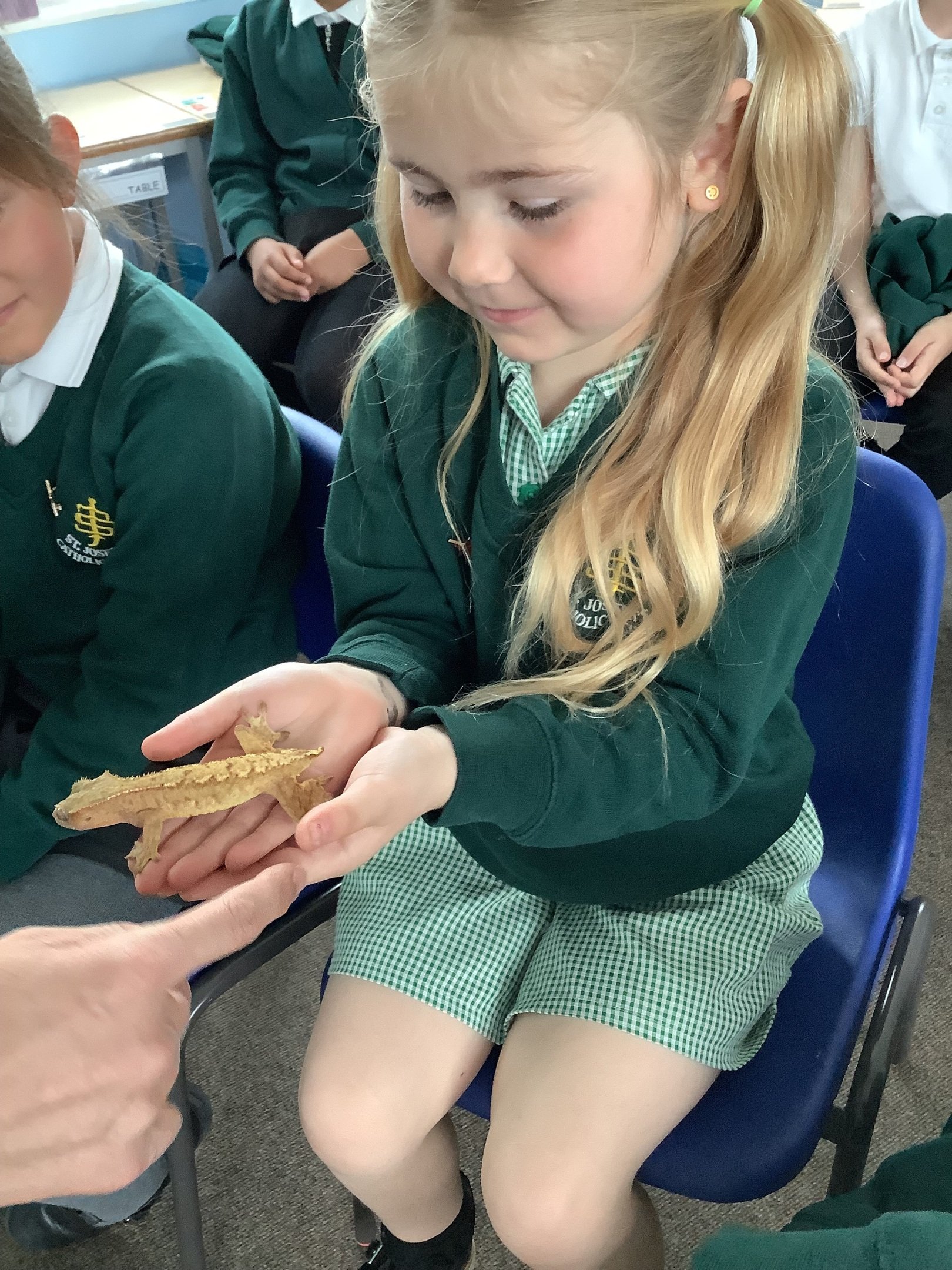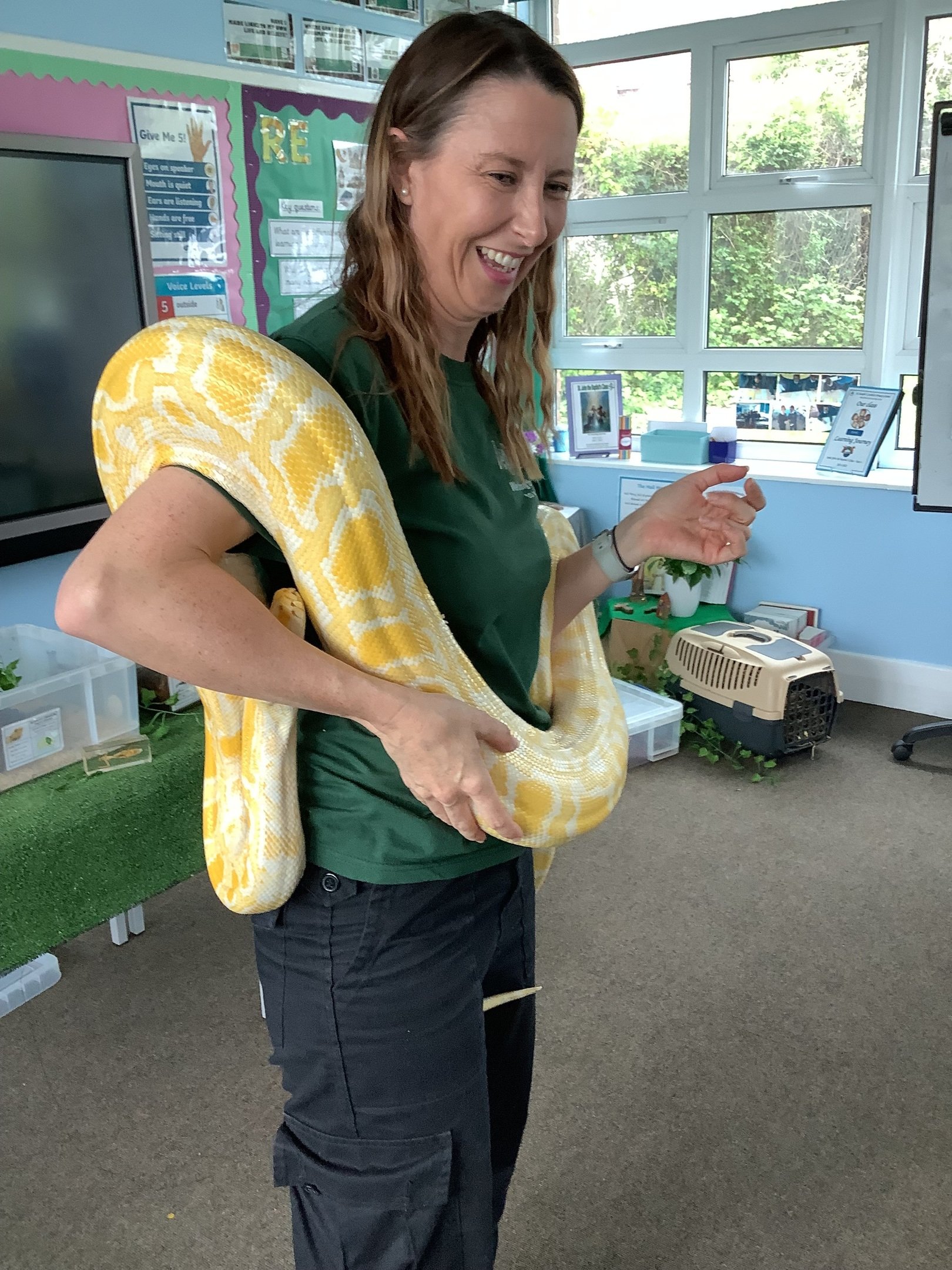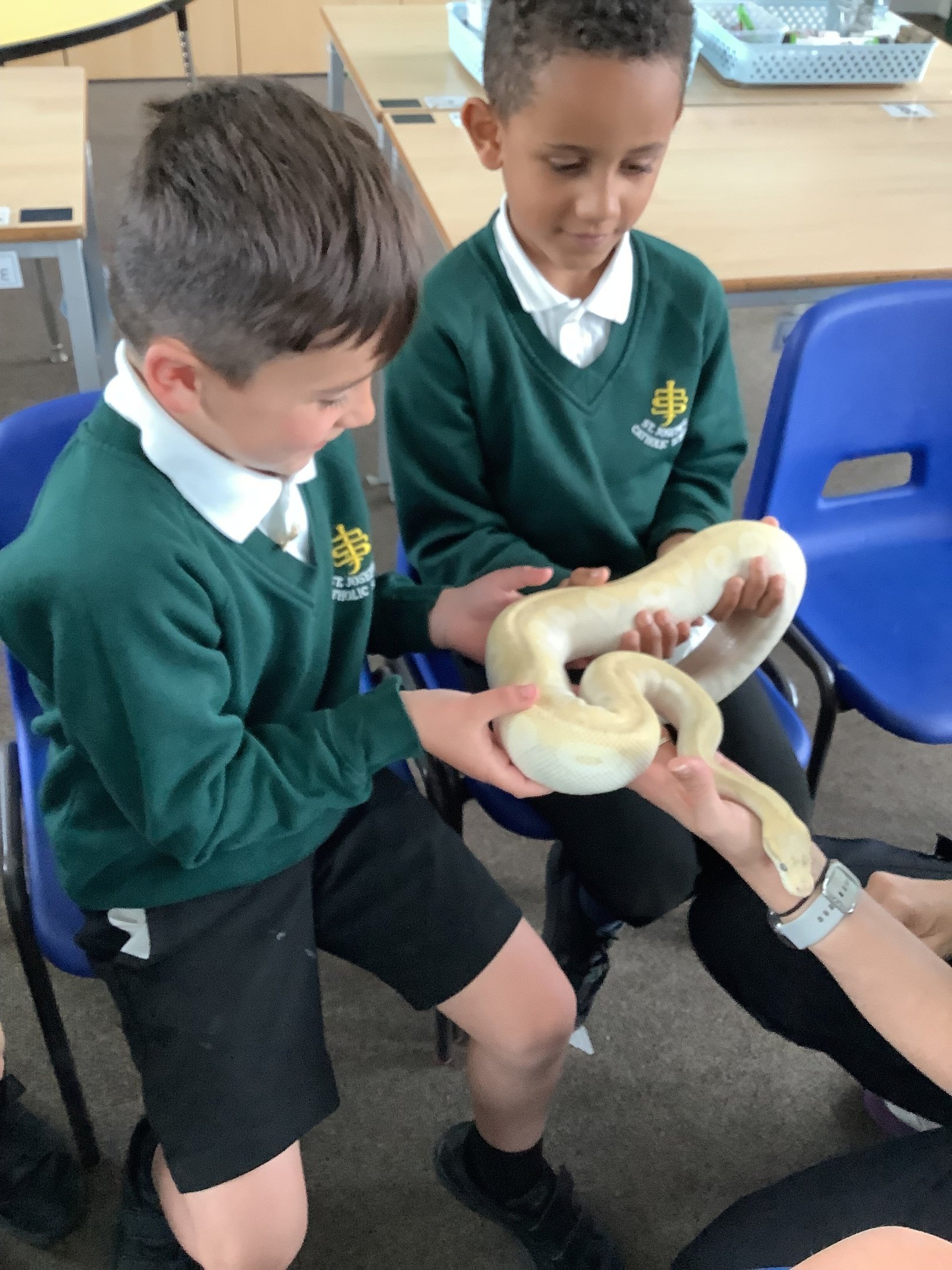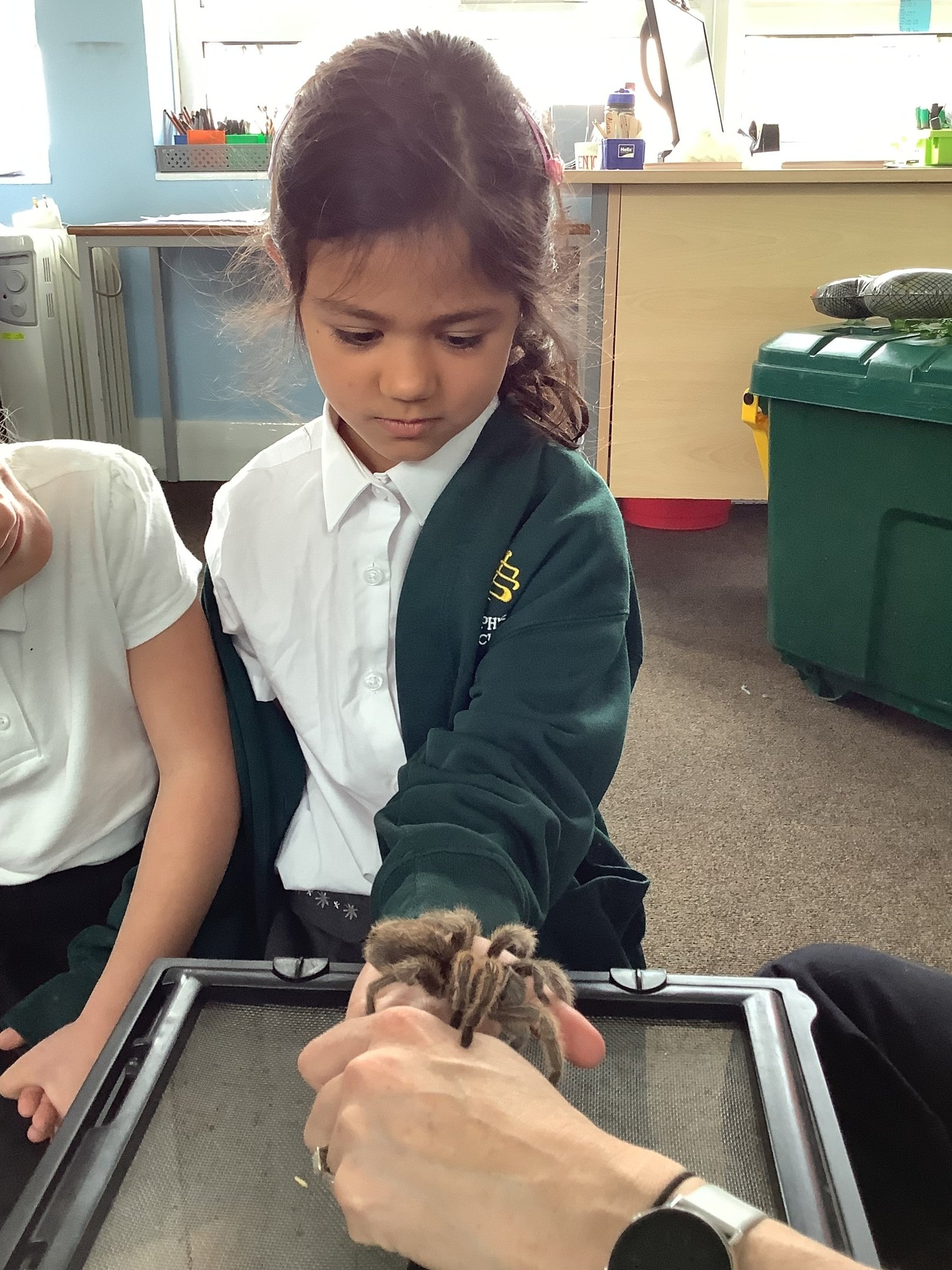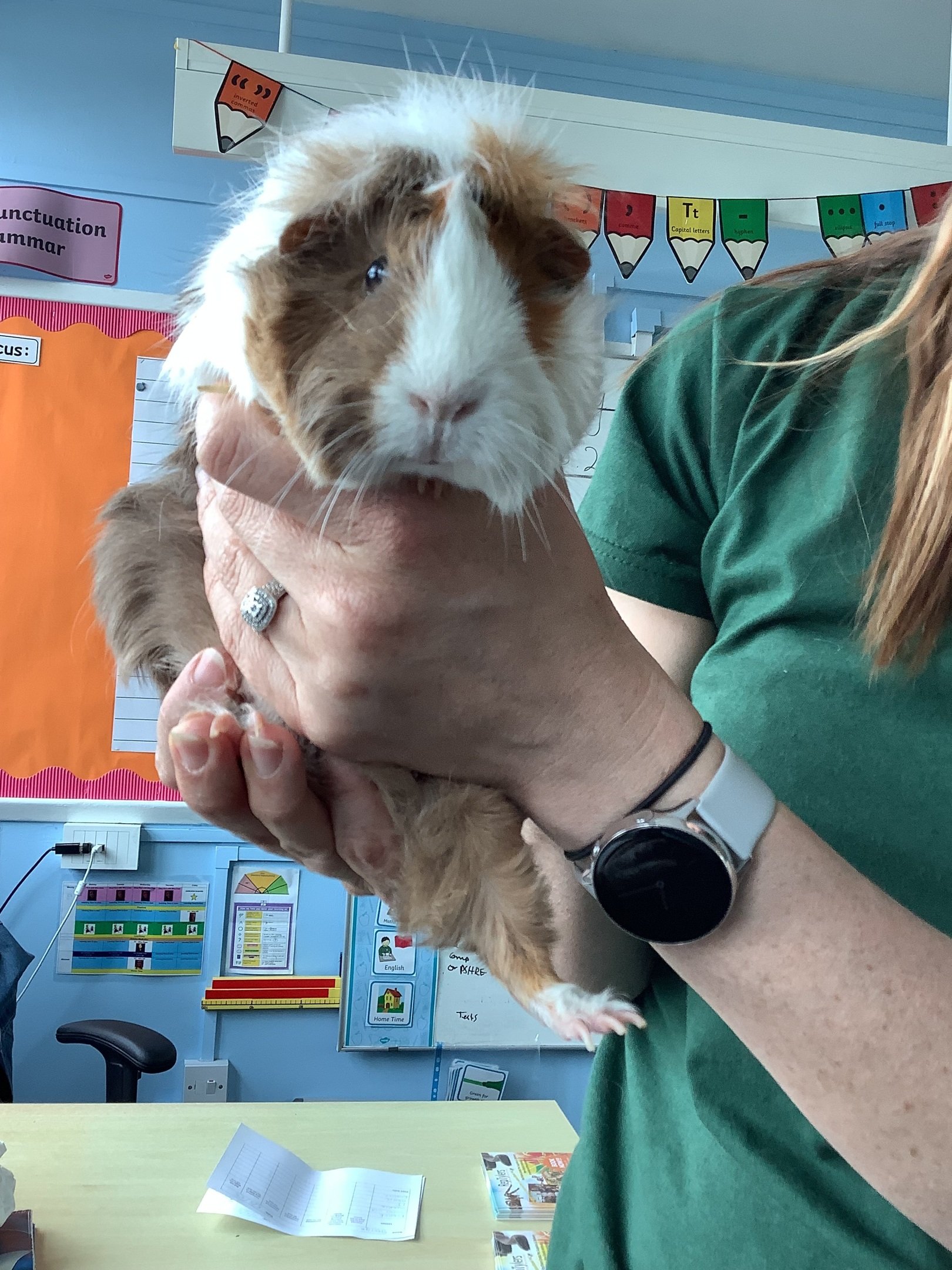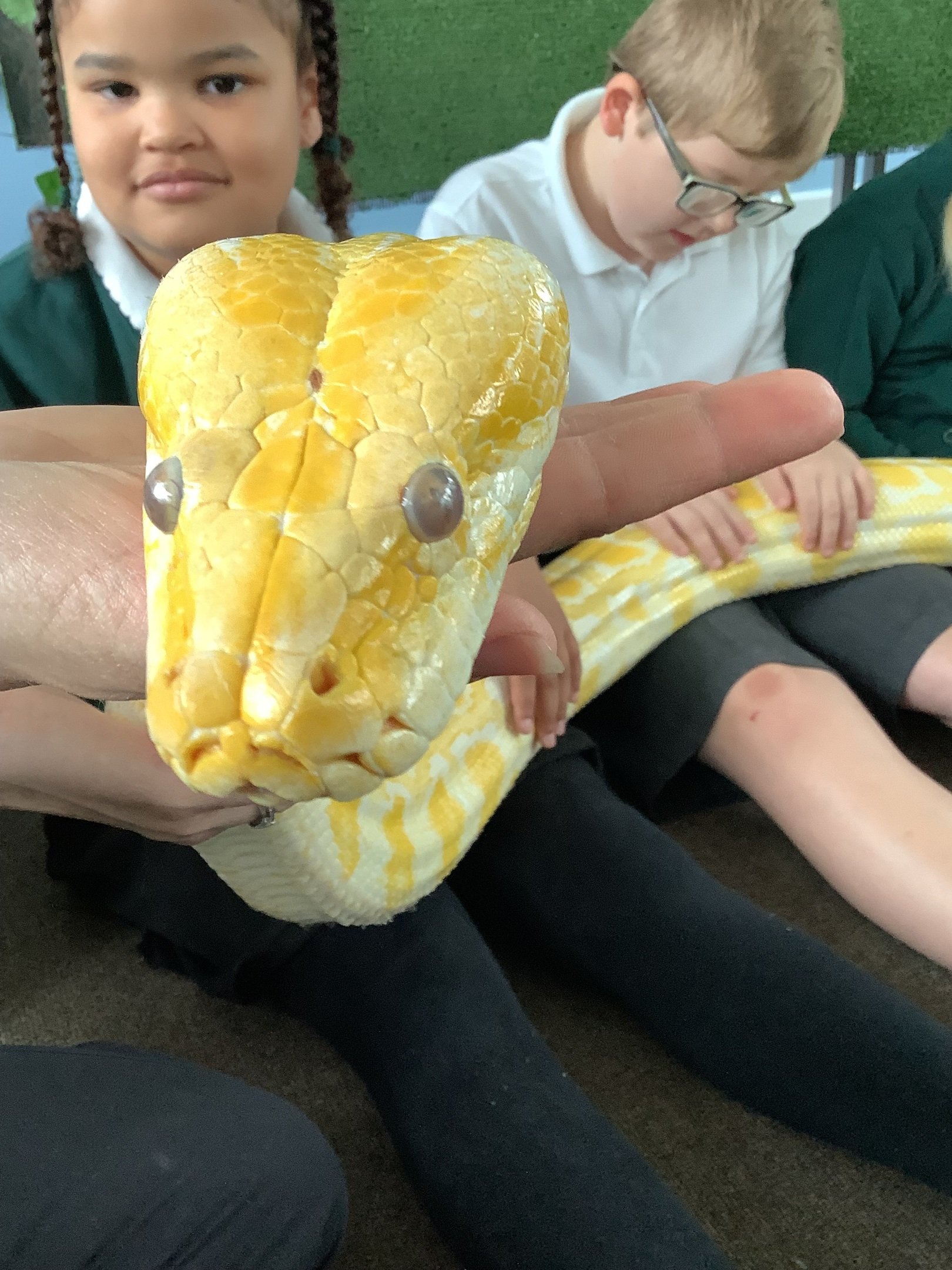 Activity Passport
Your child should have brought home a paper copy of their Activity Passport this week. Don't forget to send in your pictures to the myhomework email address - it is on the paper copy or can be found on the link below.
The children will achieve DOJO points for each activity they complete and share with us.
Click HERE to see the activities for Year 2 - we look forward to seeing your pictures! They will be celebrated here on our class page and in the school foyer.
WB 4.4.22 - Easter Egg Hunt
Year 2 have had an exciting day by finishing off a hard-working term with an Easter egg hunt; using clues hidden around the play ground they had to guess where the eggs were hidden in the school.
We hope you all have a lovely, restful, Easter break and we look forward to seeing you in a few weeks time!
WB 28.3.22 - Orienteering in PE
Year 2 have had great fun in their PE topic 'Orienteering' with Miss Pippa. They have had to use team building and leadership skills to try to problem solve and navigate their way through various situations and find missing items using their orienteering skills and sense of direction. Well done Year 2 - Great team work!
WB 21.3.22 - Outdoor Learning Day
Year 2 have had such a fun filled day! They cooked up lots of exciting recipes in the mud kitchen! They have created their own dream catchers (using yarn and sticks) to help them feel safe in the dark; based around our story of 'The Dark' by Lemony Snicket. Year 2 also named and found a variety of signs of Spring and made their own Palm Sunday cross out of palm leaves.
WB 14.3.22
Year 2 were comparing bulbs and seeds this week in science and could name a variety of plants growing around the school and make predictions about whether they grew from a seed or a bulb.
WB 7.3.22
Year 2 have been learning lots about India in their Geography lessons. They have located India on the map and have learnt about different religions in India; they found Hinduism very interesting with the different Gods and Goddesses.
We made an Indian temple in the classroom where pupils could have quiet time for prayer and reflection.
World Book Day 3.3.22
Year 2 created a piece of music (with the option of writing lyrics/a poem) in a groups. They took inspiration from our class story 'The Dark' by Lemony Snicket and wanted to create creepy, haunted and spooky rhythms. They also created their own stories using either shadow puppets or torch light to create an atmosphere and mood for their listeners.
Here are their results:
WB 21.2.22
Year 2 have been predicting whether objects can be stretched, twisted, bent or squashed depending on the material they are made from. They looked carefully to see how the object changes shape and some children noticed some objects made from the same material had different outcomes e.g. a metal dish could not be bent, stretched, twisted or squashed but a metal spring can be.
WB 17.1.22
Year 2 had an exciting visit from the Fire Brigade this week.
They learnt about fire safety, road safety and how to keep safe when travelling in a car or on a bike. Pupils have been set the challenges of: making a fire evacuation plan and learning their home address in case they ever need to call 999 in an emergency.
Please check you have a working fire alarm in your house and if you need one fitted the Fire Brigade will come and install one for free.
WB 13.1.22
Year 2 had their outdoor learning day this Friday and made the setting to 'Pattan's Pumpkins'. They used sticks to dig out a valley to make their rivers and some children made hay bales out of grass blades for their village as well as using sticks and Ivy to re-create the trees on the mountains. The children were extremely resourceful finding objects in the natural area alongside their imagination and creativity. Please see some of the end results below:
WB 4.1.22
Year 2 have had an exciting first week back!
They made chapatis and tasted a range of Indian food and spices; they particularly loved mango! It's been great to see their enthusiasm and love of learning. If you would like to do extra work around the topic or try making a homemade curry please do send photos in so your child can share it with the class.
WB 13.12.21
Year 2 led a scientific enquiry to discover how cars move and how we can alter the speed and direction of the movement using different surfaces on a ramp. They came to the conclusion that if the surface is smooth, the car will go faster, whereas if the surface is bumpier, it will create more friction and slow the car down.
They also discovered the height of the ramp changes the car speed and car size can also change how fast the car goes.
WB 6.12.21
Year 2 had a brilliant time performing the nativity story. Thank you for coming to watch!
WB 29.11.21
Year 2 have been exploring Advent in RE and discussed ways that we can prepare for the build up to Christmas. As part of our discussion we looked at different ways Catholics count down the days until Christmas using Advent calendars, Christmas tree decorations, candles and a wreath.
Year 2 made their own wreaths in groups and displayed this on our class prayer table. We looked at the symbolism involved and discovered why the wreath is round and why we use evergreen leaves.
WB 15.11.21
Year 2 led an assembly to Year 1 on 'Antibullying Week' this week; where they acted out different scenes that involved a form of bullying. They then discussed what makes a good friend and Year 2 reflected on how they could be a better friend. The children then created friendship bracelets for members of their class (or family) to celebrate their friendship and kindness.
WB 1.11.21
Year 2 had great fun during their outdoor learning day today. They used tools such as a saw and drill to create an emblem. They also enjoyed a cup of warm hot chocolate whilst learning about the history of Bonfire Night and learnt about how we can keep ourselves safe on Firework night. Lastly they finished their day off by working in teams to build their own minibeast shelter using any natural resources around them.
Wb 18.10.21
Year 2 have been using musical instruments to re-create the scene called 'Rumpus' in our story 'Where the Wild Things Are'. They worked in groups and decided which musical instruments to use and whether they would sing, dance or create a beat for the rumpus.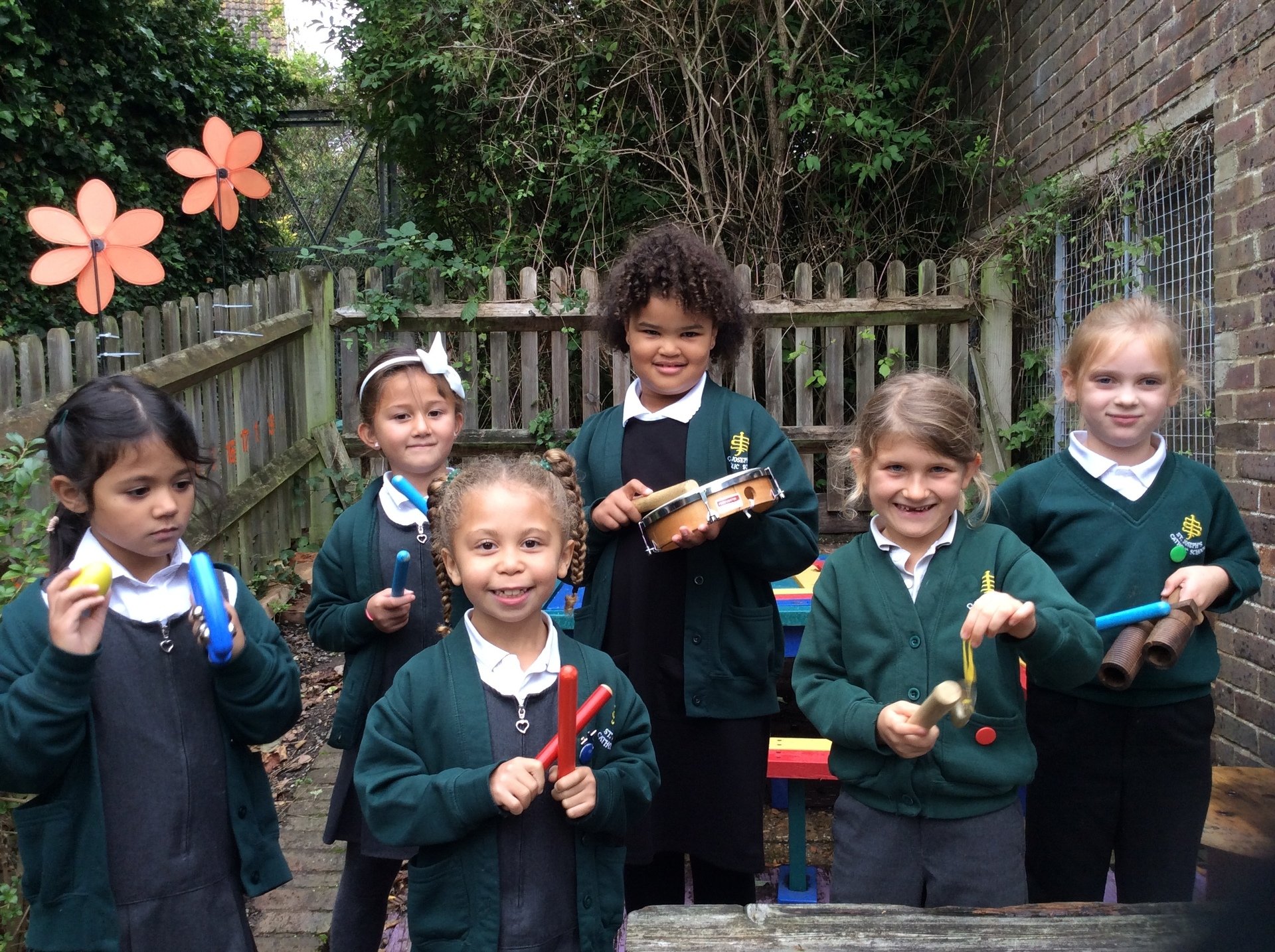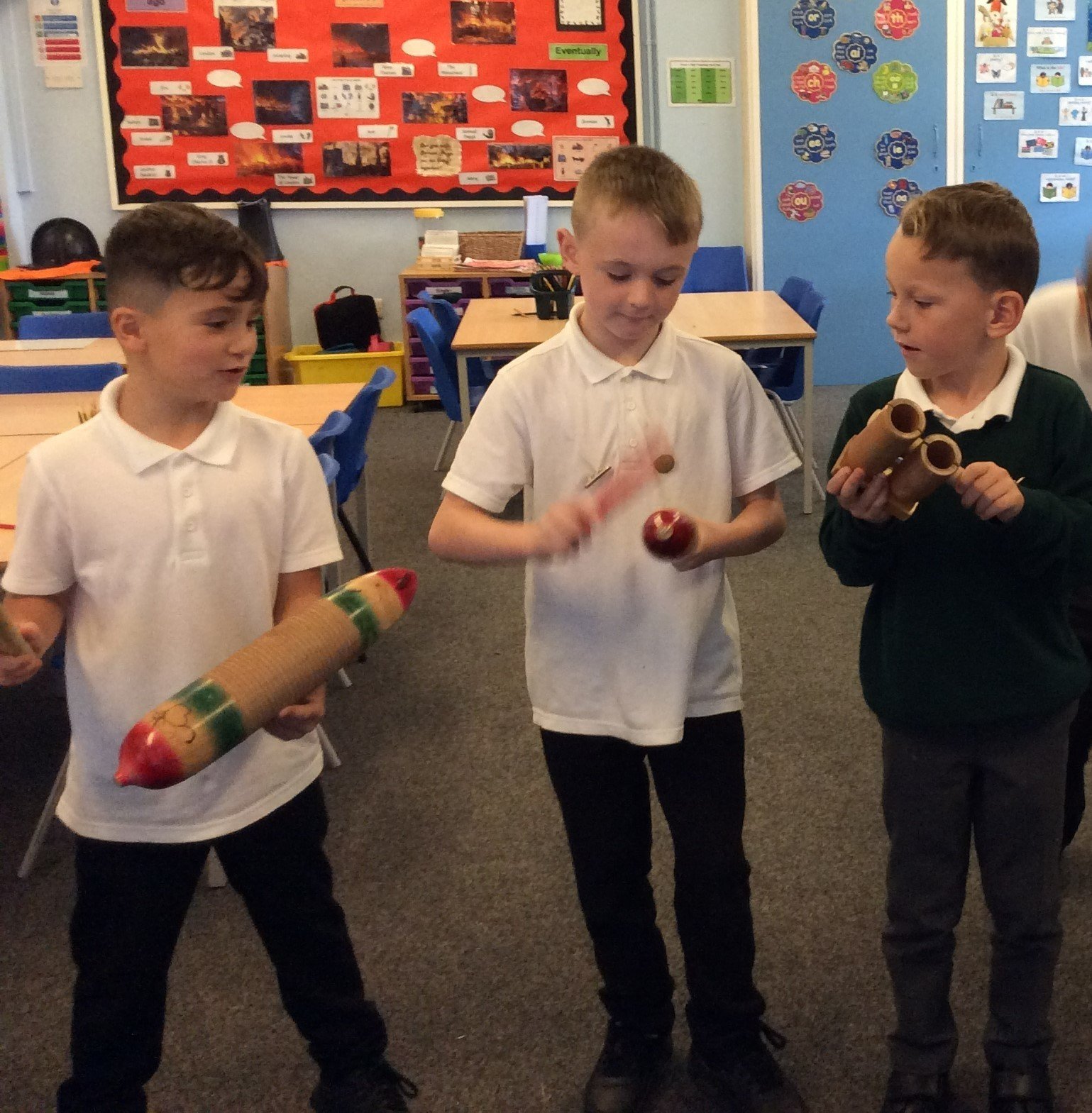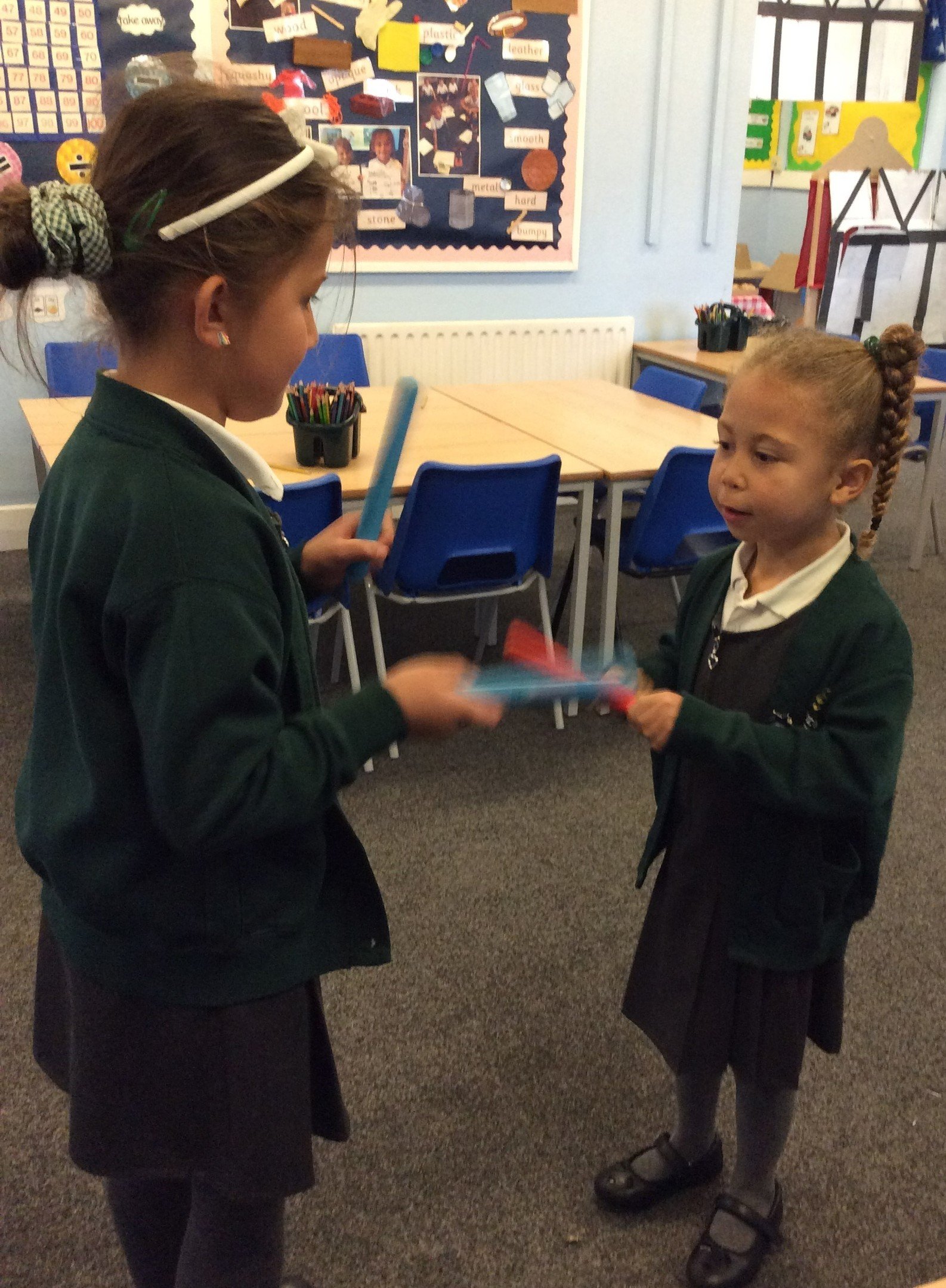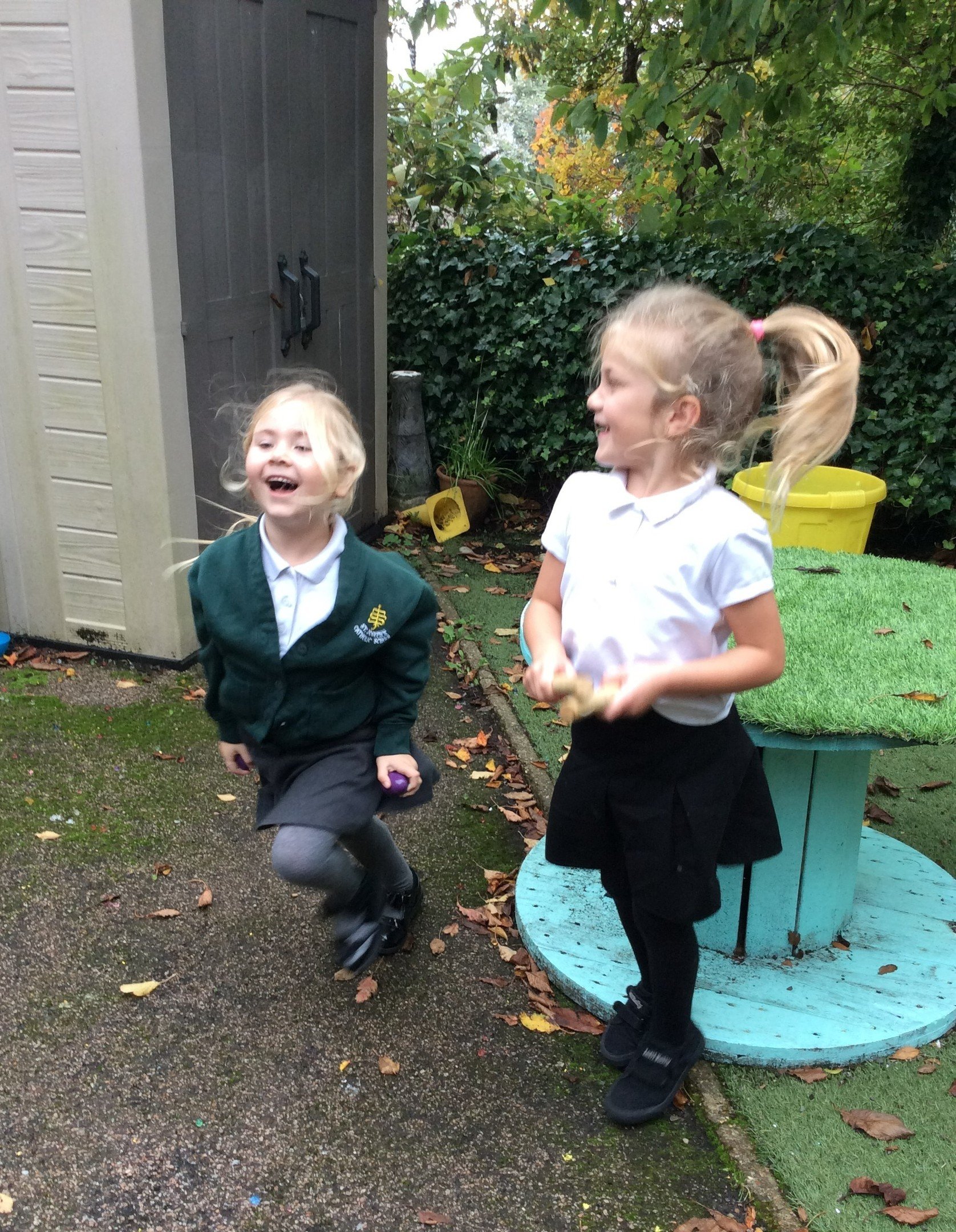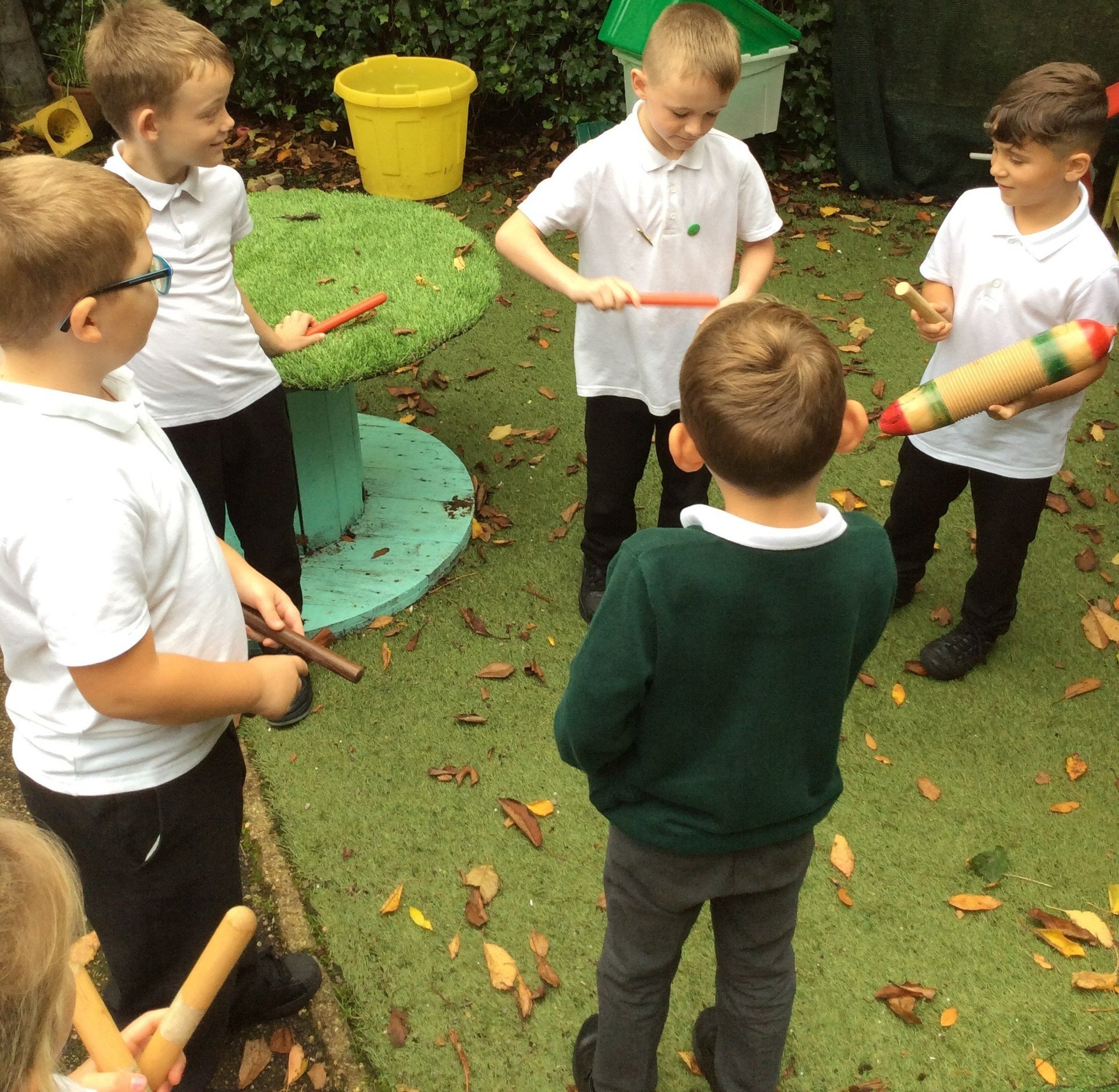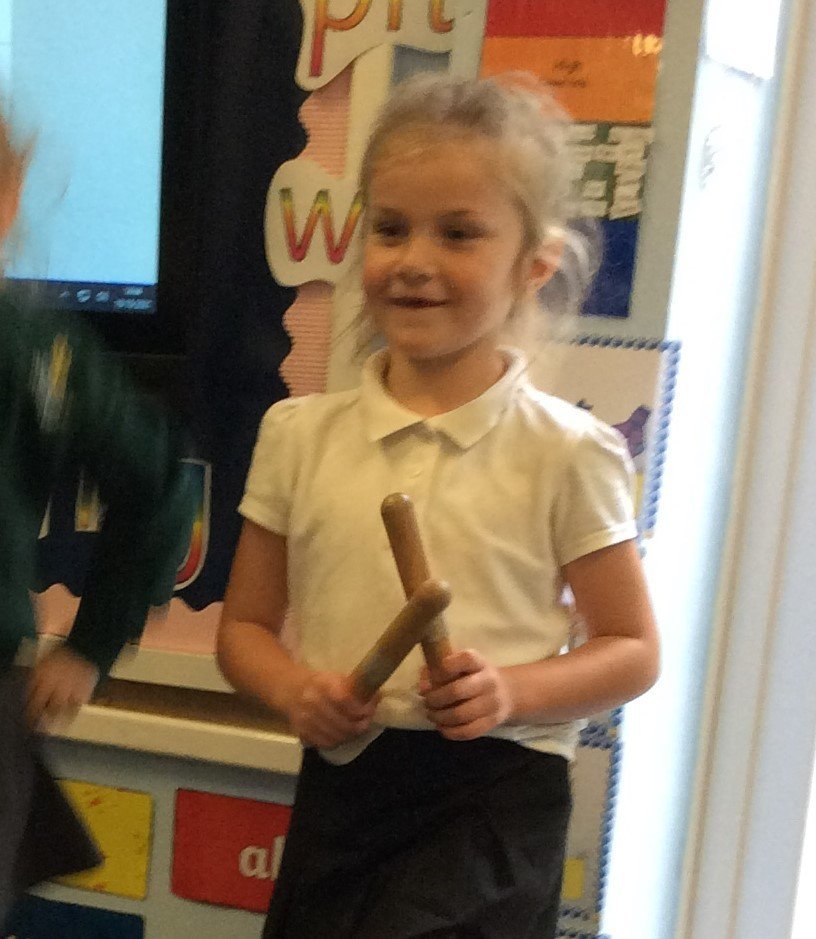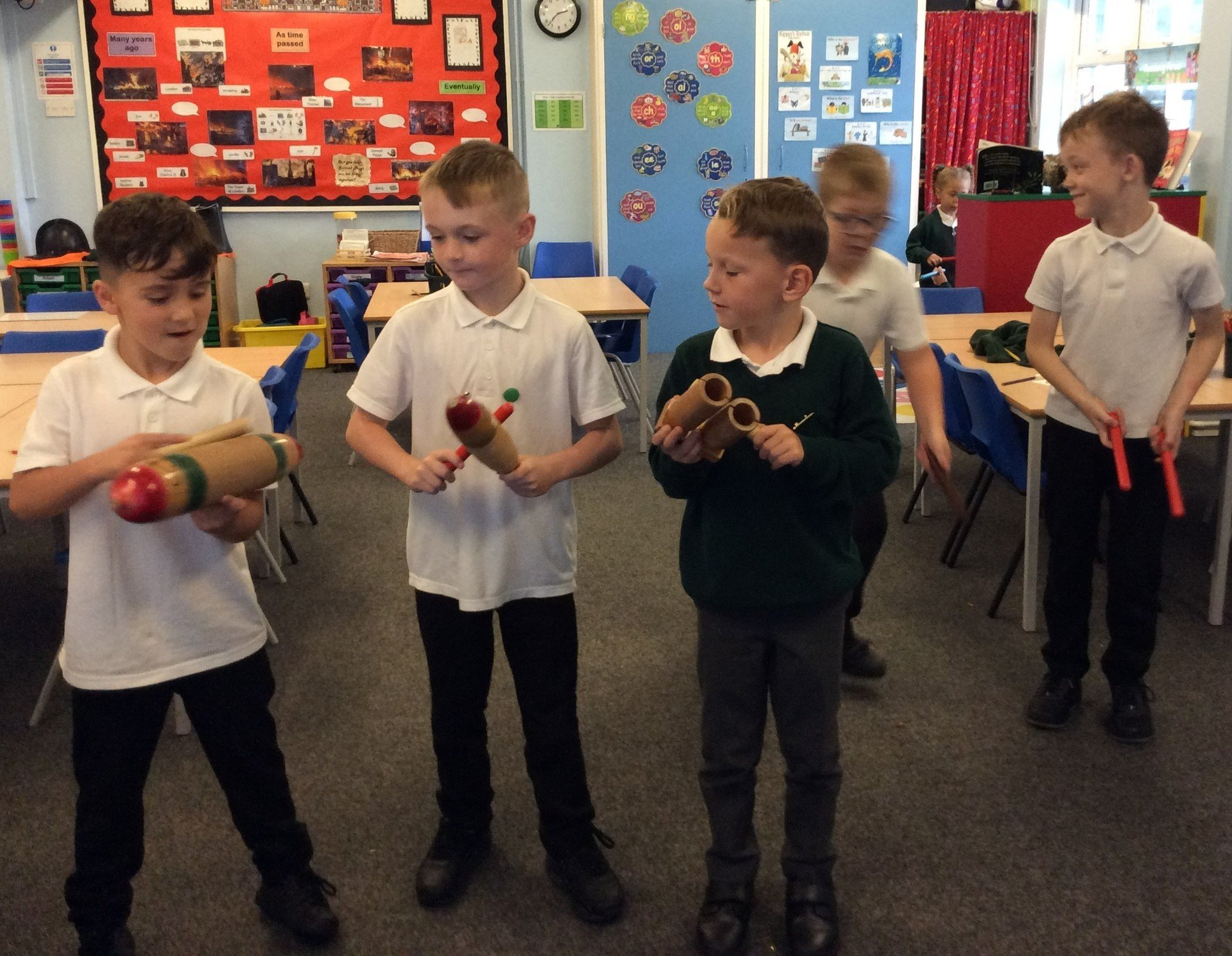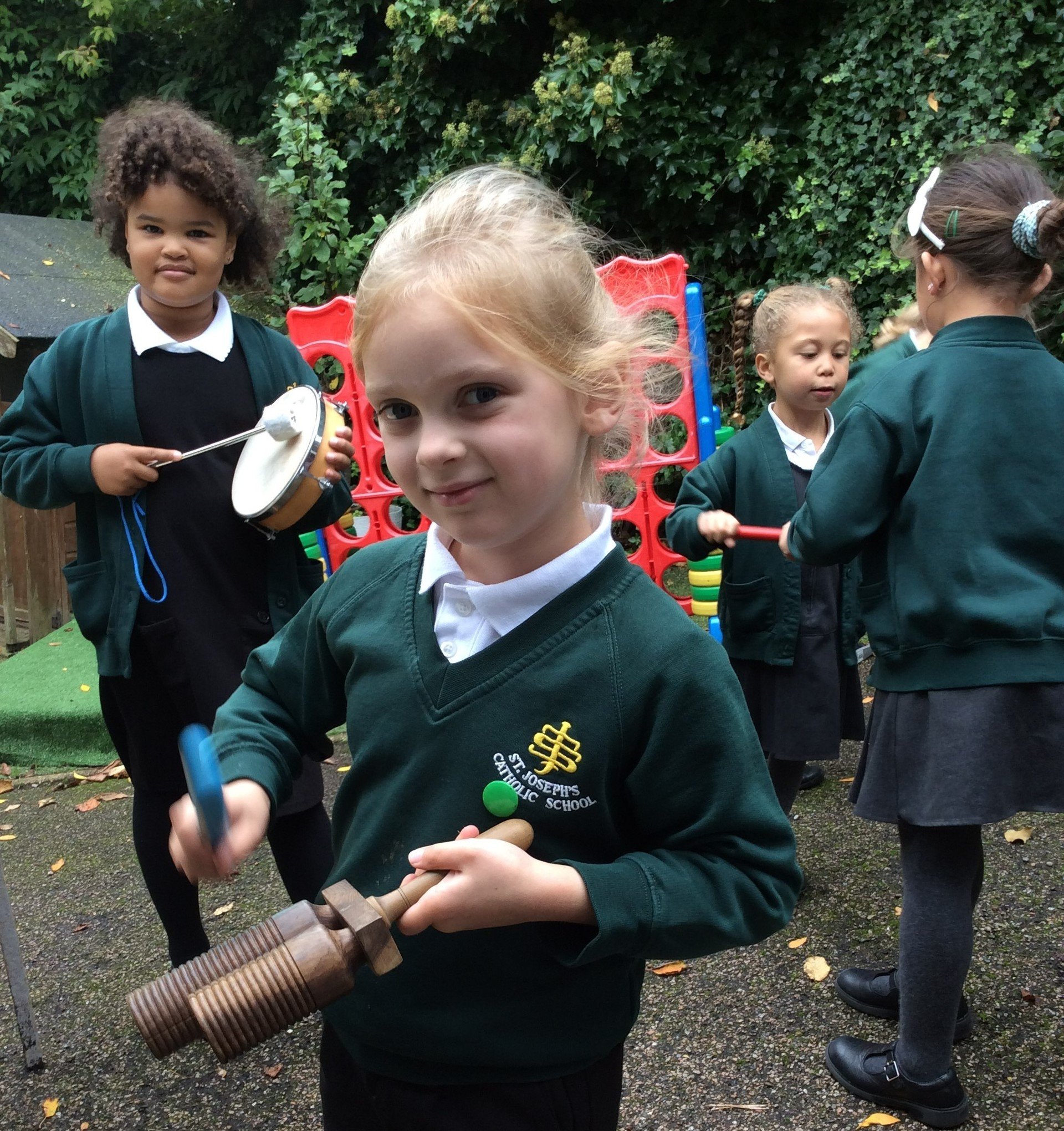 WB 11.10.21
Year 2 have been using drama to explore our class book 'Where the Wild Things Are' and performing different scenes in the story; thinking about how Max and the Wild Things are feeling and what they are doing using the illustrations for support.
WB 4.10.21
Year 2 have been exploring different materials and comparing their properties in science. They managed to sort and classify different objects around the classrooms into the material it was made from.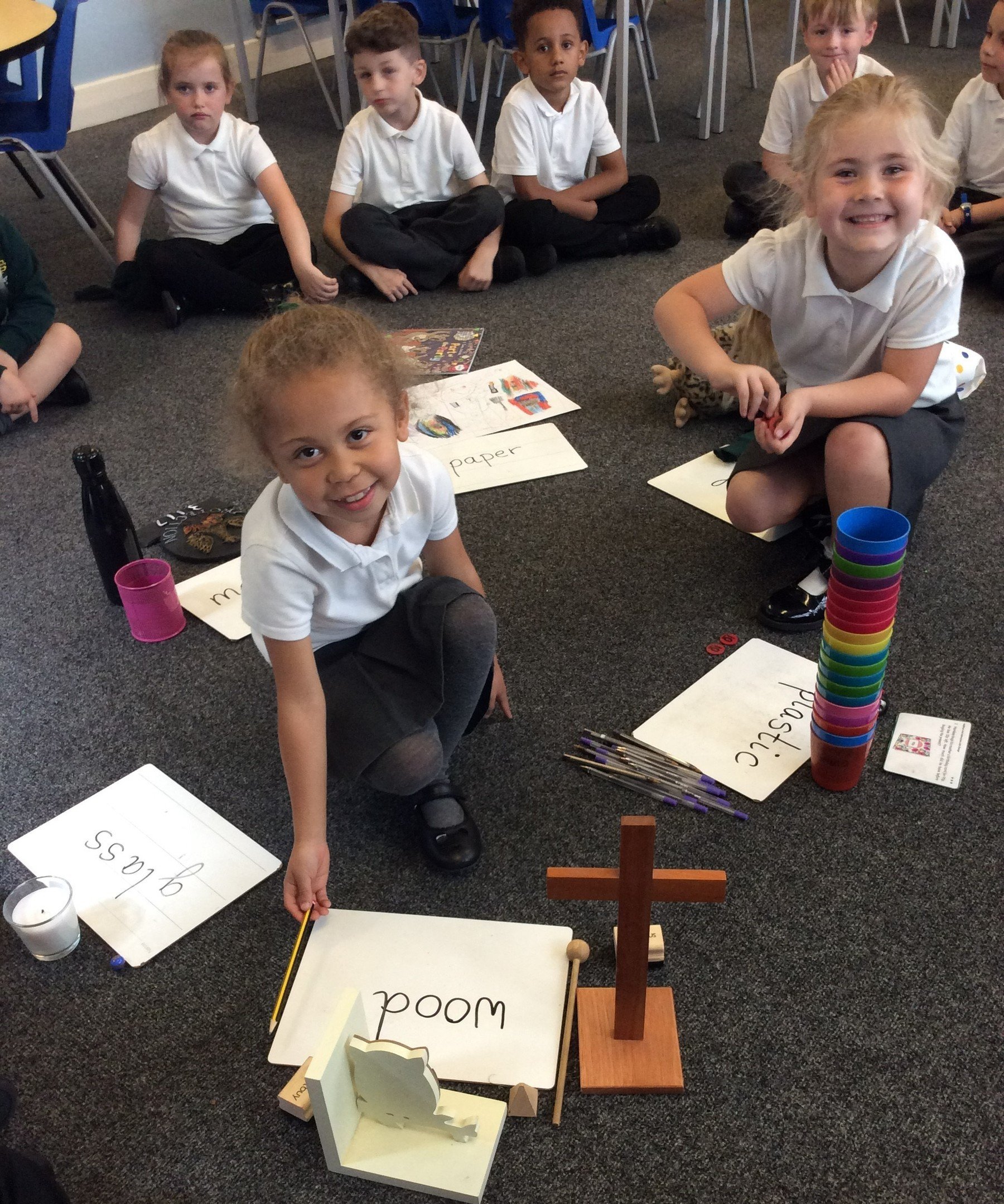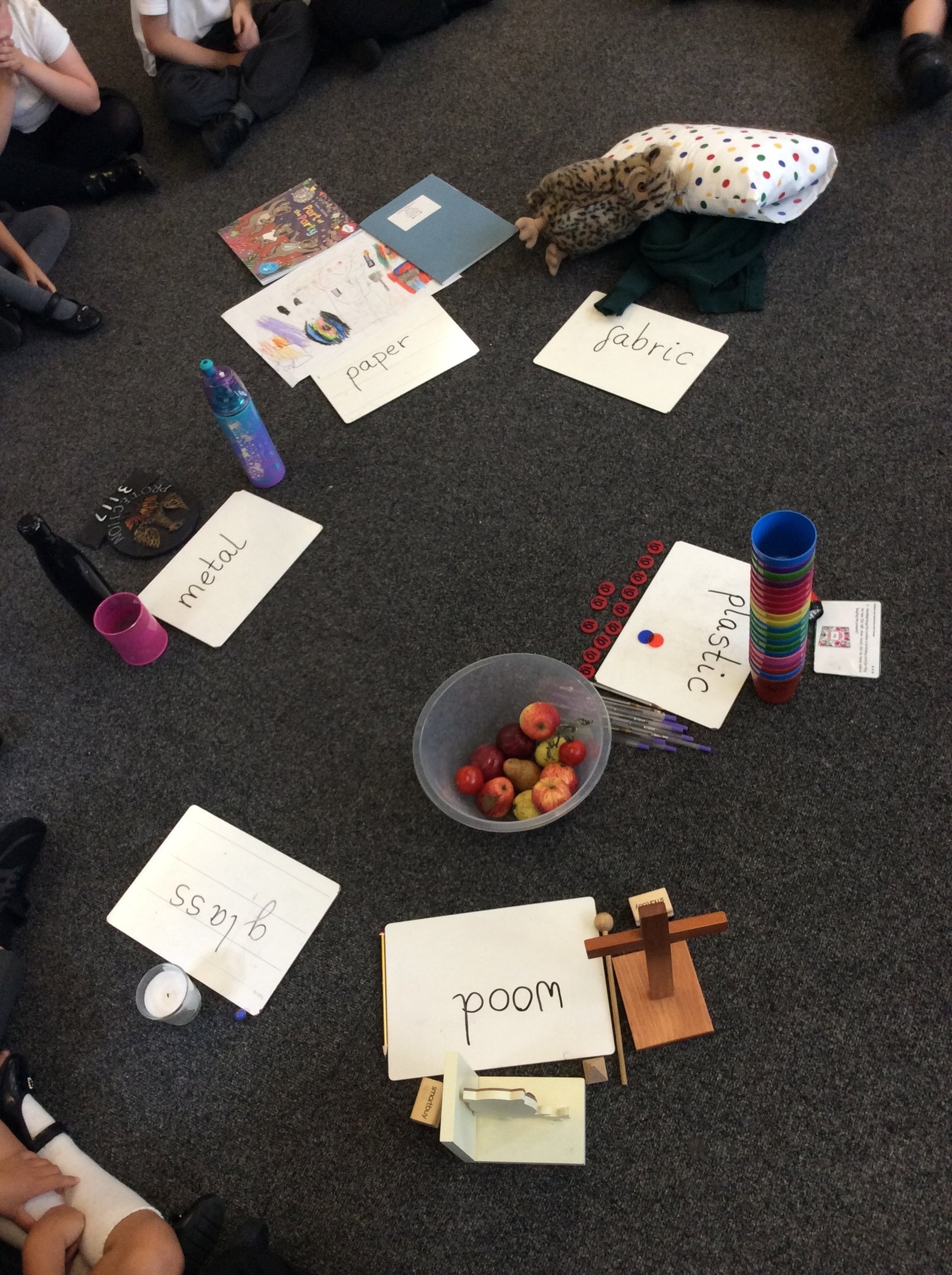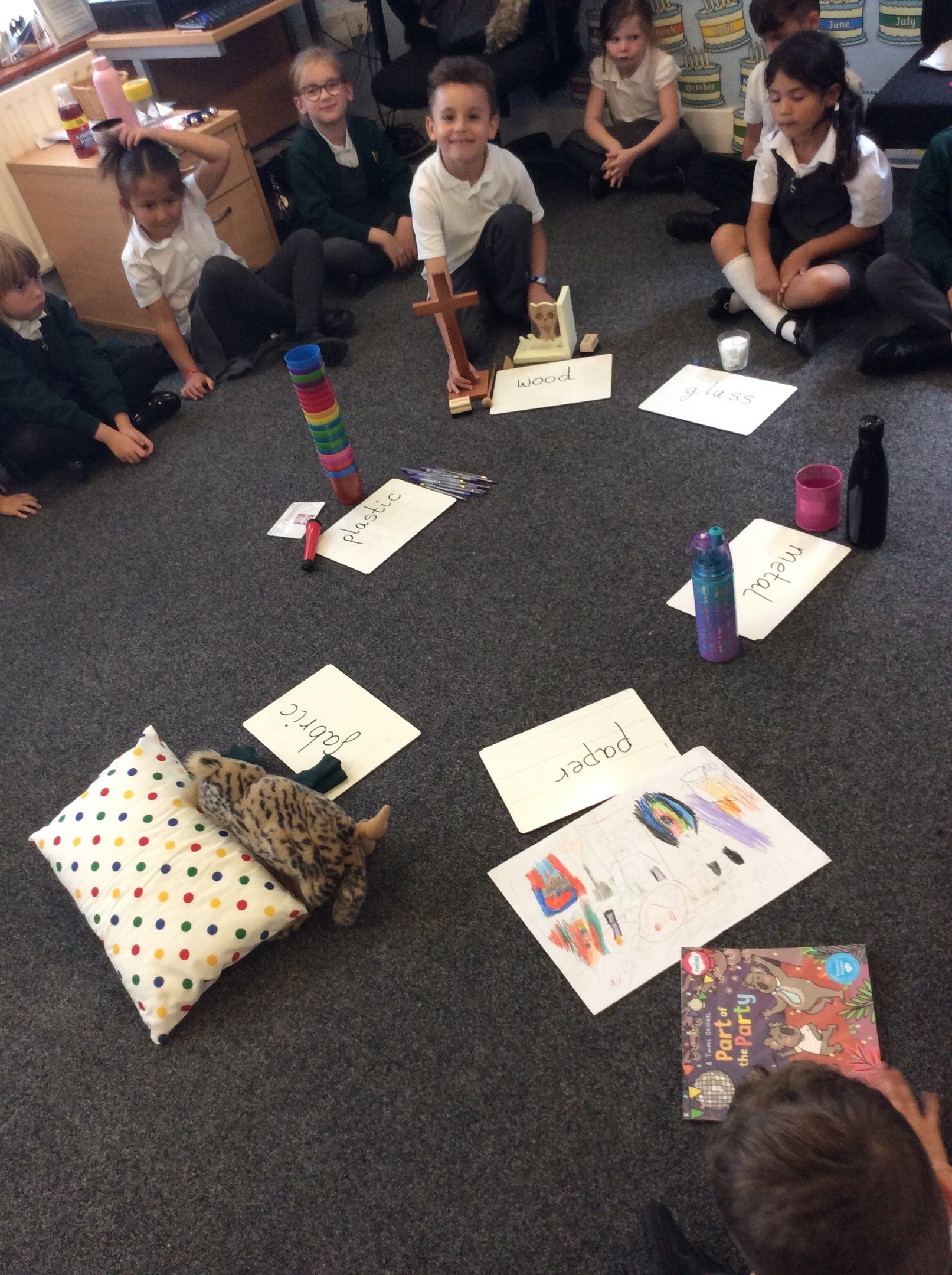 WB 27.9.21
We have had such a lovely week celebrating our grandparents! Thank you so much for taking time to come in and join our learning. Year 2 created and designed their own fantasy land; taking inspiration from our class book 'Where the wild things are'.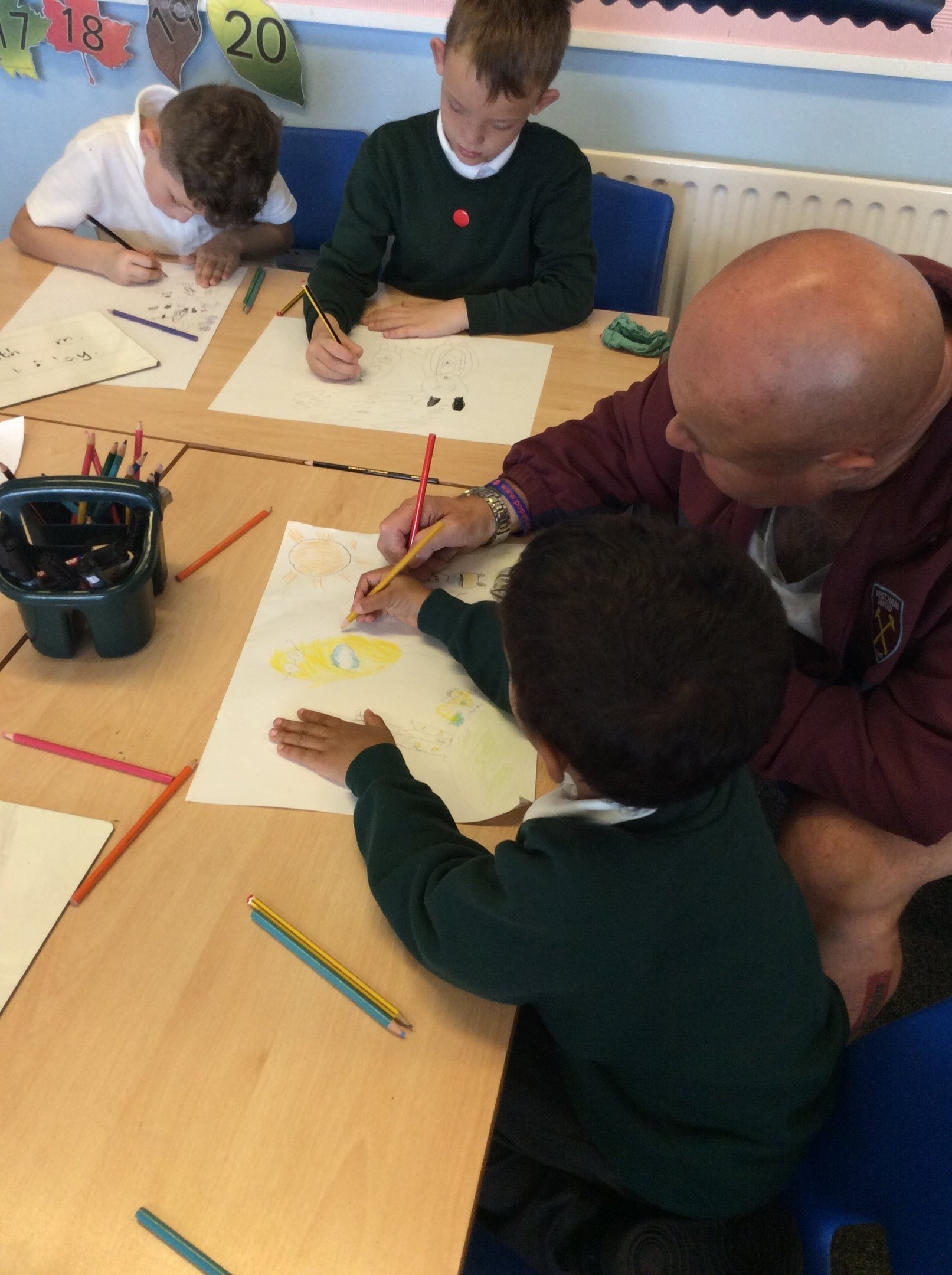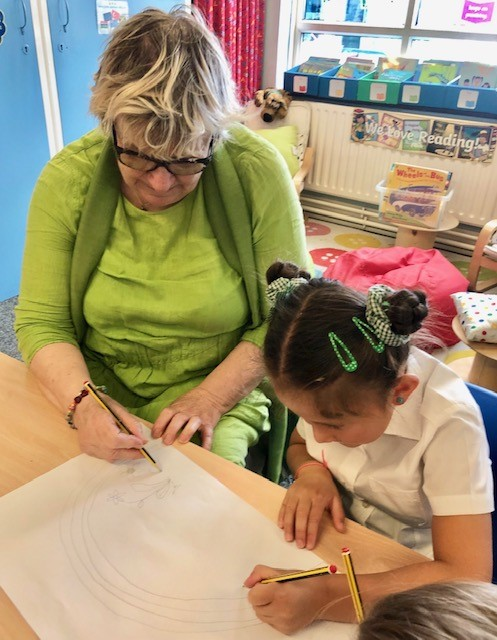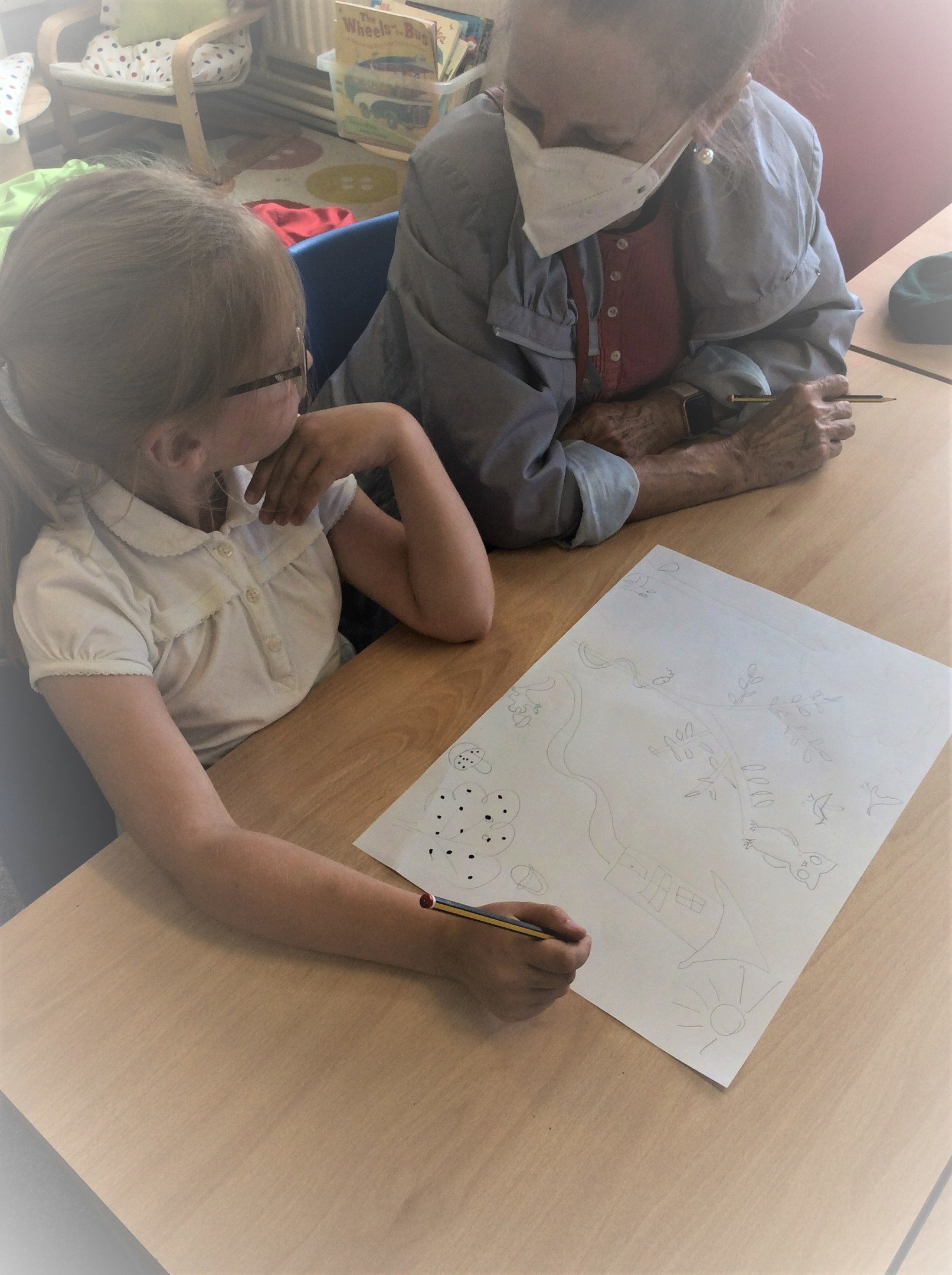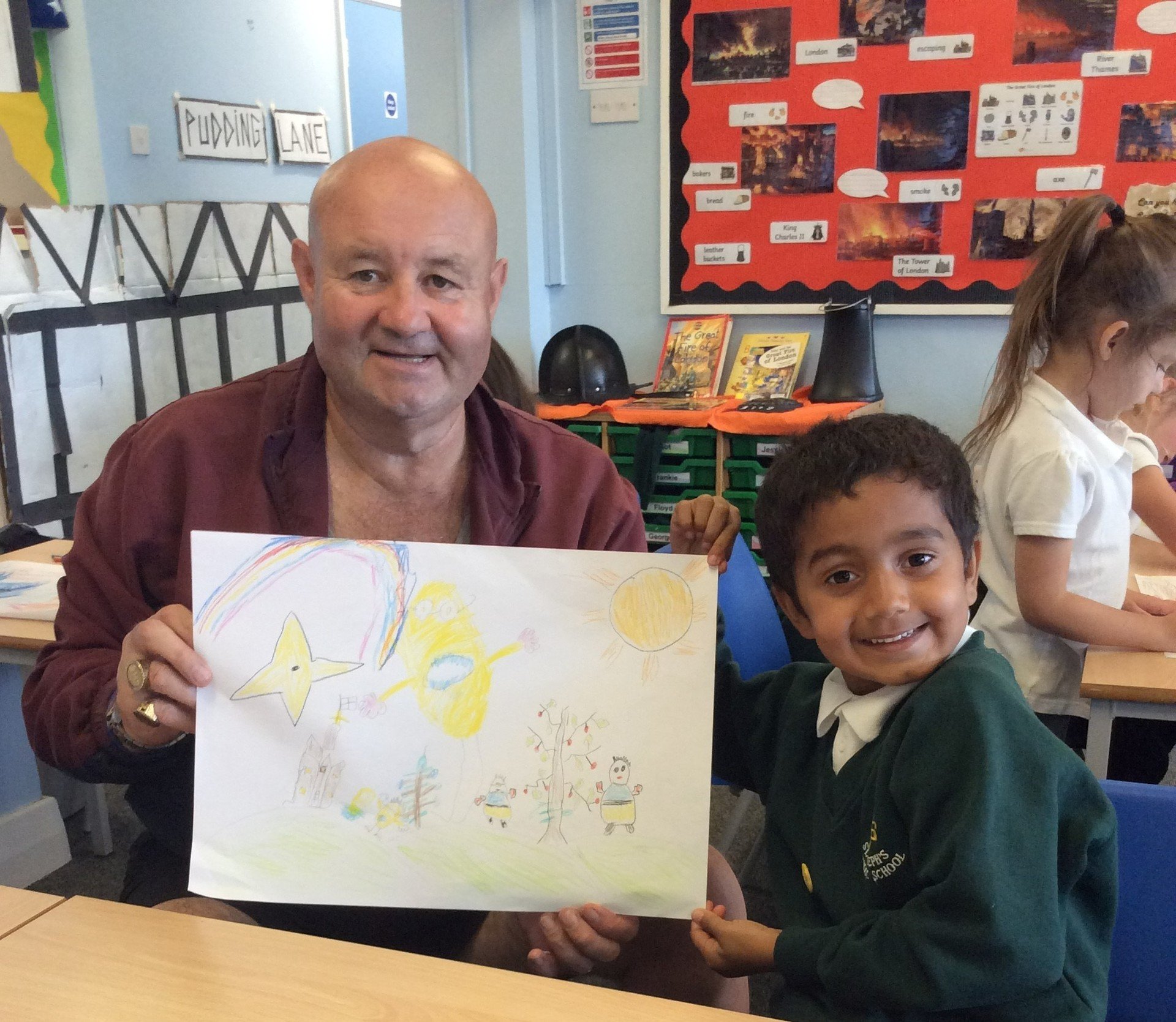 WB 20.9.21
Year 2 have been using a range of maths' equipment to explore place value for numbers up to 100. Please practice writing numbers up to 100 with your children at home and see if they can partition to number and recognise how many tens and ones make up that number. As a challenge, see if they can spell numbers to 100 in words as well as numerals.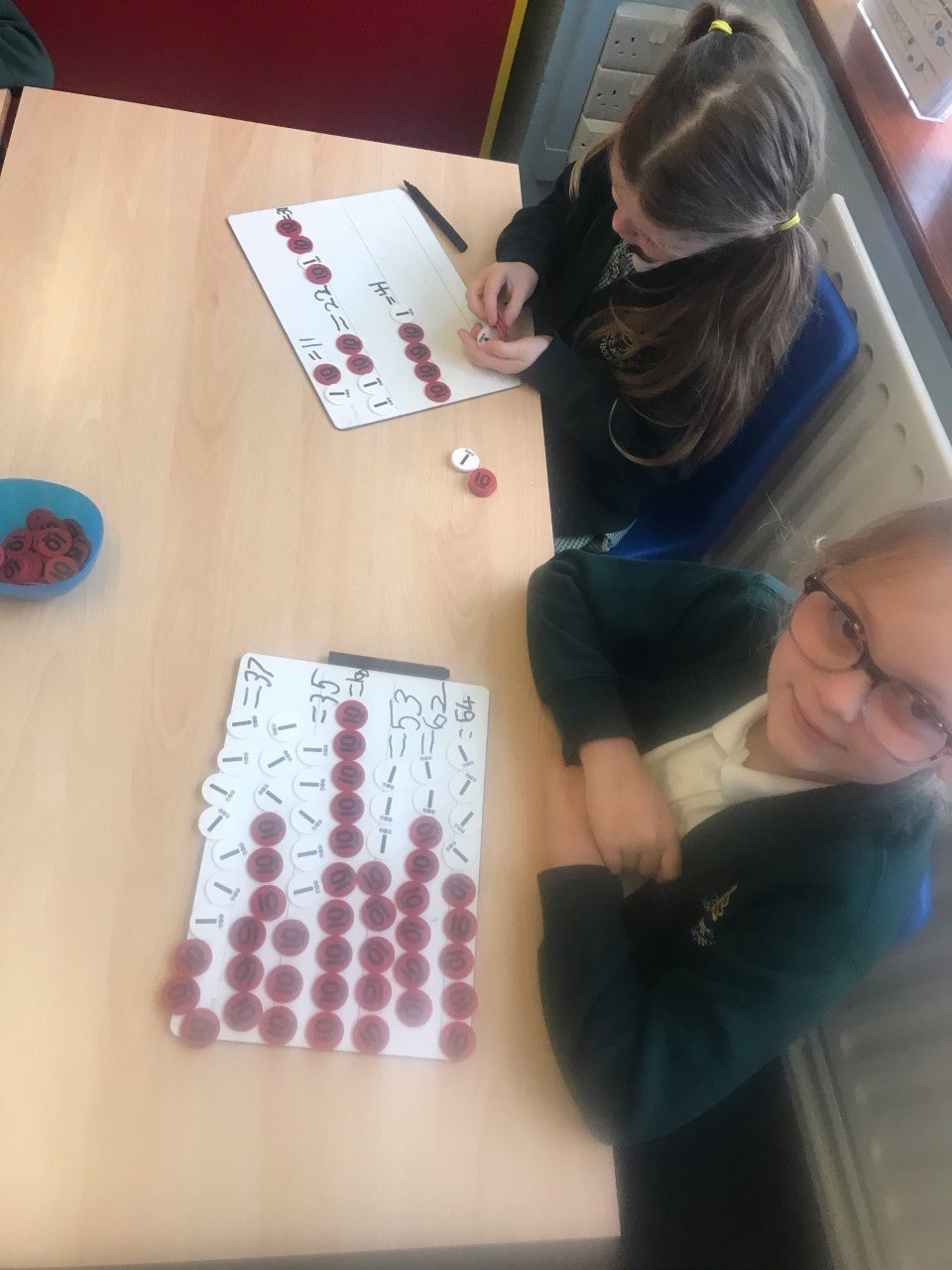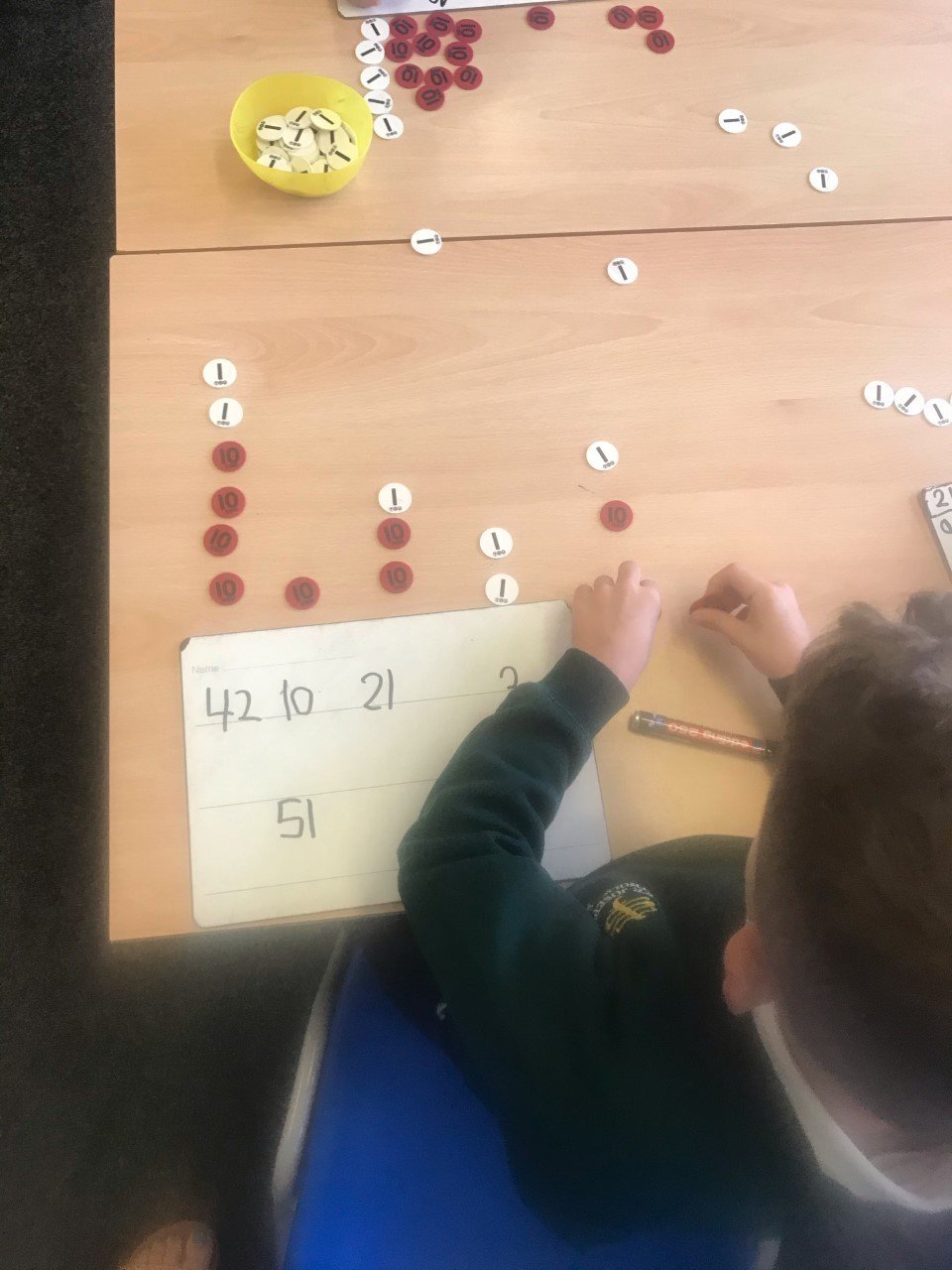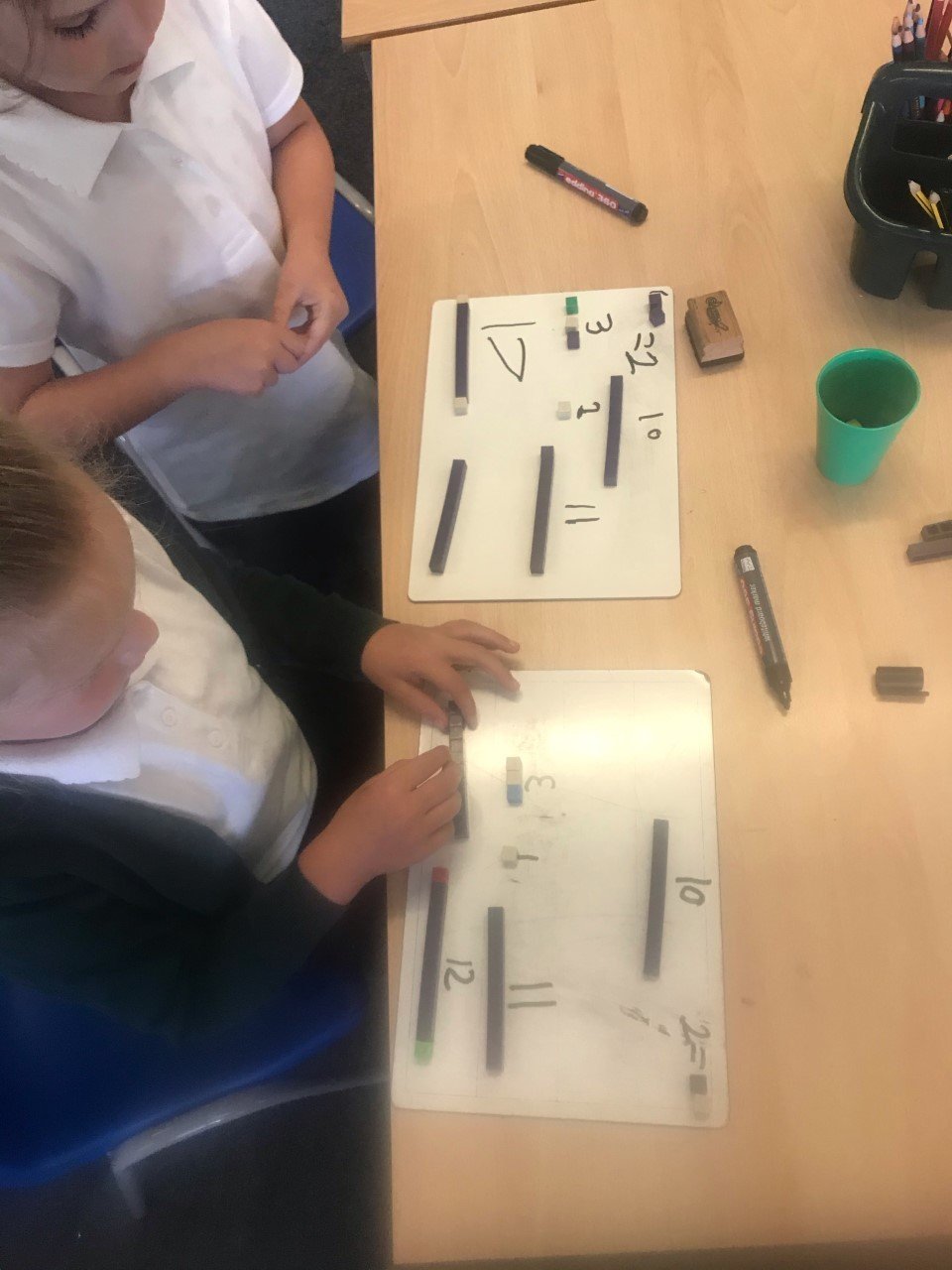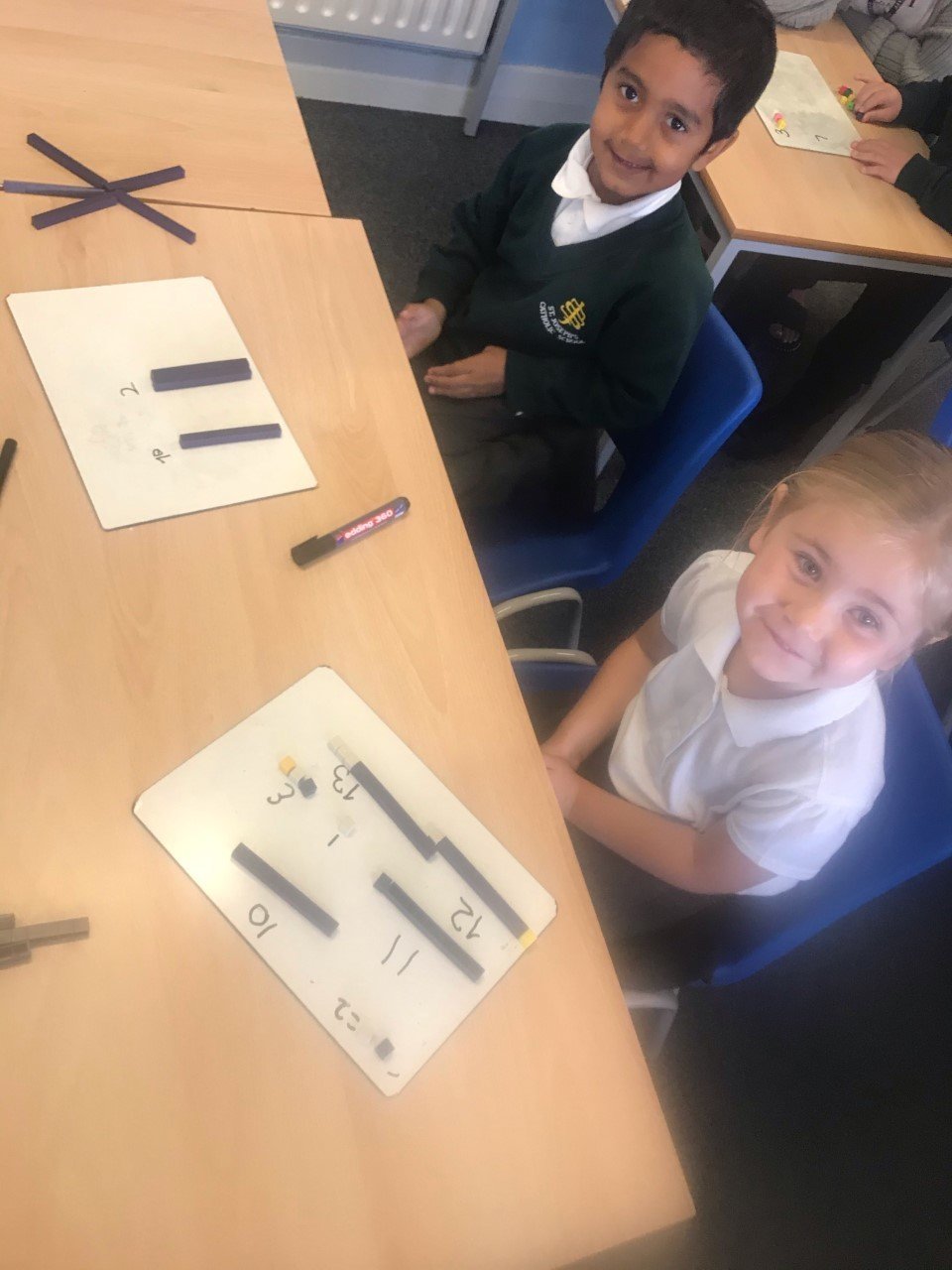 WB 13.9.21
Year 2 had a great day learning outdoors by exploring the natural environment around the school. They used hapa zome (a Japanese art form) to create artwork out of leaves and flowers, went on a minibeast hunt, used sticks to create music and learnt some camp fire songs, worked as a team in groups to build the tallest tower out of natural resources and lastly created sculptures/artwork inspired by their minibeast hunt that morning.
Here are some photos of our great day outdoors: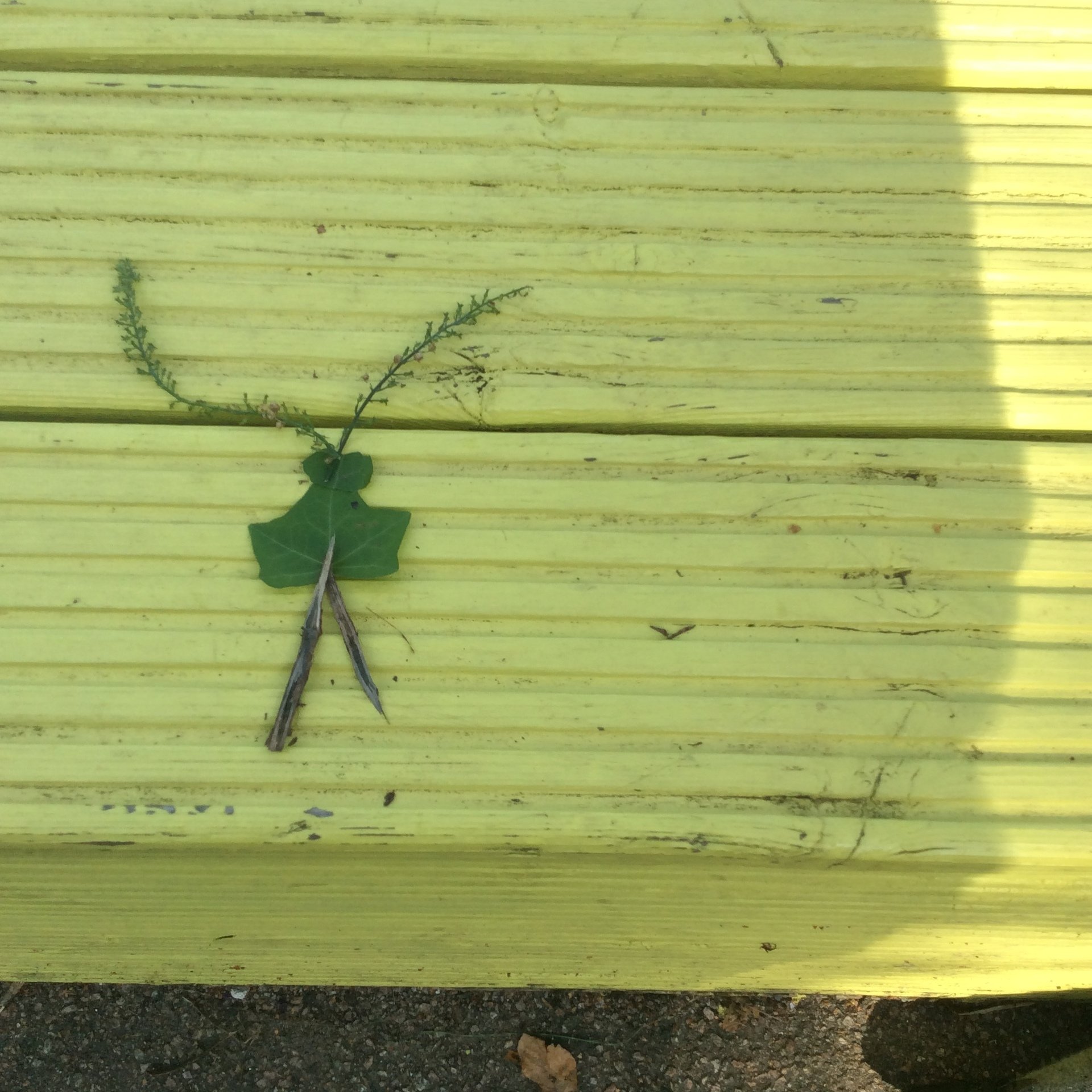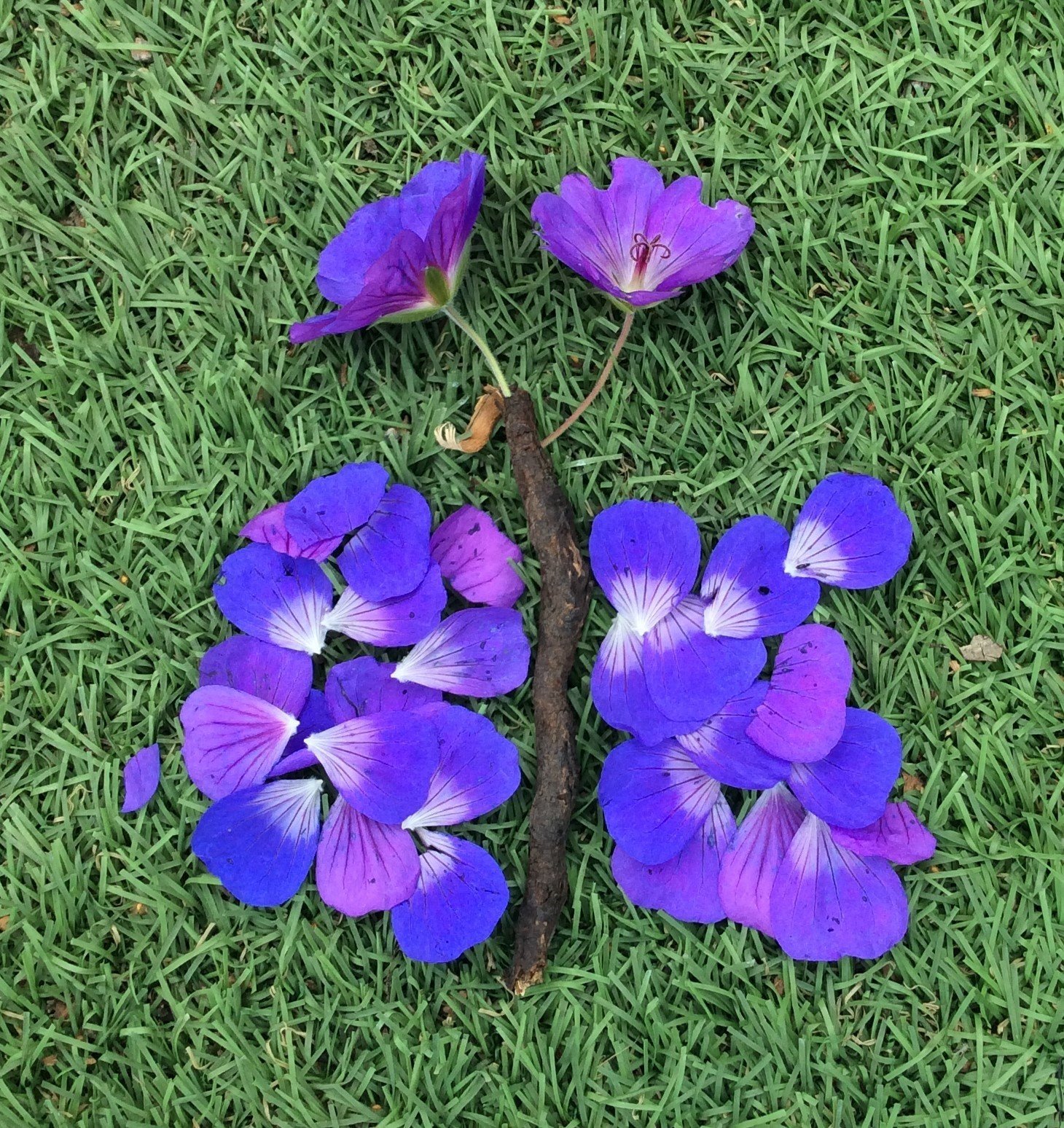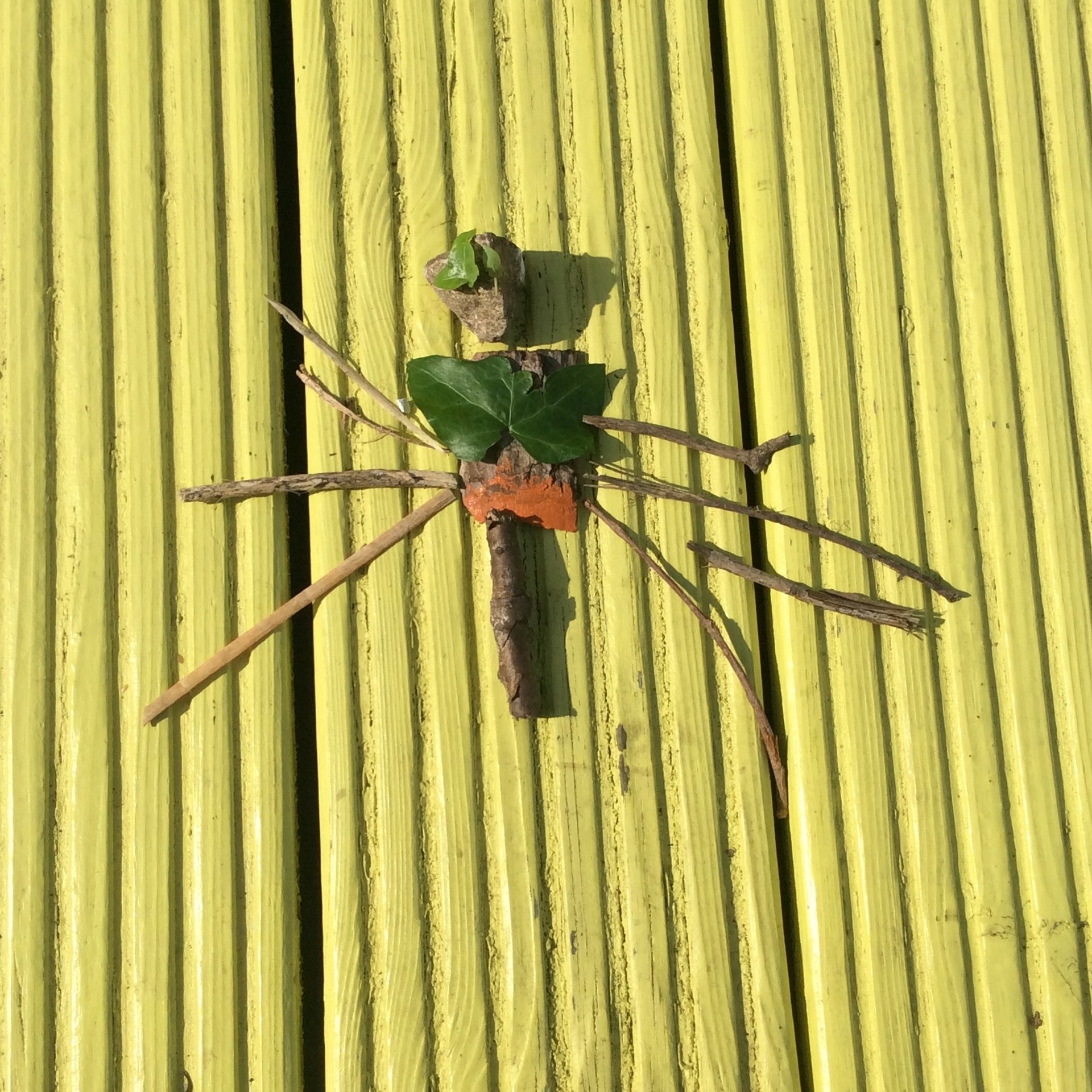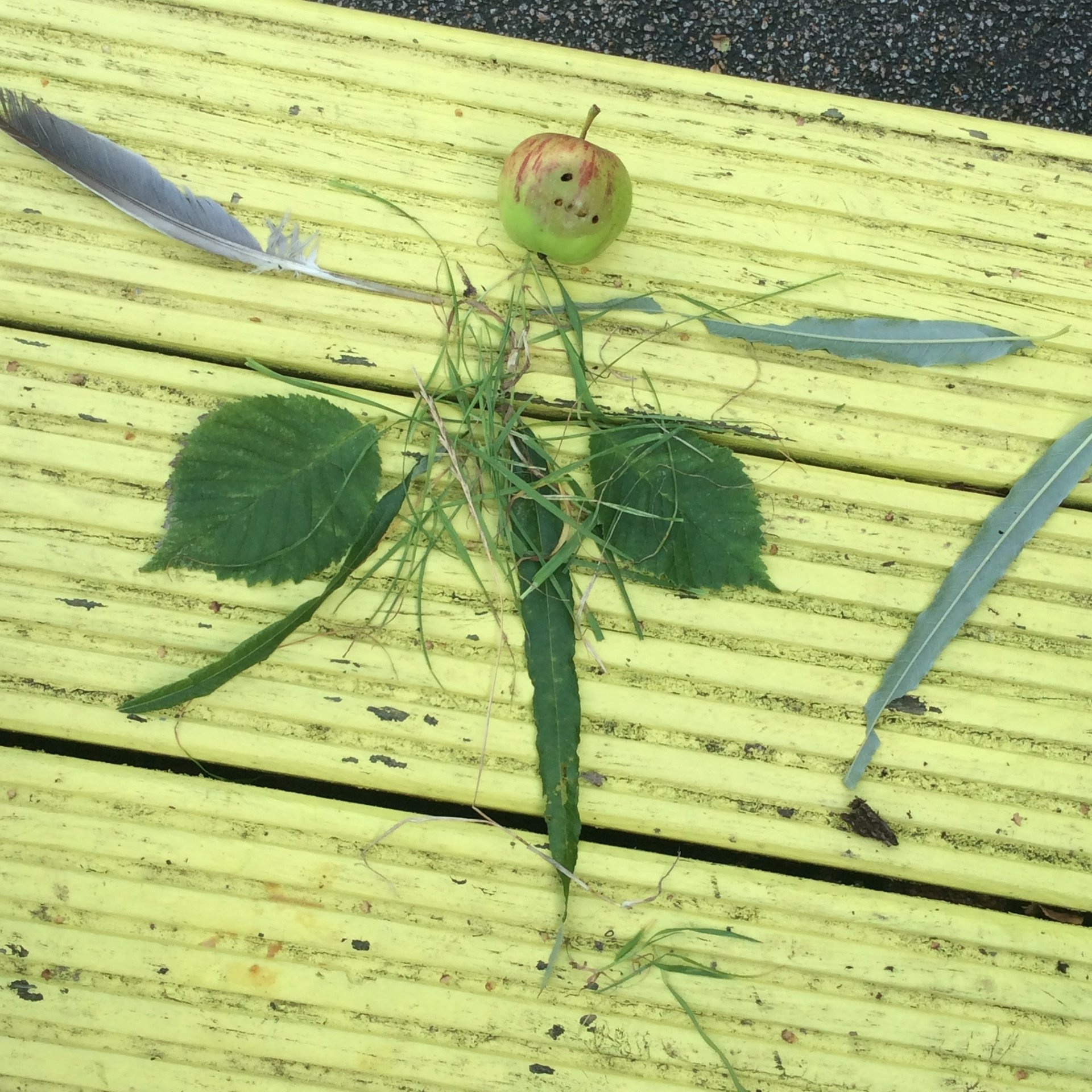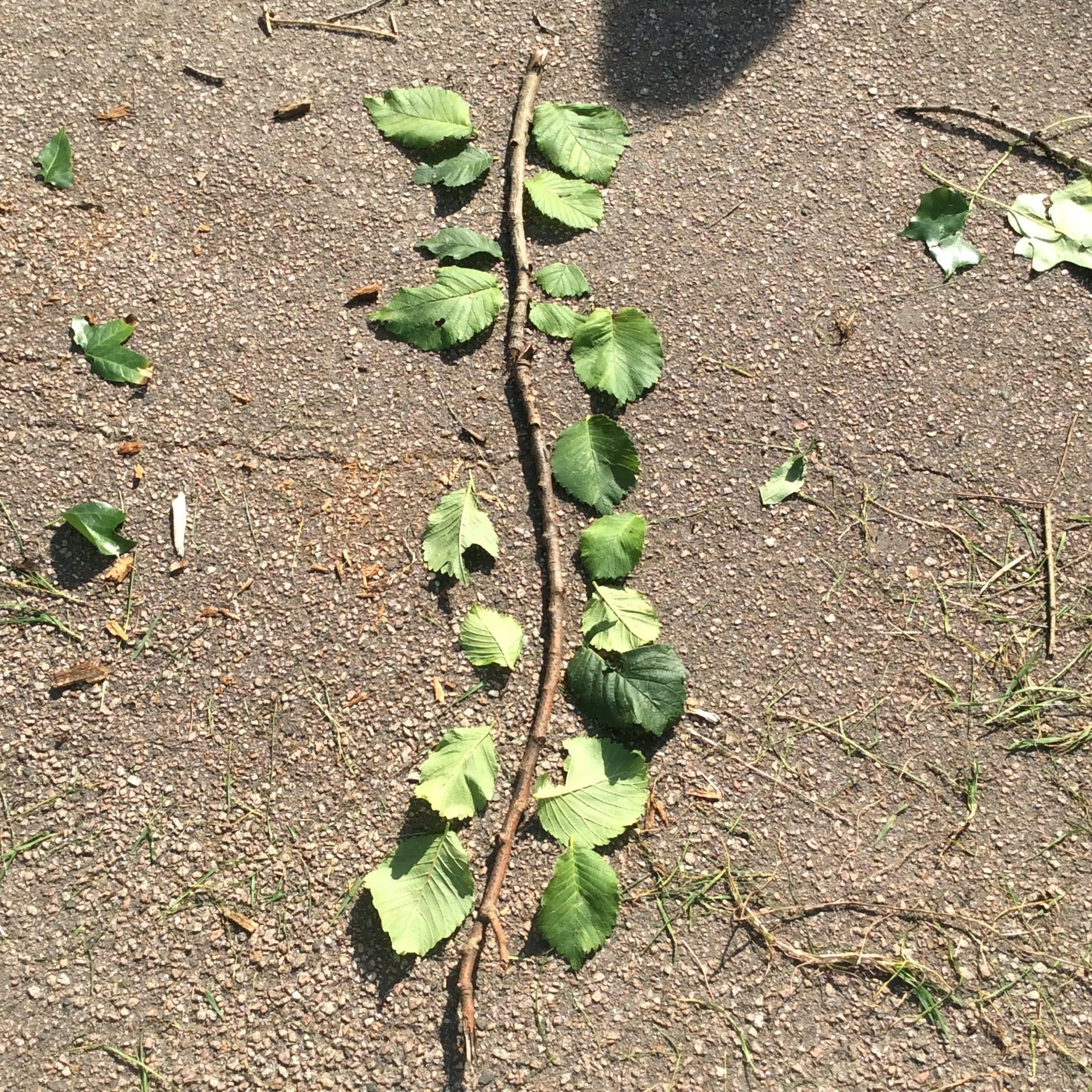 Year 2 had a chance to bake their own bread this week so they could experience what it would be like to be a baker - imagining how Thomas Farrynor might have felt when he was baking his bread in 1666. They then had to think about what things might have been the same and different compared to nowadays.
Year 2 have settled in well and have been exploring their classroom environment.
We have been busy creating our very own 'Pudding Lane' bakery to compliment our topic 'London's Burning' where Year 2 will discover how the 'Great Fire of London' started and how this has changed our lives today.
Here are some photos of our first week back:
6.9.21