St John the Baptist Class - Year 4

Class Teacher - Miss Cross
Teaching Assistant - Miss Jackson
Support Staff - Miss Pippa, Mrs Jones, Miss Whelan and Miss Ginny
Finale Fashion Show : 19.7.22
Today, Year 4 put on a celebration of their learning for their parents and carers. And what a show they put on!
They demonstrated their knowledge from their Spring Term theme "The World's Kitchen," in a colourful catwalk showcasing different foods with geographical facts relating to each outfit.
As always, the Year 4 pupils put on a creative, confident and entertaining show! Thank you parents and carers for coming in to support your children today and for your support throughout the year. They have been amazing!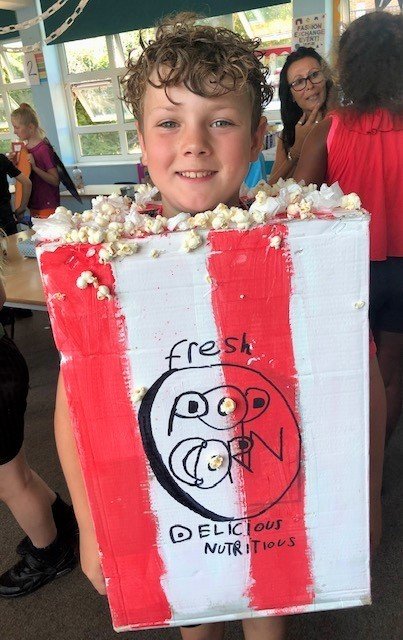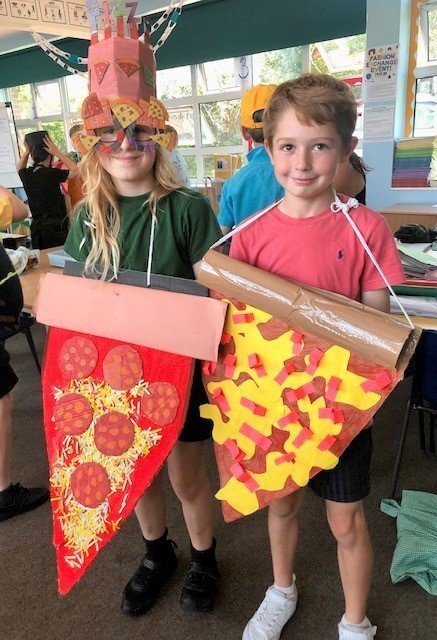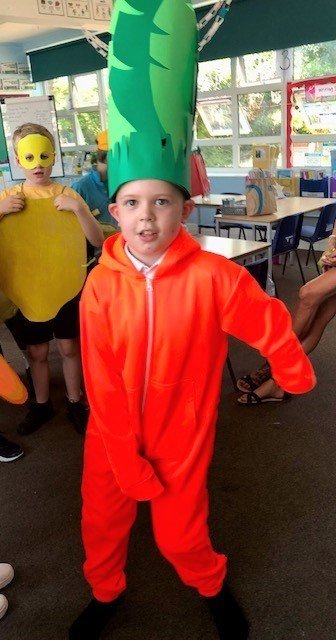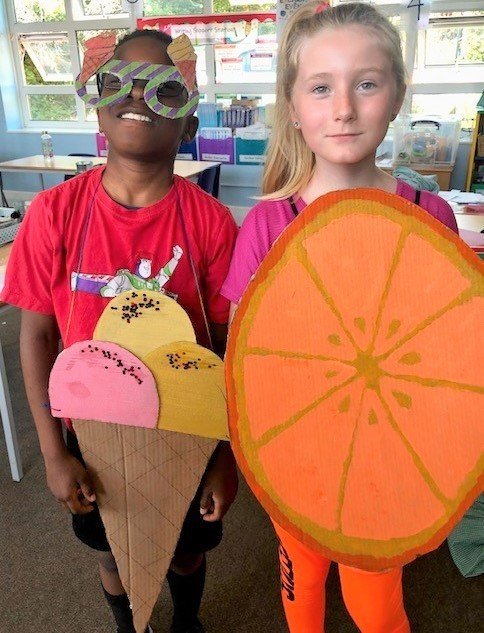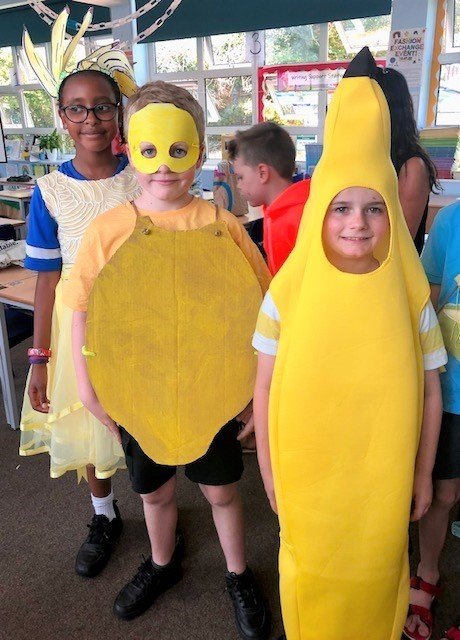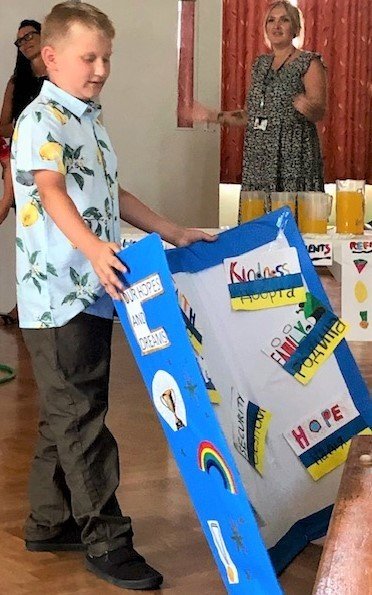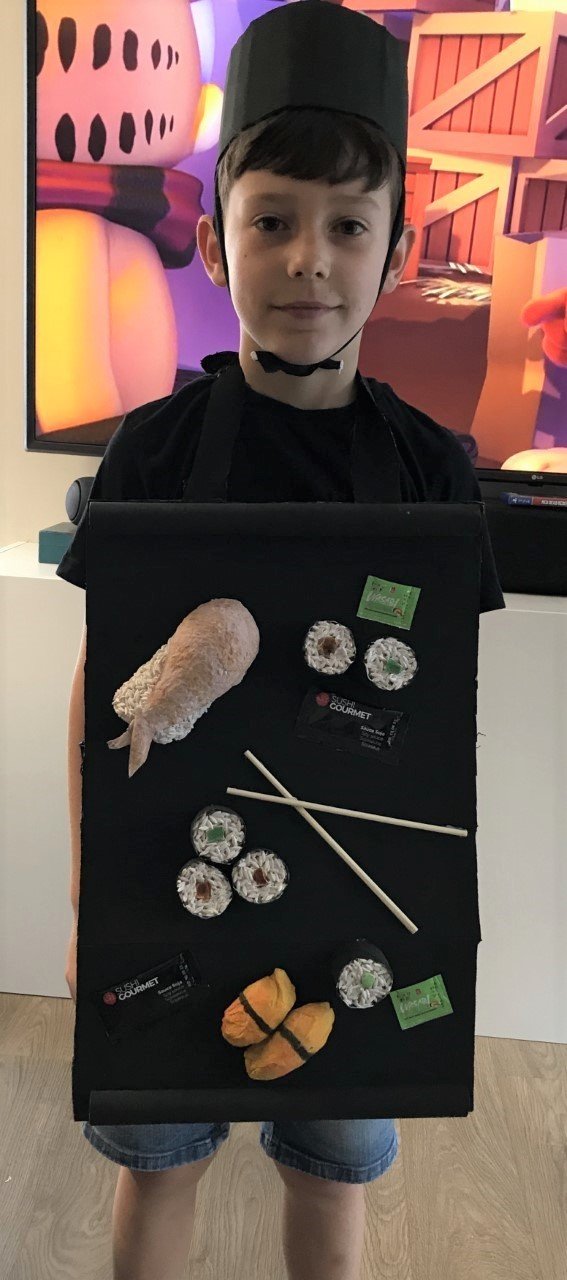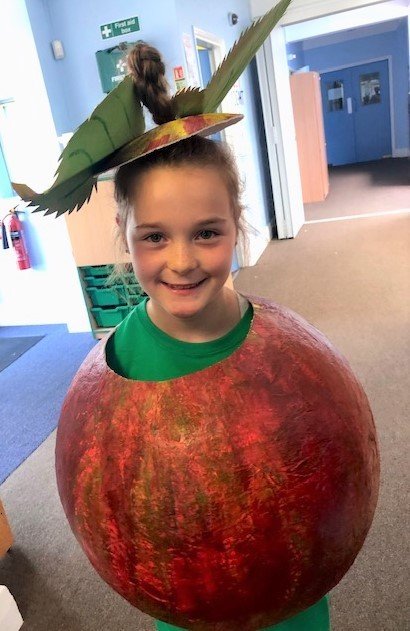 Bastille Day : 14.7.22
In their French lesson today, Year 4 learnt about the history and significance of Bastille Day. The children came to school wearing red, white and blue to represent "le drapeau tricolore." We even had some customised shoes!
They took part in several French related activities based around France and the storming of the Bastille.
After learning the story behind Marie Antionette's infamous quote "Let them eat cake," the children tasted some delicious cake which Julian's dad kindly bought back for us all the way from France!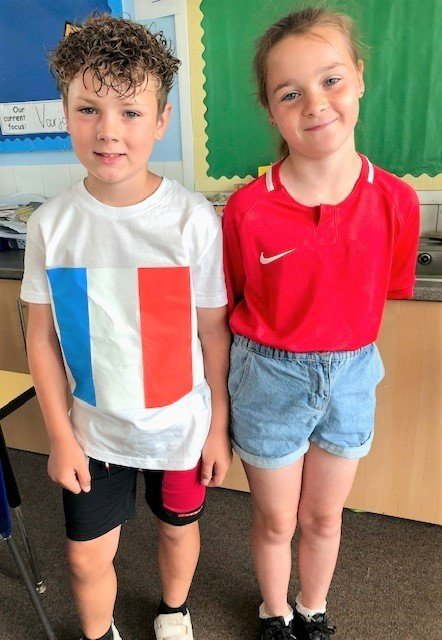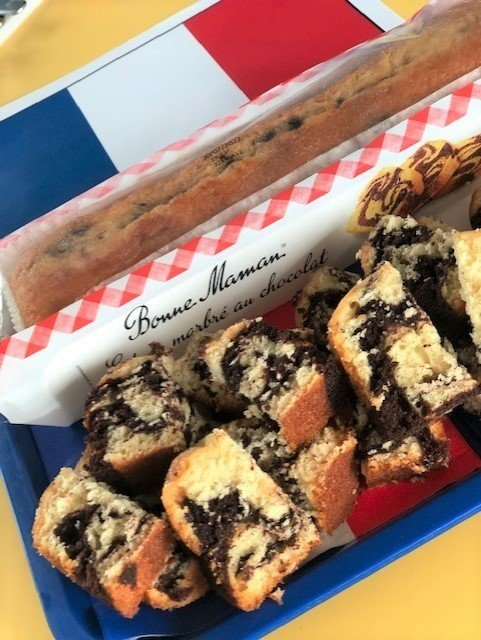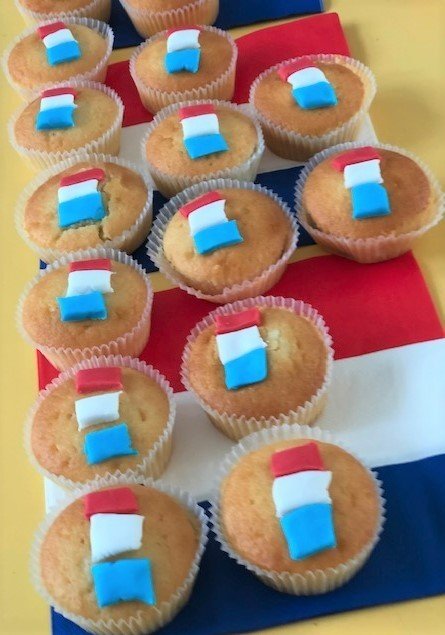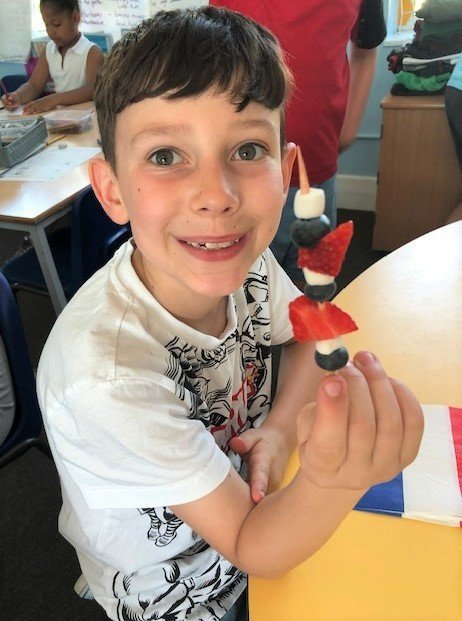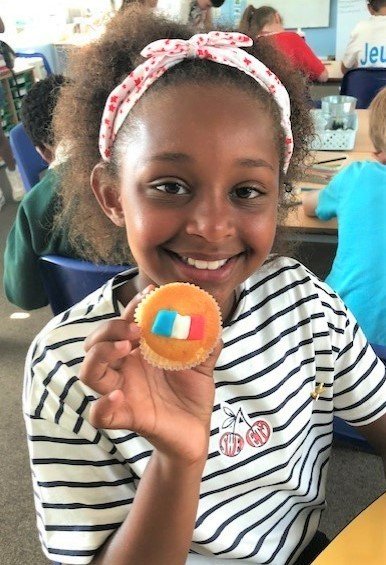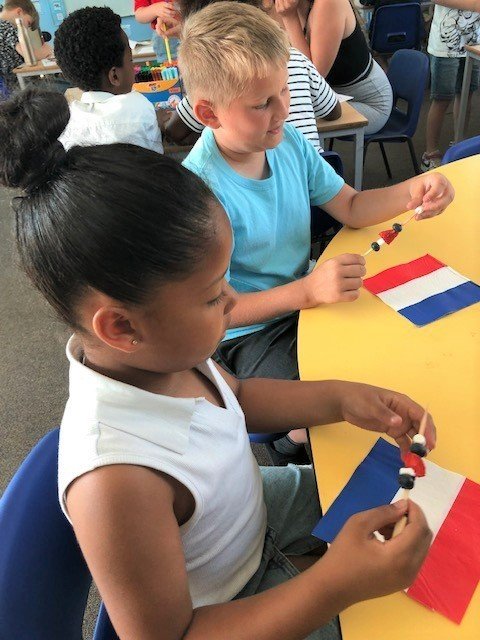 Environmental Awareness
As part of the whole school theme, "Save Our Planet," Year 4 have been learning about the impact of clothing production on our planet. In response to this, the class are holding a "fashion exchange" event to breathe new life into old clothes.
Pictures of the event to follow.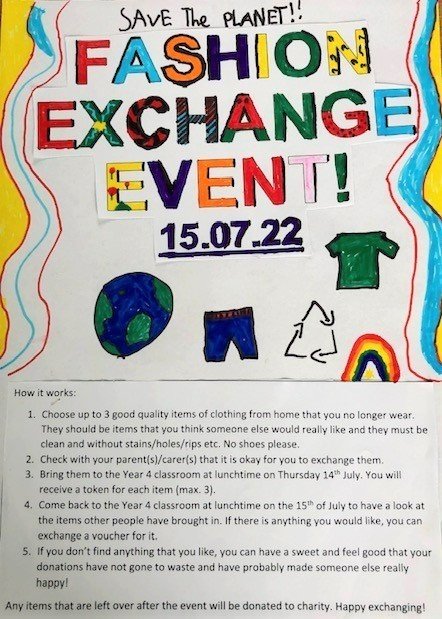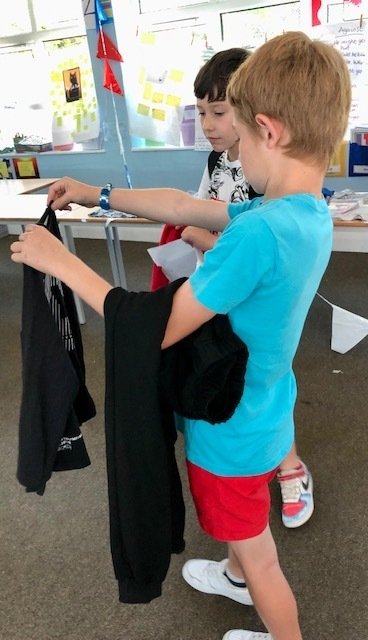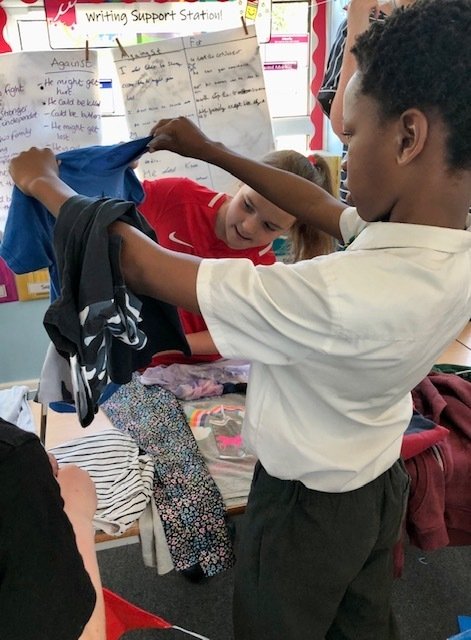 PSHRE : 8.7.22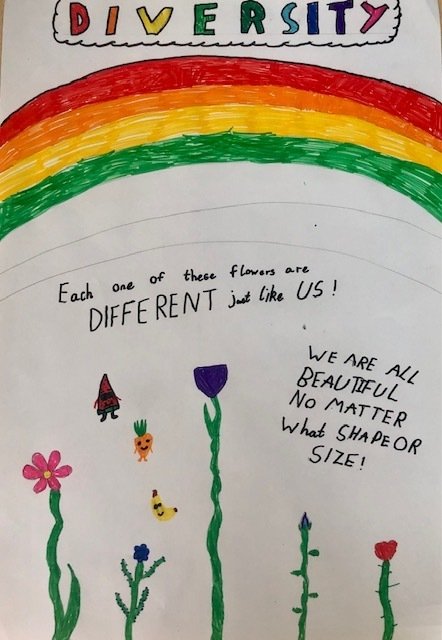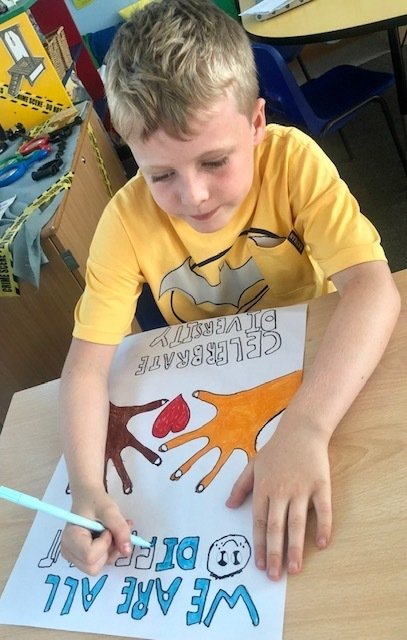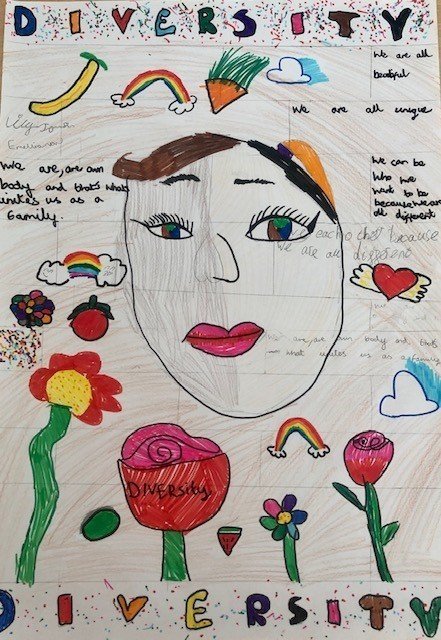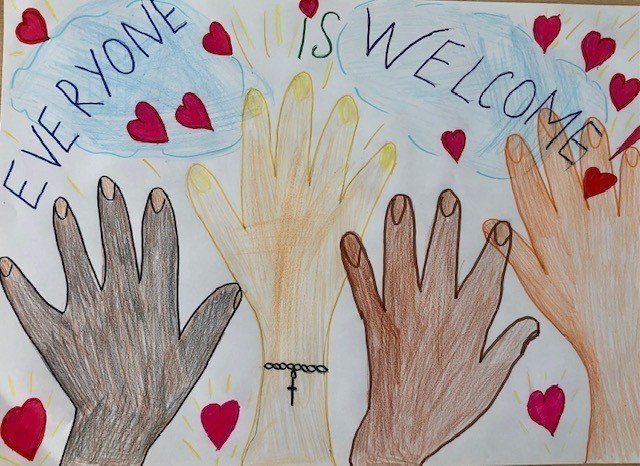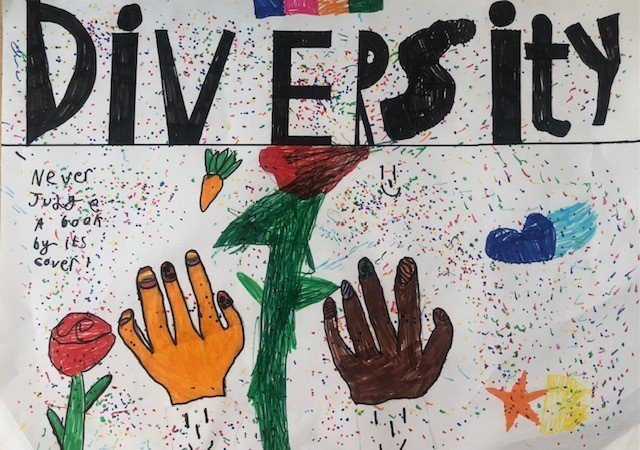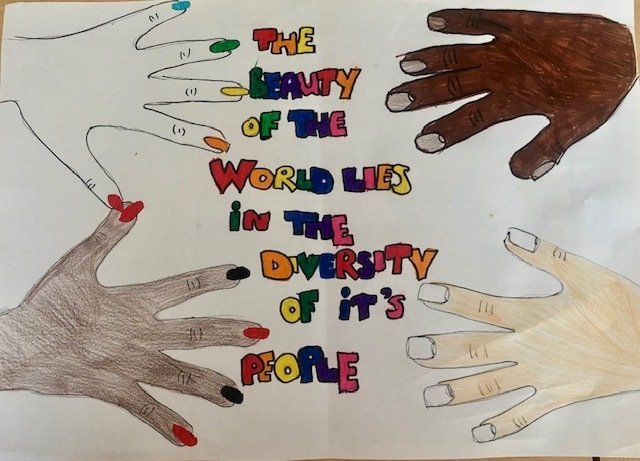 The posters were the outcome out a PSHRE lesson on respecting and celebrating diversity (part of the 'Journey In Love' unit). Some key talking points are shown below: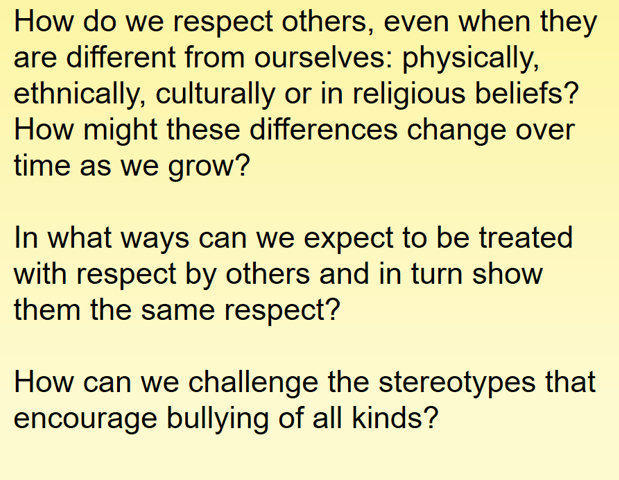 The children designed posters to be put up around the school to show that all are welcome at St Joseph's and that we celebrate diversity here.
Sports Day : 8.7.22
Year 4 participated brilliantly in today's KS2 Sports Day, demonstrating all of our positive learning behaviours like resilience and determination. Miss Cross and the Year 4 team were very proud of you all.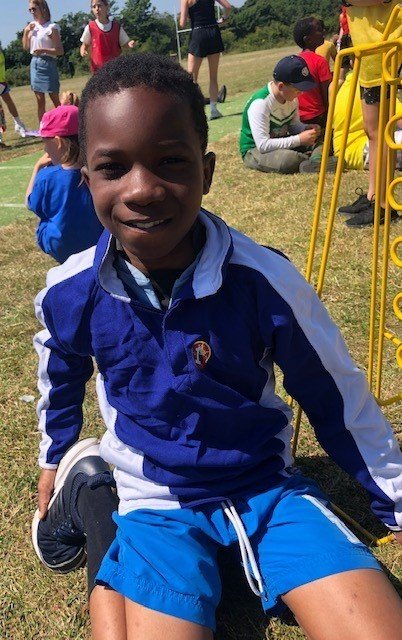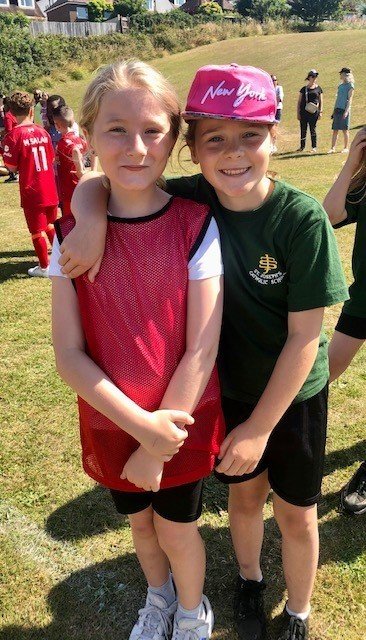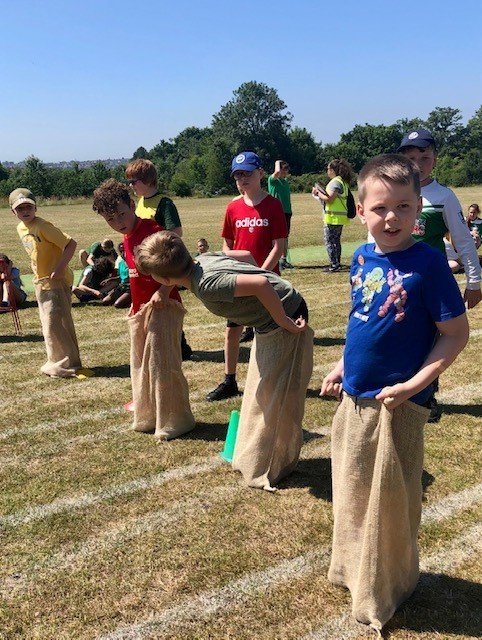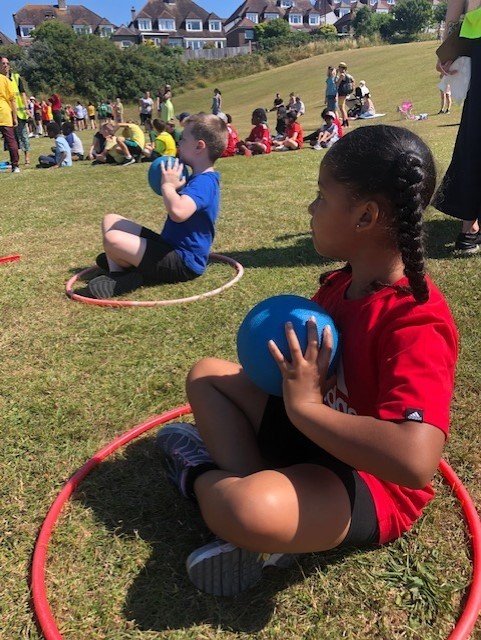 French : 6.7.22
Today in French, Year 4 applied their knowledge of simple greetings and different foods in a cafe role-play situation. They were able to order food using a simple menu and have a short conversation.
They then played a board game applying their spoken French in short sentences, saying whether they liked, loved, disliked or hated certain foods.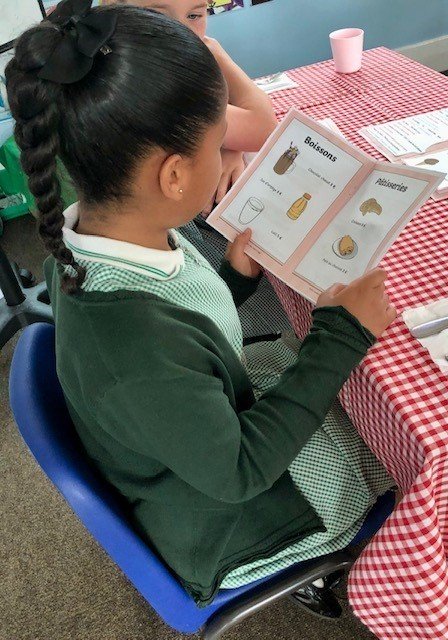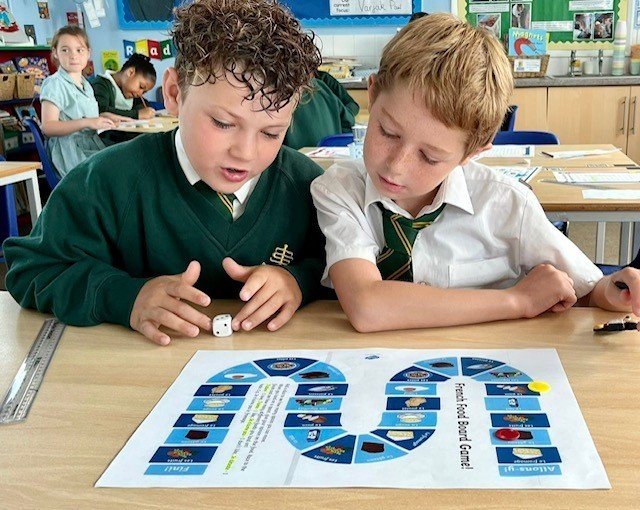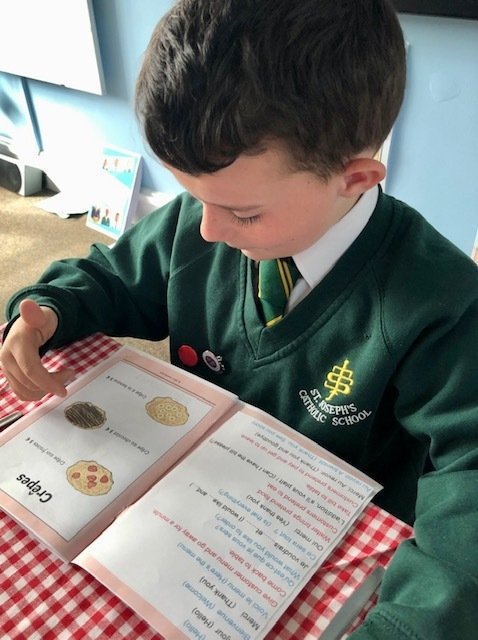 French : 1.7.22
In their French lesson today, Year 4 have been learning how to describe foods, saying whether or not they like them and whether or not they are healthy or unhealthy.
They answered questions about "les bonbons, les fraises, les pommes, les gressins, les brownies au chocolat et les biscuits au fromage" and if they could answer the questions, they could eat the food!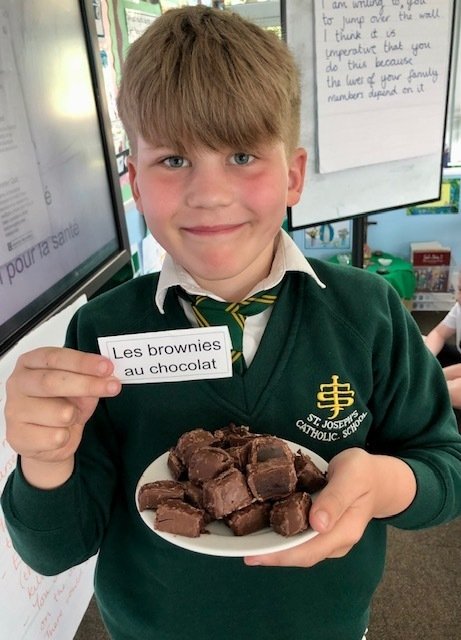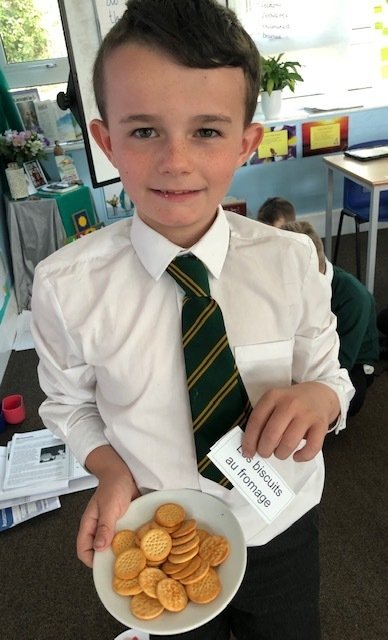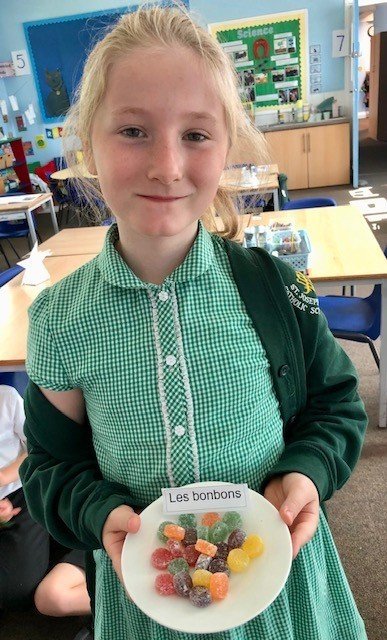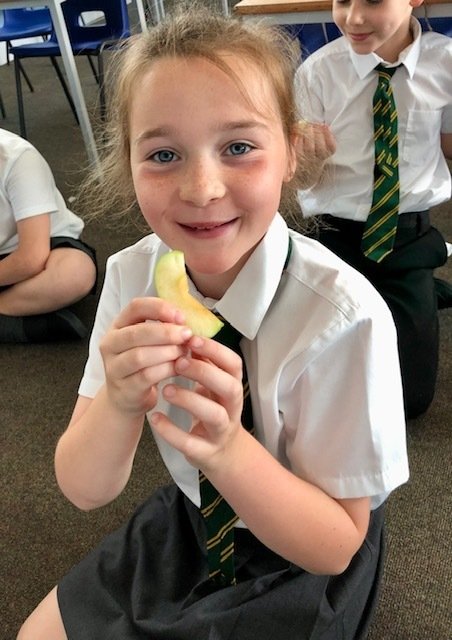 Next week, they are going to apply their knowledge of food by designing their own French menu!
Outdoor Learning :30.6.22
Year 4 had their final Outdoor Learning Enrichment Day today. They started off with a Roman Numeral Scavenger Hunt, made Roman Numerals using twigs and used clay to make Roman Numeral coins for clocks. They then made their own clock mobiles.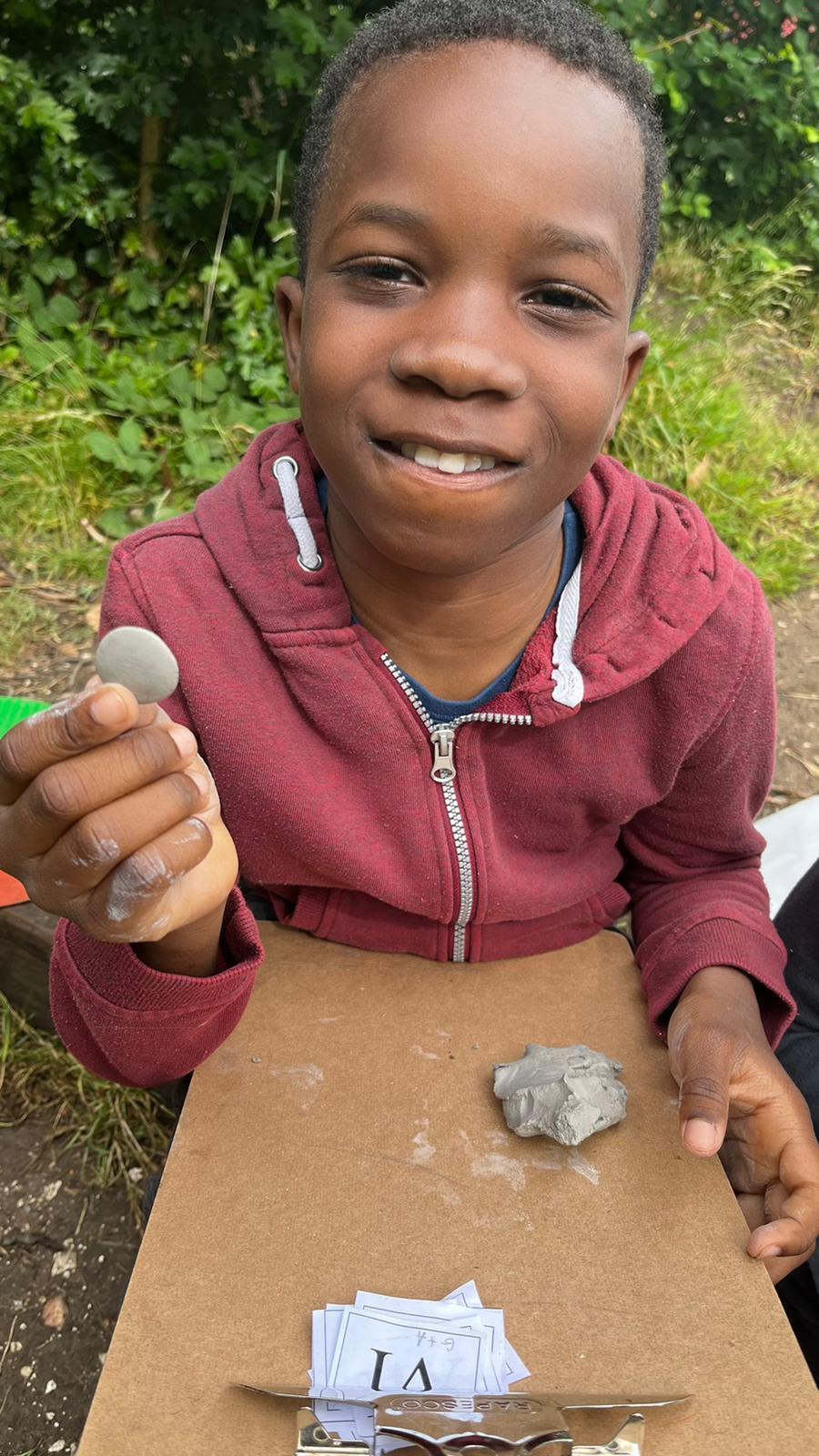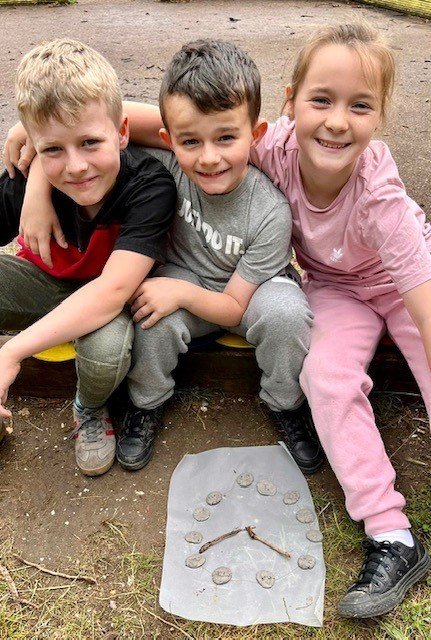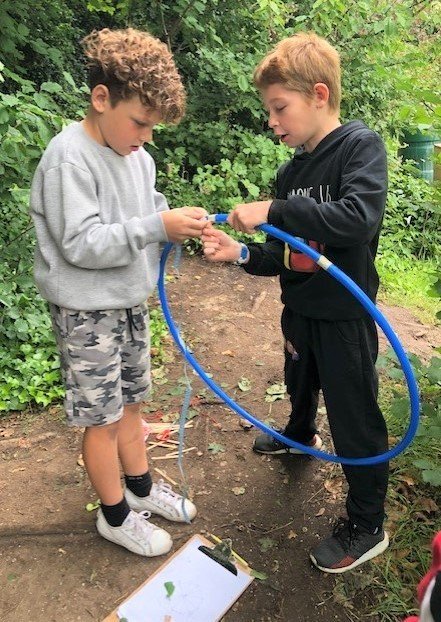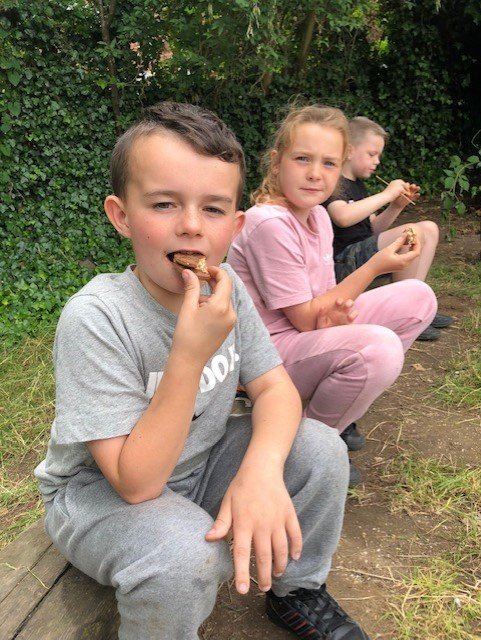 They finished off the day by making a fire and toasting marshmallows - served between chocolate biscuits! Yum Yum!
Refugee Week ;24.6.22
Year 4 created a mural for refugee week. They discussed the meaning of "refugee" and imagined what it would be like to have to leave your home/country.
They then discussed the word "unity" and the idea that we are all united as human beings, no matter where we are from, and that we all have the right to seek safety for ourselves and our families.
Each child coloured an individual part of the mural and when completed, the children bought them together as one, demonstrating how unity creates amazing things! Spot the different flags in the designs.
The mural now has pride of place in the school office.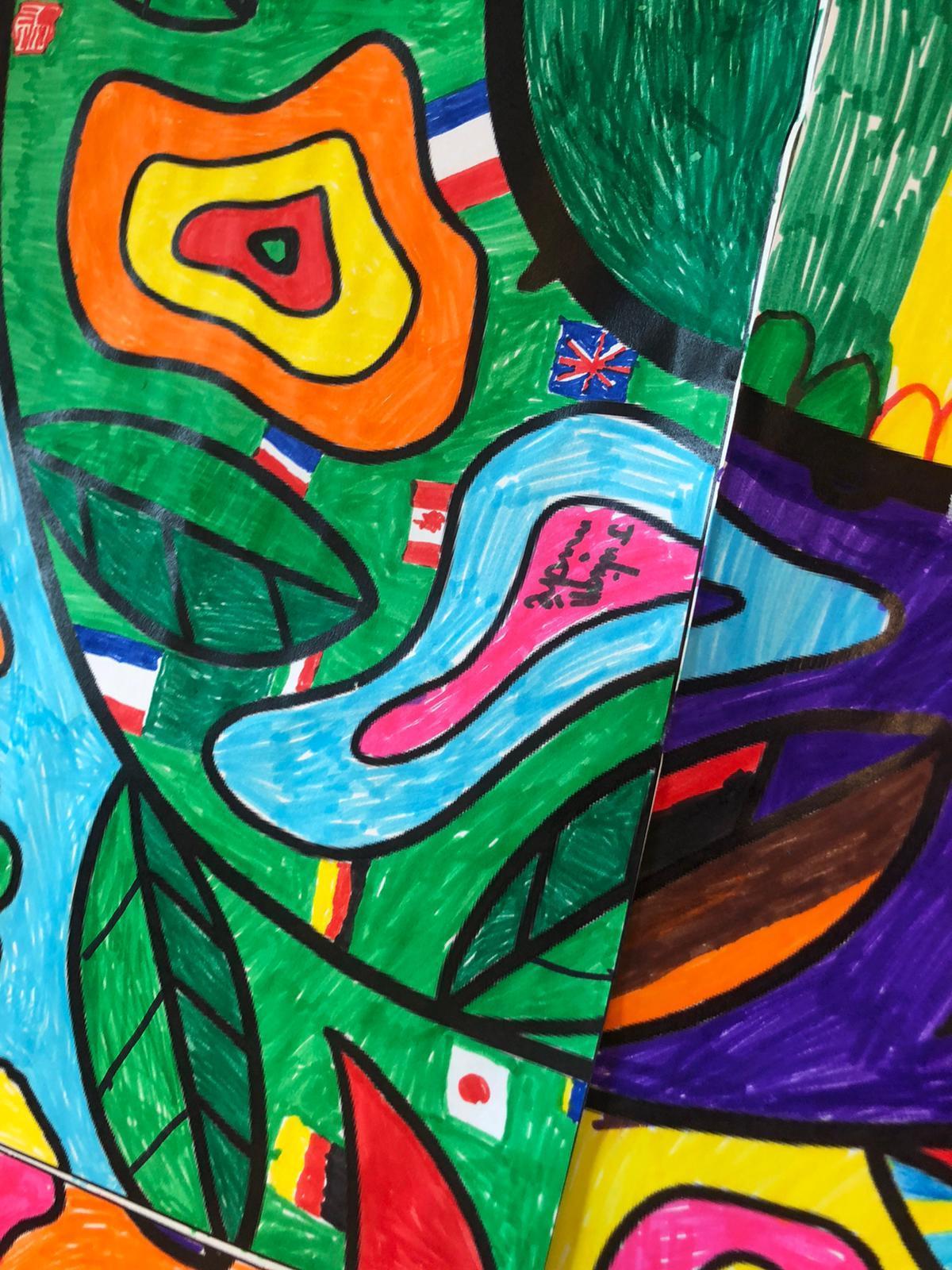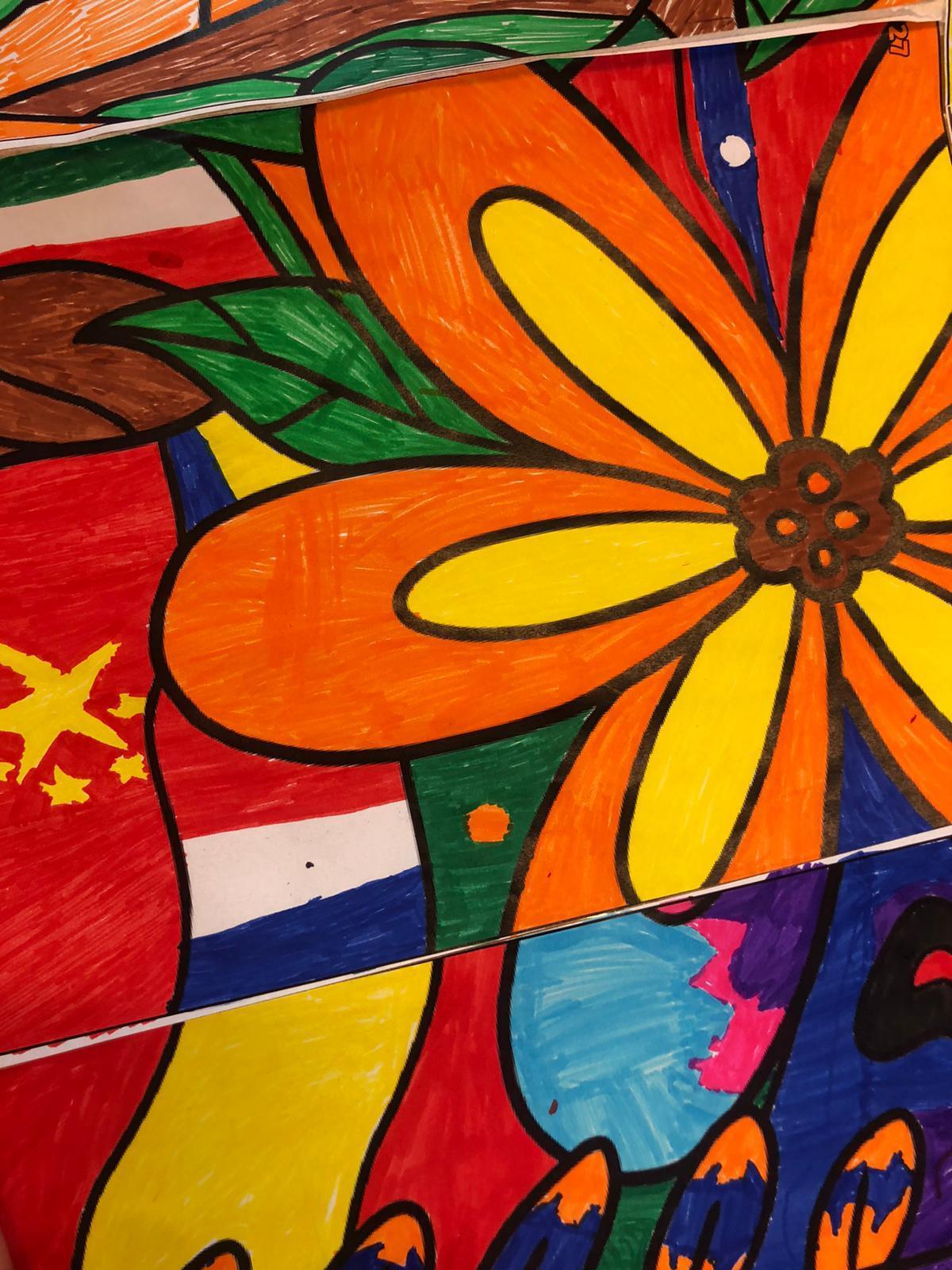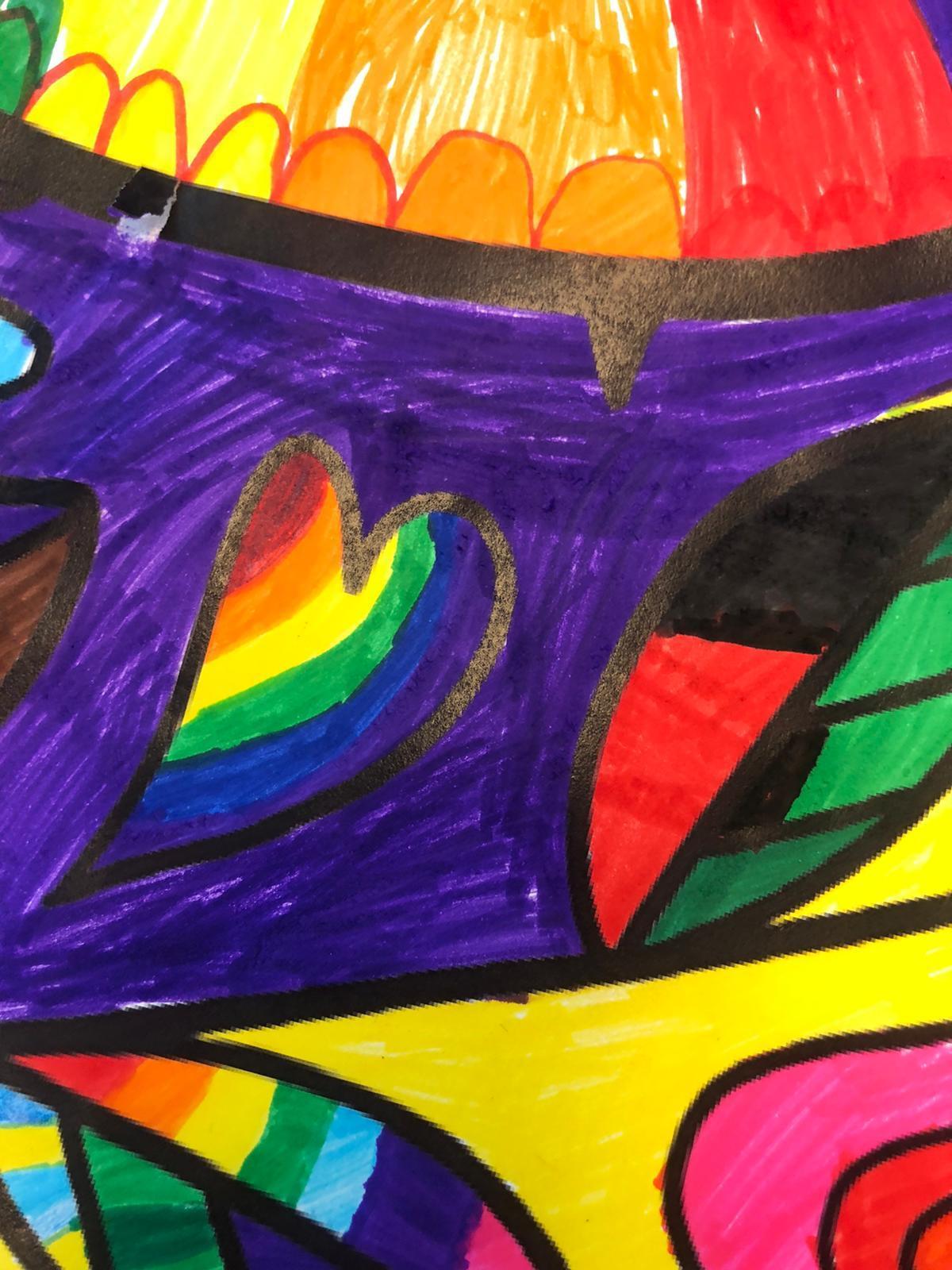 Fabulous Food Chains: 24.6.22
In their Science lesson today, Year 4 revisited the concept of food chains. They also learnt that the interconnected and overlapping food chains in an ecosystem make up a food web.
They created their own food chains demonstrated through a linking paper chain format. They also had some real food items and using a selection of pictures of producers, consumers, prey and predators, had to construct their own food chains before eating the edible part of it!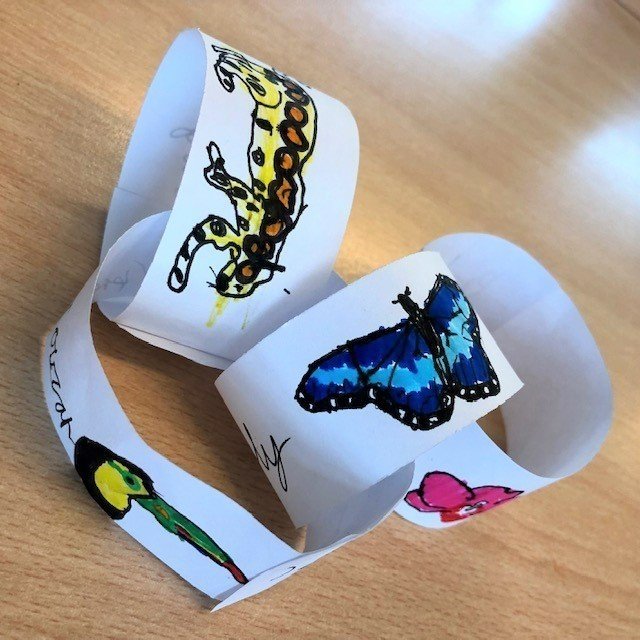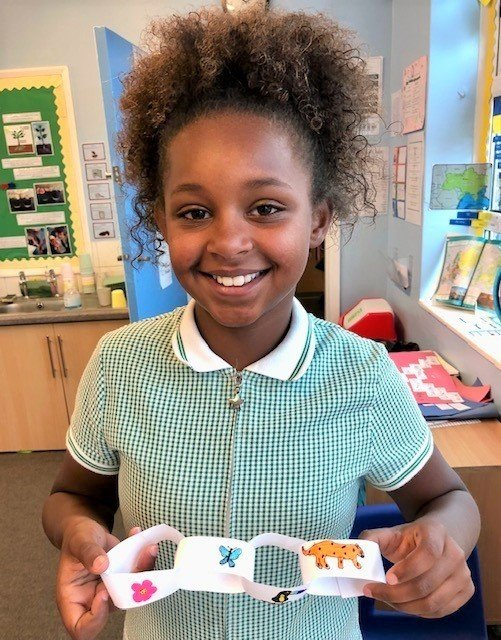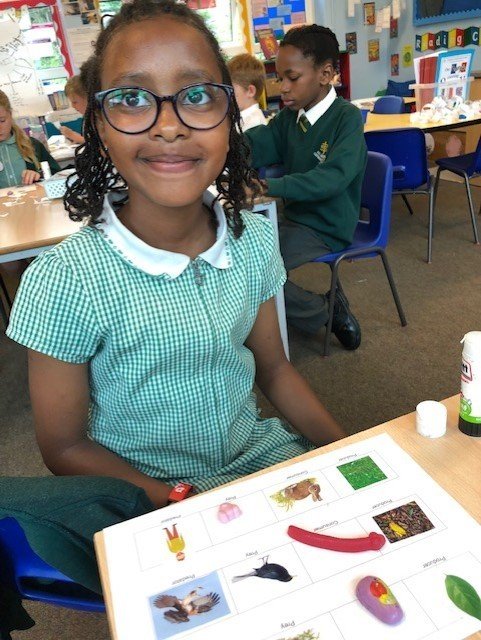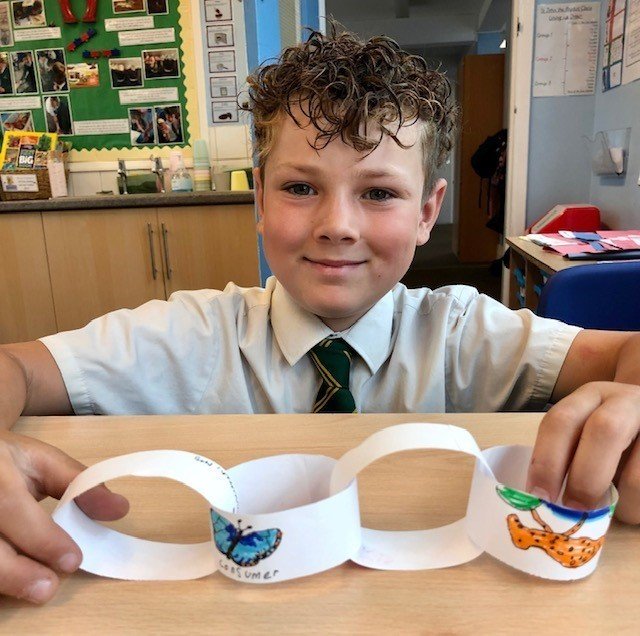 Amazing Athletes : 22.6.22
Some of our Year 4 pupils were chosen to represent St Joseph's today at the Small Schools Athletics Competition. We were very proud of every one of our competitors for showing determination and good sporting behaviours and for not complaining in the intense heat!
Congratulations to everyone in the Year 4 squad - you were all amazing!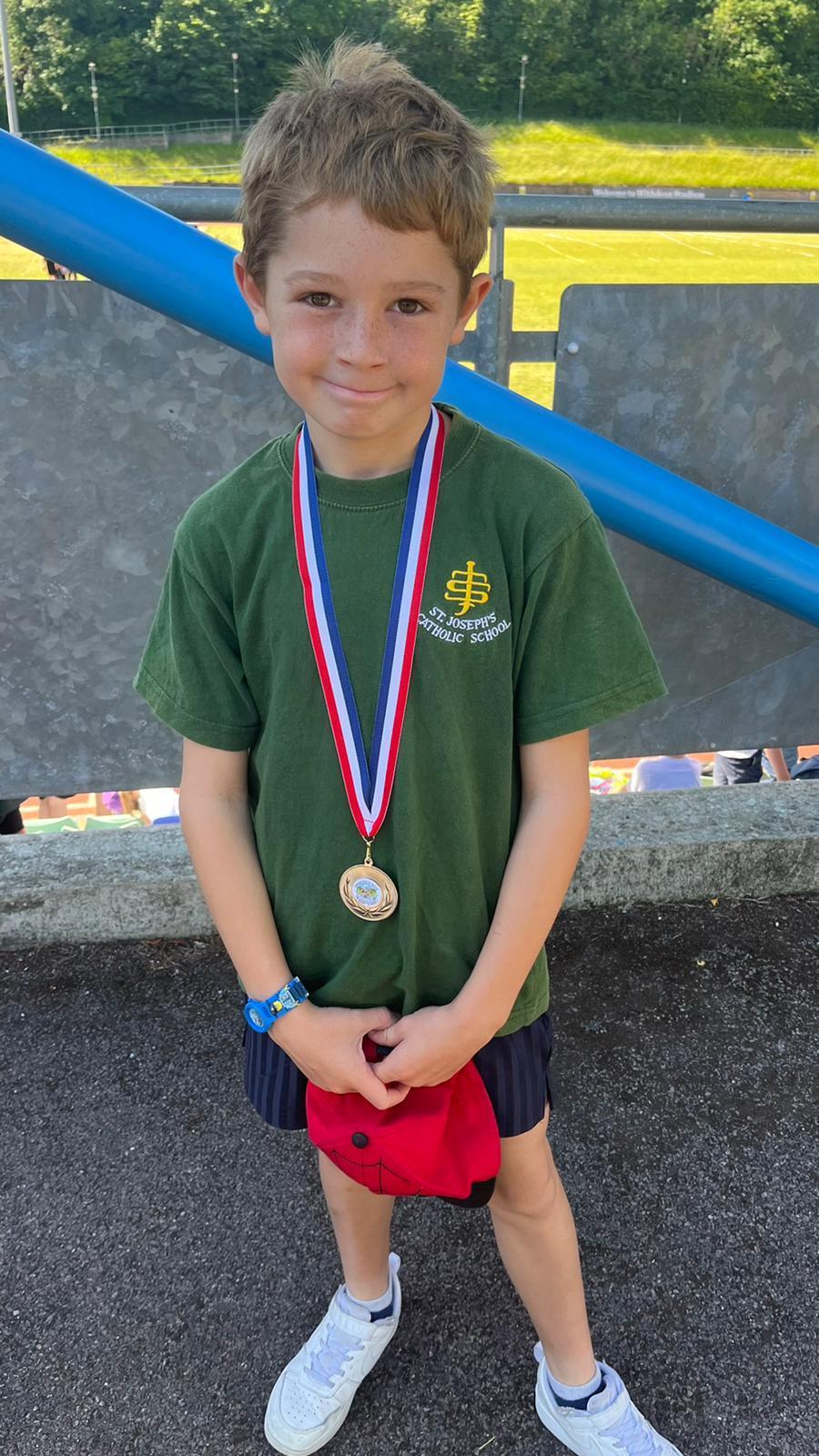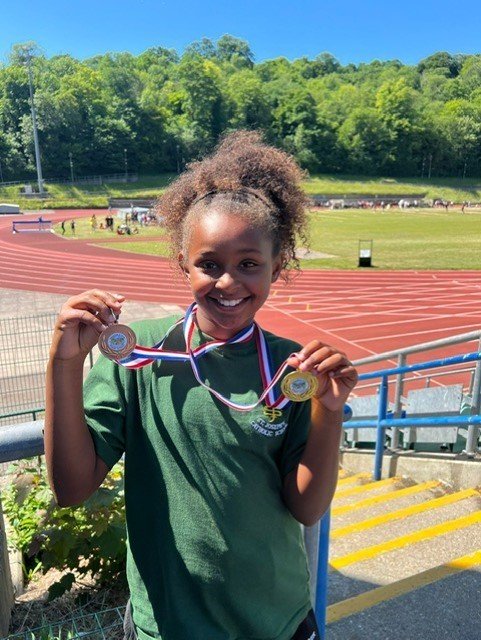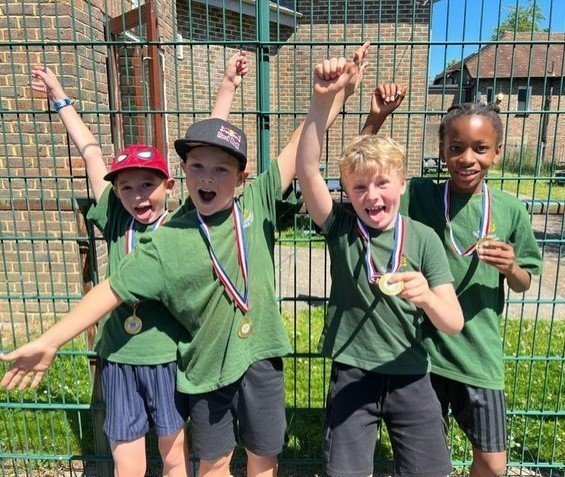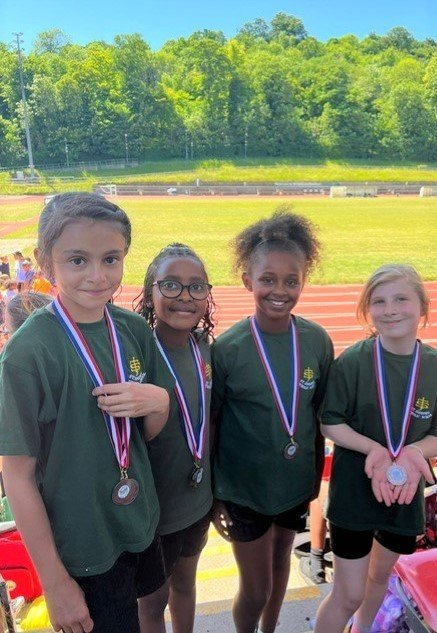 Super Sewing: 16.6.22
After their weaving last half term, Year 4 are applying the skills they learnt on a smaller scale and using a needle and Binca to start some simple sewing. Today, they made the most of the lovely weather and sat outside and sewed!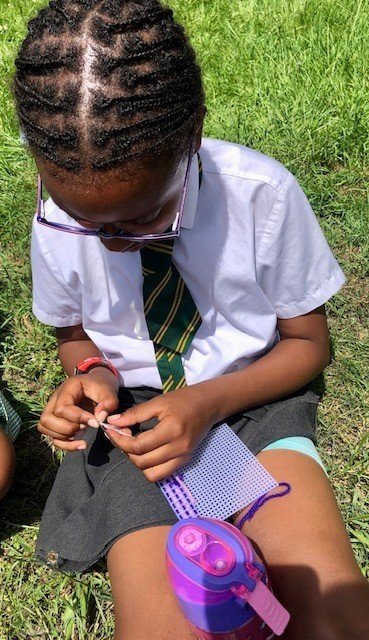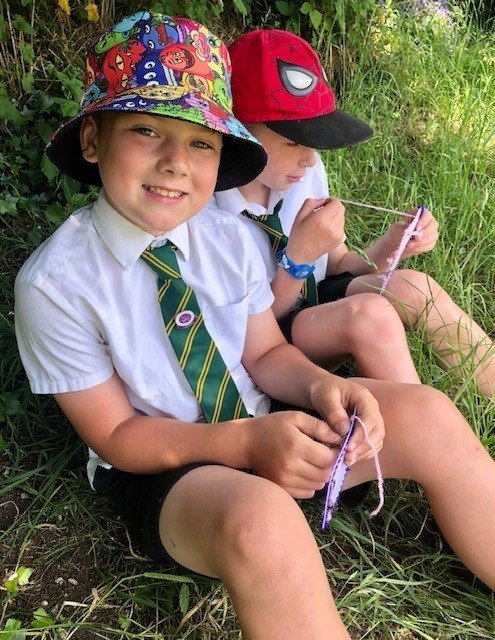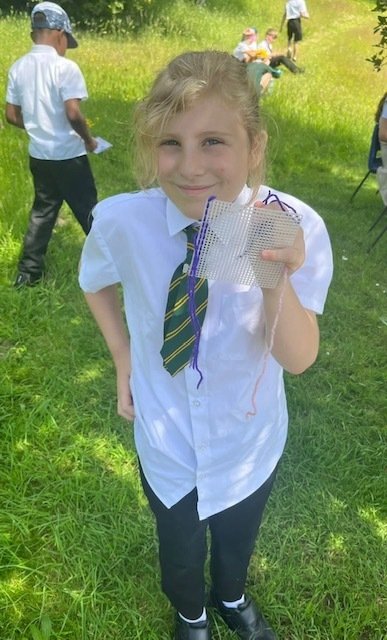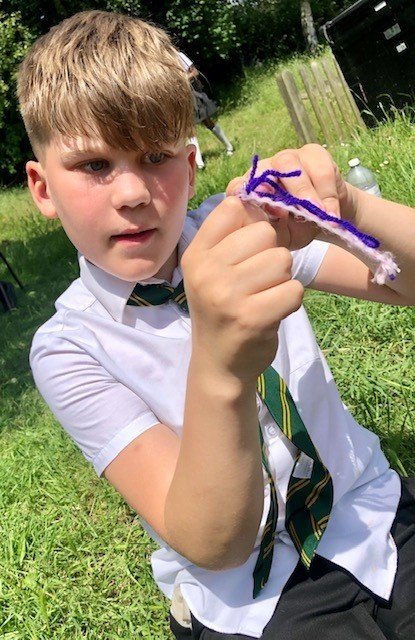 R.E. : 14.6.22
As part of their new R.E. topic "New Life," the Year 4 pupils reflected on how they would have felt after hearing Peter's message and how the power of the Holy Spirit changed people's lives.
They thought about how they could be bearers of Good News in school and at home and drew pictures of themselves after receiving the gift of the Holy Spirit.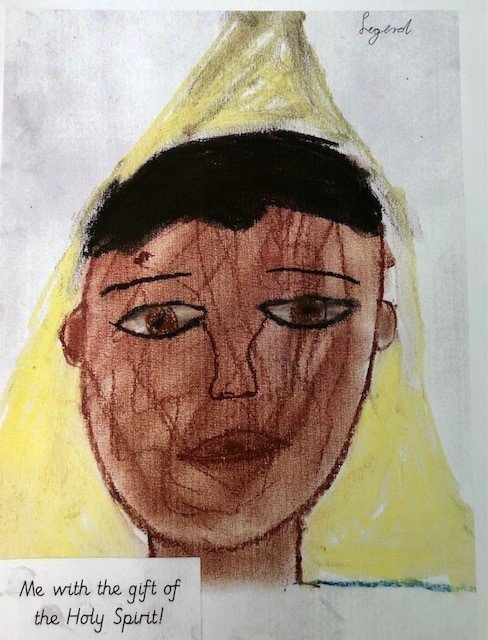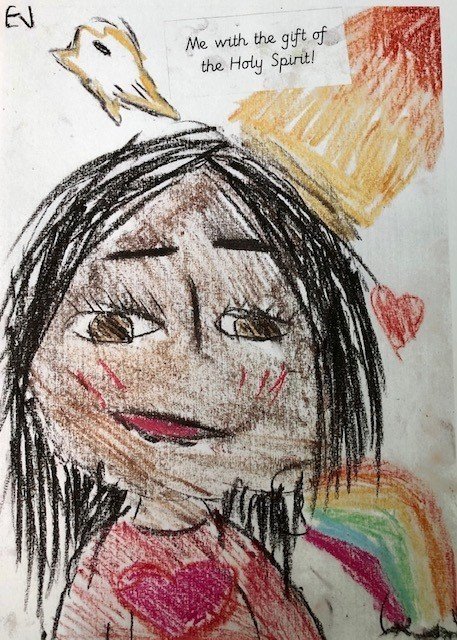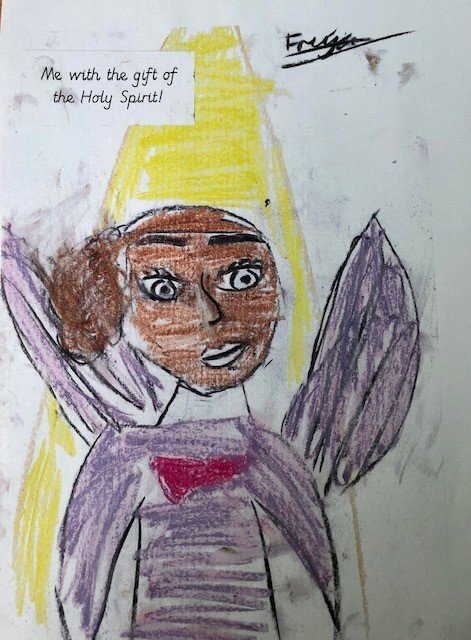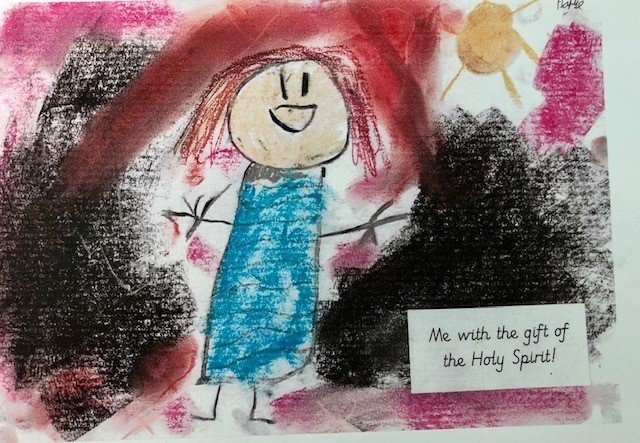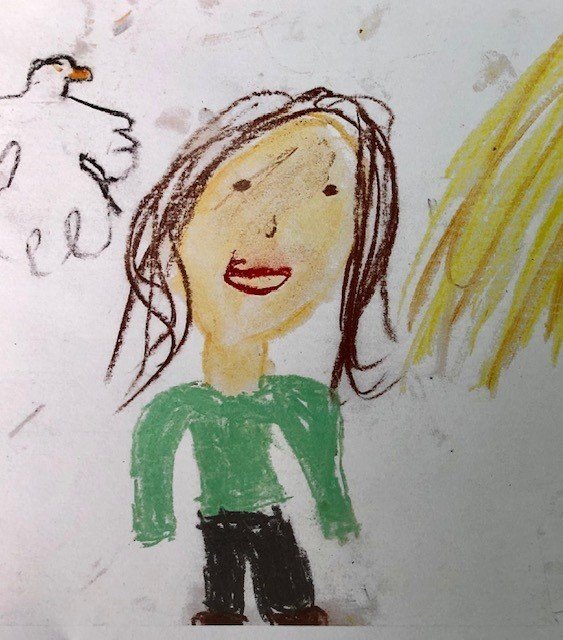 French : 10.6.22
In their French lesson today, Year 4 were revisiting how to say different dates in French. They revised days of the week and months of the year before applying their knowledge of important dates in the calendar in a game of pairs.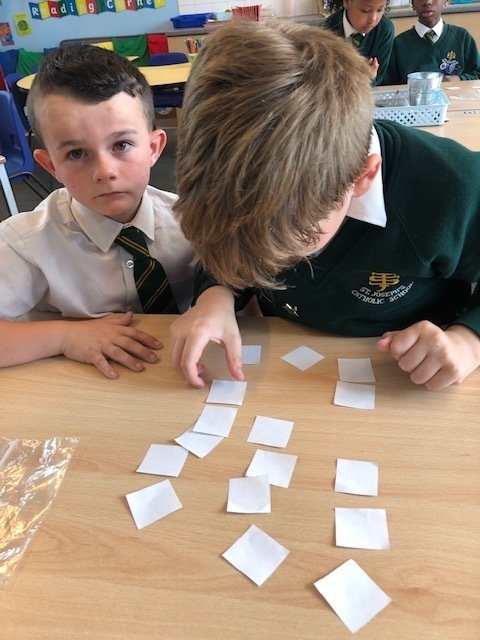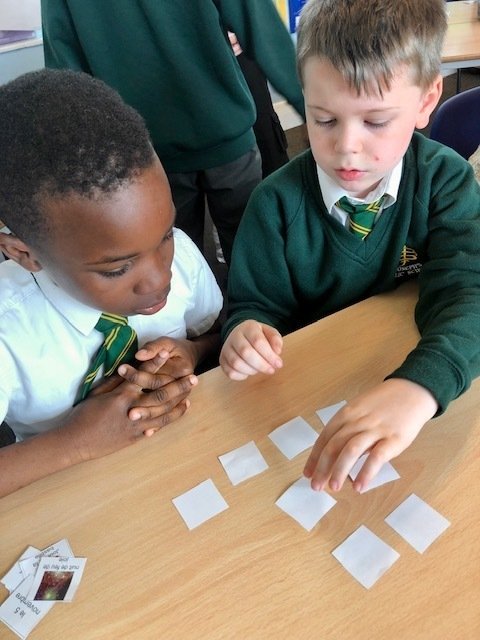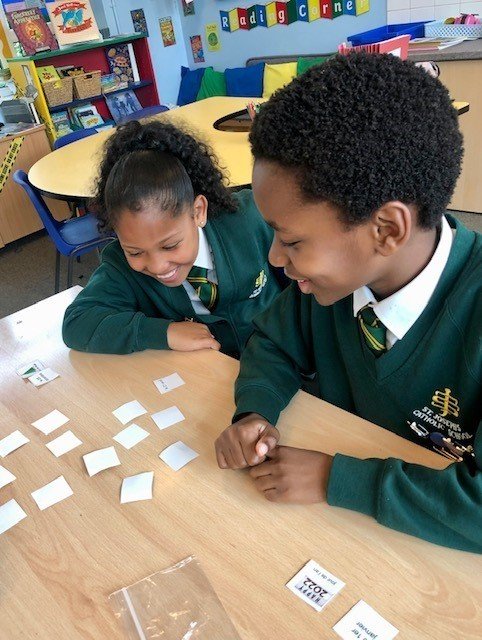 Science: 10.6.22
This week in Science, Year 4 have revisited how to use and construct classification keys. Before attempting to classify plants, the children created YES/NO questions to classify and sort sweets and chocolate based on their characteristics!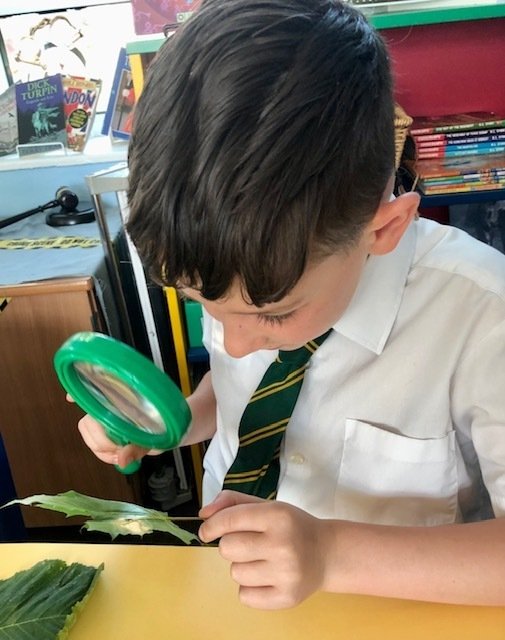 Using magnifying glasses, they then looked closely at leaves and their characteristics and made their own classification keys. They also studies different leaves in our local environment.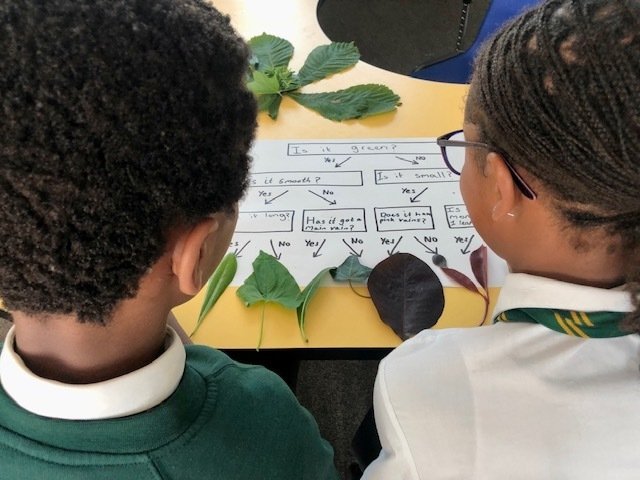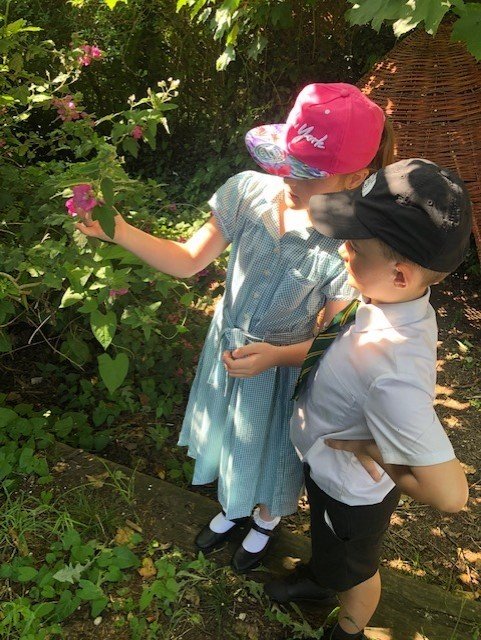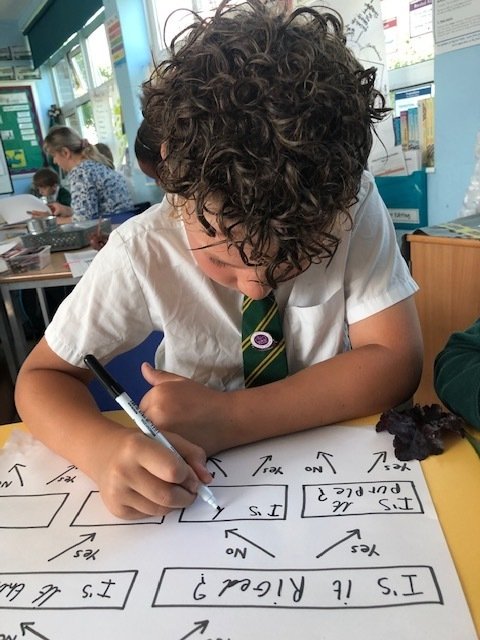 History : 9.6.22
Today, the children researched Victorian methods of punishment such as transportation, hanging and hard labour and the crimes that would warrant them.
They then created a courtroom drama to demonstrate their understanding. After their research, the children decided they would much rather be a criminal today than in the Victorian era!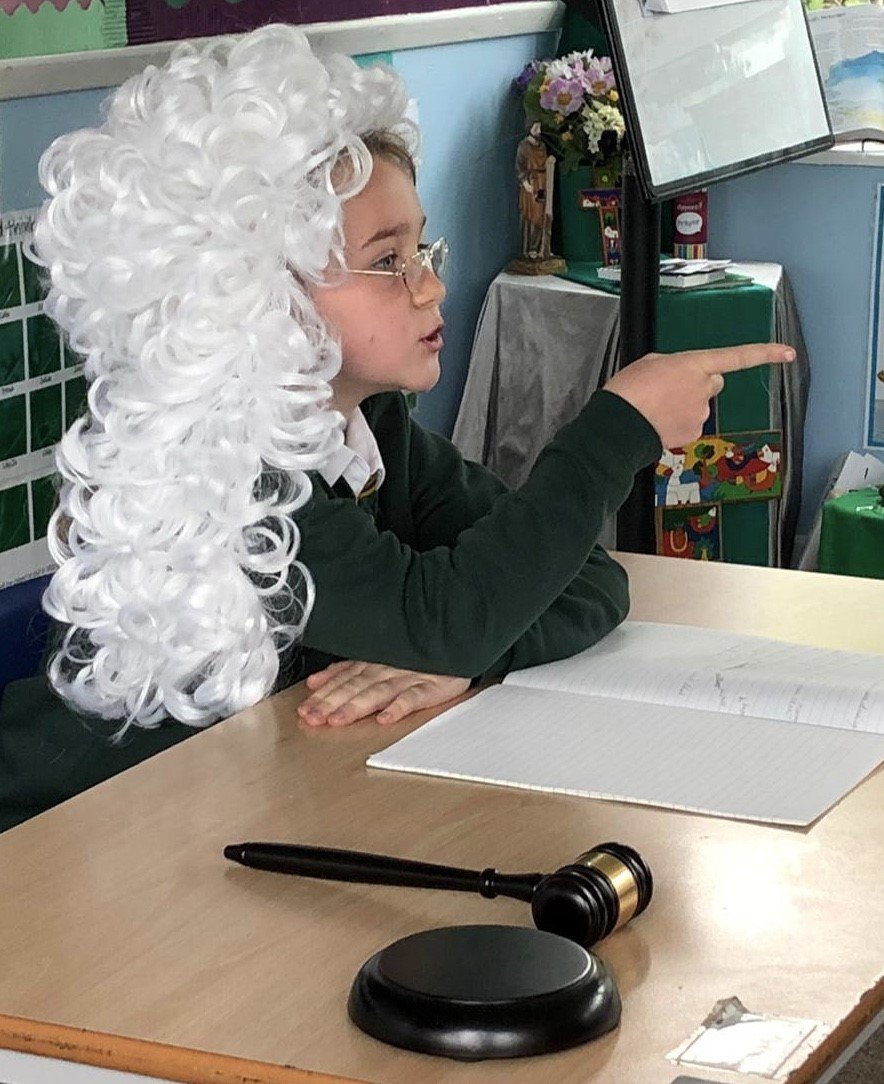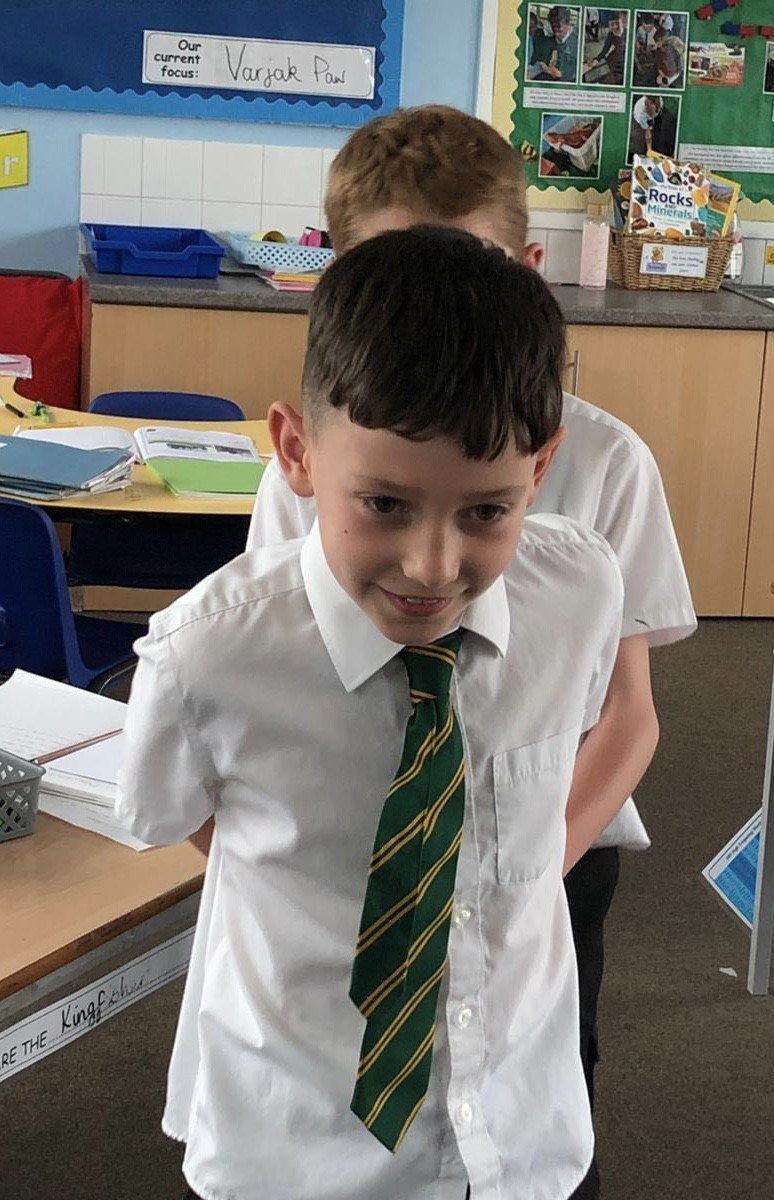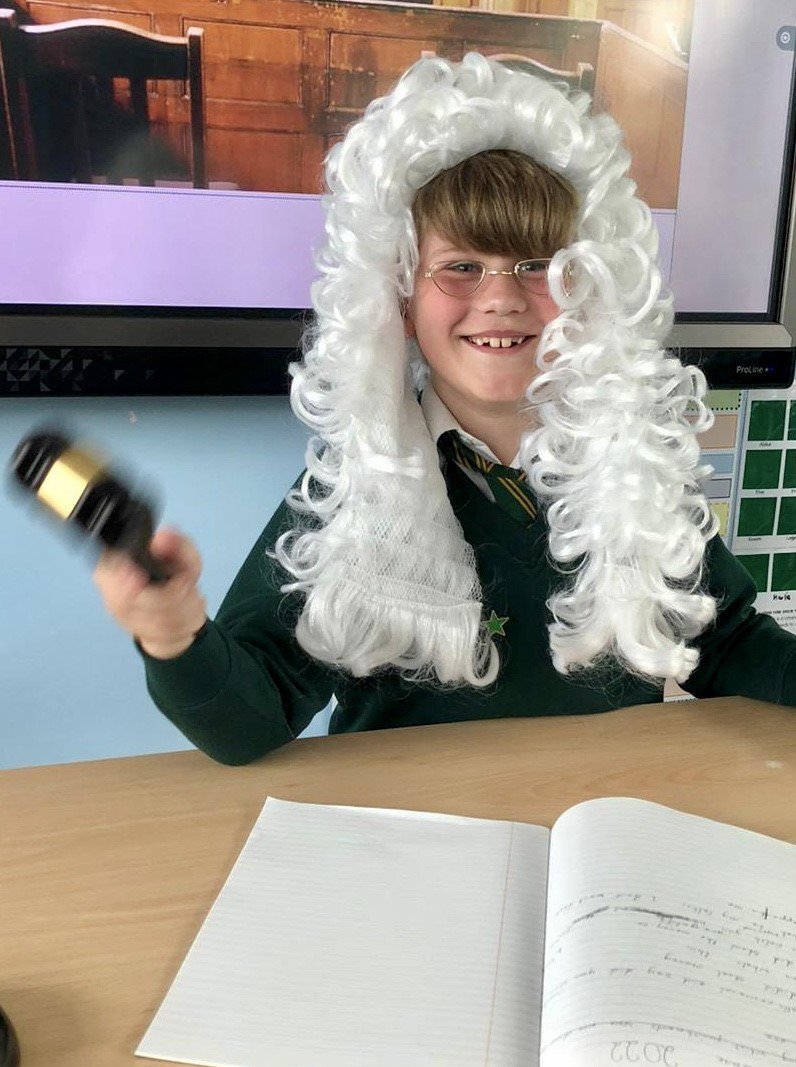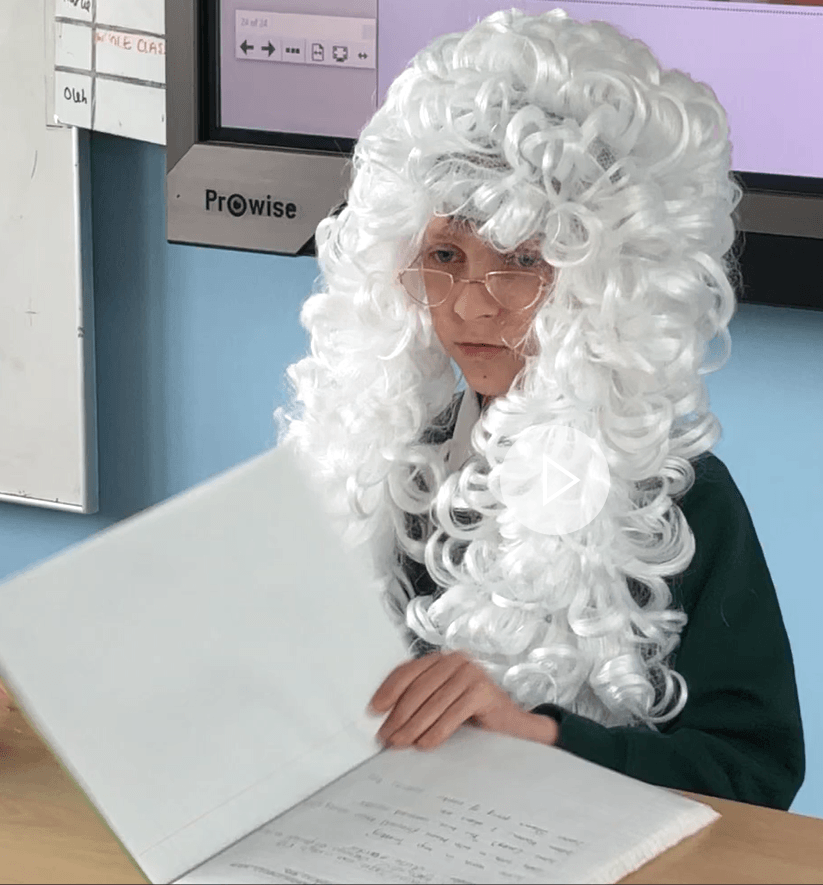 Jubilee Celebrations: 27.5.22
Today, the whole school celebrated the Queen's Platinum Jubilee. The children looked very regal in their King and Queen outfits and extremely smart in their special party clothes.
In the morning, the children completed fact-files about the Queen's life and role and found out interesting facts about her reign as the Queen over the last 70 years. They also enjoyed Jubilee themed biscuits.
They also made a cake time - line with edible pictures of the Queen throughout her reign on the top of each cake!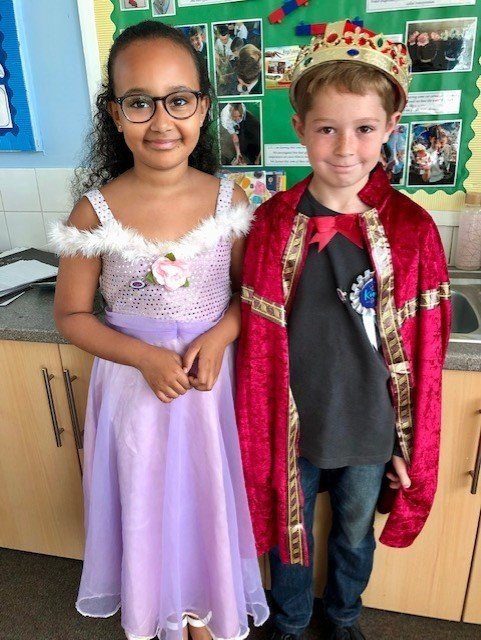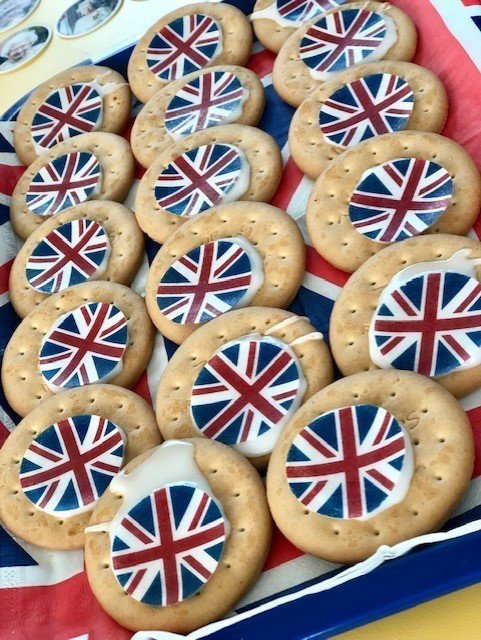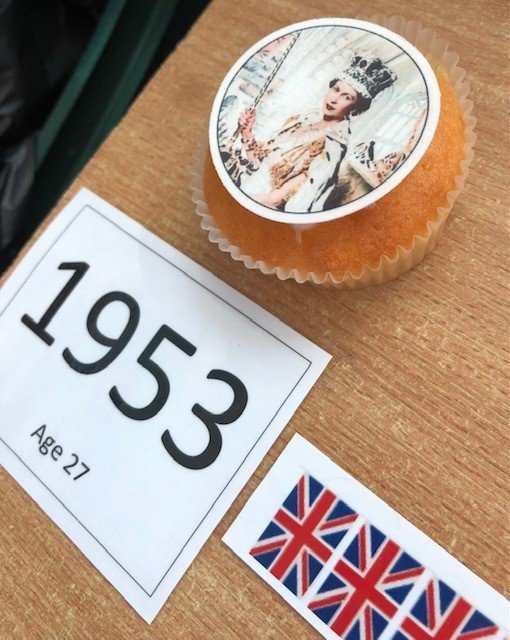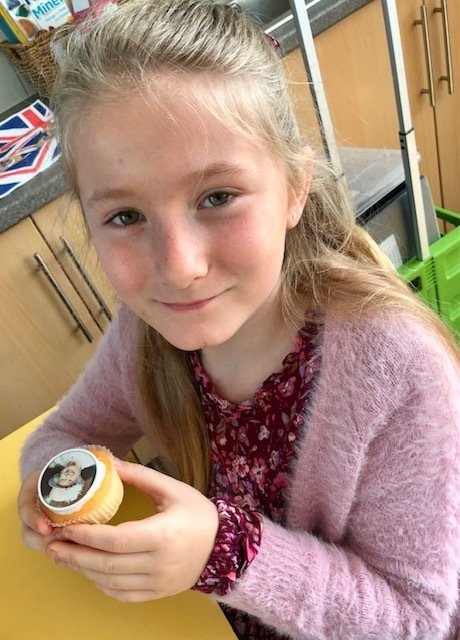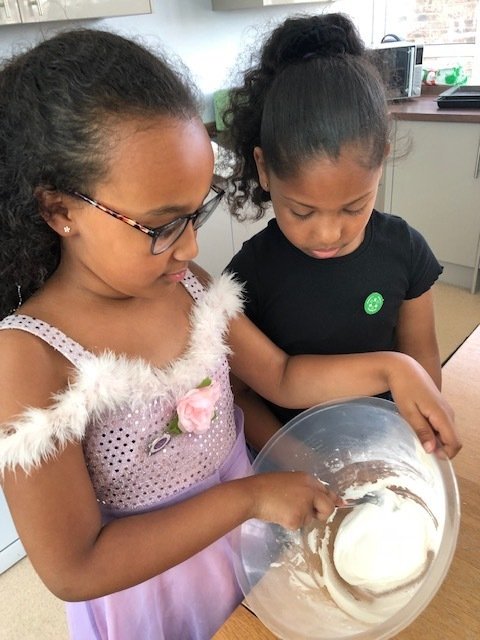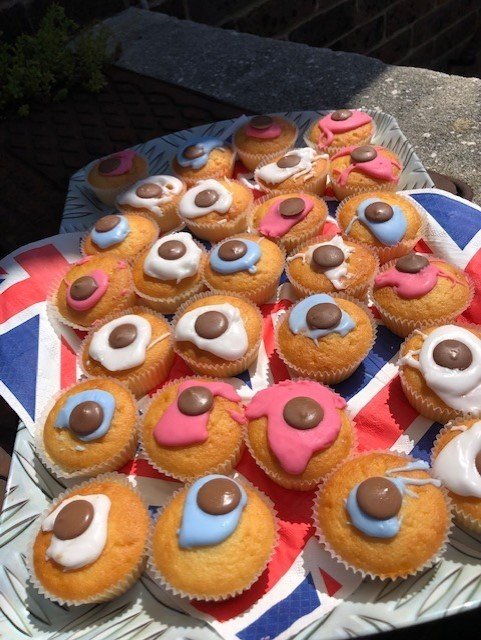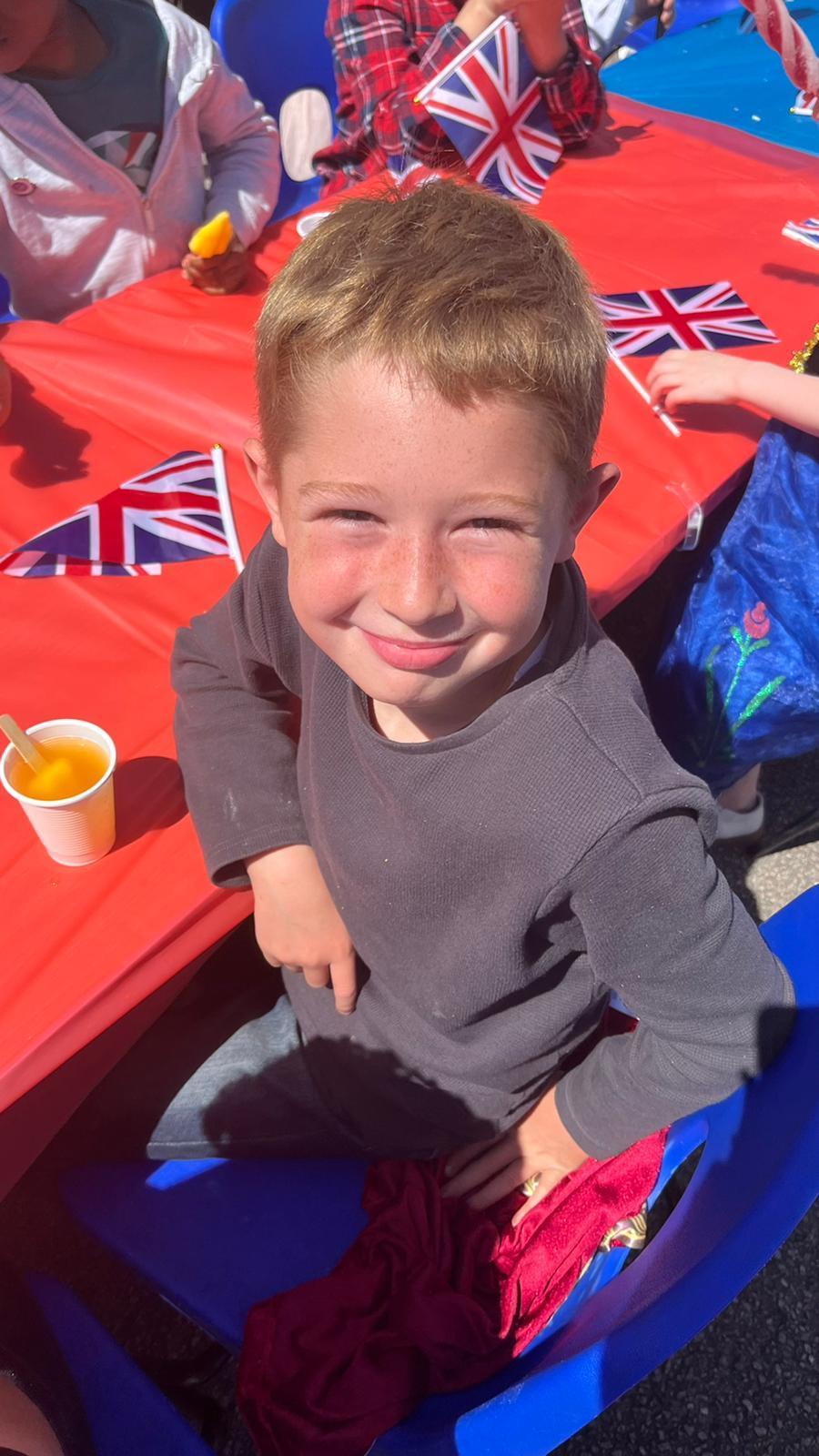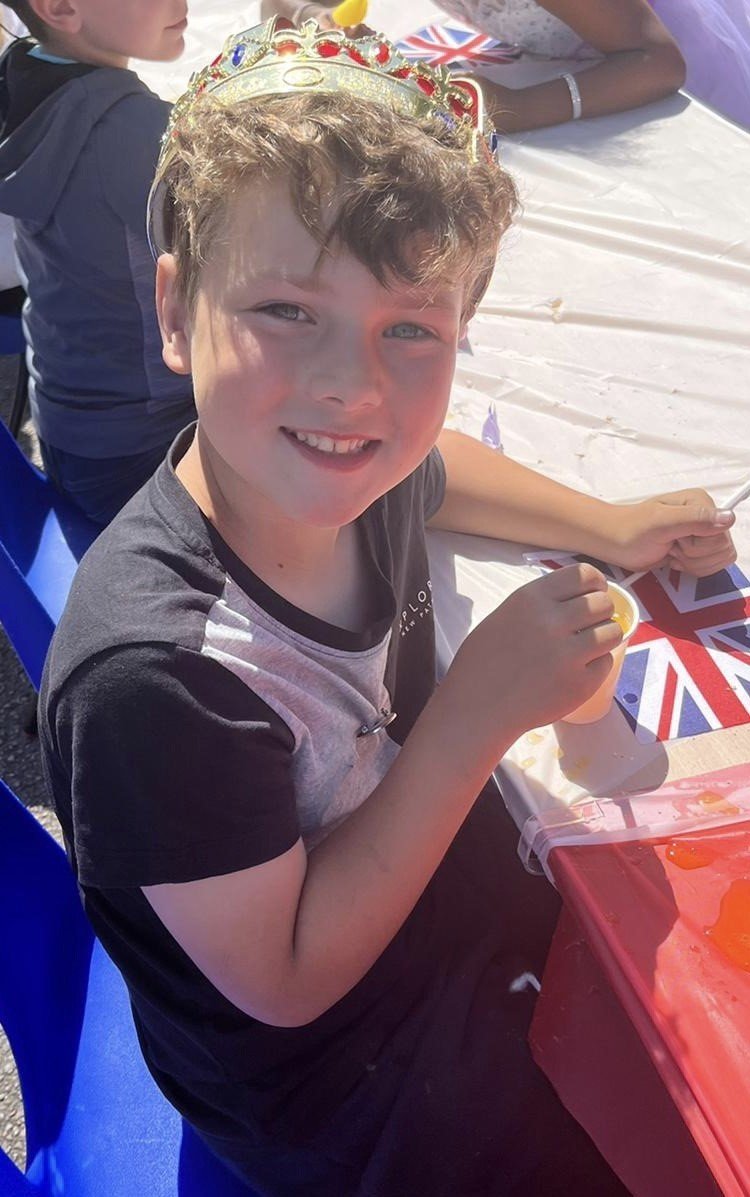 Year 4 helped by icing 160 red, white and blue cupcakes! In the afternoon, Year 4 joined the rest of the school for Jubilee Celebration Party.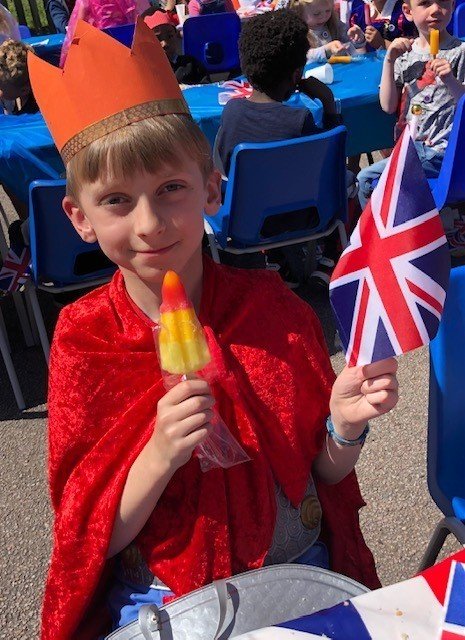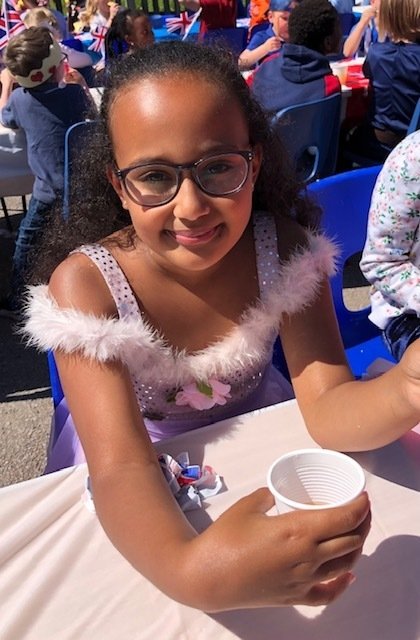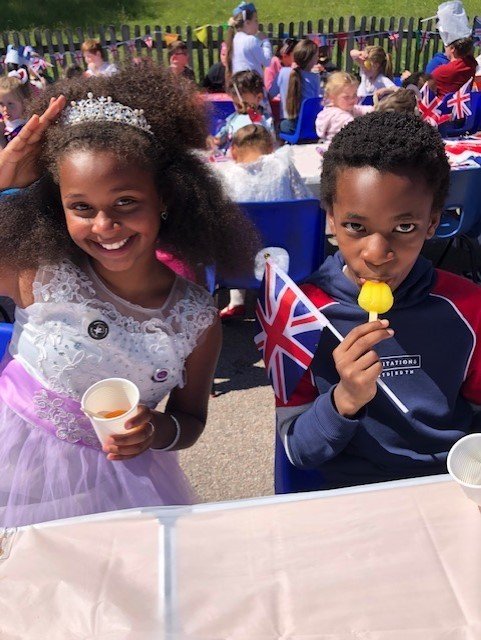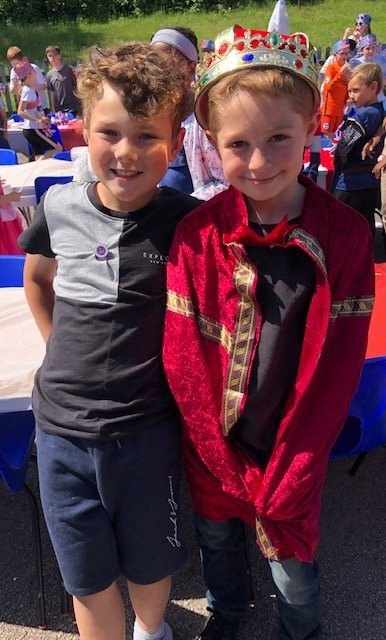 Outdoor Learning: 26.5.22
Year 4 had their fifth outdoor learning session this week. They began the day with a maths scavenger hunt, having to find equivalent decimals and fractions hidden in the outdoor area!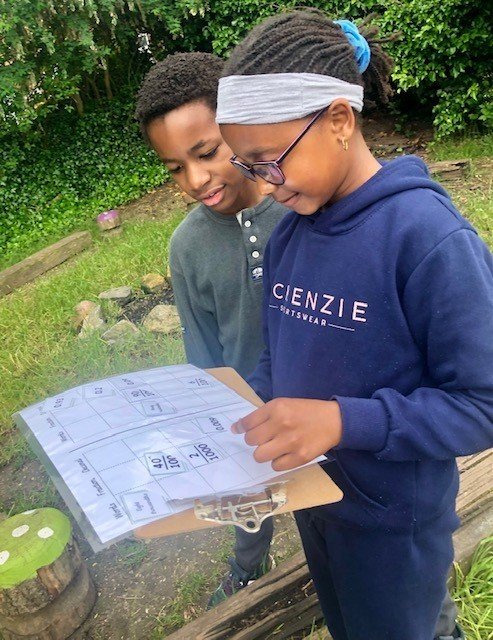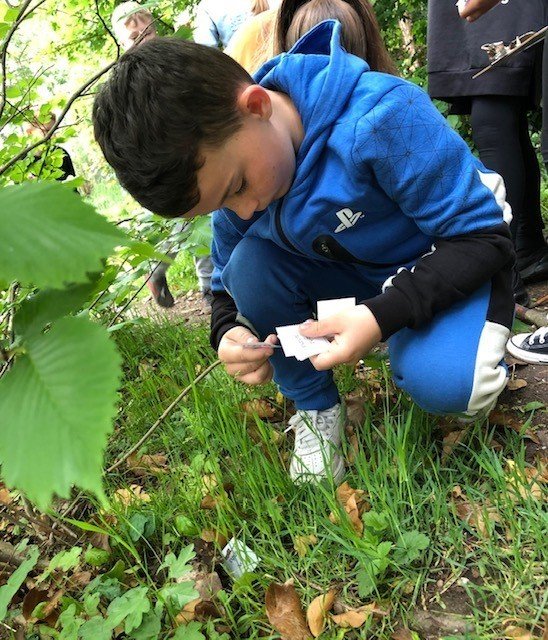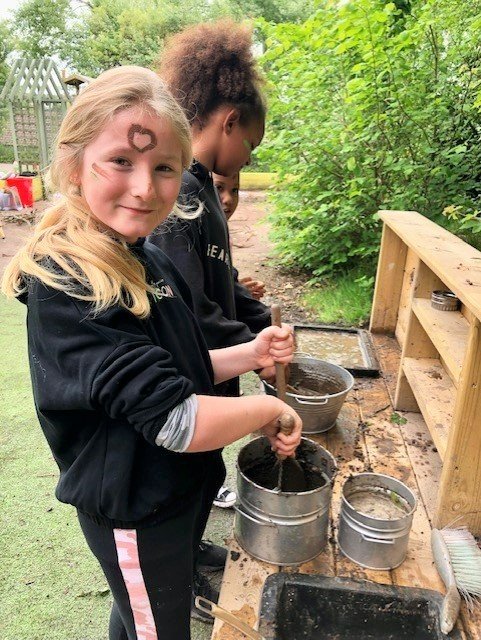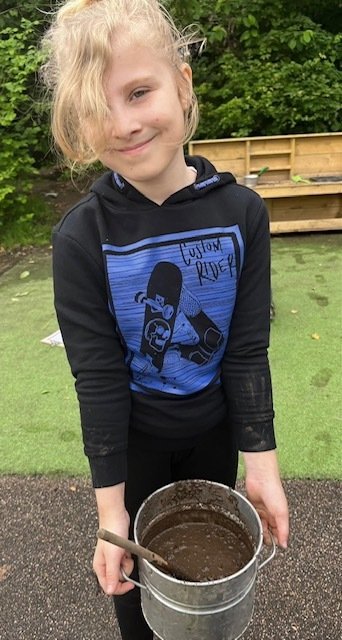 They used the environment to act out their own verses of a Roald Dahl poem, explored the mud kitchen and collected and sawed wood to use on their camp fire.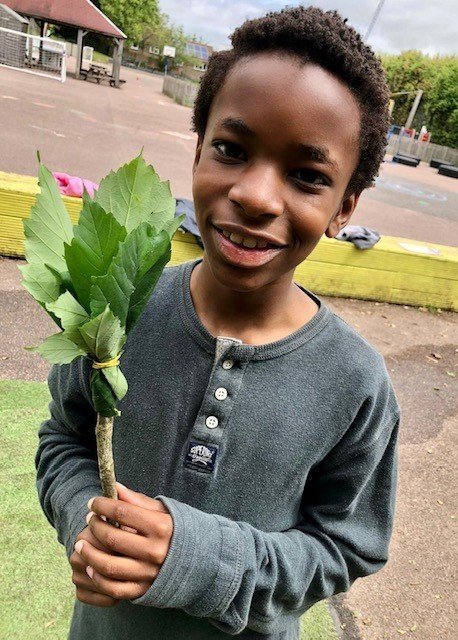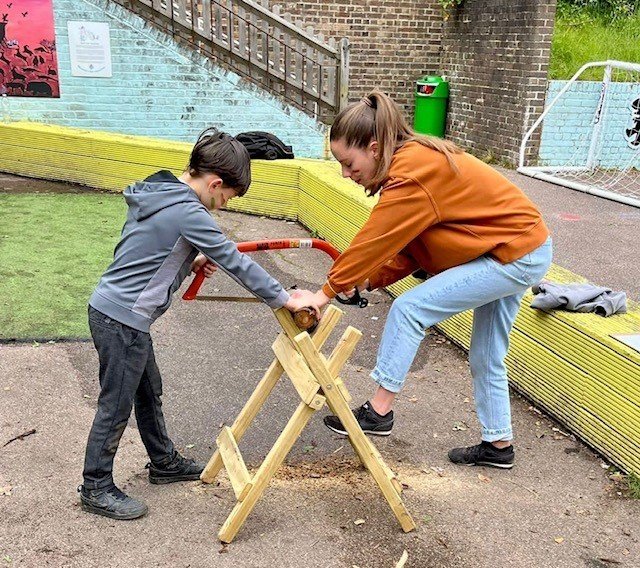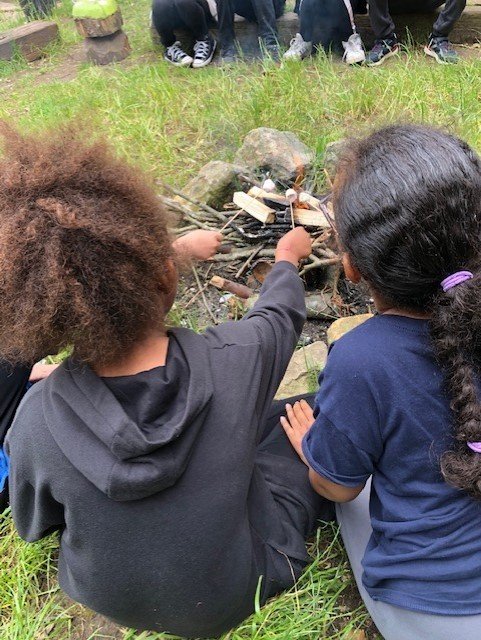 Once the fire was ready, the children toasted marshmallows and ate them between two chocolate digestives! Yum Yum!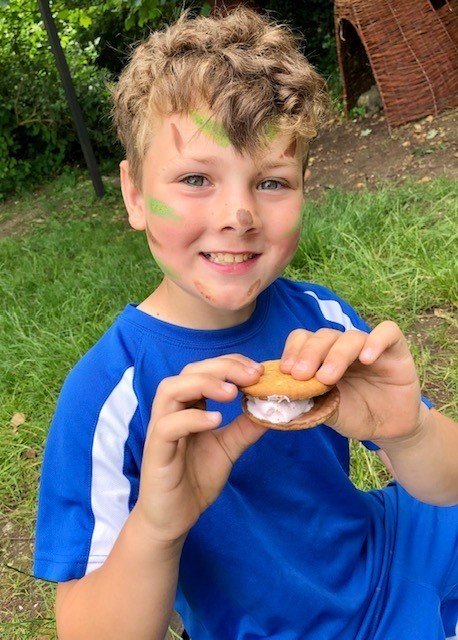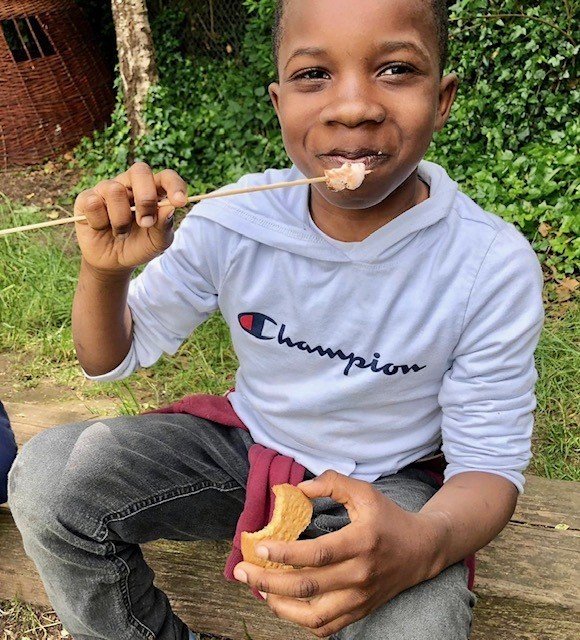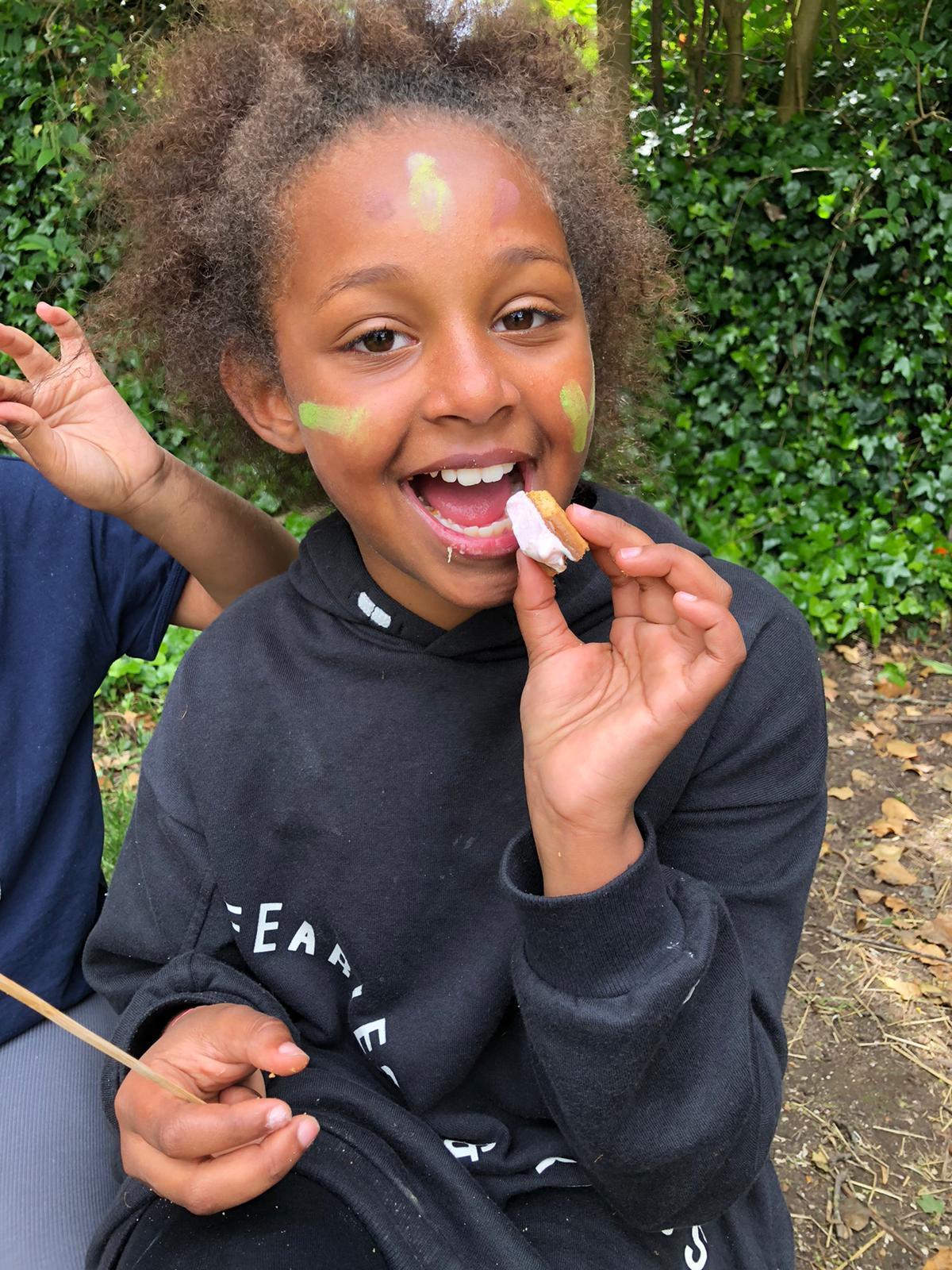 Crowning of Mary :24.5.22
Year 4 took part in a special "Crowning of Mary" today. Alongside Year 1, the children took part in a craft activity before singing and processing to the statue of Mary, honouring Our Lady - the mother of Jesus.
Each child honoured Mary with the gift of a flower which adorned her statue.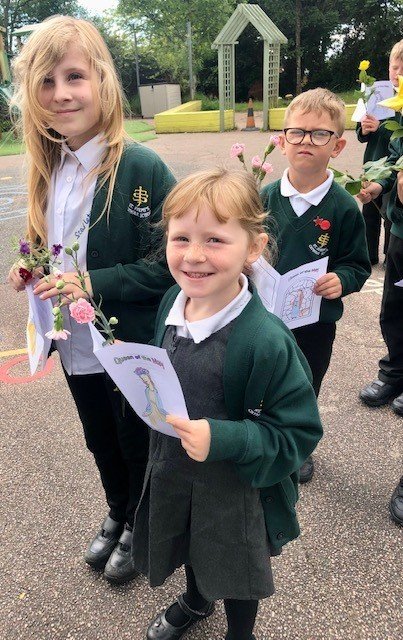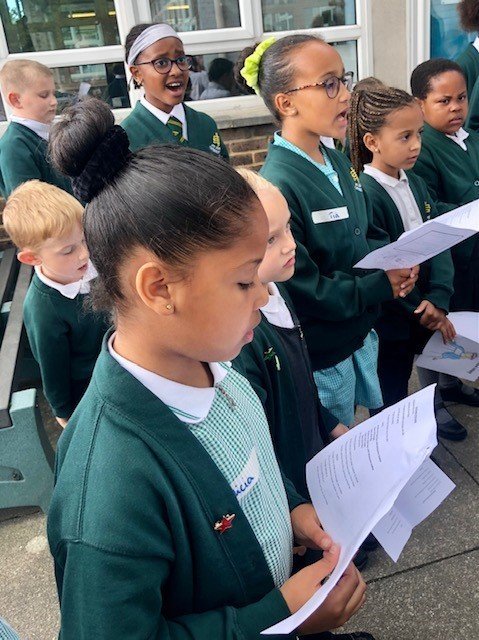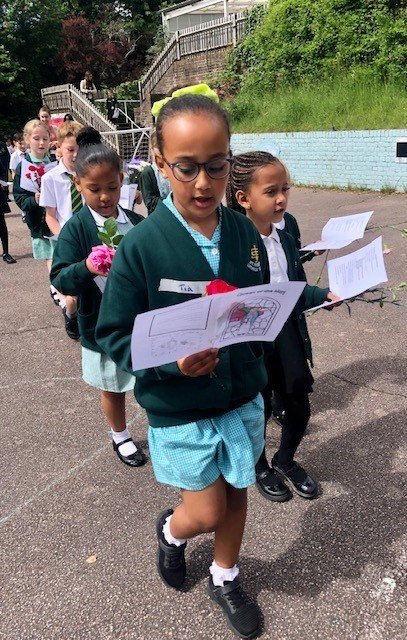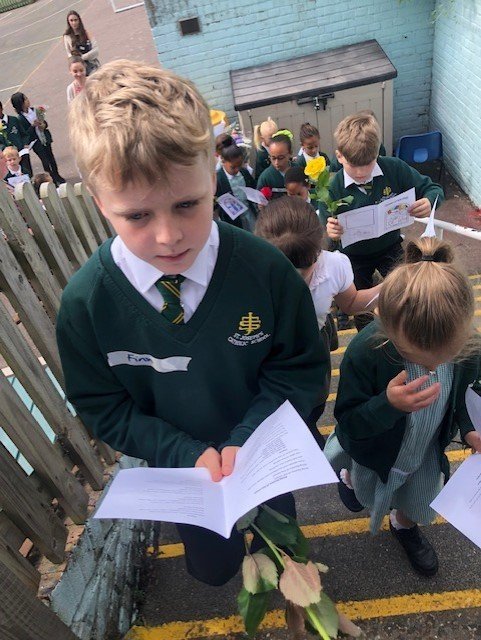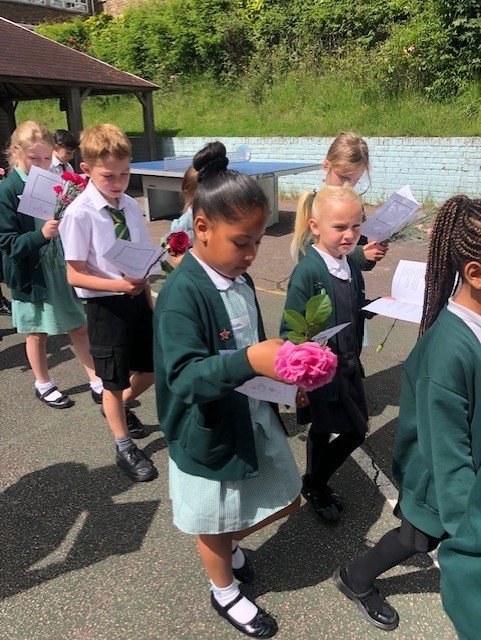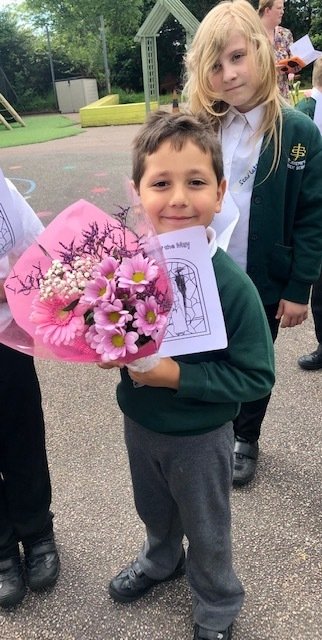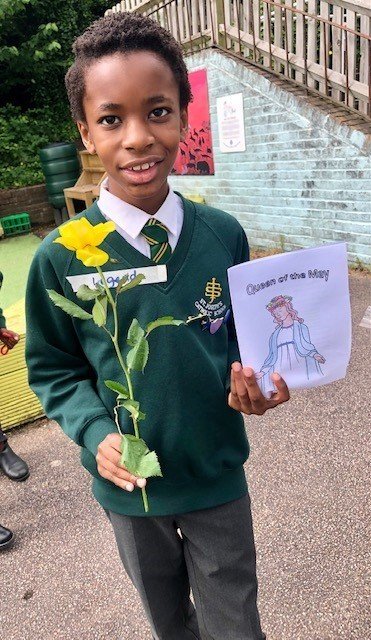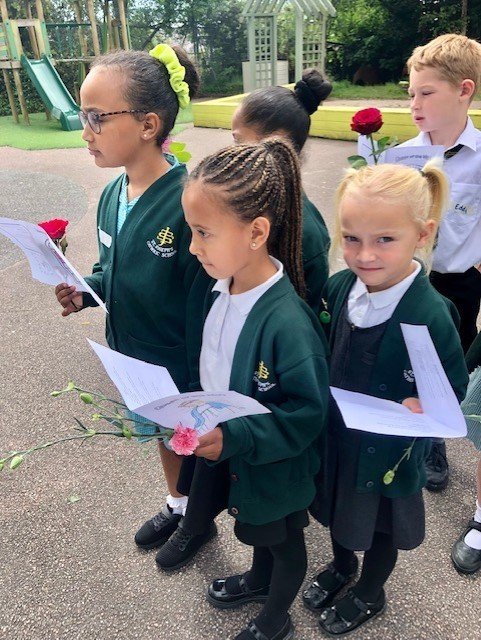 French: 20.5.22
In French today, Year 4 wrote simple postcards. They drew a French landmark on the front of their card and then used their knowledge of simple greetings and the weather to write a postcard to their teacher.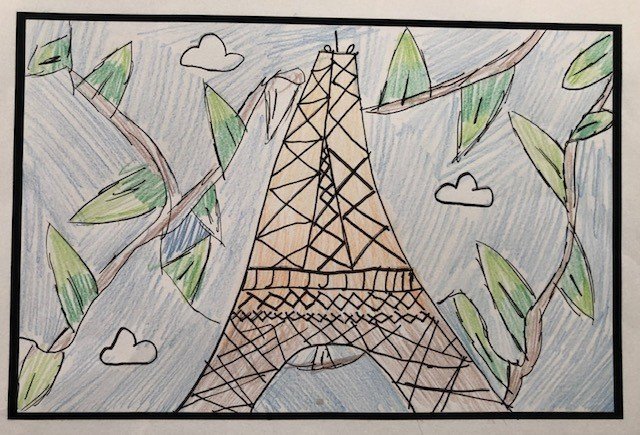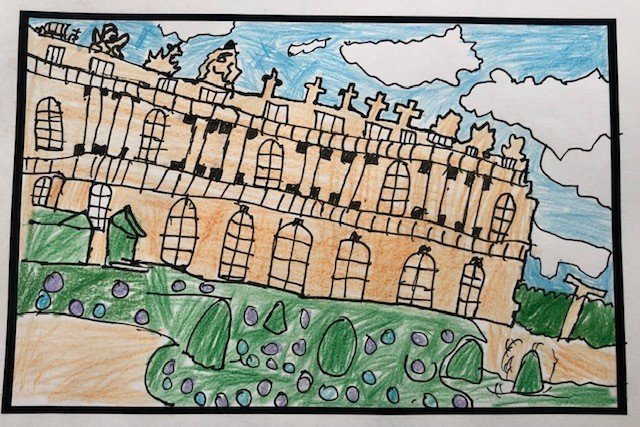 Tour Eiffel Château de Versailles Pont du Gard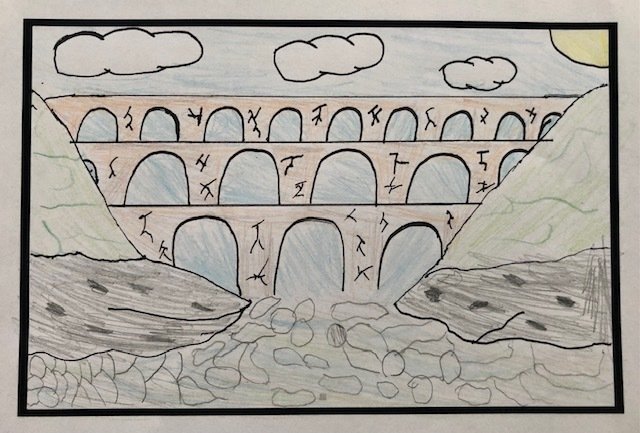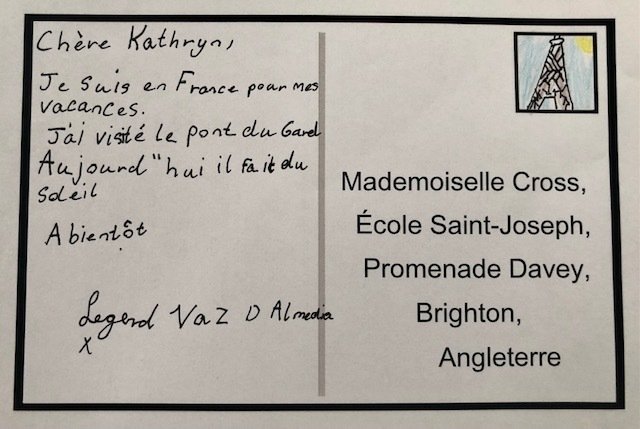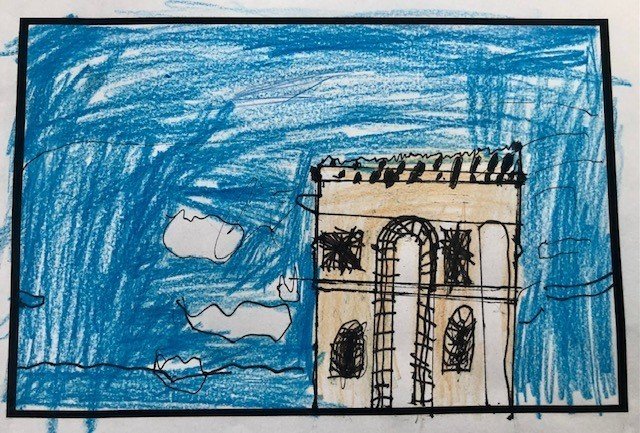 Pont du Gard Arc de Triomphe
Power of Reading : 20.5.22
Based on their Power of Reading key text "Wolves," Year 4 watched a tutorial by the author and illustrator and followed a step by step tutorial demonstrating how the wolf was drawn using very simple and limited drawing medium.
Here are a few drawings from the children in Year 4 - they have cleverly applied the skills of contouring and shading to create movement, depth, tone and texture learnt through their art lessons.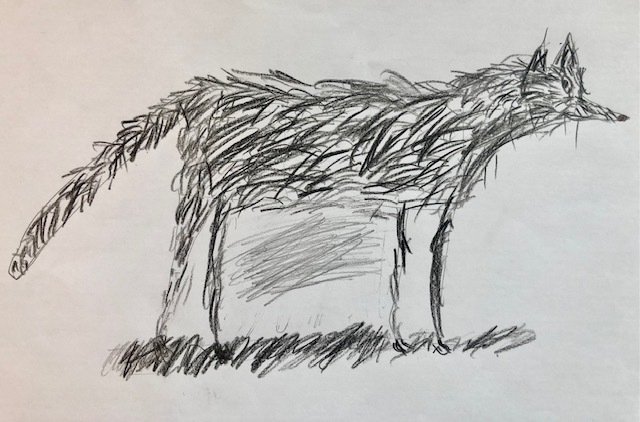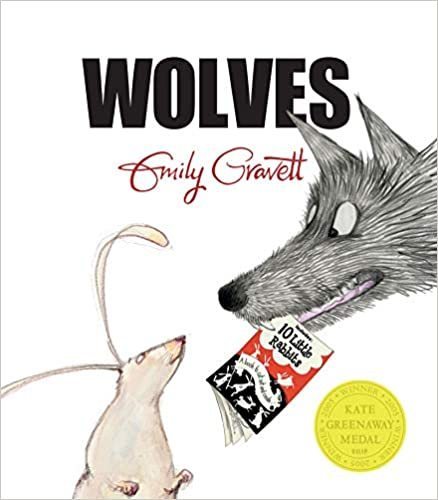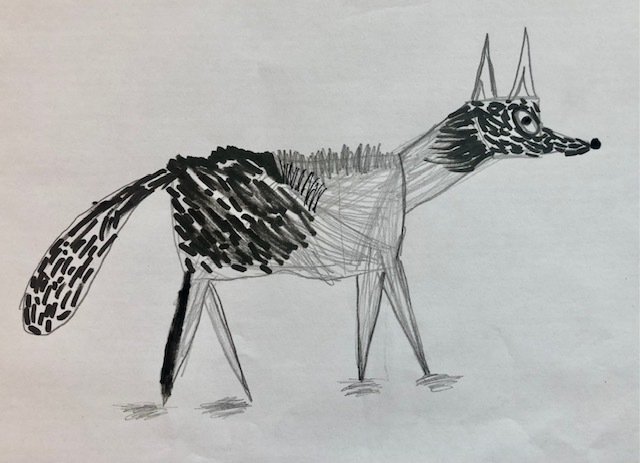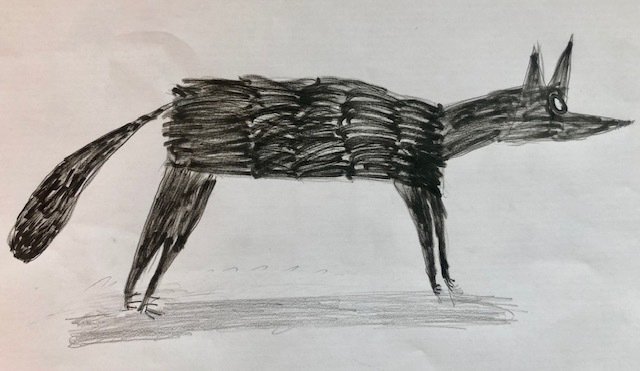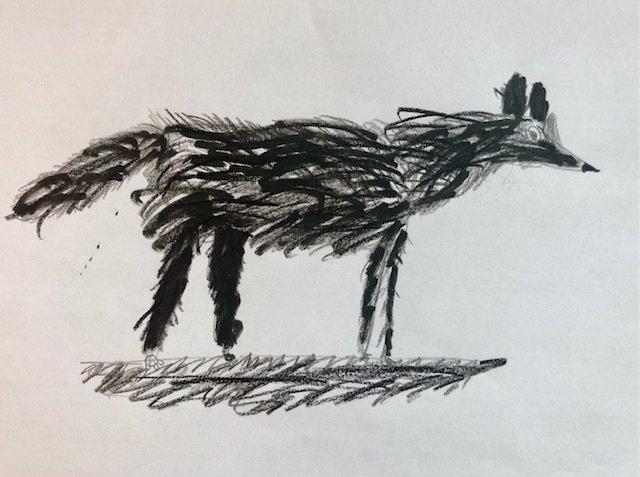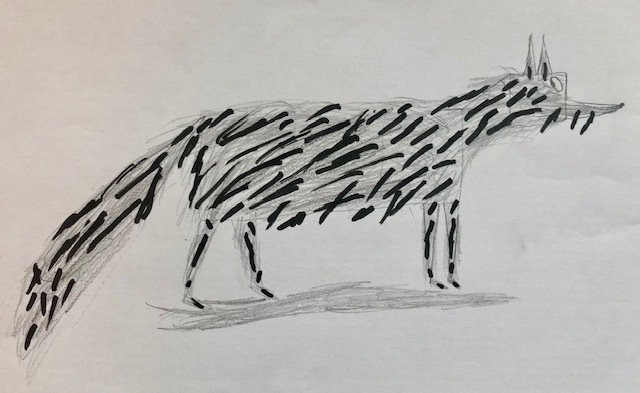 Weaving :20.5.22
Year 4 finished their weaving in today's art lesson - the final stage is now to take it off the loom. Some children completed their weaving using different coloured wools, others weaved with different thicknesses and textures.
Here are a few of them: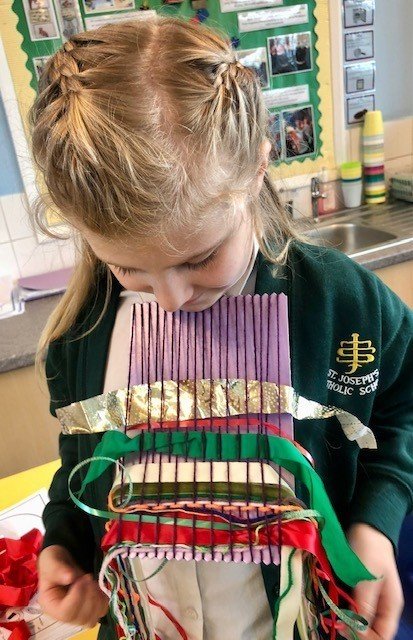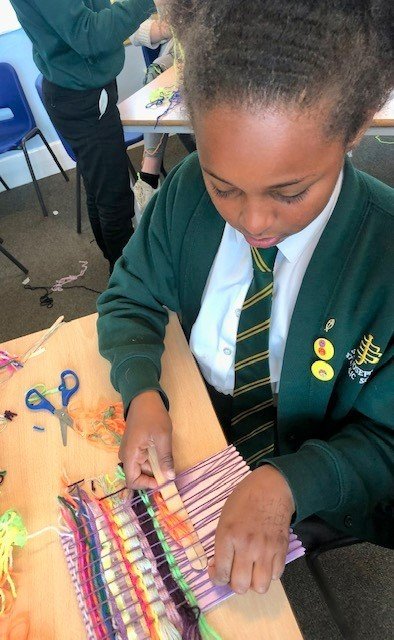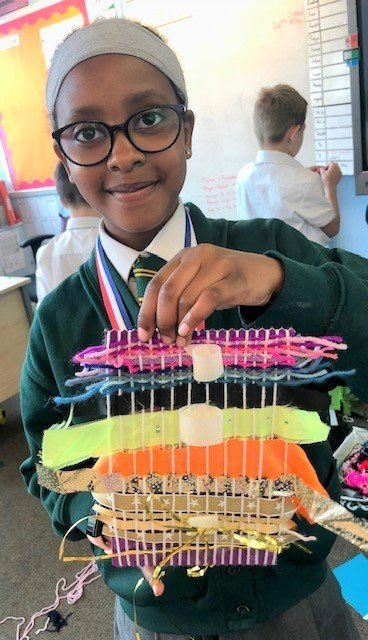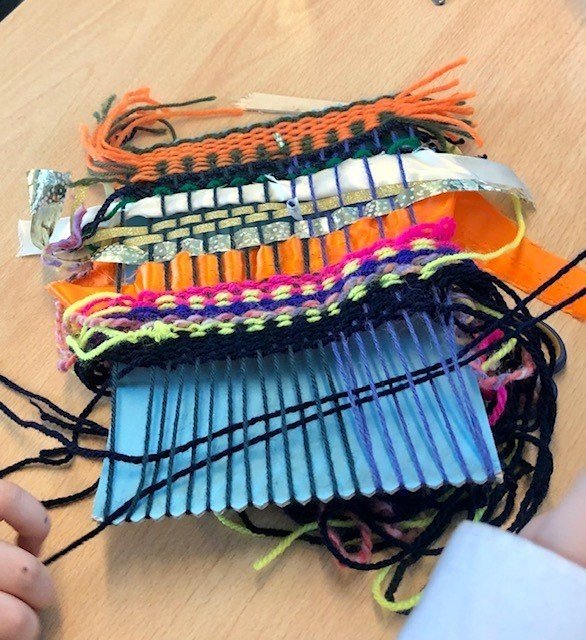 History Trip : 16.5.22
As part of their History learning, Year 4 visited The Old Police Cells Museum in Brighton Town Hall today.
The children learnt about key objects in the museum's collection as well as finding out about the history of the Old Police Cells and the development of Policing.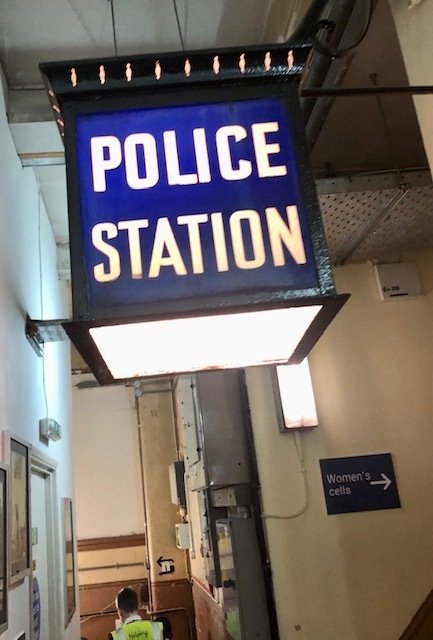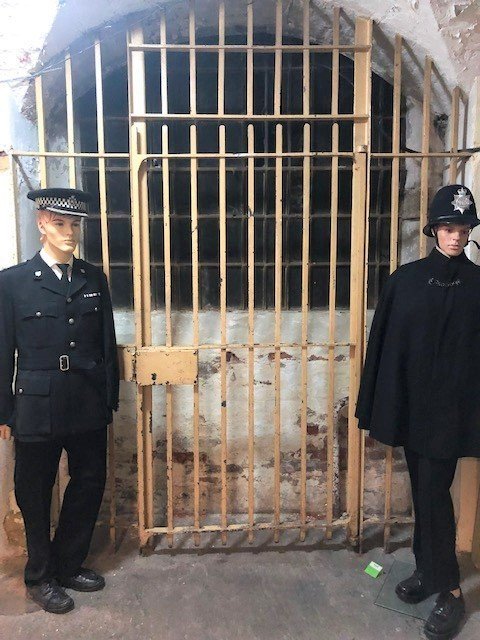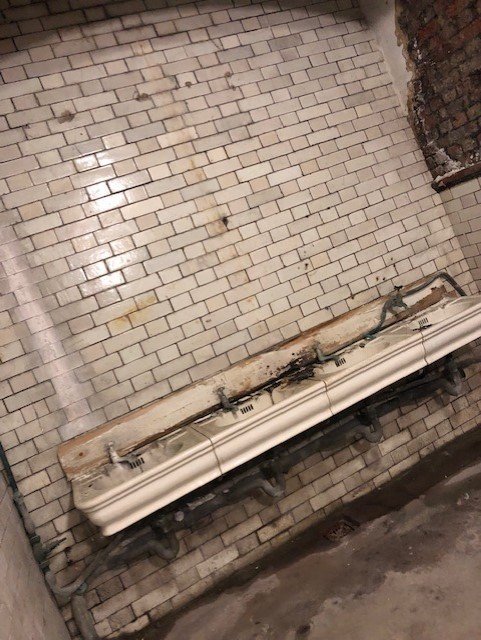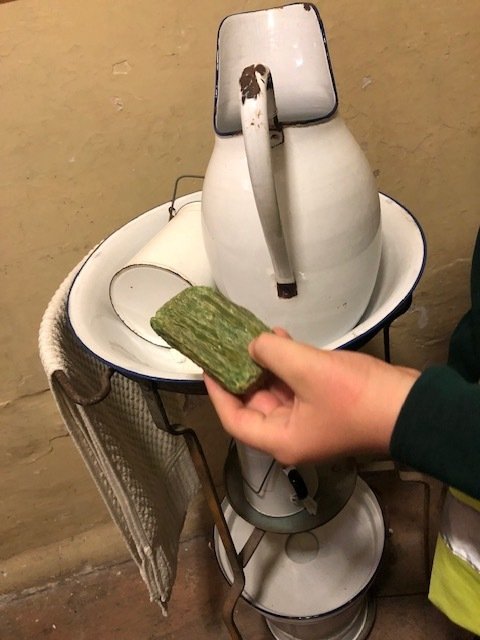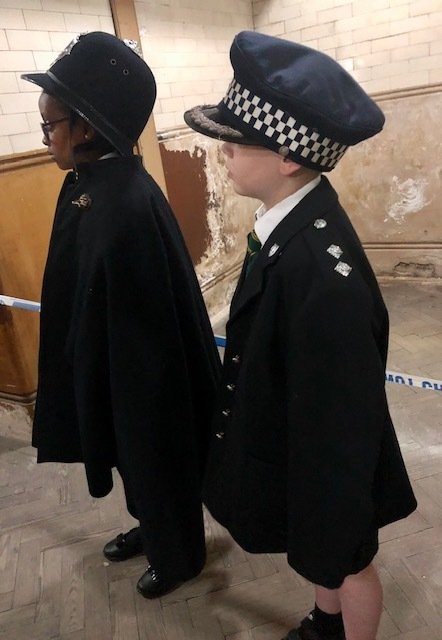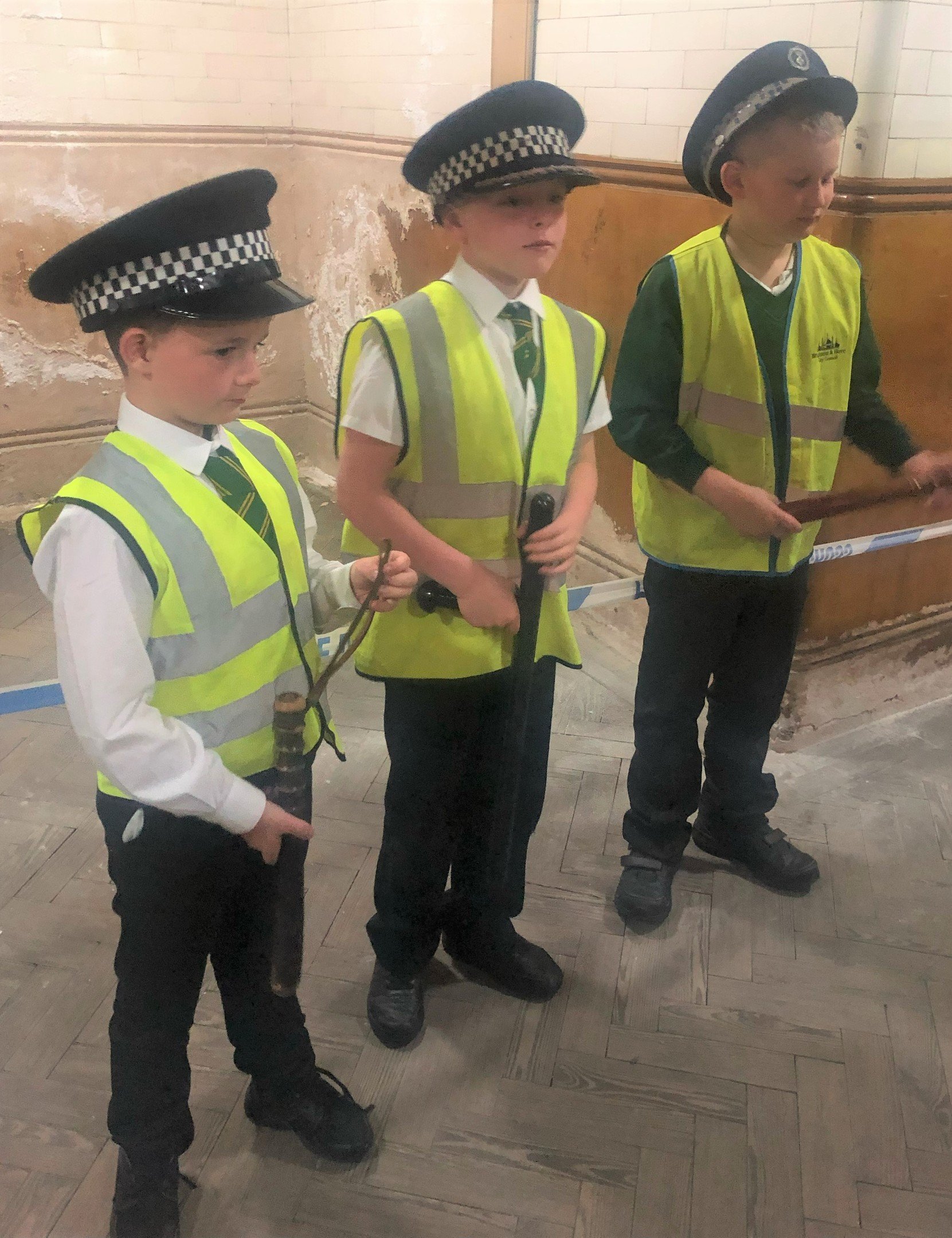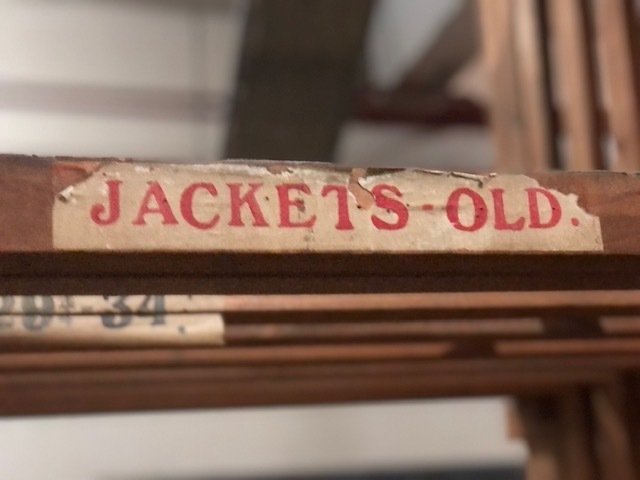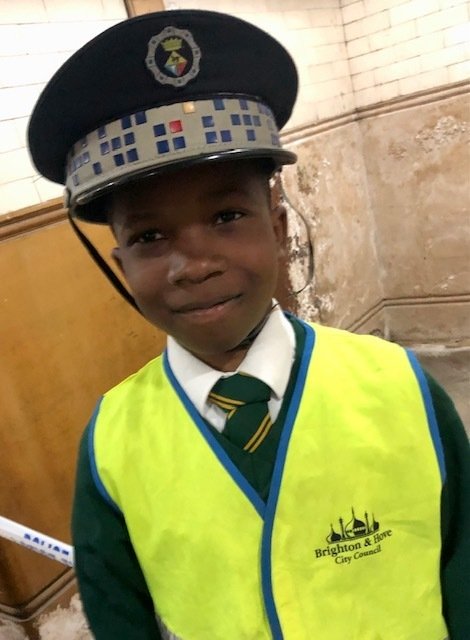 They visited the women's and the men's cells and saw where the people arrested would have had a wash before being put in a cell. They saw the original washing utensils in the male cells and were able to try on various pieces of uniform.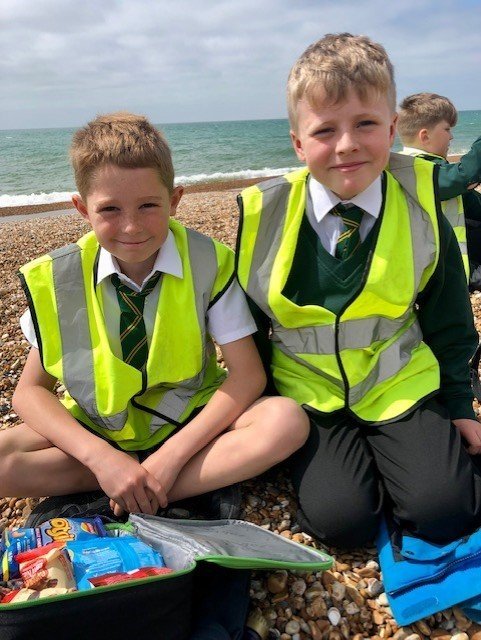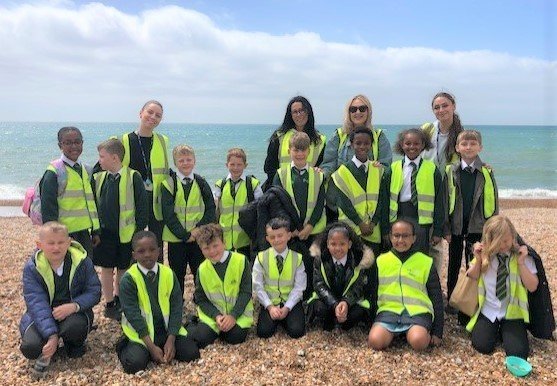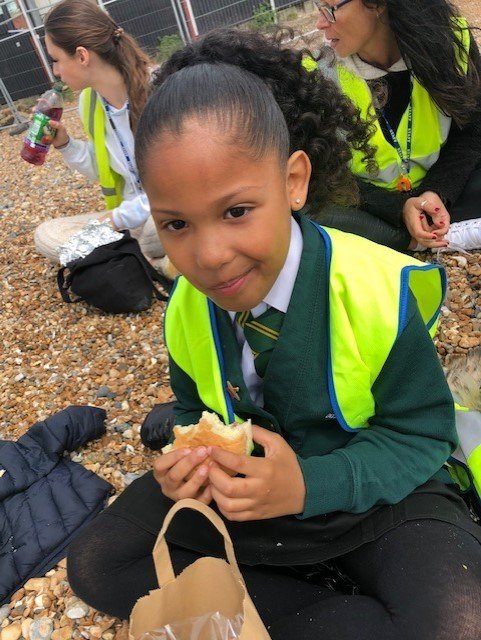 They had a picnic on the beach before returning to school. Another great experience to enhance and support Year 4's History learning.
States of Matter:
In Science, Year 4 have been consolidating their knowledge about the three states of matter. Today, they looked at the effect of temperature in changing materials from one state to another e.g. how heat melts chocolate and it changes from a solid to a liquid and how freezing changes water (a liquid) into ice (a solid)
The children were given an ice cream each and they were not allowed to eat it until they had seen the effect of the change in temperature and the state changing as the ice-cream went from solid to liquid. It was also a test of will-power!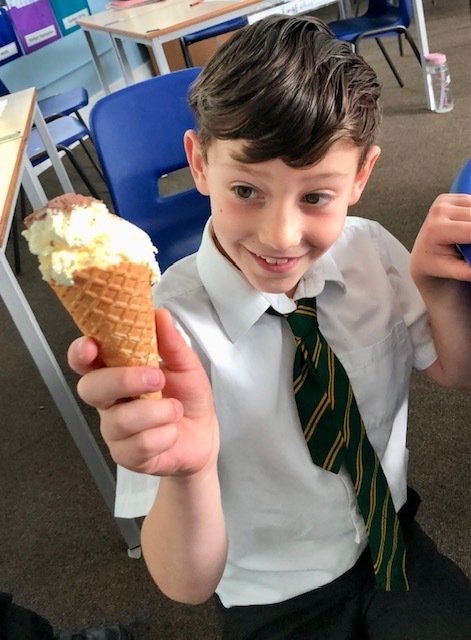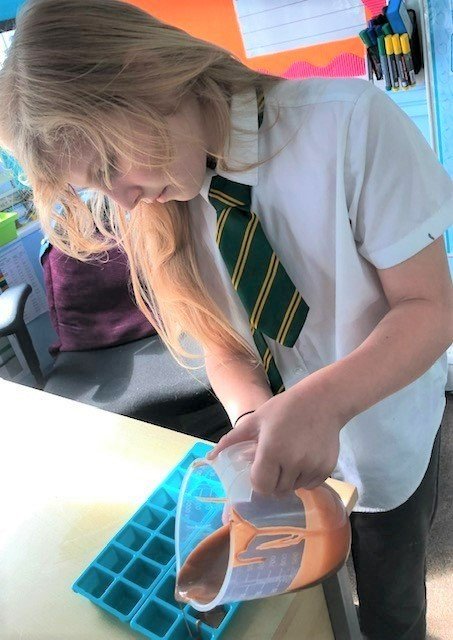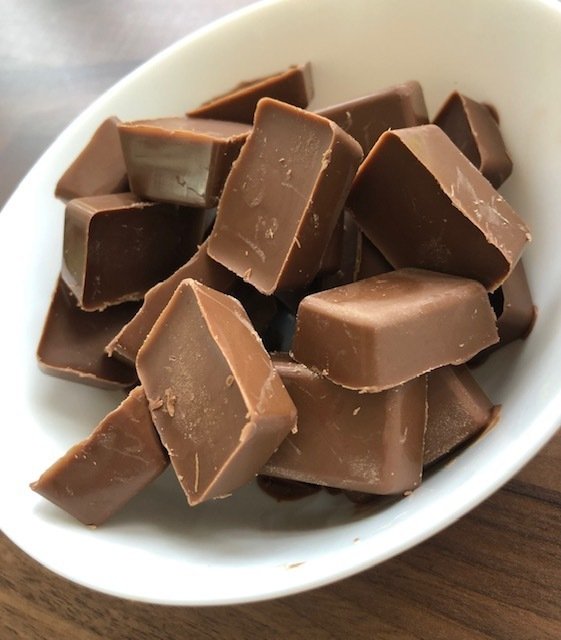 The children found out that some of these changes are reversible but others cannot be returned to their former state. These are known as irreversible changes. Luckily the chocolate which was melted could be returned to its solid state ...and eaten!
The children were also surprised at how long six ice cubes took to melt. They all estimated the time it would take for the ice cubes to completely melt and change from solid to liquid. Junior was the closest - he guessed one hour. It was in fact 2 hours and 9 minutes!
Les Pays Francophones : 13.5.22
Today, we were revising how to name French- speaking countries in French. We were given a flag from each country, which we had to identify and then used globes and atlases to locate each country.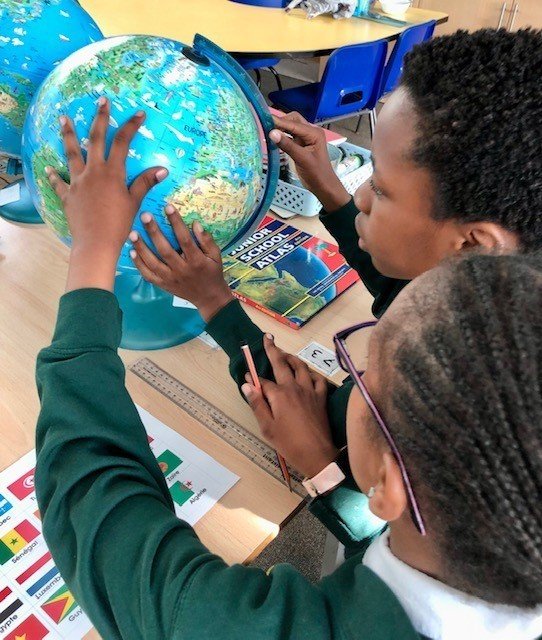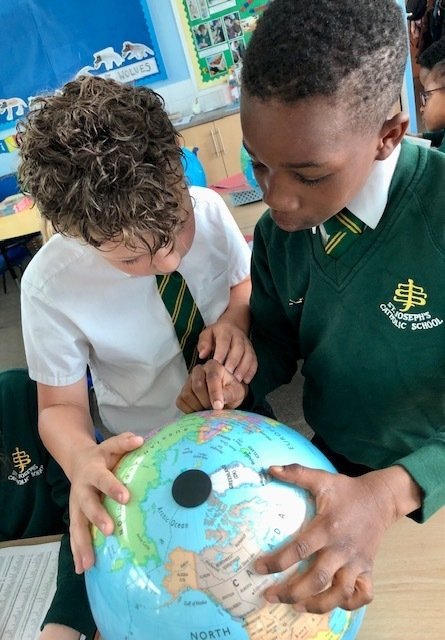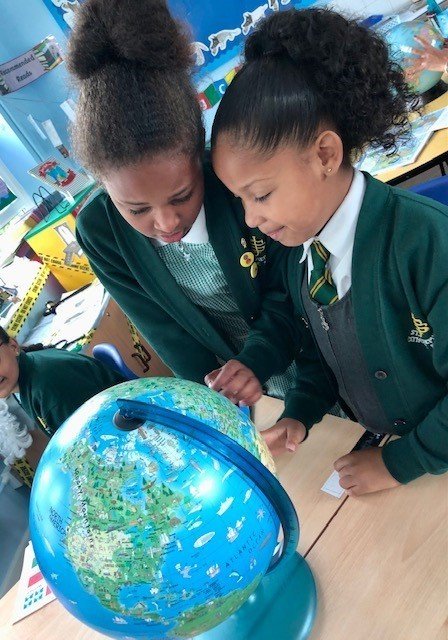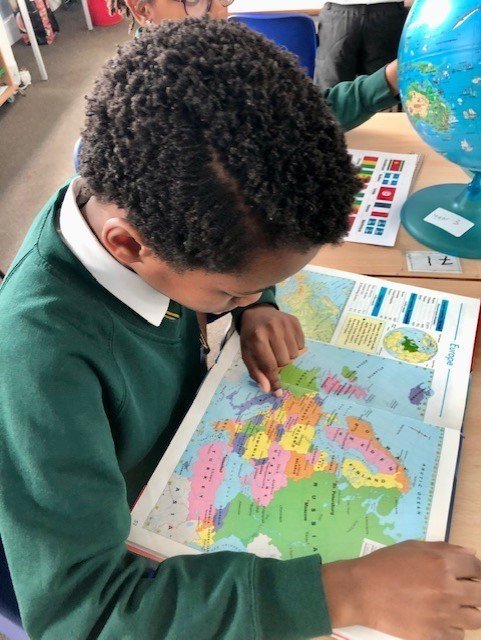 Visit : 10.5.22
We are now well into our new History topic, "Crime and Punishment." As part of our learning, we were joined today by Charlie (who is also Eddy's brother) and Sarah who are both Police Community Support Officers.
They shared what life is like working for the police force and answered questions the children had prepared for them. They then talked through some of the equipment that they use and let the children try on some of the uniform. They also had their fingerprints taken and explored the police van (complete with sirens and flashing lights!)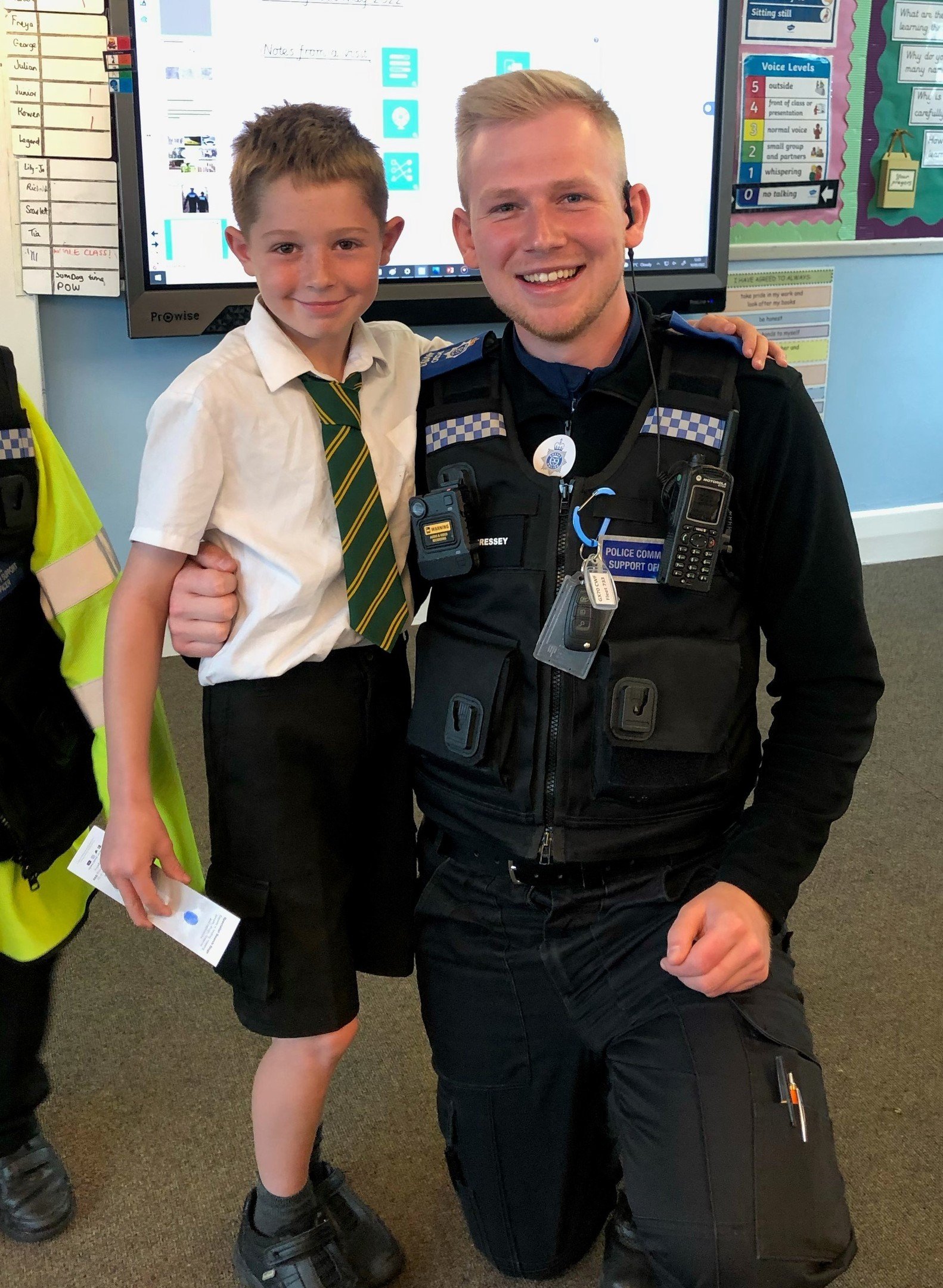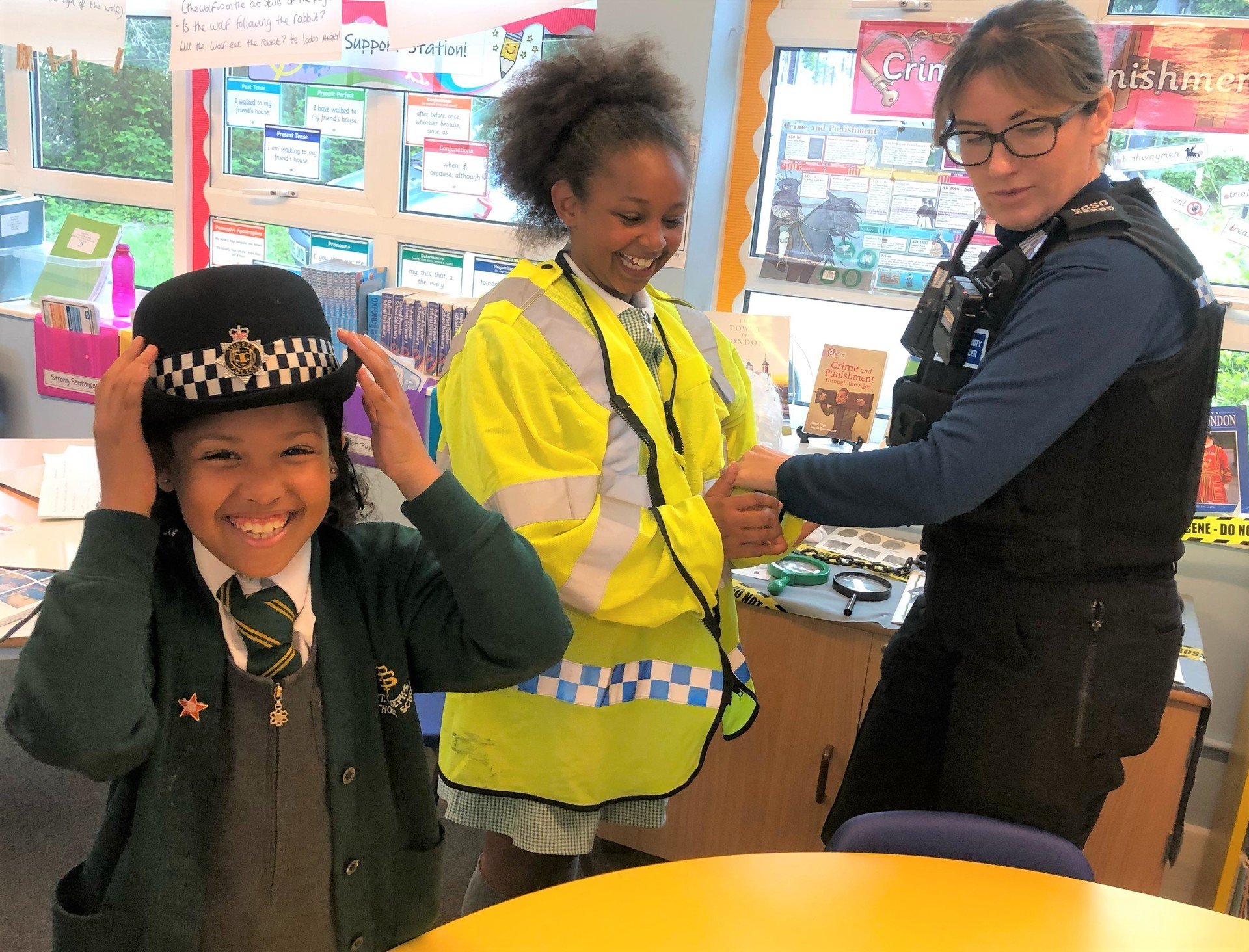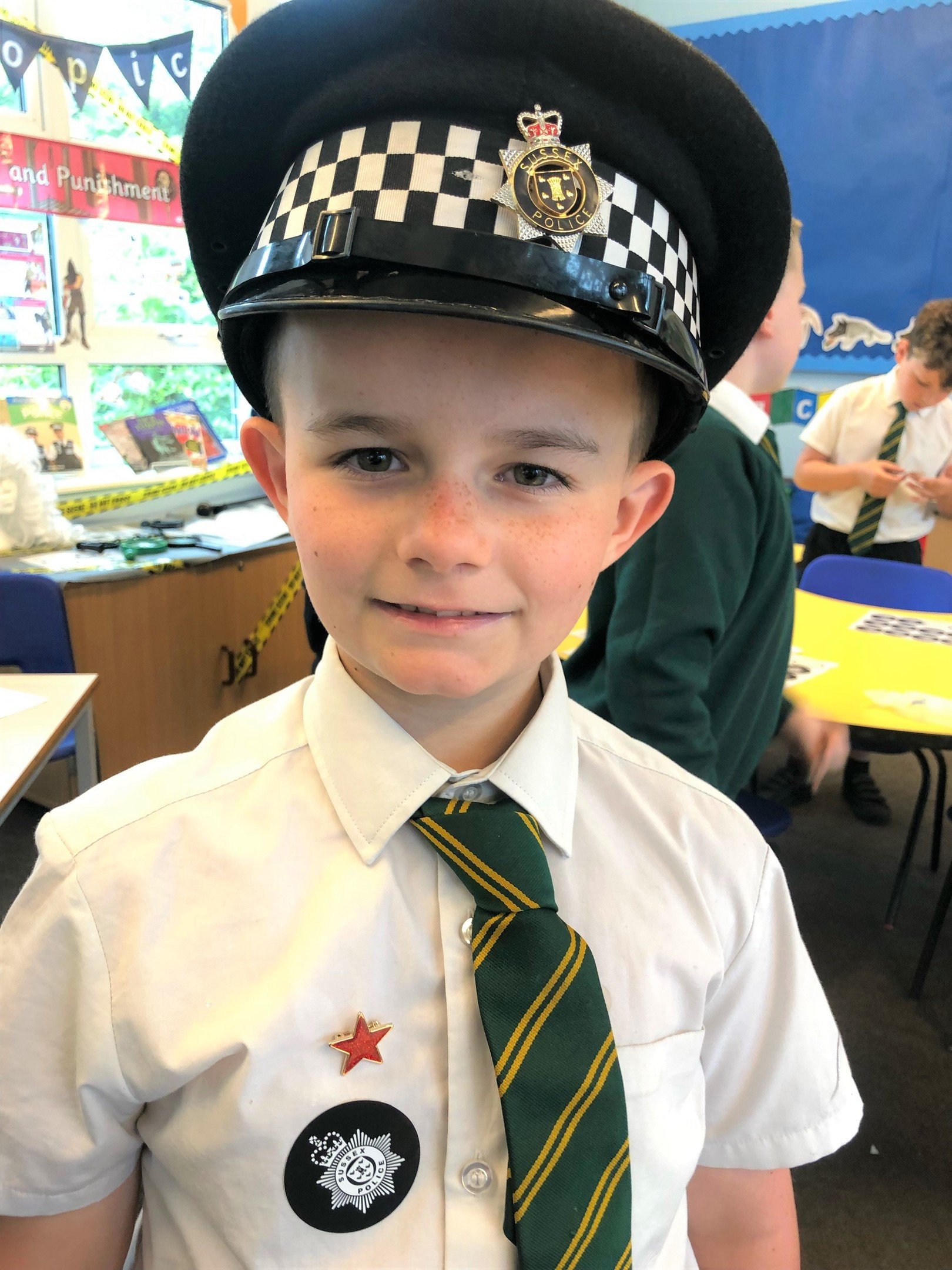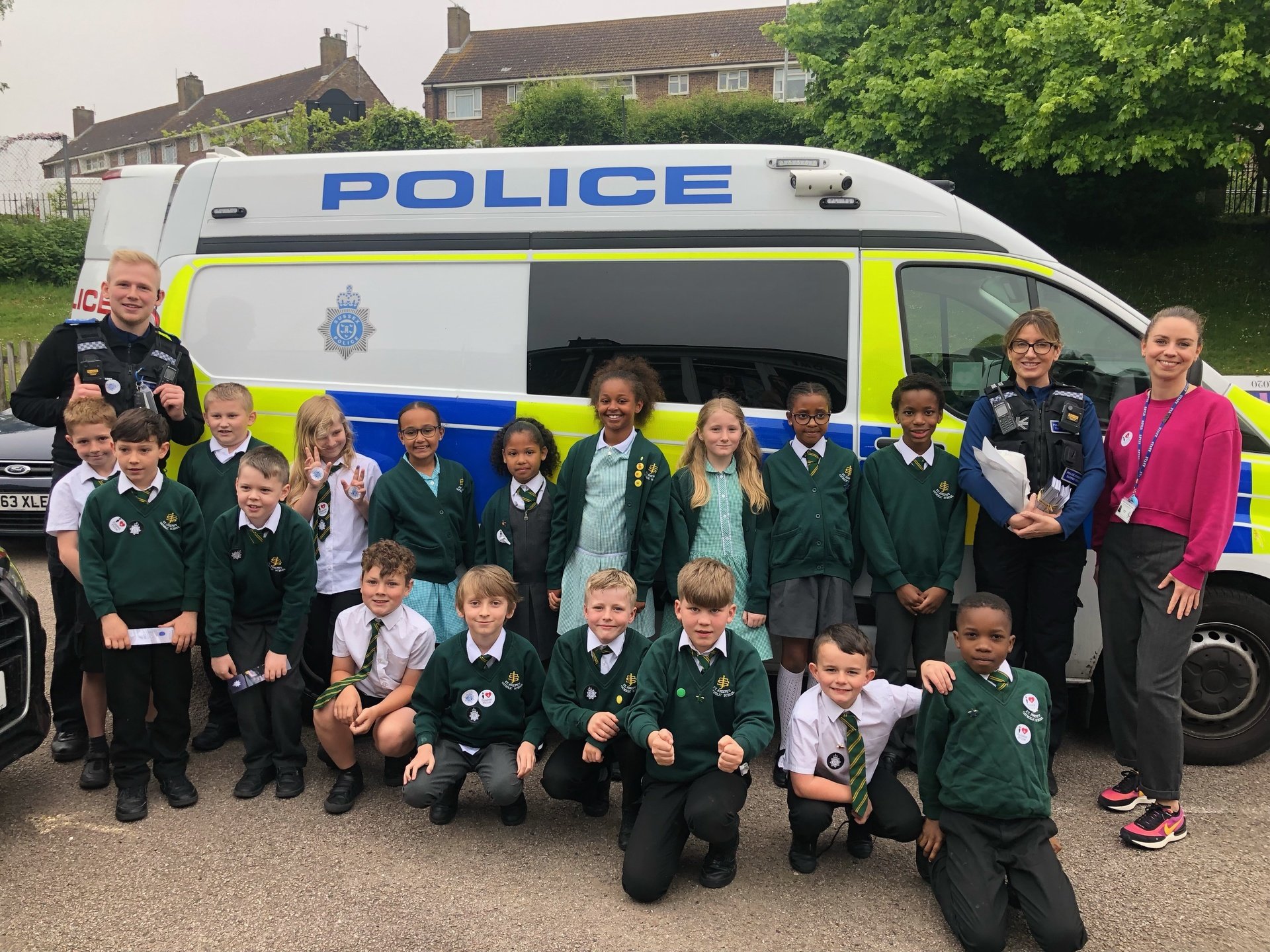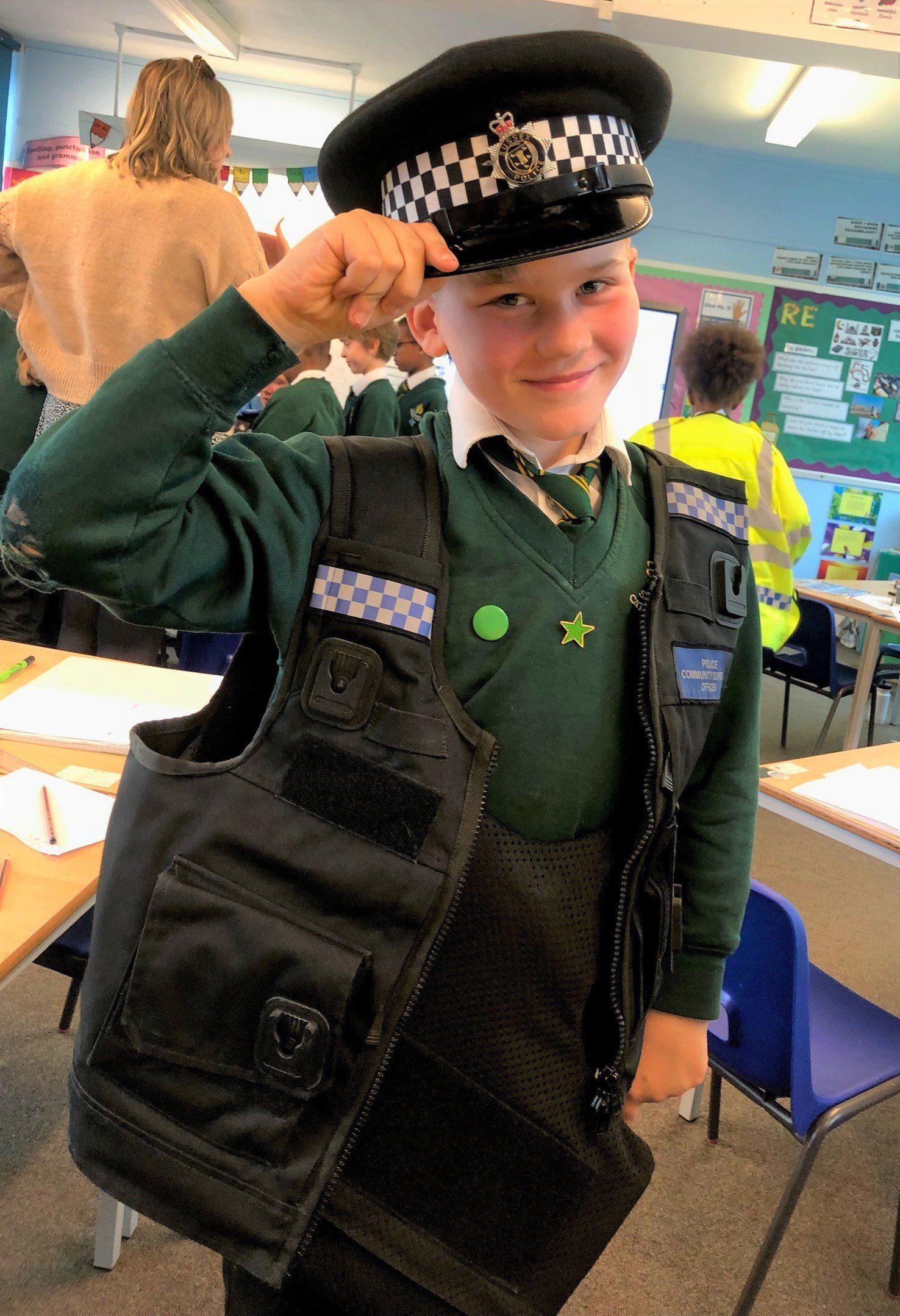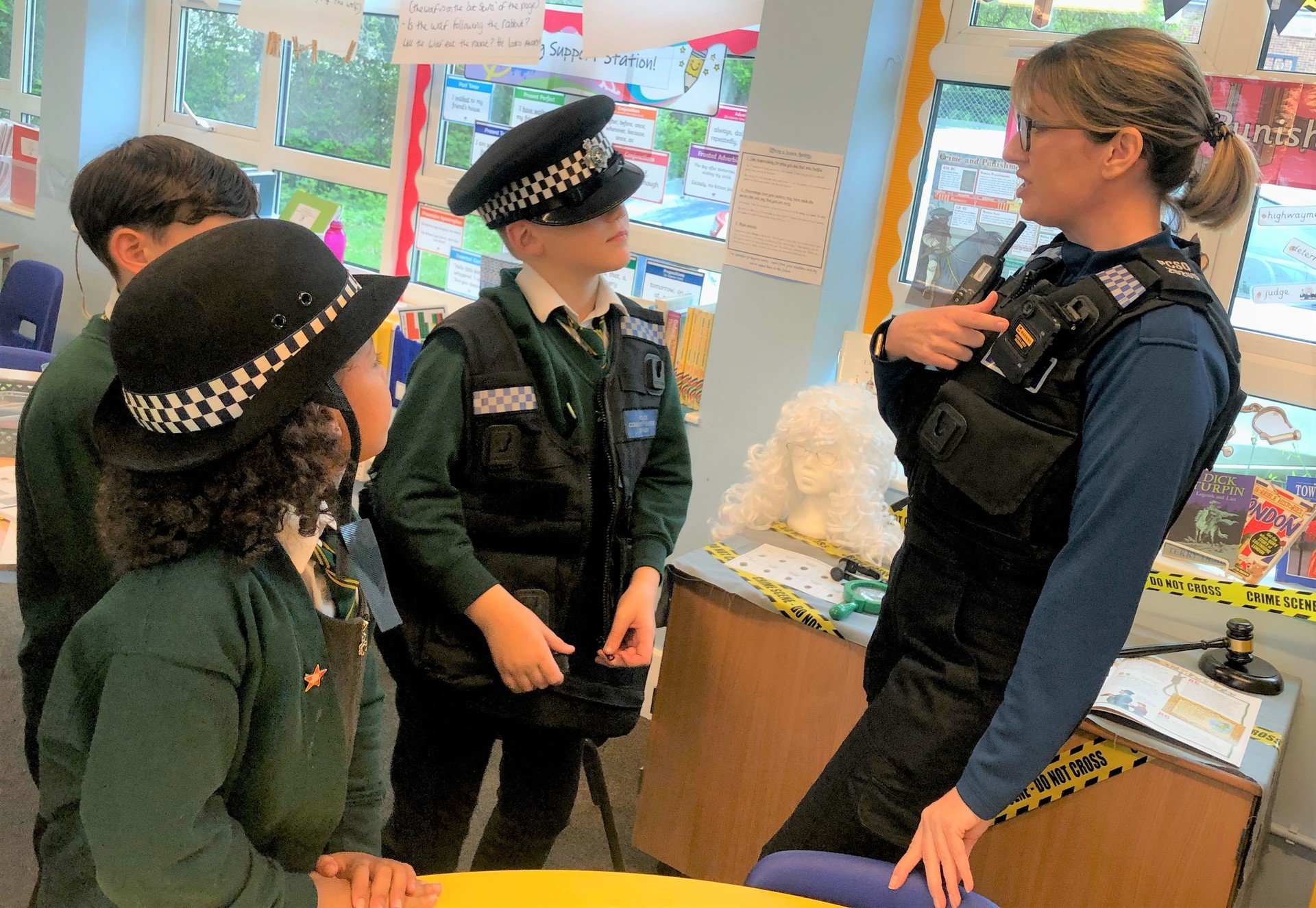 The children were shocked to learn that children as young as 10 can be placed in a police cell and all agreed they would be on their best behaviour from now on (especially after hearing about the lumpy mash served in prison!). Charlie and Sarah explained that Community Support Officers are there to help people and they encourage more people to come and say hello to them!
Heartfelt thanks to them both for giving up their time to come and visit us. They inspired several of the children to think about careers with the police -and to 'stay on the straight and narrow!'
Maypole Dancing : 9.5.22
Today, Year 4 took part in a maypole dancing workshop, learning about the traditions and dancing associated with May Day. They learnt simple moves and steps, moving on to more complex weaves, accompanied by traditional folk music.
They also had to learn how to reverse the dance to unwind the ribbons!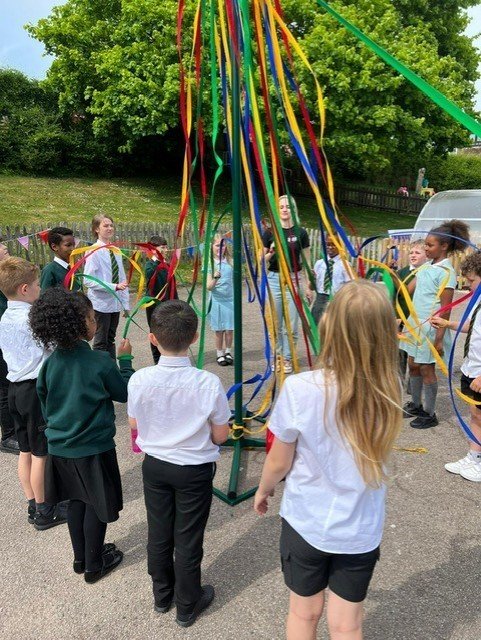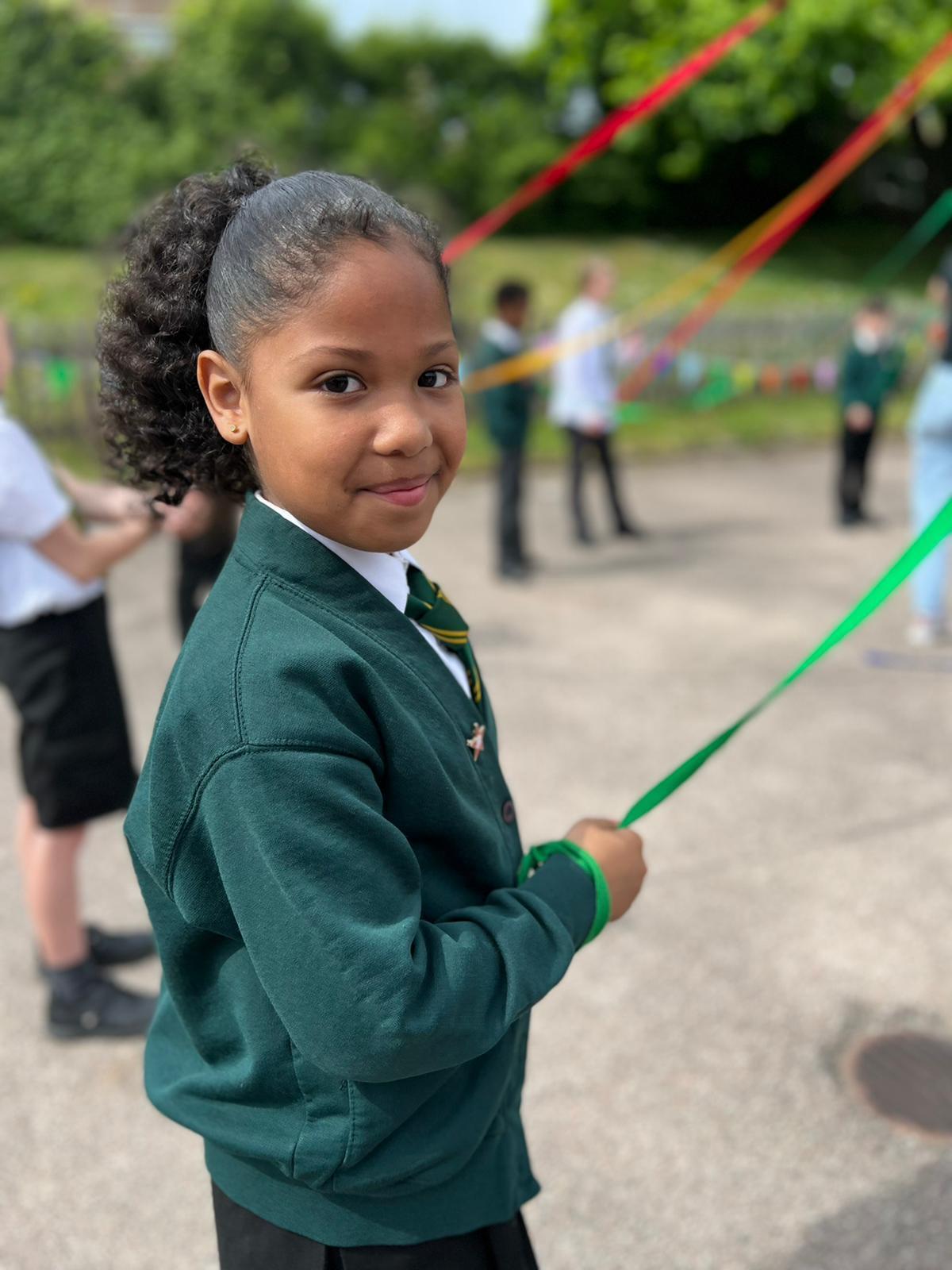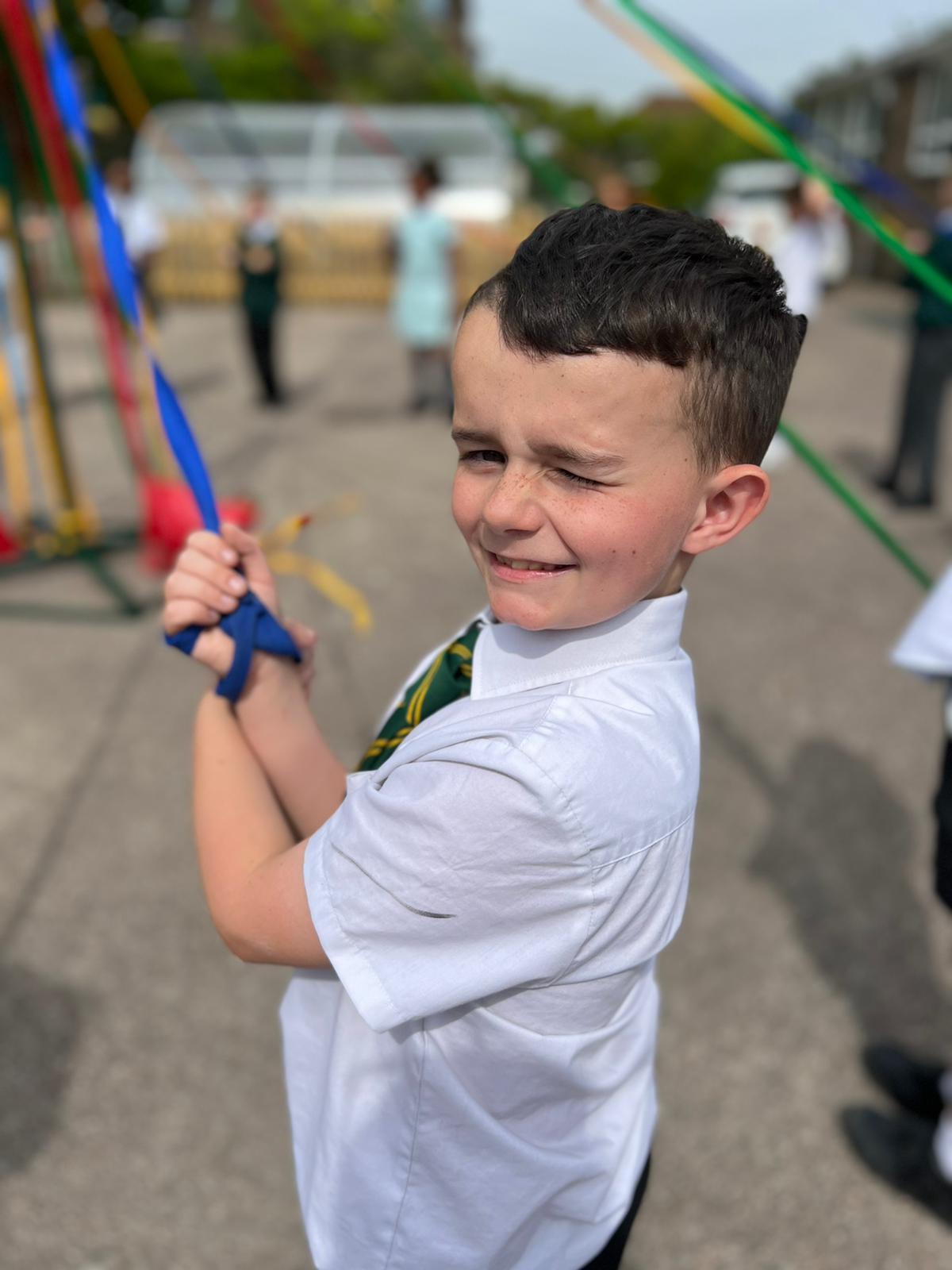 Click HERE to view the topic overview and curriculum coverage for Year 4 for the Summer Term.
Activity Passport
Year 4 pupils should have brought home an "Activity Passport" this week. These passports encourage more family time and help build children's character and resilience as well as giving them new and varied experiences.
The children have until Monday June 6th to complete as many of the challenges/activities as possible. Please email in photos so that we can see what they have been doing. All challenges will be rewarded with DOJOS!
Click HERE for a copy of the Year 4 challenges. Email your pictures into myhomework@st-josephs.brighton-hove.sch.uk
Reptylers : 3.5.22
To support and enhance their learning about animals and their habitats, Year 4 were visited by Reptylers who bought with them a selection of creatures!
They were able to get up close and personal to a bearded dragon, a blue-tongued skink lizard, a crested gecko, a crystal royal python, a guinea pig and a tarantula!
They learnt lots about each animal's habitat, their characteristics, their diet, their movement and their life-span. Jemima from Reptylers was very knowledgeable and able to answer lots of the children's questions too. It was a fantastic hands-on experience!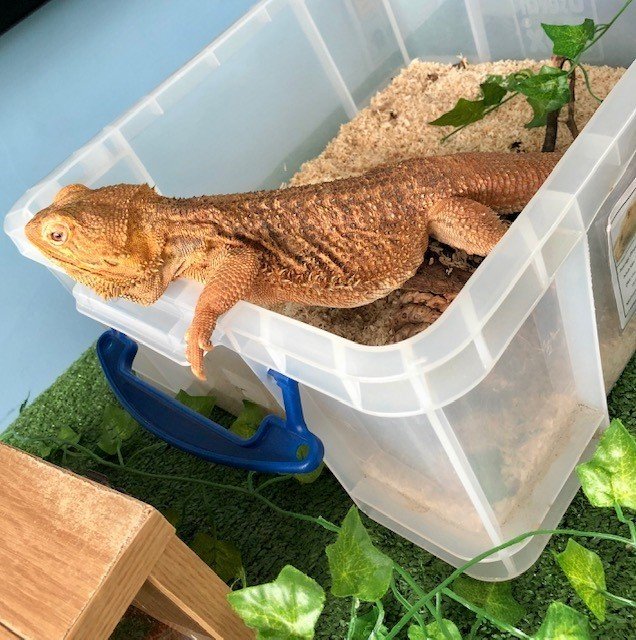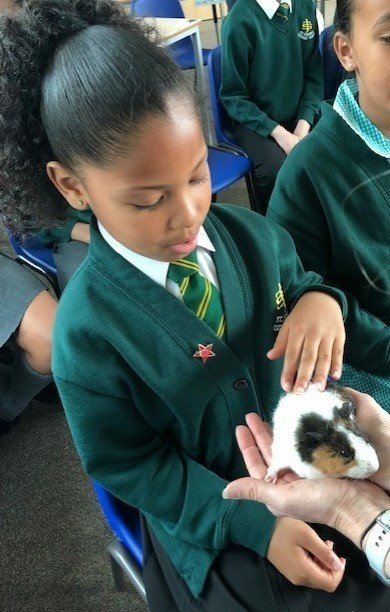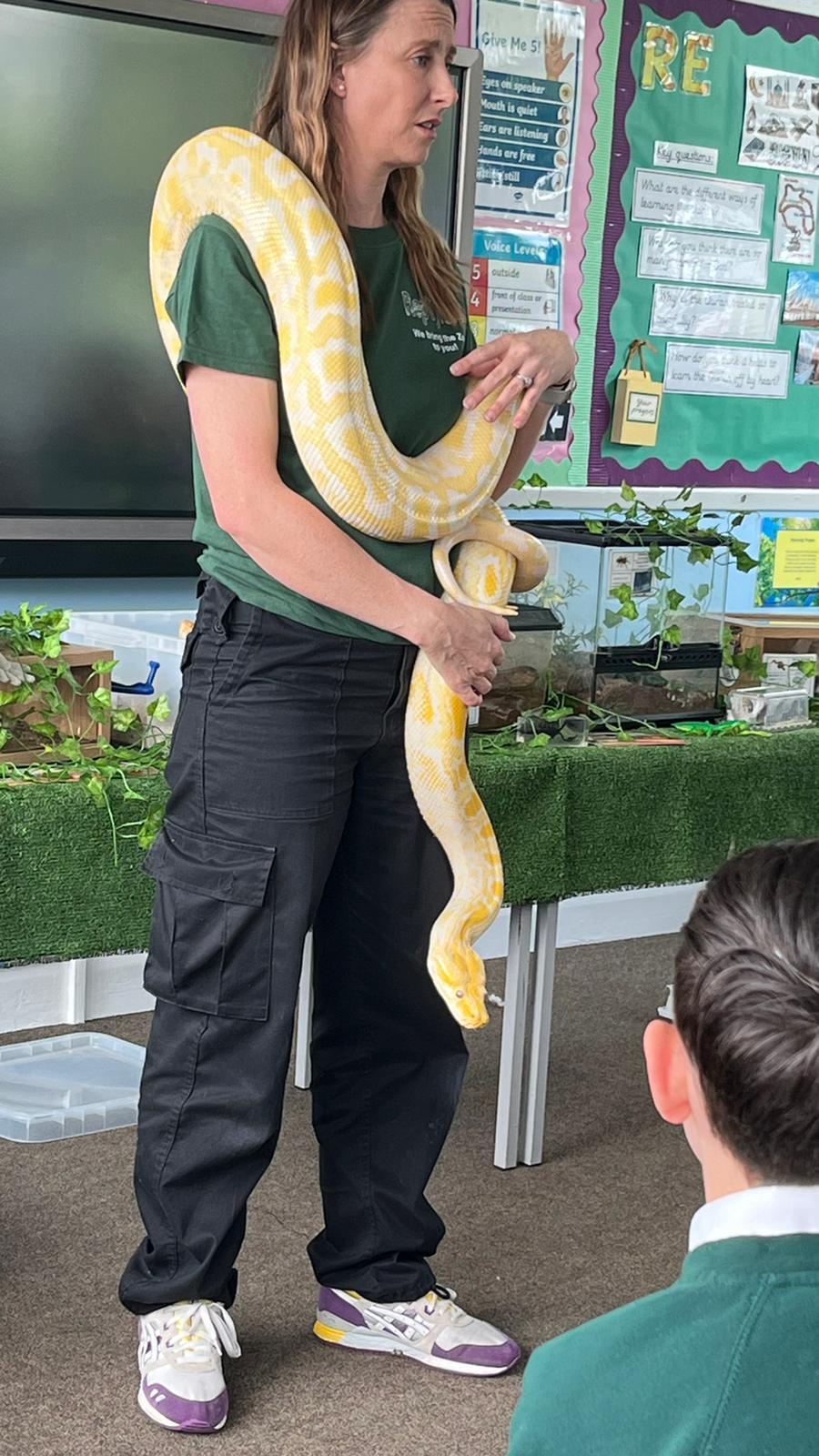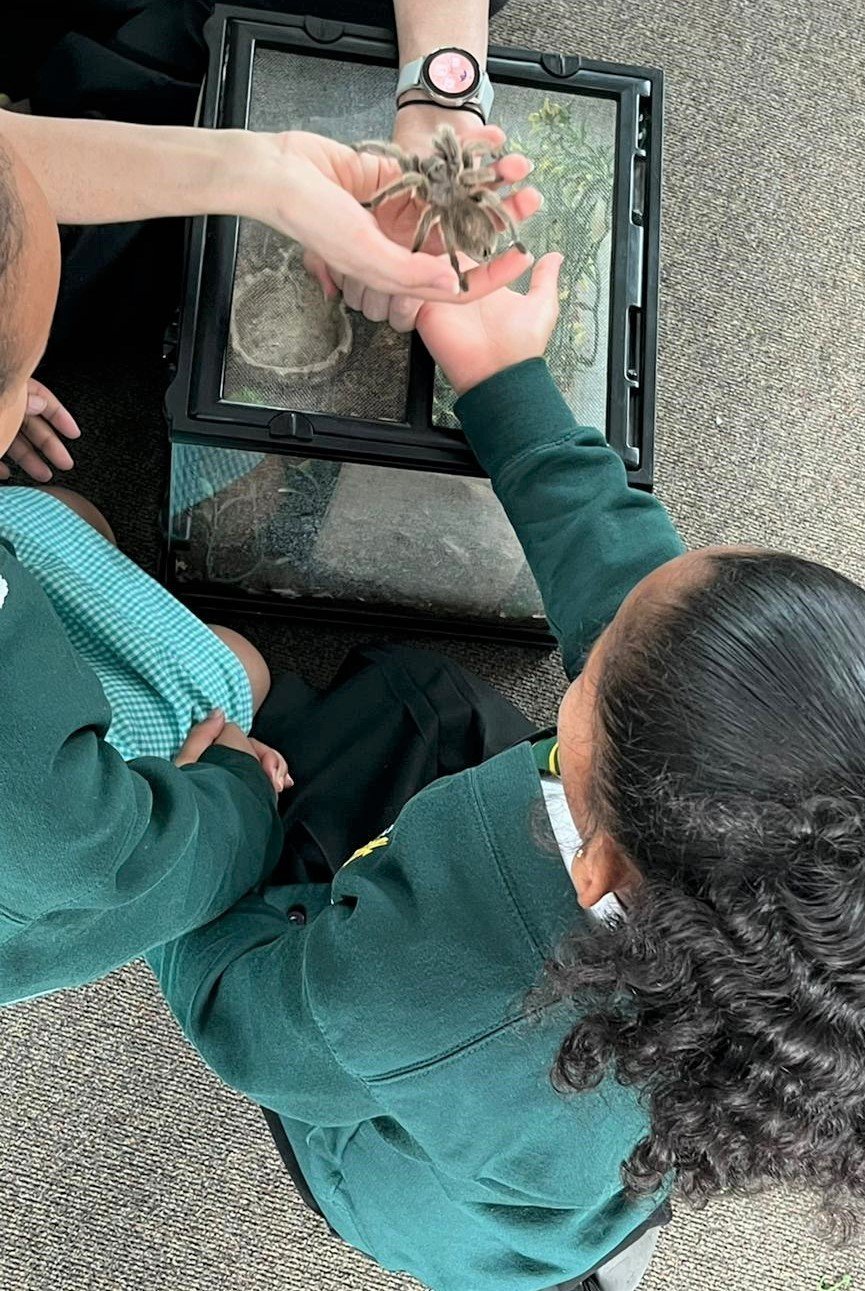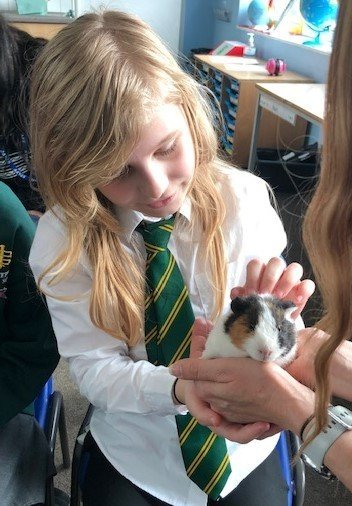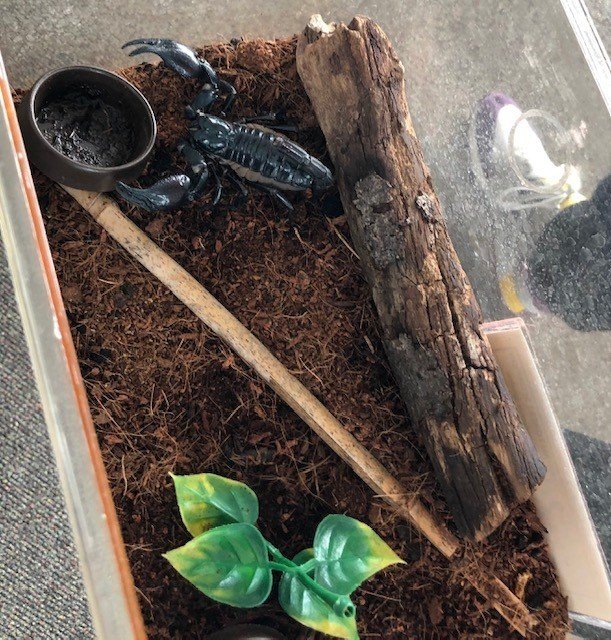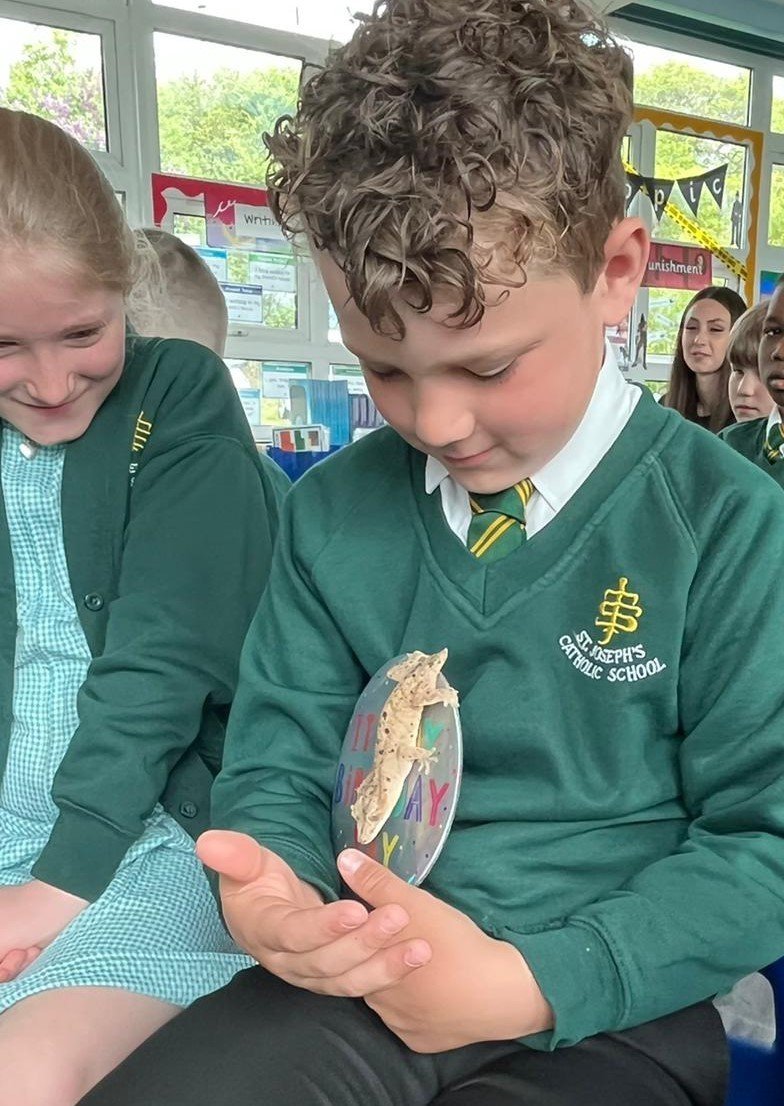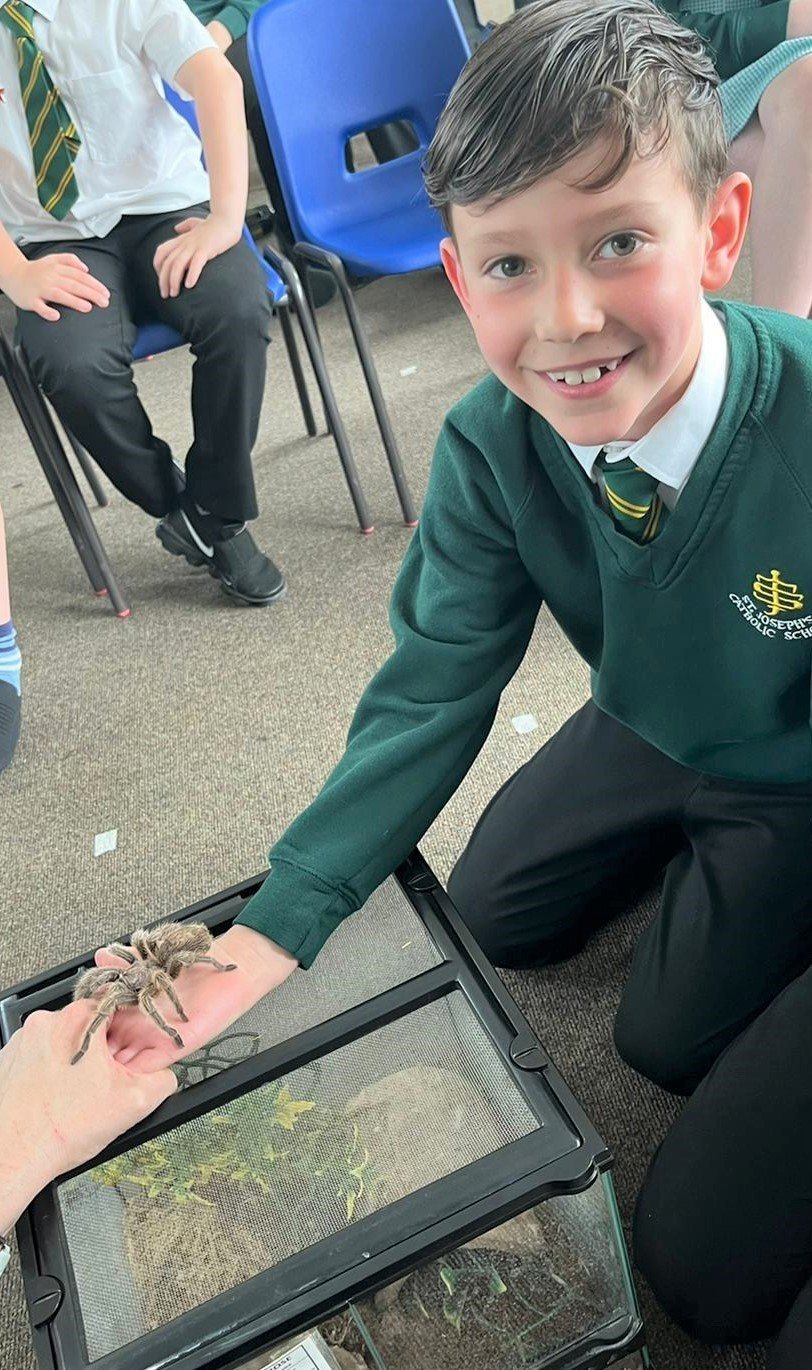 Wonderful Weaving :29.4.22
Year 4 are learning about weaving in their art lessons. Today, they made their own looms using card and warp threads and learnt how to weave using wool.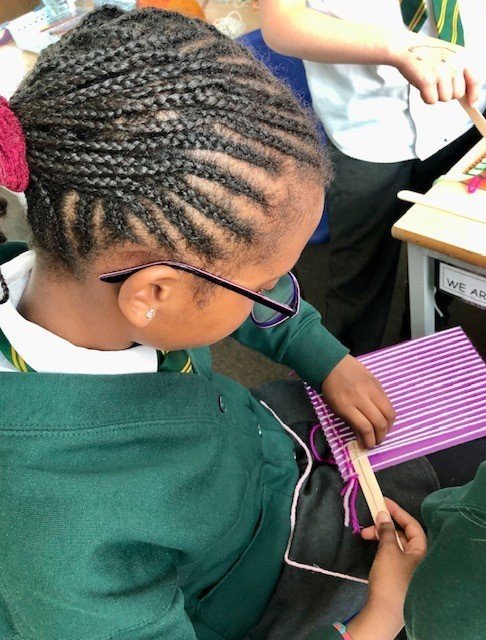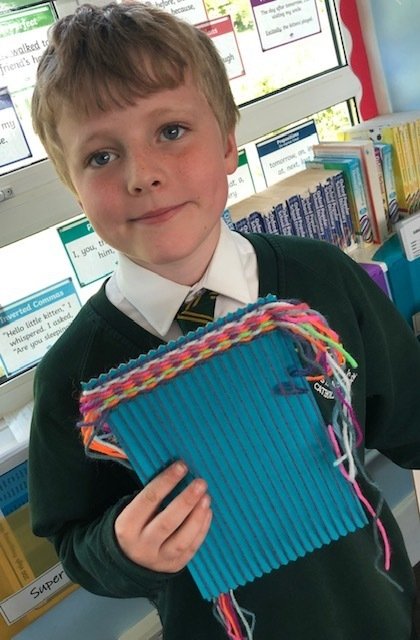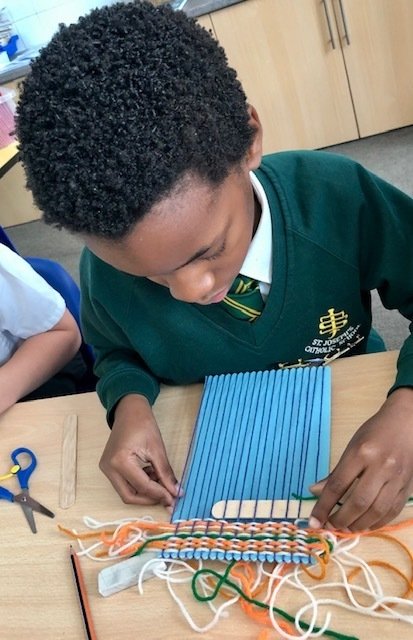 They are going to use different materials and textures next week e.g. ribbon and raffia and move onto weaving using natural materials. Watch this space to see their progress over the next couple of weeks.
French: 29.4.22
Today in French, Year 4 revised different modes of transport and learnt some French vocabulary for more unusual modes of transport. They applied this knowledge to a game of bingo and then played a guessing game acting out how they travelled to school.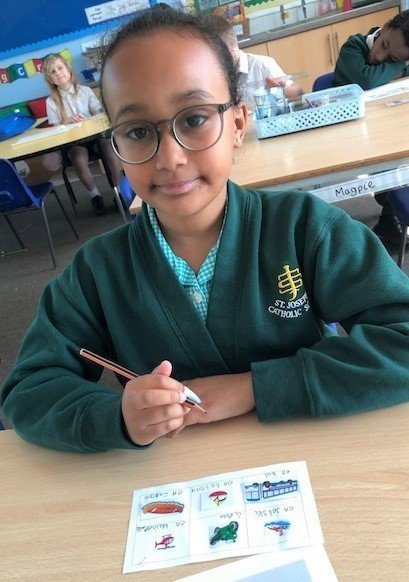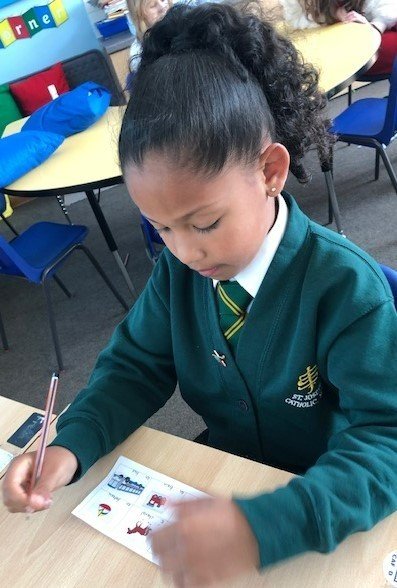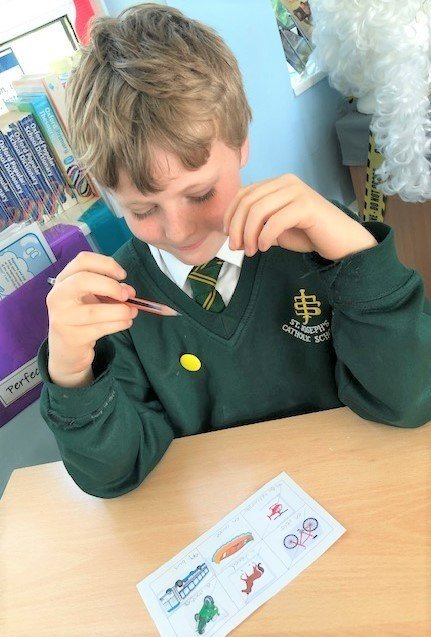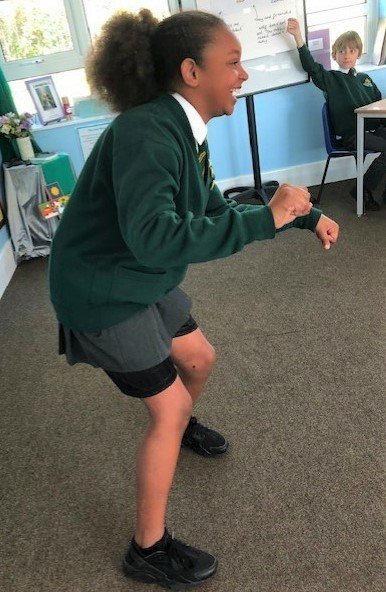 Science : 29.4.22
In their Science lessons, Year 4 have been learning about how animal habitats have been impacted by the effects of human and environmental causes.
They demonstrated their understanding by working in pairs to create a game. Players would move forward spaces if they were doing something to help declining animal habitats e.g. plant some bee-friendly flowers. Players would move back spaces if their actions affected animal's habitats e.g. deforestation.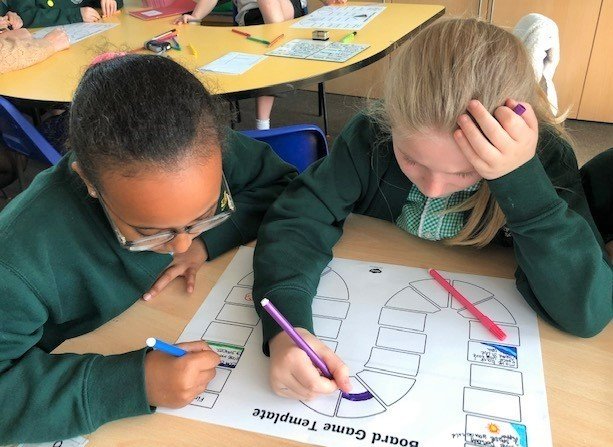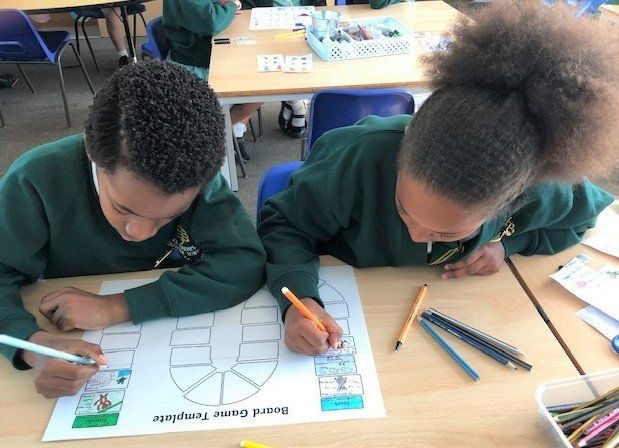 Stunning Start: 28.4.22
As an introduction to their new History topic "Crime and Punishment," Year 4 found that their classroom had become a crime scene this morning - their class iPad had been stolen and the children became detectives in order to solve the mystery of 'whodunit'.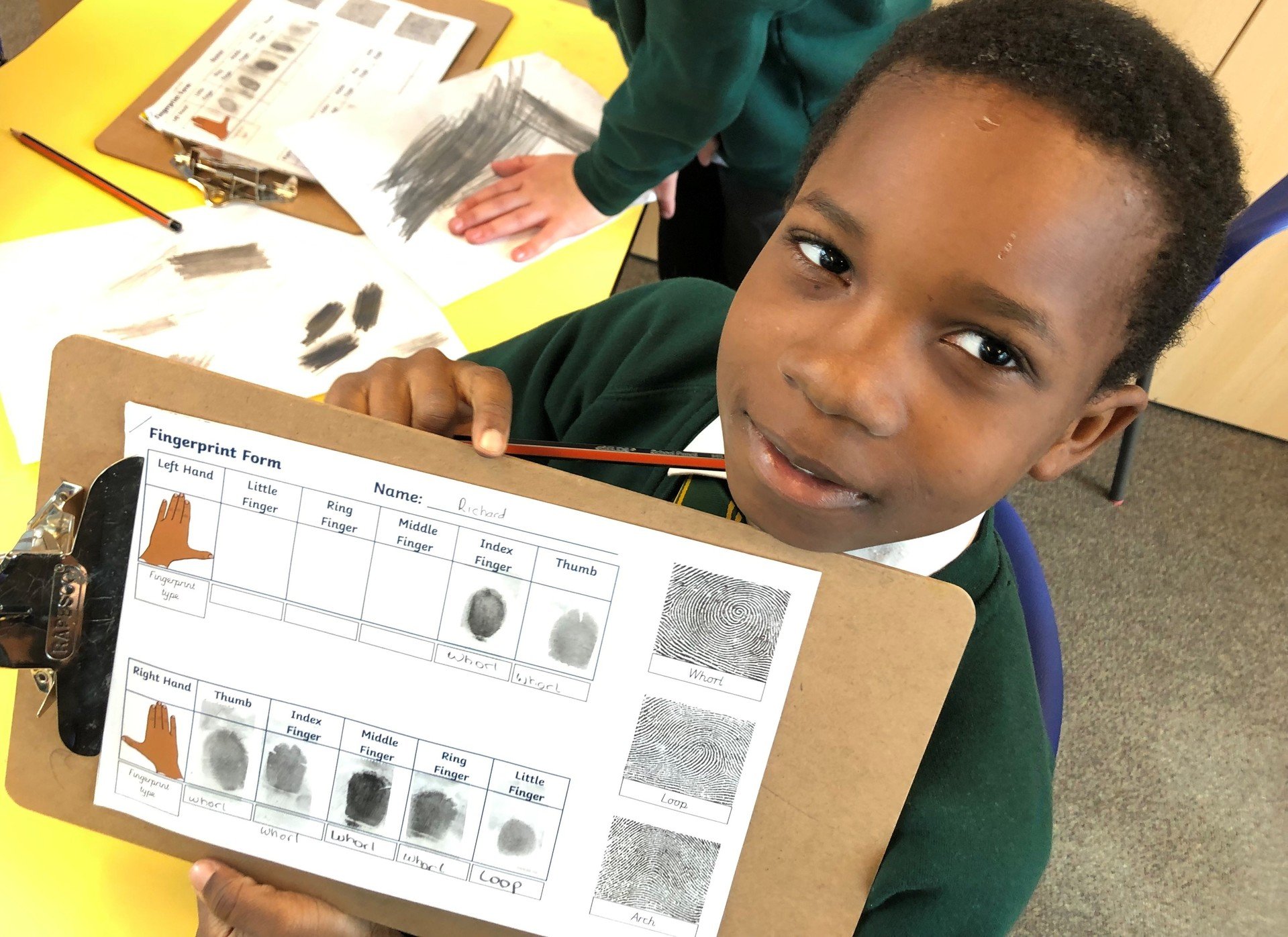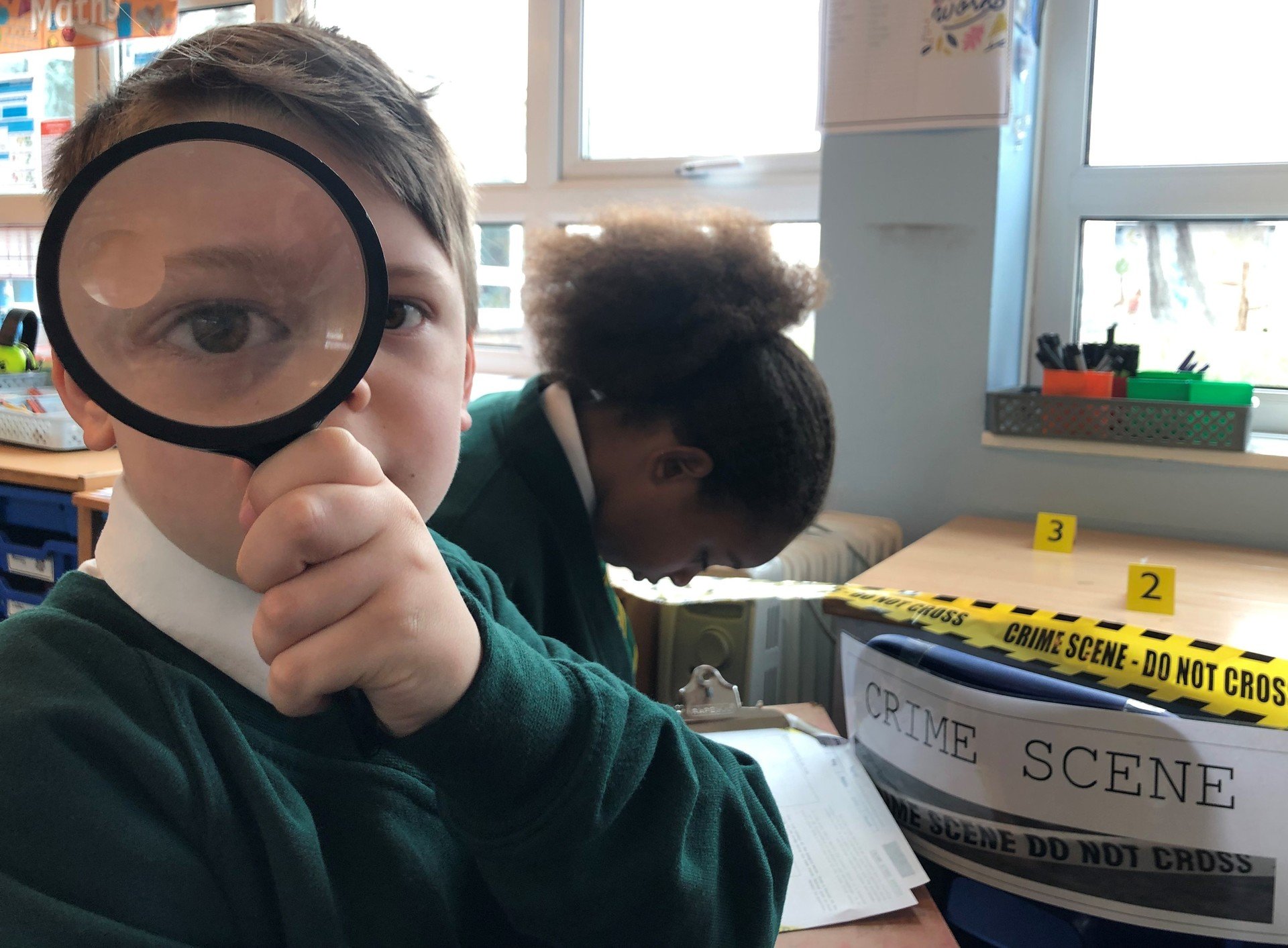 They began by exploring the scene of the crime and making detailed sketches of the evidence and surrounding environment. They then moved around a carousel of activities that involved them creating an artist's impression of the four main suspects based on the descriptions given through witness statements, taking and analysing their own fingerprints, comparing fingerprints taken from the scene of the crime to those on file from the four suspects and analysing handwriting.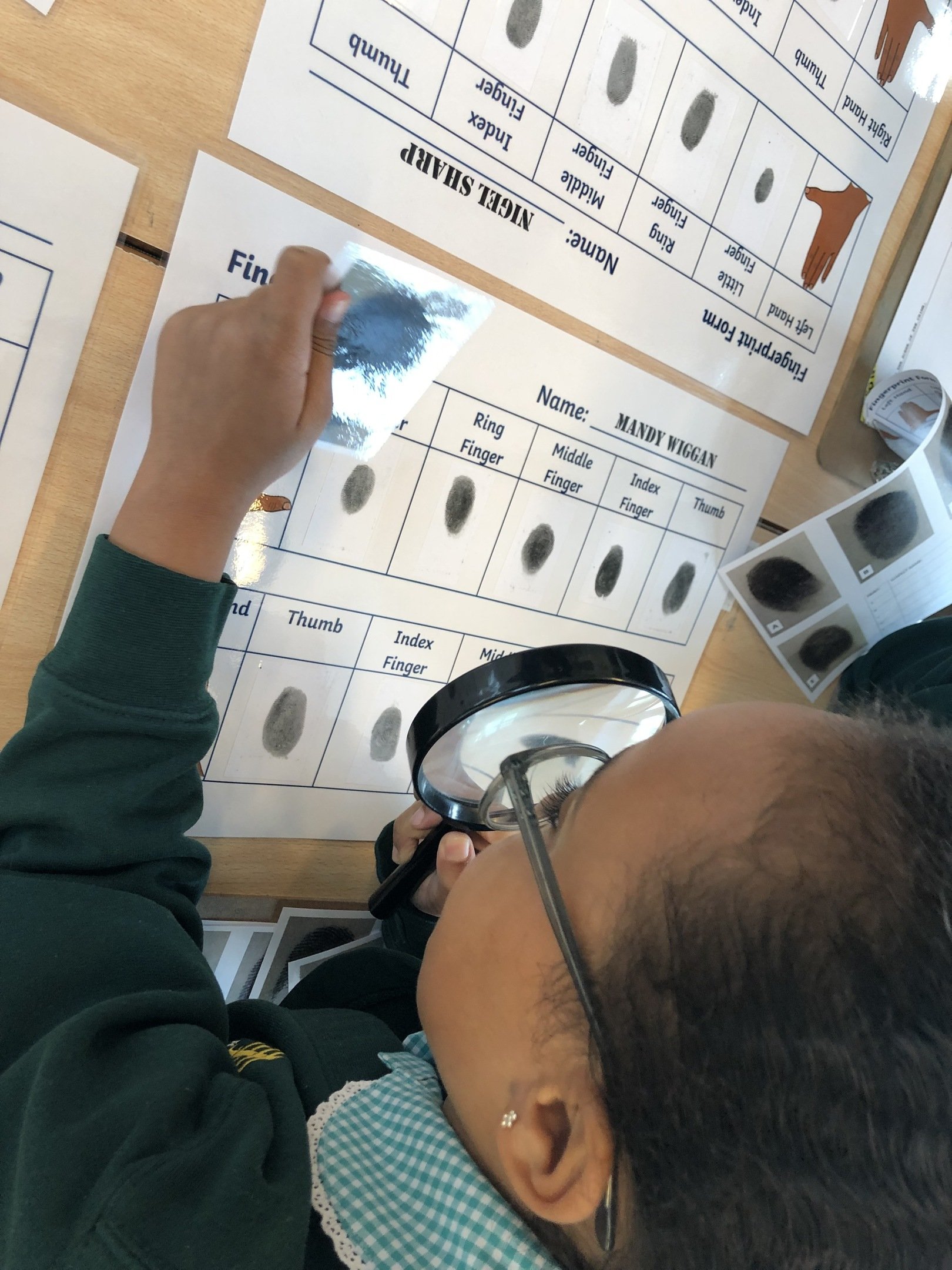 During the task, the children began exploring a range of vocabulary relating to their new topic and became familiar with some of the techniques used by investigators to solve crimes.
What a great introduction to this term's learning!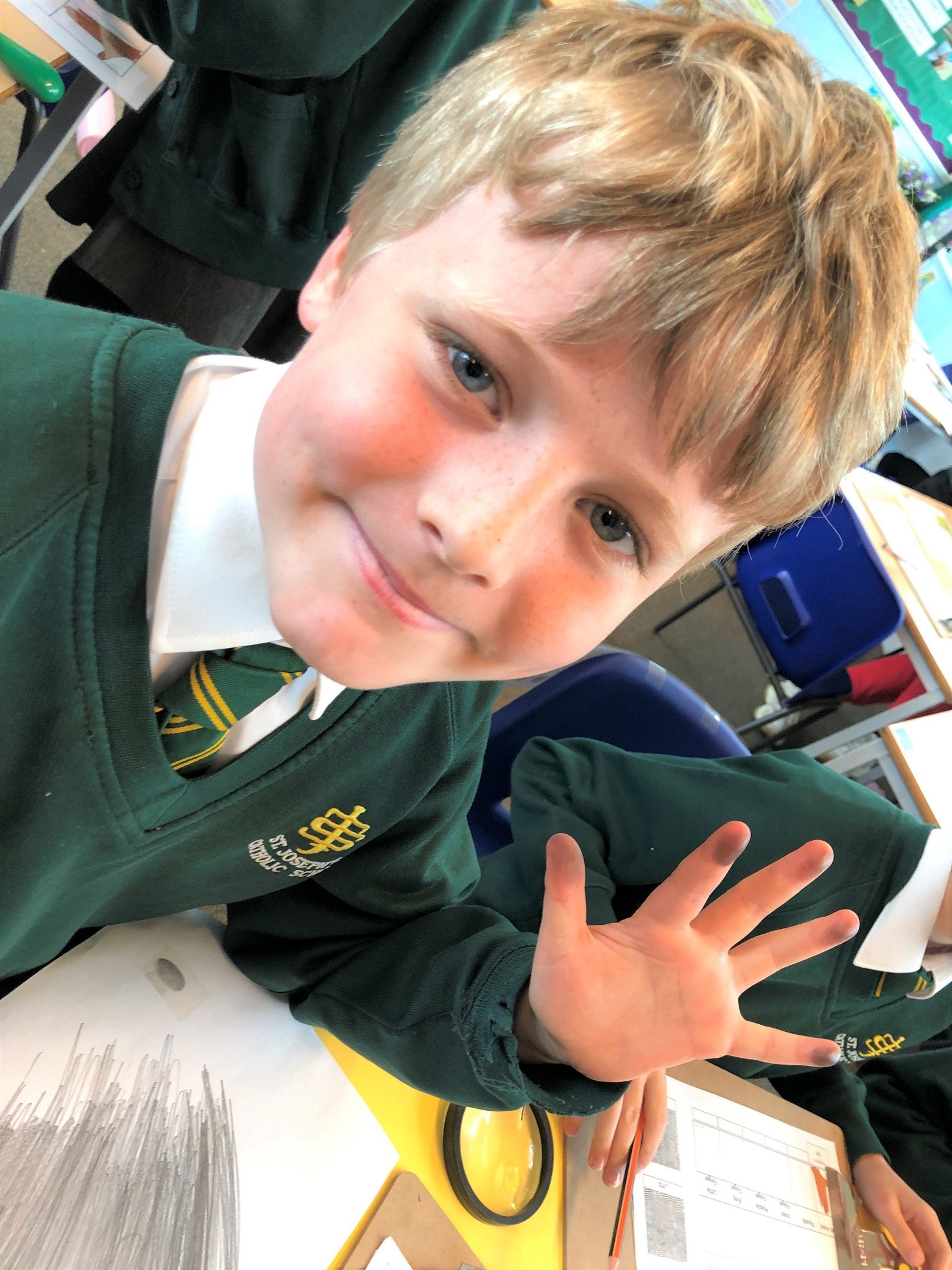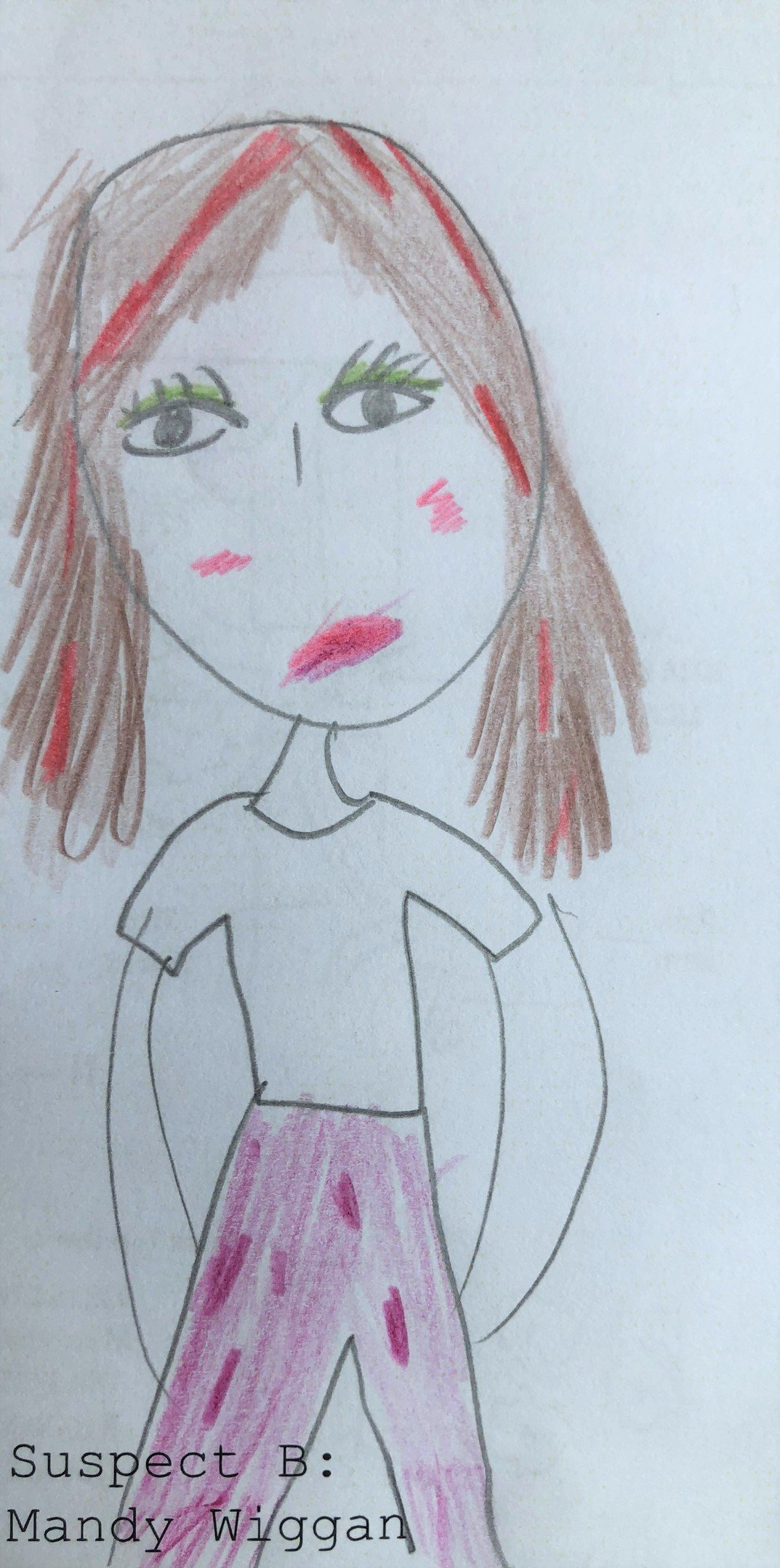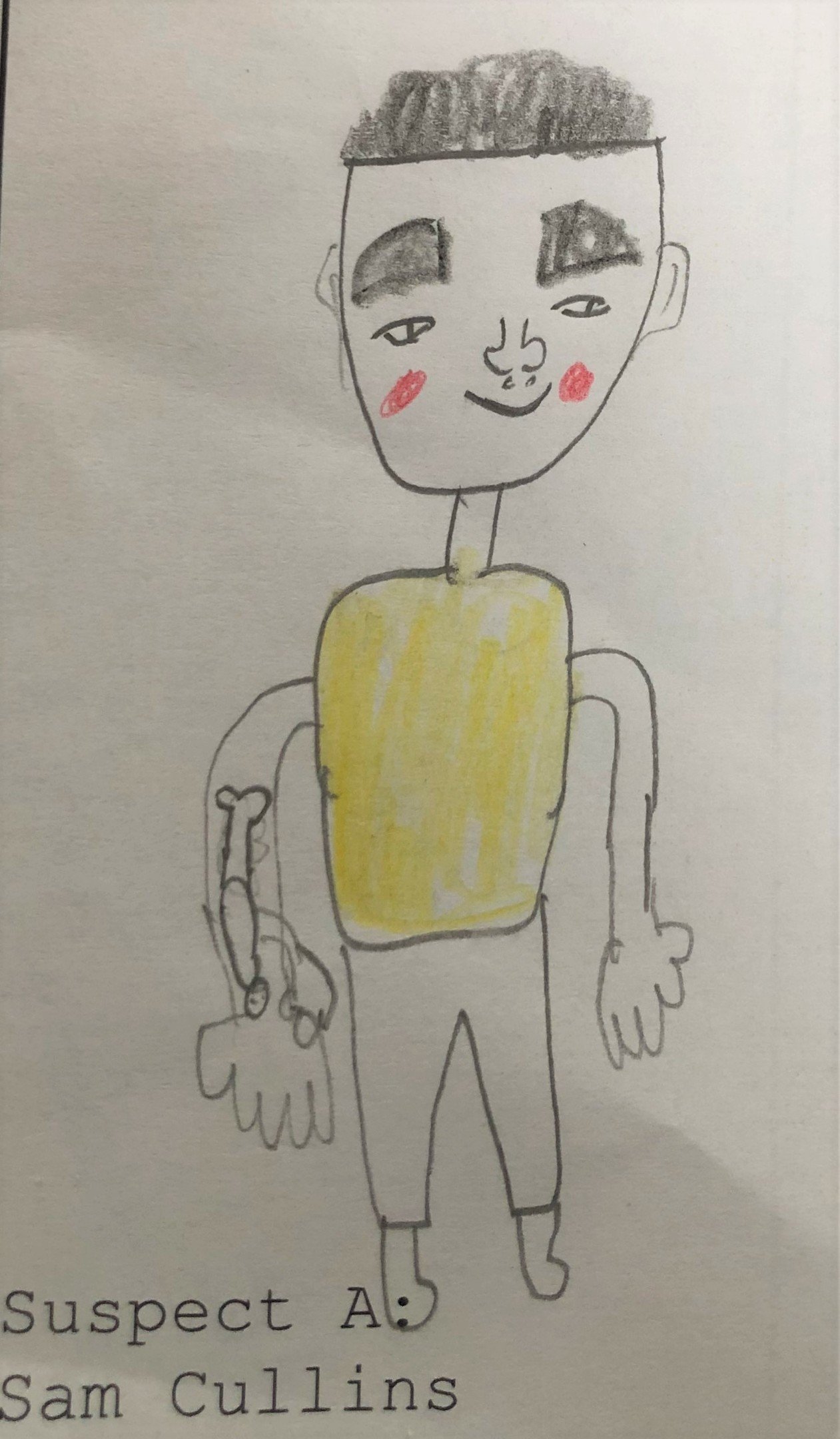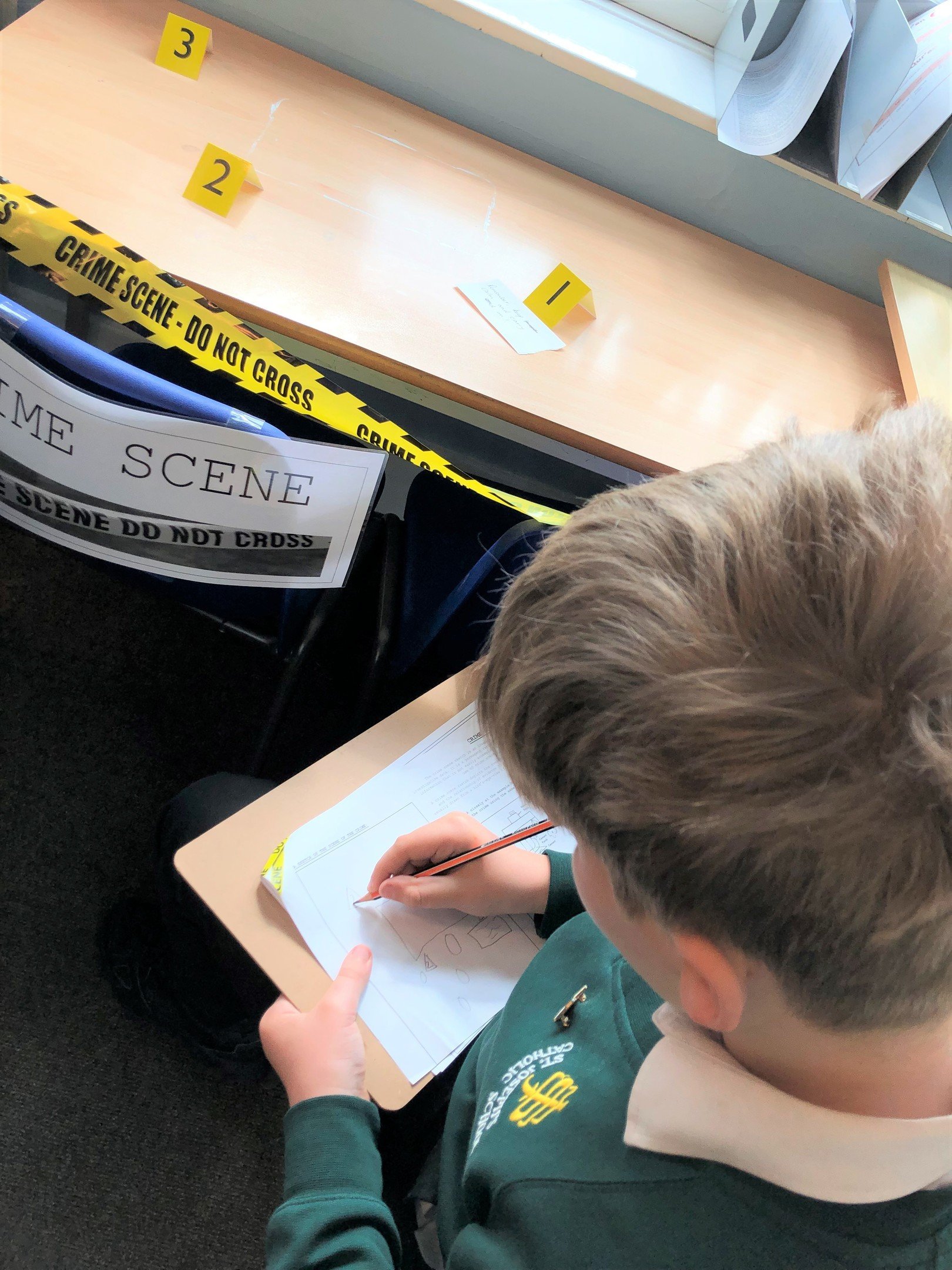 Fantastic Finish: 8.4.22
Year 4's "Fantastic Finish" celebrating the learning throughout their Geography topic "The World's Kitchen," involved the children hosting stalls at a World Food Fair.
Working in small groups, the children were assigned countries around the world. Using skills and knowledge acquired during the topic (for example using an atlas to locate countries and continents)the children researched their countries and traditional dishes and found out about crops that country exports.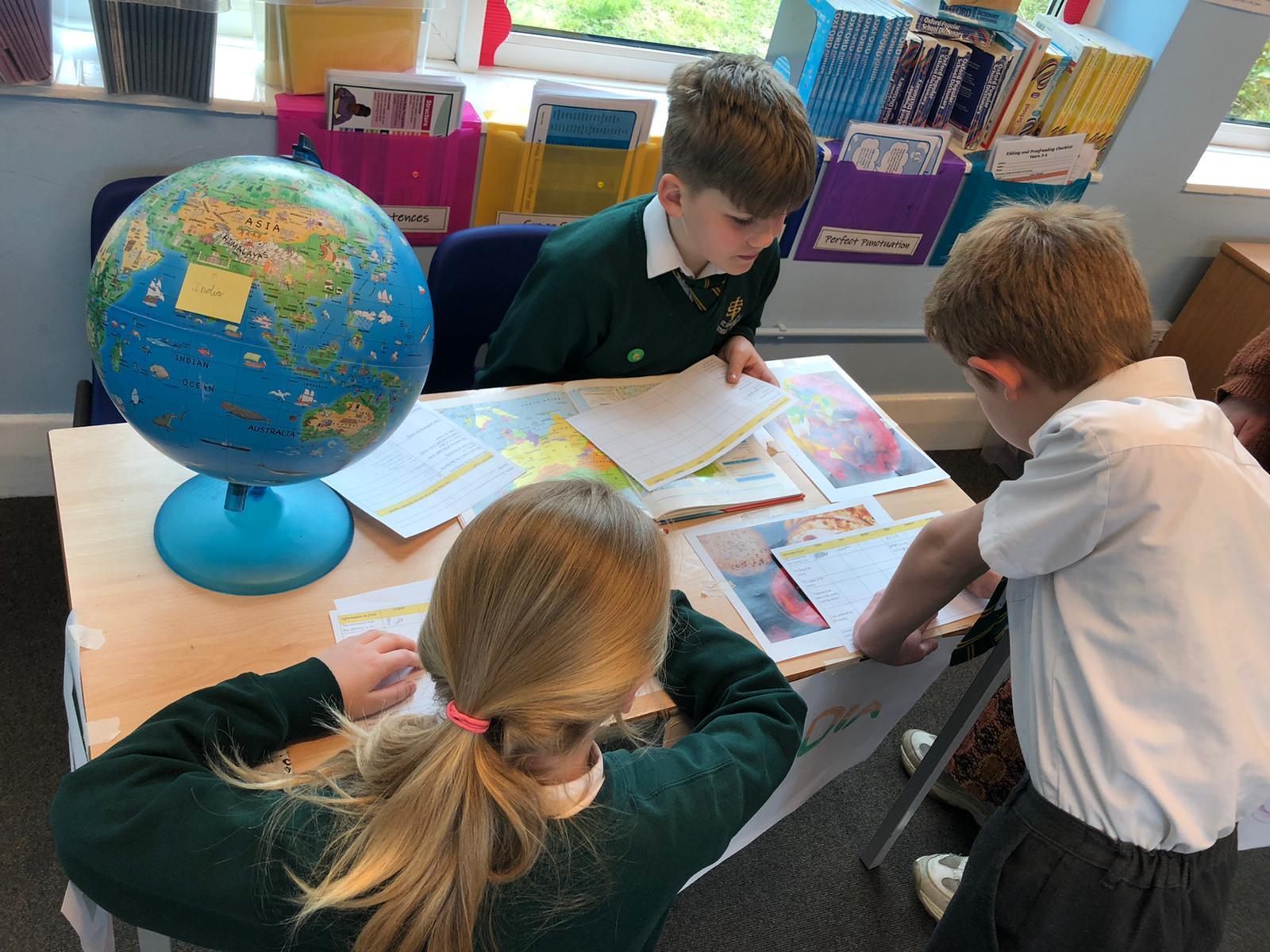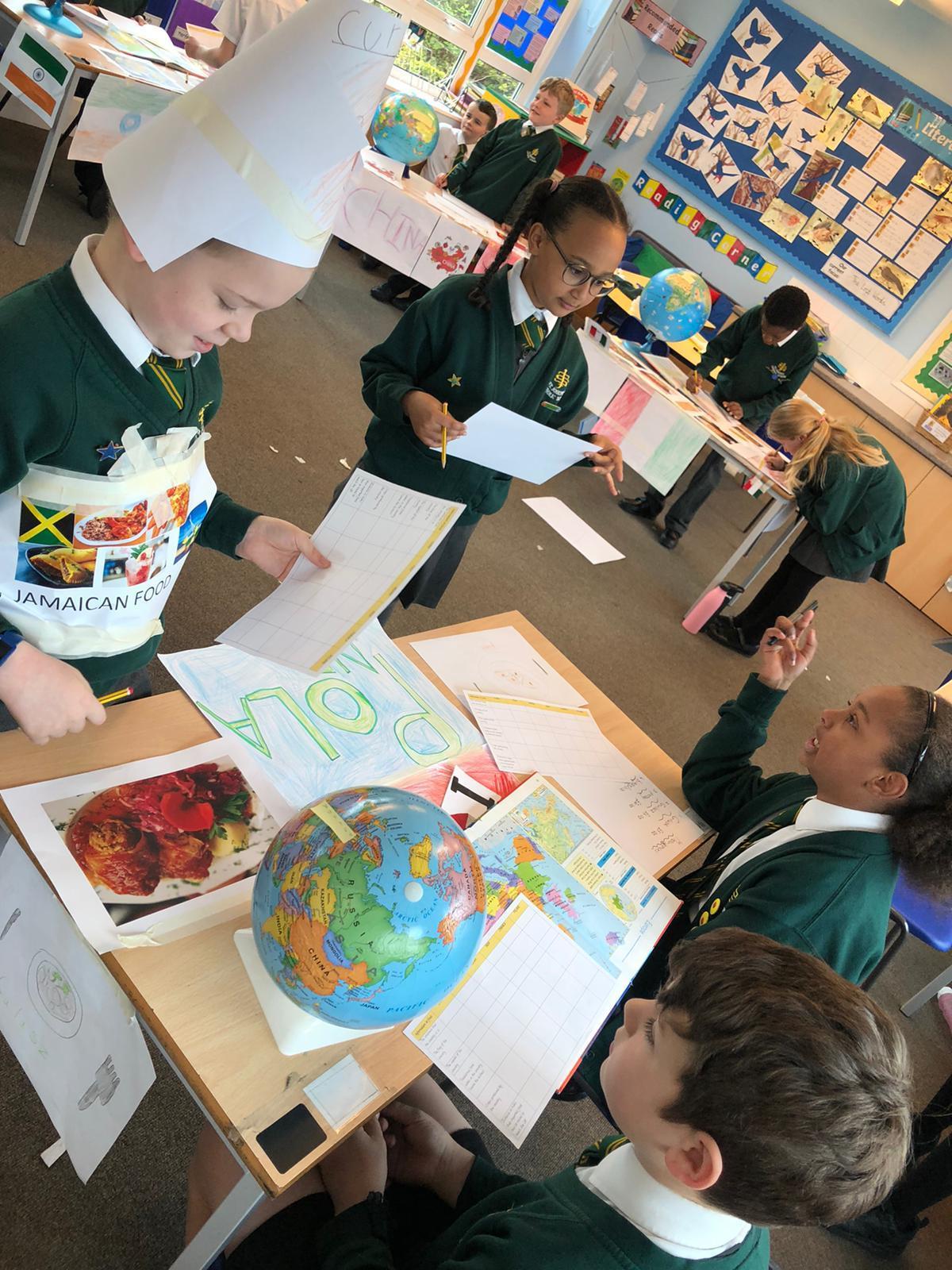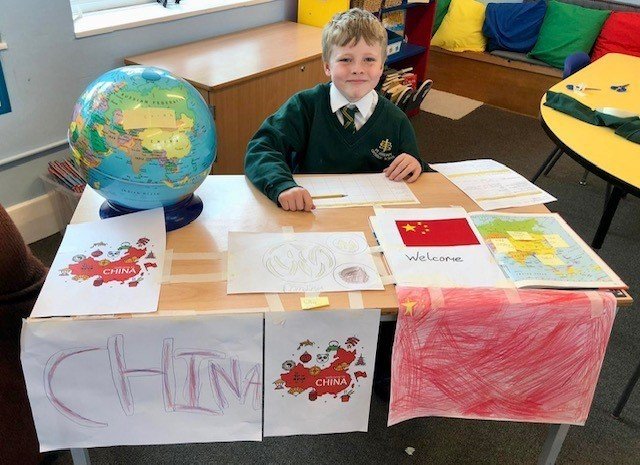 They then decorated their stalls with flags, banners and drawings.
When the fair opened, the children took it in turns to visit different stalls to speak with the stall holders and record their findings.
French : 4.4.22
In our French lesson this week, we applied our knowledge of animal names and put together sentences about where different animals lived. We learnt the names of different habitats and were able to ask and answer simple questions about where animals live.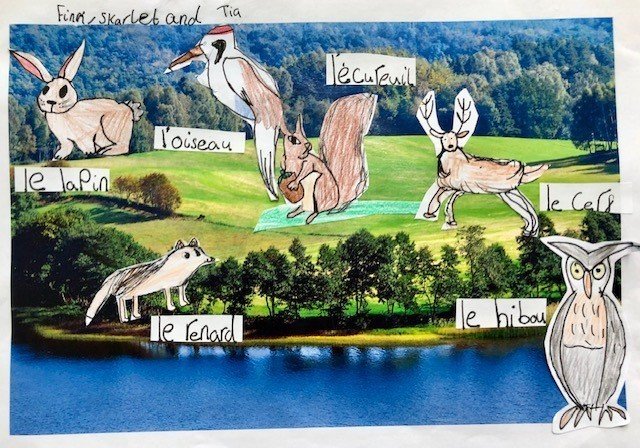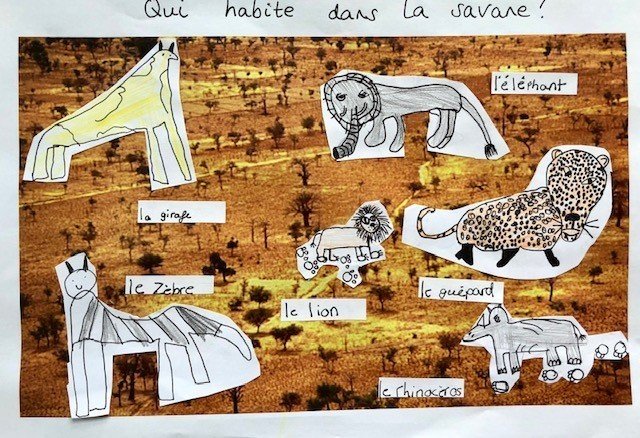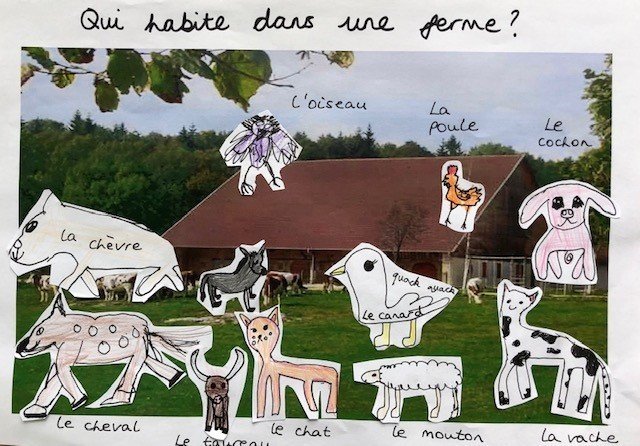 The children worked in groups and drew pictures of animals that would be found in each habitat.......all in French.
Design A Dog Collar: 4.4.22
In Science today, we were learning about how light reflects off different surfaces. The children also though about which colours reflect light well and which colours show up well in the dark.
The children had to design a dog collar for Jerry, thinking about which colours would reflect light and show up well in the dark.
They were very creative, as well as scientific, in their choices and designs! Here are a few of them...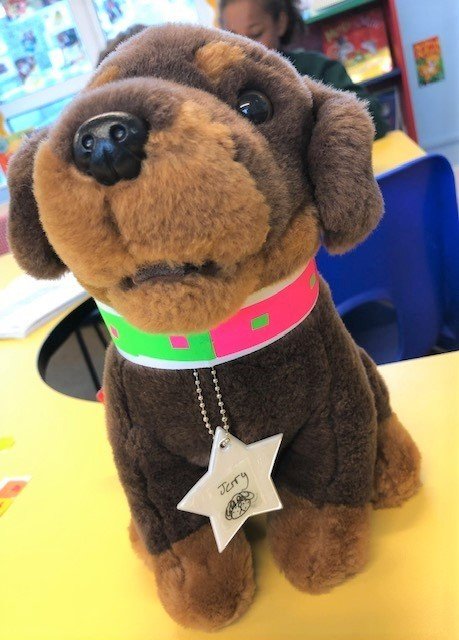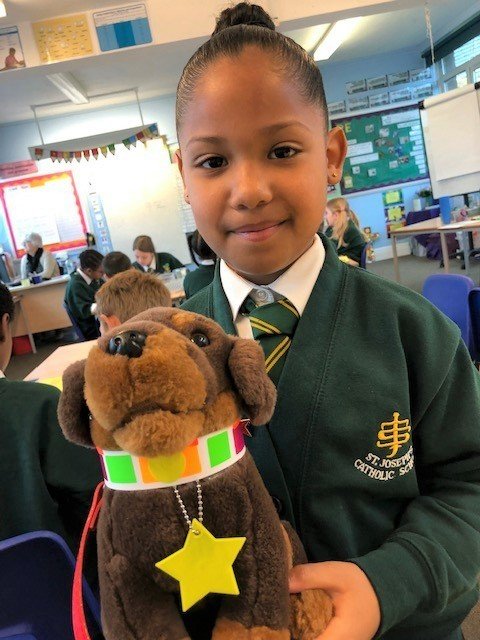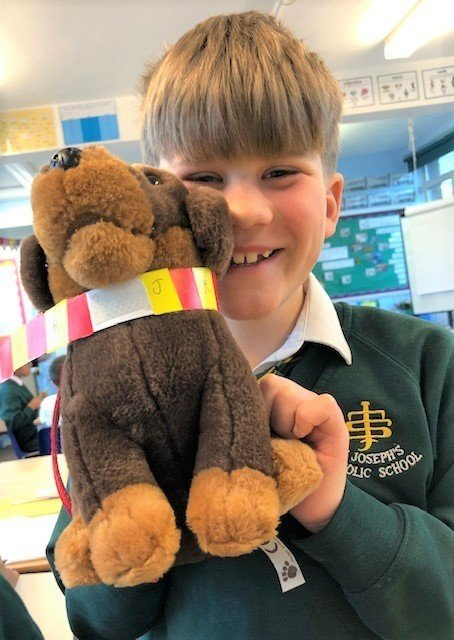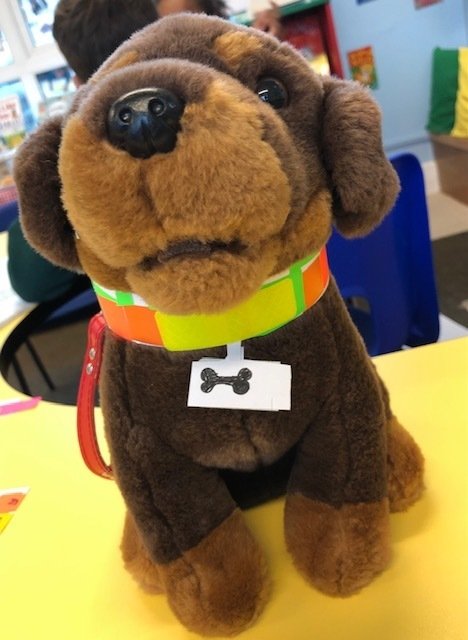 R.E: Respond
In their RESPOND lesson at the end of their Lent topic "Self-Discipline," Year 4's task was to write a hymn that celebrated all they had learnt and explored throughout the topic.
This included Lent being a time and an opportunity to repent, make amends and change, the events of Holy Week, the Passion and death and resurrection of Jesus and Lent being a time for self-discipline.
The children were very reverent but also creative and came up with some thoughtful and powerful lyrics.
See below the video of a Lent hymn Legend and Eddy created and performed.
Outdoor Learning : 31.3.22
Year 4 had a fantastic outdoor learning day today - despite the freezing temperatures and a few snow flurries! Luckily, the activity Miss Cross had planned for them kept them extremely active!
As part of their "The World's Kitchen" Geography theme, the children learnt about where different foods were imported from. They had to measure the distance the fruit travelled by measuring a relative piece of string, converting the units and calculating the total distance!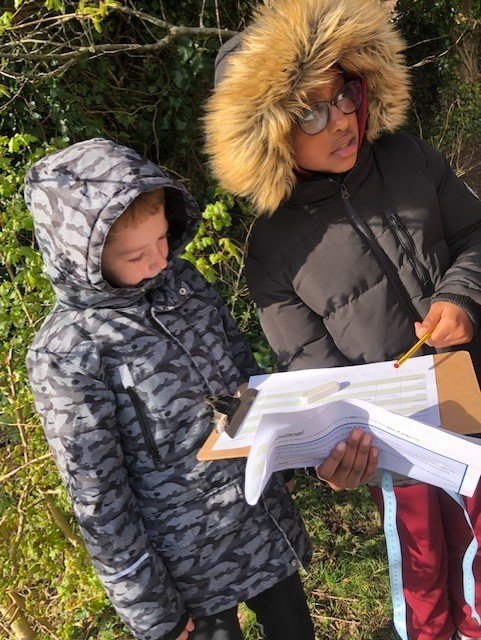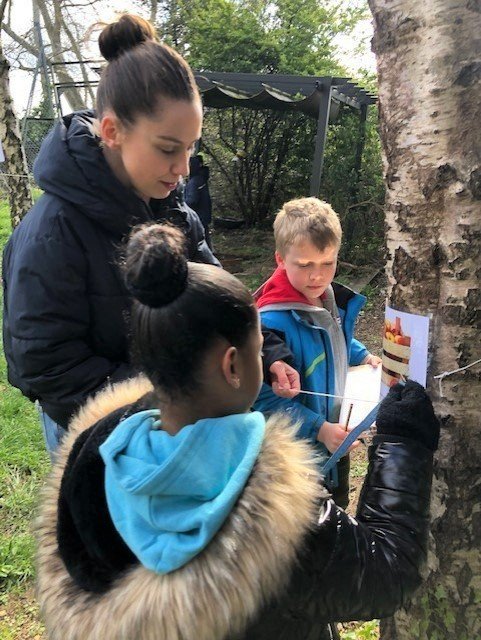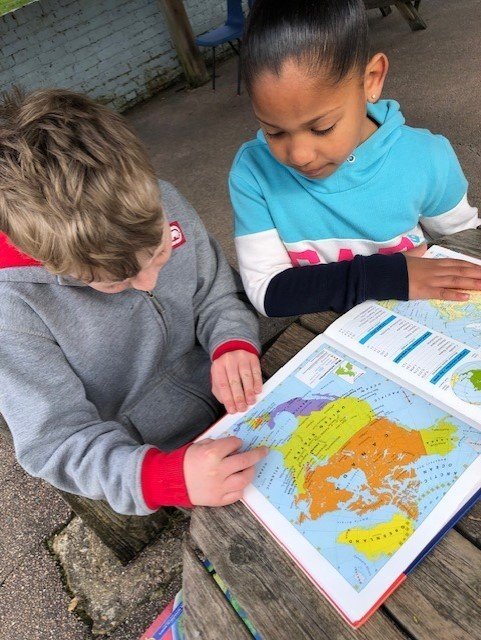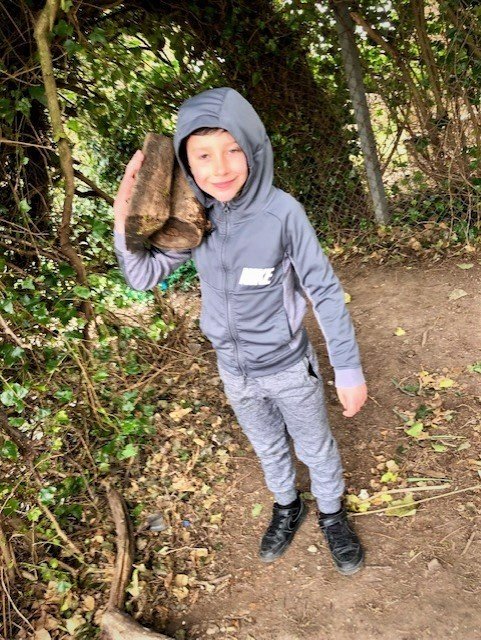 They also had to find each country in an atlas! If they were successful with all these challenges, they received a fruit token which they later exchanged for real fruit to make their own (well-travelled) fruit salad.
For their second activity, the children were given part of a spell from their class Power of Reading text - the children worked in groups to bring their part of the spell alive, using natural objects in the environment or drama or through any other means!
They then finished off by using clay to create a food/drink vessel. Watch this space for their finished designs!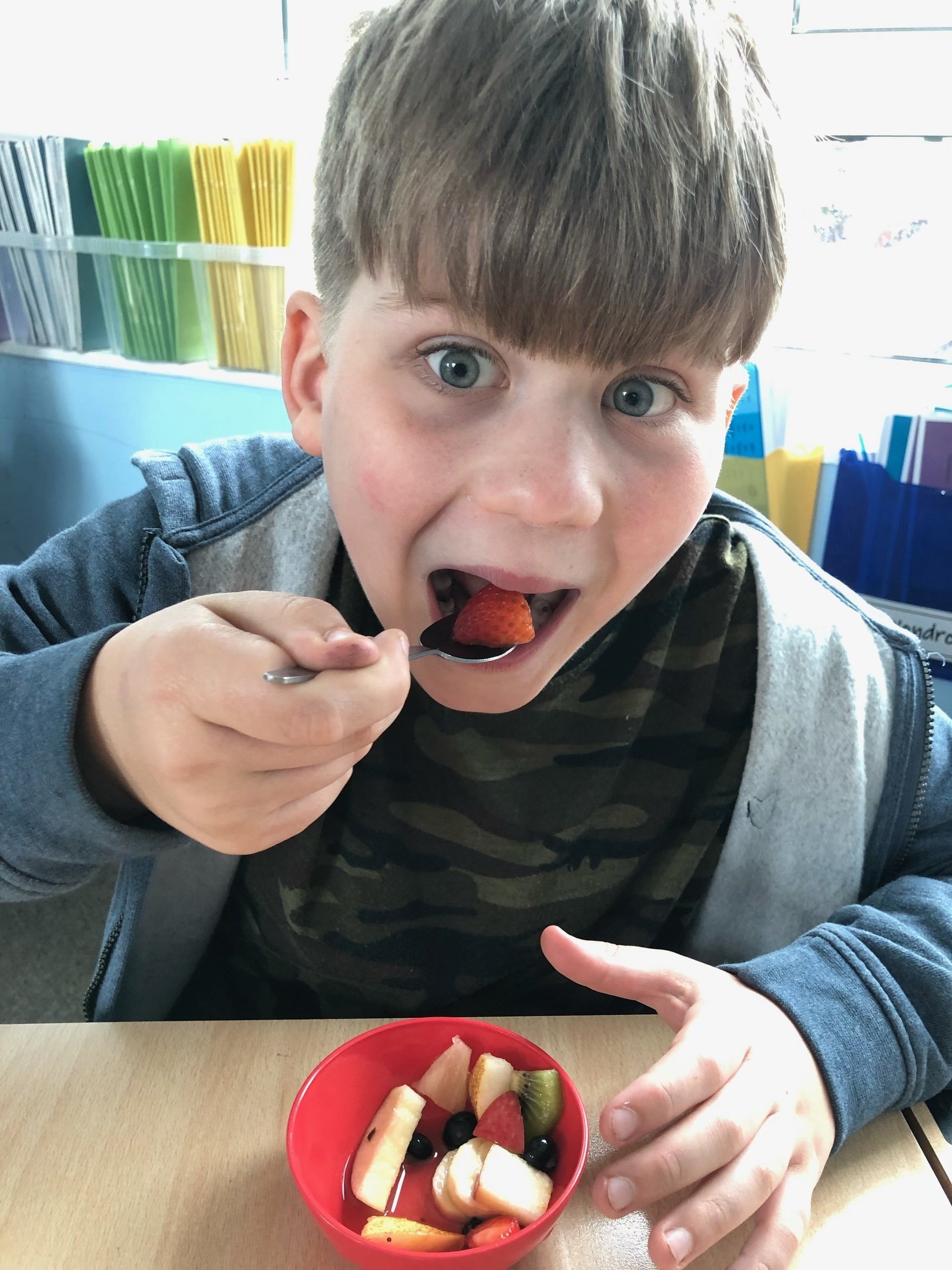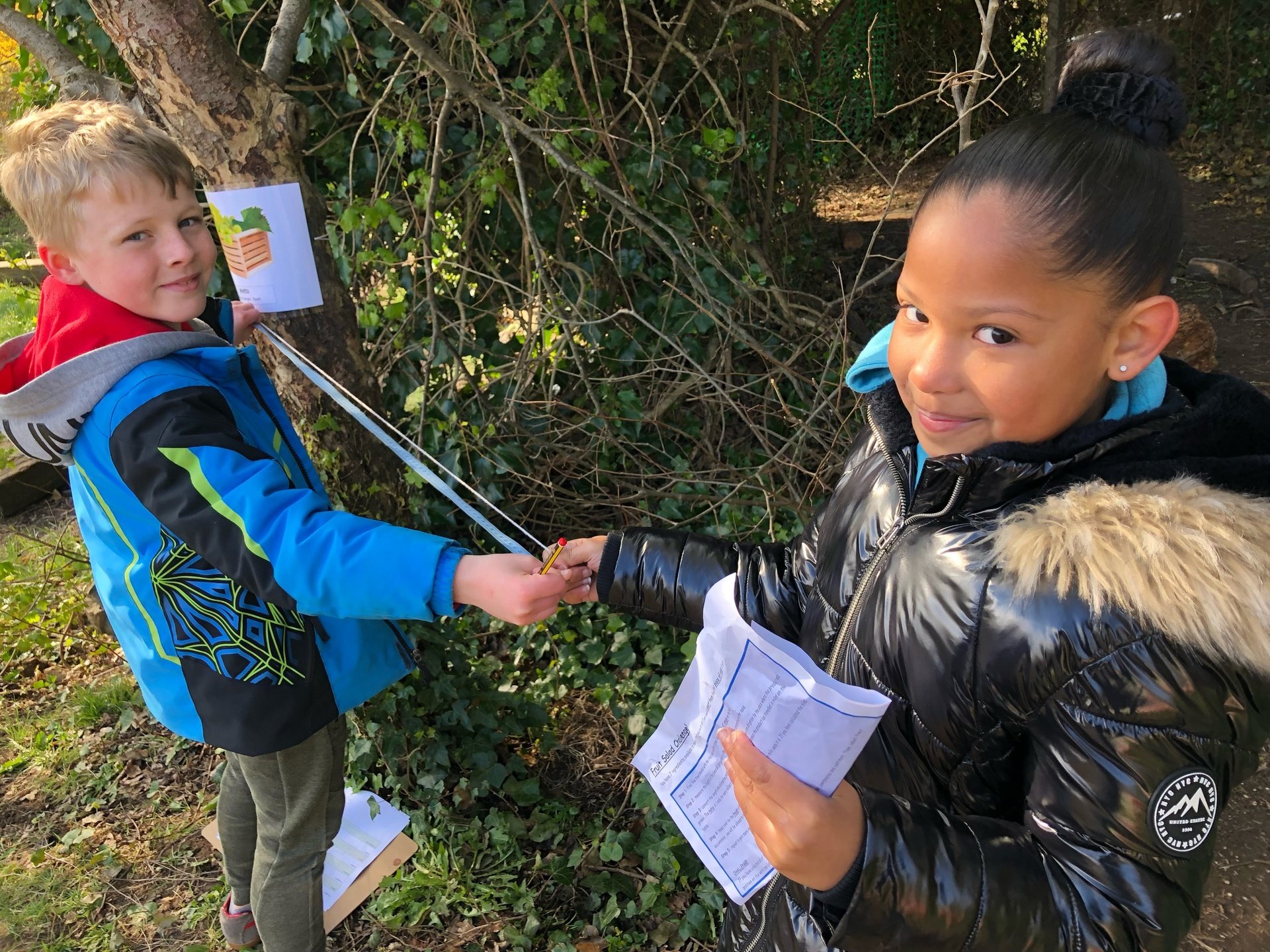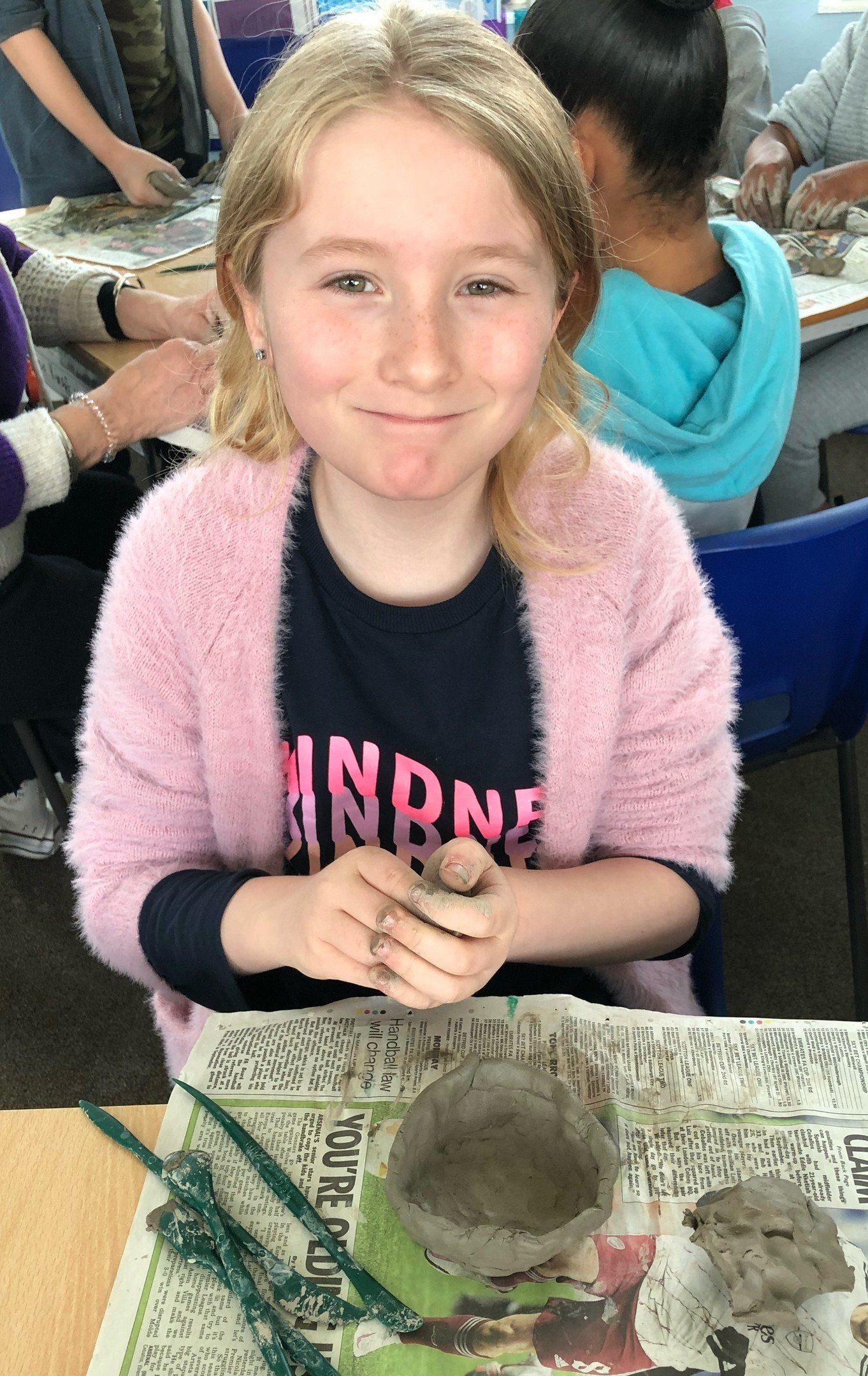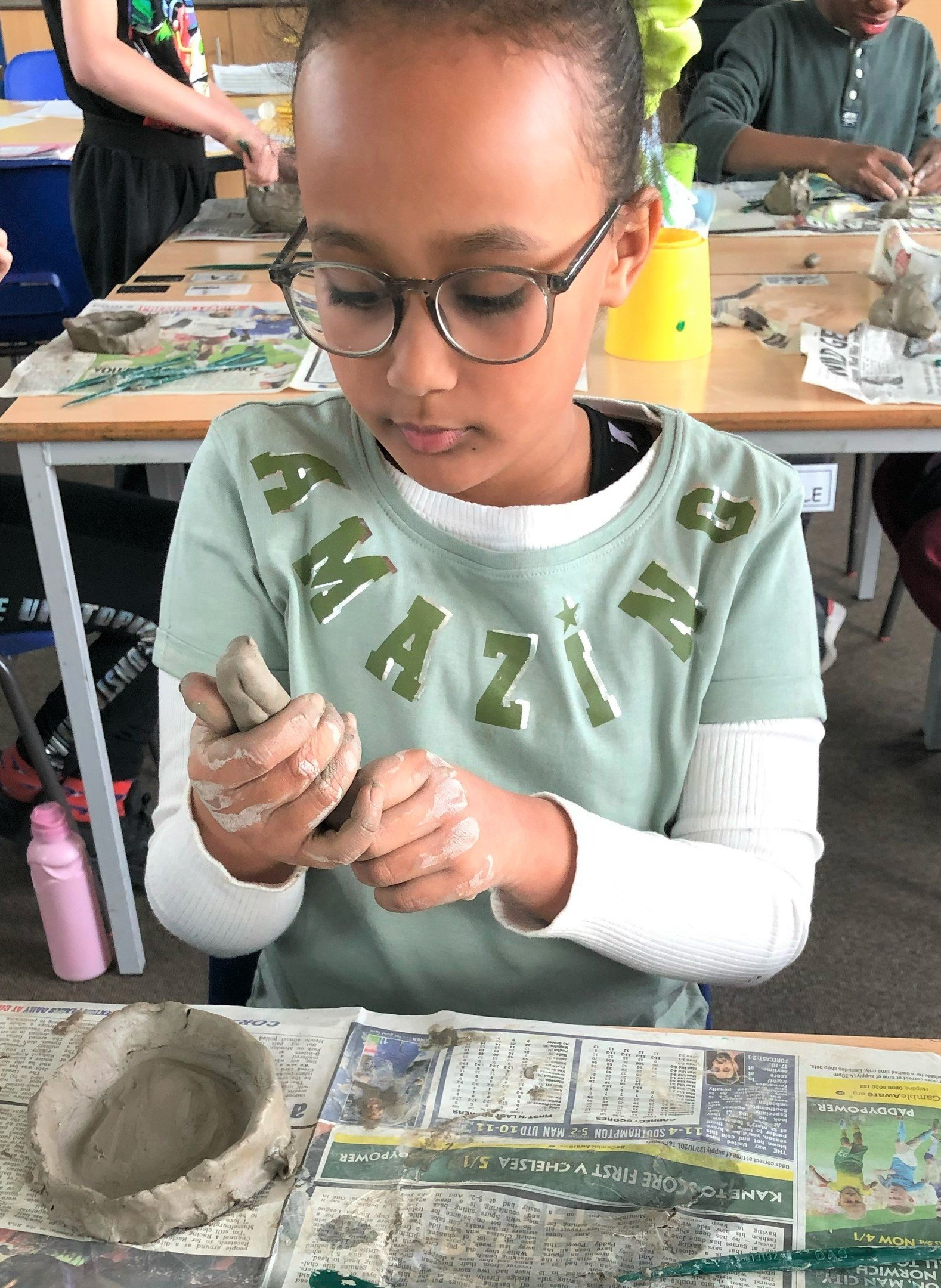 Super Sushi!
As part of their Geography based topic, "The World's Kitchen," the pupils in Year 4 made a visit to Moshimo in the centre of Brighton - a Japanese and Sushi restaurant.
The children were split into two groups - one group learnt the art of using chopsticks to pick up Edamame beans while the other group learnt how to make their own Maki Sushi!
The children bought their Sushi back to school and enjoyed it in the classroom using their newly acquired chopstick skills!
It was a really informative and engaging session and we are very grateful to Moshimo for providing our pupils with this opportunity to enhance their Geography learning.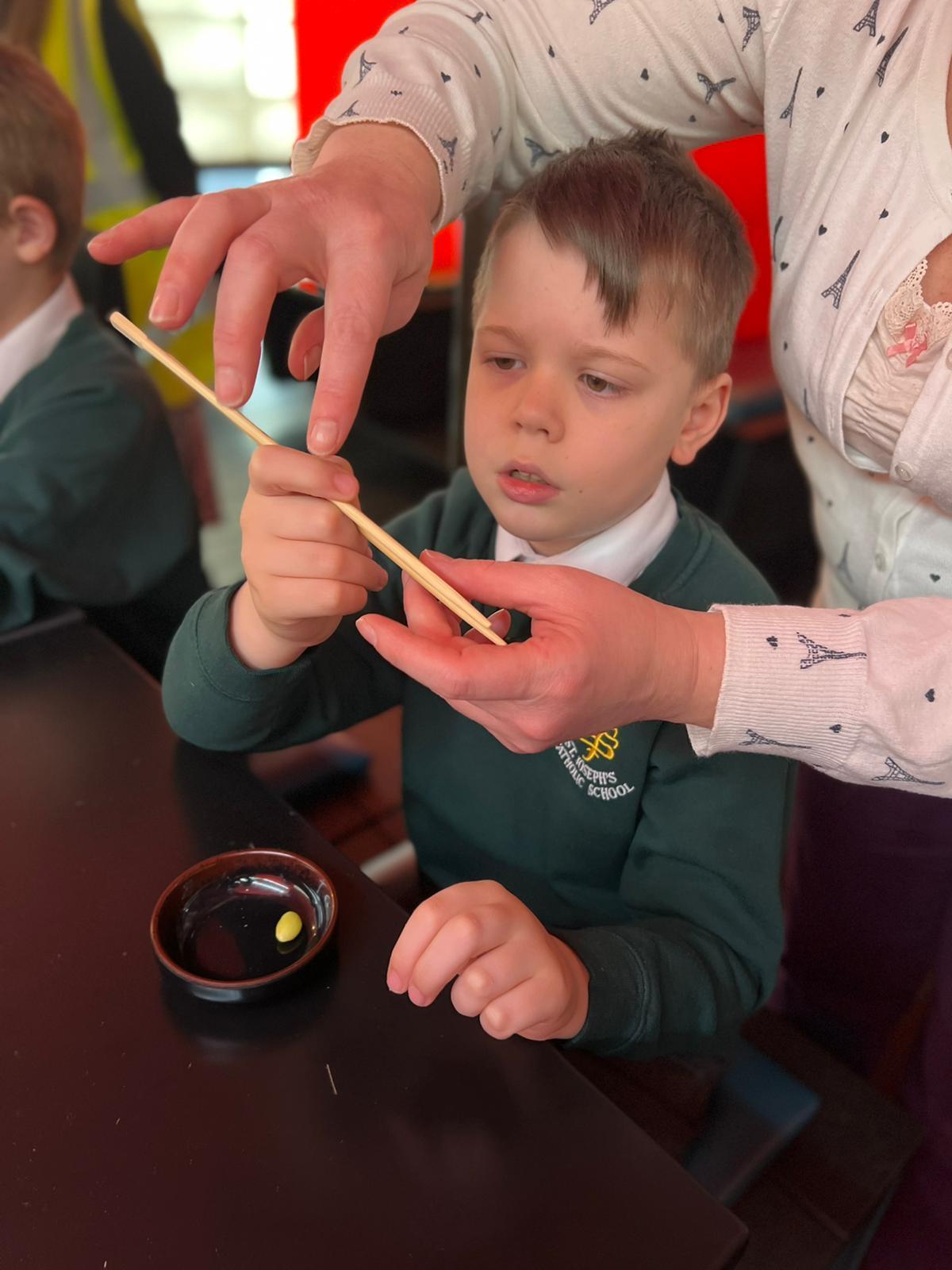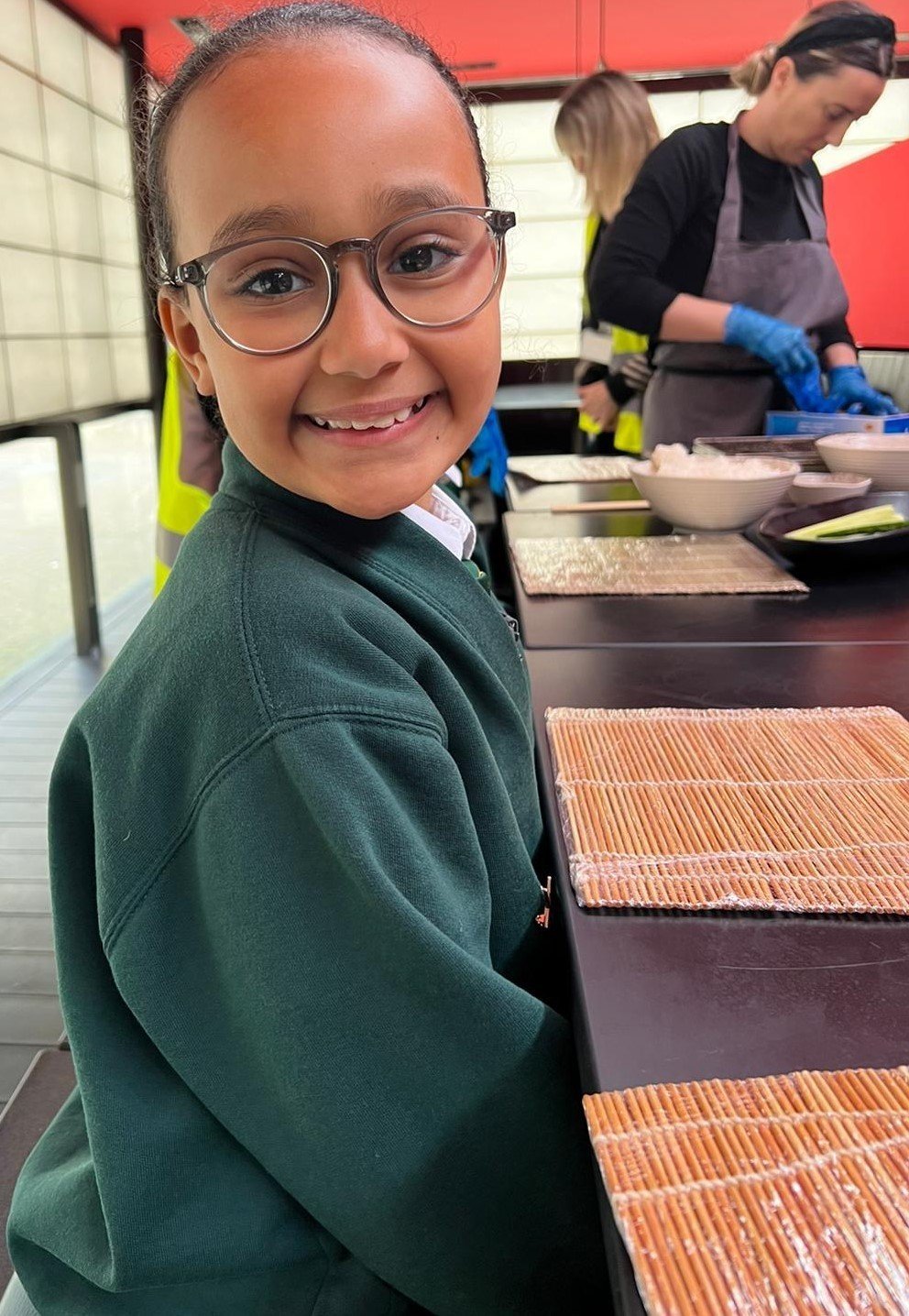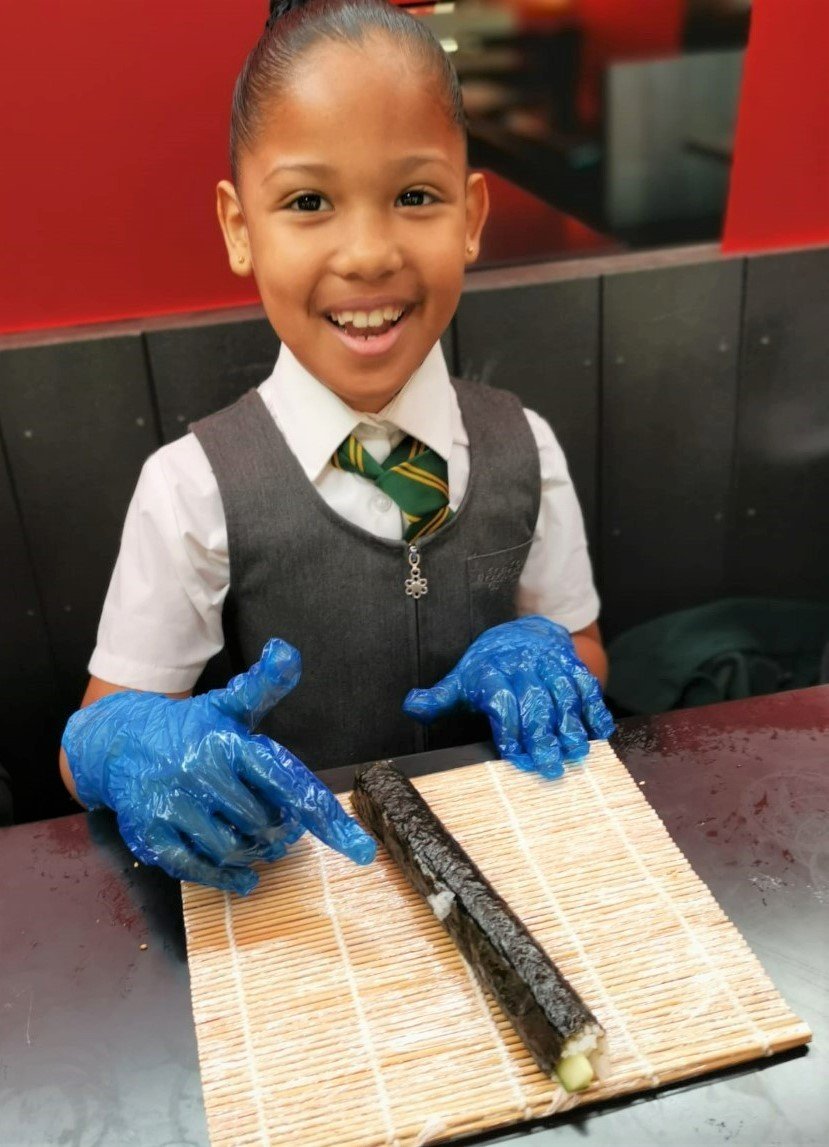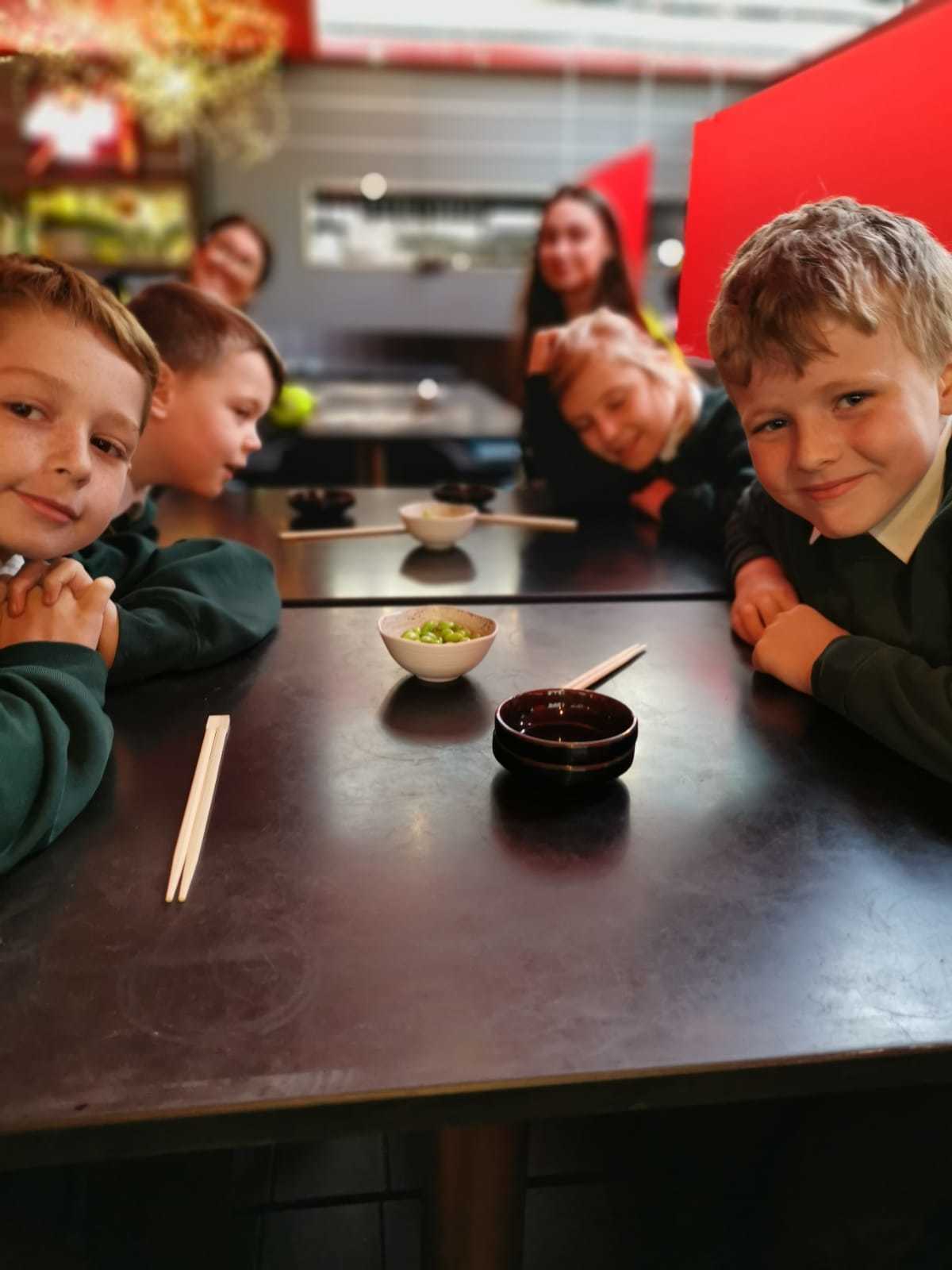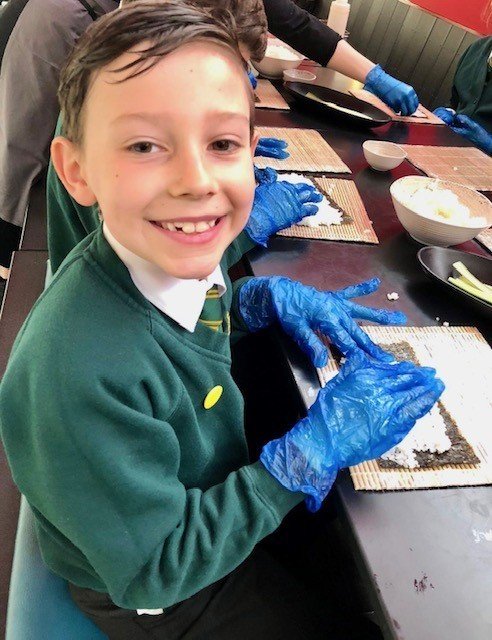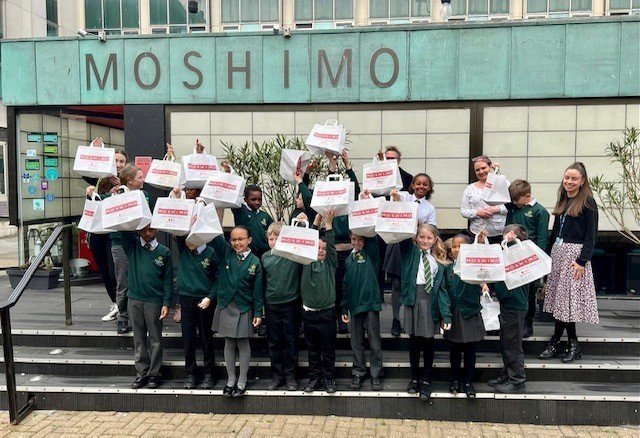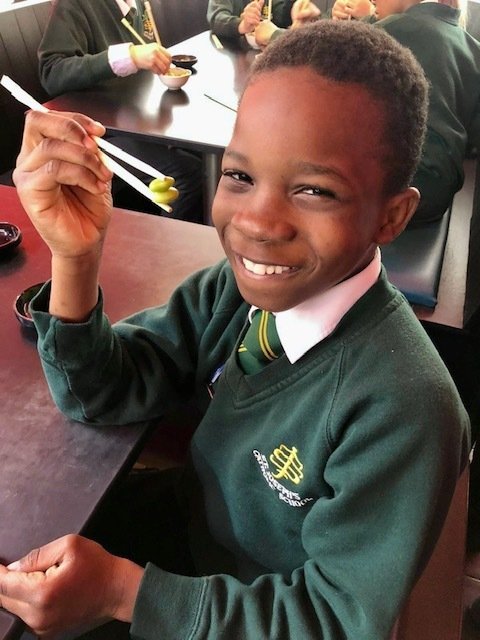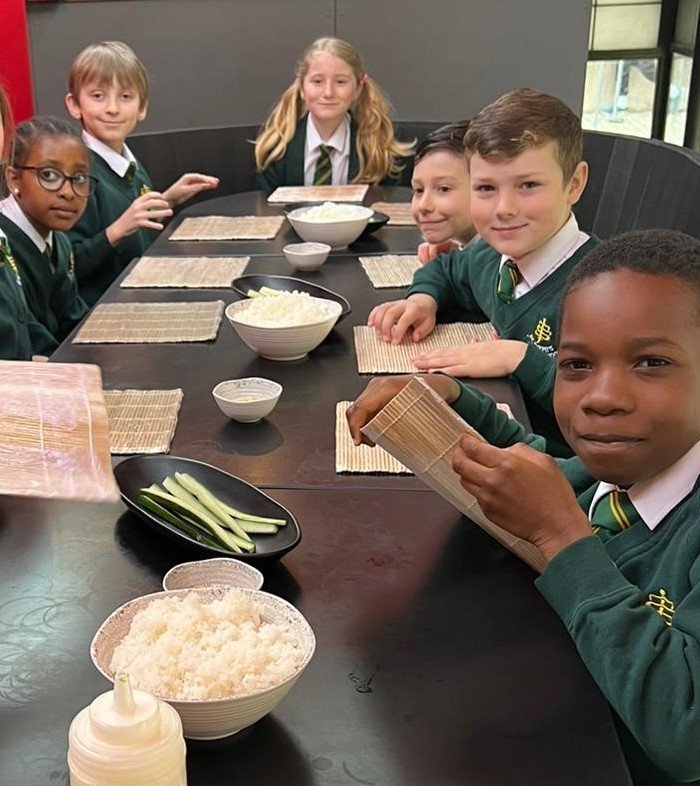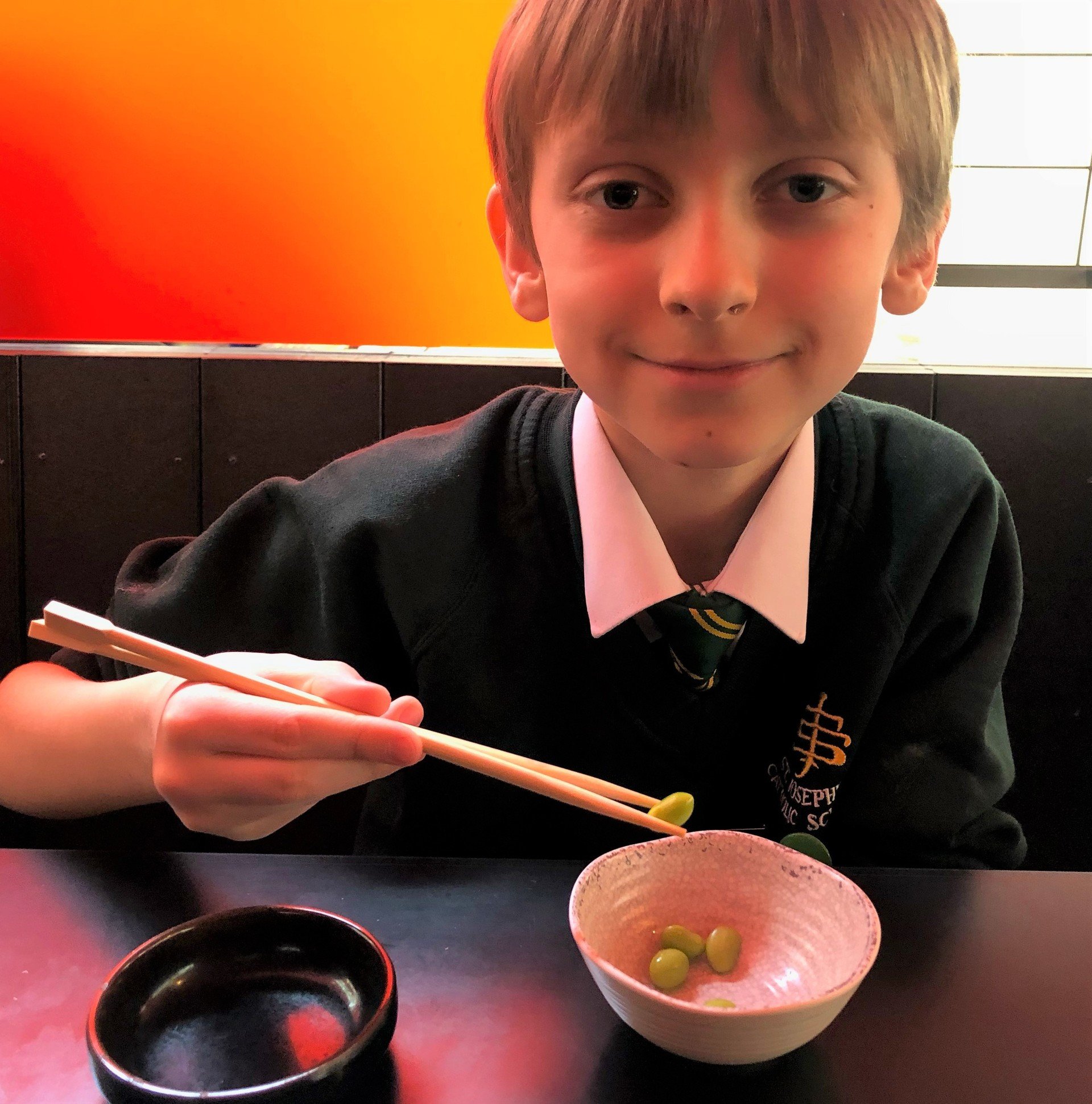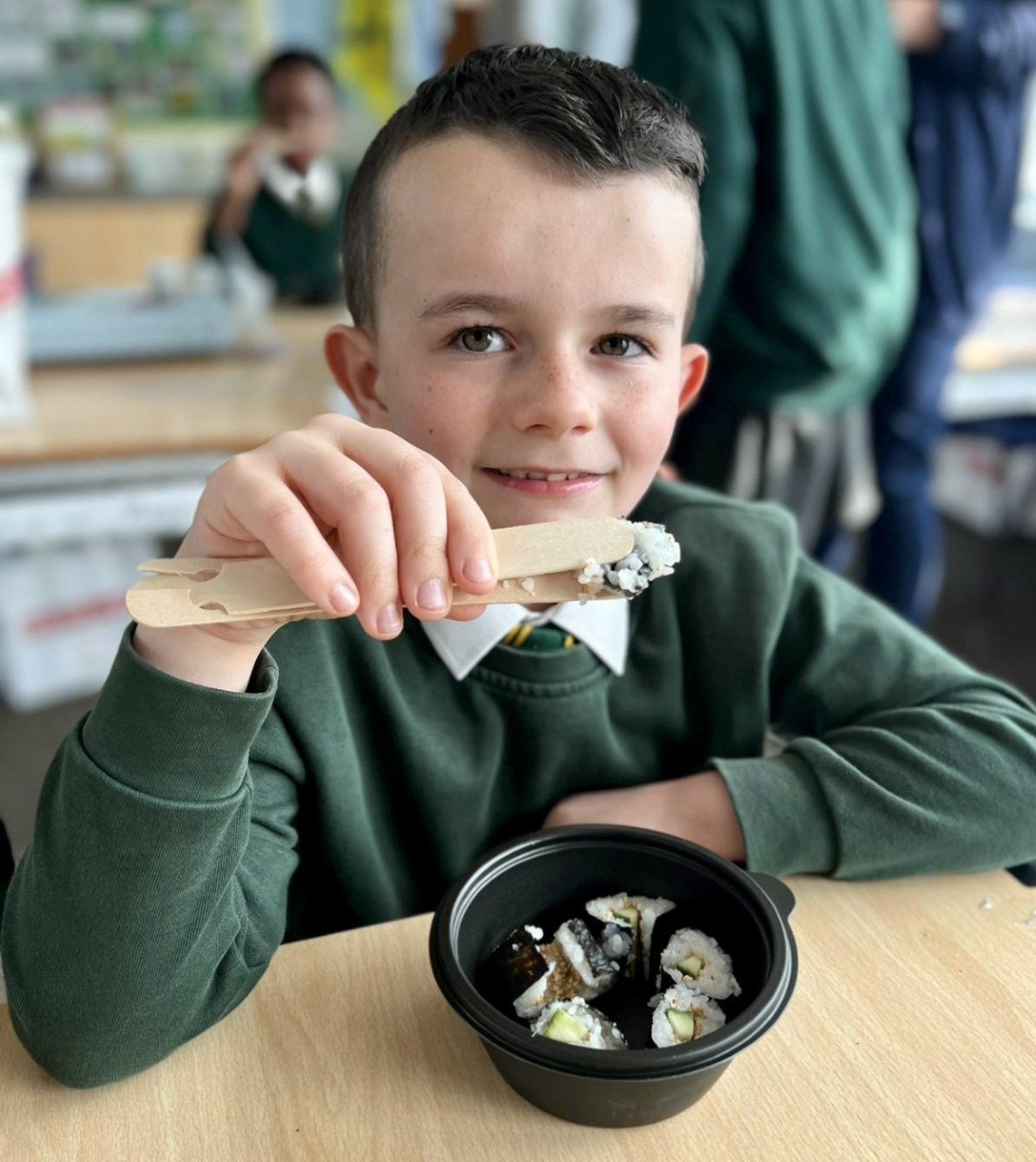 Self-Discipline R.E. Topic : 25.3.22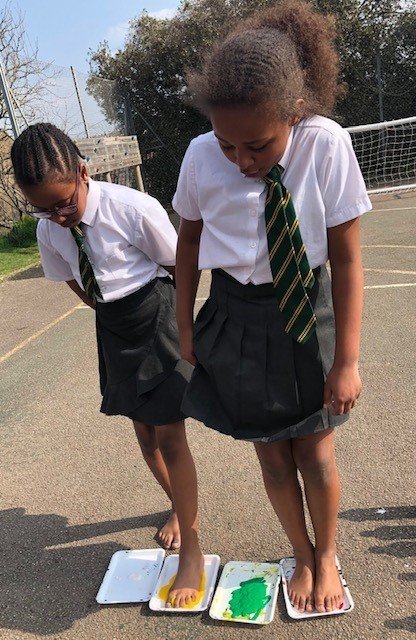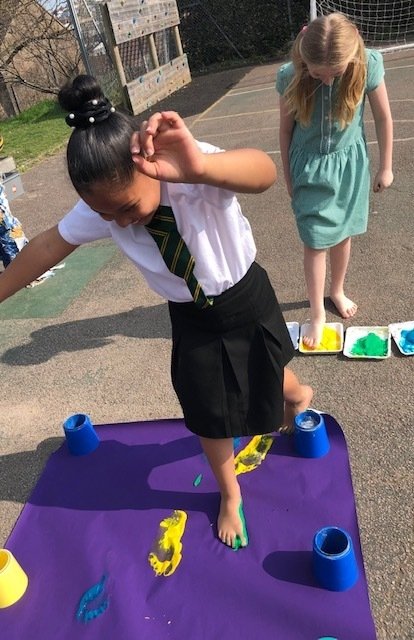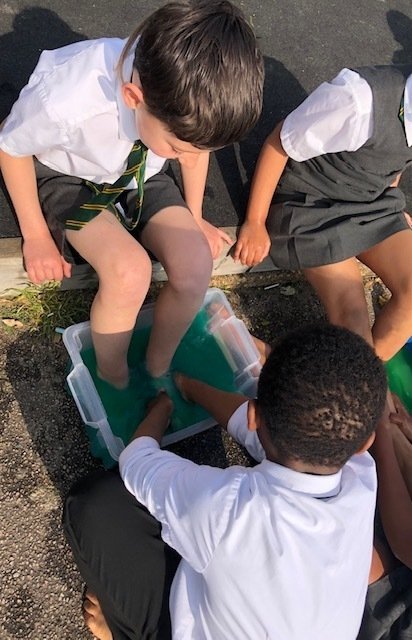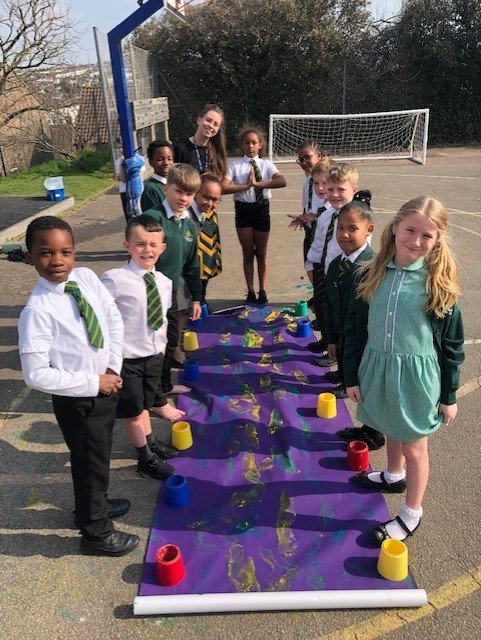 In their R.E. this week, Year 4 are learning about Holy Week and particularly The Last Supper on the eve of Maundy Thursday. The children reflected on how Jesus showed his self-giving when he washed the feet of the disciples.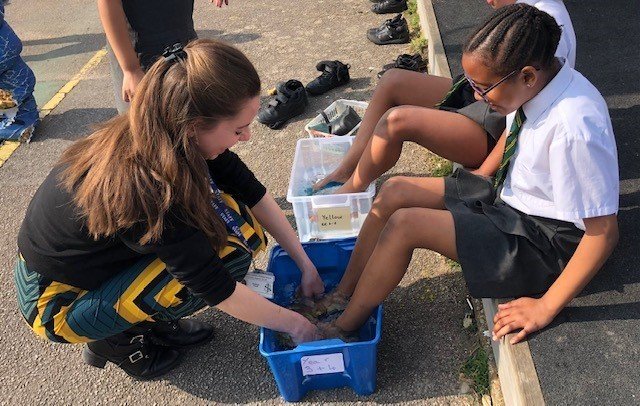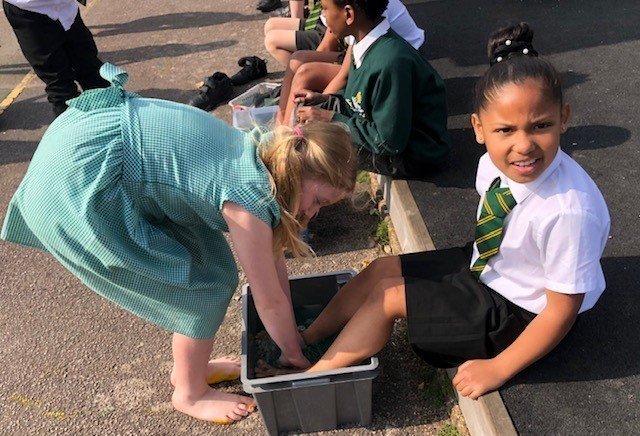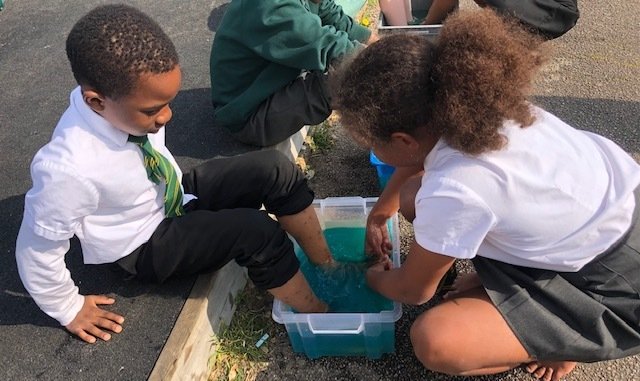 The children stood in coloured paint and then afterwards, washed each other's feet. Experiencing the act of washing feet themselves, showed the children the love and humility demonstrated by Jesus.
Al Fresco Maths : 23.3.22
Year 4 made the most of the sunshine and had their maths lesson outside today! They used cones to represent fractions and chalk to draw bar models. The children practised adding and subtracting fractions as well as finding equivalents.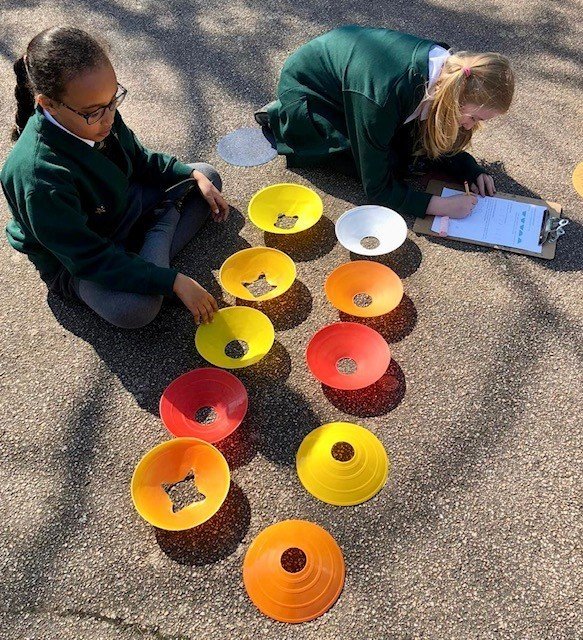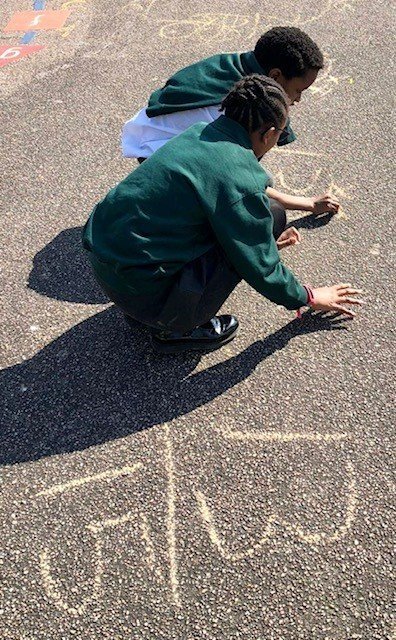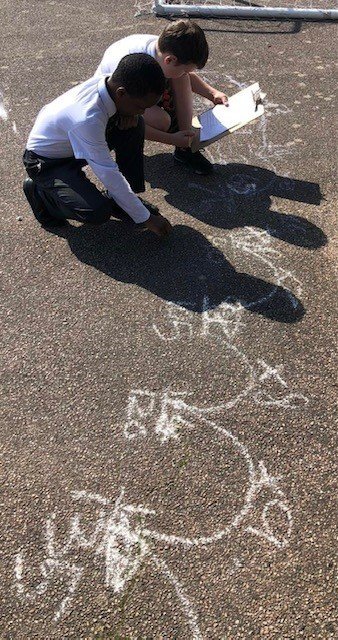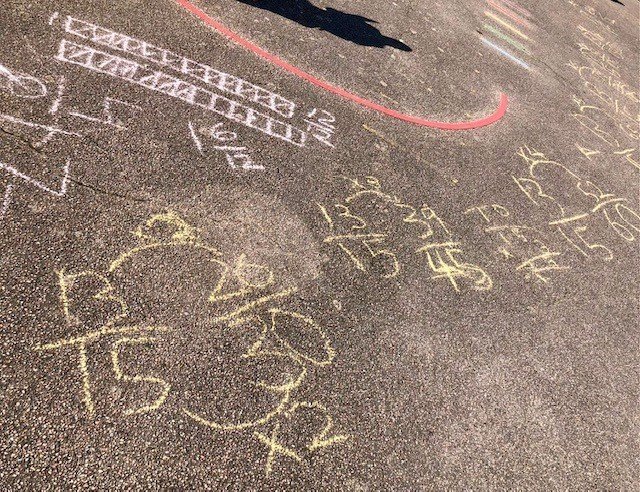 Investigating Sound : 18.3.22
This week in Science, Year 4 have been investigating how when objects vibrate, it causes air particles to move. These vibrations cause sound waves, enter your ear and you hear them as sounds. They carried out five simple investigations, exploring this concept.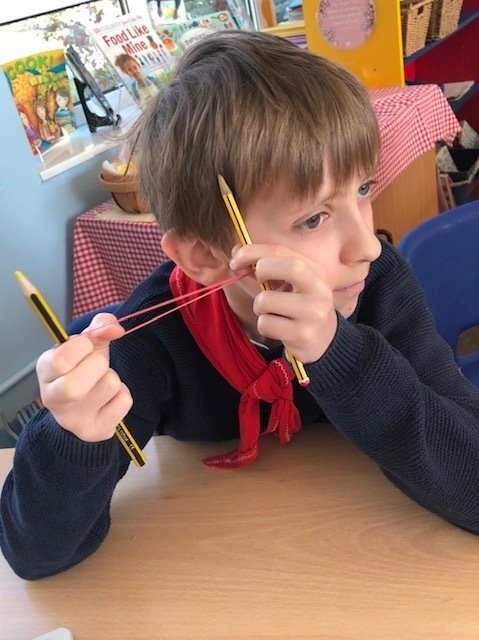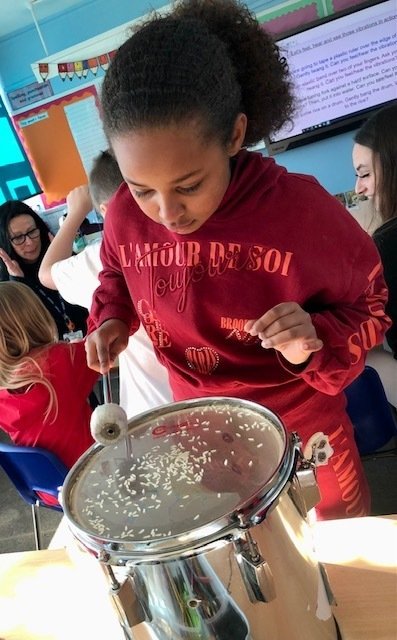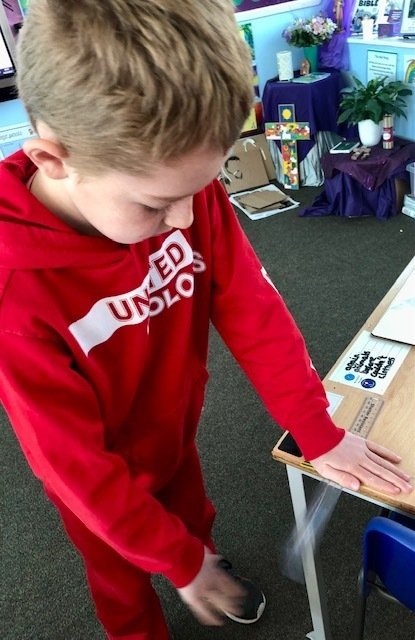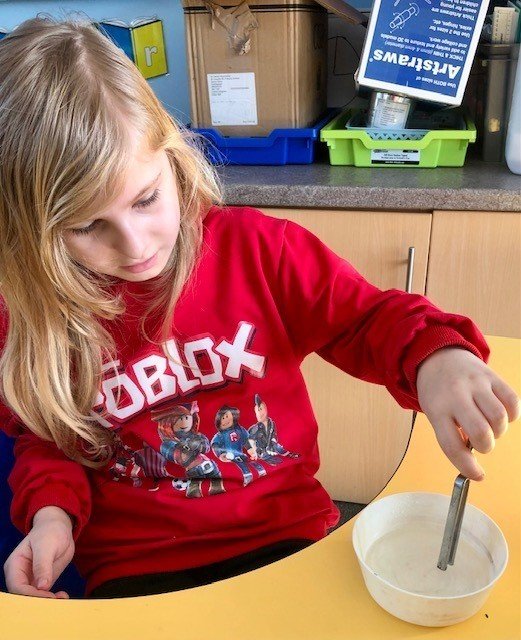 The children then put their own sense of hearing to the test! Could they identify the different sounds made by eating different biscuits? Could they distinguish between a Jaffa Cake and a wafer?!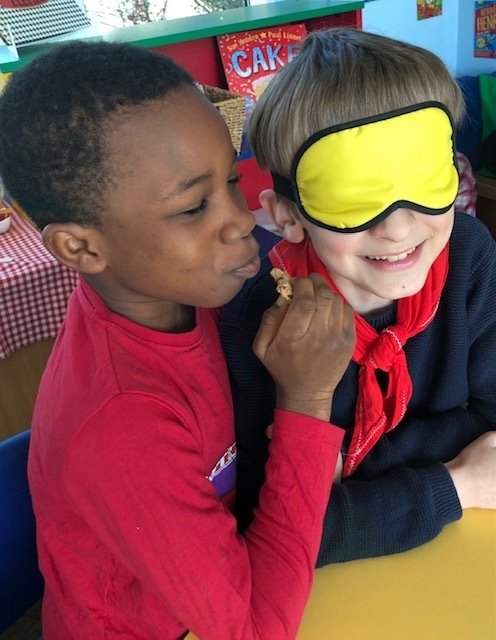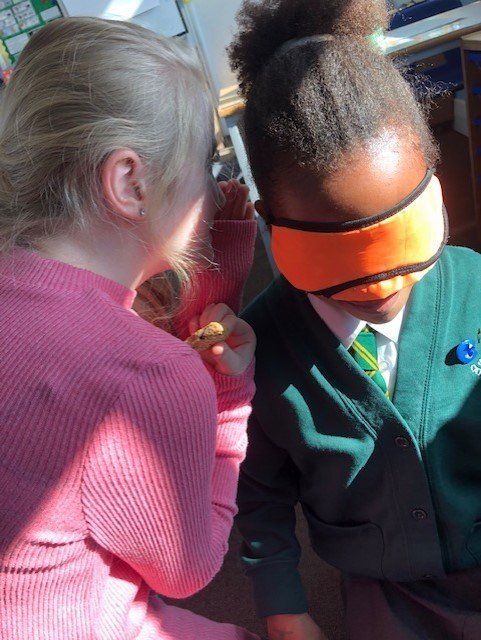 St Joseph's Day : 18.3.22
The children in Year 4 created individual portraits of St Joseph using materials made from wood including matchsticks, lollypop sticks, straws, tissue paper and cardboard.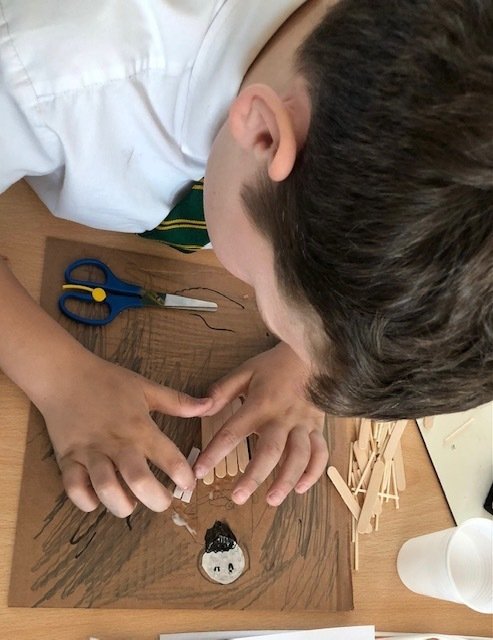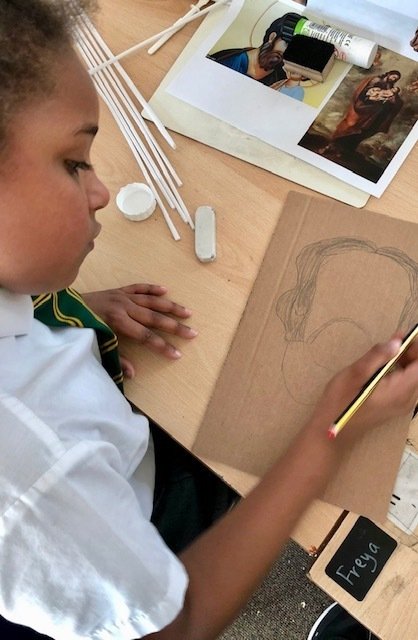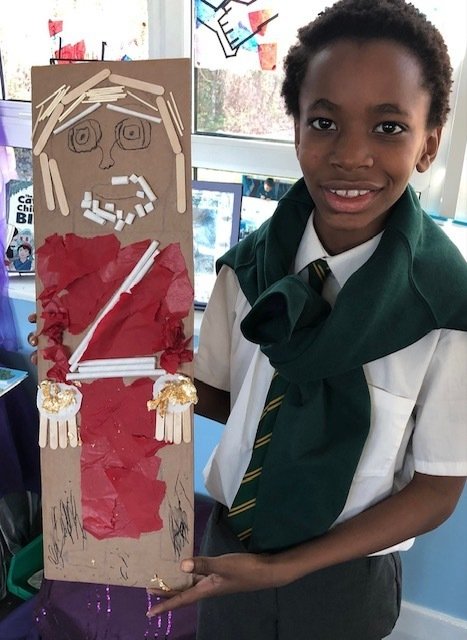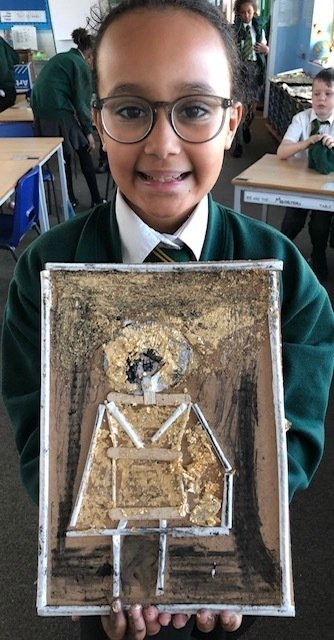 This was in honour of St Joseph's work as a carpenter. The children also included symbolic elements such as the colour red and lilies.
Lost Words : 17.3.22
Year 4 have been doing some art work based around their class Power of Reading quality text, "The Lost Words." This is an amazing hand - illustrated book celebrating the magic and wonder of the natural world.
The children used the illustrations as inspiration for their own drawings and experimented with layering gold leaf to create a background for their water colour paintings of birds.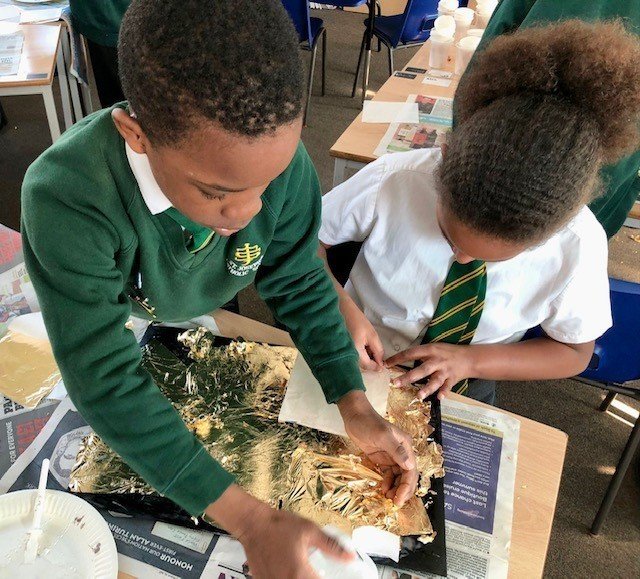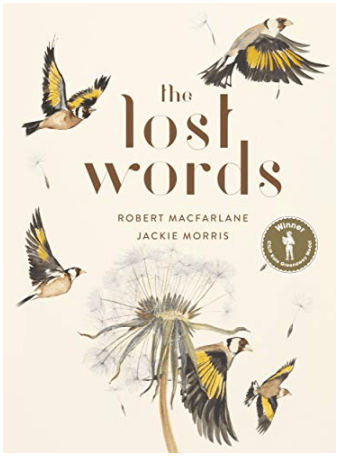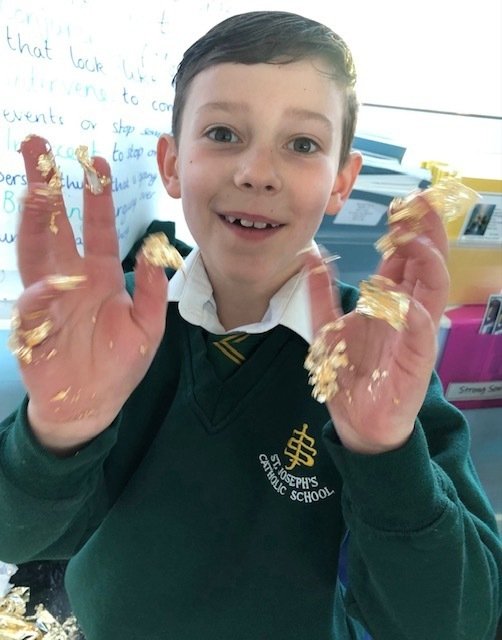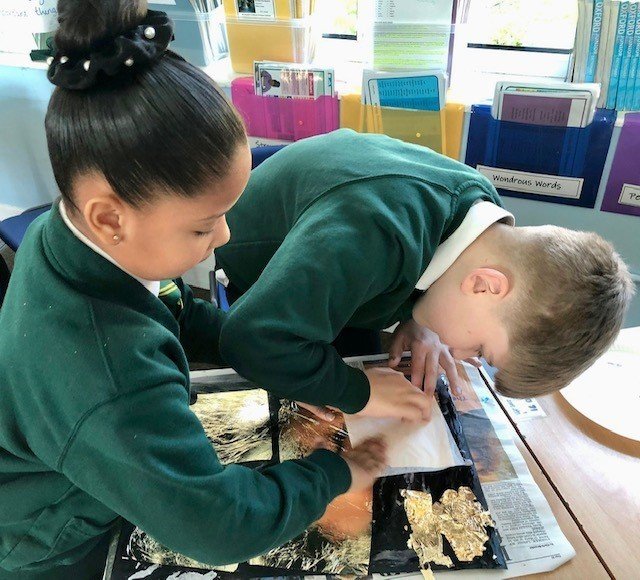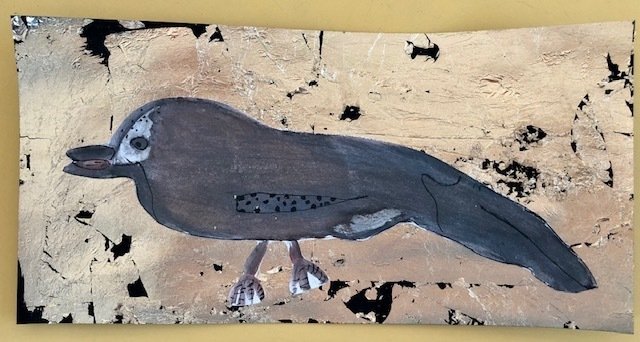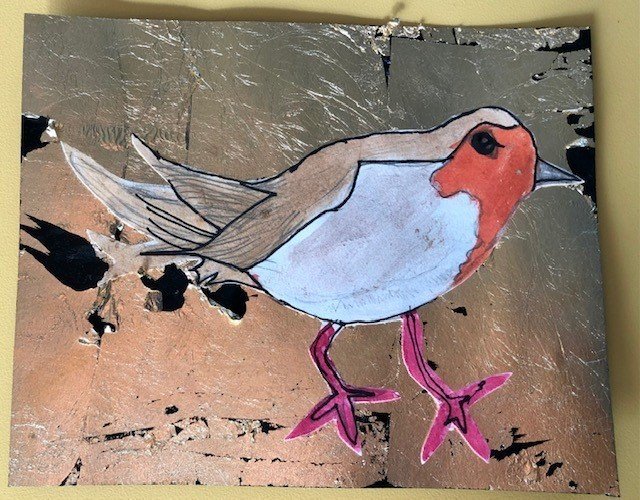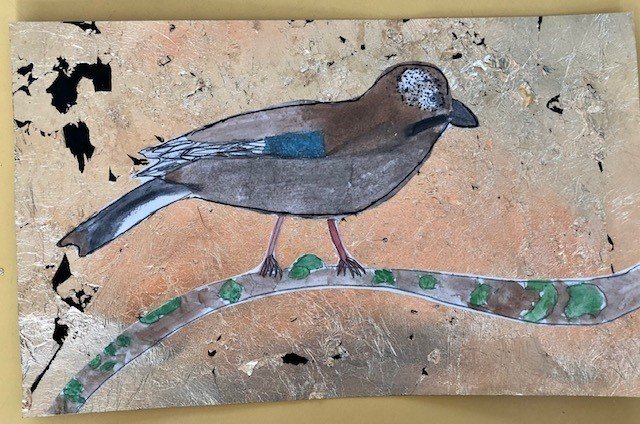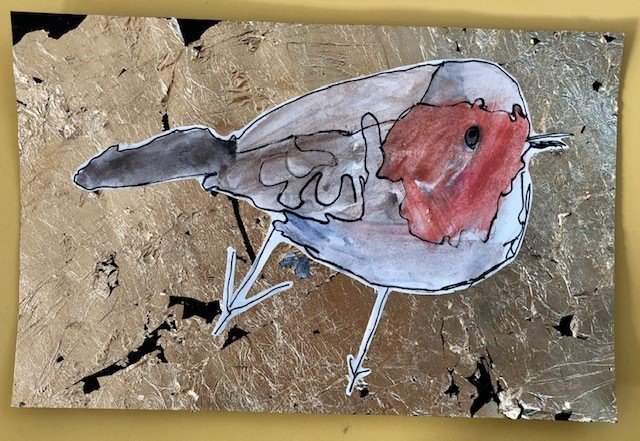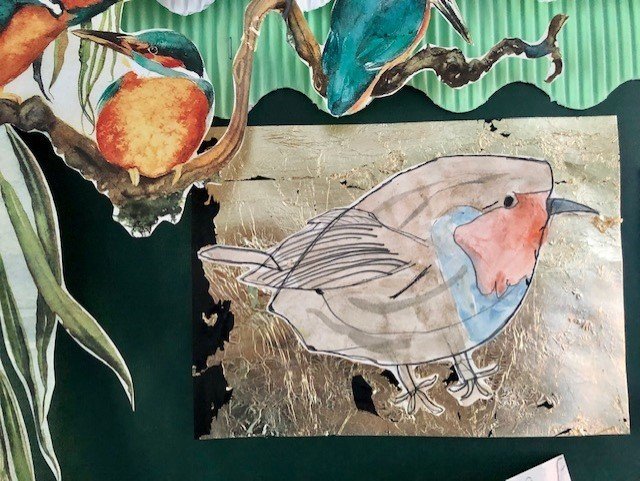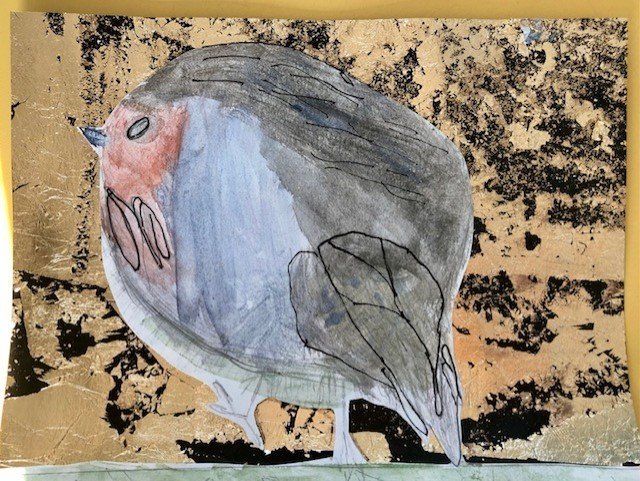 Marvellous Magnets!
Year 4's Science lesson this week was all about magnetic force. The children learnt that magnets have two poles and will attract or repel each other depending on which way the poles are facing. They also learnt that magnetic force can work at a distance.
The children explored these concepts in toy car duals, using repelling magnetic poles to race the toy car down to the finish line without even touching it!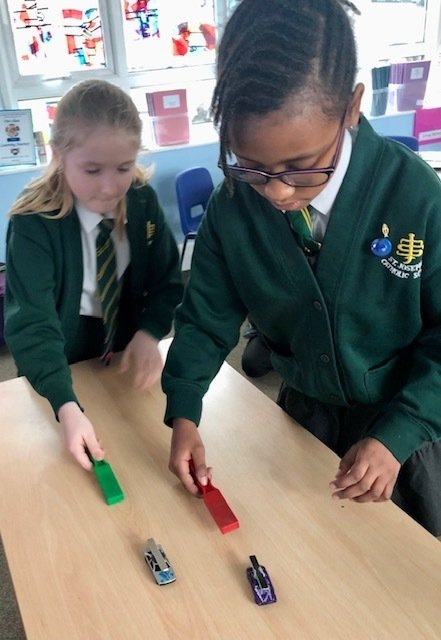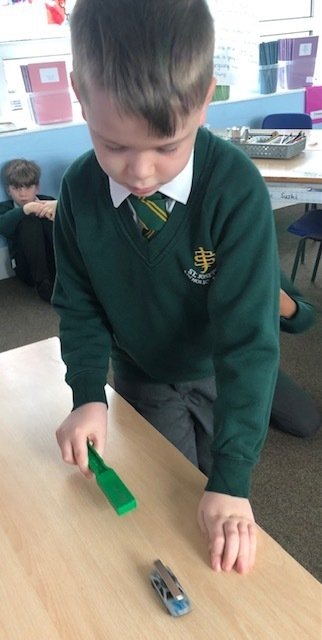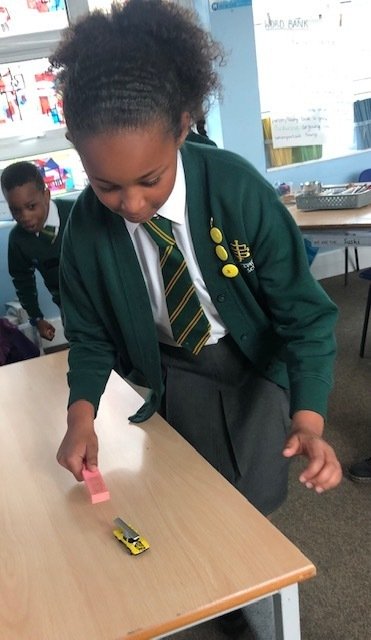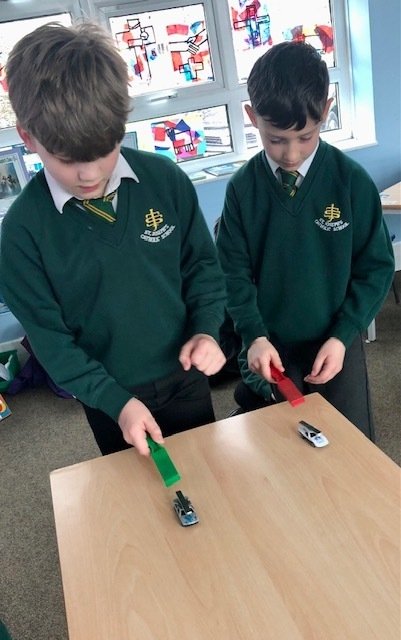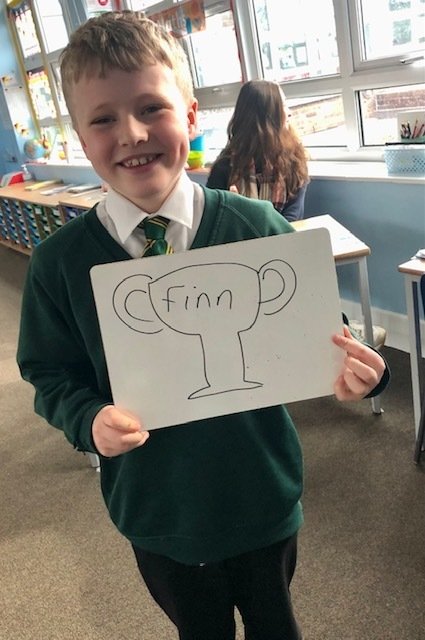 Congratulations to Finn - our Formula 1 magnetic rally car champ!
Perfect Prints :11.3.22
In their art lesson this week, Year 4 have been experimenting with mono-printing. Mono-printing is the process of making a print using mark-making.
The children used implements to create abstract patterns and designs. A roller was used to apply the paint evenly and different papers were used to find out which type of paper worked best for a successful print.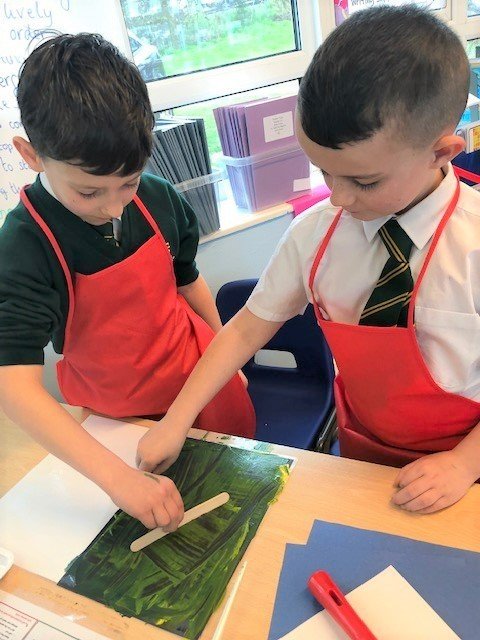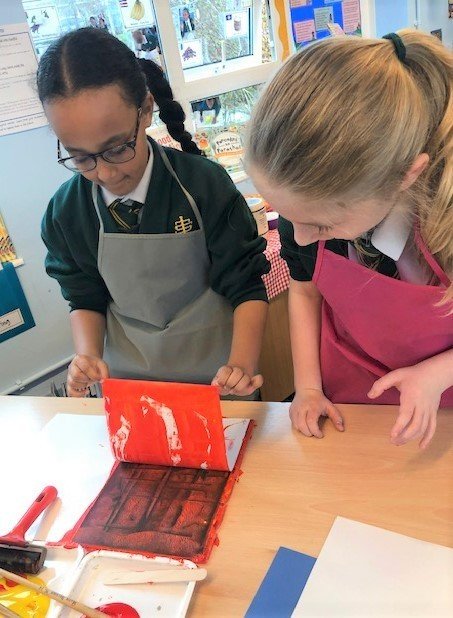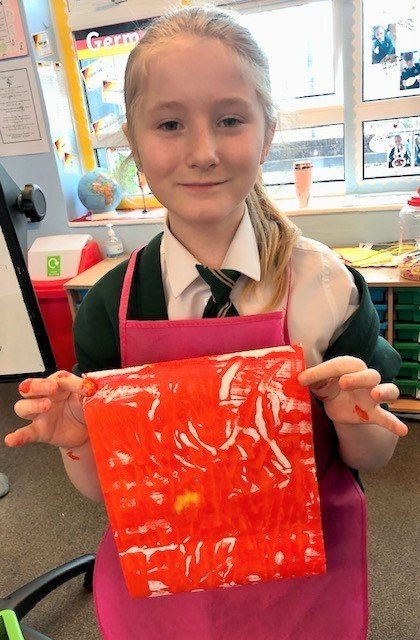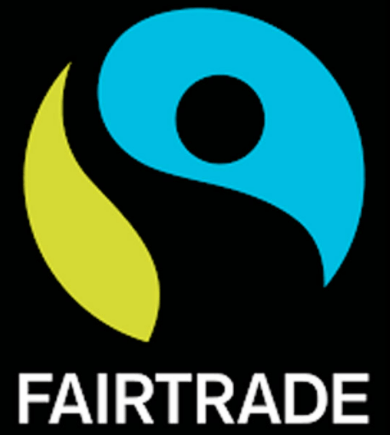 We are Geographers!
During today's Geography lesson, Year 4 were learning how Fairtrade helps people around the world to get a fair price for the crops or products that they produce.
The children participated in a role-play activity where they were either a tea farmer or a tea buyer.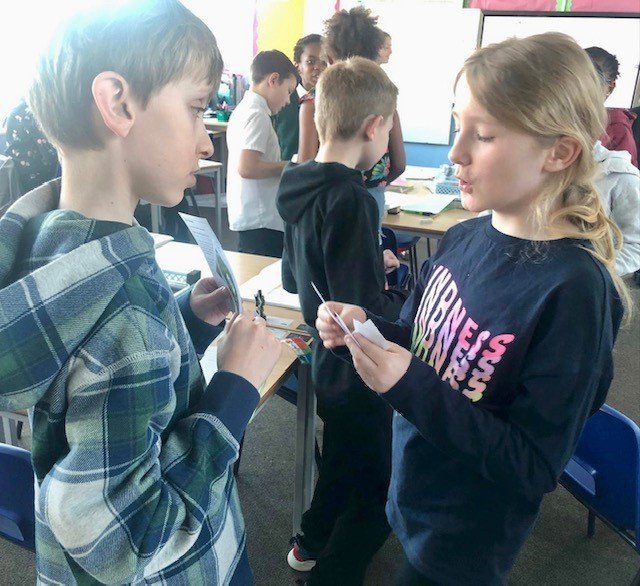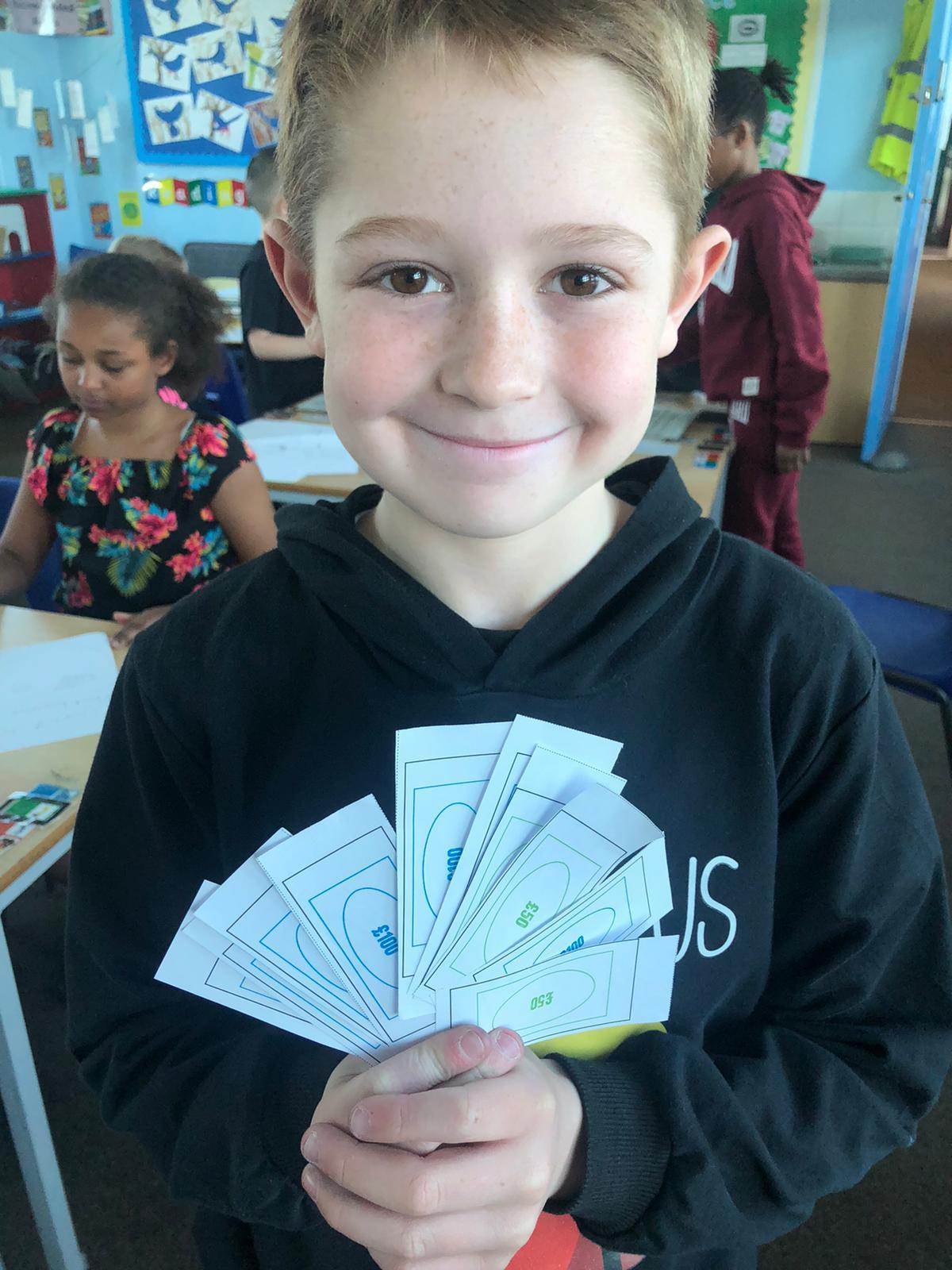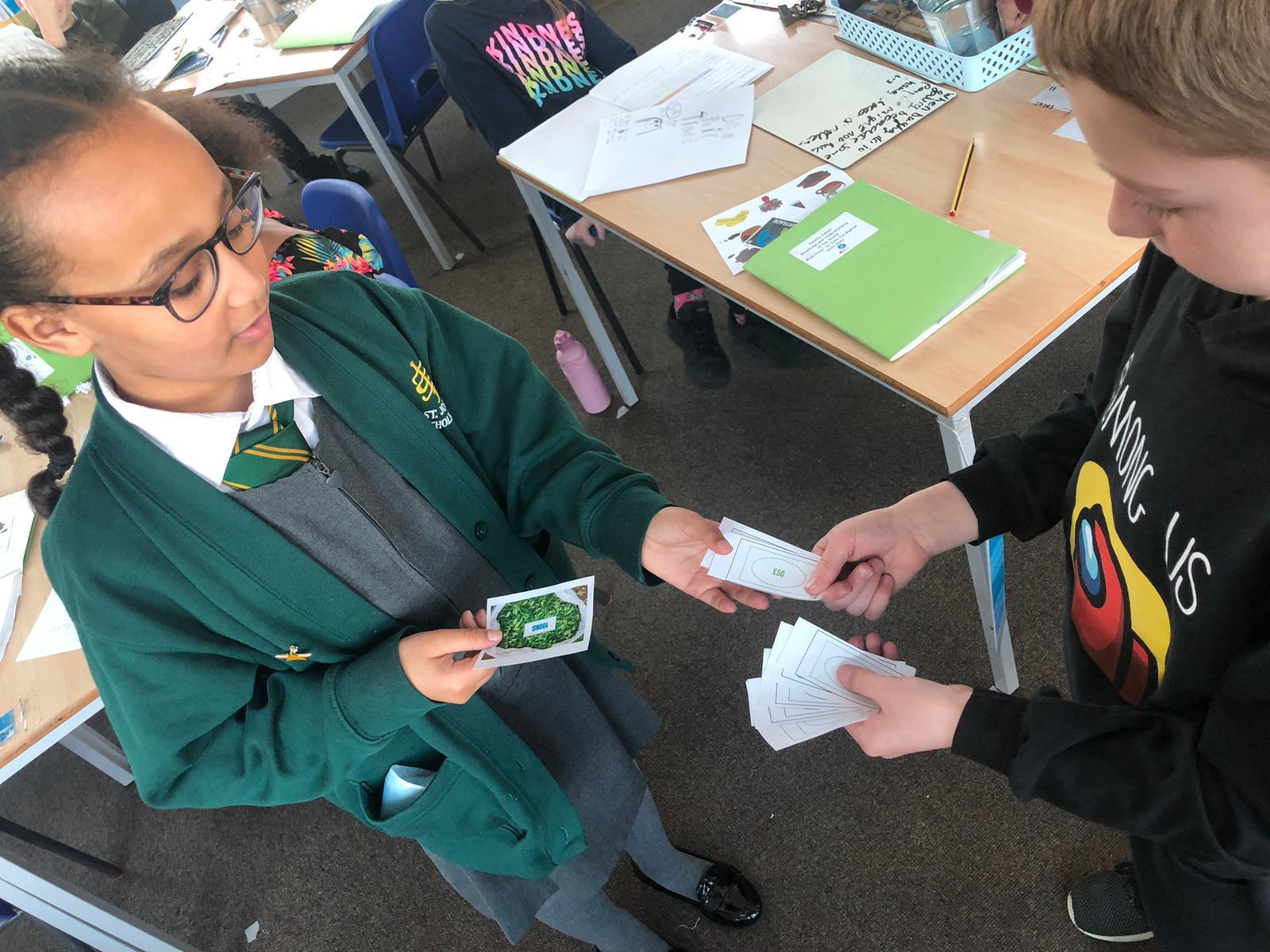 The buyers had to negotiate the lowest price for the tea in order to keep their bosses happy but the tea farmers had to ensure they were paid enough money to cover their costs and support their families.
This experience deepened the children's understanding of Fairtrade and its aim in ensuring people in all countries are paid a fair price for their produce.
Science: 4.3.22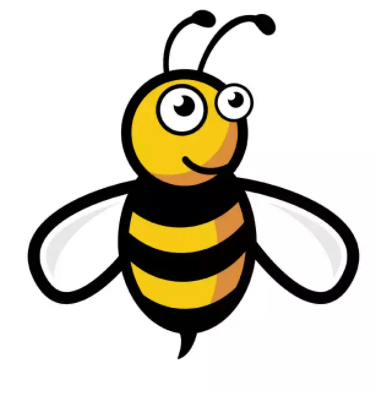 As part of their Science learning on pollination, Year 4 have been looking into the reasons behind the decline in the number of bees in the British Isles. They designed badges for the "Save The Bee" campaign - here are a few of them: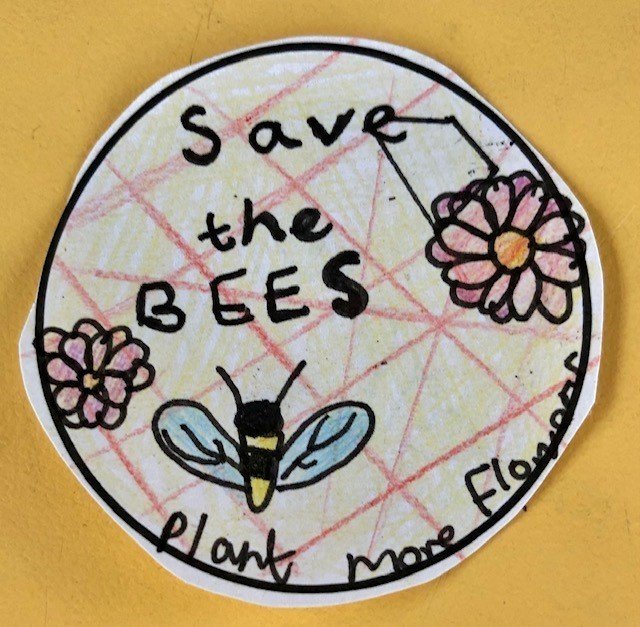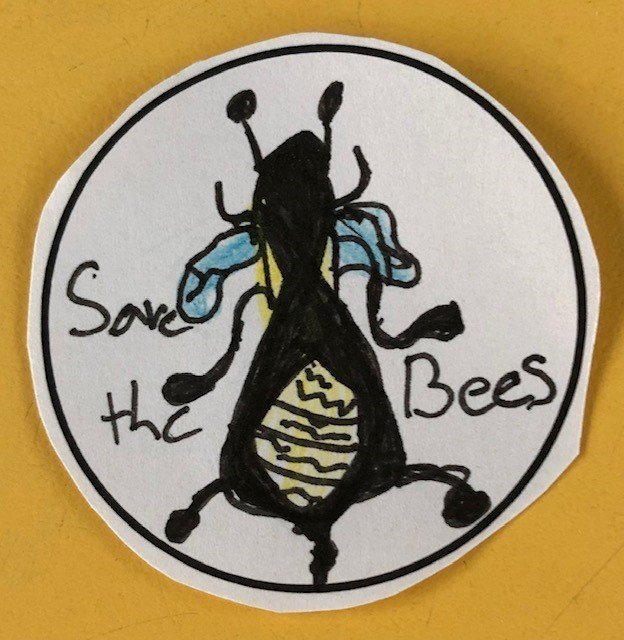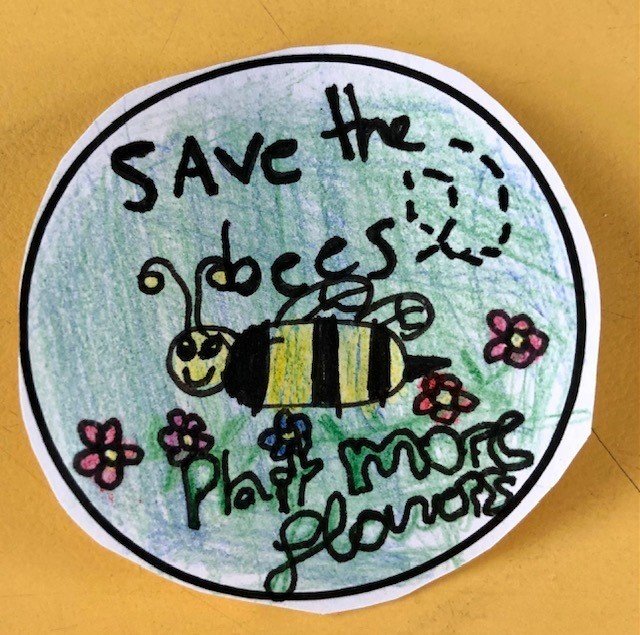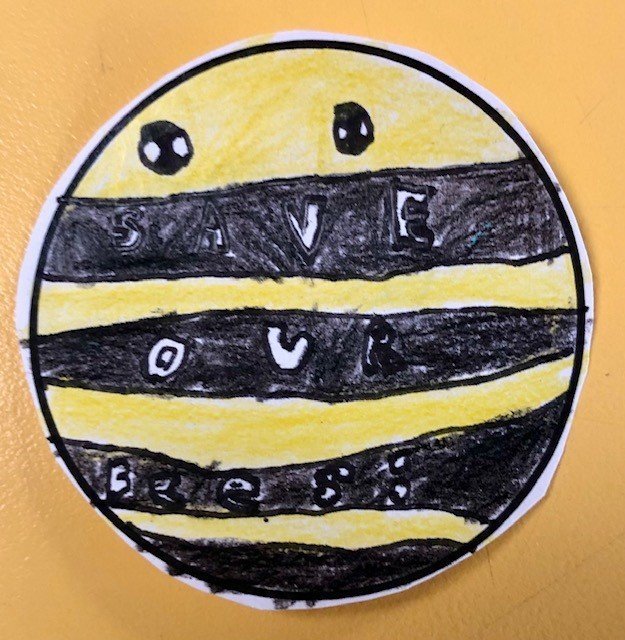 They wanted to do something to make our school environment more "bee friendly" so they asked if they could plant some wild flowers to encourage more bees and to help with the process of pollination.
Today, we planted the wild flower seeds, using tyres as a flower bed.
We look forward to watching them grow and encouraging the bees back!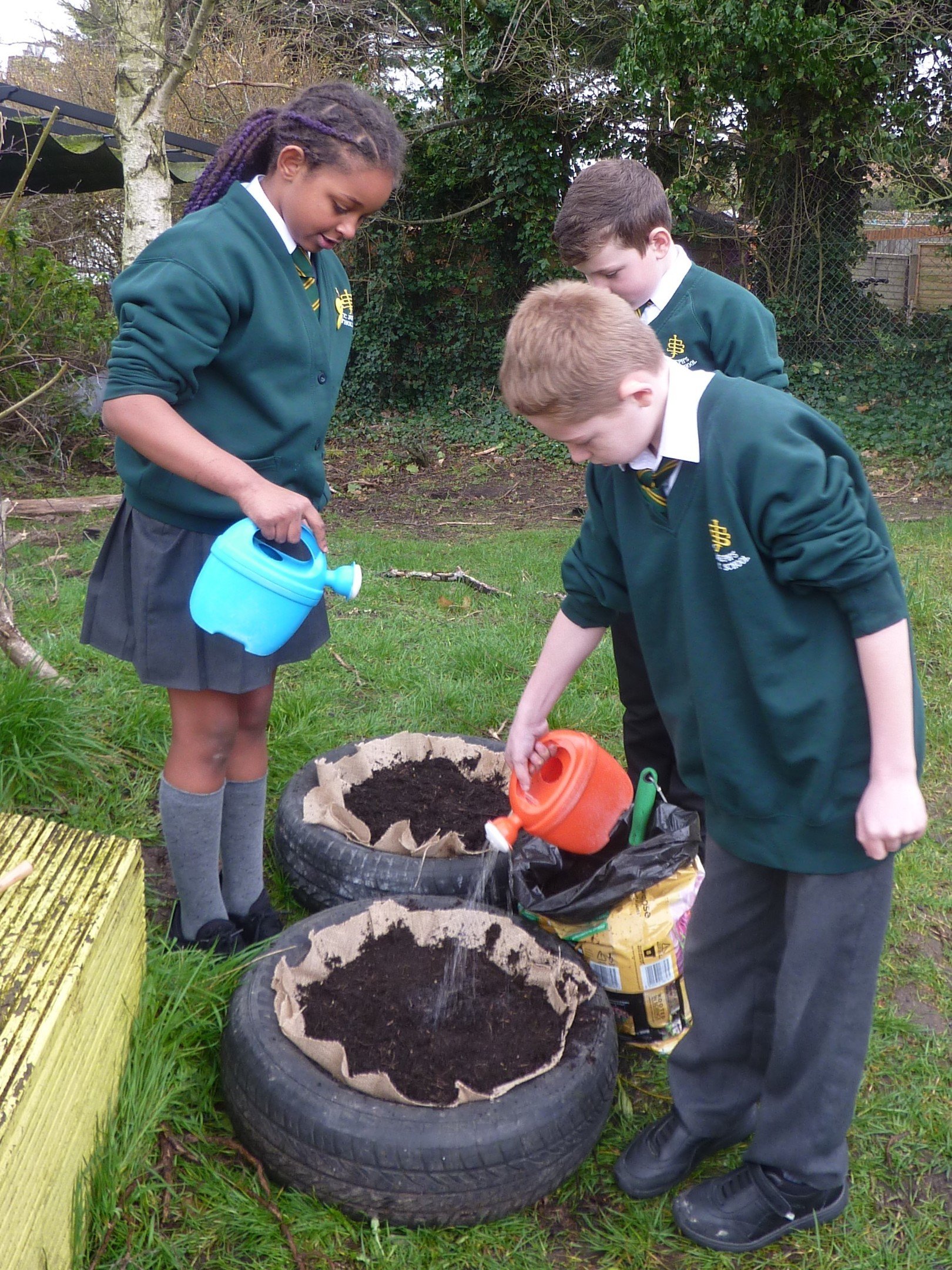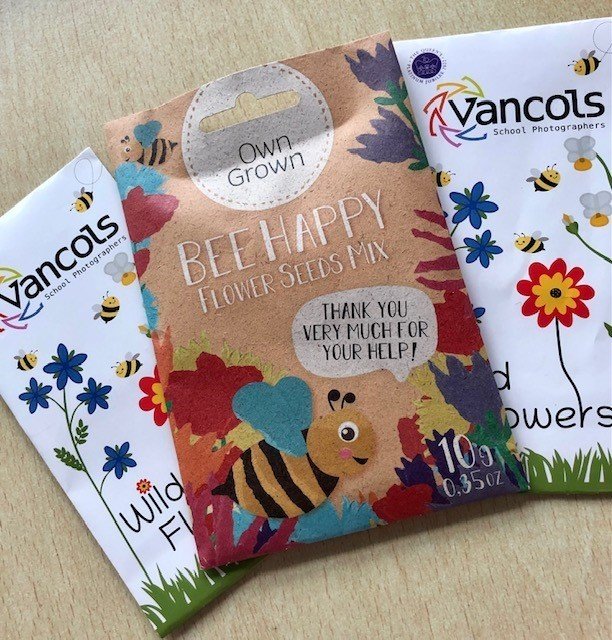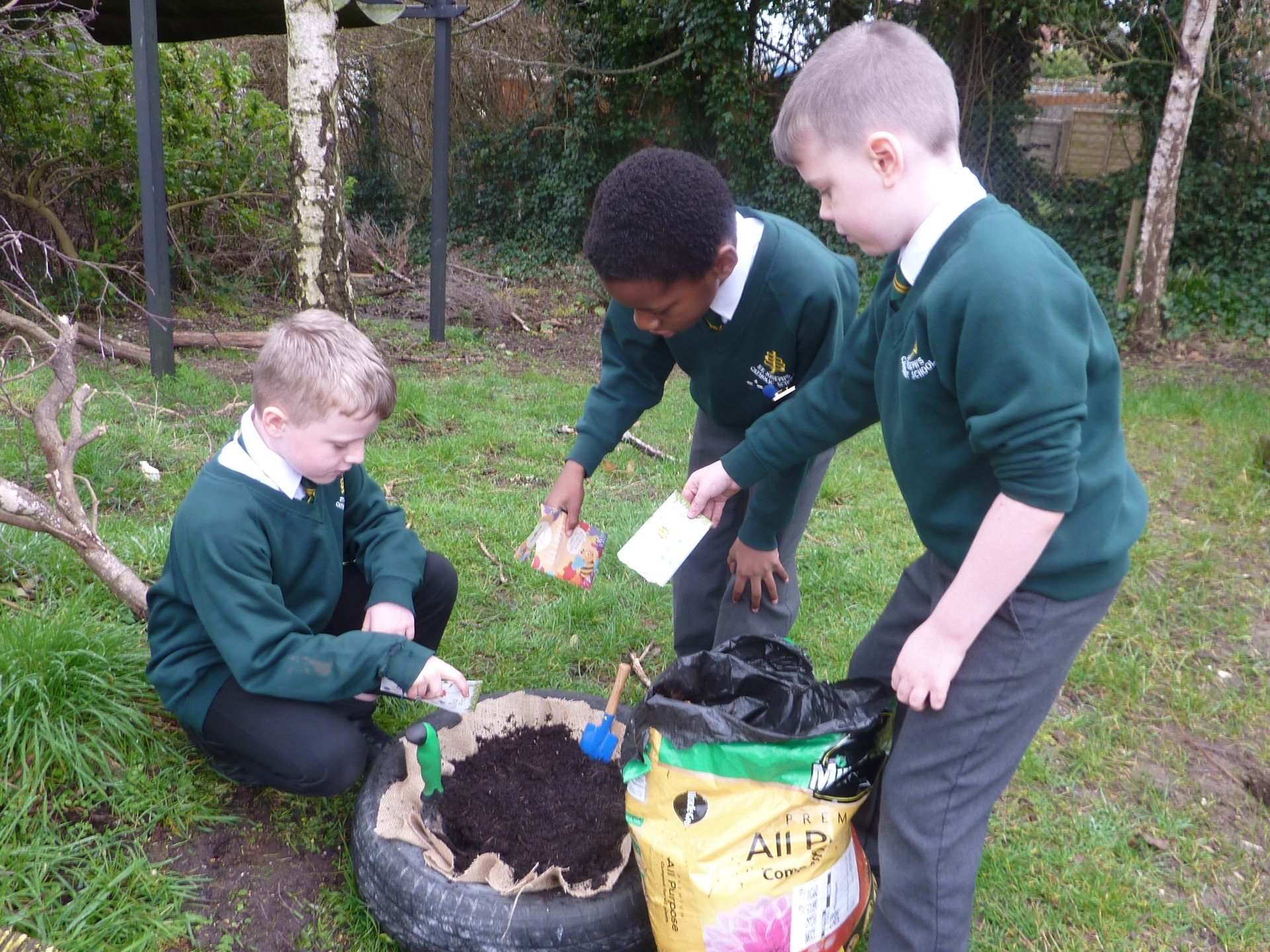 Amazing Art : 4.3.22
In their art lessons over the last few weeks, Year 4 have been exploring texture to create different shades of colour and depth in landscapes and seascapes. They chose an appropriate name for their collages based on the feelings their pieces evoked.
Here are a few of their creations: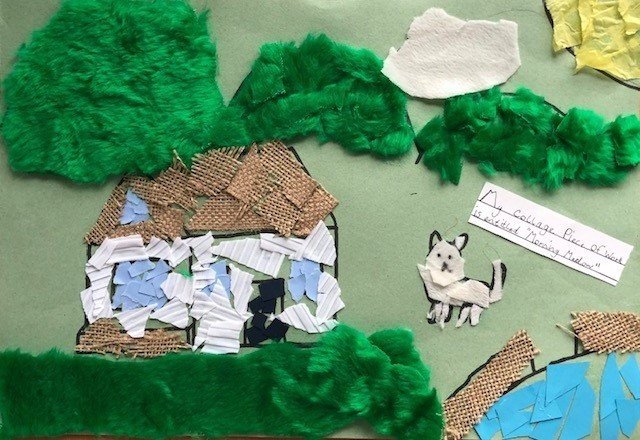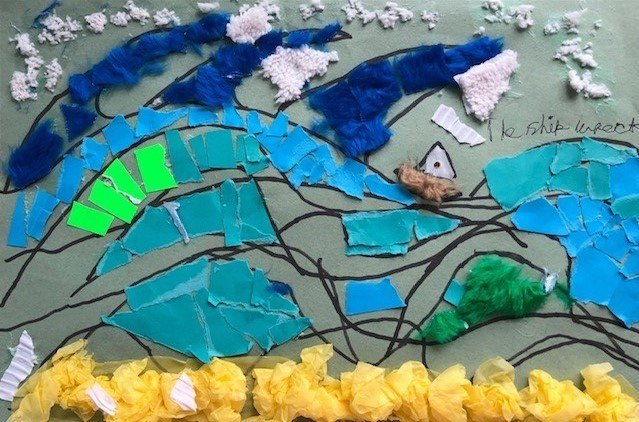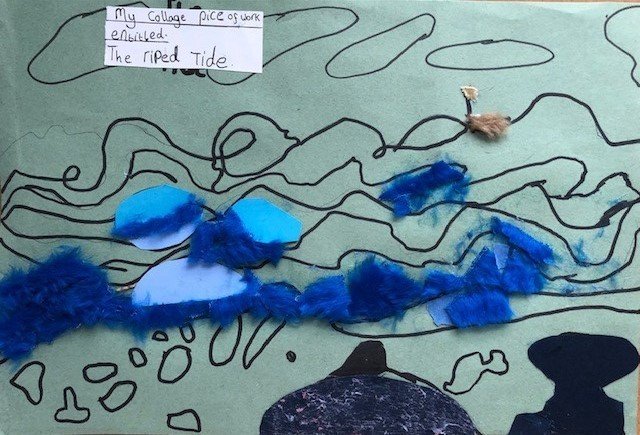 "Morning Meadow" "Shipwreck" "The Rip-Tide"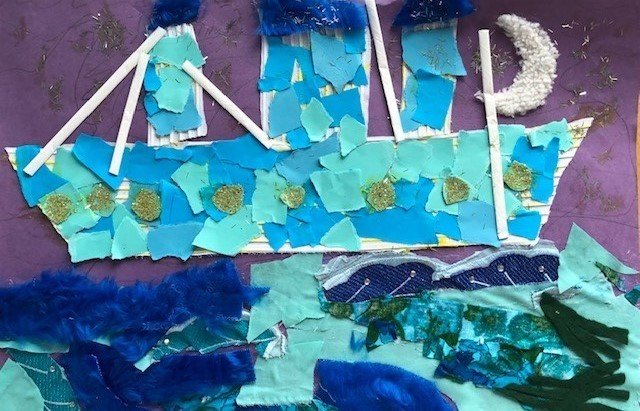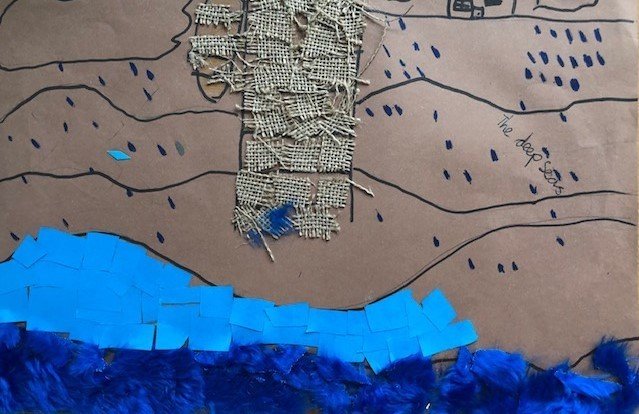 "A Sea of Blues" "The Deepest Sea"
World Book Day : 3.3.22
For World Book Day, Year 4 went on a scavenger hunt looking through a range of books for various words/phrases and literary features. A giant tent appeared in the classroom and the dark environment added to the challenge of the task! Luckily our headtorches and magnifying glasses helped!
Here are some pictures....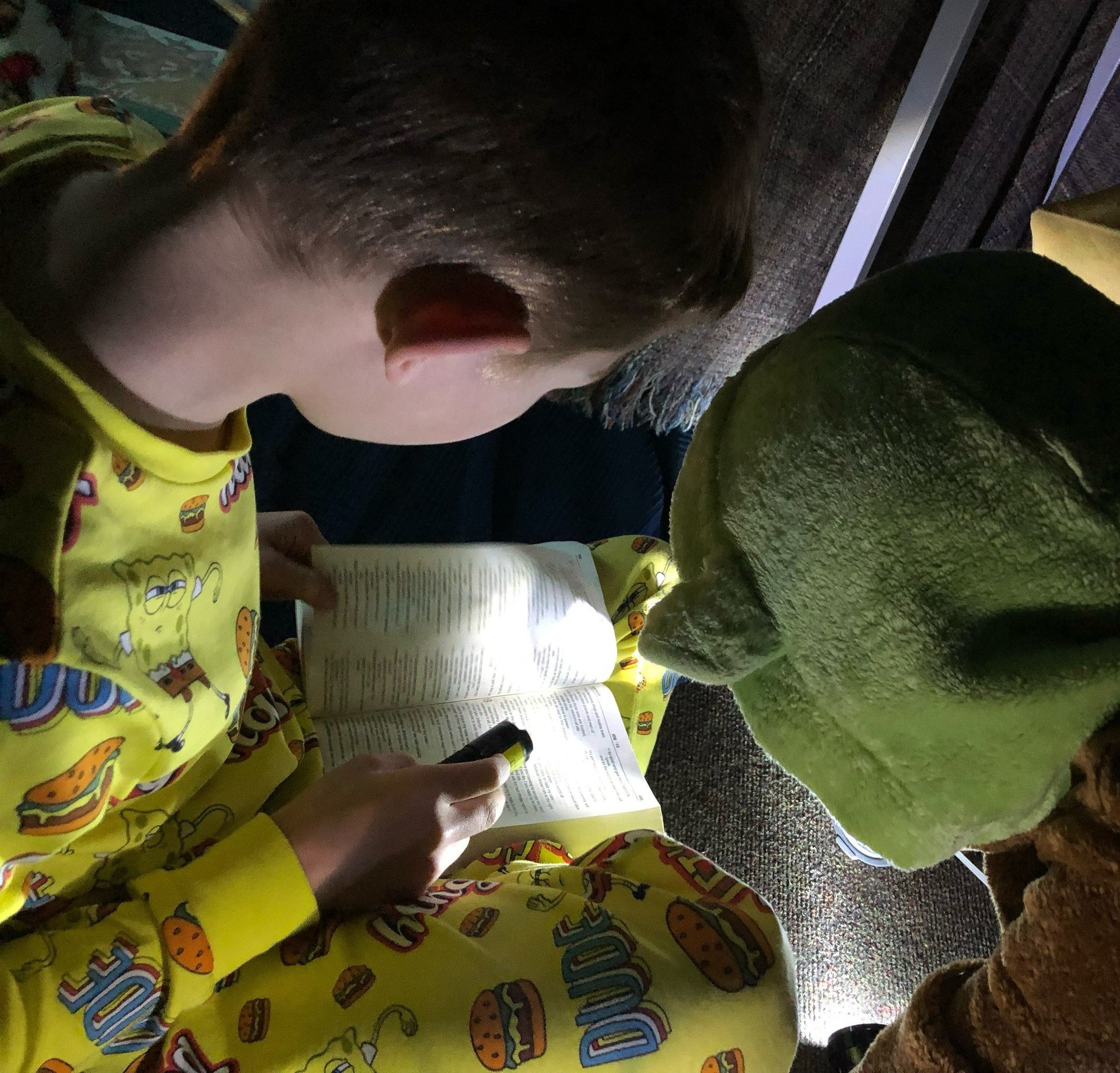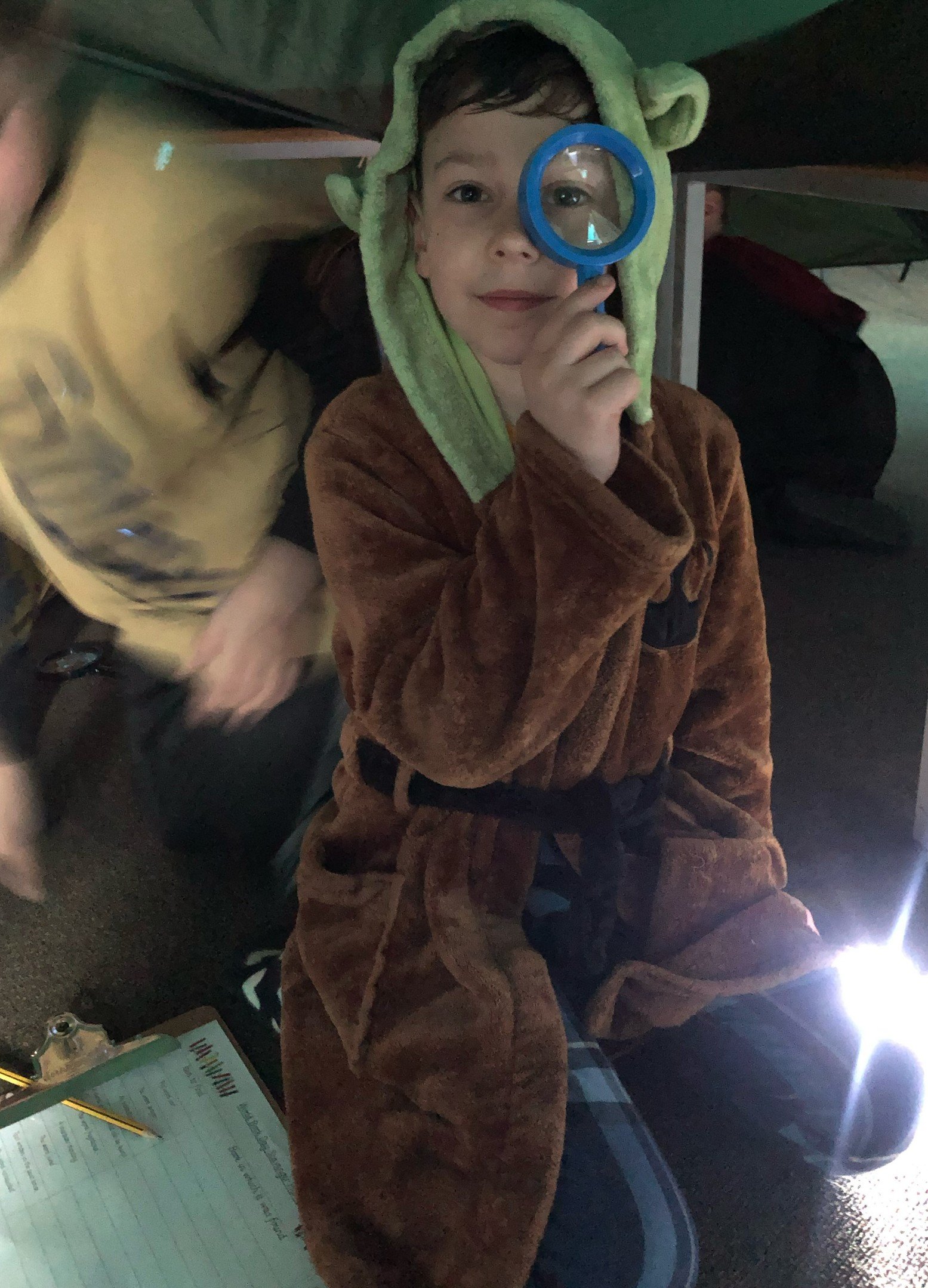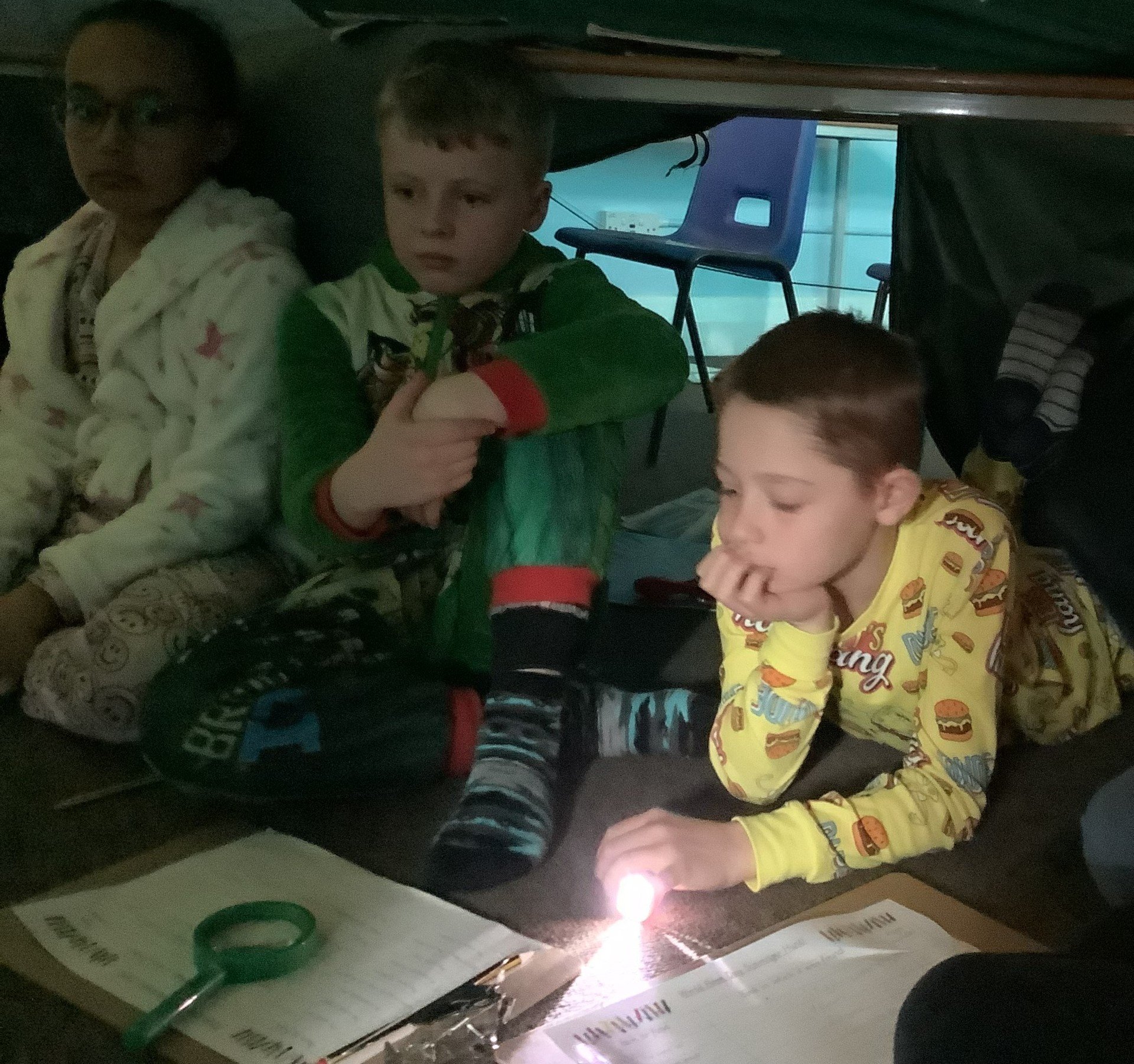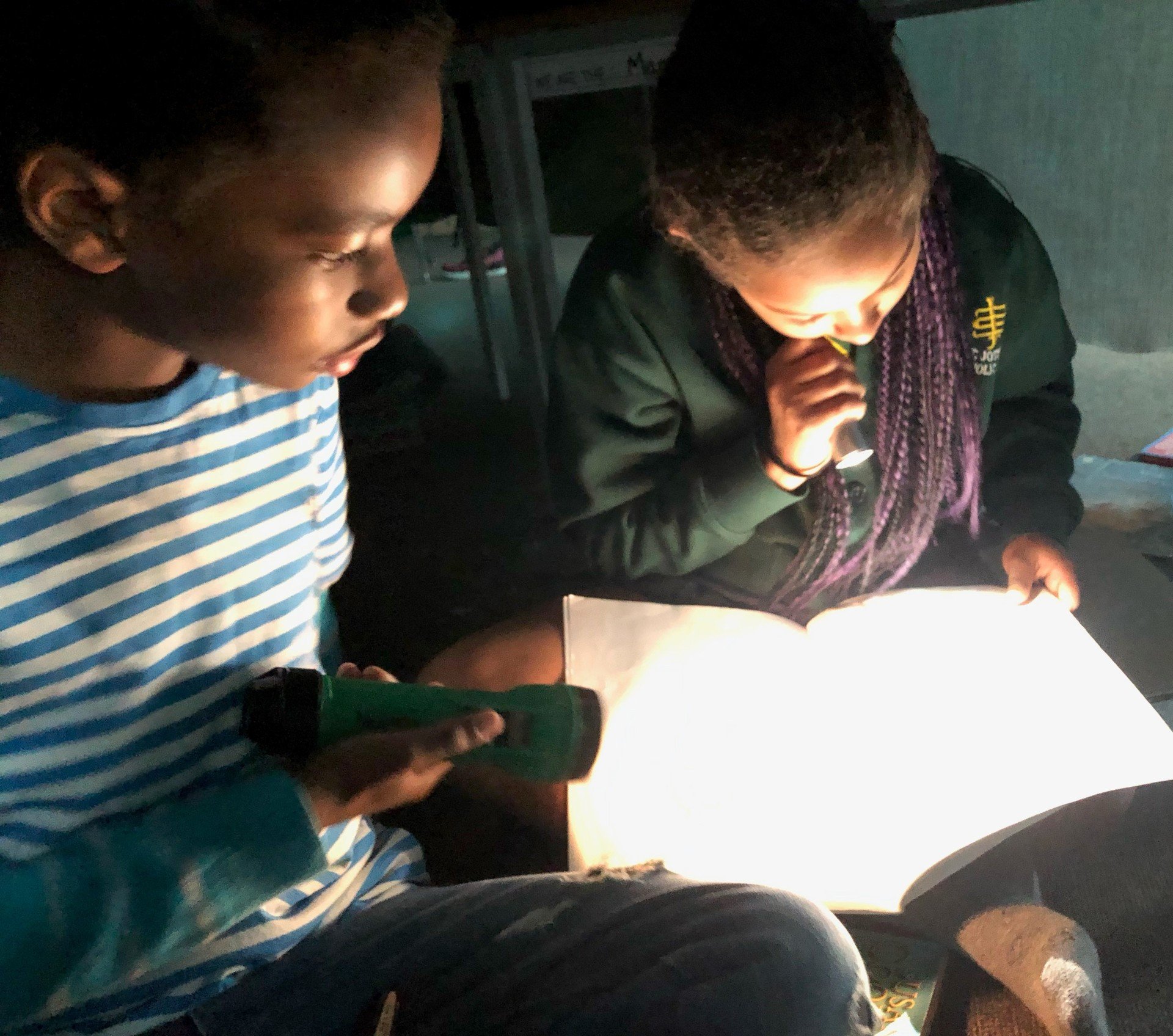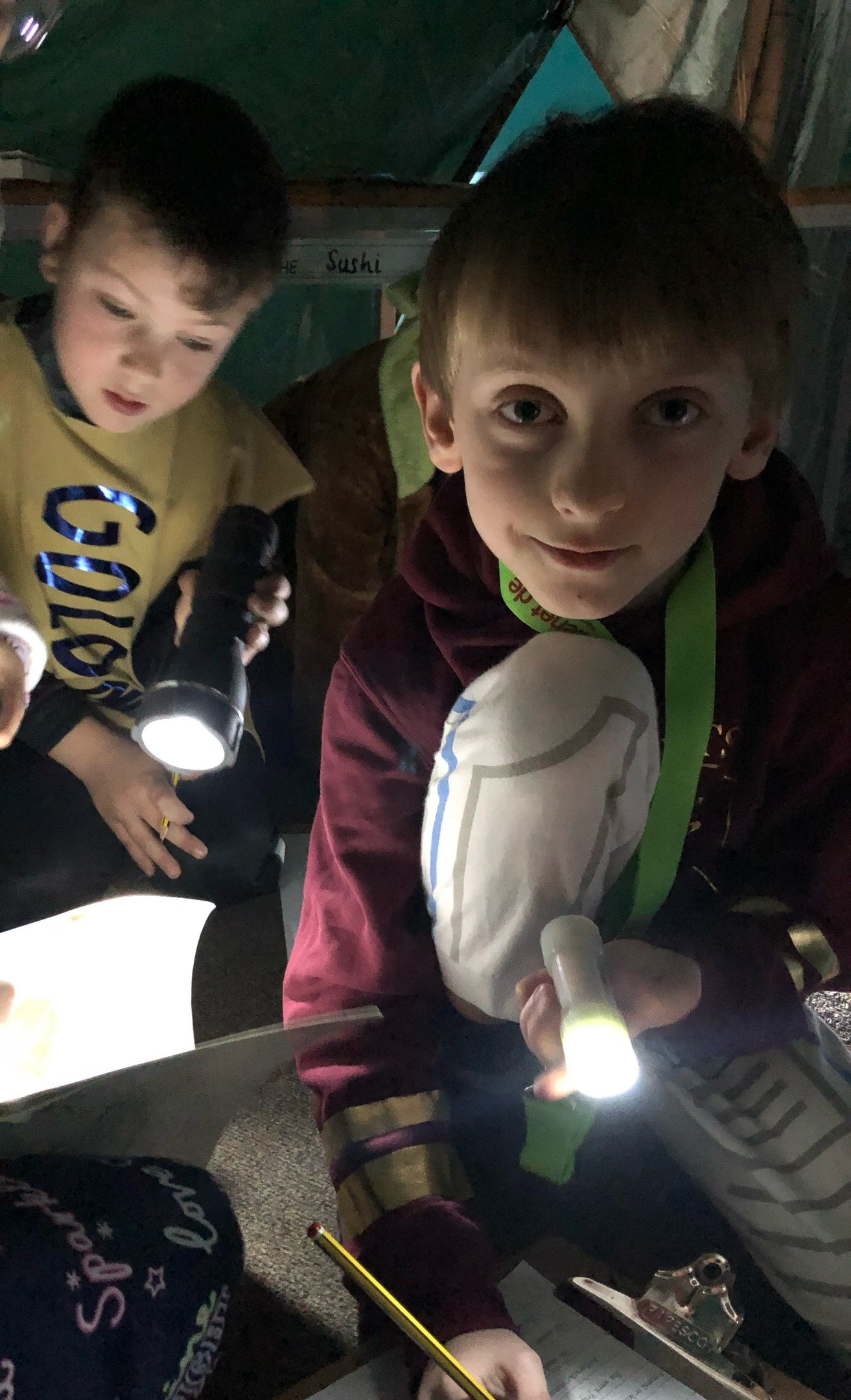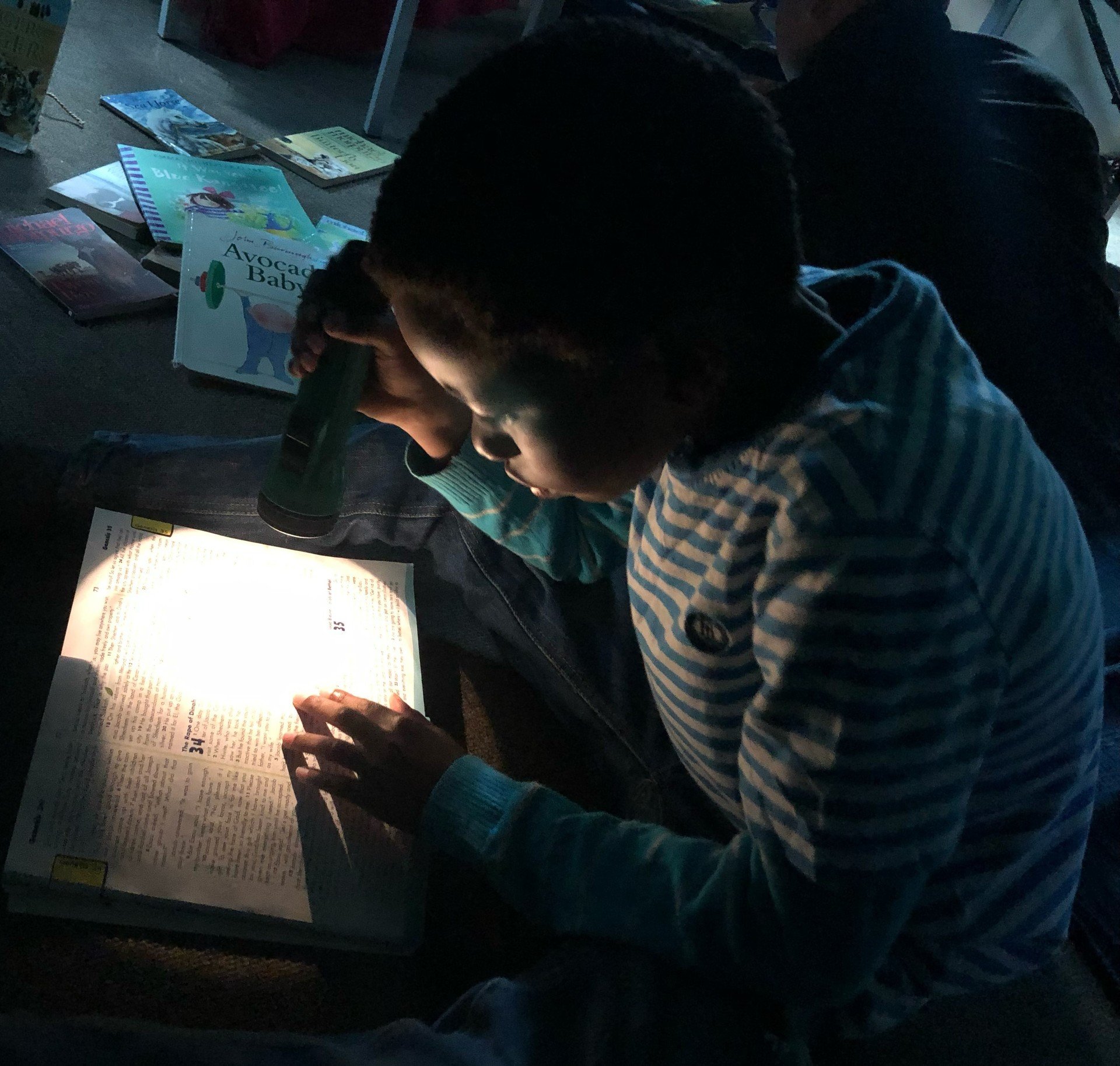 French : 25.2.22
In todays French lesson, Year 4 learnt how to name certain foods, say whether or not they liked each food and state whether or not that food was heathy or unhealthy - all in French! Bon appétit!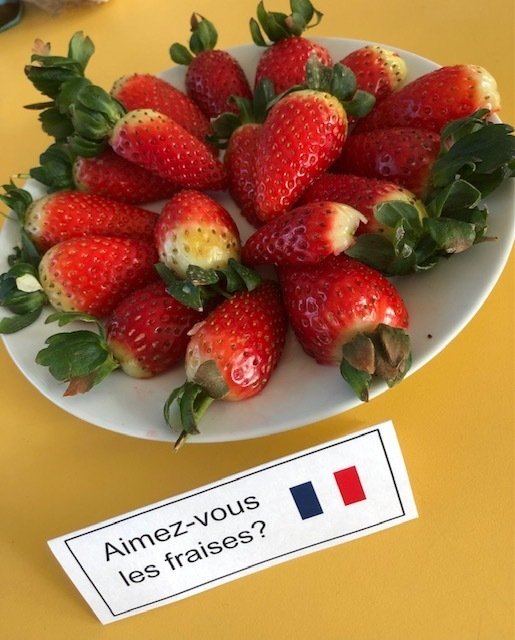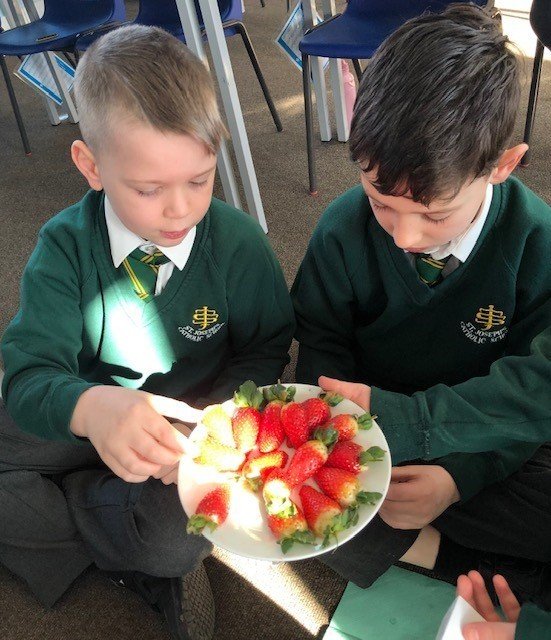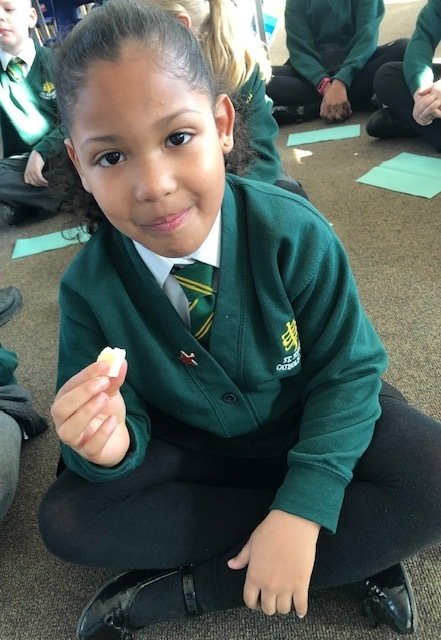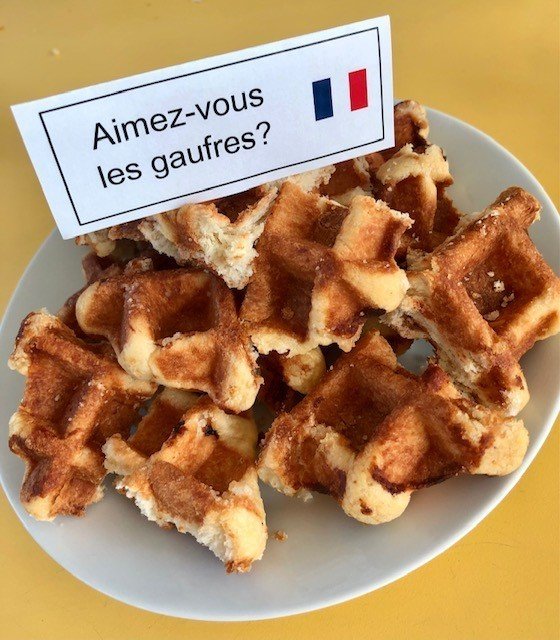 PE :23.2.22
As part of their gymnastics lessons, the children in Year 4 have been using their gymnastics knowledge to create paired or group balances.
Here are a few photos showing their creativity .......... and flexibility!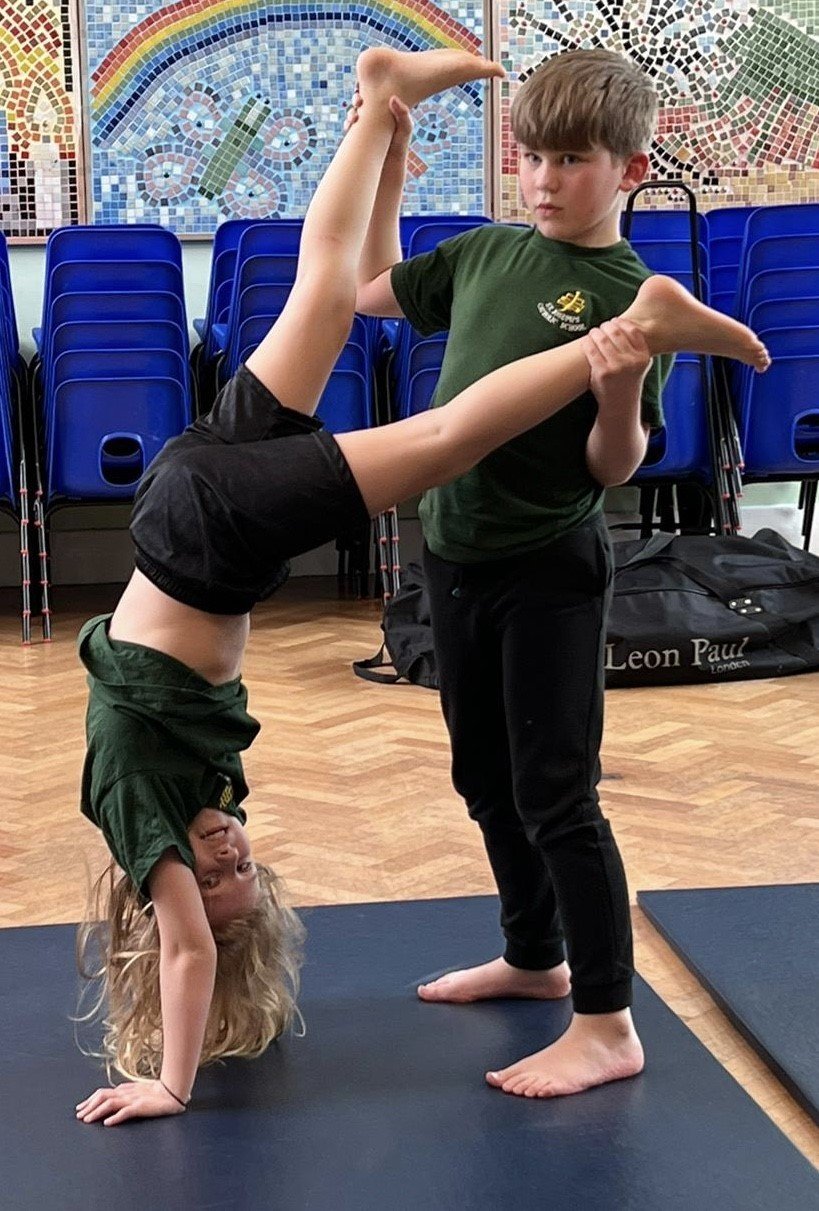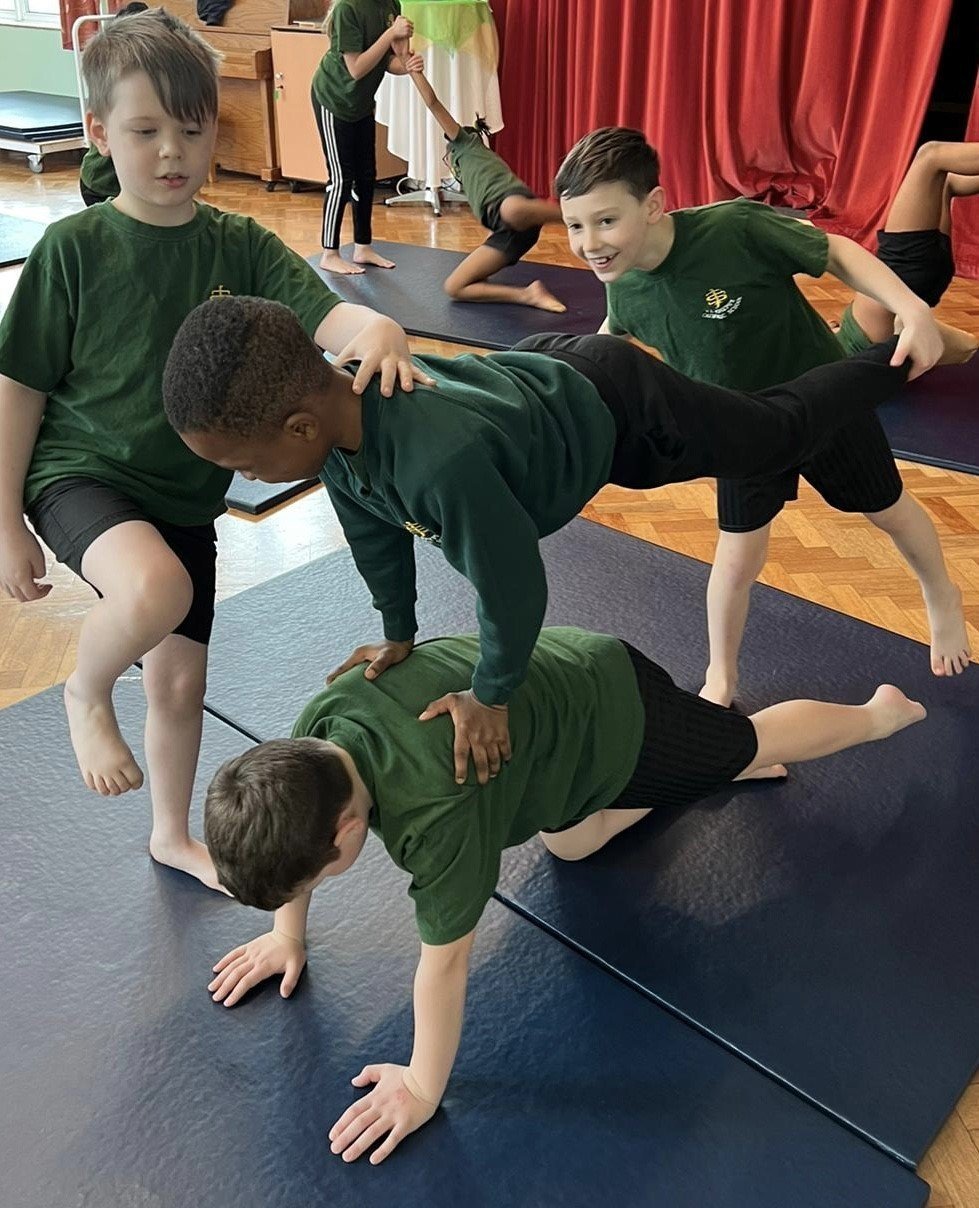 R.E : 22.02.22
Inspired by their learning around the Sunday Eucharist Mass as part of their current RE topic, "Giving and Receiving," the children created designs for a stained glass window.
They incorporated elements such as the Lamb of God, the Last Supper and the Sign of Peace in their artistic, religious representations.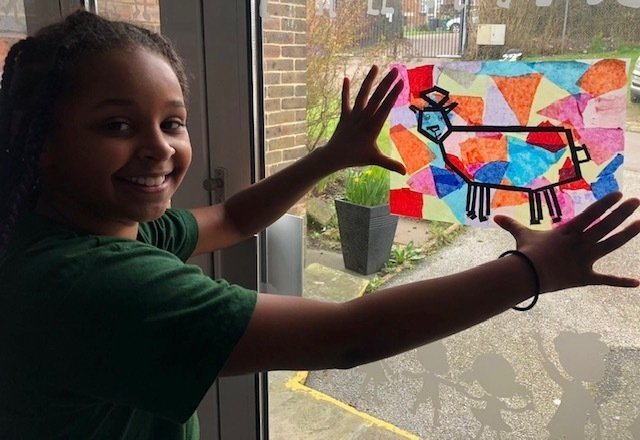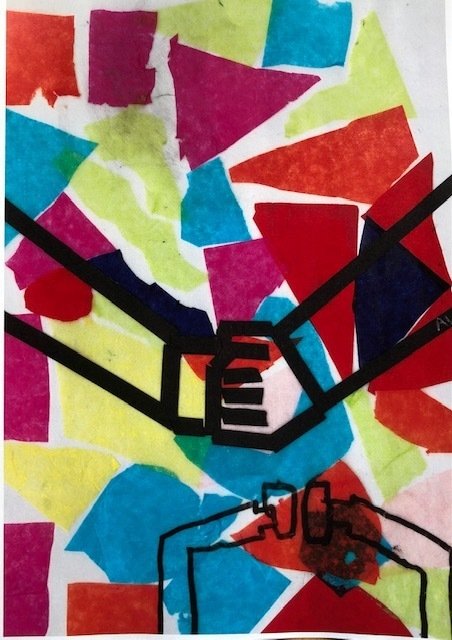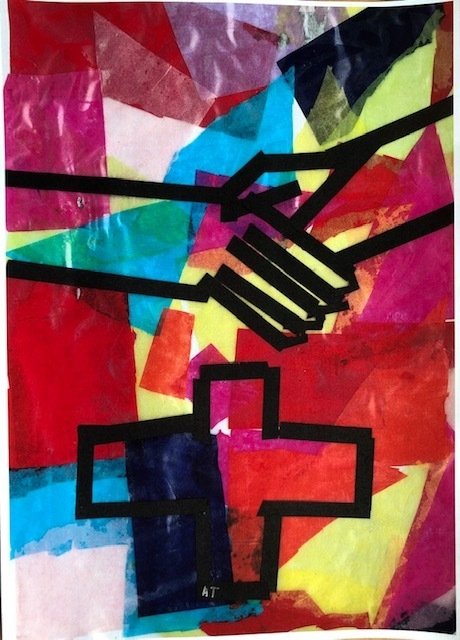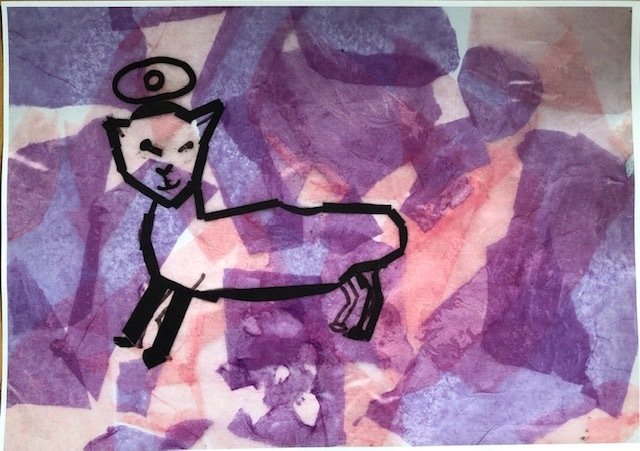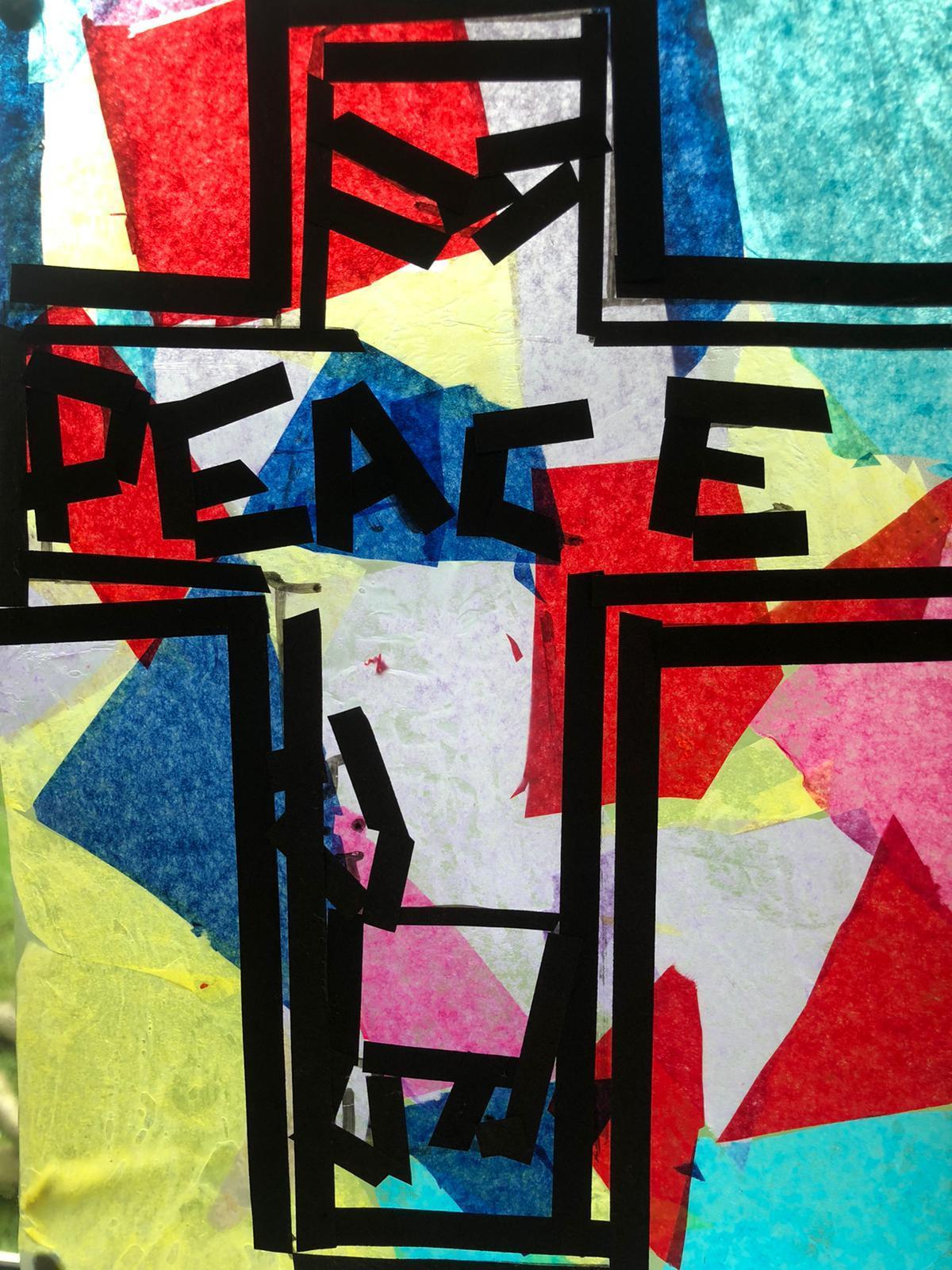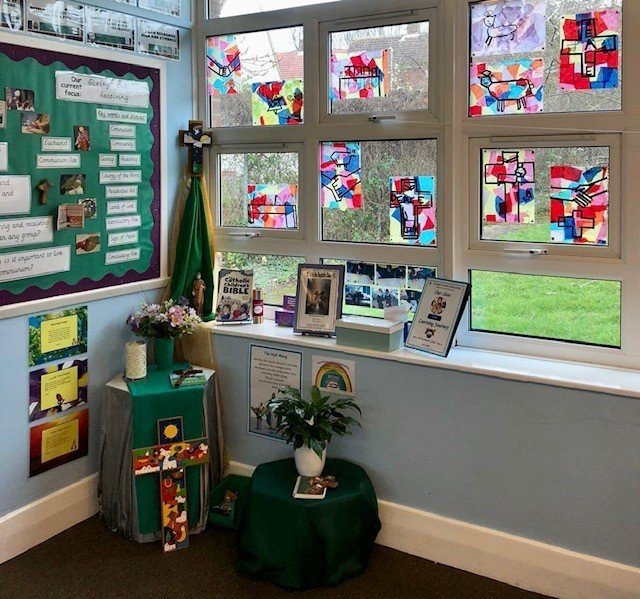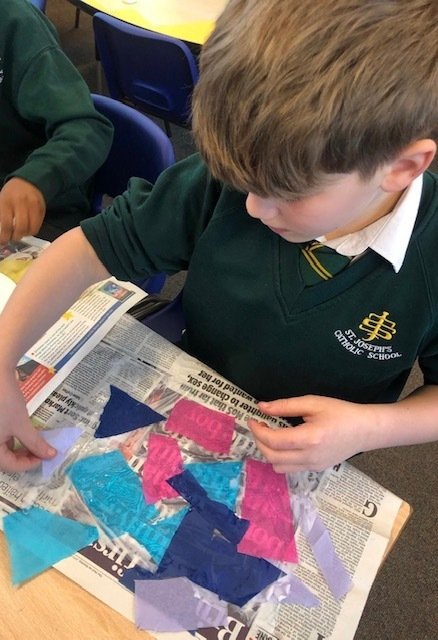 Here are a few pictures of their stained glass windows. They look very effective on the windows around the prayer area in Year 4.
Outdoor Learning :11.2.22
What a great end to a great half term! Year 4 had their third outdoor learning day today led by Mrs Thompson.
The sun came out and the children participated in several different activities including making bird feeders from oranges, lard and seeds, constructing mobiles using natural materials and getting messy in our new mud kitchen!
They also learnt how to use equipment like secateurs safely.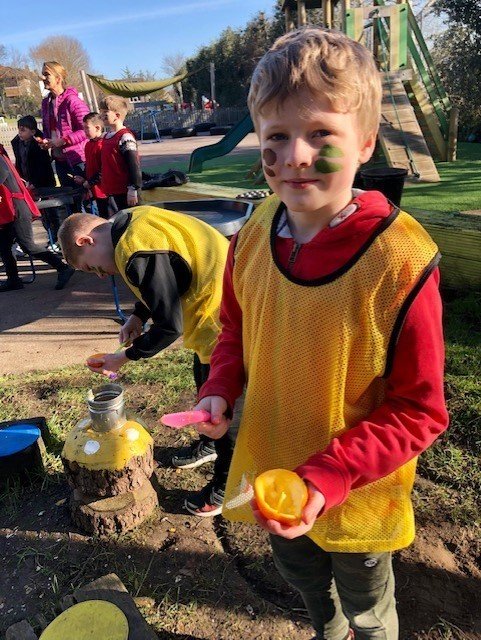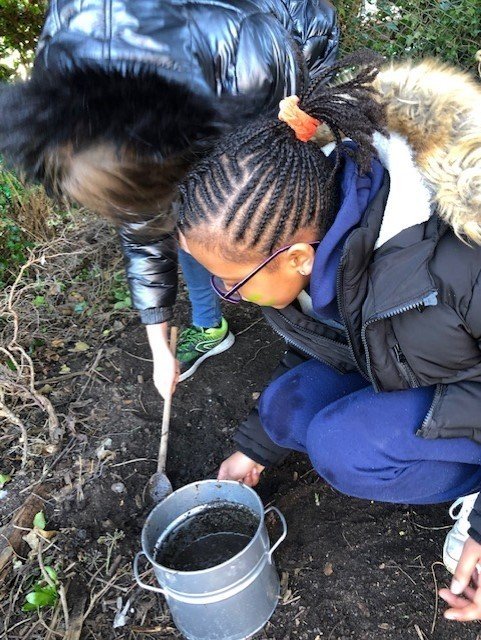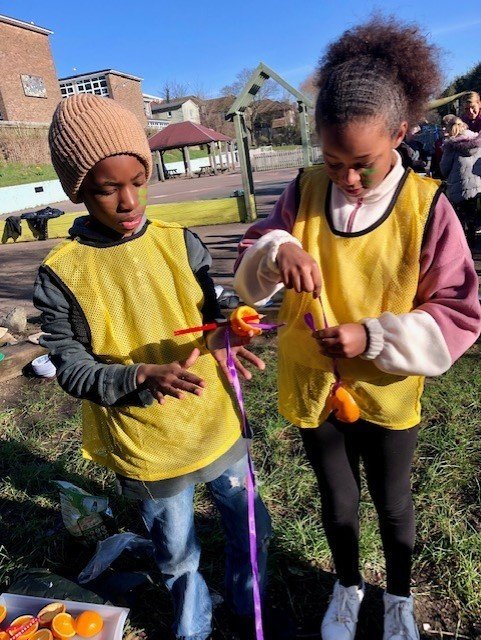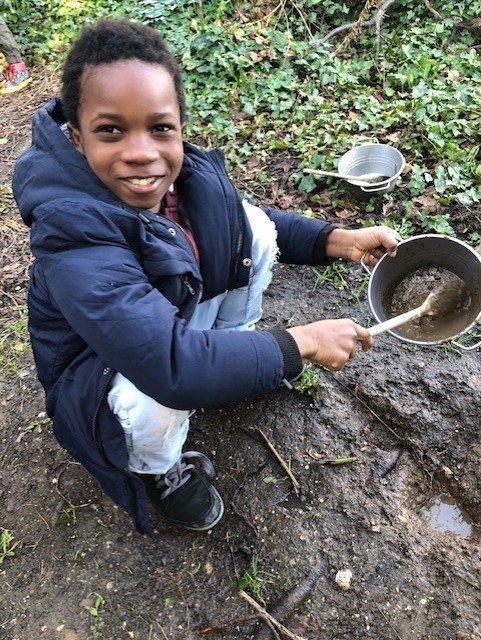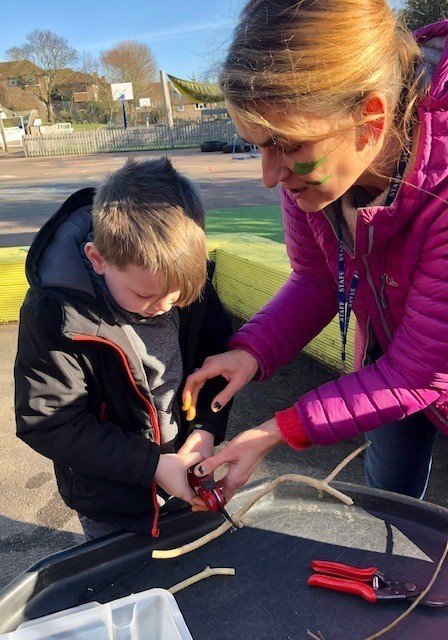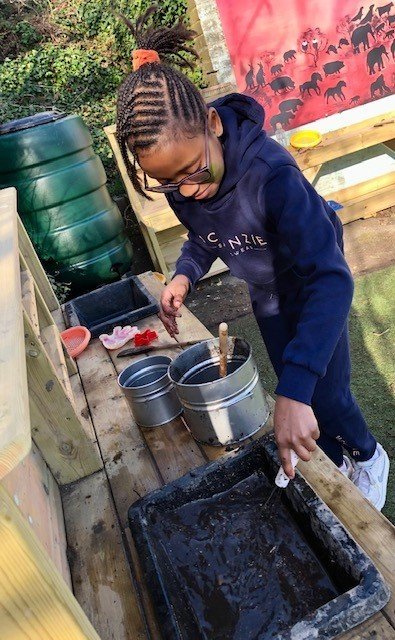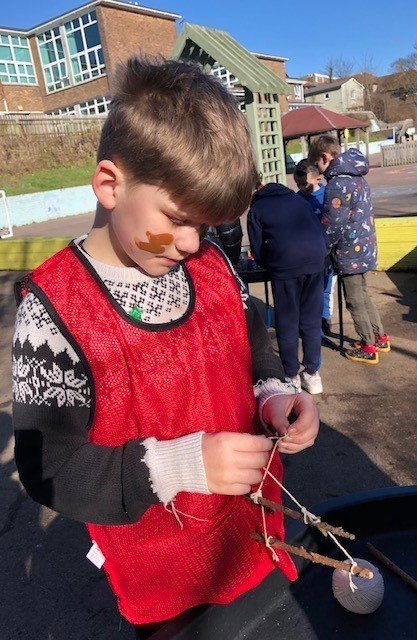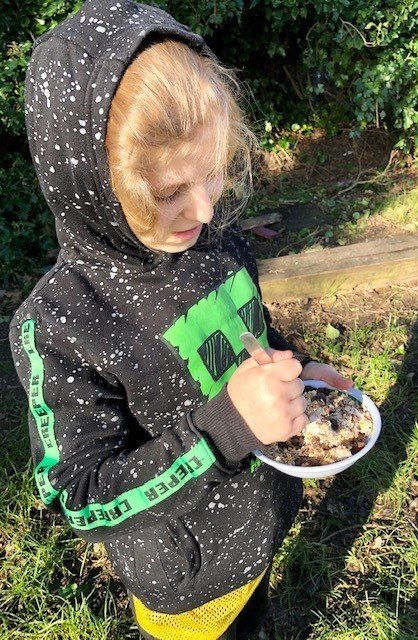 Bee Aware!
Year 4 are learning about the reasons behind the decline in the number of bees in the British Isles. They played a board game which taught them the possible reasons why the numbers of bees is falling and they thought about small ways, we, at St Josephs, could help bees in our school and local area.
They made their own bee game demonstrating their understanding of the bee crisis and ways people can make bee-friendly choices!
After half term, Year 4 are going to create some small bee friendly areas in our outdoor environment using flowers that bees like.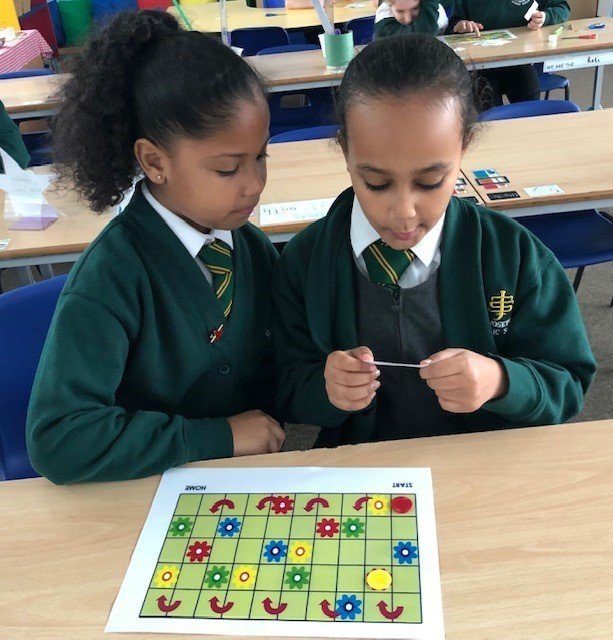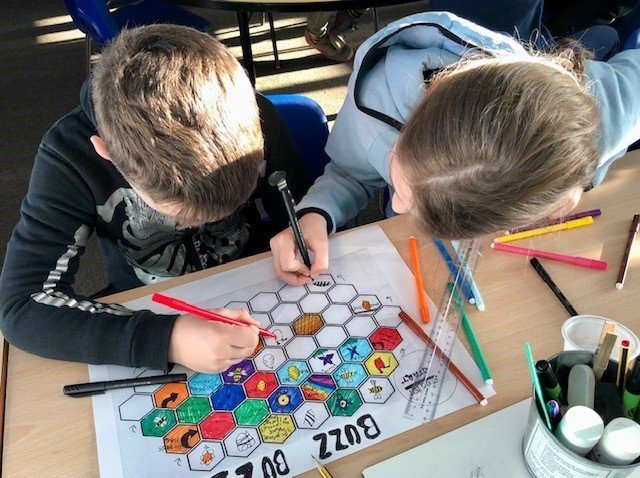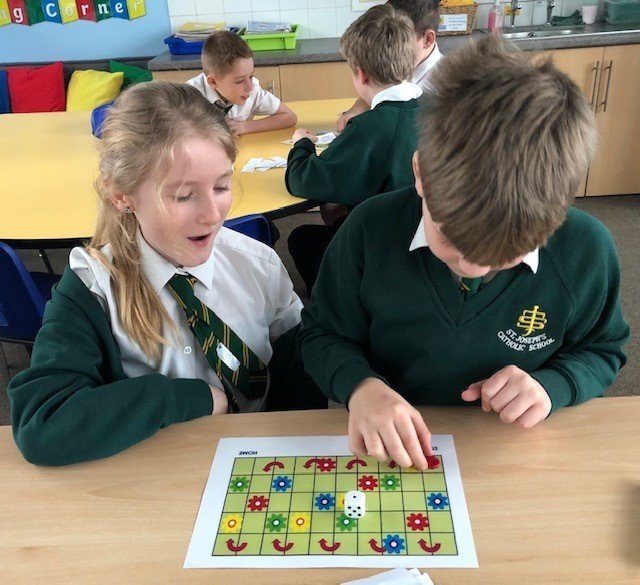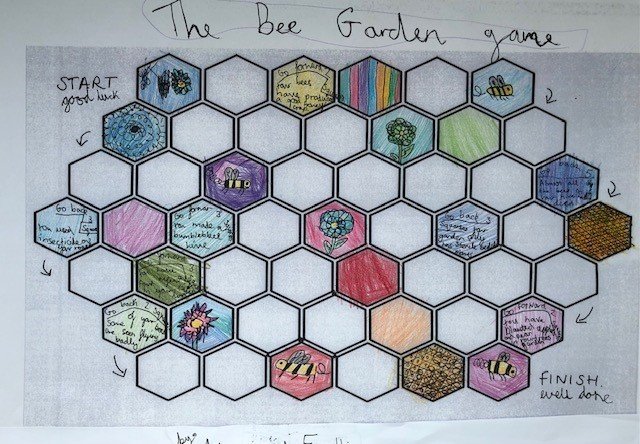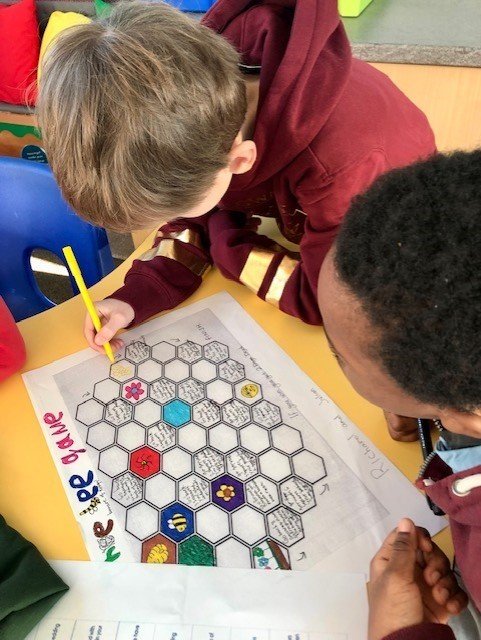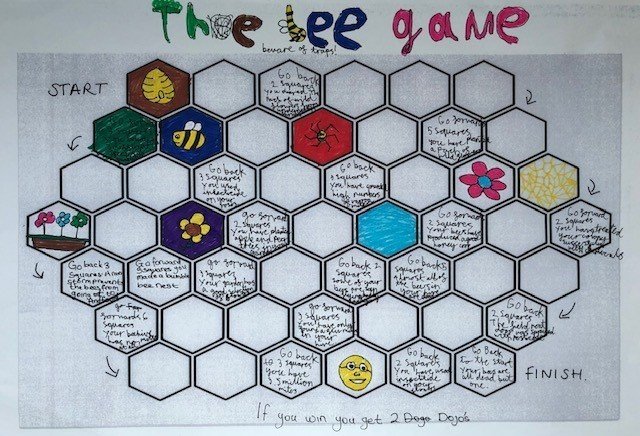 Planet Earth : 9.2.22
Today in Science, Year 4 learnt about Earth and its movements in relation to the sun. They experimented with a torch and a globe to see how the Earth's rotation caused day or one side of the world and night on the other side.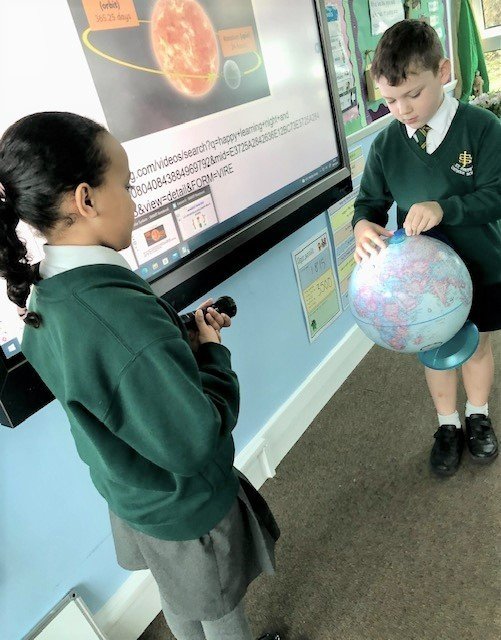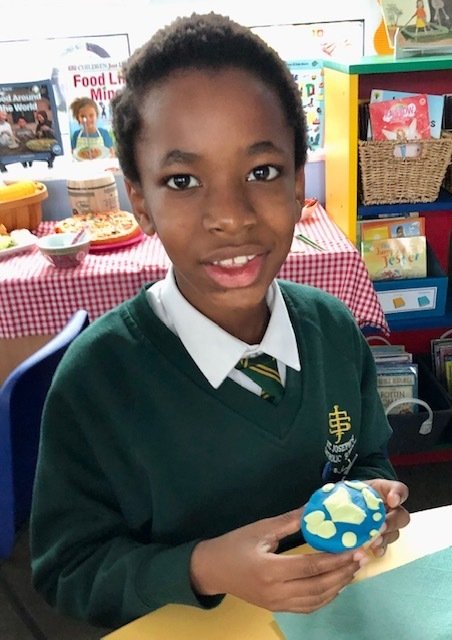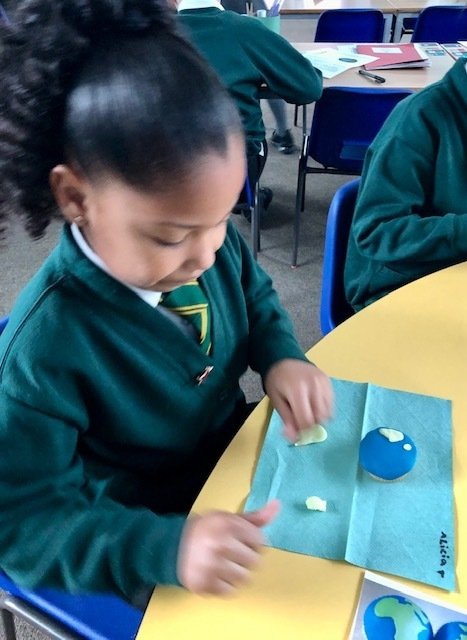 They used secondary sources to find out other facts and figures about Earth and looked at images of Earth taken from space.
They finished the lesson by making an Earth Cake! The children tried to show what they had learnt on their cakes e.g. that 70% of our Earth is covered by water and to demonstrate the relative sizes of countries.
Super Scientists : 4.2.22
Today in Science, Year 4 were investigating conductors and insulators. They made predictions about whether each object would allow electricity to pass through it, before constructing a simple circuit to test each one's conductivity.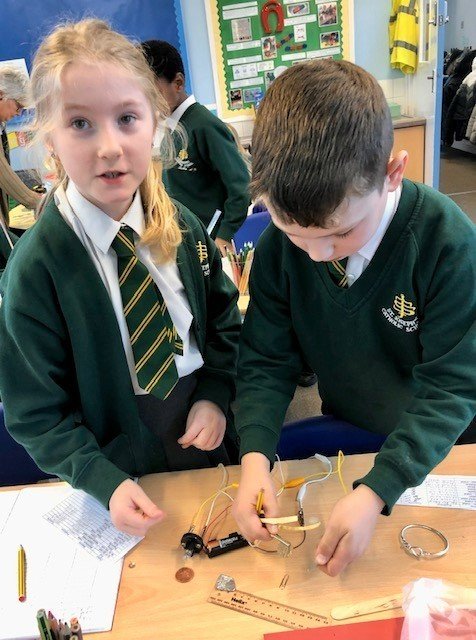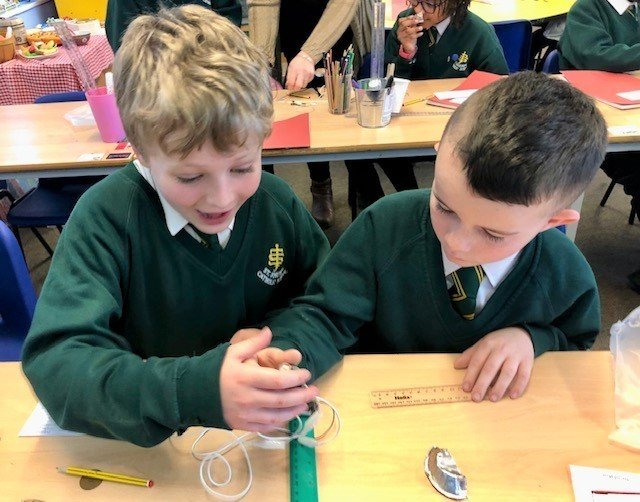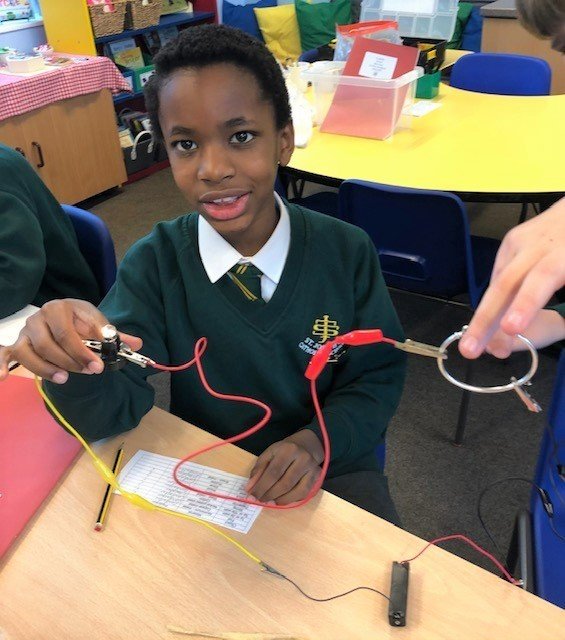 This week's Science : 27.1.22
In their Science lessons this week, Year 4 have been learning about magnets. They have been finding about which metals are magnetic and which are not. They also investigated whether magnets work at a distance and if they work through different materials.
We used Tia's birthday as an opportunity to test this out! Could her cake be moved across different surfaces for her to blow out the candle using magnetic force only?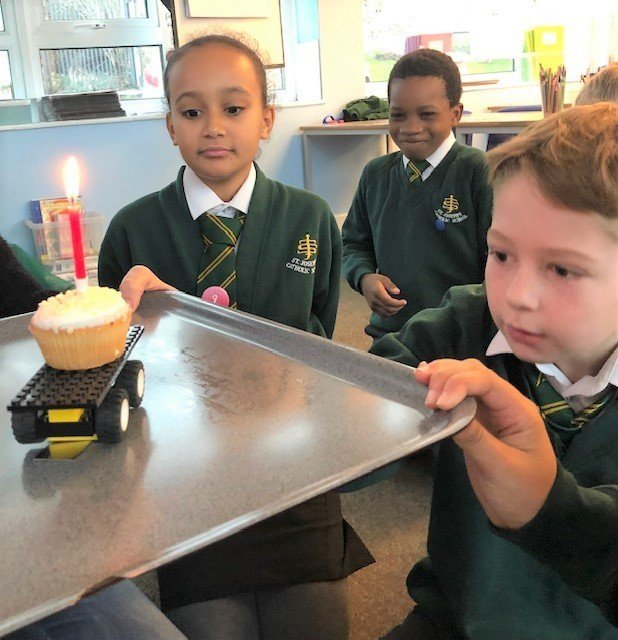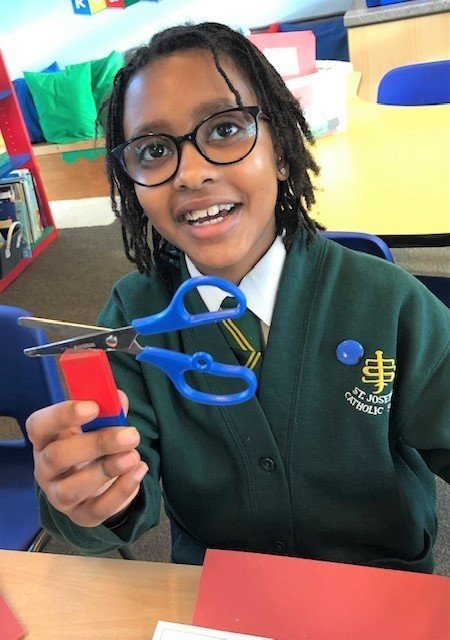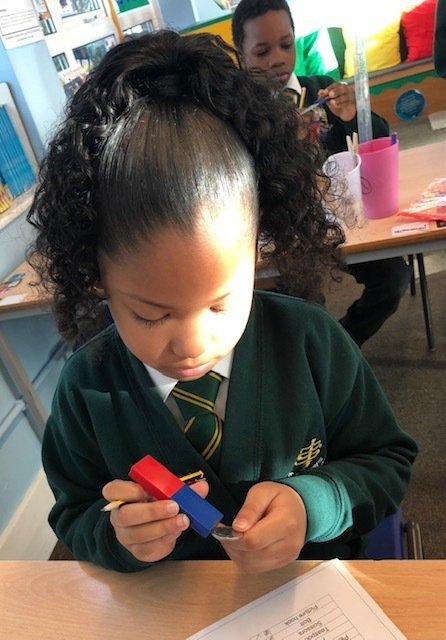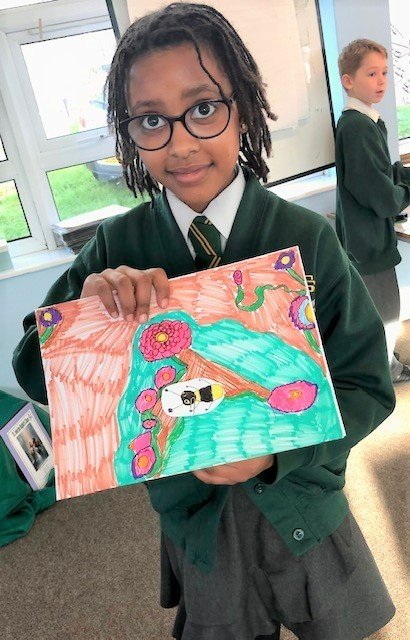 The children also created their own pictures using magnetic attraction between a magnet and a paper clip to move part of the picture around.
We are Geographers ; 27.1.22
As part of their Geography learning based around their topic "The World's Kitchen" Year 4 played a game in teams trying to identify pictures of foods from around the world. It was very competitive!
Once they had correctly identified the food from its description, they were given a piece of paper with the food's name and its country of origin. The teams then had to use atlases to locate the position of the country and label it correctly on their team's world map!
The children demonstrated their knowledge of where countries in the world are located and learnt more about traditional foods.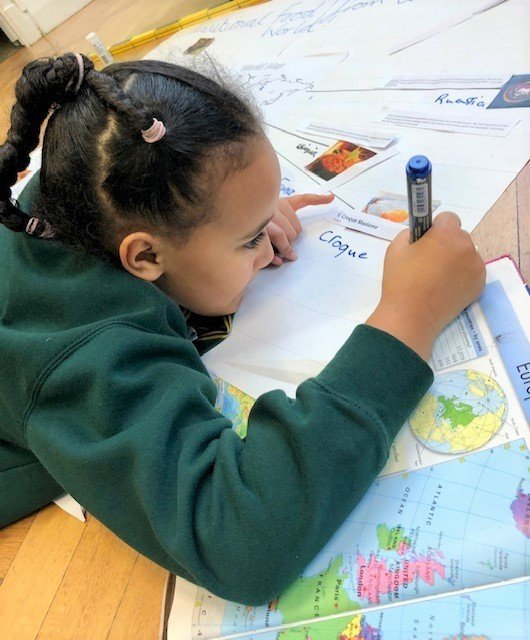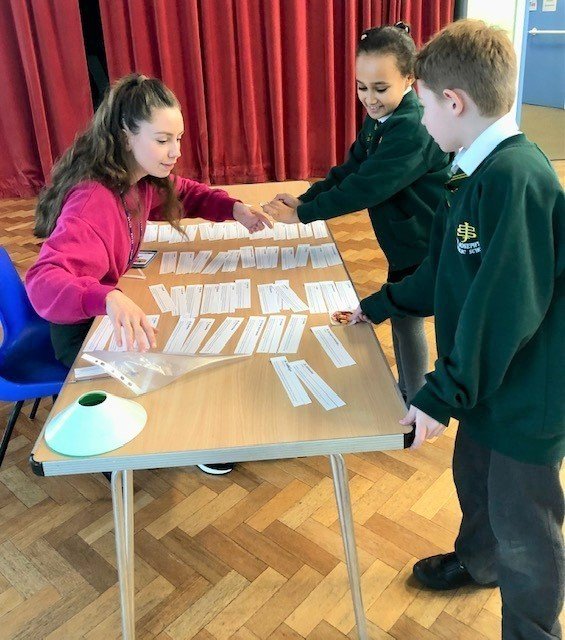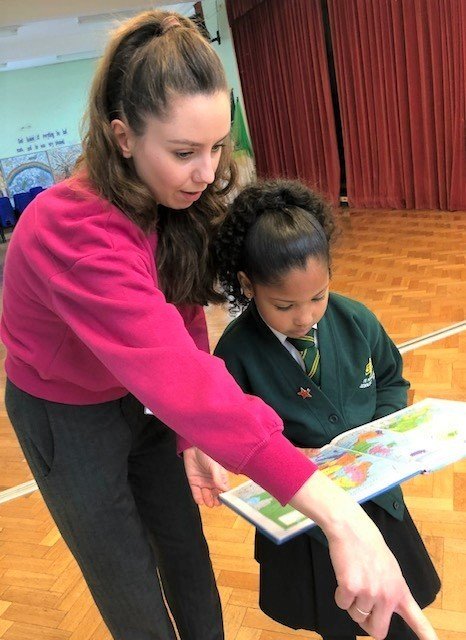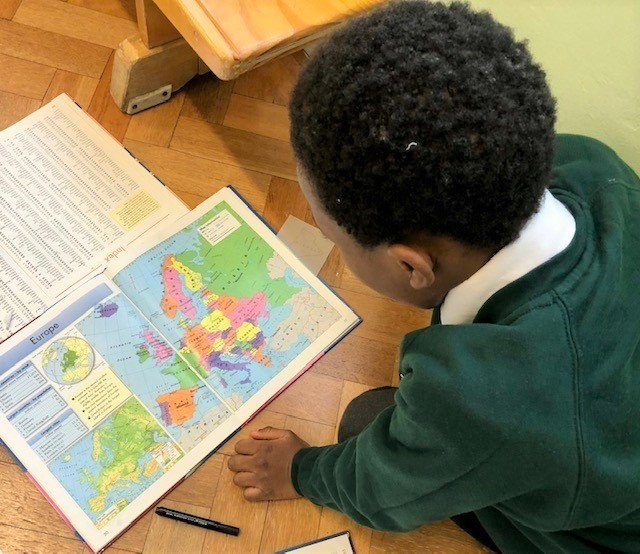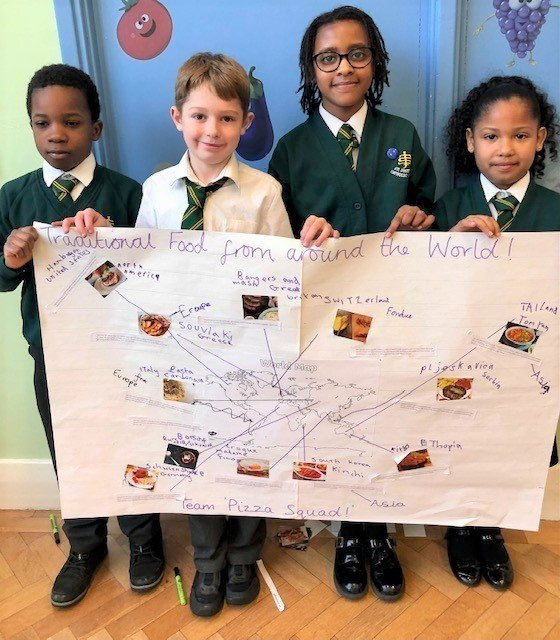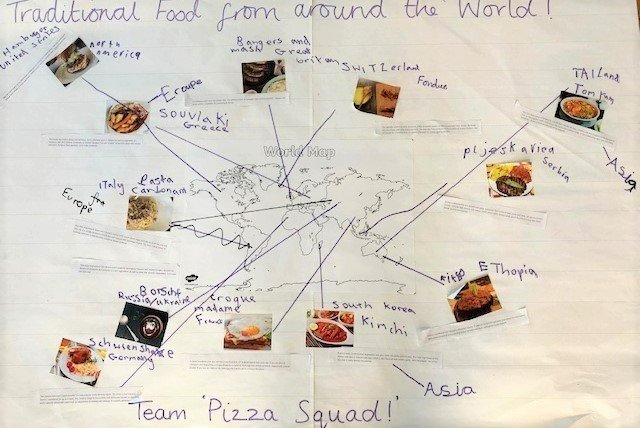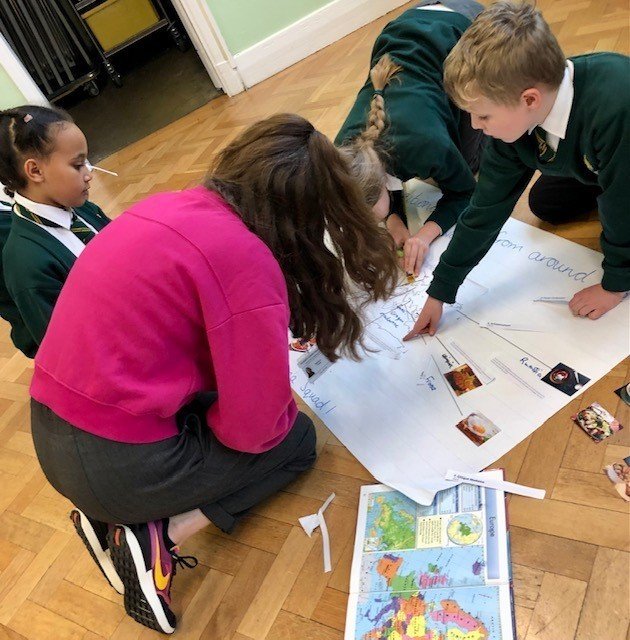 This week's learning in Year 4 : 21.1.22
In Science this week, Year 4 have been looking at the properties of different soils. They used magnifying glasses to study the size of the particles, the size of air gaps and they felt the texture of each soil and made comparisons between the four soils - clay, chalk, loam and sandy.
They then planned and carried out a fair test to find out the permeability of each soil.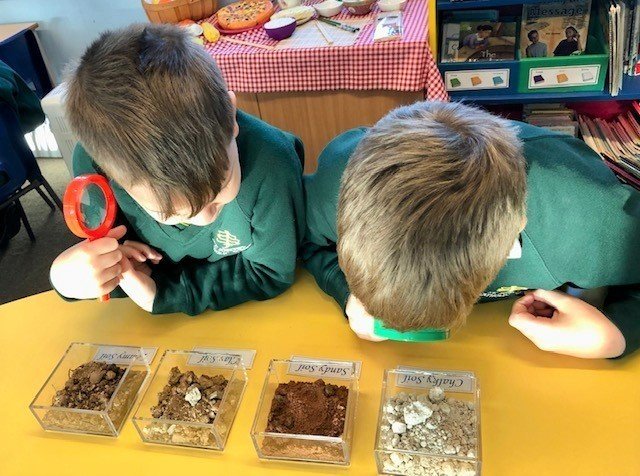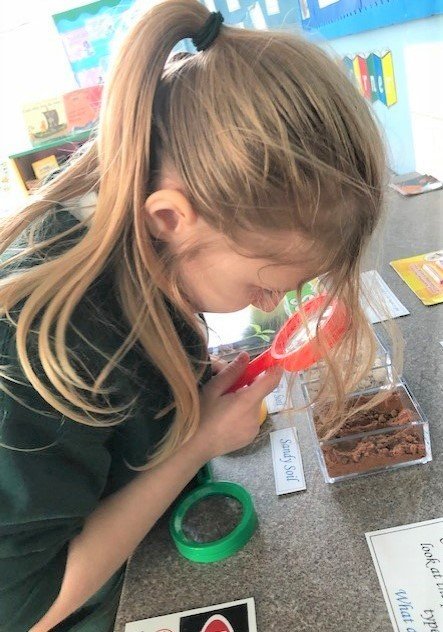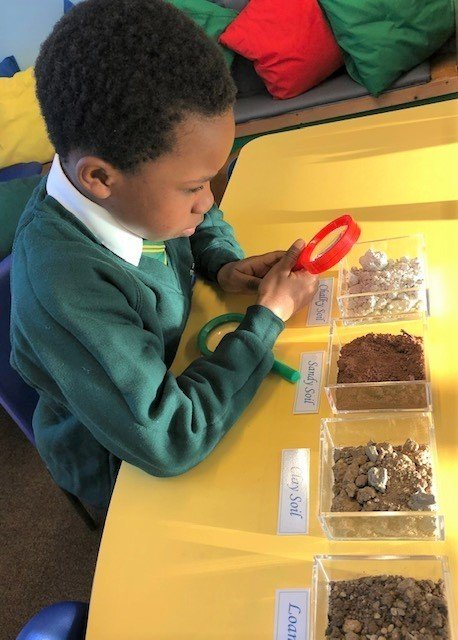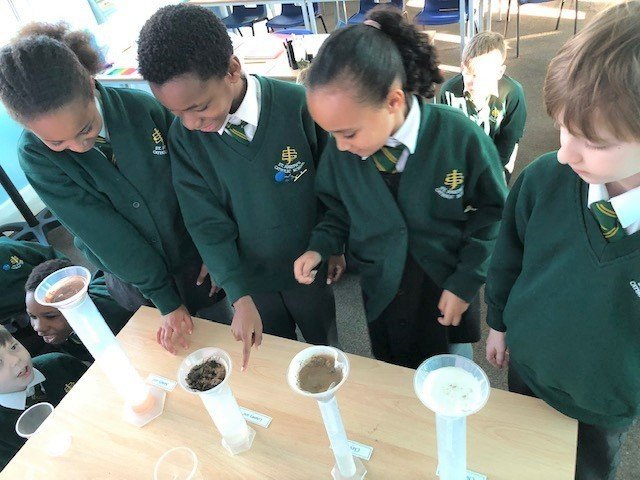 As part of their Geography learning, Year 4 have been using maps, atlases and globes to locate countries around the world as part of their learning around "The World's Kitchen."
They used tracing paper to understand more about the shape and relative size of the different countries.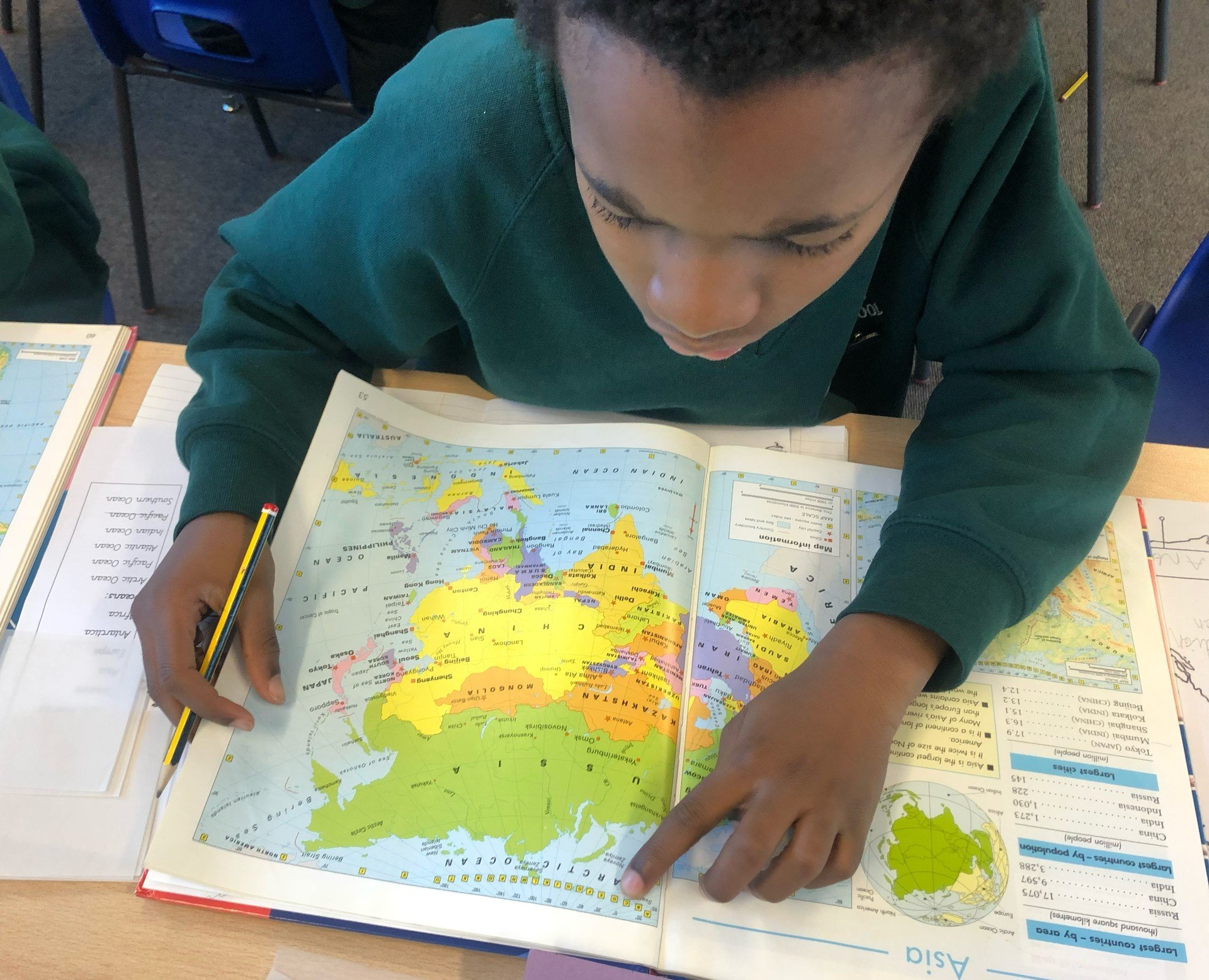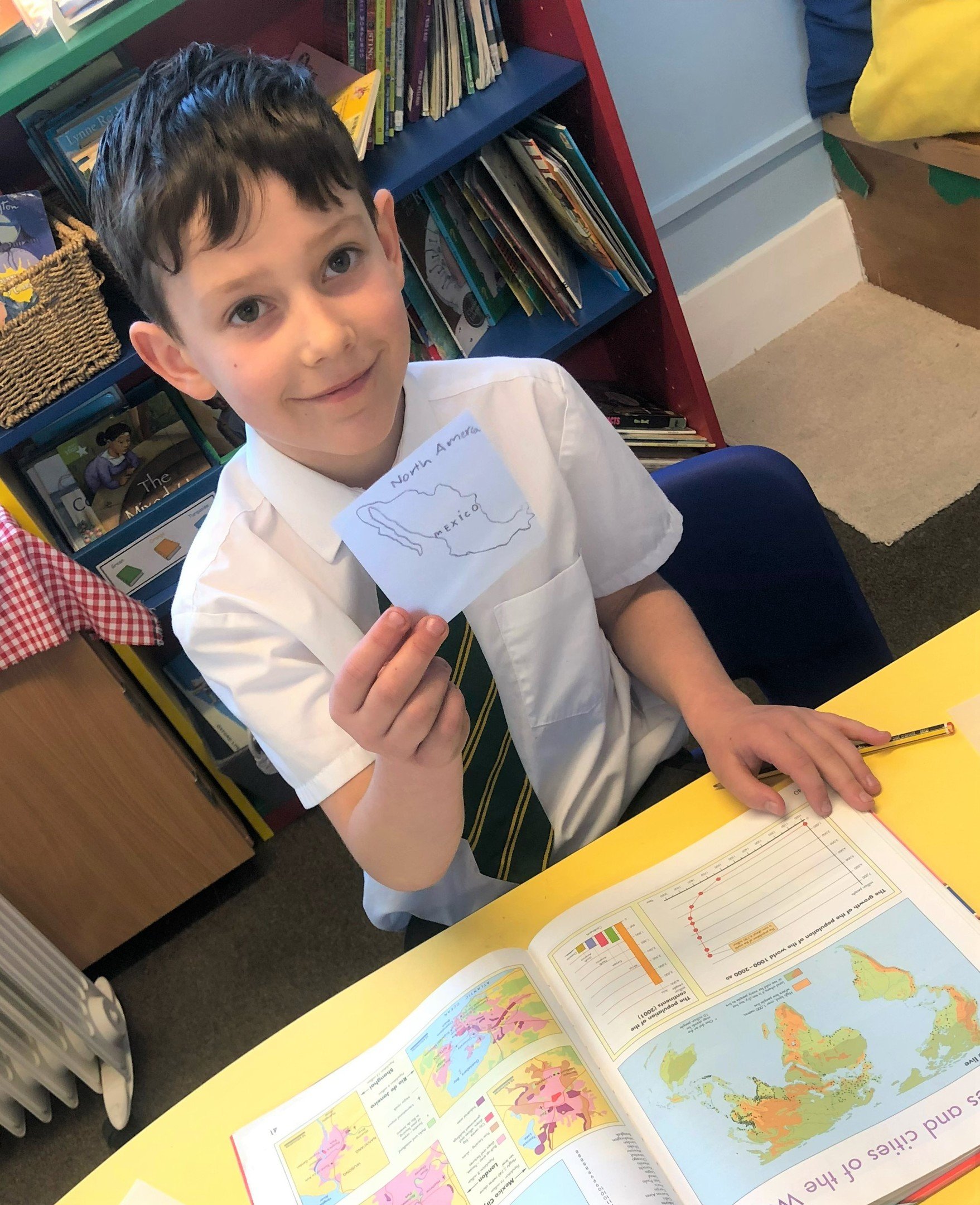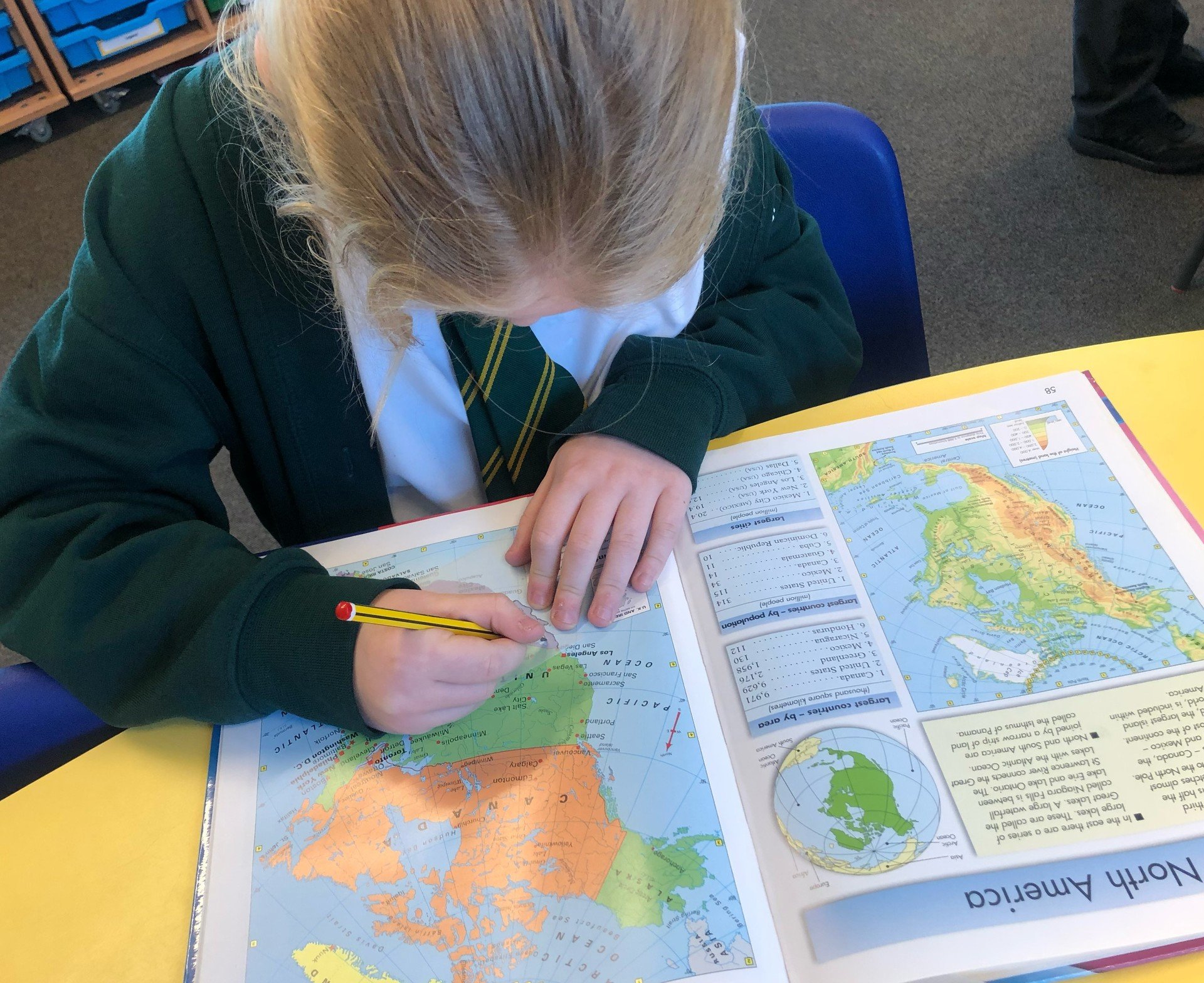 In French this week, the children have been designing toy adverts in French. They had to include the price in euros and a persuasive slogan. Here are a few of the adverts.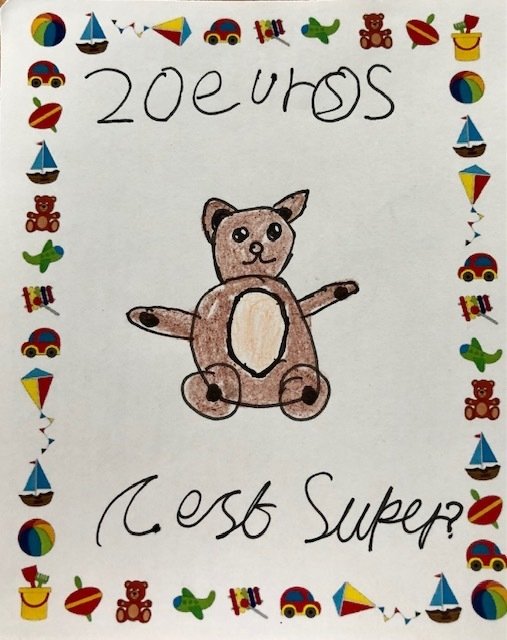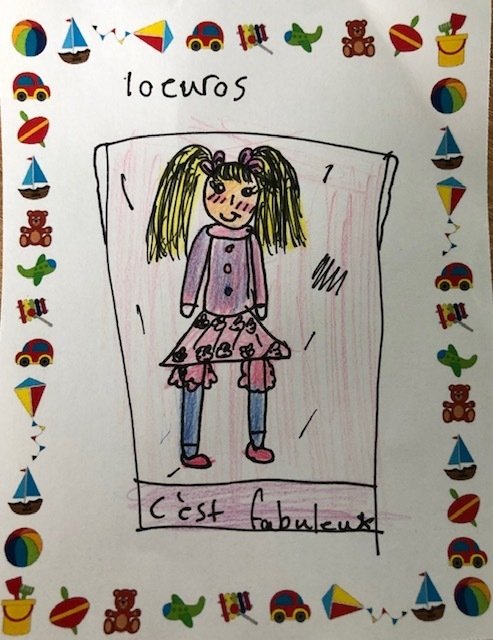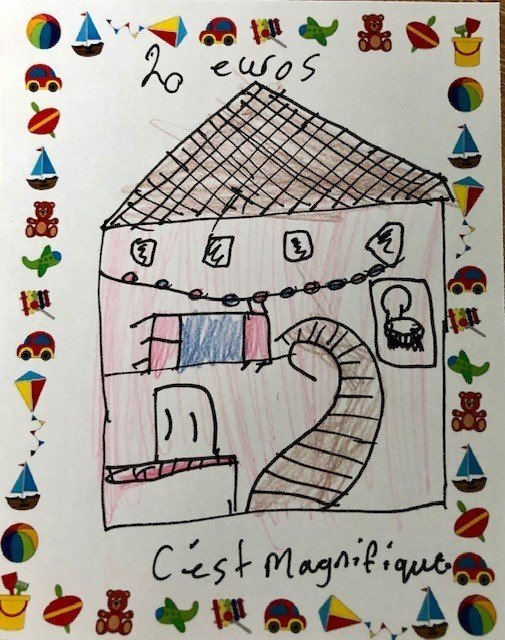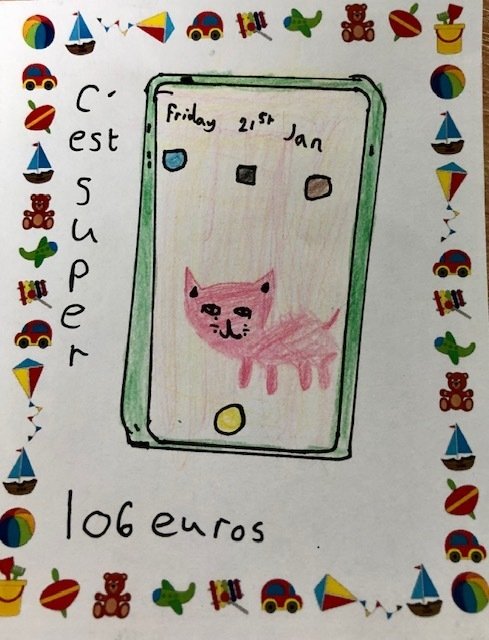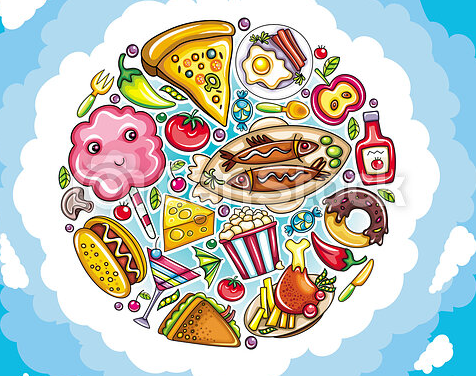 Click HERE for a link to Year 4's learning overview for the Spring term. A paper copy will come home with your child this week.
Super Scientists : 14.1.22
Year 4 have been learning about the characteristics of the three states of matter. Today, they looked at classifying gases in different ways.
They learnt about the atoms and molecules in different gases and found out why a Helium balloon goes upwards but a balloon that has been blown up by mouth stays on the ground.
The children used Skittles and Jelly-Tots to represent the composition of the atoms and molecules in the different gases.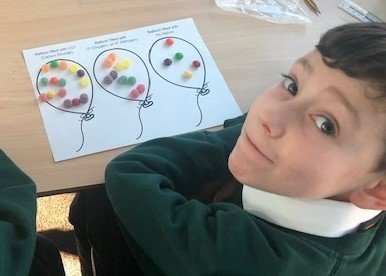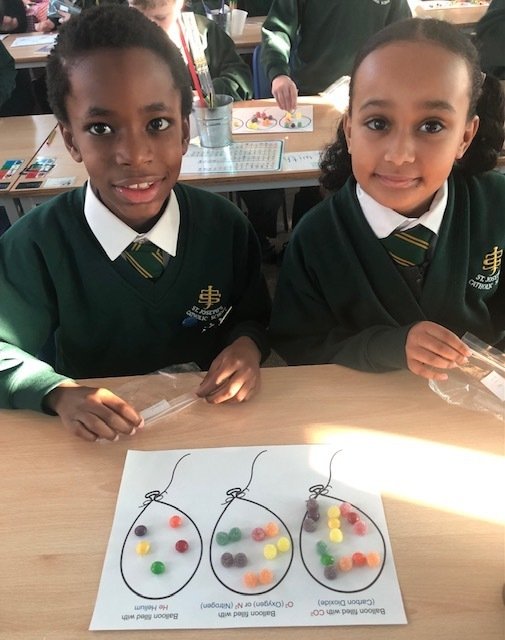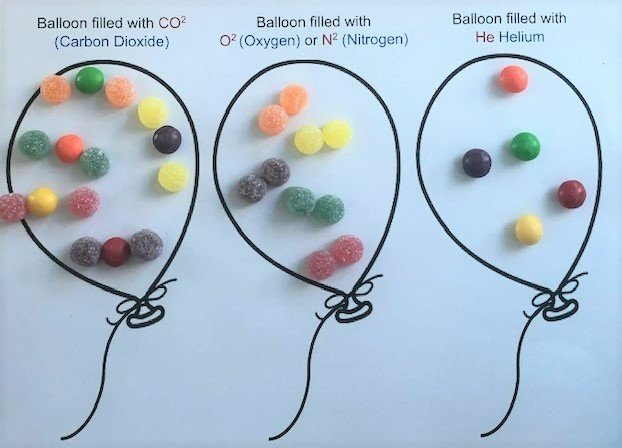 French :14.1.22
Today in French, Year 4 revised their counting skills to 20 and learnt how to count and say numbers to 39. They learnt that the currency used in France is the Euro.
They applied their knowledge of numbers in a toy shop role-play scenario having simple conversations in French.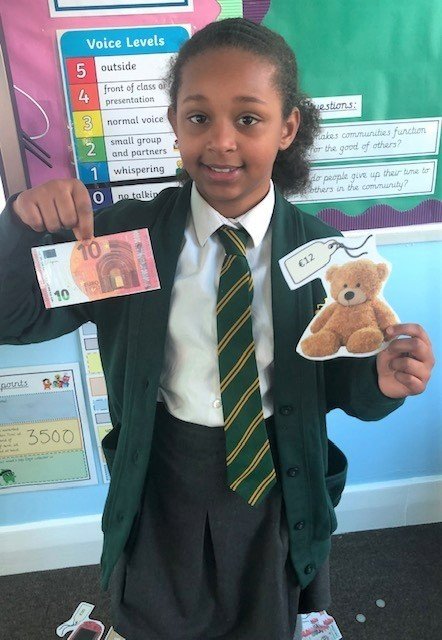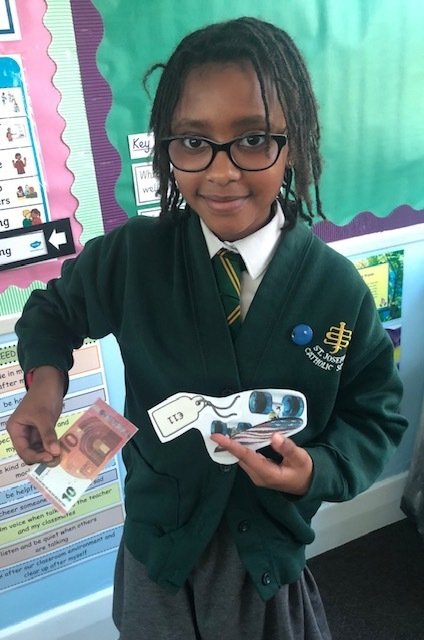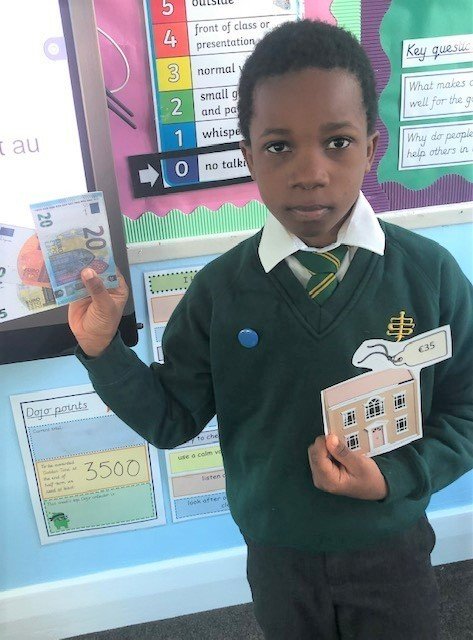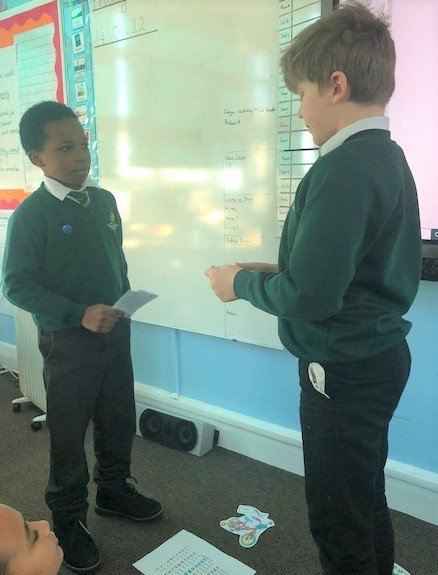 Stunning Start: 13.1.22
As an introduction to their current Geography theme, Year 4 had their topic launch today with a tasting trip around the world! They were introduced to a variety of traditional foods from around the world with a multi-cultural tasting menu!
The children were introduced to old favourites and new food experiences including smoked cheese from Austria, guacamole from Mexico, olives from Greece, Frankfurter sausages from Germany, ginger cake from Jamaica and bhajis from India.
The children had globes at hand to locate the countries the different foods came from too.
What a delicious introduction to our Geography learning this term!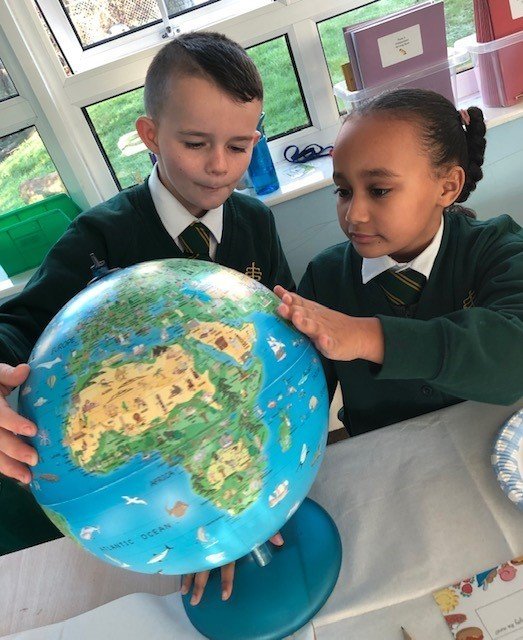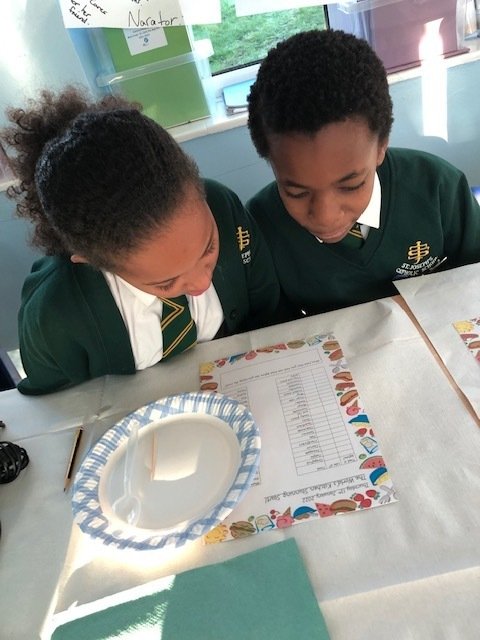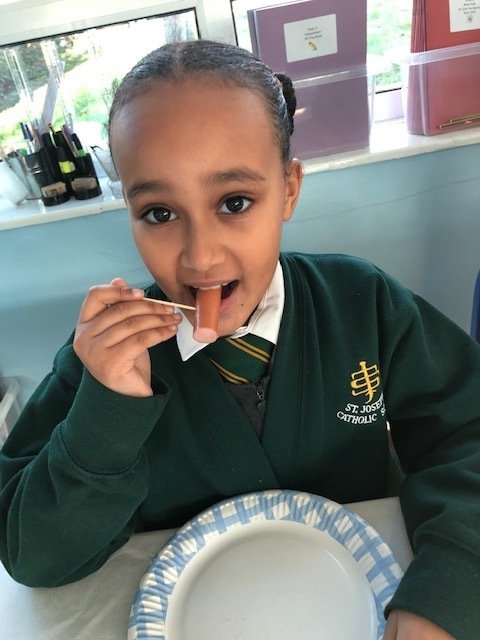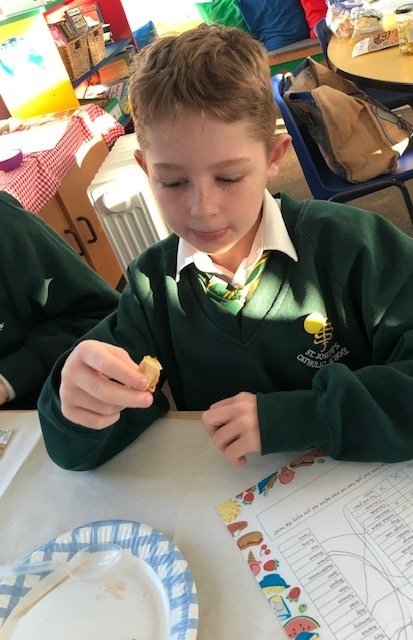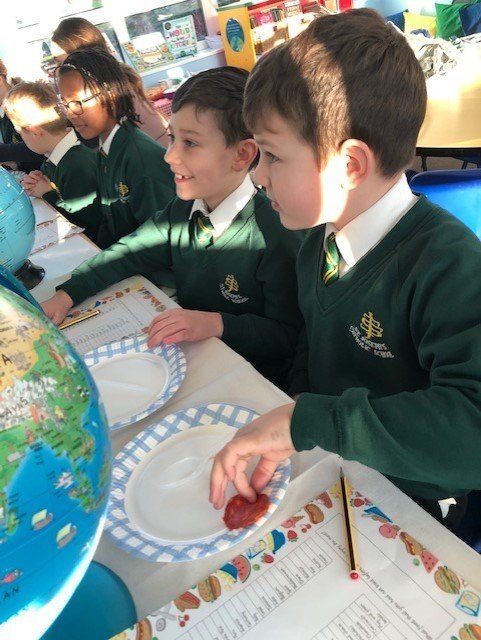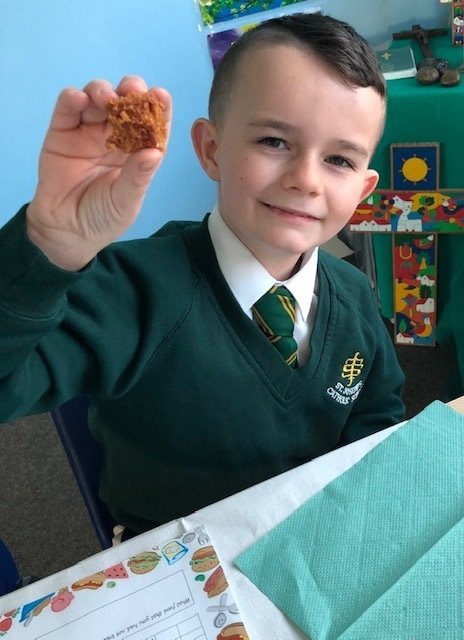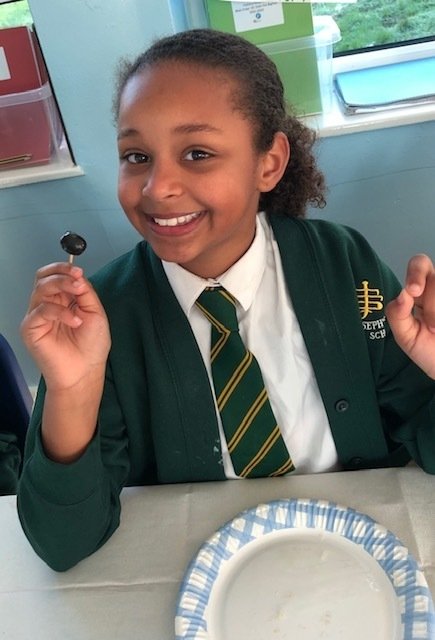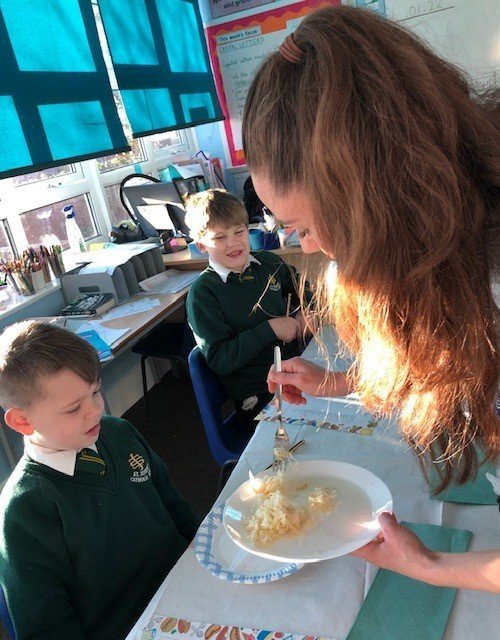 The World's Kitchen
Year 4 Geography based topic this term is called, "The World's Kitchen" which centres around traditional cuisines which belong to different countries around the world.
The children will learn how to use maps and atlases to locate continents, oceans and countries around the world and will extend their knowledge and understanding beyond the local area and the United Kingdom to include Europe, North and South America.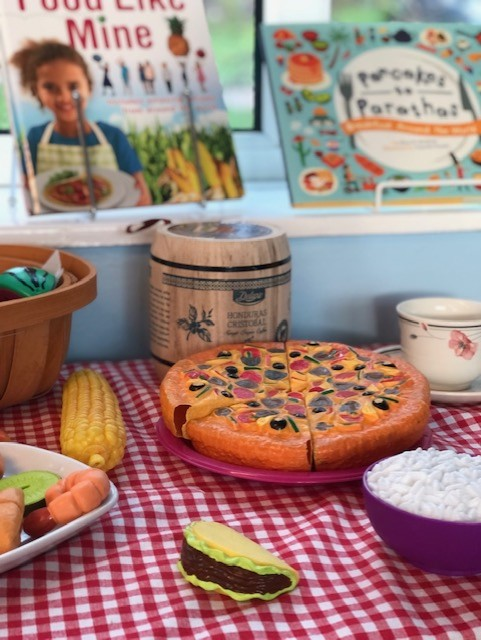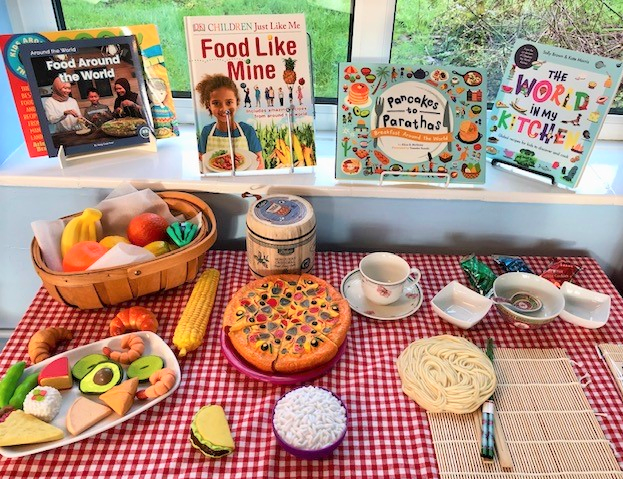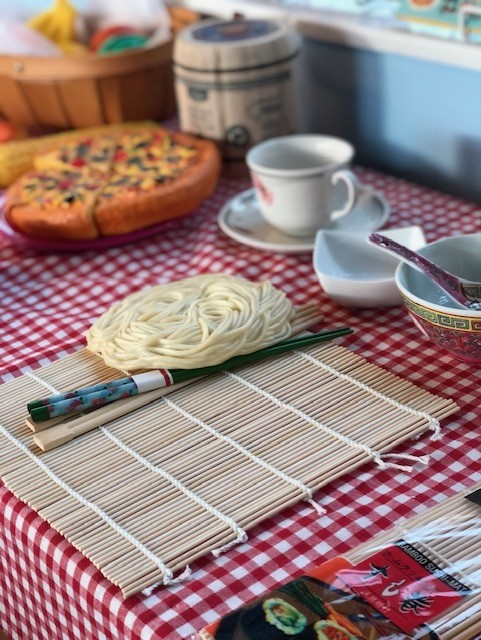 Watch this space to see what Year 4 learn during their Geography tasting journey around the world this term!
You can earn lots of house DOJOS by completing these POWer Projects over the next 5 weeks. Get creative and email any photos in to myhomework@st-josephs.brighton-hove.sch.uk
Click HERE to see the activities you can choose from.
Party Time!
Year 4 have worked so hard this term and today was an opportunity for them to let down their hair and have some festive fun! They played some traditional party games like pass the parcel and the headband guessing game and some more unusual activities like decorating a human Christmas tree!
They even made their own very creative party hats for a competition before the party started!!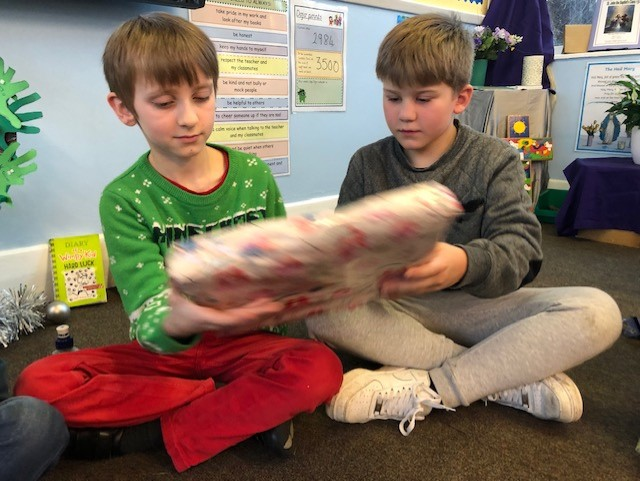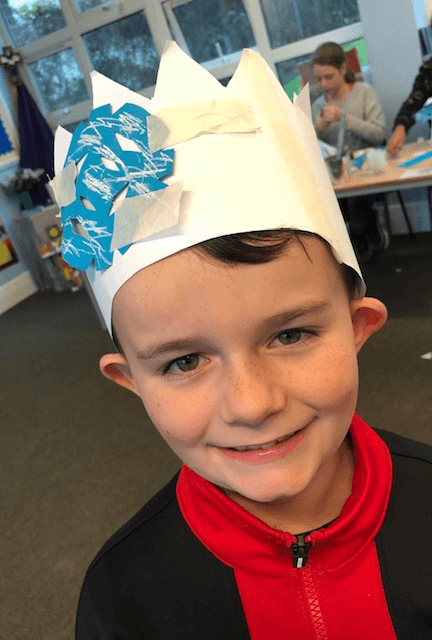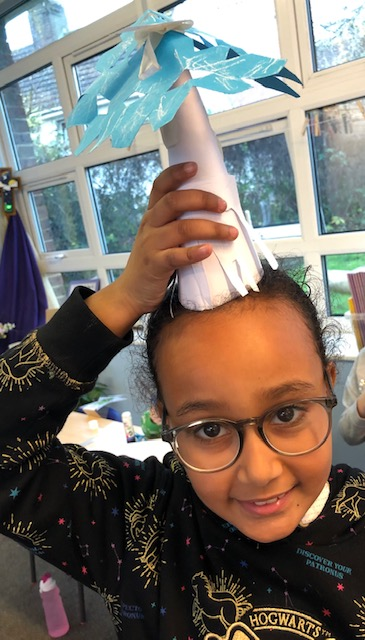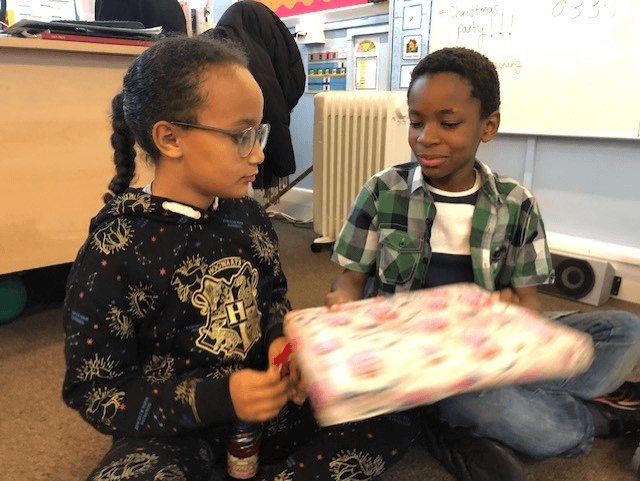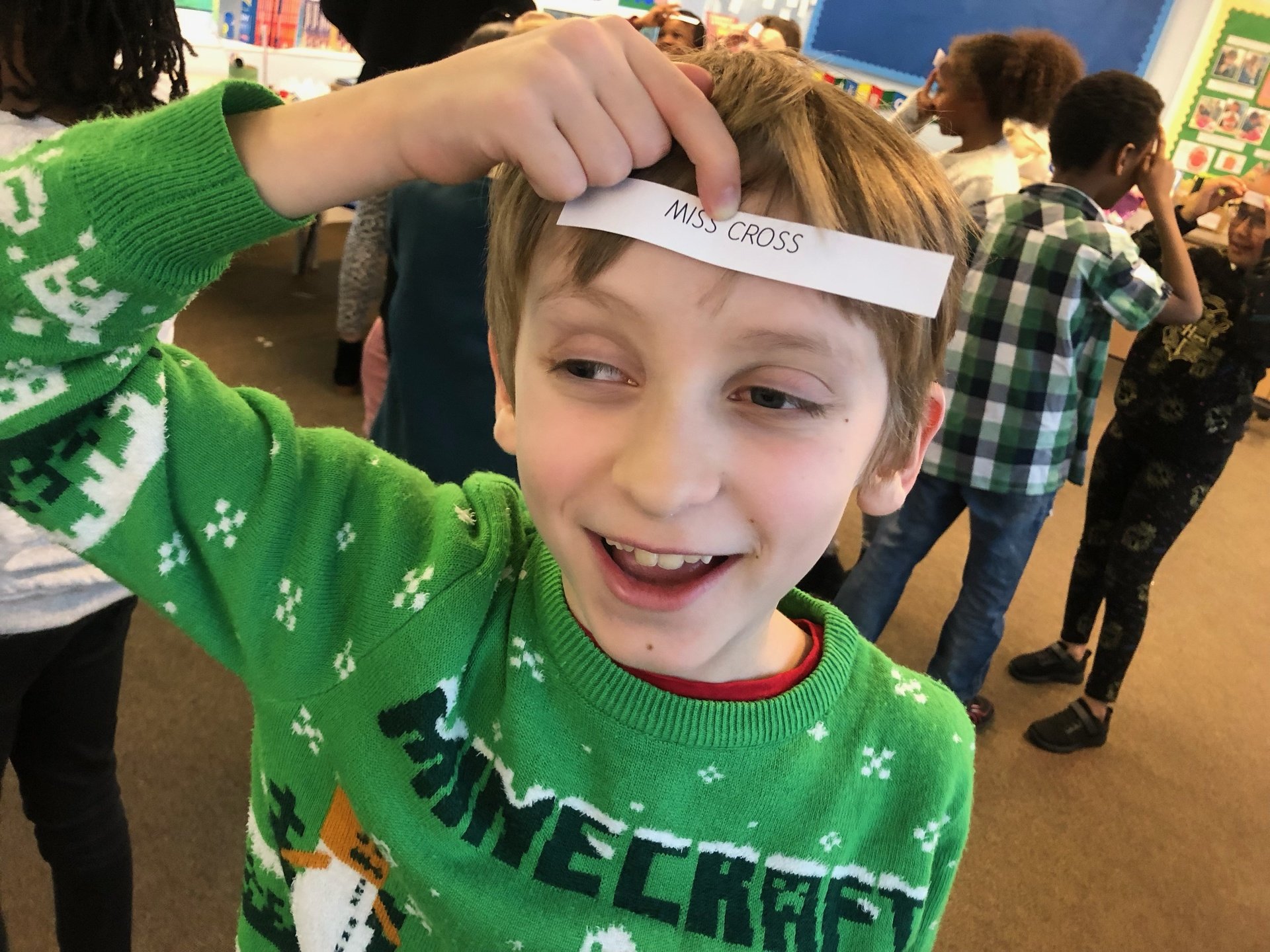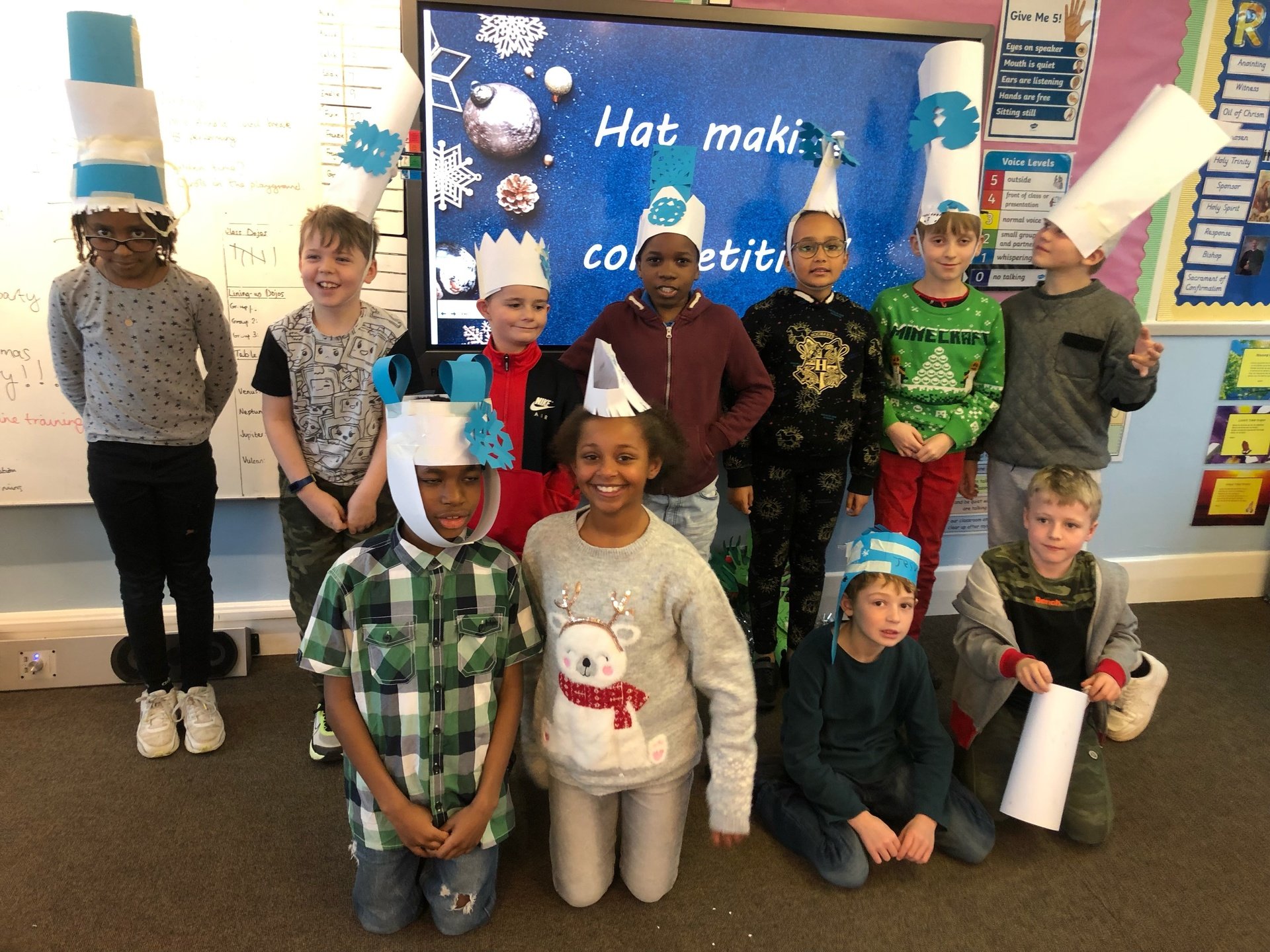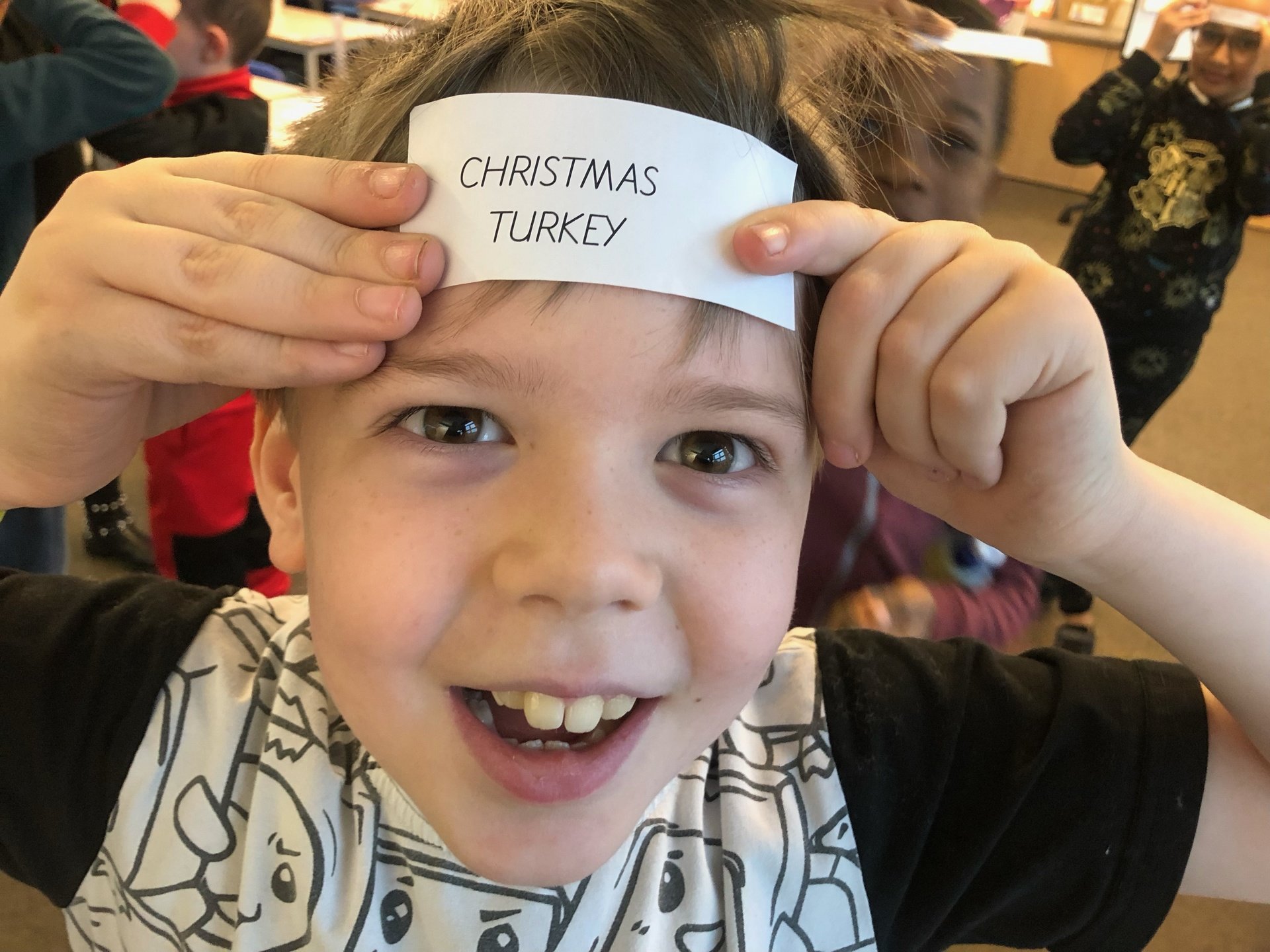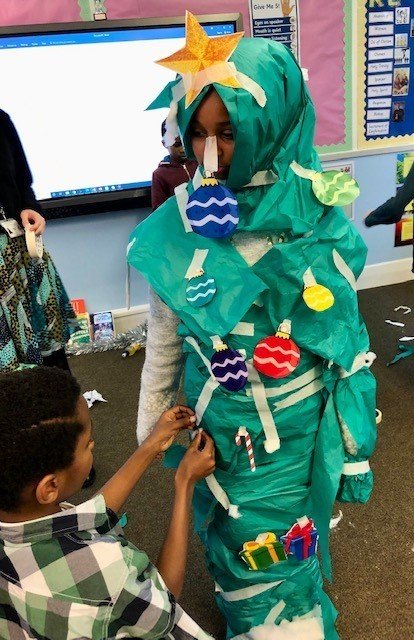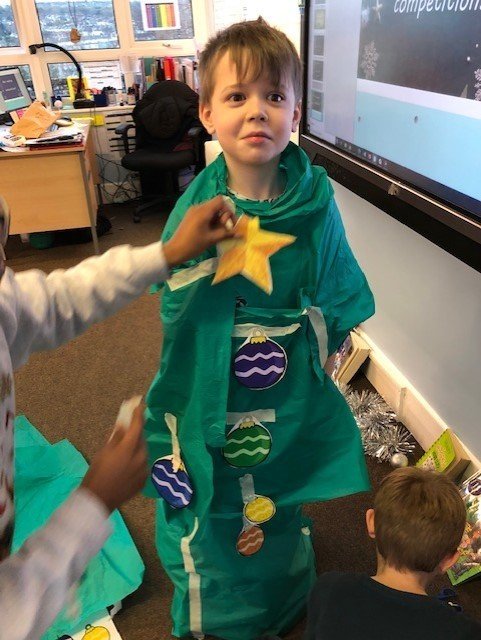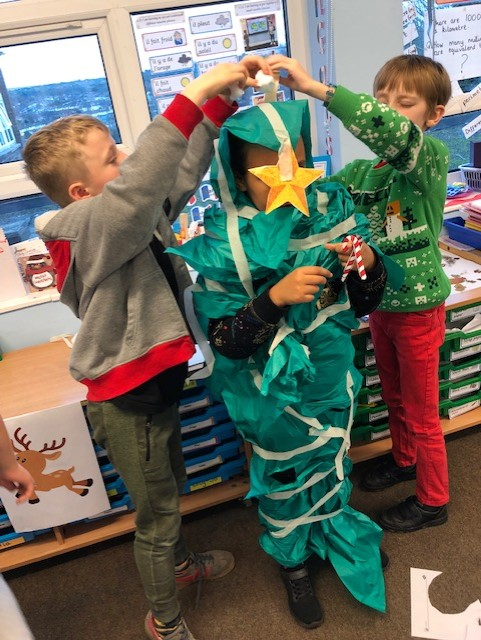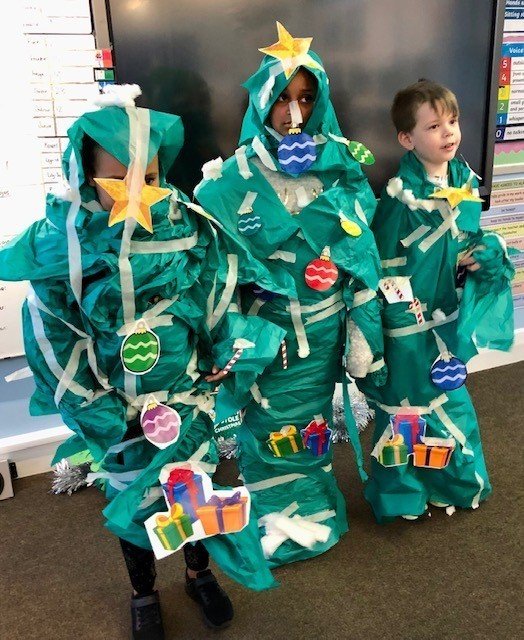 Science : 15.12.21
Year 4 have been exploring shadows today in Science. They have been investigating how shadows change throughout the day and also looking at how shadows change depending on their distance from the light source.
The children used some festive objects to help them investigate!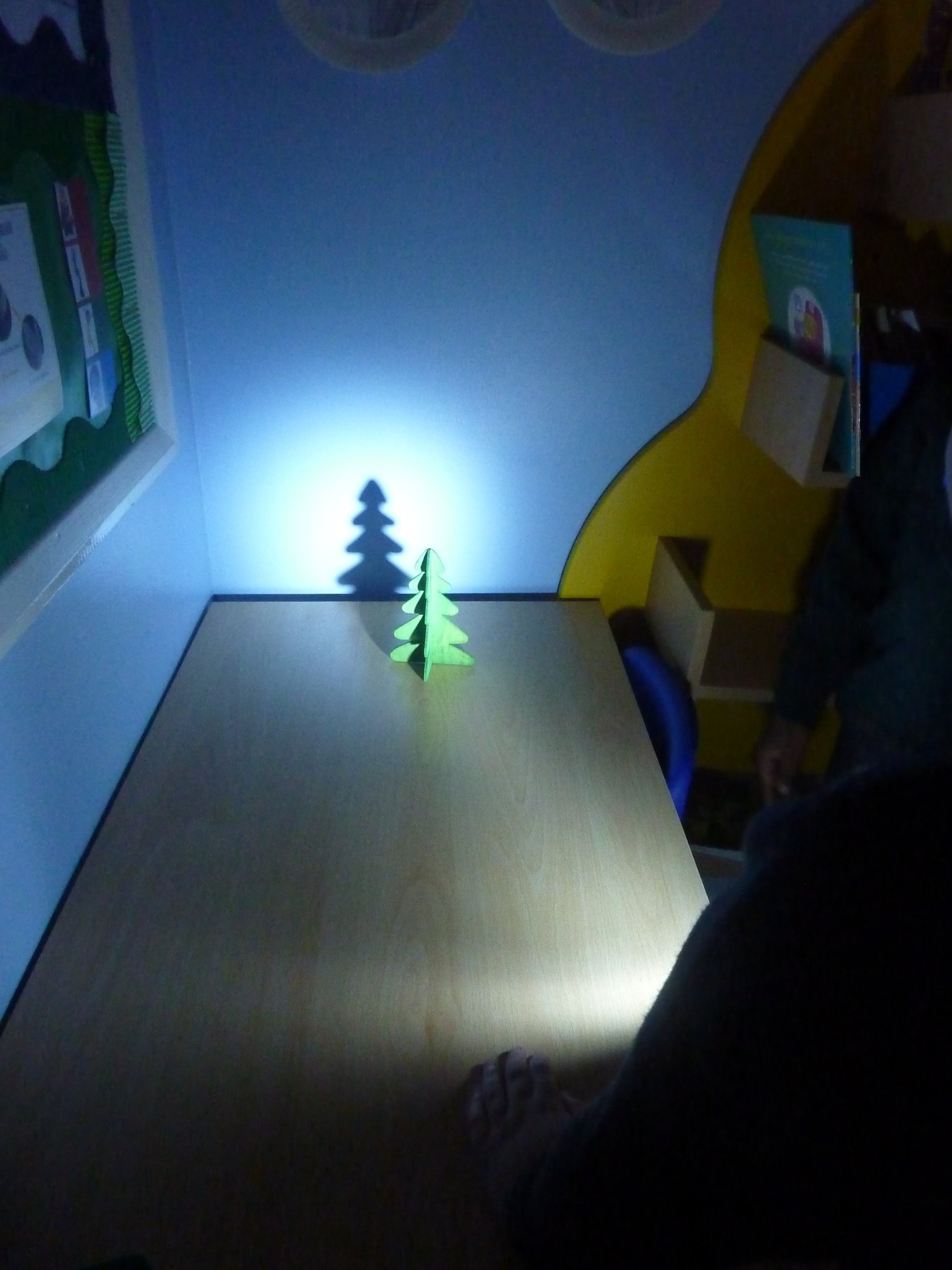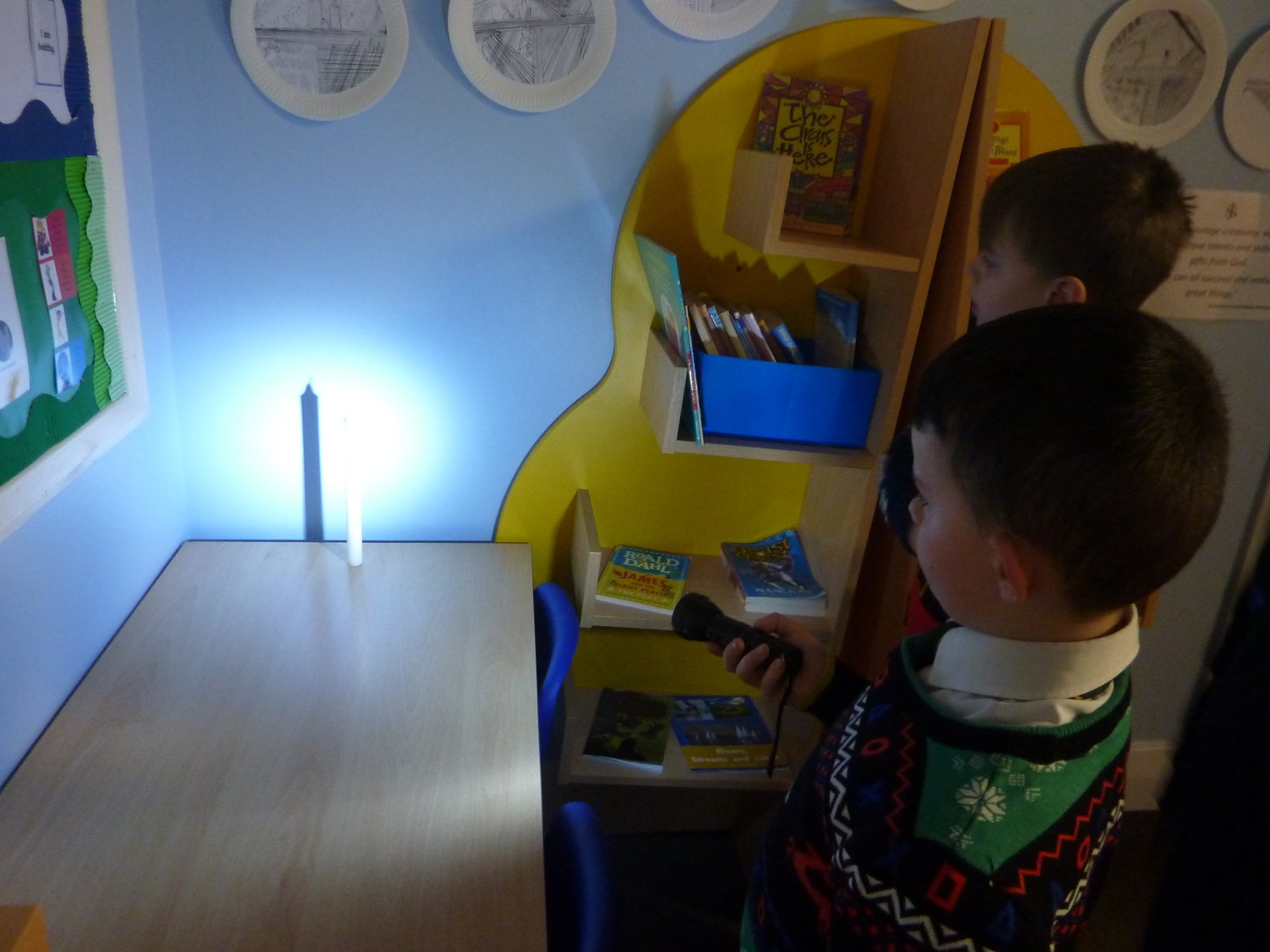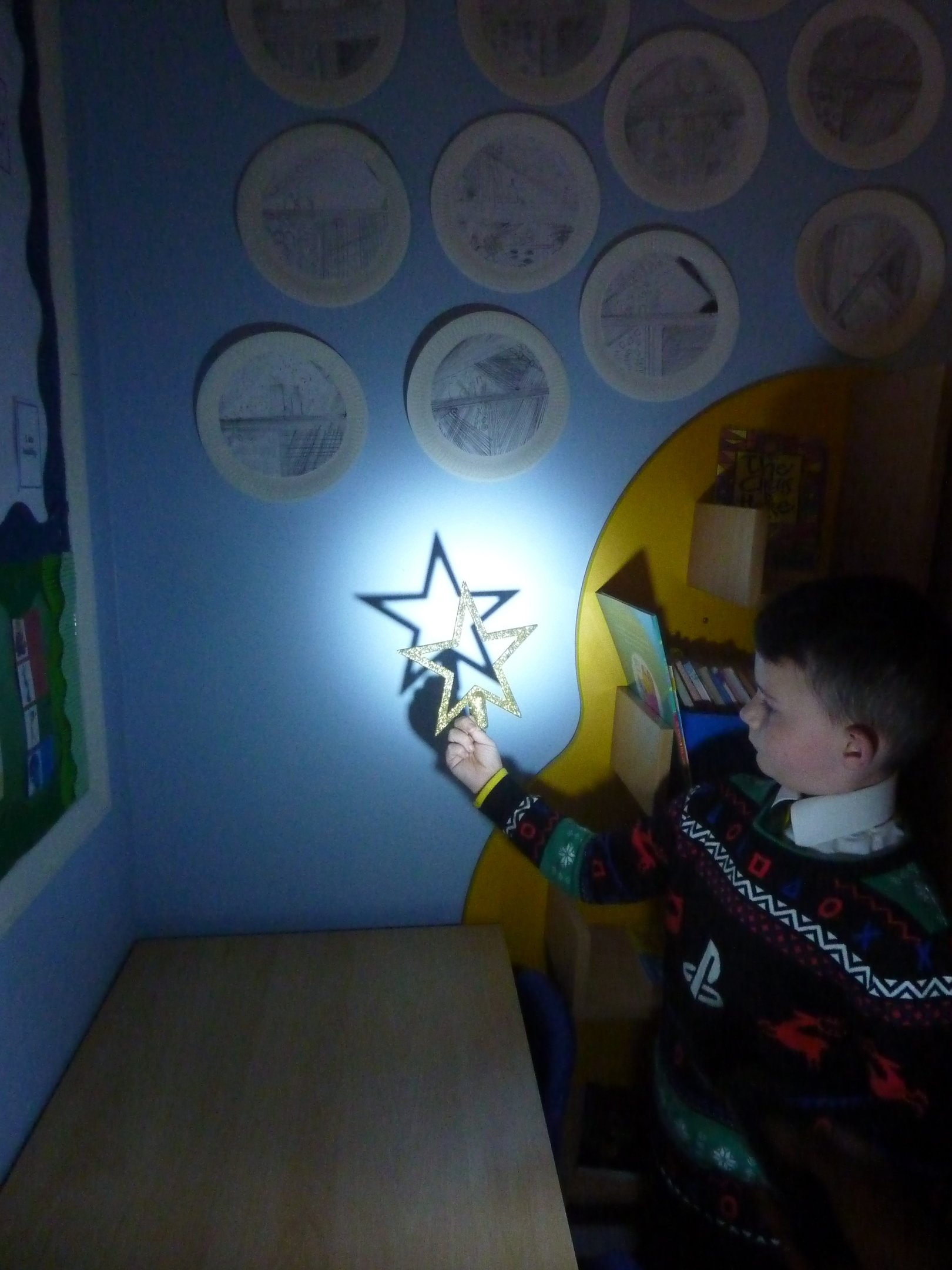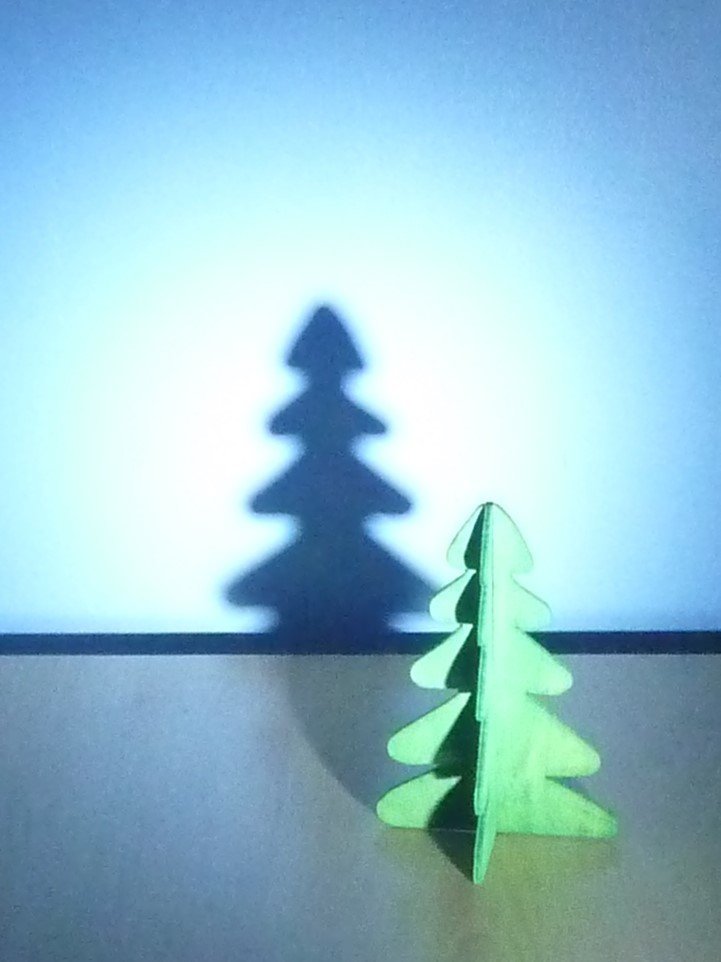 The Bluest of the Blues : 14.12.21
Year 4's Power of Reading book this half term is called, "The Bluest of the Blues" which is a wonderful picture book biography of botanist and photographer Anna Atkins.
Fascinated with the plant life around her, Anna became a botanist. Encouraged by her scientist father, Atkins began by drawing specimens before learning to use a camera, and she was introduced to the cyanotype process, which used sunlight to create blue images.
The children in Year 4 collected some flowers, leaves and plants from our outdoor area and pressed them using big books two weeks ago. Today, they revealed their pressed findings. They will be using the process to help them learn about instructional writing and they will also be doing detailed drawings of the pressed flowers, leaves and plants using different medium.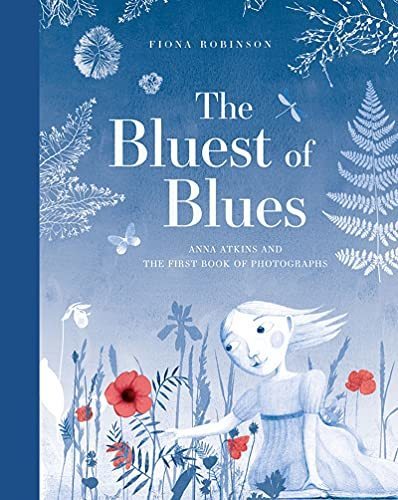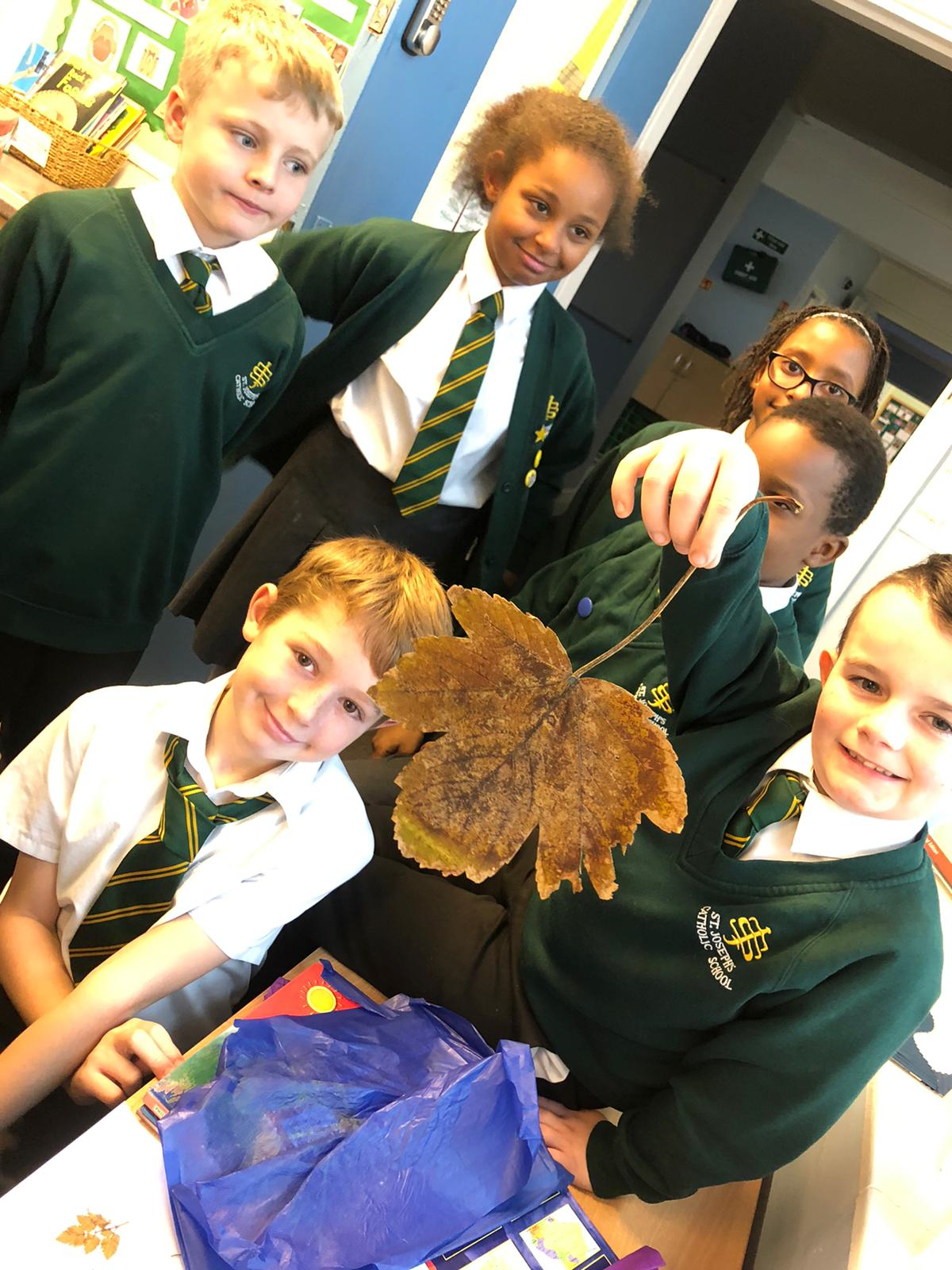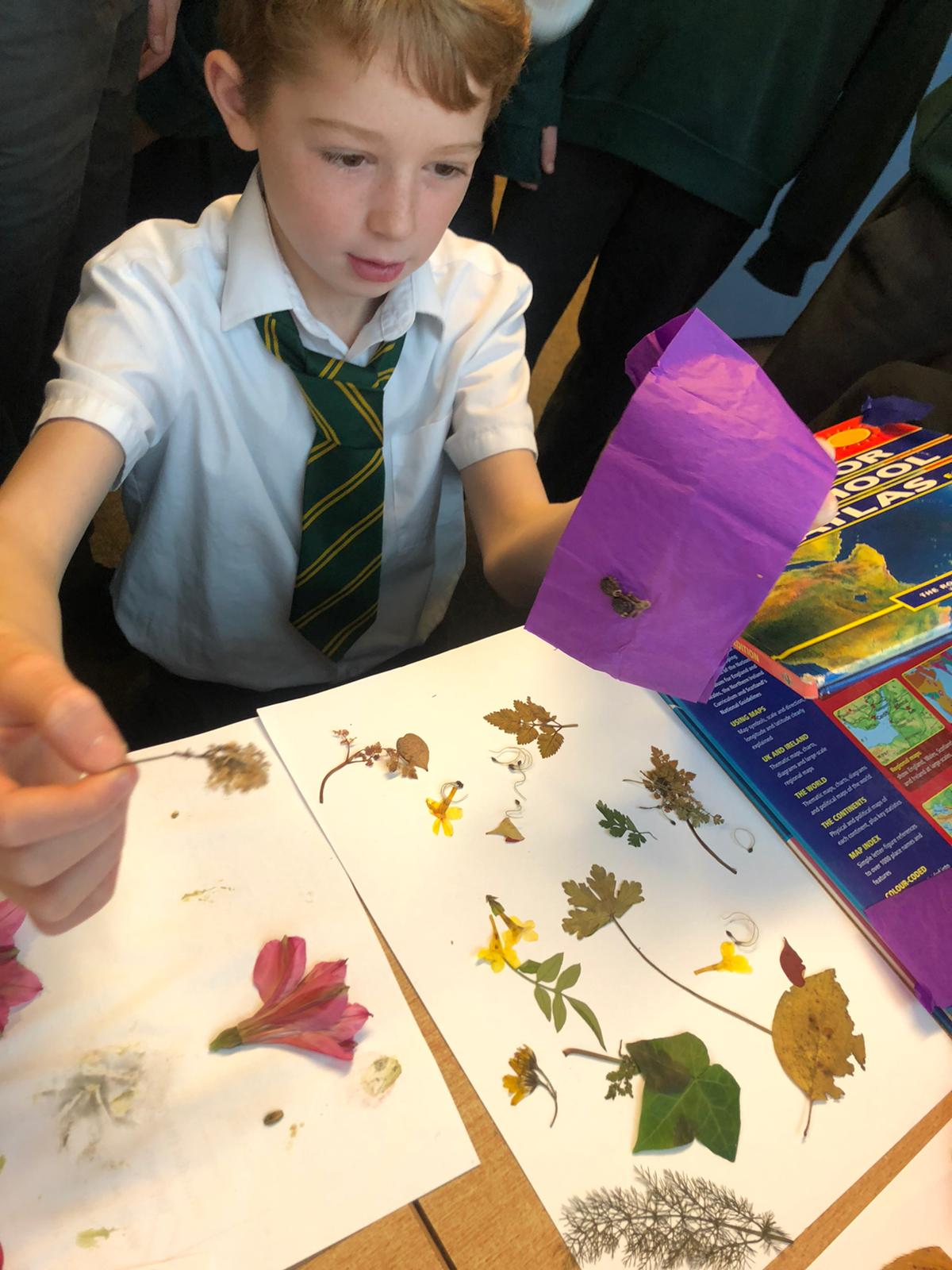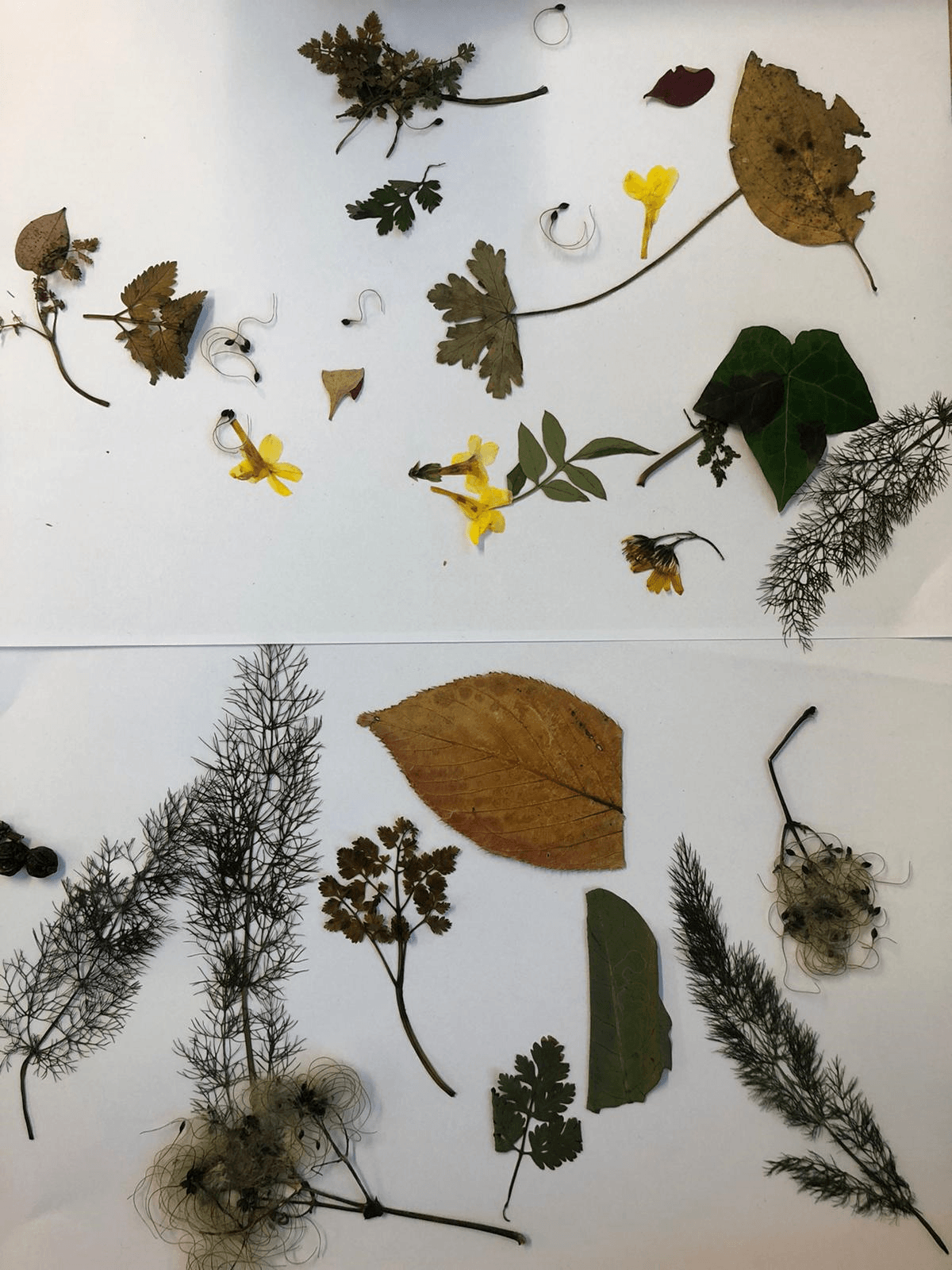 Santa Dash : 8.12.21
We took part in the Brighton and Hove School Games Santa Dash today. Year 4, as always, joined in enthusiastically, running around the course keeping fit and having fun in festive attire!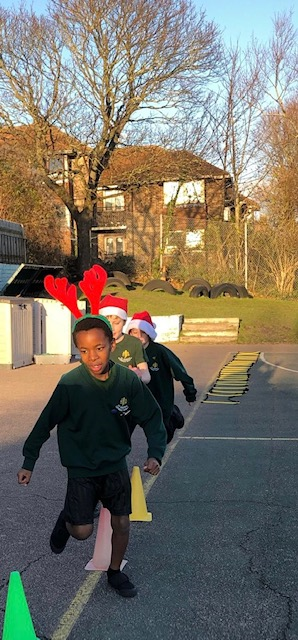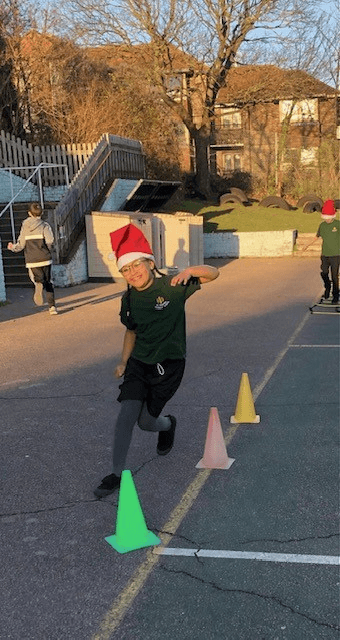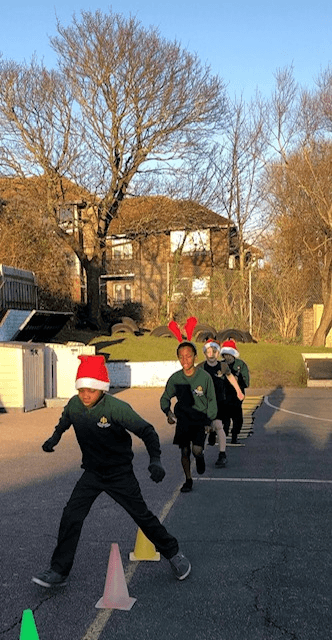 Science : 8.12.21
This week in Science, Year 4 have been constructing simple series circuits. They experimented with different switches and explored how opening and closing switches affects a circuit and how the position of the switch in the circuit resulted in different outcomes evidenced through observing a bulb.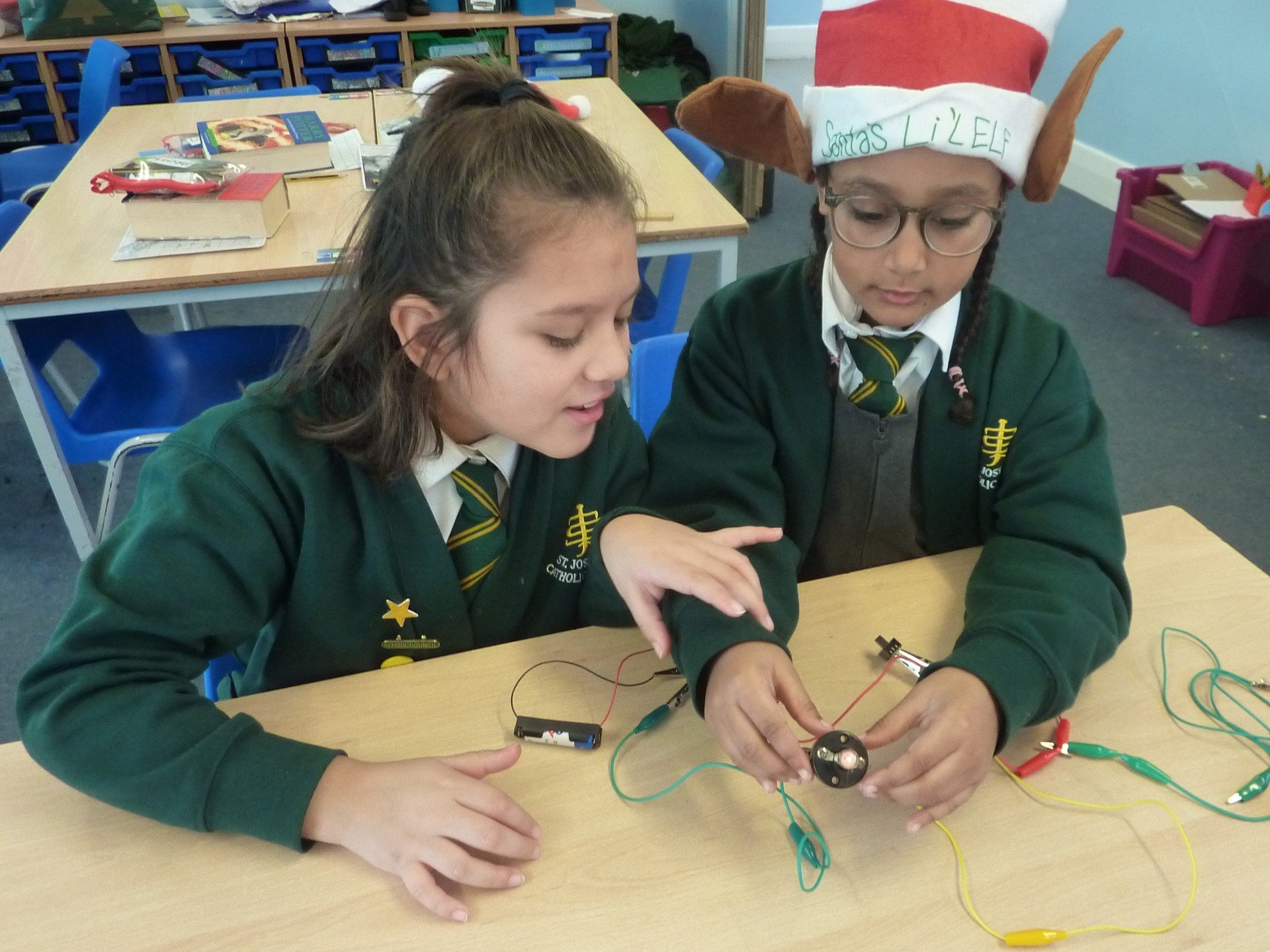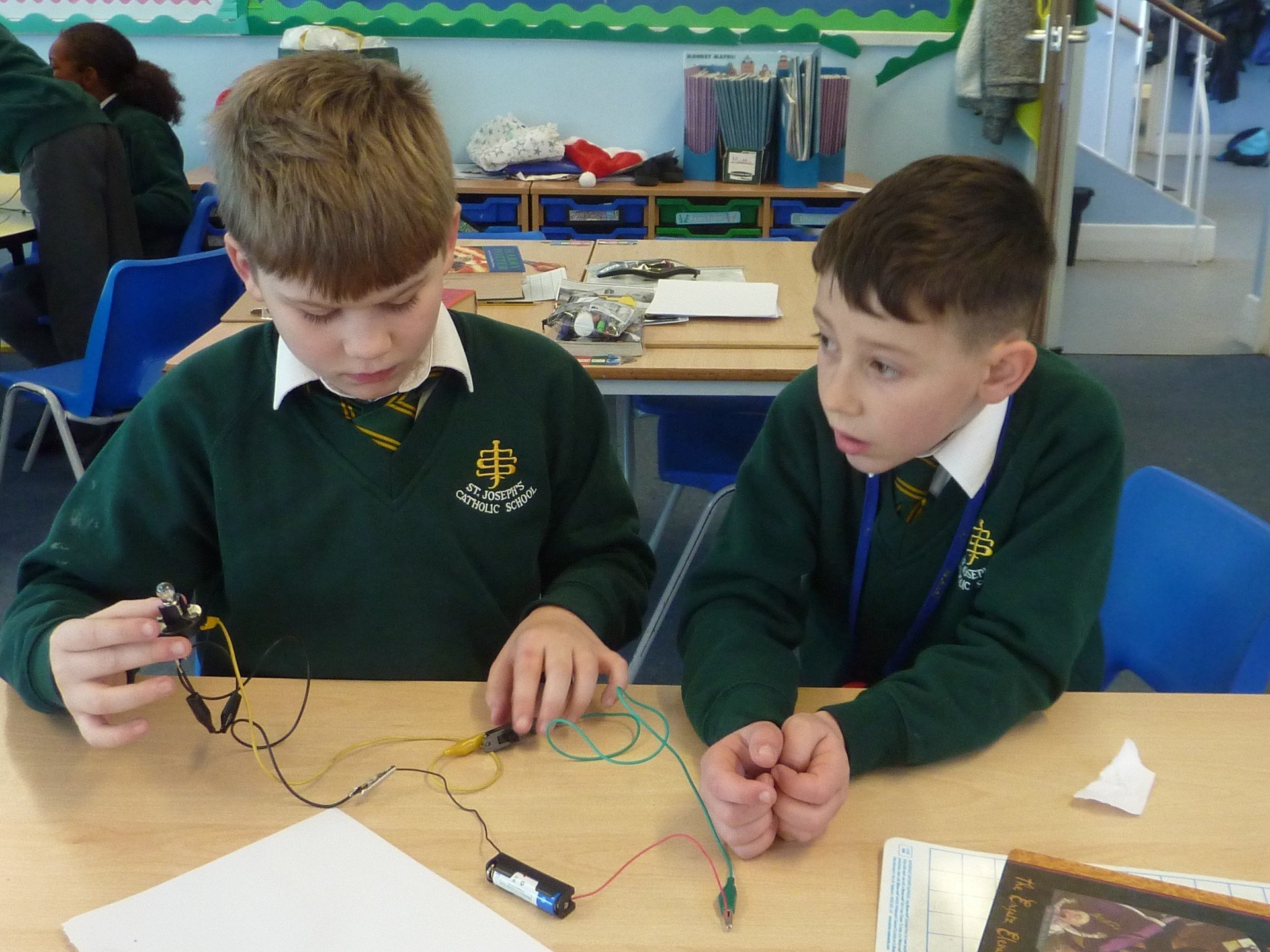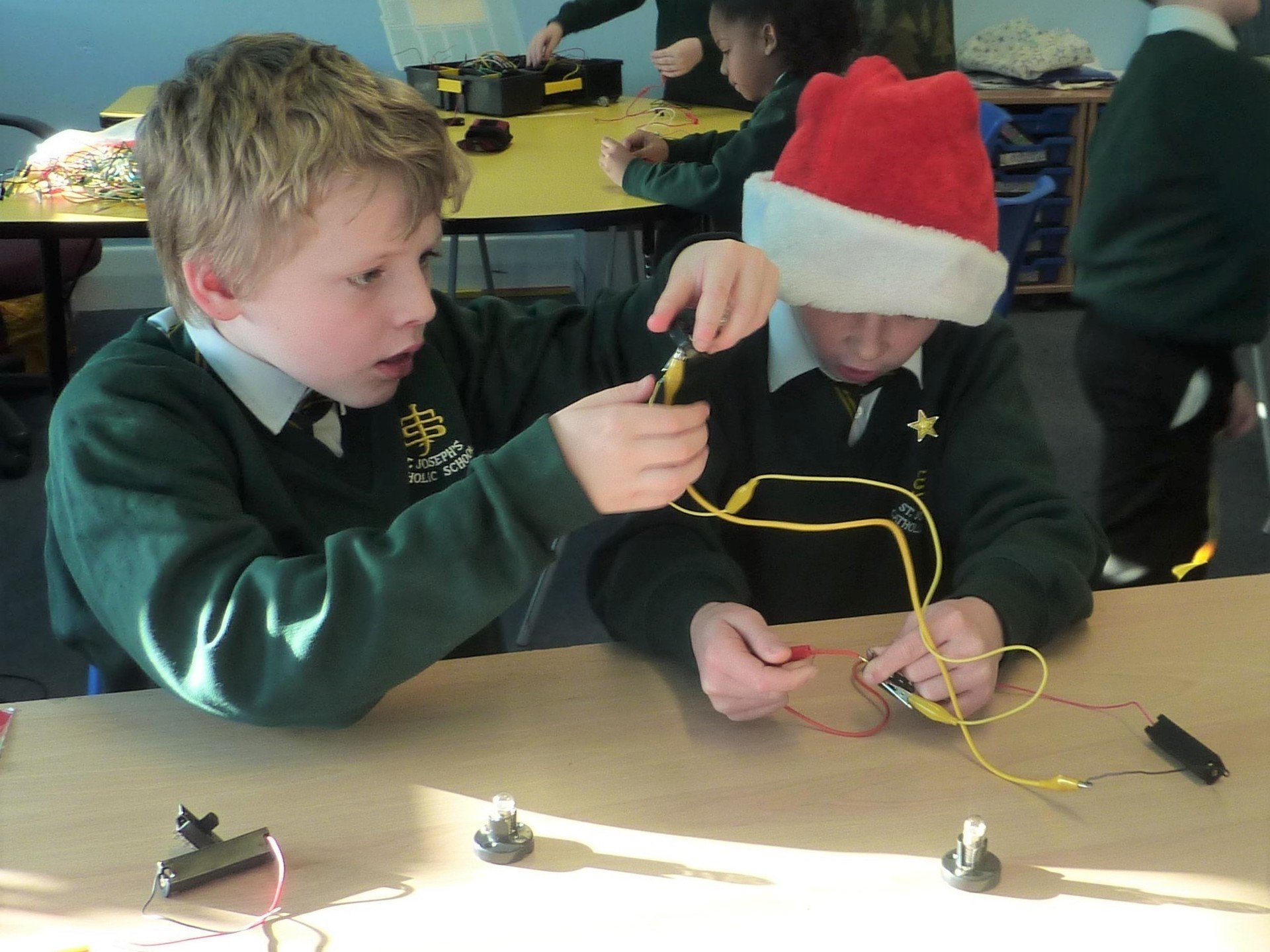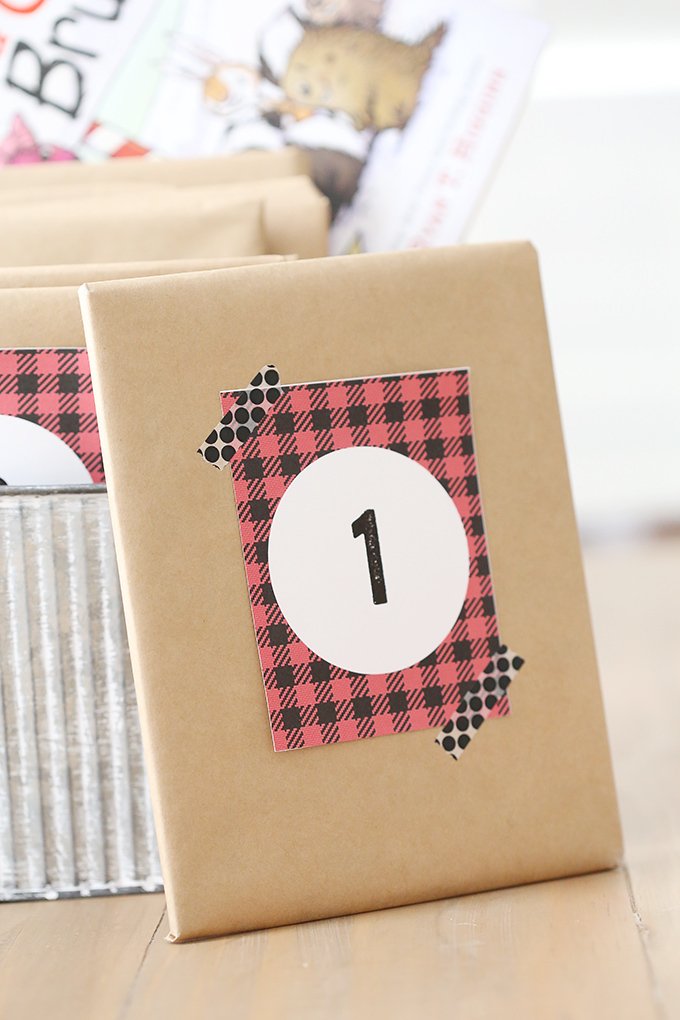 Our Book-vent calendar
Instead of an Advent Calendar in school, Year 4 have got a book-vent calendar! Each child in the class chooses a favourite book from home that they'd like to share a page from. They wrap the book up in Christmas paper and the wrapped books have been numbered 1-24.
Each day, a different book is unwrapped and read by its owner. Such a lovely idea!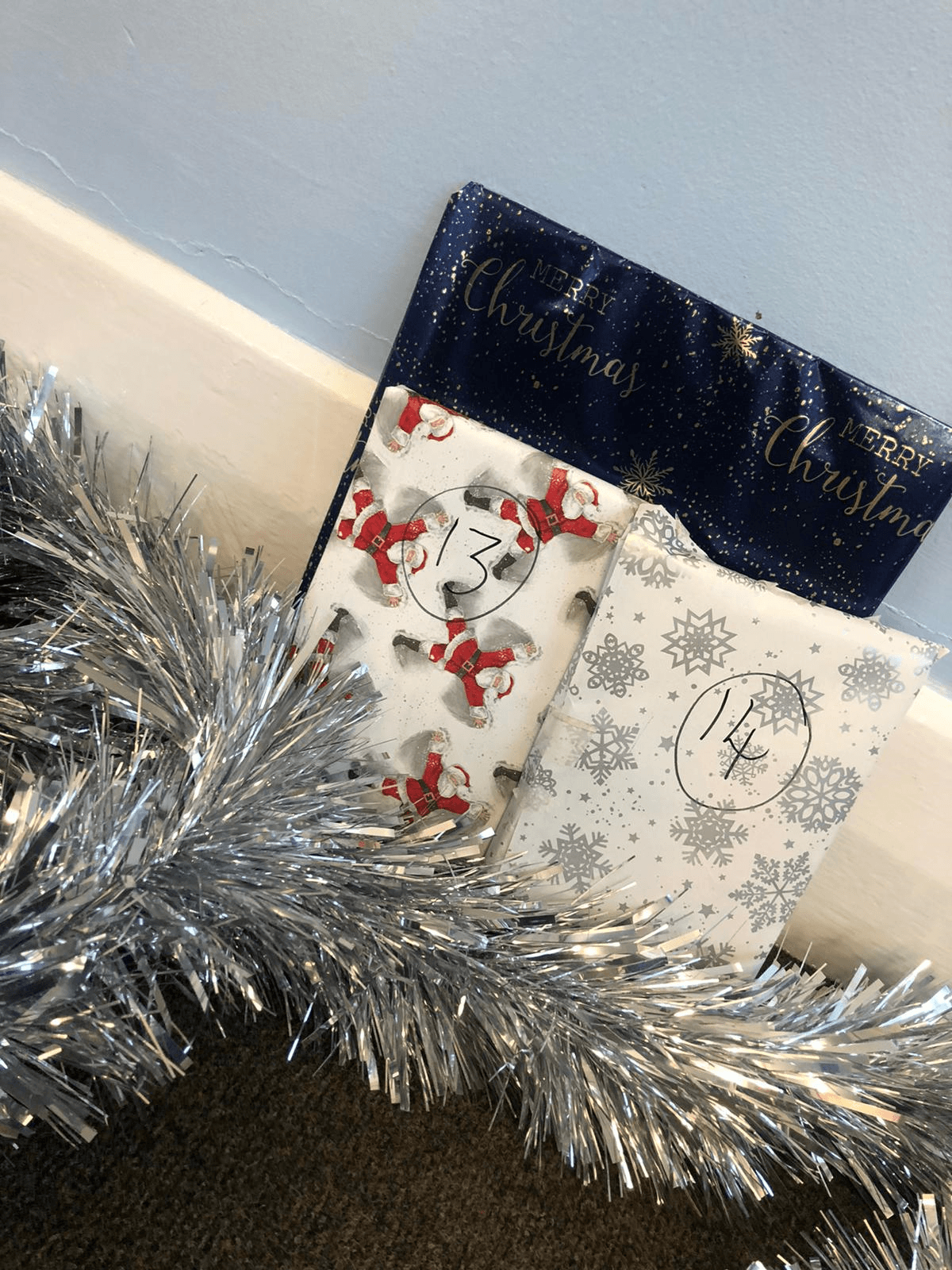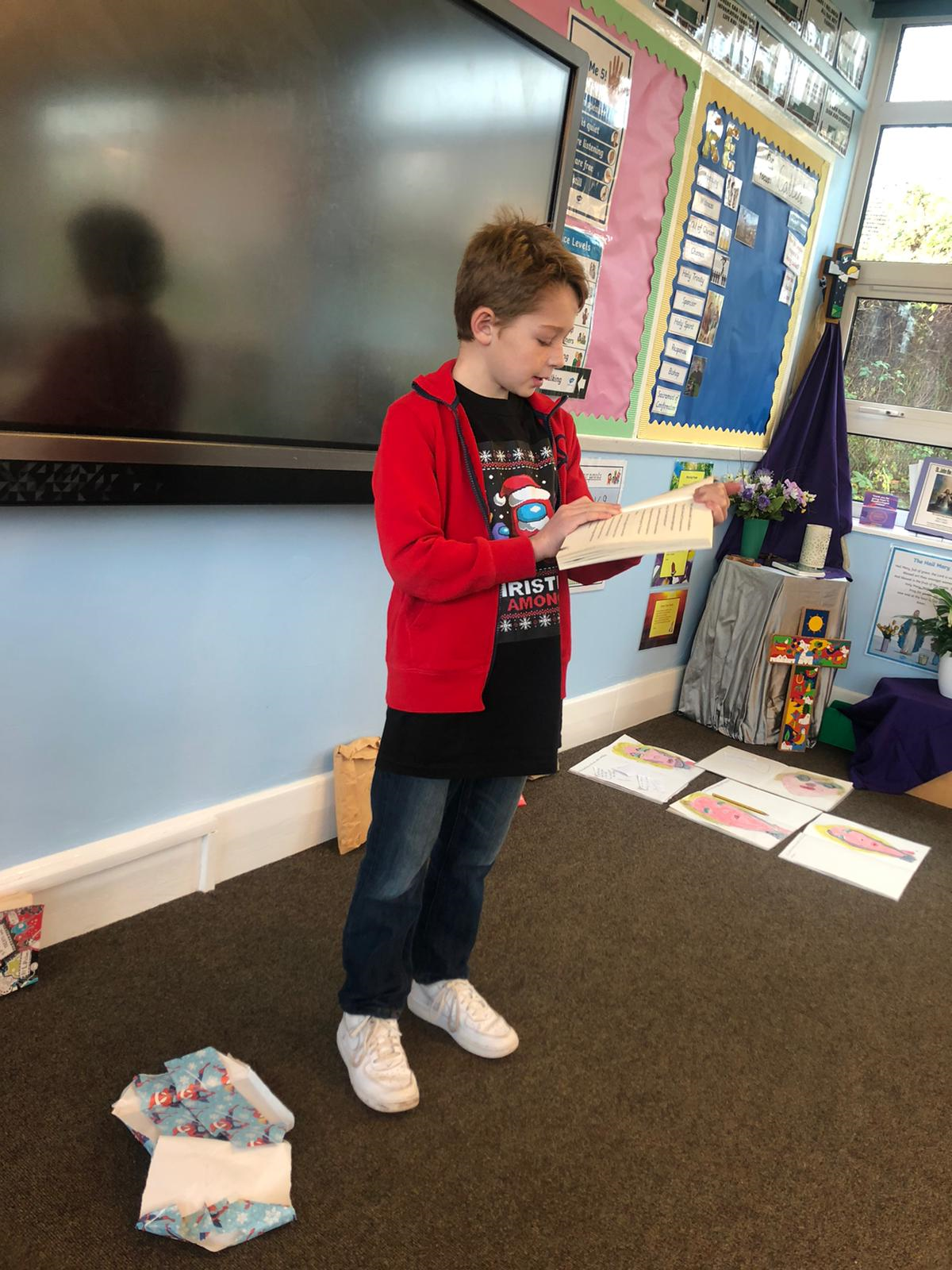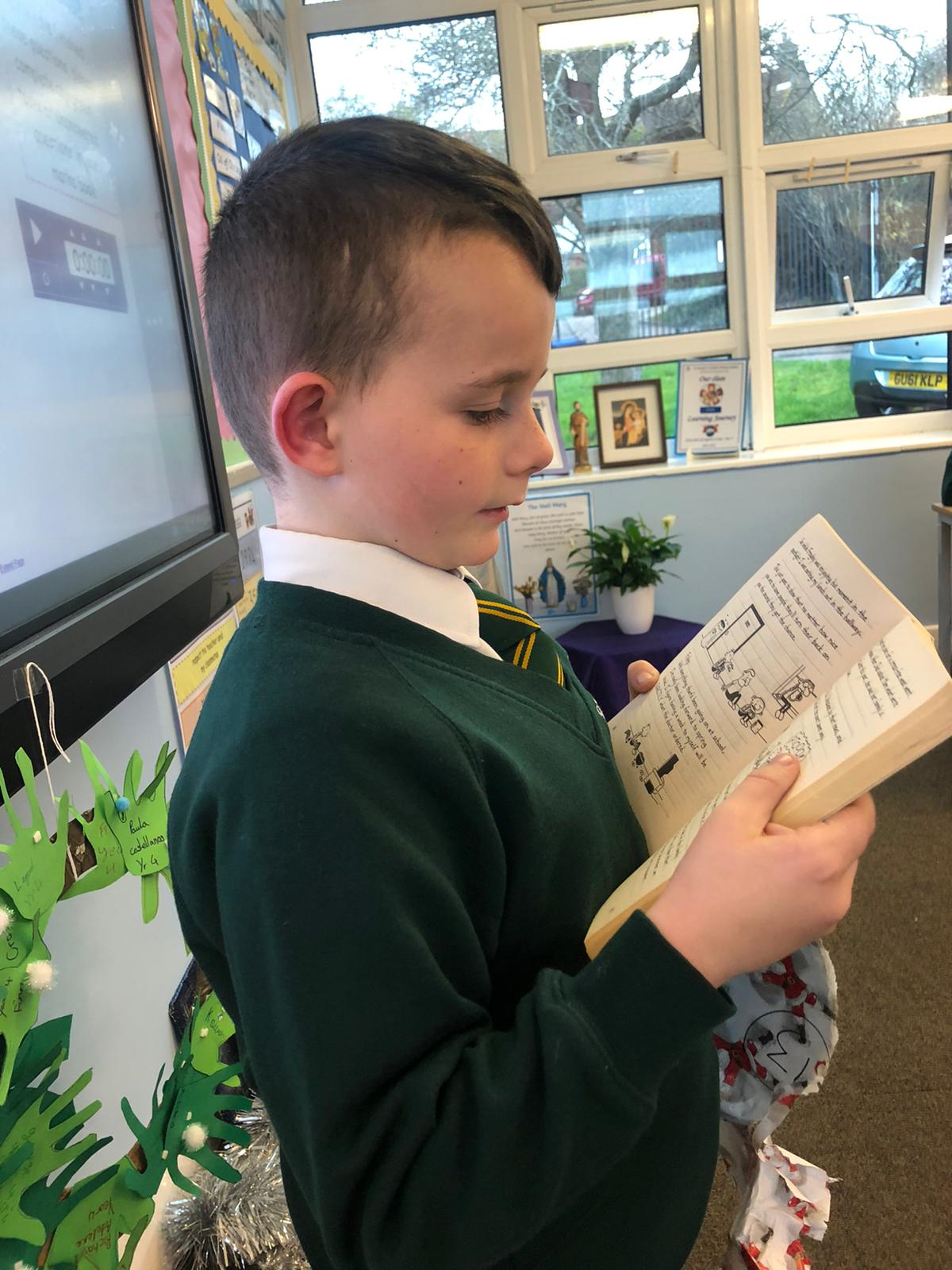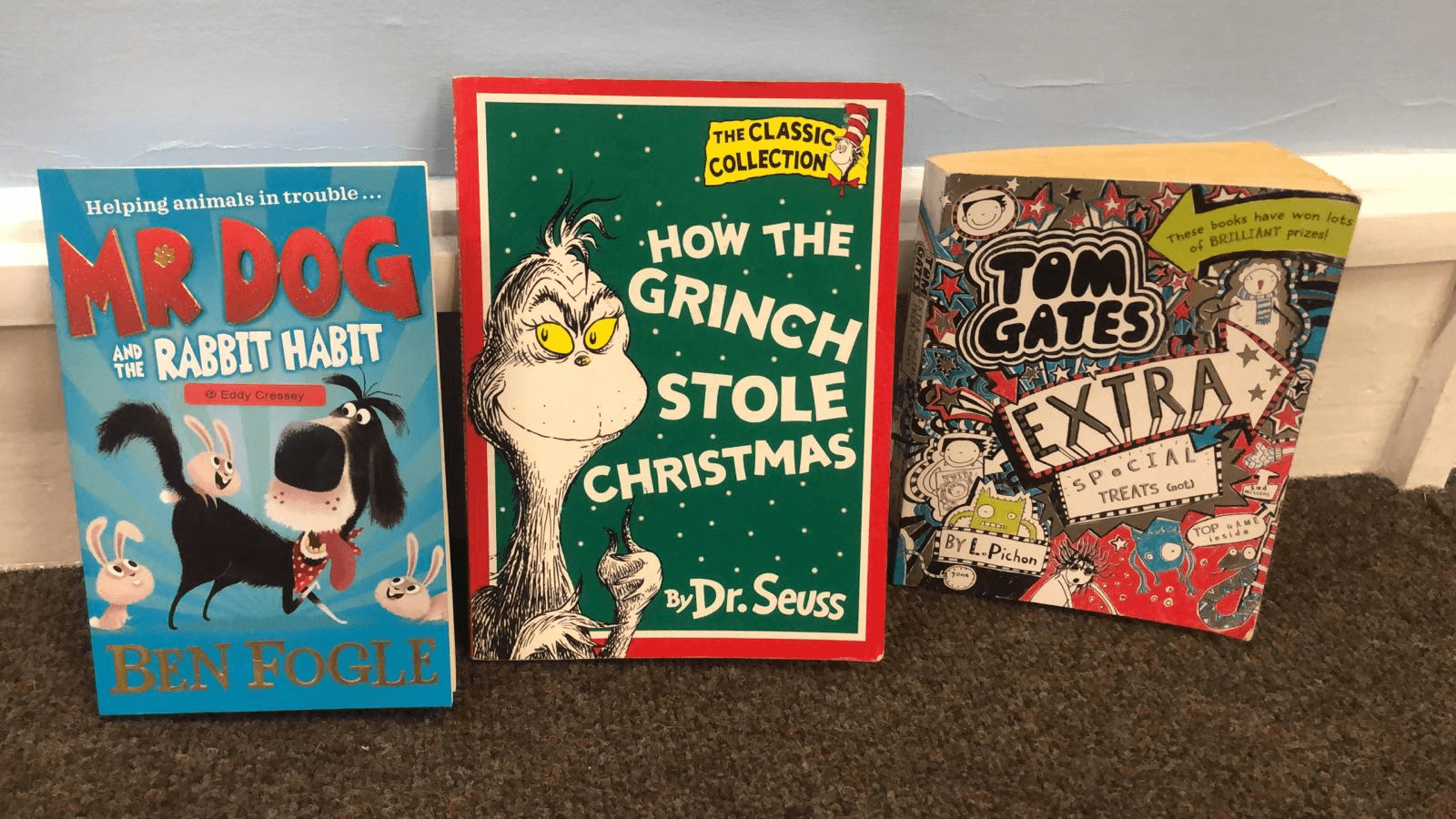 Active Advent Challenges
Year 4 have been taking part in the Brighton and Hove Active Advent challenges.
Yesterday was the "Elf High Knees" challenge and today was "Santa Chair Sledge Squats!"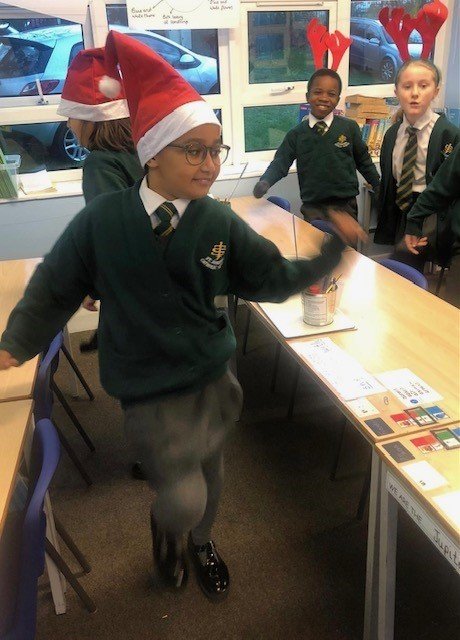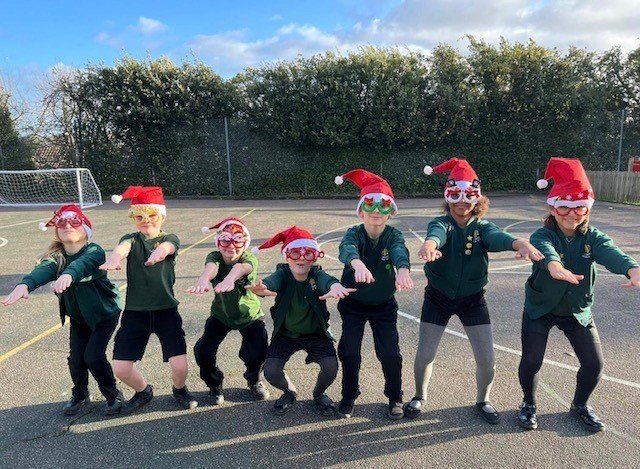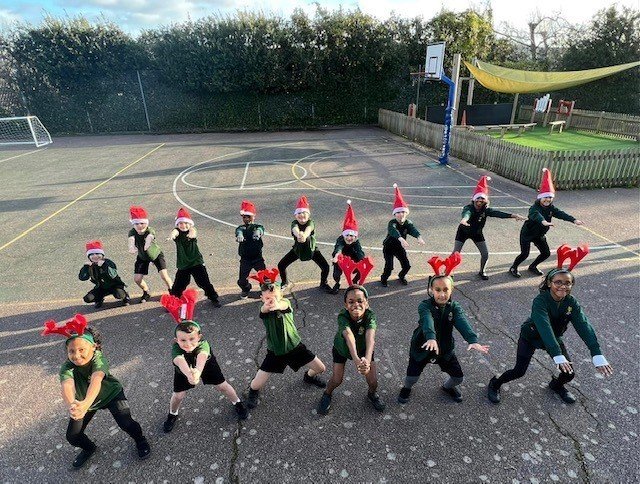 Science : 3.12.21
As part of their Science learning, Year 4 are learning about the different layers that make up the soil. They had fun today creating their own representations of the layers of soil in the earth.
They used Maltesers and broken and crushed biscuits to represent the topsoil, subsoil, parent material and bedrock. This practical representation helped the children understand what the different soil layers look like.......and it also tasted delicious!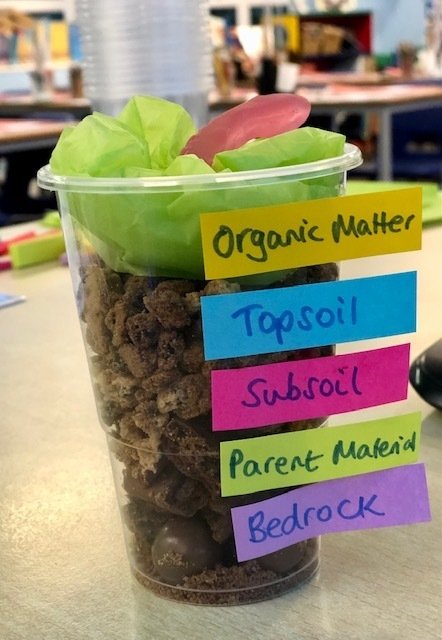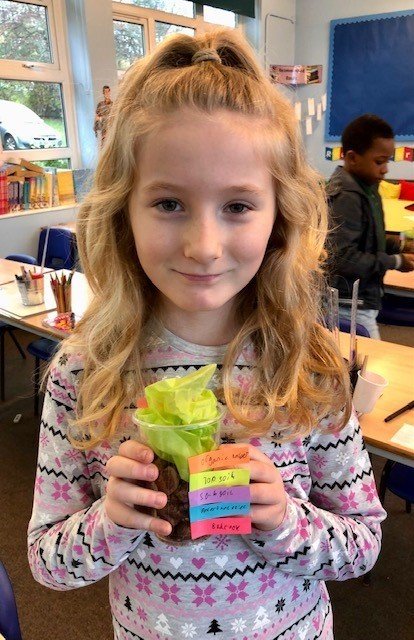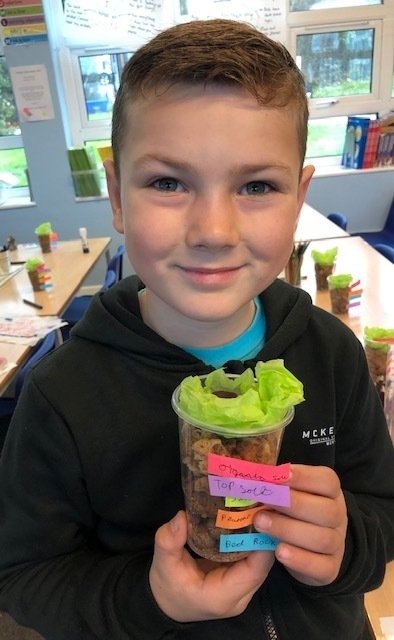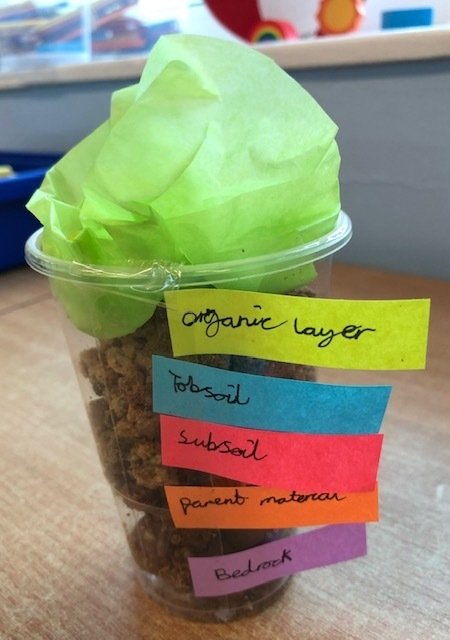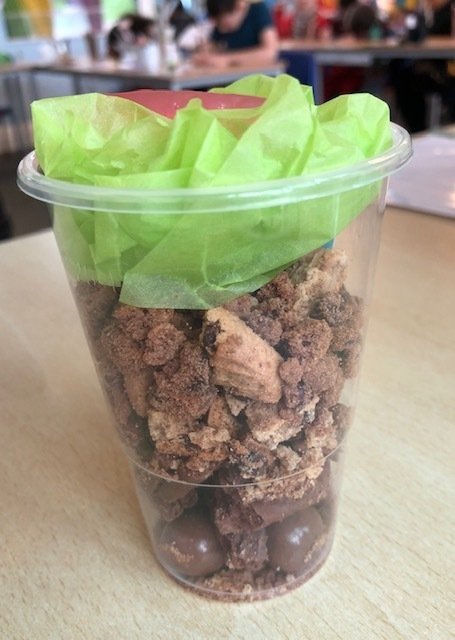 History: 02.12.21
As part of their History learning, Year 4 were finding out about the Romans, combining elements of Maths, Science and DT. The children were finding out about artillery, in particular how the Romans used catapults.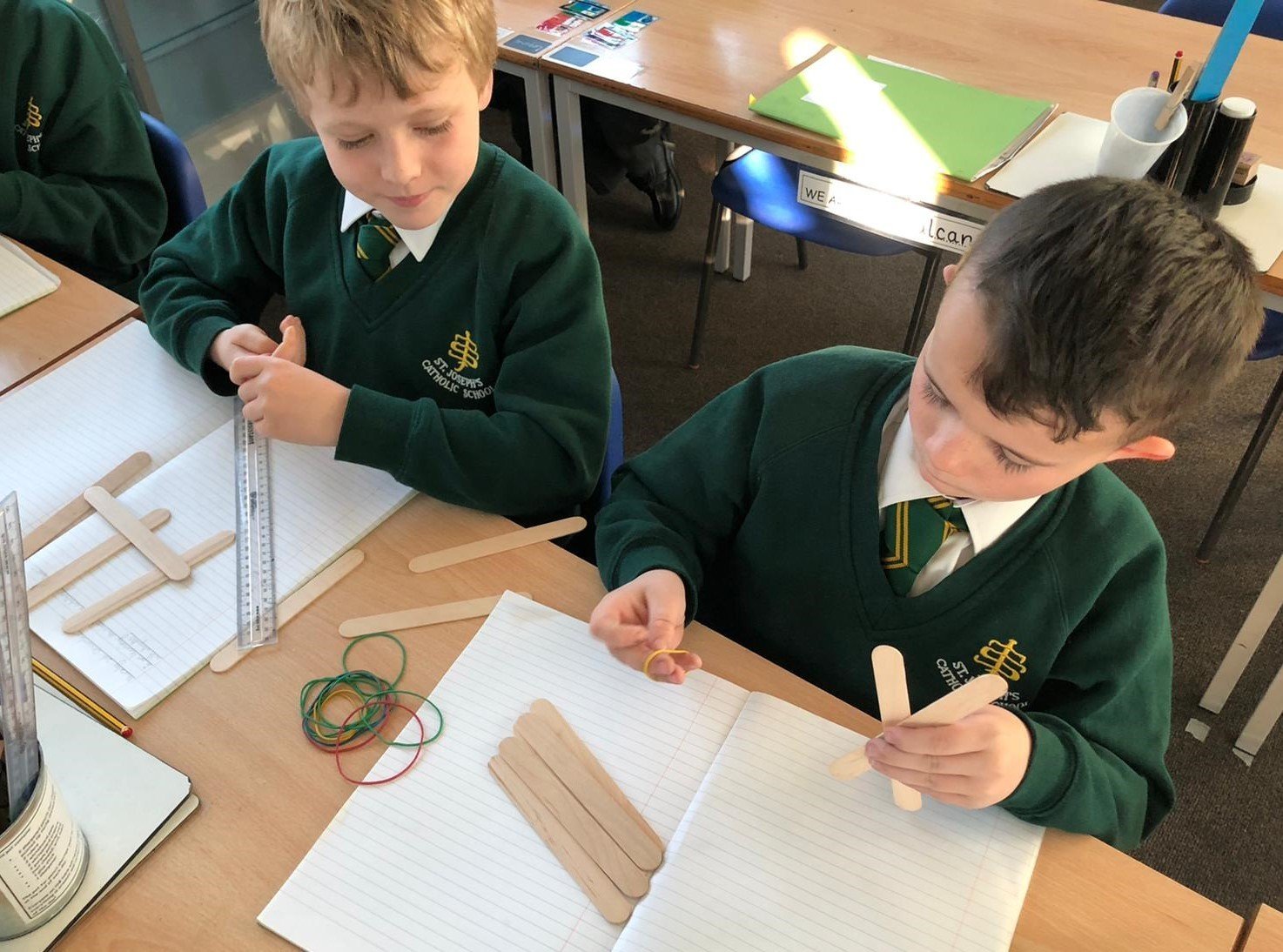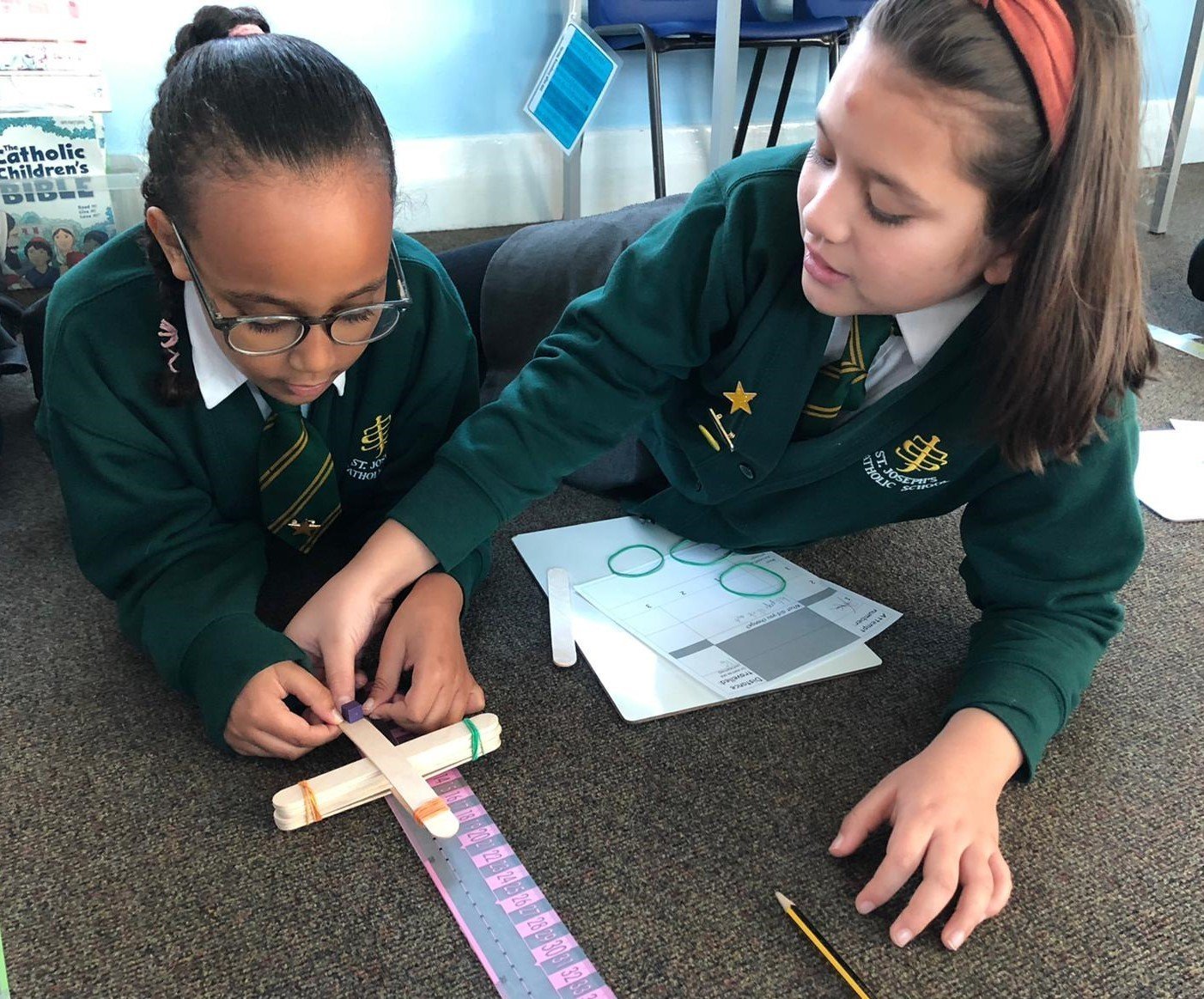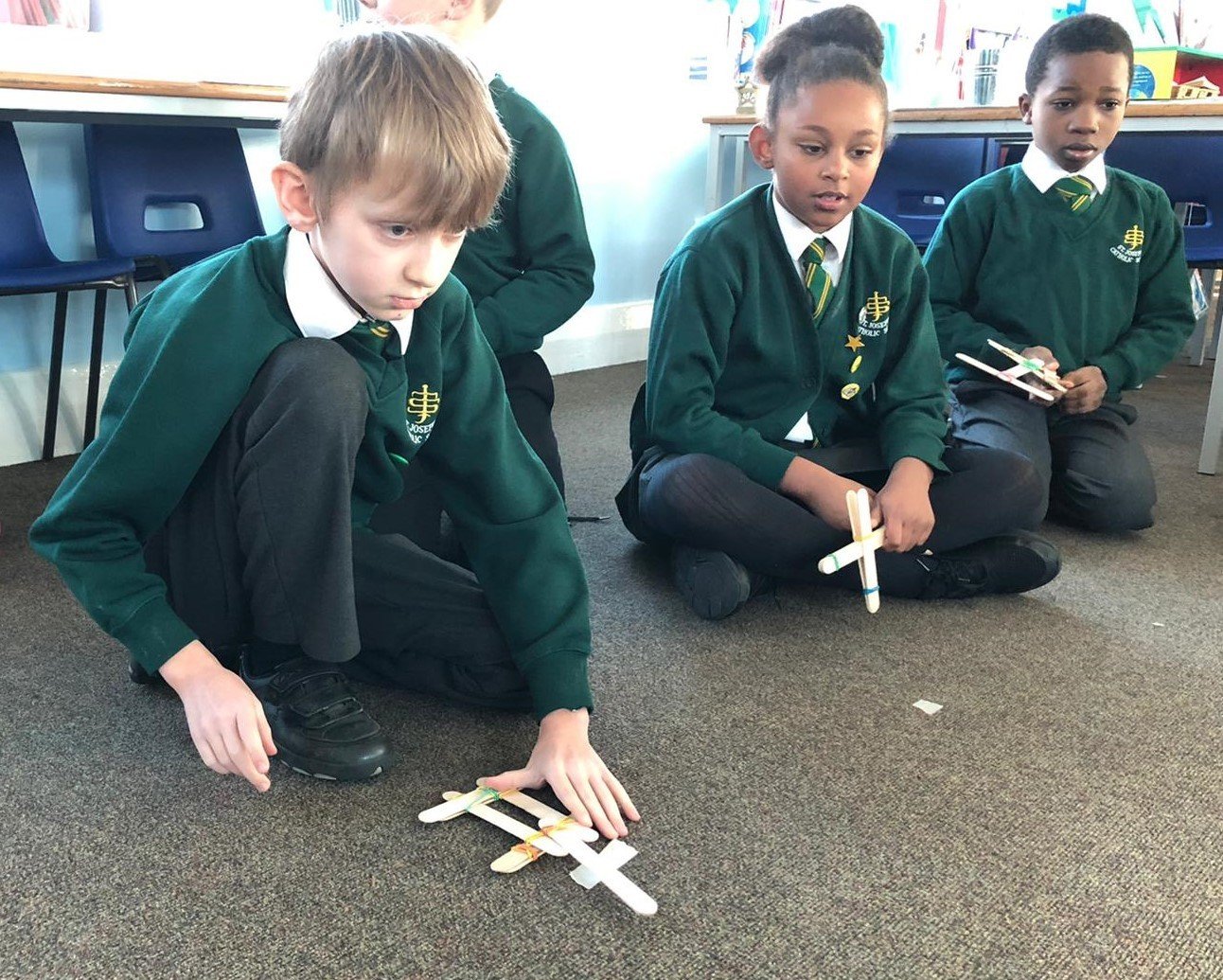 Taking into account tension and the effect of gravity, the children worked in pairs to design and make their own catapults. They launched a Dienes cube and measured the distance it travelled. They then, made a change to their catapult to see if they could launch the cube even further.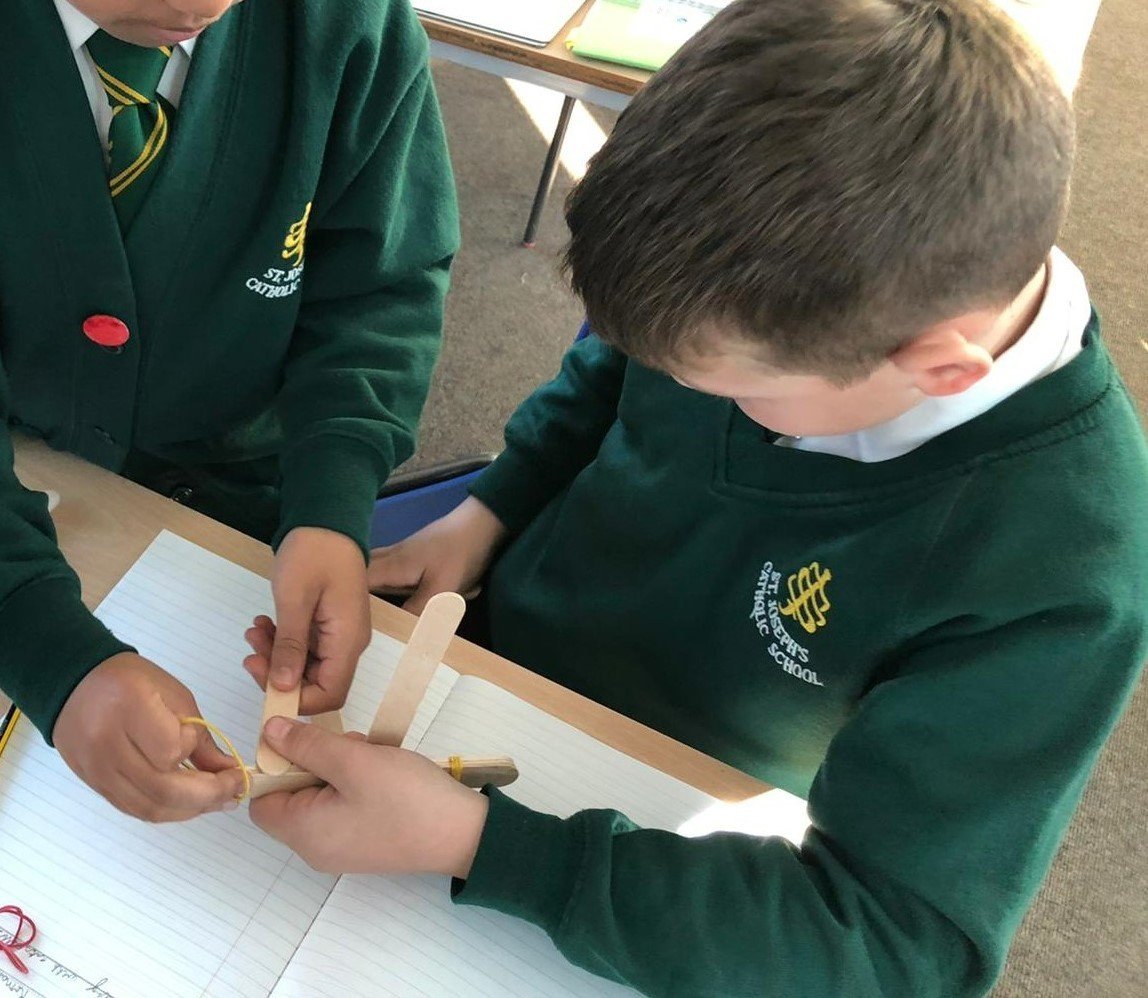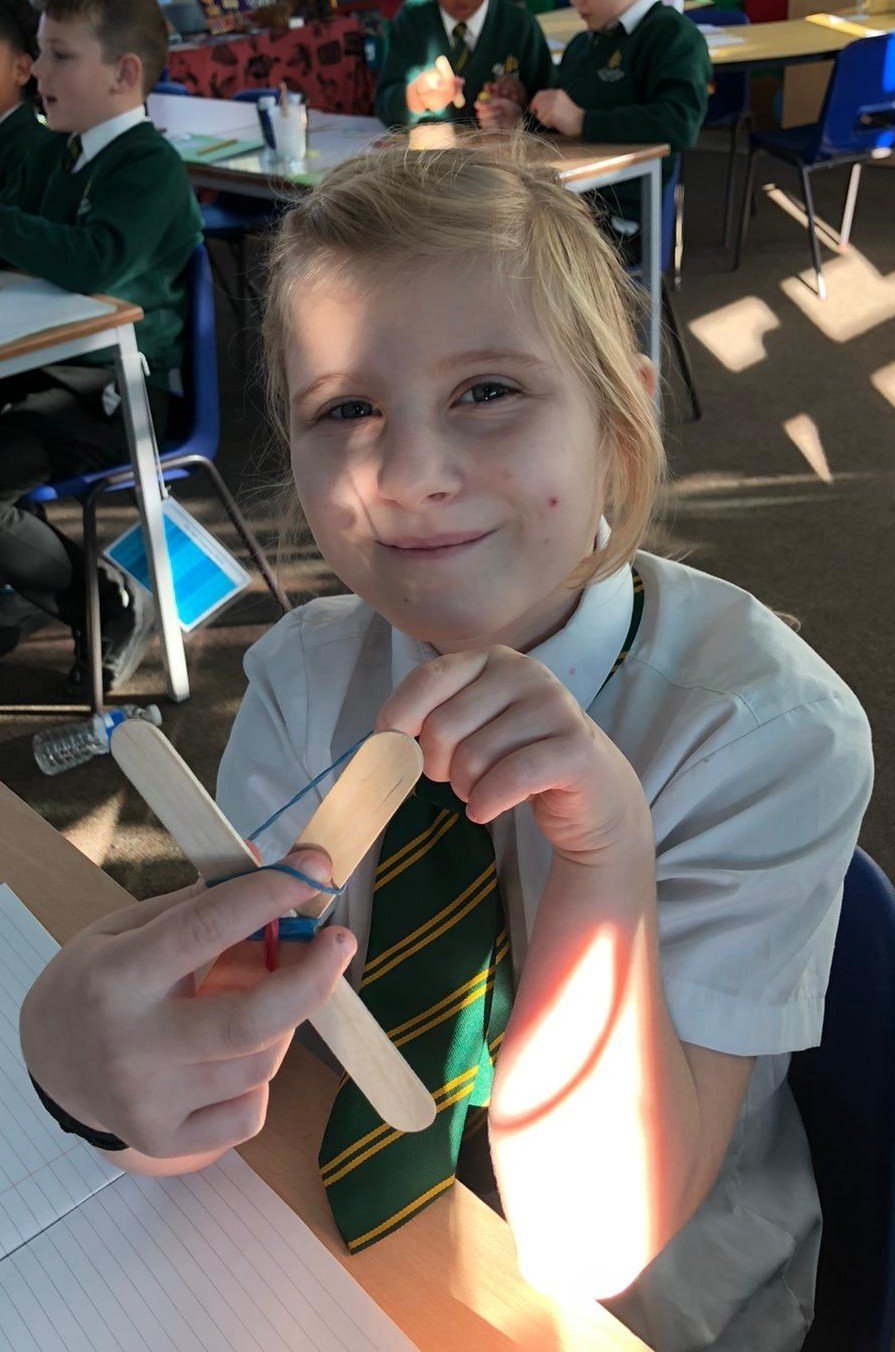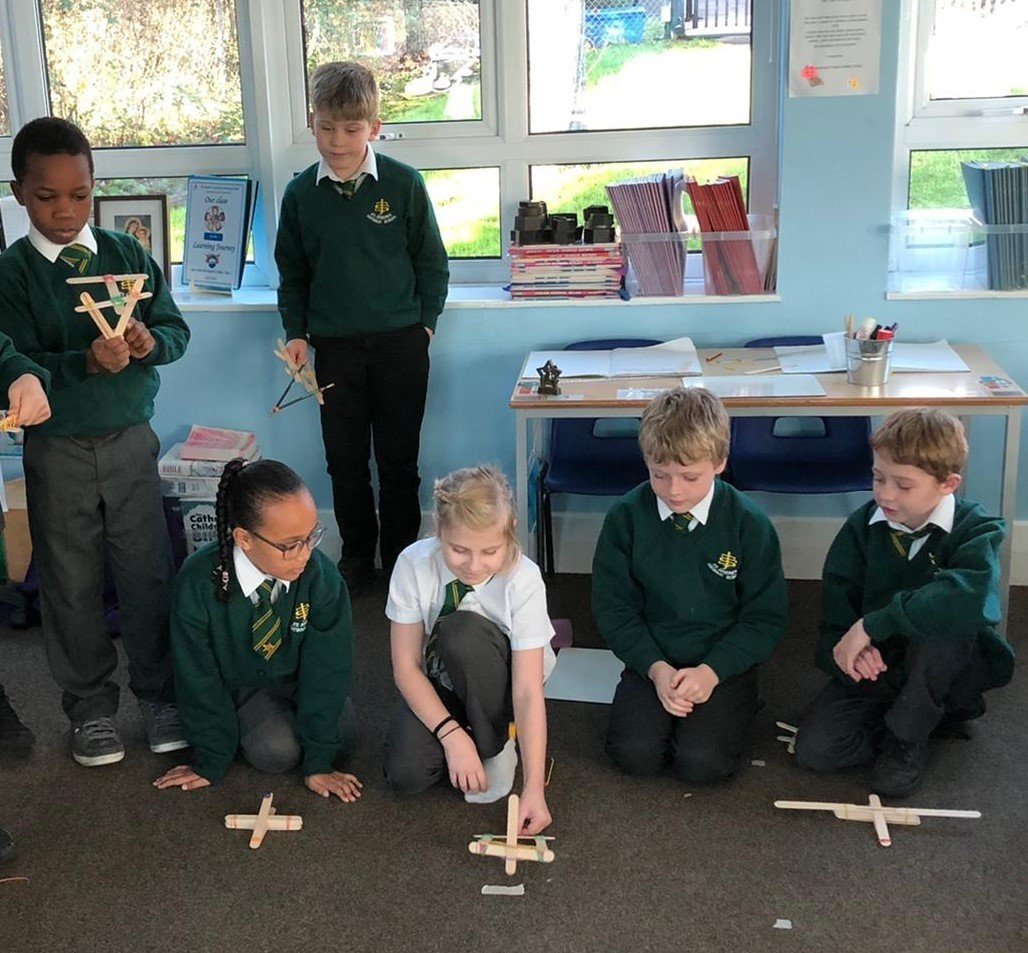 Each pair's final version then entered a class "Catapult Competition." Well done to Scarlett for the most successful design!
Roman Rule: 26.11.21
As part of their History learning, Year 4 have been using secondary sources (information books and the internet) to identify key historical facts based around the Roman's lifestyle. They focused particularly on Roman villas, thinking about facilities, layout and living conditions.
They worked in small groups and drew a floor plan of their Roman villa's layout on the playground and then highlighted the key selling features to promote their property. We definitely have some estate agents in the making!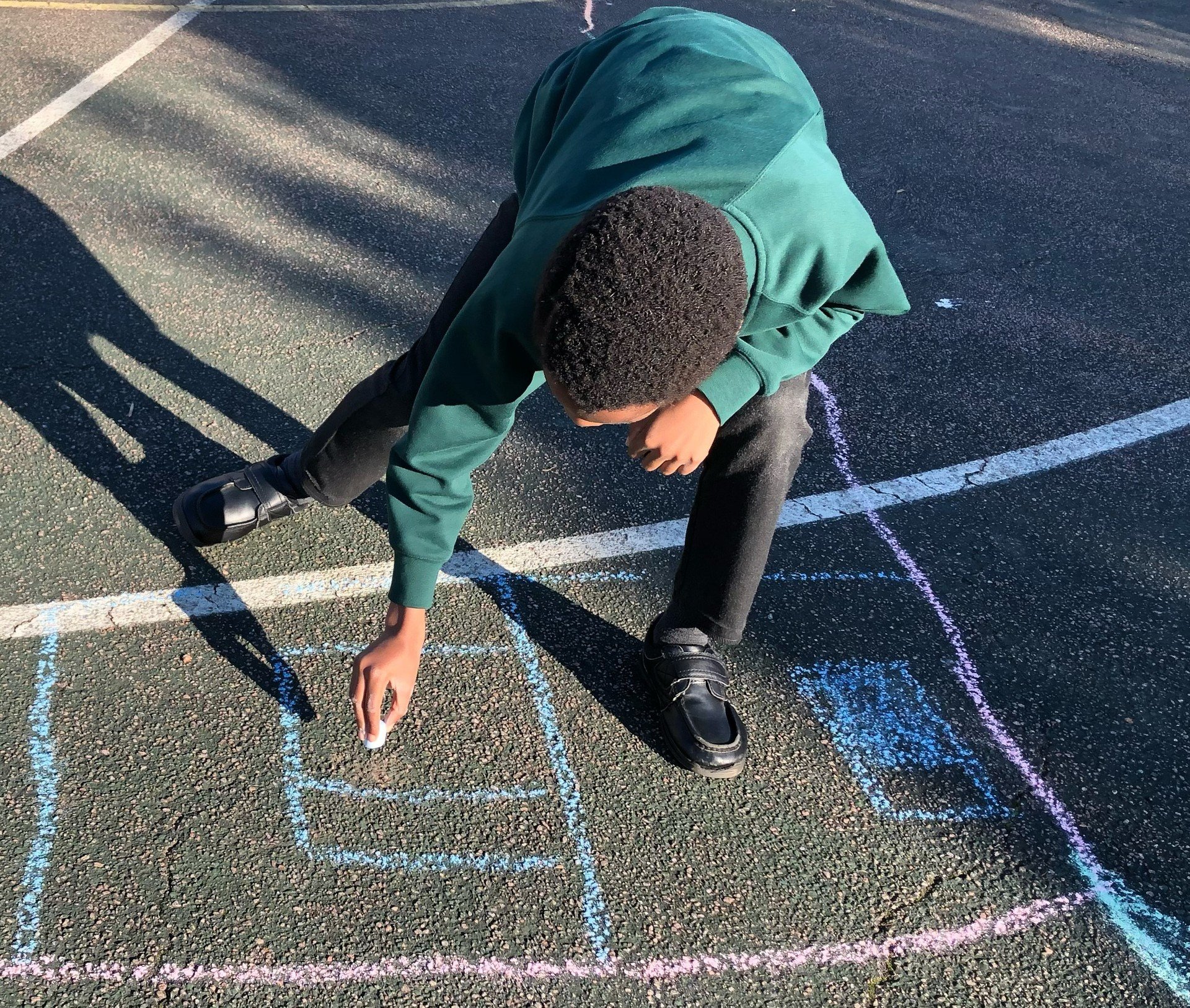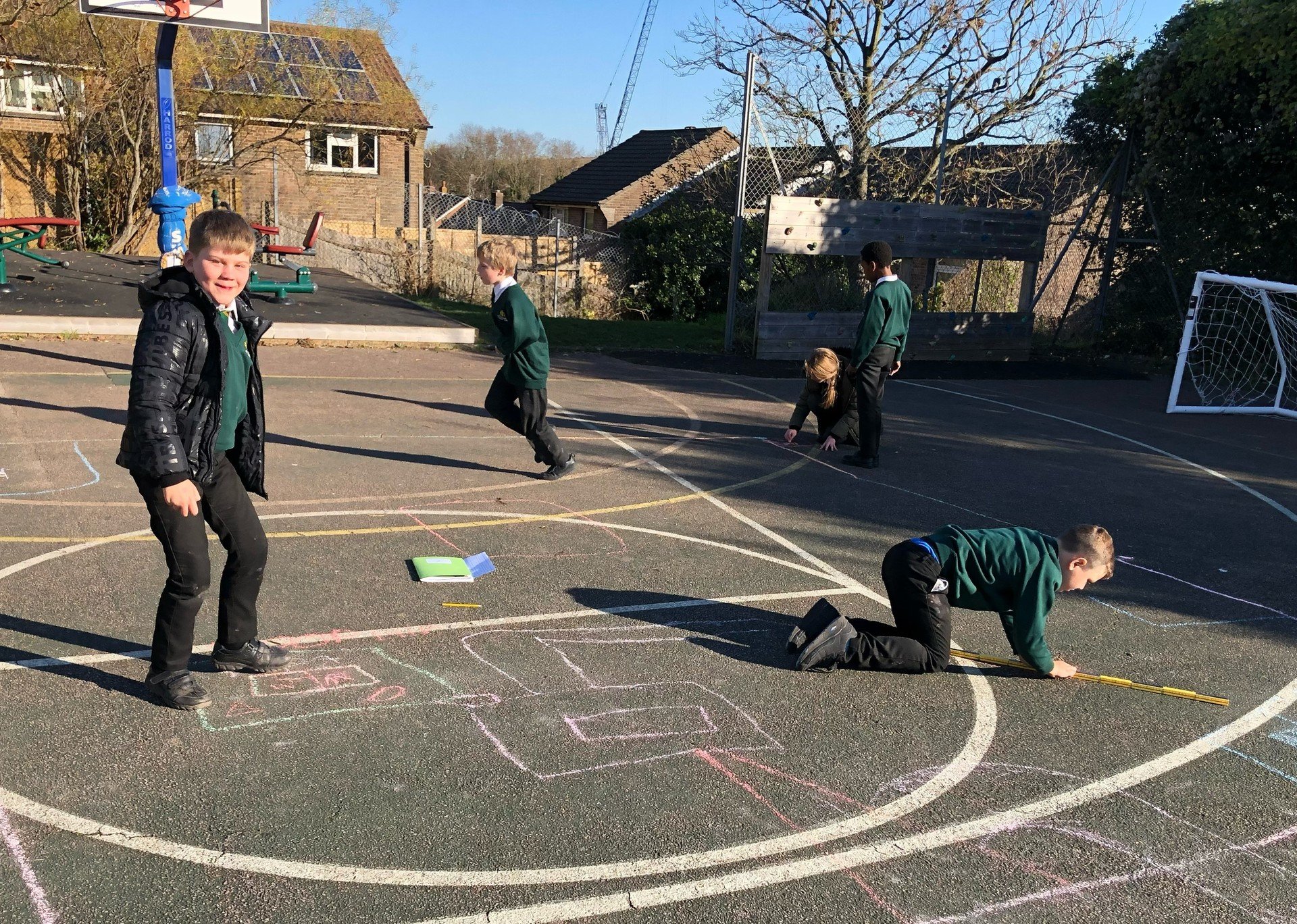 Science : 26.11.21
Year 4 are learning that things change over time and how fossils are formed. They used magnifying glasses to look closely at fossils and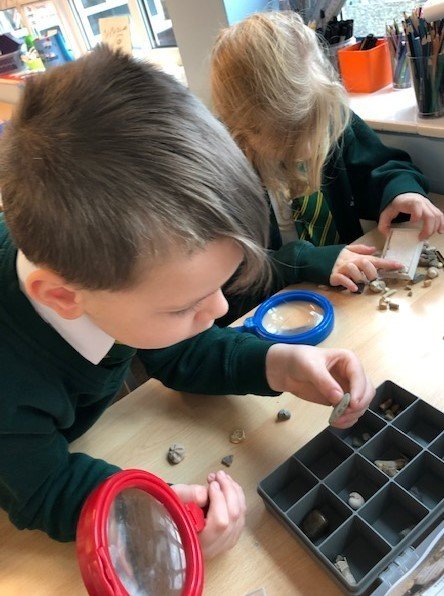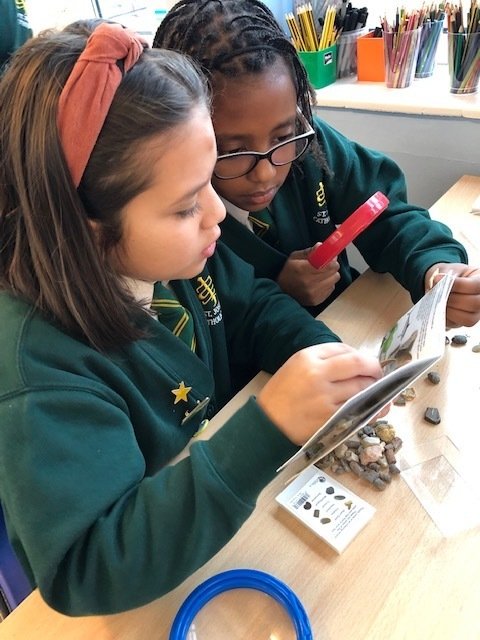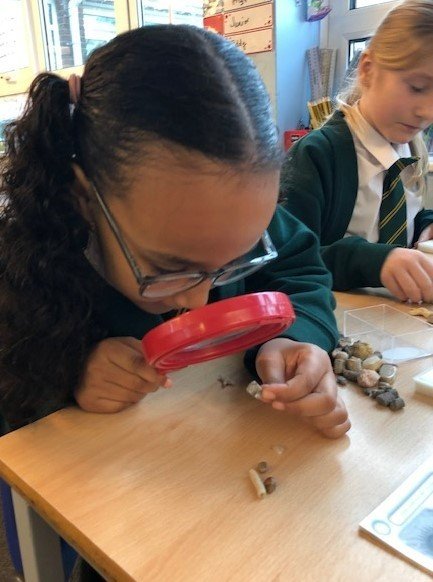 They also used playdough, shells or rubber insects and plaster of Paris to create replica fossils to demonstrate the process of fossilisation.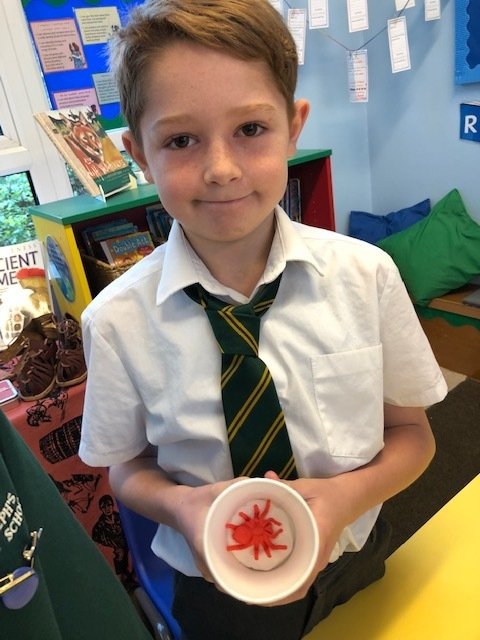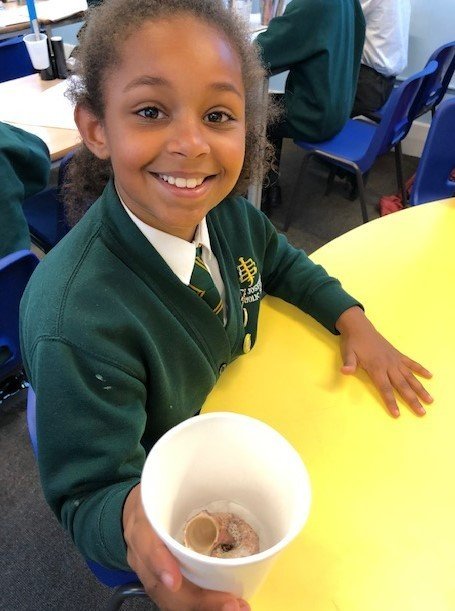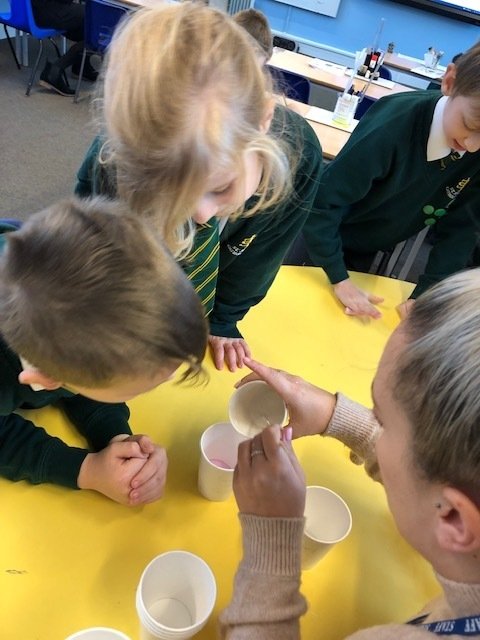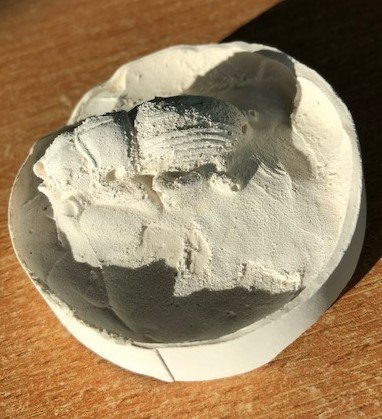 French : 26.11.21
This week in French, Year 4 have been learning to read, write and say numbers up to 31. They applied their knowledge with two games of French number BINGO.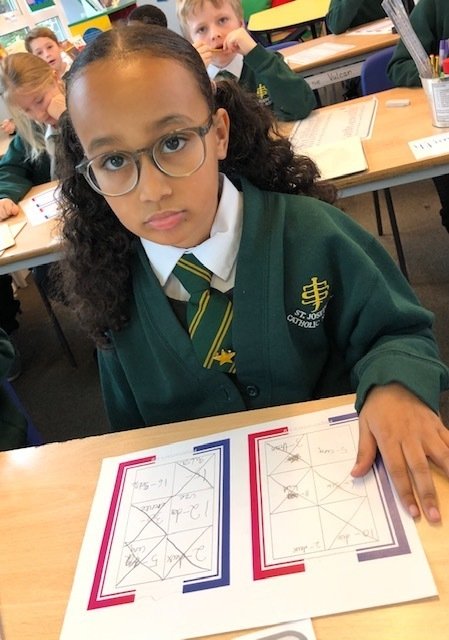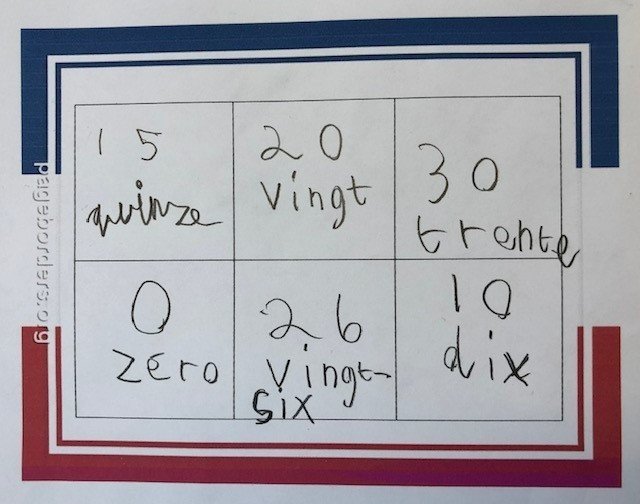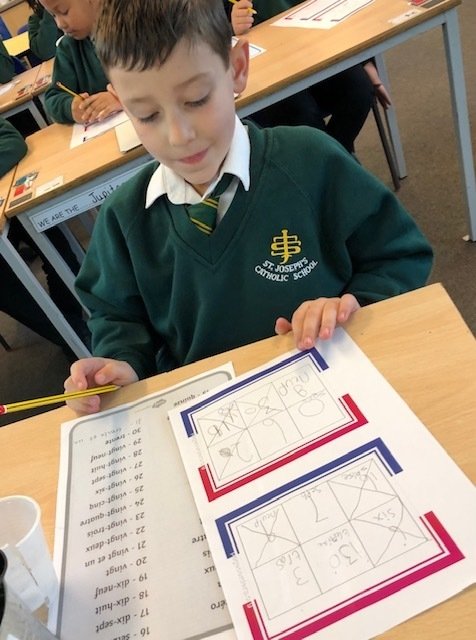 Science 25.11.21
Year 4 have been learning about bones and muscles in today's Science lesson. They learnt lots of facts about the bones in the human skeleton, the function of some of them and they learnt the scientific names for the main bones in the body.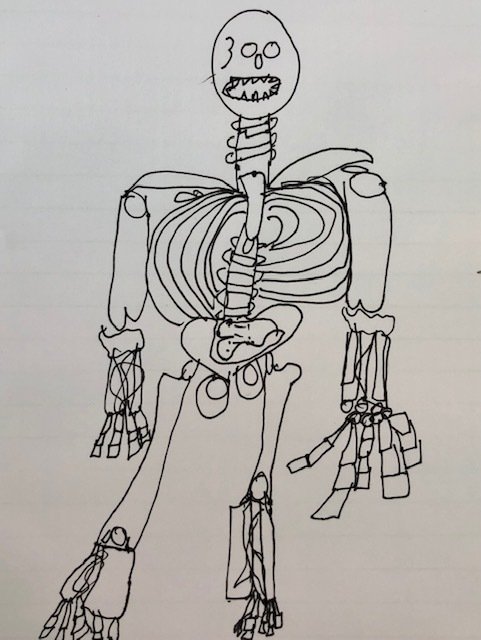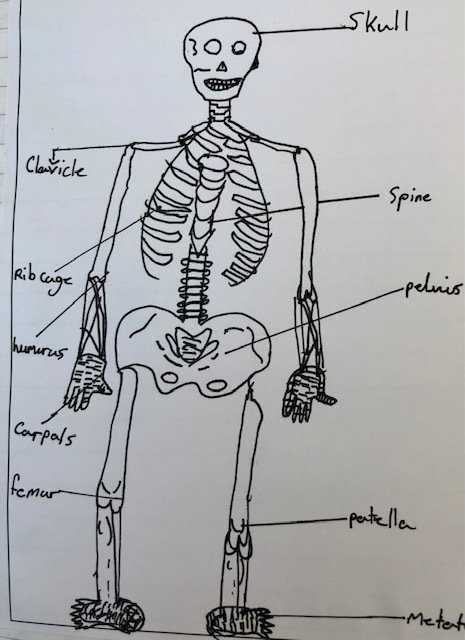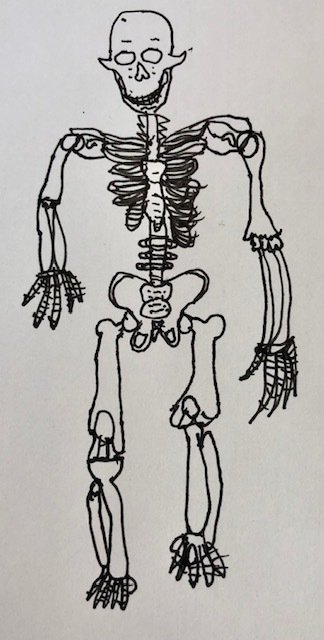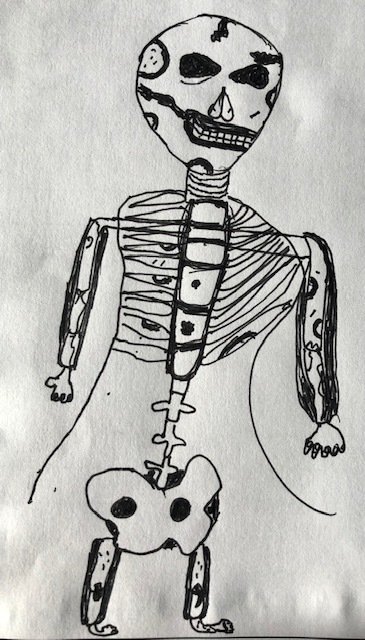 French : 19.11.21
Over the last two weeks, the children in Year 4 have been learning how to talk about the weather in French. Today, they put into practice their knowledge of weather phrases and the days of the week, by giving a weather forecast for the Paris area.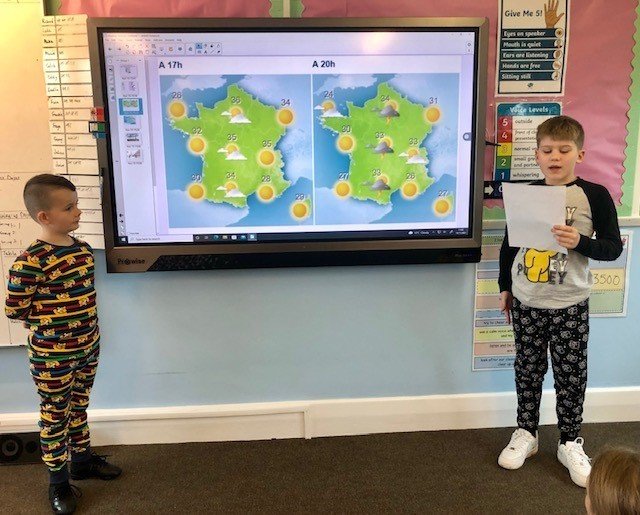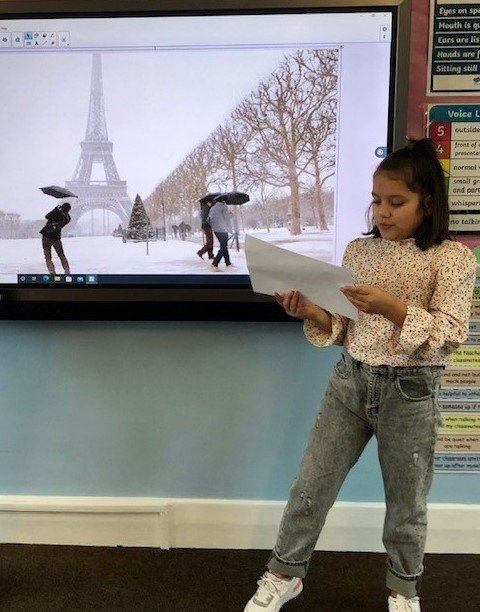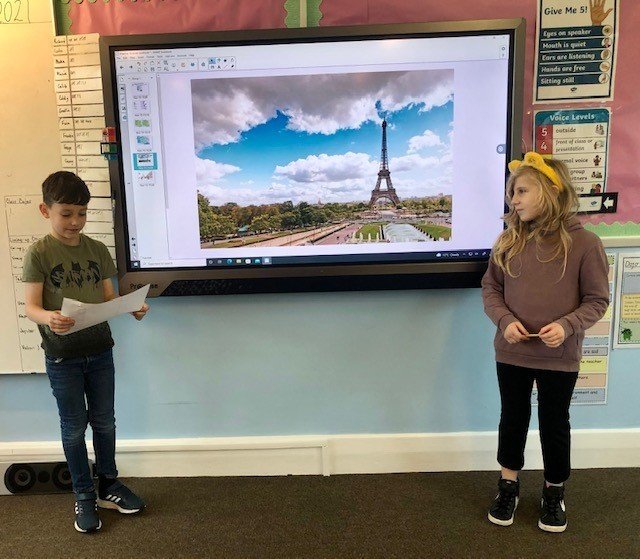 They worked in pairs to prepare a short script and chose a suitable background for their presentation.
Outdoor Learning Day 2 : 12.11.21
Today, Year 4 had their second outdoor learning day. The weather was not kind to them but nothing could dampen their spirits! The children learnt how to use saws and drills safely and made their own paint from mud and their own paintbrushes out of natural objects such as twigs and leaves.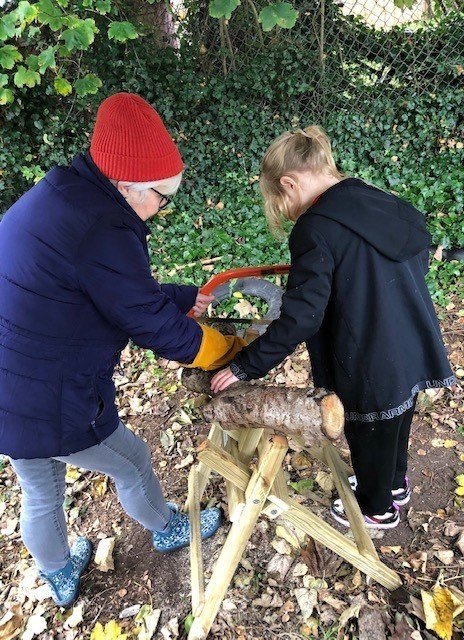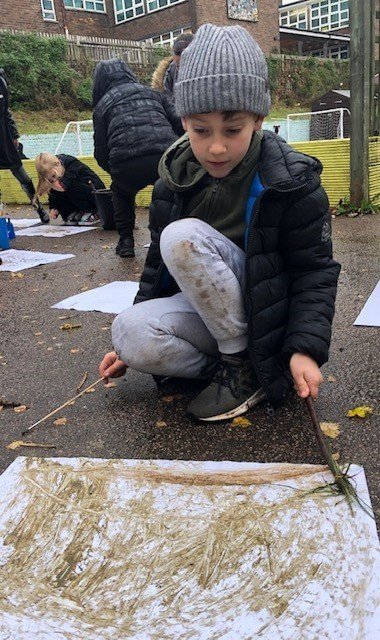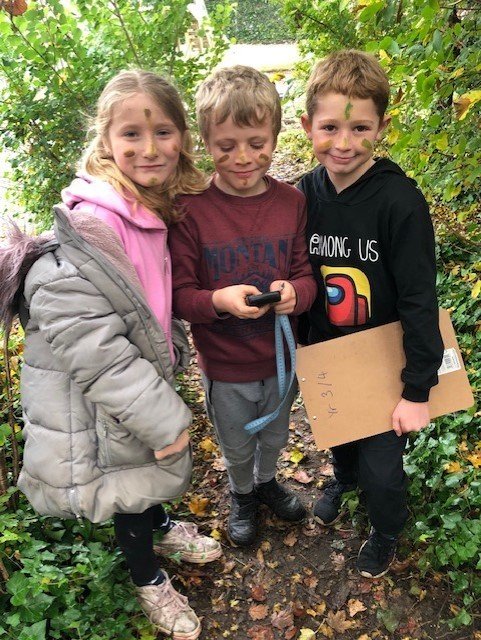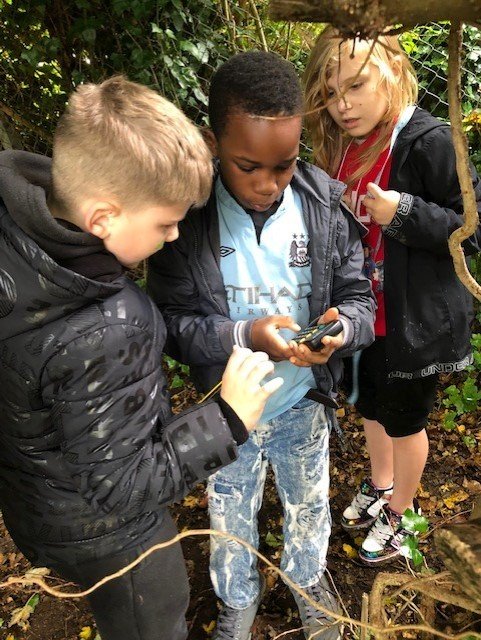 They also used a formula, a tape measure and a calculator to work out the age of certain trees and also made "nature crowns" using different coloured leaves.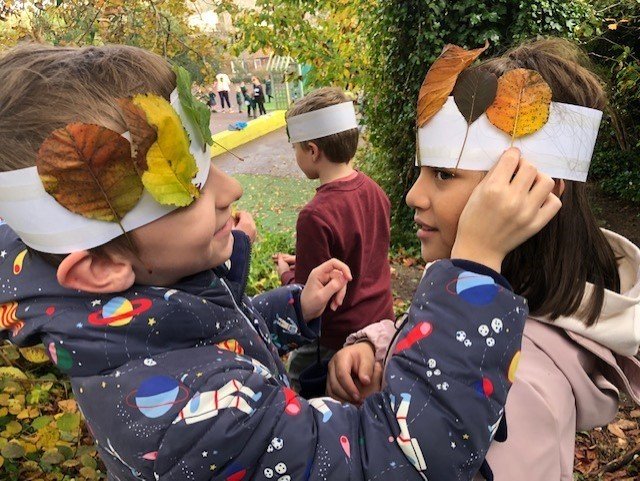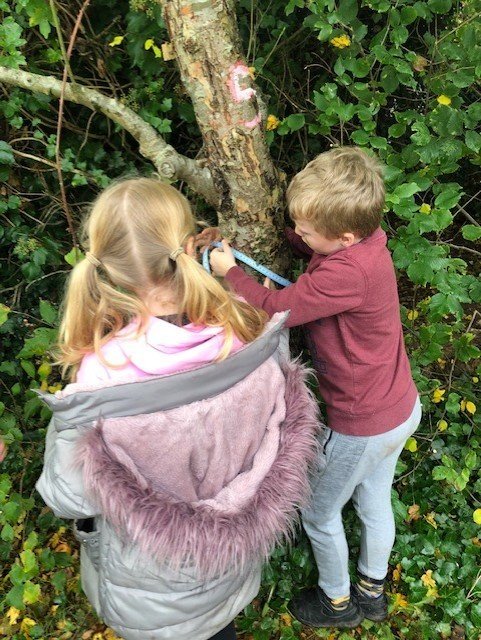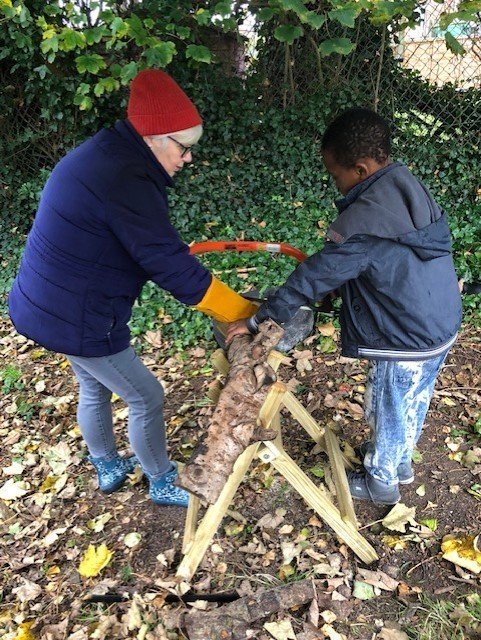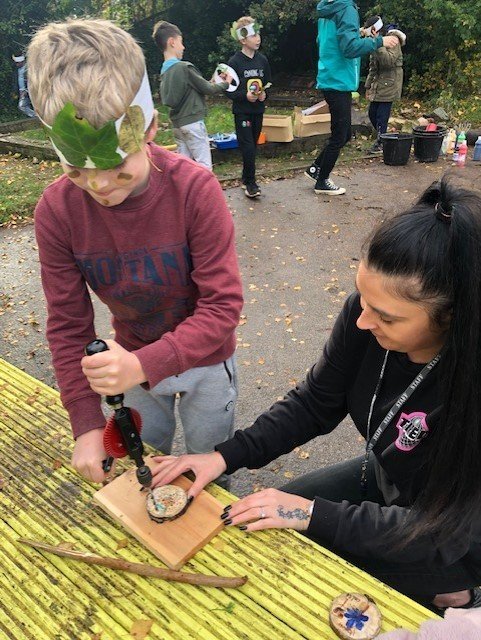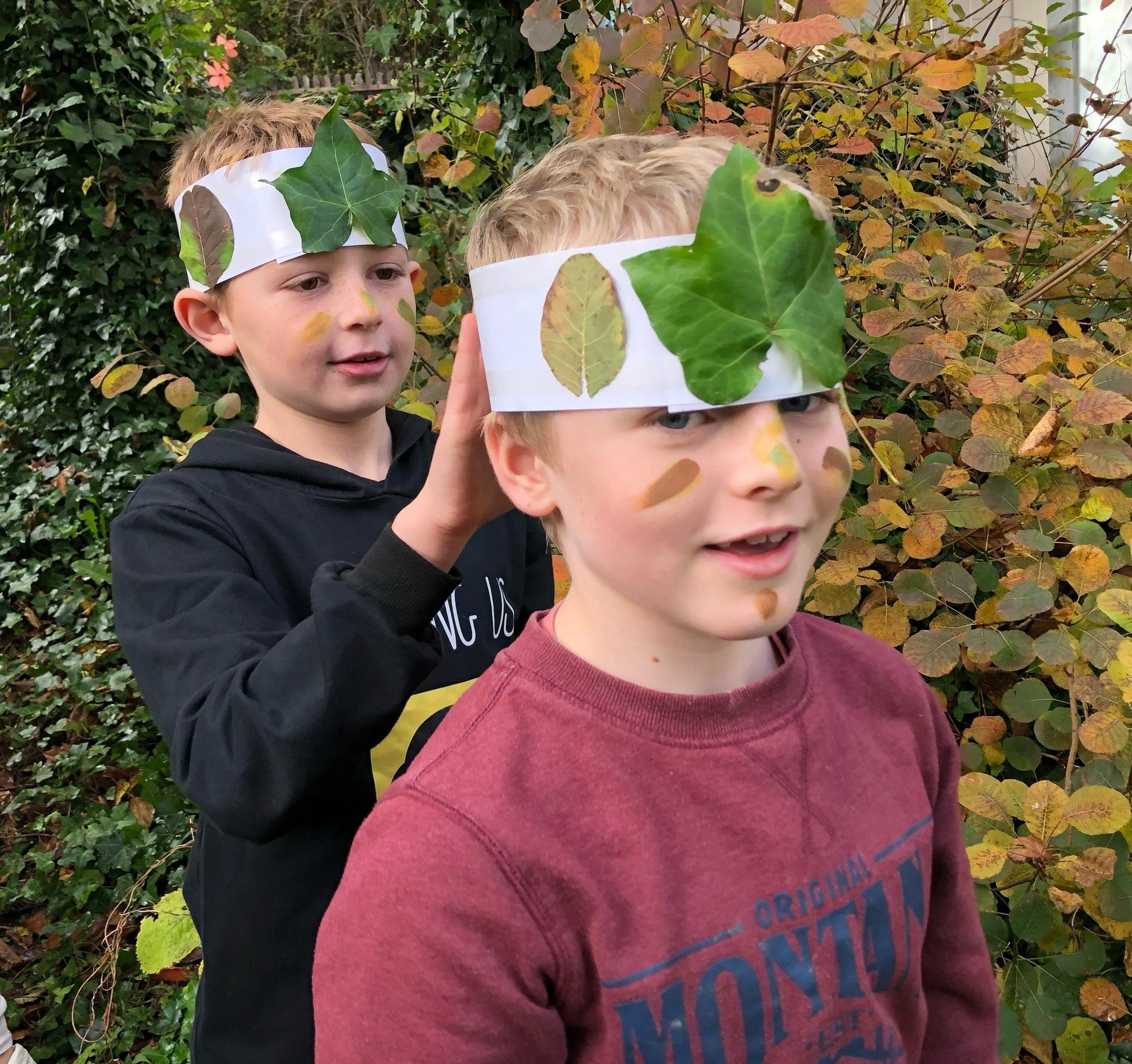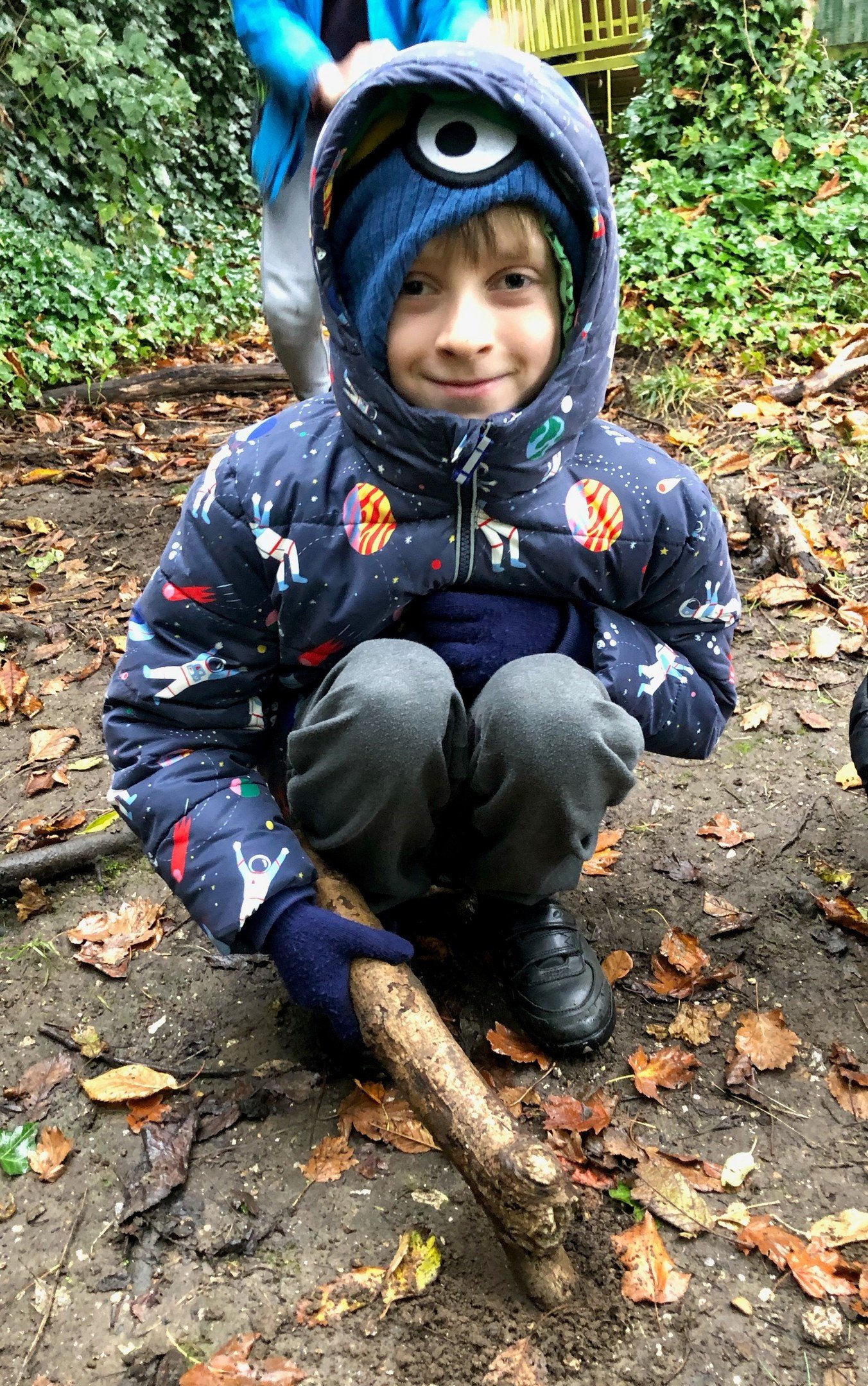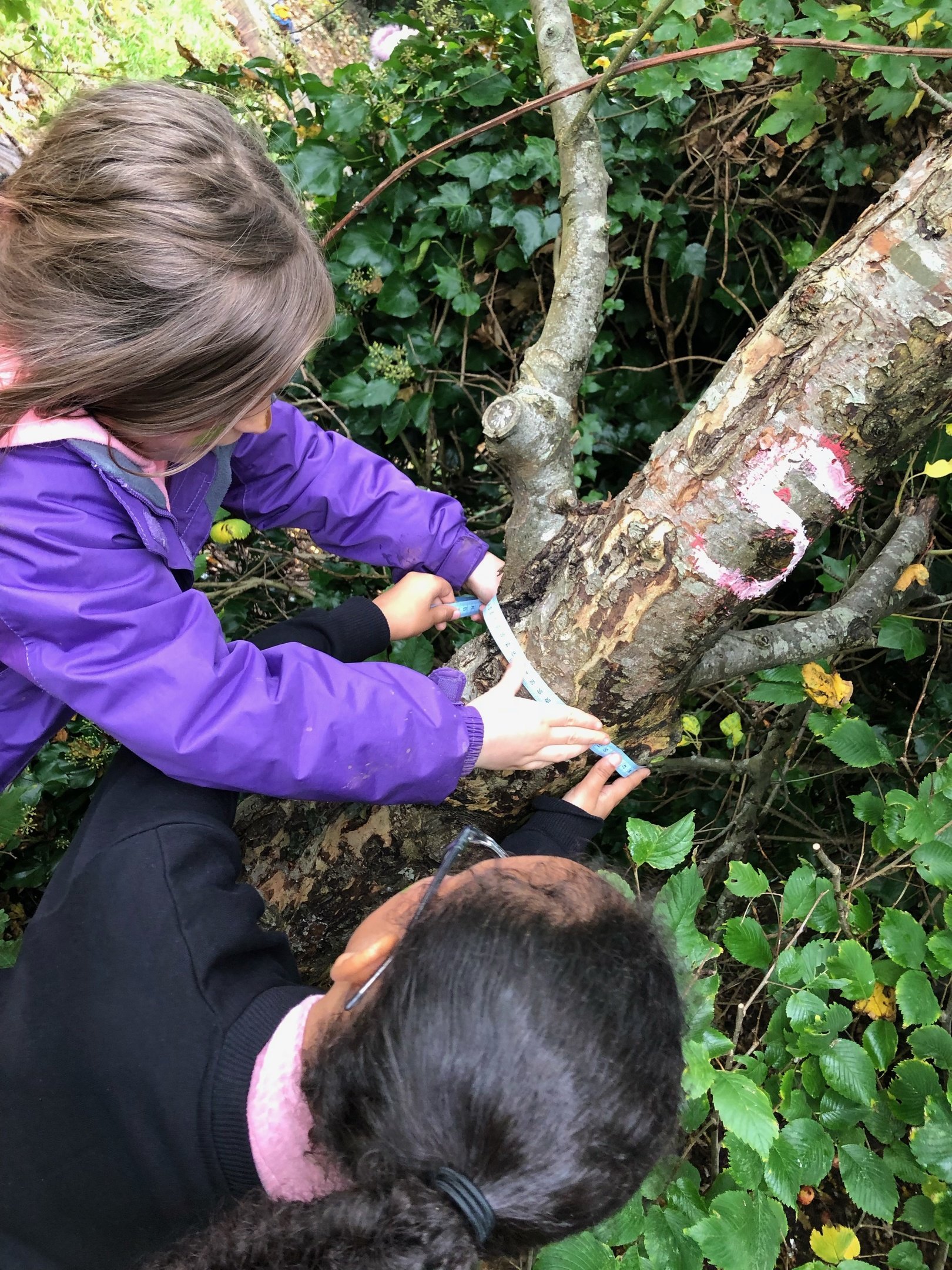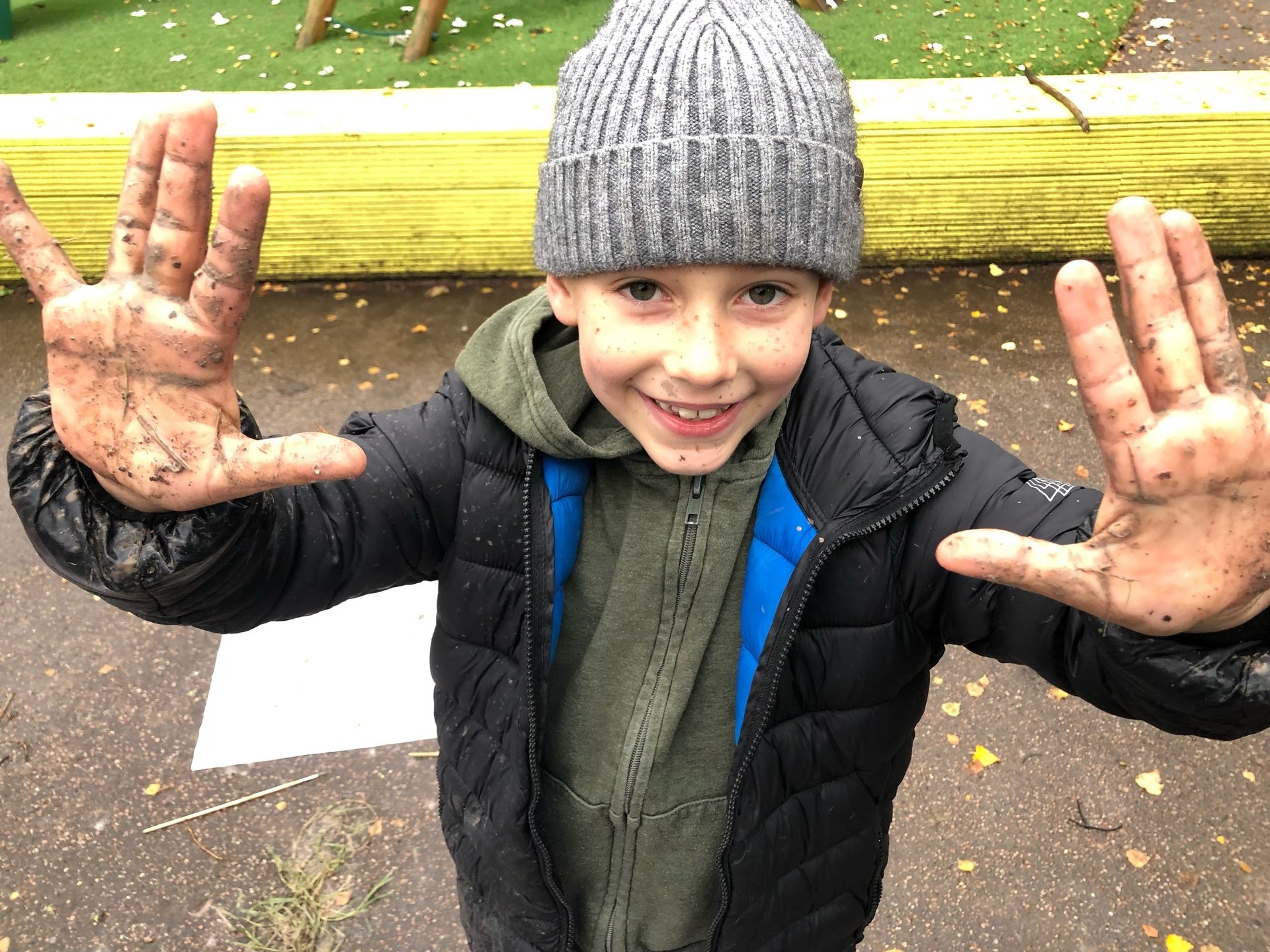 11.11.21
Continuing from last week's Science learning, the children in Year 4 used modelling material to create a bottom jaw of teeth. They carefully modelled the different shaped teeth, focusing on each one's function e.g. ripping and tearing or grinding or biting.
They did a brilliant job! We have some dentists in the making!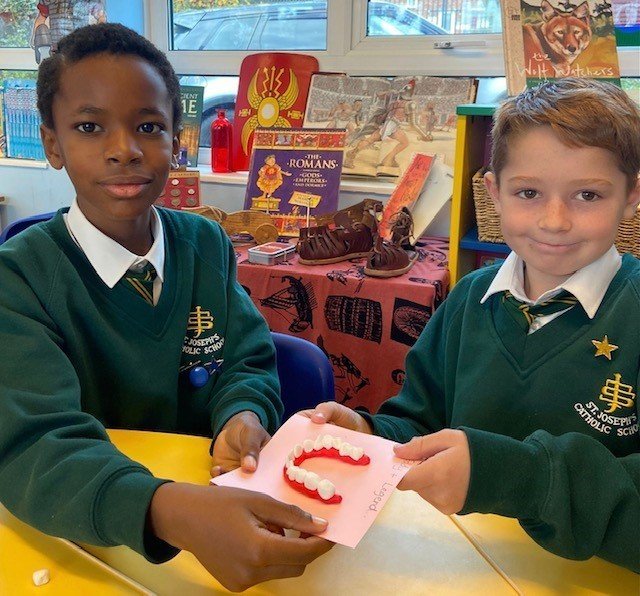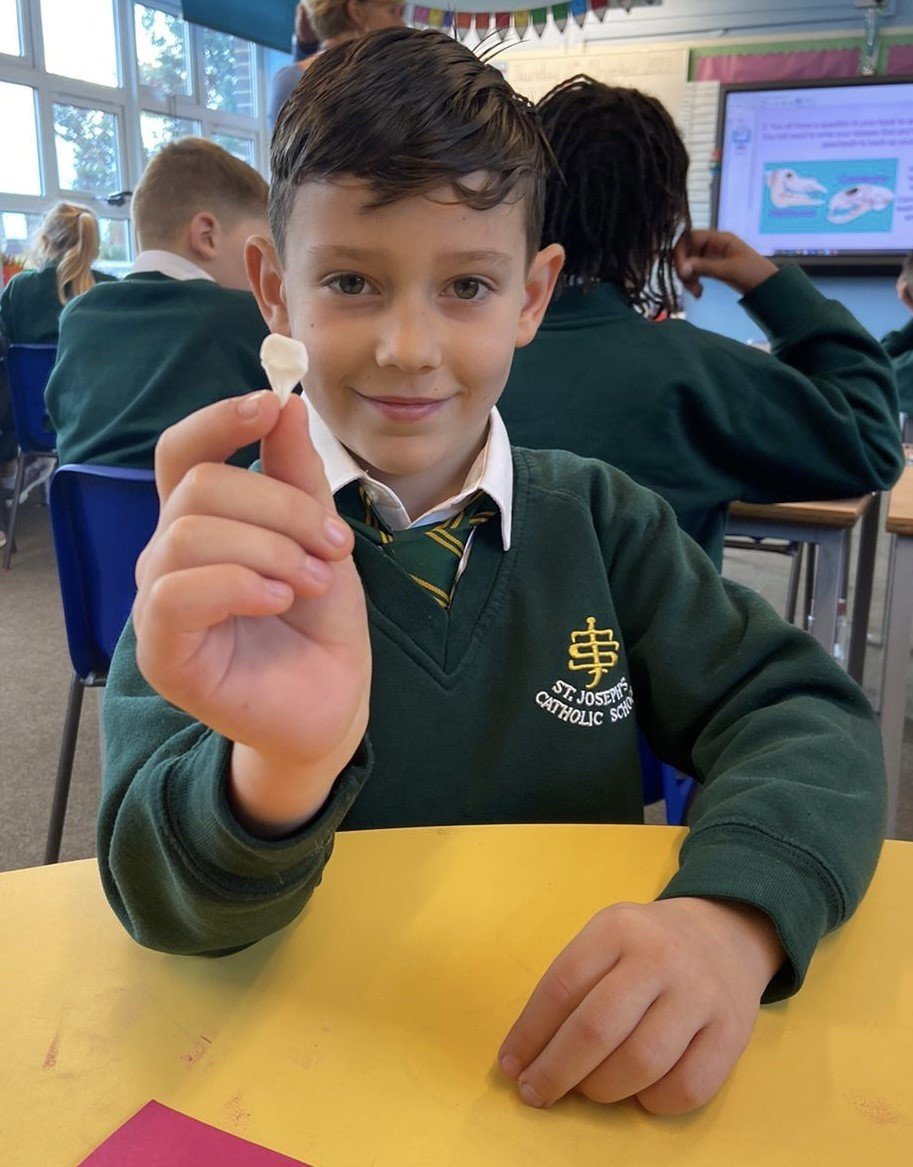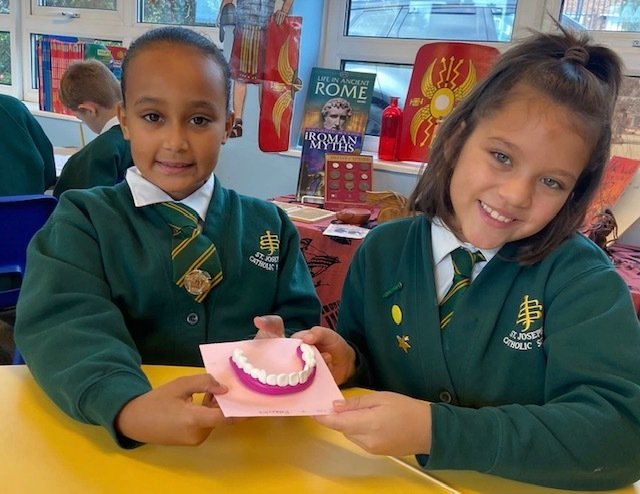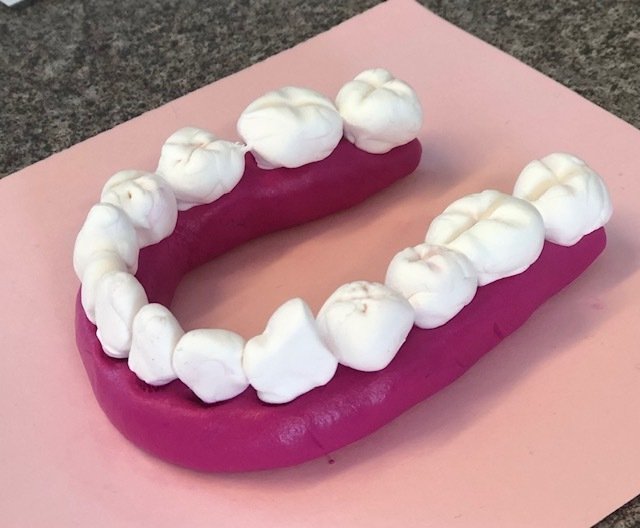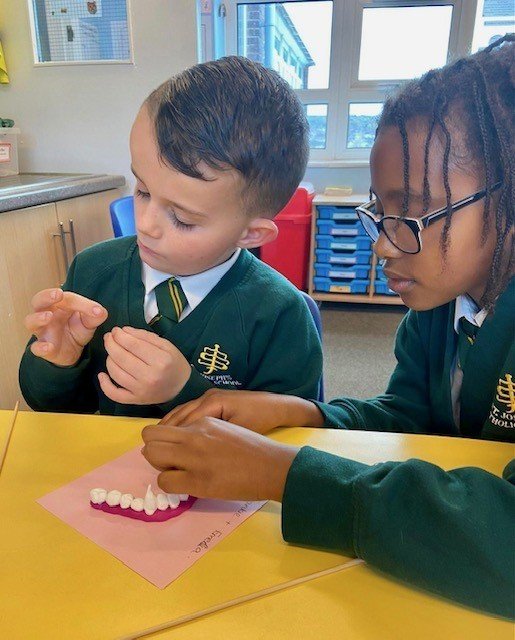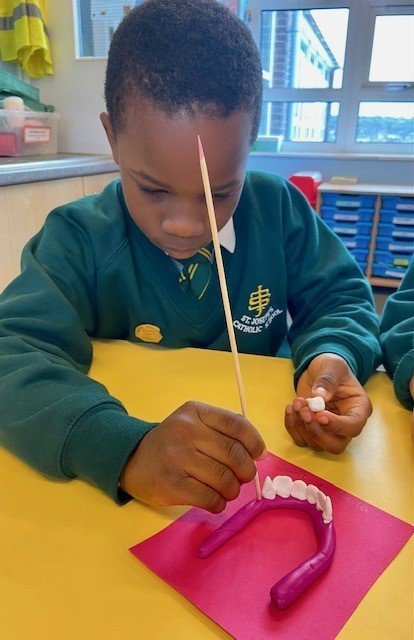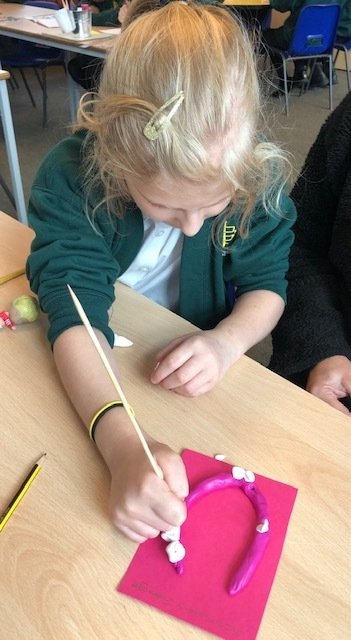 Science: 5.11.21
Today, Year 4 have been learning about the different teeth humans have and their different functions.
The children learnt that incisors are used for cutting and slicing through food, that canines are used for tearing and ripping food and that molars are used for crushing, grinding and chewing food.
We tried some different foods - carrot sticks, pitta bread and banana - to see which teeth we needed to use to break them down and make them easier to swallow.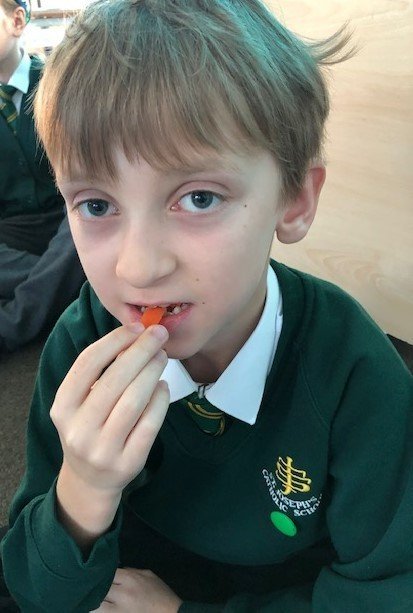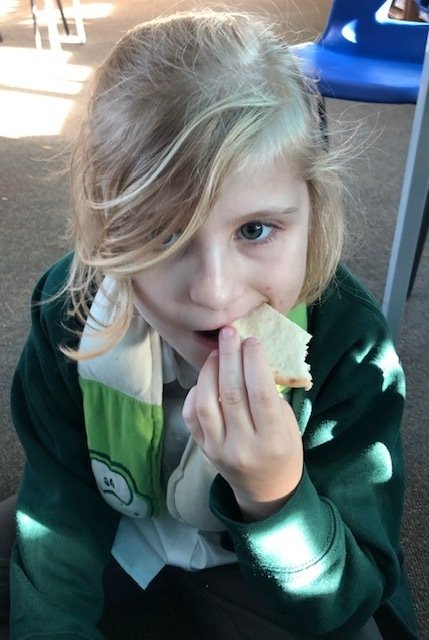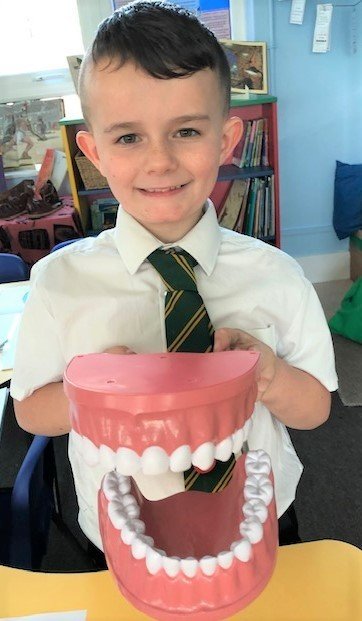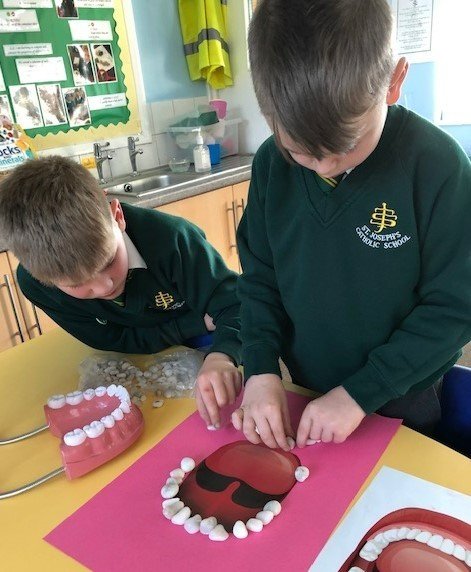 We used some stones to create the different types of adult teeth in a mouth. We had to look carefully at their shape and choose appropriate replica incisors, canines, molars and pre-molars.
We also learnt about animal's teeth. We found out that carnivores have very different teeth to herbivores. We did a demonstration showing how flat, wide teeth can easily crush leaves and berries but that sharp pointy teeth are needed to cut meat.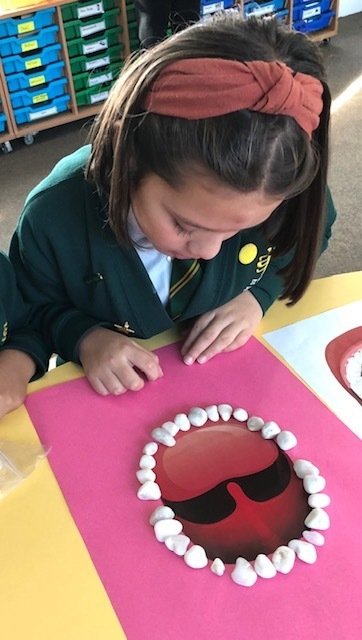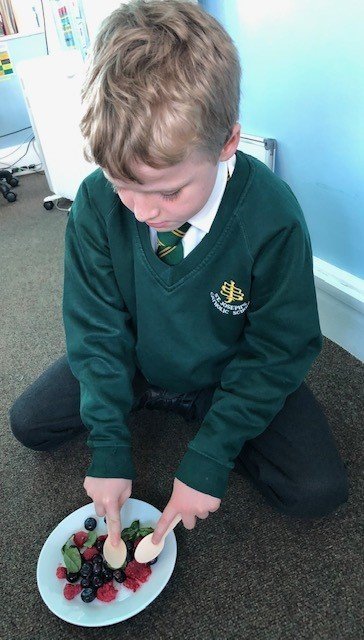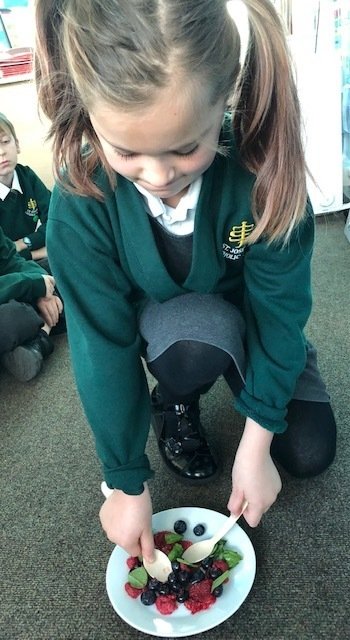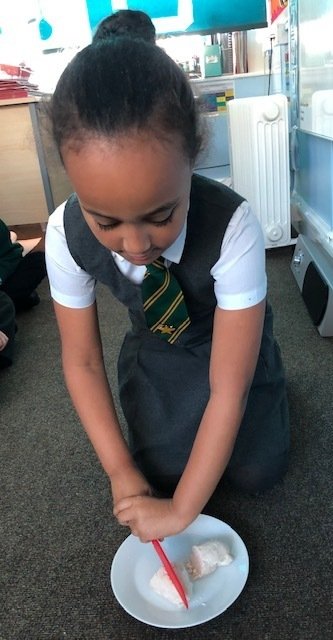 Science : 22.10.21
This morning's Science lesson was based around constructing electrical circuits and being able to name the main components. They also learnt about the symbols that represent each component.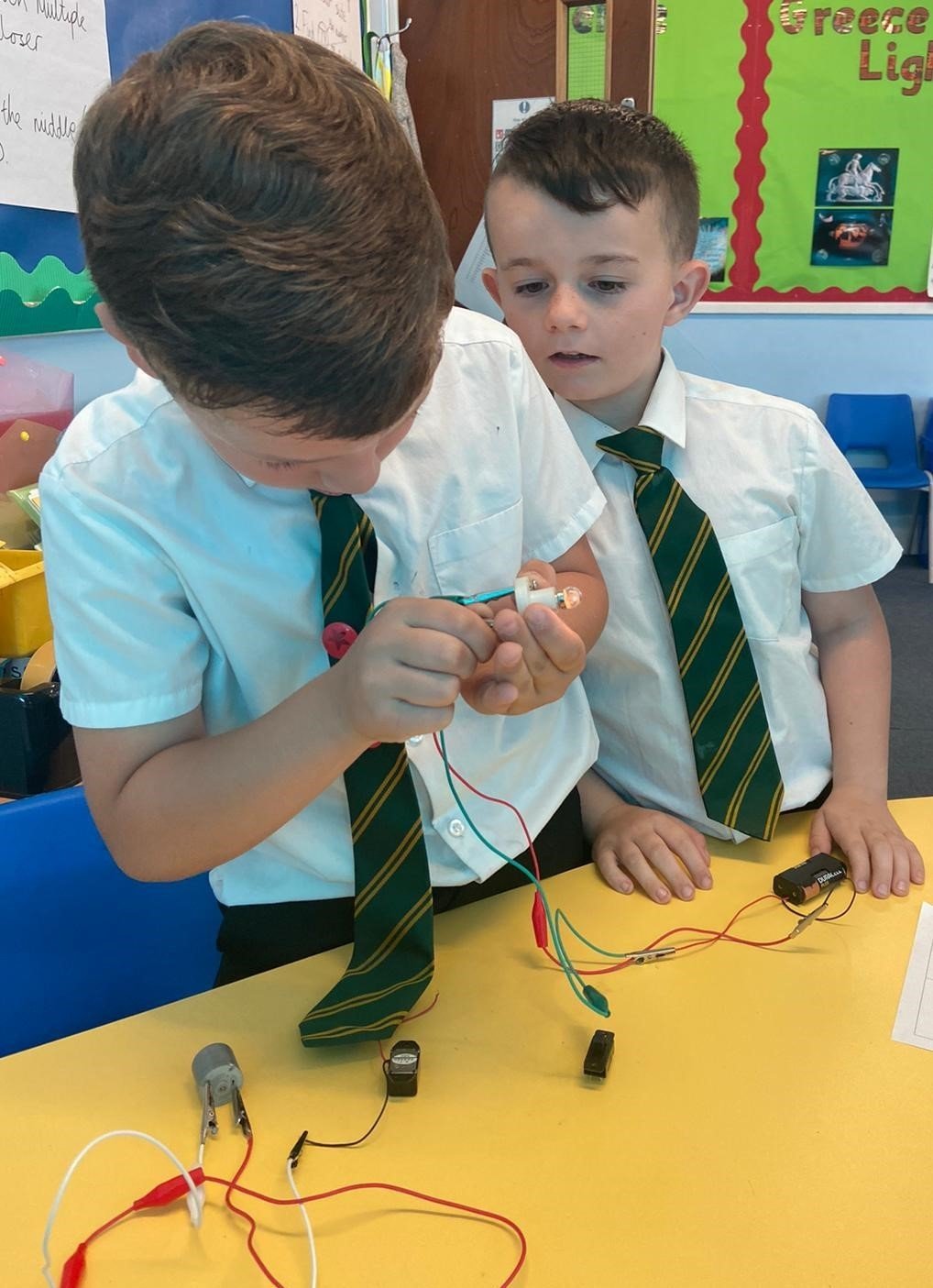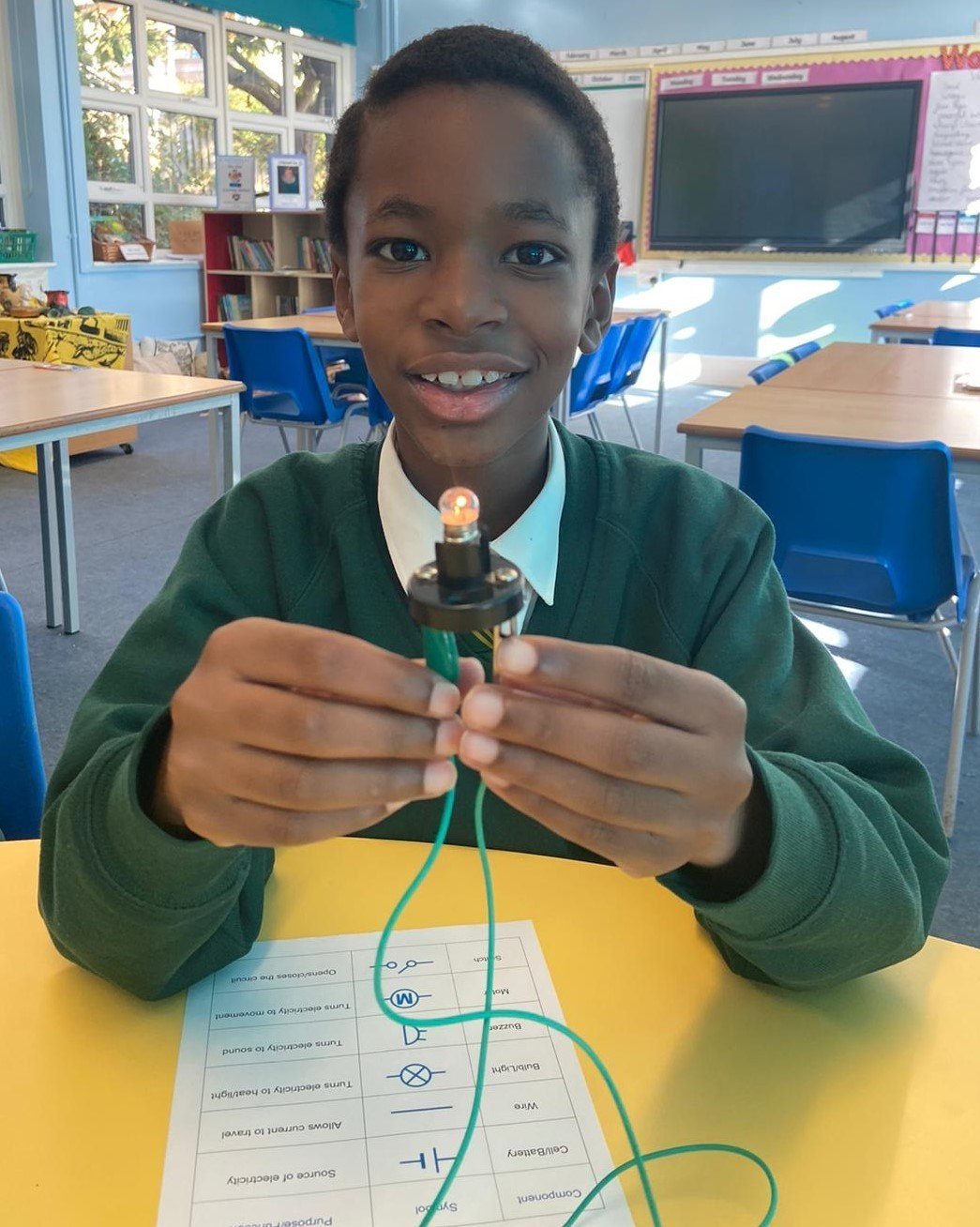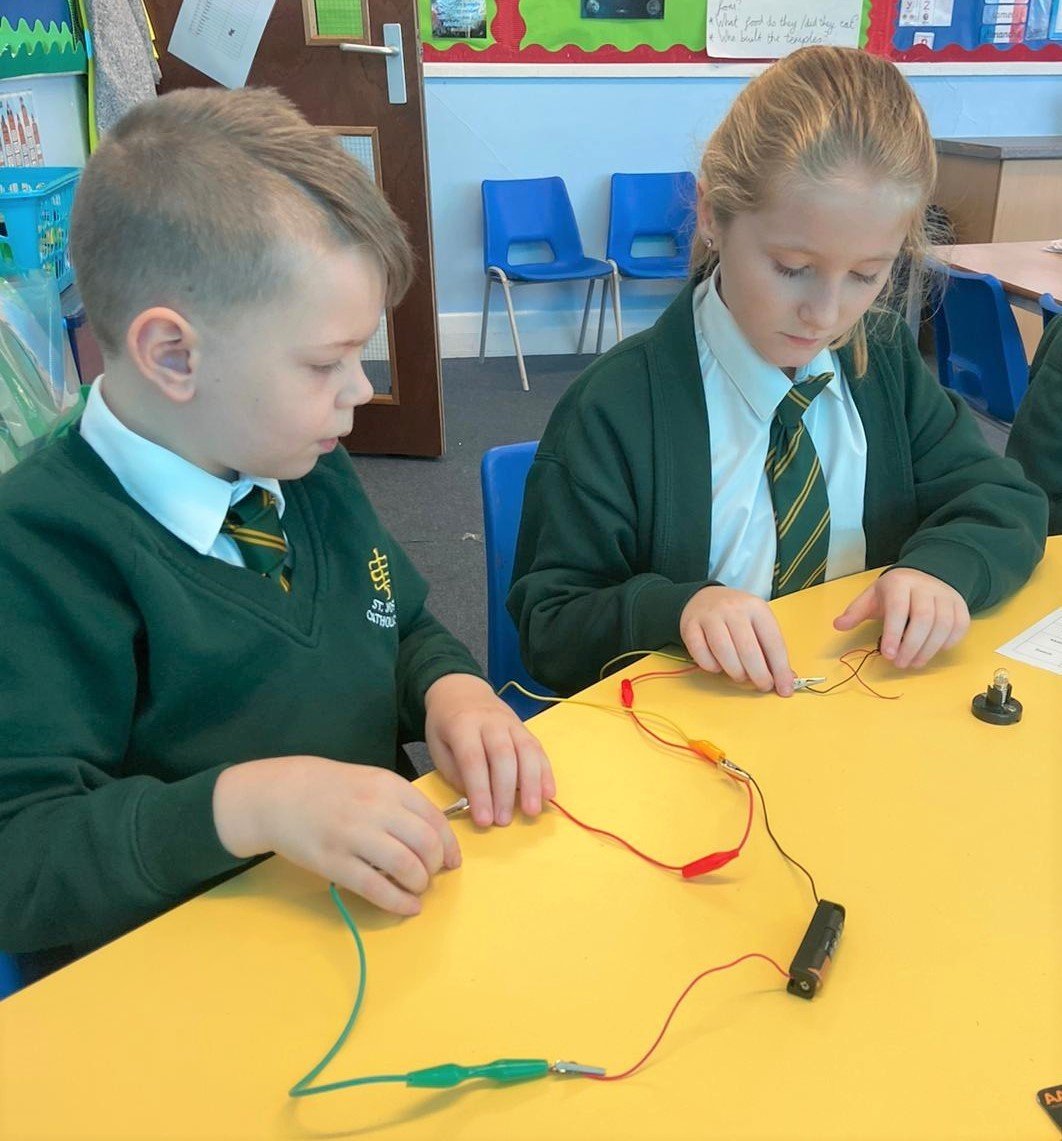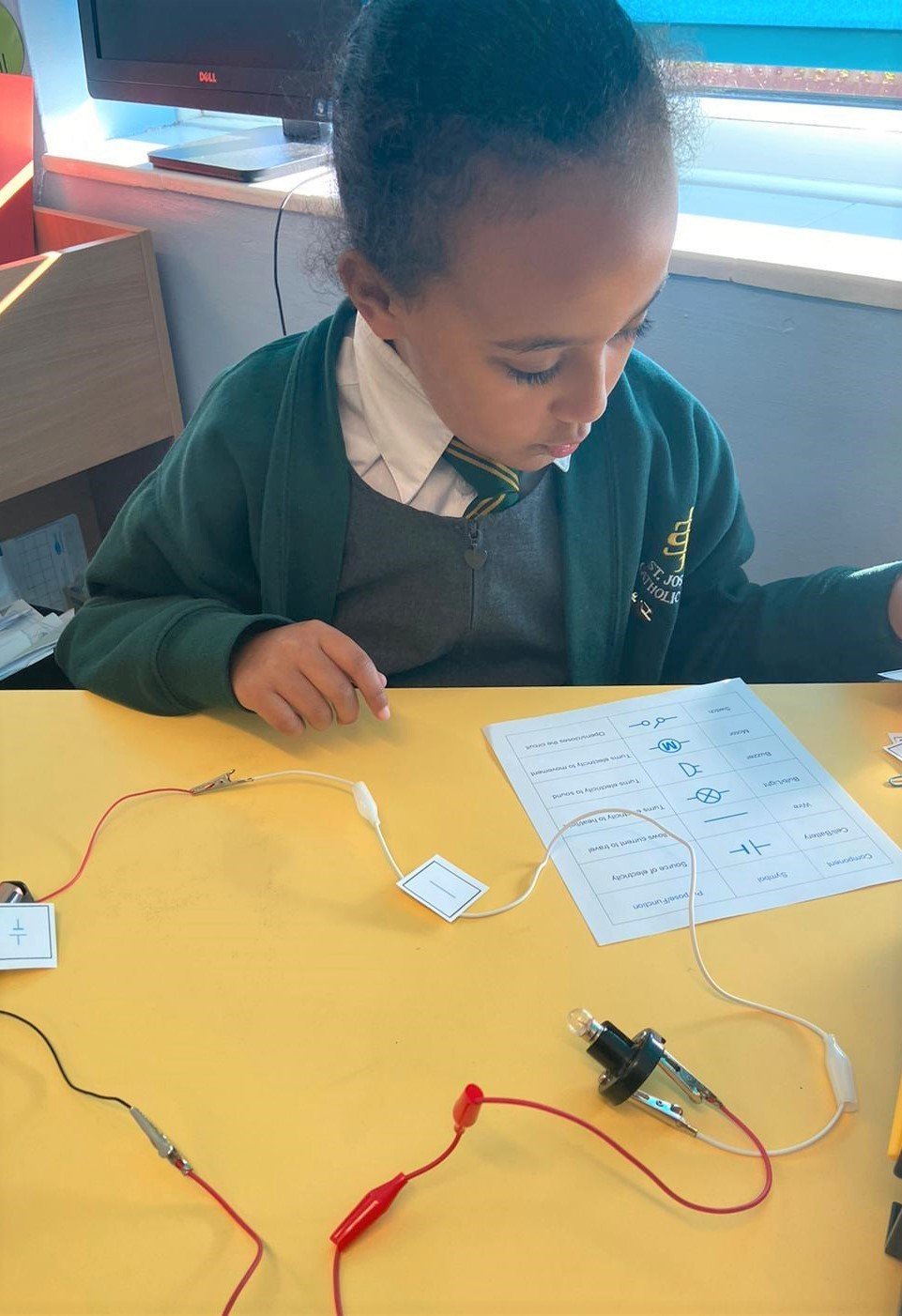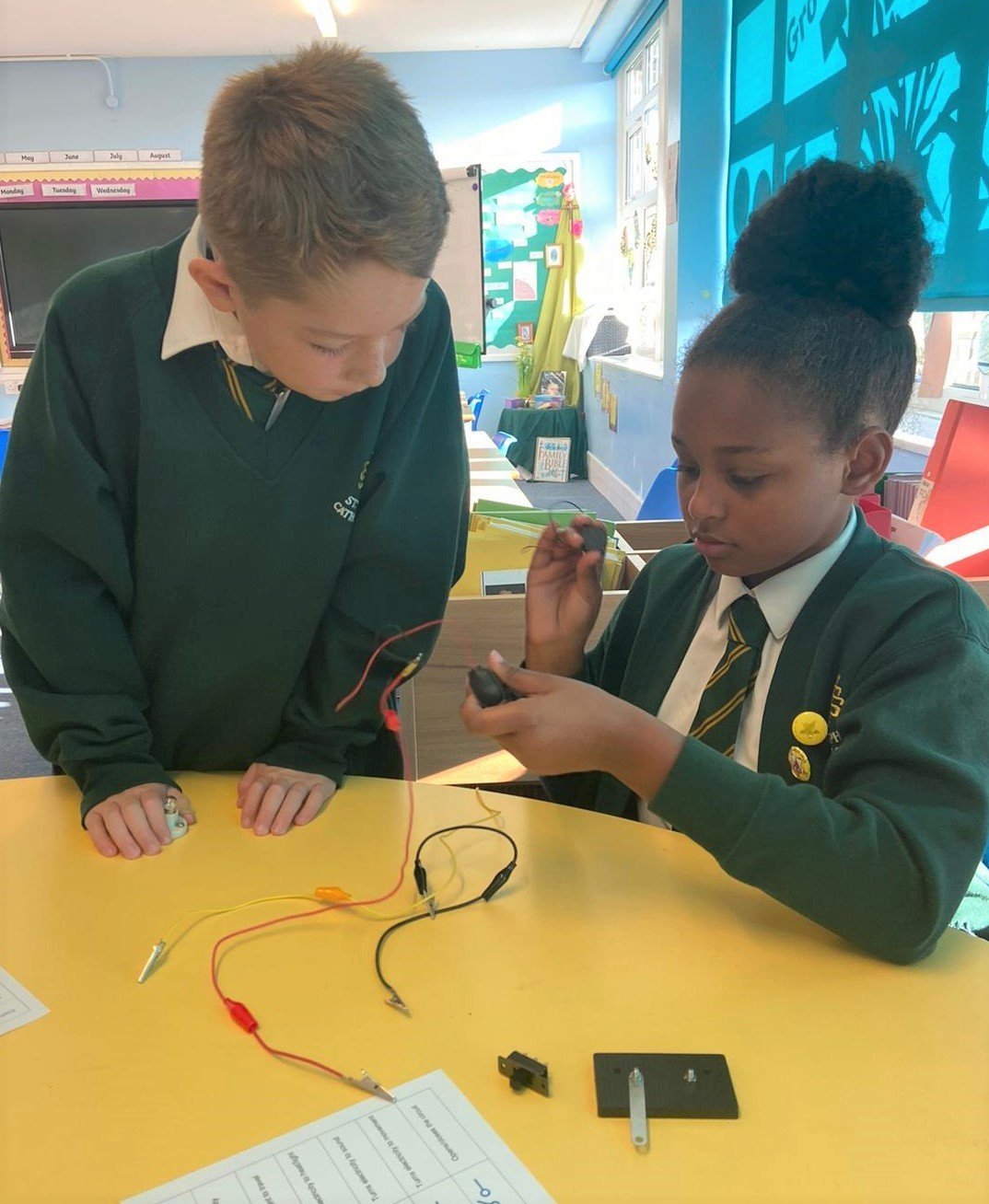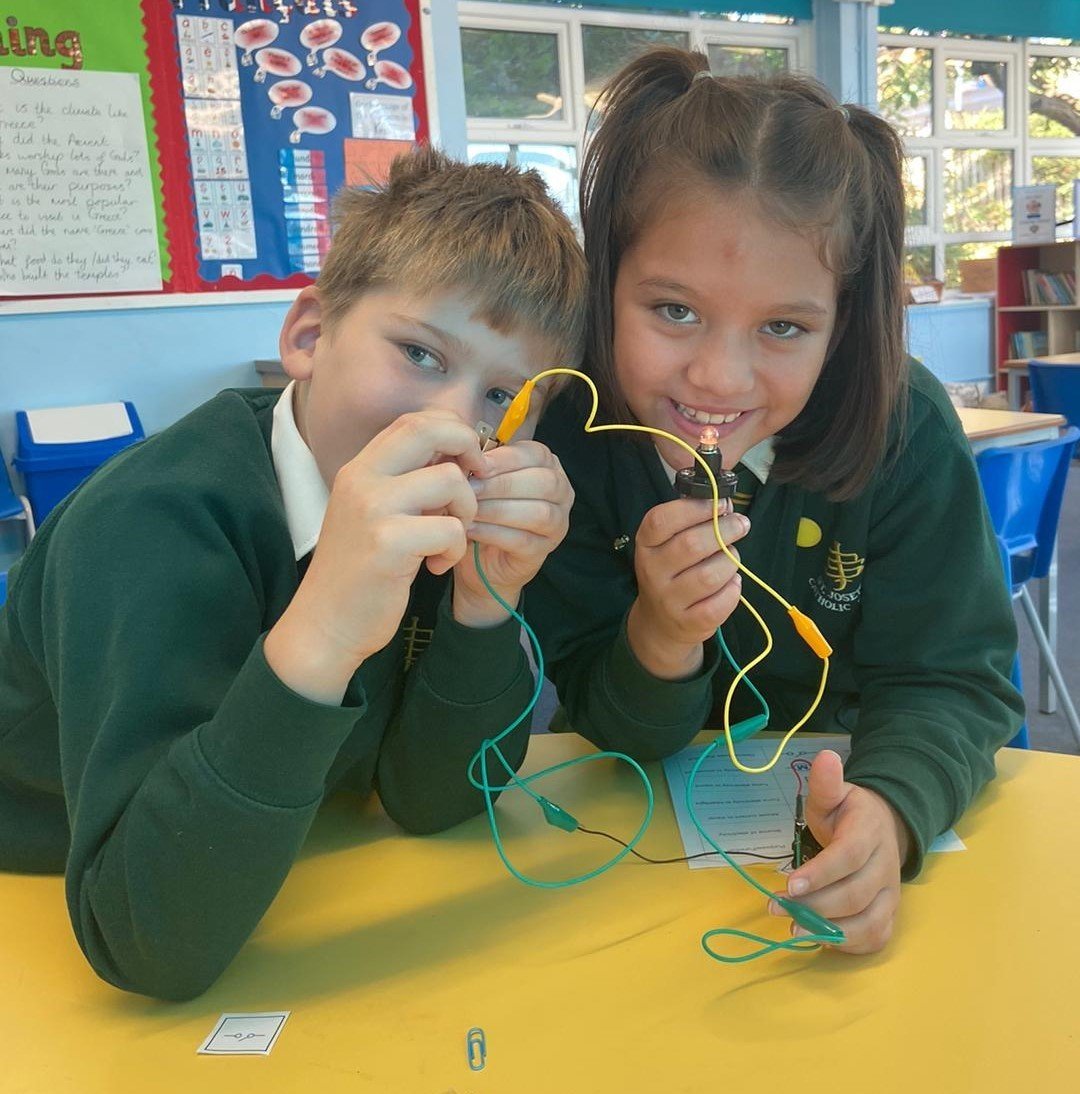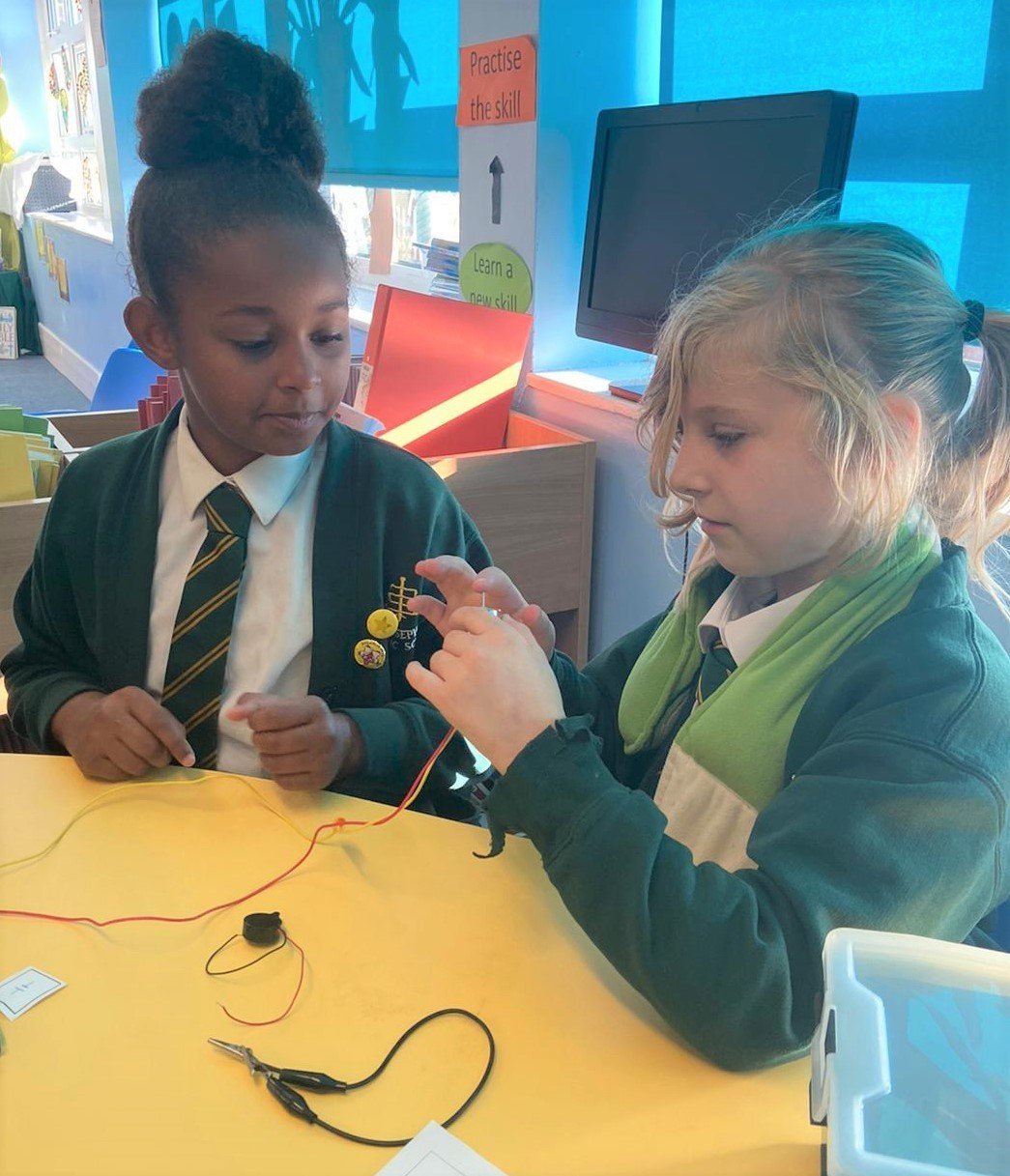 Science : 21.10.21
Today, in Science, we were learning about how a pull back car moved on different surfaces. We learnt how friction is a force between two surfaces. We made predictions about how the car would move on different surfaces and then we tried it out to see if our predictions were correct.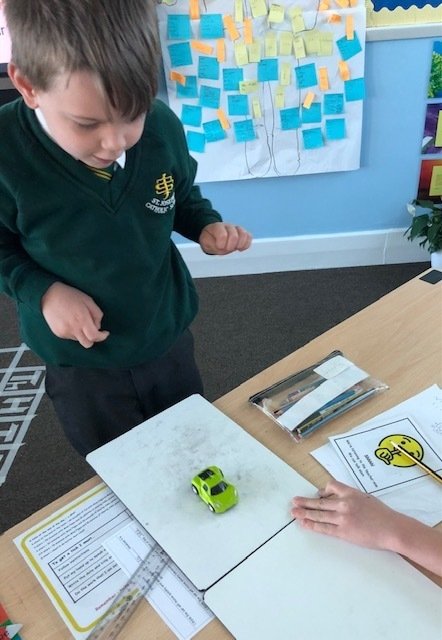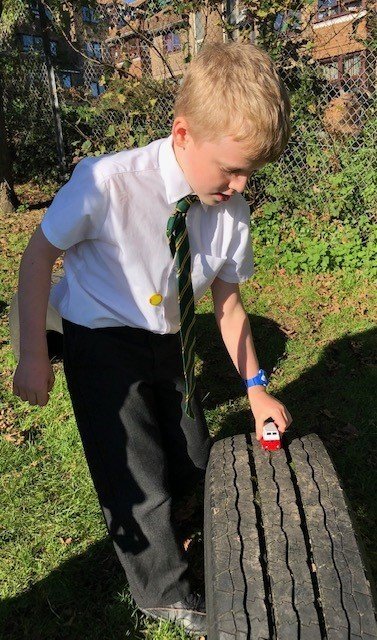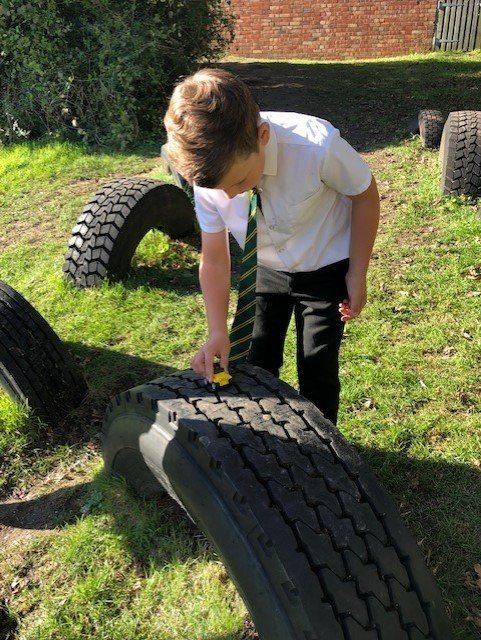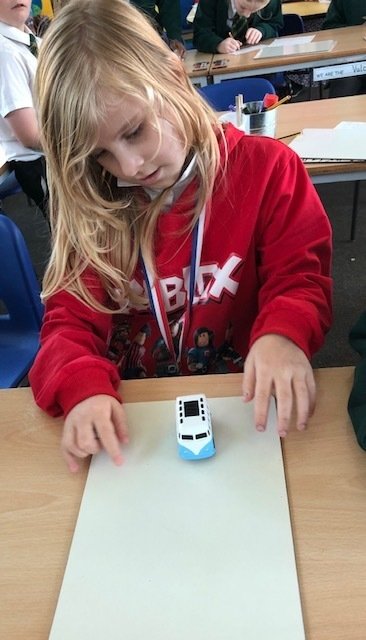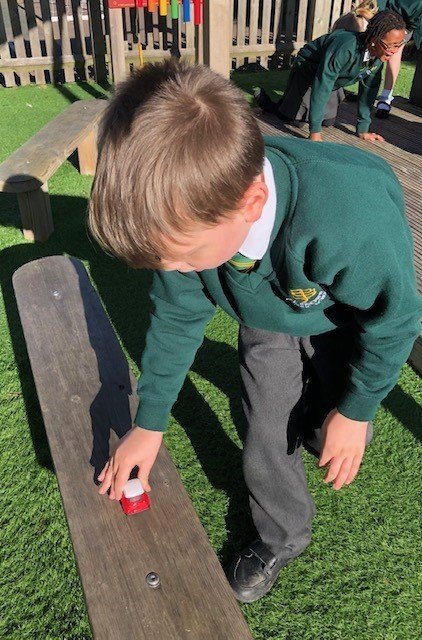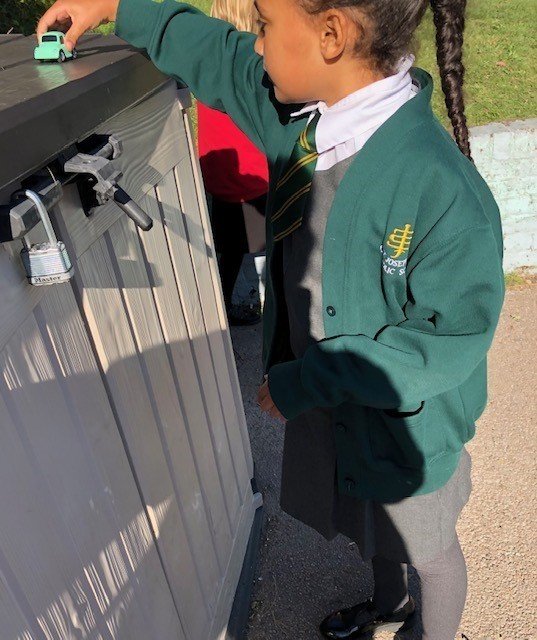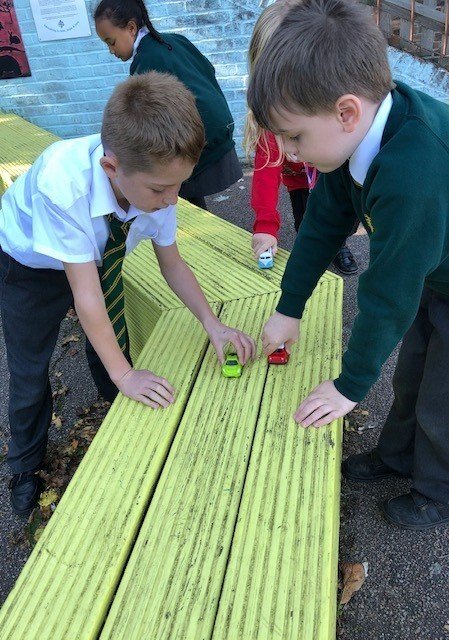 We learnt that the amount of friction generated depends on the surface. We found out that a rougher surface will cause more friction than something smooth.
We then went outside to explore the different surfaces and the friction they create.
French:15.10.21
Our French learning this half term has been around travel. We have learnt how to ask and answer simple questions about modes of transport and we found out about French speaking countries around the world.
Today, we tried some food from a few of these countries - waffles from Belgium, croissants from France, chocolate from Switzerland and couscous from Morocco.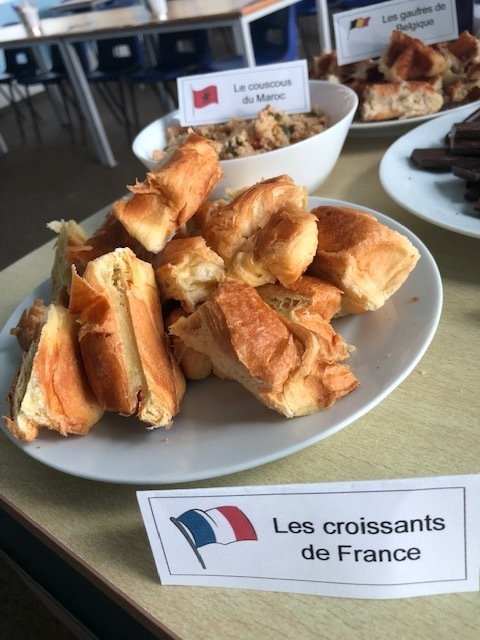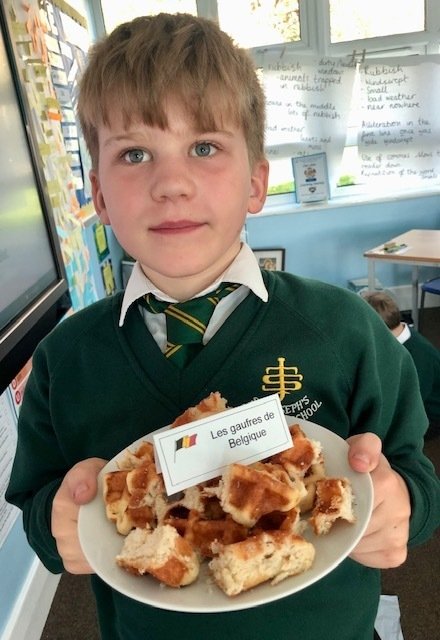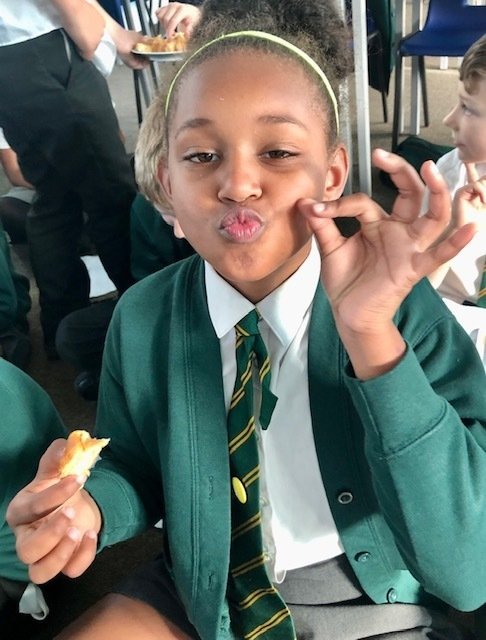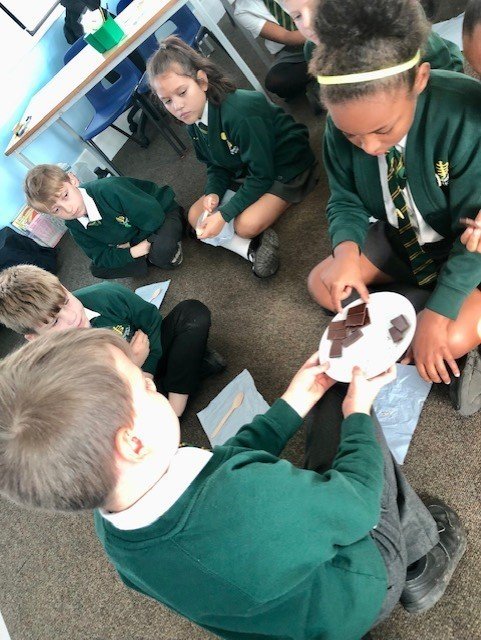 We were able to answer questions about which foods we liked/disliked and of course we remembered to say thank you in French!
Science : 12.10.21
Today, in Science, we were learning about the main types of rocks. We compared and contrasted the different rocks and thought of different ways to sort them.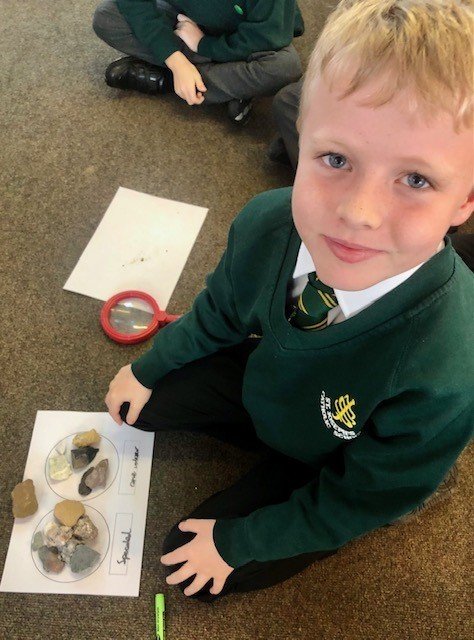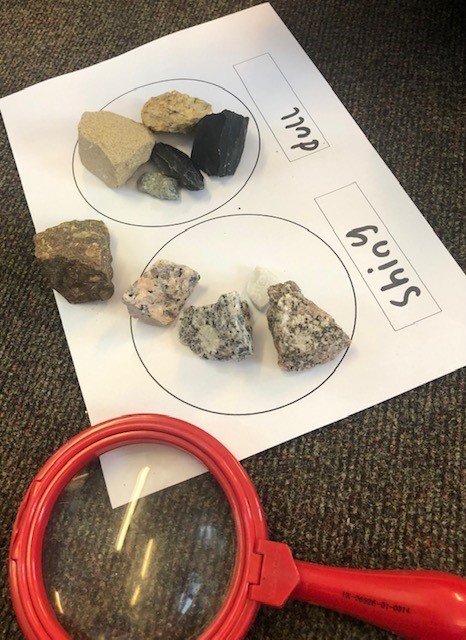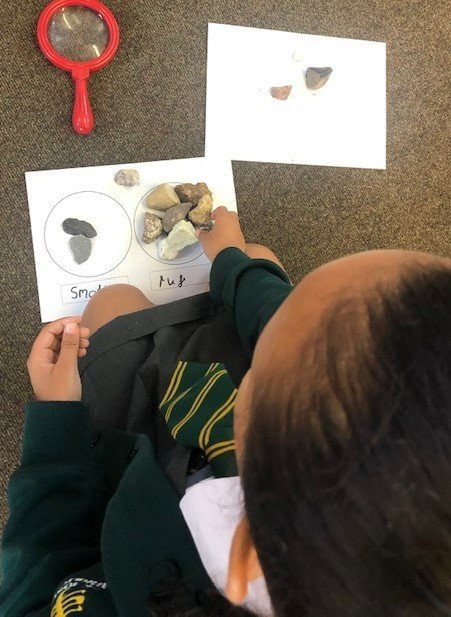 Then, we used chocolate to help us understand how the different rocks are formed!
We learnt that igneous rocks are formed when the molten lava from a volcano cools and solidifies. We melted some chocolate and then let it cool. Our igneous rocks were delicious!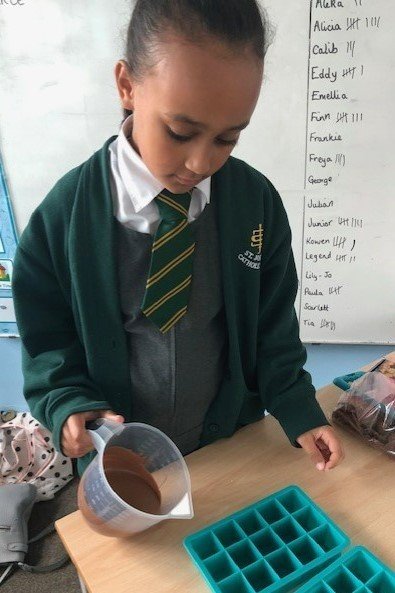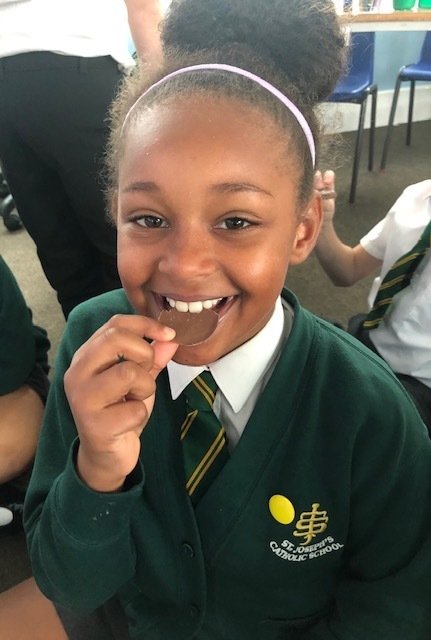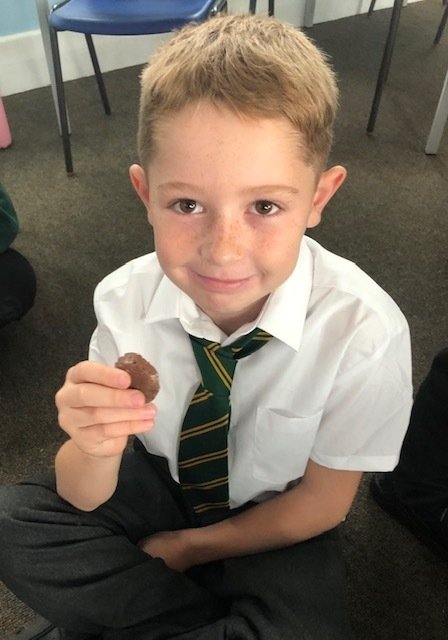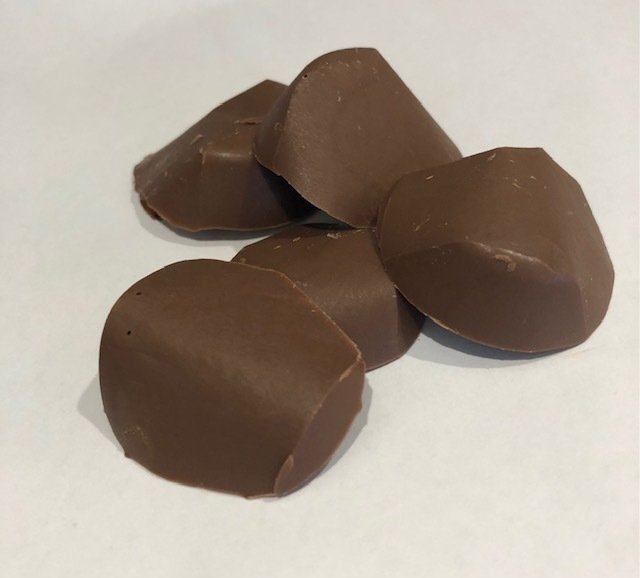 We learnt that sedimentary rocks are formed when particles from different organic matter accumulates and is compressed into a sedimentary rock. We grated some chocolate and then pressed it under some books. Our sedimentary rocks were very tasty!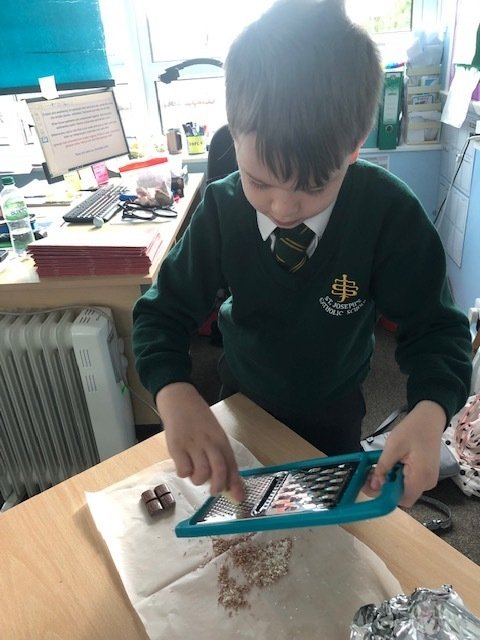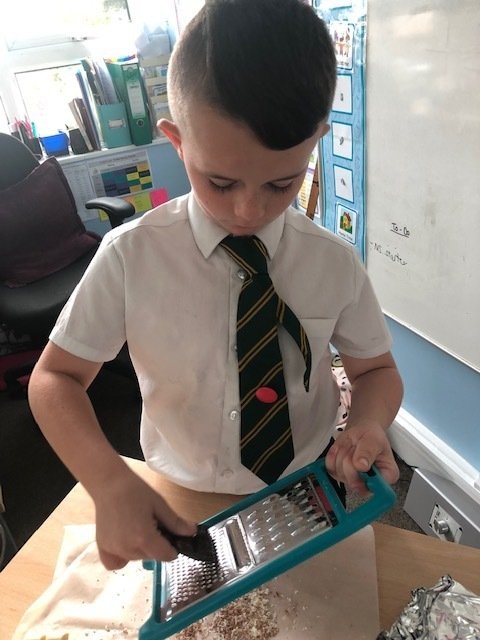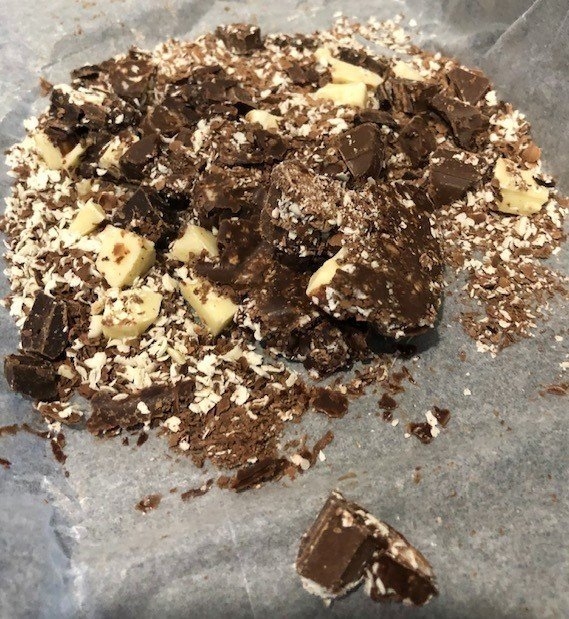 We finally learnt that metamorphic rocks were once igneous rocks or sedimentary rocks which have changed as a result of heat and/or pressure within the Earth's crust. We put our particles into some boiling water and observed the metamorphosis!
History : 8.10.21
As part of their History learning "Roman Rule," Year 4 used secondary sources - a range of information books and the internet - and worked in small groups to create a timeline showing where the Romans fitted in amongst other periods in History.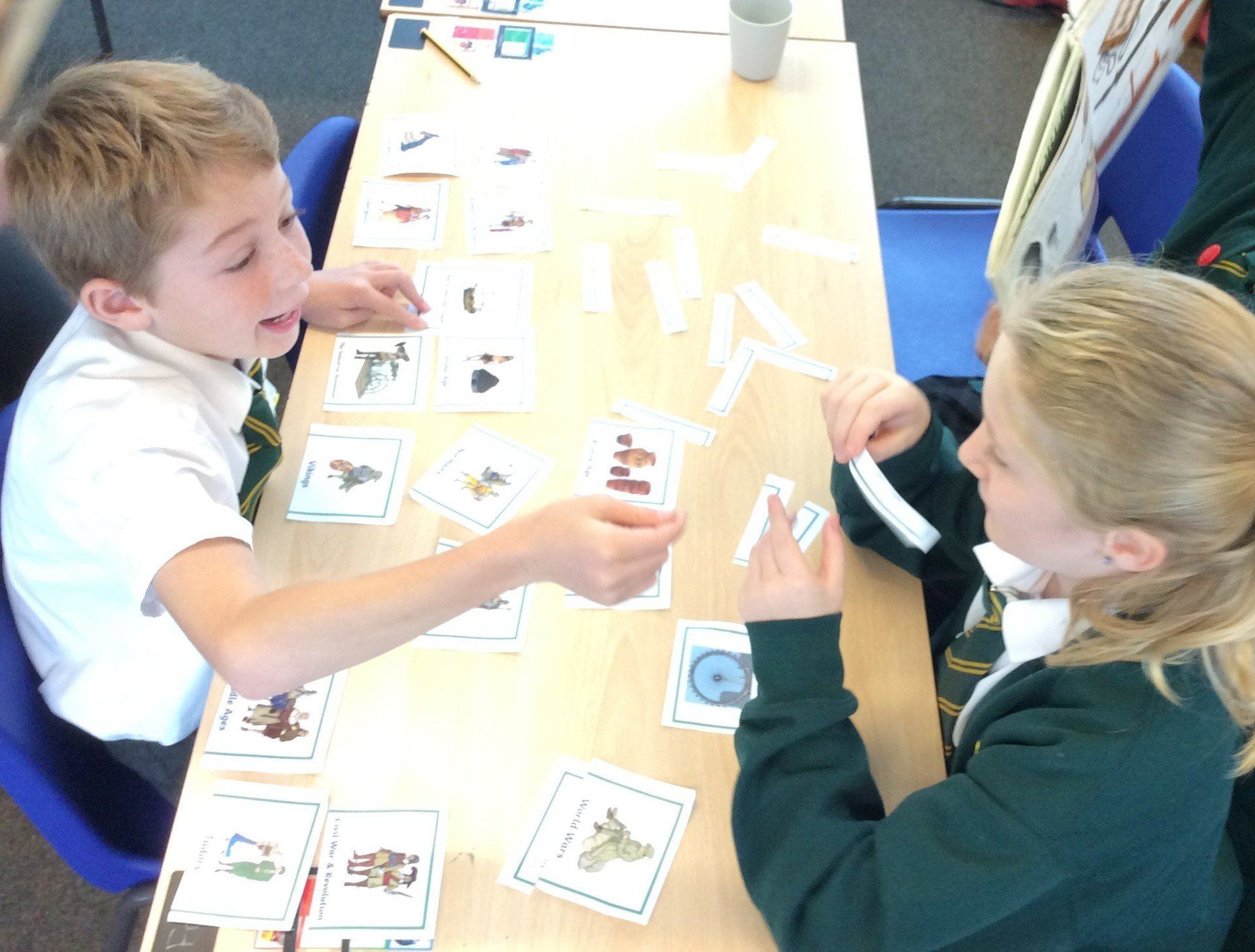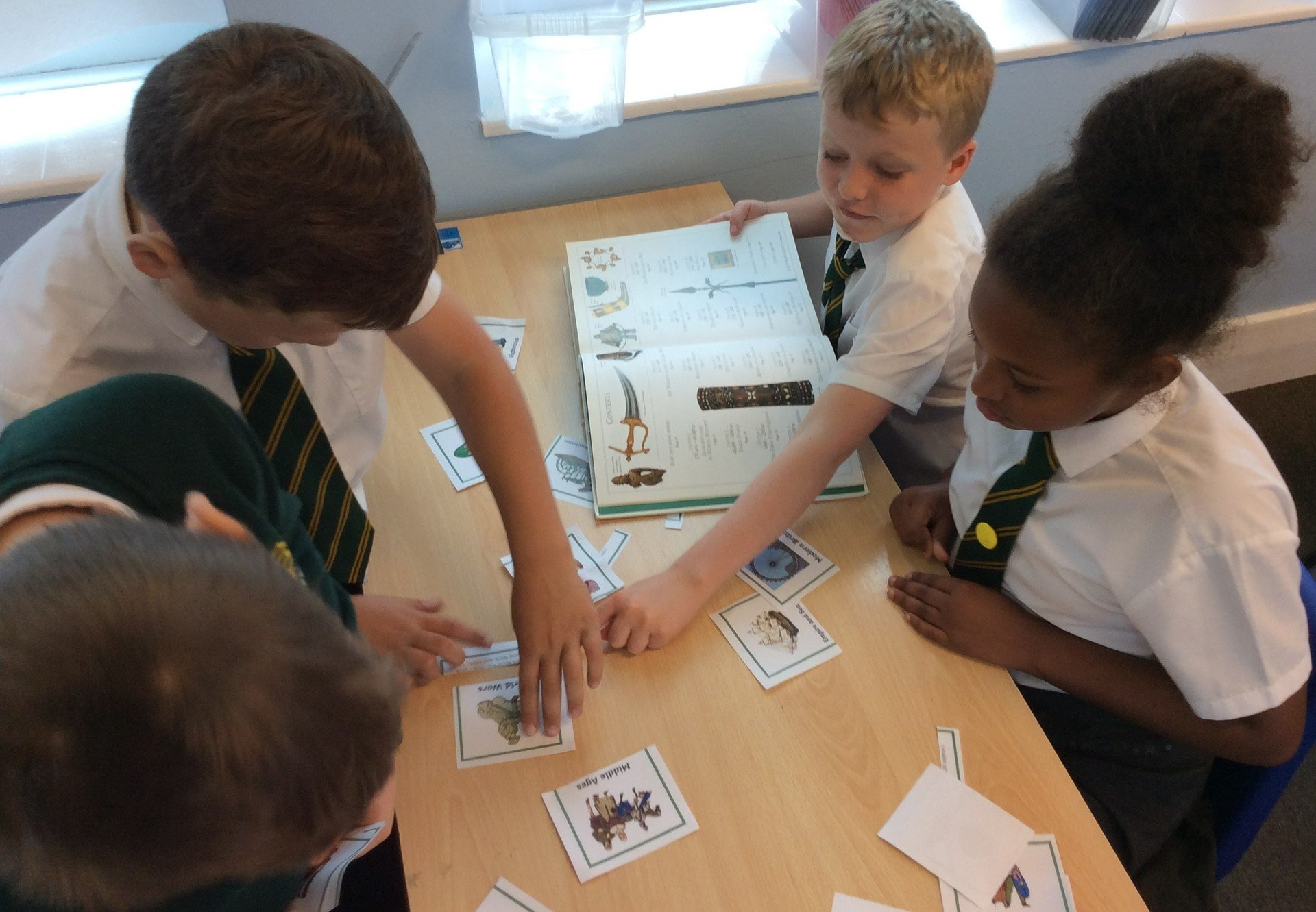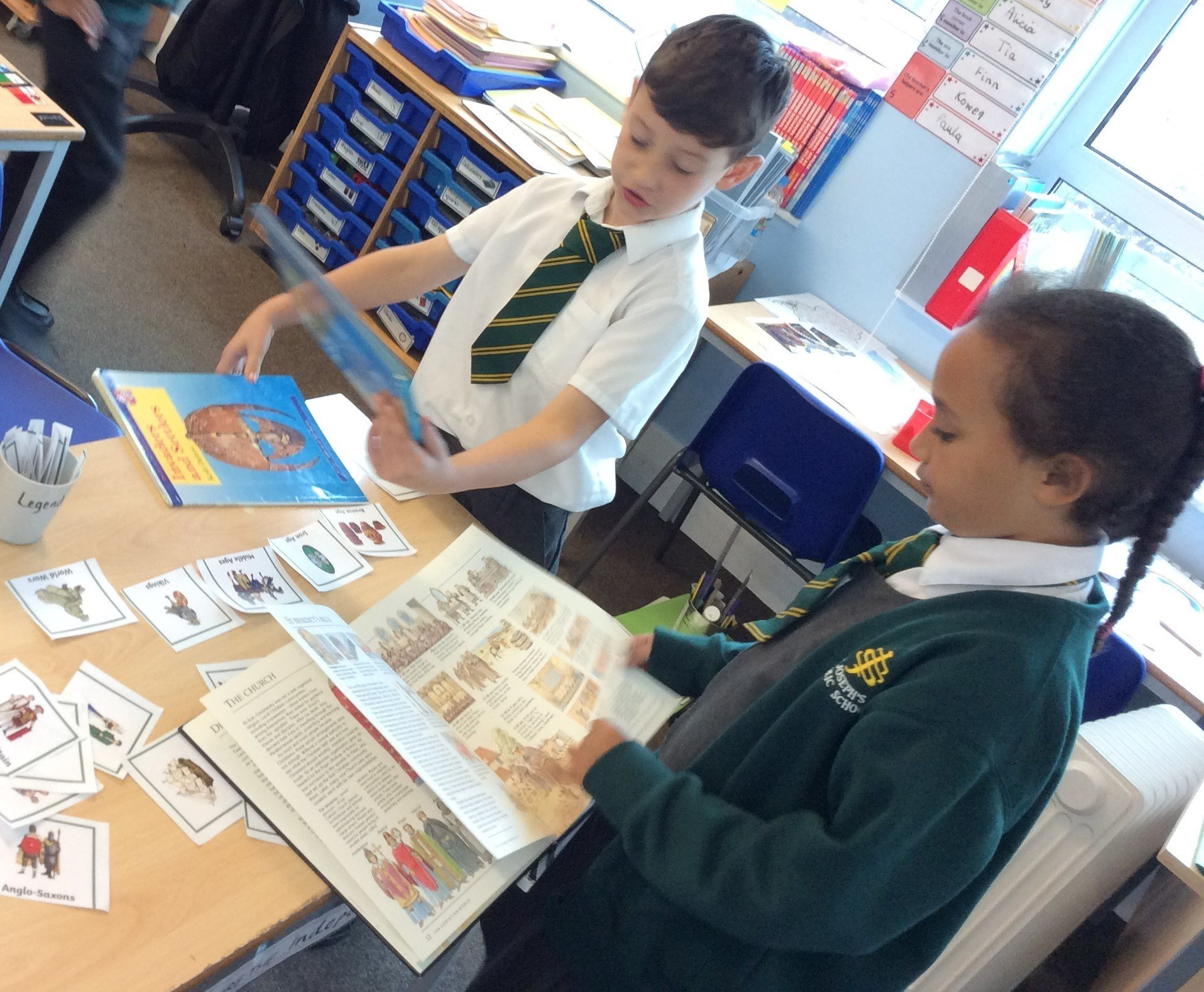 Science : 8.10.21
Today in Science, we learnt about the three states of matter. We learnt how the atoms and molecules in solids, liquids and gases differ. We learnt that the only substance that can be found naturally in each of the three states is water.
We acted out how the different particles move around and we observed water in all 3 states - as ice, as water and as water vapour/steam.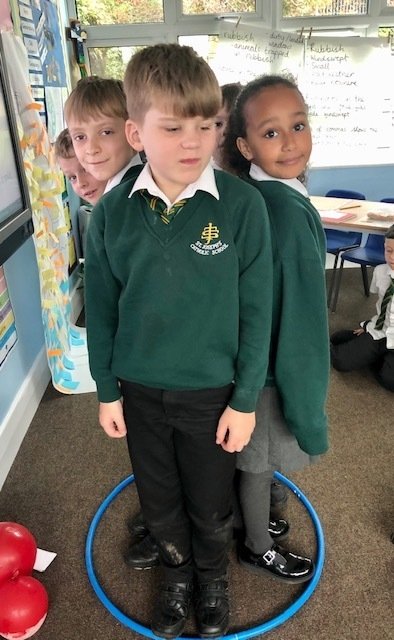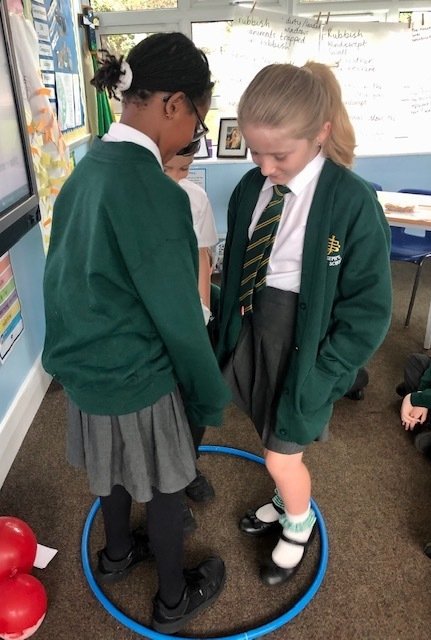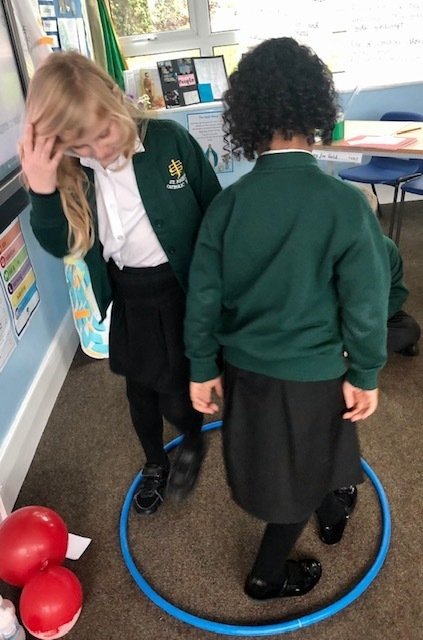 We used Cheerios to demonstrate our understanding of the position and movement of the particles. We then observed how different balloons filled with ice, water and gas felt and we discovered how water expanded when frozen.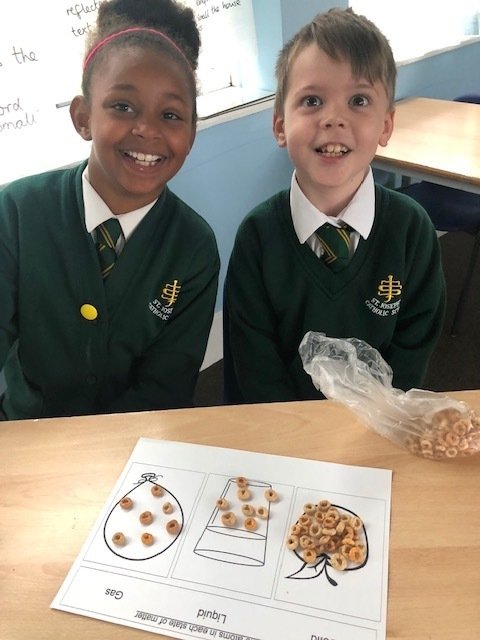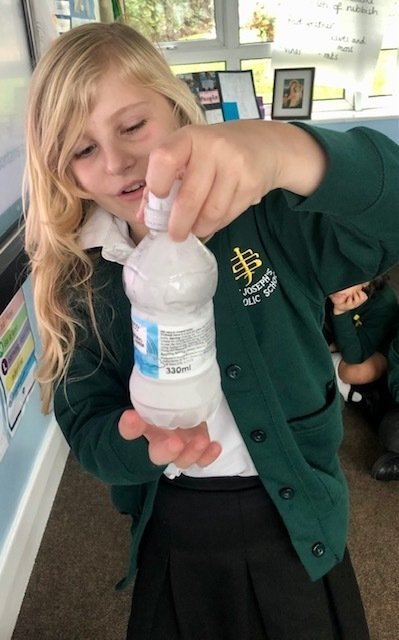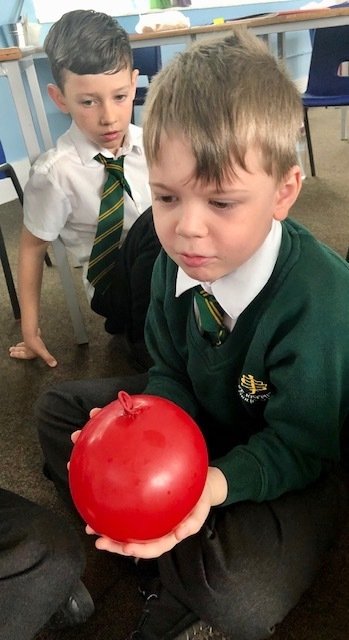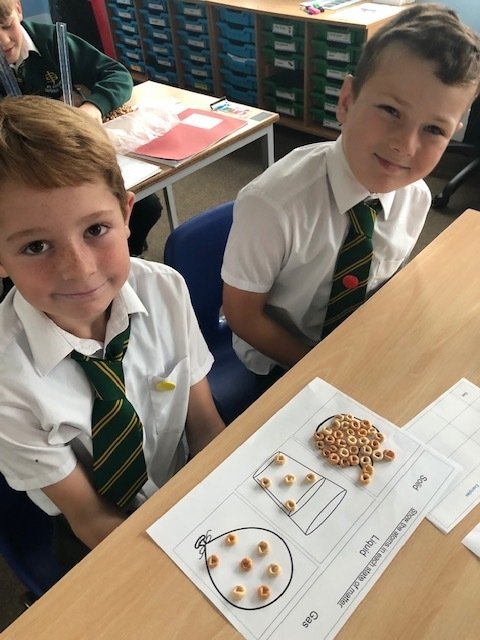 Science: 30.09.21
In today's lesson, we learnt about inherited traits and characteristics and acquired or learnt traits. Julian bought in a montage of photos of himself and his dad when his dad was a young boy.
It was very difficult to tell who was who, demonstrating how many different traits are passed through family members. The class had a go at guessing which pictures were Julian and which were his dad.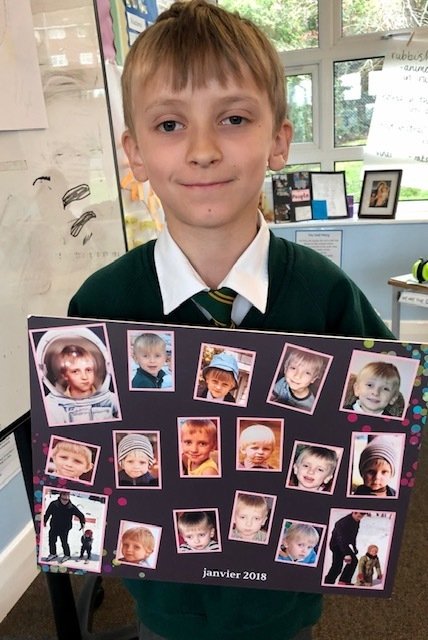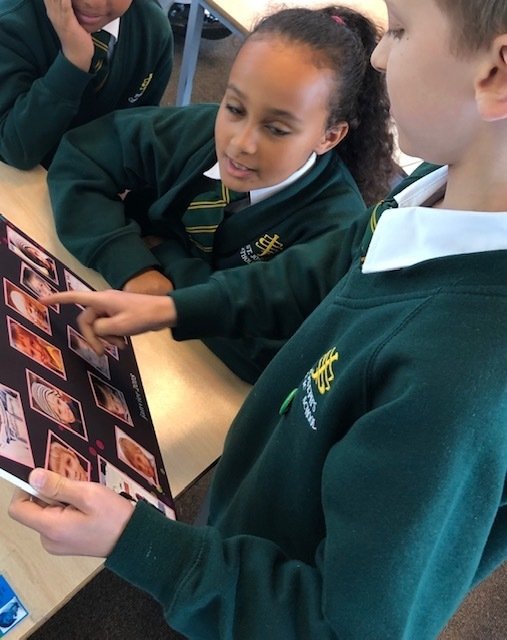 French: 30.09.21
In this week's French lesson, Year 4 have been learning where French is spoken in the world - "Les Pays Francophones."
They learnt how to say each county's name in French, found out what continent they were in and what their flags looked like. The children then used atlases and globes to locate the different countries.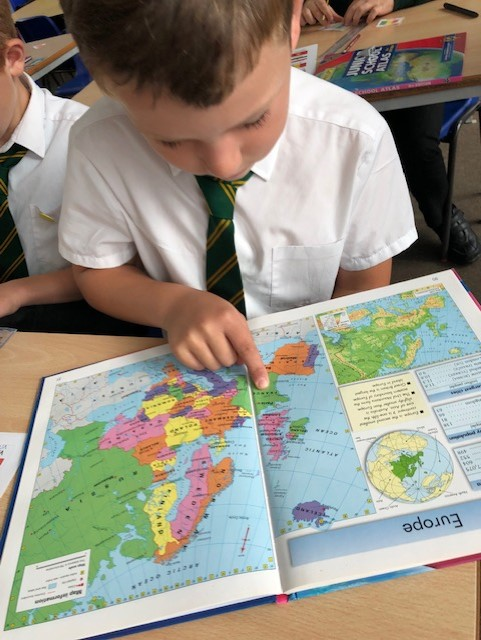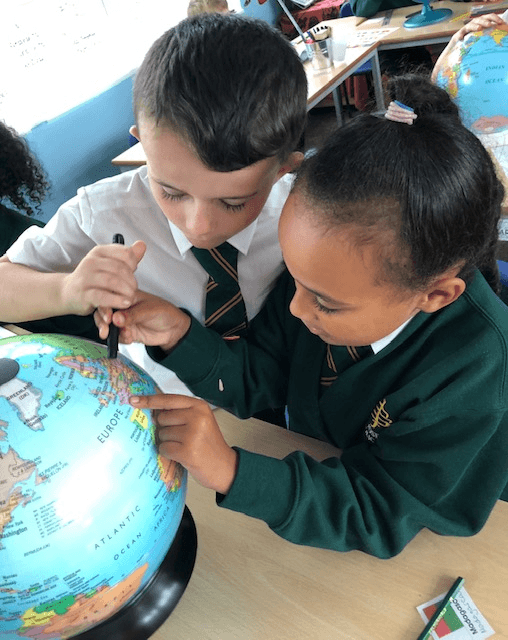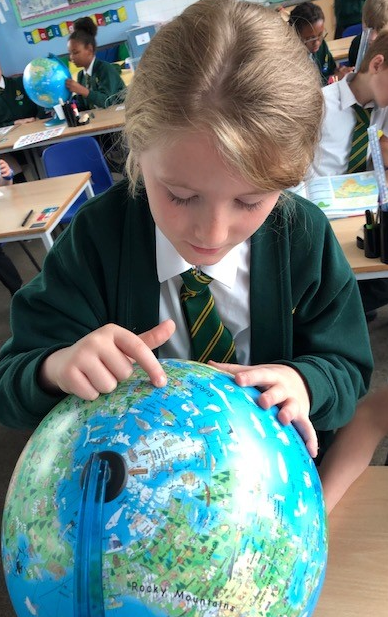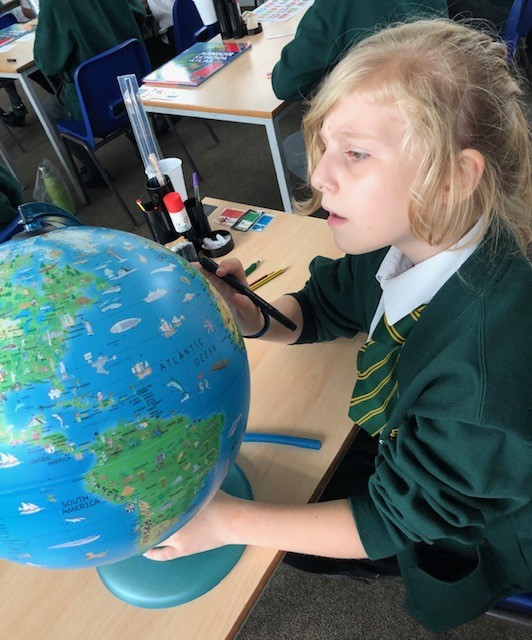 Inspiration: 27.9.21
Miss Cross read us the next part of our class text (we don't know what it is called yet) and we used watercolours to illustrate our own interpretations of the passage.
Here are a few of our images: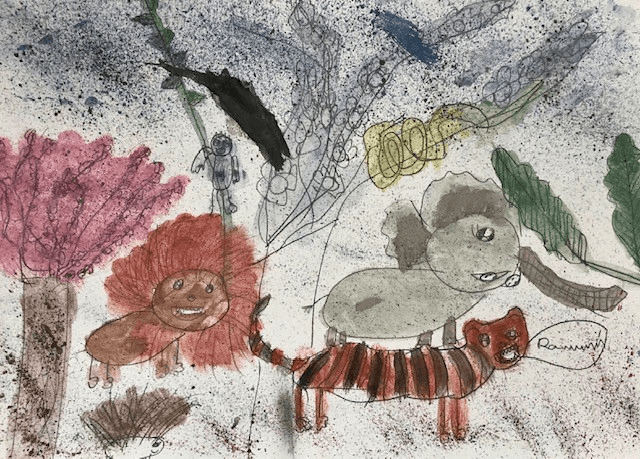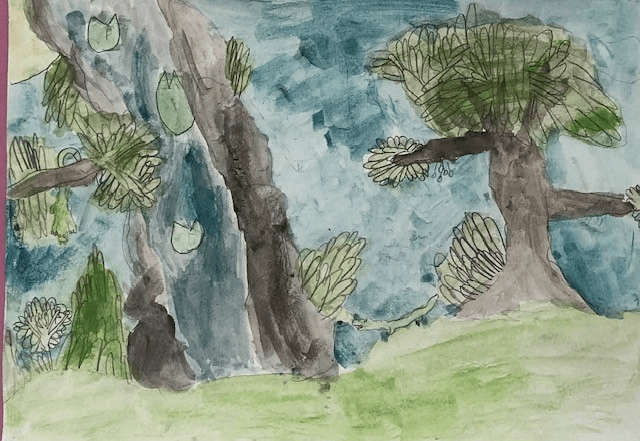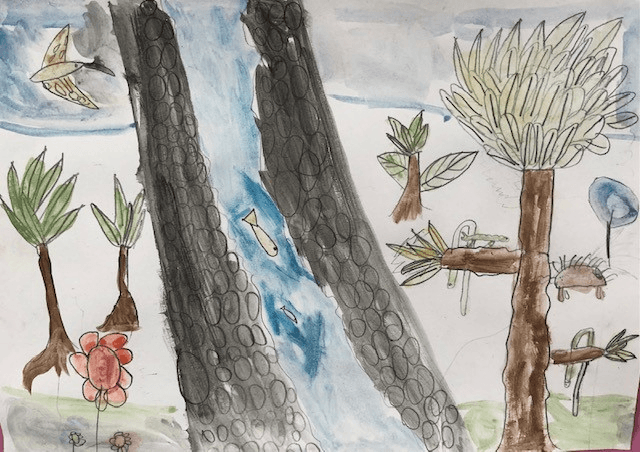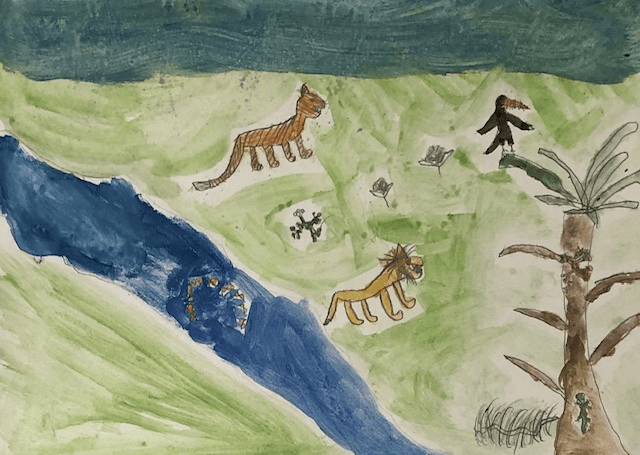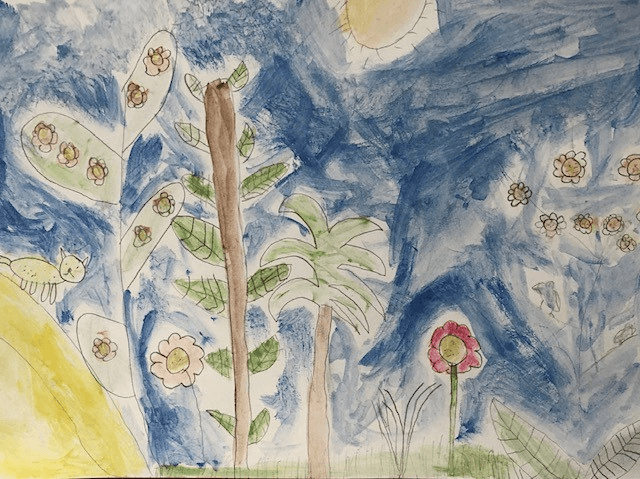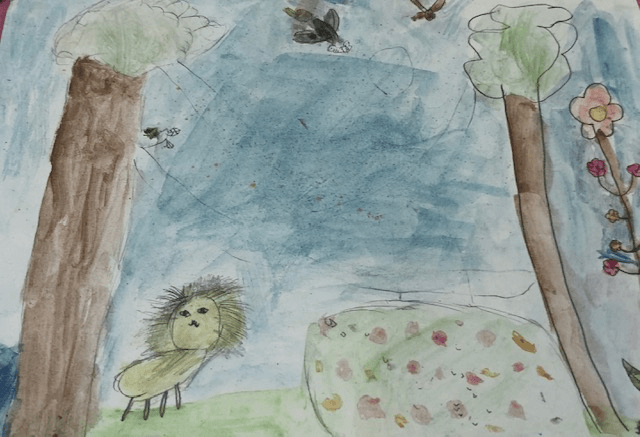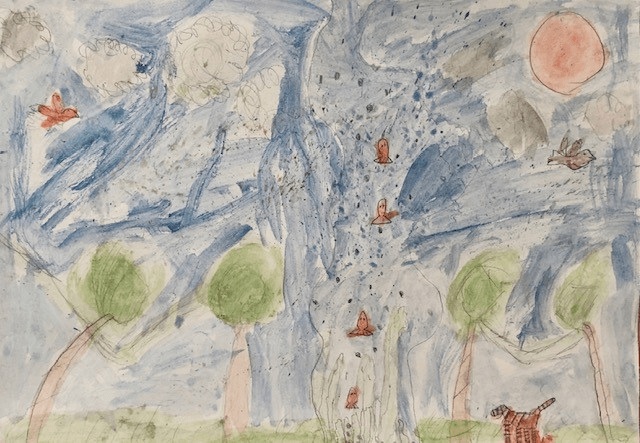 We can't wait to read on and find out what happens next.....
Grandparents' Week : 28.9.21
It was wonderful to welcome so many grandparents to the Year 4 classroom this afternoon - thank you all for coming! It was great fun to play some bingo games and also to share some of the grandparents special memories and cherished items.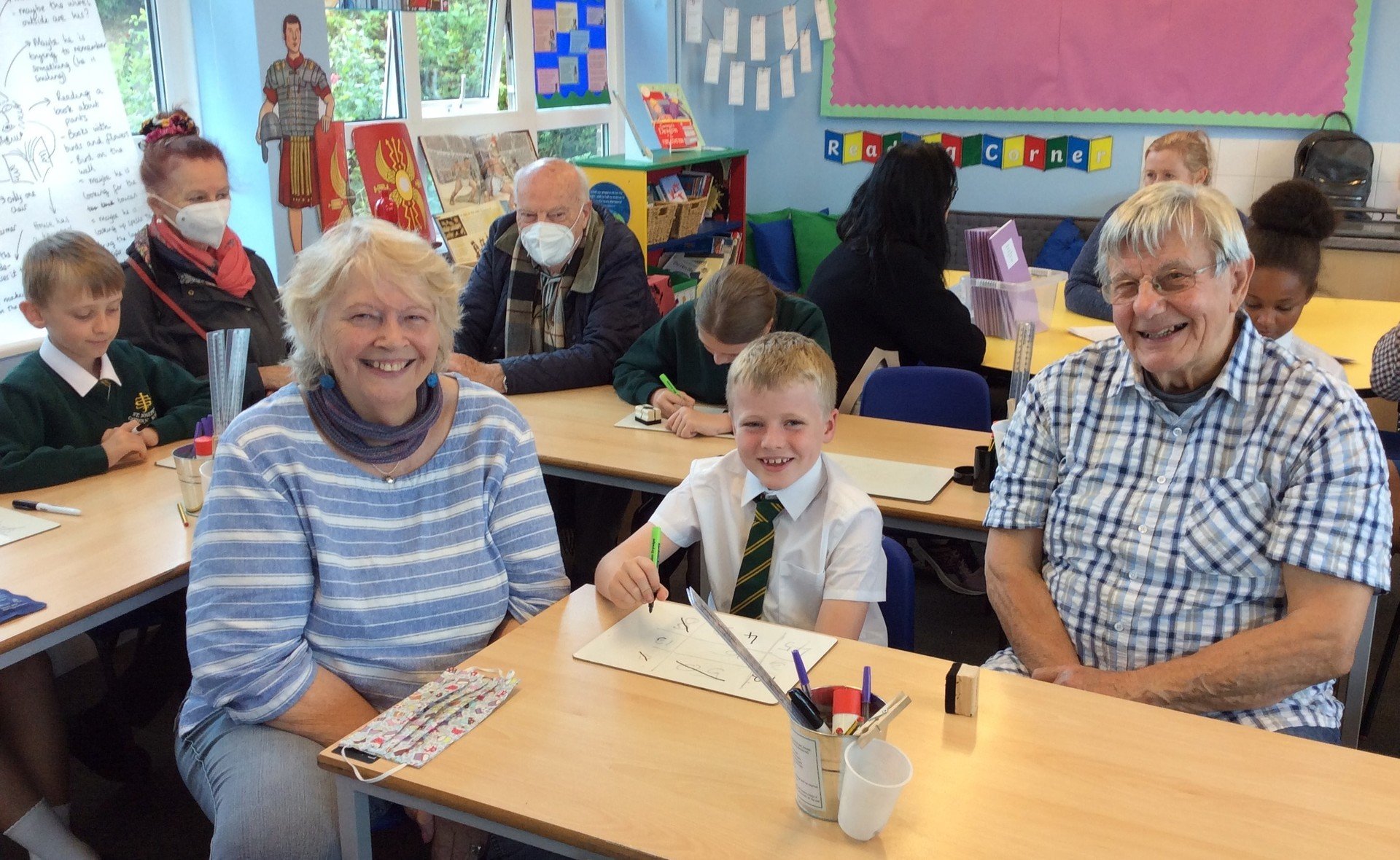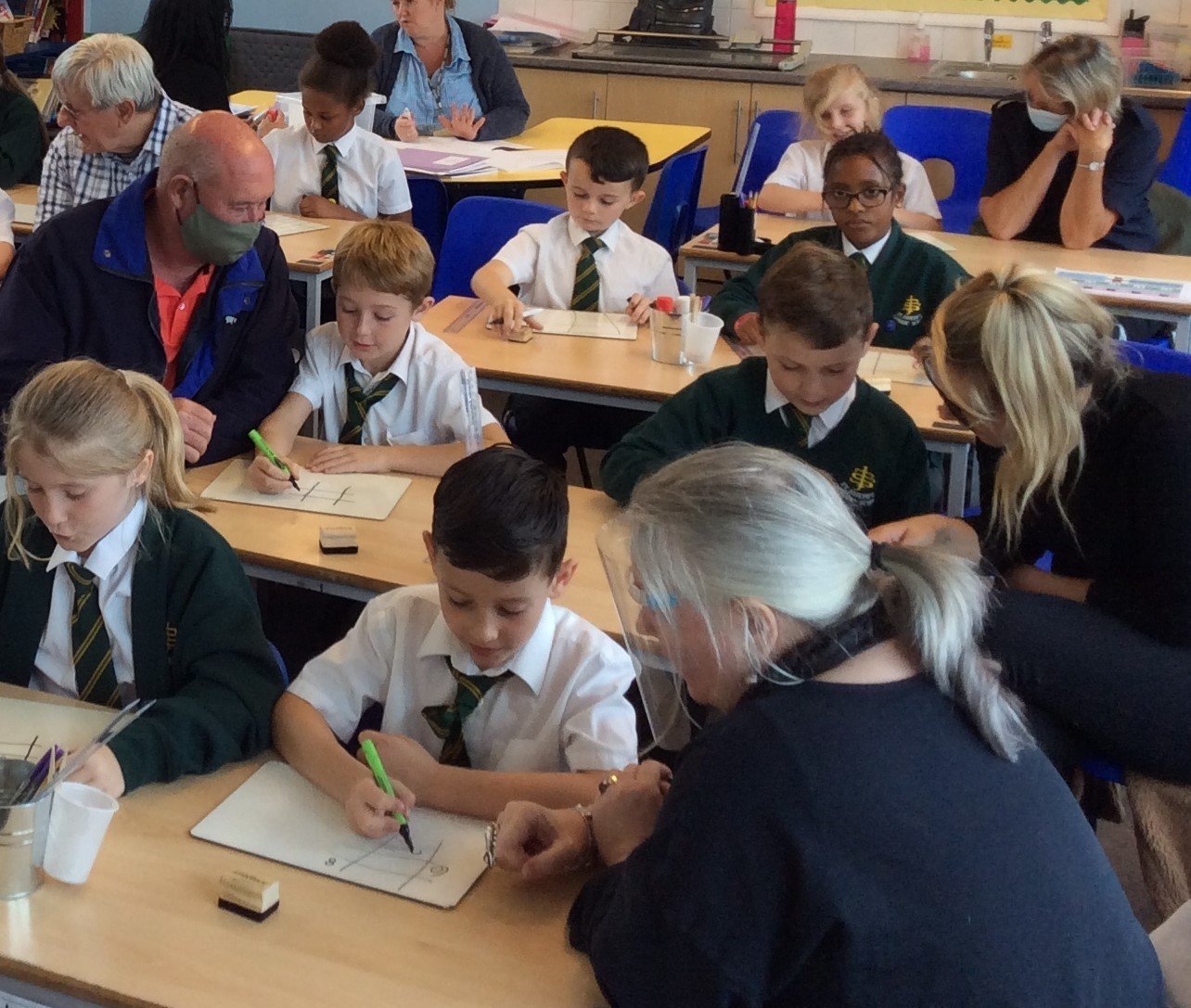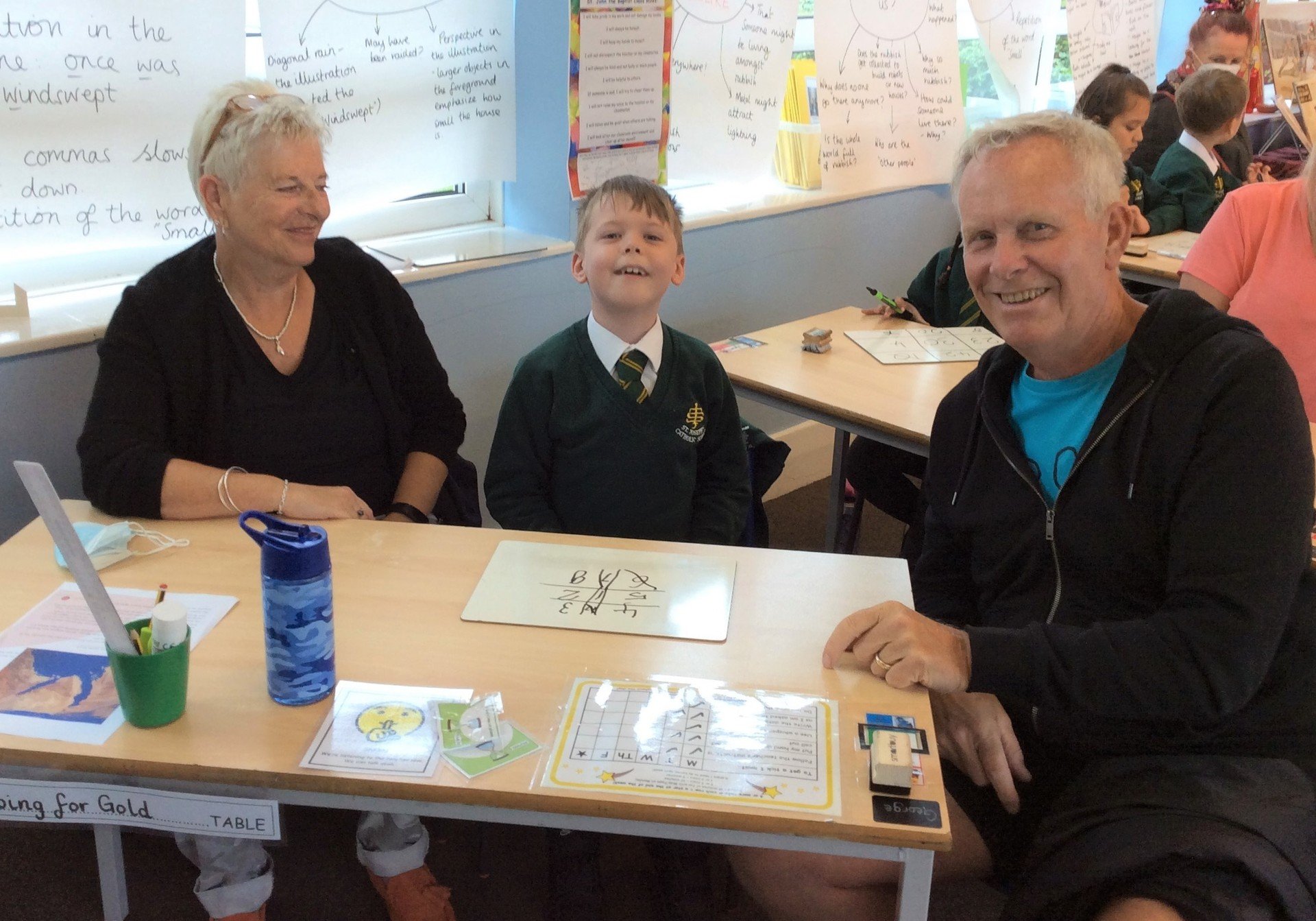 We have so much to learn from our grandparents and today was just a small way of celebrating the important contribution made by grandparents in their grand-children's lives.
Outdoor Learning:24.9.21
Today was Year 4's first curriculum based outdoor learning day of this year. They were very lucky with the weather and were able to explore our outside area safely.
Taking the curriculum outdoors has a considerably beneficial impact on the learning and development of pupils. From enhancing problems solving skills to communication and resilience, outdoor learning provides endless opportunities for exploration, experimentation and contextual learning.
Here are a few photos from today's outdoor learning: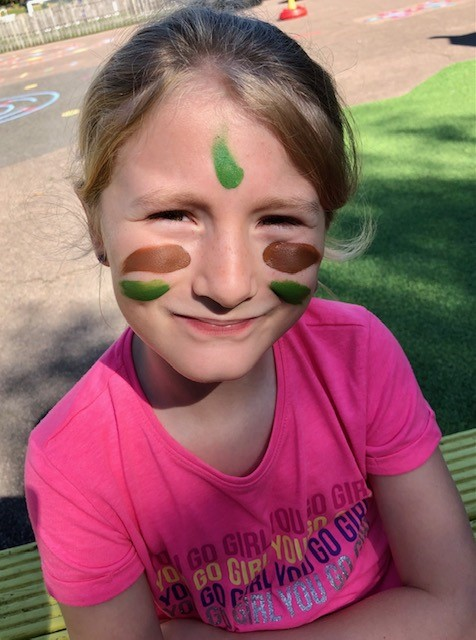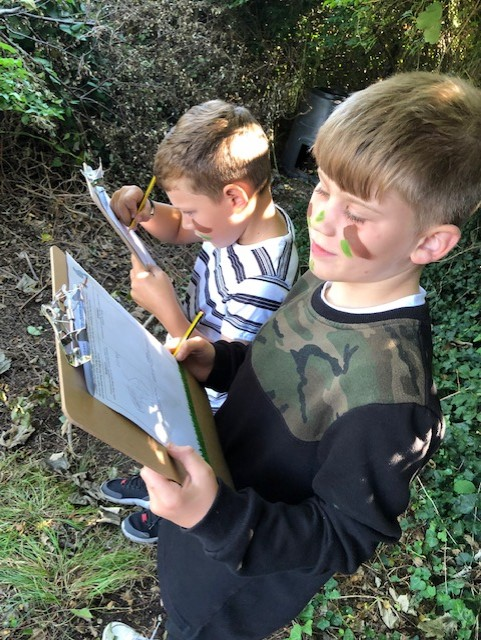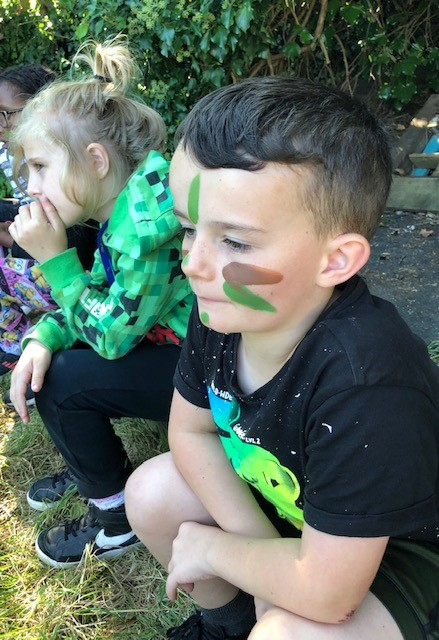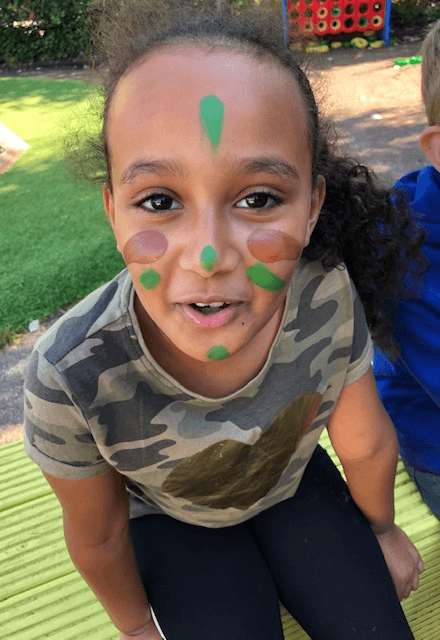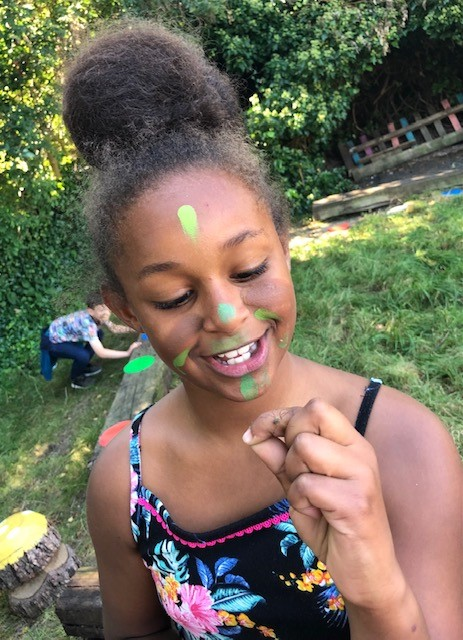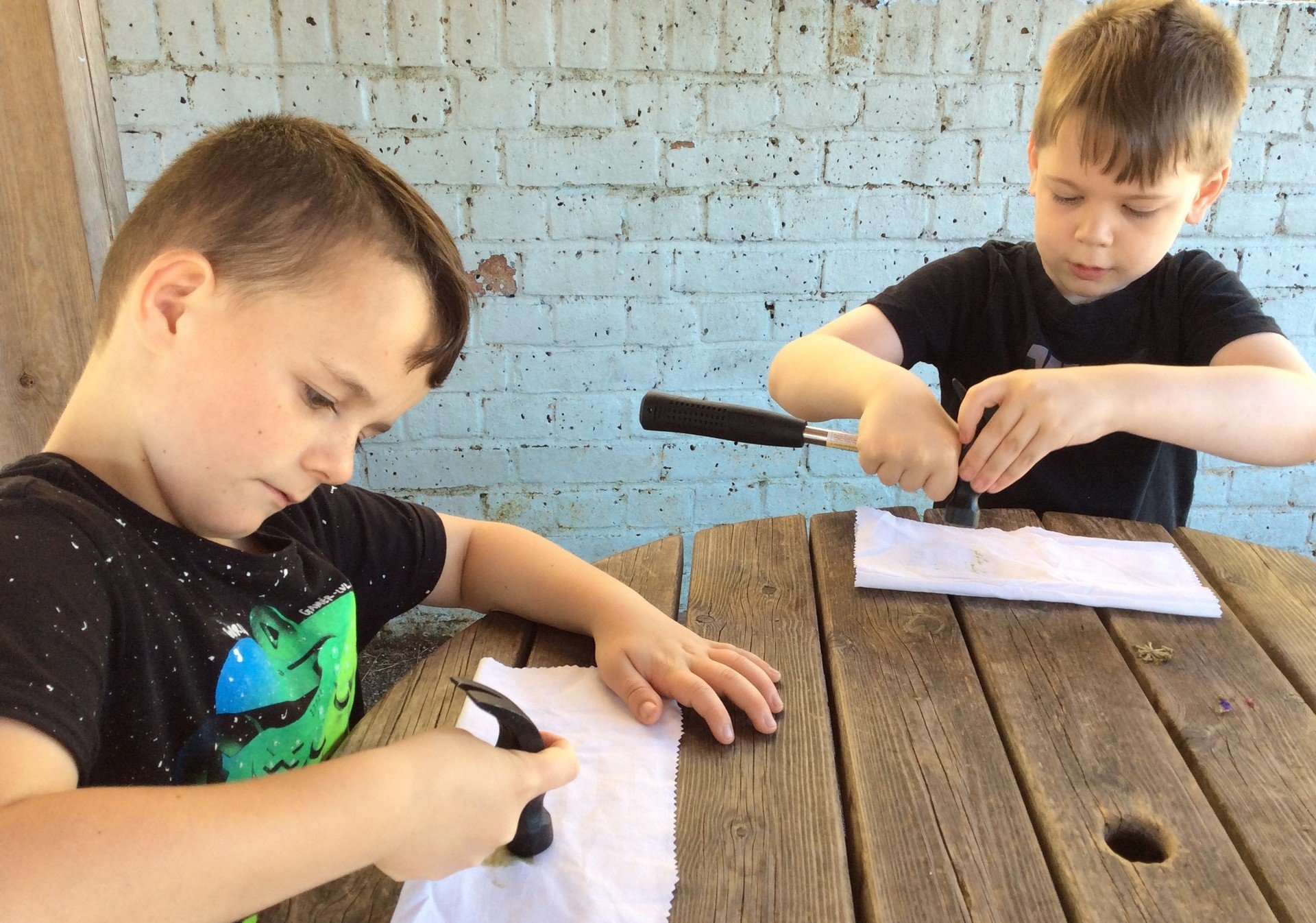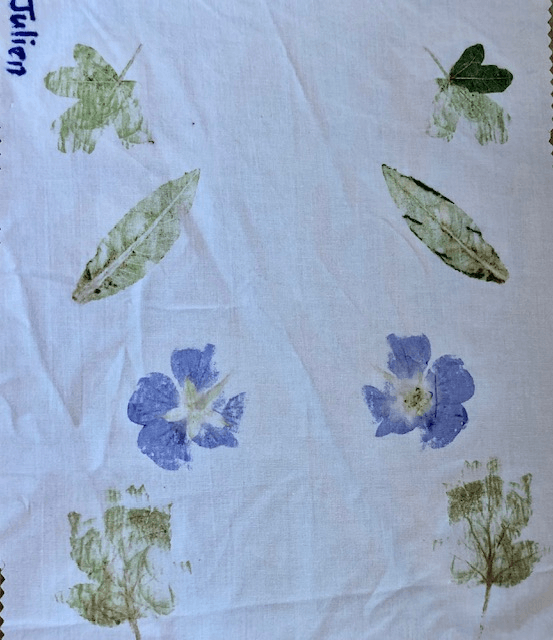 Super Scientists!
Year 4 were learning about the digestive system and the function of each main part in their Science lesson today. We carried out a demonstration to show the function of each part. First we cut up a banana - showing that our teeth need to break our food into smaller, more-manageable pieces.
We added some water showing how saliva helps to soften the food and make it easier to swallow. We poured this into the oesophagus which led to the stomach, where we mixed it with acid (orange juice)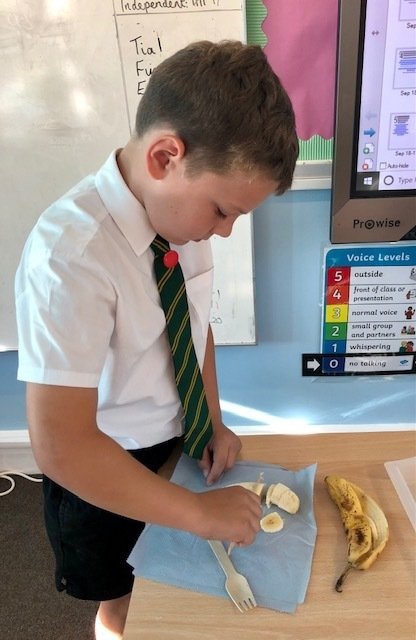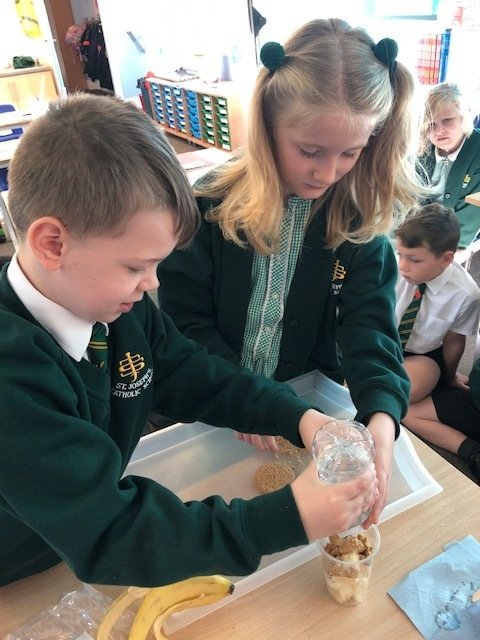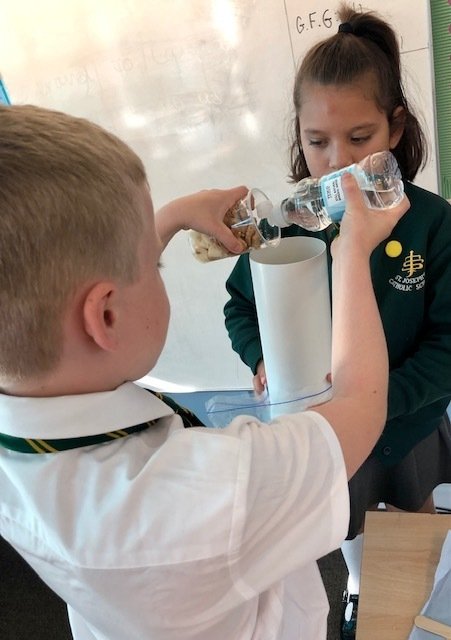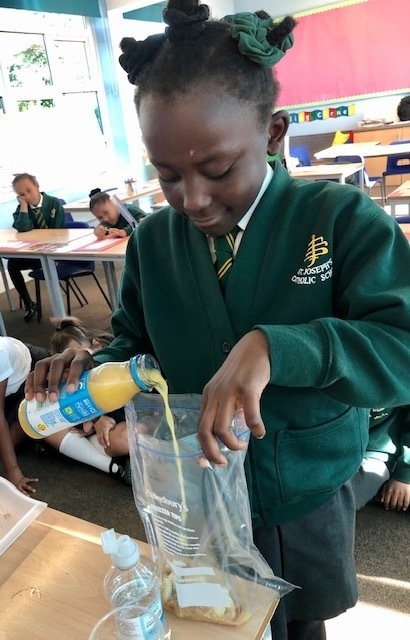 We mimicked how the muscles in the stomach make the food sloppy and how the food then travels through the small intestine (a leg of a pair of tights) where the nutrients are absorbed into the body and watched the solid waste continue into the large intestine, before coming out of the body as waste.
It was rather disgusting but a Science lesson we will never forget!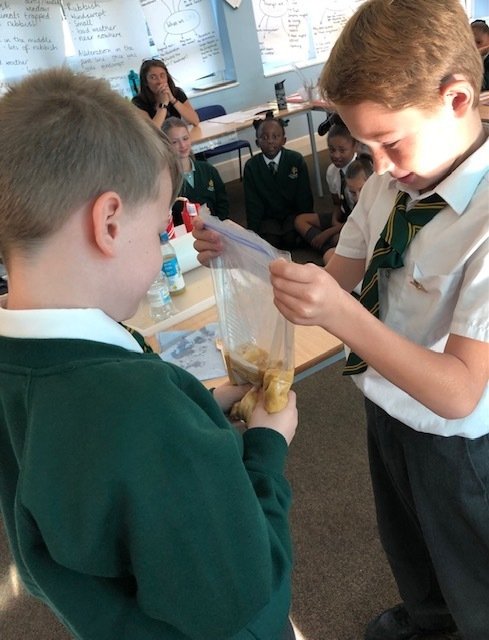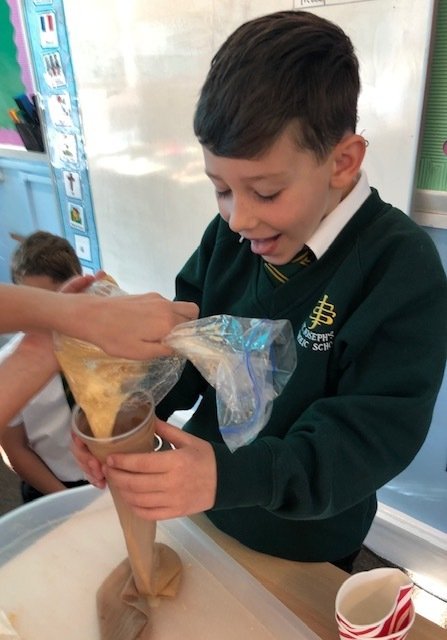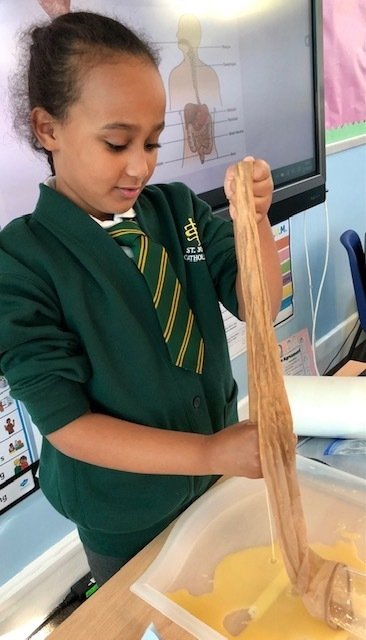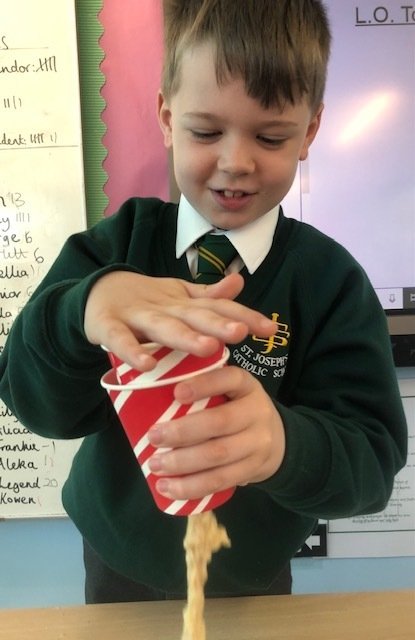 Upcoming dates
Our outdoor learning day is Friday September 24th. The children will be outside all day and will need to wear old, practical clothes.
"Grandparents Week" - The Year 4 session will be held in the classroom on Tuesday 28th September from 2 p.m. - 3 p.m. We will be playing calculation and music bingo! We hope you can join us.
"Meet The Teacher" will be held in the Year 4 classroom at 3.10 p.m. on Tuesday 28th September. I am looking forward to meeting you all.
General Information :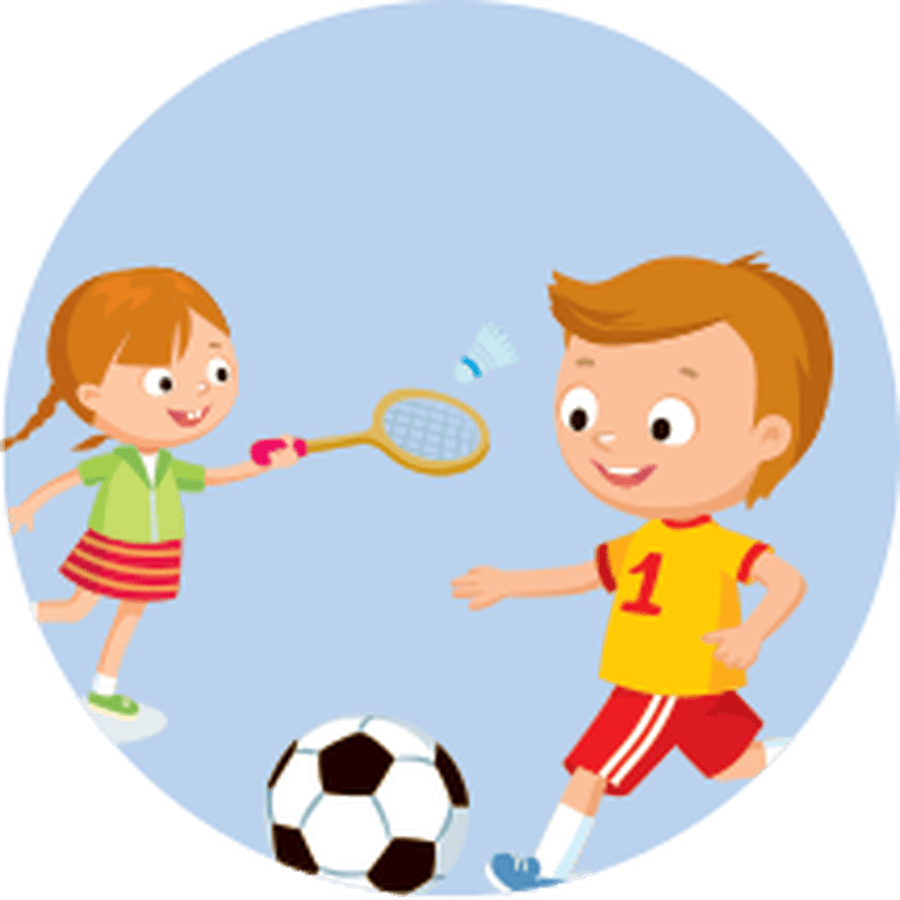 Our class PE days are Wednesday and Friday. Miss Pippa will be teaching football on a Wednesday and Miss Cross will be teaching Dance on a Friday.
Please make sure your child has a full PE kit in school at all times - black shorts, a green St Joseph's t-shirt and trainers or plimsolls.
Year 4 children will also be doing the 'daily mile' on the other three days.

Please encourage your child to read as often as possible (ideally at least three times a week.) This can be by themselves, to a family member or to a sibling - please remember to record it in the reading record books. These will be checked on a Monday.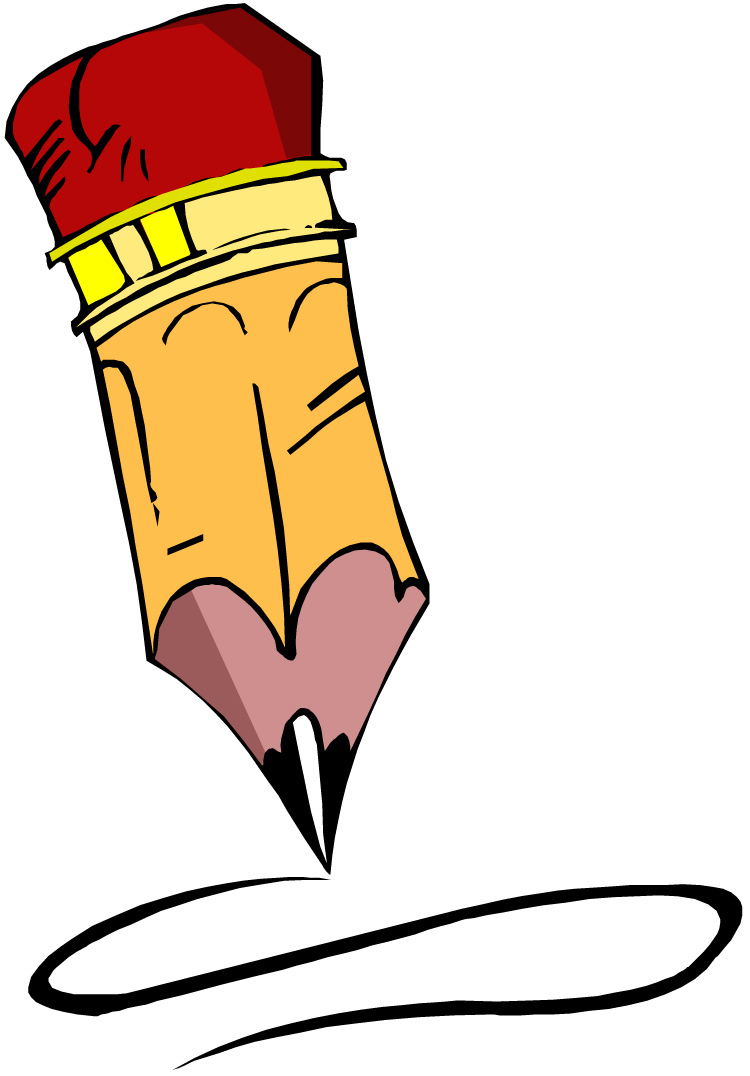 Homework will be set on a Thursday and is due back in on a Monday. This will include spellings and times tables as well as a short English and Maths homework task. Spellings and times tables will be tested on a Friday.
Thank you parents and carers - we really do appreciate your support.
Please click HERE to see an overview of our learning in Year 4 this term.
We have some Roman artefacts and information books on our class topic table to help us find out and learn more about the "Roman Rule."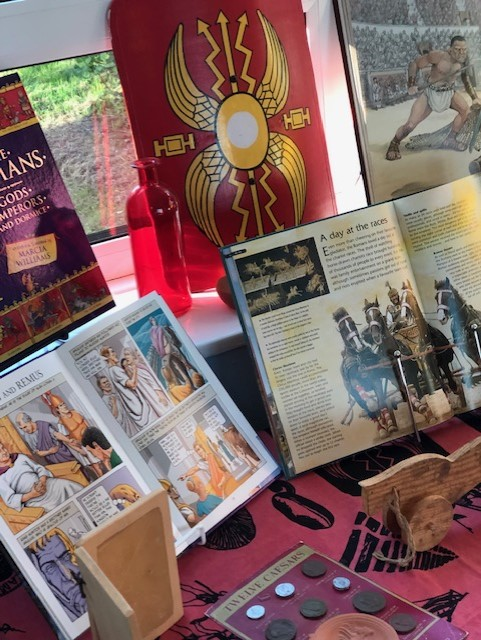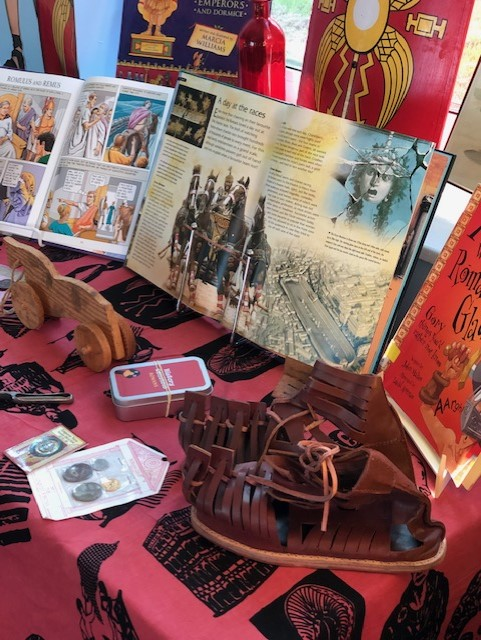 If you would like to earn some extra DOJO points by getting creative, click HERE to see the different POWer Projects that you can work on at home.
"All roads DO lead to Rome!"
17.09.21
Today, in Year 4, we had our topic launch. The children worked in groups of three to create "Roman Roads" by following a series of instructions. The tasks required good teamwork skills and the final solution revealed the topic title for Year 4 - "ROMAN RULE"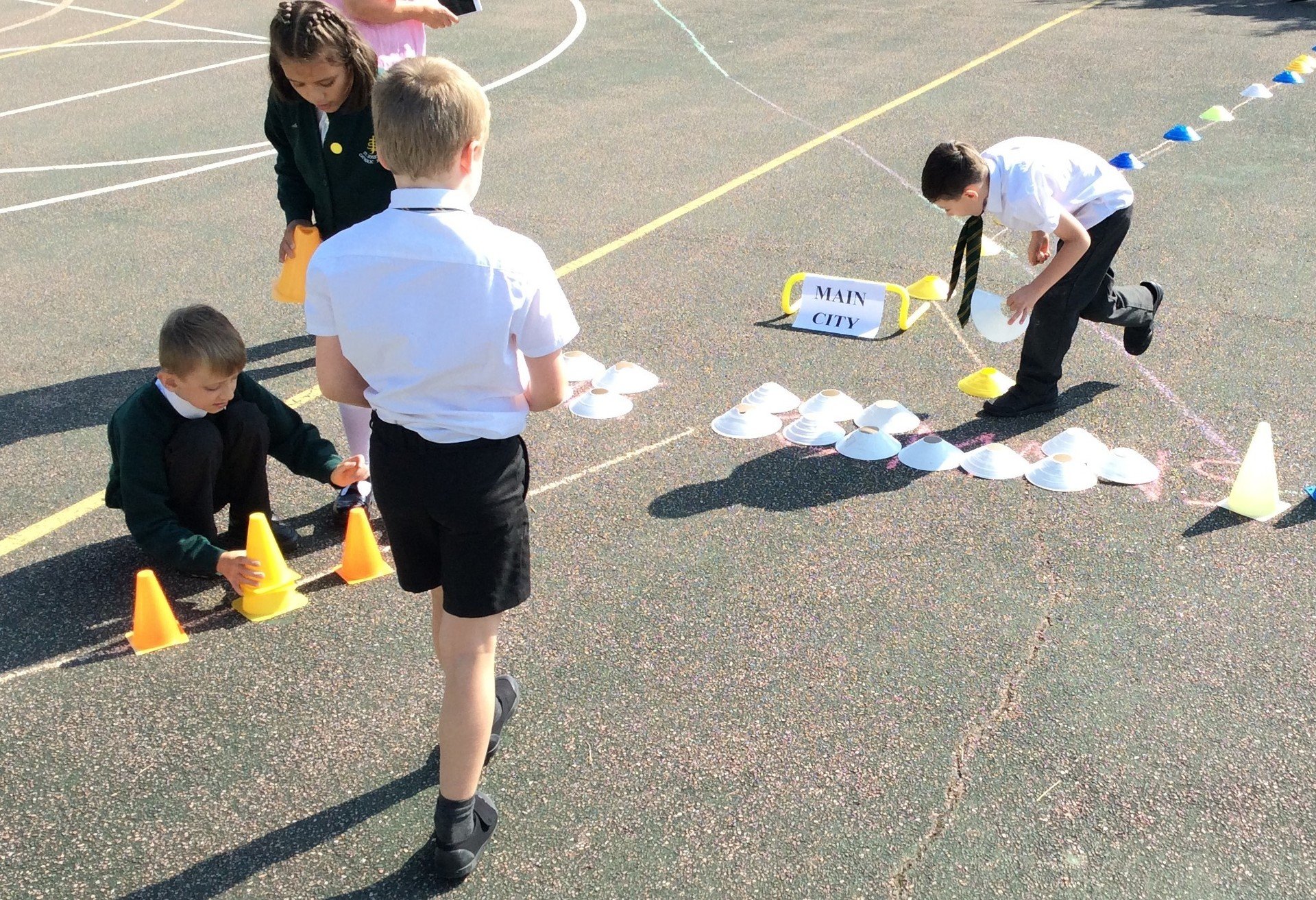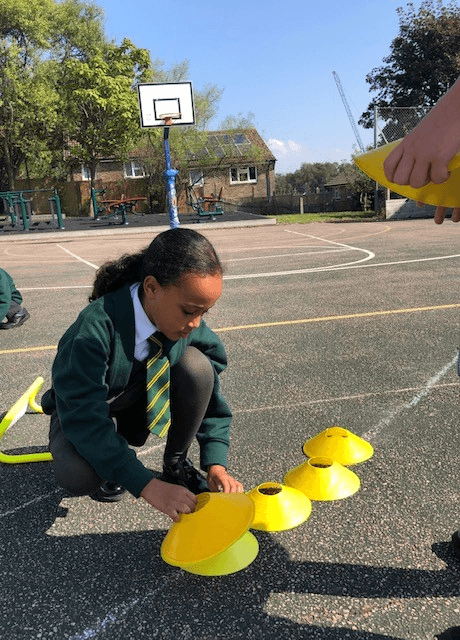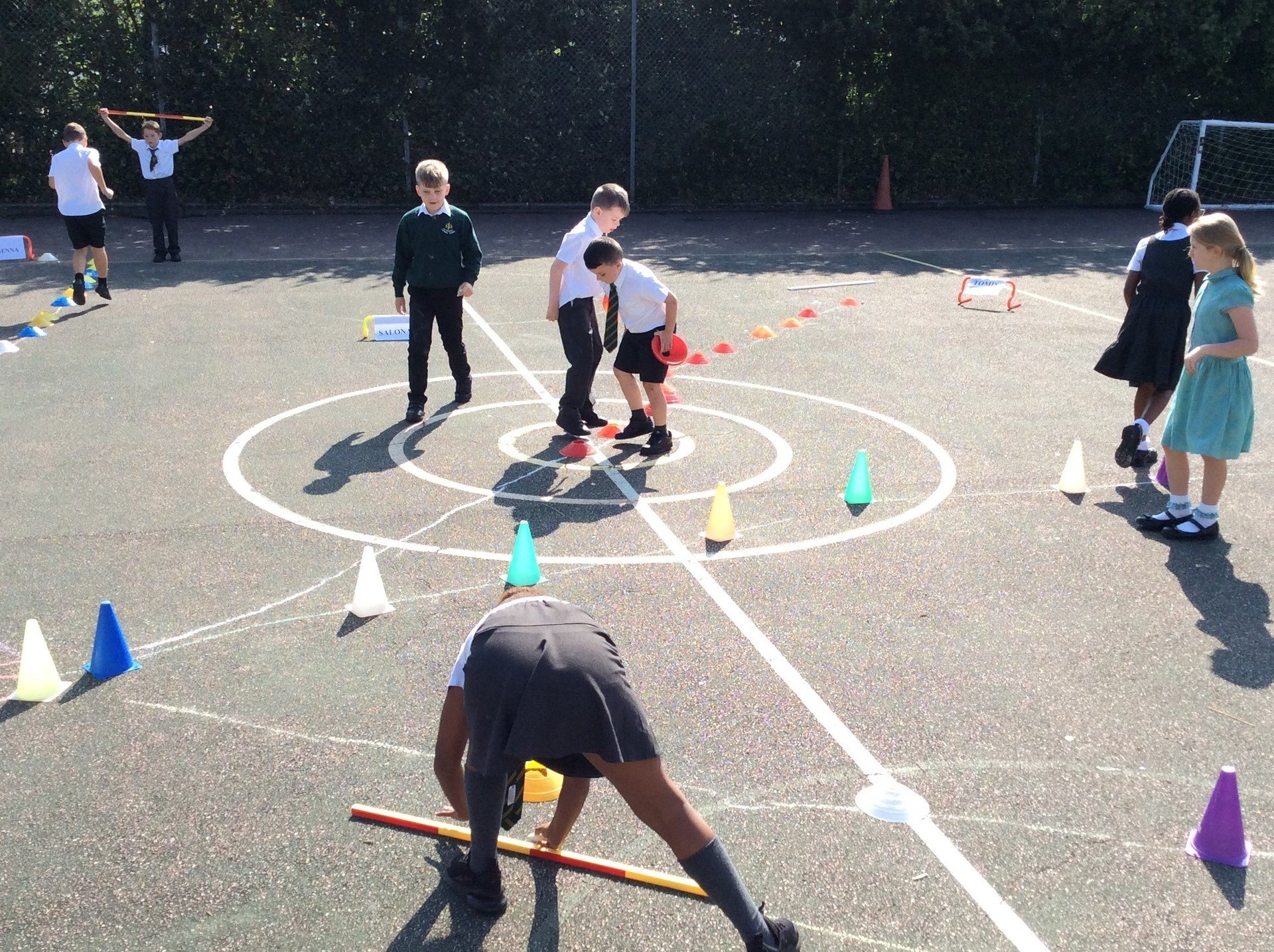 10.09.21
Welcome back! The children in Year 4 have settled in so well this week.
Their Science learning this week was about identifying the main parts of flowering plants and learning about their different functions.
To help them learn more about this, they children carefully dissected a flowering plant to explore the different parts. Here are a few photos: