Welcome St Anne's Class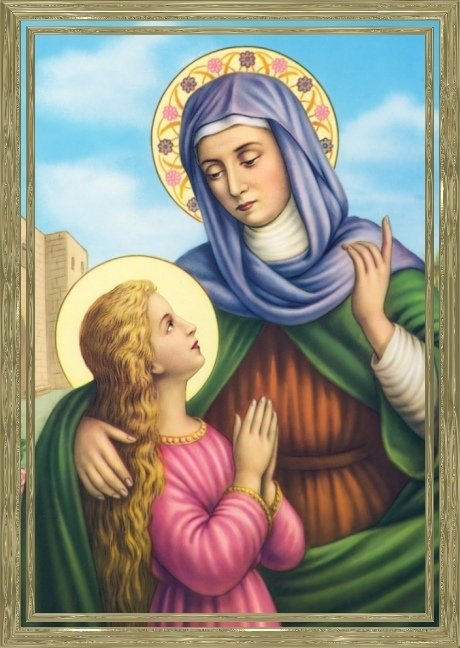 Our class is named after St Anne. She was Mary's mother and Jesus' grandma!
Welcome to St Anne's Class page. Here you can see what learning is going on in our class and at home.
24.05.21
This week was science week! All of our activities took on a scientific flavour. We explored how to move water from one place to another quickly and slowly. The children enjoyed building waterslides for the Duplo figures.
We talked about the importance of scientists and how they have found a vaccine for Covid and so we made our own mixtures and potions and labelled the bottles.
The whole school was thinking about Light after reading the story 'Star in a Jar' by Sam Hay and Sarah Massini.
We found out that stars are actually the same as our Sun but further away and they are on fire. We made our own sparkling stars and wondered "Will they sparkle in the dark?". Everyone thought they would until we took them into the darkest place in the school and turned out the lights! They didn't shine. We tried lots of different shiny things that we found in our classroom. We found out that shiny things need light to shine.
17.05.21
This week we celebrated the Month of May by paying homage to Mary. We wore blue to school, sang to her and crowned her the Queen of Heaven. Some of us brought flowers to school to lay at her feet. We have also been working very hard on our numberwork. We are learning to count on and say 1 more or 1 less from any number!
10.05.21
This week we have been using collage and a range of media to get creative with sea creatures. We used bubble wrap, foil, Cheerios and anything we could find to make our sea creatures, even Duplo! Our non-fiction book about sharks is also keeping us busy. We have discovered many facts and are slowly adding them to our own book.
03.05.21
This week we have been customers and waiting staff in our new role play area 'The Fish Restaurant', mackerel or bream, it's so difficult to choose! We have also been exploring creatures that live under the sea in our creative areas. Collaborating on large pieces of work has been fun and using collage to represent fish.
04.05.21
Today we started our 'Under The Sea' topic. We looked at some real fish. We used a range of media to create some sea creatures. We tasted mackerel and bream. The children that were daring enough to taste the fish loved the mackerel the most. Very tasty!
The children were fascinated when we cut up the fish. They noticed fins, gills, scales and tails. We saw that the fish had tiny teeth, bones and blood too.
We St.Anne's Class took on board Captain Tom's 100 Challenge. We had great fun using 100 handprints to make numeral 100! It took a lot of coordination and a lot of paint. We used exactly 100. Good counting everyone.
We will be starting our new topic next week.
Under The Sea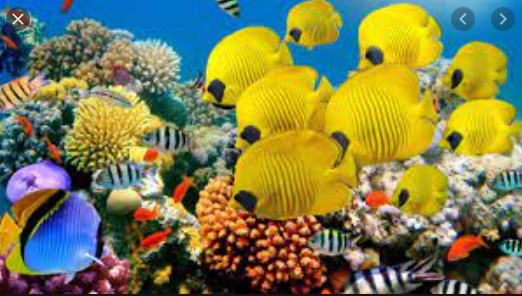 Click here for the topic overview.
We are very lucky to have a PGCE teaching student with us this term. Mrs Mary Ogar will be working with us until July 2021.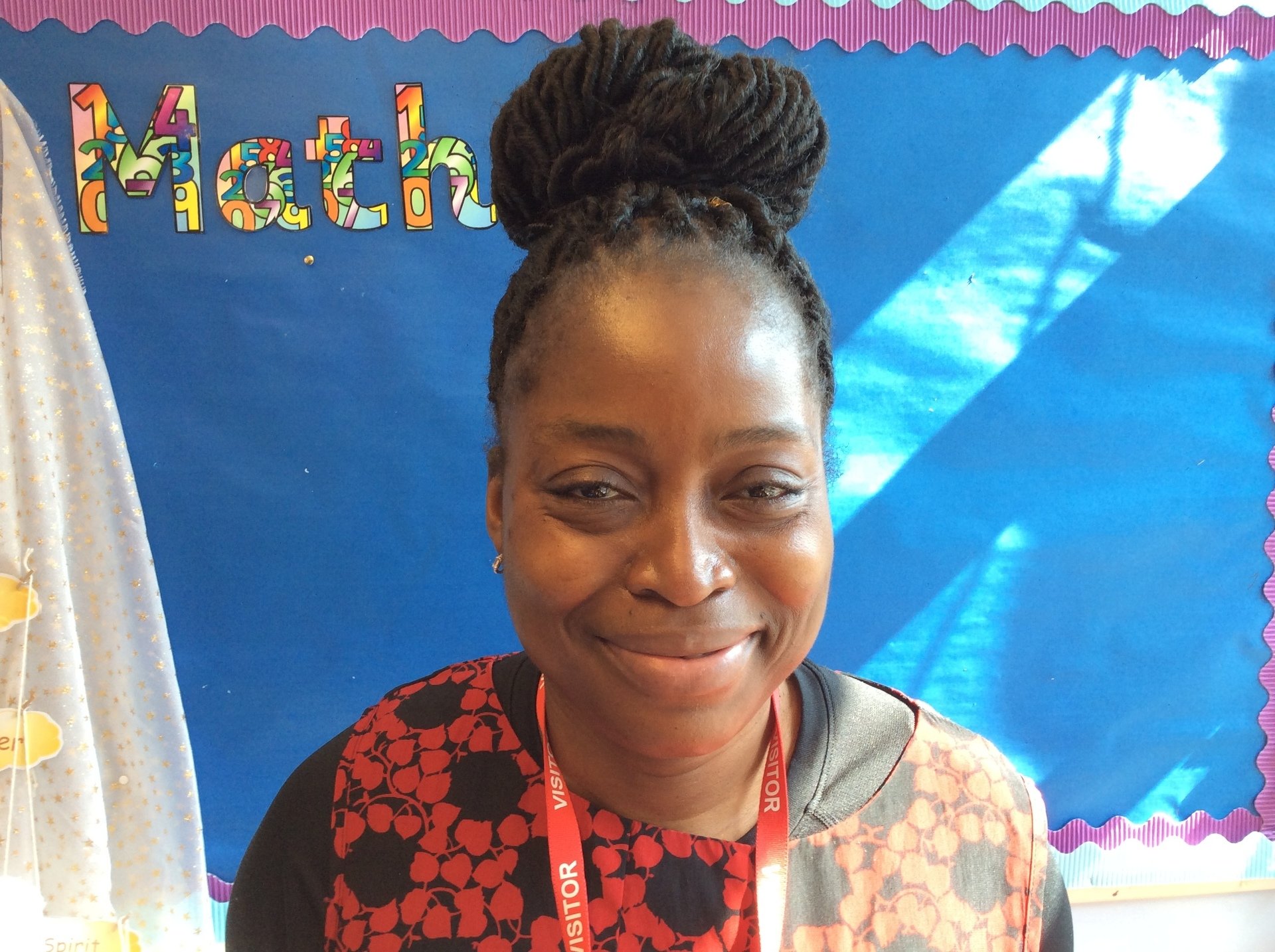 We had Good News too this week! NEW BIKES!
Some of them carry two people so we can develop our skills of cooperation. They are already a big hit with the class.
19.04.21
This week we have been working in our new role play which is a construction site, designing and making buildings. Our new story is about Monsters! We have made our own monsters and we will be taking them on adventures soon (when they get harder). We pretended to be different types of monsters: naughty monsters, sad monsters, flaming monsters and monsters in love.
29.03.21
This is Holy Week and we have been learning about the significance of the cross. We found out about what happened on Good Friday and how Jesus died. We have hot cross buns at Easter to remember that Jesus died on a cross. We made hot cross buns to help us think about him. They were delicious.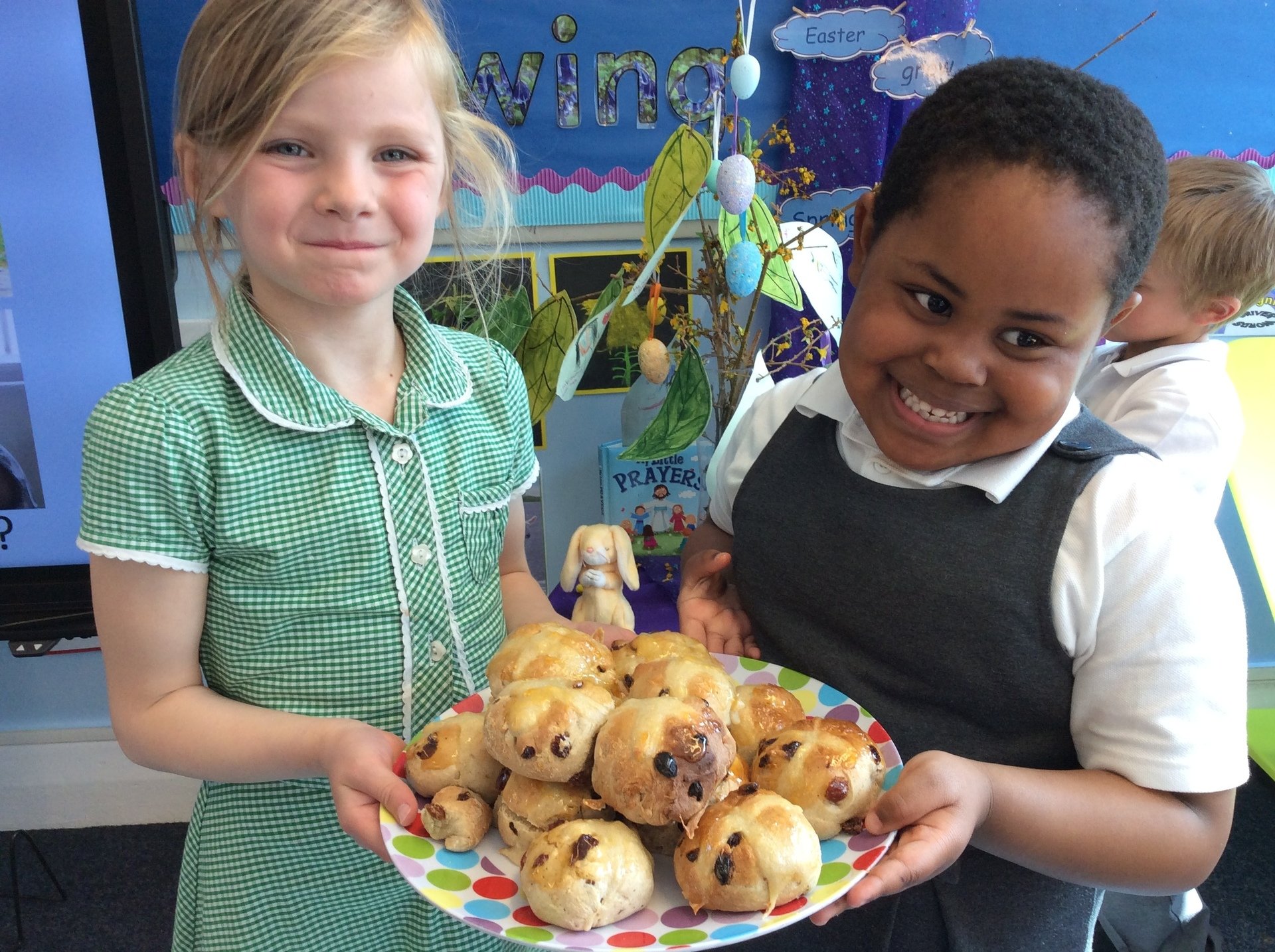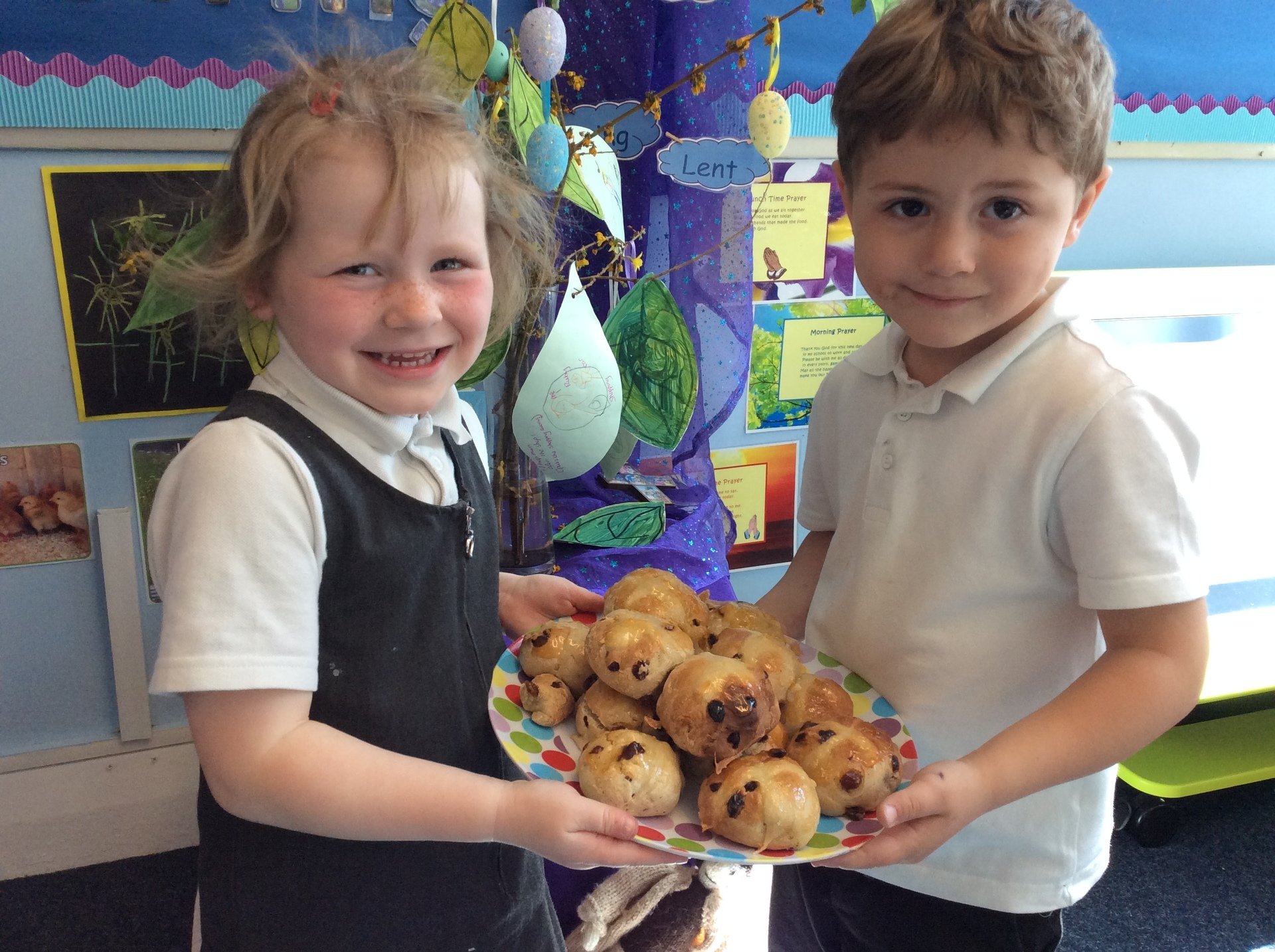 22.03.21
Someone left their gold and an enormous set of keys in our classroom. We wondered where they had come from. Some of us thought it was from a pirate, some of us thought it was a giant. We needed to know, so we made some posters to try and find out who it was.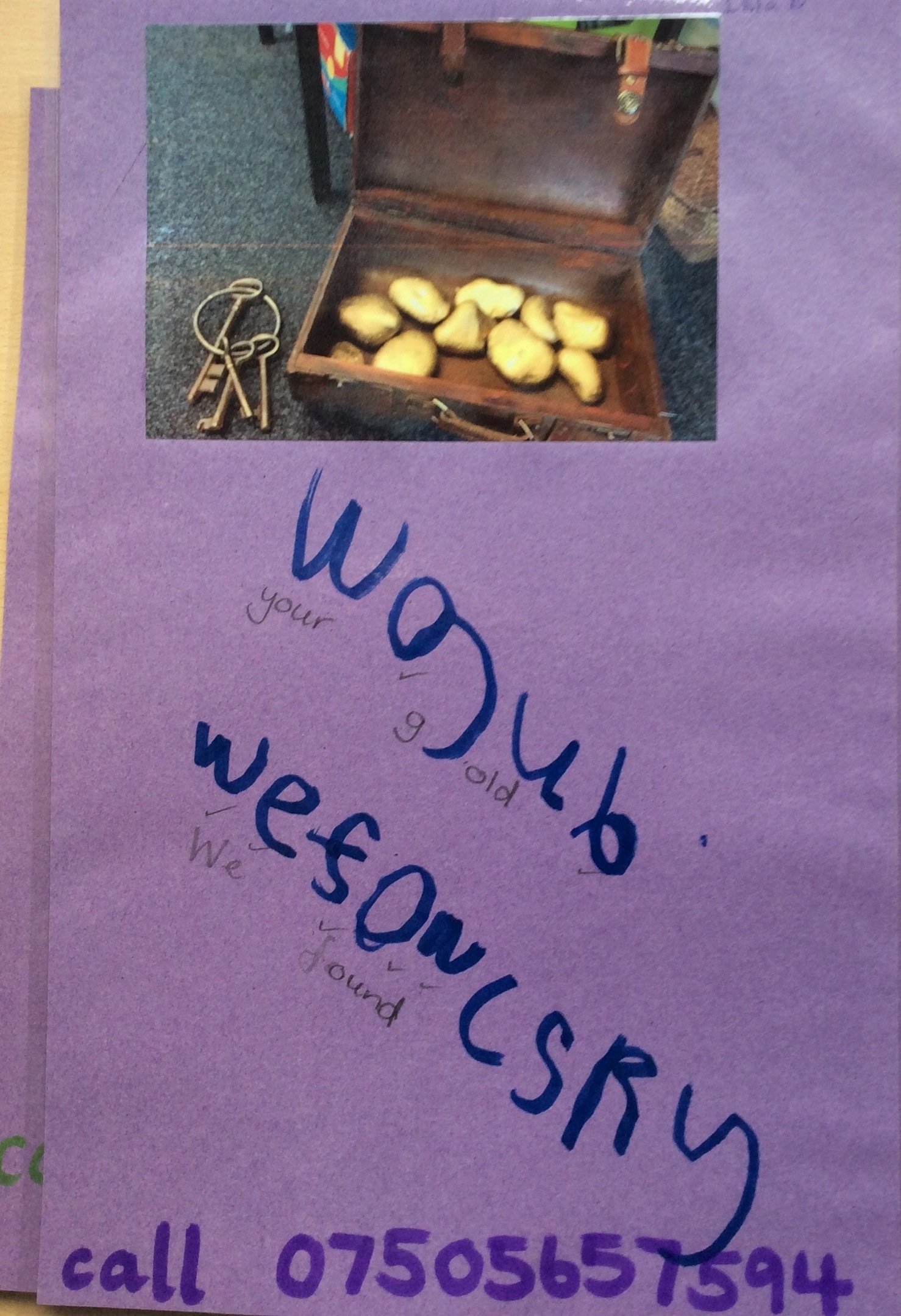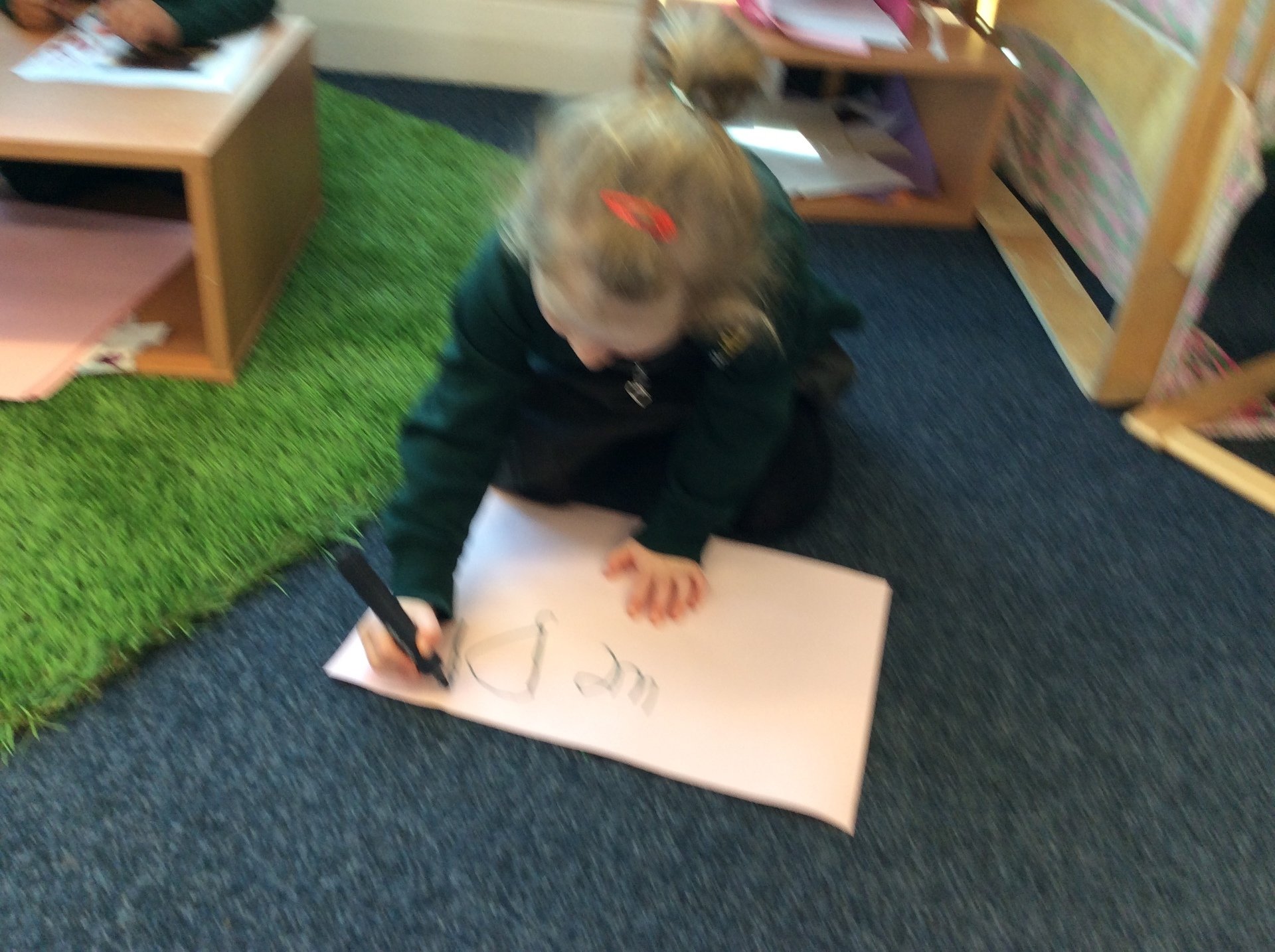 A few days later someone called the number. It was a giant! He was locked out of his castle. He wrote us a massive letter and asked us to leave his things under the slide in the playground because he couldn't fit into the school! He collected his property and left us some beans! Some of them were golden! We planted them....but the next day someone had dug up the golden beans and left some very big footprints. We thought that the giant was cross with us so we made him a huge cookie to cheer him up! All this fun stimulated a lot of independent writing in our class , giving the children a purpose to write for a genuine audience, the giant.
St.Joseph's Day was on Friday 19th March. We had lots of fun and learned some facts about him. He was a carpenter, which means he made things out of wood. We made Easter chicks out of wood too. The flower that represents him is a lily. We made lily-shaped wraps and paper lilies to lay at
St Joseph's statue in the foyer.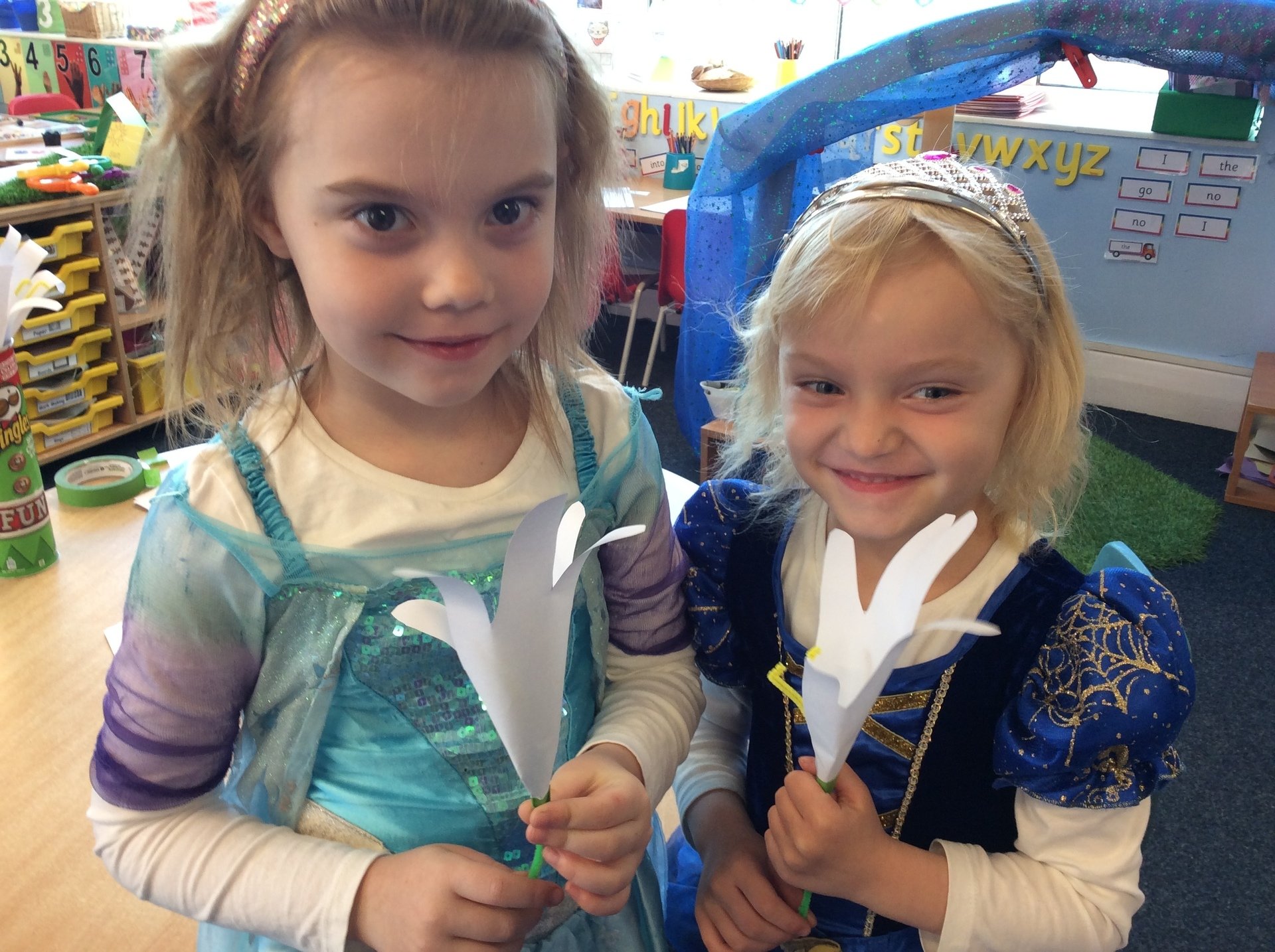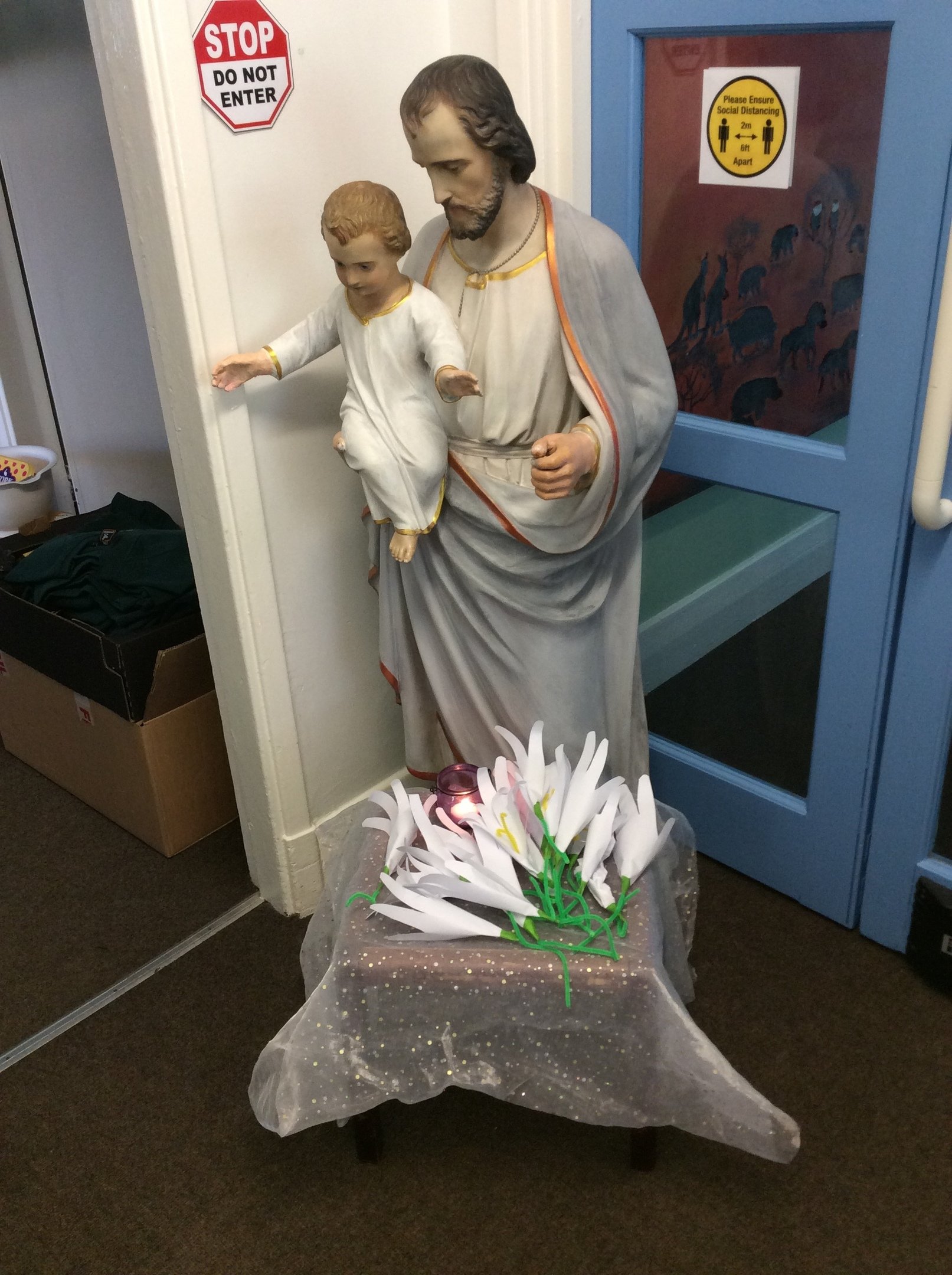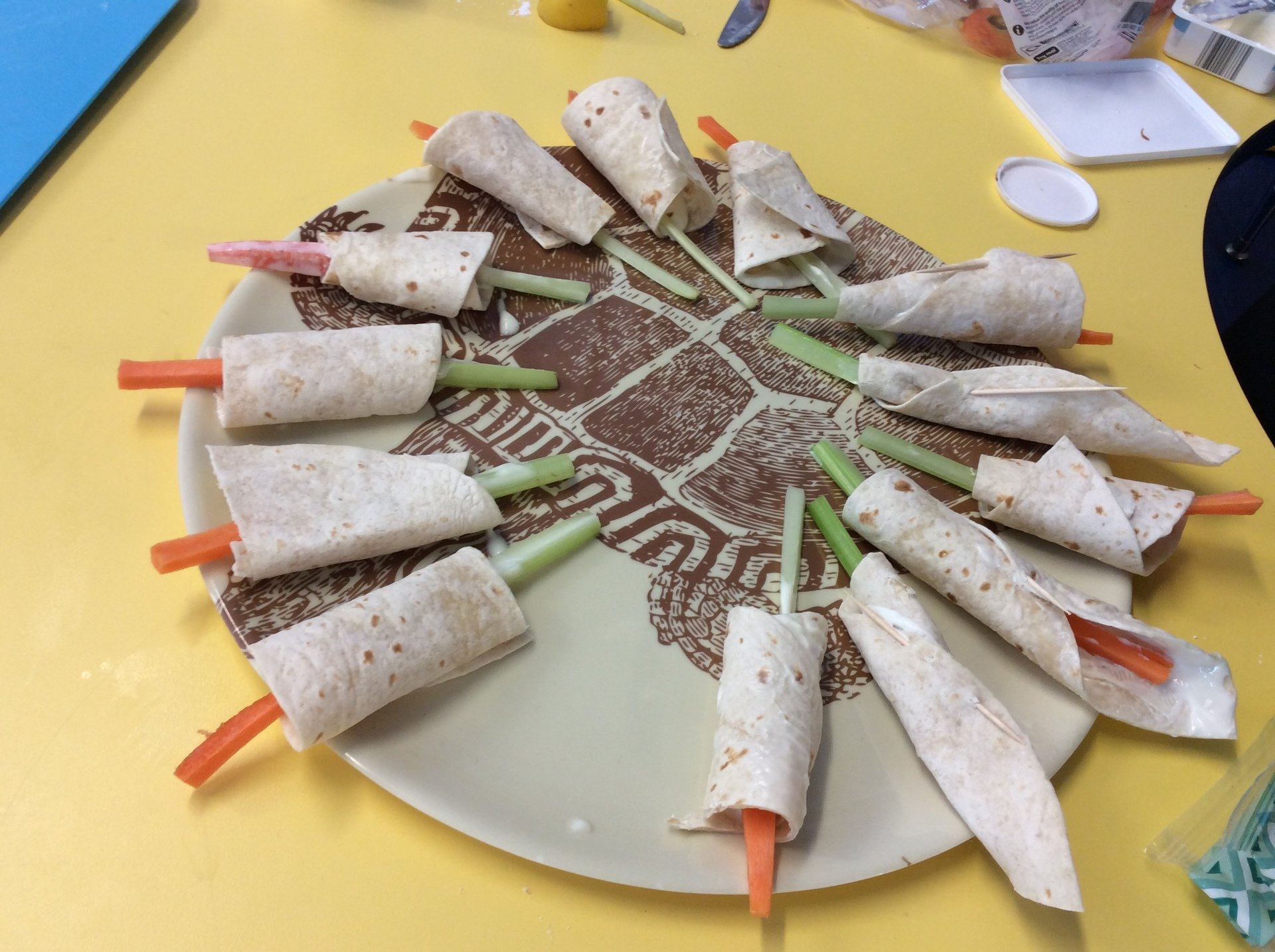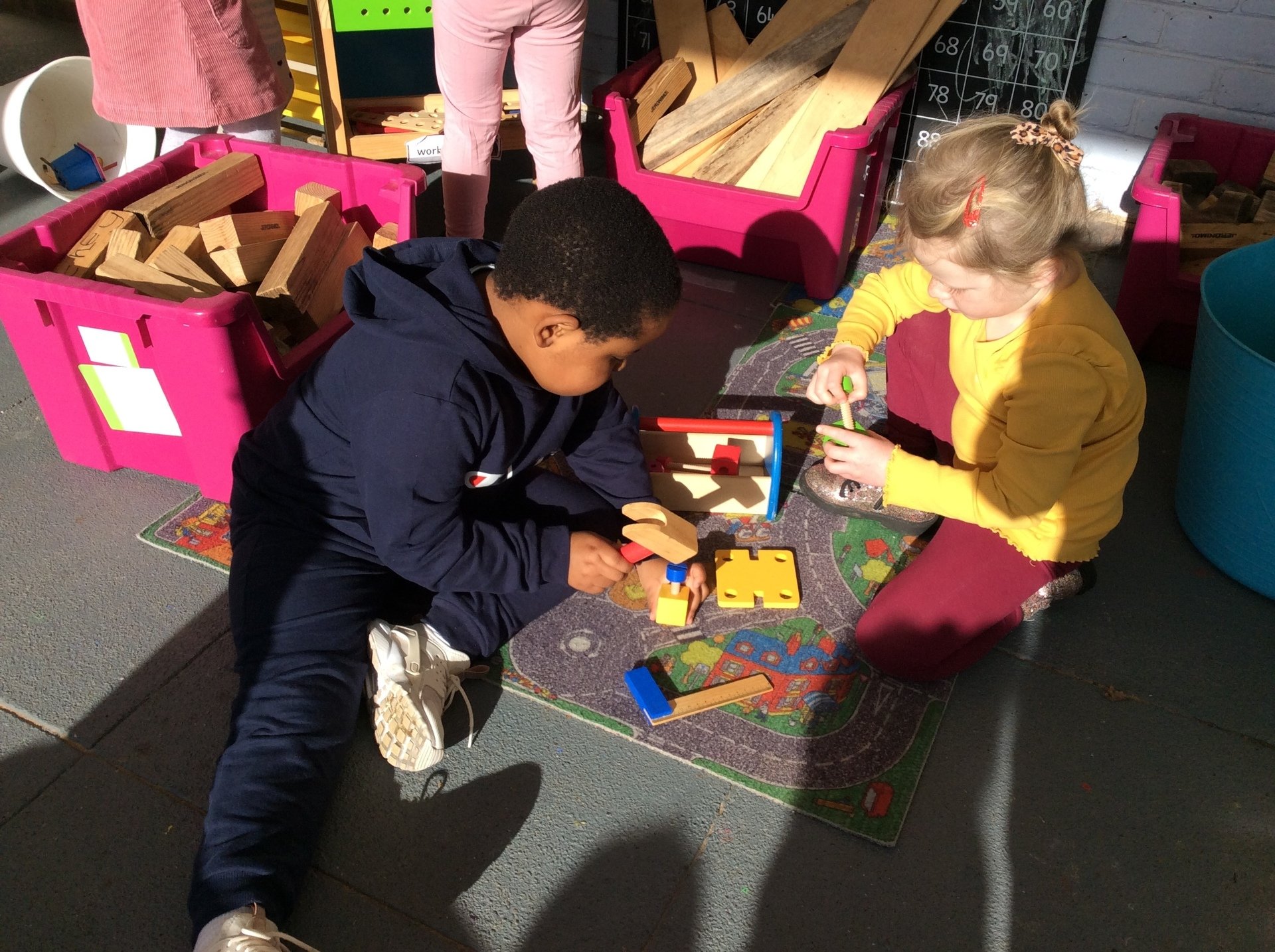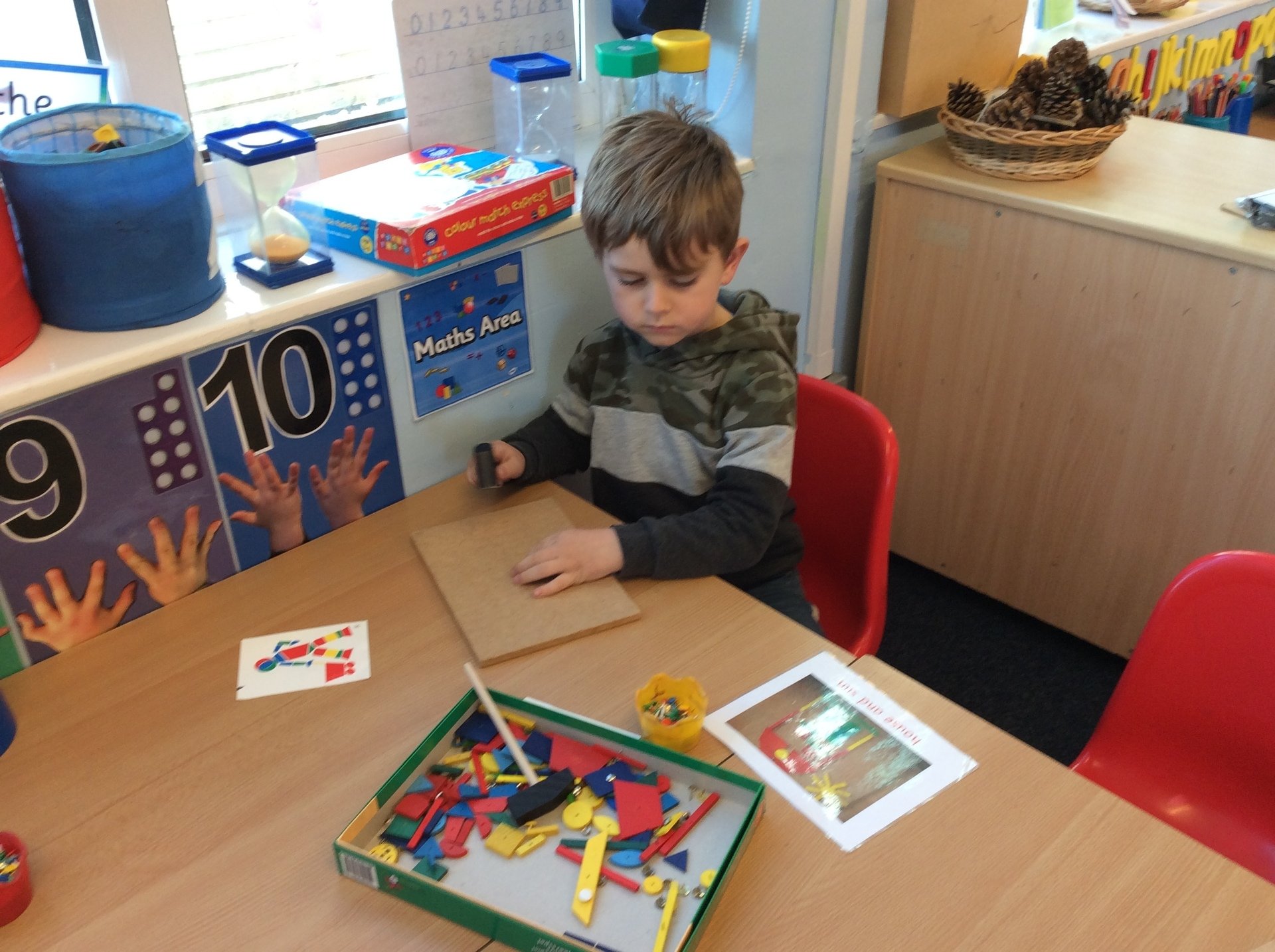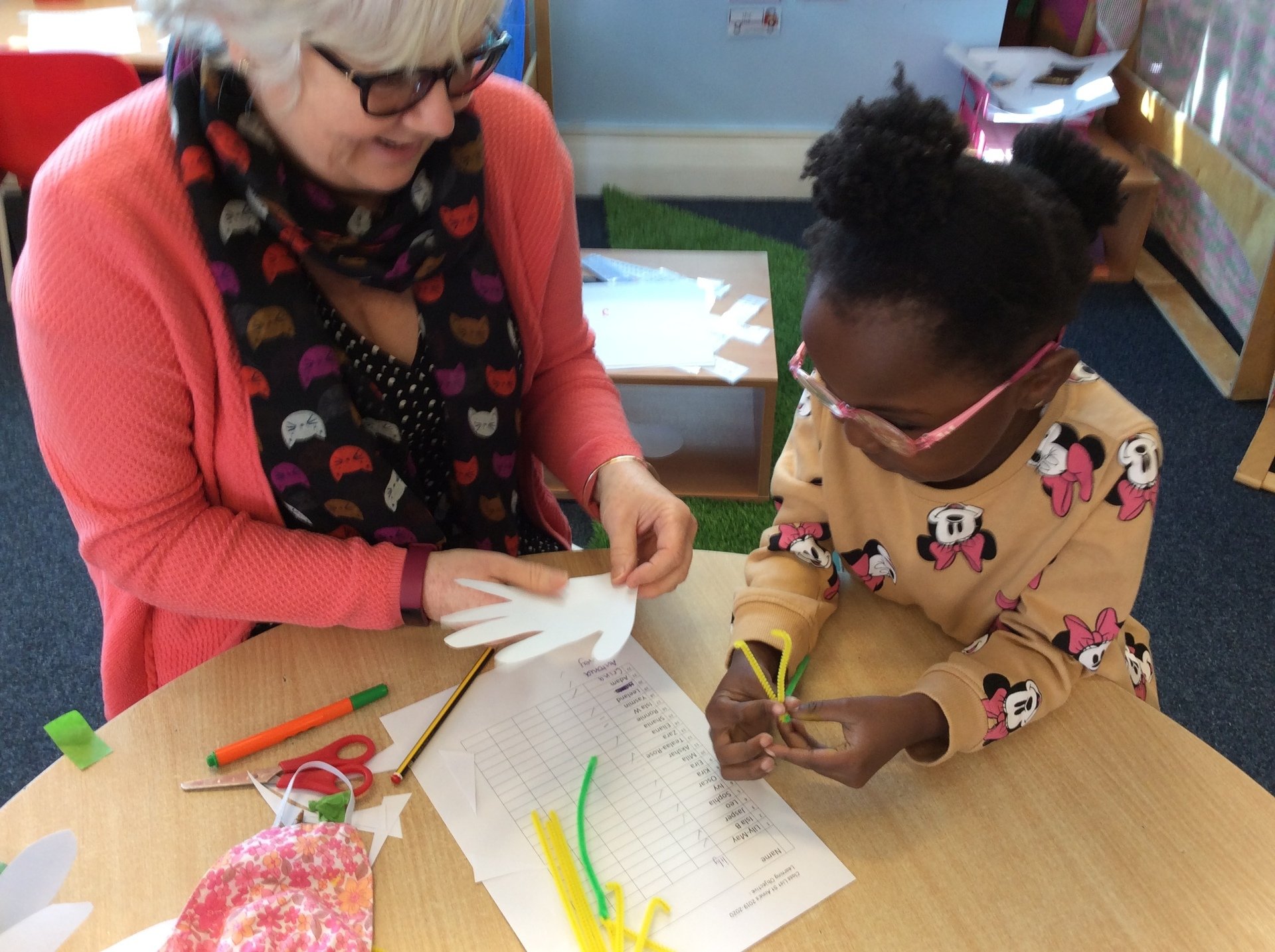 15.03.21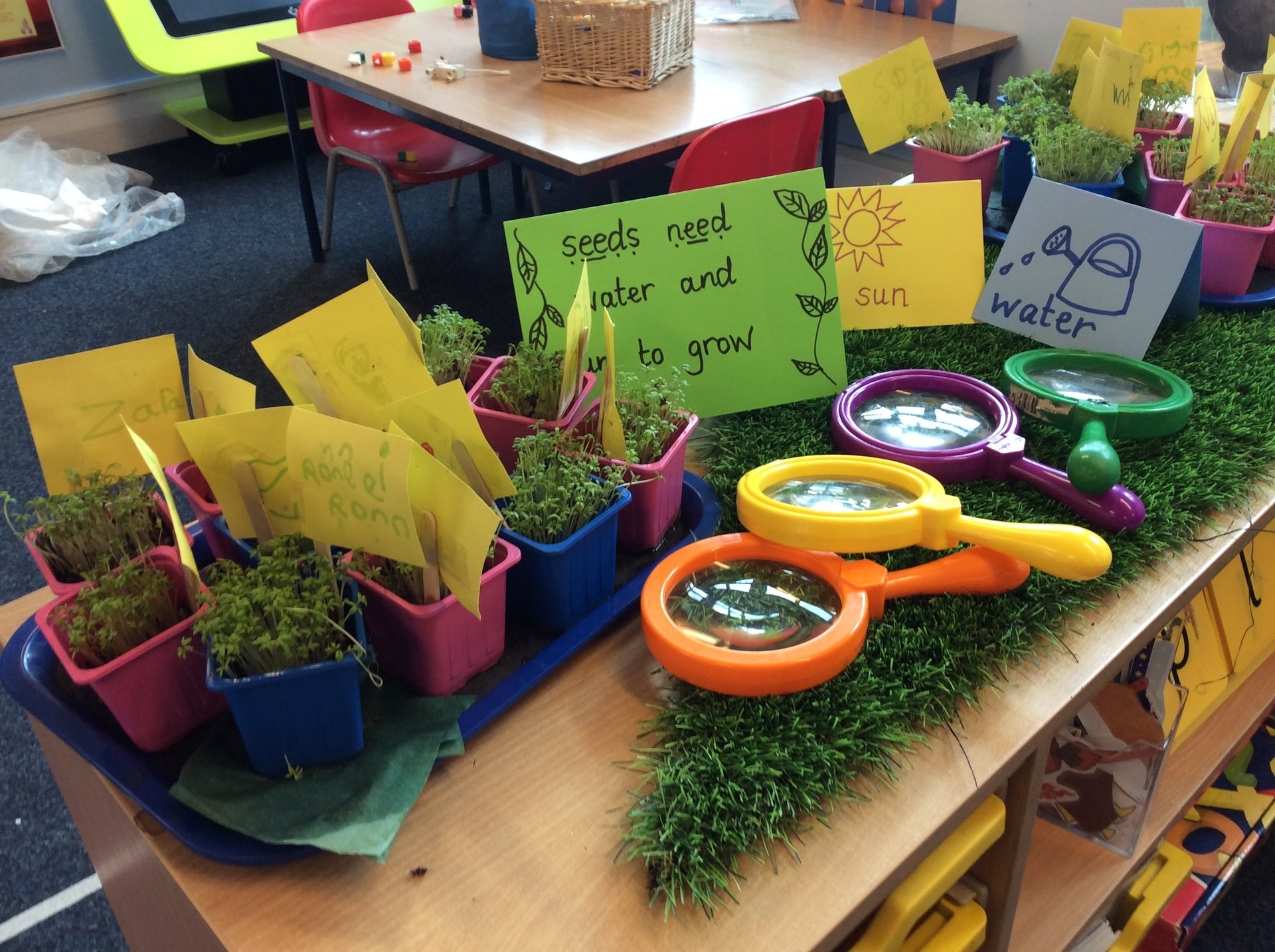 This week we have been thinking about how things grow and watching our cress seeds change. We found out that seeds need light and water to grow. We found out that roots go down into the soil and the plant grows up to the light. We also tasted cress on crackers which was delicious!
08.03.21
We are all delighted to be back in school and learning again. This week we have been learning about Spring and how things grow. We have been on a hunt for signs of Spring and made some lovely pastel drawings. We have made Spring biscuits to enjoy and decorated them to look just like blossoms! They were delicious too.
It's World Book Day tomorrow. I would like to read one of my favourite books to you. It's called 'Naughty Bus' and is written by Jan and Jerry Oke. Click below to hear me read it.
Naughty Bus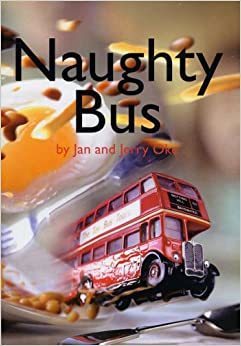 I hope you enjoy it too!
Lily-May has been very busy this week with maths and reading cvc words. She is looking forward to, hopefully, coming back to school on the 8th of March!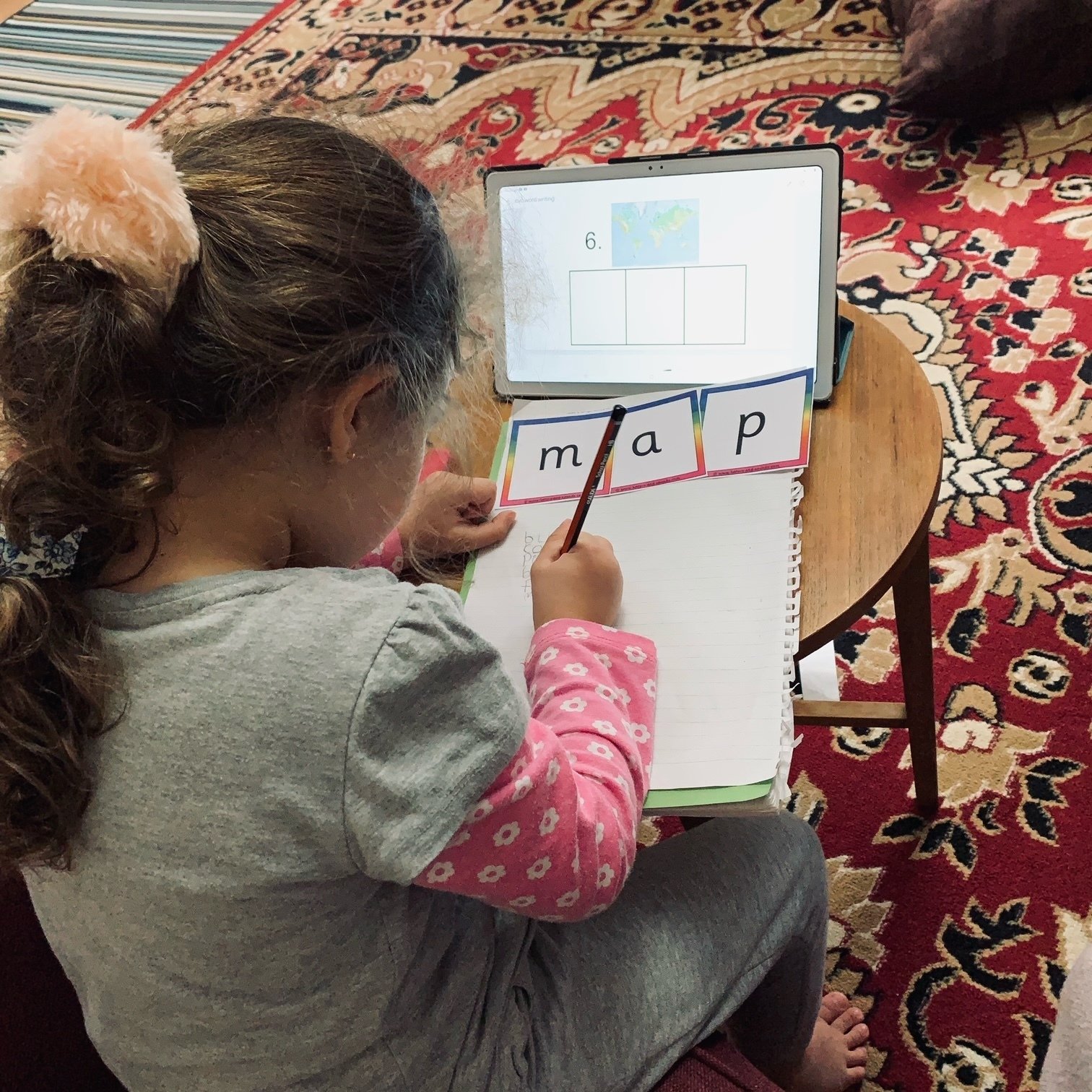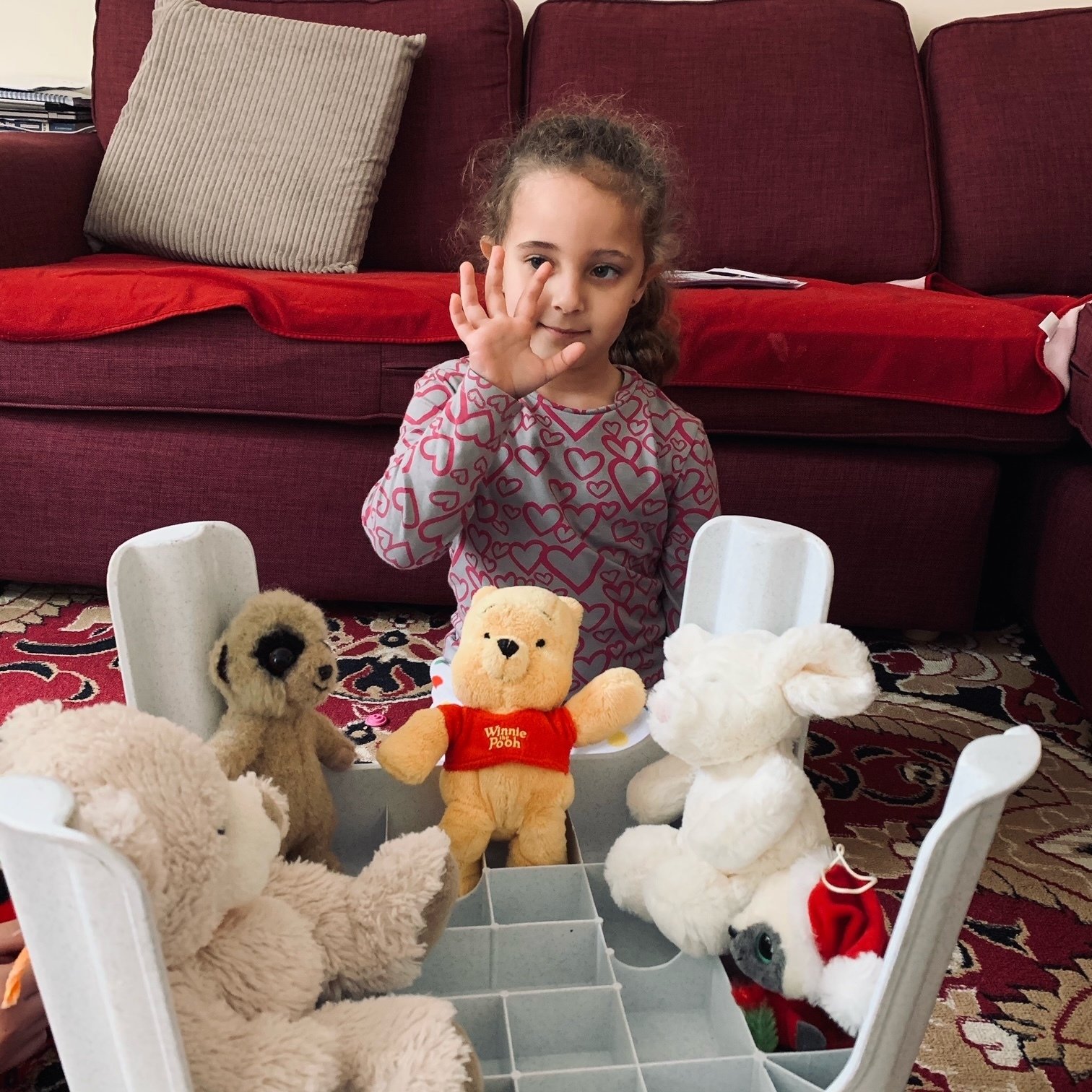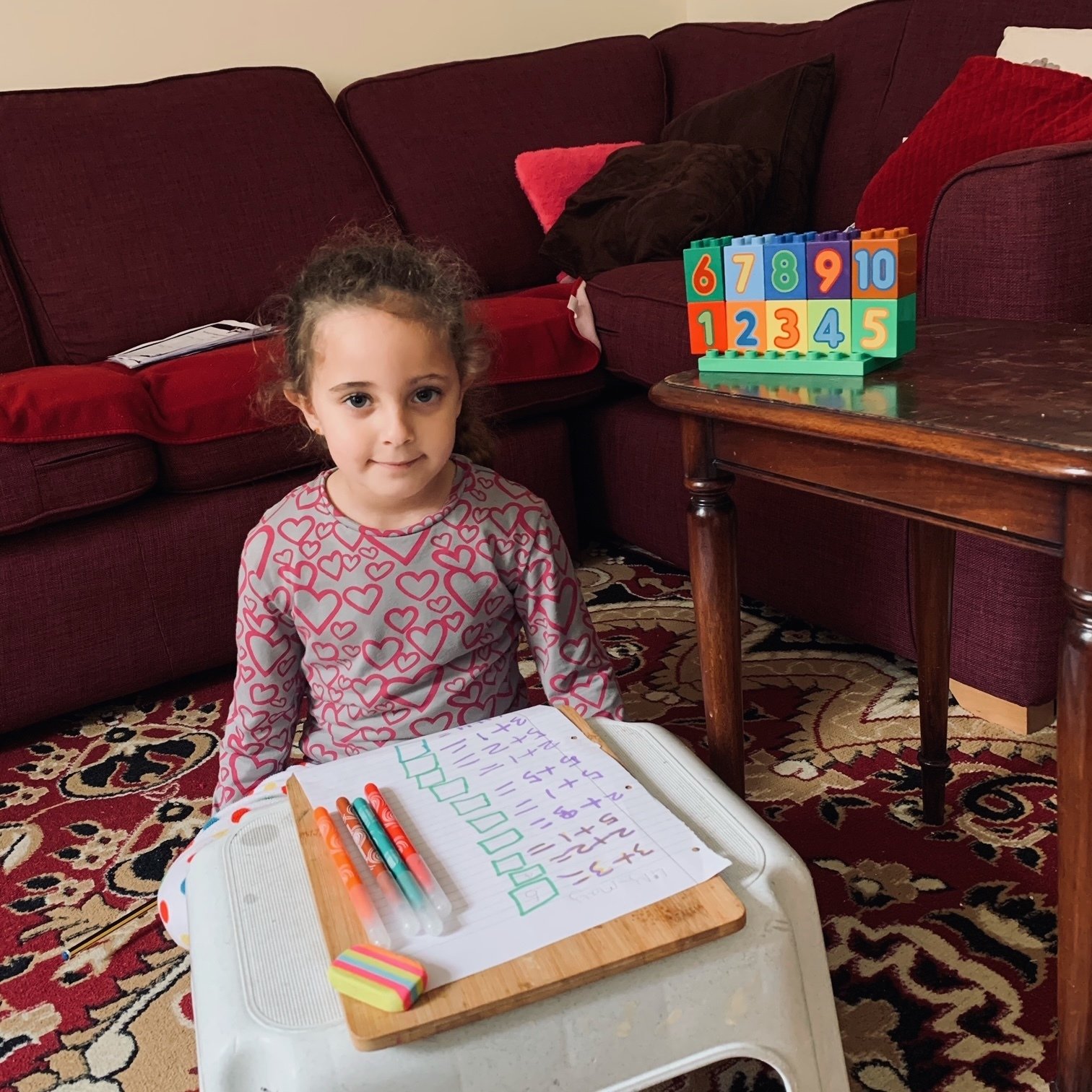 We have been working hard this week in our class with some excellent maths work, segmenting numbers to 6 and working on bear descriptions.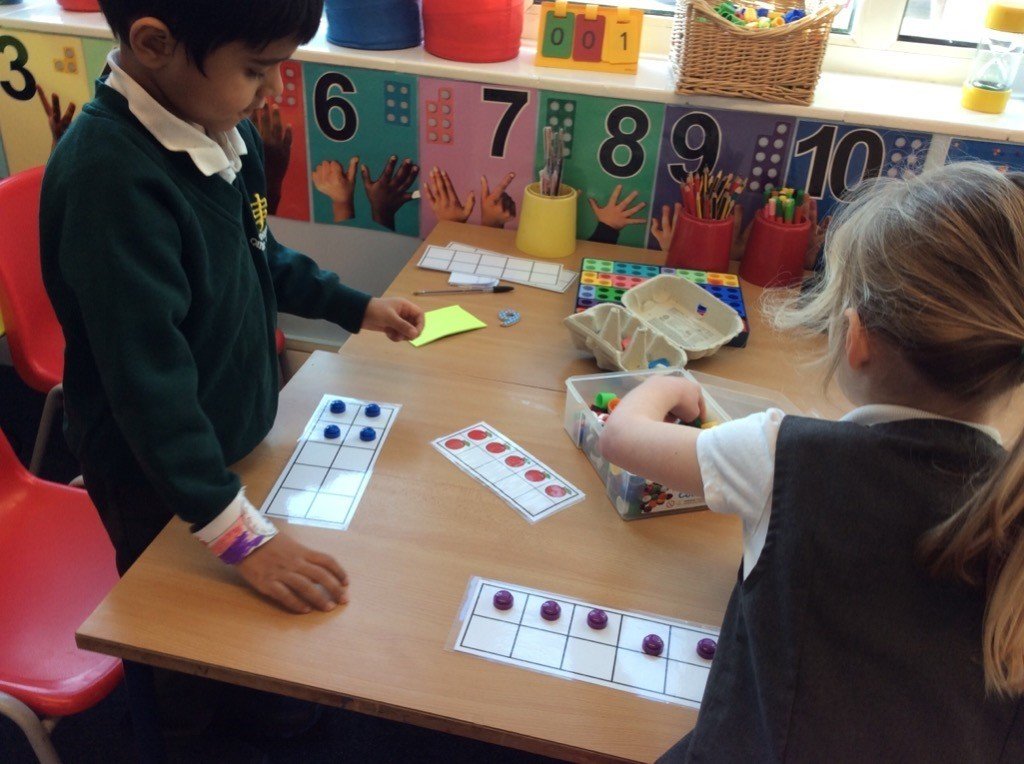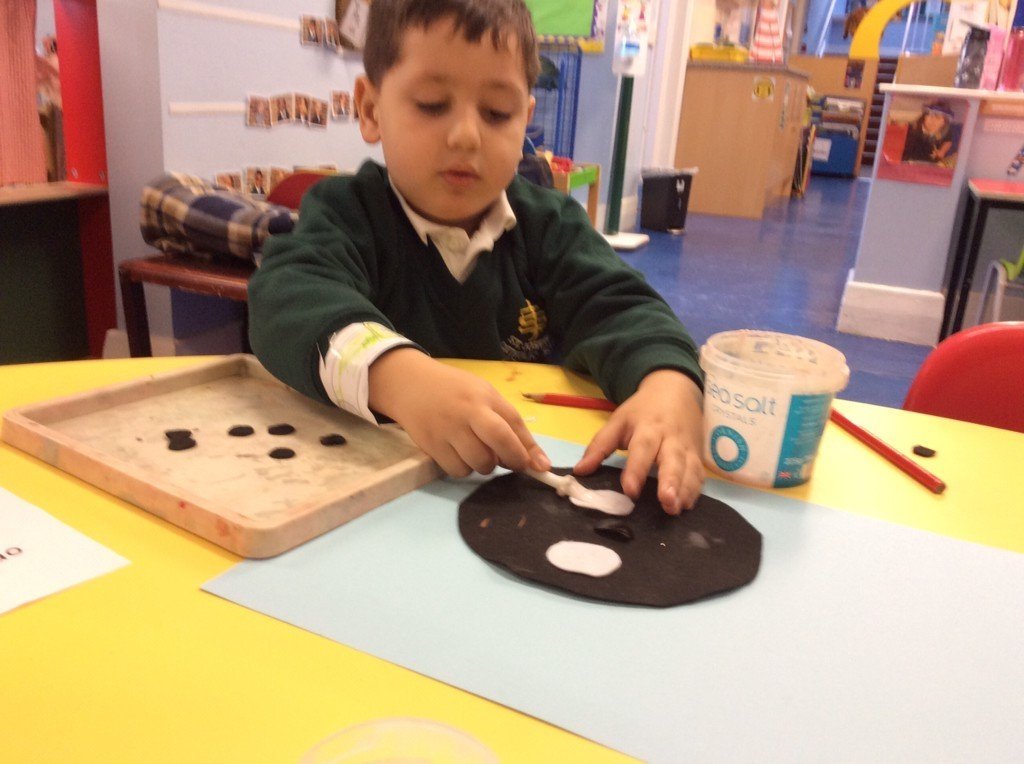 Click on Spring 2 Home Learning Pack 1 to access work for 22.02.21.
Here is the timetable the links will lead you to the online Maths and Phonics lessons for this week.
Discuss week 2 RE with our Eucharist powerpoint.
I hope you all enjoyed your pancakes on Shrove Tuesday and now it is the season of Lent. Have you decided to give something up or do something extra for Lent? Tell us about it.
There are lots of busy children working hard this week. Kira has been building sentences and working on her maths lessons, segmenting numbers to 5. Tealaa has been busy segmenting cvc words to spell them. Look at Jasper out in the snow making angels with his mum and sister Scarlett. Oscar's storymap is amazing with so much detail. He has worked really hard. Ivy has drawn a pink bear in a pink cave, how perfect!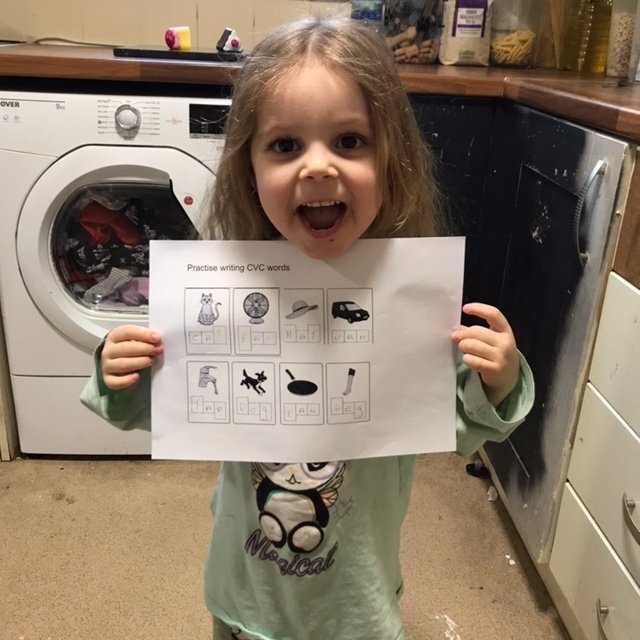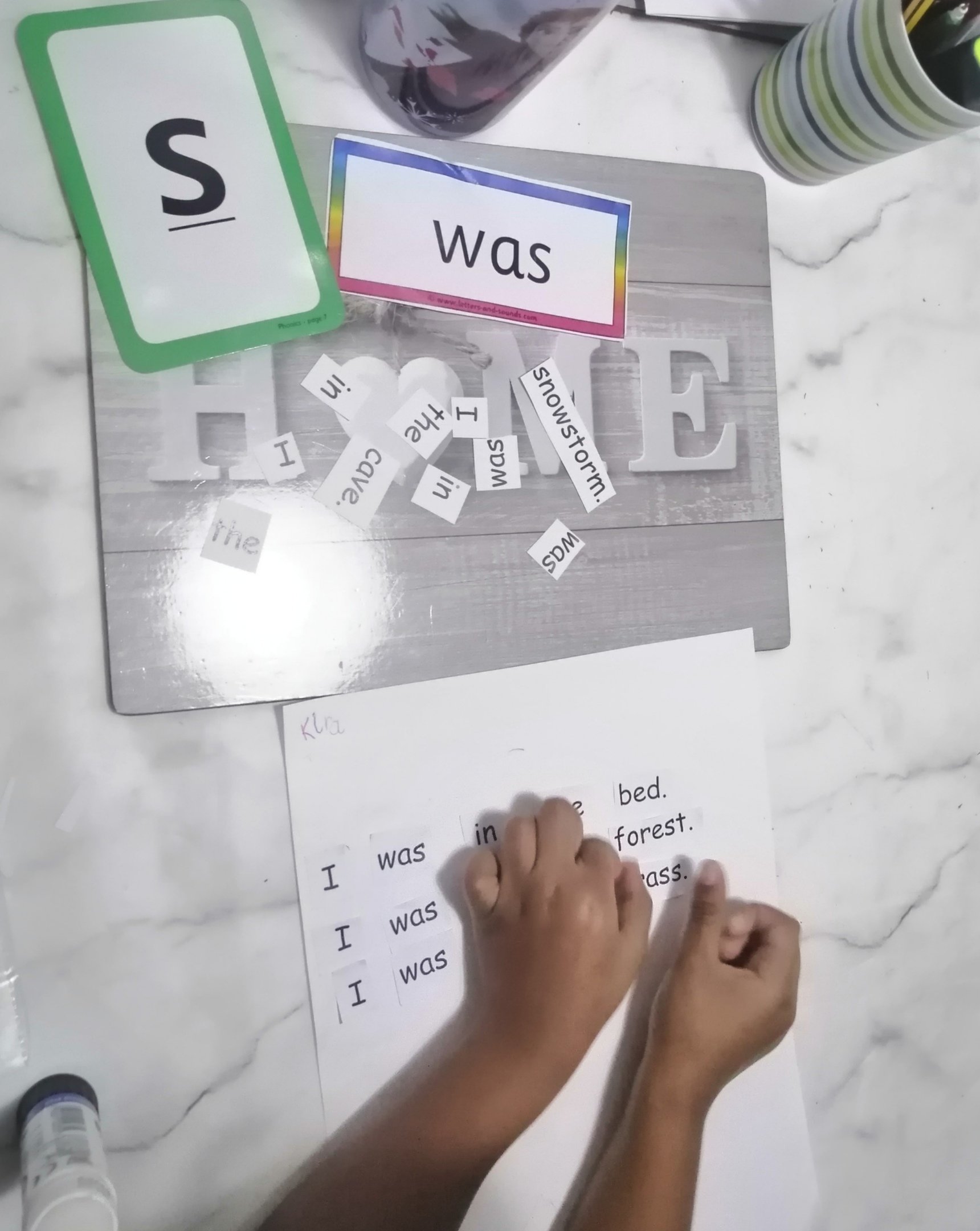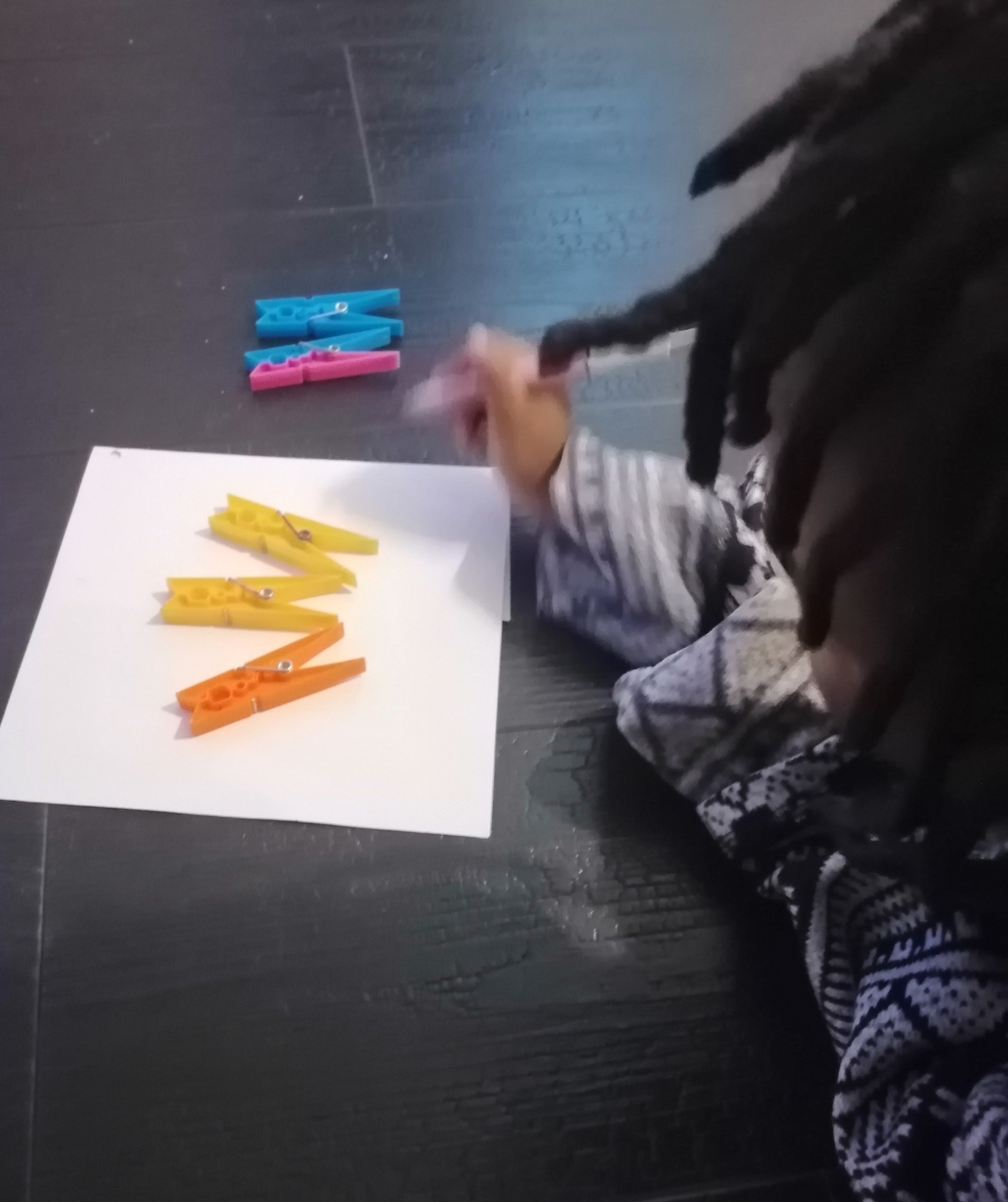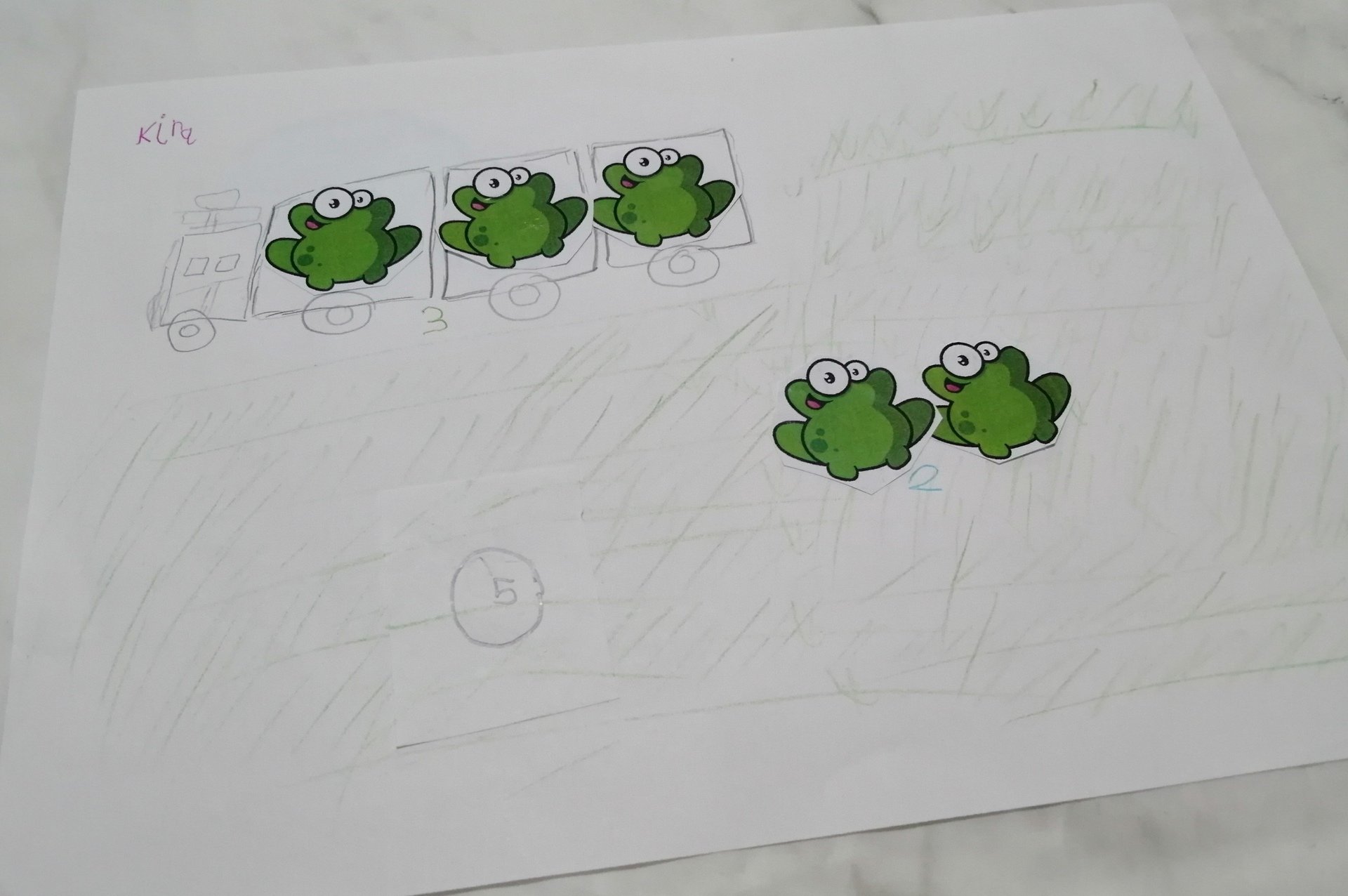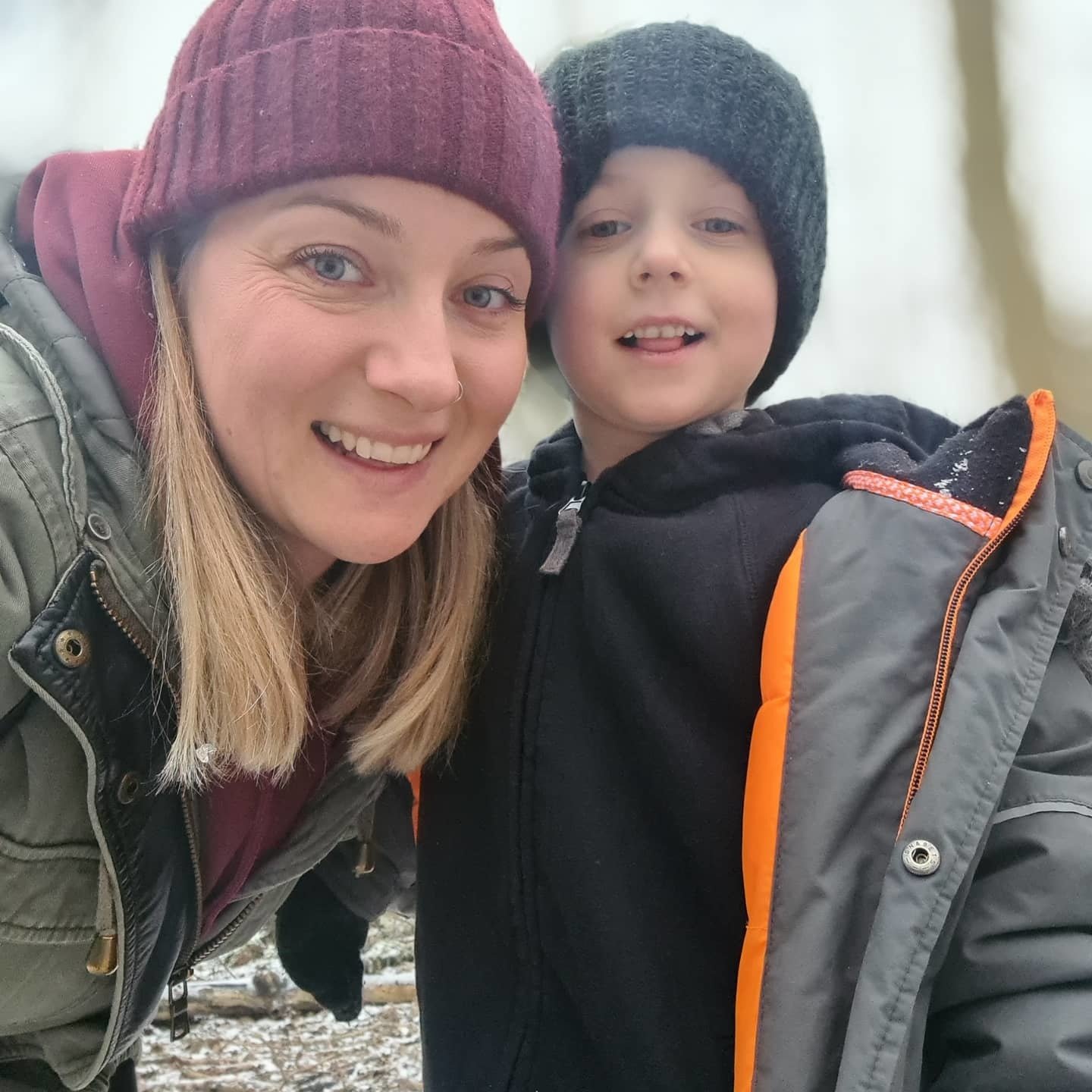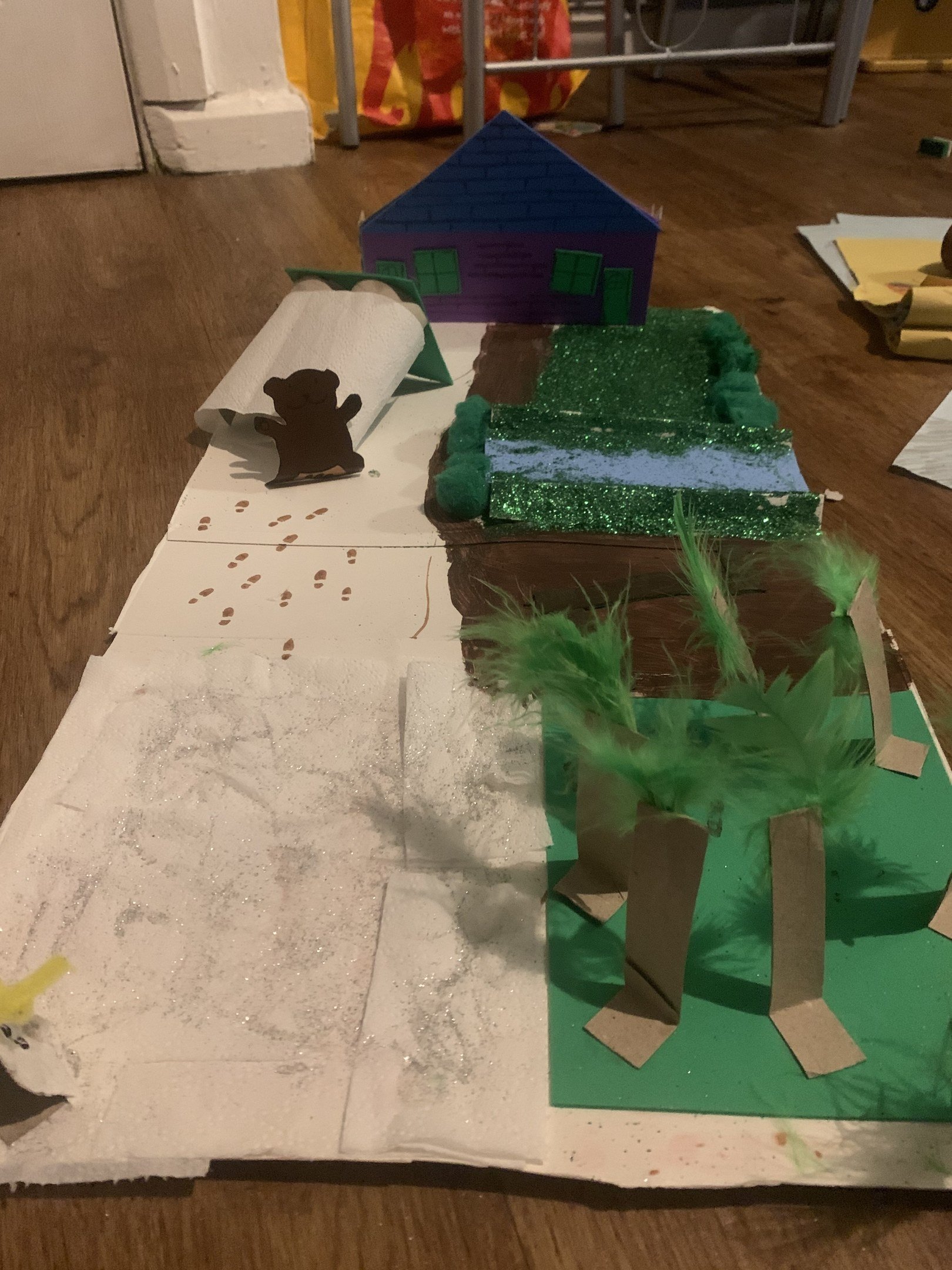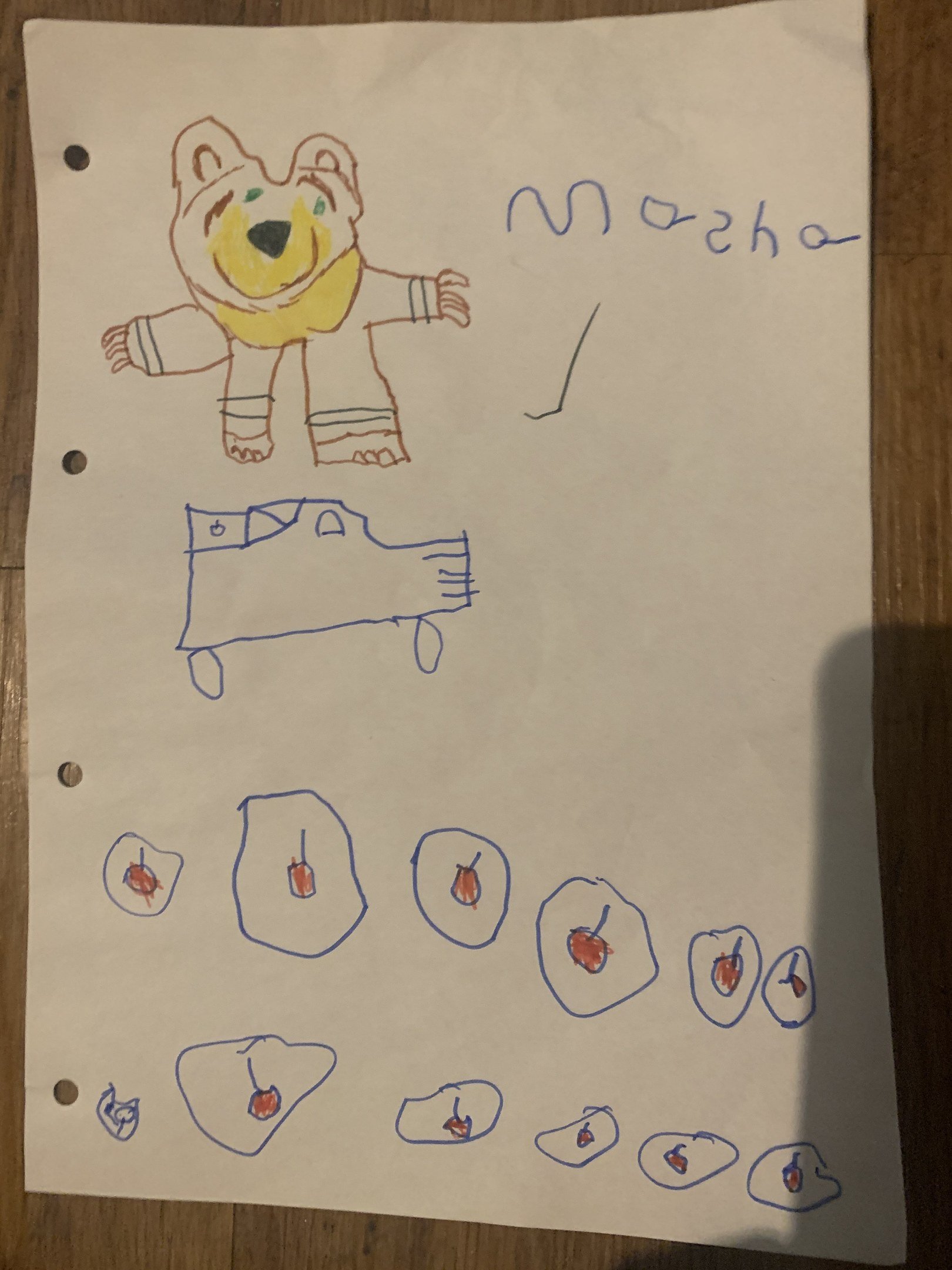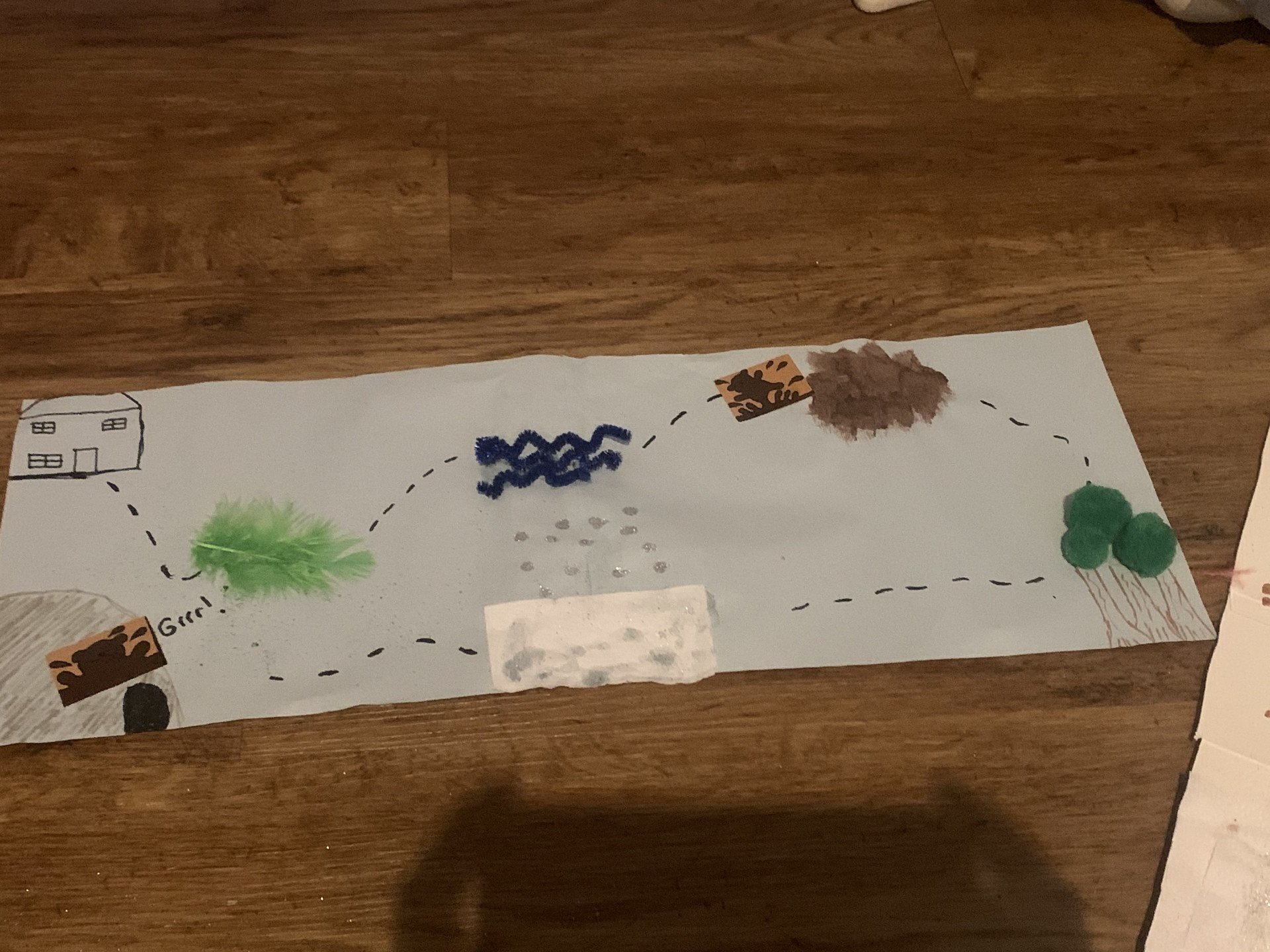 Click on Home Learning Pack 6 to access work for 08.02.21.
Here is the Live Timetable the links will lead you to the online Maths and Phonics lessons for this week.
This week's phonemes are

oo, ar, or, ur, ow.
Click here for the RE PowerPoint to share and discuss with your child.
The children in school went on a Bear Hunt too. We took off our shoes and experienced different sensations on our toes.
Swishy swashy grass cold river prickly woods
squelchy mud swirling snowstorm dark cave
Next we are making our story maps so that we can retell the story! Can you?
So many of you have been working hard at home this week too. Lily May is reading 'Bear Hunt', Oscar is busy adding numbers and look at Ronnie's fantastic bear puppet!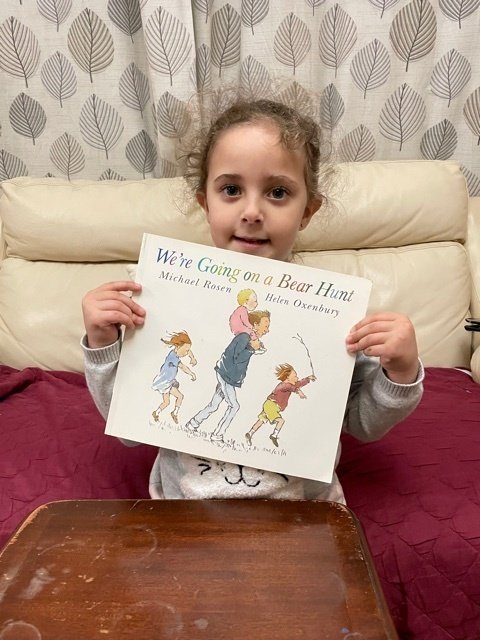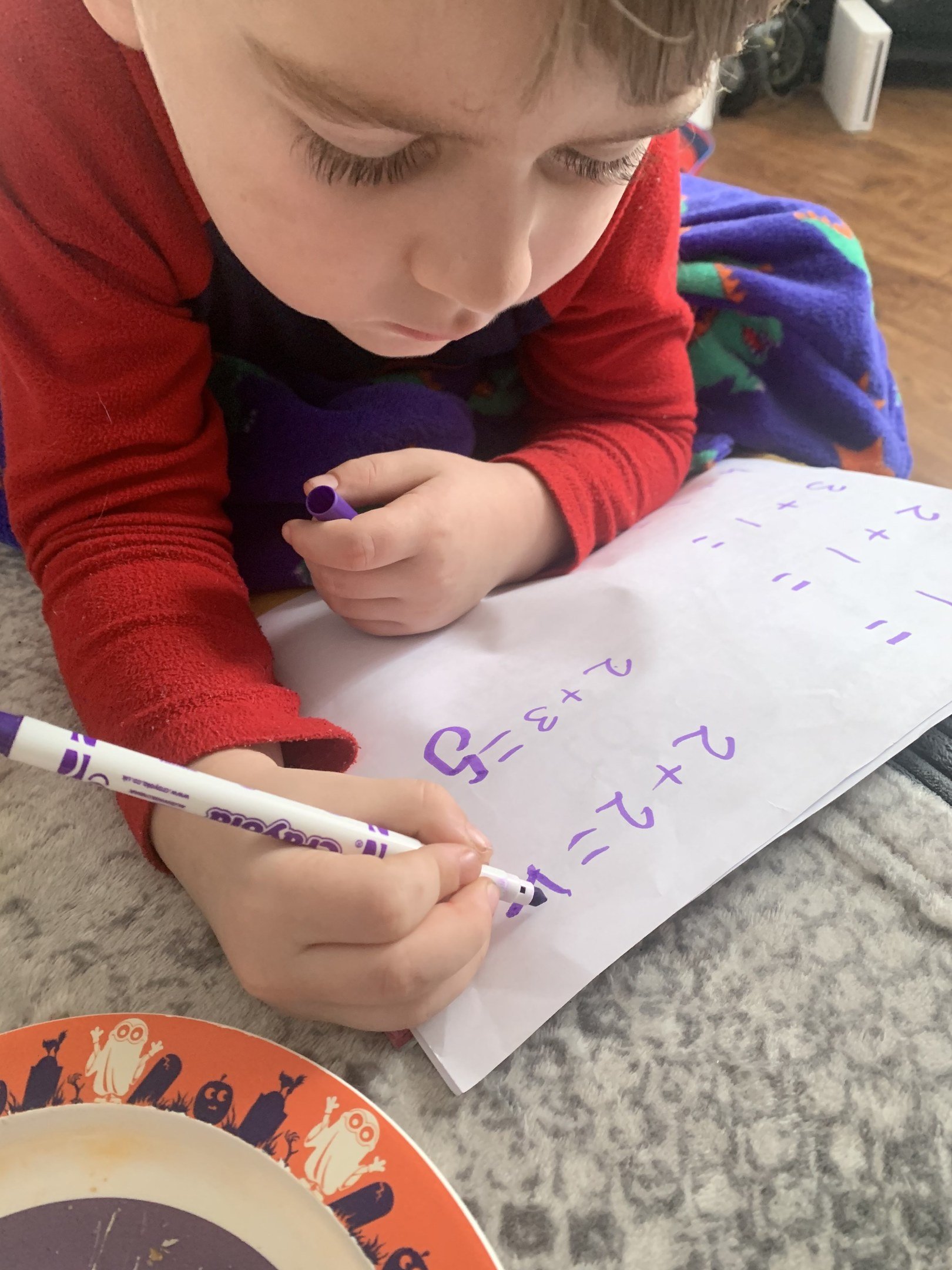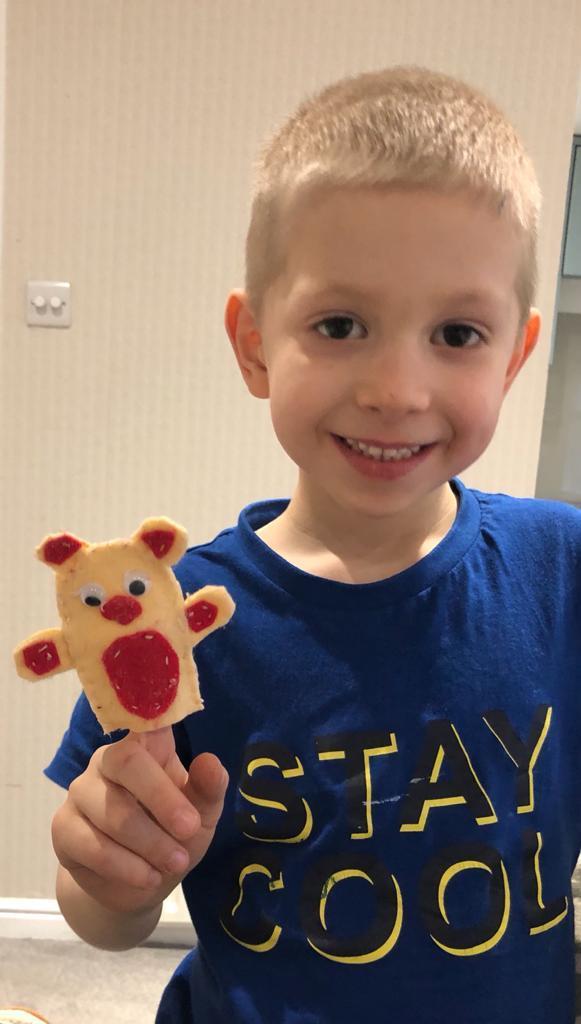 Well done to all of you children at home, engaging in learning.
We are working on 'We're Going On A Bear Hunt' for the next two weeks. Jasper has been on his Bear Hunt today! I love Akshar's storymap! If you have finished yours at home please send a photo to myhomework@st-josephs.brighton-hove.sch.uk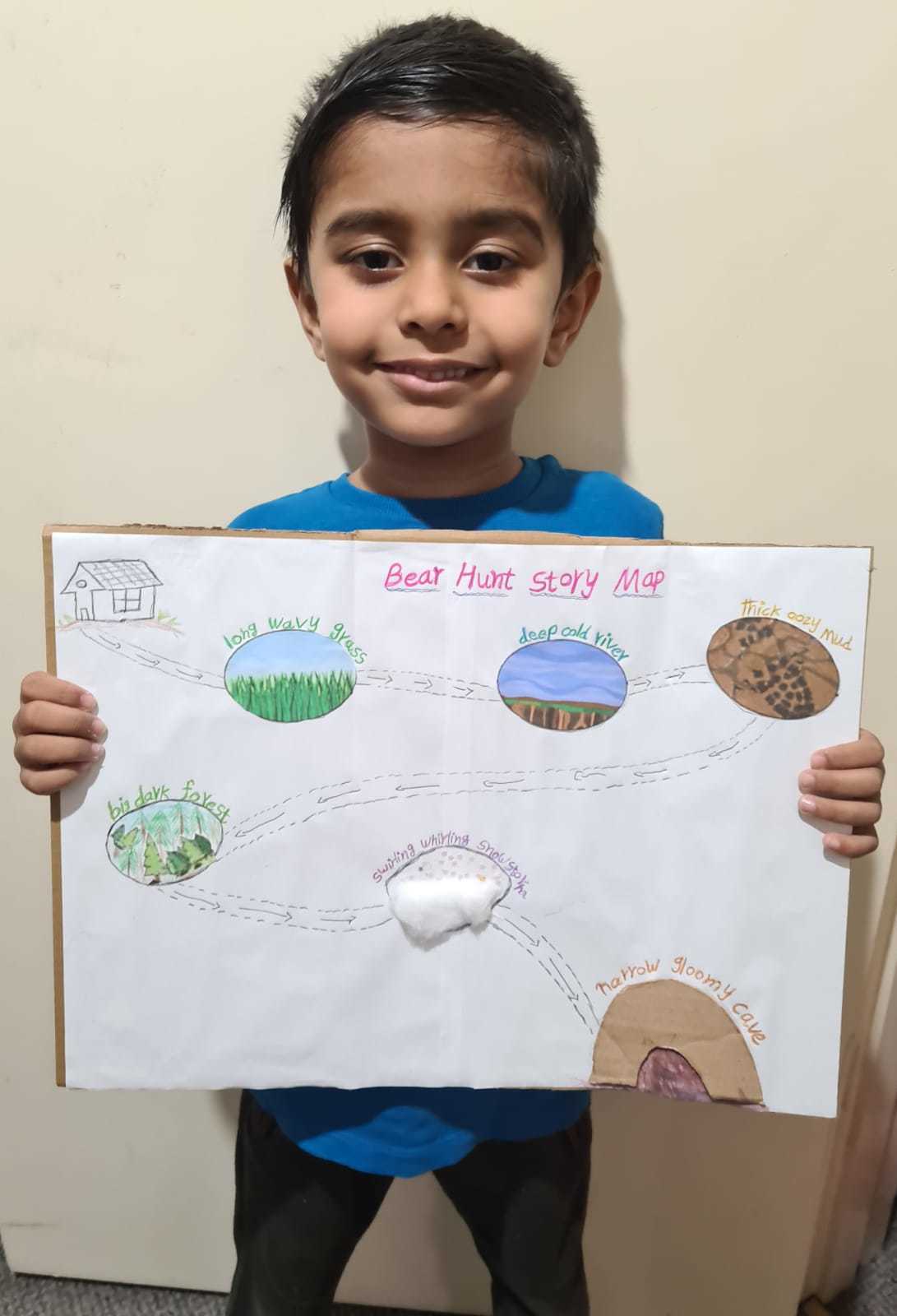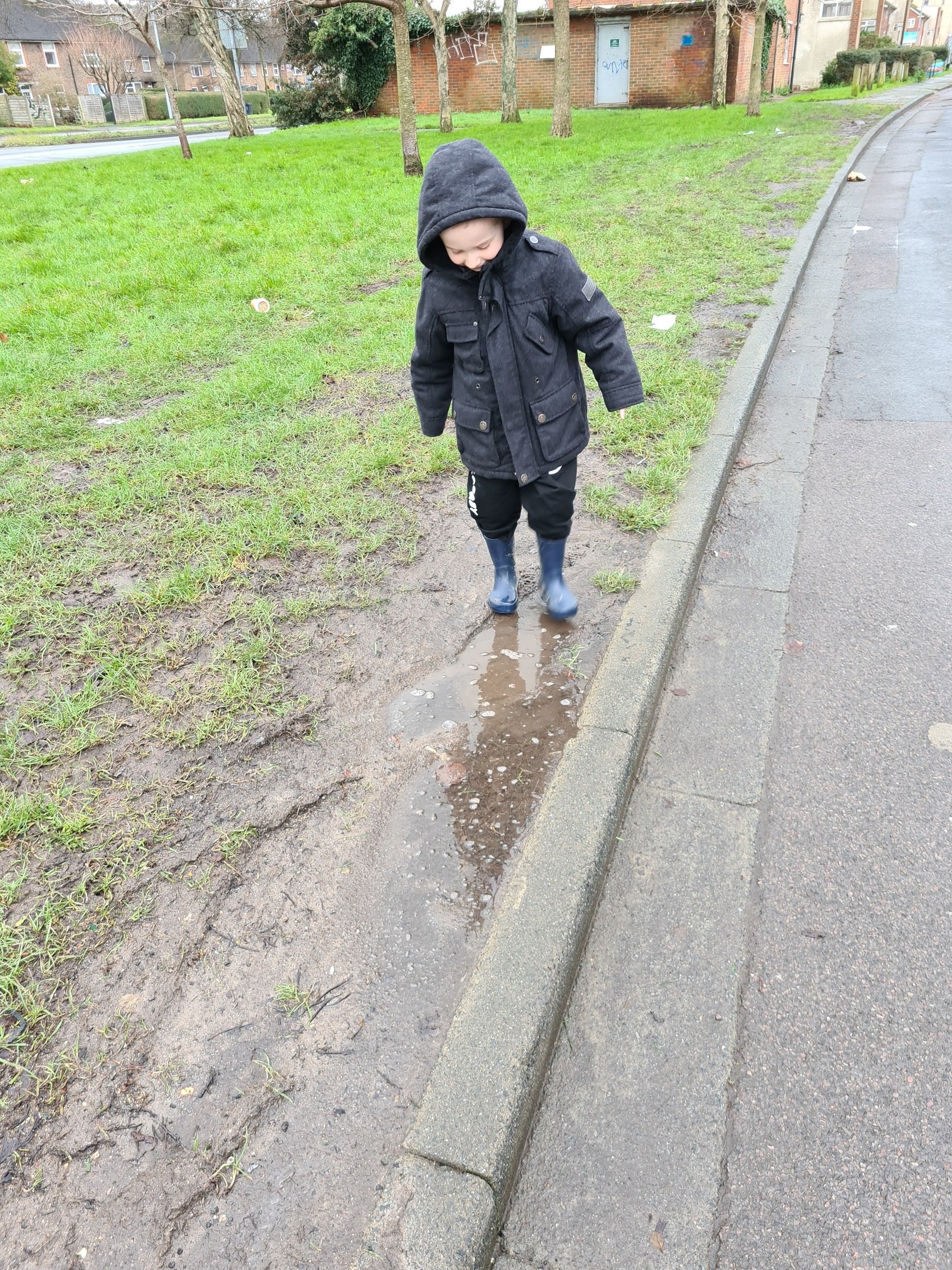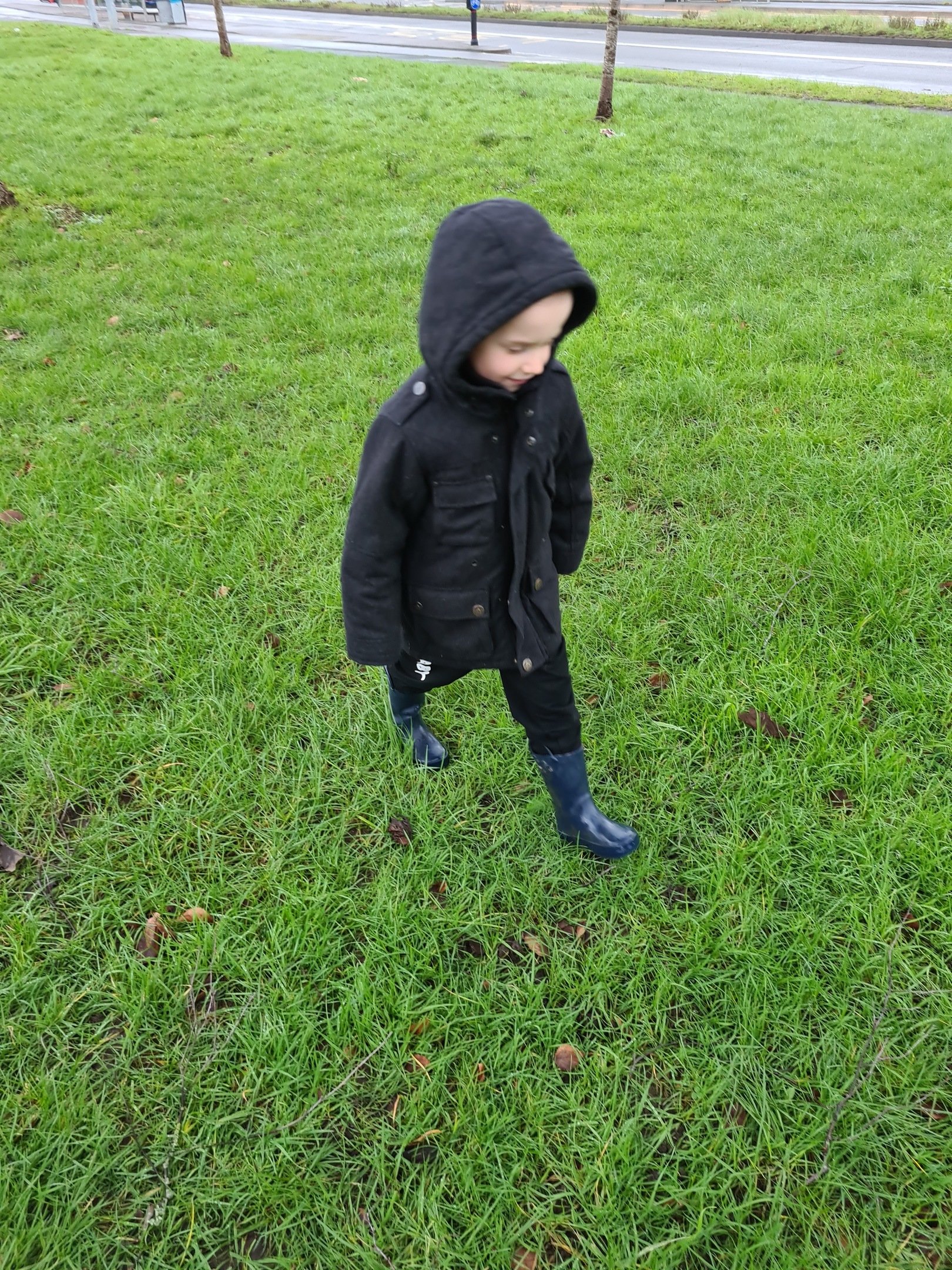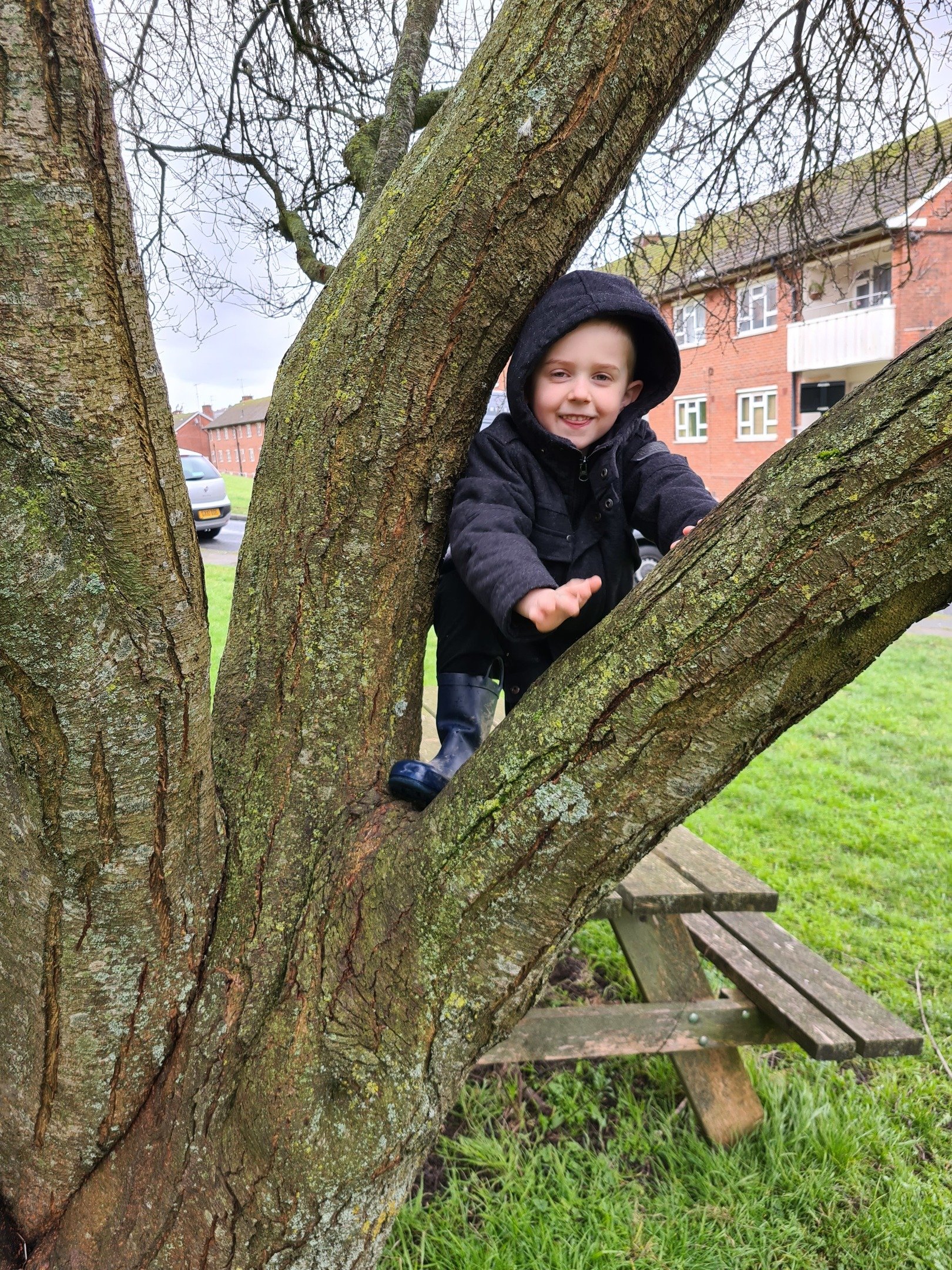 splish splash squelch squerch swishy swashy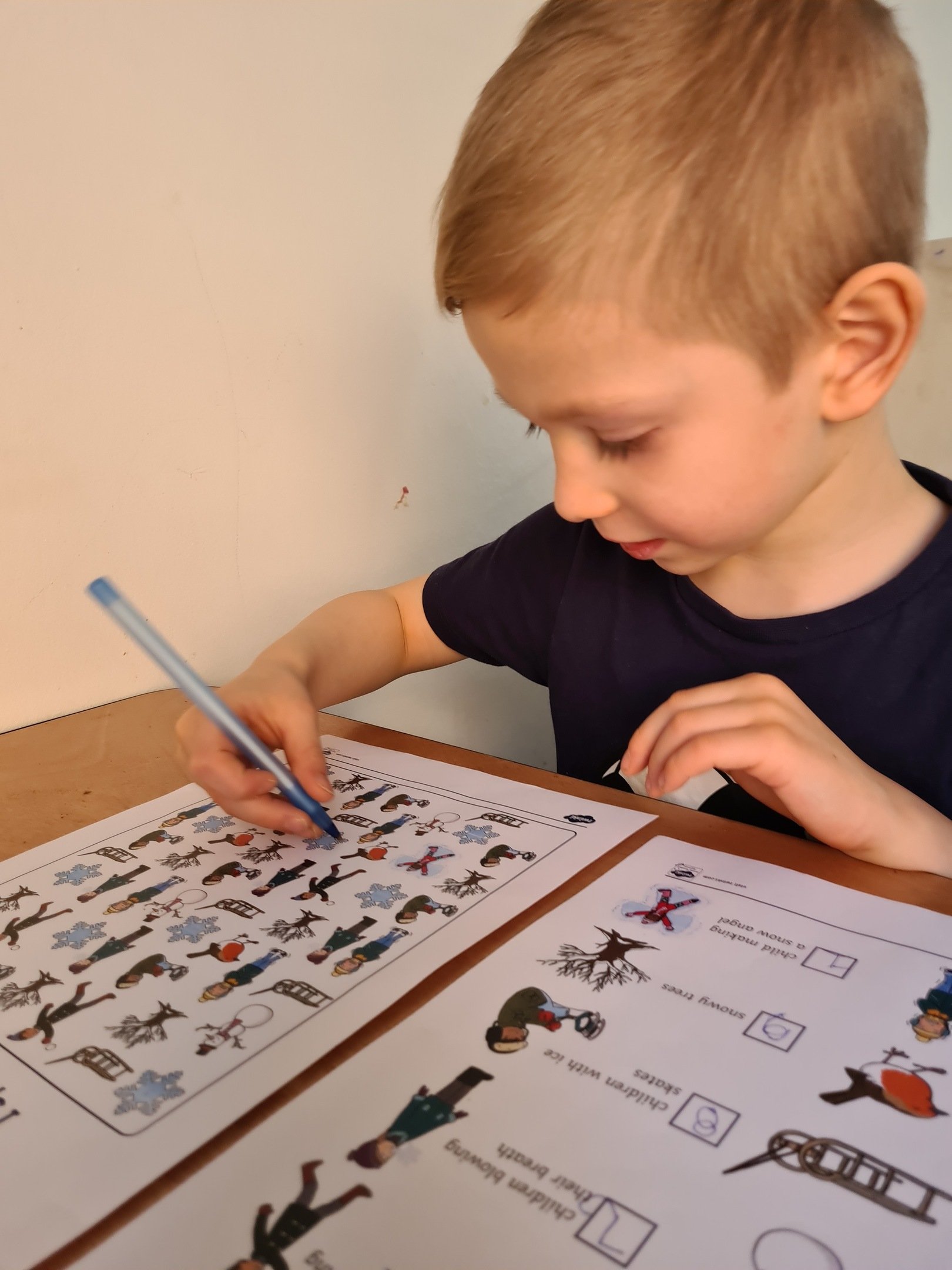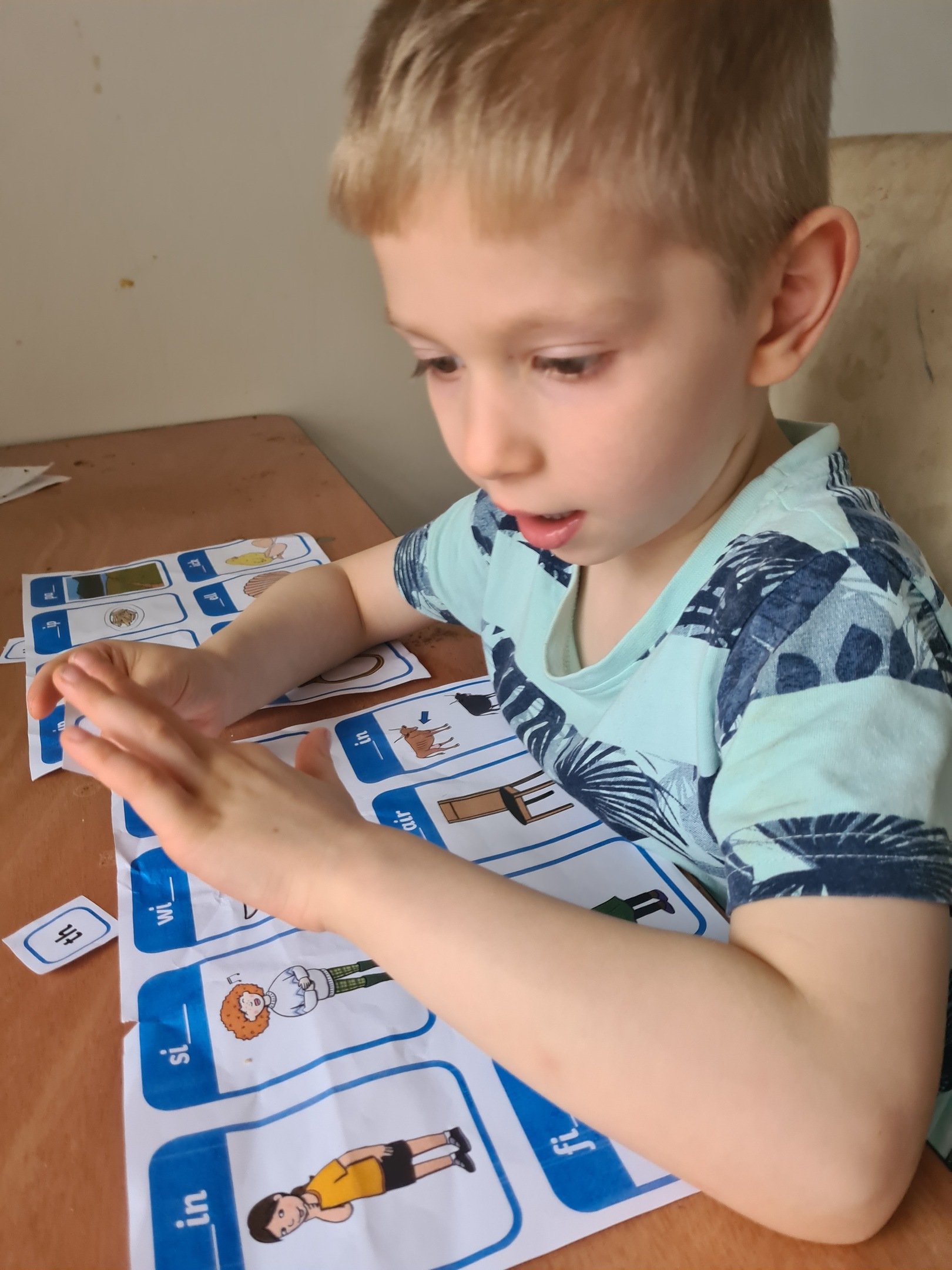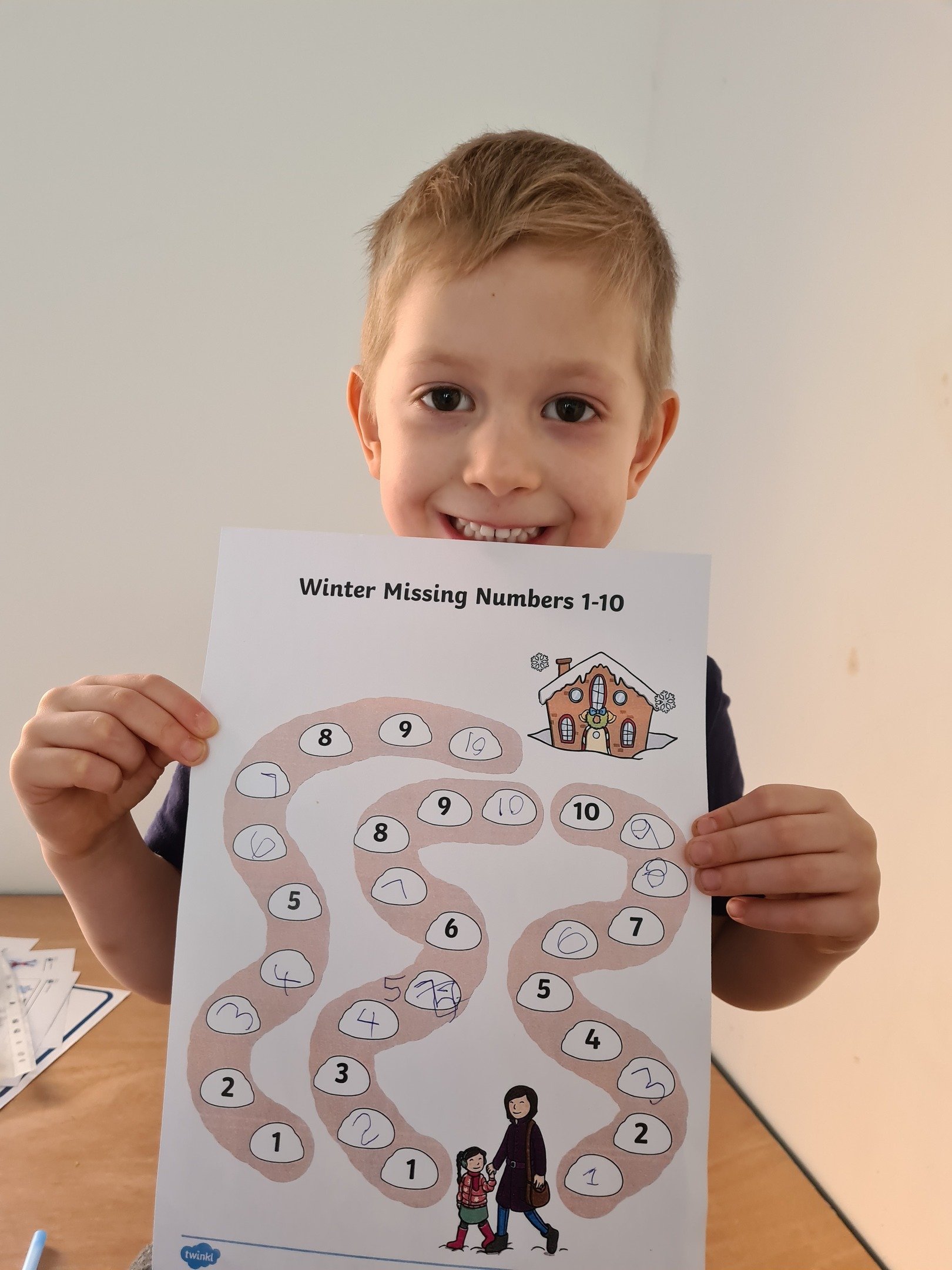 Ronnie is using the Home Learning Pack to practise counting and writing numbers to 20. He is also thinking about initial sounds of words. You can download yours below or collect it from school.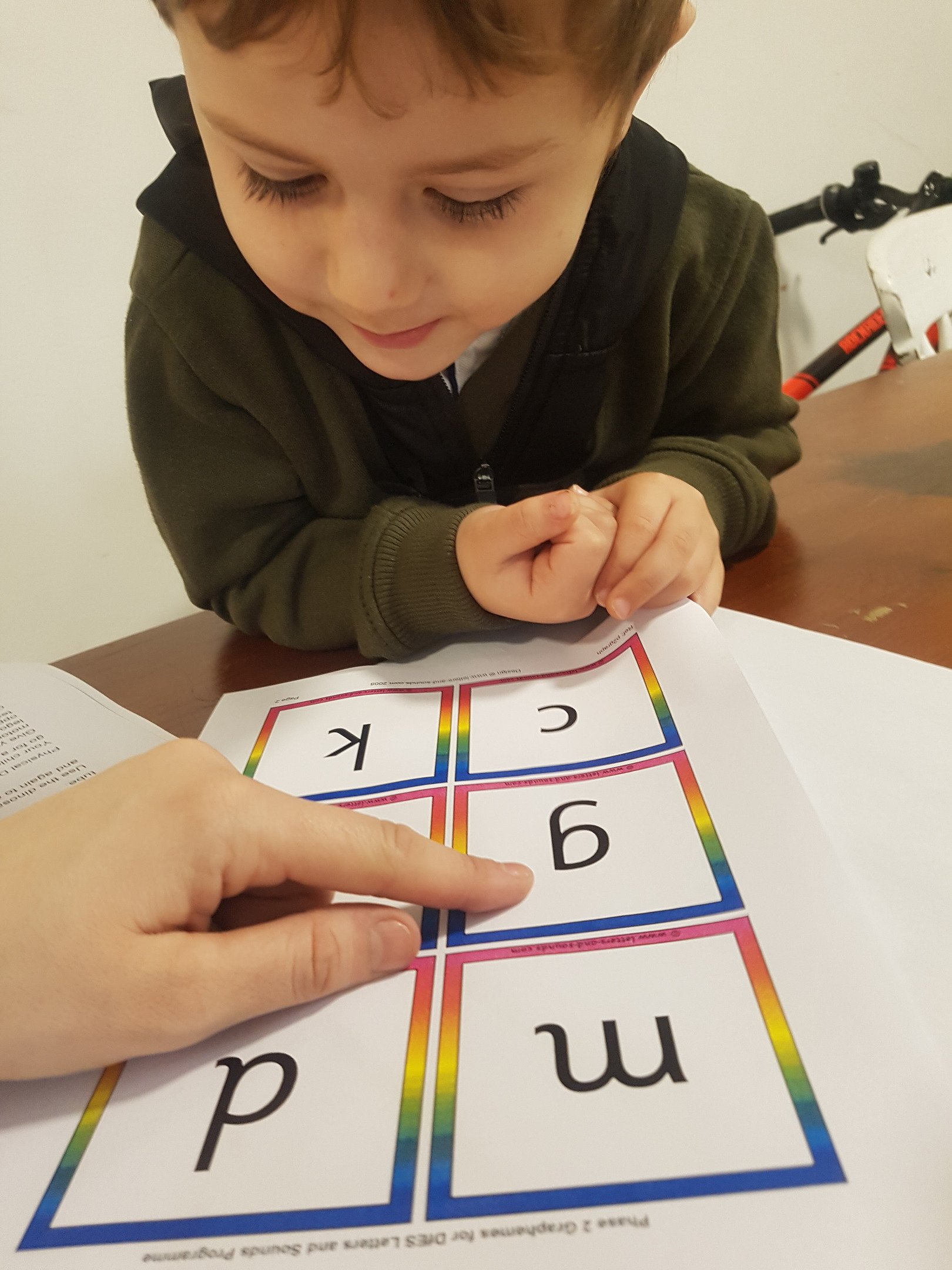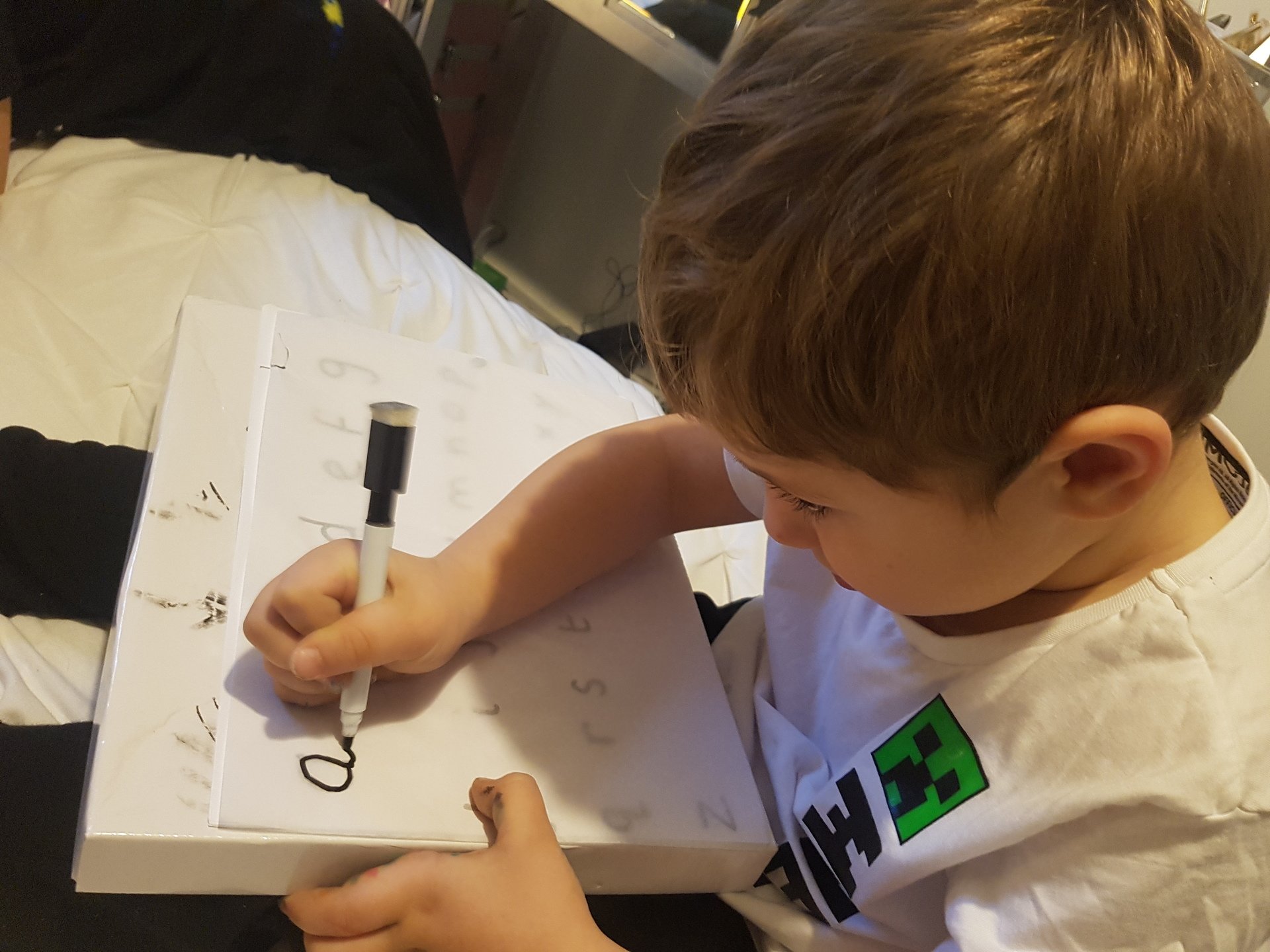 Harvey has been busy practising tracing the alphabet and saying the phonemes. Well done Harvey!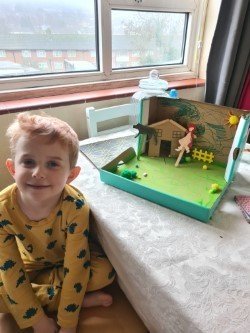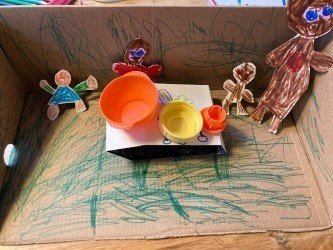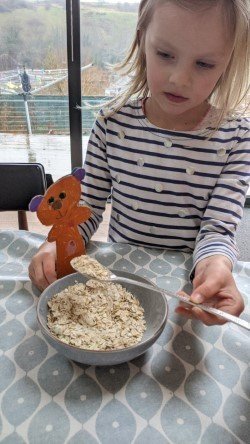 Jasper and Eira have made some fantastic Goldilocks scenes in a box! Well done you two, that's 5 house points each.
04.01.21
Sadly, school will be closed to most pupils until further notice. Until we return children need to learn at home.
Please expect a phone call from me at least once a week to check in with you. Feel free to email if you need support and I will call you at a pre-arranged time.
Click Home Learning Pack 1 to access work for 04.01.21.
Click Home Learning Pack 2 to access work for 11.01.21.
Click Home Learning Pack 3 to access work for 18.01.21. Here is a PowerPoint of words with the 'ee' sound.
Click Home Learning Pack 4 to access work for 25.01.21. Practise reading cvc words here
Please email photos of activities and completed work to
myhomework@st-josephs.brighton-hove.sch.uk
I will be checking this daily and awarding housepoints for excellent effort. Photos will be published here if permission has been given. I look forward to seeing your work.
Useful websites :
https://www.phonicsplay.co.uk/
https://www.topmarks.co.uk/maths-games
Here is a collection of videos of Wednesday's (06.01.21) phonics lesson in four parts. Please watch them with your child. Make sure you have a pen and paper ready to practise letter formation and to write some words.
Learn a new digraph and practise writing it.
Spell some cvc words using the new digraph.
Here is a collection of videos of Tuesday's (05.01.21) phonics lesson in four parts. Please watch them with your child. Make sure you have a pen and paper ready to practise letter formation.
We warm up by practising the sounds we have learned so far.
The main part of the lesson, first 1/2.
Learning ch digraph.
Word level work.
New tricky words me he she be we
Words in context, using them to make phrases.
11.12.20 This Friday we took part in the Santa Dash! We also did Santa phonics and Santa Writedance!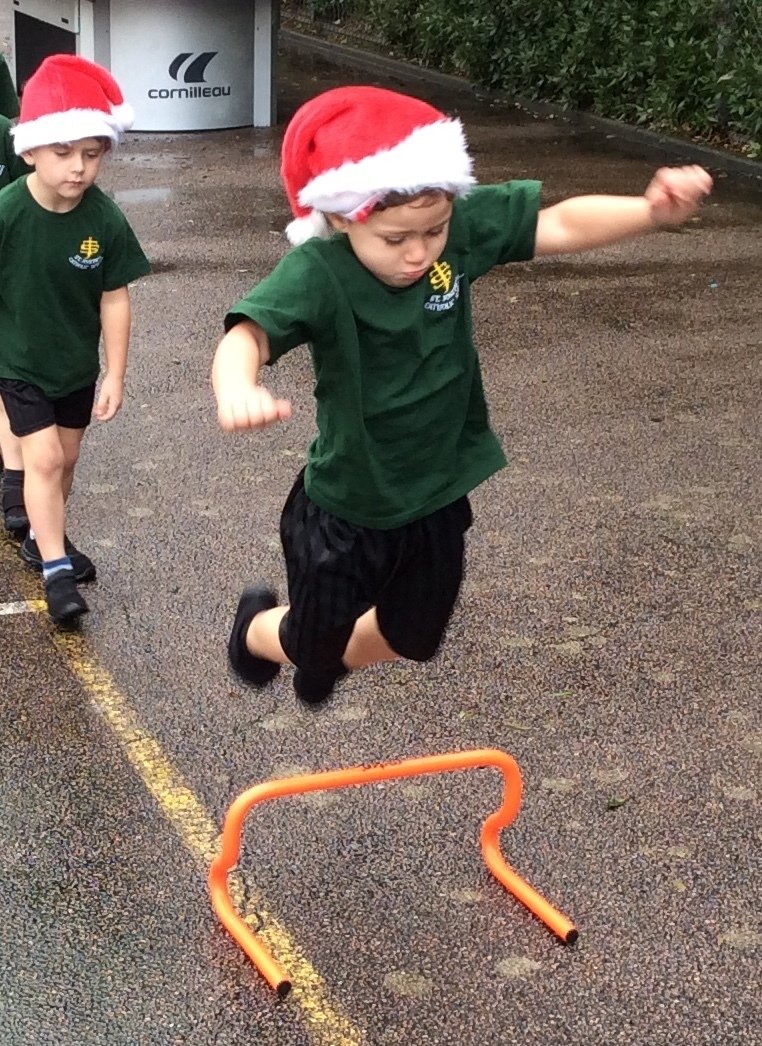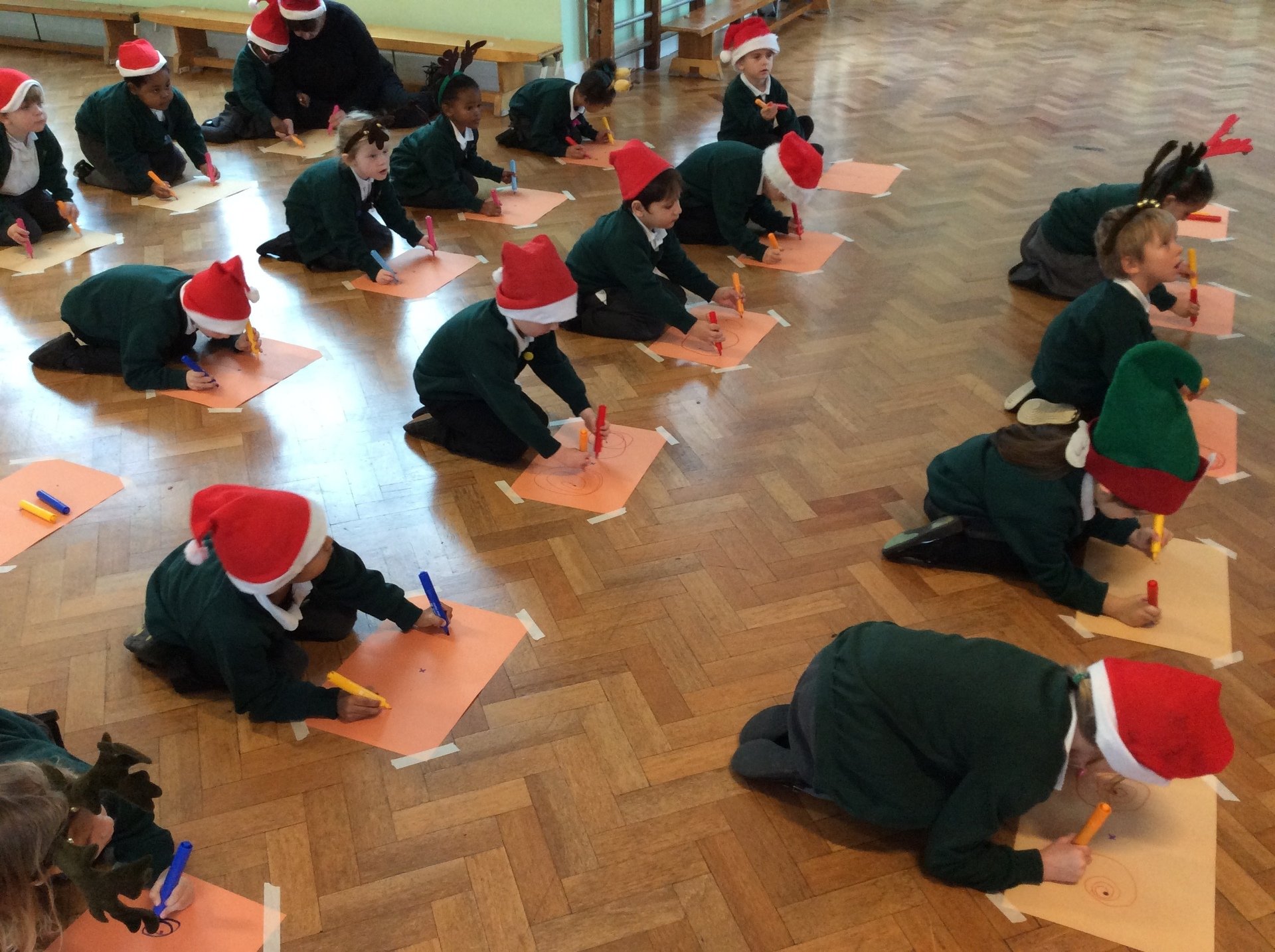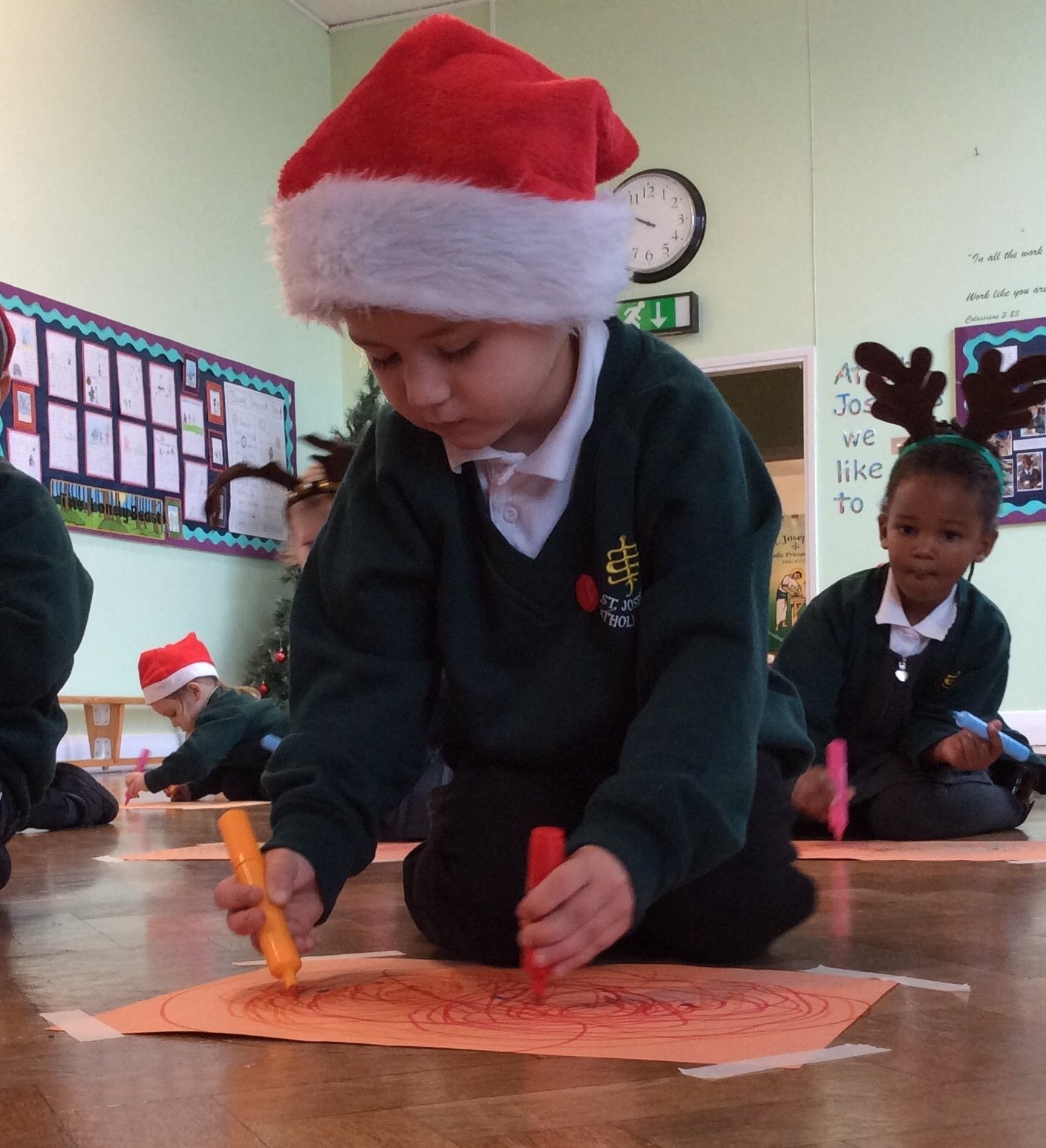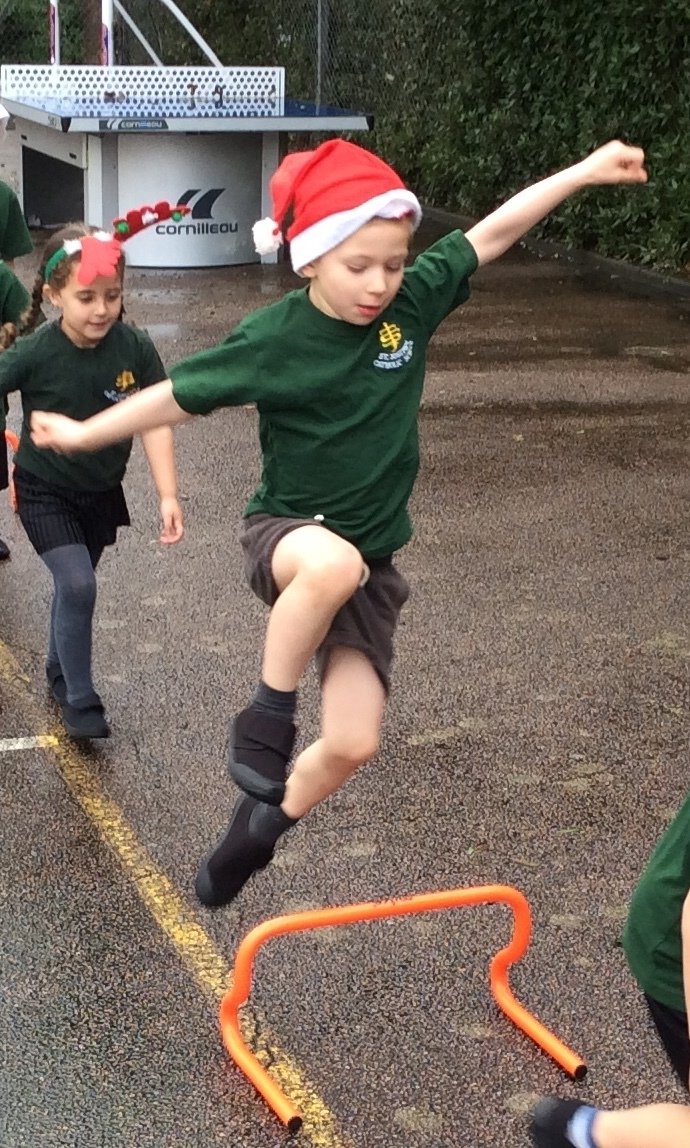 11.12.20 This Fascinating Friday we designed and made our own smoothies....yum!
30.11.20 This week has been all about the Nativity. We have been dressing up as the characters and role playing. We have learned to say the story using a story map. We have been retelling the story too. We recognise this time called Advent and are getting ready to celebrate Jesus' birthday.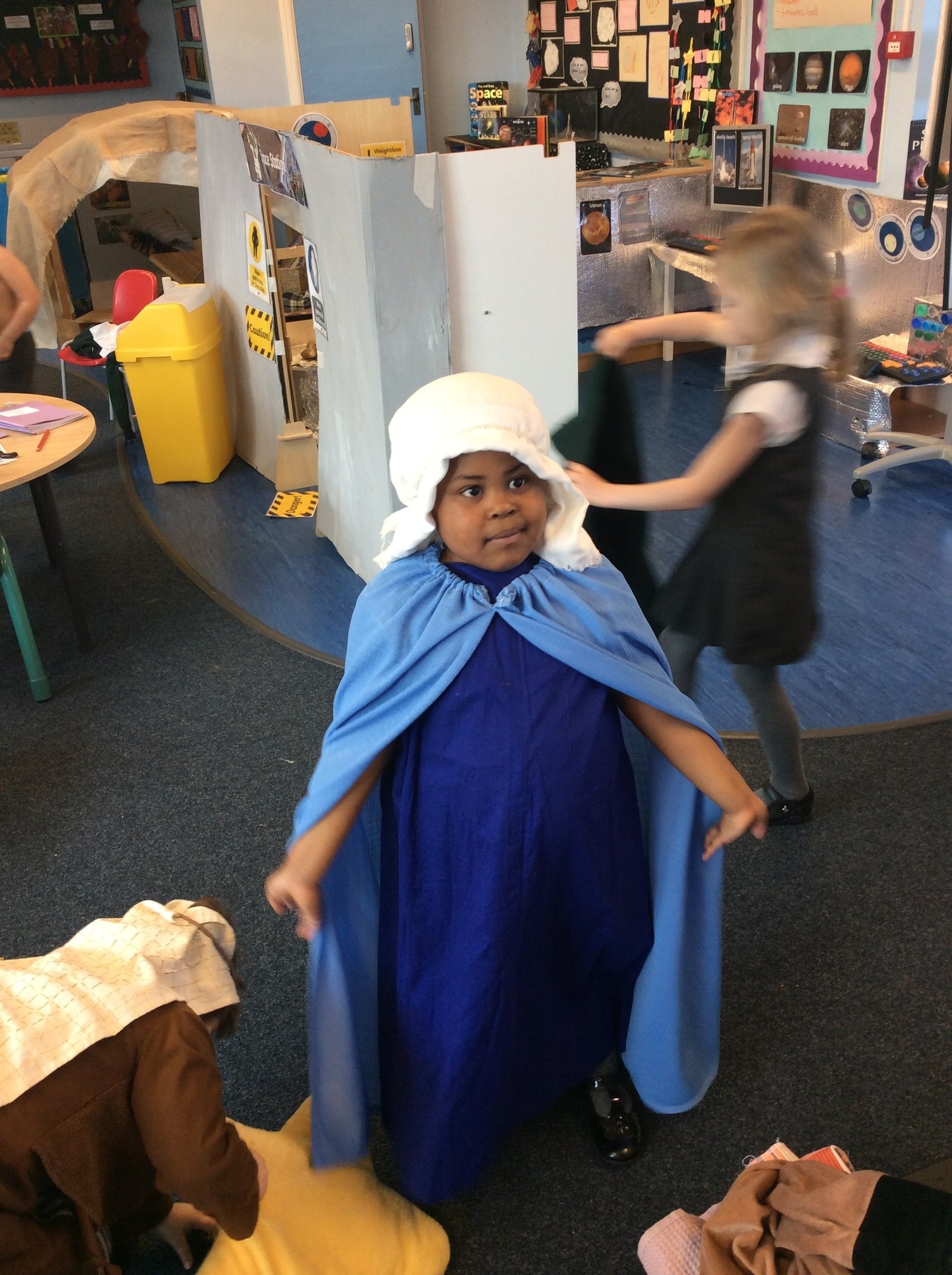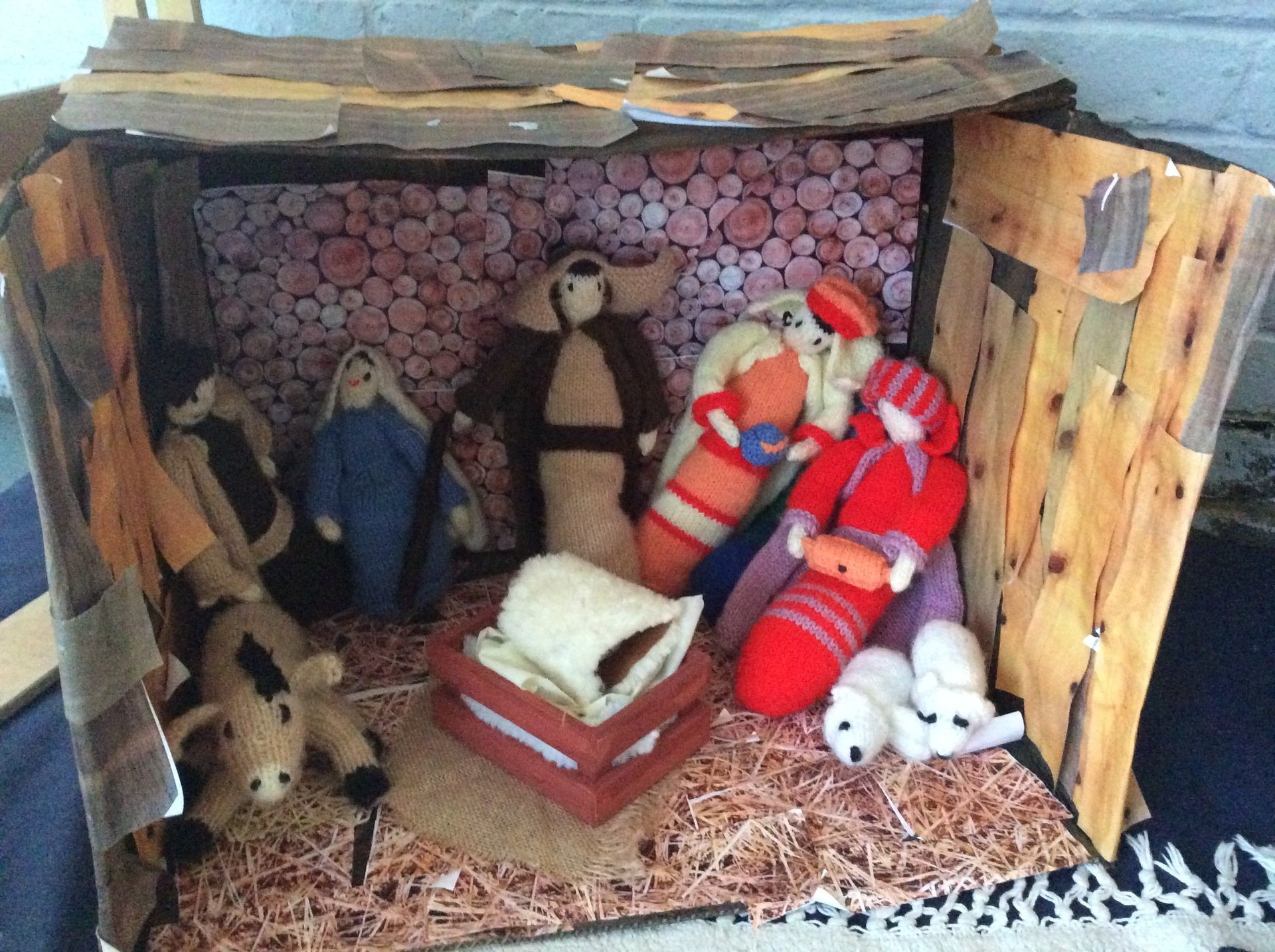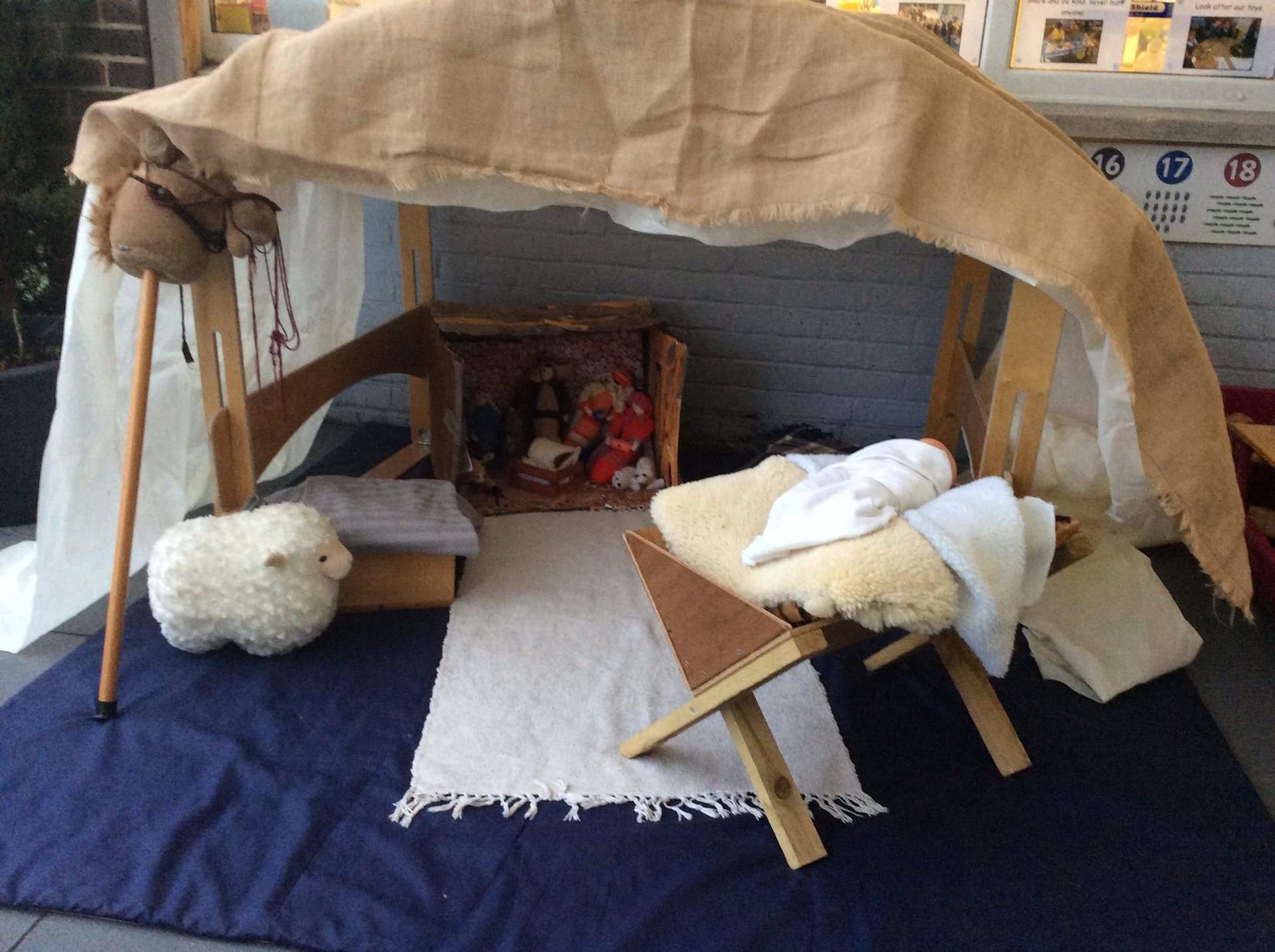 04.12.20
This Fascinating Friday to honour the beginning of Winter we tried to make fake snow. We found a recipe 1 part white hair conditioner to 3 parts bicarbonate of soda. It felt just like snow and stuck together like snow too. Amazing!
We found out that if we put too much conditioner in it turned into white sludge. A bit like real snow when it starts to melt.
23.11.20
This week we have been thinking about night and day, light and dark and after making a mind map to see what we knew already, we decided to find out more about space. We made rockets, we found out about the moon and explored our new Space Station role play areas.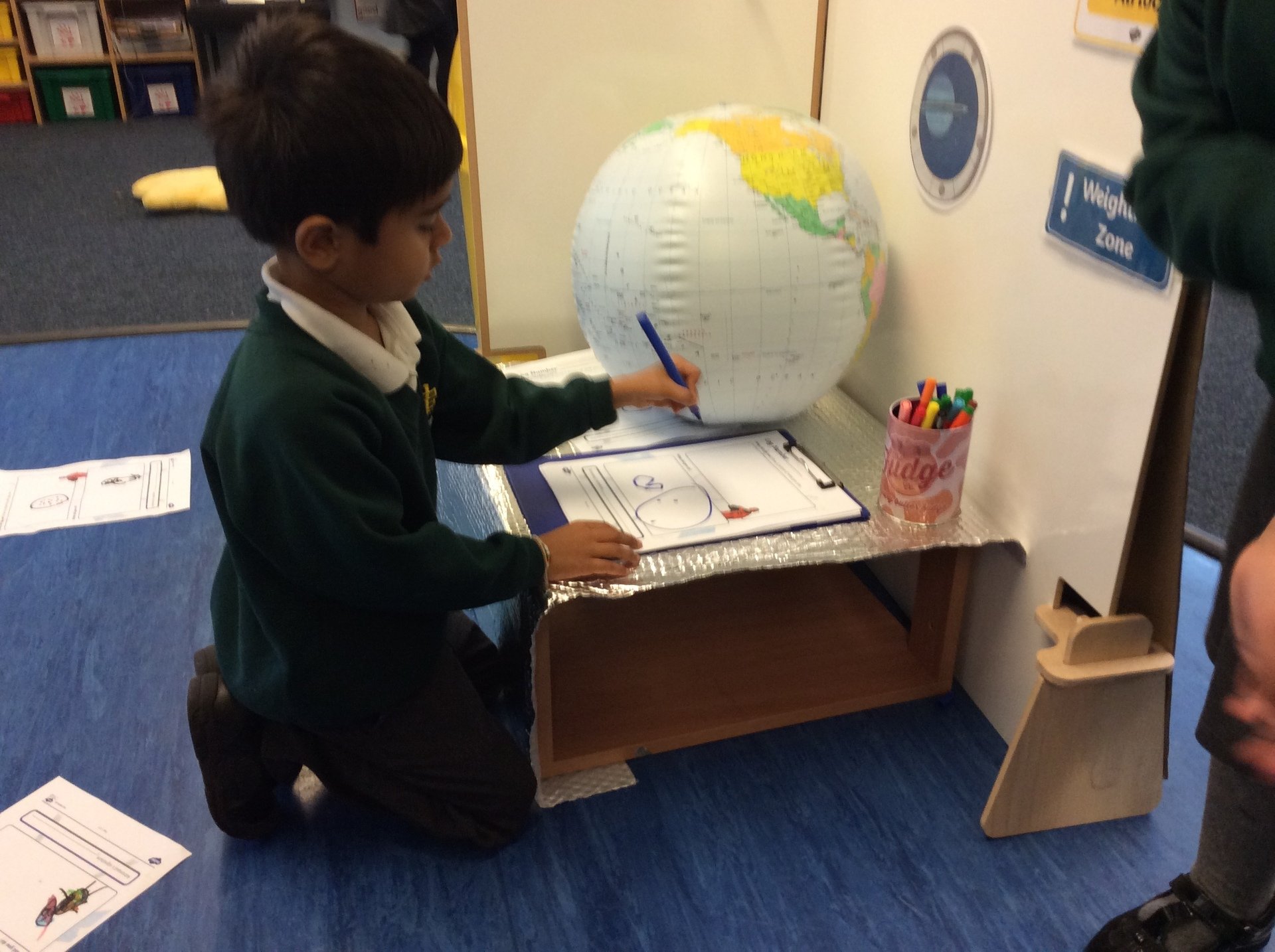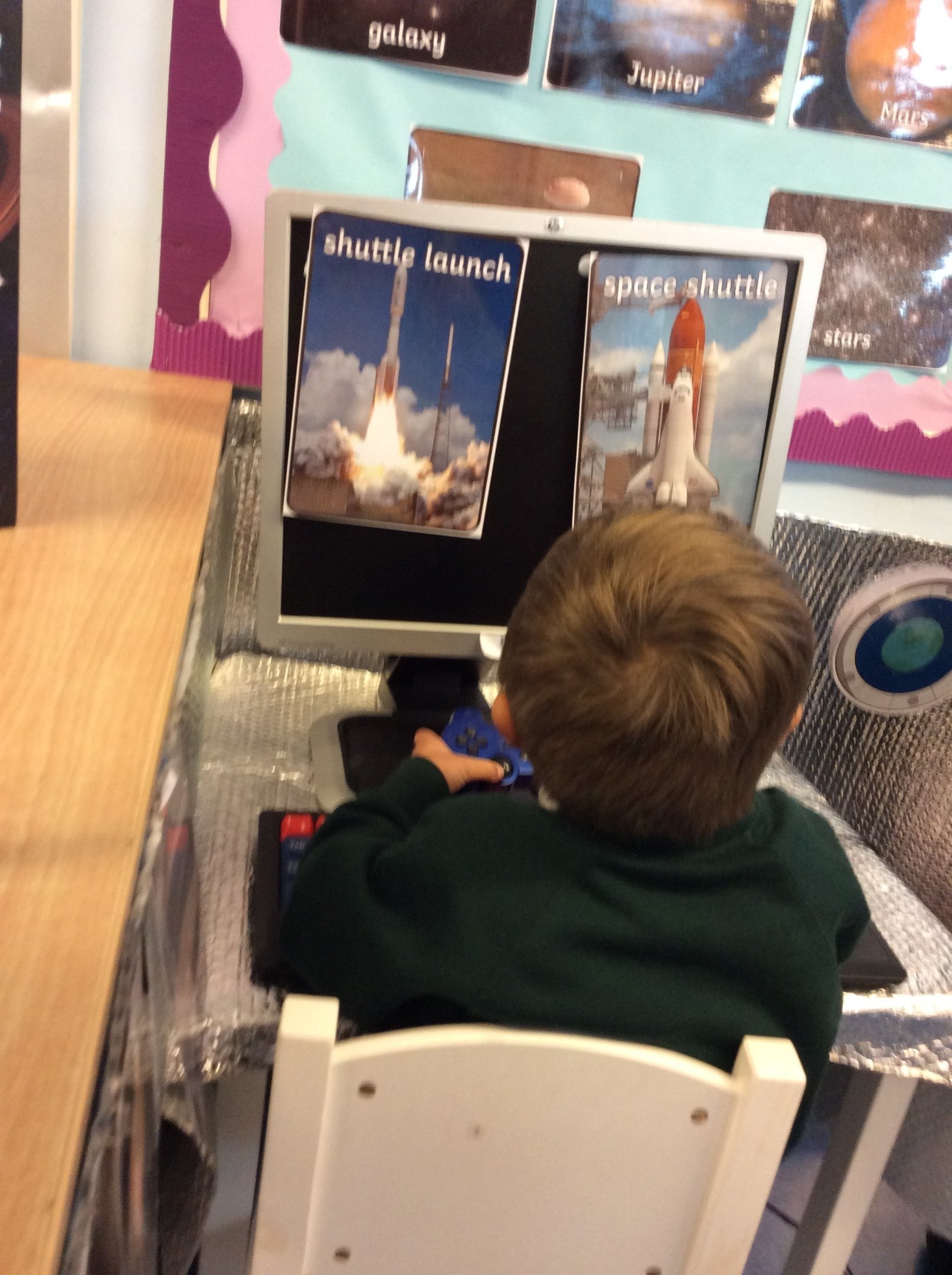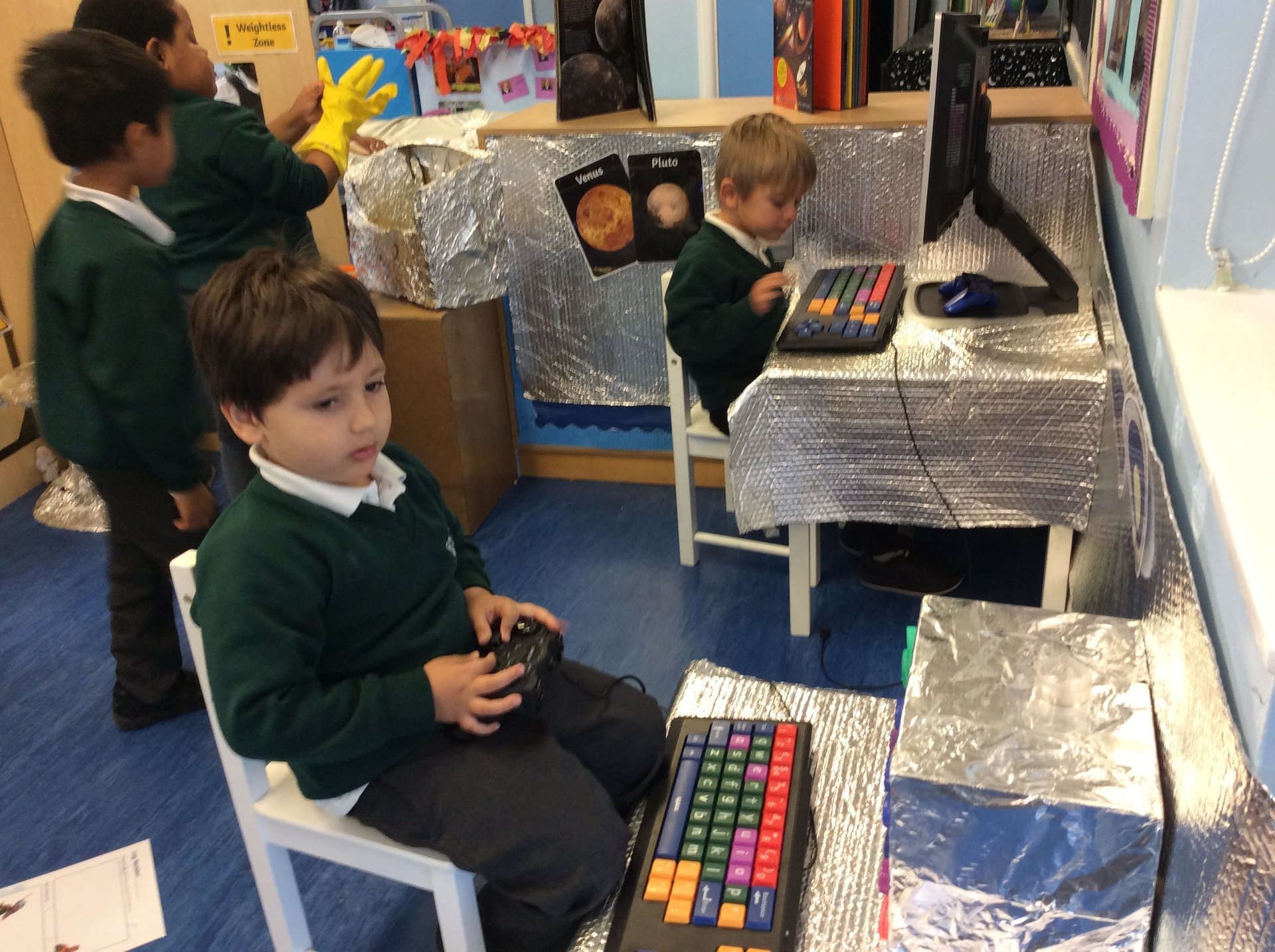 20.11.20
This Fascinating Friday we have been exploring ice. How is it made? How can we change it back to water quickly? We poured salt on it and heard it crackle. The salt froze. We put colour on it to watch it trickle through the cracks. The colour froze. We smashed it into little pieces. We poured hot water on it and made it explode! Ice is fascinating. Try making some at home. What else can freeze?
16.11.20
This week one of our areas of learning has been shapes. We have been sorting flat and solid shapes. Searching for shapes in our school environment. We made shape pictures of dinosaurs. We can make our own squares, rectangles and triangles using lollisticks and stretchy elastics but we found circles very tricky to make because of their curved edge.
13.11.20
Spotty Day for Children in Need
We made ourselves spotty Pudsey ears. We made spotty cakes. We went on a spot hunt. Lots of spotty fun.
6.11.20
This "Fascinating Friday" we learned how to make Mono- prints. The children used paints and trays to explore mark making at their own level. They captured their marks by printing them onto sugar paper.
2.11.20
Welcome Back to Autumn 2!
This week we have been learning about the sacrament of Baptism. We learned that it is the way God welcomes us into his family. We role played a baptism. You can see baby "Jeremiah" being baptised. Lily-May and Harvey were the parents and they chose their best friends to be the Godparents. The children have been practising baptism in the classroom. All the babies are now baptised.
We learnt about the importance of water as a symbol in the sacraments. We wrote down things we shouldn't have done and then we washed them all away. Water is a symbol of a fresh start.
23.10.20 This "Fascinating Friday" we have been testing all of our senses.
What can we see? We hid tiny pieces of wool, of various colours, to find out which ones our eyes could find easily. We found out that black was the hardest one to find. We could see bright colours more easily.
What can we smell? We covered our eyes and smelled lemon, vinegar, coffee, strawberry jam and playdoh. Everyone recognised playdoh!
What can we hear? We put different seeds and foods inside tubs. Then we shook them to guess which seeds were inside!
What can we feel? We used feely bags and the skin on our fingers to guess what was inside. We used adjectives to describe what we felt. It felt slippery, like doctor's gloves (balloons), crunchy, spiky (leaves) cold, hard, bumpy, (shell), soft, like a teddy, (cotton wool).
What can we taste? We could taste the difference between sweet popcorn and salty popcorn. It was easy!
19.10.20 This week we are celebrating African Culture. We are very lucky to have so many families from different cultures. Look at these amazing traditional costumes! So much pattern and so much colour.
Making African style masks. We can be warriors or princesses.
We learned how to make repeating patterns while making Kwanzee Necklaces from West Africa. Black stands for Black people, red is for the struggle of Black people, green represents growth and an end to discrimination.
16.10.20 This "Fascinating Friday" we loved colour mixing with our "Colour Handshakes".
12.10.20 We finally got to put our "Writedance" onto paper this week. Look at our amazing volcano pictures. We have also been trying to recognise numbers by playing number games. How many numbers can you recognise at home. If you can recognise those up to 10, try and recognise numbers to 20.
9.10.20 This Fascinating Friday we had fun with "Talking Telephones". The sound travelled along the string but we had to remember to pull the string tight.
5.10.20 We have been learning about our bodies this week and what's inside them. We made skeleton pictures, labelled our bodies and played in our new Doctor's Surgery!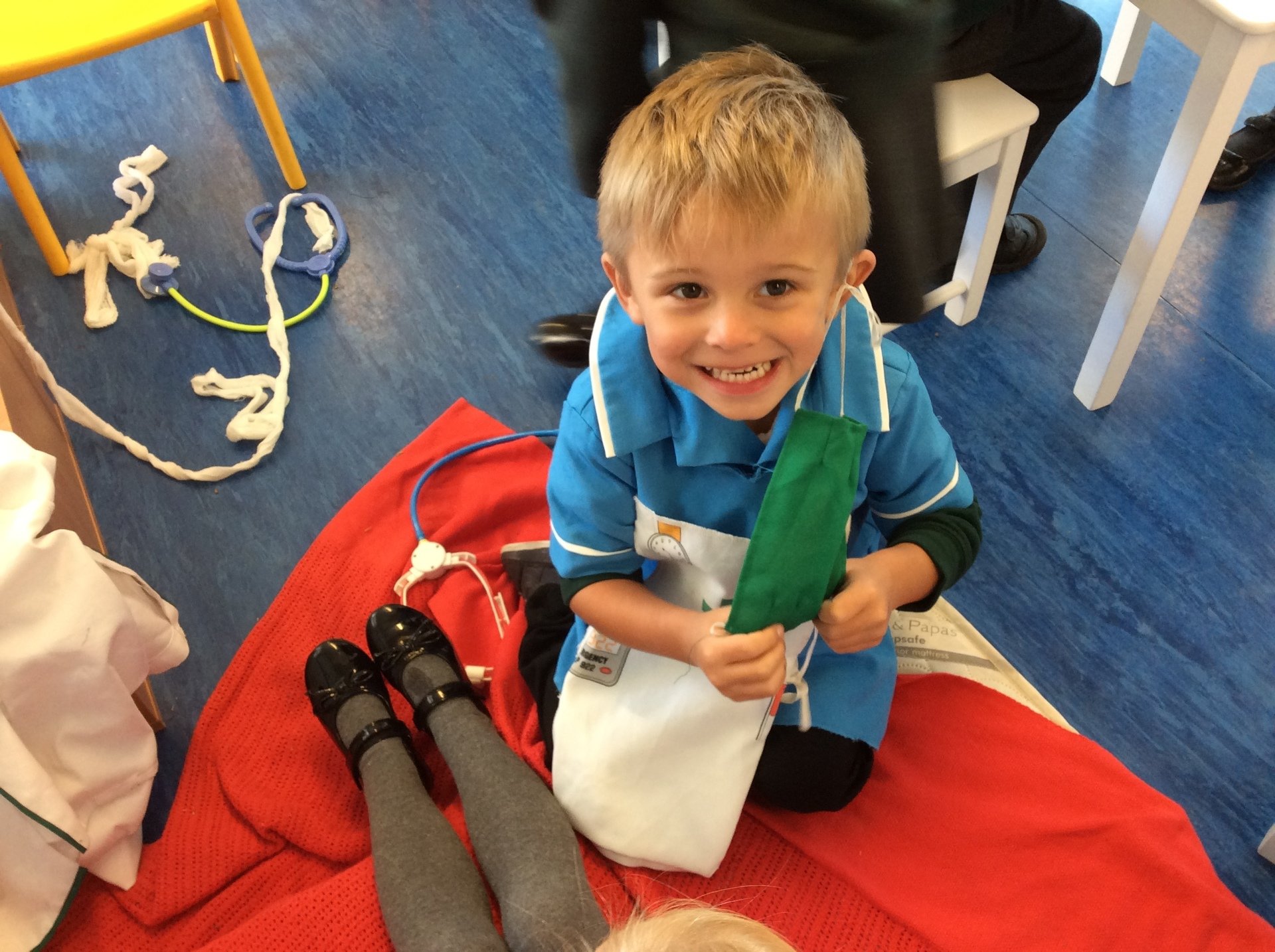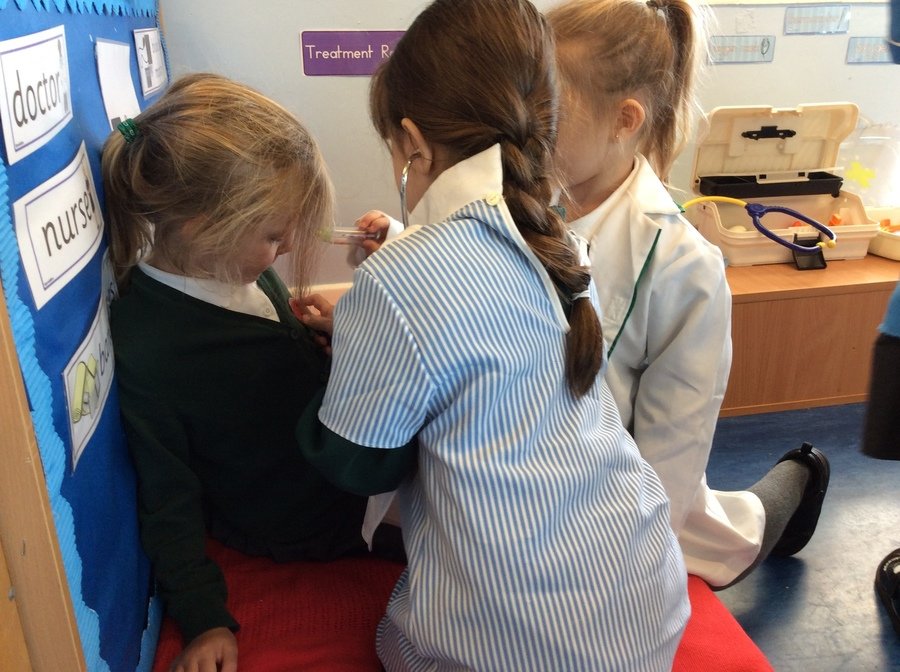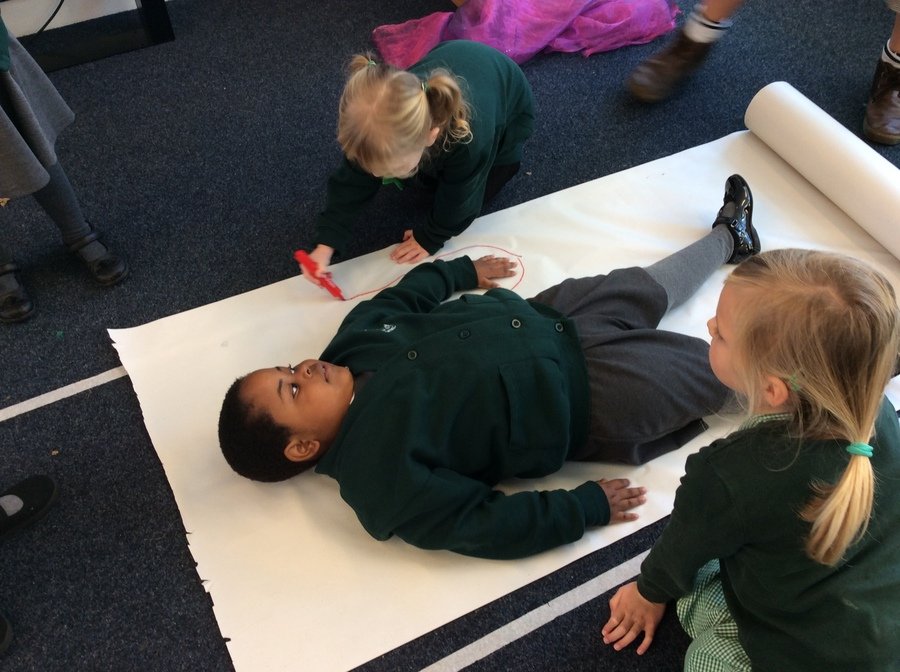 2.10.20 We have introduced "Fascinating Friday!". The children get to develop their knowledge and understanding of the world by engaging in some scientific experiments. This Friday we made "Bubble Snakes" and we could see that Hattie had the biggest lungs in the class since she blew the longest snake!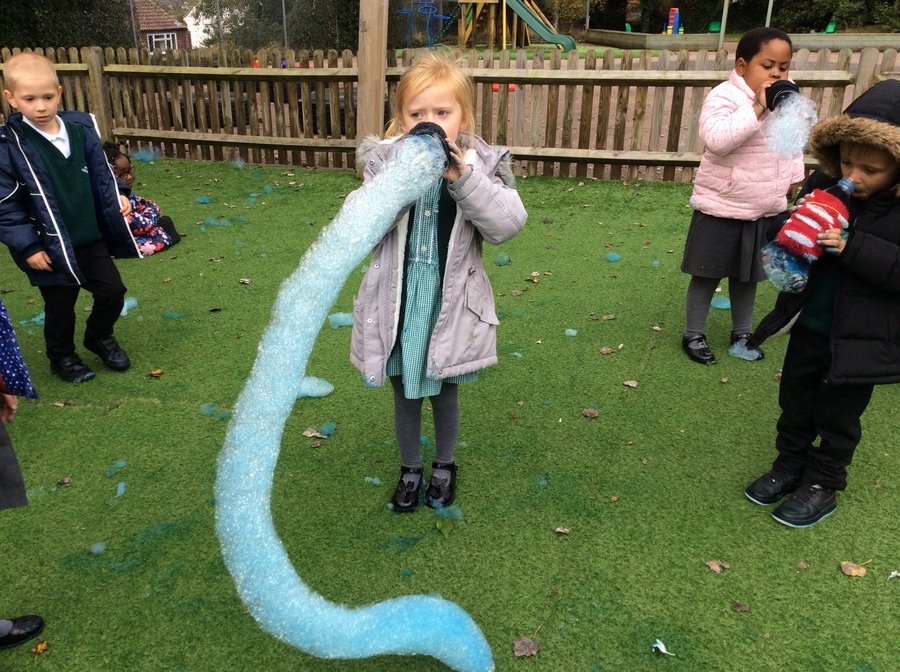 28.09.20 This week we have started our funky fingers programme where the children get to work on their fine motor skills for 10 minutes everyday. This will support them with their pencil control and writing skills. Work those fingers!
14.09.20
This week we have been painting our portraits. We are sorry that you can't come in and see them so here is a slide show.
Our first days at school have been fantastic fun. All the children are settling in quickly and are getting used to our routines. We are very impressed with their good manners, kind behaviour and hardworking attitudes. We can't wait to start our first topic:
"Marvellous Me"
11.09.20
Today we have been making "Worry Dolls" for well being week. When we talk to them about our worries, our worries disappear. It's a good idea to talk to someone about your worries!