2022-2023
Welcome St Anne's Class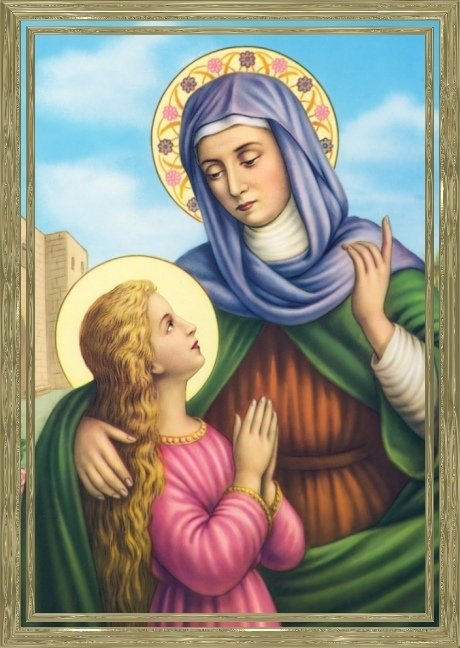 Class Teacher - Mrs Thompson
Teaching Assistant - Mrs Mulholland
21.11.22
This week in maths we have been thinking about capacity and how much space is inside different containers. We experimented with water, sand, oats and beans. We had a lot of surprises. It is not always the tallest container that holds the most!
The children had fun with our cube challenge. How many different models can you make with 5 cubes? We still haven't found them all!
We had a birthday party for Bobo too. We made him a banana cake and some cards. He was 5 years old. We are waiting for the birthday of someone else too. As Advent begins this Sunday, we are learning about the story of Christmas.
Watch these versions of our class poem. The children made dark pastel drawings of a dark wood and added captions describing it. We used the captions to create our class poem. By inventing and using actions the children were able to memorise it and perform it. I was so impressed at how confident they all were.
C

h

il

d

r

e

n

i

n

N

e

e

d
18.11.22
Today we raised money for Children in Need. look at our spots. Some of us even had spotty faces!
We found out that people in Australia make art with spots. We had a try at making spot pictures. We also went on a "Pudsey Hunt". Mrs.Thompson hid 25 Pudseys around the school and we had to find them. We used a tally chart to count them.
14.11.22
This week we have been working on our counting and playing lots of games where we need to recognise numbers and to count. We have learnt to count actions as well as objects and how to record this using tally marks. In RE we have been learning about how God welcomes us into his family with Baptism. The children role played a Baptism and Baptised all of the babies. We are working on a class poem about a scary wood. The children have been developing the vocabulary associated with a dark, creepy wood and have used it to create a class poem. We will be performing it soon! Watch this space!
09.11.22
The children really enjoyed the experience of coming to school after dark. It was so dark they needed torches to see their way around. However we were lucky enough to have a clear night and a full moon which we looked at with a telescope. They rescued Peppa Pig who was lost in the woods, had a camp fire and toasted marshmallows and drank hot chocolate. There were some great conversations around the fire. Enzo wanted to do it every day!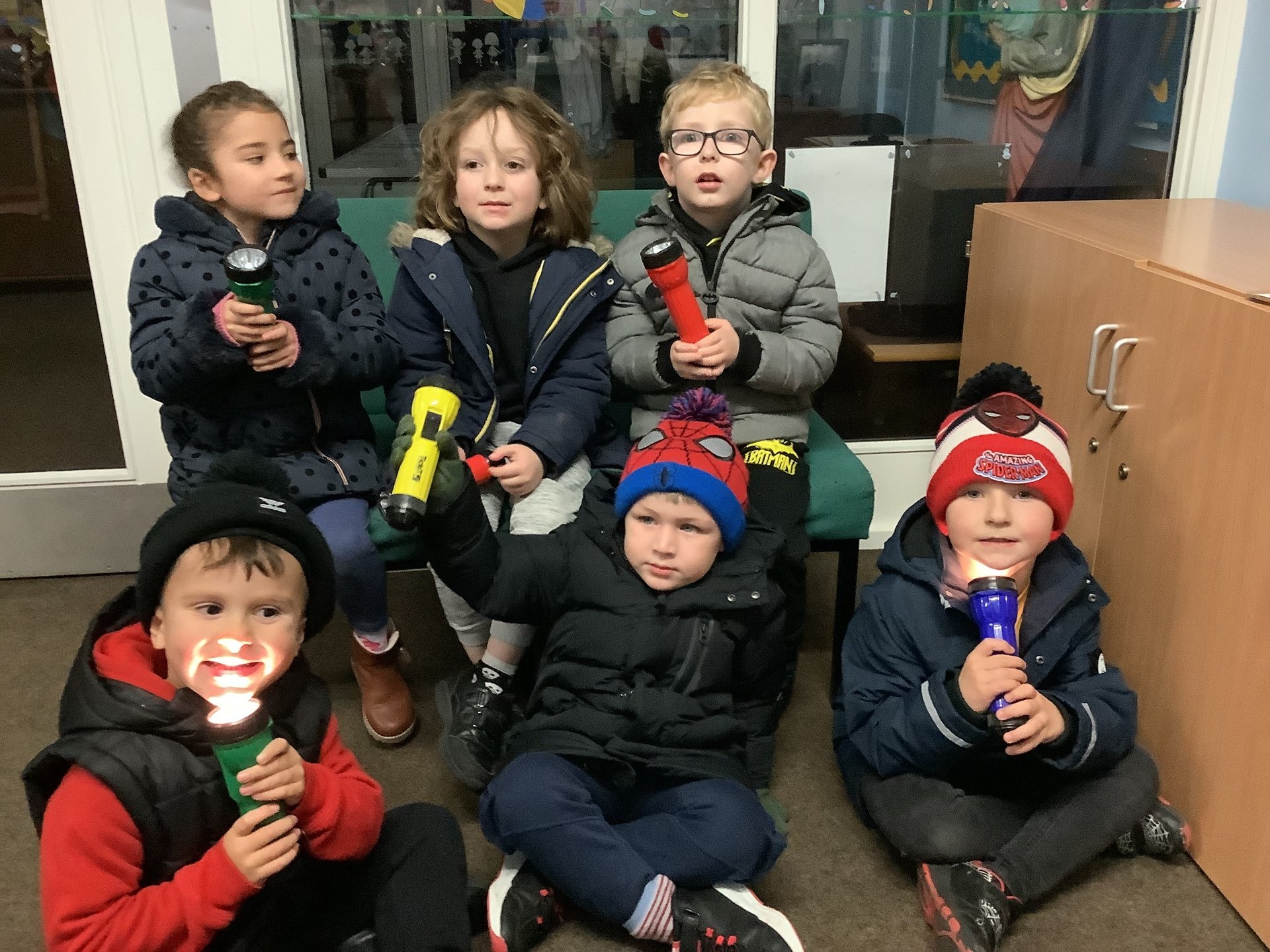 .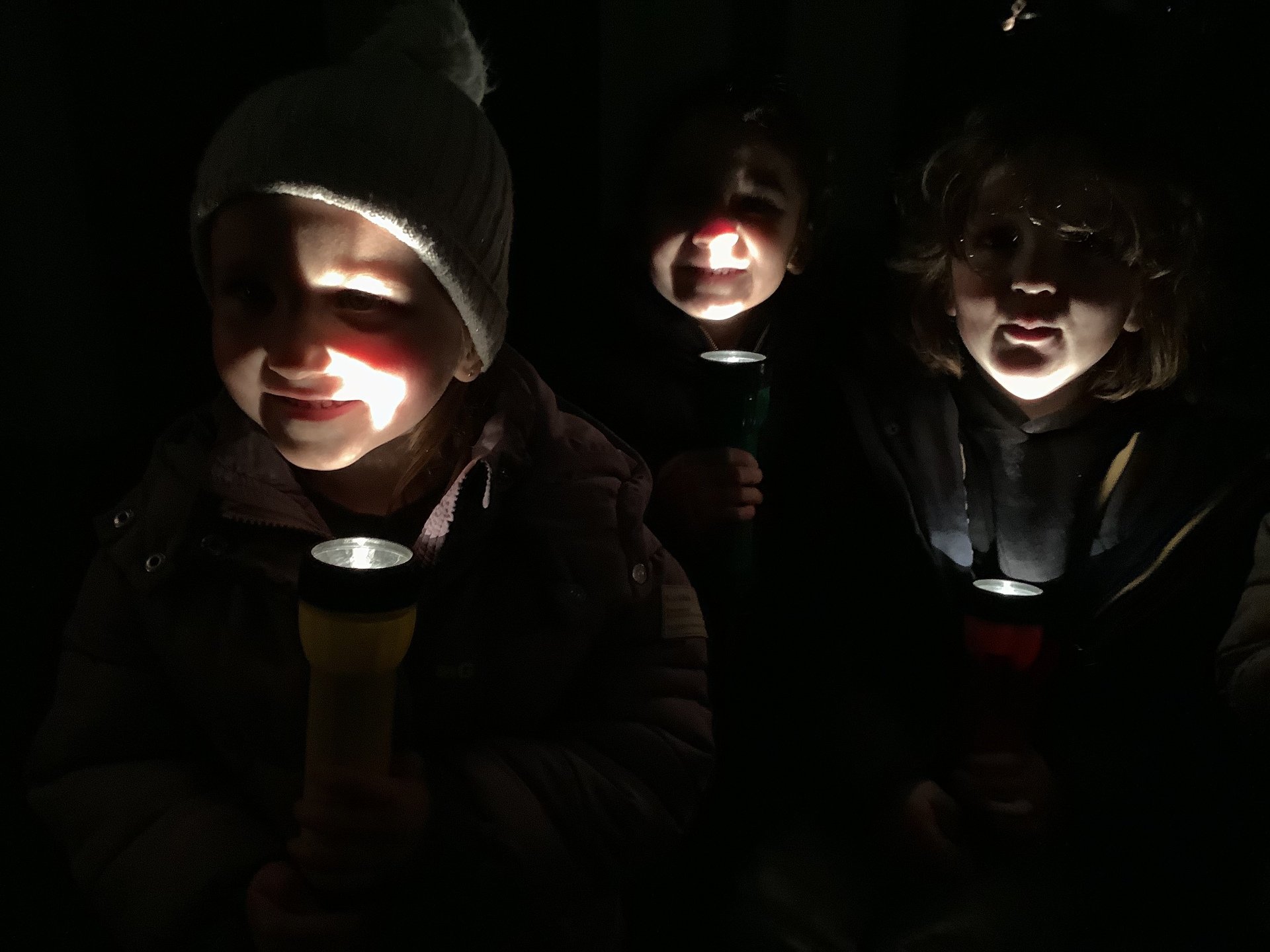 .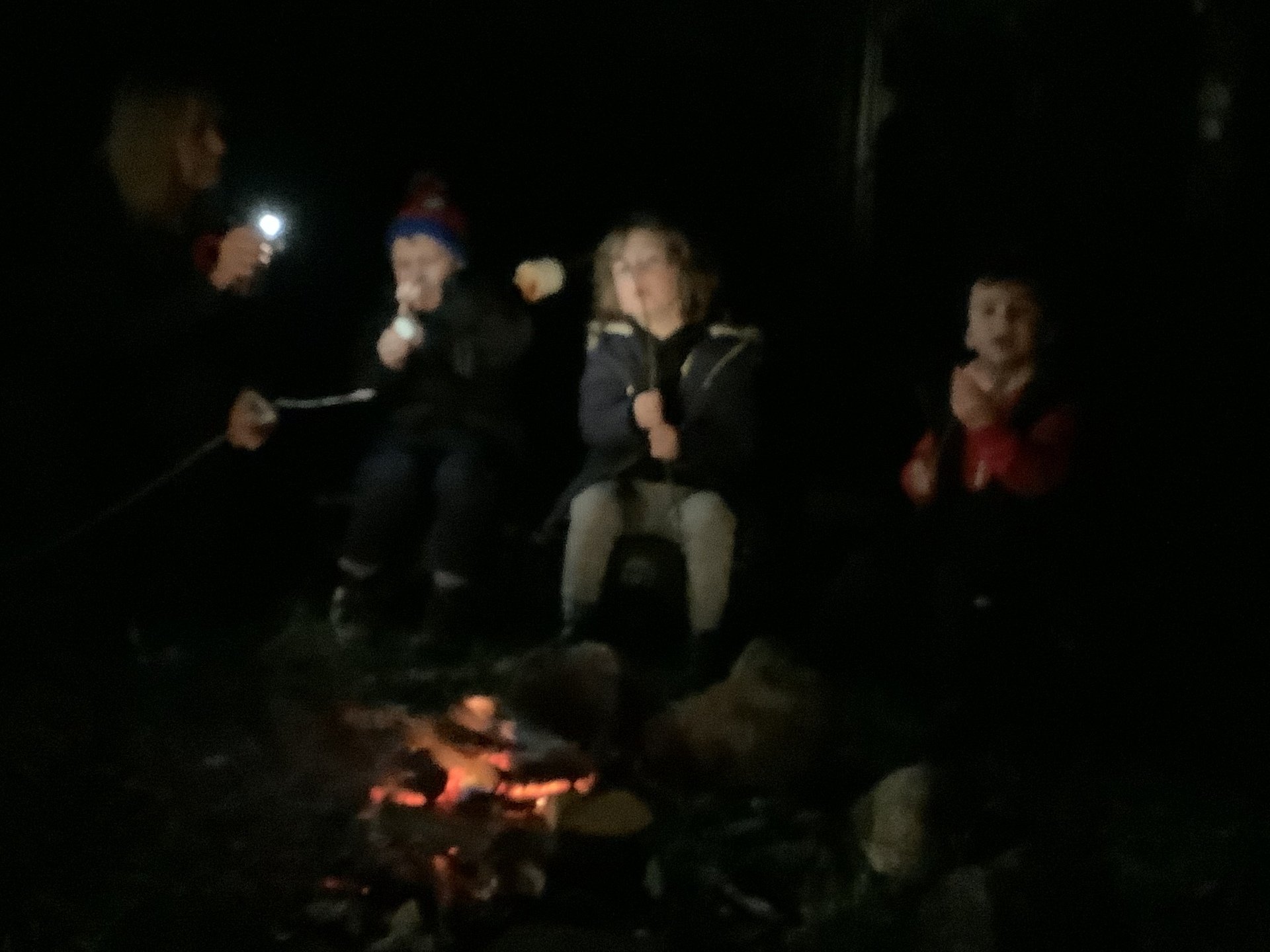 Our Outdoor Learning Day was blessed with lovely sunshine! We focused on using tools this time. The children learnt how to use palm drills but found it quite tough! They still managed to drill a hole and make a bookbag keyring. The children also learned how to snip wood with secateurs and how to work with a partner to use the band saw. Great Fun!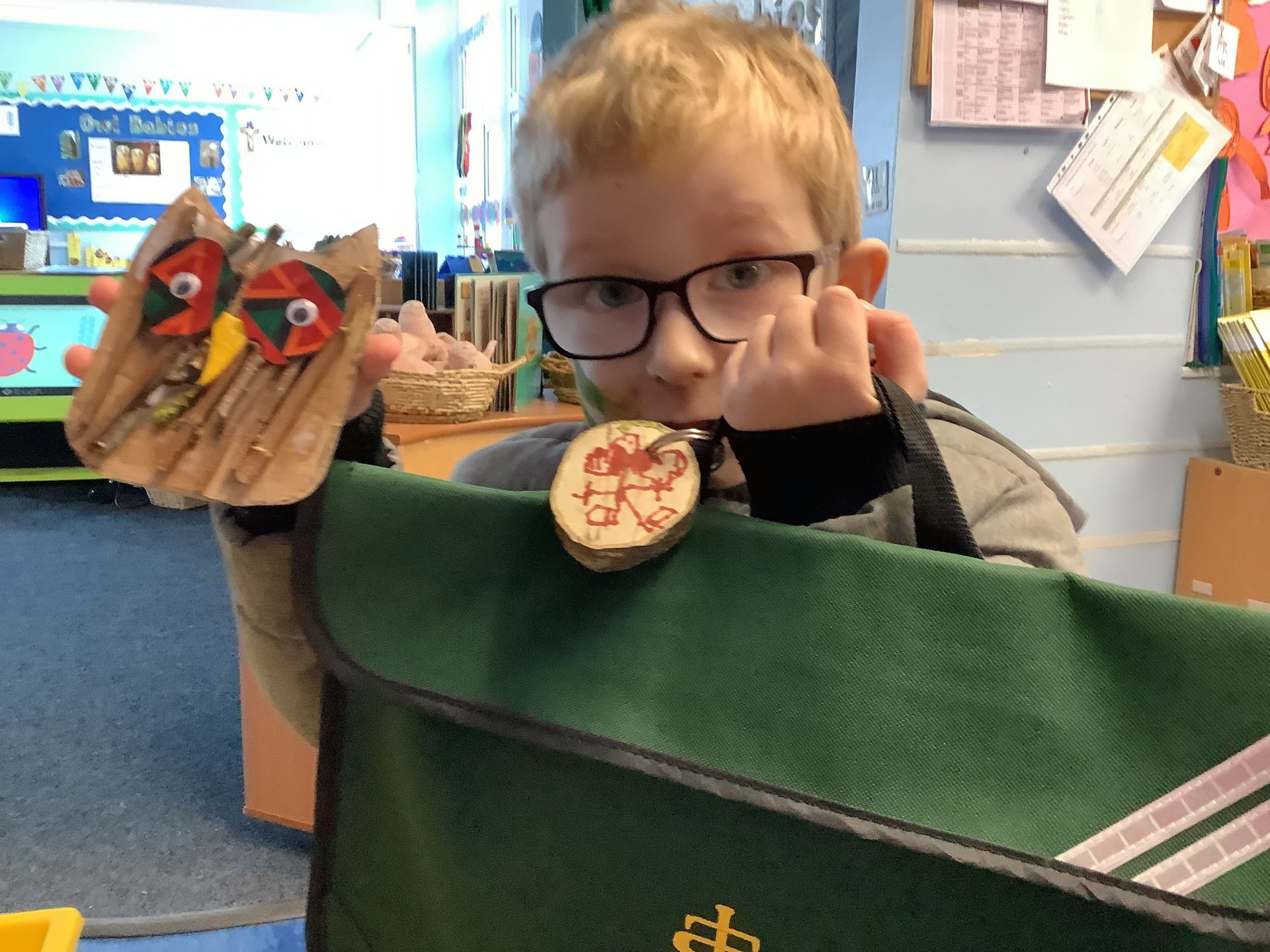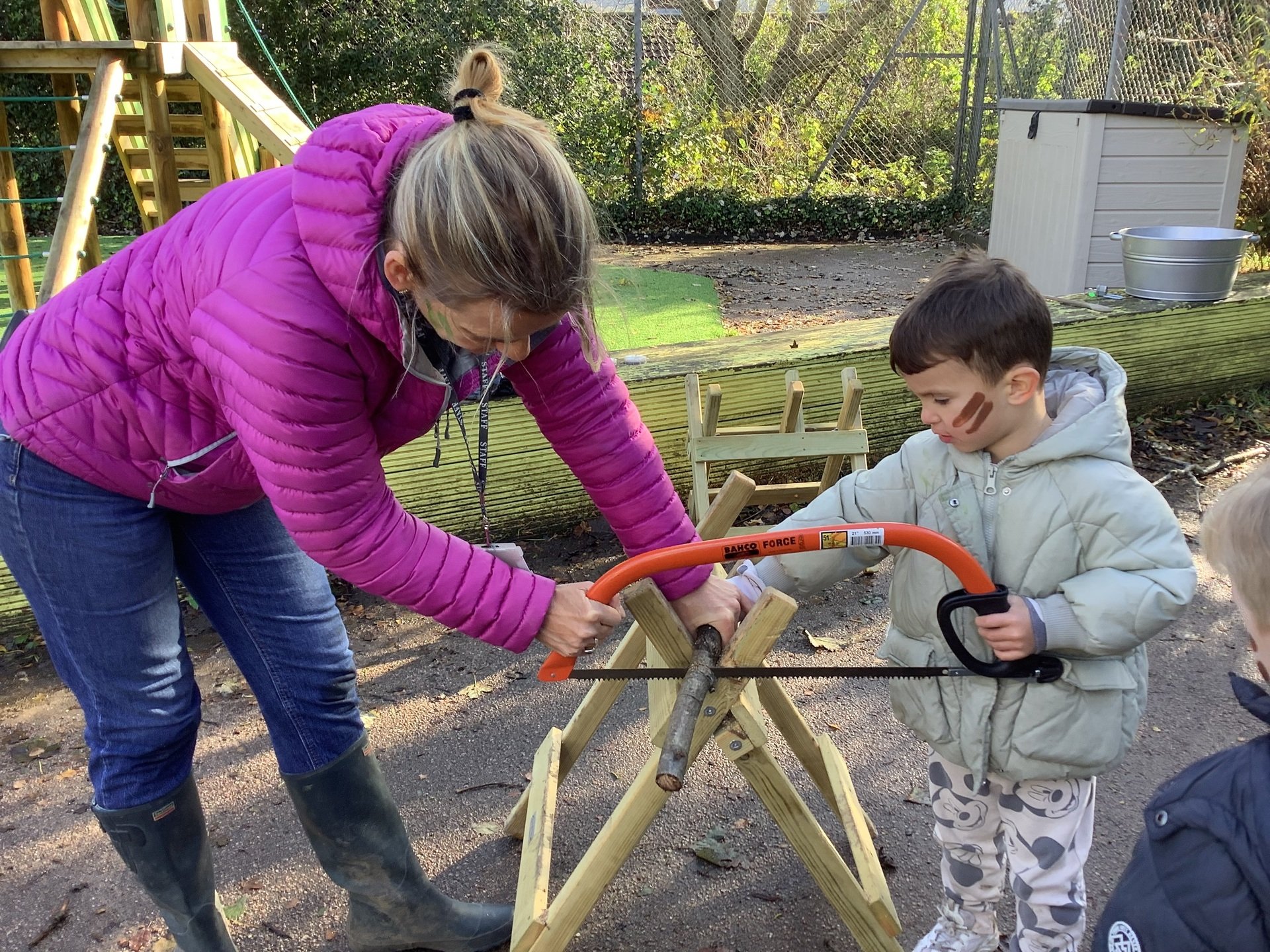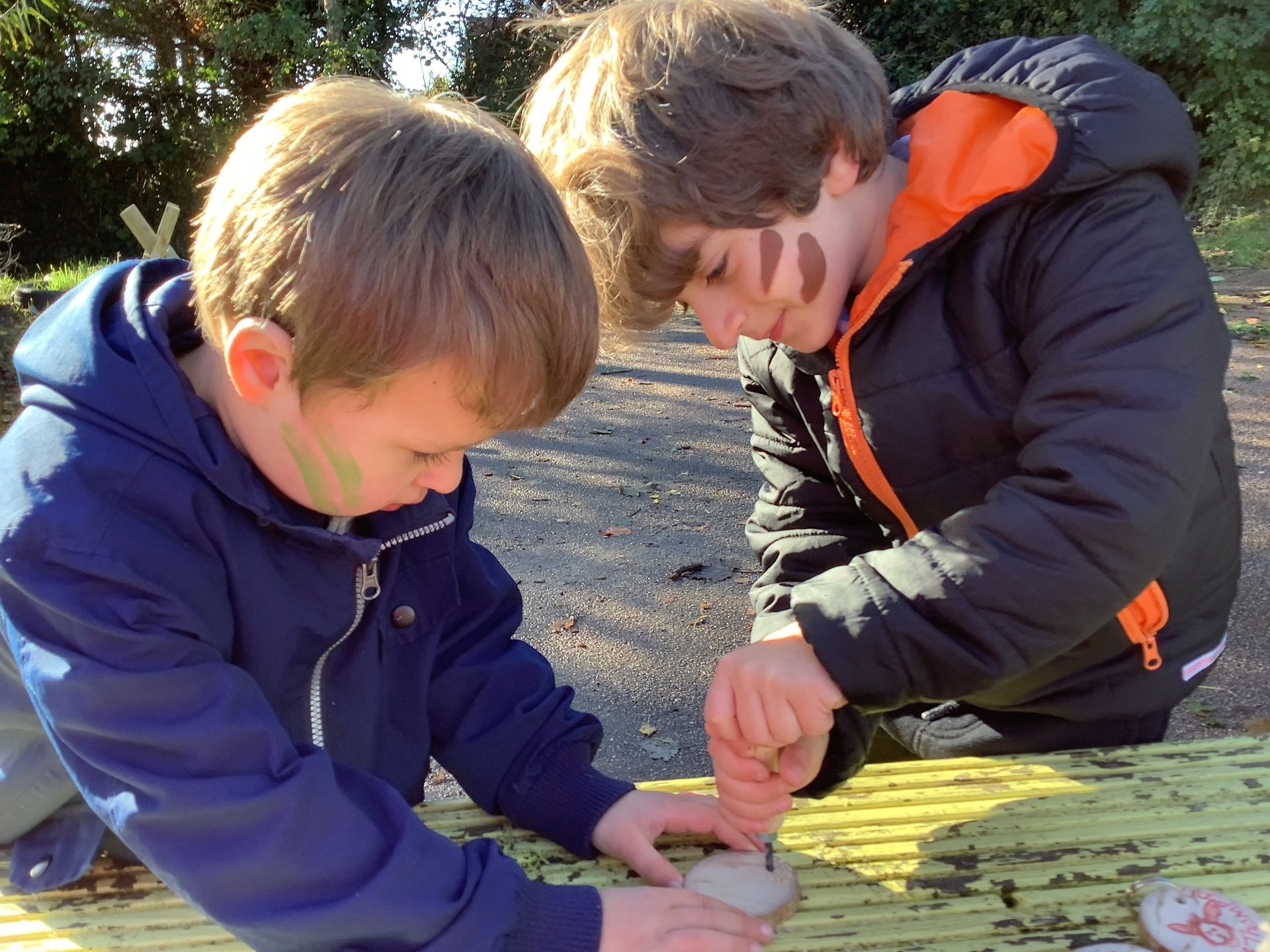 31.10.22
This week we are starting our new topic Night and Day. We have started learning about why some places are dark. We removed as much light from our classroom as we could. We turned off the lights, closed the blinds and made ourselves little tents. Inside it was really dark and we needed torches to see our pictures! Can you see us?
We have been thinking about nocturnal animals. We explored how to make our paint look fluffy when painting owls. We have also been using our new Pet Grooming Roleplay. There are lots of very clean pets in our class.
Three children have managed to read all of their "Hard to Read" words which were sent home to practise. They all received a head teacher's award. Well done to Blake, Enzo and George. Everyone else keep practising!
We finished off our first half term making bubble snakes! It was so much fun.
17.10.22
Following on from the work on our text Oh No. GEORGE! We started finding out about real dogs and what you need to do to look after them. We had a visit from Charlie the Chihuahua. We walked him, petted him and gave him a treat. We found out dogs need food, beds, water and play, just like us.
This week we have also been looking at pop up books and those with moving parts. The children have learnt how to use a split pin and have made their own pictures with moving parts. They had so many great ideas!
10.10.22
The children have been really enjoying our Power of Reading text this 1/2 term.
Oh No. George! by Chris Haughton
We have been retelling the story in a range of ways and making some great pastel drawings of George. We have also been thinking about all of the different parts of their bodies. Halle was our model and we labelled her. Then the children worked in pairs to draw around each other and tried to make some labels of their own.
03.10.22
This week we have really settled into our routines. The children have been enjoying their writedance sessions and creating the volcano pictures. We have been working in our new Doctor's Roleplay, making pretend medicine and learning all about our bodies. It is encouraging the children with their mark making so that they can practise everything we are learning in our phonics sessions. We made some fantastic skeleton pictures!
26.09.22
Grandparents Week
We had a fun session showing some of our grandparents how we learn to read. Then the children had the chance to paint some gorgeous portraits of their grandparents.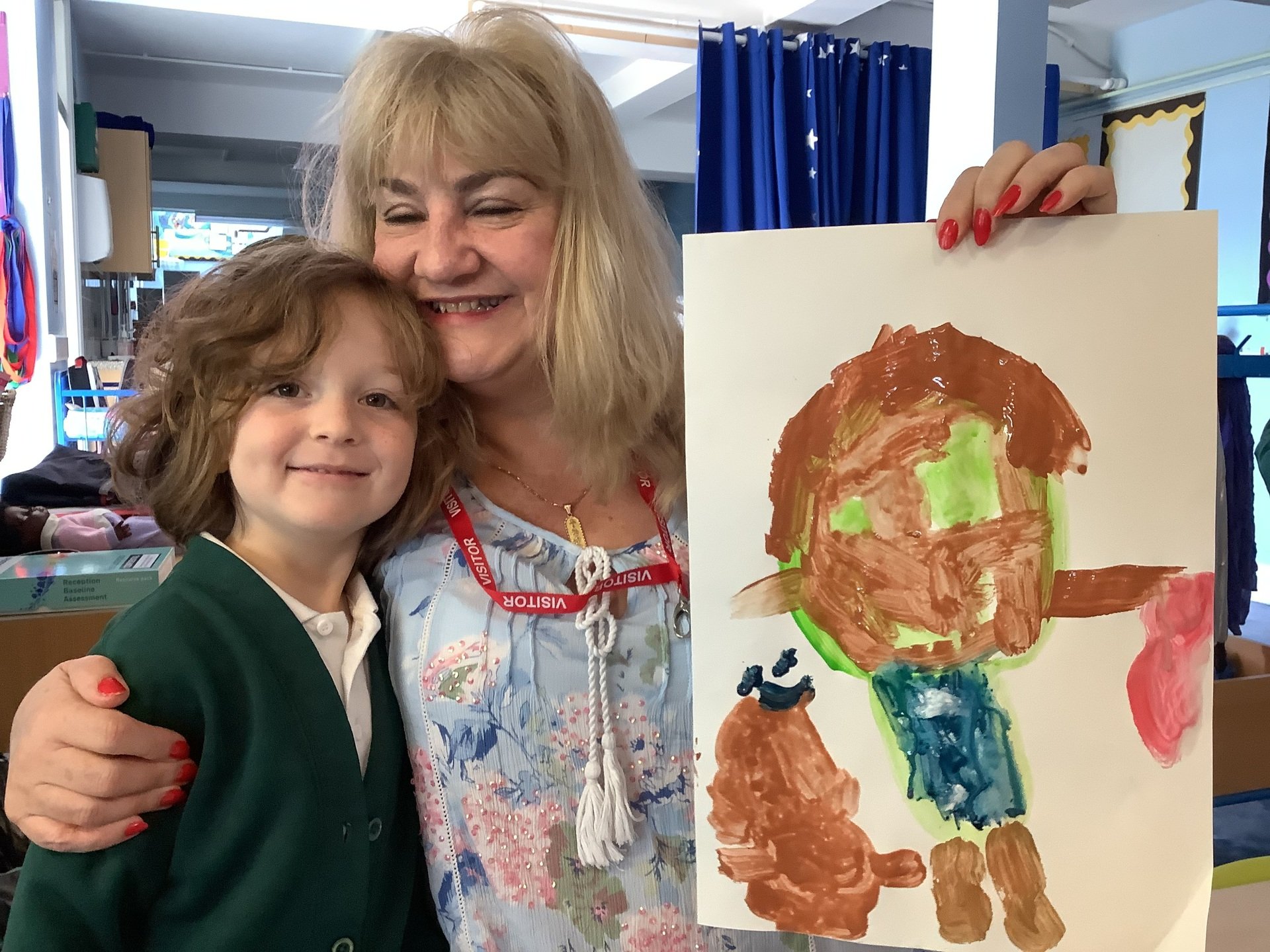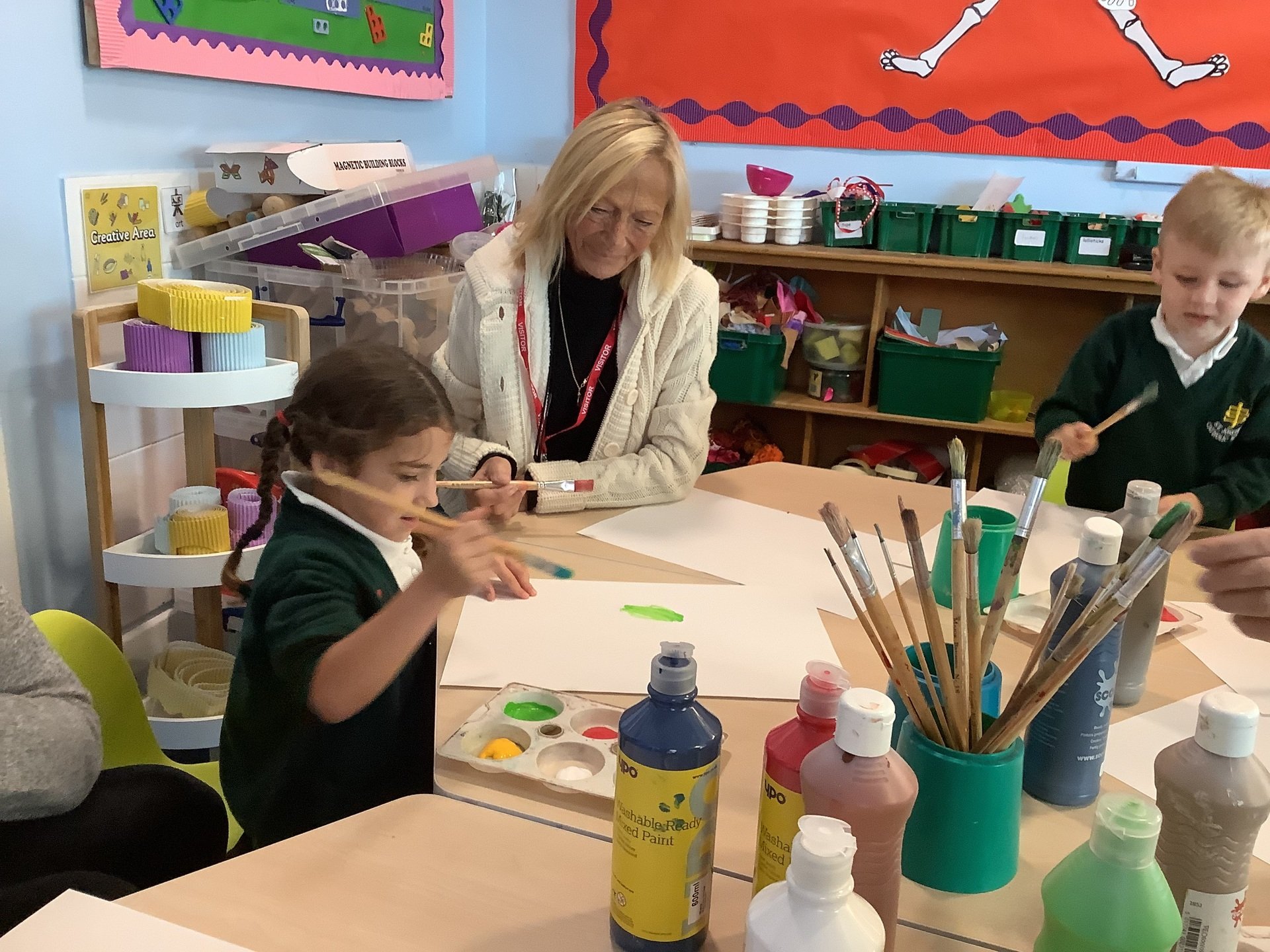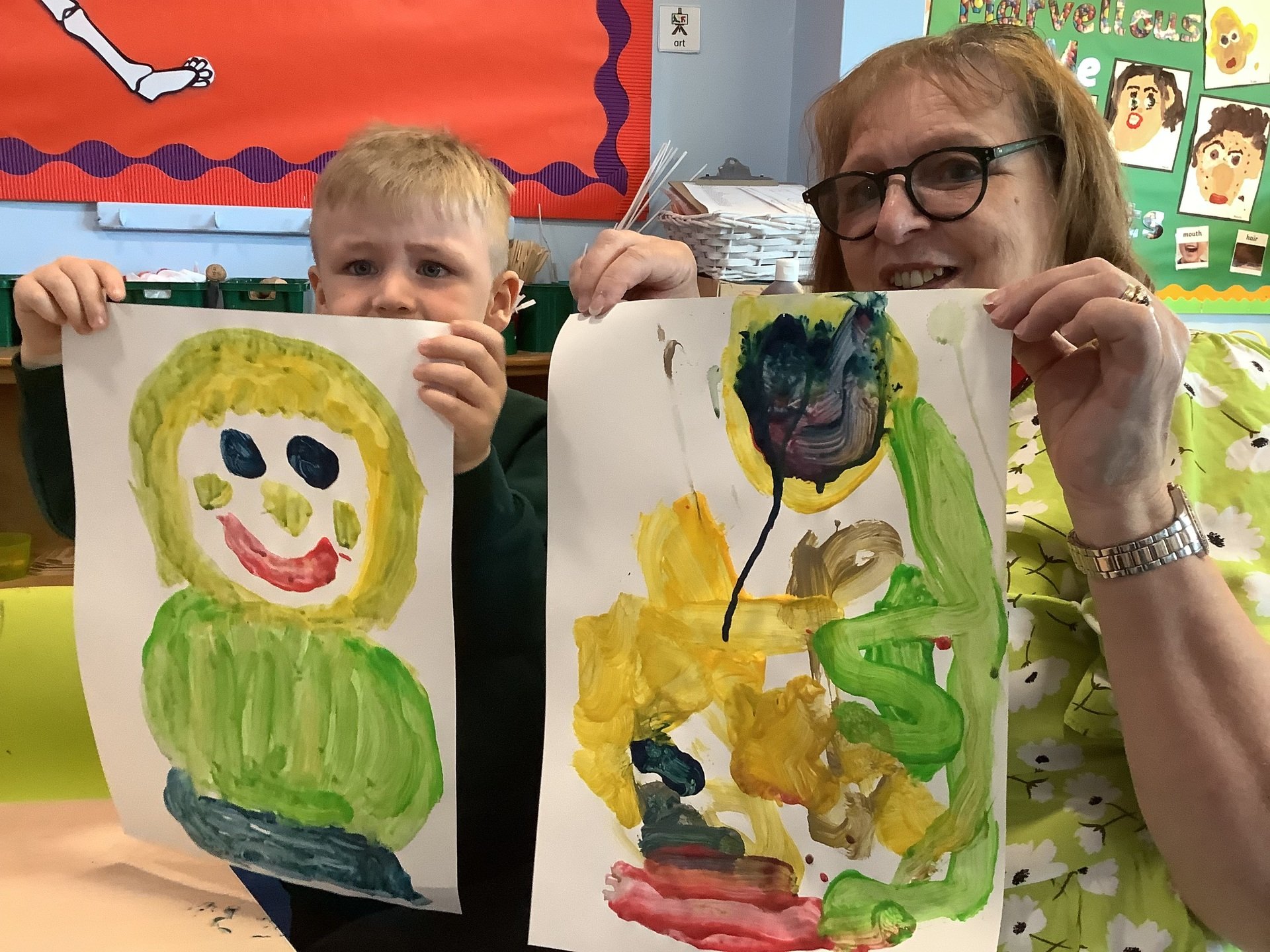 27.09.22
We had a wonderful time outside today. We collected Autumn treasures in our eggboxes and used them to make our interesting tree faces. The children explored the fantastic mud kitchen. They made apple pies, chocolate cakes and lots of soup! They used planks and crates to build secret paths in the bushes. It was a great day!
Our first topic will be "Marvellous Me" where we learn about our similarities and differences, our bodies, how to be healthy and much more. Click below for the topic leaflet which outlines the learning. Read this so you can support your child at home.
Please make sure your child has a named PE kit because we will be starting getting changed independently for PE week beginning 19th September.