2022-2023
Welcome St Philip Howard's Class
Class Teacher - Mrs Gilbert
Teaching Assistant - Mrs Parker
Support Staff - Miss Ginny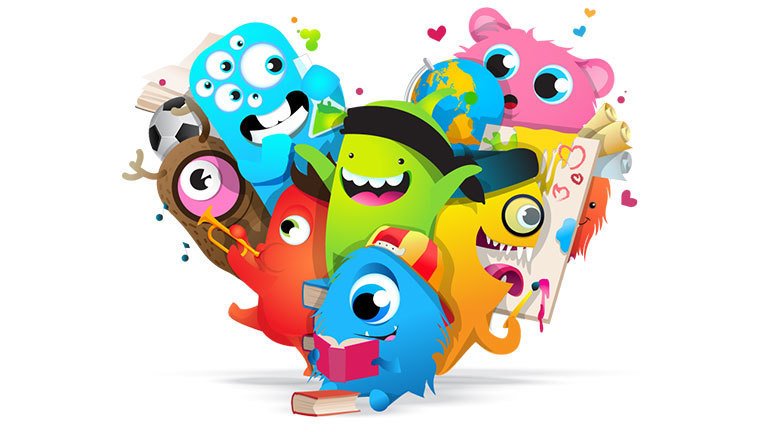 Our topic this term will be Greece Lightning! Please click here to see an overview of what we will be learning about in all subjects this term.
If children would like to do extra work at home or research about this event and bring it in to share with the class that would be fantastic! Please click 'here' for some optional ideas for extra work where pupils can earn Dojos.
~~~~~~~~~~~~~~~~~~~~~~~~~~~~~~~~~~~~~~~~~~~~~~~~~~~~~~~~~~~~~~~~~~~~~~~~~~~~~~~~~~~~~~~~~~~~~~~~~~~~~~~~~~~~~~~~~~~
~Events in Year Five~
Y5 Outdoor Learning Day
11.11.22
---------------------------------------------
Anti-Bullying Week
14.11.22
---------------------------------------------
KS2 Disco
22.11.22
---------------------------------------------
Christmas Fayre
09.12.22
---------------------------------------------
Half Term (last day)
16.12.22
Outdoor Learning
07.11.2022
To launch the week, we started with a great lesson all about healthy eating. We tried new foods that we hadn't tasted before and explored combinations. Following this, we learnt about the nutritional value of the food we were eating and shared our favourite new dishes!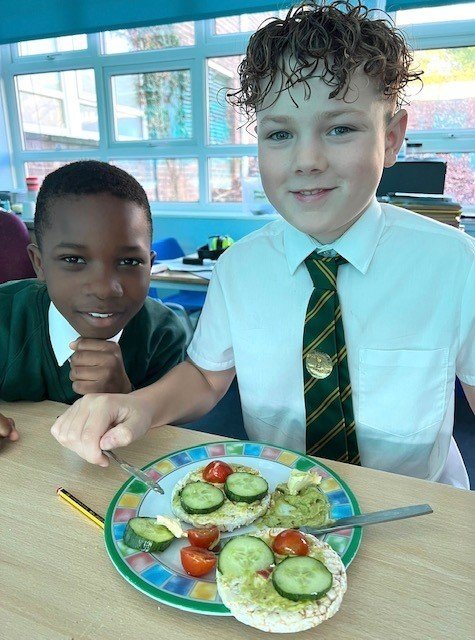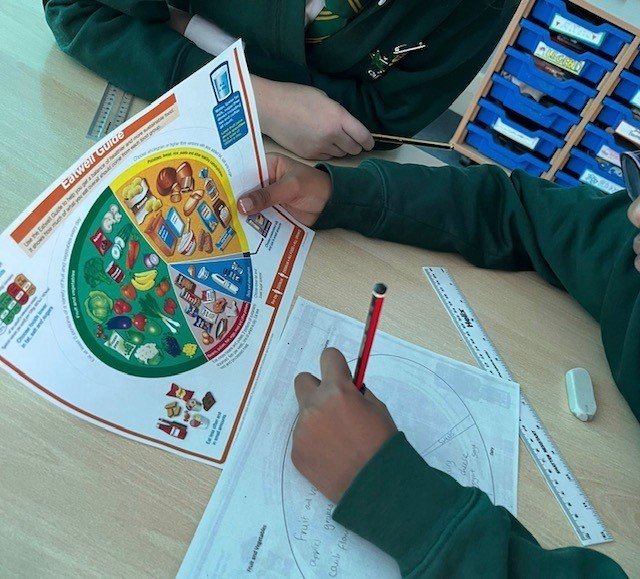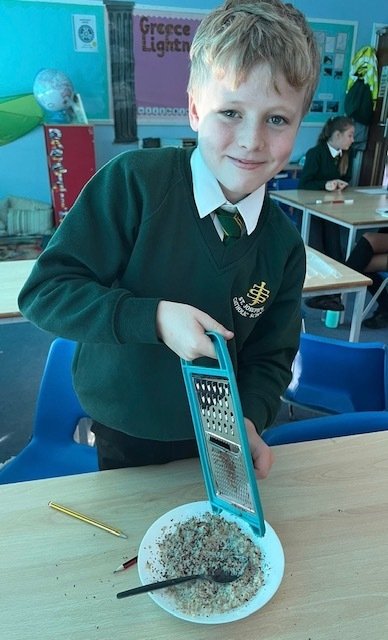 During outdoor learning day, we learnt created our own Greek vase designs using wax and paint. We then created our own tools, as the Greeks did, to etch into the design of our pots.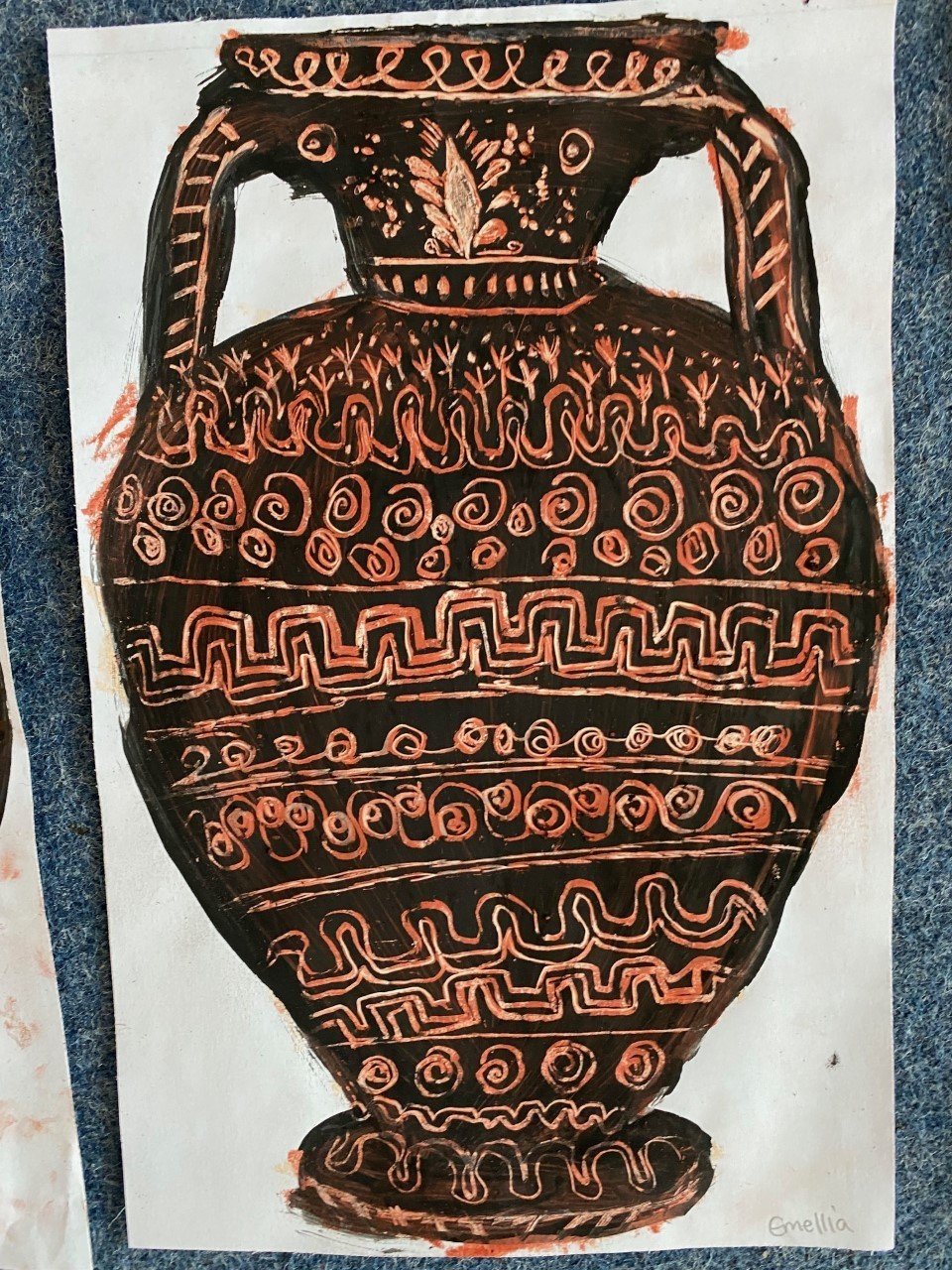 Following this, we learnt about how plants are adapted to survive in their habitat against any competition. See our pictures of our comparisons between different types of trees and plants using a quadrant grid of the environment. We then created wax rubbings of the different leaves and made comparisons to the veins and texture of the leaf being more visible on leaves that are not from evergreens due to the thinness and other important details:
Thinking like an Author
31.10.2022
This week, we had a visit from an author/illustrator named Leigh Hodgkinson. She shared with us her wonderful book and taught us the details of what it takes to be a great bookseller! She also shared with us the secret for drawing one of our favourite characters - Space Monkey!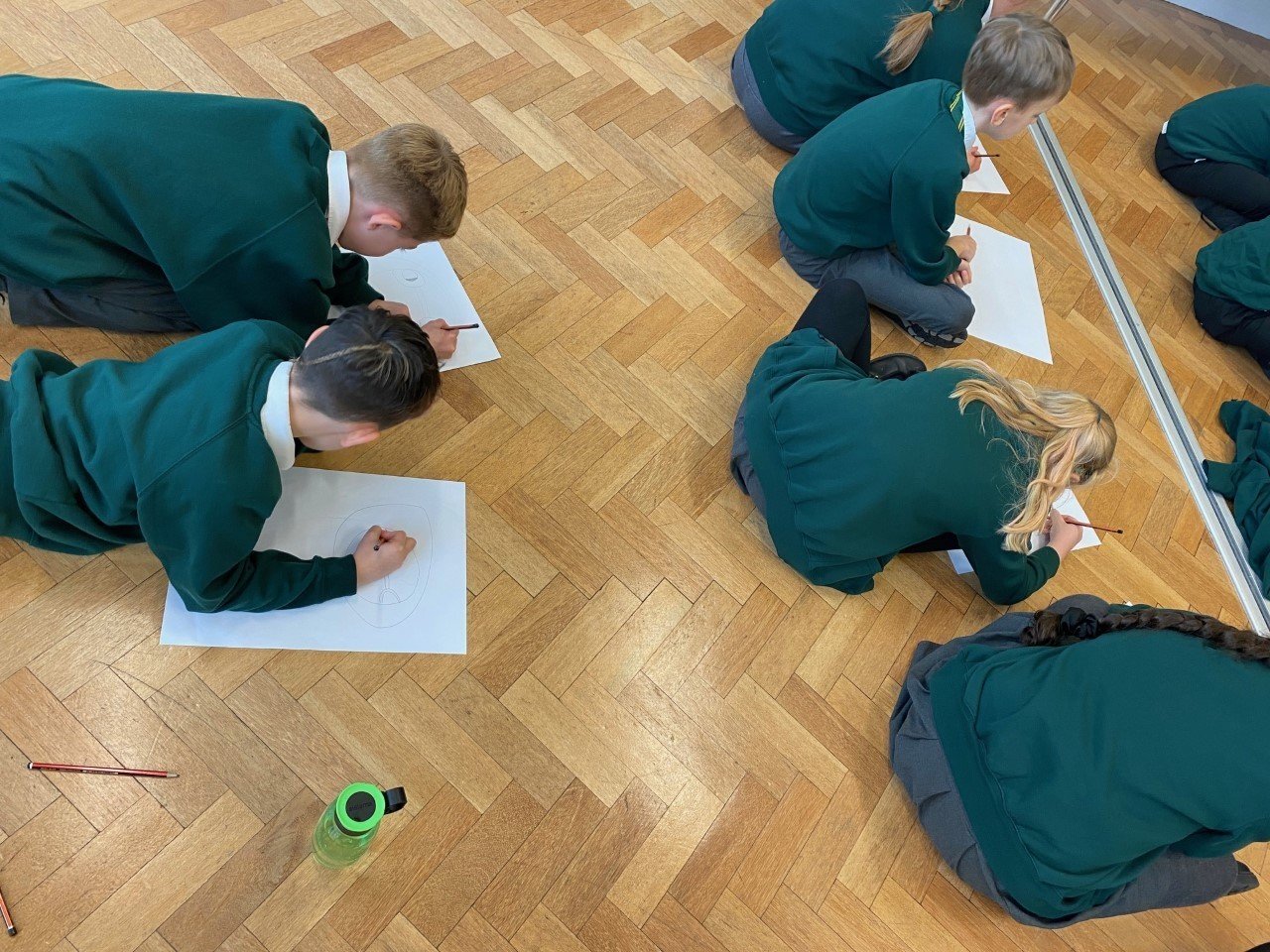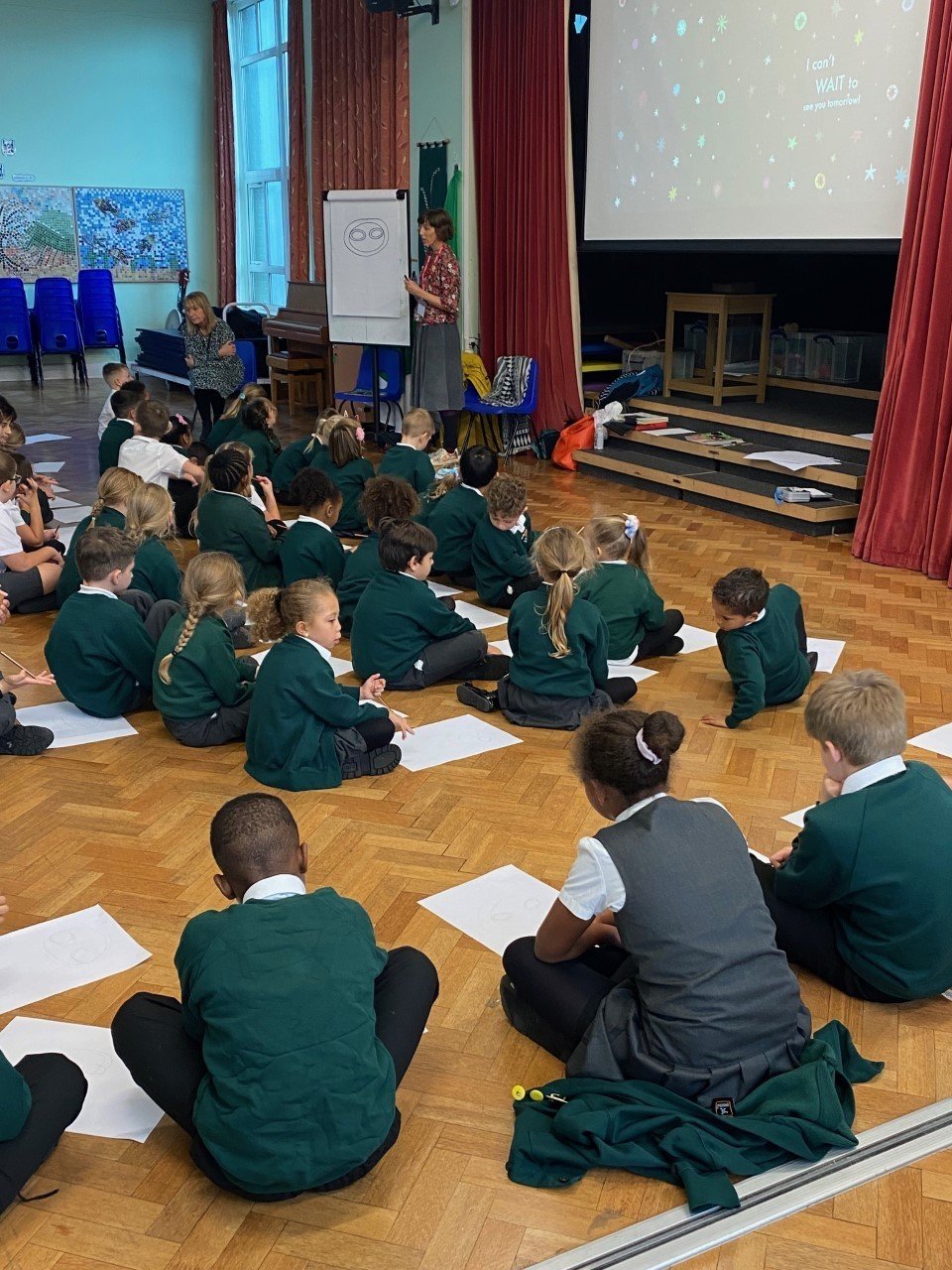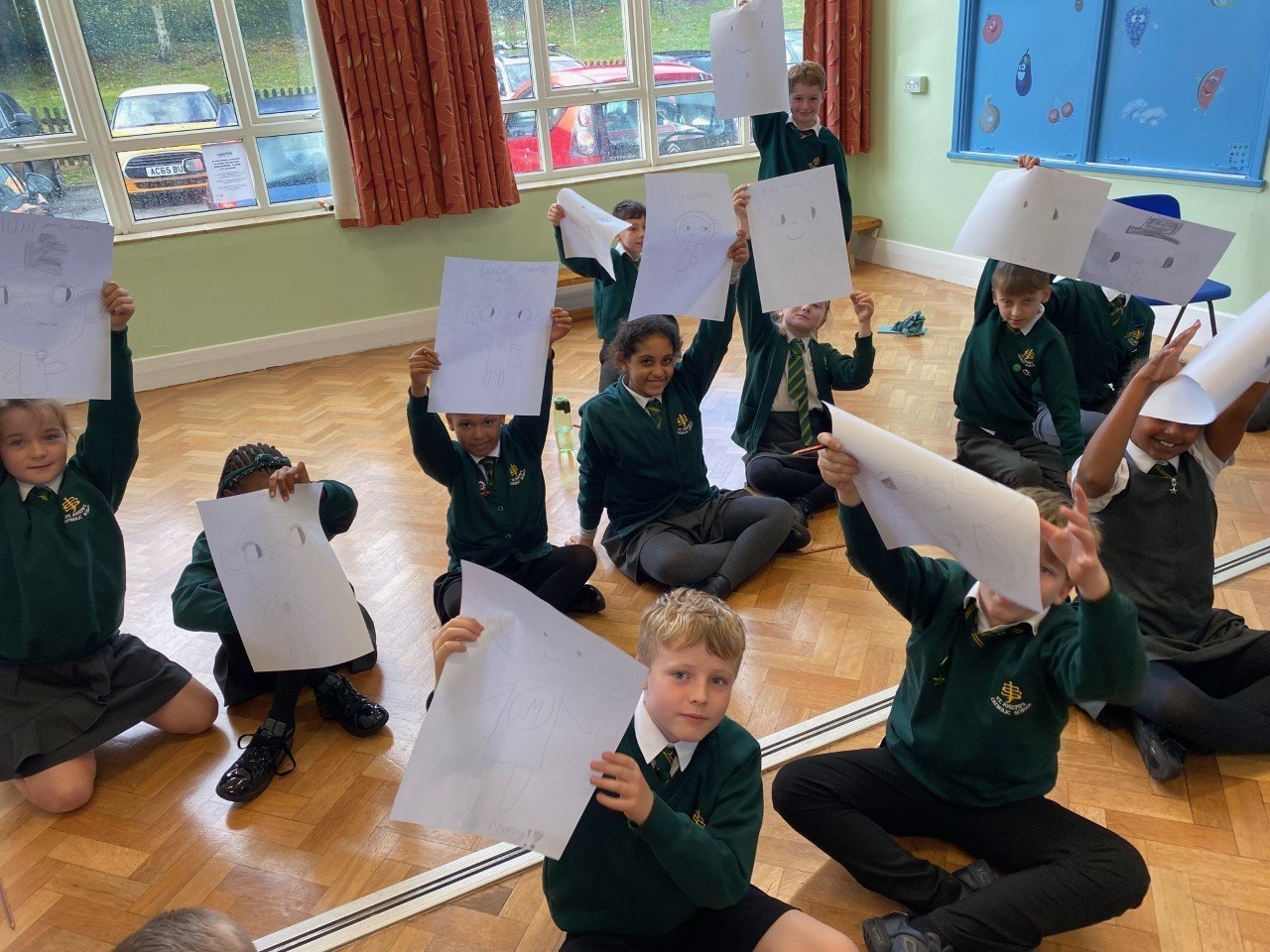 With Leigh Hodgkinson as inspiration, we launched the start of our new book 'Shackleton's Journey'. Having made wonderful predictions, we then dove into the main characters (the crew) and used our inference to role play as the characters and ask and answer questions.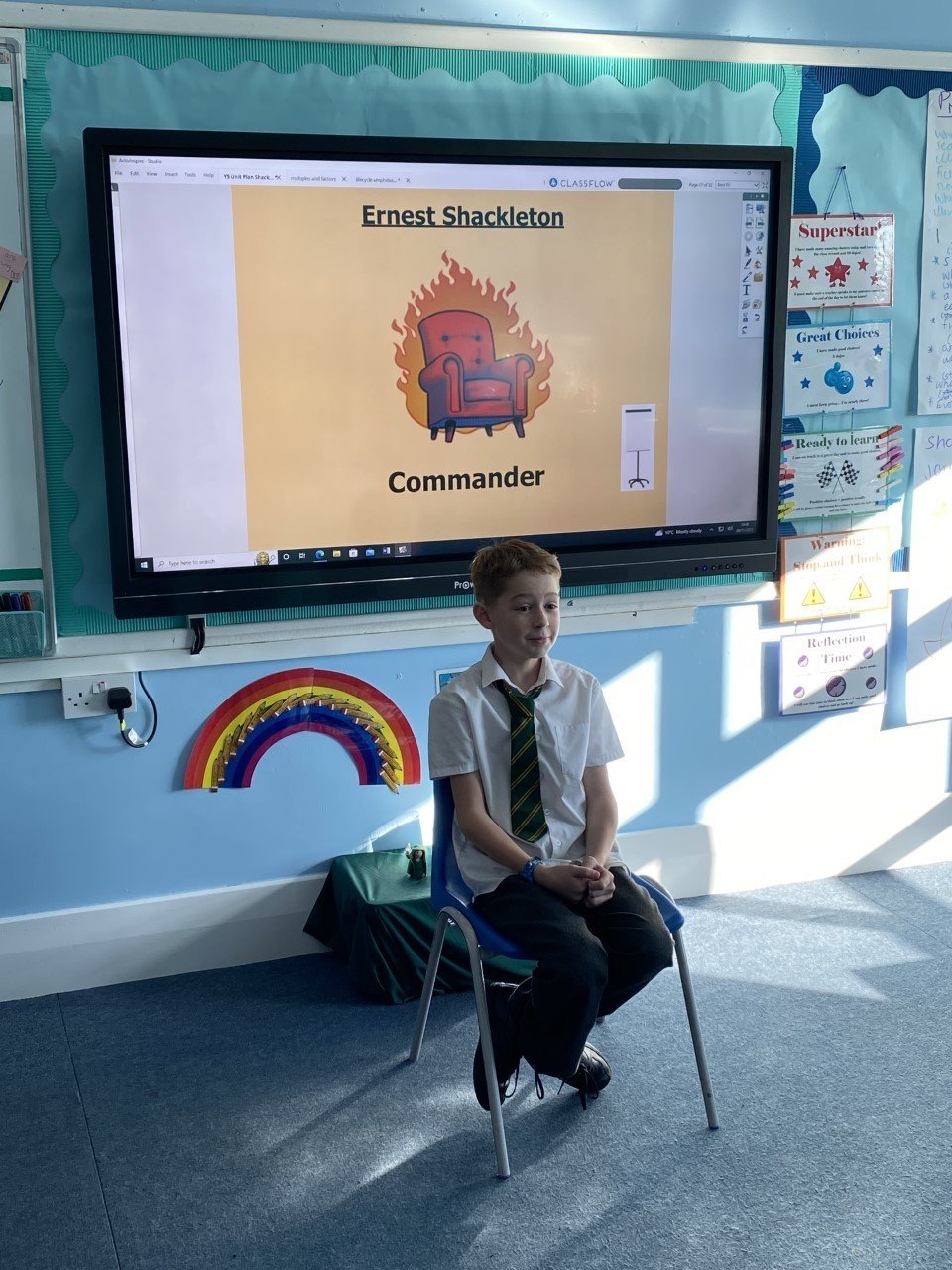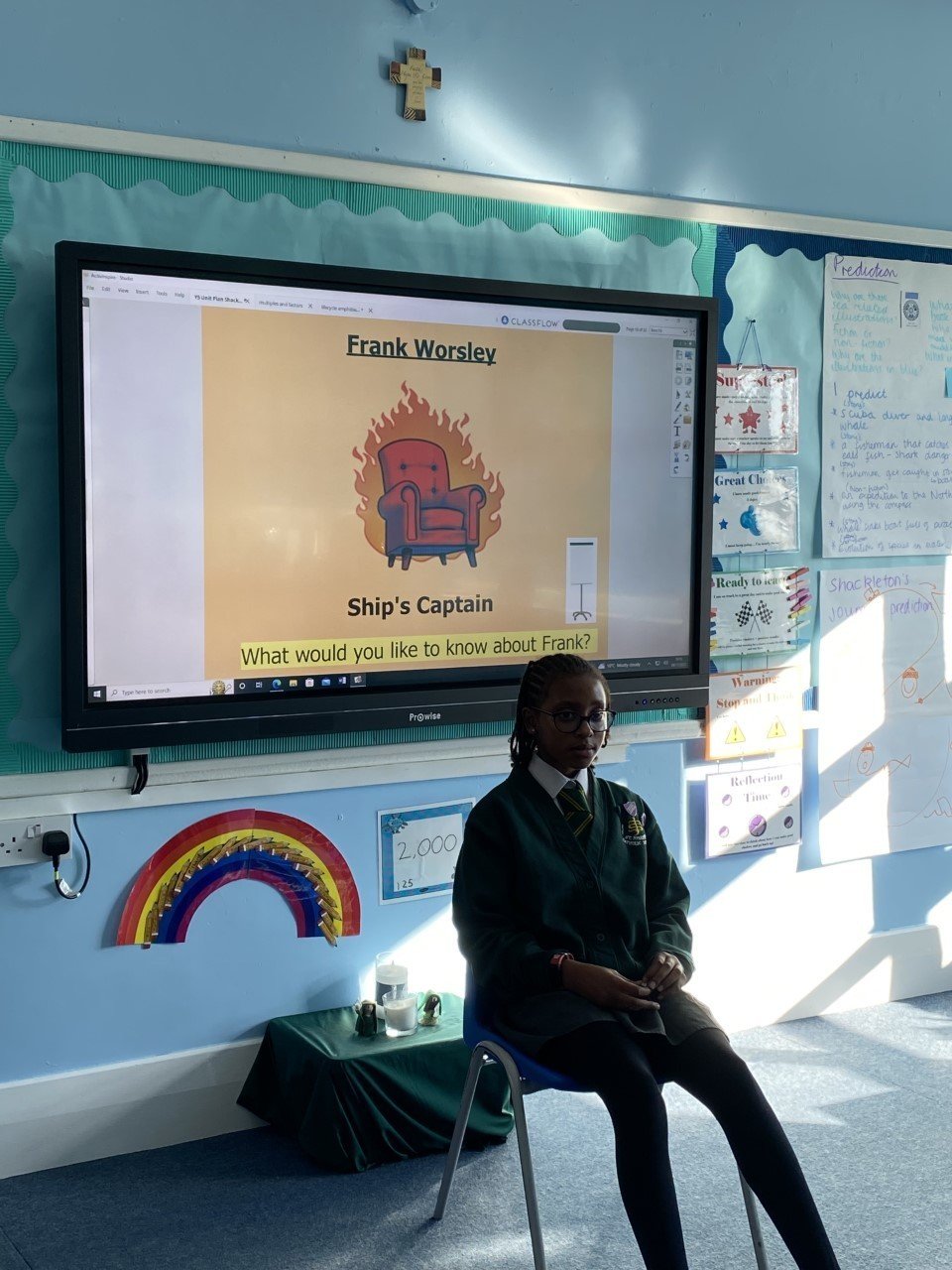 However, before this, we managed to conclude and find out the details to our last class book 'The Viewer'. We were thoroughly shocked by the ending and loved it! Thanks to Eddy and his family, we were able to experience what it was like to look through a real-life viewer!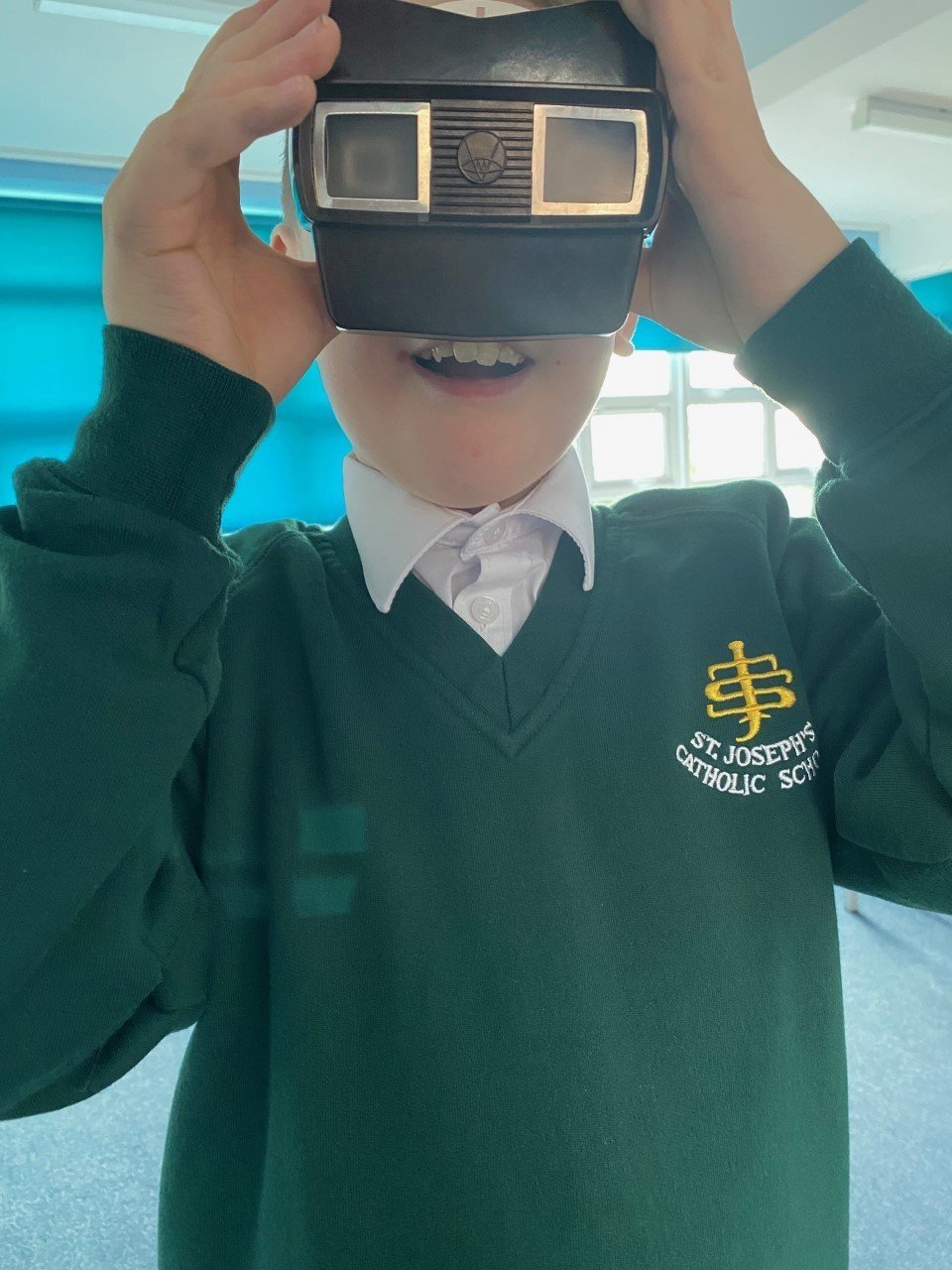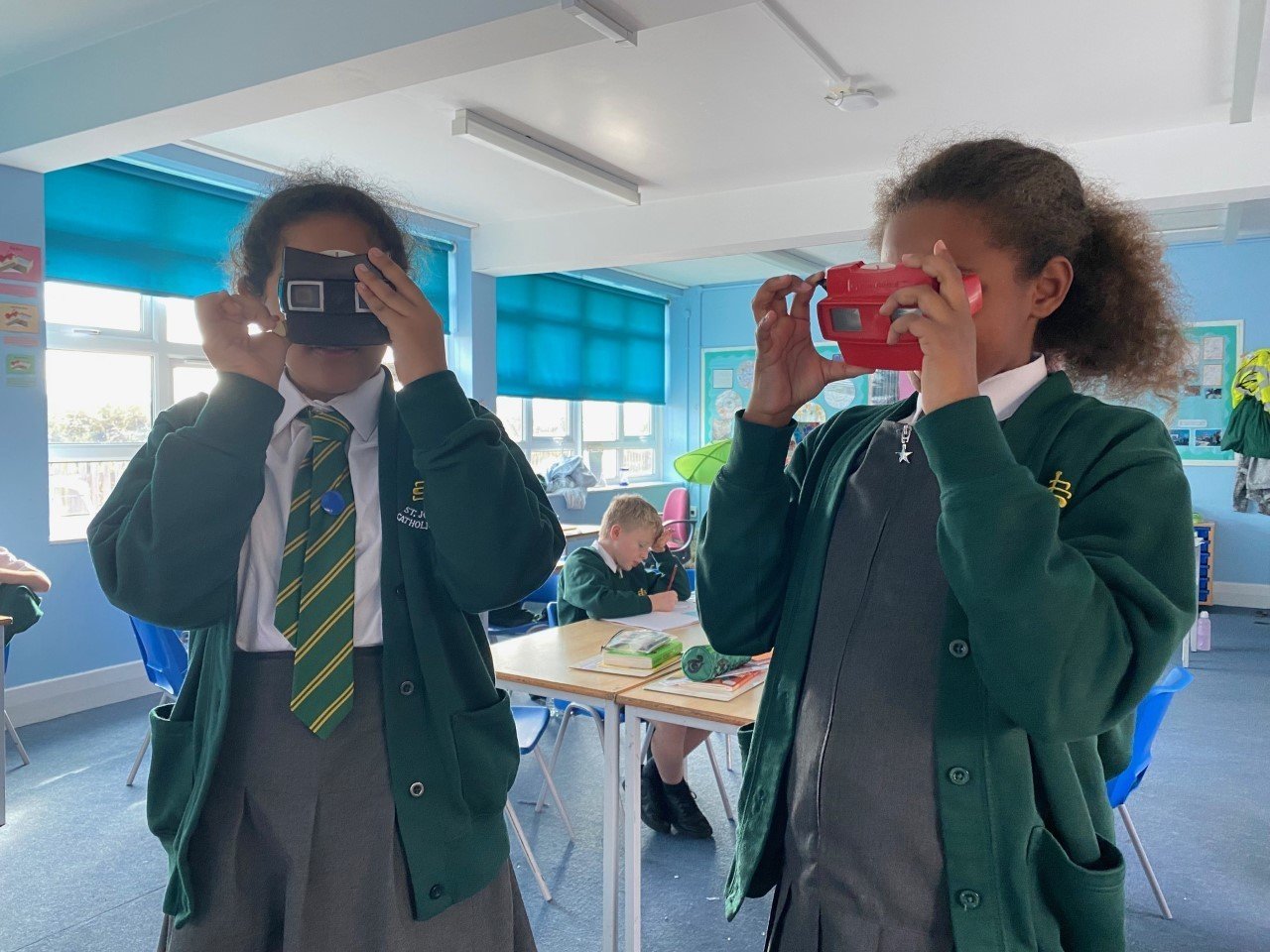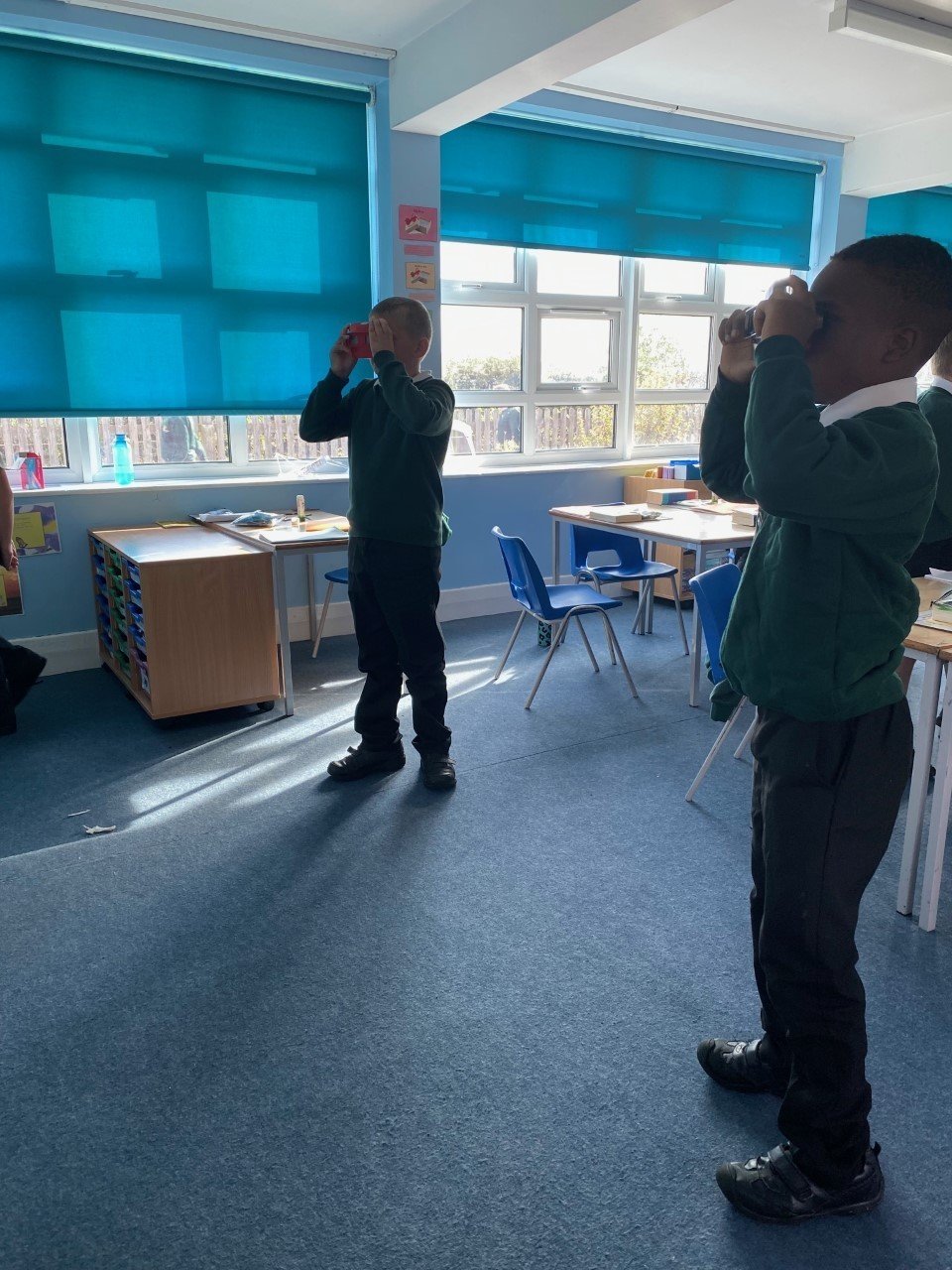 D.T. Week!
17.10.2022
Before launching our D.T. project, we learnt about the moon's movement and phases in science. Using some delicious biscuits, we created the moon's phases and named these in our partners! We used our biscuit models to generate a cycled sketch.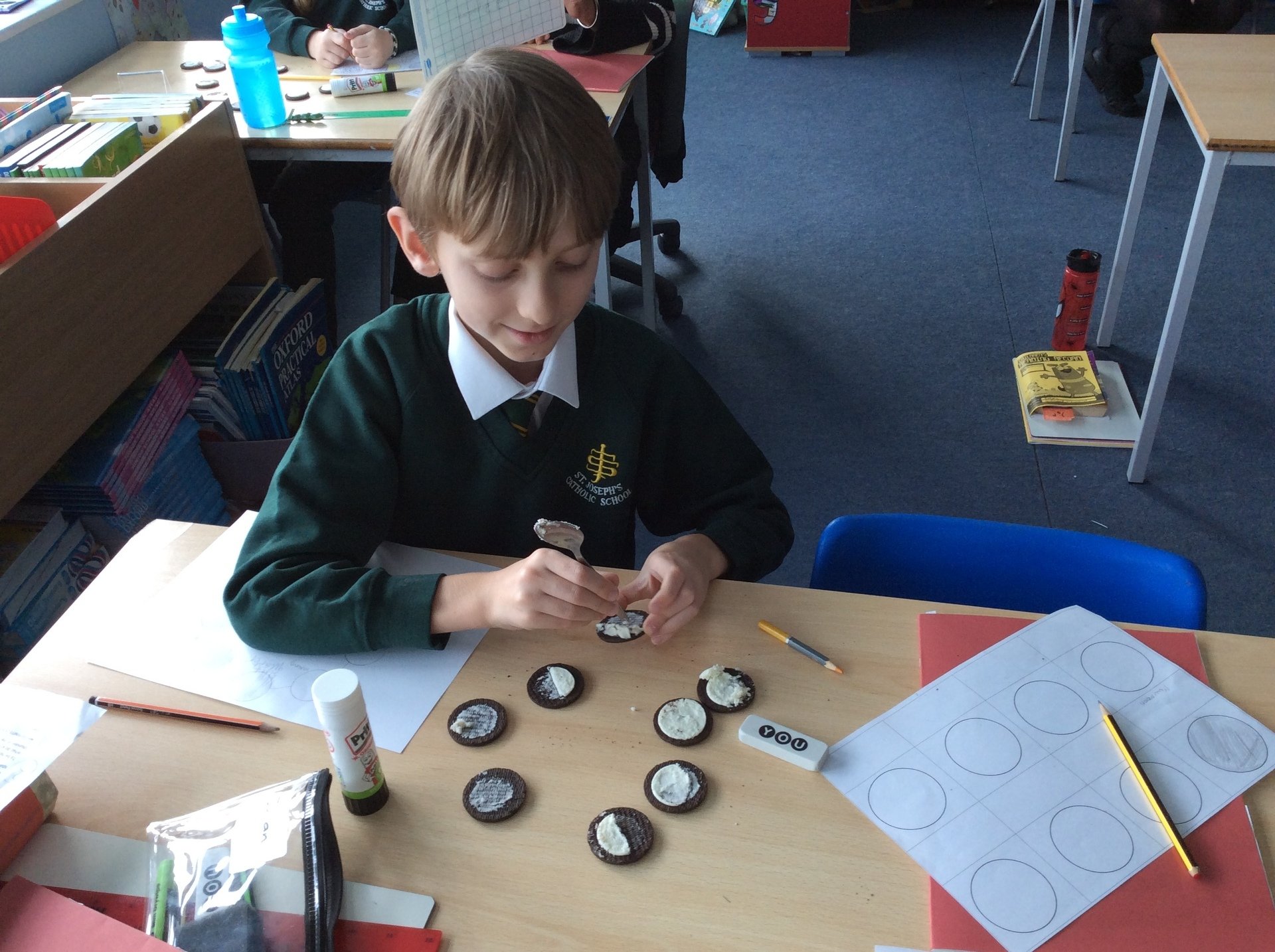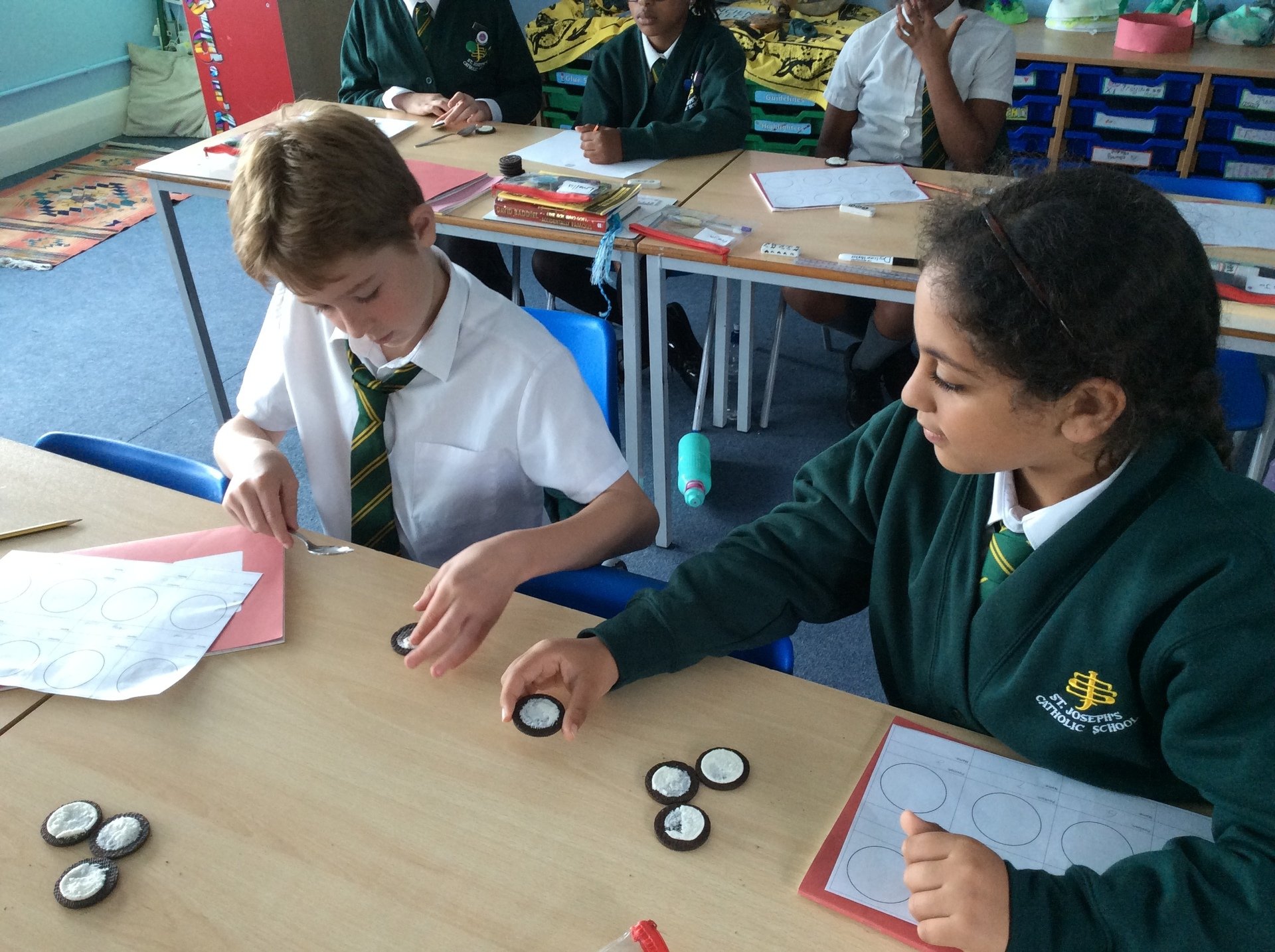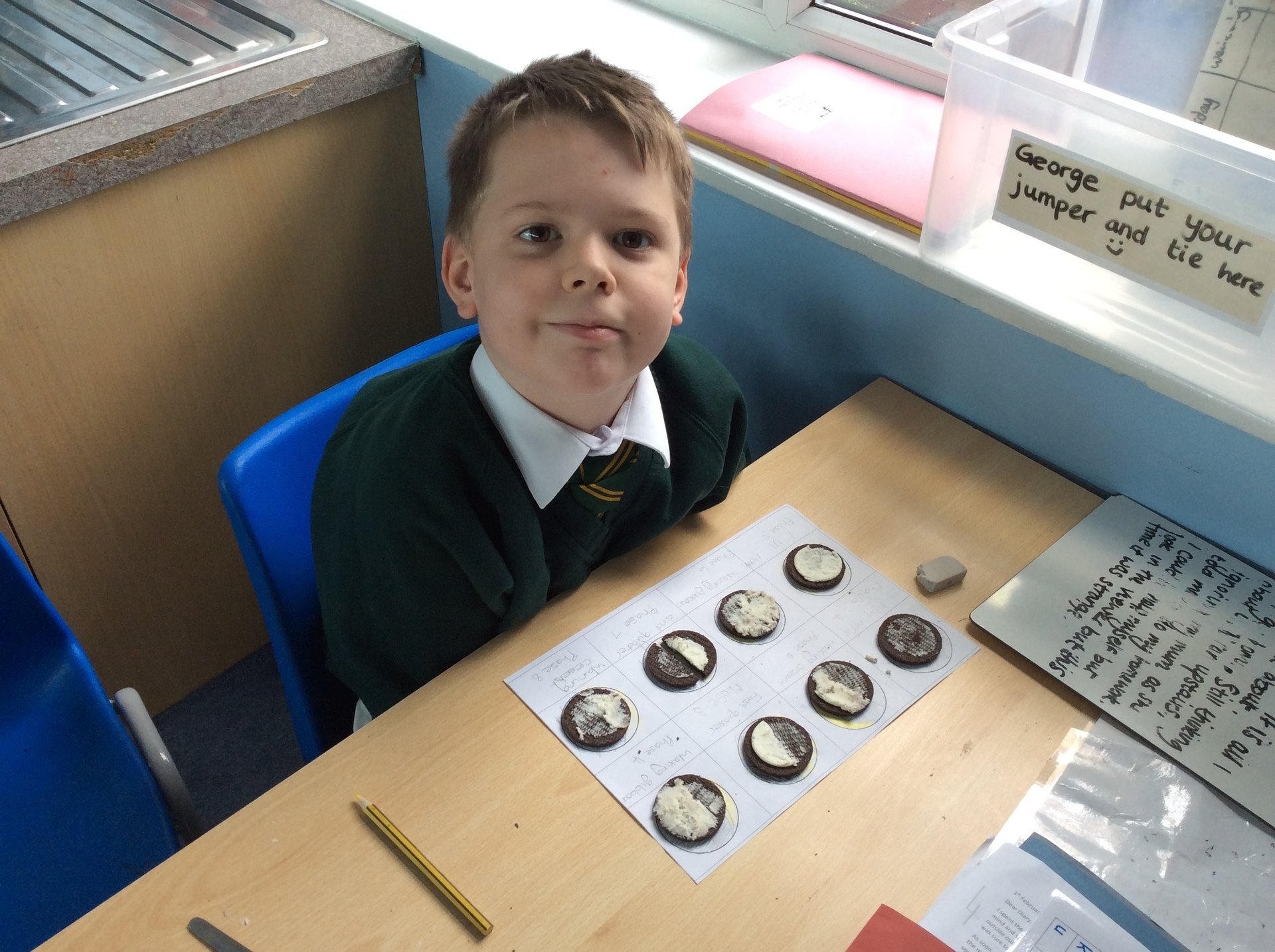 Later, we learnt about the process of producing a project. Having learnt about Hercules' ancient Greek disaster at the market, we decided that we would help Hercules by designing, creating and evaluating our built structures.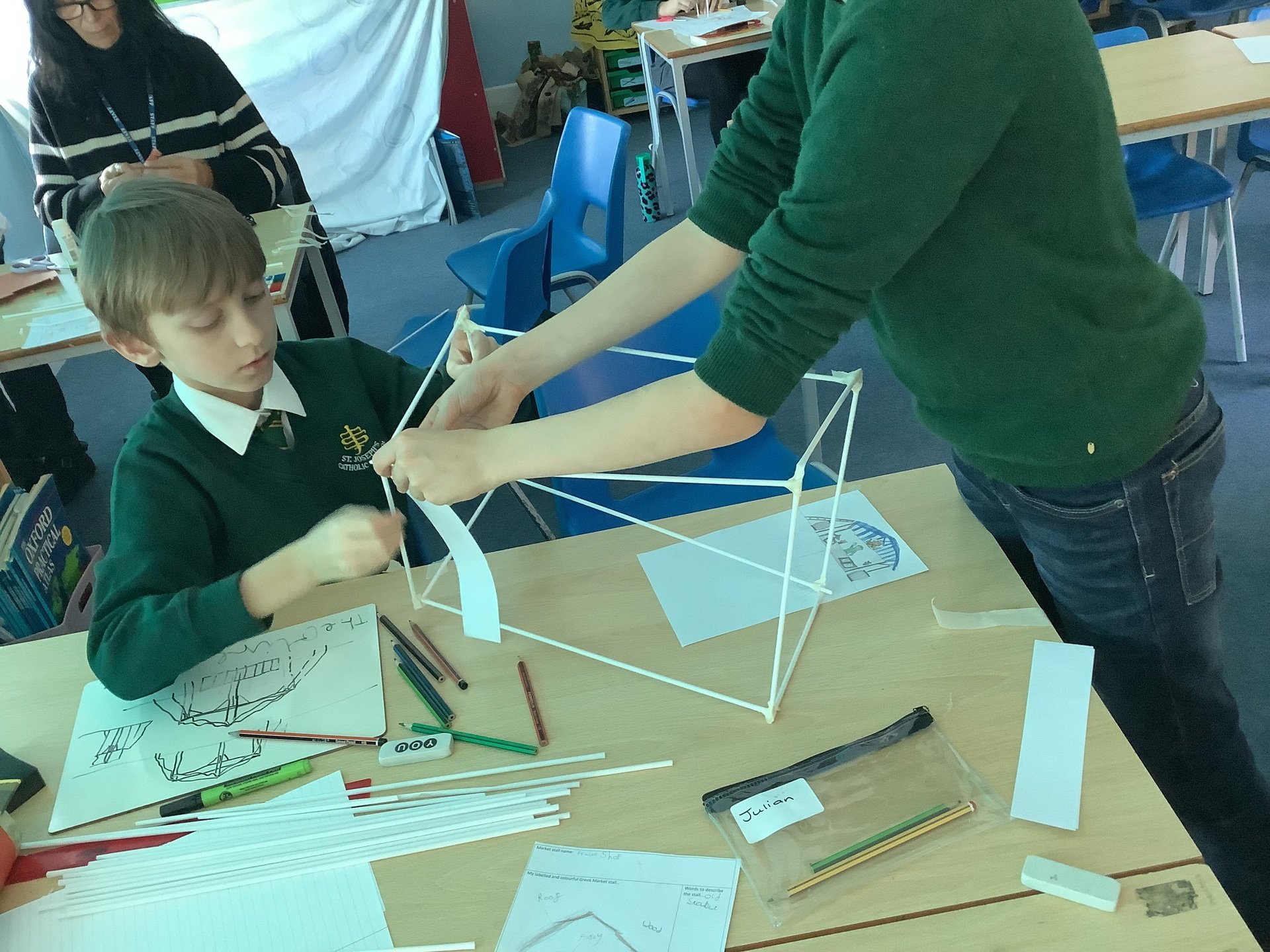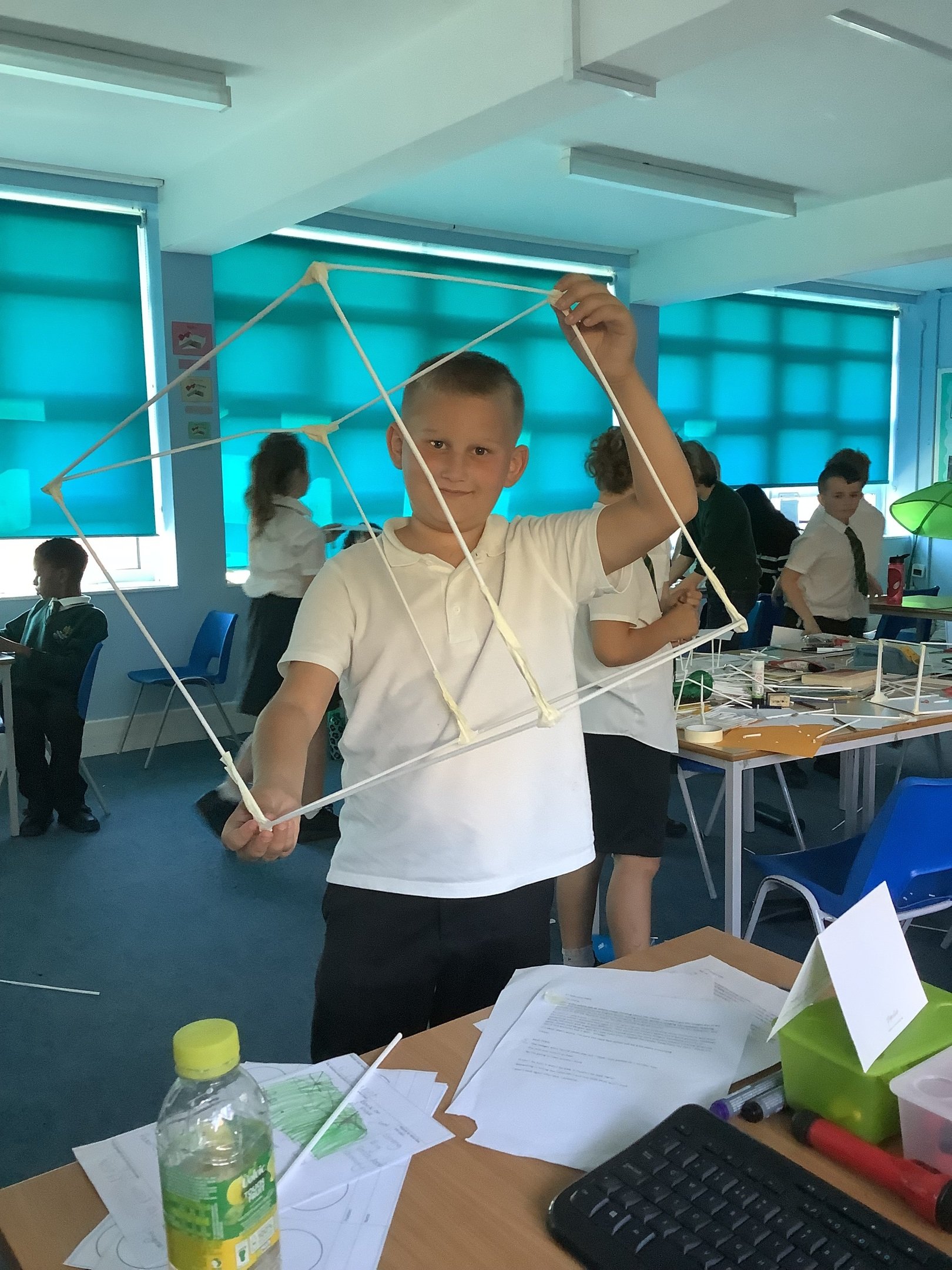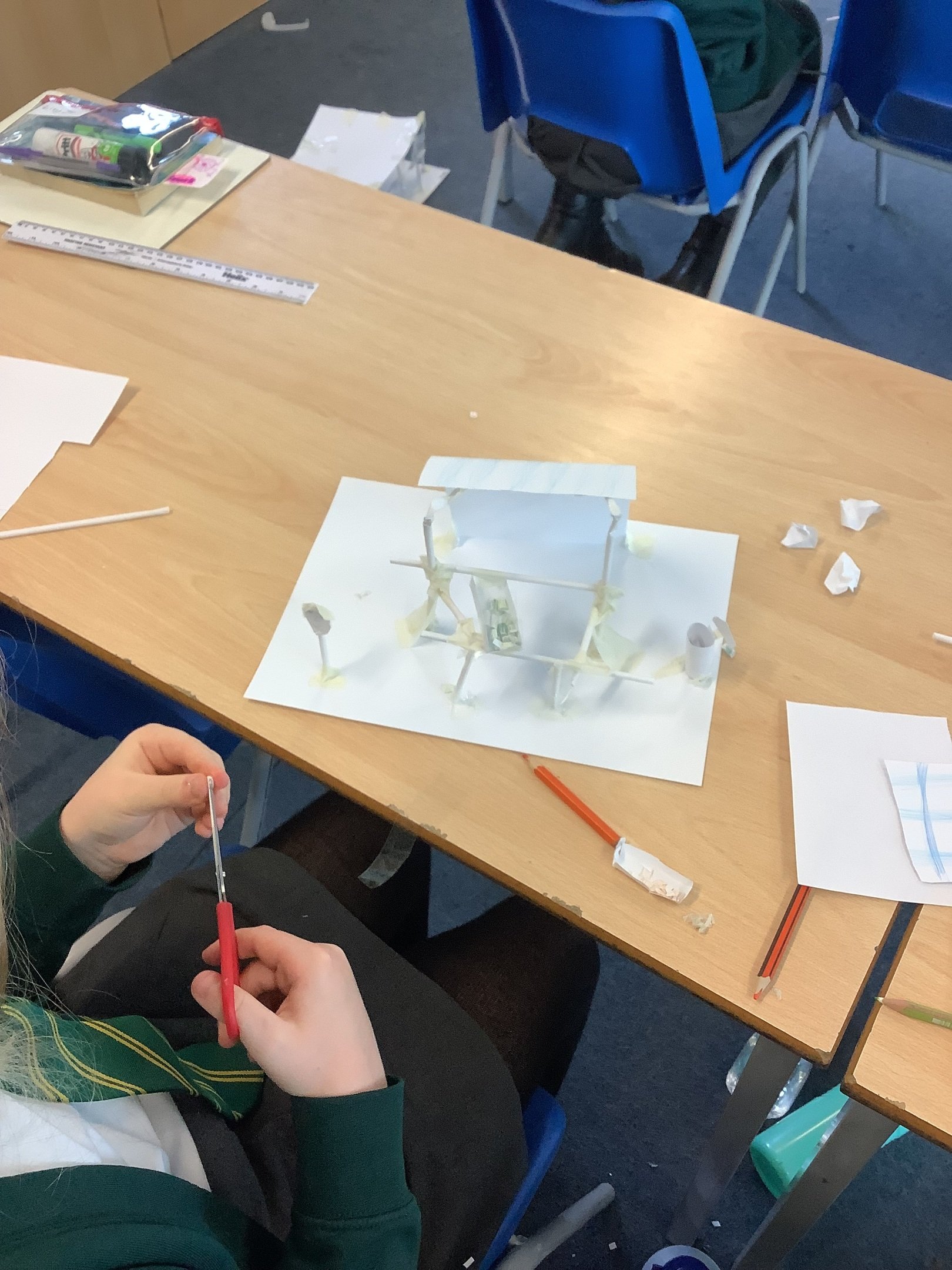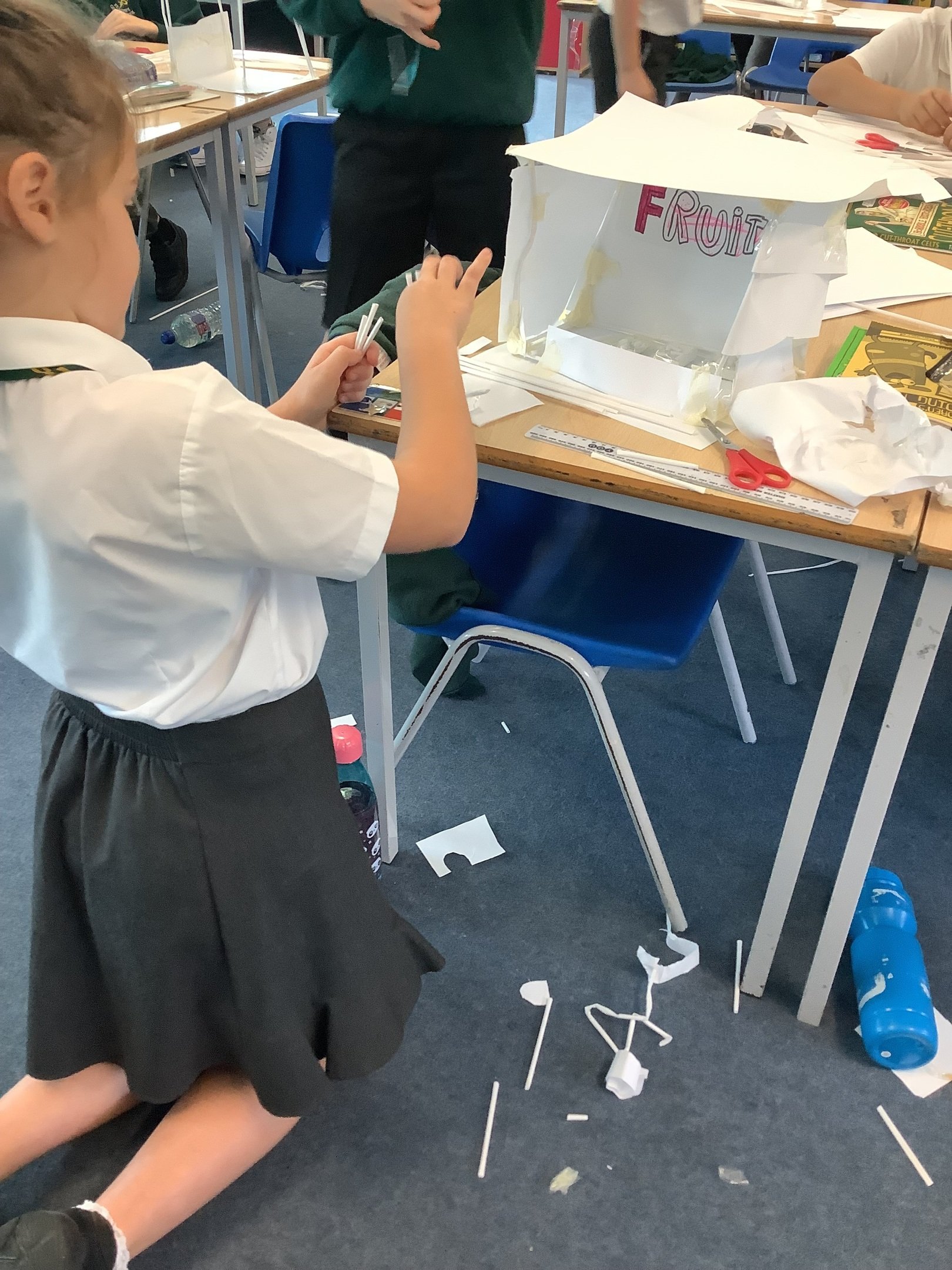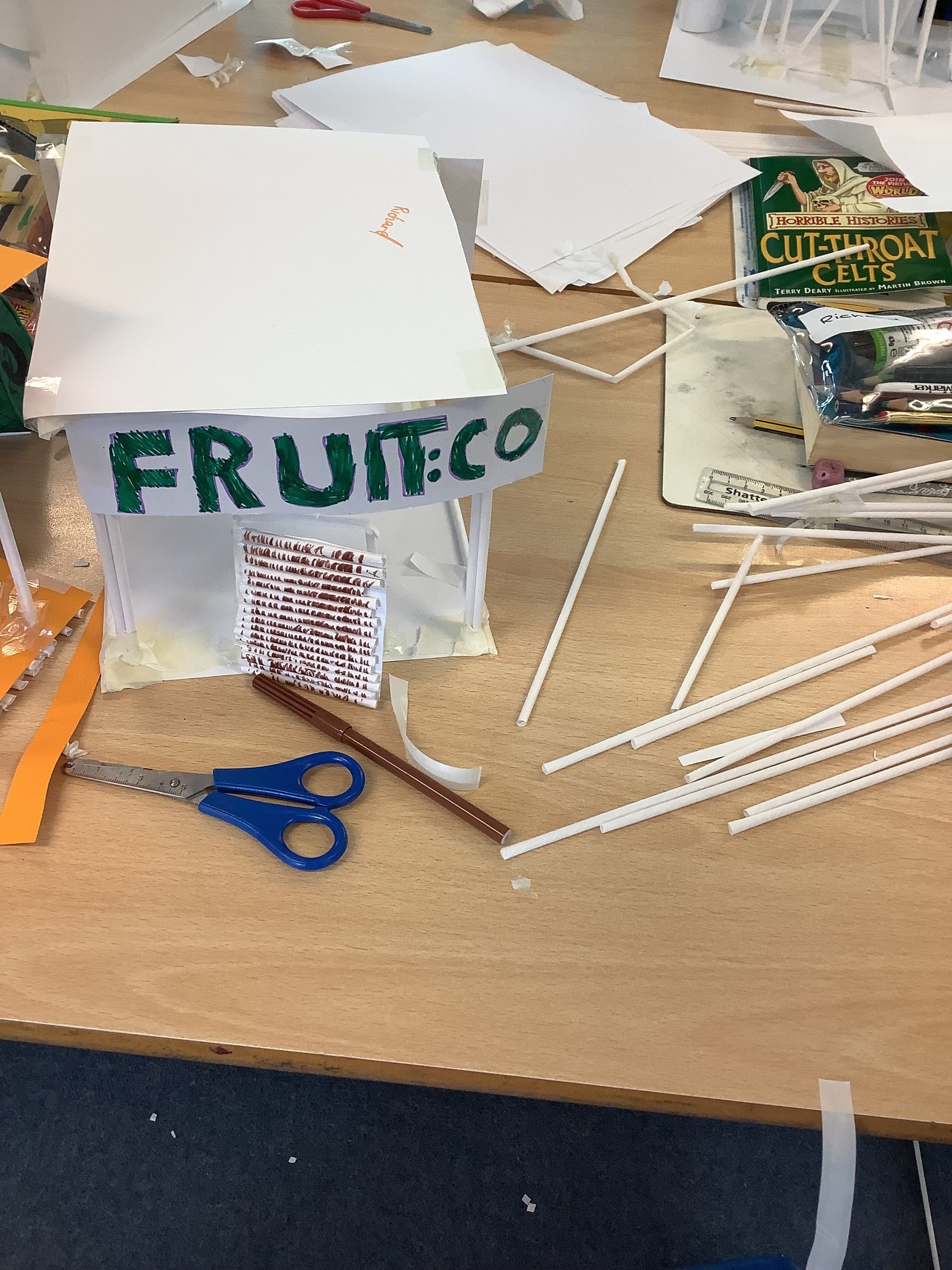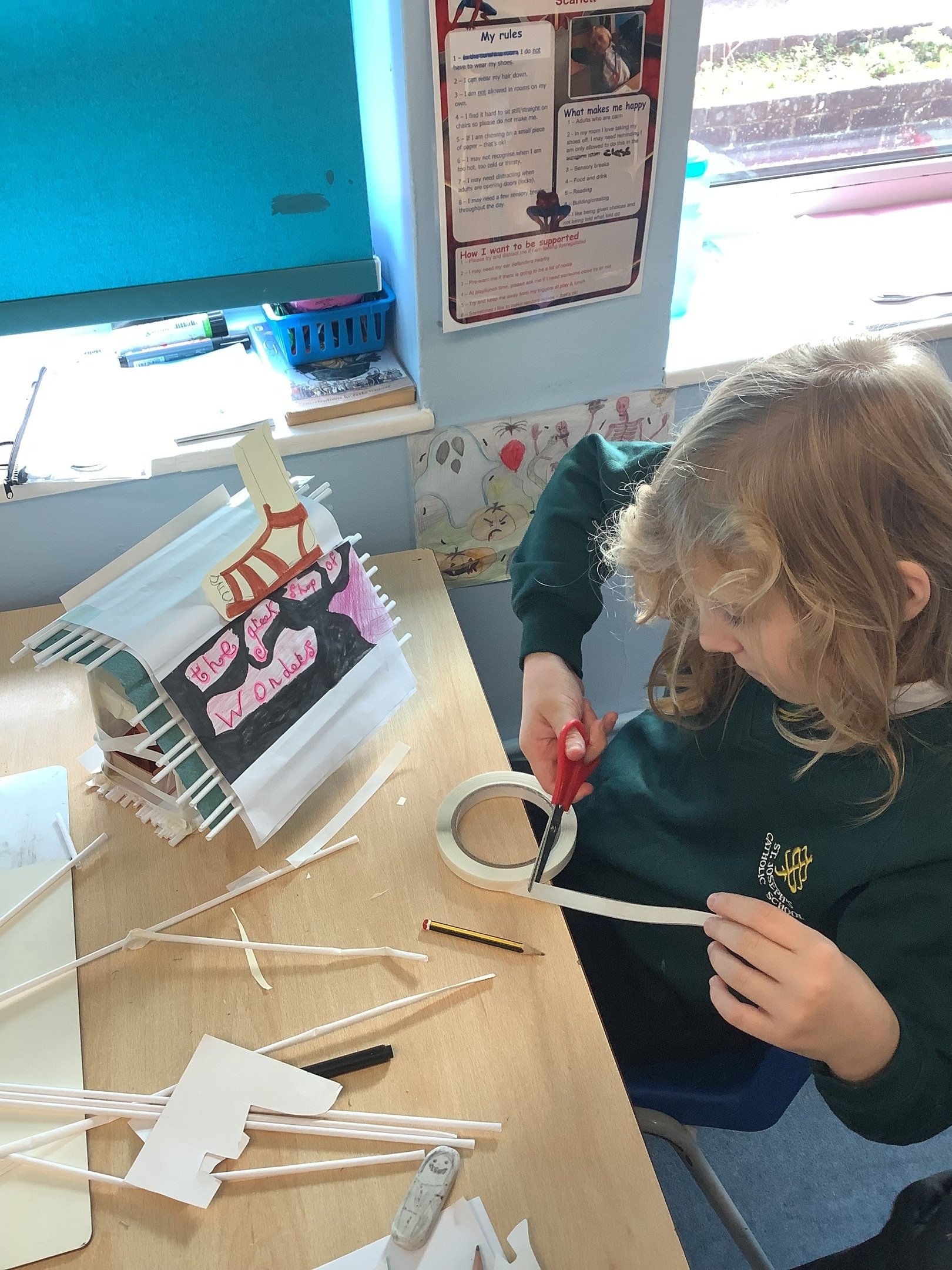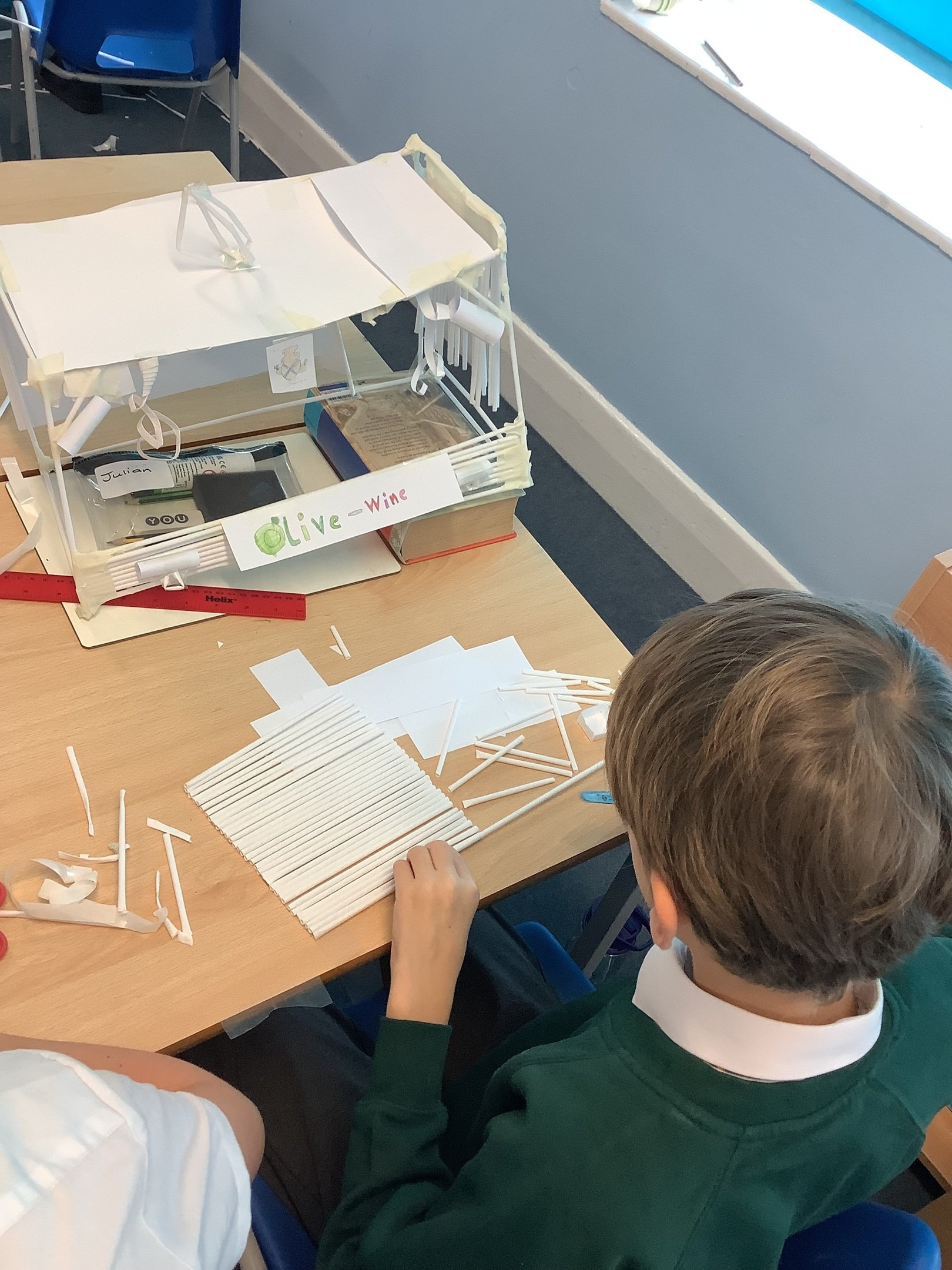 Black History Week
10.10.2022
This week, we learnt about the inspiring Mary Seacole. We learnt about her life and the spectacular work she did as a nurse during multiple wars and helping those in need. We designed informative posters that we later presented.
Having learnt about Mary Seacole and her natural remedies, we designed our Seacole medicine! We first thought of the ingredients we would like to use and the impact that our different elixirs would have on making those in battle feel better and heal.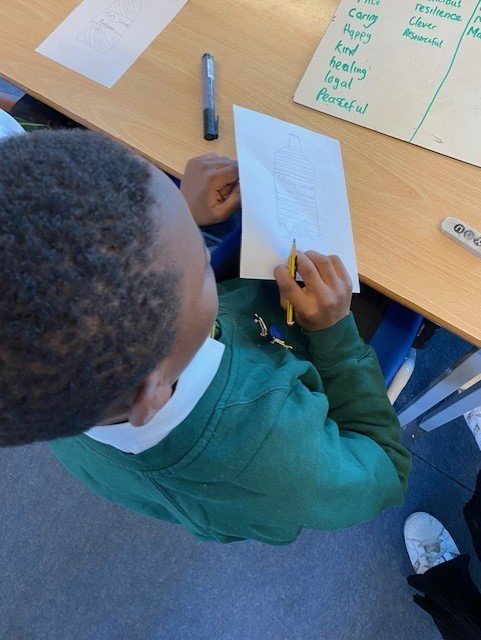 To finish, just like Seacole, we carefully chose and resourced our natural ingredients and ground these down to create our own 'Mary Seacole Medicine'!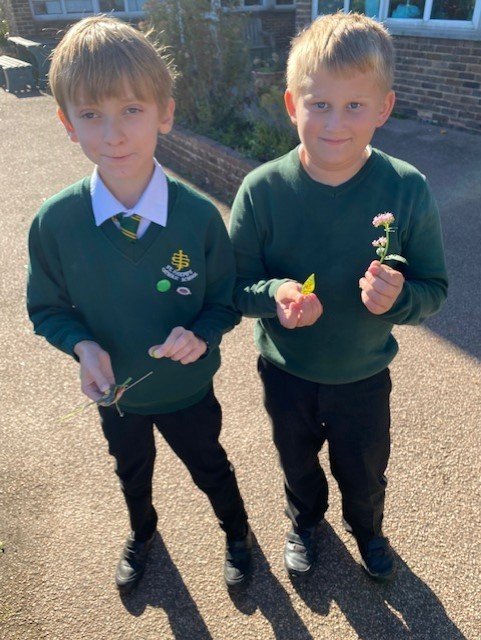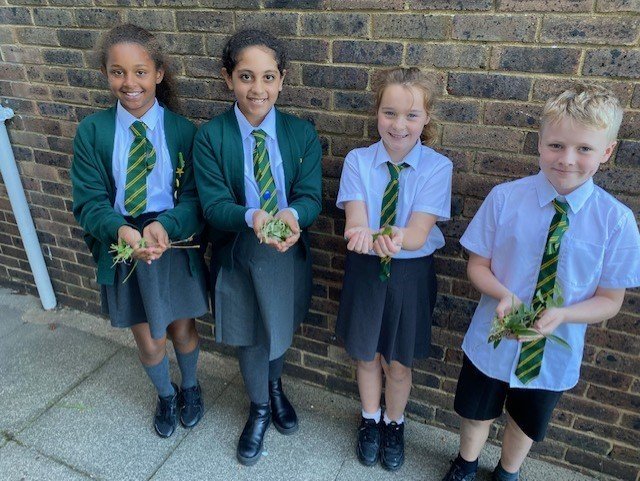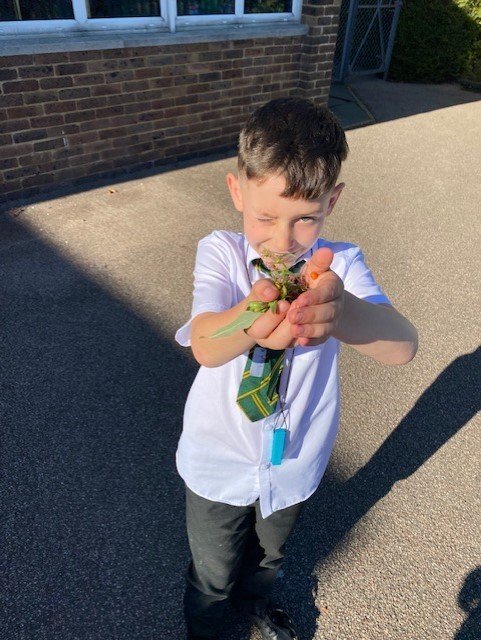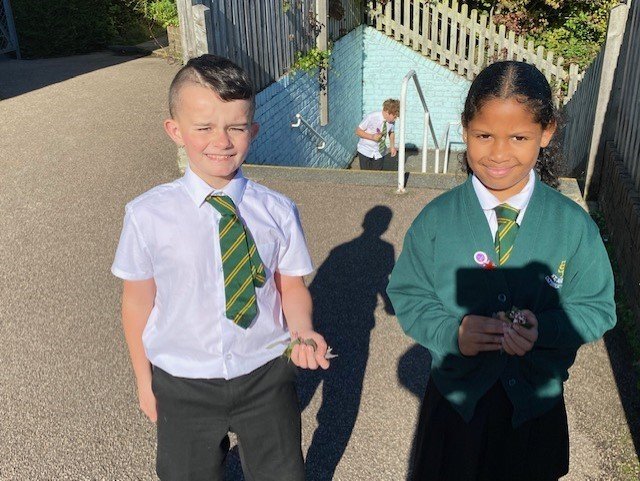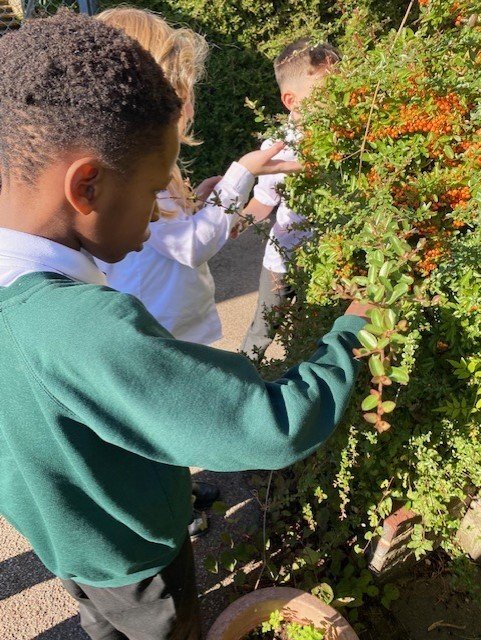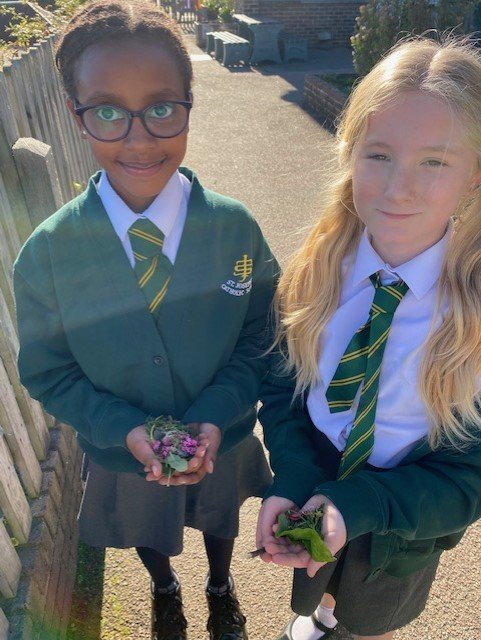 Judaism Celebration
03.10.2022
Following on from our class text reading book, we explored the notion of 'darkness' as a feeling. We looked at how the illustrator reflects the author's inference of literal and metaphorical darkness. With this, we then illustrated our interpretation of the book's 'darkness'.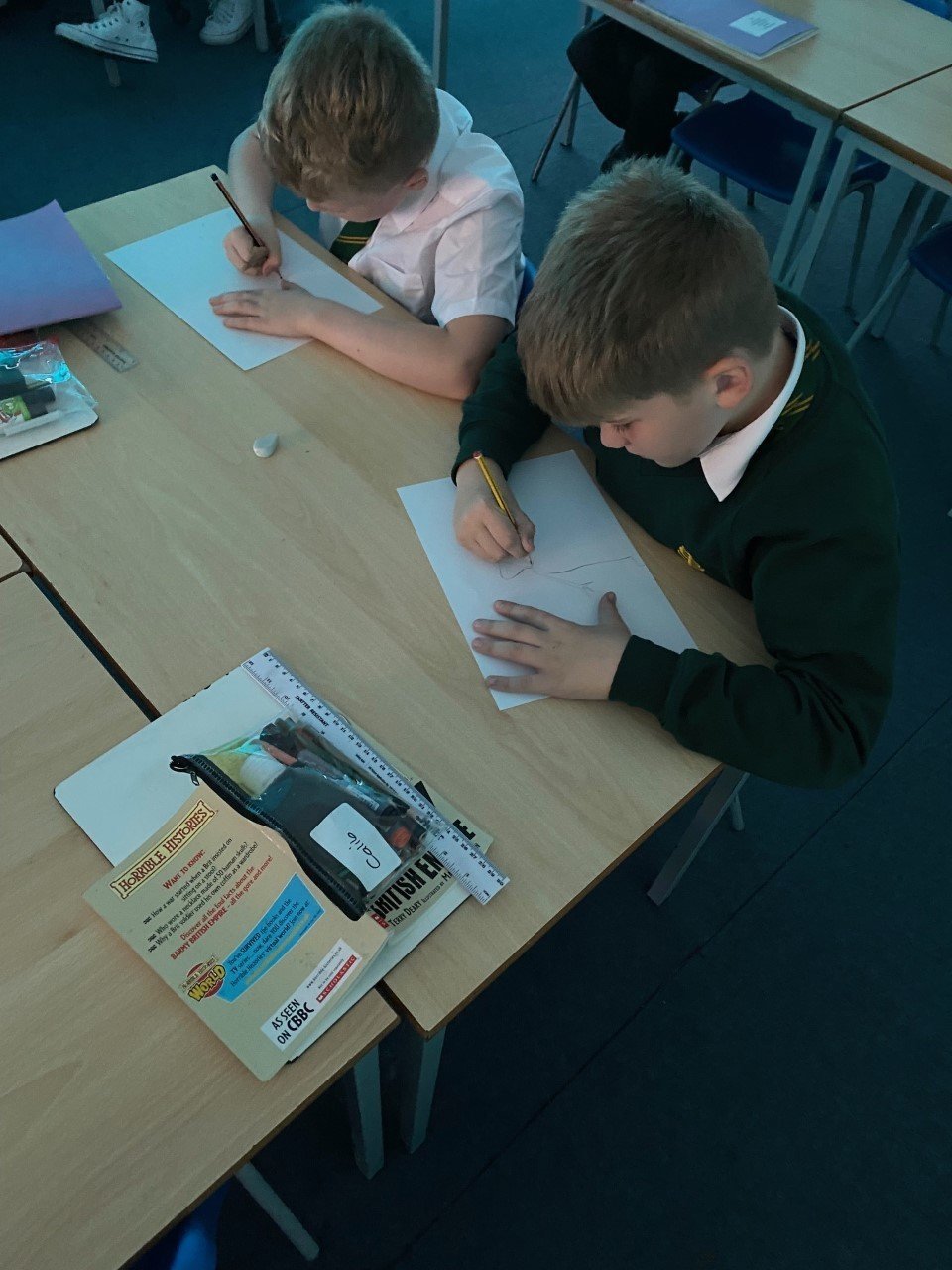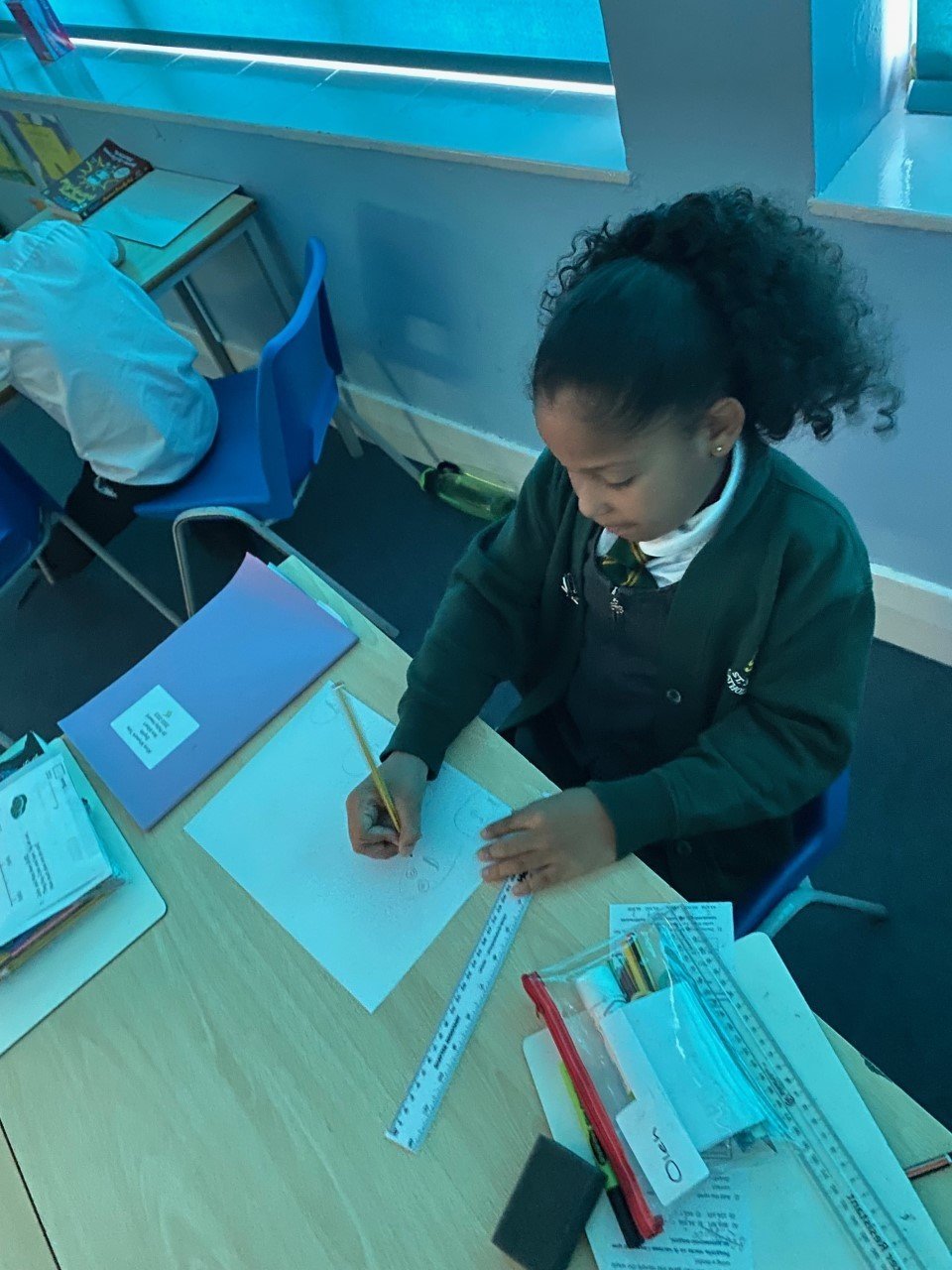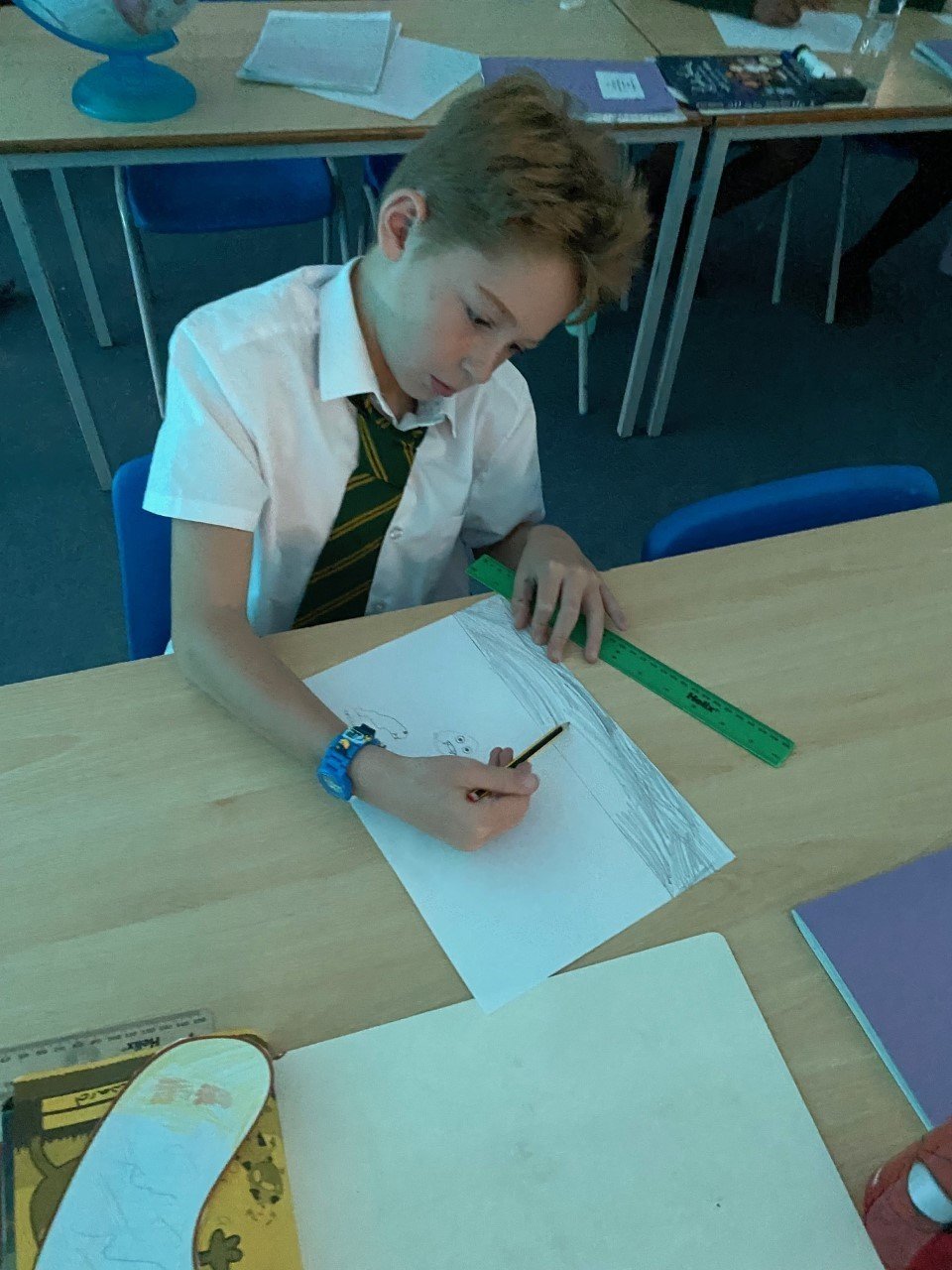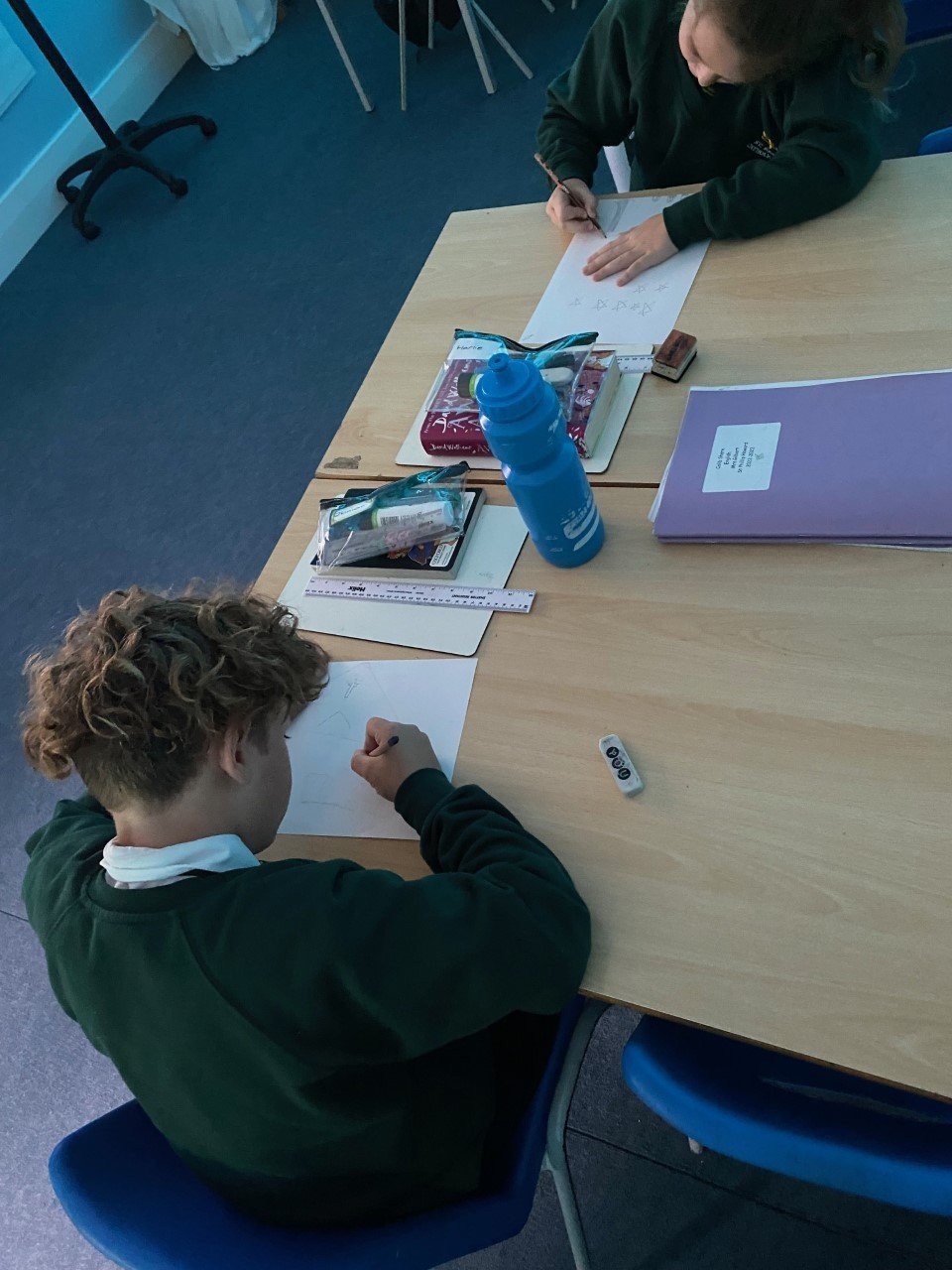 Also, we interviewed our main book character and asked them about their thoughts and feelings at different stages of the book! Some of our class were able to step up to the plate and ask some amazing questions and some got into character and provided some very insightful answers!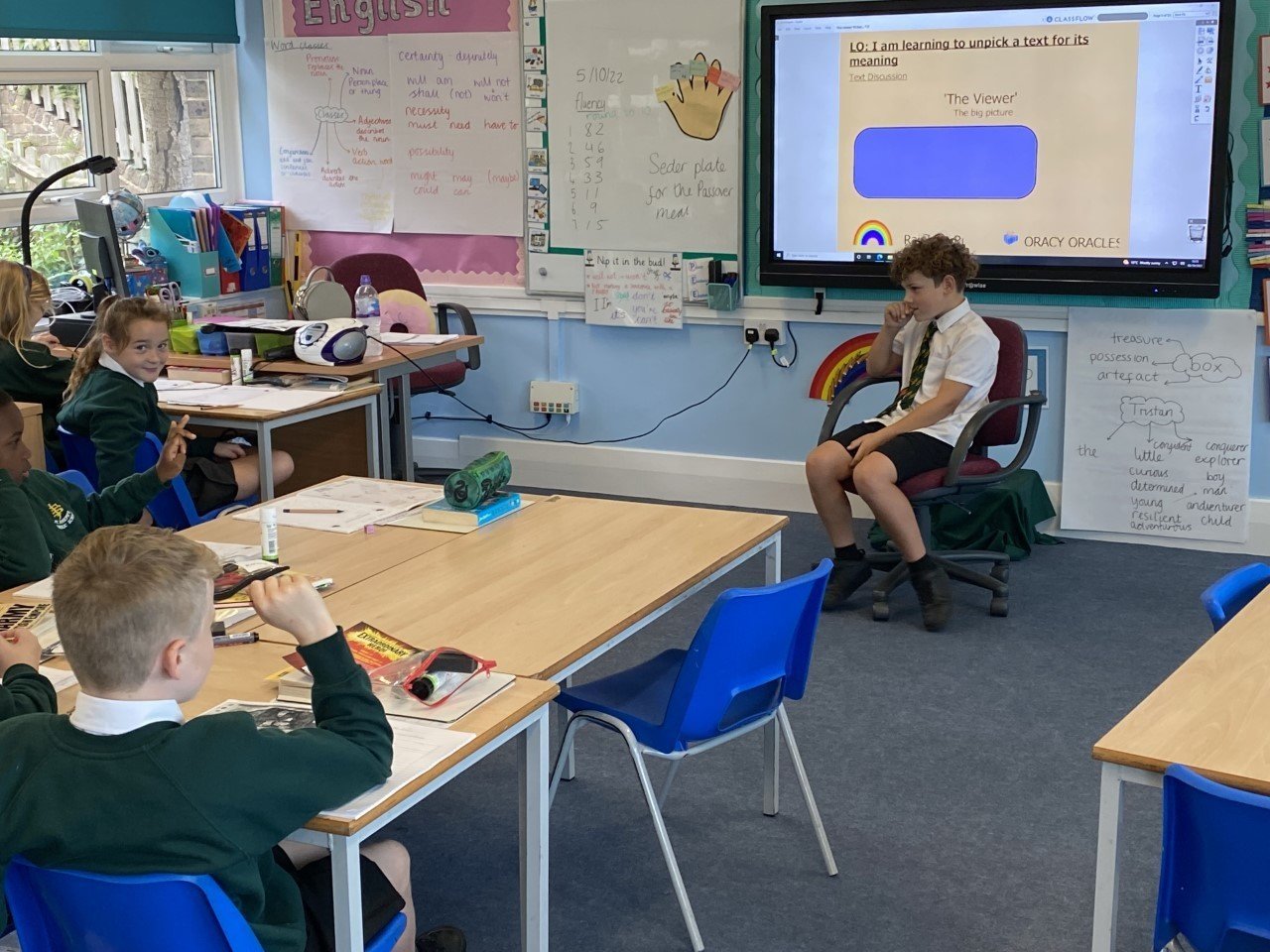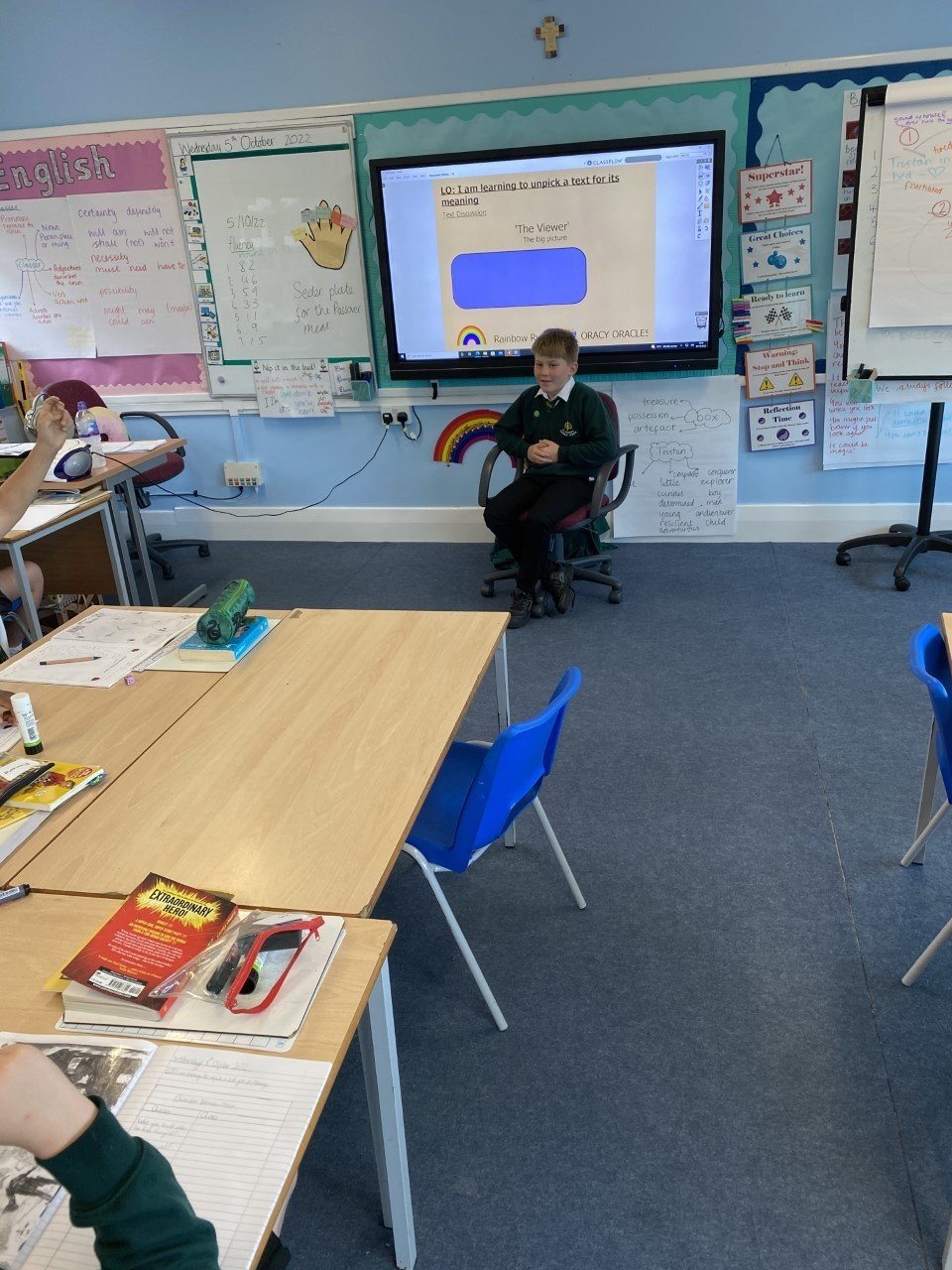 Additionally, we had a special visitor, who came and taught us all about fire safety. We learnt about the job of a fire fighter and were able to gain answers to some burning questions we may have had. Confidently, we were able to answer questions and explain how we would behave during an emergency!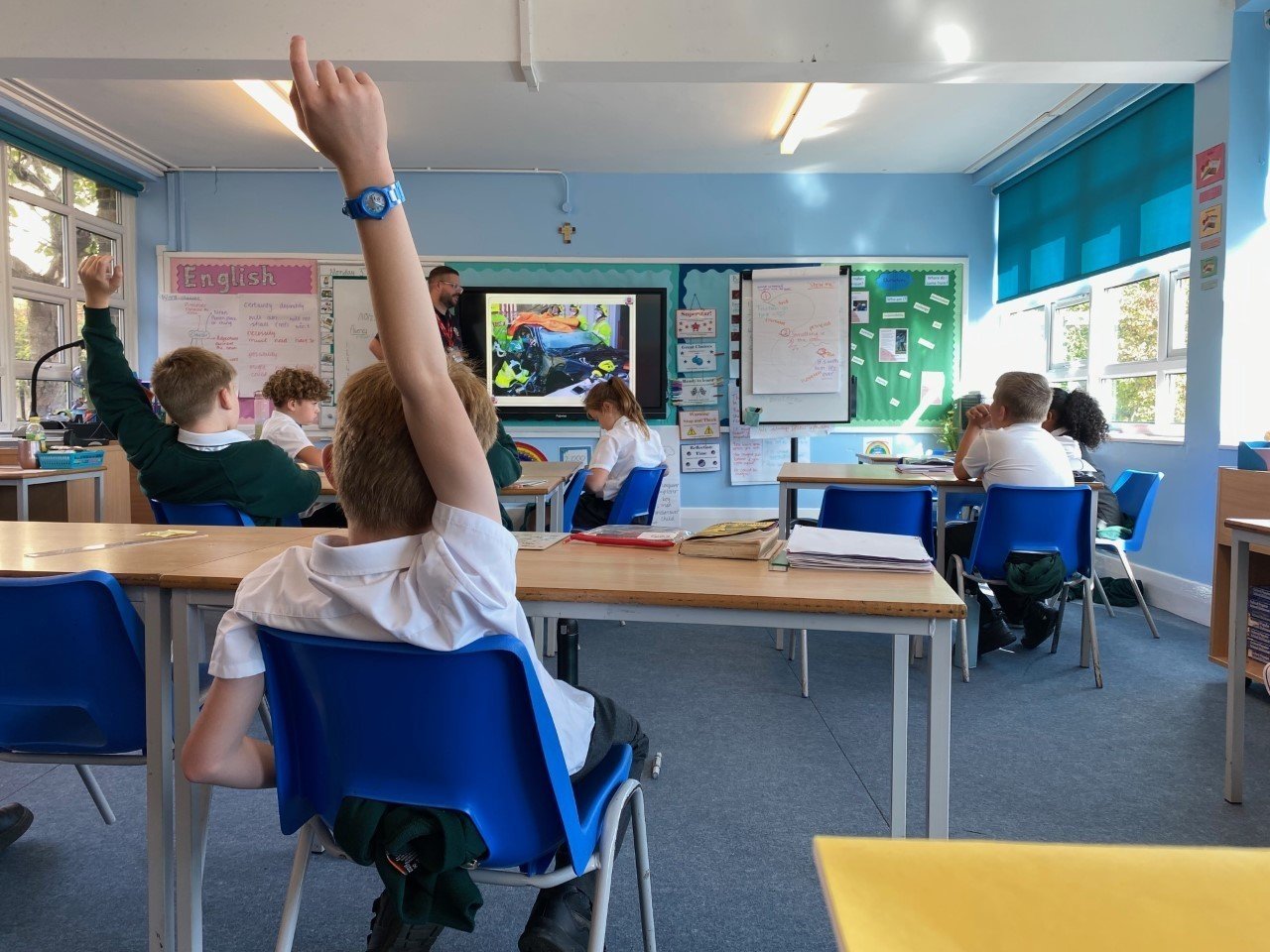 This week, the school learnt all about the faith of Judaism. We learnt about the scriptures of the Passover and compared to the modern tradition of the Passover meal. We learnt about the meaning behind each aspect of a Seder plate, which is shared during Passover. Following this, we designed our own Seder plate meal and justified our choices of food.
Finally, to round off our celebration of Judaism, we made Matzah- the unleavened bread for Passover! We created a design for the bread that was significant to the scriptures learnt and then we made our own yummy unleavened Matzah!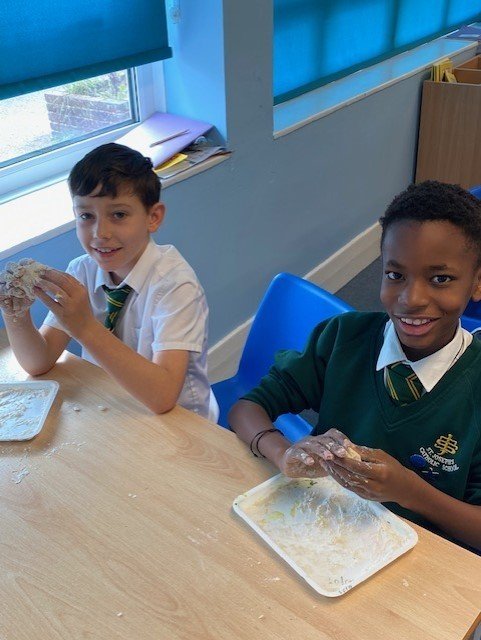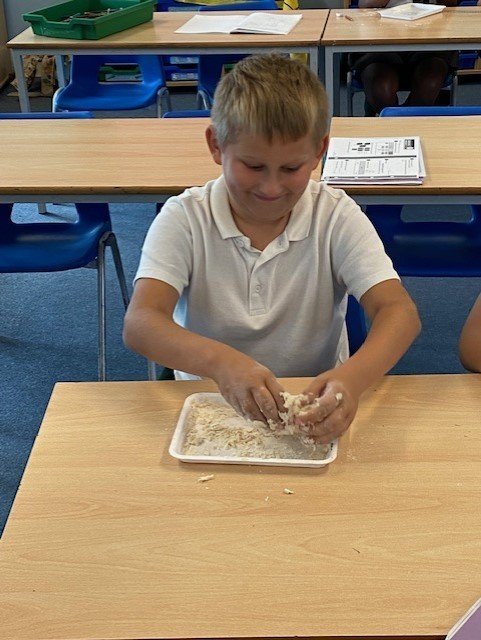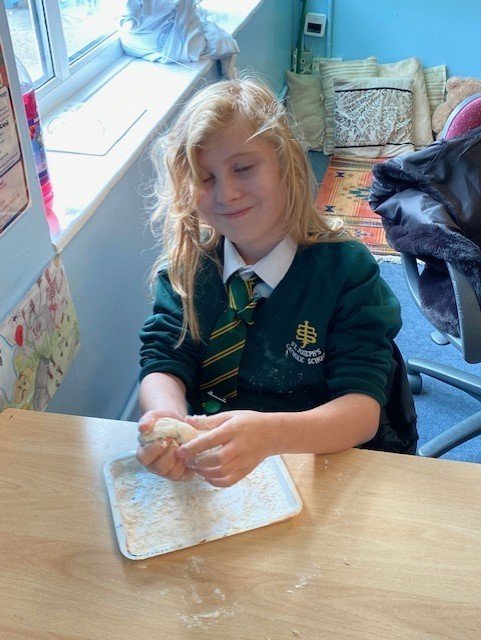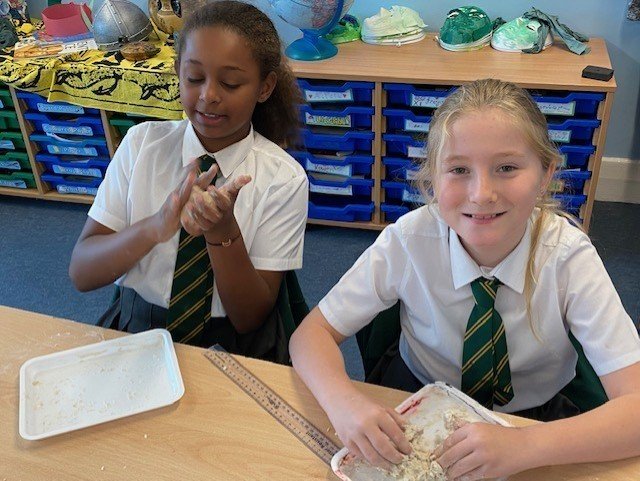 Grandparent's Week!
26.09.2022
Our wonderful, loved-ones came in this week to learn about our topic! Additionally, we were very lucky to have local 'grandparent' visitors attend our workshop and the children thoroughly enjoyed their company and wisdom during their lesson. Together, we played a matching game to identify physical and human geography in Greece and then compared the differences between different Greek temple structures. With the grandparents and loved ones, we built our own Greek temples! Take a look at the wonderful images below of our fun-filled workshop...
Outdoor Learning
19.09.2022
In science, this week, we looked at the different stages of the human life and how growth presents in each of these stages. We made comparisons and identified the key features of each stage. Finally, we recreated the stages through a freeze frame and then discussed the justification for each frozen stage.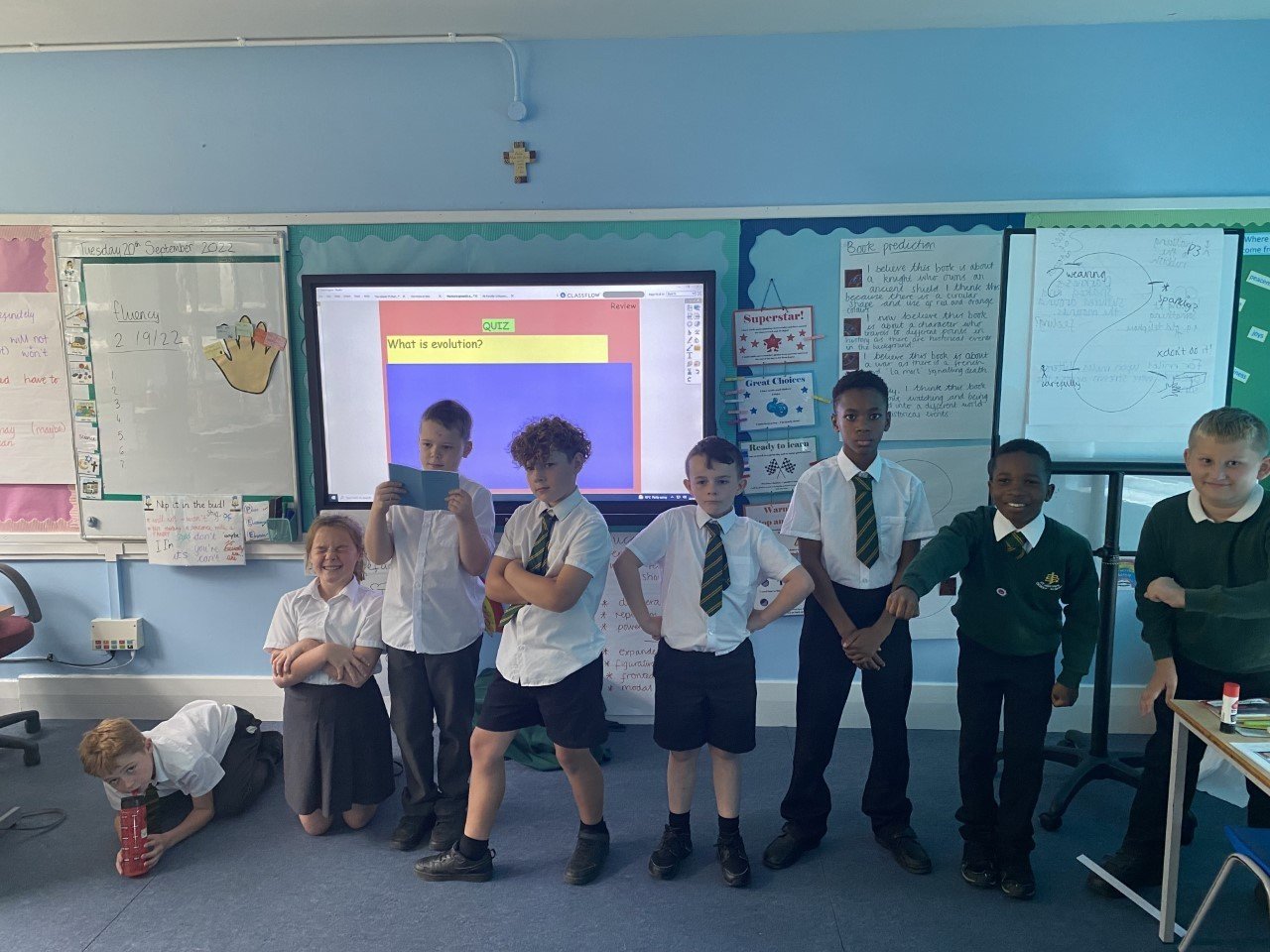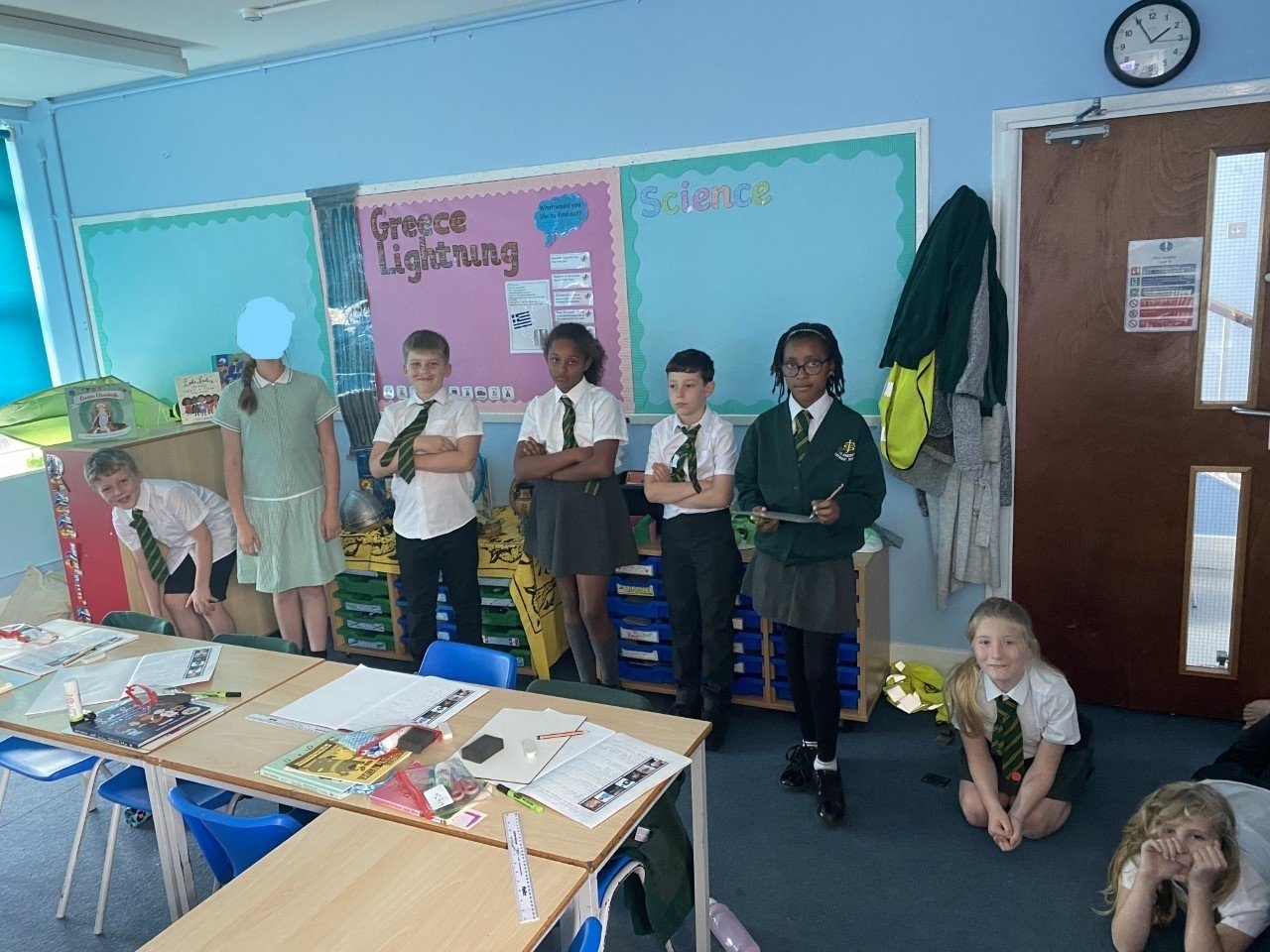 Although it was a wet day, this didn't stop us in year five! We classified different plants and flowers and then created our own Greek crowns using these natural resources, as you can see below. We also made some very funky Greek bangle bracelet/cuffs to match our crowns! Using drama in the outdoors, we recreated the story of our book character (Tristan) exploring and making discoveries in the city dump. We then designed our own inventions, just like Tristan, using different materials and presented these.
Enjoy our images below of our wonderful day!
Queen's Remembrance
12.09.2022
Following the sad news of the death of Queen Elizabeth II, year five have drawn beautiful portraits of her majesty. These will be displayed in our classroom as a reflection and remembrance of her 70 years of service.
We incorporated some of the sketching techniques learnt this week in order to create detail in the above portraits. As seen below, we practised numerous different techniques and were able to name them confidently.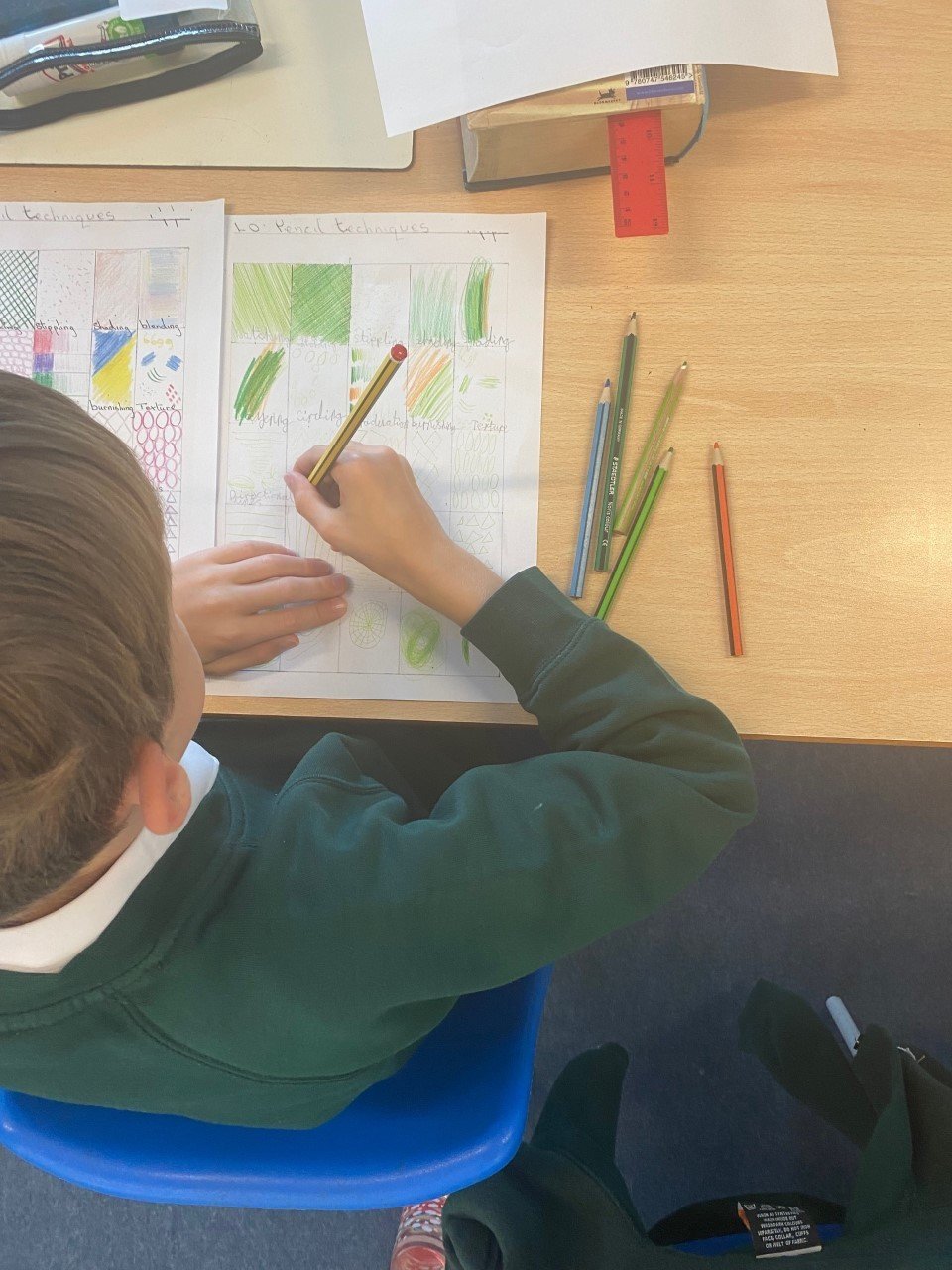 Finally, we consolidated these techniques by creating our own 'viewer'. So far in our class text 'the viewer', we have learnt about a mysterious viewer that has unknown abilities. We created our own 'reel', which gave details of the specific events of a chosen decade or year. As you can see, we researched our period thoroughly and included all the essential details. Finally, we used our sketching techniques to draw the famous viewer's eye in the centre, which is also repeatedly illustrated throughout the book.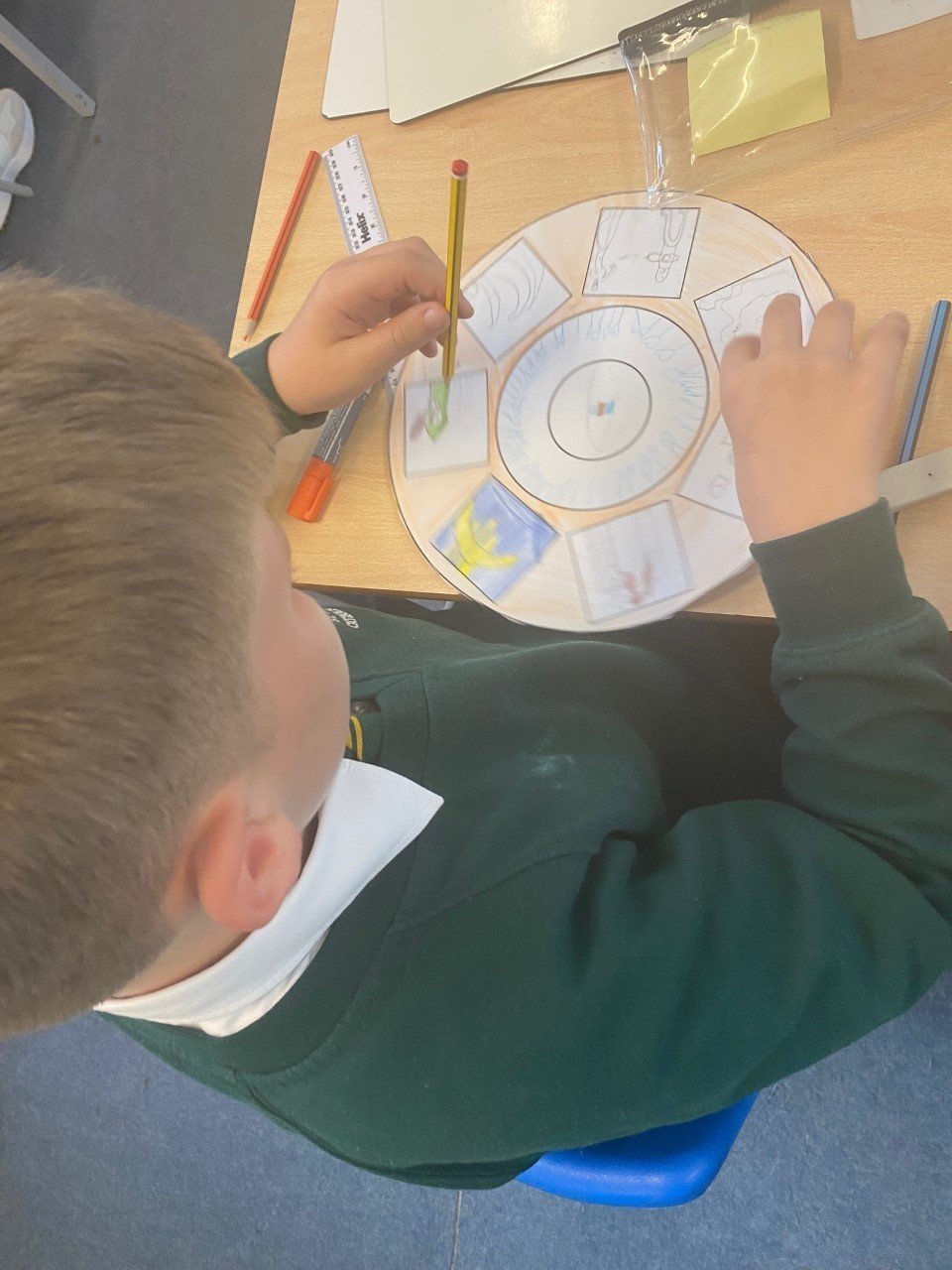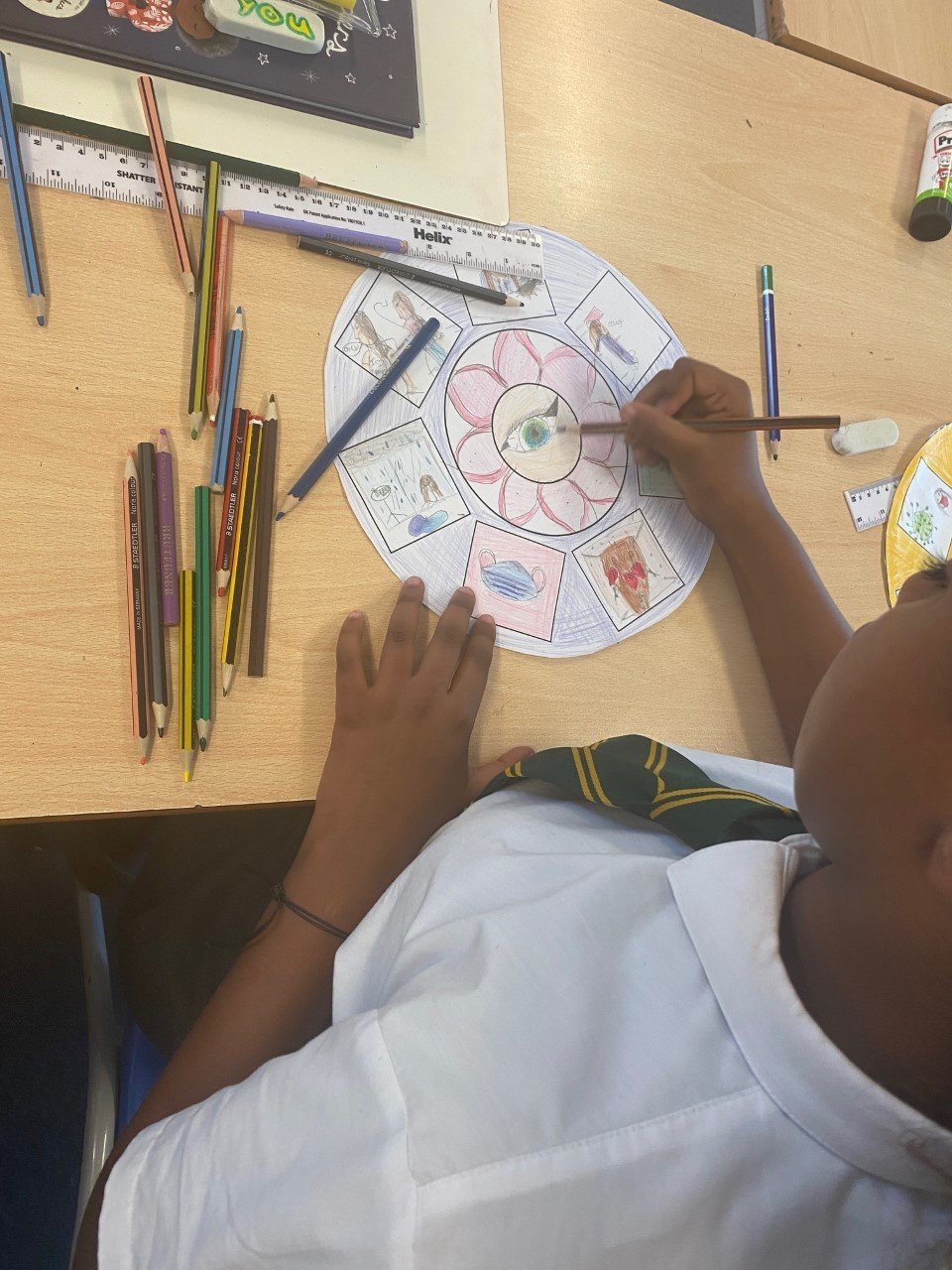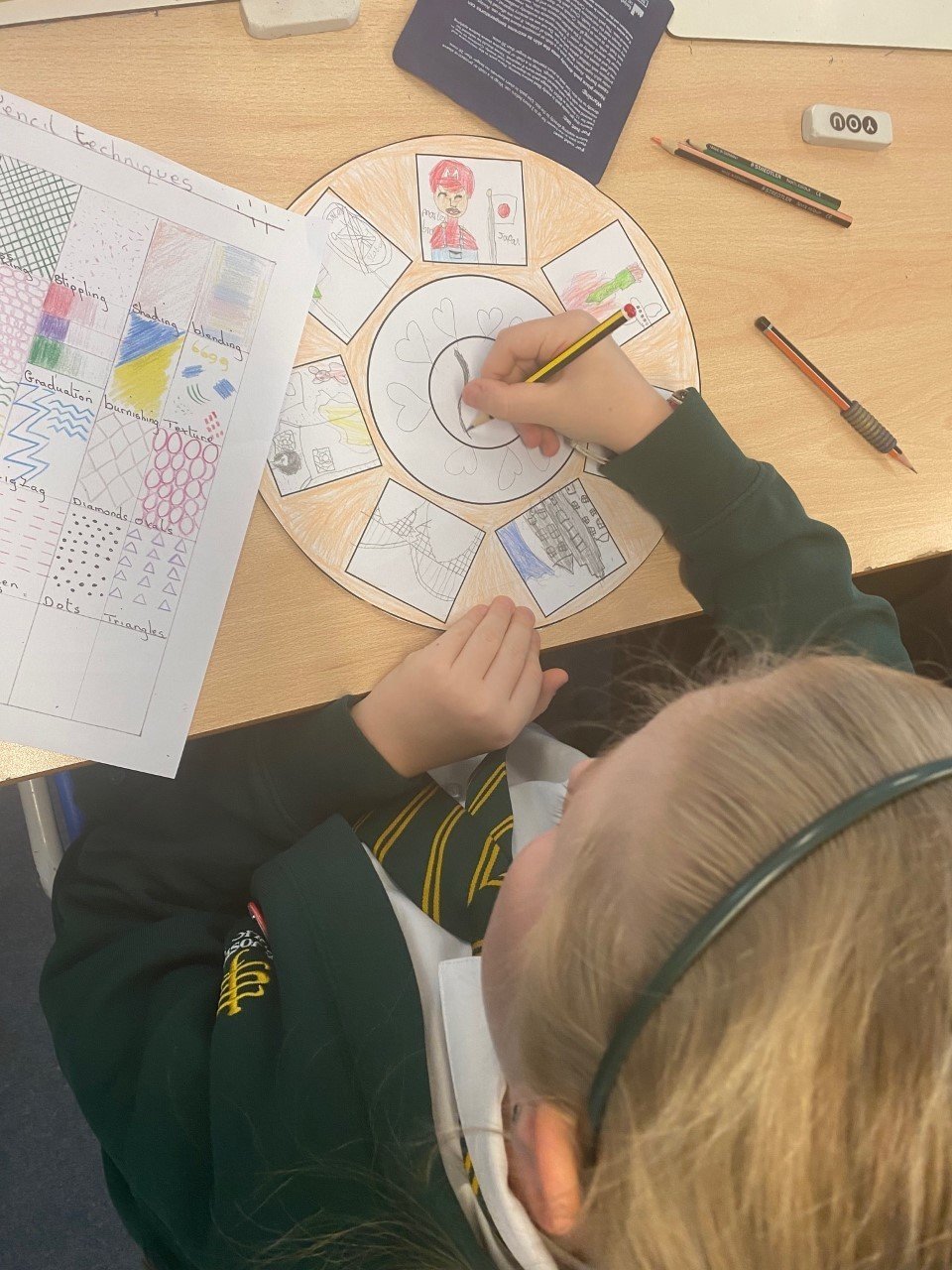 Greece Lightning!
05.09.2022
This week year five launched their topic of Greece Lightning! We learnt about different aspects of Greek culture, sampled Greek food and learnt about their history and beliefs. Using this knowledge, we created amazing green masks inspired by the dreaded medusa and Greek crowns referencing other key Greek Gods and Goddesses, which look fantastic!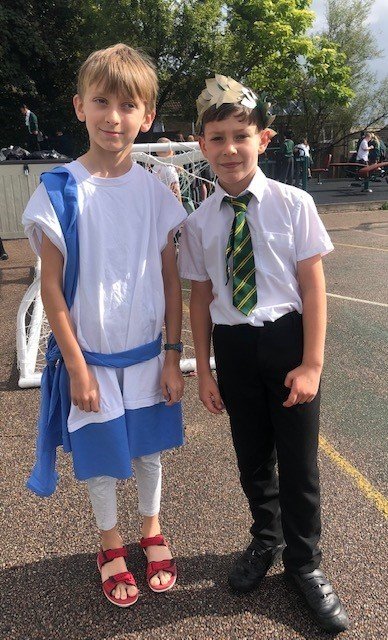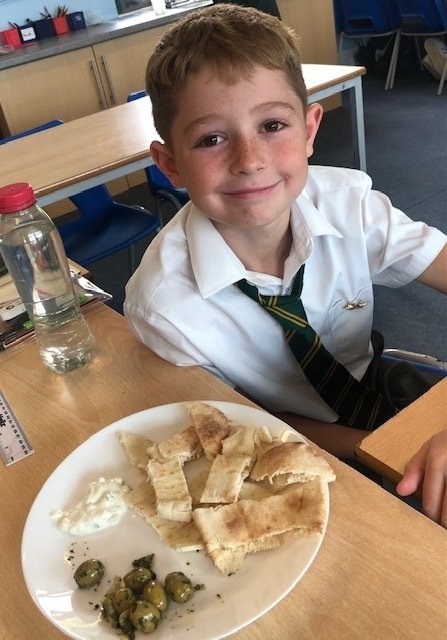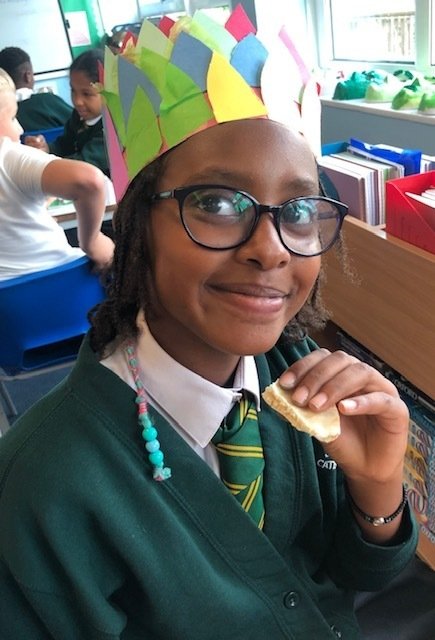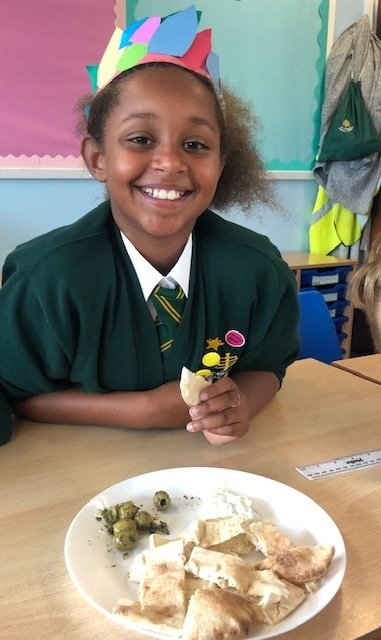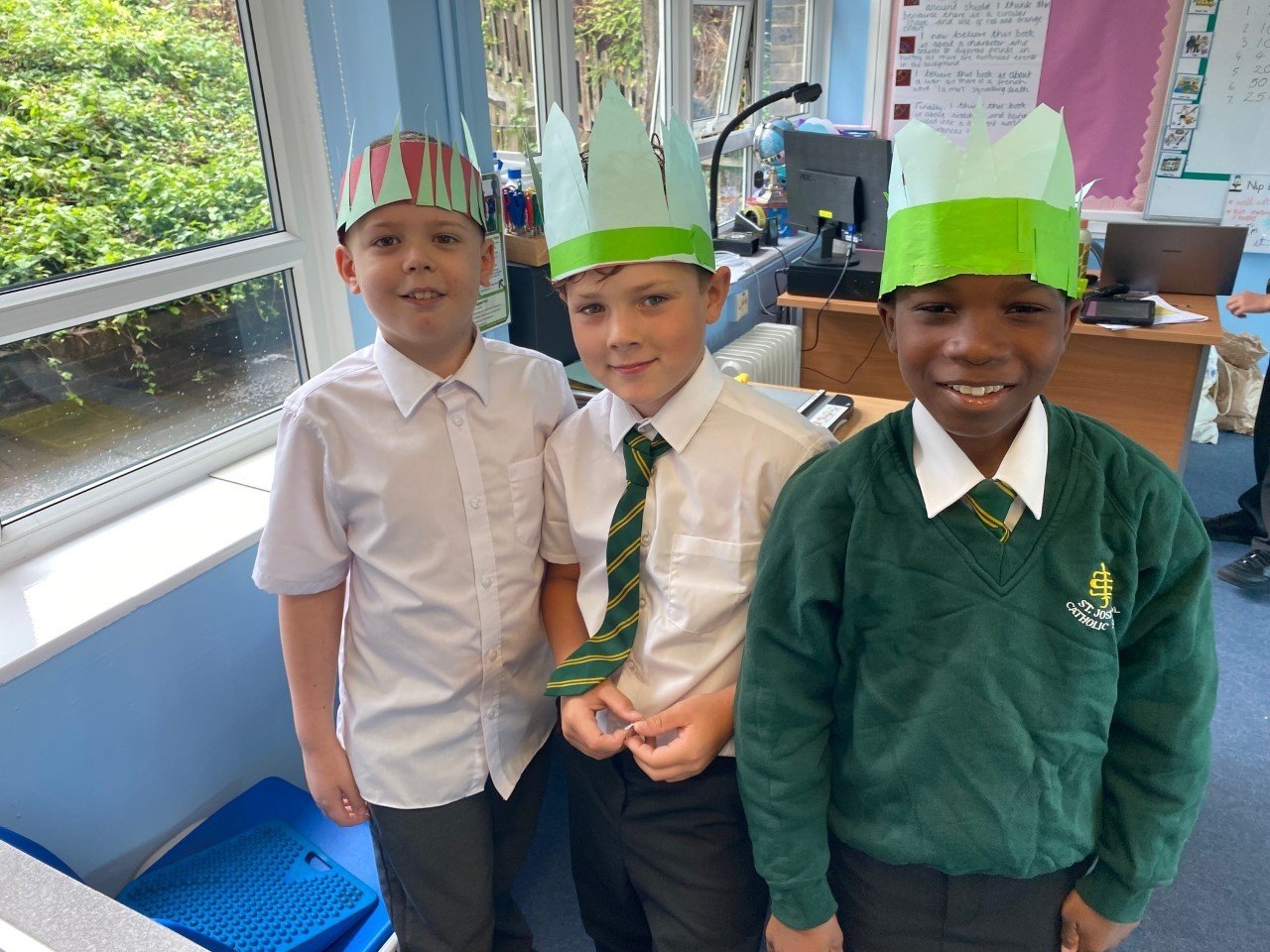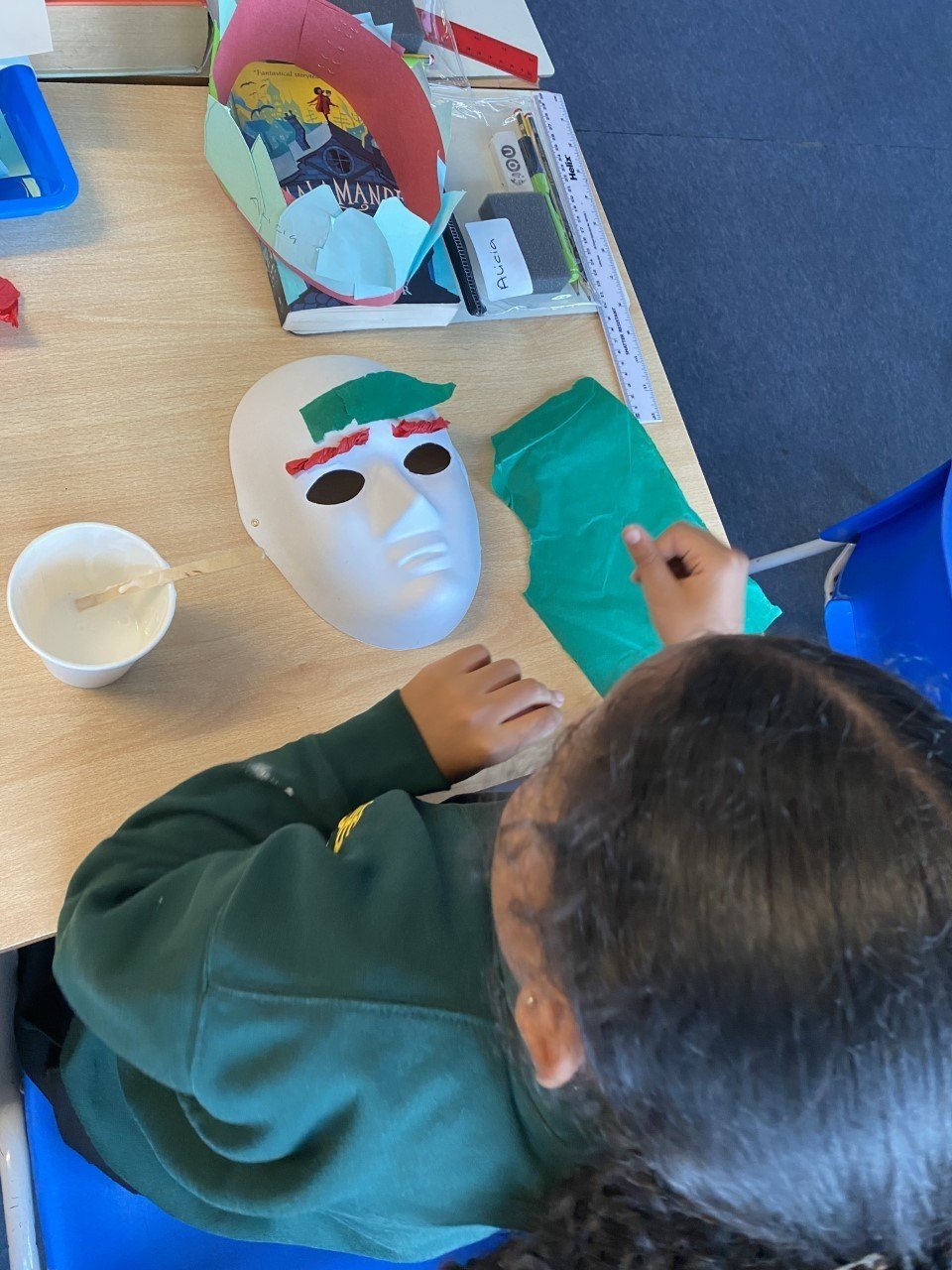 In celebration of ourselves (our RE topic) and our first week as year five, we created self-portraits that were decorated with self affirmations and qualities that we and others love about ourselves.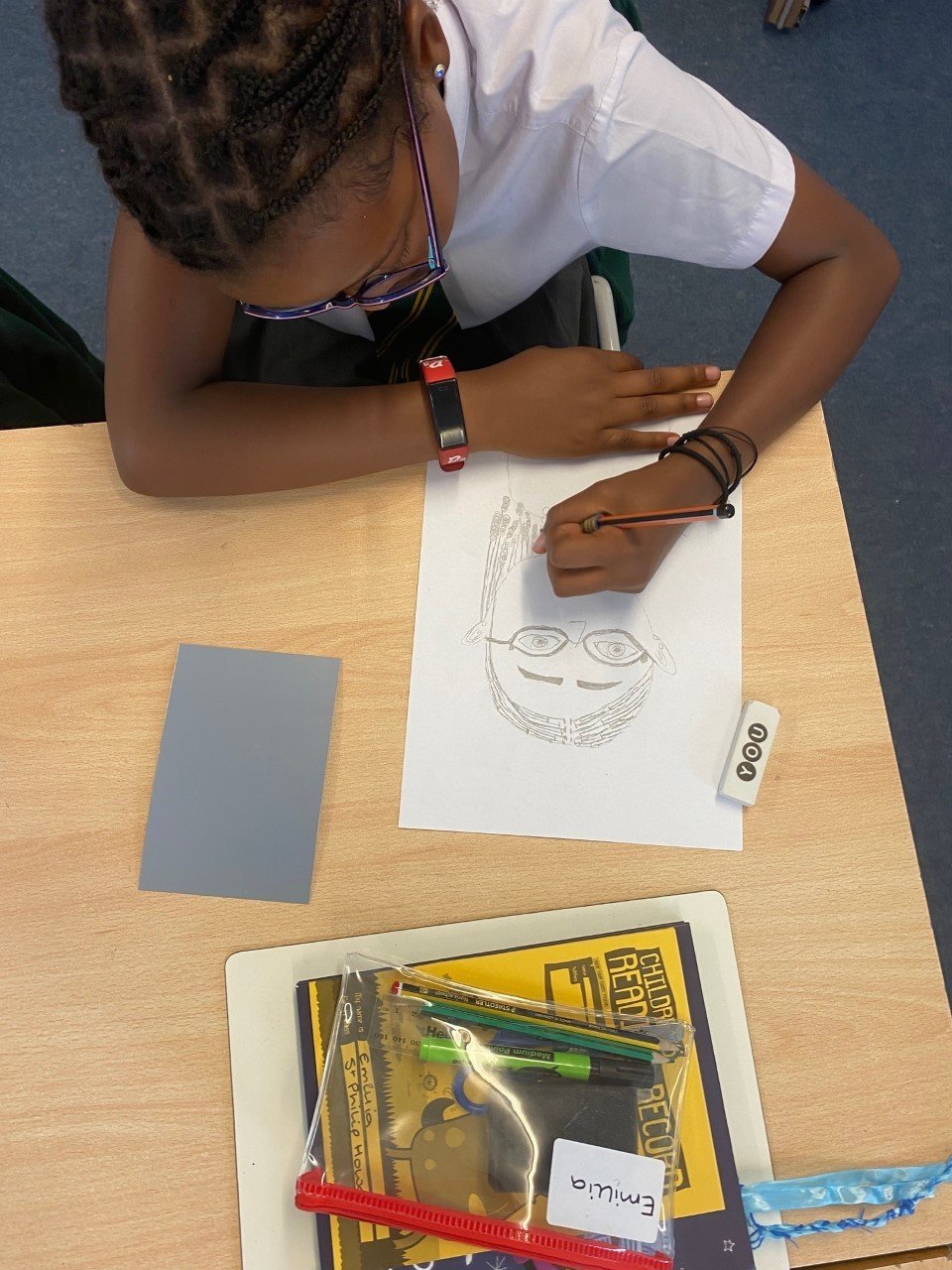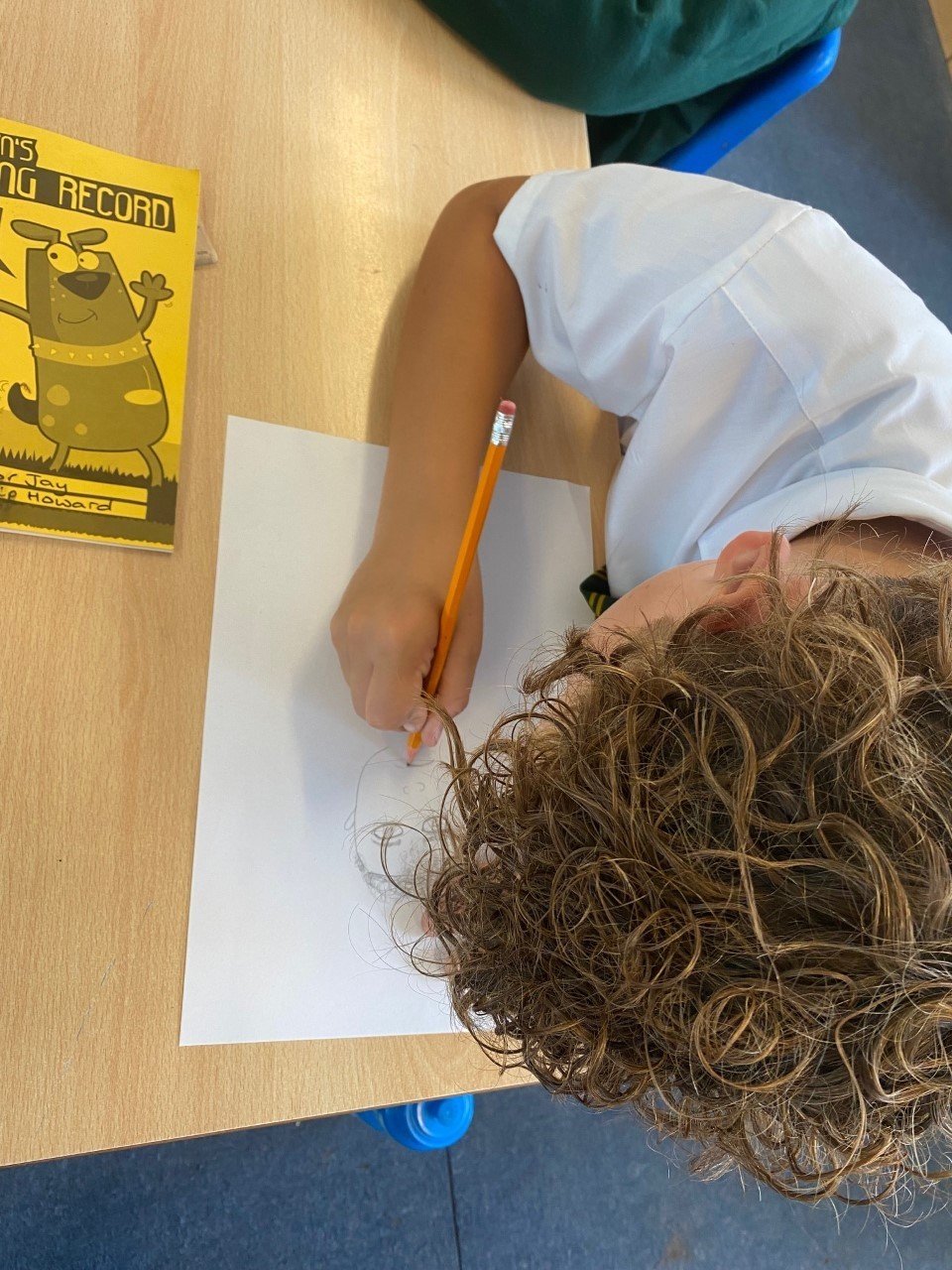 Also, we learnt about our class saint and how St. Philip Howard continues to inspire many of the same faith. We recognised his amazing attributes and used our practise of self-portraits to draw his portrait!
Finally, we launched our maths topic of place value and number properties by looking at roman numerals and played a fun game of creating numerals with lolly sticks to match the desired number!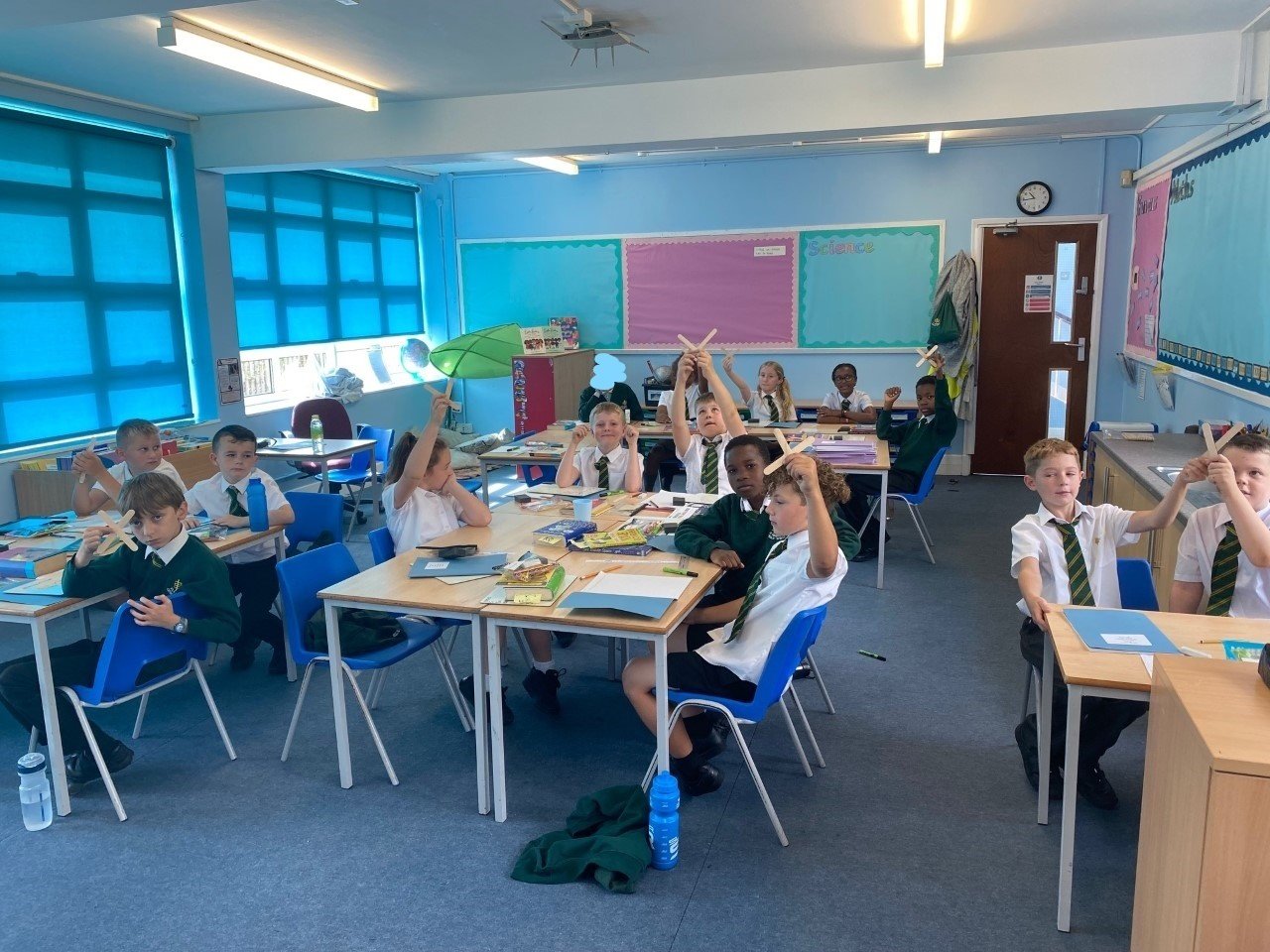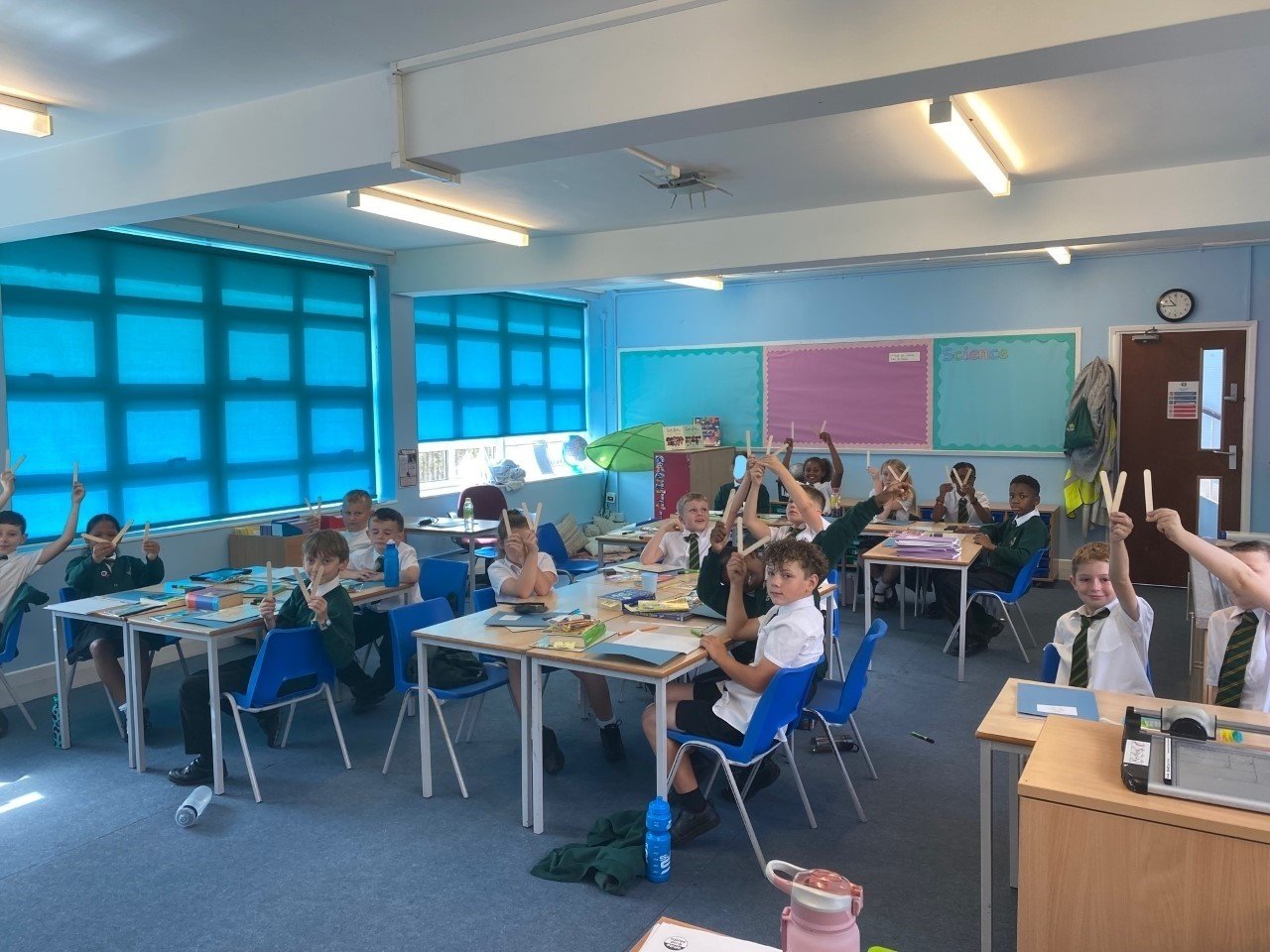 Learning Overview
Our theme for this term is 'Greece Lightning'. If you wish to find out a little more click HERE to see this term's topic booklet, explaining what your child will be learning about this term.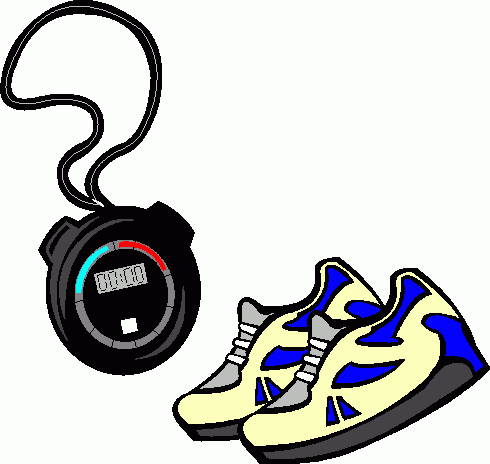 PE
This half term, Year 5's PE days will be on Wednesdays and Thursdays. Wednesday will be Tag Rugby with Miss Pippa and Thursday will be Hockey with Mrs Mulhern.
Please make sure your child has a full PE kit in school at all times - black shorts, a green St Joseph's t-shirt and trainers or plimsolls.
Year 5 children will also be doing the 'daily mile' on the other three days.

Reading
Please encourage your child to read as often as possible (ideally at least three times a week.) This can be by themselves, to a family member or to a sibling - and children, please remember to record it in the reading record books. These will be checked on a Monday.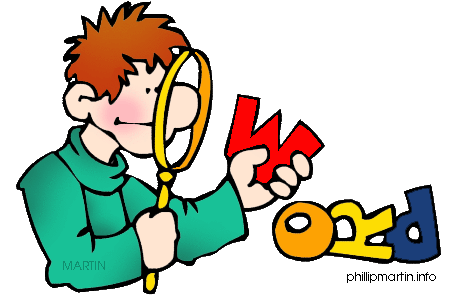 Spellings
A paper copy of the spelling list for the first term will be sent home with your child. Children will be tested on a Thursday each week. Spelling frame is an excellent website to support your child with spelling. Click HERE for a link to it.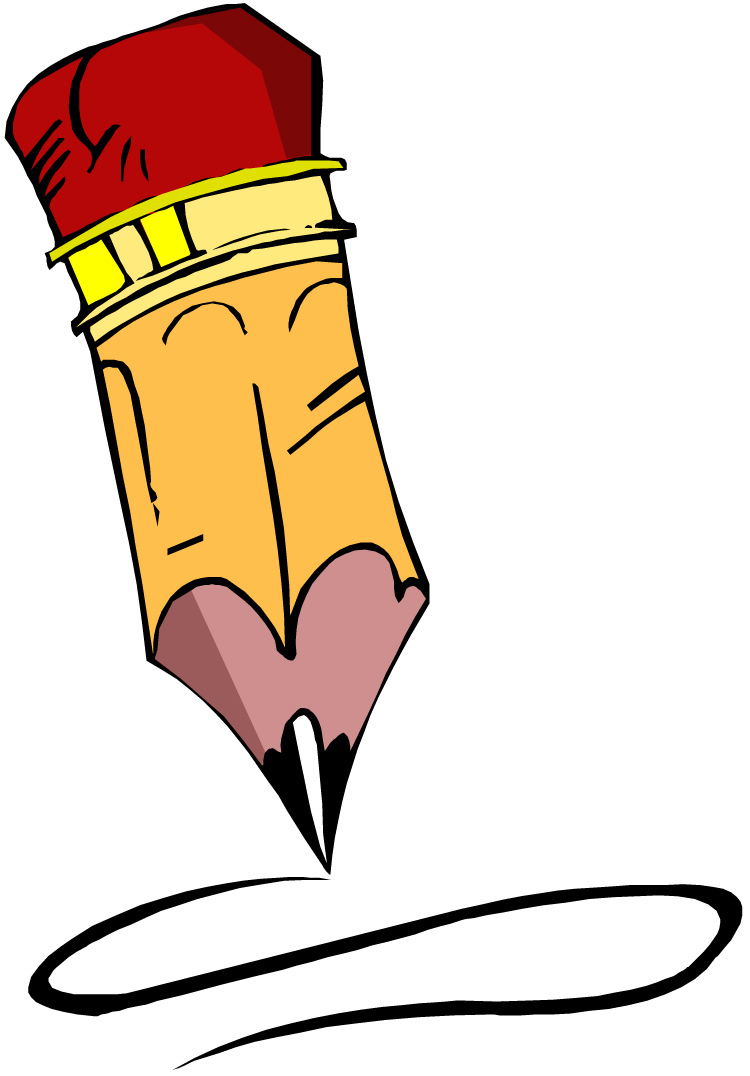 Homework
Please click HERE to find out what our homework expectations are. Your child will receive homework via Google classroom on a Monday and will be expected to be submitted online by the following Monday to Mrs Gilbert. These will be marked on the same day and then returned back to the child online.
Google Classroom homework will commence shortly.
Please make sure your child attends school in the correct school uniform. This includes plain black shoes or trainers. They also must be wearing a tie.
Thank you parents and carers! We really do appreciate your support.
A warm welcome to a new school year
Dear children, parents and carers,
I am thrilled to be able to welcome you all back and am very excited to begin a new academic year together as the year five St. Philip Howard's class. I feel honoured to be your child's teacher this year and please be assured that I will do my very best to ensure they are safe and happy at all times. I look forward to seeing them flourish and getting to know them all. If you have any questions about your child's learning, please do not hesitate to catch me before or after school. Please check this web page regularly for updates from inside the classroom!
I look forward to meeting you all and to a great year ahead!
Mrs Gilbert