Newly added - An invitation for children to share their creative ideas to help encourage frequent hand washing - winning entries win a prize for the school!

Medicspot is calling all St Joseph's Catholic Primary School children to share their creative ideas to help encourage frequent hand washing. Find out how you can enter and win £500 for St Joseph's Catholic Primary School here:
Could you make a poster, film a video, record a song, do a science experiment or write a poem about handwashing?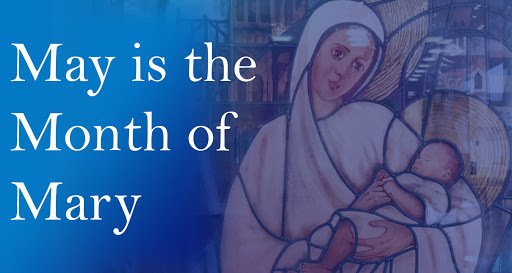 The month of May is a special time for us to pay homage to our Blessed Mother Mary and honour her with special devotions. Click HERE to find out more and for ideas of what you can do at home to celebrate Mary during the month of May.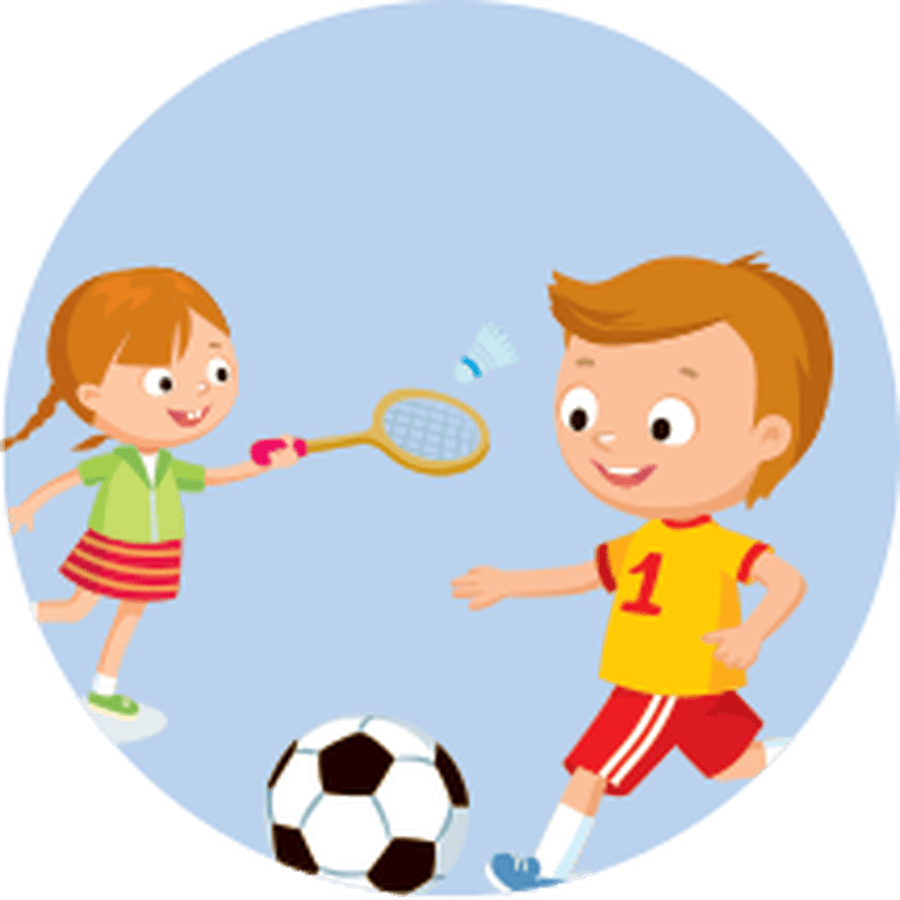 Well done to those of you who have signed up to the Specsavers Virtual School Games and are doing your bit to keep fit! It was good to see St Joseph's featuring on the leader-board for the active 60 minutes activity this week.
We recognise how difficult it is for families to get children and young people to remain active so here is an "Active 60 Minute - Activity Log" to help motivate you!
Click HERE for your activity log and get active!
Home Learning during May
Thank you to everyone who has sent in pictures of their home learning. It is lovely to see what you have been up to and we are very impressed with your creativity! You are also covering so many different areas of the curriculum : art and design, geography, science, design technology, history, computing, maths, reading, writing, phonics, SPAG, geography and P.E!
Keep those photos coming please!
Email to - myhomework@st-josephs.brighton-hove.sch.uk
To see what your friends in school have been up to, have a look HERE on the NEWS page.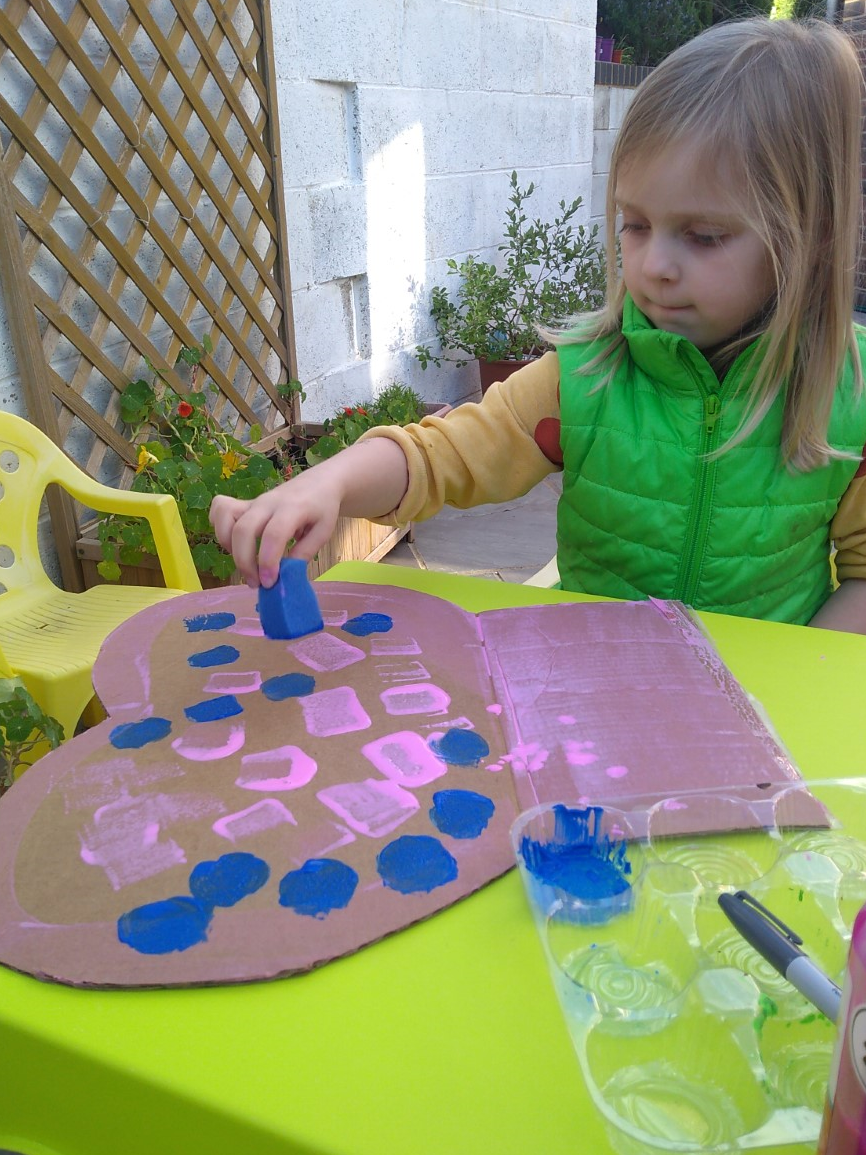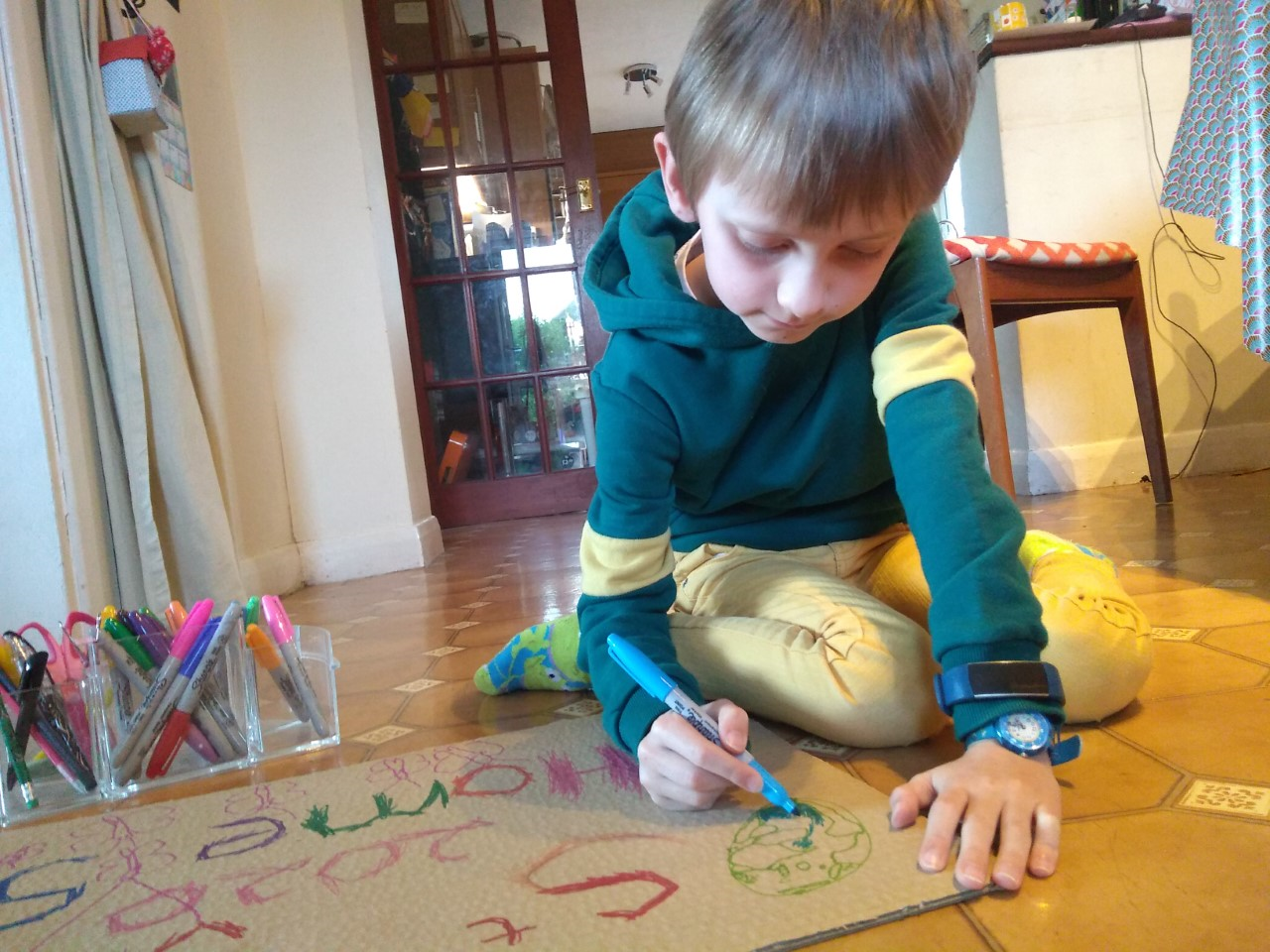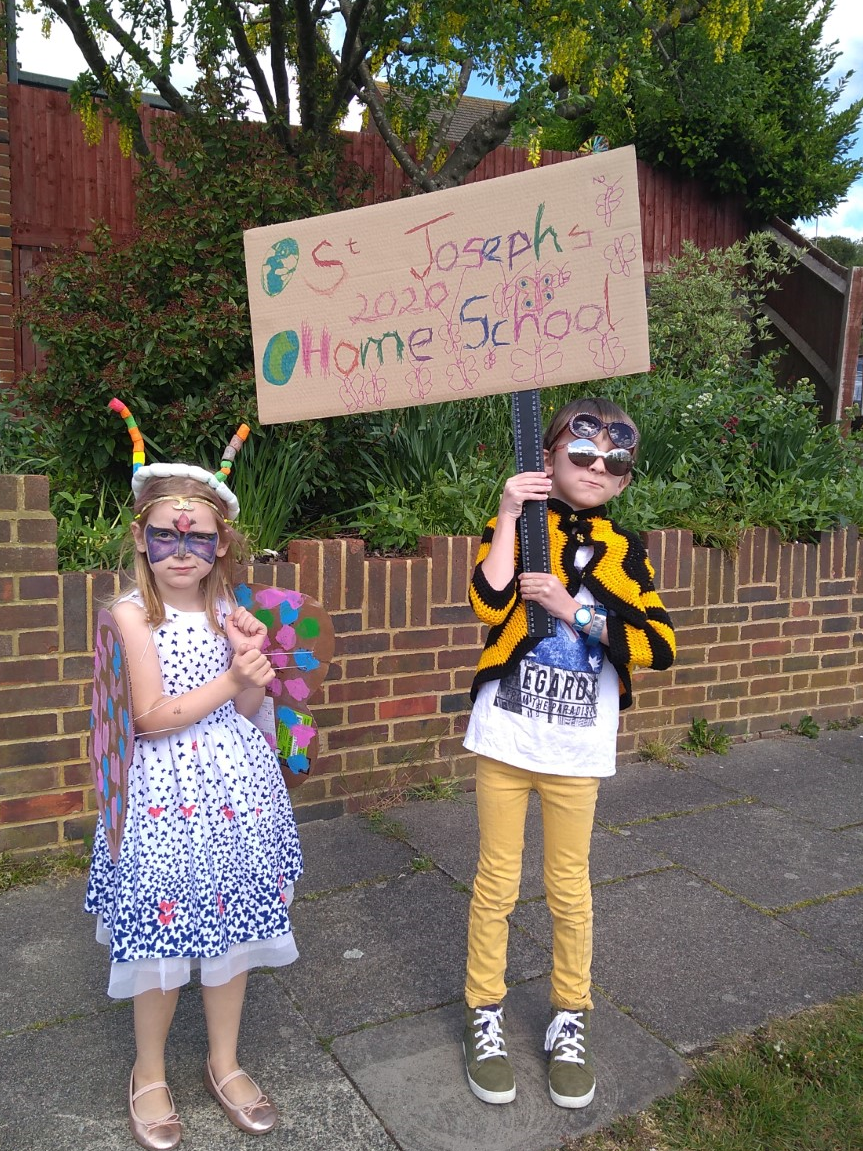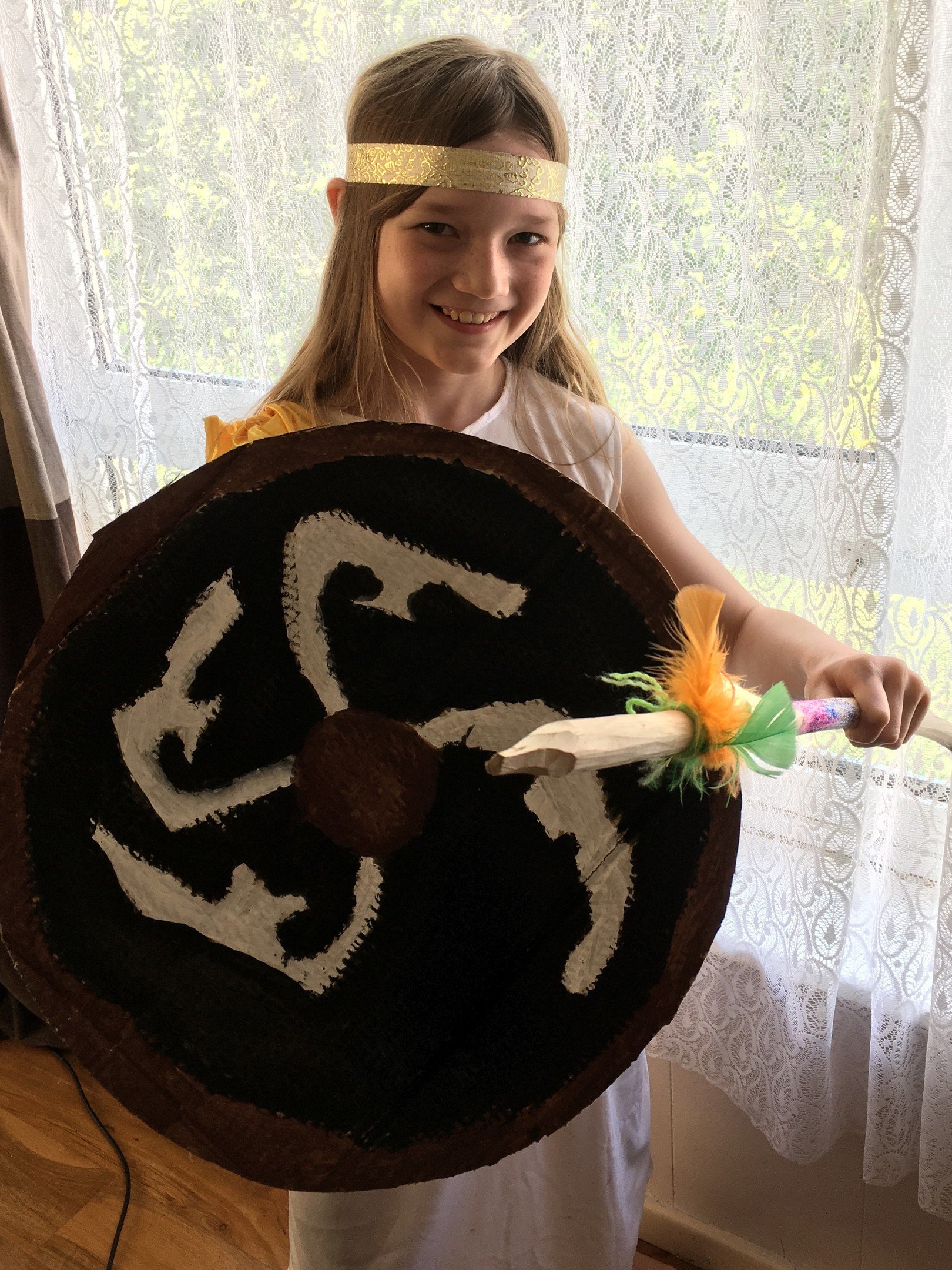 Thank you to those children and their families who joined in with the "stay at home and celebrate" Children's Parade this morning!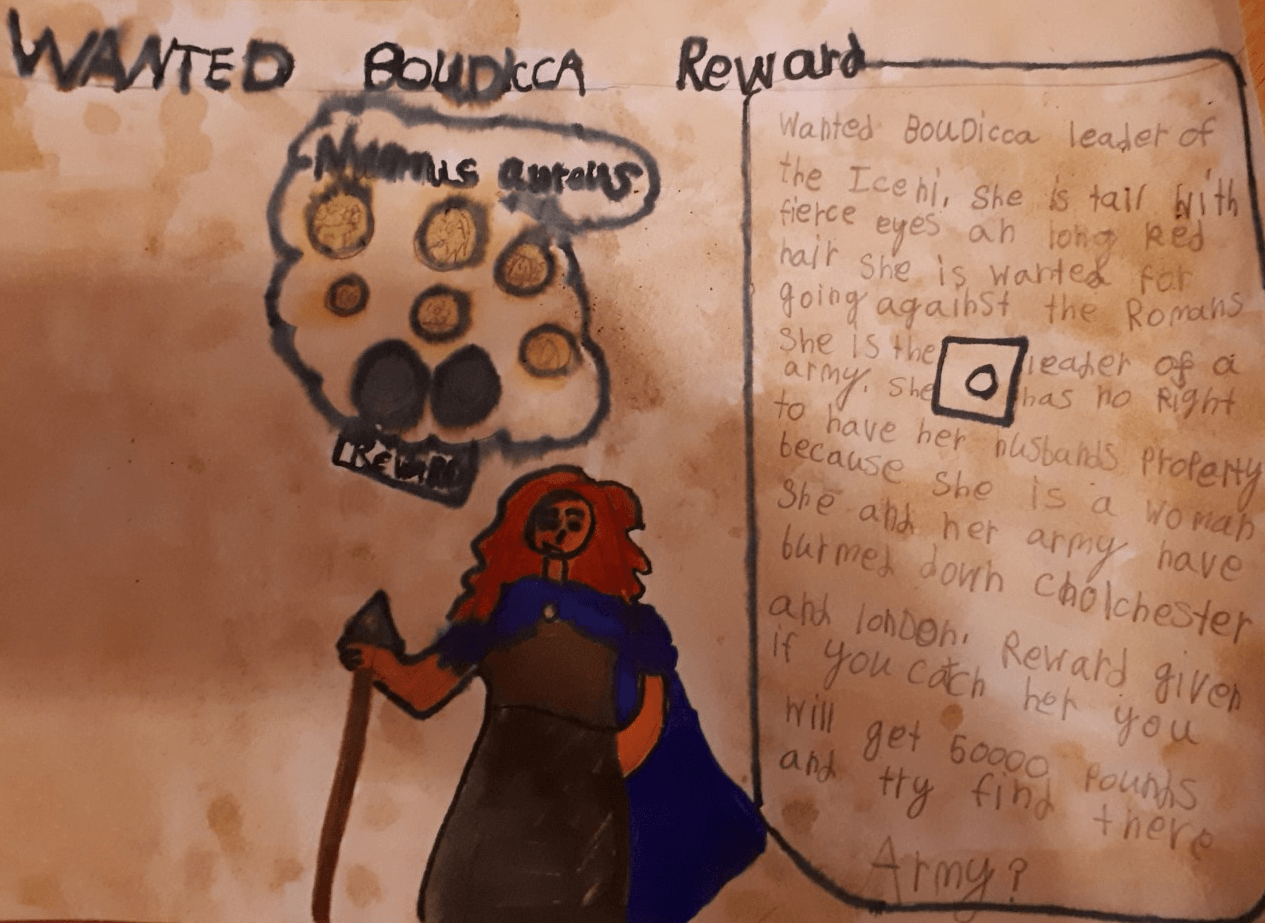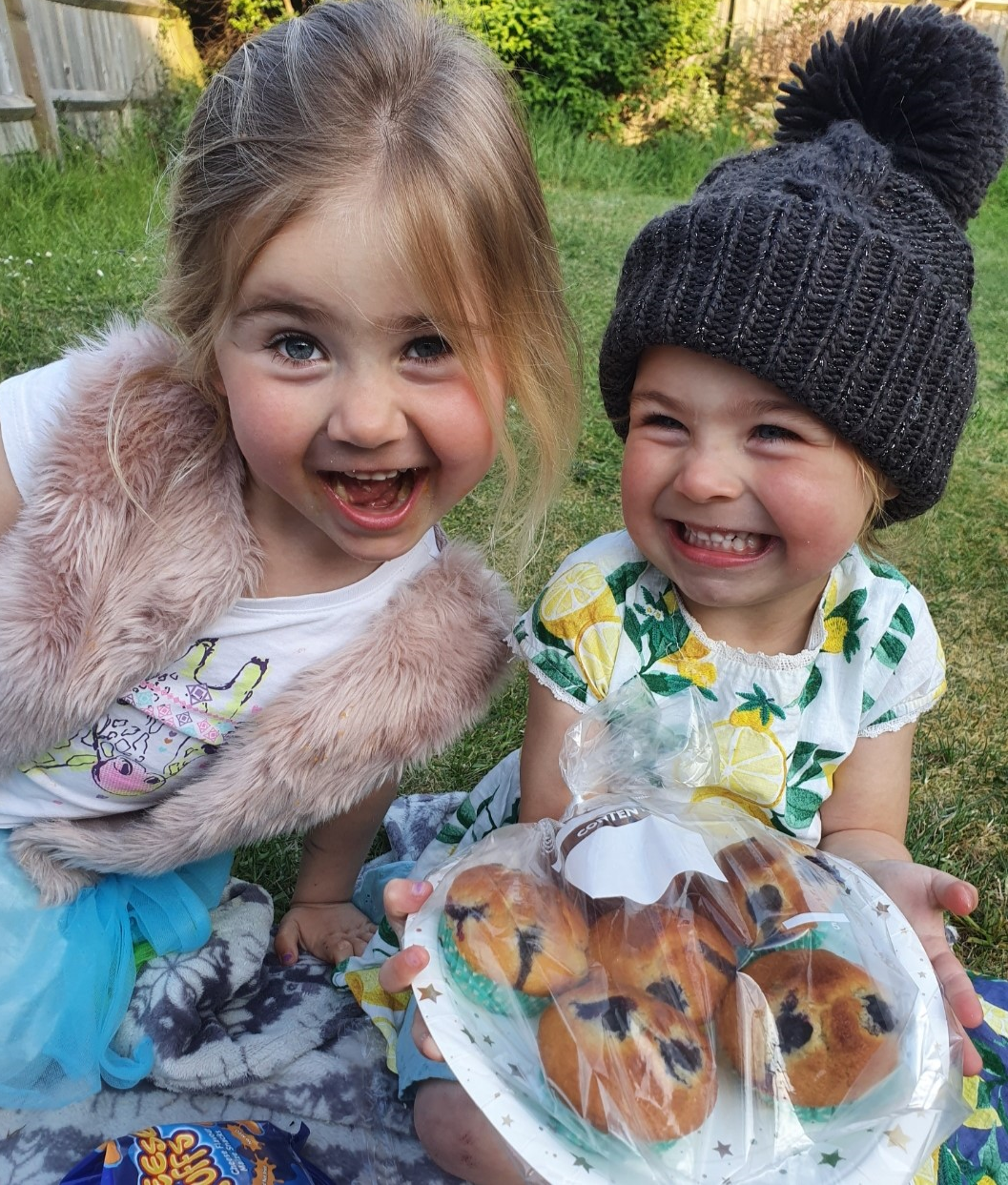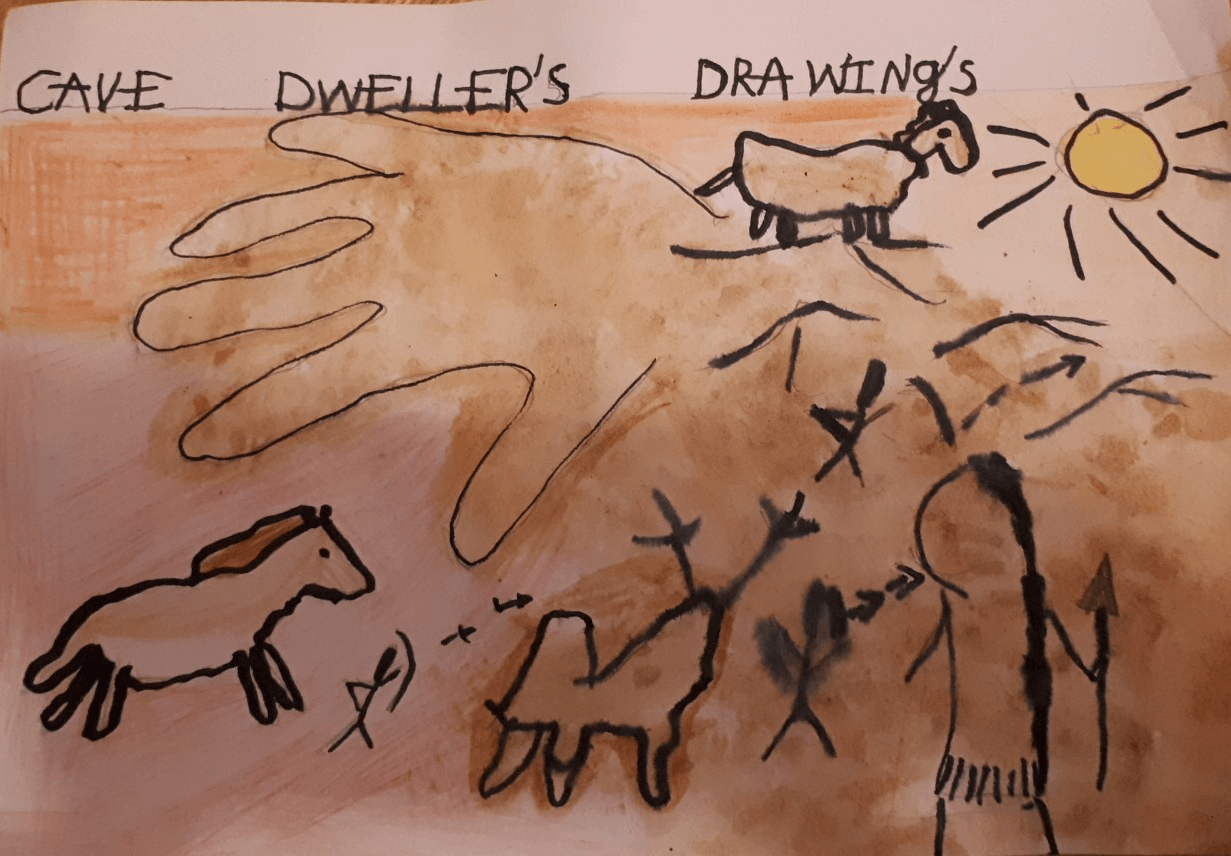 Sofia has made a very authentic "WANTED" poster for Boudicca as part of her history project on the Romans, Darcy and her sister enjoy being out in the sunshine (and a treat) together and Priya has drawn a cave dwelling as part of her history learning.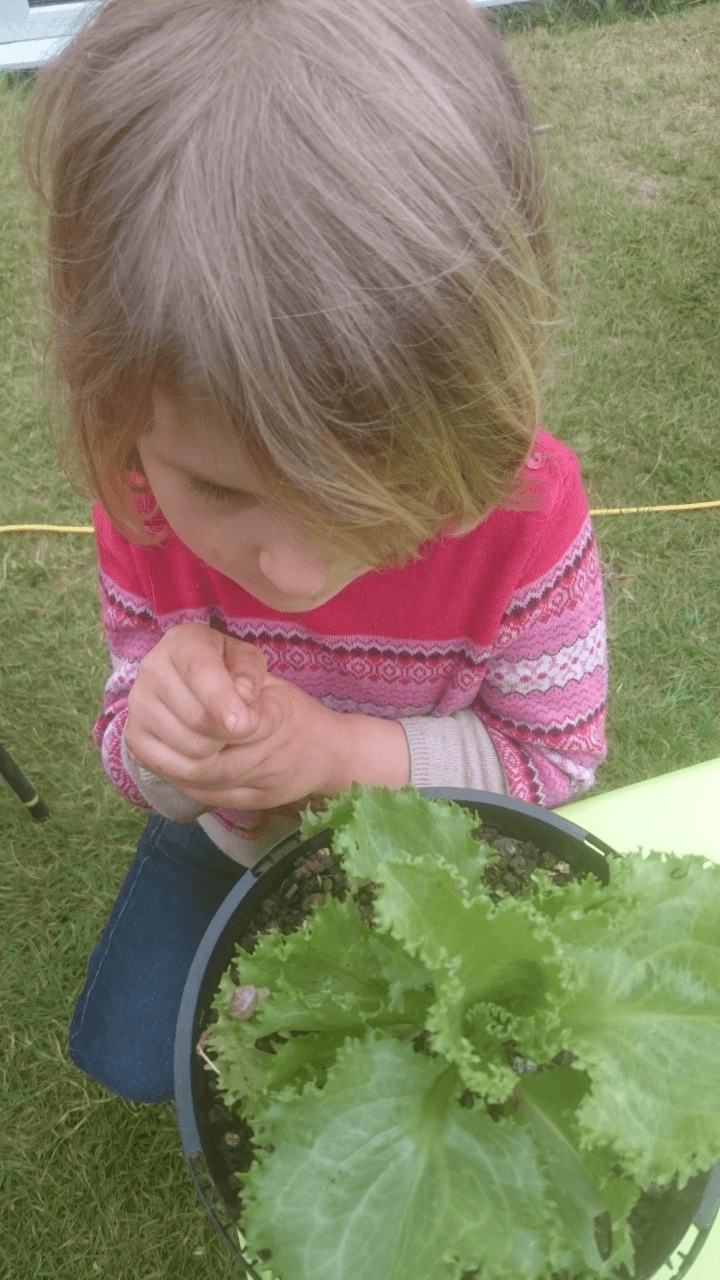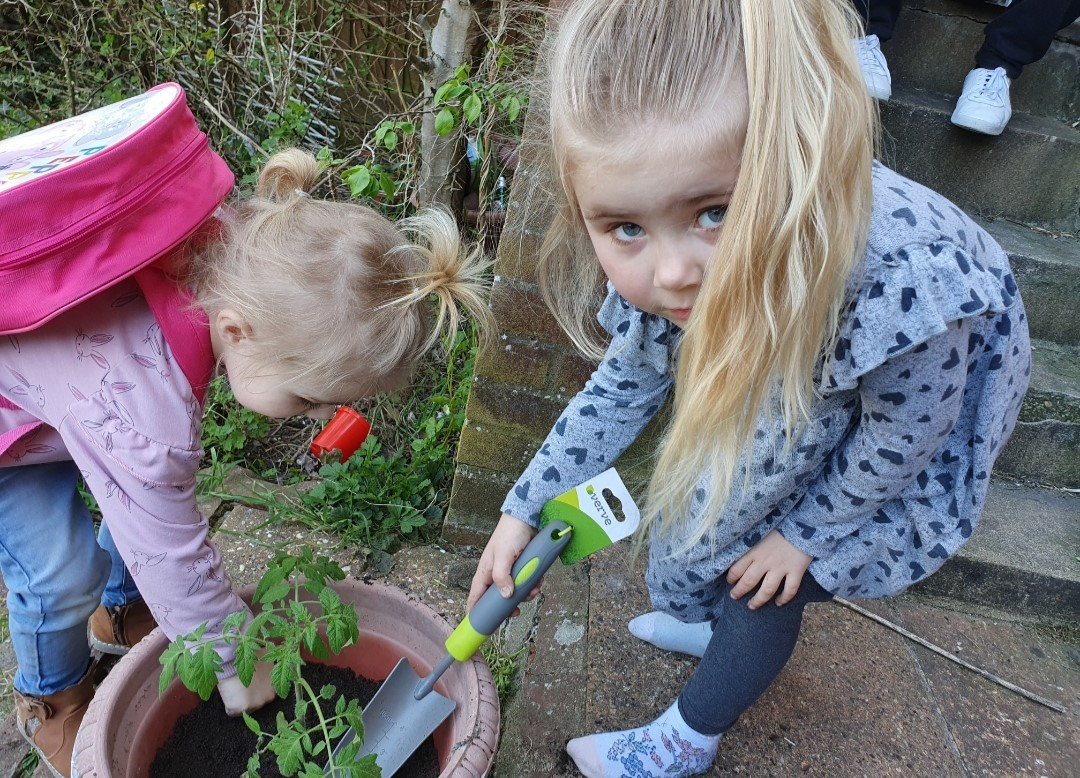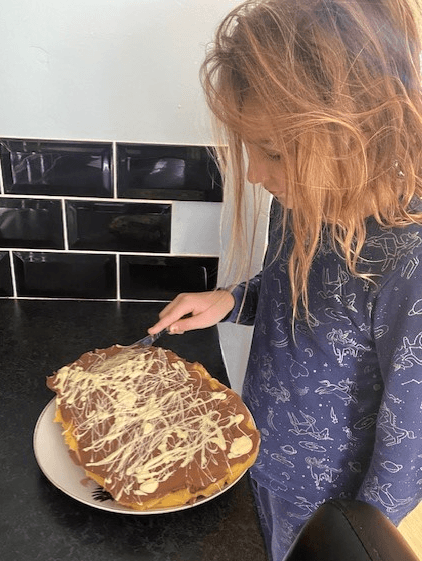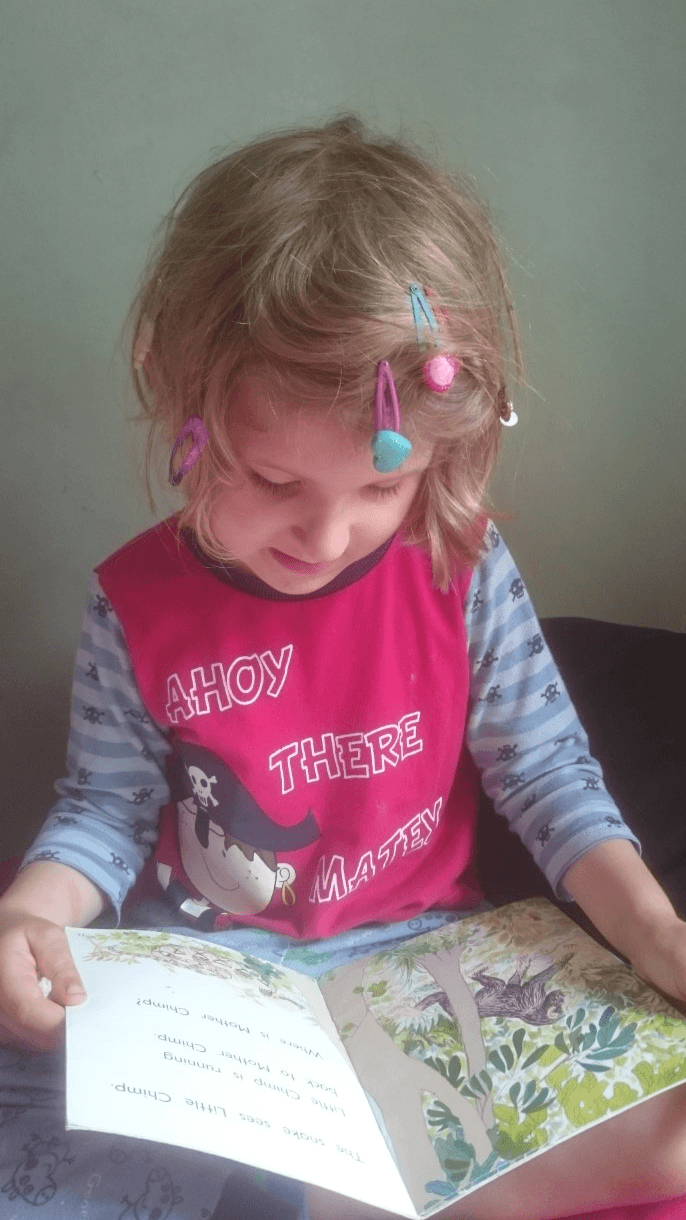 Sylvia looks for mini-beasts in her garden, Darcy plants and tends to her own vegetable garden, Lola makes millionaire shortbread and Sylvia keeps reading!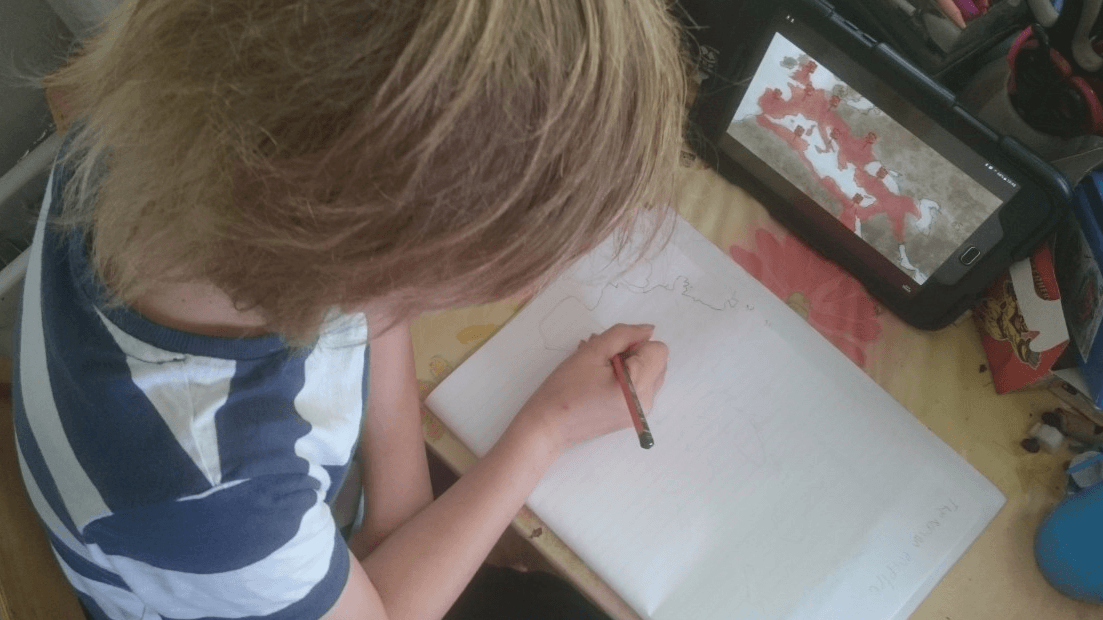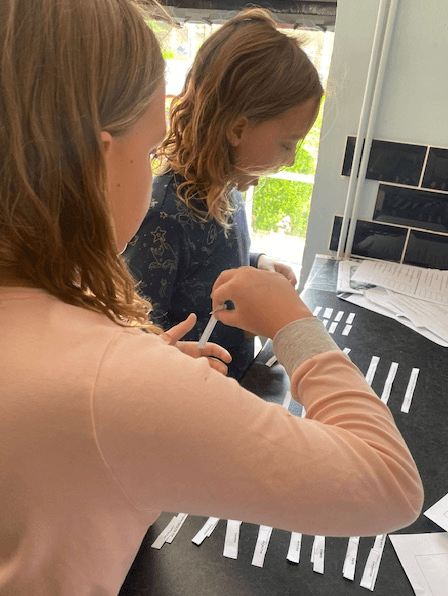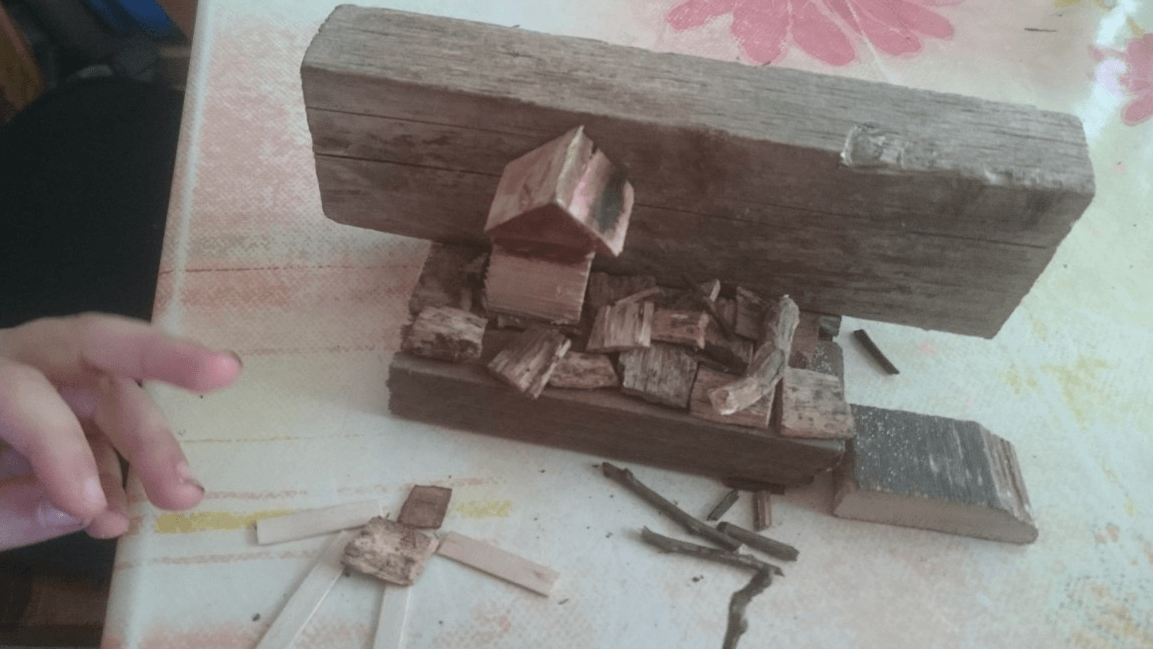 Mark uses the internet to help him draw a map showing the growth of the Roman Empire, Billie and Lola work together to match the SPAG parts of speech with the correct definitions and Mark designs and builds a house out of wood and wood glue.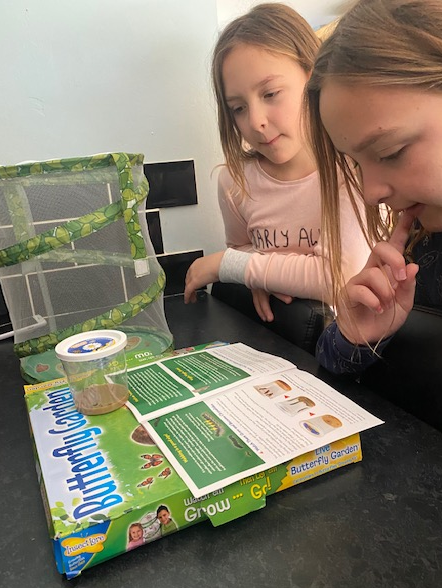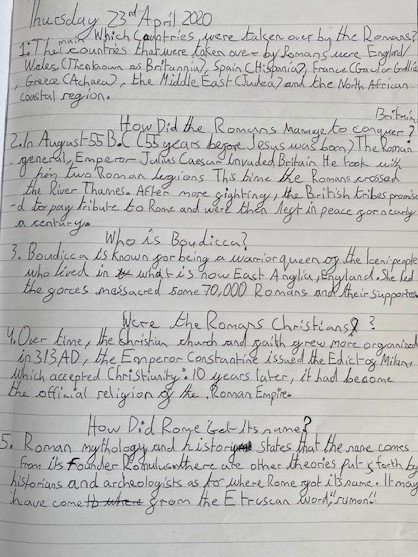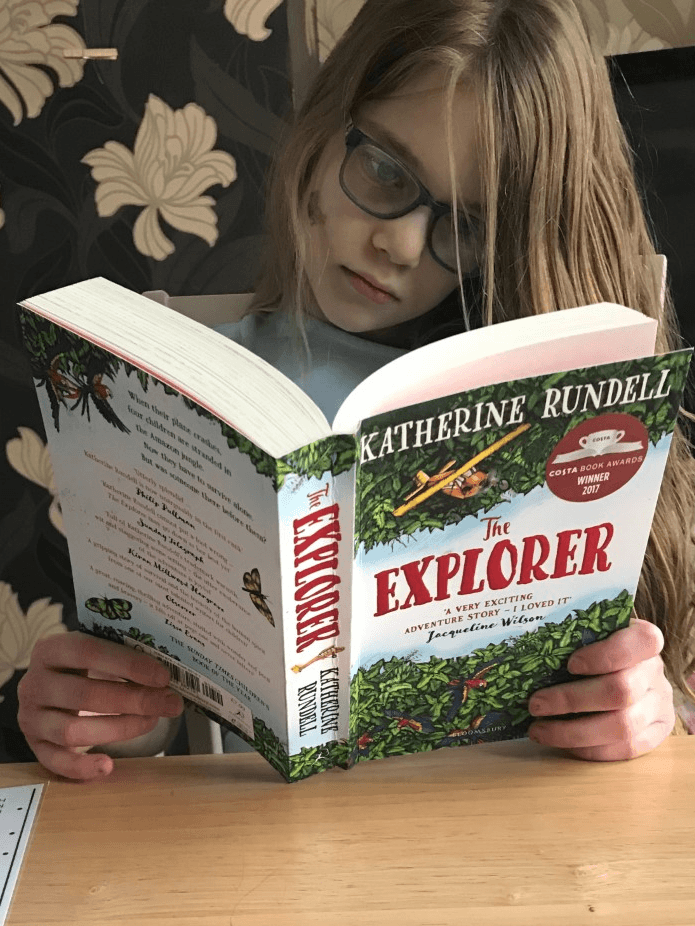 Billie and Lola set up their butterfly garden, Rashid starts his history research on the Romans. Lola analyses her science experiment results and continues to read a book recommended by Miss Azor.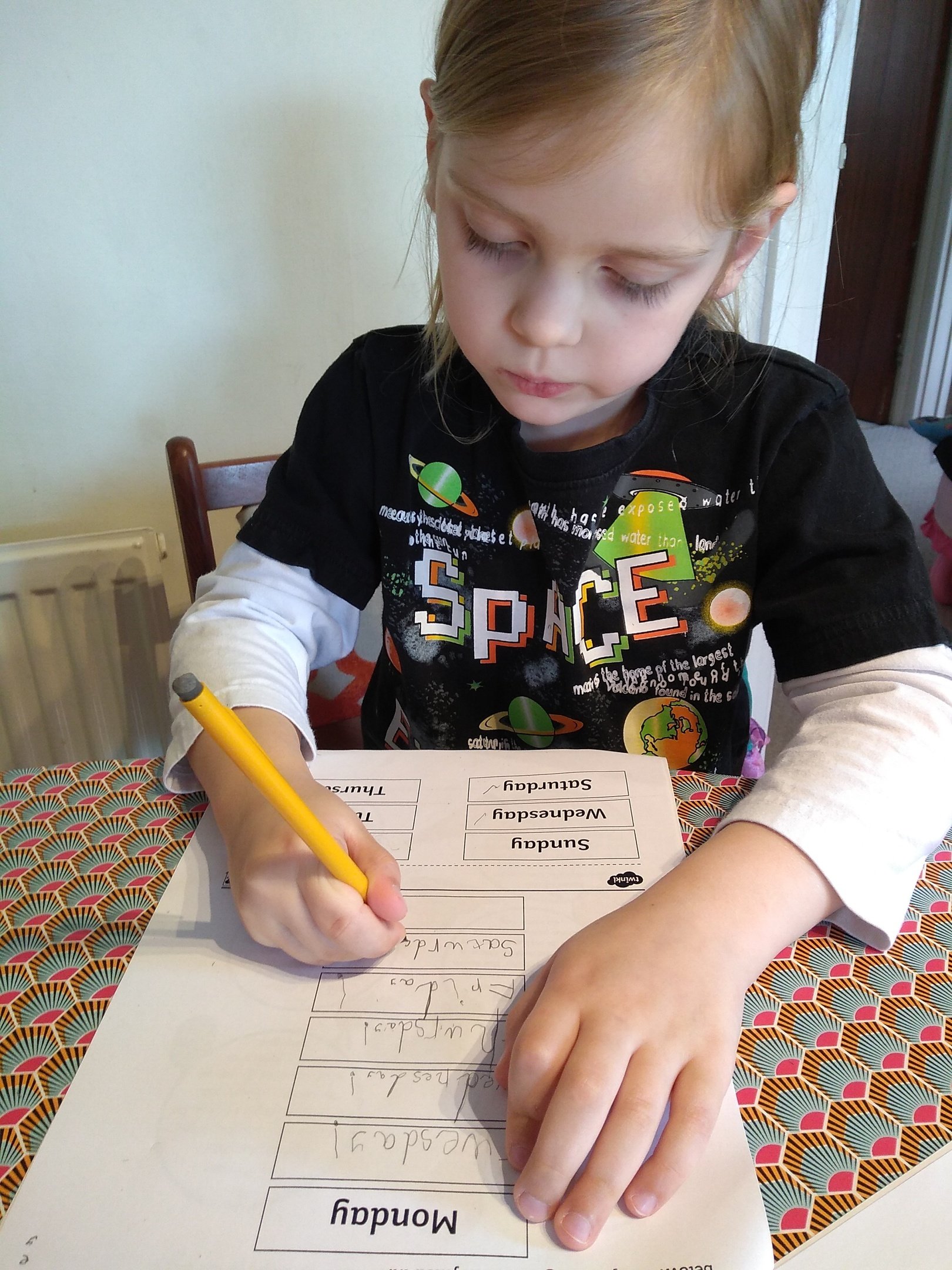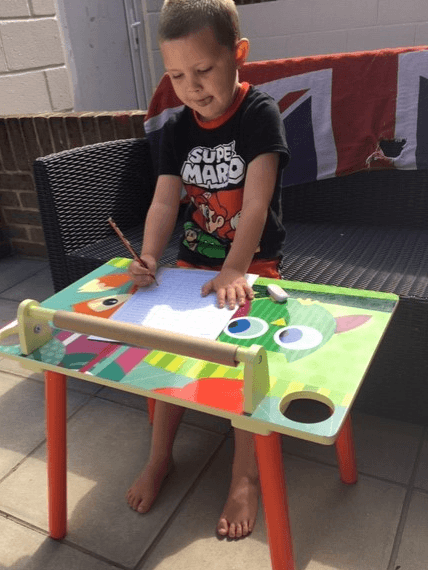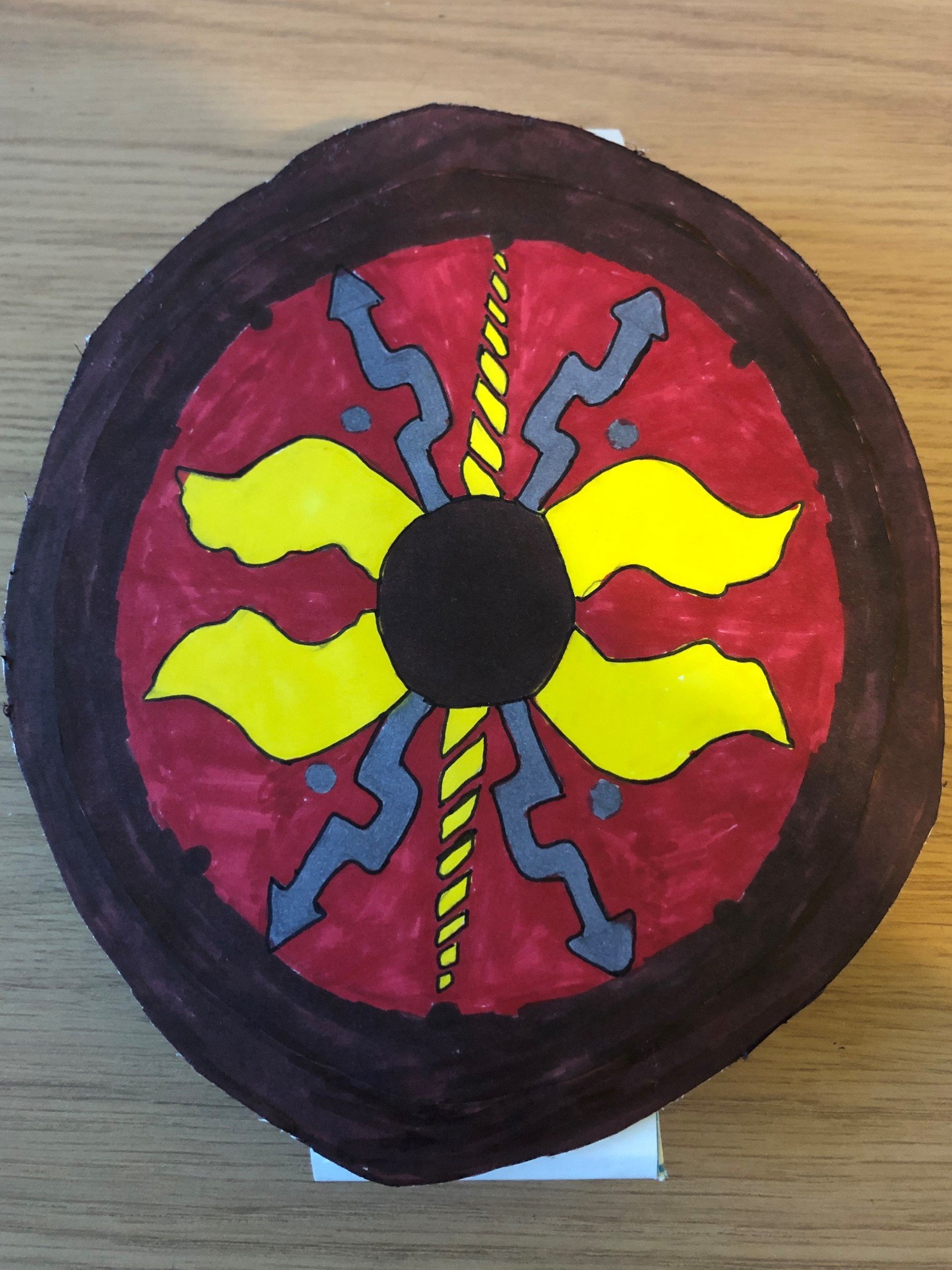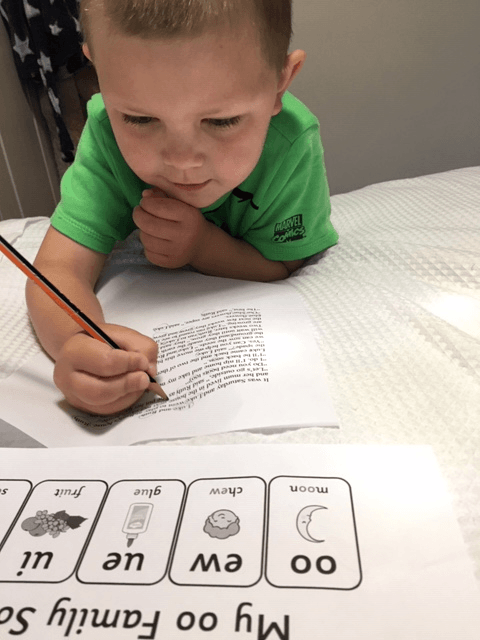 Audrey practises ordering and writing the days of the week, Harry makes the most of the sunshine and works outside, Alex, in St John's Class, makes a very authentic looking Roman shield and Harry practises spotting the different "oo" sounds in a text.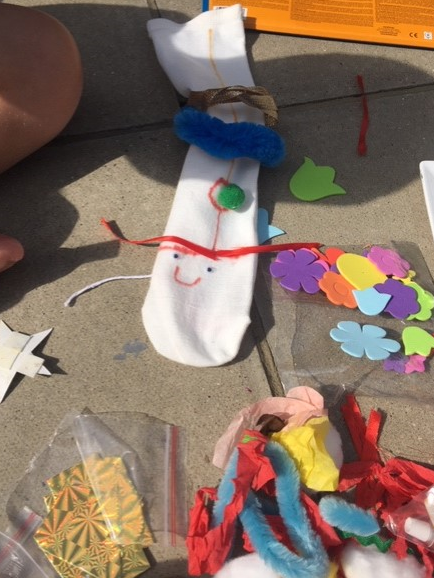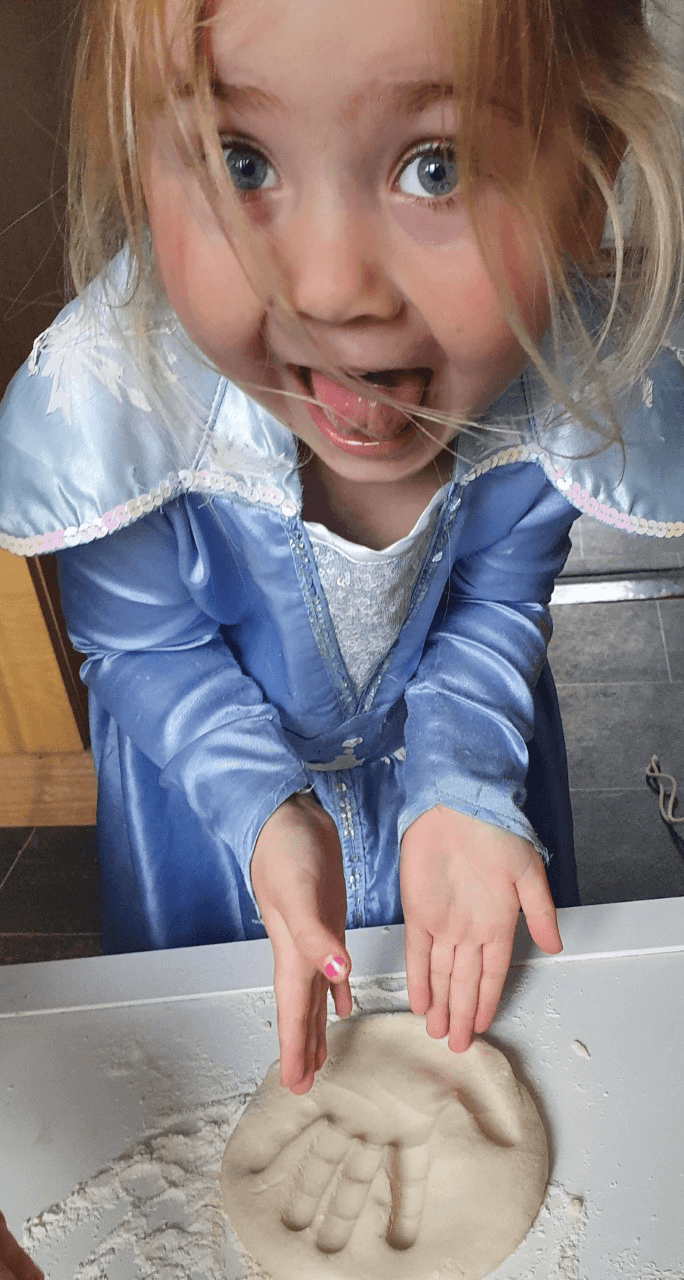 Harry makes a sock puppet as part of Year 1's learning about Toys, Darcy makes a "lockdown momento" from salt dough and Harry transforms an empty milk carton into an elephant hand puppet too! What a creative bunch you are!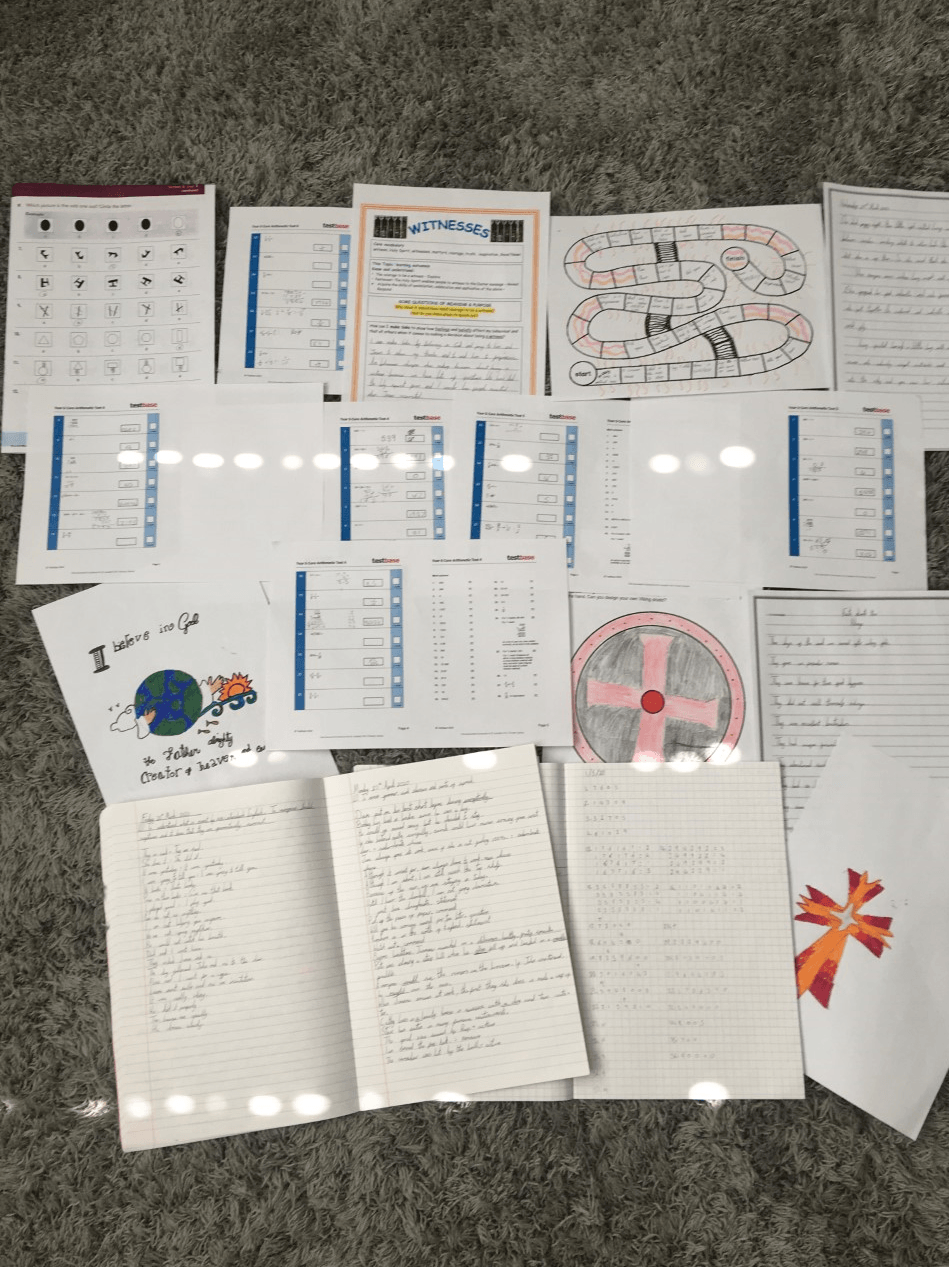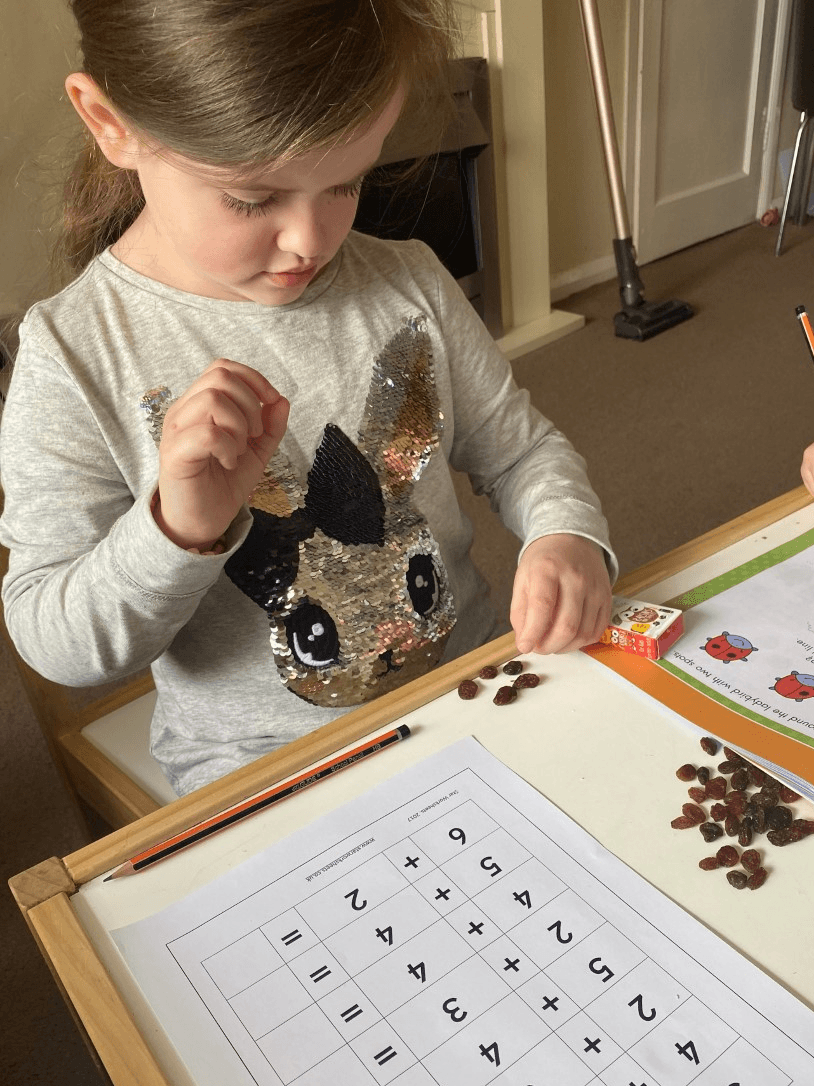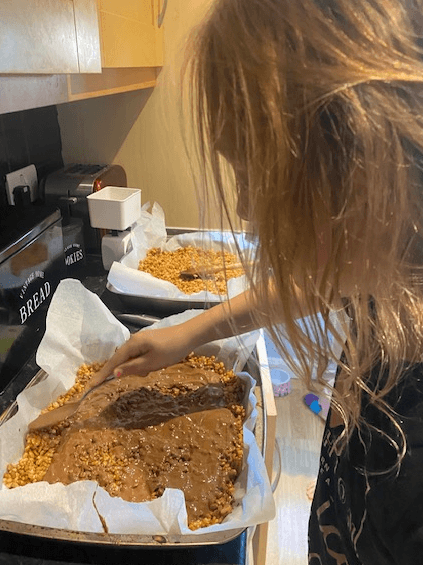 Wiktor gets out for some fresh air and exercise with his dog, Gabriella displays last week's home learning, Jessie-Rose uses raisins to help her with her number bonds to 10 and Lola makes Mars Bar bites.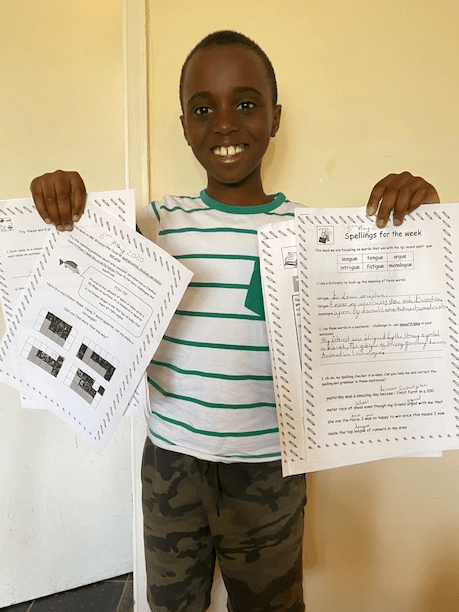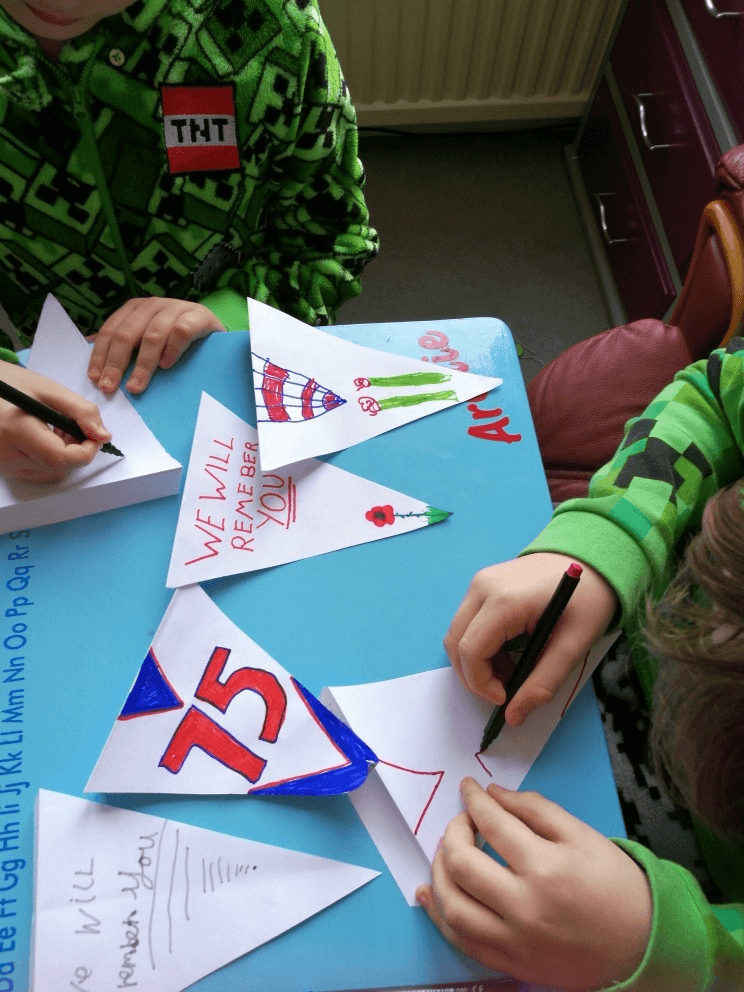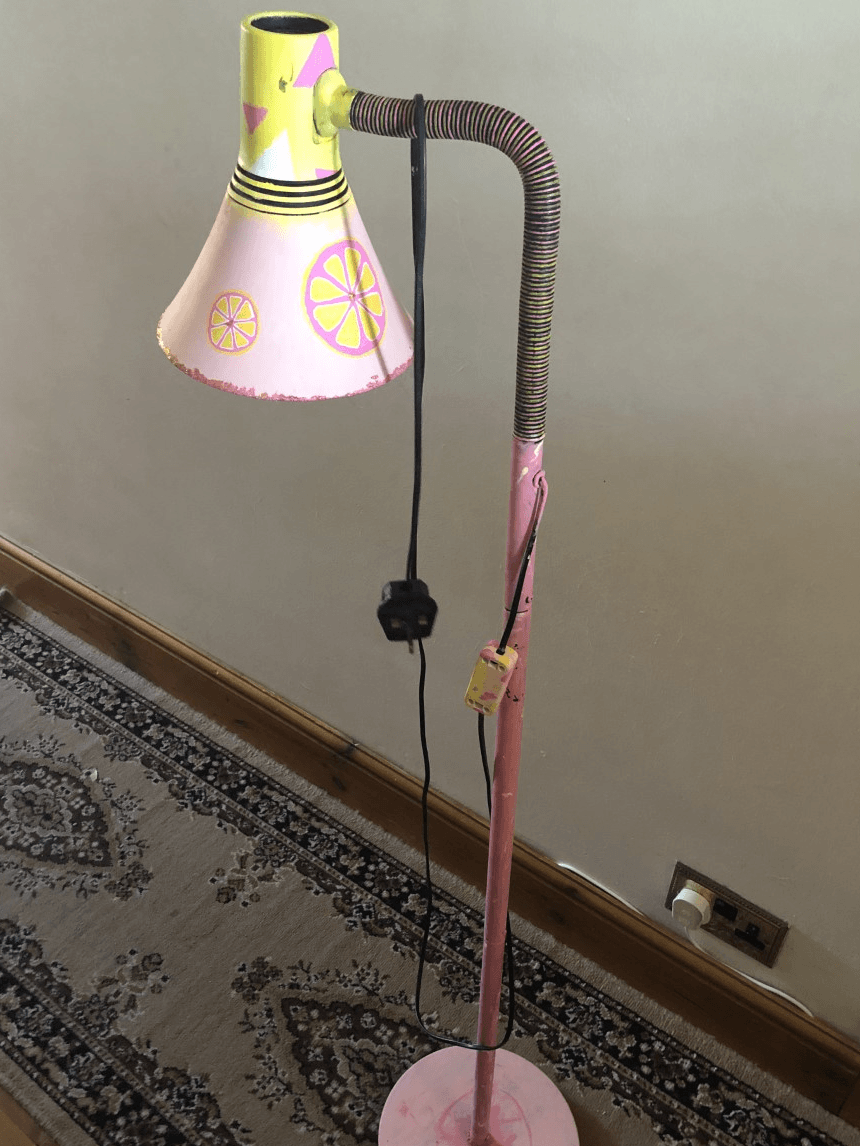 Rashid shows off some of this week's learning, Daniel and Archie make VE Day bunting in memory of their great-grandads and Eloany shares her fantastic artwork - a painting and some home improvements!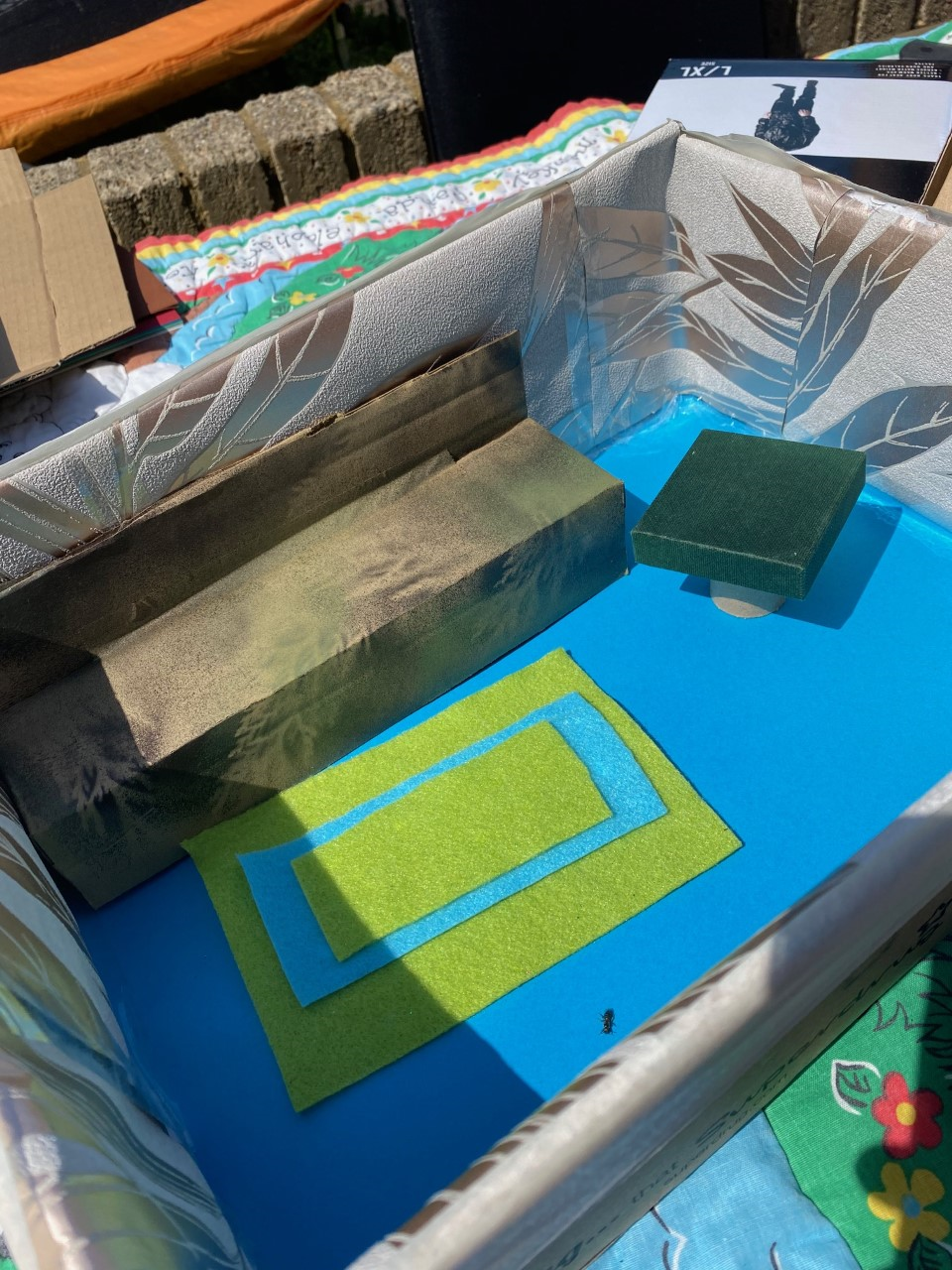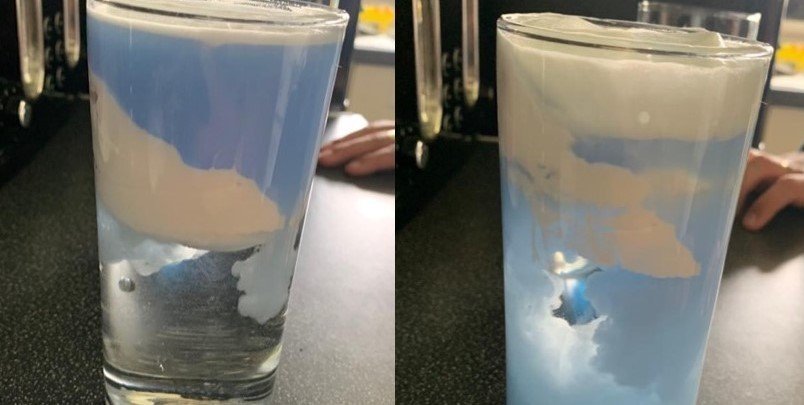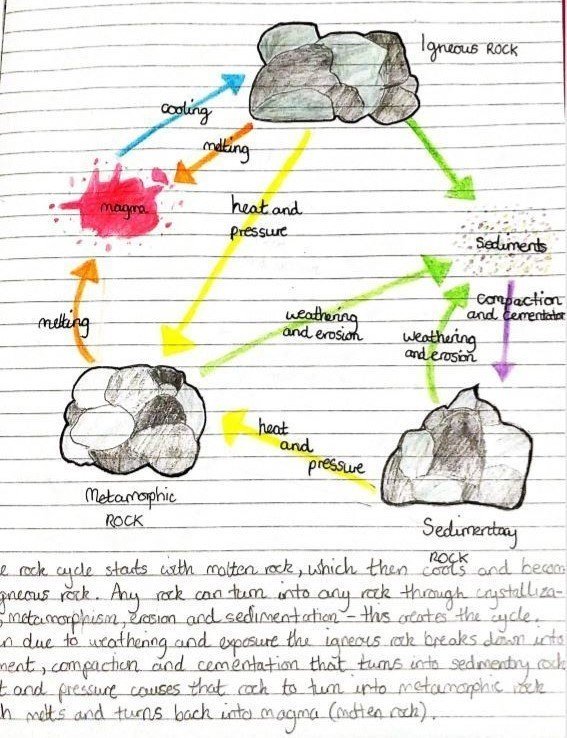 Theo made a dolls house with furniture as part of Year 1's history topic on Toys. He also carried out a science experiment using shaving foam, water and food colouring to explain how rain falls from clouds once the rain inside the cloud becomes too heavy-falling to earth due to gravity. So creative! Amarachi draws a diagram and explains the rock cycle.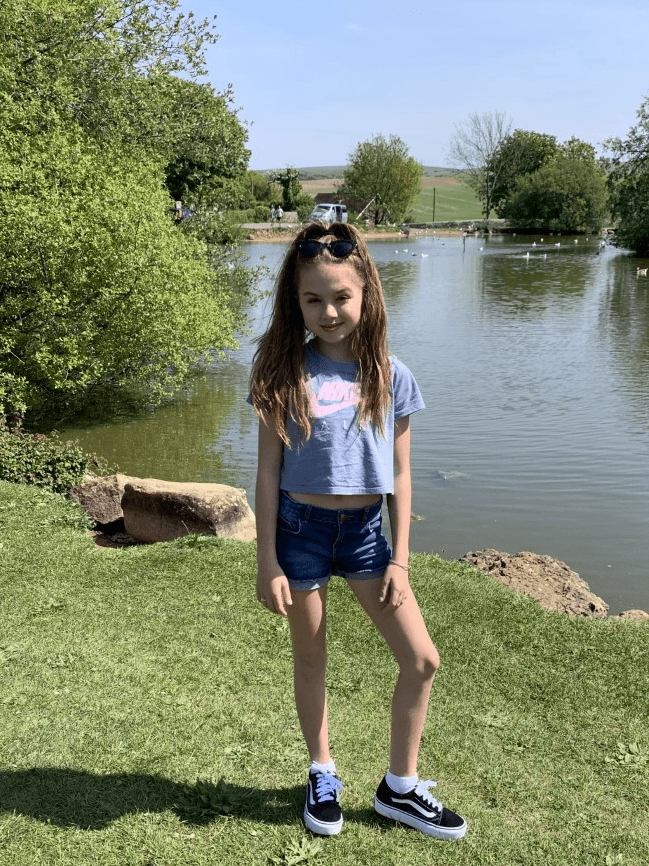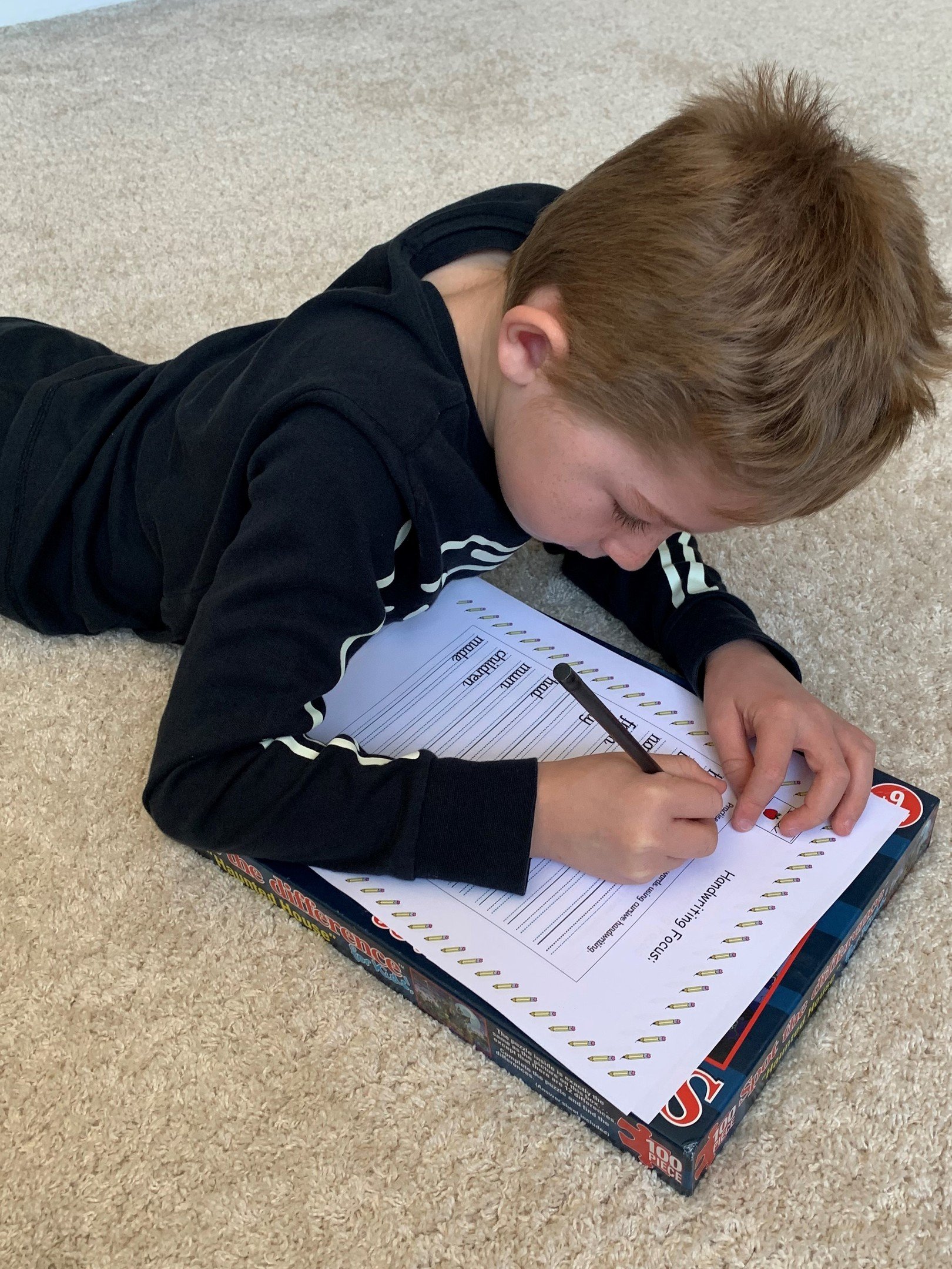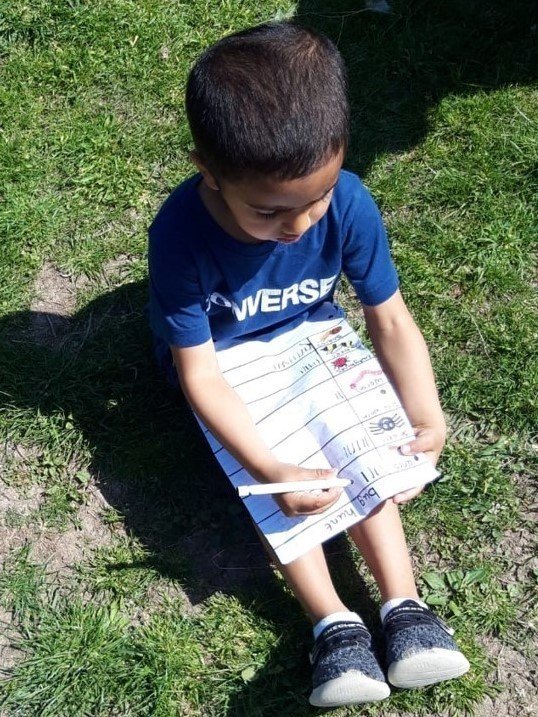 Gabriella gets out for some sunshine and exercise, Eddy makes a start of this week's work and Jeremiah keeps a tally of all the minibeasts he sees in the local woods.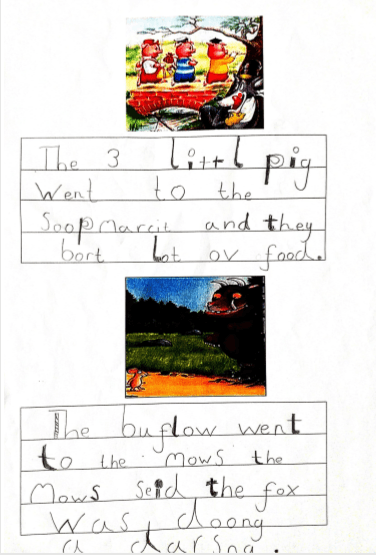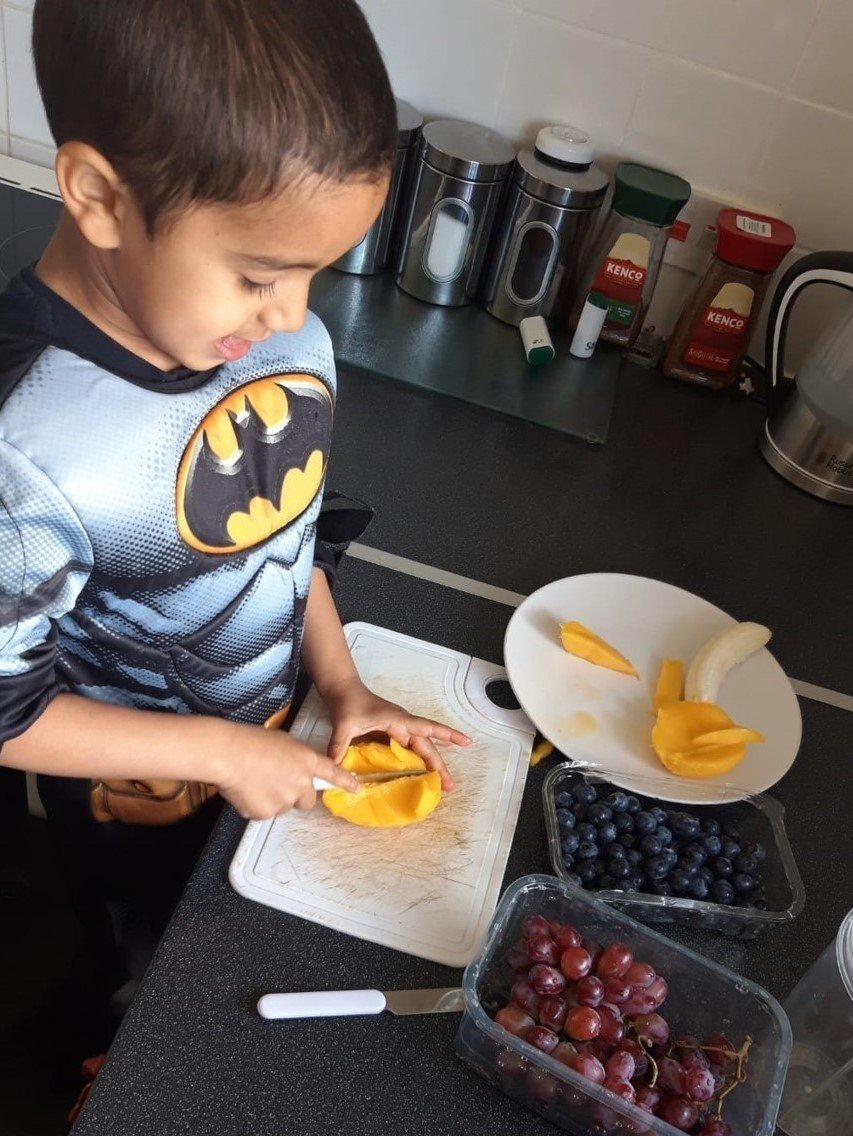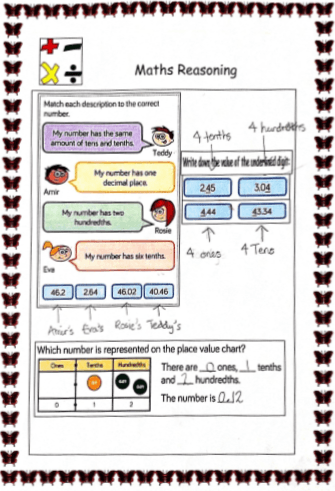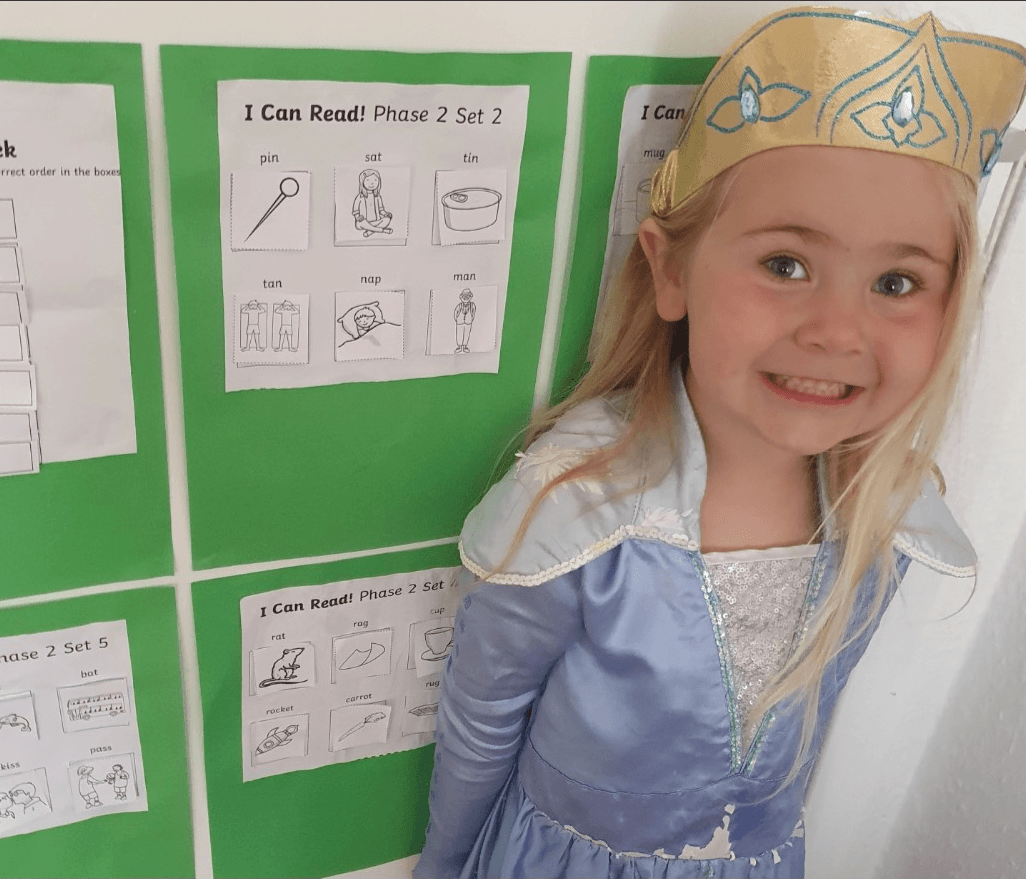 Chidera does some writing based on some well-known stories, Jeremiah helps prepare some fruit for a healthy smoothie, Amarachi applies her maths knowledge to some reasoning questions and Darcy consolidates her learning on her very own working wall!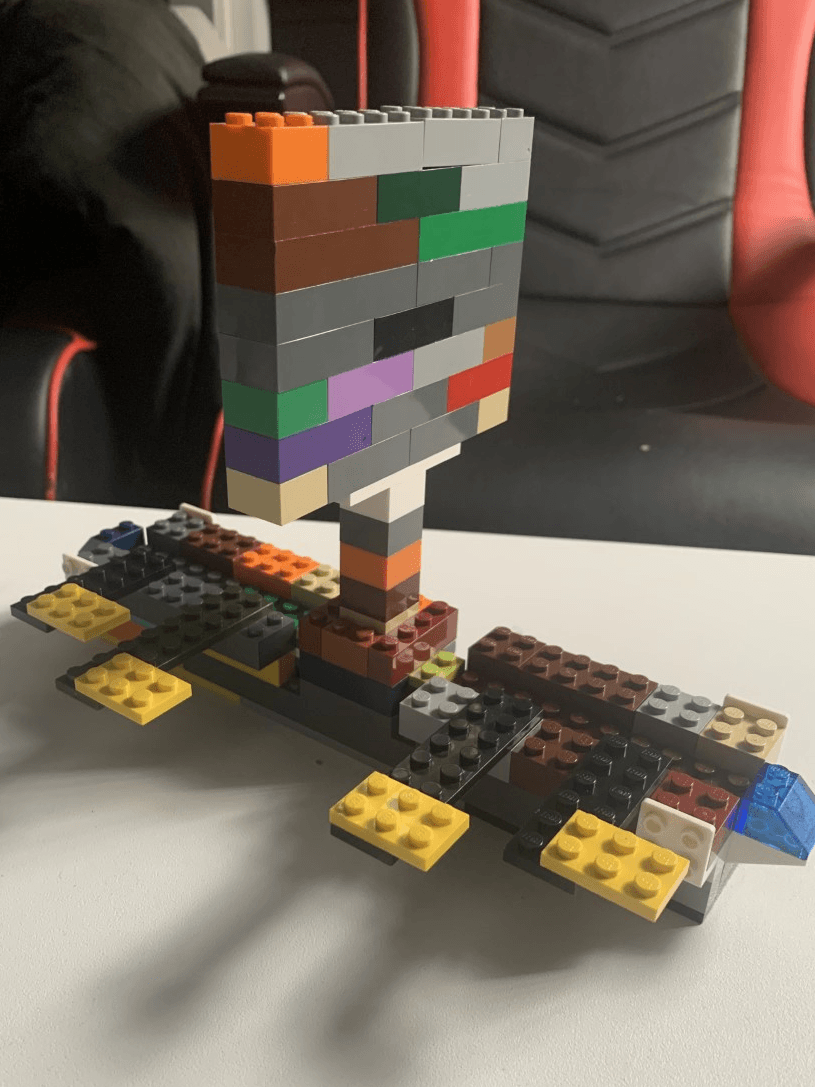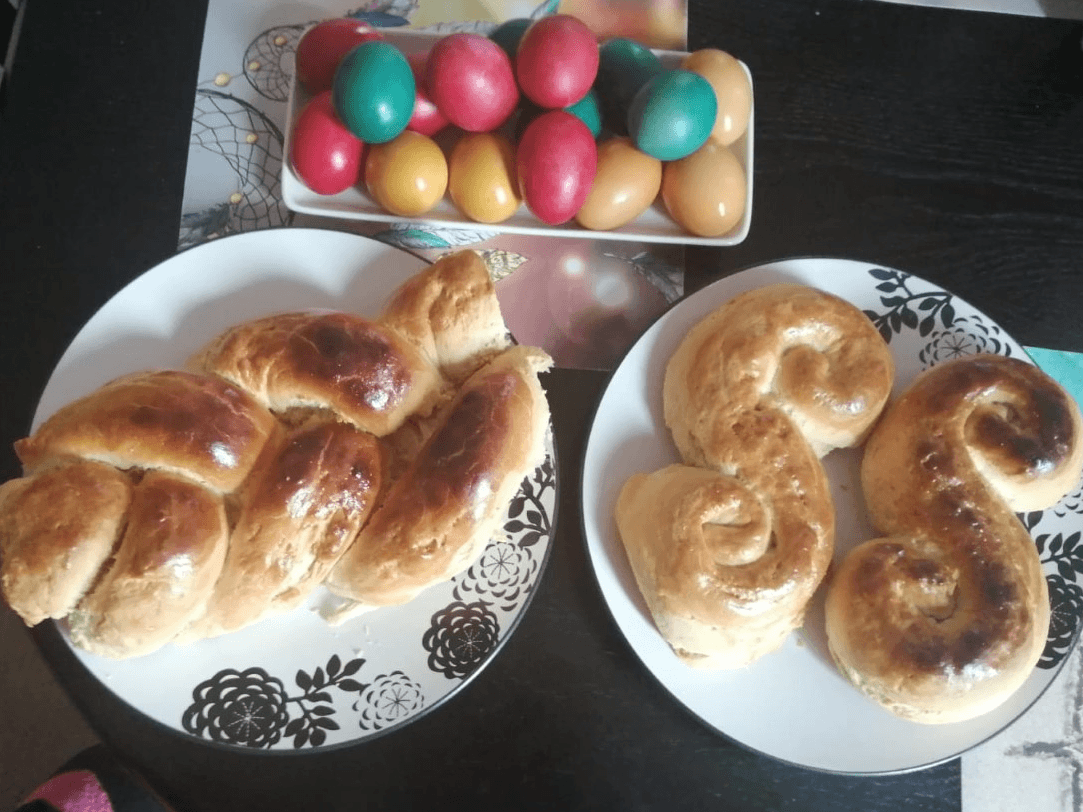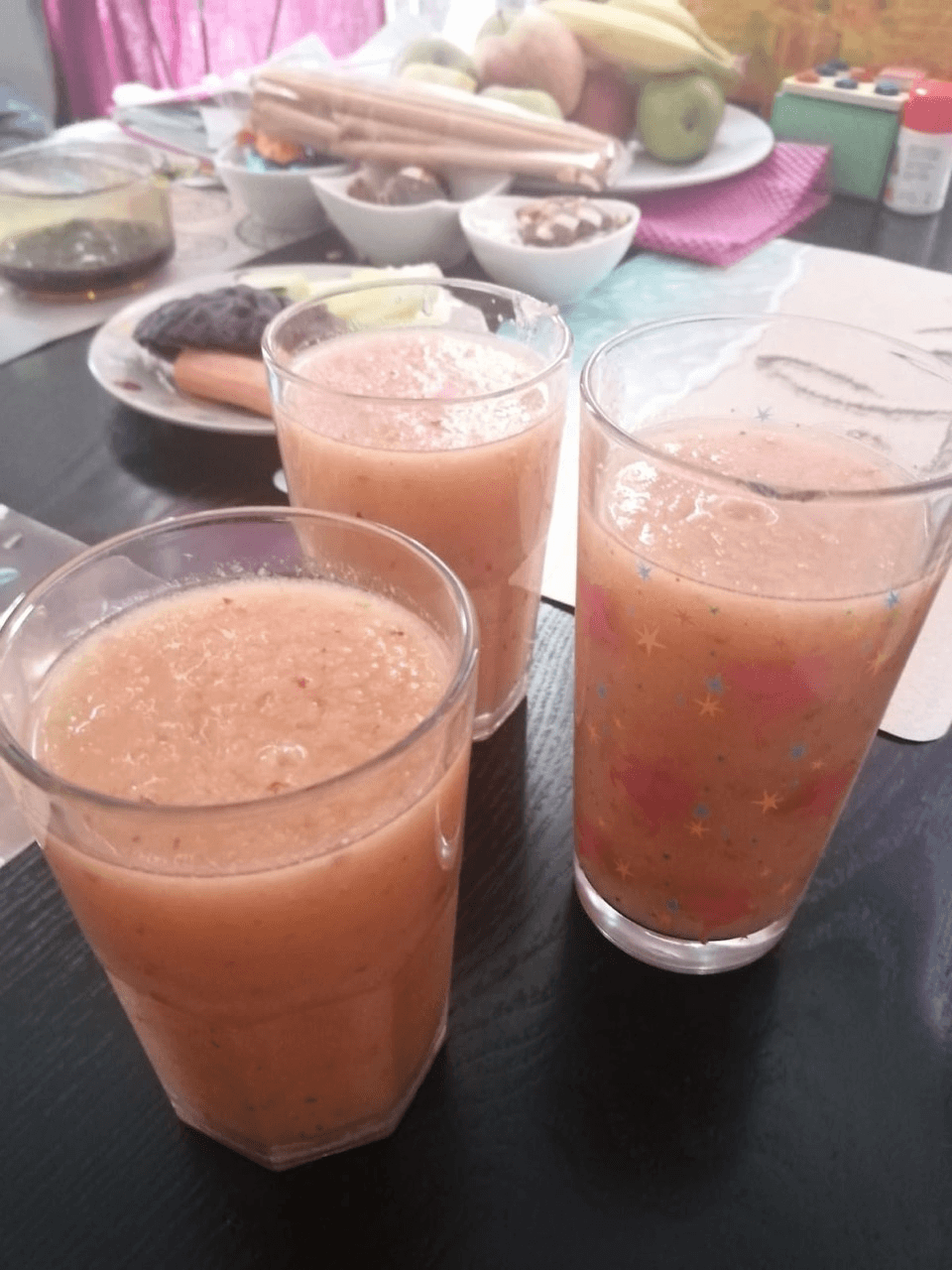 Preston makes a Viking long-ship using Lego and Emmanouil gets busy in the kitchen with some home-made bread and some healthy fruit smoothies. Yum Yum!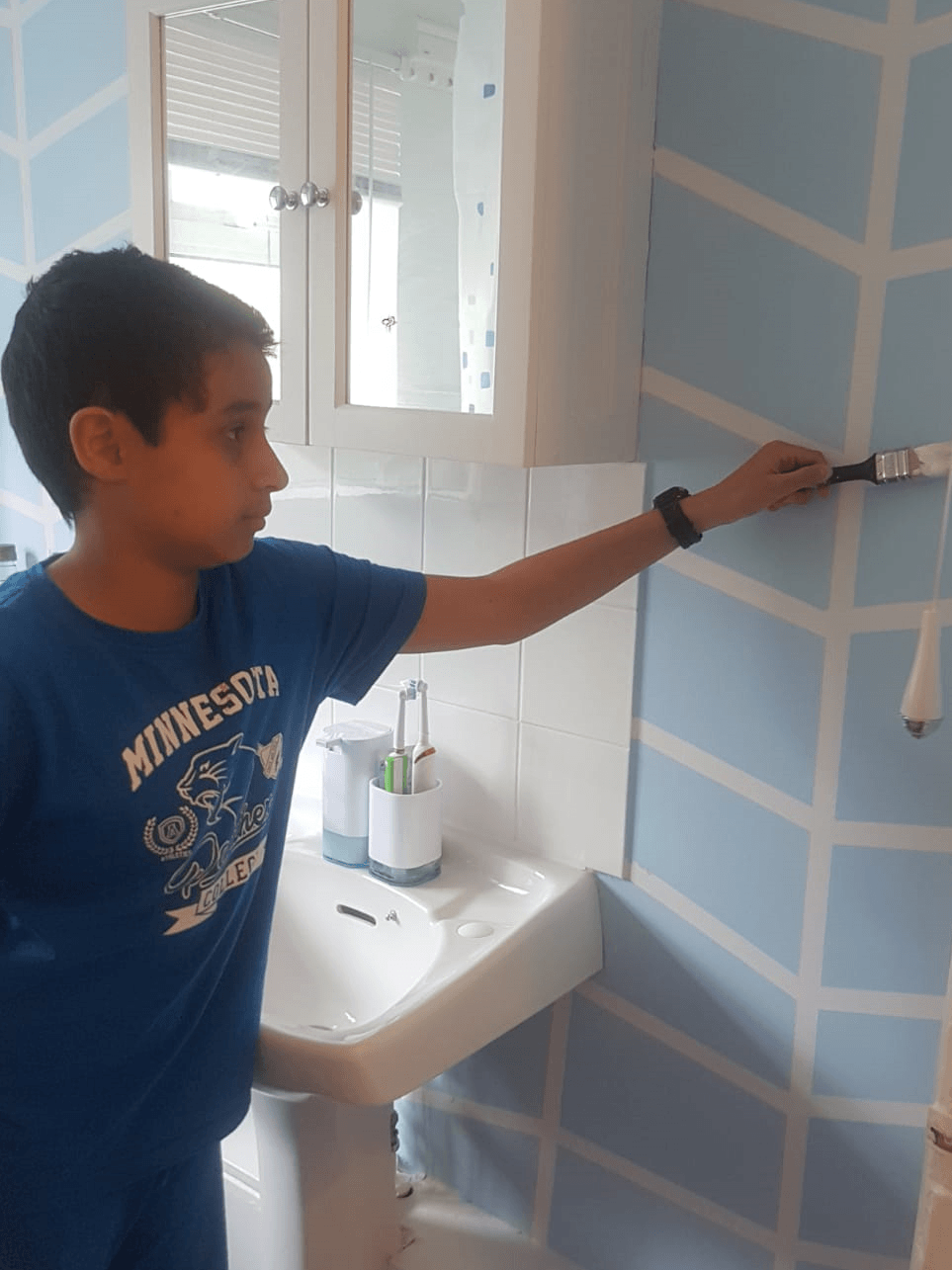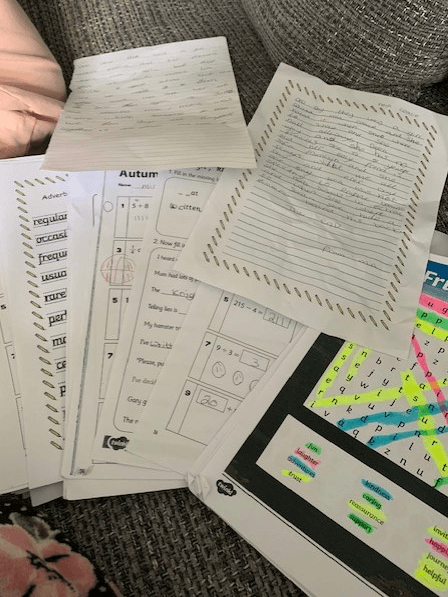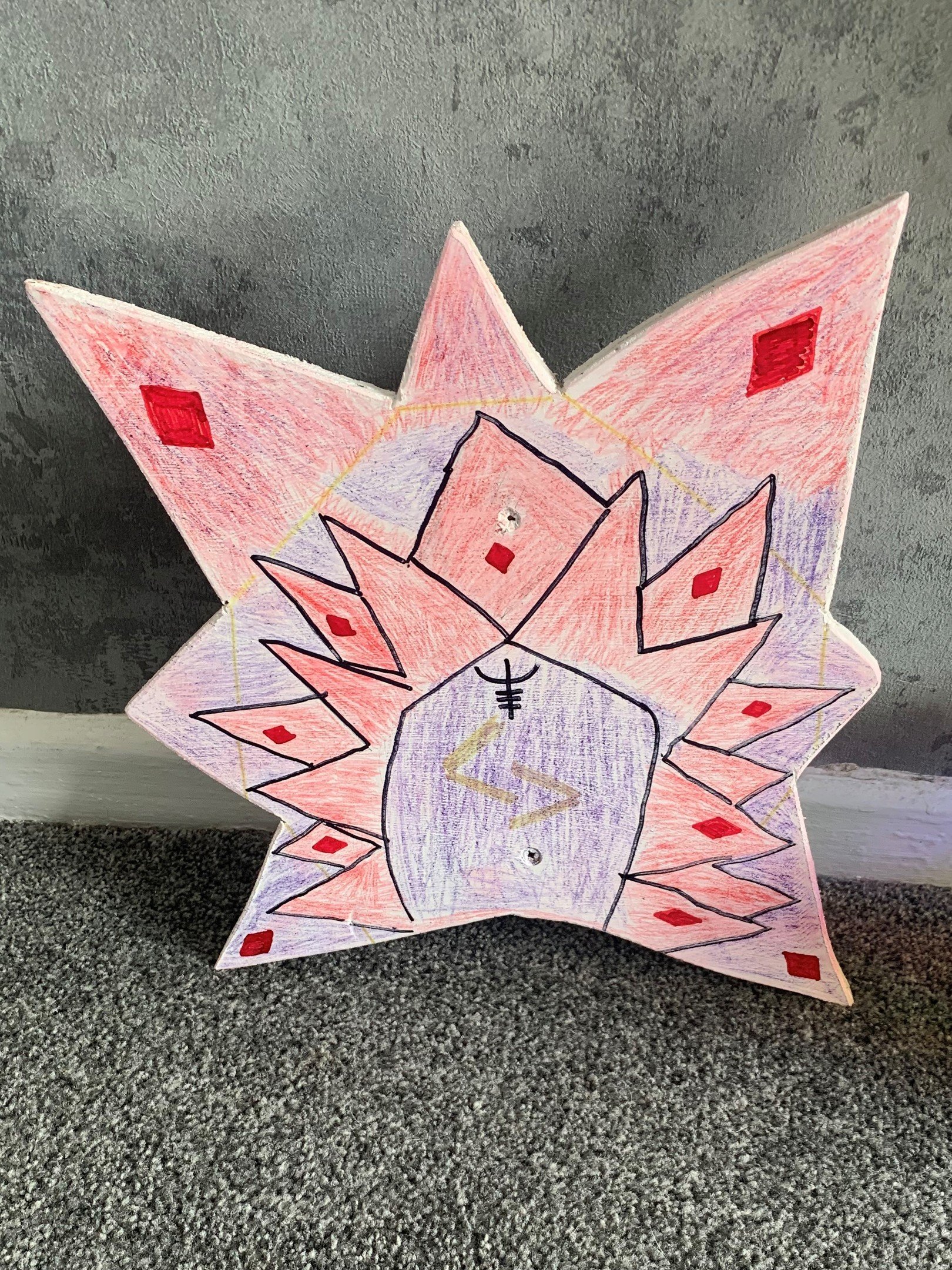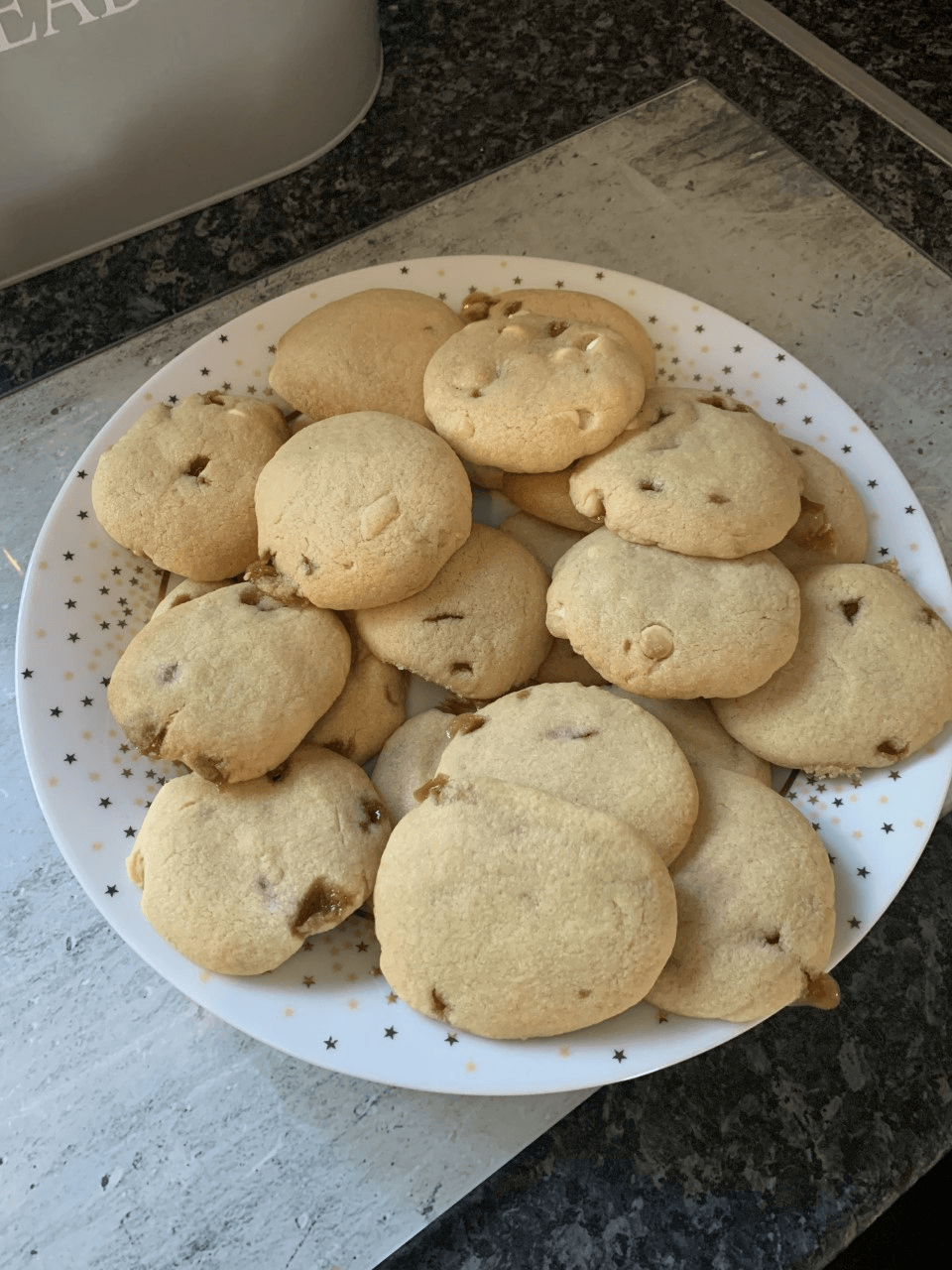 Timon helps re-decorate his bathroom, Mia Cooke shows us how much work she has completed at home this week, Jamie makes a Viking shield and Preston bakes cookies!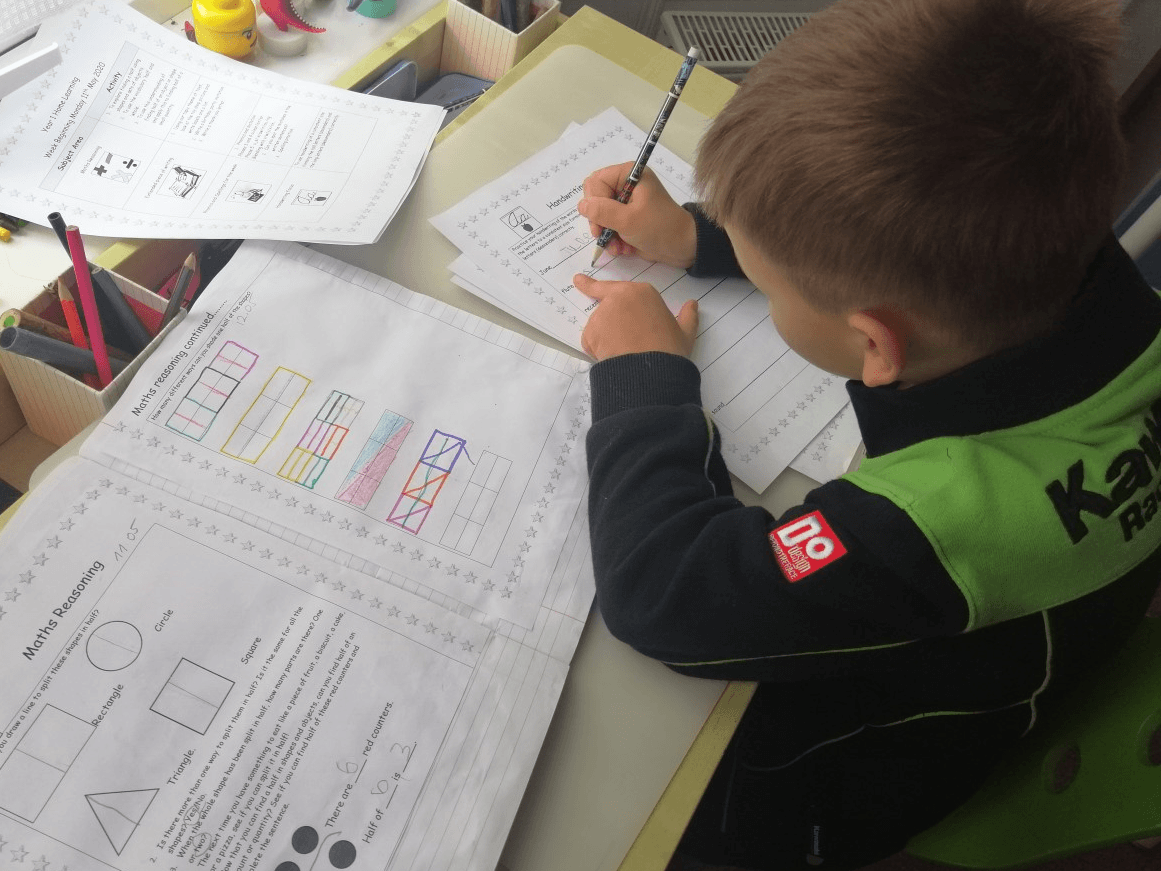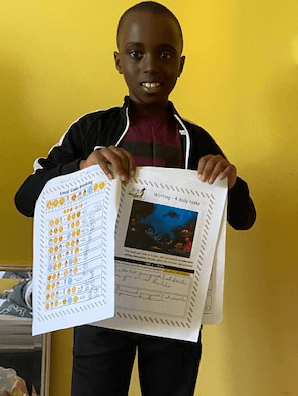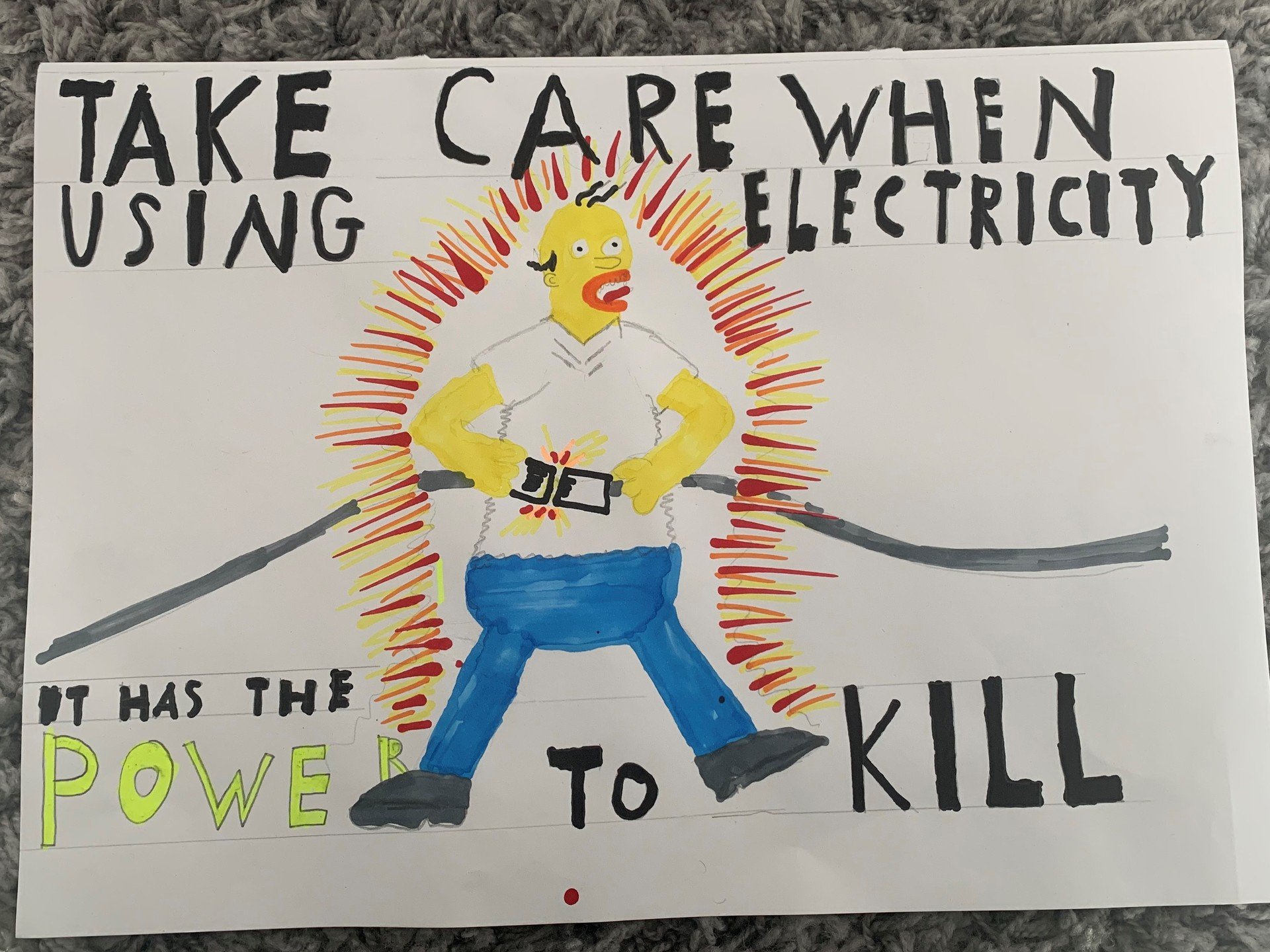 Wiktor gets stuck into his maths work, Rashid shows some of this week's home learning and Preston designs an electricity safety poster.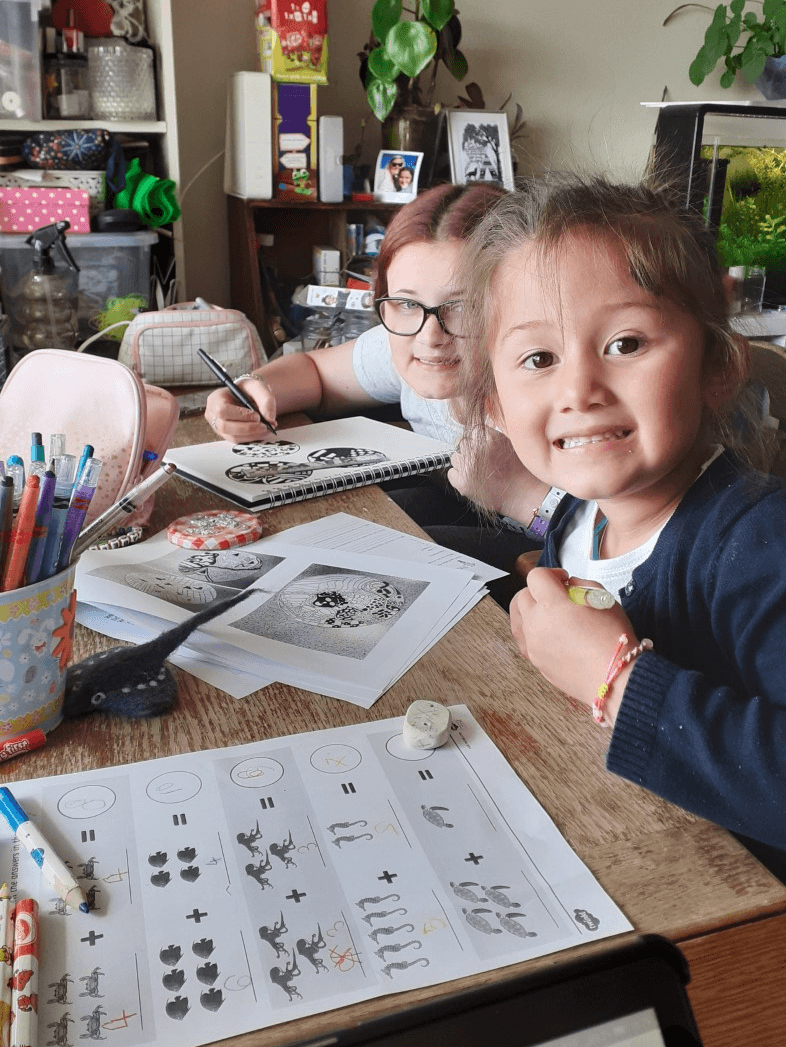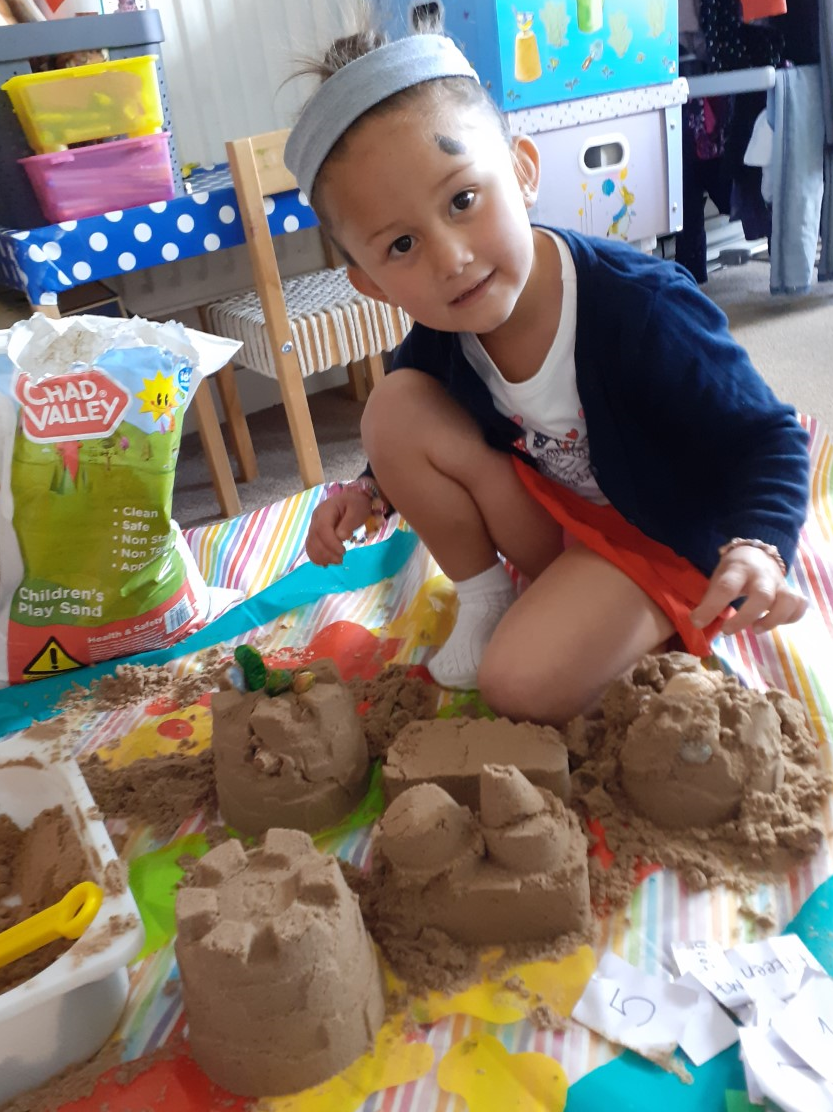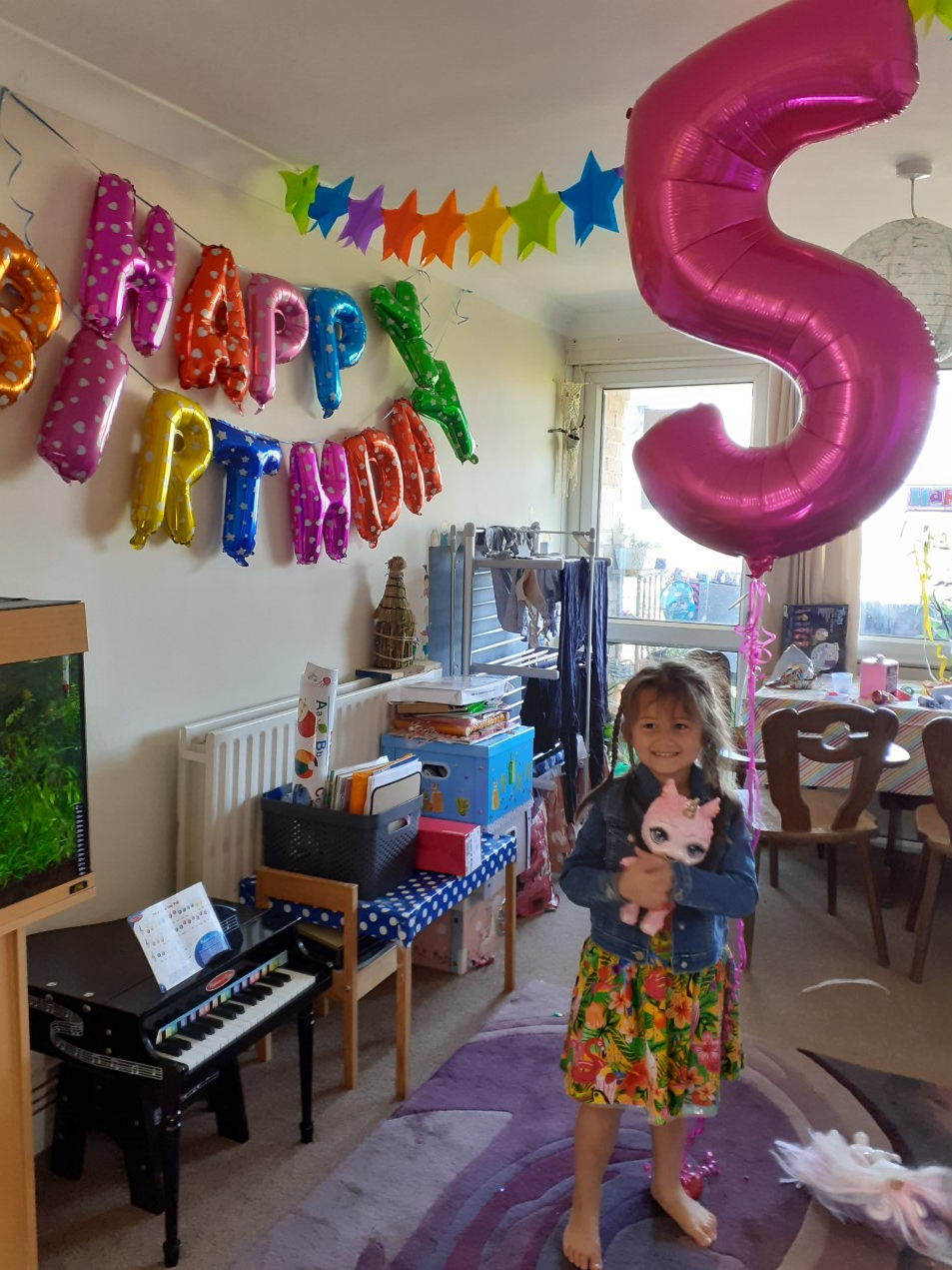 Isabella starts on her maths home learning and then she brings the outside in and builds sandcastles! Isabella still manages to have a wonderful 5th birthday celebration.
Our Super Scientists!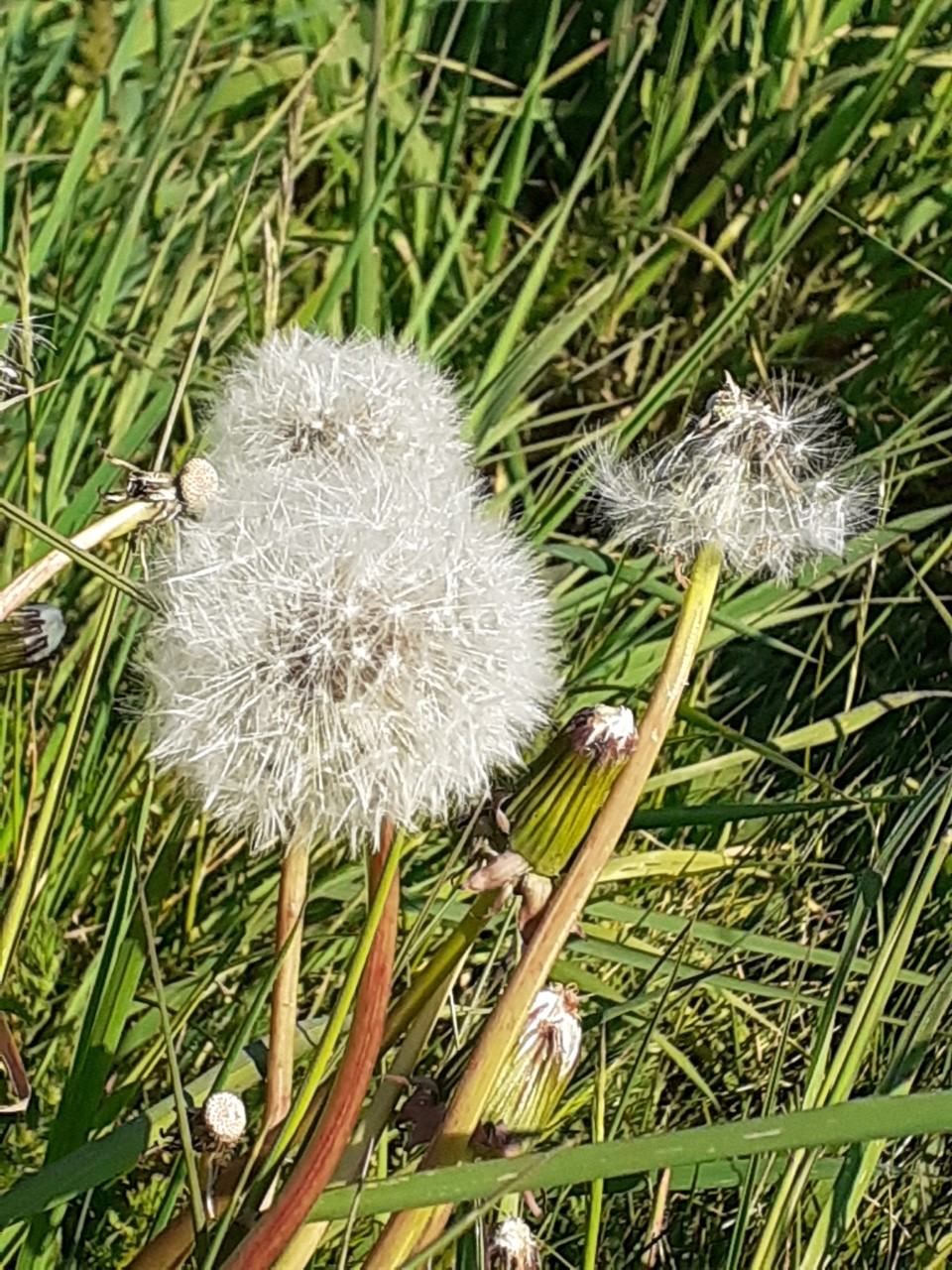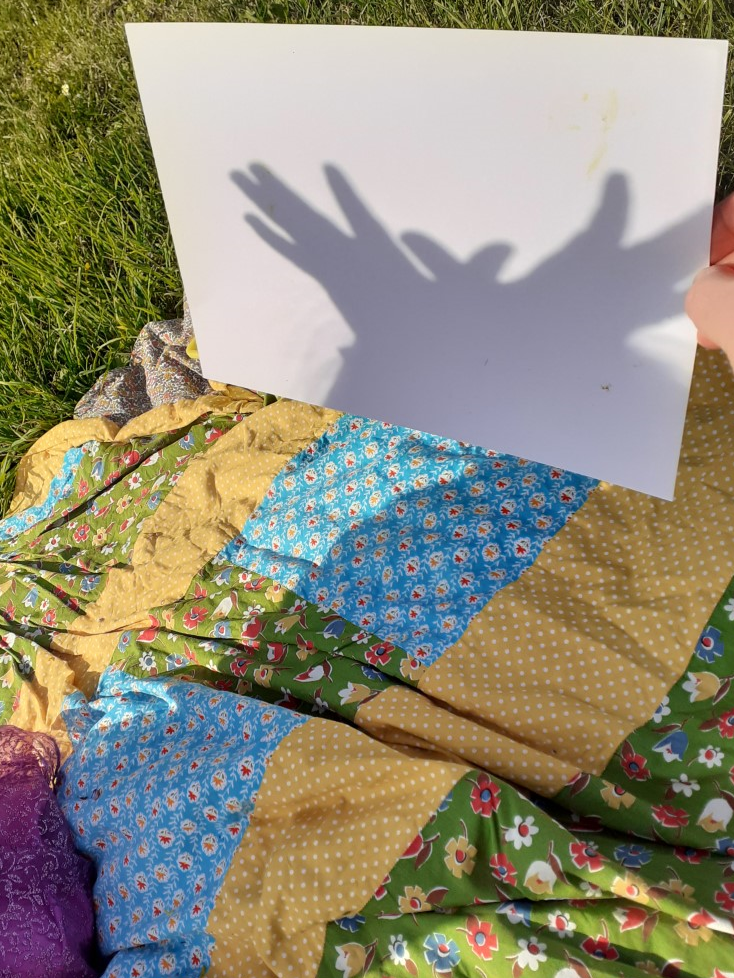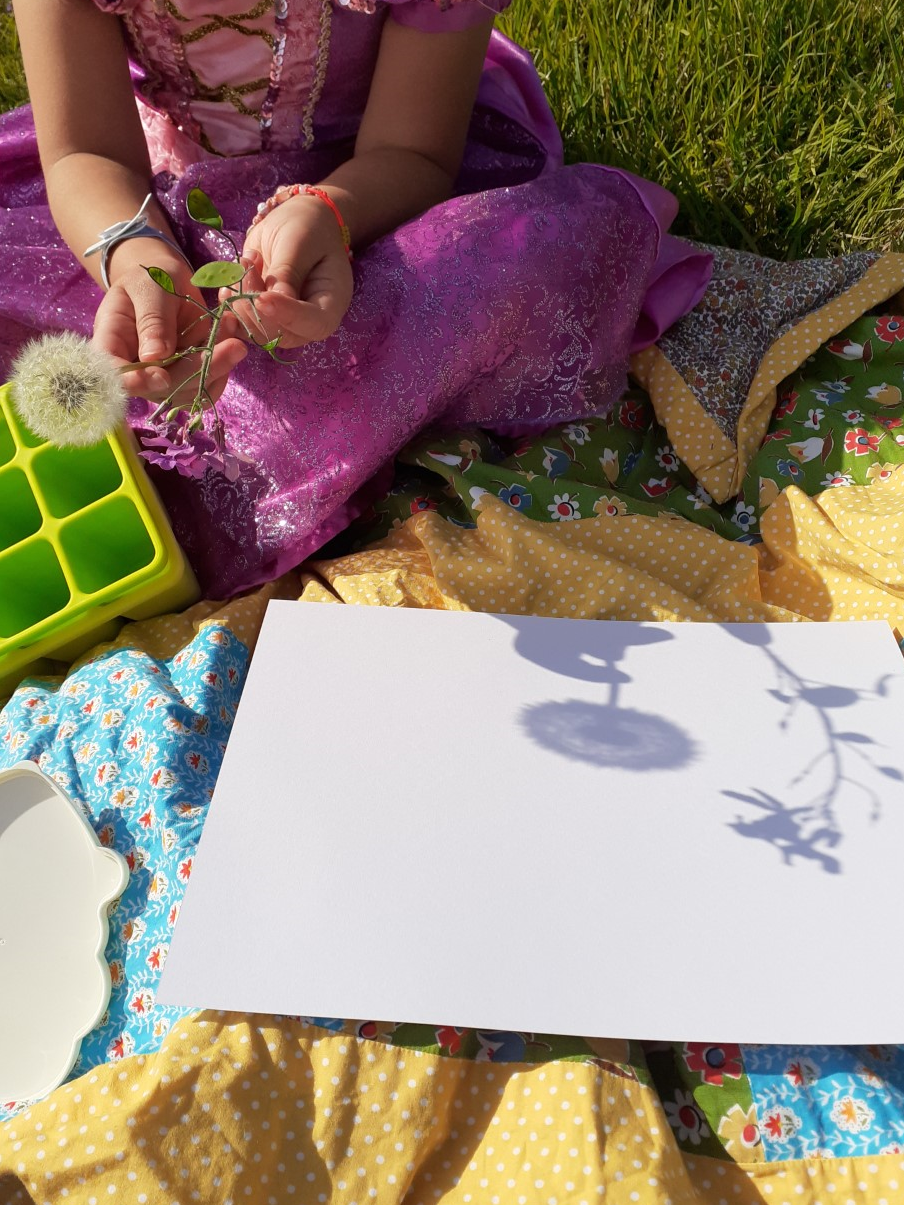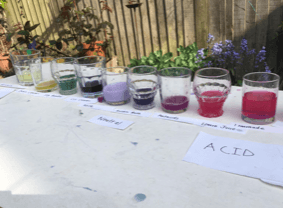 Isabella uses her mum's camera to take photographs of plants on her walk, she then explores different shadows and Billie and Lola conduct their own science experiment and find out about acids and alkalis using a range of liquids.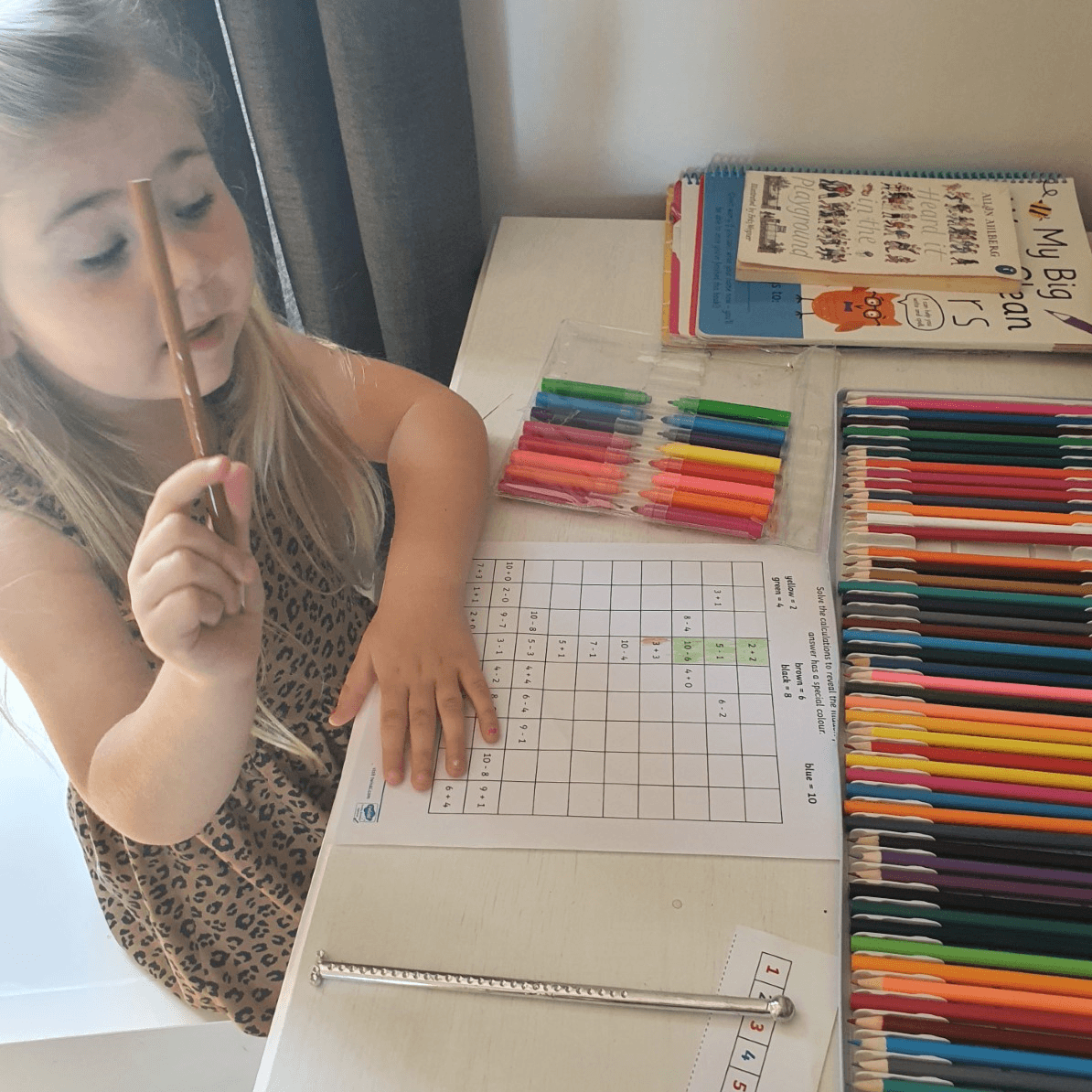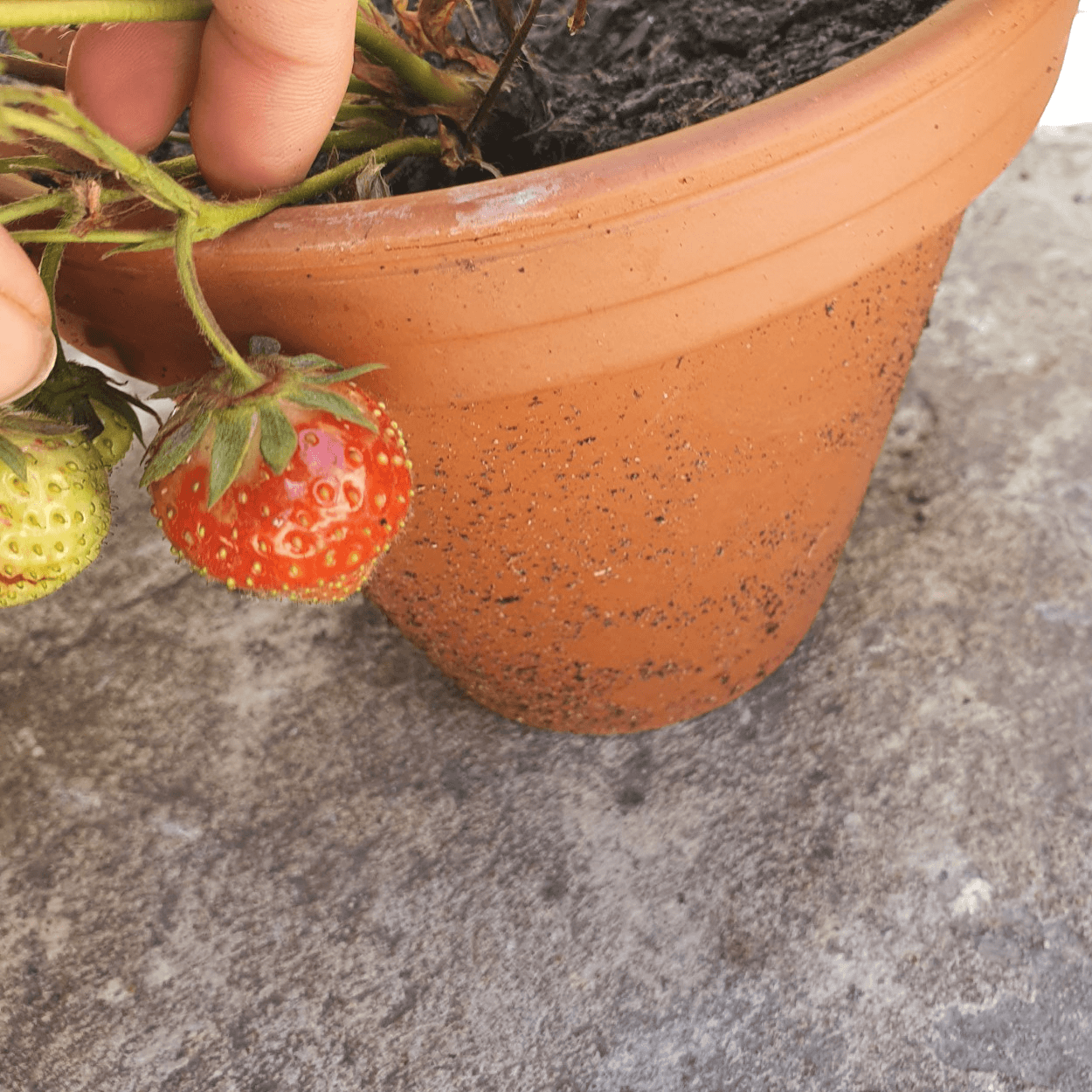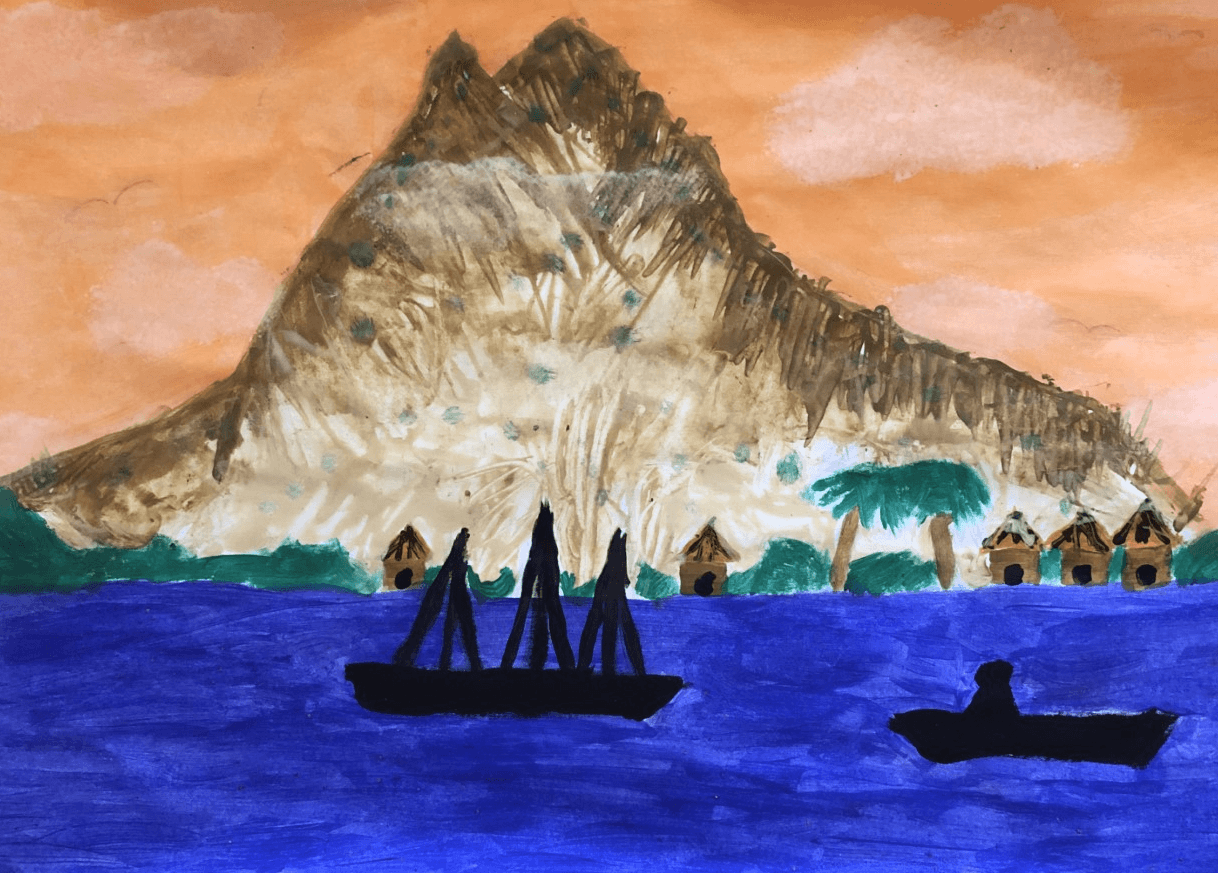 Darcy makes a start on this week's home learning. She is very excited that her first strawberry is almost ripe! Eloany has had plenty of time to do some more paintings - another masterpiece!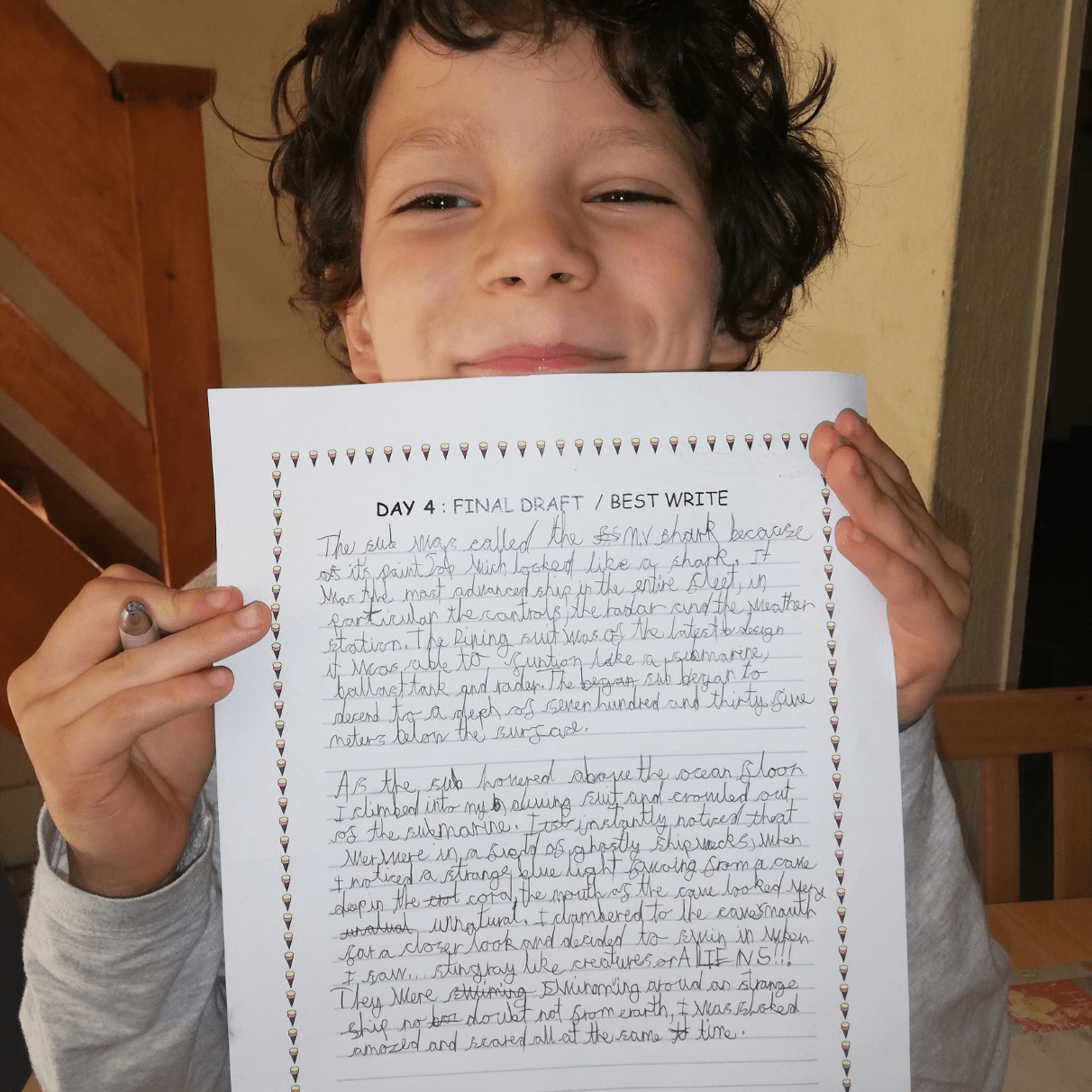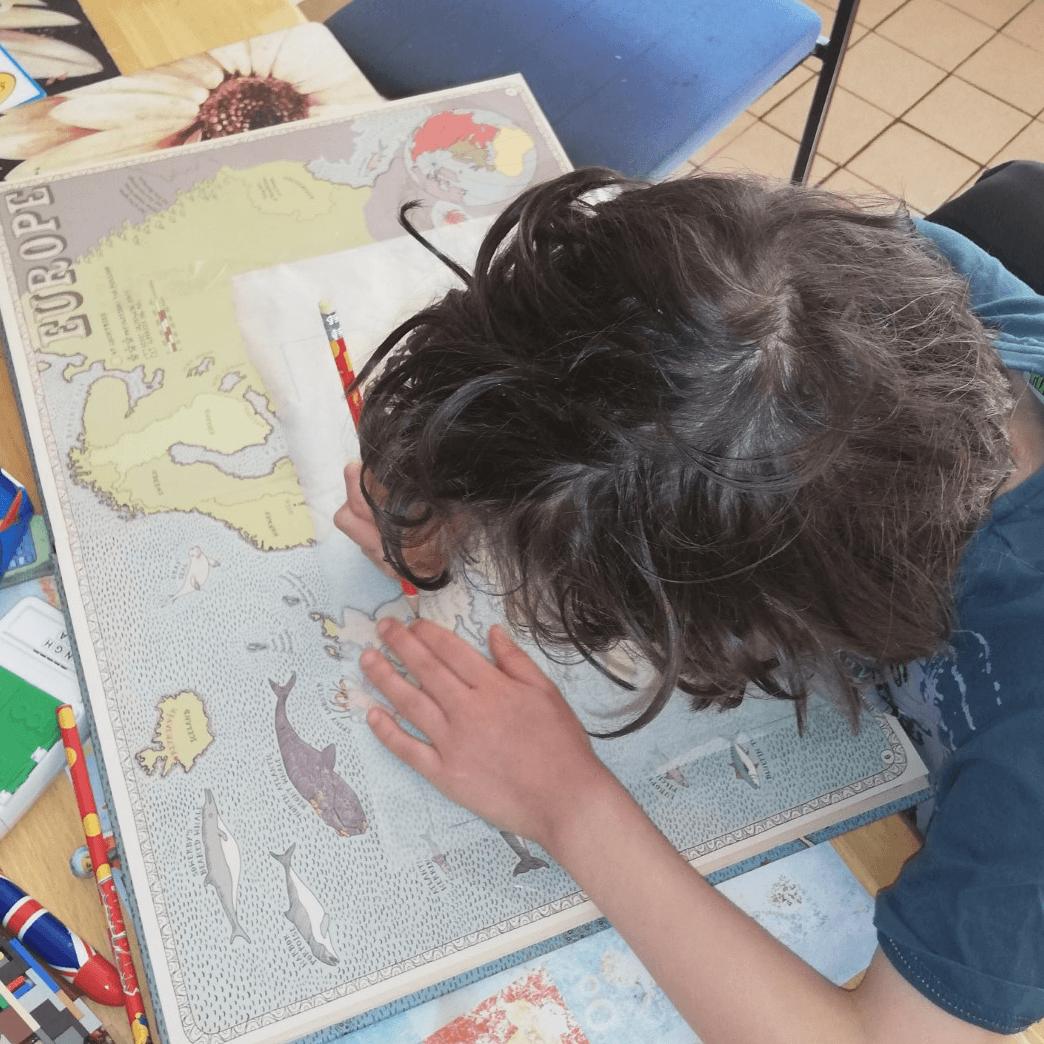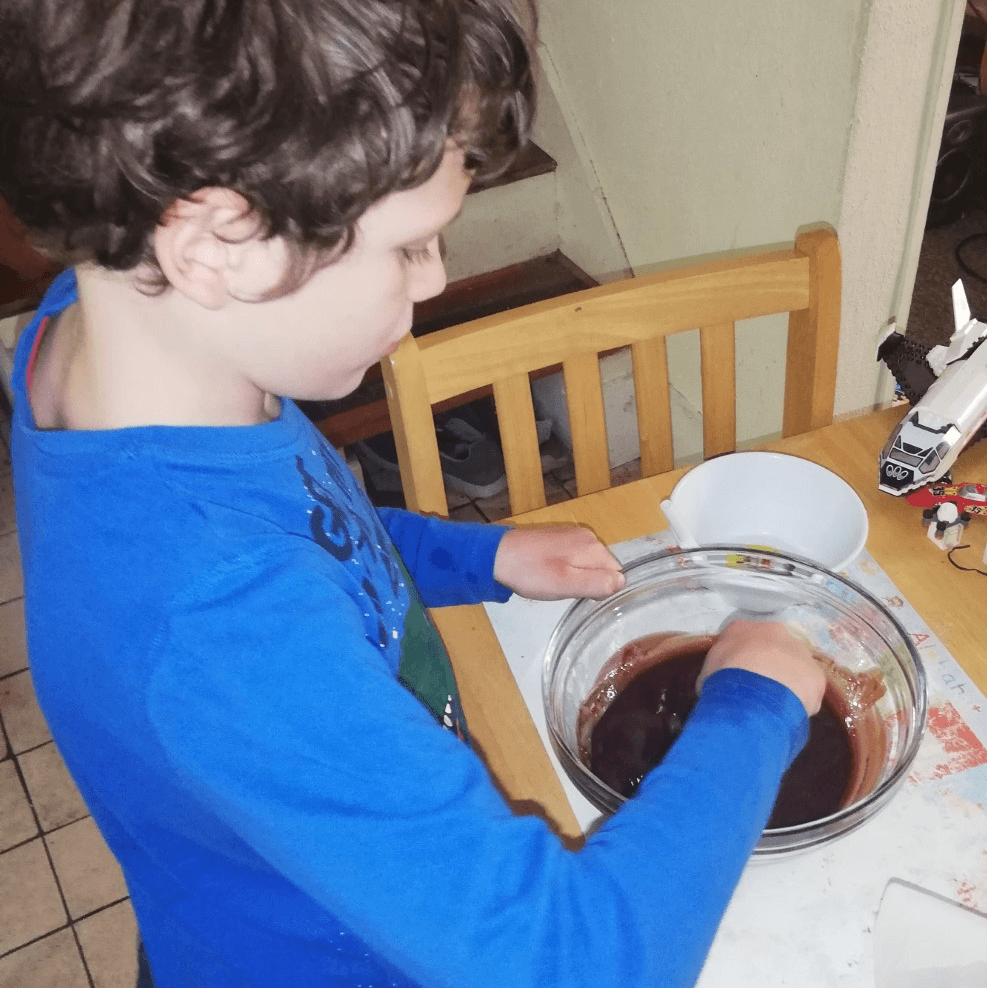 Lukas is very proud of his writing project, he uses an atlas to brush up on his locational knowledge before drawing a map and he helps to make a birthday cake.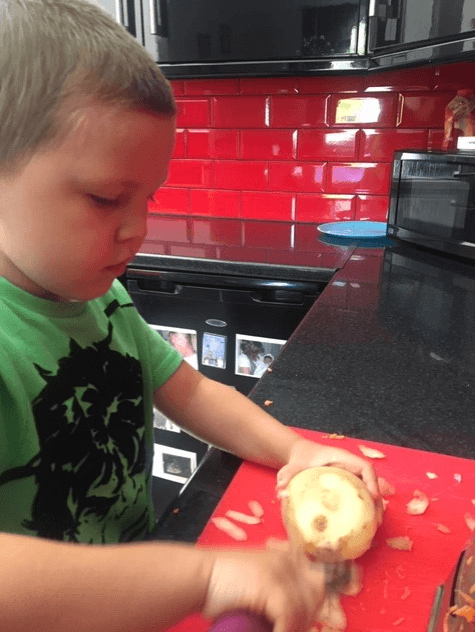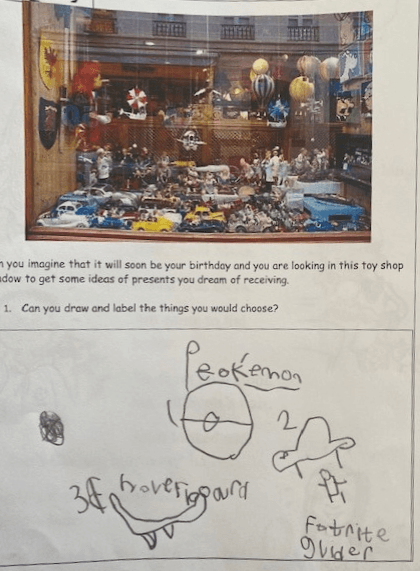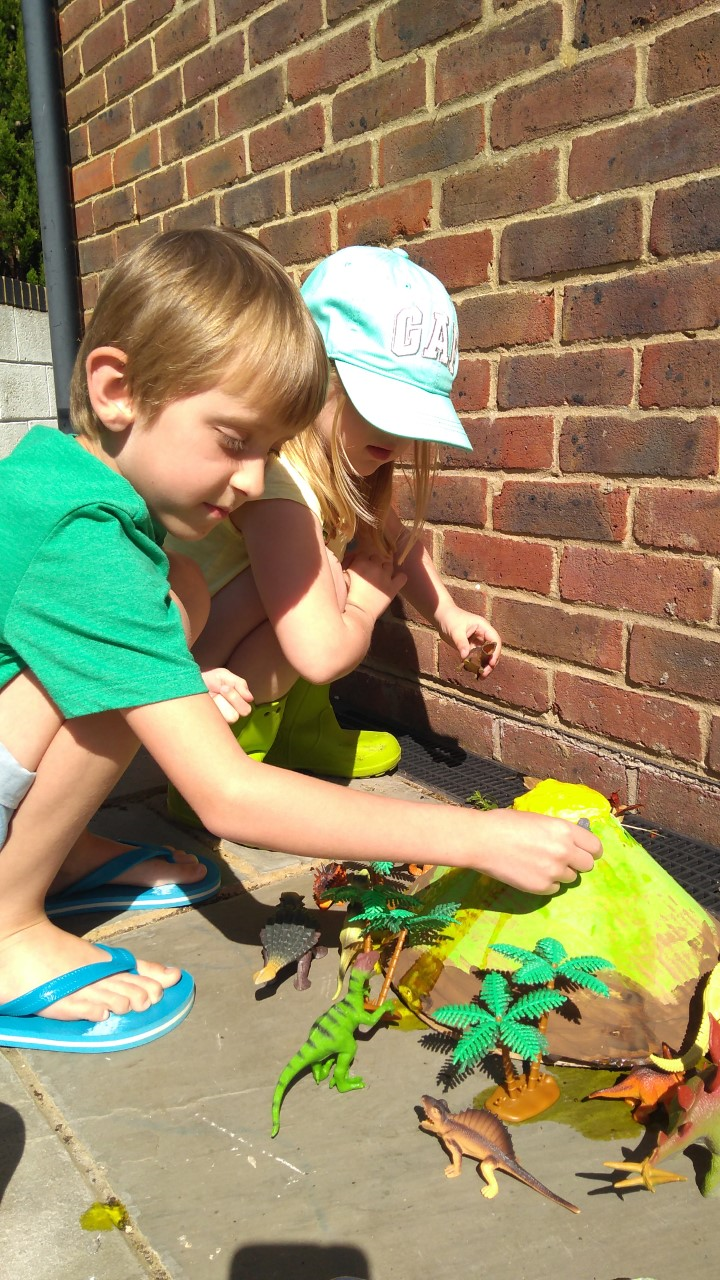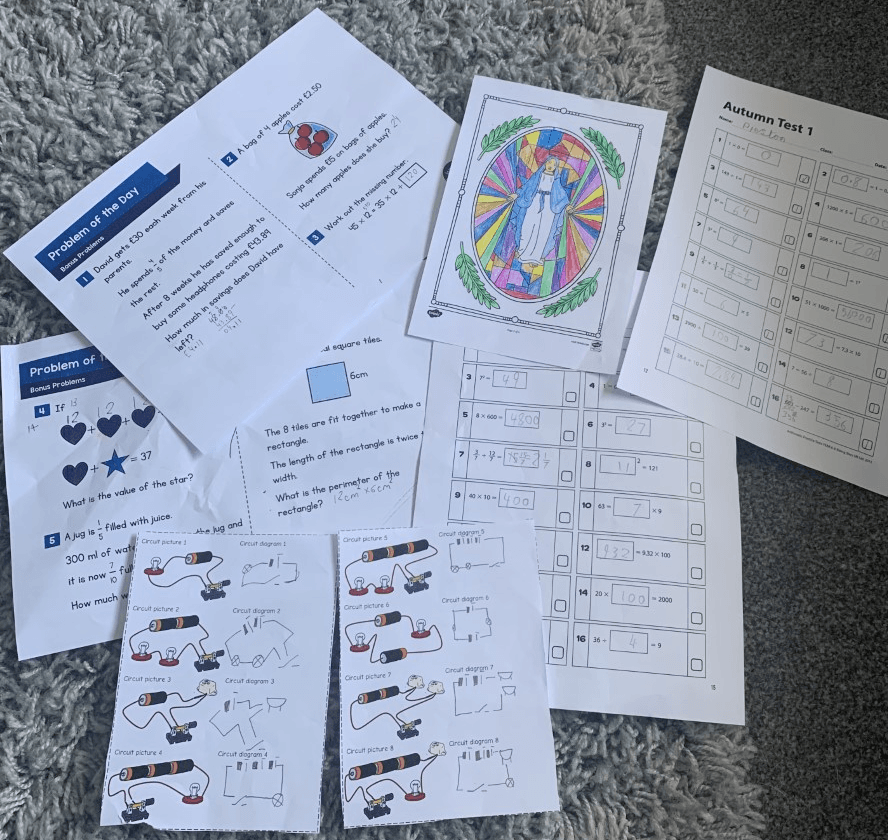 Harry helps in the kitchen and learns how to peel potatoes, Theo draws and labels the toys in the picture that he would like and Audrey and Julian make their own erupting volcano! This is Preston's home learning and it's only Wednesday!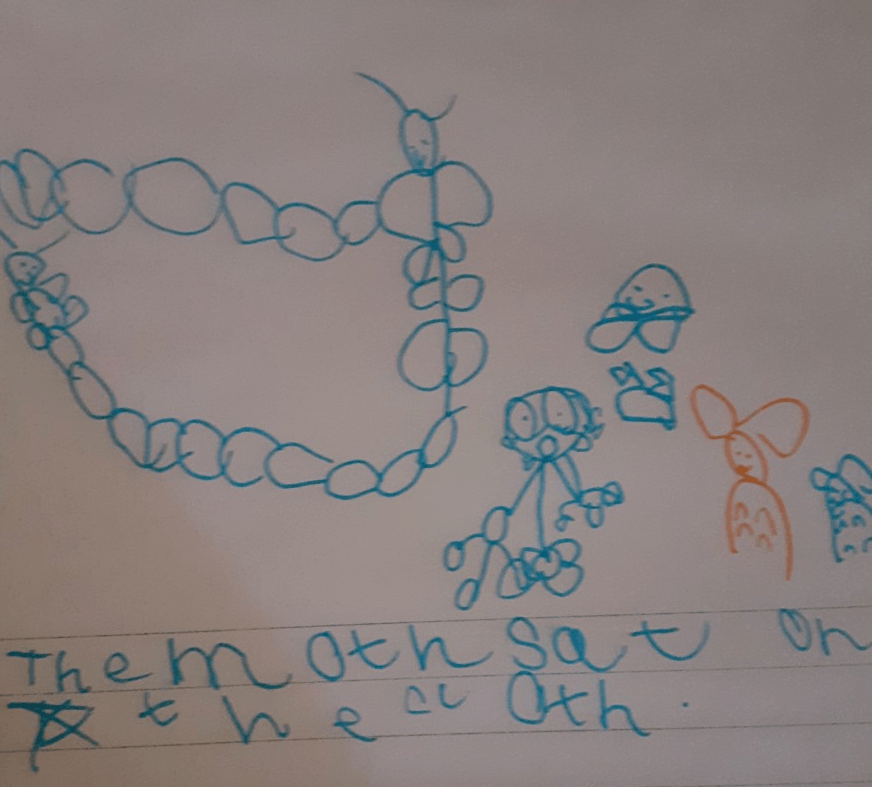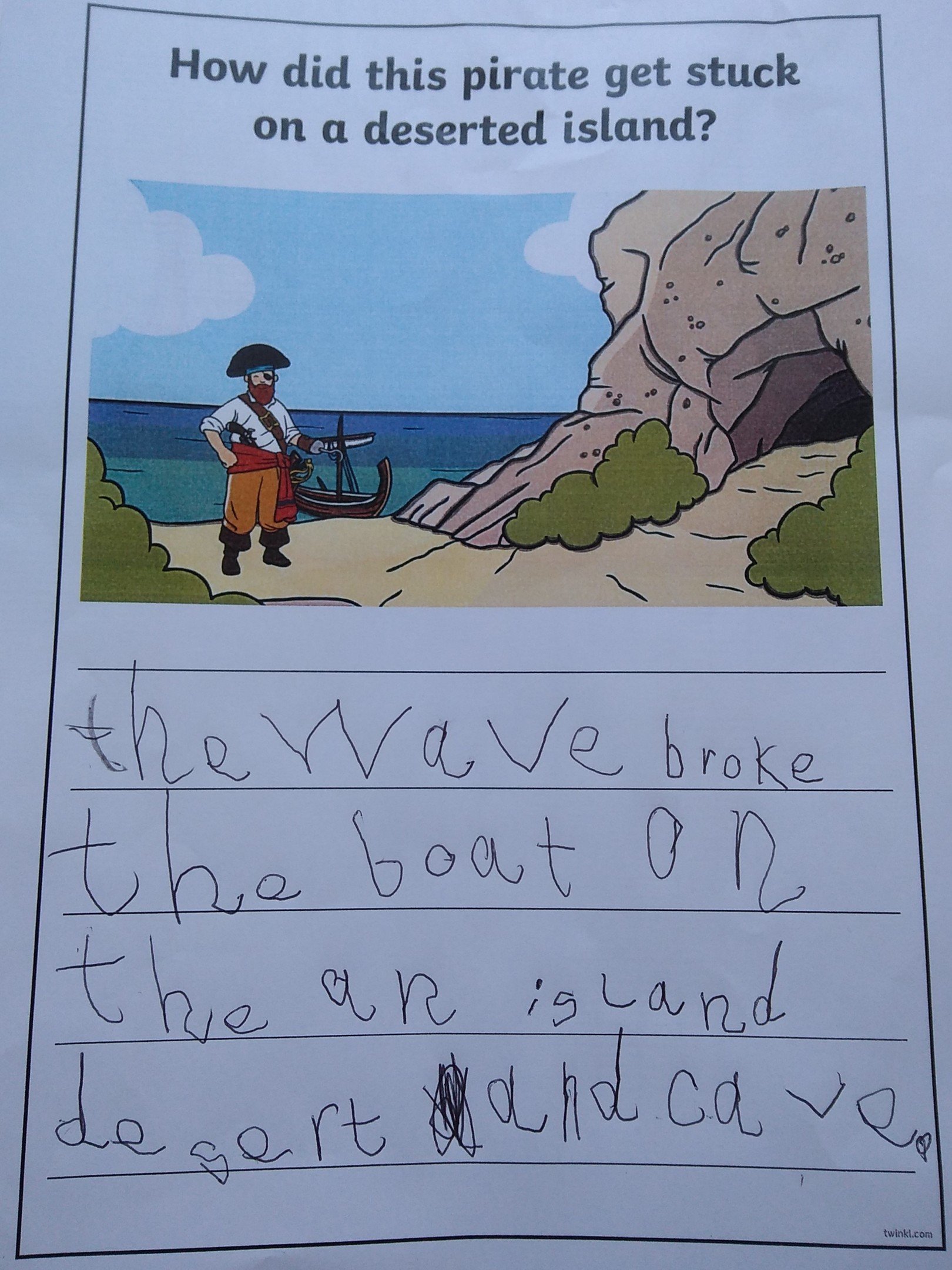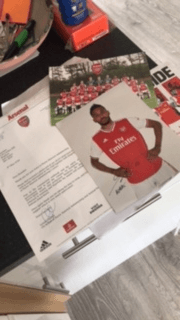 Isabella uses a fridge magnet to test household items and sort them into magnetic and not magnetic. After watching the live phonics lesson, Isabella writes her own sentences. Audrey uses a word bank to help her write. Brandon wrote a letter to his favourite football player - Aubangeyang at Arsenal. He was delighted to receive a reply in the post and a signed photograph!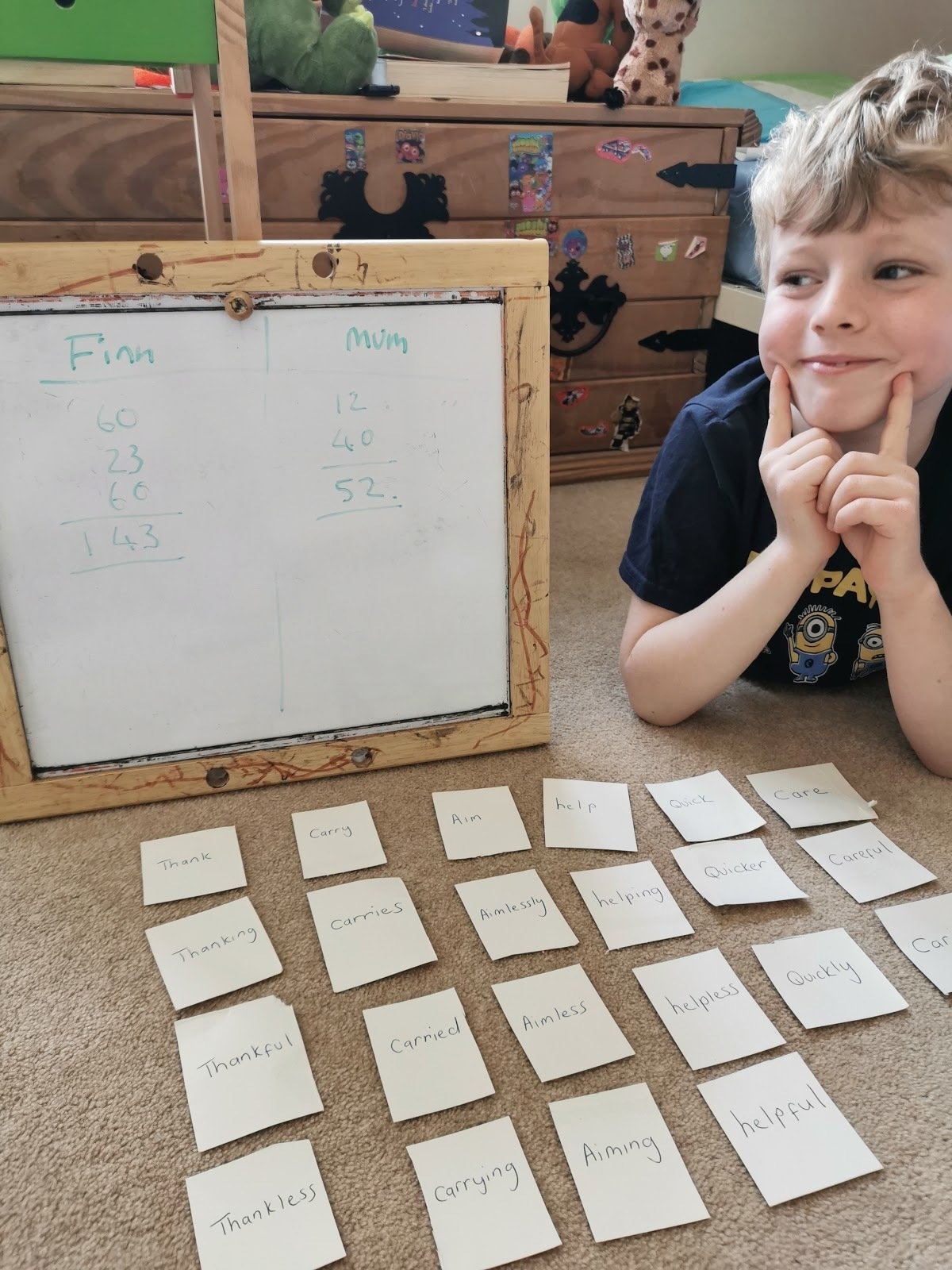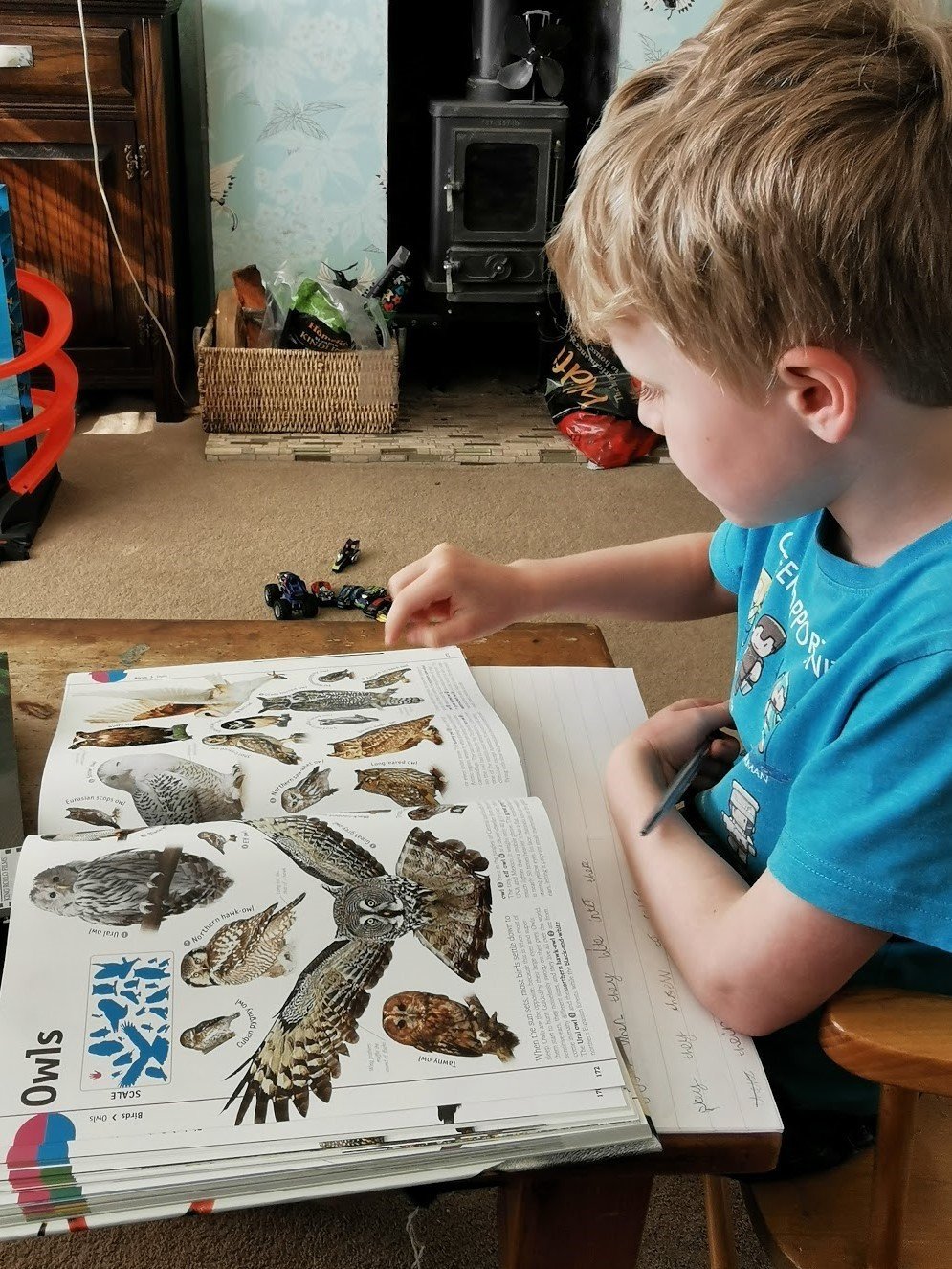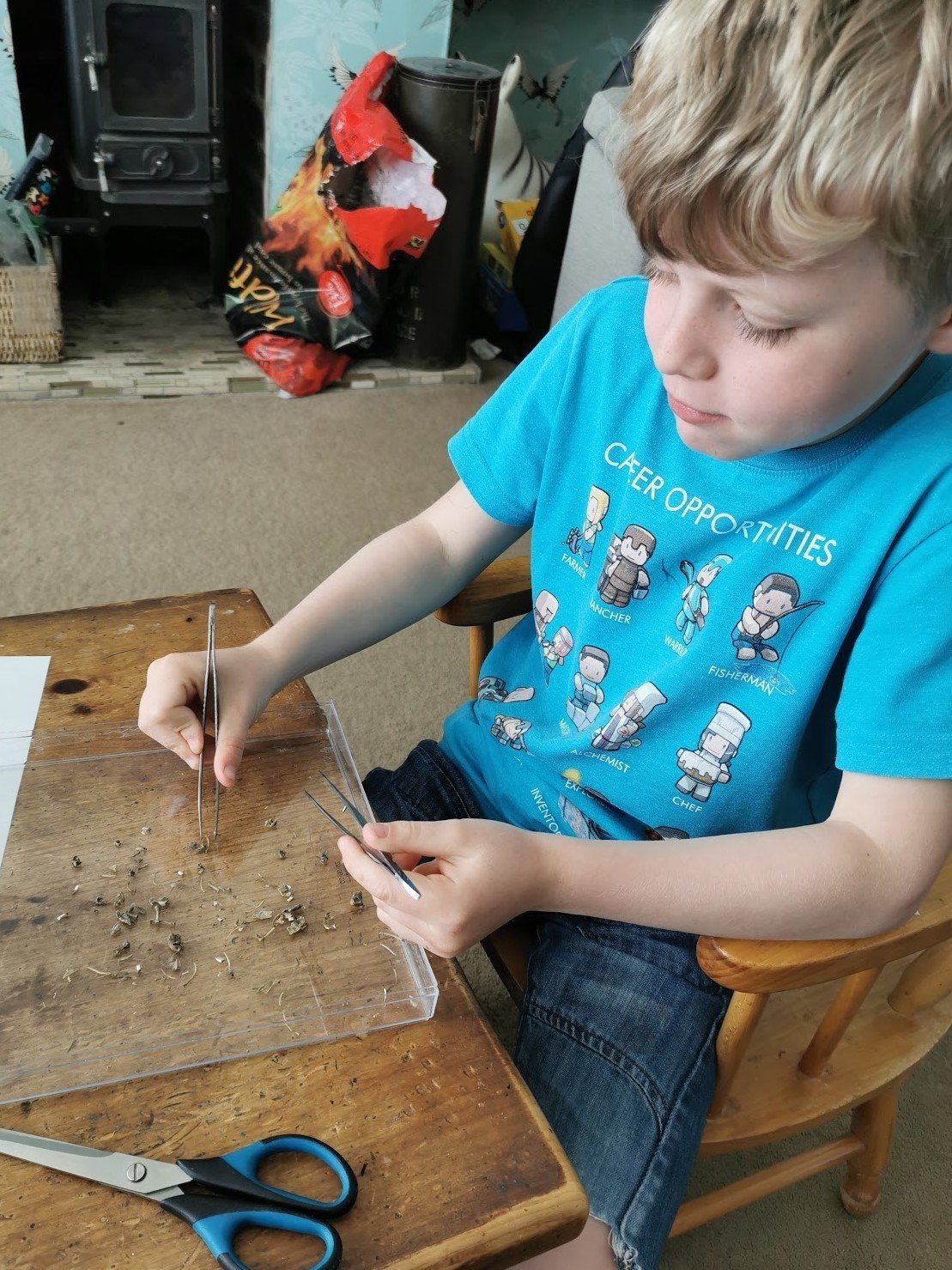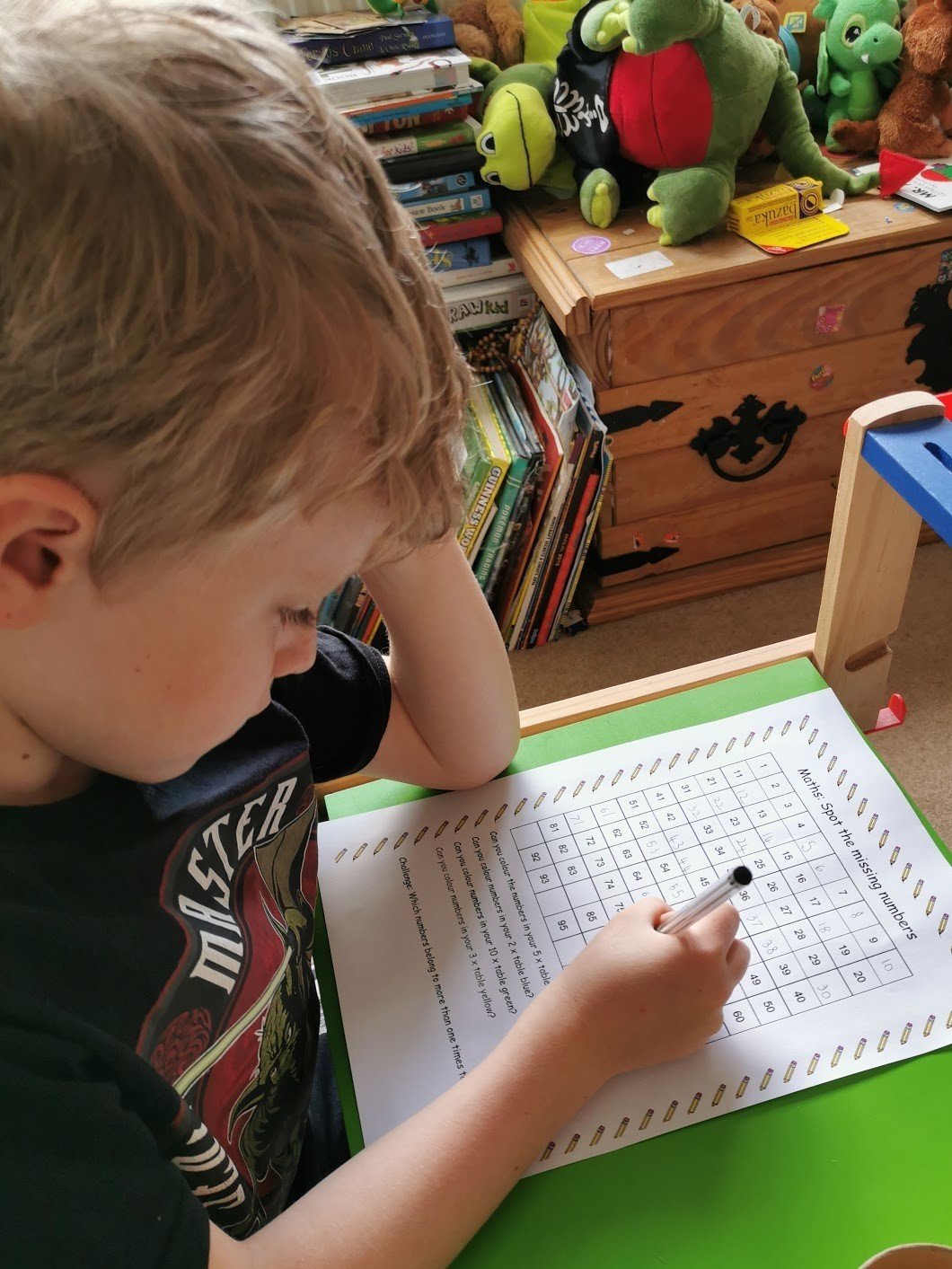 Finn plays a game with his mum based on word families (and he beats her!) Finn does some research and finds out facts about owls. He then uses tweezers to dissect an owl pellet to find out what the owl had been eating! Finn settles down to complete his school work.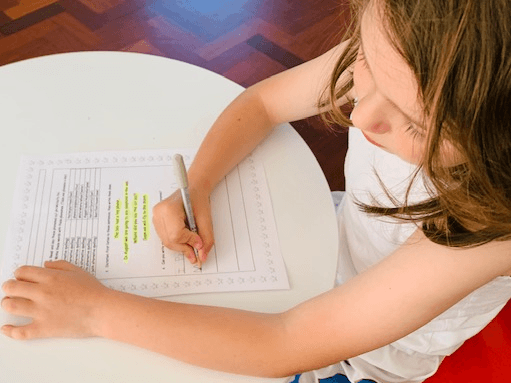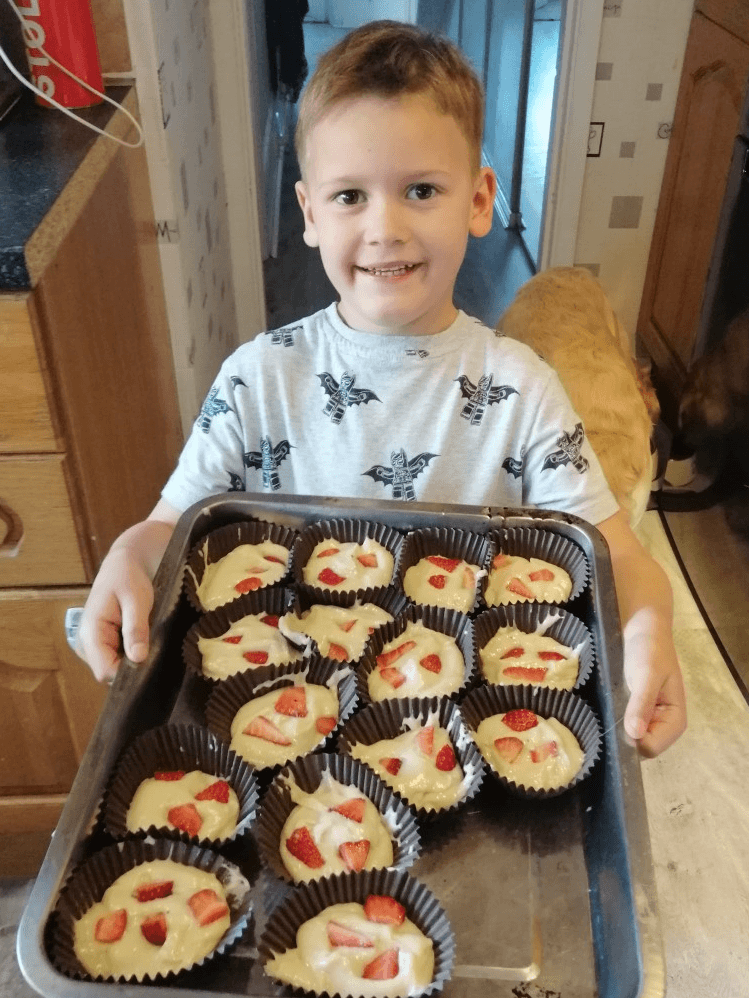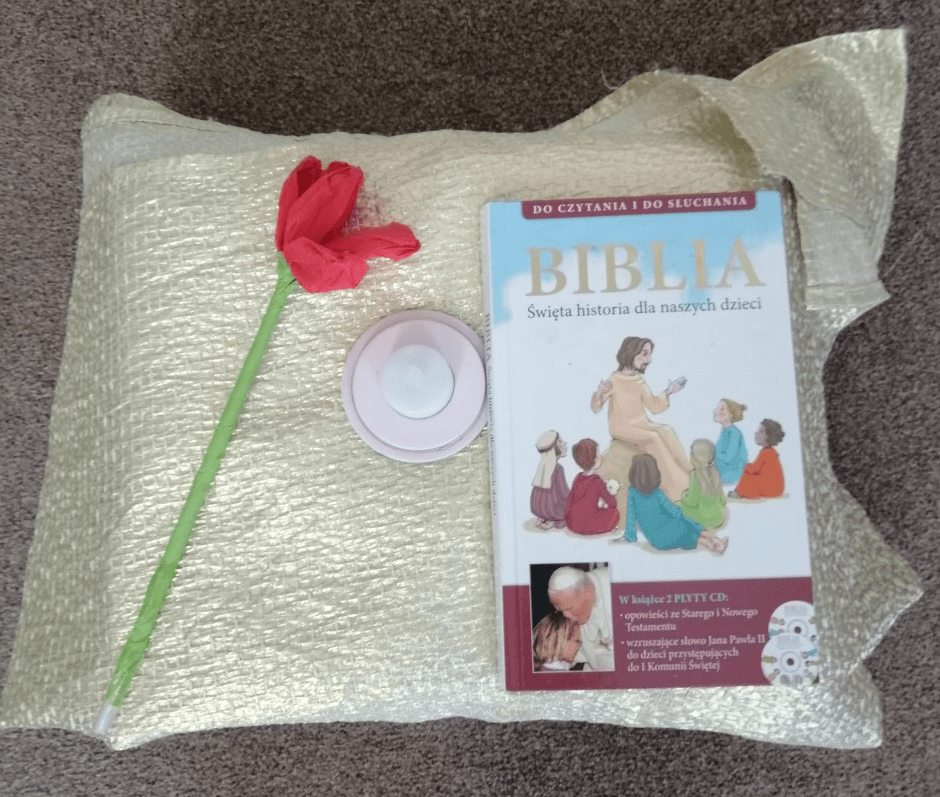 Rashid shows off this week's completed work pack, Luca writes his own sentences which include words with given phonemes and Wiktor helps do some baking. Wiktor has also set up his own prayer focus and uses it for meditation like we do at school.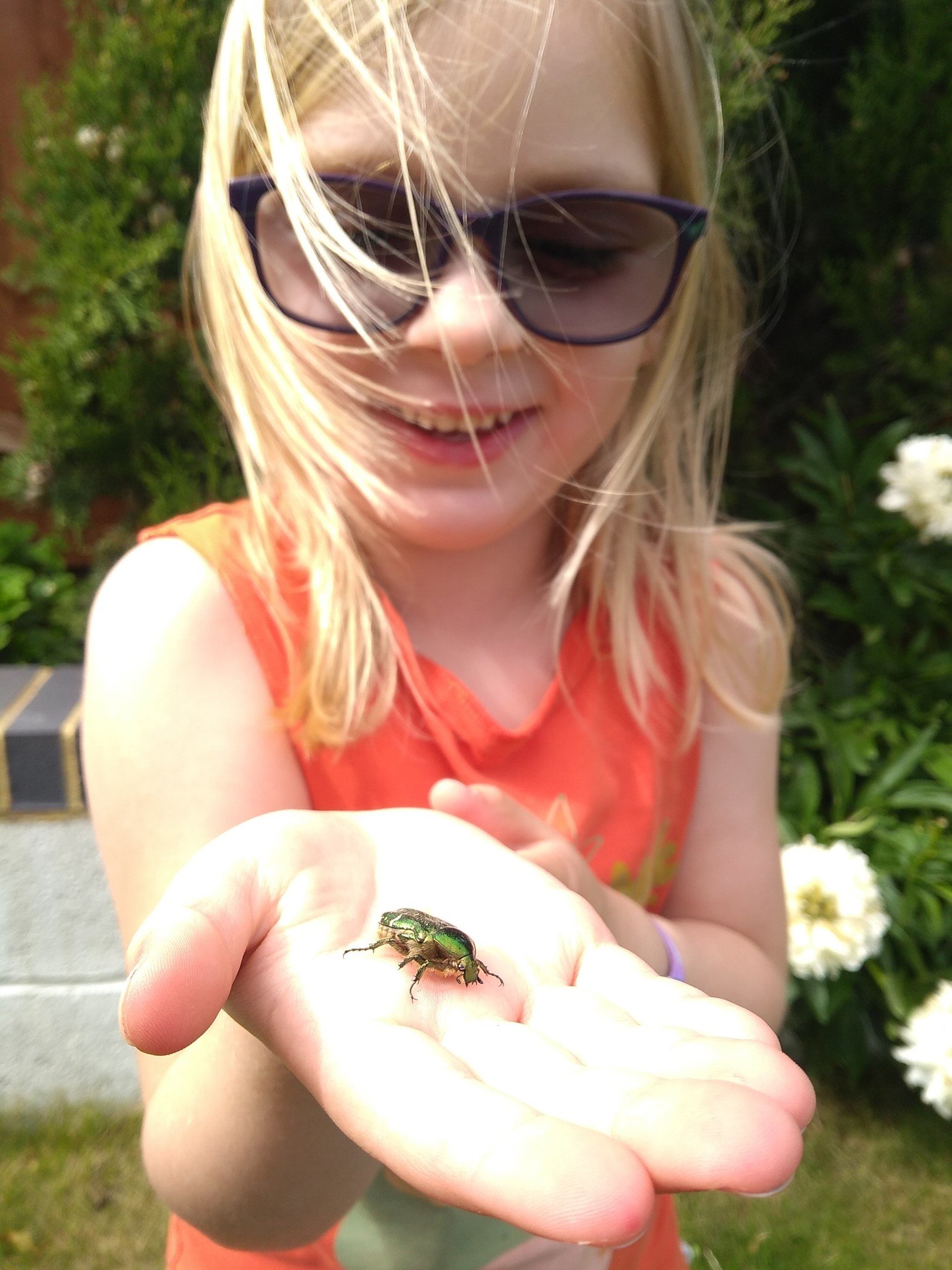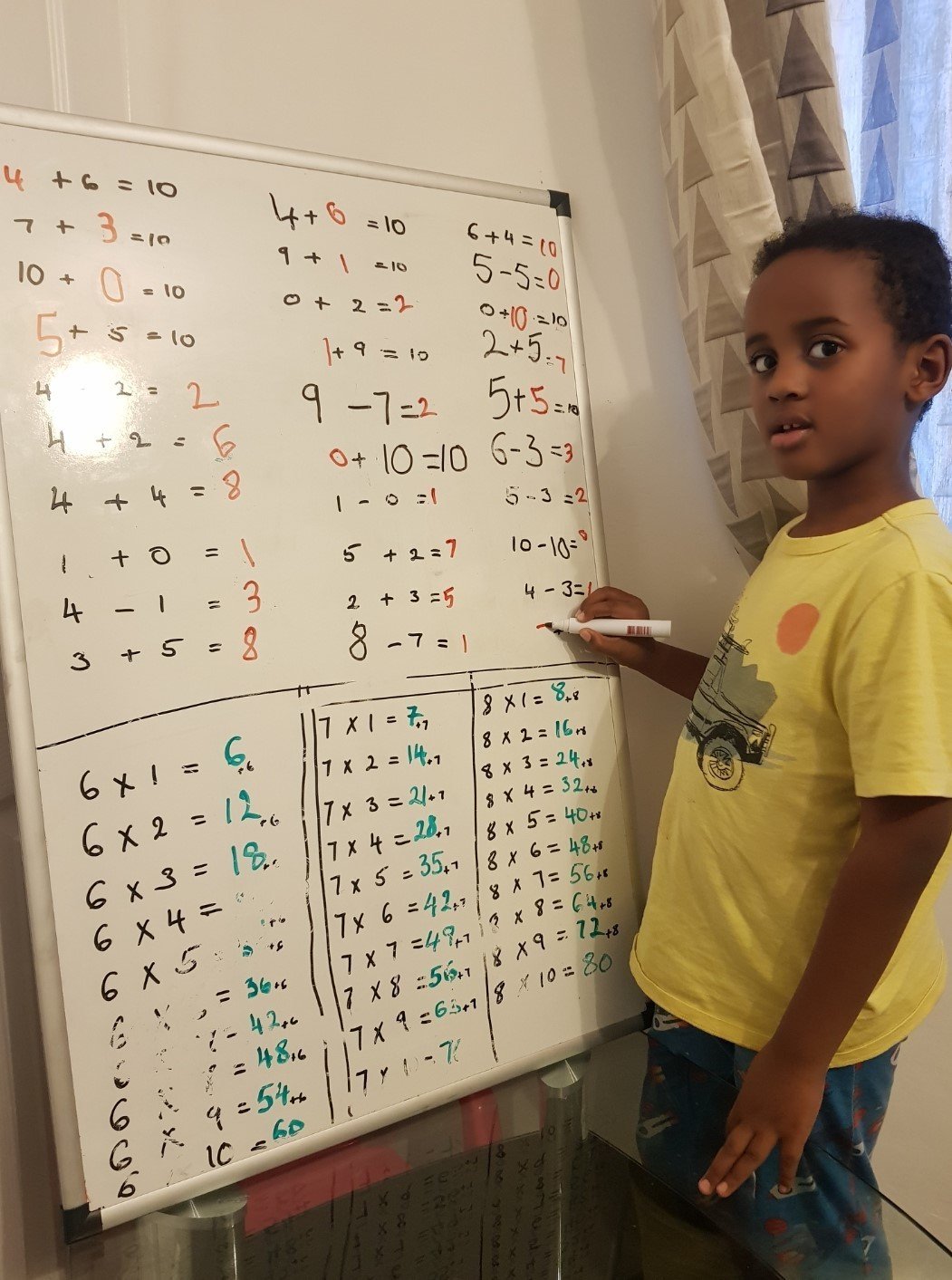 Audrey gets a closer look at a Rose Chafer that has been flying (loudly) around her garden all week! Zayden practises a variety of calculations!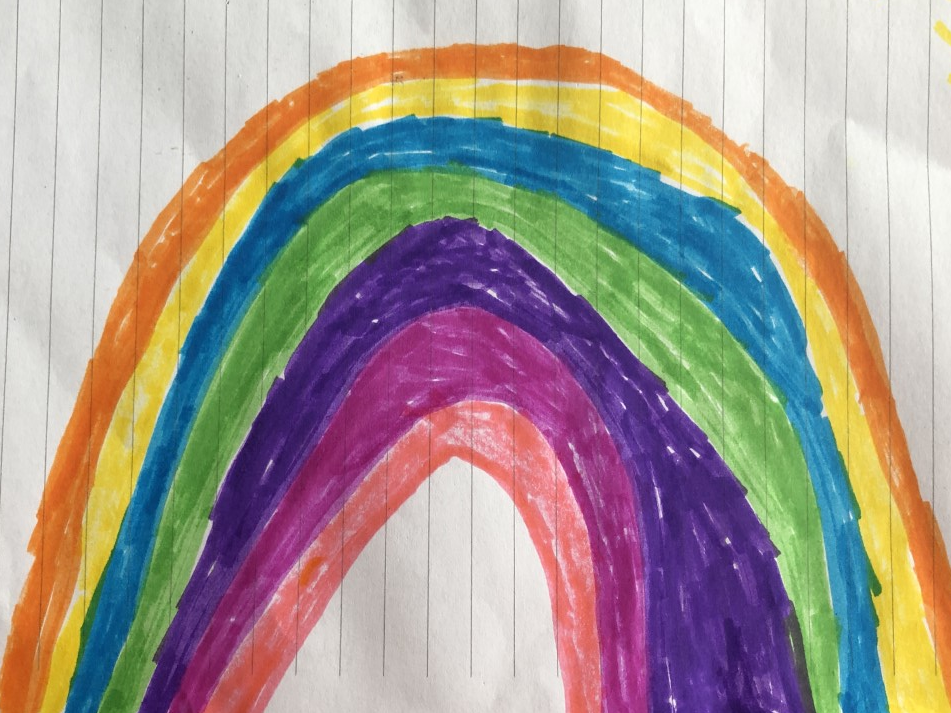 Have a listen to and join in with this lovely song called "What is a family?" written by Al Start. With so many children at home, it is important to take a moment to celebrate families – how different they are and how important they are to all of us.
Click HERE to be taken to the "Sing Up" website where you can listen to this uplifting song of the week and join in with the singing and signing too.

KS2 History resources for next week's VE Day celebrations
As you probably know, the early May Bank Holiday has been moved from Monday 4th to Friday 8th May (just for this year) to mark the 75th anniversary for VE Day.
Wrexham Diocese have made two short films, accompanying booklets and prayers celebrating D Day and the 75th Anniversary of VE Day. (They should be watched in that order due to historical sequencing)
We would suggest that these resources are NOT appropriate for the Key Stage 1 age group due to their content e.g. about the Holocaust.
Click HERE for a link to the films and further learning suggestions.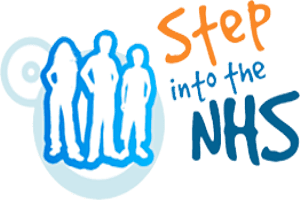 A competition called, "Step into the NHS" which launched last summer, asks KS2 pupils to design a 'thank you' to our inspirational NHS staff. Now, more than ever, the competition takes on a truly special meaning. This is why the deadline for entries has been extended to Friday 19 June 2020, giving everyone more time to get creative and recognise the work of NHS staff across the country.
Click HERE to be taken to the site which will give you all of the information you need to enter and from there you can download/view relevant resources.
Entries need to be sent it online. Please remember to send us a picture of your entry too! Good luck!
New home learning support: 27.4.20

The Wandle English hub have been commissioned by the DFE to write and produce lessons for Letters and Sounds Phonics to go live on Monday via YouTube-daily lesson for Reception and Year 1 children.
Click HERE to be taken to their site. There are explanations/introductions for parents too.
Phonics lessons will be streamed on YouTube from Monday to Friday. There will be three sets of daily lessons to choose from - Reception (new lesson uploaded to YouTube every week day at 10am, Year 1 (new lesson uploaded to YouTube every week day at 10.30 am) and sessions for any child who needs extra practice with blending (new lesson uploaded to YouTube every week day at 11 am)
Each group has lists of lessons for the next 5 weeks!
PLEASE NOTE - Only once the lesson goes live on YouTube, will the link be activated and then you will be able to click straight on to it.
This looks like a fantastic resource. Have fun!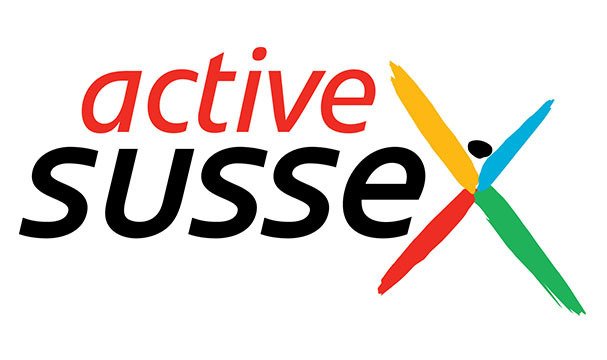 At 9.15am on Monday 27 April, the 'Virtual' Opening Ceremony will take place on social media for the Specsavers 'Virtual' Sussex School Games, kicking off a term of sporting challenges giving children across Sussex the chance to represent their schools alongside their friends and classmates, and compete to be Sussex champions.
Every week throughout the summer term, a different sport will take place, made up of four personal sporting challenges which can be completed from home; in the living room, kitchen or garden, or at school. Gold, silver and bronze medals will be awarded to the best scoring schools in each sport.
Click HERE for more information on how to get active take part!
Daily virtual singing sessions from the Diocese of Leeds Schools Singing Programme are now available at 2pm every weekday. Aimed at primary school children, every session includes sacred music, RE and music curriculum learning, and lots of vocal fun and songs to keep children engaged in lifting their voices to God.
Click HERE for the link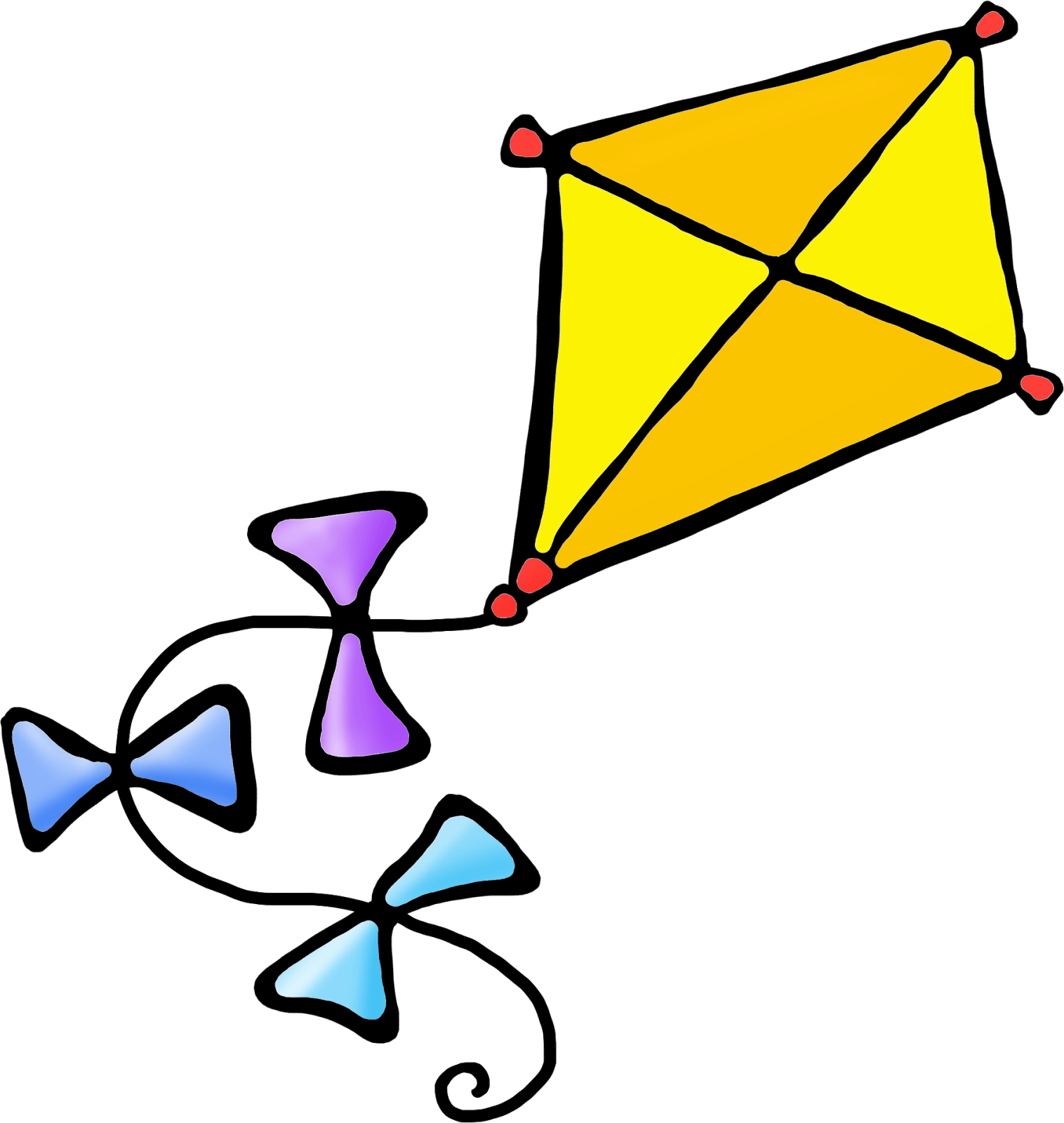 Click HERE for this week's resource on flying a kite for clean air. It's aimed at Key Stage 2 children but KS1 can still get involved with the kite making. There is also a You Tube link from Sustrans with information about making sure your bike is safe before you go out and ride it. Click HERE for a link.
NEW home learning support : 20.4.20
The DFE (Department for Education) have launched home learning support in the form of free online lessons for primary and secondary schools. There will be at least 150 lessons per week.
Click HERE to be redirected to their site.
Bitesize is another great resource that children might already be familiar with. Click HERE to be taken to their site for online learning links.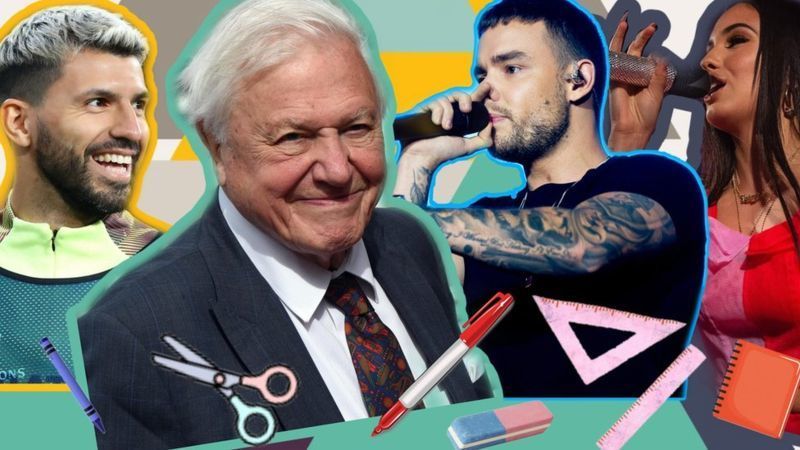 The BBC have now launched "BBC Bitesize Daily" which can be watched on your TV on BBC iPlayer or via the red button.
They run 20 minute lessons covering ages 5-14 including "The Big Read" where celebrities or teachers read a snippet of an inspiring children's book. Famous faces, as well as teachers, present different lessons e.g. Sir David Attenborough will look at geography topics such as oceans and mapping the world and EastEnders actor Danny Dyer, who is a direct descendant of King Edward III, will provide a history class for five to seven-year-olds on Henry VIII.
It is really good and very informative! Mrs Skinner learnt about the Norman Conquest, revised her knowledge of positive and negative numbers and was able to apply her knowledge of texts to guess the audience and purpose for some different pieces of writing- and all before 10.30 a.m!
Keeping Fit with youngsters
"A Life" are running LIVE fitness sessions for 3-9 year olds every Saturday at 9.30am. These involve fun games for getting children moving and active and are particularly suitable for younger children. Peter from A Life has run several sessions/workshops in our school and his live fitness sessions will be great fun for all the family.
Click HERE for a link to their website and for more information on how to access their home learning resources.
THIS is a YouTube link - you may need to subscribe (this is free) to take part in the fun family workout sessions.
THIS is a Facebook link which will also direct you to the relevant place.
Have fun!
Thank you children!
Children across the country have been drawing and painting rainbows to put in the windows of their homes to share a little brightness in the world. Thank you to the children of St Joseph's who have already done this, helping to add colour and cheer to people's lives during this difficult time.
Keep painting and displaying those rainbows in your windows and keep the pictures coming so that we can see them too!
It is also lovely to see how you are getting on with work your teacher has set and to see what other new skills you are learning at home. The email address is myhomework@st-josephs.brighton-hove.sch.uk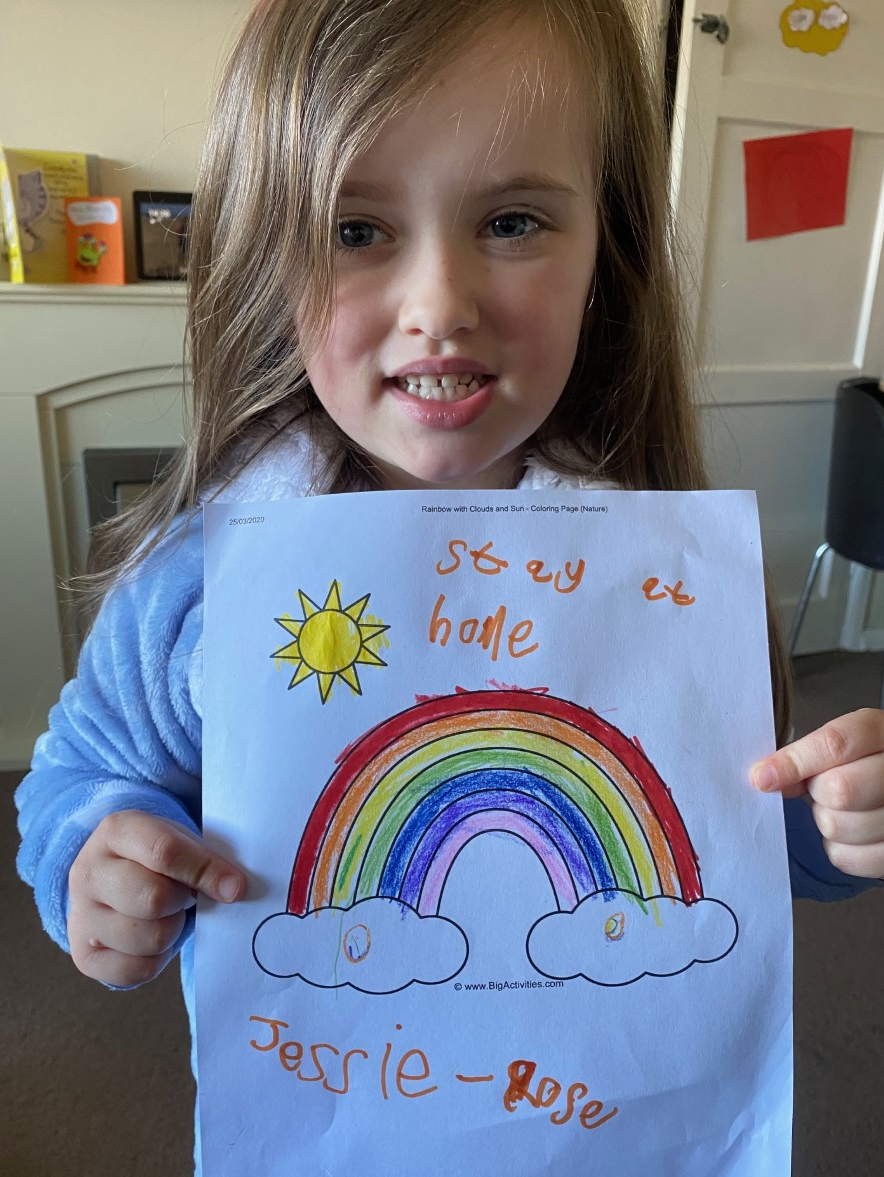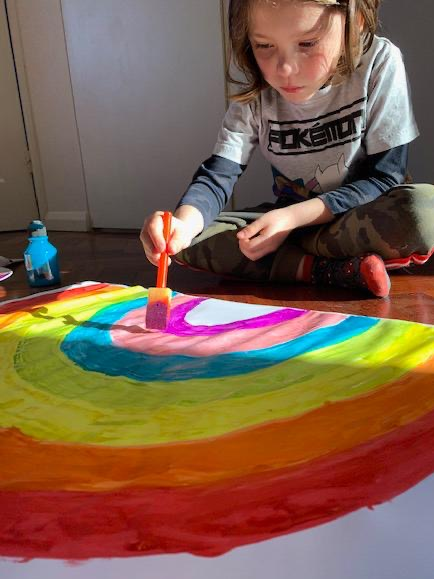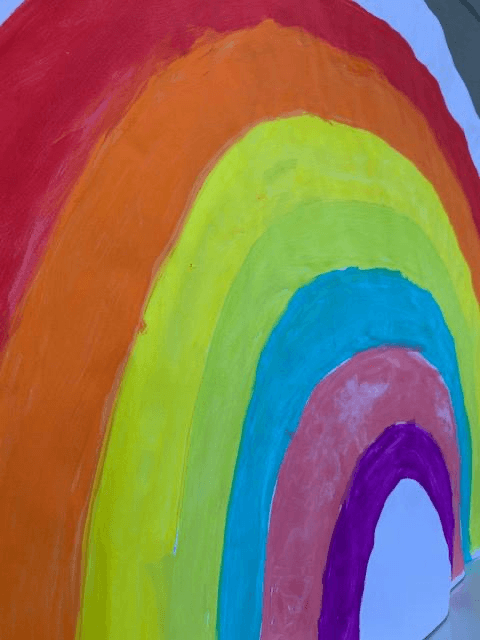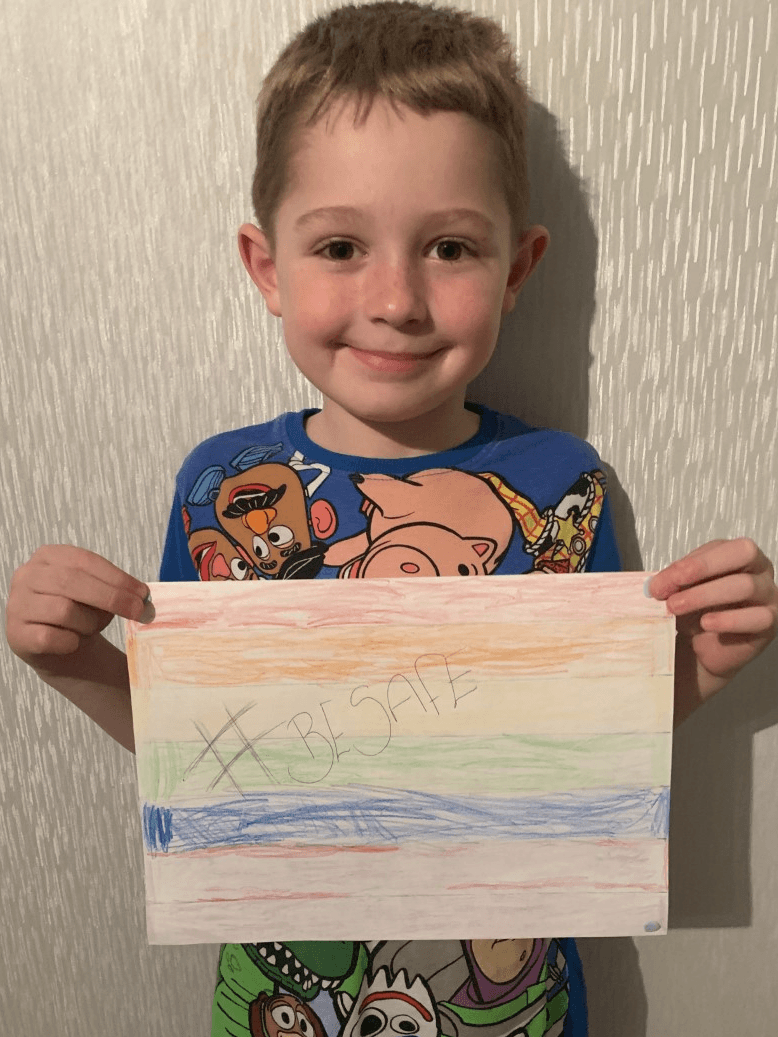 Jessie-Rose, Luca and Eddie's rainbows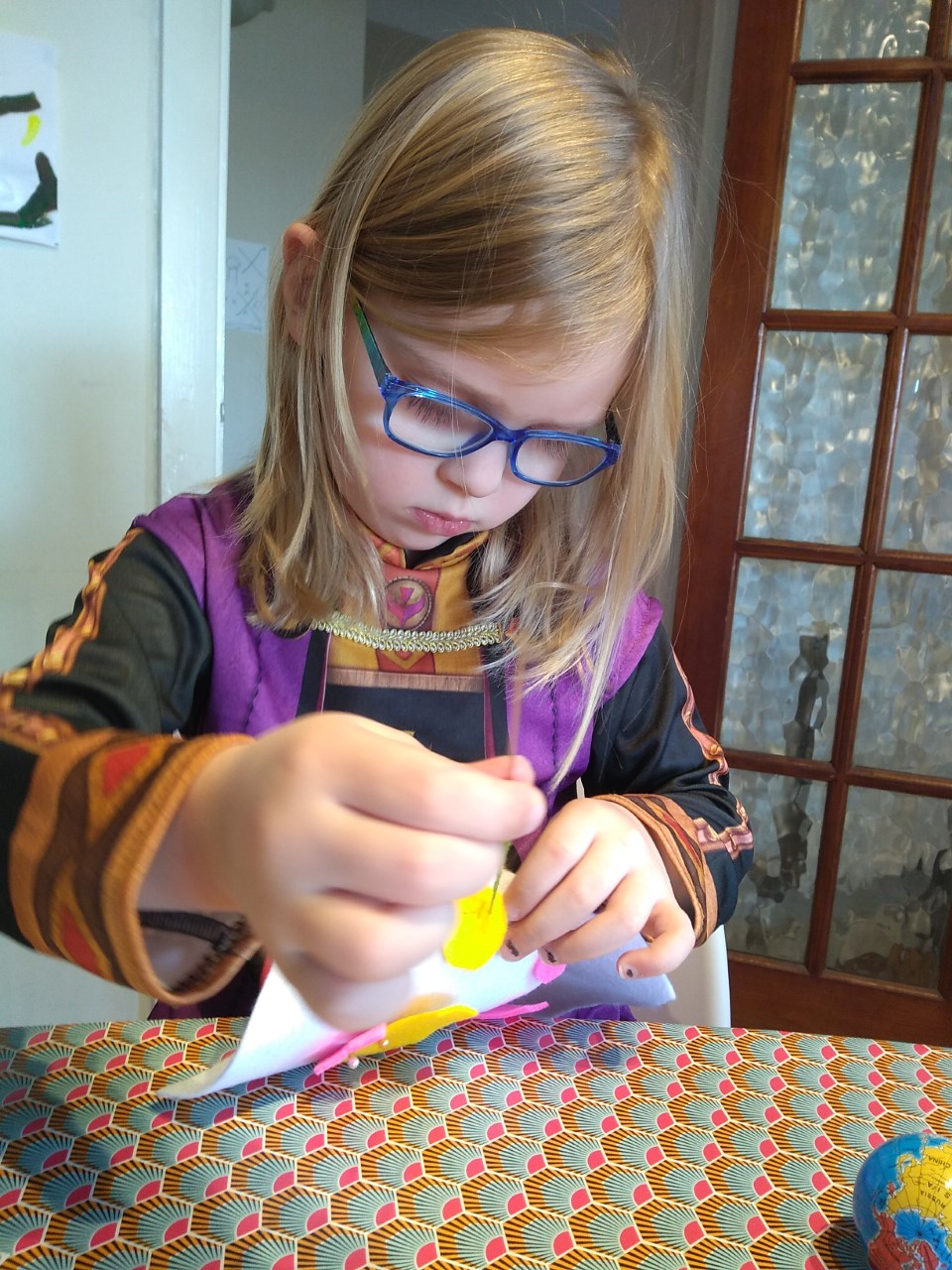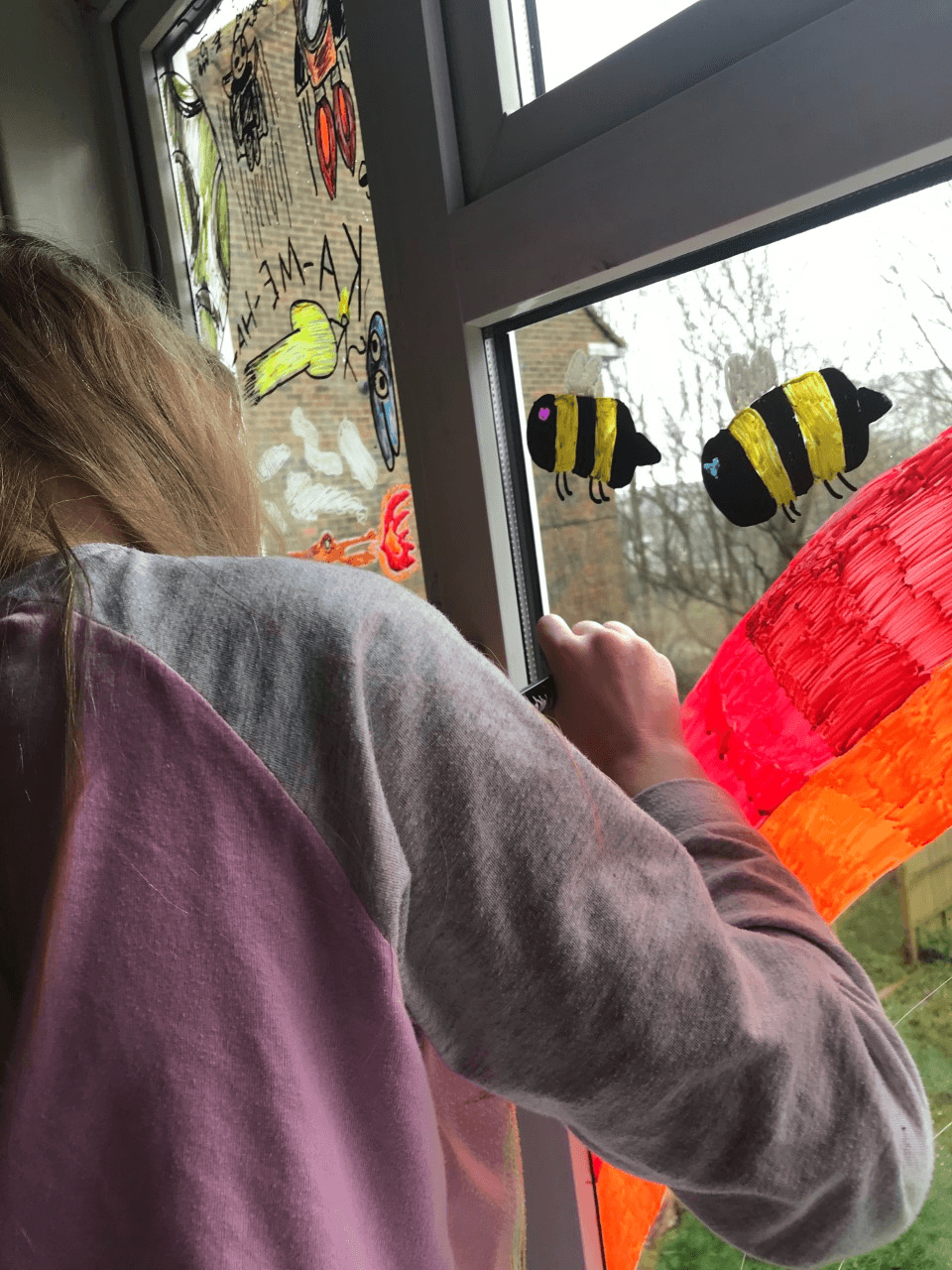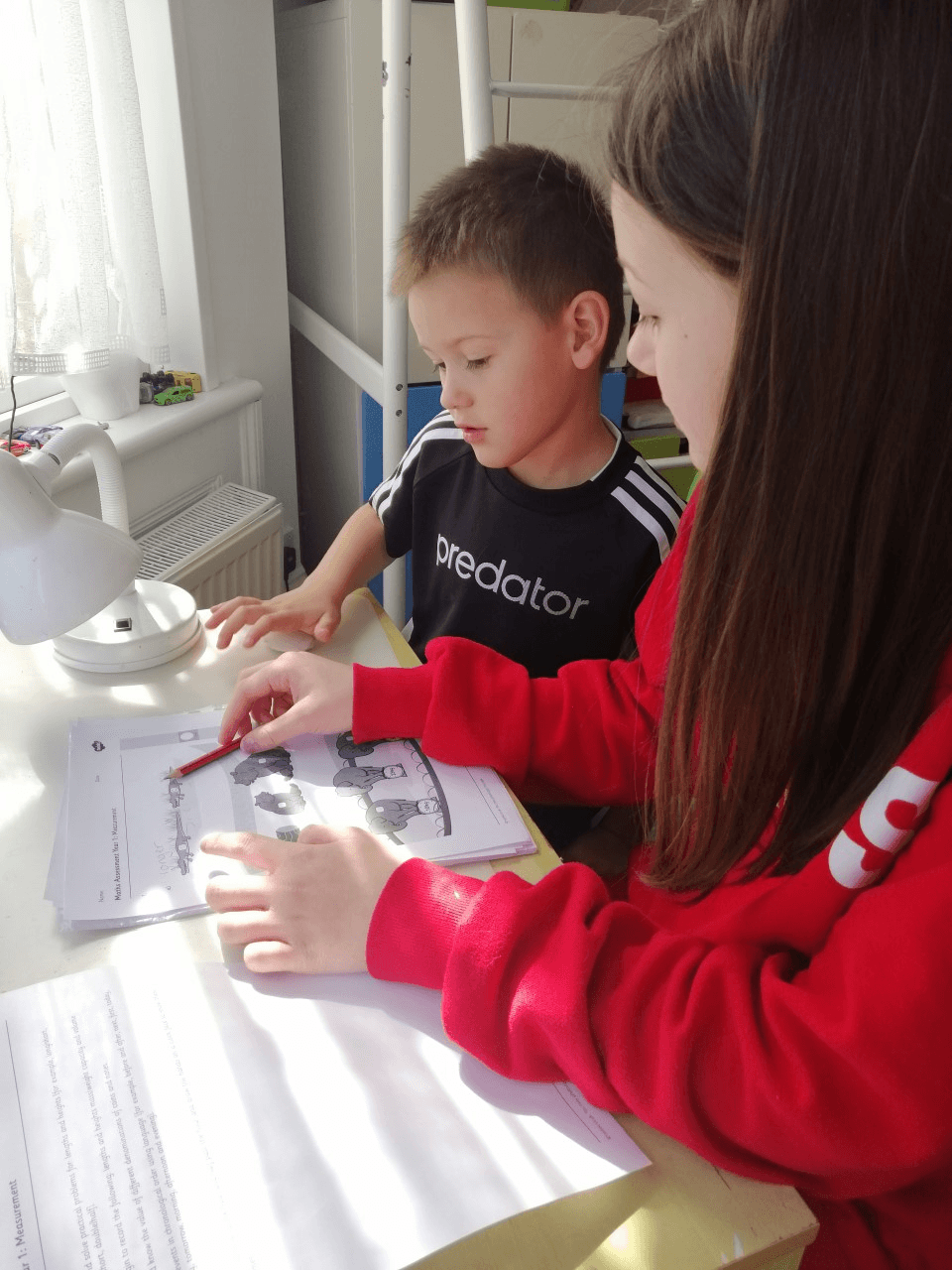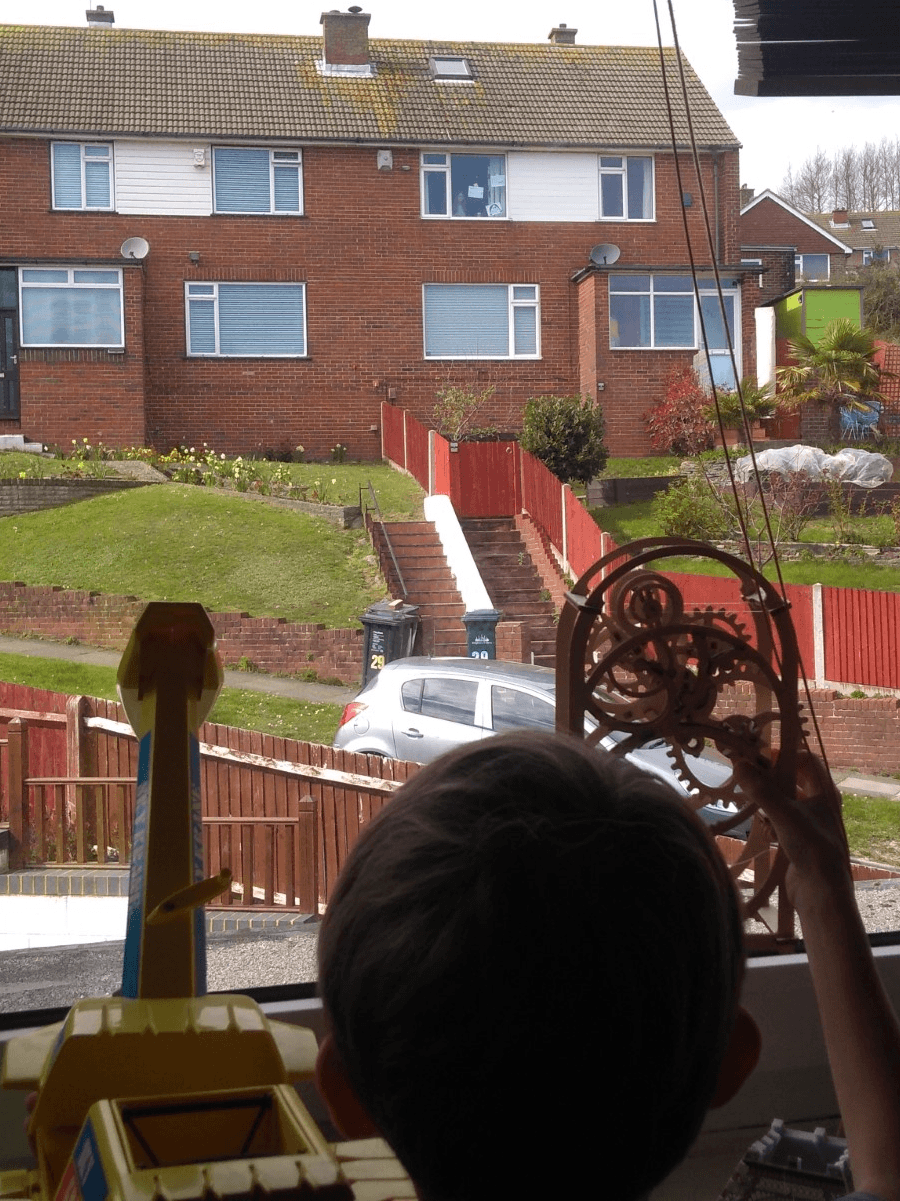 Audrey learns to sew, Lola makes a start on her rainbow, Wiktor gets some homework help from his sister and Julian communicates with his friend across the road by writing messages and holding them up at the window!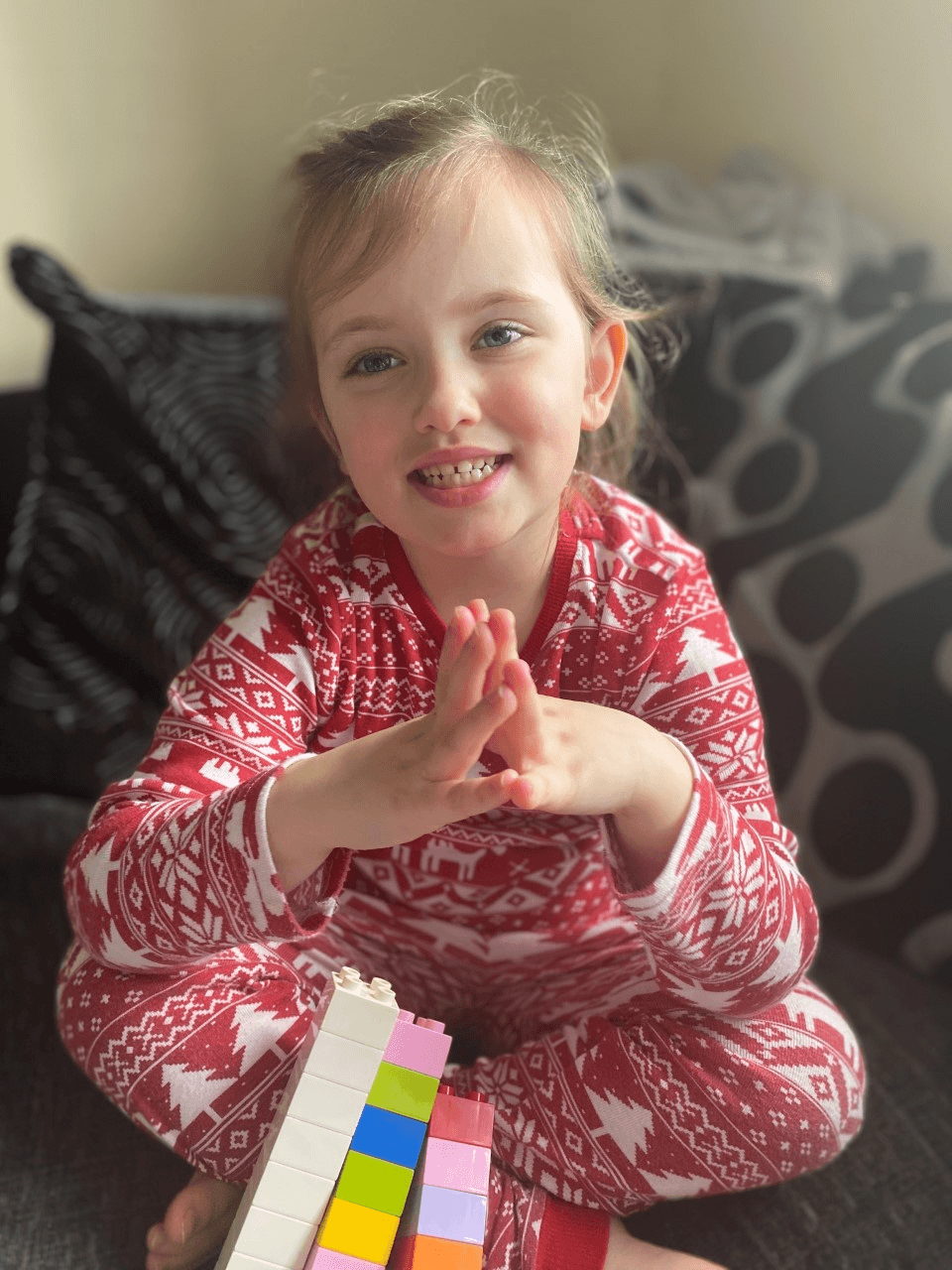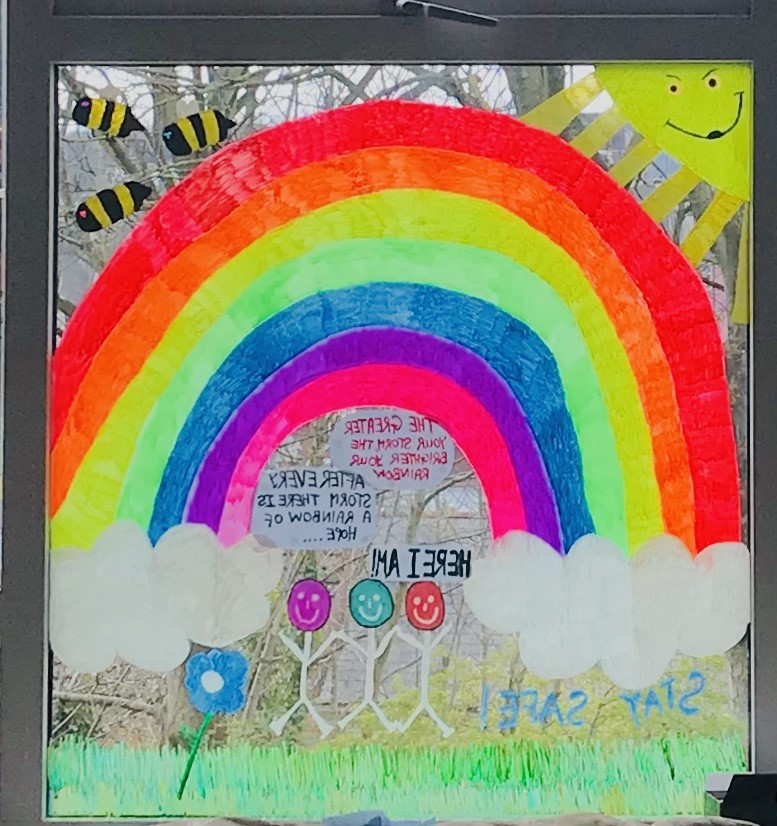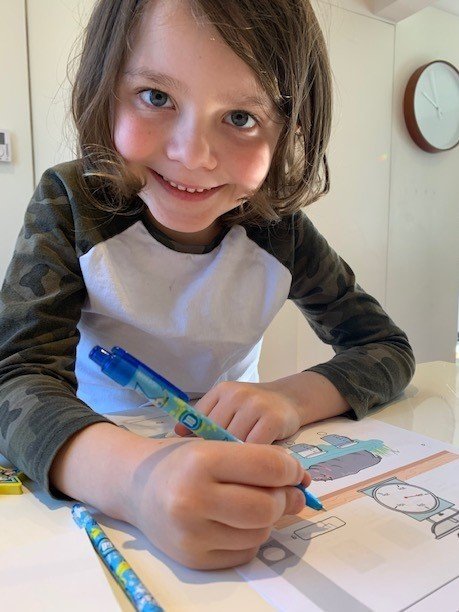 Jessie-Rose has been doing one more and one less than 7 with Duplo bricks, Lola (and family) have finished their amazing rainbow window display and Luca settles down to his maths work!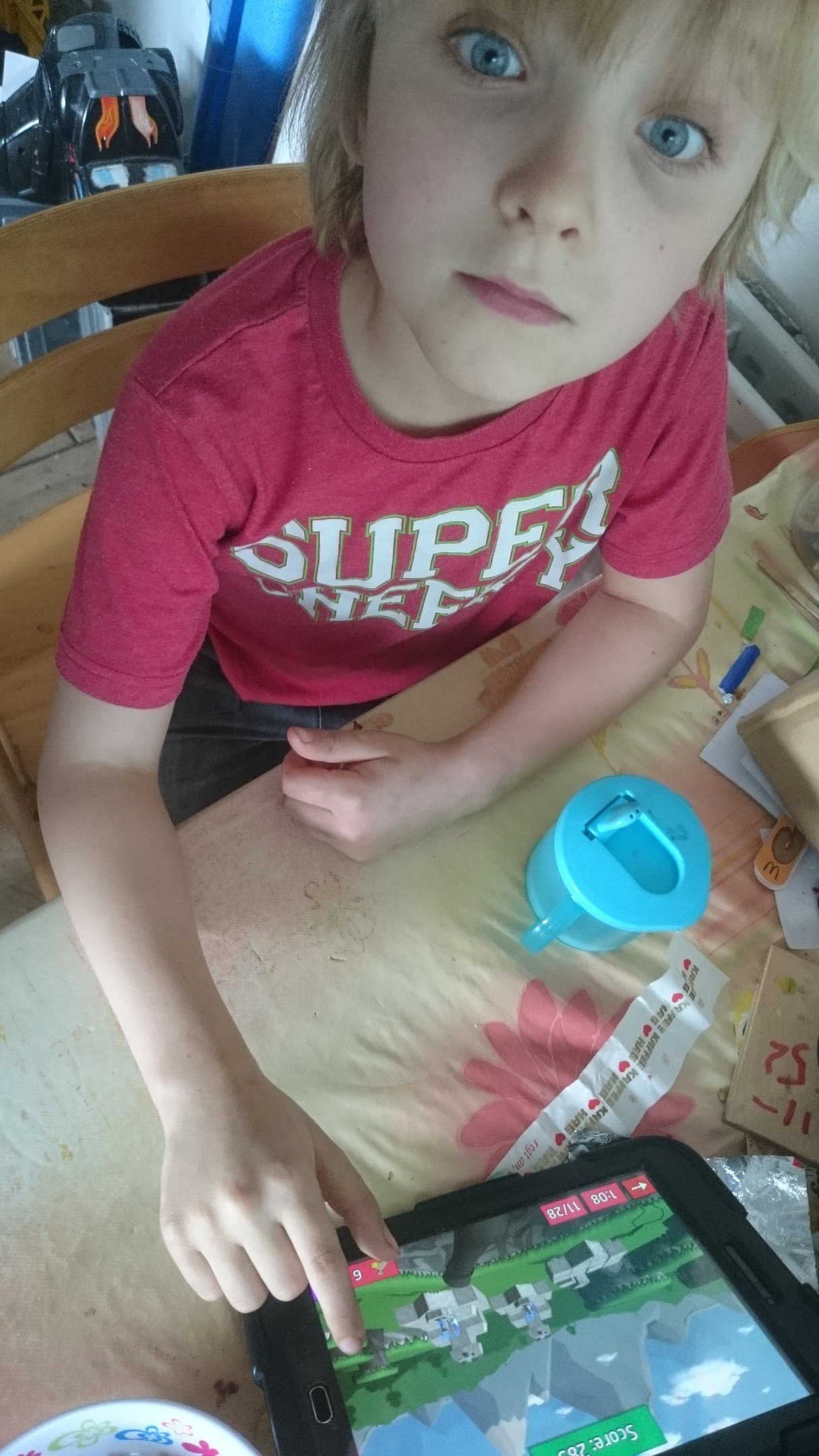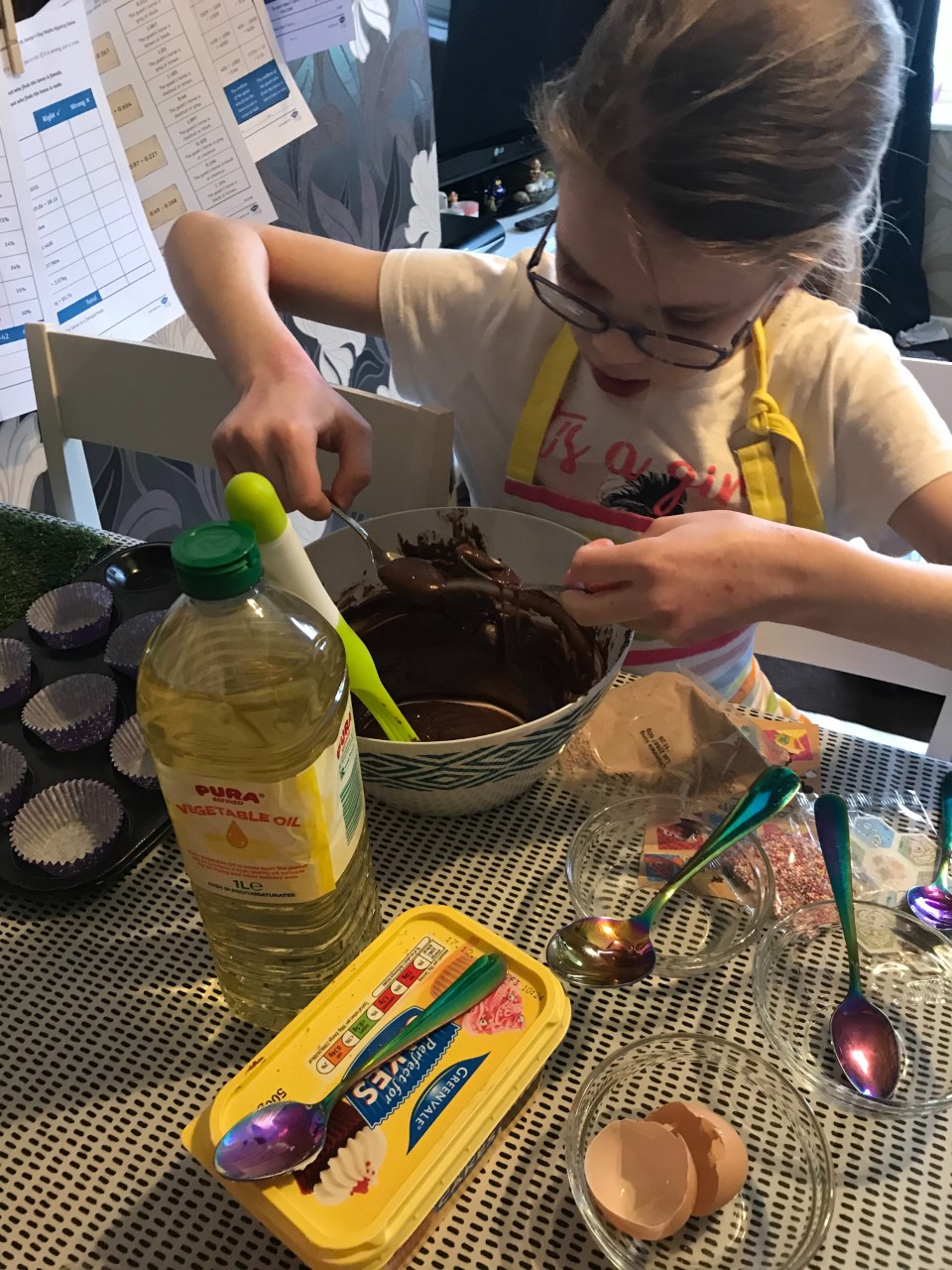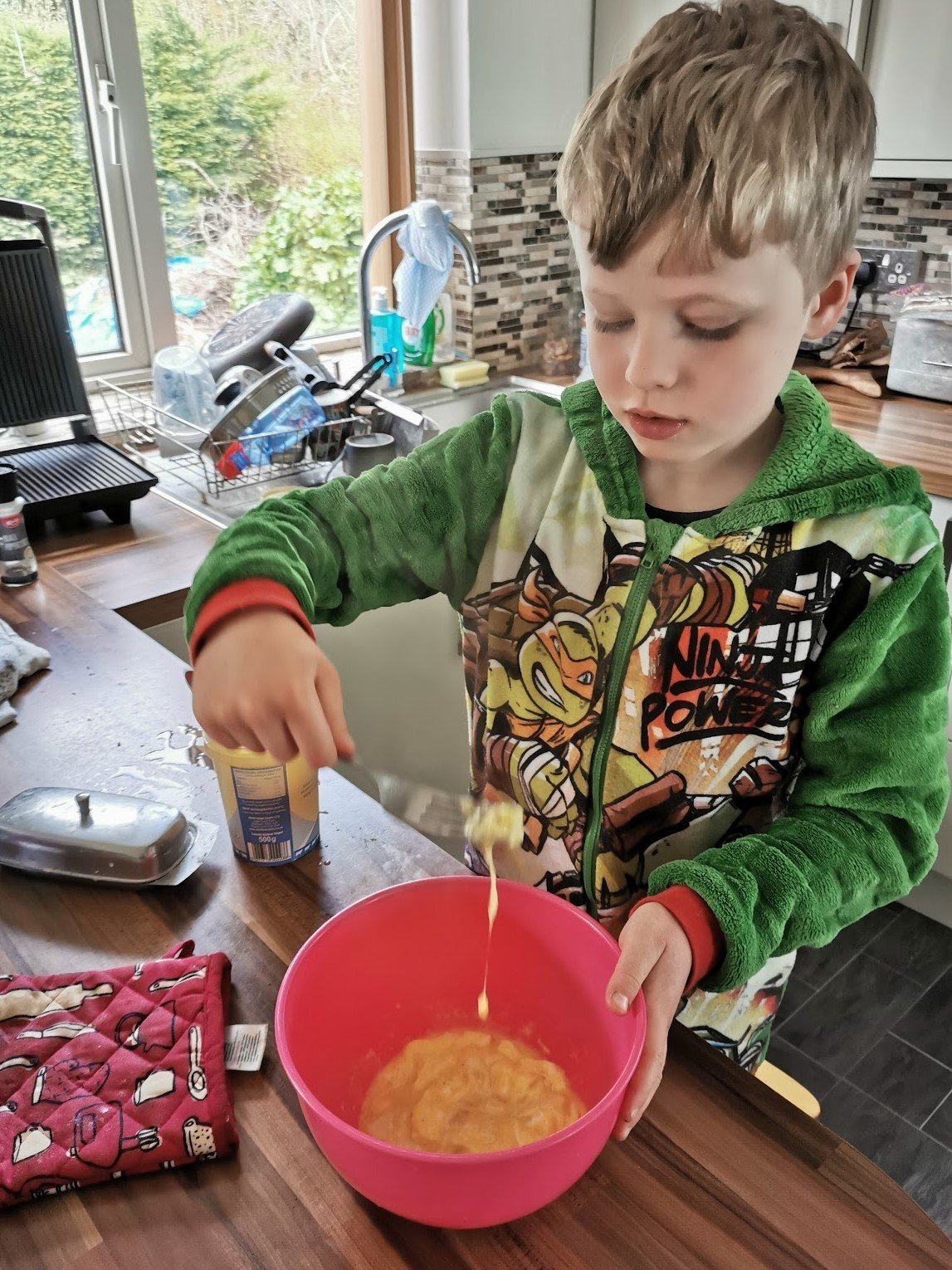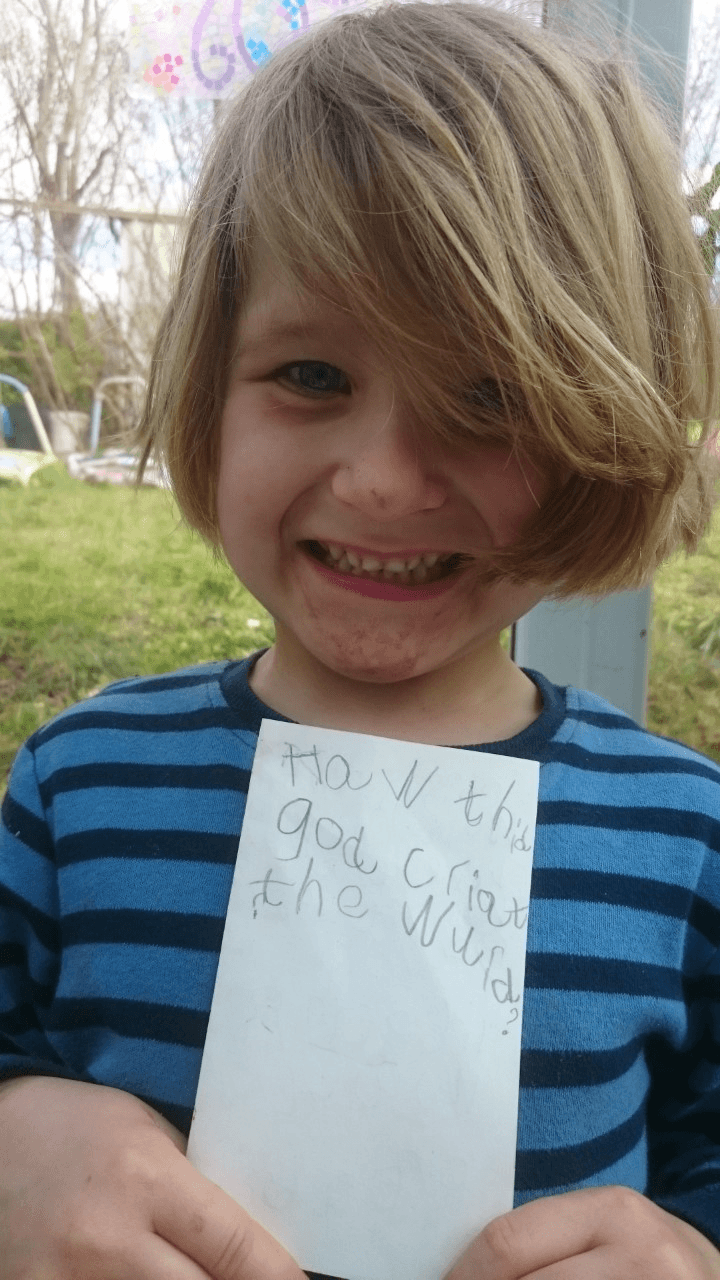 Mark completes lots of SUMDOG challenges, Lola follows recipe instructions and measures ingredients whilst home baking, Finn learns how to make scrambled eggs and Sylvia writes about the creation story.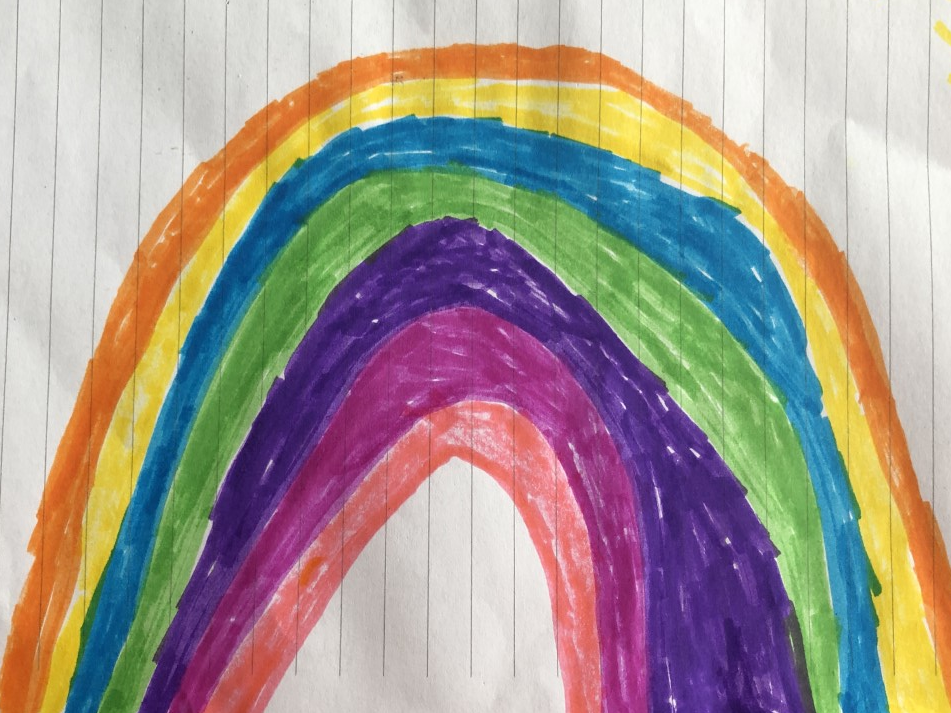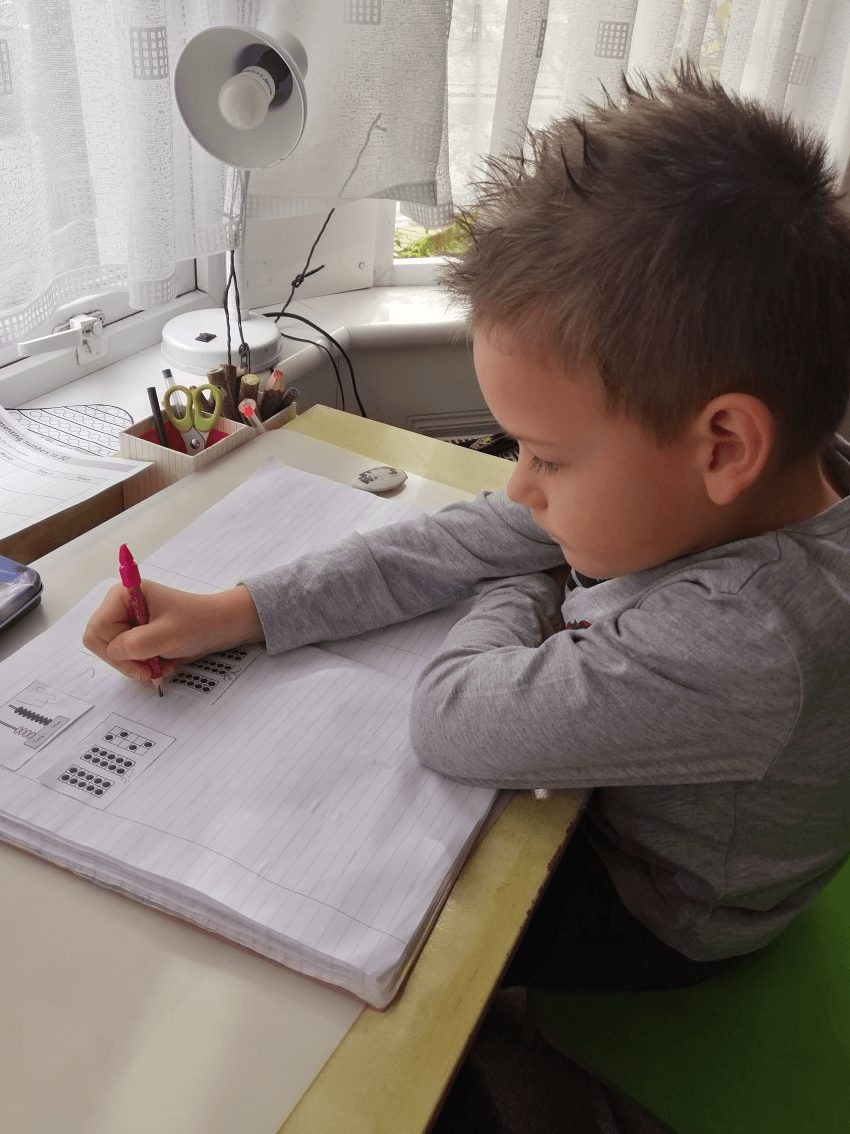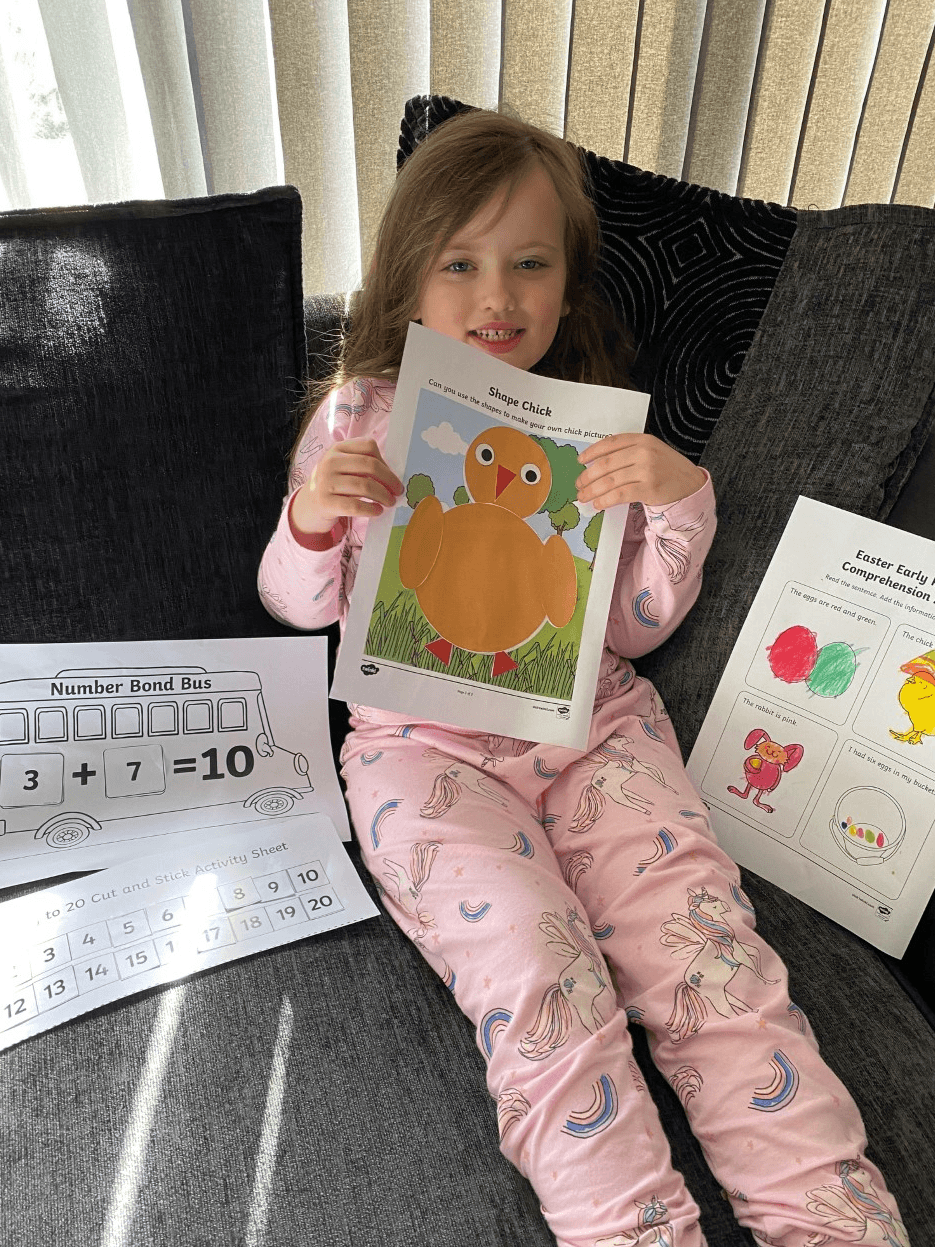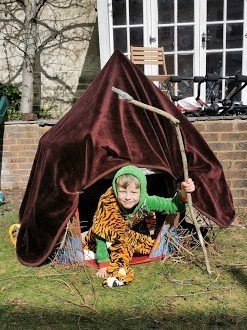 Paula draws and colours a beautiful rainbow, Wiktor and Jessie-Rose, our magnificent mathematicians, keep on calculating and Finn continues his Stone Age history learning at home by making his very own stone-age hut in the garden!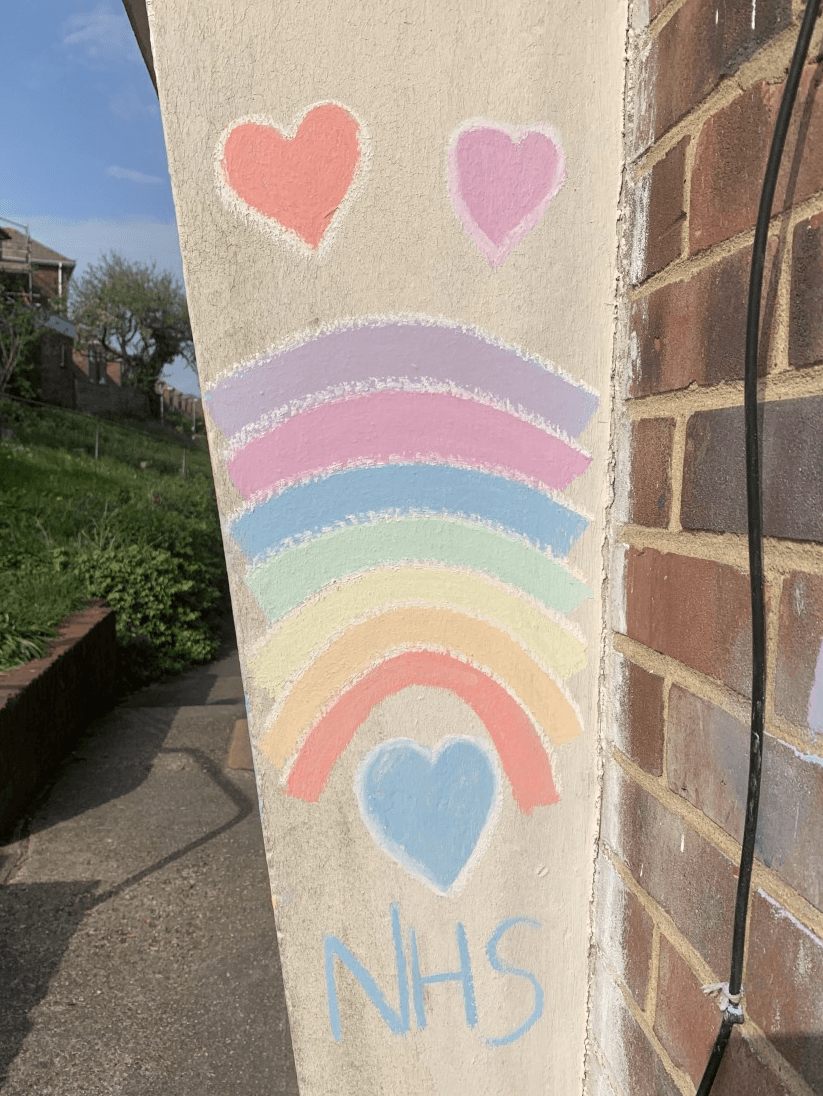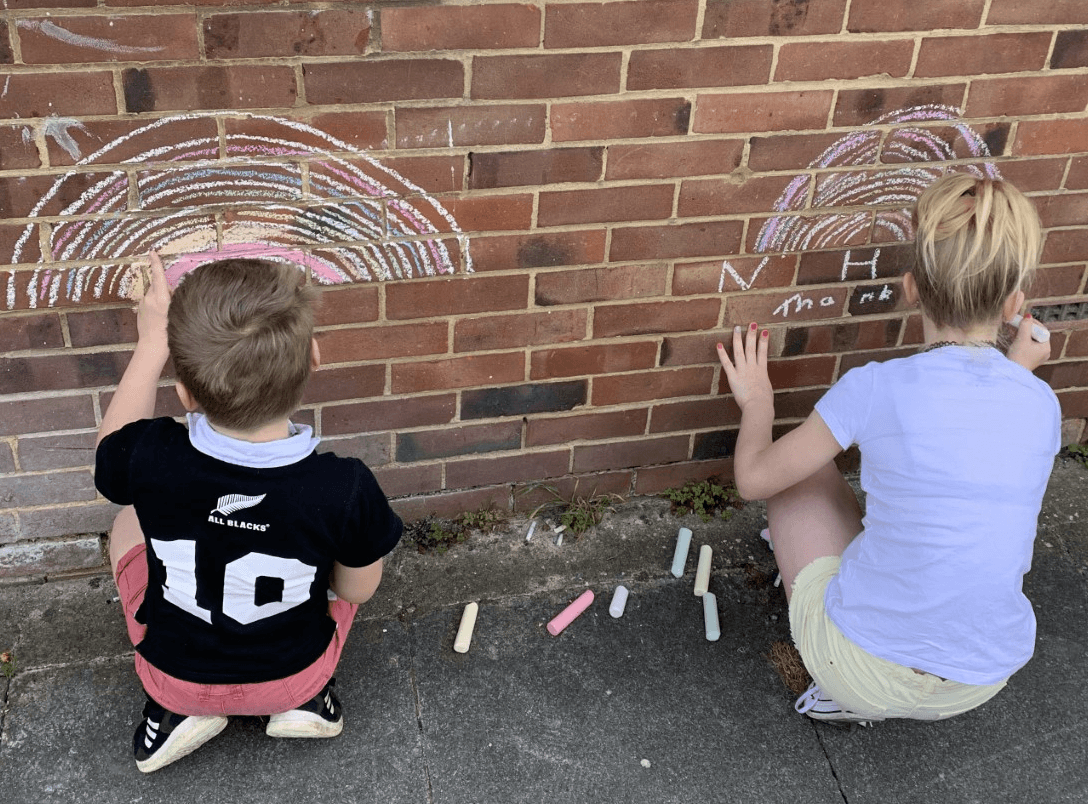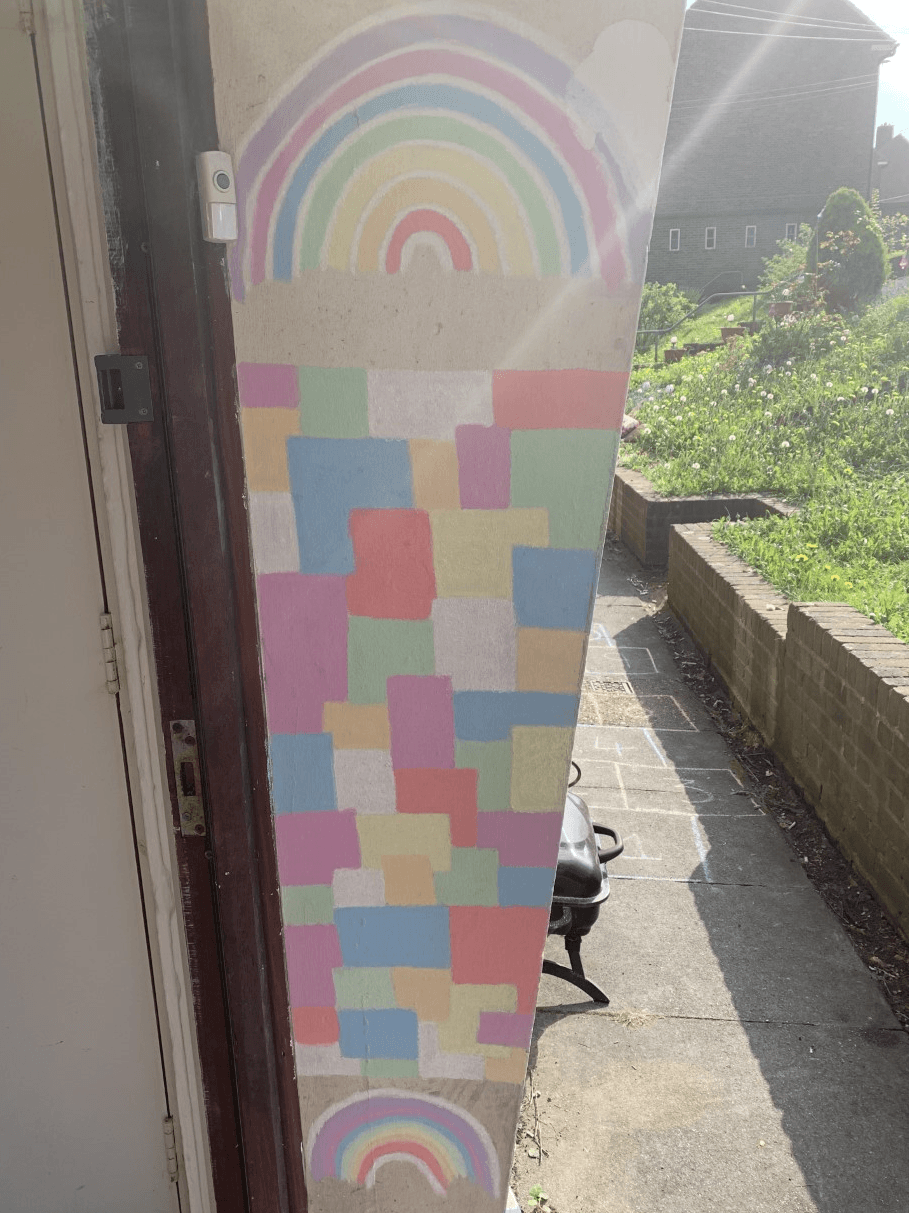 Casey and Calib get busy with chalk and continue to work on their rainbows and colourful and creative artwork to brighten up the local area for residents and as a tribute in recognition for the hard work by our NHS.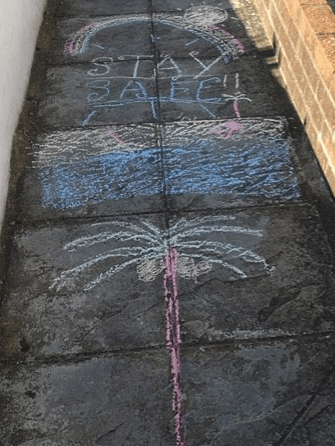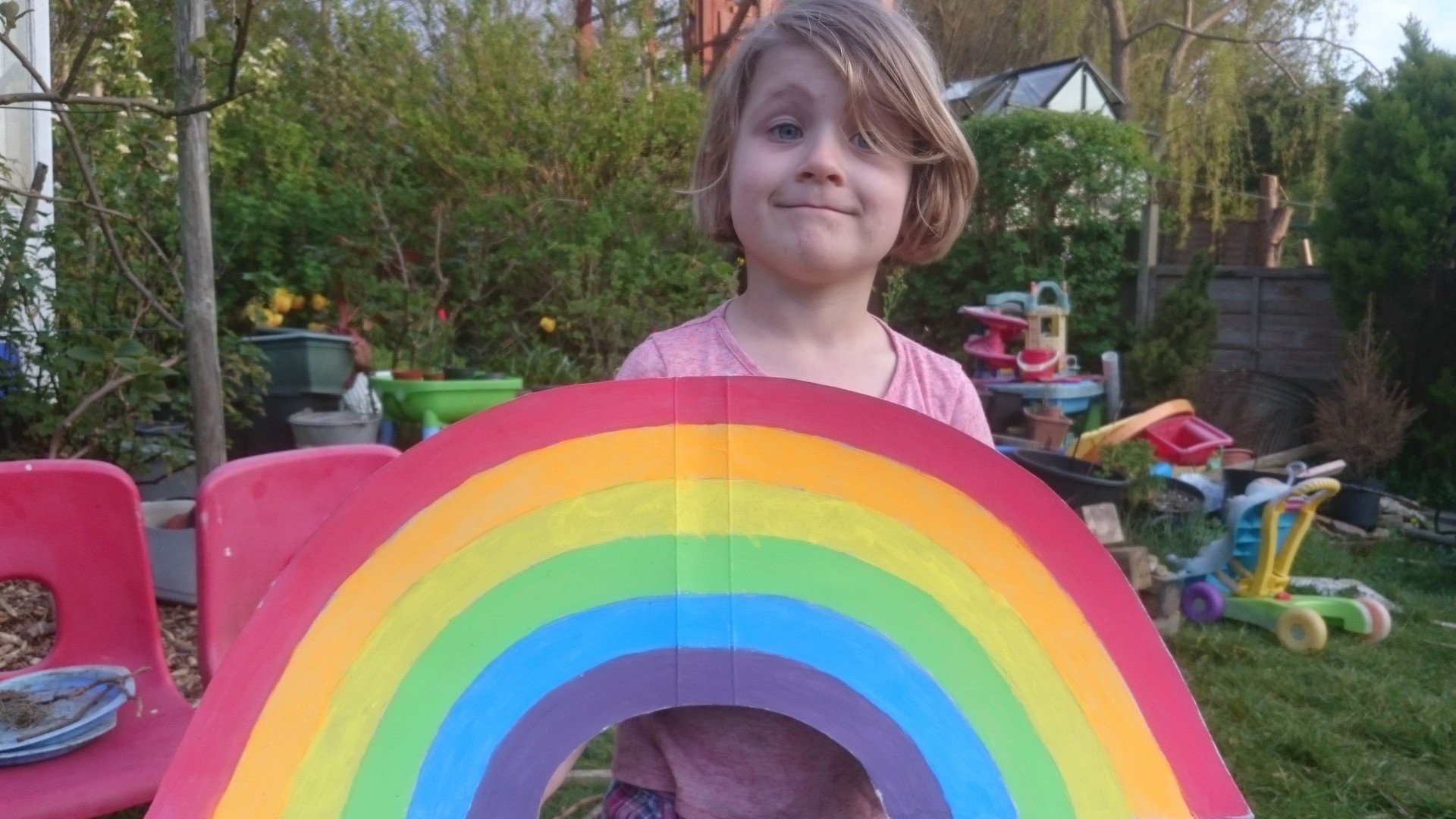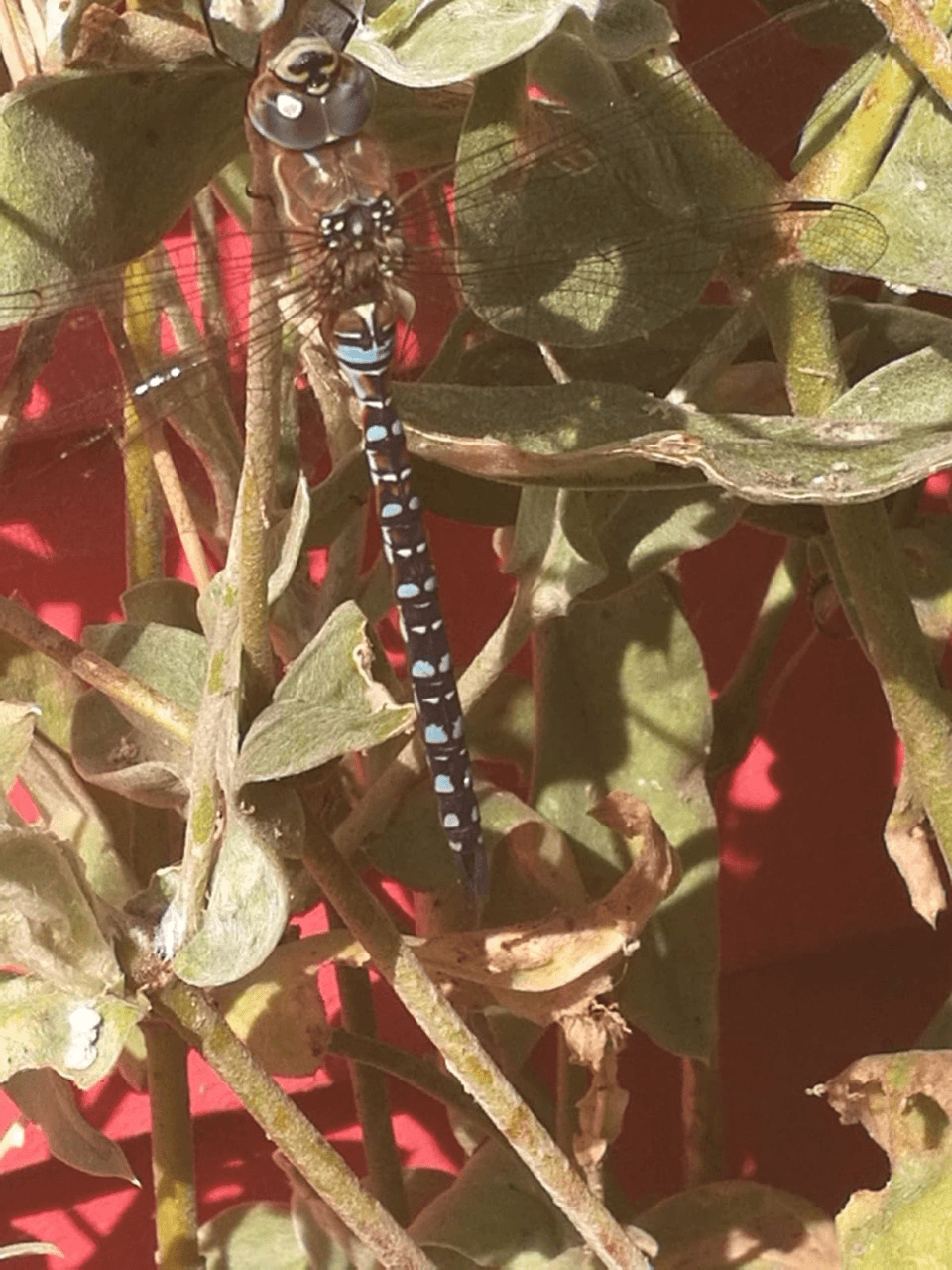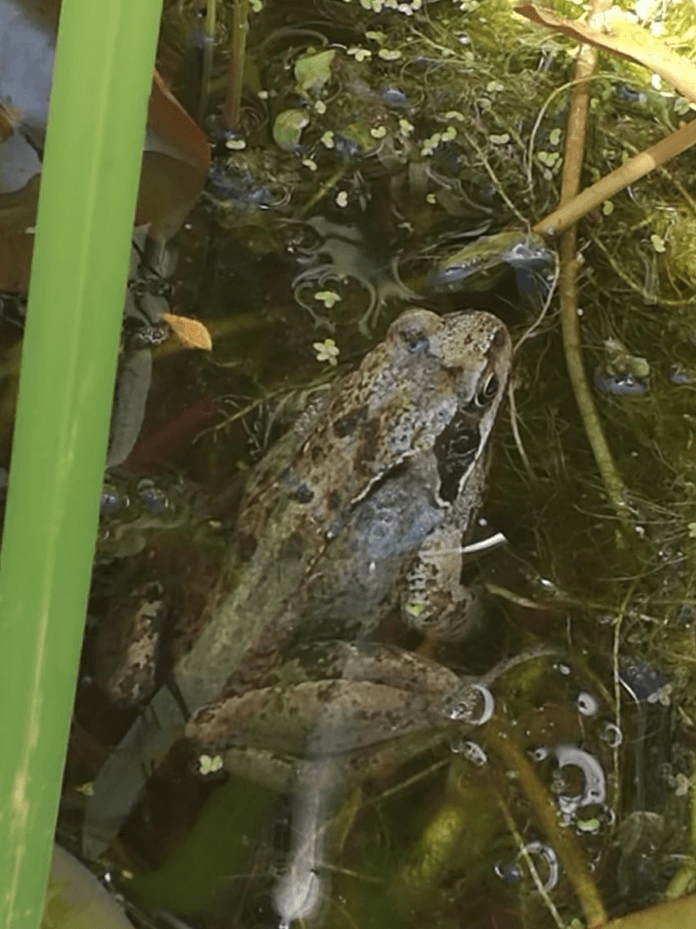 Daniel and Archie's colourful message for passers-by and Sylvia shows off her beautiful rainbow. Daniel and Archie have been looking in their garden and pond and finding out about animals and their habitats.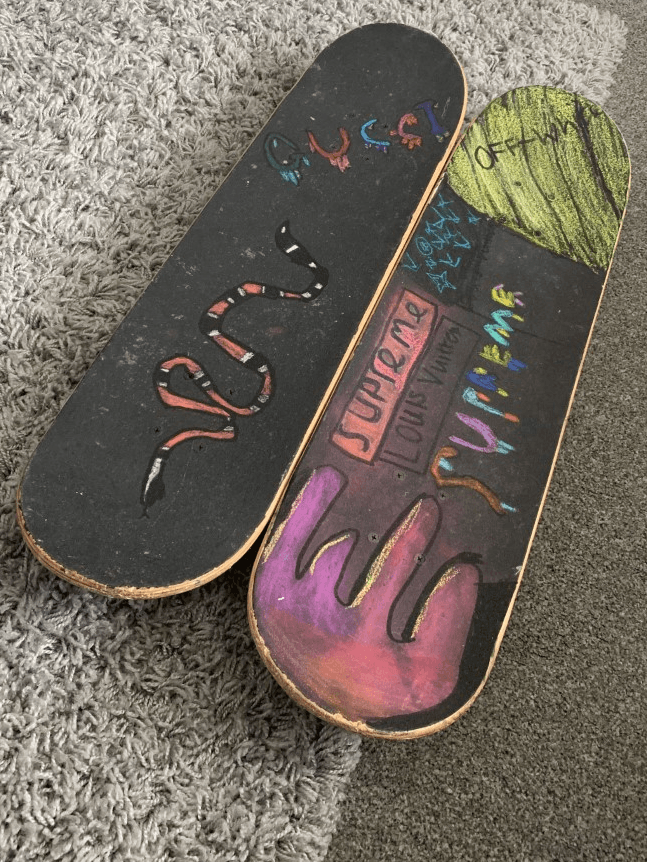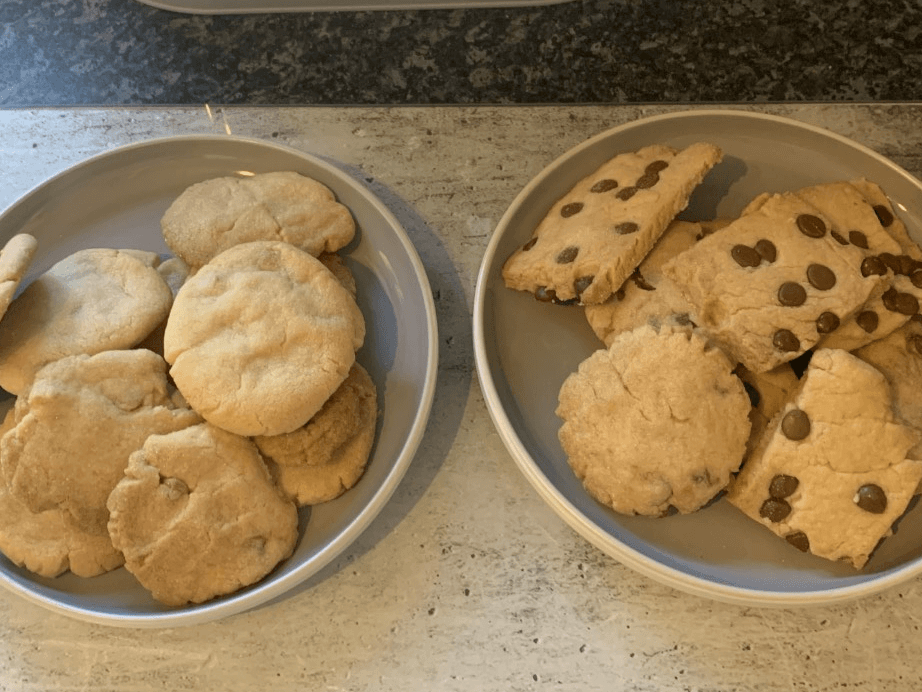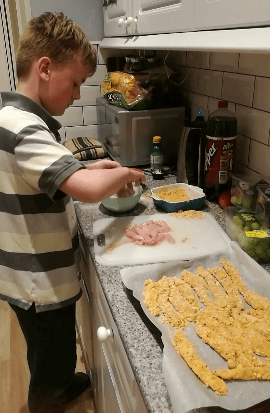 Jamie and Preston get arty and creative and customise their skateboards before getting busy in the kitchen baking chocolate chip cookies. Daniel also does all the preparation for a home -made, healthy family dinner.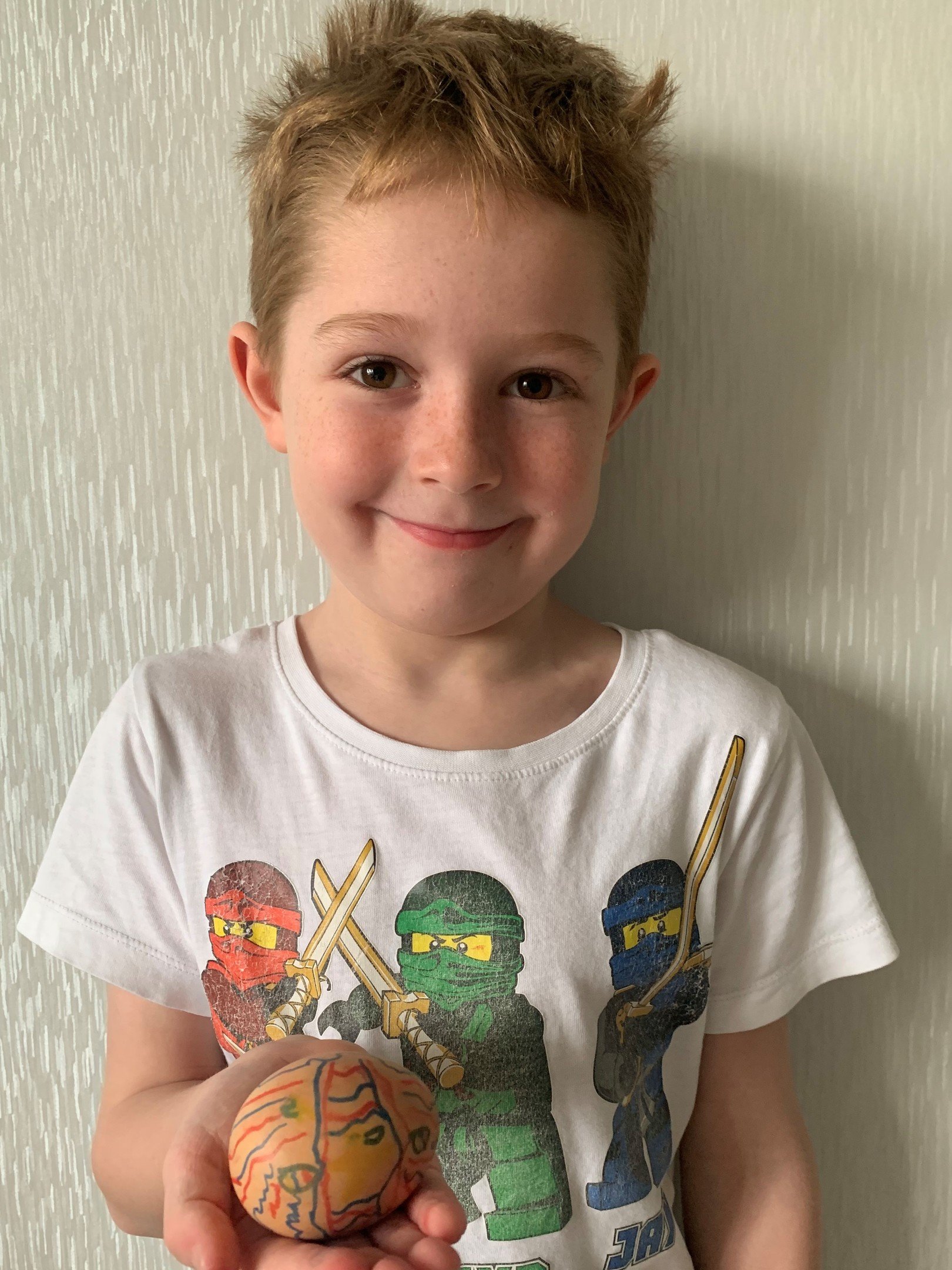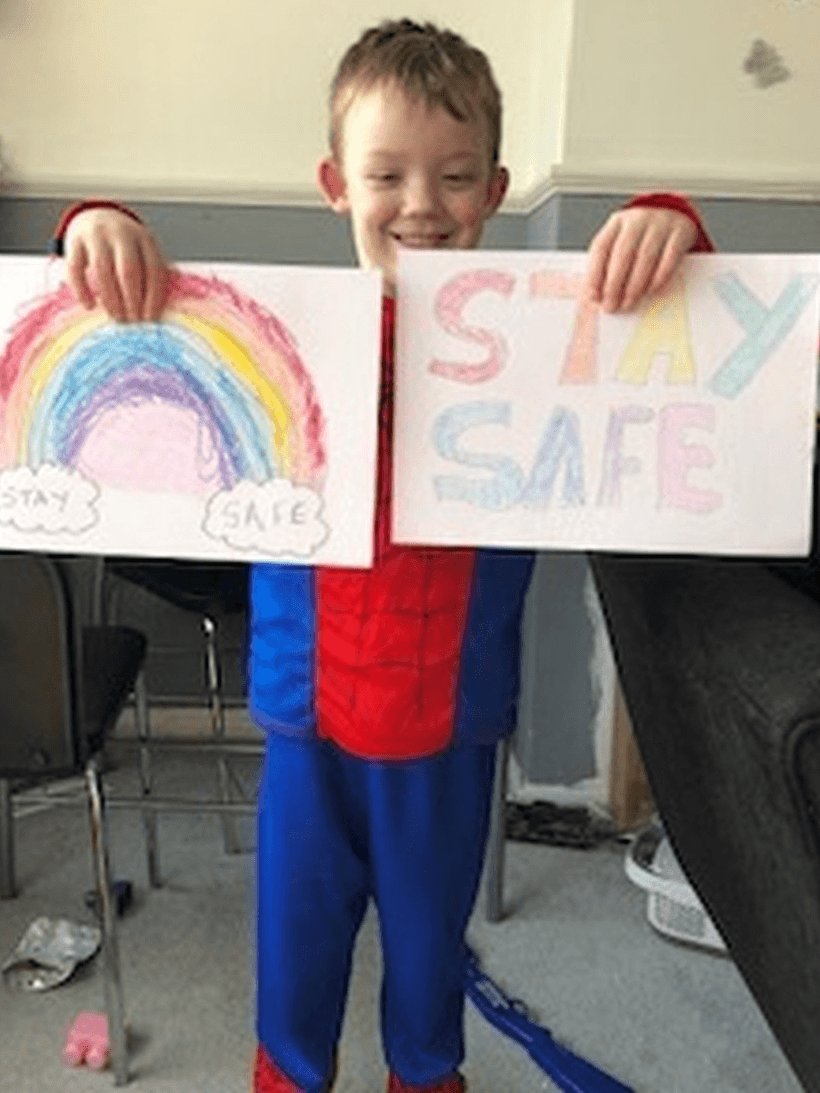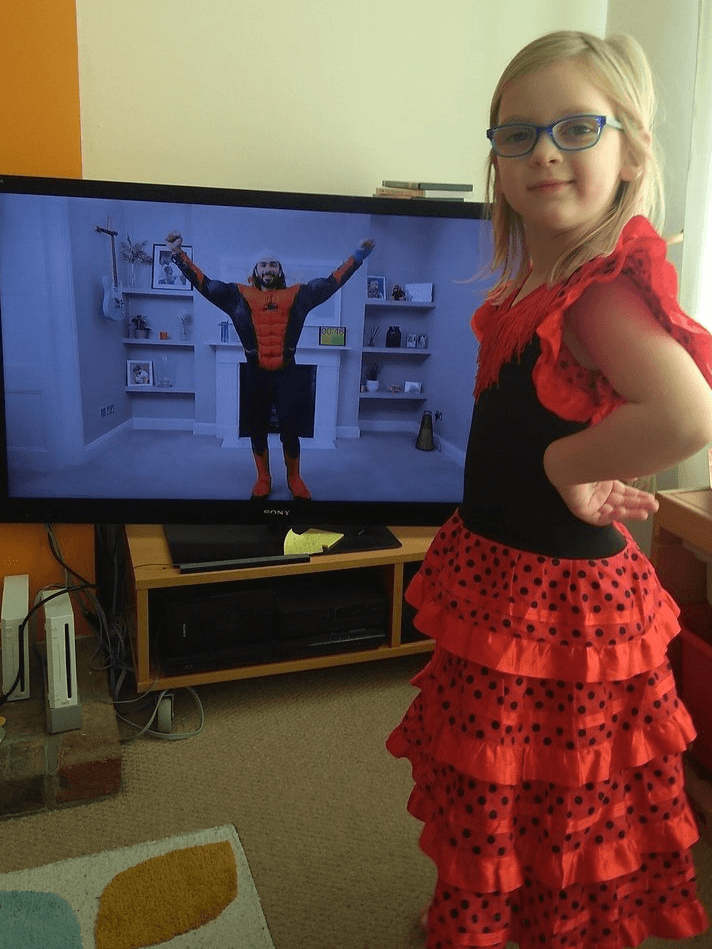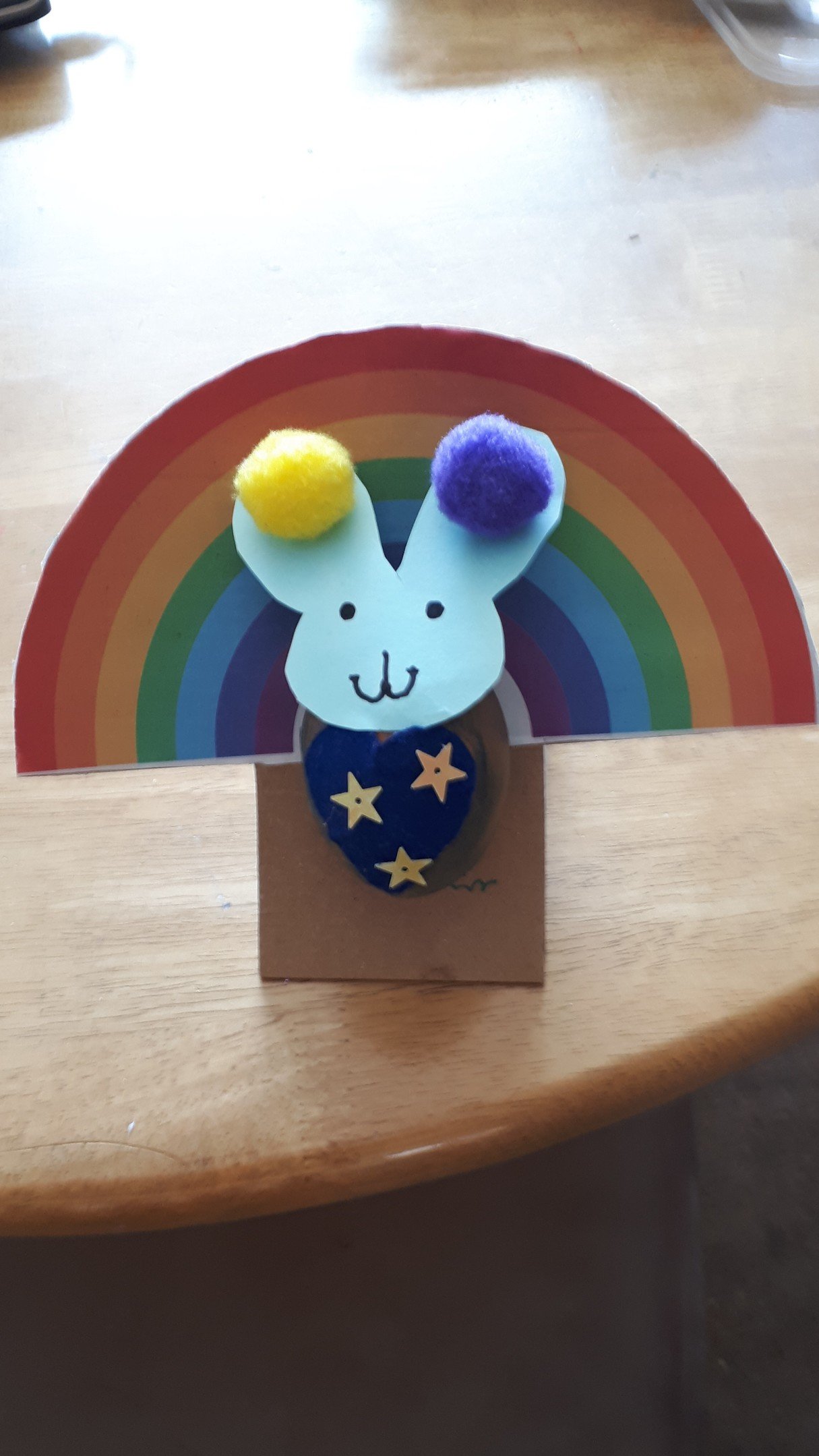 Eddy decorates an egg, Floyd holds up his colourful rainbow and message for his window, Jayden decorates an egg and Audrey takes part in Joe Wickes' workout on "Fancy Dress Friday."
SUMMER TERM 2020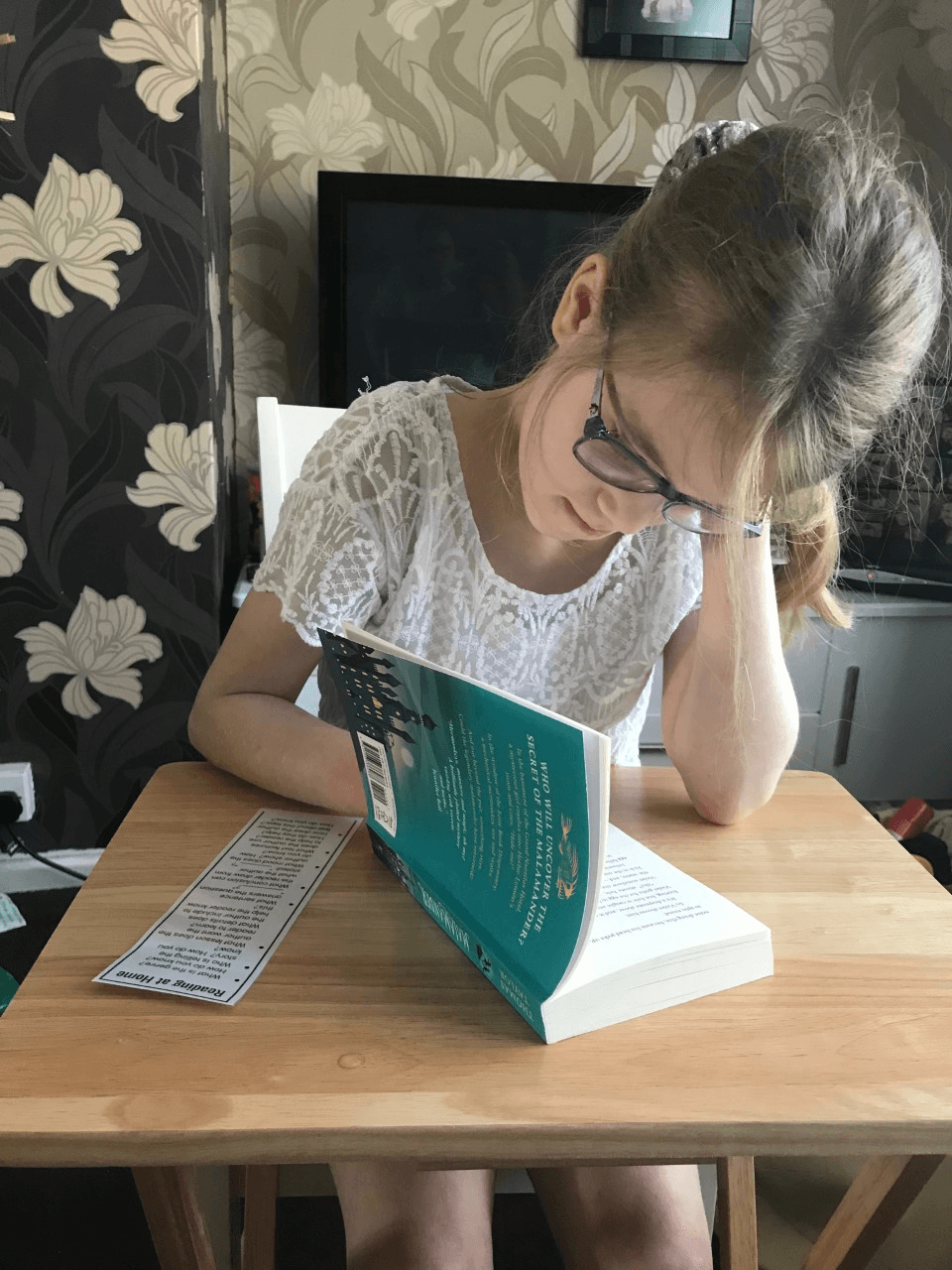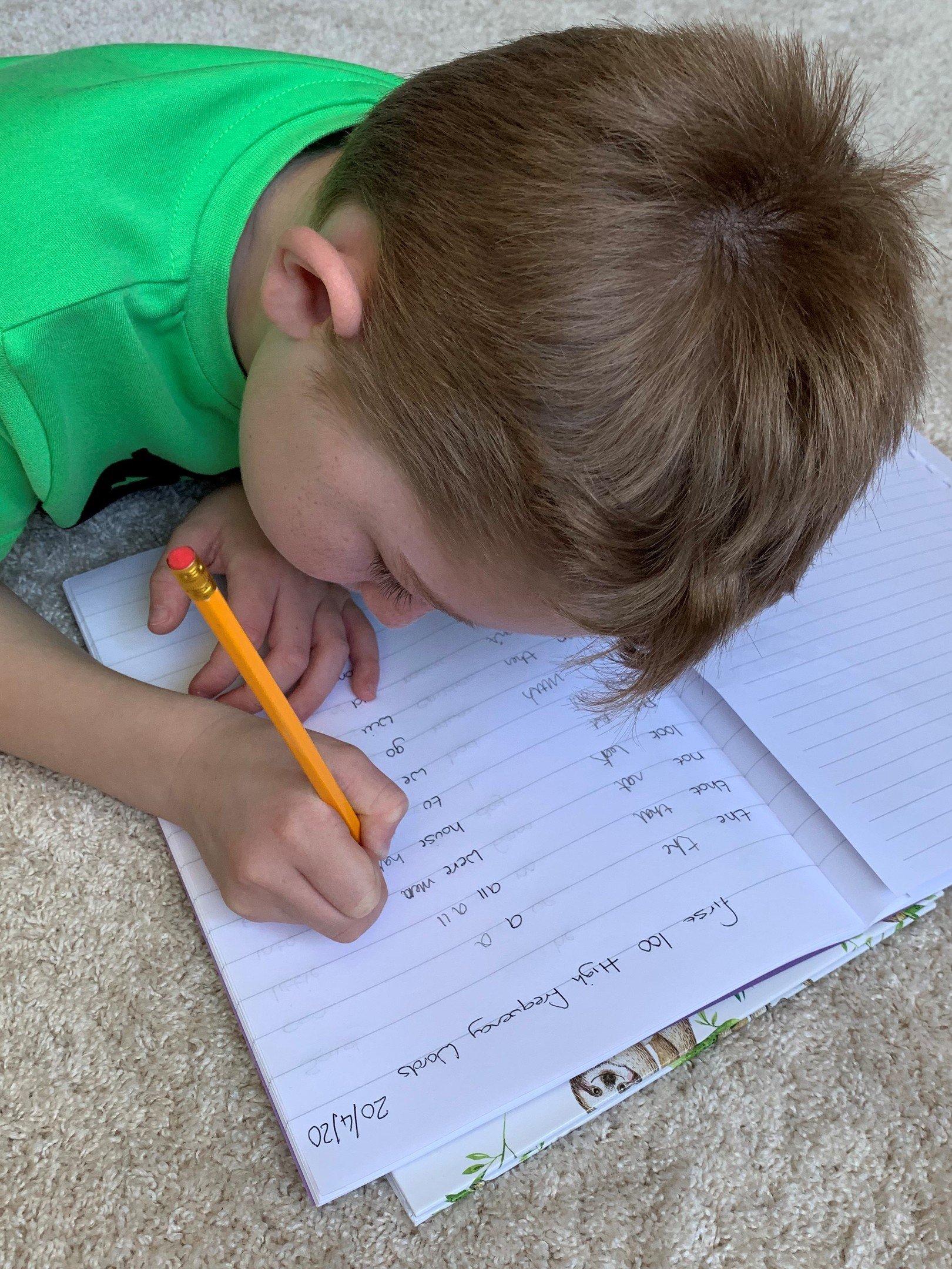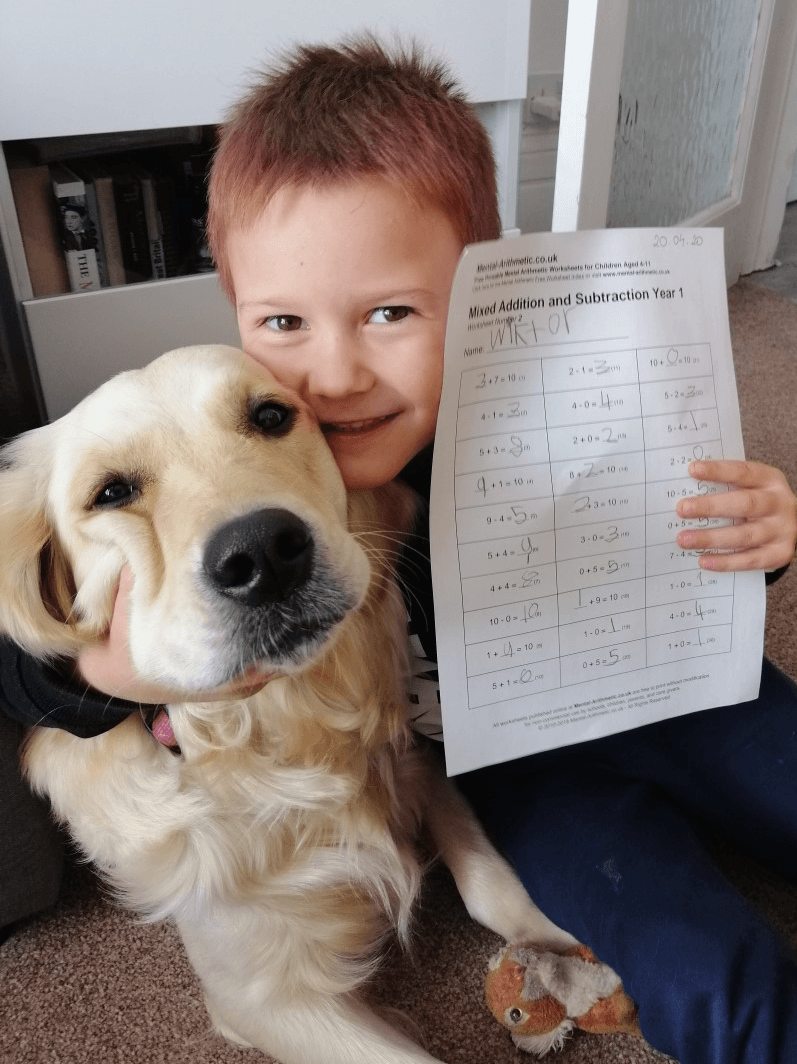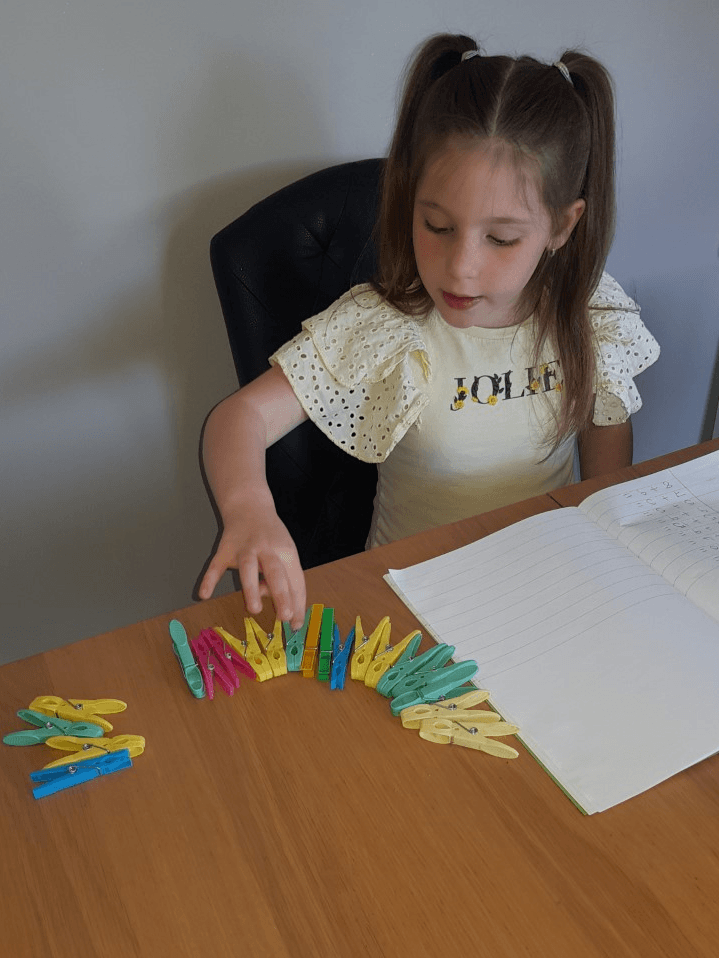 Lola has been reading daily - sometimes in the morning as well as before she goes to sleep. She is now on Book 7 of the Harry Potter series, Eddy is straight back to home learning after his Easter break and is practising spelling high frequency words, Wiktor completes a sheet of addition and subtraction calculations and Amelia uses pegs to help her practise subtracting.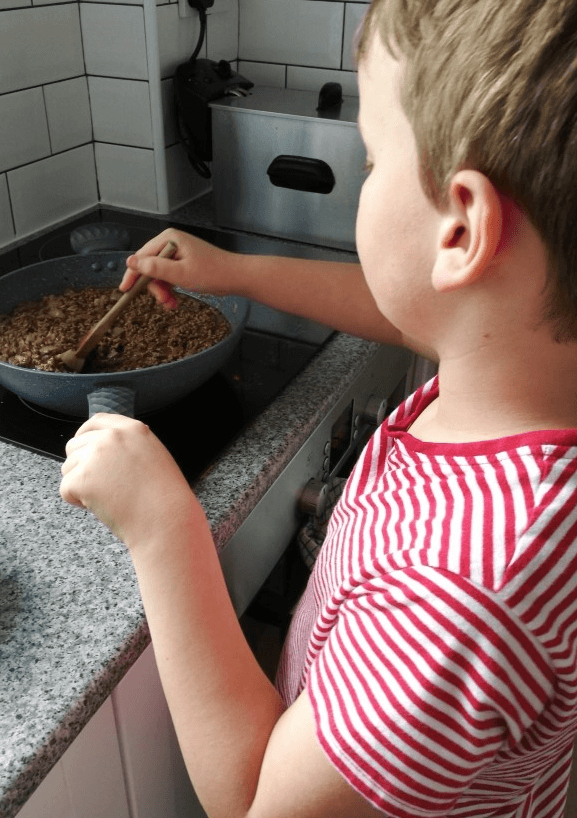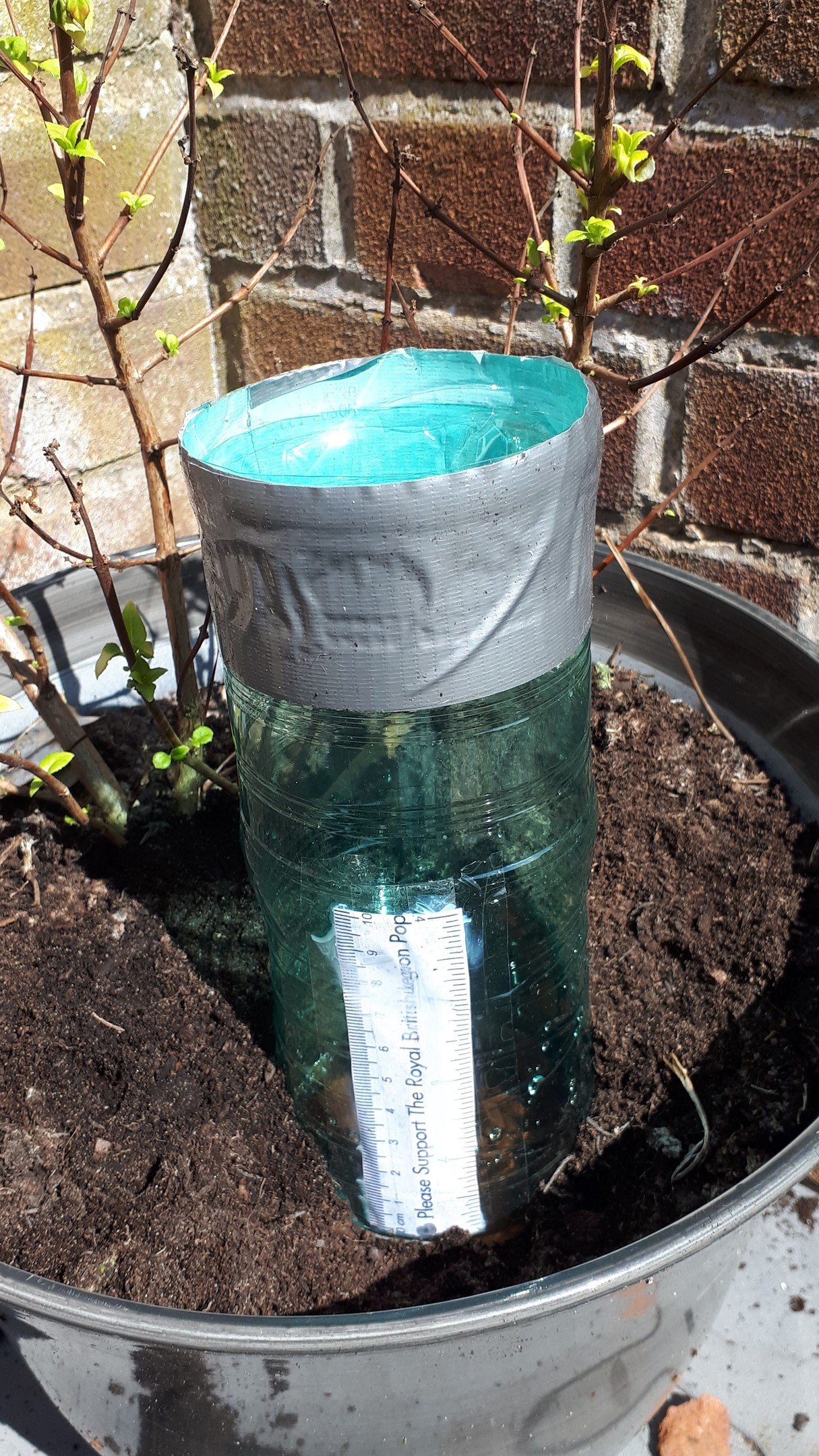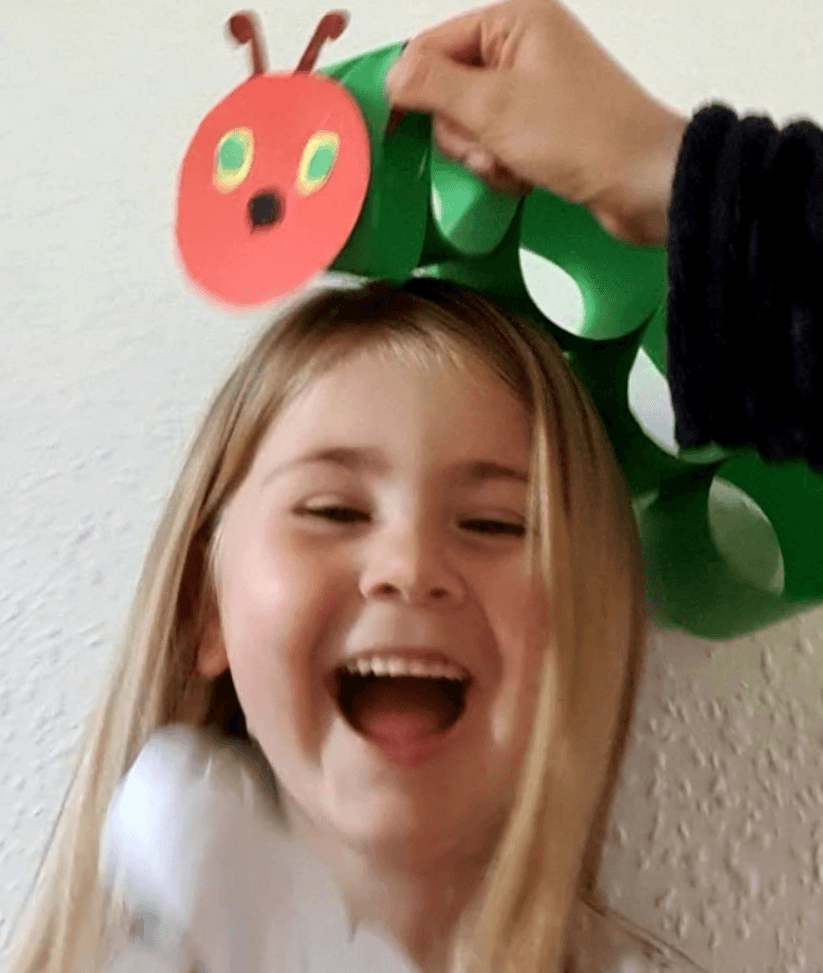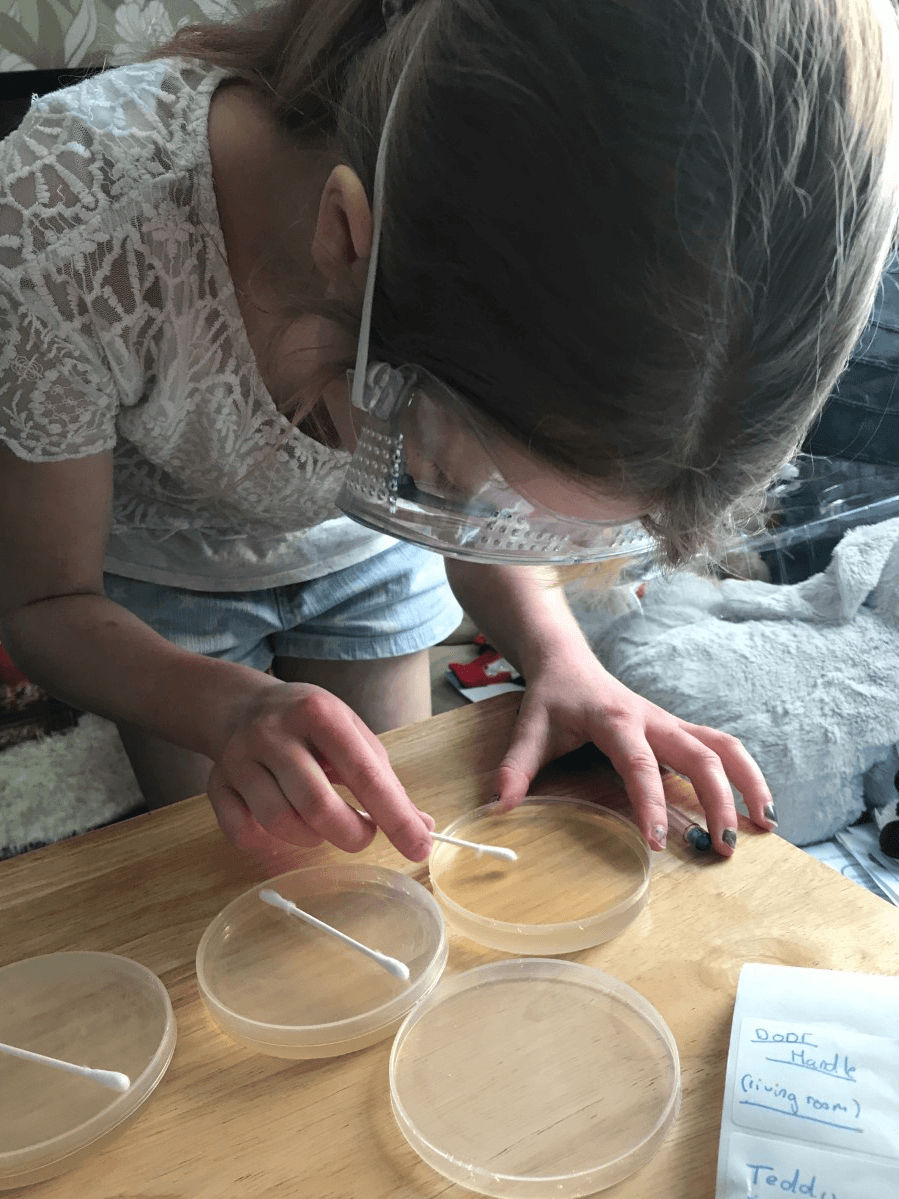 Archie learns how to make a shepherds pie, Jayden makes a rainfall gauge, Darcy makes her very own hungry caterpillar and Lola uses a science set to take samples and observe micro-organisms!
After reading "The Very Hungry Caterpillar," Jessie-Rose has been practising saying the days of the week in order. Click HERE to see her reciting them.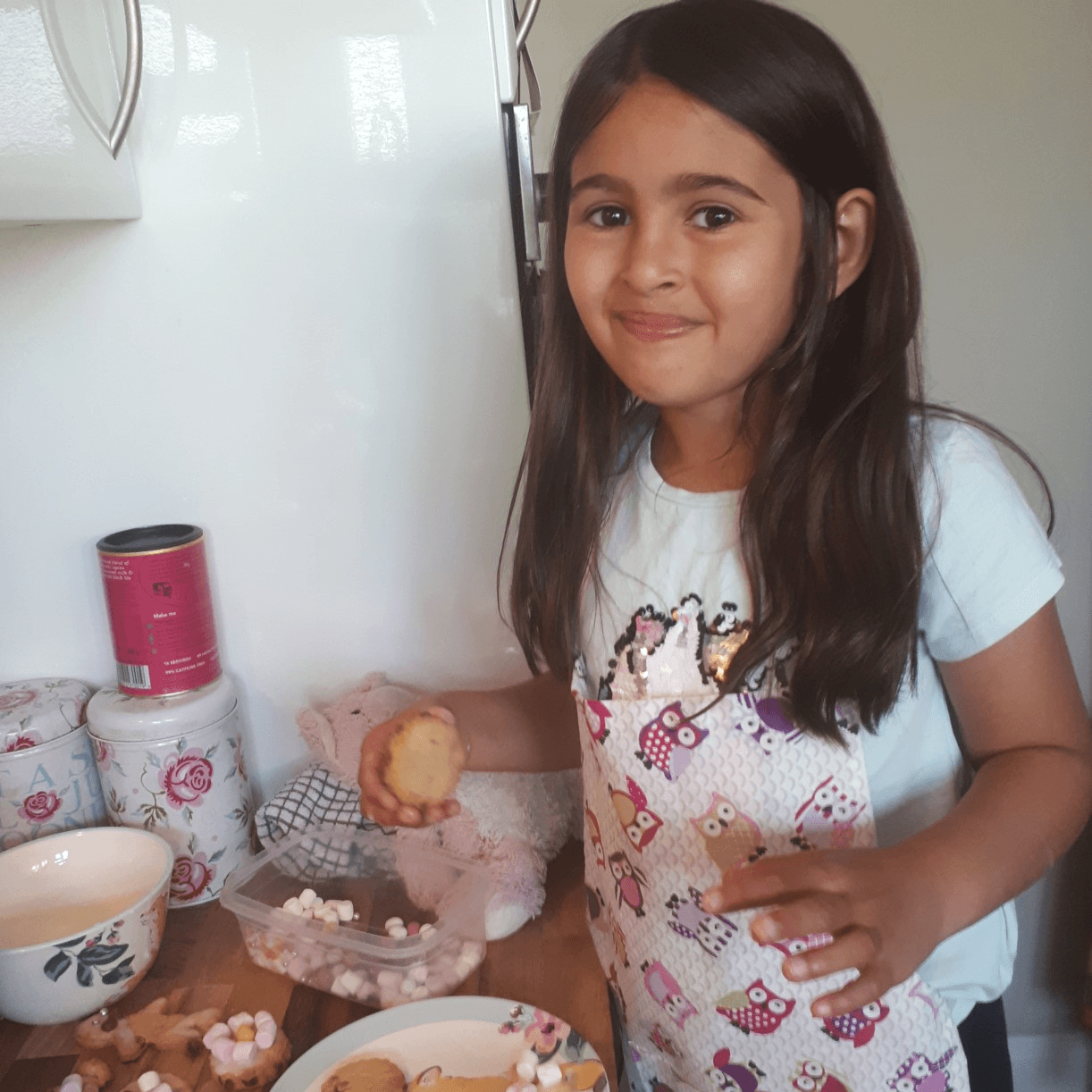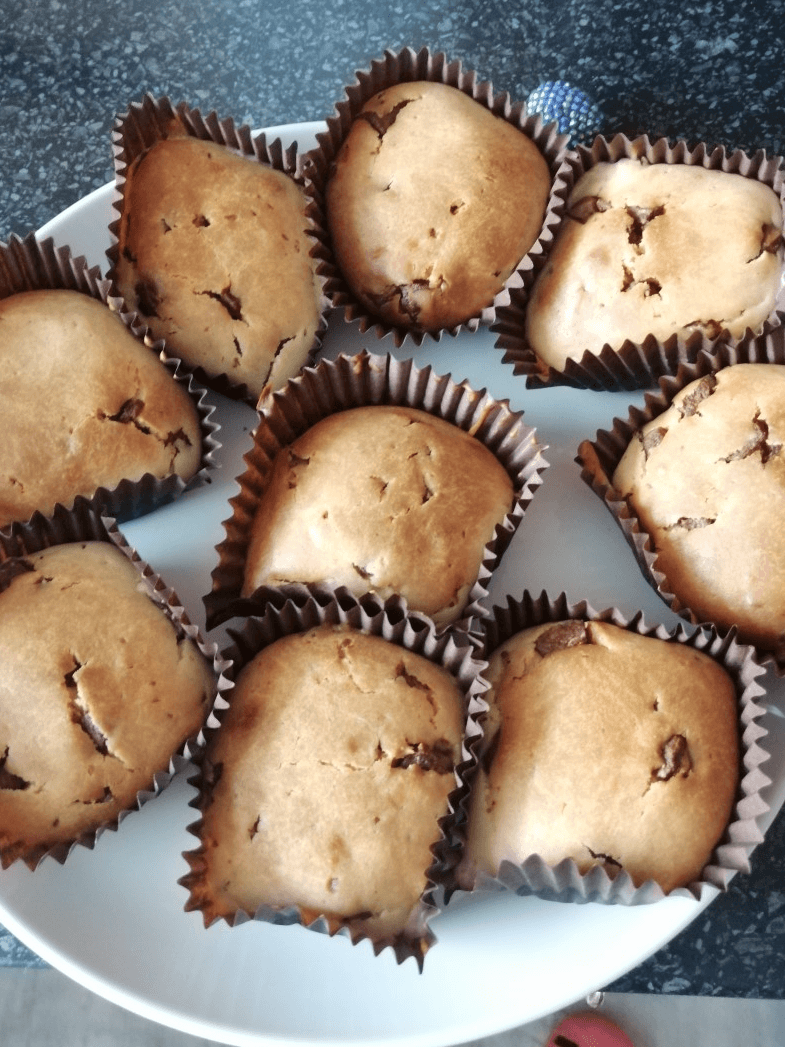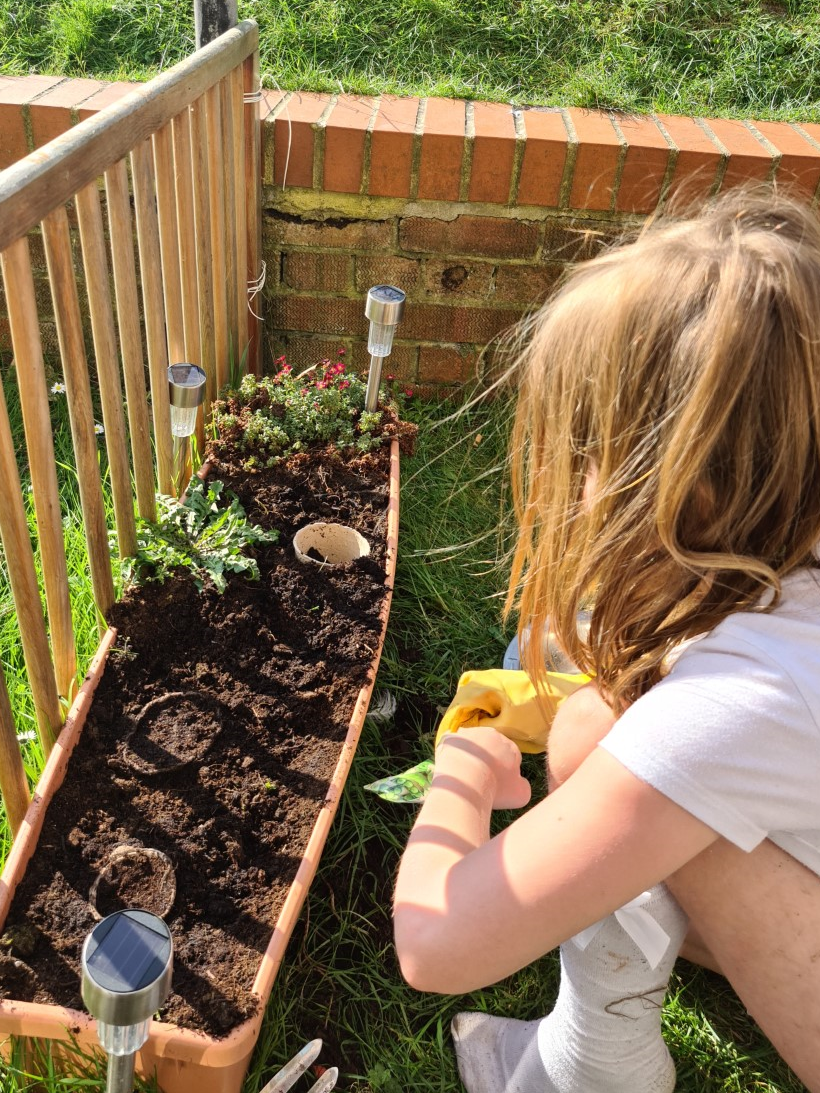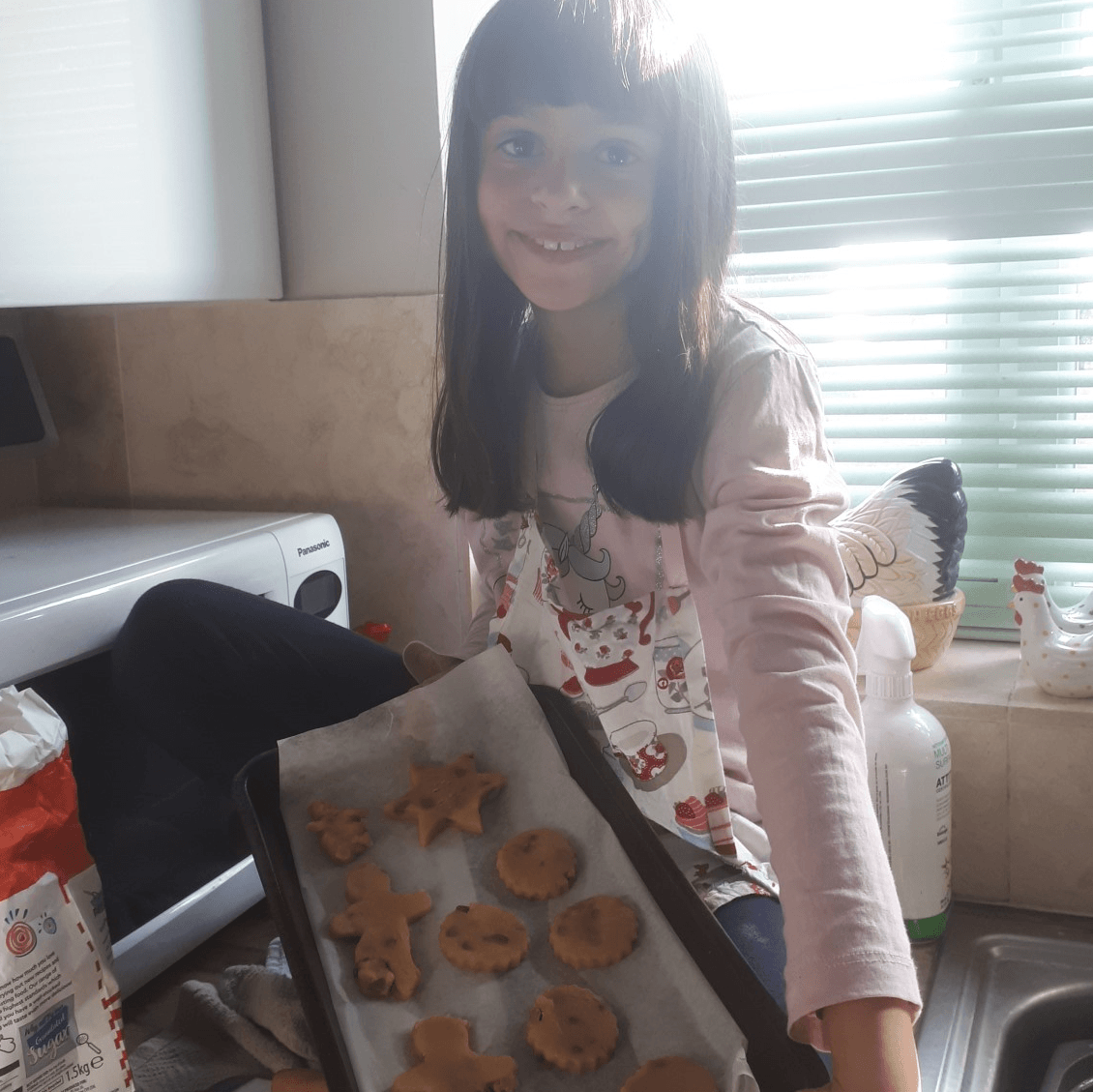 Sofia and Priya get baking, Wiktor's finished cakes, and Scarlett gets out in the sunshine and gets planting!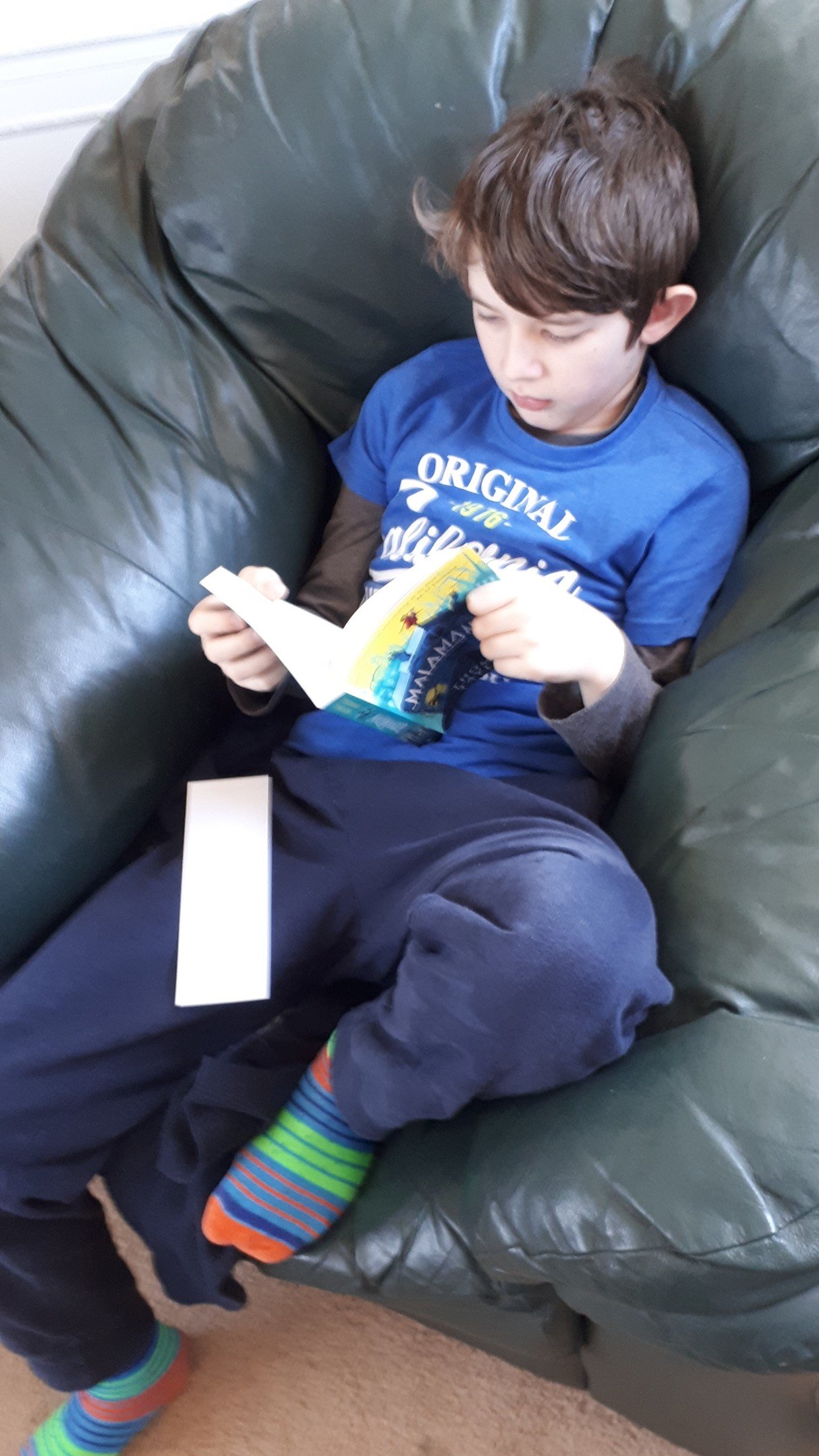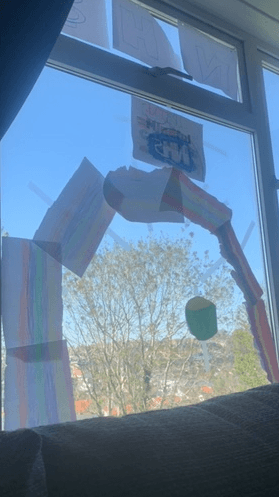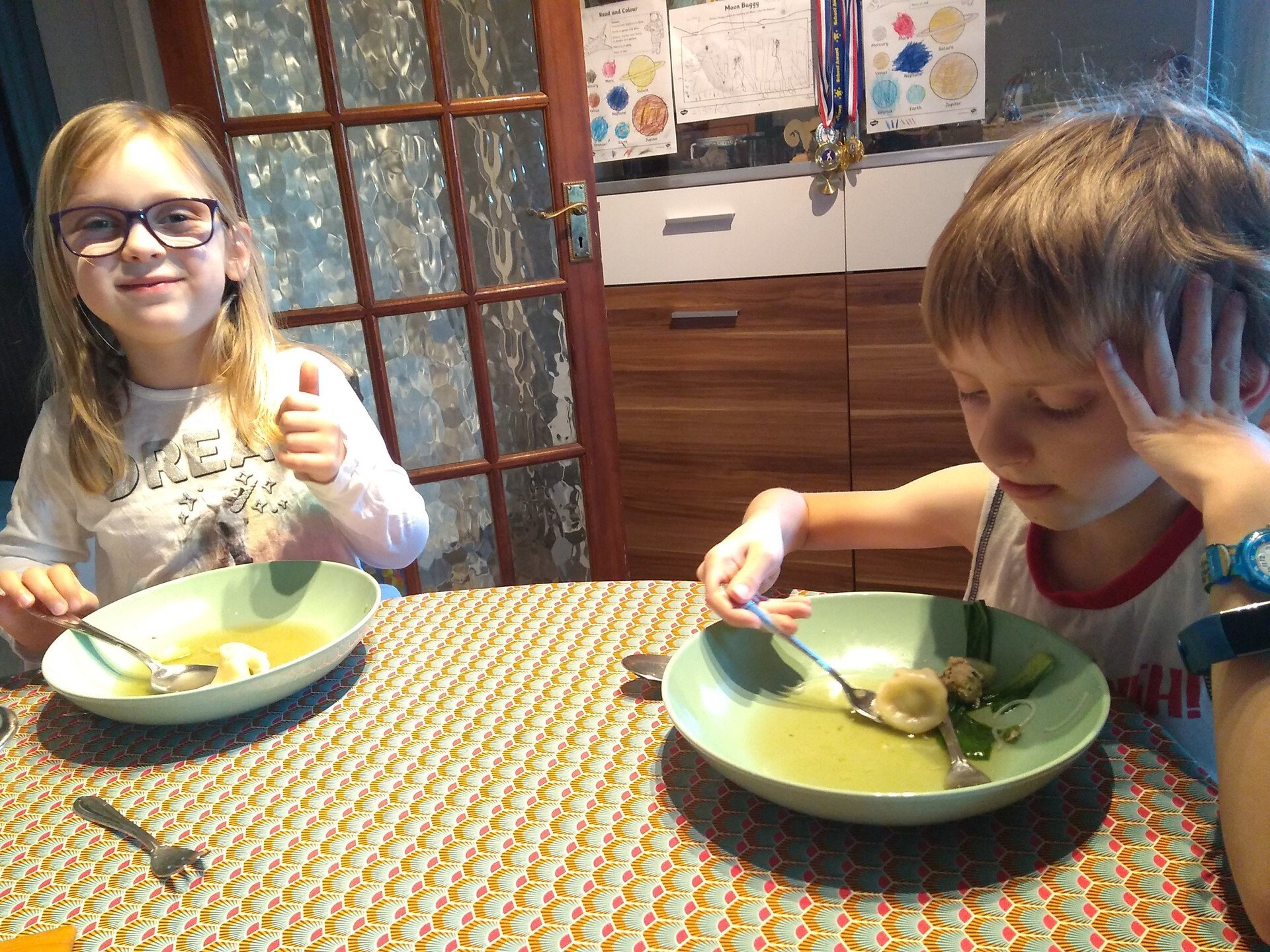 Look at how much home learning Jamie has completed in under three weeks! Jayden carries on reading Year 5's class novel "Malamander" and Mia and Jack Cooke have created a rainbow for their window. After watching Masha and the Bear, Audrey and Julian make their own wonton soup.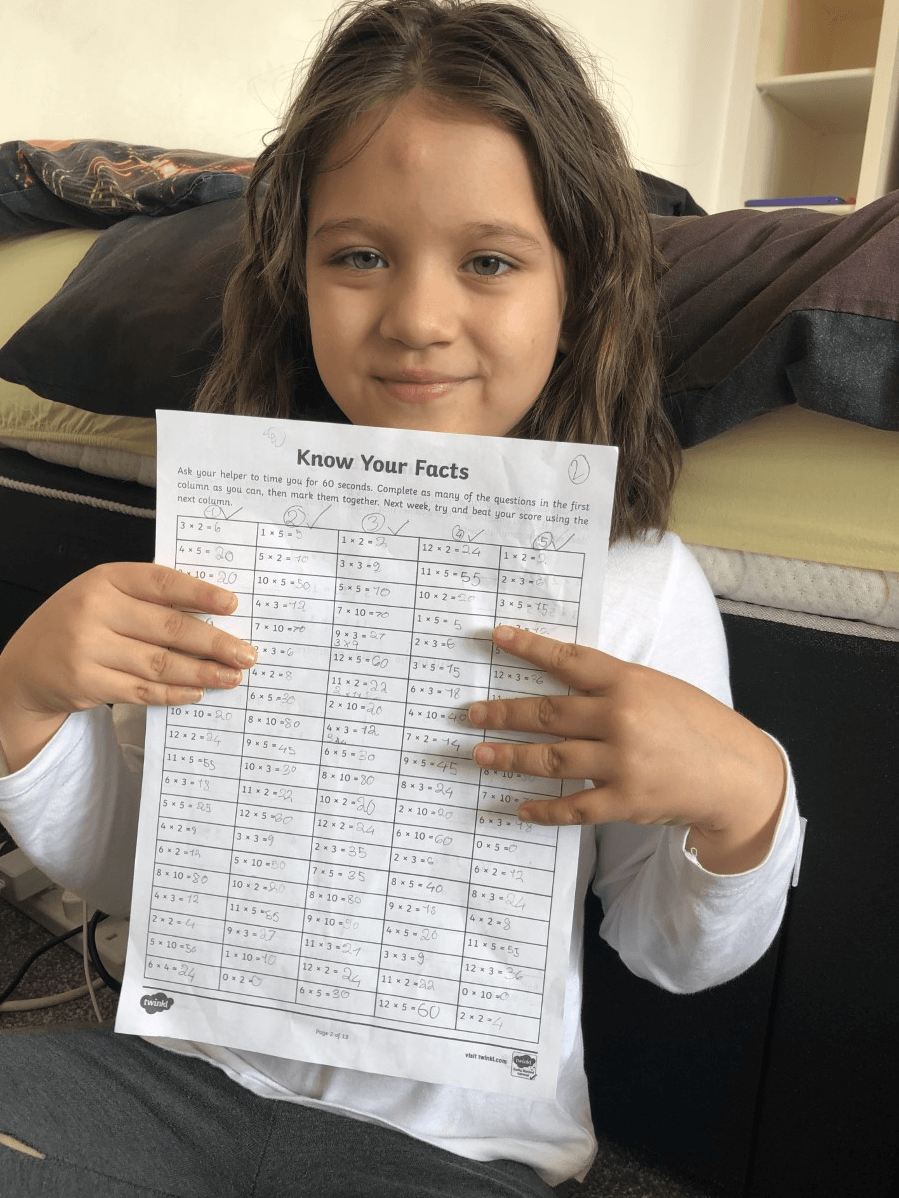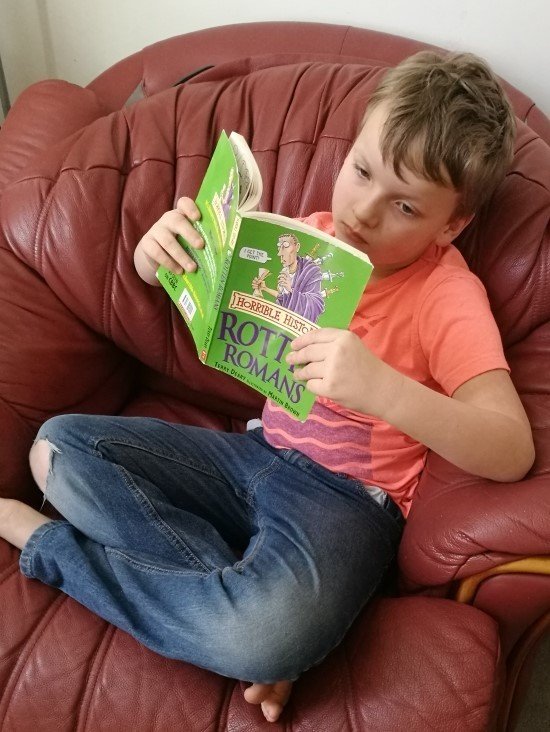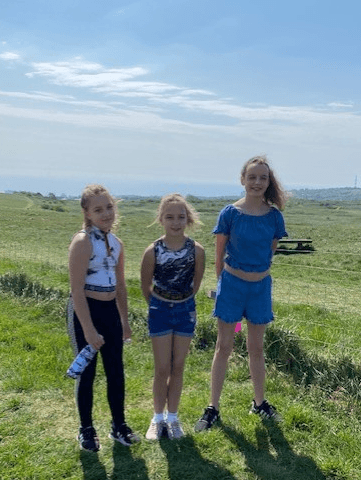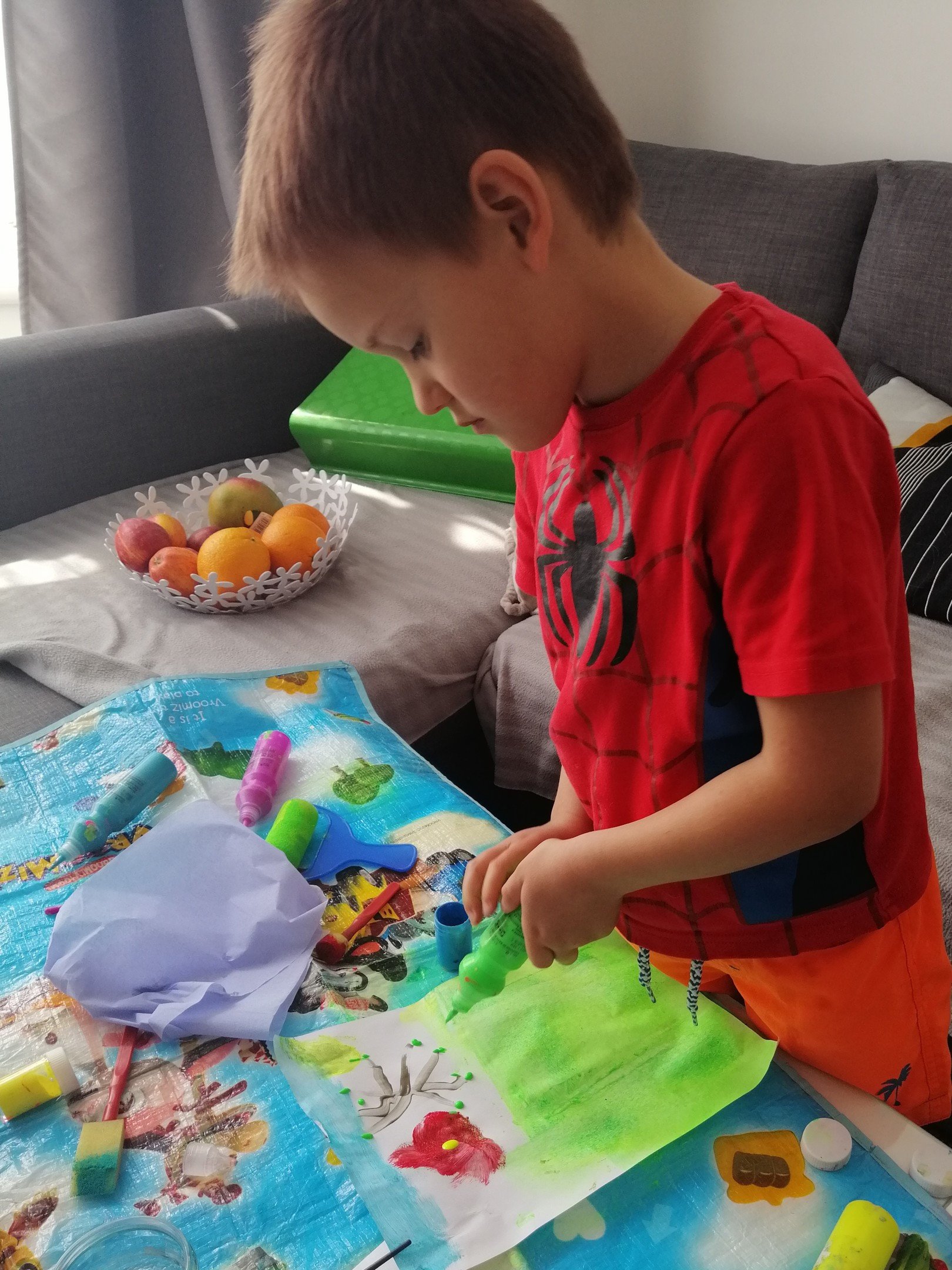 Paula practises her times tables, Archie starts research on St John's Class's new history topic, Billie and Lola enjoy the sunshine on a local walk with their family and Wiktor gets painting!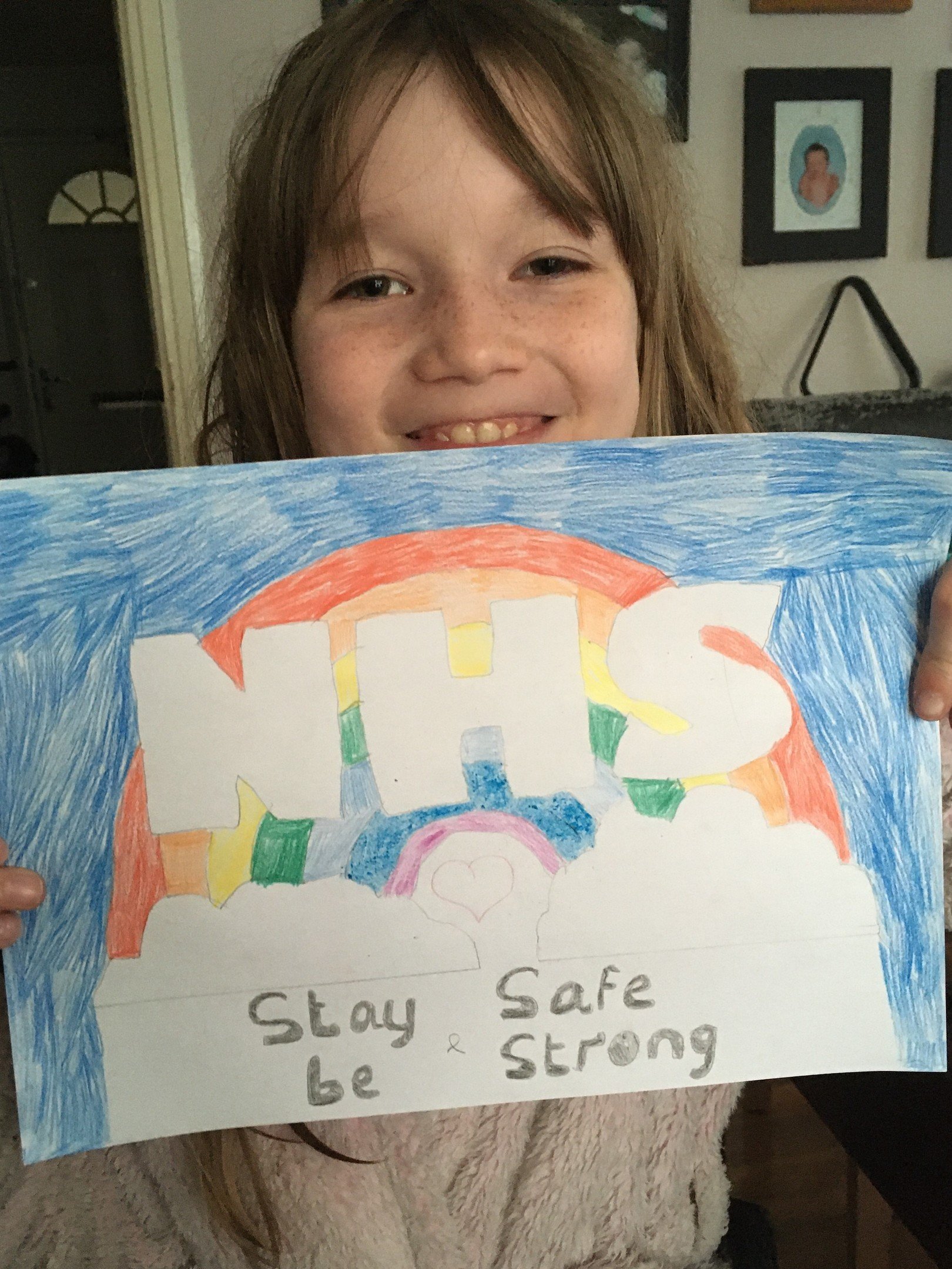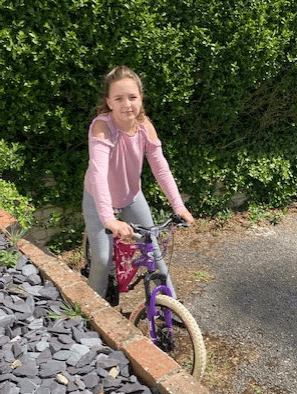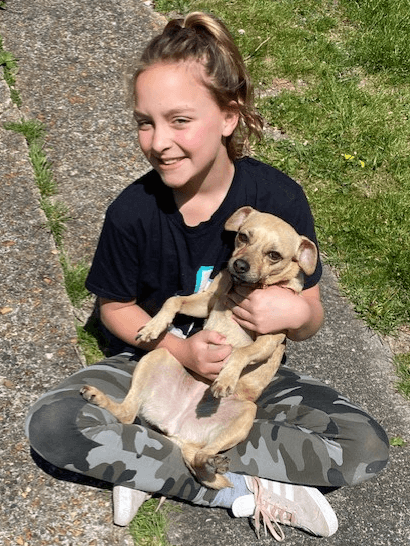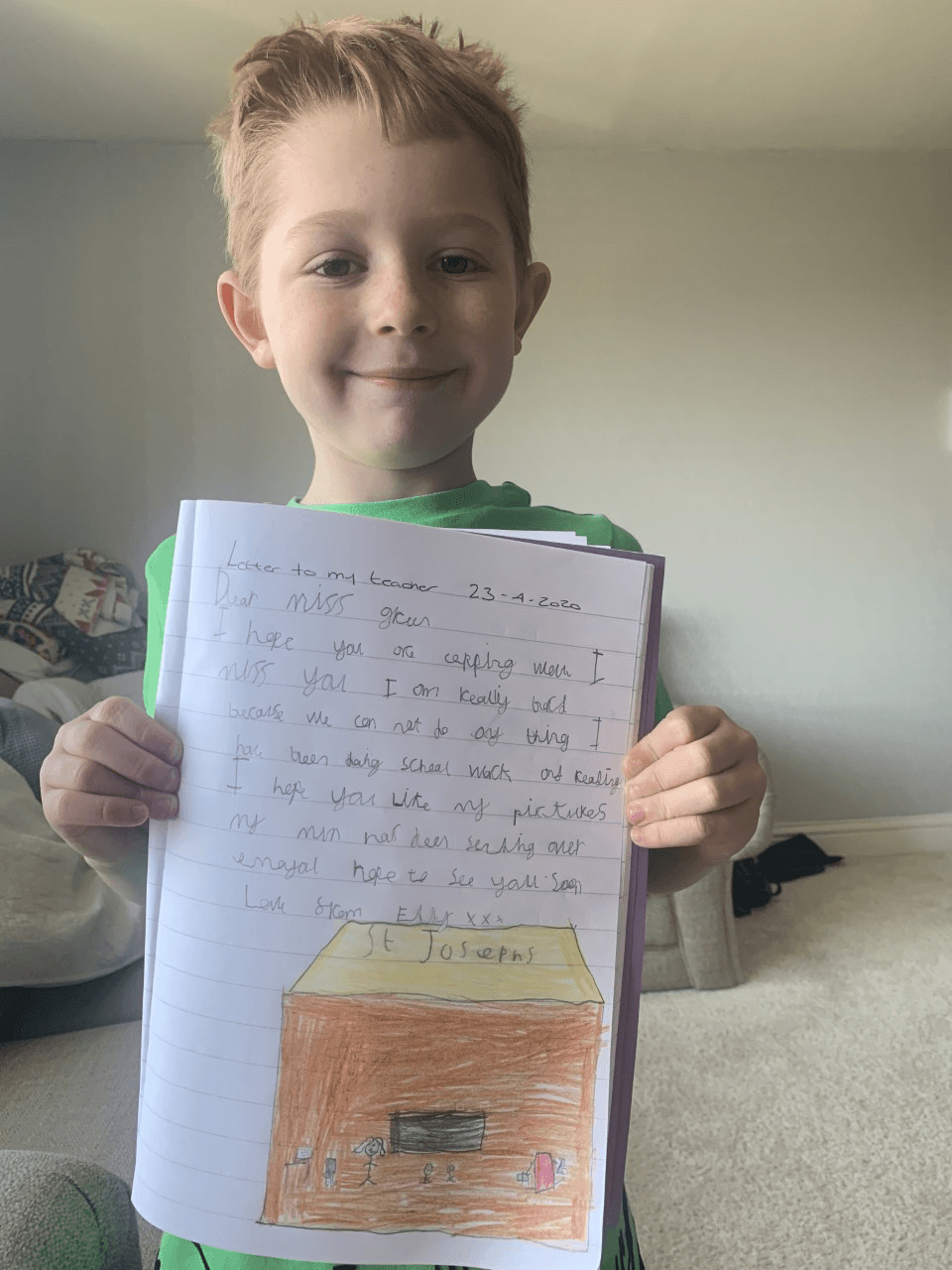 Mia shows her support for the NHS, Billie gets some exercise on her bike and Lola plays with the dog in the garden. Eddy has written a lovely letter to Miss Green.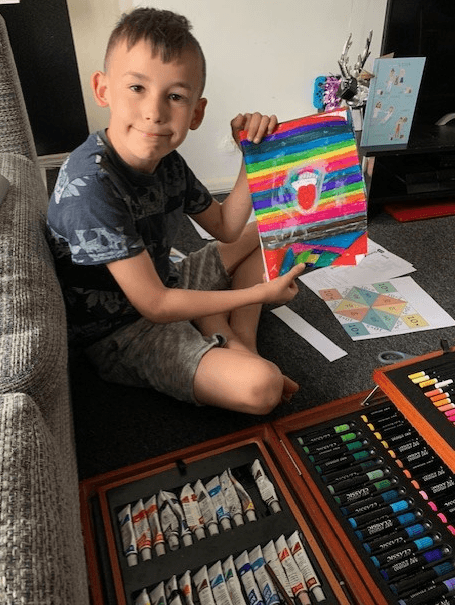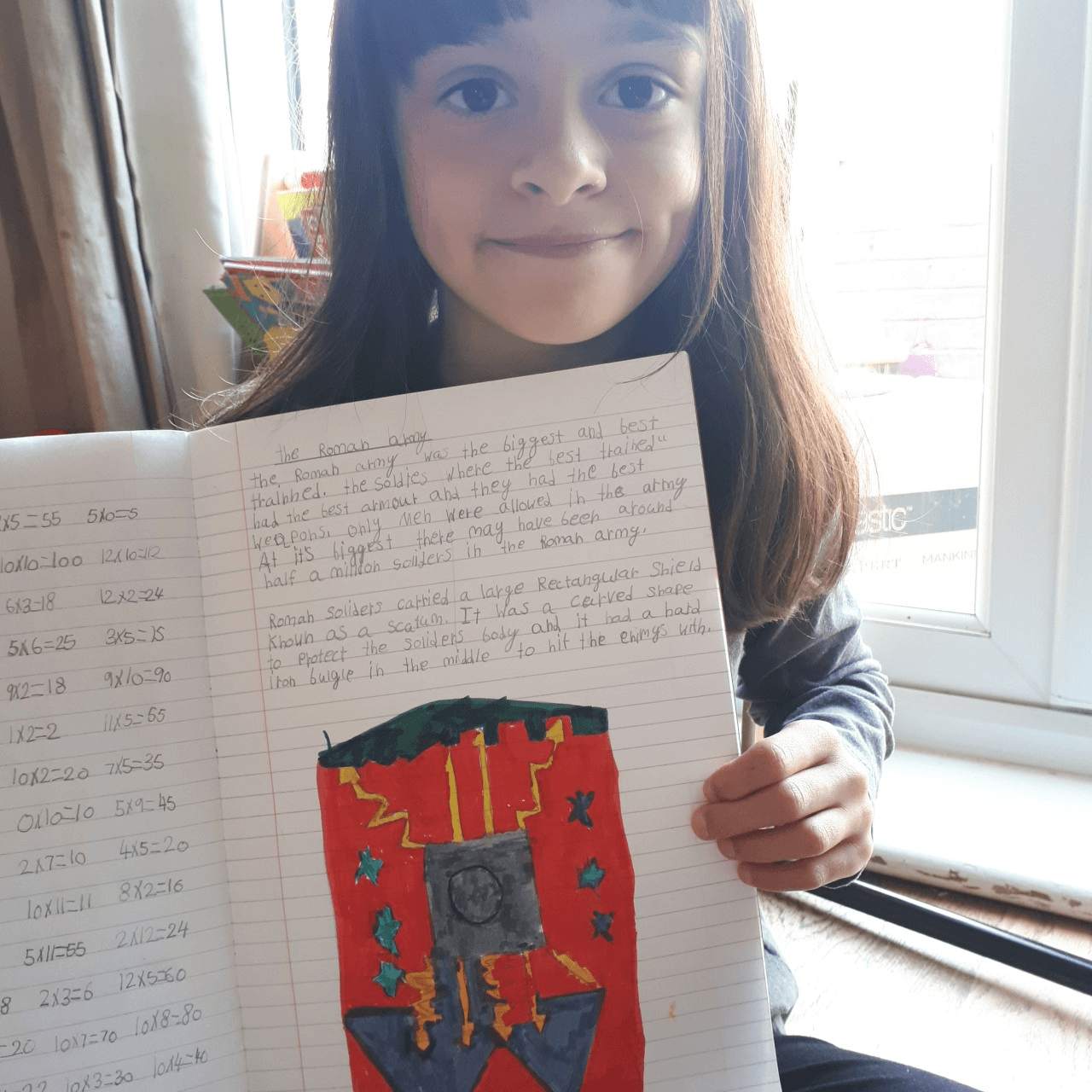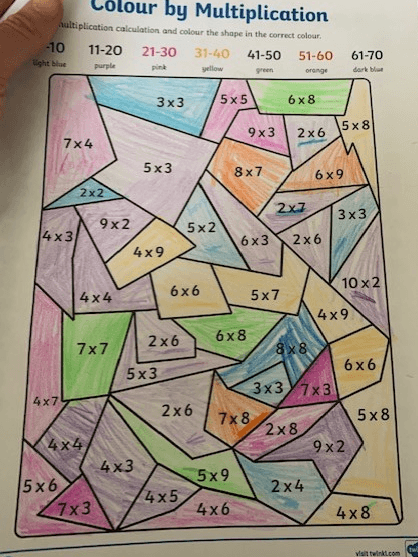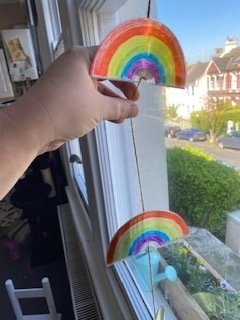 Jack gets creative with his art set, Sofia shows off her Roman shield design, Mia practises her times tables and Lily makes a colourful rainbow mobile out of CD's!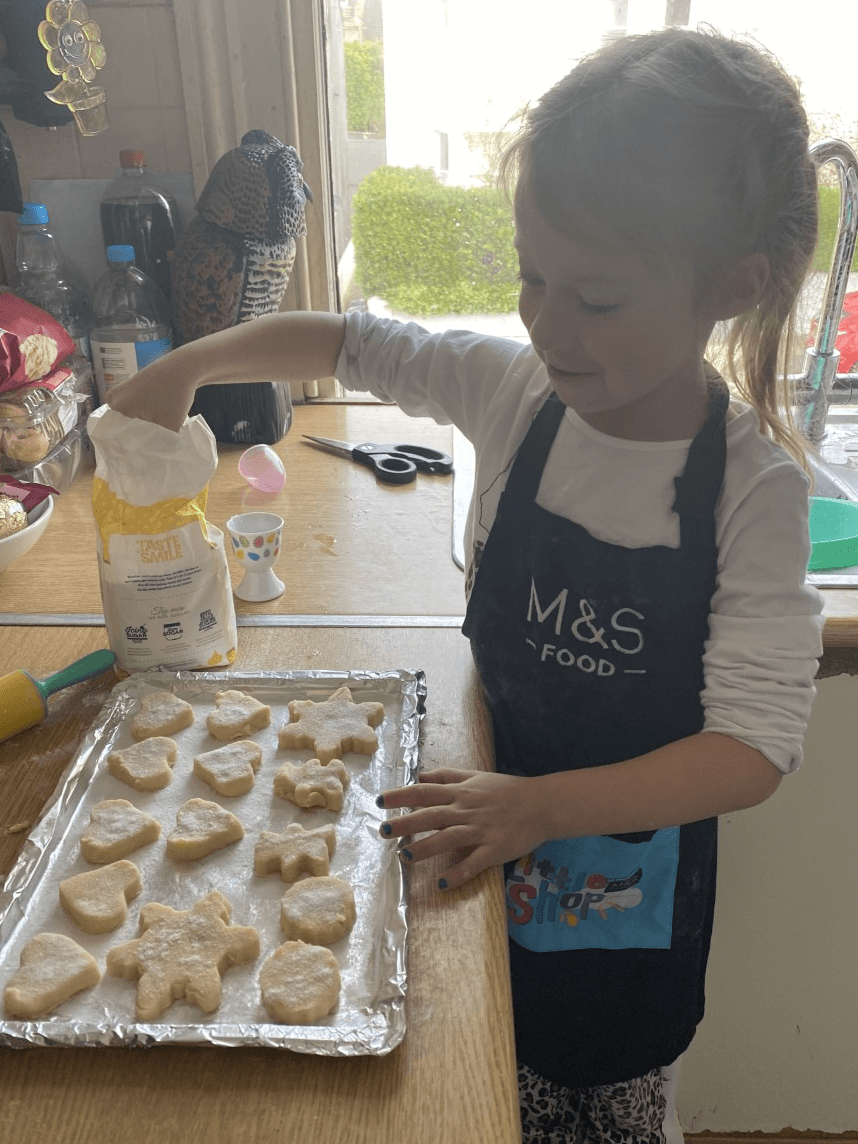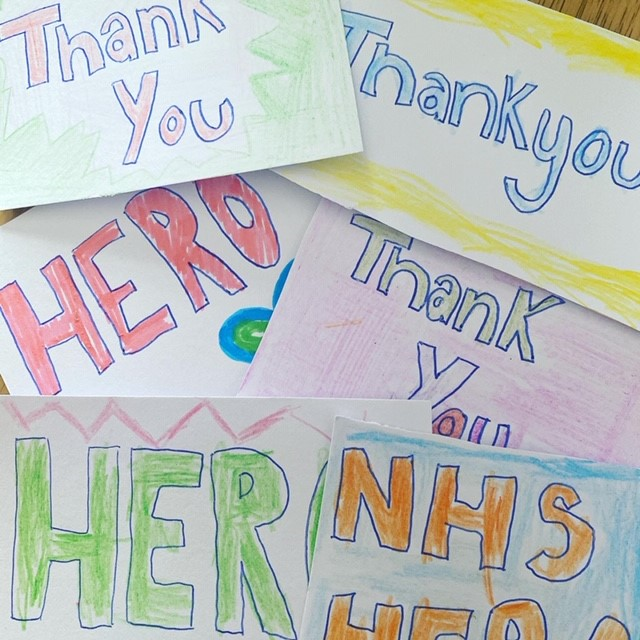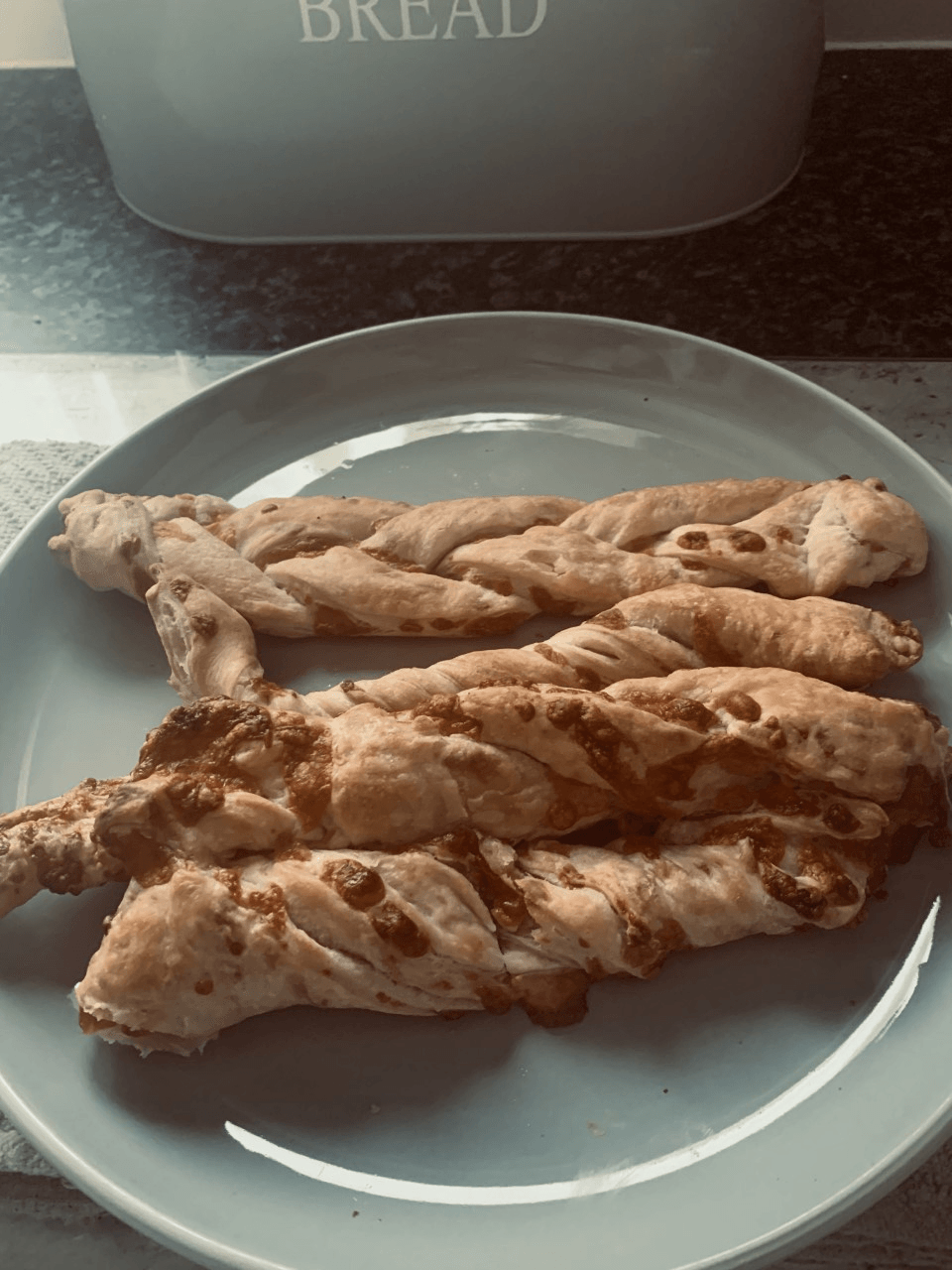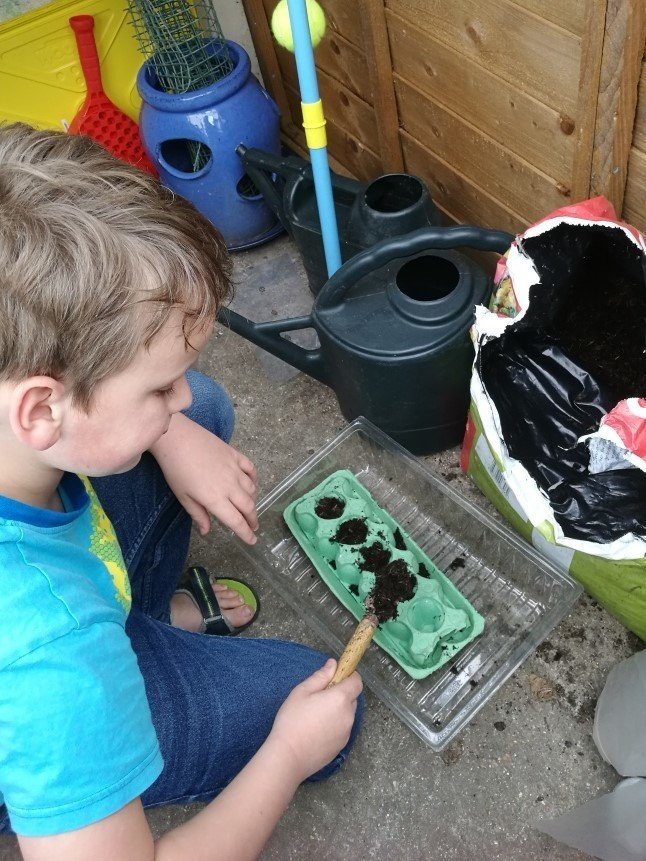 Lily makes biscuits, thank you notes made by one of our families for our fantastic NHS workers, Jamie's finished cheese straws (yum yum!) and Archie makes his own egg box planter.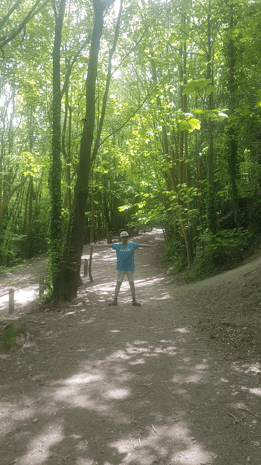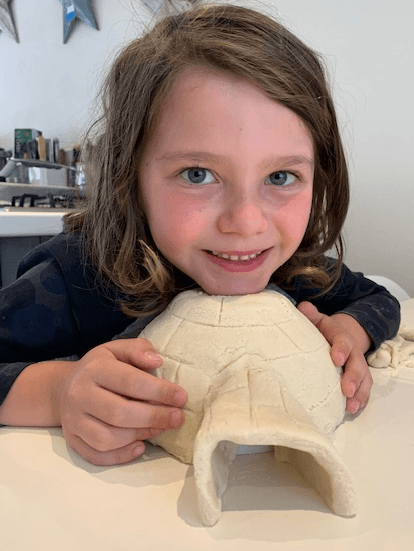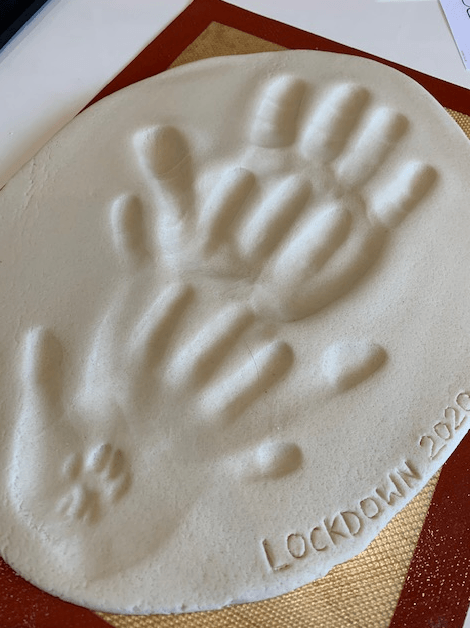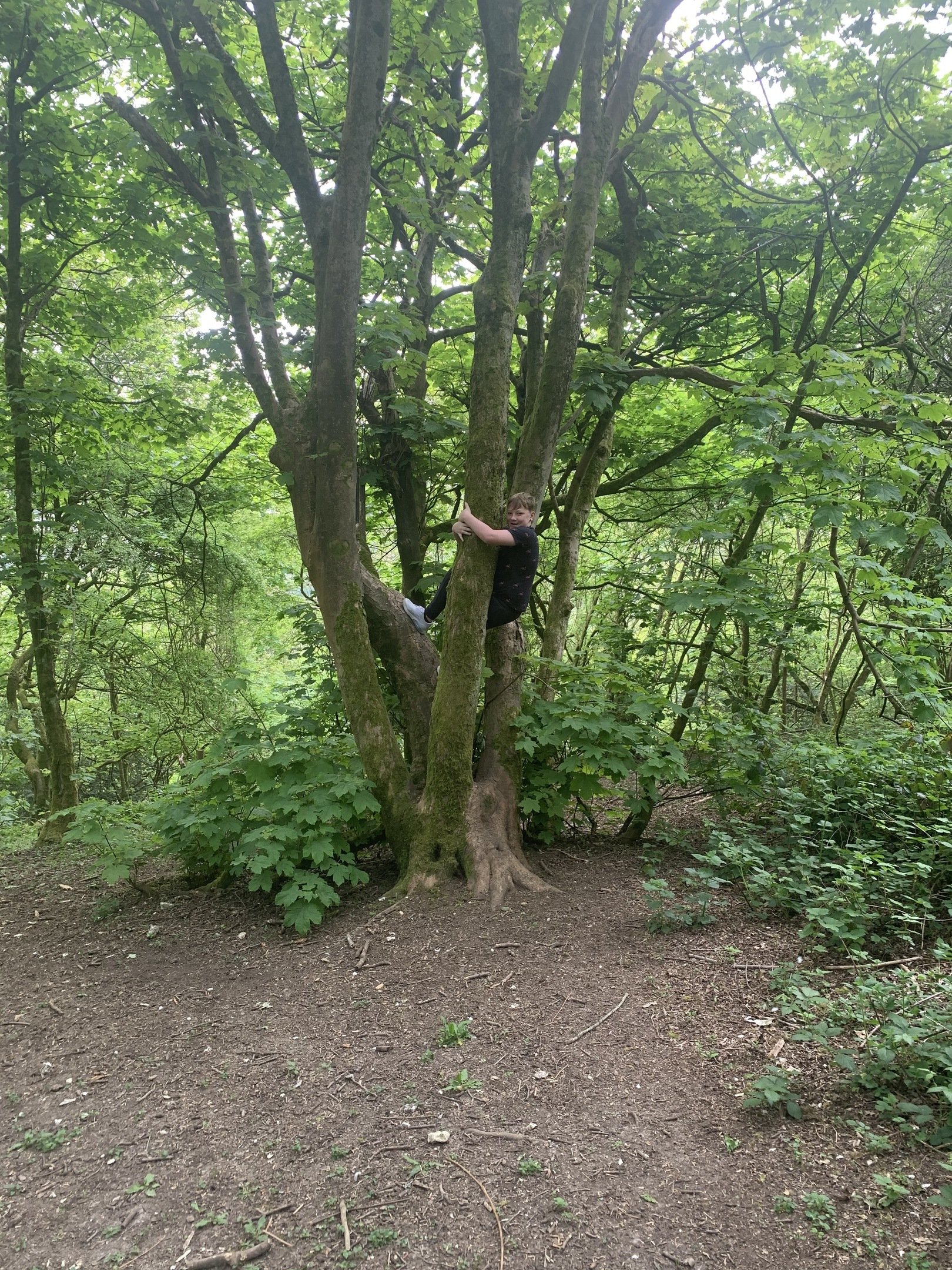 Timon goes out into the woods for some fresh air and exercise with his family. Luca makes a salt dough igloo and a very creative family momento! Jamie goes for a long walk (with a little bit of tree climbing!)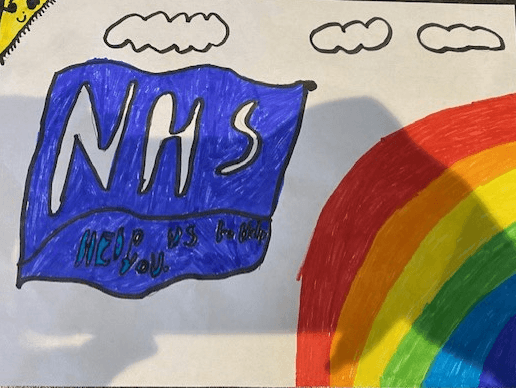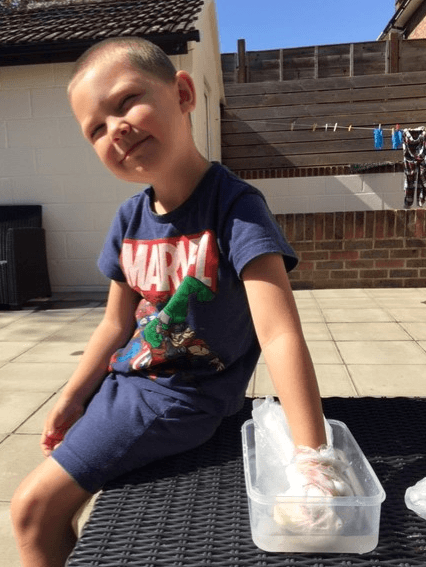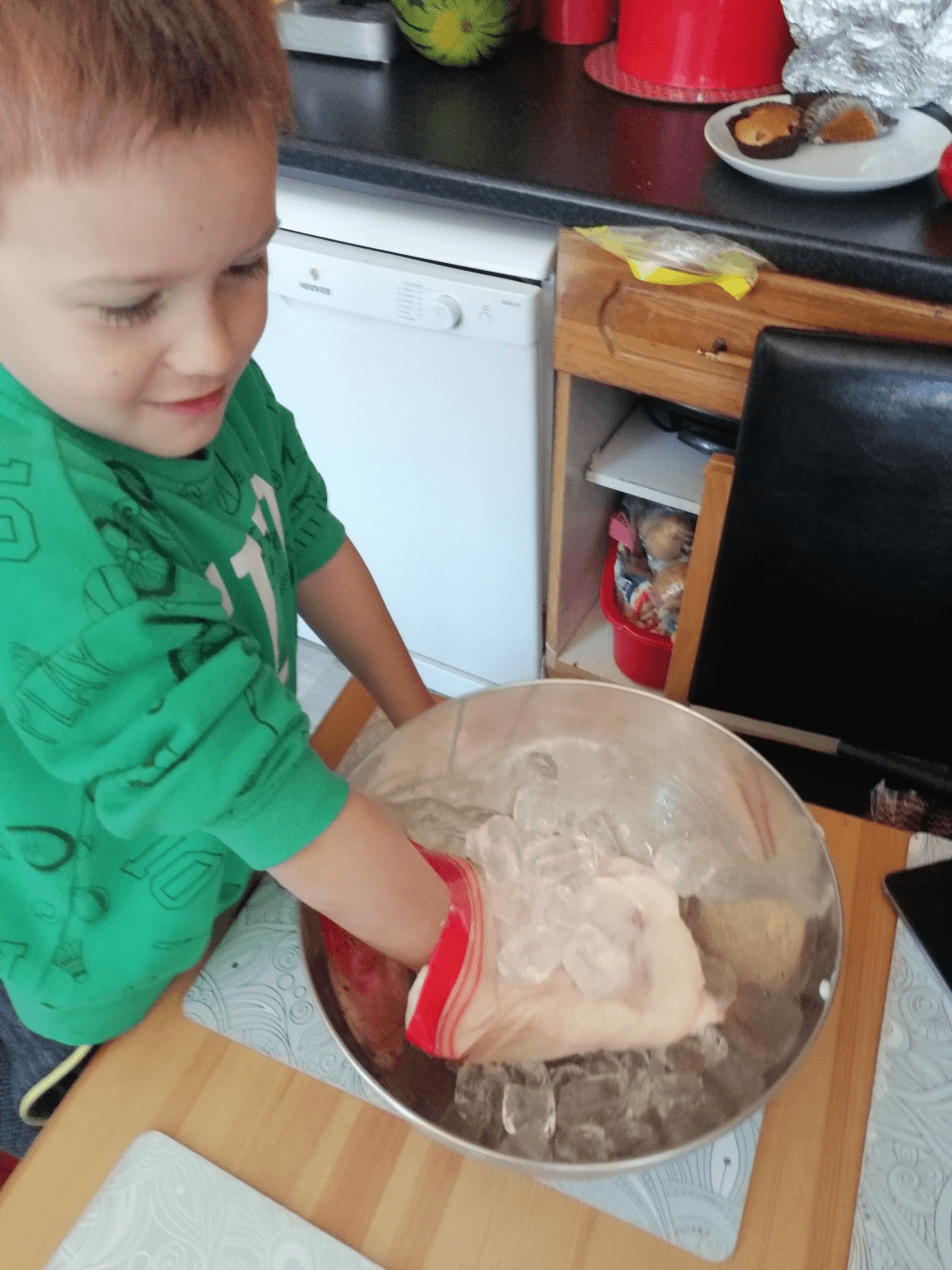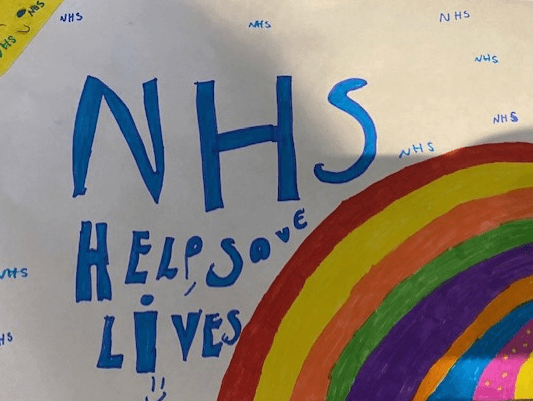 More colourful tributes to our inspirational NHS workers. Harry and Wiktor in Year 1 complete a Science experiment called "Blubber Gloves" which demonstrated how a layer of blubber keeps animals warm in the Arctic.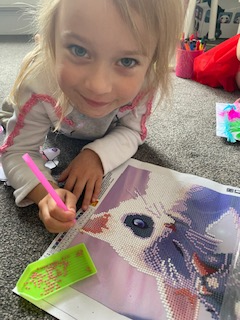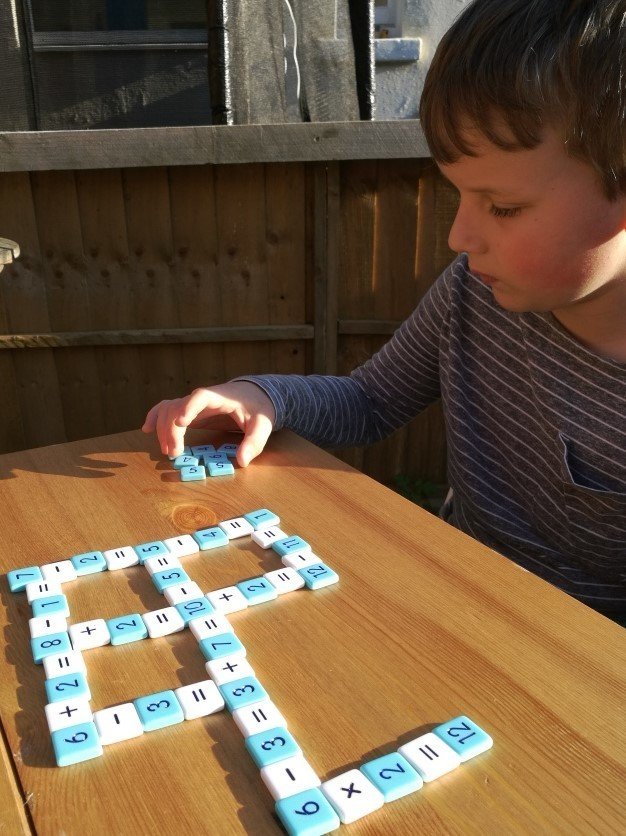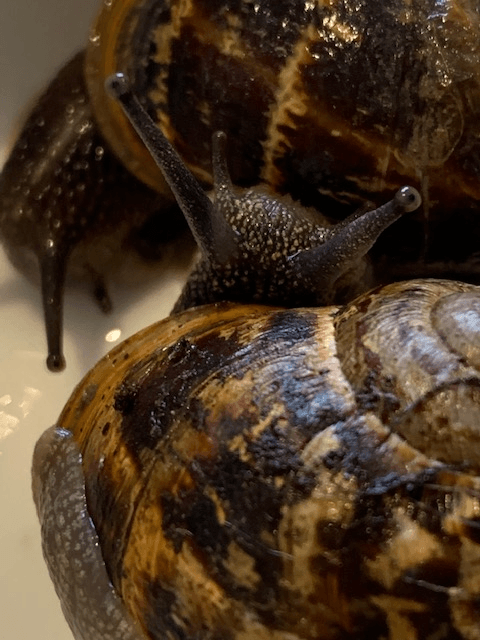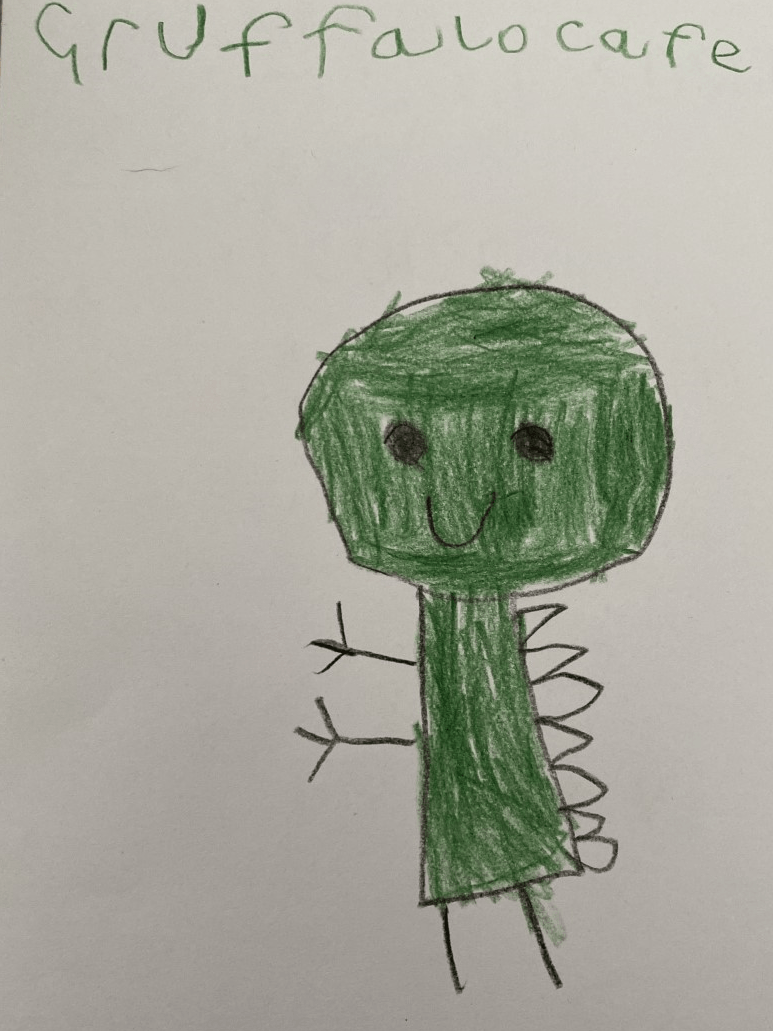 Lily continues with her time consuming, but rewarding, diamond art, Archie plays "maths scrabble," Luca looks closely at the mini-beasts and other wildlife in his garden and Theo write his own menu for the Gruffalo Café.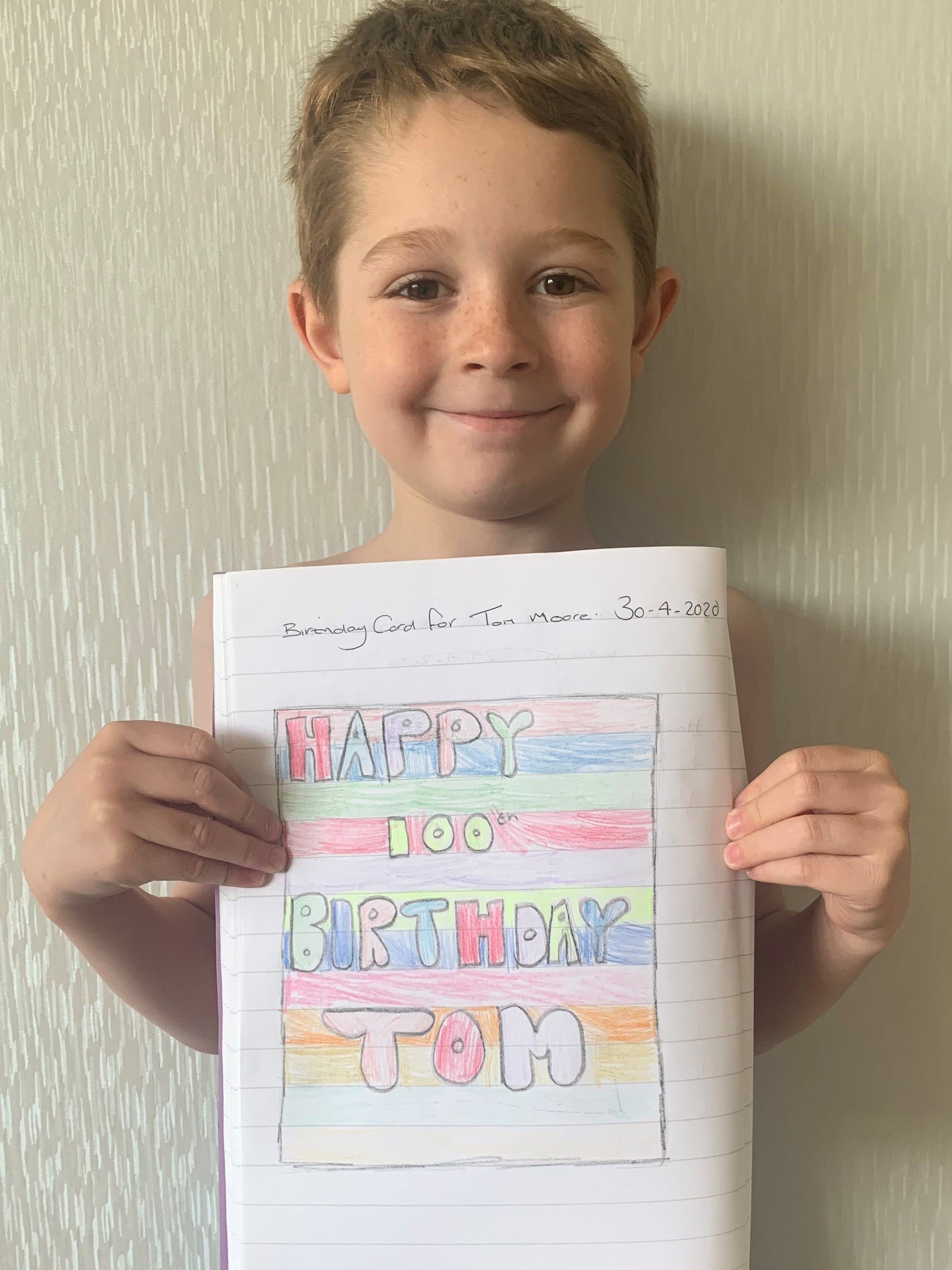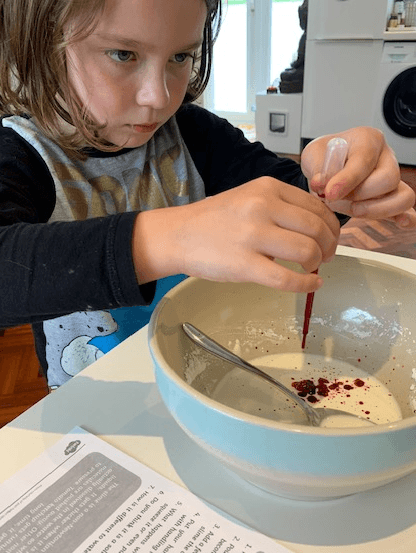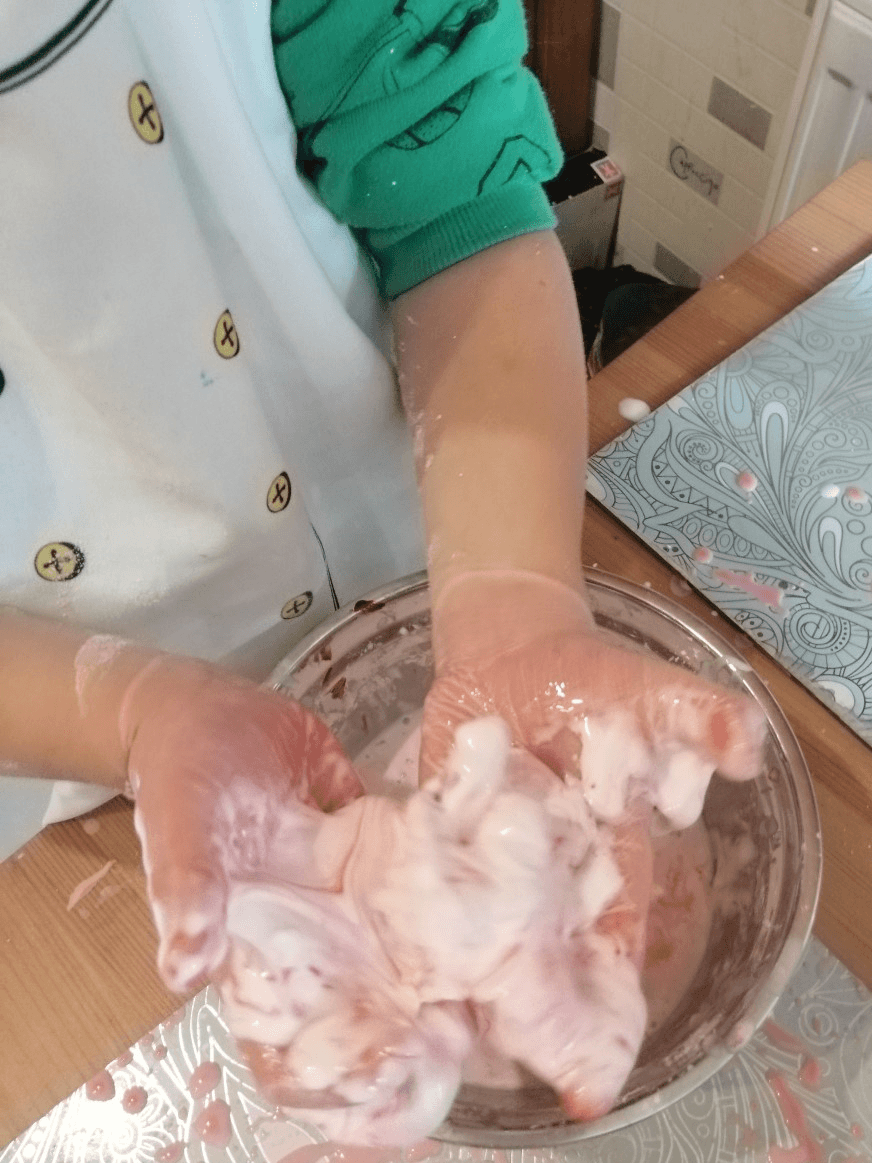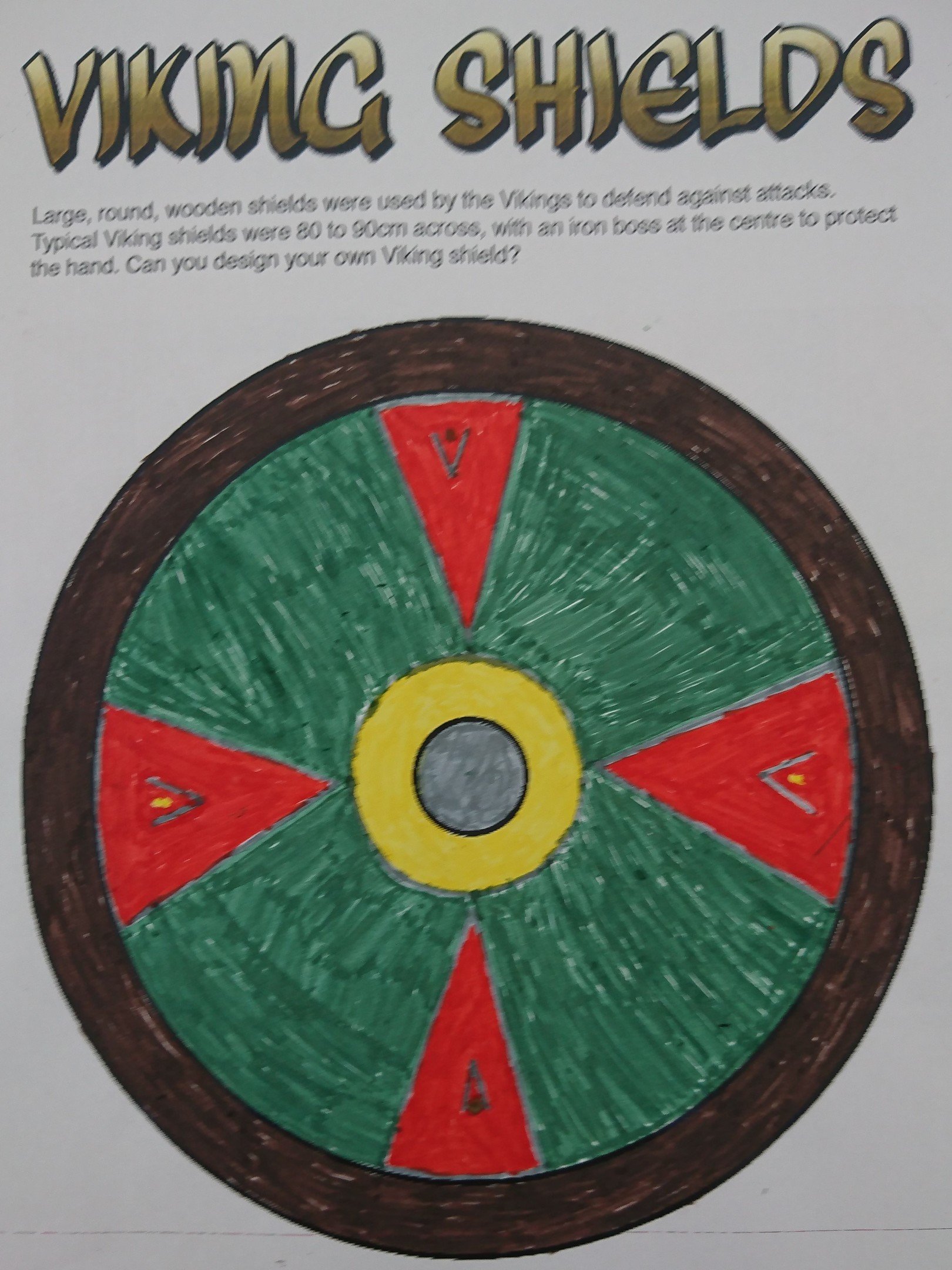 Eddy makes a birthday card for Captain Tom Moore, Luca and Wiktor get messy and make slime - learning about the properties of "non-Newtonian" liquids and Patrick designs a Viking shield.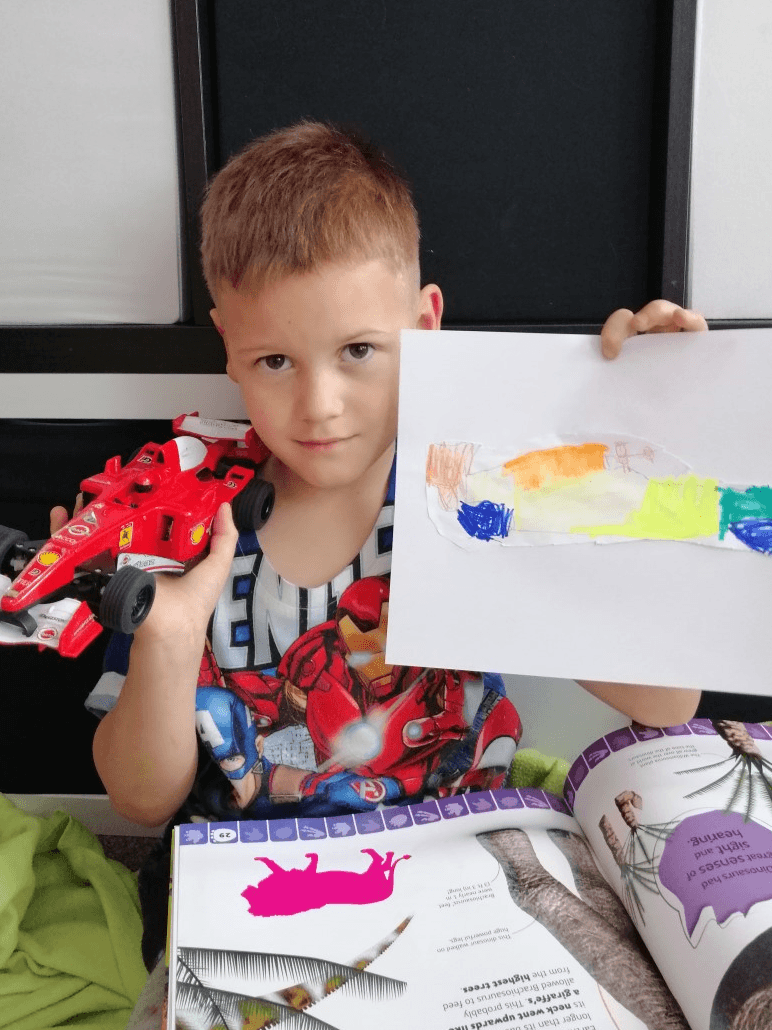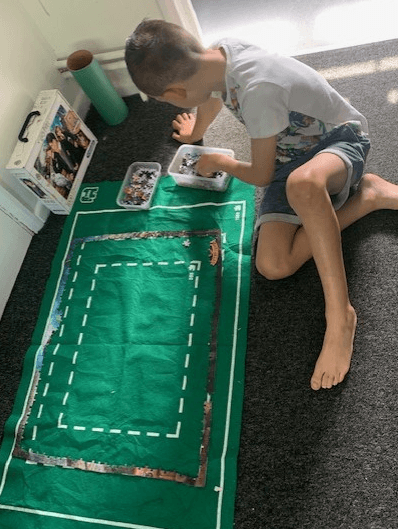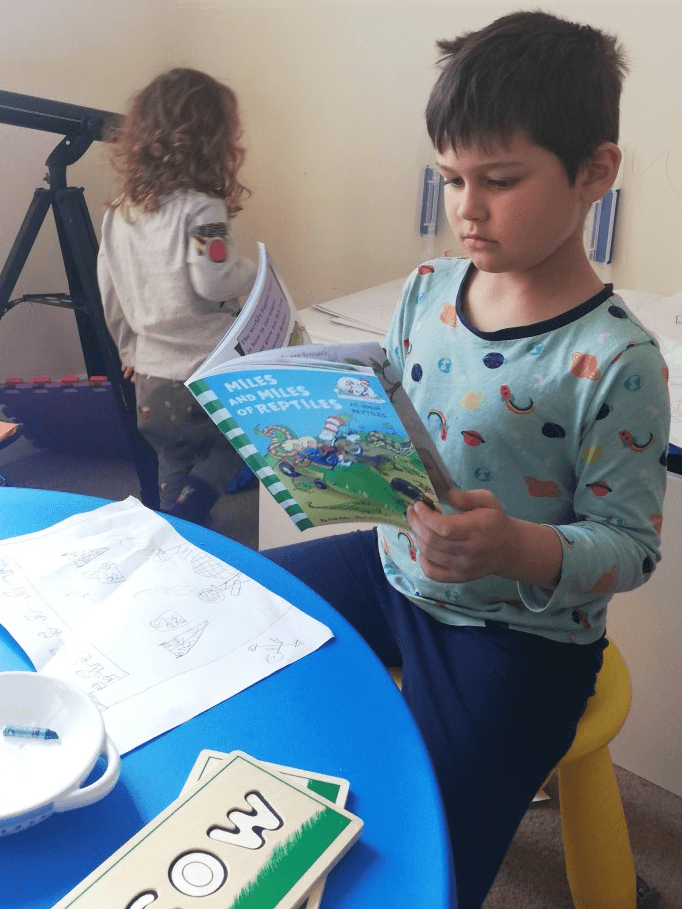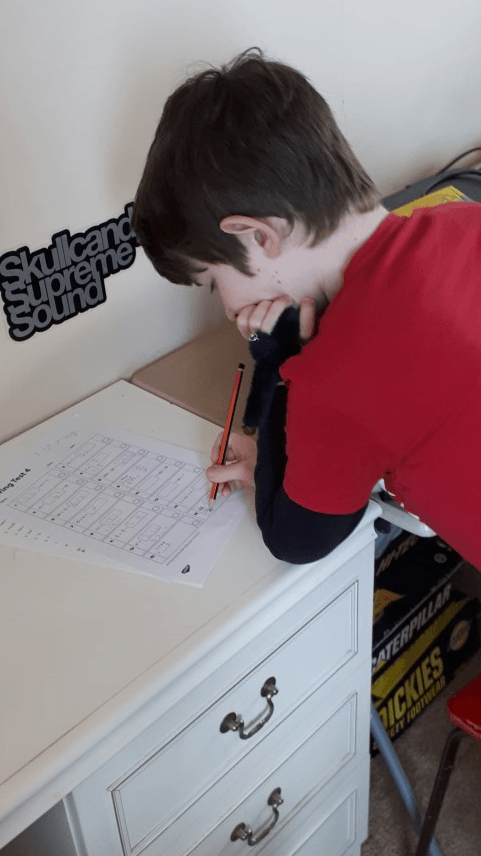 Wiktor draws his favourite toy as an introduction to Year 1's history topic "Toys", Jack makes a start on a 1000 piece puzzle, Lorenzo has been reading lots of Doctor Seuss books and Jayden completes this week's arithmetic timed test.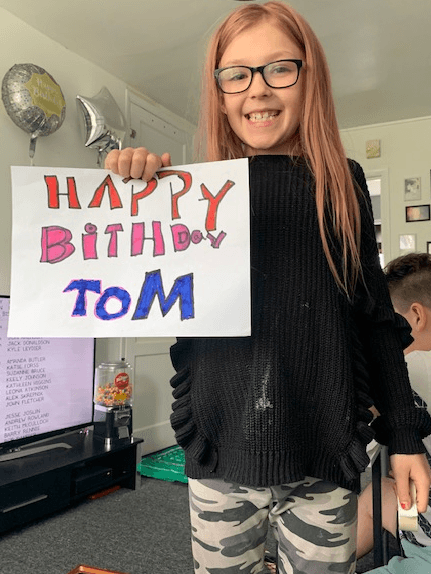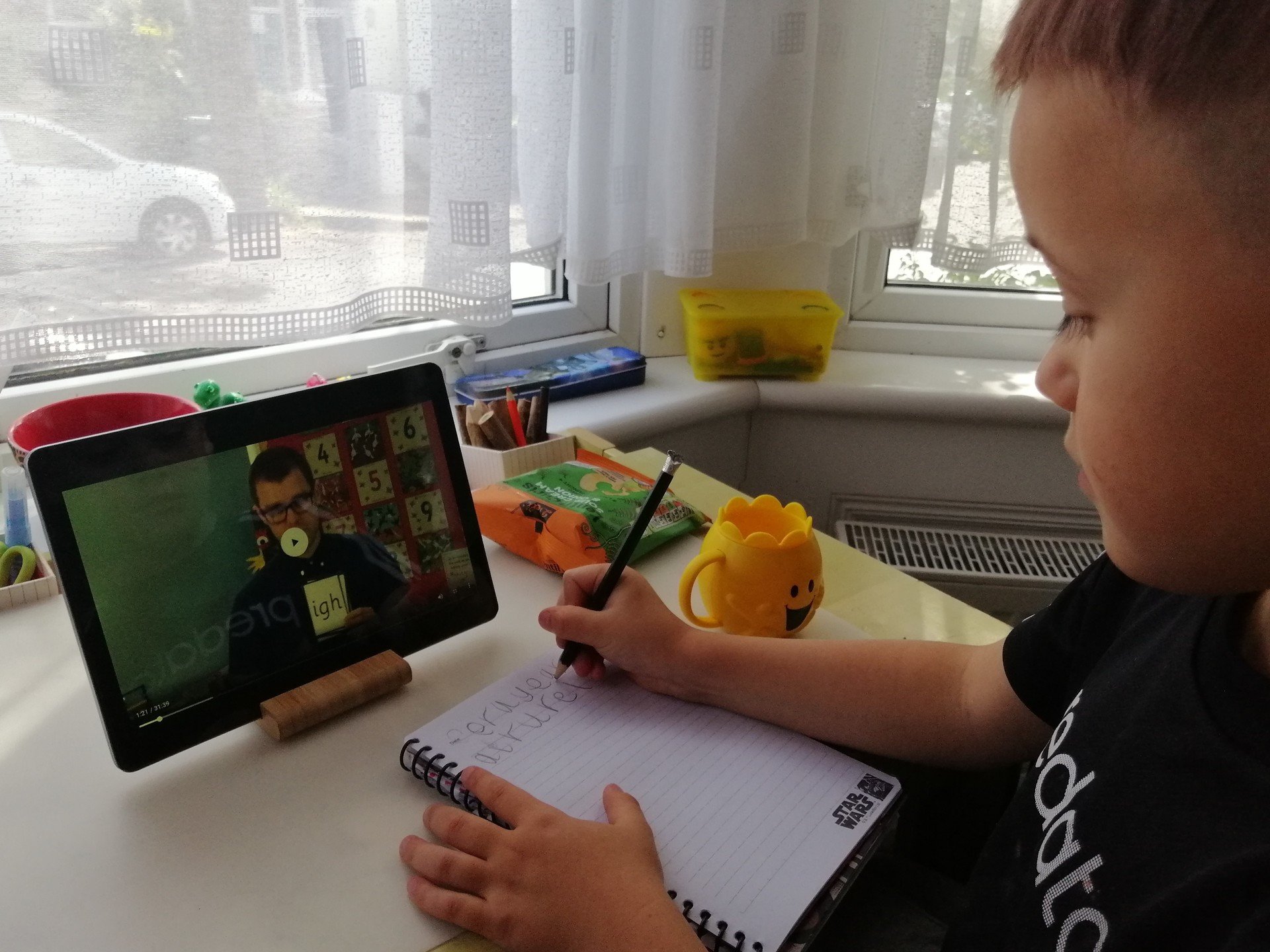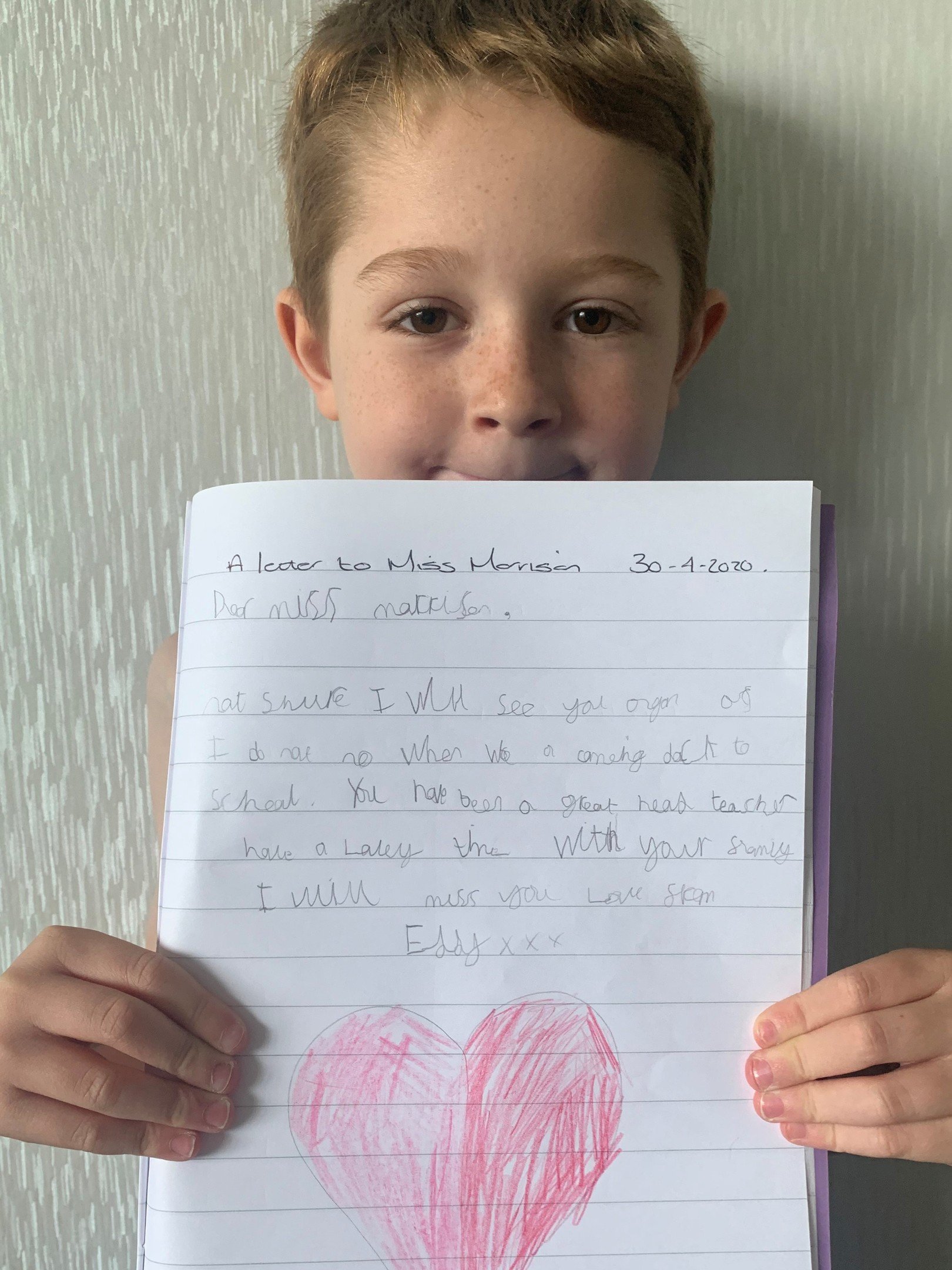 Mia makes a card for Captain Tom Moore's 100th birthday, Wiktor settles down for some online live learning and Eddy writes a letter to Miss Morrison.
Well done to you all. You are AMAZING! We are SO proud of you all children - whether you are working in school or whether you are continuing your learning at home. Keep it up!
Holy Week at home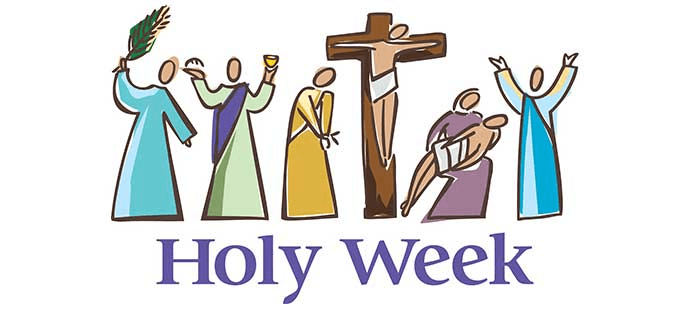 Click HERE to be taken to a PPT titled " Holy Week at home - family retreat." It is a fantastic resource - full of ideas, colouring pages, links to the daily Mass readings, song and craft suggestions and a whole range of activities for children, young people and parents for the Holy Week period.
Despite being socially isolated from each other, through praying and sharing together may we come to know ever more deeply that we are never alone since Christ is always with us.
Dear Parent/Carers,
As we now know, the school will be closed temporarily and so all teachers have been working on home learning packs to support your child with their education. The home learning will consist of paper work as well as suggestions for online learning.
Please click here to find a list of websites offering free resources. They have been broken down into subjects and do cover the whole curriculum.
Dragonfly Impact Education have published some useful tips for parents on how to help your child at home.
Flourishing families - Support at home, how to talk to Children about COVID-19 (coronavirus)
https://www.childline.org.uk/toolbox/calm-zone/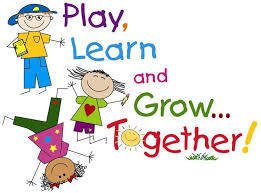 Useful websites to support home learning:
https://www.phonicsplay.co.uk/
https://www.sumdog.com/user/sign_in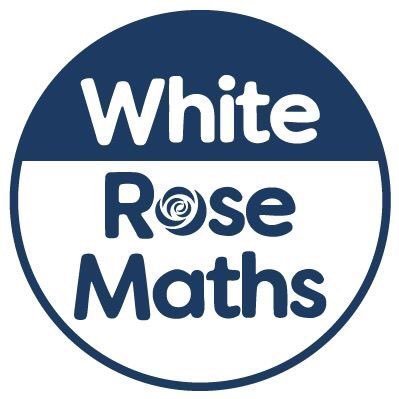 White Rose maths (the scheme we use in school) have published some extra home learning activities. There are a series of lessons for each year group which will be regularly added to. Every lesson comes with a short video showing you clearly and simply how to help your child to complete the activity successfully.
This is a fantastic resource. Click HERE to be taken to the White Rose Home Learning page.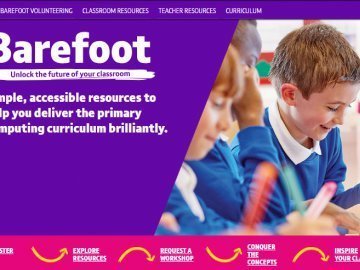 Click HERE to be taken to the Barefoot Learning site for home learning activities which promote computational thinking concepts to promote learning while playing.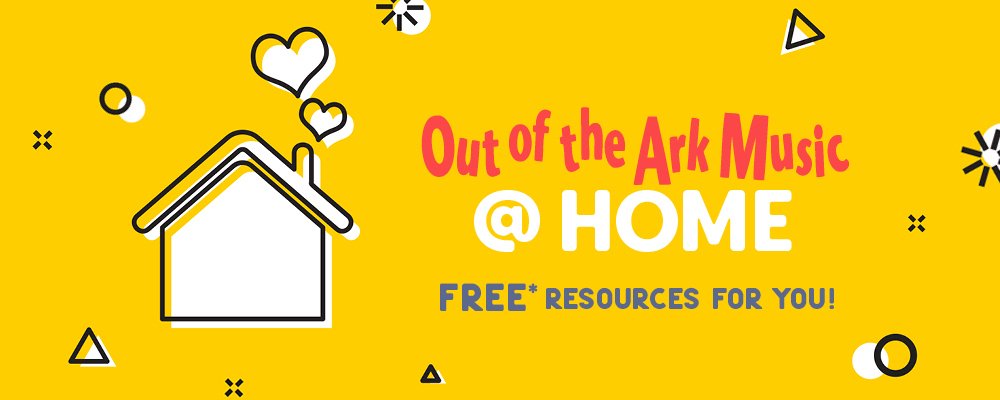 Out of the Ark have released a sing -a -long song for every day for two weeks. Click HERE to be taken to their site and the free resources - get ready to join in with some of their catchy and fun songs. And don't forget to email us a video of you joining in!
myhomework@st-josephs.brighton-hove.sch.uk
Here's what various celebrities are offering you and your kids for free, daily, to help with their education while schools are closed:
9.00am - PE with Joe Wicks https://youtu.be/6v-a_dpwhro
10.00am - Maths with Carol Vorderman www.themathsfactor.com
11.00am - English with David Walliams https://www.worldofdavidwalliams.com/elevenses/
12.00pm - Lunch (cooking with Jamie Oliver) https://m.youtube.com/watch?v=eJLA2RlZNq4&list=PLcpoB2VESJme7lSxXEcXyVtFPsMI78lcL
1.00pm - Music with Myleene Klass https://www.youtube.com/channel/UCQh2wgJ5tOrixYBn6jFXsXQ
1.30pm - Dance with Darcey Bussel https://twitter.com/diversedance…/status/1241098264373592065
2.00pm - History with Dan Snow (free for 30-days) https://tv.historyhit.com/signup/package
4.00pm - Home Economics with Theo Michaels (Mon/Wed/Fri) https://www.instagram.com/theocooks