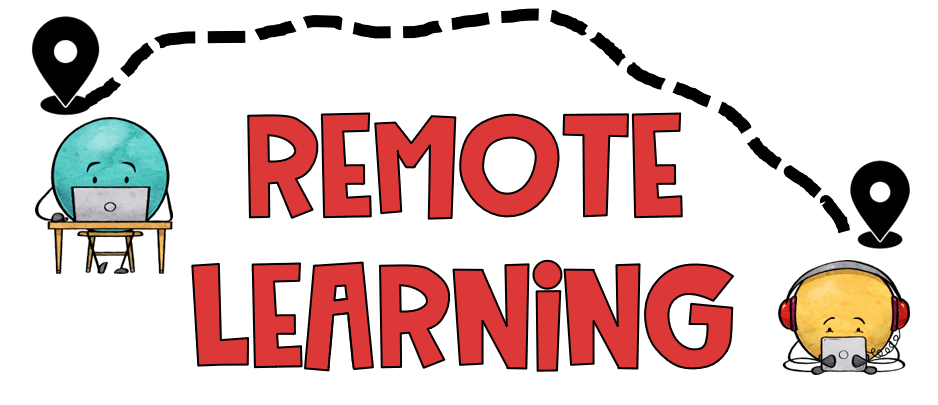 Welcome back to our dedicated remote (home) learning page from January 2021.
As we now know, the school will again be closed temporarily. Teachers have been working on remote learning packs to support your child with their education. The remote learning will consist of paper work as well as suggestions for online links/learning.
Every Thursday, packs can be picked up and will be available on the school website from 12 o'clock onwards detailing the following week's learning. For anyone shielding, packs can be delivered on a Friday. Please let the office know if you require this service.
Years 5 and 6 will be accessing Google Classroom as their remote learning. This is part of our evolving online curriculum and something we are looking to introduce in the other classes soon. Click HERE for a link to Google Classroom.
Please also send in work via the 'myhomework' email address and photos of any other activities you are doing at home. It is lovely to see/celebrate how creative the children are being with their learning!
Teachers will be making weekly phone calls to find out how children are getting on with their remote learning.
We appreciate how hard this situation is for families and know how disappointed the children are about not returning to school as normal. Please rest assured that we are here to help in any way that we can, so please don't hesitate to contact us. If you have any questions please email the class teacher via the 'myhomework' email address. This will be checked daily.
Thank you for your continuing support and understanding during these challenging times.
Take care of yourselves and stay safe.
Click HERE for an information document for parents and carers explaining our remote education provision here at St Joseph's.
Click HERE to see our Remote Learning Policy Statement.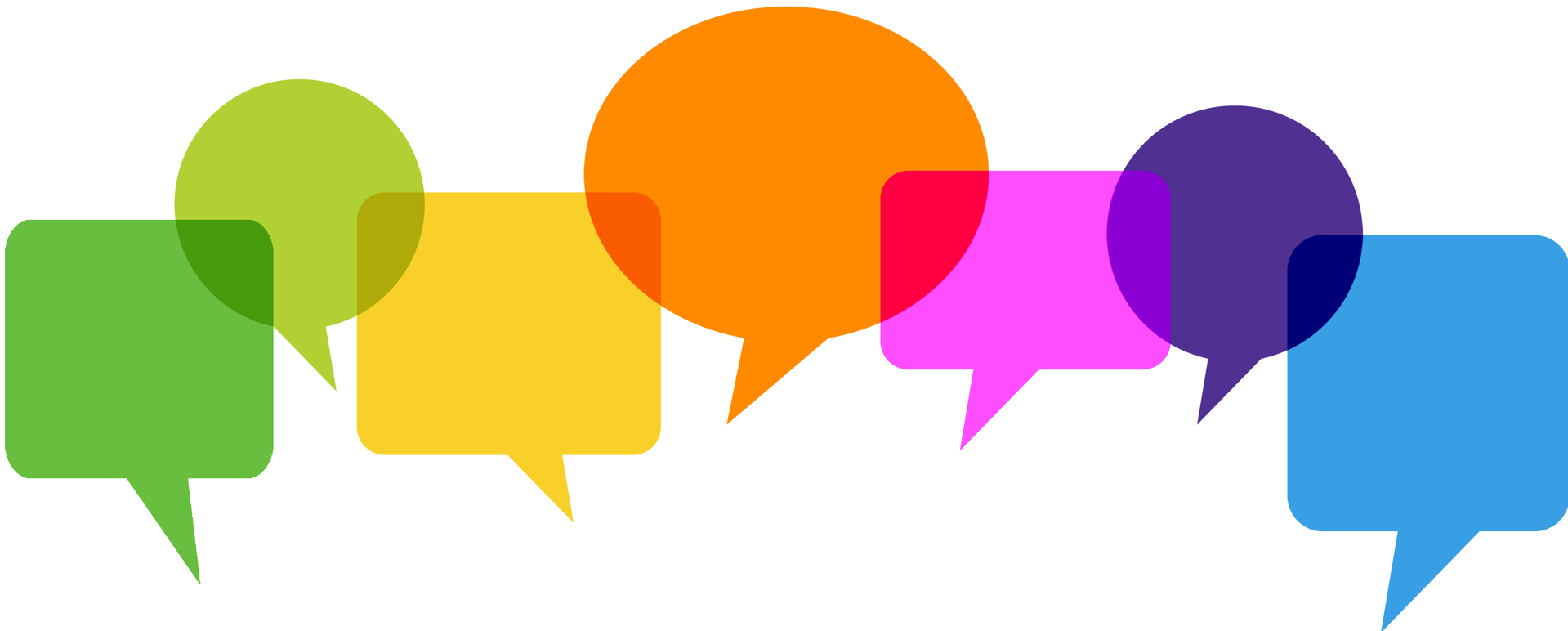 What our pupils and families have to say...
Our remote learning provision is under constant review and we are grateful for the feedback you have given us.
Here are a few of our children's and parent's views:
"Google Classroom is great. It is so much easier for my daughter to use. She doesn't get overwhelmed by lots of paperwork and the tasks for the day are clearly explained and easy to access. I love the fact that she can speak to her teacher if she needs any help." Year 6 parent
"I find Google Classroom really easy to use. If you have any questions, you just type your teacher a message and they will help you. It is good that you get this help straight away and that you get your work marked and are given feedback quickly." Year 6 pupil
"I have found the Google Classroom lessons really accessible and easy to understand as a parent. There is enough guidance and support for each lesson for my son to be able to access the work mostly independently. The feedback from the teacher highlights areas he can improve on which also helps me to see where I can support him further." Year 6 parent
"I like the fact that we have 4 lessons each day and the expectations are set out clearly. Each lesson has a video or PowerPoint so I can understand what I have to do." Year 6 pupil
"We are very impressed with the remote learning provision and the home/school communication. Thank you for your messages to the children on the website, preparing all the home learning packs, the weekly phone calls and for your availability. We really appreciate your efforts and dedication." Year 4 parent
Useful curriculum links:
Click HERE to be taken to the White Rose Maths Hub remote learning resources
Click HERE to be taken to the Oak Academy learning resource
Click HERE to be taken to the Oak Academy Virtual School Library
Click HERE to be taken to the BBC Bitesize learning resource
Click HERE to be taken to SUMDOG'S learning resource
Click HERE to be taken to Topmarks learning resource
Click HERE for the Daily BBC Bitesize lessons
Click HERE for the Oxford Owl reading resources
Click HERE for the Wednesday Word resource
Other links:
Click HERE for Zoom information for parents and carers
Click HERE for Government guidance for parents and carers on supporting children's mental health and wellbeing during these challenging times and HERE to be taken to our wellbeing page for other links and support.
Click HERE for SEND support from the Oak Academy with specialist resources for pupils with additional needs.
Remote Learning - Spring Term 2 - Week 2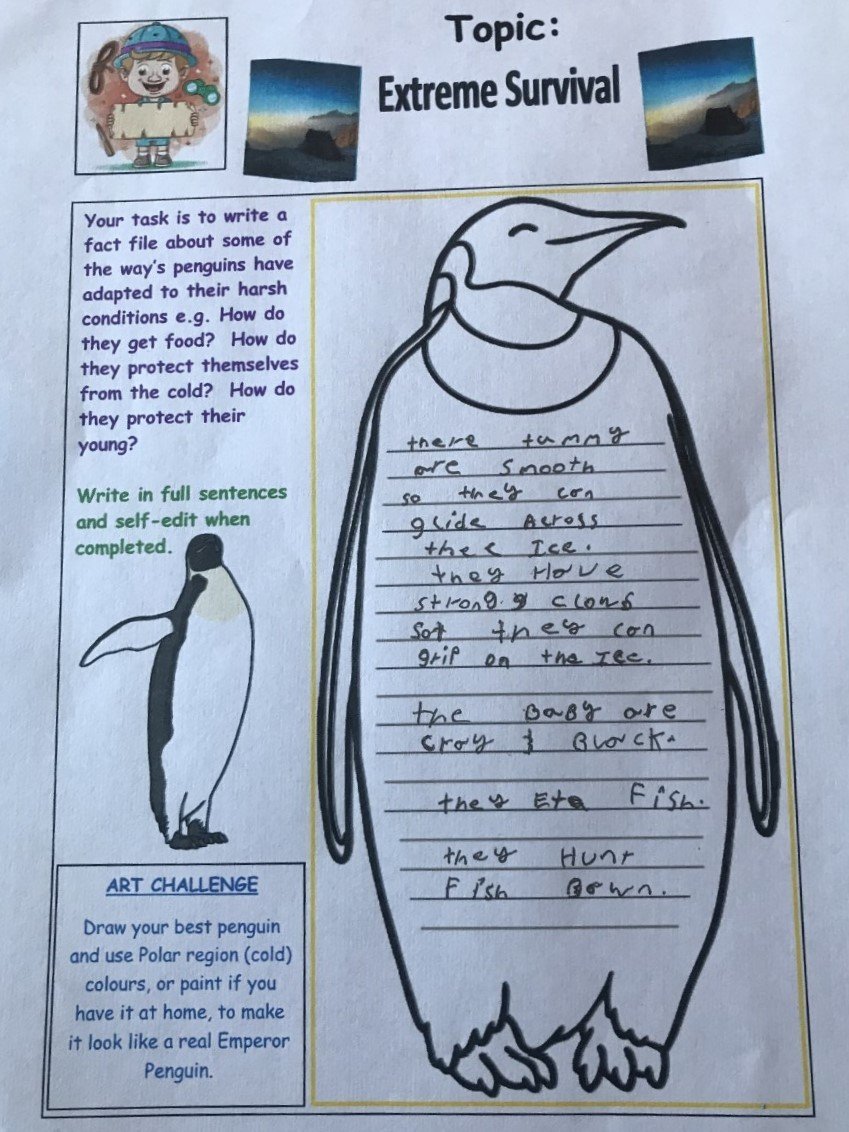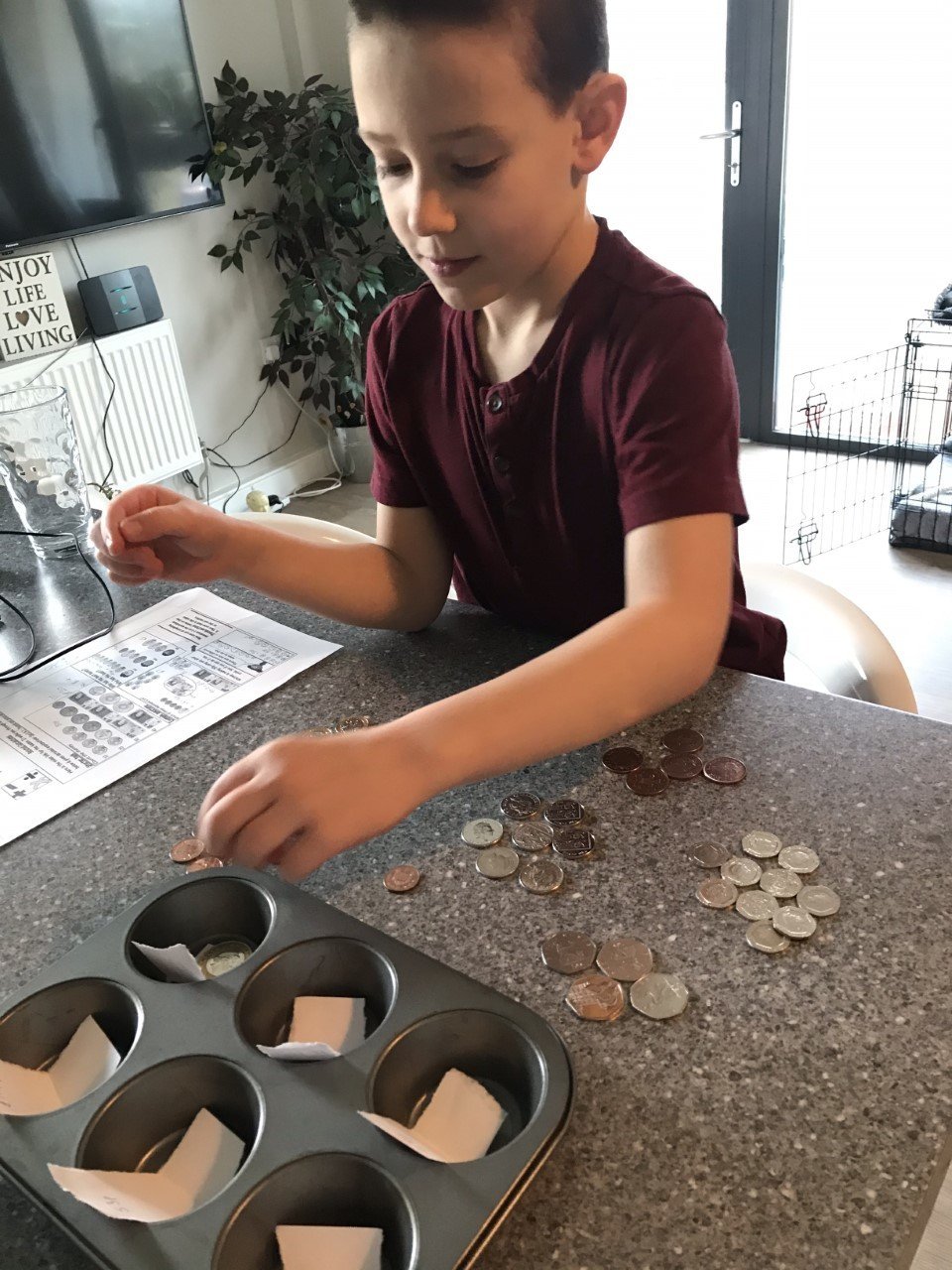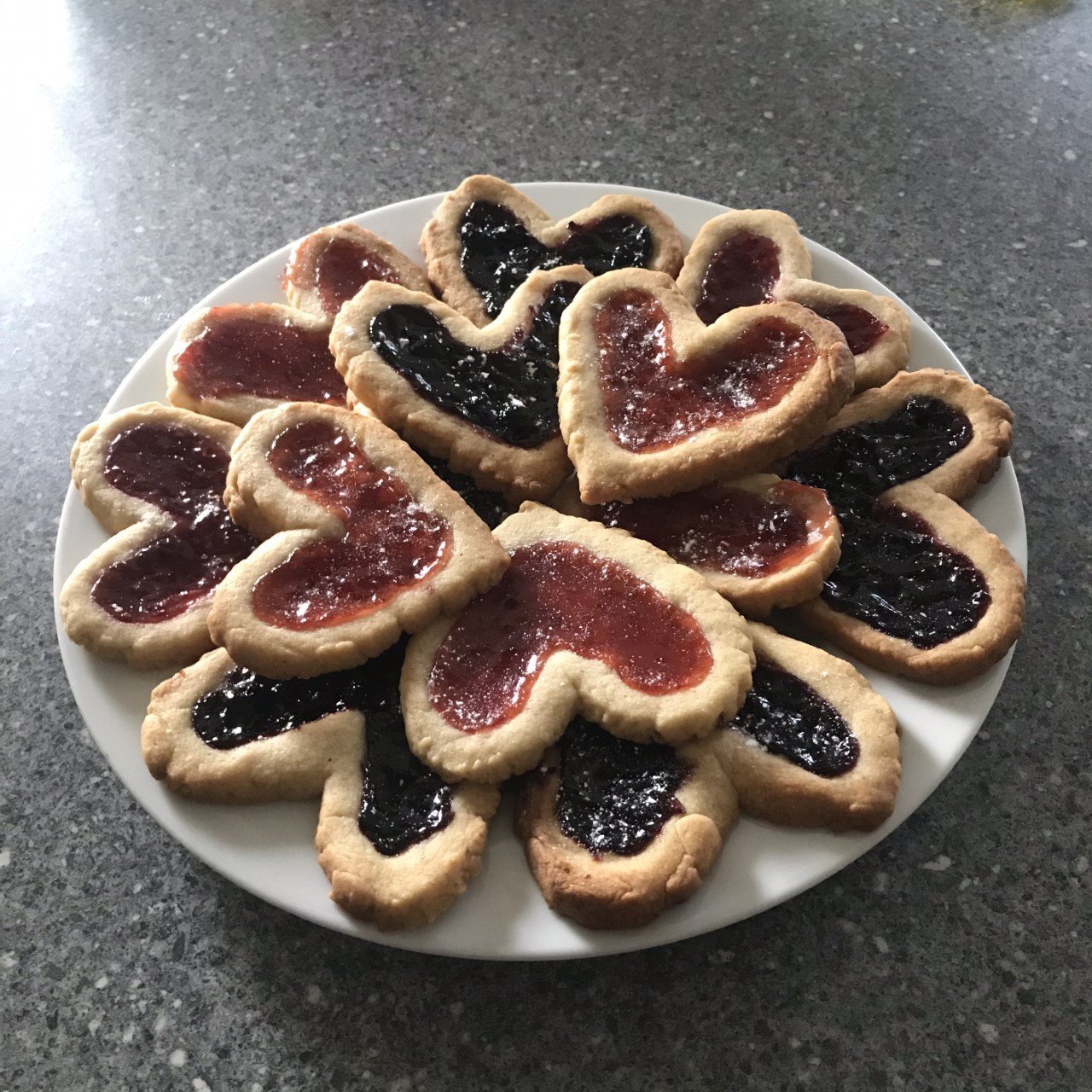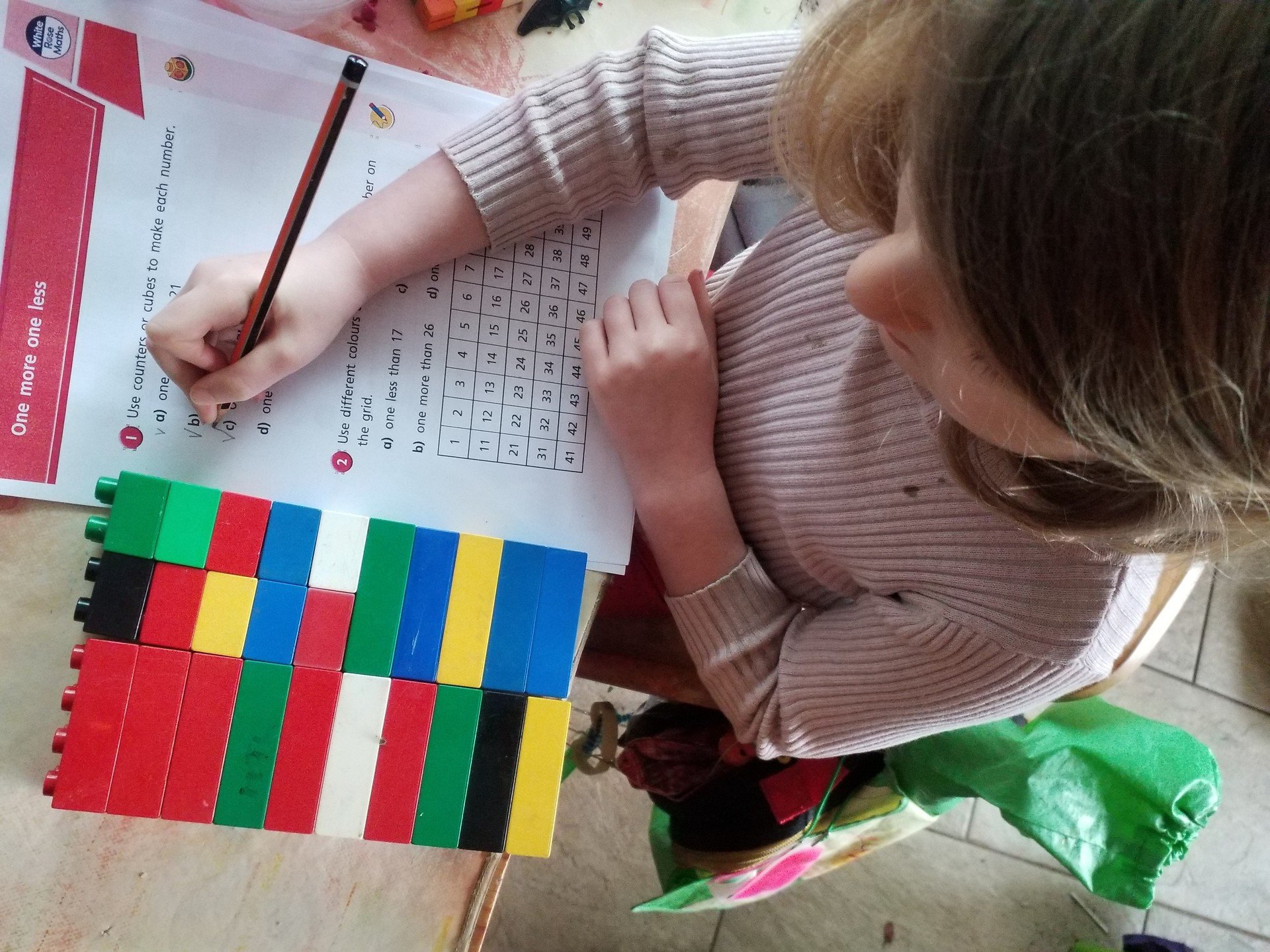 Kowen finds out facts about how Emperor Penguins adapt to their environment in polar regions as part of Year 3's topic "Extreme Survival." He uses coins to make different money amounts and learns how to make "jam hearts." Sylvia masters one more and one less.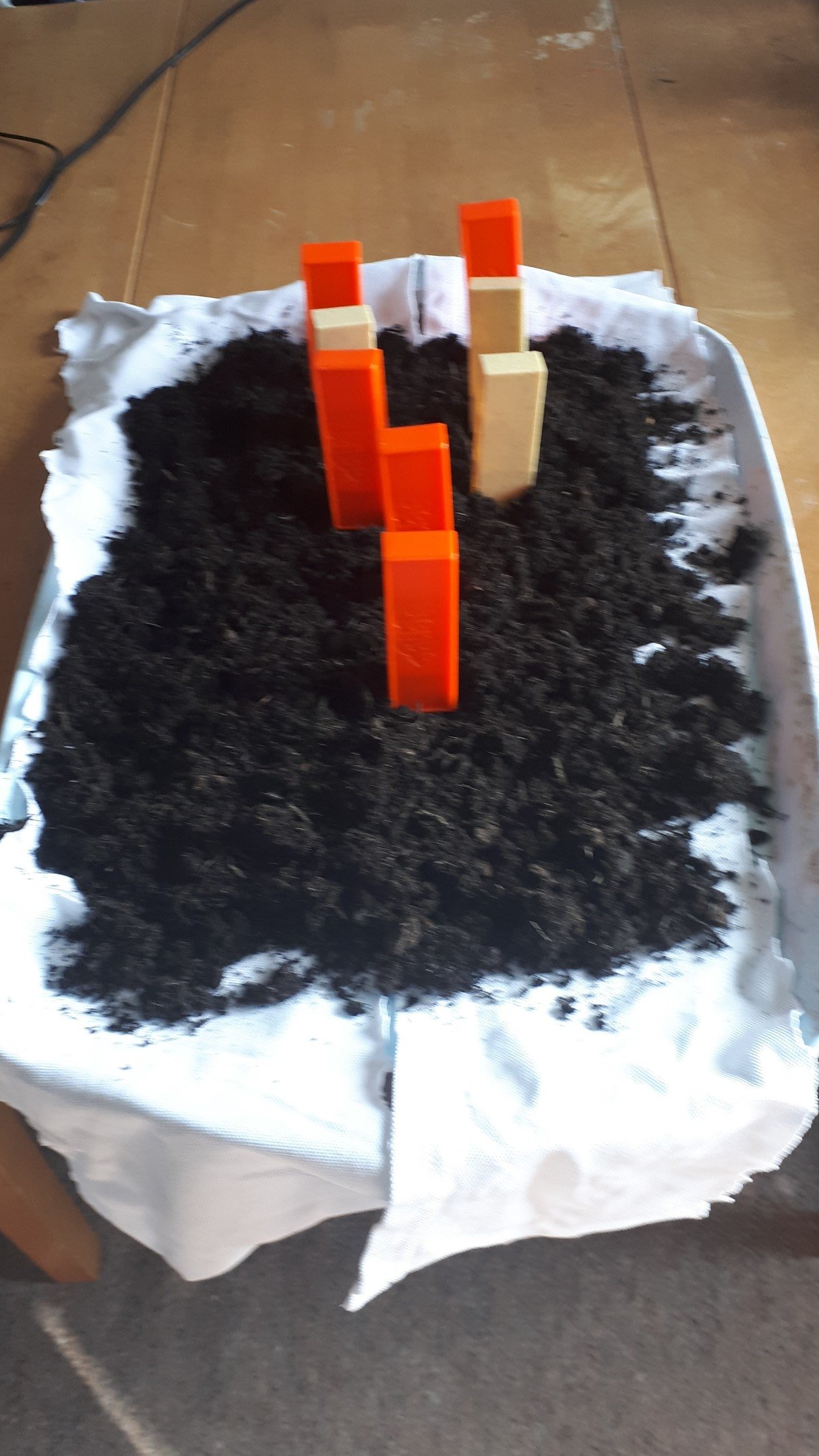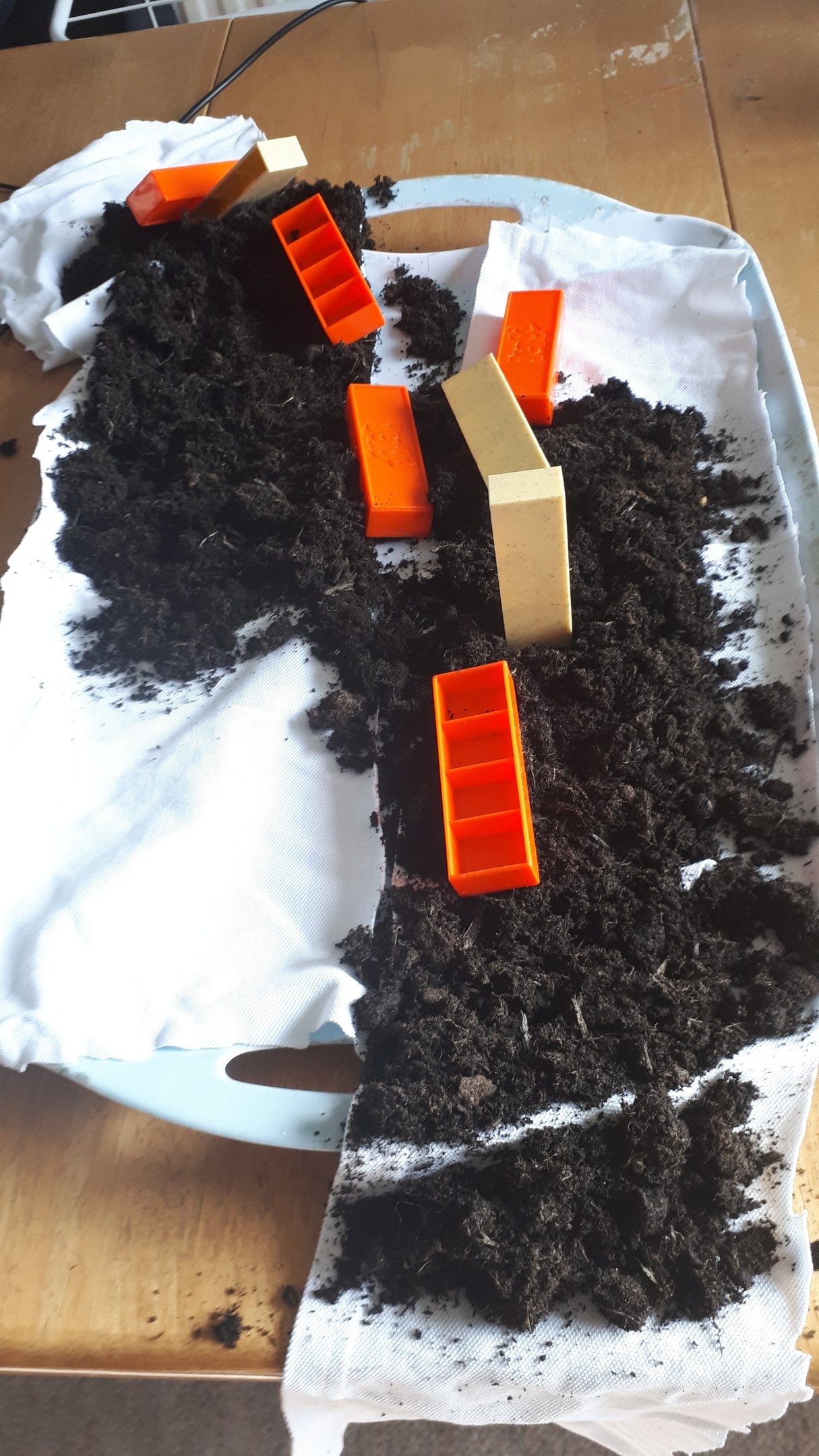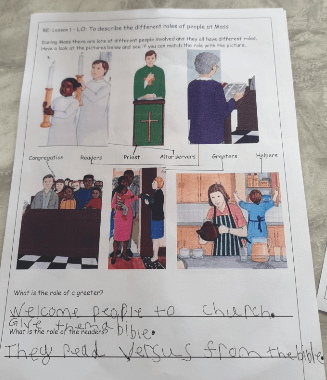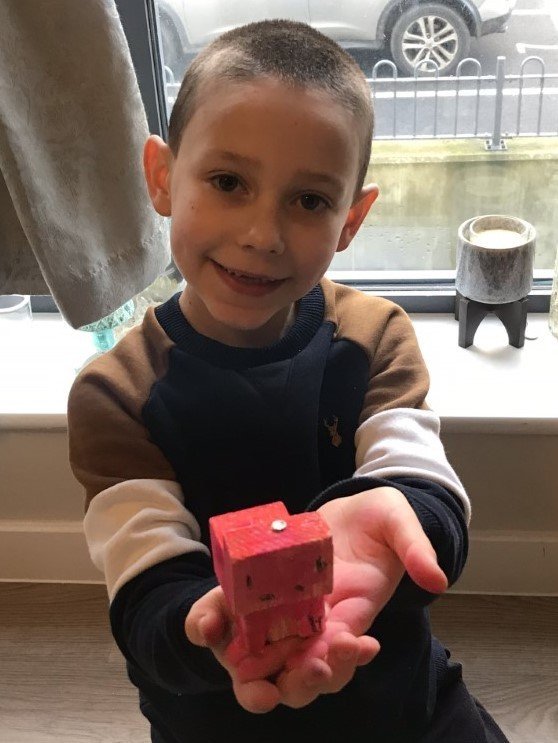 As part of Year 6's Geography topic "Disaster," Jayden carries out an earthquake simulation demonstrating how the movement of tectonic plates causes a sudden release of energy in the earth's crust that creates seismic waves and an earthquake occurs.
As part of her R.E, learning, Amelia finds out about different people's roles during Mass. Kowen gets crafty and creative during his "Fun Friday" session.
Digital Detox Day: 3.3.21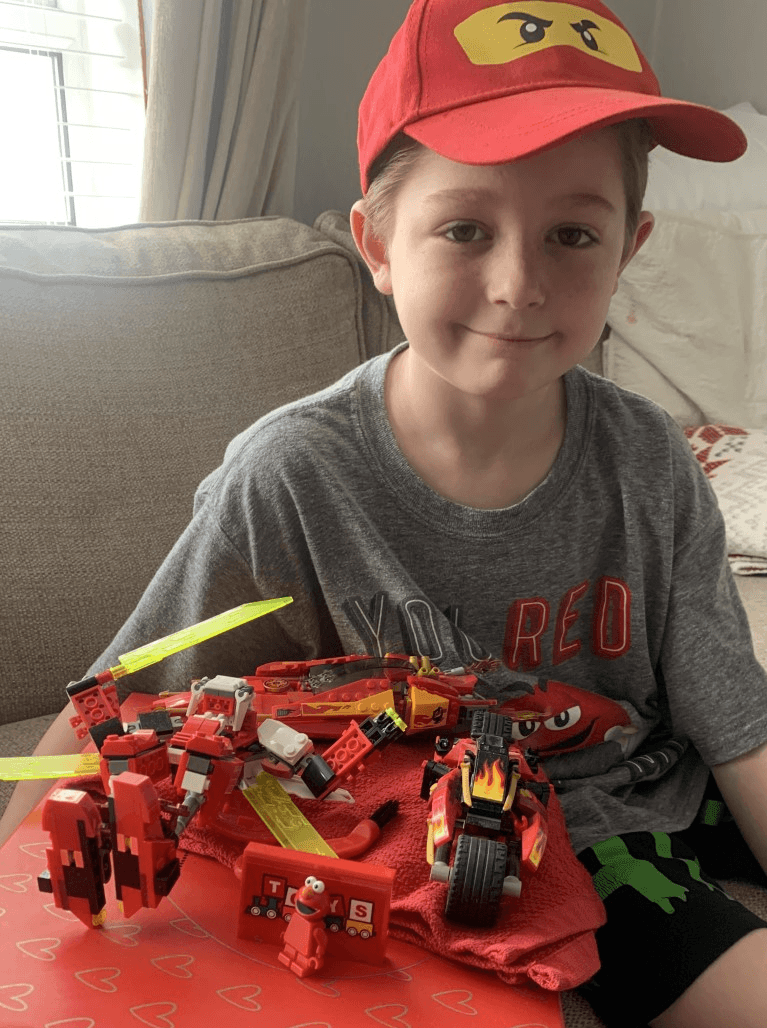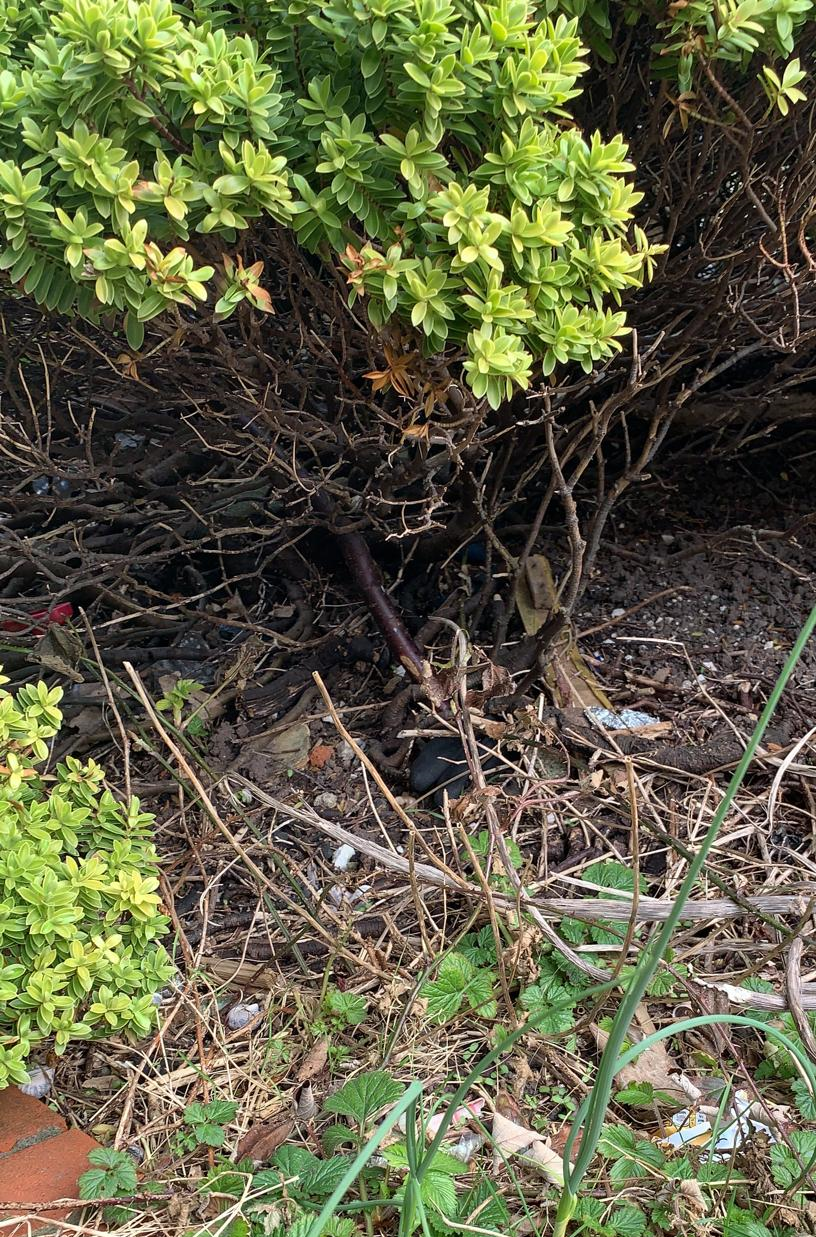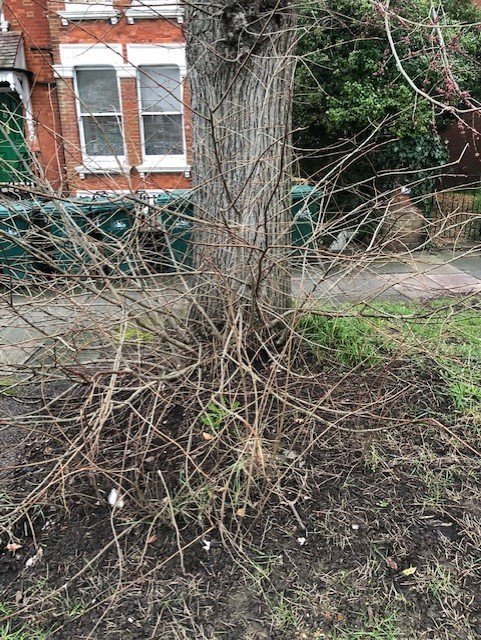 Well done to those of you who managed to complete the "Digital Detox" challenges today. Eddy found 108 red items to count! On his walk, he spotted some trees with interesting roots. Paula gets baking with a new recipe.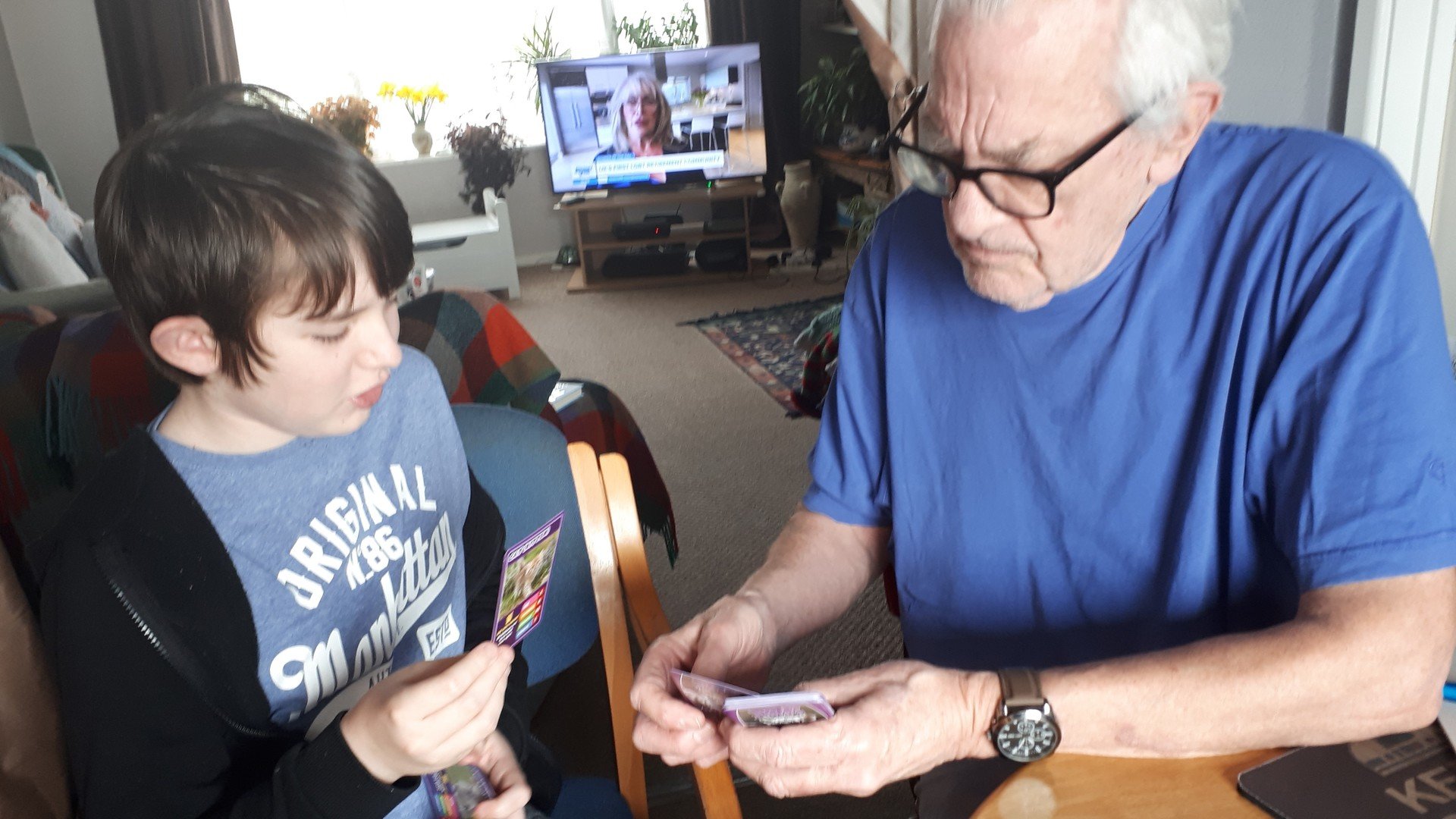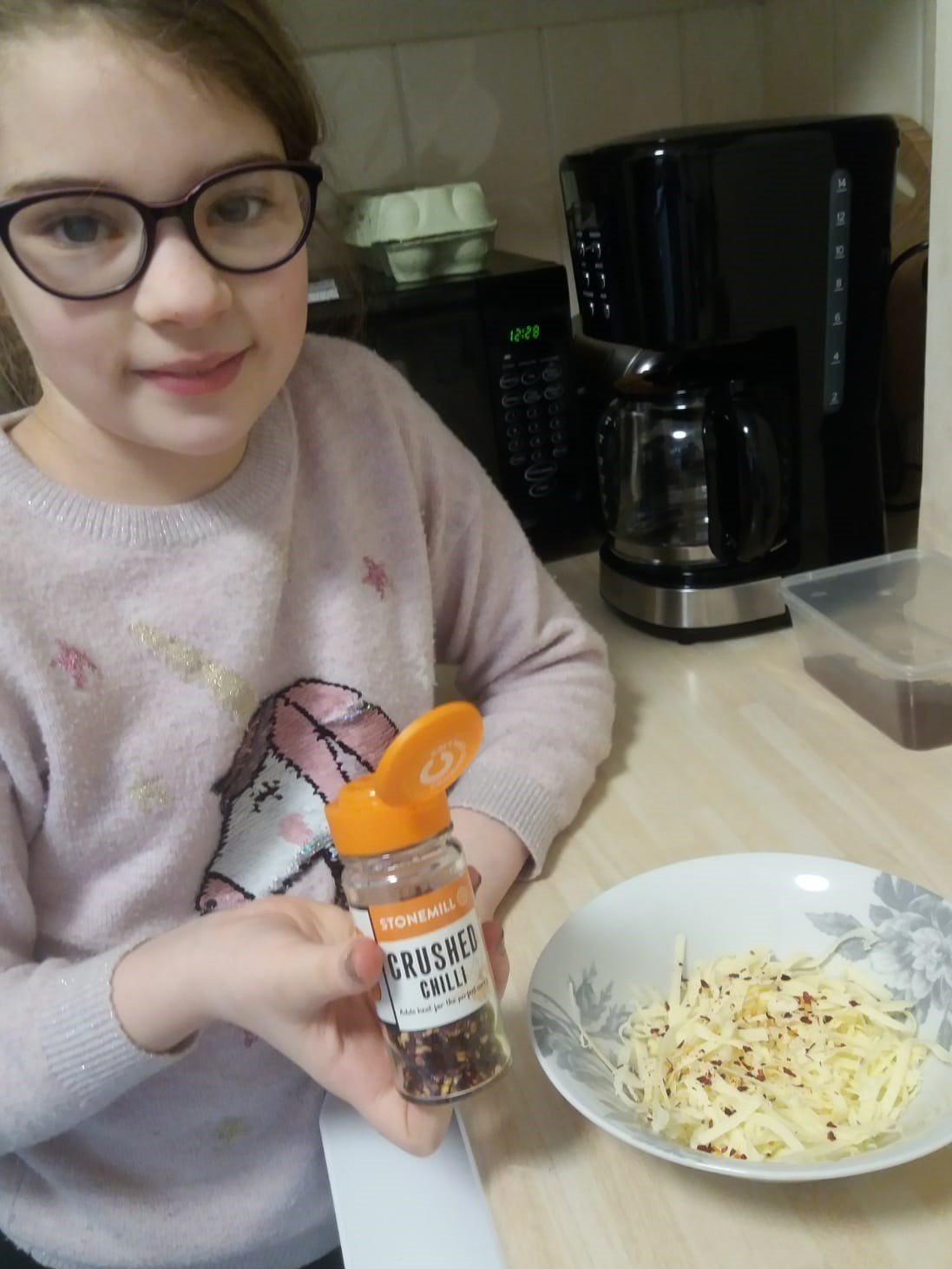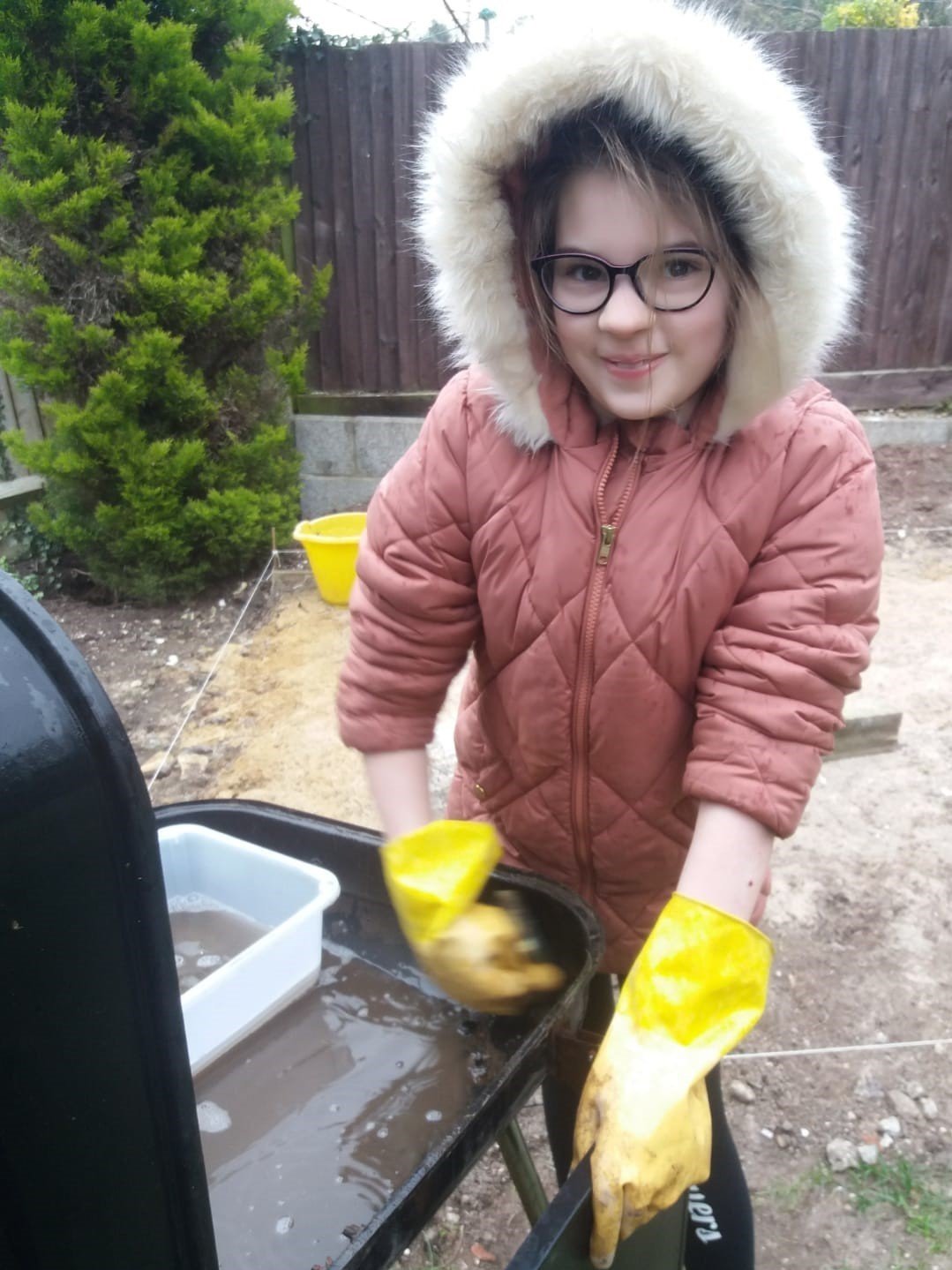 As part of the "Digital Detox" day, Jayden helps to make a quiche and learns how to play a new card game. Paige makes lunch and does a bit of cleaning during her switching off "Digital Detox" day challenges.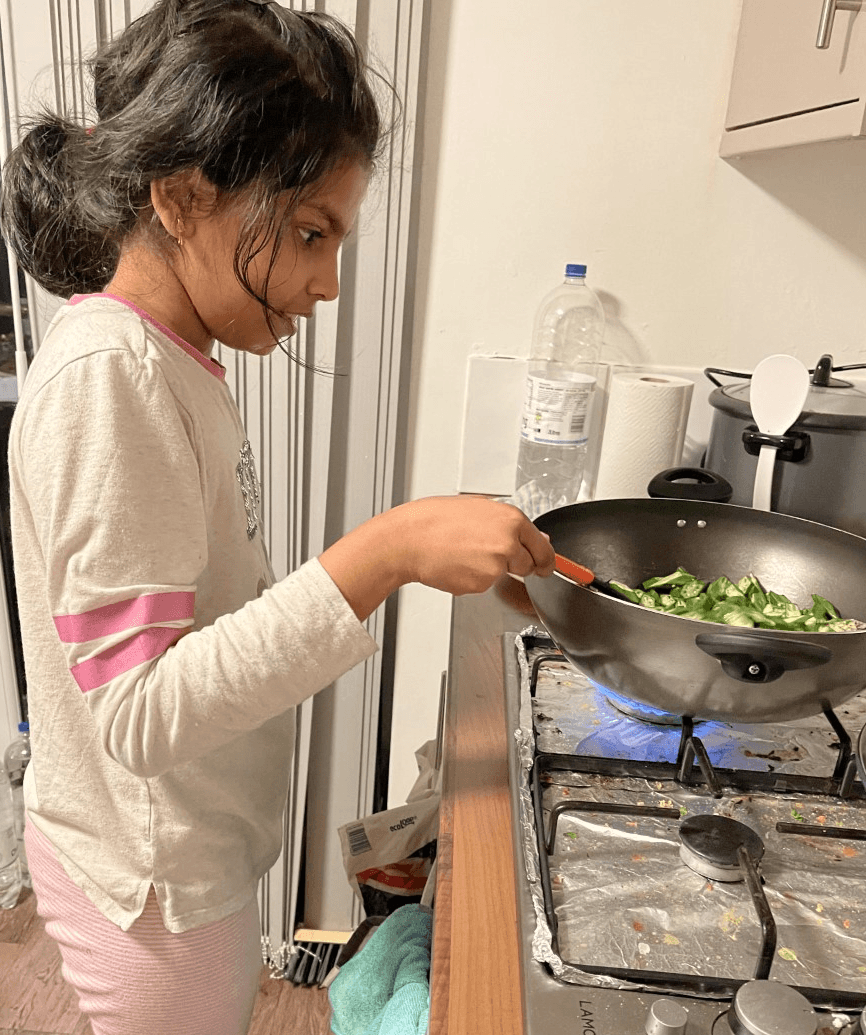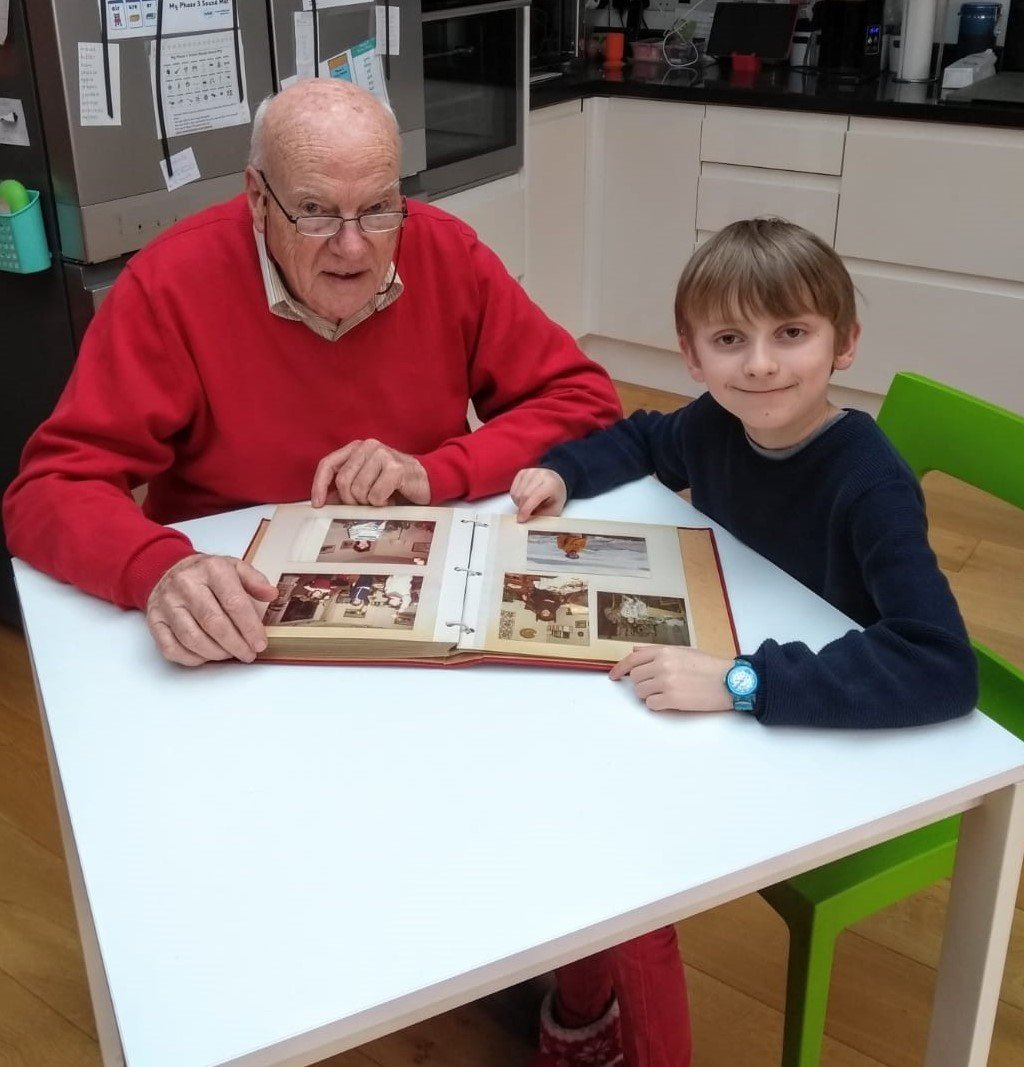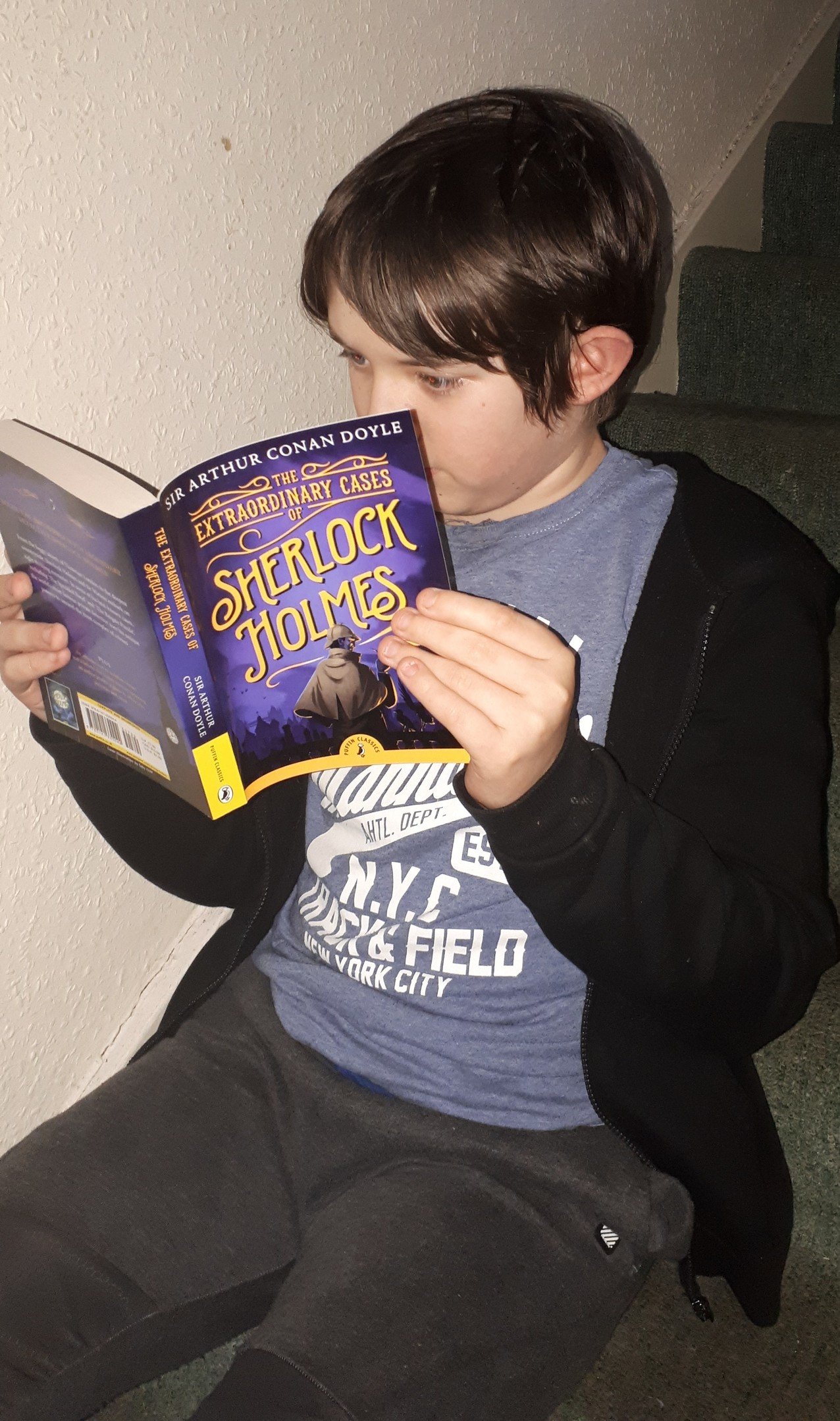 Edena and Julian take up some of the "Digital Detox" day challenges. Jayden tries a book by a new author on World Book Day.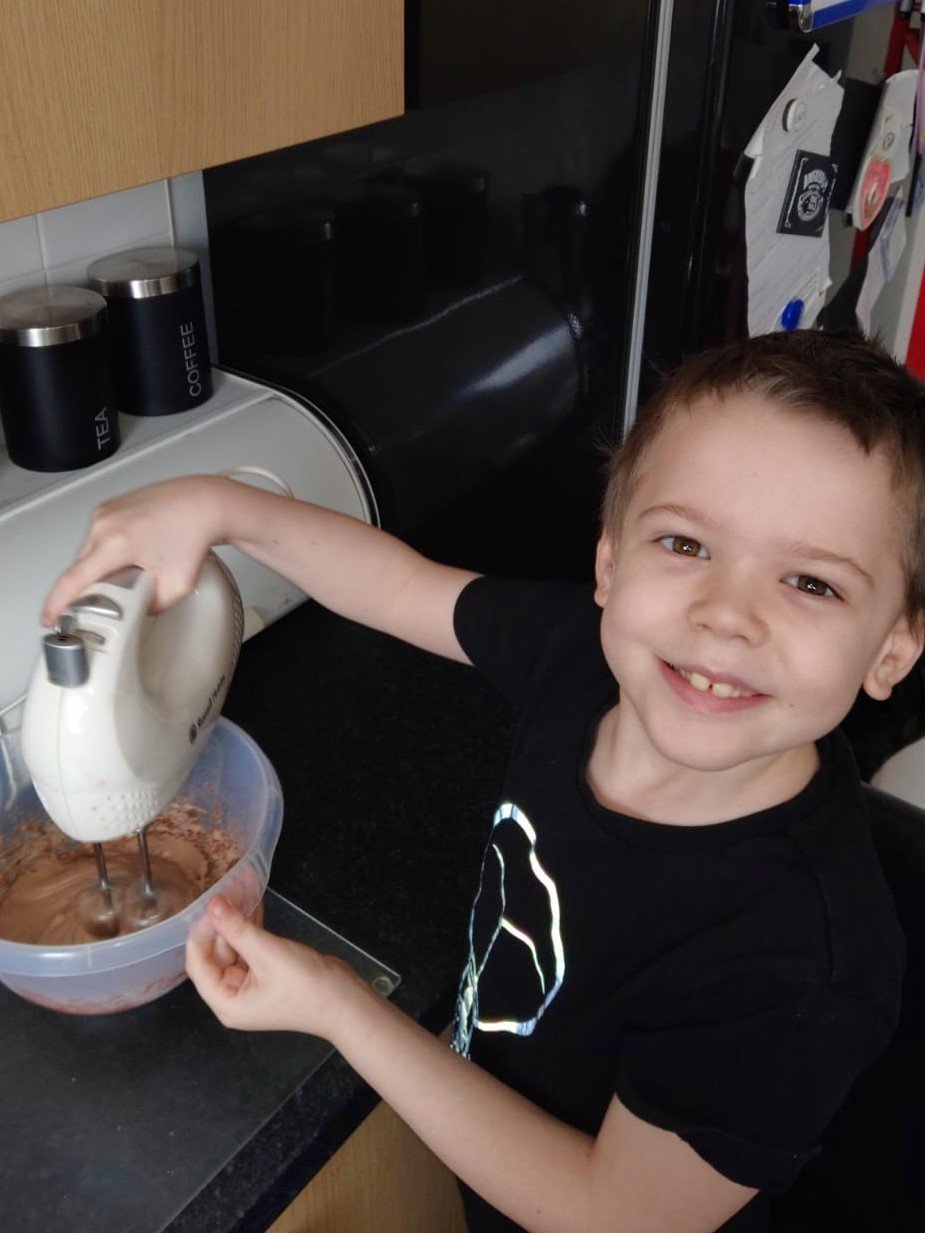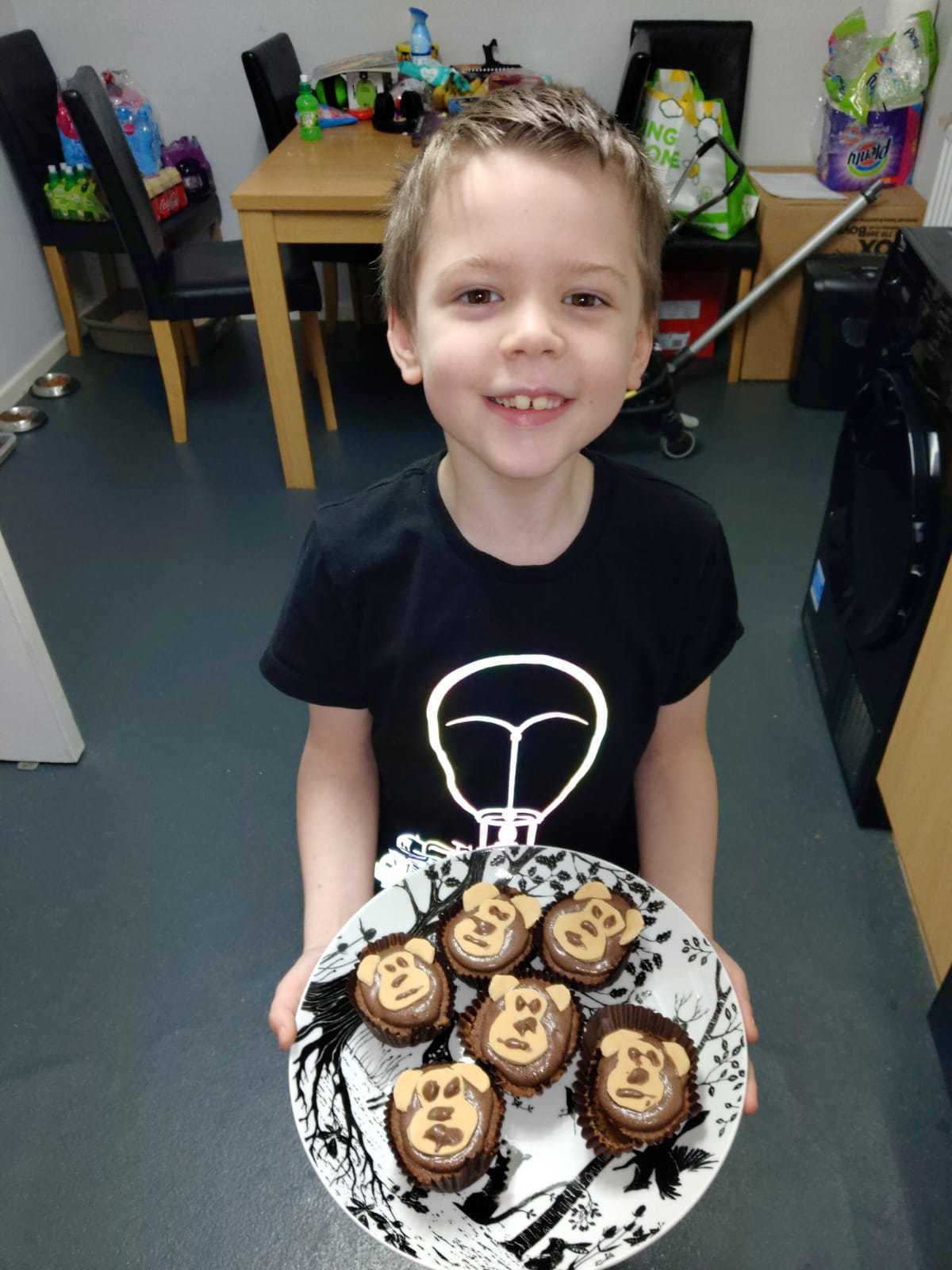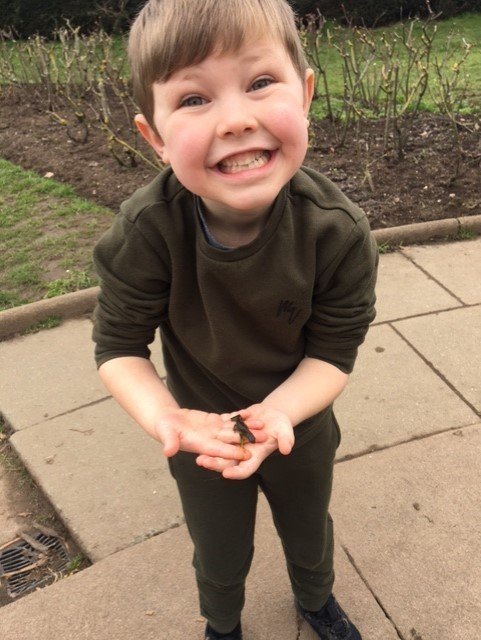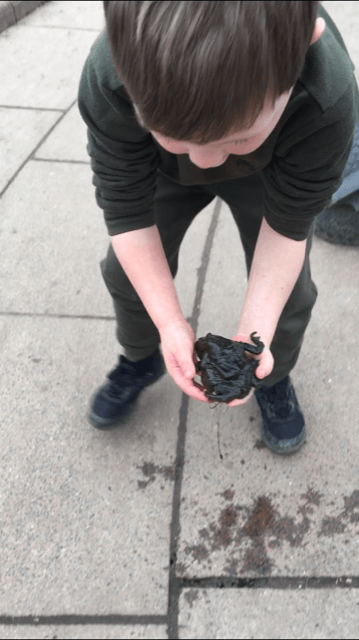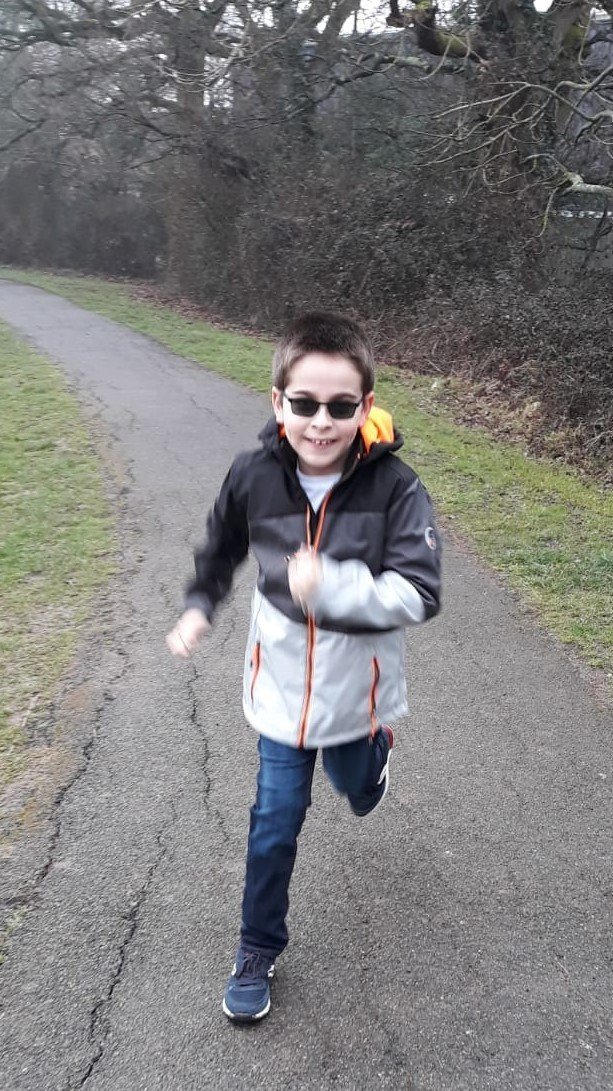 George takes up the "Digital Detox" day baking challenge, Harry goes outside and looks for wildlife and Andre goes out for a run.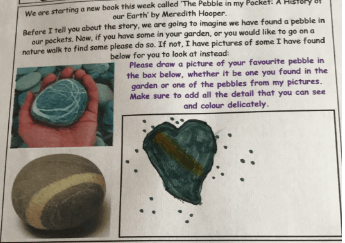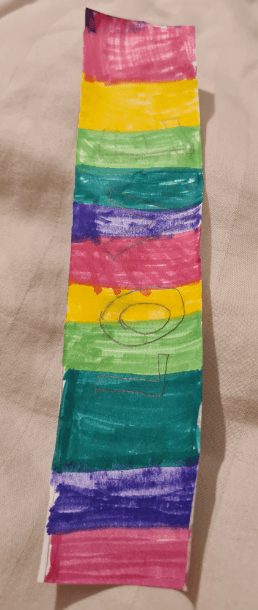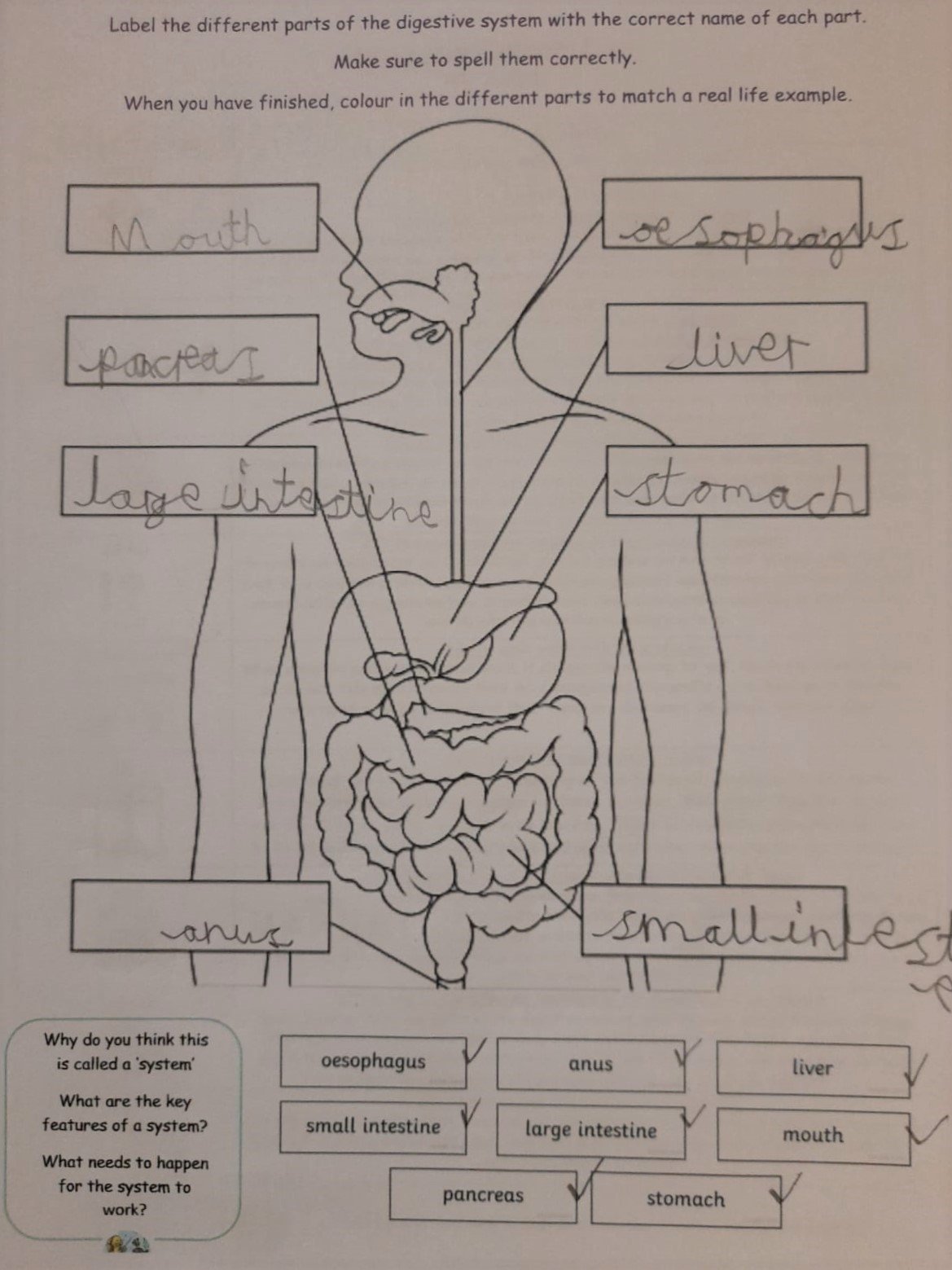 Year 3 start a new high-quality text called "The Pebble in my Pocket." Kowen draws what he imagines the pebble looks like. Katie makes a bookmark as part of her class's RE learning. Andre learns about the digestive system and Audrey finds out about different plants as part of Year 1's Science work.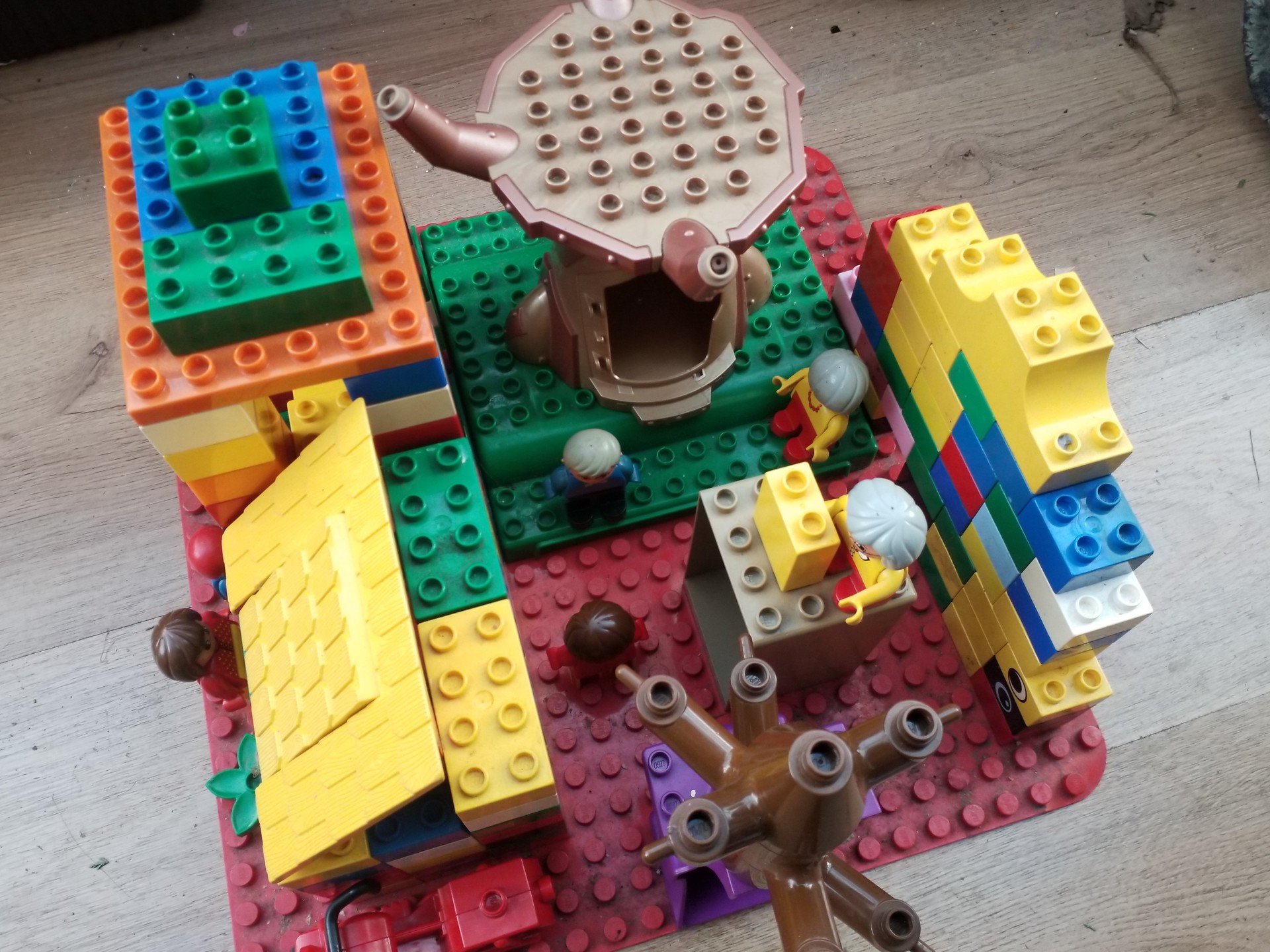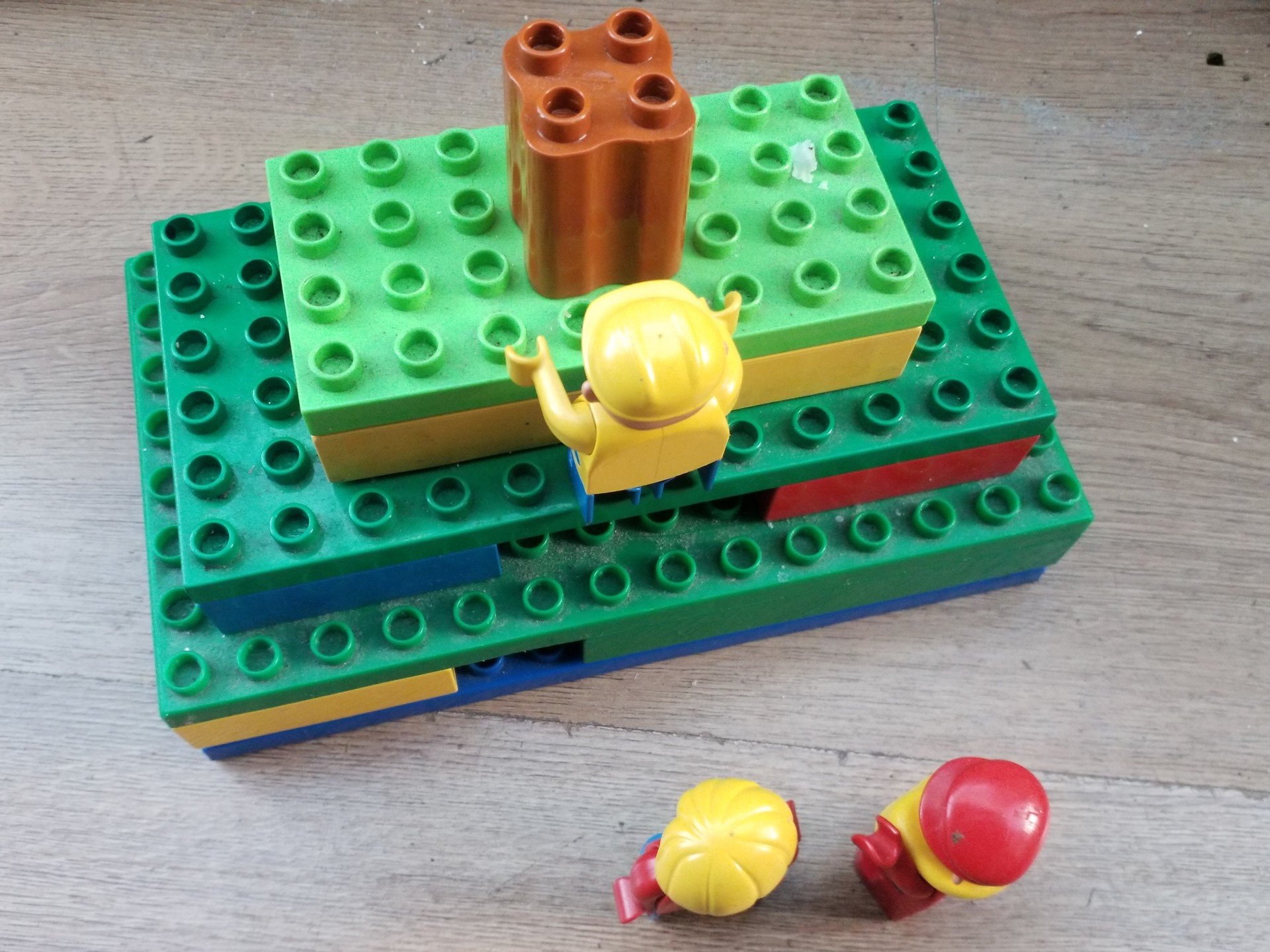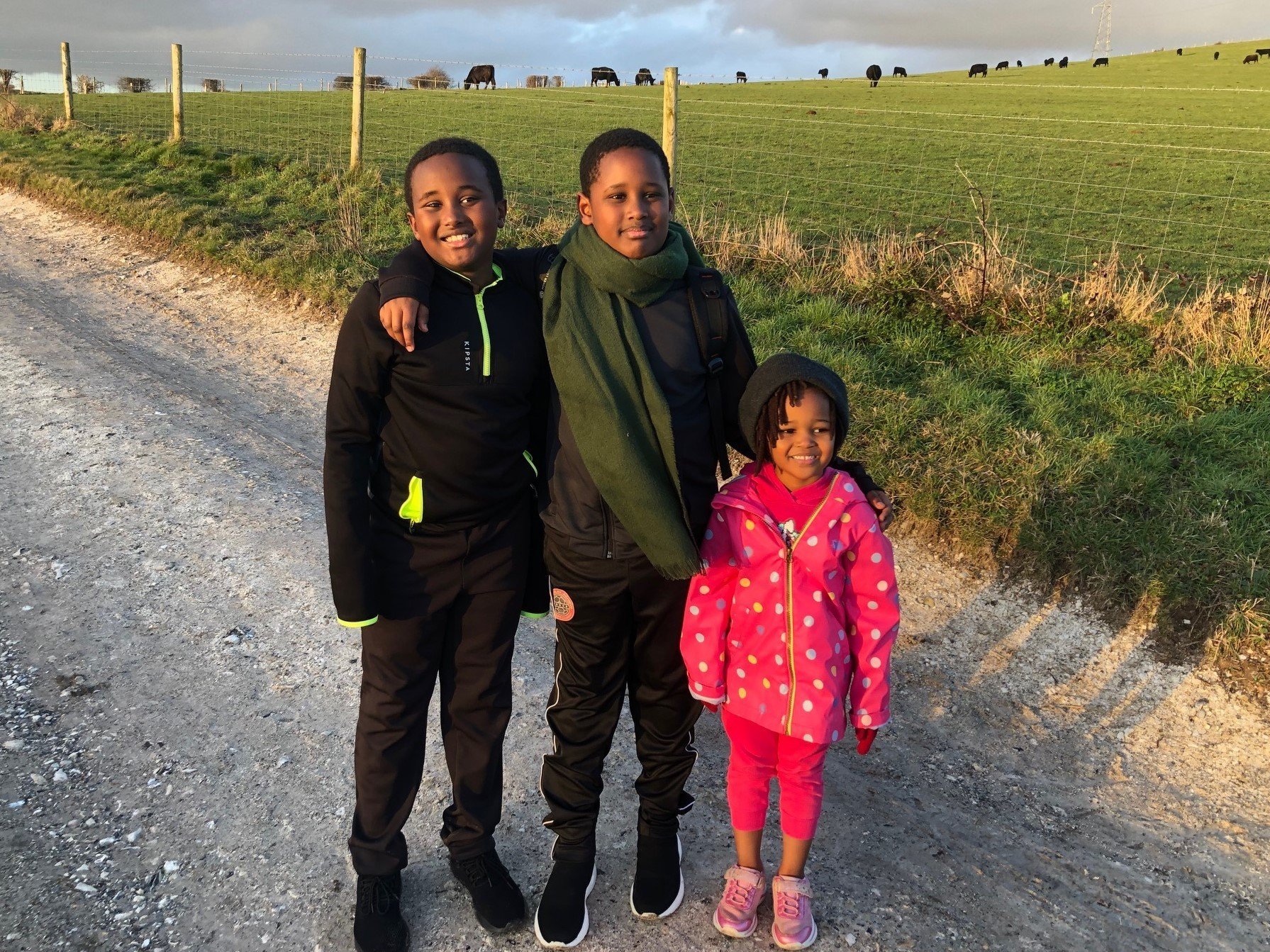 Sylvia makes a city and a church from Duplo. Hirwa, Ganza and Kira get out for some fresh air and exercise on "Digital Detox" day.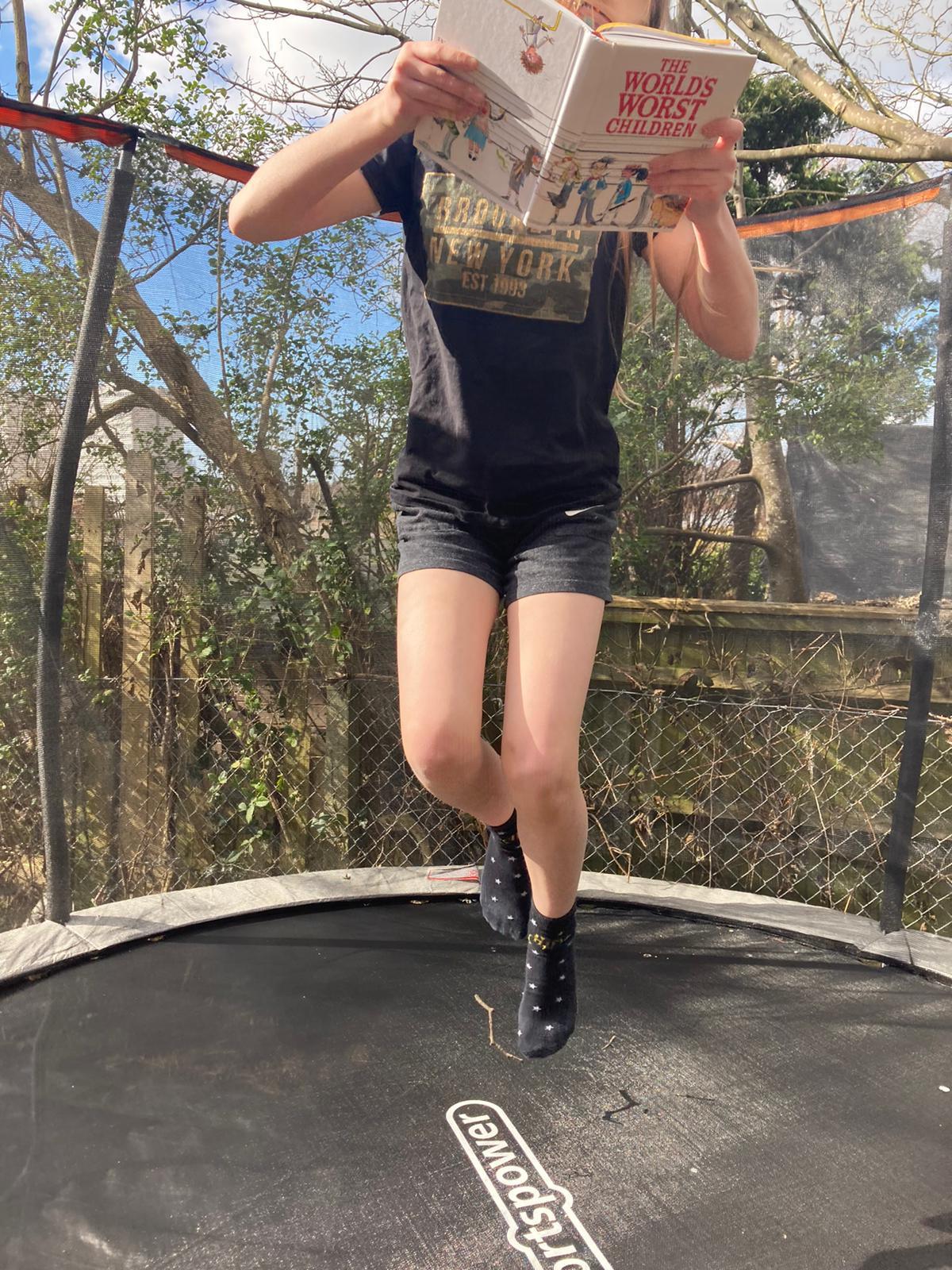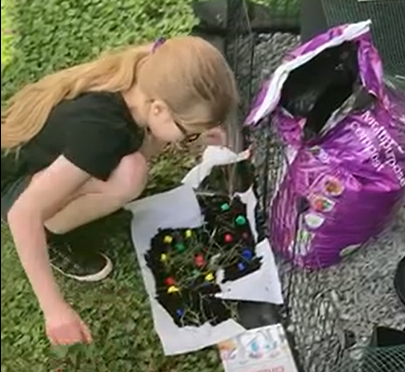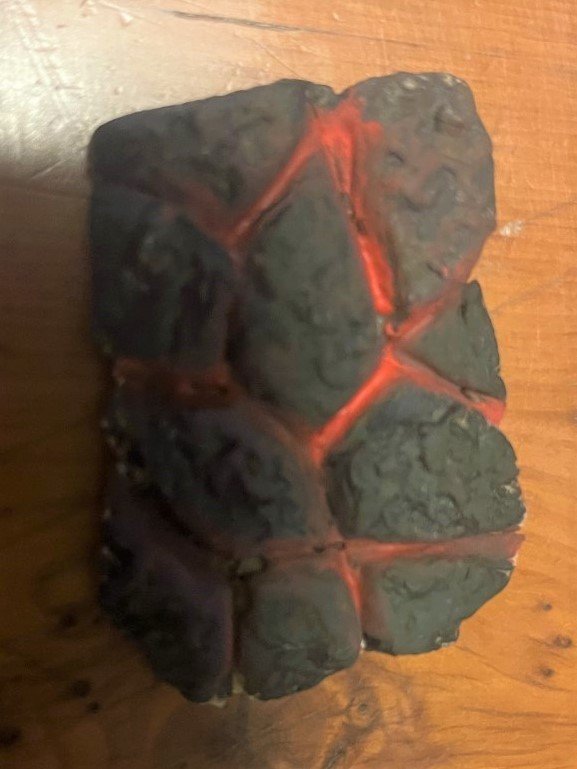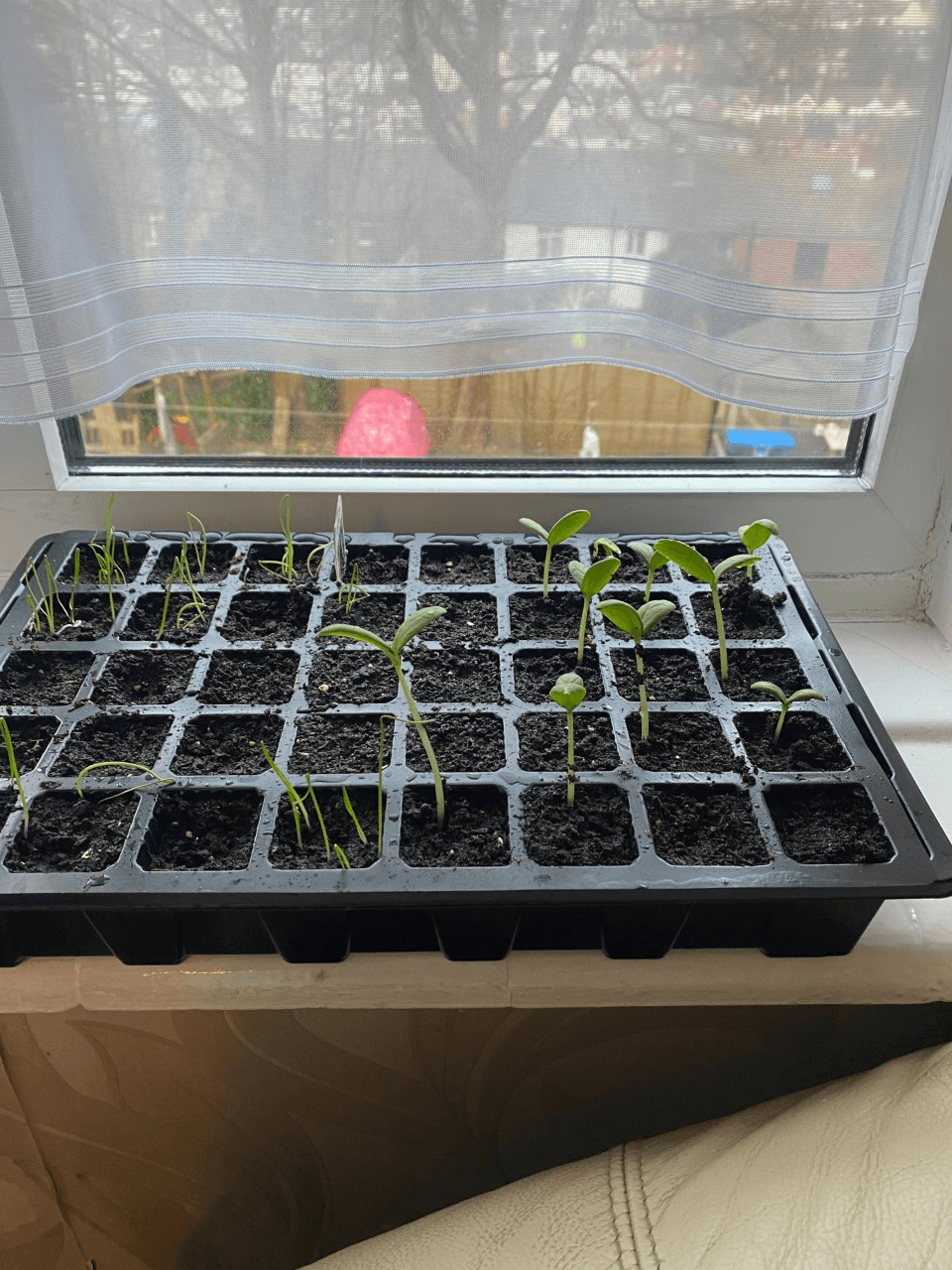 Lola does some extreme reading on World Book Day and demonstrates plate tectonics and how an earthquake happens using soil. Edena uses flour to make this replica earthquake model. Lola's lockdown seeds are starting to grow!
Digital Detox Day
Wednesday 3rd March 2021

On Wednesday, St Joseph's are 'switching off' and participating in a digital detox. We would like to encourage our St. Joseph's children to put down their screens and spend a day away from all technology, which benefits our wellbeing and physical health
At St. Joseph's, we are setting you the task to complete our challenges of the day! This challenge sheet is filled with all different offline activities and it would be lovely to see how you got on so please do send in any photos of your successes on this day via myhomework!
Click HERE to access the challenge sheet and feel free to monitor this sheet on behalf of your child who will be 'offline'.
Good luck and have fun!
Remote Learning - Spring Term 2 - Week 1
It is great to see some of the creative activities you took part in and the new skills you learnt over the half term break. Thank you to those of you who sent pictures in.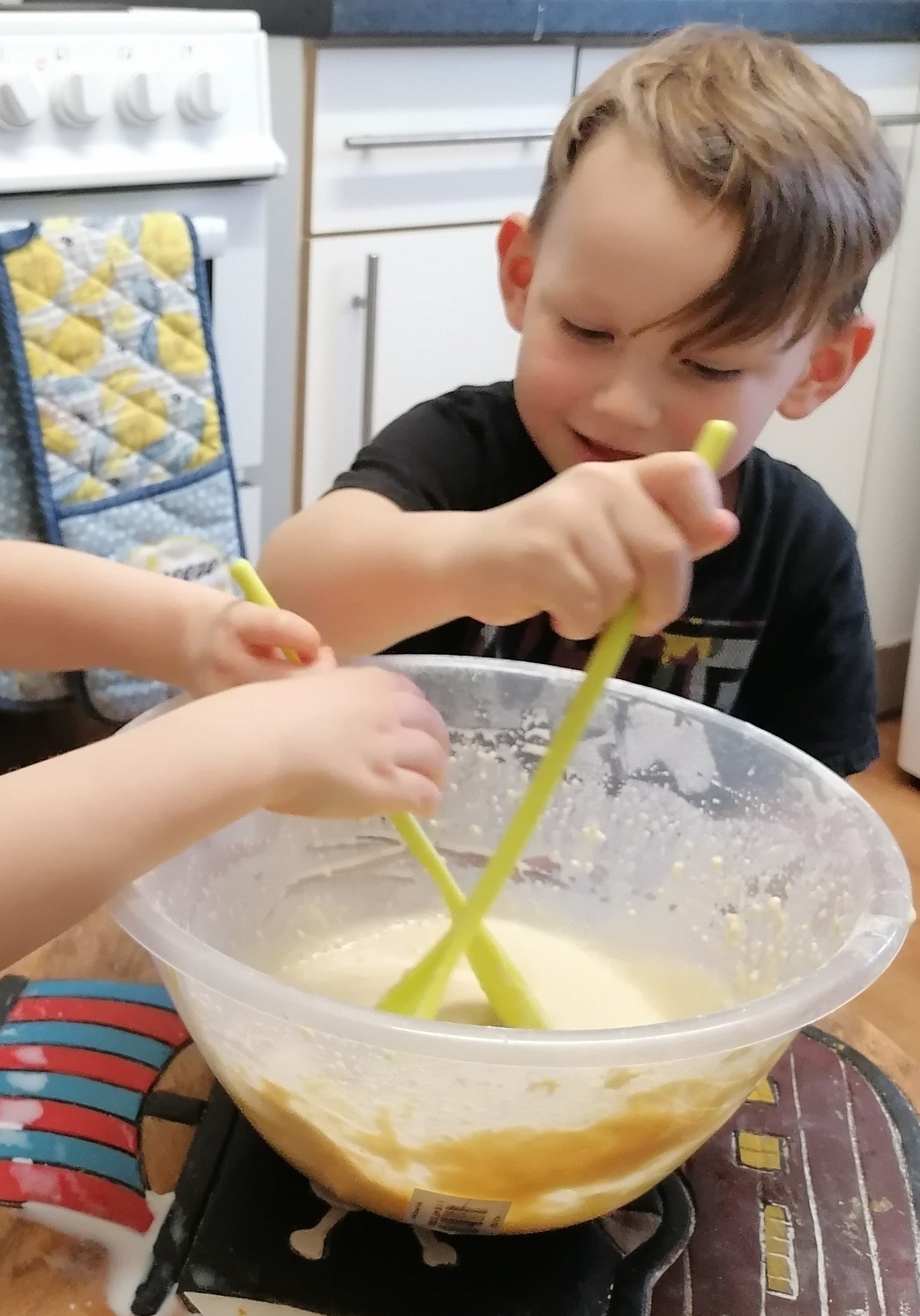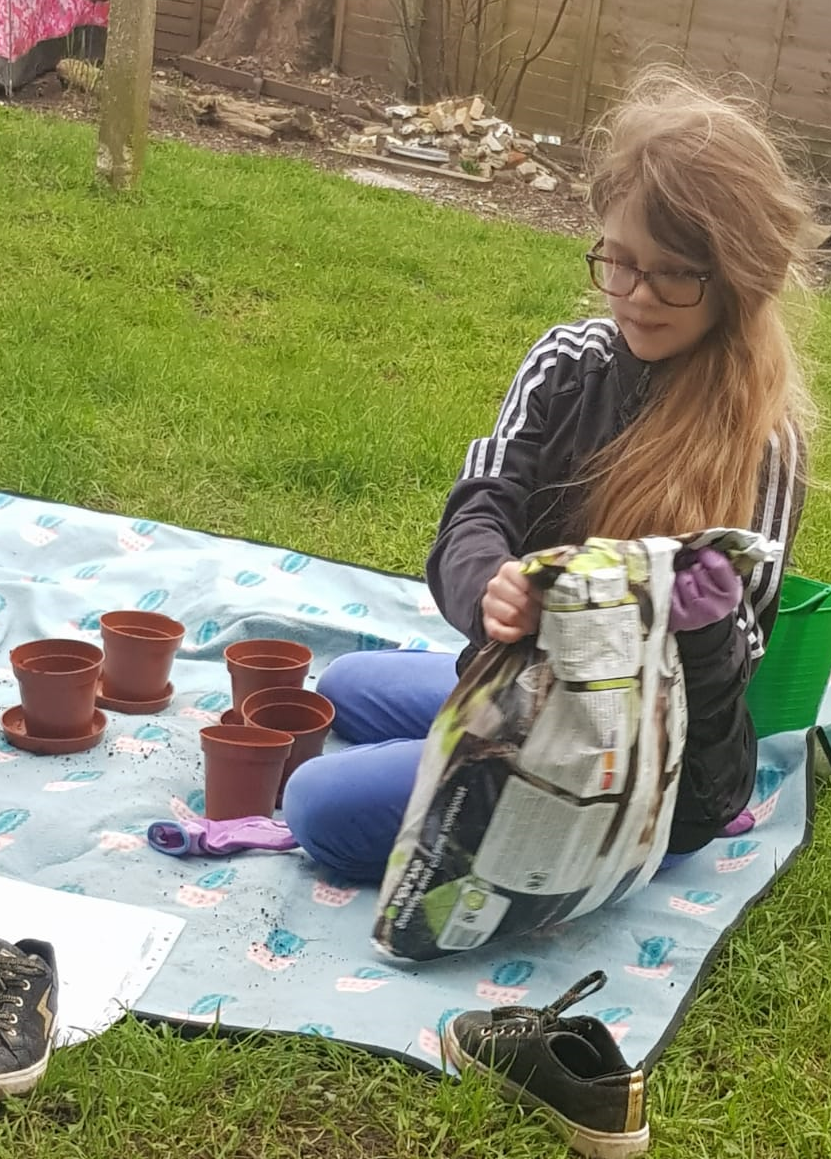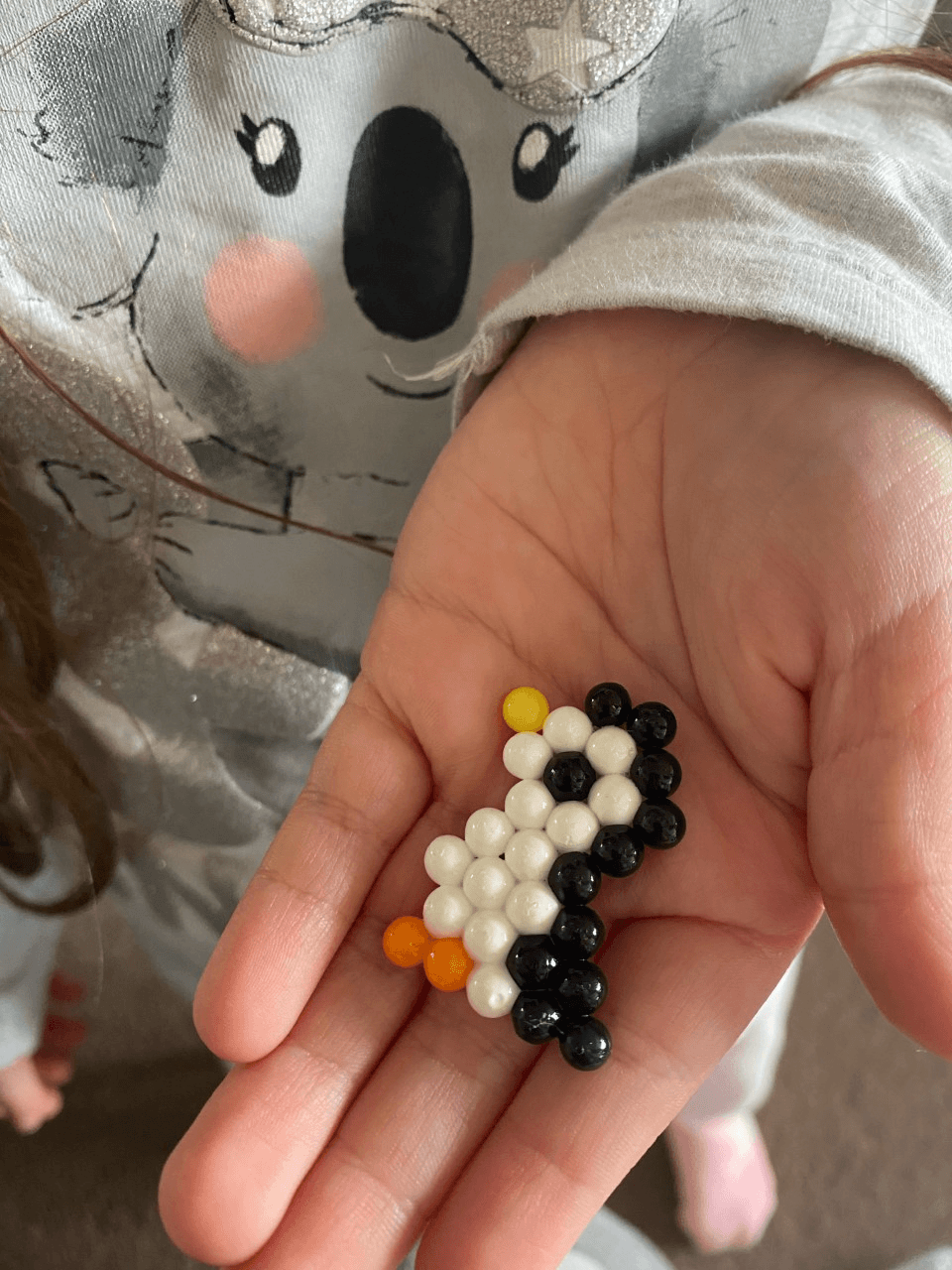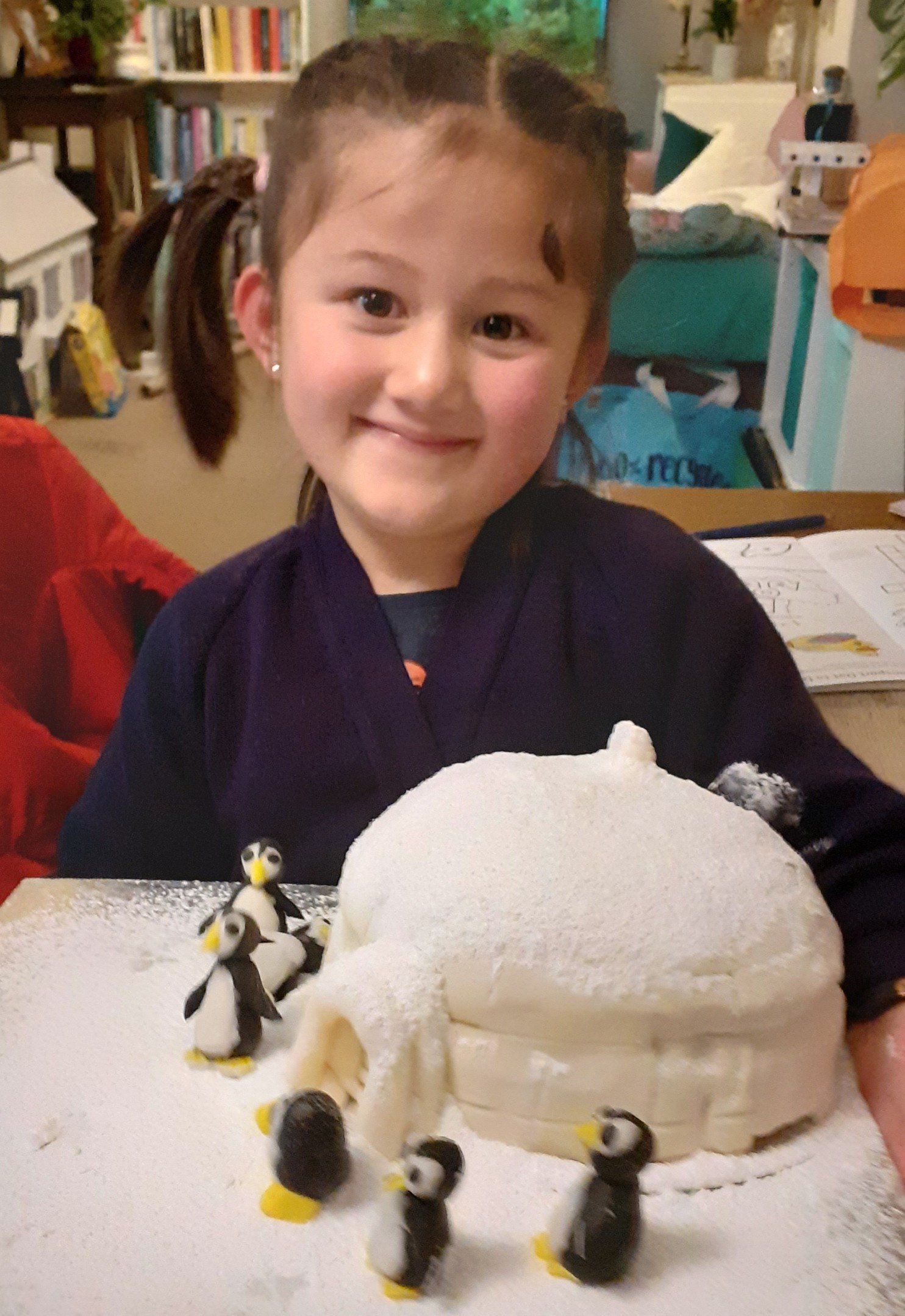 Elliott did some baking, Lola followed a set of instructions to plant some sunflower seeds and Jessie-Rose used Hama beads to make some animals relating to Year 1's topic, "Poles Apart." Isabella makes an igloo cake as part of the same geography topic.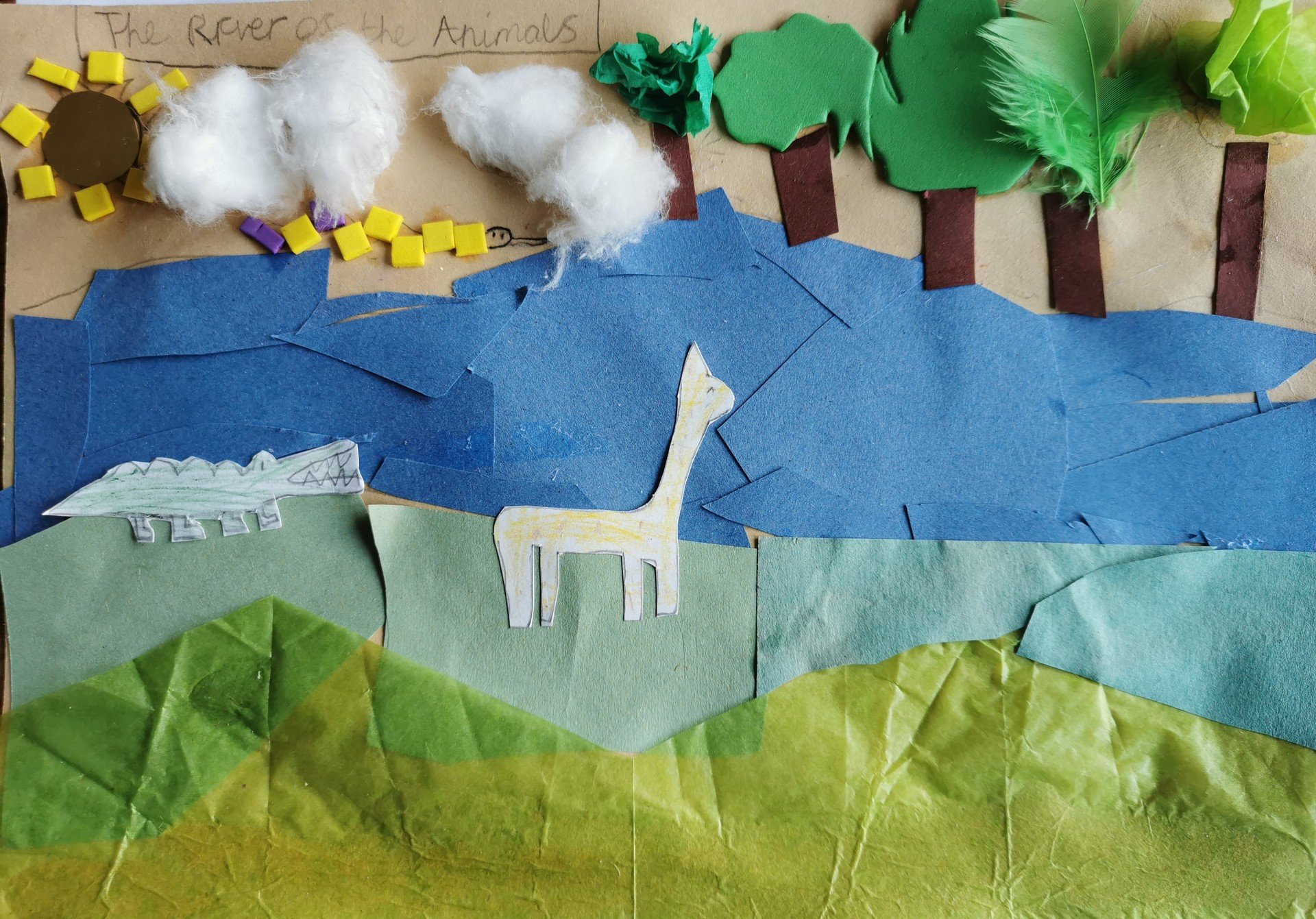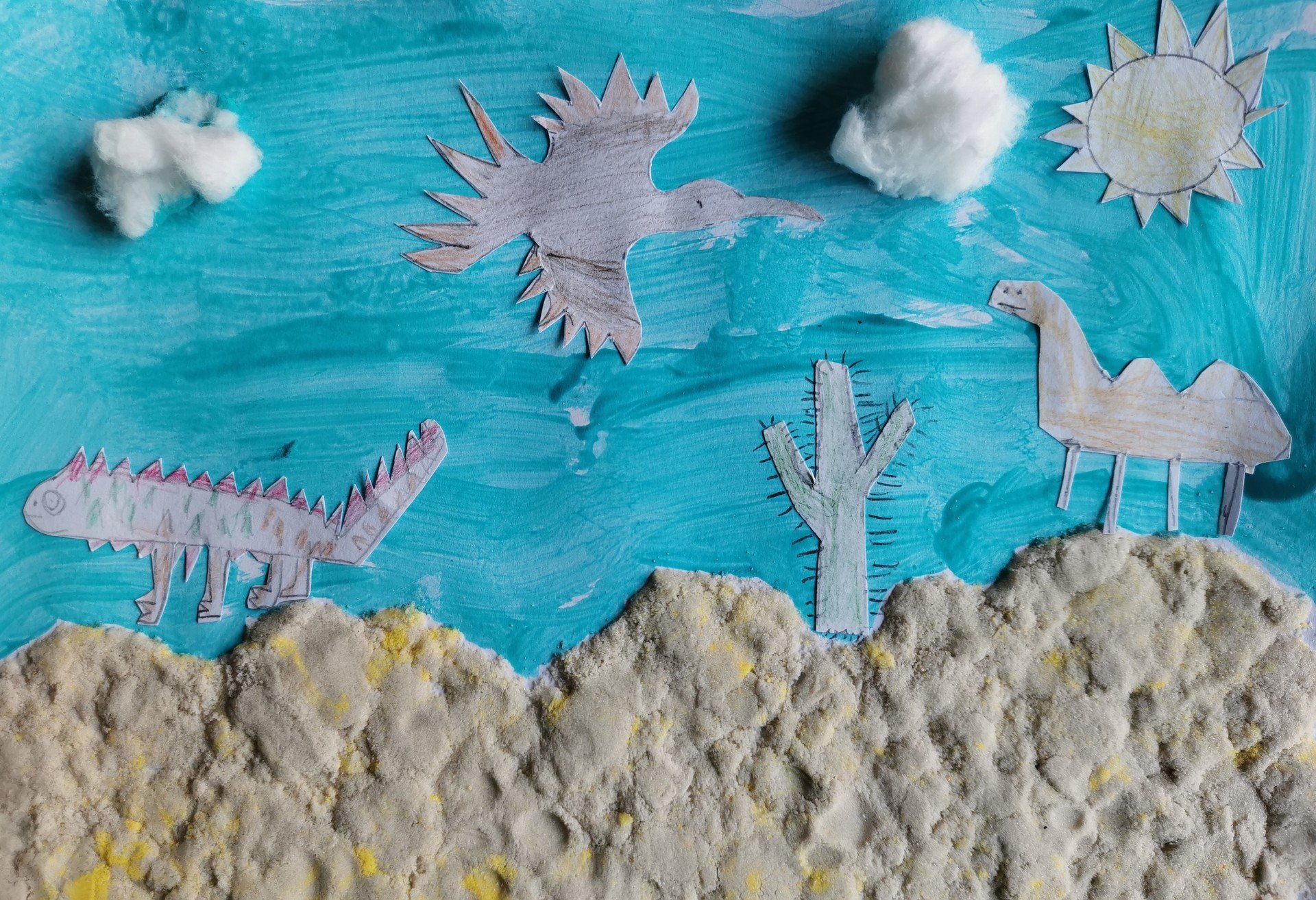 Finn uses collage to create scenes showing animal habitats /environments based on Year 3's "Extreme Survival" topic.
It is lovely to see how well you have settled back into the routine of learning from home again, now the half term break has come to an end.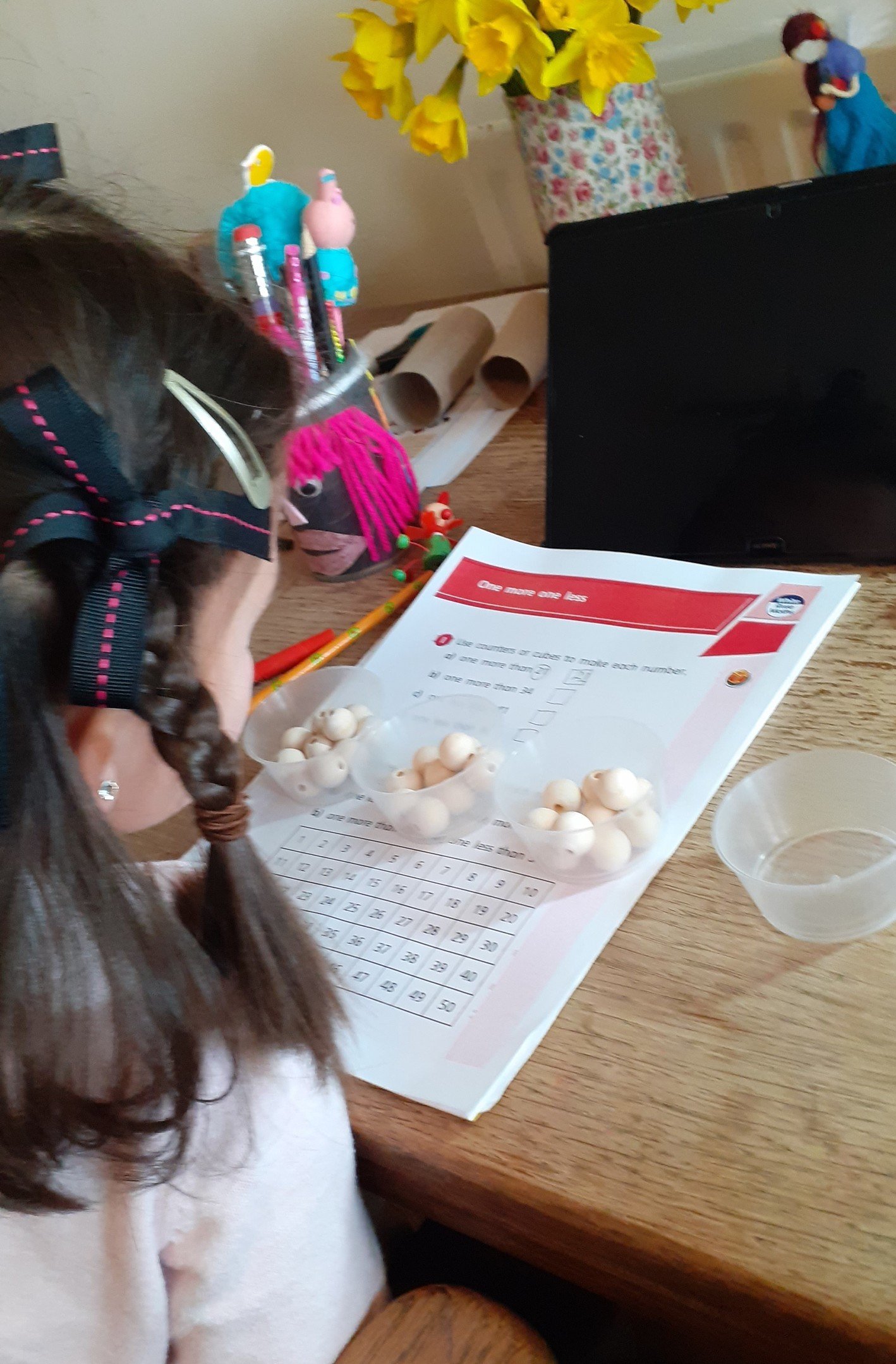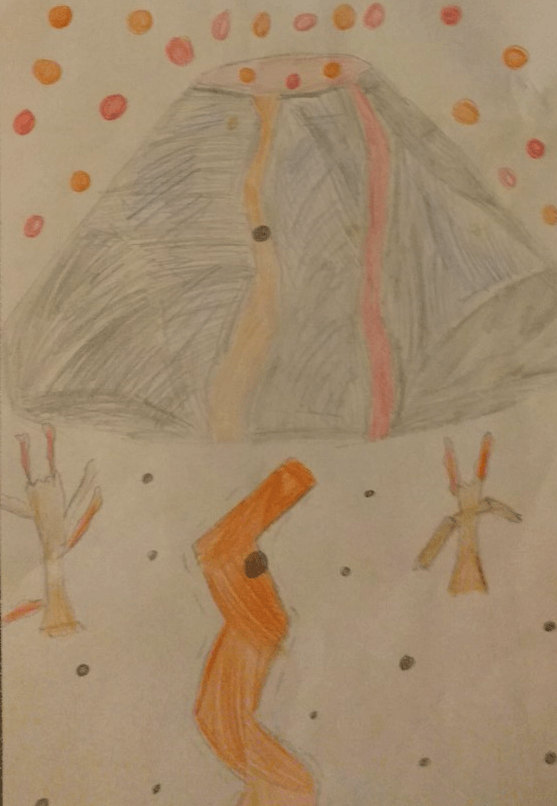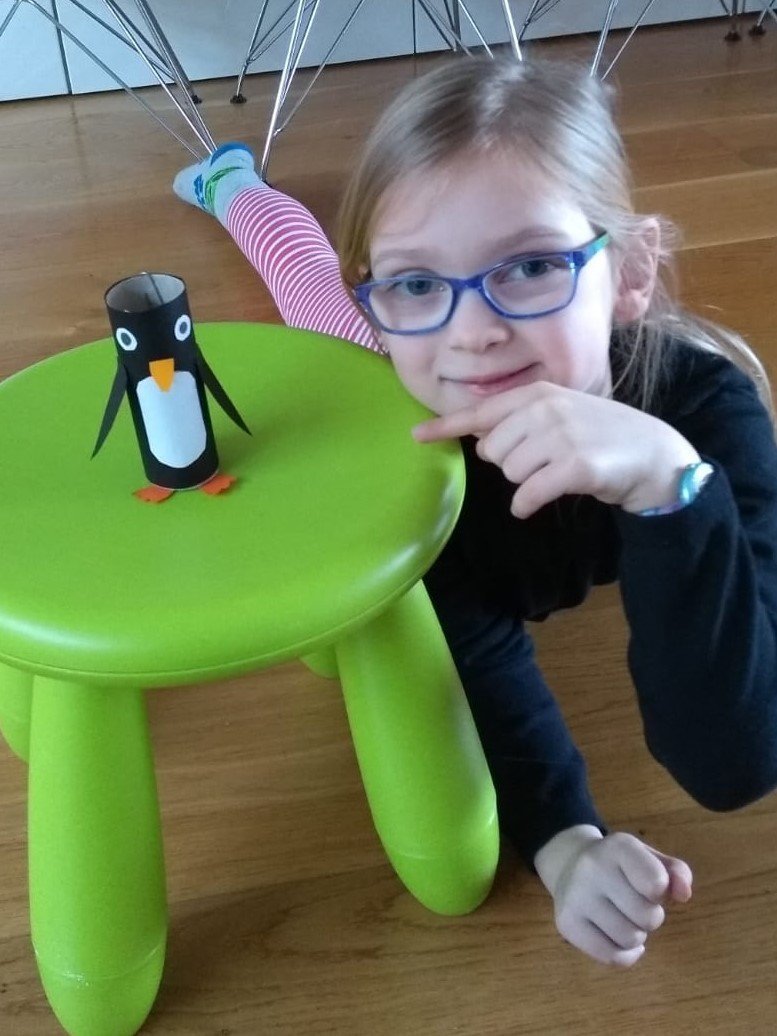 Isabella makes some lolly stick puppets of the characters in Year 1's quality text "Leaf" which she uses to retell the story. Isabella uses practical resources to help her with one more/one less in today's maths task.
Paige draws a volcano and earthquake inspired by Year 6's topic "Disaster!" Audrey makes a family of penguins and learns how penguins have adapted to the environment they live in.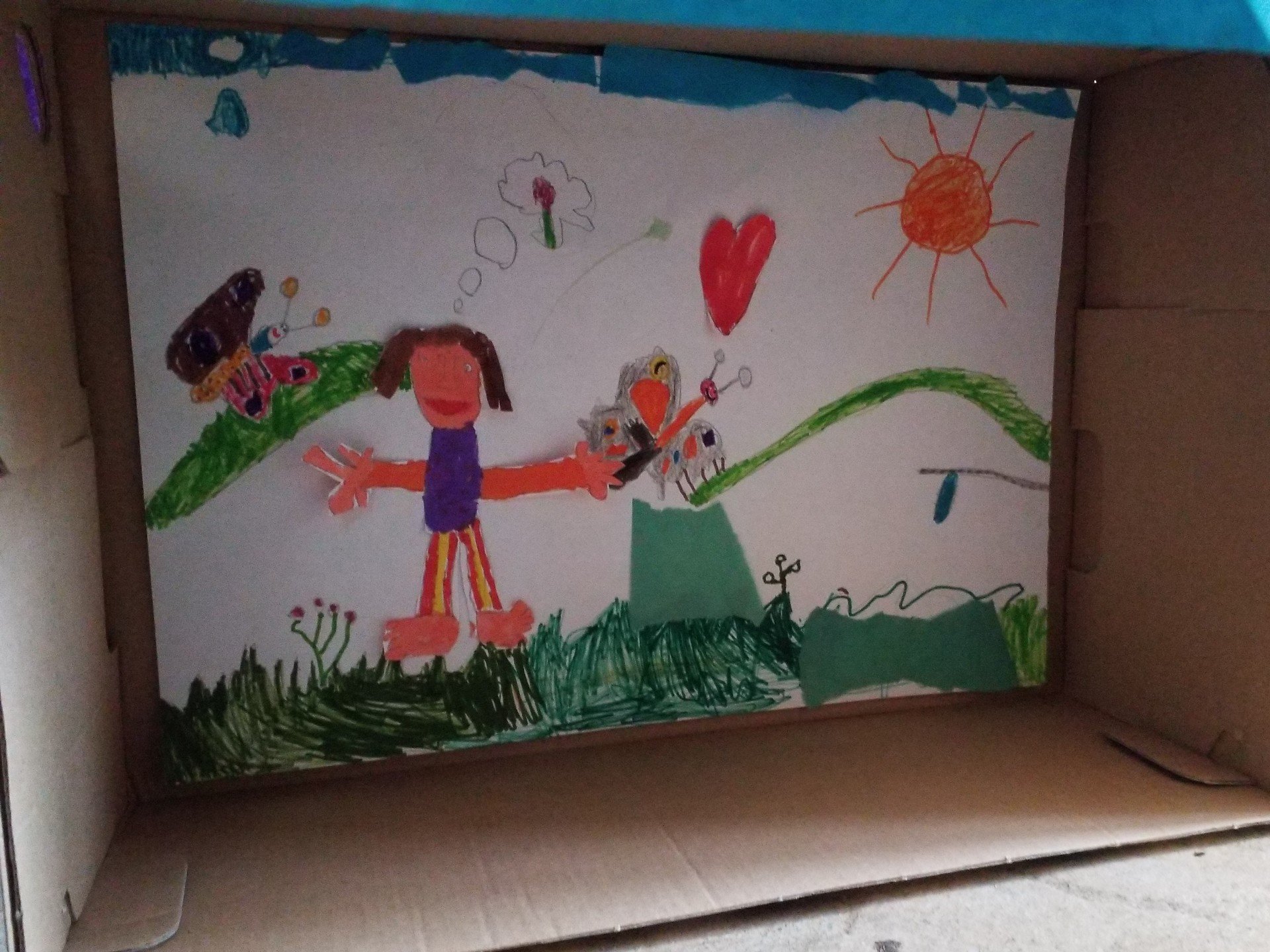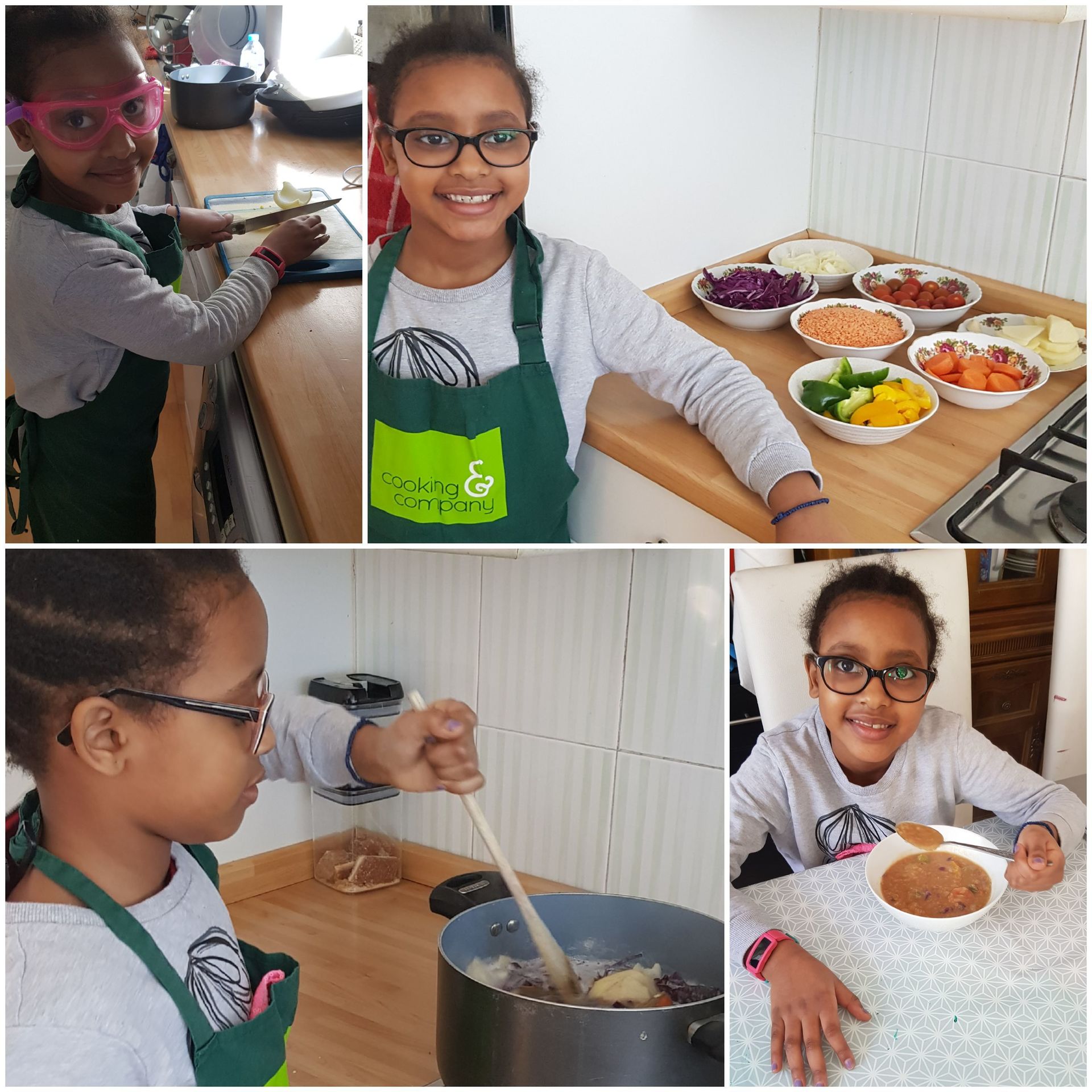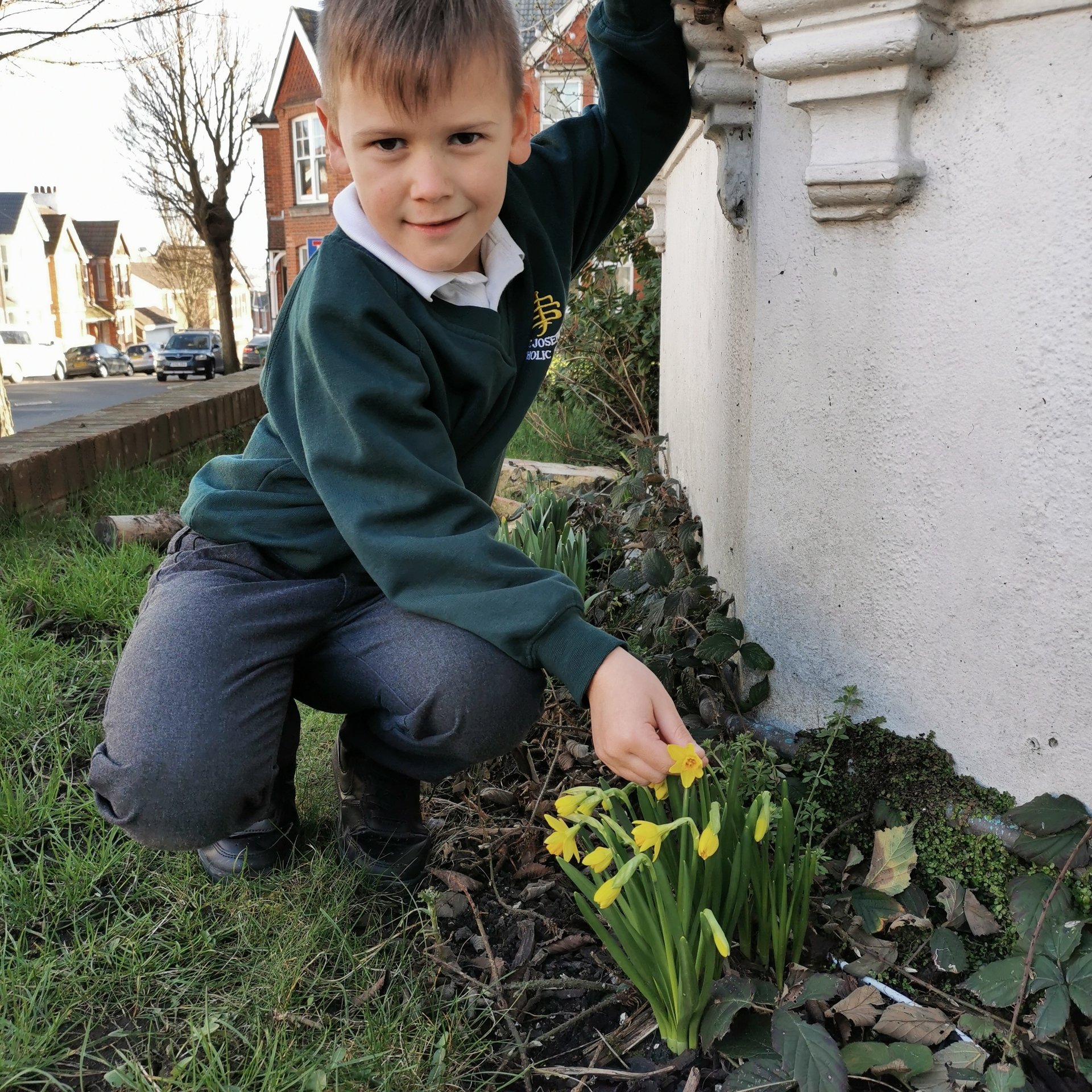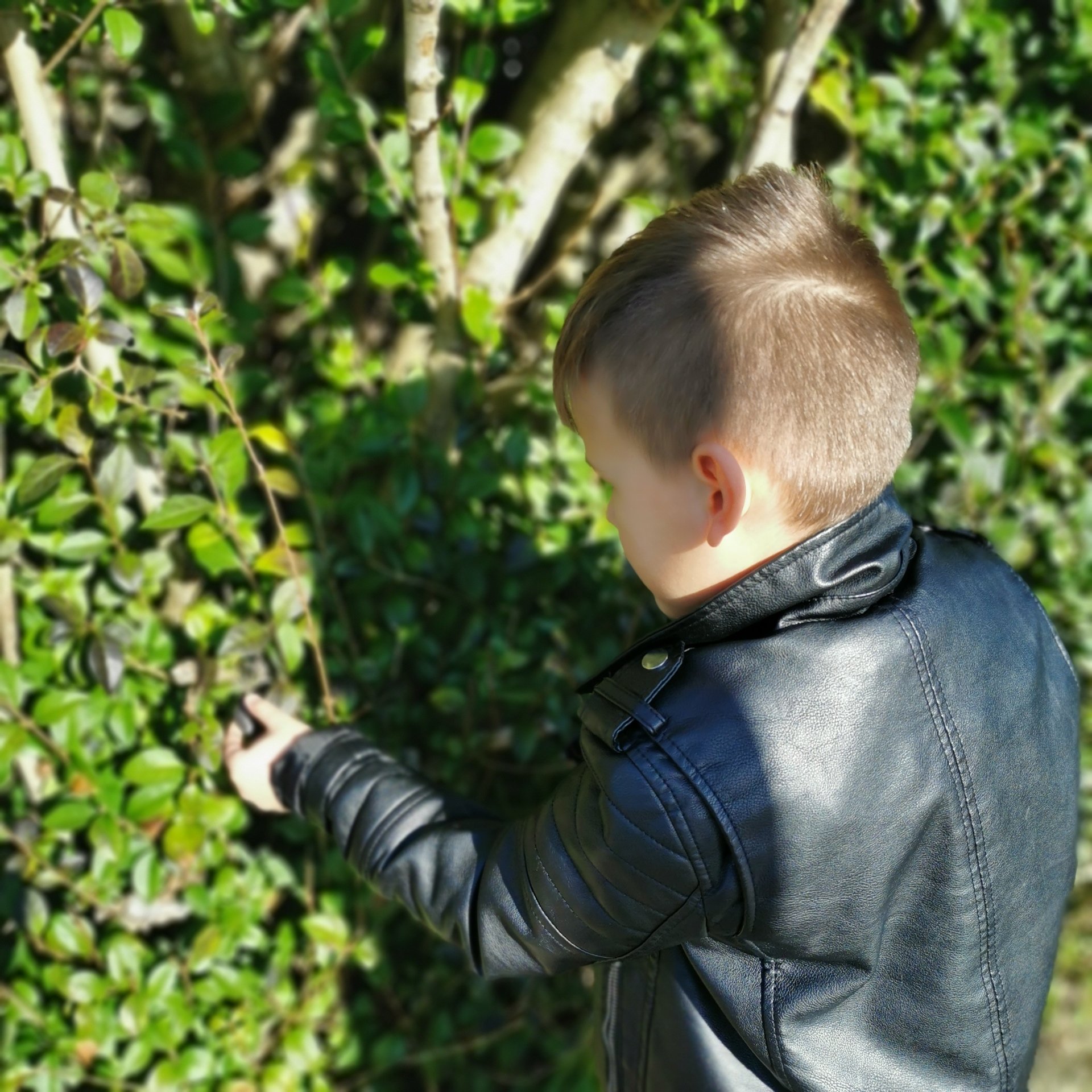 Sylvia creates a story box based on Year 1's class reader.
As part of Year 3's R.E. learning, Emillia makes her own "stone soup" after reading the story which shows the importance and joys of sharing. She felt very proud and happy when she shared the stone (vegetable) soup that she had prepared herself with her family.
As part of his Science learning, Wiktor finds and identifies different plants in the local environment.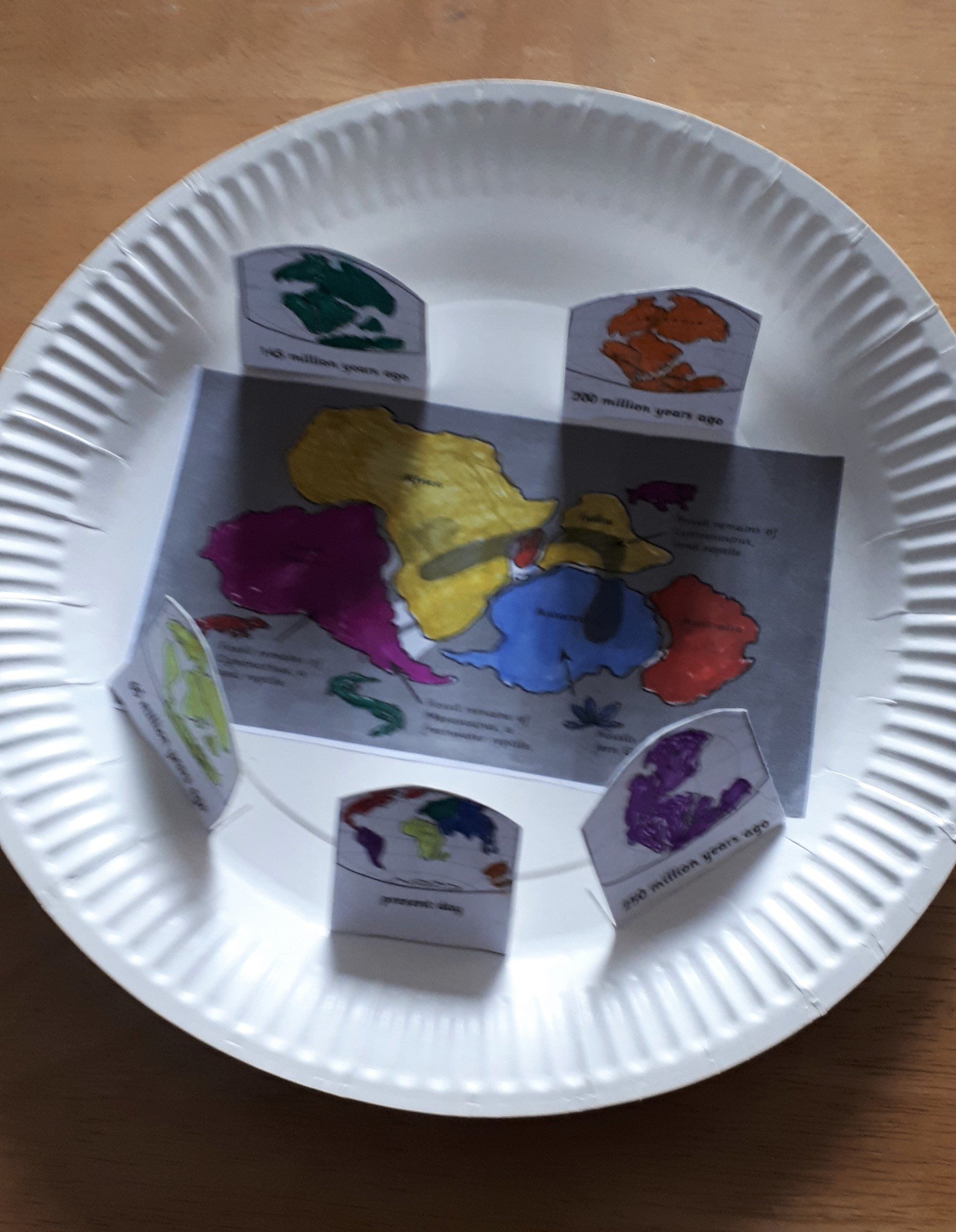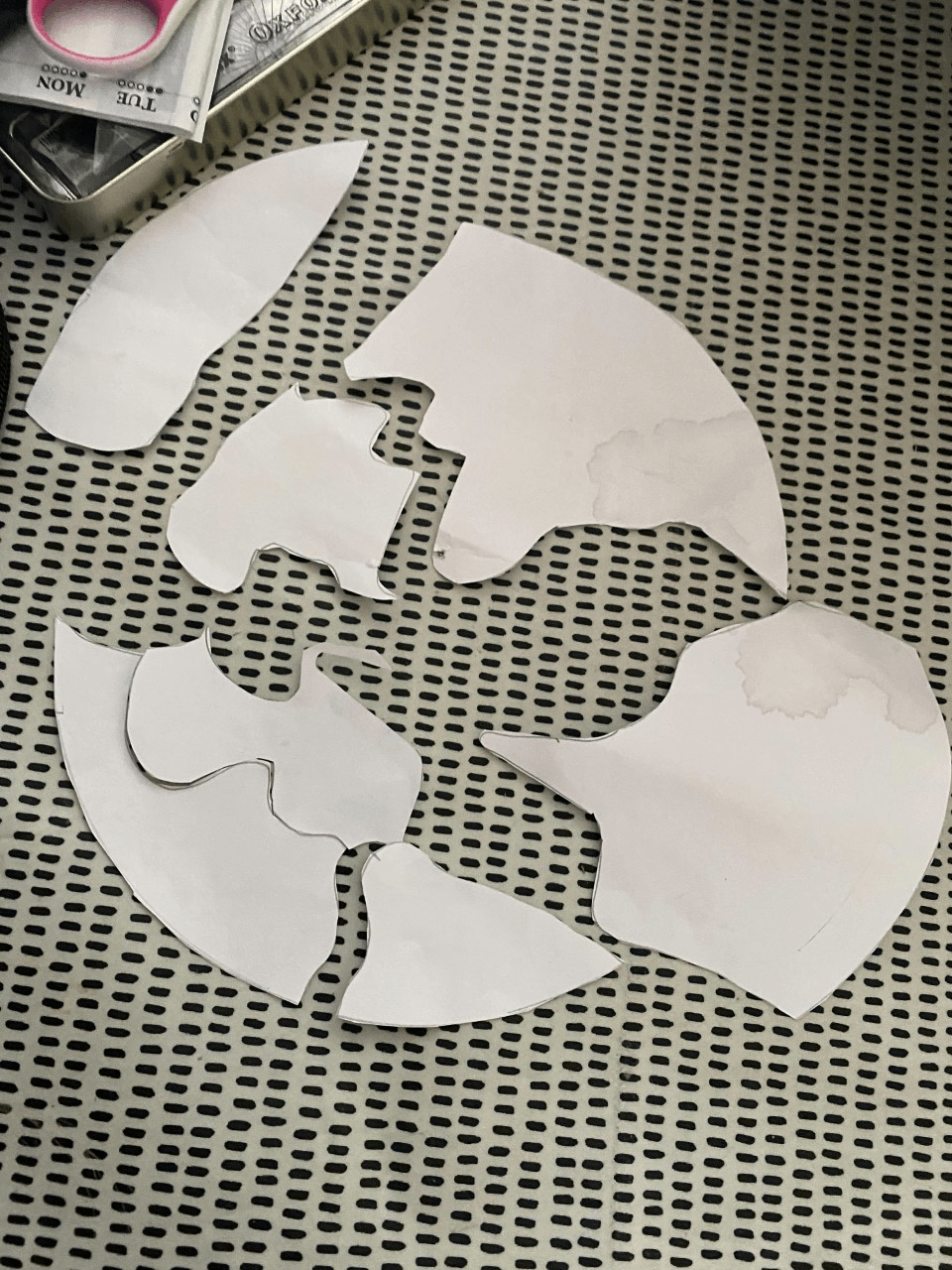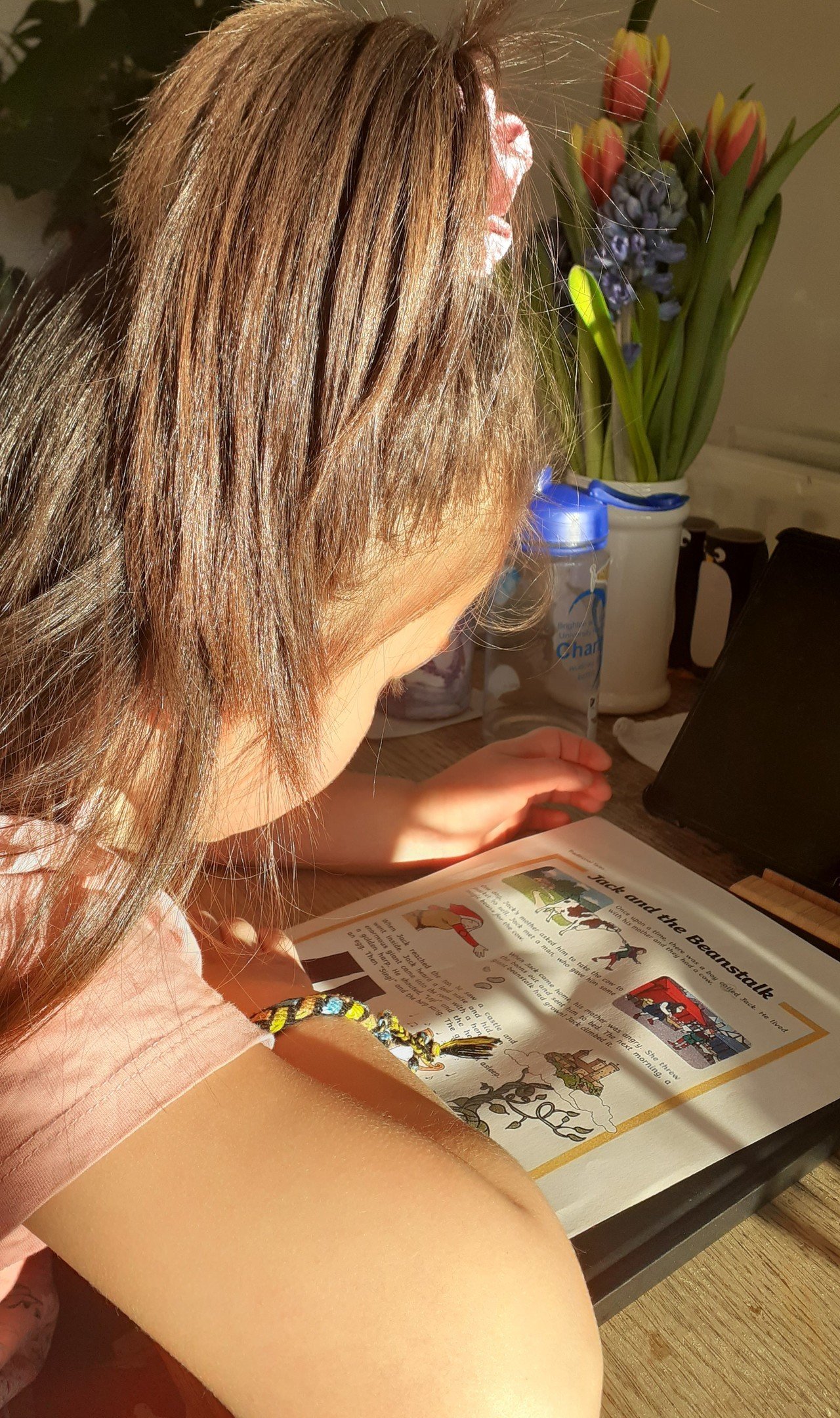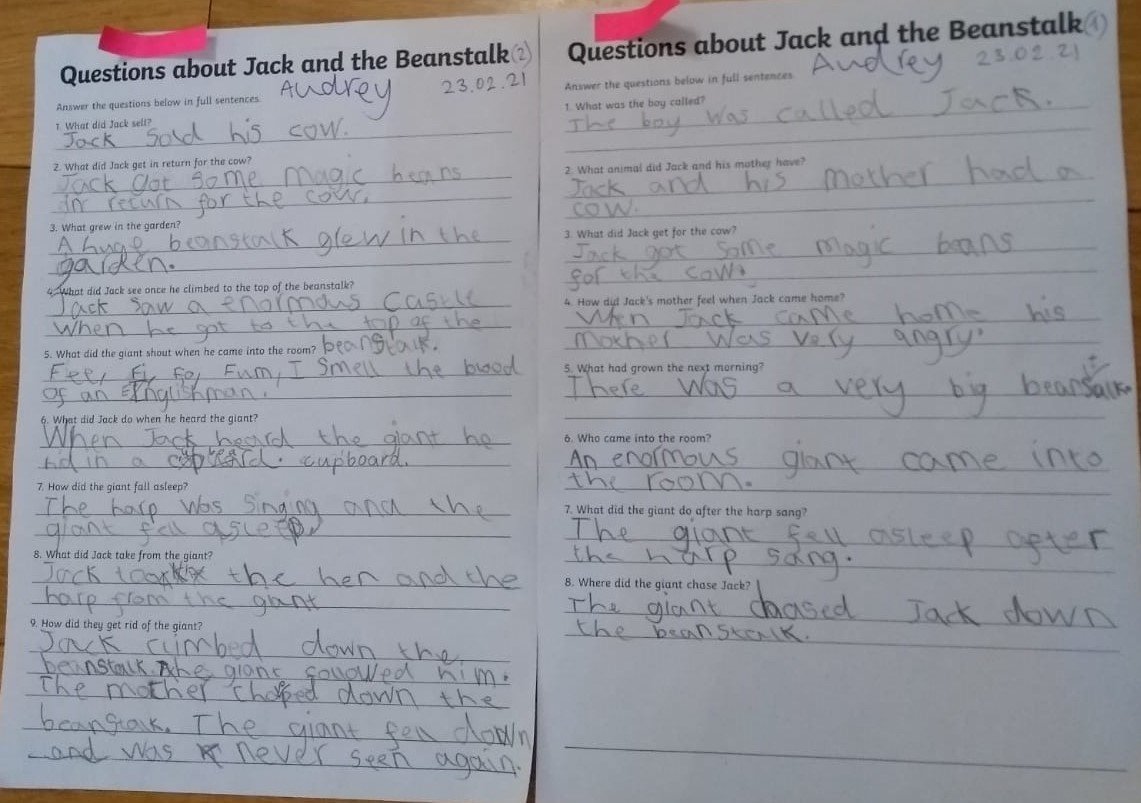 Jayden and Lola make models to demonstrate their understanding of tectonic plates and how the earth has changed over time as part of Year 6's Geography topic "Disaster."
Isabella starts reading her comprehension text and Audrey shares her answers - all written in full sentences!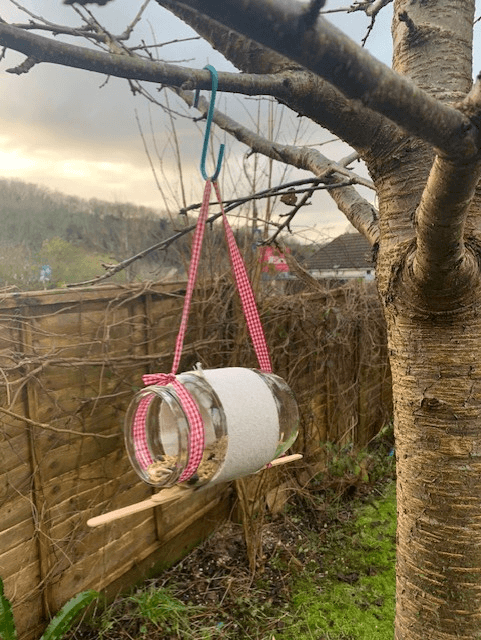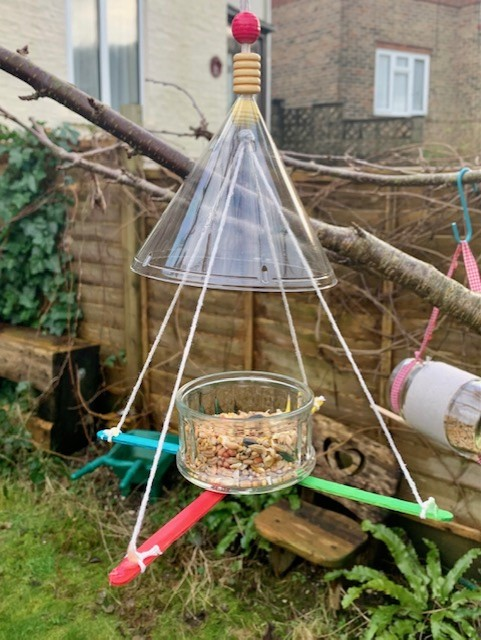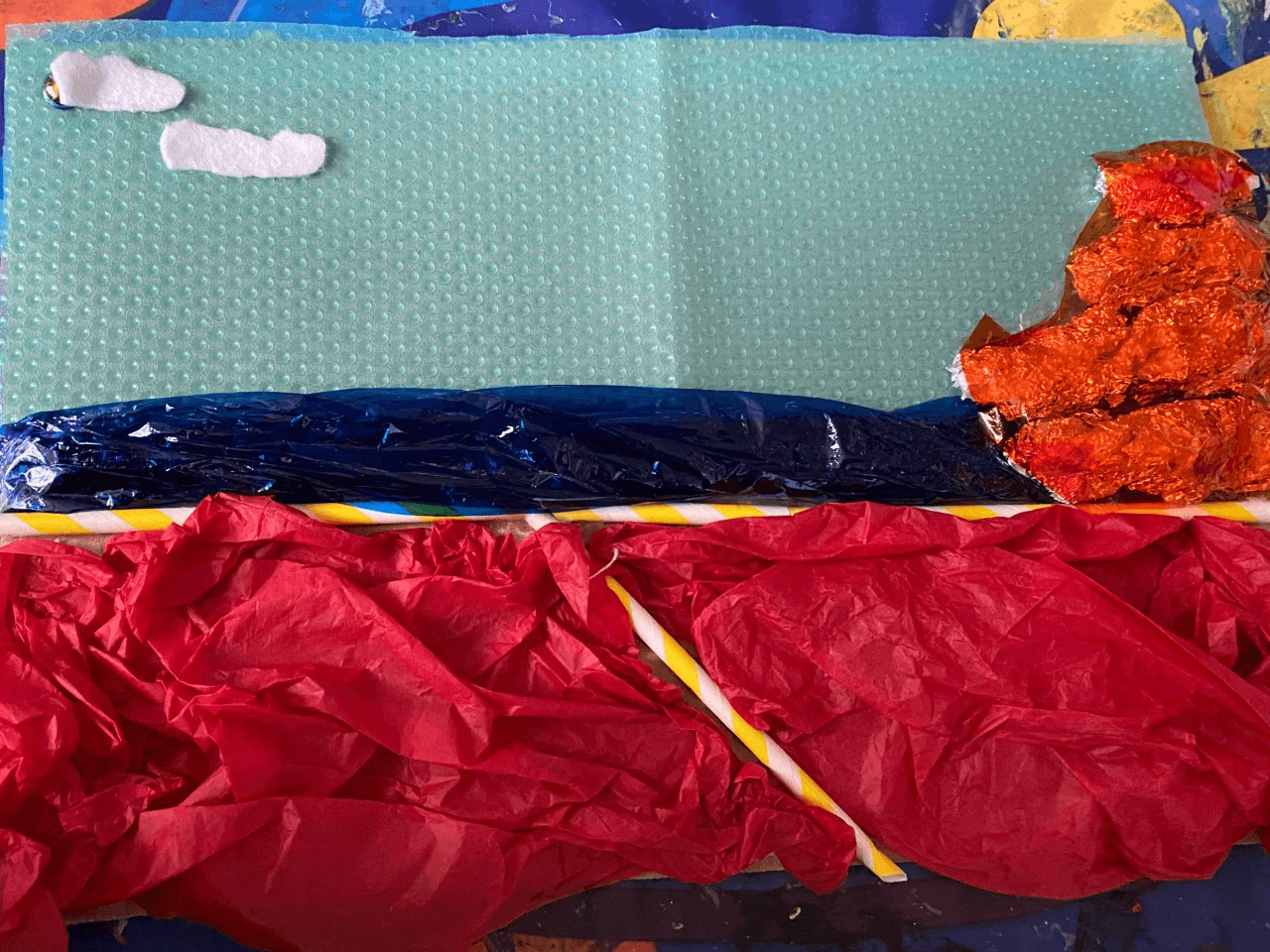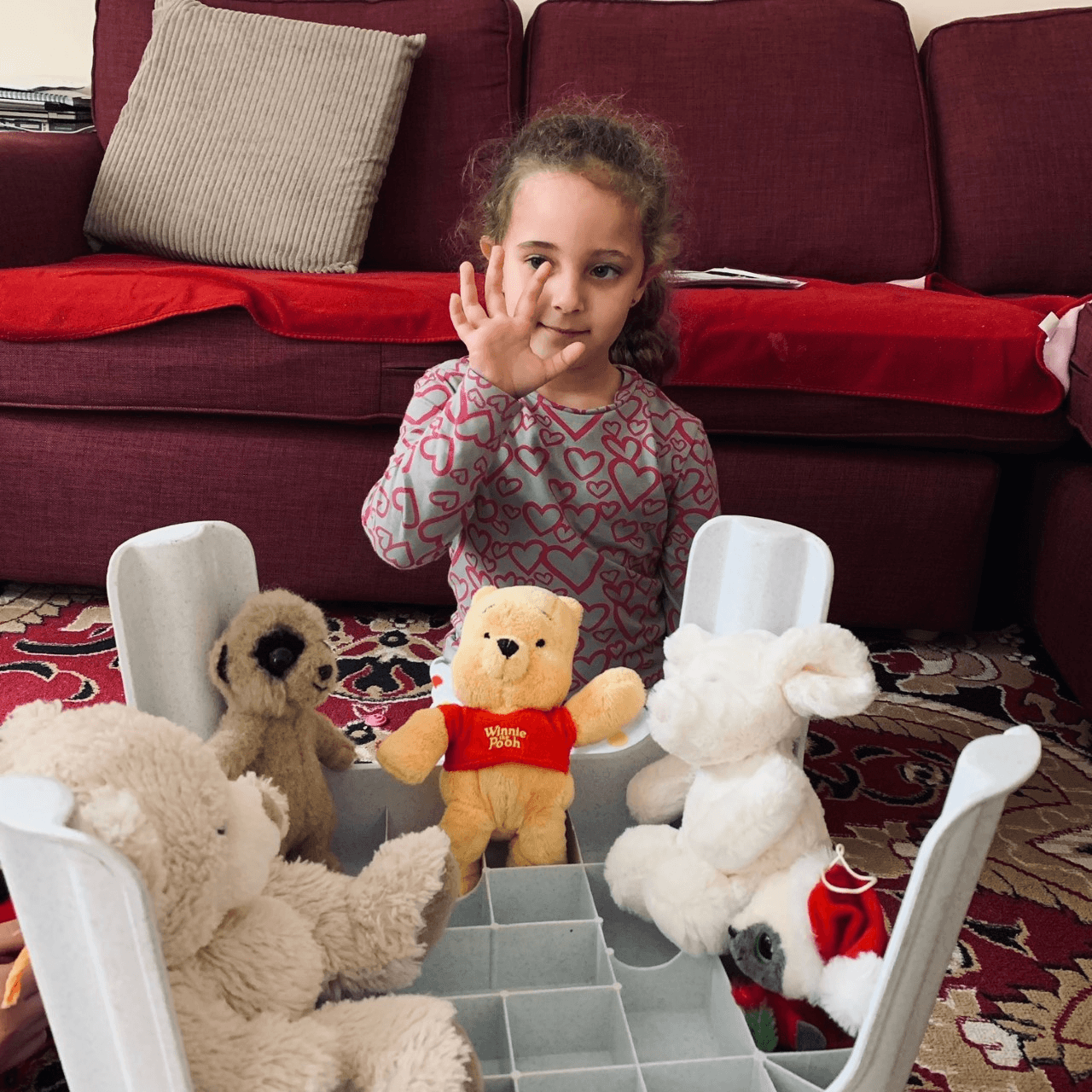 Luca makes some bird feeders as part of his Science learning and observes the different birds that visit them. Lola uses strips of coloured paper to show the movement of tectonic plates. Lily-Mae uses her toys to practise counting.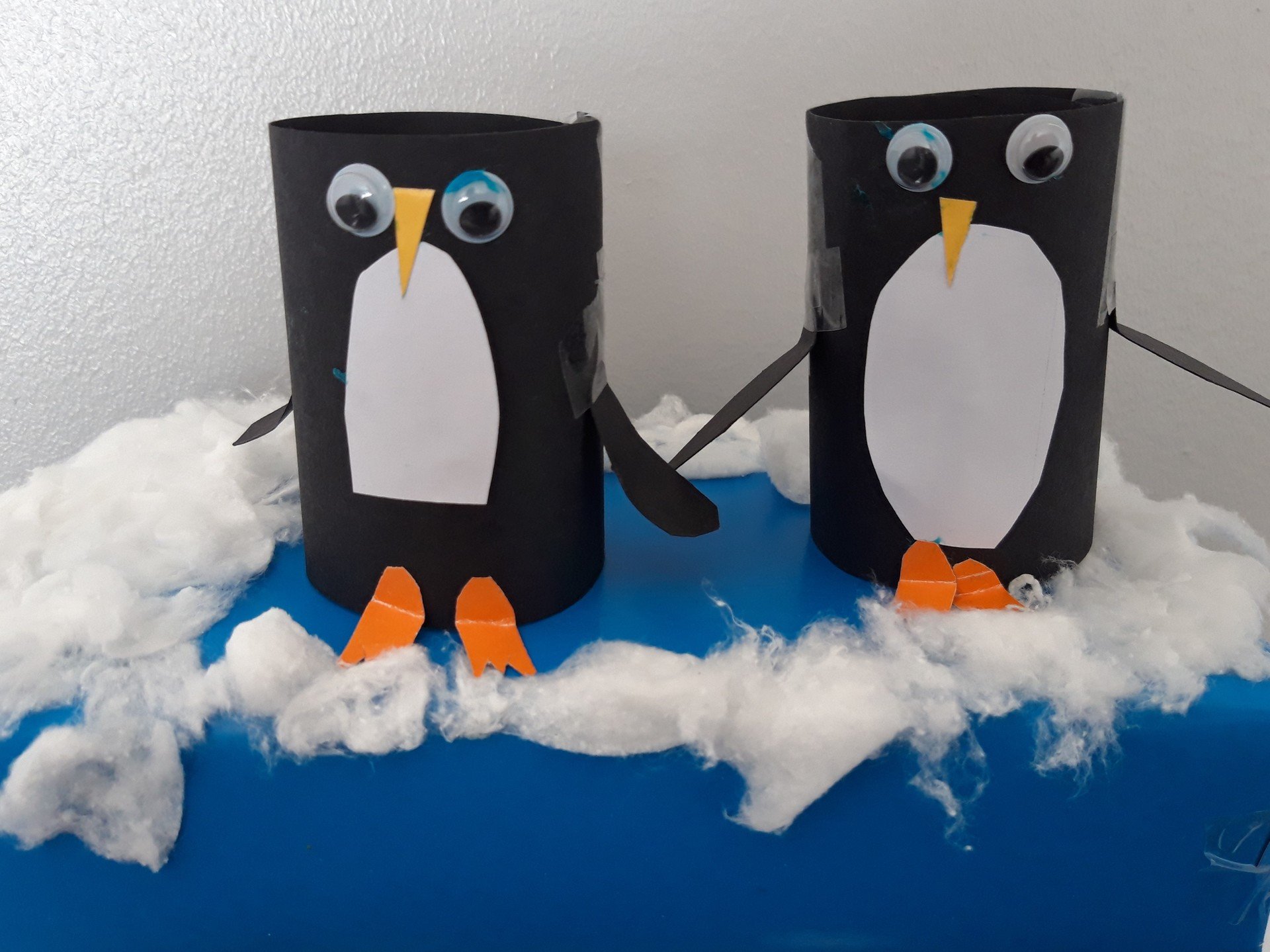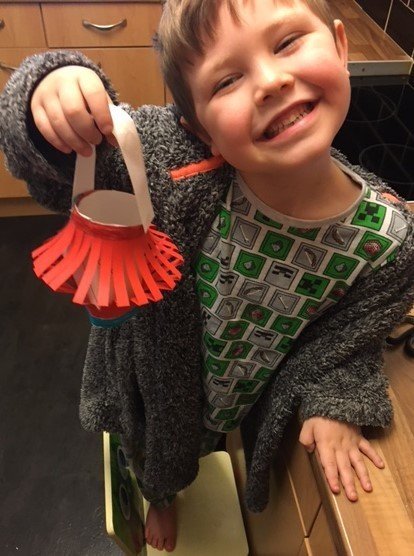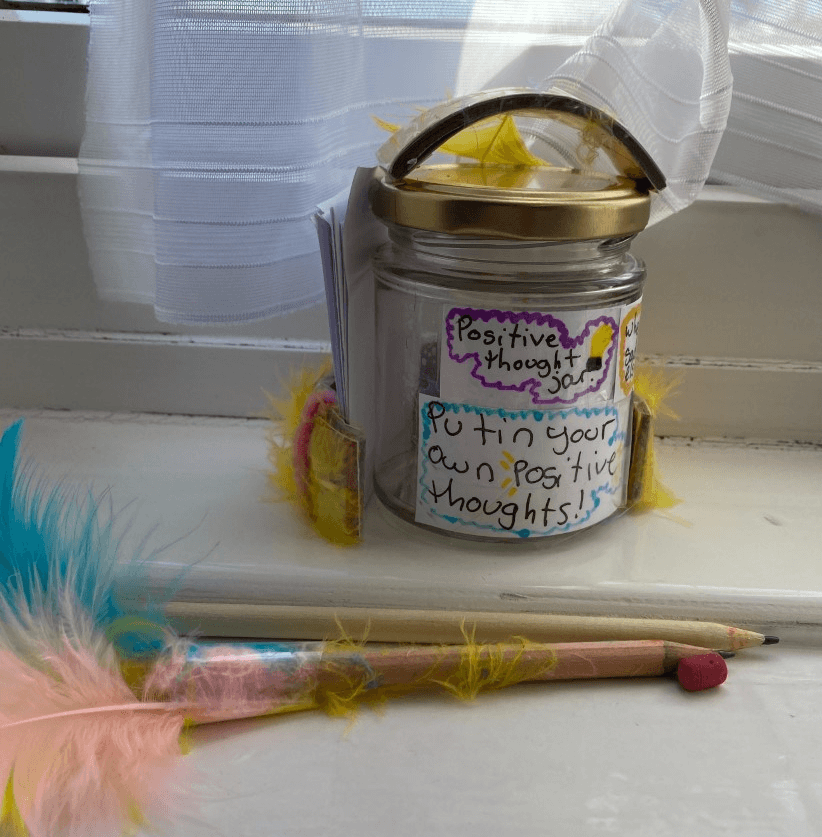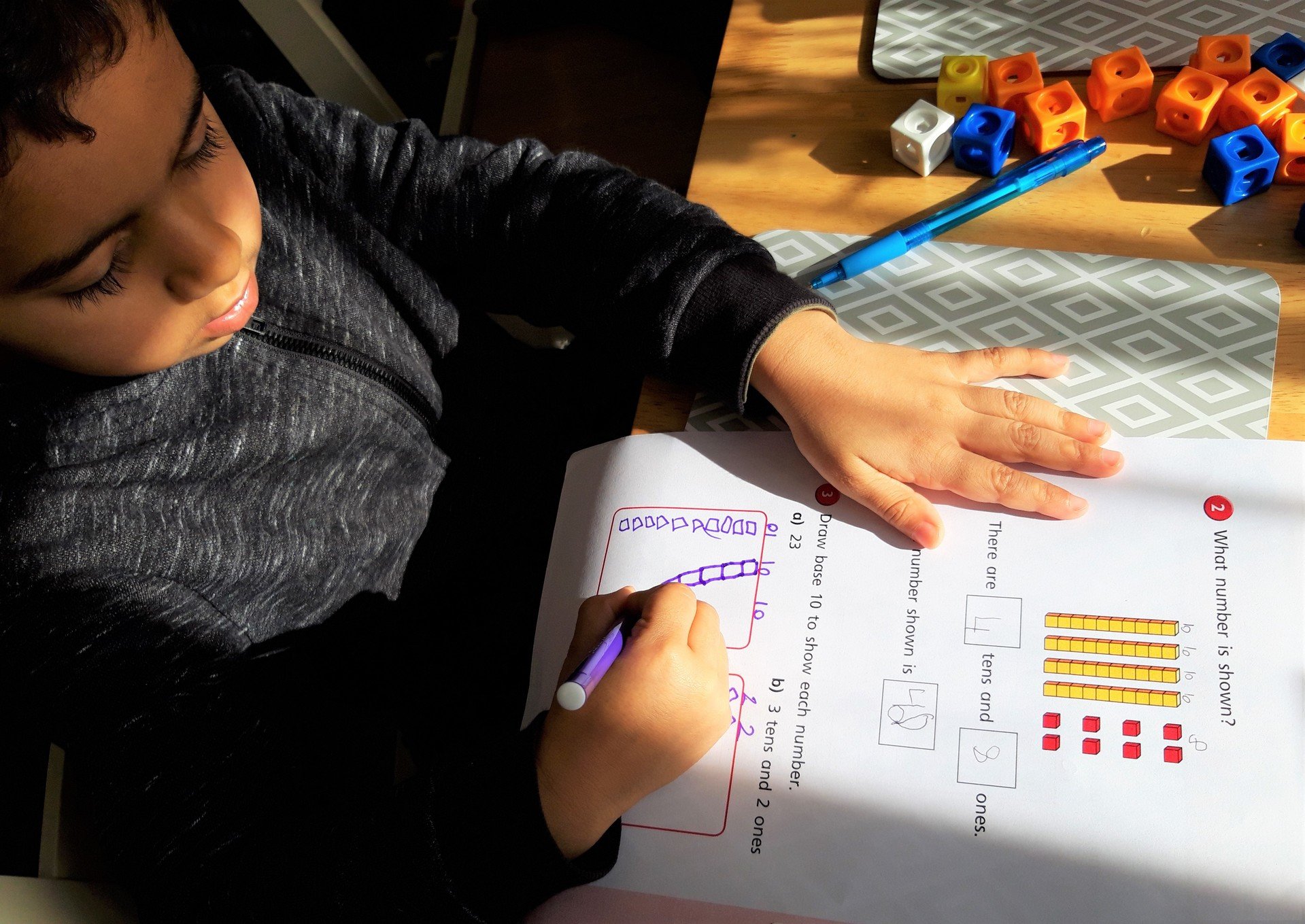 Jeremiah and his brother make penguins as part of their Geography topic. Harry follows instructions to make a lantern. Lola makes a "positivity jar." Jeremiah uses cubes to help him with his maths task.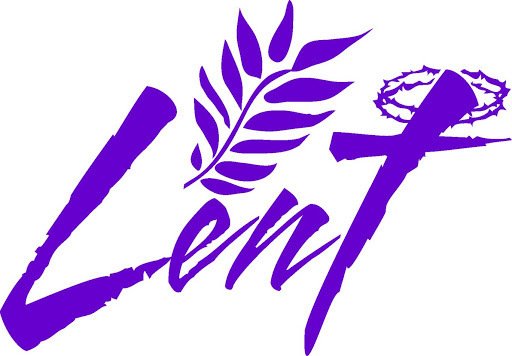 Here are some resources you may find useful as we begin our journey through the season of Lent.
Click HERE for an information document full of ideas and resources for Lent.
Click HERE for a Lenten calendar.
Click HERE to be taken to the Mission Together website with lots of resources such as reflections and creative activities.
Click HERE for a video with a reading and a reflection from the Sunday gospel for children. In this passage, Jesus goes into the desert and then begins to preach the Kingdom of God. (Mark1: 12-15)
Click HERE for a link to a CAFOD primary assembly "Water of Life."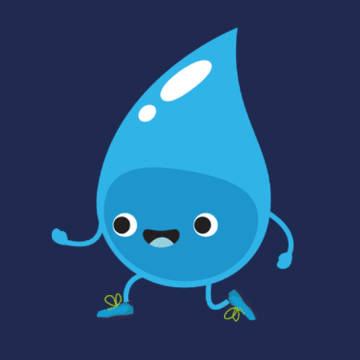 Click on the image above to see how we, at St Joseph's, can make a huge difference this Lent engaging in fundraising ideas and resources supporting CAFOD - Water of Life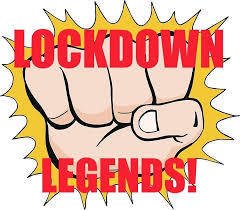 We are so proud of each and every one of you for your learning at home. It has been really difficult for the teachers and Mrs Foan to choose a few "Lockdown Legends" for February.
Here they are:
Reception - Ronnie, Akshar and Kira Year 1- Elliott and Sylvia Year 2- Chidera and Amelia Year 3 - Julian and Paula Year 4- Lukas and Andre Year 5 - Ganza and Lin Year 6 - Hirwa and Faustina
Congratulations all of you. A Head Teacher's certificate should be on its way to you!
Remote Learning - Week 6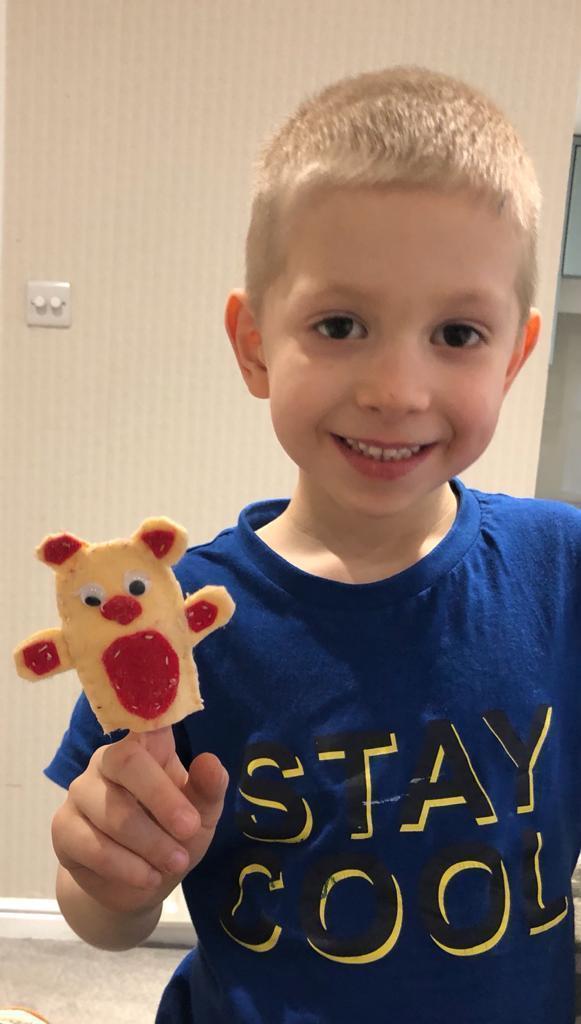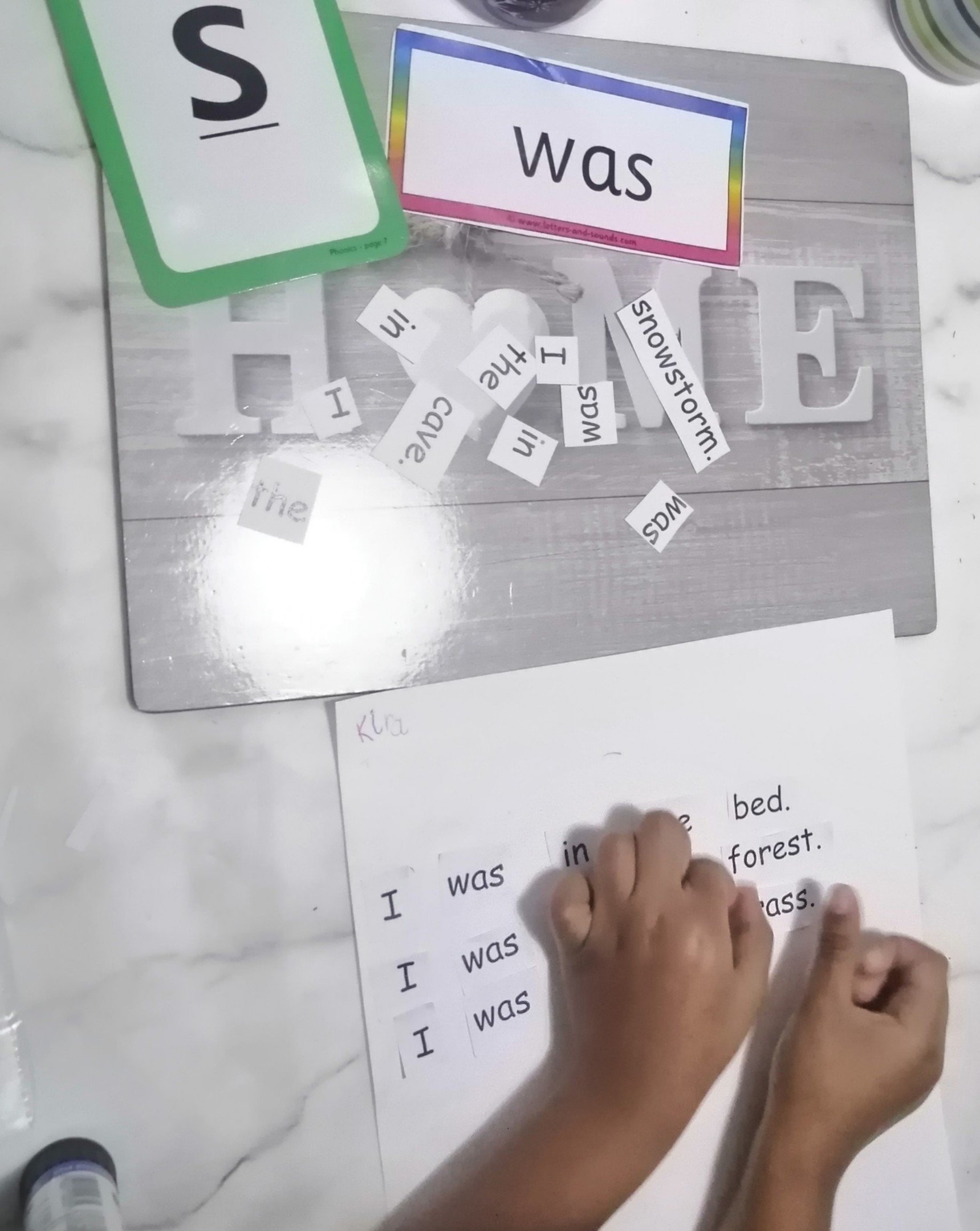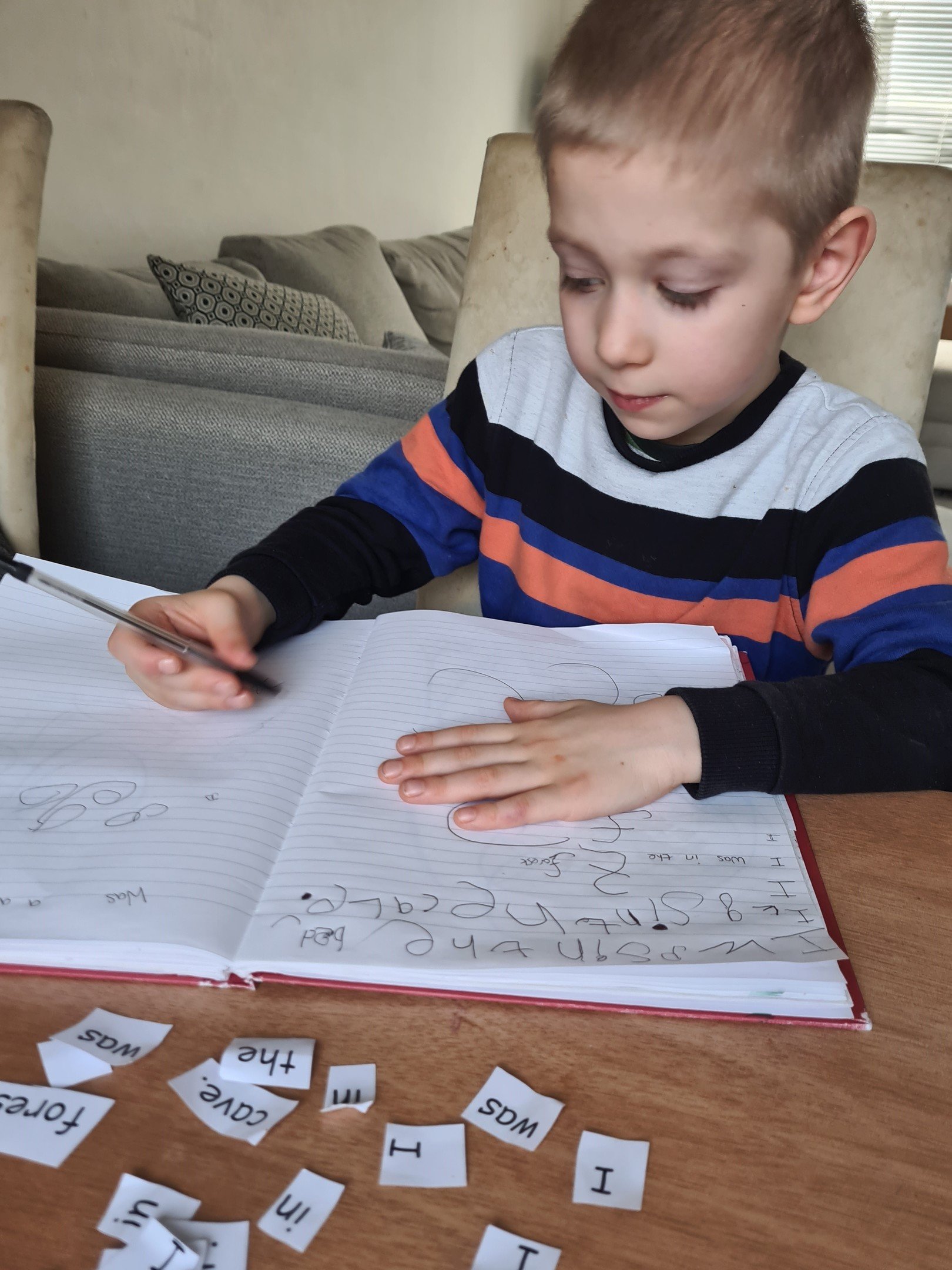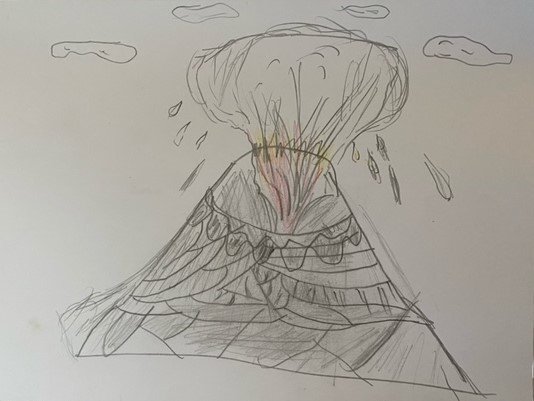 Ronnie makes a bear puppet and retells the Bear Hunt story. Kira and Ronnie read and rearrange the cut up words to make/write the sentences from the book. Fabian uses shading techniques in his line drawing of a volcano as part of Year 6's topic, 'Disaster!'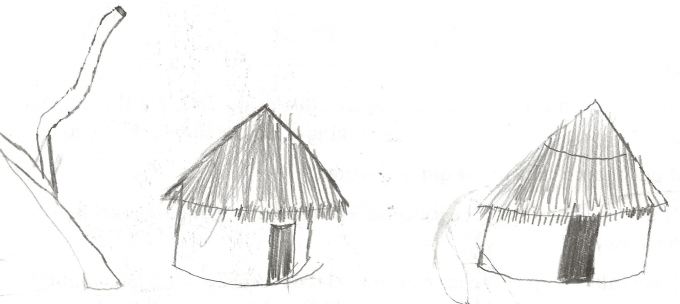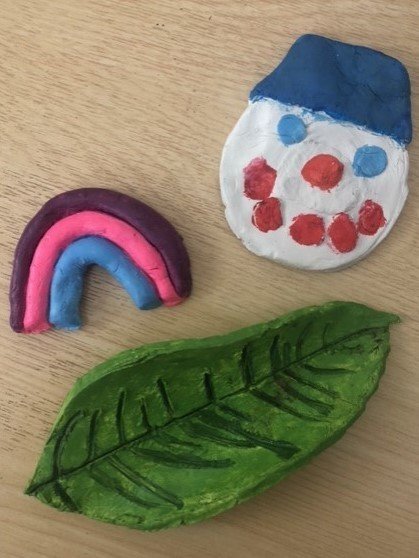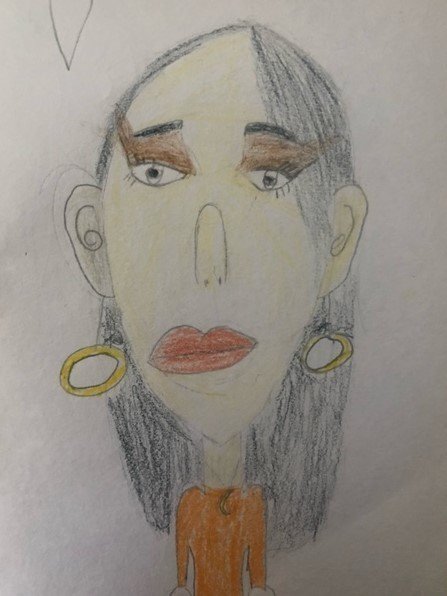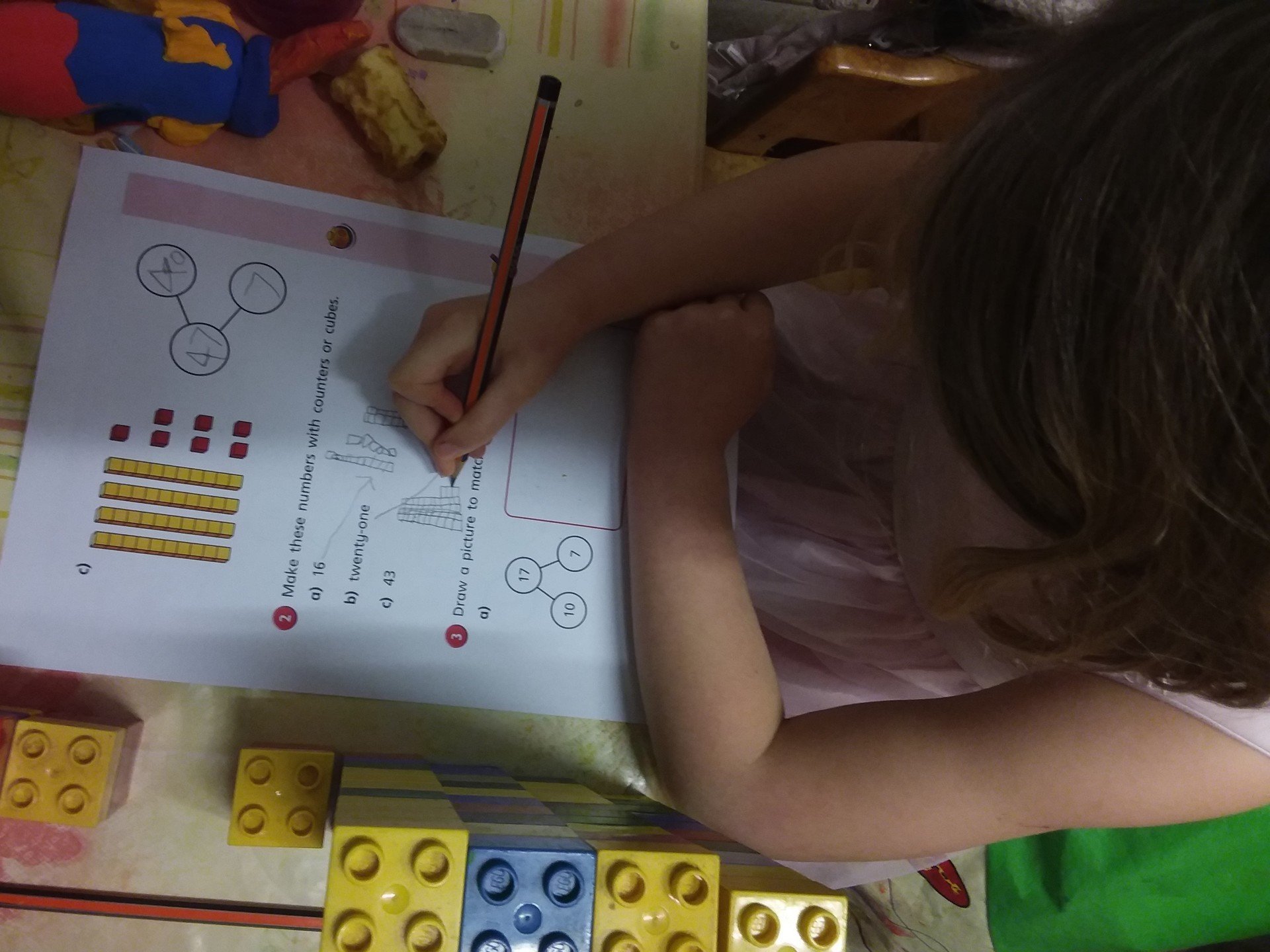 After being introduced to their new class novel based on a village in the Gambia. After studying some pictures of the Gambian landscape, Joshua J drew what he thinks a Gambian village might look like.
Year 3 have a session in the afternoon that they call "Fun Friday." During this hour, they can do something creative. Paula did some arts and crafts last week. Sylvia tackles the day's maths task.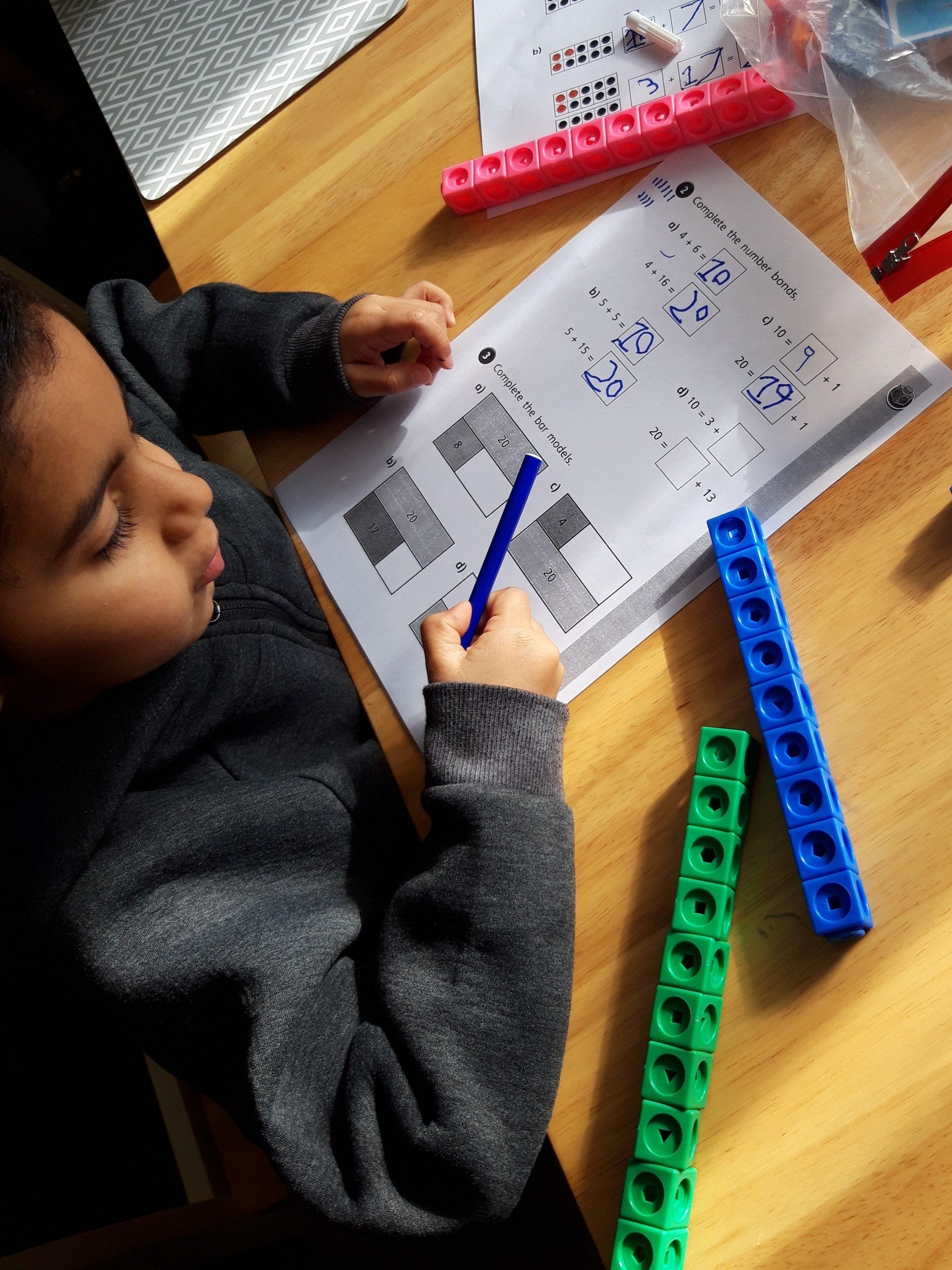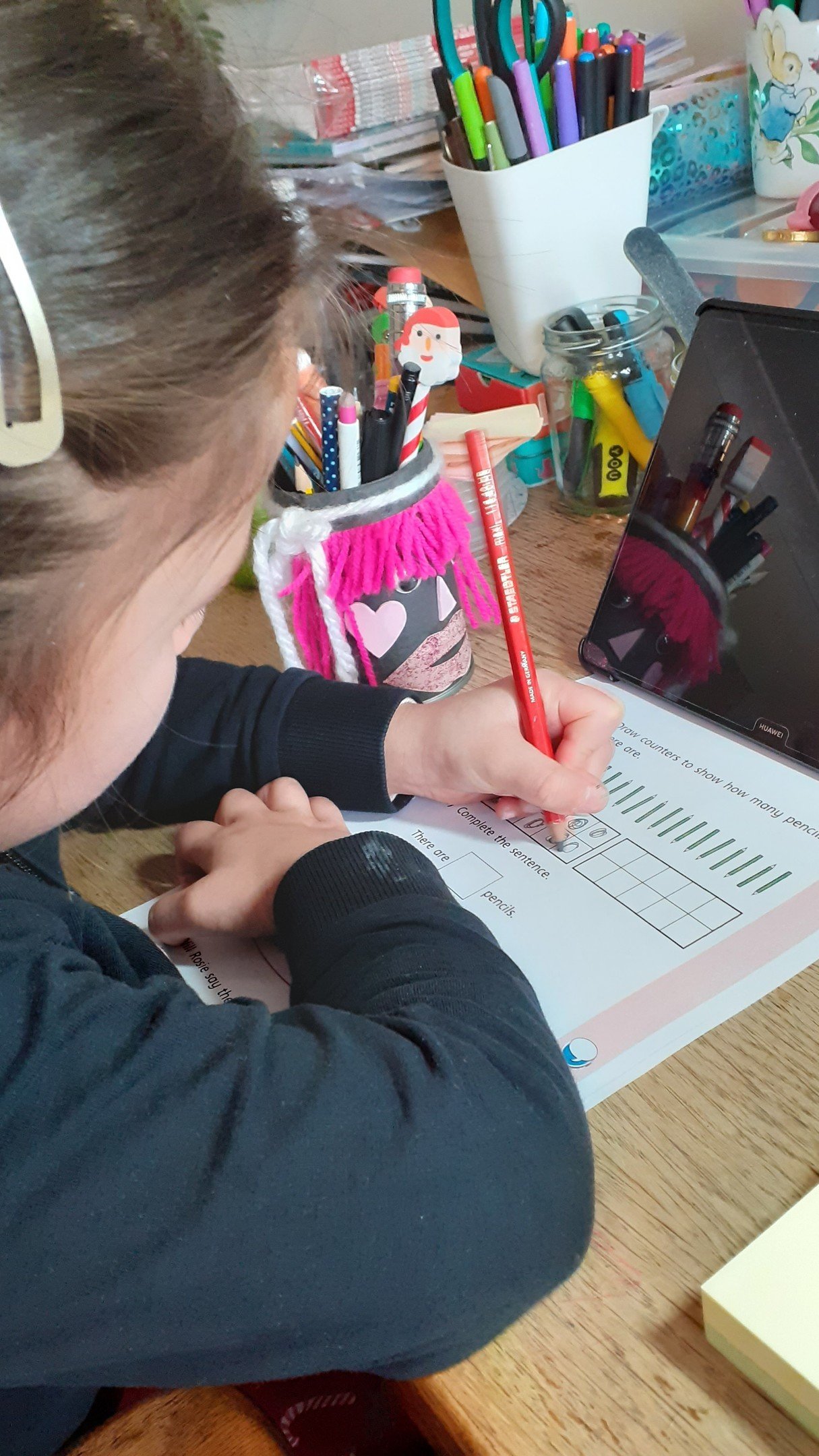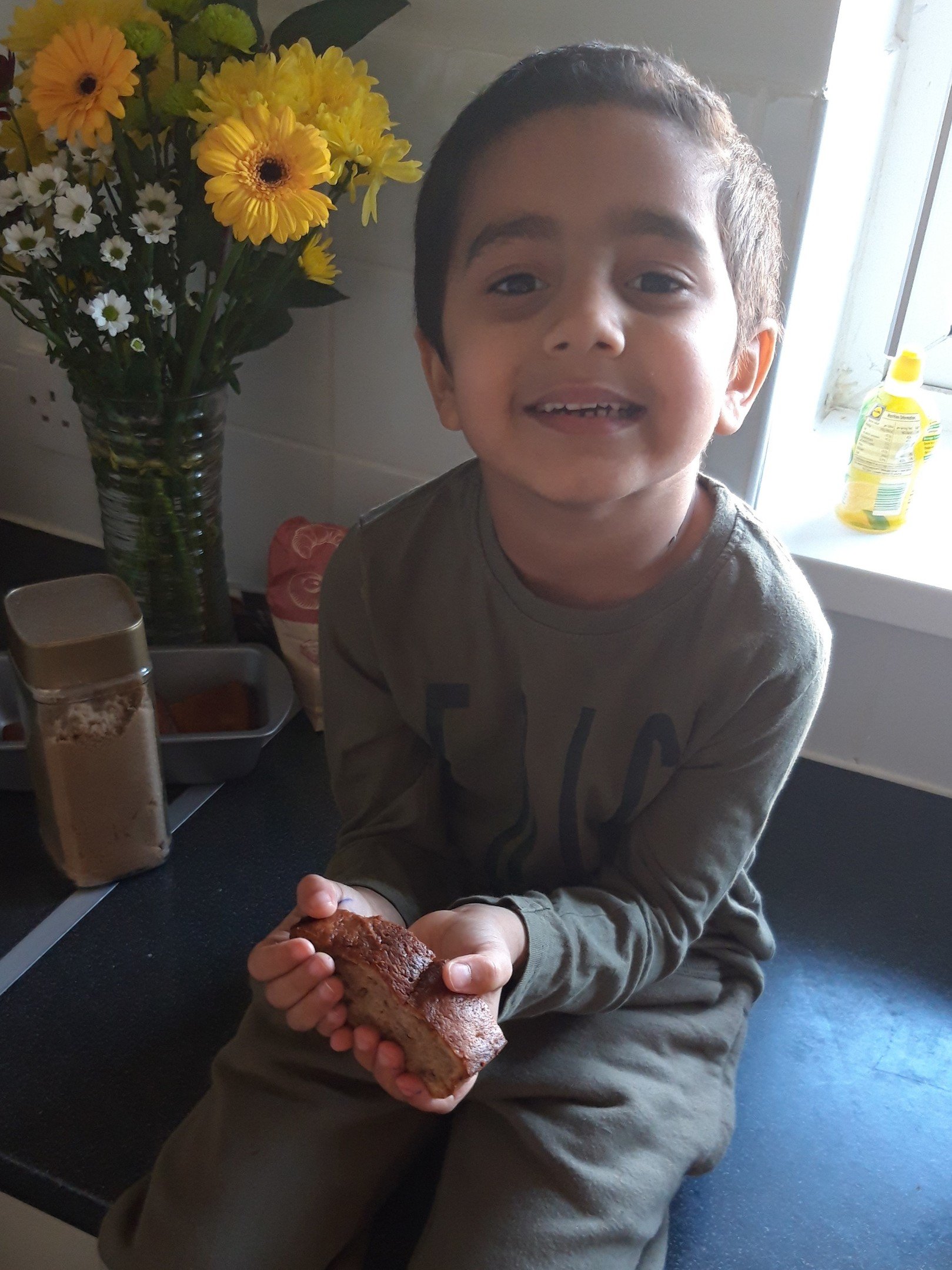 Jeremiah and Isabella work on their maths challenges and Scarlett and Jasper get out for some very fresh air! Jeremiah helps weigh out the ingredients and make some yummy banana bread!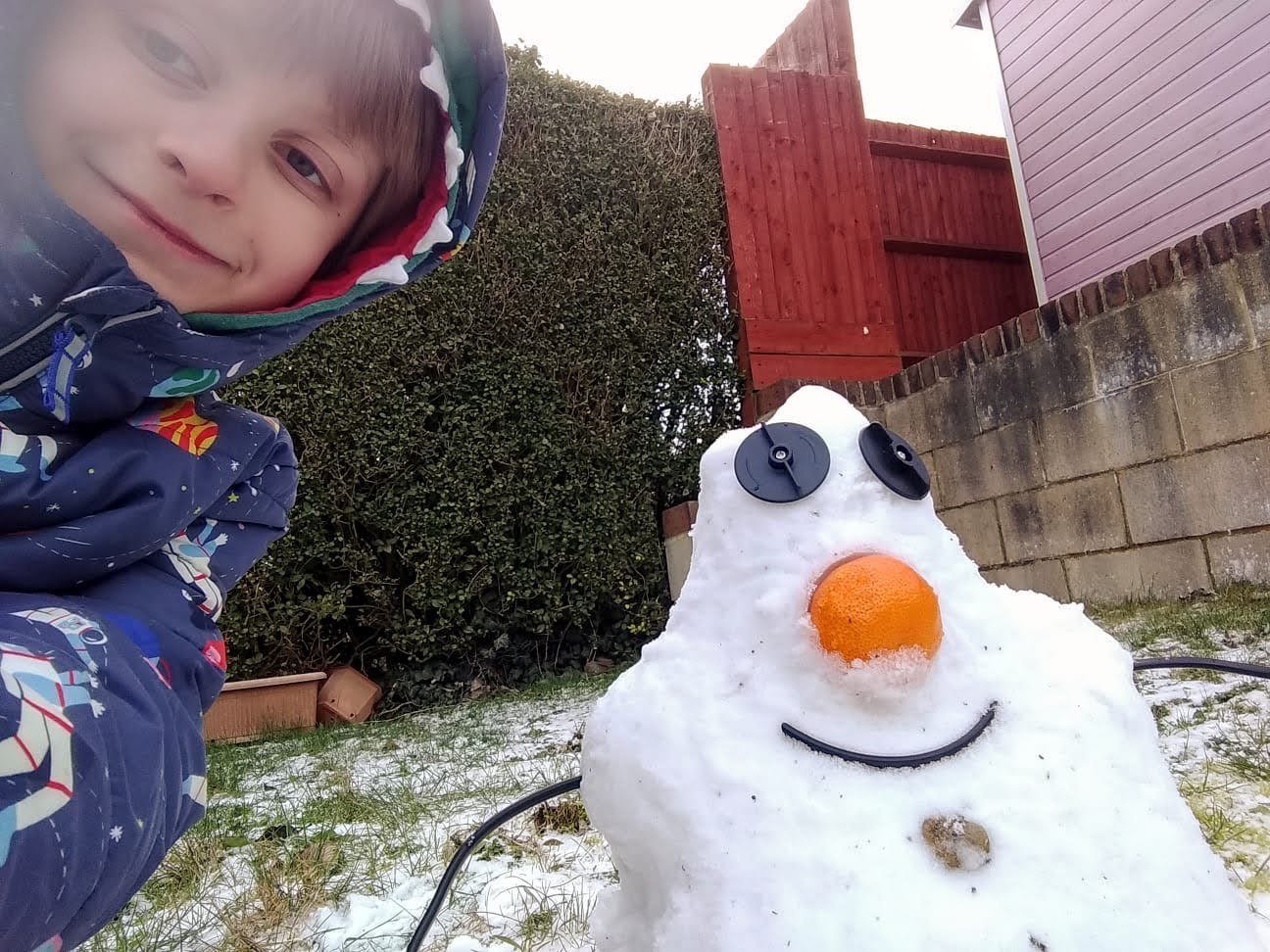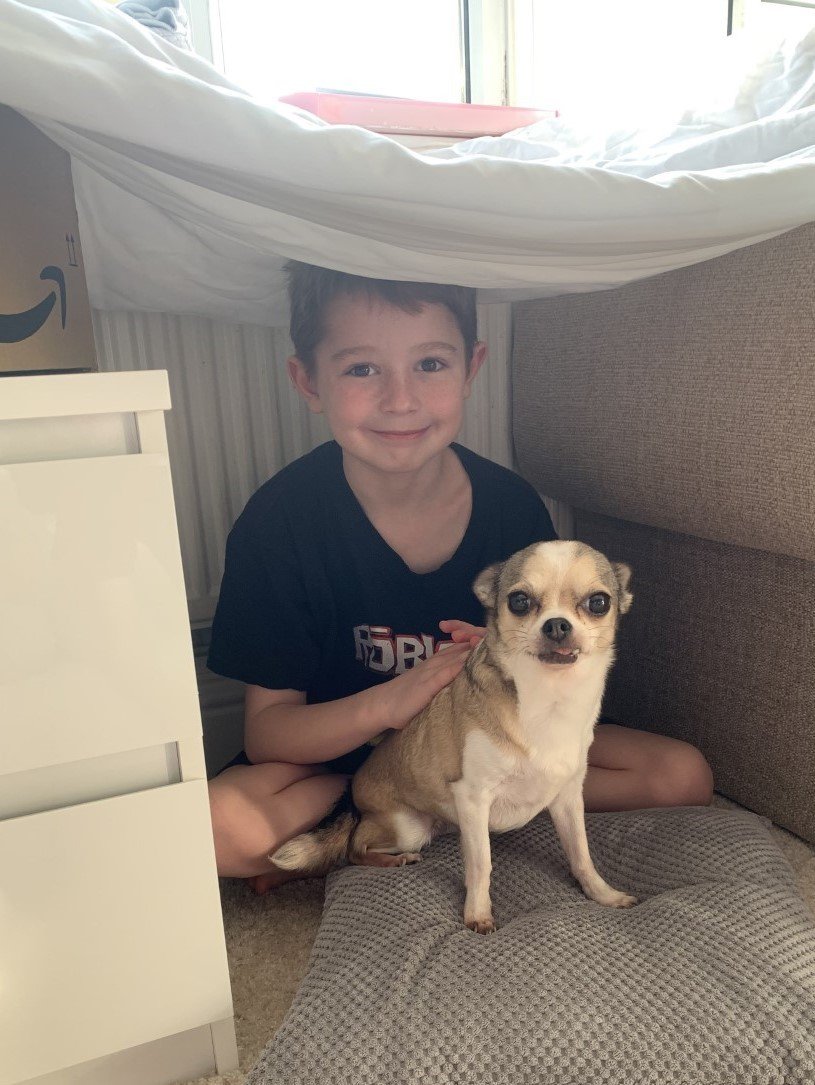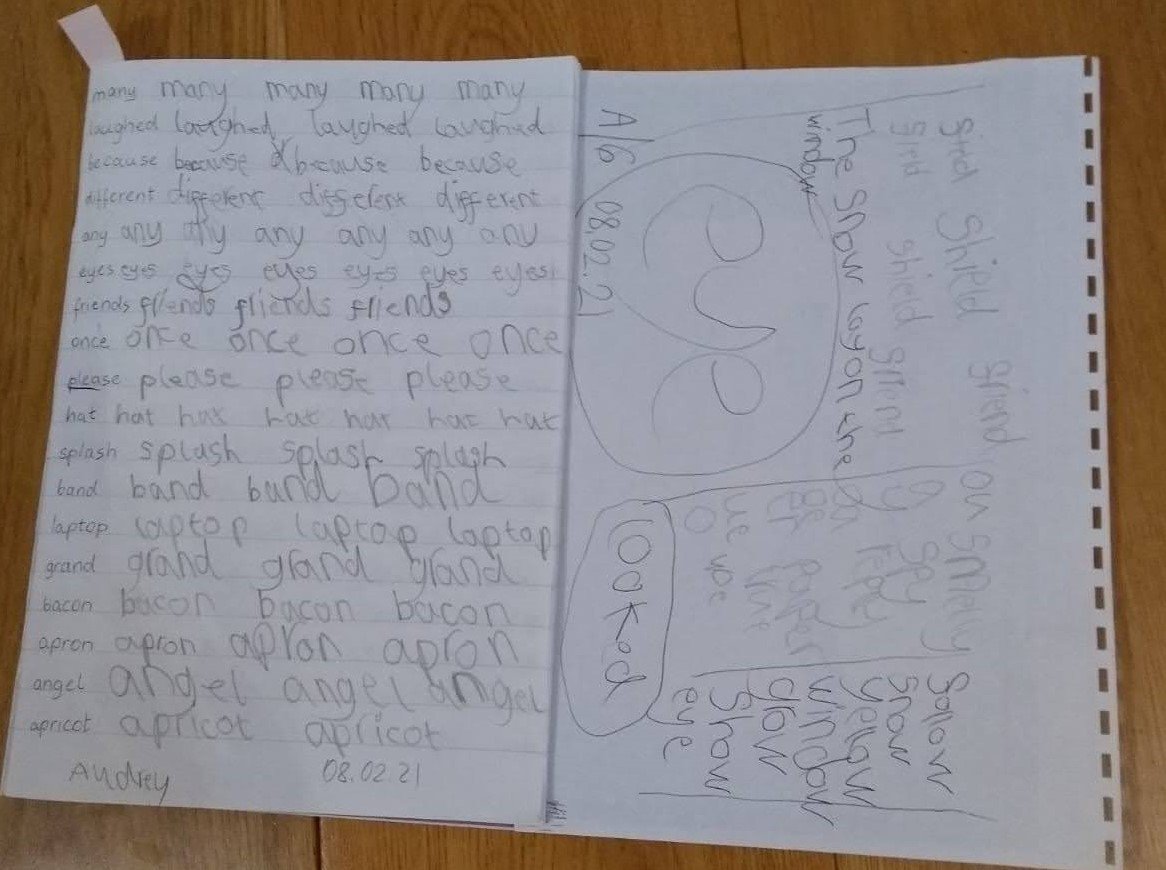 Julian takes a break from his remote learning to build a snowman. Eddy takes up the "Extreme Survival" challenge and builds a shelter/den for him and Pebbles and Audrey practises her handwriting and spelling.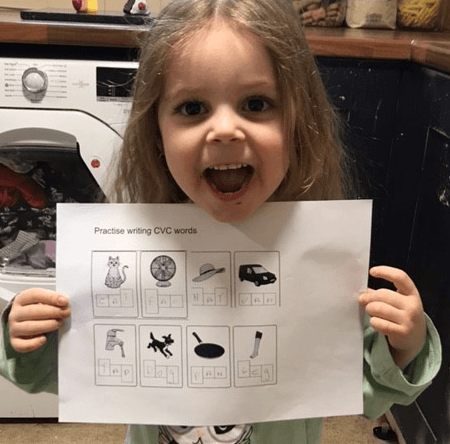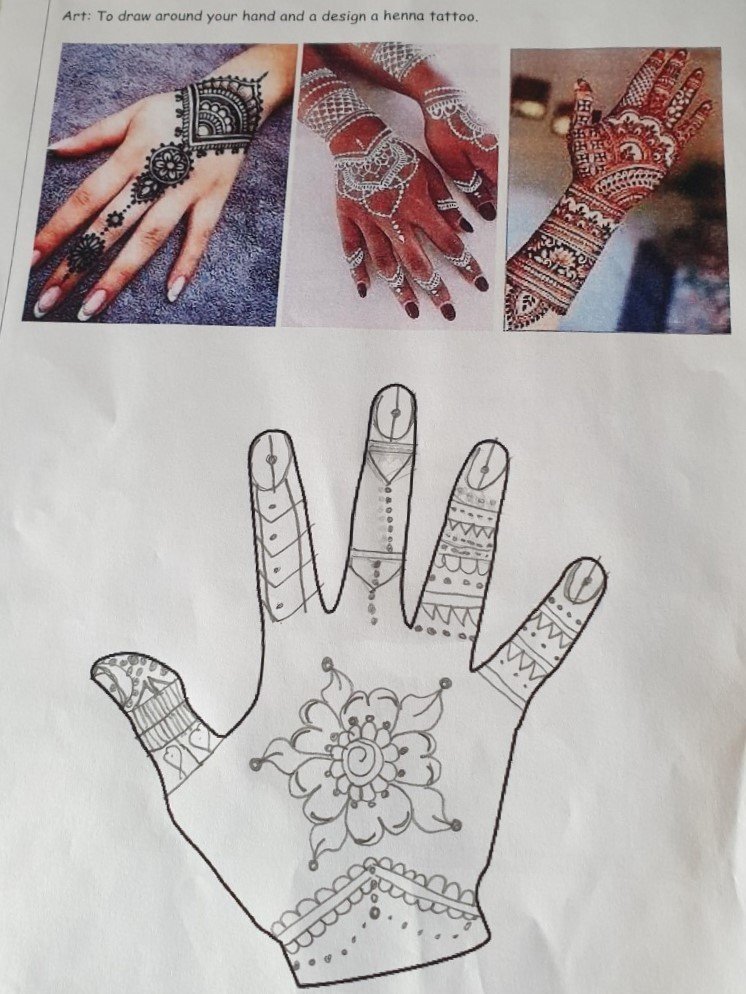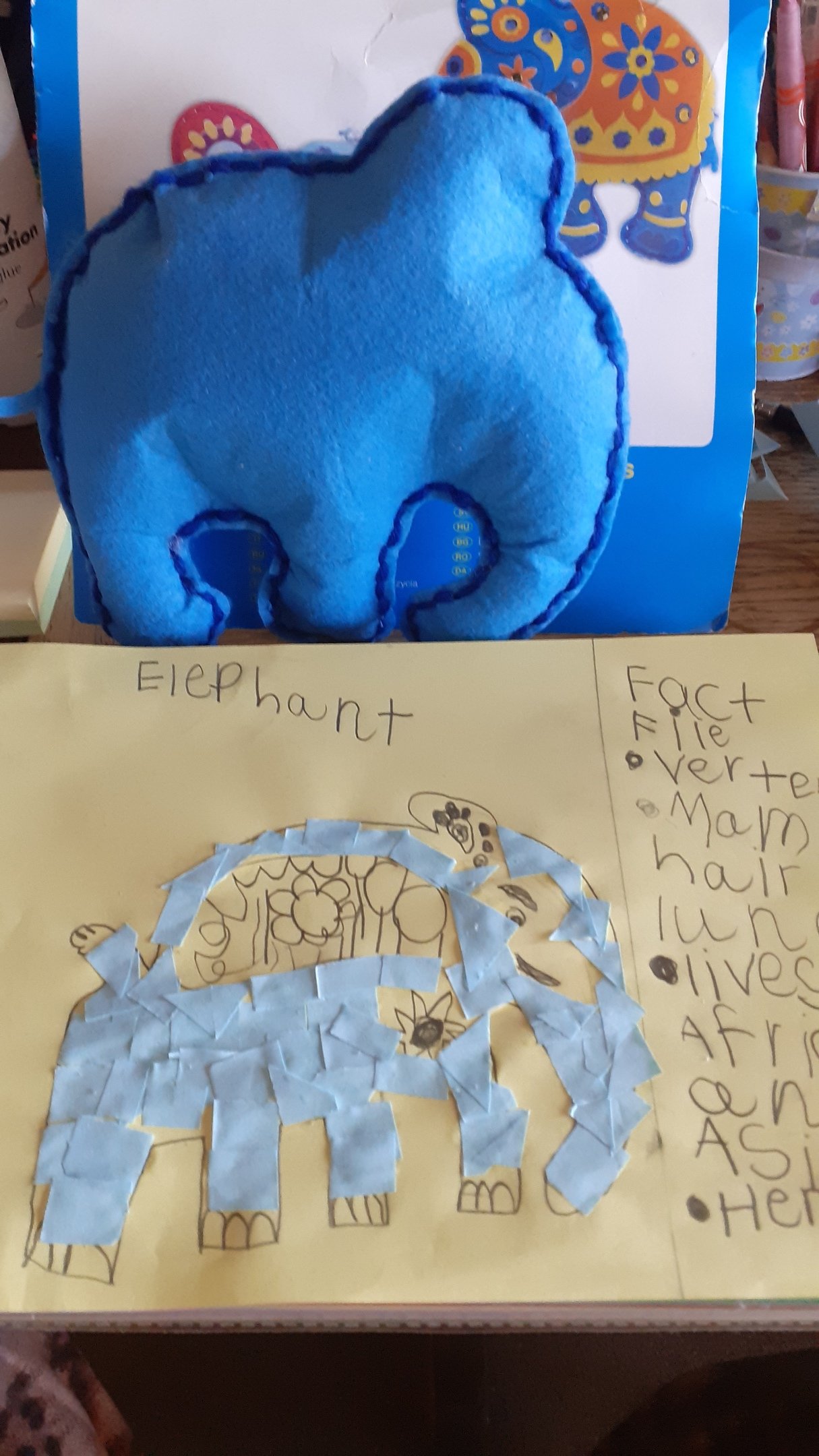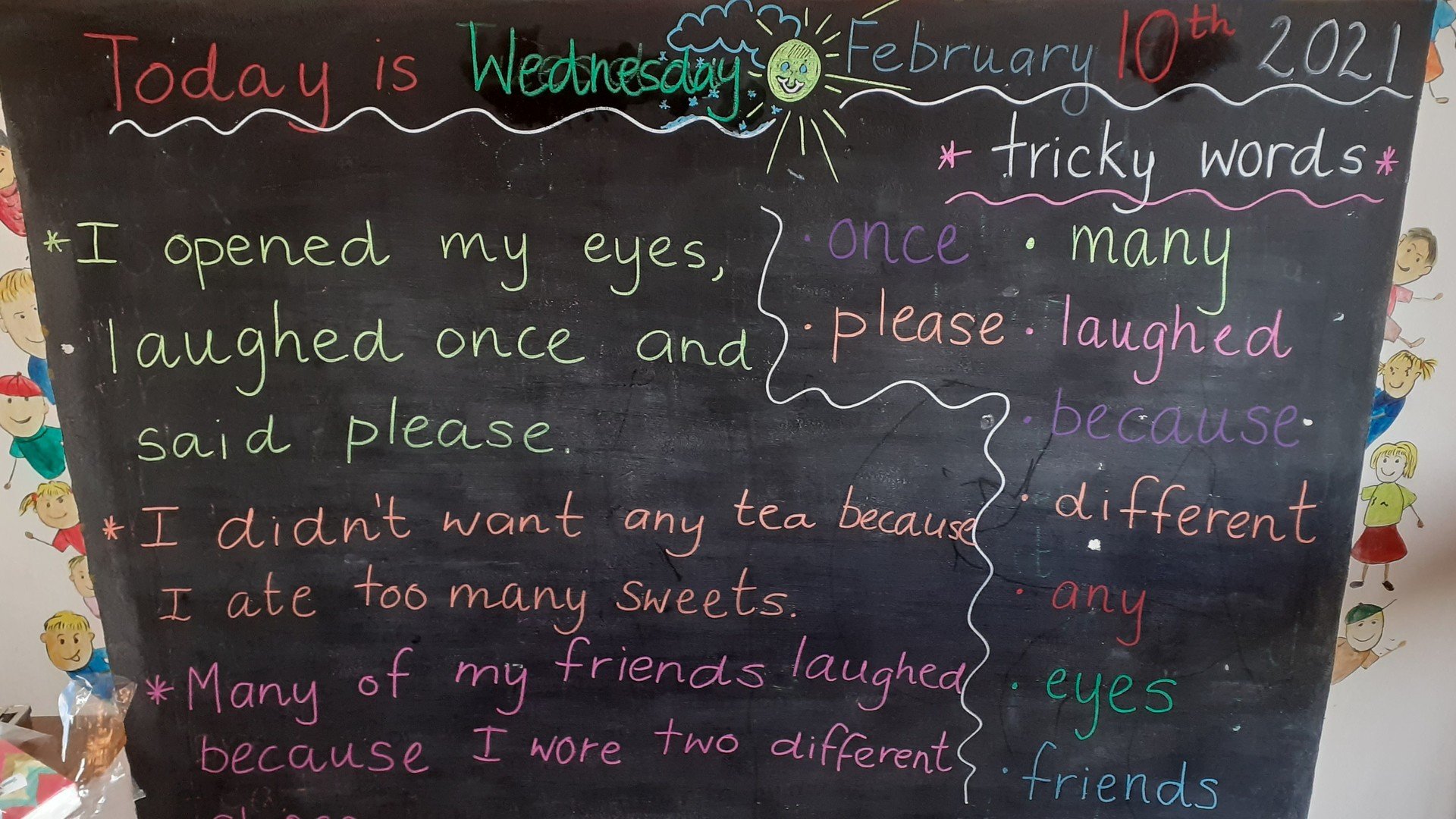 Tealaa-Rose practises segmenting and writing cvc words. Amelia and her mum design a henna hand design. Isabella learns how to sew and makes an elephant cushion before creating a fact file on elephants and her daily home learning blackboard is updated!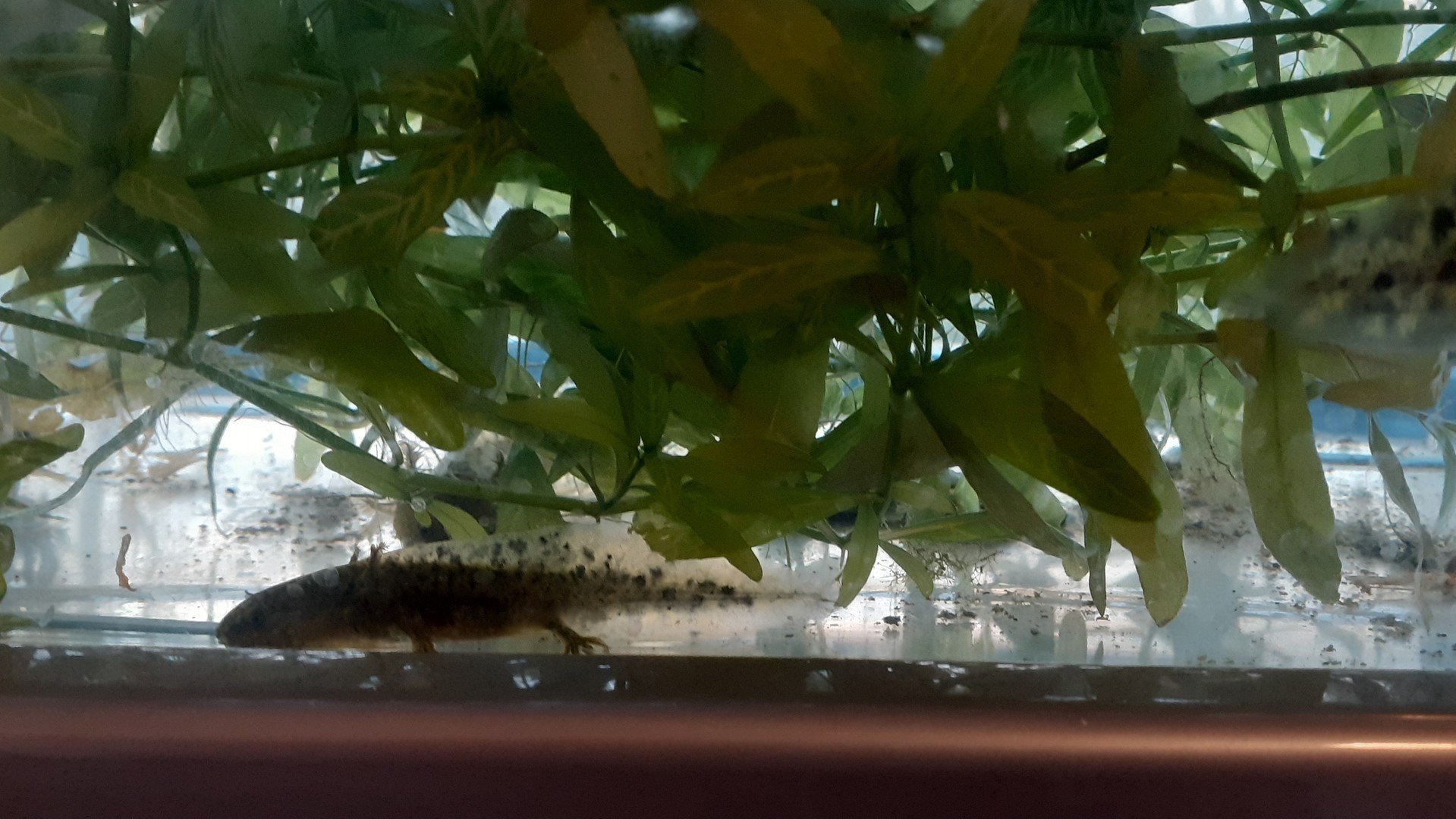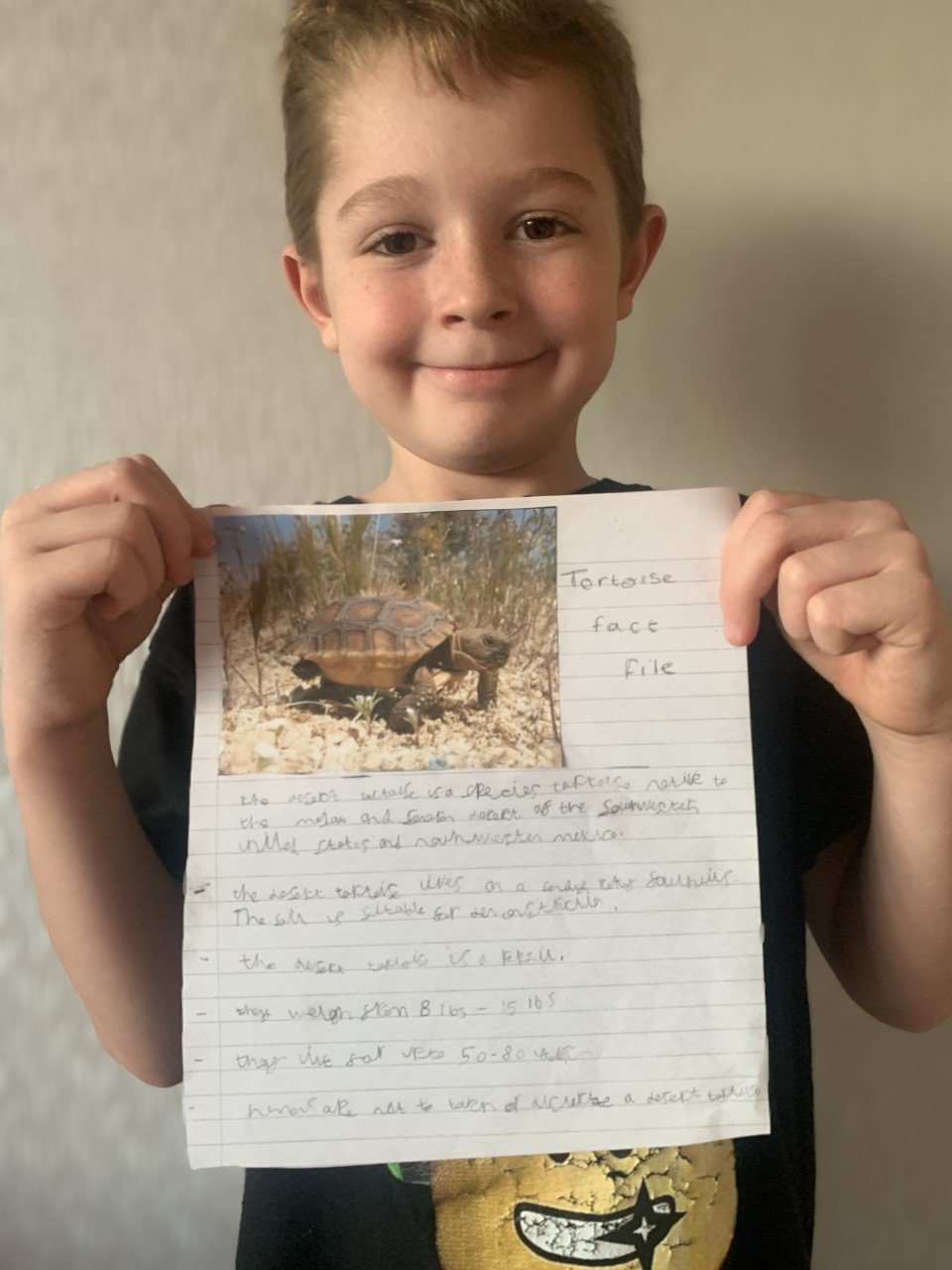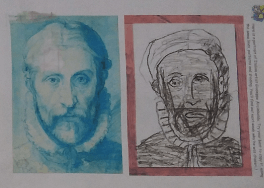 Isabella did some Science research and learnt that the pets she has are amphibians and invertebrates. Eddy created a tortoise fact file and Chidera researched different countries' flags.
Year 4 are studying Italian artist Giuseppe Arcimboldo. One of their home learning tasks was to draw a similar portrait using
the same lines, patterns and shading and drawing on the techniques learned in class. Great job Mark!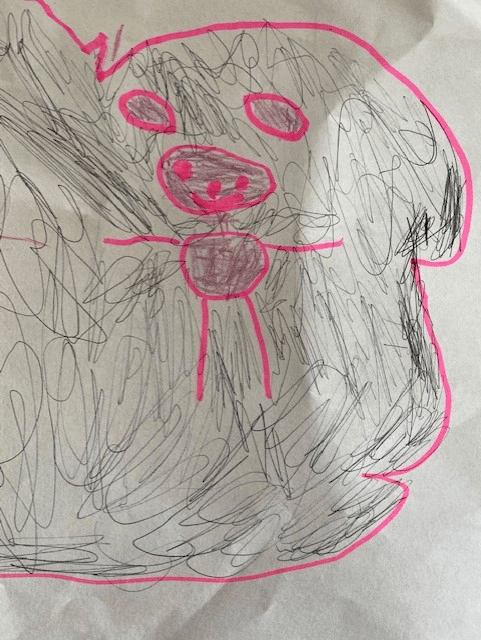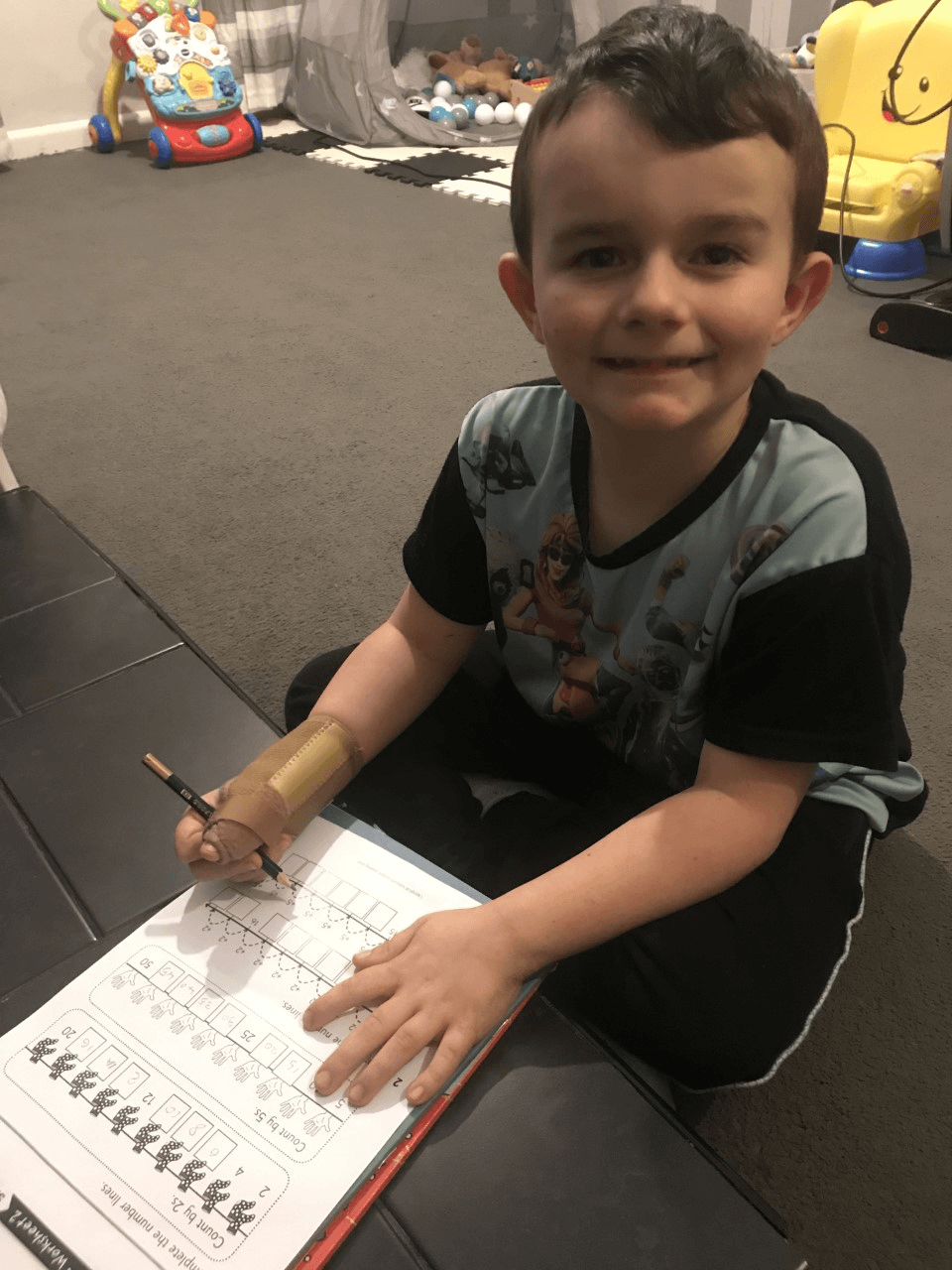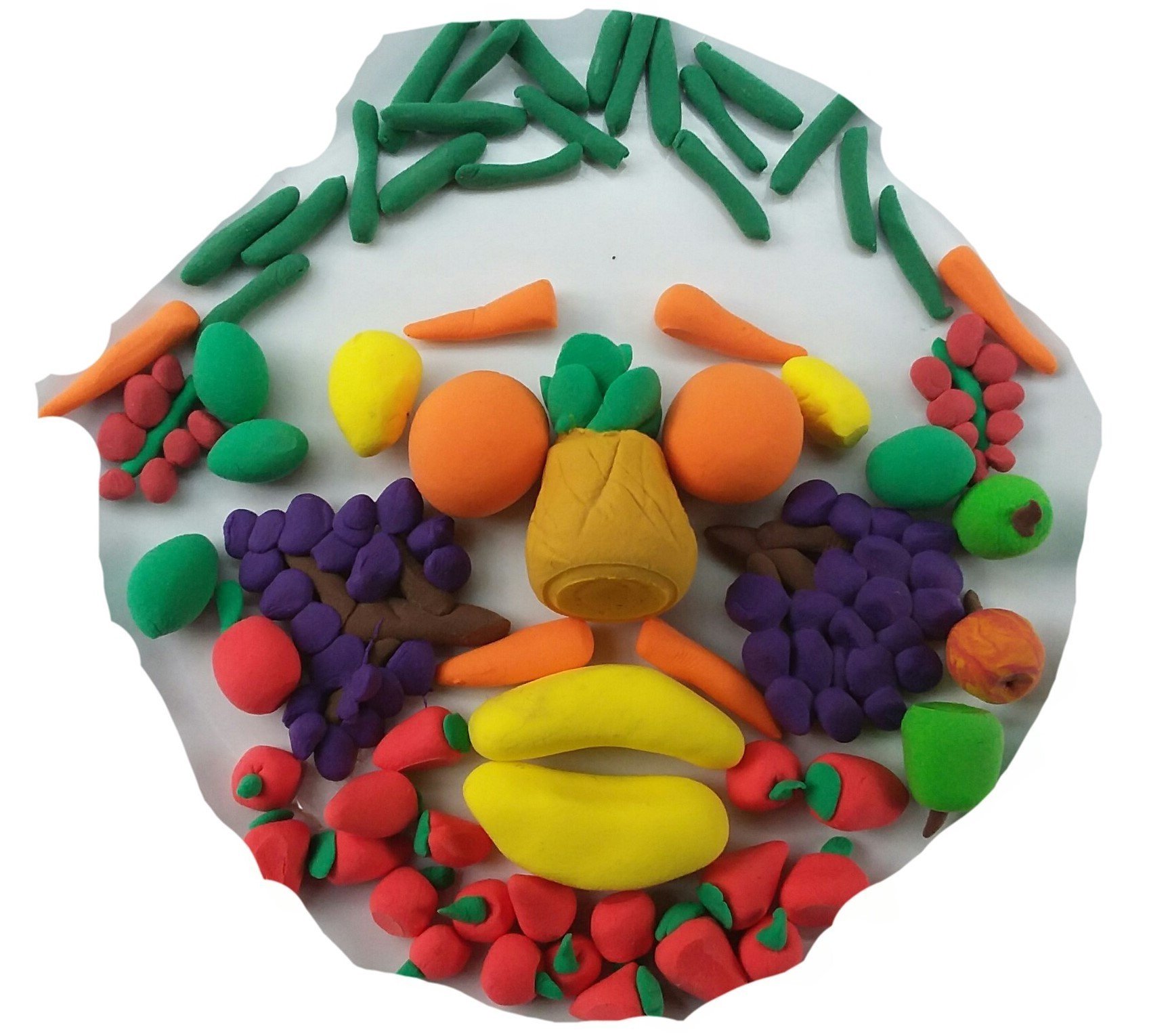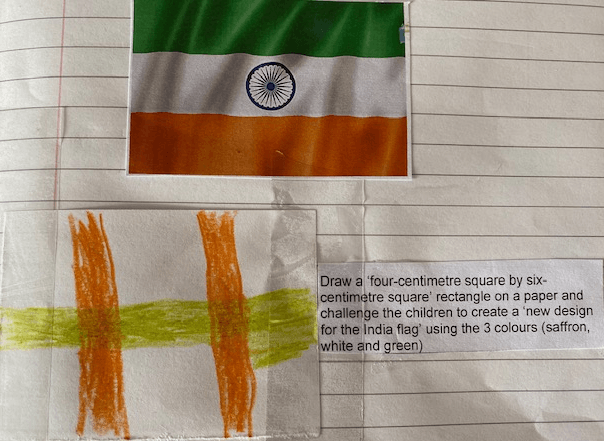 After reading "We're going on a bear hunt," Ivy draws her own bear in a cave, Frankie settles down to the day's maths challenge and Mark creates this fantastic sculpture made with air- dry clay inspired by the work of Giuseppe Arcimboldo.
Theo follows instructions and measures out a rectangle. He then designs a new flag for India using the same three colours - white, saffron and green.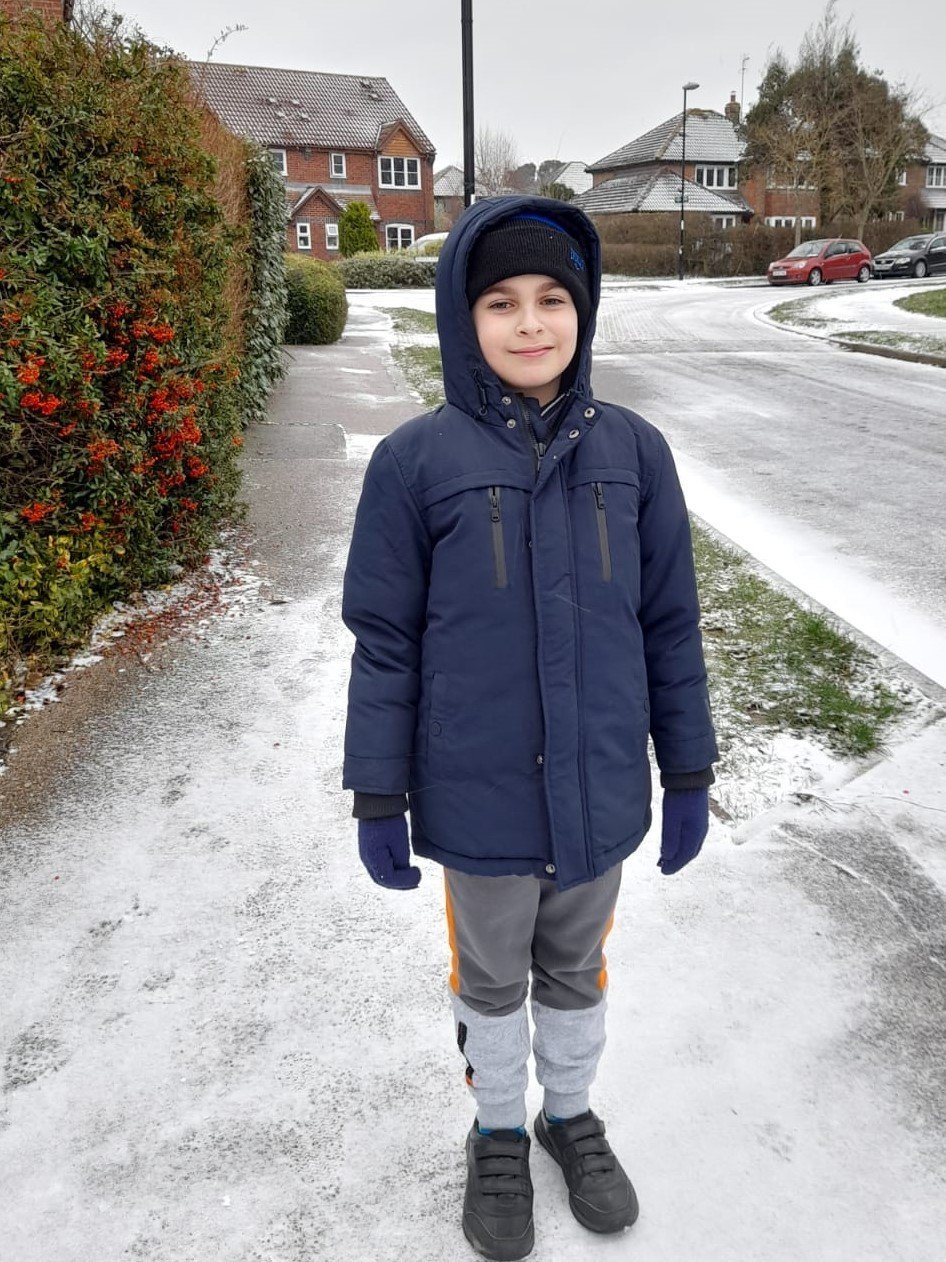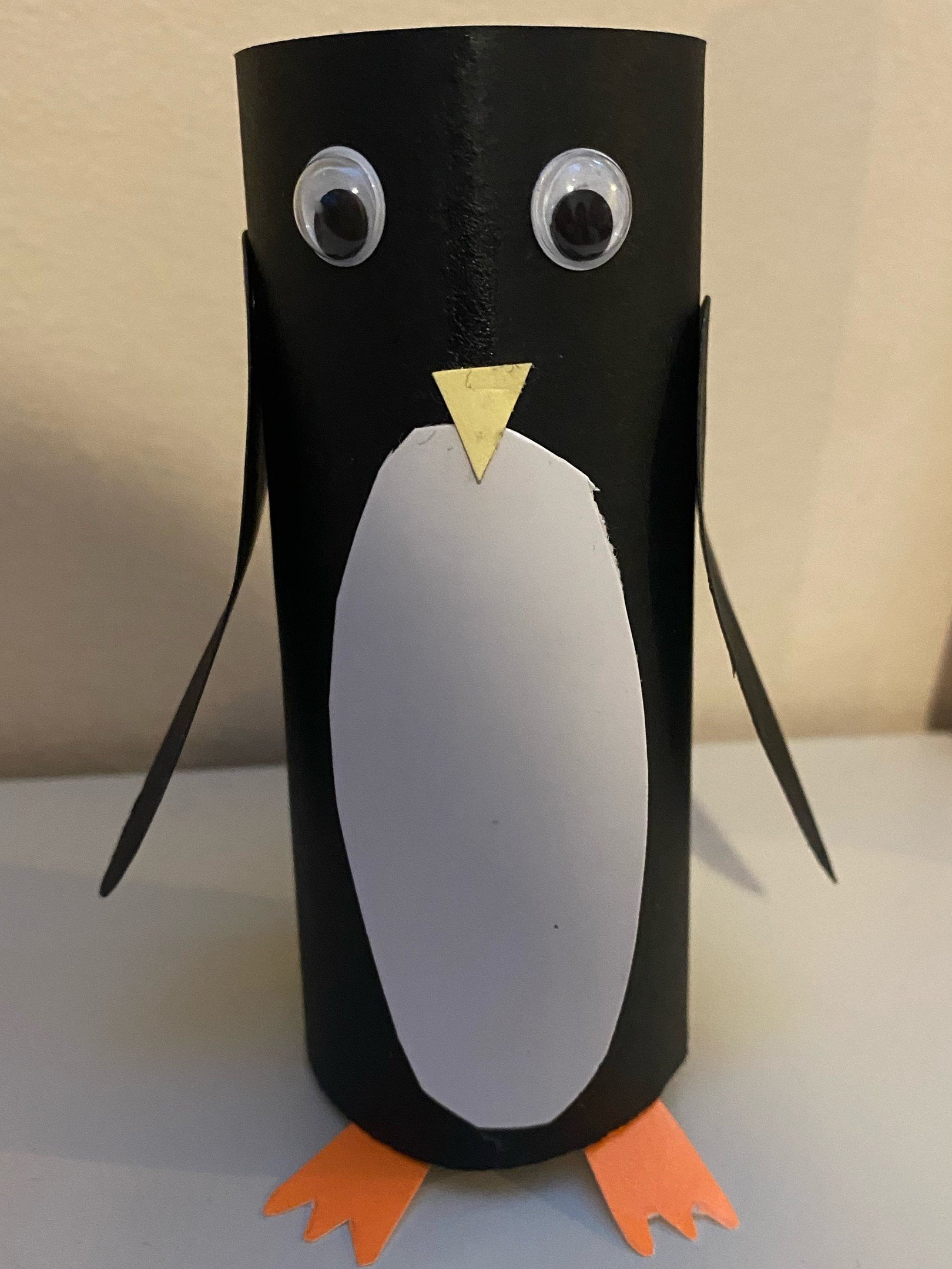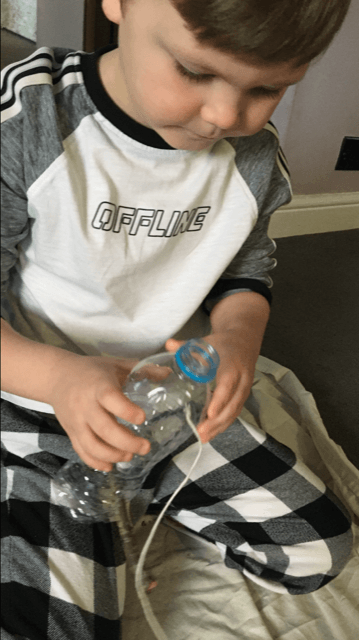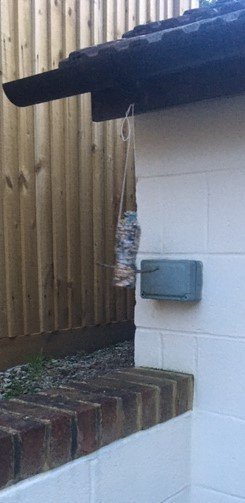 Andre goes out for his daily exercise and Jessie -Rose makes a penguin as part of her class's learning, "Poles Apart." As part of Year 2's Science learning, Harry makes a bird feeder and finds about the birds that visit it.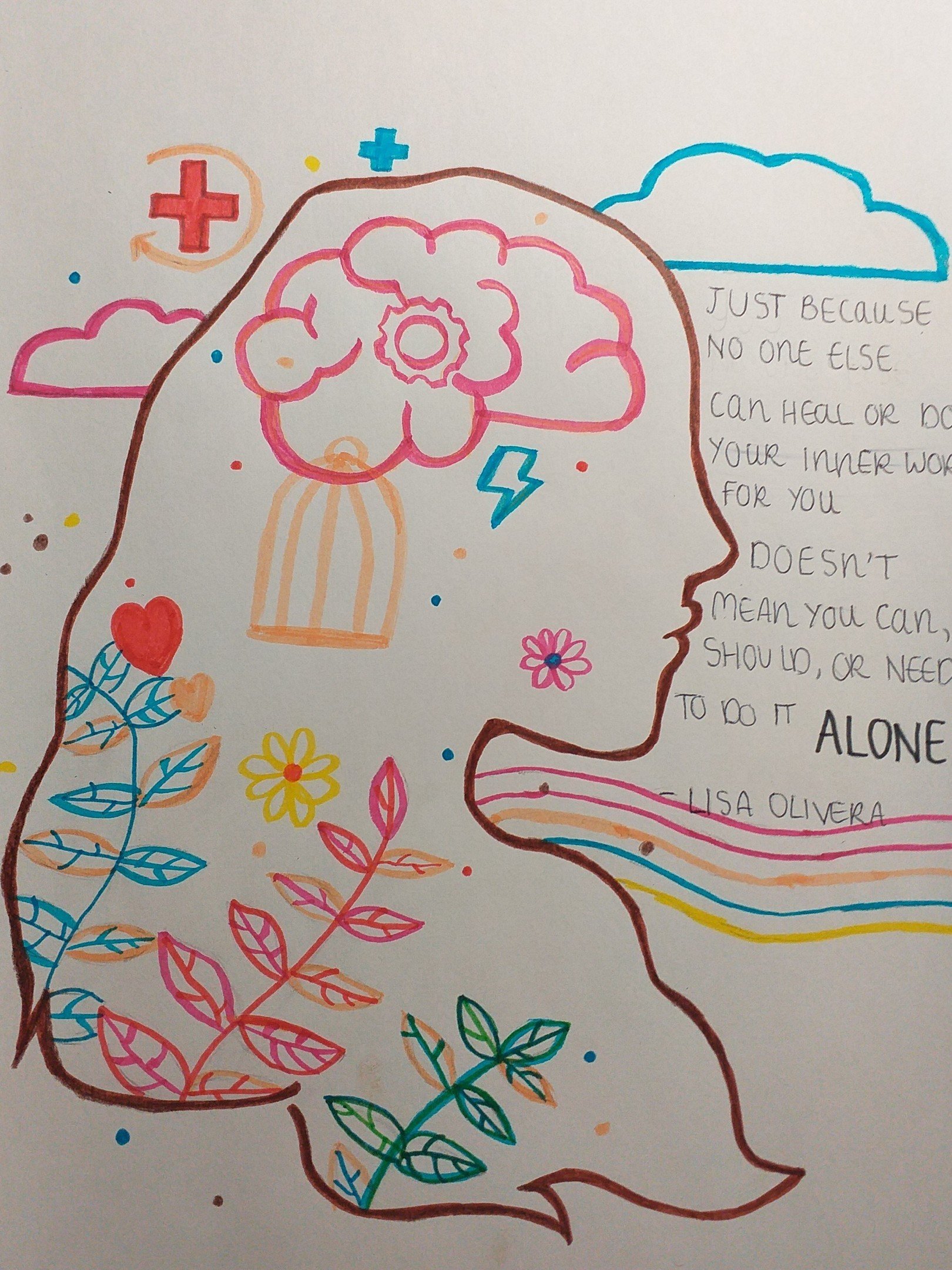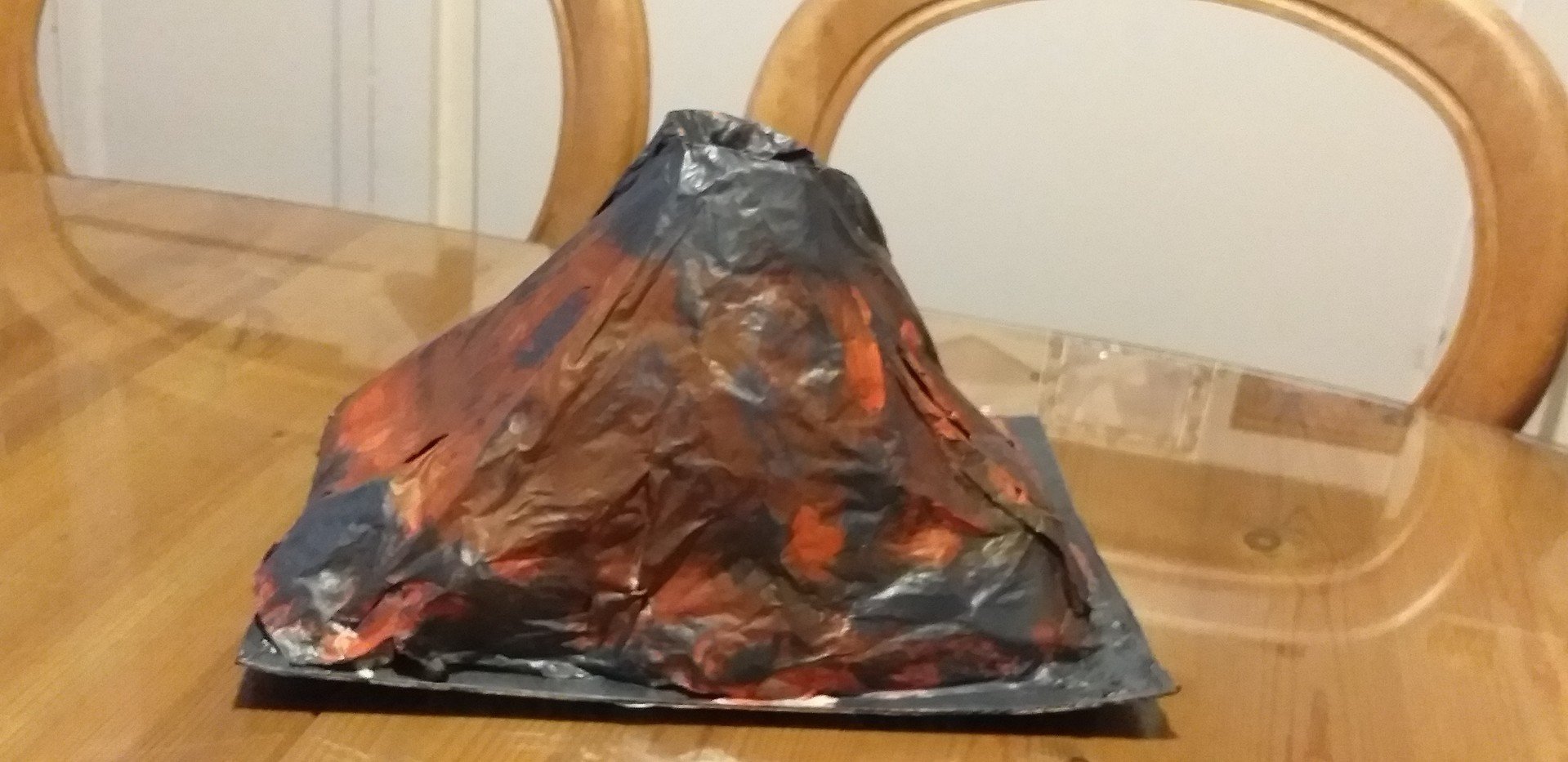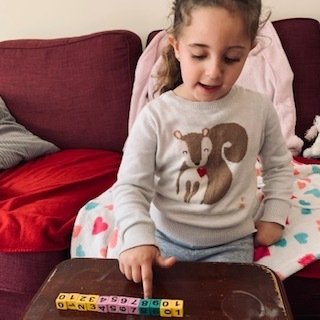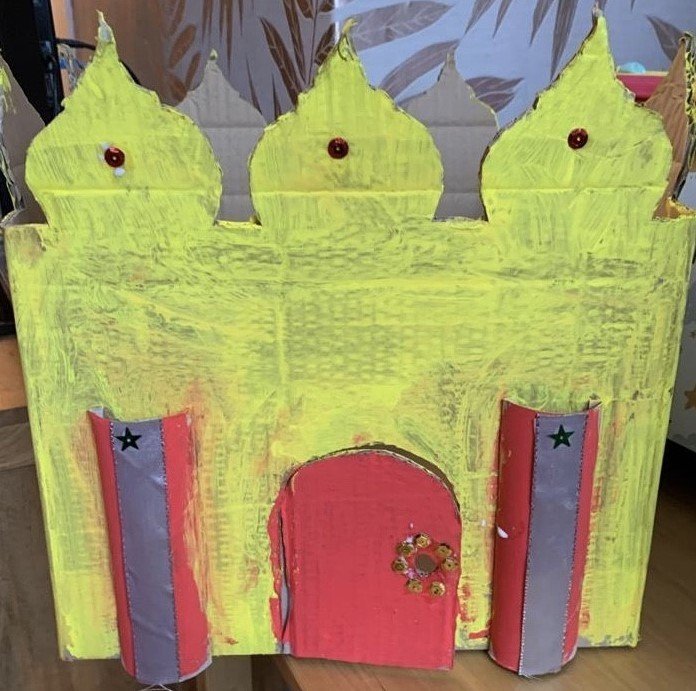 Amarachi shares her work. Paige completes her volcano structure, Lily-Mae practises counting and Theo makes a Hindu Temple.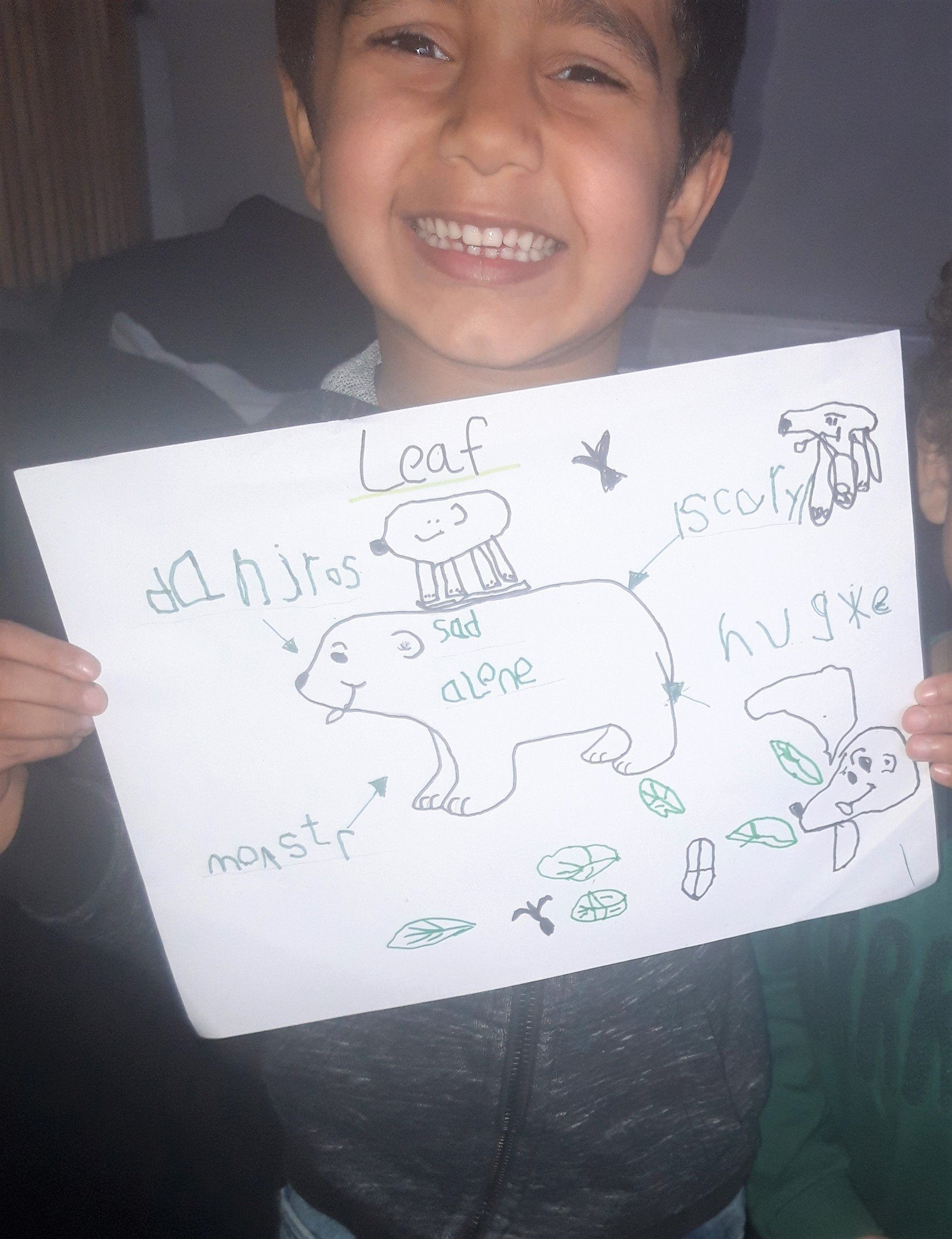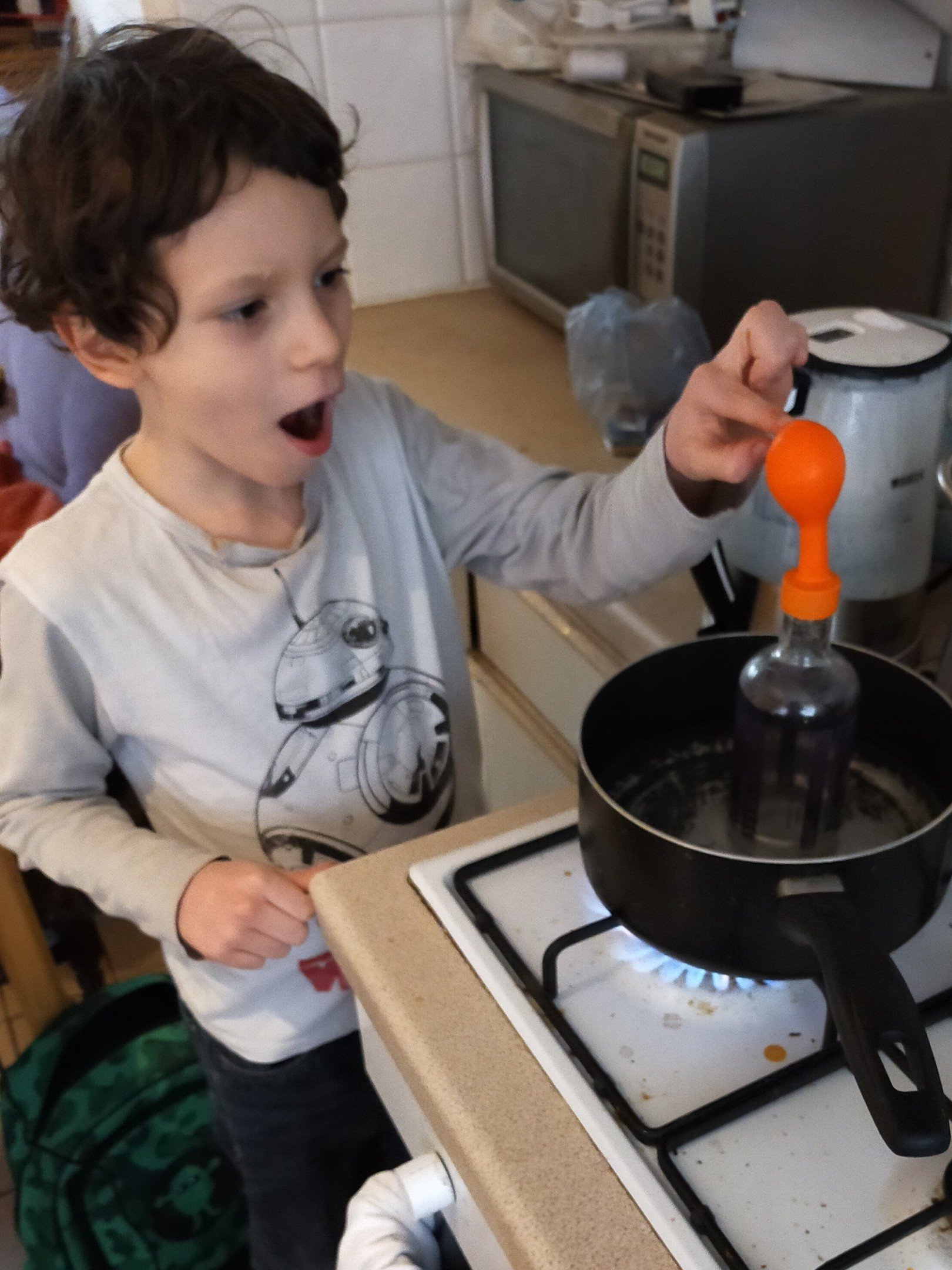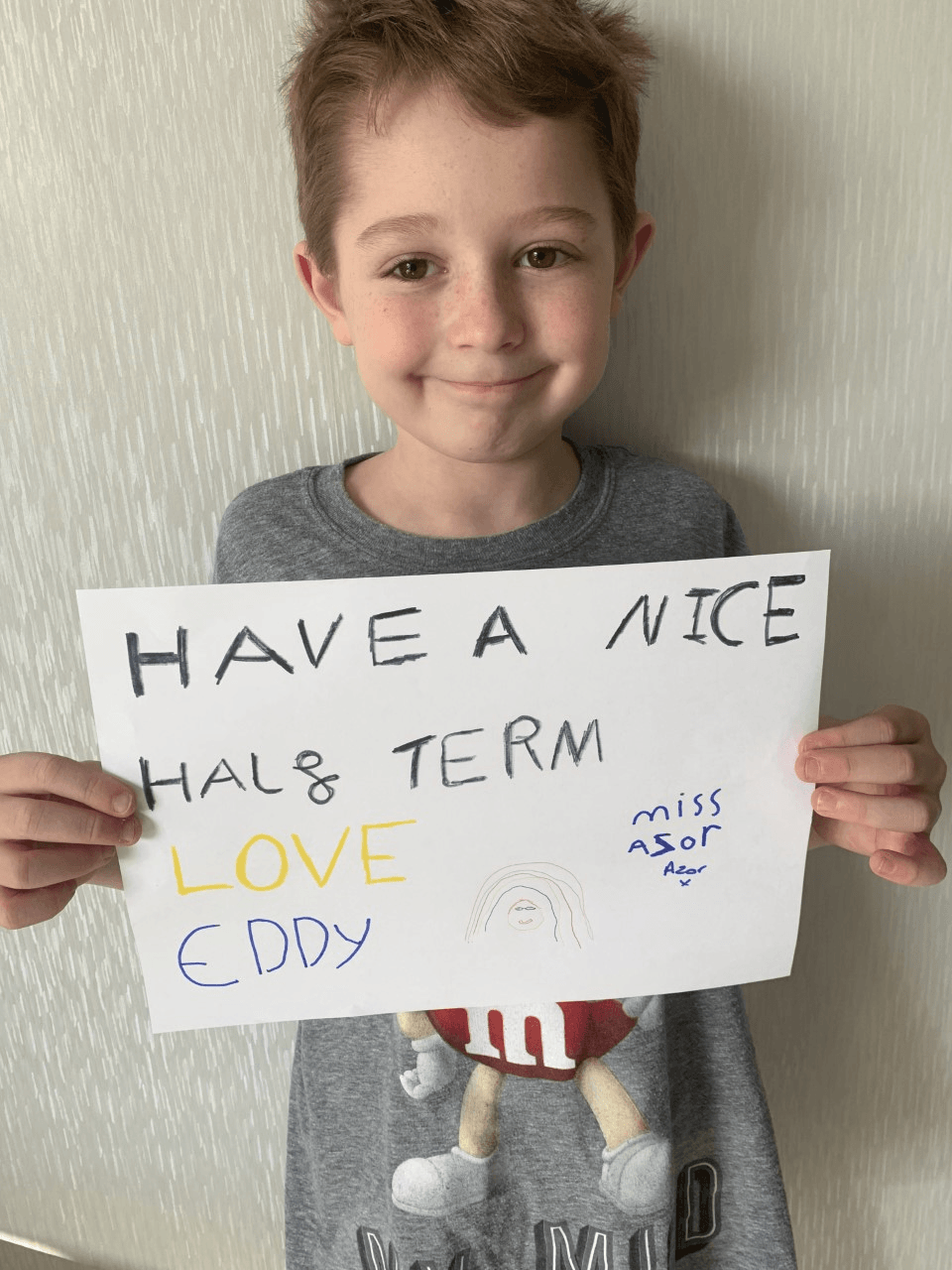 Jeremiah does some writing based on the Year 1 class reader, "Leaf" and Emillia does some research and creates a fact-file about an animal that lives in a desert finding out how animals adapt to the environments they live in and how they survive in such extreme climates.
As part of his Science learning, Lukas explored the space air takes up when it's hot, when it is at normal temperature and when it is freezing cold by heating a bottle with a balloon on it, then cooling the bottle in iced water.
Thank you Eddy for your message - we wish all of our children and their families a restful and relaxing half term break. Stay safe.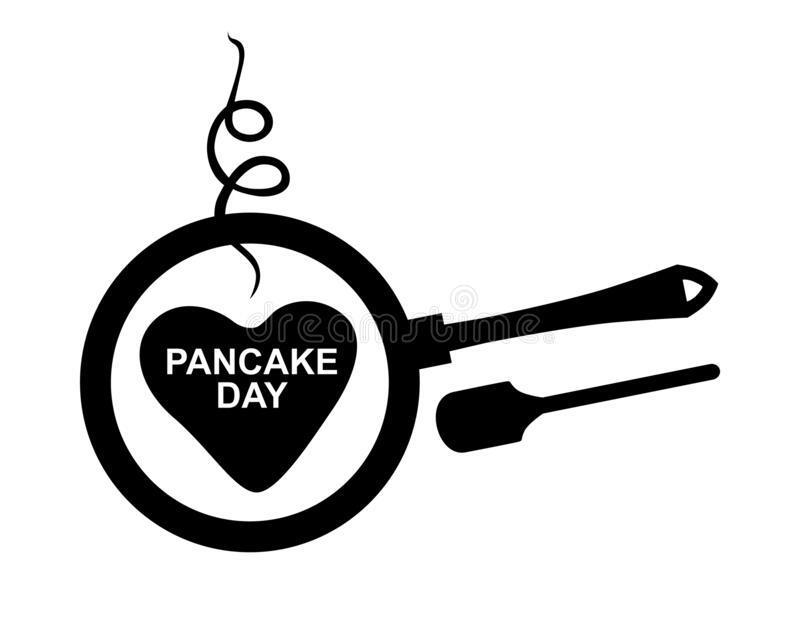 Holiday Hub
Brighton and Hove City Council's Healthy Lifestyles & Public Health Schools Team have produced a fun-packed newsletter with healthy active ideas for families during the school holidays.
In this February half term edition – there is an active pancake trail, egg box themed crafts and healthy pancake recipes! It also contains some top tips from the 'Smile project' which is based on the '5 ways to wellbeing'. These are things we can build into our daily lives to improve wellbeing, protect mental health and increase emotional resilience.
To access the newsletter, please click on THIS LINK to get a copy sent to your email inbox.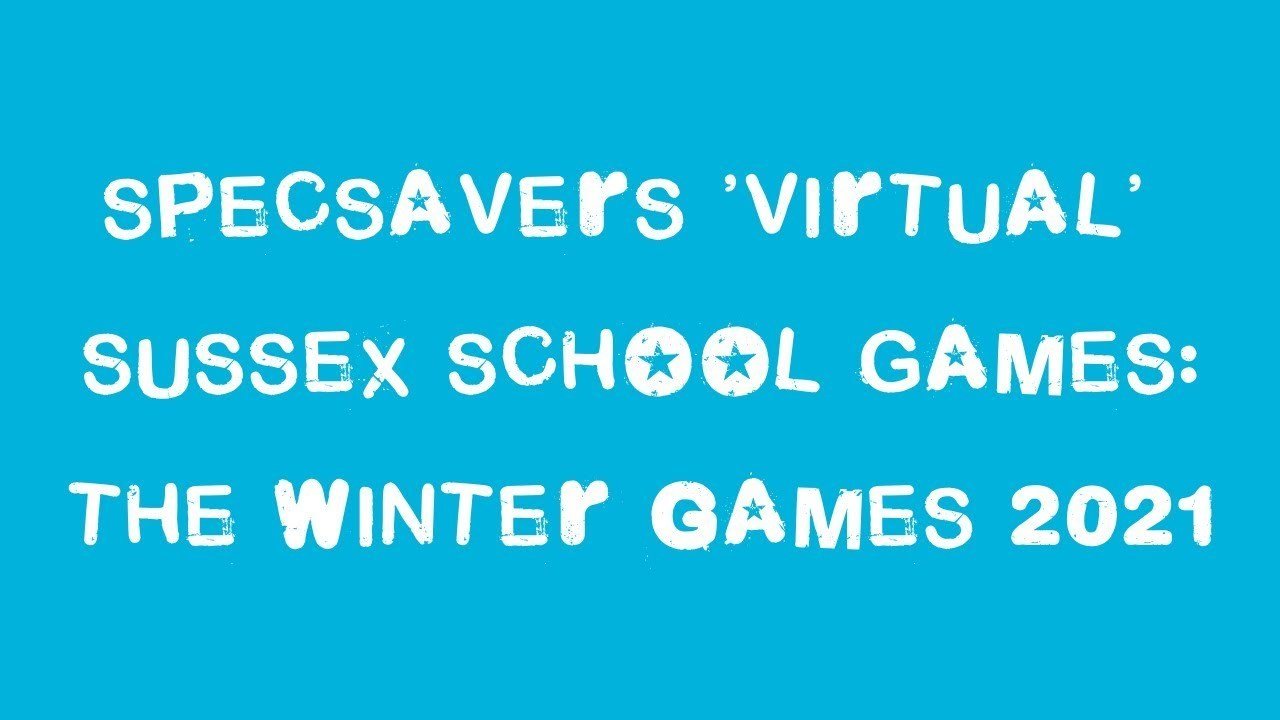 The Winter Games
The Specsavers 'Virtual' Sussex School Games is back, with The Winter Games. Take on some incredible sports from the Winter Olympics, from home or at school.
What it's about, how it all works, and how to get involved, can be found by clicking HERE
Remote Learning - Week 5
Wow! Children - you have been so creative this week! Thank you. Keep those pictures coming!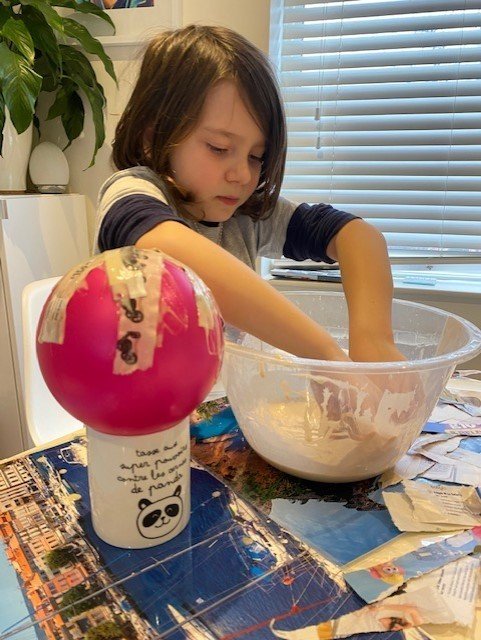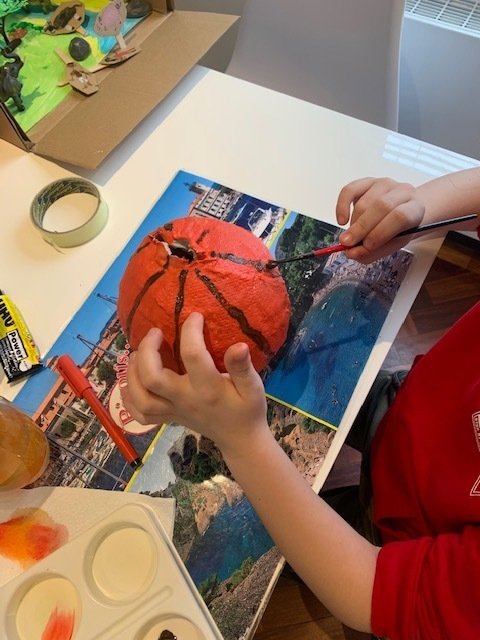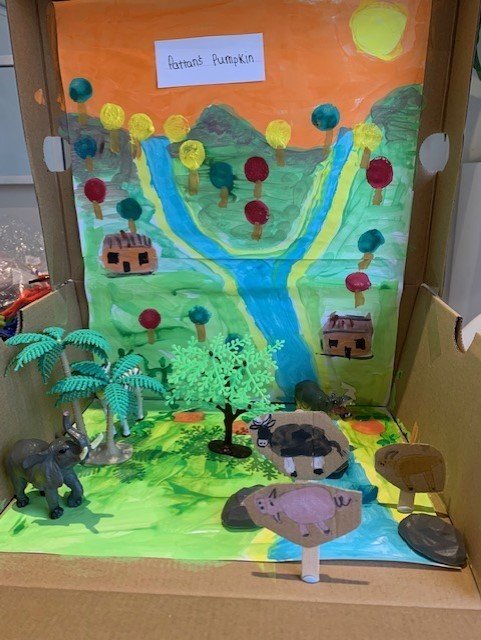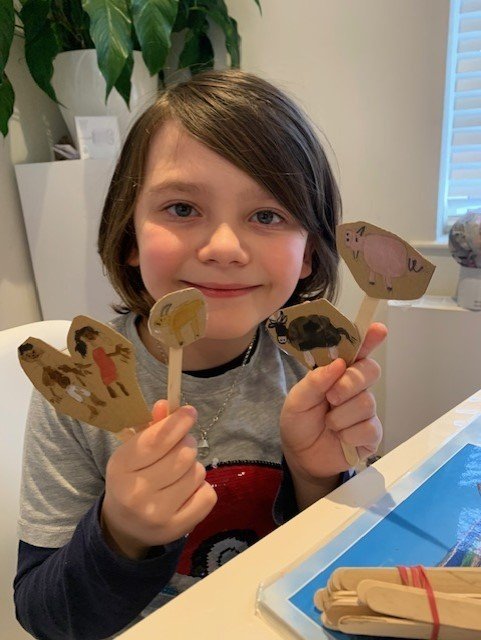 Luca uses papier mâché to make a pumpkin for his advert, he makes some characters and a story box based on 'Pattan's Pumpkin' and then retells the story. Great work Luca!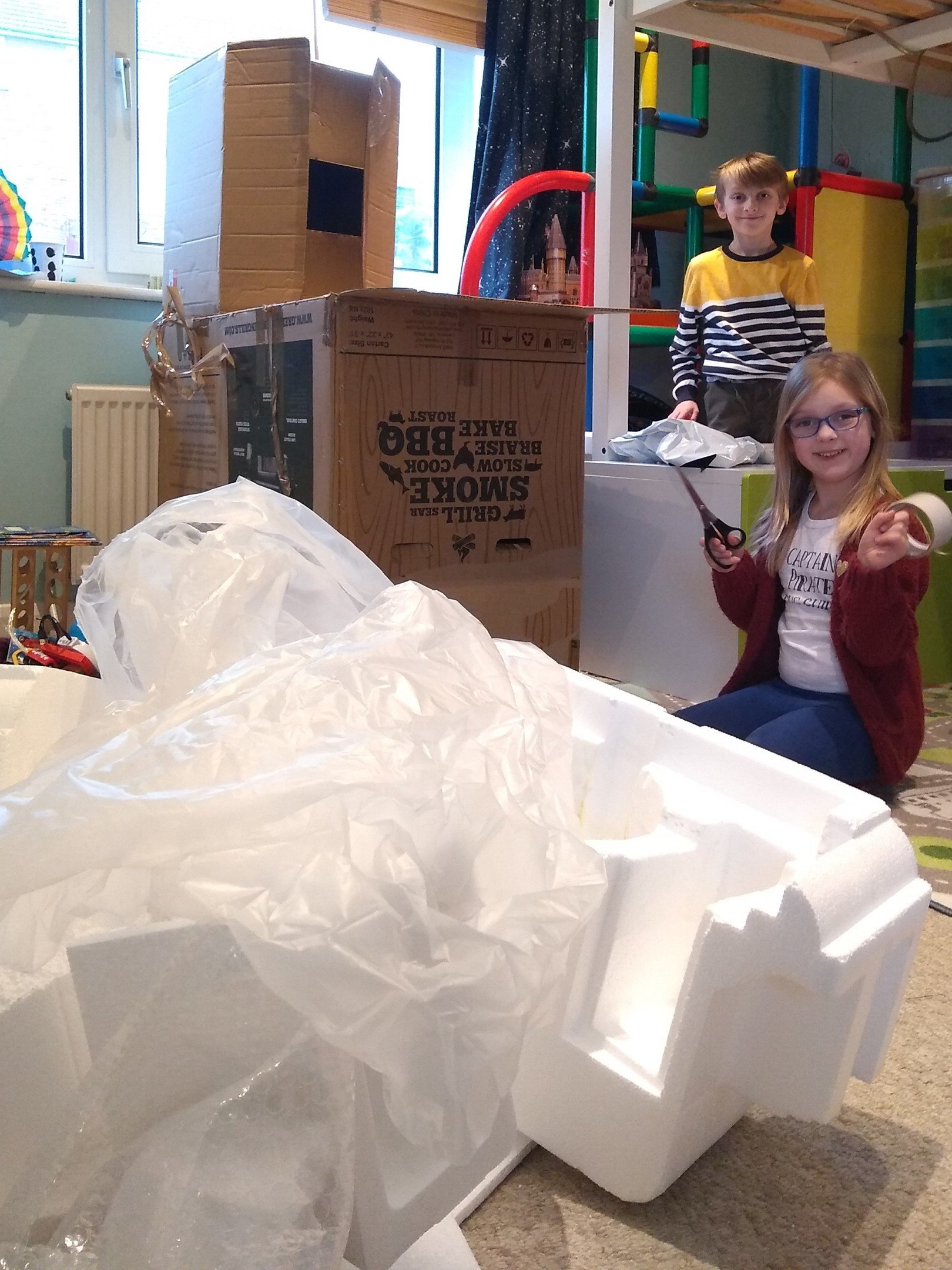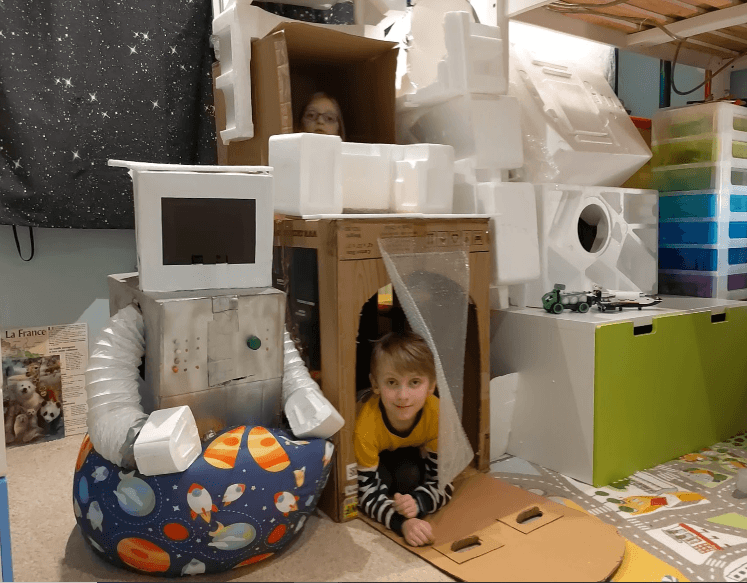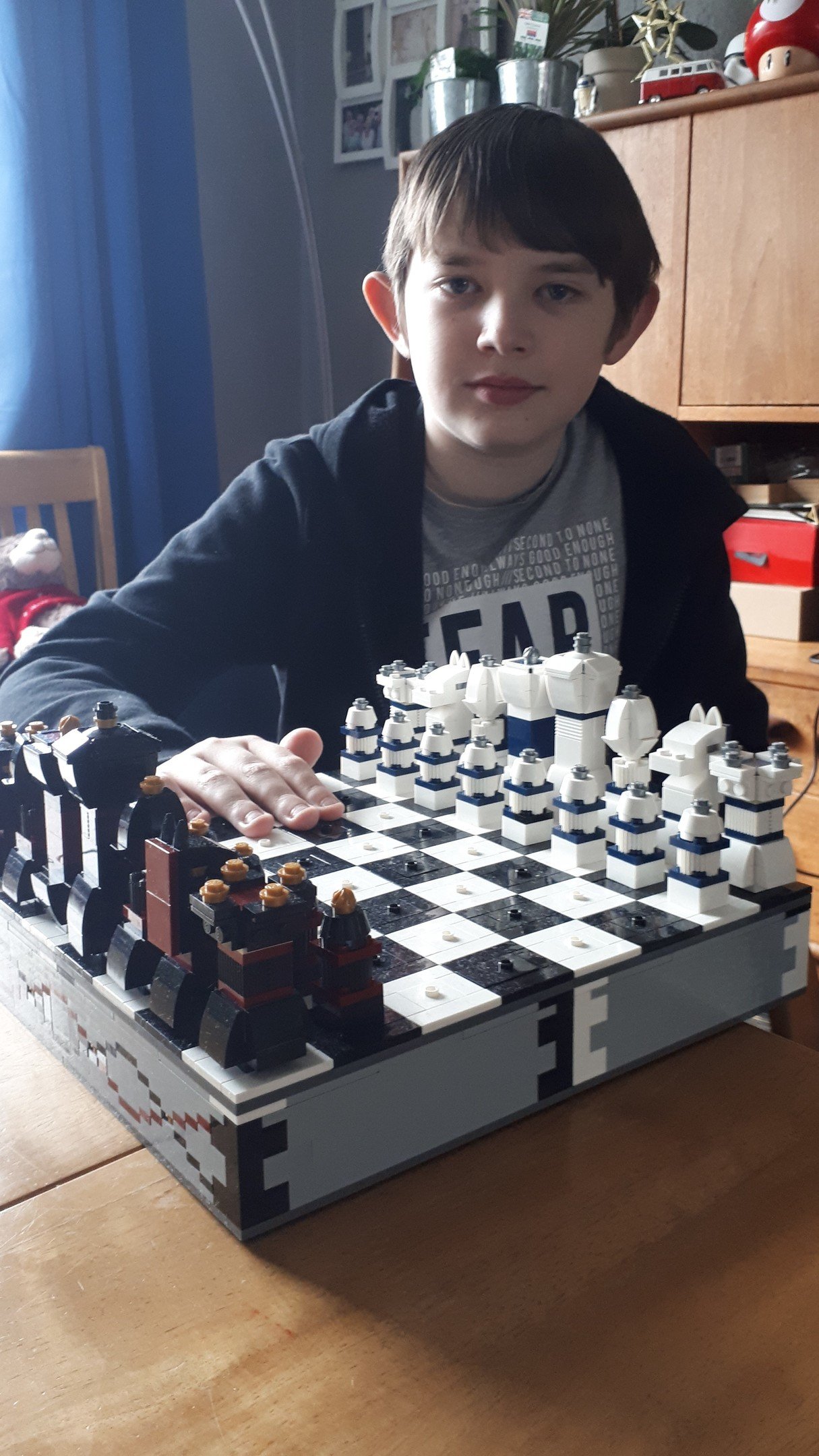 Julian builds an amazing lunar station (with a little help from Audrey) as part of Year 3's 'Extreme Survival' challenge and Jayden builds a Lego chess set using 1450 Lego bricks! Now, he is keen to learn how to play chess. Well done all of you!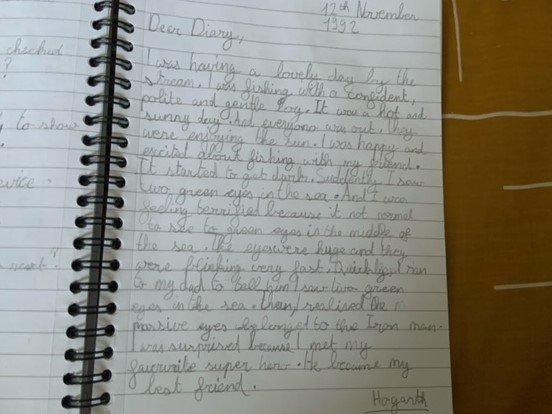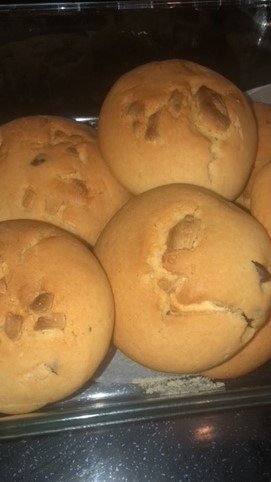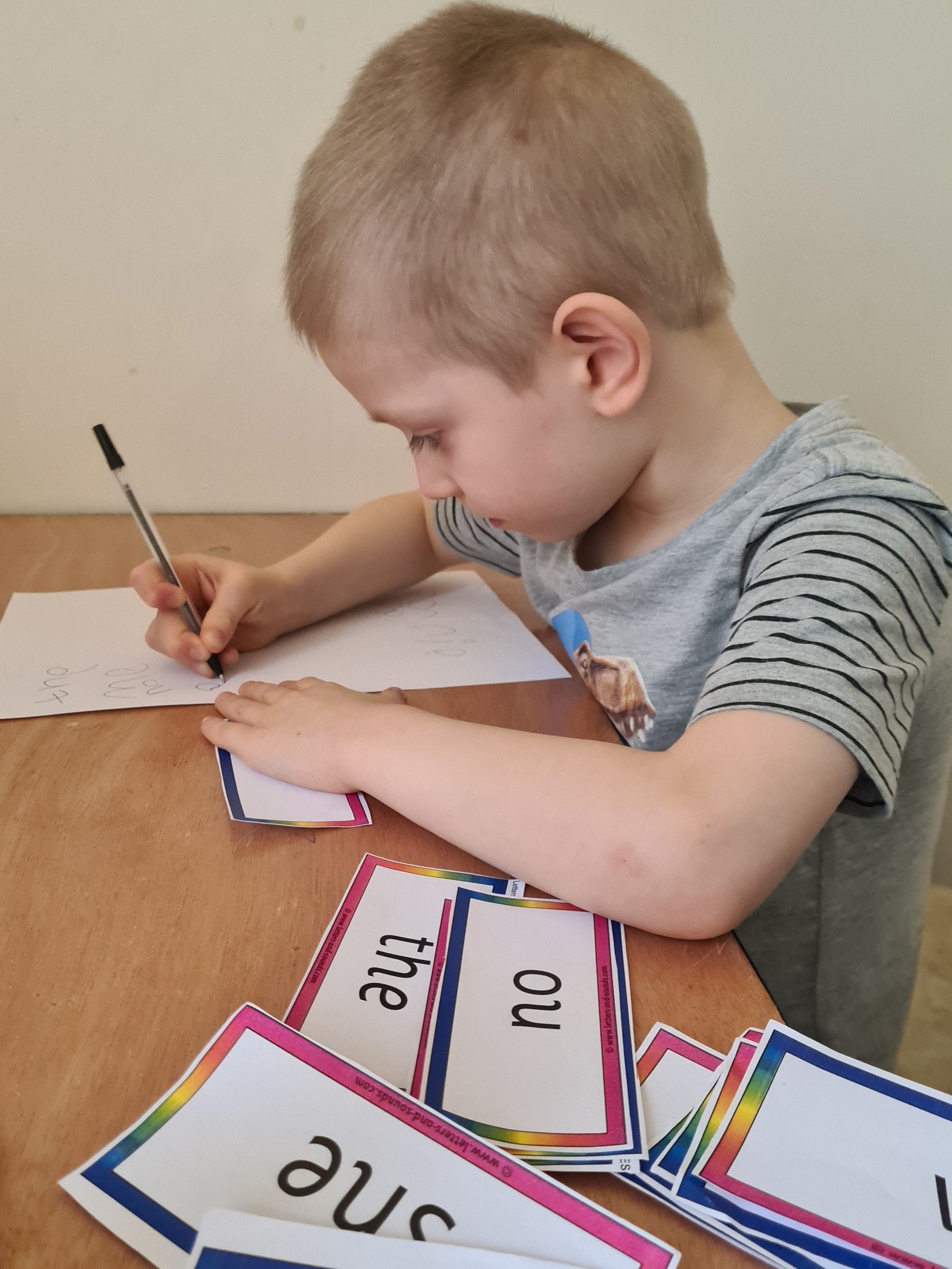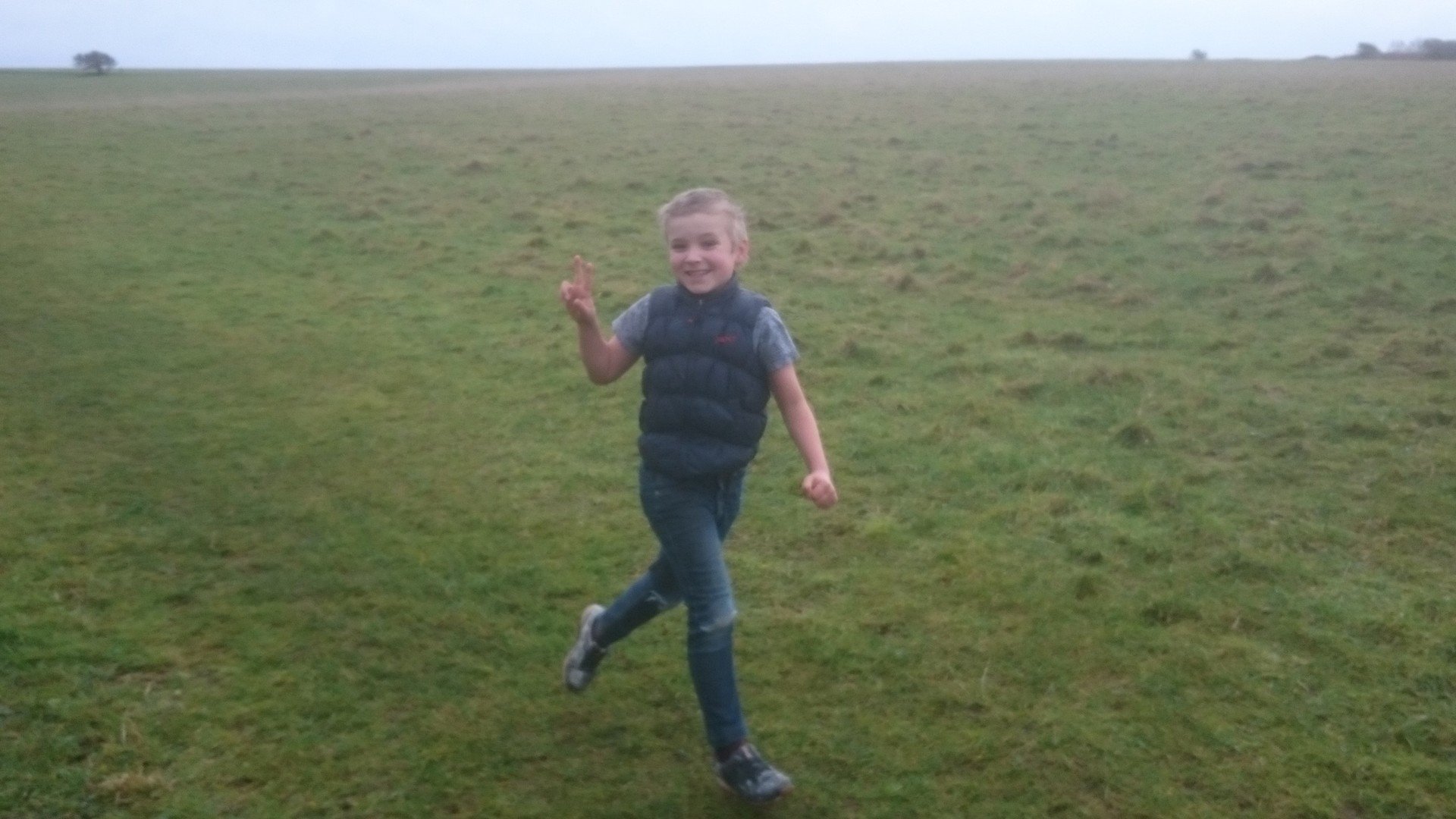 Paula writes a diary entry as Hogarth from the story 'The Iron Giant' and bakes some delicious looking cookies. Ronnie practises writing and spelling his Phase 2 and 3 key words and Mark goes out for a run.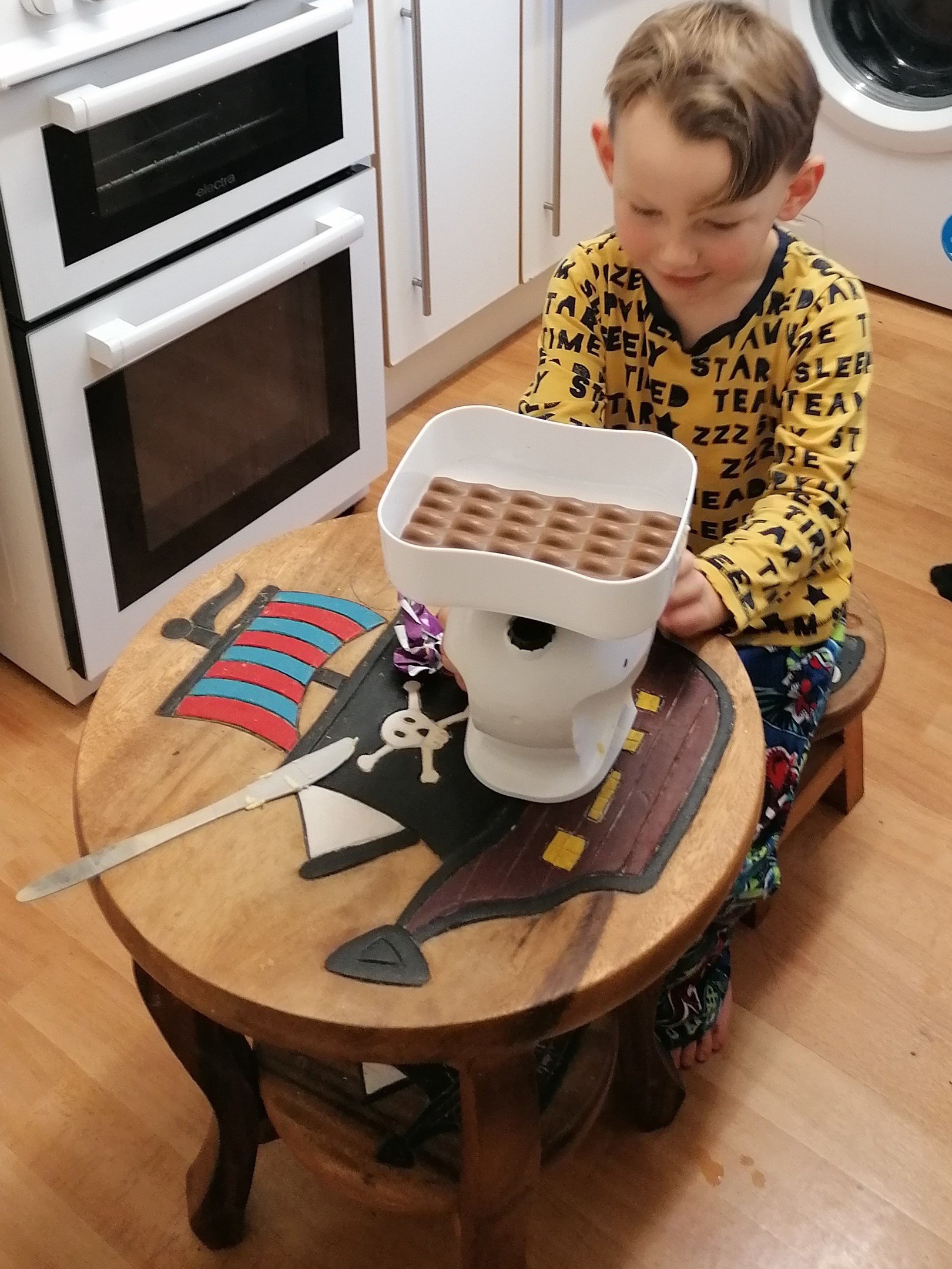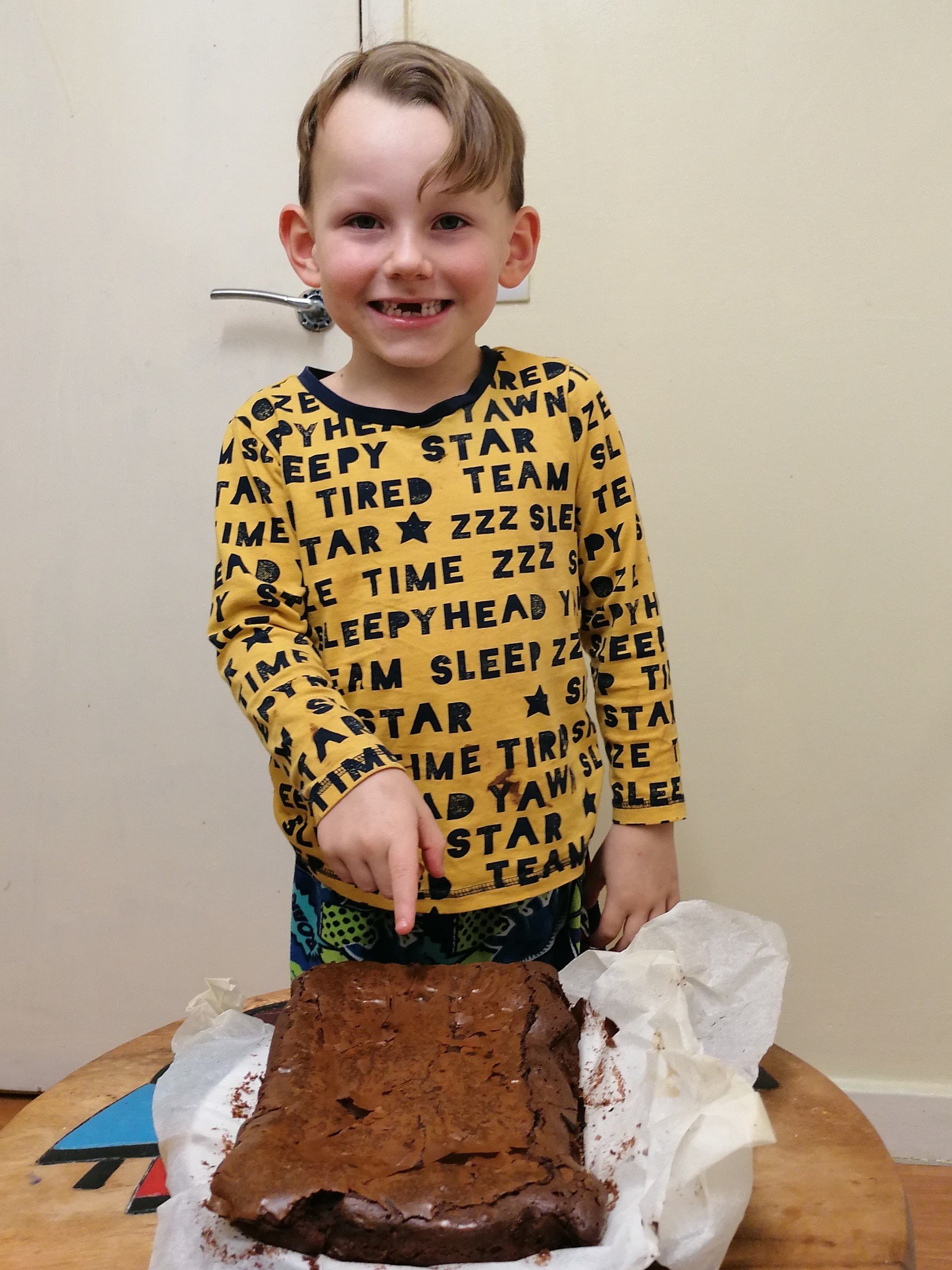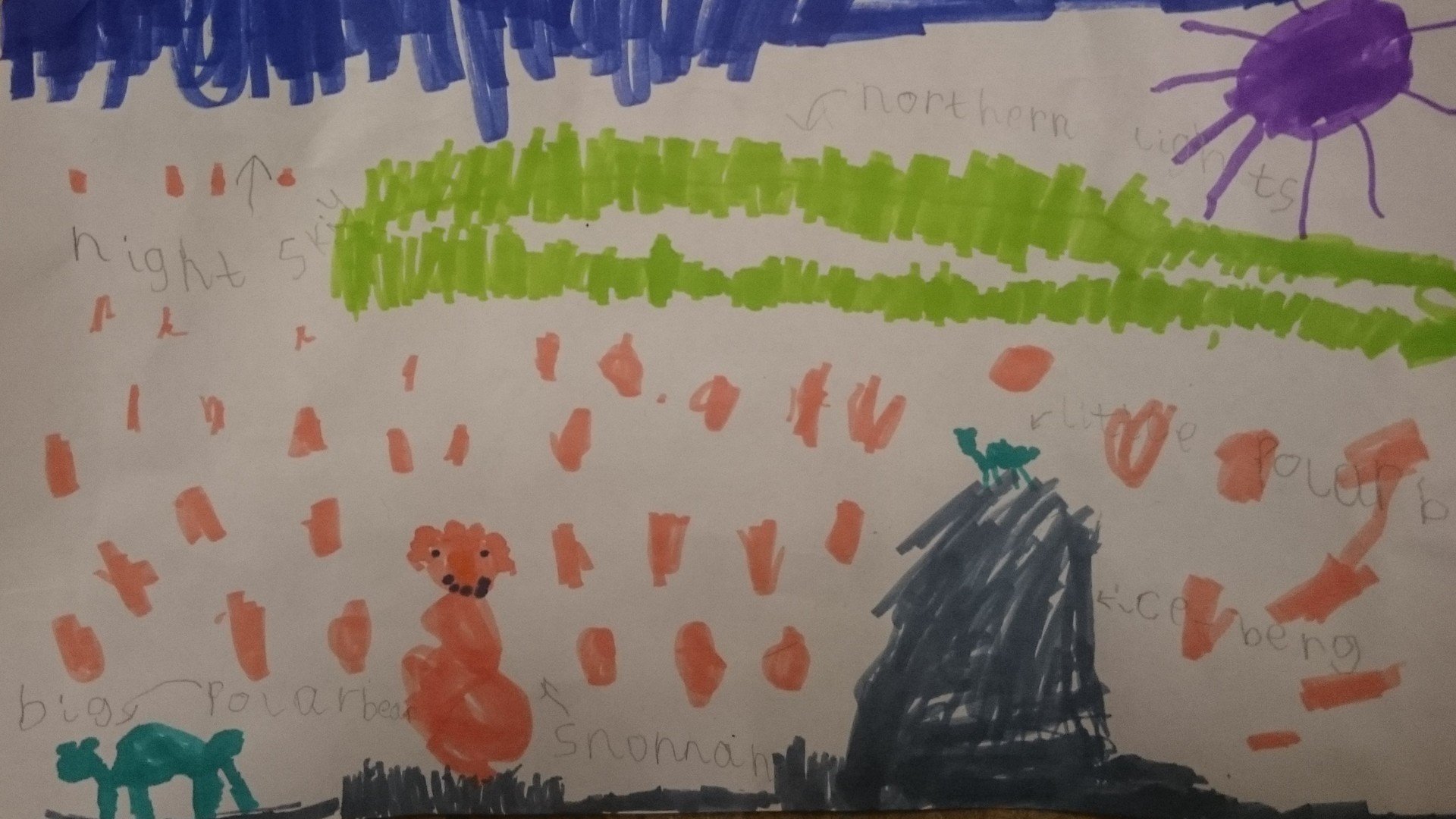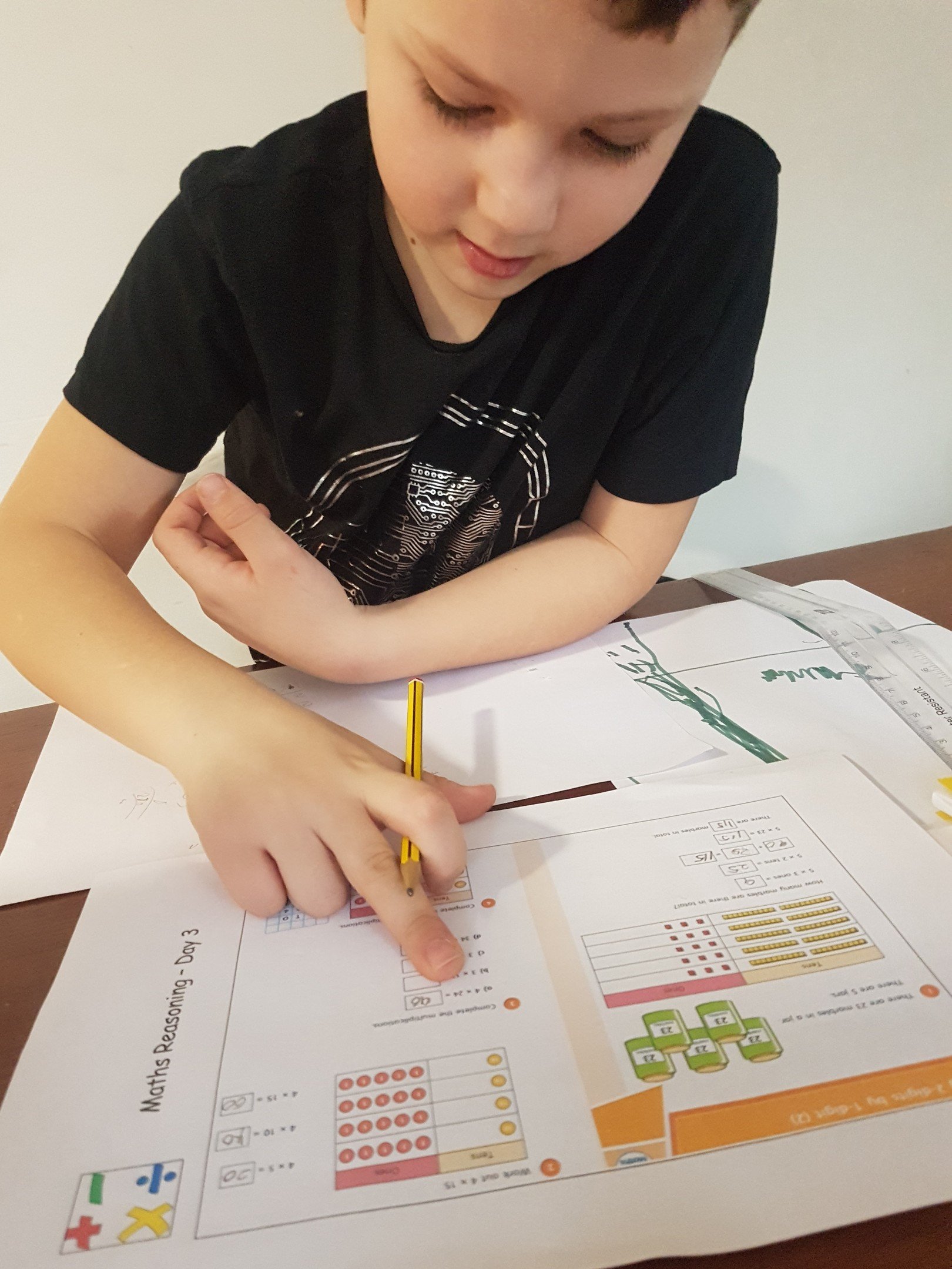 Eliott uses weighing scales to weigh out the ingredients for his chocolate brownies, Sylvia draws a picture from the North Pole with a polar bear and showing the Northern Lights as part of Year 1's learning about polar regions and Junior makes a start on his maths reasoning questions.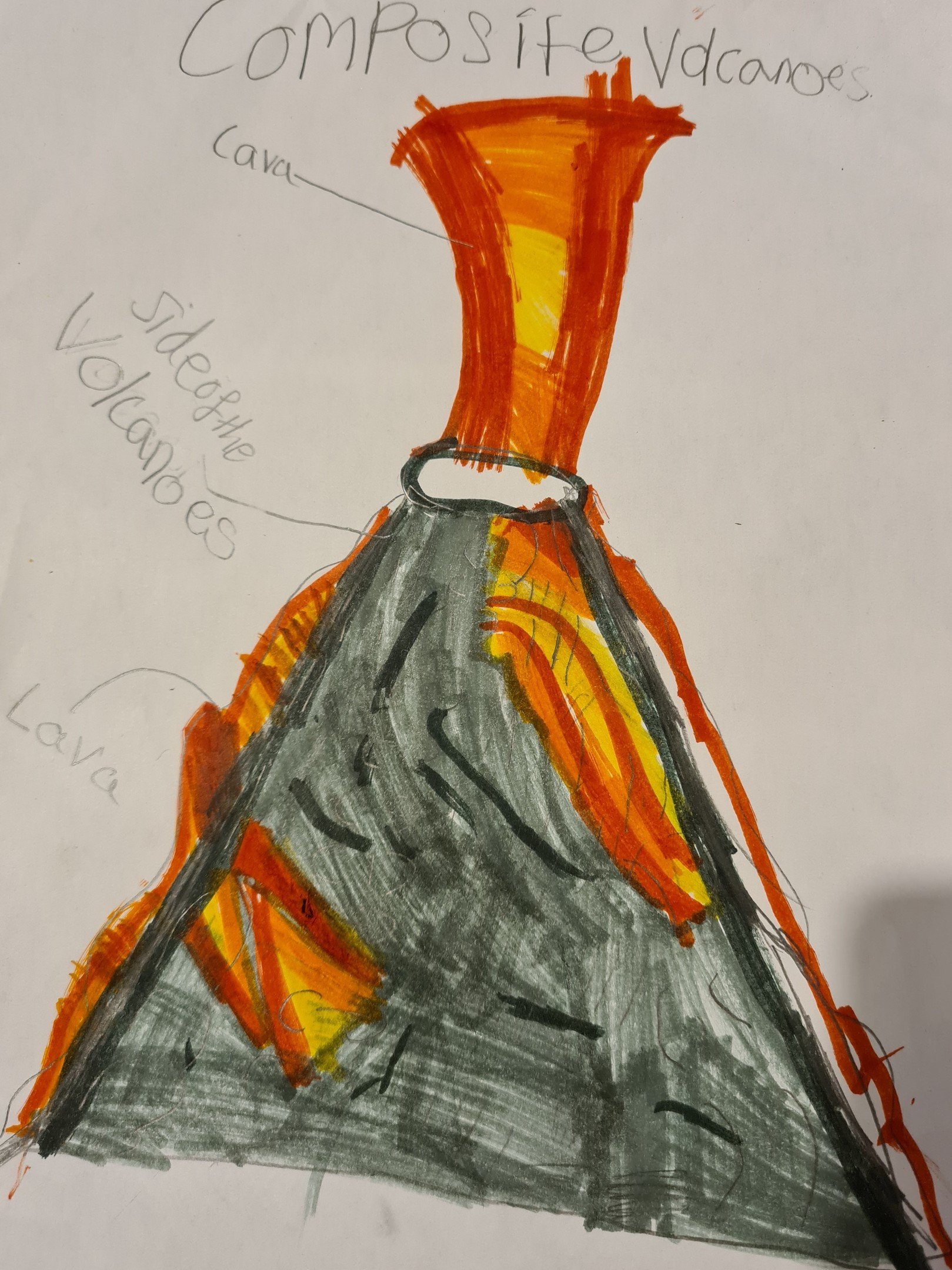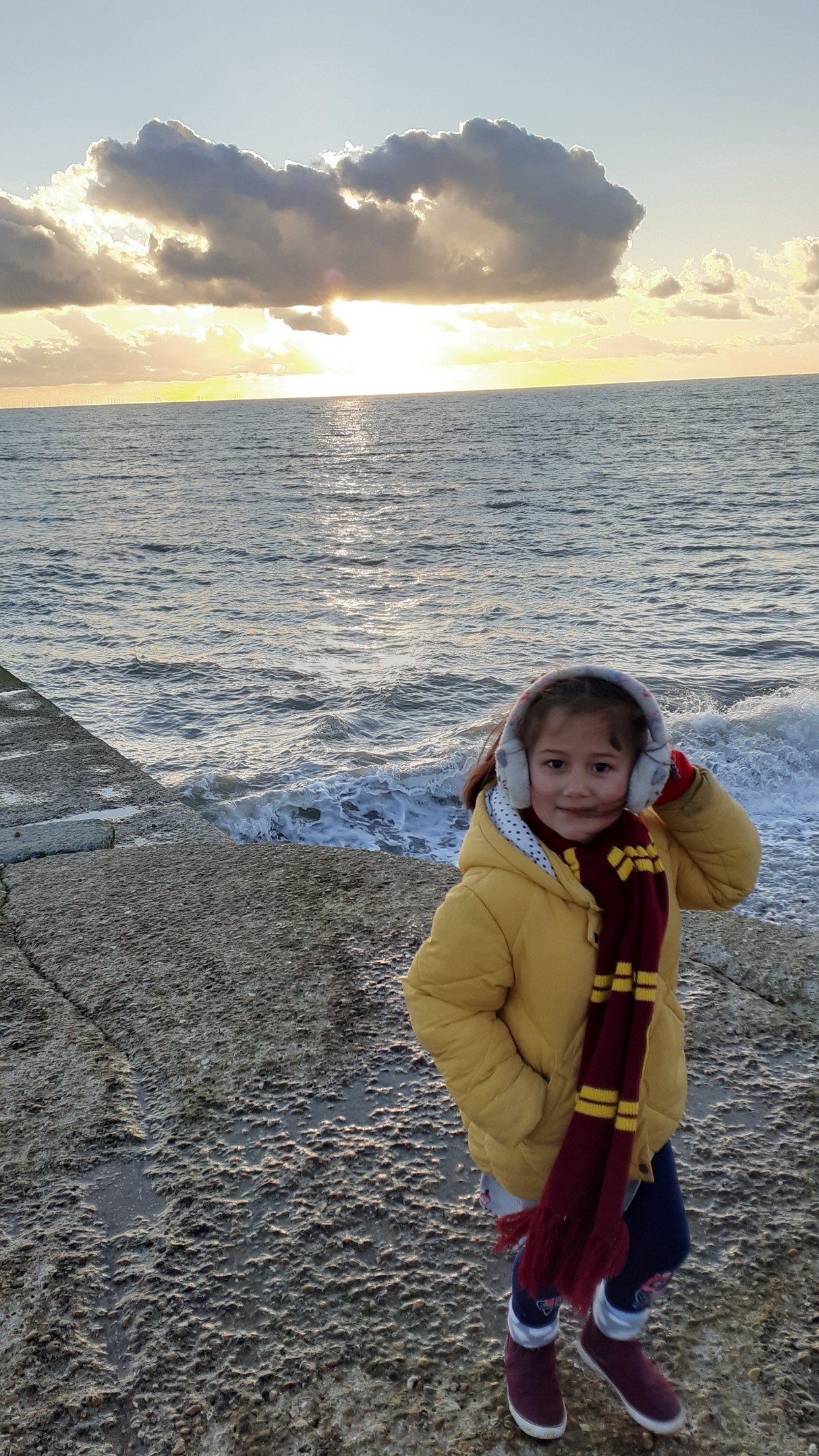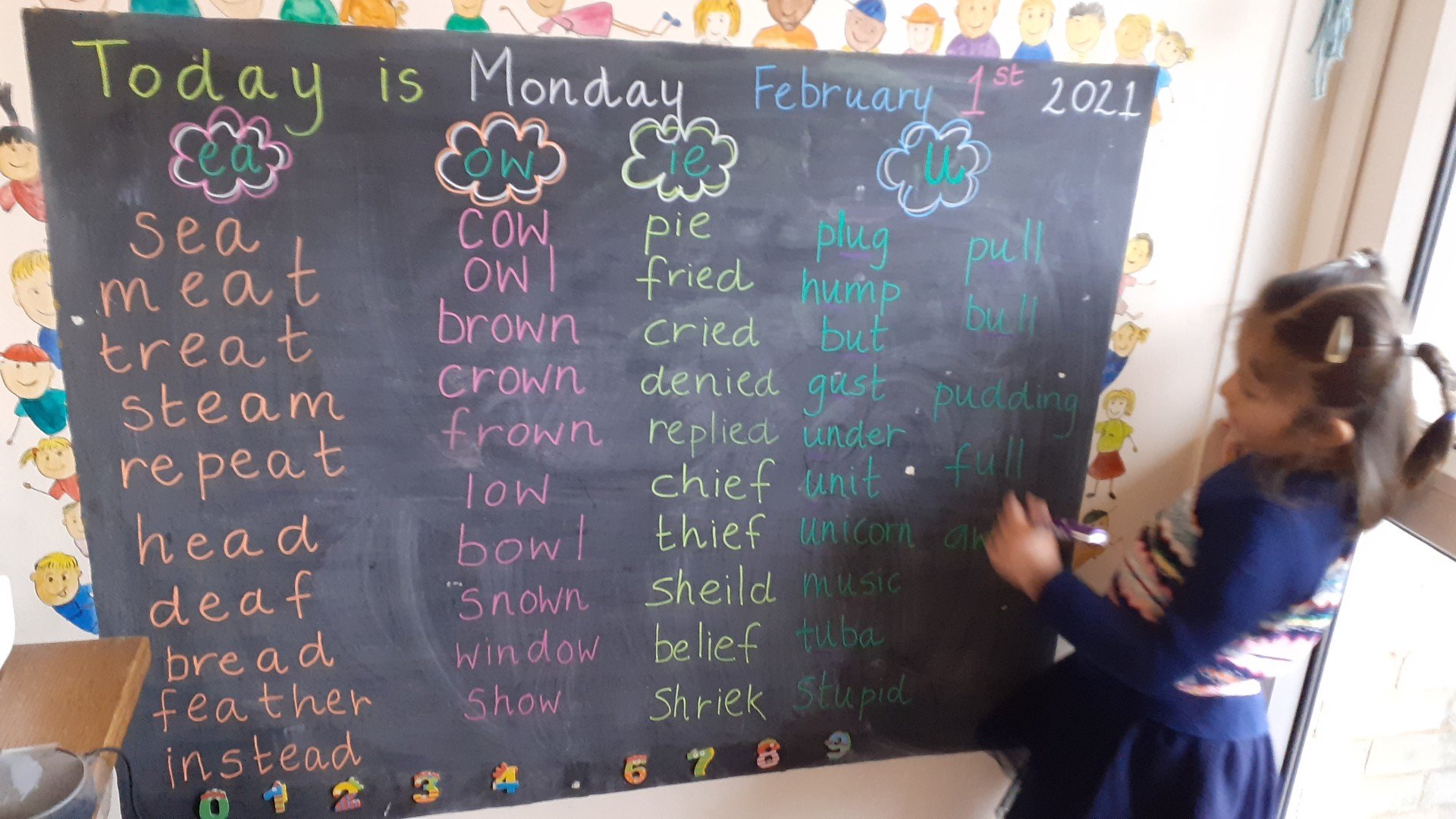 Katie finds out about composite volcanoes and Isabella enjoys a sunset walk along the beach. Isabella applies her phonic and spelling knowledge to her learning board.
André creates and draws in the style of Giuseppe Arcimboldo, an Italian painter, best known for creating imaginative portrait heads made entirely of objects such as fruits and vegetables.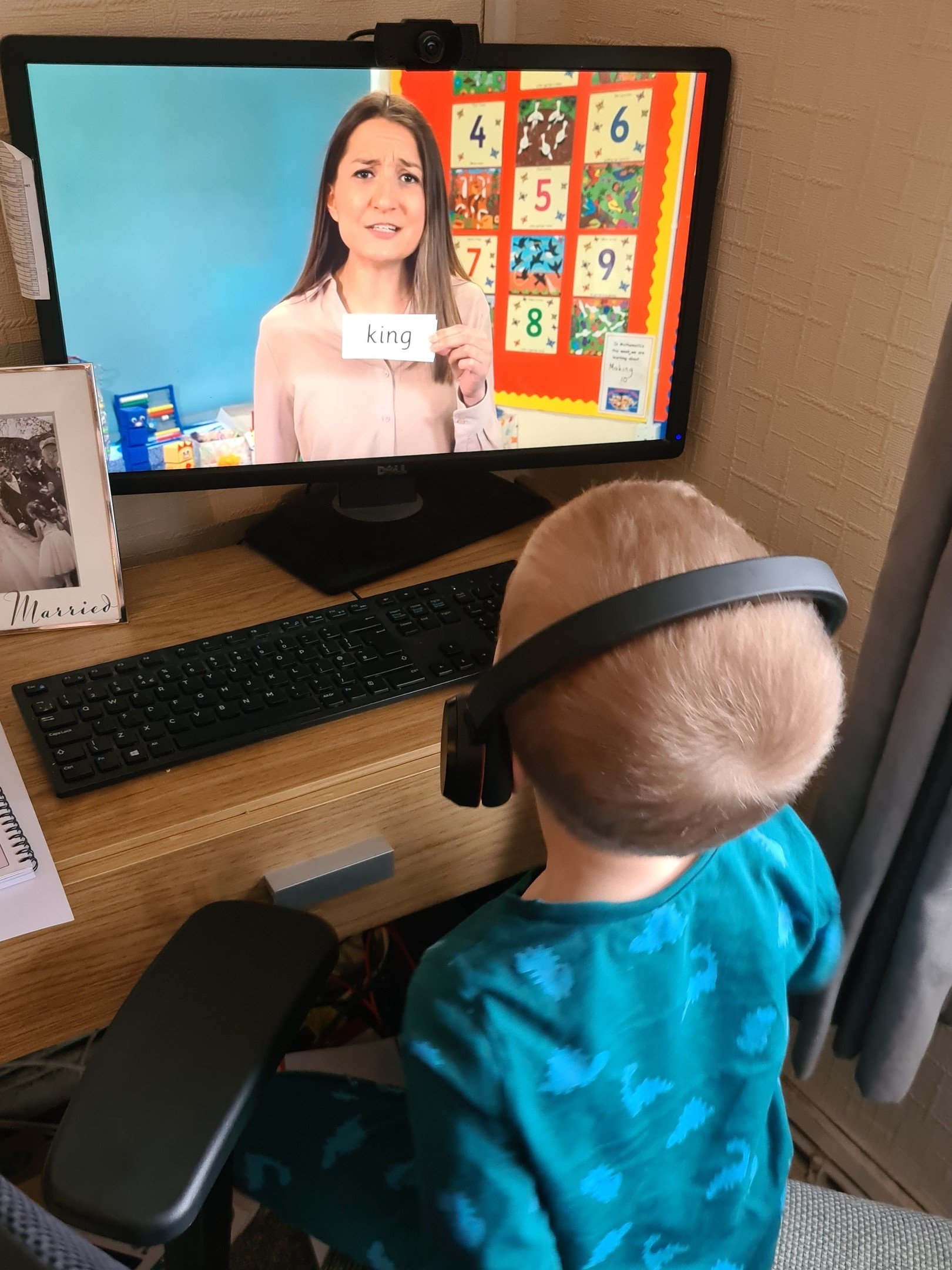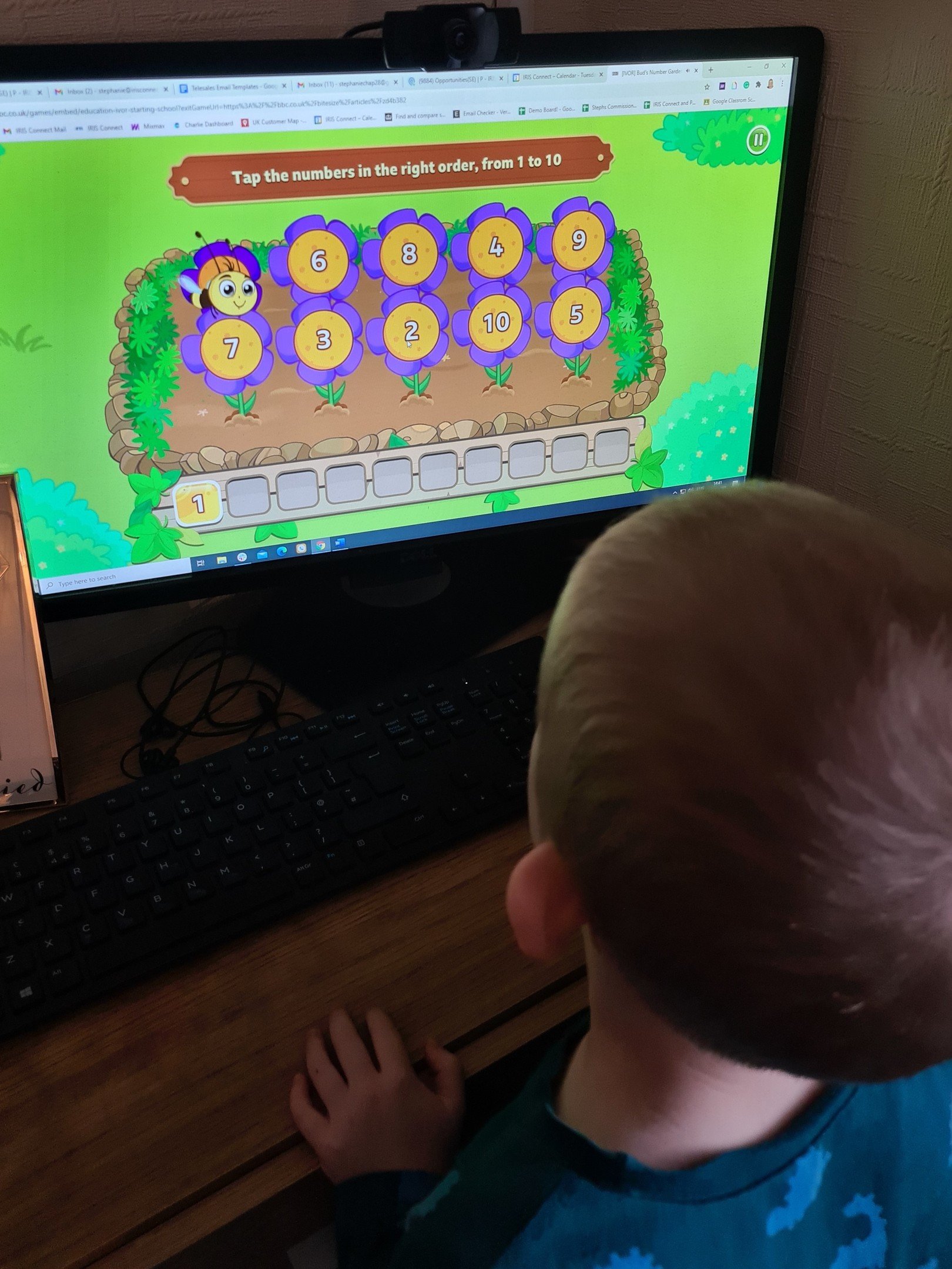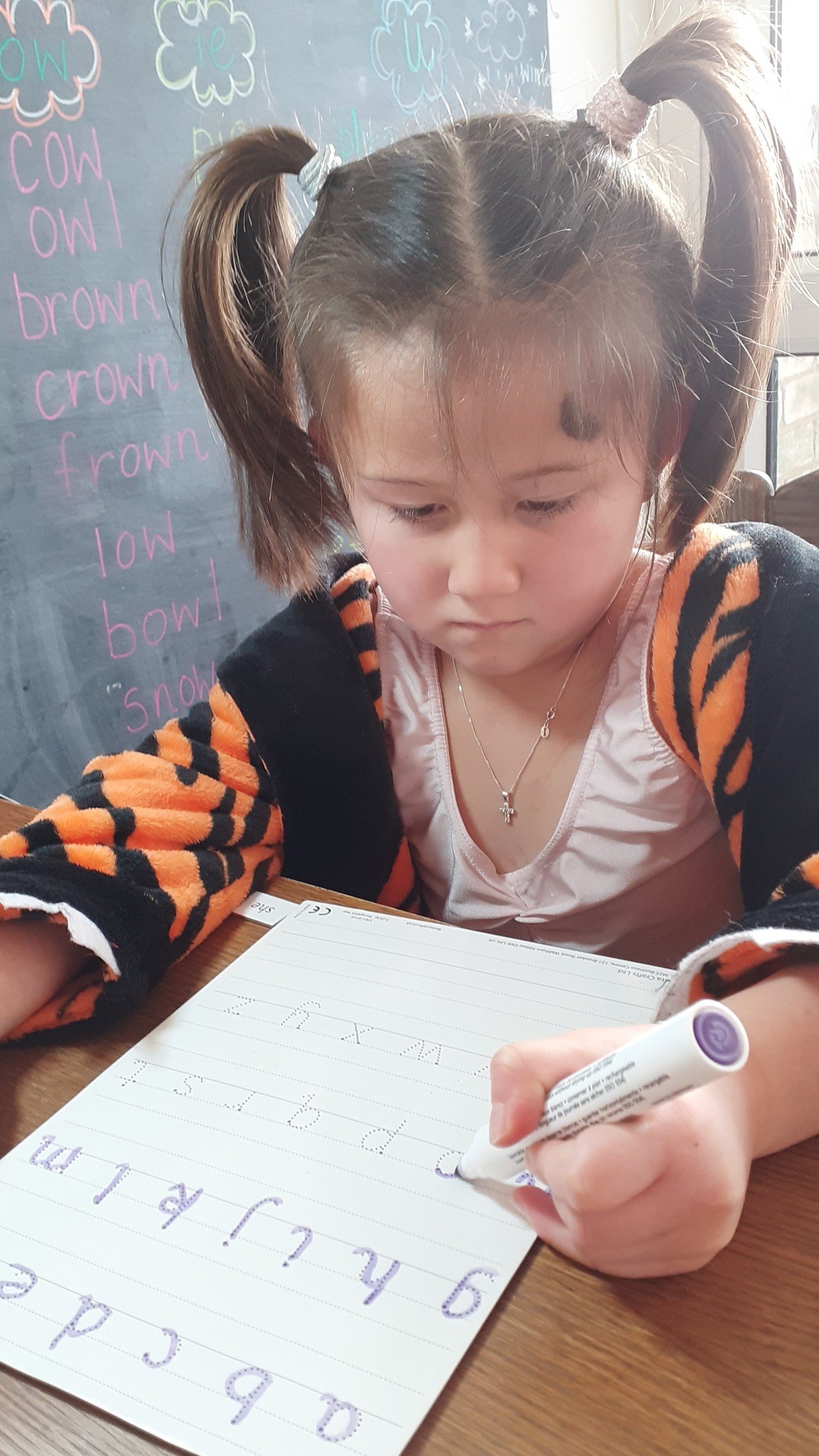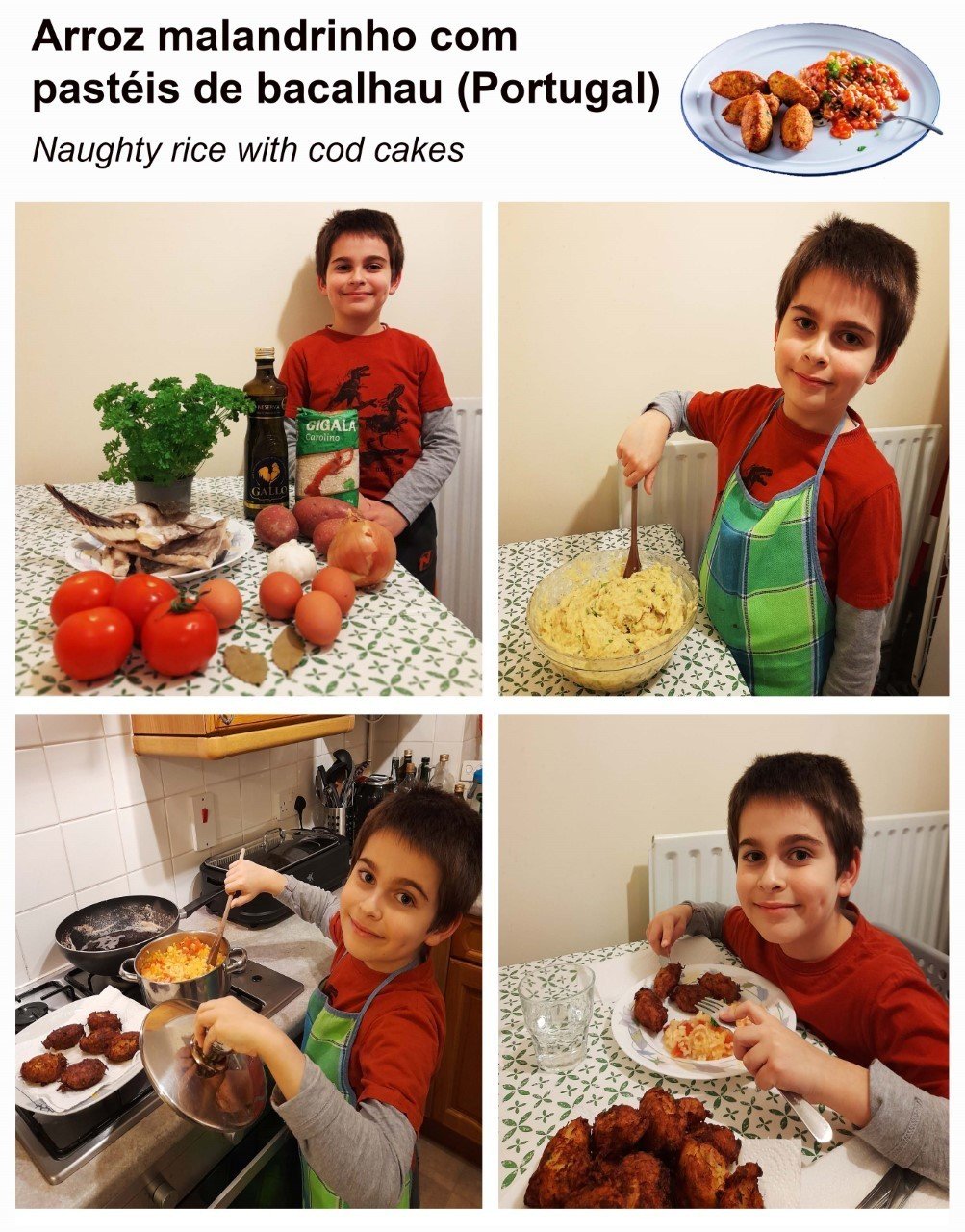 Jasper accesses online resources for reading and maths and Isabella practises her letter formation. André prepares and enjoys a traditional Portuguese dish as part of Year 4's Humanities learning entitled, 'The World's Kitchen'.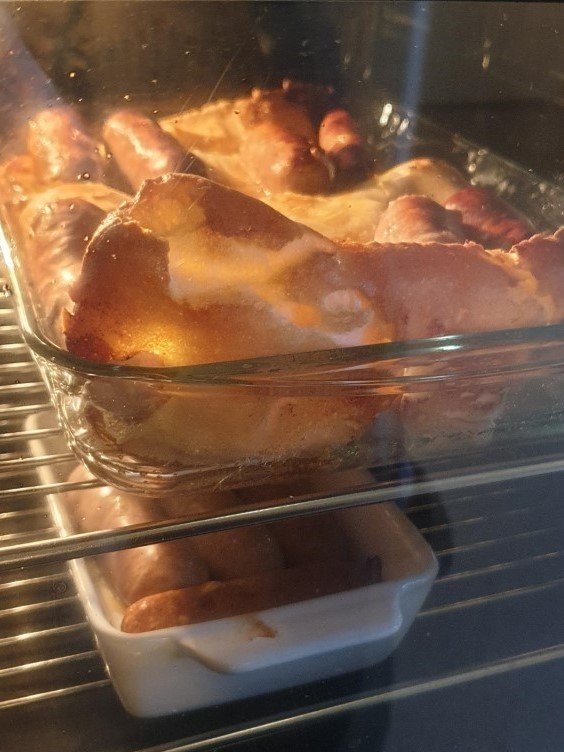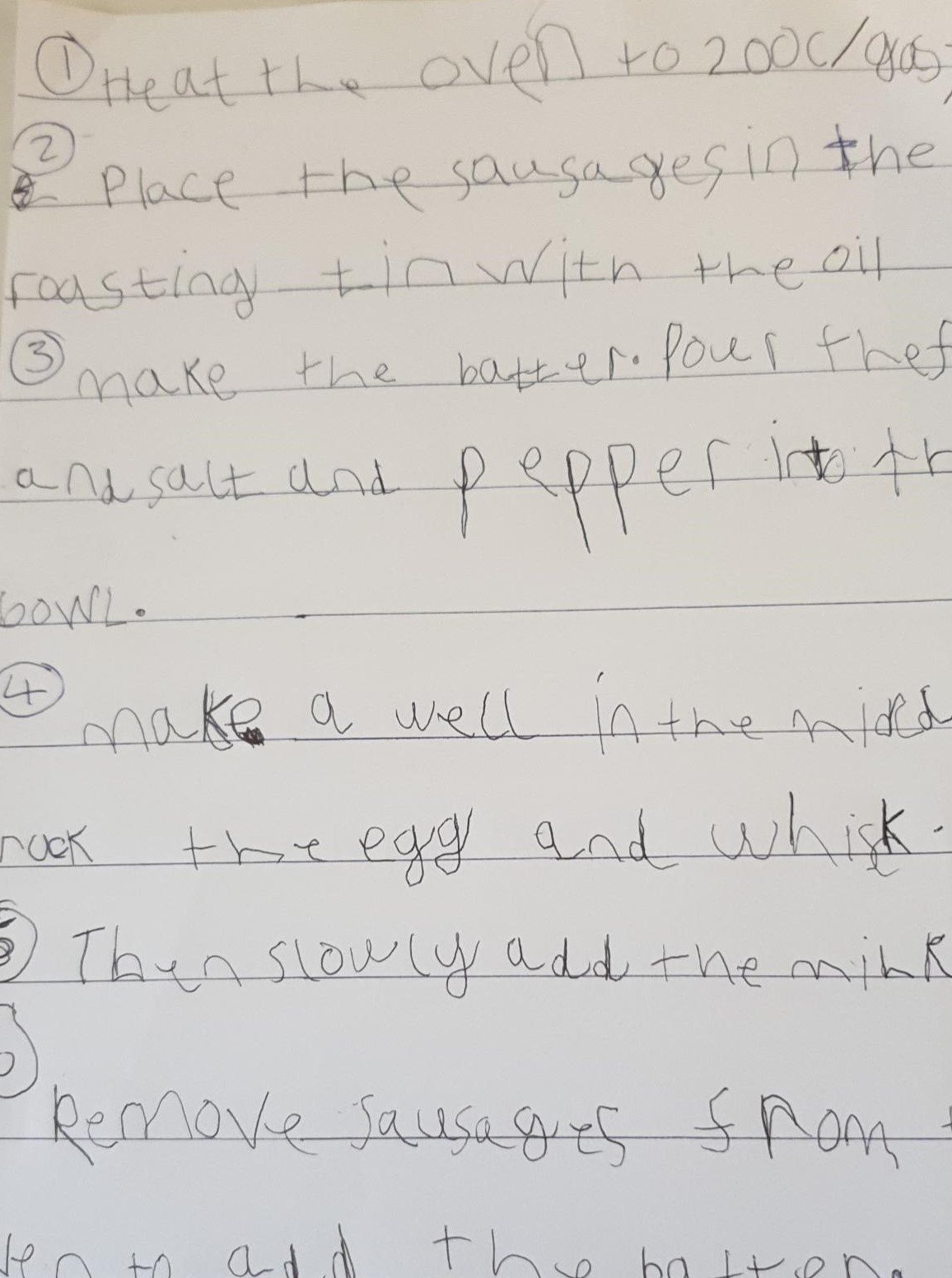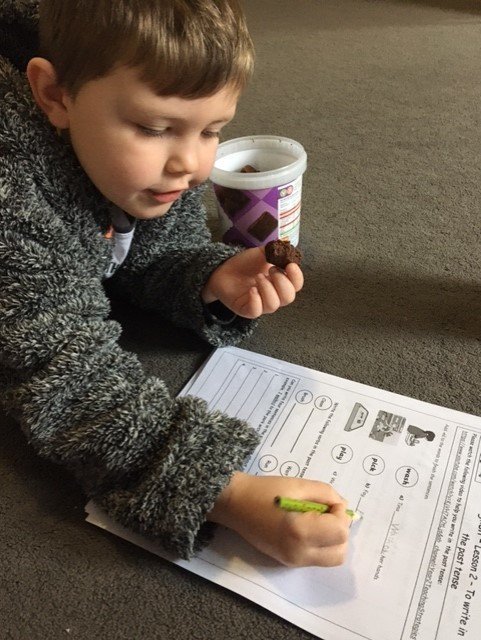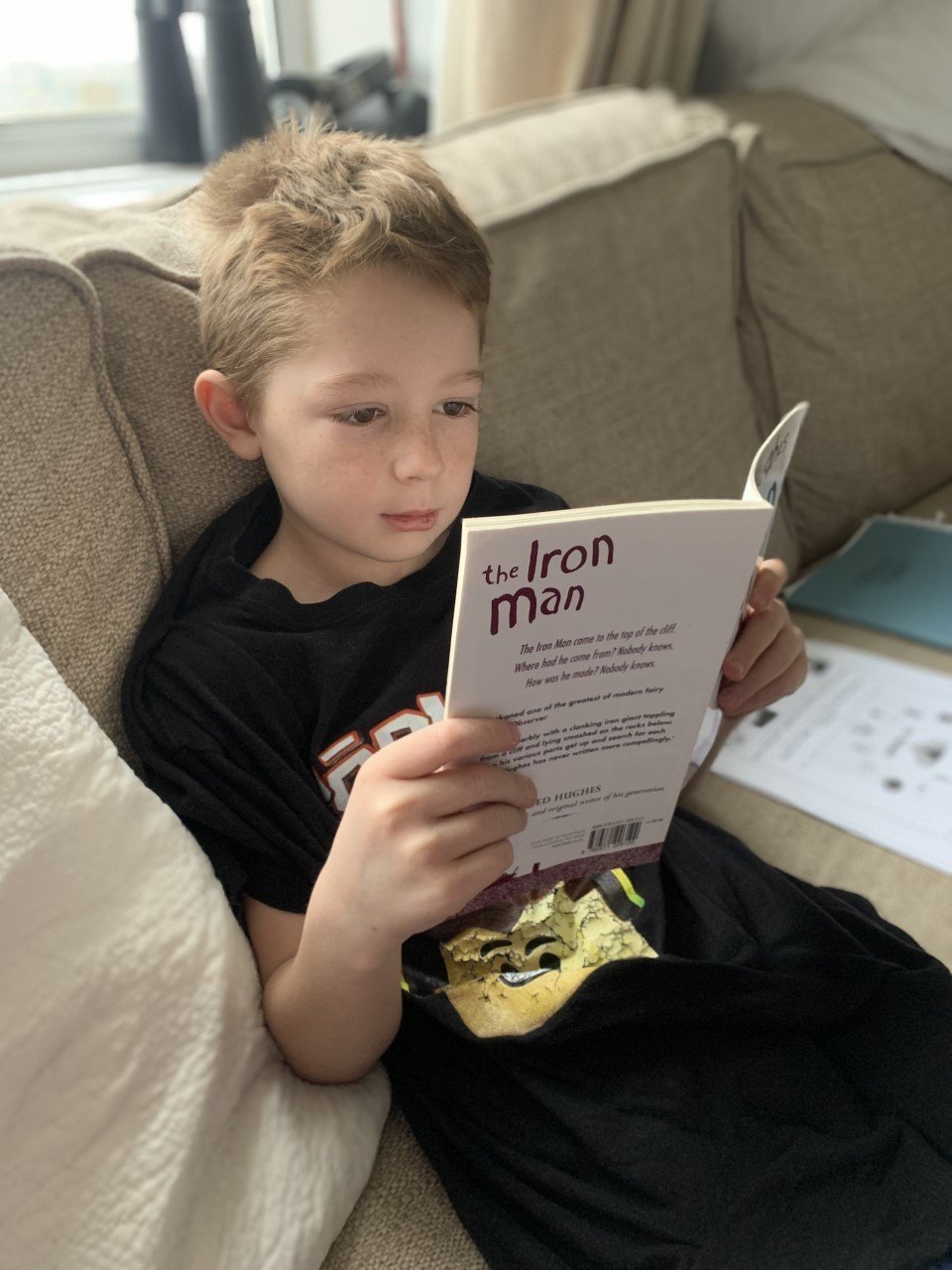 Amelia helps to make 'Toad in the Hole' and writes some instructions to teach others how to make it too. Harry settles down to work and Eddy reads the next chapter of 'The Iron Man'.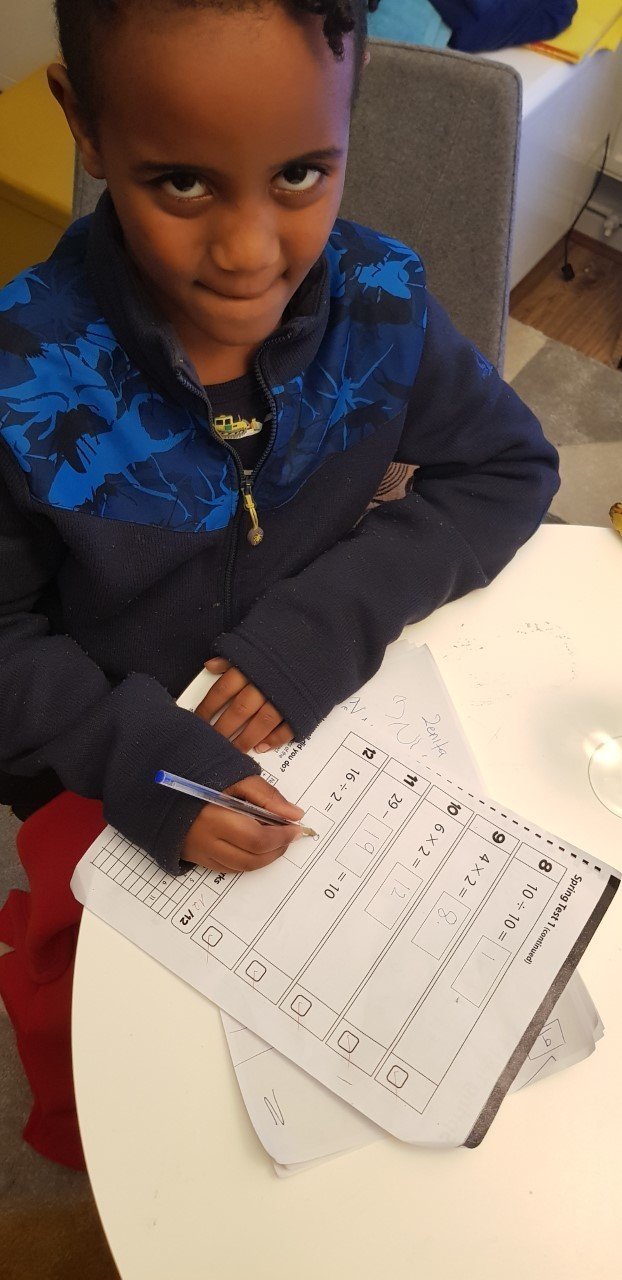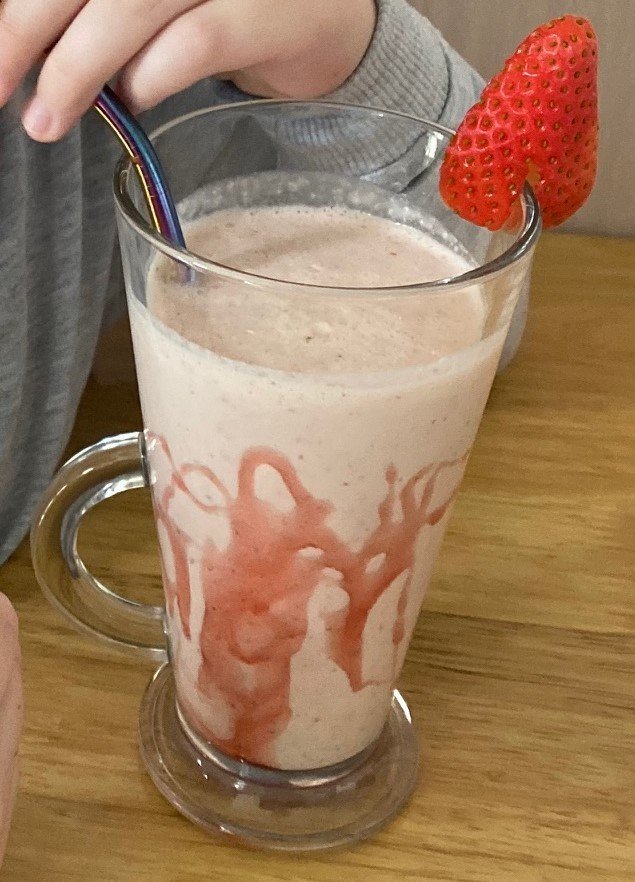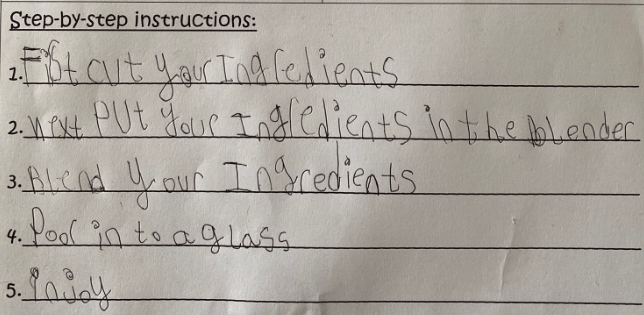 Zayden tackles this week's arithmetic. Theo makes a fruit smoothie and then writes instructions using 'bossy verbs' and time connectives.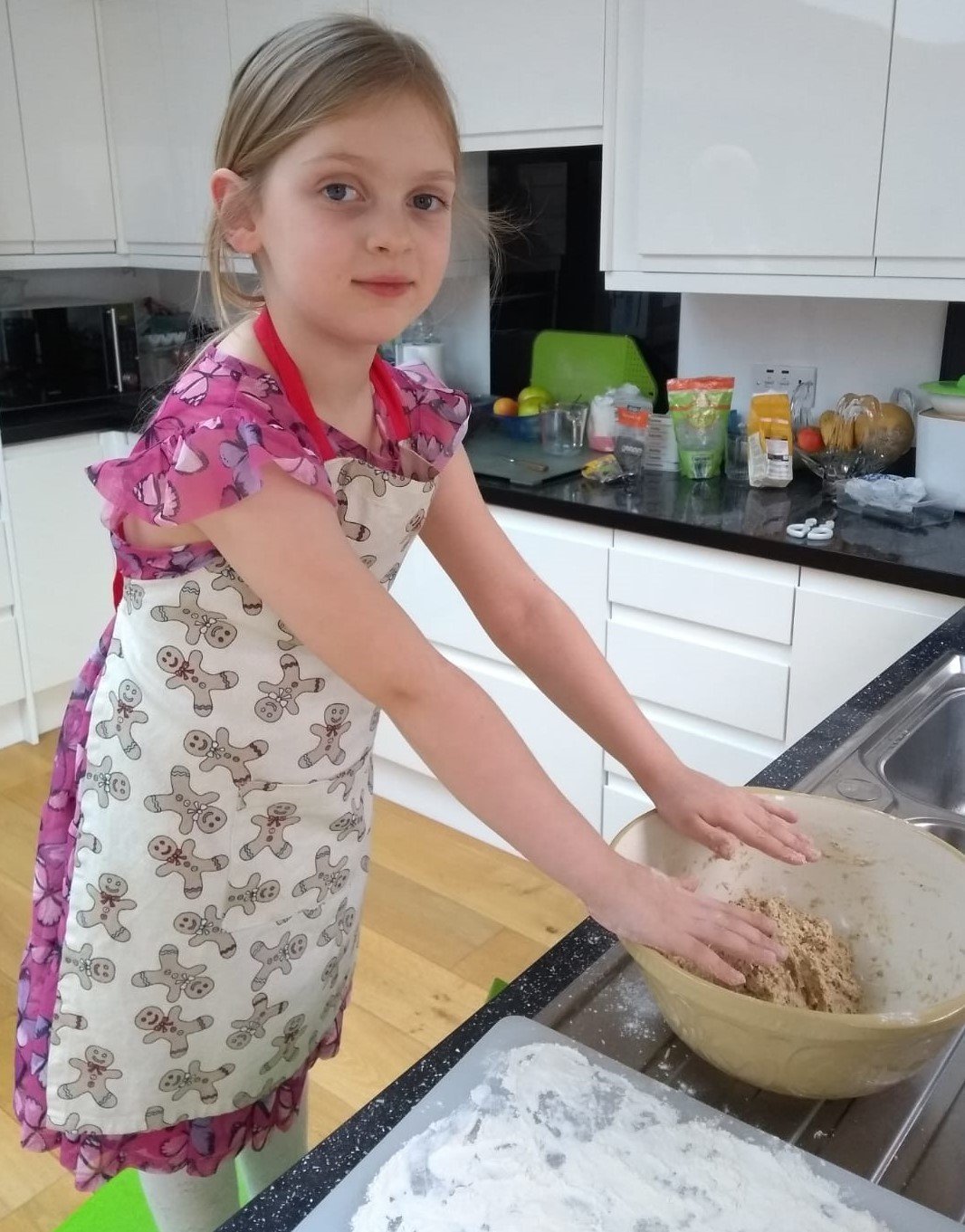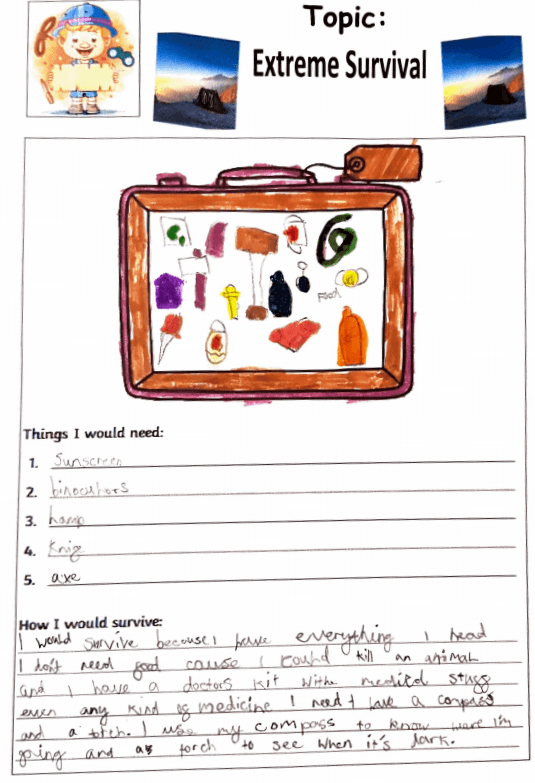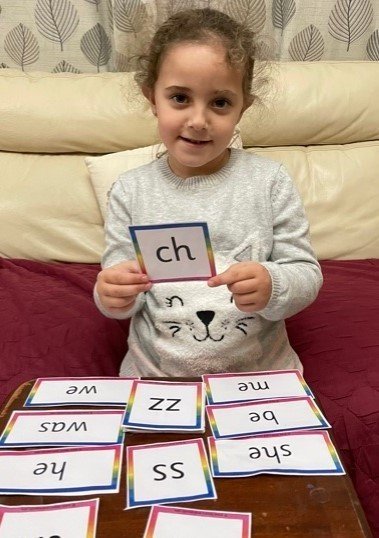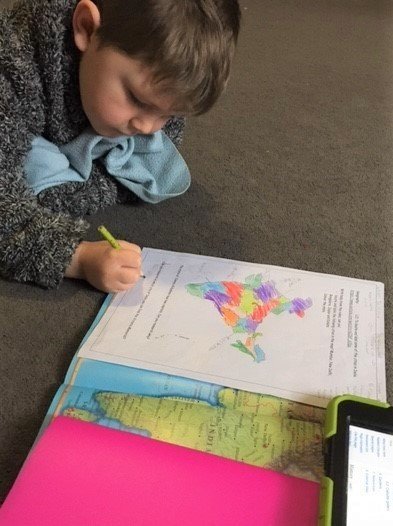 Audrey learns how to bake bread. Emellia has drawn a survival kit for a trip to a hot place and has discussed how she would use each object to help her survive. Lily May practises recognising common digraphs and reading her Phase 3 tricky words.
Harry uses an atlas and the iPad for his Geography task - labelling and locating cities in India.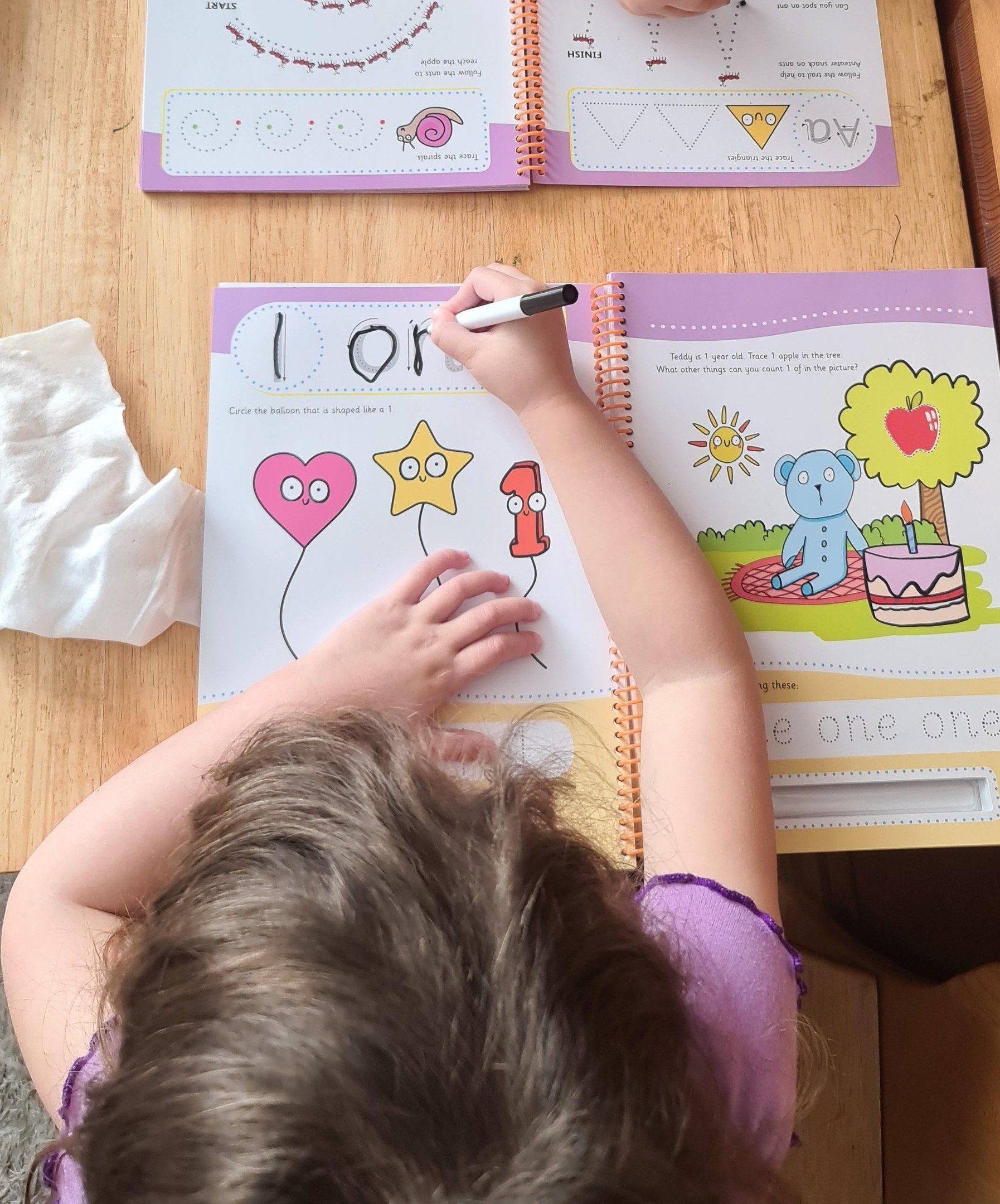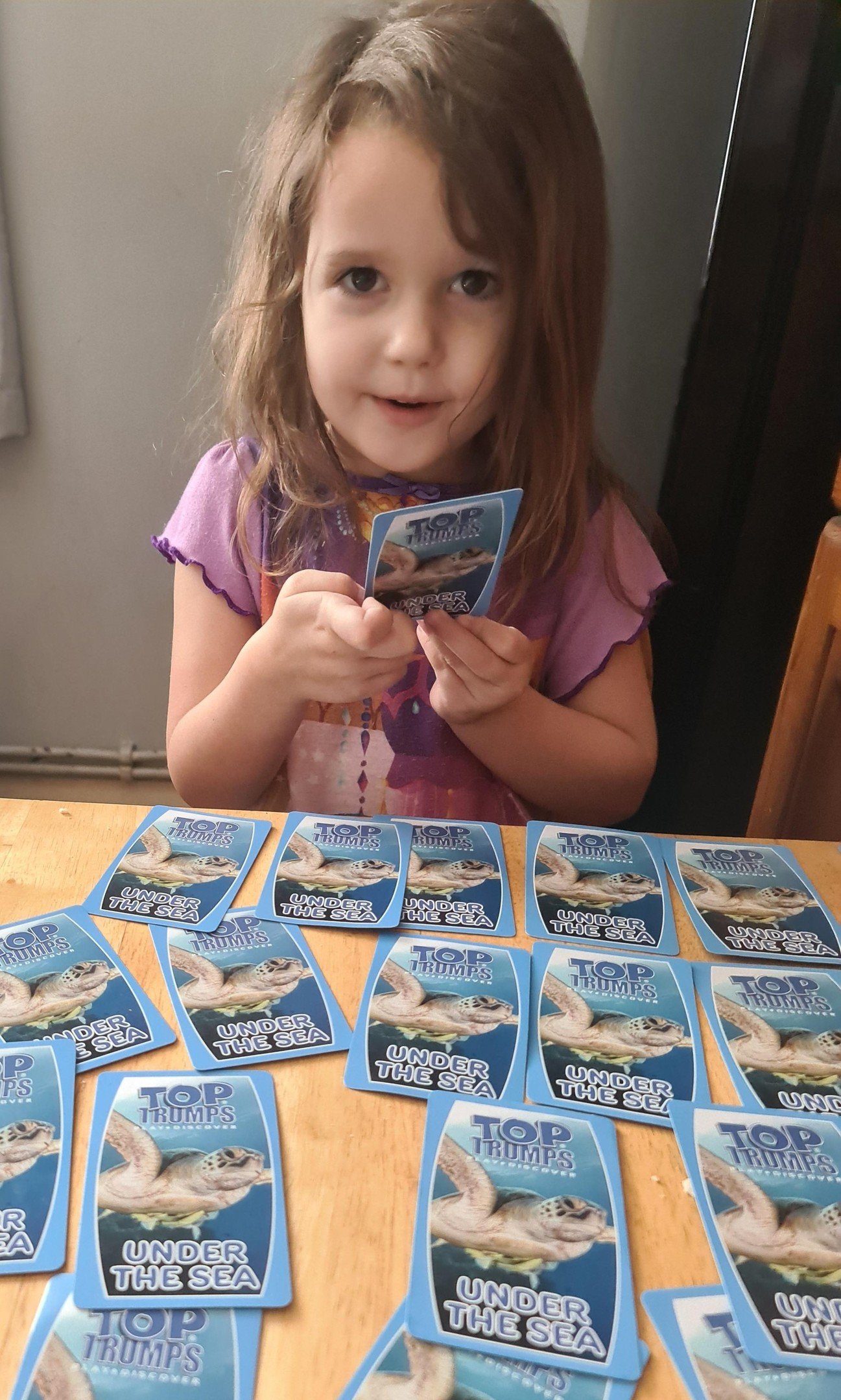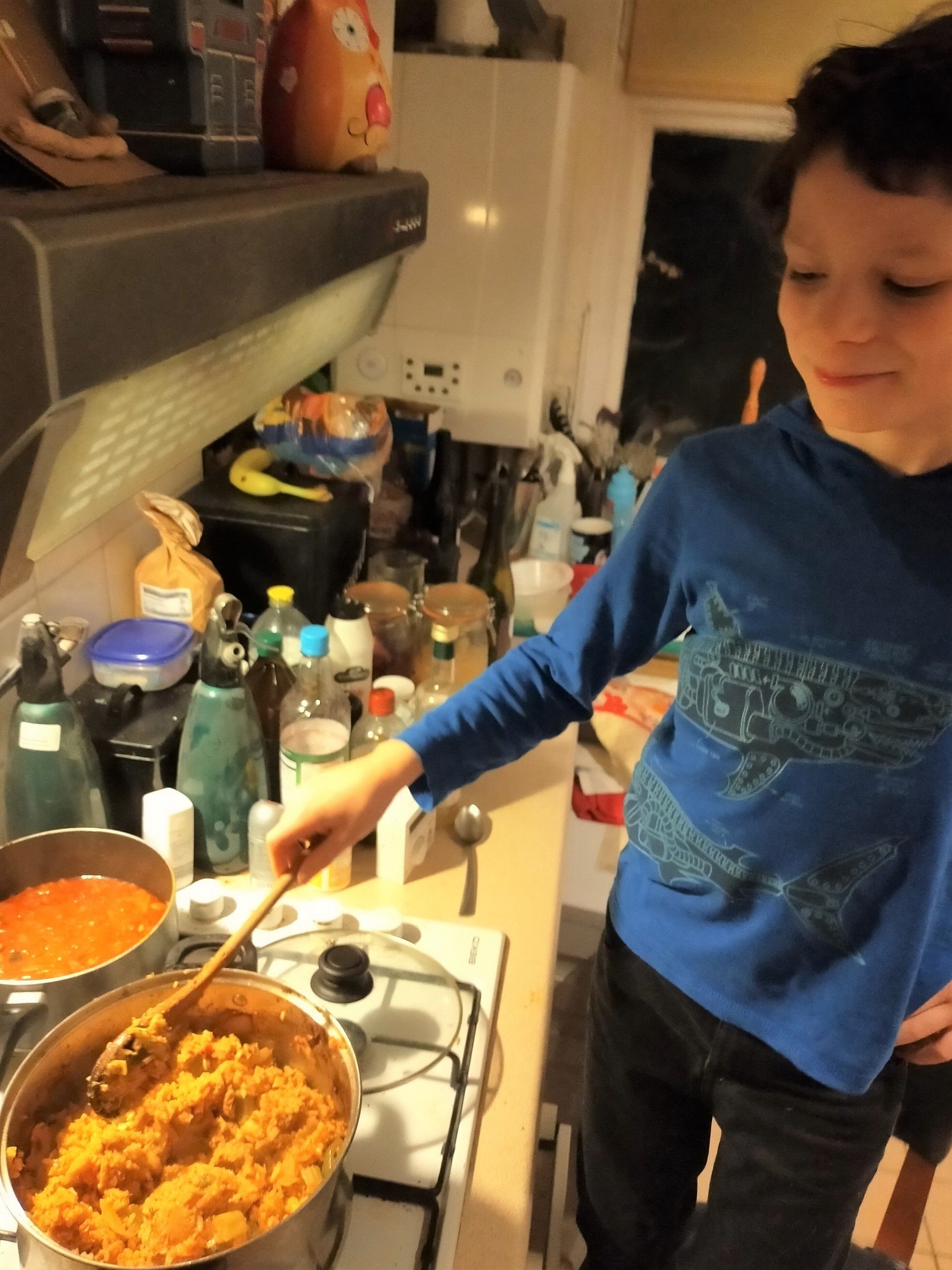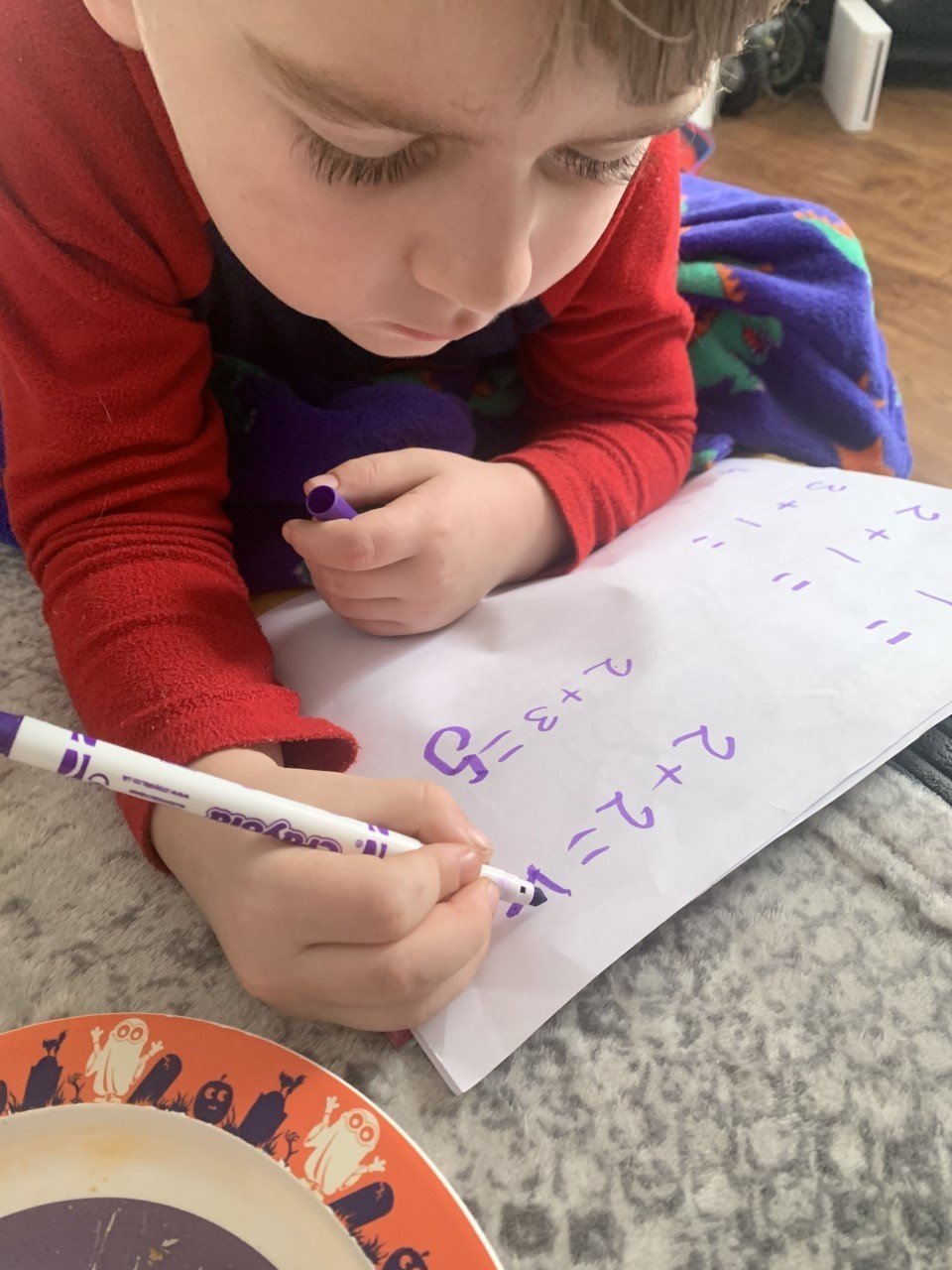 Betty settles down to the day's learning. She is finding out lots of facts about Polar animals with her Top Trumps cards. Lukas learns how to make chicken and seafood jambalaya with Creole sauce - a traditional dish from Louisiana in North America as part of Year 4's learning, 'The World's Kitchen'. Oscar works on addition to 5.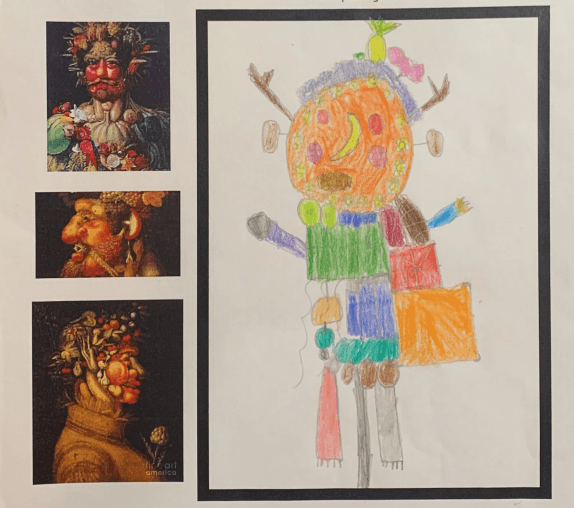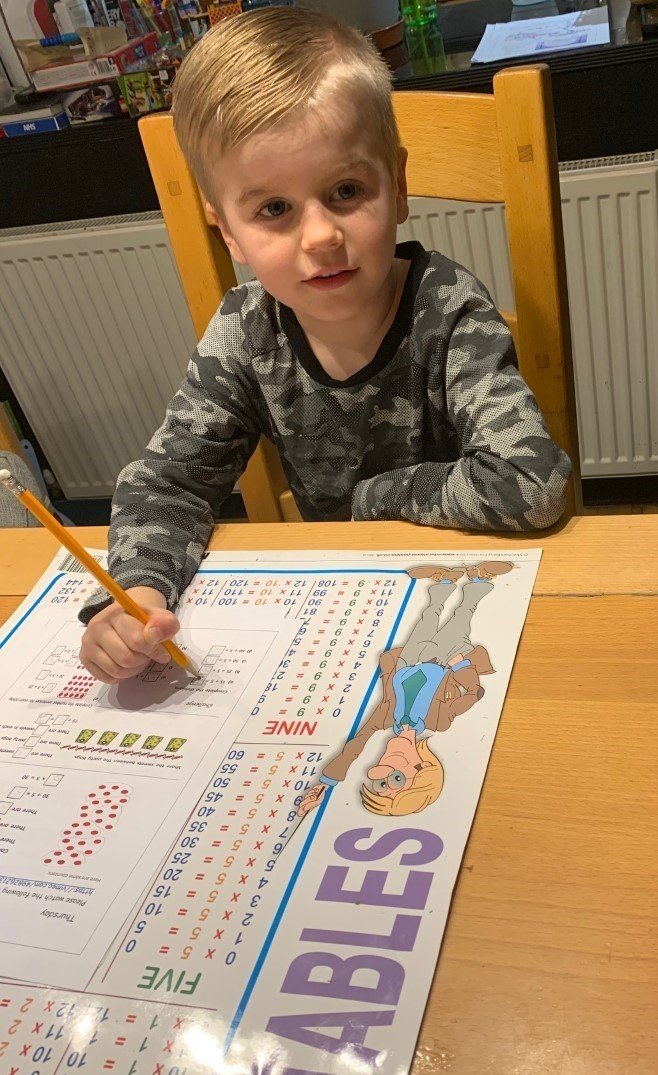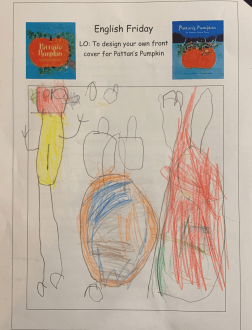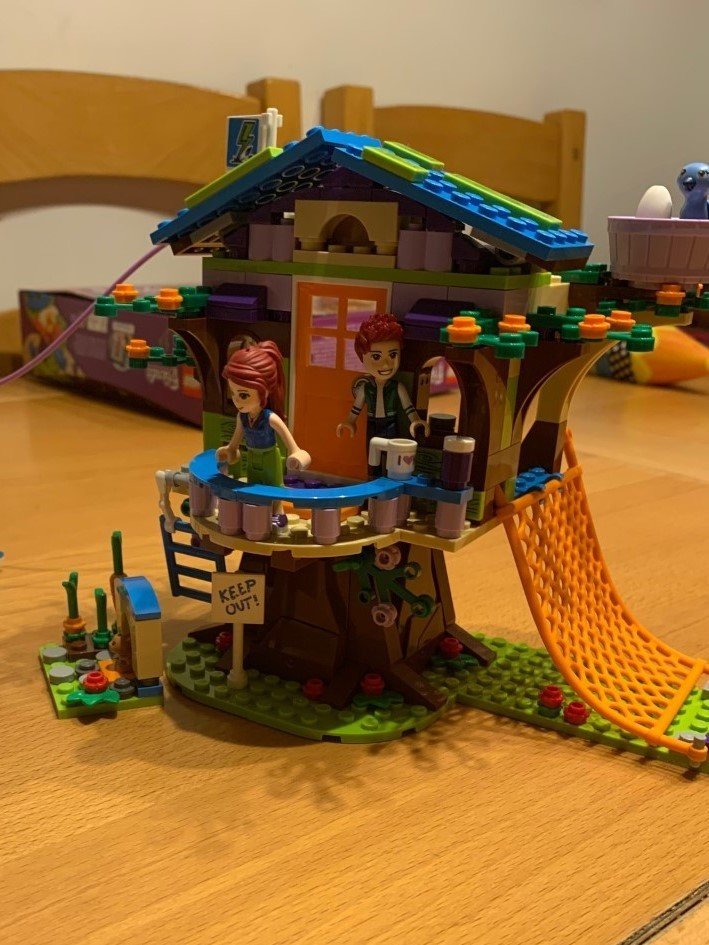 Misty's creation inspired by Giuseppe Arcimboldo, Tate works on his times tables and designs a new front cover for Year 2's book, 'Pattan's Pumpkin'. Misty follows instructions independently to build a Lego house.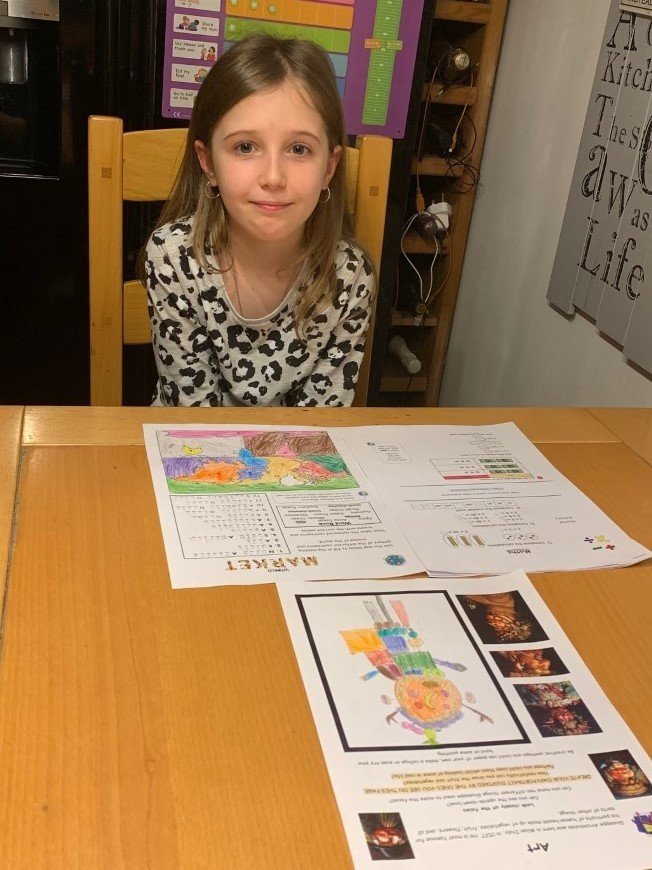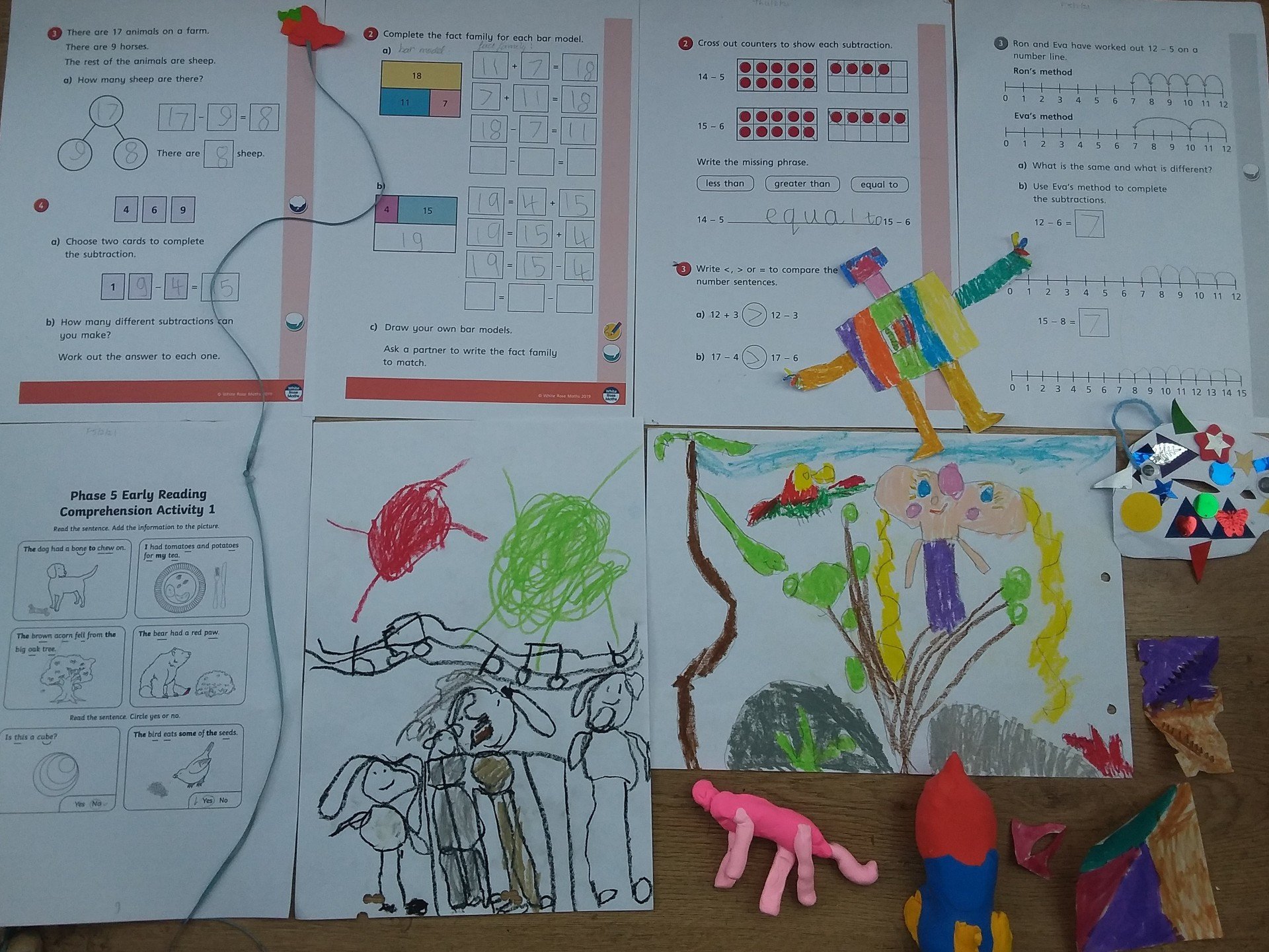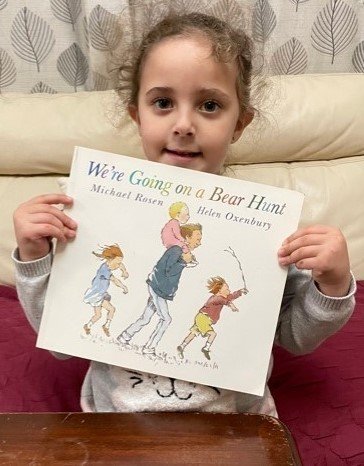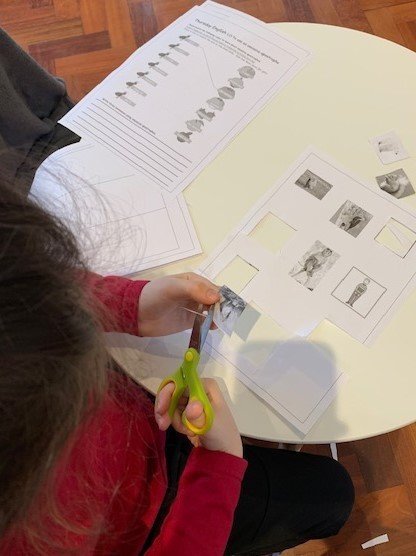 Misty completes her Geography and Art work, Sylvia shares the day's learning, Lily May reads the Reception Class's focus book and Luca sorts animals into carnivores, herbivores and omnivores for this week's Science task.
Again, thank you children for your enthusiasm, effort, determination and hard work this week and parents and carers - thank you for all your support with your children's remote learning.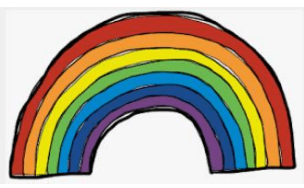 Click HERE for 'Rainbow Adventures' from Lucy at Bike It Brighton which contains wellbeing activities and ideas for getting outside.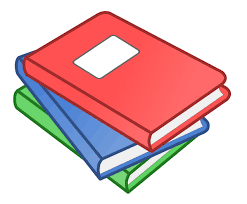 Oak National Academy and the National Literacy Trust have come together to launch a Virtual School Library to keep children reading during lockdown. Every week, a popular children's author will become our 'Author of the Week' and provide a free book or audiobook and exclusive videos and activities aimed at primary school children, all available if you click HERE.
Remote Learning - Week 4
Thank you very much children (and parents and carers) for your continued effort, hard work and support with your learning from home. Keep sending in photos of your work, so that we can mark it and send you feedback/next steps and also so that we can share and celebrate your creativity, on this page. We are very proud of you all.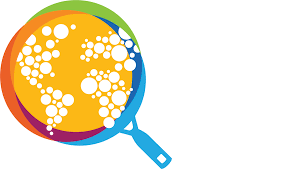 Year 4 have taken up their culinary challenge brilliantly, sharing dishes they have made from around the world. Priya made her very own Italian pizza dough, Mark helped to make moussaka from Greece and Josh C makes his own Turkish doner kebab. Yum yum!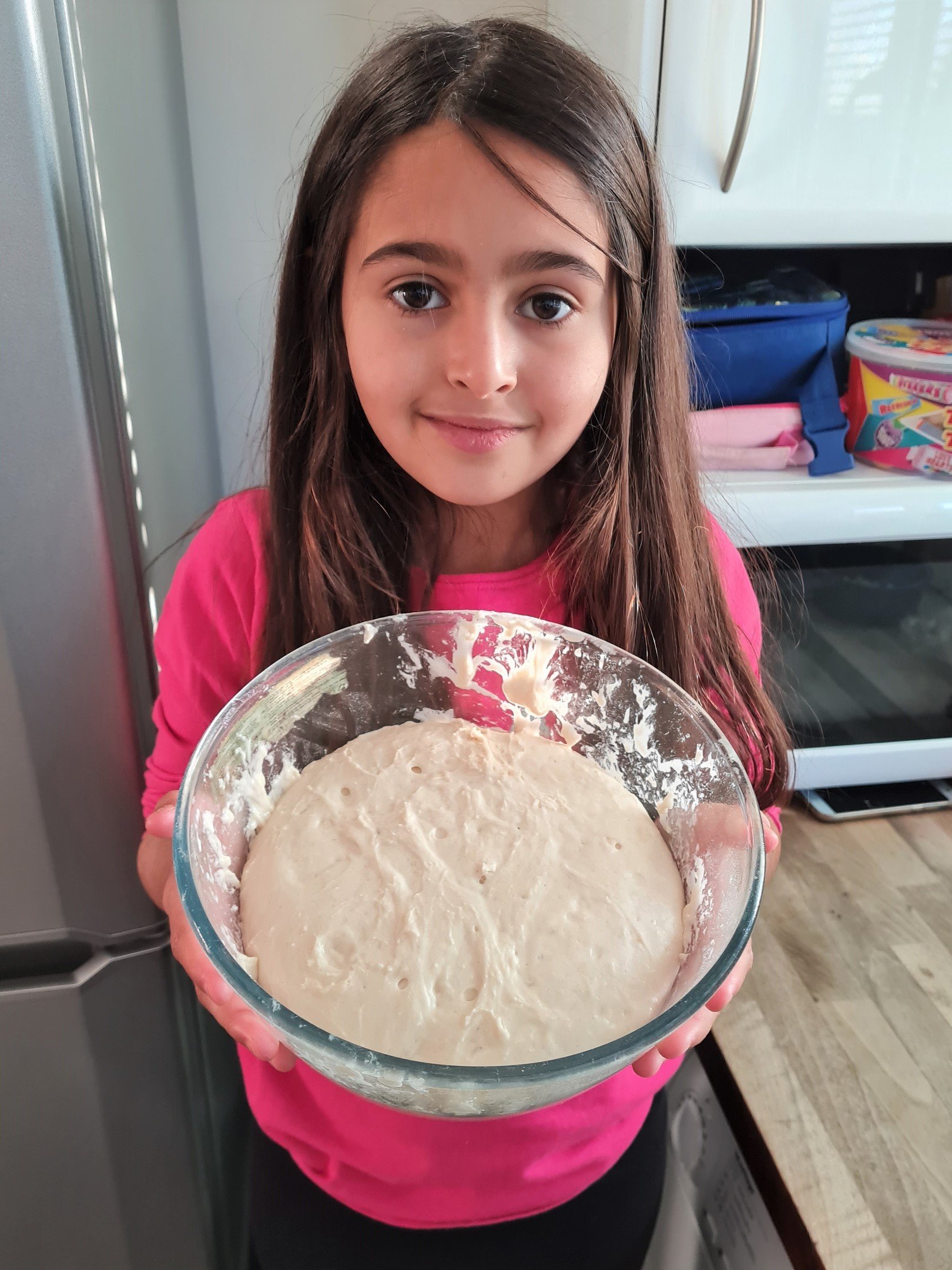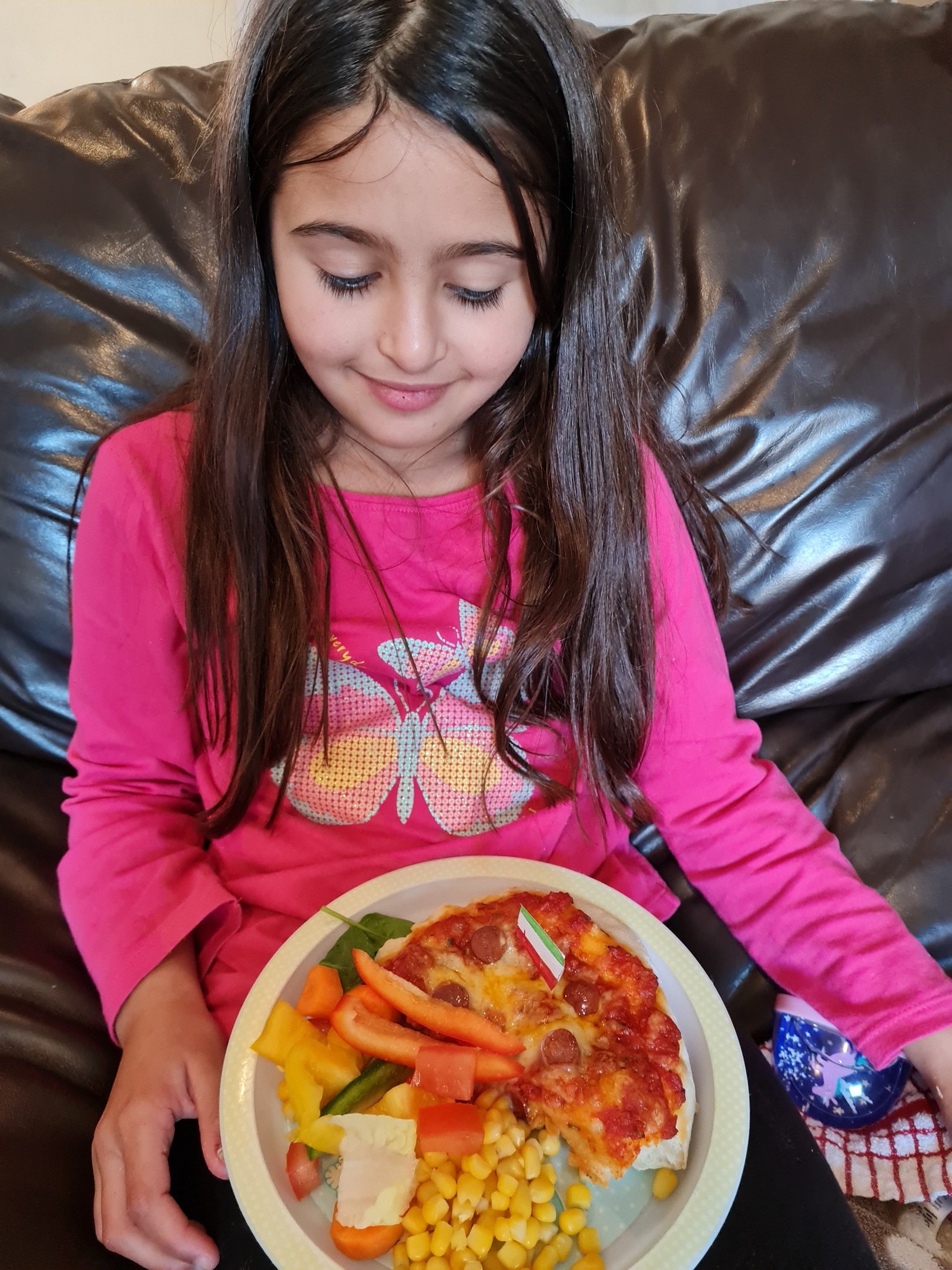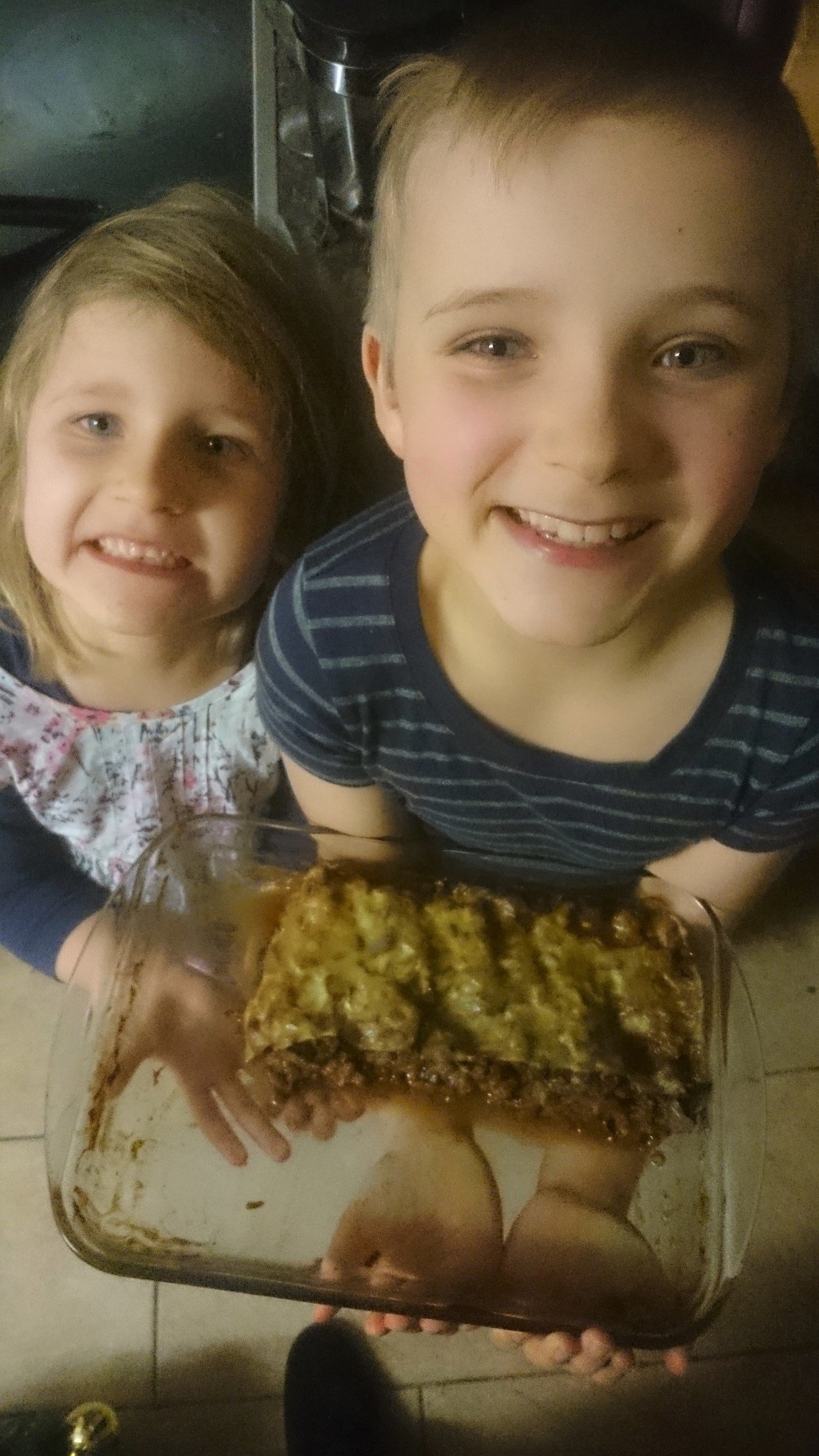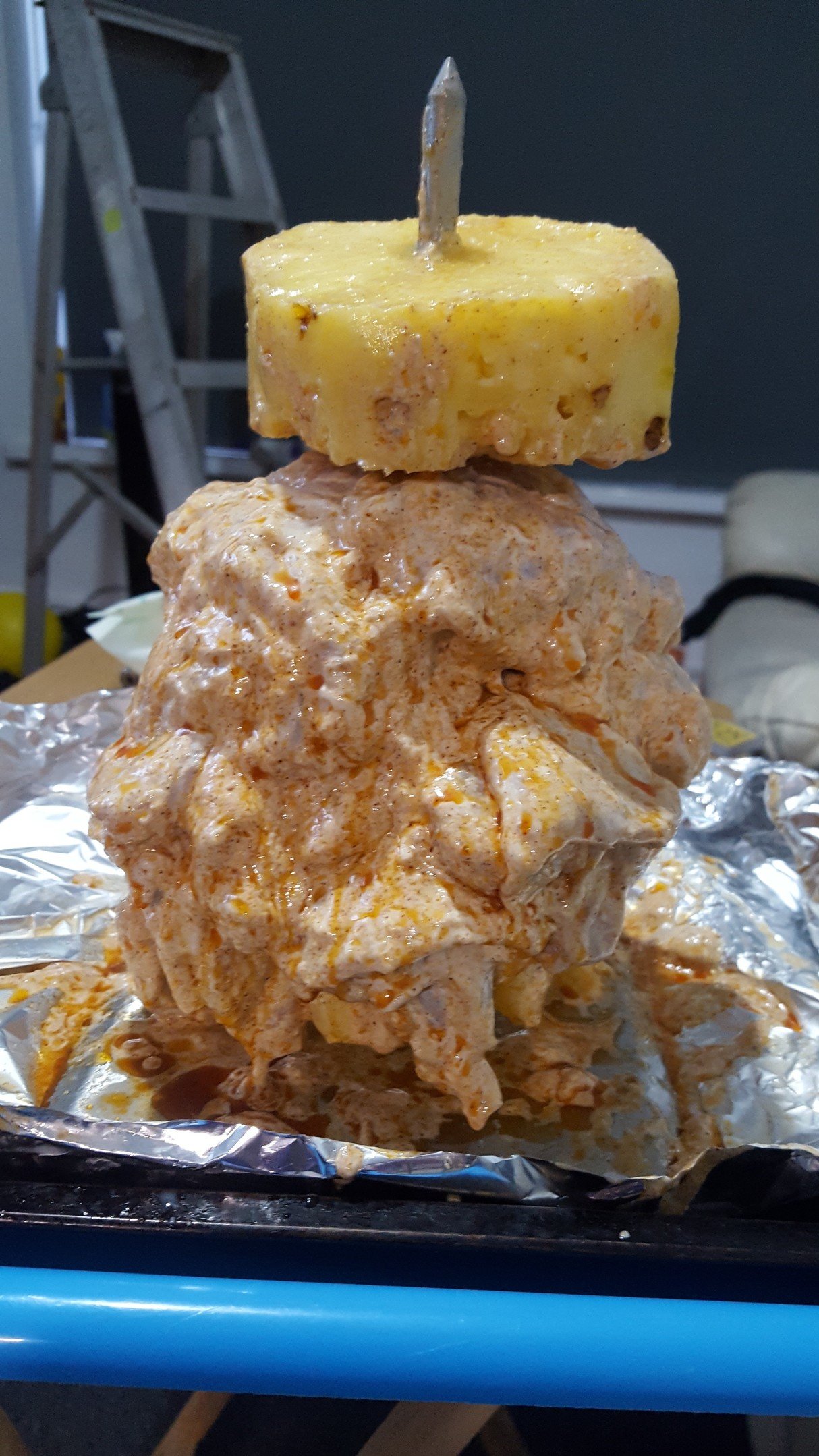 Amarachi has compiled an art portfolio as part of her learning at home. Here are a few of her pieces demonstrating the range of medium and different stimuli. We are so lucky to have so many talented pupils at St Joseph's!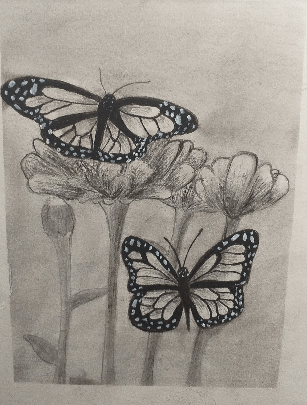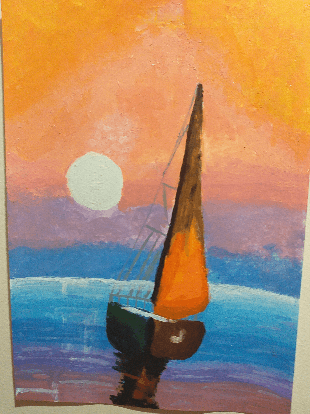 Chidera illustrates the story of Jesus' baptism and designs a new front cover for the book that Year 2 are reading, 'Pattan's Pumpkin'. Harvey practises his sounds and letters and Jeremiah practises counting in 2s.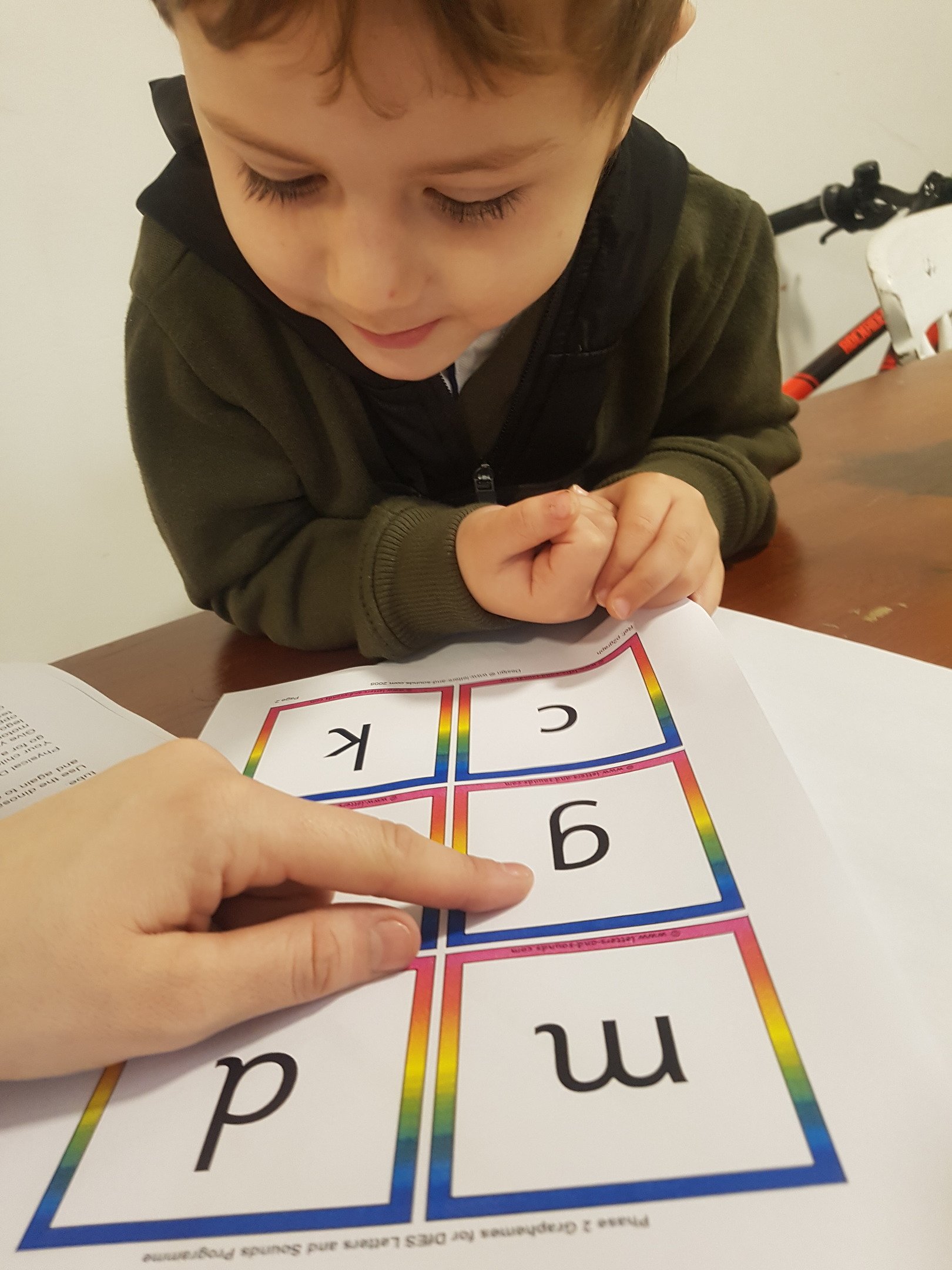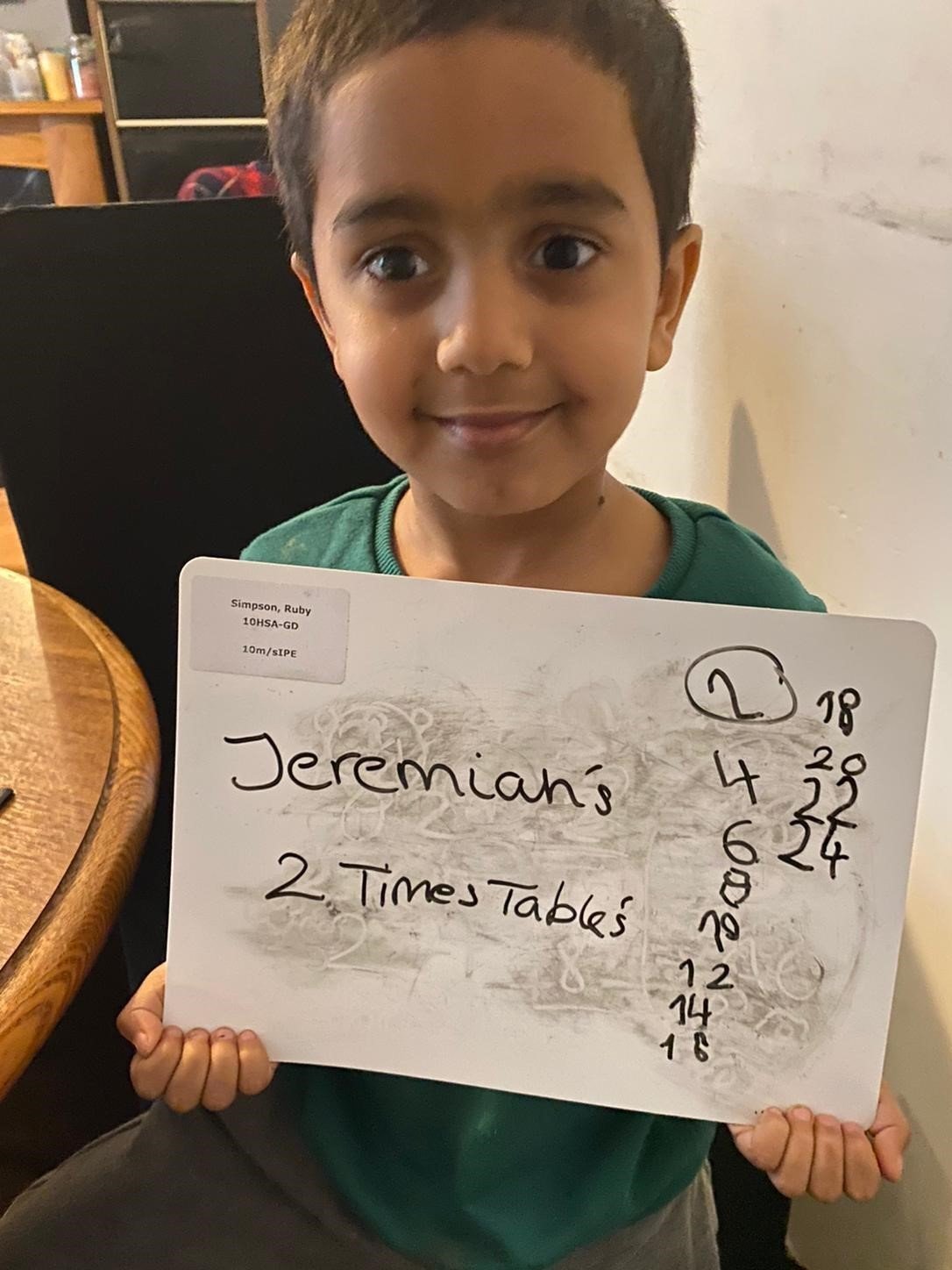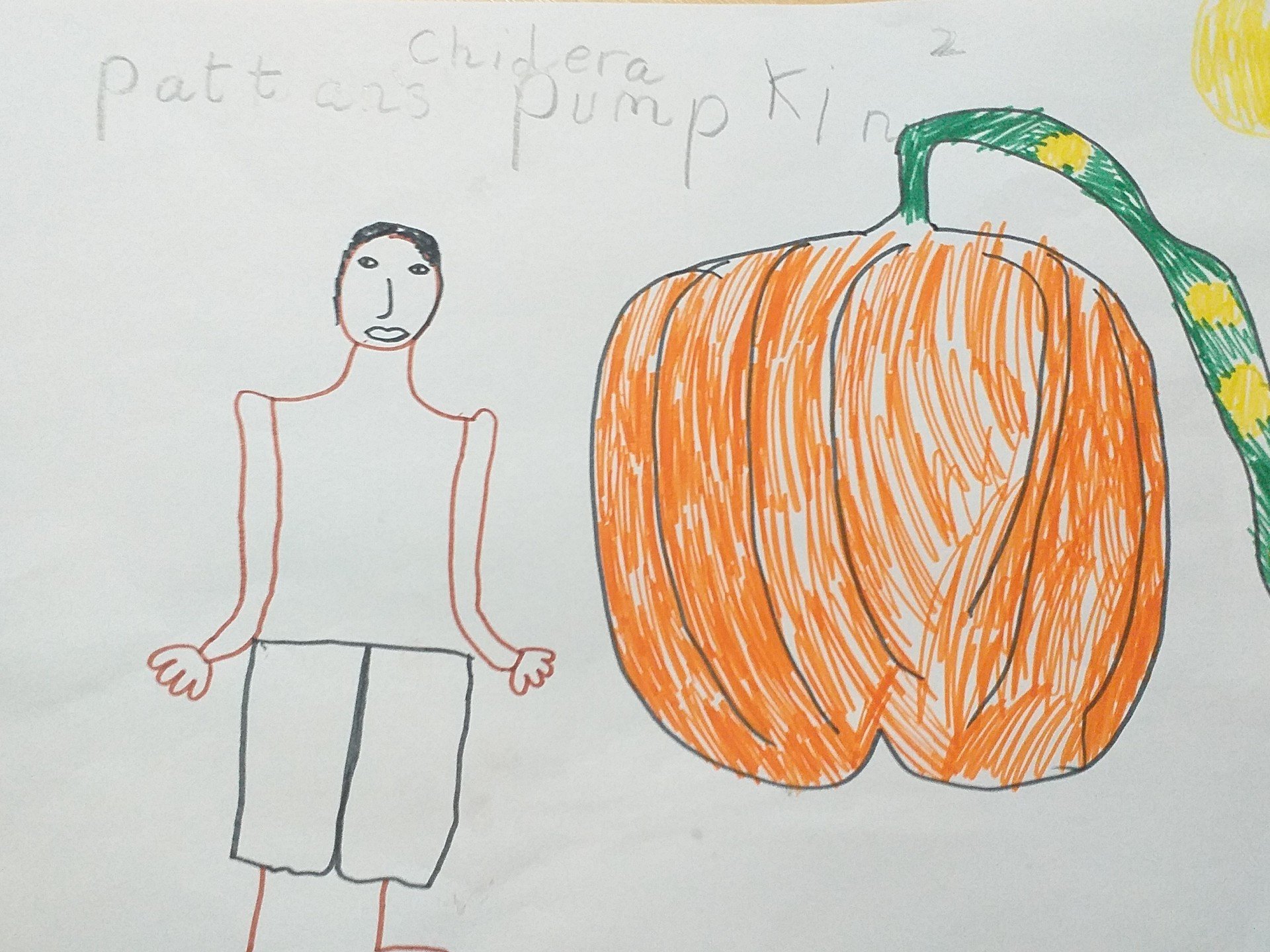 The Reception Class are doing lots of work based around the book, We're Going On a Bear Hunt'. Jasper has been out on his own bear hunt! Harry in Year 2 made a story box which he then used to retell the story 'Pattan's Pumpkin'.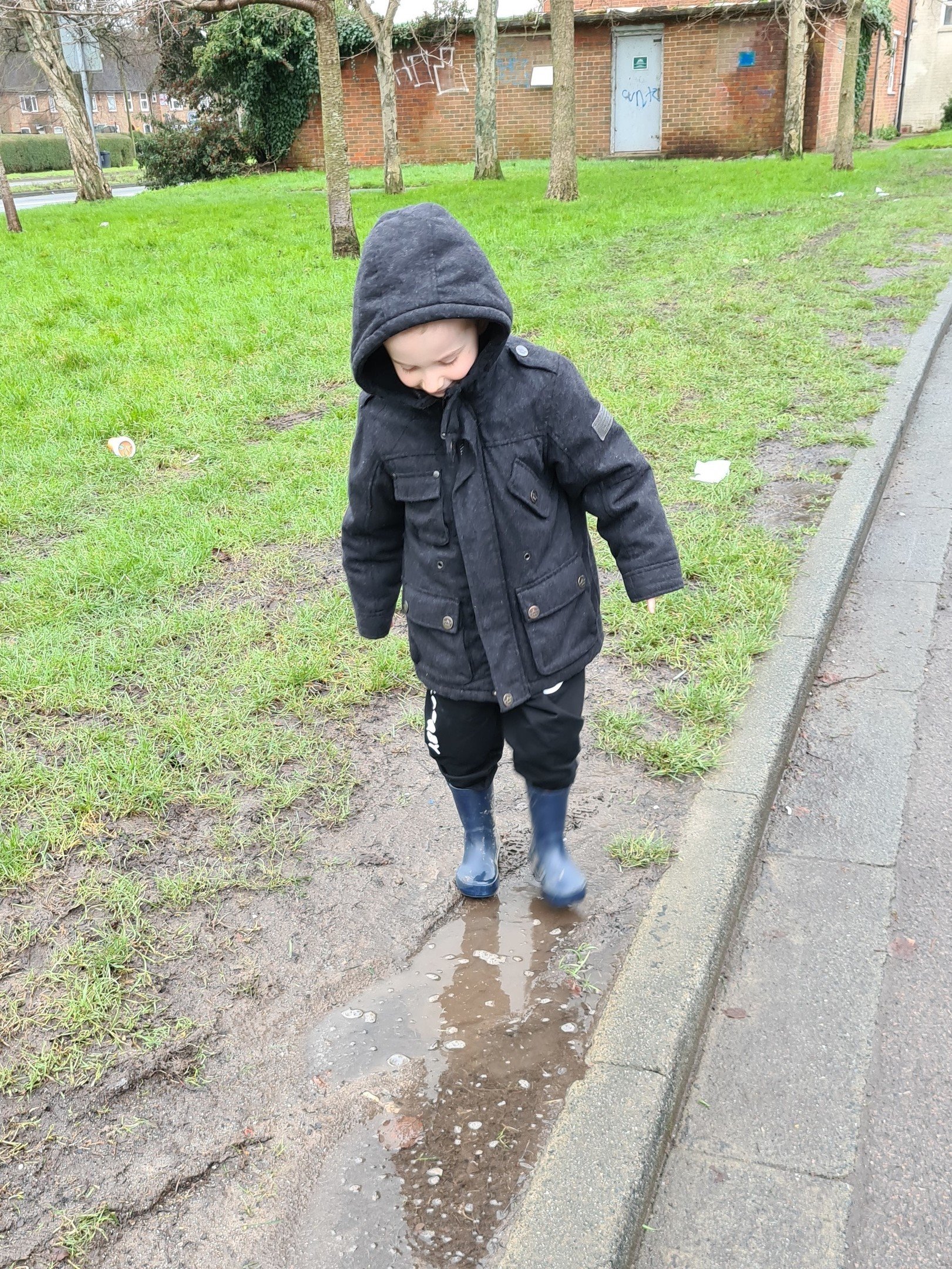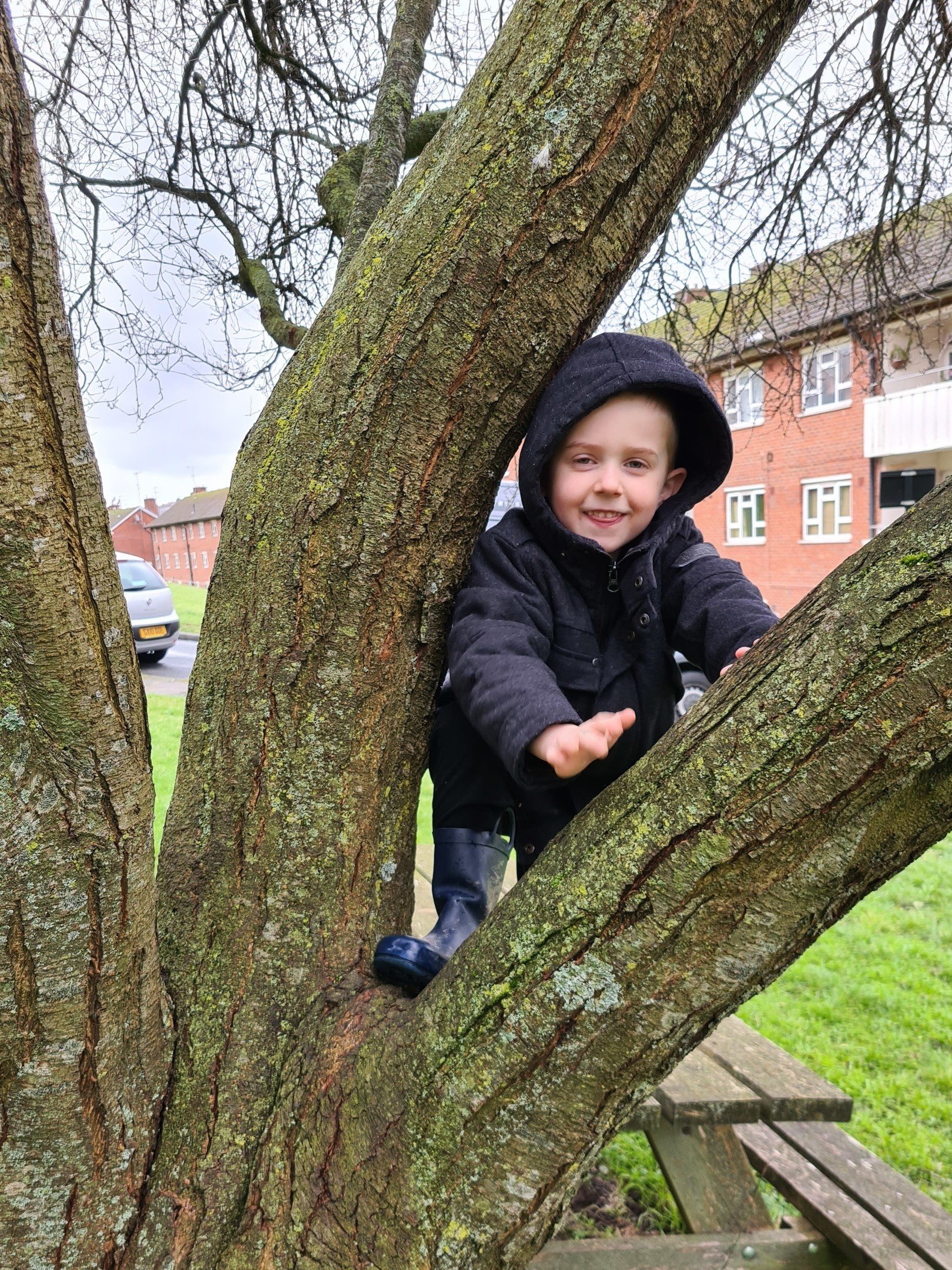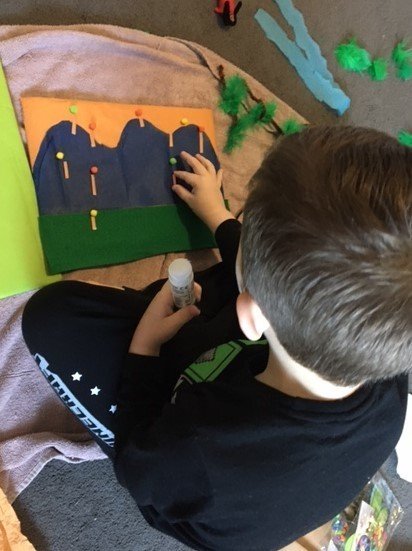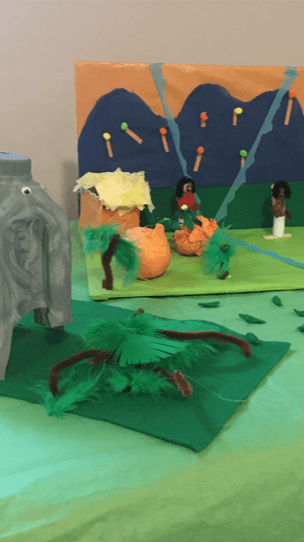 During a woodland walk on a sunny day, Kowen and family made this amazing shelter/den as part of Year 3's 'Extreme Survival' challenge. Emellia makes her den indoors. She also helps sister Faustina to make a volcano model. During a walk in the woods, Emellia took these pictures of tree roots which look like dinosaur feet!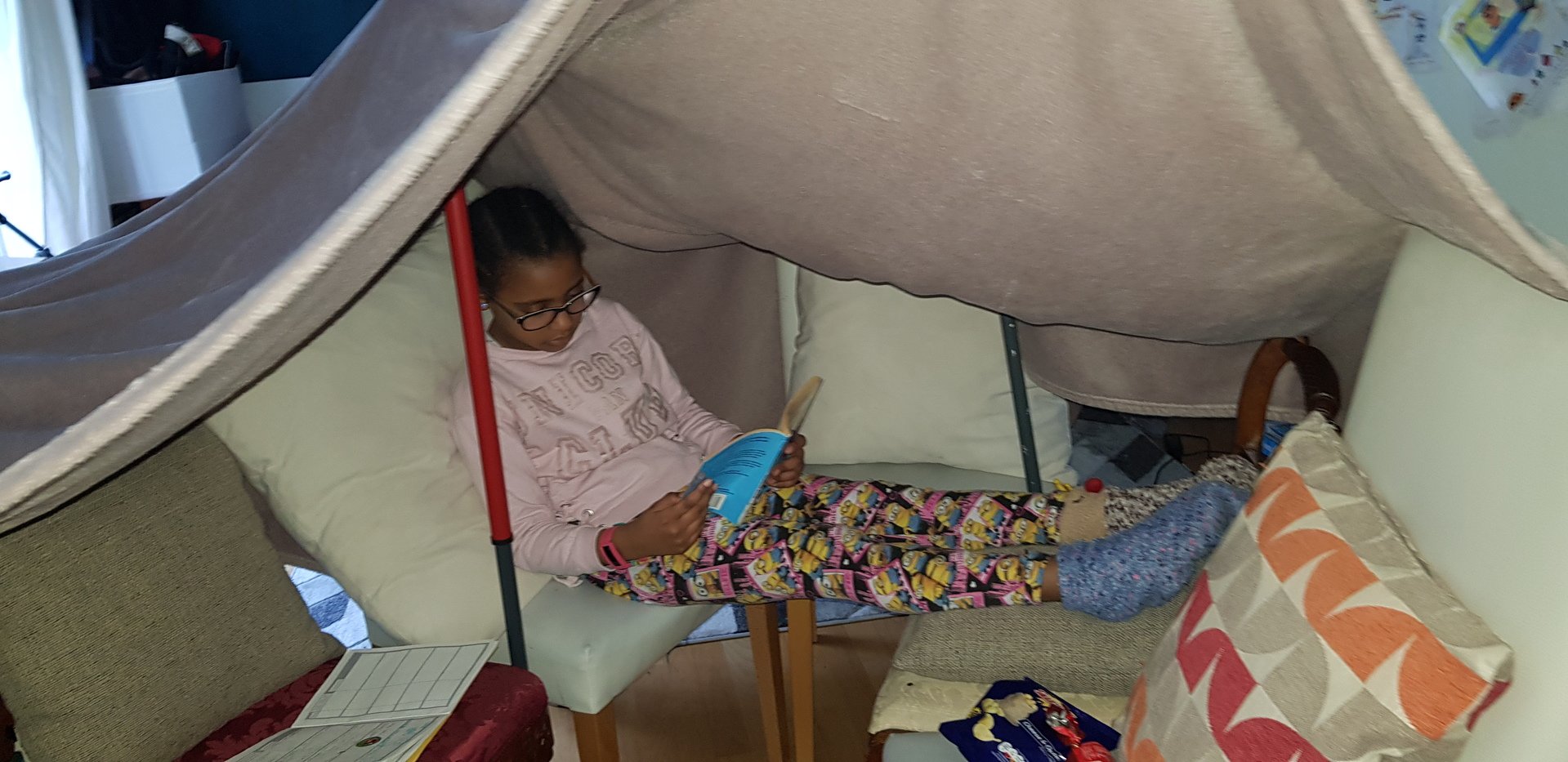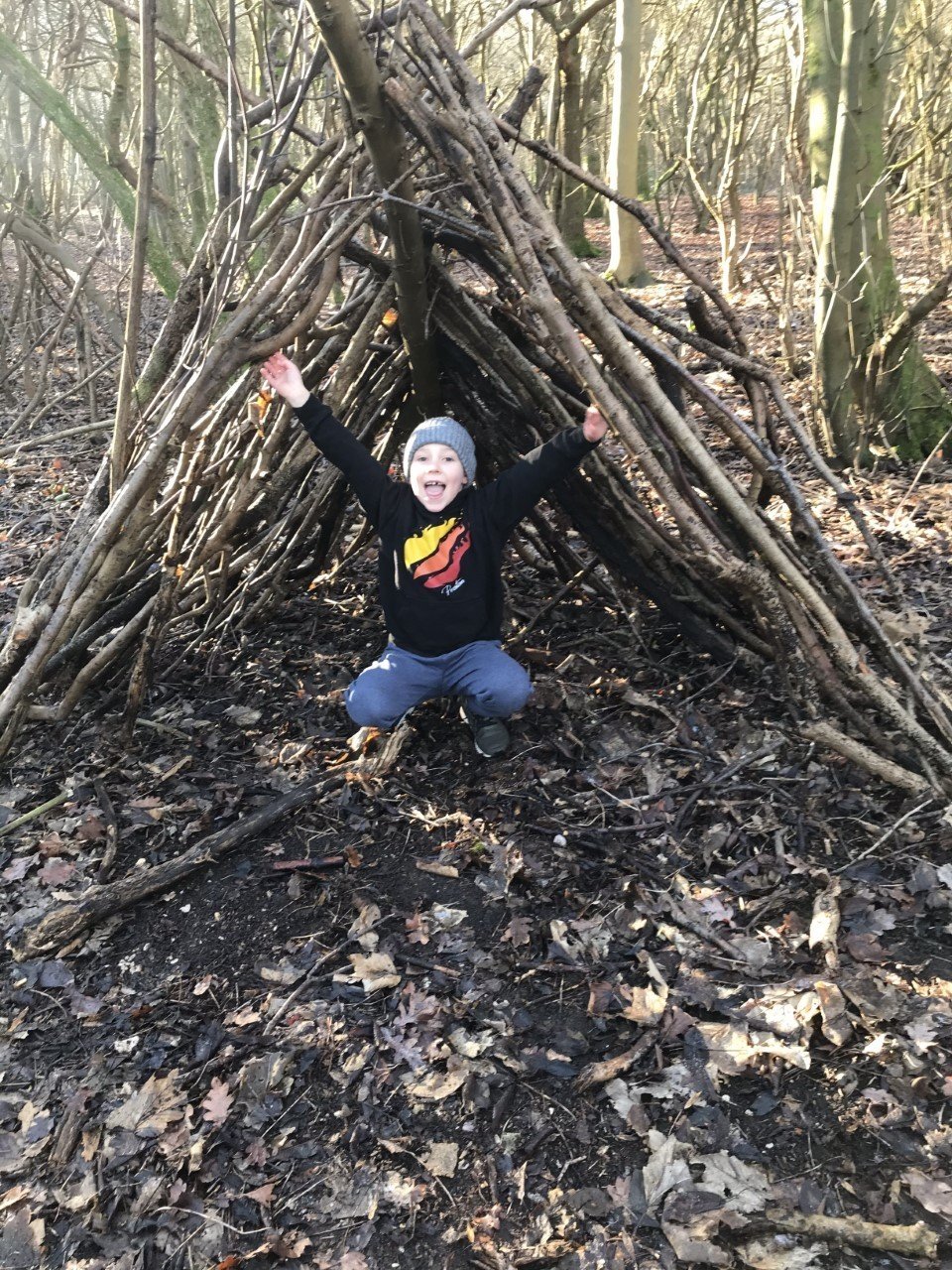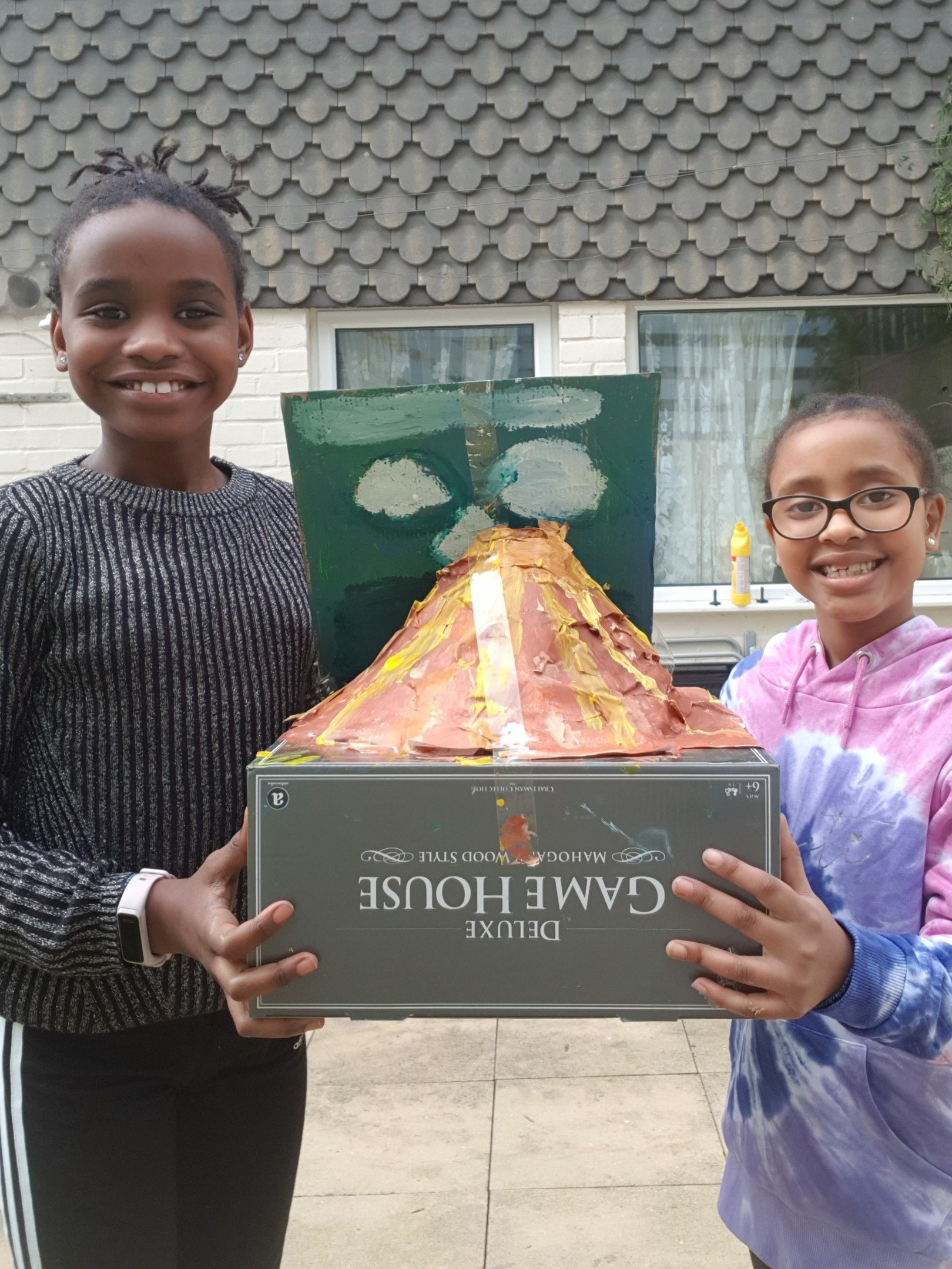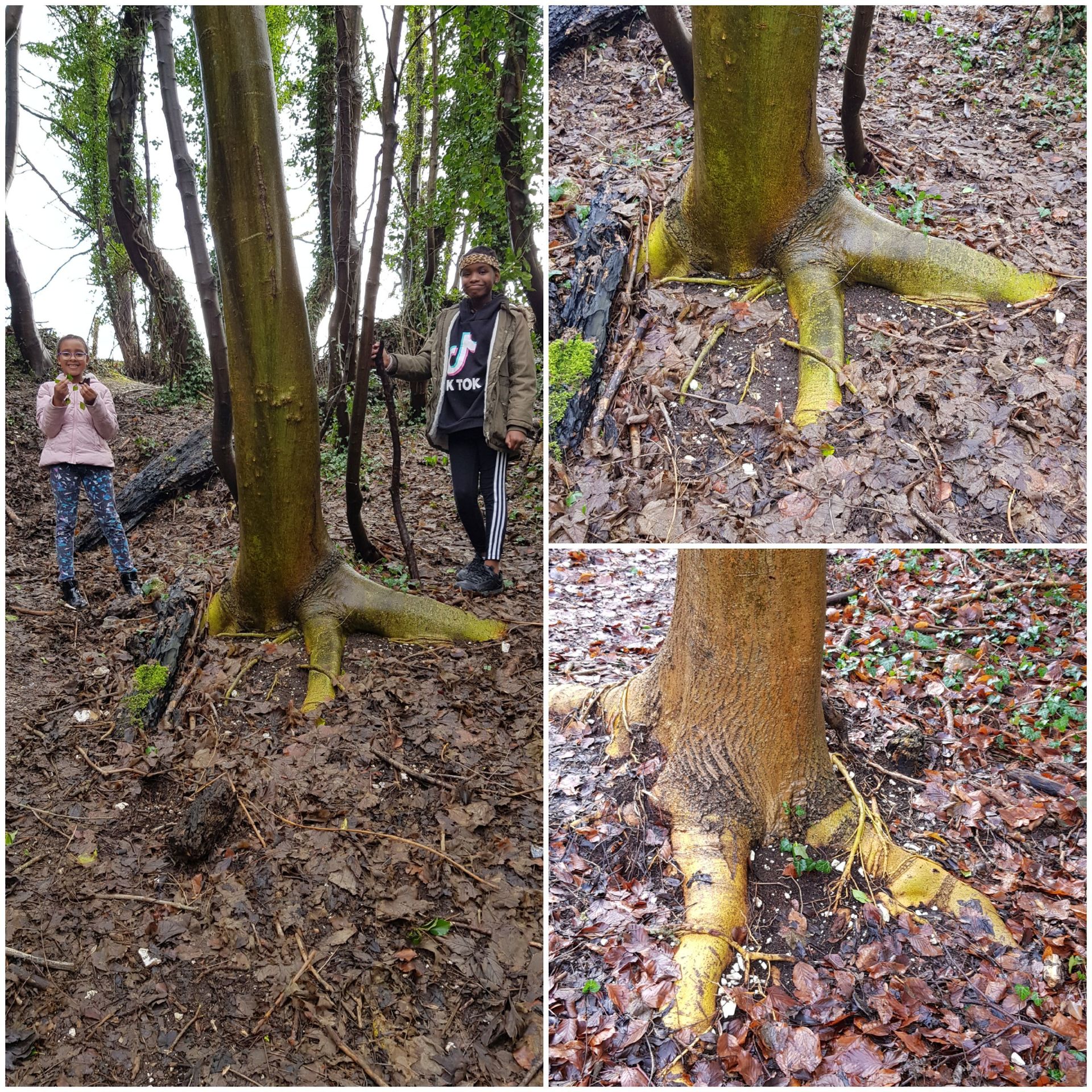 Hirwa uses vinegar and baking soda to create a chemical reaction and make his volcano erupt! Sonny plays some word games, Jeremiah settles down to the day's home learning tasks and Harry uses an atlas to locate India and find out about the continent it is part of.
A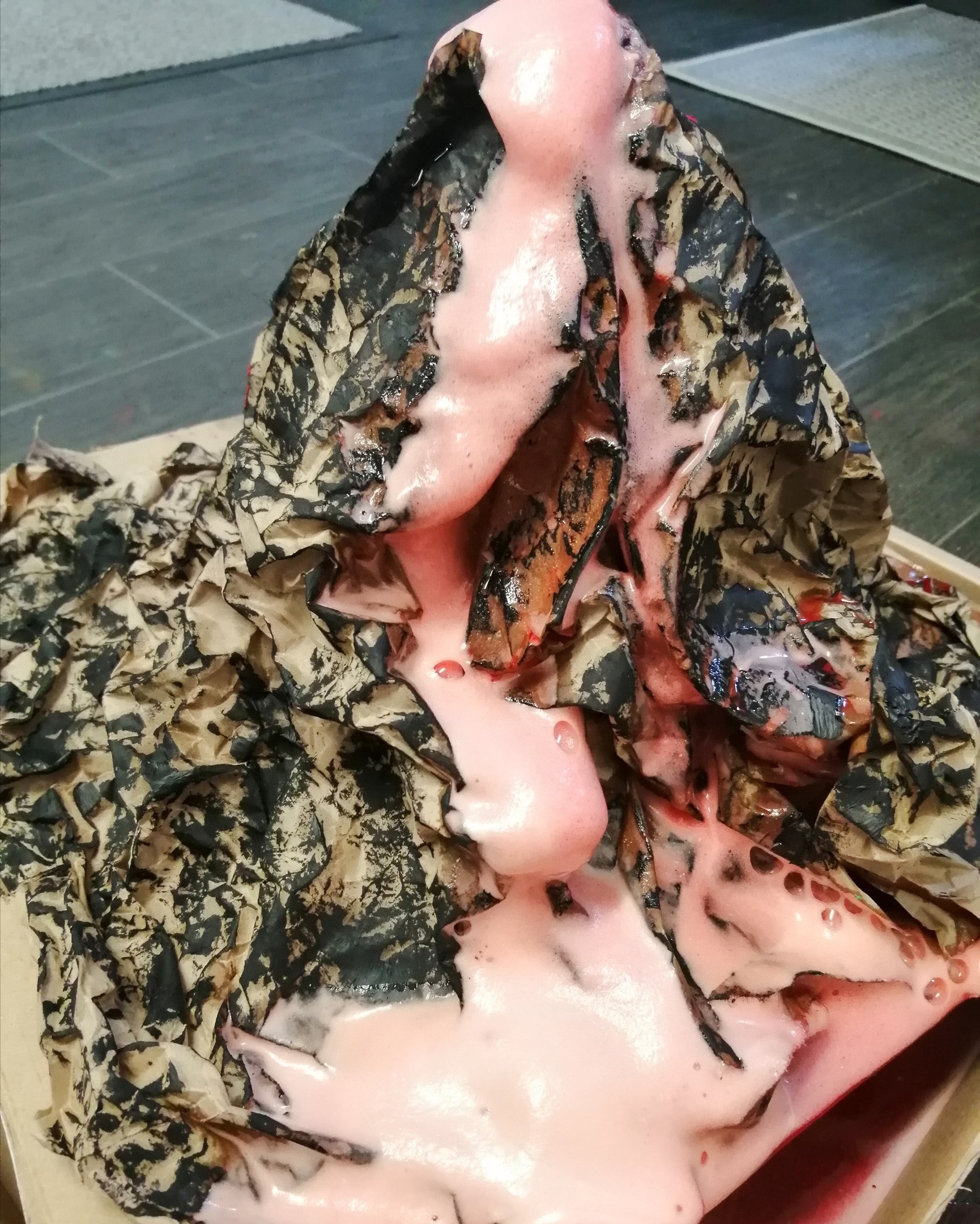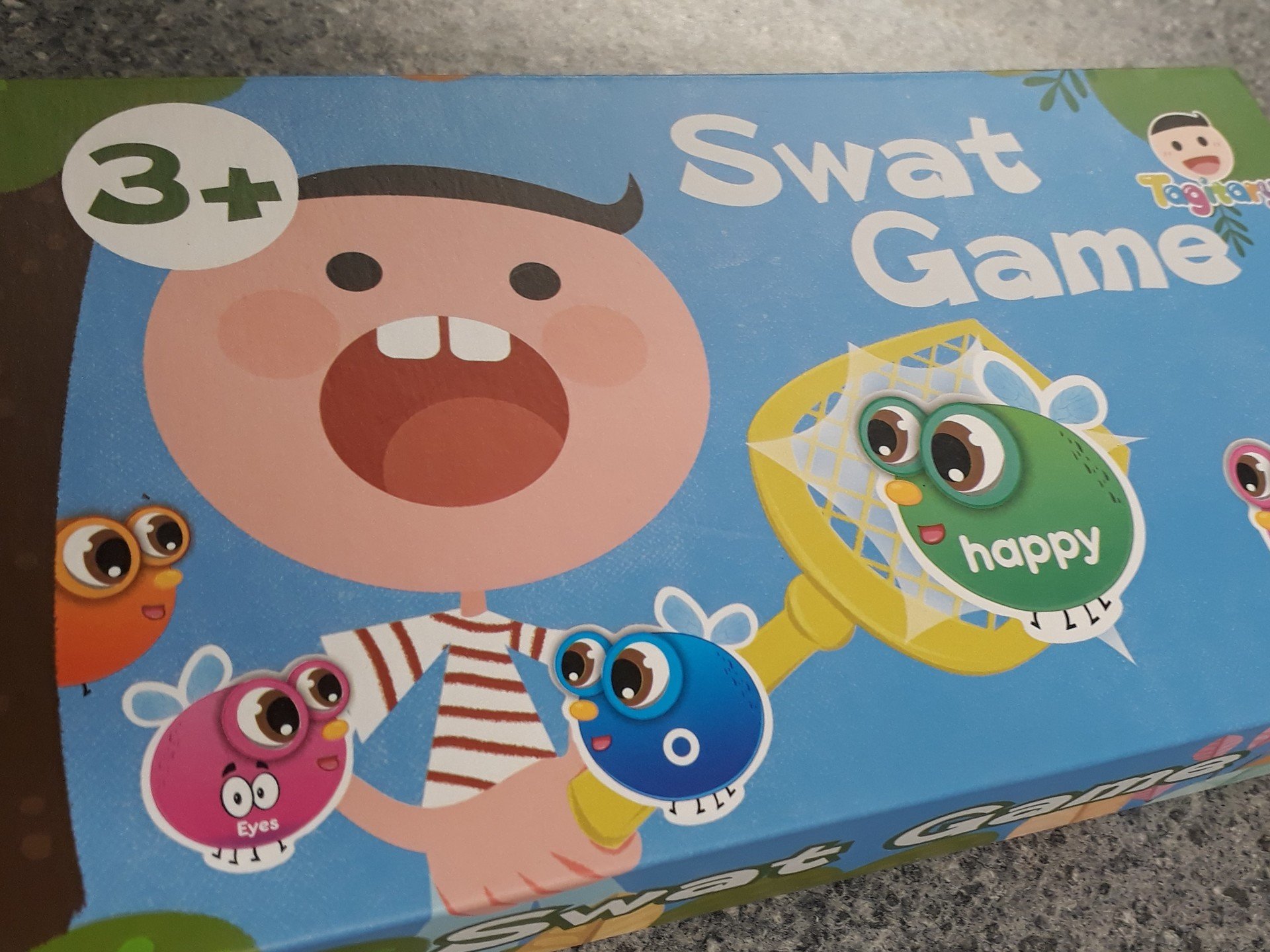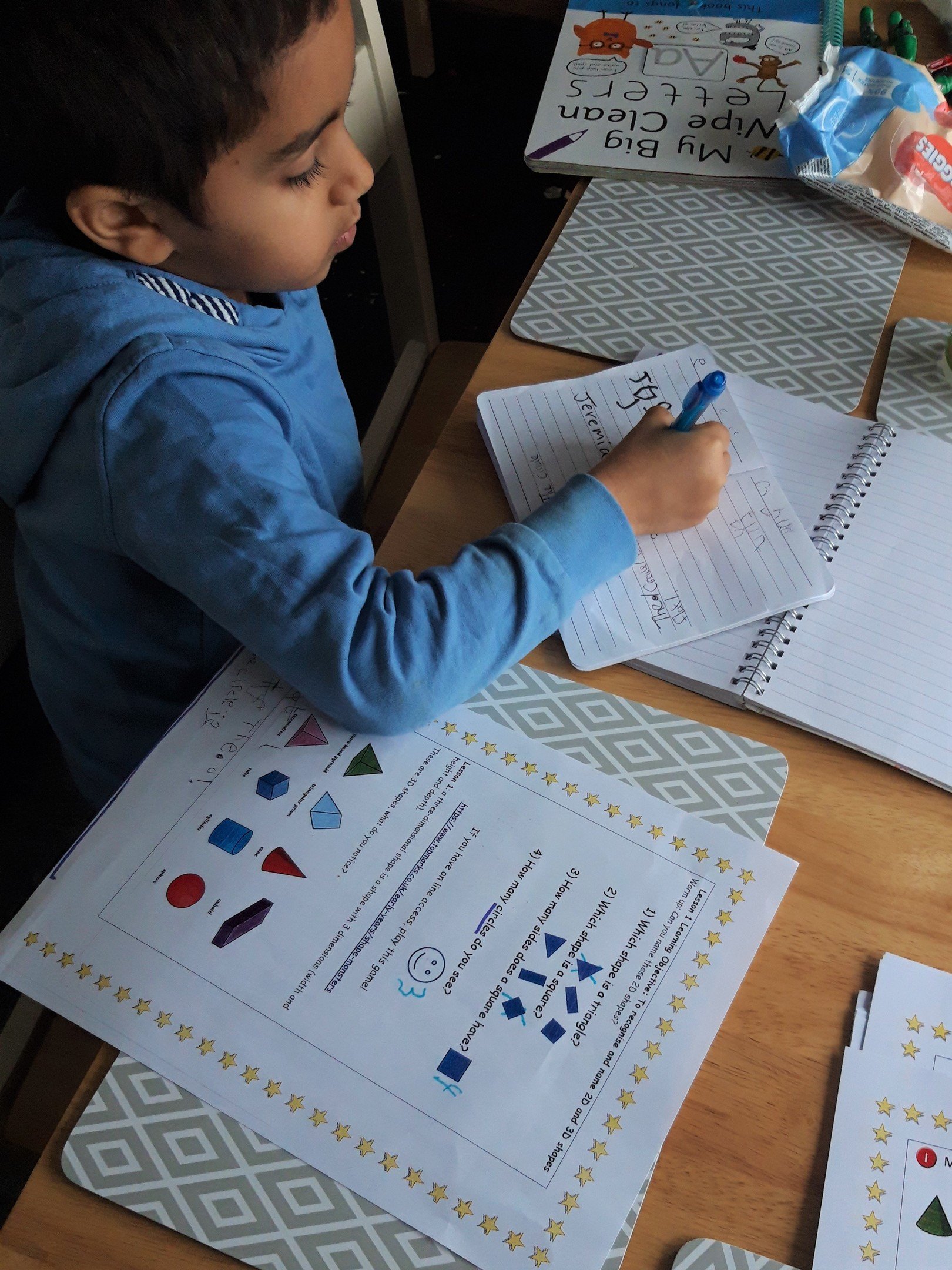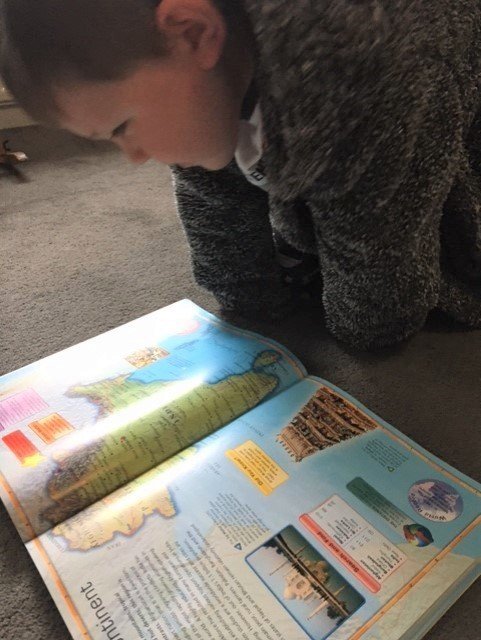 Amarachi uses pencil shading techniques in her line drawing of a volcano, Akshar retells 'We're Going On a Bear Hunt' through a story map, Isabella explores lines and patterns and Brandon finds out about Cinder Cone Volcanoes.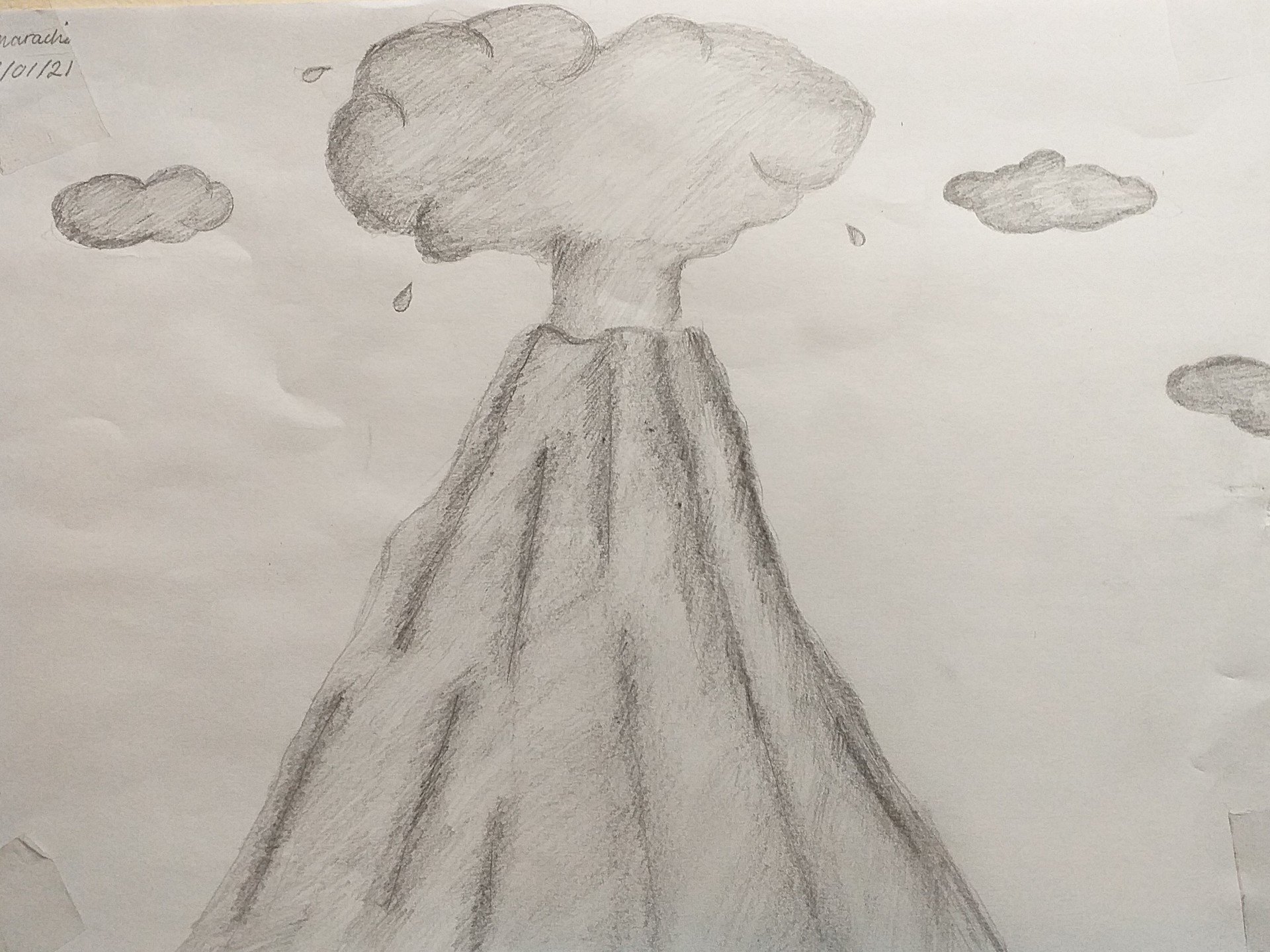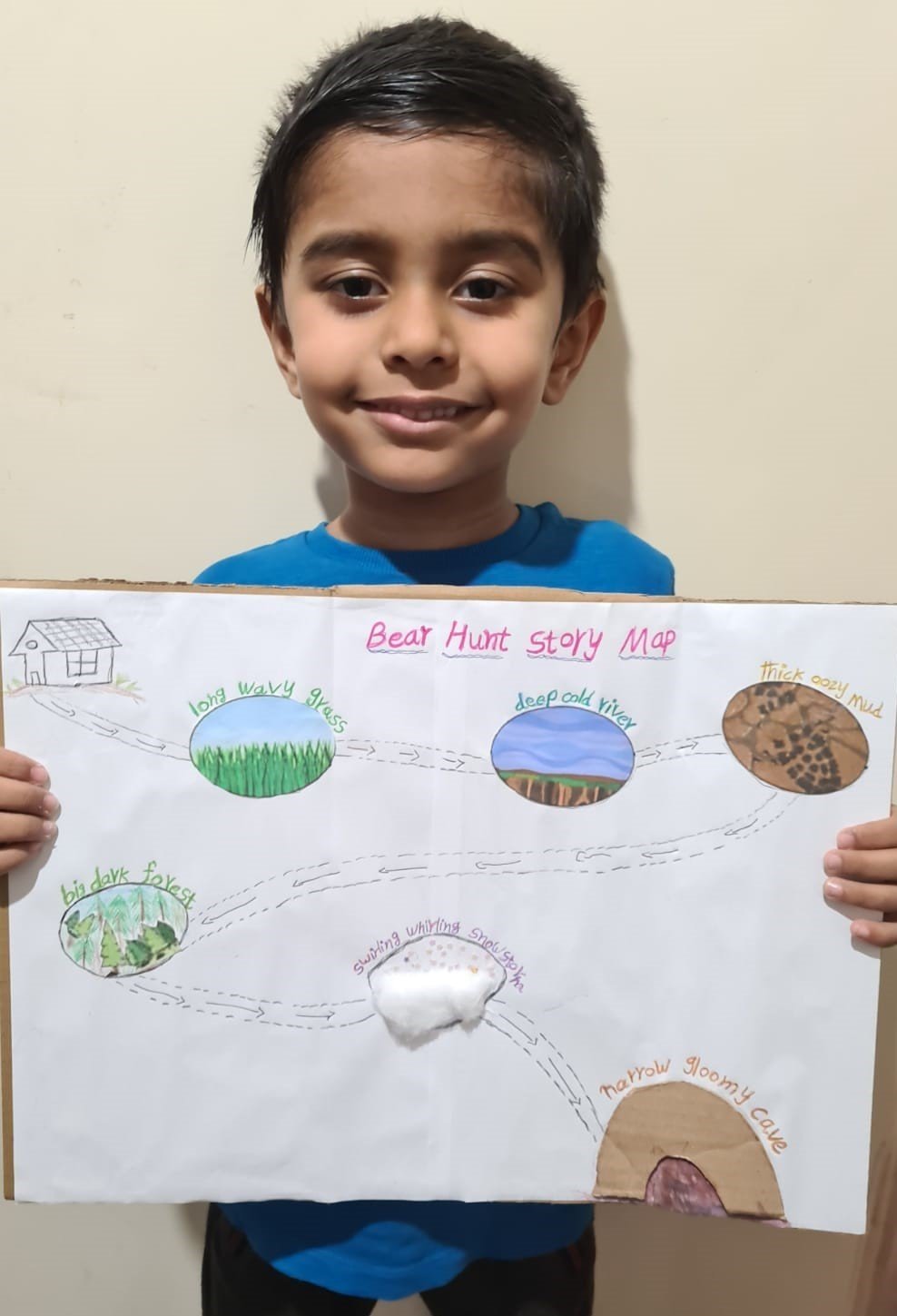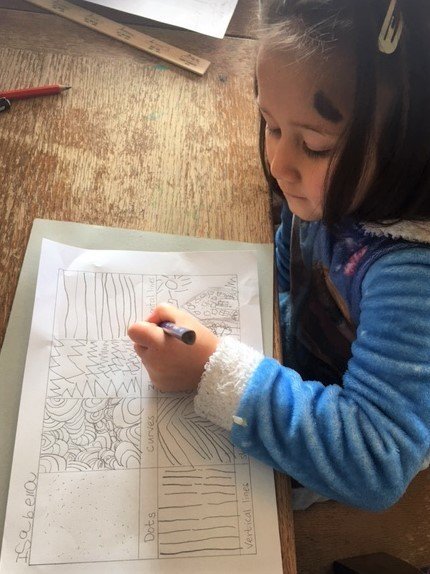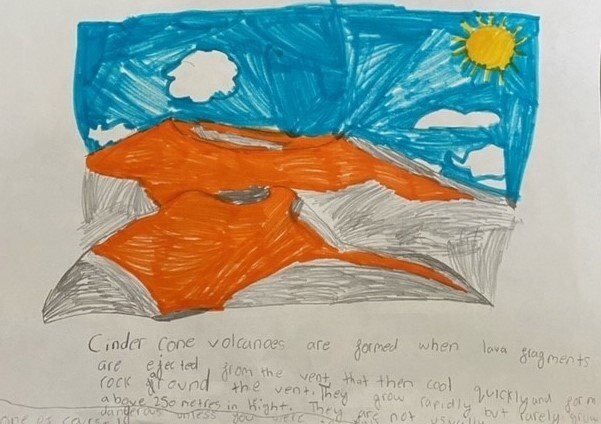 Thank you all again for your hard work with your remote learning this week. As you can see from these wonderful pictures, children and parents and carers - you are doing an amazing job in difficult circumstances.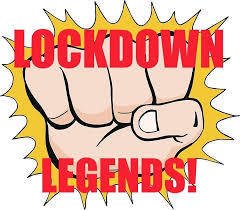 The class teachers have had a very difficult job in selecting 'Lockdown Legends' from their classes for their work at home during January. You are all working brilliantly - thank you for your commitment, enthusiasm, creativity and determination. These are the 'Lockdown Legends' chosen by the class teachers for January - who will all receive a Head Teacher award.
Reception - Eira and Jasper, Year 1 - Jeremiah and Jessie-Rose, Year 2 - Harry, Wiktor and Luca, Year 3 - George, Junior and Aleka, Year 4 - Ruby and Mark, Year 5 - Rashid and Scarlett and Year 6 - Lola and Brandon.
Well done everyone - keep up the good work and we look forward to seeing what you have been up to next week.
Stay safe and take care.
Remote Learning - Week 3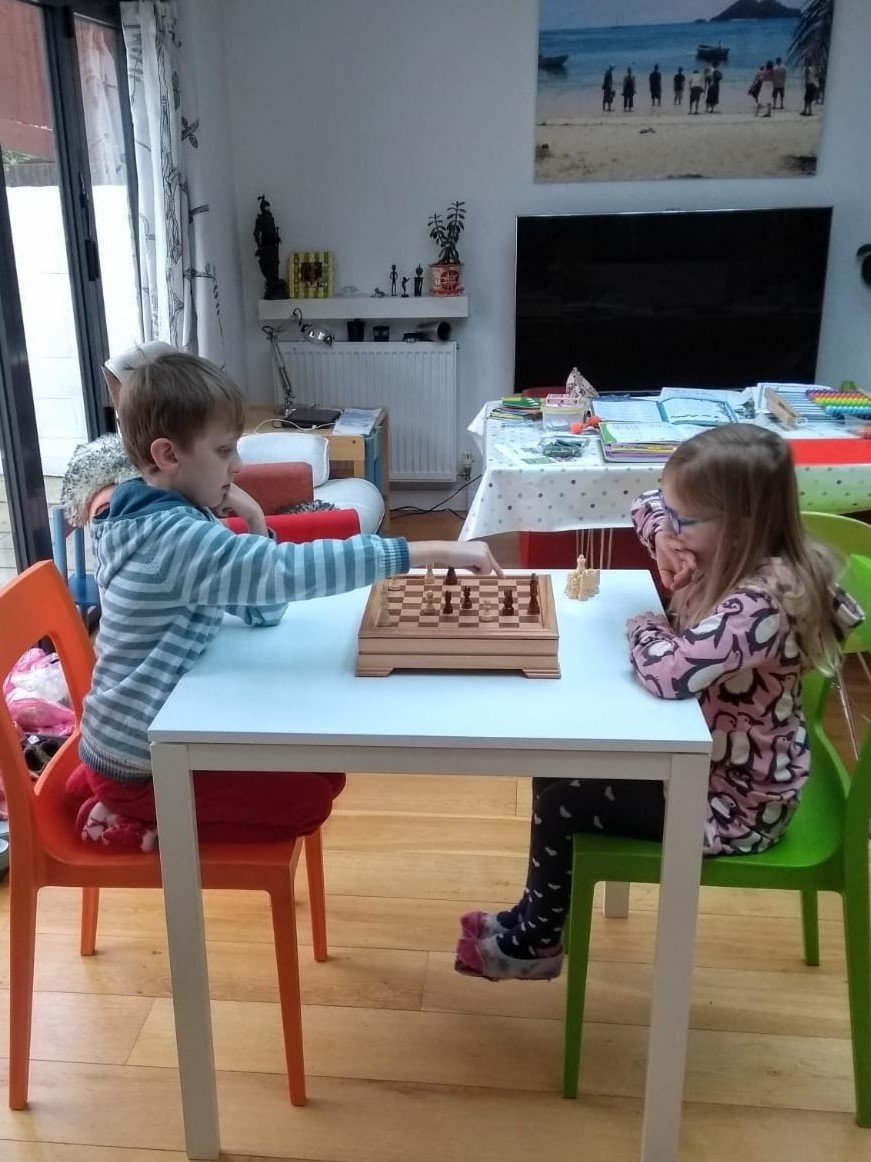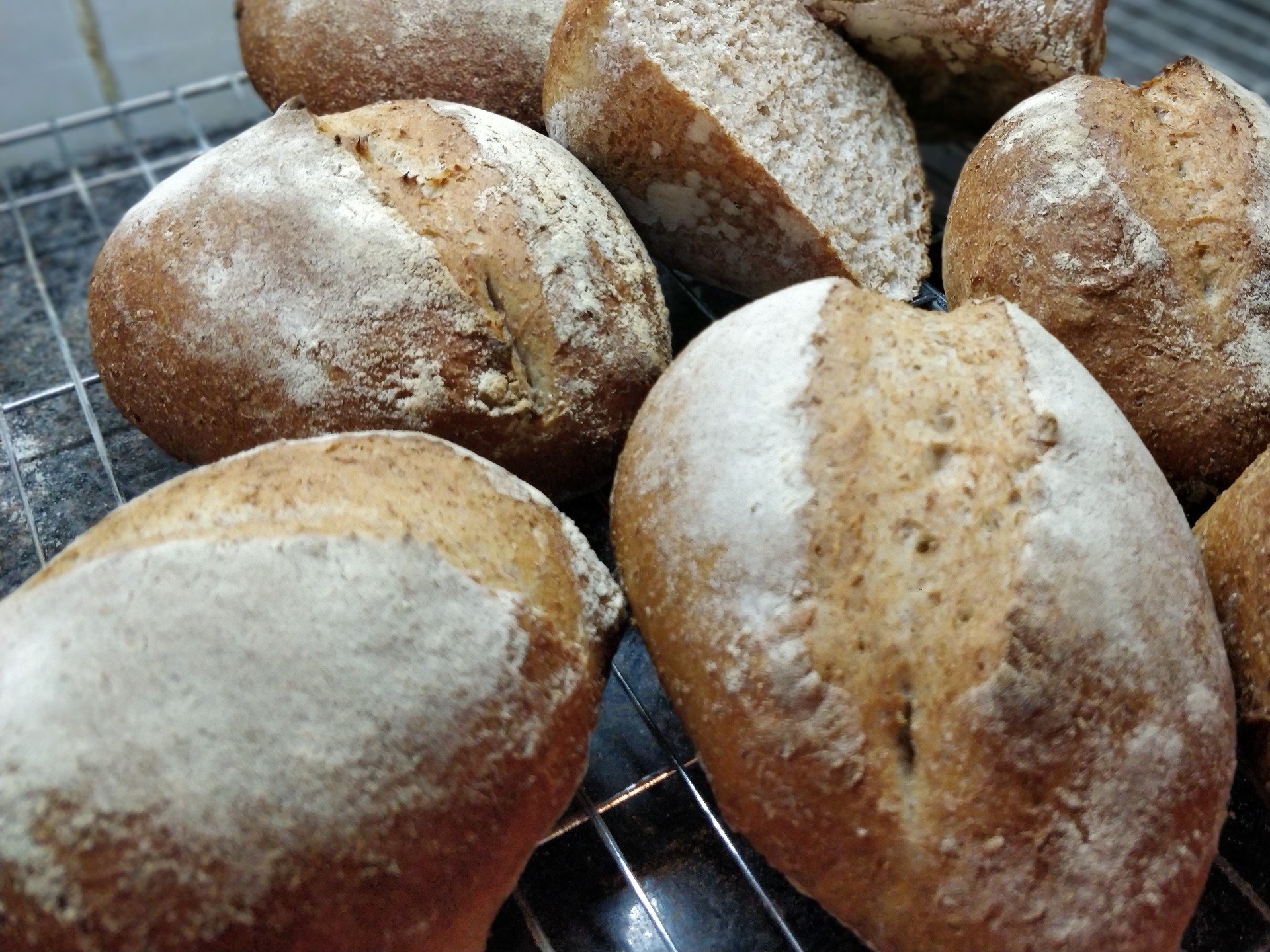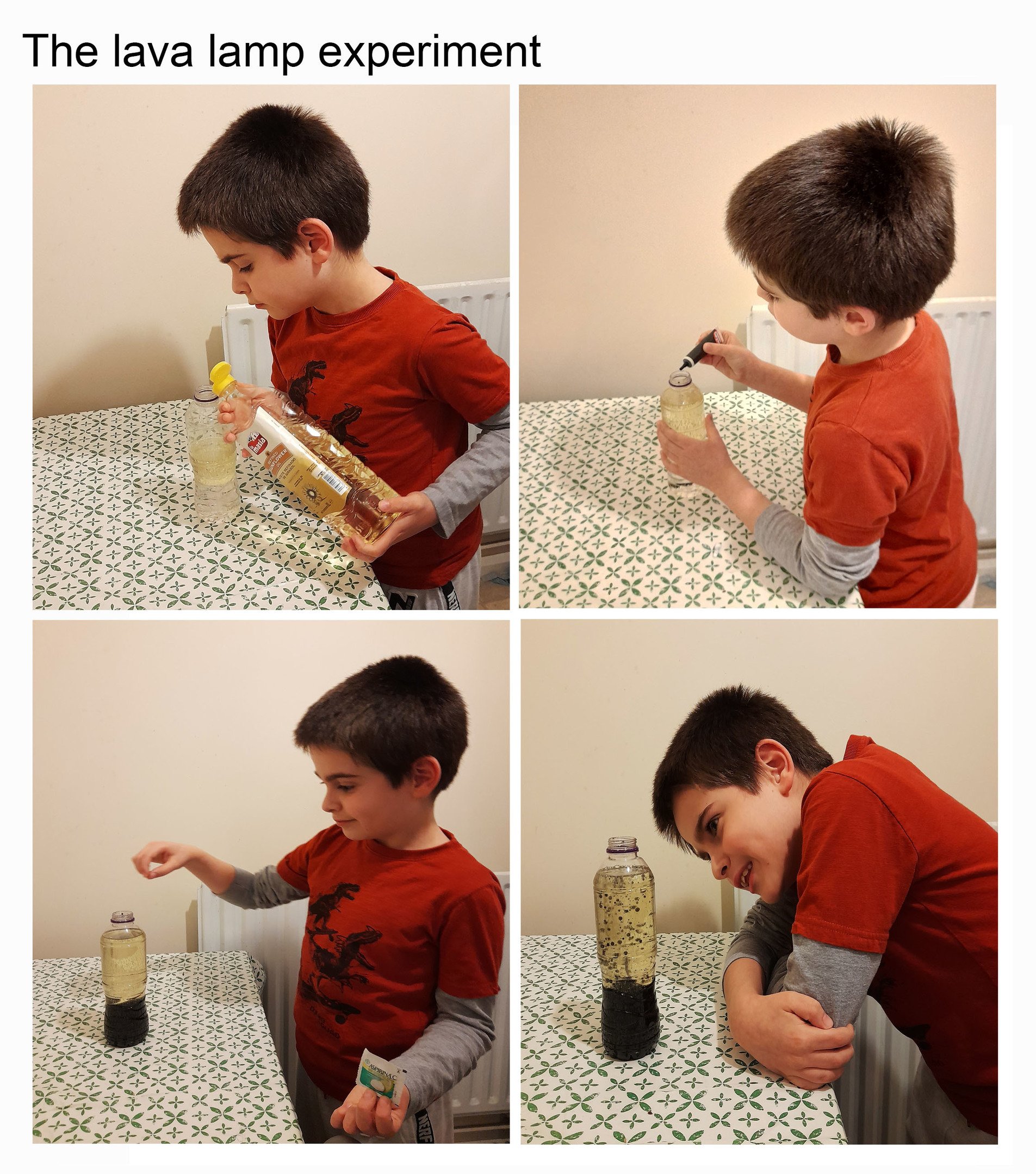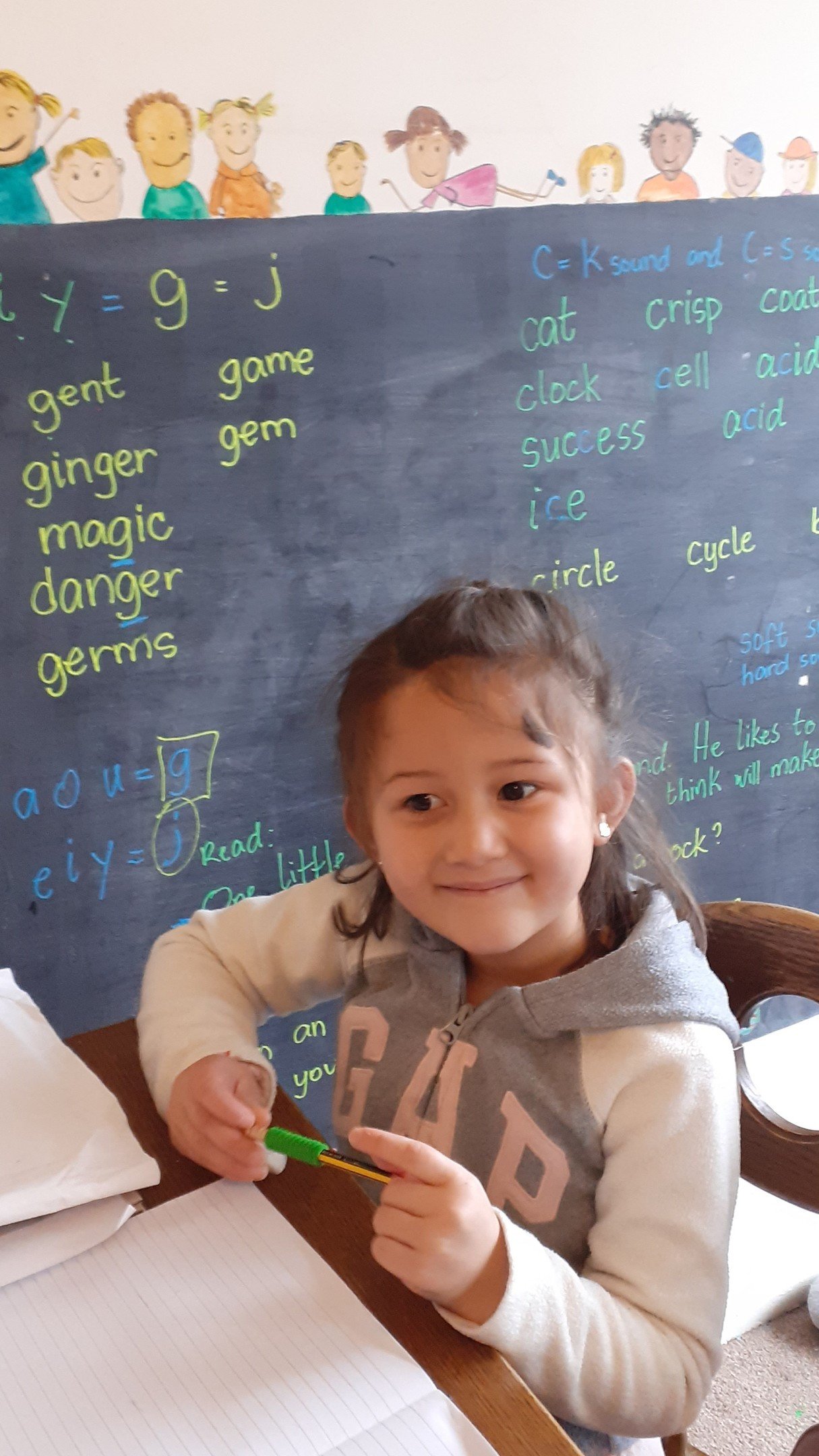 Julian and Audrey play a game of chess, Aleka learns how to make bread, Andre makes his own lava lamp and Isabella settles into the routine of learning at home.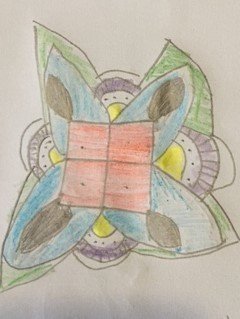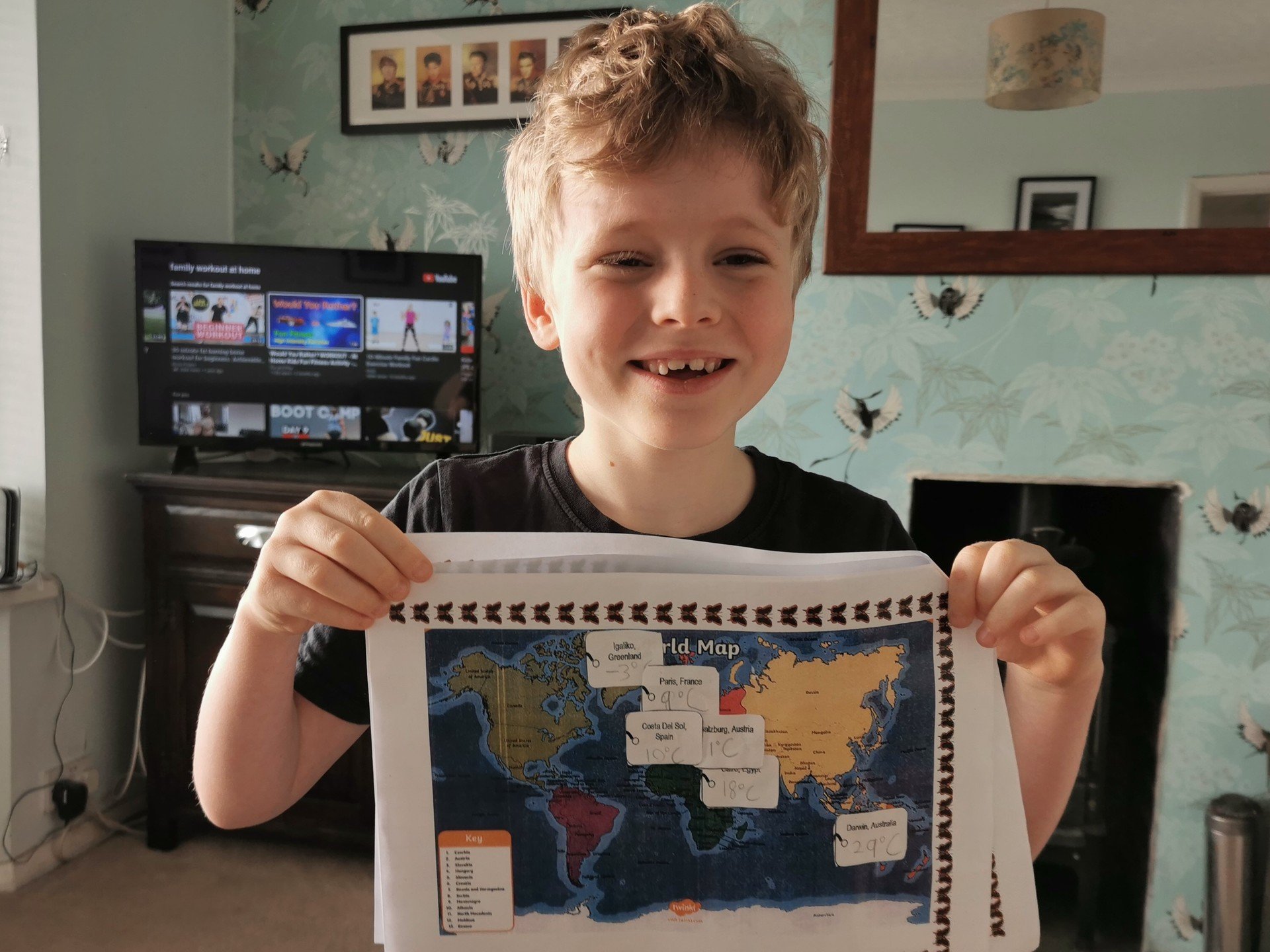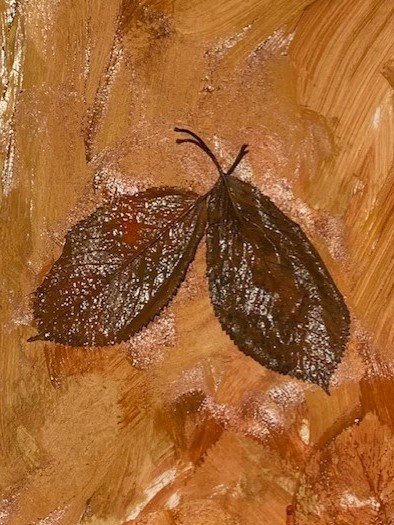 Harry draws his own Rangoli pattern, Finn finds out about temperatures around the world, Freddie makes a castle and Luca demonstrates camouflage and layering up art techniques learned in school.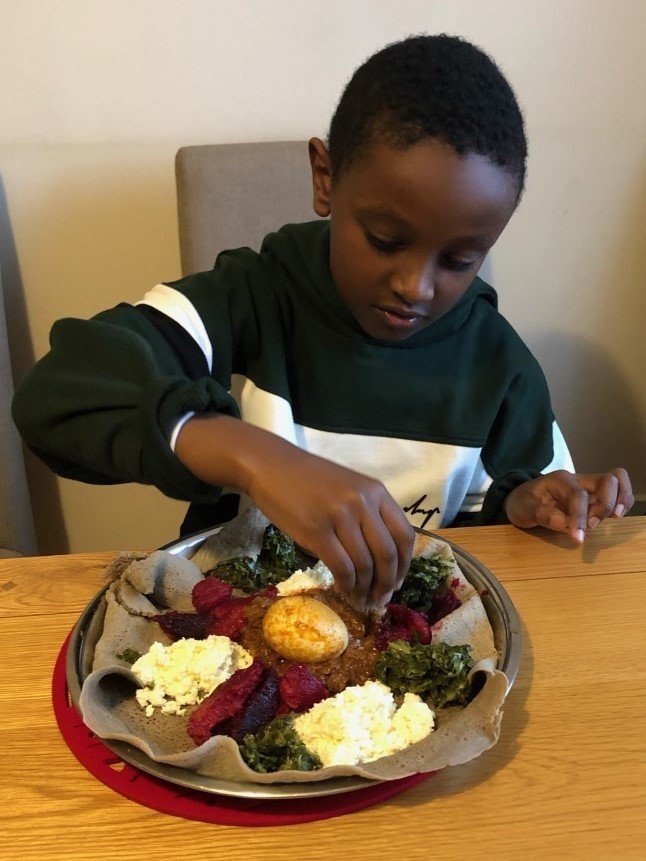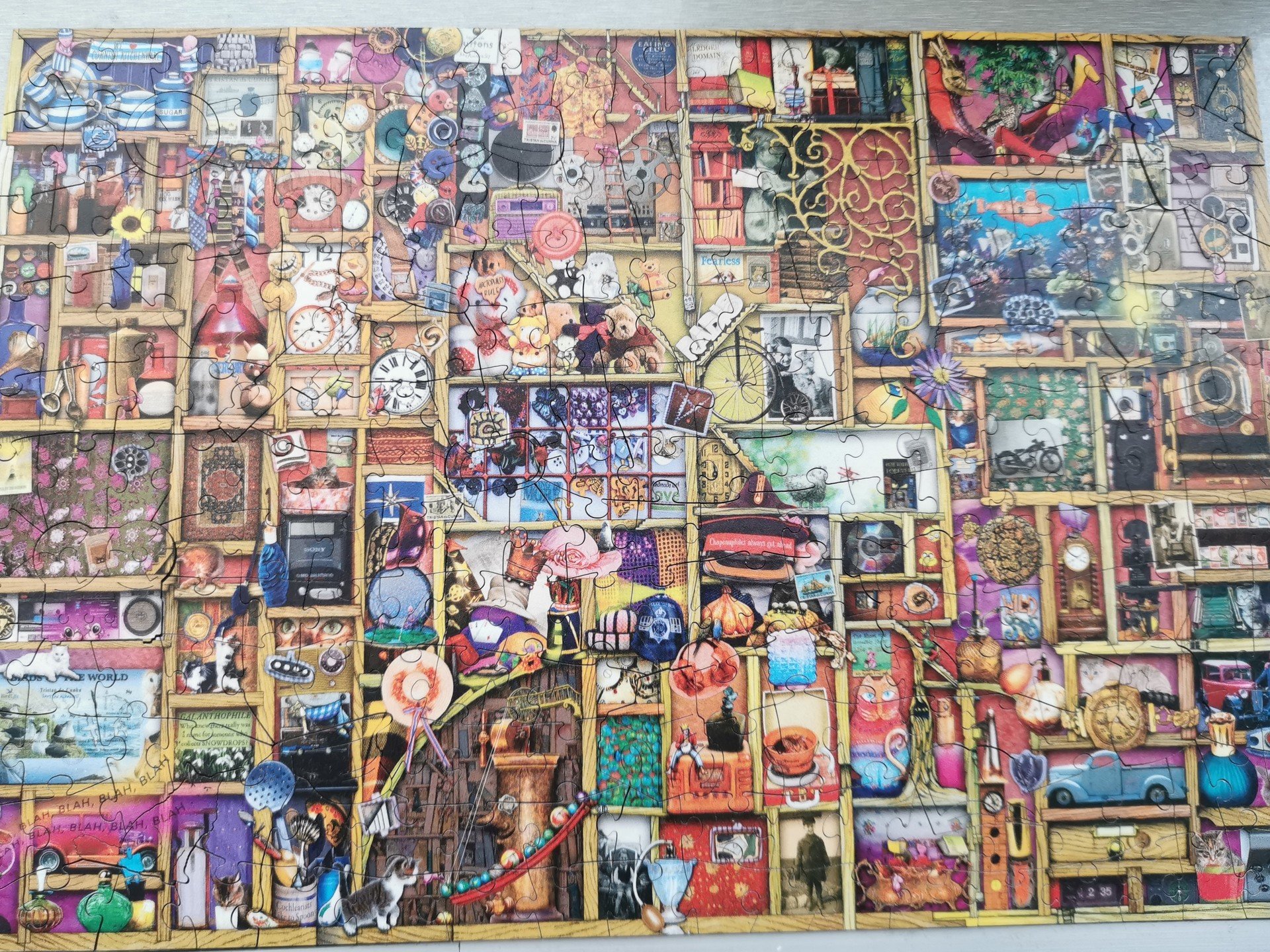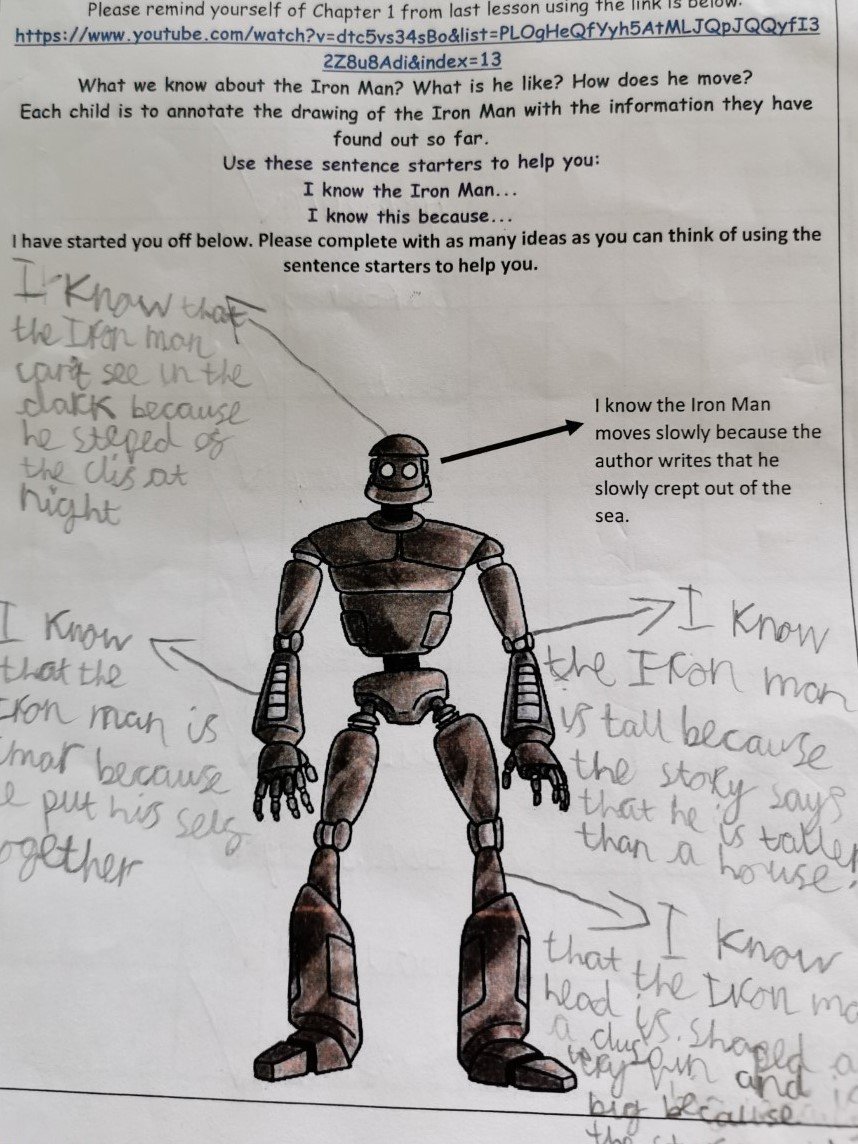 Alex enjoys some 'injera' - traditional Ethiopian food, Finn and family complete this tricky jigsaw and Finn annotates this picture of 'The Iron Man' with facts he has learned after reading the first chapter. Ivy practises spelling cvc words.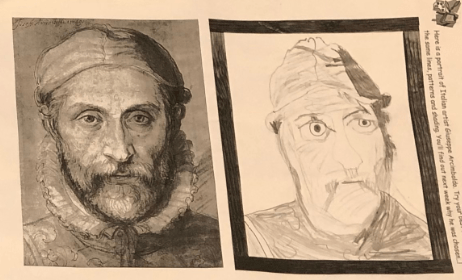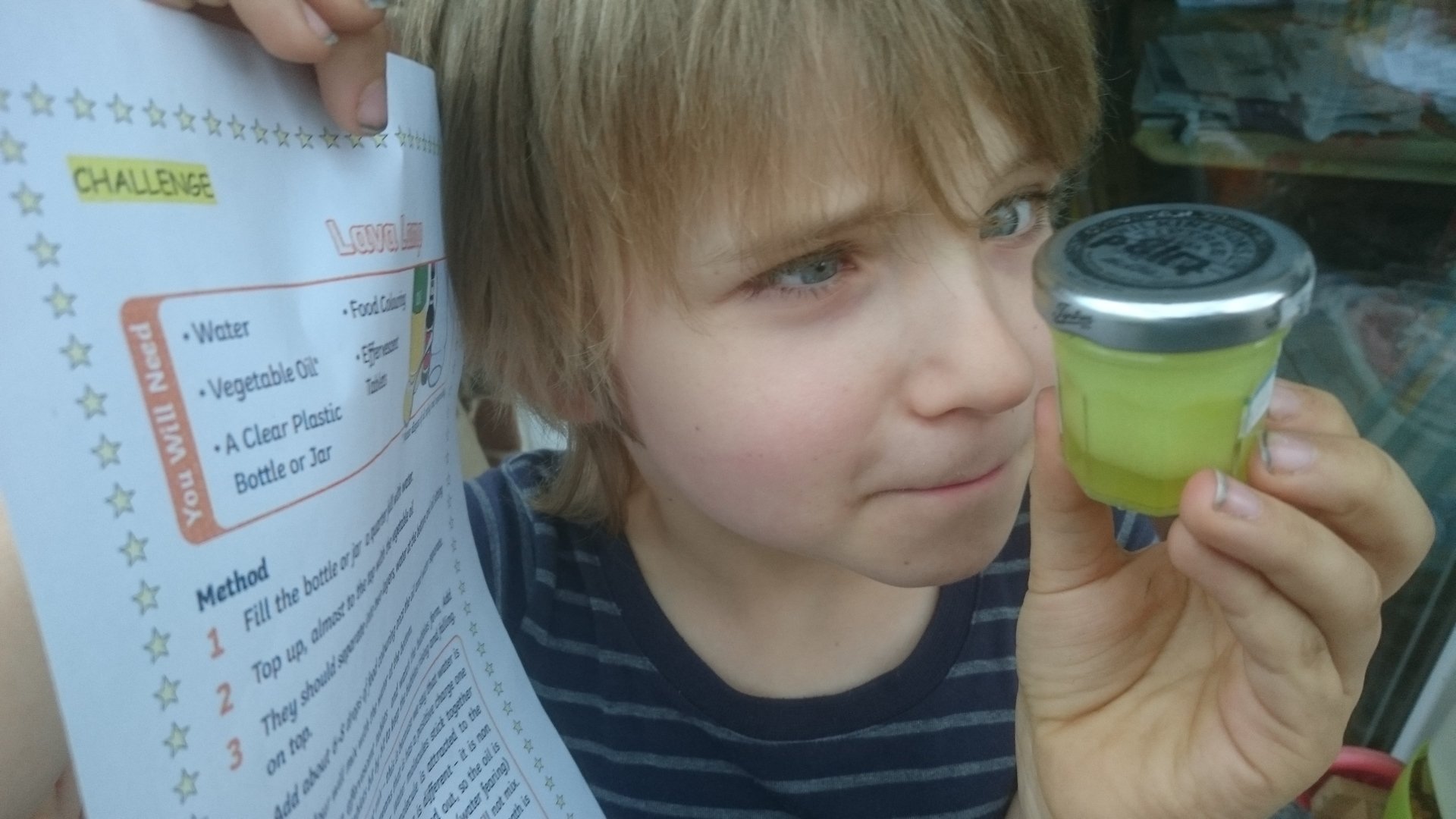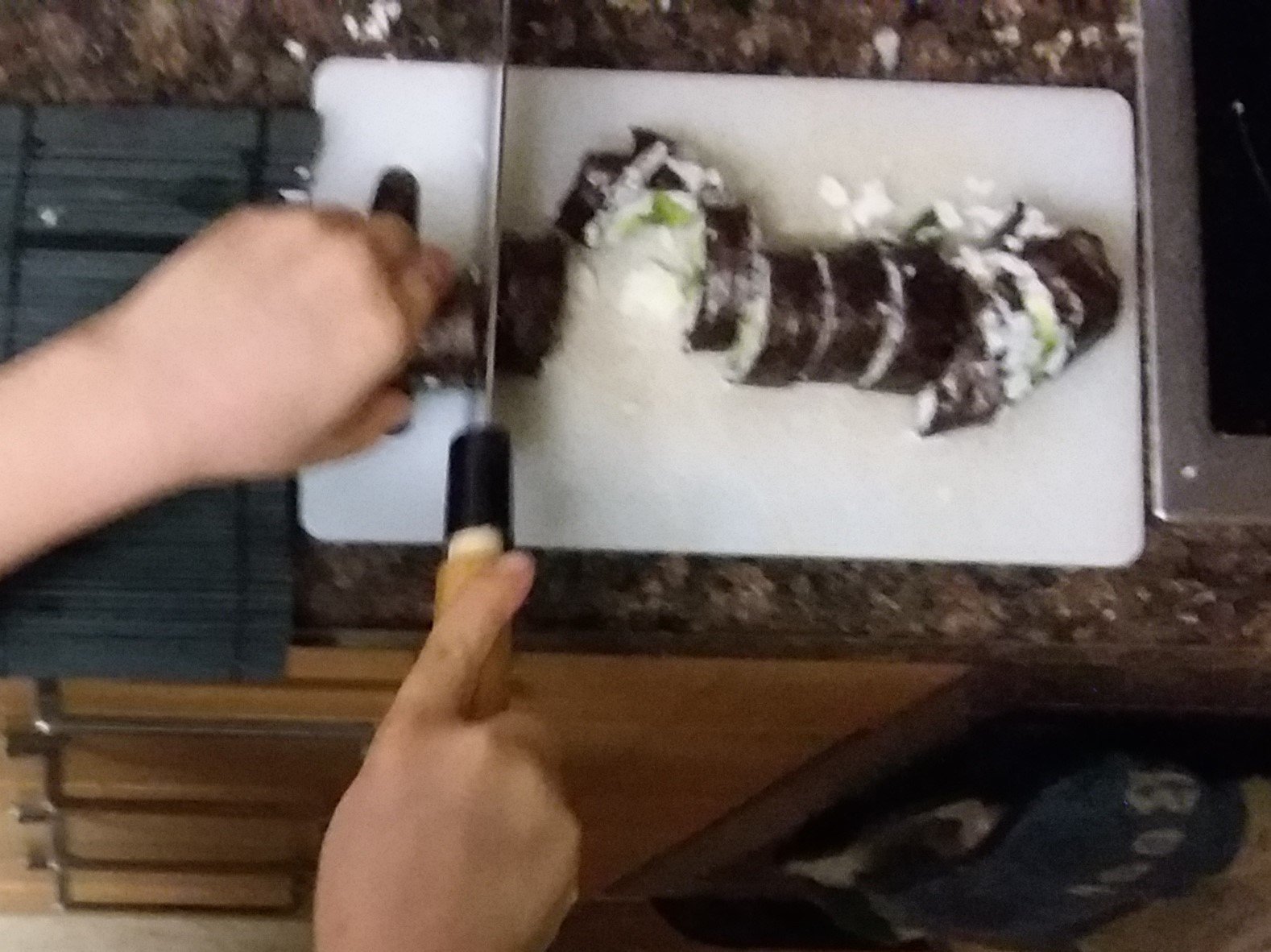 Year 4 are studying Italian artist Giuseppe Arcimboldo. One of their home learning tasks was to draw a similar portrait using
the same lines, patterns and shading and drawing on the techniques learned in class. Great job Alex! Mark uses his scientific skills in the lava lamp experiment and also has a go at making Japanese sushi!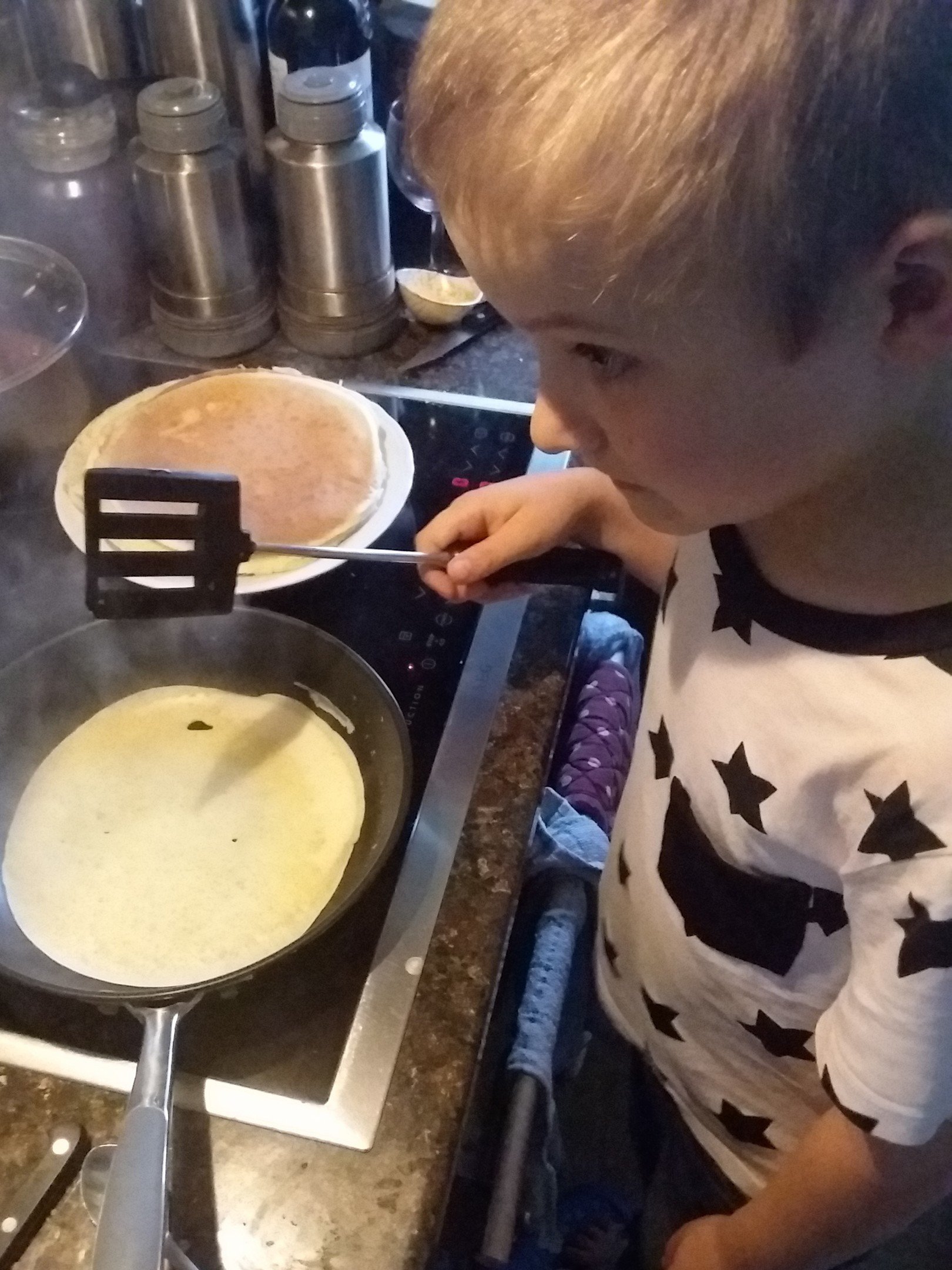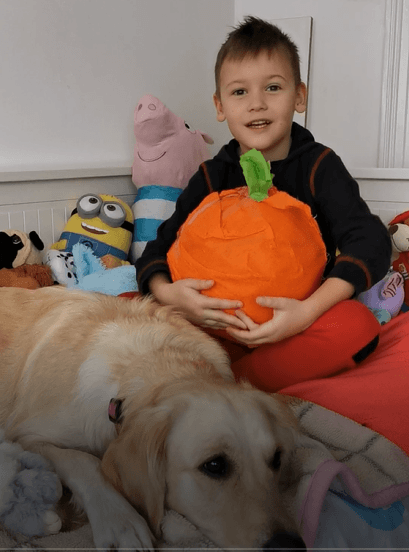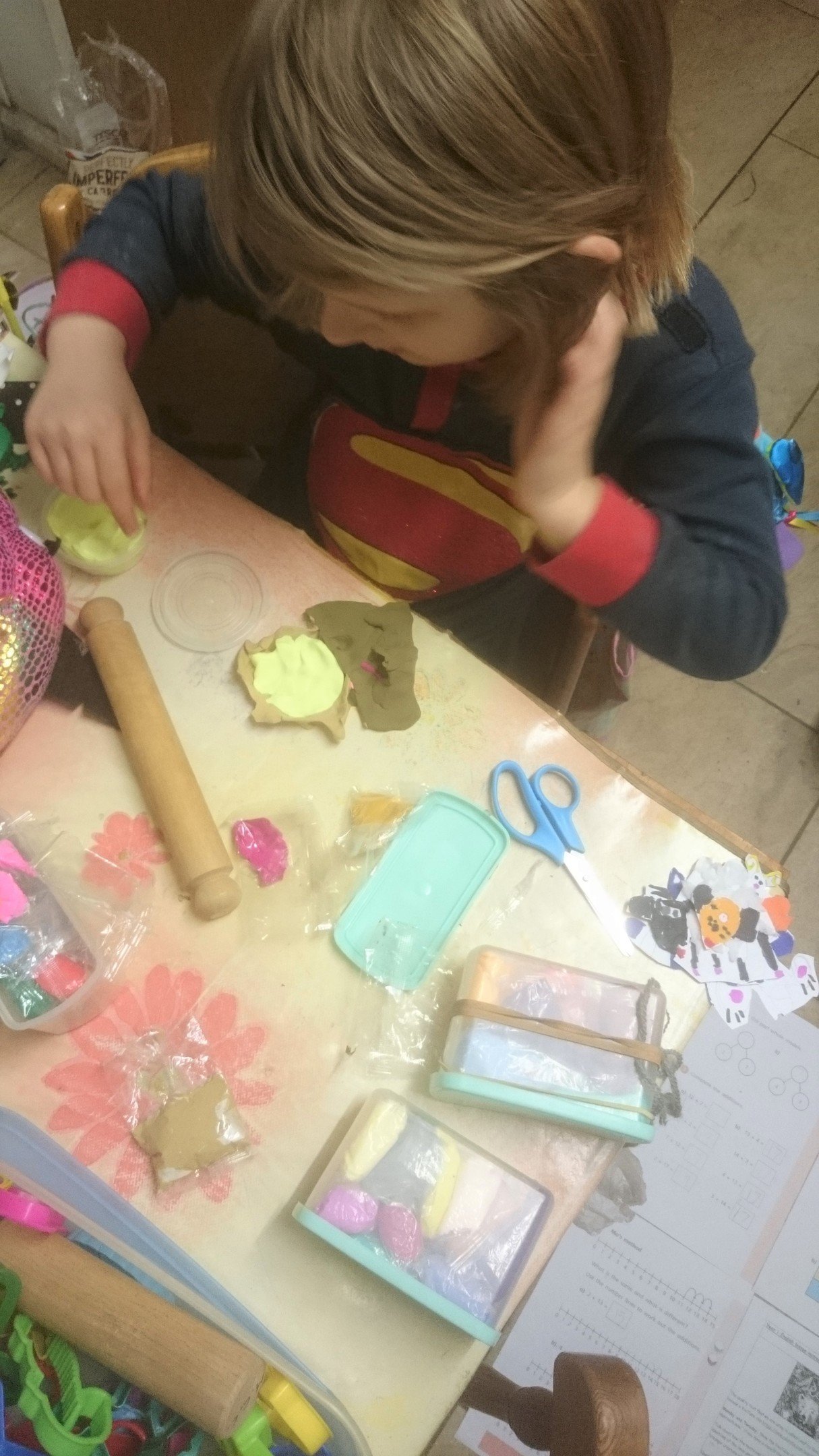 Luca designs an Indian restaurant as part of Year 2's learning around 'Indian Spice' and Mark gets creative in Year 4's 'World Kitchen' by making a Dutch pancake. Wiktor uses persuasive language to advertise his home-grown pumpkin in a video recording and Sylvia gets artistic and creative.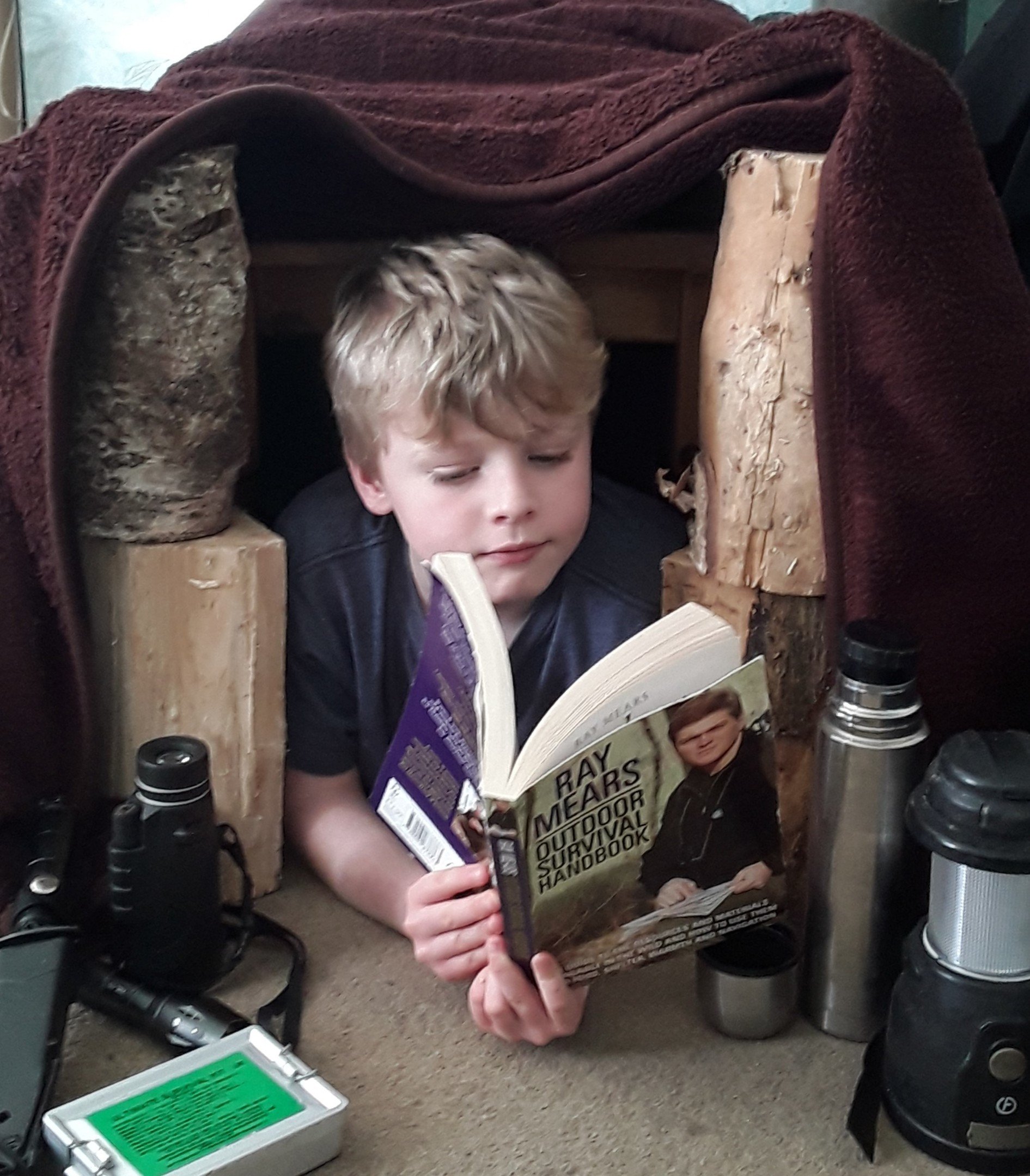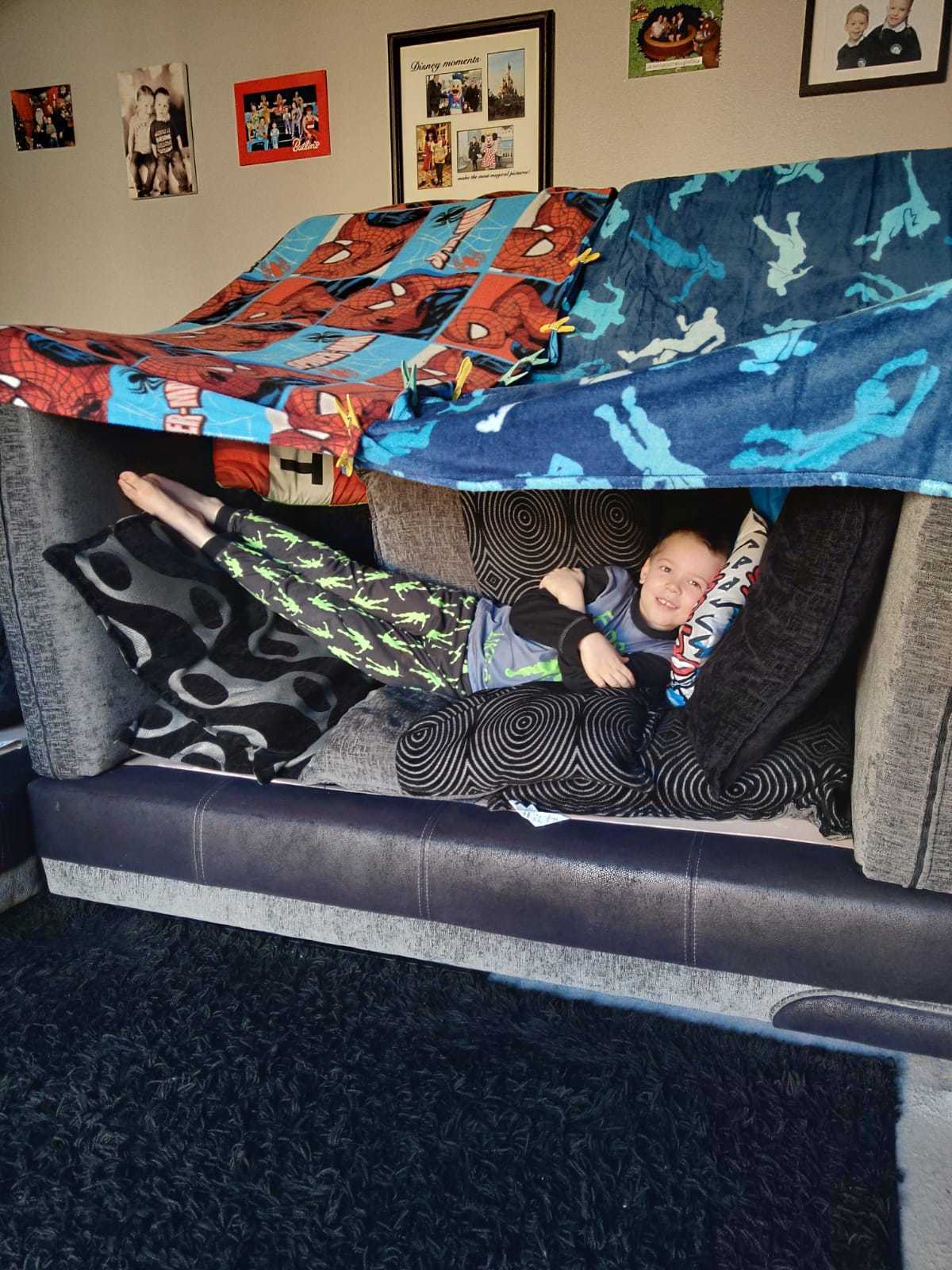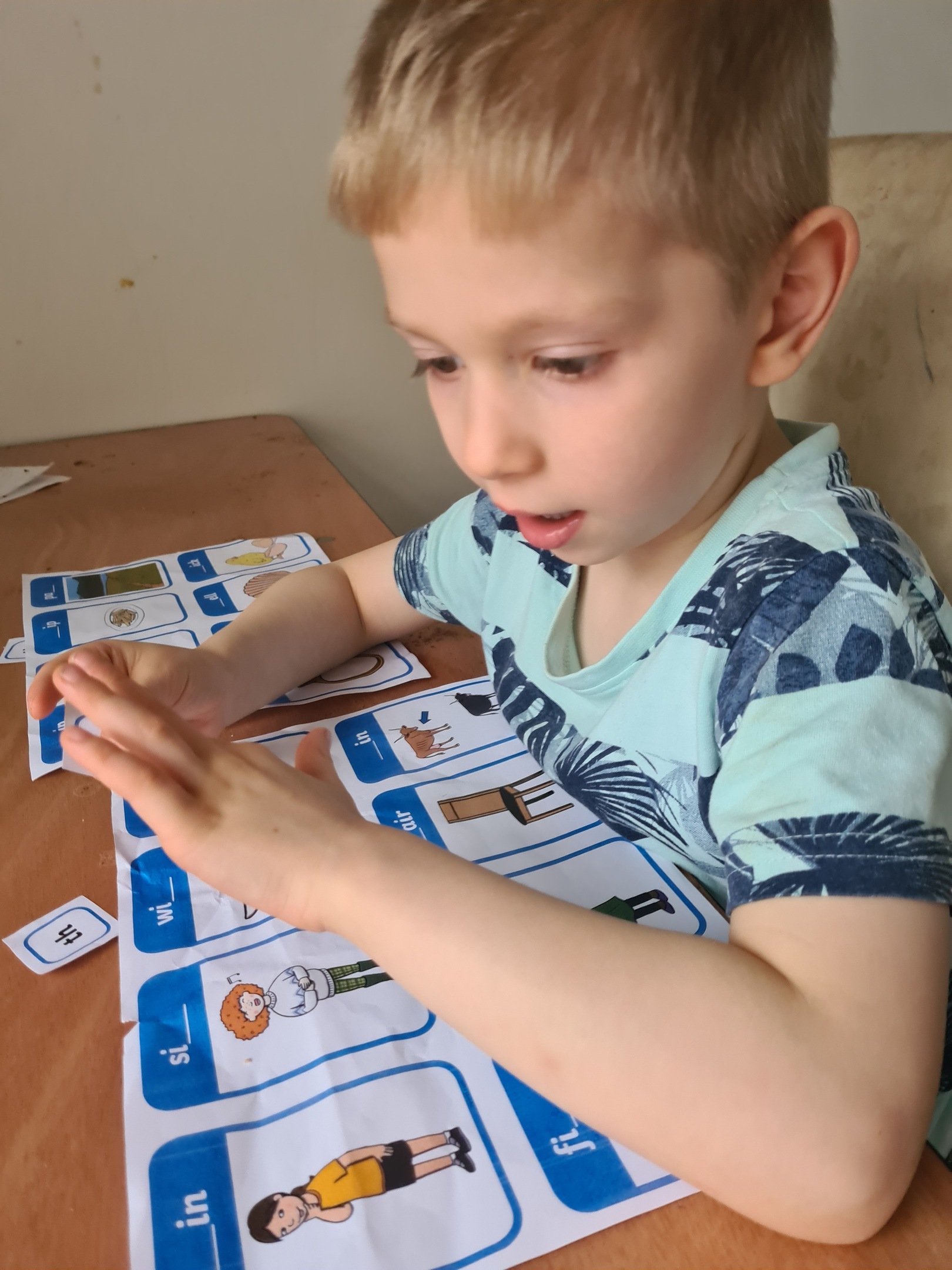 As part of their new topic, 'Extreme Survival', Year 3 pupils have been getting creative and making their own dens/shelters. Finn and George - yours both look very comfortable! Ronnie finds the correct digraph to complete each word. Emellia shares this week's home learning.
Spring Term 2021 Remote Learning - Weeks 1 and 2
Thank you all of you who have already sent in pictures of your home learning. Lukas has been creative in his introduction to Year 4's topic 'The World's Kitchen' in making an Italian dish - chicken, butternut squash and sage risotto with parmesan. Yum yum! He then writes out the ingredients needed and the method for his dish!
Lola gets to grips with Google Classroom in comfort and Junior in Year 3 settles down to his remote learning pack.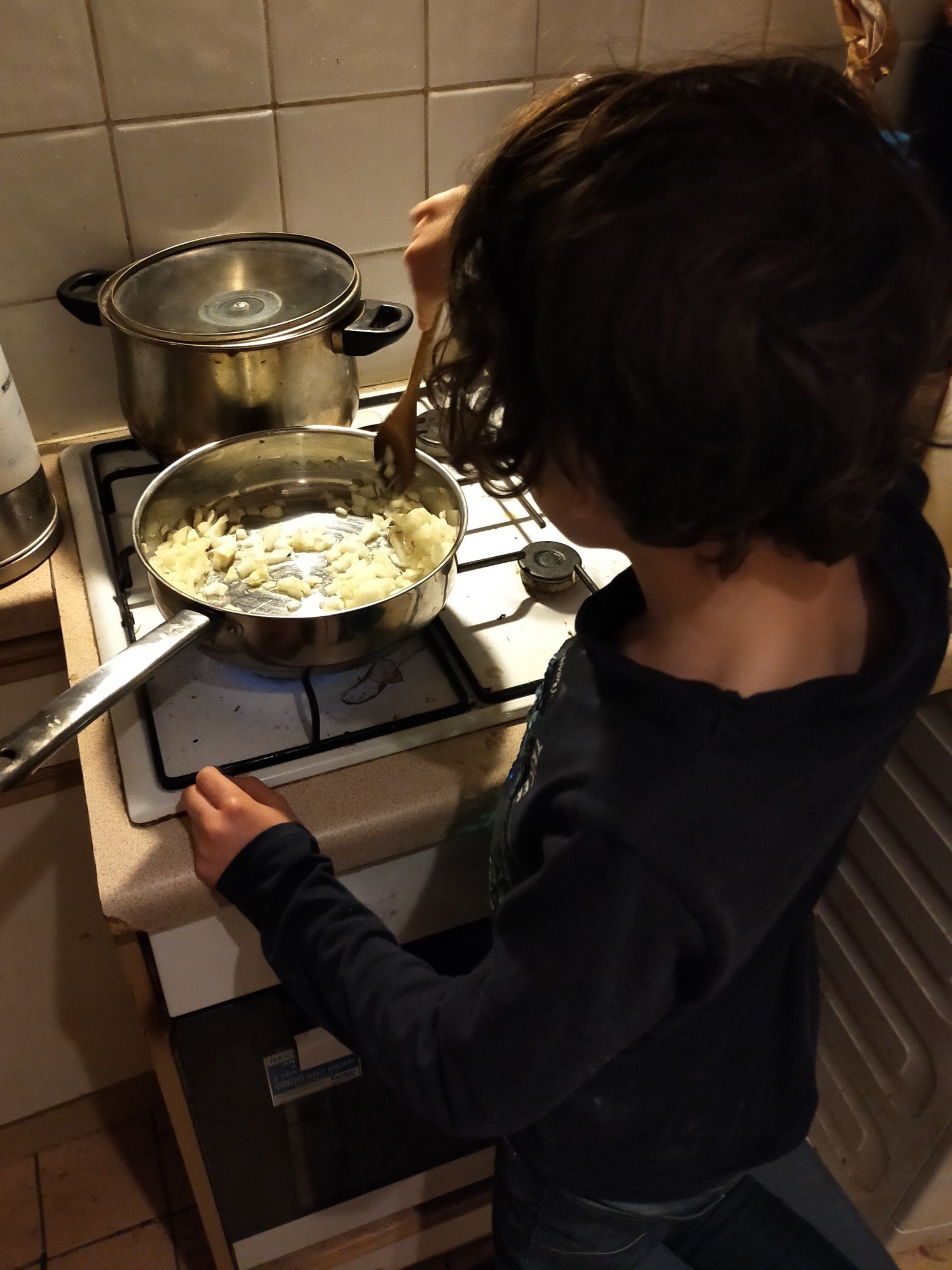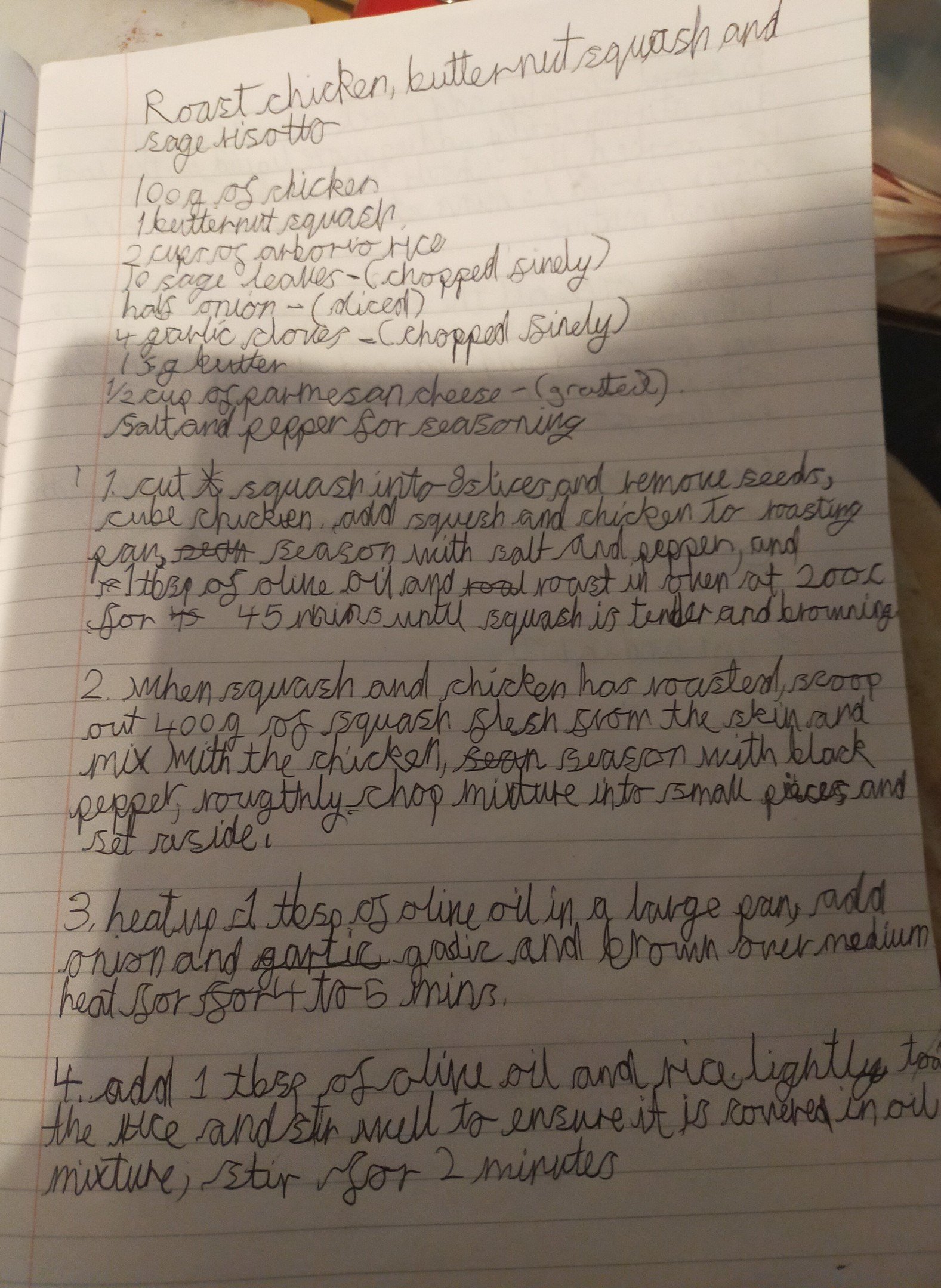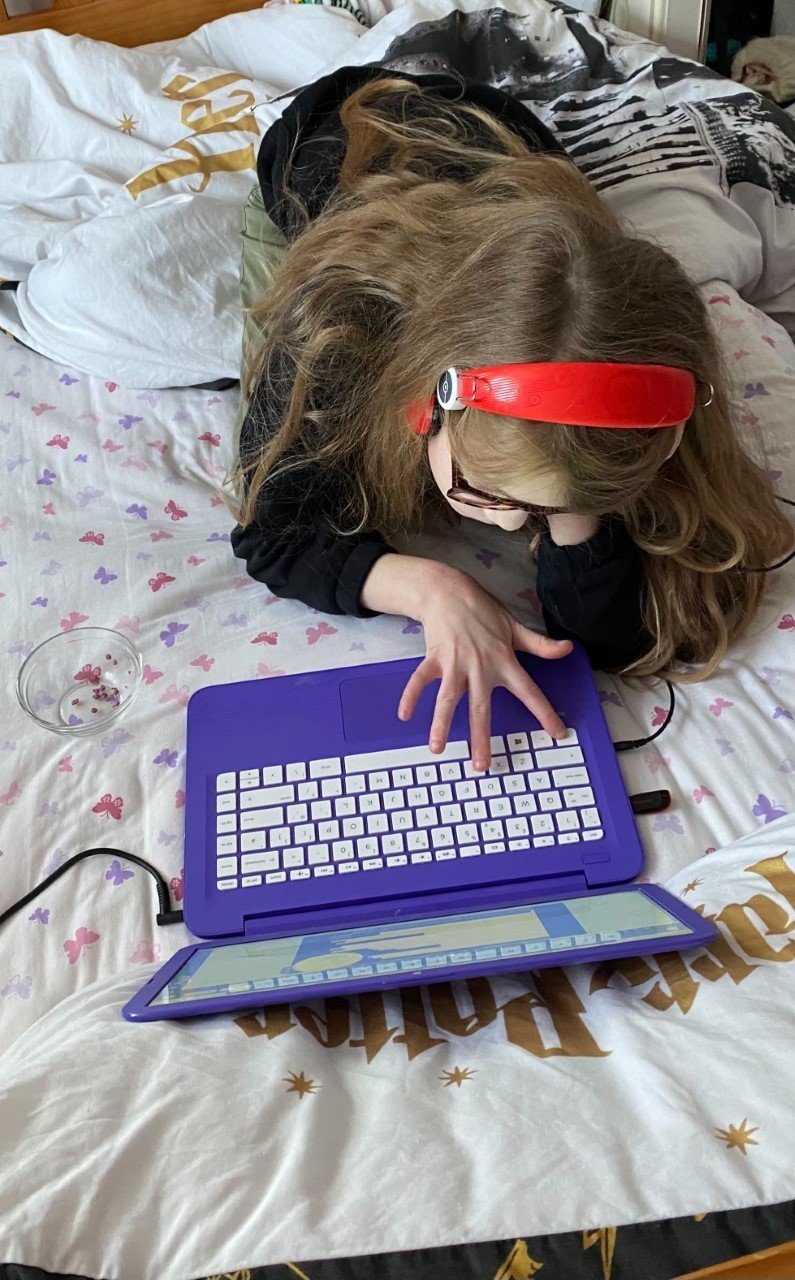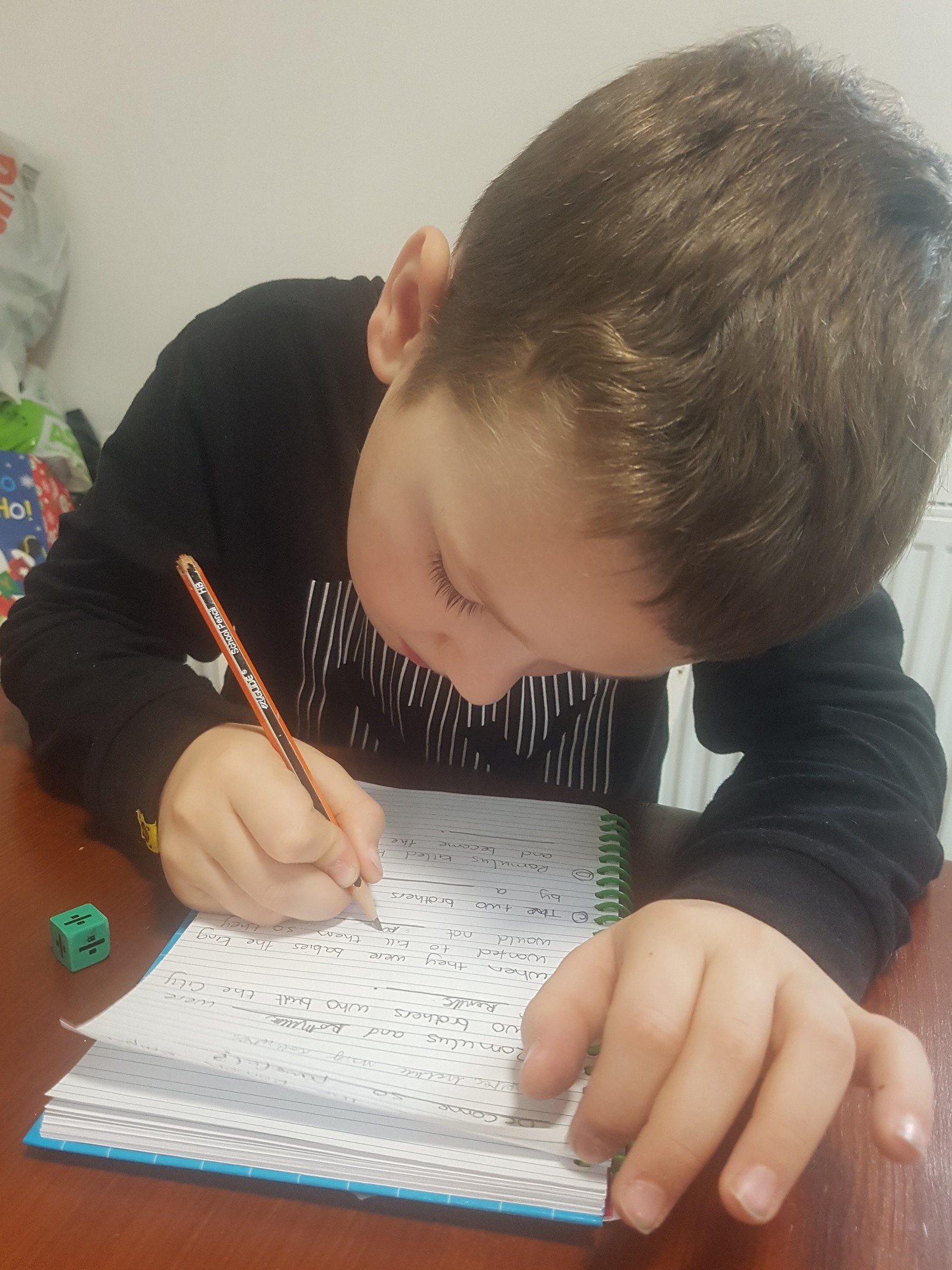 Ruby, Harvey, Junior and Loen have some quality reading time.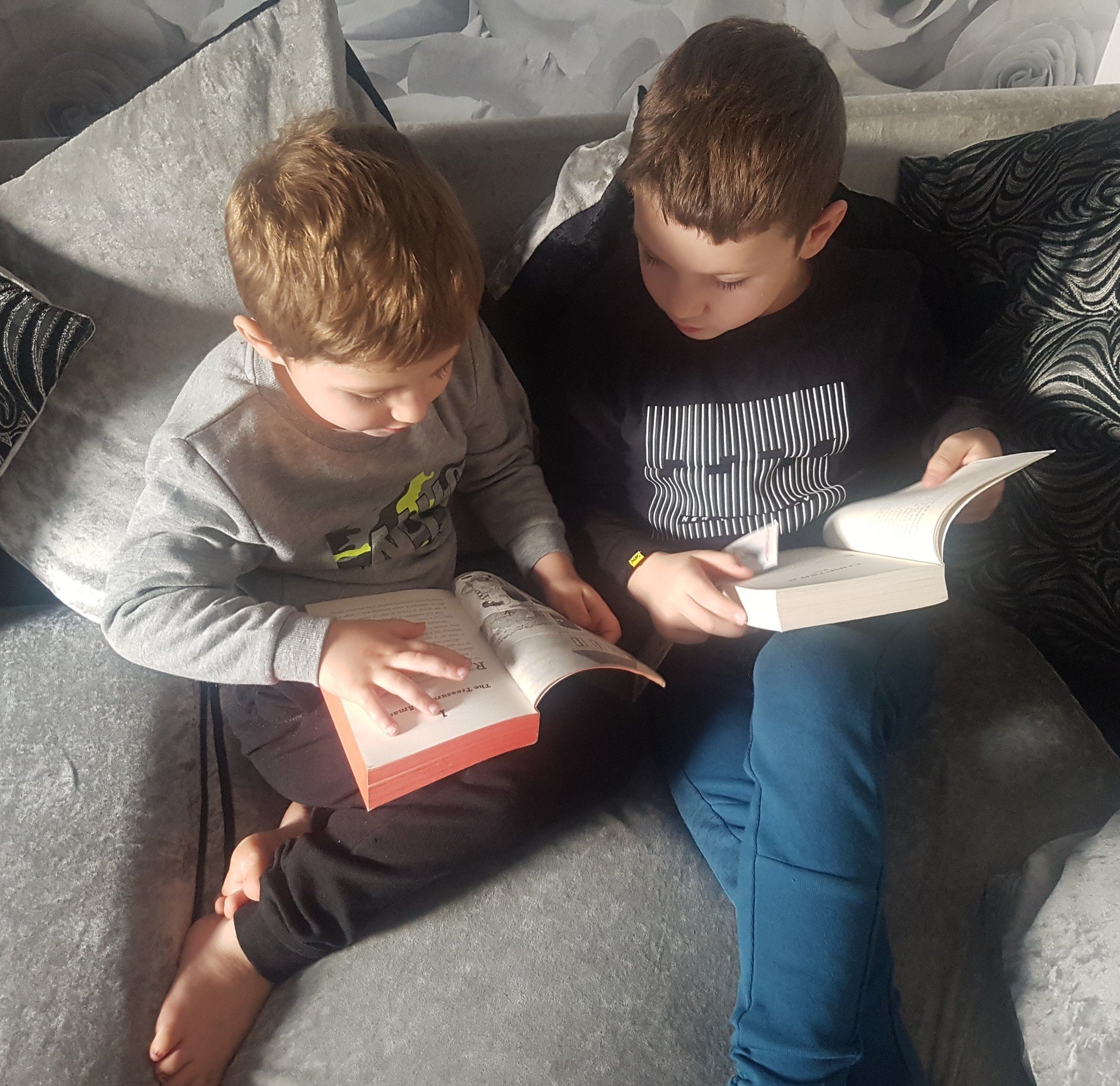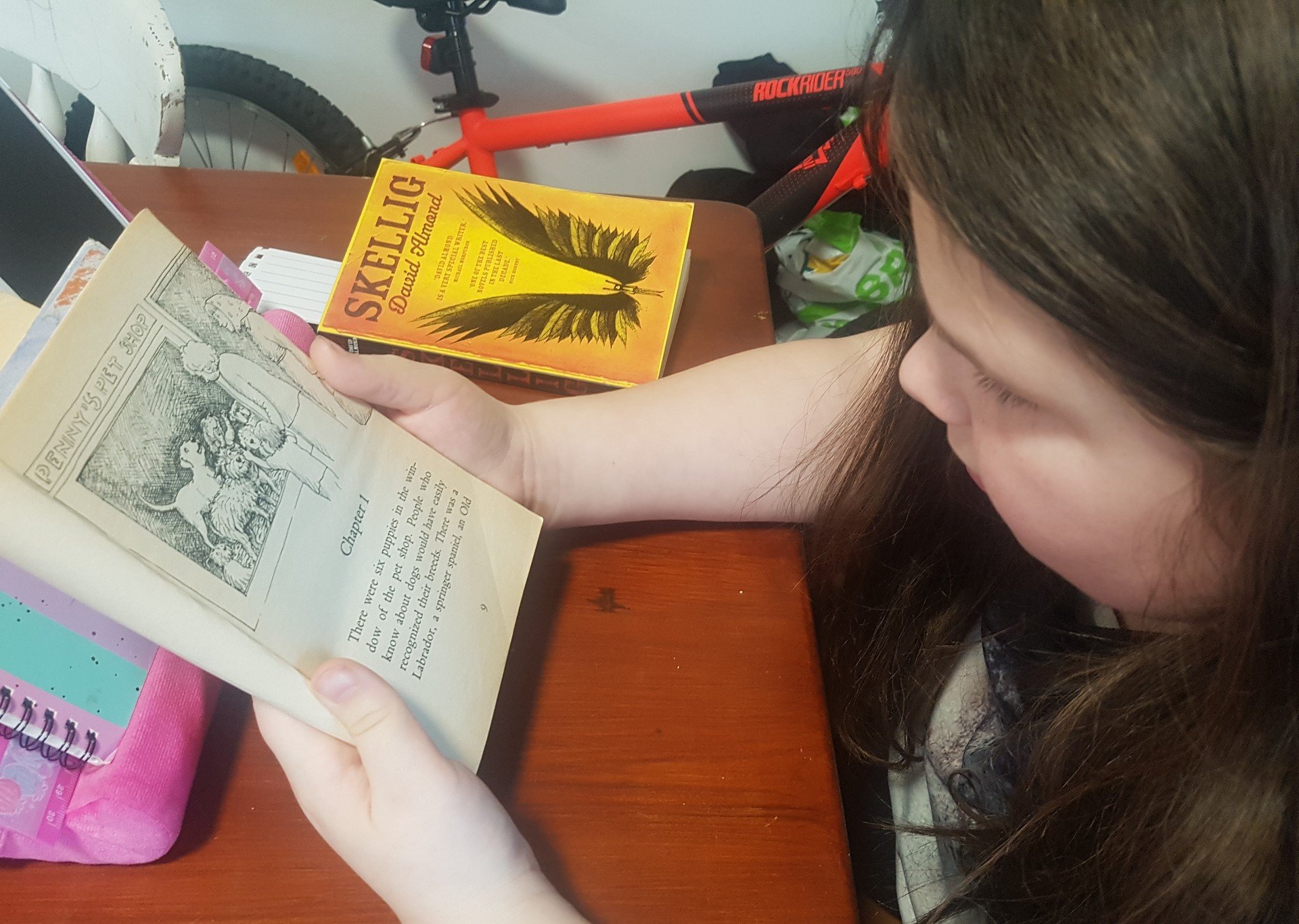 Nolly's response to Isaiah 61 1-2, 10-11. Rashid settles down to his remote learning and Amelia and Harry in Year 2 use their observational skills and shading skills to draw a pumpkin after being introduced to the class's new book, 'Pattan's Pumpkin'.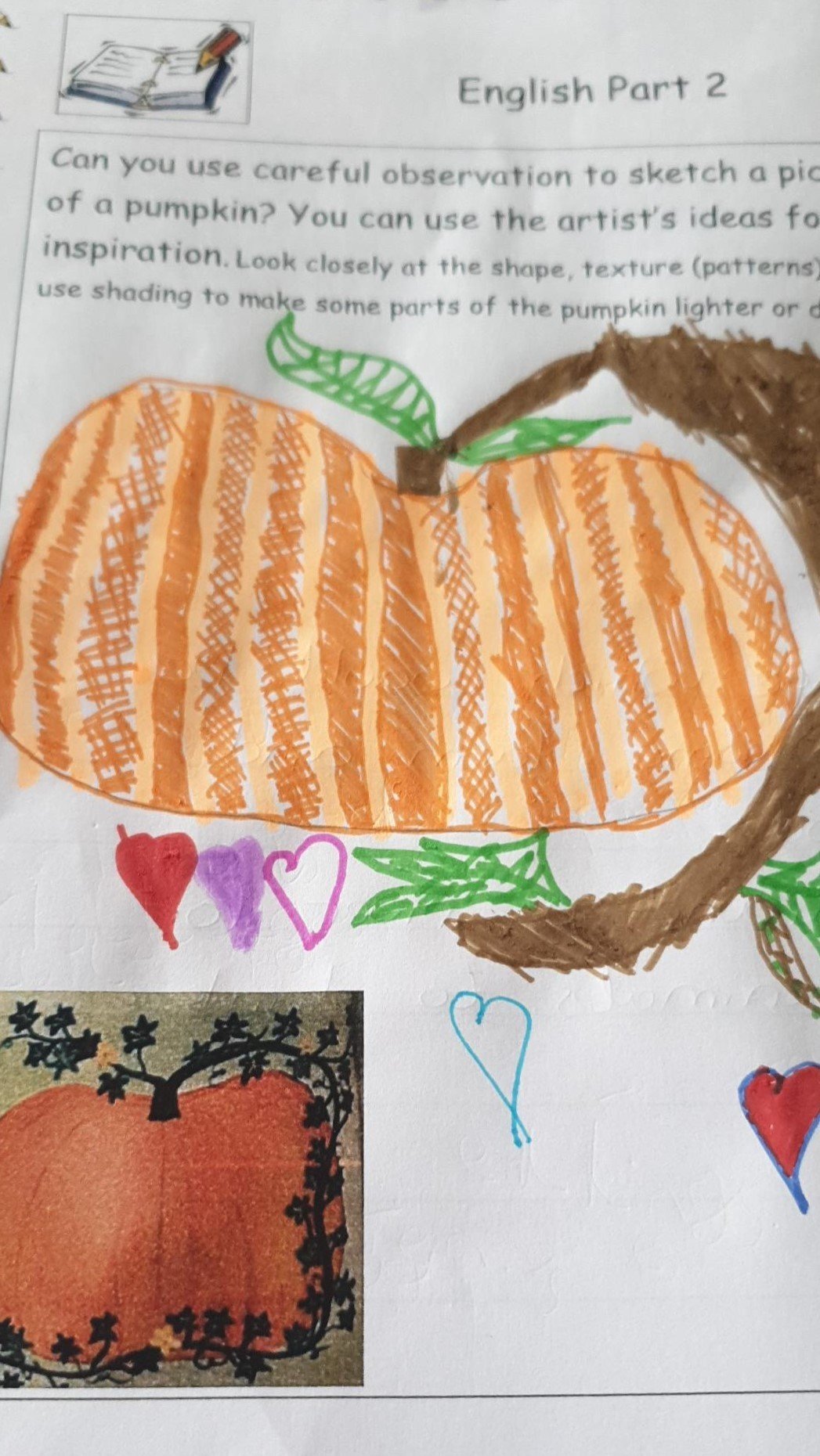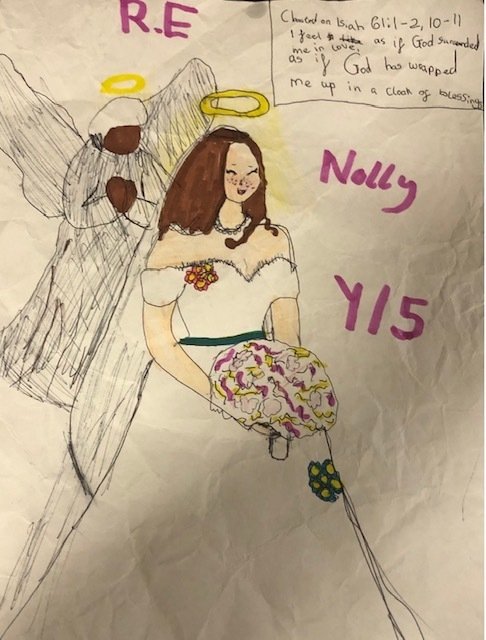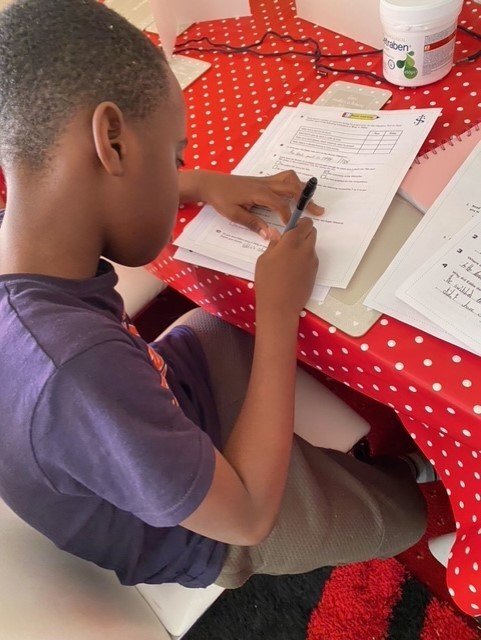 Ronnie practises recognising and ordering numbers to 12 and Kira matches digraphs and learns some Phase 3 tricky words.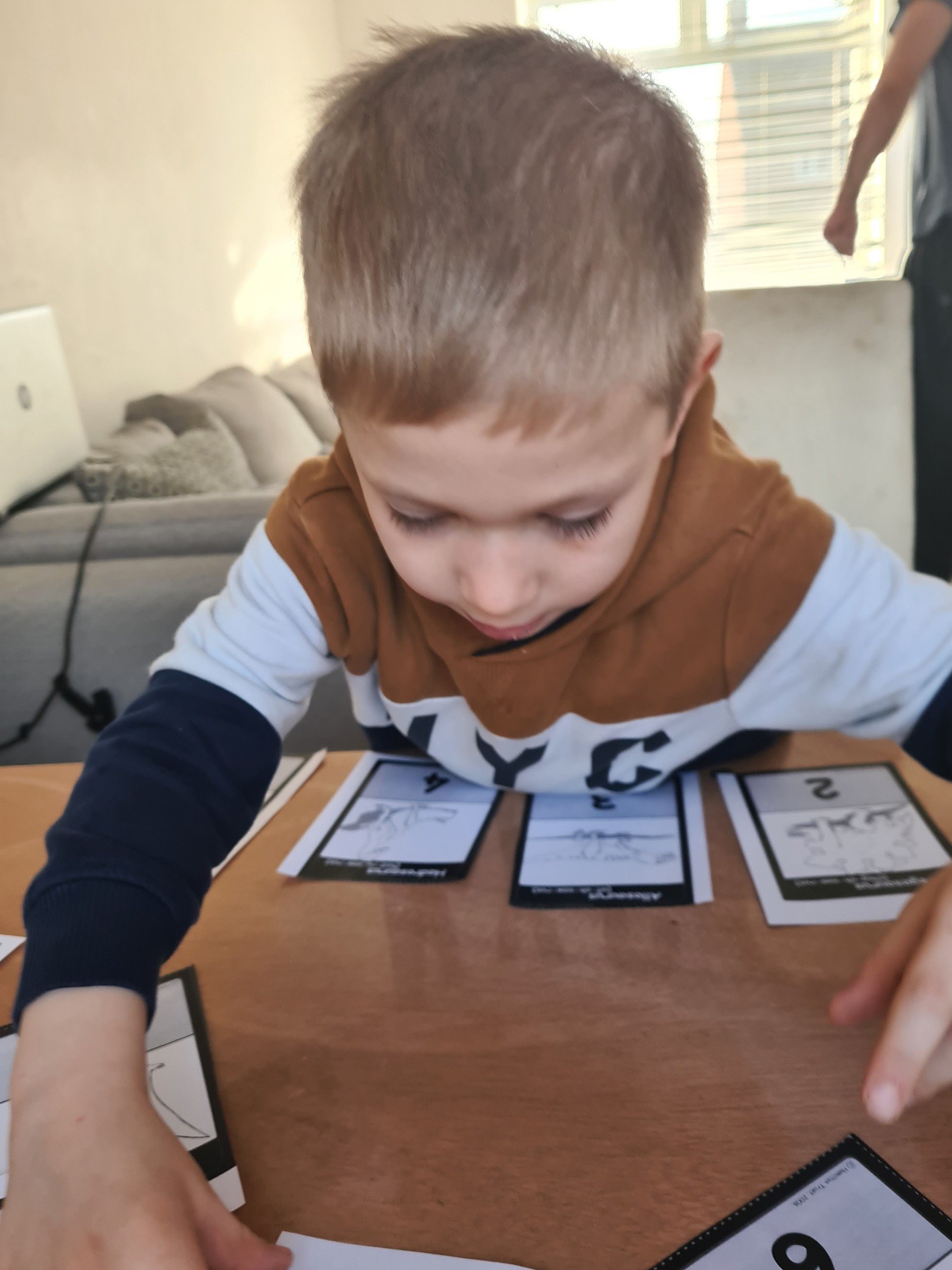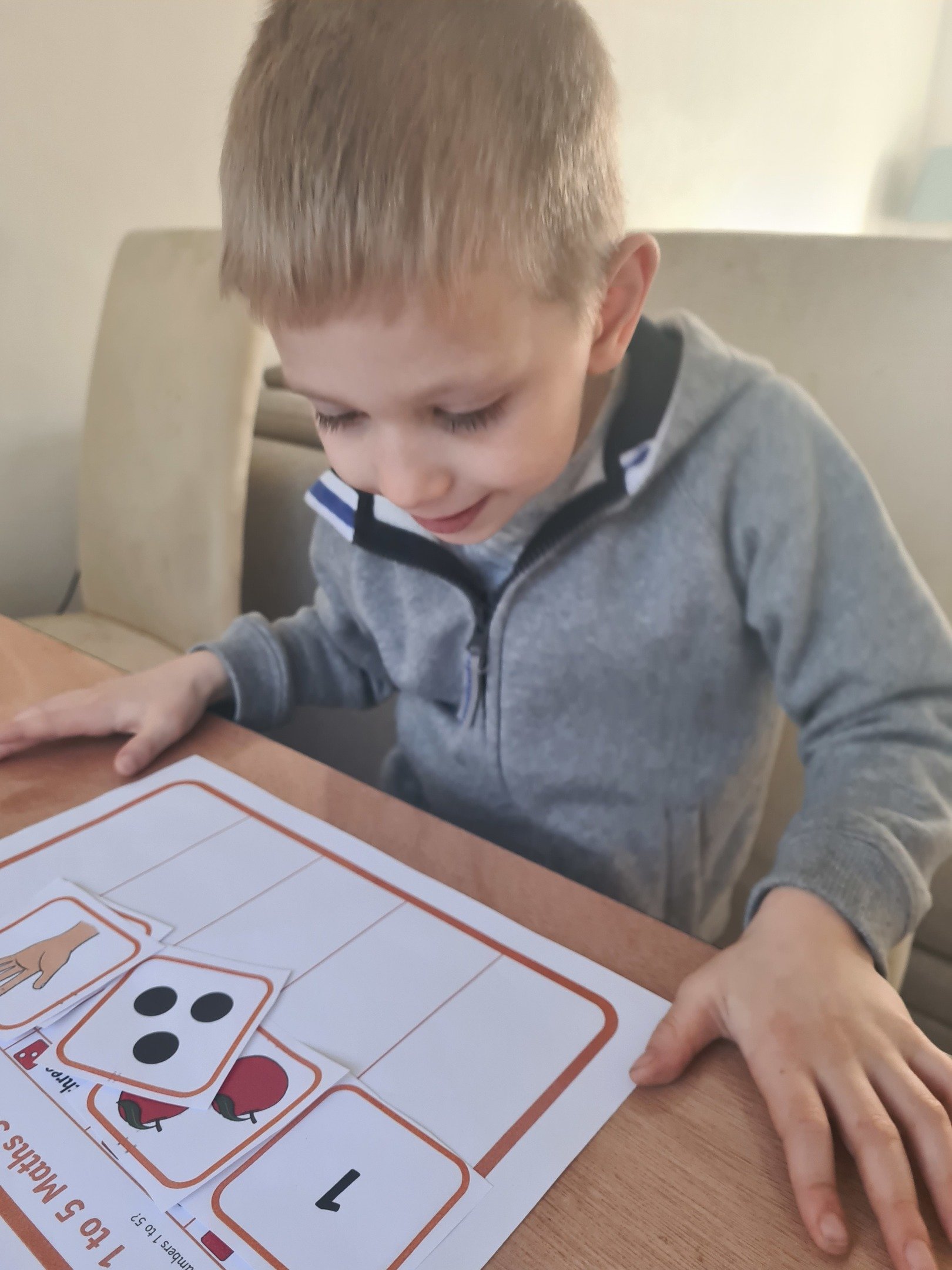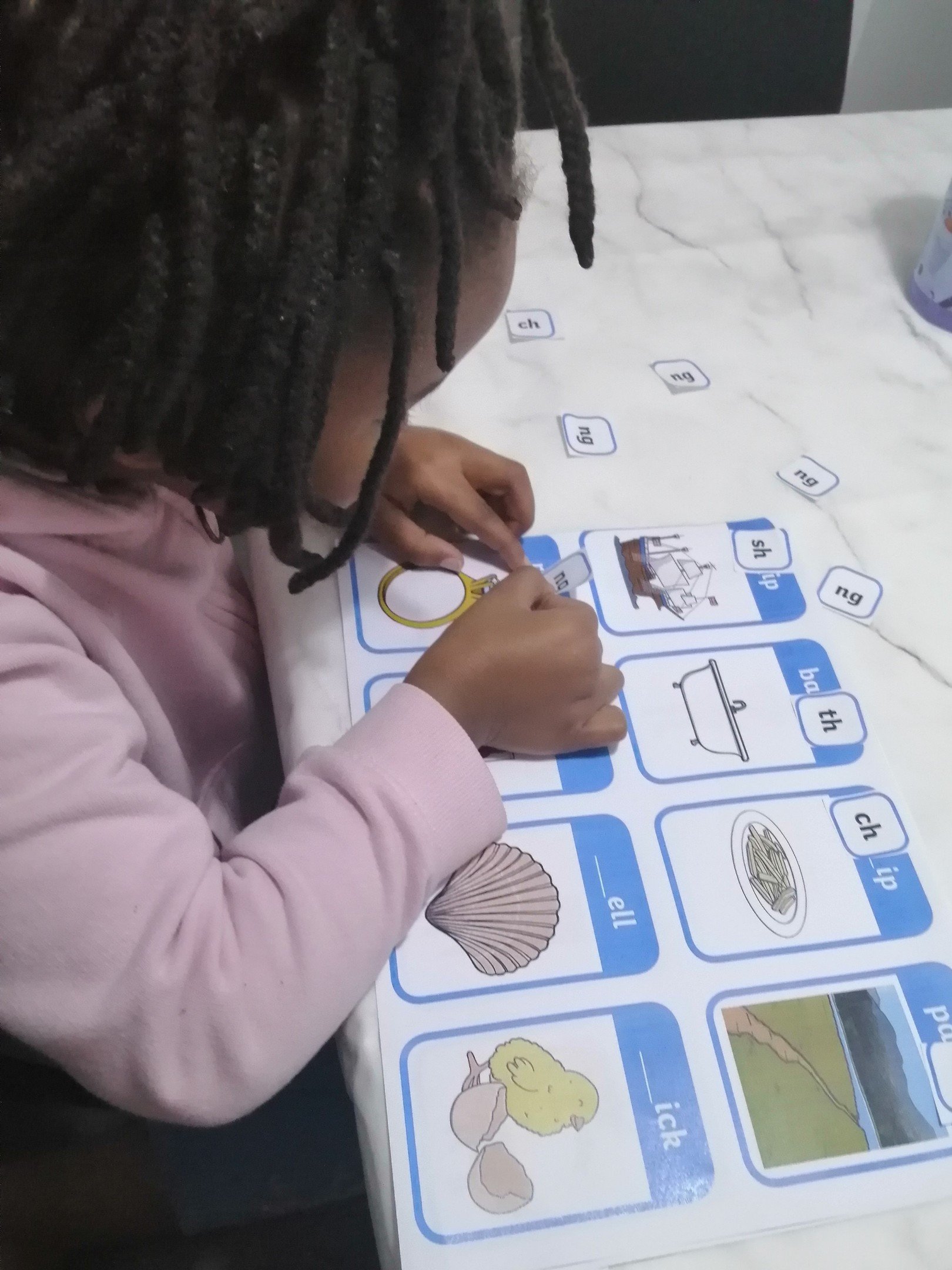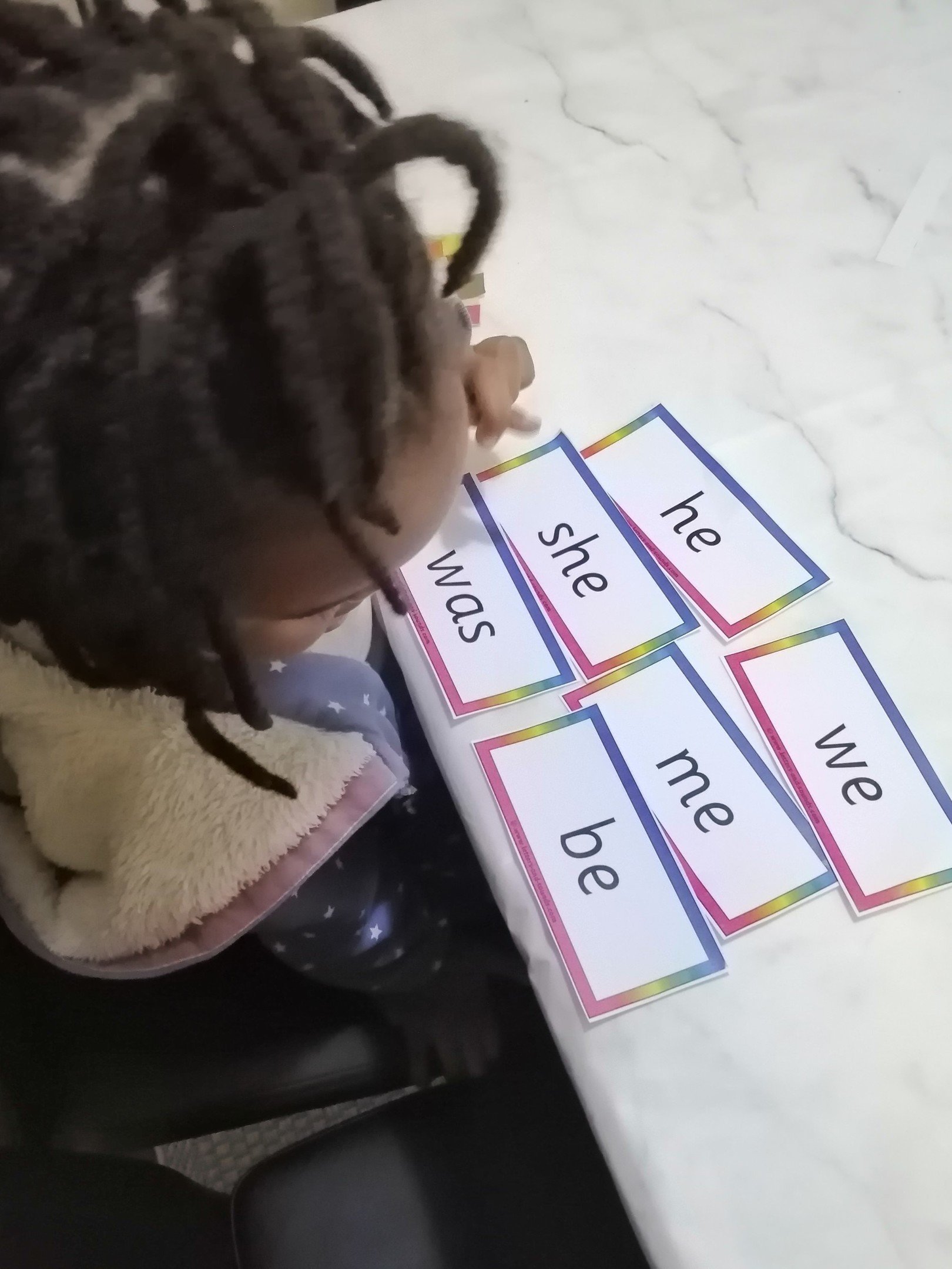 Eddy tackles his maths reasoning problems and Wiktor uses resources from home to support his understanding of arrays. Theo does some research and uses his findings to describe different parts of India using geographical language. Ivy draws her favourite bear.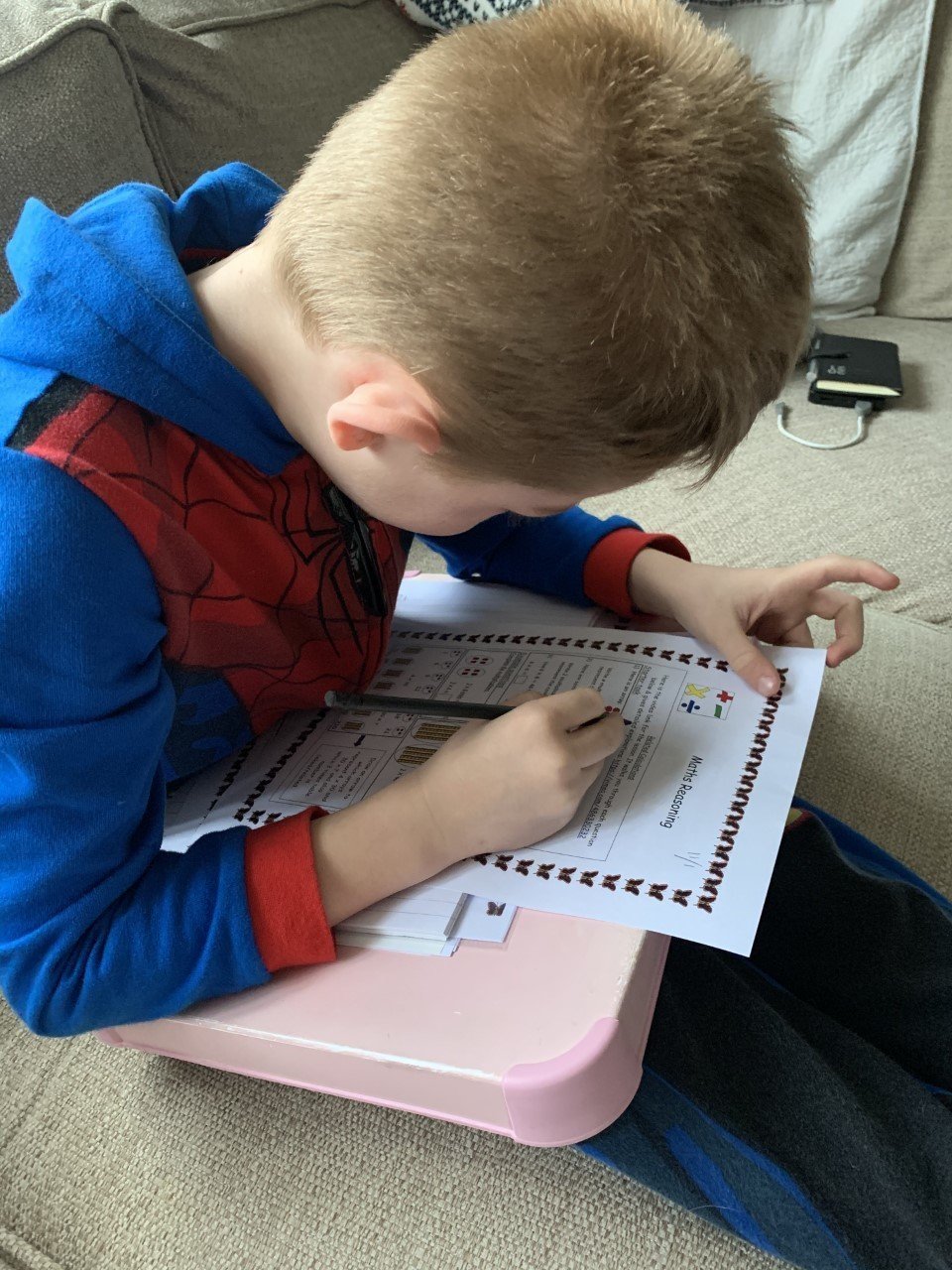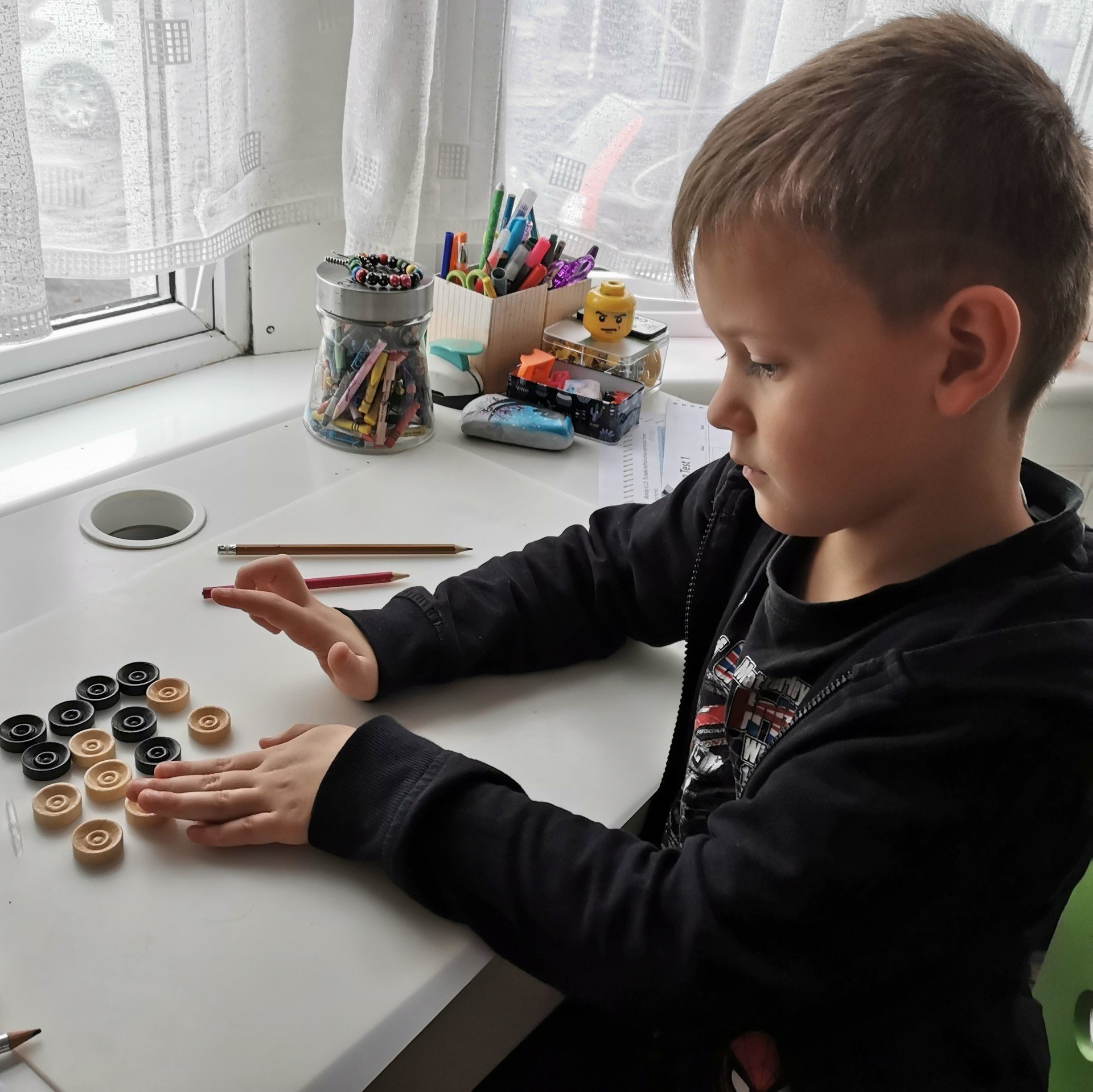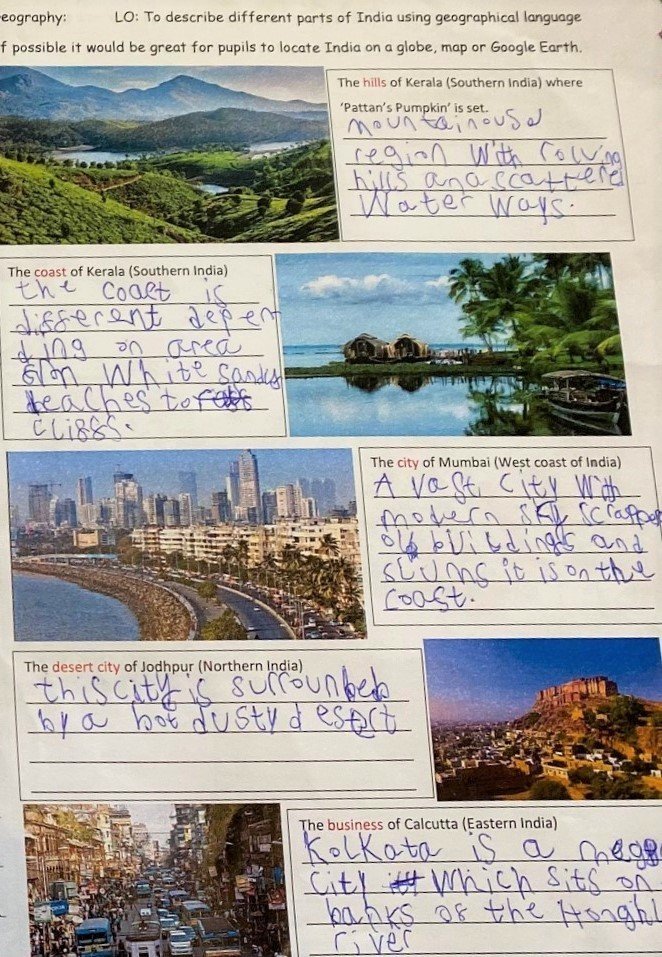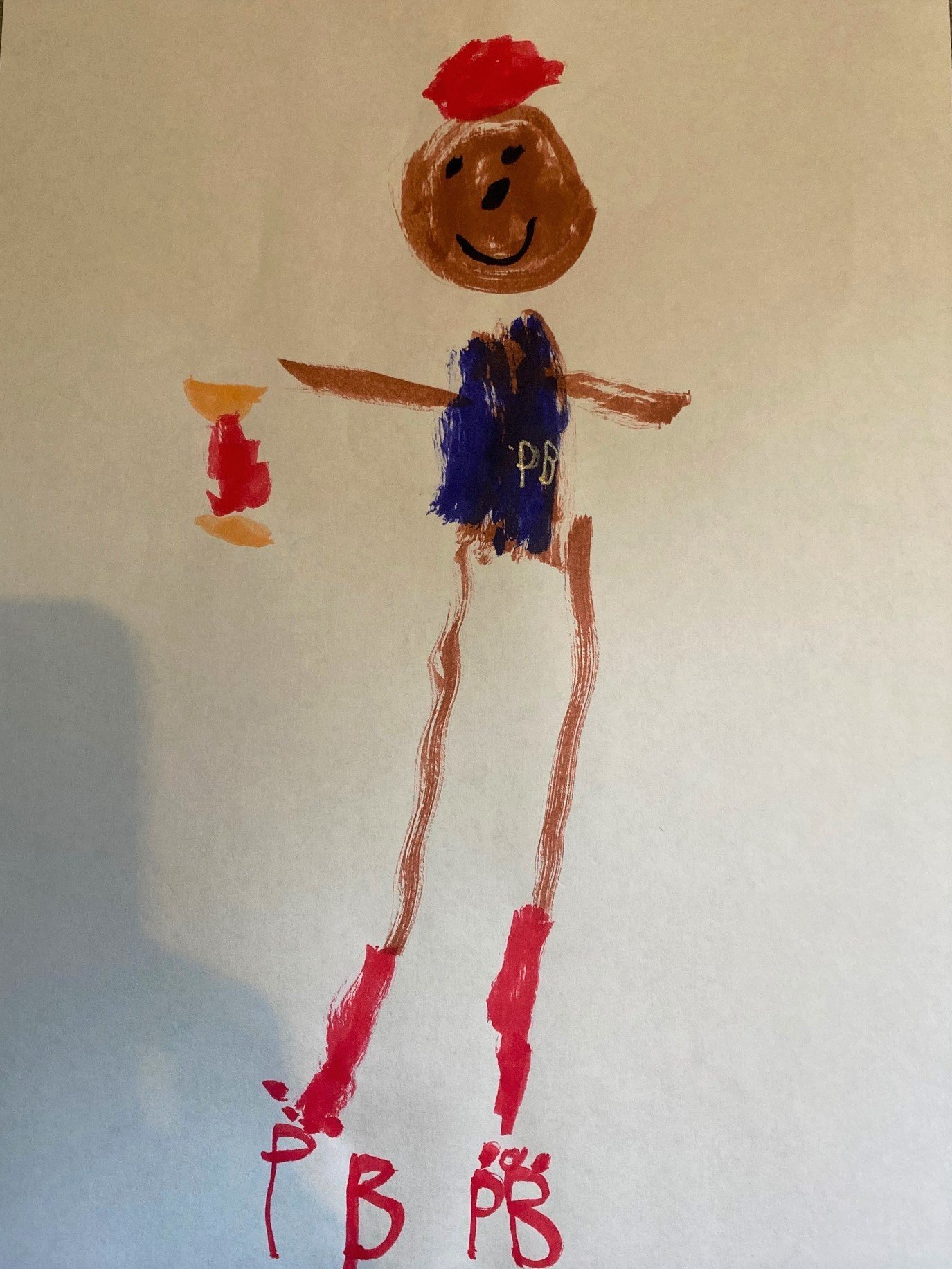 Linked to their learning about bears and bear stories, Ivy has made a Goldilocks finger puppet, Junior makes a start on his reading comprehension questions and Alex applies his knowledge of multiplying and dividing by 10 to some reasoning questions.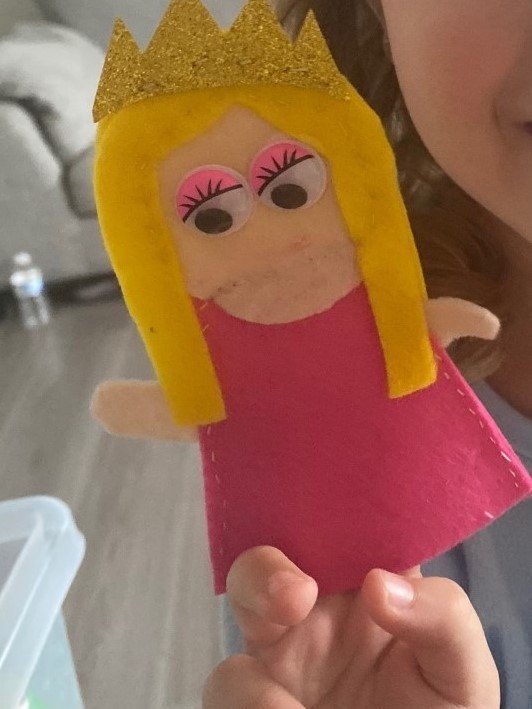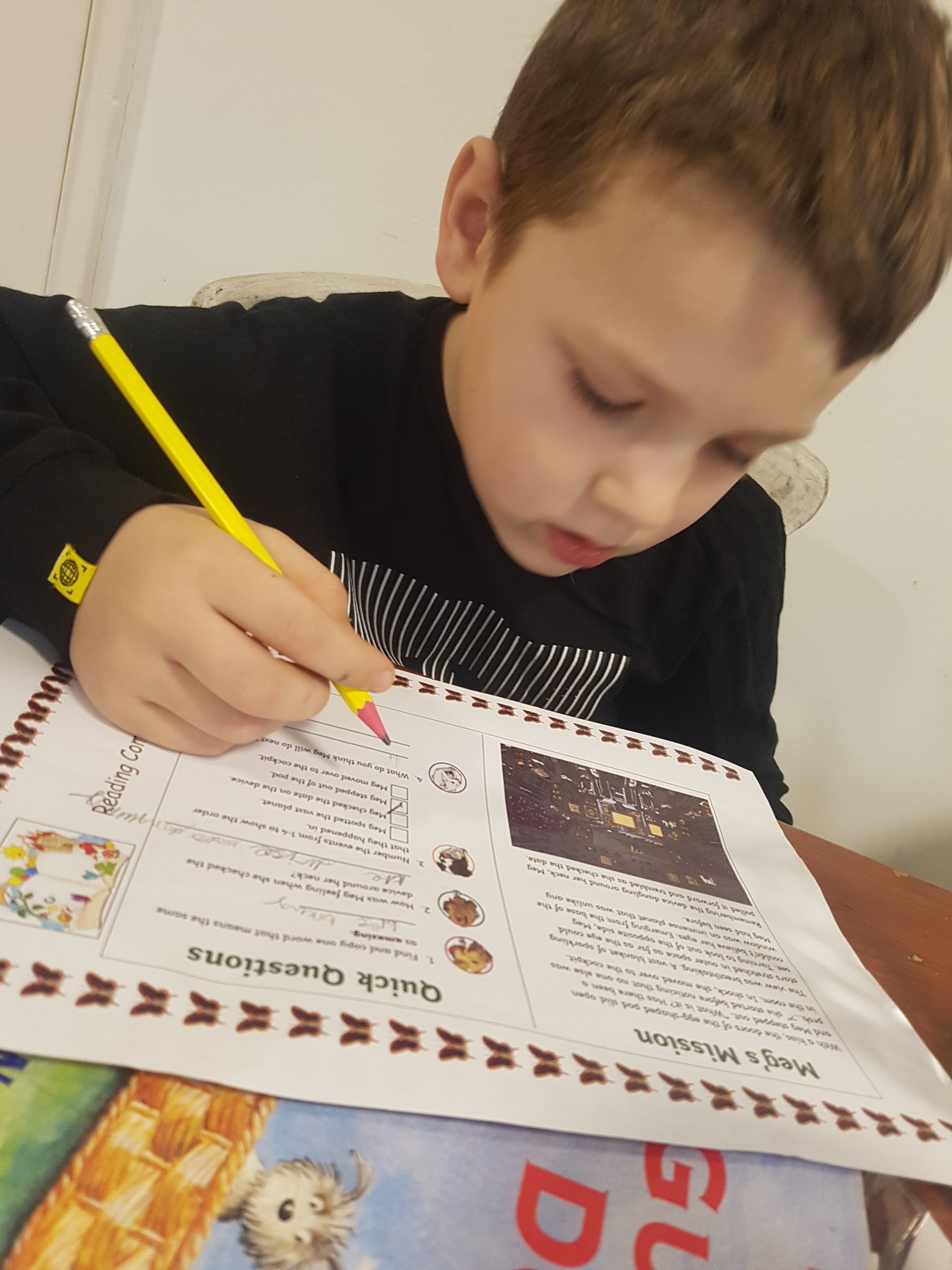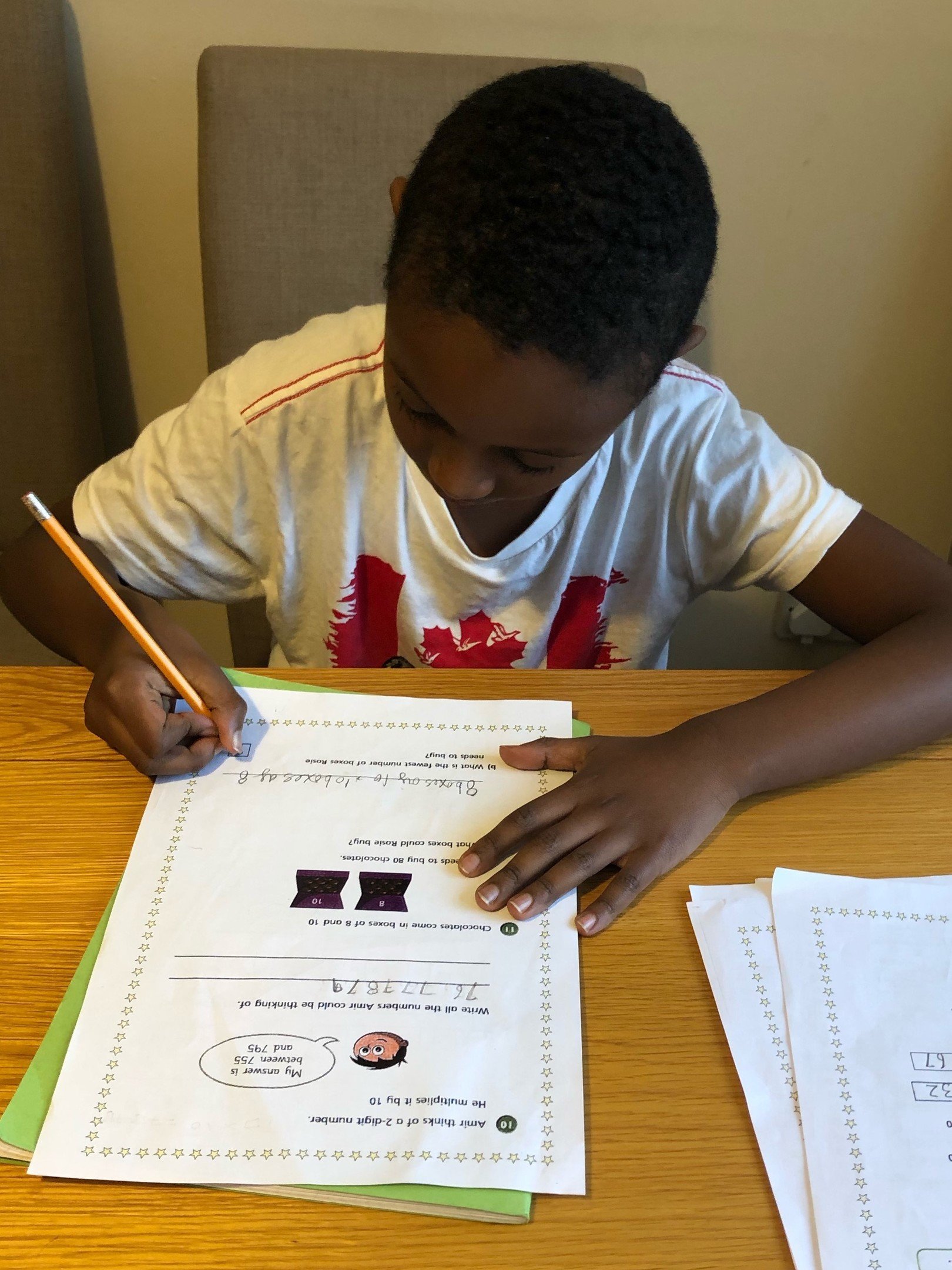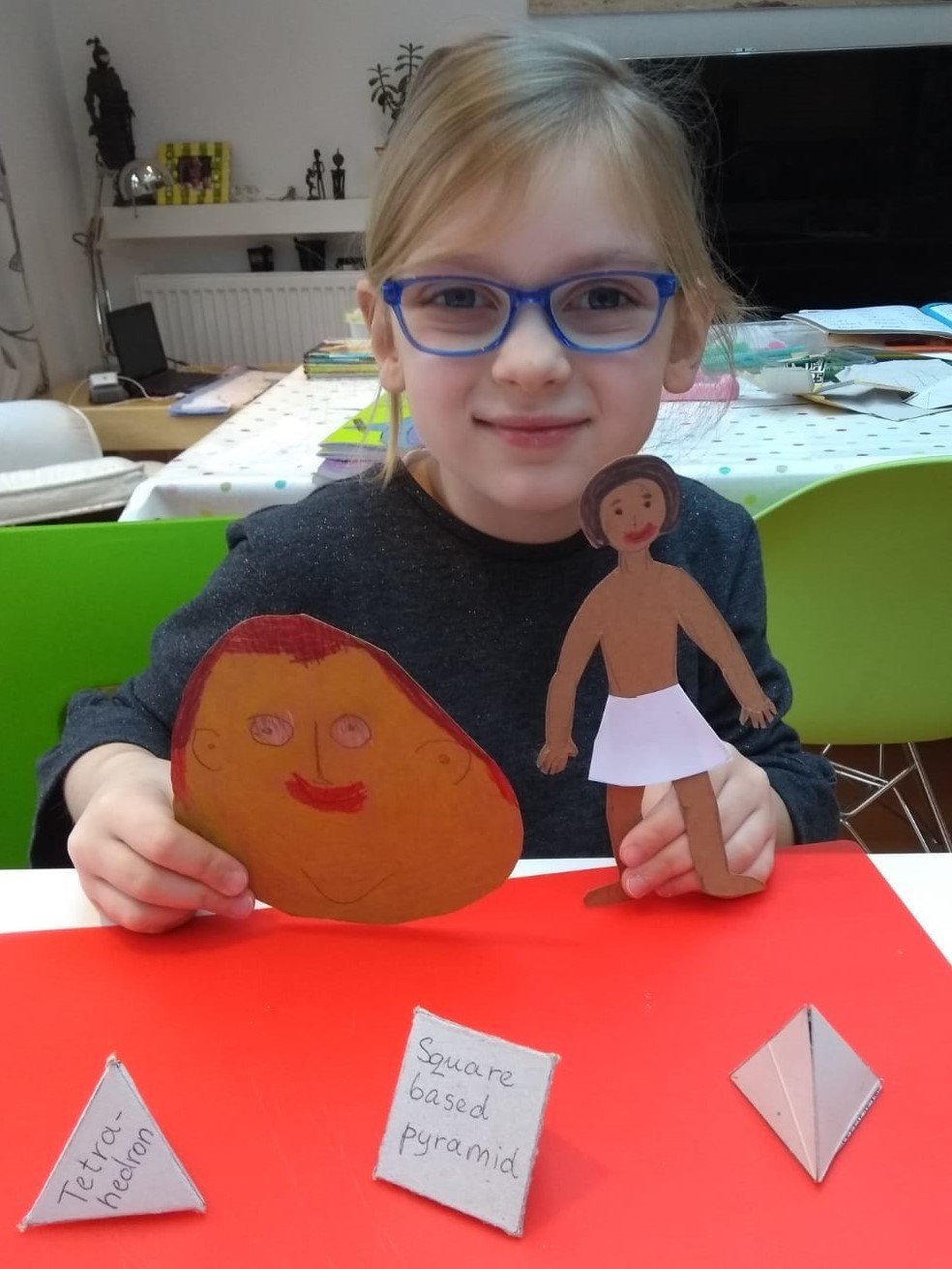 Eddy learns some new geographical terms while completing a word search based on hot and cold climates as part of Year 3's new topic 'Extreme Survival'. Brandon and Olivia made this fantastic volcano as part of Year 6's Geography topic, 'Disaster' and Julian and Jasper settle into the routine of learning from home.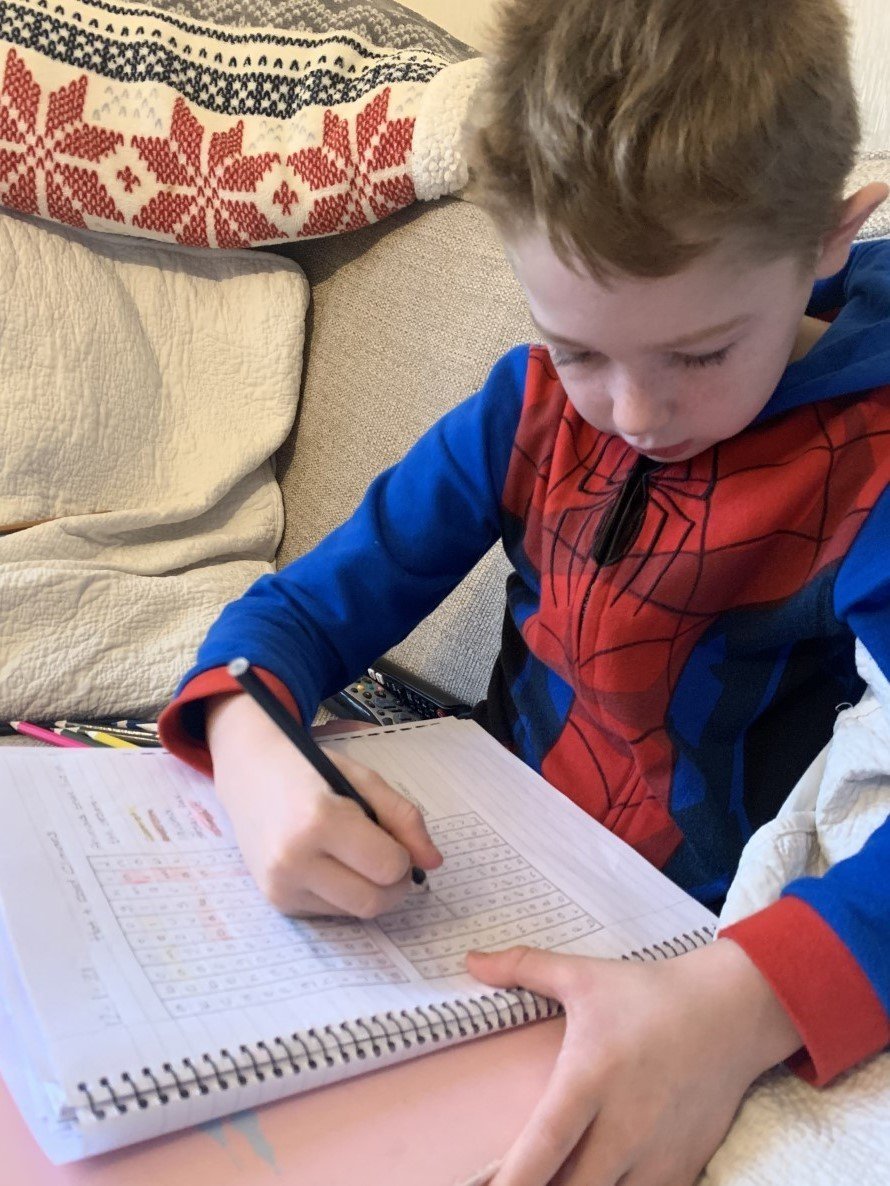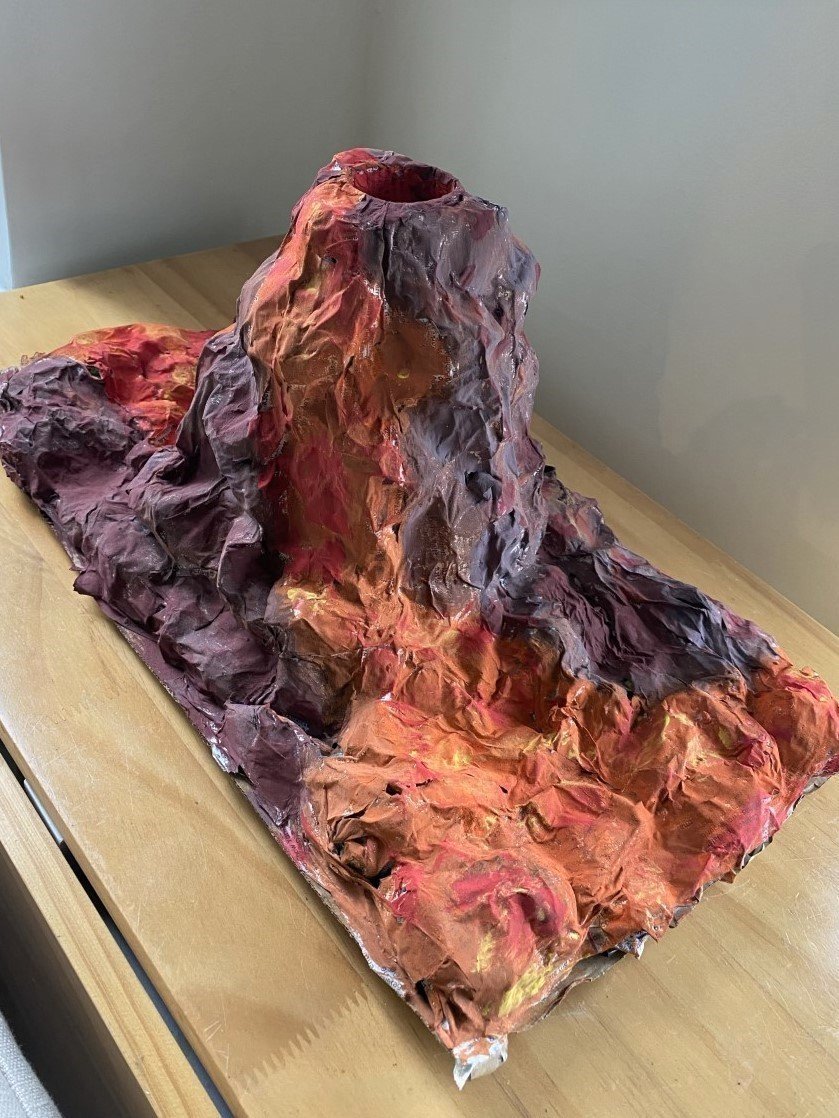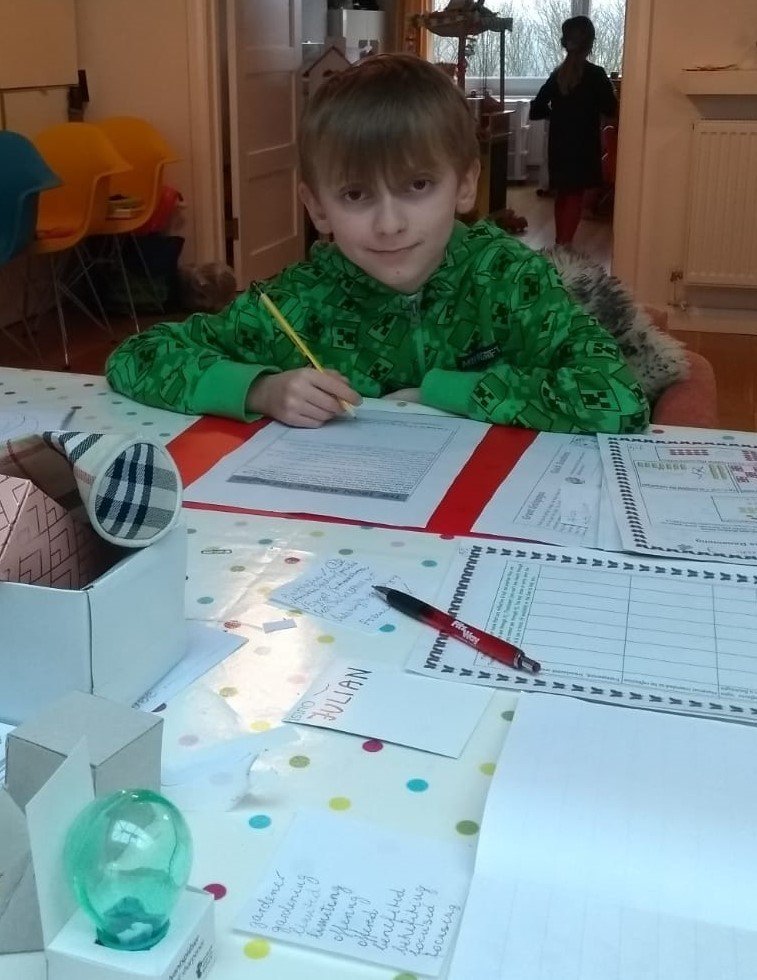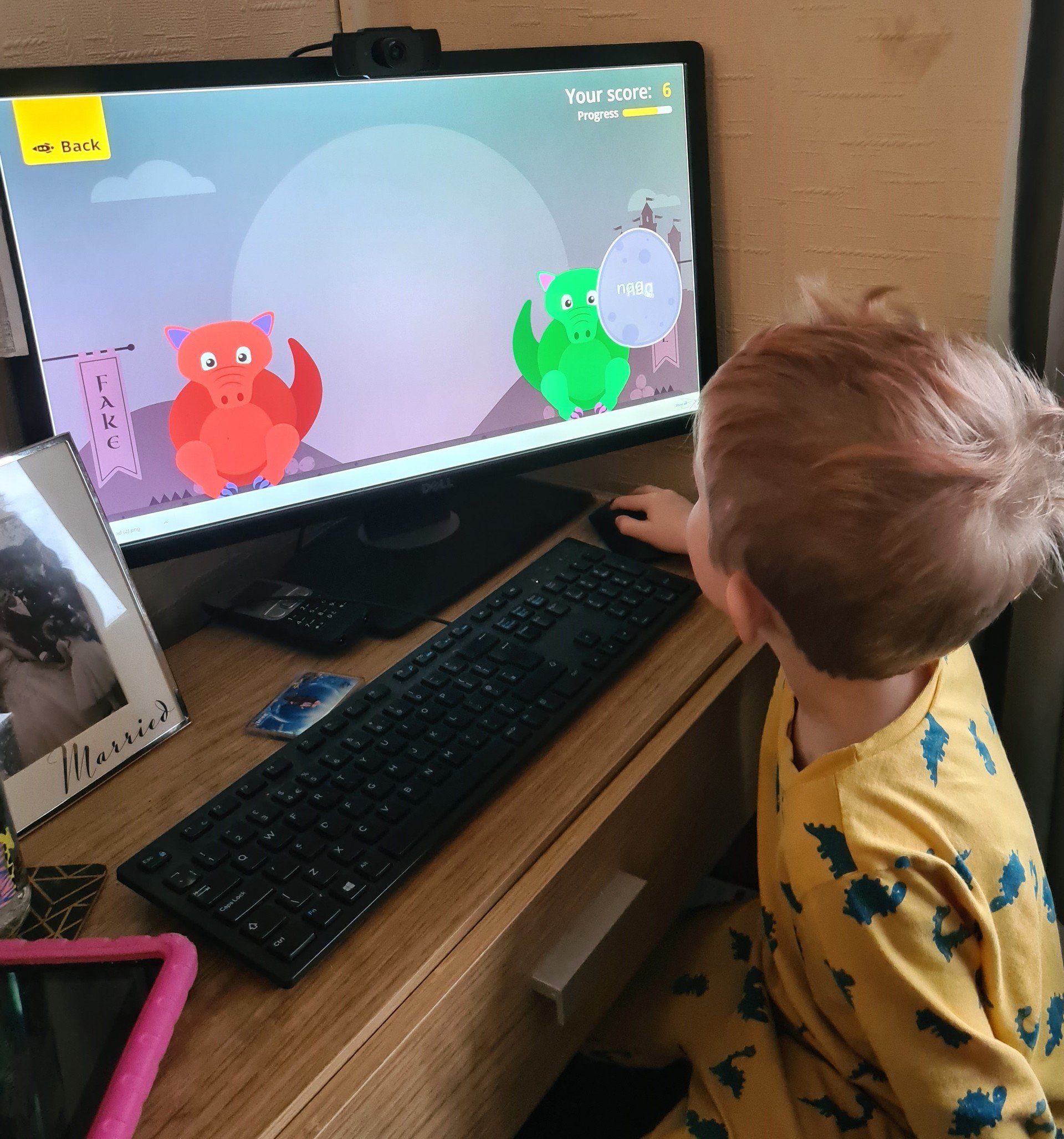 As part of their topic 'Indian Spice', Luca helps to make a Chicken Tikka and then, after researching on the internet, creates his own Temple from a shoe box and a gold crown from a cake. Very creative!
Luca uses his knowledge of shading and techniques learned in class to draw and colour a pumpkin.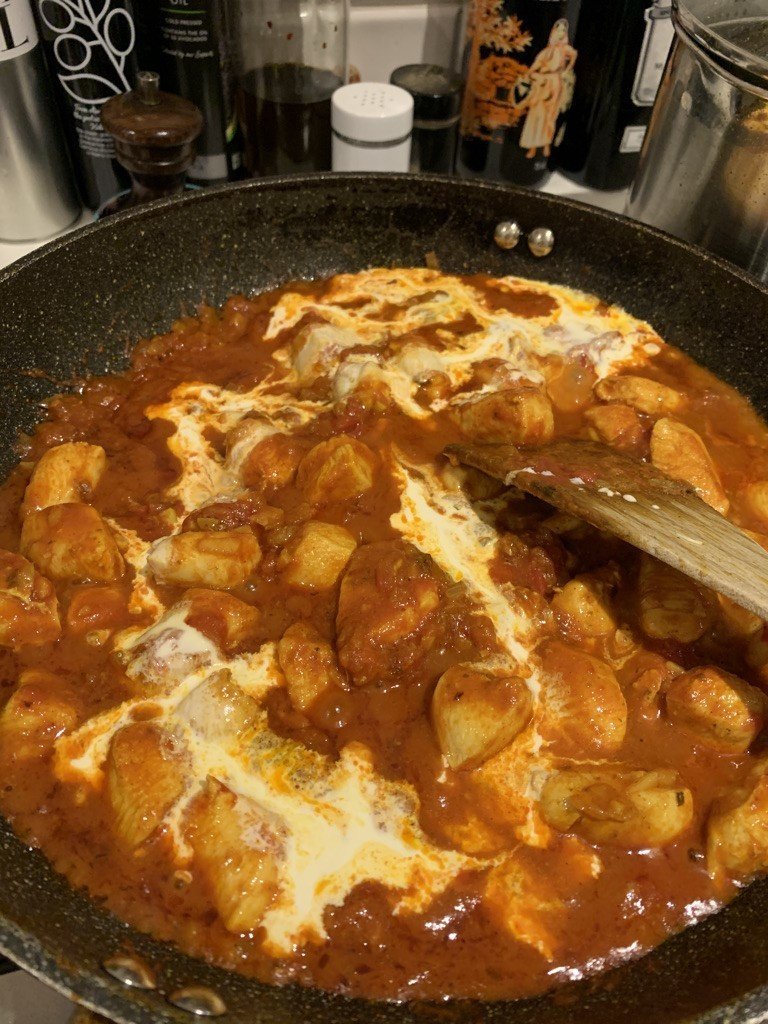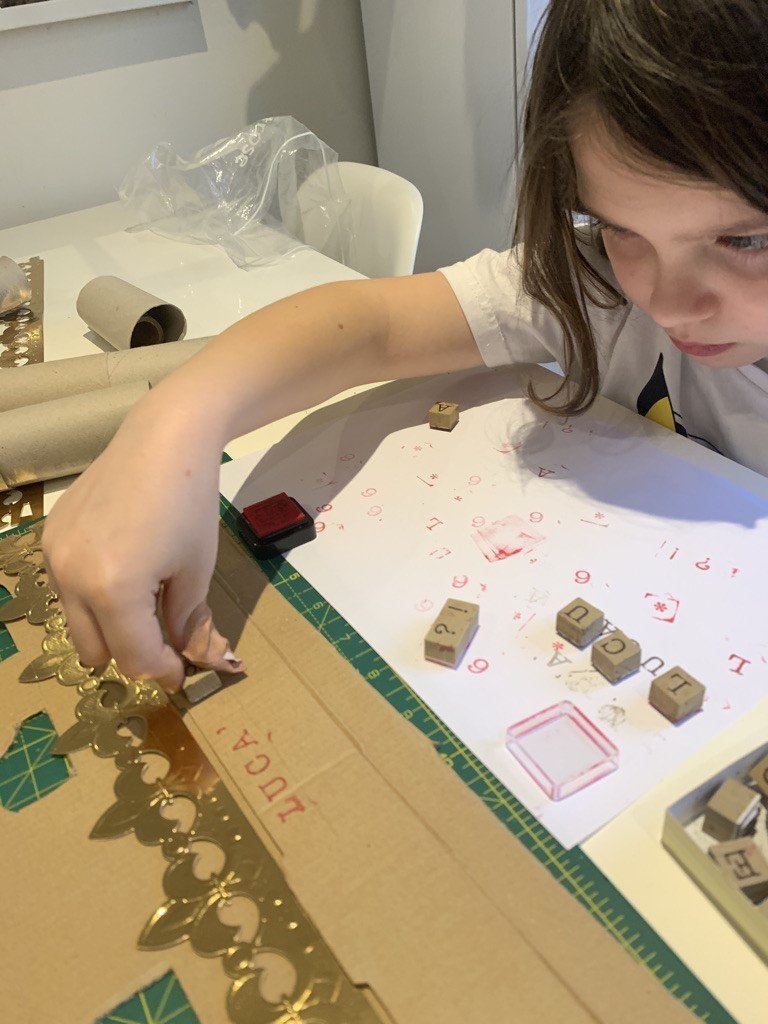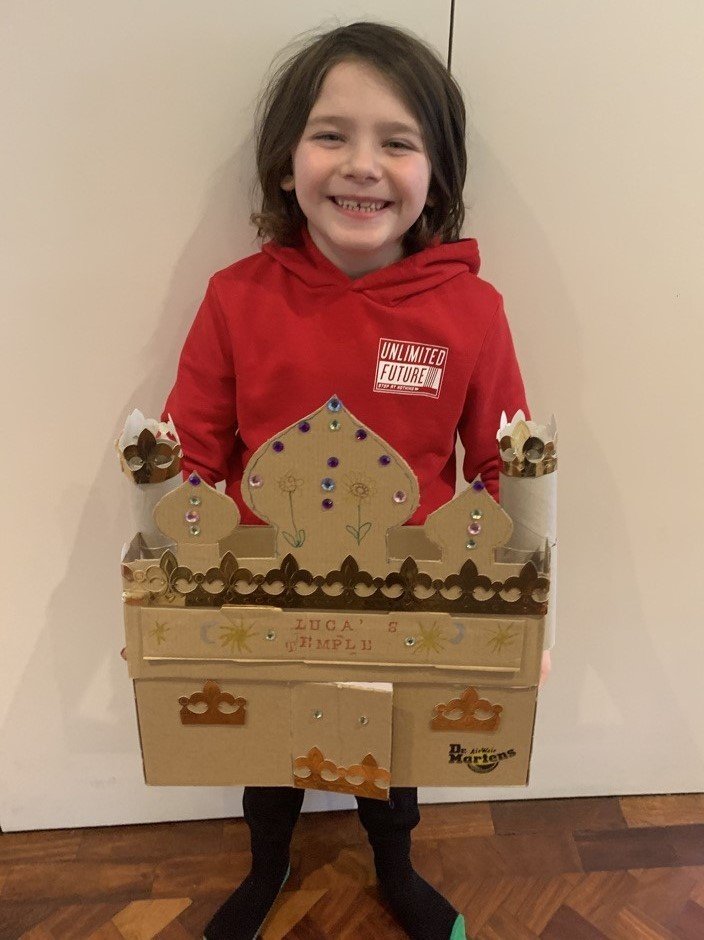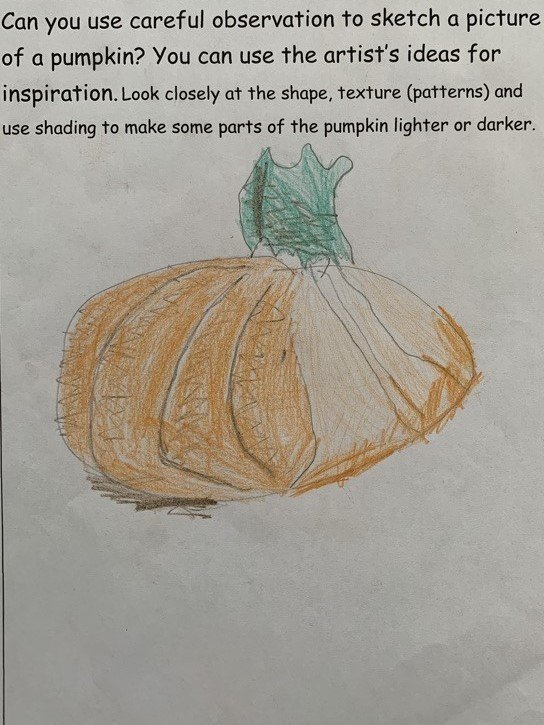 Harry locates India on a globe, Lukas practises writing numbers in French, Wiktor shares his work on doubles and Jasper does some baking.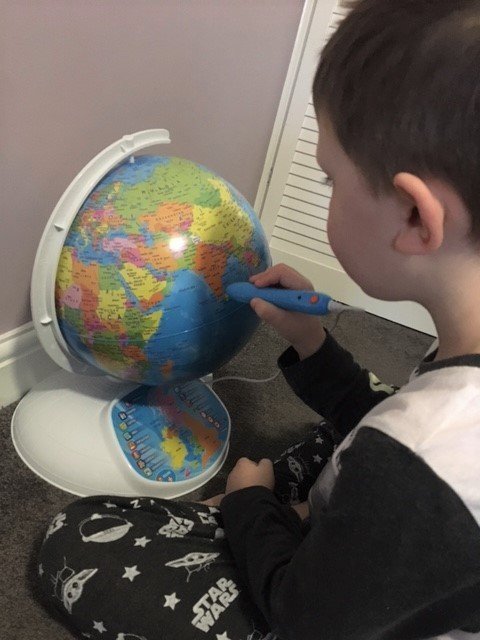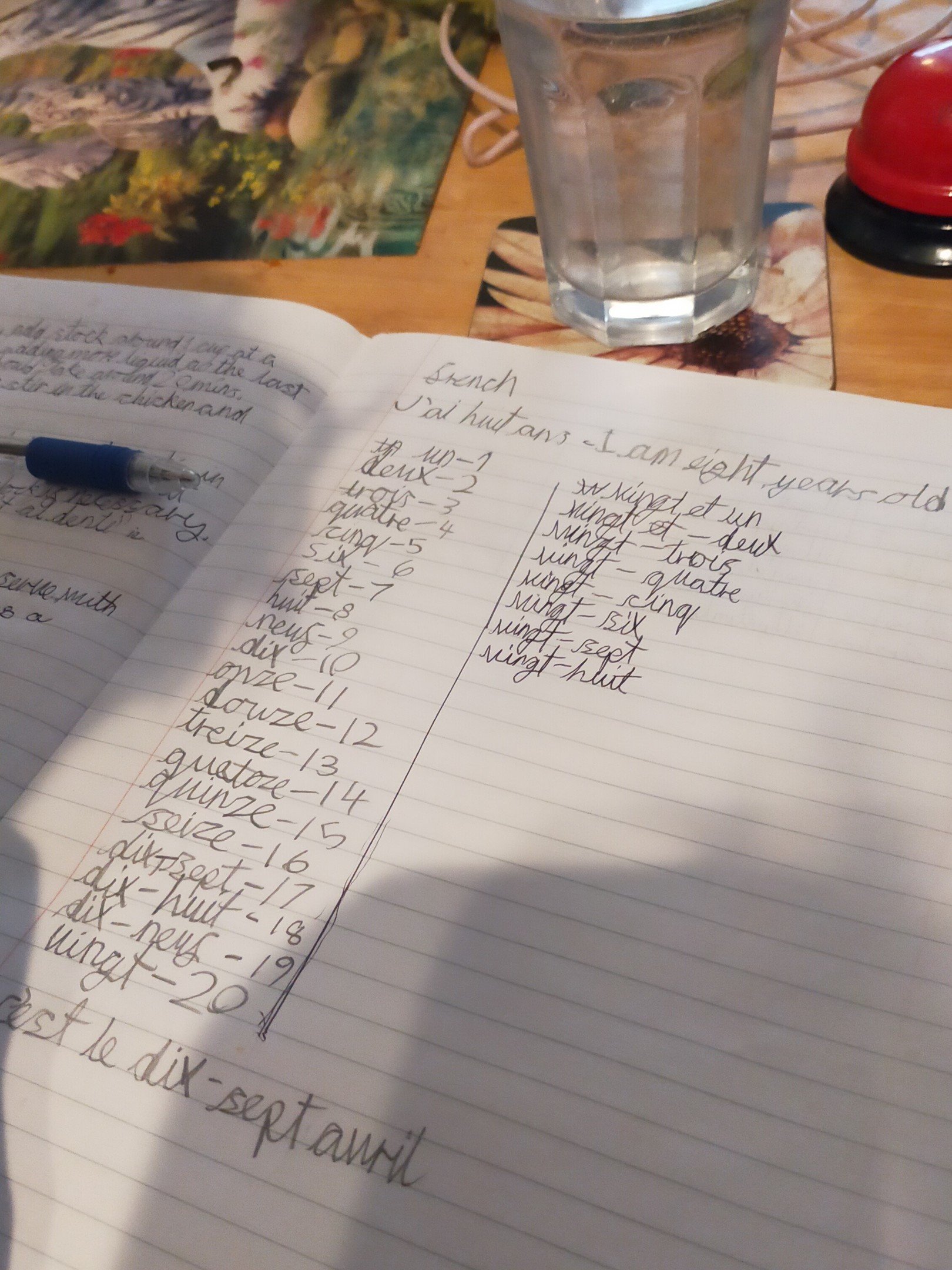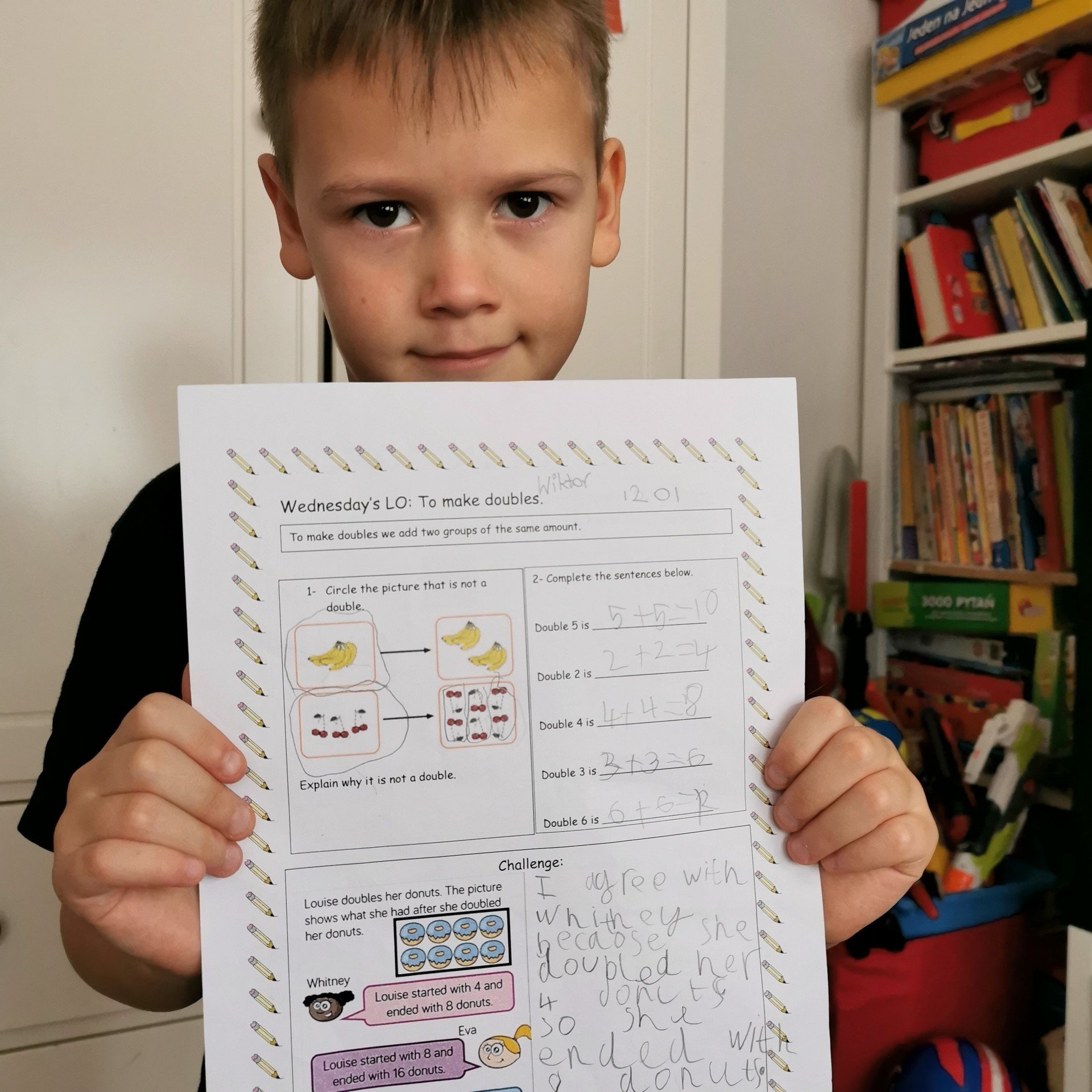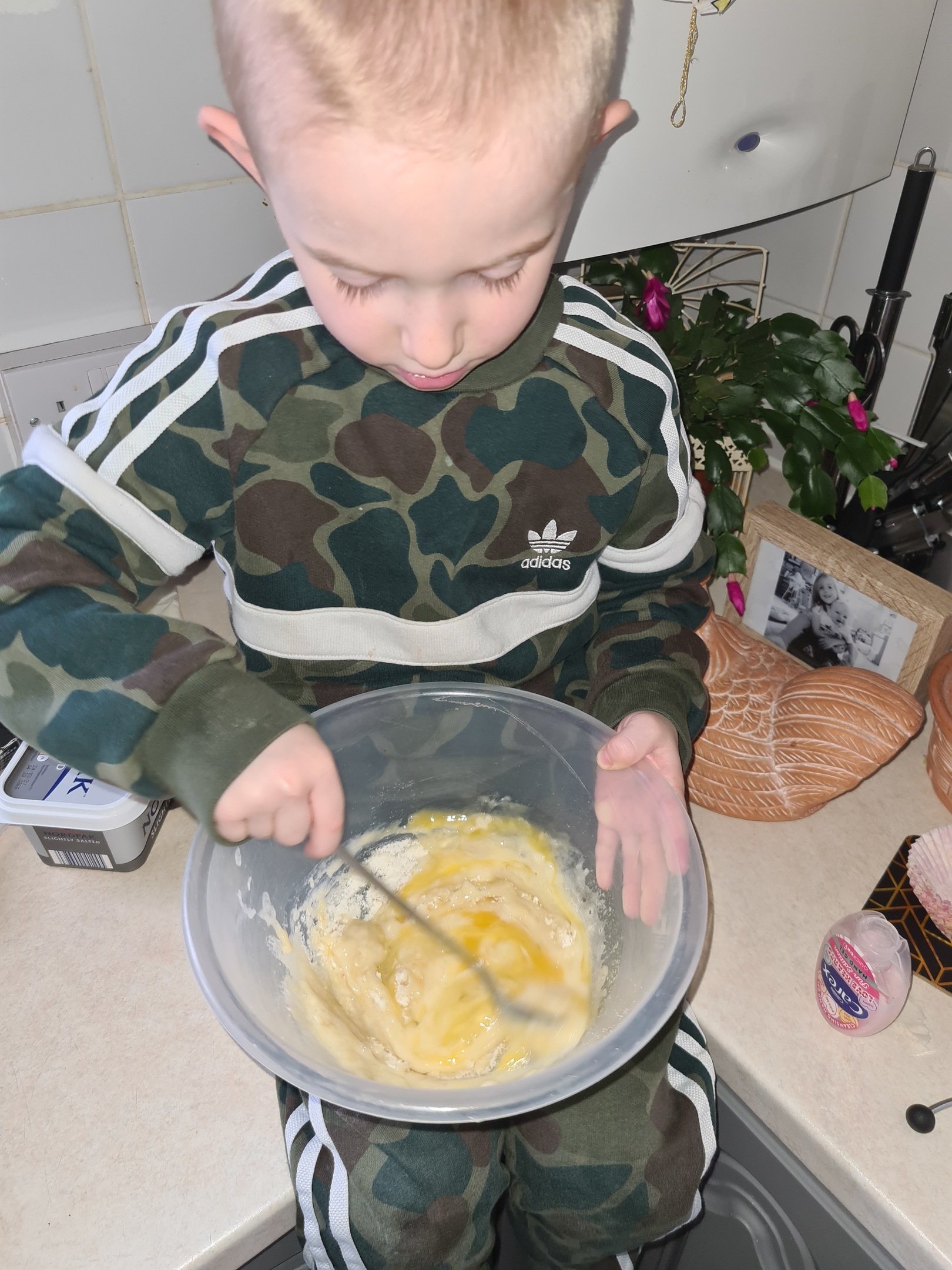 Eira made a bear stick puppet and feeds it some porridge! She has also made a story in a box based on 'Goldilocks and the Three Bears'.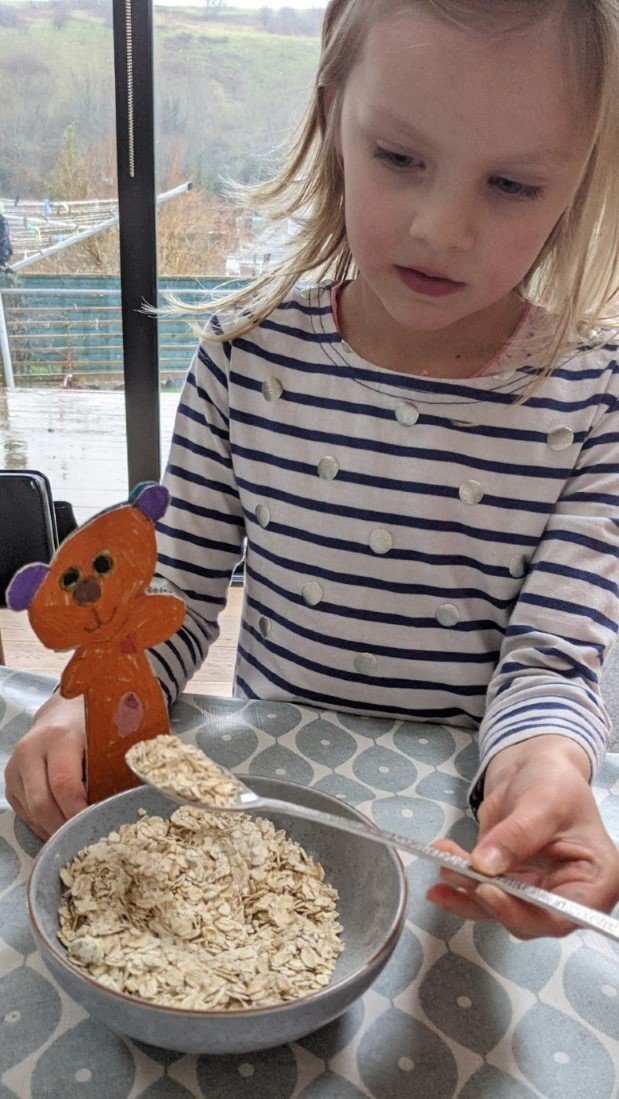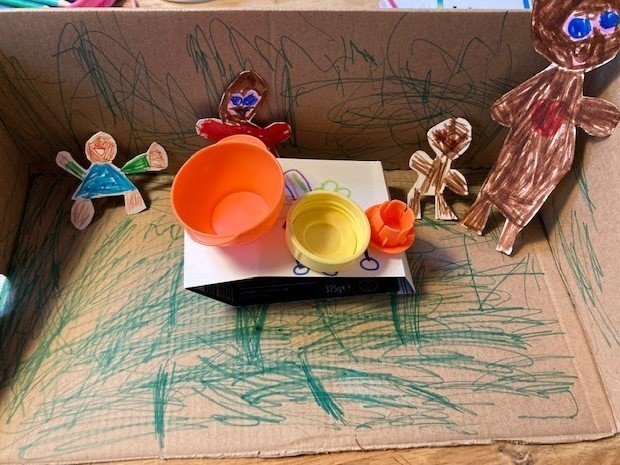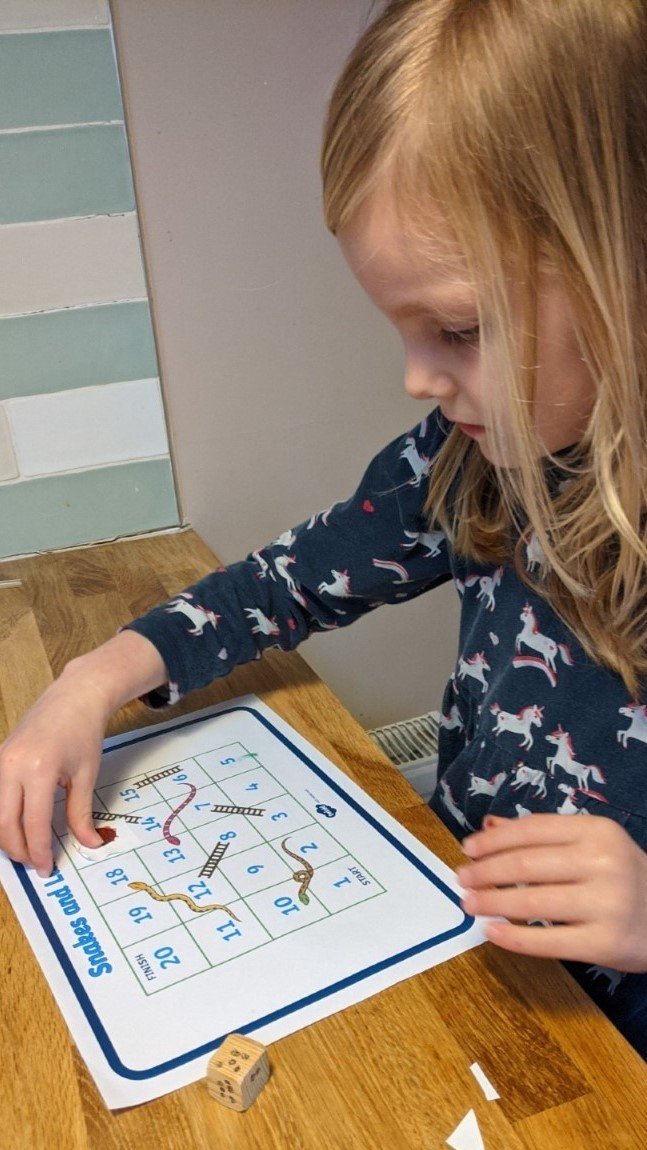 Harry's Indian Temple, Kira's bear finger puppet and Rashid helps to make lunch. Paula in Year 3 has made reading and yoga part of her Monday-Friday routine.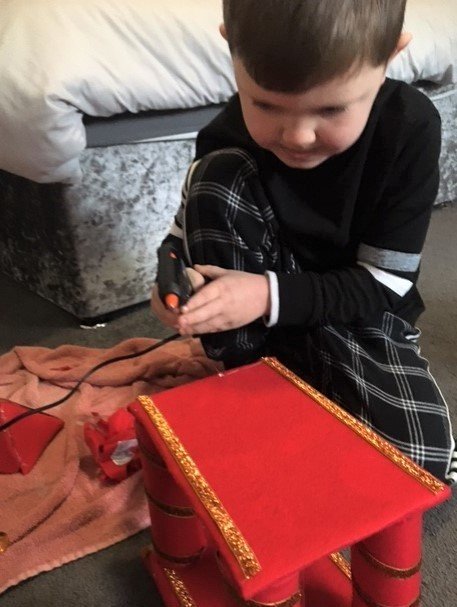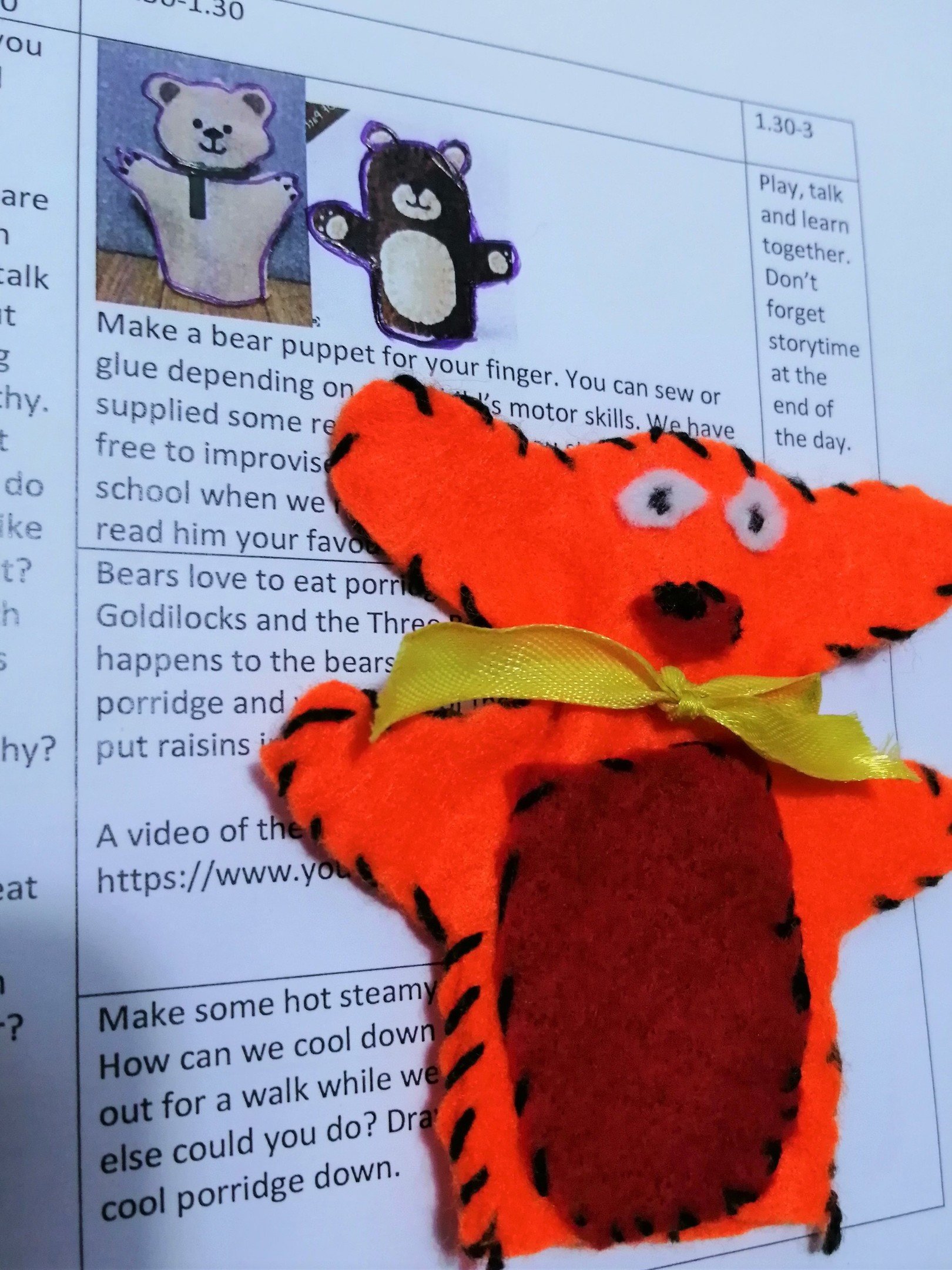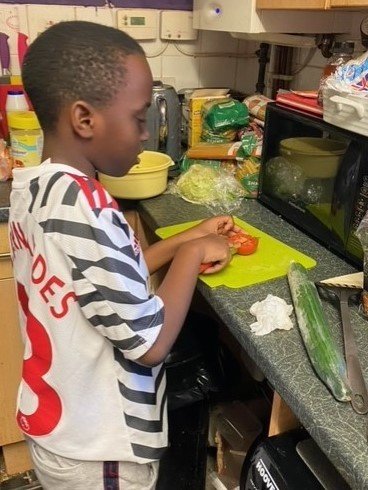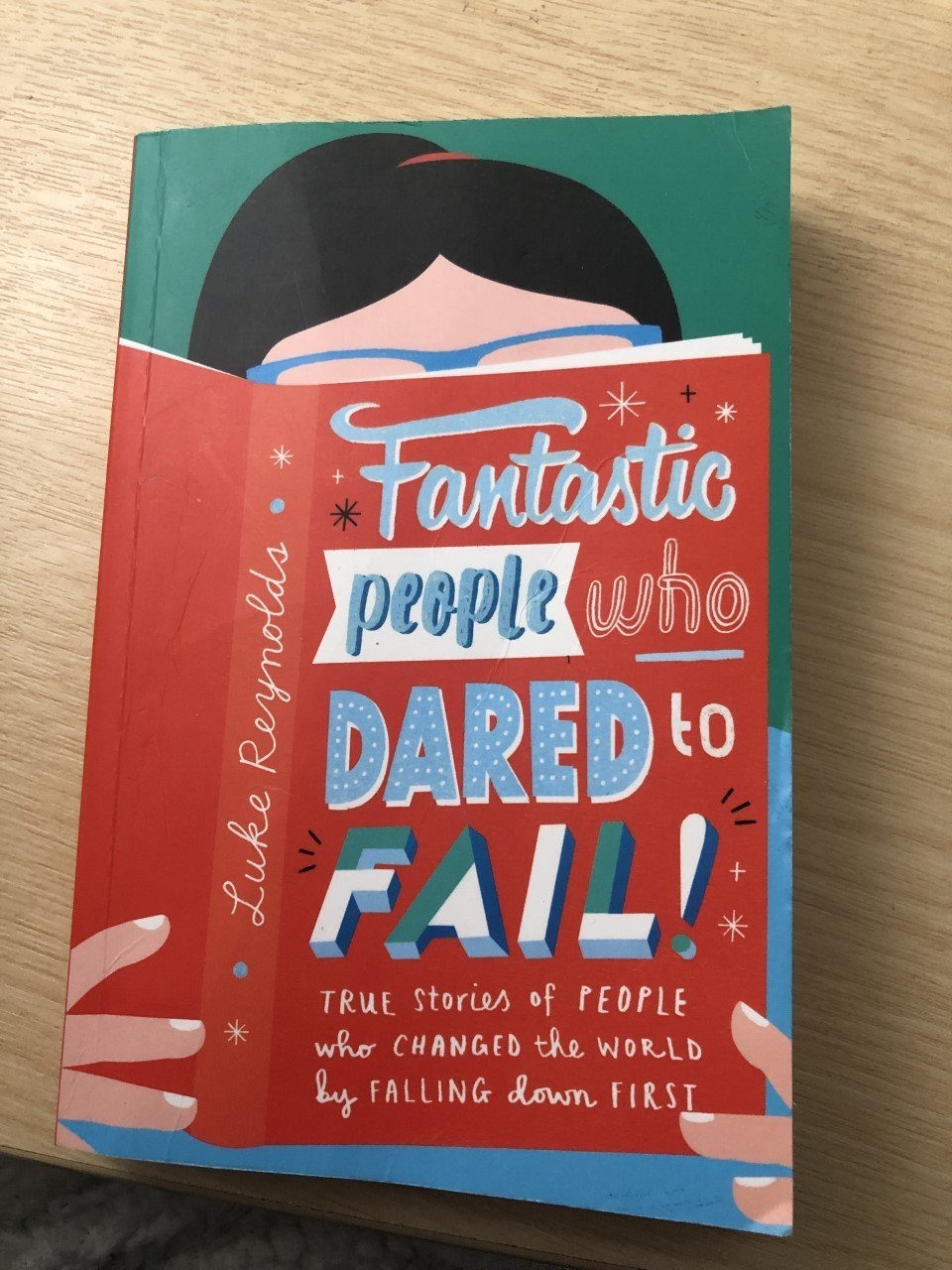 Lukas tries his hand at making a 'Seville orange marmalade crepe-suzette' as part of Year 4's topic, 'The World's Kitchen', and Fabian finds out about volcanoes as part of the Year 6 topic, 'Disaster!'. Kowen gets comfortable and settled for the day's learning.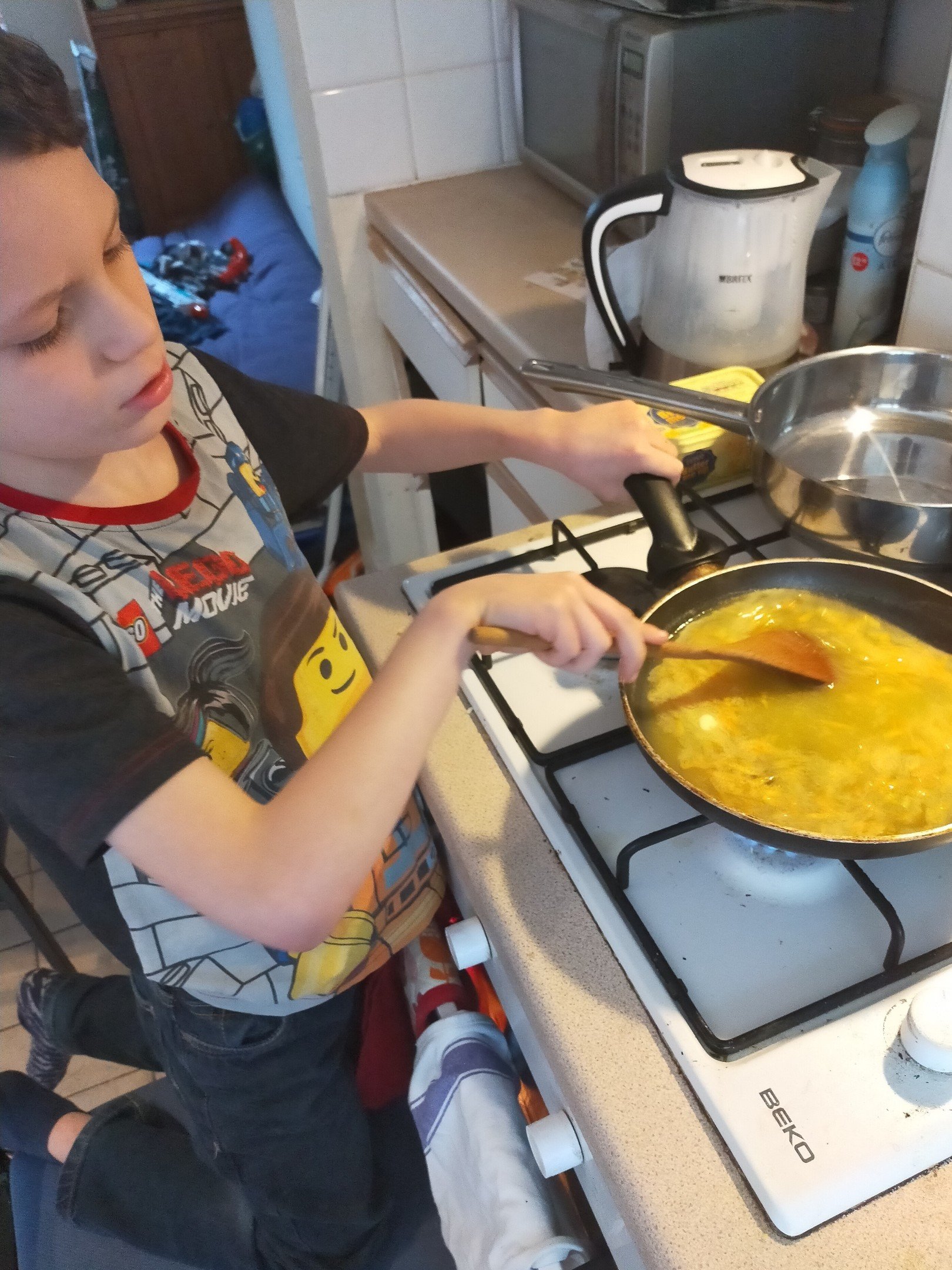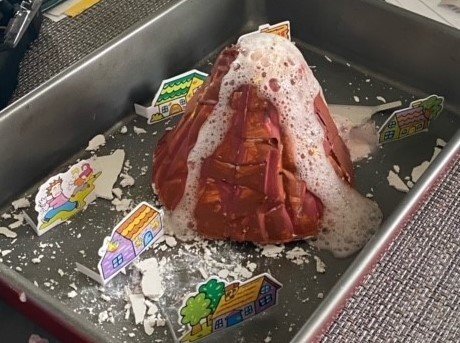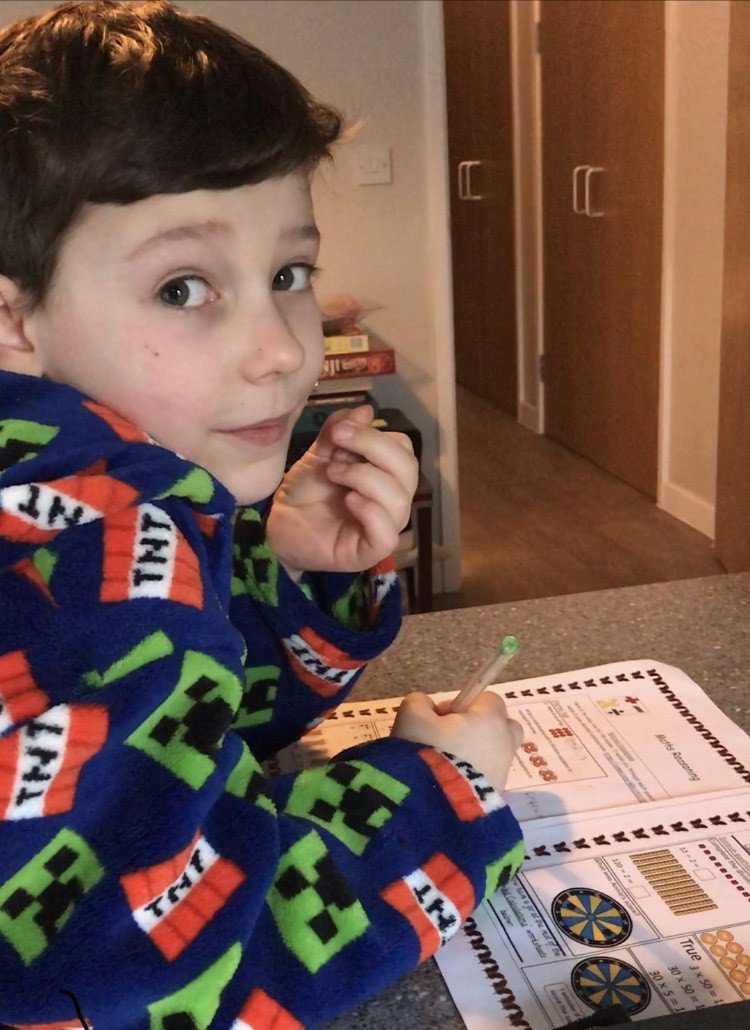 Thank you to everyone who has sent in photos of their child's home learning. Children and adults, we recognise this situation is not easy but you are all doing a great job and we really appreciate it!