Educating in Faith, Hope and Love. We may be small but we are mighty.

A warm welcome to our website from all at St Joseph's Catholic Primary School!
Check out our news section for all the latest news and pictures from our school.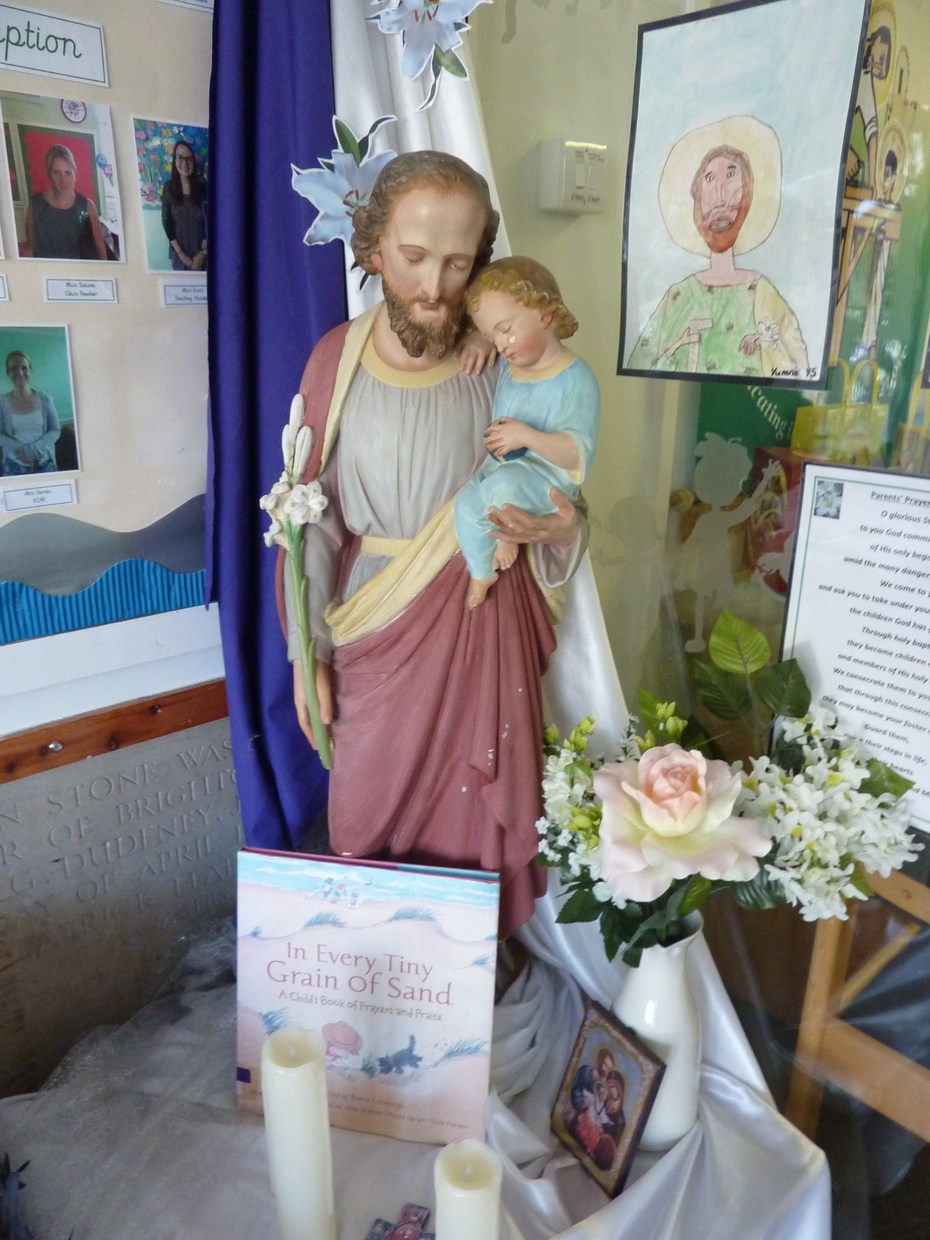 We hope that this site will act as a guide to the way we, at St Joseph's Catholic School, strive to achieve the aims set out in our Mission Statement.
Please take some time to look around and see the many opportunities we offer to the children in our care.
Click on the main headings on the left side of the page and this will highlight other options.
Don't forget to check back soon for more exciting updates.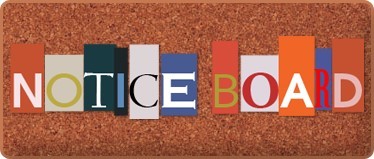 Open Day: 23.11.16
Open Day for prospective parents with children looking to start September 2017.
If you are unable to make the date on the flyer below, please make sure you contact the office and arrange a visit at another time. We'd love to meet you.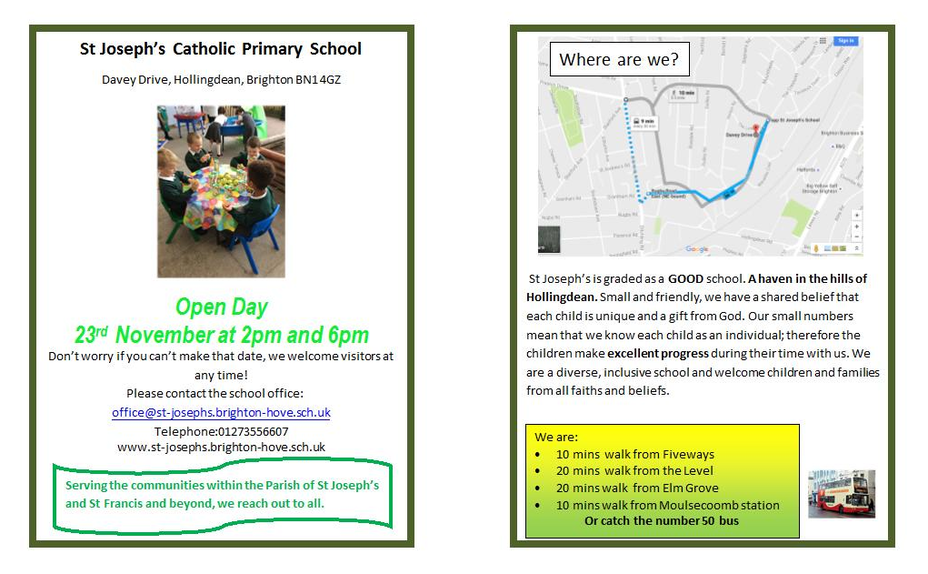 Secondary School applications for Year 7 for September 2017
Despite only being a few weeks into term, the application process for transfer to Year 7 (for our current Year 6 pupils) in September 2017, has begun.
October 31st is the closing date for applications. Please follow this link for more information about the application form/process.
If you need any help/advice over the next few weeks, please pop into the office or speak to Mrs Foan or Miss Skinner.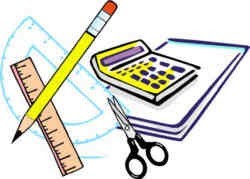 _______________________________________
Flu Vaccinations for Years 1,2 and 3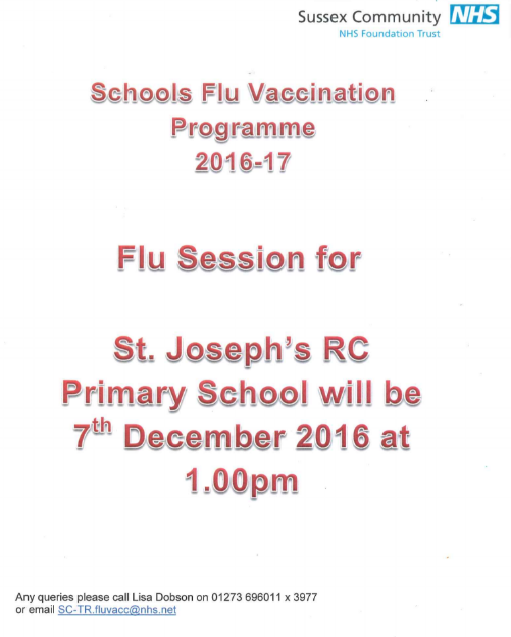 We are delighted to be able to share our Section 48 (RE) inspection report with you.
We were graded as an overall good but with many areas of outstanding.
Highlights and points to celebrate include:
•"St Joseph's is a warm and welcoming school which nurtures its pupils spiritually and academically".
•Pupils make good progress at the school, they are happy and achieve well".

•"Pupil behaviour is excellent…"

•"…. beautifully kept learning environment with attractive displays, artefacts …"
•A parent wrote "We feel very lucky and glad to be part of this wonderful school".
•In observed lessons "the standard of teaching and learning was good or better in all cases. In the best lessons, pace was very good and teaching strategies used very effectively".
•Parental questionnaires returned as part of this inspection were overwhelmingly positive in their view of the school".
To view the whole report, please click on the link to our Statutory Information

Welcome Letter from the Head Teacher :
Welcome to St Joseph's Catholic Primary School. Choosing the right school for your child is one of the most important responsibilities you undertake. The purpose of our school website is to help you make that choice and to give you valuable information about our small but very special school.
St Joseph's is part of the National Catholic Education System, and functions in partnership with the Diocese of Arundel & Brighton and Brighton and Hove Local Authority. We strive to promote the values of our Christian faith throughout our daily life; to deepen and kindle the child's relationship with God through prayer, worship and liturgy. We provide a religious syllabus, which develops our children's knowledge and understanding of our faith.
At St Joseph's we always put our children first; valuing and encouraging them through the understanding that each is uniquely created and loved by God. Our pupils come from the parish of St Joseph and St Francis, as well as from our local area of Hollingdean; we are a school rich in diversity.
Our small classes give us the wonderful opportunity to get to know each and every one of our pupils well. The children themselves say that they are like a family. As in all families we have our ups and downs; but each day is a fresh, new start; to live, to learn and to hope. We teach our children to be tolerant, resilient and considerate to one another.
Our pastoral care is second to none. As well as two full time learning mentors we have a welfare assistant who supports our children and families by ensuring that attendance is above average.
Our school is tucked away in the hills of Hollingdean, and is not always visible to passers-by but those who come to visit do not want to leave; such is the secret of our success. Visitors to the school frequently comment of the good behaviour of our pupils, the calm and friendly ethos. They are also delighted by our spacious playground and our wonderful views of Brighton
We are extremely proud of our enthusiastic, inspirational staff who are committed to educating the whole child; ensuring that lessons interest and engage learners. They make sure that work is matched well to pupils' needs . Through our creative approach to the curriculum, we take the children on exciting and informative learning journeys; enabling all to flourish and achieve.
We work to develop a sense of community and partnership through prayer, worship and mutual respect for each other and our world. We welcome our Parents and Carers into school. As such, you play an important role in the education of your child and I hope that this will be the beginning of a happy and rewarding relationship with your family. Strong, committed partnerships between our school and our families play a crucial role in our children's development into young adults. By working together we will give your child the best start in life. We recognise that you will expect the very best education for your child. At St. Joseph's you will find excellent opportunities for them to achieve great things.
Our most recent Ofsted graded us as a "GOOD" school. Inspectors reported that our pupils make good progress during their time at St Joseph's, and the majority achieve well by the time they leave the school and their attainment is in line with their peers nationally. This is our aim for all our pupils. At St Joseph's, no child will be left behind. We may be small but we are mighty!
Our website offers you an insight into the life of St Joseph's Catholic Primary School. We would like you to see more and would be delighted to arrange a visit for you and your child.
Miss Morrison
Headteacher
________________________________________________________
School Uniform:
I would like to thank our parents/carers for supporting our quest to ensure that all pupils are in smart school uniform. The children look wonderful!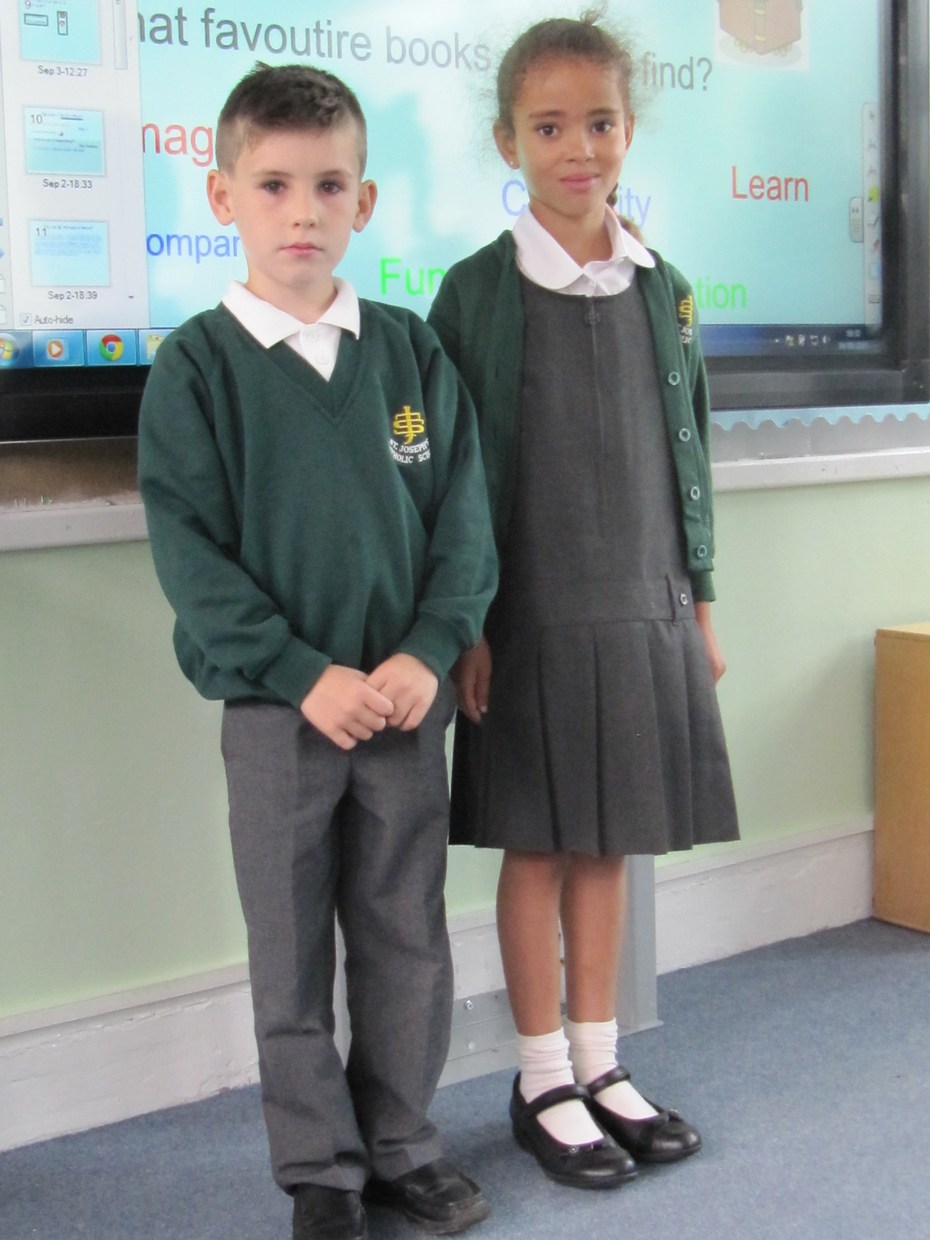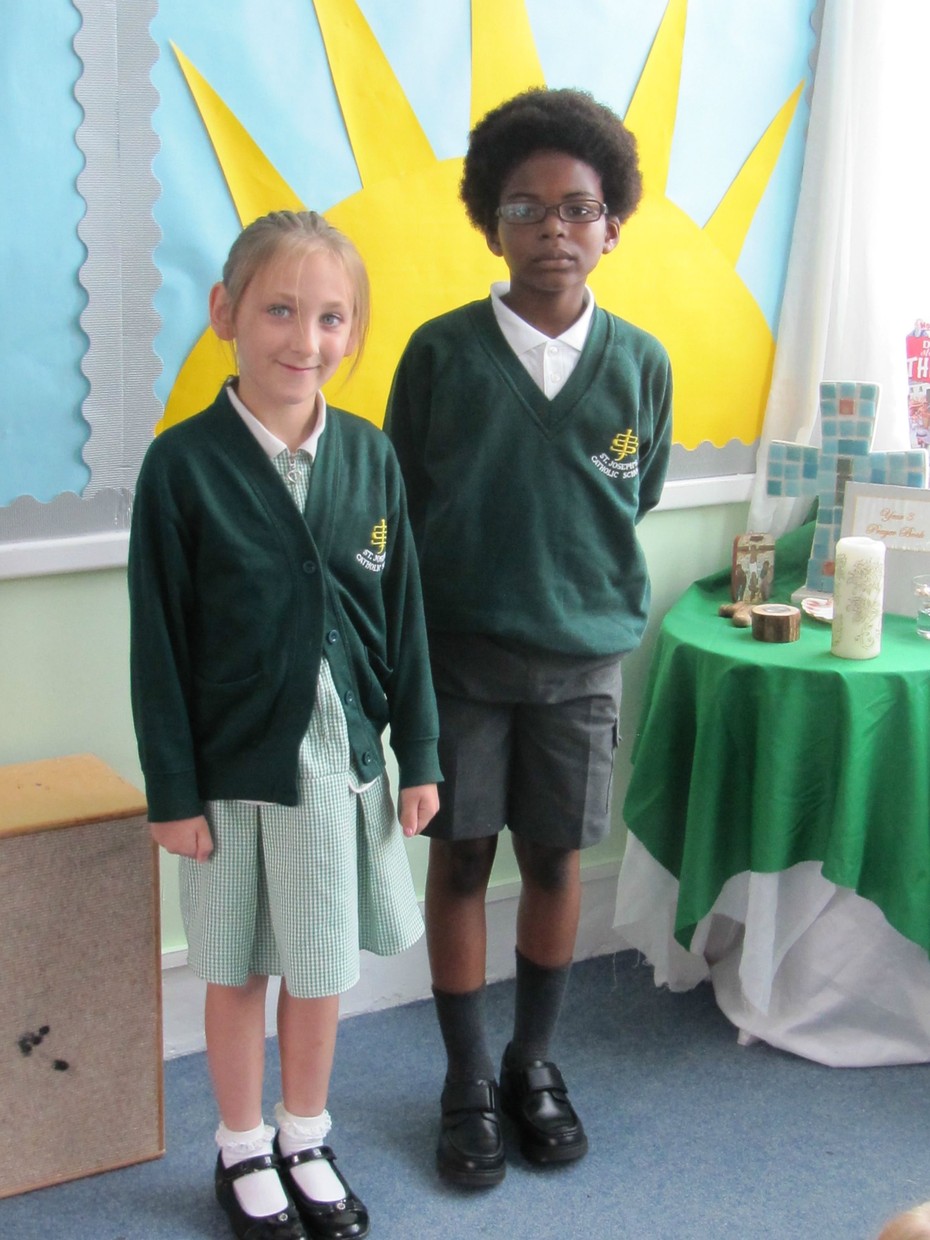 ________________________________________________________________________
Places Available:
We have places across the school, please visit us and secure your child's place. You won't be disappointed!
If you have any questions or would like to visit, please contact us and we would be delighted to help.
This is what our pupils have to say about why they enjoy our wonderful school-
Why choose St Joseph's Catholic School for your children?
Our school is small and friendly, we have a shared belief that each child is unique and a gift from God. Our small numbers mean that we know each child as an individual. The children know each other well; they themselves describe St Joseph's as a family. As in all families, we have our ups and down, our quarrels and arguments, but we follow Jesus' message of love and forgiveness. We love our school, many visitors comment on the good behaviour of our pupils and the ethos of respect combined with fun and friendship.
Latest School Calendar Events
Half term holiday

24

Oct

2016

12:00 am - 28 oct, 1:00 am

Year 6 cricket

01

Nov

2016

1:00 pm - 2:00 pm @ In school

All Saints Mass

01

Nov

2016

2:00 pm - 3:00 pm @ In School

Year 4 trip to Brighton Museum

03

Nov

2016

@ Brighton Museum
BBC Newsround
Latest Newsround stories