At St Joseph's, we are lucky to have a well-equipped computer suite which children from Reception to Year 6 are able to use to enhance their learning in all areas of the curriculum. Our computing suite allows every pupil to have weekly, planned computing lessons, which follow National Curriculum objectives. The suite is also frequently used to supplement and strengthen children's learning in other subjects.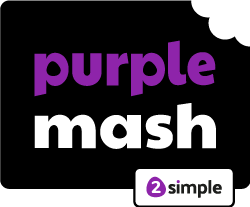 Pupils at St Joseph's use the award-winning website Purple Mash as part of their computing lessons. This website is packed with creative tools, educational games and themed resources. Purple Mash furthermore provides our children with the skills to get creative, designing their own cards, talking books and animations.
In Computing lessons in Key Stage 1 children are introduced to the concept of algorithms. They explore giving and carrying out instructions using directive language, progressing to writing their own instructions and learning to use simple input and output sequences. They also learn to problem solve by 'debugging' the sequences they create. They have the opportunity to use microphones, cameras and video cameras to record their own.
In Key Stage 2, children build upon their knowledge and understanding of algorithms to explore simple coding programmes on our learning platform Purple Mash, as well as using other software such as Scratch. This provides children with the opportunity to analyse and solve problems as they learn to write their own code and overcome problems by 'debugging' their programmes. Computing at St Joseph's also provides great links to other areas of the curriculum such as Science, Maths and PE. Here children have the opportunity to use equipment such as data loggers and pulse rate monitors to record real life information from their surroundings, for example, investigating noise or light levels around the school, or how their pulse rate changes during exercise.
Computing Curriculum
Click HERE to see the National Curriculum programmes of study for Computing in KS1 and 2.
Click HERE to see a copy of the Purple Mash Curriculum overview that we follow at St Joseph's Catholic School.
Software to support
We have access to several educational sites that are used in school to support your children's learning, but which can also be accessed from home. There are lots of fun and challenging activities to keep your child busy and improve their computing, maths and reading skills. The children have been given a login for each website (some do not need one.) Not all children will have a log in for Reading Eggs.
If you have problems logging in, please see your child's teacher.
Please encourage your child to use these sites at home - it will really help them. Thank you for your continued support with your children's learning.
Purple Mash Sumdog Reading Eggs Timestables Rockstars Scratch
Our dedicated computer suite and facilities.