2022-2023
Welcome St Teresa's Class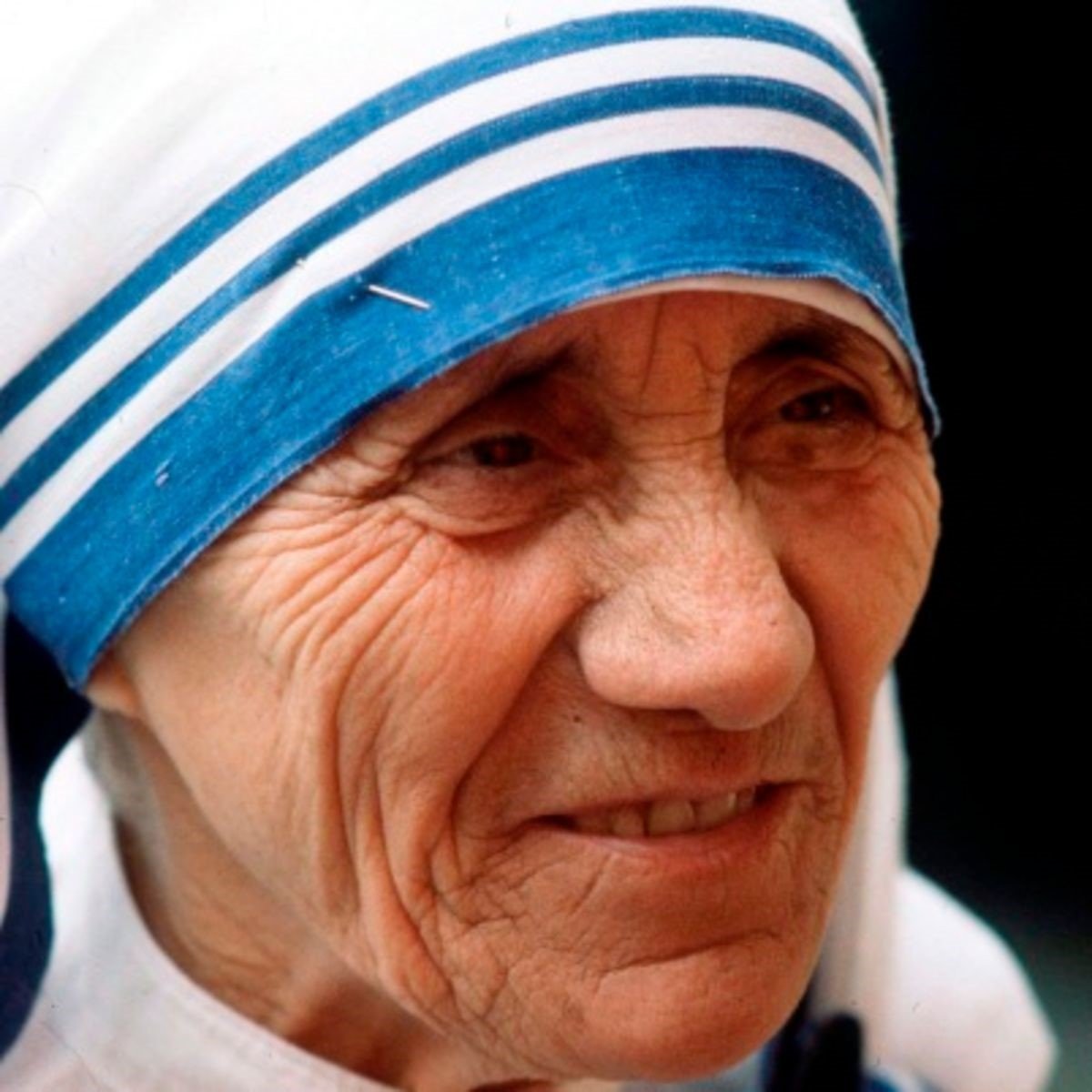 Class Teacher - Miss Redmond
Teaching Assistant - Mrs Greener
Support Staff - Mrs Klymaytis
SATS
The dates of the 2023 SATs have been released and have been added below for your information.
Date
Exam
Monday 8 May 2023
Grammar, Punctuation & Spelling - Paper 1
Grammar, Punctuation & Spelling - Paper 2
Tuesday 9 May 2023
English Reading
Wednesday 10 May 2023
Maths Paper 1 (Arithmetic)
Maths Paper 2 (Reasoning)
Thursday 11 May 2023
Maths Paper 3 (Reasoning)
Termly Overview
Please click here to view the Autumn term learning overview.
Spellings
Please click here to view the Year 3/4 spellings and click here to view the Year 5/6 spellings.
Please encourage your children to practise these spellings at home whenever possible. Children are expected to be able to spell all the words on the year 5/6 list by the end of year 6.
Children will be given a short list of spellings to complete as homework on a Friday, and are expected to return this on Monday morning. The class will then complete a spelling test on these words to check their understanding.
Week bg. 19.09.22
This week in English we have continued to work on writing our persuasive letters to the mother convincing her to take her children to the 'New Place'. We have drafted, edited and published our letters using success criteria created as a class. Below are some examples of our amazing letters.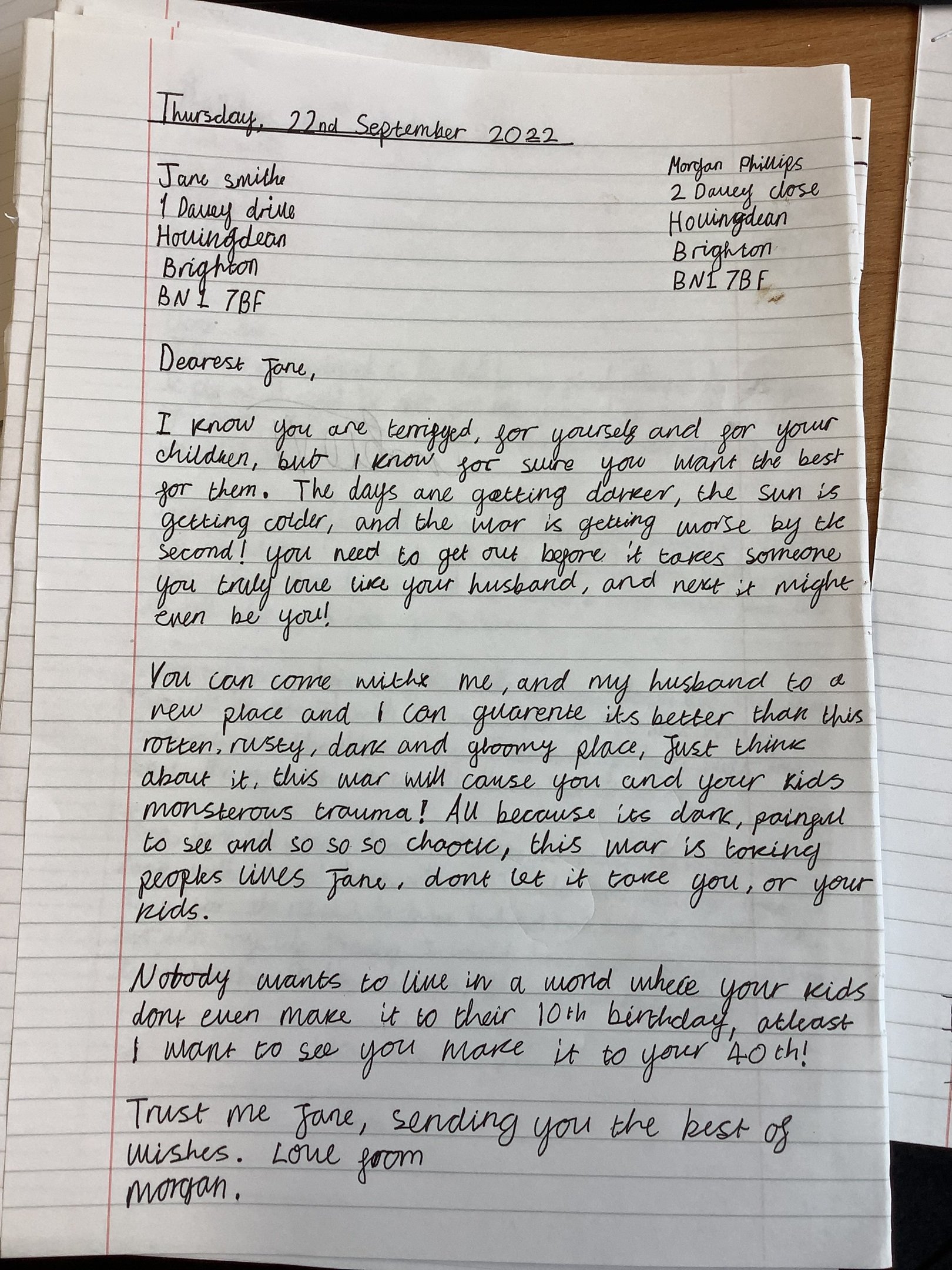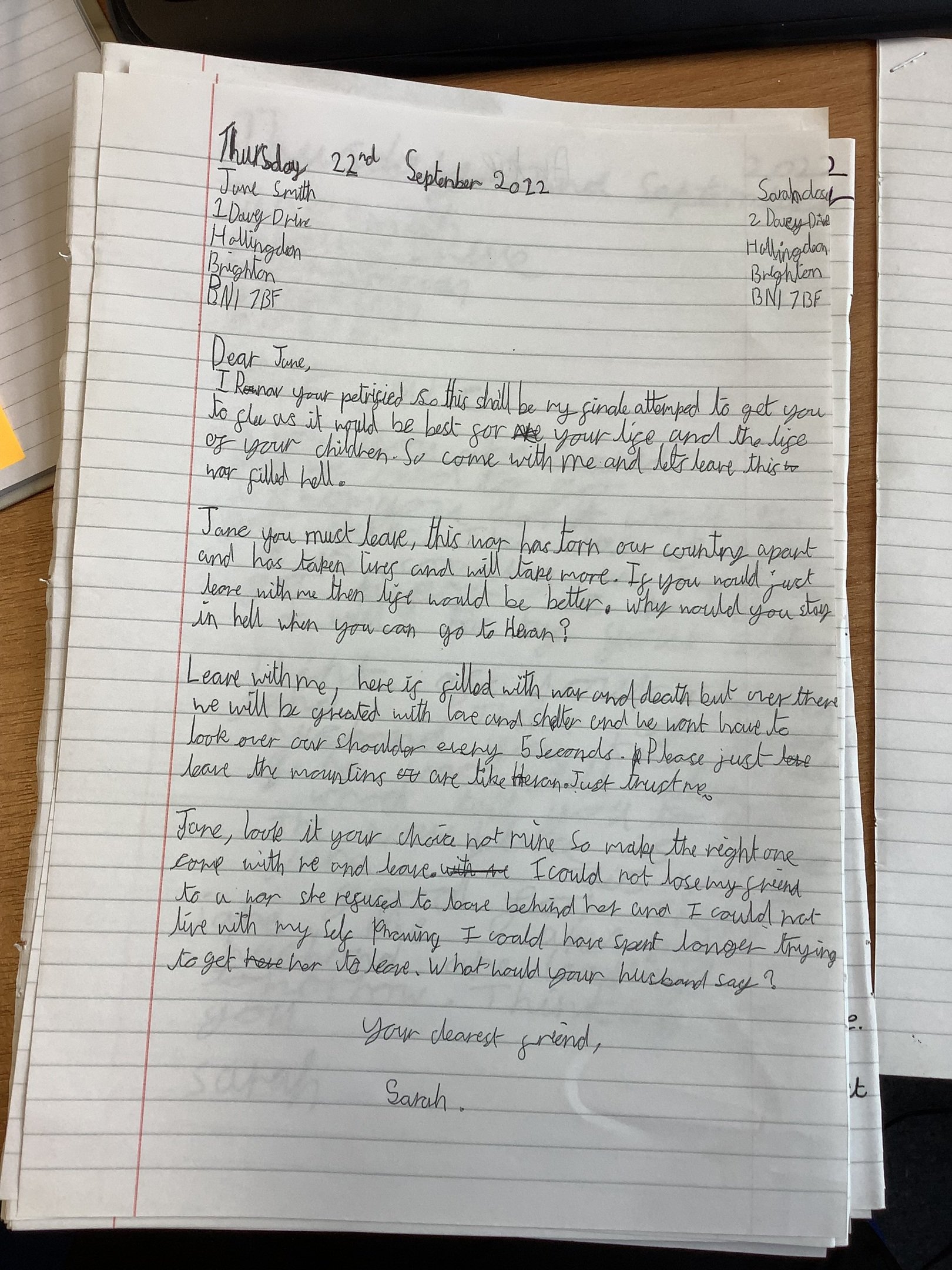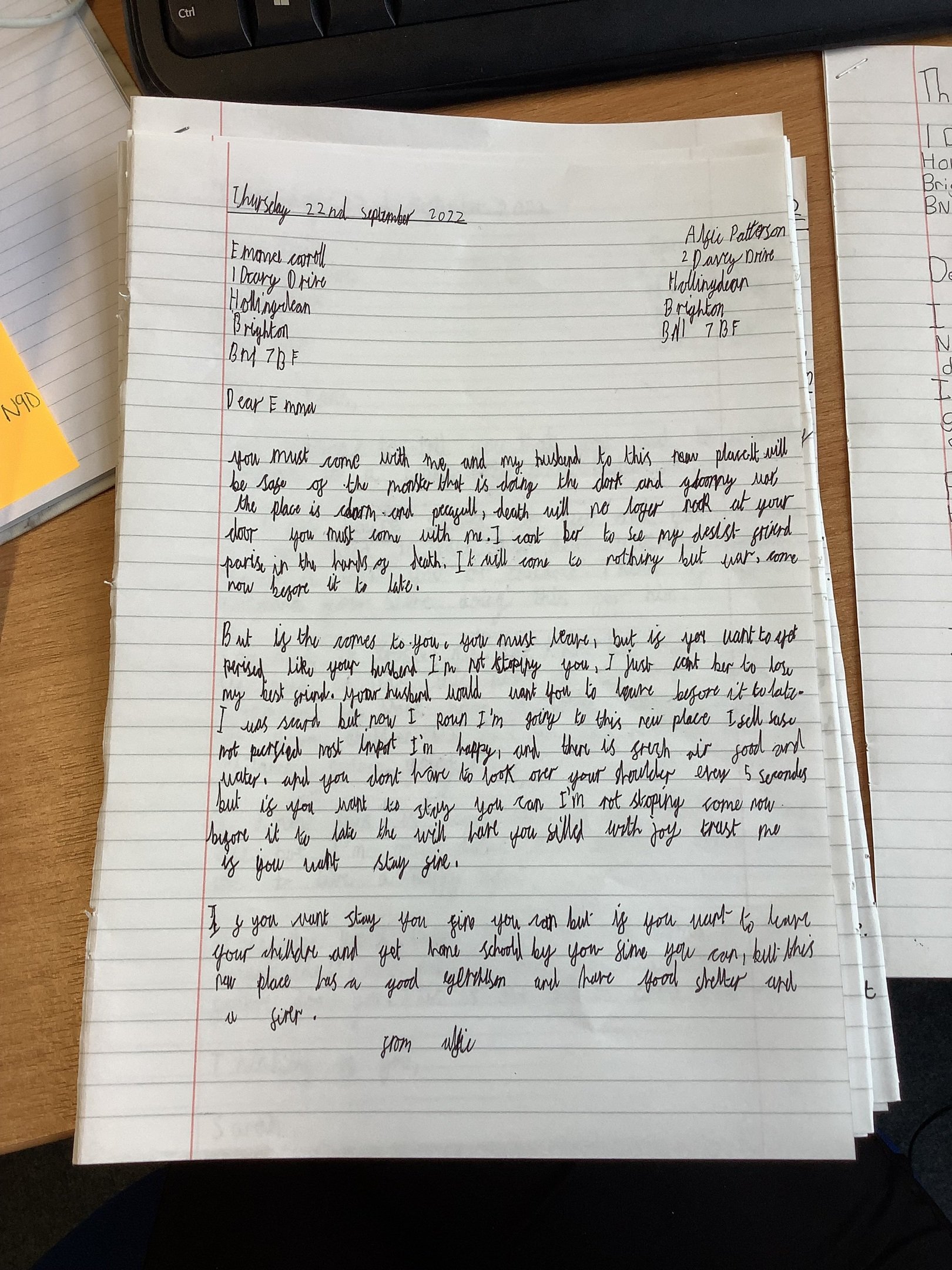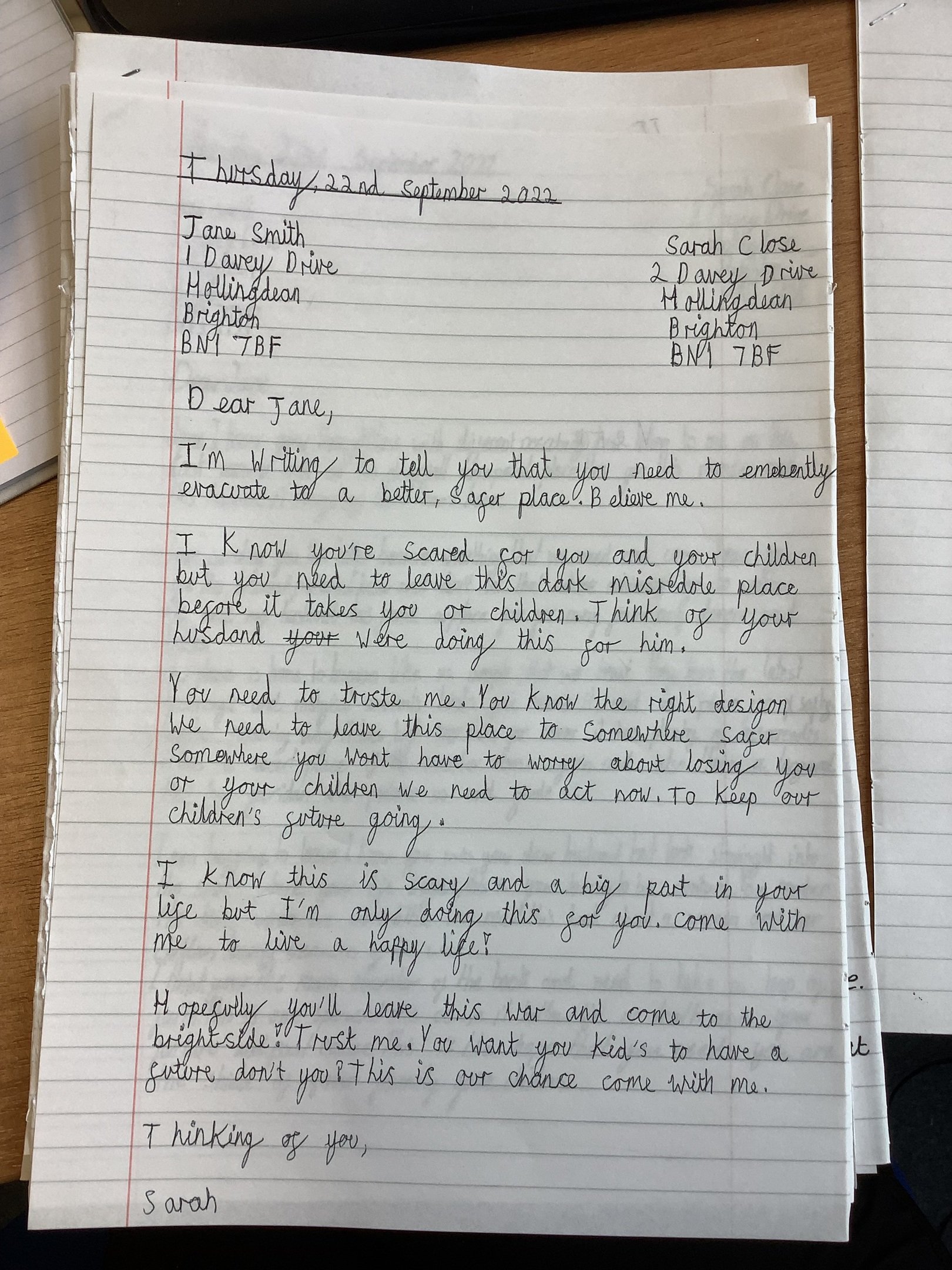 In science, having looked at animal life cycles last week, we focused on the human life cycle, its stages, and the effects of ageing. We created freeze frames to show the progression of the human life cycle in groups. Take a look below.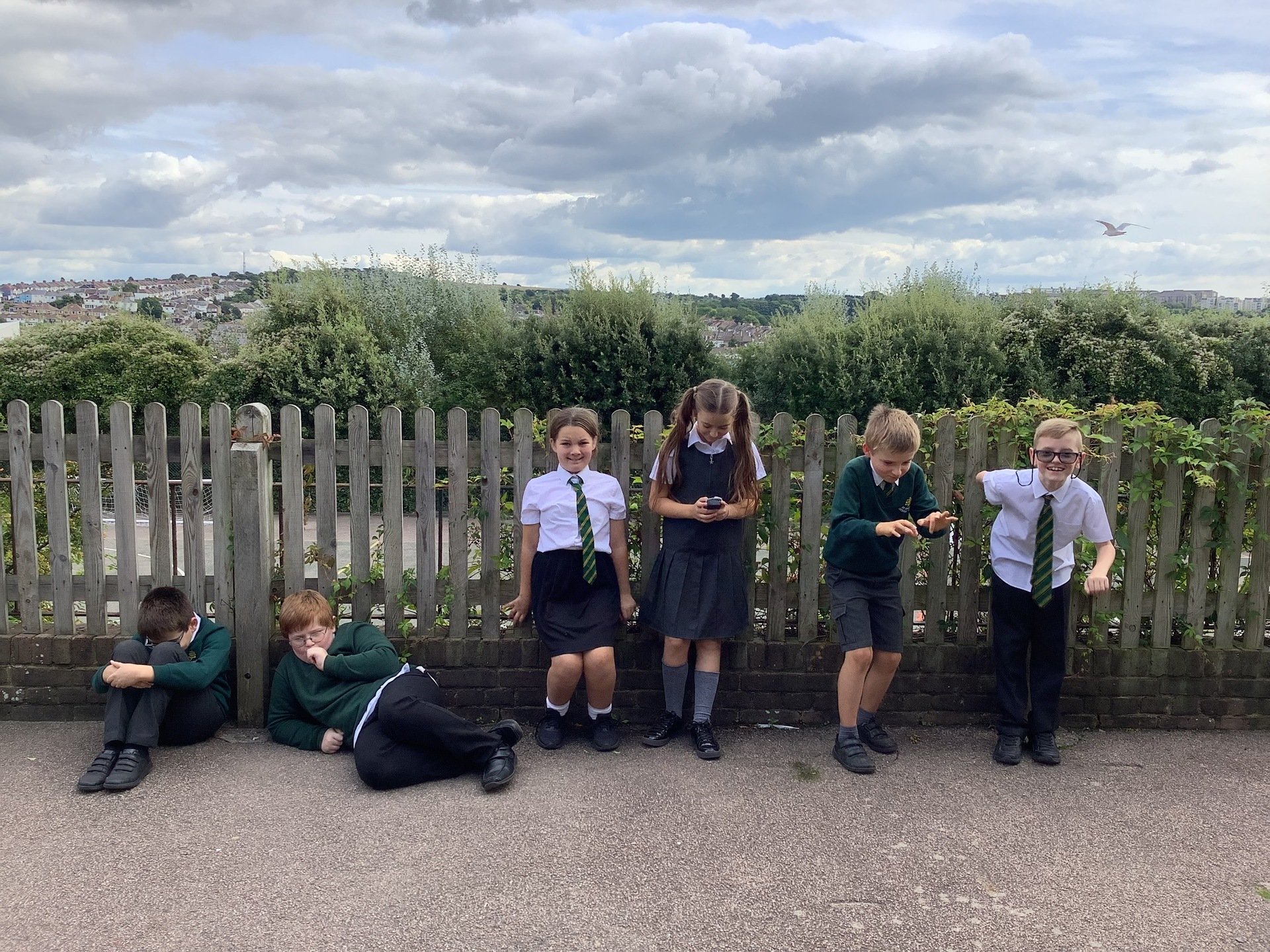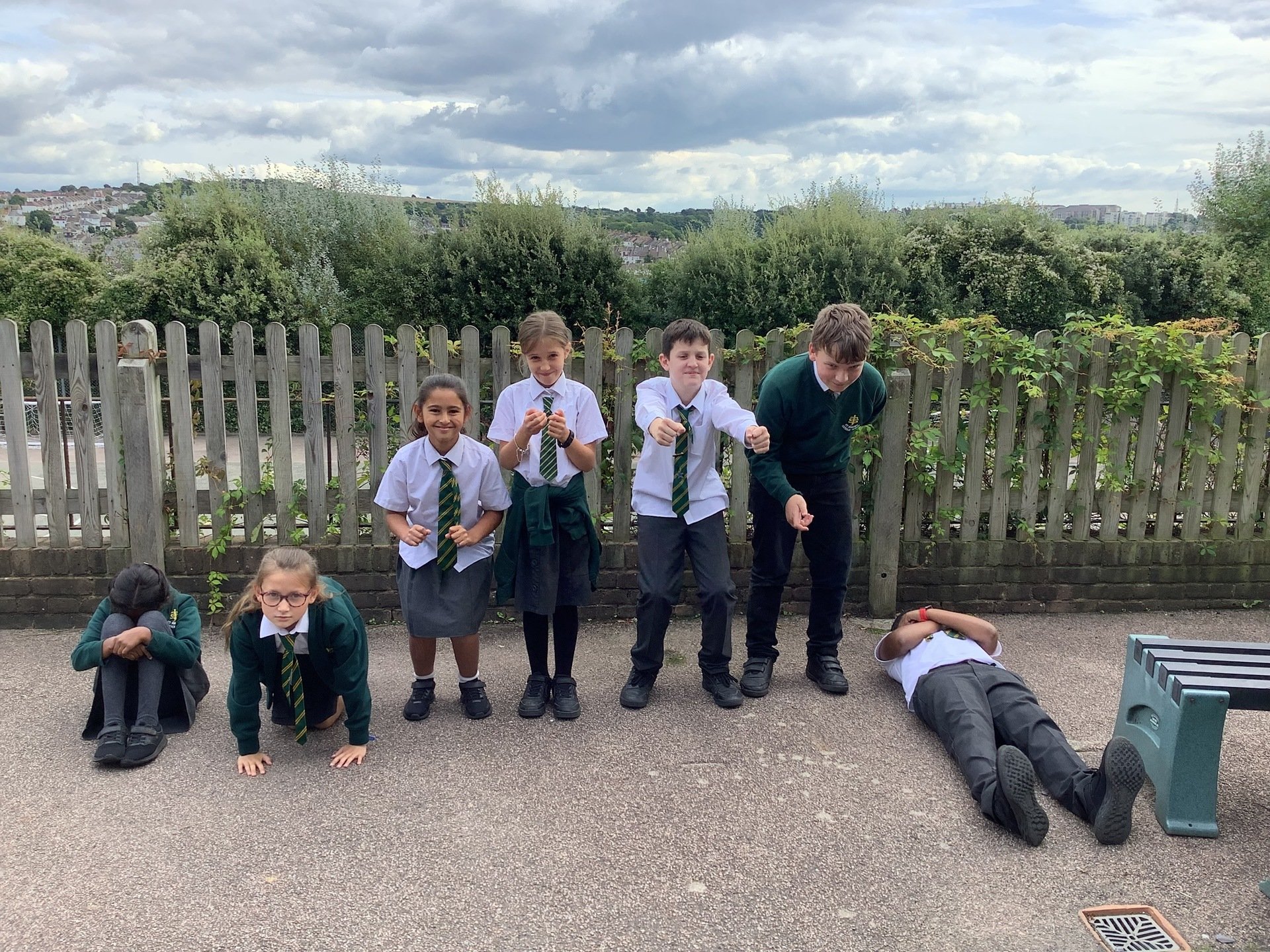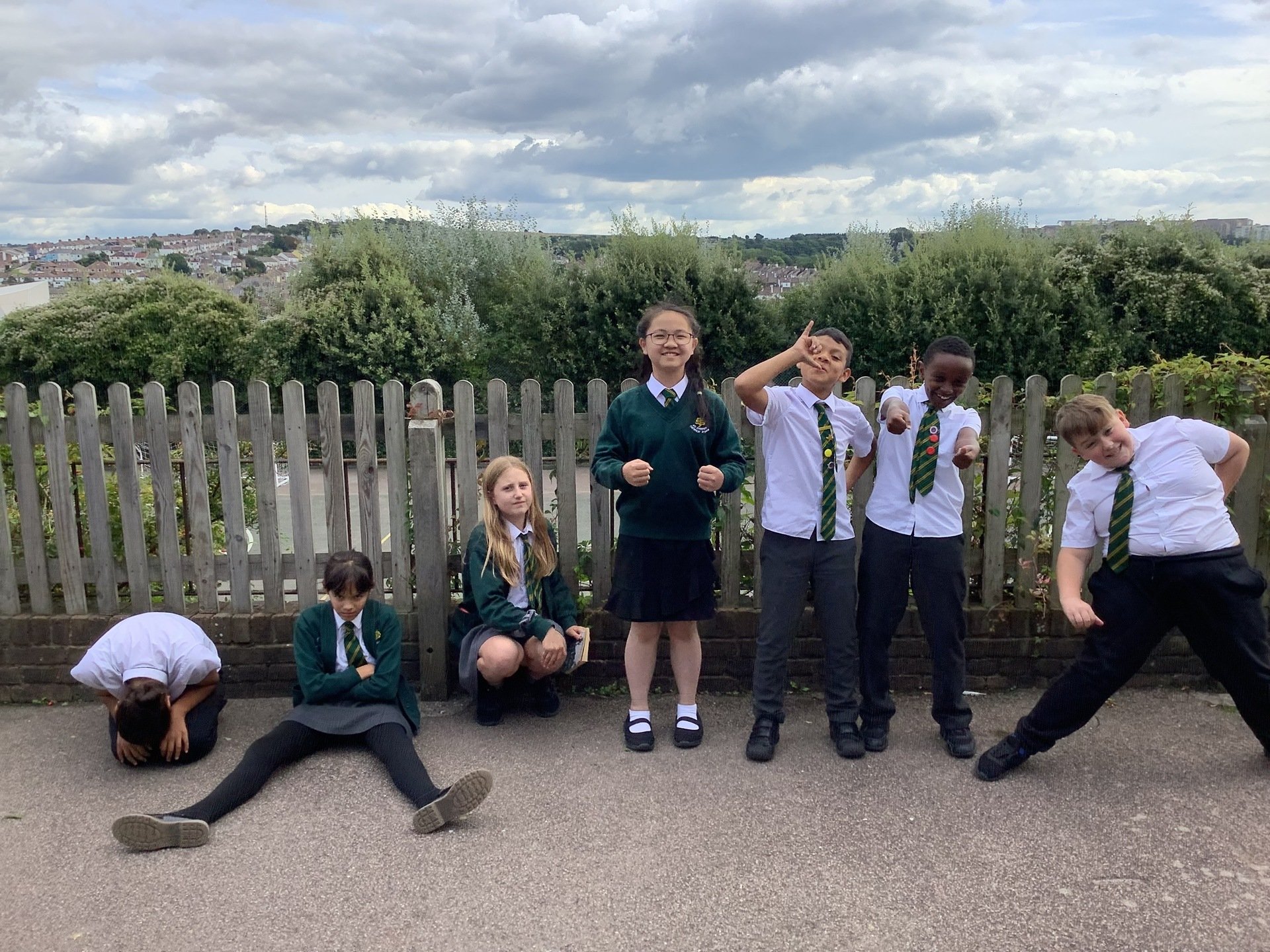 In RE, we continued to focus on the topic of Loving and explored the story of Saul, and how he was converted to Jesus Christ. We used drama to understand how his behaviour changed during this process.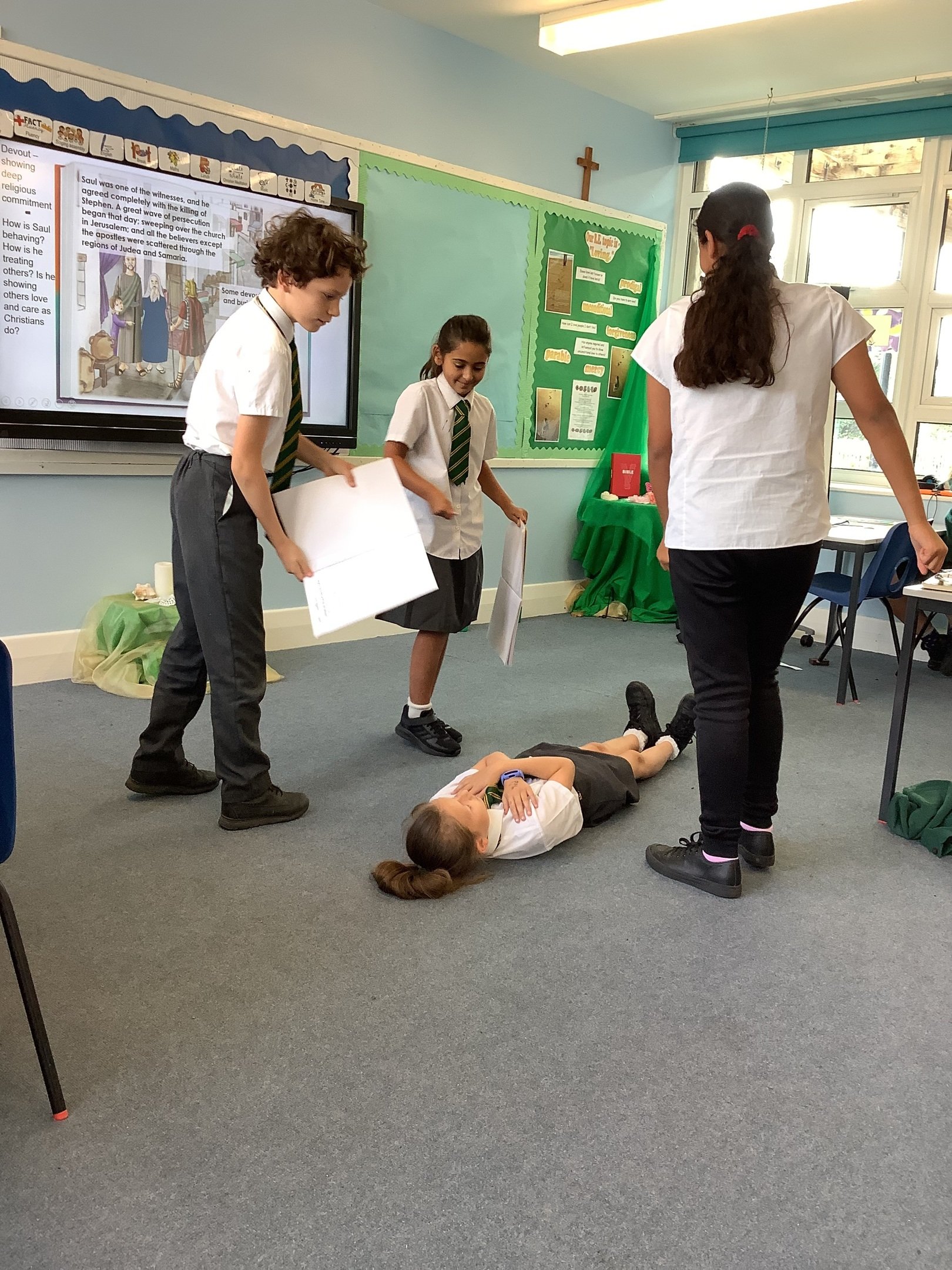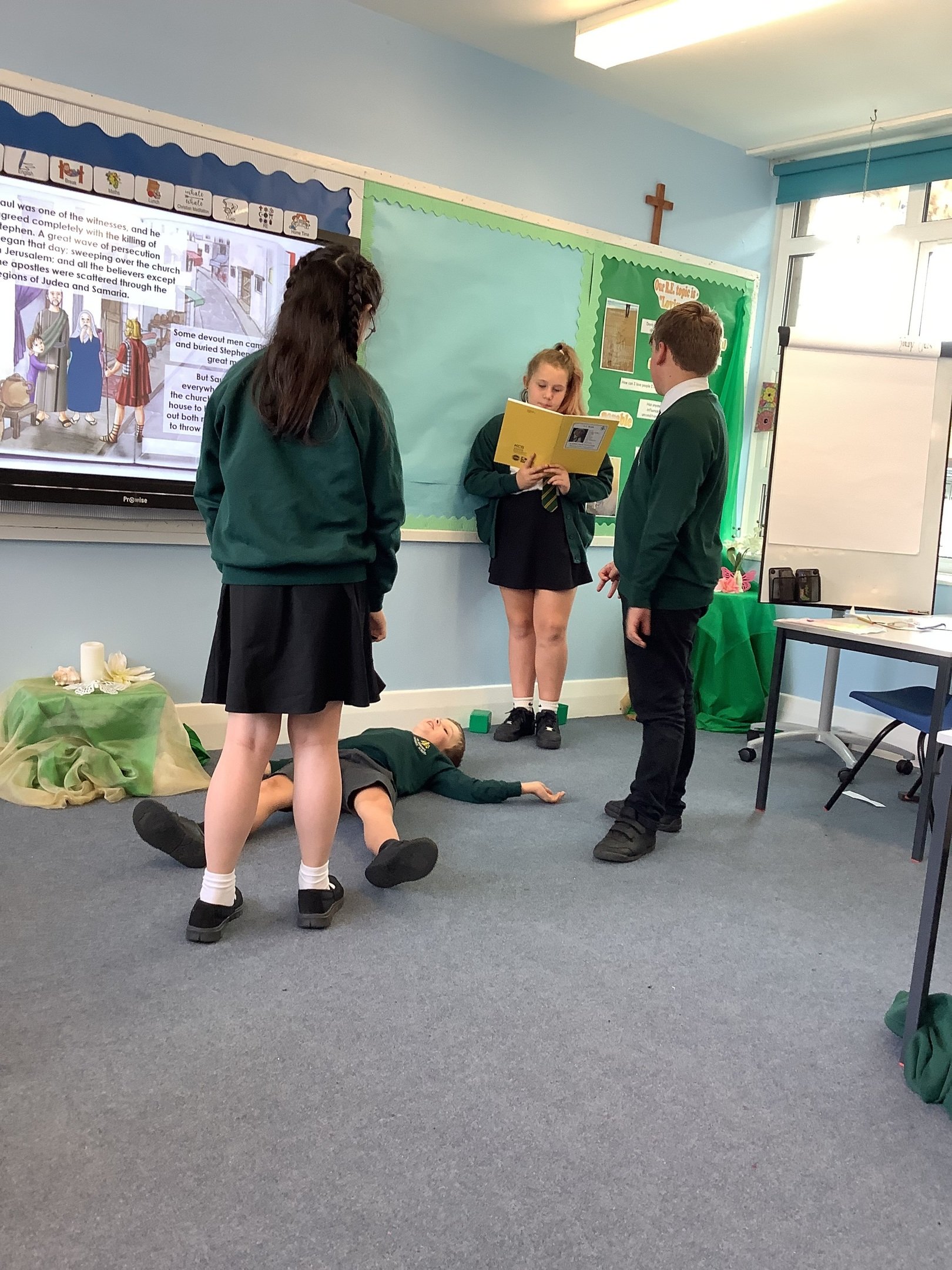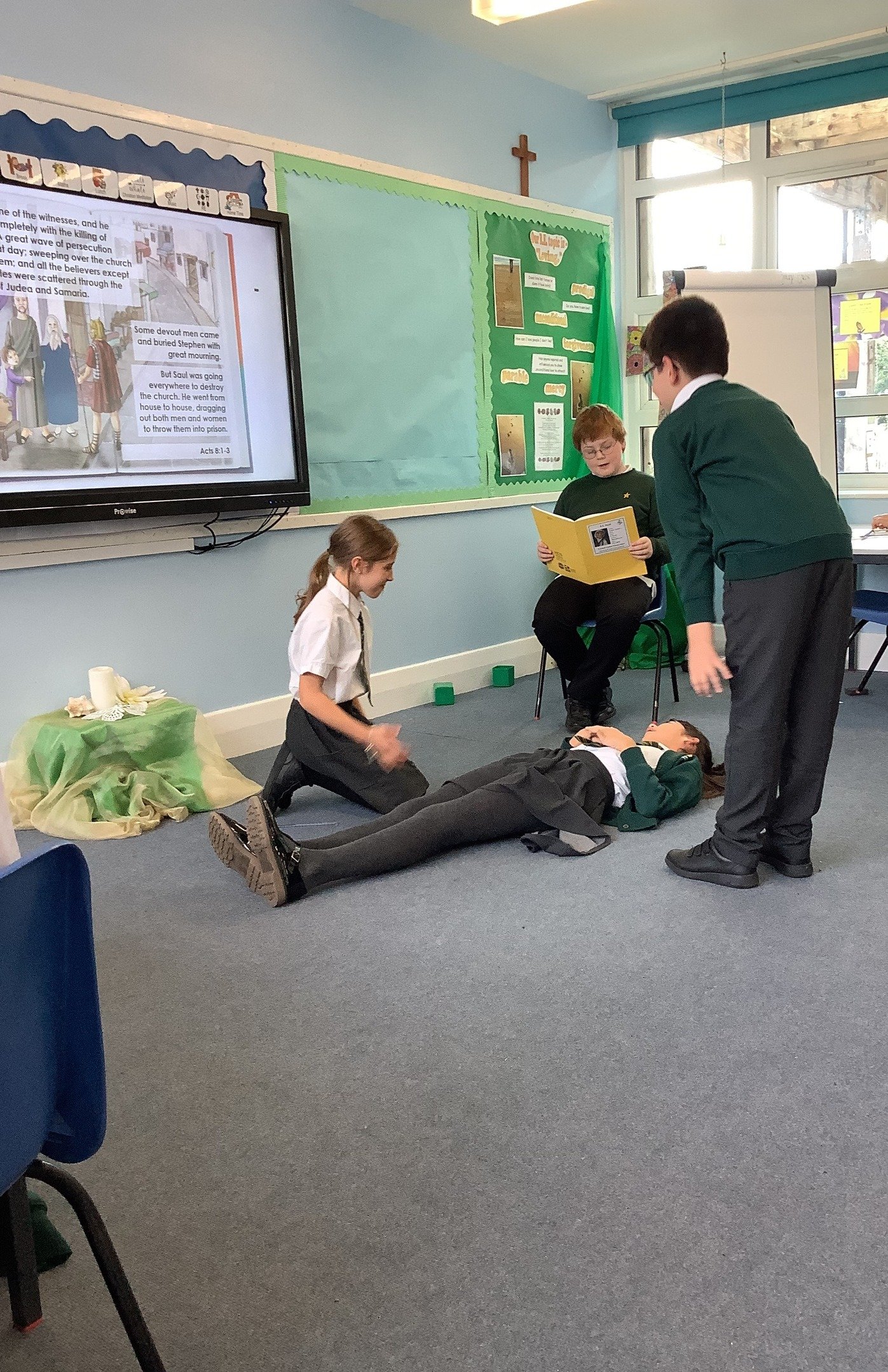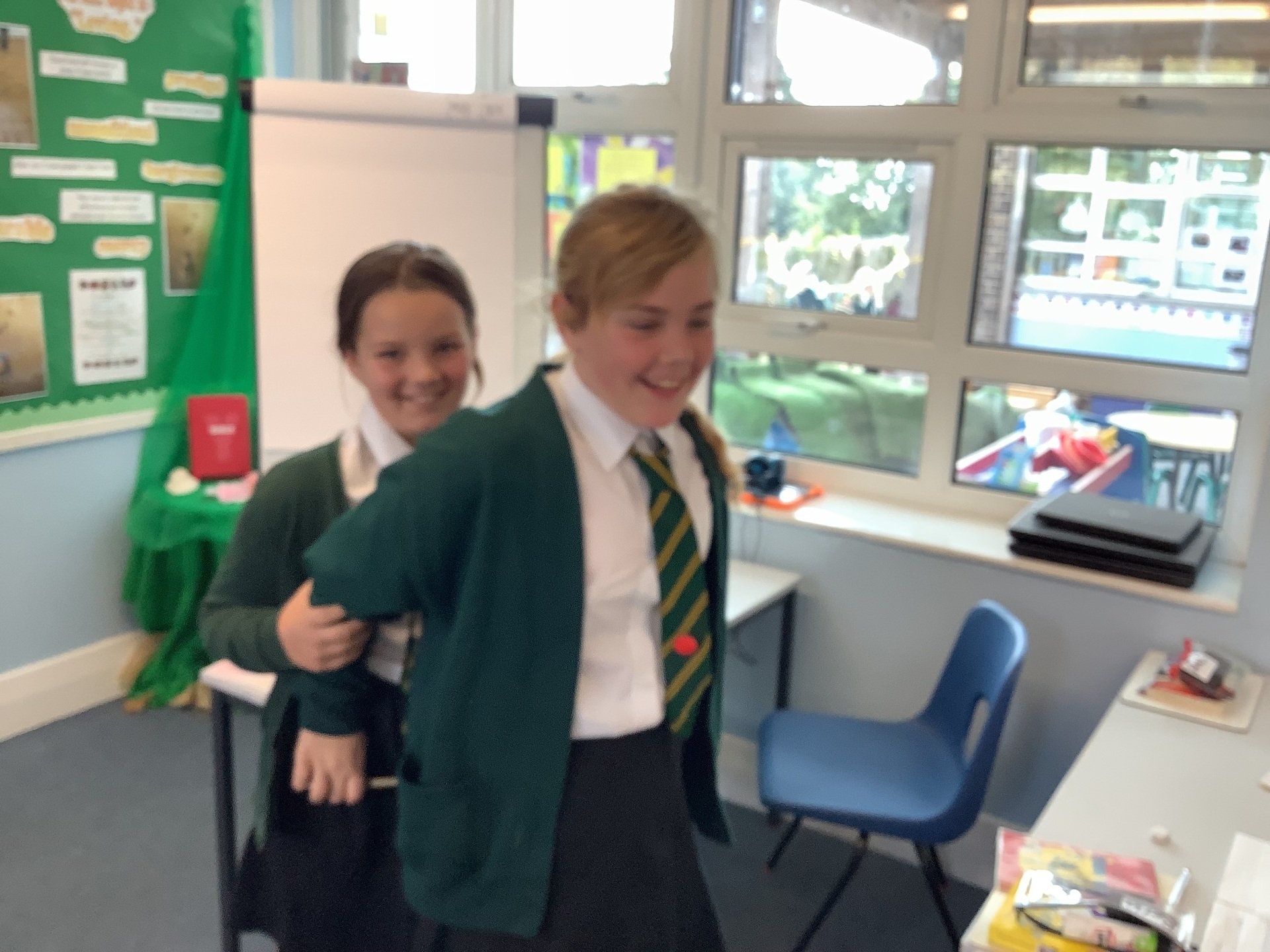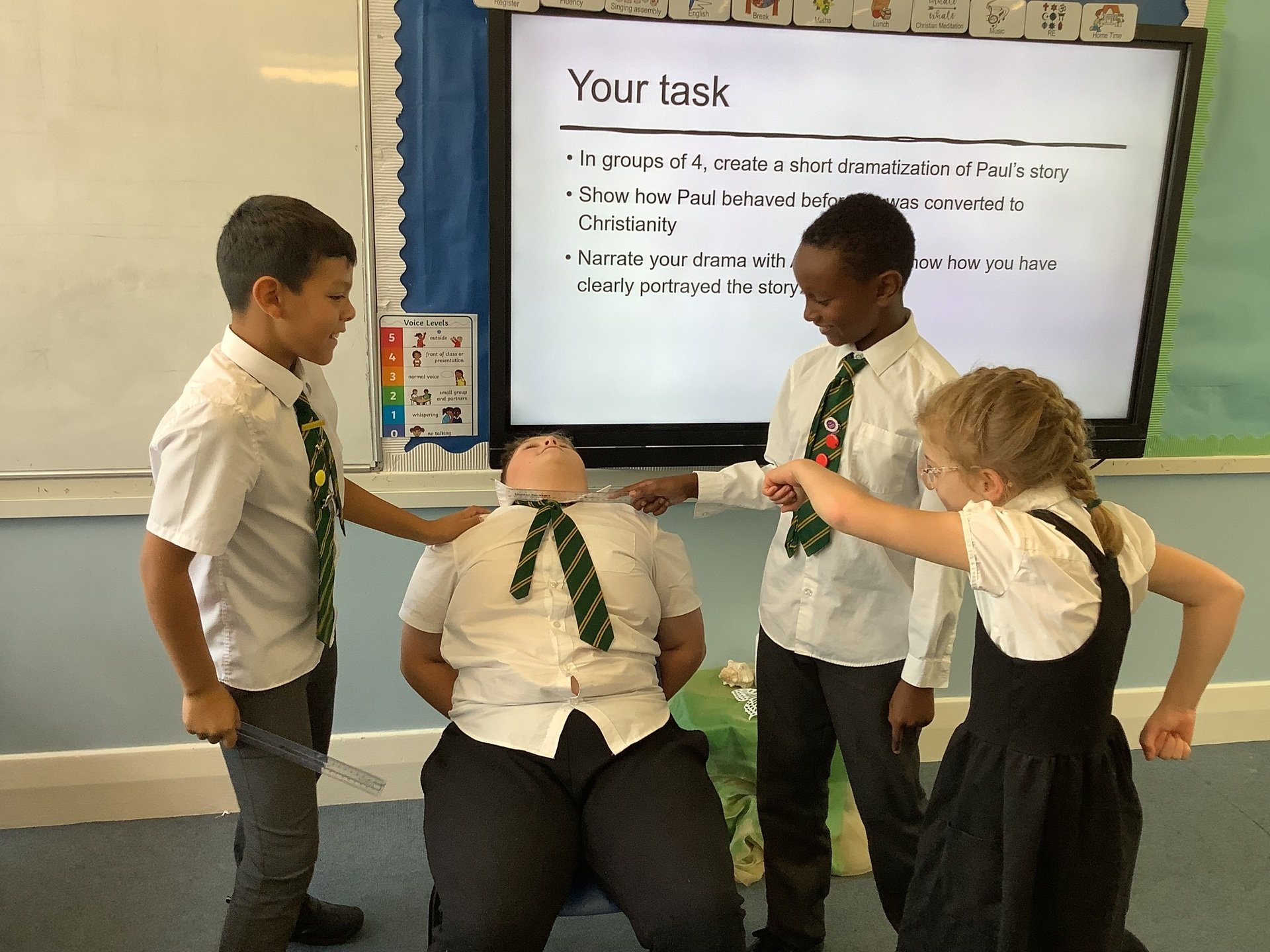 In PSHE we have looked at the importance of healthy diets, particularly the dangers of energy drinks. We even designed our own healthy versions of energy drinks.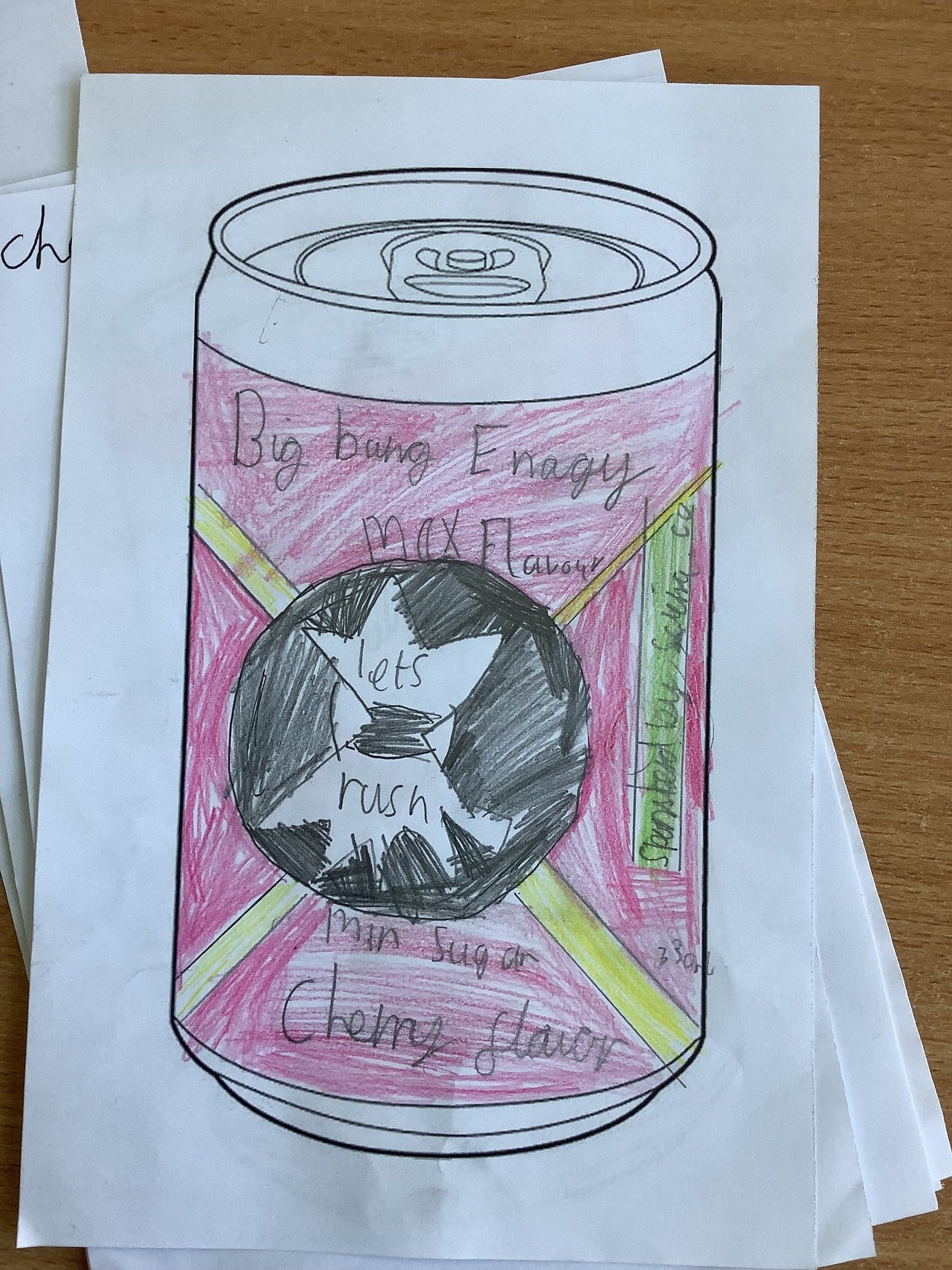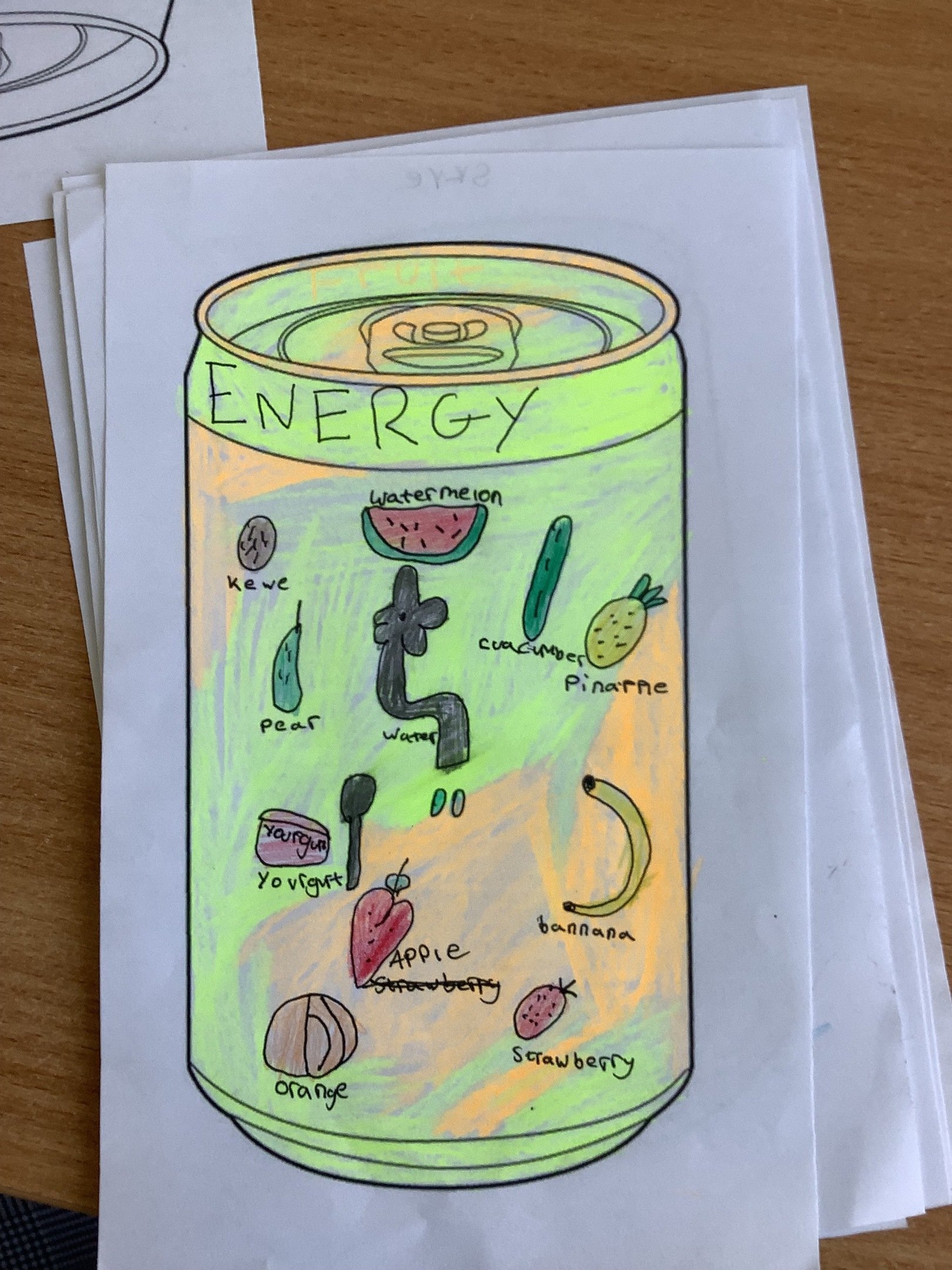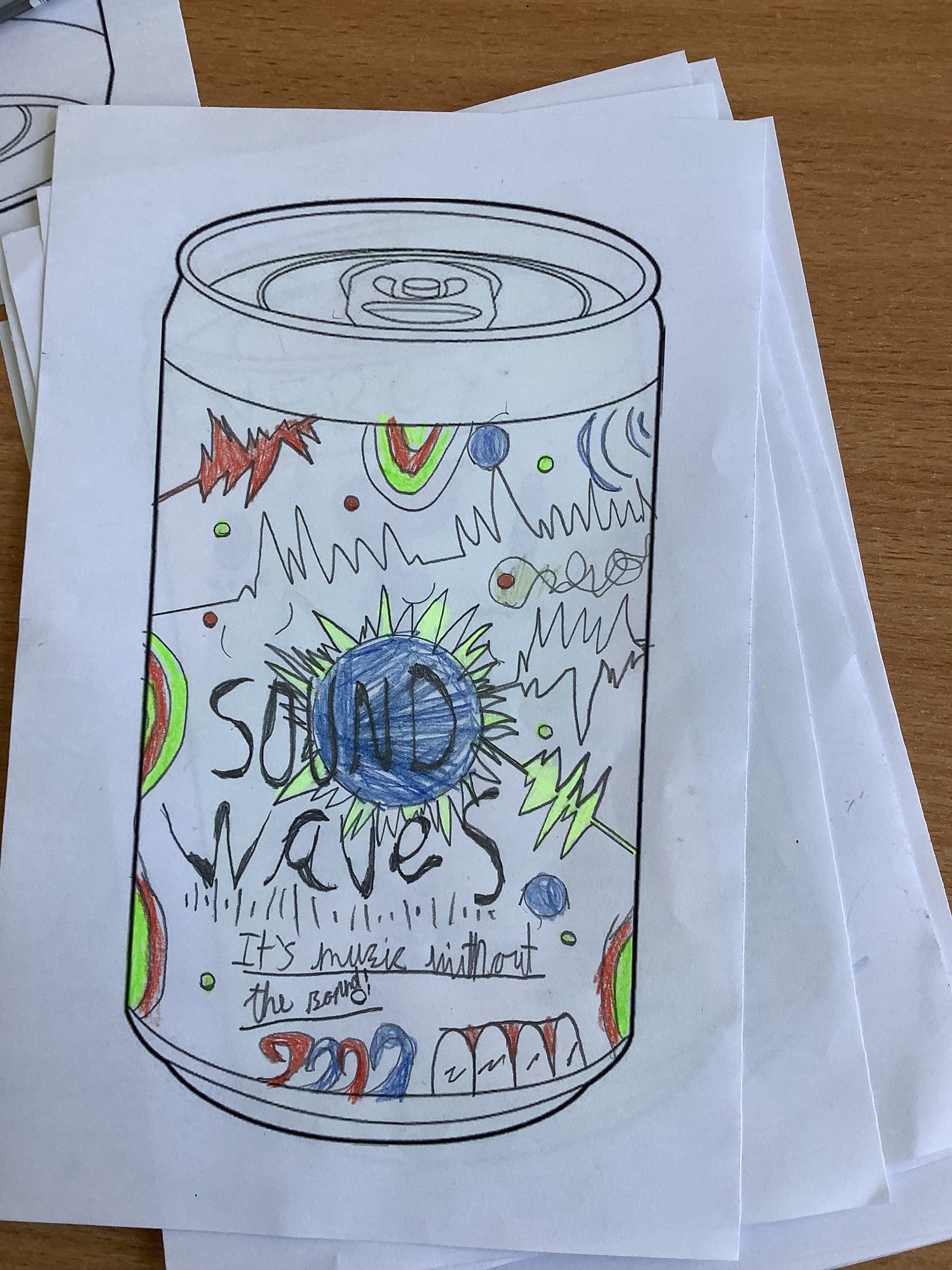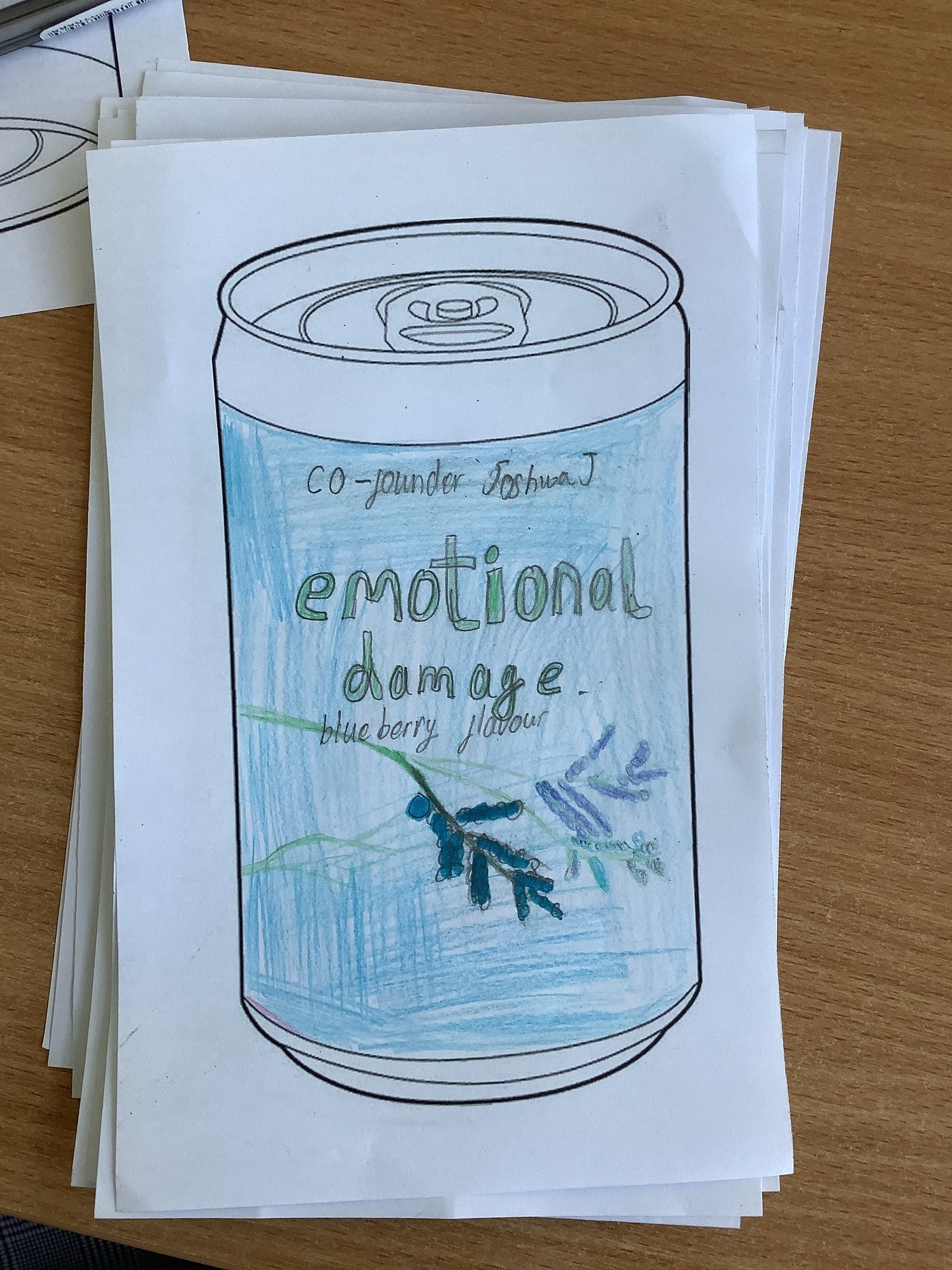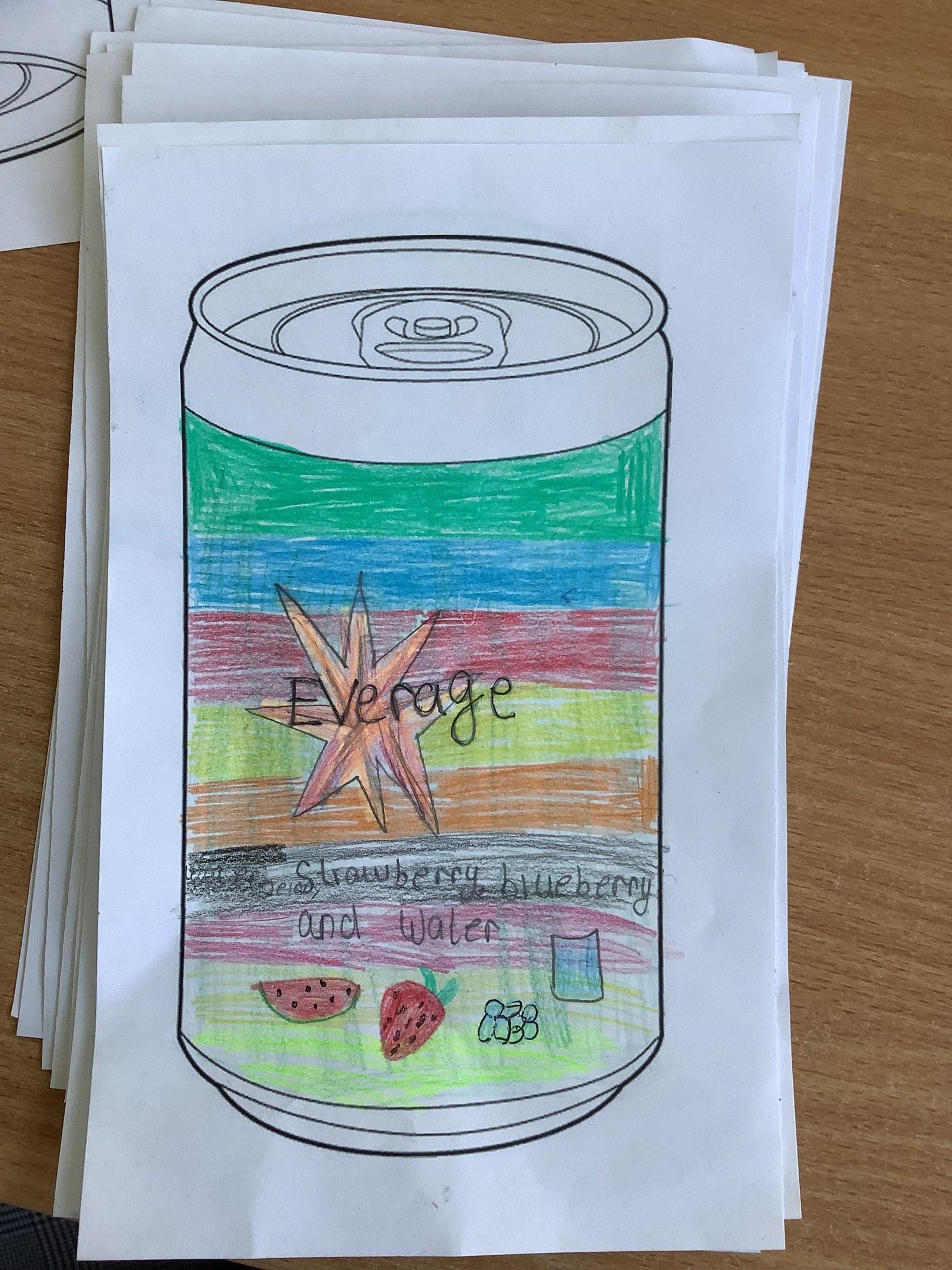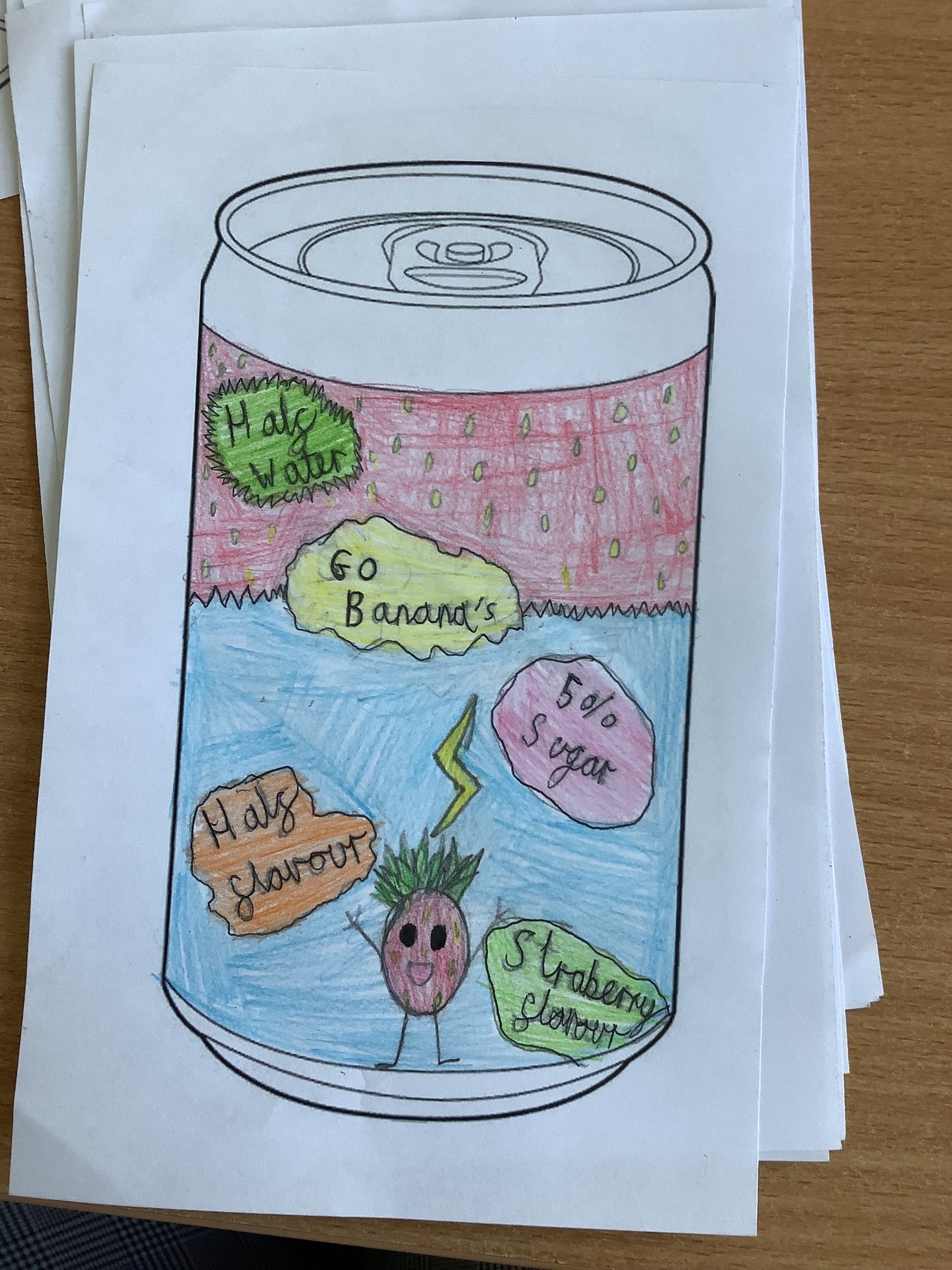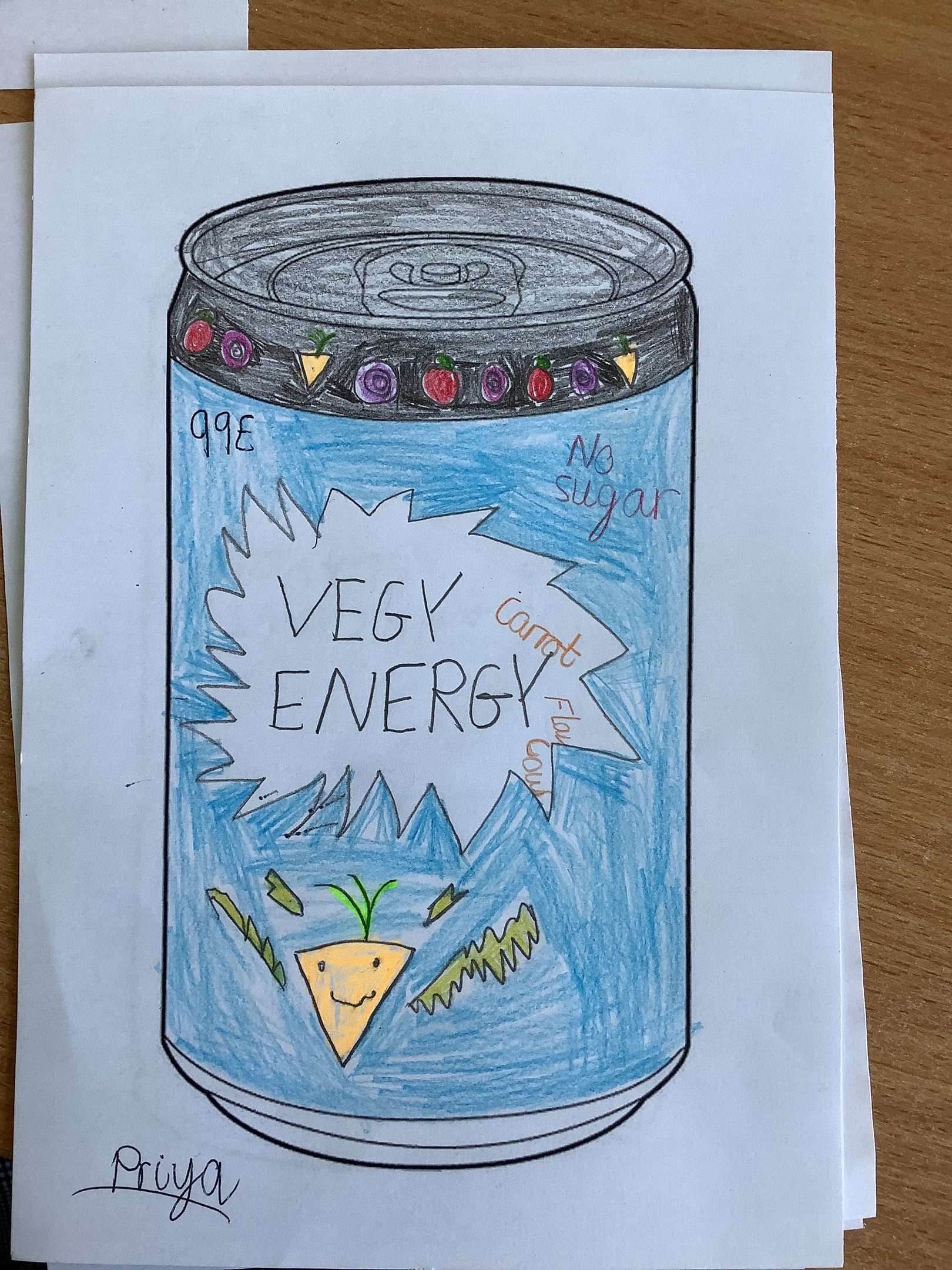 In PE, we focused on the skill of passing and keeping control over the ball at all times.
Tributes the Queen Elizabeth II
This week, in school, we have been thinking about The Queen and reflecting on her life. The children in Year 6 produced line drawings of Her Majesty and each child came up with words they felt described Queen Elizabeth.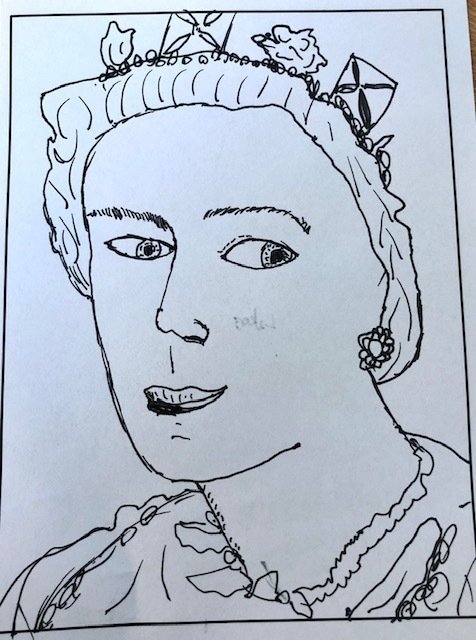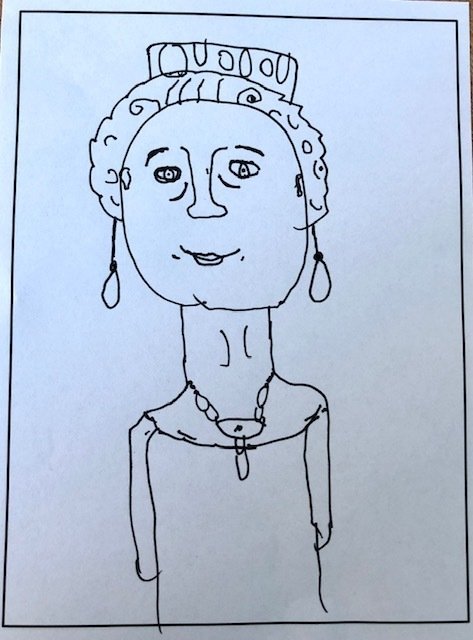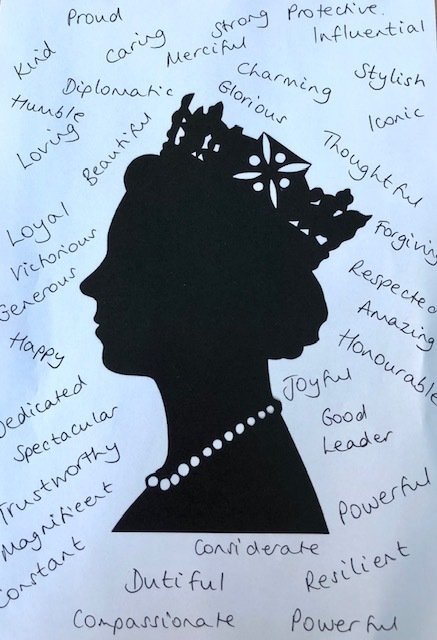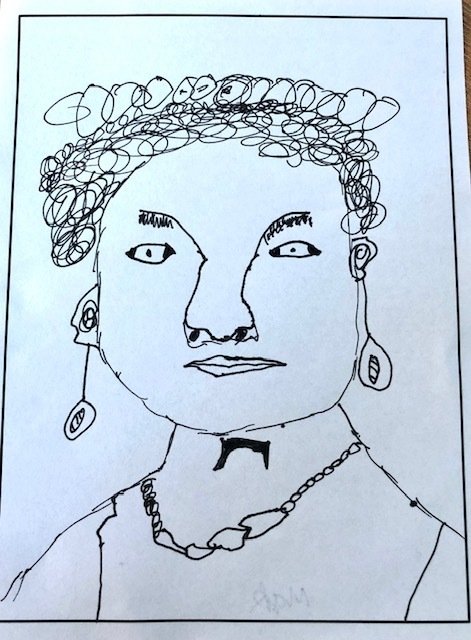 Week bg. 12.9.22
In English, we continued reading The Journey and had to debate as a class whether the mother should take her children to The New Place or not. We created freeze frames of the family's life before and after the war had struck to better understand their emotions and how things had changed very quickly.
In science, we looked at the classification system of the animal kingdom and we drew the life cycles of mammals, birds, amphibians and insects in our books.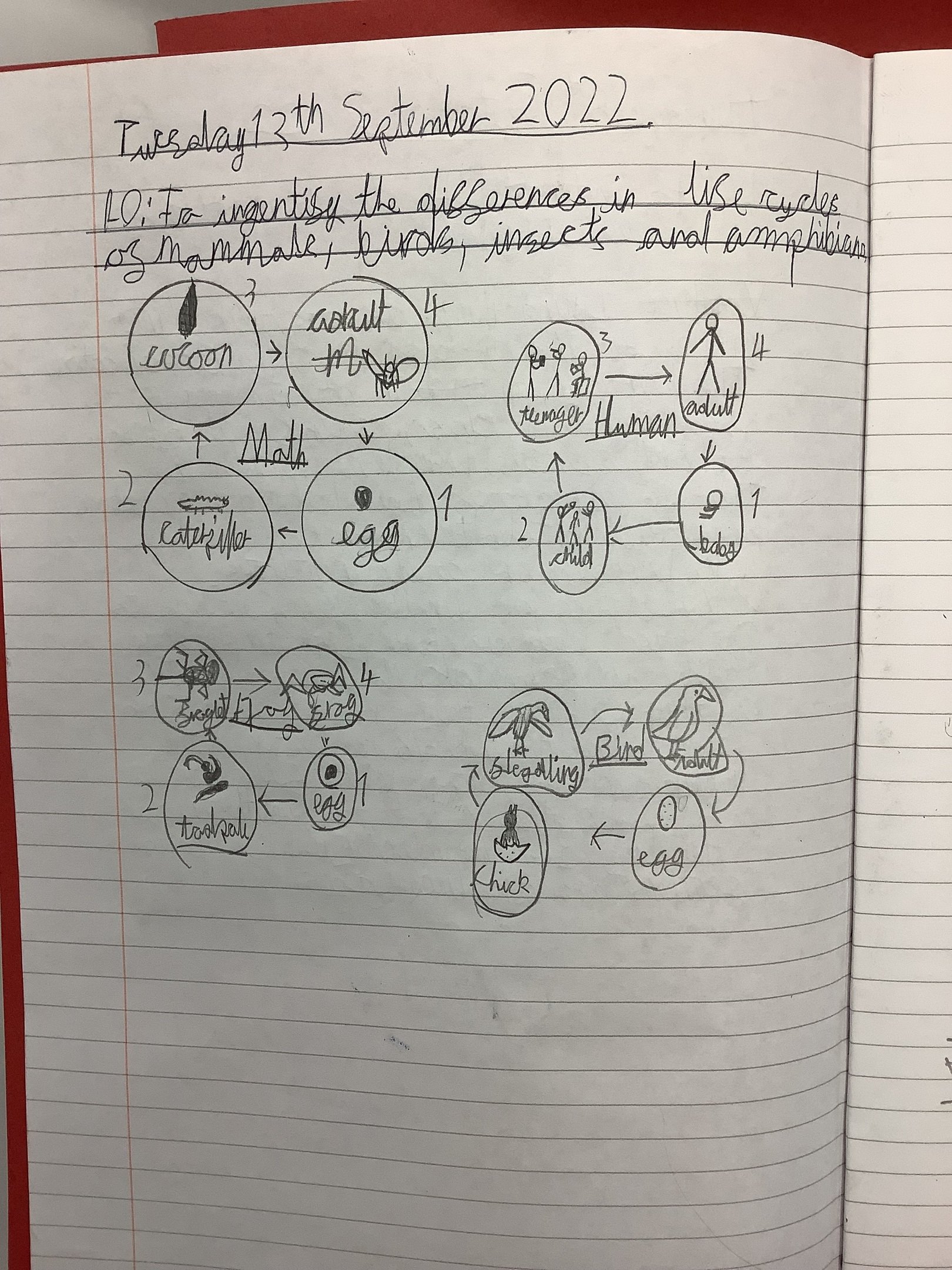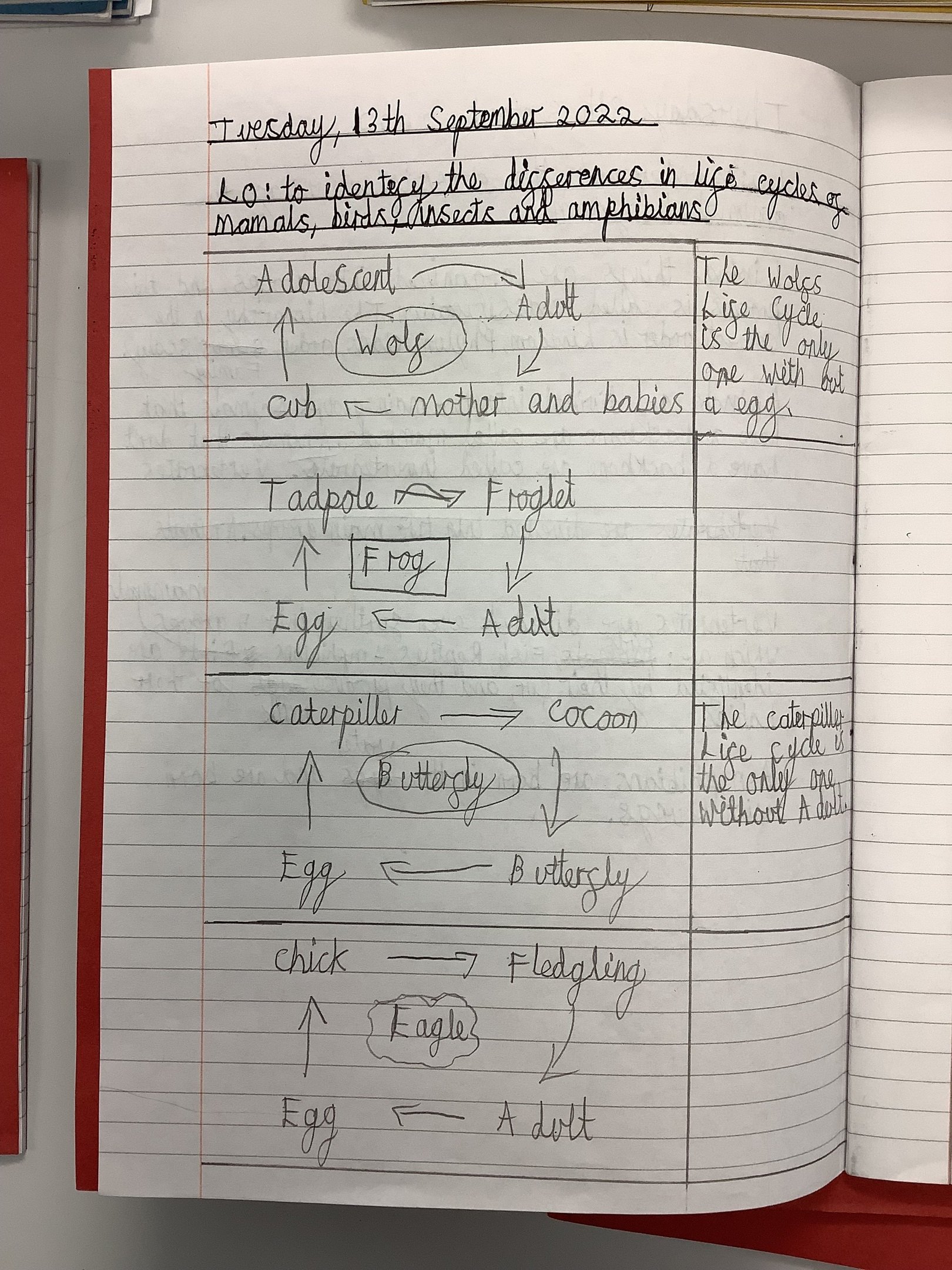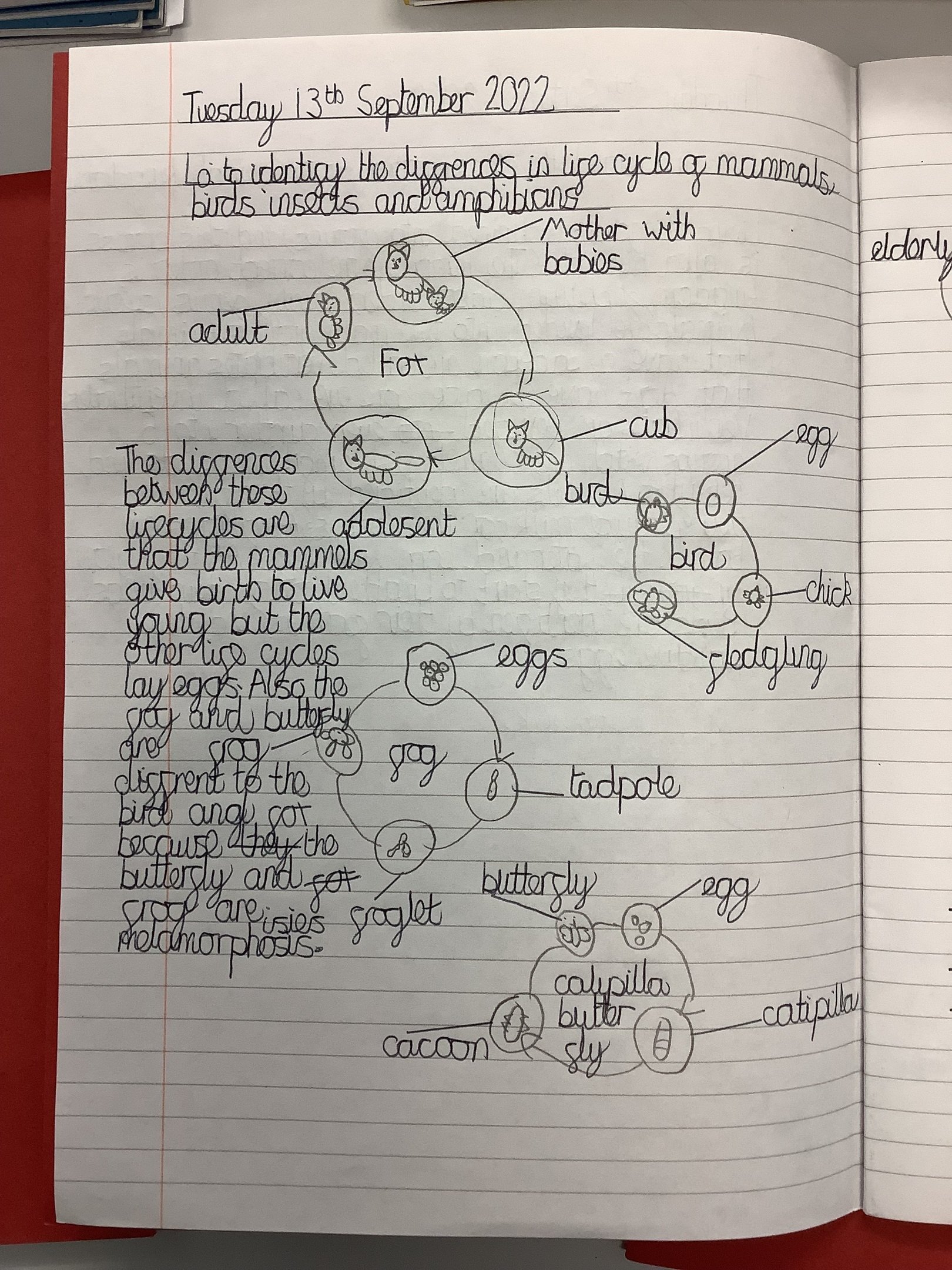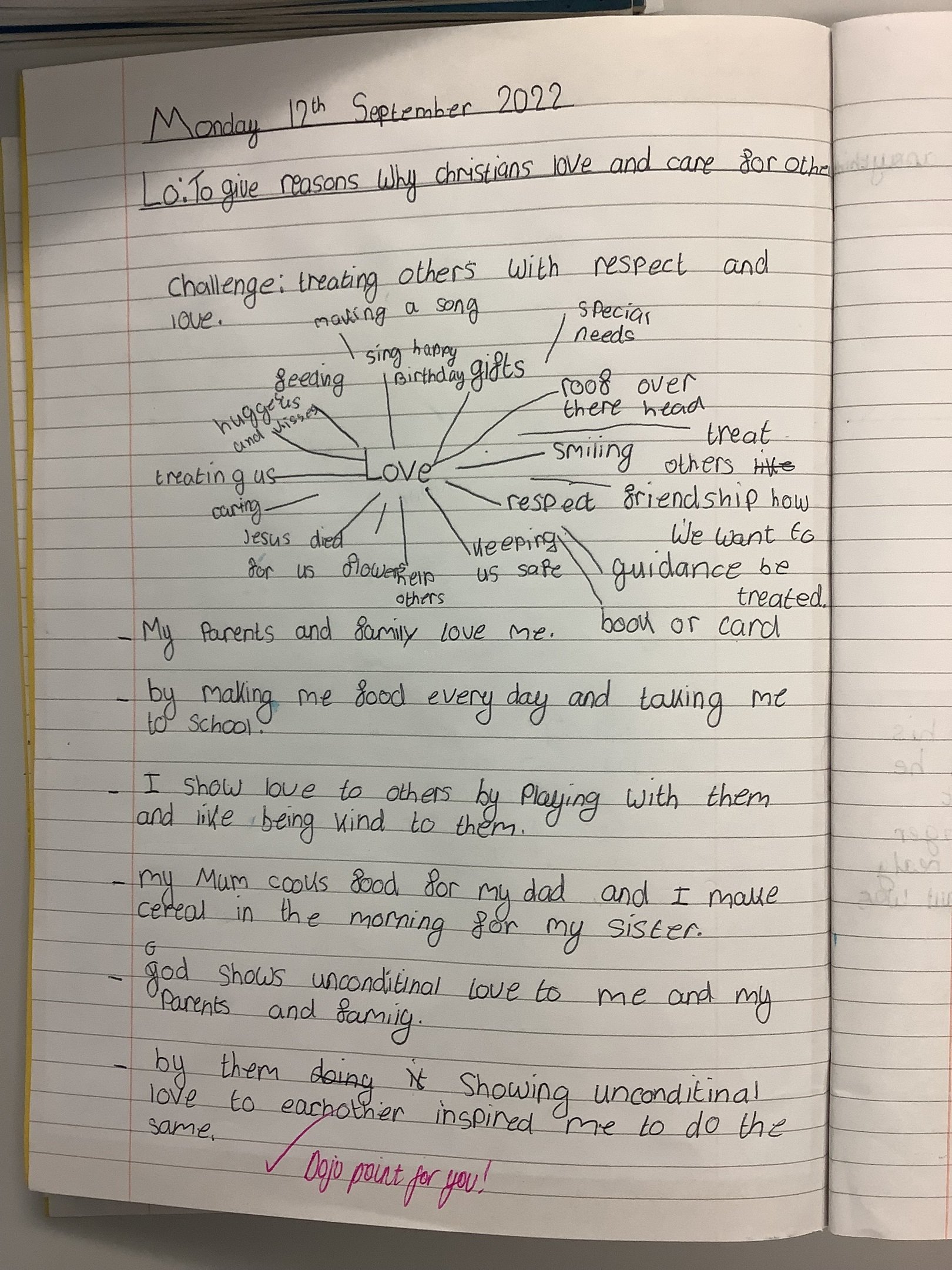 In PSHE, we discussed the importance of sleep as part of healthy living, why it is important, what effect it is when we do not get enough sleep and ways to help improve sleep. We described our bedrooms to our partners to draw and then identified features of our rooms that helped or hindered our sleep. We then created posters and leaflets to show our understanding of sleep and promote better sleep for others. Below are some examples.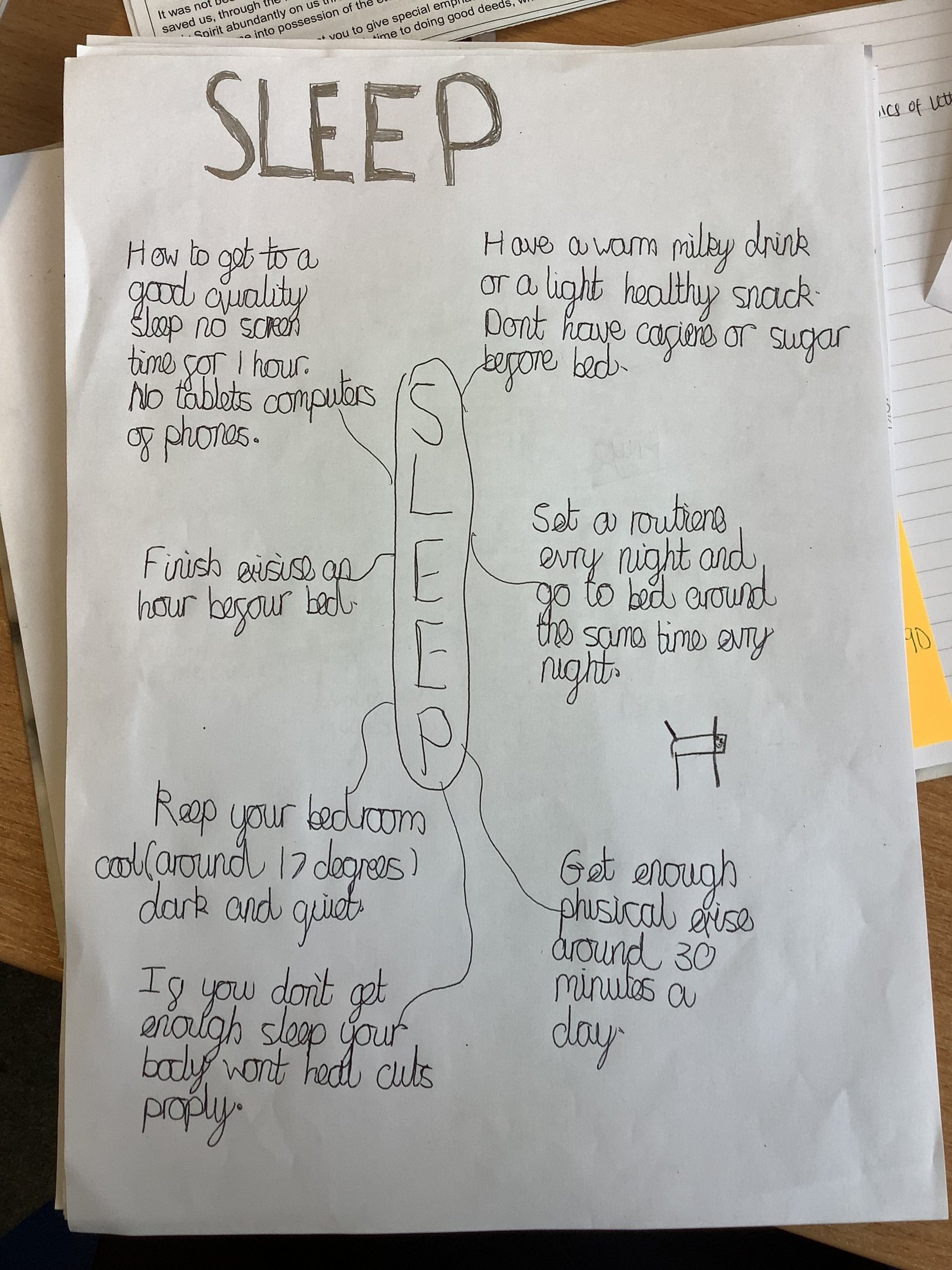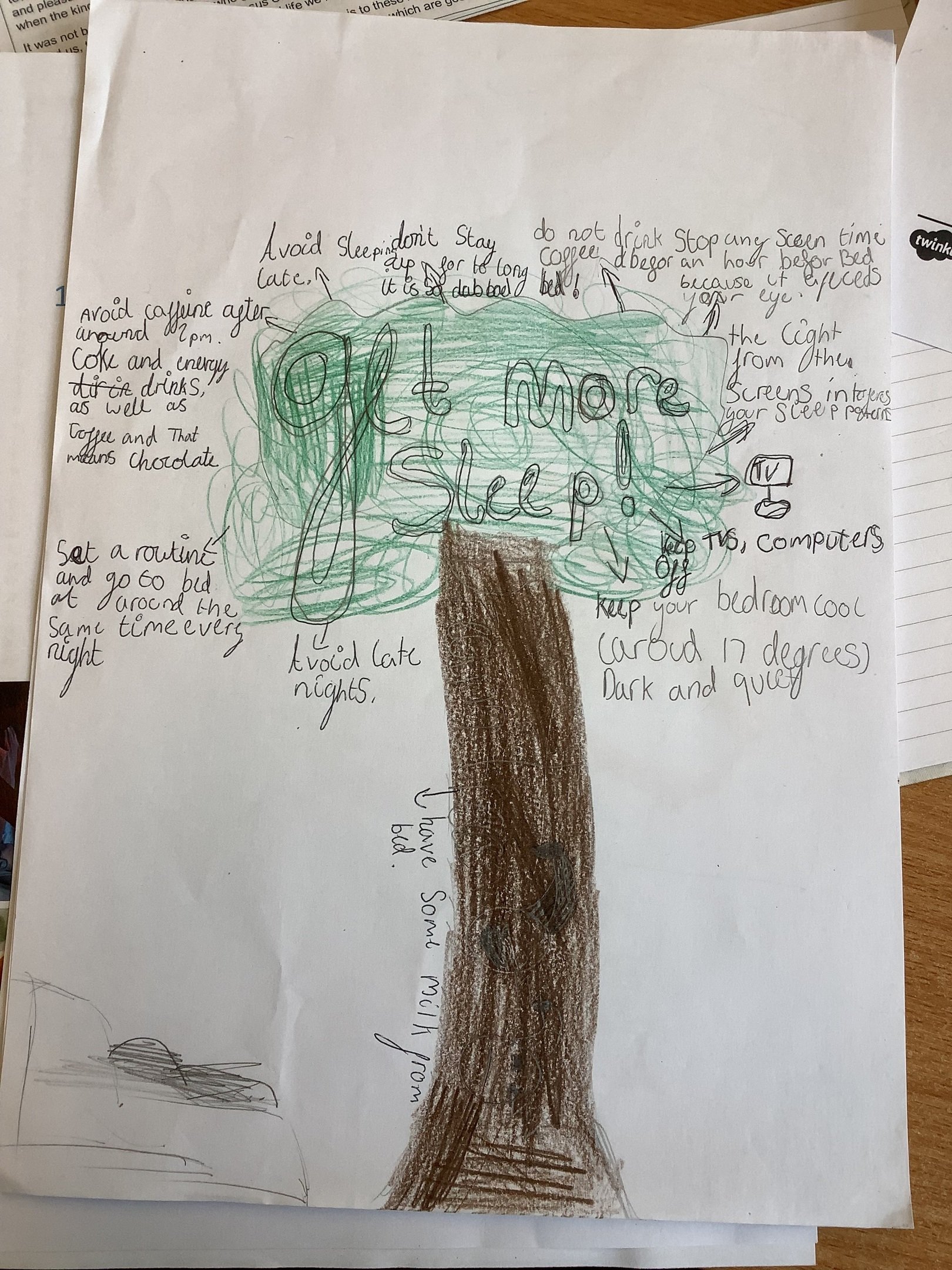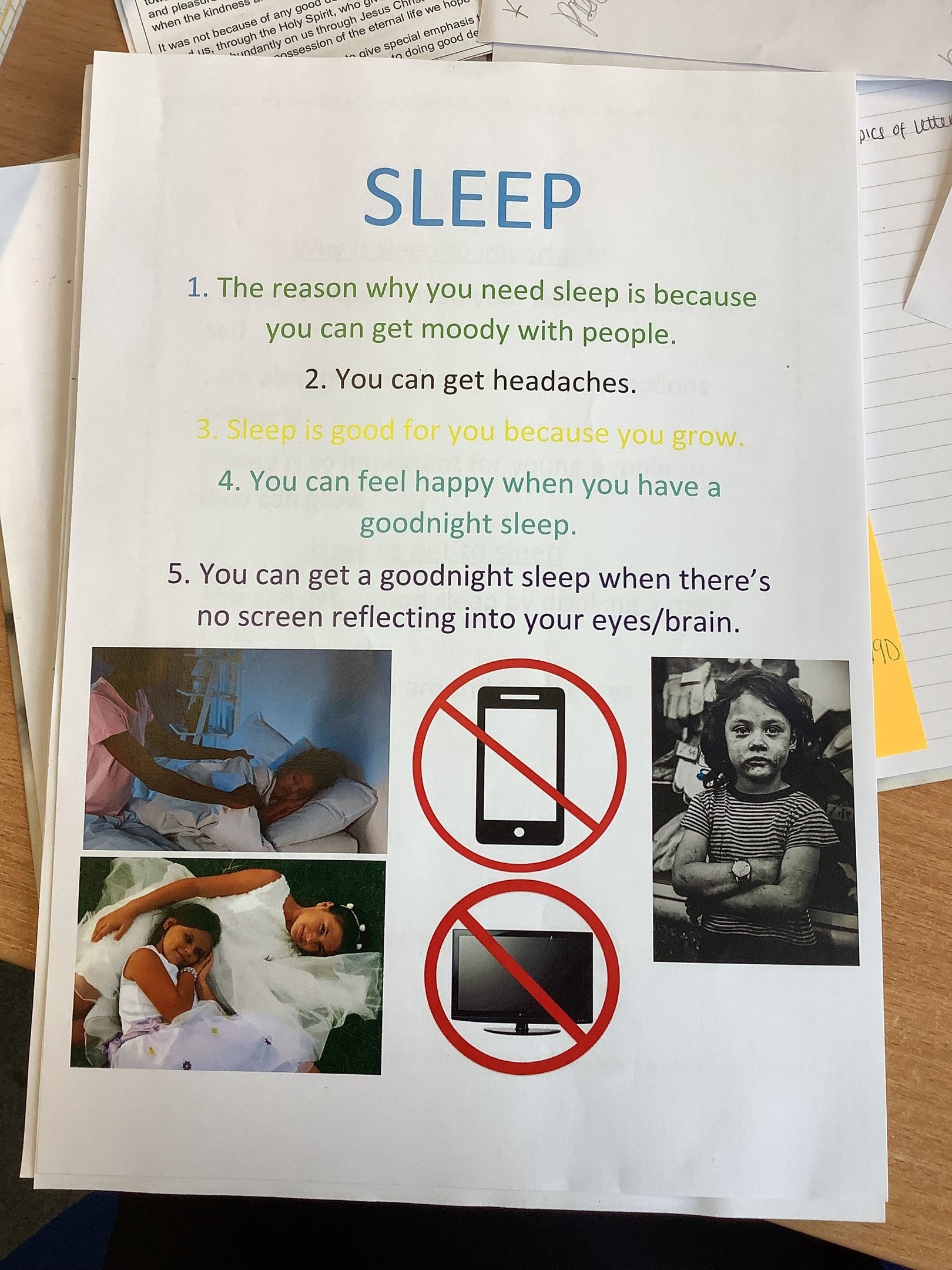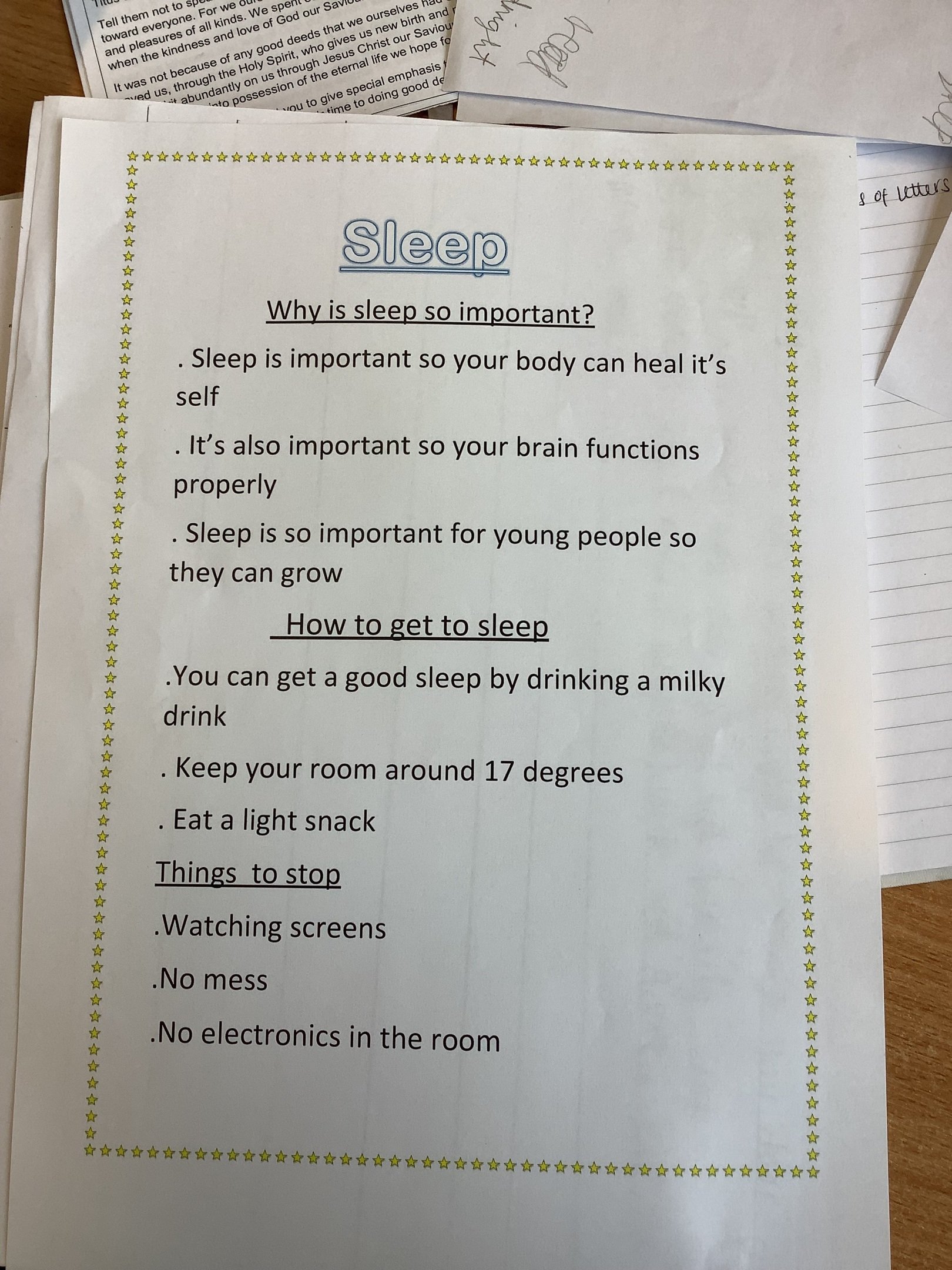 In RE this week, we have started the topic of Loving, and considered what love meant to us, how we show love to one another, and how God shows us unconditional love. We created mind maps of our definitions of love and made links to Christianity and the Bible. We also looked at the poem 'Footprints in the Sand' and created our own prayers/poems based on this. Below are some examples of our work.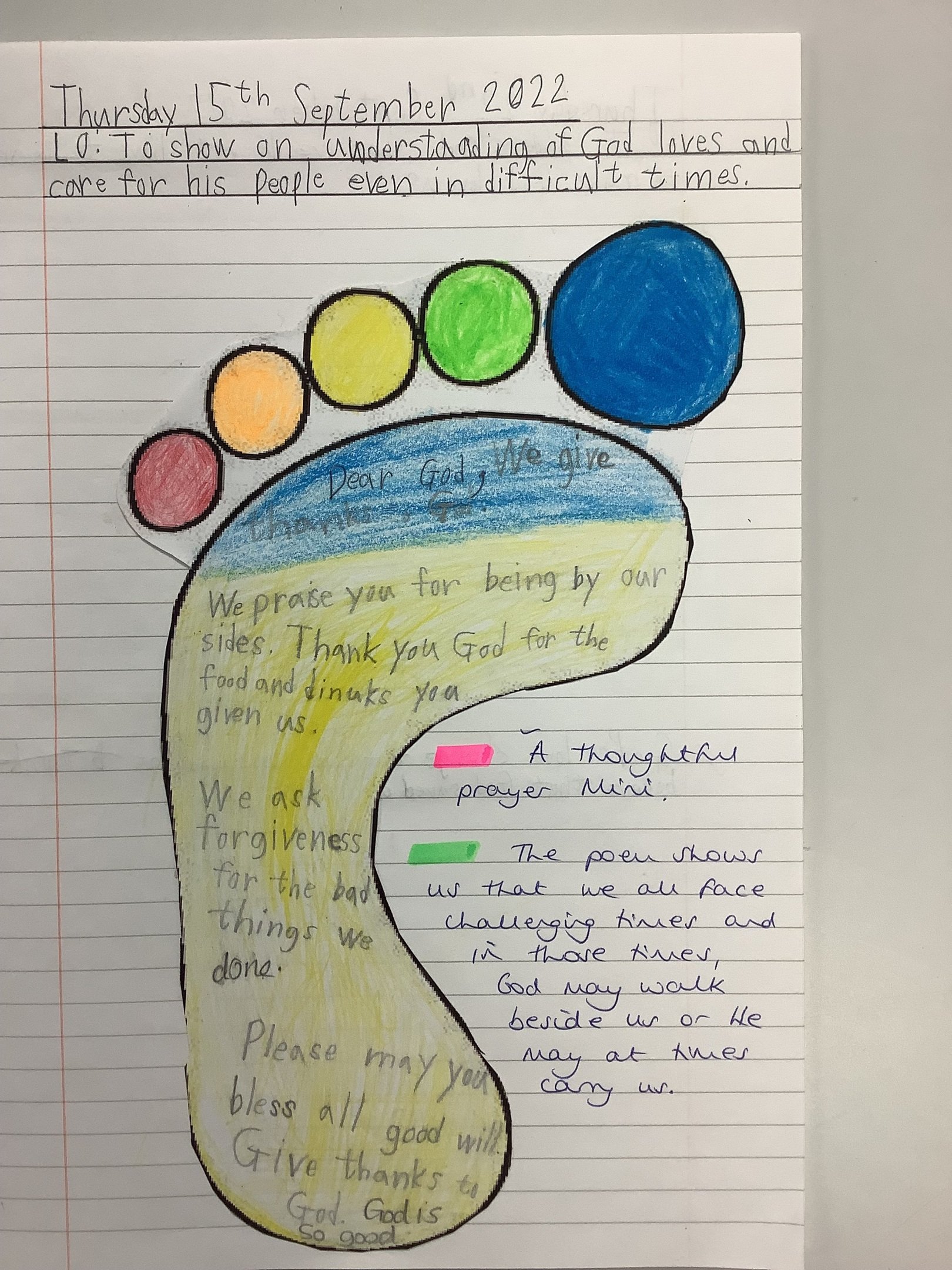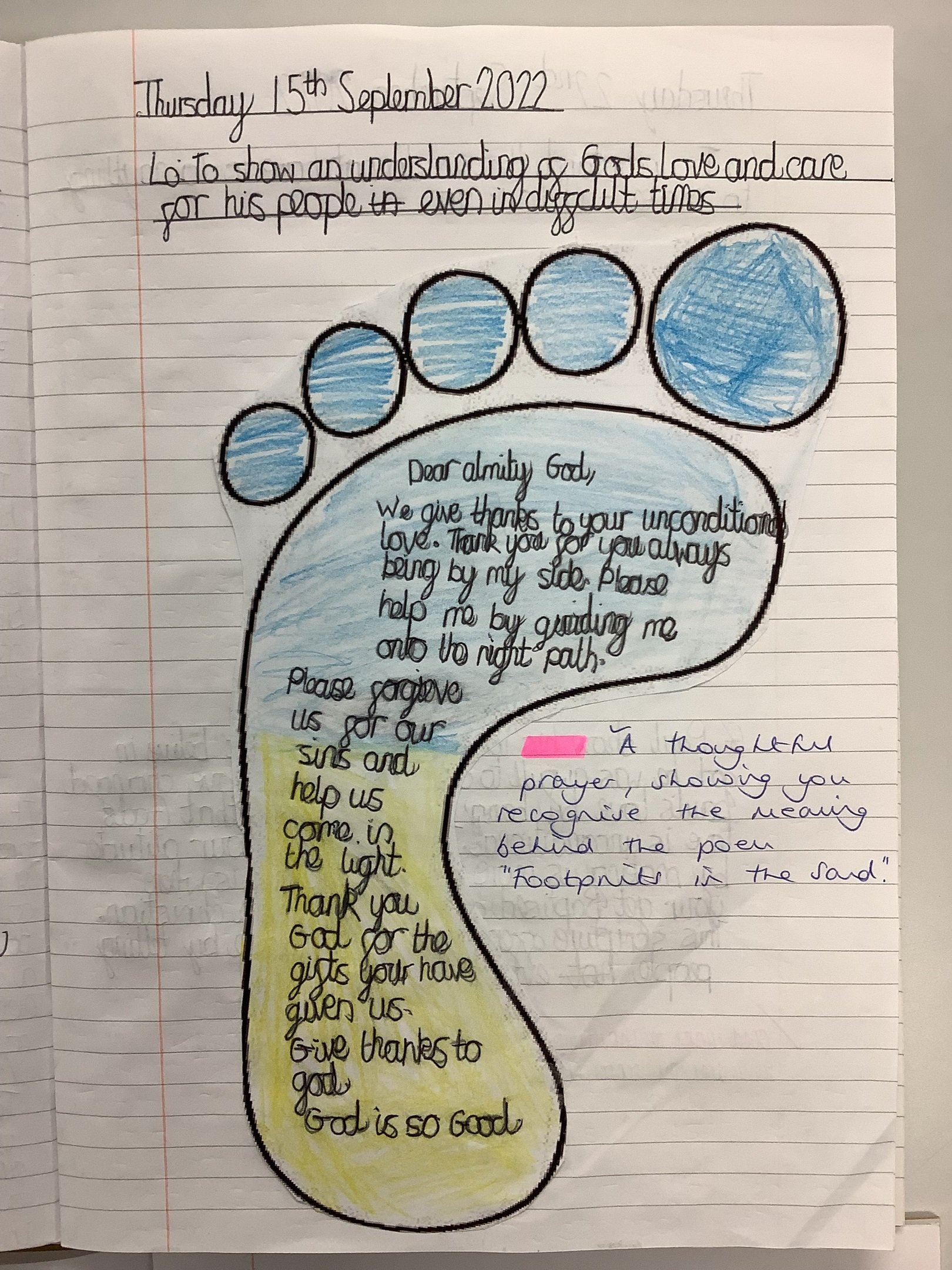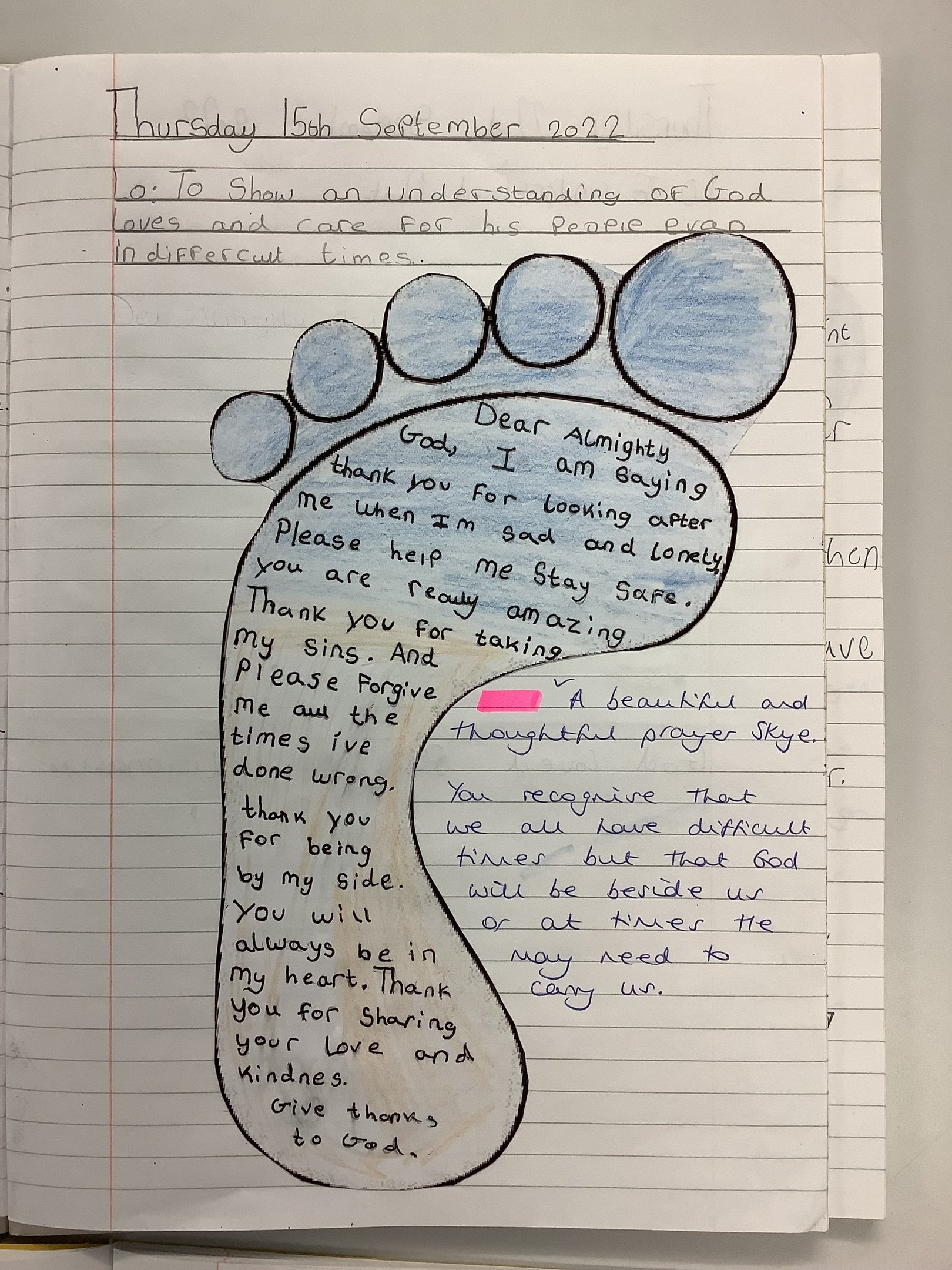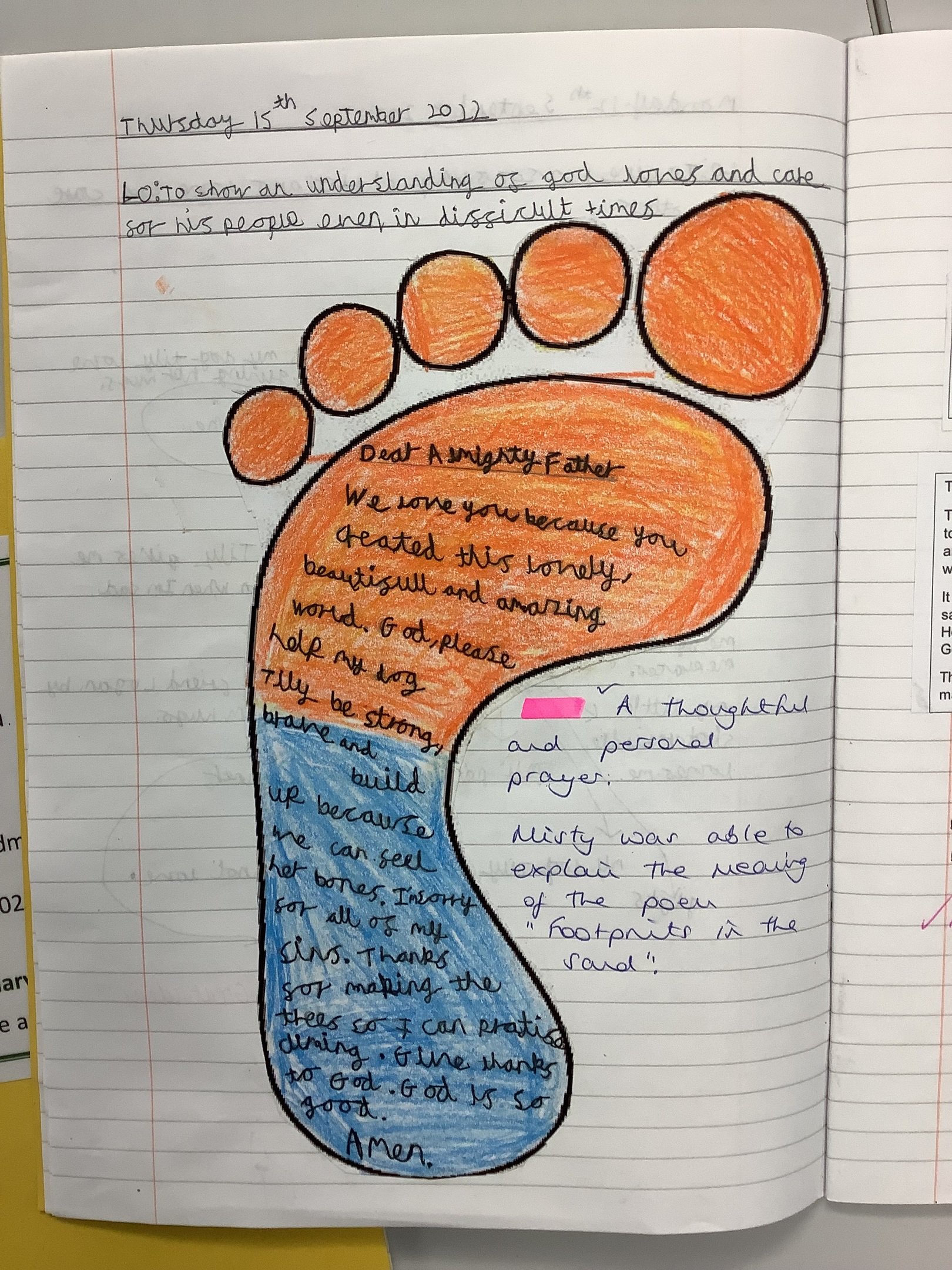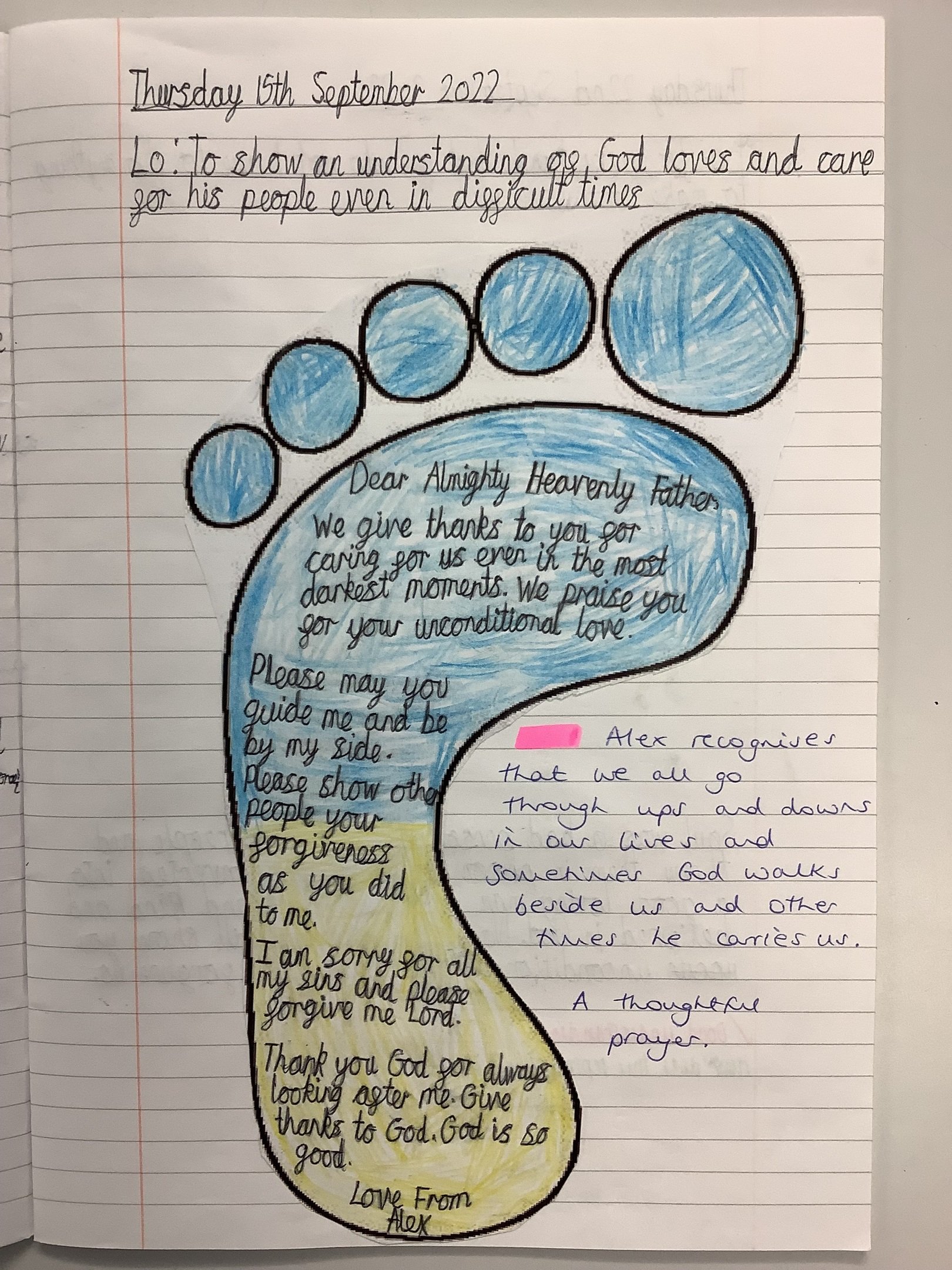 Week bg. 5.9.22
We have started off the year in English by beginning our topic text of The Journey by Francesca Sanna. We explored the illustrator's use of colour to express emotion and wrote poems based on The Raven by Edgar Allen Poe to describe the fear felt by the mother.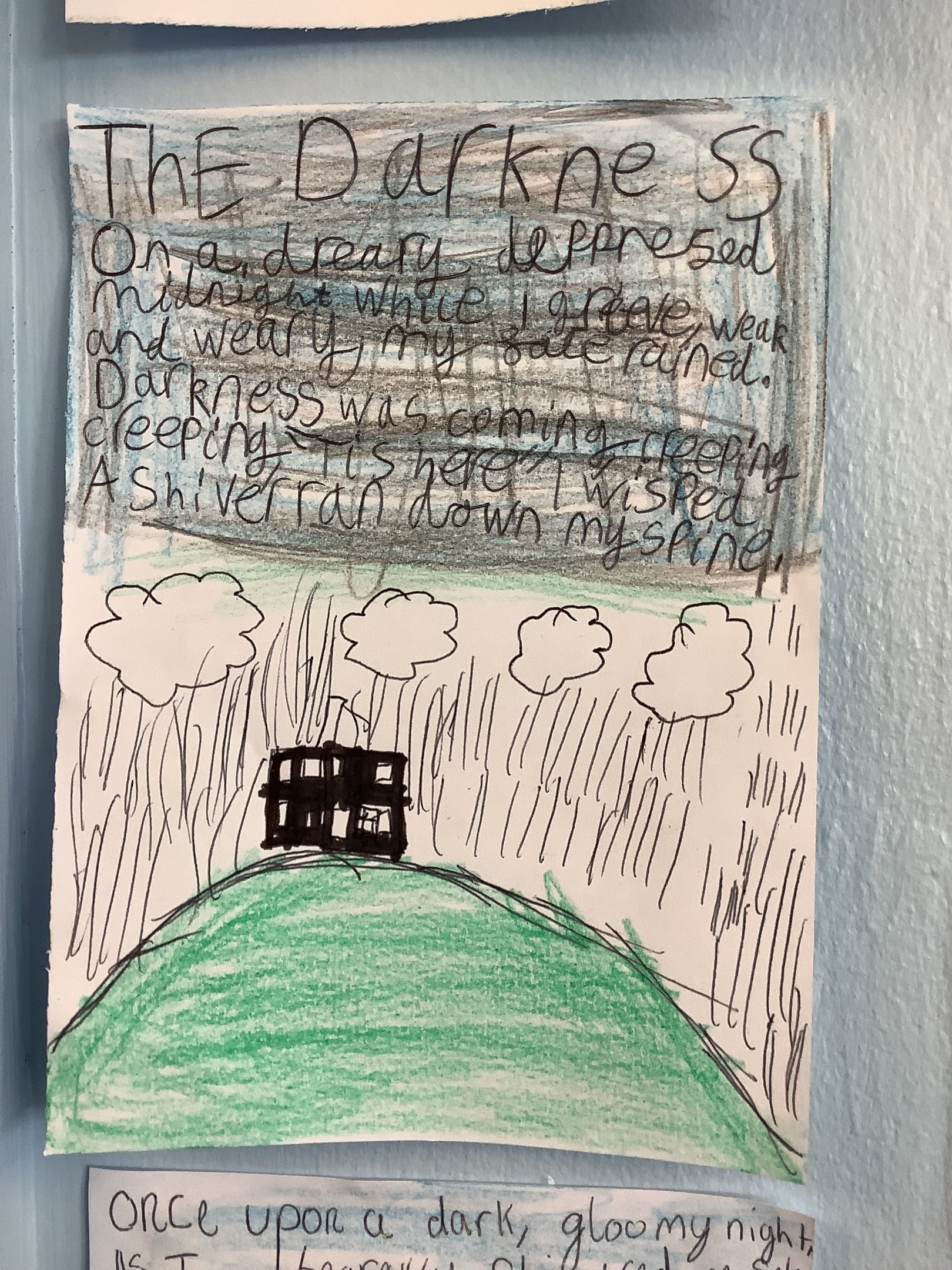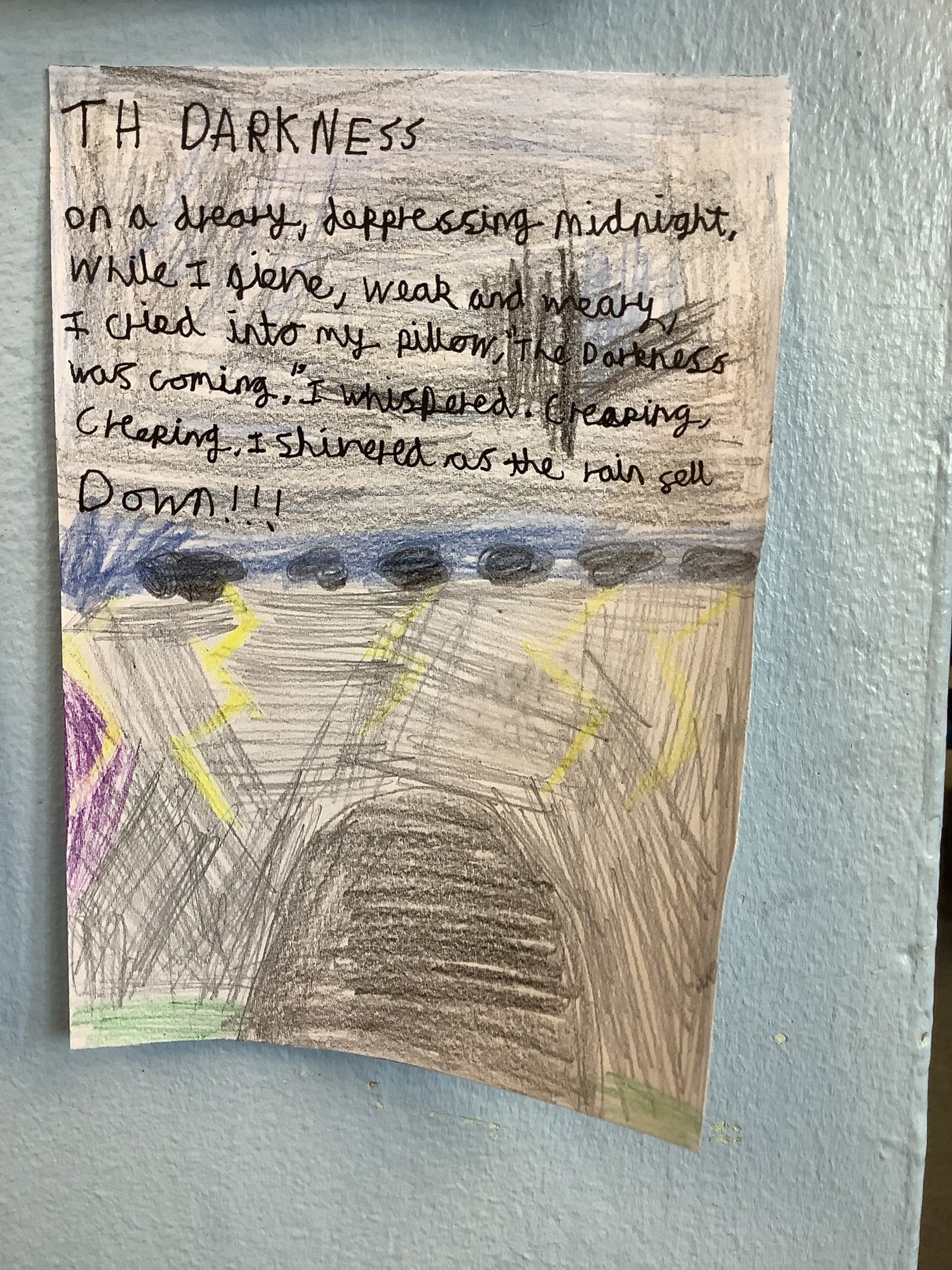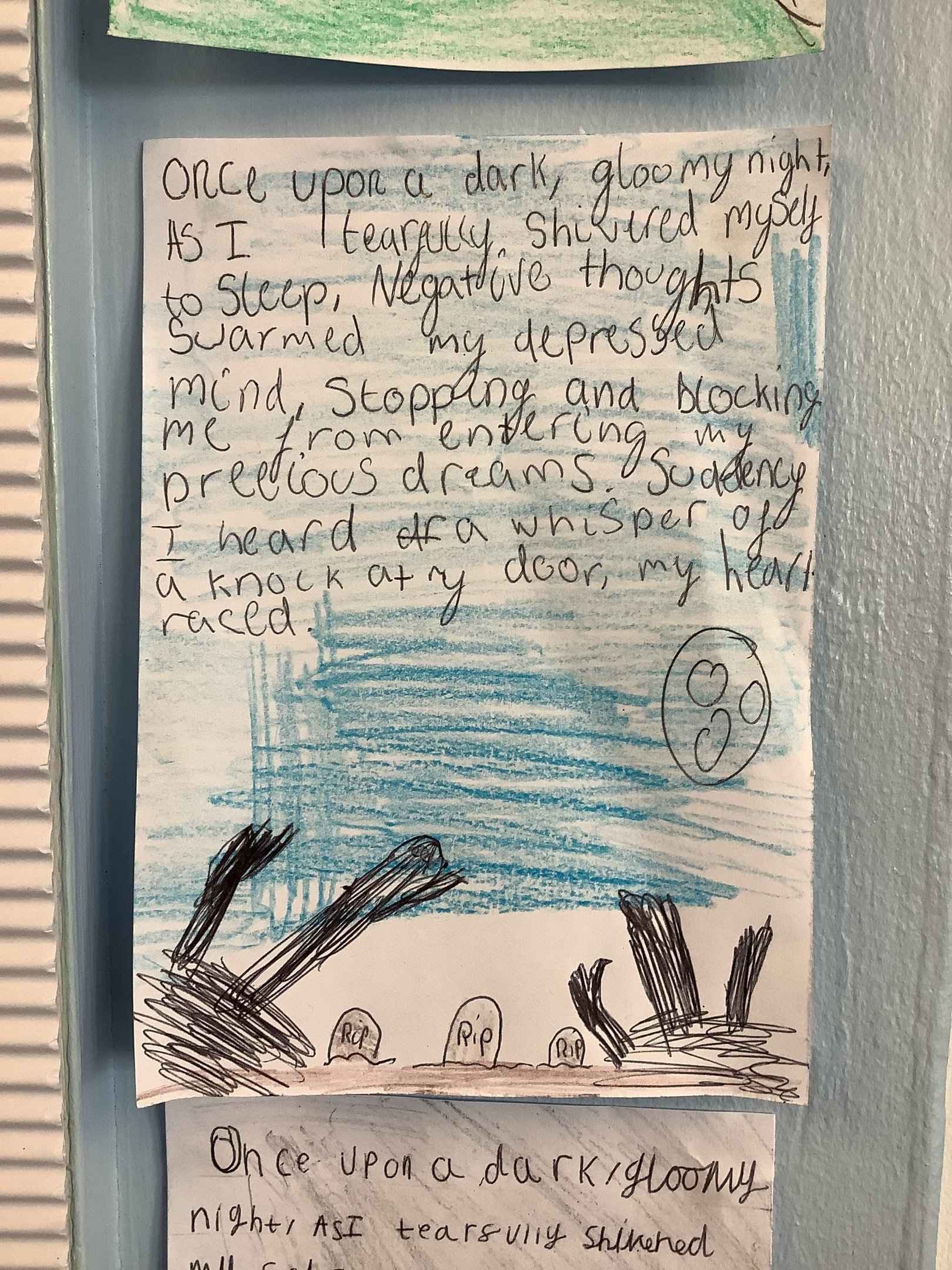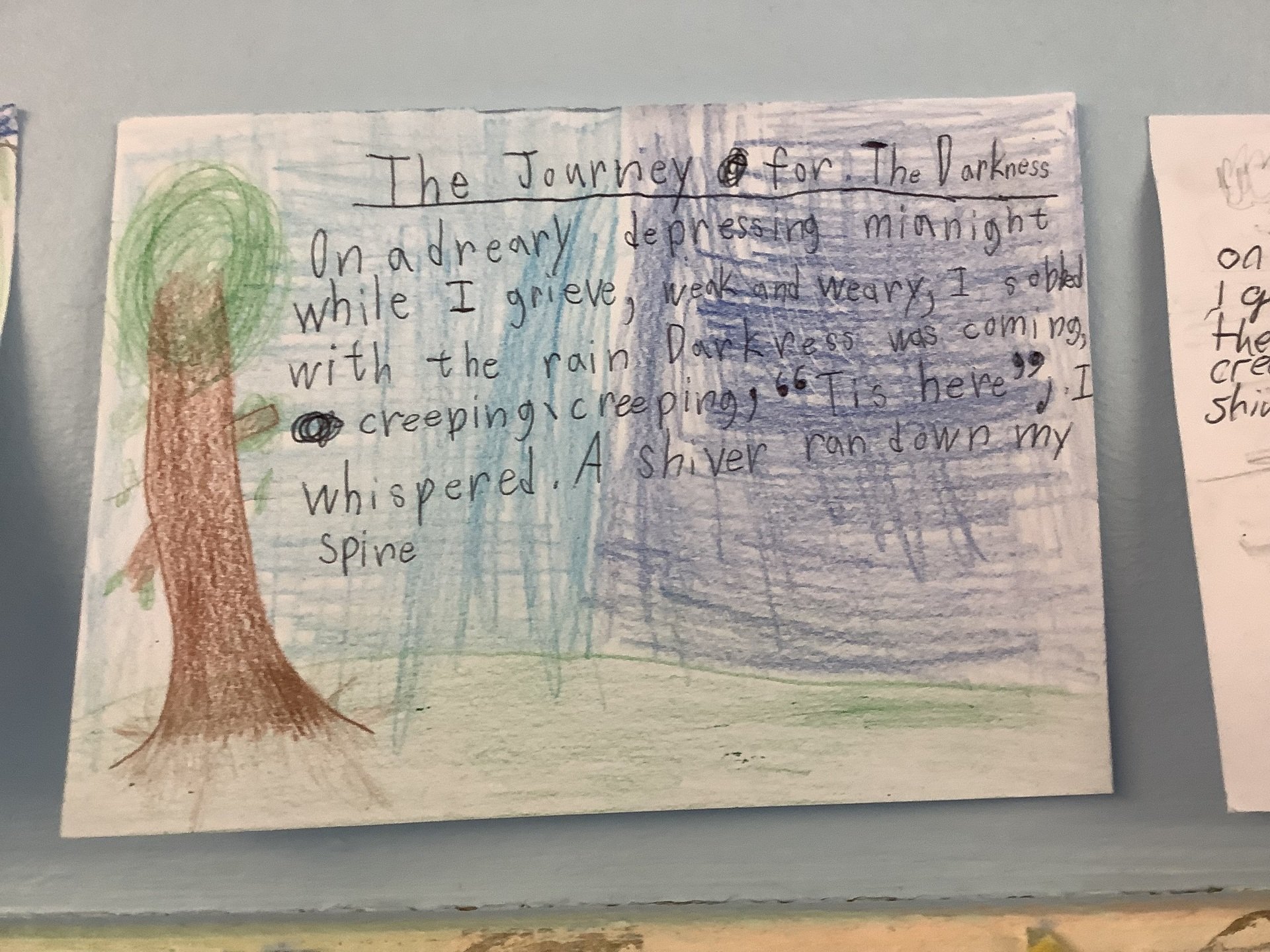 In science, we began the topic of animals including humans, and we used a fun pneumonic to help us remember the hierarchy (Katy Perry Comes Over For Grape Soda).
In RE, we researched our class Saint (Saint Mother Teresa of Calcutta) and created a fact file on her life. We also explored our school's mission statement and used drama to express how we can show care for others.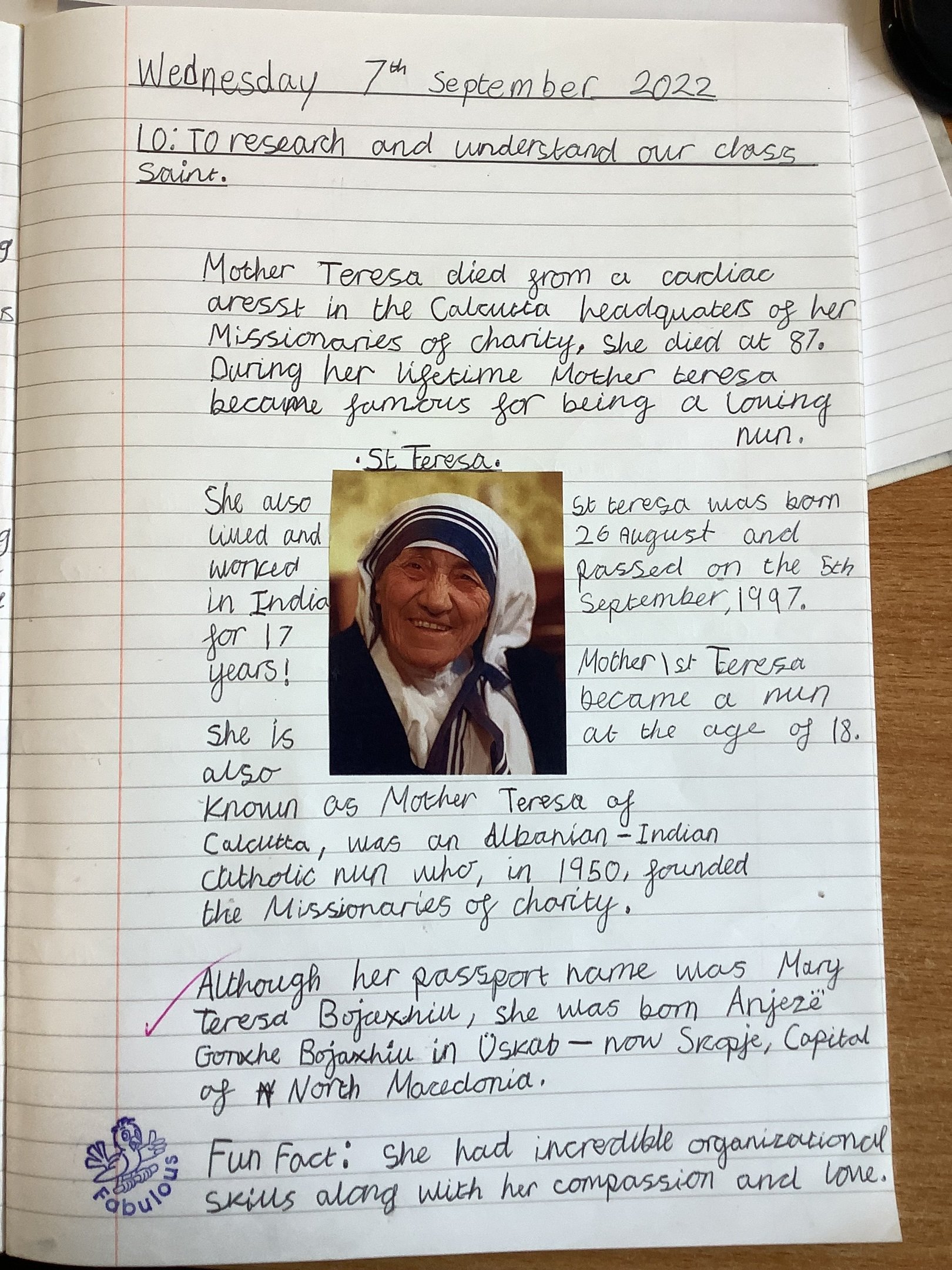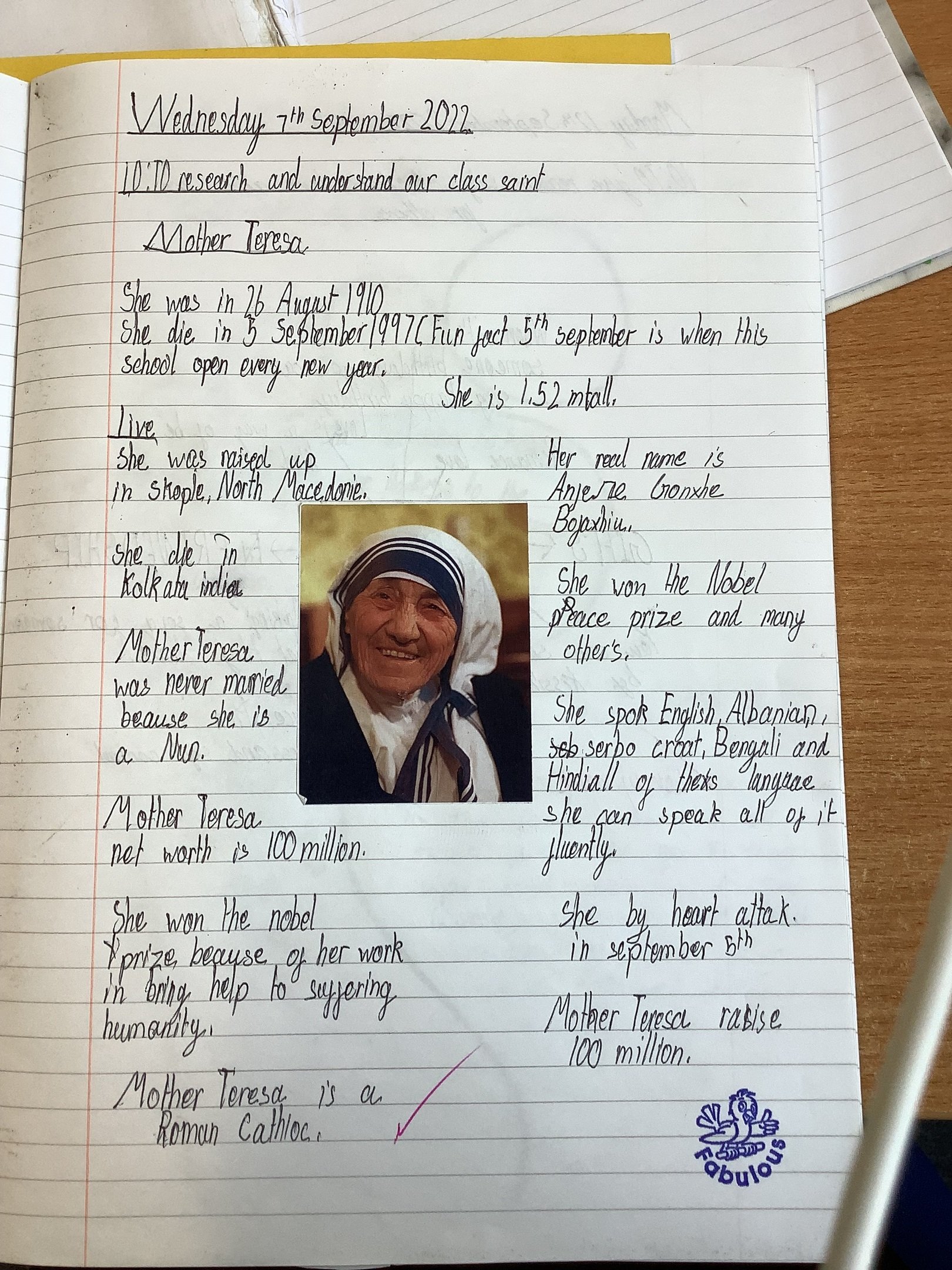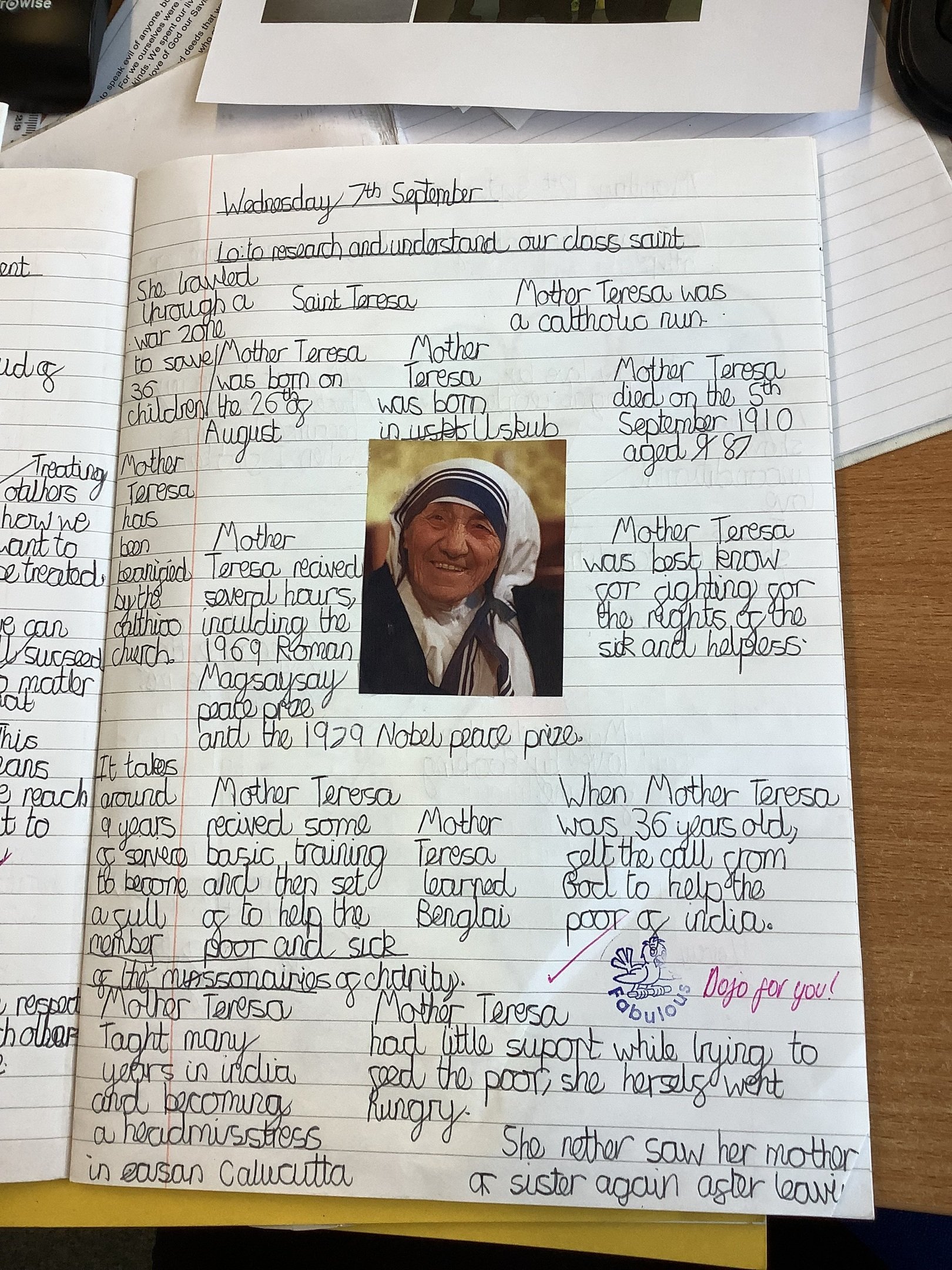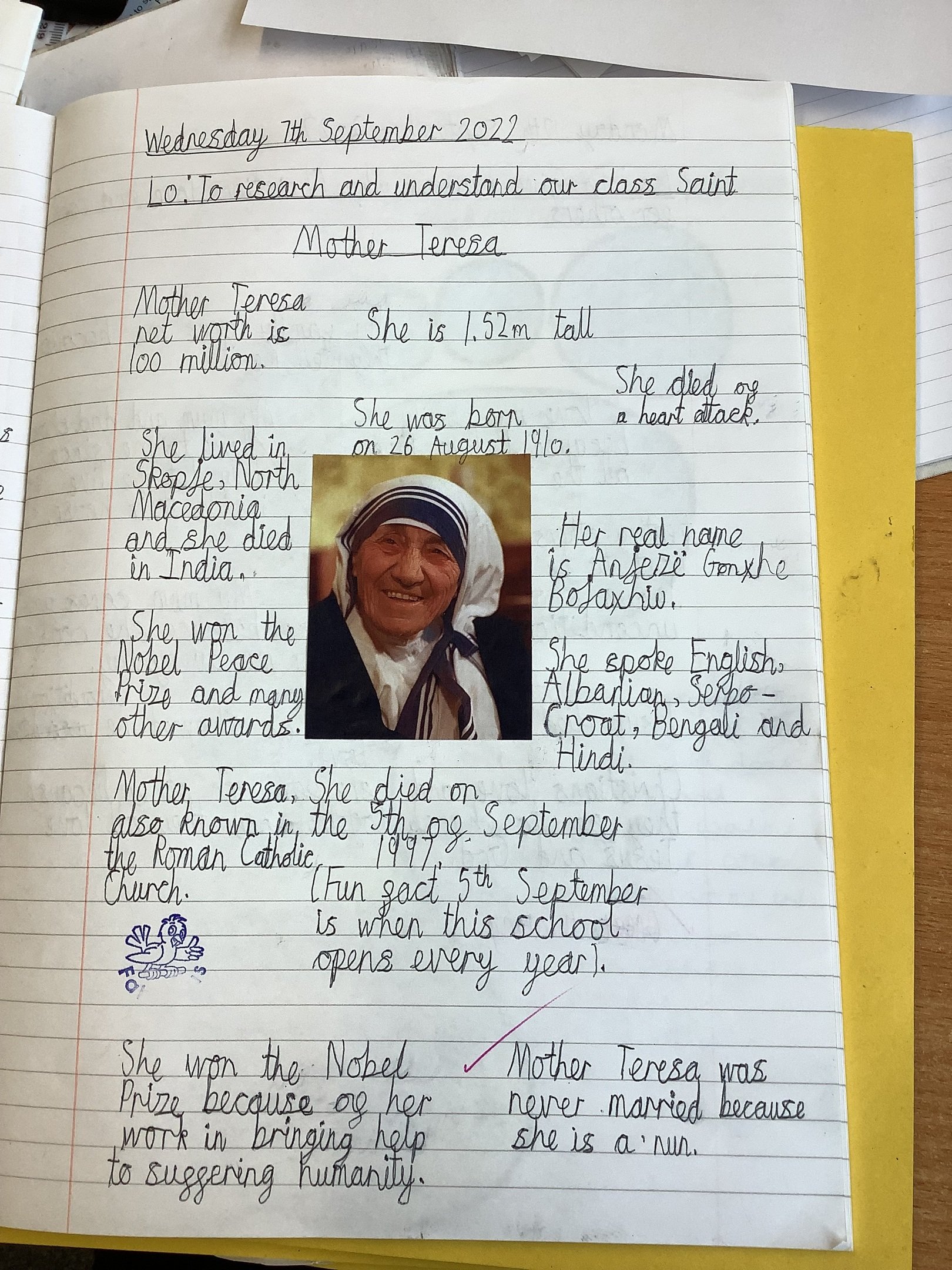 In PSHE, we discussed dreams and aspirations and designed dream jars for our futures. We have these displayed in our classroom to remind us what we are working hard for.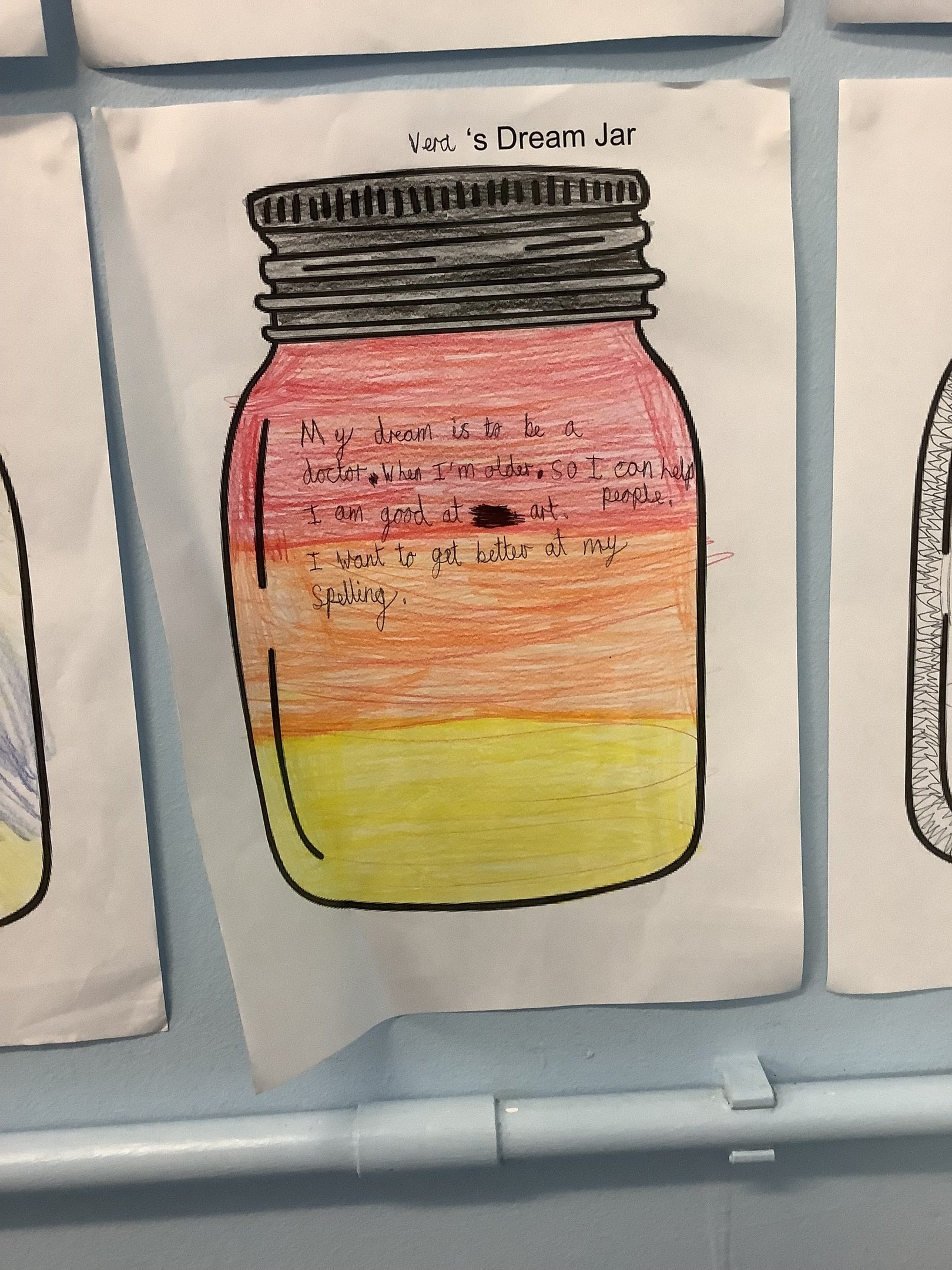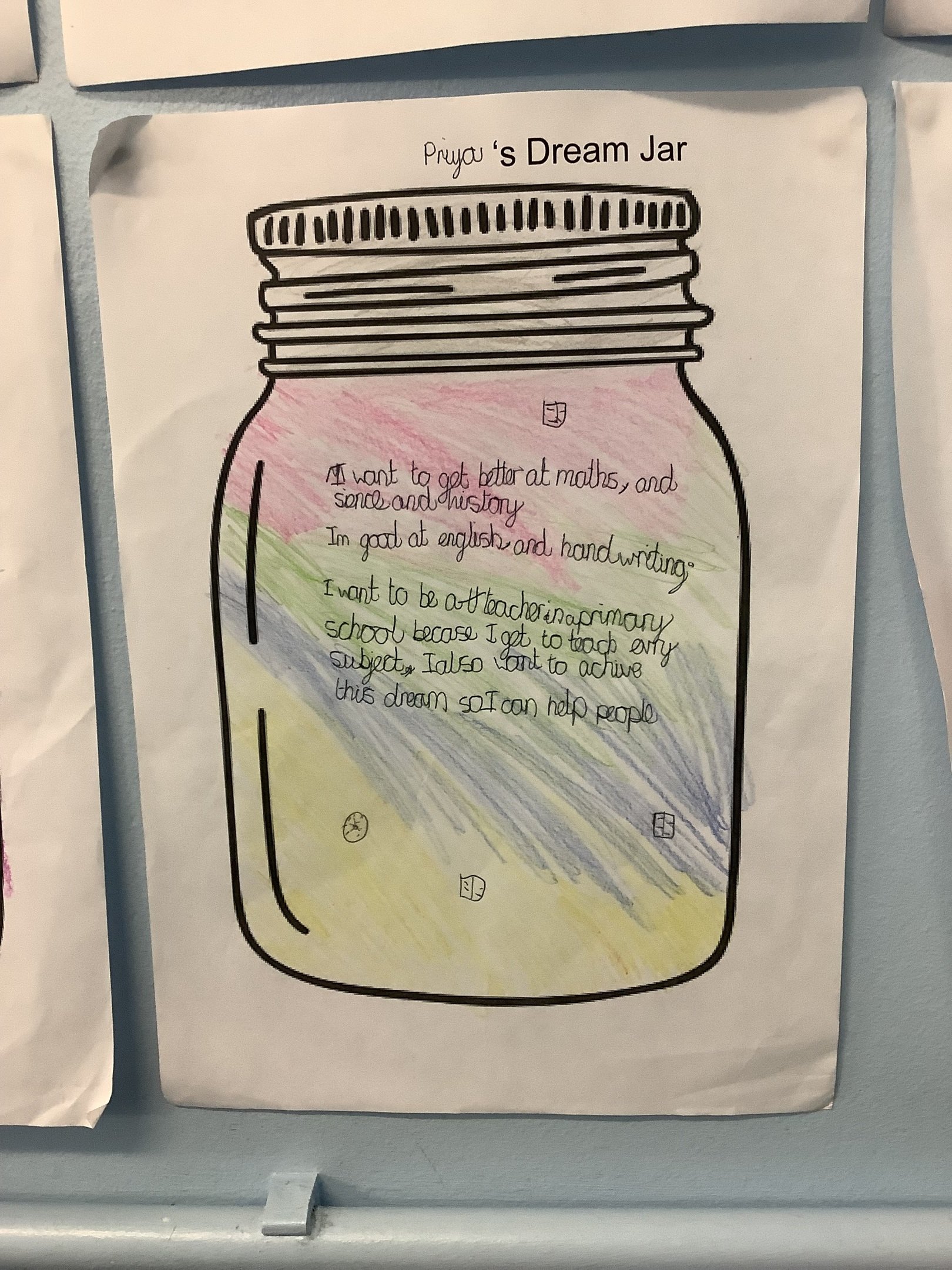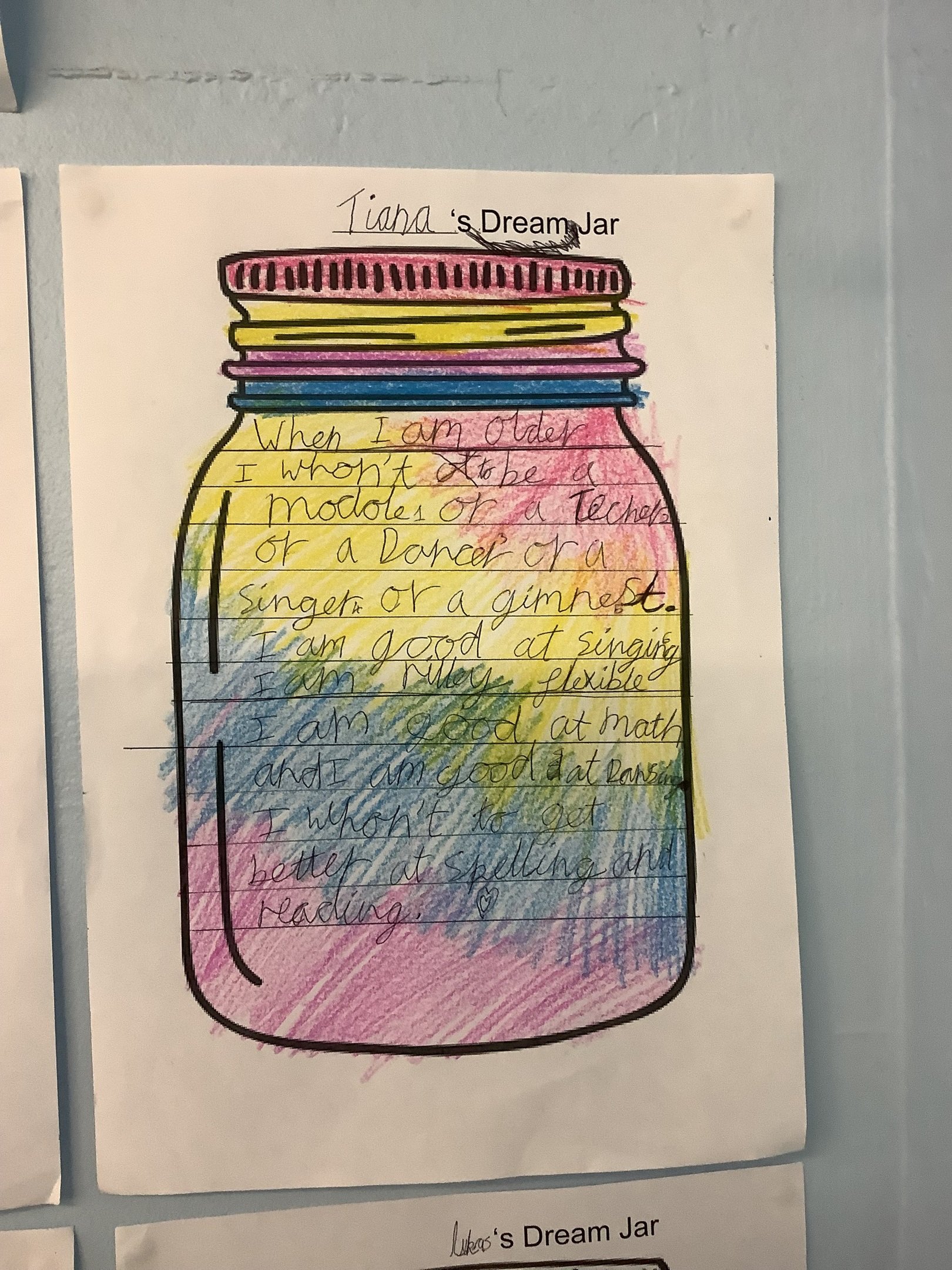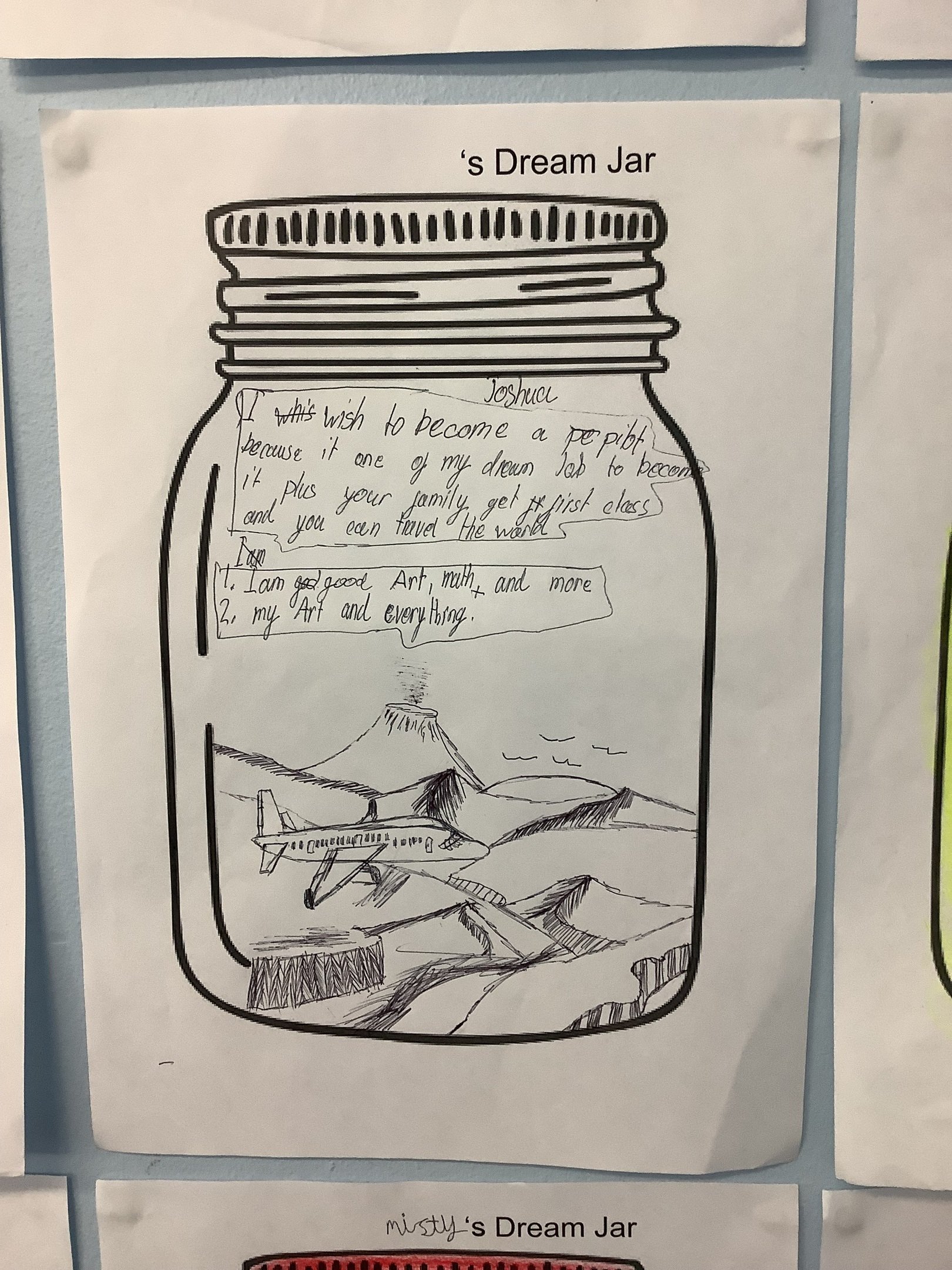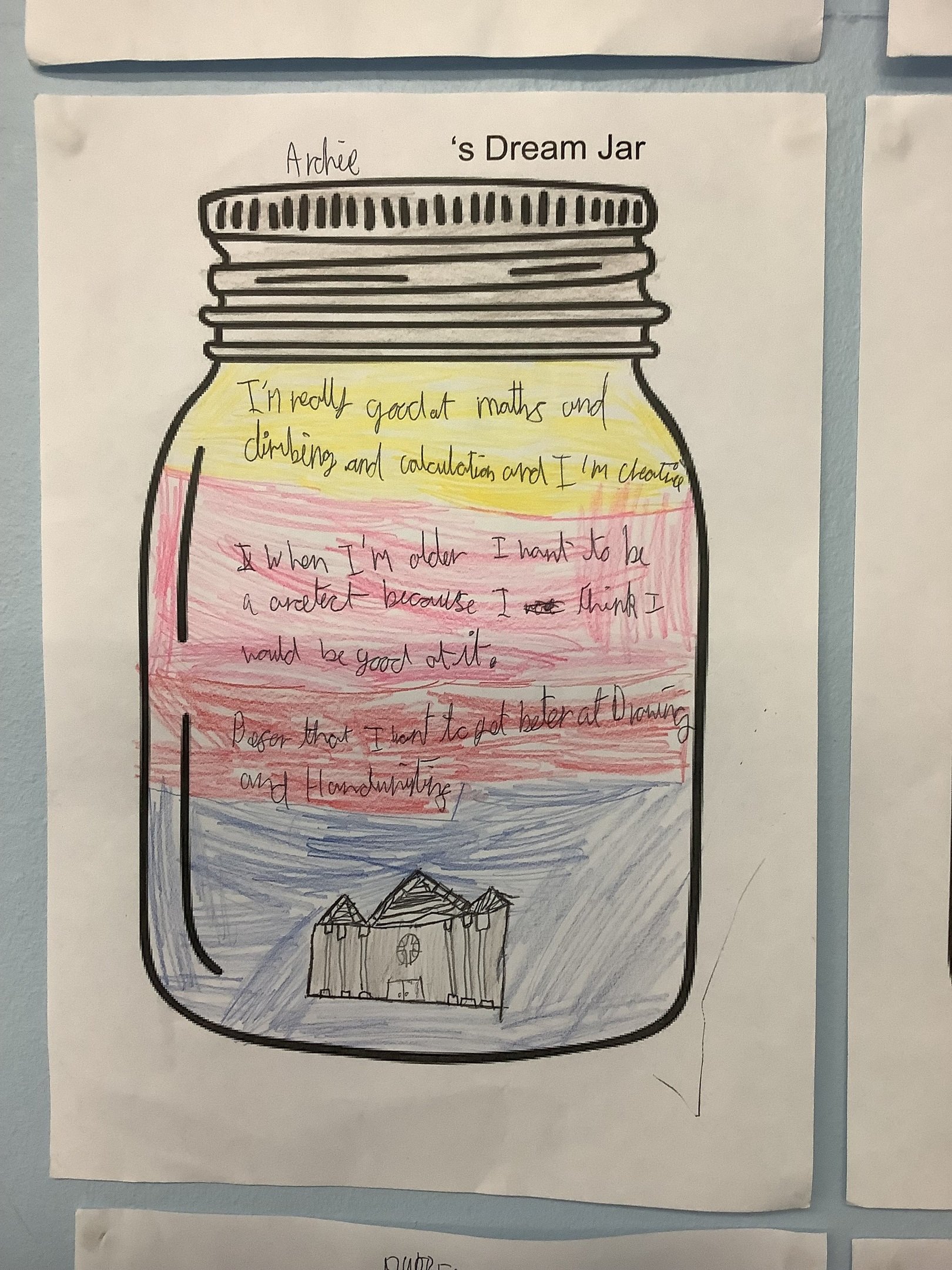 In PE, we started basketball for the half term, and worked on our pace and keeping up with our partners in a few games.
We also had our Stunning Start for our topic of Mexico and Mayans this week. We tried our different foods, designed and created masks for Day of the Dead and recreated the Mexican flag. You can see pictures of this in the post below.
IMPORTANT DATES
Meet the Teacher - Tuesday 20th September 2022 - 3:10
Grandparents Week activity - Basketball - Friday 30th September 2022 - 2:00-3:00pm
Outdoor Learning - Thursday 13th October 2022
Welcome Mass - Thursday 13th October 2022
IMPORTANT INFORMATION
LEARNING OVERVIEW
Please click HERE to see our topic overview for this term in year six. Our theme for this term is 'Mexico and Mayans' which will be covered in History and Geography by Mrs Mulhern. The stunning start for this topic is today (09/09/22) and pictures and videos from this will be uploaded as soon as possible.
READING
Please encourage your child to read as often as possible (ideally at least three times a week.) This can be by themselves, to a family member or to a sibling - and children, please remember to record it in the reading record books. These will be checked on a Monday.
PE
PE days for this half term are on Wednesdays with Miss Pippa and Fridays with Miss Redmond.
Miss Pippa will be teaching dance and I will be teaching basketball.
Children should have PE kits in school at all times, and a reminder about the expected uniform: black shorts, a green St Joseph's t-shirt and trainers or plimsolls.
ECT COVER
This term, Friday mornings will be taught by Mrs Mulhern for French, Geography and PSHE.
SPELLINGS
A paper copy of both the year 3/4 and 5/6 spelling lists will be sent home with your child. Children will be tested every Morning morning on their spellings. Spelling frame is a great resource for supporting your children with their spellings. Click HERE for a link to it.
HOMEWORK
Homework will be sent home through Google Classroom every week and expected to be submitted online by the following Monday. These will be marked and returned to your child online.
Google Classroom homework will commence soon. In the meantime, paper homework will be given out.
UNIFORM
A gentle reminder about uniform expectations, this includes plain black shoes or trainers. They also must be wearing a tie.
Anyone with long hair should have this tied up!
Thank you for all your support, we really do appreciate it.
Welcome to Year 6!
Dear children, parents and carers,
I am so excited to welcome everyone back for this new academic year and so pleased to be your class teacher. Rest assured I will do everything I can to ensure your children are happy and safe in my class and I cannot wait to get to know them even better and see them flourish as the year progresses. If you have any questions or just want a chat, please catch me after school and check this page regularly for updates from within the classroom.
Here's to a fantastic year ahead :)
Miss Redmond
Information about applying to Cardinal Newman School for September 2023
Please find attached an information sheet for Year 6 pupils wishing to apply for a place at Cardinal Newman School in September. Click HERE